Mr Hancox & Mrs Slusarczyk
Welcome to the Year 1 class page. Look around for half termly overviews of our curriculum coverage and updates on what Year 1 have been up to recently, including details on our current learning.
Golden Mile
As part of our commitment to encourage healthy lifestyle choices, the whole school is taking part in the Golden Mile initiative. This involves children walking, jogging or running around a pre-set course and each of their completed laps being logged and recorded. The children will be able to keep track of how many laps they've completed individually as well as seeing how their laps have contributed to our overall school total.
Children will need their outdoor P.E. trainers to take part, and Year 1 will have the opportunity to do their laps during morning break on Mondays and lunchtime break on Fridays.
P.E. and Swimming Kits
Swimming starts again after half term so all children will need their swimming costumes, hats and towels every Tuesday afternoon. Outdoor games will be on Wednesday mornings so please continue to ensure your child has shorts, a T-shirt and trainers for these activities. Thank you!
---
Home Learning, Friday 14th July
This week's home learning task is to get down to your local library and sign up for this year's Summer Reading Challenge. The ladies from Petersfield library came in to talk about it this week, and the children were really excited about the books they could choose from as well as helping the Animal Agents to solve crimes!
And of course there's still this term's Bookopoly to finish. Completed Bookopoly challenges will need to be in by this Wednesday in order for house points to count towards this year's totals.
---
Week 38 - Charity fun day, African schools and jiggling jellyfish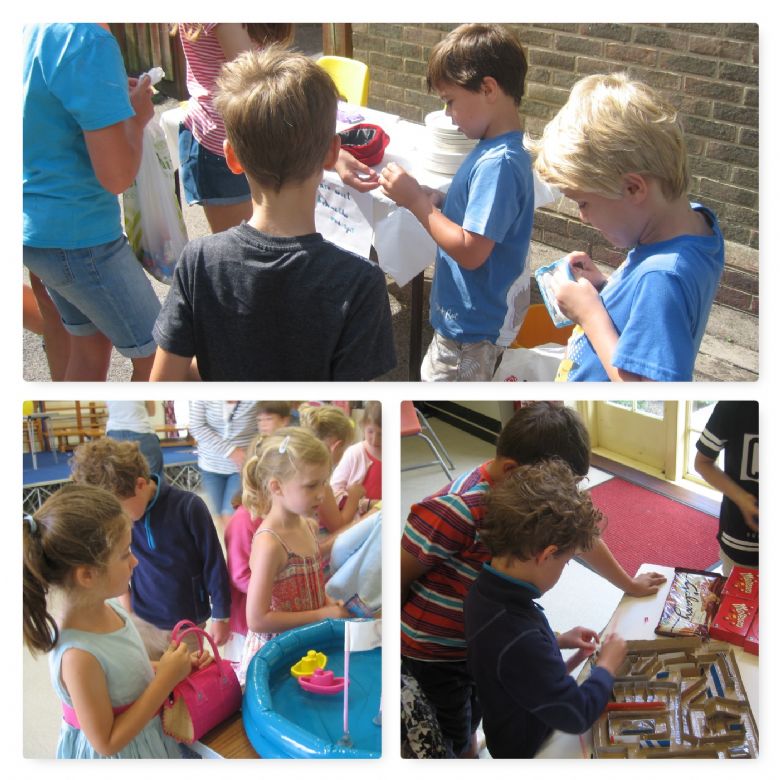 It was Charity Day on Monday, so the children could come in wearing whatever they liked and take part in a range of activities run by the Year 6 pupils.
There was a smoothie stand, a football skills contest, quiz questions and lots of different games - almost all of which involved getting sweets as prizes!
The children had a wonderful time and all the proceeds went to help the charity Shine.
Which games did your child play and, more importantly, how many packets of sweets did they win?!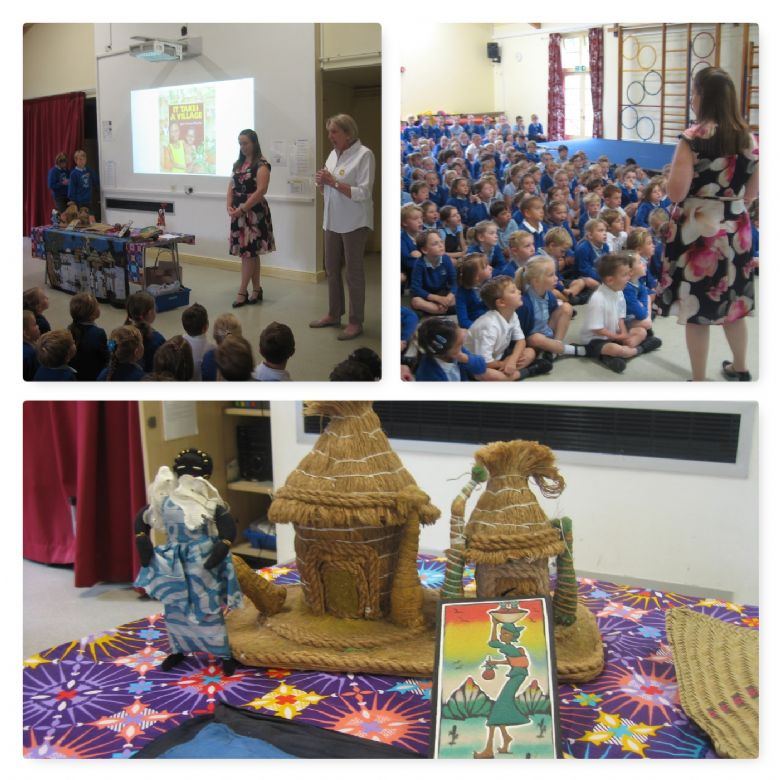 On Tuesday, Carmella and Marion came to tell us about their work with schools in the west African country of The Gambia.
They had some fascinating photographs to show us of the school, classrooms and even the homes of the children they work with.
They also told us the story of Yemi and Kokou, and how it takes a whole village to raise a child.
Can your child tell you the story of 'It Takes a Village', or describe some of the differences between our classrooms in Langrish and the children's classrooms in The Gambia?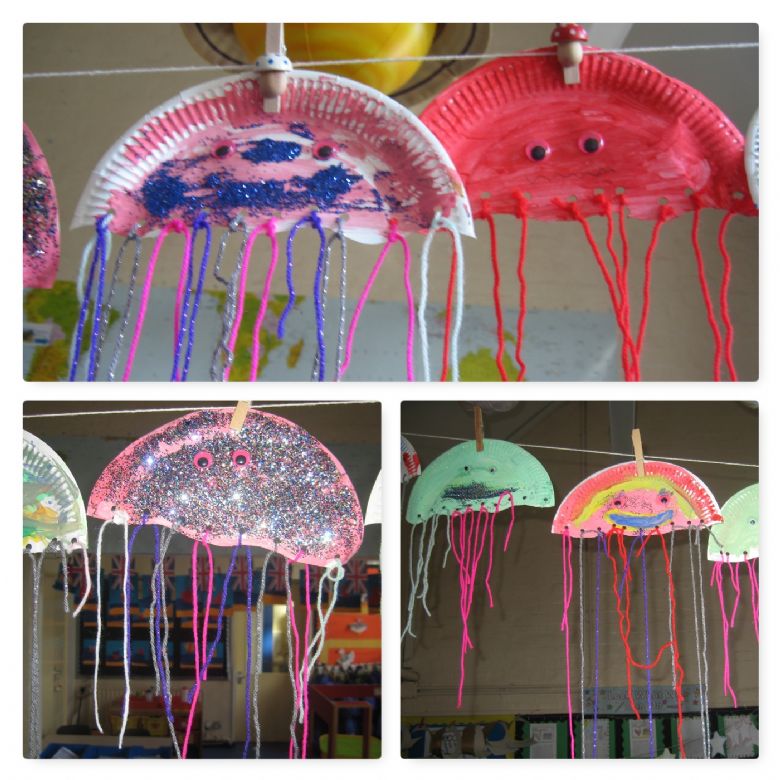 As part of our seaside topic, the classroom was invaded by jellyfish this week.
The children made them to decorate our classroom ready for next week's open evening and, as ever, they loved the opportunity to get their hands on the paint and glitter.
We hope you'll be able to come and meet them on Monday, when the whole school throws open its doors for you to come along and see what we've been up to. Don't worry, they won't sting!
Week 37 - Fruity recipes, making a splash and the joys of Summer
In English last week, we were practising our instruction writing skills by creating recipes for fruit kebabs, so this week we went into the kitchen to put our recipes to the test.
There was slicing, dicing and skewering galore, and - it has to be said - the results were delicious.
Can your child describe how they made their fruit kebab? Which fruits did they use and did they make a pattern?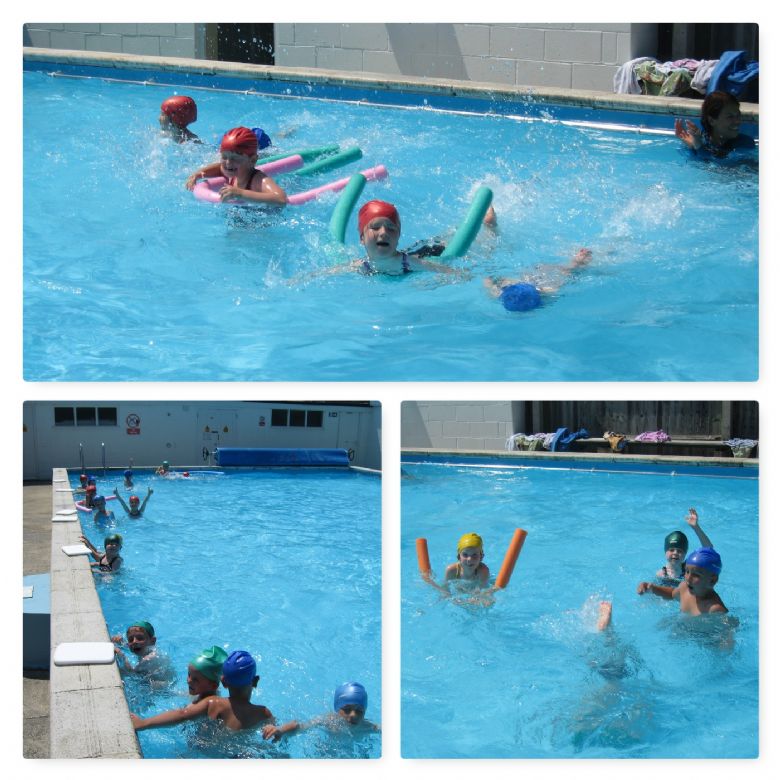 We've been swimming in P.E. this term and so far we've certainly had the weather for it!
Building confidence in swimming and knowledge of how to stay safe in and around water is incredibly important, and we've been doing that through a mixture of games, drills and races.
Which activities does your child enjoy the most? One universal favourite appears to be "Splash the Teacher"!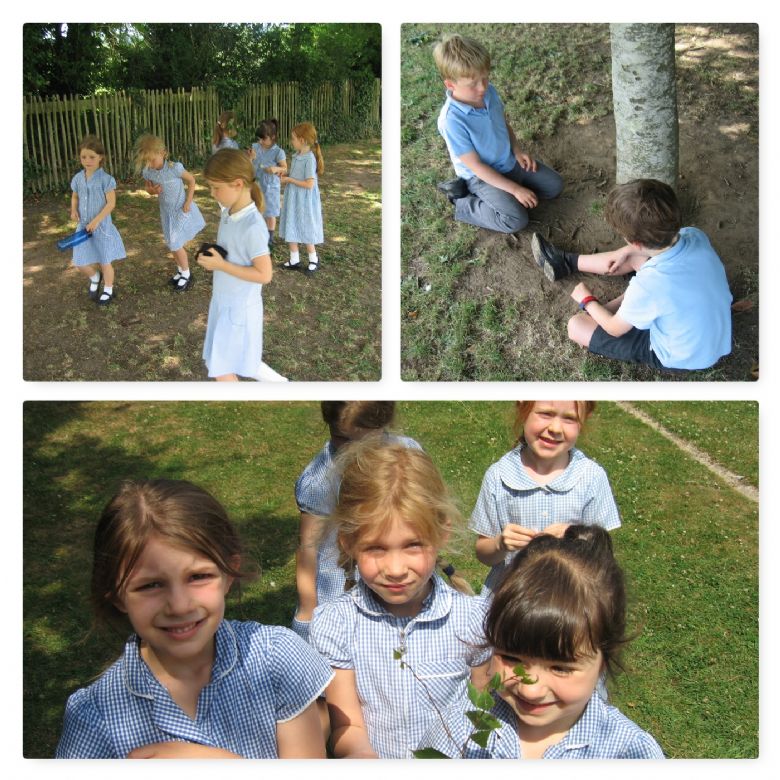 As part of our longitudinal science study of the seasons, we went outside to talk about how our environment has changed now that summer is in full swing.
We discussed the changes in the weather, the clothes we were wearing and the flowers, trees and wildlife around the playing field.
We also talked about the dangers of too much sun and went through all the different ways of staying safe in the summertime.
What are your child's top tips for sun safety? Share them using this week's Purple Mash home learning activity.
Week 36 - Healthy food, wonderful weight and Hindu celebrations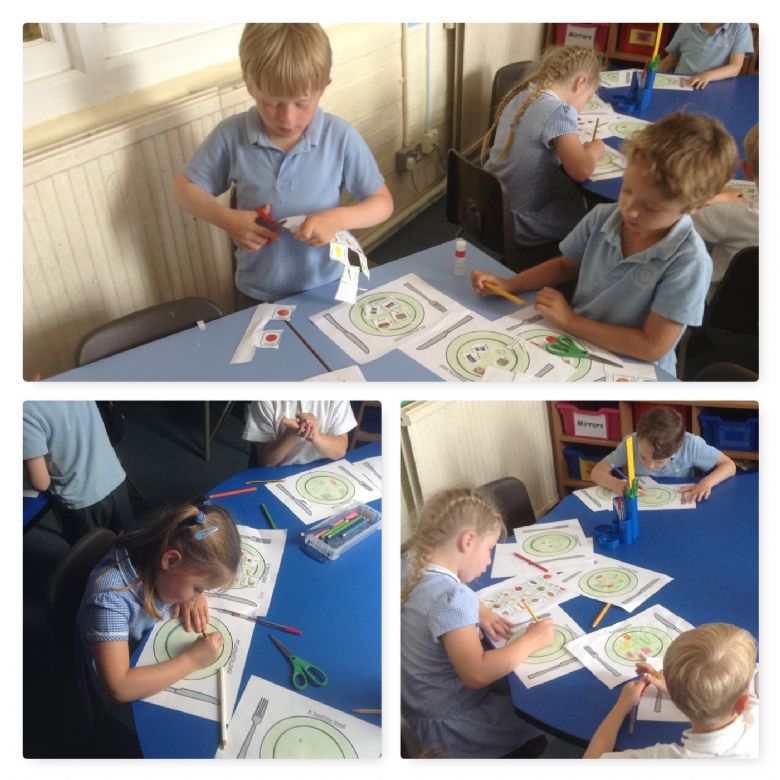 In Design & Technology this term we'll be creating salads and smoothies, so on Monday we were talking about healthy and unhealthy foods.
The children had to design a meal they thought was full of healthy ingredients, then come up with another meal full of the unhealthiest foods they could possibly think of.
Finally, we discussed the importance of a balanced diet and how it's OK to each a little of those unhealthy (but oh so tasty!) foods we love so much as long as we balance them with plenty of healthy food and exercise.
Ask your child what they put into the meals they designed.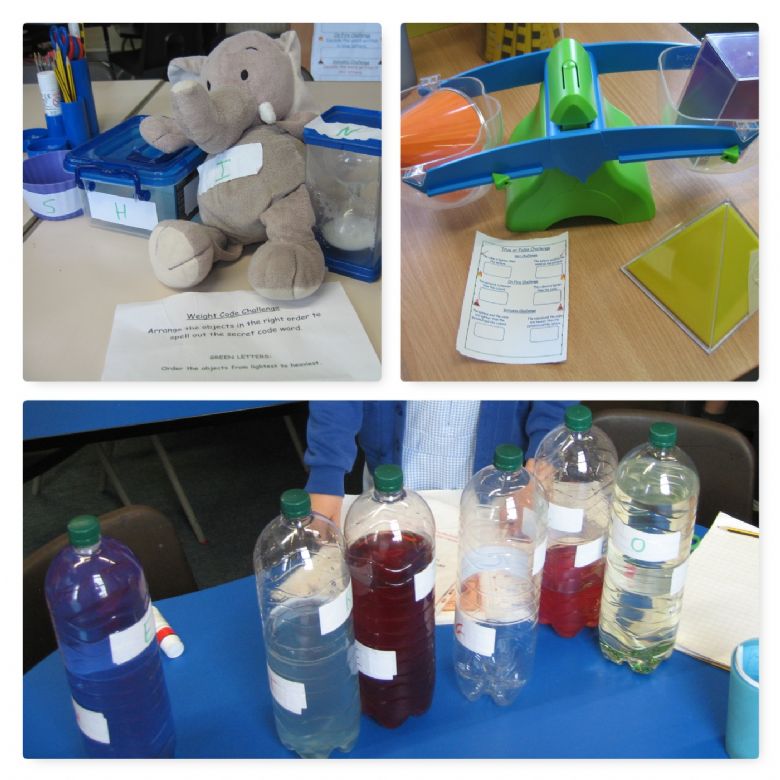 And there's been more balancing going on in maths this week as we explored weights and measures.
The children had to complete a range of challenges from putting items into weight order to spell out a word, to working out how many wooden blocks will weigh the same as their maths book.
They've also been encouraged to explain their findings using appropriate vocabulary such as "heavier than", "lighter than" and "equal to".
Weight is another great concept to continue exploring at home, particularly if you're doing any cookery or baking.
Ask your child which challenges they enjoyed trying this week.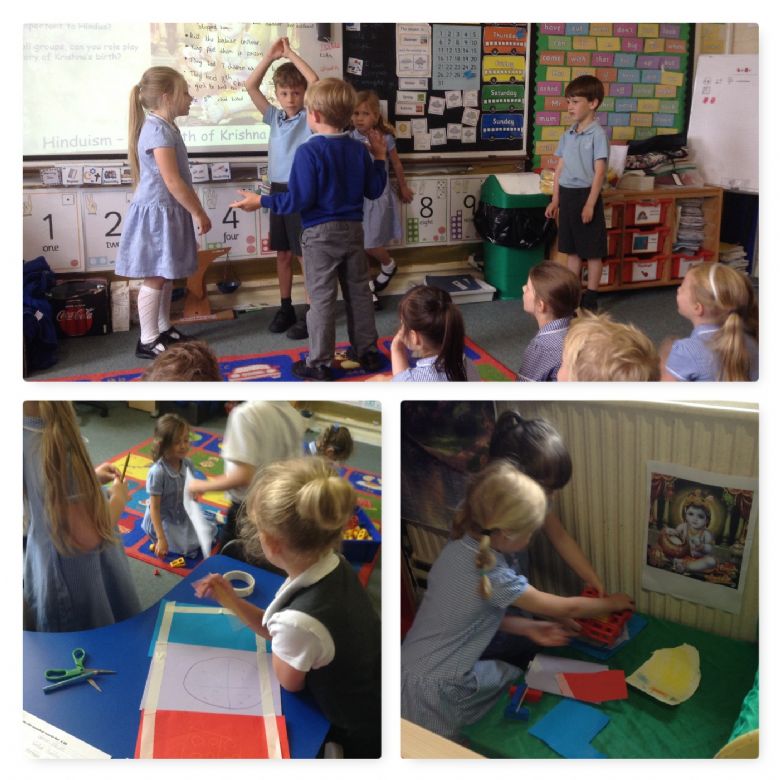 Our R.E. unit this term is about remembering, so this week we were thinking about how we remember special people and events.
We looked in particular at Krishna's birthday and how Hindus remember and celebrate the birth of Krishna in the festival of Janmashtami.
The children listened to the tale of Krishna's birth and how his father smuggled him to safety, before re-enacting the story in small groups.
What can your child tell you about the story or about Krishna? He wasn't very well behaved for a god - does your child remember some of the mischievous things Krishna got up to when he was their age?
Week 35 - Cupfuls of capacity, a science scavenger hunt and our final class assembly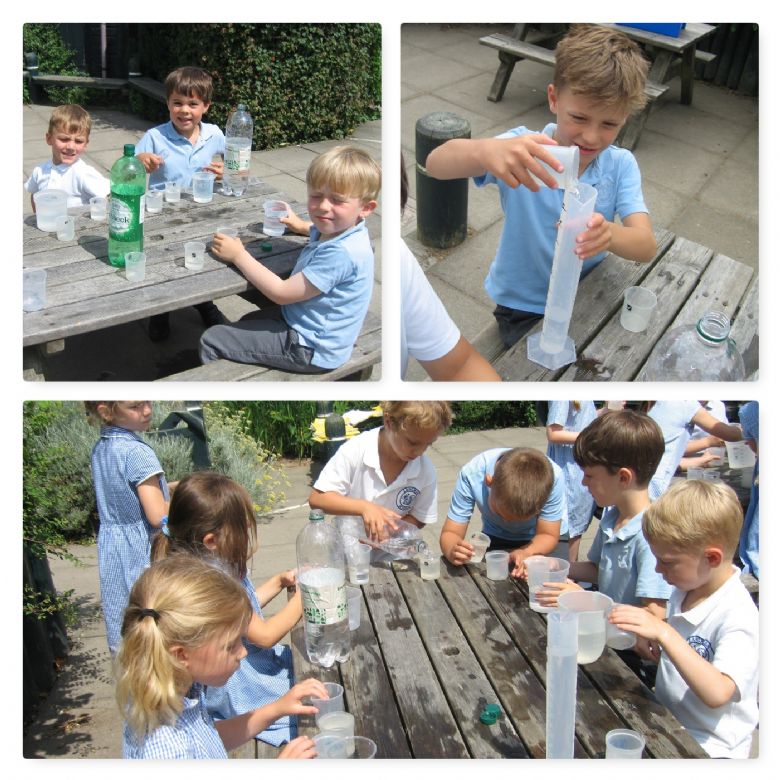 We're looking at capacity in our maths lessons and, as the weather's been so beautiful, what better way to explore the subject than to get outside and get practical with cups, containers and LOTS of water!
It's definitely something you can try at home. Why not challenge your child to fill a container half full, nearly empty or three quarters full.
You might also like to ask them if they were one of the children who managed to get more water over themselves than into the containers!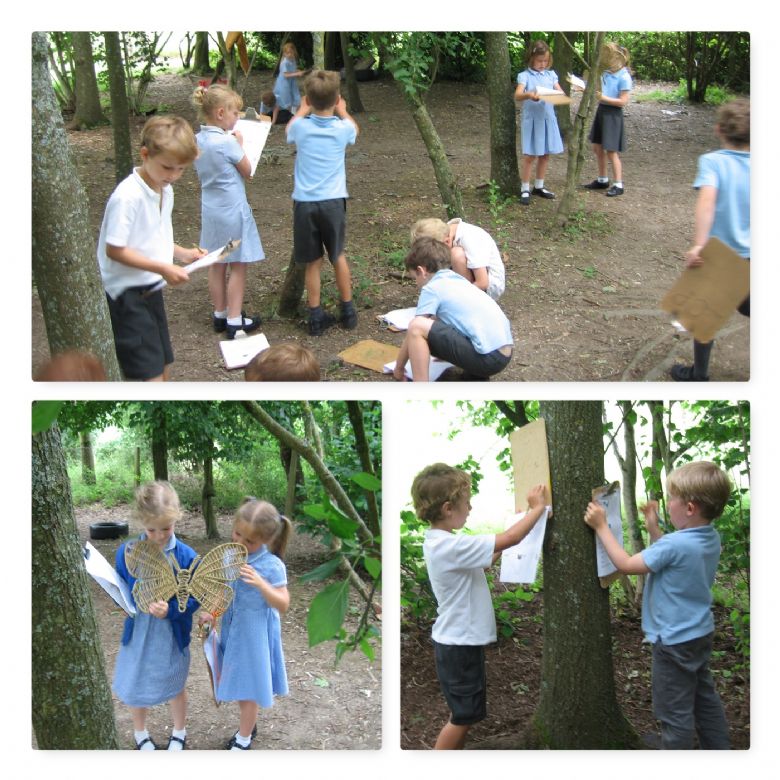 There was more outdoor learning in science this week when we went into the copse for a materials scavenger hunt.
The children had to find all of the objects on their list and categorise them according to their properties. There were hard objects, soft objects, flexible objects, transparent objects, waterproof objects and shiny objects to track down.
Ask your child which objects they managed to find and if any of them fitted into more than one of the property categories.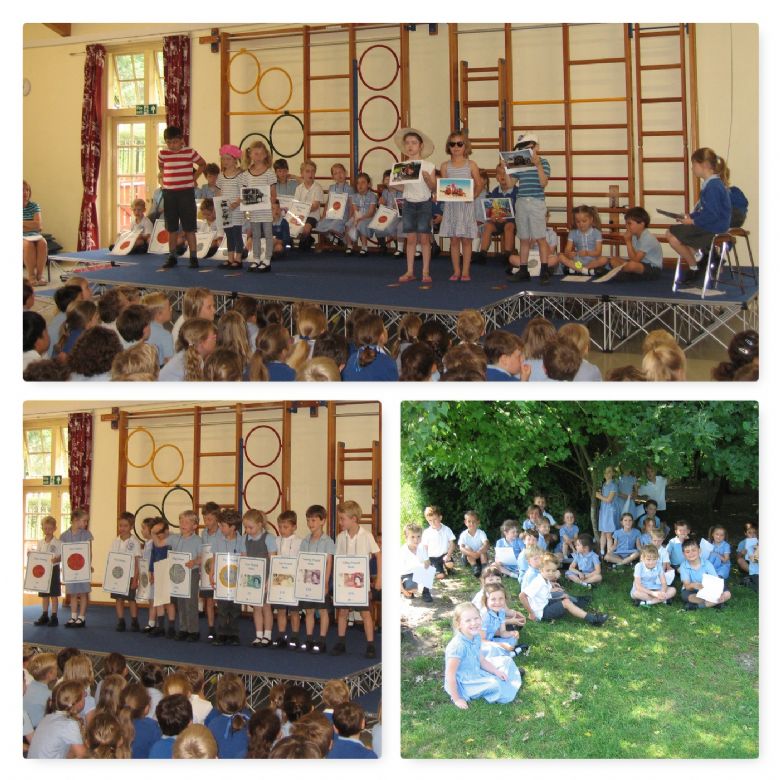 It was our last class assembly of the year on Thursday and – difficult as it is to believe – the children's final assembly as year ones.
After some outdoor rehearsals, we shared what we'd been learning about money, talked about how seaside holidays have changed over the years and heard all about dragons and magic boxes. There was even a news flash on the big screen about dragons being spotted over the school!
As ever, it was wonderful to see so many family members coming to see what the children have been up to. Thank you to everyone who came along and I hope you all enjoyed hearing about the children's learning.
Week 34 - Meeting an author, remarkable rhythm and sports day!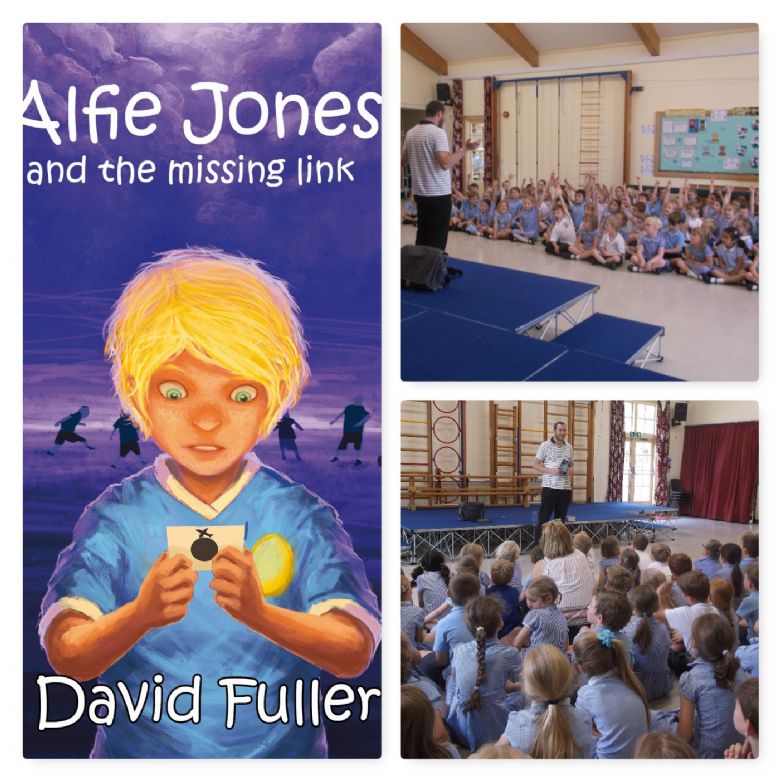 The children got to meet a real life writer this week when David Fuller visited our school.
Author of the popular 'Alfie Jones' series of books, he talked about the power of our imaginations and how we're all storytellers from an early age - even though we might not realise it.
I know how much everyone in Year 1 enjoys making up stories, maybe they should start writing them down or typing them up. You never know, we might have a future best-selling author in our classroom!
Ask your child what they remember about David's visit.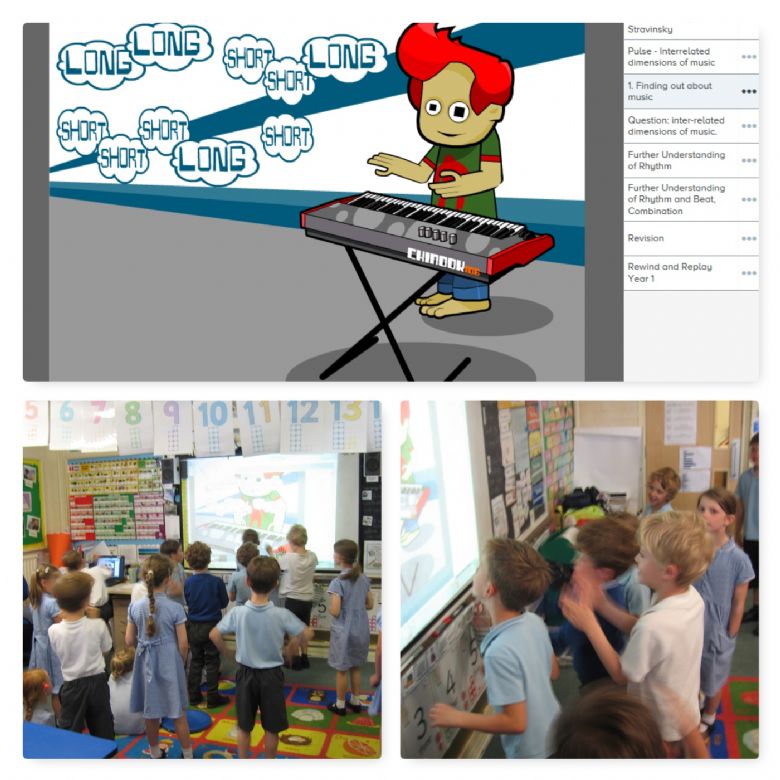 In music, we continue to explore the many different styles and elements that make up the musical world.
This week we listened to 'The Firebird' by Igor Stravinsky and talked about the images that the music conjured in our minds.
We also looked at what is meant by rhythm and how different rhythms can be created by the combination of long and short beats.
Ask your child if they enjoyed 'The Firebird' and what it made them think of.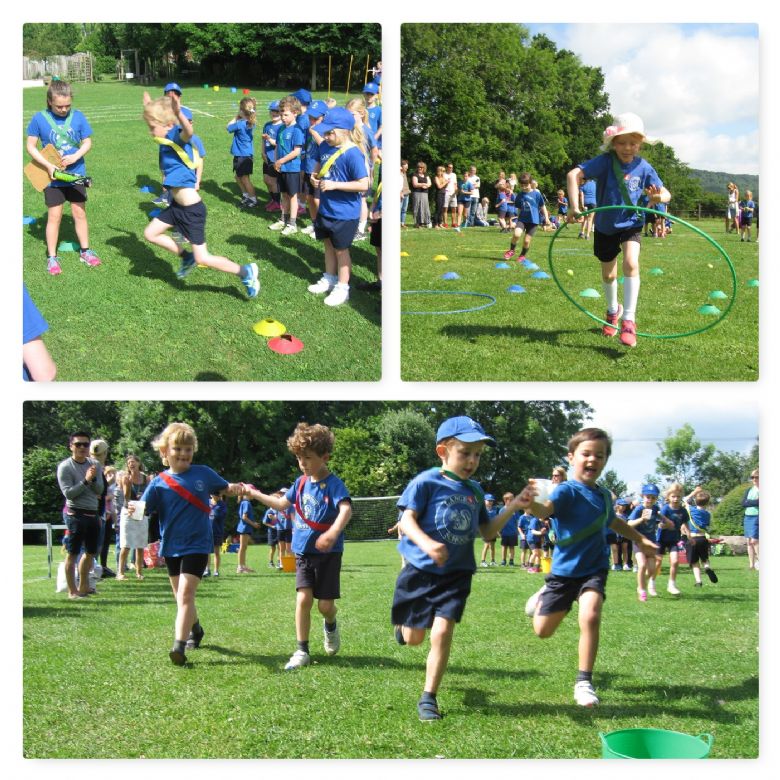 The hurdles, hoops, buckets and bean bags all came out this week for the annual Langrish sports day.
The children loved the chance to represent their house teams in a wide variety of events that tested all of their athletic abilities.
Best of all our families got to join us for a picnic lunch, and with such beautiful weather too we really couldn't have asked for a more enjoyable day.
Week 33 - Handsome handwriting, scintillating science and money, money, money!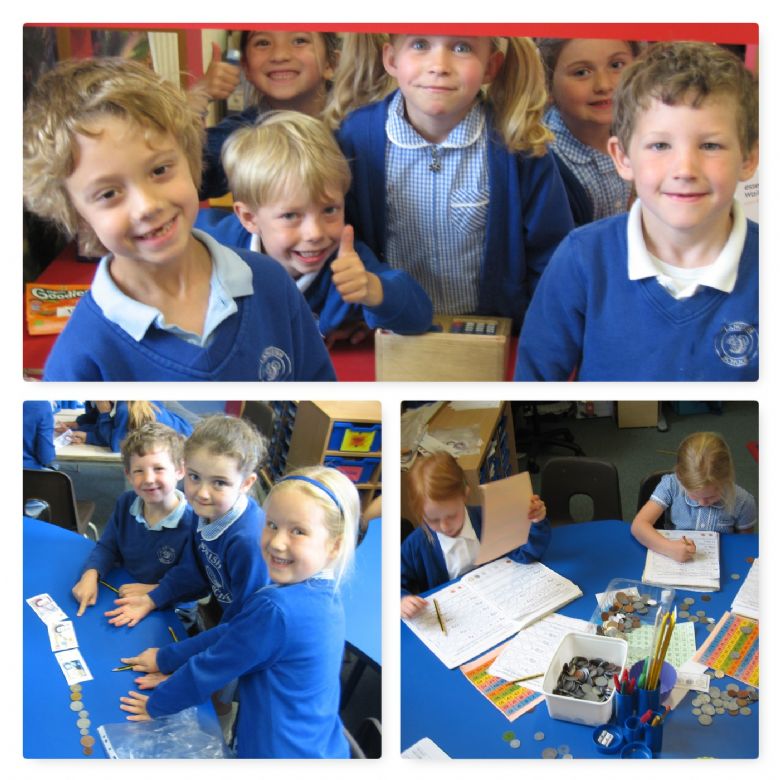 The Year 1 shop was open again this week as we started our maths unit on money.
Shopping was one of several challenges, all of which revolved around familiarising the children with all the different denominations of notes and coins.
It's wonderful to see their knowledge of place value really come to life as they use it to work out the fastest way to build different amounts.
The children have also been telling me about what they like to spend their money on and where their money comes from, so I've learnt something as well: that the Tooth Fairy is much more generous these days than she was when I was little!
Ask your child which maths challenges they enjoyed taking on this week.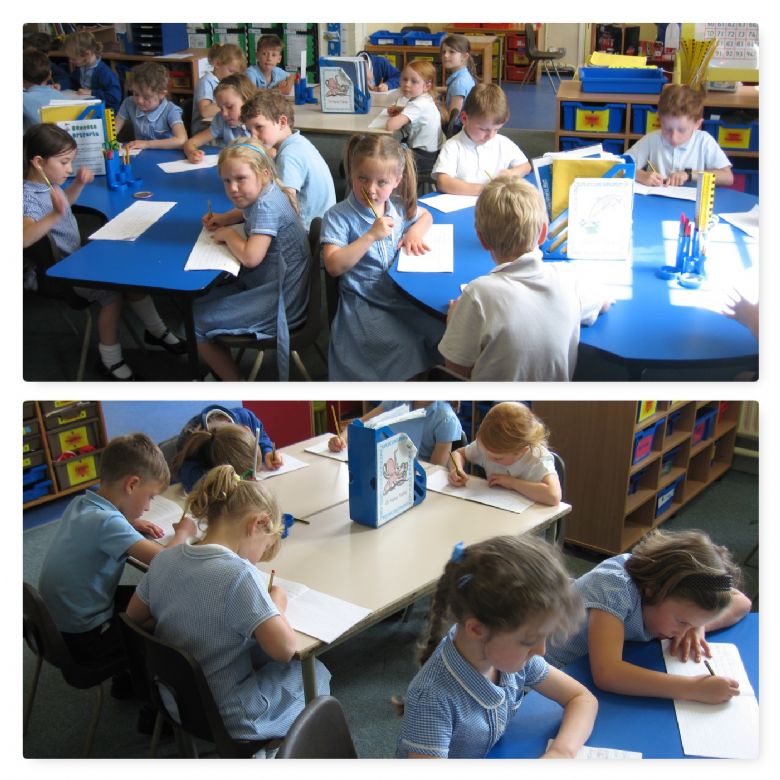 We practise our handwriting every day in Year 1 and it's probably one of the children's favourite lessons.
They love the opportunity to really concentrate on their letter formation and take an immense amount of pride in the work they produce.
It also gives us the chance to practise our spelling and really get to grips with our phonics focus sound for that day.
The children all have handwriting books at home so get them to show you what they can do and how they use the blue and red lines to help them.
I'm sure you'll be impressed - in fact most of the class now have better handwriting than I do!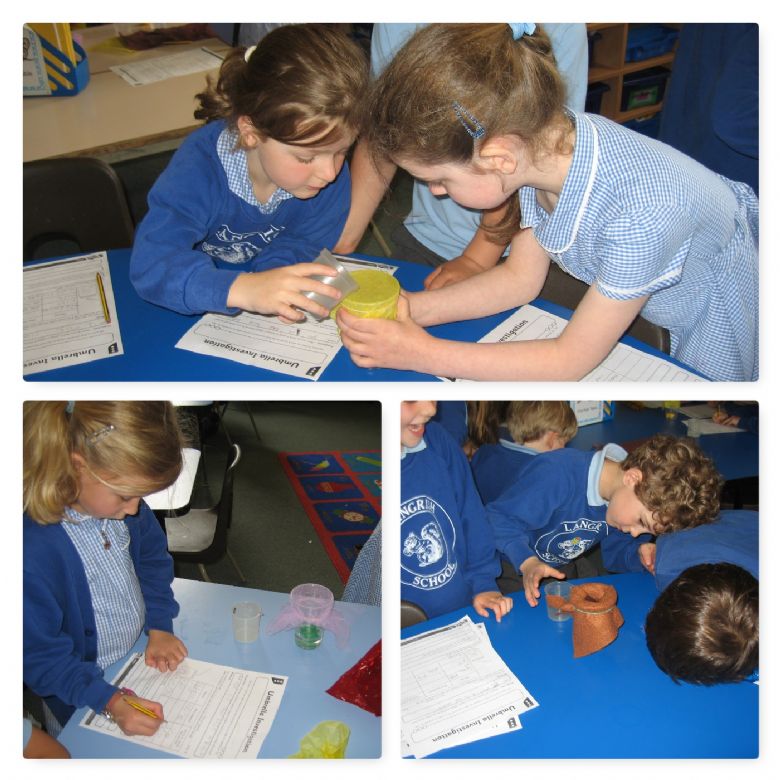 We're continuing to look at everyday materials in Science this term, and this is an experiment we carried out just before the holiday.
The children were tasked with finding out the best material for making an umbrella.
They had lots of materials to experiment with and compared their individual properties, such as water resistance and flexibility.
Can your child remember which materials they tested and why some of them would be useless as umbrellas? Which did they decide would be the best and why?
---
Week 32 - Crime fighting, car counting and special books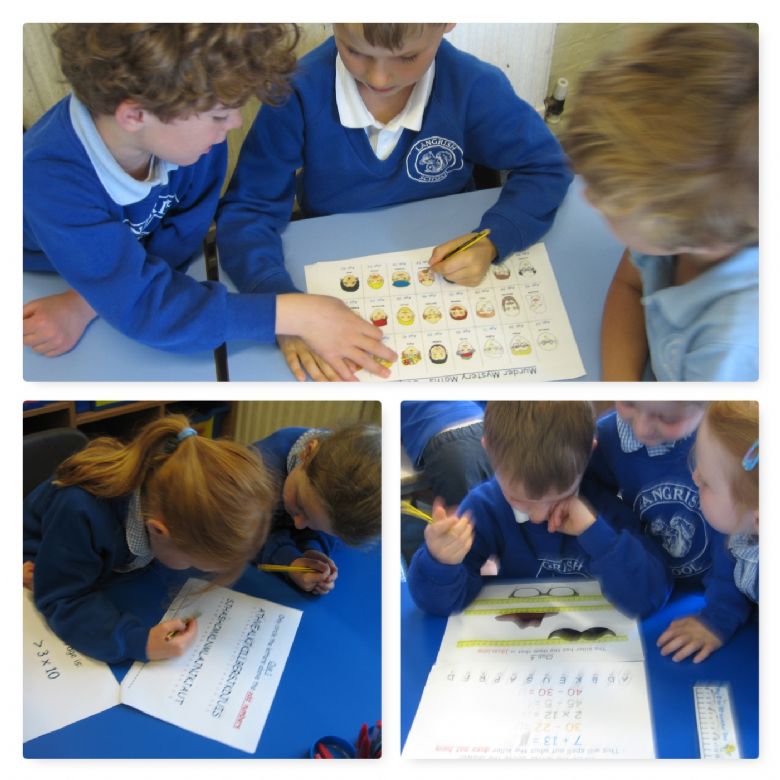 Year 1 became detectives this week when their maths lesson involved tracking down a criminal!
They had to use all their maths skills to solve five clues, each one whittling the suspects down from twenty four possibilities to just one guilty party.
Ask your child which of the challenges they remember and whether or not they managed to figure out the mystery and send the criminal to jail.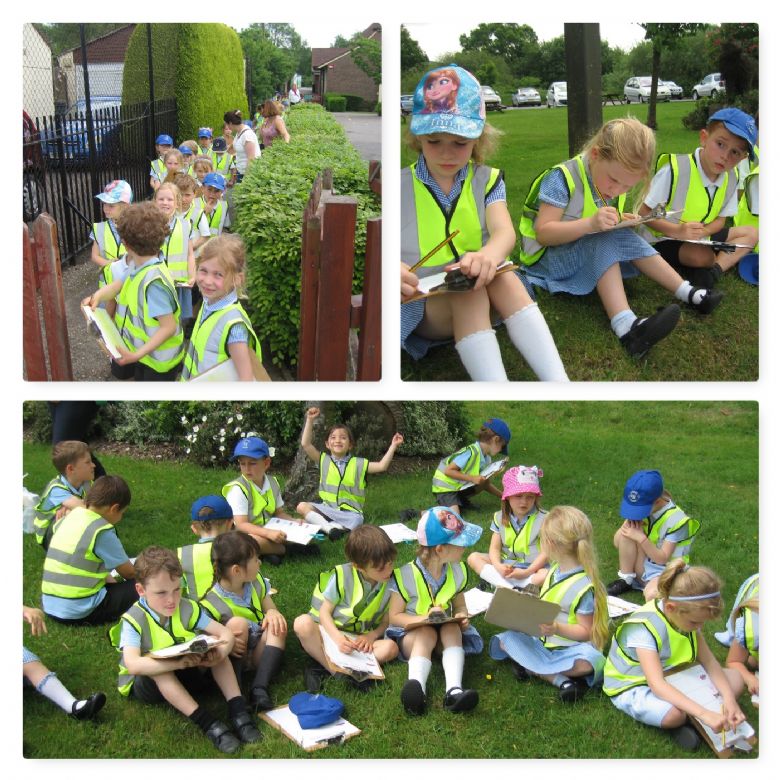 As part of our topic work about the local area, we took the children on a walk up the road to conduct a traffic survey.
We looked at some of the landmarks along the way and the children used tally sheets to count how many cars, lorries, bikes or buses they saw.
They loved taking their learning out of the classroom and particularly enjoyed getting lots of beeps and waves from passing lorry drivers!
We also had a class discussion about road safety and how to behave when we're near a busy road.
How many cars did your child count in their survey?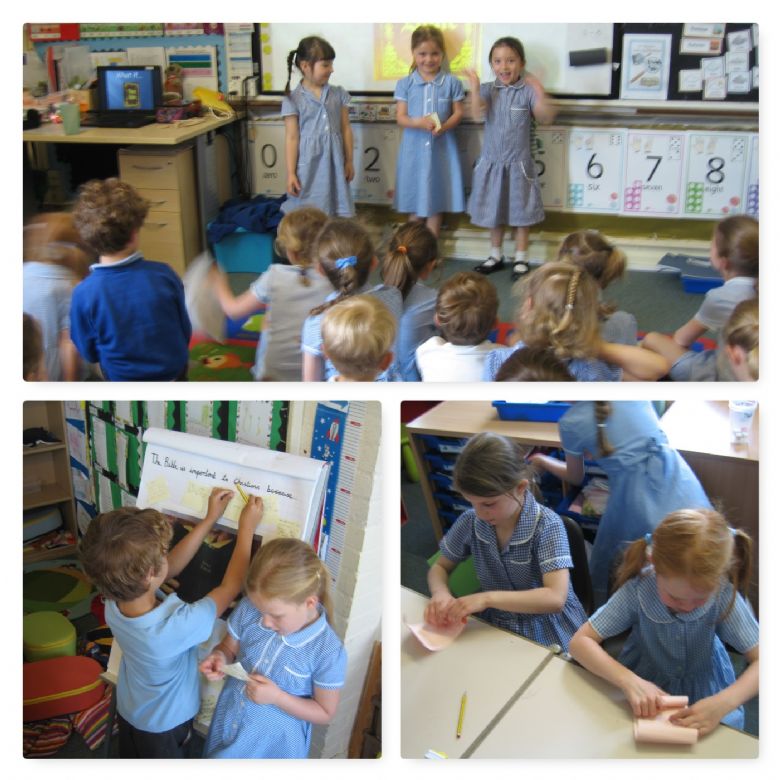 In R.E. we used discussion, drama and practical activities to explore the concept of special books.
First, we talked about books that were special to us for a variety of reasons and even made our own special book for the Year 1 classroom.
After that, we looked in more detail at how the Bible is special to Christians and the Torah is special to Jewish people.
Can your child tell you what they remember about the Bible and the Torah?
Week 31 - Print painting, word searching and newsreading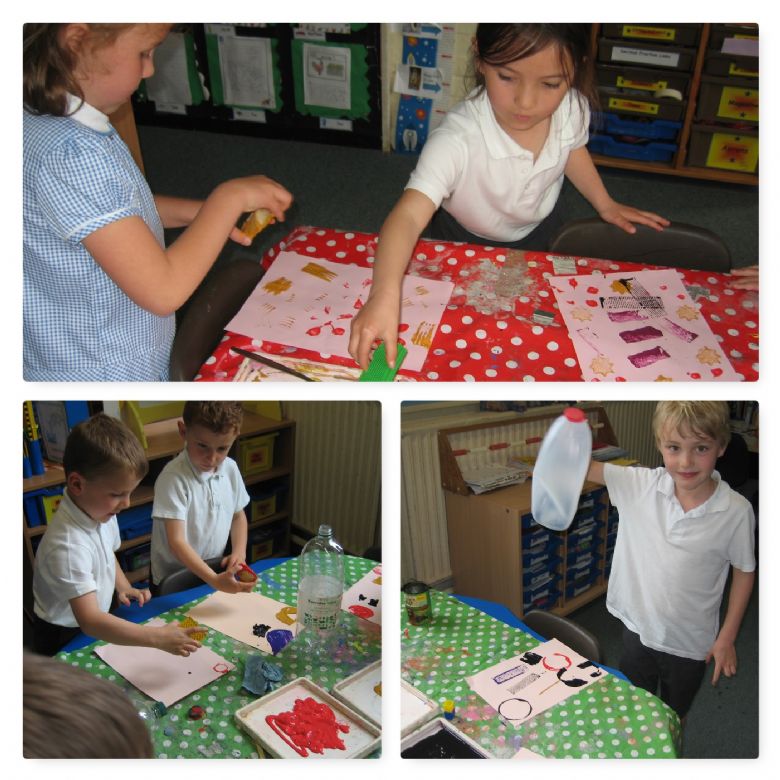 In Art, we continued to look at Joan Miró and in particular how he used printing techniques to create surrealist illustrations for artists' books.
The children experimented with dozens of different shapes and textures to see which were the most effective. These included bottles, cans, wooden blocks covered in wool, potato shapes, forks and lollipop sticks.
Ask your child what they used to create their artworks, which were the most effective and which were the most fun to print with.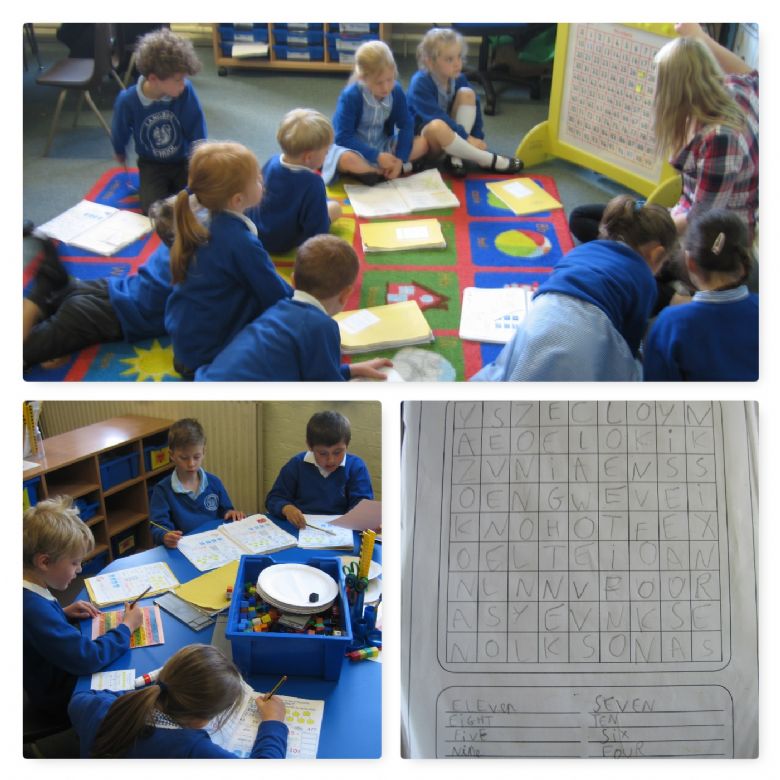 There were a range of challenges in Maths, all of which encouraged the children to think about place value, number order and understanding word problems.
The children should be able to read and write numbers as words as well as digits, so to practise this, they were challenged to create their own word searches using numbers from one to twenty.
Can you solve Kuba's puzzle? Better still, maybe your child can challenge you to solve their own puzzle using the template attached to the bottom of this page.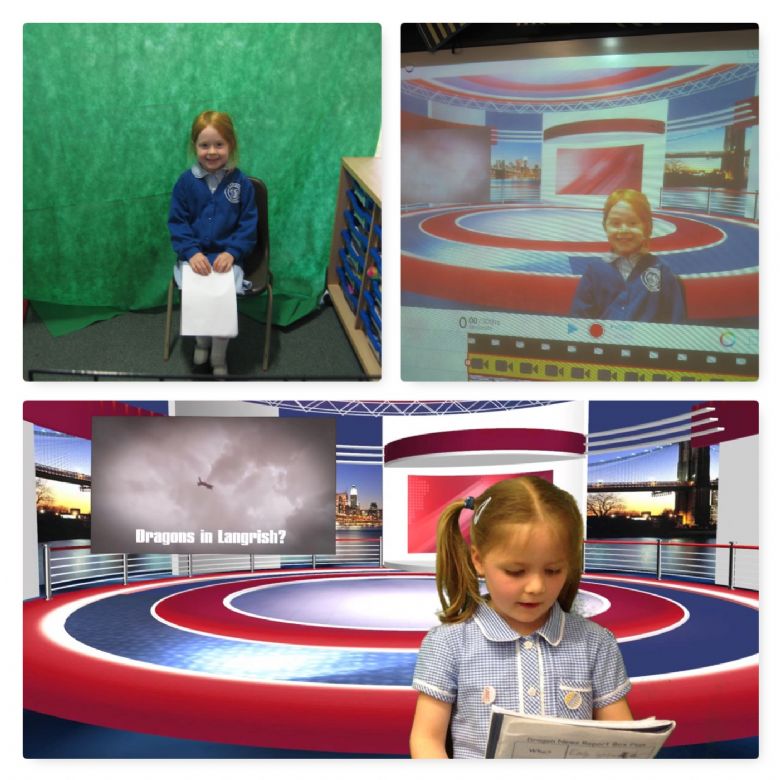 There was a touch of Hollywood magic in the classroom this week as we used green screen special effects technology to transport the children into their own virtual news studio.
They've been writing news reports about a dragon being spotted in the skies over Petersfield, and what better way to hear them than to have the children read them out as presenters on their own TV news programme?
They loved seeing themselves the big screen and it really brought an extra dimension to their learning.
I think we definitely have a few budding Newsround presenters in Year 1!
Week 30 - Teaching tag, exploring materials and fingerprint dragons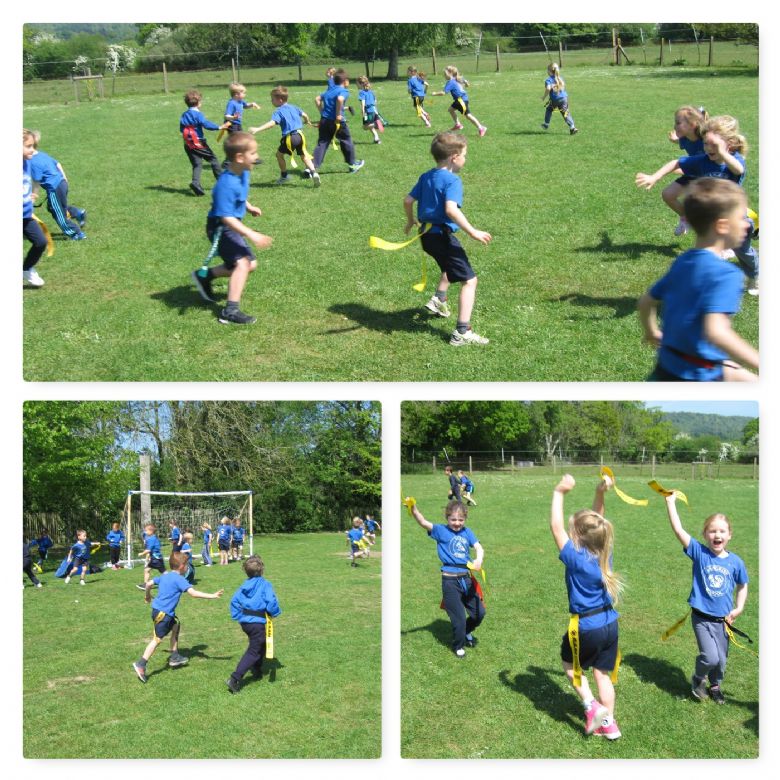 In P.E. this term we're learning tag rugby.
It's a non-contact variation on rugby where tackling is replaced by removing a fabric tag attached by velcro to a player's belt.
All the basic skills of rugby – passing, ball control and finding space - are still required, and the children have to use teamwork in order to get the ball past their opponents and over the try line.
It's great fun and the children love the challenge of making it across the field with their tags intact. Next stop: Twickenham!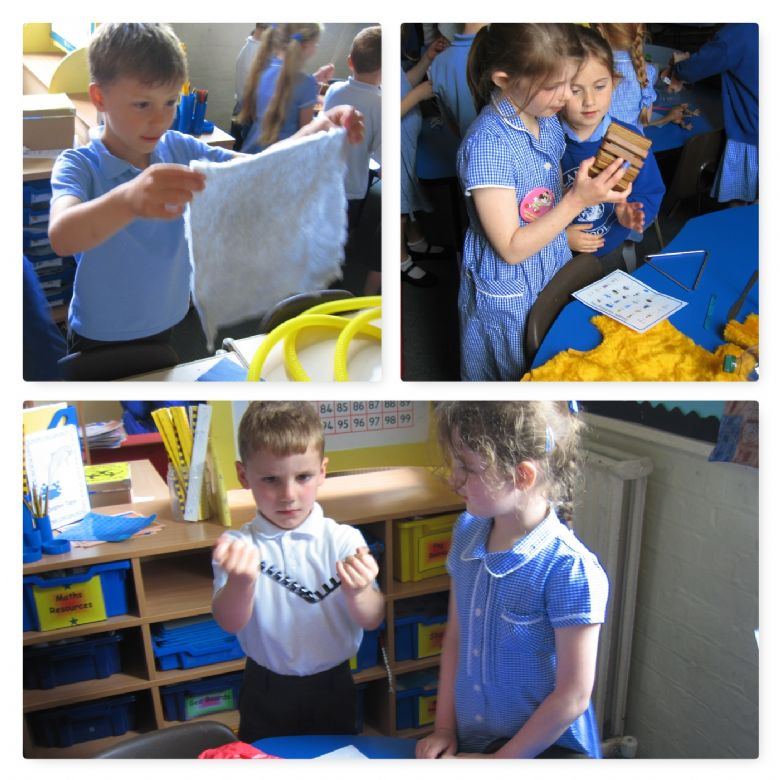 In Science, we continued this term's topic by having a huge variety of everyday materials around the classroom to explore.
The children (as scientists) had to experiment with these materials and use appropriate vocabulary to describe their properties.
See if your child can remember which objects they looked at and whether they were stretchy, opaque, transparent, flexible or absorbent.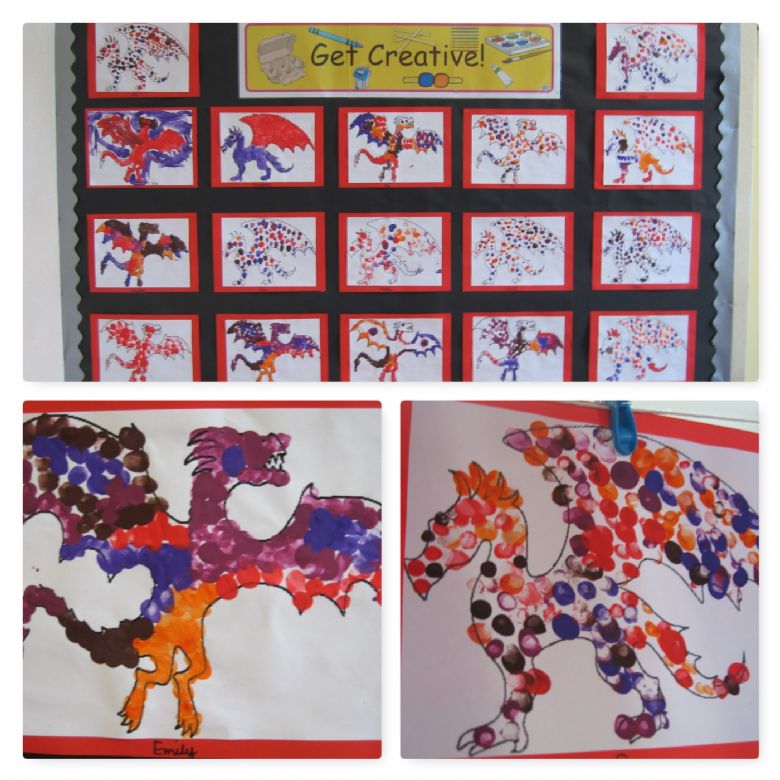 We've also been getting very arty this week. As well as creating some surrealist artwork inspired by Joan Miró, the children made some dragon pictures using their fingerprints to dab on different colours in the pattern of the dragon's scales.
As you can see, the results were very effective. What colour scales did your child's dragon have?
Week 29 - Place value, everyday materials and passports for dragons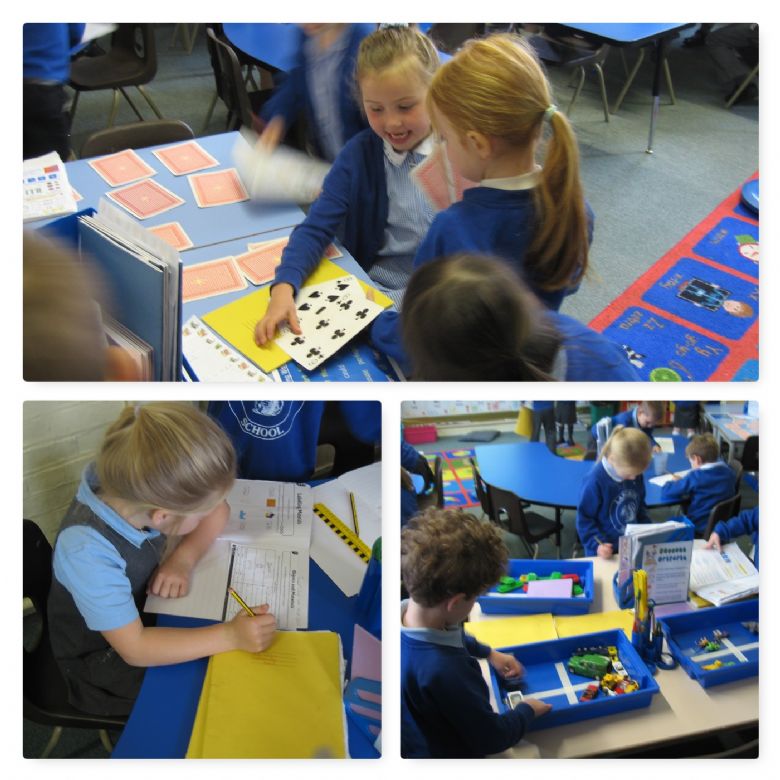 We've been continuing our work on place value using all four mathematical operations this week.
Alongside their daily question sheets, the children's challenges have included working out halves and quarters, making the biggest possible number from a random pair of cards, solving word problems and figuring out which numbers are missing from a sequence.
The goal is to increase the children's familiarity and fluency with numbers in whatever form they find them, allowing them to apply their reasoning skills and solve problems.
Ask your child which challenges they enjoyed doing this week.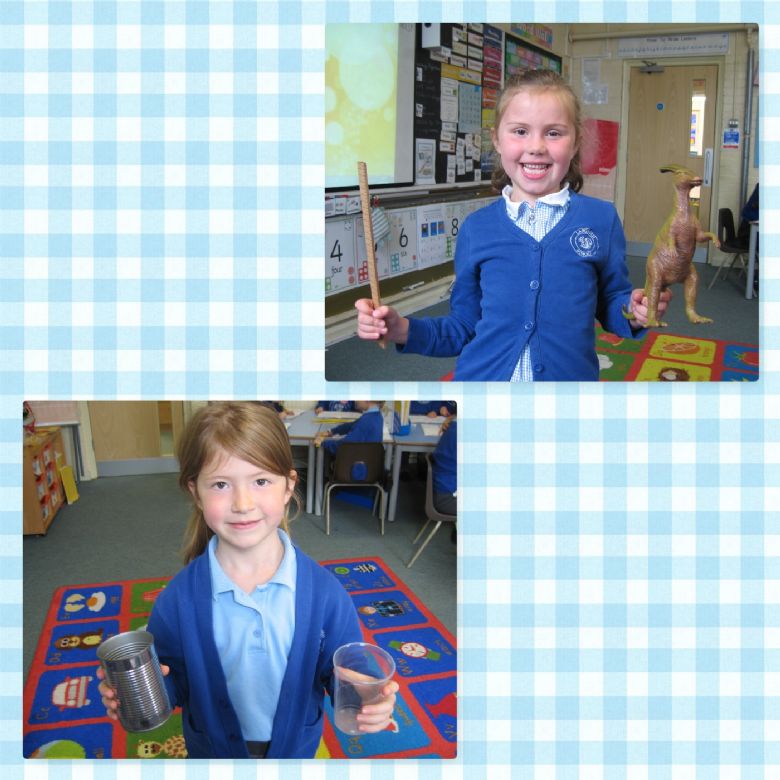 In Science this term, we're looking at everyday materials and investigating what their properties are and why certain materials are chosen for specific purposes.
The first part of this involves differentiating between an object itself and the material from which it's made, then thinking about why that particular material was chosen.
Have a look around your house. Can your child tell you what things are made of and why it's the best material for the job?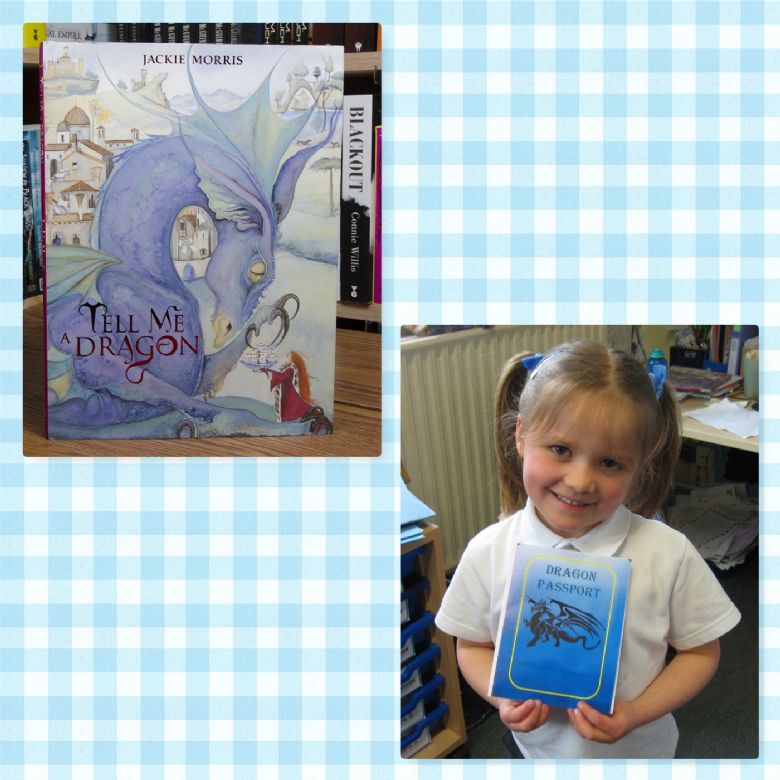 We continued our English learning around 'Tell Me a Dragon' by making dragon passports for our own dragons.
The children had to fill in such details as name, age, identifying features and special powers.
There were some great ideas, from scales that glittered like a sunset to dragons that could read minds, create rainbows and even bring dying flowers back to life.
It's a topic that's really fired the children's imaginations - ask your child about their dragon and the details they put in their dragon passport.
Week 28 - Easter bunnies, dragon's eggs and independent mathematicians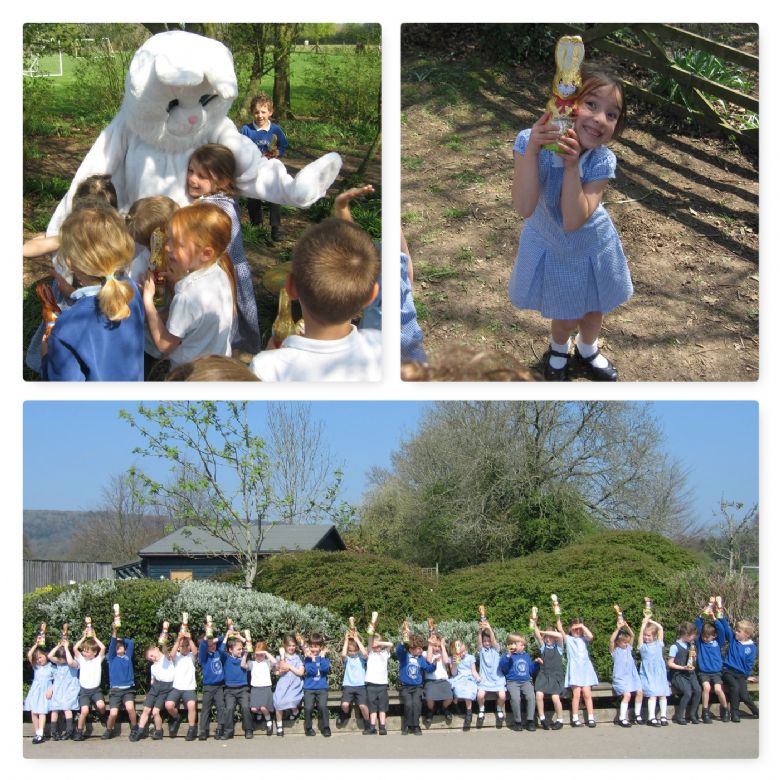 It seems like an age ago now, but on the very last day of last term we had a special visitor at Langrish - the Easter Bunny!
He brought everybody a chocolate bunny rabbit which they had to hunt for in the copse.
I hope you all had a wonderful Easter break and I've enjoyed hearing about the many exciting things you got up to over the holidays now the children are back in class.
In Maths we've been concentrating once again on place value as well as how to decode and solve word problems.
The children's reasoning skills have been put to the test using addition, subtraction, multiplication and division; the challenge being to pick the important information out of a word problem in order to construct and solve the appropriate number sentence.
They've also been increasing their independence as learners by choosing which level of worksheet they feel confident to tackle as well as marking and correcting their own work to see where they're being successful and where they need some more practise.
Can your child make up a word problem for you to solve?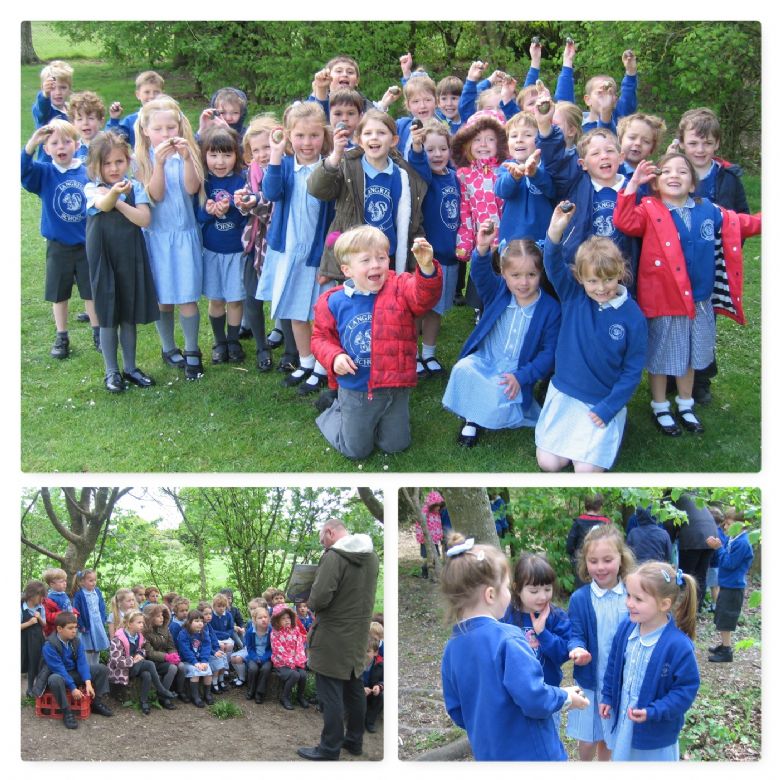 We went out into the copse to read this term's literacy book, 'Tell Me a Dragon', this week an you'll never guess what we found...dragon's eggs!
Everybody in the class has one to look after and we've already started to think about what kind of dragons they might be when they hatch out.
Some children think theirs will be giant sky dragons they can ride on to school, whereas others think theirs will be tiny dragons that sit on their ears and sing them to sleep.
They may need to be patient as dragon's eggs can take up to 100 years to hatch, however I've already been told that some of the eggs are definitely cracking so watch this space!
Ask your child what their dragon will be like when it finally emerges.
Week 27 - Welcoming Easter, car park safety and wild diets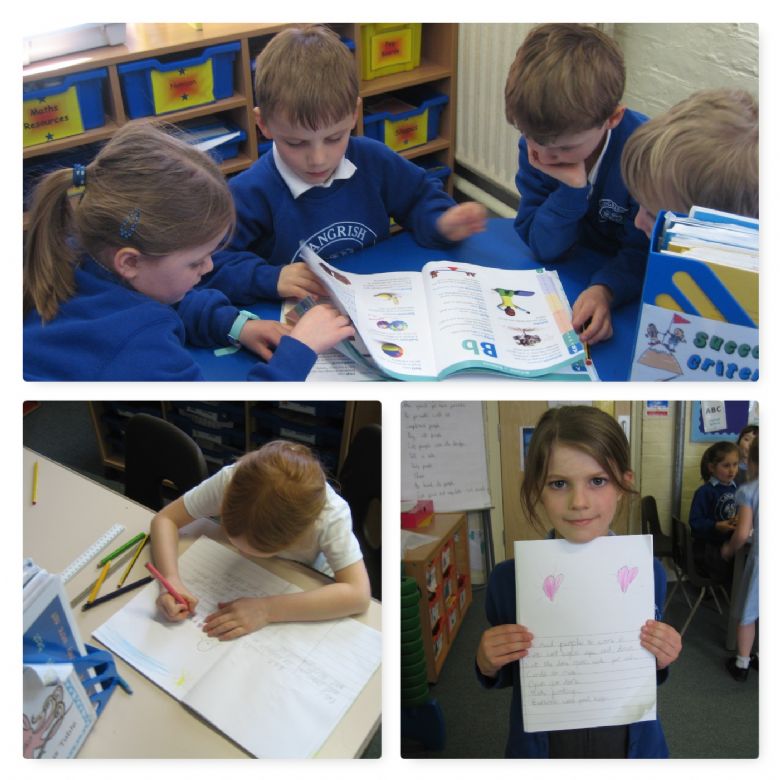 Our R.E. unit this term tied in with Palm Sunday and looked at the concept of welcoming and how Jesus was welcomed into Jerusalem on the back of a donkey.
The children discussed when they had been welcomed (or not welcomed) and why it was important to welcome others.
They even wrote an acrostic poem about ways in which we can make others feel welcome.
Can your child remember the story of Jesus arriving into Jerusalem on Palm Sunday?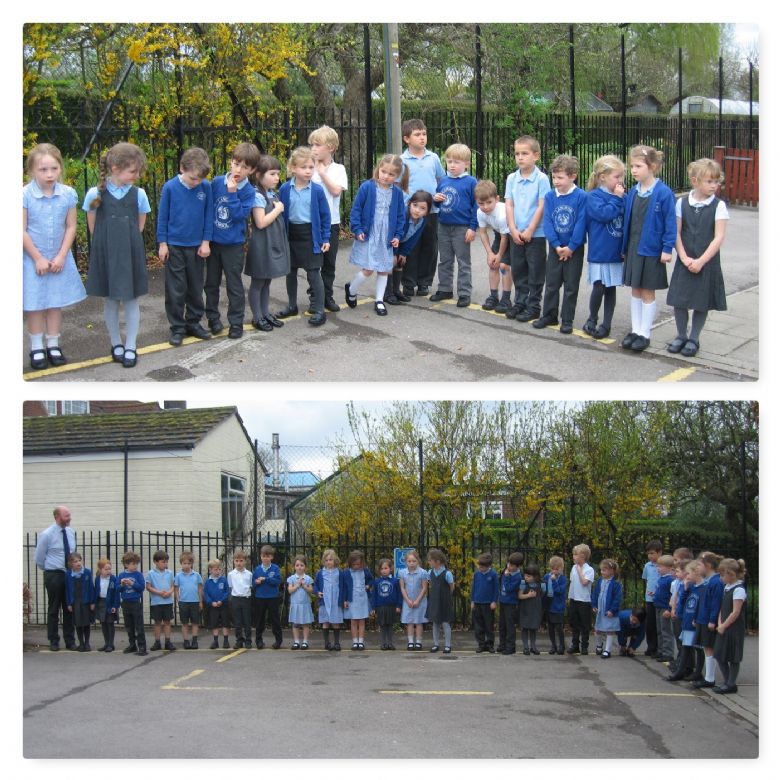 In PSHE we went out into the school car park to talk about how we can stay safe ourselves and help others to stay safe too.
The children knew where to walk and where not to walk, where they should be dropped off in the morning and why it's important for able-bodied people not to park in the space reserved for disabled drivers.
I was impressed by the children's common sense as well as their ability to keep themselves safe as well as thinking of others.
If you're not sure how to use the car park safely, ask your child - they're definitely experts now!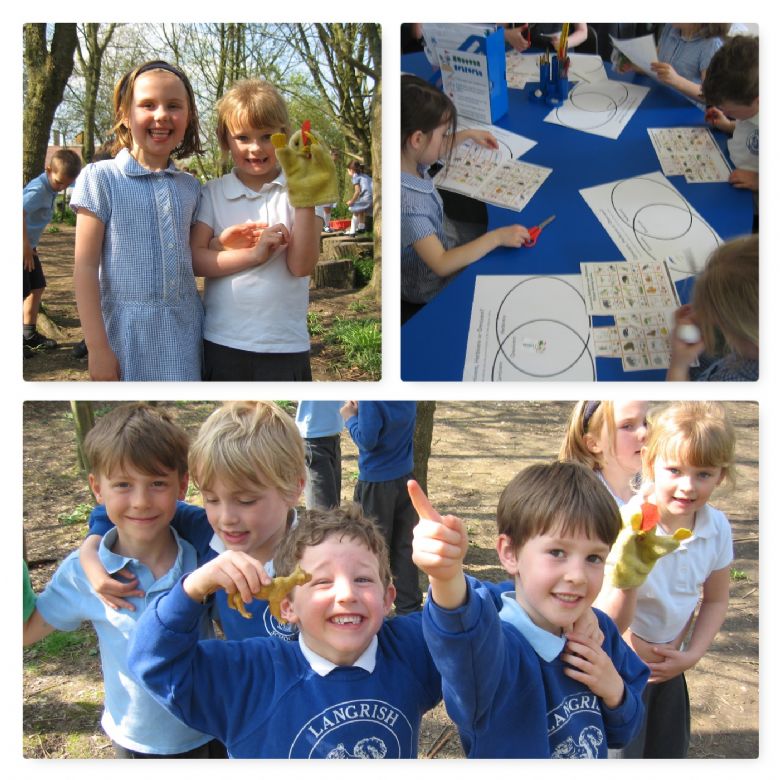 In science we concluded our work on animals by looking at what different animals eat and categorising them into carnivores, herbivores and omnivores.
The children had to find a number of different animals lurking in the copse and identify which category they belonged to according to their diet. We then used two hula-hoops to make a venn diagram, into which we placed our animals in their appropriate categories.
Back in the classroom we ordered and categorised some more animals into carnivores, herbivores and omnivores.
Can your child tell you what is eaten by carnivores, herbivores or omnivores? If you have a pet, maybe you can work out which category it would belong to.
---
Week 26 - Protest marches, arty activities, celebrating springtime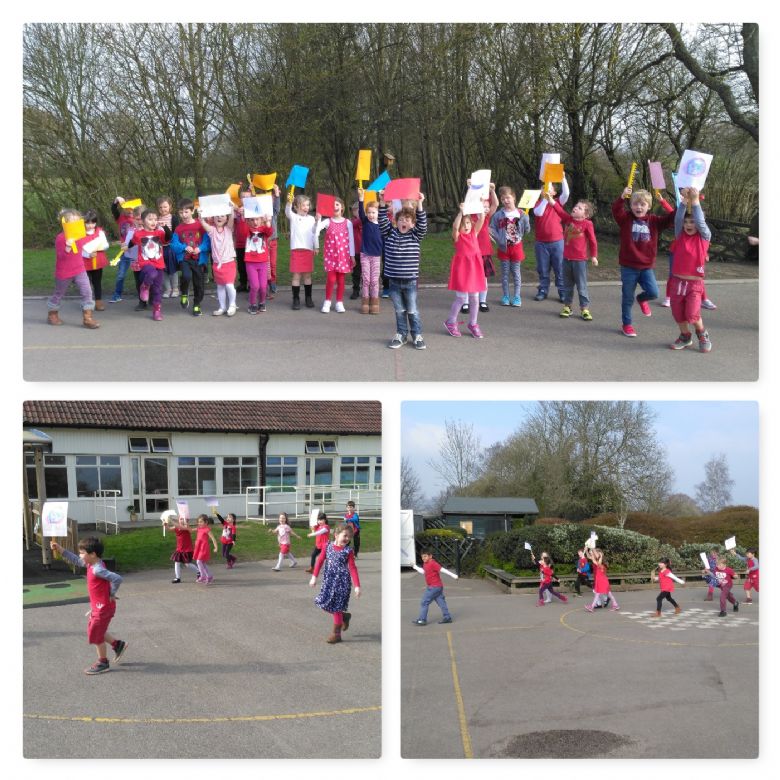 Revolution was in the air on Red Nose Day when the children went on a protest march. No, it wasn't for longer playtimes or pizza every day! It was all part of our Great Fire of London topic work.
The children had to think about what new laws King Charles II could bring in to prevent such a catastrophe happening again. Ideas included creating a dedicated fire brigade, making sure all new houses were built of bricks and stone rather than wood and making it compulsory to use a lantern rather than an uncovered candle. They then made placards to petition the king and went on a march chanting "No more fires!" in order to persuade him.
Ask your child which law they made a placard for. Do they think King Charles II would have been persuaded by their march?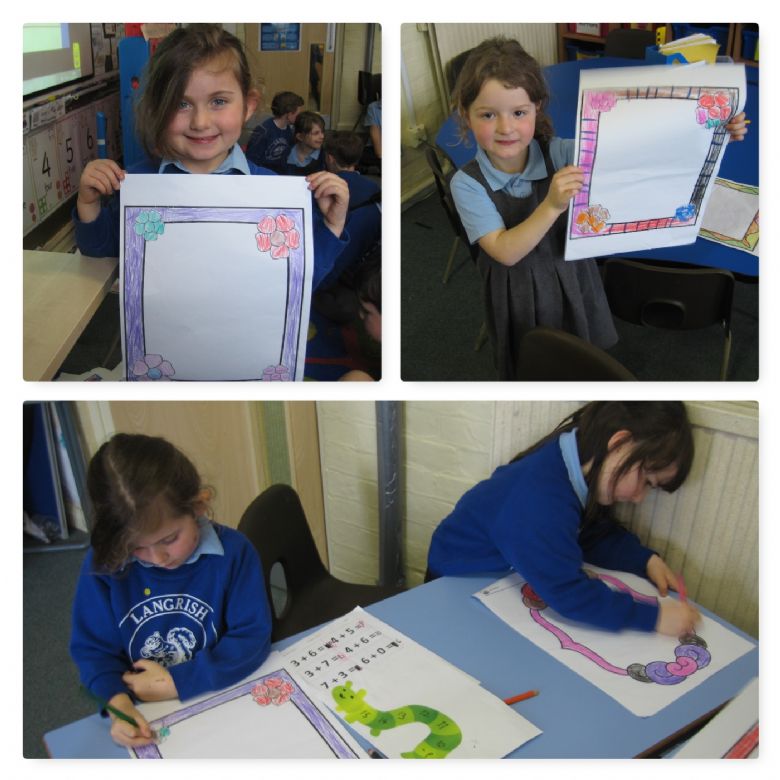 We've also been busy making frames for our open classroom art exhibition on Friday March 31st.
They'll show off the children's artwork beautifully and they're all really excited to share the pictures and portraits they've created this term.
We hope to see you there, and please take the time to look around all the other classrooms too as they'll be a wonderful range of artwork on show to admire.
We went outside during science to see what changes had occurred now that Spring is finally here.
Children had to note down things they could see, hear, smell and feel in and around the school that had changed since the winter, and these included blossom on the trees, tweeting birds, flowers and the warmth of the sun.
What's your child's favourite thing about springtime? The newborn lambs? The longer evenings? Or could it be the Easter eggs!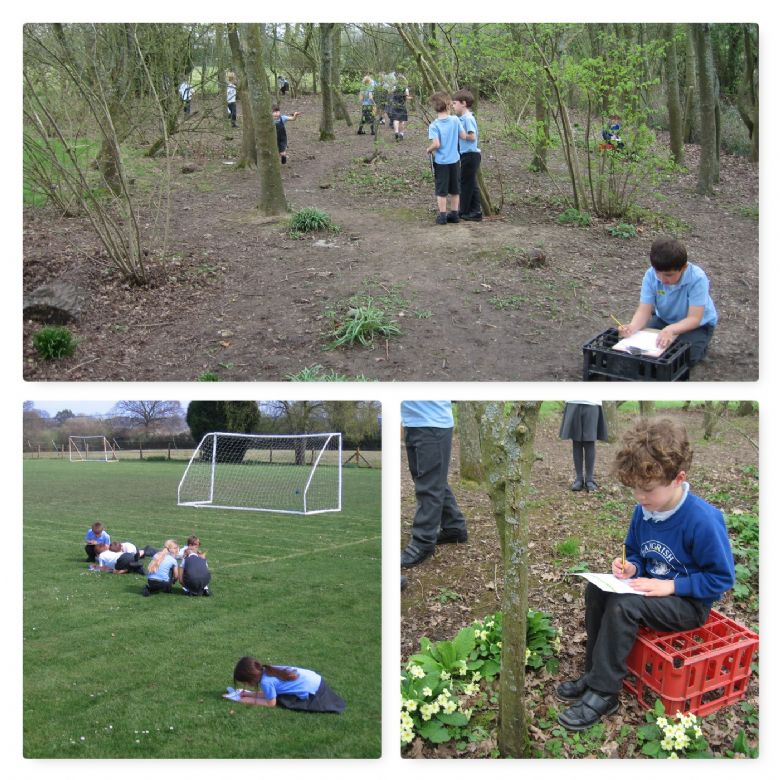 Week 25 - An amazing assembly, some super slides and more multiplication and division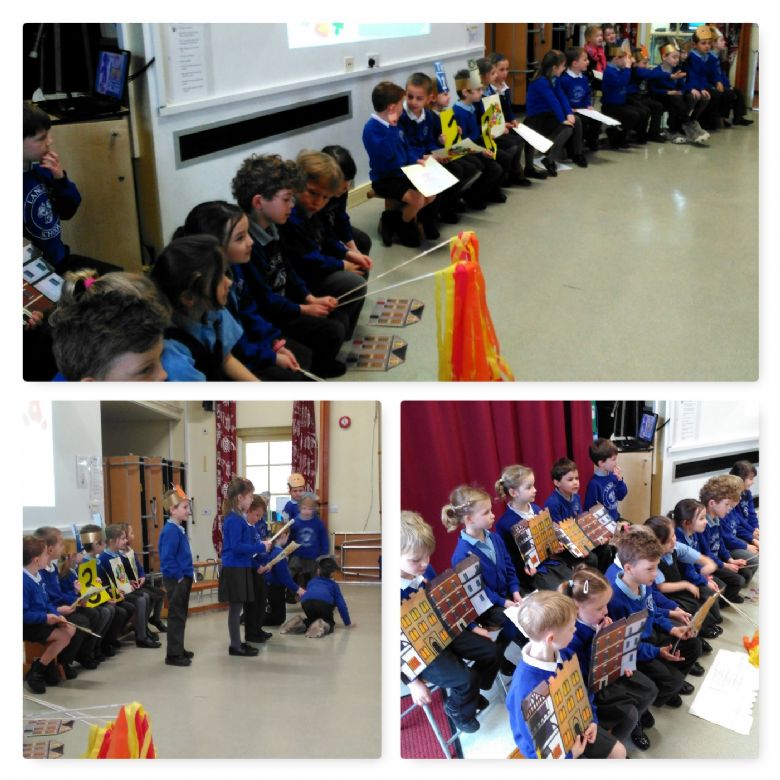 A big thank you to everybody who came along to watch our class assembly this week.
The children did an amazing job of sharing their learning with the rest of the school as well as their families, and the subjects covered included telling the time, the Great Fire of London, place value and the Gingerbread Man.
I'm incredibly proud of everything they've achieved this term and the children really loved having the opportunity to share what they'd been up to with their schoolmates and families.
I hope you enjoyed it as much as we did!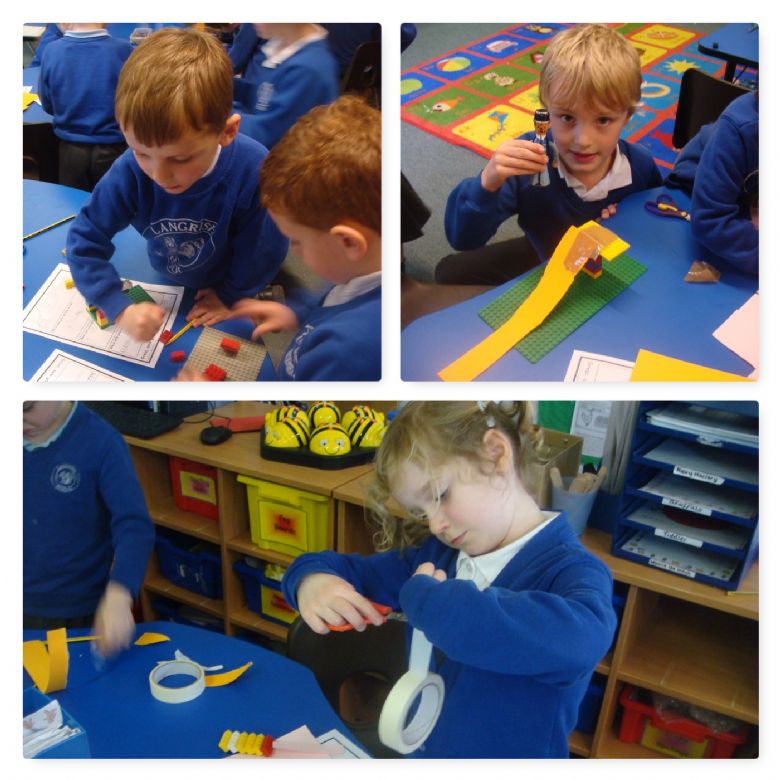 In Design & Technology, we followed up our trip to the park last week by building a slide of our own.
The children had to choose materials with an appropriate blend of strength, smoothness and flexibility, and the finished product had to be strong enough for a thrill-seeking wooden figure to slide down.
Was your child happy with their finished slide? What would they change or improve if they had to do it again?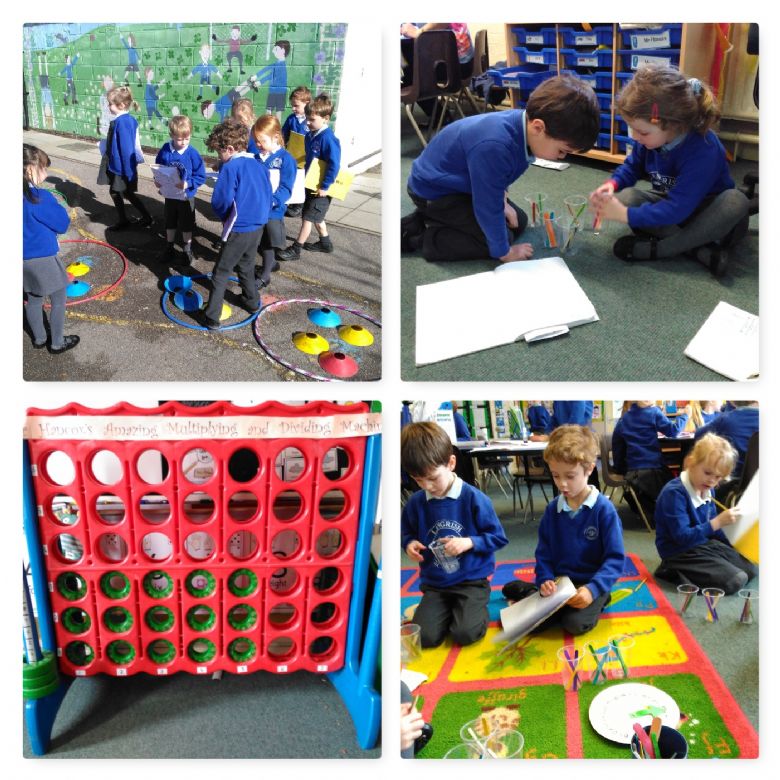 In Maths we've continued to explore multiplication and division, even having the opportunity to take our learning outside where we used hoops and cones to solve a number of division problems.
In the classroom we've had lots of practical activities and challenges to help the children understand the concepts of multiplication and division by demonstrating the relationship between the two.
Ask your child which challenges they enjoyed completing this week.
---
Week 24 - Analysing animals, more multiplication and a walk in the park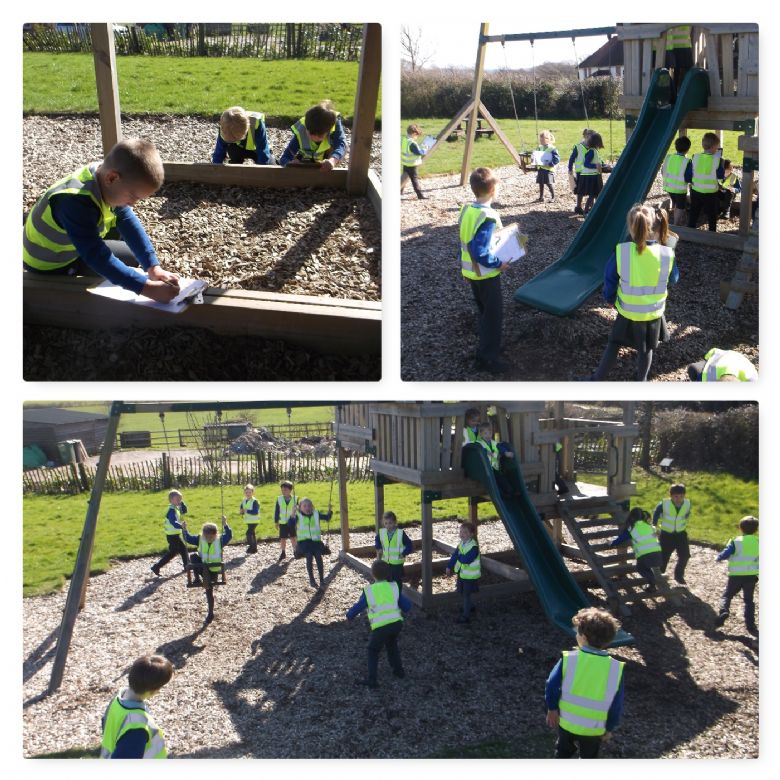 We started our Design & Technology unit on playgrounds this week with a visit to – where else? - our local playground.
The children were investigating all the different materials that had been used in the construction of the apparatus as well as looking at how they were held together.
And obviously the best way to fully understand how everything there worked was to have a good play on it too! For research purposes only of course...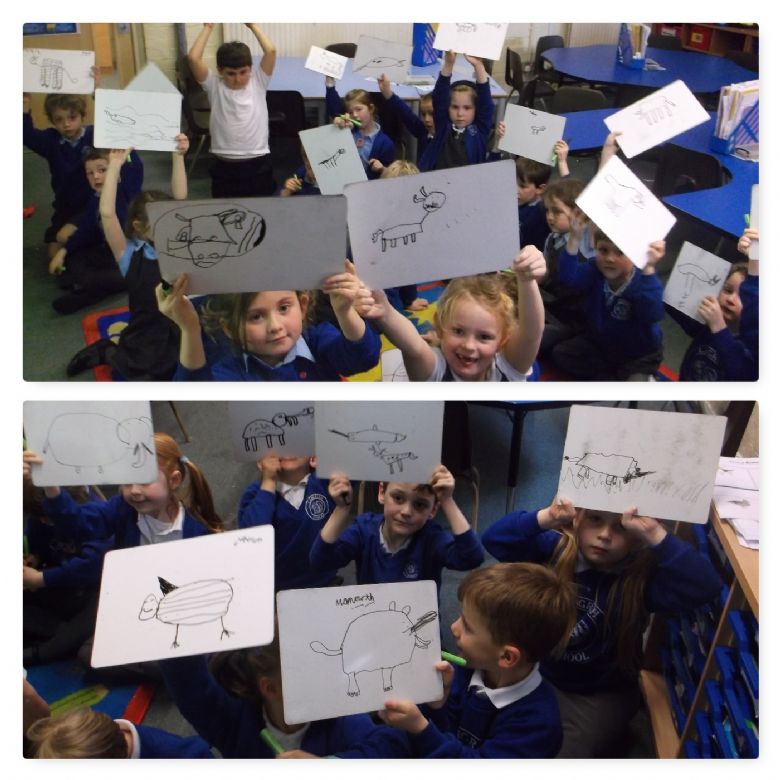 In science we continued our work on animals by comparing animals' bodies with human bodies and thinking about what was the same and what was different.
The children had to draw animals with body parts we don't possess, such as tails, wings and horns.
Ask your child which animals they drew. Or even better, ask them which animal body part they might like to have themselves – maybe a monkey's tail for climbing trees or a chameleon's long tongue for eating food from across the table!
In Maths, we continued our work on multiplication by solving problems using resources such as Numicon, equal groups and arrays. We've also talked a lot about doubling and halving this week so any opportunities you get to explore this concept a home would be great.
Ask your child about the 'Think of a number and double it' game. Can you work out which number they were thinking of originally?
Week 23 - Amazing animals, marvellous multiplication and brilliant baking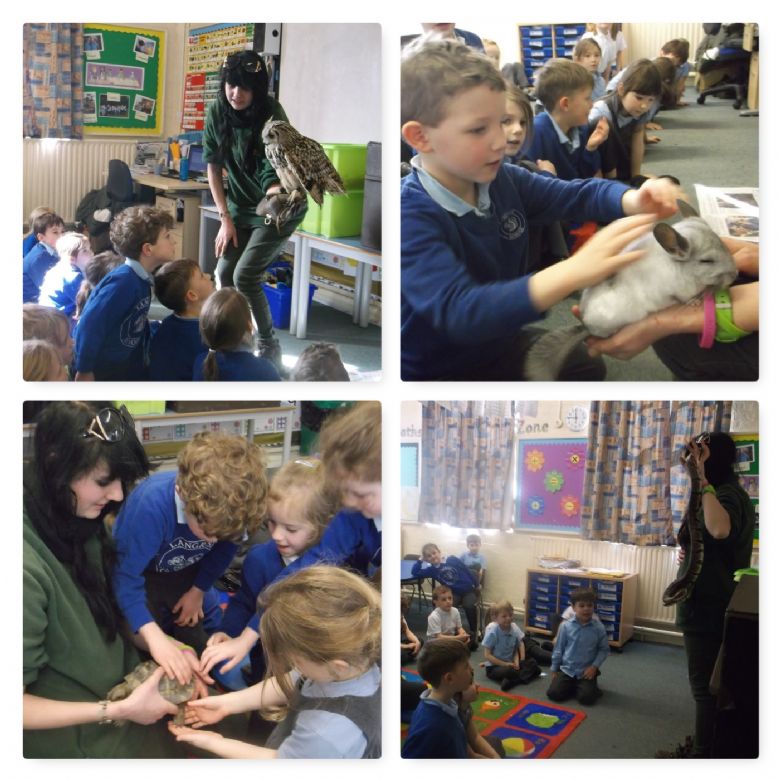 We had a wild start to the week when Rosie from Bird World came to visit our class along with five of her friends: Mozart the Bengal eagle owl, Bonnie the bunny rabbit, Toby the tortoise, Chica the chinchilla and Ernie the friendly python.
It was an amazing opportunity for the children to experience these animals at close quarters and they had lots of questions about where they lived and what they ate.
Ask your child what facts they can remember about each animal. Which one would you choose if you were picking a new pet?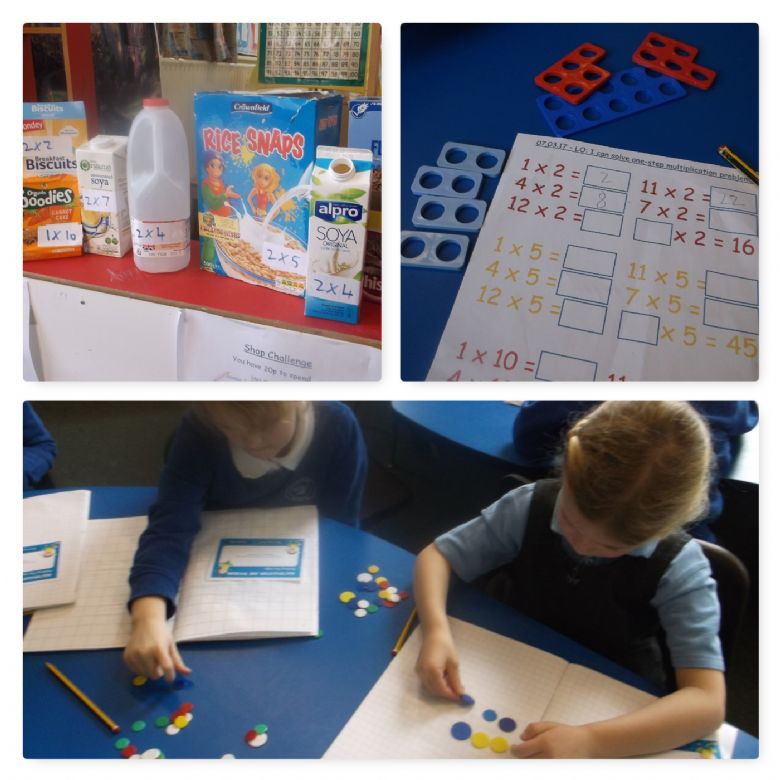 We've been multiplying in Maths this week, concentrating on our 2, 5 and 10 times tables.
The shop has been open but the children had to work out the cost of each item by answering the multiplication problem first. They only had 20p to spend so which items could they buy?
Other challenges included solving problems using multilink, numicon and even making up tunes to sing our times tables to.
Which multiplication challenges did your child take on this week? Can they sing you their 2 times table?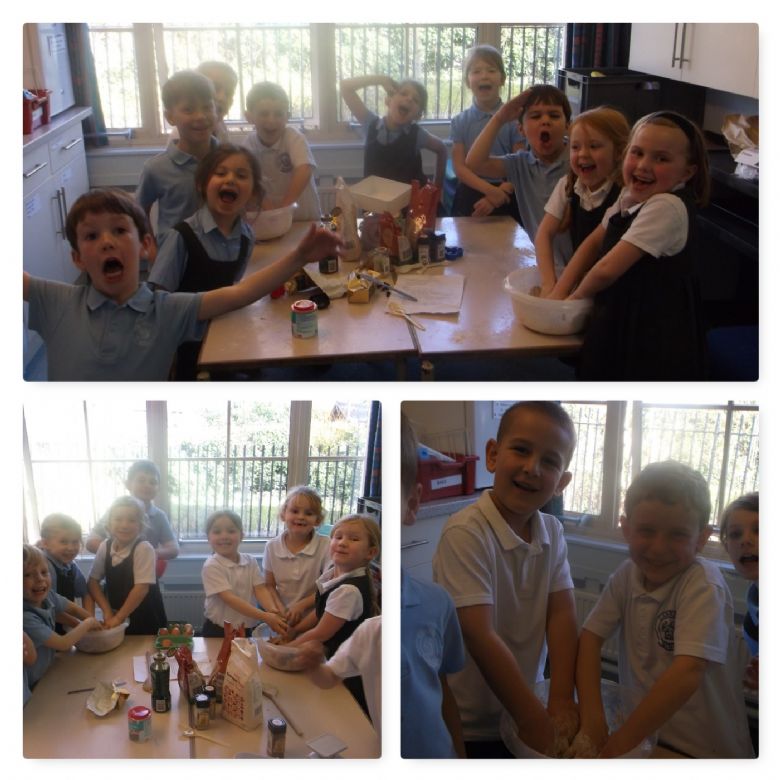 To tie in with our work on The Gingerbread Man, we decided to make some gingerbread men of our own this week.
The children loved getting their hands stuck into the mixture and the rest of the school loved the wonderful smells emanating from the Rainbow Room!
Luckily none of the children's creations jumped out of the oven and ran away but ask your child if they did see any evidence of escaping gingerbread men this week. I'm sure I spotted some crumbs in the corridor...
---
Week 22 - Fairy Tales, Measurements and World Book Day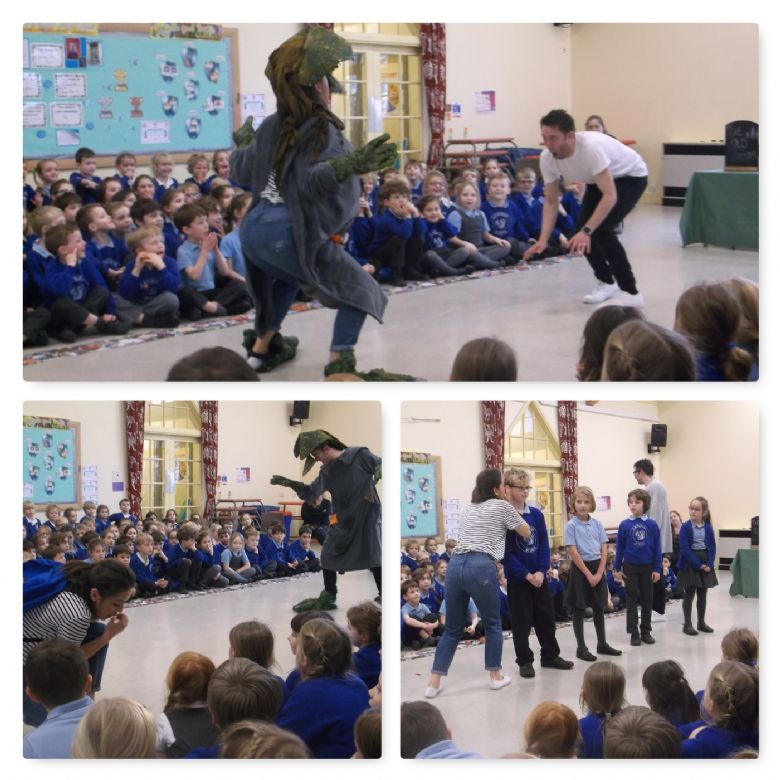 To celebrate World Book Day, the whole school was treated to a performance by West End in Schools based around four inspirational children's books.
The themes covered in the play included bravery, imagination, facing your fears and making your dreams come true, and the children followed up the performance by writing their own stories about a goblin.
Can your child remember what happened in the play and how the goblin was eventually defeated by the power of books?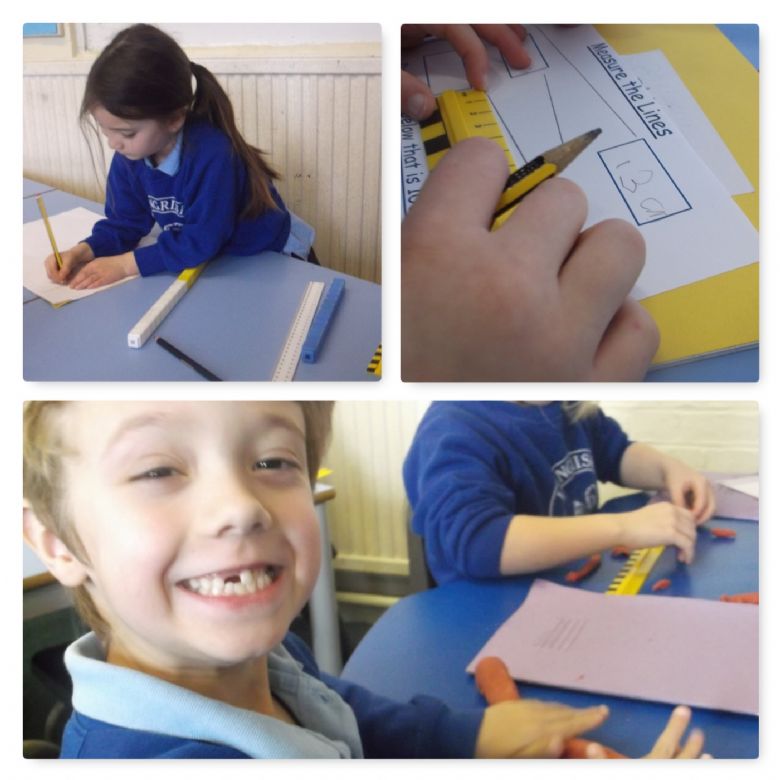 We've been busy measuring in maths this week, with lots of challenges based around estimating and recording measurements in centimetres.
These challenges included measuring multilink towers, estimating the lengths of three pieces of string and making playdough sausages to specific dimensions.
Ask your child which challenges they tried and how many different items around the classroom they managed to measure this week. They may even have measured themselves using our wall chart.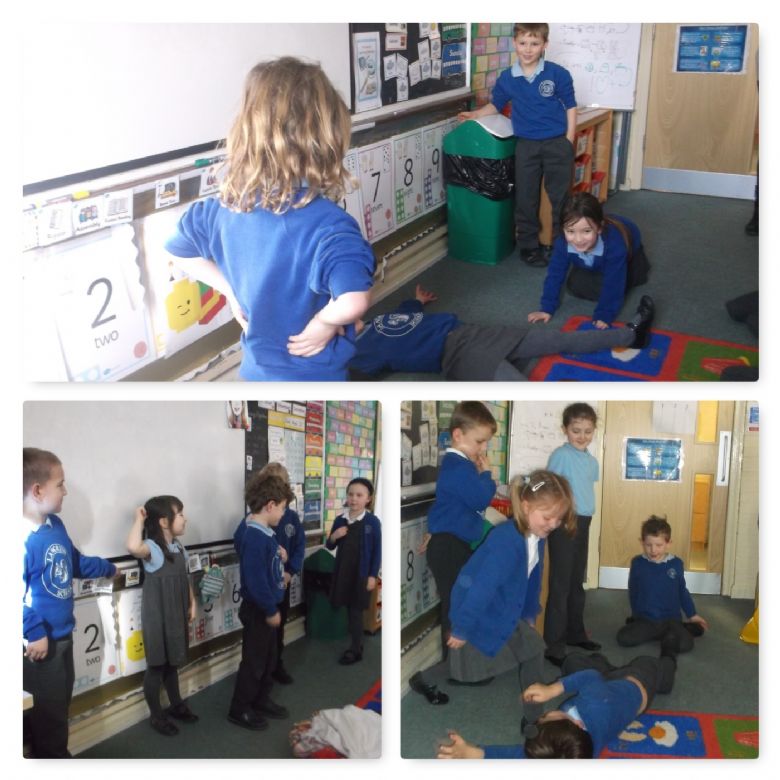 In literacy, we started our work on fairy tales by looking at one of the most familiar of them all: The Gingerbread Man. The children had to work together in groups to perform the story and it was amazing to see how many different versions and approaches they came up with.
Ask your child if they can tell you the story of The Gingerbread Man. Which animals or people does he meet along the way and is he gobbled up or does he eventually escape the jaws of the hungry fox?
---
Week 21 - An historical visitor, writing a recount and organising animals


As you can see, famous diarist and Great Fire of London expert Samuel Pepys was kind enough to drop by this week (complete with his diary and a large wheel of Parmesan cheese).
The children had lots of questions for him and he had lots of questions for them too, including what they thought the main cause of the Great Fire of London's destructive scale might've been.
Ask your child what they think the main factor was. The timber buildings? The proximity of all those buildings to each other? The dry weather and strong winds? Or something else altogether?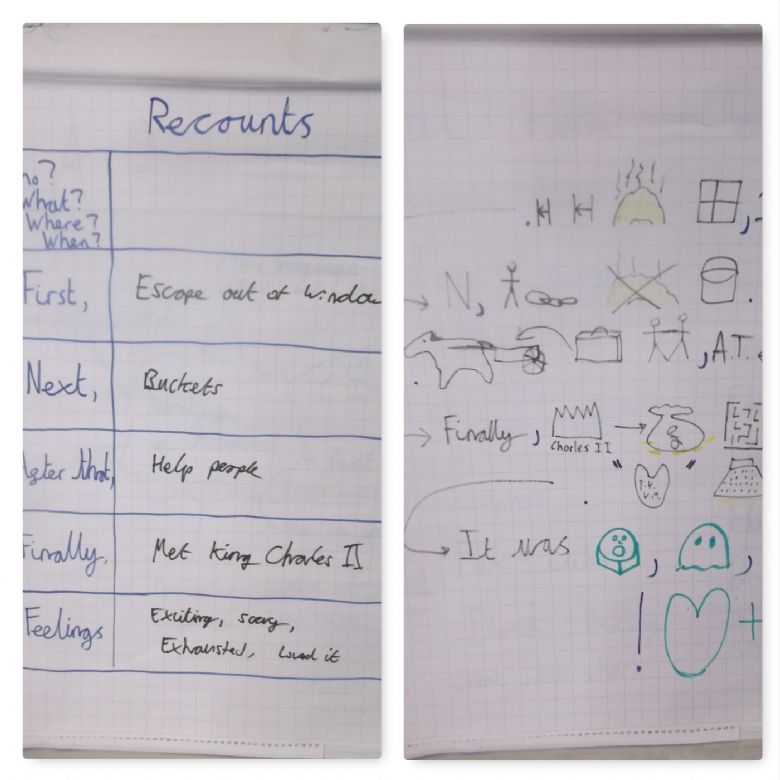 In English, we've been writing our own recounts of the Great Fire of London based on our experiences in the virtual museum.
We broke it down into sections, sequenced our time connectives (first, next, after that, finally,) and created our story map for the sentences we made up.
Can your child remember what all the pictures in the story map mean? Maybe they can tell you about their own Great Fire of London recount.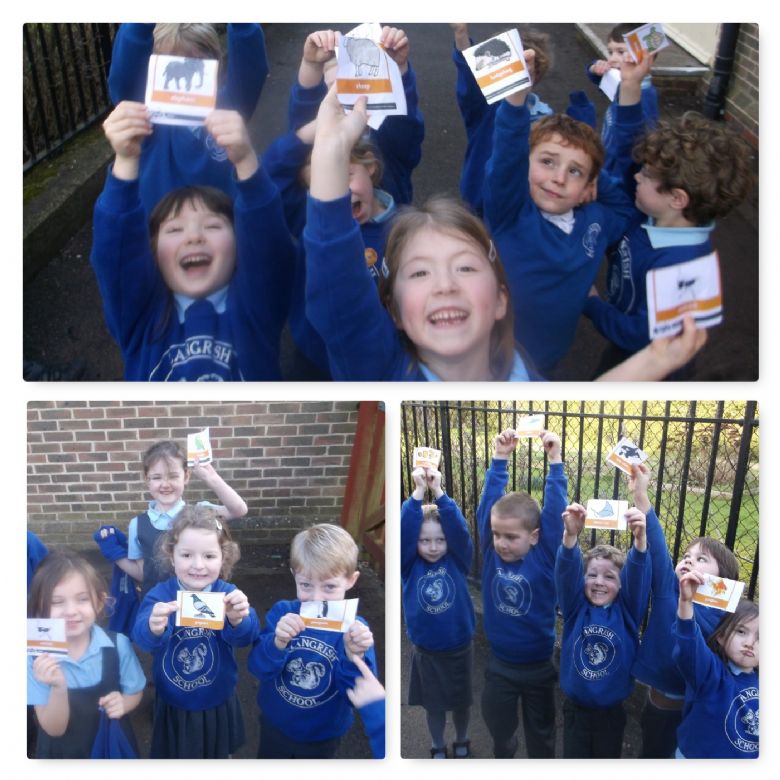 We were investigating different groups of animals in science and took our learning outside to sort animals into either mammals, reptiles, fish, birds or amphibians.
Each child was given a picture card and had to get together with all the other children in the same animal family.
Ask your child which animal they had and if they can remember some of the characteristics of the different animal families.
I can't wait until after half term when we'll be able to admire some real animals in the classroom thanks to a visit from Bird World!
Week 20 - Re-opening the shop, eyewitness accounts and knowing our rights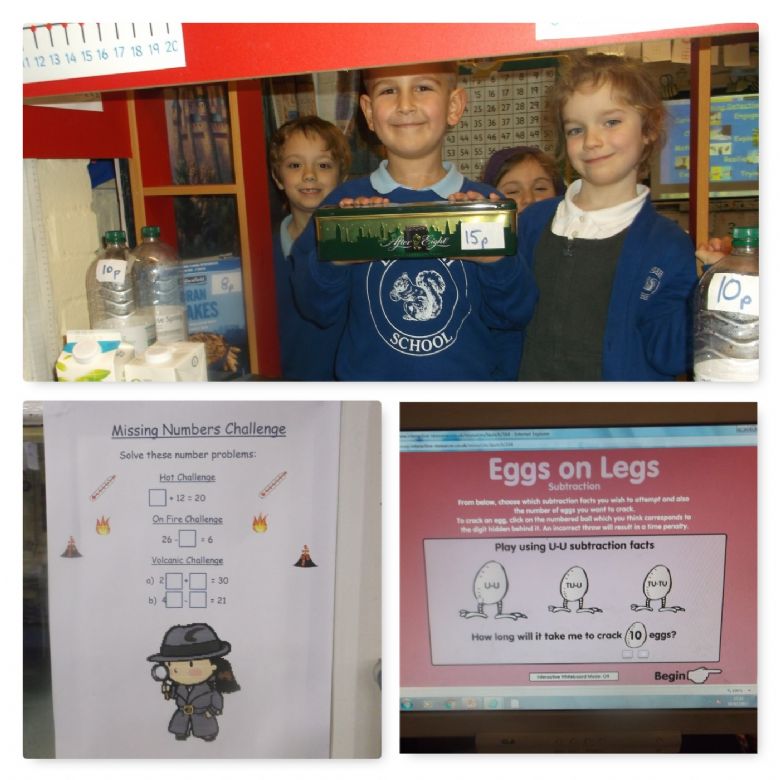 The Year 1 supermarket opened up again this week, allowing the children to practise their adding by purchasing a wide range of reasonably priced goods.
Each child had 20p to spend and must either buy two, three or four items depending on the level of challenge they dare to attempt.
There were other challenges around the room too, including the Missing Numbers Challenge and the Eggs on Legs game to test their skills with subtraction.
Try the Eggs in Legs game at home by clicking on the link for some "eggstra" subtraction practise.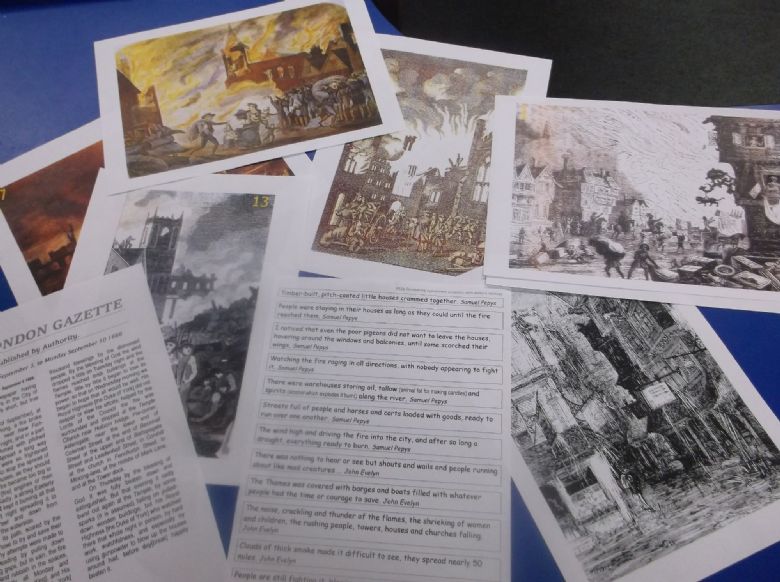 In our History topic we were investigating eyewitness accounts by trying to match the descriptions of the Great Fire of London given by Samuel Pepys and John Evelyn to the depictions of the event that appear in art.
The children were fascinated by the different styles of eyewitness account and had to say whether they preferred John Evelyn's dramatically theatrical description of events or Samuel Pepys' more measured, matter-of-fact tone.
Ask your child which one they preferred and if they remember any of the details.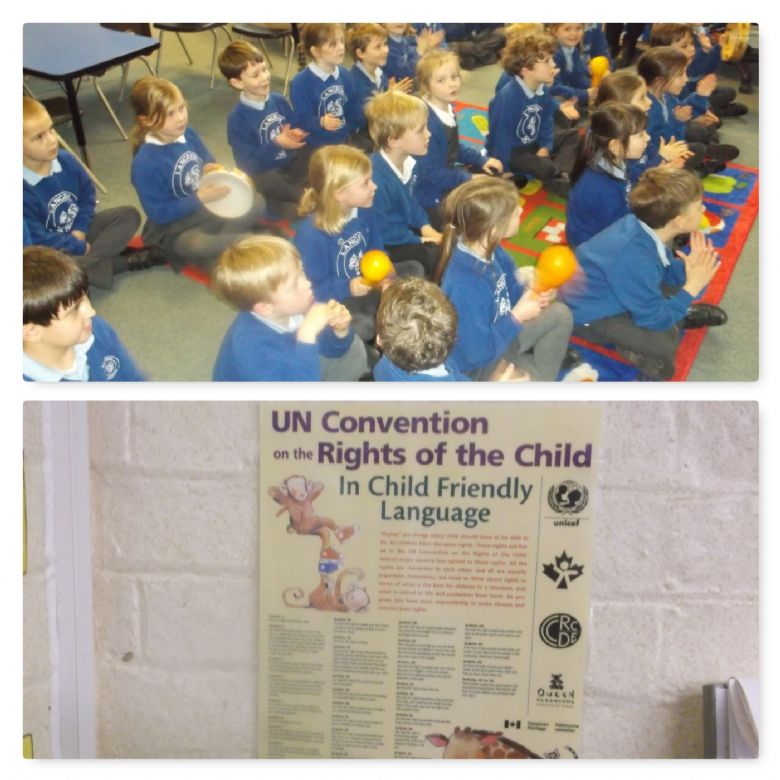 The children also had a special lesson based around the UN Convention on the Rights of the Child. As a Rights Respecting school, we've done a lot of work around the importance of the children's rights, what their rights are and why they are protected by law.
The children learned why it's important to treat everybody equally and also learnt a song about their rights which they even got to play along to.
Ask your child if they remember any of the individual articles and why they are important.
Week 19 - Cultural day, mosaics and magical maths potions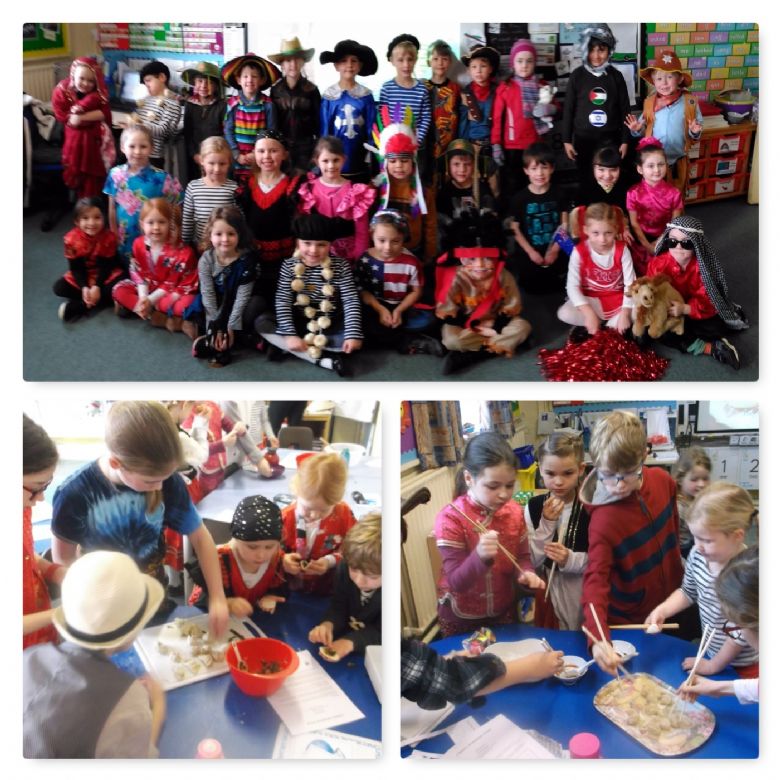 Cultural day was a huge success, with children from across the school joining together to explore areas as diverse as China, South America and the Arctic. In Year 1 we were learning about Chinese New Year by making traditional dumplings and eating them with chopsticks (or our fingers).
As you can see we all had an amazing day. Ask your child which countries they visited and what activities they got up to.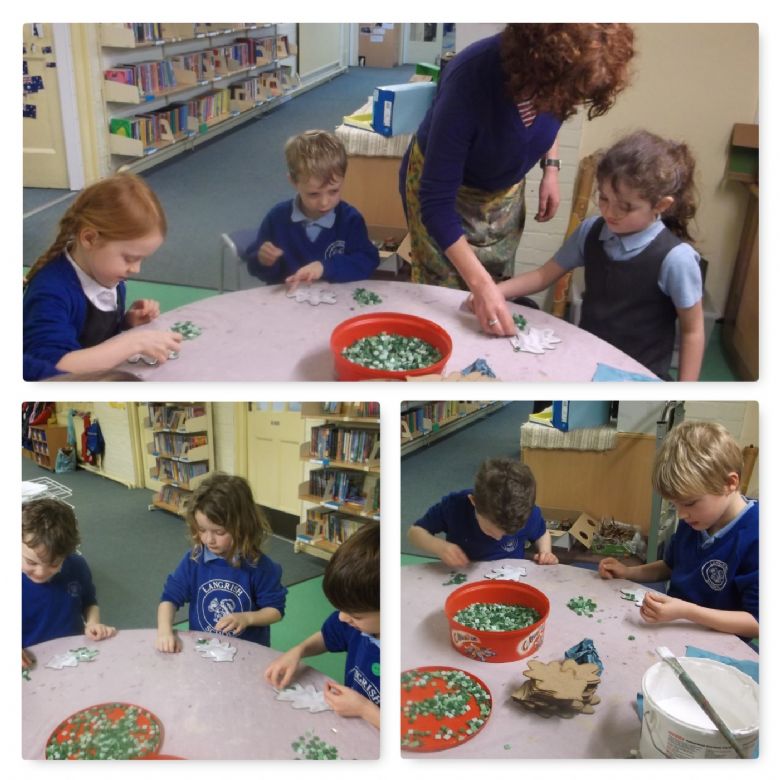 You may have seen the beautiful tree mural (complete with Langrish squirrels) that popped up in our reception area last weekend. Well, every child in the school will be making their own mosaic leaf to put onto the tree and on Thursday it was the turn of Year 1 to create theirs.
It will be a fabulous sight when it's all finished and the most exciting part is that all the children will have been involved in a work of art that is not only beautiful to look at but also represents the way our whole school community lives, learns and grows together.
We loved making our mosaics so maybe it's something you can try at home one a rainy weekend.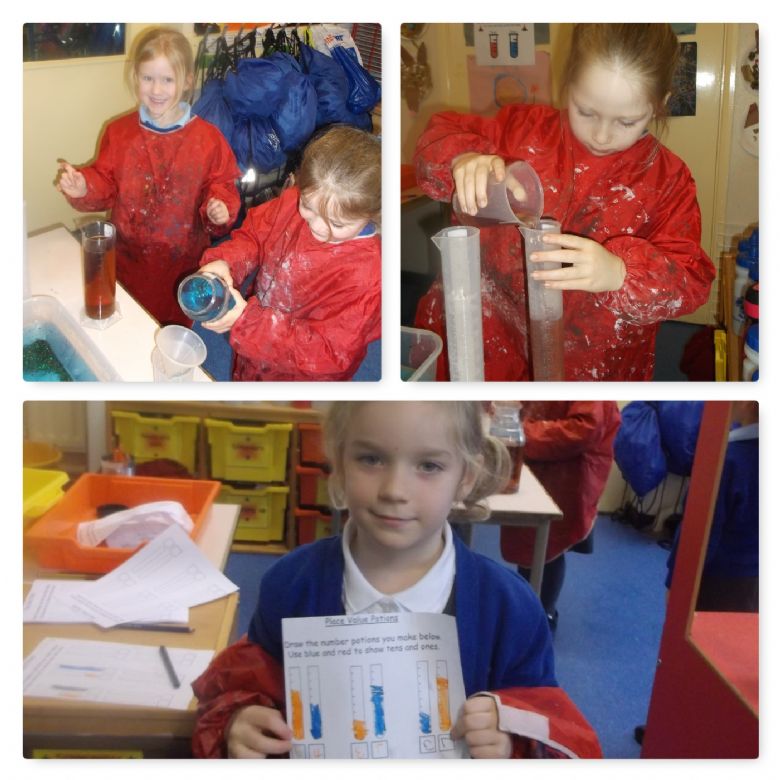 You'd have been forgiven for thinking you'd walked into a Hogwarts potions lesson if you'd seen our maths activities this week!
The children were learning about place value by filling up two test tubes - one representing tens (using red potion) and one representing ones (using blue potion) - in order to create different numbers.
Can your child remember which numbers they created? Maybe they can tell you what number it would be if the red potion was filled up to the 2 and the blue potion was filled up to the 7.
There's a place value activity sheet at the bottom of this page to print off and have a go at for extra practise.
Week 18 - Picasso, place value and popping up in 1666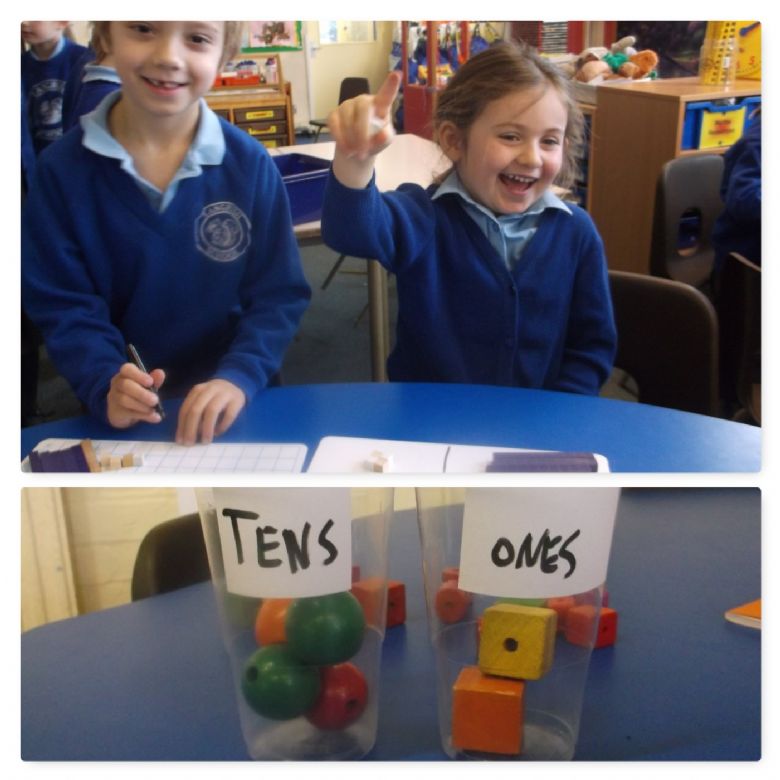 We were exploring place value in maths this week and cementing the children's knowledge of what each digit in a number is worth.
This has meant practising number bonds as well as investigating how many different numbers we can make by splitting six beads between our 'Tens' and 'Ones' cups in various combinations as well as playing the game 'Biggest Number' with a pack of playing cards.
Ask your child how to play 'Biggest Number' and maybe even have a go at home. All you need is a pack of ordinary playing cards (you'll find these in your Maths bags) with the picture cards removed- who can create the biggest number?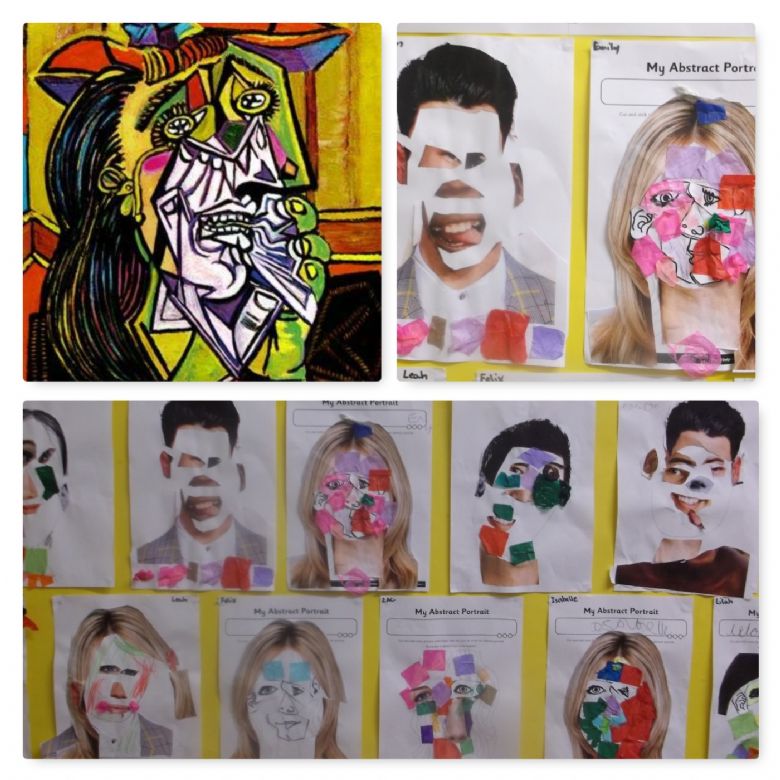 In Art, the children learnt about Pablo Picasso and looked at how he created abstract portraits by deconstructing his subjects' faces and recombining their features in his distinctive cubist style.
As you can see, it inspired them to have a go themselves and they used collage techniques to create their own cubist portraits.
Again, this is something you can have a go at at home. All you need is some paper, glue and a stack of old magazines you don't mind being cut into pieces. Maybe your child can create a portrait of you!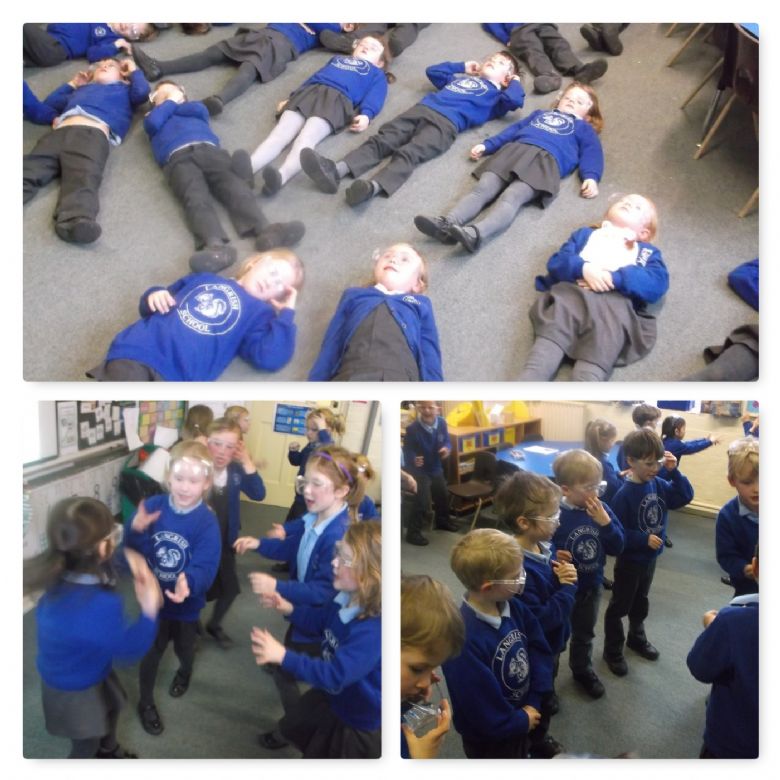 As part our topic work on the Great Fire of London, the children donned state-of-the-art VR headsets (well...science goggles) and were transported back in time via the power of their imaginations and an audio drama experience which involved them travelling back to London in 1666, having to make decisions about how to escape the fire, trying to extinguish the fire by working together as a human chain and attempting to persuade a ferryman to let us on his boat despite the fact we had no money.
The whole class had a fantastic time and really immersed themselves in the world of seventeenth century London.
Ask your child what they got up to when they went back in time and see if they remember what challenges we have to complete when we go back again next week.
---
Week 17 - 5 senses, 24 hours and 500 words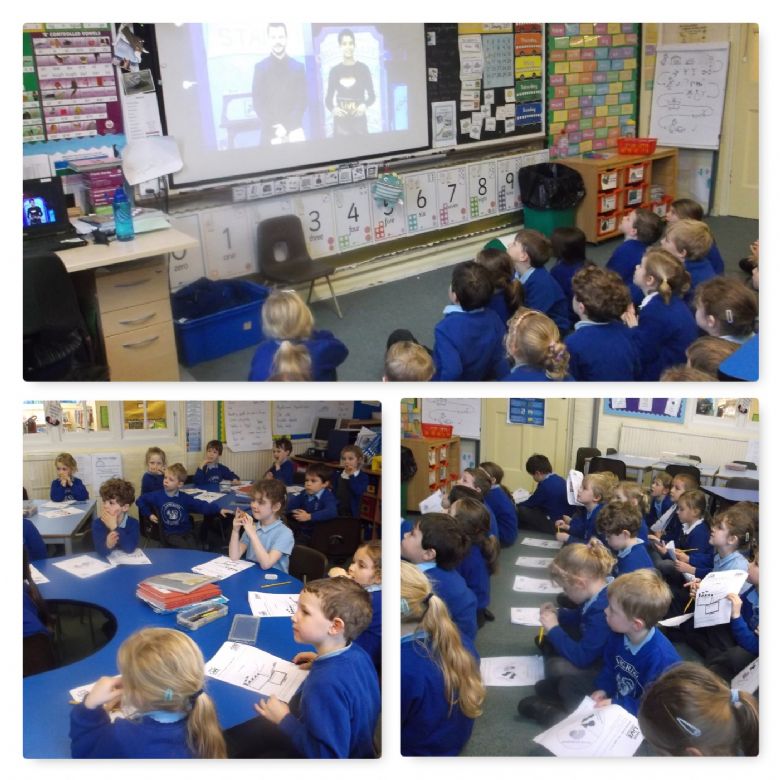 We began the week by joining schools around the country to take part in a live online literacy lesson, marking the launch of the BBC's '500 Words' story writing competition. The activities revolved around building settings, characters and plots for our stories with top tips from well-known authors and they really fired the children's imaginations.
Ask your child what they might like to write a story about. Maybe they'll write one at home and you can send it in. With the opportunity to have their story read out at the Tower of London it's got to be worth a go!
For more information about the BBC's '500 Words' competition click here.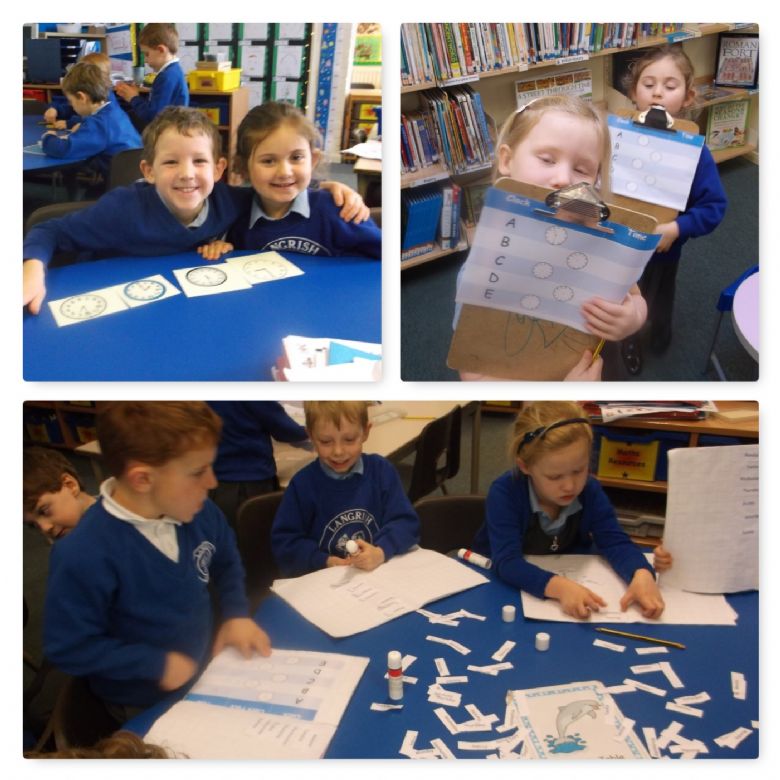 In maths, we continued our work on time by talking about everything from seconds, minutes and hours to days, weeks, months and even years. The children had to go on a clock hunt around the school to find the times on five clocks that I'd hidden. They also had to sort the days of the week into order and took on reasoning tasks ranging from finding the perfect cinema showing time to justifying their decision to organise a row of clocks in a specific way.
These tasks are all about the children demonstrating that not only can they tell the time but they really understand the concept of time and how we use clocks and calendars in everyday life.
See if your child can tell you about any of the tasks they enjoyed doing this week.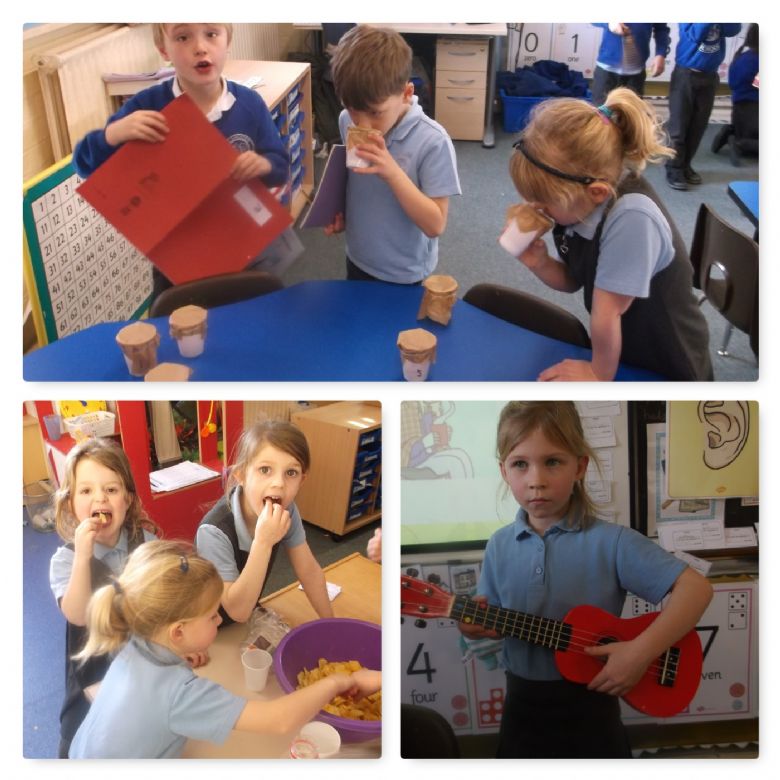 In science the children got to eat crisps, smell chocolate and play musical instruments as loudly as they liked. No, I hadn't taken leave of my senses - it was all about the children exploring theirs!
There was a smelly zone with five different scents to decipher, a tasty zone with four flavours of crisp and some fruity water to identify, a sound zone with lots of musical instruments to play, the book corner became our sight zone and our final zone contained objects children had to identify using touch alone.
Can your child name their five senses and explain how they used them all in our science lesson? What did they taste and smell?
---
Week 16 - Back in time, learning time and time for drama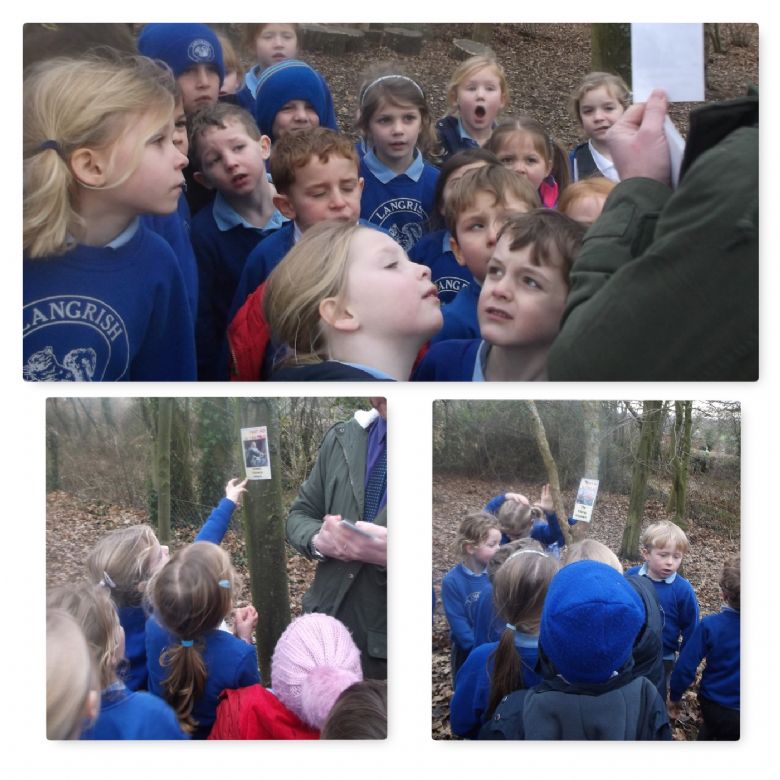 A walk through the woods became a walk through time this week as we travelled from 2017 all the way back to the Viking invasion of 789 via kings, queens, wars and - of course - the Great Fire of London.
The idea was for the children to see where that event fits into the timeline of British history by physically walking along that timeline.
Can your child remember any of the other people or events we talked about?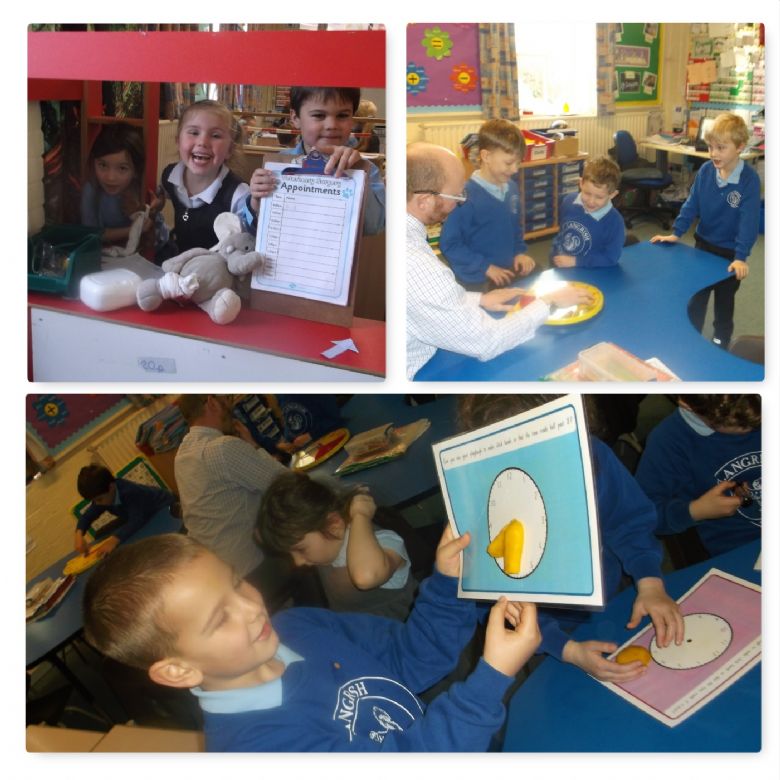 In Maths, we continued our work on time in a variety of ways. The Langrish Veterinary Practice opened up in the role play area where children made appointments, wrote out appointment cards and kept a very tight schedule - even when they were having to bandage elephants! We also made paper plate clocks, playdough clock hands and played a game called 'Stop the Clock'.
It's been a very practical week and the children are really beginning to get to grips with telling the time to the hour and half hour - test their skills out at home if you get the chance.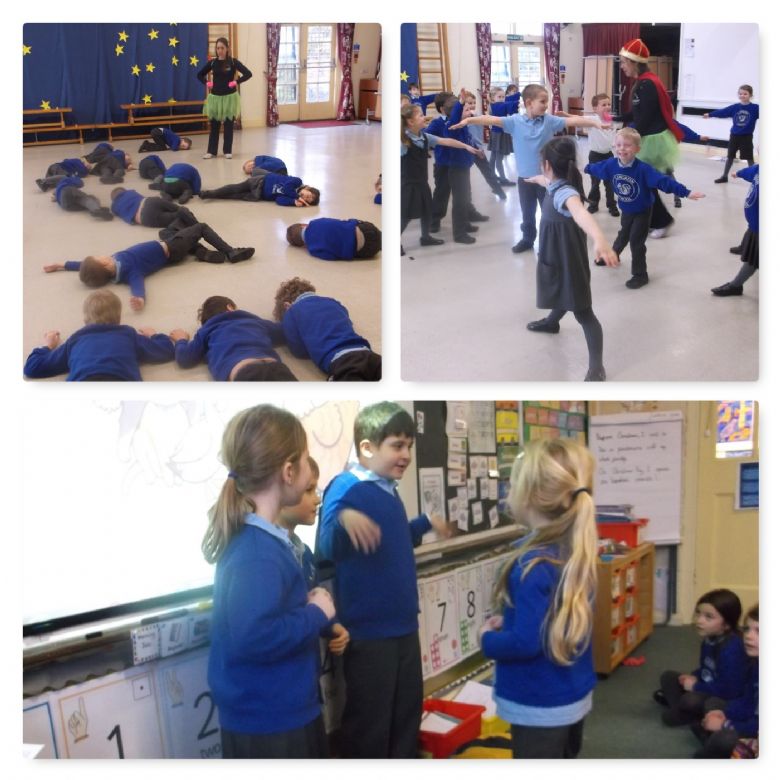 We had a visit fom the Funky Fairy on Tuesday! She took the children on an imaginative adventure through some of their favourite fairy tales during a fabulous drama workshop. Why don't you ask your child what they got up to when the Red Queen wasn't looking!
And all that drama fed into our English too as we began our Talk for Writing work around 'Little Red Hen'. The children learn the story first through speech, actions and role play before moving on to creating and writing their own versions of the story.
Can your child tell you the story of 'Little Red Hen'?
Week 15 - Telling the time and New Year's Resolutions
This short week has mainly been about reacclimatising to classroom life after the Christmas break (for the teachers as well as for the children!)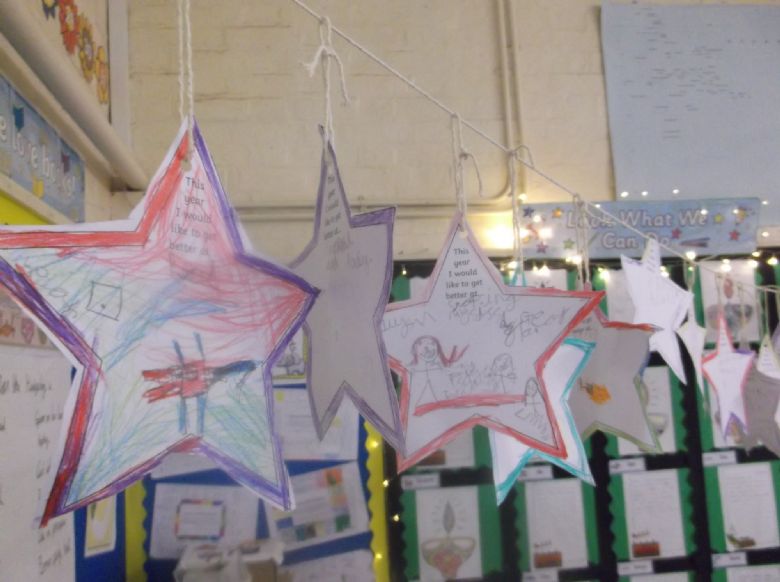 But the new year is also a great time to set ourselves goals and targets in terms of what we'd like to achieve in 2017. To that end, the class discussed their new year's resolutions and wrote them down on individual stars along with something they'd like to get better at.
Ask your child what they wrote. You'll be pleased to hear that a lot of them said their new year's resolution was to tidy their room!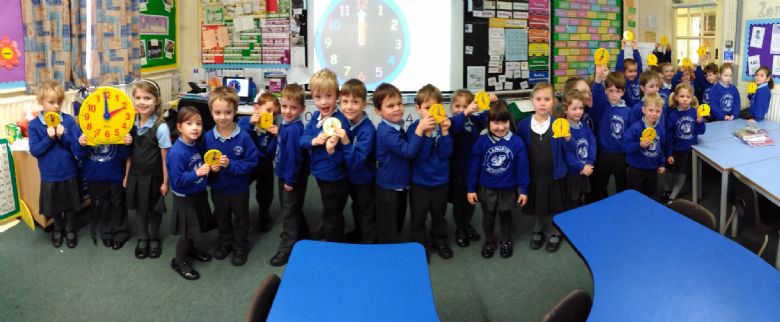 In Maths, we started to learn about telling the time to the hour and the half hour. We talked about the difference between the minute hand and the hour hand and what their different positions mean. It's perhaps one of the most important life skills we'll learn in Year 1 and definitely something you can practise at home. See if your child can tell you what the time is now.
Week 14 - It's (nearly) Christmas!!!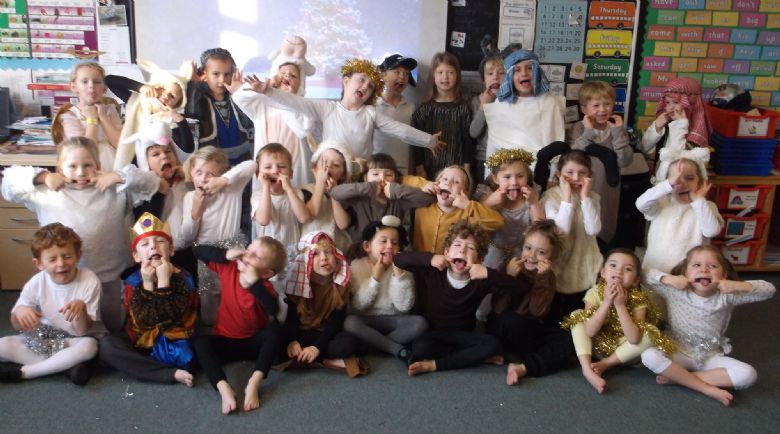 The children all did an amazing job in the school nativity 'Whoops-a-Daisy Angel' this week. They put on one performance for the whole school as well as two performances for parents and families. I'm sure those of you who managed to come along will agree that it was a wonderful way to end a busy, productive and fun-filled term.
Thank you for all your support this term and I hope that you and your families all have a very, very happy Christmas!
Week 13 - Symbolic candles, letters to Santa and working out the difference
R.E. this half term focused on the use of candles as a symbol in both Christianity and Hinduism. We made paper candles to remember special people or events and we also made some clay Diva lamps which are used to celebrate Diwali.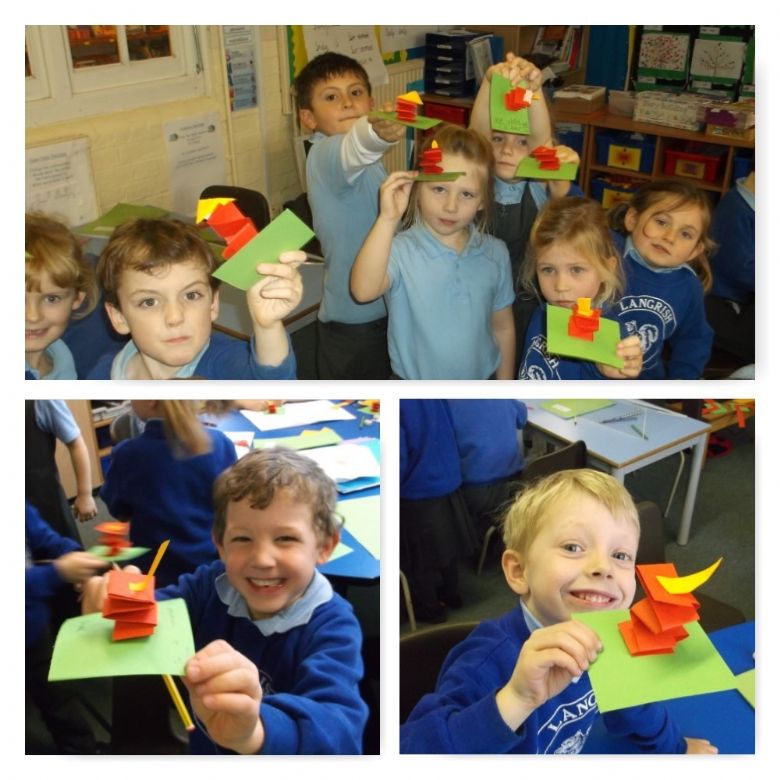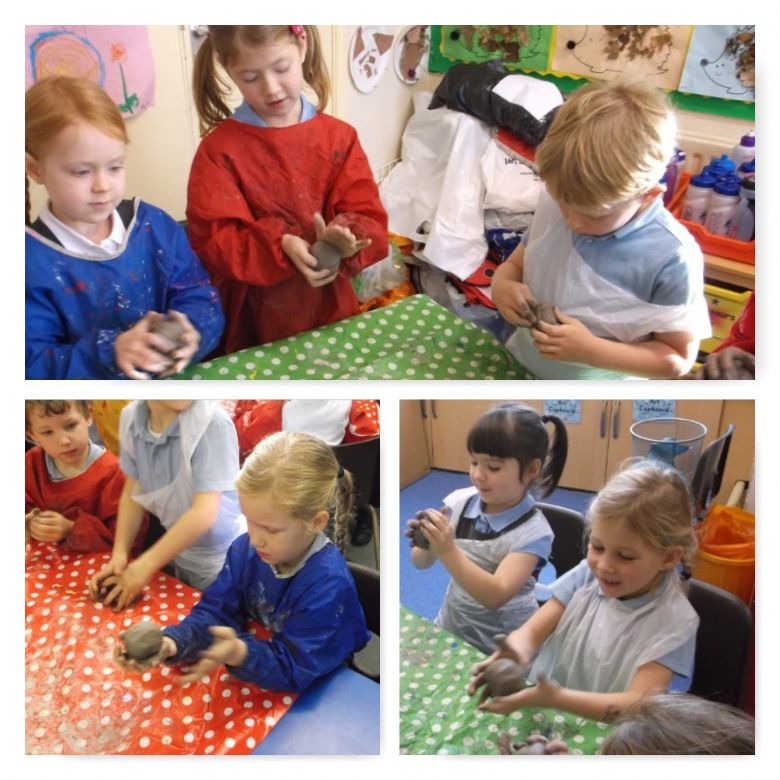 What does your child remember about how the two different religions use candles and what they can symbolise?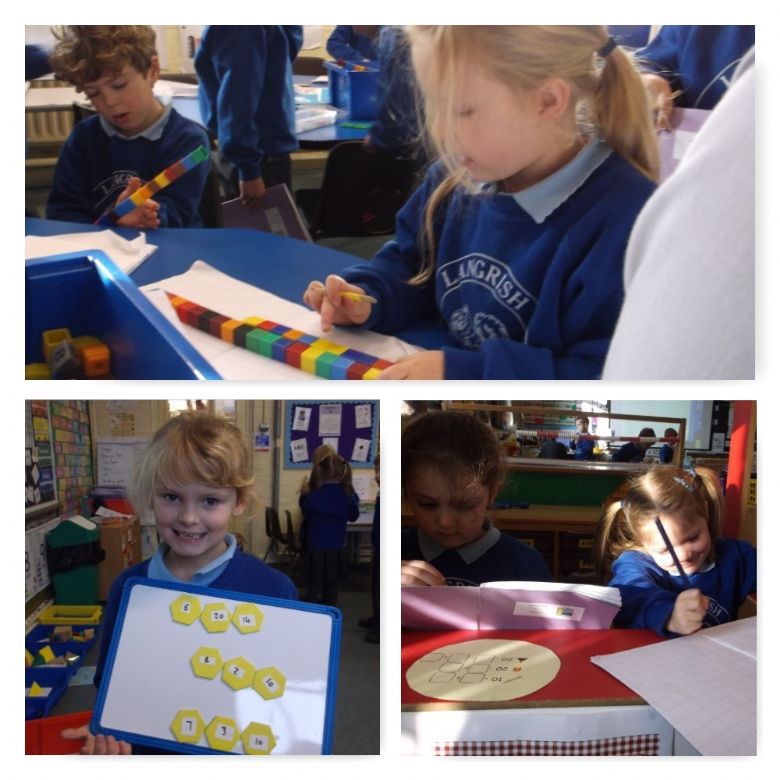 In Maths we linked subtraction facts to number bonds and talked about how knowing one can help us work out the other. Lots of activities were set up around the classroom to help the children explore these concepts in a variety of different ways.
Ask your child which maths challenges they took on this week.
In English we planned and wrote some letters to Santa Claus. The children not only had to say what they'd like for Christmas but they also tell Santa about something they'd achieved this year that they were proud of. Then, once they'd made their envelope and designed a stamp, they could finally post their letter off in our special class post box. Next stop, the North Pole!
What is your child proud of themselves for achieving this year?
---
Week 12 - Becoming scientists, take-away pizzas and some amazingly Autumnal art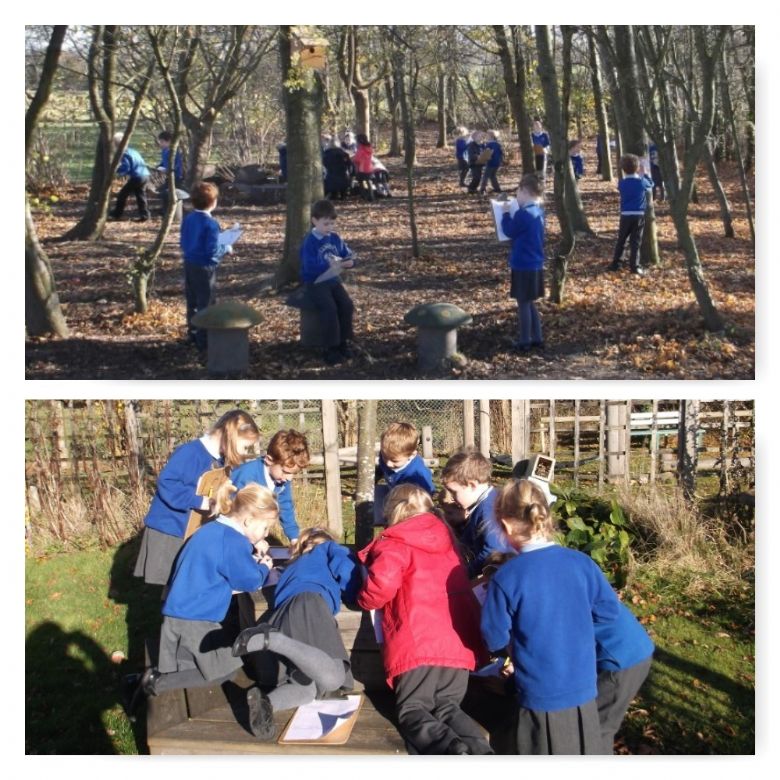 Year 1 became scientists for the week this week, exploring the wide variety of plant life around the school and even growing some of our own.
We looked at different types of plants and learnt what they need in order to grow.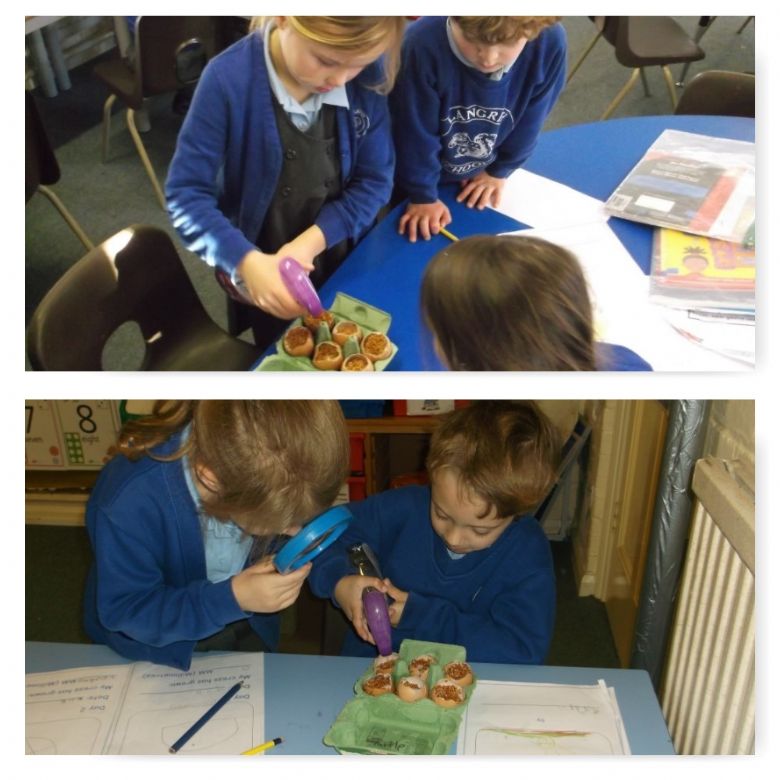 Everybody grew their own cress and we even grew some in different conditions to see which worked best.
Can your child tell you how we grew our cress? You could even try growing some of your own at home.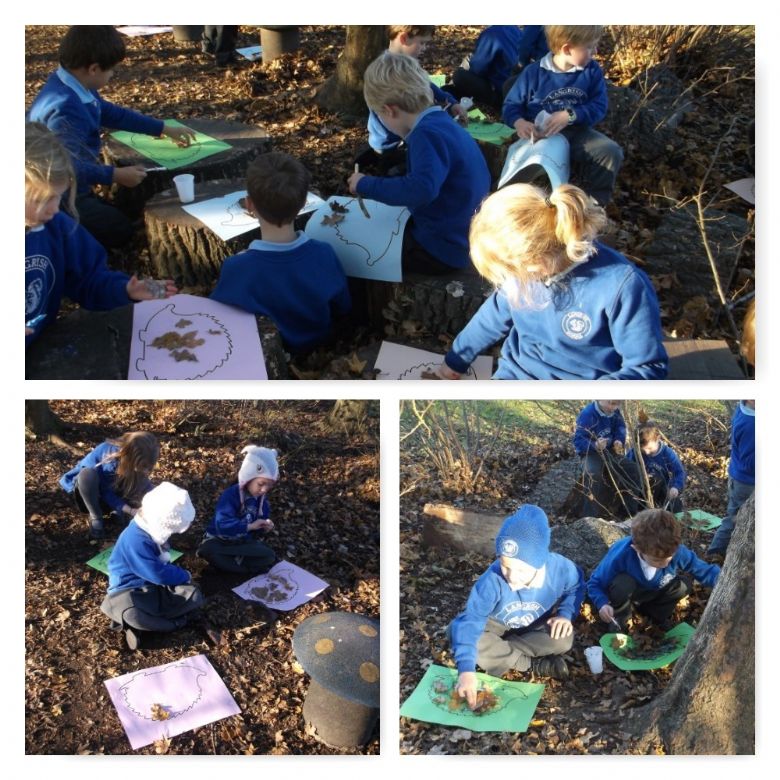 We took art outside this week when we used the fallen leaves in the copse to make some fantastic hedgehog pictures - I don't think art lessons get much more autumnal than that!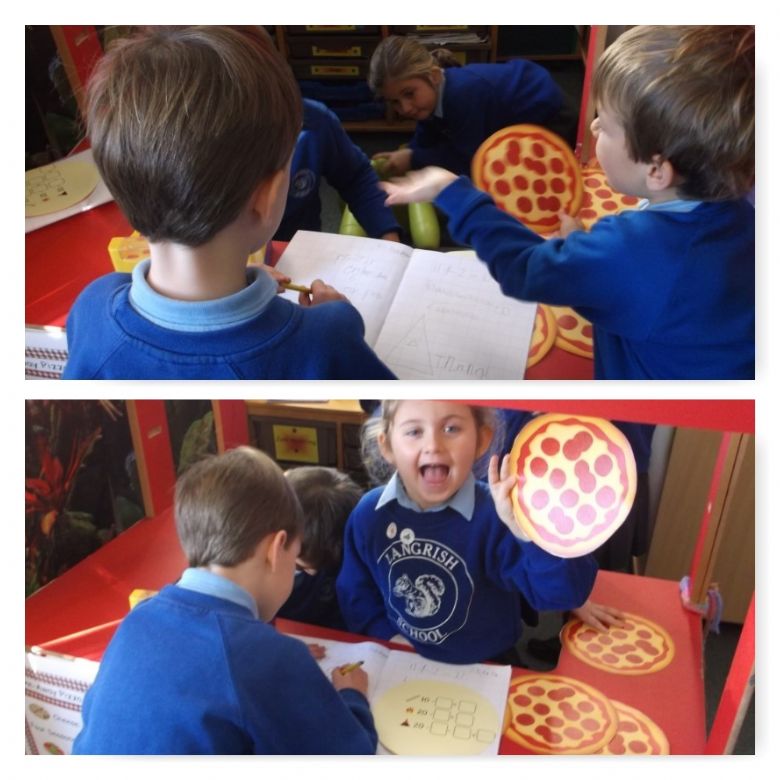 In Maths we moved onto subtraction, which is why we opened the take-away pizza parlour!
There were three levels of challenge, starting from buying one pizza with a 10p to buying two pizzas with a 20p. The children had to use subtraction to work out how much change they'd get.
They had lots of fun, even if the pizzas were only made out of cardboard.
---
Week 11 - Challenging Maths, the Green Cross Code, bags of creativity and showing our spots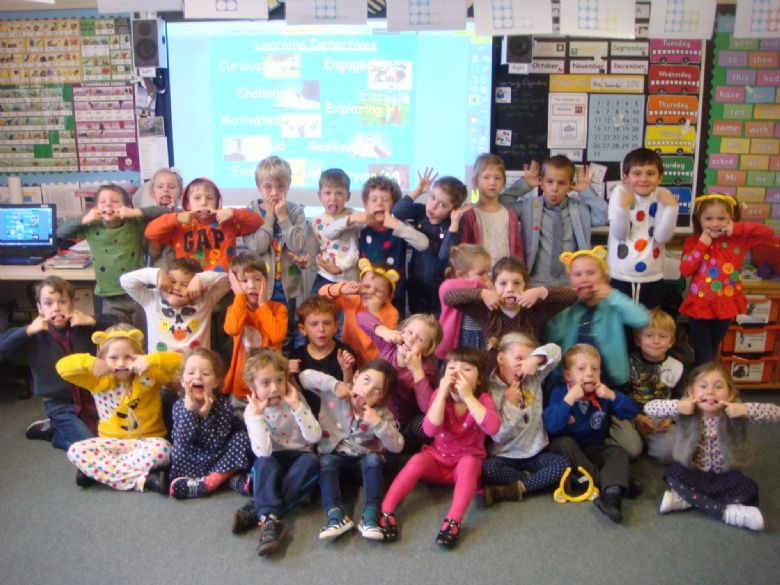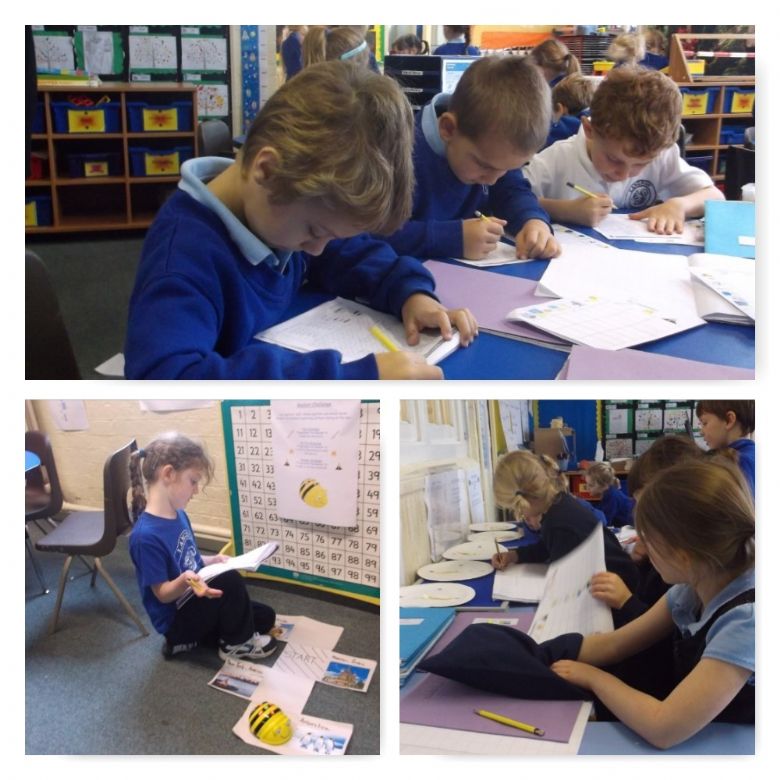 The children loved all the maths challenges this week. Alongside cracking secret codes and trying to match numbers with their correct spelling, we also had to programme Beebots to travel to the Arctic and solve reasoning problems using our number and shape knowledge.
Applying everything we've learnt in order to solve these problems really deepens the children's understanding by getting them to think about how we can use our maths knowledge in real life situations. As you can see they get very engrossed!
Ask your child which challenges they took on this week.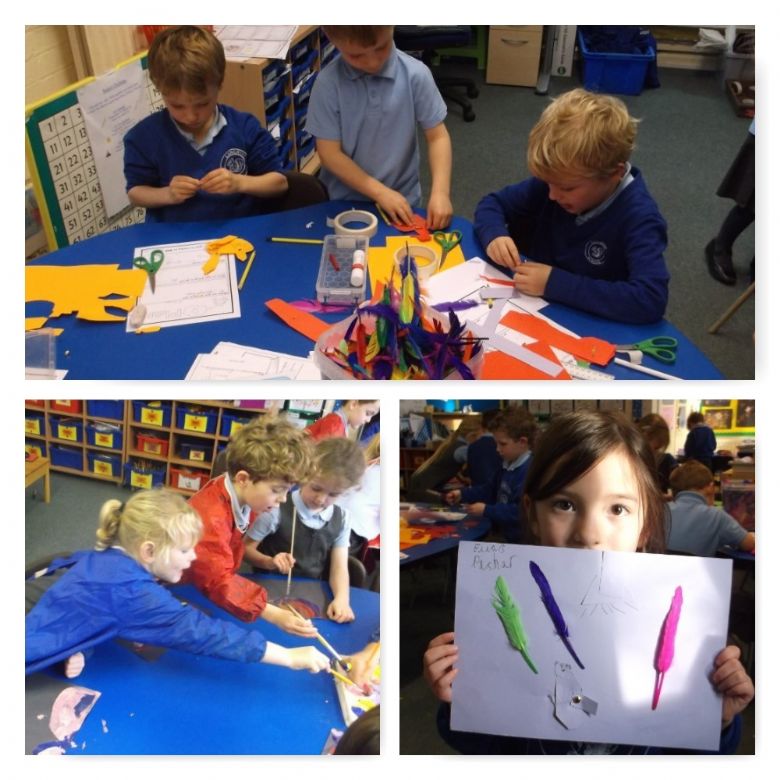 We were doubly creative this week.
First, as part of our Arctic topic, we learnt about the Northern Lights and did some paintings inspired by the colours and patterns that this amazing natural phenomenon creates.
Then, as part of our Design and Technology lesson, we made pictures that came to life with moving parts.
Which part of your child's picture moved? Maybe you could try making some moving pictures at home.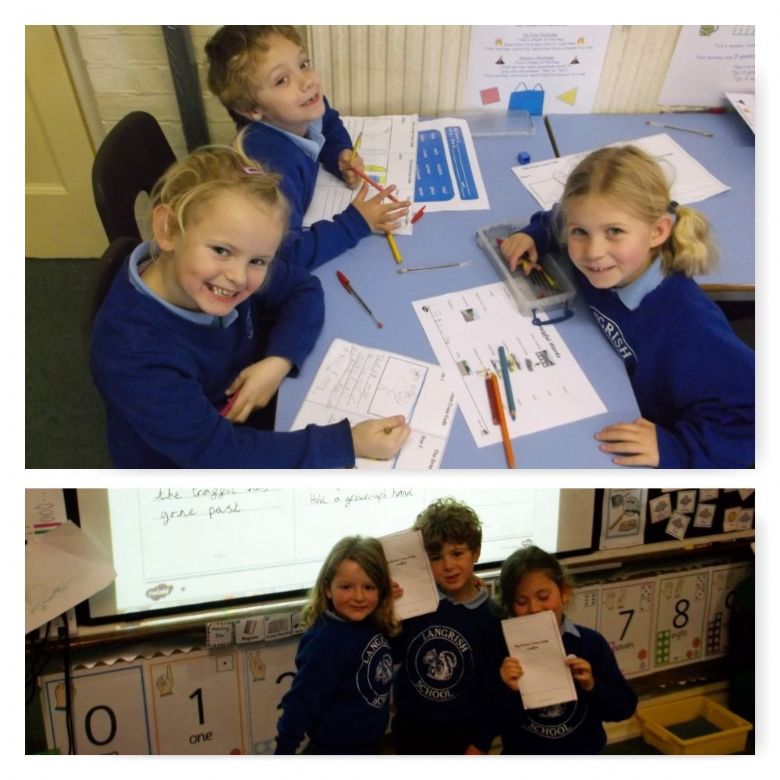 It was Road Safety Week this week, so we did a lot of work about how we can cross the road safely. It also tied in very nicely with our book, 'The Hodgeheg', about a hedgehog trying to find a safe way to cross the road.
The children learnt the Green Cross Code and also made their own information leaflets about following the Green Cross code, featuring characters they invented to help get the message across. Their characters ranged from robots who threw pizza at you if you tried to cross in an unsafe place to magical princesses who could freeze you before you stepped out in front of a car to a mink named Daniel who helped you across the road. The imagination of this class never ceases to amaze me!
Ask your child if they can tell you about the Green Cross Code and why it's so important.
Week 10 - Sums with shapes, blowing hot and cold, beating the bullies and a lot of drama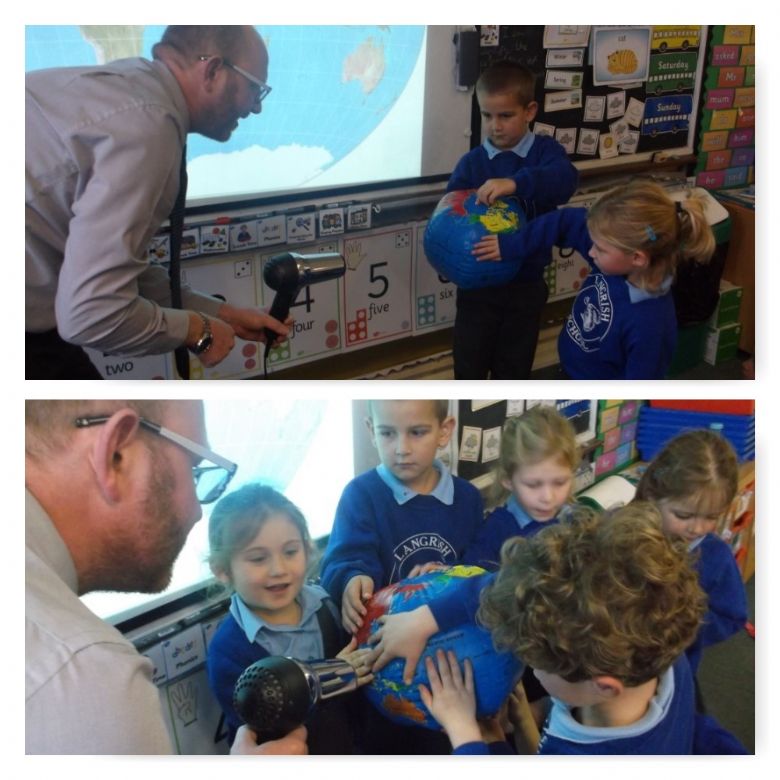 As part of our topic work this week we conducted an investigation into why the Arctic and the Antarctic are so cold. In this very high-tech demonstration, the children learnt that it's all to do with the way the heat of the sun reaches the Earth. Ask them if they can they explain why?
I learnt a valuable lesson too: never borrow your wife's hairdryer without asking - even if it is for a good cause!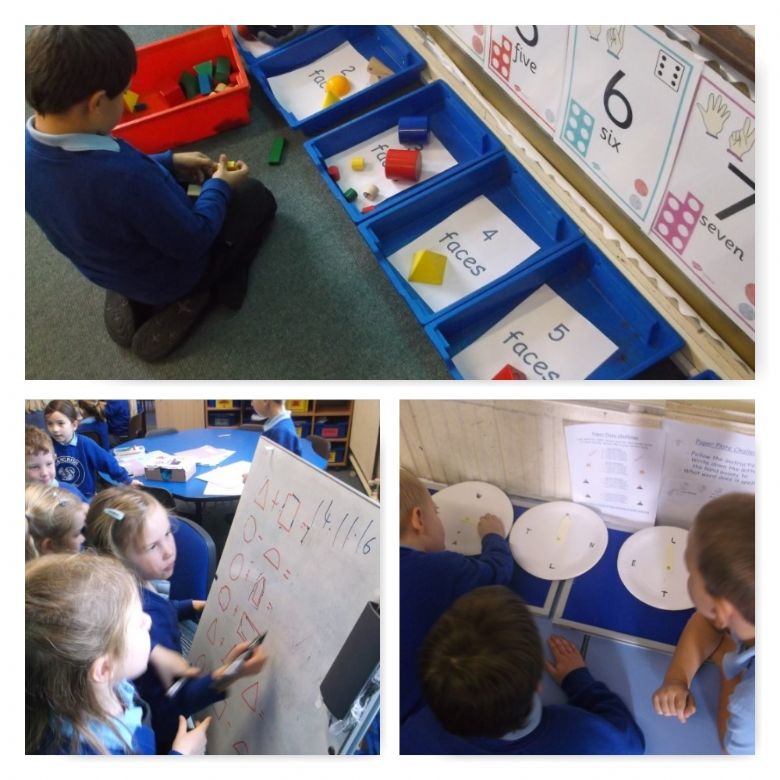 In maths we've not only been looking at shapes and their properties, we've also been investigating how shapes can represent different numbers, learning about clockwise and anticlockwise by decoding secret messages on paper plates and learning how to spell the numbers one to twenty.
See if your child can recognise a number if you write it as a word. Or for a real challenge, see if they can write the word themselves - how many can they spell already?

As well as the "Beating the Bullies" plays the children made up in class this week as part of Anti-bulling Week, there was even more drama when we were lucky enough to have a visit from a drama workshop.
The children had an amazing time doing lots of pretending. They even managed to eat lots of different foods and travel all the way around the world without ever leaving the school hall!
Ask them about what they did and how they showed which countries they were visiting.
---
Week 9 - Helping hedgehogs, 3D shapes and an amazing assembly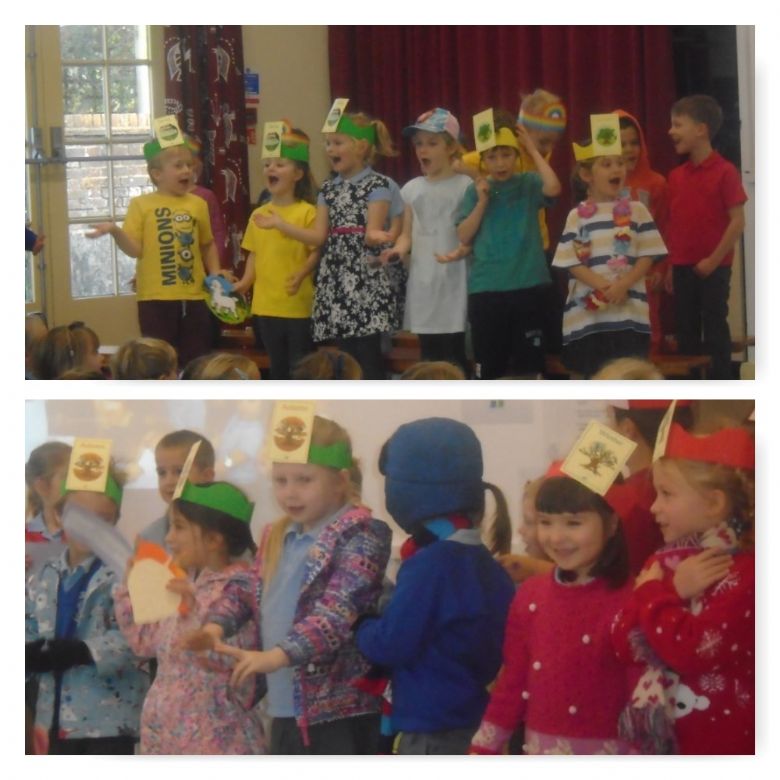 The children put on a fantastic assembly this week, showcasing some of the learning we've done around our topic of the weather. They worked incredibly hard to put it together and it was wonderful to see so many parents and relatives in the hall on Thursday morning to enjoy the results.
Thank you so much for your continued support and for all the extra rehearsals and costume-making that I hear have gone on at home this week – it's greatly appreciated!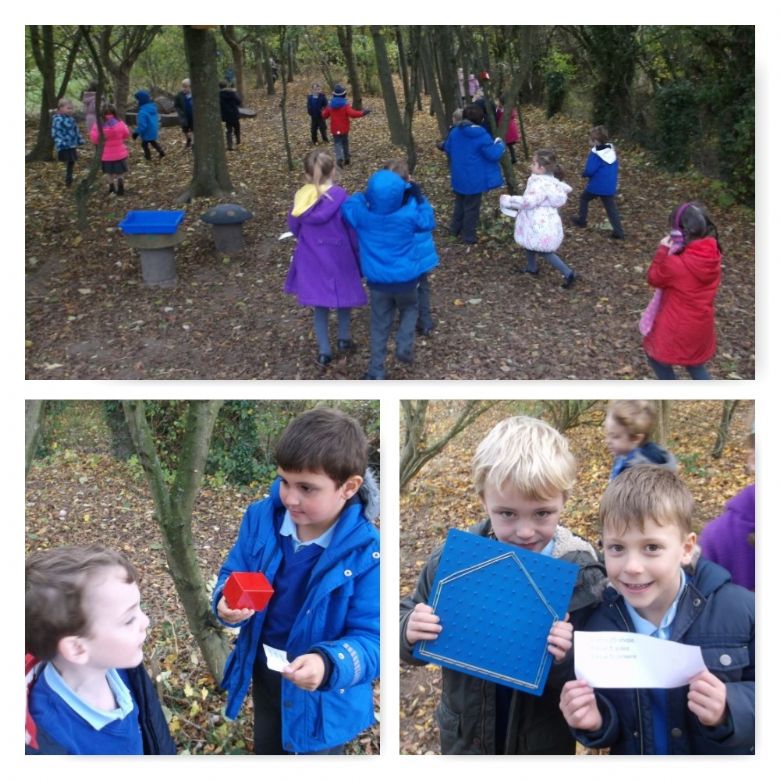 Our geometry lesson moved outside on Monday to do a shape hunt in the copse. Children were given a specific set of properties, then had to work out which shape they described and try to find it hidden somewhere amongst the trees.
See if your child remembers which shape they had to find – what were its properties? Was it 2D or 3D?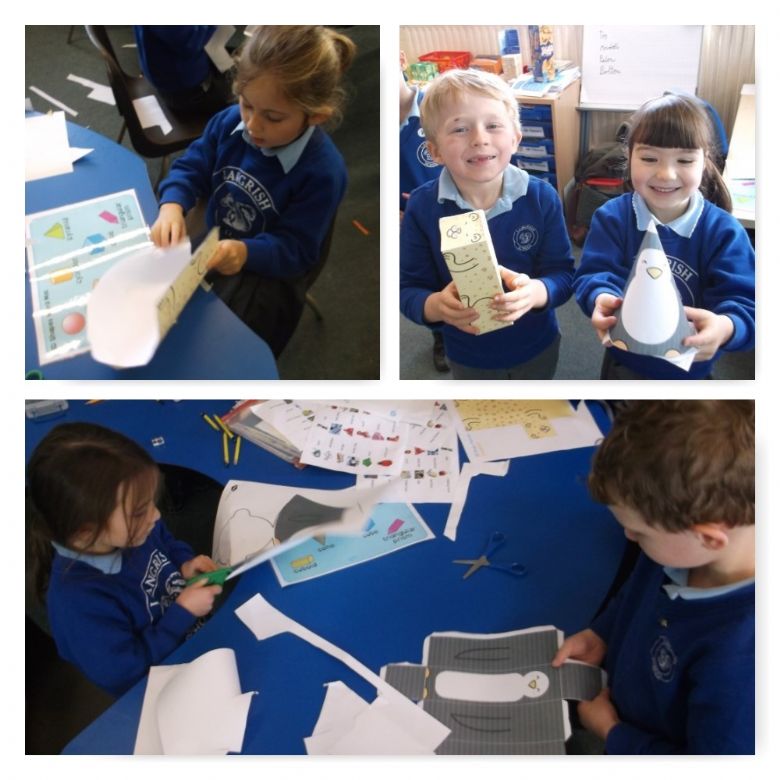 We continued our investigation of 3D shapes by making some of our own. Starting with a flat piece of paper, the children had to work out which 3D shape would be created when they cut out and folded the pattern. To make it extra fun the different shapes were also different animals.
Ask your child which one they made – perhaps it was the cuboid penguin or the pyramid hippopotamus.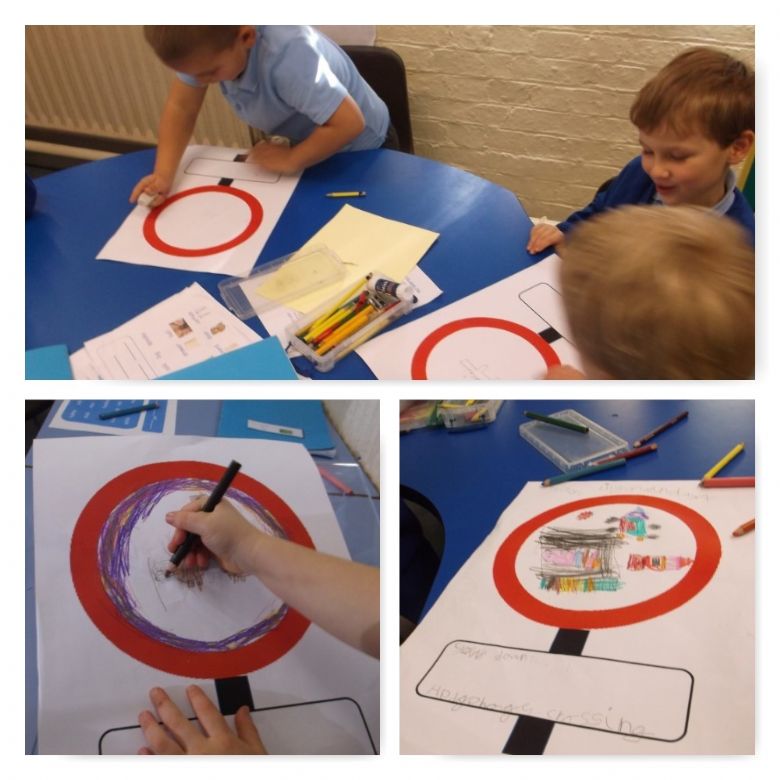 Also this week, we began reading "The Hodgeheg" by Dick King-Smith. It's about a hedgehog called Max who tries to find a safe way to cross the road. After writing descriptions of what Max might look like, we thought we'd help him out by making some "Hedgehogs Crossing" road signs of our own to warn drivers to slow down.
Have you seen any hedgehogs snuffling around your garden this autumn? We had one in the playground here last week!
---
Week 8 - Dark, dark tales; cool, cool shapes and bright, bright fireworks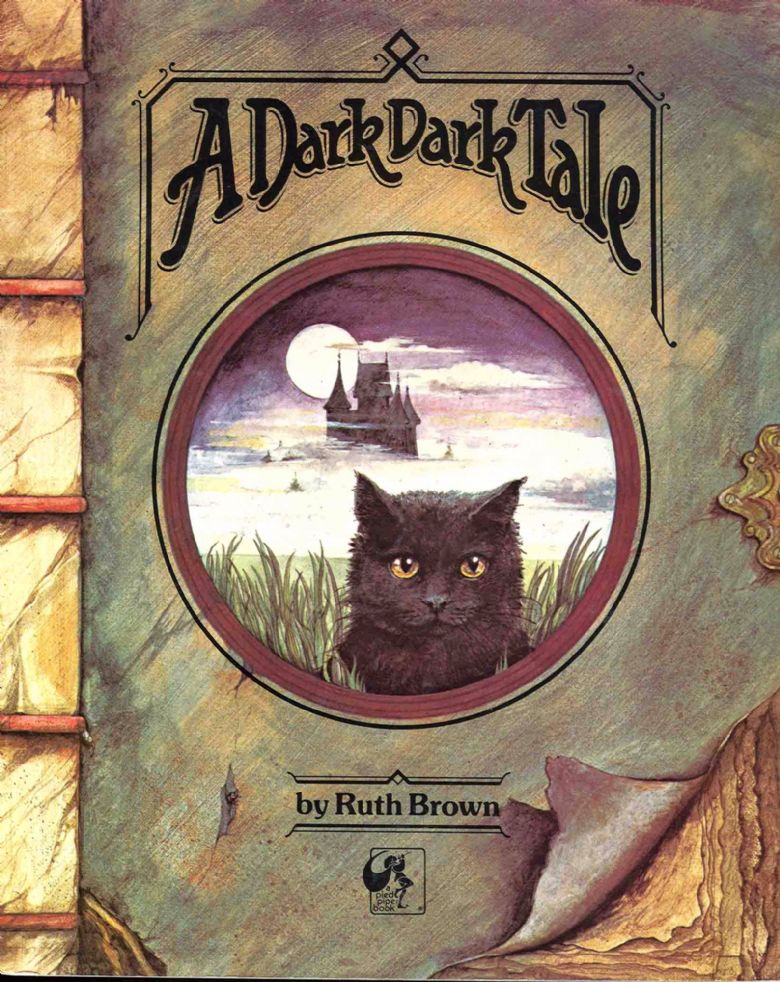 On Halloween we went out into the copse to read "A Dark, Dark Tale", a spooky story about a creepy box inside a scary old house. The children then wrote their own versions of the story, with settings ranging from bright bedrooms with fabulous toy boxes to a spooky school with a demonic teacher - I dread to think where they got that idea!
Ask your child to tell you their story.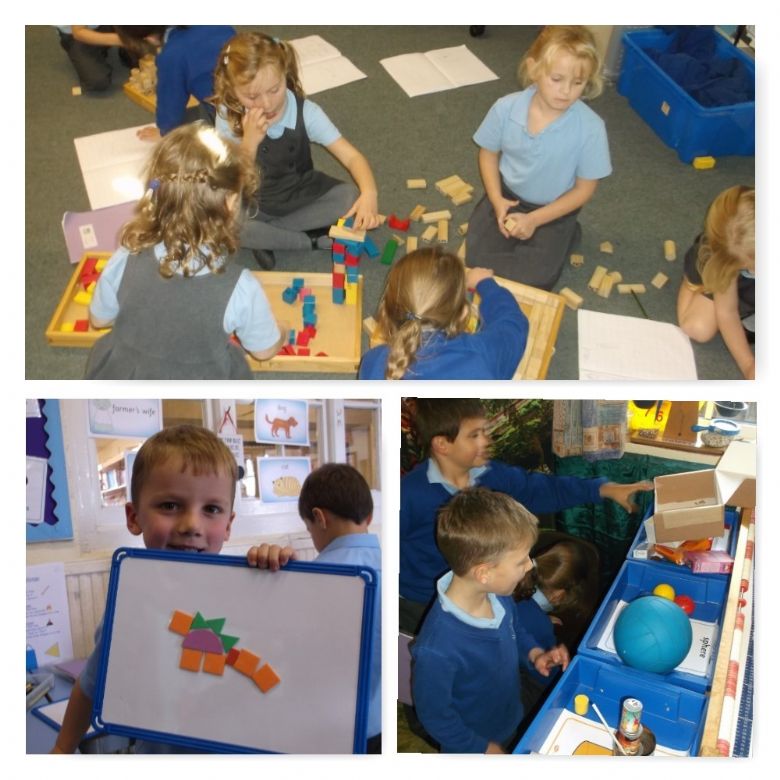 We've been looking at 2D and 3D shapes in maths this week, and exploring their properties through a variety of activities including building skyscrapers, creating dinosaurs, sorting the contents of a shop and playing "Guess the Shape" with our friends.
Shapes are everywhere, so see how many your child can spot at home or when you're out and about - can they remember all of their names and properties?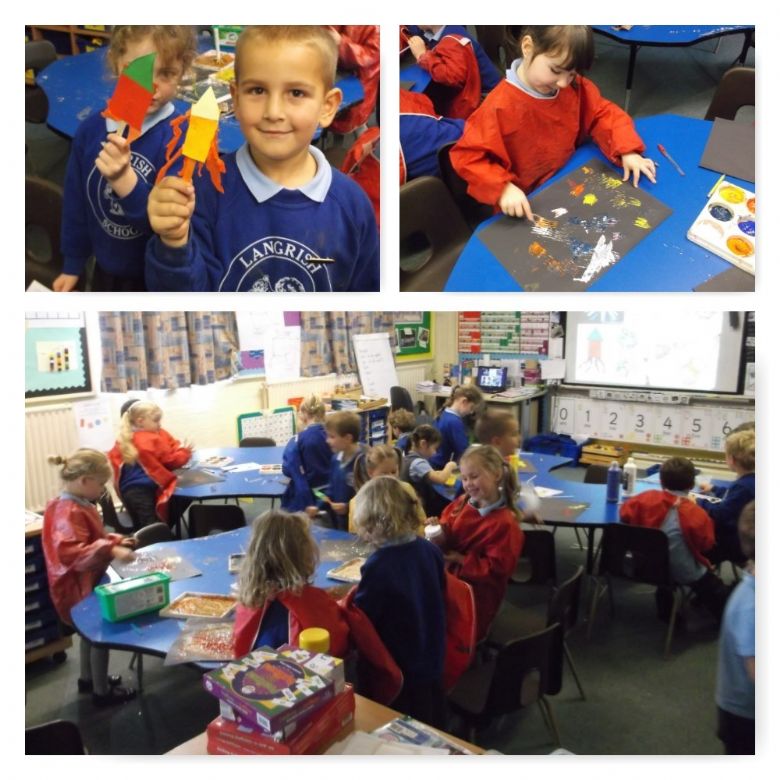 With Bonfire Night coming, the bright sparks of Year 1 have been making some fireworks of their own this week. We used straws, forks and cardboard toilet rolls to make colourful patterns as well as making rockets out of coloured paper and lollipop sticks.
If you are going to watch a firework display this weekend remember to wrap up warm and stay safe!
---
Week 7 - Weather forecasting, R.E. and spooky creations
As part of our topic for this term, everybody got to write and present their own weather forecasts this week. We used all the fabulous weather vocabulary we've been learning and even had a quick crash course in British geography to add to the authenticity. Ask your child what they predicted for the coming week – will you be needing your umbrella?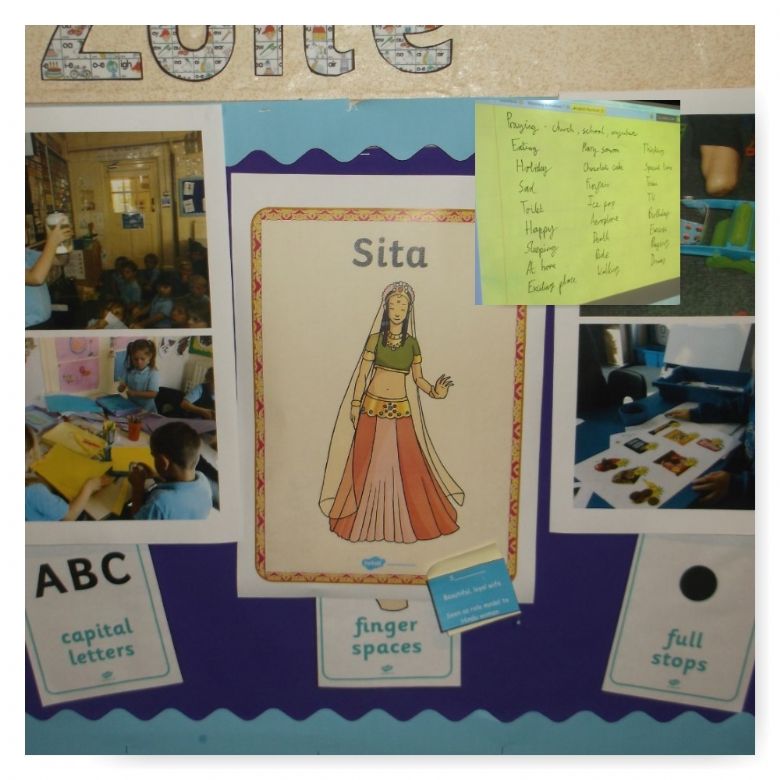 For our R.E. unit this term we were thinking about God and the similarities and differences in the ways that different religions teach the concept of God. We looked in particular at Christianity and Hinduism. Can your child tell you anything about the different Hindu gods?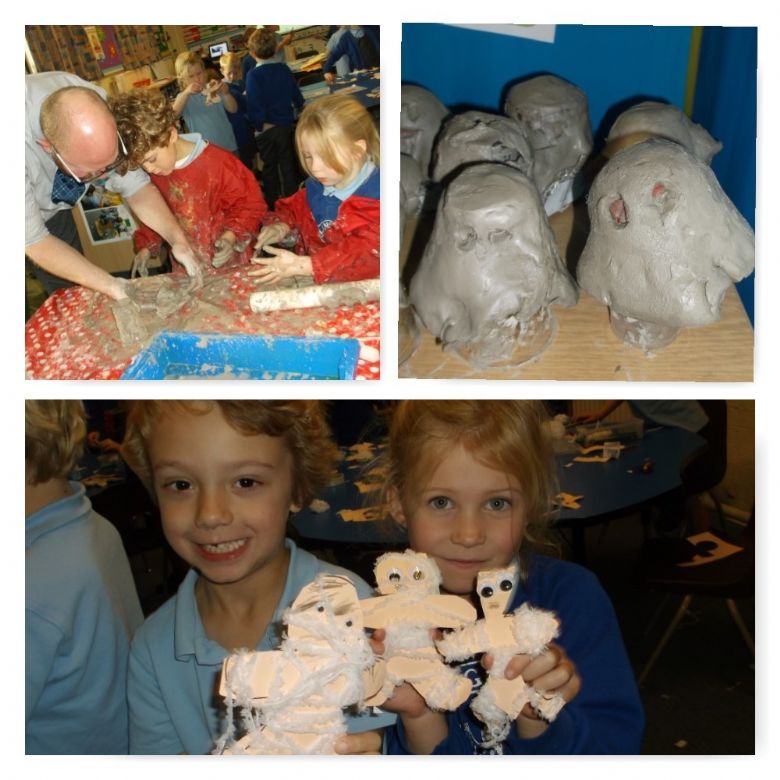 With Halloween just around the corner, we thought it might be fun to do some creepy crafts! The clay was a little sticky to work with but we managed to fashion some ghoulish ghosts which, with a tealight inside, should scare away the trick-or-treaters. And if they don't work then perhaps the bandaged mummies will do the trick.
Maybe you could do some other Halloween craft activities during half term - we'd love to see the results if you do!
Week 6 - Shopping, Comics and Enormous Turnips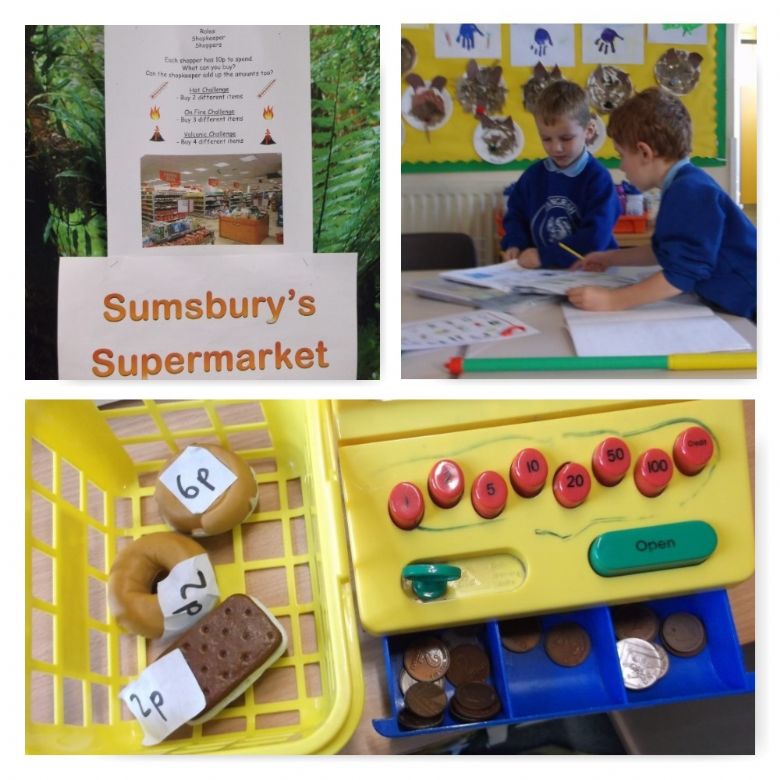 A small supermarket opened in the classroom this week. All the children had 10p to spend and the challenge was to work out what they could spend it on. The first challenge was to buy two items, then to buy three, then to see if they could find four items that they could afford for 10p.
It was great fun and something you could maybe try at home too - just price up some groceries and get shopping!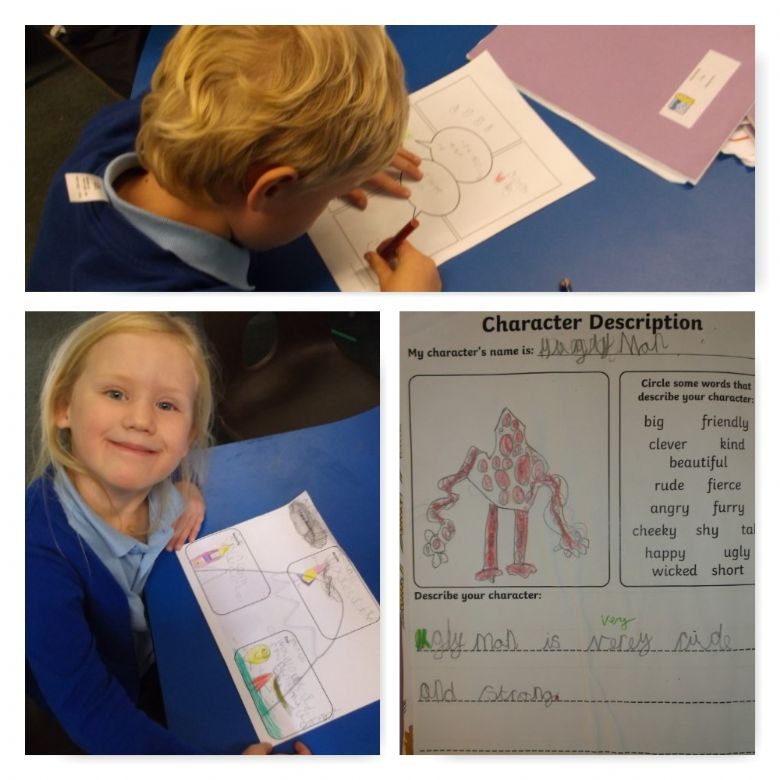 In English this week we were creating our own comic strips. First, we all invented our own characters (using adjectives to describe them), then we planned our story using a story mountain and finally we wrote and illustrated our comics. Some children even stuck all of their individual comic strips together to make a proper comic book!
Ask your child what their comic was about.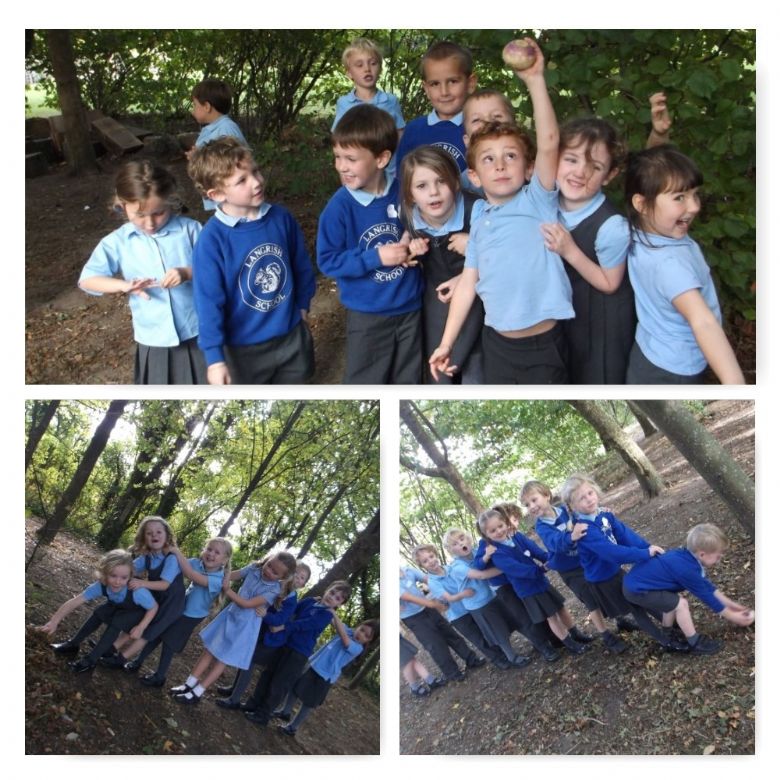 There was was a lot of teamwork in and out of the classroom this week. After reading "The Enormous Turnip", the children went out into the copse and pulled up their own turnips. As you can see they all had to work together to get their enormous turnips out of the ground. Turnip soup for tea, anyone?!
Ask your child if they can tell you the story of "The Enormous Turnip".
---
Week 5 - Practical Maths, Harvest Poems and the Great Langrish Bake Off
T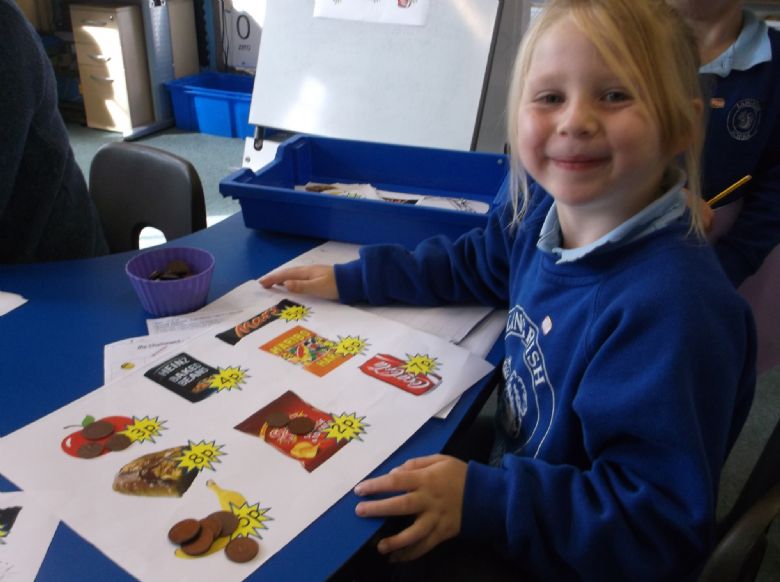 his week's maths learning has revolved around number bonds to 10. We've been exploring them through a range of practical activities involving everything from Play Doh and weighing scales to Numicon, food shopping and even fishing! Ask your child about their favourite activity and which of our three levels of challenge they tried.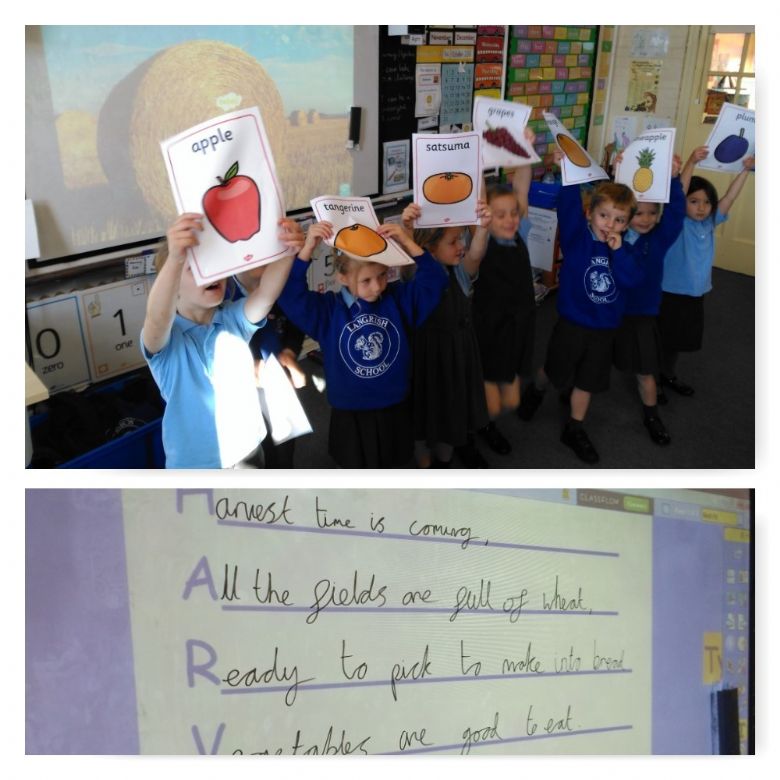 With our harvest assembly just around the corner, we talked about why we celebrate the harvest and how we should be thankful for the food that we can sometimes take for granted. This week's challenge was to write a poem about harvest time which we did individually as well as together as a class. You can look forward to hearing some of the results in our harvest assembly on Thursday.
We love getting messy in Year 1 and this week was no exception! Here we are baking some harvest loaves in the shape of hedgehogs and harvest mice. As part of our weather topic we also looked at how the trees are beginning to change and made some fingerprint paintings using the colours of the autumn leaves.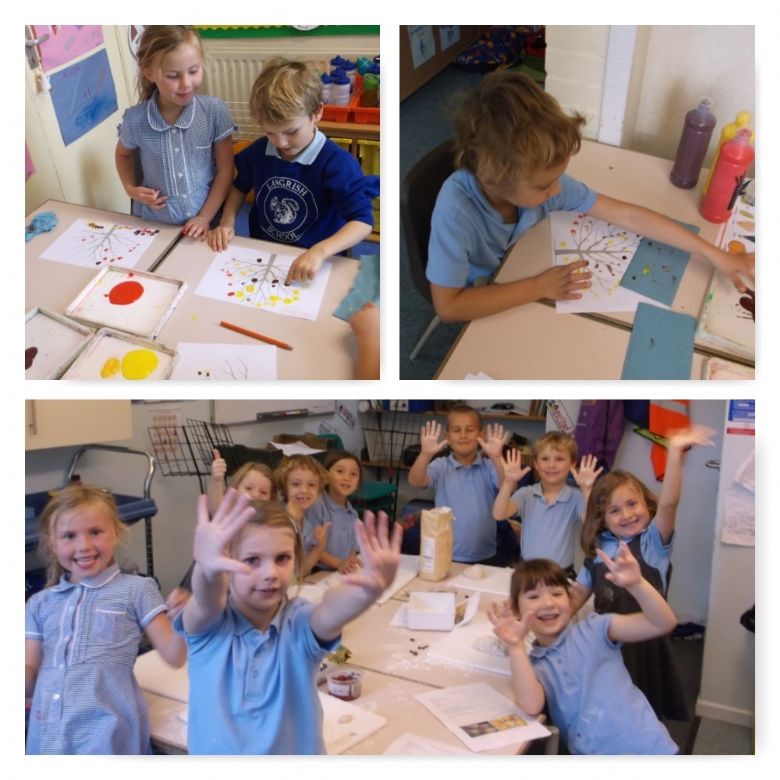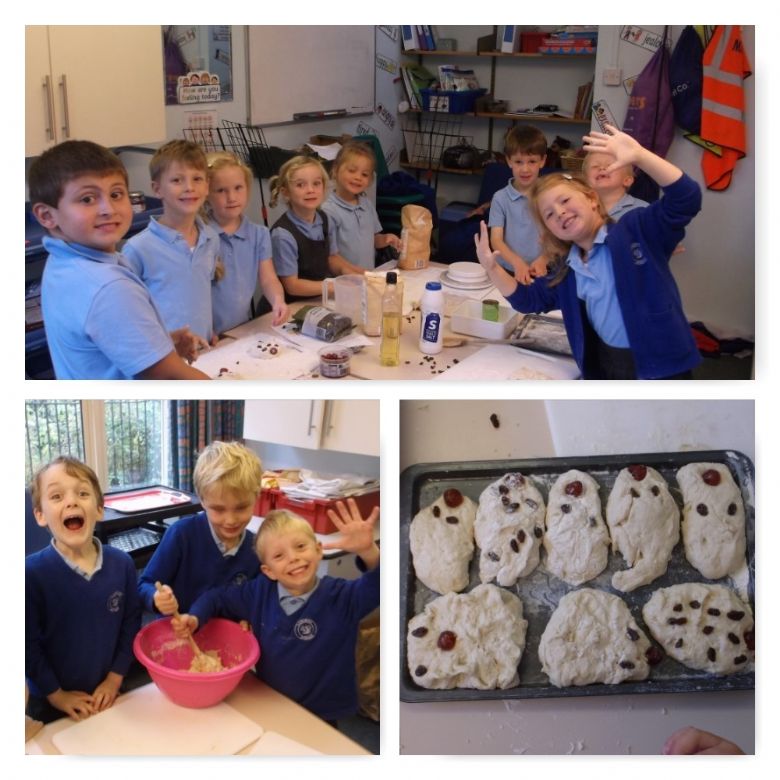 ---
Week 4 - Challenges, Weather Diaries and a Tornado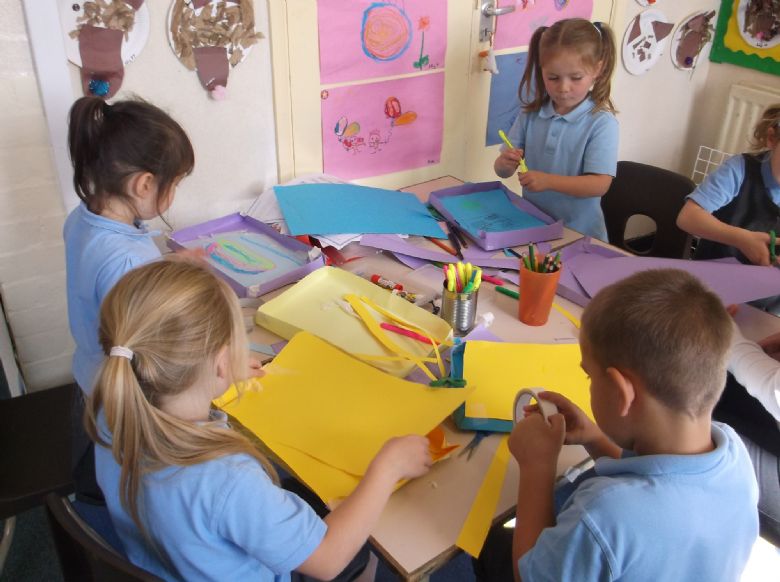 We've talked a lot this week about what it takes to be a successful learner. Part of being a successful learner is rising to a challenge and this week I challenged the children to create their own board game, including a box and instructions. They had a lot of fun coming up with ideas and we used constructive feedback to help develop and improve them into finished products.
Can your child tell you about other ways to be a successful learner?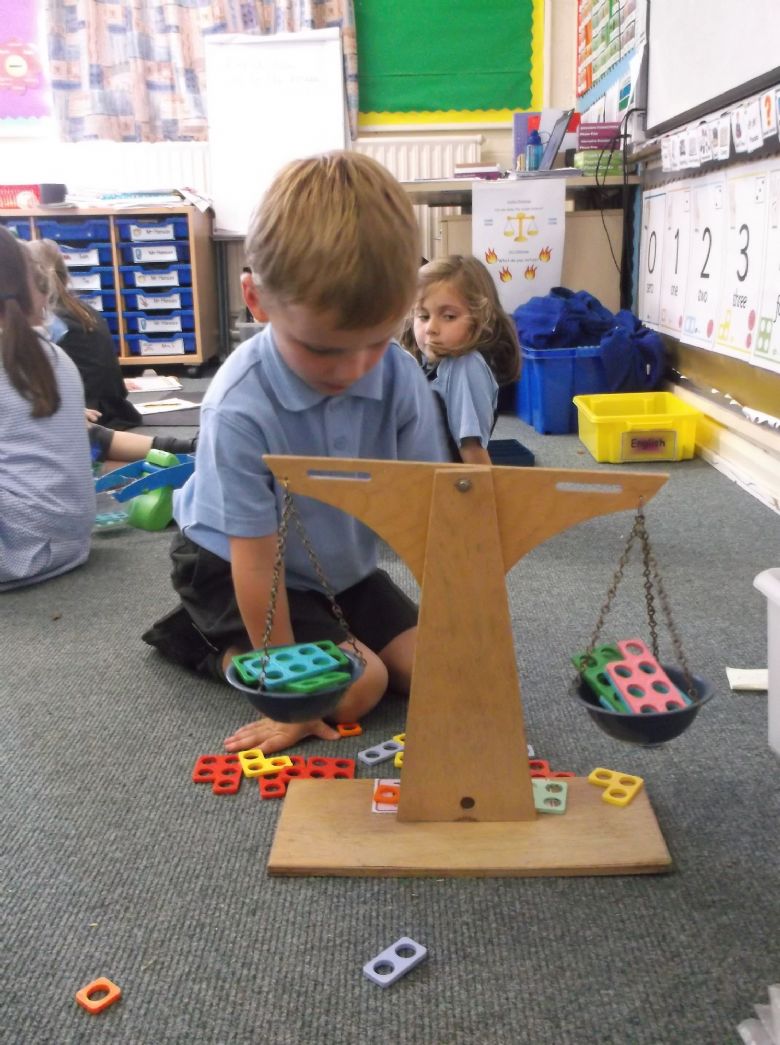 We also had lots of different maths challenges for the children to try, from working with money to balancing scales and even making Play Doh beanstalk leaves. There are different levels of challenge in each activity and I've been really impressed to see how the class are becoming more and more independent in their learning: able to move between activities, offer each other support and not be afraid to take on the highest level of challenge.
Ask your child which activity they enjoyed the most.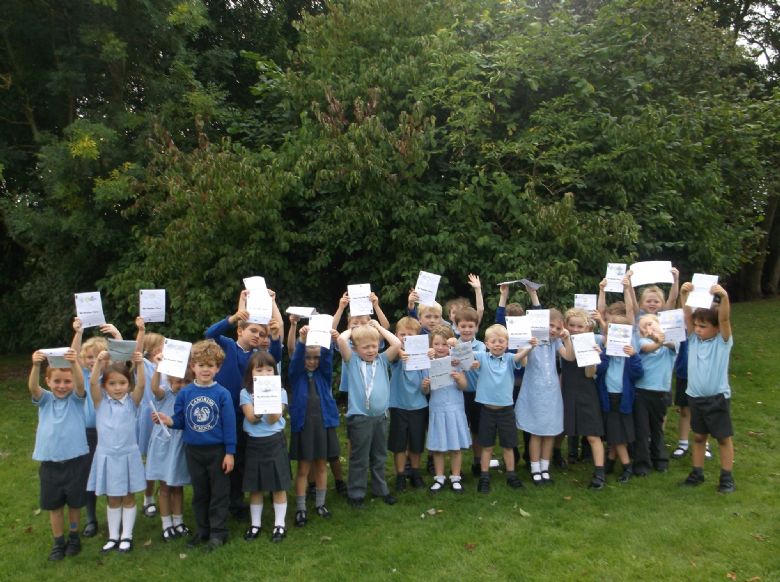 We also kept weather diaries this week and have been outside every day to experience and record what the weather is doing. If we take the same picture in January what do you think will be different?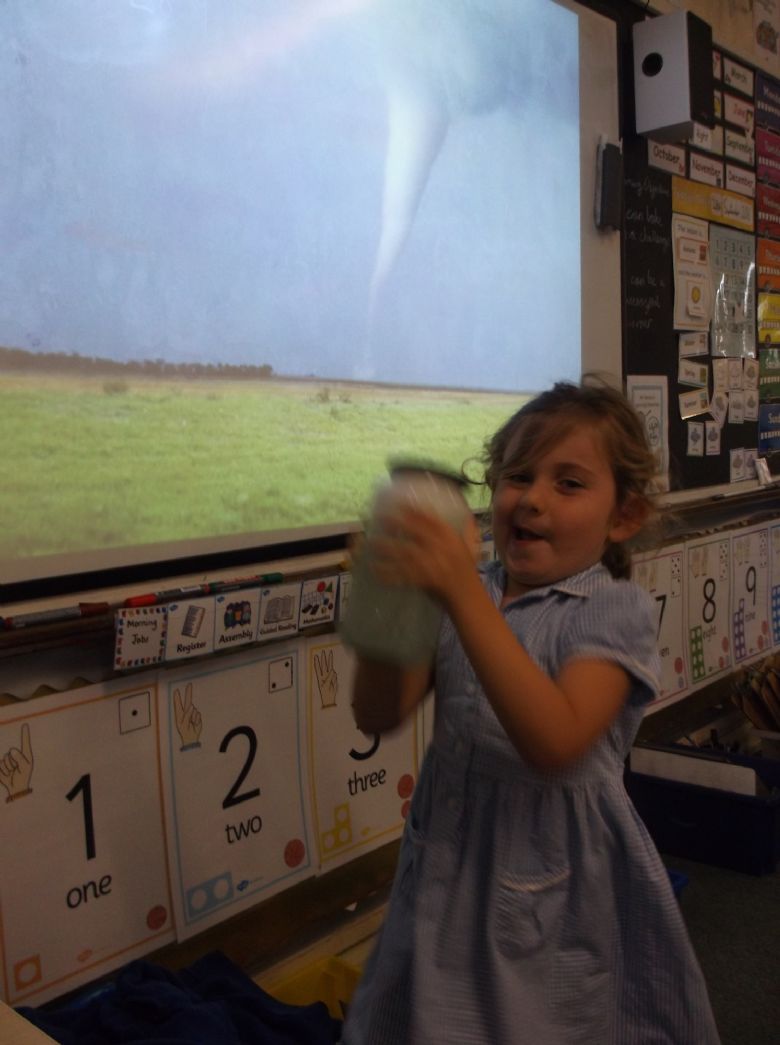 We also experienced some extreme weather inside the classroom - a tornado!
Luckily it was only a tiny one inside a jar. All you need is an empty jam jar, some water, a squirt of washing up liquid and a good swirl. Maybe you could try making one at home.
---
Week 3 - One More, One Less and the Big Bad Wolf
More lovely weather meant that we could once again take our learning outside with a treasure hunt in the copse, finding different numbers of objects and working out how many there would be if there were one more or one less.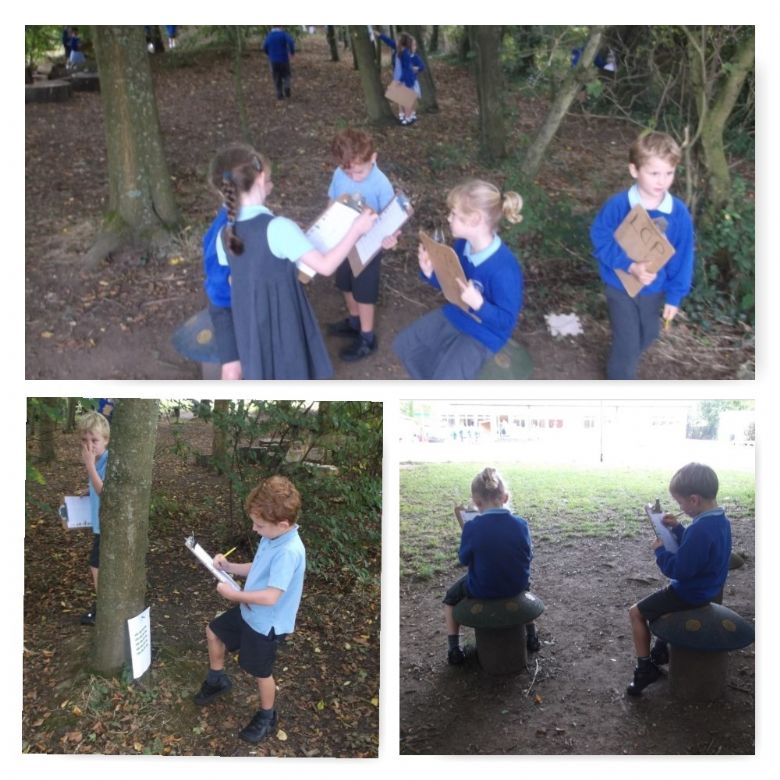 Working out one more and one less in the copse
We read the story of Little Red Riding Hood, had a debate about whether or not the Big Bad Wolf is meaner than the Enormous Crocodile (apparently he isn't) and even got to ask the Big Bad Wolf himself some questions in a hot-seat Q&A session. What questions would you ask the Big Bad Wolf?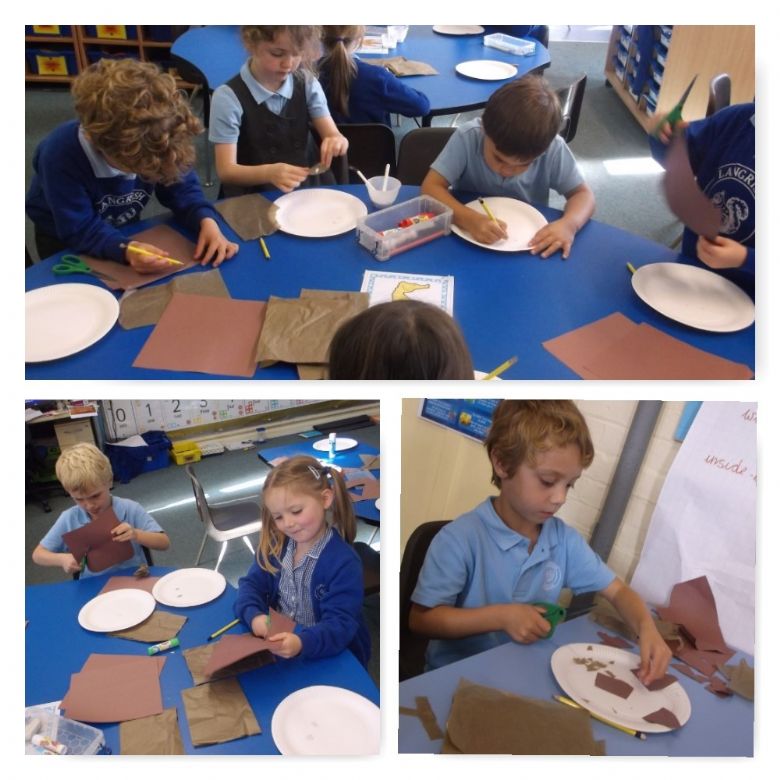 Finally, we were creative and made some rather impressive Big Bad Wolves out of paper plates.
Ask your child how they made their wolf. Can they teach you how to make one?
As part of our Rights Respecting programme we joined schools around the World to take part in the U.N.'s 'World's Largest Lesson' initiative. Year 1 looked at gender equality and discussed why it's important that both boys and girls are offered the same opportunities to thrive in education, employment, sport and society as a whole. I can assure you there's no shortage of girl (and boy) power in our classroom!
---
Week 2 - Thunder, Lightning and Enormous Crocodiles
We celebrated the centenary of Roald Dahl's birth this week with lots of activities based around 'The Enormous Crocodile'. Some glorious weather gave us the opportunity to do plenty of outdoor learning - including some Enormous Crocodile role play in the copse...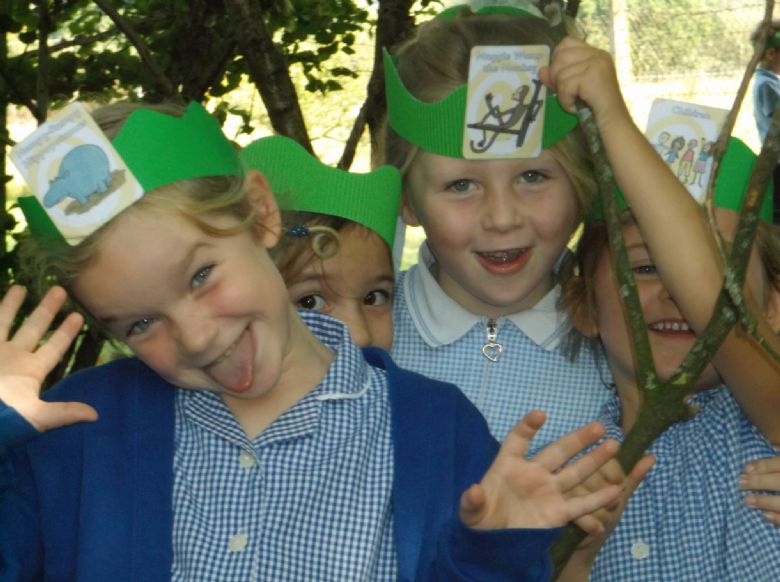 ...while the stormy weather meant we could talk about what causes thunder and
lightning as well as trying to create some lightning of our own by building up static electricity with balloons.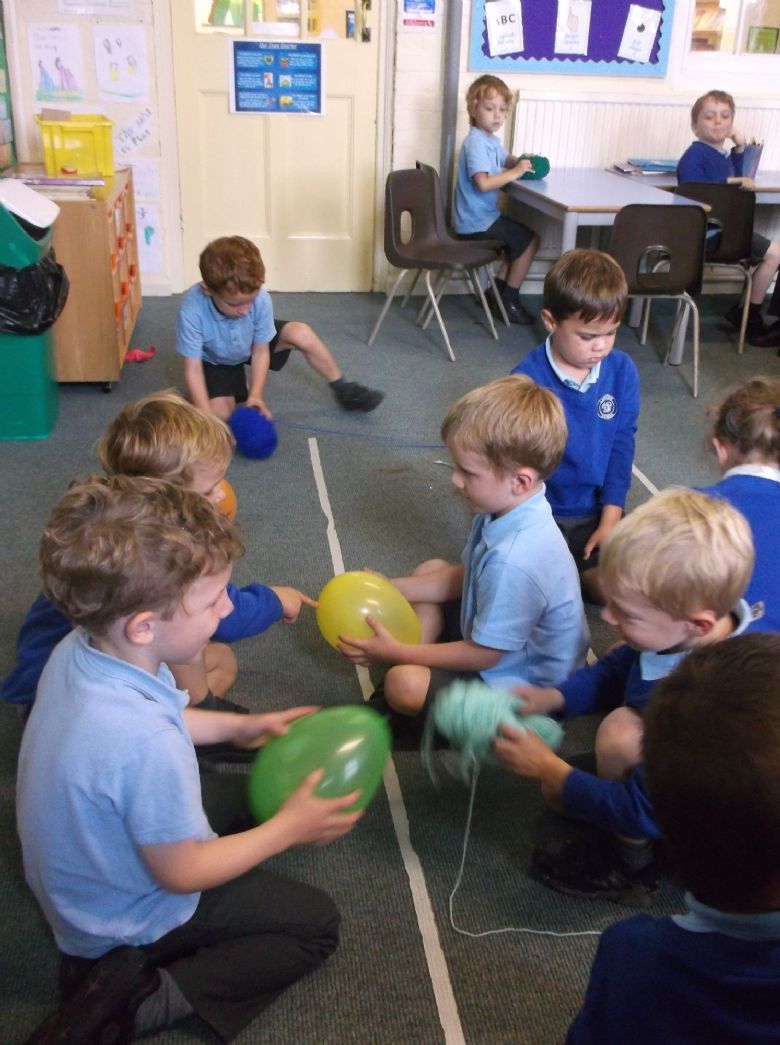 We also had a very creative week, making lightning collages, concertina crocodiles and these hand-print paintings of characters from 'The Enormous Crocodile'.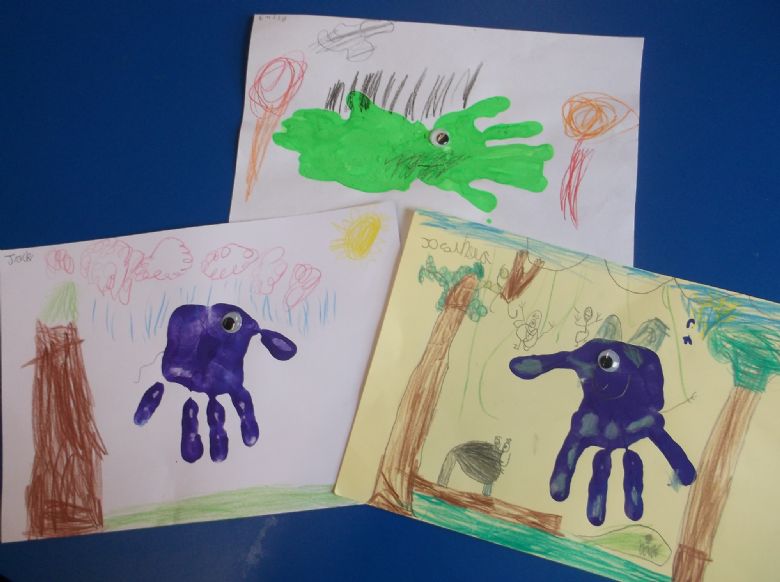 In fact we've had such a crocodiley week that a crocodile even joined us in the swimming pool on Tuesday...but only an inflatable one!
---
Week 1 - First Week Back
We spent our first week back having lots of fun exploring our new classroom and creating our Year 1 Class Charter.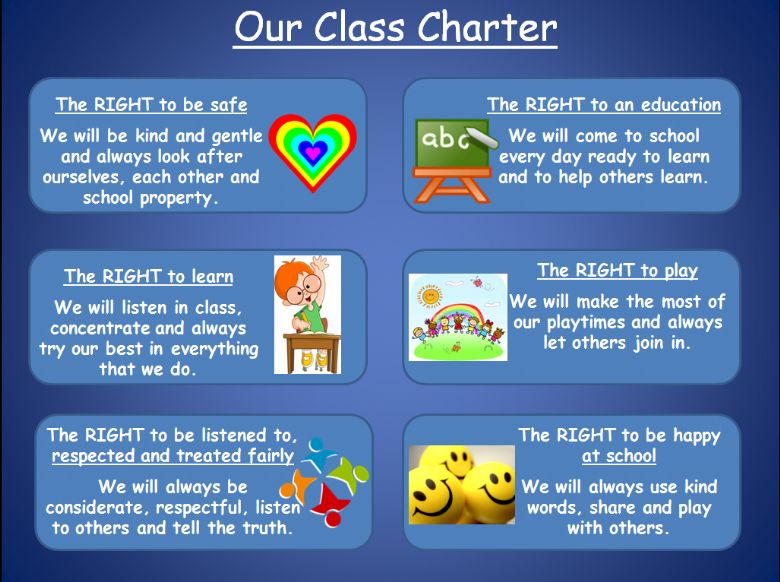 ---
Meet the Teacher
It was lovely to meet you all during our first 'Meet the Teacher' of the year. For those of you who were unable to join us please find a quick summary below of the main points:
Tour of the Classroom - how the learning environment has been designed to support your children's learning and independence, including the creation of 'Class Charters' based around the Rights of the Child
House point update - clarification of the new house point charter as outlined in the Pupil Passports at the end of last term
Changes to class website page
Bookopoly - new challenge sheet out Friday 16th September, please check book bags or click the link
Headlice - Please notify the office of any cases
Autumn Curriculum overview discussed - see below
---
Curriculum overviews can be viewed below by clicking on the attachments.