Mr Hancox, Mrs Slusarczyk and Mrs Thompson
Welcome to the Year 1 class page. Look around for half termly overviews of our curriculum coverage and updates on what Year 1 have been up to recently, including details on our current learning.
Home learning for Friday 22nd September
The new Langrish Reading Challenge sheet went out last week. It's been changed slightly to give the children much more choice about which books to choose, so get reading as completing the challenge will earn them 25 house points.
This week in maths, we continued to look at place value, one more and one less than given numbers, and addition up to 20. This Number Bonds to 10 game is good fun for quickfire addition practise and you can also explore Purple Mash for maths games or Serial Mash and Oxford Owl for extra reading. A maths home learning book is coming home today for recording any work you choose to do.
Meet the Teacher
Thanks to all of you who managed to make it to the Meet the Teacher event; it was lovely to see so many of you there. We covered this year's home learning objectives as well as discussing the curriculum areas we'll be covering this term and the long term expectations for the children's learning across the year. If you weren't able to come along, all the relevant letters and leaflets were sent home with your child on Thursday and are also attached at the bottom of this page.
P.E. Days
Tuesday: Dance (indoors) for which the children will only need a T-shirt and shorts.
Wednesday: Games (outdoors if weather permits, otherwise in the hall) for which children will need a T-Shirt, shorts and outdoor trainers. They will also need dark coloured jogging bottoms and a hoodie as the weather gets colder.
Please ensure children have the correct kit so they can be safe and comfortable in both environments.
Week 3 - Keeping active, planting beans and meeting the Big Bad Wolf
We started our science work on plants this week by learning about what they need in order to grow.
Hearing all about it is one thing but we decided to investigate for ourselves by growing our own beans in the classroom.
We'll be keeping an eye on them over the next few weeks and recording their progress in our bean diaries.
Ask your child what they did in order to grow their own bean and what their bean will need over the next few weeks so it can thrive.
We never sit still for long in Year 1 and find any excuse to get up and get moving.
From dance routines between lessons to story-based yoga sessions in the classroom to impromptu conga lines during music lessons (this week to 'The Fresh Prince of Bel Air' by Will Smith), the children love being active and we're keen to encourage that as much as we can.
Which is your child's favourite song to dance to? And what do they really think of their teacher's dancing?
In English this week, we heard the story of 'Little Red Riding Hood' and used it as an opportunity to go on an adjective hunt in the copse.
The children had to find adjectives written on sticky notes and stick them on to whichever character they thought they applied to.
Later on, the Big Bad Wolf sent a text explaining he'd changed his ways, become a vegetarian and wanted the chance to convince the children he wasn't that bad at all any more.
Did your child believe the Big Bad / Good Wolf? What adjectives would they use to describe him now?
---
Week 2 - Place value, knowing our rights and an enormous crocodile!
In maths this week, we were learning about place value - which digits in any given number represent tens or ones - and identifying one more or one less than any given number.
We were also practising our counting by building Lego towers and making play-dough teeth for The Enormous Crocodile, and solving number sequences by filling in the missing numbers.
Ask your child which activities they enjoyed the most this week.
As a Rights Respecting school it's important that the children are involved in creating their class charter, containing the rights they think are most important to them.
We discussed the most relevant articles on the Unicef Convention on the Rights of the Child and drew some pictures to illustrate the ones we thought were most important before choosing which ones we thought should go on our charter.
You can see which ones we chose to include in our class charter attached at the bottom of this page.
It was Roald Dahl day on Wednesday and we celebrated by having a week of activities based around 'The Enormous Crocodile'. We even had a visit from the Enormous Crocodile himself which sparked numerous sightings around the school!
We came up with lots of different adjectives to describe the characters and even wrote a new ending for the story which was much kinder to Enormous Crocodile than the original ending which sees him sizzle up like a sausage.
The children talked about which Roald Dahl stories they loved and we even listened to a clip of the man himself being interviewed by some primary school pupils.
Can your child remember any of the Enormous Crocodile's secret plans and clever tricks?
The Enormous Crocodile visiting the classroom!
(Don't worry - he turned out to be very friendly and only wanted to eat our left-over fruit!)
Week 1 - Welcome Back!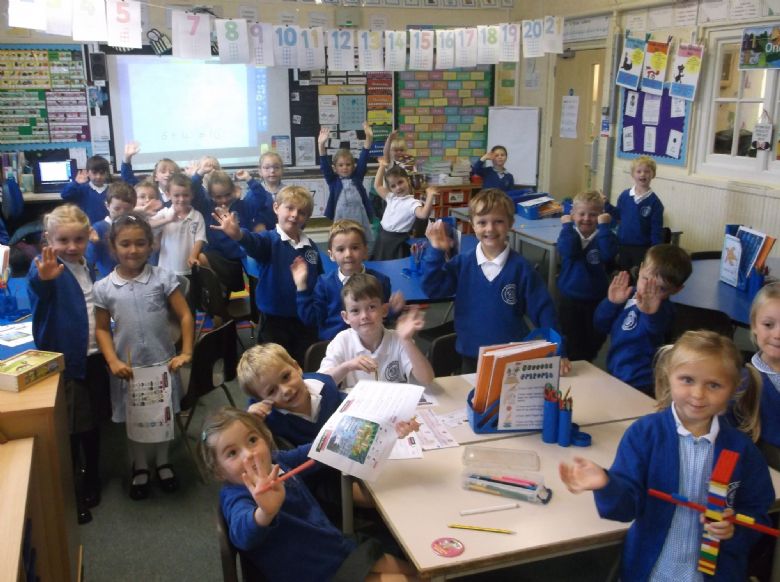 ---
Welcome back! I hope you all had a wonderful summer holiday with plenty of fun and relaxation. Year 1 have spent this week settling into their new classroom and, as you can see, have made themselves very much at home!
We've got plenty of exciting things planned for the coming year so keep watching our weekly website updates to see what we've been up to.
Curriculum overviews can be viewed below by clicking on the attachments.