Miss Flack
---
Welcome to Class 2's page. Here you will find information about our curriculum.
---
22nd September
We have arrived back from our fantastic trip to SeaCity Museum where we spent the day learning all sorts of weird and wonderful facts about the Titanic! I hope the children have shared some of their learning with you today; please encourage them to discuss their experience as we will be writing about it in English on Monday! Also, please continue to support them in creating their Titanic themed home learning project. This can be done in any form - posters, 3-D models, PowerPoint presentations to name a few. These will need to be brought into school in the last week of this half term (week beginning 16th October).
Keep a look out for a gallery of pictures of our visit.
In Maths this week, we have been comparing numbers using the < > and = signs. For home learning please use two-digit numbers (or objects around the home) to help the children practise using the corrent symbol. In English we have been thinking about expanded noun phrases and trying to include some in a story based on the book 'A New Home for a Pirate'. Ask the children to explain what a noun and an adjective are and what an expanded noun phrase is. Can they create some of their own to describe objects around them? We have been continuing to practise and develop our handwriting skills, focusing on some of the tricky letters to join such an 'o'. Please continue to practise handwriting at home using the PowerPoint at the bottom of this page.
---
Reading Challenge
The Autumn Term Reading Challenge has been launched and challenge cards can be found inside Home Learning Journals. As part of our on-going review into Home Learning and response to parent feedback, the expectation is now that all children attempt to complete this. The 'Recommended Reads' list referenced can be found at the bottom of this page, why not make a start with your first challenge this weekend? Good luck!
---
15th September
Well, we have come to the end of our first full week and what a week it has been! A particular highlight for us was Roald Dahl Day on Wednesday, where we designed and created our own medicines using the same ingredients that George used in the book George's Marvellous Medicine! See our folder on the gallery page for pictures. On Wednesday, we also started our topic 'Titanic', which the children abolsultely loved! They are very excited for our trip to SeaCity next Friday.
In Maths this week we have been studying place value in two-digit numbers. For home learning this week, please can you find different objects around the house to use to represent numbers in different ways (see the picture for an idea of how you might do this). There is also a good game on www.interactive-resources.co.uk called 'Sid Says' which you can also help your child to play. You can type 'Sid Says' into the search bar and it will appear.
In English this week we have been writing our own story based on The Lighthouse Keeper's Lunch. The children have showed some excellent creativity and great description.
It was lovely to see so many of you at Meet the Teacher yesterday. For those of you who were unable to make it, the documents that were shared are available at the bottom of this page. The main focus was the new expectations for home learning. Children are expected to be completing a maths task and to practise the tricky word spellings on a weekly basis. These will need to be recorded in some way in their home learning journal and will be acknowledged, but not formally marked. Daily reading and questioning should also be taking place and recorded in the pink reading journals. You will not be receiving a half-termly gap analysis. Please make sure you look to the website for weekly guidance about home learning.
---
Welcome back!
I hope you all had a wonderful, relaxing Summer holiday. The children are back and raring to go with their learning and we have enjoyed our first week together in Year 2.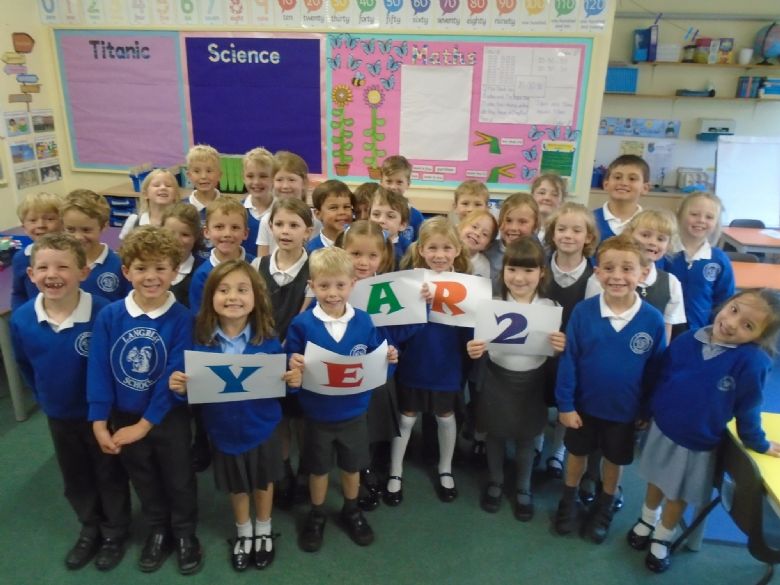 Please note, our PE days for this year are Tuesday and Friday. Please ensure PE kits are in school on these days.
I am looking forward to seeing you next week for the first 'Meet the Teacher' meeting of the academic year. This is on Thursday 14th September at 2:30. In this meeting we will focus on the home learning expectations for the year.
---
Wednesday 13th September is Roald Dahl day. We have been reading Esio Trot and George's Marvellous Medicine in class in preparation for this. Keep an eye on the website to see what special activities we get up to next week!
---
Reminder: The Summer Reading Challenge finishes on Saturday 16th September. If you have completed the challenge and received a certificate, please bring it into school on Thursday 21st September.