Mrs Rawlings and Mrs Pruden
---
Welcome to Class 2's page. Here you will find information about our curriculum.
---
Friday 14th July
Home Learning this week:
This weekend's home learning is about reading, either to complete your summer Bookopoly challenge or, after the special assembly on Wednesday to launch the Petersfield Library summer reading challenge, to register and start reading one of the six books needed to complete the challenge. Completed Bookopolys need to be in school by WEDNESDAY 19th July. Happy reading!
Please ensure that swimming kits are in on Wednesday 19th as we have the House-Swimming-Gala and everyone will be expected to swim to support their house. A swimming hat in the house colour is also required. We will also be swimming, as usual, on Thursday afternoon.
We look forward to seeing you on Monday evening at the school Open-Evening and also on Friday afternoon for the end of our Enterprise week.
---
Friday 7th July
Home Learning this week:
We have been talking about different food groups and planning healthy menus, we will be making sandwiches next week, making sure they are part of a balanced diet. For home learning please can the children research or talk to you about different food groups whilst eating or preparing food, to deepen their understanding (including: carbohydrates, protein, sugars, fats, fruit and vegetables): there is a purple mash ' 2Do' on this.
During the hot weather, we have been lucky enough to take our learning outside.Here we are in RE using the copse, talking about people in authority :
The pupils thoroughly enjoyed sharing their learning on Thursday's assembly; it was fabulous to see so many of you there.
Friday 30th June
Home Learning this week:
We are getting ready for our class assembly next Thursday (at 8.50 am) and as such, the children have their lines to learn off by heart (if possible) please . In preparation for our assembly, please could the children bring in a suitable 'travelling outfit', we suggest shorts, t-shirt and sunglasses (the 'crew' members will need to wear something smarter and girls have hair-up) ready for a dress-rehearsal on Wednesday. The words to learn for their song are on a word document at the bottom of this page ('You've got a friend in me').
In our recent survey, the pupils indicated that they enjoyed real-context learning in maths, so please continue to cook, measure, tell the time, as well as read a wide range of material this weekend. We have had another spelling test, so the words they still need to learn are the ones NOT highlighted in the back of their reading records: well done to all the children who have tried hard to improve these, we have noticed a difference in their writing!
In Science, we are learning about keeping healthy: there are some 2 Dos on Purple Mash relating to this topic that are an optional extra.
Friday 23rd June
Home Learning this week:
Our new topic for this half term is about China. Over the next two weeks, we'd like the children to research some interesting facts about China to share with the class. This does not need to be in as much detail as previous projects - post it notes are fine!
Reading is still a big focus and as the children are such good readers, the focus when they read daily to an adult needs to be on understanding (both of the text and the vocabulary). Please use the 'Blooms' questions to support your questioning if there are no given questions in the back of the reading book.
During the scorching weather we thoroughly enjoyed swimming in the pool, this week we were focusing on breast-stroke legs.
The children had a wonderful time at the 'Sports day' held at TPS this morning. Langrish pupils were put into teams with other local schools and participated in a wide range of activities, including javelin throwing, skipping, balancing and jumping.
Friday 16th June
Home Learning this week:
Please continue to read with your child every day, discuss the story and use the 'Blooms' questions to support understanding. In Maths this week, we have been learning about reading scales and measuring volumn. This can be supported by the games on Interactive Resources (Measure folder) or by real-life, practical methods - e.g following a recipe and making bread.
In English we have been writing poetry and we have focused on forming joined up handwriting. On Thursday we met the author David Fuller, who came to speak to us about how we are all story-tellers already and explaining how stories often start with 'play' in children.
In RE, we have been sharing our stories of special foods and how they are often linked with special occasions: we have linked this with 'The Last Supper'.
And finally, a very big 'well done' to all of Year 2 for participating in our Sports Day this morning. There were a lot of smiles and cheers from the whole class. They can all be proud of their achievement!
Friday 9th June
Home Learning this week:
Mrs Wright has given each child a questionnaire to complete, this is the home learning for this week.
Mrs Rawlings and myself have been so impressed with the enthusiasm for learning and postive attitute the children have returned to school with.
In English we have been sharing and using the book 'Mousehole Cat' as inspiration to write letters, recipes and character descriptions. We have been writing the past tense of some verbs that don't just have 'ed' added to them, e.g. say=said. Please continue to practise the spellings in the back of your reading record. An optional piece of writing could include some of these spellings in an instructional text (e.g. how to make a paper aeroplane).
In Maths we have been continuing to tell the time, with the focus on comparing and sequencing time. Any further time-telling you can do with your child, especially during 'real' situations, would help embed their understanding. Please continue to practise times tables (focusing on 2,5,10s and 3s).
We had a glimpse of sunshine during our PE lesson on skipping, but sadly the swimming lesson was cancelled due to the rain and low temperature; fingers crossed for next week!
The pupils have really enjoyed sharing their Science home learning and we have enjoyed seeing and hearing about how they have changed since they were born.
Friday 26th May
Home Learning this week:
There is no formal home learning over this half term, however it is important the children continue to read daily to an adult, discussing unusual words and their meaning. Please continue to give your child time problems e.g. what time did the clock read half an hour ago? There are also spellings to practise in the back of their reading records.
Next term our swimming session will be held on a Thursday afternoon, please ensure that your child has an appropriate kit on this day (see Nutshell for further information), our other PE session will continue to be on a Tuesday.
We wish you all a happy and relaxing week!
Friday 19th May
Home Learning this week:
There is the next installment of the story on Purple Mash, along with a quiz to check for understanding. I would encourage reading or sharing some books from the Summer Term Bookopoly challenge (when completed it's worth 25 house points!)
The folder in interactive-resources still has some really relevant games for the children to play. Please continue to practise maths in 'real-life' situations e.g. what will the change be from £1 if we buy a loaf of bread for 89p? What will the time be when we arrive if it takes us half an hour to get there?
We have had a busy week with SATs and although their assessment is ongoing, your children deserve a pat on the back for working so hard this week!
---
Friday 12th May
Home Learning this week:
There's new chapters on Purple Mash to complete and some new games in Interactive-Resources. In Science, we are finding out about ourselves and how we've changed since birth. Please can your child find some old photos of when they were a baby, a toddler and present time, noting some physical differences. If they could present this as a timeline or as a diary, we could put them on display. This will be due in the first week after half term.
Please continue to read everyday and practise spellings from the back of the reading record. We have been focusing on the use of the apostrophe, for both omission (can't, I'll, it's) and for possession (Mrs Pruden's birthday) and the option piece of writing is to include these in some sentences.
---
Golden Mile
As part of our commitment to encourage healthy lifestyle choices, the whole school is taking part in the Golden Mile initiative from Monday! This involves children walking, jogging or running around a pre-set course and each of their completed laps being logged and recorded. The children will be able to keep track of how many laps they've completed individually as well as seeing how their laps have contributed to our overall school total.
Children will need their outdoor P.E. trainers to take part, and Year 2 will have the opportunity to do their laps during morning break on Tuesdays and lunchtime break on Mondays.
---
Friday 5th May
Home Learning this week:
There have been some fabulous looking projects on the 'Queens through the Ages' brought in already; the deadline for this is Friday 12th May, when the children can present them and we'll put them on display. Your child will now have been tested on all the spellings in the back of their reading diary: any they got correct in the test have been highlighted (although, if their reading record was missing on the day they have been left blank). Please continue to practise those that aren't hightlighted as we may have another test later in the term! The optional writing task is to use some of these spellings in a piece of writing e.g. a diary, letter, postcard, fact-sheet about an animal etc...
There is Chapter 2 to read on Purple Mash and a short quiz about it. There are games to play on interactive-resources to support our topic on telling the time (focus on quarter to/past and read a clock in 5 minute intervals e.g. 20 minutes past). We would still encourage practising times tables and mental addition and substraction practice (especially on walks or car journeys!)
The Summer 1 curriculum overview letter is attached at the bottom of this page. Please note the change of PE days to Mondays and Fridays.
---
Friday 28th April
Home Learning this week:
Welcome back!
We have been learning about road safety, with the focus on our school car park. There is an optional written task this week to complete a road safety leaflet on Purple Mash (on their 'To Do's). There is also a new story to read this term; chapter 1 and a quiz is available this week. Please keep reading with your child every day, focusing on understanding the story and discussing the meaning of new vocabulary (we have a 'word of the day' display and are always happy to receive nominations!). There is a new bookopoly for this term and it has a new format; there are suggested books to read and a log to complete when they've been read; check bookbags for these!
Our Maths focus is measurement - including time, capapcity and weight - I have added a new folder in Interactive Resources to help support your childs learning. Please also keep practising times tables, subtraction and addition questions e.g. I have 17 cakes, how many more do I need to make 25? As we are studying 'time' it may be the right time for your child to wear a watch if they have one. We regularly encourage the children to tell us what time it is (focusing on o'clocks, quarter past, half past and quarter to, as well as any 5 minute intervals). e.g. If it is 9:15, what time will be it be in 20 minutes?
Our topic this term is 'Queens through the Ages' and we have been finding out about Queen Victoria, Queen Elizabeth I and Queen Elizabeth II. The home learning for the next few weeks is a project - choose a Queen of England and create a way to present your research about her. You might include some background information, when they reigned, what they did for the country, what the fashion was like in those times, how their reign ended etc. A poster, a diary, a verbal presentation, a re-enactment or a powerpoint presentation are just a few of the ways their learning can be presented. This will be two week home learning challenge and due in on 12th May.
Please find our half-term curriculum update at the bottom of this page (Summer 1 Overview).
Friday 7th April
There is no formal homework over the Easter holidays, however your child will bring home their Spring Term gap-analysis with them on Friday and this may guide and inform your next steps for Home Learning. At the bottom of the page, I have posted a series of reading activities, which you may wish to use with your child over the Easter holidays . Please note, these are intended to support the core curriculum and should be approached as an accuracy and fluency activity for those already working within mastery of the Year 2 curriculum (see your child's current gap analysis for further guidance). The ixl.com website has a fabulous range of maths questions for the children to answer (limited to 8 a day) that can really target specific objectives. Non-computer based activities to support their learning include subtraction questions of 2 digit numbers (e.g. 97-35=). Children still need some revision of times tables (2,5,10s) including the inverse (e.g. how many 10s in 120?) and problem solving (e.g.how many cakes would I need if I gave my 5 friends 5 each?) Reading and sharing books to check for understanding is also highly recommended!
We wish you a very Happy Easter!
Friday 31st March
Home learning this week:
Spellings this week have been about learning mnemonics to help us remember difficult spellings, e.g. because (Big, Elephants Can Always Understand Small Elephants). We are also focusing on learning the words in the back of our reading diaries.
In Maths we have covered multiplication, shapes and measuring with the focus on 'proving it' and 'how do you know?' Your child will have brought home a multiplication sheet they worked on for 5 minutes, please allow them to finish or practise the ones they found more difficult (it was the same sheet as last week, so you could compare how many more they completed this week).
There is the final chapter on Purple Mash to finish, as well as a quiz to check understanding and a fun activity based on the story.
We have noticed that the pupils are using fabulous words in their writing but not always understanding them, so the writing task for home learning this week is to write the meaning or to include them in a piece of work. They can include: replacement, thankless, awareness, closeness, watchful and boldness.
It was great to see so many of you celebrating their LS Lowry work this afternoon.
---
Friday 24th March
Home learning this week:
As part of our focus on spelling, we have tested more of the Year 2 spellings in the back of the reading records (the highlighted ones are the ones that are correct). The children have their tests, so you will be able to see exactly where their errors were. In their Home Learning books there is a list of words that they have spelt incorrectly in their English work (on a piece of paper if they didn't have their book). Their writing task is to complete a piece of writing that includes the words they need to practise - it could be a silly story, it could be a recipe on how to get your teacher to look like a ladybird, or anything that inspires them!
As part of our ongoing maths unit on multiplication and division, we have had a speed-times tables test (the children had 5 minutes to complete as much as possible). They are bringing the sheets home to share with you and complete if necessary. We talked about the need to practise tables on a daily basis; this could be playing games or with an adult in the car or on a walk.
The next chapter of our story is available on purple mash and nearly at an end. There are games on the interactive resources website to support many areas of maths, including some fun times tables games.
We have thoroughly enjoyed being in red today and chuckled at the jokes we have shared. Well done to Hugo whose joke was voted 'best' by the class and went into the final during this morning's assembly (narrowly beaten by a Year 6 joke about the letter 'p').
We look forward to sharing our recent art work with you next Friday from 2pm.
Friday 17th March
Home Learning this week
In English, we have be writing about wolves, including writing an information page. For an optional writing task, please could the pupils write an information page about their chosen animal (it could be a pet or a wild animal). Possible sub-titles could include:a brief introduction, what they look like, where they live, what they eat etc... Remember we are looking for all the criteria listed on the attached file 'Things to include in writing'.
There is Chapter 3 to read and activities on Purple Mash, as well as some new games on Interactive Resources under the file 'General'.
In Maths this week we have been adding and taking away with 2 digit numbers. For example:
a). 22 + 18 = 10 + ?
b). When I add together 37 and 49 my answer will be less than 100. How do I know this without having to do a sum?
Our spelling focus has been adding suffixes - ing, ed, er est to words of one syllable ending in a single consonant after a single vowel e.g. fat, hum, pat, clap, run and slip ( the rule being that the consonant is doubled e.g. running, hummed, saddest etc) These suffixes are especially important as they are a focus in our writing.
In Dance, we have been inspired by the book 'The Snail and the Whale' and were creating interpretive dances.
In Art, we are carrying on with pictures in the Lowri style as well as learning how to draw wolves to support our fact sheets.
Next Friday is Comic Relief and the children are asked to select a suitable joke to tell to the class on Thursday - the best joke (judged by the class) will go through to the 'final' during Friday's assembly. We will also be allowed to wear red clothes on that day with a donation of £1 to support Comic Relief.
Friday 10th March
Home Learning this week
The reading advertures continue on the Purple Mash website 2-Dos (chapter 2), along with some comprehension activities. Interactive Resources has many games to support our Maths, along with IXL.com.
The children have been given a paper copy of a blank book review we would like the children to complete for their writing task this week (just in case you need another copy, there is one attached to the bottom of this page). This can be on a book they have just finished or on a book they read or shared recently and thoroughly enjoyed.
Well done for all the fabulous research that has been going on, we have shared some of the scientists that have been researched and look forward to sharing any others that are completed next week (see February 10th home learning for details).
Do keep reading with your child on a daily basis and practising times tables (2s,5s and 10s) as well as number bonds to 20 (e.g. 20- ____ = 2)
In Maths this week, we have continued to learn about fractions, comparing them, finding fractions of amount or shapes. For example:
In English, we have continued on our topic of the 'Hippocrump', writing rhyming couplet poetry and information texts about it. The spelling focus has been 'wr' as well as the words 'quiet' and 'quite'.
Spelling focus - 'wr' and 'quite and quiet'
In PE, we are creating balance sequences with partners, and in Games we are controlling a ball with a tennis racket.
In PSHE, we have had a lot of discussion and role-play about friendships and how they work, as well as some practical guidence about what to do in certain situations.
Friday 3rd March
Home learning this week
Please continue to research your chosen 'scientist' who has been significant for/with materials. There are new books to start reading on Purple Mash and I strongly suggest the quiz afterwards to check for understanding. Interactive Resources has some new games and there are 2 folders of suggested activities – Magical Maths (for securing understanding) and Challenge Maths (for understanding at greater depth).
If you have time please find Portsmouth and its surrounding area on 'Google Earth'. As an extension you could find the distance between Portsmouth and Petersfield in preparation for our geography topic this term.
Please continue to read and share books together, especially checking for understanding. The 'Blooms' questions we handed out at parents evening are a great starting point.
I have added our currculum letter to the attachments at the bottom of this web page, as well as a checklist of all the things we are asking the children to include in a range of their writing.
---
This week we have started our topic on fractions in Maths. As well as counting in fractions, we have been finding fractions of shapes and whole number. For example: if I have 25 toys car, is it possible to find ⅓,½,¼,¾ without breaking them?
In English we shared the poem 'The Hippocrump' and from its description the children drew what they thought it looked like, adding labels. On Tuesday afternoon we thoroughly enjoyed the theatre production for World Book Day. As part of World Book Day we then used the theatre production as a stimulus for writing a story about a goblin.
Spellings this week have focused on 'ey' and other ways of spelling the long e sound.
In Science we are carrying on with the unit on materials. Having found out that the 3 bears needed new curtains after Goldilock's visit we set about investigating which material would be most suitable to replace them: tin foil, tracing paper, paper towels or plain paper. There were mixed results and mixed opinions which lead to a fabulous discussion in the desirable characteristics of curtains!
Games – We braved the weather and enjoyed a range of relay games, focusing on different ball skills and co-ordination.
In PE we have been balancing on low apparatus and creating sequences showing starting and finishing positions. The children performed their routines to the rest of the class who offered constructive feedback and pointers for future gymnastic routines.
---
Friday 17th February
We thoroughly enjoyed sharing our learning with you on Tuesday afternoon. Thank you for coming! There are lots more photos to share from this amazing afternoon in the photo gallery (follow 'News and Calendar', 'Gallery').
In English this week we have been learning about the suffixes 'ing' (present tense), 'ed' (past tense), 'er' (to compare two things), and 'est' (to compare three or more things). In Maths, we have looked and different forms of data and revisited how to understand and read data (tally charts, pictograms, bar charts).
Today has been our half-termly RE day and the concept has been 'Remembering' – where we have learnt about the Hindu festival of Holi and why it is celebrated (to remember Vishnu). After some Bollywood dancing, we ordered some statements about why we thought Hindus celebrated Holi.
We have had a very busy half term at school and I hope that you all have a very restful break. There is no formal home learning; however, please keep reading and sharing books and using the 'Blooms' questions to aid comprehension.
---
Friday 10th February
Thank you for all the returned internet safety books, they have now been passed to Year 3. There are numerous books still outstanding: please return these as soon as possible so they can be passed on.
There are two new Maths folders in Interactive resources - your child has been told which one would be best to use. The games focus is on number and place value as this is an overiding theme in all our maths, although feel free to look in the shape folder for activities too!
In Purple Mash, I have added an optional Titanic writing task to conclude our project on this subject; we are looking forward to sharing all our work with you on Tuesday afternoon at 2.30pm in the classroom. The pupils will also need to recite their poem on Tuesday, so please practice if they are not 100% word perfect (we found adding actions helped remember the words).
We had a very lively debate on Tuesday, sharing opinions on who was to blame for the sinking of the Titanic.
In Science, we have been learning about the recycling process and discussing how important it is to recycle.
As part of our science topic on Materials and their Uses, we need to research a famous scientist: they could have discovered a material or they could be using a material in a specific and unique way - I shall leave it up to you to chose. Once again this research could take any form - a poster, bullet points etc. This is a two week task, so it's not due in until after half term.
In the back of the Reading diaries we have clarified the criteria for the Bronze, Silver and Gold awards, so the children will hopefully be completing these awards for house points! We have also had another tables test, (results brought home on Thursday), with some of the children being confused by the division questions e.g. how many 5s in 35? The spellings continue to be taken from the back of their reading records as well as a review of the patterns we've looked at this term (contractions/ words ending in y / removing the e before adding the endings - ing, ed, er, est).
Mrs Rawlings and myself look forward to seeing you on Tuesday afternoon for our Titanic open classroom and on Wednesday for Parents evening.
---
Friday 3rd February.
This week we've been learning about shape (2D and 3D) and their properties. We have been using the correct vocabulary: vertices, faces, edges and played 'who am I?' naming the shape from three clues. We have also had a times-table test (2,5 and 10s) - the pupils know their scores!
In English we have been learning about the difference sentence types: command, question, exclamation and statement. We need to see them using all of these in their range of writing. We have also had a spelling test to check their Year 2 words/common words (in the back of their reading records) - the ones that are highlighted are the ones they knew in the test. We shall periodically test the rest.
For home learning this week, I've updated the folders on Interactive Resources to support our work on shape, so there are some new games and the next chapter of the 'The Lost Cat' is available on Purple Mash.
In addition this week, we're sending home a child-friendly internet safety booklet for you to look through together and return next week. It's part of our commitment to keep all our pupils safe in the online world so please have a read through and pick out any sections which you think are relevant to how the internet is used in your home.
We only have one set of the booklets and they are being given to a different class each week so please don't write in them and remember to return them before next Thursday.
I have photocopied a couple of the activities the children might like to have a go at onto a separate sheet so please feel free to write on that.
We hope to be making some Titanic artifacts next week and your child may have a specfic request of what needs to be brought in, depending on their design. For example, tin foil to make a watch, the inside of a kitchen roll to make binoculars, an empty cereal packet to make a safe etc. If they are able to bring in some items (most would be found in your recycling bin), it would really help, thank you.
Please do continue to read with your child everyday; their understanding of the stories they are reading is improving and aiding their confidence when it comes to comprehension texts and questions we are doing in class.
---
Friday 27th January
What a titanic week we've had! In English, the children learnt and performed their poems with fabulous expression. In Maths, we have completed the unit on money, ready to start 'Shape' next week. This week for home learning please could the focus be on times tables (2s, 5s, 10s) knowing the inverse as well as having the instant recall. e.g. how many 5s are there in 25? Would 19 be in the 2 times table? There are some new 'To-Dos' on Purple Mash, including the next chapter from 'The Lost Cat'.
As well as an amazing trip to the Seacity museum to learn about the Titanic, we've been making models of the ship out of clay.
Our spelling focus has been to add endings (er, est, ing, ed) to words ending in an e with a consonant before it e.g. nice - nicer, nicest, brave - braver, bravest etc. We've practised removing the e from the word before adding the endings.
In guided reading next week we shall be focusing on the book 'Meerkat Mail'. For home learning, the children could research meerkats or jackals, as we will be writing postcards from meerkat to meerkat.
As I write this, we are in the midst of a fabulous cultural day, with fabulous costumes and activities - photos to follow! The pupils will be bringing home their 'passports' from the day which I'm sure they'd love share with you.
I know that there has been a flurry of work already going on for their Titianic home learning project. The projects about the boat or the passengers is due in on the last Thursday before half-term and can take any form you wish - a poster, a model, a talk, a diary etc....
Friday 20th January
We've had another learning-filled week; planning and writing new versions of a story in English; using money in Maths to solve problems and explain our thinking e.g. True or False - 4 twenty pence coins are worth more than 6 ten pence coins - explain why.
In spellings this week we have learnt about the 'le' ending e.g. table, bottle, middle etc.
In Science we examined different materials and tried to change their shape.
As part of our reading assessment the children have to learn a poem by heart, inorder to achieve this the pupils will chose a poem on Monday and rehearse it. They will then bring it home to practise, ready to recite (by heart) on Thursday. We are looking for expression as well as accuracy.
We are very much looking forward to the Titanic trip on Wednesday and the Cultural-day on Friday (remember to come dressed up on Friday).
I have attached a copy of the Spring 1 Curriculum overview letter. There are 'To-dos' on Purple Mash, including the next chapter of the story and I would urge some more practice with money as we complete this unit next week with an assessment.
---
Friday 13th January
It was great to see so many of you at 'Meet the teacher'. For those who couldn't join us, there is a Spring Overview available, outling the areas we will be covering this term.
In Maths, we have continued to work with money (coins) and trying to answer questions like : Ben has five coins in his pocket. How much money might he have?
Today we've been investigating maths challenges.
In English we have been sharing books by Ronda Armitage and writing character descrptions about the Lighthouse Keeper, imagining what we would put in our lunch-basket and using dictionaries to look up unfamiliar words.
In gymnastics, we were moving around the hall safely and in a variety of ways, reminding ourselves how to use apparatus .
.
Spellings this week have been looking at words with omissions and the use of apostrophes. e.g. shouldn't, can't, didn't etc
Due the the very wet weather on Thursday, instead of break outside, we had a go at 'Just Dance' and made Lego sculptures!
For homework this week there are some To-Dos on Purple Mash, including Chapter 1 of a book to read and some activities based on it. On Interactive-resources there is a folder with suggested 'Money' games, but any practical activities involving 'real' money would be beneficial over the weekend. If your child would like to do a piece of writing showing some of the contracted spelling words we've been looking at in spellings, we'd be very happy to read it!
---
Friday 6th January
Over the last few days we've had a busy time in Year 2. We have started out 'Money' unit in Maths and the children would benefit from discussion about money, handling money, making certain amounts (e.g. how many ways can you make 50p) and challenges (e.g. If you had 3 silver coins wouldyou have less or more than £1).
In English we've been imagining we are a character from the picture book 'Tuesday'. In Science we've been starting to investigate uses of certain materials, inside and outside the school.
We look forward to seeing you at Meet the Teacher (s) on Wednesday where we'll talk a bit more about the home learning and the gap analysis that went home at the end of last term.
Friday 16th December
You will find your child's new gap analysis for reading, writing and maths in their Home Learning Journal. While all interactive resources remain at your disposal and we would encourage regular reading, there are no new home learning tasks for the holidays; please enjoy the break, rest and come back ready to learn in the new year!
Angels
We've had a fabulous week of performing 'Whoops a Daisy Angel', but also managed to fit in some RE where we read about the Angels in the Christian stories and learnt about their roles in the nativity. Our key concept was to communicate what an angel is and what we think about angels, the children have drawn some very detailed responses.
Christmas Party!
Musical statues, sleeping snowmen, pin the star on the Christmas tree, best dancer, Just Dance and plenty more games were enjoyed on Thursday afternoon. All the children got into the party spirit with prizes flowing!
Christmas Jumper Day
We spent a lively few hours playing a variety of board games wearing our festive jumpers.
Next term
Our PE days will be on a Tuesday and Thursday, so please could a named kit be in school on those days, with suitable clothing for outdoors, including trainers with a good grip.
Thank you for all your Christmas best wishes, I hope you all have a happy holiday! Mrs Pruden x
---
---
Friday 9th December
This week we have continued to use our multiplication knowledge of x2, x5 and x10. We are beginning to see the relationship between the inverse too (e.g. 5 x 5 = 25, 25 divided by 5 = 5).
In English we have been writing our own stories, having been inspired by 'The Snowman', using all that we've learnt about expanded noun phrases, correct punctuation and using dictionaries to check spellings.
We have worked hard on our 'Carwash' dance this week and enjoyed performing it to the school and our families today
In our technology lessons we have been creating our puppets using simple sewing stitches and thinking about our research carefully to help us overcome problems!
---
Friday 2nd December

We have been using arrays (see PowerPoint below) to help us understand the concept of multiplication. A copy of the matching game the children played in class (right) is attached at the bottom of the page if you'd like to use it at home to reinforce the learning.
Whilst writing letters to Santa, we have been focussing on our expanded noun phrases and careful presentation.
---
The Dark
In English this week, we have started reading a story called 'The Dark' by Lemony Snicket. The children imagined they were stepping into a spooky castle. The spooky music made them jump and quiver in fright! They thought about how they would feel in a creepy dark setting and came up with lots of fantastic WOW words to use in their writing.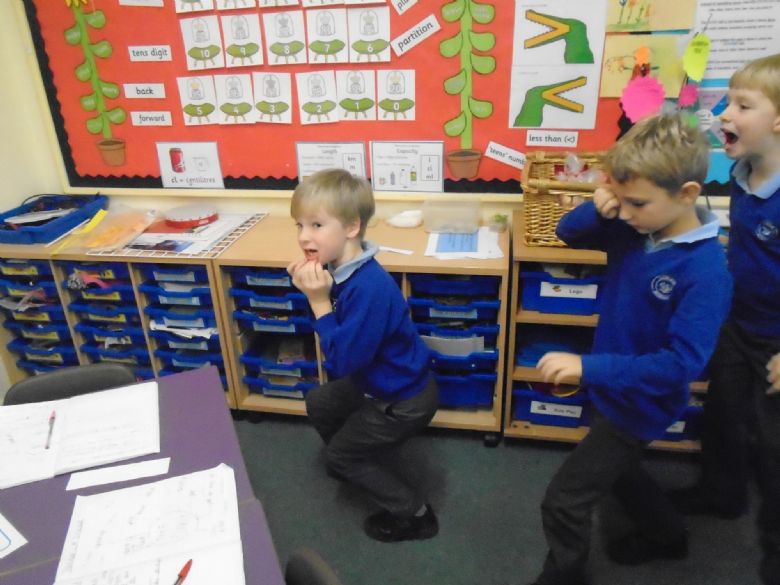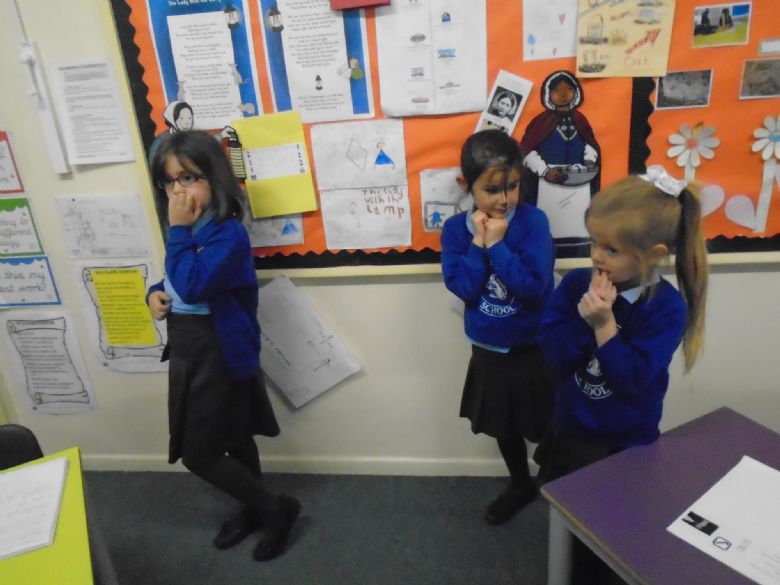 PE
In PE we have been dancing like the Snail and the Whale from Julia Donaldson's book. We contrasted the snail's small, precise gestures with the whale's large, slow gestures. The children also acted as icebergs using a variety of levels and body shapes.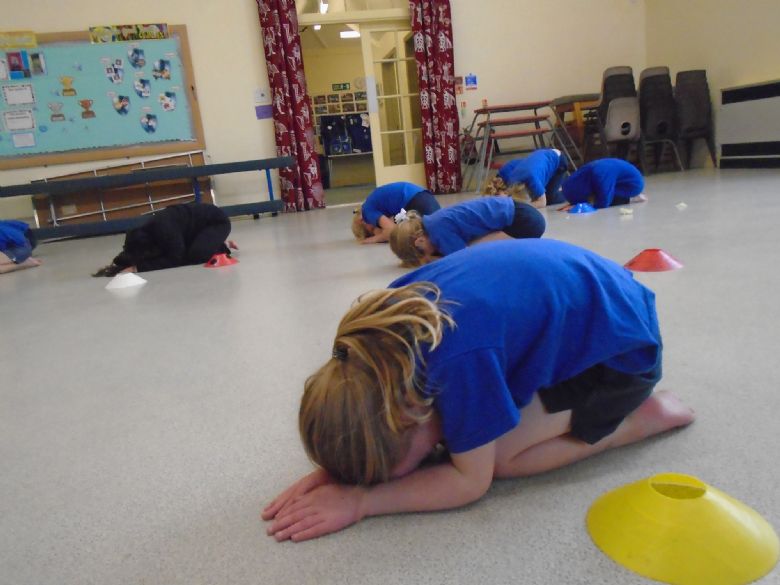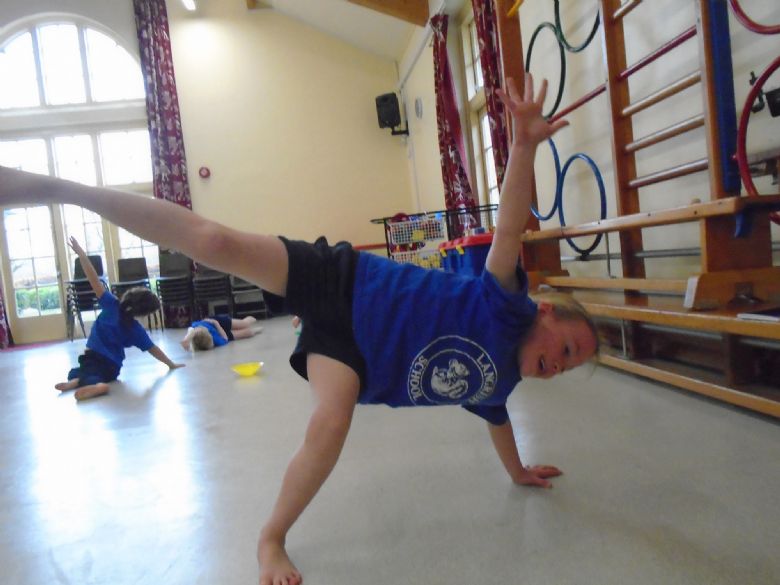 Dragon Danger! (Friday 18th November)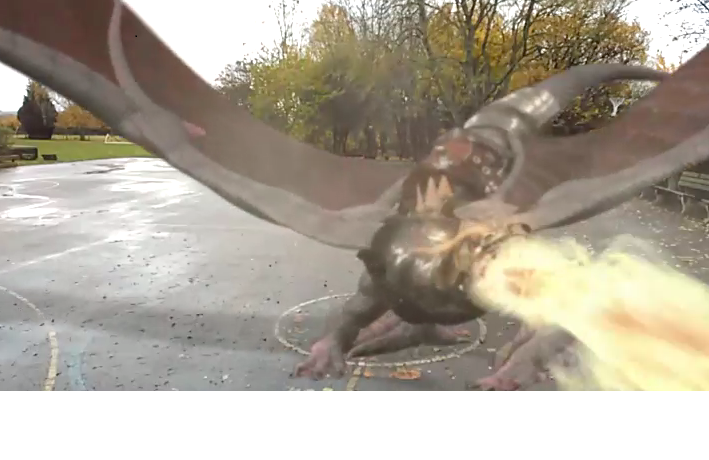 This week in English it has been Year 2's mission to trap the loose dragon. Princess Jasmine has written us a letter asking us to find the dragon and sent us a poster describing the shetland pony-sized creature.
The class have thought about different methods to trap the dragon. They are writing instructions to help us all know what we should do if we find the it!
Rocket Science (Friday 18th November)
We have started growing rocket! We are experimenting to see if plants need both water and light to grow. Can you discuss how we could have made our test fairer (think about the size of the pots used, the thickness of kitchen roll, the space between the seeds, etc).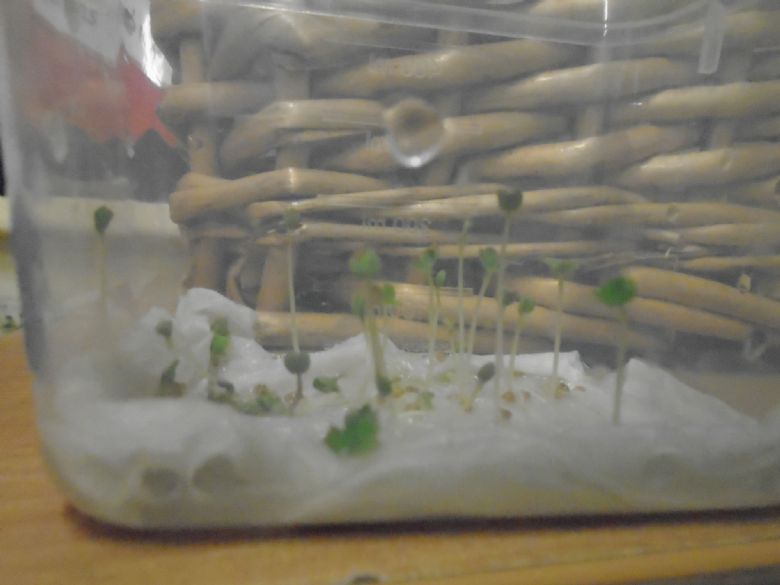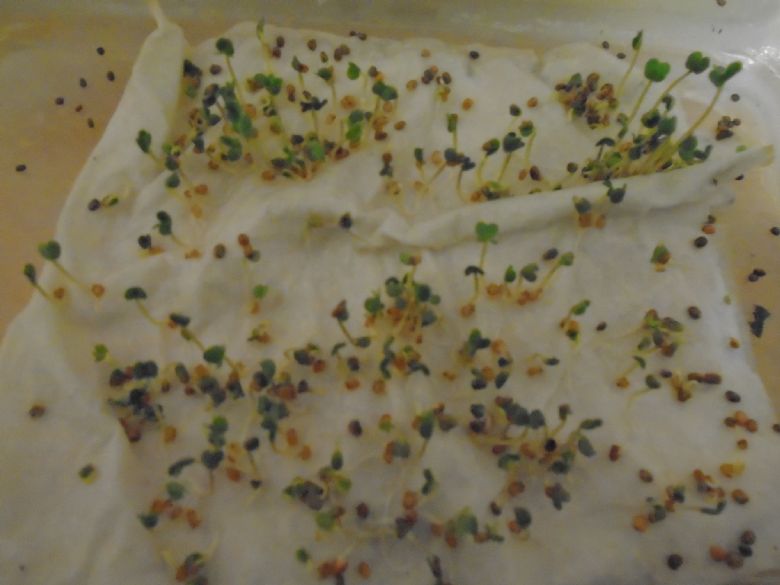 Class Assembly
---
Whizz Bang Pop! (Friday 11th November)
This week in PE the children became fireworks! They whizzed around as Catherine Wheels, Rockets and Roman Candles.
Can you guess which fireworks the children are in the pictures?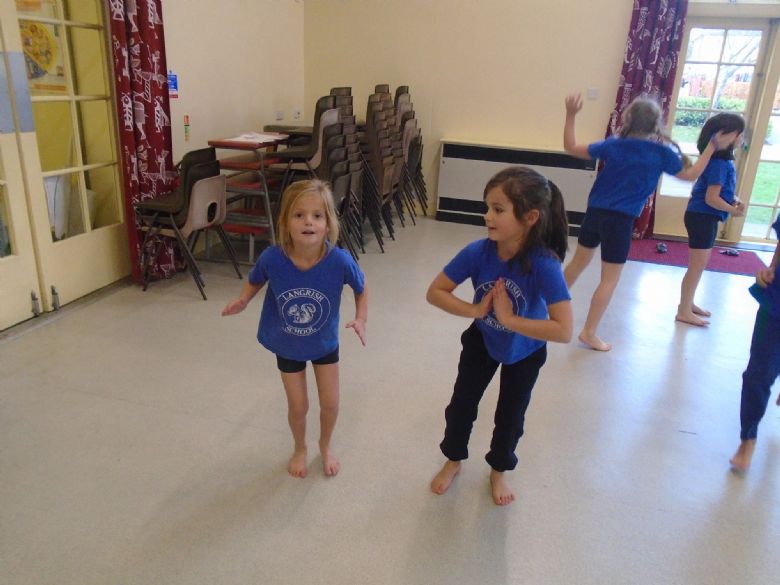 Autumn Animals (Friday 11th November)
This week we have been writing stories about animals that are associated with Autumn. We have practised telling the stories orally and picked out lots of fantastic WOW words and super vocabulary to use in our writing. Can your child tell you the characters in their story? Can they describe the setting with powerful adjectives?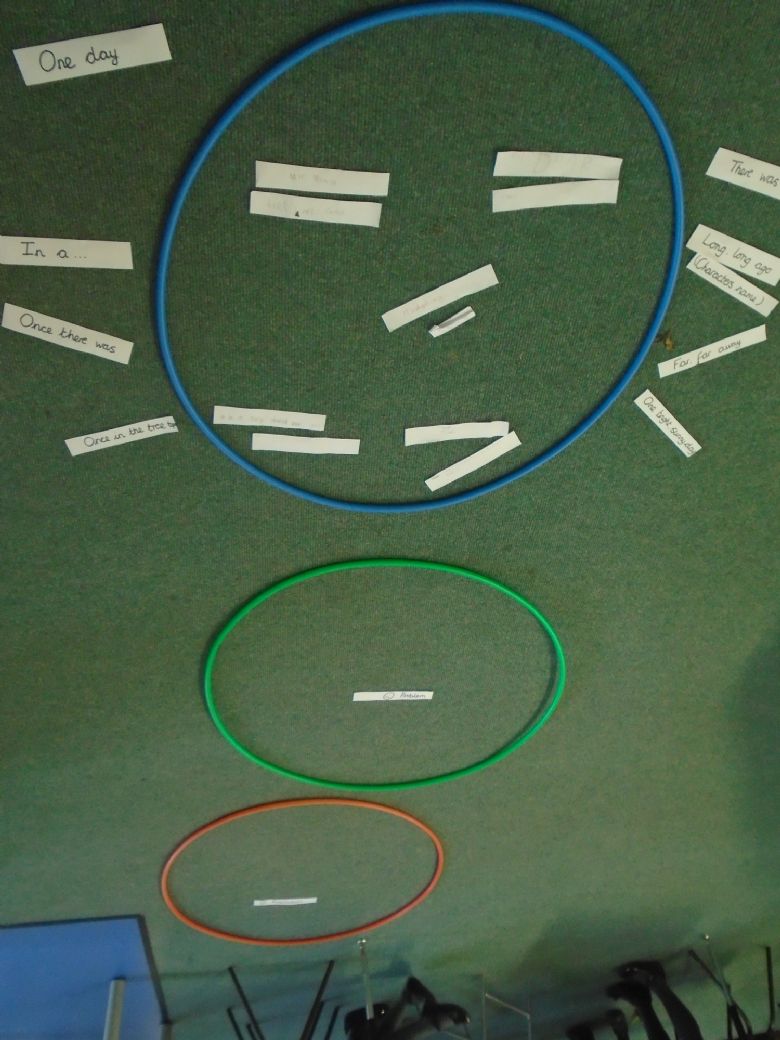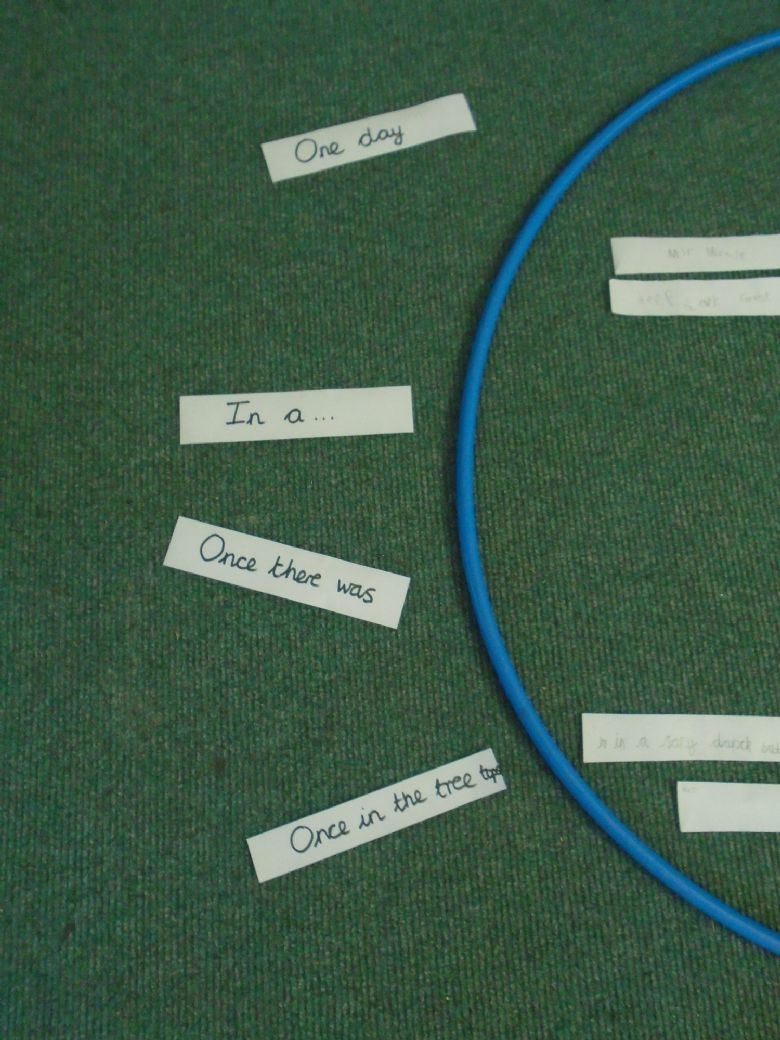 We also researched these animals in ICT. What did your child find out about their chosen animal?
---
Copse Capers (Friday 4th November)
This week we have been describing Autumn in our grounds! On Monday, the children went on a misty walk to the copse where they collected adjectives and nouns ready to use in their writing. They have been using these words to create expanded noun phrases (the ghostly-white mist surrounding the trees) in their descriptions. Can your child tell you any of the great adjectives they used to describe the autumnal setting?
---
Friday 17th October
On Tuesday, Year 2 had an RE day which included our own baptism ceremony! We discussed the most important elements of baptism and what it means to be baptised. We also raised questions about the meaning of the word 'belonging' and what it means to be a member of the Christian community.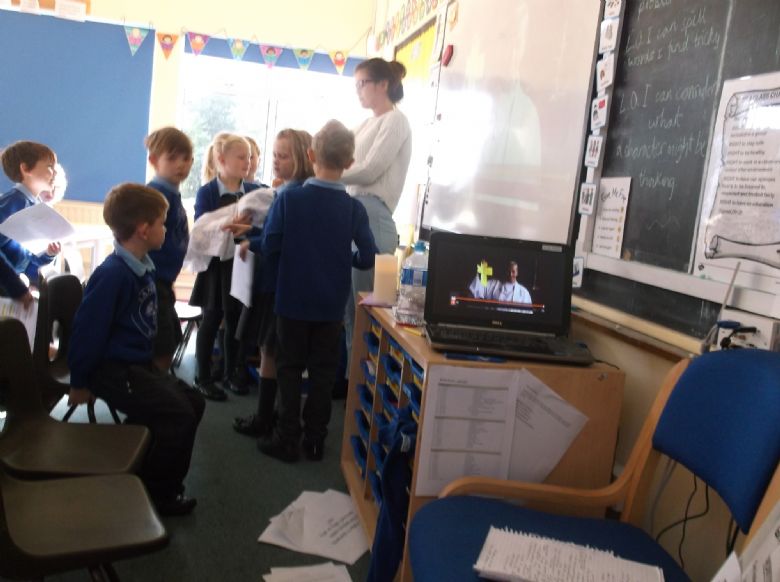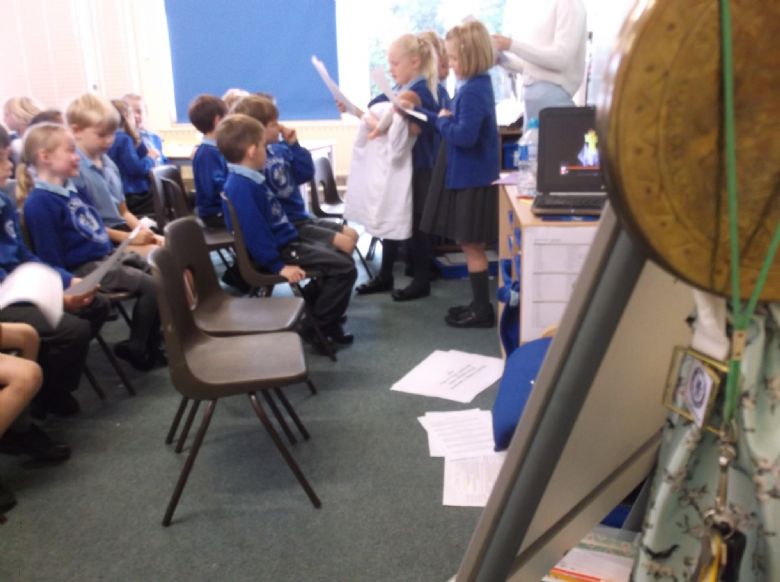 ---
---
---
Friday 10th October
In ICT this week, Year 2 have been using beebots in a cross-curricular setting. Can your child tell you how to programme a Beebot? In Maths, working with a partner helped us to become successful learners in our problem solving and reasoning challenges.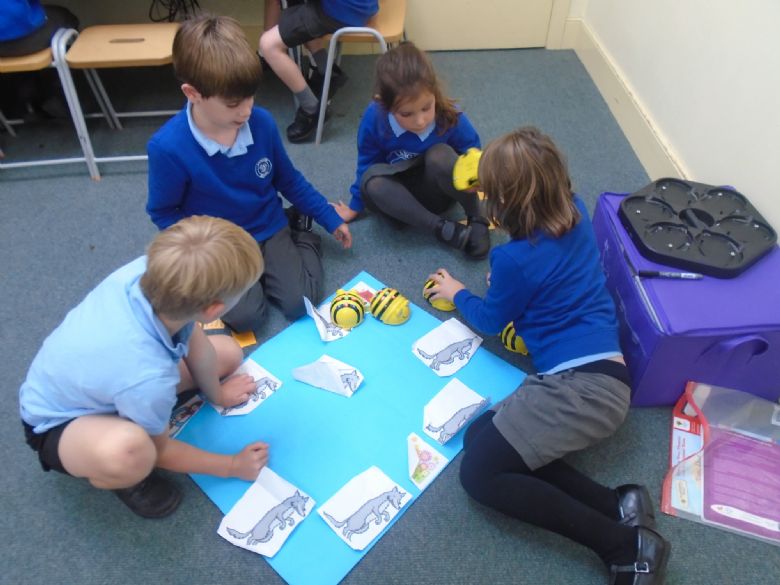 ---
Friday 3rd October
In Art this week, we have collected all sorts of natural objects to draw. The children looked closely at these objects through magnifying glasses and drew what they could see and feel. They thought carefully about the lines, shapes and shading in their work.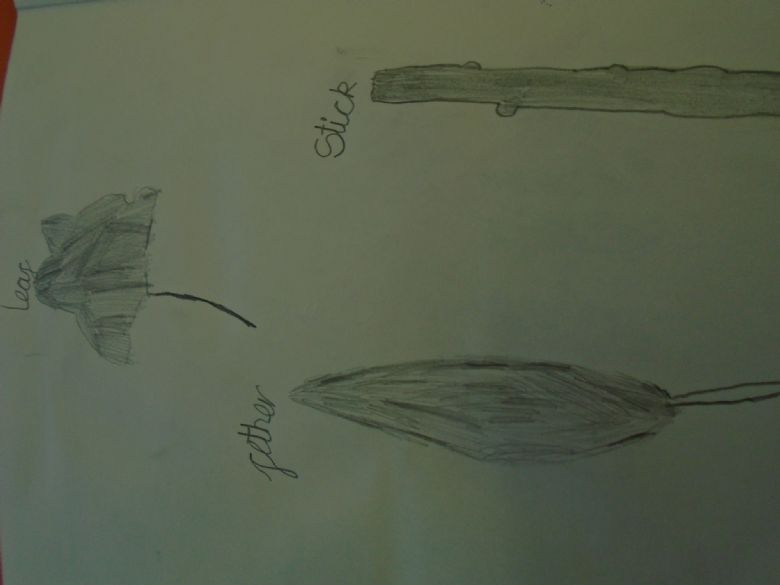 ---
---
As part of our Rights and Responsibilities education, Year 2 have discussed their rights in school. We have created a class charter to remind the children of these and the appropriate way to behave in school.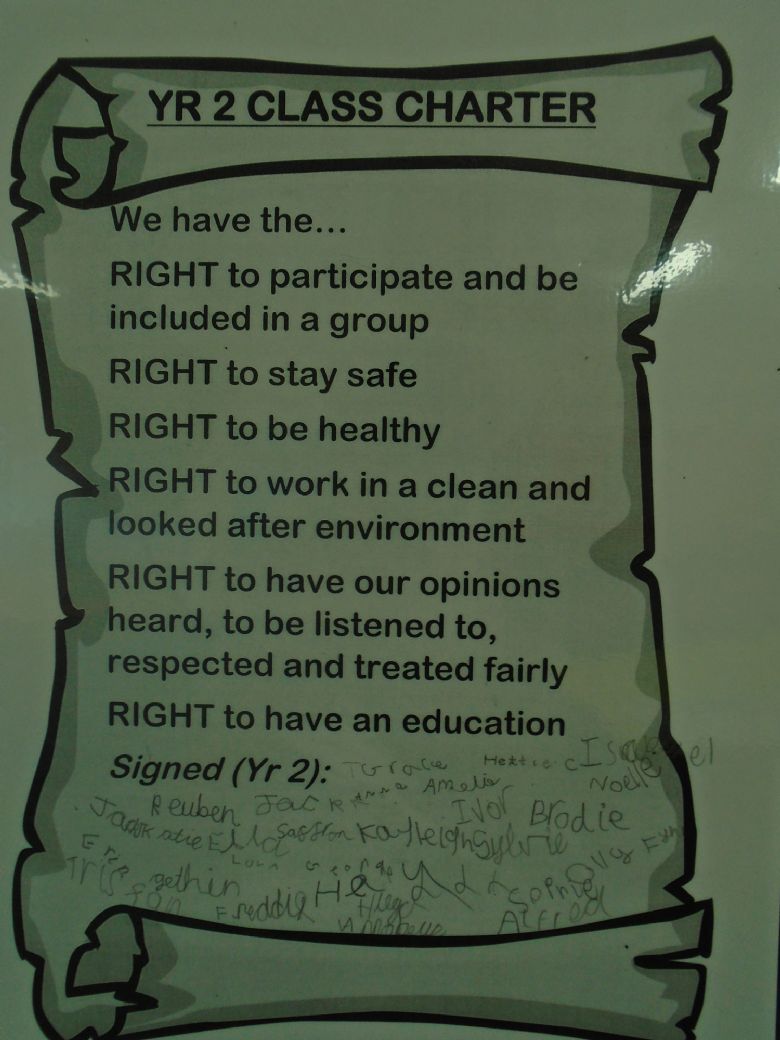 ---
Meet the Teacher
It was lovely to meet you all during our first 'Meet the Teacher' of the year. For those of you who were unable to join us please find a quick summary below of the main points:
Tour of the Classroom - how the learning environment has been designed to support your children's learning and independence, including the creation of 'Class Charters' based around the Rights of the Child
House point update - clarification of the new house point charter as outlined in the Pupil Passports at the end of last term
Changes to class website page
Bookopoly - new challenge sheet out Friday 16th September, please check book bags or click the link
Head lice - Please notify the office of any cases
Autumn Curriculum overview discussed - see below