Miss Flack & Mrs McCulloch
Welcome to our class page. Here you will find information and further details of our current learning.
---
Reminder - the deadline for Bookopoly is Wednesday 19th July. Please show me any completed challenges before this date to collect your 25 house points!
---
Home learning
Next week is Enterprise Week in school. Each class will be creating something to sell to raise money for our school and for our new link school in Africa. Year 3 are going to be creating a concert of all of our musical talents, which we will be giving tickets for in return for a donation. For home learning this week, please discuss this with your child so they are ready to begin the week with some interesting ideas about our performance. What have the children most enjoyed about our music curriculum that they would like to share? What would the audience like to see? Are there any other skills that they would like to showcase? Can they think of an interesting name for our performance?
I am looking forward to seeing the completed Romans projects on Monday!
Please continue to read with your child regularly, making sure you are questioning them about what they have read to develop their comprehension and inference skills. Please also continue to practise spellings.
---
Learning this week
14th July
In Maths we have been continuing to look at measurement with a focus on mass (kilograms and grams) and capacity (litres and millilitres). We also learnt about frequency diagrams, pictograms and bar graphs and collected some interesting data of our own. Did you know that Year 3's favourite flavour of cake is lemon?
In English this week we have been using different pictures as a stimulus for writing. The children were allowed to choose their favourite of four pictures and write in whatever style they wanted in response to the picture. The children loved taking ownership of their learning and produced some excellent pieces of work which were lovely to read! From newspaper reports and information pages to adventure stories and diaries – I am incredibly proud of the progress the children have made with their writing this year.
There was great excitement on Thursday and Friday of this week when the children made the pizzas they had designed as part of our DT project. Through this, they learnt about how dough is made and the importance of it rising; how to work safely when cooking and the importance of a balanced diet, which links to our Science topic of nutrition. I hope the pizzas tasted as delicious as they looked!
---
Please see the gallery page for the pictures of our sleepover at The Novium Museum. The children had a brilliant time!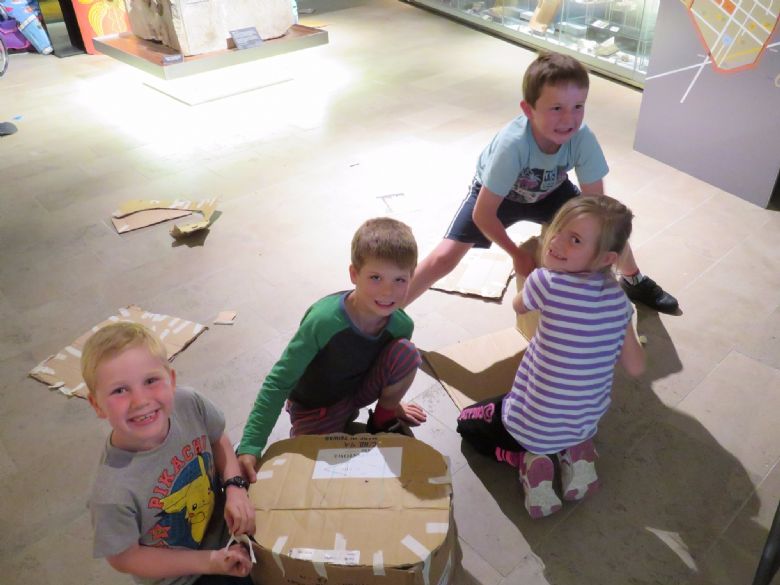 ---
7th July
In Maths we have been looking at measurement, thinking about measuring distances in km, m, cm and mm. We have used multiplying and dividing by 10, 100 and 1000 to convert between them. Can the children show you some examples of this?
In English this week we have been using last week's trip to the museum as a stimulus for writing. The children were asked to write their own adventure stories with the title 'The night at the museum'. They have written some very creative stories and I am glad that none of them actually happened!
---
23rd June
We have had another busy week in Year Three! In Maths we have been developing out knowledge of 2-D and 3-D shapes, thinking about their properties (e.g. parallel and perpendicular lines for 2-D shapes and faces, edges and vertices for 3-D shapes). On Monday we went into the school grounds to see how many 2-D shapes we could spot – we found loads! We also spent some time building 3-D shapes and thinking of our own clues for a 'guess the shape' game.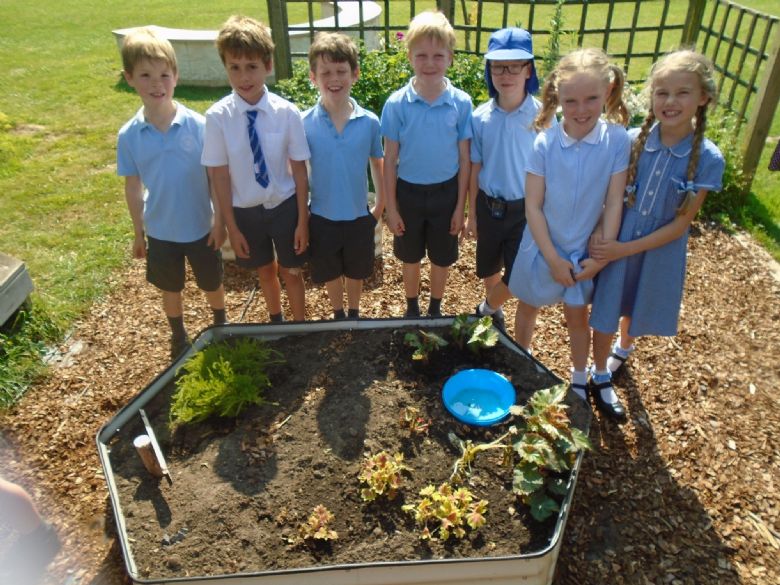 In English this week we have been writing fact pages about Roman gods, using headings and sub-headings to organise the information. To begin this topic, we had to choose which Roman gods we would be including, then research them. We went outside on a fact-hunt, then used the computers to continue our research on the internet.
In PE we tried the hurdles for the first time! It was sometimes tricky to jump as high as we needed to, especially as the temperature outside increased! We also had a fantastic swimming lesson on Wednesday.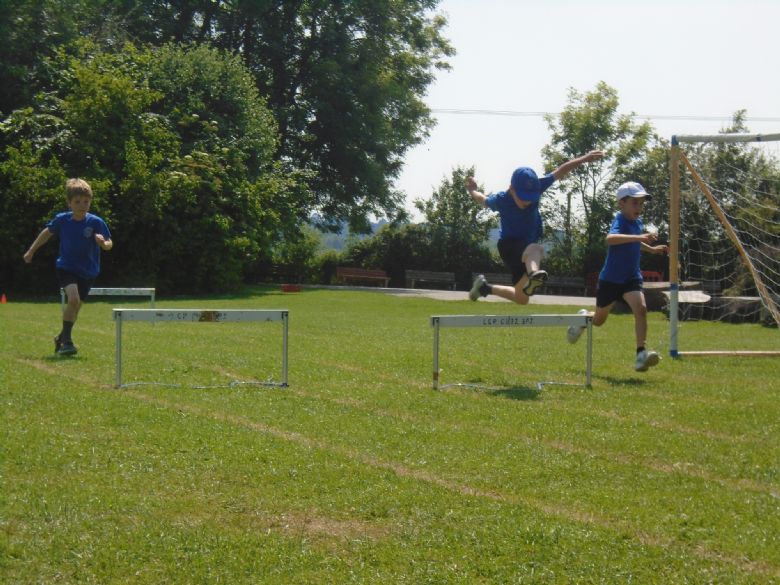 On Friday we went outside with Year 6 to learn a new board game - draughts! The children were teaching each other in mixed groups and now feel a lot more confident to play the game.
---
16th June
Our week began in a very exciting way – we were visited by our very own 'dragon' Mr Greenwood, Chair of Governors. He visited us on Monday to be an impartial Dragon's Den style judge to listen to our persuasive pitches. The children were absolutely fantastic – all of them spoke confidently and with passion about their robots. Well done to the winning group – Danny and Finn!
This week in Maths we have been learning about parallel and perpendicular lines. There was a particular song that we used to help us – please go to https://www.youtube.com/watch?v=517D17WRS9s to see it for yourself!
In English we have been studying Roman myths. We spent some time considering their features e.g. they always have a God and some element of magic, then went on to study 'A wild Goose Chase' in more detail. The children got together in groups to act out the story before re-writing it from a character's point of view. We were focusing on including adverbs, adverbial phrases and fronted adverbials in our writing. Can the children explain the difference between them?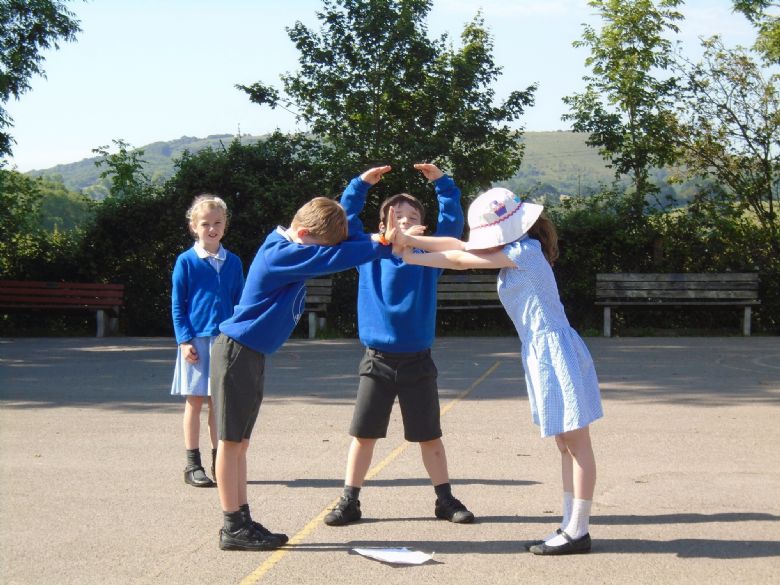 On Thursday, we very much enjoyed meeting the children's author David Fuller, creater of the Alfie Jones series. We heard about David's life as an author and took part in acting out a part of one of his stories. We also had the chance to ask questions.
We had a lot of fun in Science this week dissecting flowers and identifying their different parts. Can the children remember the names and functions of the different parts?
We thought you would like to see our beautiful art display. We worked hard to create the background and the fish inspired by the work of Paul Klee.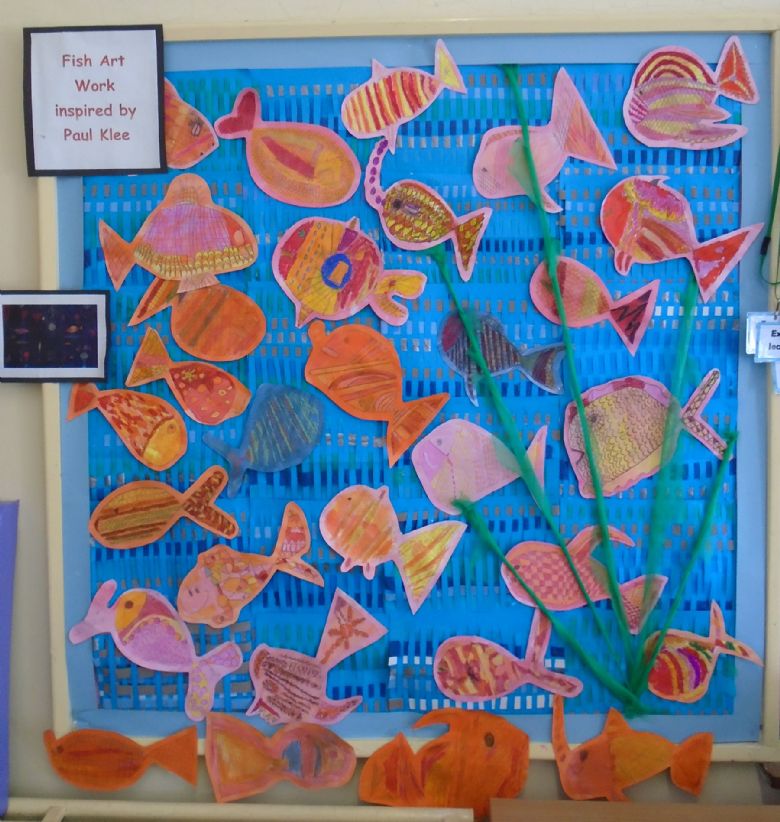 ---
9th June - Robot Week!
This week we have been having fun desgining, building and writing about robots! On Tuesday, the children were set the task of designing a robot that would help someone in school in any way they liked. They excitedly began to design some wonderful creations in groups of their choosing, deciding on the purpose of their robot and the features it would have to help it achieve it's purpose.
Then the fun (and the messy part!) began... The building and the decorating! The children used recyclable materials to create their robots, which had to be free-standing structures. They took a lot of care over their designs and should be proud of their work.

We have spent the rest of the week planning, writing and practising our persuasive pitches, which we are looking forward to presenting to the Chair of Governors on Monday morning. Mr Greenwood will then choose the best product based on its design and the children's presentations. The winners will be on the website next week!
Although we have spent the majority of our week working on our robots, we have kept up with our daily maths, focusing on acute angles, obtuse angles and right angles.
---
26th May
This week in Maths we have been continuing to practise our division skills while reflecting on and reviewing our work on fractions. After half term we will be moving on to a new unit of shape.
We have had a very interesting week in English with the end of our Roald Dahl author study. The children used their knowledge of him and his creations to make a quiz or board game, which were presented to the class as a celebration of our learning. The children had great fun making these and it was lovely to sit outside in the warm weather sharing our successes.
We have made the most of the sunshine by getting outside to play 'rounders' several times this week, with a brilliant Year 3 and 4 tournament taking place on Wednesday after school. Well done to all involved.
In Science this week we have been experimenting with different conditions for growing plants. The children were able to choose which variable they wanted to change (light levels, water levels or type of liquid to feel the beans with). They have been meticulously watering and recording every day and hopefully the seeds will germinate soon. If you are one of the lucky people who have volunteered to take the plants home over half term, please continue to water them to ensure as fair a test as possible!
---
Well done for an amazing class assembly!
I was so proud of the children for their fantastic class assembly this week – our last one together in Year 3! They all worked extremely hard and it was lovely to see their hard work pay off with outstanding acting and beautiful singing. Mrs Wright said that it was quite simply "Perfection," and I couldn't agree more.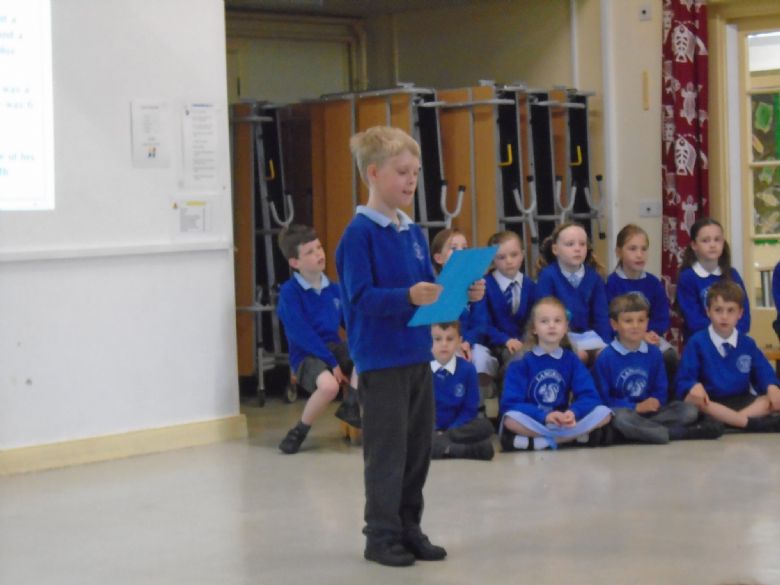 ---
Golden Mile
As part of our commitment to encourage healthy lifestyle choices, the whole school is taking part in the Golden Mile initiative from Monday! This involves children walking, jogging or running around a pre-set course and each of their completed laps being logged and recorded. The children will be able to keep track of how many laps they've completed individually as well as seeing how their laps have contributed to our overall school total.
Children will need their outdoor P.E. trainers to take part, and Year 3 will have the opportunity to do their laps during morning break on Wednesdays and lunchtime break on Tuesdays.
---
19th May
In Maths this week we have applying our fractions knowledge to real-life problems. For example: In Year 3 there are 75 children. A third (1/3) of them have brown hair. A third (1/3) of them have blond hair. How many children do NOT have brown or blond hair?We have been using the bar model alongside a new rule 'Divide by the denominator, times by the numerator'. Can the children show you the cheerleading-style 'cheer' we created to help up remember this?
In English we have finished off our author study of Roald Dahl by looking at some of his more famous poems in Dirty Beasts. Obviously the children learned 'The Crocodile' for our assembly, but they also had the chance to perform 'The Lion' or 'The Scorpion' in class and they have written their own. Look out for our own version of Dirty Beasts in the library soon! We started a class poem together about a donkey…
In a circus was a donkey,
His ears were tall, his legs were wonky,
He was unhappy where he was,
A circus is not fun because,
A donkey that can dance and sing,
Is often used for everything!
He's always tired, completely frazzled,
But still he smiles and still he dazzles
---
12th May
In Maths this week we have been developing our skills in adding and subtracting fractions with the same denominator. We were using the bar model to prove what we had worked out and to develop our reasoning skills. We then completed a number of puzzles applying our skills in different ways.
In English we have been continuing our author study of Roald Dahl, this week focusing on The Twits. This week we were writing 'The Twittish Guide to Trickery' using the tricks that Roald Dahl discusses in his story as a basis for our instructional writing. The children also created a few tricks of their own to include!
In Music this week we used glockenspeils, recorders and voice to create a performance of 'Let Your Spirit Fly' which is available on Charanga.
---
5th May
This week in Maths we have been learning about equivalent fractions. We have been building fraction walls applying our problem solving skills in different ways. We have also been thinking about the fact that fractions should be equal pieces of a whole. What other fractions are equivalent to 1/2? How do you know? What other fractions are equivalent to 1/4?
In English we have been continuing our study of the author Roald Dahl, this week focusing on The BFG. We read a chapter all together and answered a range of comprehension questions about it, then began to consider the BFG's job - giving children dreams. We used this idea as an opportunity for some creative writing, writing about one of our dreams. These were written with a grammatical focus on using subordinating conjunctions to create complex sentences. I have to say, I absolutely loved reading these pieces and I am so impressed with the children's imaination and creativity.
---
28th April
In Maths this week we have been looking at fractions once more. We have been developing our understanding of comparing fractions using the < = > signs, comparing fractions with the same denominator (e.g. 4/10 > 2/10) and different denominators (1/4 < 1/3). Next week we will be investigating equivalent fractions.
In English we have begun our author study on Roald Dahl by looking at 'The Witches'. We have been creating a leaflet entitled 'How to spot a witch' using ideas from the original text. We spent our Computing lesson this week using Microsoft Word to create a template for us to write our leaflets onto.
This week we have started two new topics – 'Plants' in Science and 'The Celts and The Romans' in History.
---
7th April
This week we have spent a lovely week celebrating our learning from this term. We have been practising our times tables skills by completing some different Easter-themed activities in Maths and we have been writing fantastic stories with a title of 'Mother of Dragons' based on a picture. I was very impressed with the children's creativity and imagination! They each picked a specific target to focus on in this piece of work, for example speech marks or spelling, and worked hard to achieve it.
We have also been celebrating the amazing projects that the children created for home learning based on our 'Active Planet' topic. These were incredible and the children are obviously very proud of their work. We had a range of work, from models and poems to PowerPoint presentations. Well done to everyone!
31st March
The children have been working hard on assessments this week in English and Maths.
I was incredibly proud of our children for their performance in the 'Dance Around the World' showcase on Tuesday afternoon. They performed confidently in front of our visitors from Steep and Froxfield schools, including visiting parents. I hope the children enjoyed this experience.
In DT we evaluated our monsters, suggesting what went well and what would be even better if we were to create our monsters again.
On Thursday we spent the day learning about the Easter story in our RE day. We created freeze frames and had a debate about whether the Easter story was happy, sad or somewhere in the middle. Can the children remember the Easter story? What was their opinion about it?
Red Nose Day!
---
24th March
In Maths we have come to the end of our fractions unit. This week we have been focusing on developing our confidence in finding fractions of amounts, ordering fractions with the same denominator (e.g. what is bigger – 3/8 or 6/8? How do you know?), starting to compare fractions with different denominators (e.g. would you rather have 1/3 of an apple or 1/4? Why?) and applying our skills to different real-life problems. I have attached a PowerPoint at the end of the page to help you see the type of questions we have been working on. As part of this the children have been developing their reasoning skills as they have had to explain why they would rather have 1/3 than 1/4.
In English we have been continuing to work on using inverted commas (speech marks) correctly by writing a fairy-tale with an alternative ending. I have included the '5 golden rules of speech marks' slide at the end of the Fractions PowerPoint for your information. To help us create our stories we listened to Roald Dahl's Revolting Rhymes. The children are enjoying reading their stories aloud to their classmates with a focus on using the correct volume and tone of voice.
In Geography we were focusing on how people's lives are affected by natural disasters, specifically floods. The children produced some excellent 'Newsround' style news reports, imagining an area had been affected by a flood, explaining what had happened and giving people advice.
On Wednesday in DT we created our fantastic monsters and used syringes to make them move! The children had a lovely time and worked very well together. They have started to evaluate their designs, suggesting what could be improved and giving reasons about why their models may not have matched their original designs.
---
17th March
We have continued to develop our knowledge of fractions this week in Maths by working out fractions of different amounts. We have been developing our understanding between the denominator (the number at the bottom of the fraction) and the number of groups that we are diving into. For example, if we are finding eighths, how many groups do we need to divide our amount / object into? What will the denominator be? How about thirds?
In English we have been considering perspective and how stories may change depending on the character's point of view. Can the children remember what perspective means? We discussed the Three Little Pigs and Little Red Riding Hood from the point of view of the Big Bad Wolf. The children then had the chance to write their choice of fairly-tale from a non-traditional character's perspective, with some very funny endings! We attempted to include speech in our stories, using the five golden rules of speech marks to punctuate our sentences correctly. Can the children remember the five golden rules of speech marks?
In Science we planned and conducted an experiment about friction, using different surfaces on a ramp and seeing how far a toy car would travel when it was rolled down the different surfaces. Can the children remember which of our surfaces had the most / least friction? Why is it harder to cycle on sand than on concrete?
We very much enjoyed beginning our new DT project on Wednesday with Mrs Pruden. The children were investigating pneumatics and have created some very interesting designs for their own monsters. This links wonderfully to our French lesson this week, where we were drawing and labelling monsters with multiple arms, legs, heads and feet (in French of course!)
---
10th March
I would like to start by congratulating the children for a fantastic class assembly this week! I was incredibly proud of everyone and I hope that they enjoyed it. They should feel a massive sense of achievement not only for the acting and performing, but for the writing as they wrote the entire script themselves, editing and improving it with each draft. Well done Year 3!
In English we have been continuing out studies of the text 'Minty' through our unit of Stories from Different Cultures. The children were developing their letter writing skills this week by writing a letter from one character to another.
In Maths we have been focusing on finding non-unit fraction tenths of amount (e.g. 3/10 or 7/10 rather than 1/10 which is a unit fraction tenth). We have been using the bar model to help us with this.
3/10 of 70 would look like this:
Using this model – what would 4/10 of 60 be? How about 8/10 of 30?
We spent Thursday studying creation as part of our RE curriculum. We created our own models and wrote our own stories about how the world was created! The children certainly seemed to enjoy these tasks. Can they remember what their creation stories were?
---
3rd March
The children have enjoyed learning about different books for World Book Day this week. We were visited on Tuesday by a theatre company who performed a piece based on the 'key ideas' in different texts. We then followed up this performance on Thursday, which was World Book Day itself, by writing fantastic mystery stories based on one of the songs that was part of the performance.
In maths we have started our new topic of fractions, focusing on the concept of tenths – what is a tenth and counting in tenths. We will be continuing to study fractions for the next three weeks.
In geography we have been continuing to study our Active Planet topic with a focus on earthquakes and what people have to do if they find themselves in an earthquake.
In science we have started our new topic of Forces and Magnets. We learnt about pushes and pulls with different real life examples, including a visit from Year 6 who were playing tennis at the time! They came to share with us the forces that they had been exerting while playing. Can the children remember which forces were being used and when? What other real-life examples did we discuss?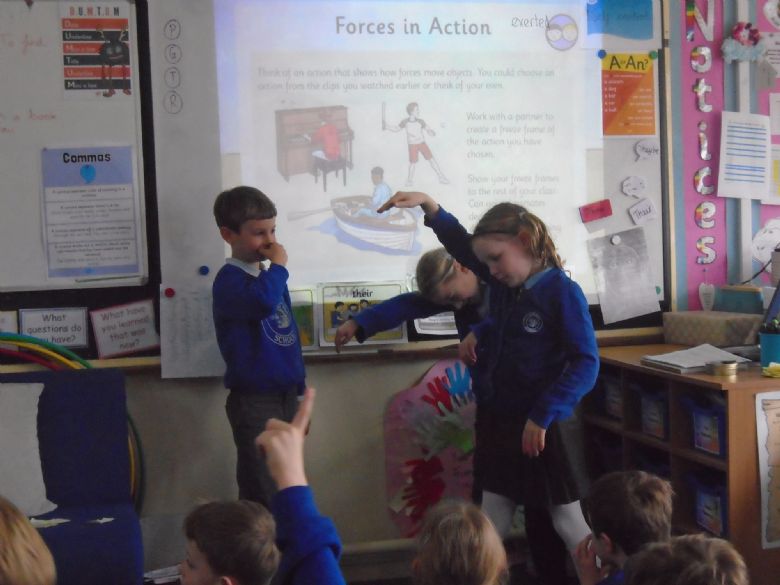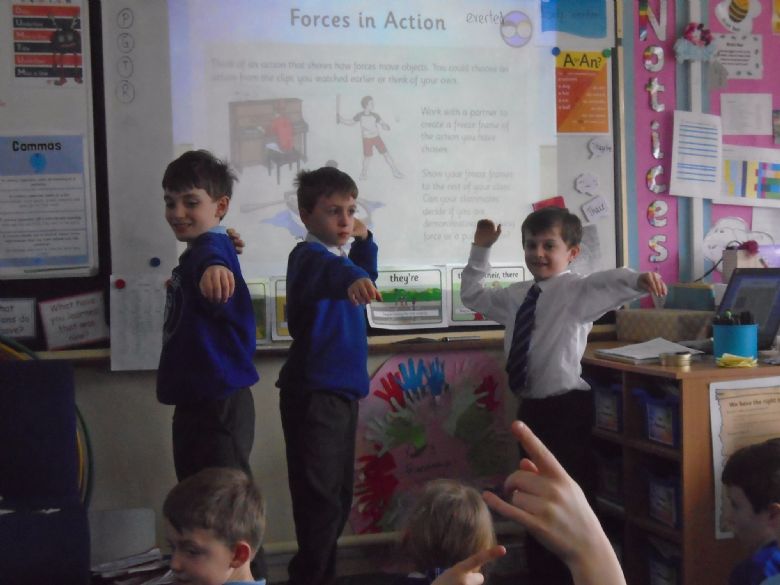 ---
17th February
In Maths this week we have been continuing to learn about time, with a focus on working out the duration of events when given a start and finish time. This was our final week of learning about time as we will be studying fractions after half term.
In English we have been writing poems about volcanoes and earthquakes, specifically haikus, tankas and cinquains. These are poems based on the number of syllables in each line. Can the children remember the correct structure for the different poems?
We have had a lovely week celebrating our learning about European art and artists. The children have presented their projects to each other and some parents and the effort that has been put into the pieces of work is evident. Well done to all!
---
10th February
We have had another busy week of learning. In Maths we have been furthering our knowledge of time, thinking about estimating, measuring and recording time in minutes and seconds. How long do the children estimate it would take to say the alphabet? Can they record this in two different ways? (Seconds only or minutes and seconds).On Friday we had a lovely rotation of activities, where the children were applying their skills in a range of different ways. How long did it take to run around the playground? What other activities did they choose to estimate, then measure?
In English we have been applying our knowledge of the features of brilliant writing to a story based on the short animation called 'I Lava You'. This is a story about the formation of two volcanoes. The children have worked hard on their stories, trying to include all of the features of writing that they know while developing their understanding of the use of commas.
In Geography we have moved on to studying earthquakes and we were able to see a number of live earthquakes that have happened recently using the live earthquake map at http://quakes.globalincidentmap.com/ Can the children remember how the strength of an earthquake is measured?
Art was another messy affair this week as the children enjoyed getting their fingers (and faces where they had been rubbed!) dirty creating portraits through rubbing out. This involved shading paper, then using a rubber to erase sections to create the picture.
---
3rd February
We have had a jam-packed week this week! There has been an incredible amount of learning going on with the children producing the most fantastic pieces of work which we look forward to sharing with you at parents consultation meetings in a couple of weeks.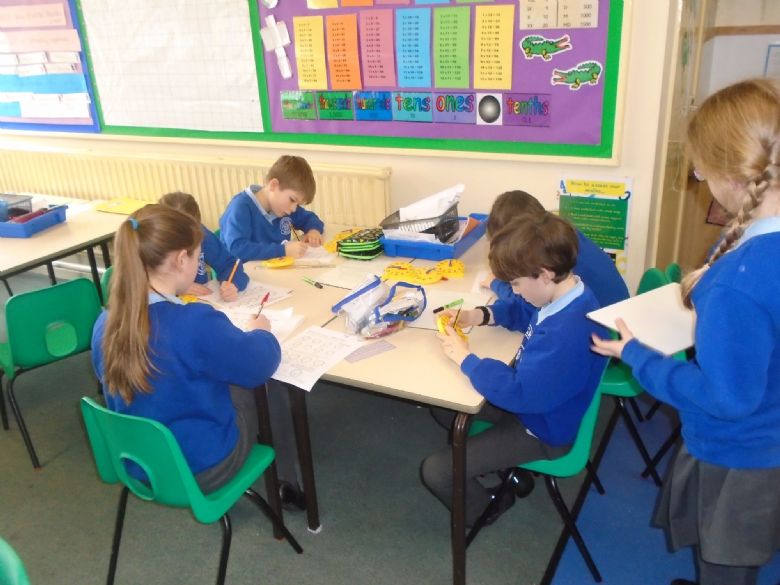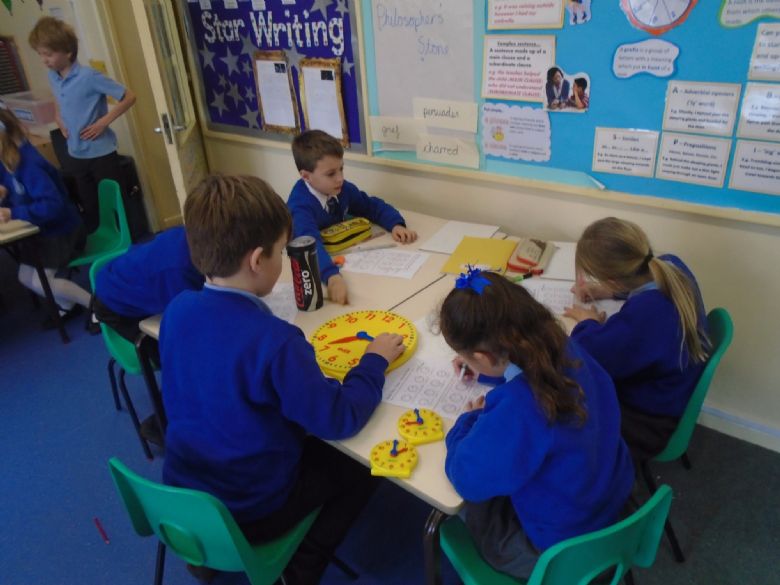 In Maths, we have been focusing our attention on telling the time using analogue and digital clocks. The children have tried hard with this, developing their skills as they have progressed through the week. On Friday we had some different teachers for Maths, with six Year 6 children coming to help different groups of children consolidate their learning. The feedback from this was fantastic from both sides, with the Year 3 children enjoying learning with a different teacher, and the Year 6 children reporting how well the Year 3's were progressing.
In English we have been developing our understanding of the differences between adverbs, adverbial phrases and fronted adverbials. Can the children remember the differences between them? We have applied this knowledge to our piece of writing for this week which was Pliny's diary after he watched the devastation of Pompeii caused by the eruption of Mount Vesuvius. The children have all worked incredibly hard on this piece of work and have created some wonderful diary entries, of which they should be very proud.
We have had an art-filled week this week with two artistic activities to enjoy. The first was on Thursday when Mrs Fogelin very kindly came to class to share her experiences in India with the children, who were absolutely mesmerised by her stories and photographs. They then had the chance to decorate a picture of an elephant or a cow, some of which will be added to the 'Cultural Day' display which will be going up shortly in school. Thank you to Mrs Fogelin for sharing this with the class.
On Friday, our artist-in-residence, Lindsay Southworth came to school to work with the children in creating their leaves to be added to the tree in the entrance hall of the school. These will be taken to be completed and set, before being added to our bare-looking tree in the near future.
Last but not least, Wednesday saw the eruption of many volcanoes in the playground! After learning about the different shapes of volcanoes, the children worked together to create their own, which we then made erupt with white vinegar and bicarbonate of soda. This seemed to be a very popular activity indeed!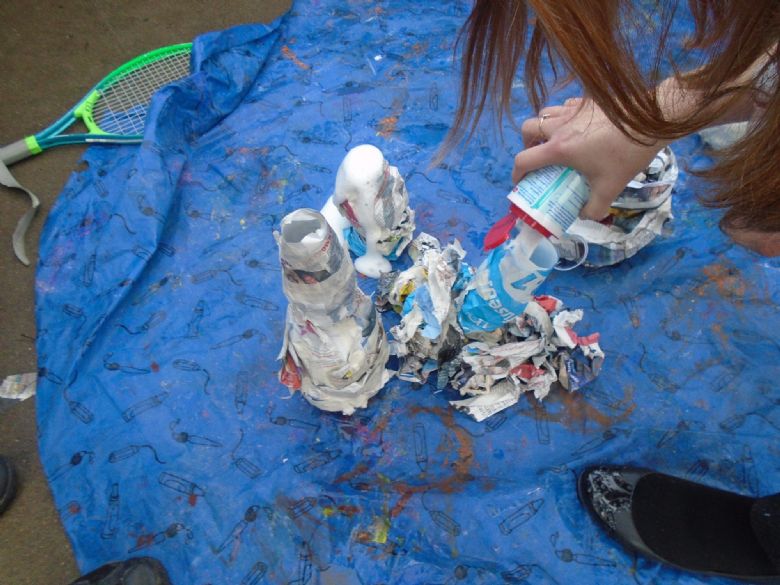 I leave you with a memory of last Friday's Cultural Day. The children looked fantastic and I hope they had a lovely day!
---
27th January
In Maths we have been revisiting the formal written methods of multiplication and division. We have been using the column and grid methods for multiplication, and the bus stop method for division and have consolidated our skills through a range of problem solving tasks.
In English we have been learning about the eruption of Mount Vesuvius that destroyed Pompeii in AD 79. We have been editing and improving a text about this disaster, applying our knowledge of good writing, and have created a new version, which we hope to produce in book form for you to see at parents consultation evening. Next week we are going to be writing the diary of Pliny, who witnessed the eruption of Mount Vesuvius.
In Geography we have been continuing our studies of volcanoes, focusing on what is produced during a volcanic eruption. What is more dangerous - lava or pyroclastic flow? Why? What is the difference between an active, dormant and extinct volcano?
In Art we have been studying the architect Le Corbusier and his creation of shape houses. What is an architect?
20th January
In Maths we have been consolidating our knowledge of multiplication and division. We have been applying our knowledge to real-life situations and progressing well through the week.
In English we have continued our writing unit of non-chronological reports by writing the school reports of Harry Potter, Hermione Granger or Ron Weasley.
In Geography we focused our learning this week on volcanoes. We particularly enjoyed looking at the live volcano map of eruptions that have occurred recently or are happening now! How and where do volcanoes form? What was the name of the town buried by the eruption of Mount Vesuvius in 79AD?
We had great fun in Art painting on the ceiling in the style of Michelangelo! Who was Michelangelo? What famous building is he associated with?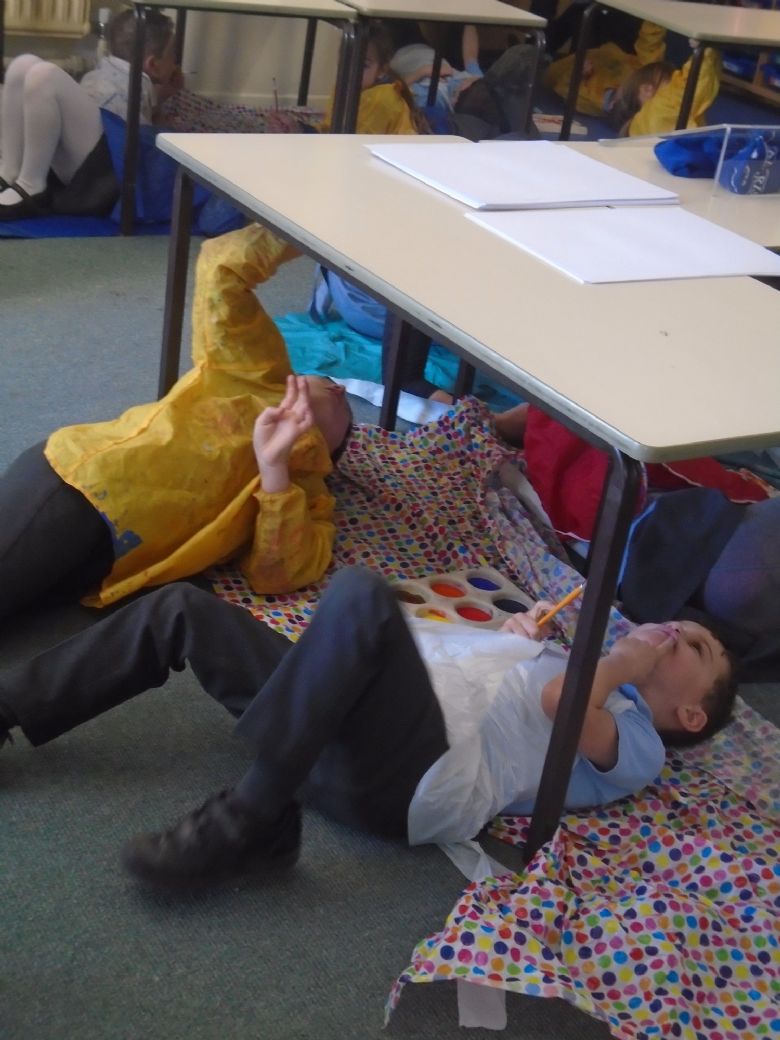 ---
13th January
In Maths we have been consolidating some of the skills we learnt last term, with a focus on addition and subtraction. Through this we have been using estimation and the inverse operation to check answers and to fill in the gaps in missing number problems e.g. ? + 12 = 15. Next week we will be re-visiting multiplication and division to further develop our skills. The objectives that we will be covering are on the Spring term curriculum information letter.
In English we have started looking at non-chronological reports, focusing on the model used to portray Hogwarts in the Harry Potter films. Next week we will be developing our knowledge and understanding about the genre by writing school reports for one of the main characters.
In Geography we have learnt about the structure of the earth and we enjoyed making 3D diagrams which show the different layers. Can the children remember how many layers there are? What are the names of the different layers?
---
6th January
We have been using some of this week as re-cap sessions to consolidate everything learnt last term. In Maths, we have been focusing on number and place value and addition and subtraction. The children were given the chance to complete different questions using the skills that they learnt during these topics. They then self-assessed their learning. Please ask your child how they feel about the different objectives, and use their evaluations as well as the gap analysis to target your home learning. We have been using our English sessions as a way of revising the different grammatical terms that we have learnt, starting new 'Grammar Glossaries' in class to help us to remember the different terms. Please ask your child which terms they have already written in their diary and what they mean. If you or your child needs support with this (some of the terminology may have changed recently) then please see the grammar glossary from the National Curriculum which is on our English page of the website.
In PE this week, the children looked at creating symmetrical balances in pairs, with limited connection points to the floor (e.g. 2 feet, 1 hand).
We have used Friday of this week as a CPSHE day, completing different activities based around a text called 'The Huge Bag Of Worries' by Virginia Ironside. Through this, the children learnt about how to deal with things that they may feel anxious about. They had great fun making their worry monsters!
---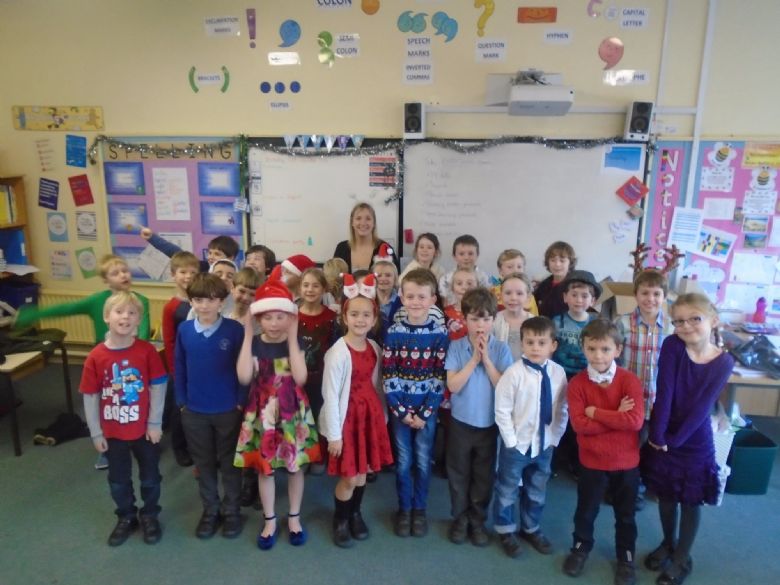 ---
Stone Age, Iron Age and Santa!
You will find your child's new gap analysis for reading, writing and maths in their Home Learning Journal. While all interactive resources remain at your disposal and we would encourage regular reading, there are no new home learning tasks for the holidays; please enjoy the break, rest and come back ready to learn in the new year!
This week has been a lovely week of celebrating our achievements. We started the week with RE, looking at symbols within Christianity, specifically the significance of symbols in relation to advent. We created a class advent wreath by drawing around our hands and writing our preparations for Christmas – from reading them I am sure that you will have lots of little helpers to prepare the Christmas dinner this year!
We have spent some time celebrating our lovely Stone Age to Iron Age projects that were completed for home learning. Each child presented their projects to the class and they have received a certificate and individual feedback from me. Well done to all of those who completed the projects – they were lovely to see and it is obvious that the children have put a lot of time and effort into them. Well done also to all of those children who have completed the 'Bookopoly' challenge and earned their 25 house points – Arthur, Nathan, Jacob, Harry, Christabelle, Dylan, Lewis, Joseph, Esme, Vinnie, Orlagh, Reggie, Jac and Amy.
Throughout the term we have been working as a team to earn 'Class points'. The children managed to reach their target of 20 class points in time to have their class treat before the end of term. We had a lovely time watching The Polar Express while eating popcorn and sweets as a little 'well done' from me. I am very proud of the children in Year 3 – they really have worked very hard this term. Each child was given a sticker with their elf name on it (mine is Puddin' Sugar-Socks) – this caused a lot of laughter when they were revealed!
In English the children have been continuing their creative writing using adverts as a stimulus. In Maths we have been consolidating our skills in addition and subtraction using a booklet of activities. The children are bringing these booklets home and I would encourage you to dip in and out of them for home learning in the future.
I have encouraged the children to ask Santa for some new stationery for Christmas this year as we appear to be running low on supplies in pencil cases. Please can the children return in January with full-to-the-brim pencil cases complete with writing pencils, coloured pencils, pencil sharpeners, rubbers, long rulers, glue sticks and green and red pens.
I would like to take this opportunity to wish you a very Merry Christmas and a Happy New Year!
From Miss Sugar-Socks.
9th December
In Maths the children have been measuring the perimeter of 2D shapes, starting with rectangles and progressing to different 2D shapes. Some children prefer to count the squares around the edge of a shape if it has been drawn on squared paper. Some prefer to measure each side and add the different measurements together and others prefer to use their knowledge of multiplication to help them. Which method does your child prefer? Ask them to explain their preferred method to you and see if they can use the other methods too. We ended our week of perimeter by measuring different objects inside and outside the classroom.
In English the children have been using different Christmas adverts as a stimulus for writing. Although I have given some ideas about different genres to write in, the children are allowed to choose their own writing style (narrative, poetry, letter etc) for each of the adverts that they choose to respond to. One of these must be a non-fiction genre such as an information leaflet. The children may choose to do some research over the weekend into a particular topic to help with this. For example, if the children choose the 'Monty the Penguin' advert, they may choose to do an information leaflet about penguins. Please discuss which other adverts your child would like to respond to and ask them which genre they are going to write in.
The children have been working hard to perfect their cheerleading routine ready for the open afternoon. They enjoyed getting the pom-poms out to add some extra sparkle to our routines.
---
2nd December
In English this week, the children have been practising their letter writing skills and writing that all-important letter to Santa! However, since we are now Year 3 (and very grown up) we have been giving Santa advice about how to take care of himself, rather than simply asking for various toys and games. The variety of advice given was great and I am sure that Santa will be absolutely fine in this busy time of year, especially now he has been reminded not to eat too many mince pies and to take a blanket in case he gets stuck! What advice did your child give to Santa? Can they remember where the address should go on a letter?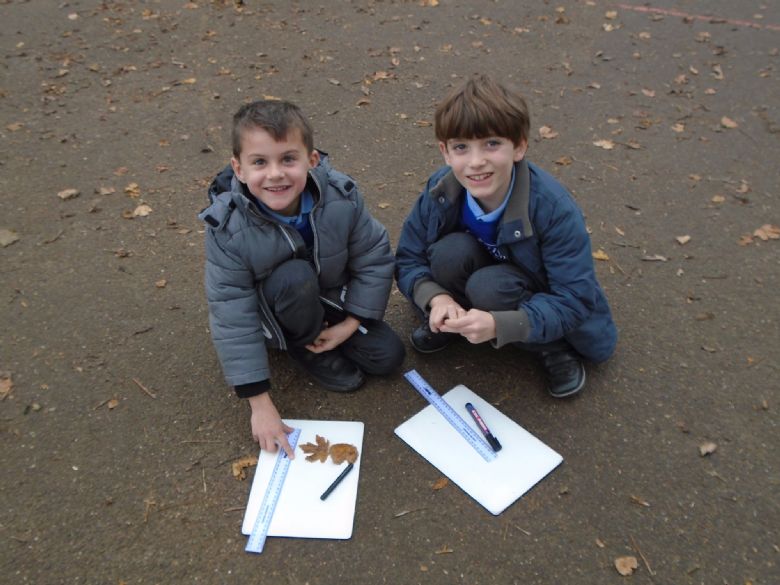 In Maths we have been looking at measurement, specifically length. We began by drawing and measuring lines accurately, then we were converting between mm, cm and m and we finished the week with an investigation to measure, compare and add lengths in the playground. Please see the PowerPoint below for further information about this week's teaching sequence. Can the children explain the conversion diagram to you? We tried to answer the question of how many busses could fit into the school's playground, but do not know how long a bus is! Perhaps the children could research this over the weekend so we can answer the question on Monday.
---

Class Assembly!
Well done for a fantastic class assembly!
The children worked incredibly hard and should be very proud of themselves for producing such a brilliant class assembly. I hope you enjoyed coming to share our learning.
---
25th November
Reading out our versions of the story 'Fox':

This week in English, the children have written some absolutely fantastic versions of the story Fox. This has been an on-going project, with a different section of the story written each day this week, with a different focus for each day (sophisticated vocabulary; interesting sentence starters; inverted commas used correctly; simple, compound and complex sentences and an interesting ending). The work that has been produced is excellent and I hope the children are proud of their stories.
In Maths the children have spent this week focusing on the formal written methods of division (the 'bus stop' method). We have been putting this into context with different worded problems.
---
---
18th November
In Maths this week the children have been focusing on written methods of multiplication. They have been shown both the grid method and the formal written method (see PowerPoint) and I have encouraged them to use whichever method they prefer to answer questions. Ask your child to explain their preferred method to you.
In English we have been looking at the text Fox in detail, focusing on the development of the characters and what personality traits they show. Next week we will be re-writing the story from a character's point of view, splitting the story into five main sections and writing one section per day. Can the children remember what the five sections are? Which character's viewpoint has your child decided to write from?
In Science, the children enjoyed conducting investigations into how mirrors are used to reflect light and we have progressed to looking at the Bronze Age in our history topic 'Stone Age to Iron Age'.
Around the World - drama workshop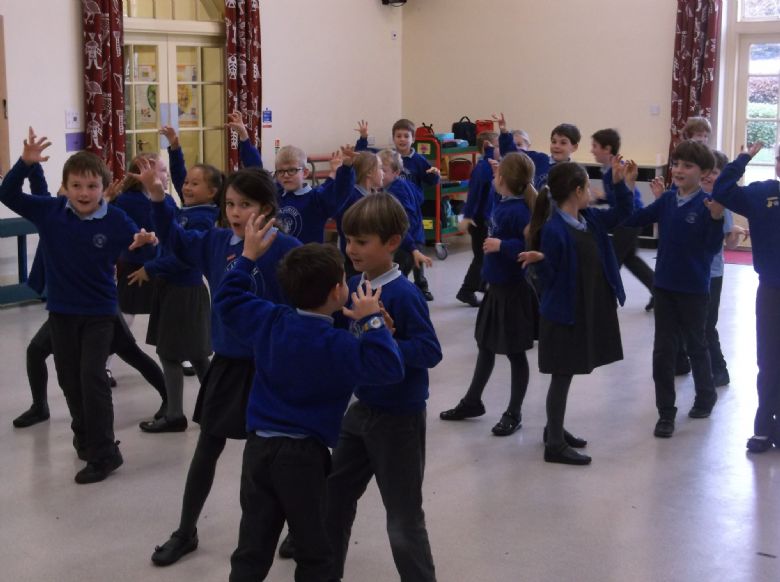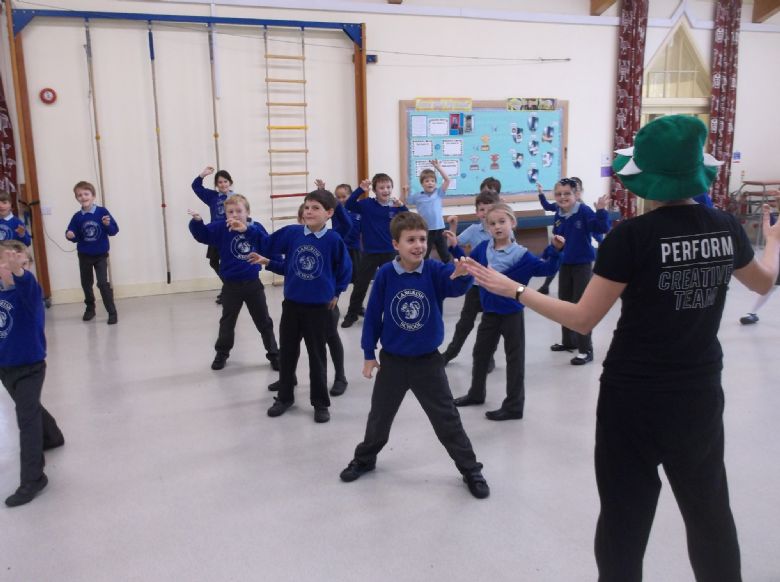 We were very lucky to have participated in a drama workshop on Tuesday, where the children participated in a range of activities to learn about the world around them. Our travels took us to France, Spain, Egypt and finally Australia, where we sent imaginary balloons with kind words back to the Queen of England. It was lovely to see the children really enjoying this creative and imaginative session.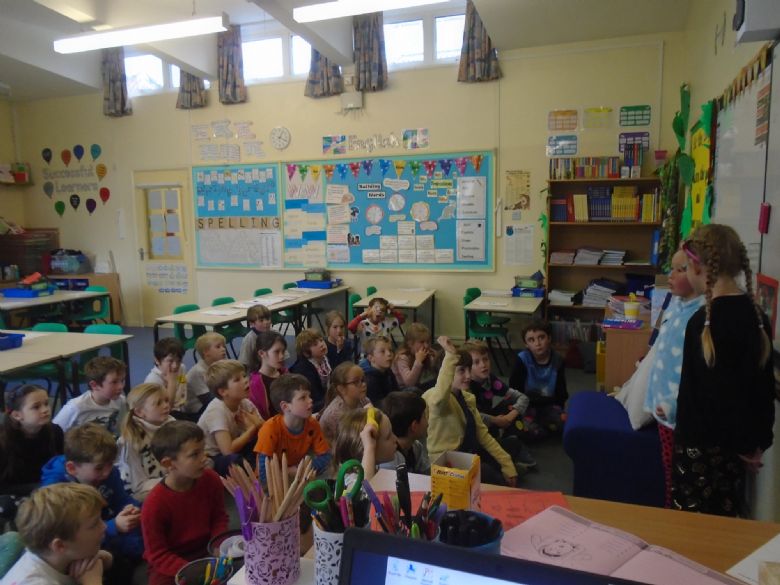 Anti-bullying Week
This week has been Anti-bullying week. We have been focusing our PSHE sessions on understanding what bullying is, how to celebrate our differences and taking mindful, positive actions. Our Rights Respecting representative and our School Councillor have delivered two of these sessions fantastically! Can your children remember the differences between rudeness, meanness and bullying?
---
11th November
In Maths we have been continuing to practise our 3, 4 and 8 times tables, using known multiplication facts to work out related division facts. We have done this predominantly through triangles (see PowerPoint). The children understand the four number sentences that can be written using the three numbers in the triangle and many have progressed to working out larger calculations e.g. if they know that 6 x 8 = 48 then 60 x 8 = 480 etc. We have also been applying our learning in different contexts and considering worded problems e.g. If one apple costs 80p, how much do 4 apples cost? Please ask the children to share the strategies that they have used to solve these types of problems – we have a 'Word problem work-out' that they could show you. Next week we will be starting to consider written methods for multiplication and division, starting with the 'grid method' of multiplication and the 'bus stop' method of division (see PowerPoint).
In English this week the children have been writing some very creative stories based on The day I swapped my dad for two goldfish. I myself have been swapped for several interesting items including a hairbrush, a parrot and a chocolate bar! Thankfully, I was returned by the end of the stories. I hope the children enjoyed writing these! Through our story writing we have been learning about verbs and adverbs, complex sentences and inverted commas (speech marks). Ask the children if they can remember what the difference between a simple, compound and complex sentence is. For the next couple of weeks we will be looking at the text Fox by Margaret Wild and Ron Brooks.
The children had great fun conducting a science experiment into reflective surfaces. They have also enjoyed our continued studies about the Stone Age. See if they can remember the names of the three eras of the Stone Age… remember – P M N.
---
4th November
In Maths we have been learning the division and multiplication facts for the 3, 4 and 8 times tables. We have been applying this in different ways and trying to solve different missing number problems. For Home Learning please can you continue to practise these times tables, focusing on division as the inverse of multiplication and formulating number sentences. For example, if I know that 3x4=12 then I also know that 4x3=12, 12÷3=4 and 12÷4=3. Also, can your children apply their known times tables to larger numbers e.g. if 3x4=12 then 30x4=120 etc.
In English this week the children have been focusing on writing recounts about what they did over half term. It sounds like you all had some very eventful days! They have been thinking about compound sentences and past tense verbs in addition to the features of a recount. To help with this we read 'The Day I Swapped My Dad For Two Goldfish'. The children enjoyed this story so much that next week we are going to be writing our own version – 'The Day I Swapped My Teacher / Brother / Sister For…' Please encourage your child to tell you what they can remember of the story that we read together and discuss ideas that they could include in their writing next week. We will also be continuing work on prefixes and suffixes as our spelling focus.
We have also started many new topics this week including Light in Science and Stone Age to Iron Age in History. We are looking forward to learning even more next week!
---
21st October
The children have had an incredibly creative week this week! They began with a D&T focus on Monday and Tuesday, where they were testing structures to see which shape would best support a photo frame, which they went on to design and create! Ask the children to explain their design to you.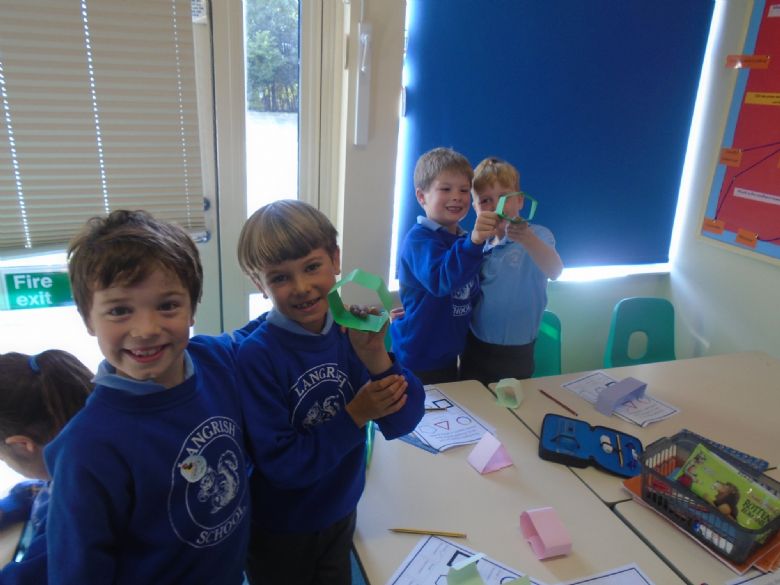 D&T days were followed by an RE day, where the children were exploring the idea of community. They combined role play with letter and poetry writing to record their thoughts. Ask the children what sort of communities they are part of and what it means to them to be part of this community.
On Thursday this week the children had the chance to imagine what life would be like in the year 2045! We watched an extract from Back To The Future Part II as a stimulus and discussed our ideas of what life may be like in 29 years time. Please encourage the children to share their ideas with you. Some of them were very creative and would be very useful!
We have come to the end of our unit focusing on Addition and Subtraction and will be moving on to Multiplication and Division after half term. Over the half term break, please encourage the children to continue to practise their skills, especially in column addition and subtraction. As well as the games available on www.interactive-resources.co.uk there are also plenty of games available on www.mathszone.co.uk . I have also attached some work sheets at the bottom of the page which you may wish to ask your children to complete as part of their home learning.
Thank you to the children for all of their hard work this half term and thank you to the parents for your continued support. I hope you all have a happy and relaxing break!
---
Molly and the Owl
On Thursday we were kindly invited to Bedales to watch a jazz band performing some excellent music to accompany the story of Molly and the Owl. It was very interesting to see and hear a variety of unusual instruments being played and it was quite relaxing too! Thank you to everyone who was able to help transport the children.
---
Meet the Teacher
It was lovely to meet you all during our first 'Meet the Teacher' of the year. For those of you who were unable to join us please find a quick summary below of the main points:
Tour of the Classroom - how the learning environment has been designed to support your children's learning and independence, including the creation of 'Class Charters' based around the Rights of the Child
Housepoint update - clarification of the new housepoint charter as outlined in the Pupil Passports at the end of last term
Changes to class website page
Bookopoly - new challenge sheet out Friday 16th September, please check book bags or click the link
Headlice - Please notify the office of any cases
Autumn Curriculum overview discussed - see below
---
Curriculum overviews can be viewed below by clicking on the attachments.