Mrs Wright, Miss Rigden, Mrs Kean & Miss Rhodes :Team Squirrel!
---
Welcome to our Squirrels class page. Here you will find information and updates about our weekly learning.
---
Summer Term, Week 11: Class Assembly
The children did themselves proud this week by putting on a fantastic class assembly. It was lovely to look back at all the hard work and learning the children have done this year. Over to them...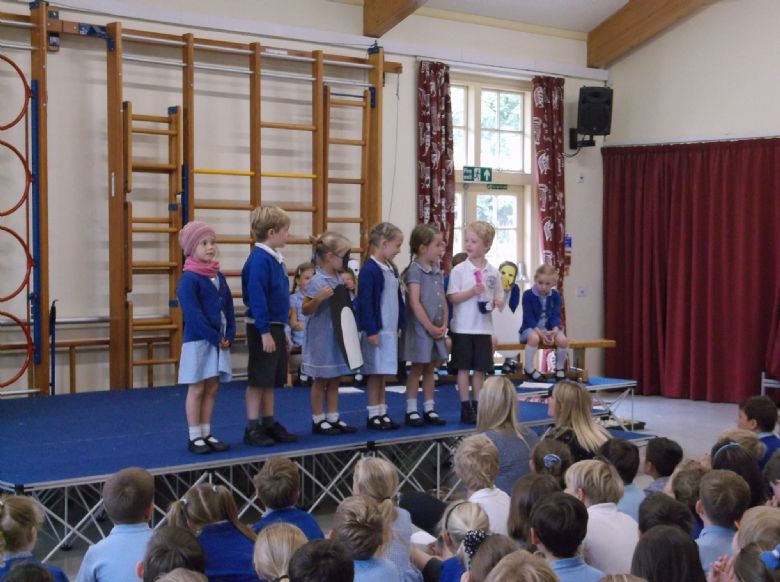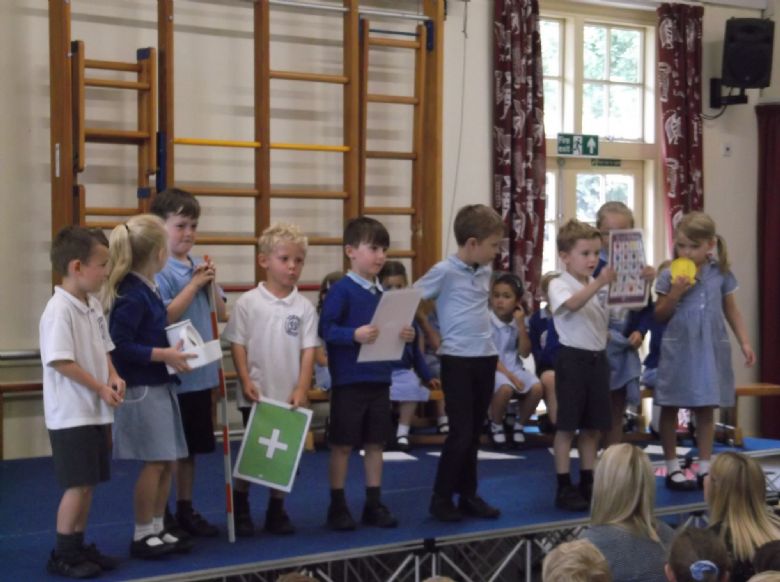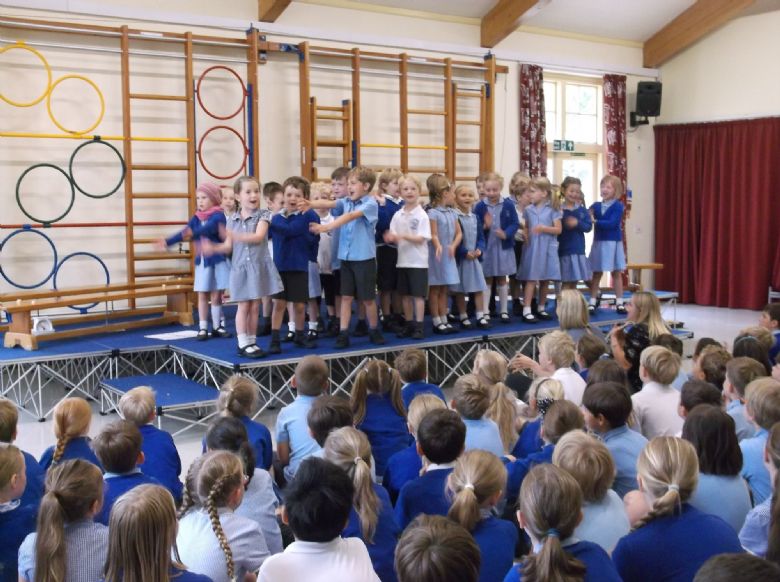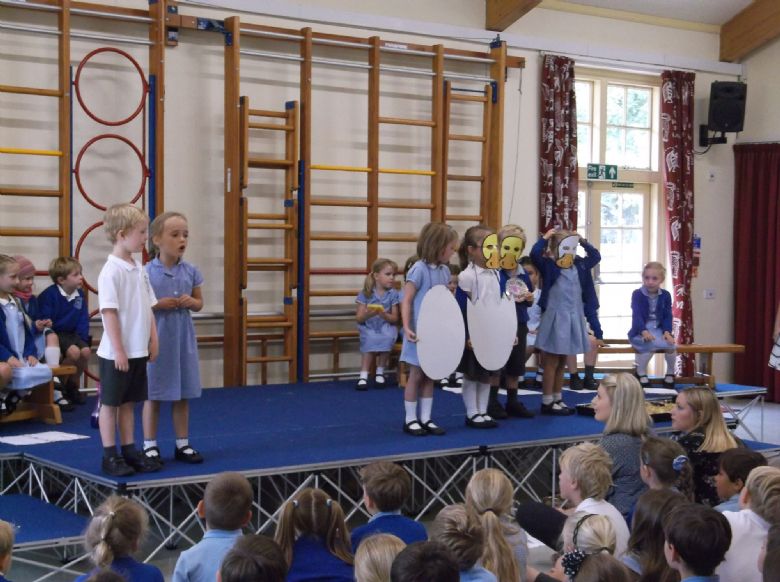 Next week is set to be busy. Here are some reminders:
Monday 17th July 6 - 7.30pm - School Open Evening
Wednesday 19th July - Children's Swimming Gala (please ensure the children have their swimming kits in school)
Friday 21st July 1.30 - 3.00pm - Enterprise Fayre (please come along to see what the children have been making. Please note the children are expected to stay with their classes until 3.00pm)
A final note, if your child has been completing their Summer Term Bookopoly by filling in details of their weekly library book, please send these back into school by Wednesday. Any child who has completed at least 10 books this term will be awarded their 25 housepoints but those who have only partially completed the challenge will still be recognised!
---
Summer Term, Week 10: "Who's been sitting in my chair?"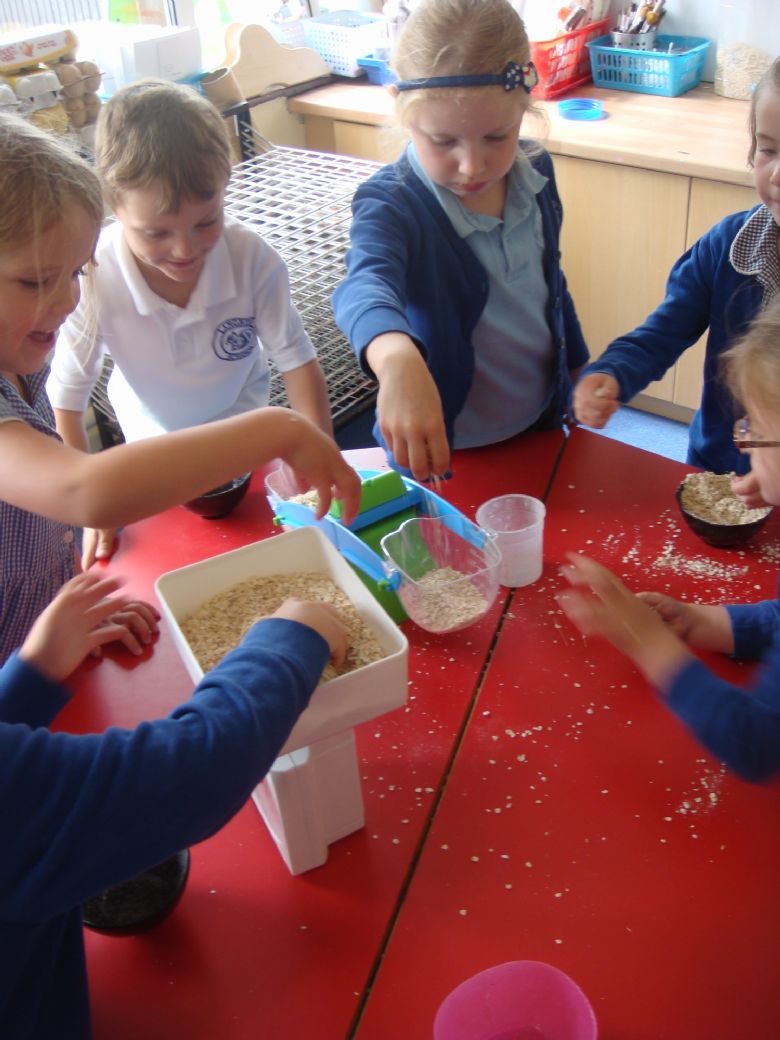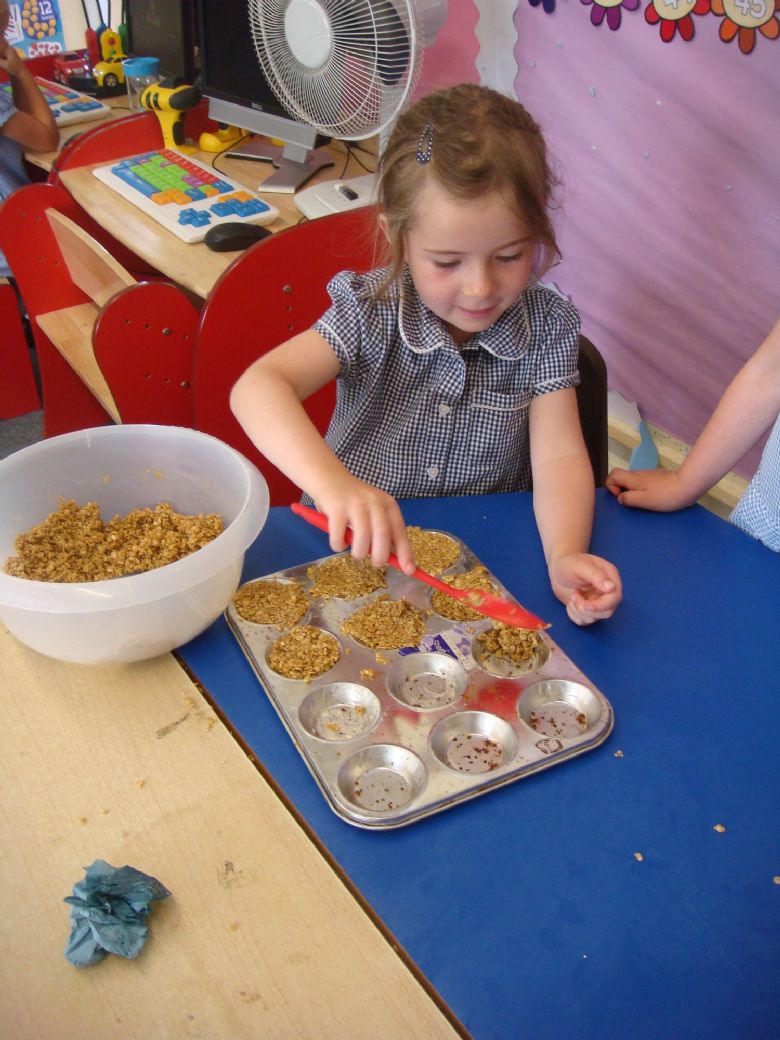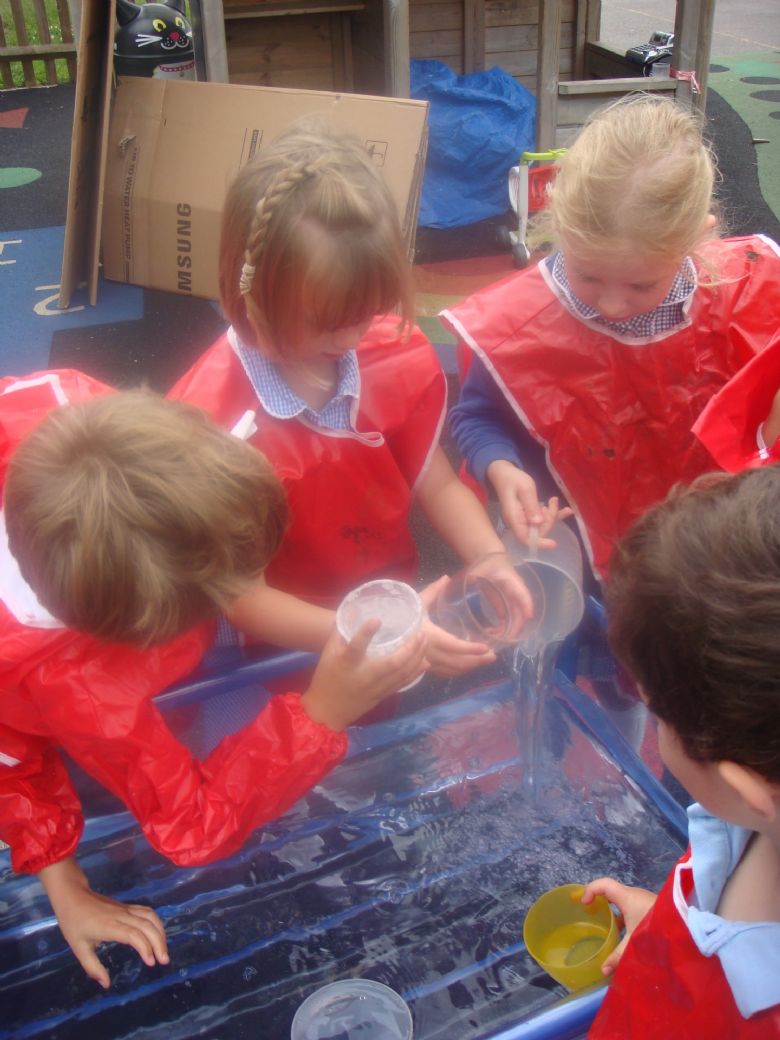 The three bears have moved into Squirrels class this week. This has led to lots of story telling and role-play as the children have story mapped, re-told, acted and written the story! There has also been lots of measuring and weighing as the children played with porridge, compared sizes and explored capacity. Of course, all this porridge reminded us of flapjacks. So they put their learning into practice carefully weighing ingredients to make some delicious flapjacks.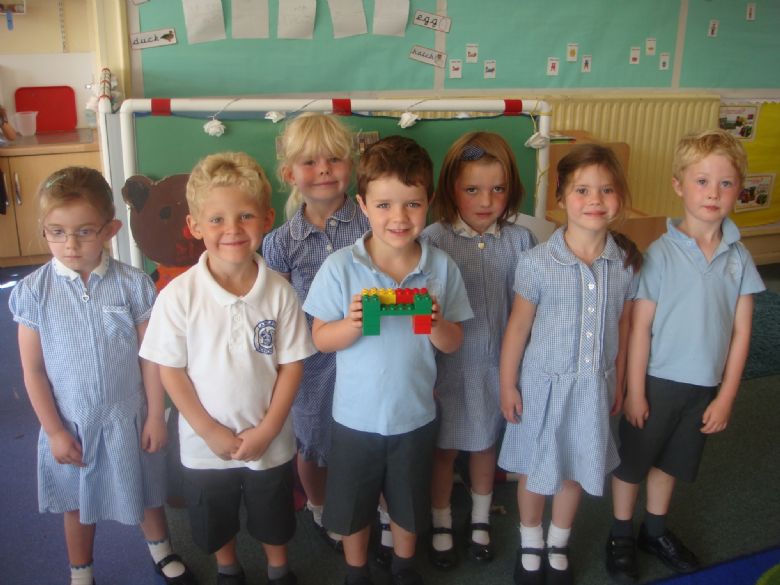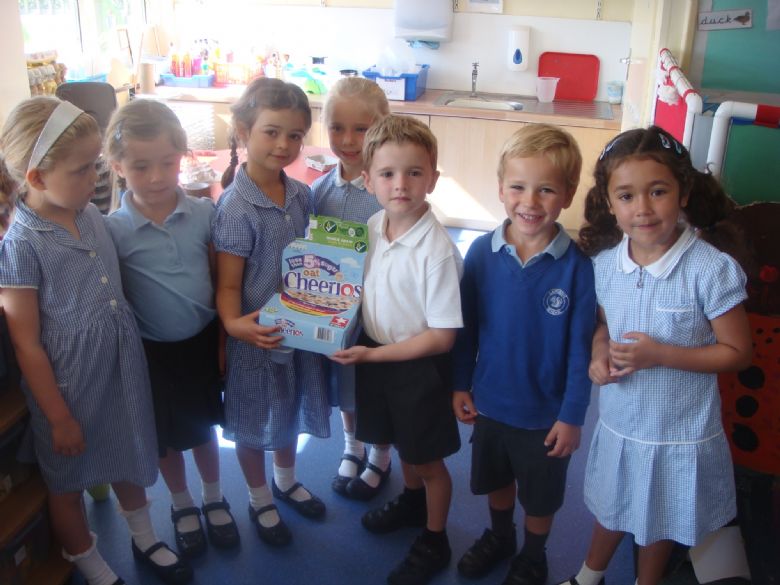 The children were also set the challenge of making chairs out of a range of materials and seeing which ones worked best: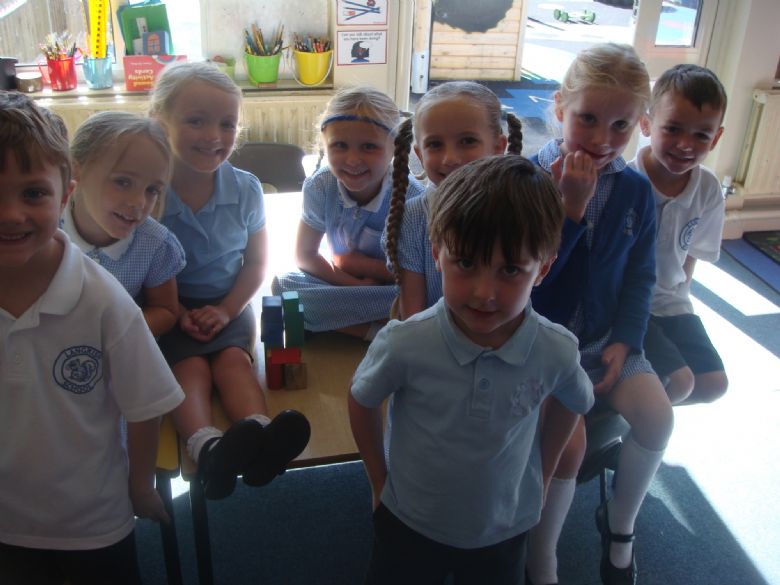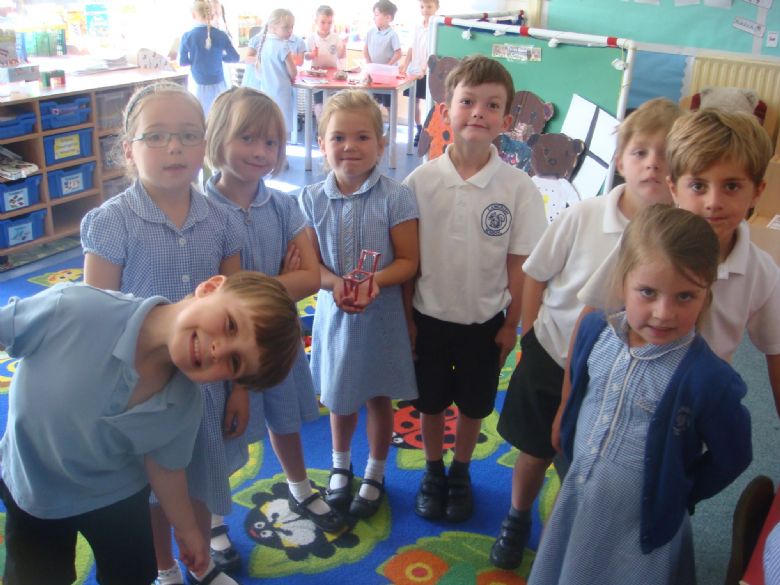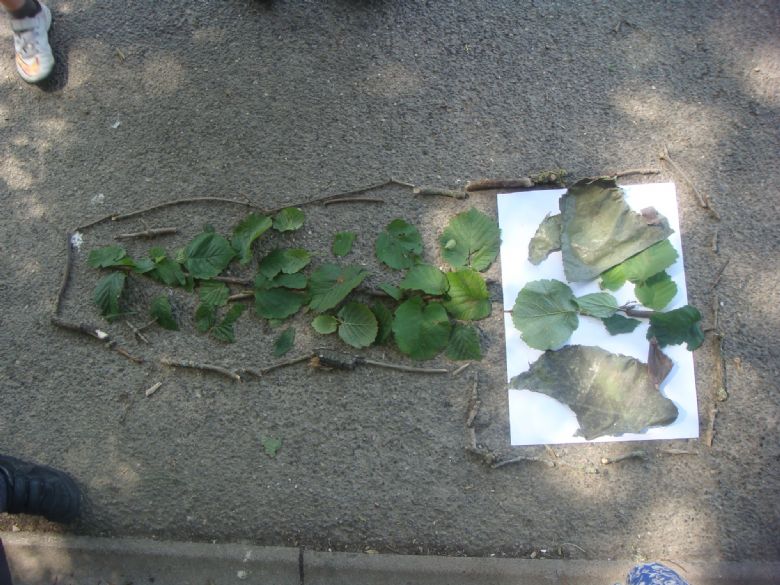 We made the most of the hot weather this week by sheltering in the copse and exploring art outside, creating pictures based on the work of Andy Goldsworthy.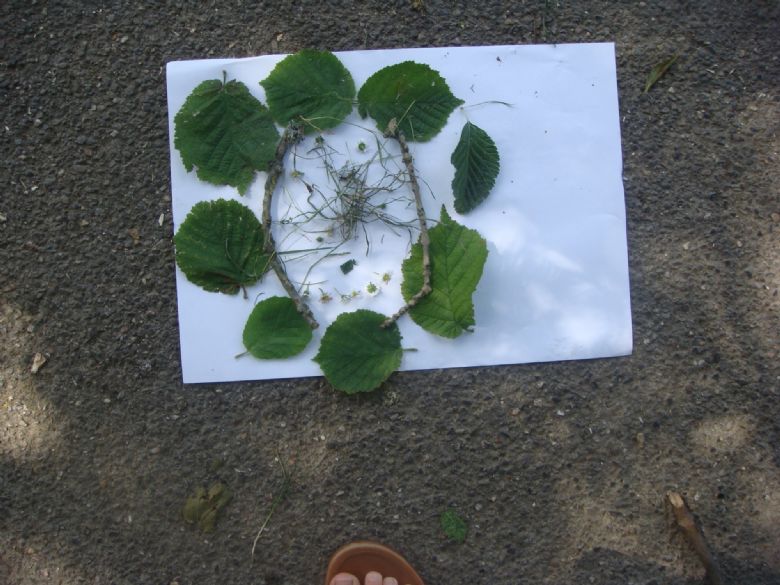 As well as all of this, practice has also started on Squirrels class assembly! Remember to come along next, Thursday 13th July, at 8.50am to find out about all the learning Squirrels have done over the year. Then on Friday (14th) it is our last Open Afternoon at 2.45pm and a chance for you to come in and look at all the work and the fantastic learning the children have done over the last term.
---
Summer Term, Week 9: 5 little ducks went swimming one day...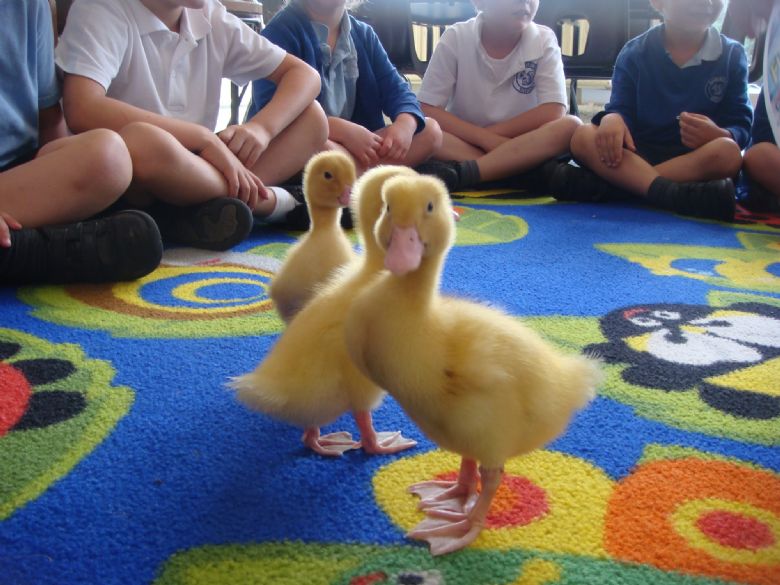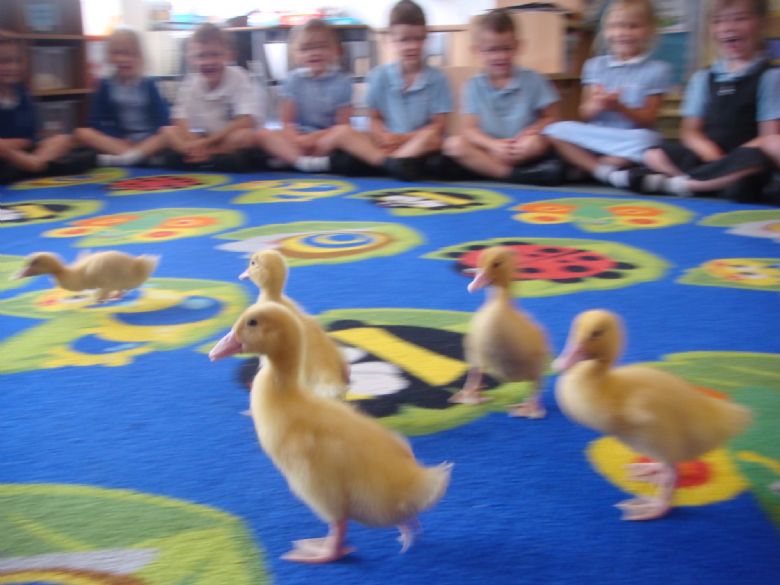 The children have watched with delight as the ducklings have grown and developed over the week. The children have learnt about how to care for the ducklings, how to handle them carefully and have even used the ducklings in their learning.
We have looked at how the ducklings have grown and thought of different ways we can measure them. The children have been exploring weight and height and different ways to measure these. They have also kept a diary of the different things they have done with the ducklings over the week.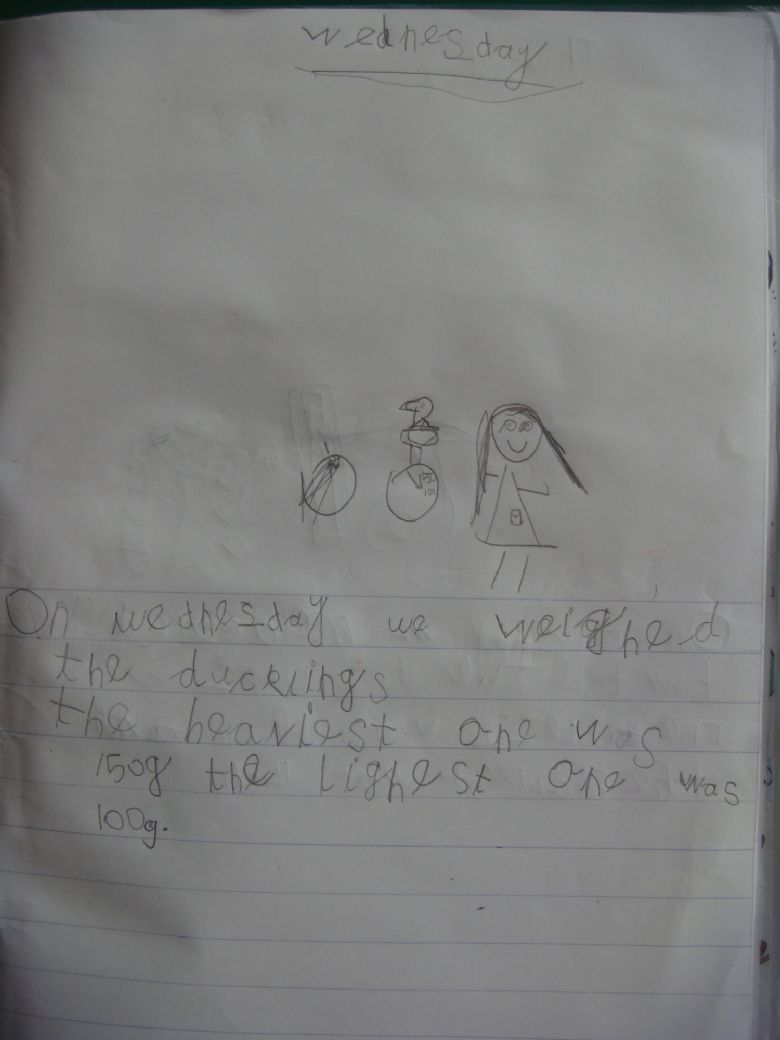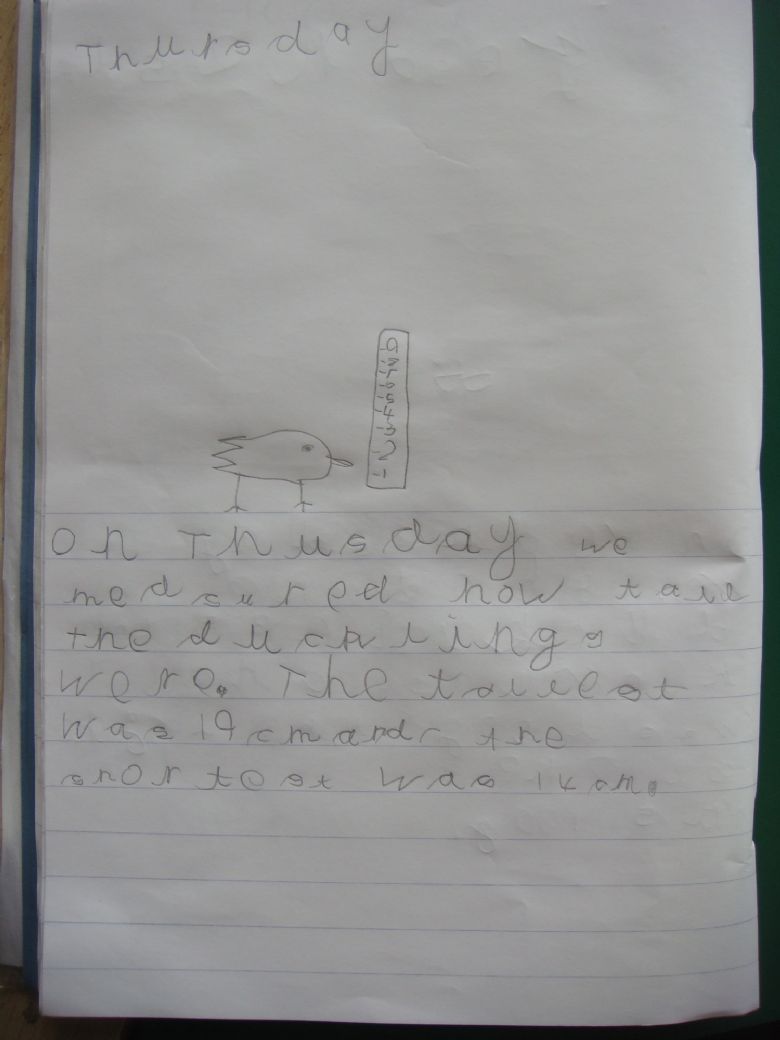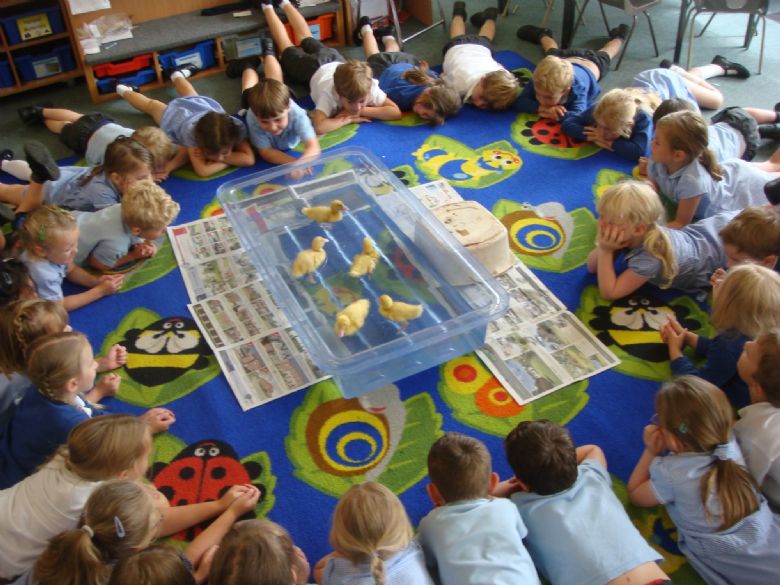 ---
Summer Term, Week 8: Cheep cheep!
There was great excitement in Squirrels class this week with the arrival of six duck eggs! The children have been keeping a close eye on the eggs all week looking for signs that the ducklings might be coming. Whilst they waited, the children learnt all about a ducks lifecycle from the egg to hatching to duckling to duck and starting all over again. They have also been exploring money this week with activities focused on coin recognition, adding coins together and doing some shopping!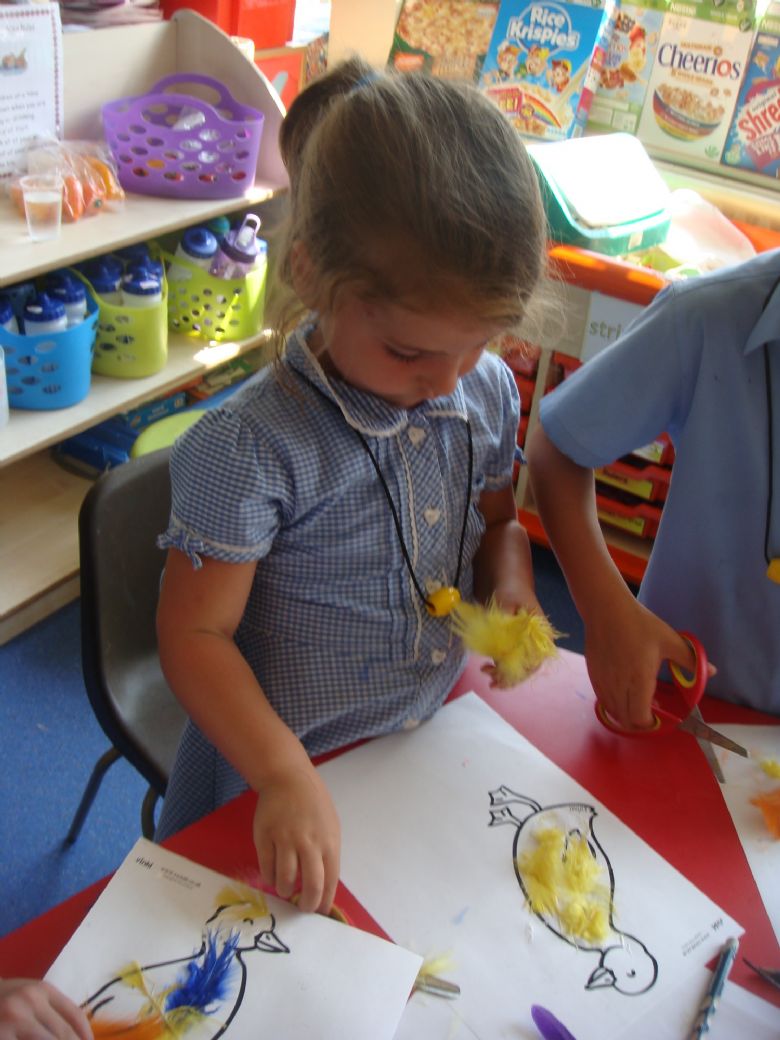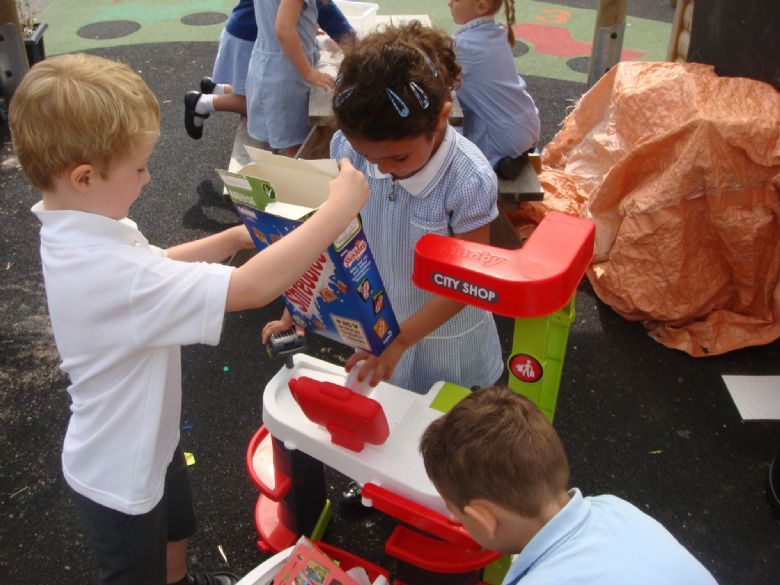 Then on Thursday afternoon, the first two eggs had cracks and you could hear the little ducklings pecking their way out. By the end of Thursday evening there were four ducklings and two more were hatched Friday morning!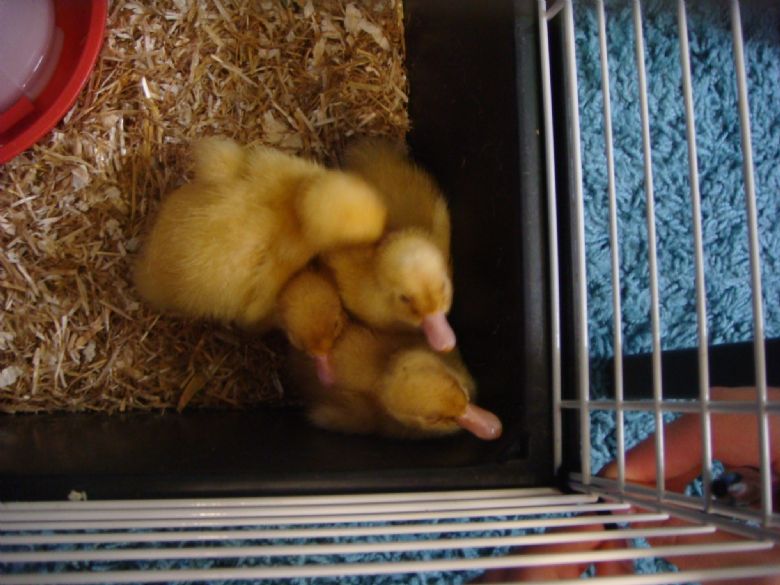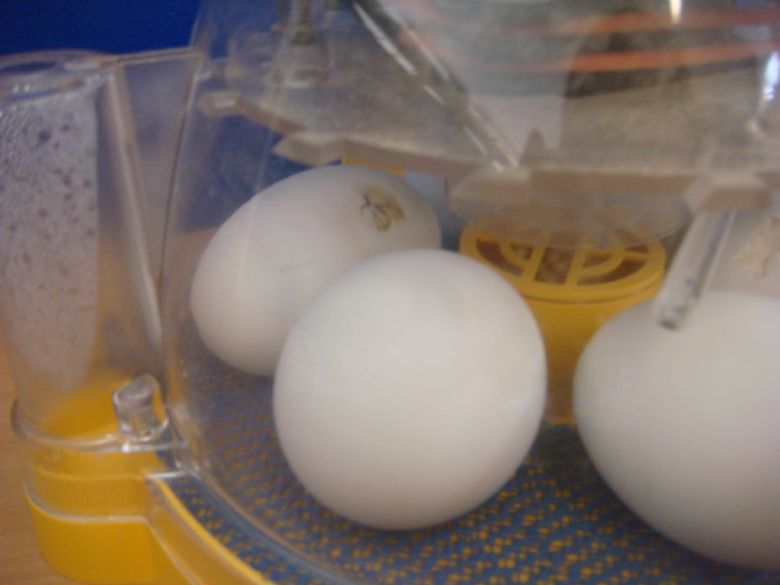 The ducklings will be with us until Friday next week. They are due to be returned to Kent but if you are interested in taking them home they are available. Please do let the Squirrels team know if you are interested or have any further question.
Home learning:
We are going to continue looking at money next week. Please spend some time looking at coins and identifying them with your children. It is also so beneficial for them to have real life experiences of using money - adding coins to buy something, working out what coins make a total (and if it can be done in a different way).
Summer Term, Week 7: Lots of huffing and puffing...
This week started with the story of the Three Little Pigs. The children really thought about the structure of the story and made their own story maps to help them re-tell the story. They also helped to build houses made of straw, sticks and bricks and then decided to conduct their own experiments to find out what materials we had in the classroom that might make the strongest houses. In our maths, we have been doing lots of adding and subtracting as more pigs visit and then leave the little pigs houses.
And all that running away from the wolf helped us get fit for Friday's Sports Day! The children had a great morning taking part in lots of different events. They showed great sportsmanship cheering on their house teams and congratulating other houses that did well. Well done Squirrels!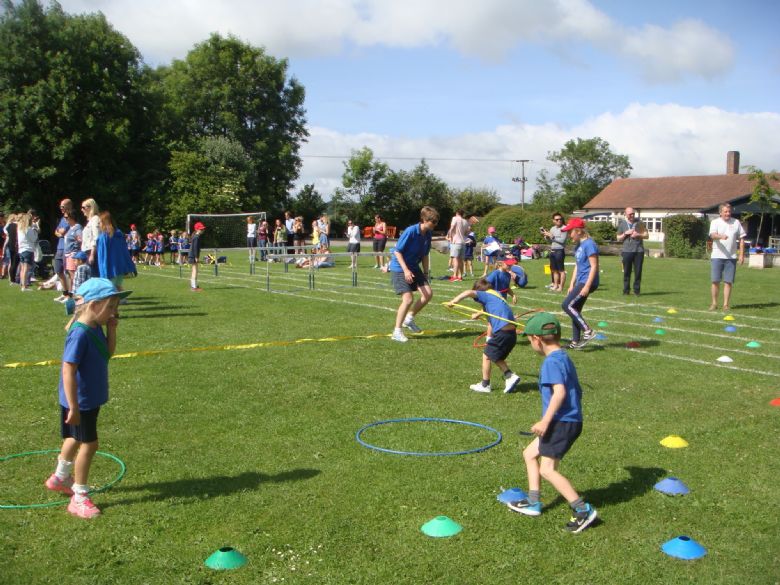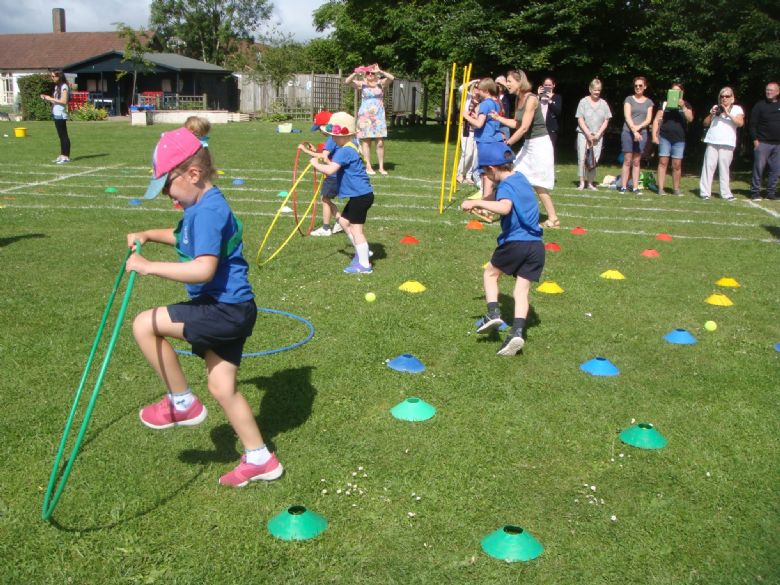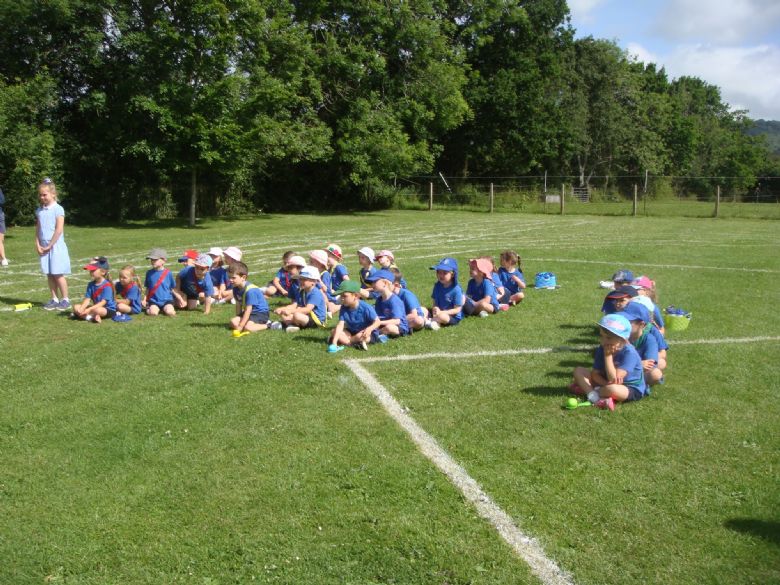 Next Friday is Squirrels open afternoon. Please do pop along from 2.45p.m. to see the learning the children have been doing.
Summer Term, Week 6: Once upon a time...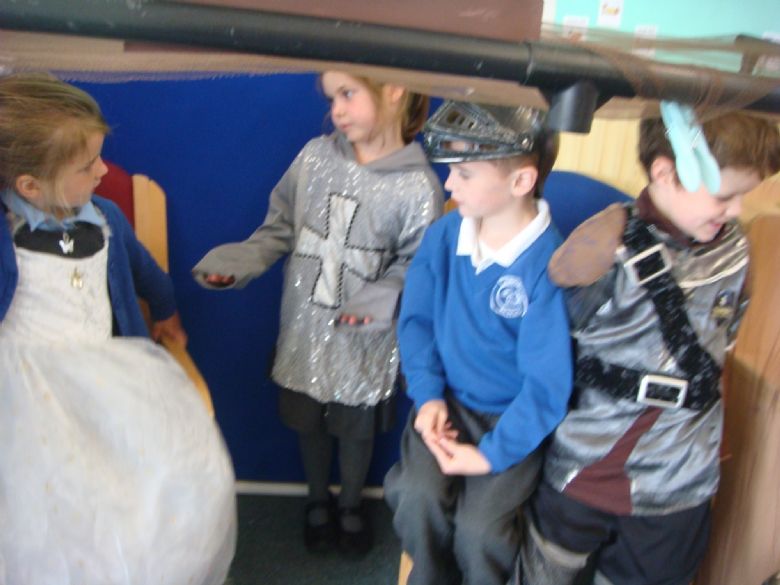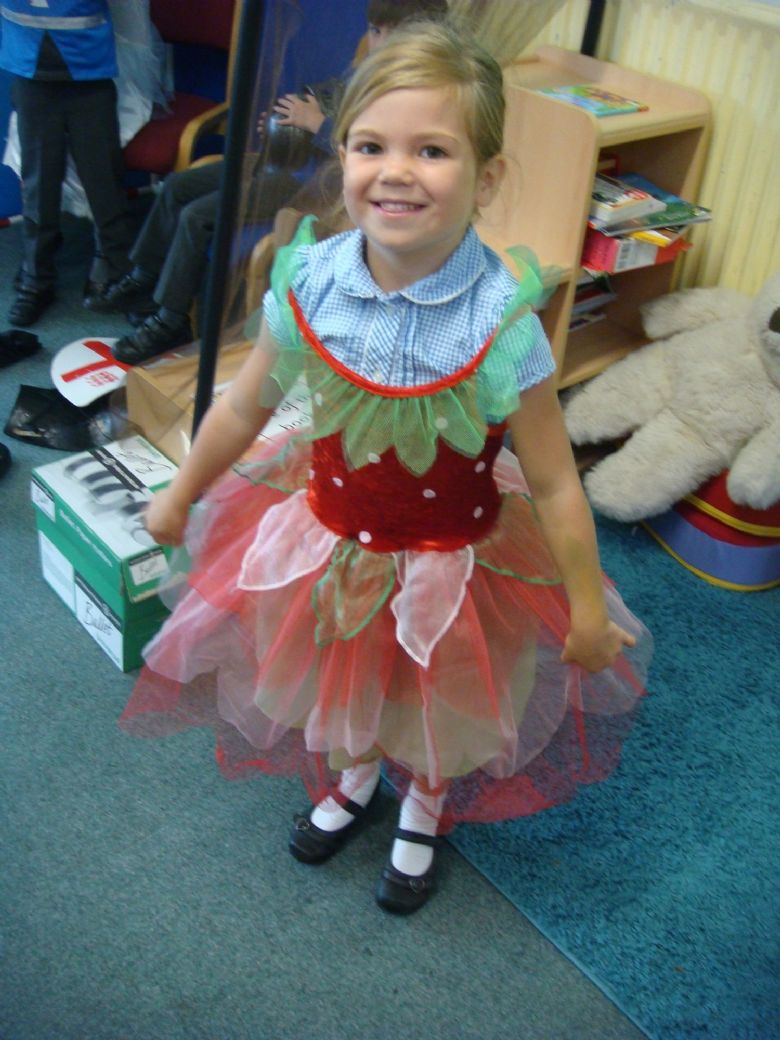 This term we are looking at different fairy tales each week and we started the term with Rapunzel. The children have enjoyed exploring different characters in depth and finished the week by getting into character and writing letters to a different character. They also got into character in their role-play with knights, Prince Charmings, princesses, fairy godmothers and of course, the witch!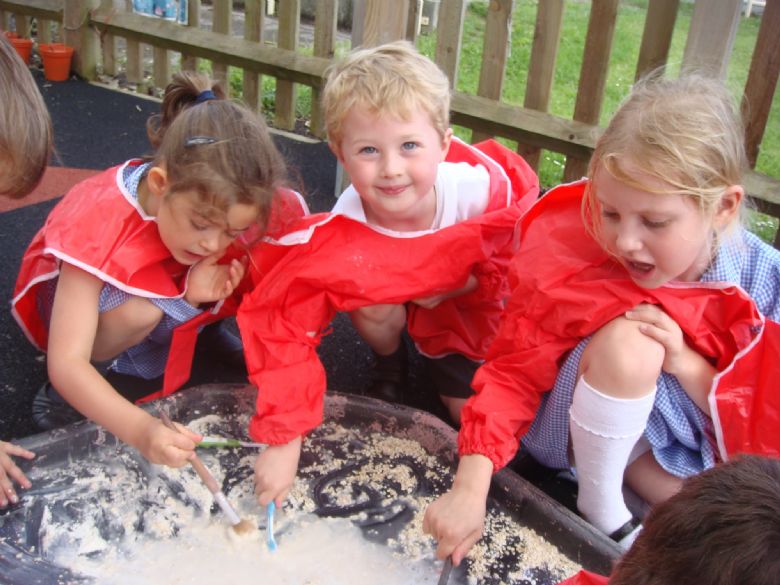 Other activities included measuring how long Rapunzel's hair is in our maths sessions, building using 3D shapes, drawing and painting Rapunzel's tower and number writing. They even made magic potions to make Rapunzel's hair magic and help her escape!
We made the most of the nice weather (when it was here!) and went outside for some parachute play.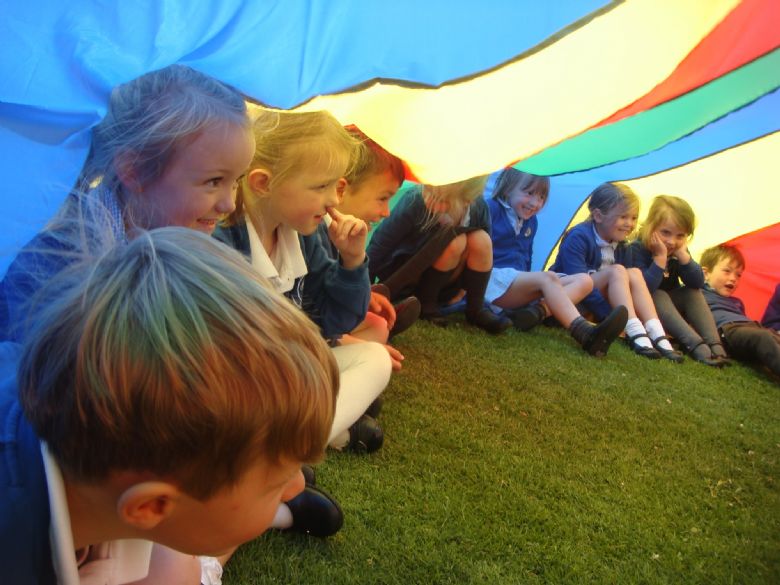 Home Learning: Please support your child in completing their pupil survey to be returned to school next week. Many thanks.
Reminders:
Swimming will hopefully start on Monday (however, this is weather and temperature dependent!) The children will be getting changed in the classroom and walking over to the swimming pool so they could also have a pair of flip flops and a towelling robe (as well as a towel) if you would like them to.
Summer Term, Week 5: All About Me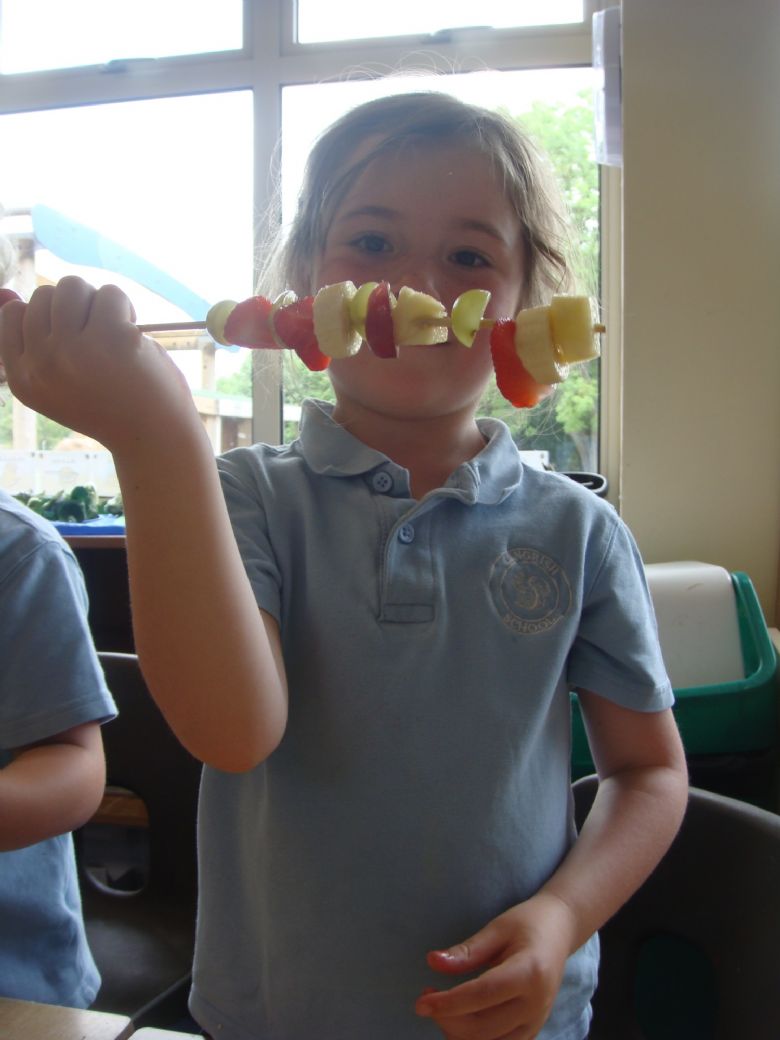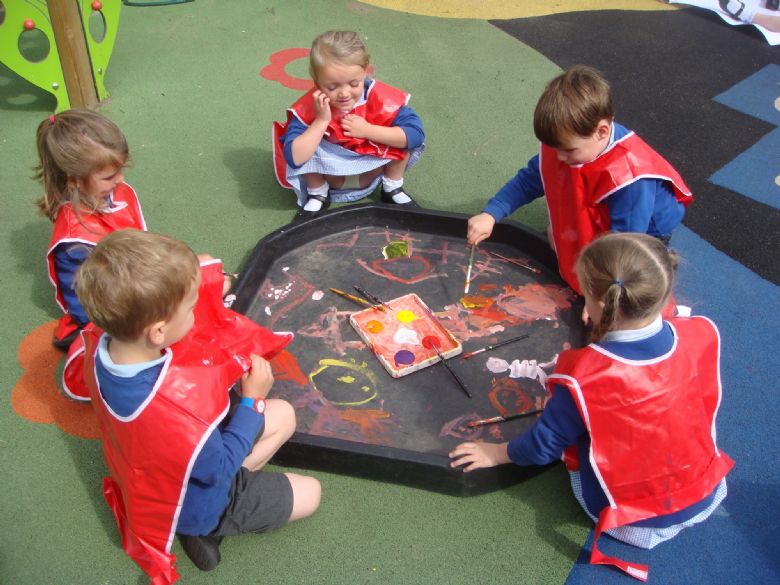 We have finished this half term by revisiting our topic All About Me. The children have had a different range of activities each day around 'Us', 'Our bodies', 'Healthy food' and 'Excerise'. They have painted pictures and described their families, labelled parts of the body, found out about bones and how they work (including doing a bone dance!), sorted healthy and unhealthy food, made delicious fruit kebabs and talked about the effects of exercise on our bodies. The hot days highlighted the need to keep our bodies hydrated and the children were challenged to keep drinking water. This was especially important on Thursday when the children did a fantastic country dance for their partents. What a busy week!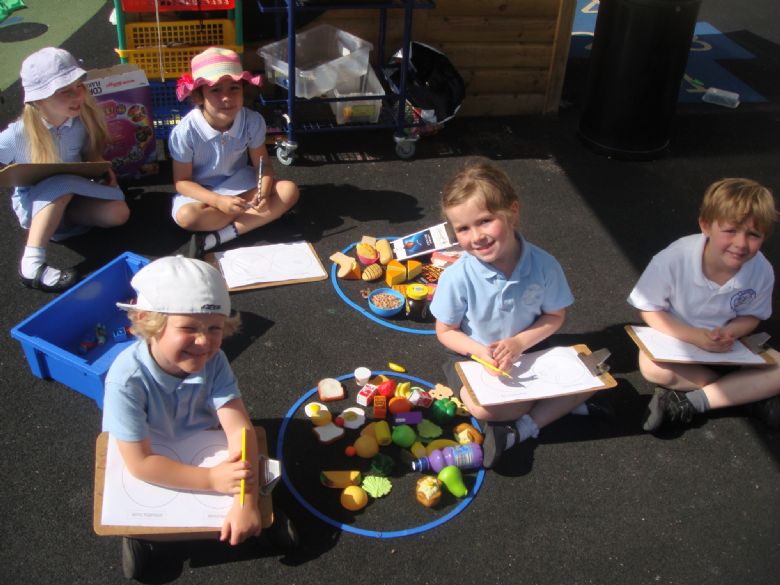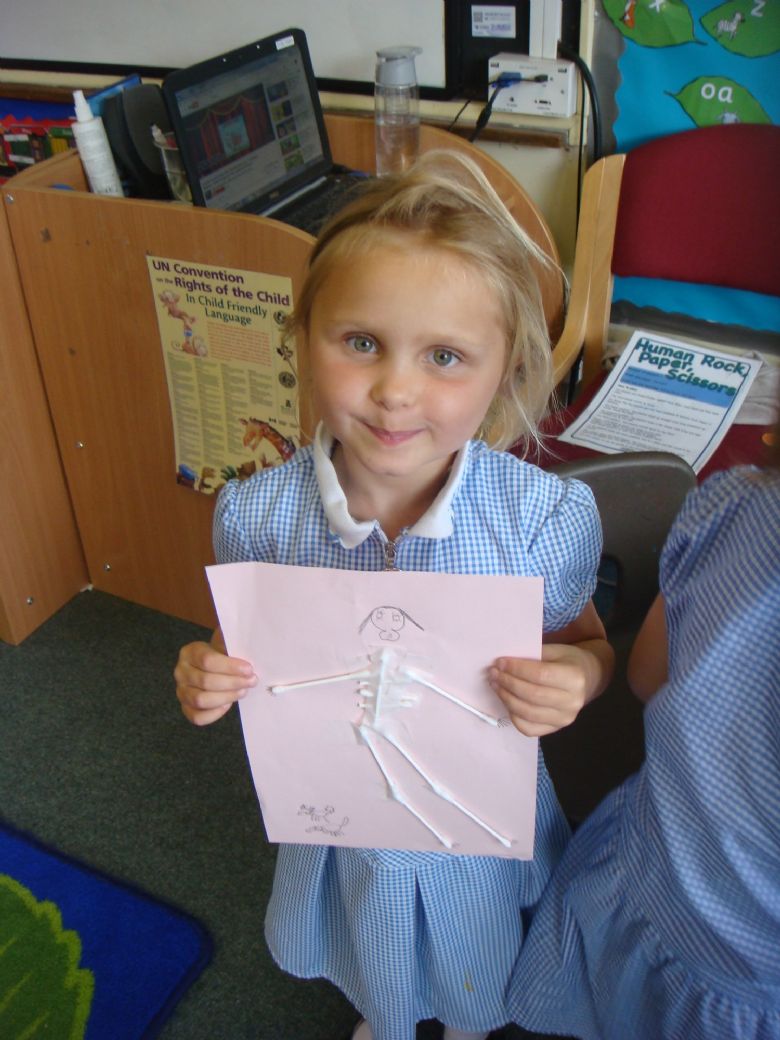 Home learning:
Over half term please continue to read a range of books, stories, magazines, lists, recipes (anything you can think of!) with your children. Keep supporting them with sounding out words and finding those tricky words (listed below) in texts. Also keep on having a go at spelling those tricky words once they are confident reading them.
Our topic next term is 'Fairy Tales' so why not read a few of these and talk about your favorite characters, the story structure (beginning, middle, end) and see if you can spot some key fairy tale language (i.e Once upon a time...)
Our cursive letters powerpoint is below, can you please keep practising cursive writing.
Reminders:
Squirrels will be swimming on a Monday afternoon and so will need to have full swimming kit with them on that day.
Please can all swimming and PE kits be clearly named. We will be doing PE outside and as the weather gets warmer it is important that the children have the full kit, including shorts.
Summer Term, Week 4: Fish, facts and farms
Continuing with our Under the Sea theme this week we have looked again at non-fiction books. The children have had a go at writing their own fact pages about sea creatures. They have even looked at how to add describing words into their sentences. Following on from the idea of sharing in our learning last week, we have looked at halving in our maths. The children have been practising how to share objects equally to find half of a set or object. The children have created some beautiful under the sea scenes this week exploring the effects of water colours over crayons.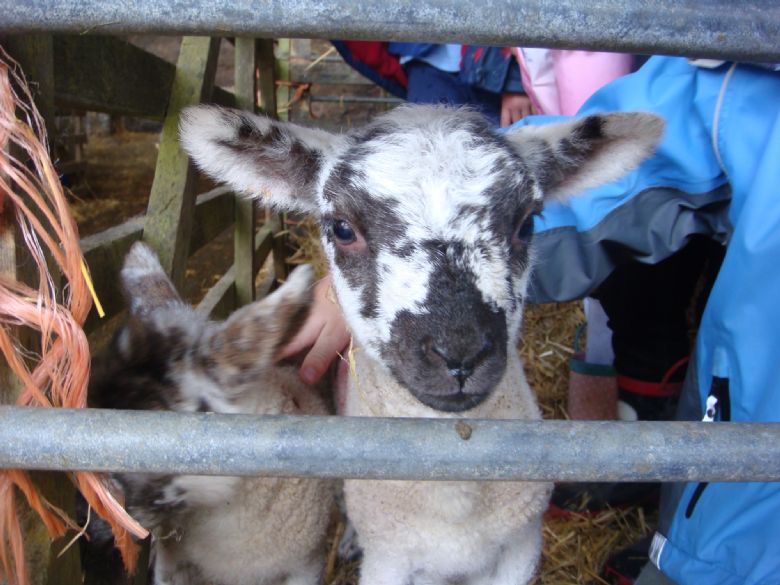 And finally, at the end of a busy week we put on our wellies, crossed our fingers for good weather and set off to visit Rothercombe Farm. We had a fantastic morning. The children got to cuddle lambs, feed a lamb, find out about what sheep are fed, see some ducklings, sit in a tractor and to top it off they saw two lambs being born! Thank you very much to the Snows for this amazing opportunity.
Home learning:
Next week our theme is going to be 'All about Me'. Please can the children bring in a picture of their house number/name. You could also help them to learn their address and even how to write it.
If you have any food packaging (healthy and unhealthy) and foody magazines or pictures of food these would be useful for our healthy food sorting.
Reading books: As the children progress with their reading they will be getting through books quicker. If your child has finished reading one of their school books remember they can ask to have them changed anytime and you are welcome to pop in after school and change them with them.
Summer Term, Week 3: Under the Sea
After sailing on the seas as fearsome pirates last week, Squirrels have now dived under the sea to explore the wonderful creatures that live below. We started by reading 'The Rainbow Fish' which prompted lots of great discussions about sharing and how to be a good friend. In English, we practised writing lists of all the different ways we could think of to be a good friend.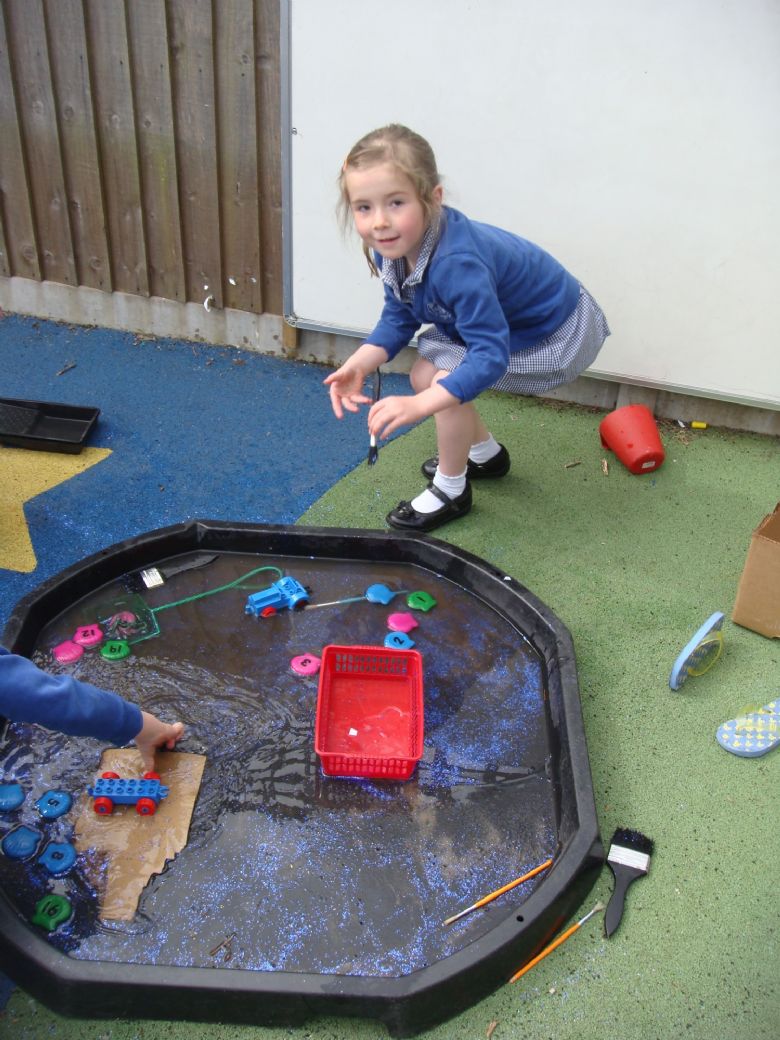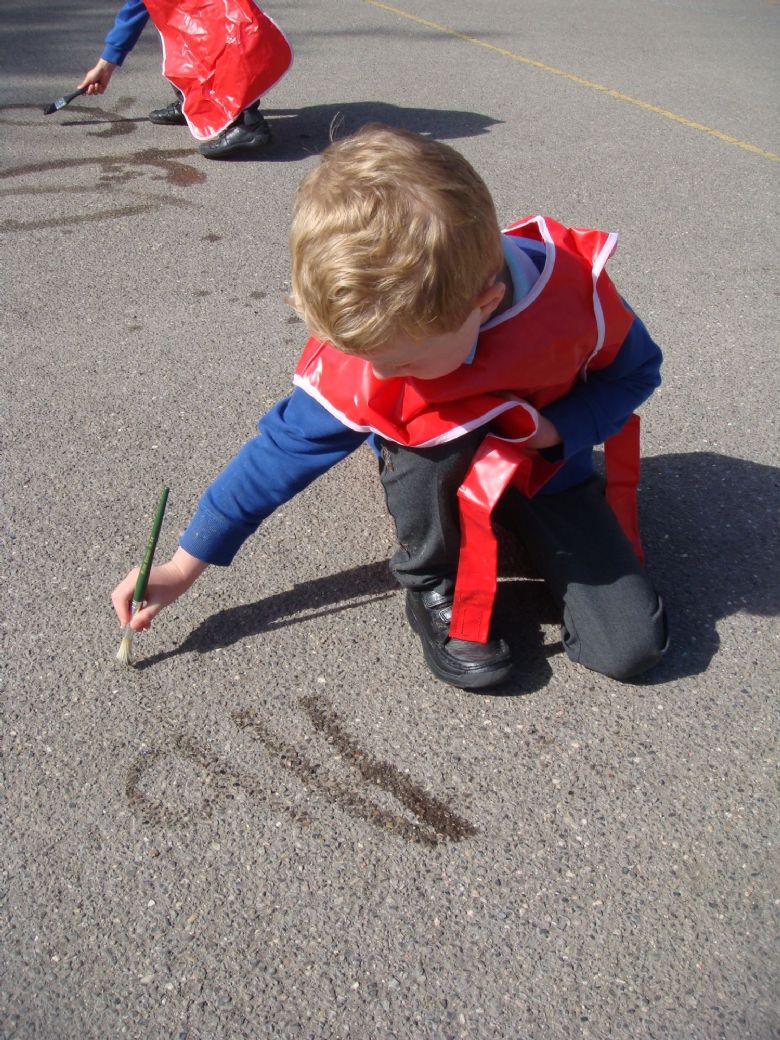 We have done lots of water play and experimentation including writing with water!
The children have also enjoyed making their own under the sea creatures using paper plates, collage and cutting and sticking.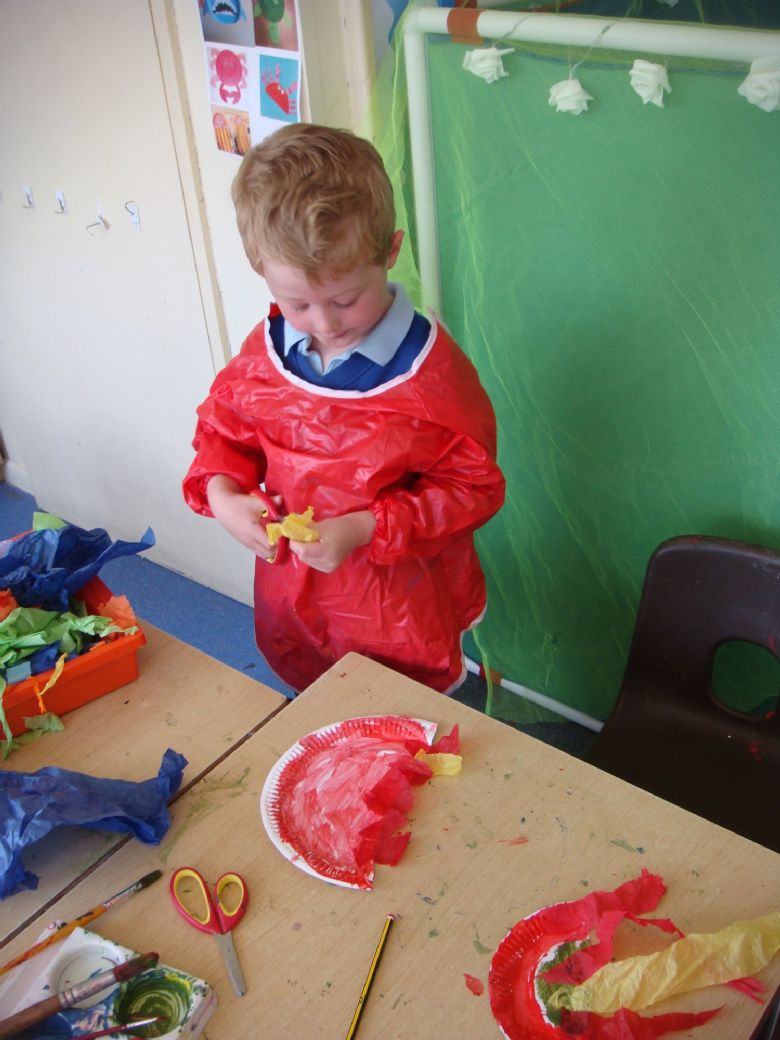 Home learning:
This week can you look at writing lists with your children? Could they help you write a list using bullet points? We are also working hard in our writing to remember how to spell tricky words ( i.e the ones that can't be sounded out). Below is a list of these tricky words. Can you work at home to help your child remember how to spell these (remember choose a few at a time to focus on - maybe one row at a time). You could do water writing, chalk, use magnetic letters or spell them in the sand! In our maths we have been looking at doubling. Can you have a go at practising the doubles to 10?
Reminders:
Could the children bring in 1 egg box next week for our art.
Next Friday is our farm visit! Please bring in the permission slip asap if not already done. Then we would like to invite you into the classroom from 2.45pm to see pictures of our trip as well as the learning the children have been doing over the last couple of weeks.
We will be giving out maths games fortnightly for the rest of the term.
Golden Mile
As part of our commitment to encourage healthy lifestyle choices, the whole school is taking part in the Golden Mile initiative from Monday! This involves children walking, jogging or running around a pre-set course and each of their completed laps being logged and recorded. The children will be able to keep track of how many laps they've completed individually as well as seeing how their laps have contributed to our overall school total.
Children will need their outdoor P.E. trainers to take part, and Year R will have the opportunity to do their laps during morning break on Mondays and lunchtime break on Fridays.
---
Summer Term, Week 2: Walking the plank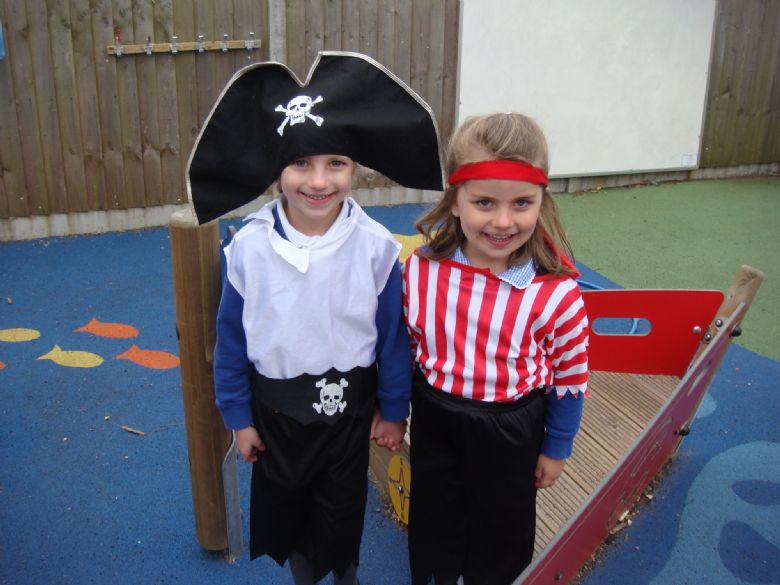 The pirate theme has continued in Squirrels' Class this week. It all started with a letter in a bottle: the pirates had taken Ted! This inspired lots of letter writing and wanted posters.
The children also turned into the meanest pirates on the seas in their role-play and even had to walk the plank. They then had to use the planks in a team challenge to get from one side of the playground to the other.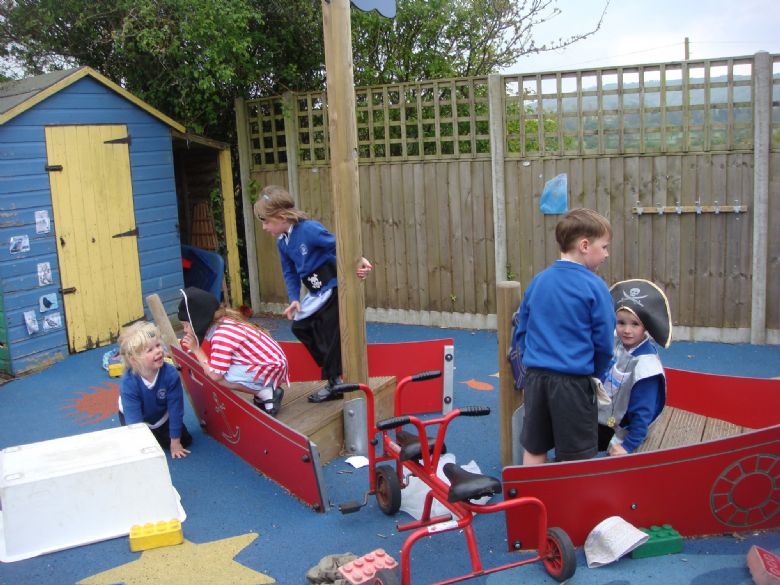 As well as using the pirate ship in their outdoor area, the children have also explored making pirate ships using a variety of materials with some impressive results.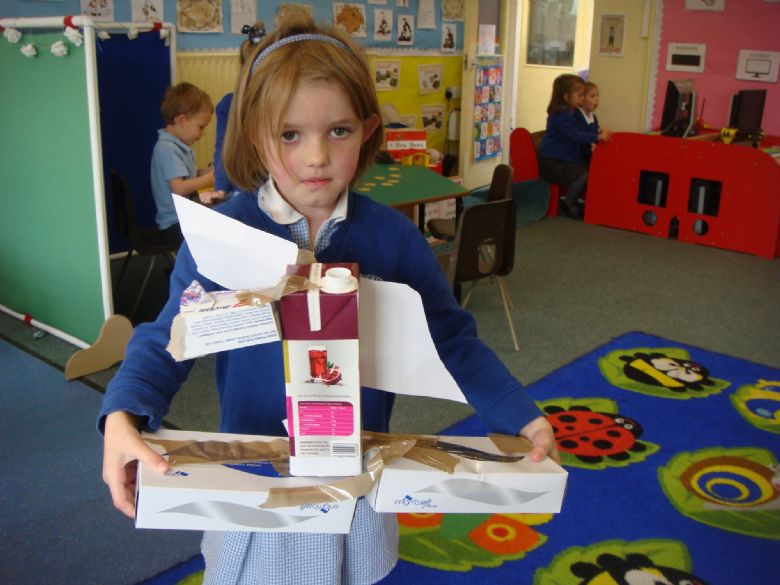 The pirate theme also continued in their literacy activities where the children used their phonic knowledge to sort real and made-up words in Buried Treasure online. They have also had to sort out sentences that have been chopped up by the pirates. For home learning this week, can you click on the link to play Buried Treasure (phase 2, 3 or 4). You could also choose a sentence from your child's reading book, write it out and chop it up, then get your child to put it back together. Can they read it back to you to make sure it makes sense? As a further challenge, they could write the sentence out using capital letters, finger spaces and full stops. To support your child with cursive letters we have attached a powerpoint at the end of this webpage that you can use to practise formation.
---
Summer Term, Week 1: Pirates Ahoy !
Welcome back to an exciting new term in Squirrels' class. The children have already been busy writing about their holiday adventures in their new writing books, as well as discovering that pirates have visited the classroom! They have enjoyed lots of role-play on the pirate ship outside, making maps (and finding out about how to make them look old using tea bags) and imagining what they might look like if they were a pirate. The pirates have also been setting the children team challenges. In their house teams the children have had to work together to construct something as well as to make a treasure map. In PE we have used an under the water theme to inspire our dance and the children (again in teams) have created dances to represent some of the creatures you might find...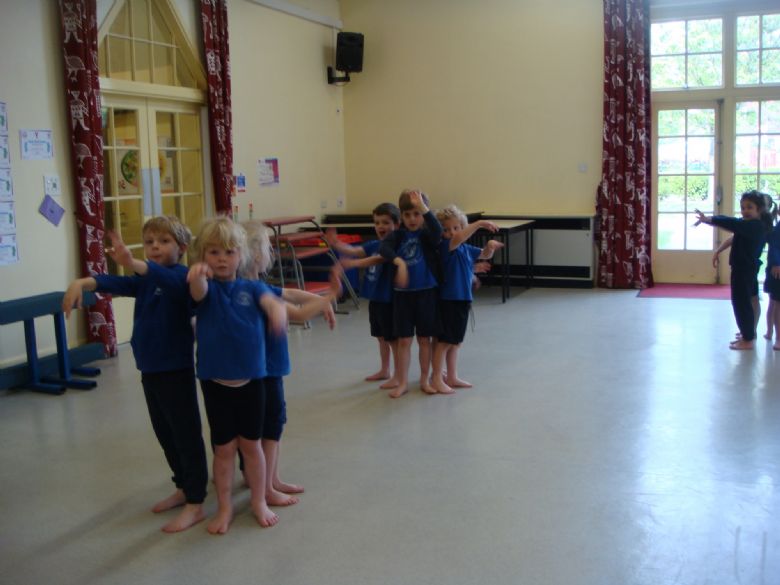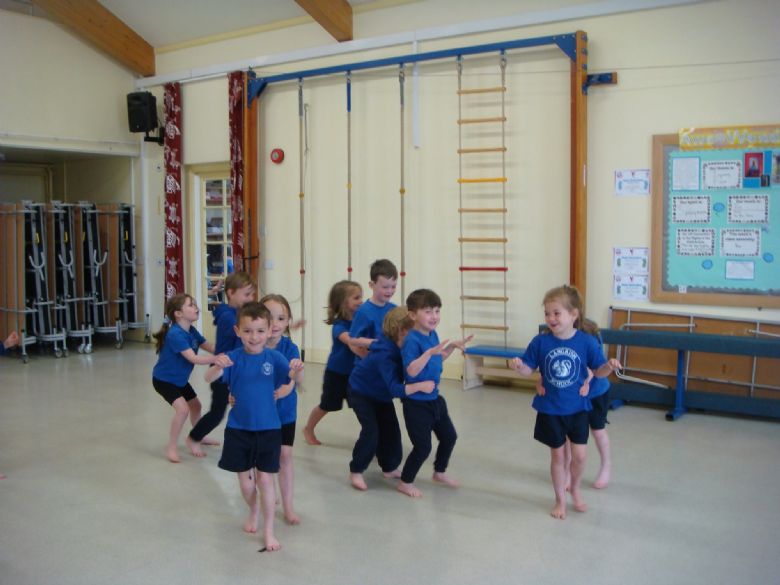 Please check letter bags as you will find a new Bookopoly to complete this term. To support this, the children will also be changing library books regularly on Wednesdays at school. If you have any recycling that you could bring to school for the children to use for junk modelling that would be very much appreciated. We have also been refreshing our addition and subtraction vocabularly this week through practical activities. Can you do some adding or taking away that encourages the children to count on or back (ie. not always starting from 1). Enjoy the long weekend!
---
Spring Term, Week 11: Alice Holt
Year R had a bug-tastic time at Alice Holt forest this week. They enjoyed worm hunting, using their sense to find their way around like animals do and thinking about animals' needs and habitats as we role-played and made homes for forest animals.
For Home Learning this week, please revisit the Phase 3 diagraphs in your child's Reading Journal. They need to recognise the sound made by the 2 letters acting together (i.e. oa, ch, ee) and be able to record these. Why not try some outdoor chalking or writing with sticks in the mud while you're out and about this weekend!
---
Spring Term, Week 10: The Very Hungry Caterpillar
The children have enjoyed reading 'The Very Hungry Caterpillar' this week, reinforcing their learning on plants, mini-beasts and days of the week. They have created books to retell the story, printed caterpillars and even made some out of paperchains!
Our beanstalks needed replanting as they are beginning to grow. Ask your child how theirs is getting on and why this might be. We talked about why some have grown more than others and drew clouds to show our predictions of what the beans might look like in a few more weeks!
In Maths, we have been recording practical addition of objects using number sentences (4 + 5 = 9). Have a go at some more of these for your home leaning this week. What objects can your child find around the home that they could use for this?
---
Spring Term: Week 9
Year R have had great fun this week working collaboratively to build towers and marble runs using our new consrtuction kit (kindly funded by FoLS).
Can you ask your children what skills they needed in order to work successfully as part of a team?
With Spring in the air, we have also been busy sowing seeds and shaking out the parachute to build our teamwork and further our Jack and the Beanstalk topic.
We have been busy measuring items in and out of the classroom using metre sticks, rulers and multilink cubes. What can you measure at home? Have a go at recording this in your Home Learning Book.
---
Spring Term: Week 8
This week, our learning has centered around the stories of Jack and the Beanstalk and Oliver's Vegetables. We very much hope that we may have inspired your children to try some new vegetables this week - let us know if the request green beans or cauliflower and we will shower them with praise!
Our classroom changed yet again over the holiday and now contains a dedicated connstruction area with challenges for the children to focus on. We are trying to extend their thinking and challenge them to overcome a given problem within their play such as copying patterns or colours in building blocks and only building castles using cubes, cuboids and cylinders. It is a real privilege to listen to them in their play and hear how they interact with each other.
Have a look at the photos below and if you have some time over the weekend, talk with your child about the Jack display. Can they remember any of the key words from the story that are included on the display? You might like to practice writing some of these using your cursive script sheet for reference. The story map is also included below. Challenge your child to tell you the story from the map. Can they add any actions to the story? Act it out together, have fun!
Don't forget...
A new Spring Term Bookopoly has been sent home with 12 challenges to be completed over the course of a 12 week term: the children should select books carefully and log them as they go - good luck! Also, keep up the excellent reading and keyword practice at home. You are welcome to come in and change books whenever you like - just pop in at the end of the day. If you have already completed the challenge, you could make up another Bookopoly board, perhaps in a different shape, and note the names of the books that you have read together. Try and share books from a range of genre, including non-fiction and poetry.
---
People Who Help Us
We have really enjoyed this topic and have learnt lots from our visitors, Mrs. Cunliffe (a hospital nurse), Mr. Jones (a local vet) and the Petersfield fire service. We have visited the outdoor and indoor role play areas and pretended to be nurses, doctors, policemen and women, firemen and women and teachers. We have even solved the mystery of Mrs. Graham's missing pen which involved taking fingerprints and looking for evidence with magnifying glasses in the copse. Our learning in Maths focussed on identifying 2D and 3D shapes and using these to make pictures and models of emergency vehicles. We have written about people who help us and have labelled pictures of people in their roles. We hope that you enjoyed sharing your child's learning during open Fridays and at parents evening - don't forget to tell us about those special moments on the proud clouds, using the language from the Characteristics of Effective Learning sheet. There are extra copies of the proud cloud at the bottom of this page.
---
Chinese New Year
---
Our Arctic Exploration reaches an end.
---
Our Arctic Exploration continues...
The children have undertaken the challenge this week to create their own penguins from different materials and to investigate why a penguin seems to be waterproof. We have also had great fun creating our own igloos and then playing in them together.
---
The Squirrels travel to Polar Lands
For the next three weeks, Squirrel class will be thinking about the colder weather, meeting animals who live in colder climates and pretending to be polar explorers. The role play area has already changed to an arctic research base! Leaning challenges this week have included ordering polar bears according to their size and then measuring them with cubes. The class were excellent at using 'longer than/ shorter than' and you may wish to order some more objects by size at home.
We also went on a winter walk and were amazed at how easy it was to leave footprints in the frost! We also tried to play with our polar animals in the water tray, but something had happened to the water overnight - can your child remember what?
---
Shhh, Christmas Printing and Patterns
This week Year R have enjoyed lots of writing activities around the Christmas story 'Shhh' by Julia Sykes. They have thought about different endings for the story, sequenced the events and discussed their favourite part.
In Maths, we have been busy making and continuing repeating patterns, looking at colour and shape in a range of objects.
Come and see our winter printing on display in the classroom and look out for Christmas deliveries in book bags next week!
---
Old Ted, Dinosaur Eggs and Elf on the Shelf!
What a busy week we've had! On Tuesday a trail of strange footprints appeared on the playground, leading into the copse. We had to work together to match the pairs and even work out which footprint was missing and what it should look like.
When we followed the tracks we discovered a huge nest in the leaves, in the middle of which sat a dinosaur egg! We carefully carried the egg into the classroom and made a nest for it. Some of the children wanted to put it next to our 'fireplace' to keep it warm. I wonder if it will hatch over the weekend. What do you think will be inside?
On Thursday our elf arrived in the classroom and has already started to cause mischief! He snuggled up to our dinosaur egg and even snuck into the staff room to nibble on the biscuits! Squirrels have been busy hunting for the elf daily and have enjoyed reading his daily diary logging his evening antics.
The classroom layout has changed this week so the children have a dedicated writing area where they can enjoy creating books, writing letters etc. This week our learning has focussed on the story of Old Bear by Jane Hissey and the children have enjoyed the challenge of designing a poster for Little Bear Lost.
---
Monday 21st - Friday 25th November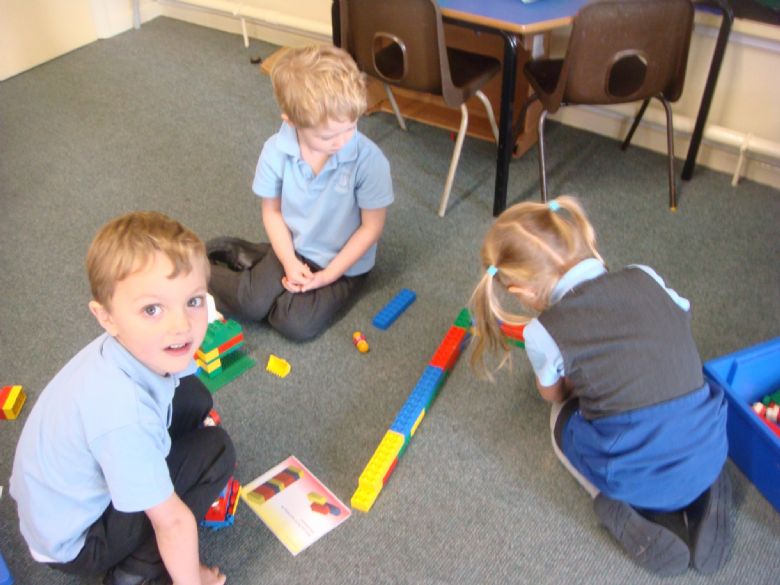 Sounds: 'z', 'zz' and 'qu' Words: 'she' and 'he'
This week we have been practising writing rhyming words, finding words that have the same end sounds and using our sound knowledge to write the words in our best handwriting. Can you find words that rhyme with pen, cat or wig and then write them down by sounding them out?
We have also been looking at clocks and telling the time. We have found out what 'o' clock looks like on clocks and watches. Can you find out what time you go to bed or wake up?
---
Monday 14th - Friday 18th November
Chelsea Champion: Logan
Sounds: 'x' and 'y'
Home Learning: Using Interactive Resources, practise your counting skills and number recognition with the counting game. How high can you count to?
We have continued our theme of Autumn with lots of creative activities including clay hedgehogs and finger print trees. We have also been enjoying the windy weather and have made kites and flown them in the playground.
Our writing pratice has helped us to describe the colours of leaves. Can you use your sounds to write 'colour' words?
We have investigated shapes and have been sorting them, as well as weighing objects using balance scales. We used acorns as our measures and balanced different objects, counting the amount of acorns needed to make the scales balance. If you have balance scales at home perhaps you could practice using pasta as measures.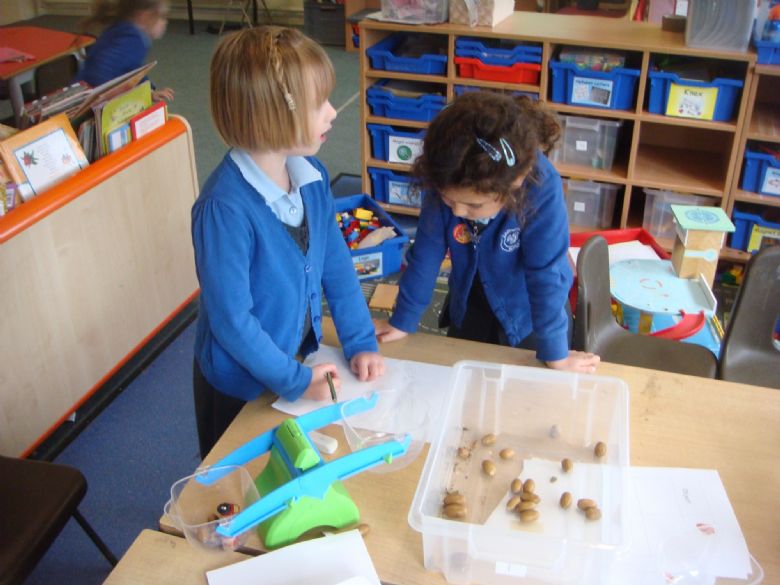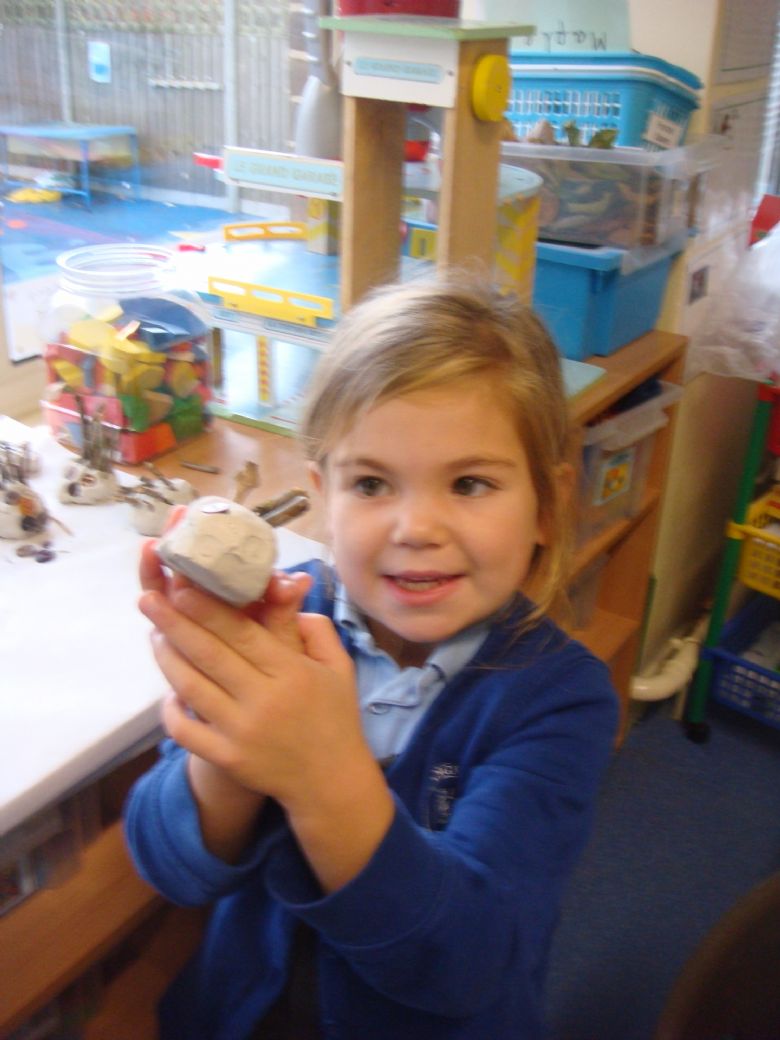 ---
Monday 7th - Friday11th November
Sounds: 'v', 'j' and 'w'
This week we have started our topic on Autumn. We have been for an autumn walk and collected leaves, which we have used in our learning - counting, labelling, collage and matching work. We have also been on an autumn hunt for natural objects, talking about the changes that happen to plants and animals at this time of year. In maths we have been looking at 3D shapes and have discussed the properties of them - what is the difference between a cube and a cuboid? What objects can you find around your house that are cylinders?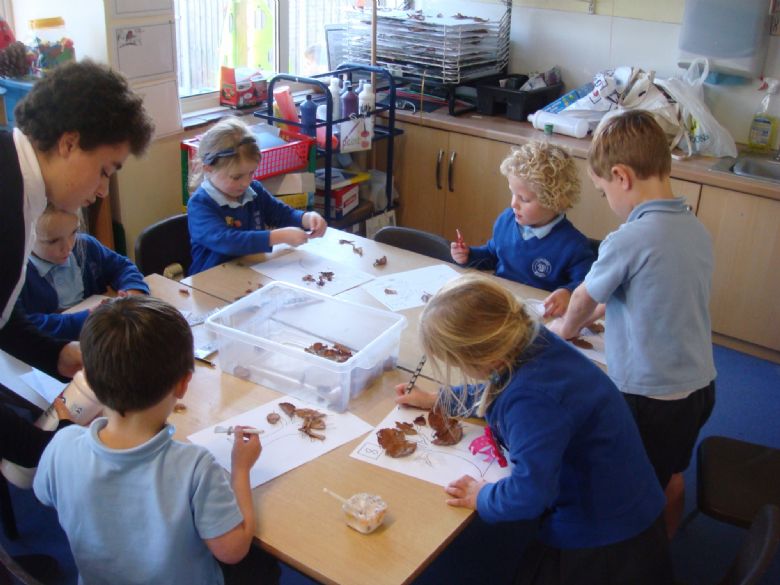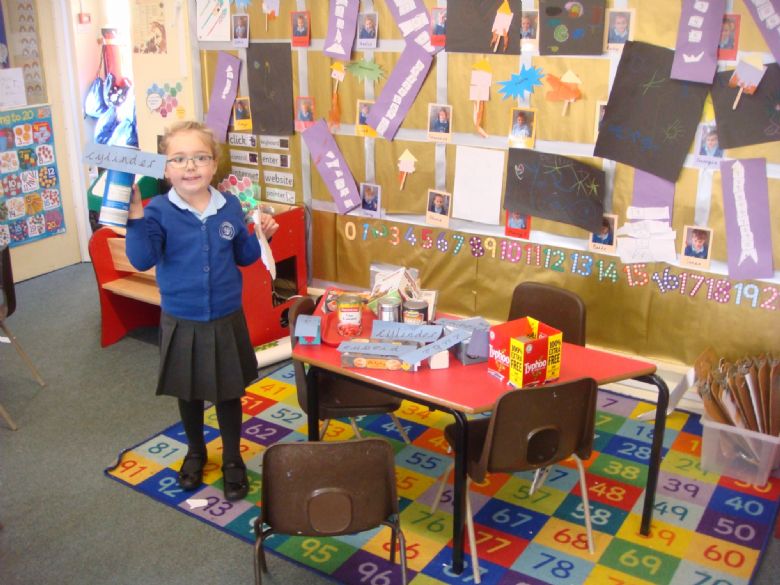 ---
Monday 31st October - Friday 4th November
Sounds: 'f', 'l' and 'u'
This week we have been creative with firework pictures. We have practised colour mixing to create firework effects, as well as using collage and glitter to make it sparkle. What noises do fireworks make? Can you use your sounds to spell the words?We have also been looking at different ways of making numbers using numicon. How many ways can you find to make 6 or 8?
There was great excitement on Thursday afternoon when the children spotted a hedgehog outside our classroom! He had a poorly leg so we have made sure that he is being looked after at a rescue centre. This sparked some great conversation in preparation for our topic for the next few weeks on Autumn.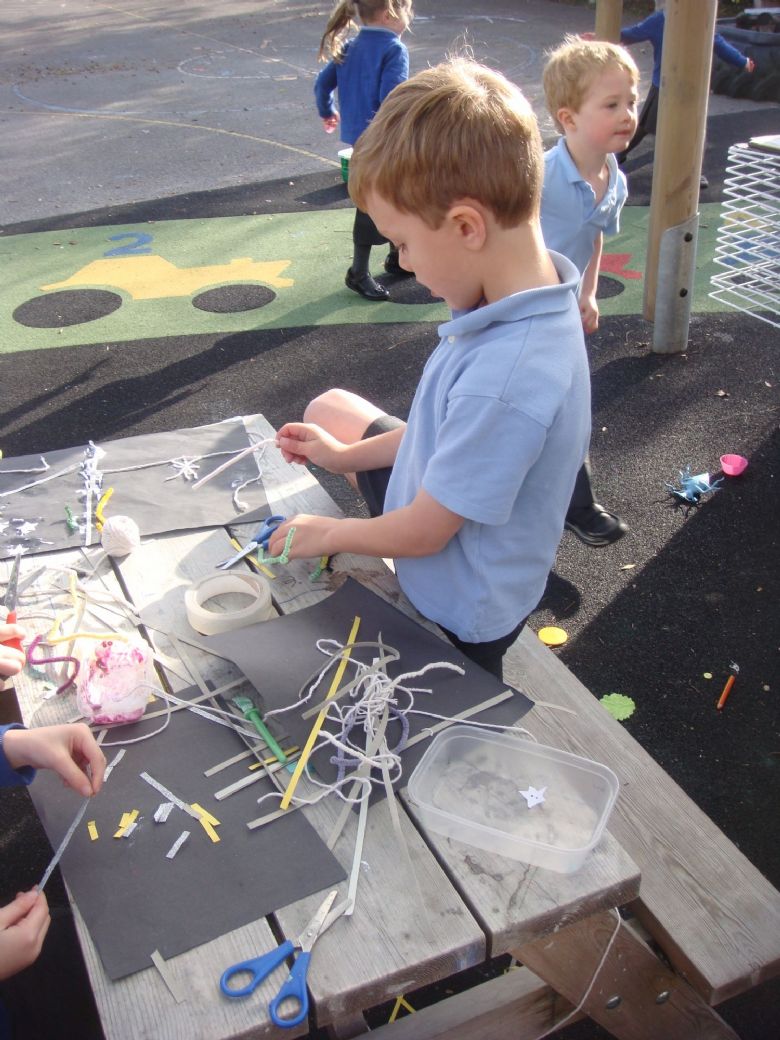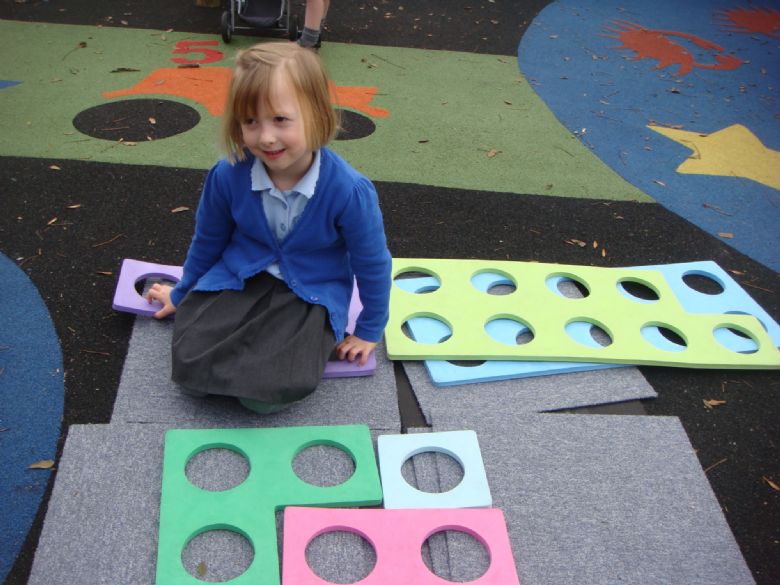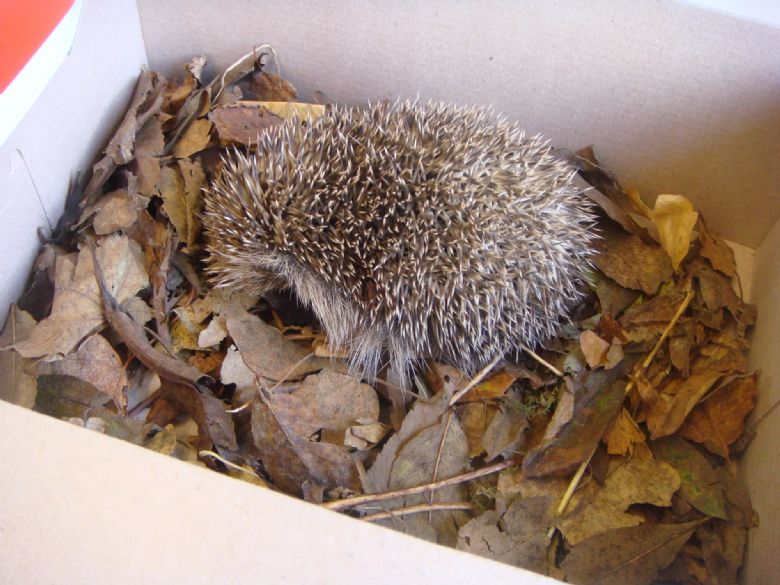 ---
Monday 17th - Friday 21st October
Sounds: 'c', 'k', 'f' New word: 'the'
This week, we have been looking at our skeletons using the 'Funnybones' story by Allan Ahlberg. We have been very creative and made skeletons in many different ways - by painting, drawing, with sticks and in our construction. We have also been practising our reading by labelling different parts of the skeleton.
In Maths, we have been ordering objects by size using the language of shortest and longest. Also we have been practising our estimating skills - making our best guess about how many objects there are before counting them.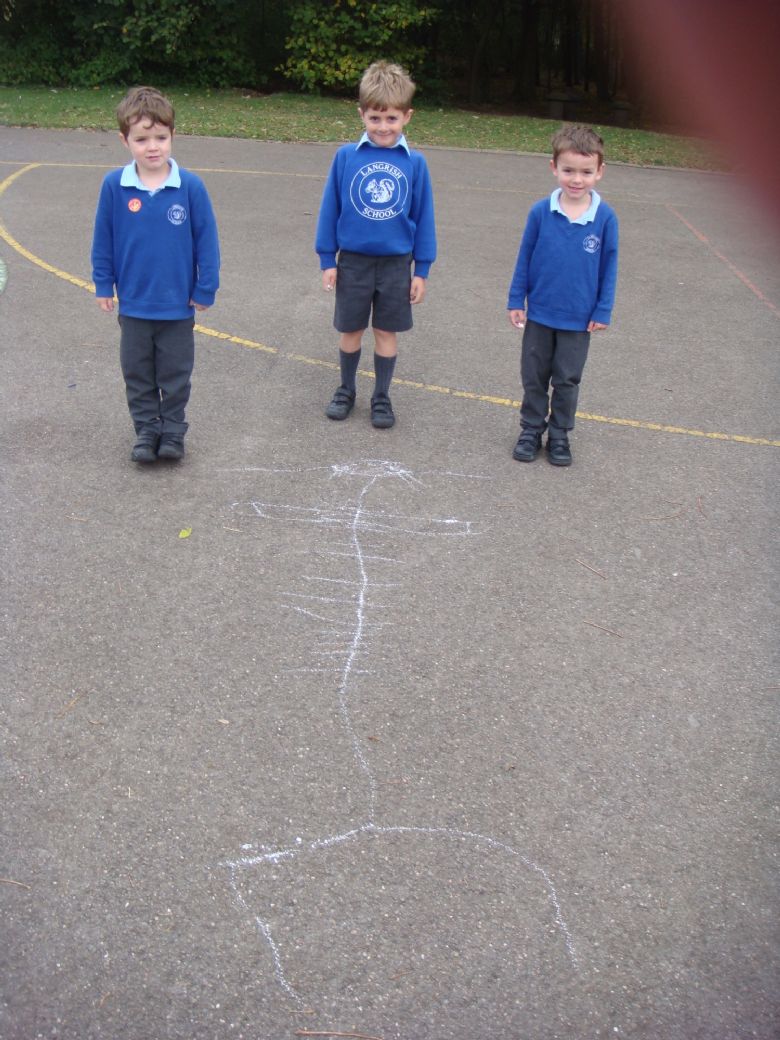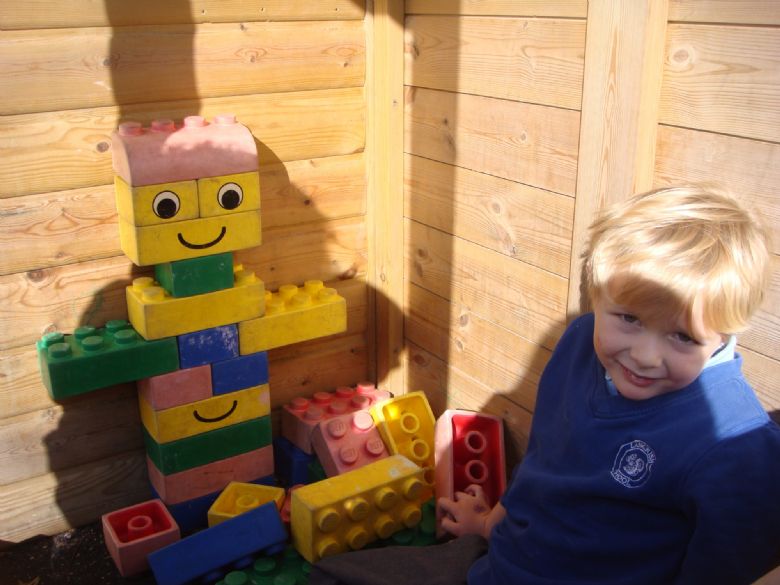 ---
Monday 10th - Friday 14th October
Sounds: 'h', 'r', 'b' New words: 'go', 'no'
This week we have made fruit kebabs and eaten them. We have also been practising our writing by writing invitations to our friends - we had to find out how to spell our friends names as well as our own. Ask your child if they tried a new fruit?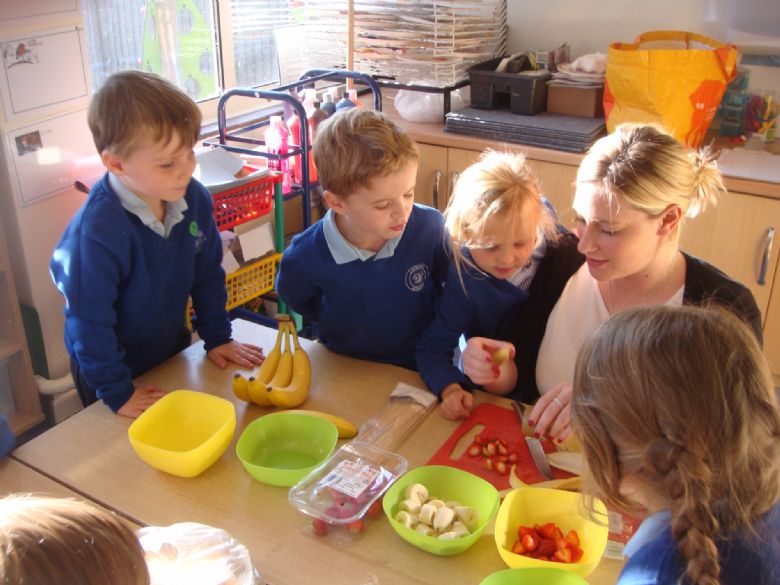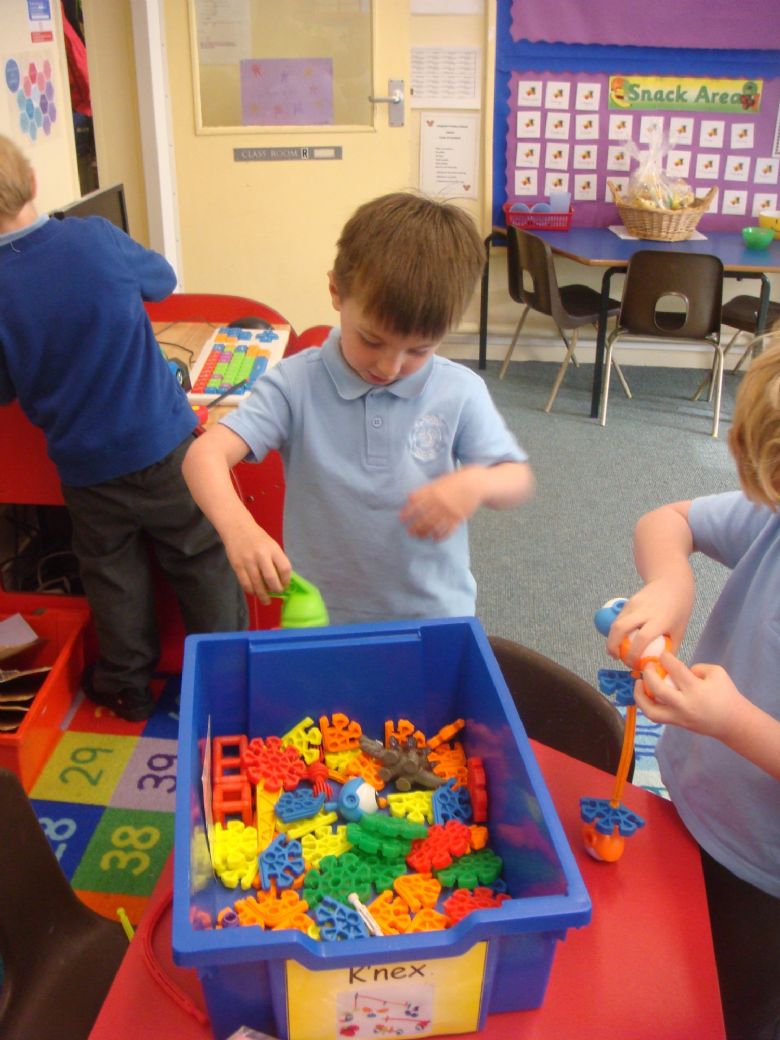 ---
---
Monday 3rd - Friday 7th October
Sounds: 'ck', 'e', 'o' New words: 'in', 'it, 'and', 'at'
This week we have been practising our number skills - by counting and ordering numbers up to 15. We have been working independently to find and record numbers of spots to add to a ladybird (and then to add his legs).
We have also been looking at repeating patterns and completing some independently.
This week the children have been introduced to our 3 tier challenge system! They are guided to access the appropriate level of challenge for them in order to move their learning on. They are becoming increasingly independent in completing these challenges.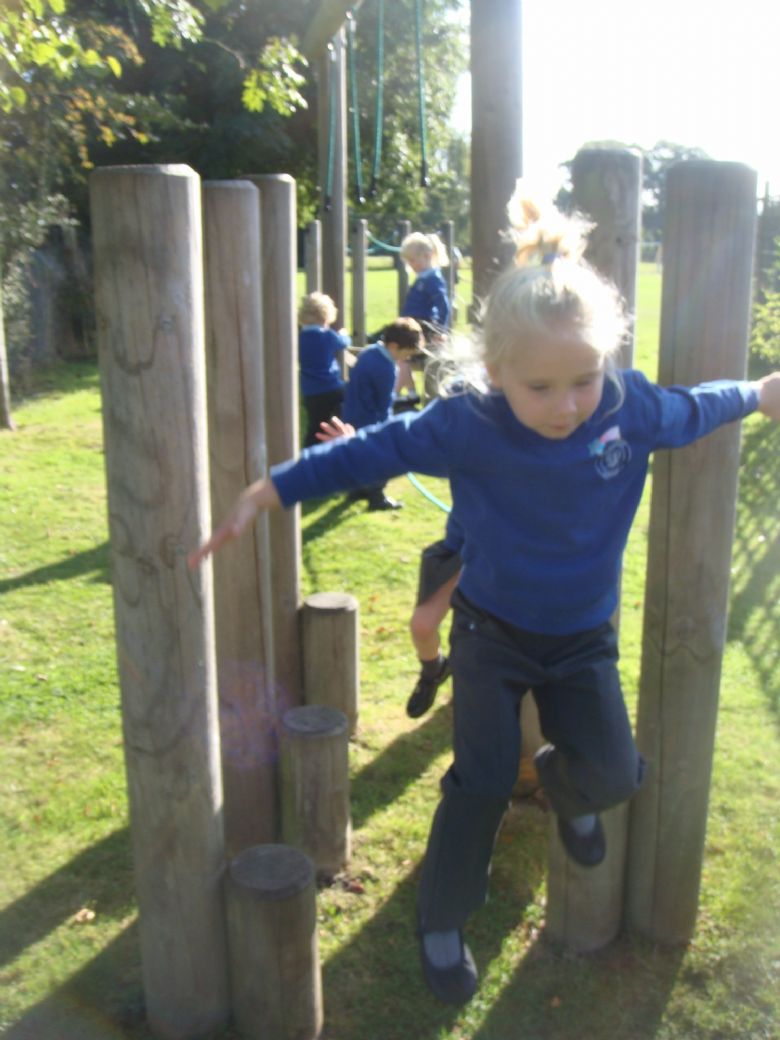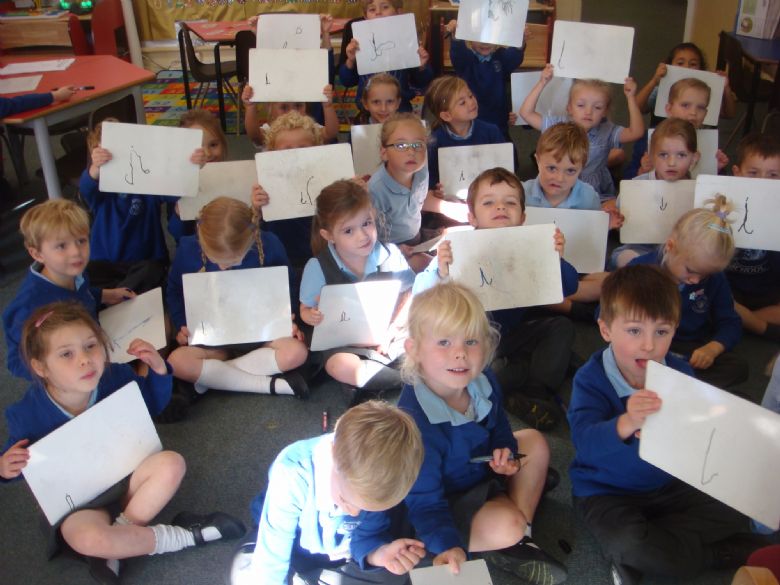 ---
Monday 27th - Friday 30th September
Sounds: 'm', 'd', 'g'
Maths: Continuing with counting, ordering and recognising numbers - we have naughty number rabbits who keep jumping around and messing up the order, we have also been looking at missing numbers. Play games where you take a number away from a group - which number is missing?
This week the children have been choosing things that they like and don't like. We have been practising cutting skills - please use any opportunities at home to practise some more - this will help with building up the hand muscles in readiness
for writing.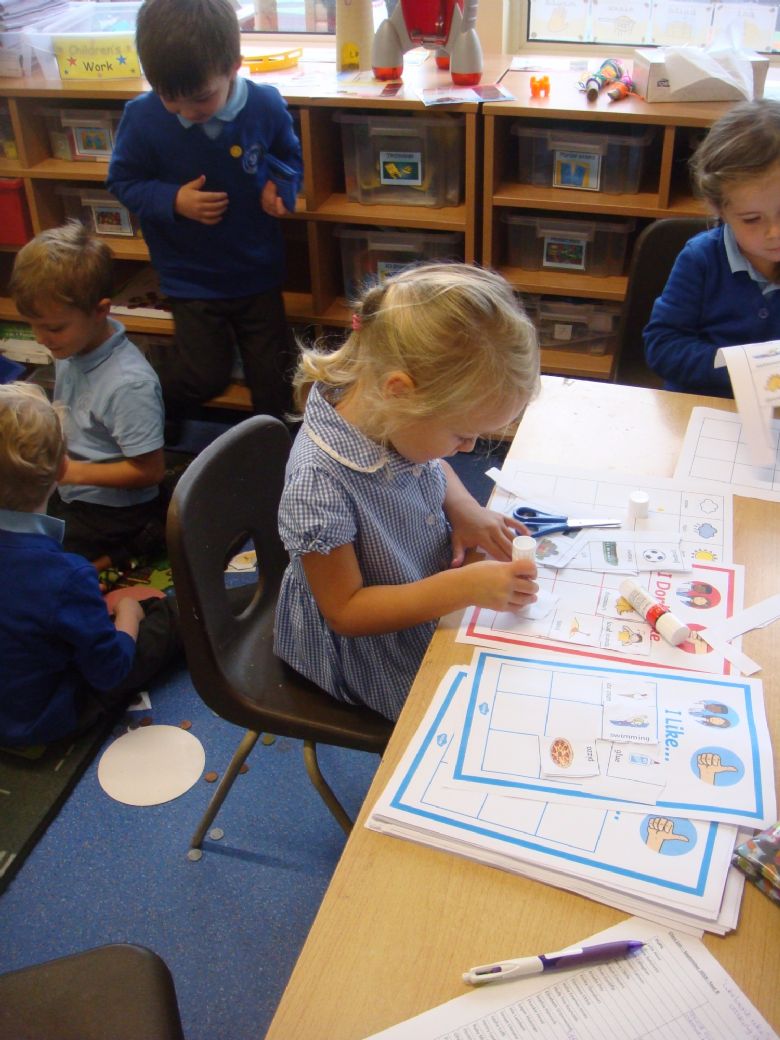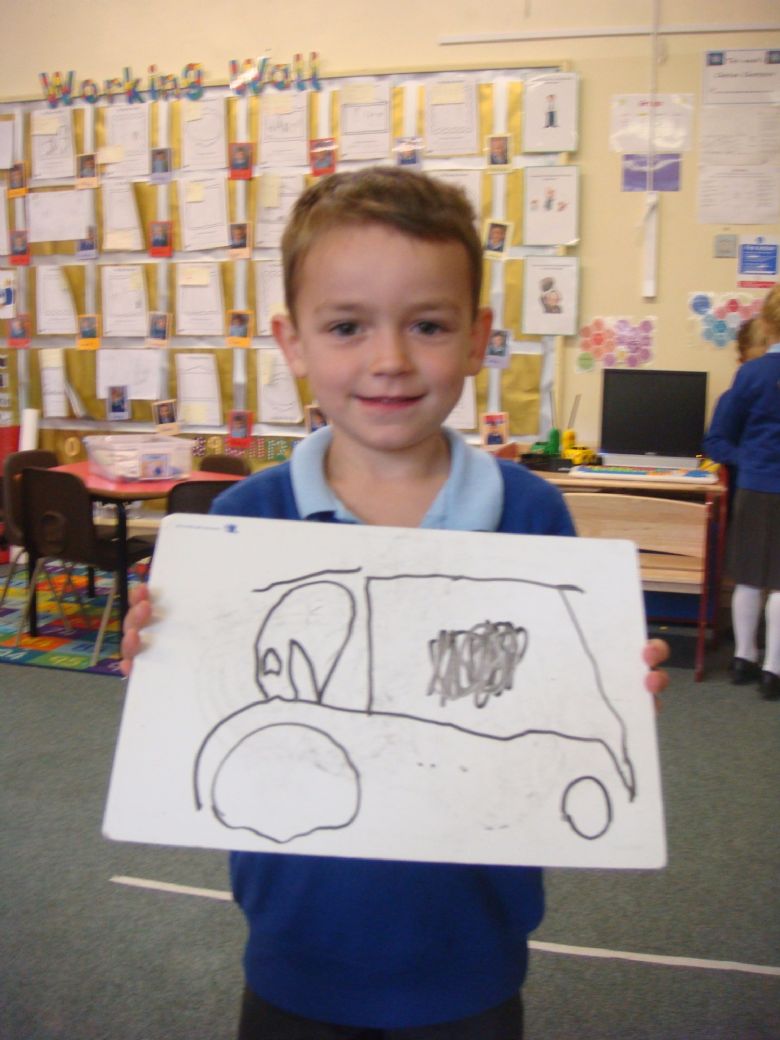 ---
Monday 19th - Friday 23rd September
Sounds: 'p', 'i', 'n' - we have been practising reading and writing these sounds. You can help your child by finding them in their reading books and in the environment.
Our Maths focus for the next two weeks is counting, ordering and recognising numbers to 10 (and then to 20). You can help your child by spotting numbers in the environment - house numbers, number plates, road signs, counting footsteps etc
Please continue reading with your child as often as you can, and commenting in the Reading Diary when you do this. If you look on page 49 of the Reading Diary you will find a list of high frequency words that the children will need to help them progress with their reading. Please practise reading these words: we will check your child's progress on a regular basis and provide more words when appropriate.
Please can we ask that toys are not brought into school . Thank you for your support with this.
We have been continuing our topic this week 'Magical Me' by talking about our families and drawing our family portraits. These are displayed on our working wall- please feel free to pop in and see if you can 'find' your child!
We have also been planting bulbs this week to fill our planters with springtime colour.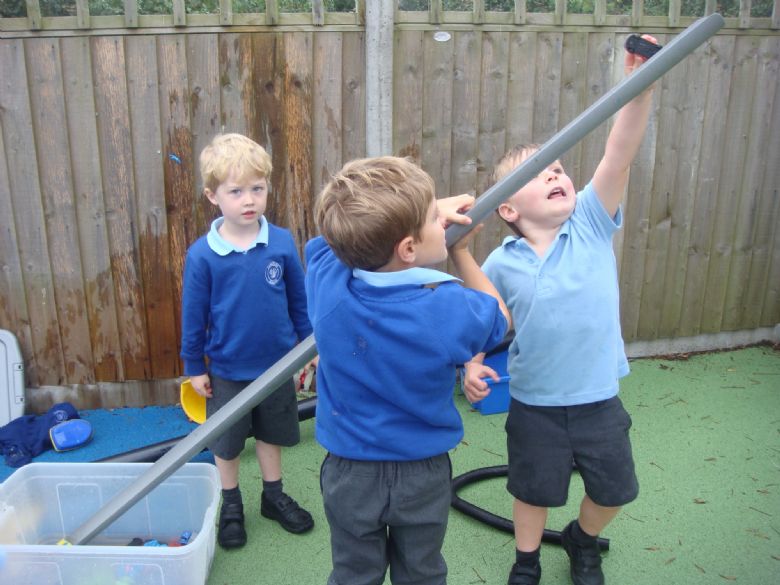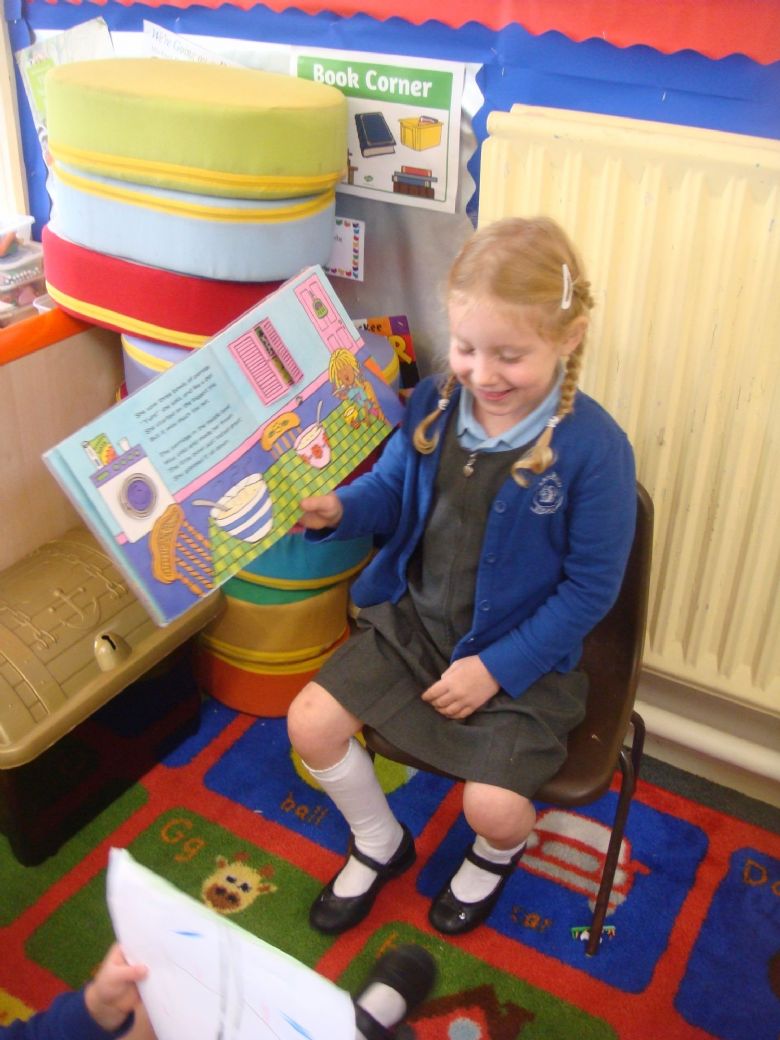 ---
What a busy first week! The children have settled so well and are beginning to get used the all of the new routines that we have been teaching them. We have been painting our portraits on paper plates, learning about musical instruments, exploring the copse and writing our names, as well as starting our PE and computer sessions. Your child has a Bookopoly Reading Challenge in their book bag tonight (please click here if missing), this is an additional challenge which all children are invited to take part in each term to broaden their reading choices.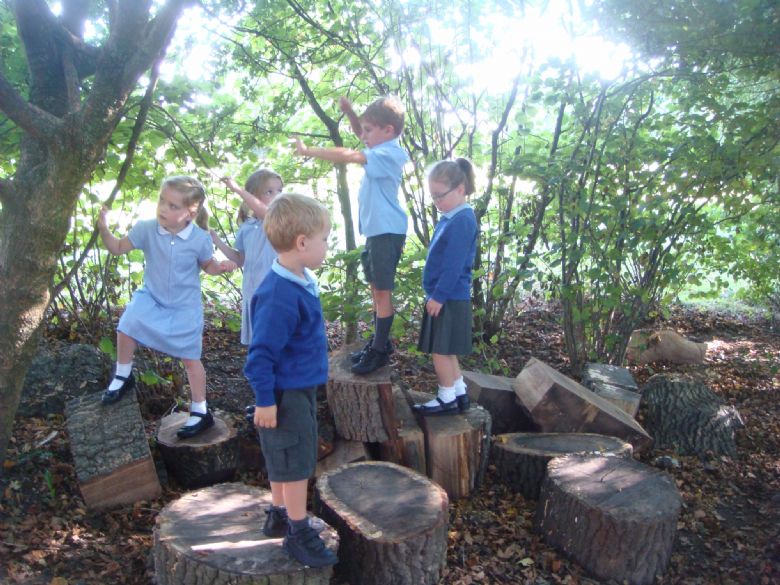 ---
Useful Websites