Miss Parker & Miss Rhodes :Team Squirrel!
---
Welcome to our Squirrels class page. Here you will find information and updates about our weekly learning.
Week ten (17.11.17) Anti –Bullying week
It has been a powerful and meaningful week for Squirrels. We have been talking about the word 'bullying'. The children came up with some great ways to help and support someone they think is being bullied. From this we talked about how we are all the same but different. We looked at each other's features and shared what is the same but different about one another. This led us on to share why each of us are special.
Miss Parker said she was special because she has an insulin pump to help her stay healthy and alive.
Oliver said he was special because he helps people who are sad.
Charlie said he was special because he is a big brother and rocks his baby sister to sleep, to help Mummy out.
Lyra said she was special because she is really good at colouring.
Miss Rhodes said she is special because she is kind.
Linked to anti-bullying week we talked about our rights. Miss Parker shared some photos of how people live in different countries which empowered the children to think about how lucky we are. We drew pictures of the differnet rights to make a poster which is now hanging in the ICT suite for everybody to see. Here is what some of the children said...
Harry E "We are very lucky because we have clean water everyday and healthy foods."
Alfie "We have a tap where our water comes from, other people don't. They have to go to a muddy puddle. It is not nice"
Sophie "We have a right to play. I love playing with my friends."
Emilie "We have a right to live with our Mummy's and Daddy's. In a warm safe house."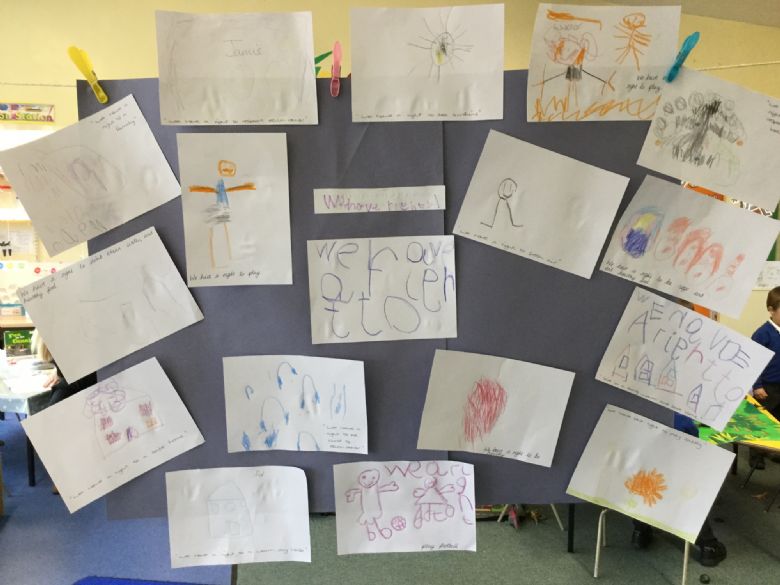 Phonics:
In phonics this week, we have been learning the sounds g, o, c, k. We are getting really good with our sounds now! Miss Parker puts on a 2 minute timer to see how fast we can say the different sounds and tricky words. We are very good at it and super quick… it's exhausting!
We have had fun using the Duplo blocks to build words and make up our own silly words. The children loved this as once they made their own words they could segment and blend it together to see if it was a real word or a silly pretend word.
Also in phonics we have been finding the missing letter in CVC words like c_t (cat) ba_ (bag). This has encouraged the children to segment and blend independently and write the missing letter with confidence.
You could try doing this at home!
Maths:
In maths we have focused on the question… 'How do we count and how do we know what the total is?'
We have also been exploring the symbol '+' and understand what it means. We learnt that it means 'to add' or 'plus' and that the total will be a bigger number because by adding numbers together makes the total bigger.
To support our learning we have used threading beads to count to 12, and also played skittles in the garden. With the skittles game we had to record how many we knocked down and how many were still standing.
New to squirrel Class this week...
We now have a Ice Cream Parlour in the sand area. The children have been serving up different flavour ice creams to each other. They are super yummy but come at a high price!
There is a construction area in our outdoor space where the children have been building huge landscape buildings such as sky scrappers. There is great team work whist building and also great planning before the building begins. Using graph paper the children plan what they want their sky scrappers to look like and use their drawings to keep track on how the build is going.
Also new to Squirrel class is a petrol station where the children can fill up their bikes with petrol or diesel ready for their big journeys ahead of them.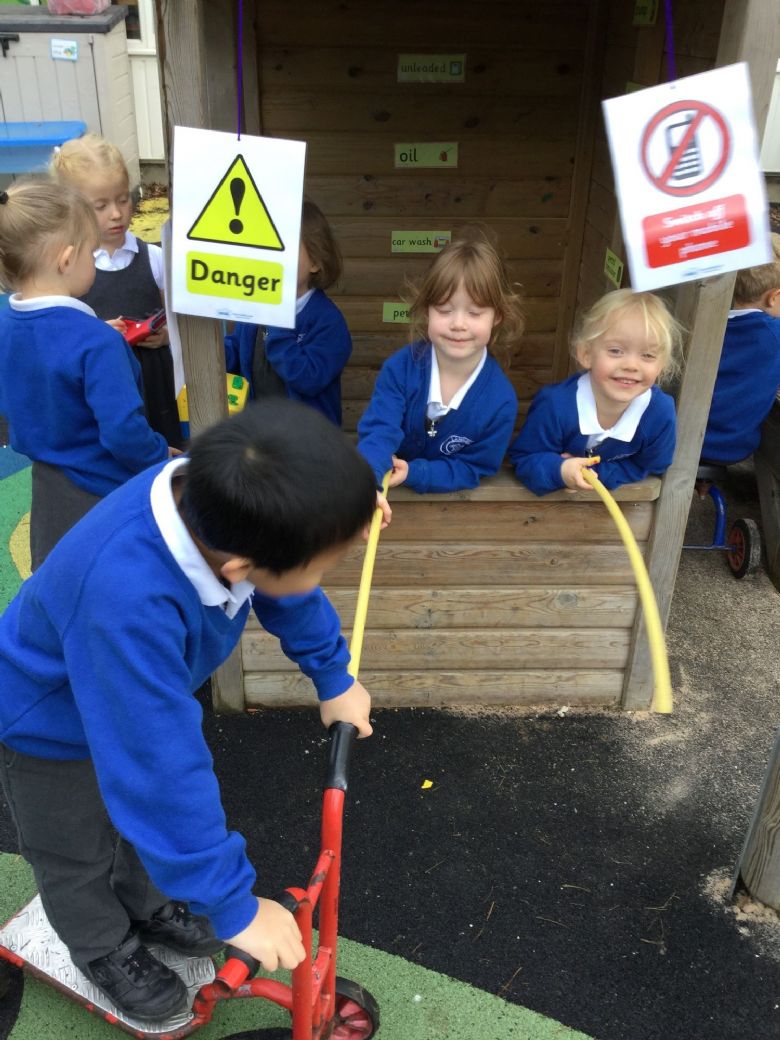 Forest School:
In forest school this week, we learnt how to whittle sticks using potato peelers. We were able to control the potato peeler to peel the bark and stick which made it smooth and sharp at the end. Once we have finished whittling we will keep our sticks and use them for our first forest fire next week. They will be perfect for toasting marshmallows!
Next week!
Next week our topic is Antarctica. We will become explorers to find out what is out there! We will learn about the animals and how they and the people live. Also talk about the extreme weather conditions and what we might need to be able to live out there.
Please may you collect kitchen roll tubes as we want to be creative and make penguins out of them.
Thank you in advance!
---
Week 9 (10.11.17) The importance of Remembrance... "Why are we buying Poppies?"
It has been a great week for team squirrel this week. We have been talking about our experiences with fireworks over the weekend and how we kept safe from danger (Article 19 from the UNCRC). From this we made our own fireworks by using oil pastels on black paper. They looked fantastic!
In P.E this week we watched a firework display using the internet. We then created our own fireworks using all of our body movements. To make the sounds of the fireworks, we used our hands and feet. Also in P.E we went on the playground and made an obstacle course. Here is a video of us exercising...
Phonics
In phonics this week we have learnt the sounds i, n, m and d. We have also begun learning the tricky words (words that are not phonetic) the, I, no and go. During the lesson, we are applying the sounds we already know along with the new sounds to make CVC (consonant, vowel, consonant) words such as map, sat, an and tip.
An important part of children's development is their fine motor skills to support their writing. We did 'dough disco' where we all have some playdough and copy the disco moves to help us build strength in our hands. Here is a video of us doing it...
Maths
In maths we have been exploring the question 'Can we recognise the numbers 1,2,3,4,5?' We have been looking at how to represent each number, find the total of each number and add and take away using our fingers and objects.
Remembrance
Squirrel class had a great discussion about remembrance and why we are buying poppies. During our play we made a wreath and made our own medals.
Miss Parker asked the children to talk to their parents and grandparents so they can share stories about the war.
Forest Friday - tool work using saws
In forest school we learnt how to use saws. We were told about the different parts of the saw, how to hold it, how to use it and how to ensure we use it correctly and for purpose.
"It's really hard work..." Harrison said.
"I did it! I did it!" Sophie said proudly.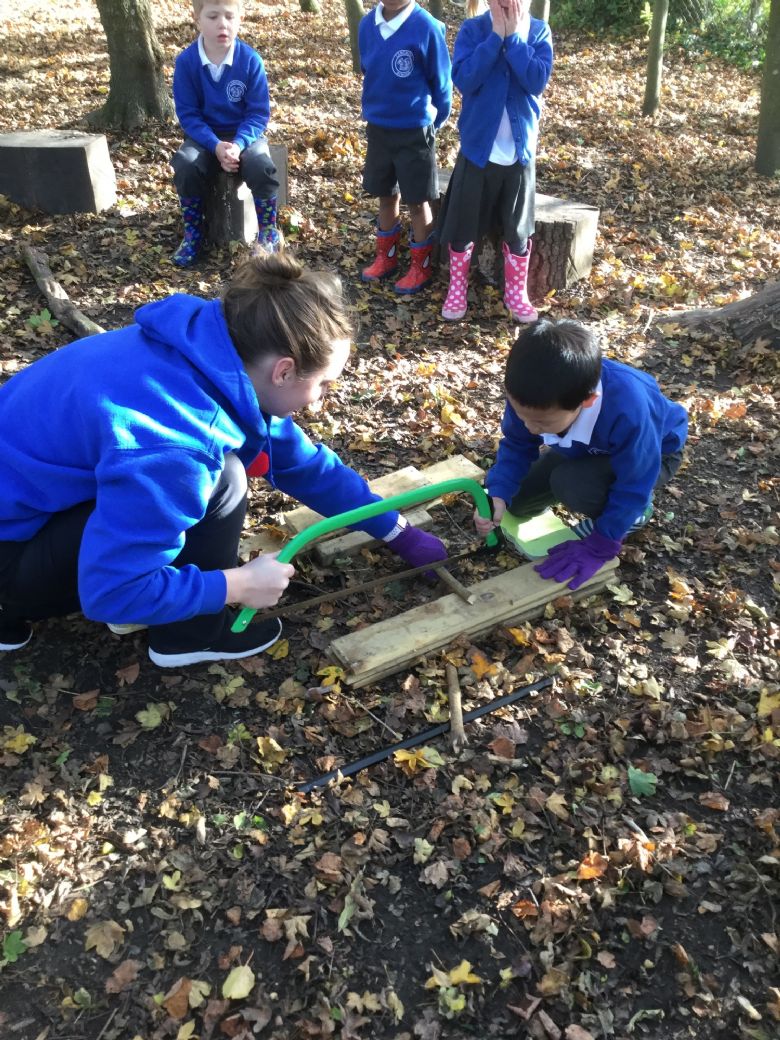 ---
Week 8 (4.11.17) "Dem bones, dem bones, dem bones"
Welcome back! We hope you all had a restful but fun half term!
This week we have been exploring the book 'Funnybones'. In our role play area we have a doctors surgery where the children are having a great time being doctors, receptionists, helpers, nurses and patients. Miss Parker and Miss Rhodes have been very clumsy and keep falling over, breaking bones or in need of an injection to stay healthy. Fortunately, with the help of Dr Pelling, Dr Gifford and Dr Langley-Smith (just to name a few) they have ensured both Miss Parker and Miss Rhodes are back up on their feet, fighting fit (with just a few bandages on their legs and arms).
Here is some of the wonderful things the children have said…
A conversation between Miss Parker, Harry E and Harry T:
Harry E "Hello, can I help you? Do you need an appointment today?"
Miss Parker "Yes please, I keep getting headaches, can I book an appointment to see the doctor?"
Harry T "I am the head doctor, you can see me if you like?"
Harry E "I will just book you in (attempts to write 'Miss Parker', 'headache', 'Harry T') Is 5 o'clock ok?
Miss Parker "5 o'clock is perfect, thank you. See you later".
Lola G "I'm a helper, do you know where to go for your appointment?"
Yasmin "I need to wear this mask on my face because it helps me to breath better, oxygen goes in there."
Kayden "I just need to check your blood pressure."
Emilia "Oh no you are really sick, your temperature is 100 degrees!"
Also this week…
In phonics we have been learning the sounds s, a, t, p. We have been hearing the initial sounds of words such as sun, apple, train and pig. Squirrel class have been super clever and have also been thinking of words with the different sounds in other words such as dinosaur, map, letter, happy.
For guided reading the children have been reading Funnybones. They are beginning to have a good understanding of the story, follow the repeated sentences and talk about how naughty those skeletons are trying to scare everyone.
In Maths, we have been finding numbers all around the school. There are so many! There were numbers found on clocks, computer keyboards, posters and on the floor outside. We wrote down every number we could find on our clipboards.
Also we have talked about numerals for a personal significance. First, we talked about our birthdays, finding out how old we all are now, how old we were on a last birthday and how old we will be on our next birthdays.
Proud Clouds!
Here at Langrish Primary School we are proud of what each child achieves in and out of school. We want you to use these proud clouds to write the great things your child does at home or at a club. We ask you then to bring in your child's proud cloud so we can put them in their learning journeys, to share each others great achievements!
You can find the proud clouds at the bottom of this page.
Talk Talk Tuesdays!
Squirrel class are starting Talk Talk Tuesdays (fancy name for show and tell). Each half term we will give you a topic to do at home.
The topic this term is ICT (Information, Communication, Technology). We want you to take a picture of your child using all things ICT. This could be a remote control, computer, Ipad, telephone or CD player. Then when it is your child's turn for Talk Talk Tuesdays, they can share all the things they do at home linked to ICT. We will then put this in their learning journey's!
Talk Talk Tuesday dates:
Tuesday 7th November: RED HOUSE
Tuesday 14th November: YELLOW HOUSE
Tuesday 21st November: GREEN HOUSE
Tuesday 28th November: BLUE HOUSE
---
Week 7 (20.10.17) - Soup glorious soup!
This week we have been super busy making pumpkin and squash soup. The children worked really hard to cut, blend and cook the ingredients. While we were waiting for the soup to cook, we ordered the recipe by cutting and sticking the pictures in the correct order. The soup was super yummy and kept our tummies warm from this autumn wind.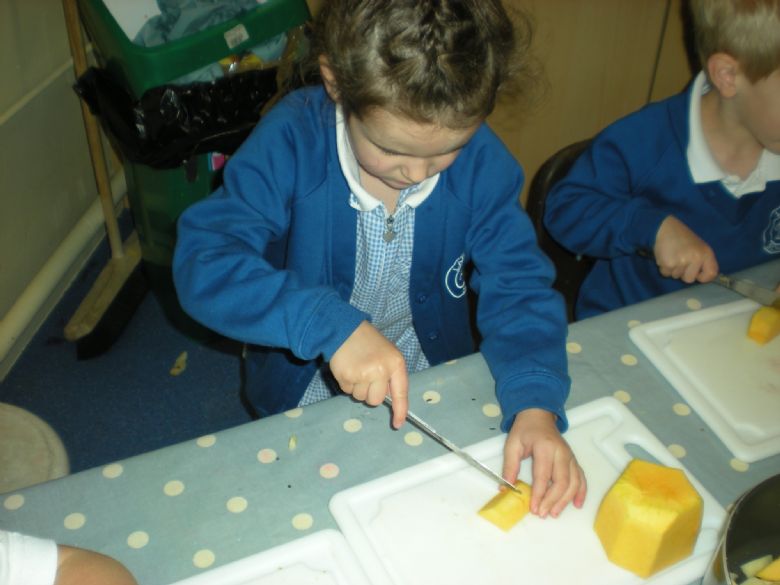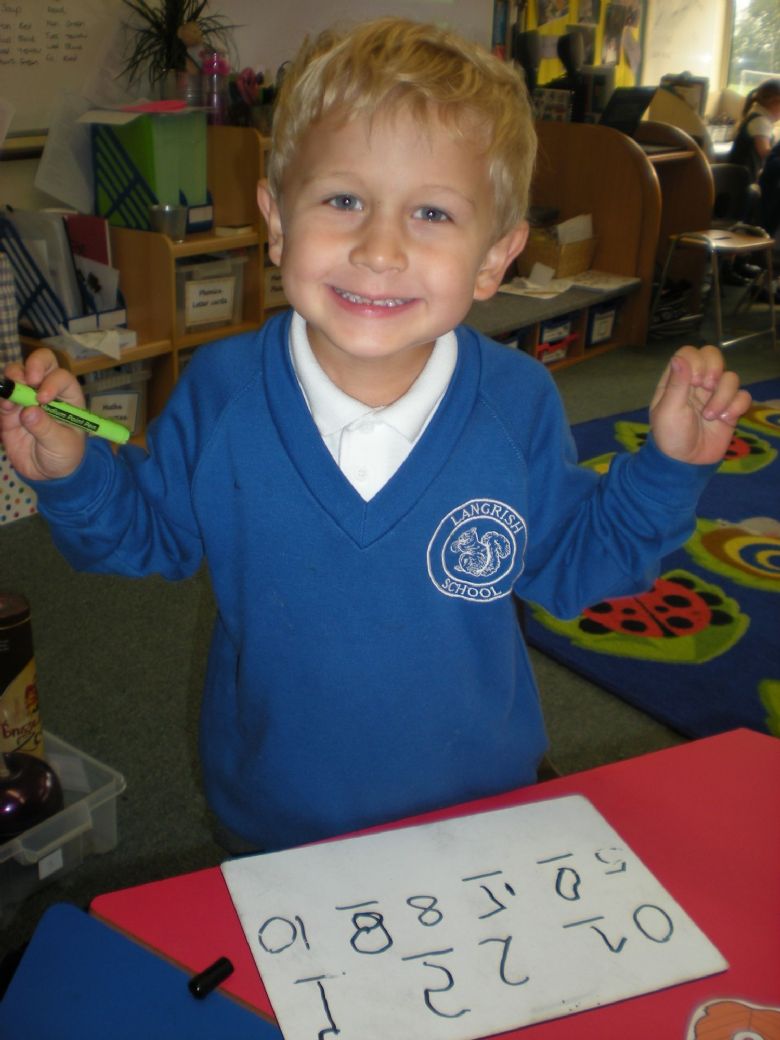 Numbers with Miss Rhodes
T
he children worked super hard to write their numbers in the correct order. Firstly, Miss Rhodes wrote numbers 1-10 on whiteboards with some numbers missing. The children had to find out the missing number then write it down. Next she asked the children to write numbers 1-10 all by themselves! It was a tricky task, but with some support from Miss Rhodes they managed to complete it! Here is some of our work, which the children are very proud of…
Reading with Mrs Browning
In the mornings we are very lucky to have Mrs Browning with us. She took a group at a time to read a special story sack to them. The children had to listen really well as Mrs Browning asked them questions about the story and the characters at the end. One of the stories was 'The Three Little Pigs'.
Here are some of the questions Mrs Browning asked the children.
What is the story about?
Is the story fiction or non-fiction?
Where is the setting of the story?
What characters are in the story?
Can you retell the story to me?
Ask your child which story was read to them and what they remember from the story…
PE Diwali dancing
This week we have been learning all about the festival Diwali. We read the story and talked about why it is celebrated and who celebrates it. Here is a video of us dancing in PE…
---
Week 6 (13.10.17) – It's beginning to look a lot like autumn…
This week we have been exploring the wonderful outdoors! A huge thank you to everyone who found something interesting for our investigation table. It has been great fun using our senses to explore what you found. Here is what some of the children said:
Lucus said, "The pinecones feel spikey."
Emilie said, "The sunflower feels bumpy and soft at the same time."
Saffy said, "This pumpkin feels squidgy and smells strange."
Siddhant said, "This leaf is red and black, it is so pretty."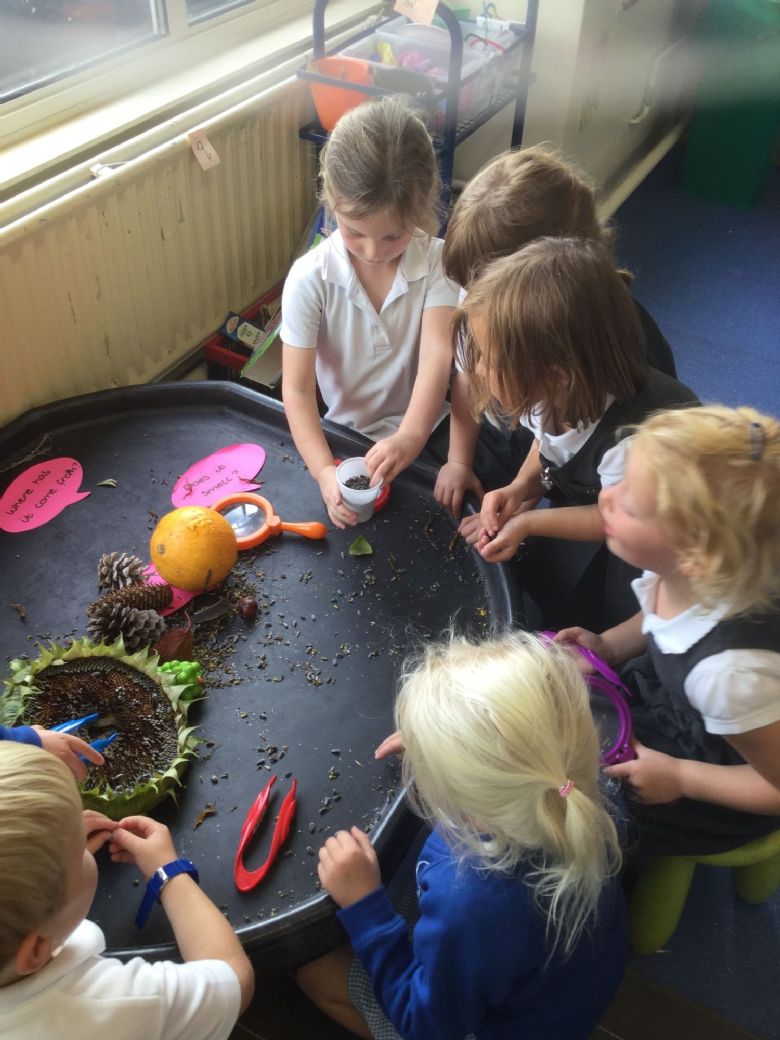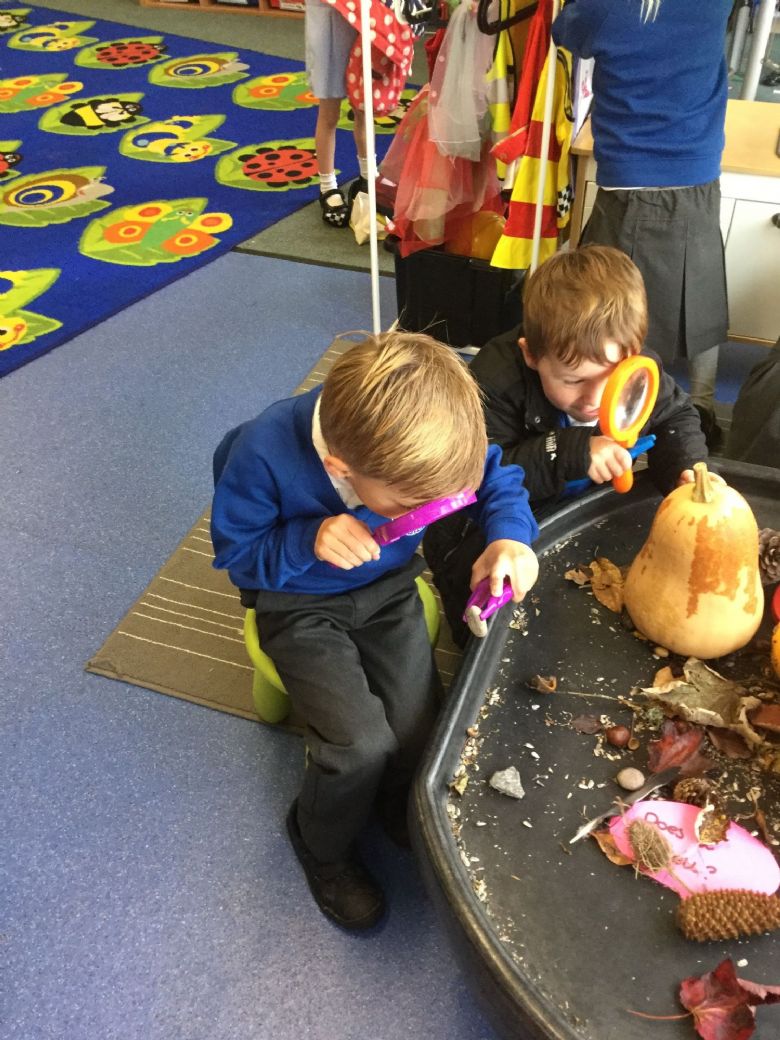 Also this week the children have been busy finding numbers hidden around the school! They were everywhere! What made it trickier was a secret number detective called Harry T kept finding the numbers then re-hiding them in different places. He found it very funny… Miss Parker was left confused and finding numbers in all sorts of places!
Forest school!
The children have been so excited to go into the woods and explore the great outdoors. We made forest crowns using the natural things we found on the ground. Also, we played hide and seek with Mr Hedgehog who keeps disappearing up trees or under the leaves.
Miss Parker told us how to keep safe in the woods. When we go to the woods, we all sit on big logs around the fire circle. Here are the rules we must follow:
Do not leave the woods.

When you hear Miss Parker shout, "3,2,1 comeback everyone!" we must go back to the fire circle and sit on the logs. This could mean Miss Parker wants to talk to us, there is an emergency, snack time, or it is time to go back to the classroom.

Children must not enter the fire circle unless the child asks Miss Parker to enter safely. This is to maintain the continuous boundaries, regardless of there being a fire or not.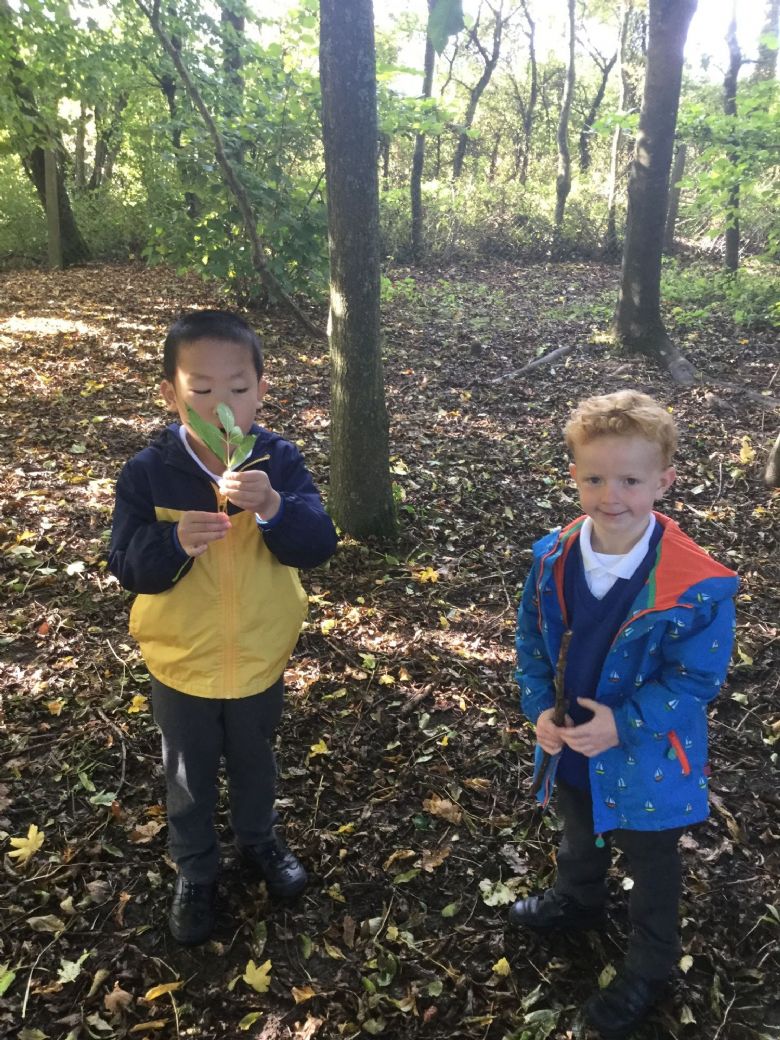 Open Classroom
Thank you to all the parents and Grandparents that came to see their child's learning journey so far. There was a positive feel in the room and large sense of pride for all of the wonderful children!
Next week:
We will be making pumpkin soup and butternut squash soup! There will also be a shape hunt for your children to investigate and don't forget it's Langrish's first film club on Thursday afterschool with Miss Parker and Miss Jones.
---
Week 5 (6.10.17) - Feelings Tree, Letter hunts and reminders
It is week five and Squirrel Class are in full swing of the school routine with the realisation that we have to be in school for five days a week..! From the moment the children enter the classroom they are super busy with different tasks to investigate. This could be practising their letter and number formation, team building activities, fine motor work such as threading or use of tweezers or practising their name. It is great to see the children thriving with the tasks and supporting one another for the duration of the activity.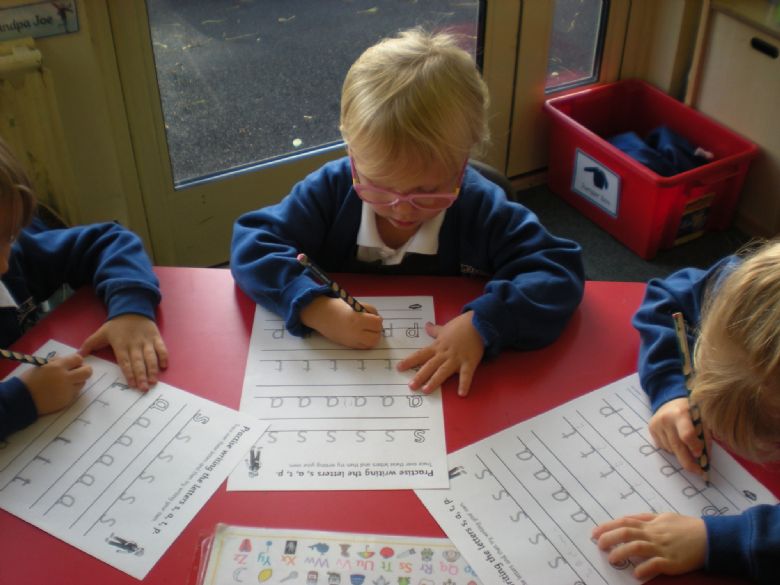 Our Feelings Tree
Squirrel Class now have a feelings tree. Throughout the day the children share how they are feeling, we then discuss why they feel the way they do and if there is something which can change this feeling if they were feeling sad, tired or angry. The feelings tree has become an important part of our day and a good reflective tool for the children.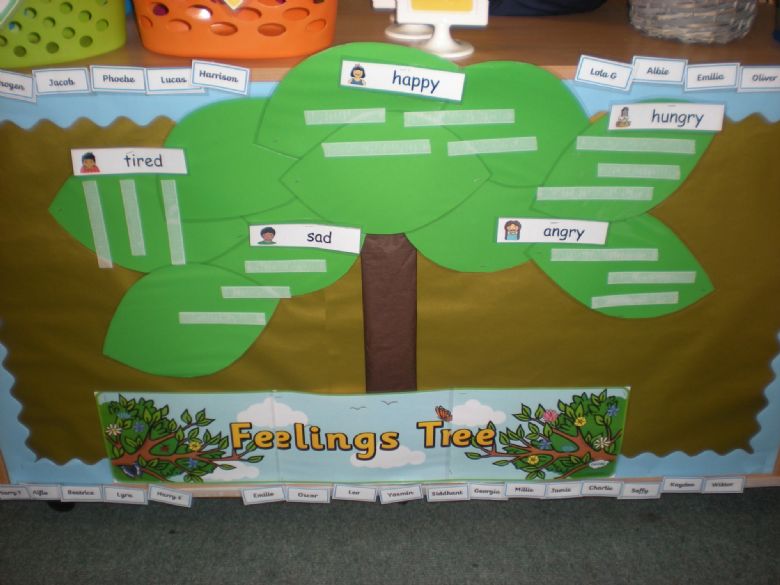 Letter hunt!
The children were set a challenge this week, which was to find all the letters that were hidden around the environment. Children were given a clipboard and either had to match the letters to the ones they found or write the letters. The children searched high and low, in teams and individually to make sure they found all the letters of the alphabet!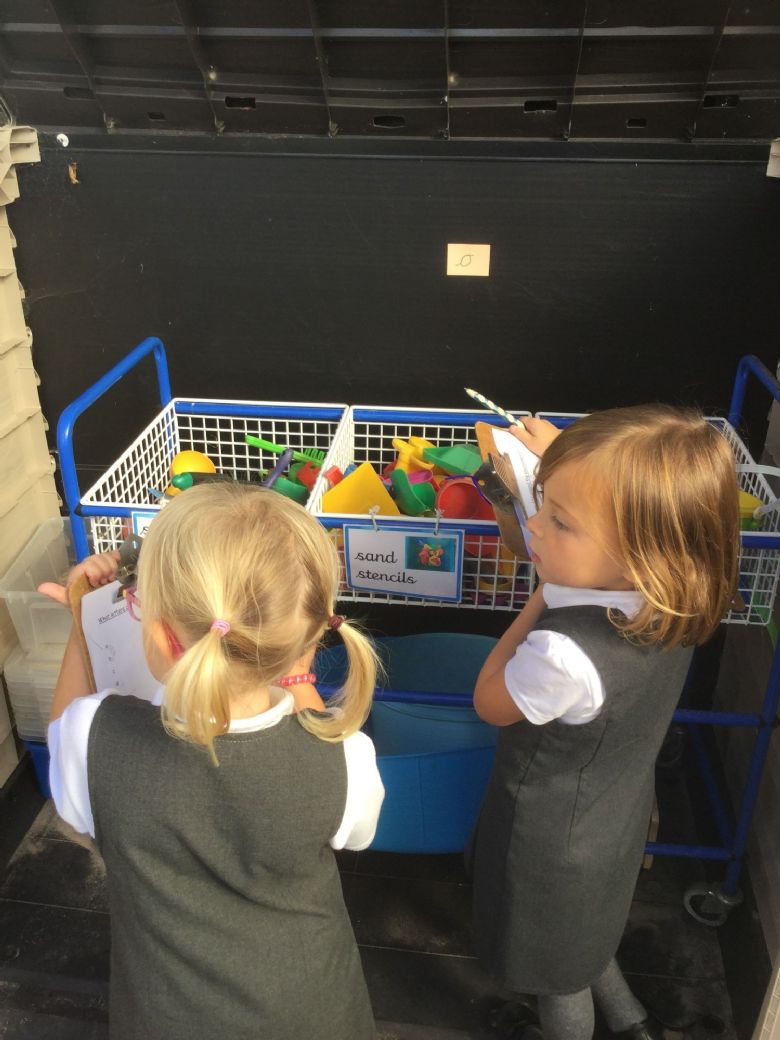 Reminders for next week…
The children have been very interested in the ever changing great outdoors. A huge thank you to Oscar's mummy who brought in their sunflower head and pumpkin, which they had grown at home. If you are out exploring or walking outside over the weekend please bring in the wonderful 'autumn' things you find to add to our investigation table. It could be colourful leaves, conkers or something interesting... Let us investigate this beautiful season!
On Friday 13th October Squirrel Class will have their first Forest School session. Please can you ensure your child has their welly boots and waterproofs (trousers and coat) in school. To make it easier, children could have a small forest school bag for their waterproofs, which can be kept on their pegs so there is no confusion with their P.E kits.
Looking forward to seeing you all at our open classroom on Wednesday 11th October from 3.15 p.m.-4.00p.m!
---
Week 4 (29.9.17) - Charlie and the Chocolate Factory!
What an exciting week Squirrel Class have had. Mrs Thompson who is an LSA in school and also Harry's Mummy, brought in a special book for Miss Parker to read. It was a magnificent pop up book of Charlie and the Chocolate Factory by Roald Dahl. The children were so excited for Miss Parker to read it. Some of the children already knew the story from their parents reading it to them at bedtime. Once we finished the book as a class, the children were independently re-telling the story to each other, sharing their favourite parts of the book and talking about which characters they liked best. Here are some of the things the children said:
Harry said, "My favourite character is Mike Tevee because he always watches television. When he walks out of the chocolate factory he is taller than his Dad because they stretched him."
Yasmin said, "The Oompa Loompa's are really funny, I love the songs they sing when the children get into trouble."
Frances said, "It is so funny when Violet turns into a big blueberry."
From this, the classroom got transformed into a chocolate factory. The children created their own chocolate bars, which were then used for the chocolate shop. There was chocolate play dough, golden tickets for the children to find and puppets to support the children's imagination and role-play to re-enact the book. It has been so much fun!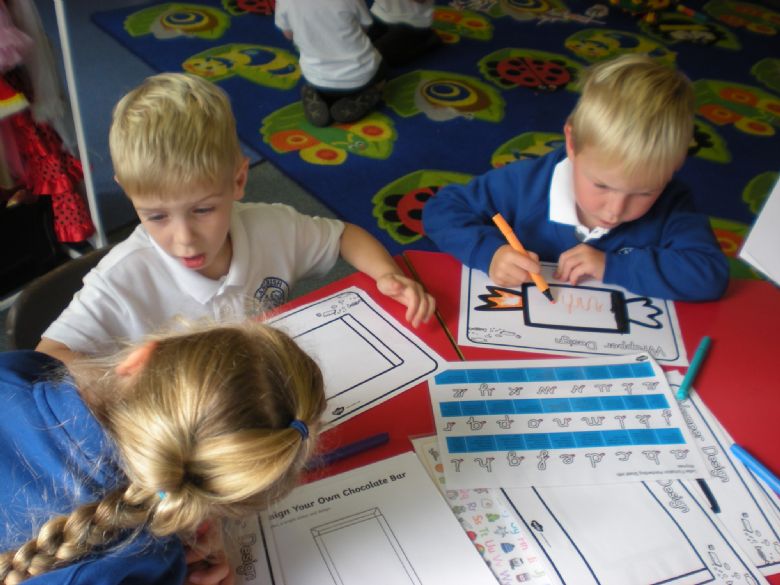 E-safety class charter
Now the children have begun ICT lessons each Friday morning, Squirrel class had a big talk about e-safety. We talked about the importance of keeping safe and how we can do it well. We made a class charter to ensure we understand and remember. A copy of the e-safety class charter is in the front of the children's reading record and also at the bottom of this page. Miss Parker and the children have so far signed it and we now need all parents to sign it to support us to keep safe on the computers/Ipad.
---
Week 3 (22.9.17)
What a fun and messy week it has been! The children have been exploring healthy eating linked to the Rights Respecting Schools "World's Largest Lesson." There was a big focus on food and nutrition. Squirrel Class have been busy looking at what foods are healthy and not healthy, learning to use knives safely and to use their senses to explore different fruits and vegetables.
Here are some of the things the children said:
Harry E said, whist in a group discussion, "We need to be happy and make other people happy. Even just to say hello to somebody."
Lucas said ,whist exploring the play dough and fruits, "I'm making stawberry tart, which is healthy becuase it has strawberries on it."
Saffy said, whist exploring the fruit and vegetables, "I love eating fruit and vegetables. I can really smell the lemon and bananas."
Also this week, linking to the Rights and Respecting Schools, we made our own Class Charter by looking at the children's rights from the United Nations Rights of the Child. We discussed how we can keep safe, how to look after each other and how to respect our toys. Please see attached a copy of our Class Charter at the bottom on the page.
To be a successful life long learner at Langrish School...
On Friday morning (22.9.17) there was a meeting on how to be a successful learner in Reception Class at Langrish. We discussed how, and what it takes, to be a successful learner. Also, we talked about how Miss Parker and the parents can support and guide the children to be life long learners in Reception Class.
It was a great turn out, so thank you to those who came, we really appriciate your support. If you were unable to attend the meeting please find a copy of the outcomes at the bottom of the page.
Home learning starts today! Hoorayyy!
As from Friday 22nd September, parents can collect their child at 3pm to choose a maths game together to take home for the week! Please play these games as an when you want to! To change the game, bring them back the following Friday at 3pm.
On Monday 25th September, children will have two reading books to take home. Please read with them as much as you can (remember to use the Oxford Owl website to access more of these books).
Tricky words will be sent home for you to continue at home. Tricky words are not phonetic so the children just have to know them. Please play games and test your child to see which tricky words they know.
School Library books will be changed every Friday morning with Miss Rhodes. So, if your child wishes to change it, please bring them back each Friday to be swapped.
Autumn reading challenge! When you child has read a book, please let us know on the Autumn Reading Challenge sheet. Once it is all filled in, please bring it in and show Miss Parker!
---
Hello Team Squirrel, (15.9.17)
It has been a fantastic first week for Team Squirrel! The children have settled well into their new classroom and are taking the school routine in their stride. We have also been sharing their summer holiday boxes, with their cheeky bears, with the whole class... the children are showing a great sense of pride when talking about these.
We have been so busy making new friends, enjoying our super fun P.E lessons and accessing all areas of the classroom and outdoor space. Here are some pictures of our learning:
We've got plenty of exciting things planned for the coming year so keep watching our weekly website updates to see what we've been up to.
P.E days:
Tuesday: (In the hall) for which the children will only need a T-shirt and shorts.
Wednesday: (Outdoors if weather permits, otherwise in the hall) for which children will need a T-Shirt, shorts and outdoor trainers. They will also need dark coloured jogging bottoms and a hoodie as the weather gets colder.
Meet the teacher - Home learning expectations
On Friday 15th September there was a meeting with Miss Parker to discuss the home learning expectations for Reception Class. Miss Parker also discussed the learning which is taking place now and throughout the year. For now, the children are establishing the school routine, making positive relationships with their peers and adults and exploring the classroom and outdoor space. The Early Years Foundation Stage has three Prime Areas. They are Personal, Social and Emotional Development; Communication and Language and Physical Development. Without these prime areas met, children may struggle to access the other areas of the curriculum which are Maths, Literacy, Expressive Arts and Design and Understanding the World. However, throughout their play, there are provisions in place to access such areas of development freely and independently.
If you were unable to attend the meeting, please find an attachment of the presentation at the bottom of this page. Copies of the hand out will be put in your child's bag on Monday 18th September.
---
Useful Websites