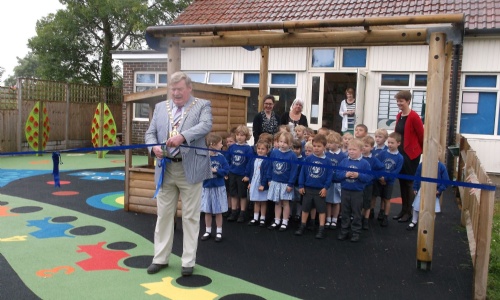 Petersfield Mayor opens our new Year R outdoor learning environment.
On Tuesday 14th June, James Deane (Petersfield's Mayor) visited Langrish Primary School to officially open Year R's stunning new outdoor learning environment, funded in part by the Friends of Langrish School and Petersfield Round Table. The children recited a poem that they had been rehearsing, about the improvements and the impact it has already had on their learning, and sang him their 'Caterpillar' song before Mr Deane cut the ribbon!
Two of the Year R ambassadors then gave the Mayor a tour of the school; he enjoyed meeting the pupils and was impressed by the welcoming, bright and friendly atmosphere.
The new area will allow pupils to extend their learning across the Early Years Foundation Stage, complementing the improvements already made to the indoor environment and supporting provision for all learners.