Intent
Throughout our Art curriculum, children at Langrish gain a wealth of experiences by using a variety of different mediums. From Years 1 to 6 we follow three core skills: drawing, painting and printing. Within each unit, children build on prior knowledge; develop control and mastery in art techniques; reflect on their own progression and explore a variety of great artists and designers and their place in history and culture.
During their time at Langrish, all children develop their competence of art through a range of additional skills, for example clay work and model making. This provides them with skills that are transferable to other subject areas. For example, observational skills when drawing could be applied to an experiment in Science. A copy of our progression of skills document can be found at the bottom of this page.
If a unit is focused on a particular artist or piece of artwork, children will start by discussing and evaluating this with their peers. Children understand that artwork can result in differing points of view and they are able to listen and respond to the comments of their classmates. Langrish children are encouraged to become critical thinkers and pose questions as to the intent and purpose of artists' work. We aim to have a balance of both structured and open-ended tasks for children to complete. This is achieved by giving a specific stimulus or artist for children to base their work on, but also giving them freedom to create a piece of art that is unique.
Implementation
Sequence of learning: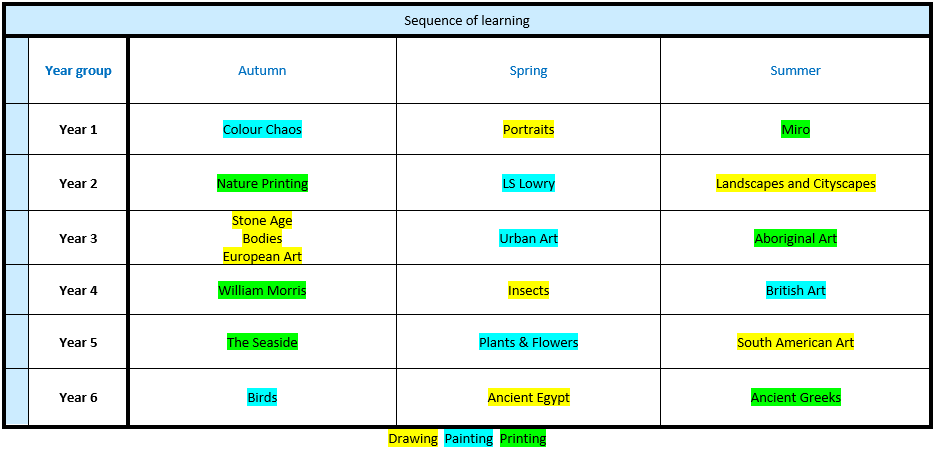 Progression of skills: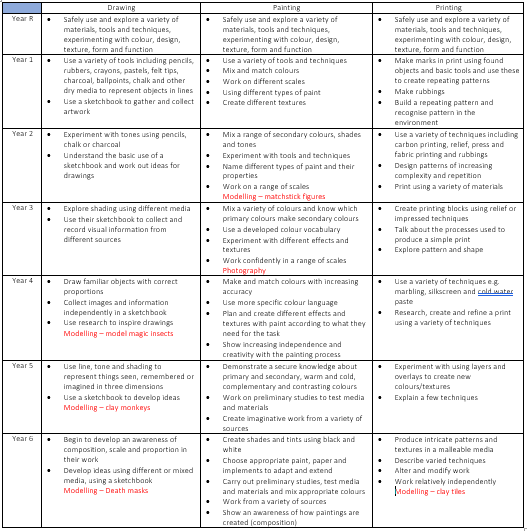 Art in EYFS:
In EYFS, art and design techniques are regularly used across the curriculum to support a variety of experiences and develop a love for creativity.
Impact
Pupil voice: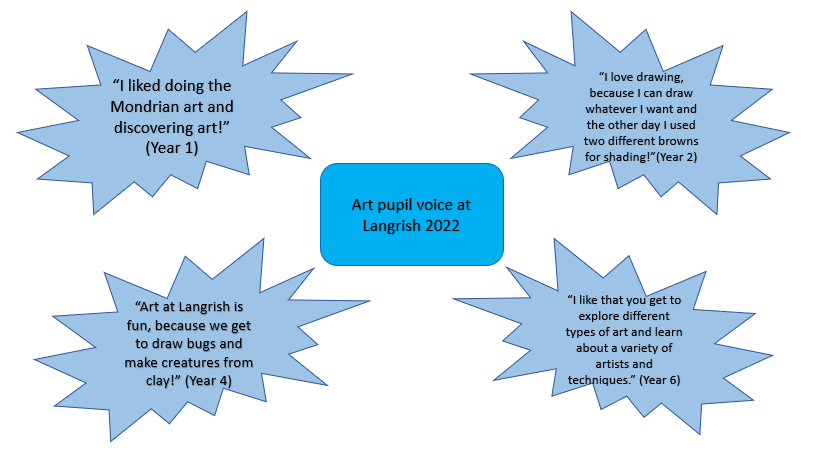 At Langrish, we love taking part in wider community projects. This year, Year 5 have taken part in the evolution of this project: Climate Unity. Their first piece of artwork has been delivered to Calshot Activities Centre and will be on show until October 2022. One side of the piece represents the world the younger generation will live in if we don't do anything about climate change; the other, 'good' side, represents the world Year 5 want when they grow up! The pupils have been true advocates for climate unity and preservation.

In 2021 Years 3 & 4 took part in the Climate Crisis Project run by Hampshire County Council and created an art installation, alongside other schools in Hampshire, to raise awareness about climate change and environmental issues. The piece was called 'Our Climate Crisis Forest'. The children had such a sense of pride in our totem poles, which were even featured on ITV News!
"We only used recycled materials that we bought in from home to create our totem pole to raise awareness of plastic pollution"
"I liked how much effort we put into our project, we kept coming back to it and making improvements"
We have also taken part in the David Shepherd Global Canvas international art competition.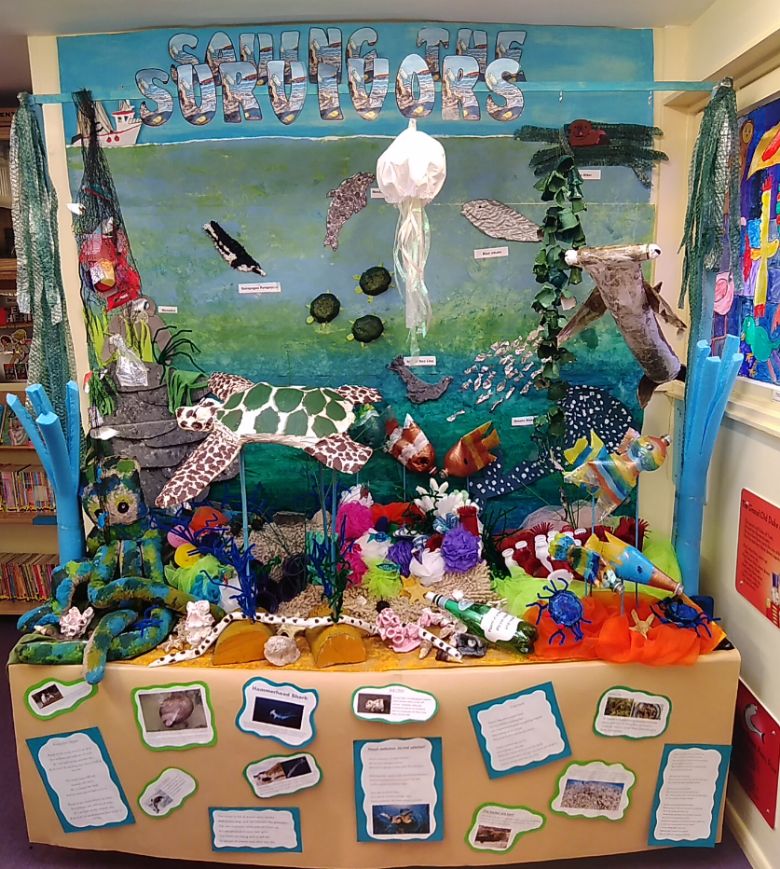 This gave our children the opportunity to find out about endangered species, their habitats and threats they face. This also allowed the children to express themselves through their creativity. We won Michael O'Mara Books Personal Choice Award too!
Our after school Art Club provides an opportunity for our budding artists to engage with art and express their creativity further. They enjoy experimenting alongside our specialist volunteer across a range of projects.
Every year our children look forward to Take One Picture Week which aims to inspire a lifelong love of art and learning. We take one picture each year to inspire our cross-curricular learning across all year groups. Our Arts Ambassadors meet to discuss and choose a picture from a shortlist and provide feedback to their classes and gather ideas.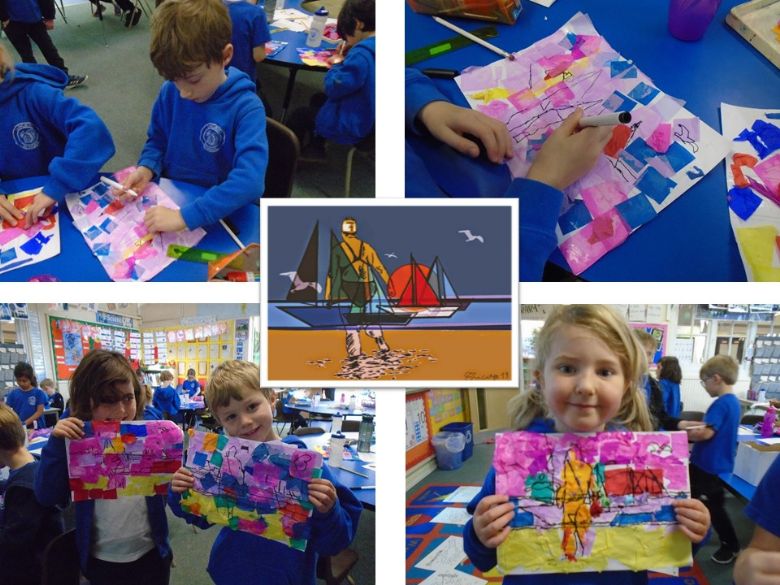 "Art and design is not just a subject to learn, but an activity that you can practise: with your hands, your eyes, your whole personality." Quentin Blake, Illustrator and Children's Laureate.