Forest School is an inspirational process that offers ALL learners regular opportunities to achieve and develop confidence and self-esteem through hands-on learning experiences in a woodland or natural environment with trees.

Thought for learning: "There is no such thing as bad weather, just bad clothing!"
Forest School promotes:
Self awareness
Self-regulation
Intrinsic motivation
Empathy
Good social communication skills
Independence
Team building skills
A positive mental attitude, self-esteem and confidence
The freedom and space to be free in the open wilderness
A love of learning... and so much more!
We are extremely lucky here at Langrish as all classes have weekly sessions on our on-site copse.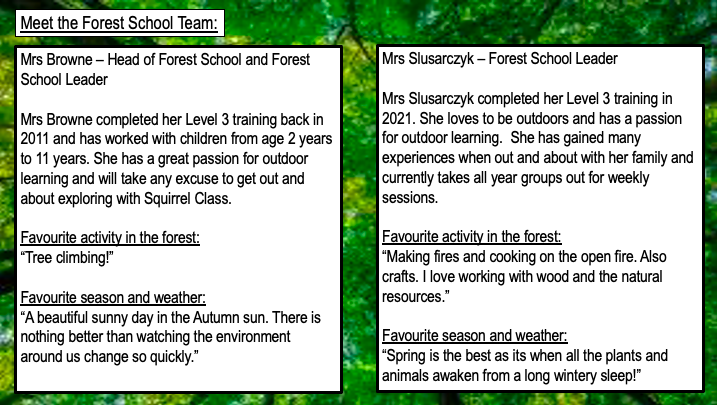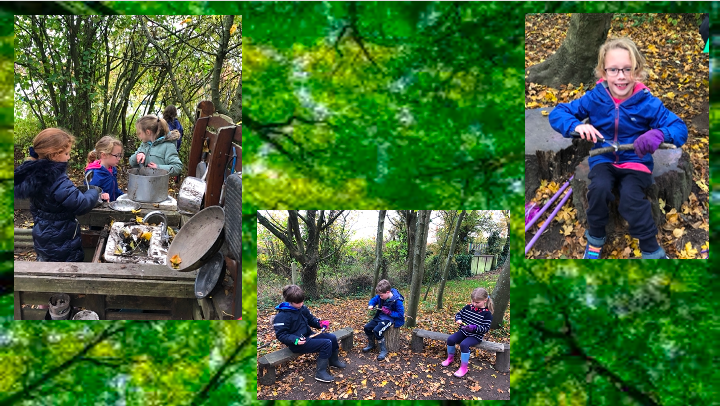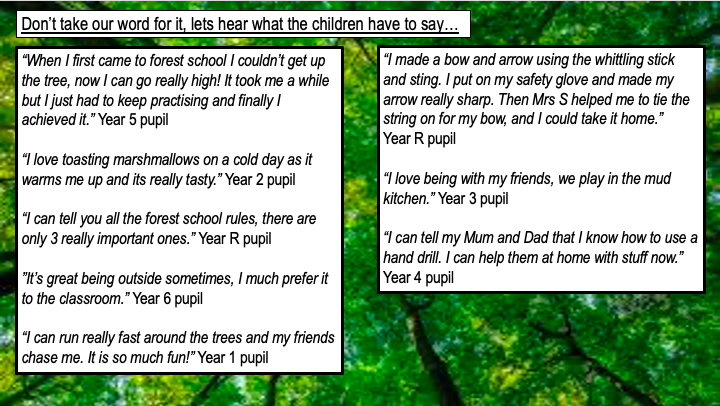 Forest school through the years...

Early Years:

As it is the first time for Squirrel Class to access Forest School here at Langrish School, it is important the children feel safe and have a deep understanding of their new environment. It is important to spend time exploring the natural open space, finding hidden holes, seeing how high and different each tree is, looking for habitats and understanding the different, uneven surfaces. We spend time listening to the different sounds around us whether it be from birds, the leaves on the trees rustling or footsteps from the children running.

It is important all children embed the forest school rules and follow them for the safety of themselves and others. We continue to practise this to ensure it is understood by all.

Within our forest school sessions, we climb trees, play in the mud kitchen, play hide and seek, run as fast as we can or create den using the natural world around us with support from tarpaulins and rope. Children learn to take risks, be imaginative in the open world around them and challenge themselves each week they attend forest school. Questions and thoughts are asked such as, "I wonder if…", "I have found this… what is it?" and "This wasn't here before, where has it come from?"

Next steps:

We will focus on learning how to use tools such as whittling sticks, hand drills and mallets. We will use them to create something out of nothing. The children will learn it is not about the finished product, it is about the process they go through to create it.
Year 1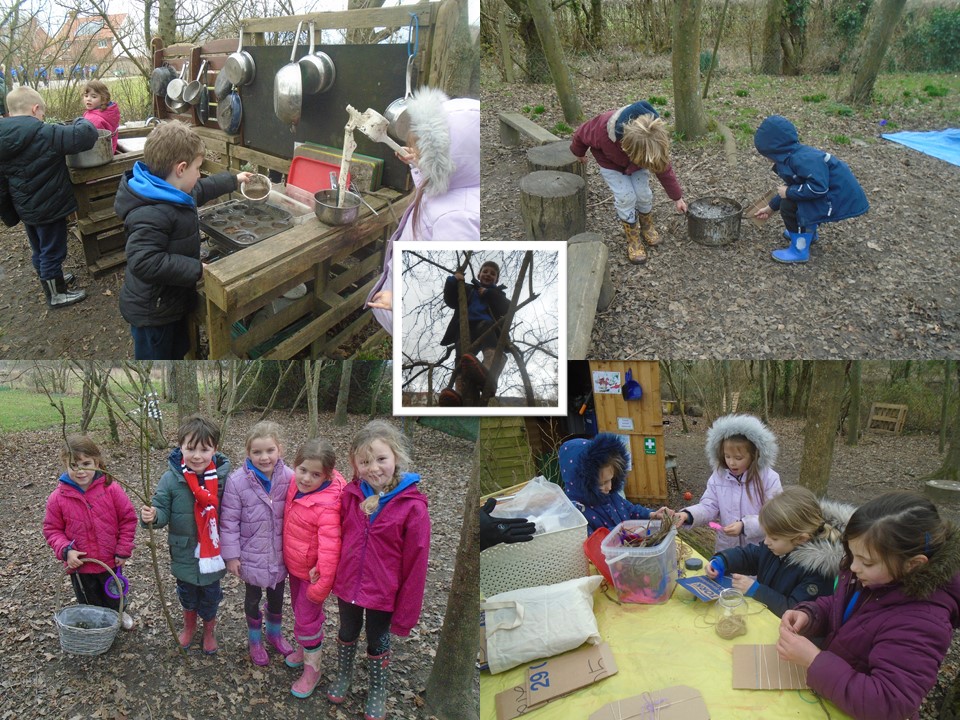 Our Spring Year 1 Forest School sessions were an amazing opportunity to reinforce the children's learning about seasonal change, plants, habitats, food chains and animal survival. We also got all arty by taking our 'Take One Picture' activities outside, and the painting and crafting activities gave the children a wonderful opportunity to show off their creative sides, as well as honing their coordination and fine motor skills. Alongside all that, Forest School also developed the children's ability to share, work and communicate together, and to solve practical problems - from camouflage den building to collaborative mud kitchen recipes - as well as building a love of, and respect for, the natural environment. We can't wait to get out into the copse again soon - preferably without the need for coats and wellies!
Year 6