Our vision for Mathematics: Curriculum implementation
Mathematics is at the core of our curriculum and it is through our teaching in this subject that pupils learn crucial life skills, including resilience and problem solving. They also have opportunities to lead, teach, support and mentor each other. Based on the new National Curriculum and a model by the White Rose Maths Hub, we are ensuring children gain an in-depth understanding of maths by teaching fluency, reasoning and problem solving on the children's journey to mastery of the curriculum. Depth not acceleration... The old curriculum, measured in terms of levels, encouraged undue pace. Children were accelerated onto more complex concepts before really mastering earlier ones. The new curriculum, and the teaching of Maths at Langrish, encourages the study of fewer skills in greater depth, with a focus on the application of the skill in different scenarios. This is what we call mastery. Teaching methods in maths today are very different to how many adults were taught. Now we try to help the children understand 'why', rather that just telling them 'how'. In this way, the children will be much better placed to apply their learning in a variety of situations.
---
The journey to Mastery
There are three elements that are critical on the journey towards mastery that we aim to develop in our children -Fluency, Reasoning and Problem Solving. Without one, the next cannot follow and it is only by developing these three skills that children can move towards mastery. To structure each lesson, we ask the children a learning question, which the children are challenged to answer through teacher-led input and independent activities. Each of the daily maths lessons are differentiated through variation and challenge. The children are encouraged to self-assess their confidence and to choose an appropriate rating level of challenge for themselves, thereby accessing the same objective, or answering the learning question, at an appropriate level.
---
Fluency, Reasoning and Problem Solving
Fluency
The first aim of the new National Curriculum in England (DfE 2014) is that all children will 'become fluent in the fundamentals of mathematics, including through varied and frequent practice with increasingly complex problems over time, so that pupils develop conceptual understanding and the ability to recall and apply knowledge rapidly and accurately'. As this suggests, fluency is the ability to know different mathematical strategies and to understand how to use them at an appropriate time.
Reasoning
The second aim of the new National Curriculum is that all children can 'reason mathematically by following a line of enquiry, conjecturing relationships and generalisations, and developing an argument, justification or proof using mathematical language'. Reasoning is a child's ability to explain their understanding of a mathematical concept. In being able to articulate their knowledge, a child is building a secure understanding of a concept, rather than a superficial one which may later lead to misconceptions.
Problem solving
The third aim of the new National Curriculum is that all children 'can solve problems by applying their mathematics to a variety of routine and non-routine problems with increasing sophistication, including breaking down problems into a series of simpler steps and persevering in seeking solutions'. This is where children are applying their knowledge in different contexts, which enables a greater depth of learning.
---
The concrete-pictorial-abstract approach
In order to help the children develop a deep conceptual understanding, we try to build solid foundations using the concrete-pictorial-abstract approach.
Concrete: In this stage, the children are first introduced to an idea or skill by acting it out with real objects. For example, in division this might be done by separating balls into colour groups.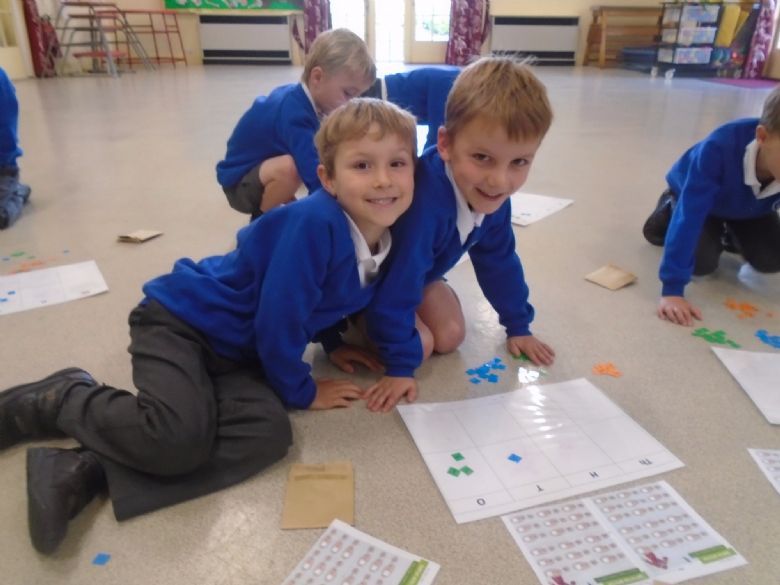 Pictorial: When a child has sufficiently understood the hands-on experiences, they can progress to relating them to different representations, such as a diagram or picture of the objects. With our division example, this could be done by the action of circling groups of objects.
Abstract: This is the symbolic stage, where the children are able to represent problems using mathematical notations e.g. 10÷5=2. The children will only progress to the abstract stage when they have enough context to understand what they mean, as this is the 'final' and most challenging of the three stages.
---
Parental Involvement
Parents often ask how they can best support their child's learning in Maths when the methods we teach are so different to those they are familiar with from their own schooling. We would like our parents to demonstrate a positive attitude towards maths and to be 'cheerleaders' when supporting their children in practising and consolidating skills. Maths home learning, which is detailed on the class pages of the website each week, will for the most part reflect the in-class learning of the week. Applying maths in as many real-life contexts as possible is a vital part of home learning and we appreciate you taking the opportunities when 'out and about' to apply the children's learning. With this in mind, we have some 'Out and About' documents at the end of this page to give some examples of questions you could ask in different scenarios. Year 1 have a resources pack on loan for the year to help support home learning futher.
To further help, we have uploaded our progression of skills document as a guide to how mental and written methods are developed at Langrish from the Early Years, through the Infants and beyond. Please use this as a manual when helping your child with their home learning. We have also added two documents with links - one a page of useful websites to further the children's learning, the other with a list of videos to show you how we introduce different skills using the concrete-pictorial-abstract approach. These are listed by objective and are age-appropriate. We ran a workshop about Maths during the last academic year. Please see the PowerPoint under the 'Learning Together' tab on our website if you wish to see what was covered. Should you have any further questions, don't hesitate to contact your child's class teacher for further advice.
---
Here are some useful websites to help support your child's maths learning at home.