New Headteachers arrive at Langrish!
On Wednesday 15th January, seven new Headteachers - one from each class- joined Mrs. Wright to see what a typical day would be like in the Headteacher's shoes. They were the lucky winners of a FoLS raffle which was well supported by many potential candidates. Thank you to all the children who volunteered for the role and all proceeds raised from the raffle have already been put towards the purchase of the performing license for 'Mary Poppins'.
'At the beginning of the morning, we helped Mrs. Wright by observing the Year 6 English lesson. We thought the lesson was very good and very interesting.' (Miss Fennell and Miss Rutland)
'We have been helping Mrs. Langan by counting tokens for lunch and then we had to go to the kitchen to drop some paperwork off. We also opened the gate for the delivery man. We also had to go to Year 4 to remind Mrs. Fiers to do her register. And then she did it!' (Miss Jones and Miss Bhanji)
'We took the new books from the staffroom down to the book cupboard for the teachers. Then, we started to write down the lyrics for Mary Poppins so that people can practice them at home.' (Miss Cousins, Miss Savage and Miss Smith)
The Headteachers also helped out with assembly. Miss Savage made sure that Mr. Hancox kept to time with his story and Miss Smith was on hand to help out in KS2 assembly. The Headteachers have also enjoyed their hot chocolate!
During the afternoon, the Headteachers walked around the school and popped into everyone's lessons. They chose a pupil from every class who they thought was a super learner and gave them a Headteacher sticker.
Thank you so much to the Headteachers for the Day. My job has been so much easier with all the extra pairs of hands!
---
Orca Presentation
On Monday 18th November, Years 3, 4, 5 and 6 took part in an Orca Workshop. They learned about the beautiful sea creatures and were shown real teeth and bones along with a model of a dolphin. To find out more about the charity's work, please visit their website.
Stella's Voice
This year, we took part in Stella's Voice Christmas Appeal. We were delighted that Nicky from the charity came to Langrish on 6th November to share the valuable work that this organisation undertakes in a dedicated assembly. Following this, the pupils participated in the appeal by filling a Christmas box for a child in Moldova's Care Home for Children.
Harvest Festival 2019
This year, our Harvest Festival contributions are going to PACT (Petersfield Churches) and The Lifehouse Charity. Claire Vennis from the charity came to speak to us in an assembly to explain where our donations would actually go and how the food can make a real difference to this charity.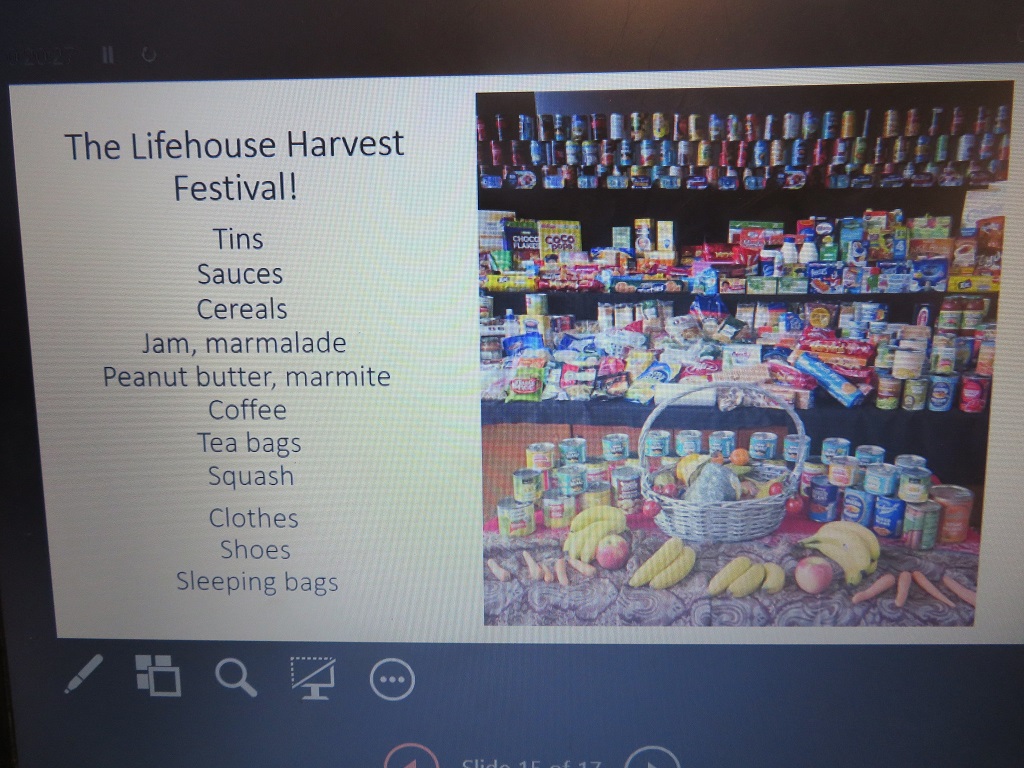 Year One led an amazing assembly, highlighting their favourite harvest foods and reading their HARVEST acrostic poems. Thank you to everyone who donated food for our charities. Year 6 helped to pack up the bags and load the cars ready with the donations. Don't forget that it isn't just at Harvest time that these charities accept donations: there are collection points at many local supermarkets, so keep donating if you can.
---
Balanceability - Scooterwise
On a sunny Friday afternoon, seventy- five pupils took part in a dedicated training programme led by qualified instructors from the Balanceability programme. Pupils from Reception to Year 4 learnt how to control their scooters near main roads and how to ensure that they were safe at all times. The instructors explained the importance of checking scooters and helmets before starting a journey so that everything was fitted correctly and safe. The children thoroughly enjoyed the session.