Rights Respecting Education and PSHE
June 2022
As an Advocate School, our EARA group were invited to open the Inclusion and Diversity County Conference. They shared what it was like to be part of a Rights Respecting school and what difference this means for our school. They presented beautifully despite not knowing any of the delegates. Their presentation slides are below. Well done team!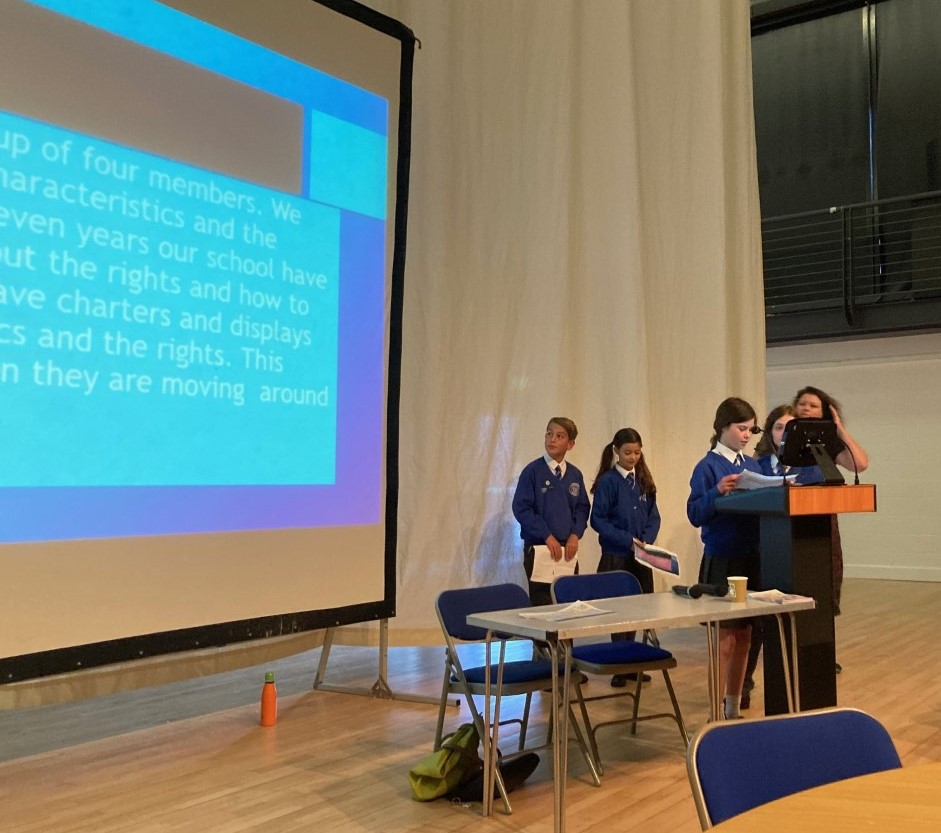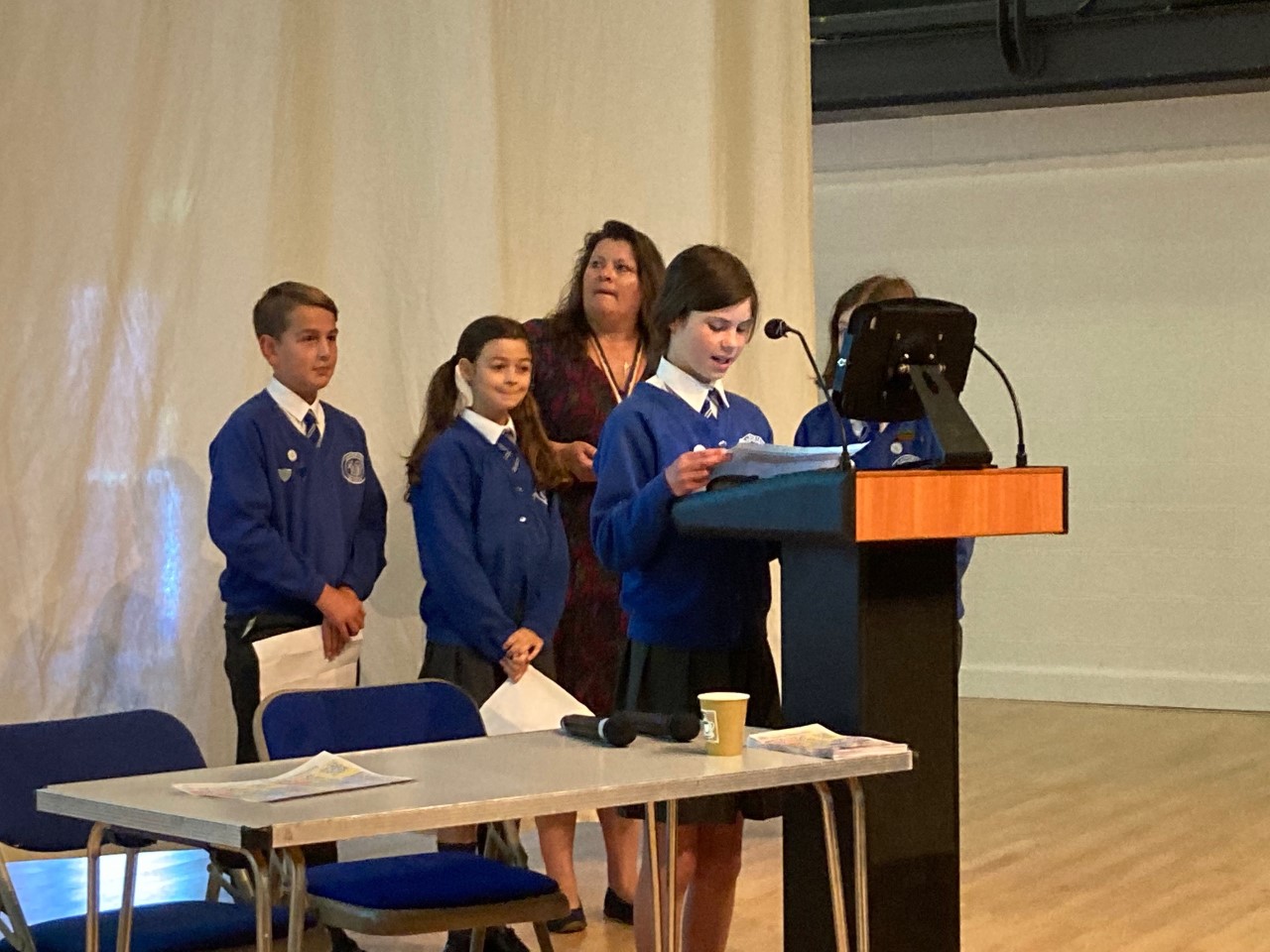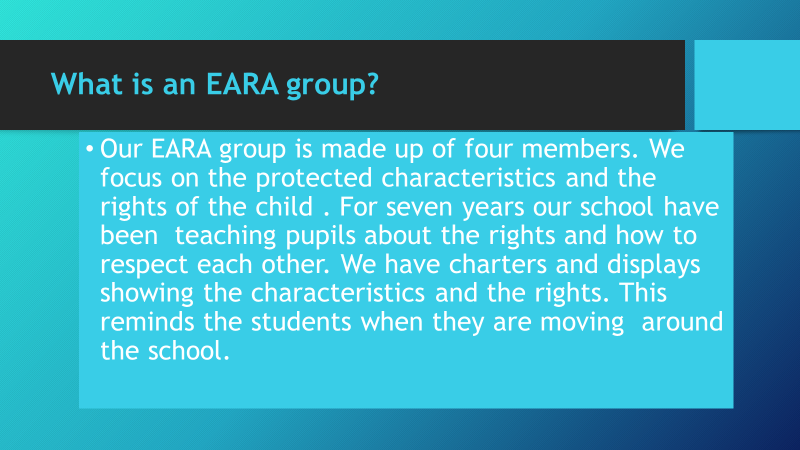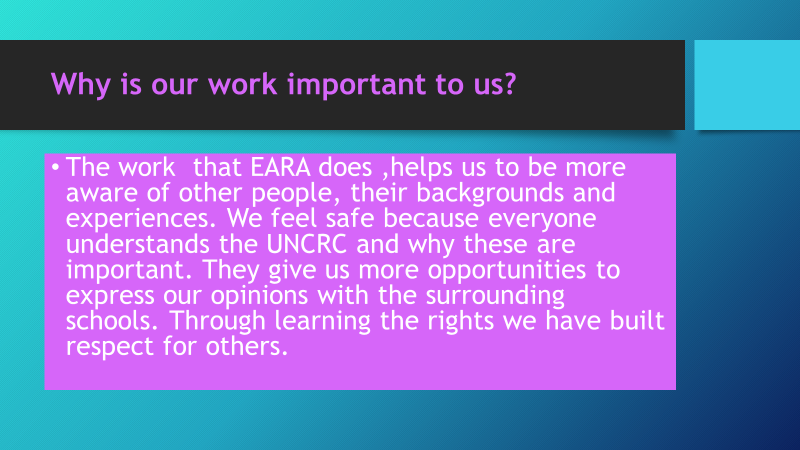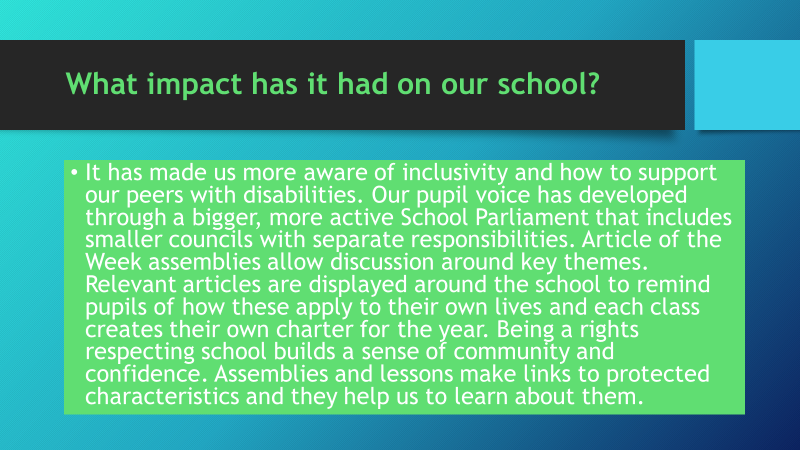 What is it like to be part of a Rights Respecting School?
Click on the video link below to find out more:
Langrish School: A Rights Respecting School
October 2021: News Update!
We are very pleased to announce that Langrish School has been awarded the Advocacy Award for Rights Respecting Eduction from Hampshire which recognises the journey we have been on over the past five years. The full report is attached at the bottom of this page.
---
Implementation: How is knowledge and understanding structured, organised and developed across the curriculum?
At Langrish School, we believe that children's right to be involved in decisions that affect their lives (Article 12 UNCRC) needs to be evident in all aspects of the life of the school. Pupil participation in and through our active whole school parliament has resulted in child led initiatives, such as writing a pupils anti-bullying policy, redesigning a behaviour reflection sheet and influencing a healthy lunch time menu. These and other initiatives will continue to shape our school.
By putting the UNCRC at the heart of what we do, we are making a commitment to promote and uphold these rights. As adults, we strive to promote participation, show openness, take personal and collective responsibility, be there for all children and believe in children's capabilities and talents. We see our role as one of an activator and advocate.
The use of inquiry and participatory methods in our teaching and learning leads to greater engagement in and enjoyment of learning, as well as increased performance.
Creating a safe learning environment
When setting up any lesson that deals with potentially sensitive subjects, it's essential to begin by creating a safe, secure learning environment. This will help children feel confident to share their ideas, values and attitudes without fear of negative feedback from their peers. A safe learning environment with clear boundaries also helps teachers to manage discussions on sensitive issues with greater confidence.
The Relationships Education (formerly SRE or RSE) resources within SCARF include specially produced films and guidance for dealing with the particularly sensitive nature of this subject. These cover creating a safe environment, handling sensitive questions and using a question box or 'Ask it basket'.
Before getting started
In order to establish a safe learning environment, it's recommended good practice to:
Link PSHE and emotional health and wellbeing education into the whole-school approach to supporting pupil welfare and safety. The use of SCARF to build a positive, respectful ethos in school can help with this.
Work with pupils to establish ground rules about how they will behave towards each other in discussion, rather than imposing rules on them. This helps rules to be more meaningful and relevant
Ensure that ground rules/class agreements reflect our school's wider policies and practice in relation to managing sensitive issues.
Provide opportunities for children to ask questions anonymously, by using a Question Box or 'Ask it Basket', for example. This enables children to ask questions that concern them without having to do so in front of their peers.
Offer opportunities for pupils to discuss issues in small groups as well as sharing views with the class; this can help some children to feel more confident.
Provide balanced information including a variety of views to help pupils clarify their own opinions (whilst being clear that behaviours such as discrimination and bullying are never acceptable in any form).
Be aware of and sensitive to the needs and experiences of individual children that may have direct experience of some of the issues being discussed.
Provide information to children about how they can get help and support both in school and outside, as appropriate.
Always work within the school's policies on safeguarding and confidentiality, in particular making it clear to children our school policies on disclosure of confidential information and following up concerns in a more appropriate setting outside lessons.
Depersonalise discussions by using distancing techniques – stories, role-play, scenarios of real situations but with fictional characters and storylines etc.
Setting ground rules or a class working agreement
Although ground rules are most meaningful and effective when developed as a class, there are basic elements that should be encouraged, including:
Listen to and respect each other
Use language that won't offend or upset other people.
Use the correct terms, and if we don't know them, we'll ask for help.
Comment on what was said, not the person who said it.
Don't share our own, or our friends', personal experiences.
Don't put anyone on the spot or ask personal questions
We have the right to pass.
Don't judge or make assumptions about anyone.
What works best
Research by the PSHE Association about what teachers report to be the most effective ground rules that they works best when:
Written in children's own words
Displayed in the classroom
Monitored by children themselves
Upheld consistently by the teacher as well as the children, without exception.
Some teachers also felt that getting children to sign an informal contract also worked well.
The PSHE Association offers members comprehensive guidance on setting a safe learning environment.
---
Rights Respecting Education
Having achieved Level 1 of the RRSA the decision was made to continue our Rights Respecting journey with the Hampshire Team overseeing RRE, and this meant that we were awarded Engagement level at the outset. We have had several opportunities to contribute towards activities locally. These have supported our understanding and implementation of the Rights on the UNCRC. These have included the Hampshire 2050 Project, hosting the Primary EARA group meetings, welcoming visitors from Toronto who looked at how we introduce the Articles on the UNCRC in Early Years, and more recently we contributed two pieces of artwork towards the Climate Crisis Art Project outside Winchester Cathedral. Our aim is to achieve Hampshire's RRE Advocate level which recognises our work for the rights of the child within the school and wider community.
Stop Press News!
Langrish School has been awarded the Advocacy Award, October 2021 - see the report below.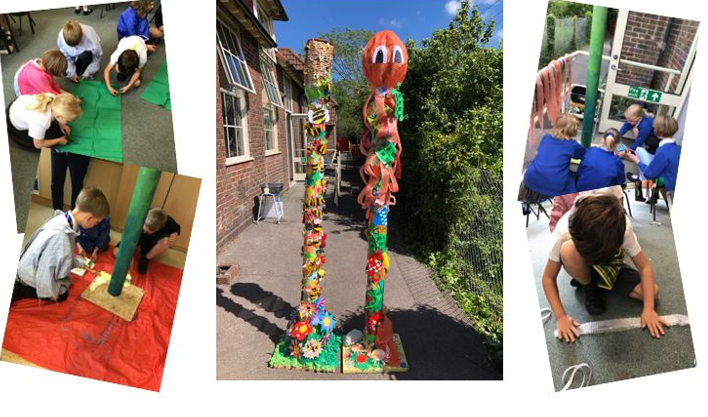 Rights Respecting Schools Award (Level 1)
Our steering committee (including: pupils, staff, a governor and community representatives) have been working towards the Level 1 Rights Respecting Schools Award, which we are delighted to say we have now achieved. The full report is attached below, but we are particularly proud of the following points:
School Leaders have a clear commitment to the principles and values of the UNCRC and the Rights Respecting work is giving children a voice.
Pupils are able to site a range of rights and show good understanding that rights are universal and unconditional. They are also able to apply their understanding of rights in different contexts.
Parents and governors are supportive of the school's rights respecting work; one parent explained that for pupils it was, 'such a positive thing to have a voice.'
The school's ethos is underpinned by high levels of respect which was very evident throughout the assessment period.
Pupils are supportive of and courteous to each other.
One Year 6 pupil explained that an understanding about rights helps to resolve any disagreement and is becoming 'entwined into our everyday lives.'
When asked, pupils said they felt safe at school and were able to describe ways in which this was achieved.​
Click here for more information on the UNICEF website.
Langrish Primary School is one of more than 4,000 Unicef UK Rights Respecting Schools across the country that embed children's rights in their ethos and culture.
---
Hampshire 2050
We have had the privilege to take part in a Commission of inquiry by Hampshire County Council aimed at understanding what people who live in the county think that Hampshire should look like in the future.
Ten pupils from KS2 attended two sessions with an advisor from the Children's Services team and were given the opportunity to talk about what they want Hampshire to be like in 2050 and what might prevent this from happening.
The second session was filmed for use in the Commission meeting and for publication on Youtube.
You can view the web version of the film on Environment and Place at:
www.youtube.com/watch?v=8u3ACifBwdA&feature=youtu.be
Some of the children involved expressed their opinions about the opportunity to participate in the commission:
'I felt that by listening to my opinion, it would help to change things' - Year 3
'I felt that they were really interested in what children had to say and how we could have a say in the future' - Year 3
'It was useful because we got to think about what we wanted to leave for our descendants' - Year 5
'I felt like I was being listened to and I knew what I could do when I am older if I don't have a good environment' - Year 5
'It was useful that I was listened to and to know that I could make a change about what happens in the future' - Year 5
'I think it will be really useful to them to know some children's opinions on the what is happening and the future' - Year 4