Welcome to our sports page. Here you will find details of a vast range of physical activities in which we are involved. Scroll down to view our latest Sports page, which details many activities carried out during this year. Our sport and PE is also celebrated on individual class pages: please take some time to share these with your children by following the 'Classes' link above.
We are pleased to announce that we will be competing in the School Games Programme again this year with many competitions organised for us by our local SGO (Sara Galliers). These Level 2 competitions are in addition to the many sporting opportunities and occasions which take place on a daily basis both in and out of lessons. All of our pupils take part in two hours of curriculum PE and Sport and many choose to attend lunchtime and after school clubs. Our current challenge is for every pupil to continue to participate in the 'Golden Mile' initiative. Currently, the Play Leaders and House Captains are busy setting up the database to record the participation rate and all the classes are polishing their golden shoes! So far, we have jogged all the way to Lapland and the Gold Coast, earning our bronze wristbands on the way!
STOP PRESS NEWS!!!!
Alanya (Hampshire heptathlete) visited us today to give an assembly on becoming a successful athlete. She shared the highs and lows and reflected on the lessons she has already learned through her sport.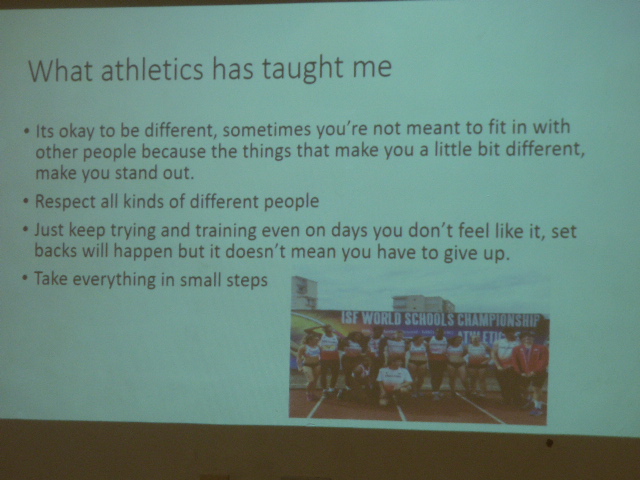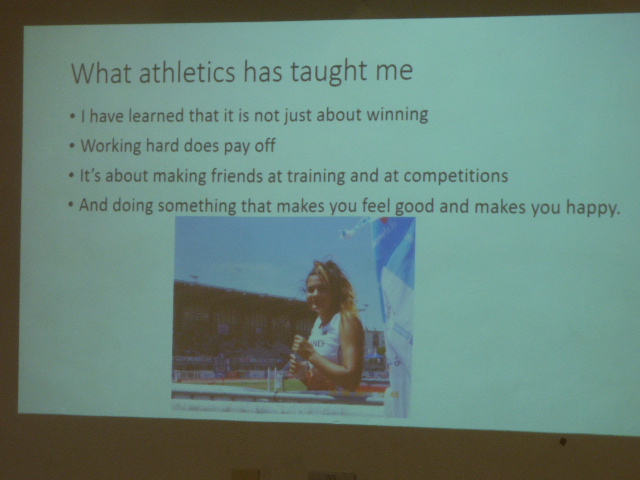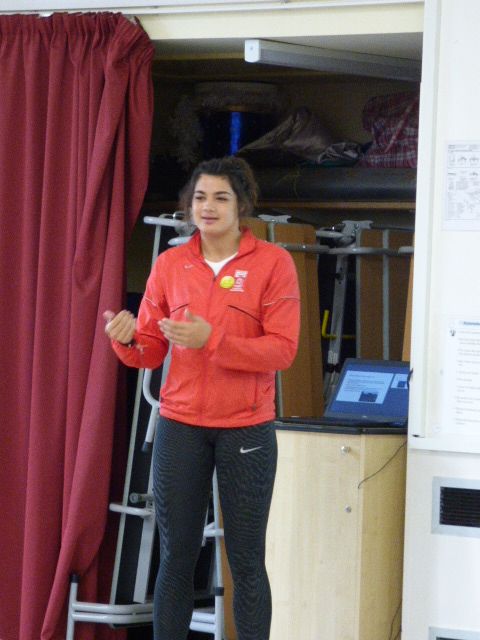 Langrish School is the first primary school in Hampshire to reach the Gold Coast!! As our reward, we welcomed a visit from Alanya, a county athlete.
'Congratulations to Langrish Primary School on being the first school to complete the last Golden Mile challenge of the year, completing 10,365 miles from Hampshire to the Gold Coast. What an amazing achievement!'
Alannah Stephenson
Project Officer – PE and School Sport
Our annual 'Walk to School' week will take place again this year with families being encouraged to either walk or 'park and stride' to school. This will help all of our families to start their day feeling refreshed from an early morning stroll and ready to learn. Our recent School Travel Plan is at the bottom of this page for reference.
In every lesson, our pupils are encouraged to observe the following values. These help the children to understand that although winning is a positive experience, it is how a team communicates and works together which will ultimately make them successful. Pupils are also encouraged to believe in themselves and always give 100 % at all times.
We actively encourage all of our pupils to pursue their sporting passions outside of school and we celebrate any achievements in our school newsletter 'The Nutshell'. Click on the 'Newsletters' link above to find out what our pupils have been getting up to outside of school. Our talented youngsters regularly participate in diving, dancing, swimming and gymnastics to name but a few!
If you are looking for a local sports club to help foster your child's interest in sport, then you may like to try one of the following links. Alternatively, the local sports centre, The Taro Leisure Centre, is our nearest leisure provider and also includes a swimming pool.
Petersfield Rugby Club: www.petersfieldrfc.com
Petersfield Town Junior Football Club: www.petersfieldtownjuniors.co.uk
Steep Cricket Club: www.steepcc.co.uk
Steep Lawn Tennis Club: www.steepltc.org.uk/
Taro Leisure Centre: www.everyoneactive.com/centre/taro-leisure-centre/
---
Autumn Term 2018
We have been awarded the Gold Level for the Sainsbury's School Games Mark for the third year running! It has taken pride of place in the front entrance hall. This reflects our outstanding provision for Sport and PE throughout the school, both in curriculum time and outside of school. Thank you to all members of our community who help with coaching, supporting and participating in the wide variety of sports on offer. We look forward to another successful year of sport for the 2018 - 19 season.
---
Playmakers
Twelve new playmakers from Year 5 have had a super introduction into leadership through taking part in the PlayMaker Award training at Bohunt School. Having completed a day's training, these children can now organise small games and activities for other children.
Our playmakers are now part of our School Parliament which meets regularly every week.
Thank you to 'Primary Stars' for the sports equipment delivered during September. The school now has fifteen new footballs, two new goals, bibs, cones, beanbags, spots and activity cards. Mr. Hancox was also very excited to receive his new tracksuit from them and the children love the captains armband!
---
The football season kicks off at Langrish with the Hampshire Cup
This week was the first round of the Hampshire Cup which is open to schools from across the county. After many lunchtime practices, our two teams were ready to face the opposition. The girls started with their first round match against Copner School. The team played so well, showing great passing skills and spatial awareness. Isabelle also made some fantastic saves but we were unfortunately defeated 2-0 after 40 minutes of exhausting play. We were so proud of our performance and we are now looking forward to our next friendly football match against Herne Juniors in November.
The boys played their match on Friday 12th October against Lyndhurst Junior School from Portsmouth. It was an extremely blustery day which didn't help with passing or shooting, but we didn't give up. Having practised our set pieces, the team were keen to put them into the match play but luck just wasn't on our side. Our corners were perfectly delivered, but didn't quite find the net; our tackles were perfectly timed, but our core strength wasn't quite a match for the lads from Portsmouth.
After a 4-9 defeat, the players were understandably disappointed, but I know that they will learn from this match and definitely go on from strength to strength this season. Many thanks to all of our loyal supporters and to Mr. Veale for coaching with me.
Match Update: Langrish vs Herne Juniors (8.11.18)
A jubilant cheer erupted as the girls team scored their first goal in a match this year! Well done to all the ladies who represented the school on this occasion, but unfortunately, we were defeated 1-6. Onwards and upwards ladies!
The Petersfield Schools Football Tournament (2.11.18)
On a crisp Autumn afternoon, Langrish School hosted the Petersfield Schools football tournament for Years 5 and 6. We welcomed teams from Buriton and Froxfield who competed alongside the three teams from Langrish. The standard of play was very good and all players demonstrated excellent sportsmanship. The eventual winners (after many hard fought matches) were Froxfield and Langrish Blues. Congratulations everyone!!
The Petersfield Schools Football Tournament (14.2.19)
Twenty-three footballers from Years 3 and 4 competed against teams from Buriton, West Meon, Steep and Froxfield in an afternoon full of exciting matches. For many players, it was the first time that they had competed in a tournament and all pupils worked well together in their teams. Our red team from Year 3 came third overall - well done! My thanks go to the willing parents and staff who helped to manage, referee and keep the scores.
Under 9 Football Tournament at Bedales (14.11.18)
It's not just our older children who represent the school in sports. On Wednesday 14th November, an intrepid group of Year 3 and 4 boys travelled to Bedales School to take part in a local tournament. Many of the team already play together for Petersfield Town on a Saturday morning and so the team gelled immediately. Goal followed goal and the boys grew in confidence throughout the afternoon, demonstrating excellent sportsmanship by supporting each other and even helping other teams who were short of players. They played against Dunhurst, Buriton, Steep and Froxfield School and won every match. A superb performance - well done boys!
Under 11 Football Tournament at Bedales (5.12.18)
We returned to Bedales on an extremely wet afternoon for the Year 5 and 6 football tournament. It was another successful outing for this talented football team and the addition of our new goalkeeper, Joshua, meant that a clean sheet was achieved. Although the boys looked more like they had been swimming, they thoroughly enjoyed the experience and can't wait for their next match.
Girls East Hampshire Football Tournament (20.3.19)
Our girls team were incredibly proud of achieving third place at a recent schools football tournament held at Perins School. Their teamwork and strategic play developed throughout the matches and their final match, despite a 1-0 defeat, was a real showcase of their talent. Well done ladies!
---
But it's not just football...Netball Club is extremely well attended with players from Years 3, 4, 5 and 6 training weekly.
Under the watchful eye of Ms. Fiers, Mrs. Wright and Miss Coston, the players are preparing for their first matches against other local schools. Take a look at the All England website for further information about High Five netball which prepares our players for the full seven a-side game at secondary school. We are currently preparing for our first tournament which will be held in April. Results will be posted here!
---
Small Schools Dodgeball Tournament (15.1.19)
Two teams from Year 6 travelled to TPS to represent Langrish in the local dodgeball tournament. Under the watchful eye of Mrs. Pruden, our teams competed well, and many comments were made about how sporting they were in following the rules to the letter and respecting the referees decisions. Sometimes, it's not all about winning!!
---
Indoor Athletics Competition (17.1.19)
After trials in PE sessions, a girls team and a boys team was selected to represent Langrish at Perins School in the first round of the Indoor Sportshall Athletics. It was a very exciting event indeed, made even better by the amazing support from our parents! Four schools competed for the chance to represent East Hampshire in the next round and after a very closely fought competition,the Langrish team was announced as the winners! The final is being held in March and we will keep you updated!
Update!
On 26th March, our twelve athletes travelled to Eastleigh to represent East Hampshire in the Hampshire games final. There were sixteen districts represented and overall we finished fourteenth which was very commendable for our first Hampshire final. The pupils were exceptionally well behaved and thoroughly enjoyed the experience. Thank you to the parents who helped with transport on this occasion and cheered on our children. It really made a difference!
---
East Hampshire Gymnastics Competition (6.2.19)
Huge congratulations to the two teams of Year 4 gymnasts who competed in the East Hampshire round of the gymnastics competition this week. Under the watchful eye of Miss. Coston, the teams competed well and achieved first and third places. This means that both teams will progress to the next stage of the competition in June. Well done!
---
East Hampshire Cross Country Trials (15.2.19)
What an amazing t
eam!
This dedicated team of athletes travelled to Perins School on Friday 15th February to compete in the East Hampshire Cross Country race. Over a course of 2000m, the runners had the challenge of finishing in the top twelve in order to go through to the next round.
Our congratulations and best wishes go to Riley, Giles and Nathan who managed this and will now compete next week for East Hampshire boys. Well done! We will let you know the result next week.
Thank you to all the parents for their support for this event, especially as it was the day before half term!
Update!
Giles and Nathan completed the rigorous course in Basingstoke and both finished the race in good time, with one of our runners finishing in the top twenty! Congratulations to both of these gentlemen and we hope that they continue training and qualify again next year.

---
East Hampshire Aquasplash Swimming Gala (6.3.19)
Joint second place! Well done to both of our swimming teams who travelled to the Taro Centre on Wednesday to compete in the East Hampshire Aquasplash gala. Races included one length backstroke, front crawl and breastroke together with other opportunities to showcase our swimming talents such as a starfloat and mushroom float. Ivor and Ella were exceptionally good at these and looked like they could have floated all day!
Many thanks to Miss Coston and Mrs. Hall for leading the teams on this occasion.
---
SSG Athletics Competition (20.5.19)
Congratulations to our team of Year 6 children who took part in the Small Schools' Group athletics competition at Froxfield and came second overall! Mrs Pruden was incredibly proud of their enthusiasm and sportsmanship throughout with Langrish coming first or second in all events until the long distance run, in which all of our team took part! Great effort Year 6!
---
Netball at Bohunt
Our Year 5/6 netball team had a great time at Bohunt School taking part in a tournament this week. They won one match and had a great team spirit; well played!
---
SSG Rounders Tournament: Years 5 & 6
Froxfield, Buriton and Steep joined us to compete for the title of SSG Rounders Champion on Thursday 6th June. We had a lovely afternoon in the sunshine with great support from parents of all competitors. Excellent team spirit and sportsmanship was shown by all with the eventual finalists being the two Langrish teams. Congratulations to Langrish A, our eventual winners, and all players for their efforts.
---
Tri-golf and Quad kids fun
We had a great time at Perins taking part in the tri-golf and quad kids day. Thirty Langrish pupils, from Years 4-6, attended the events with our Year 6 team coming first in the golf overall. It was a great day of trying a new sport and competing against others. Perins staff commented favourably on the behaviour and attitude of all pupils during the day and Mrs Pruden was delighted by everyone's efforts.
---
Hampshire School Games - Year 4 Gymnastics (20.06.19)
After making it through the first round of competitions, eight Langrish gymnasts joined forces with our friends from Greatham to compete as the East Hampshire gymnastics team at the Hampshire Games! The children arrived at Aldershot Military Stadium and took part in a procession around the athletics track (with a banner in hand of course!) When they weren't competing, they had a chance to visit the 'Challenge Zone' which offered activities such as an army-style assault course, archery and crossbow shooting. They then competed in the gymnastics competition and were absolute super stars! Unfortunately, we didn't quite do enough to place highly in the competition but the children had a fantastic day nonetheless and definitely gave it their all.
Many thanks to all the parents who helped transport children to and from this event.
---
Year 2 Sports Morning at TPS (21.06.19)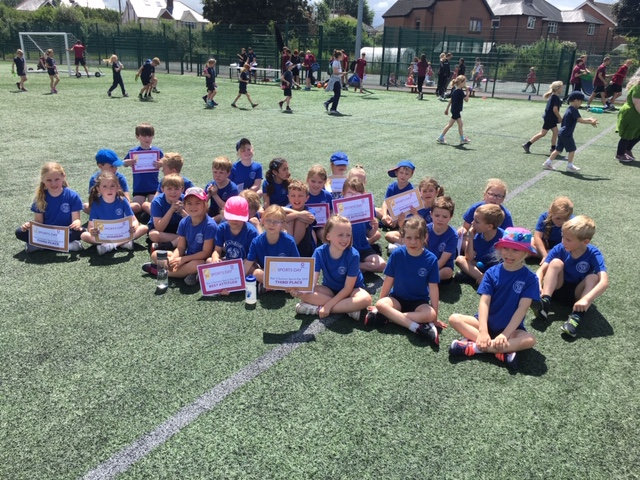 Year 2 had great fun taking part in a carousel of activities at TPS. We spilt into teams and mixed with several other local schools. We tried ten different challenges such as throwing bean bags, penalty kicks and speed bounce.
Certificates were given out to the winning teams as well as the team that showed the best sporting attitude. Well done to everyone who took part!