Welcome to our Sports Page!
Here you will find details of the vast range of physical activities in which we are involved. Scroll down to view our latest sports news and share in the many activities we have taken part in during this year. Our sport and PE is also celebrated on individual class pages: please take some time to share these with your children by following the 'Classes' link above.
Intra and Inter Sport Competitions
We are pleased to announce that we will be competing in the School Games Programme again this year with many competitions organised for us by our local SGO (Sara Galliers). These Level 2 competitions (inter school) are in addition to the many sporting opportunities and occasions which take place on a daily basis both in and out of lessons (intra school). All of our pupils take part in two hours of curriculum PE and Sport and many choose to attend lunchtime and after school clubs. Currently, the Play Leaders and House Captains are busy setting up a database to record the participation rate in sports of all our pupils so that we adapt our provision to help those who may want a bit of an extra push! Each class has already set themselves their first personal challenge and all children are trying to beat their personal best in their chosen area.
Our recent achievements have included winning the East Hampshire competitions for Indoor Athletics and for Gymnastics which allowed us to compete in the Hampshire Games. What an amazing experience that was!
We were also lucky enough to welcome Alanya (Hampshire heptathlete) to Langrish who led an assembly on how she became a successful athlete. She shared the highs and lows and reflected on the lessons she has already learned through her sport.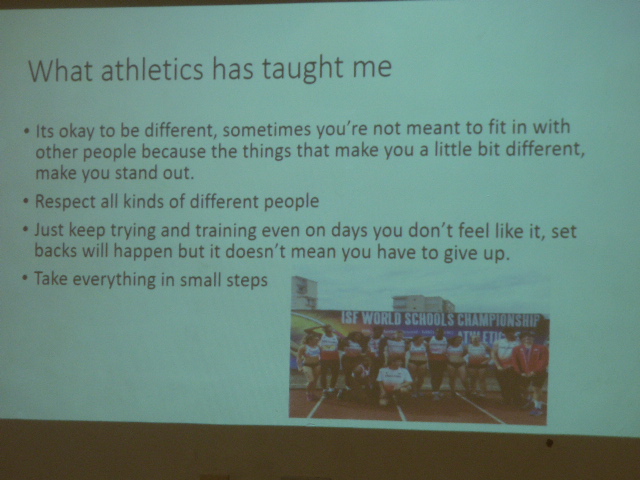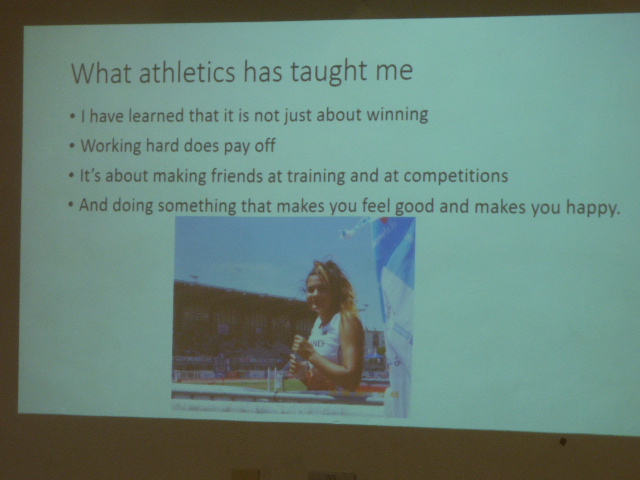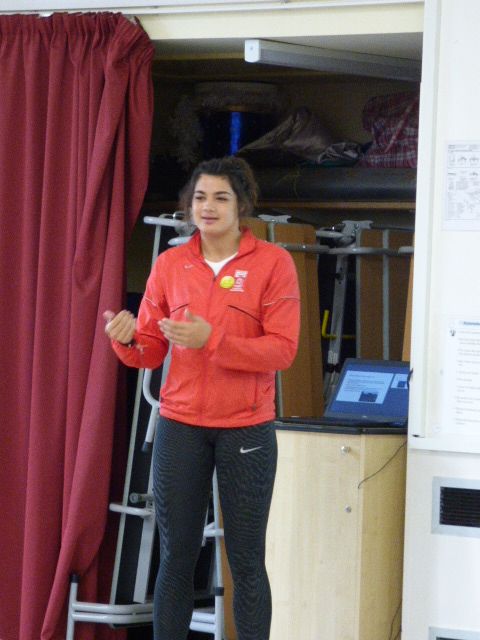 Our annual 'Walk to School' week will take place again this year with families being encouraged to either walk or 'park and stride' to school. This will help all of our families to start their day feeling refreshed from an early morning stroll and ready to learn. Our recent School Travel Plan is at the bottom of this page for reference. We are also looking forward to taking part in 'Walktober' which is being led by Hampshire as an initiative for all children to enjoy keeping fit in an accessible way. The assembly presentation is attached at the bottom of the page for you to have a read through and hopefully take part!
Sports Values
In every lesson, our pupils are encouraged to observe the following values. These help the children to understand that although winning is a positive experience, it is how a team communicates and works together which will ultimately make them successful. Pupils are also encouraged to believe in themselves and always give 100 % at all times.
Sharing our News
We actively encourage all of our pupils to pursue their sporting passions outside of school and we celebrate any achievements in our school newsletter 'The Nutshell'. Click on the 'Newsletters' link above to find out what our pupils have been getting up to outside of school. Our talented youngsters regularly participate in diving, dancing, swimming and gymnastics to name but a few!
Links with Outside Clubs
If you are looking for a local sports club to help foster your child's interest in sport, then you may like to try one of the following links. Alternatively, the local sports centre, The Taro Leisure Centre, is our nearest leisure provider and also includes a swimming pool.
Petersfield Rugby Club: www.petersfieldrfc.com
Petersfield Town Junior Football Club: www.petersfieldtownjuniors.co.uk
Steep Cricket Club: www.steepcc.co.uk
Steep Lawn Tennis Club: www.steepltc.org.uk/
Taro Leisure Centre: www.everyoneactive.com/centre/taro-leisure-centre/
Inclusive Health Check 2019 / 20
We ensure that all children have access to a vast array of sporting opportunities regardless of their ability or skill level. To help us achieve this and to audit our current provision, Langrish School has completed the Inclusive Health Check document which in turn gives further ideas and resources for us to aim even higher. This document is also a vital part of the evidence to show our commitment to raising the profile of school sport as part of the School Games Mark.
---
Autumn Term 2019
We have been awarded the Gold Level for the Sainsbury's School Games Mark for the third year running! It has taken pride of place in the front entrance hall. This reflects our outstanding provision for Sport and PE throughout the school, both in curriculum time and outside of school. Thank you to all members of our community who help with coaching, supporting and participating in the wide variety of sports on offer. We look forward to another successful year of sport for the 2019 - 20 season during which we are working towards the Platinum Level of recognition.
---
Playmakers
Twelve new playmakers from Year 5 have had a super introduction into leadership through taking part in the PlayMaker Award training at Bohunt School. Having completed a day's training, these children can now organise small games and activities for other children.
Our playmakers are now part of our School Parliament which meets regularly every week.
---
Balanceability
YR were very excited to receive a delivery of ten balance bikes and helmets. The children are being supported to develop their cycling skills with Miss Parker as their balanceability leader. The children take part in daily sessions to improve their physical development and gross motor skills and have enjoyed learning to glide and then stop safely. When they have completed their basic training they will receive a certificate of celebration.
---
U9 Football Festival at Dunhurst School
'On Wednesday 13th November, Langrish football team from Years 3 and 4 boys represented the school at the U9 football festival at Dunhurst School. We palyed six matches against Dunhurst, Buriton, West Meon and Froxfield schools. The toughest match was against West meon but we played well as a team and won 3-1. All of the players played spectacularly and we won all of our matches. We are really happy that we could represent our school and we're really proud of our team!'
Kuba (Team Captain)
---
U11 Football Festival at Dunhurst School
Our second outing to Dunhurst saw our U11 team of Year 5 and Y6 players competing against other local schools. The team were somewhat apprehensive as the U9 had set the bar high, but they rose to the challenge. The team were undefeated and Mrs. Ponting reported that they all played with maturity and skill. Well done to all and thank you to the parents for cheering us on!
---
British Schools Trampolining Competition
On Sunday 1st December, an intrepid Langrish Team of trampolinists entered the British Schools Competition on the Isle of Wight. The standard was very high but the girls worked hard to achieve sixth place in their group. Well done ladies.
---
East Hampshire Indoor Athletics Competition
Following our success last year, we were keen to defend our title. On Friday 17th January, twelve athletes from Years 5 and 6 competed against five other local schools for the chance to represent East Hampshire at the Hampshire Games in March. After completing the field events of long jump, javelin, speed bounce, chest push and target throw, the athletes all came together to battle it out over the track races. Langrish were amazing! They used the reversaboards to maximum effect and won many of the relays, helped along by the extremely loud cheering from our parents! It was a very exciting event!
Update- We have just heard that we came first and so go forwards to the county final! Congratulations to all the athletes involved.
---
East Hampshire Y3 / 4 Gymnastics Competition
Coach Pruden and eight outstanding athletes had been preparing for over a month for this competition. The preparation even involved Mrs. Pruden joining a gymnastics course (which we hosted at Langrish) to ensure that more complex moves such as rolls and handstands were taught safely.
The day arrived and our new leotards made all the difference! The pupils excelled in their movements which resulted in Olivia being awarded a special commendation for her individual performance together with one of our teams being placed in third position. This has given Langrish a fast pass to the Hampshire Games in June where four members of this original squad will represent East Hampshire against all other areas in Hampshire. Well done - a true team effort!
---
East Hampshire Cross Country
This year, for the first time, the competition was opened up to allow our infant runners a taste of what it is like to run a cross country race. Six intrepid runners from KS1 ran, walked and skipped their way around the 1000m course and all finished! An outstanding effort and certainly a group of cross country runners in the making. The Y3 / 4 boys race was well supported and our thirteen runners were very quick off the mark - too much so in a few cases! Edward came first for Langrish and a exceptional 2nd place overall. Lily was our top runner in the Y3 / 4 girls race with a commendable 7th place. Noelle was the first Langrish runner across the line and a special mention also goes to Alex and Gethin who were placed in the top 12 in the boys senior race. However, our outstanding performance of the night was Giles who cruised in in first place for the 5 / 6 boys over the gruelling 2000m which was exceptionally muddy by the end of the afternoon. We are waiting for confirmation of the runners who have qualified to represent East Hampshire, but congratulations to everyone who ran this afternoon. We are very proud of you!
Cross Country Update
Three boys (Giles, Gethin and Alex) and one girl (Noelle) managed to finish in the top twelve in their races and so were selected to represent East Hampshire in the County Cross Country Race held in Basingstoke on Tuesday 17th March. Unfortunately, Noelle was poorly, but the gentlemen completed the very muddy course in good time. Overall, there were 150 runners. Alex came in 74th position, Gethin was 69th and Giles raced so well that he was awarded second place, making him the second fastest U11 runner in Hampshire. An amazing achievement Giles!
---