Year 1 - Butterfly Class - Mr Hancox, Mrs Webber and Ms Fernee
Thursday 22nd July 2021
Have a Wonderful Summer!
It's been a busy final week with sports day, treasure hunts and fruit kebabs!
Now all that remains is to wish you all a safe, healthy and relaxing summer holiday.
Have a wonderful time and we'll see you all again in September!
Seesaw Electronic Learning Journal
We'll be using the Seesaw Family app to share some of the children's learning this year. Check your email for an invitation from your child's teacher and download the free Seesaw Family app for your device or log in on a computer.
If you'd like to keep your child's work from this year, click this link to discover how to download their entire Seesaw journal to keep forever (and possibly embarrass them with in the future!)
A Taste of Our Learning
Week 38 - Crazy about creation, mad for medals and getting ready for the Games
How was the universe created? It's a big question for little people, but it was the question we were pondering in World Faith and Philosophy this week.
First, we became creators ourselves, making models out of Play-Doh. We then looked at creations in nature, such as leaves, flowers and animals, and talked about how they may have been created.
After that, we explored and compared creation stories from Christian and Hindu culture to see if we could find any answers to one of life's fundamental questions.
What are your child's theories regarding the creation of life, the universe and everything?!
We're getting ready for the Olympic Games here at Langrish, so we had our very own version across our P.E. lessons this week.
Events included jogging, star jumps, the standing long jump, the line balance, walking backwards and sidestepping, and culminated in the children completing the Langrish Marathon on Friday by completing 26 laps of our specially devised course.
Obviously, it wouldn't be the Olympics without medals! Although we were much more generous than the real Olympics, with everybody who took part receiving an award.
What was your child's favourite event in the Langrish Olympics?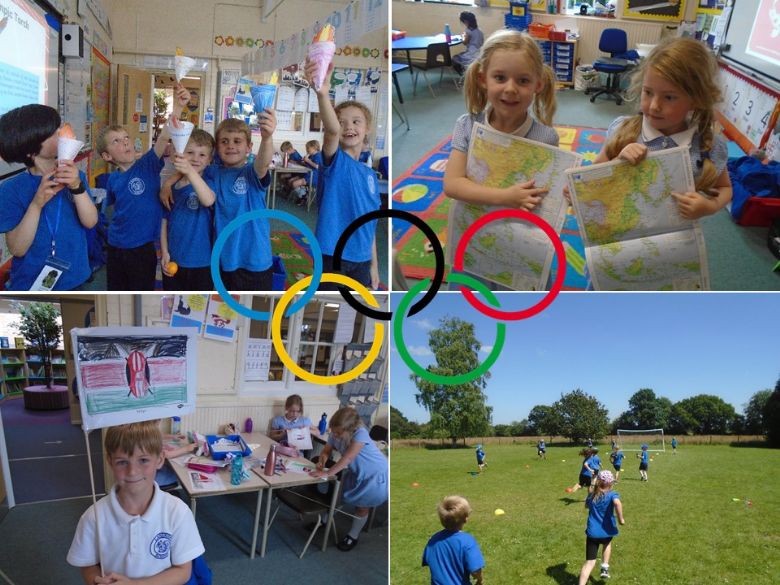 Alongside our Langrish Olympics, we've also been learning about the official Olympic Games.
We started by finding out a little more about the Games themselves and exploring what life is like in this year's host city of Tokyo, Japan.
We also learned all about Eliud Kipchoge, the Kenyan marathon runner who's hoping to defend his Olympic title at this year's Games. We compared the capital of Eliud Kipchoge's home country - Nairobi in Kenya - to Tokyo, as well as our local area of Petersfield, looking for similarities as well as differences.
What can your child tell you about Eliud Kipchoge or the different places we've explored this week?
Week 37 - Fishy facts, sharky soundtracks and telling the time
The children were finding out some very fishy facts this week as part of our Design and Technology unit on healthy eating.
After learning that fish are a great source of protein and important oils such as Omega-3, we then talked about the different fish we'd eaten before and looked at which ones were freshwater fish and which lived in saltwater.
The children then used a range of books from the library to look up interesting facts about different fish.
Can your child tell you a fishy fact?
This all tied in nicely with our current English unit, based on the short film 'Something Fishy'.
This week the children were challenged to swap pencils for musical instruments and, in small groups, compose a soundtrack to go with the film.
They had to think about what was happening in the film and what type of music would best suit, the magical fish, the scary shark, the exciting chase and the climactic escape.
They then did a live performance of their new soundtrack to accompany the film.
In Maths this week, we've been learning the important life skill of telling the time.
Alongside singing and dancing with the 'Telling the Time' song on Supermovers, the children also made their own clocks, completed time-based jigsaw puzzles and timed themselves doing activities such as building a tower of ten blocks, writing their name three times and counting to ten.
Can your child tell the time to the hour and half hour? Maybe they could time you completing some of our timed challenges.
---
Week 36 - Fabulous fifties fun, perfect poetry and crazy clambering
We continued our exploration of the history of toys this week by looking at toys of the 1950s.
First, the children were given a year from the 1950s and had to arrange themselves into chronological order.
Then, they looked at which toys were popular in the 1950s, and were surprised to see just how many of them are still around today- even in our class play box!
They then designed posters with pictures of the most popular 1950s toys.
Ask your child which toys of the 1950s they still play with today.
Our English unit on Kit Wright's poem 'The Magic Box' culminated in a COVID-compliant outdoor poetry reading on Wednesday afternoon.
The children have all worked really hard on their poems and were so excited to share them with their families, along with the dazzling magic boxes they'd decorated in which to keep a copy of their poem.
Thank you to everyone who was able to attend in accordance with the strict social distancing guidelines.
The children have all recorded their poems to share on Seesaw too, so look out for those this week.
The children were putting their strength, co-ordination and balance skills to the test this week on the P.E. equipment in the hall.
They were challenged to travel clockwise around the course, and from time to time had to freeze in a balanced position on whatever piece of equipment they were on.
As an extra challenge, mats were put down under the ropes that the children had to swing over in order to clear the "shark-infested water".
They loved the opportunity to use the equipment this week. Ask your child which piece of equipment they enjoyed the most.
---
Week 35 - Magic boxes, super salads and dazzling direction
This may not look much like an English lesson, but getting creative with paint, stickers and gems was all part of our Magic Box poetry unit.
The children have now written their own poems inspired by Kit Wright's 'The Magic Box' and needed somewhere safe to keep them, so what better place than in their very own, handmade magic boxes!
The children had as much fun making their boxes as they did writing their poems, and they're hoping to share them in a strictly COVID-compliant outdoor poetry reading next week. Check your email for more details.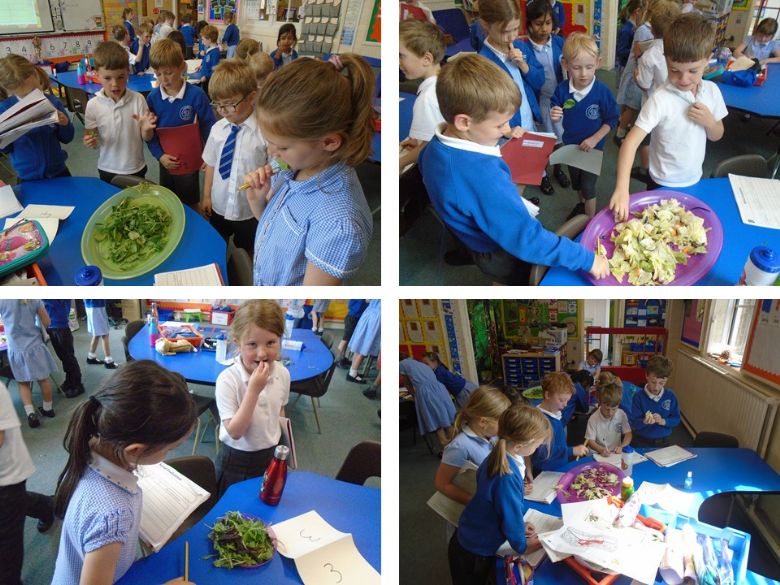 The children will be planning and preparing their own salads as part of our DT unit on salads and smoothies.
To decide what they like and what they don't like, the children spent Wednesday afternoon evaluating some of the ready-made salads that are currently on the market.
For each salad, they had to note down something they liked about it and something they would change in order to improve it, before voting for our favourite at the end.
Which salad was your child's favourite? And were they brave enough to try the peppery rocket and watercress salad?!
Maths this week has been all about position and direction. It's a tricky subject with lots of new vocabulary to learn, so to help us tell our clockwise from our anti-clockwise we've been singing and dancing along with Supermovers' hip-hop granny.
We also made ourselves some spinners to practise quarter, half and three-quarter turns, as well as building towers out of coloured blocks to practise describing above and below.
See if you can direct your child around the house using our mathematical terminology - can they turn in the right direction?
---
Week 34 - Terrific toys, finding our way and magical poetry
We began our toys topic in History this week, and what better way to start looking at the favourite toys of the past than by looking at the favourite toys of today!
All the children chose their favourite toy to bring in and discuss, from cuddly dogs and LEGO spaceships to firing tanks and transforming robots.
They had great fun showing off their toys and discussing what they liked about them. They then discussed what their toys were made from and tried to identify a variety of different toys by solving riddles.
Which toy is your child's favourite and what do they love about it?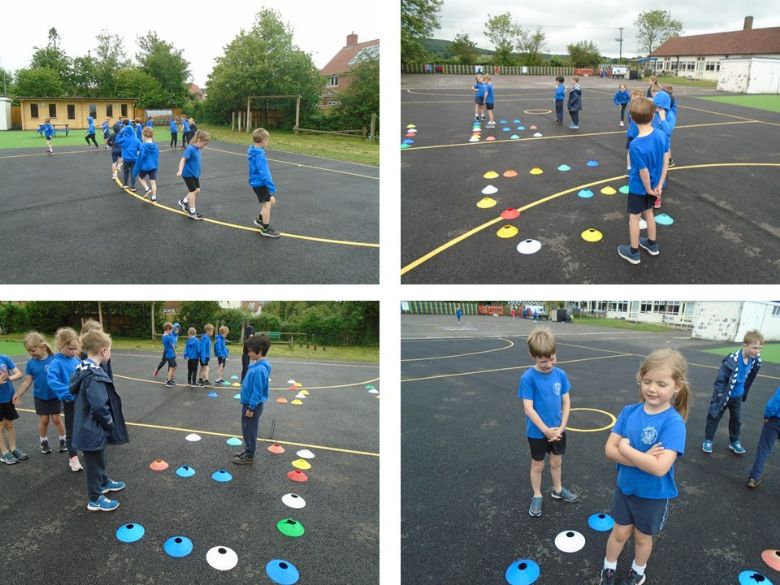 Having just finished learning about quarters, halves and wholes of shapes and amounts in Maths, we're now turning our attention to quarter, half and whole turns in our new Maths topic, Position and Direction.
You can't learn this kind of thing sitting down, so they only way to get started was to head out into the playground and challenge the children to make it through a cone maze by turning the right amount in the right direction.
There's a lot of vocabulary to pick up over the next week, so the more practise we can get the better. Perhaps you can try directing your child around the house using our mathematical terms...and maybe even get them to do a little tidying up along the way!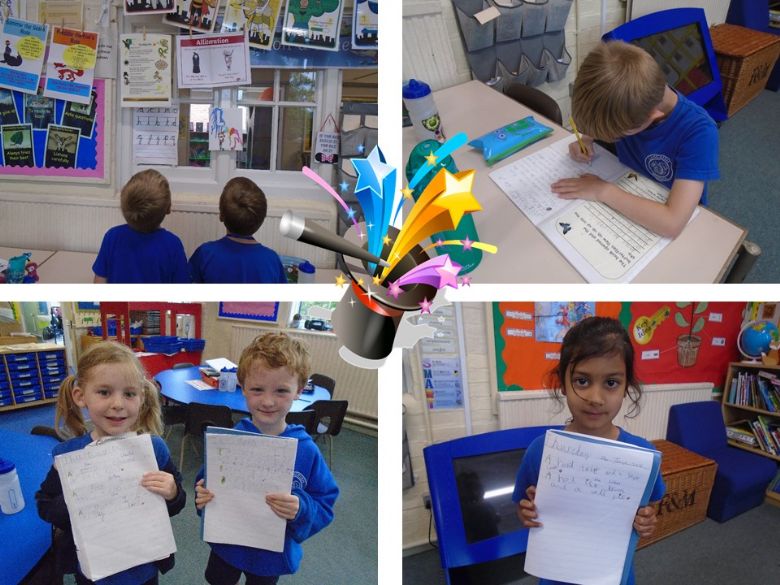 We're getting a little mystical in English this week with our poem 'The Magic Box' by Kit Wright.
The children really enjoyed the poem, and have been looking closely at the use of language in each verse, finding examples of alliteration, onomatopoeia and poetic opposites.
They've then been building their own version of the poem, using the original as inspiration and coming up with fabulous ideas such a sock-stealing snakes and mountaineering mice!
Ask your child for some examples of alliteration and onomatopoeia. What would they put into their magic box?
Week 33 - Fabulous fractions, root vegetable research and a summery stroll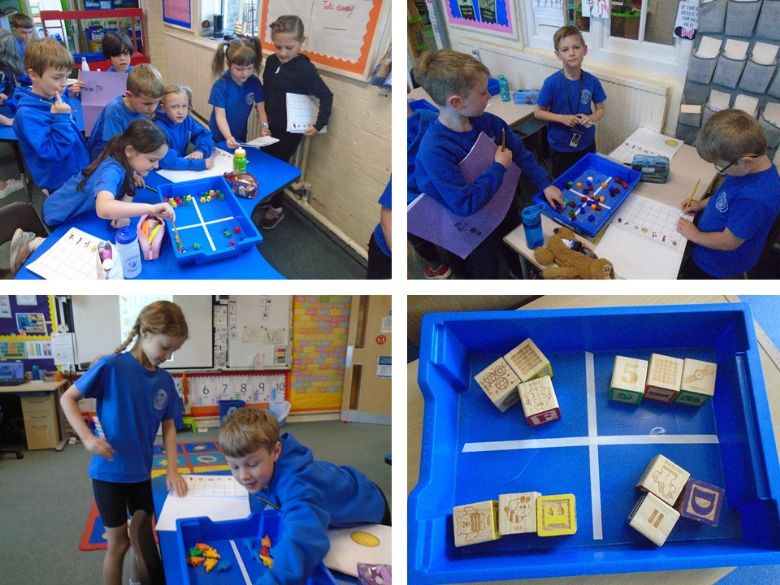 We've turned out attention to fractions this term, looking at halves and quarters of shapes and amounts.
The children have been busy dividing things up into groups of 2 and 4 - making sure that each group is equal of course - and the challenge was to find one quarter, one half, three quarters and the whole amount of objects in a variety of trays scattered around the room.
Did your child manage to complete the trays challenge? What can they tell you about halves and quarters?
Our Design and Technology unit this term is food-based as we'll be learning how to make salads and smoothies.
Firstly, we wanted to find out where our fruit and vegetables come from, so the children were set the challenge of finding out which fruits and vegetables grow above the ground and which are grown below the ground.
Research complete, they then created picture diagrams of which fruits and vegetables grew where.
Was your child surprised by anything they found out in their research?
This week, the children voted to follow the meteorological seasons, meaning that June 1st was the first day of summer.
Our class wall chart duly updated, we headed outside to see what had changed now that spring has turned to summer, taking a lovely walk through the copse and out onto the playing field.
The children noted down things they could see, smell, hear and feel. These included, flowers, freshly cut grass, tweeting birds and the warmth of the sun.
What else has your child noticed about the changing seasons?
---
Week 32 - Terrific trees, special books and demonstrating democracy
Thank goodness the sun finally came out this week and gave us the chance to head into the copse and look at some trees.
We were trying to identify the different tree species by looking at their leaves and ticking off the ones we found on our 'Tree Hunt' sheet.
We also looked at the different kinds of bark, and used crayons to take bark rubbings of the different patterns. We also managed to take some beautiful leaf rubbings too!
Which species of tree can your child recognise when you're out and about over the half-term break?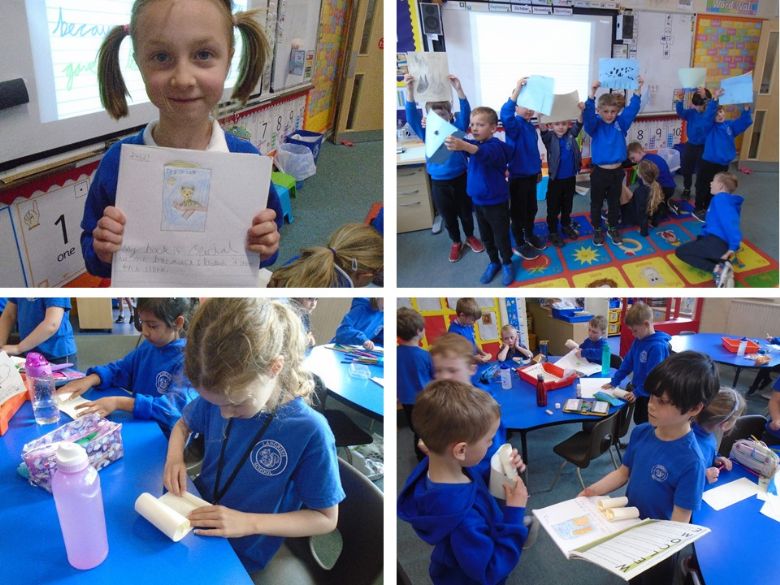 Our World Faith and Philosophy subject this term was 'Special Books'.
We began by talking about books that are special to us personally, perhaps because of who gave them to us or how they make us feel.
We then explored the special books of two different religions: the Bible and the Torah, looking at why they were special to Christians and Jews respectively.
Can your child tell you any similarities or differences between the Bible and the Torah?
As a Rights Respecting school, it's important for the children to have a say in matters that affect them.
We've decided to create a school slogan reflecting our Rights Respecting status. A number of possible slogans were suggested by children across the school, and this week we went to the polls to vote for our favourite.
The children had ballot sheets, a polling booth and even a ballot box, and the Year 1 votes were counted and verified by our two Rights Respecting ambassadors, revealing a clear winner.
Which slogan did your child vote for?
---
Week 31 - Now for the news, fabulous fruit and marvellous multiplication
Year 1 became newsreaders this week when the children wrote and recorded their own news stories about a dragon sighting!
We began by watching CBBC's 'Newsround' and looking at how news stories need to answer six key questions: who, what, where, when, why and how.
The children then set about crafting their own dragon sighting stories answering the key questions and adding a dash of their own imaginations. When they'd finished writing, the children then presented their stories in a real life news studio thanks to a little help from the green screen.
Can your child tell you their dragon sighting news story?
Article 24 of the UNCRC states that children have the right to good health and nutritious food.
To illustrate this, we looked at healthy eating this week with the children designing their own healthy meal.
Using the theme "I can eat a rainbow", we then discussed which healthy foods would fit into each colour category, and even got to each some fruit and vegetables that were red, orange, yellow, green and blue.
Which fruits and vegetables are your favourites?
In Maths this week, we've been exploring multiplication and division including doubling and halving.
The children have undertaken a range of challenges to really get to grips with this tricky concept. These have ranged from building and halving block towers, making and sharing Play Doh fruits into equal groups, and doubling and halving the spots on a ladybird's wings. We've also been solving calculations by sharing counters between paper plates and creating arrays using pegs and peg boards.
Try doubling and halving objects around your home, or playing the 'Doubling and Halving Game' attached to the bottom of this page.
---
Week 30 - Precision printing, canny computing and glorious glockenspiels
We continued our look at the work of Spanish artist Joan Miró this week by making our own 'Livre d'Artiste' ('Artists's Book).
The children chose one of Edward Lear's alphabet-based nonsense rhymes, then created their own painting to illustrate it using paint printing techniques.
They used a variety of objects to create expressionistic patterns on the page, with LEGO bricks, forks, string, cookie cutters and lollipop sticks all getting dipped into paint for the purpose.
What objects did your child choose to do their paint printing with?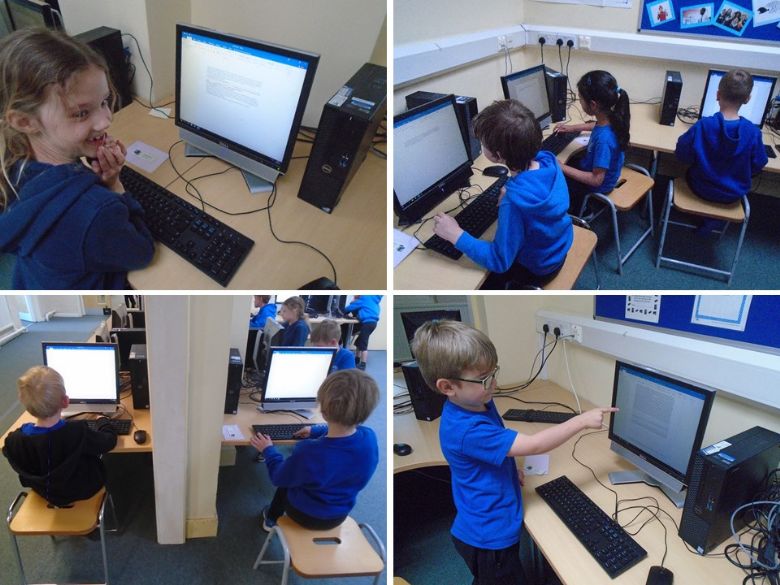 The children have been learning how to use a word processing package in their computing lessons this half term.
Alongside getting used to the keyboard, they're also mastering important skills such as logging on, opening applications, and locating, opening, editing and saving their own documents.
They've enjoyed typing gobbledygook sentences as well as having lots of fun playing with the style and size of their fonts!
Try the BBC's Dance Mat Typing game for extra keyboard practise.
In Music, the children have been learning the song 'Your Imagination' as well as exploring songs on the same theme from a variety of genres (including songs from 'Mary Poppins' and 'Charlie and the Chocolate Factory').
This week, they were learning to play along with 'Your Imagination' using glockenspiels.
They did a great of following the instructions, keeping time with the music and (mostly!) hitting the right notes.
Ask your child about the song - maybe they'll even give you a musical performance!
---
Week 29 - Amazing arrays, finding flowers and our Article of the Week
We've been looking at arrays in maths this week, and once you start looking you'll find them everywhere!
An array is a group of objects arranged into rows and columns, and they help us to multiply and divide by visually representing the concept of equal groups.
We found lots of examples in the classroom, including our carpet (5 x 5), our hundred squares (10 x 10) and the patterned grip on top of the class footstool (7 x 5).
The children also made their own arrays to show how multiplication facts are linked (ie that 4 x 2 is equal to 2 x 4). Can you find any arrays around your house?
After examining how our own bean plants were growing in Science, we then turned our attention to wild flowers and plants.
First, we discussed how many common wild plants we could name. Then, we set out into the school grounds to discover which were the most abundant.
Using a tally chart to record our findings, the children explored the copse and the playing field, noting down how many of each plant they found.
Ask your child which plants they discovered and which wild flower was the most common.
As a Rights Respecting school, we have regular 'Article of the Week' assemblies in class, this week looking at Article 29: Goals of Education.
We discussed how a good education should develop all the children's abilities, encourage their talents and prepare them for the future. The class shared their ambitions, and we talked about how different aspects of education could help them achieve their goals, from how our 'Animals' topic could help children who wanted to become vets, to how developing our balance in P.E. could help one girl become a ballerina and another climb tall ladders as a firefighter.
Ask your child about their ambitions and which school subjects they think will help them achieve their goals.
---
Week 28 - Wonderful workshops, dazzling dragons and stunning surrealism
Our look at the Great Fire of London concluded this week with some very exciting events!
On Wednesday, Samuel Pepys himself visited the class to answer questions from the children (and offer them some of his Parmesan cheese!), Friday saw us protesting in the playground for a safer London, and on Thursday, Openbox Theatre Company came in to present the story of the Great Fire of London with a wonderful mix of interactive drama, history and humour.
Ask your child what fabulous facts they've learnt this week. What can they tell you about the Great Fire of London?
There was much excitement this week when dragons were spotted flying towards the copse; the children went outside to investigate and found several nests full of dragon's eggs!
They were allowed to keep one egg each to look after, then we looked at the book 'Tell me a Dragon' to see if the children could work out what kind of dragon theirs might be when it finally hatches. They may have a long wait though, as dragon's eggs can take up to 100 years to hatch!
What kind of dragon does your child think might hatch from their egg?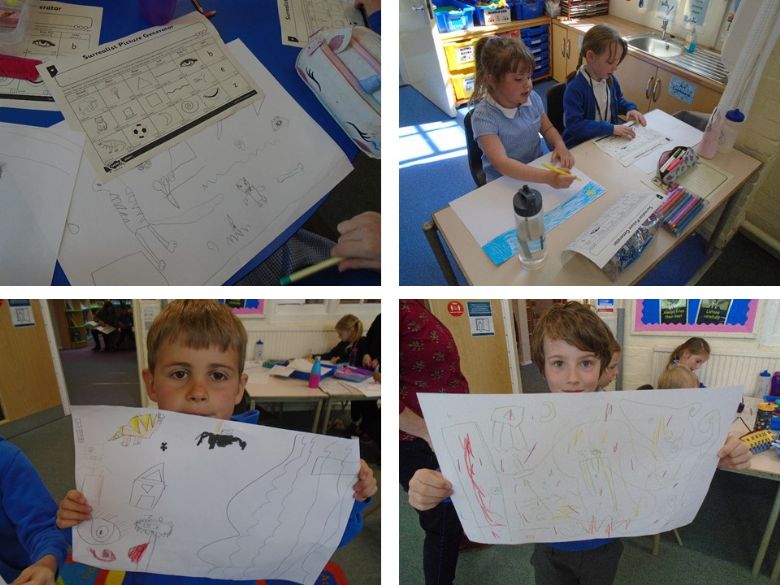 In Art this term, we're looking at the work of the Spanish artist Joan Miró.
After examining paintings in his Magical Realist style last week, we moved on to exploring his surrealist period this week.
The children looked at how Miró incorporates elements such as animals, geometric shapes, and eyes and ears into his work, alongside straight, squiggly and dotted lines.
They then had a go at creating their own Miró-inspired work and did a fabulous job of imitating his style.
What elements did your child include in their surrealist masterpiece?
---
Week 27 - Brilliant beans, wonderful weight, dazzling diaries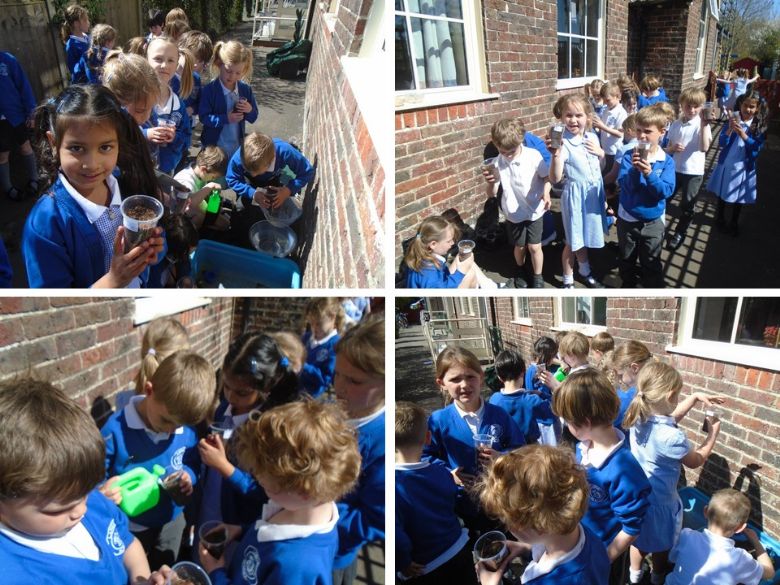 Our Science topic this term is all about plants, so this week we planted some beans in order to find out what plants need to help them grow healthily.
The children all put soil into their pots, planted their beans, watered them and placed it onto a sunny windowsill to watch them grow over the next six weeks.
After some discussion about what plants need in order to thrive, we also decided to plant some experimental beans: one without soil, one without water, one without light and one without soil, water or light. Ask your child what they think will happen to our experimental beans in comparison with their own bean - what are their predictions?
In Maths, we've spent the week looking at weight and mass.
As part of their learning, the children had to complete a number of hands-on challenges. These ranged from working out word problems and drawing scales, to comparing the mass of different 3D shapes and deciphering a secret code by putting weighted boxes into the correct order.
Ask your child which challenges they enjoyed this week. Maybe you could compare the weight of some objects around the house.
English saw us following in the footsteps of Samuel Pepys to write diary entries about the Great Fire of London.
First, we looked at a number of diaries and identified the main elements of a good diary entry (starting with the date, using the past tense, writing in the first person and keeping things in chronological order).
The children then planned their work, including details of what they could see, hear, smell and touch as well as how they felt upon seeing London burning.
They concluded with what they thought would be the best course of action as the fire approached. What did your child decide to do in their diary?
---
Week 26 - Easter excitement, wonderful welcoming and marvellous measuring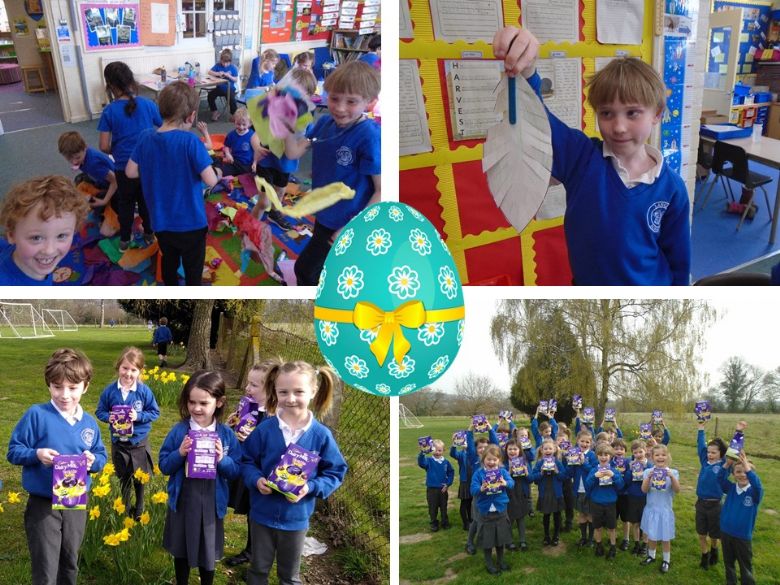 Easter is only a few days away. so we've been celebrating this week with a variety of Easter activities.
On Monday, the Reverend Jane Ball came in to class to talk about Palm Sunday for our World Faith and Philosophy topic.
Since then, we've been making Easter baskets, Easter cards, watched Year R's Easter bonnet parade, and have even been on an Easter egg hunt around the playing field!
What was your child's favourite Easter activity this week?
We continued our Easter theme in World Faith and Philosophy this week, examining the concept of 'Welcoming'.
First, we talked about what it means to welcome someone, when we might welcome someone, and why it is important to make people feel welcome.
We then heard the story of Jesus' arrival in Jerusalem on Palm Sunday, and role-played how the people welcomed Jesus by laying down palm leaves for him as he rode in to town on a humble donkey.
Ask your child what welcoming means to them.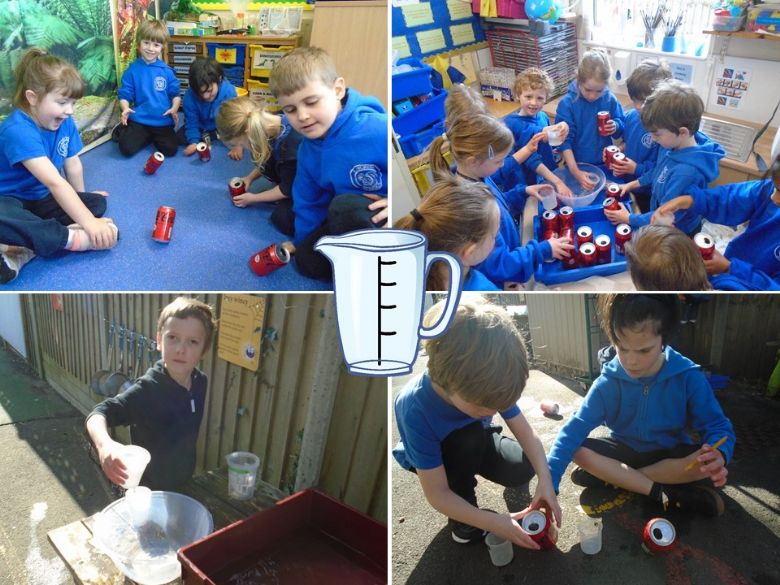 In Maths, we've been learning about capacity and volume with lots of very practical (and very wet!) activities.
The children have been using non-standard units (cupfuls) to estimate, then measure the capacity of different containers.
They've also been using standard units (millilitres) to put a very specific volume of liquid into an empty soft drink can in order to make it stay magically tilted on its side!
Can your child teach you this trick at home? How many millilitres do they need to measure for the can to tilt?
Week 25 - Clever Never Goes, Magical Matrix and Amazing Activ8
How do you have those difficult conversations about staying safe without scaring your children? Clever Never Goes has been designed to do just that, focusing on the need to think carefully about going off with strangers, or even people we might know, if we're not sure it's the right thing to do.
The children made their 'Gostoppers', then heard a variety of scenarios and thought about if they were 'Safe', 'Hmmmm' (somewhere in the middle) or 'Unsafe'.
What can your child tell you about Clever Never Goes? Can they remember any of the scenarios? Click here to learn more about the Clever Never Goes programme.
We used music, movement and drama to explore the Great Fire of London this week, as we entered a virtual museum called 'The Matrix'.
The children had to make their way through the burning streets of London, making decisions about what to do (do we head for the safety of the River Thames or aim for high ground?) and completing three impotant missions along the way.
We pulled down houses using firehooks, tried to persuade a ferryman to take us across the river, and even met King Charles II!
Ask your child if they managed to complete all three missions inside the Matrix.
As well as one P.E. lesson with their class teacher, all the children are currently enjoying one session a week led by the Activ8 team.
Working individually or as a team, the sessions always include a variety of games and activities to get the children moving, and back up our PSHE discussions about the importance of sport and physical activity to our mental health.
The children love these Activ8 sessions, and always come back talking about the latest games they've been learning.
Ask your child about their favourite Activ8 activities.
Week 24 - Marvellous measuring, hair-raising history and a funny thing happened on the way to the classroom
We've been looking at length and height in maths this week, with lots of estimating, measuring and comparing.
To encourage independent learning, the children were set a number of challenges to complete throughout the week. These included building LEGO towers to specific heights, making several different lengths of Play-Doh sausage, and estimating the length in centimetres of three pieces of string. They also had to measure how tall they were and compare their own height to that of different animals.
Ask your child which challenges they enjoyed the most this week.
On Thursday, we launched this term's History topic - The Great Fire of London.
The children returned from lunch to find a table covered in pictures, objects and books. These ranged from a bucket, some bread and a wig to pieces of cheese, a plastic rat and even a tricycle fire engine.
After exploring the objects, the children then had to guess how they all related to the Great Fire of London. After that, we created a timeline to show how far back in time we had to travel to get to 1666 and what other historical landmarks we'd pass along the way.
What objects from our topic table can your child remember ?
Friday was this year's Red Nose Day in aid of Comic Relief. For a small online donation the children could come in wearing a piece of red clothing, and we spend the day talking about the importance of helping others and, of course, trying to make each other laugh. We even had a joke competition, with stickers for everybody who entered and small prizes for the best jokes.
There were also plenty of Red Nose Day activities to have a go at, from maths challenges and word searches to designing your own superhero cape.
It was lovely to spend the day celebrating kindness and laughter. Ask your child if they can tell you their favourite joke!
Week 23 - Welcome back!
It's been such a joy to have the children back together this week; excitement and noise levels in Year 1 have been nearly through the roof! After so long away it's important to give the children plenty of time to settle back in, so we've done lots of social play, creative activities and PSHE sessions based around identifying and talking about our feelings. Alongside the social learning, we've also been benchmarking the children's reading and doing some fun maths activities to see where the children are and what curriculum areas we need to cover over the course of the term. And as the children returned to school, so the sun came out and we were even able to get out on the playing field for our P.E. sessions (although our first challenge was to clear off all the twigs first). It's been a wonderful week and I can't wait to continue our learning journey in Year 1 without any further disruption!
Week 14 - Merry Christmas!
This week we've written a letter the Grinch (who stole our elf!), created paper penguins, finished our wooden tree decorations and done plenty of festive cutting, sticking and colouring.
Wishing you and your families a wonderful, safe and peaceful Christmas and a happy and healthy new year!
---
Week 13 - Letters to Santa, festive forest school and a visit from the vicar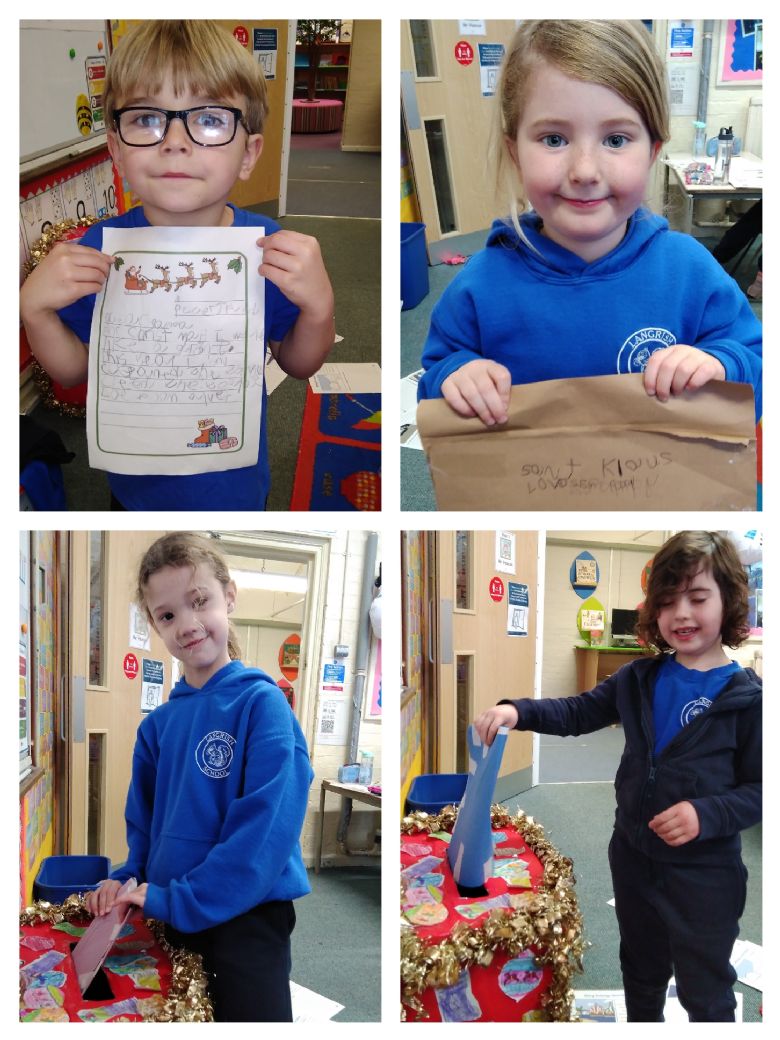 As your child is probably reminding you every day, Christmas is on the way! So this week we wrote our letters to Santa Claus.
The children had to master the format of a letter, as well as detailing what they'd like for Christmas along with what they've done this year to get themselves firmly onto the 'Nice' list.
In the midst of our letter writing, we were lucky enough to get a virtual visit from Santa himself! He took time out from his busy final delivery preparations to chat to the class and remind them all about using capital letters, full stops and finger spaces. He was also very keen to see the their best handwriting (it makes reading those millions of letters much easier) and he also revealed what Mr Hancox asked for in his Christmas letter way back when he was in Year 1.
What did your child ask for in their letter to Santa and what have they been doing to get into his good books?
Friday afternoon saw our festive forest school Christmas party.
The copse looked fabulous, with fairy lights adorning the trees and a roaring fire to keep everybody warm on a damp December afternoon.
The children roasted marshmallows squished between chocolate biscuits and sang their favourite Christmas songs around the flickering flames.
The festive spirit also continued back in the classroom with festive crafts and colouring.
Ask your child what they enjoyed most about this year's tree-lined Christmas party.
The Reverend Jane Ball came to visit our class on Friday, which was a fantastic opportunity for the children to ask questions about Christmas as well as anything relating to our World Faith and Philosophy learning this term.
The class has questions about the symbolism of candles and the advent wreath, as well as about how an angel visited Mary and why King Herod was such a villain.
What did your child learn from our chat with the vicar?
---
Week 12 - Wonderful writing, super spelling and delightful dancing
As part of our English this week, Year 1 took part in a whole-school writing challenge.
Every class has been given the same image, 'The Frozen Palace', and the children had to use it as their inspiration for a piece of writing.
We began by examining and discussing the picture, before planning our stories in note form. Finally, we wrote them up in our very best handwriting, remembering our capital letters and full stops by highlighting them in red and green.
We had a wide range of stories, featuring everything from witches and ice monsters to snow leopards and even dinosaurs!
Ask your child what they chose to write about. Can they tell you their story?
On Wednesday afternoons, the children get a chance to log into Spelling Shed and practise their spellings.
They love winning honey pots and building up their scores (as well as getting a little competitive about who is at the top of the leader board!)
There are several assignments on the go at the moment, from tricky words and numbers to days of the week and months of the year.
You can log in at home to see how your child's doing. Can they spell at expert level yet? And most importantly, how have they decided to customise their avatar?!
Click here to log into Spelling Shed for some sneaky extra practise.
Our P.E. unit for the last few weeks of term will definitely get us in the mood for Christmas, as it's music and movement that's all based around Tchaikovsky's festive classic 'The Nutcracker'.
This week we heard the first part of the story, as Fritz and Clara received some exciting Christmas gifts from their toy-maker godfather, Drosselmeyer.
The children had to pretend to be stiffly walking clockwork dolls, cymbal clanging toy monkeys, and finally the soldier-shaped nutcracker himself, with his arm-operated, shell-cracking mouth.
Can your child remember any of the movements from our first lesson? What do they think will happen next in the story?
---
Week 11 - Hello to history, model mayhem and wonderful wreaths
Our History unit this term is all about World War II ATA hero Mary Ellis.
We haven't introduced the children to Mary yet, but this week the children were building their historian skills by describing images from World War II.
Working in pairs, they had to sit back-to-back and describe an image to their partner while their partner asked questions about the image to clarify any details.
The images ranged from planes and warships to Winston Churchill, female factory workers and the Women's Land Army hard at work in the fields of wartime Britain.
Ask your child about the image they had to described. Can they remember anything about their partner's image too?
We continued our playground equipment project this week by upgrading from drawing pictures to making models.
Using play dough, lollipop sticks and card (as well as pretty much anything else they could find!), the children had to come up with the best way to make a model of a swing, slide, roundabout, seesaw or climbing frame.
If it didn't work out on their first attempt, they were then encouraged to work out where improvements could be made and make a new version using different materials, structures and techniques.
What piece of playground equipment did your child make a model of? Maybe you could make one together at home.
The festive season kicked off in our Art lesson this week with a little seasonal wreath making.
The children used green and white paper leaves to create their wreaths, then added decorative ribbons and red paper berries to make their creations look even more Christmassy.
The children loved making their decorations and it's put us all in the festive mood for the arrival of advent next week and our preparations for the Christmas season.
We may have to do things a little differently this year, but we're not going to let 2020 stop us from celebrating Christmas in style!
---
Week 10 - Anti-bullying week, various verbs and perfect playgrounds
It was Anti-Bullying Week this week, so we began by talking about what bullying is and what to do if we ever see or experience it.
We found out about cyberbullying by learning about the Meanataur, one of the evil Cyber Sea Monsters. He has lots of snappy mouths for saying mean things, and the more people that listen, the stronger he gets! Ask your child how we can neutralise the evil Meanataur.
We also watched the Anti Bullying Alliance's virtual assembly and coloured in odd socks to celebrate the fact that everybody is different.
Ask your child what they learnt this week about how to defeat bullying, wherever it may lurk.
In English, we were learning all about verbs.
We began by watching the short film 'The Book of Butterflies' and talking about the various verbs we could use to describe the actions within the film.
We then went on a verb hunt in the hall, with each child being given a card with a verb written on it and having to find a picture of that verb hidden somewhere around the room. Once they'd matched their verb to a picture, the children then came up with a sentence containing their verb to write into their English book.
Ask your child what verb they had to find. Can they think of any other verbs?
Our D&T unit this term is all about playgrounds. We had great fun discussing different pieces of playground equipment and deciding which ones were our favourites.
We also tied it in with our Science topic, 'Everyday Materials', by talking about what materials playground equipment is made from and why those materials are the best ones for the job.
The children finished off by drawing and labelling a picture of their favourite piece of playground equipment. What's your child's favourite piece of playground equipment? Can they tell you what it's made from and why those materials might have been chosen?
---
Week 9 - Dark, dark tales, illuminating candles and brilliant biscuits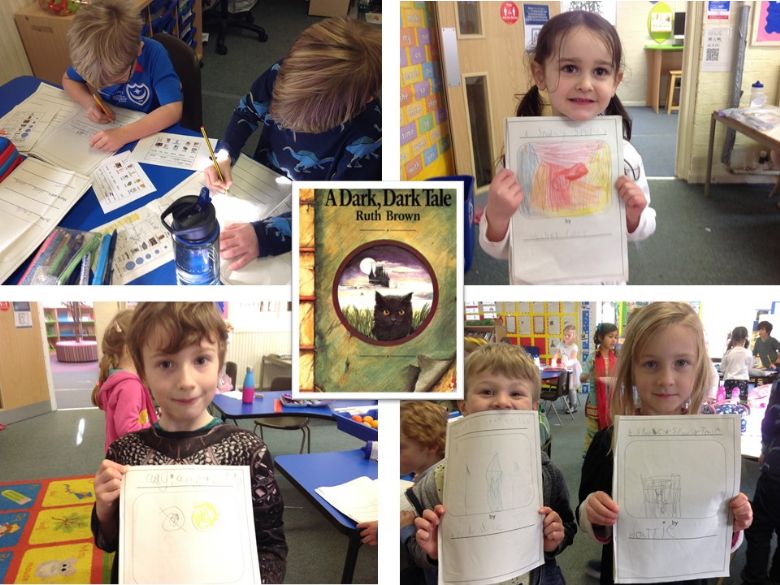 You may remember hearing 'A Dark, Dark Tale' as part of our home learning on Microsoft Teams last week. Since then, Year 1 have been busy writing their own versions.
After listening to the story, we talked about how it was structured around the repeated adjective 'dark, dark'. The children then chose different adjectives and crafted their own stories by weaving their new adjectives around the structure of the original.
The results were incredibly entertaining, and we've enjoyed hearing about giant, giant space stations, cute, cute kitten worlds and even a silly, silly school (I don't know where they got that idea!)
What did your child write about in their story?
Our World Faith and Philosophy unit this term was all about how different cultures use the symbol of the candle.
First, we looked at candles in Christian culture, where they're used as symbols of remembrance, as well as - in the case of the advent wreath - symbols of faith, hope, joy and peace.
We then learnt about Diwali, and how many Hindus view candles as a symbol of good triumphing over evil, as in the story of Rama and Sita.
Can your child tell you about Rama and Sita in story of Diwali?
The school was a blaze of colour on Friday as the children came in in non-uniform for Children in Need day. Each class had chosen their own activity, and Year 1 had decided that they wanted to raise money by decorating biscuits.
We started the day by joining in with Joe Wicks' final P.E. session, then spent the whole afternoon doing Pudsey-based activities, including our biscuit decorating as well as colouring, crafts and dancing.
It was different to our usual Children in Need day celebrations, but the children absolutely loved it!
We asked that no money be brought into school, but that all families donate whatever they can through the official Children in Need channels which you can access by clicking here.
Week 8 - Take One Picture, taking up the challenge, and taking in the wonderful 'Wizard of Oz'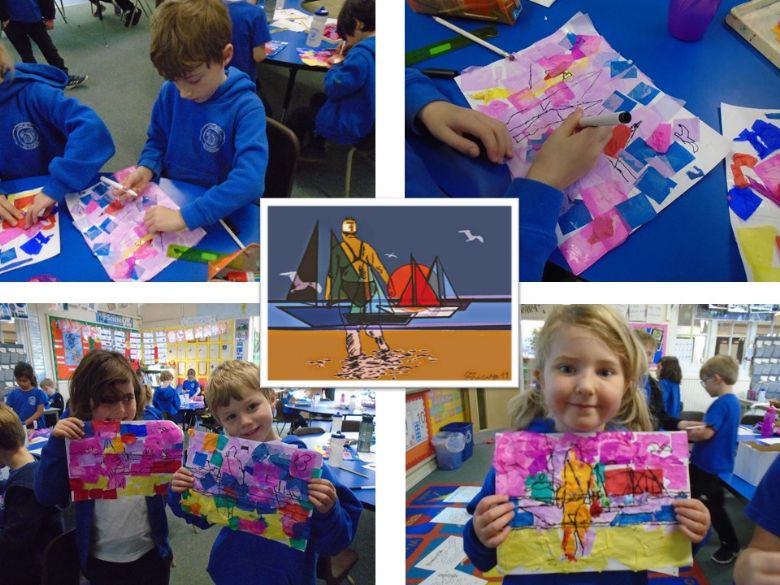 The image chosen by the school's Arts Ambassadors for Take One Picture week this week was 'En Vacances', a modern work created in 2019.
Every class took a different approach to exploring the picture. In Year 1 we created our own versions by using tissue paper to make a colourful background, then tracing over the original lines in black pen, taking advantage of the clean lines and geometric shapes.
We also used the image as inspiration for our Freedom Friday writing.
What did your child think of this year's picture?
In PE, we've been taking on the Hampshire School Games Virtual Challenge.
This week, it was 'Beat the Clock'. The children had 30 seconds to get as many bean bags as they could from their start point to a hoop positioned five metres away, carrying only one bean bag at a time.
They had two goes each, and were trying to equal or improve their score on their second run by refining their technique.
What did your child score in the 'Beat the Clock' bean bag challenge? Did they manage to better their score second time round?
With the global pandemic taking its toll on the performing arts, we were very grateful that M&M Productions were able to come in the week for a socially distanced performance of their pantomime, 'The Wizard of Oz'.
With only one live actor, the story used a mix of film projection and interactive performance to tell the story of Dorothy and her friends heading down the Yellow Brick Road to meet the Wizard of Oz, with the Wicked Witch of the West hot on their trail!
What was your child's favourite part of the performance?
---
Week 7 - Little Red Riding Hood, sensational seasons and dazzling drawings
We started exploring the story of Little Red Riding Hood this week, and what better place to begin than in the woods!
After listening to (and acting out) the story, we headed out into the copse on an adjective hunt, finding descriptive words hidden amongst the trees and deciding if we'd attribute them to Little Red Riding Hood or the Big Bad Wolf.
We then wrote about the characters using our adjectives, and even found time to make some wonderful wolf traps in a junk modelling session.
Can your child tell you the story of Little Red Riding Hood?
We'll be exploring the changing seasons throughout the year, so this week we looked at what causes the seasons.
Using some very high-tech demonstration technology (well, a satsuma with a pencil stuck through it) we examined how the Earth's tilted axis causes sunlight to hit some parts of the planet differently at different times of the year.
We then went outside to see what signs of autumn we could find, from fallen leaves and acorns to fungus and berries.
Ask your child what they found and how our class photo will look different the next time we take it, in the winter.
On Fridays we have a little post-playtime mindfulness session. Half of the session is yoga and the other half is Draw With Rob.
Children's illustrator Rob Biddulph has created a series of 15-minute videos where he guides you step-by-step through drawing a character.
It encourages the children to focus, concentrate and enjoy the process of creating a picture which they can then colour in.
So far this year we've drawn a snake, a dolphin, a dragon, a pufferfish and a rabbit. It's fantastic fun and we often surprise ourselves with how well our creations turn out! Which was your child's favourite?
---
Week 6 - Discussing deities, pupil voice and an amazing assembly
This term's World Faith and Philosophy took on a pretty big concept: God.
We began by looking at the concept of God in Christianity, talking about what we thought God might look like and reading some stories from the bible to learn more about how Christians view God.
After that, we looked at Hinduism and discussed how most Hindus believe in many different gods representing different roles and characteristics within the Hindu faith.
Can your child remember the names of any Hindu gods?
Our World Faith and Philosophy lesson also tied in nicely with our UNCRC Article of the Week: Article 14 - the right to choose your own religion and beliefs.
As a Rights Respecting Educator, we also ensure that children get a say about what goes on in the school.
This week our school council wanted to hear from the children about how safe they felt in school and whether anything needed to be changed or improved. I'm happy to say that Year 1 all said they felt safe, and they also knew what they could do if ever they felt worried or scared.
Ask your child what they remember about our discussions this week.
This Friday saw our first ever virtual Harvest Assembly being broadcast across the school.
With a mixture of music, stories and information about the harvest festival, all the classes watched it at 11am (and some of Year 1 couldn't help but join in with the dancing again!)
We then had a socially distanced parade around the school in order to deliver our donations the the harvest table, and Year 1 even got a round of applause for our film as we walked past the other classrooms!
We hope you enjoy watching our virtual assembly as much as we enjoyed making it!
---
Week 5 - Fabulous forest school, messing with materials and a peek at Klee
If you go down to the woods today...you'll probably meet Year 1! Wednesday afternoon saw us take over the copse for a forest school session with Mrs Browne.
After climbing trees and collecting sticks for firewood, we had a sing-song around the campfire while we cooked up some hot dogs as an afternoon snack. And for those who were still hungry, melting marshmallows to make s'mores for pudding was the icing on the cake!
It was a truly joyous afternoon for the children who absolutely loved being outdoors. Ask your child what they enjoyed most about forest school.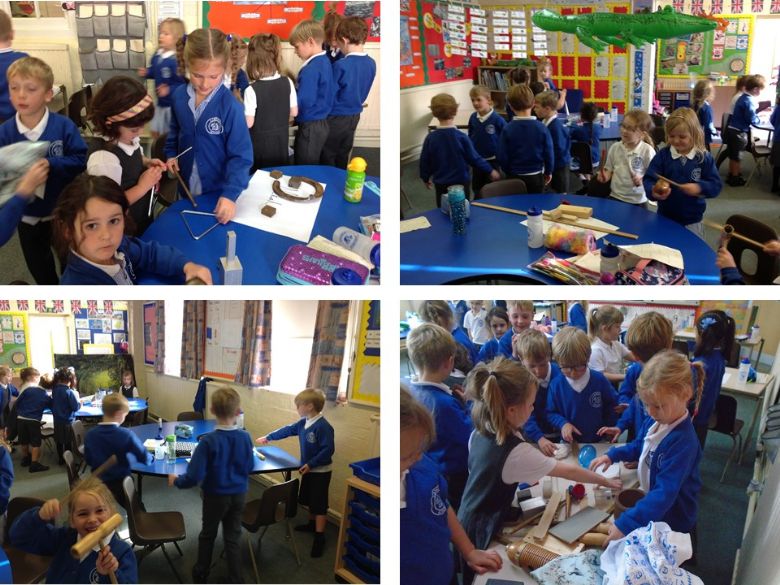 Science this term is all about everyday materials. We started by bringing lots of objects into the classroom made of everyday materials, and the children had to sort them into five groups: objects made of metal, wood, glass, plastic and fabric.
We talked about how we could tell what each object was made from because of the properties of the materials involved, as well as why those properties made it the best material for making that particular object.
Could you conduct a similar sorting investigation using everyday objects around your house?
After working hard on our Christmas cards for the past couple of weeks, we got back to our 'Colour Chaos' Art unit this week by looking at the work of Paul Klee.
The children looked at Klee's abstract works and discussed his use of colour to create different moods.
They then had a go themselves, colouring their own version of Klee's 1922 work 'Senecio' using watercolour pencils.
Ask your child what colours they used and why they chose them.
---
Week 4 - Amazing algorithms, chatty choosing and awesome acrostics
In computing this week, Year 1 were learning all about algorithms: a list of instructions that needs to be followed precisely and in the correct order.
The children had to follow my instructions in order to draw a cartoon character, then (when all the drawings came out looking slightly different), they had to decide how I could improve my algorithm in order to make it more precise, so that everybody would end up drawing the same picture.
They then had a go at writing their own character algorithm and challenging a friend to follow their instructions.
What did your child's algorithm character look like?
Choosing time is still as important (and popular!) in Year 1 as it was in Year R.
It's a fantastic opportunity for children to do things they enjoy, while at the same time honing such invaluable social skills as sharing, conversing and (inevitably!) the occasional bit of conflict resolution.
There's lots of offer in the Year 1 classroom, from quiet reading and mindfulness colouring to dinosaurs, cars and even virtual reality headsets.
Ask your child about their favourite choosing time activity.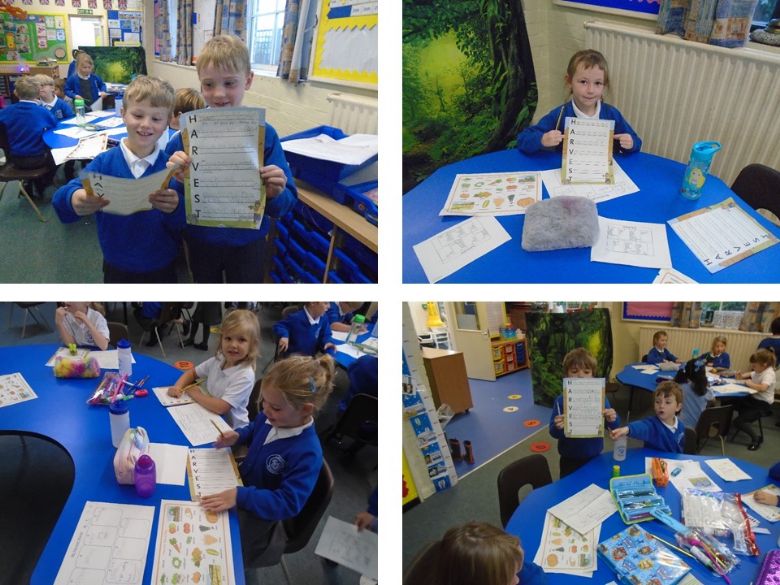 In English, we've been writing acrostic poems about the harvest festival.
We began by looking at what an acrostic poem is by reading some examples of other harvest-themed acrostics.
Next, we gathered together all the words we might need for beginning each sentence with the correct first letter. The children then planned out how their poem would take shape.
Finally, the children wrote their poems, making sure they were stretching out their sentences to make them as interesting as possible.
Can your child tell you about their harvest acrostic poem?
---
Week 3 - Active learning, copse time and Christmas comes early!
Maths and P.E. morphed into one this week as the children put their number recognition skills to the test in a variety of games.
These ranged from challenging the children to find particular numbers that were hidden all around the hall, to pretending they rabbits who had to return to the correctly numbered rabbit hole when the hungry eagle came swooping overhead.
The children had a great time, and it all helped cement their knowledge of what numbers look like - particularly those tricky teens!
Can your child recognise all the numbers from 1 to 20?
It's vital to get outside as much as we possibly can, and we're so lucky to have the copse area to explore several times a week.
The children built dens, created some delicious recipes in the mud kitchen (which I politely declined to try!) and even found clusters of eggs covering the backs of some oak leaves which, upon further research, turned out to be laid by gall wasps.
There are still plenty of leaves on the trees, and we talked about how the copse would begin to change now that autumn has finally arrived.
Ask your child about their favourite copse activities.
It may only be September, but we're already getting festive in Year 1 as in Art this week, believe it or not, we began creating this year's Christmas cards!
It does seem a little early, but we need to get our designs to Cauliflower Cards by October in order for them to be processed and available for you to purchase in plenty of time for Christmas.
It certainly looks like this year's cards are going to be eyecatchingly colourful, so we'll let you know as soon as they're ready to order.
---
Week 2 - Counting, crocodiles and Cosmic Kids
This week found us doing lots of very practical counting and sorting activities to begin getting us thinking again about numbers, shapes and colours.
The children could decide for themselves how they wanted to sort their objects. Some did it by colour, some by shape and some by size. If you look very closely, you'll also see that one group even sorted their colourful compare bears into a socially distanced line!
The children did some great thinking and we had lots of fun discussions about how many different ways you could sort a tubful of plastic elephants!
As it was Roald Dahl day at the beginning of the week, we decided to read the story of 'The Enormous Crocodile'.
The children listened to the story out in the copse, and afterwards we had lots of fun recreating scenes from the book, including when the Enormous Crocodile tries to disguise himself as a coconut tree and a children's seesaw.
You may have heard that we even had a surprise visit from our own enormous crocodile in the classroom! Luckily he was a friendly, vegetarian crocodile though - phew!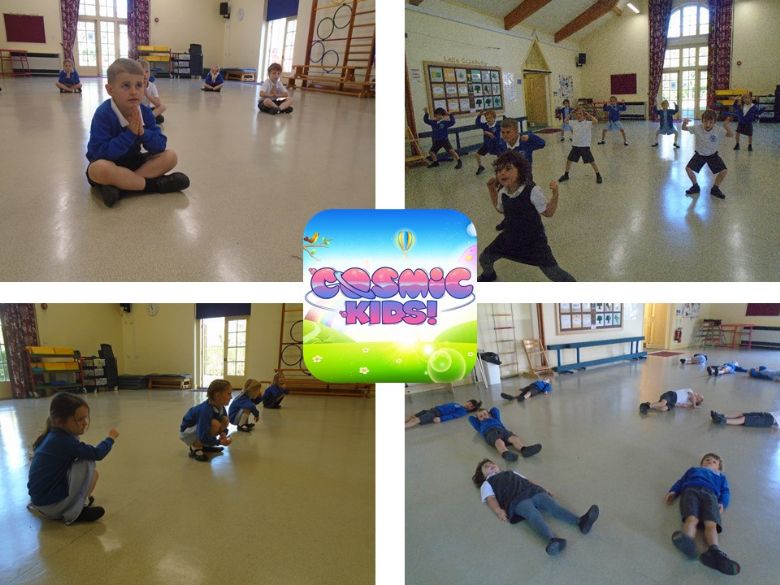 As part of the recovery curriculum, we've been doing Cosmic Kids yoga sessions in order to encourage mindfulness and relaxation practices amongst the children.
Each session takes the form of a story (this week about the importance of hand washing), and the children interact with the adventure by using yoga poses that mirror the different characters and actions. At the end of each session, a moment of quiet relaxation helps the children to centre themselves by concentrating on something calming and positive.
The children really love these sessions and it's a fun and entertaining way of encouraging positive mental and physical health.
---
Week 1 - Welcome back!
Relaxed and refreshed after the summer break, the children have finally returned to school this week and it looks somewhat different to how it did this time last year when nobody had even heard of local lockdowns, COVID-19 or social distancing.
This week the children have been getting used to all the new school routines as well as a new classroom and, I'm happy to say, have taken it all very much in their stride.
From socially distanced lines and seemingly endless hand washing, to relaxation areas and picnic lunches in their year group bubbles, the "new normal" is quickly becoming second nature to the new Year 1s.
We've always loved to get outdoors as much as possible in Year 1, and the new timetable has been designed to maximise the amount of outdoor learning that can take place across the school.
As you can imagine, the firm favourite amongst Year 1 pupils is the copse time we're allocated three times a week.
Whether it's jumping off toadstools, cooking up a storm in the mud kitchen, or building bark dens and bug hotels, the children love getting out amongst the trees. And with autumn just around the corner, it's also an amazing space for exploring our long-term science topic of seasonal change.
We have spent some time in the classroom though (with all the doors and windows open of course!)
We had time to hold an election for our School Councillor and Arts Ambassador, do lots of dancing (but sadly no singing) and even tackle a few fun number challenges.
As part of our ongoing PSHE work we talked about things that might worry us and how we can deal with them, as well as what happiness is and things that make us happy.
We also heard the story of Smartie the penguin and how he manages to stay safe online, after which we made our own Internet Safety Charter for children and parents to sign and return to school.
It's been wonderful to welcome my new Year 1 class into school this week, and they've amazed me every day with the way in which they've thrown themselves into a new - and very different - school year with such joy, enthusiasm and resilience.