Mr Hancox and Mrs Slusarczyk
Welcome to the Year 1 class page. Look around for half termly overviews of our curriculum coverage and updates on what Year 1 have been up to recently, including details on our current learning.
Open classroom on Thursday 8th February
Thank you to everybody who came along to the open classroom event on Wednesday. It was a really valuable opportunity to look through all your child's latest learning, and also to have an informal chat about what we've been up to in Year 1 and what's coming up over the next few weeks. I hope you enjoyed looking through all their books!
Home learning for Friday 9th February 2018
There's no formal home learning for the half term holiday, however you may wish to start working on your practical project: an exhibit for our Great Fire of London museum open afternoon to be held near the end of next half term. A letter containing more details will be coming home before the half term holiday.
We will also be studying fractions (quarters and halves) as well as multiplication and division next half term, so looking out for any real-life opportunities to discuss those concepts would be a great start. You could also try this 'Halves and Quarters' interactive game.
Continue to read daily. This term's Reading Challenge came home this week so why not get started on it straight away - . completing the challenge will earn 25 house points!
Home learning handwriting books have been sent home for the children to practise their handwriting and letter formation whenever they like. Feel free to bring them in and show me any work you're particularly proud of.
The BBC are once again running their '500 Words' story writing competition so it would be a great idea to get your child to write and send in their own entry. You never know, they might end up attending the final at Hampton Court Palace!
Phonics this week concentrated on the sounds wh (when), ph (phone), ew (chew), oe (toe), au (sauce) and ey (key), as well as the tricky words 'said', 'so', 'have' and 'liked'. Encourage your child to look out for these sounds and words in everyday use.
In ICT we've been practising our keyboard skills with Dance Mat Typing so get some extra practise in at home if you like.
Children can hone their knowledge of place value and pictorial representations of numbers by playing Place Value Basketball. Choose a higher number range for extra levels of challenge.
You could use the tape measure in your Langrish maths bag to continue practising your measuring skills. How many items around your house can you measure? Can you estimate their size first?
The Langrish maths bags are full of fabulous resources for honing the children's maths skills alongside a booklet of ideas about how best to use them. The bags cost £12.50 each to put together, so if you'd like to keep it beyond the end of Year 1 please see the office about making a payment. If you don't wish to buy the maths bag, simply use it for this year then hand it back with all its contents intact at the end of the summer term. We hope you enjoy exploring all the activities and resources.
You can also explore Serial Mash and Oxford Owl for extra reading. The children's home learning books can be used to record any work you choose to do.
P.E. Kits
P.E. kits are being sent home for the holiday, so please check to see if there's anything missing or even something that belongs to another child - it happens more often than you think!
In P.E. next term we'll be doing indoor dance on Tuesday afternoons and outdoor multiskills games on Wednesday mornings. Please make sure your child has a t-shirt and shorts for gymnastics and a warm tracksuit and outdoor trainers for multiskills. This will ensure your child is safe and comfortable in both environments.
---
Week 21 - Getting the measure of maths, Safer Internet Day and Pepys pops in
We've been very busy in maths this week as the children have undertaken a variety of activities and challenges around measurement.
They've been measuring, estimating, recording and comparing all sorts of things from LEGO towers to pieces of string.
They've also had to see how tall they are on our wall chart and compare their heights to members of the animal kingdom.
Using the correct vocabulary is just as important as the accuracy of their measurements, so we've also concentrated on using mathematical language in all our comparisons.
Which animals did your child find out they were taller or shorter than?
It was Safer Internet Day on Tuesday, which this year was all about communicating safely online.
We used a ball of wool to illustrate the web of connections that bind us together as a community, and how that is mirrored by the connections that can be made online.
We also talked about our digital footprint, and how a surprising amount of what we do online can give away details of our hobbies and interested without us even realising it.
The main message was to always ask a grown up if we see anything we're not sure of when we're using the internet.
For more information about Safer Internet Day click here.
We had a very special guest come to visit us this week when Samuel Pepys himself popped in to answer the children's questions about the Great Fire of London.
He was very impressed by both their knowledge and their curiosity as they made all manner of enquiries about the number of houses that burnt down, why the fire spread so rapidly and why he buried his cheese in the garden!
The children then wrote about what they thought was the main reason for the scale destruction caused by the fire, as well as composing their own "eyewitness account" based on our experiences in the virtual musem.
Ask your child what factor they thought was most instrumental in allowing the Great Fire of London to spread so far.
---
Week 20 - Place value potions, word processing and talking about change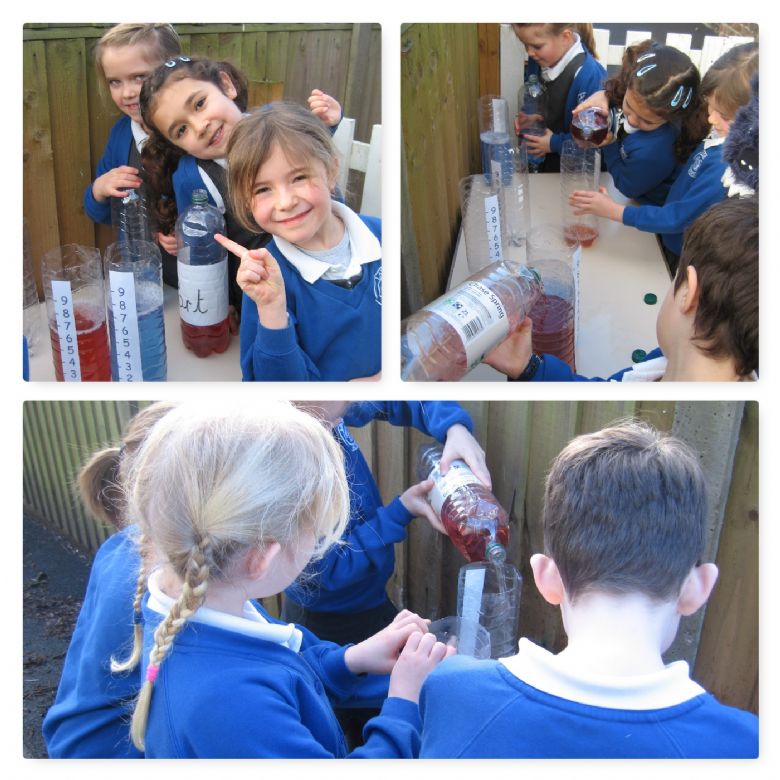 In maths, we continued our work on place value by making some place value potions.
The children had to make two-digit numbers by filling their potion bottles with red liquid (for the tens) and blue liquid (for the ones).
As you can see, they had lots of fun experimenting with different numbers and even managed to keep most of the liquid in the bottles…from time to time!
Alongside our place value activities, we were also working with pictorial representations of numbers as well as beginning our work on measuring.
Why not get some extra measuring practise measuring some objects around your home using the tape measure in the Langrish maths bag.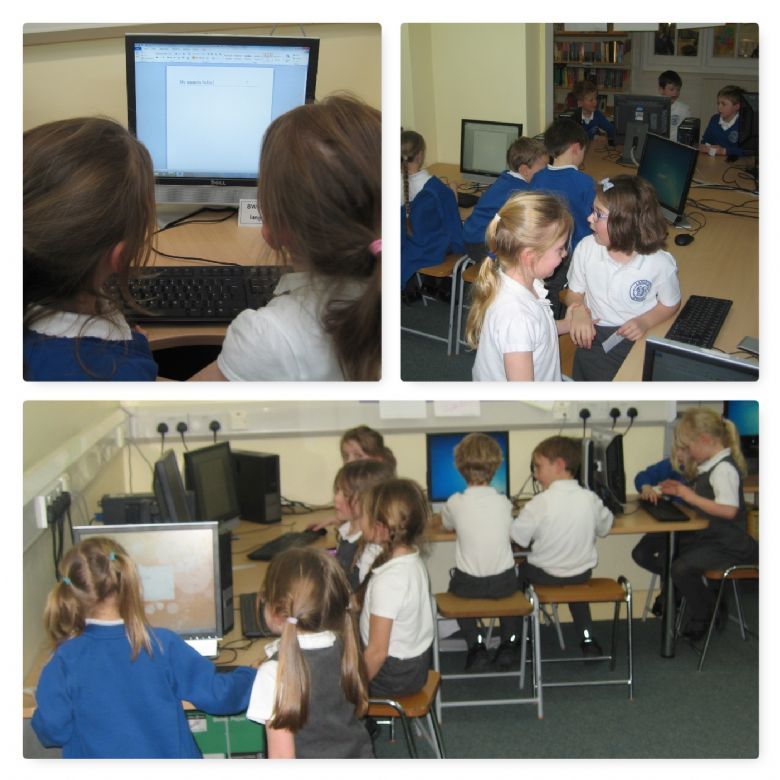 In ICT, the children have been getting to grips with using a word processing package.
First, they need to log into the system and open the word processor.
The next step is to type a sentence containing facts about themselves before saving their work and safely logging off.
They then swap over so each partner has a go, even opening up files they have saved previously in order to edit them.
They've also been practising their typing using Dance Mat Typing, a fun and interactive way for the children to get accustomed to the layout of a computer keyboard. Why not give it a try by clicking here.
This term's R.E. topic was change. We started by discussing things that change, things that don't change and - through the story of 'The Ugly Duckling' - why change is often necessary.
The children sorted pictures into things that do change and things that don't, before discussing things that they themselves would like to change about the world if they had the chance.
Finally, we heard and reanacted some stories about people that Jesus met and how these encounters changed their lives. These included the stories of how He cured Jairus' daughter and inspired Zacchaeus the tax inspector to become a better person.
Which stories does your child remember and what did they decide they would they like to change?
---
Week 19 - Super senses, time travelling and perfect portraits
We were exploring our five senses in science this week.
We began by playing a mindfulness listening game before moving on to talk about how we use our sense of sight. After that, we tried to identify objects in a box using just our sense of touch.
The children then had to use their sense of smell to identify five different scents and their sense of taste to identify four different flavours of crisps (this last one was definitely their favourite activity!)
Can your child remember what the five different smells were and whether or not they were able to identify them correctly.
We used the power of our imaginations to travel back in time this week via the BBC's virtual museum.
Donning our futuristic time-traveller headsets (well, plastic science goggles) we were transported back to 1666, right in the middle of the Great Fire of London!
Firstly, we had to escape from our burning house. Then, we had to form a human chain to try and put out the fire using leather buckets full of water from a pump. Finally, we had to try to persuade a grumpy boatman that he should take us across the River Thames to safety, even though we didn't have any money to pay him.
Using drama is a great way for the class to get a flavour of what being caught up in the Great Fire of London may have been like.
Ask your child what was their favourite part of the virtual experience.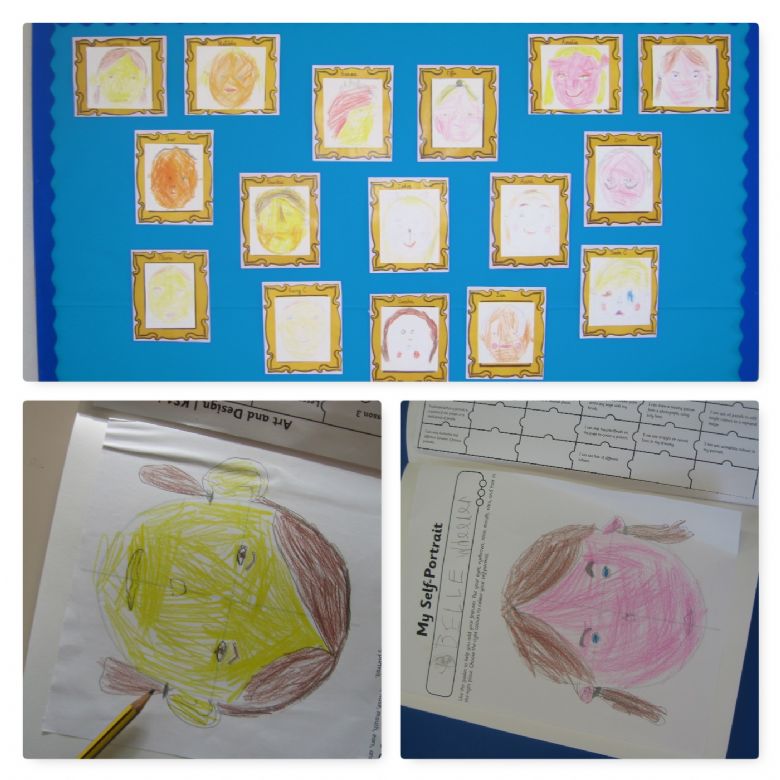 We're learning to create portraits this term using a variety of techniques and materials.
The first lesson was all about considering the dimensions of the human face and really looking at all the individual features.
The children then drew their own self-portraits, using their observational skills and thinking about detail and composition.
We then looked at the work of Pablo Picasso and the way in which he used different colours to express a range of moods and emotions.
When it was the children's turn, they had a go at drawing a portrait of one of their friends and trying to convey their personality through colour.
Ask your child who they drew and why they chose the colours they used.
---
Week 18 - 500 words, finding time and brilliant bodies
BBC Radio 2 launched their '500 Words' story writing competition this week, and we joined schools all over the country to take part in their live online lesson that got it all started.
The children learnt about creating characters, building plots and formulating endings for their stories.
They also got some top story-writing tips from acclaimed authors Charlie Higson and Frank Cottrell Boyce.
Home learning for the next couple of weeks will be for your child to have a go at writing their own story for the '500 Words' competition. Find some extra inspiration by clicking here or get more information about the BBC's '500 Words' competition by clicking here.
The children had to literally find time for maths this week when they went on a clock hunt around the school.
Five clocks showing different o'clock and half past times had been dotted up and down the corridor, and the children had to find each one and write down the time in both digital and analogue format.
We also talked about time in a broader sense, covering everything from how many seconds there are in a minute to which seasons occur during which months.
Can your child tell you how many days, weeks and months there are in a year? Or even a leap year? Maybe they can tell you how many seconds there are in a minute, minutes there are in an hour or hours there are in a day.
We began our science topic about animals by looking at one of most familiar animals of all - us!
Learning about humans and comparing them to other animals forms part of our studies, and we began by seeing how many parts of the human body the children could name.
We split into groups and drew around one brave volunteer before labelling as many different limbs, joints and features as we could.
Later on, we even had a peek inside the body using a special "X-ray" T-shirt.
Can your child tell you how many different body parts their group was able to label?
---
Week 17 - Clever clocks, great fires and little red hens
We've been surrounded by clocks this week, learning to tell the time to the hour and half hour through a variety of activities.
These have ranged from making playdough hands for clocks, matching digital and analogue times, and threading cards to connect correct answers.
We even had a vet's surgery open up in the classroom where children had to make appointments for their imaginary pets and wait for their time to come up on the surgery's clock.
Can your child read the time on the clocks around your house?
A mystery table popped up in our classroom on Thursday afternoon. It was full of different objects and the children had to work out the connection between them all.
They included a bucket, some loaves of bread, a diary, a rat and a calendar for September 1666.
The children soon worked out that it was all about our topic: the Great Fire of London. We discussed what they already knew about the fire and the children came up with some ideas of things they'd like to discover.
What would your child like to find out about the Great Fire of London?
In English, we've been exploring the story of 'The Little Red Hen'.
First, we heard the story. Then, the children split up into groups and performed their own versions of the traditional tale for the rest of the class.
Finally, we created a story map of 'The Little Red Hen', using pictures and symbols to remind us of the main points of the tale in preparation for writing our own versions in the coming week.
Can your child tell you the story of 'The Little Red Hen'?
---
Week 16 - Welcome back and happy new year!
It was great to see all the children back after the Christmas break and hear about all the exciting things they'd been up to over the holiday. We launched straight into this term's maths learning by getting lots of practise at telling the time to the hour and half hour. In English, the children not only wrote about their Christmas holiday adventures, they also looked forward to the year ahead by making new year's resolutions. Ask your child what they resolution was for 2018.
---
Week 15 - Nativity, Christmas parties and open classroom
A huge thank you to everybody who came along to the Nativity performance and the open classroom this week. I'm sure you all enjoyed the opportunity to see how hard the children have been working both on the stage and in their learning. It was an incredibly busy final week with the Nativity, a performance of the pantomime 'Aladdin' for the children and the class Christmas parties. Now all that remains is to wish everybody a very happy and peaceful Christmas holiday - merry Christmas!
Week 14 - Christmas poems, nativity rehearsals and continental curiosity
In English this week, we were writing Christmas acrostic poems.
The first step was to think of as many Christmassy words as we could. We had the letters that make up 'Christmas' posted around the room and the children went round and wrote down the best words they could come up with.
We then gathered them all together and the children used them to begin each line of their Christmas poems.
The whole class loved writing their poems, so why not write a Christmassy acrostic poem together at home - who can think of the best festive words to begin their lines?!
As if the mood weren't Christmassy enough, we've also been practising our nativity play ready to perform next week.
It's called "Hey Ewe" and tells the traditional story of the nativity through the eyes of a very curious sheep who just knows that something special is happening and is desperate to get to the bottom of exactly what's going on.
Filled with angels, wise men, shepherds and lots of songs, the children can't wait to share their performance with you next week. I hope you've all got your tickets!
Maybe your child can give you a quick preview by singing some of the songs they've learnt for the performance.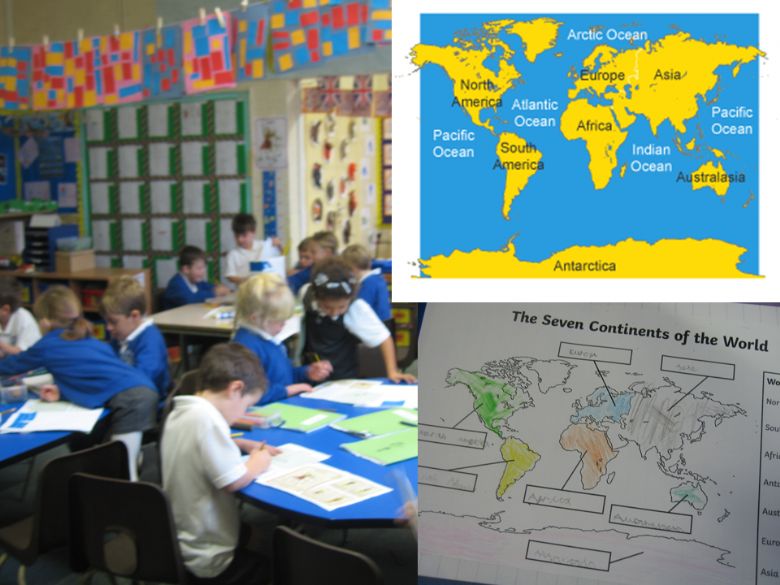 As part of our geography topic on Antarctica, we've been learning about continents this week and how Antarctica is just one of the seven continents that make up the World.
We looked at a globe and talked about each of the seven continents and some of the countries they contained.
I loved how curious the children were about our planet and they had lots of questions about different places on the map and how many miles you'd have to travel to get there from Petersfield.
Ask your child how many of the continents they can remember and if they can tell you which countries they might find there.
---
Week 13 - A grumpy Grinch, story time and the twenty pence toy shop
We had some strange occurrences in Year 1 this week. First our Elf on the Shelf went missing, then we discovered some green fur over by the window and even more right by where our Elf had last been seen. It could only mean one thing: our Elf on the Shelf had been stolen by the Grinch!
Via videolink, the Grinch even spoke to the class saying he wouldn't hand back our Elf until we'd written him a letter telling him why he should return him and what was so special about Christmas anyway.
Year 1 rose to the challenge and wrote some lovely letters that made the Grinch's heart grow three sizes - and hand our Elf back!
Ask your child what they put in their letter to the Grinch.
As our literacy work around 'How The Grinch Stole Christmas' shows, stories are really important for firing the children's imaginations.
We make time for a story every day. Not only does it give the children some time to relax after the lunchtime break, it also enables them to hear a wide range of stories from different authors, genres and eras.
Sometimes the children even turn teacher when they volunteer to read the story to the class.
We also encourage the children's comprehension skills by asking questions as we go along or asking them what they think will happen next.
Which stories did your child enjoy hearing this week?
In Maths this week, we've continued our work on addition, subtraction and place value.
The children have been exploring numbers through a variety of activities, ranging from finding patterns on a tablet-based 'Splat Square' to shopping for toys in the Year 1 Toy Shop.
Here, the children have 20p to spend and must buy two, three or four toys depending on the level of challenge.
They have to spend the whole 20p and it's a great way to practise their addition skills and knowledge of number bonds, as well as being a lot of fun!
Which toys did your child buy with their 20p?
---
Week 12 - Letters to Santa, exploring candles and making Deva lamps
The children were amazed and astounded this week when Santa Claus took the time to chat to us via a video link from the North Pole!
He was worried that not all of the children had sent him their Christmas letters yet, so we set about writing them in class.
The children not only had to tell Santa what they'd like for Christmas, they also had to tell him about some of the things they'd done this year that they were proud of.
Ask your child what they put in their letter to Santa and if they can remember what Santa said to the class.
This half term's R.E. topic was split into two parts.
In our first session, we explored the symbol of the candle and thought about what it can mean.
We talked about how it can be used in celebrations - such as on a birthday cake - but also how it can be used to help us remember people or events from our past.
The children made their own paper candles to remember somebody special and we also looked at the advent ring and how the candles symbolise hope, faith, joy and peace.
Can your child tell you who they made a candle for this week?
Having explored the symbolism of candles in Christian culture, we then compared it to how Hindus use candles and flames in their religion.
We looked once again at the story of Diwali and how Hindus light candles to celebrate the triumph of light over dark.
We even made our own deva lamps out of clay and decorated them with bright colours and ornaments.
Deva lamps are lit by Hindus not only to celebrate Diwali but also in the hope that Lakshmi, the goddess of wealth, will bless them with good fortune.
How did your child decide to decorate their deva lamp?
---
Week 11 - The Green Cross Code, addition and subtraction and amazing auroras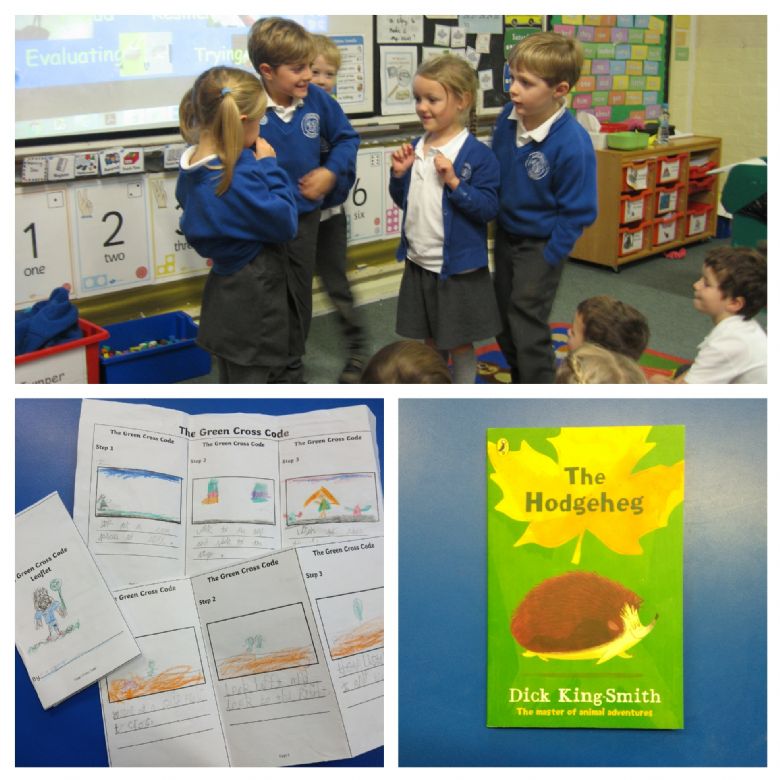 It was Road Safety Week this week, which tied in nicely with our literacy work around 'The Hodgeheg' by Dick King Smith.
We talked about how to stay safe when crossing the road and learnt about the Green Cross Code, even creating our own Green Cross Code information leaflets containing the five steps to safely getting to the other side of the street.
The children also worked together to create and perform short plays about the possible dangers of crossing the road and why it's important to always follow the Green Cross Code.
Can your child tell you what they put in their leaflet?
In Maths, we've been continuing our work on addition, subtraction and place value.
Alongside colour-coded calculation sheets to solve in their books, the children have also been doing a variety of activities and challenges across the week.
These have ranged from solving shape-based sums and position and direction-based codes, to taking their teacher on at a game of Top Trumps.
It's all designed to increase the children's confidence with numbers and their ability to reason the relative value of different numbers using their knowledge of place value.
Maybe you can play Top Trumps at home. Can your child explain which is the largest number and why?
Our topic work transported us to the North and South Poles this week as we explored the Aurora Borealis (Northern Lights) and the Aurora Australis (Southern Lights).
The children painted their own auroras as well as learning about where we can see them, why scientists have been studying them using satellite images and how they are caused by solar winds coming from the sun.
We couldn't take the whole class to the North Pole to see the Northern Lights for themselves. However, we did manage to bring the Northern Lights into the classroom using a VR headset, allowing the children to experience the magic of the Aurora Borealis in 360 degree virtual reality.
Can your child describe what they saw when they wore the VR headset?
---
Week 10 - Anti-bullying week, jolly hockey sticks and computational thinking
It was anti-bullying week this week, which is particularly important to Langrish as a Rights Respecting school because Article 19 of the UNCRC states that children have "the right to be protected from being hurt and mistreated, in body or mind".
The children all took part in a drama workshop, where Laura from Perform taught them all about being confident in themselves and using their voice and body language in a positive way.
We then looked at this year's anti-bullying theme of 'Different but Equal' by celebrating our differences and comparing ourselves to pieces of a jigsaw puzzle - all individual but each a vital part of a bigger picture.
Can your child explain to you what bullying is and what they can do if they see or experience it?
In P.E. we've been practising our hockey skills out in the playground.
We started with the basics of holding the hockey sticks correctly, and soon moved on to controlling, dribbling and passing the ball between partners.
Finally, we had some relay races in which the children had to dribble the ball between cones before passing to the next player in their team.
The children have loved learning these skills and get very competitive during the relay races!

You don't need computers to teach ICT, and to prove it the children were exercising their computational thinking skills this week with some puzzles and problems.
They required the children to use strategies such as breaking problems down, thinking through logical sequences and debugging algorithms.
The class worked together in groups and really enjoyed the challenge of solving these problems before sharing their solutions with the rest of the class to see if they agreed.
Ask your child which problem they solved and how they came to the solution.
---
Week 9 - Polar puzzles, paper plates and Christmas cards
This week, we were trying to work out why the Polar regions are so cold.
Using the incredibly hi-tech combination of an inflatable globe, a shoelace and a hair dryer, we were able to demonstrate the way in which heat energy from the sun reaches the Earth.
We learnt about direct and indirect sunlight, and all of the children got to hold the whole World in their hands and explore which areas were warmest and which were the coolest.
Can your child explain what they learnt from the experiment? Maybe you could even try it yourself at home.
Christmas came early this week when the FoLS brought in this year's Chrismas card designs for us to paint.
The children loved making their Christmas stars as colourful as possible and can't wait to see what they look like when they're printed up as cards.
We even had some Christmas music on and a crackling fire blazing away on the big screen to get us fully into a festive mood.
You'll soon be able to order Christmas cards featuring your child's design so look out for more details coming home soon.
In maths, we continued our learning around shape and position through a range of activities including 3D shape sorting and the paper plate challenge.
In the sorting activity, children had to place as many 3D shapes as they could into the correct trays based o how many faces they had.
They also took on the paper plate challenge, cracking the secret code words by turing the pointers clockwise or anti-clockwise by a quarter, a half or three quarters.
Can your child remember which words they managed to decode? What ways of practising clockwise and anti-clockwise turns can you think of at home?
---
Week 8 - Super shapes, spooky tales and show-and-tell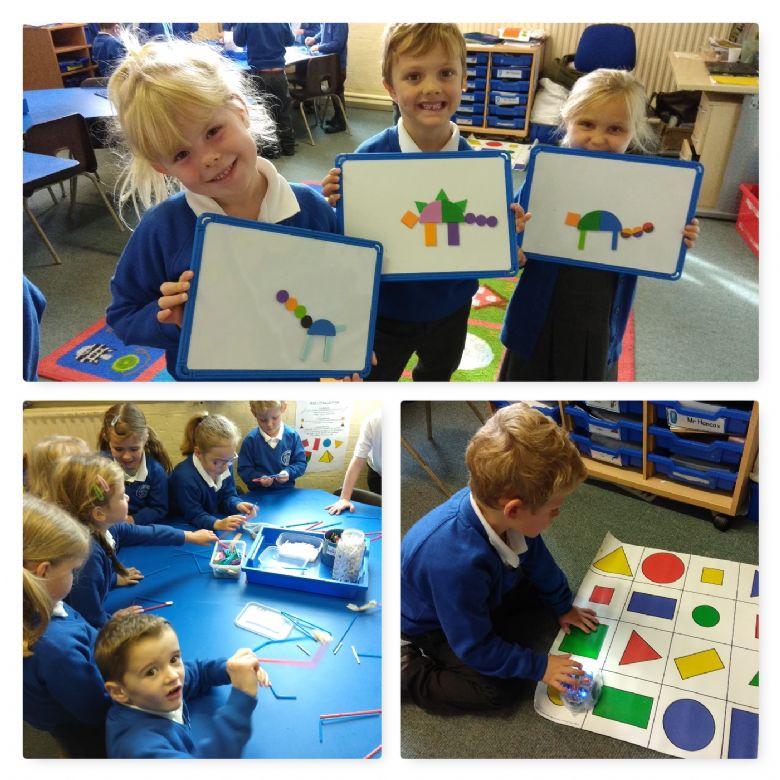 In maths this week, we've been learning about 2D and 3D shapes.
The children have been exploring the names and properties of many different shapes through a variety of tasks and activities. These have ranged from making shape dinosaurs and building shapes out of straws and lollipop sticks, to using a Beebot shape mat and solving a shape-based word search.
We also went on a shape hunt around the school to see which shapes we could find in our everyday environment.
Which 2D and 3D shapes can you and your child spot around the house?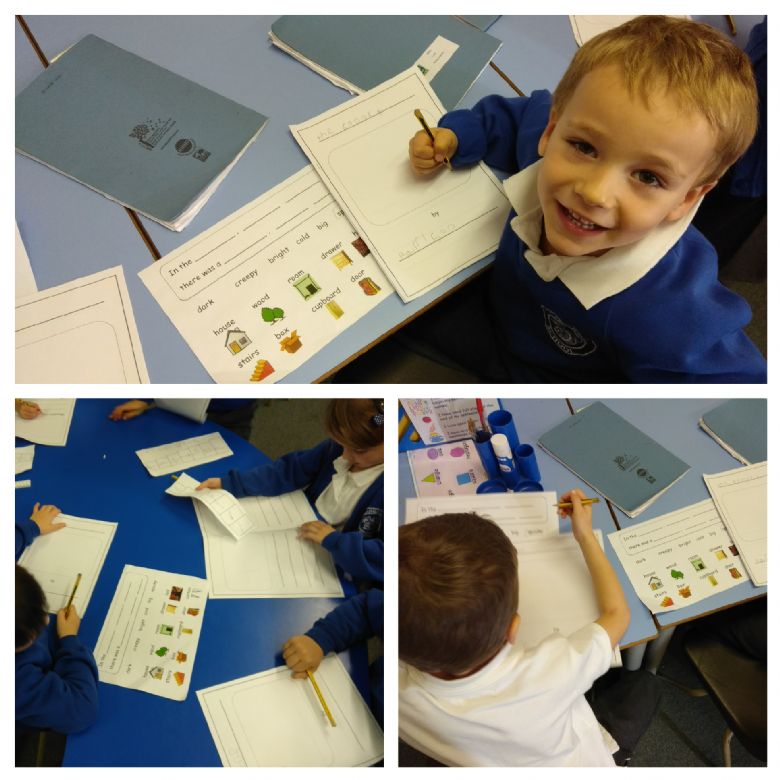 With Halloween on Wednesday, our writing took a spooky turn this week when we wrote our own creepy tales.
First, we went into the copse to read 'A Dark, Dark Tale', and even found a dark, dark box hidden in the leaves with some mysterious contents!
Inspired by that, we then wrote our own versions of 'A Dark, Dark Tale', with settings ranging from vile villages and terrifying towns to a spooky schools and creepy classrooms.
We had a great time being storyteller, authors and illustrators, so why not ask your child if they can tell you their spooky story...but don't have nightmares!

Though not in the official timetable, children are welcome to bring items in for show-and-tell which we takes place - time permitting - at the end of the day.
It can be anything from some home learning the children are particularly proud of to something interesting they've found in the garden.
This week, we've been treated to some stories the children had written together, a bird's nest one child found at her house, and a performance by two girls who've been learning the ukulele.
It's a great way for the children to build their confidence, share their interests and exhibit work or talents their particularly proud of.
---
Week 7 - R.E., weather presenters and making tornadoes
Our R.E. unit this half term was all about the concept of God.
It's a big subject for little children, so after sharing and discussing our own individual ideas of what God means to us, we were lucky enough to have the Reverend Ball pop in to answer any questions the children had about the Christian idea of God.
Later on, we compared the Christian concept of God to that of the Hindu faith, learning about many of the different Hindu gods and what they represent.
Which of the Hindu gods does your child remember?
English, Geography and our weather topic combined this week as we wrote and performed our own UK weather forecasts.
The children not only had to point out England, Scotland, Wales and Northern Ireland on a map, they also had to explain what the weather would be like in each part of the UK.
The story map we created together helps them remember what each sentence will say - can your child use the story map to read you their weather forecast?
Talking of the weather, we were also learning about extreme weather conditions as part of our 'Weather Around the World' topic this week.
We heard about floods, drought, heatwaves and blizzards, as well as hurricanes and tornados.
We even created a tornado in a jar with just some water, a squirt of washing up liquid and lots of vigorous swishing!
Maybe you and your child can try this experiment at home and make your own tornado.
---
Week 6 -Firefighters, Diwali dancers and making rainbows
We've had lots of visitors in Year 1 this week.
On Monday, the Hampshire Fire and Rescue Service caused great excitement by bringing a fire engine to school for us to look at!
We got to sit inside, switch on the blue lights and sirens, and even squirted the hose to put out a make-believe fire.
As well as showing us around their fire engine, they also taught us all about how to stay safe both at home and when we're crossing the road.
Can your child remember any of the rhymes we learnt to help us stay safe?
On Wednesday, West End in Schools came to Langrish and gave us a Diwali dance workshop.
We heard the story of Rama and Sita before splitting into groups and retelling the story through drama and traditional dance.
The children loved playing their different roles and really got into the story.
Can your child remember the story of Rama and Sita or which roles they played? Maybe they can teach you some of the dance moves they learnt.
As part of our weather topic, we were learning about rainbows this week.
We talked about when rainbows can appear and how the raindrops split white light into the seven different colours we can see in a rainbow.
We also created our own rainbow in the classroom by spraying a fine mist of water into the sunlight coming through the window – can you see it in the picture?
Ask your child about the weather conditions that can cause a rainbow. Can they remember the seven different colours that make one up?
---
Week 5 - Harvest assembly, handsome hedgehogs and programming Beebots
Thank you to everybody who came along to our Harvest Festival assembly this week.
It was wonderful to see so many people there and also to see the number of donations that were brought in for the Petersfield Food Bank.
We shared our favourite fruits and vegetables, read some Harvest acrostic poems, told the story of 'The Enormous Turnip' and shook our bushy tails to 'The Grey Squirrel Song'!
It was a lovely opportunity so share our learning about the Harvest Festival and we hope you enjoyed watching our assembly as much as we enjoyed performing it!
In ICT we're learning about lists of instructions - algorithms - and how they can be used to program simple devices such as Beebots.
The children created their own Beebot worlds - including a home, a school and a park - before undertaking a series of challenges, programming their Beebots to travel to and from different points within their Beebot worlds.
If their routes don't work first time, the children have to work out where their algorithm went wrong and debug their program.
If your child is enjoying programming the Beebots, why not try downoading the free Beebot app. That way they can practise their programming skills at home and try lots of different challenges.
As well as all our English work around the Harvest Festival we also got crafty, creating these handsome hedgehogs out of salt dough and decorating them with eyes, noses and prickly spines.
They came in all shapes and sizes as the children were encouraged to get messy and try different materials in order to create their own, individual hedgehog.
Look out for hedgehogs in your garden at this time of year and ask the children if they can remember any of the hedgehog facts they learnt as they were making their creations.
---
Week 4 - Experiencing autumn, e-safety and building our maths skills
We were writing about autumn this week, so we started off by going outside to experience the season first hand.
The children had to make a note of what they could see, hear, feel and smell now that the days are getting colder and the evenings are getting darker.
We then wrote about what autumn means to us, with ideas ranging from picking and eating juicy blackberries to skipping our way through piles of fallen leaves.
What's your child's favourite feature of autumn?
We met Smartie the Penguin this week who helped us learn about using the internet safely.
We talked about how to stay safe when we're online and the children came up with some simple rules to follow which we put into our Year 1 E-Safety Charter.
The charter is attached to the bottom of this page and will also be coming home with the children this week.
In maths this week, the children were given a number of challenges to practise their counting in twos.
They had to build their own two times table out of LEGO (and take a photograph of it); programme a Beebot to travel to the correct doubled dice answer; and match up the pairs of shoes to the correct number card.
We were also learning about odd and even numbers, and there's a particular way of telling if a number is odd or even using Numicon - can your child explain how to do it?
---
Week 3 - Keeping active, planting beans and meeting the Big Bad Wolf
We started our science work on plants this week by learning about what they need in order to grow.
Hearing all about it is one thing but we decided to investigate for ourselves by growing our own beans in the classroom.
We'll be keeping an eye on them over the next few weeks and recording their progress in our bean diaries.
Ask your child what they did in order to grow their own bean and what their bean will need over the next few weeks so it can thrive.
We never sit still for long in Year 1 and find any excuse to get up and get moving.
From dance routines between lessons to story-based yoga sessions in the classroom to impromptu conga lines during music lessons (this week to 'The Fresh Prince of Bel Air' by Will Smith), the children love being active and we're keen to encourage that as much as we can.
Which is your child's favourite song to dance to? And what do they really think of their teacher's dancing?
In English this week, we heard the story of 'Little Red Riding Hood' and used it as an opportunity to go on an adjective hunt in the copse.
The children had to find adjectives written on sticky notes and stick them on to whichever character they thought they applied to.
Later on, the Big Bad Wolf sent a text explaining he'd changed his ways, become a vegetarian and wanted the chance to convince the children he wasn't that bad at all any more.
Did your child believe the Big Bad / Good Wolf? What adjectives would they use to describe him now?
---
Week 2 - Place value, knowing our rights and an enormous crocodile!
In maths this week, we were learning about place value - which digits in any given number represent tens or ones - and identifying one more or one less than any given number.
We were also practising our counting by building Lego towers and making play-dough teeth for The Enormous Crocodile, and solving number sequences by filling in the missing numbers.
Ask your child which activities they enjoyed the most this week.
As a Rights Respecting school it's important that the children are involved in creating their class charter, containing the rights they think are most important to them.
We discussed the most relevant articles on the Unicef Convention on the Rights of the Child and drew some pictures to illustrate the ones we thought were most important before choosing which ones we thought should go on our charter.
You can see which ones we chose to include in our class charter attached at the bottom of this page.
It was Roald Dahl day on Wednesday and we celebrated by having a week of activities based around 'The Enormous Crocodile'. We even had a visit from the Enormous Crocodile himself which sparked numerous sightings around the school!
We came up with lots of different adjectives to describe the characters and even wrote a new ending for the story which was much kinder to Enormous Crocodile than the original ending which sees him sizzle up like a sausage.
The children talked about which Roald Dahl stories they loved and we even listened to a clip of the man himself being interviewed by some primary school pupils.
Can your child remember any of the Enormous Crocodile's secret plans and clever tricks?
The Enormous Crocodile visiting the classroom!
(Don't worry - he turned out to be very friendly and only wanted to eat our left-over fruit!)
Week 1 - Welcome Back!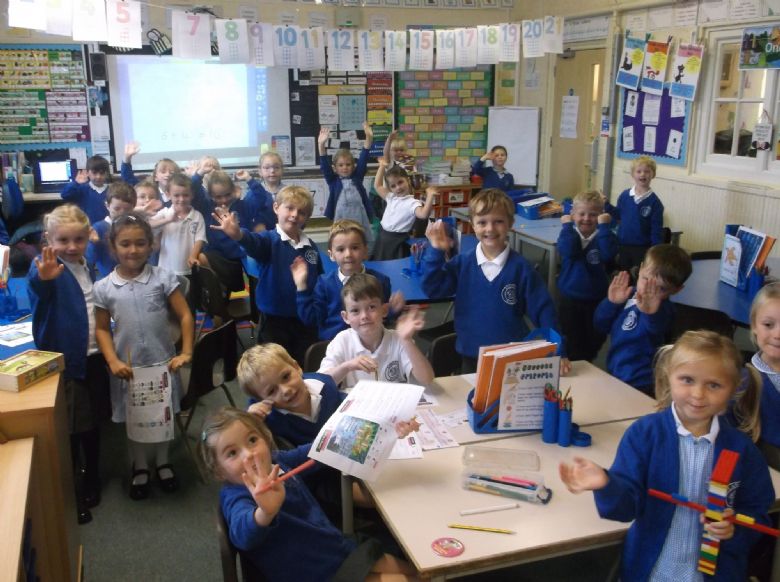 ---
Welcome back! I hope you all had a wonderful summer holiday with plenty of fun and relaxation. Year 1 have spent this week settling into their new classroom and, as you can see, have made themselves very much at home!
We've got plenty of exciting things planned for the coming year so keep watching our weekly website updates to see what we've been up to.
Meet the Teacher
Thank you to everybody who attended the most recent Meet the Teacher afternoon. One of the main topics we discussed was safeguarding and in particular the importance of keeping children safe when using the internet. You can visit the safeguarding section of our school website by clicking here and get more information and advice on internet safety via the CEOP thinkuknow website.
Curriculum overviews can be viewed below by clicking on the attachments.