Mr Hancox, Mrs Ponting and Mrs Webber
Welcome to the Year 1 class page. Look around for half-termly overviews of our curriculum coverage and updates on what Year 1 have been up to recently, including details on our current learning.
Week 39 - Enjoy the summer break!
We've had an amazing year this year, so it just remains to say a big 'Thank you!' for all your support and to wish you all a fantastic summer break. I hope you get to relax, recharge and - most of all - have lots of fun!
Week 38 - Sports Day, creation stories and wonderful whirligigs
We got competitive on Monday when the whole school took to the playing field for our inter-house Sports Day.
In the morning, it was the Infants' turn, and their running, throwing, dodging, hopping and searching skills were all put to the test across a variety of sporting challenges.
Parents and families were invited to stay for a wonderful picnic lunch, after which the Juniors took to the field for their events, and at the end of the afternoon we all got back together for the results.
What was your child's favourite Sports Day event?
Our World Faith & Philosophy topic this year was all about creation stories.
We began by examining what it means to create something; first by making our own creations out of modelling clay, then by going outside to see what natural creations we could find.
We then heard both the Christian and the Hindu stories about how the world and everything in it was created, discussing the similarities and differences between the stories, as well as why different cultures have their own explanations for creation.
Can your child tell you any stories about how the world was created?
As part of our 'Toys Through Time' topic, we made our own versions a toy that's been around for over 2500 years: the whirligig.
The children decorated wooden discs with their own colourful designs, using patterns that would be particularly effective when their whirligigs were spinning.
Once dry, they then threaded string through the two small holes in the centre before moving on to the trickiest part of all - mastering their whirligig spinning technique!
How long can your child keep their whirligig spinning for?
---
Week 37 - Enterprise, saving lives and musical animals
It was Enterprise Week this week, so Year 1 went into business manufacturing fruit kebabs.
We began with some market research, asking a cross-section of our potential customers what their favourite fruits were so we could include them in our product.
The marketing department then sprang into life, creating colourful and eye-catching posters alongside a TV advert starring some very speedy teddy bears!
Finally, our shop opened to the public and we sold out of fruit kebabs with 30 minutes, making an impressive £56 profit! Well done, Year 1!
On Tuesday, the children were learning how to save lives with the team from Saving Lives Together.
They found out what to do if someone has an accident, how to check if somebody is breathing and the number to dial to call an ambulance.
They also learnt how to administer CPR by practising on their teddy bears and keeping to the rhythm of 'Baby Shark'.
The children were also shown how to use one of the portable defibrillators that can now be found in many public spaces around the country.
Can your child demonstrate CPR to you using their teddy bear?
We had a musical day on Thursday when we explored Camille Saint-Saëns' 'The Carnival of the Animals'.
In the copse and out on the playing field, we listened to the different movements and the children tried to guess which animals each piece represented, sketching it in their art books as the music played.
We then talked through the musical clues, thinking about how big or small the animal might be, how it might move and what noises it might make.
After lunch, the children even had a go at creating their own musical pieces inspired by 'The Carnival of the Animals'. Which animal did your child choose to represent through music?
---
Week 36 - Marvellous money, watery research and something fishy
We moved onto money in maths this week as the children got to grips with the full range of British coins and notes.
In a cornucopia of currency, the children began by sorting pictures of all the different coins and notes into the correct order from least valuable to most valuable.
They then practised using them by shopping in our toy shop, as well as playing coin matching games, solving money grids and even finding out how many different ways they could make 13p.
Can your child name all the different coins and notes we have in Britain?
Research was required in science this week as the children were tasked with deciding which material would be best for making a toy boat.
They tested wood, plastic, cotton wool, paper, card and rock, timing how long each one could stay afloat while supporting the weight of a wooden block.
We planned the experiment first, deciding how best to test our materials, and after gathering the data, the children compared notes and decided on the best material for the job.
Ask your child which material they plumped for and why.
Our English unit this week was all based around a short film called 'Something Fishy'.
After watching the film, the children split into groups to recall, sequence and re-enact the story through drama and role play.
We then worked on our sequencing words, adjectives and verbs, as well as evaluating sentences to make sure they contained all of our Year 1 non-negotiables.
With all their skills and elements in place, the children then wrote their own retelling of this fishy tale.
Can they tell you the story of 'Something Fishy'?
---
Week 35 - Magic Boxes, revealing research and a terrific toy trip
We've been getting creative in English this week, all in the name of poetry.
The children have been working on their own versions of the poem 'The Magic Box' by Kit Wright.
Using poetic language, including onomatopoeia and alliteration, they not only got to write a poem about a magic box, they got to create their own magic box in which to keep their poem too.
Ask your child how they decided to decorate their magic box and what wondrous items they put inside it in their poem.
In history, we used a variety of sources We have started to research interesting information about how toys have changed through time.
The children used books, fact sheets and the Internet in order to find out as many fascinating facts as they could. They then noted them down in their books and could also share them on the whiteboard for the rest of the class to enjoy.
Whilst researching, we also talked about using the Internet safely and the importance of checking information using multiple sources to ensure its accuracy.
What fascinating facts did your child find out about toys?
Thursday brought our trip to the SEARCH Museum in Gosport for some historical research of a more hands-on variety.
The children got to play with traditional wooden toys; dress up as historical characters to find out who would have played with Knucklebones, Diabolos or Tiddlywinks; played Hopscotch, Shove Halfpenny and Bagatelle, made their own Ball & Cup game and even found time to bounce around on a Space Hopper and play Toy Snap!
It was a wonderful day; ask your child which part of their trip they enjoyed the most.
---
Week 34 - Telling the time, a timeline of toys and charity day
We turned our attention to time this week as the children learnt how to tell the time to the hour and half hour.
Among our maths activities was a school-wide clock hunt; five clocks had been hidden around the school and the children had to track them all down and identify what times they were showing.
They also made their own paper plate clocks, decoded secret messages by turning clock hands to the correct time and played a clock matching game on the class iPads.
Can your child tell you what the time is right now?
Time played a role in our topic work this week as we looked at how toys have changed since the 1960s.
We created a timeline of historical events from 1960 to 2019, then the children were presented with a range of different toys and had to figure out where they might go on our timeline.
We had everything from Troll Dolls, Space Hoppers and Twister to Transformers, PlayStations and Hatchimals.
Can your child tell you some other toys on our timeline? Which ones have been around for decades and which ones are the latest craze?
It was Charity Day on Friday and the Year 6 children had organised some fantastic stalls for the children to spend their money on.
They included a raffle and a cake stall; a recycling quiz and a 'Beat the Goalie' competition; and a star jump challenge and a loom band stall.
The children had an amazing time (and a fair amount of sugar!) and this year the children have chosen to donate all their takings to Cancer Research UK.
Ask your child which stalls they chose to have a go on.
---
Week 33 - Position and direction, terrific toys and how to be healthy
In maths this week, we've been looking at position and direction.
Through a wide variety of activities, the children have been honing their knowledge of clockwise and anti-clockwise turns; quarter, half, three-quarter and whole turns; and all sorts of other directional and positional language.
Their challenges have included programming Beebots, solving secret codes and following a pirate's treasure map.
Can your child tell their left from their right and clockwise from anti-clockwise?
We mixed science and topic this week to We also explored a range of toys through the materials from which they were made.
The children got to play with all sorts of things from yo-yos, dolls and space hoppers to puppets, LEGO bricks and train sets.
We then talked about the materials the toys were made from and why we thought their manufacturers had chosen those particular materials as the best ones for the job.
The children also discussed which toys they thought were modern and which were older.
Which toys did your child enjoy playing with?
Our DT unit this half term is all about salads and smoothies, so we began by talking about different foods and which ones we thought were healthy.
The children then designed their own healthy meal, trying to include a good balance of ingredients from a variety of different food groups.
We then talked about the importance of a healthy lifestyle, and how exercise and healthy life choices alongside a balanced diet can help us to stay fit and active for as long as possible.
Ask yor child what they included in their healthy meal.
---
Week 32 - Fabulous friendships, remarkable recipes and dazzling dancing
We spent Monday of this week concentrating on kindness, respect and friendship.
We began by talking about what to do and who to tell if anybody is ever unkind to us. In the playground, we marked out three zones, then heard different scenarios and decided if the behaviour described was rude, mean or bullying by running over to the appropriate area.
Next, we discussed playtimes, talked about what makes a happy playtime, and what to do if we think a game is getting out of hand or becoming a bit too rough.
Finally, we explored what makes a good friend through role-play and discussion. Which qualities does your child think are important in a good friend?
We continued our friendship theme in English this week when we all created our own recipes for a perfect friendship.
We began by describing the qualities we look for in a good friend, with every child choosing a quality that they thought was important, writing it on a piece of paper and dropping it into our friendship mixing bowl.
Next, we chose our amounts (a handful / a sprinkling / a dollop) and some good 'bossy verbs' (chop / mix / stir) to make our recipes sound even more professional.
What did your child put into their perfect friendship recipe?
We were incredibly lucky on Thursday afternoon when the sun shone down on our May Day celebrations.
We've been busy practising our country dance for a couple of weeks now and the children have loved being outside, skipping up and down and swinging each other around by the elbows (in an elegant and controlled manner of course!)
They gave a fantastic performance for parents and families and definitely earned their cake and squash treat afterwards. A wonderful way to end this half term.
---
Week 31 - Special books, making maps and a wonderful walk
Our World Faith and Philosophy day this half term was all about special books.
We began by talking about what specialness means and if we had any books that were special to us.
After that, we looked at the Bible, reading the story of Moses in the bulrushes and discussing why the Bible is a book that is special to Christians.
In the afternoon, we turned our attention to Judaism, learning about the Torah and why it is special Jews.
Can your child tell you the similarities and differences between the Torah and the Bible?
In geography this week, Year 1 became a class of cartographers when we had a go a map-making.
The children were challenged to create a map of the school, so we began by going for a walk around the building and grounds, making notes on where all the classrooms and learning areas are in relation to each other.
They then put all that information into their map outlines, ready to colour in and add icons and a key to next week.
Maybe your child could try drawing a map of your home.
Our science lesson provided another great excuse to get out into the sunshine on Wednesday.
As part of our year-long study on seasonal changes, we went out into the school grounds to see what had changed now that spring is in full bloom.
The children made notes about things they could see, hear, feel and smell, and we talked about how different it felt from our last walk a few months ago when we were all wrapped up in coats, hats and gloves!
Ask your child what they noticed about spring around Langrish.
Week 30 - Superb surrealism, rip-roaring reporting and an amazing assembly
In art, we continued our look at the work of Spanish artist Joan Miró, this week turning out attention to his more surrealist pieces.
The children loved looking at his paintings, spotting recurring themes and motifs such as animals, geometric shapes, bold colours and parts of the body.
Inspired by Miró's work, the children then created their own surrealist pictures, attempting to incorporate the sorts of things Miró included is his paintings.
Ask your child what they put into their surrealist artwork.
With the help of the class iPad and a piece of green material, the Year 1 classroom was transformed into a news studio this week as the children became news reporters.
Their stories were all about dragons being seen around Petersfield, with the children including details that answered the six golden questions of news reporting: what, when, where, who, how and why.
Once they'd finished, the children also got to use the iPad to see their dragon colouring come to life using the augmented reality app Quiver.
Can your child tell you what details they included in their dragon news report?
It was Year 1's learning assembly this week, and a wonderful opportunity for everybody to look back on their highlights of the year so far.
The children chose their favourite themes, topics and activities from the past 30 weeks and did a wonderful job of sharing their learning with family members and the rest of the school.
At the open classroom events afterwards, the was even more opportunity to see what the children have been up to.
A huge thank you to everybody who was able to come along and share our learning.
---
Week 29 - Daring division, curious continents and anyone for tennis
In maths, we followed up our multiplication work from last week by looking at multiplication and division.
We talked about dividing whole numbers up into equal groups, and the children had plenty of practise during their challenge time throughout the week.
Two of this week's challenges involved arrays - rows and columns that can represent both multiplication and division calculations.
Can your child work out the four calculations we could make out of the array in our picture here?
We began our topic work this week with a single question: where do you live?
We talked about all the different ways this deceptively simple question could be answered, ranging from a specific house on a specific street to a town, a county, a country, a continent, a planet, a solar system or even a universe.
We looked at a globe and the children explored the continents and oceans that make up our planet, eventually homing in on Europe, the UK, Hampshire, Petersfield and eventually satellite images of our own classroom on Google Maps.
Can your child remember the names of the continents and the oceans?
This term, the children are lucky enough to be getting professional tennis coaching as one of their P.E. sessions.
They began this week by getting used to the weight and feel of the tennis ball and racquet before testing their balance and control with some simple exercises and drills around the playground.
Over the coming weeks, the children will be learning all the skills and techniques they need to become budding Wimbledon champions!
Ask your child if they enjoyed their first tennis session.
---
Week 28 - Fabulous fire-breathers, magnificent multiplying and marvellous materials
St George's Day was a perfect time to start this term's work on dragons. We read the book 'Tell Me a Dragon', and the children discussed which of the dragons they liked best and why.
After that, there were strange goings on in the copse when a dragon was apparently caught on camera. The children were sent in to investigate and found three dragon's nests complete with eggs!
The children were each given a dragon's egg to look after - although they can take up to 100 years to hatch!
What kind of dragon does your child think will hatch from their egg?
In maths, we've been looking at multiplication and learning our 2, 5, and 10 times tables.
As usual, the children have lots of challenges to solve using a variety of practical methods in order to reinforce the concept of multiplication.
These include solving problems using play-dough, a Numicon track, and using paper plates to create equal groups of a specific number.
We've also talked about representing equal groups as arrays and using the commutative law to simplify some calculations.
Can your child count in 2s, 5s and 10s?
Our science topic this term is 'Everyday Materials'.
In our first lesson, the children explored a whole range of objects from house bricks and horseshoes to musical instruments and magnets.
We talked about what they were made from and how there's a difference between the object itself and the material from which is it made.
The children then sorted all of their objects into groups according to their base materials - either wood, metal, rock, plastic or glass.
Have a look around your house. Which everyday materials can you spot?
---
Week 27 - Classifying animals, powerful protests and perfect playgrounds
We took advantage of some beautiful weather to head outside for some science learning this week.
The children had to classify animals according to their diets, using pictures of the animals alongside pictures of what they eat.
They then used some overlapping hoops to create a Venn diagram, sorting the animals into three groups: omnivores, herbivores and carnivores.
Can your child tell you which animals were in each group, or explain the special trick for remembering what omnivores, carnivores and herbivores consume?
Sadly, we weren't so lucky with the weather when we went on our Great Fire of London protest march!
As this term's topic drew to a close, we talked about Sir Christopher Wren's plans to rebuild the fire-devastated city. Drawing on our knowledge of how the fire started and spread, the children then decided what new laws should be brought in to ensure such a catastrophe never happened again.
They then designed banners to petition King Charles II and marched around the playground chanting "Bricks Not Wood!", "Give Us Gaps!" and "Cover Your Candles!"
Which law did your child think would make post-1666 London a safer city?
Talking of playgrounds, Thursday was our Design & Technology day and the children's task was to design and build a piece of playground equipment.
We began by talking about the kind of things you might find in a playground, exploring which materials were used to build each one and why they might have been chosen.
The children were then let loose to build their own models with as many different building materials as they could wish, coming together at the end of the day to evaluate their own models; thinking about what worked well and what they might do differently next time.
What did your child use to build their model and why?
---
Week 26 - Excellent exhibits, dazzling dances and tilting tins
Over the past few weeks the children have been working incredibly hard on their home learning projects, and on Wednesday afternoon the fruits of their labour went on show as we threw open the doors of our Great Fire of London Museum.
There were paintings, posters, diaries, 3D models of houses and cathedrals made out everything from wood and cardboard to LEGO, and even a life-sized replica of Samuel Pepys' head!
It was wonderful that so many of the children's families could come along to see what they've been up to, and I hope you had as much fun making your projects as I've had admiring them!
The Great Fire of London has also been playing a part in our P.E. lessons over the past few weeks.
The children have been performing a dance and drama unit in which they've been both the fire and the firefighters as the Great Fire of London begins, takes hold of the city, gradually dies down and is finally extinguished.
They've worked both individually and in small groups to tell the story of the Great Fire of London through music and movement.
Can your child show you any of the actions they've been practising?
Did you know that if you put precisely 100ml of water into an empty soft drink can you can balance it on its edge and nudge it to make it spin around?
That's one of the challenges the children have undertaken this week as we've continued to explore volume and capacity in maths.
It was a fantastic way to get the children thinking about standard units of measurement as well as encouraging the precision expected of our budding mathematicians.
Why not get your child to demonstrate this trick at home.
---
Week 25 - Amazing animals, marvellous measuring and a warm welcome
A very ssssssspecial guessssssssssst in the classsssssssroom this week!
On Monday, we were lucky enough to have some visitors from Bird World - and they were no ordinary visitors...
The children met a chinchilla, a tortoise, an owl, some stick insects and even a royal python called Ernie!
It was an amazing experience, and because we're studying animals in science the children were able to talk about how we could classify the animals by what they ate as well as by which animal families they belonged to.
What facts can your child remember about any of our animal guests?
In maths, we've been exploring weight and mass as well as capacity and volume.
The children have been estimating and measuring in both standard and non-standard units, and their challenges have included cracking secret codes, filling containers with different amounts of water and using a balance scale to work out how many wooden blocks weigh the same as their maths book.
The children have loved all the practical challenges - especially anything that involves getting wet!
What was your child's favourite activity this week?
Our World Faith and Philosophy session this week focused on the subject of 'welcoming'.
We discussed what it means to welcome somebody and why it is important to make people feel welcome. We also talked about times that we'd been made to feel welcome and how we might feel if were were made to feel unwelcome.
We then heard the story of Palm Sunday and talked about how Jesus had been welcomed into Jerusalem by a crowd of excited worshippers as the beginning of the Easter story.
Can your child tell you what welcoming means to them?
---
Week 24 - Rocket mice, superheroes and Maths Day
5...4...3...2...1...blast off for the rocket mice!
It Was British Science Week this week, so to get the children excited about science we decided to make some rocket mice!
First, the children made a paper cone and decorated it so it looked like a (very colourful!) mouse.
Next, it was time to place the mouse onto the rocket launcher (an empty plastic bottle), count down from ten and then blast off!
It was brilliant fun, and afterwards we talked about what made the mouse take off and also what force made it fall back down to the ground.
Ask your child about the forces involved.
On Thursday, we had a visit from Perform who turned the whole of Year 1 into planet-saving eco superheroes!
First, the children had to pass their superhero skills test before being set the important mission of helping a wasteful, polluting super-villain see the error of their ways.
The children span, danced and flew their way through their secret mission, and finished off by making a personal pledge to continue being eco superheroes by adhering to the three Rs: Reduce, Reuse and Recycle.
Ask them how they managed to complete their secret mission.

Tuesday was Maths Day across the whole school, and Year 1 enjoyed three very different maths lessons with three different teachers.
Miss Parker read them "The Centipede's 100 Shoes" before helping them practise counting in 2s using lots of pairs of centipede shoes.
Back in Year 1, we practised reading and ordering numbers using activities based around "One Fish, Two Fish, Red Fish, Blue Fish".
And with Mrs Cave, the children heard the story of "The Greedy Triangle" before exploring 2D and 3D shapes.
Ask your child which stories and activities they enjoyed the most.
Week 23 - World Book Day, historical investigations and joyous gingerbread
We celebrated World Book Day on Thursday with a detective-themed day across the school.
It began with the discovery of a crime; Humpty Dumpty had been pushed off his wall! The children then had to identify the five possible suspects from clues scattered around the hall.
Suspects identified, they then worked together to create 'Wanted' posters in order to gather more information on the possible culprits.
Finally, further clues discovered throughout the morning eliminated the suspects one by one until only one remained.
Ask your child who pushed Humpty Dumpty!
In history, we were exploring the causes of the Great Fire of London.
We all know how the fire started, but what caused it to spread so voraciously and destroy so much of the city?
To find out, the children examined contemporary accounts of the fire written by Samuel Pepys and John Evelyn as well as examining drawings and paintings of the events that unfolded.
The children were encouraged to think critically about the sources, forming their opinions by comparing all the evidence in order to find common strands.
What conclusions did your child come to?
In English, we've been looking at 'The Gingerbread Man'. Having read the original story last week, it was time for the children to put their own spin on this traditional tale by making small (or large) changes to the story and writing their own version.
And as well as creating their own gingerbread stories, they also got to create their own gingerbread biscuits! Using a traditional recipe, the children measured, mixed, rolled and cut their ingredients into gingerbread men, women, stars and even teddy bears.
Luckily - unlike the stories - there were no gingerbread escapees! Or were there...?
---
Week 22 - Changes, measurements and tackling plastic
Our latest World Faith and Philosophy topic looked at the subject of change.
We started off by talking about what change was, whether it was s good thing or a bad thing and why it was often necessary. The children then sorted some pictures into items that did change and items that didn't change before writing about things that they'd like to change themselves.
We then looked at some stories from the Bible in which Jesus changed the lives or situations of some of the people that he met.
Can your child remember which Bible stories we heard?
In Maths, we started looking at measurement, using rulers to measure a number of items in centimetres as well as exploring the concepts of tall, short and long.
The children undertook a variety of challenges, including building and measuring LEGO towers and Marble Run constructions, making Play-Doh sausages of specific lengths and going on a scavenger hunt around the classroom to find different-sized objects.
The children also measured their own heights and discovered which animals they were taller or shorter than.
Can your child remember their height?
Thursday was our single-use-plastics-free day at school, continuing our work on the Global Goal of looking after "Life Below Water'.
We talked about what different types of plastics there were and why it was the single-use plastics that are causing so much pollution on out planet, particularly in the sea.
Through a variety of activities, we looked at the little changes we could make in our everyday lives to cut down on the amount of plastic we throw away, and every pupil wrote their own #PassOnPlastic pledge to do their bit.
What was your child's pledge?
---
Week 21 - Take One Picture
This week, we've been exploring 'The Castle of Muiden in Winter' by Jan Abrahamsz Beerstraten as part of the National Gallery's 'Take One Picture' initiative.
It was chosen from a number of paintings by the school's pupil Arts Ambassadors, and pupils across the whole school have spent all week taking part in a variety of activities inspired by the artwork.
In Year 1, we began by gathering the children's initial thoughts about the painting - talking about whether or not they liked it, what it showed and how it made them feel.
We then compared it to the work of Pablo Picasso, whose paintings we've been looking at in our art lessons. By examining the contrasting styles of the two artists' landscape paintings, the children were easily able to sort two sets of pictures into those painted by Picasso and those painted by Beerstraten. Can your child explain how they could tell the difference between the two artists' works?
The children's next mission was to storm the Castle of Muiden! They had to traverse the icy frozen moat (made of crash mats), balance their way across the rickety bridge and climb over the castle walls to breach its defences.
Once inside, they had to keep their eyes peeled for secret plans, maps or valuable artefacts before climbing back out of the castle and making their escape across the frozen moat.
We also explored the painting and its wintery setting musically. First, we listened to a variety of music inspired by ice, snow and the season of winter. The children then got into groups and used a range of musical instruments to create a song which they felt complemented Beerstraten's painting. Filmed on the class iPad, I hope you enjoyed hearing the results at our open afternoon on Friday.
And if you were able to make it to our open afternoon, you'll also have seen the amazing artwork created by the children this week.
Not only did they get to paint their own version of Beerstraten's picture, transporting the Castle of Muiden out of winter and into either spring, summer or autumn. They also got to make their own castle out of clay - creating tall, twisting towers, dangerous drawbridges and fluttering flags.
Ask your child what they thought about Beerstraten's painting and if they had a favourite part of our 'Take One Picture' week of activities.
---
Week 20 - Safer Internet Day, online lessons and a virtual museum
Tuesday was Safer Internet Day, so children across the school took part in a whole range of activities to reinforce our year-round commitment to promoting e-safety.
This year looked at online consent, and how we sometimes have to ask permission of others - or give permission ourselves - when using the Internet.
The children talked about what they enjoy doing online and what they can do if they ever come across anything they're unsure of.
Talk to your child about how they use the Internet or try the Safer Internet Day quiz on Purple Mash.
BBC Radio 2 launched their '500 Words' short story writing competition this week with an interactive lesson designed to spark the children's imagination.
They had to come up with ideas for their stories, including a hazard, an item of clothing and a special object. In the end, we had everything from dragons and unicorns to magical school uniforms and man-eating lunchboxes!
Our favourite part was when David Walliams came on to read the short story written by Frank Cotterell-Boyce during the live lesson, all based on children's ideas.
Ask your child if they'd like to enter the competition this year - maybe you'll be going to the final at Windsor Castle!
To cap off a hi-tech week, we also visited a virtual museum about the Great Fire of London!
The children donned special "virtual reality" goggles and used their imaginations to transport themselves back to 1666.
Through storytelling and sound-effects, the children were taken on a journey where they had to escape the fire, form a human chain to throw buckets of water onto a burning building, create firebreaks by pulling down houses, and finally meet King Charles II to return something he had lost (the children particularly enjoyed pretending to be the King!)
Ask your child how they completed their mission.
---
Week 19 - Computing, circus skills and Chinese New Year
This week, the children have been practising their computing skills.
They started by getting used to logging onto the computers, using their personal log-ins to open their own home pages.
Once they'd all practised logging in and logging out, they then an opportunity to put their typing skills to the test using Dance Mat Typing.
It's a fun and engaging way for the children to familiarise themselves with the layout of a computer keyboard, following the instructions to find each letter and take on the typing challenges.
Why not have a go at home by clicking here.
On Thursday, we were lucky enough to have a circus skills workshop. First, the children tried balancing peacock feather on their hands; and once they'd tried balancing it on their hands, the next step was to try balancing the peacock feather on their chins!
Next, they were challenged to throw and catch colourful scarves, counting how many times they could clap their hands while the scarf was in the air.
Finally, they tried their hands at plate spinning. First on their own, then racing to see which team could pass a spinning plate to the end of the line first.
They had a fantastic time and learned some new skills along the way. Which was your child's favourite activity?
The circus skills workshop was all part of our Chinese New Year celebrations, and we were also lucky enough to have a visitor in to explain a bit more about the Spring Festival.
Grace told us all about how the Chinese year follows the lunar calendar, and how Chinese families decorate their homes, eat special foods, and give each other red envelopes containing money – all intended to bring good luck and prosperity for the coming year.
We were incredibly grateful to Grace for coming in; the children loved learning about Chinese New Year – and getting to meet a real-life dancing lion! Can your child remember which animal represents the coming new year?
Week 18 - Brilliant bodies, knowing our number bonds, and the sound of Year 4
We started our science topic, 'Animals Including Humans', this week by looking at the latter - namely ourselves!
We talked about the different parts that make up our bodies before using a giant roll of paper to draw around each other, creating a life-size outline of a human body.
We then used the outline to label as many limbs, joints and appendages we we could, from our hair right down to our toenails.
How many parts of the body can your child name?
In maths, we've been looking at number bonds to 10 and number bonds to 20, and how knowing our number bonds can help up with addition and subtraction calculations.
We've been exploring the subject through a variety of challenges, from stacking numbered cans to make number bonds to 10 to finding as many ways as we can to spend 20p in the Year 1 shop.
We've also used a range of resources from Multilink and Numicon to number lines and tens frames in order to solve our calculations.
Which challenges has your child enjoyed the most?
There were some new teachers in town on Thursday afternoon, when Year 4 came in to teach Year 1 about the science of sound.
Both classes were split into small groups, and each Year 1 group got to take part in a presentation and workshop led by a Year 4 group about how sound travels as vibrations through the air, eventually being picked up by our ears.
Year 4 were then given some whole-class feedback about what the Year 1s had learnt and enjoyed in each of the workshops.
Both classes loved the experience of learning and sharing together.
---
Week 17 - Little Red Hens, rousing recorders and chronological curiosity
In English this week, we were looking at the traditional tale of 'Little Red Hen'.
First, the children listened to the story as a class, before splitting into groups and working together to perform the story for the rest of their classmates.
The children then wrote the original story themselves, ready to work on their own versions of the tale next week.
Ask your child if they can tell you the story of 'Little Red Hen', and what they might change when they write their own take on the traditional tale next week.
The classroom was alive with the sound of music on Tuesday, when the children got their hands on some musical instruments.
They were playing along with this term's Charanga song 'In the Groove', accompanying the tune on recorders and glockenspiels.
The unit also encourages the children to listen to a range of songs and musical styles, discussing everything from blues music to baroque classical and beyond.
Ask your child what styles of music they've enjoyed listening to the most.
We took a journey through history on Wednesday afternoon when we spanned the classroom with a timeline of historical events.
It was all part of this term's history topic, helping the children to place the Great Fire of London chronologically alongside other events.
They loved exploring the timeline, and were amazed to discover that Coca Cola was invented long before aeroplanes, TV or even computers!
Ask your child about some of the historical events that made up our timeline. Did they happen before or after the Great Fire of London?
---
Week 16 - Cultural days, The Great Fire of London and picture perfect portraits
We had our whole-school cultural days on Thursday and Friday this week.
Children from across the year groups formed into seven separate teams to explore - in turn - seven different countries: Sweden, Italy, Spain, Greece, France, Russia and Poland.
Activities linked to each country saw the children building, playing, eating, painting, researching, filming and dancing their way around the world.
Ask your child what they learned during cultural day and which country supplied their favourite activity.
A mystery table covered in a large green cloth appeared in the classroom on Wednesday. When the cloth was removed, it revealed a whole host of books, objects and pictures that the children were challenged to explore and find a link between.
They included bread rolls, buckets, a map of London, a diary, a picture of King Charles II, a lump of cheese and a fire engine.
The children soon worked out that the link was our new topic for this term, the Great Fire of London.
Ask your child which objects they can remember and how they related to our new topic.
We also started our new art topic this week - portraits.
First, we talked about the concept of a portrait before looking at and discussing some portraits by famous artists.
Then it was the children's turn to have a go at a self portrait, using a mirror to examine the shapes, colours and relative dimensions of their own facial features before trying to get their own likenesses down on paper.
Why not try to draw some portraits of each other at home.
---
Week 15 - It's Christmas!!!
Well, it's been a quiet week in Year 1... only joking! (It's never a quiet week in Year 1!) We've had a pantomime, a class party, loads of Christmas activities, and of course the children did an amazing job of performing their Nativity for the whole school as well as for parents and families. After all that they definitely deserve a break, so it just remains for me to wish you all a very peaceful, joyful and happy Christmas!
---
Week 14 - Christmas acrostics, captivating captions and perfect posters
We were writing some Christmas acrostic poems in English this week.
First of all, the children collected as many Christmassy words as they could, grouping them together according to which letter they began with.
They then wrote a simple acrostic poem ("C is for ...") to get the hang of it, before uplevelling their poems by adding extra details in order to build more complex and interesting sentences. They could then choose to write their own acrostic from a range of different Christmassy options.
Can your child remember their Christmas acrostic poem? Why not try and write one together.
In phonics, alongside practising our sounds, we've also been writing simple sentences.
We started off by talking about captions and how they tell you what is going on in a picture. After writing some captions together as a class, the children then made their own seaside zig-zag book by writing a suitable caption for each of the three pictures on their sheet and folding it into three.
Look out for captions at home, especially in your daily reading. You might also want to try making your own zig-zag book using three pictures that reflect your child's interests and writing a caption for each one.
It was our school Christmas fair on Friday, and Year 1 became a 'Decorate a Biscuit' stall.
We had to let everybody know what we had on offer, so the children set about making posters to advertise our wares.
We started off by talking about how a good poster should be colourful, eye-catching and contain the most important pieces of information about our stall: what it is, where it is and how much it will cost.
Then it was time for our top team of graphic designers to come up with some perfect posters to post around the school. I hope you spotted them if you came to the fair - they were difficult to miss!
---
Week 13 - Missing elves, Learning Detectives and wonderful writing
We were just beginning to get into the Christmas spirit this week when our elf went missing. The children finding green fur by the window and around where our elf had been meant there could only be one culprit - the Grinch!
In order to rescue our elf, the children had to write a letter saying why we wanted our elf back and explaining why Christmas is such a special time of year. After that, they built some 'Grinch detectors' to let us know if he was back in the area!
Luckily their letters did the trick, and the Grinch's heart grew large enough to return our elf! Phew!
What did your child put in their letter to the Grinch?
Every day in Year 1, we have two 'Learning Detectives'. Everybody gets a turn, and it's the job of the Learning Detectives to spend the day looking out for examples of amazing learning.
At the end of the day, the Learning Detectives report back to the rest of the class, describing all the successful learning and wonderful learning behaviours they've seen during the day.
It's great for getting the children thinking about their learning, as well as celebrating and reflecting upon all the wonderful work we've done that day.
Can your child tell you what some of our Learning Detective words mean?
The children were all extremely excited to get their handwriting books last week!
We take a few minutes every day to practise one letter, really thinking about how we hold our pencils, form our letters and try to make sure they're all the right size.
Having the lines to guide them makes a big difference to how the children write, and the opportunity to concentrate fully on letter formation rather than worry about stories, sentences or spelling is really valuable.
There's a cursive letter formation Powerpoint attached to the bottom of this page if your child wants to practise at home.
---
Week 12 - Letters to Santa, mathematical challenges and a moving zoo
With Christmas just around the corner, the children had the important business of letting Santa Claus know what they'd like for Christmas.
Santa himself appeared via videolink from the North Pole, reminding the children how important it was to use their best handwriting as well as capital letters, full stops and finger spaces.
Alongside details of the (many!) presents they'd like for Christmas, the children also let Santa know about something they'd done this year that they were proud of.
What did your child tell Santa about in their letter?
Our learning question in maths this week was "Can a picture represent a number?"
So, alongside our addition and subtraction challenges, we also explored the ways in which numbers can be visually depicted - and even physically constructed - without writing so much as a single digit.
We also had the usual range of activities, which this week included a 'Tin Can Alley' challenge in which the children had to knock down numbered tins with a bean bag and add up their score.
Which was your child's favourite activity this week?
In Design and Technology this week, the classroom turned into something resembling a cross between London Zoo and Jurassic Park!
The children created moving creature pictures by cutting out various animal body parts and fastening them together using split pins. This enabled their creations to move their legs, arms, heads, tails and even trunks.
There were lots of animals to choose from, ranging from elephants and tigers to giraffes and even dinosaurs.
Which animal did your child create?
---
Week 11 - Anti-bullying Week, addition and subtraction, and polar science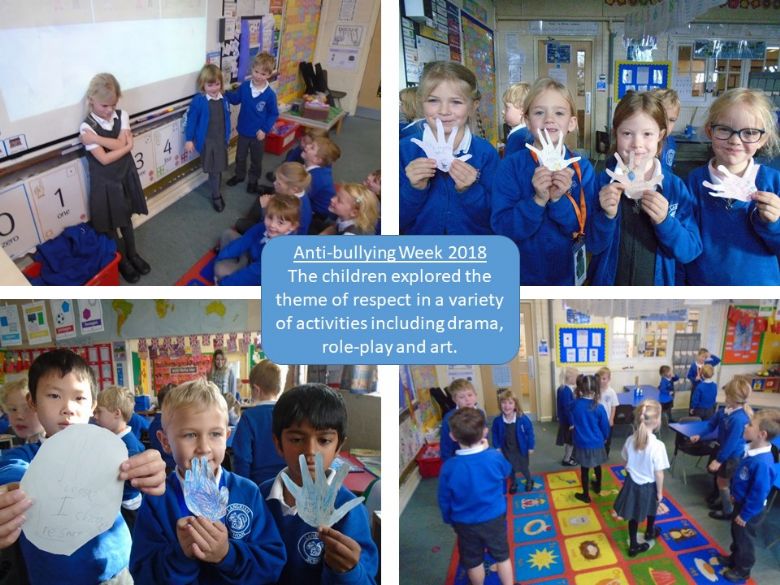 It was Anti-bullying Week this week, and this year's theme was 'Choose Respect'.
It was launched in our assembly on Monday, and we spent Monday and Tuesday exploring the meaning of respect and why it is so important to treat everybody respectfully.
This was done through discussion, role-play and art. Then on Thursday, the children were treated to a live performance of 'The B Word' by Firehorse Productions, which further emphasised the importance of treating each other with respect.
Ask your child why it's important to always be respectful to others.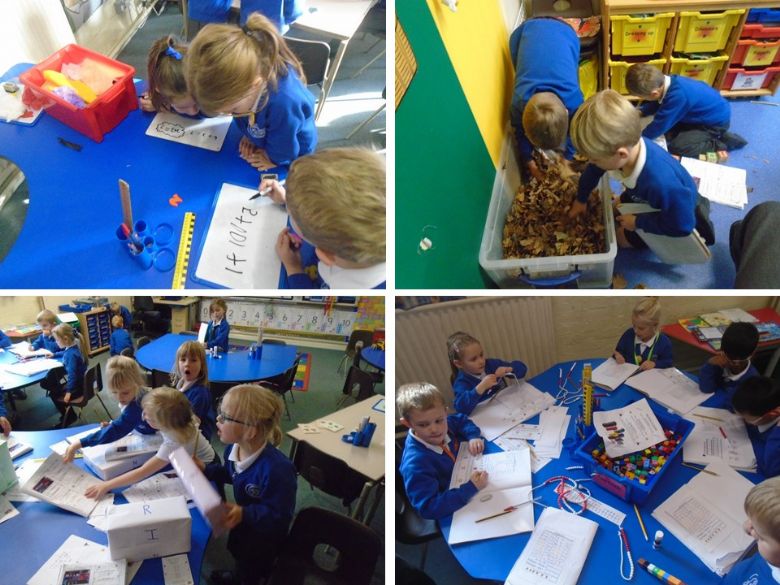 Once again, it's been a very hands-on week in maths as we've explored addition and subtraction.
This week's challenges included cracking secret codes, adding up the scores from 'Strictly Come Dancing', and rummaging through a box of leaves to find numbers in order to build and solve calculations.
There was even a 'Crazy Creatures' challenge, where children had to put their hands into a box, pull out some animals (not real ones of course!) and add up how many legs they had altogether.
What was your child's favourite activity this week?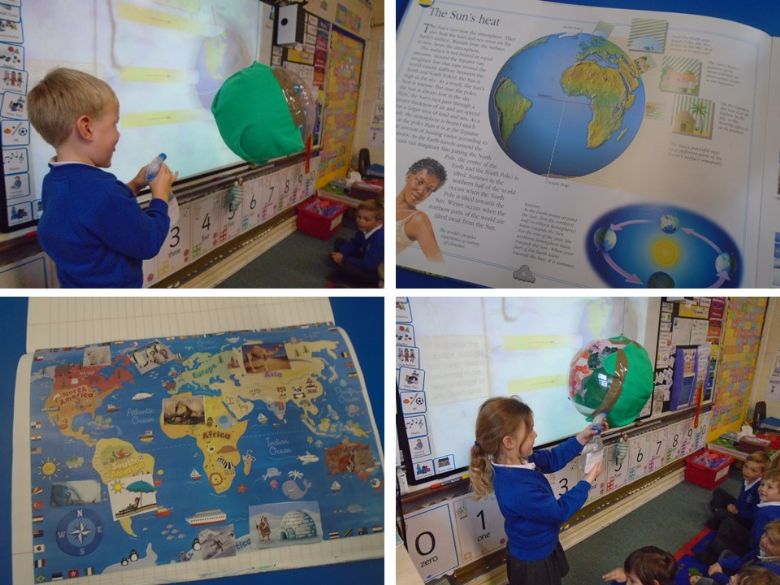 In our 'Weather Around the World' topic, we were trying to work out why it's so cold at the North and South Pole.
To find out, we covered a globe in absorbent cloth and used a water spray to replicate the rays of the sun.
We discovered that the globe got really wet around the middle - where the equator would be - but only a little bit damp at the top and bottom - where the Poles can be found.
Ask your child how they would interpret the results of our experiment - why do they think it's so cold at the Poles?
---
Week 10 - Superb shapes, fabulous flap books and helpful hedgehogs
Our work on 3D shapes continued in maths, and we kept things very hands-on with a variety of challenges and activities.
The children explored the properties of 3D shapes by creating their own pack of 'Top Trumps' cards, detailing how many faces, edges and vertices each shape has.
They also sorted a boxful of 3D shapes into six different trays depending on how many faces each shape had, and even created their own 3D shapes by building them out of straws and lollipop sticks.
Which shape did your child decide to build? How many faces, edges and vertices did it have?
We started reading 'The Hodgeheg' by Dick King Smith this week. It's all about a curious hedgehog called Max who's determined to find a safe way for hedgehogs to cross the road.
After writing descriptions of Max using a variety of adjectives, we then decided to help him in his quest by designing some 'Caution: Hedgehogs Crossing' signs. Designs complete, the children then made their signs using cardboard and lollipop sticks, ready to warn all unwary motorists to slow down!
Ask your child what's happened in the story so far and how they think Max will help his hedgehog friends safely across the road.
Our Design and Technology unit this term is all about moving pictures.
This week, we were making our own version of a lift-the-flap book by creating a picture with an opening door.
First, we explored a variety of different lift-the-flap books and looked at how the were made.
Next, the children designed the front of a house with a door that opened to reveal something inside.
Ask your child what was behind their door, or even make your own lift-the-flap picture at home.
---
Week 9 - World War I, wonderful whales, creative candles and staying safe
On Friday, we had an incredibly busy day of activities commemorating 100 years since the end of World War One.
We began by learning some wartime poetry in a drama workshop. After that, Ryan from Petersfield Museum came in to lead a poppy-making activity.
We then learned about how all sorts of animals from dogs and pigeons to horses, donkeys and canaries played a part in the war.
Finally, the whole school came together for a minute's silence and to perform our poems for each other.
What did your child learn on WWI day?
The children also learned all about whales and dolphins last week with a wonderful marine workshop.
The children got to examine all sorts of artefacts, from skulls and jawbones to the tooth of a sperm whale and a piece of baleen.
They also learnt all sorts of facts and figures, including which is the largest dolphin (hint: it's black and white) and which animal can fit on the tongue of a blue whale (hint: it's really big!). We also measured out the length of a blue whale in children.
What can your child remember about whales and dolphins?
This term's R.E. topic shed some light on the symbolism of candles.
We began by looking at how Christians use candles as a symbol of remembrance and made paper candles as a way of remembering somebody special to us.
We then heard the story of Diwali, and learnt about how Hindus use candles in their celebration of Diwali to symbolise the triumph of good over evil. The children then made and decorated their own clay diva lamps which were very colourful!
What can you child tell you about how Hindus and Christians use candles?
On Tuesday, we had a visit from the NSPCC who came in to talk to the children about their 'Speak out. Stay safe.' campaign.
We discussed the importance of talking about things that worry us or make us feel unsafe, and made sure the children know who to turn to for help if ever they need it.
It was all done with the help of Buddy, the NSPCC's mascot, and we'll be raising money to help the NSPCC with a danceathon at the end of the month. Look out for the sponsor forms coming home (and for the dancing practise to begin!)
---
Week 8 - Spooky stories, super shapes and valuable votes
It was Halloween this week, so we got into a spooky mood by writing some scary stories.
First, we read 'A Dark, Dark Tale' - a story about a mysterious box hidden in a dark corner. We then went hunting in the copse for a mysterious box I'd heard was hidden there. Once found, the children (very carefully!) brought it back into the classroom and wrote about what they thought might be inside.
Later on, the children wrote their own versions of 'A Dark, Dark Tale'. Ask your child what was inside the spooky box in their story.
In maths, we started our work on shape and position by going out and about on a shape hunt.
The children had to search the playground for as many different 2D shapes as they could. They then noted down where they found them, before drawing and naming each of the shapes on their sheet.
Back inside, we had lots of activities for the children to do, all exploring the concept of shape. These included making magnetic shape pictures and building shapes out of straws and lollipop sticks.
How many different shapes can your child find and recognise around the house?
Our theme of the week across the school this week was 'Democracy'.
We discussed the concept as a class and why it's important, as well as linking it to Article 12 of the UNCRC which states that children have the right "to give their opinion and for adults to listen and take them seriously".
We also had a number of votes, including which story we wanted to read on Purple Mash and which new design of behaviour reflection sheet the children thought should be adopted by the school.
Ask your child why they think democracy is important.
---
Week 7 - Weather reporting, glorious glockenspiels and half term reflection
A huge tornado hit Petersfield this week - but luckily there were some intrepid weather reporters around to tell us all about it!
The children wrote their reports on how the tornado was formed, and went on to describe how residents could stay safe, as well as which buildings in Petersfield had been destroyed by the twister (I'm sorry to say that Waitrose, Pizza Express and the Taro Centre all came out of it quite badly).
We then used green screen technology to record the children delivering their reports in front of an approaching tornado!
I hope you enjoyed watching their reports on Seesaw.
In music, the children have been learning the song 'Hey You!'. And they've not just been learning to sing the song, they've been learning to accompany themselves on the glockenspiel too.
After a couple of minutes' free playing to get some of the more "experimental" melodies out of their system, the children then settled down to learning the correct notes in the correct order so they could play along with 'Hey You!'.
They showed great timing and co-ordination, and the first performance by the Year 1 glockenspiel orchestra was a roaring success!
Alongside 'Hey You!', the children have listened to and compared several other rap performances including Will Smith, MC Hammer and the Sugar Hill Gang. Which was your child's favourite song?
As our first half term draws to a close, we've been in a reflective mood in Year 1.
First, we looked back through this web page to remind ourselves of what we've been up to so far this year.
Then, we discussed the importance of reflecting on our learning: looking at how much we've already achieved this year, talking about some of the things we've enjoyed the most, and asking the children about their proudest achievements.
What's been your child's favourite part of the year so far?
---
Week 6 - Twisting tornadoes, discussing deities and a trip to the moon!
We went all 'Wizard of Oz' on Monday, when Year 1 was hit by a twister!
Luckily, this particular tornado was trapped safely inside a bottle, and the children had a chance to see a vortex close up as the air and water collided, mixed and formed a twisting, tornado-like funnel.
We also had a go at making a human tornado in the playground, with half the class representing rising warm air and half the class representing the falling cold air.Ask your child how a tornado is formed, or even try the bottle experiment for yourselves at home.
On Tuesday we went on an out-of-this-world school trip...to the moon!
The children were given their return tickets on Monday, and duly turned up on Tuesday morning all ready for blast off!
Once we'd landed on the moon, we went on a moon walk, collecting scientific samples to analyse once we'd returned to Earth (which we eventually did but only after a lunar picnic!)
Using videos, images, virtual reality and - most importantly - the children's imaginations, we were able to get a glimpse of what it might be like to take a day trip to the moon.
What was your child's favourite part of the trip?
On Wednesday we explored our R.E. topic for this term: the concept of God.
In the morning, we looked at the Christian concept of God. The children all thought about what God might look like; and through songs, poems and bible stories we came to understand what Christians mean when they talk about God.
In the afternoon, we looked at Hinduism, and how Hindus have many different gods with specific areas of belief associated with each one.
Which Hindu god did your child choose to draw and write about?
---
Week 5 - Outdoor games, making rainbows and the Big "Good" Wolf?
It's great to get out onto the playing field for P.E. when the weather's good, so we're making the most of it while we still can!
This week we were practising our ball control skills with some throwing, catching and rolling. We also worked in pairs to pass the ball over, under and around each other, all the while keeping it under control.
We also played a warm-up game combining team spirit, speed hopping and rock-paper-scissors!
Ask your child if they can explain the rules of the game.
As part of our 'Weather Around the World' topic, we've been learning about rainbows.
We discovered that rainbows can only occur when the sun is behind us, shining onto rain that is falling in front of us. The raindrops act as prisms, splitting the light into the seven colours of the rainbow.
Luckily it was a sunny day, so with a little help from a spray bottle to create our rain, we had a go at making our own rainbows. It was tricky to see the effect outside, but inside we managed to make a rainbow for the whole class to see.
Can your child remember the seven colours of the rainbow?
We had a special guest in the classroom on Wednesday morning, when the Big Bad Wolf came in to pay us a visit.
We've been looking at the story of 'Little Red Riding Hood', and despite his reputation the wolf now claims to have changed his ways to become the "Big Good Wolf".
The children all wrote questions for the wolf and he happily took the hot seat to answer all sorts of enquiries, ranging from "What is your favourite food?" to "What's your full name?" and "Would you like a banana?"
What question did your child have for the Big Bad Wolf?
---
Week 4 - Autumn walks, anchor tasks and Christmas comes early!
As part of our year-long study of the seasons, we headed outside this week to explore the official arrival of autumn.
The children used their clipboards to note down everything they could see, hear, feel and smell now that autumn was here.
Their notes included everything from smooth acorns and crunchy leaves to the cooler temperature and the smell of wet grass.
We also took a class photo by the oak tree on the playing field. If we take the same photo again in winter, what does your child think might have changed?
On Monday the whole class took part in a maths 'anchor task'.
It's an open-ended task designed to stretch and challenge the children's concept of numbers. This one involved the children working in pairs and using 20 blocks to find as many calculations as they could that added up to 20.
I was so impressed by how the children embraced the challenge, and they immediately launched into creating calculations adding multiple digits together rather than the usual "X + X = 20".
Ask your child what calculations they came up with that added up to 20.
Anyone who came into the classroom on Wednesday afternoon would have been forgiven for thinking they'd entered a time warp!
There were Christmas jumpers, Christmas hats and Christmas music; but no, we hadn't gone mad - it was all to get the children into a Christmassy mood for creating their own Christmas card designs.
We had to do them nice and early so they can be sent off, scanned and put online ready for parents and families to view and order in time for Christmas.
We'll let you know as soon as they're ready to order!
---
Week 3 - Brilliant beans, marvellous mindfulness and more-or-less maths
We're learning about plants in science this term, so what better way to discover what plants need to survive than to grow some plants ourselves.
The children all got their hands dirty planting their beans in cups and making sure they had enough soil, water, sunlight and space to thrive.
We then started keeping our bean diaries to keep track of how much they grow each week.
We also have three experimental beans: one without soil, one without water and one without sunlight. What does your child think will happen with these beans?
Promoting positive mental health is a big focus at Langrish, so in P.E. we've been invigorating our minds and bodies with some yoga.
The children learn a number of different yoga poses through storytelling; participating as the poses and movements are woven into a fun and entertaining narrative.
We always finish with some relaxation and will talk more about mindfulness and breathing exercises as the term goes on.
The children absolutely love taking part in the stories and always take on the personas of the different characters with enthusiasm!
Can your child show you any of the yoga poses we've done this week?
It's been another busy week in maths as we continue to explore number, place value and counting.
The children have been solving lots of puzzles where they have to work out one more or one less than a given number.
One challenge involved deciphering coded words by placing bottles into the correct order according to numerical clues. Another involved fishing for numbers and using them to practise number bonds to ten. We've even been exploring numbers by playing 'Top Trumps'!
Ask your child which activities they enjoyed taking part in this week.
---
Week 2 - Exploring numbers, mixing paints and enormous crocodiles
We continued to look at number and place value in maths this week, with the children taking part in a variety of activities.
There were word-searches to help the children practise spelling numbers; the 'Towers Challenge' (making towers from a specific number of blocks and placing them in the right tray); and a 'Play-Doh Challenge' in which the children had to make the correct amount of crocodile teeth from Play-Doh.
We also had number sequences to solve and looked at pictorial representations of numbers.
Ask your child which maths activity they enjoyed the most this week.
In art, we continued our exploration of colour by looking at the work of Mark Rothko.
Rothko used bands and blocks of colour to create his paintings, so the children practised mixing different colours from the three primary colours and using these to create their own 'colour field' paintings.
The children had a wonderful time mixing the paints to make lots of different colours, then mixing those colours to make even more fabulous colours. There was paint and water everywhere, and the classroom certainly looked like Mark Rothko's studio by the end of the afternoon!
Ask your child which colours they created. Or if you have some paint, try making your own 'colour field' paintings at home.
It was Roald Dahl day on Thursday, so we spent the week doing work around one of his best-loved stories 'The Enormous Crocodile'.
We began by reading the story, then had a visit from the Enormous Crocodile himself! (Who luckily turned out to be rather friendly).
After that, we wrote character descriptions, a book review, and even an alternative ending where the Enormous Crocodile gets a chance to change his ways. We even made our own Enormous Crocodiles out of cardboard and role-played the story out in the copse.
Can your child tell you the story of 'The Enormous Crocodile'?
The Enormous Crocodile visited the classroom - luckily, he turned out to be friendly!
Week 1 - Welcome back!
It was wonderful to welcome Year 1 back to school this week!
We got straight down to business, and in English we were talking about sentences and what makes a good sentence.
We even went outside and created our own sentences in the copse, making sure we began with a capital letter, ended with a full stop and had finger spaces between each word.
We then made up some sentences of our own, including our learning promises for the year.
Ask your child what their learning promise was for Year 1.
We began our 'Colour Chaos' unit in art by looking at the work of Piet Mondrian, an artist who used geometric patterns and blocks of colour to create his artworks.
The children viewed some of his pictures and discussed what they liked or didn't like about them.
They then made their own Mondrian-inspired collages by sticking blocks of paper in the three primary colours onto black or white backgrounds.
Ask your child what they thought about Mondrian's work. Can they remember the three primary colours?
In maths, we've been looking at place value and doing some simple addition within 20.
We explored place value by working in pairs to throw two dice and recording which numbers we could make with the digits that came up. For example, if you rolled a 3 and a 2, you could make 32 or 23.
We then talked about how we could tell which number was bigger or smaller by looking at home many lots of 10 and how many lots of 1 our numbers contained.
You could try this at home with two dice - maybe even have a competition to see who can throw the biggest number!
Christmas jumper day and Christmas market
Children in Need day
The children had a wonderful day raising money for Children in Need by coming in with their teddy bears and pyjamas. Even the teachers joined in with the pyjama party! The fundraising continued when all the children took part in a day-long dance-a-thon in aid of the NSPCC.
World War I day open classroom
Thank you to everybody who came along to support our World War I Day open classroom event.
I hope you enjoyed the chance to see how we commemorated 100 years since the end of World War I and paid tribute to both the humans and animals that took part in the conflict.
Great Fire of London Museum
Thank you for all your amazing home learning projects that made up our Great Fire of London Museum. I'm so glad that so many families could come along to share their children's learning and see what everyone else has been up to!
Meet the Teacher
Thank you to everybody who attended the most recent Meet the Teacher events. One of the main topics we discussed was safeguarding and in particular the importance of keeping children safe when using the internet. You can visit the safeguarding section of our school website by clicking here and get more information and advice on internet safety via the CEOP thinkuknow website.
Curriculum overviews can be viewed below by clicking on the attachments.