Mr Hancox, Mrs Browning and Mrs Webber
Lockdown Learning - Monday 25th January 2021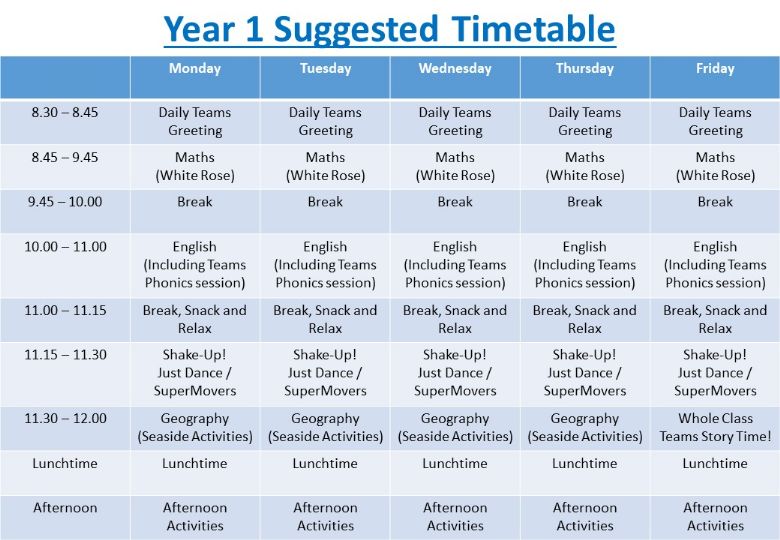 Obviously, this wasn't the half term any of us had planned, however we've put in place a flexible blended learning programme to keep us moving forward and hopefully provide all the support you and your child need.
Stay safe and remember, we're always here to help!
8.30 - 8.45 - Whole Class Teams Meeting - A quick check-in to say hello and briefly introduce the day's activities.
8.45 - 9.45 - Maths - Using the White Rose resources from the Home Learning folder, including teaching slides, activity sheets and a link to a video if required. Today, we're continuing to look at subtraction using number lines to help us work out our calculations.
It's important that the children really read carefully and understand the calculations, recognising the subtraction sign and what it means. We do so much addition in the first few years of school that when children see two numbers and an equals sign, their first instinct is very often to add those two numbers together, regardless of what the calculation is actually asking them to do, so watch out for that common error! The best way to explain the concept is often with physical objects, so grab anything you have lying around (I heard of one child doing their maths using raisins which also doubled as a treat at the end!) and get the children to make the numbers in the calculation, then physically take the objects away to see what they have left. This will really help to encourage their understanding of subtraction.
10.00 - 11.00 - English - This week, to tie in with our seaside theme, we're using a unit from The Literacy Shed based on a short film called 'Bubbles'; the planning and resources can all be found in the Home Learning folder. We're not actually watching the film today, we're using our ears instead. Click here to go to the 'Bubbles' page, then scroll down to the 'Sounds of the Beach Soundtrack' section. Use the questions below to guide your child's imagination as they listen to the seaside sounds:
Encourage them to compose a sentence in their heads to describe the beach and say it out loud. Can they use adjectives to describe the beach? Finally, can they join two descriptions together with 'and' to make one descriptive sentence. Today is just about composing the sentences and saying them out loud, but they can write it down too if they want to. Feel free to send me a video or sound recording of your child's descriptive sentence via Seesaw.
11.30 - 12.00 - Geography - This is the second week of our 'Seaside' Geography topic, and this week we'll be following the '5-Day Seaside Project' activities from the Home Learning Folder. On Friday, we heard 'Commotion in the Ocean' at story time. Click here to listen to the story again on YouTube. How many of the animals can you remember? Today's task is to choose three of the animals from 'Commotion in the Ocean' to draw or paint, then write a sentence about one of them. You might even want to have a go at making up your own 'Commotion in the Ocean' style poem!
There are some other optional activities in the Geography folder too. You can learn all about fossils and find out who Mary Anning was and how her seaside discoveries changed science; or you can read the story of 'Starry-Eyed Stan' the starfish, and try a range of activities based around the story, from English and Maths to cookery, music and art.
Phonics - If you can't make today's live lesson for any reason, catch up by watching the Phonics videos on the school YouTube channel and working through the next page of the Phase 4 Phonics booklet in the Home Learning Folder.
Shake Up! - The children love joining in with the 'Just Dance' videos on YouTube, as well as the SuperMovers dances that teach you everything from times tables to grammar rules and the days of the week. They also have a 'Just for Fun' section for a quick movement break.
Hampshire School Games Challenge is back! - Try this fun warm-up game as well as today's activity. The Langrish School Twitter feed has daily details and instructional videos. The score card for submitting your results can be found in the Home Learning folder - don't forget to send in your results!
Chance to Shine Cricket - If that's not enough activity, why not try Chance to Shine's 'Cricket at Home' sessions, free to view by clicking here. Or try this week's lesson 'Super Striker' by clicking here.
Afternoon Activities - The afternoon is your own to use as you (or your parents) wish: finish any outstanding work form this morning; do some reading (remember to log completed books as normal in your Reading Record); practise new and previous spellings on Spelling Shed; do your exercise; yoga, cook, paint, sew, play and relax! There are loads of ideas on the COVID pages of our website for PE, Music and PSHE if you want to explore further.
Next weekend (29th-31st January) is the RSPB's Big Garden Bird Watch. Click here for all the information you need about how to take part and learn about the wonderful wildlife that's right on your doorstep.
Teacher's Pet have created a 'Big Winter Walk' activity booklet with 12 outdoor-themed activities to complete and badges to earn for each one. Download the Big Winter Walk booklet from the Home Learning folder and stick in the badges when you've earned them by completing the activities.
Helpful Links - Click to Explore
Wellbeing:
Cosmic Kids on Youtube - for yoga adventures and 'Peace Out' guided mindfulness sessions.
Harold's Daily Diary - Join Harold the giraffe every day to see what he's been up to at home.
Try the 'Wellbeing Wednesday' resources for this week in the Home Learning folder.
Art:
Learn, create and make using child-friendly ideas from the world renown Tate Museum.
Join children's author and illustrator Rob Biddulph as he guides you through drawing his amazing creations.
Find drawing, painting, origami and creative projects at Art for Kids Hub.
Reading:
Sign up for the Winter Reading Challenge and explore the wealth of child-friendly resources offered by your local library.
Oxford Owl has plenty of colour-banded reading books to explore. Just use your class login.
Phonics Play are once again offering free access to their games and resources for home learning.
Click here to go through the Year 1 Word Wall with Mr Hancox!
Oak National Academy and the National Literacy Trust have created their 'Virtual School Library'. Find weekly free books to download, author interviews, and fun resources relating to each of the texts.
Music:
Log into Yumu from Charanga to take view this term's lessons, based around the song 'In the Groove'.
Find inspiration with these downloadable activities and resources.
The School Run also has some great ideas for exploring music at home.
Science:
If you're looking for some fun science experiments to try, why not have a look at the 'Do Try This at Home' and 'Dyson STEM Challenge' activity sheets attached to the bottom of this page, or the weekly 'Starters for STEM' sheets in the Home Learning Folder.
The Winchester Science Centre has some fun activites to try and links to other resources.
Our Class Charter
We discussed our rights and the Articles of the UNCRC that the children felt were the most important to them. We then used those Articles to create our class charter. Ask your child why they thought these Rights were the ones we should include.
Home Learning Menu
For English we recommend that you continue to read daily with your child. Reading Diaries have gone home in which to record your child's reading activities. They also include phonics sounds and tricky words to practise. You can also explore Serial Mash and Oxford Owl for extra reading, and the 'Assignments' area of Spelling Shed for extra spelling practise.
In Phonics we're recapping Phase 3 of Letters and Sounds as well as introducing Phase 4 consonant clusters. This week we concentrated on 'lp' (help), 'nt' (tent) and 'mp' (lamp). Look out for them in your daily reading and in everyday use. There's also a set of sight word flashcards attached to the bottom of this page for extra practise, or try the interactive sight words games on Education.com using the logins provided.
In Maths, we've been looking again at place value and how two-digit numbers are made up of tens and ones, as well as how to spell the numbers 1 to 20 as words (as set on Spelling Shed), and comparing numbers using the language 'less than', 'greater than' and 'equal to'. For extra place value practise, try the interactive games on Education.com using the logins provided.
Our current Music unit is 'In the Groove' and can be accessed on YuMu for those doing their learning at home.
Seesaw Electronic Learning Journal
We'll be using the Seesaw Family app to share some of the children's learning this year. Check your email for an invitation from your child's teacher and download the free Seesaw Family app for your device or log in on a computer.
Wellies at Playtime
Please remember to send a pair of wellies in for your child so they can continue to take part in outdoor learning. The field and the copse can become wet and muddy at this time of year, therefore children without wellies may miss out on the full outdoor learning experience.
A Taste of Our Learning
Week 14 - Merry Christmas!
This week we've written a letter the Grinch (who stole our elf!), created paper penguins, finished our wooden tree decorations and done plenty of festive cutting, sticking and colouring.
Wishing you and your families a wonderful, safe and peaceful Christmas and a happy and healthy new year!
---
Week 13 - Letters to Santa, festive forest school and a visit from the vicar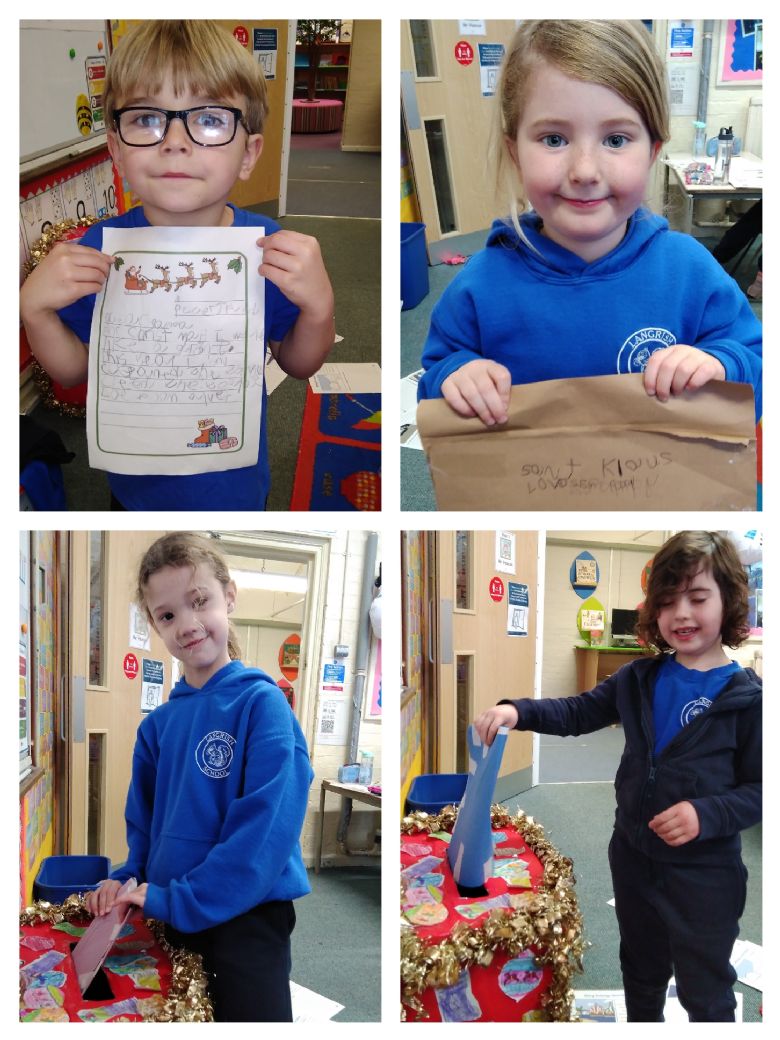 As your child is probably reminding you every day, Christmas is on the way! So this week we wrote our letters to Santa Claus.
The children had to master the format of a letter, as well as detailing what they'd like for Christmas along with what they've done this year to get themselves firmly onto the 'Nice' list.
In the midst of our letter writing, we were lucky enough to get a virtual visit from Santa himself! He took time out from his busy final delivery preparations to chat to the class and remind them all about using capital letters, full stops and finger spaces. He was also very keen to see the their best handwriting (it makes reading those millions of letters much easier) and he also revealed what Mr Hancox asked for in his Christmas letter way back when he was in Year 1.
What did your child ask for in their letter to Santa and what have they been doing to get into his good books?
Friday afternoon saw our festive forest school Christmas party.
The copse looked fabulous, with fairy lights adorning the trees and a roaring fire to keep everybody warm on a damp December afternoon.
The children roasted marshmallows squished between chocolate biscuits and sang their favourite Christmas songs around the flickering flames.
The festive spirit also continued back in the classroom with festive crafts and colouring.
Ask your child what they enjoyed most about this year's tree-lined Christmas party.
The Reverend Jane Ball came to visit our class on Friday, which was a fantastic opportunity for the children to ask questions about Christmas as well as anything relating to our World Faith and Philosophy learning this term.
The class has questions about the symbolism of candles and the advent wreath, as well as about how an angel visited Mary and why King Herod was such a villain.
What did your child learn from our chat with the vicar?
---
Week 12 - Wonderful writing, super spelling and delightful dancing
As part of our English this week, Year 1 took part in a whole-school writing challenge.
Every class has been given the same image, 'The Frozen Palace', and the children had to use it as their inspiration for a piece of writing.
We began by examining and discussing the picture, before planning our stories in note form. Finally, we wrote them up in our very best handwriting, remembering our capital letters and full stops by highlighting them in red and green.
We had a wide range of stories, featuring everything from witches and ice monsters to snow leopards and even dinosaurs!
Ask your child what they chose to write about. Can they tell you their story?
On Wednesday afternoons, the children get a chance to log into Spelling Shed and practise their spellings.
They love winning honey pots and building up their scores (as well as getting a little competitive about who is at the top of the leader board!)
There are several assignments on the go at the moment, from tricky words and numbers to days of the week and months of the year.
You can log in at home to see how your child's doing. Can they spell at expert level yet? And most importantly, how have they decided to customise their avatar?!
Click here to log into Spelling Shed for some sneaky extra practise.
Our P.E. unit for the last few weeks of term will definitely get us in the mood for Christmas, as it's music and movement that's all based around Tchaikovsky's festive classic 'The Nutcracker'.
This week we heard the first part of the story, as Fritz and Clara received some exciting Christmas gifts from their toy-maker godfather, Drosselmeyer.
The children had to pretend to be stiffly walking clockwork dolls, cymbal clanging toy monkeys, and finally the soldier-shaped nutcracker himself, with his arm-operated, shell-cracking mouth.
Can your child remember any of the movements from our first lesson? What do they think will happen next in the story?
---
Week 11 - Hello to history, model mayhem and wonderful wreaths
Our History unit this term is all about World War II ATA hero Mary Ellis.
We haven't introduced the children to Mary yet, but this week the children were building their historian skills by describing images from World War II.
Working in pairs, they had to sit back-to-back and describe an image to their partner while their partner asked questions about the image to clarify any details.
The images ranged from planes and warships to Winston Churchill, female factory workers and the Women's Land Army hard at work in the fields of wartime Britain.
Ask your child about the image they had to described. Can they remember anything about their partner's image too?
We continued our playground equipment project this week by upgrading from drawing pictures to making models.
Using play dough, lollipop sticks and card (as well as pretty much anything else they could find!), the children had to come up with the best way to make a model of a swing, slide, roundabout, seesaw or climbing frame.
If it didn't work out on their first attempt, they were then encouraged to work out where improvements could be made and make a new version using different materials, structures and techniques.
What piece of playground equipment did your child make a model of? Maybe you could make one together at home.
The festive season kicked off in our Art lesson this week with a little seasonal wreath making.
The children used green and white paper leaves to create their wreaths, then added decorative ribbons and red paper berries to make their creations look even more Christmassy.
The children loved making their decorations and it's put us all in the festive mood for the arrival of advent next week and our preparations for the Christmas season.
We may have to do things a little differently this year, but we're not going to let 2020 stop us from celebrating Christmas in style!
---
Week 10 - Anti-bullying week, various verbs and perfect playgrounds
It was Anti-Bullying Week this week, so we began by talking about what bullying is and what to do if we ever see or experience it.
We found out about cyberbullying by learning about the Meanataur, one of the evil Cyber Sea Monsters. He has lots of snappy mouths for saying mean things, and the more people that listen, the stronger he gets! Ask your child how we can neutralise the evil Meanataur.
We also watched the Anti Bullying Alliance's virtual assembly and coloured in odd socks to celebrate the fact that everybody is different.
Ask your child what they learnt this week about how to defeat bullying, wherever it may lurk.
In English, we were learning all about verbs.
We began by watching the short film 'The Book of Butterflies' and talking about the various verbs we could use to describe the actions within the film.
We then went on a verb hunt in the hall, with each child being given a card with a verb written on it and having to find a picture of that verb hidden somewhere around the room. Once they'd matched their verb to a picture, the children then came up with a sentence containing their verb to write into their English book.
Ask your child what verb they had to find. Can they think of any other verbs?
Our D&T unit this term is all about playgrounds. We had great fun discussing different pieces of playground equipment and deciding which ones were our favourites.
We also tied it in with our Science topic, 'Everyday Materials', by talking about what materials playground equipment is made from and why those materials are the best ones for the job.
The children finished off by drawing and labelling a picture of their favourite piece of playground equipment. What's your child's favourite piece of playground equipment? Can they tell you what it's made from and why those materials might have been chosen?
---
Week 9 - Dark, dark tales, illuminating candles and brilliant biscuits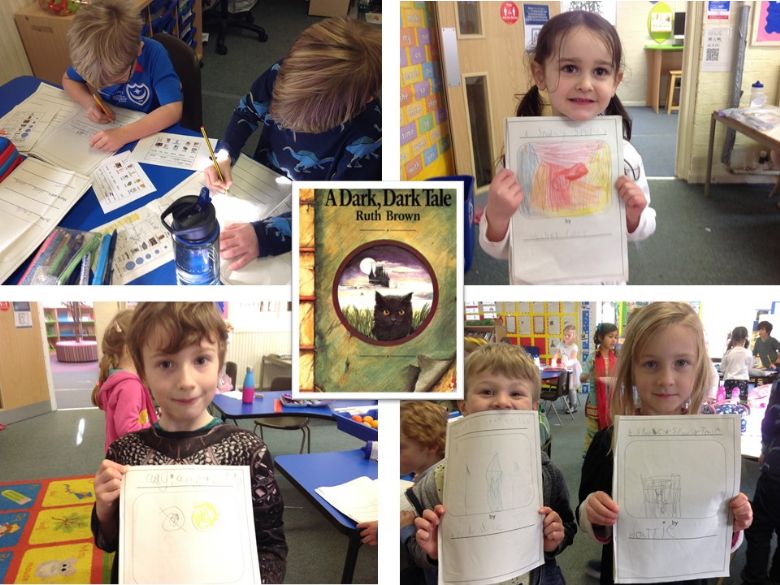 You may remember hearing 'A Dark, Dark Tale' as part of our home learning on Microsoft Teams last week. Since then, Year 1 have been busy writing their own versions.
After listening to the story, we talked about how it was structured around the repeated adjective 'dark, dark'. The children then chose different adjectives and crafted their own stories by weaving their new adjectives around the structure of the original.
The results were incredibly entertaining, and we've enjoyed hearing about giant, giant space stations, cute, cute kitten worlds and even a silly, silly school (I don't know where they got that idea!)
What did your child write about in their story?
Our World Faith and Philosophy unit this term was all about how different cultures use the symbol of the candle.
First, we looked at candles in Christian culture, where they're used as symbols of remembrance, as well as - in the case of the advent wreath - symbols of faith, hope, joy and peace.
We then learnt about Diwali, and how many Hindus view candles as a symbol of good triumphing over evil, as in the story of Rama and Sita.
Can your child tell you about Rama and Sita in story of Diwali?
The school was a blaze of colour on Friday as the children came in in non-uniform for Children in Need day. Each class had chosen their own activity, and Year 1 had decided that they wanted to raise money by decorating biscuits.
We started the day by joining in with Joe Wicks' final P.E. session, then spent the whole afternoon doing Pudsey-based activities, including our biscuit decorating as well as colouring, crafts and dancing.
It was different to our usual Children in Need day celebrations, but the children absolutely loved it!
We asked that no money be brought into school, but that all families donate whatever they can through the official Children in Need channels which you can access by clicking here.
Week 8 - Take One Picture, taking up the challenge, and taking in the wonderful 'Wizard of Oz'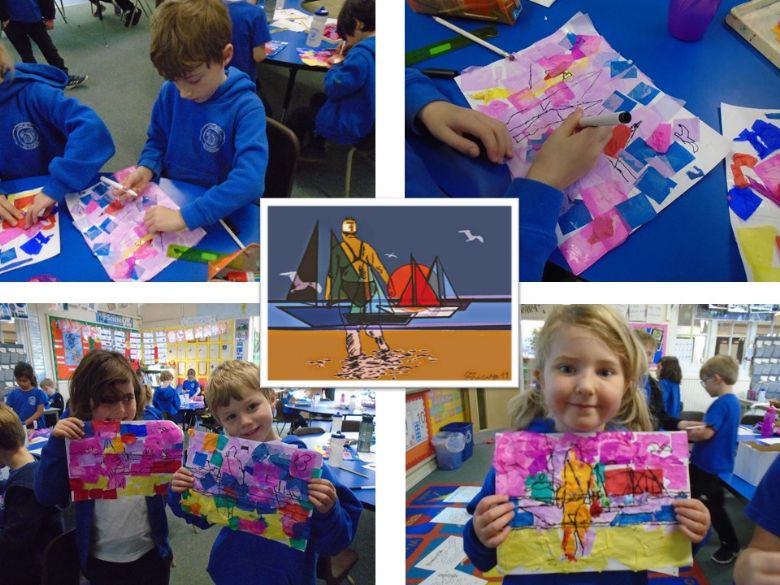 The image chosen by the school's Arts Ambassadors for Take One Picture week this week was 'En Vacances', a modern work created in 2019.
Every class took a different approach to exploring the picture. In Year 1 we created our own versions by using tissue paper to make a colourful background, then tracing over the original lines in black pen, taking advantage of the clean lines and geometric shapes.
We also used the image as inspiration for our Freedom Friday writing.
What did your child think of this year's picture?
In PE, we've been taking on the Hampshire School Games Virtual Challenge.
This week, it was 'Beat the Clock'. The children had 30 seconds to get as many bean bags as they could from their start point to a hoop positioned five metres away, carrying only one bean bag at a time.
They had two goes each, and were trying to equal or improve their score on their second run by refining their technique.
What did your child score in the 'Beat the Clock' bean bag challenge? Did they manage to better their score second time round?
With the global pandemic taking its toll on the performing arts, we were very grateful that M&M Productions were able to come in the week for a socially distanced performance of their pantomime, 'The Wizard of Oz'.
With only one live actor, the story used a mix of film projection and interactive performance to tell the story of Dorothy and her friends heading down the Yellow Brick Road to meet the Wizard of Oz, with the Wicked Witch of the West hot on their trail!
What was your child's favourite part of the performance?
---
Week 7 - Little Red Riding Hood, sensational seasons and dazzling drawings
We started exploring the story of Little Red Riding Hood this week, and what better place to begin than in the woods!
After listening to (and acting out) the story, we headed out into the copse on an adjective hunt, finding descriptive words hidden amongst the trees and deciding if we'd attribute them to Little Red Riding Hood or the Big Bad Wolf.
We then wrote about the characters using our adjectives, and even found time to make some wonderful wolf traps in a junk modelling session.
Can your child tell you the story of Little Red Riding Hood?
We'll be exploring the changing seasons throughout the year, so this week we looked at what causes the seasons.
Using some very high-tech demonstration technology (well, a satsuma with a pencil stuck through it) we examined how the Earth's tilted axis causes sunlight to hit some parts of the planet differently at different times of the year.
We then went outside to see what signs of autumn we could find, from fallen leaves and acorns to fungus and berries.
Ask your child what they found and how our class photo will look different the next time we take it, in the winter.
On Fridays we have a little post-playtime mindfulness session. Half of the session is yoga and the other half is Draw With Rob.
Children's illustrator Rob Biddulph has created a series of 15-minute videos where he guides you step-by-step through drawing a character.
It encourages the children to focus, concentrate and enjoy the process of creating a picture which they can then colour in.
So far this year we've drawn a snake, a dolphin, a dragon, a pufferfish and a rabbit. It's fantastic fun and we often surprise ourselves with how well our creations turn out! Which was your child's favourite?
---
Week 6 - Discussing deities, pupil voice and an amazing assembly
This term's World Faith and Philosophy took on a pretty big concept: God.
We began by looking at the concept of God in Christianity, talking about what we thought God might look like and reading some stories from the bible to learn more about how Christians view God.
After that, we looked at Hinduism and discussed how most Hindus believe in many different gods representing different roles and characteristics within the Hindu faith.
Can your child remember the names of any Hindu gods?
Our World Faith and Philosophy lesson also tied in nicely with our UNCRC Article of the Week: Article 14 - the right to choose your own religion and beliefs.
As a Rights Respecting Educator, we also ensure that children get a say about what goes on in the school.
This week our school council wanted to hear from the children about how safe they felt in school and whether anything needed to be changed or improved. I'm happy to say that Year 1 all said they felt safe, and they also knew what they could do if ever they felt worried or scared.
Ask your child what they remember about our discussions this week.
This Friday saw our first ever virtual Harvest Assembly being broadcast across the school.
With a mixture of music, stories and information about the harvest festival, all the classes watched it at 11am (and some of Year 1 couldn't help but join in with the dancing again!)
We then had a socially distanced parade around the school in order to deliver our donations the the harvest table, and Year 1 even got a round of applause for our film as we walked past the other classrooms!
We hope you enjoy watching our virtual assembly as much as we enjoyed making it!
---
Week 5 - Fabulous forest school, messing with materials and a peek at Klee
If you go down to the woods today...you'll probably meet Year 1! Wednesday afternoon saw us take over the copse for a forest school session with Mrs Browne.
After climbing trees and collecting sticks for firewood, we had a sing-song around the campfire while we cooked up some hot dogs as an afternoon snack. And for those who were still hungry, melting marshmallows to make s'mores for pudding was the icing on the cake!
It was a truly joyous afternoon for the children who absolutely loved being outdoors. Ask your child what they enjoyed most about forest school.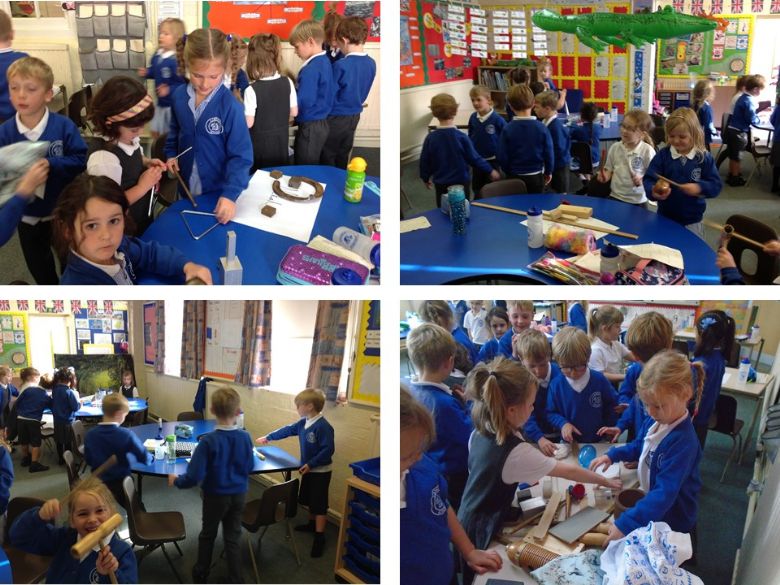 Science this term is all about everyday materials. We started by bringing lots of objects into the classroom made of everyday materials, and the children had to sort them into five groups: objects made of metal, wood, glass, plastic and fabric.
We talked about how we could tell what each object was made from because of the properties of the materials involved, as well as why those properties made it the best material for making that particular object.
Could you conduct a similar sorting investigation using everyday objects around your house?
After working hard on our Christmas cards for the past couple of weeks, we got back to our 'Colour Chaos' Art unit this week by looking at the work of Paul Klee.
The children looked at Klee's abstract works and discussed his use of colour to create different moods.
They then had a go themselves, colouring their own version of Klee's 1922 work 'Senecio' using watercolour pencils.
Ask your child what colours they used and why they chose them.
---
Week 4 - Amazing algorithms, chatty choosing and awesome acrostics
In computing this week, Year 1 were learning all about algorithms: a list of instructions that needs to be followed precisely and in the correct order.
The children had to follow my instructions in order to draw a cartoon character, then (when all the drawings came out looking slightly different), they had to decide how I could improve my algorithm in order to make it more precise, so that everybody would end up drawing the same picture.
They then had a go at writing their own character algorithm and challenging a friend to follow their instructions.
What did your child's algorithm character look like?
Choosing time is still as important (and popular!) in Year 1 as it was in Year R.
It's a fantastic opportunity for children to do things they enjoy, while at the same time honing such invaluable social skills as sharing, conversing and (inevitably!) the occasional bit of conflict resolution.
There's lots of offer in the Year 1 classroom, from quiet reading and mindfulness colouring to dinosaurs, cars and even virtual reality headsets.
Ask your child about their favourite choosing time activity.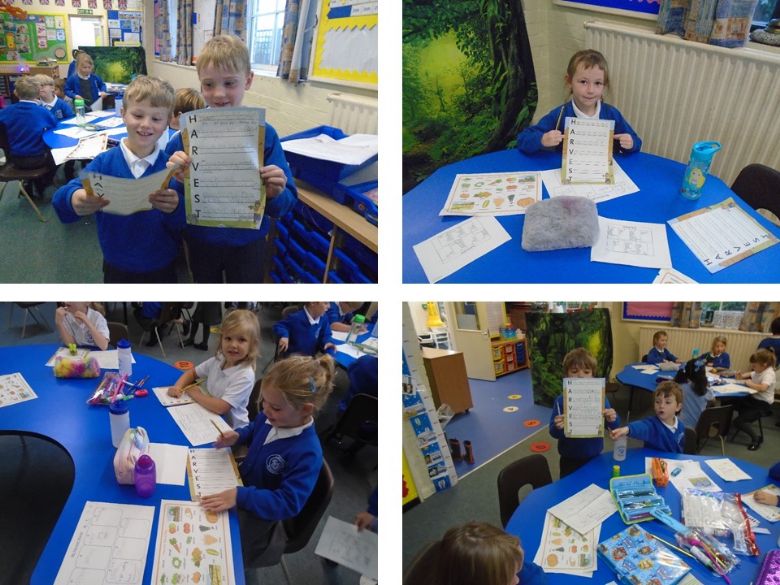 In English, we've been writing acrostic poems about the harvest festival.
We began by looking at what an acrostic poem is by reading some examples of other harvest-themed acrostics.
Next, we gathered together all the words we might need for beginning each sentence with the correct first letter. The children then planned out how their poem would take shape.
Finally, the children wrote their poems, making sure they were stretching out their sentences to make them as interesting as possible.
Can your child tell you about their harvest acrostic poem?
---
Week 3 - Active learning, copse time and Christmas comes early!
Maths and P.E. morphed into one this week as the children put their number recognition skills to the test in a variety of games.
These ranged from challenging the children to find particular numbers that were hidden all around the hall, to pretending they rabbits who had to return to the correctly numbered rabbit hole when the hungry eagle came swooping overhead.
The children had a great time, and it all helped cement their knowledge of what numbers look like - particularly those tricky teens!
Can your child recognise all the numbers from 1 to 20?
It's vital to get outside as much as we possibly can, and we're so lucky to have the copse area to explore several times a week.
The children built dens, created some delicious recipes in the mud kitchen (which I politely declined to try!) and even found clusters of eggs covering the backs of some oak leaves which, upon further research, turned out to be laid by gall wasps.
There are still plenty of leaves on the trees, and we talked about how the copse would begin to change now that autumn has finally arrived.
Ask your child about their favourite copse activities.
It may only be September, but we're already getting festive in Year 1 as in Art this week, believe it or not, we began creating this year's Christmas cards!
It does seem a little early, but we need to get our designs to Cauliflower Cards by October in order for them to be processed and available for you to purchase in plenty of time for Christmas.
It certainly looks like this year's cards are going to be eyecatchingly colourful, so we'll let you know as soon as they're ready to order.
---
Week 2 - Counting, crocodiles and Cosmic Kids
This week found us doing lots of very practical counting and sorting activities to begin getting us thinking again about numbers, shapes and colours.
The children could decide for themselves how they wanted to sort their objects. Some did it by colour, some by shape and some by size. If you look very closely, you'll also see that one group even sorted their colourful compare bears into a socially distanced line!
The children did some great thinking and we had lots of fun discussions about how many different ways you could sort a tubful of plastic elephants!
As it was Roald Dahl day at the beginning of the week, we decided to read the story of 'The Enormous Crocodile'.
The children listened to the story out in the copse, and afterwards we had lots of fun recreating scenes from the book, including when the Enormous Crocodile tries to disguise himself as a coconut tree and a children's seesaw.
You may have heard that we even had a surprise visit from our own enormous crocodile in the classroom! Luckily he was a friendly, vegetarian crocodile though - phew!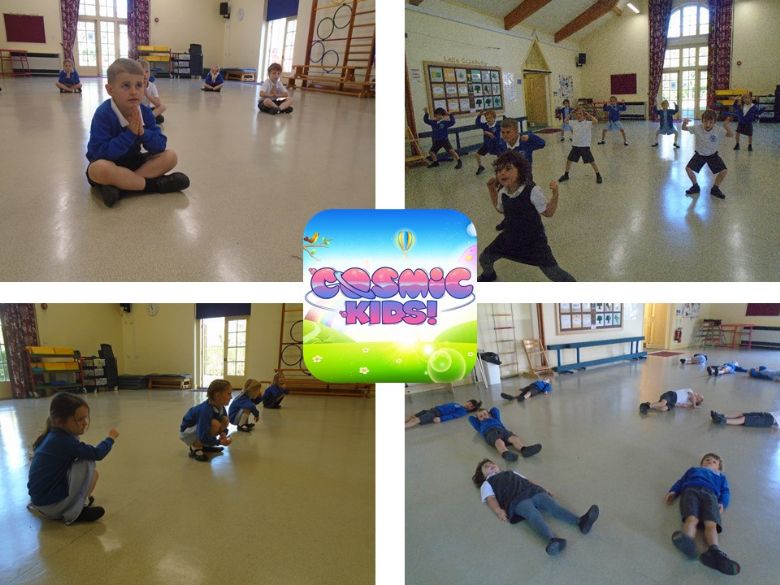 As part of the recovery curriculum, we've been doing Cosmic Kids yoga sessions in order to encourage mindfulness and relaxation practices amongst the children.
Each session takes the form of a story (this week about the importance of hand washing), and the children interact with the adventure by using yoga poses that mirror the different characters and actions. At the end of each session, a moment of quiet relaxation helps the children to centre themselves by concentrating on something calming and positive.
The children really love these sessions and it's a fun and entertaining way of encouraging positive mental and physical health.
---
Week 1 - Welcome back!
Relaxed and refreshed after the summer break, the children have finally returned to school this week and it looks somewhat different to how it did this time last year when nobody had even heard of local lockdowns, COVID-19 or social distancing.
This week the children have been getting used to all the new school routines as well as a new classroom and, I'm happy to say, have taken it all very much in their stride.
From socially distanced lines and seemingly endless hand washing, to relaxation areas and picnic lunches in their year group bubbles, the "new normal" is quickly becoming second nature to the new Year 1s.
We've always loved to get outdoors as much as possible in Year 1, and the new timetable has been designed to maximise the amount of outdoor learning that can take place across the school.
As you can imagine, the firm favourite amongst Year 1 pupils is the copse time we're allocated three times a week.
Whether it's jumping off toadstools, cooking up a storm in the mud kitchen, or building bark dens and bug hotels, the children love getting out amongst the trees. And with autumn just around the corner, it's also an amazing space for exploring our long-term science topic of seasonal change.
We have spent some time in the classroom though (with all the doors and windows open of course!)
We had time to hold an election for our School Councillor and Arts Ambassador, do lots of dancing (but sadly no singing) and even tackle a few fun number challenges.
As part of our ongoing PSHE work we talked about things that might worry us and how we can deal with them, as well as what happiness is and things that make us happy.
We also heard the story of Smartie the penguin and how he manages to stay safe online, after which we made our own Internet Safety Charter for children and parents to sign and return to school.
It's been wonderful to welcome my new Year 1 class into school this week, and they've amazed me every day with the way in which they've thrown themselves into a new - and very different - school year with such joy, enthusiasm and resilience.