Year 1 - Butterfly Class - Mr Hancox and Miss Plomer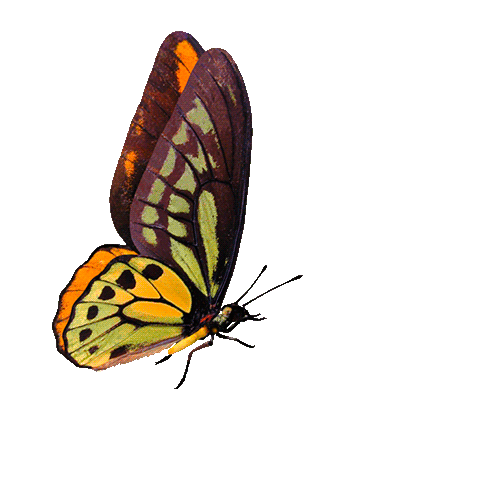 Friday 2nd December 2022
Meet the Teacher
Thank you to everybody who was able to attend the 'Meet the Teacher' session at the beginning of term. If you weren't able to attend, the PowerPoint for the session, along with any other relevant documents, are attached to the bottom of this page.
P.E. Days
P.E. will be taking place on Monday and Tuesday; can children please come in wearing their P.E. kits on these days. Long hair must be tied up and any earrings or other jewellery removed. Children should have shorts and jogging bottoms for P.E. as sessions may be indoors or outdoors depending on the weather. They can bring their shorts in their rucksacks to change into if it is an indoor session.
Cats Protection Donations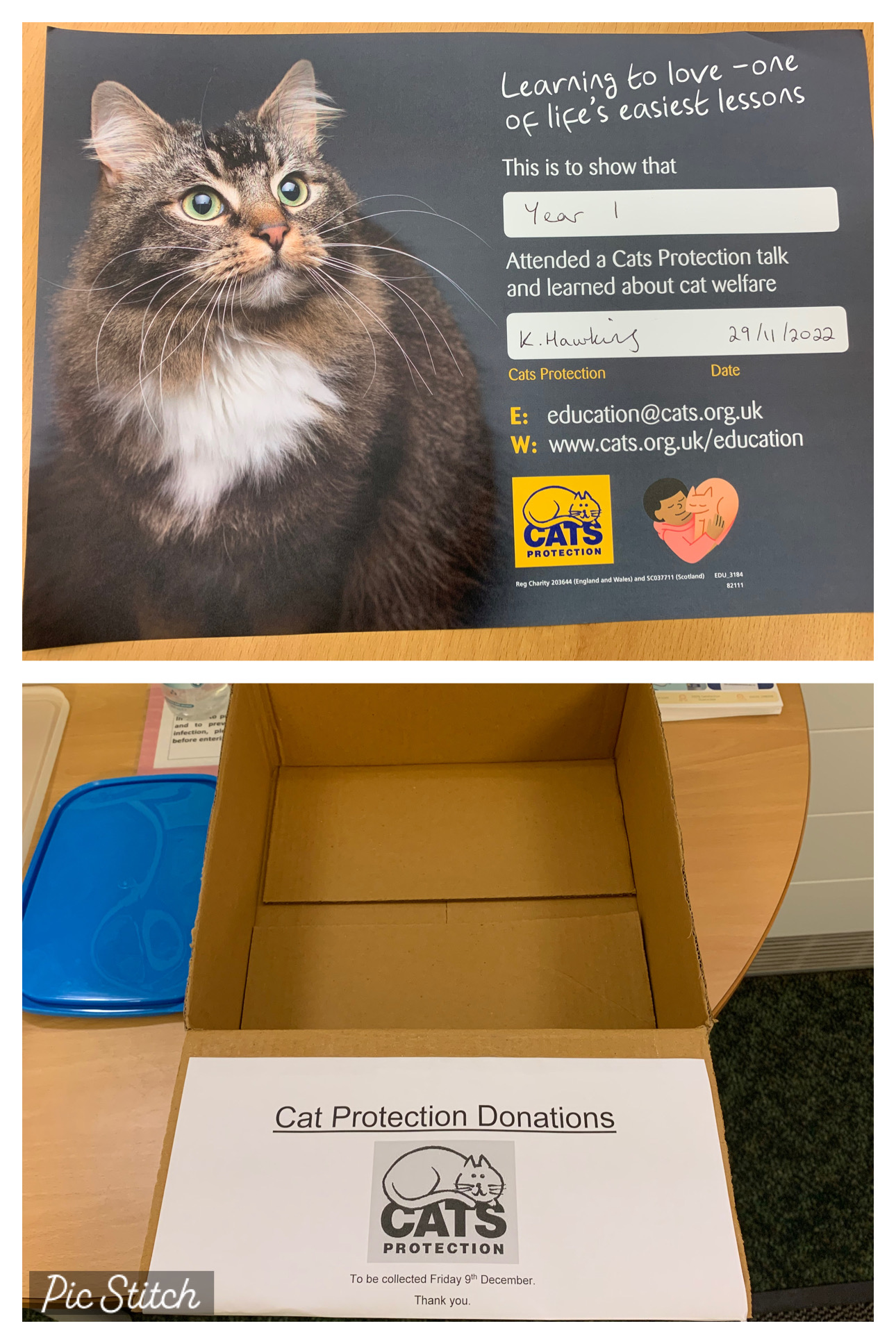 Volunteers from Cats Protection came in to talk to Years R to 4 about the best way to care for our furry feline friends in a fun and interactive session. Children from each class also received a special Cats Protection activity booklet and mask to colour in at home.
It was a free session, but Cats Protection have asked for donations of wet and dry cat food or fresh cat litter to be collected by the school and taken to their centre in Haslemere.
Any donations are gratefully received and can be left in the box inside the school foyer.
Infants' Christmas Party
The Infant's Christmas Party will take place on the last day of term; Friday 16th December. Children can come into school wearing their party clothes, but sensible shoes will be essential as the children will still be going outside at breaktime and the ground may be wet or muddy. The party will take place in the morning, so don't worry if you're taking advantage of the early pick-up at 1pm, your child won't be missing out on any of the fun!
Christmas Cards
Talking of Christmas, your child may be keen to write Christmas cards for their friends this year. We try to be as eco-friendly as we can here at Langrish, and if every child wrote a card for every other child in their class, that would be over 6000 cards heading for recycling or landfill come January. To try and keep our environmental impact to a minimum, we ask that children simply write one card to the whole class, rather than writing cards for each individual child. Children are, of course, free to write and swap individual cards with their close friends outside of school.
Home Learning
English: Make time to read with your child for approximately 5-10 minutes every day. Children are encouraged to change their reading books regularly, however you can find extra reading material on the Oxford Owl website. Our Library Day is every Thursday, so children can also bring their library books back and exchange them for new ones then.
You don't need to record each daily reading session in your child's Reading Diary, but do make an entry at least twice a week; whenever they finish a book; or to say that they enjoyed a particular story you've shared. There are plenty of reading and phonics activities to have a go at in their Reading Diary as well. There's also this term's Reading Challenge to have a go at, with a book review template attached to the bottom of this page.
Spelling Shed and online games: Additionally, children can practise their spellings online using the Spelling Shed logins which are in the front of their Reading Diaries: word lists including learning to spell the months of the year, days of the week, and high frequency and tricky words in line with our current Phonics learning. There are also a range of word games, maths games and coding games available to play in the 'Assignments' section of the Brainzy website for which the children also have login letters.
Phonics: This week, as well as reading all the words on our Word Wall, we looked at our Phase 4 consonant clusters, focusing on blending and segmenting CVCC words (consonant-vowel-consonant-consonant) such as 'tent, 'camp' and 'lost'; look out for these words and sounds in your reading and conversation. We also sang along to the Syllables Song and the Alphabet Song on the BBC Supermovers website. The Phonics Play website also has some excellent free resources and games for extra practise.
Maths: (20-30 minutes per week) We're looking at 2D and 3D shapes at the moment. What shapes can you see in the house or when you're out and about? Can your child spot any packaging in the kitchen that is a cube, a cuboid or even a cylinder? What other shapes can they recognise? There are some new shapes games in the 'Assignments' section of the Brainzy website to have a go at too.
Number recognition is also important in Year 1, and the children frequently struggle to recognise the tricky teen numbers between 10 and 20. I've attached some number recognition flashcards to the bottom of this page if you'd like to practise at home. The 'Out and About' cards on our maths page also have some great ideas for exploring numbers in everyday situations.
Design & Technology and Science: We'll be looking at playgrounds in Design and Technology, so if you visit a playground during the half-term break, look at how the different pieces of playground equipment are built, including the shapes of the structures and how they are held together. Also take a close look at the materials the manufacturers have used to construct the playground equipment. Can you name them? Why do you think they were chosen? This ties in nicely with our Science unit on 'Everyday Materials'.
Personal P.E. Challenge: The children chose, for their personal P.E. Challenge, to see for how long they can balance on one leg. How many seconds can your child balance on one leg for? Can they improve their results with practise?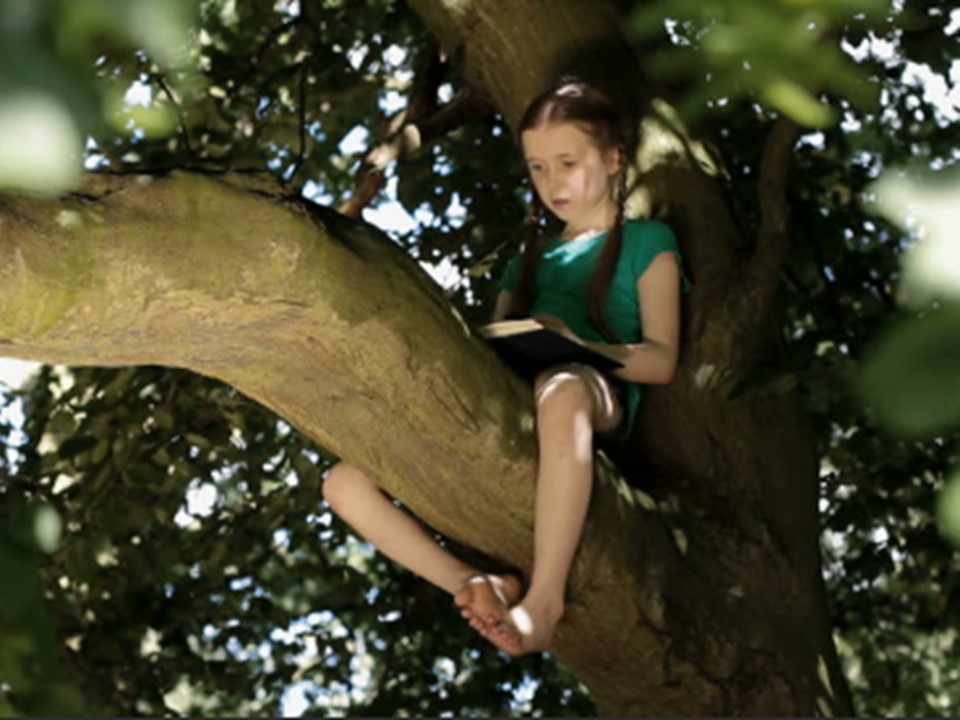 Extreme Reading Challenge: For our reading wall display, we want to prove that Langrish children love to read anywhere and everywhere!
What's the most unusual place your child has read a book. Up a tree? In a hammock? On the beach? Bouncing on a trampoline? Email us a photograph of your child reading a book in an unusual place (nothing dangerous of course!) and we'll put it up in the 'Extreme Reading' display of our new book corner.
I look forward to seeing the unusual places you've been reading your books!
Phonics Word Wall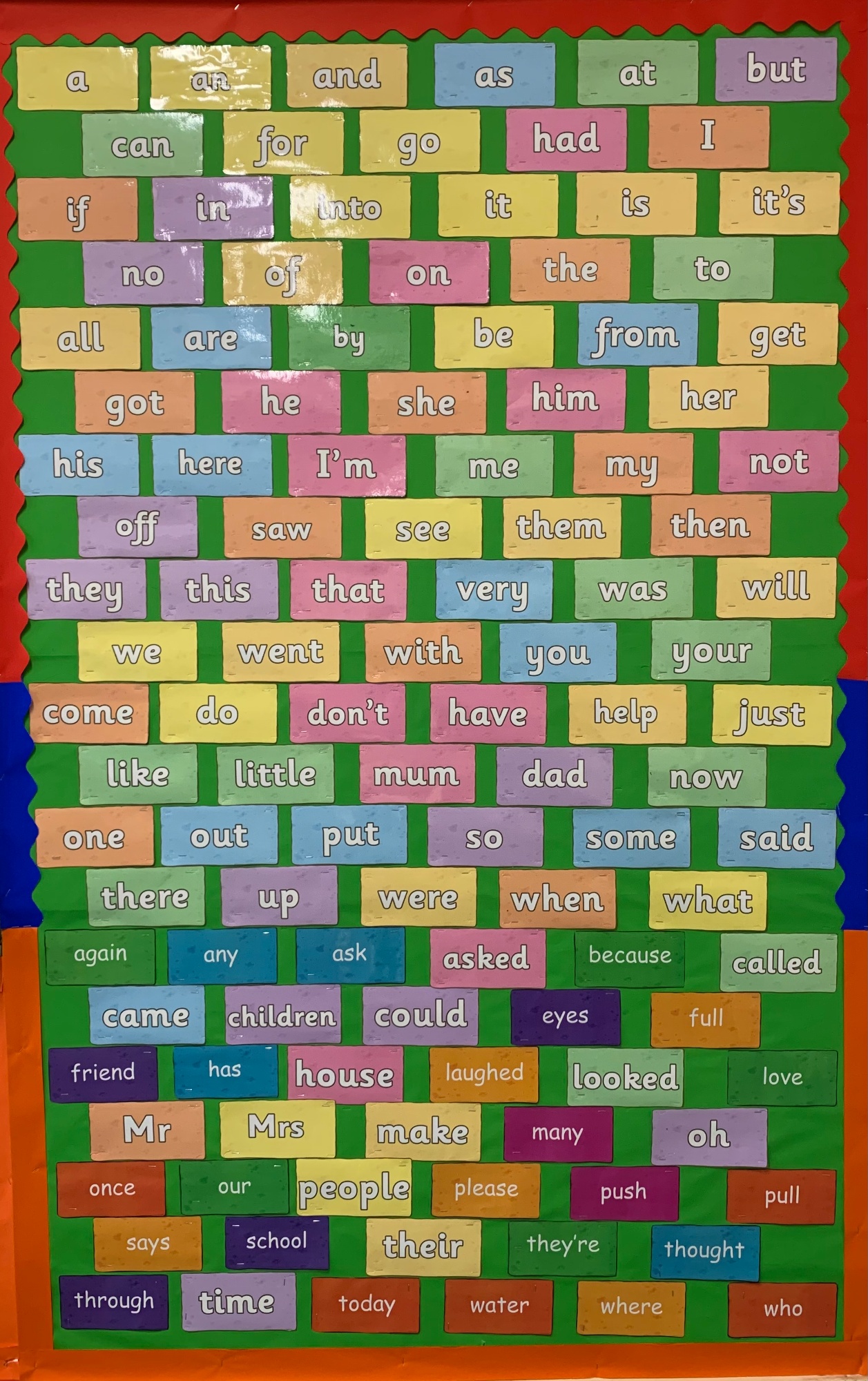 We go through all the words on our Word Wall every day as part of our Phonics lesson. The borders are colour-coded to indicate which book bands the words will appear in (Pink/Red, Yellow/Blue, Green/Orange), mirroring the order in which the different phonics sounds and phases are taught.
Age-related expectation is that children should be reading Orange books by the end of Year 1, and should therefore be able to read, recognise and understand all the words down to the bottom of the board when they appear in a text. They should also be able to start using them in their own writing, utilising the Word Wall in order to help them with their spellings.
You can watch a video of Mr Hancox guiding you through the Word Wall by clicking here.
Internet Safety
There have been instances of children across a number of year groups discussing inappropriate Internet content they have viewed at home. Please ensure that your Internet-linked devices at home are suitably supervised and protected using the parental controls available. For advice on how to keep your child safe online, including the use of parental controls, click this link to the NSPCC website.
This Week's Story Time Selection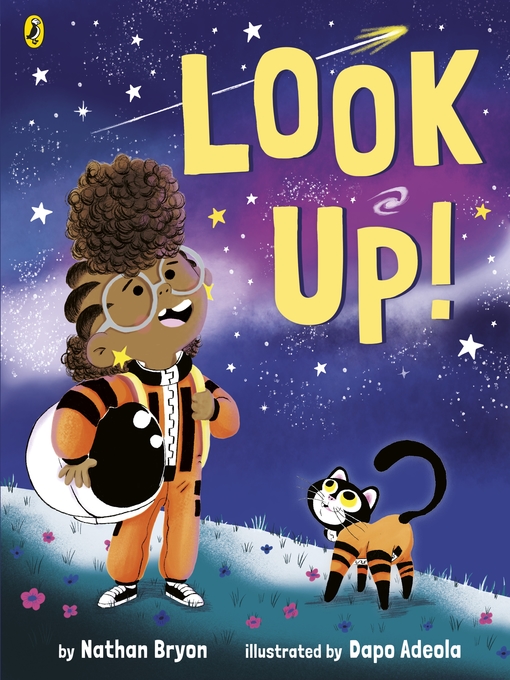 We read a range of books in our daily story time. This week, one of them was 'Look Up' by Nathan Byron and Dapa Adeola. It tells the story of space-obsessed Rocket, who wants nothing more than to watch the Phoenix meteor shower from her local park - and to get everybody else in town excited about watching it too! But when people spend so much time looking down at their phones (like her brother, Jamal), how do you persuade people to LOOK UP?!
Can your child tell you what happened in the story? Rocket makes flyers to persuade people to come to the park, maybe your child could design a flyer for an incoming Christmas event. And ask your child if they remember the name of the astronaut who inspires Rocket - (hint: it's the same astronaut we began learning about in History this week!).
A Taste of Our Learning
Week 12 - The Book of Butterflies, glorious golf and caring for cats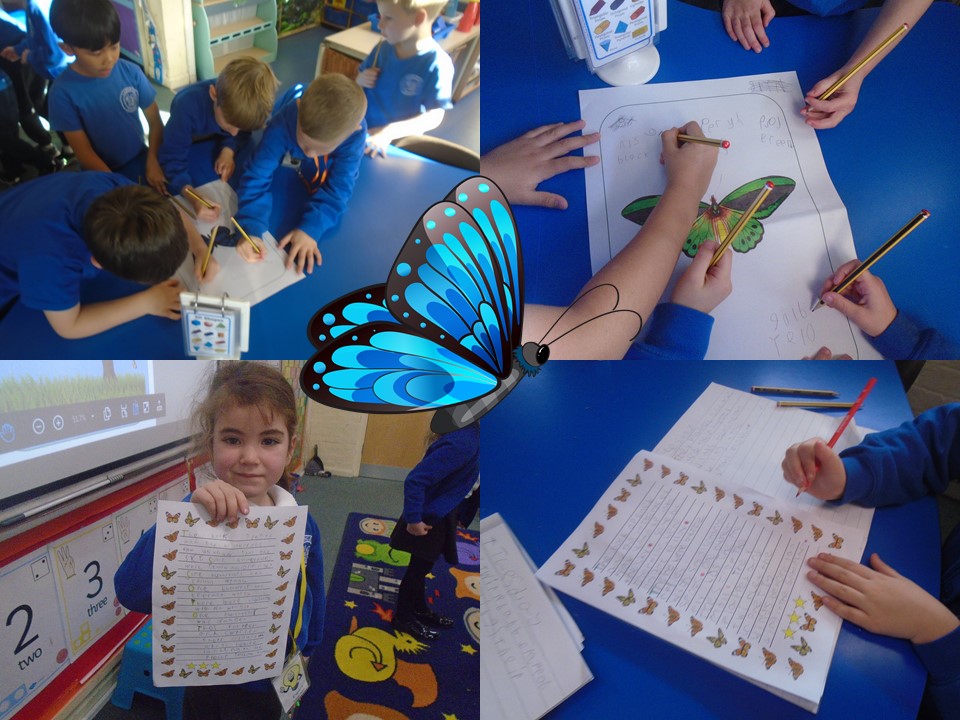 In English, we've been writing about 'The Book of Butterflies' for the past couple of weeks.
The unit is based on a short animation, and after watching the film, the children collected lots of vocabulary about butterflies. We began with adjectives, allowing us to describe what the butterflies looked like. Later, we moved on to verbs, allowing us to describe what that butterflies were doing and how they moved through the sky.
Can your child tell you what happened in the film? Ask them if they can give you some examples of the adjectives and verbs they used to write their 'Book of Butterflies'?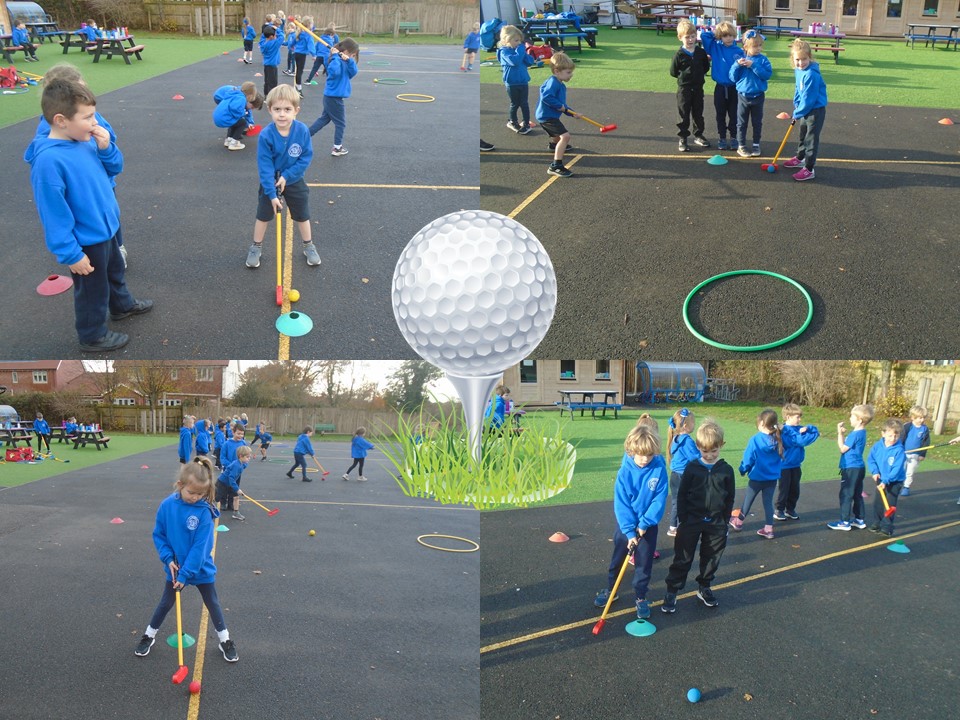 It was time for tee this week, as the children have been practising golf in P.E. We started off by learning which club was the right one to use (the driver or the putter), then set about trying to use the clubs to get the golf ball into the hoops. The children loved trying a new game, and are slowly getting used to the techniques they'll need to be successful; these include their choice of club, and judging the right amount of strength to put into their shots depending on the distance the ball needs to cover.
Ask your child what they enjoyed most this week, and which part of their golf game their going to work on improving next week.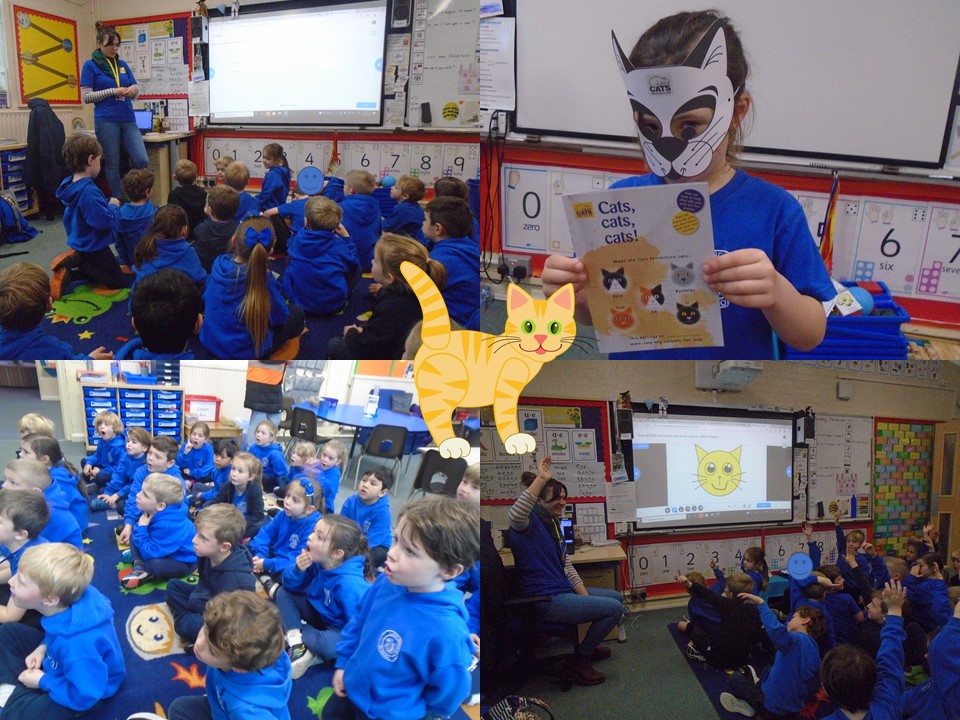 Kirsten from Cats Protection came in this week, and it was the purr-fect opportunity for the children to learn how to care for a cat.
The children learnt about a cat's senses - including how it uses its whiskers to sense the world around it - as well as the best things for cats to eat and drink, where cats do (and do not!) like to be stroked, and how to tell if a cat is happy and comfortable, or if it is unhappy or stressed.
What did your child learn about cats? Can they tell you the healthiest think for a cat to drink? Click this link for more feline fun on the Cats Protection website.
---
Week 11 - Impressive investigations, shaping up and Brilliant Beebots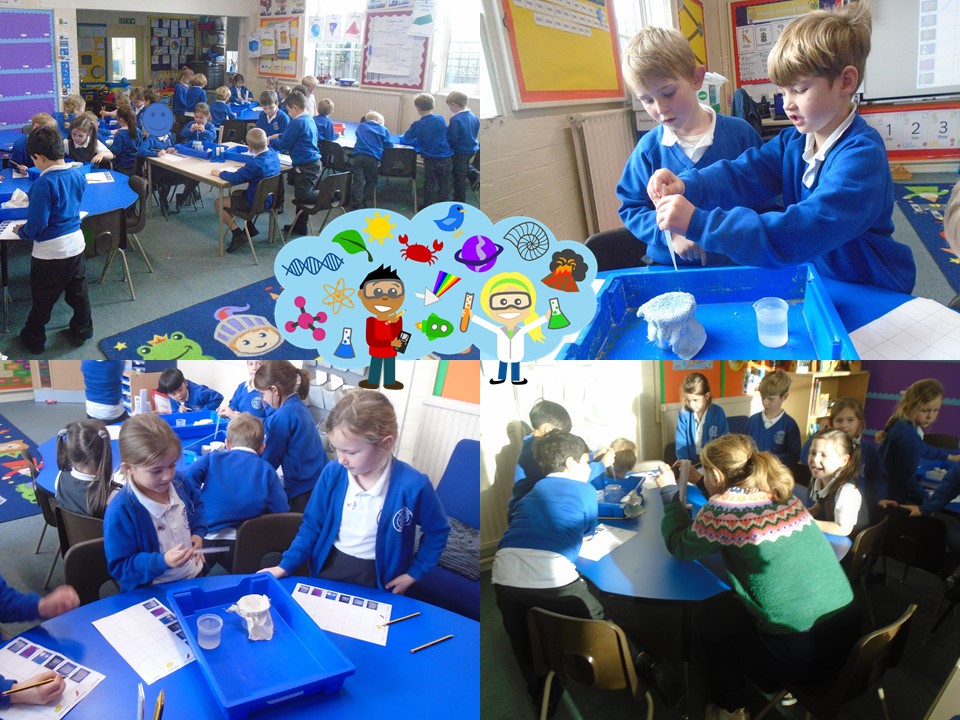 We conducted a scientific investigation this week after a receiving a message from Marissa the Mermaid asking for our help. Some of the scales had fallen off her tail, and she wanted to know the best material to cover the bare patches until new scales grew back. We decided that we needed a material that was both waterproof and flexible, and discussed how we could test different materials for these properties. Ensuring it was a fair test by using the same amount of liquid each time, the children covered their cups with a variety of materials, then dropped four pipettes full of water onto them and recorded the results.
Ask your child which materials we tested. Which one was the best material for Marissa the Mermaid to use and why?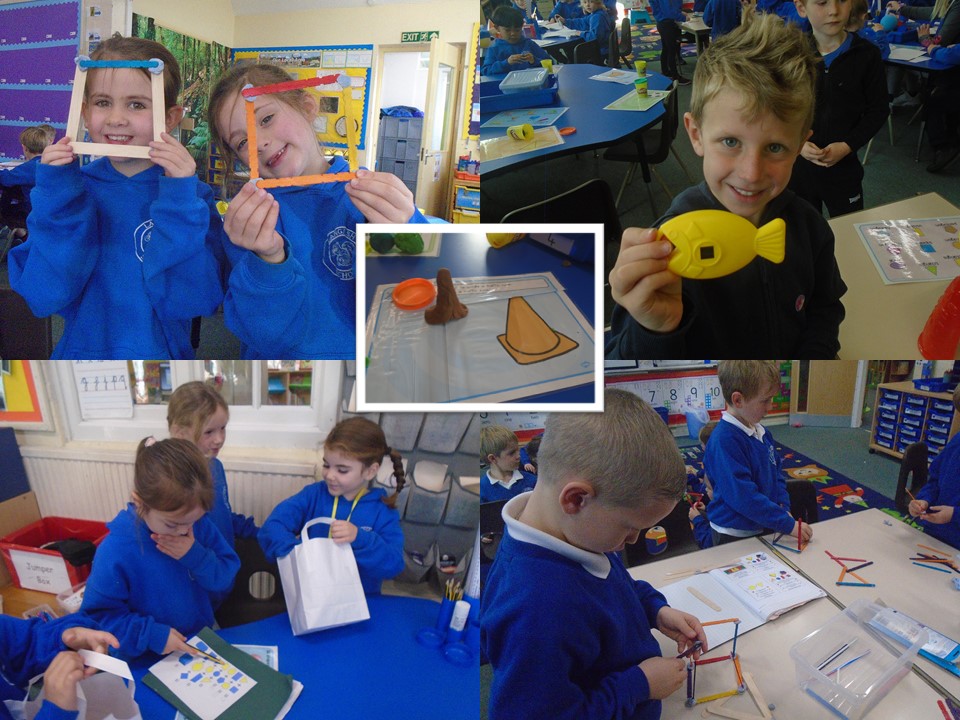 We began looking at the properties of 3D and 2D shapes in Maths this week. As always, we like to keep our learning very hands-on, so the children have been making shapes using lollipop sticks and straws, figuring out which shapes are in the feely-bags by touching them, sorting shapes into groups, selecting the correct fish from a fish tank using the description of the shape on its side, and using Play-Doh to make a variety of 3D shapes. We've also been unravelling 3D shapes to explore their properties, and making animal-themed 3D shapes by cutting and folding paper nets.
What 2D and 3D shapes can your child spot around the house or when you're out and about?

Inspired by Grace Hopper, the children became computer programmers this week, working out algorithms and writing programs for the Beebots to follow. They had to get the Beebot from its start point to a randomly selected toy on the toy shelf using the 'Forwards', 'Backwards', 'Left' and 'Right' commands. If they mastered that, they were then challenged to programme the Beebot again, but this time they were banned from using the 'Forwards' button! Later in the week, they even had the chance to use their programming skills in Maths to guide the digital Beebot around a grid of 3D shapes on the Beebot iPad app.
Can your child tell you what an algorithm is?
---
Week 10 - Beating the bullies, Learning Detectives and Pudsey pyjama power!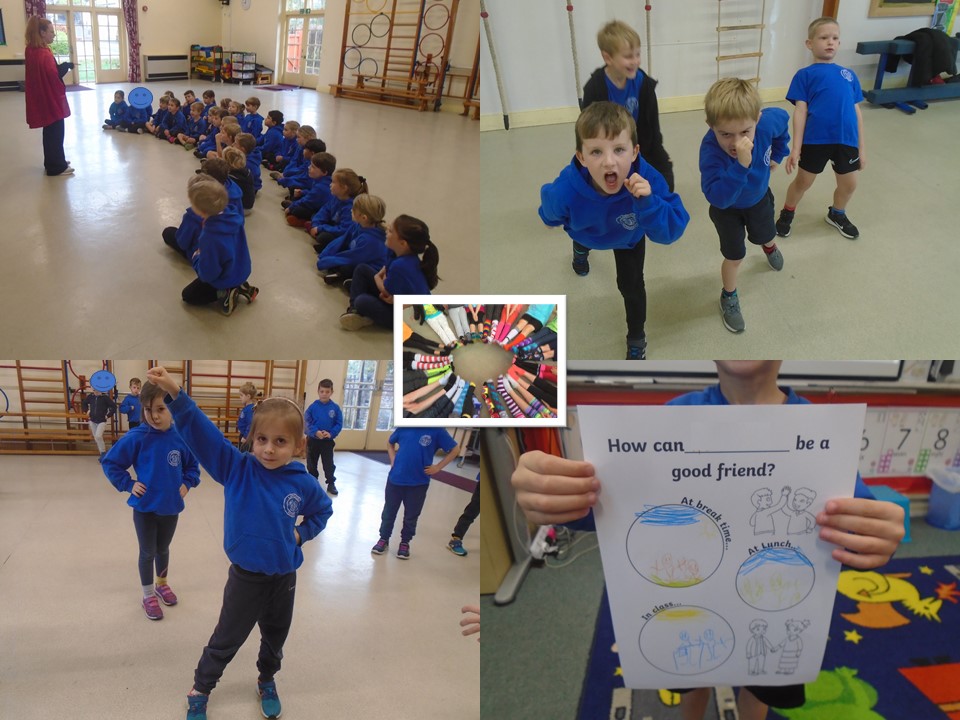 It was Anti-Bullying Week this week, and on Monday, Perform came in to run drama workshops for the whole school on this important theme.
The children learnt what constitutes bullying - as opposed to somebody simply being rude or mean - and as this year's Anti-Bullying Week theme is 'Reach out', we discussed what it means to reach out, and who the children can reach out to if they ever see or experience bullying. They also got to wear odd socks for the day to celebrate the fact that we're all different, learnt a dance to this year's theme song, and in class we talked about how to be a good friend.
Can your child tell you all about Anti-Bullying Week?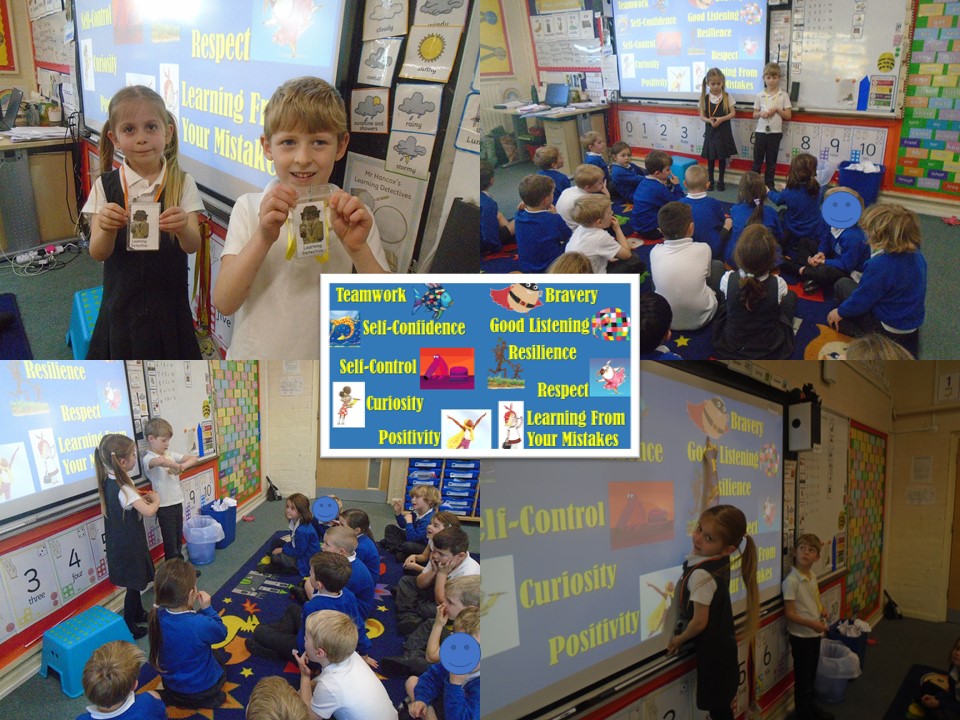 Every day in Year 1 we choose two different Learning Detectives. Their role throughout the day is to keep an eye out for children doing excellent learning and displaying the types of learning behaviours we encourage across the school. These include working as a team, being self-confident, showing self-control, being curious, being brave enough to take on a challenge and staying positive even if we find it tricky, being a good listener, being respectful, being resilient, and learning from your mistakes. At the end of the day, the Learning Detectives report back to the rest of the class to celebrate their achievements.
Everybody gets a turn, so can your child describe the types of behaviours the Learning Detectives are looking out for?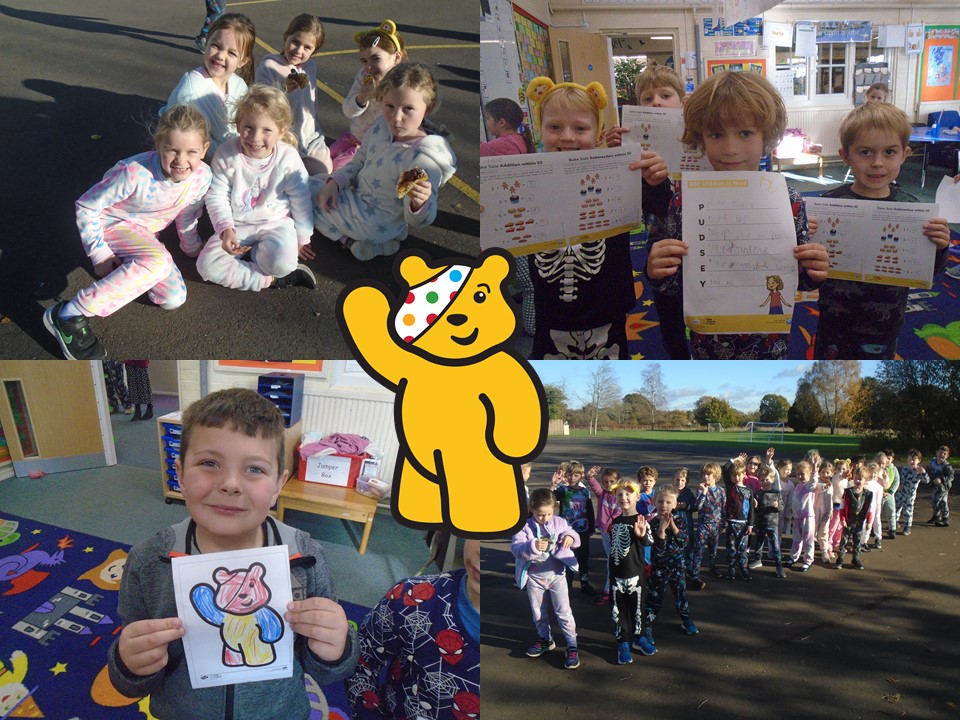 We'd only just changed out of our Anti-Bullying Week odd socks when it was time to climb into our pyjamas in aid of Children in Need! Through their input via the School Council, the children decided they wanted to raise money for Pudsey by paying £1 to come in wearing their pyjamas, as well as bringing in 50p to buy a cake at break time. It was a fabulously fun way of raising money for an amazing cause, and throughout the day the children took part in a range of Pudsey-related actives and learnt about what Children in Need does to support a wide variety of child-focused charities.
What did your child most enjoy about supporting Children in Need this year?
---
Week 9 - Considering candlelight, dazzling drama and spectacular subtraction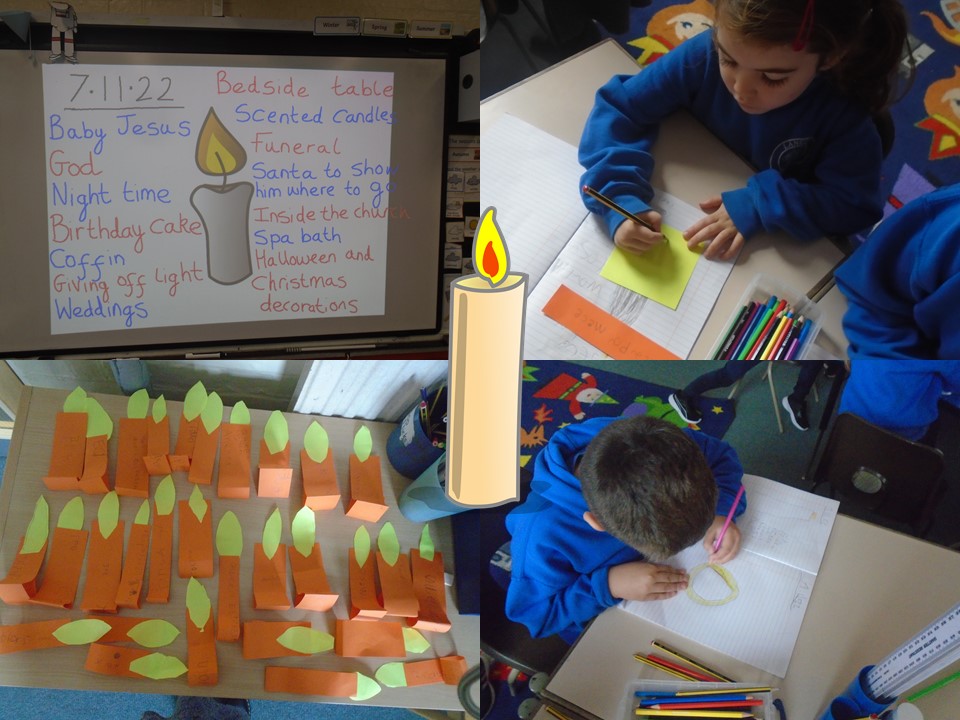 Our World Faith and Philosophy unit this half-term is all about candlelight, and how different cultures use the symbol of candlelight in their traditions and celebrations. We began by looking at Christianity, talking about how the candle can be used as a symbol of remembrance. The children then got their hands on an advent wreath, and learnt that each of the four candles has a different symbolic meaning. Later, we learnt about the Hindu festival of Diwali, hearing the story of Diwali, and finding out what the symbol of candlelight represents in Hindu culture. We even got to make our own clay Diya lamps!
What can your child tell you about the symbol of candlelight in both Christian and Hindu tradition?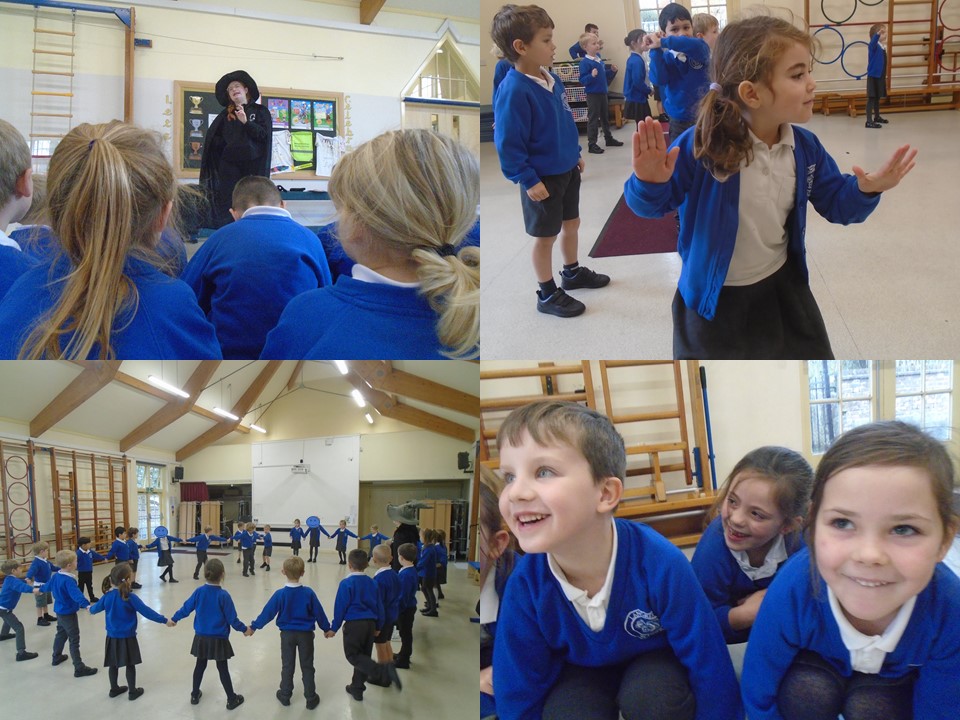 The children had an absolutely wizard time on Thursday morning, when Perform came in to take the children on an Arthurian adventure. Merlin the wizard explained to the children that the evil witch Morgan Le Fay had stolen king Arthur's sword, Excalibur, and spirited it off to Tintagel Castle. It was the children's job to trick Pendragon the Dragon into letting them through the castle gates in order to retrieve Excalibur from the castle's statue room, disguising themselves as statues should the wicked Morgan le Fay appear. The children had a lot of fun, and learnt a little about the Arthurian legends along the way.
Ask your child which part of their Arthurian adventure they enjoyed the most.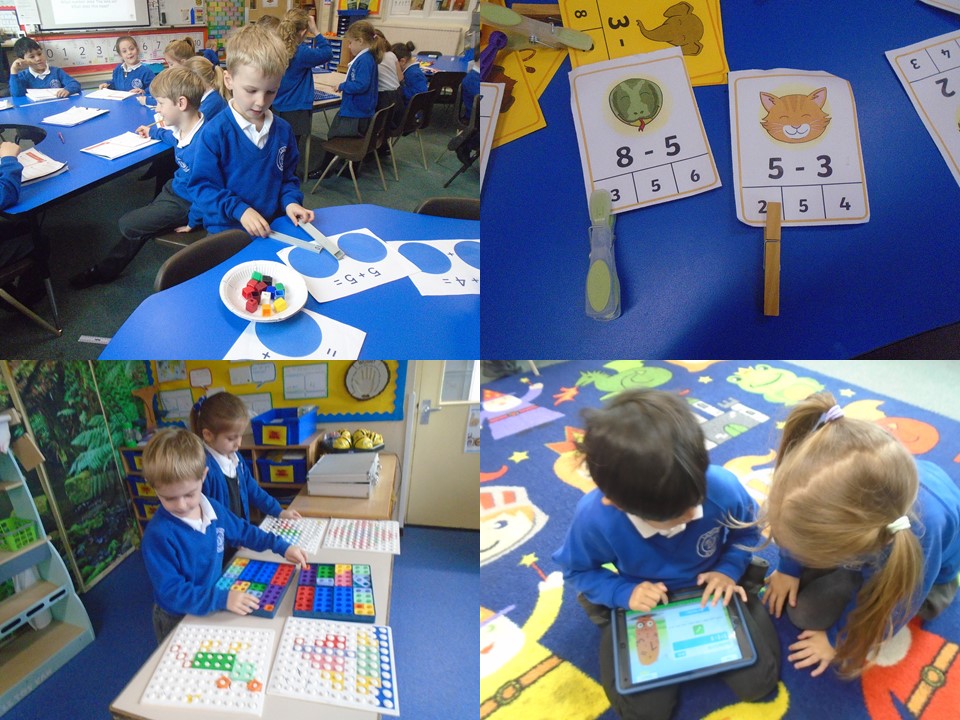 Having covered place value and addition within ten, we moved onto subtraction within ten this week.
As always, there are a range of activities on hand to help the children get to grips with the tricky task of taking away. Using physical resources such as blocks and bead strings, as well as pictorial aids including number lines and tens frames, the children are really beginning to become expert extractors. Working in small groups with a teacher, word problems and discussions help them gain a deeper understanding by applying their knowledge of the concept through reasoning.
Maybe your child can set and mark some subtraction calculations for you!
---
Week 8 - Spooky stories, marvellous materials and amazing aviation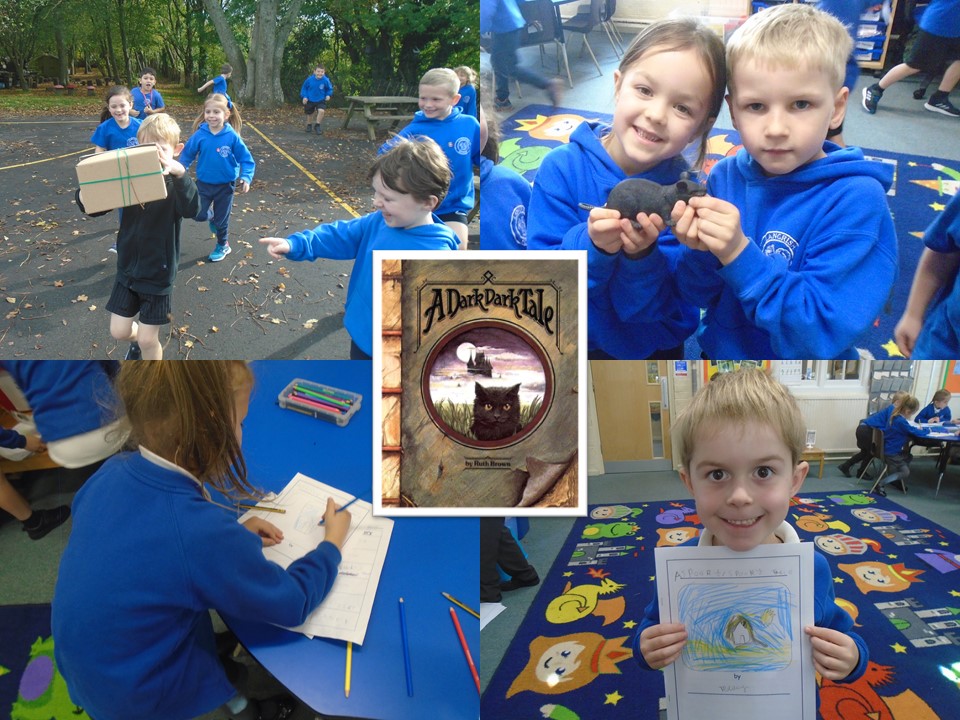 This week began with Halloween, so what better time of year to create a spooky story. We began by reading 'A Dark, Dark Tale', in which a mysterious box nestles within a shadowy corner of an abandoned house. The children then went in search of our own mysterious box, which was hiding in the playground, buried under some leaves! After trying to guess what was inside the box, the children then set about writing their own spooky stories, using the same repeated adjective structure as 'A Dark, Dark Tale'.
What was your child's story about? Did they choose a spooky adjective, or something less scary? And can they tell you what was hiding inside the box?!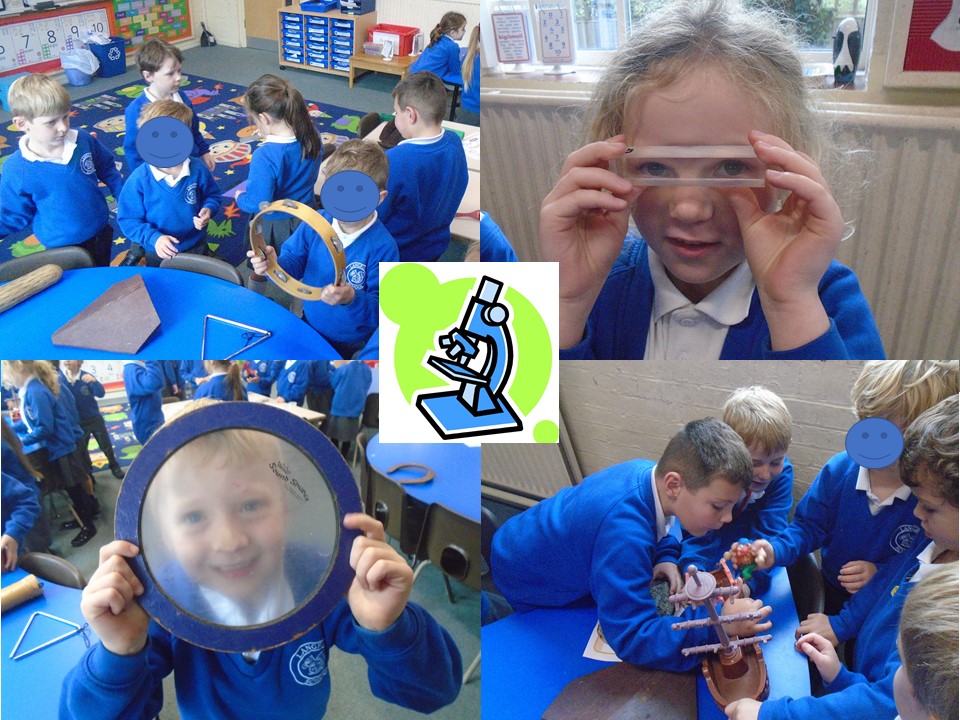 We began our new Science topic this week, looking at 'Everyday materials'.
The children explored a wide range of objects that had been placed around the room, all made from different materials with different properties. The children were easily able to identify the materials - including wood, plastic, metal, fabric, rock and paper - and soon got used to describing them using scientific terminology such as 'hard', 'soft', 'flexible', 'transparent', 'waterproof', 'absorbent' and 'stretchy'.
Which common everyday materials can you see around you? Can your child identify the material and describe some of its properties?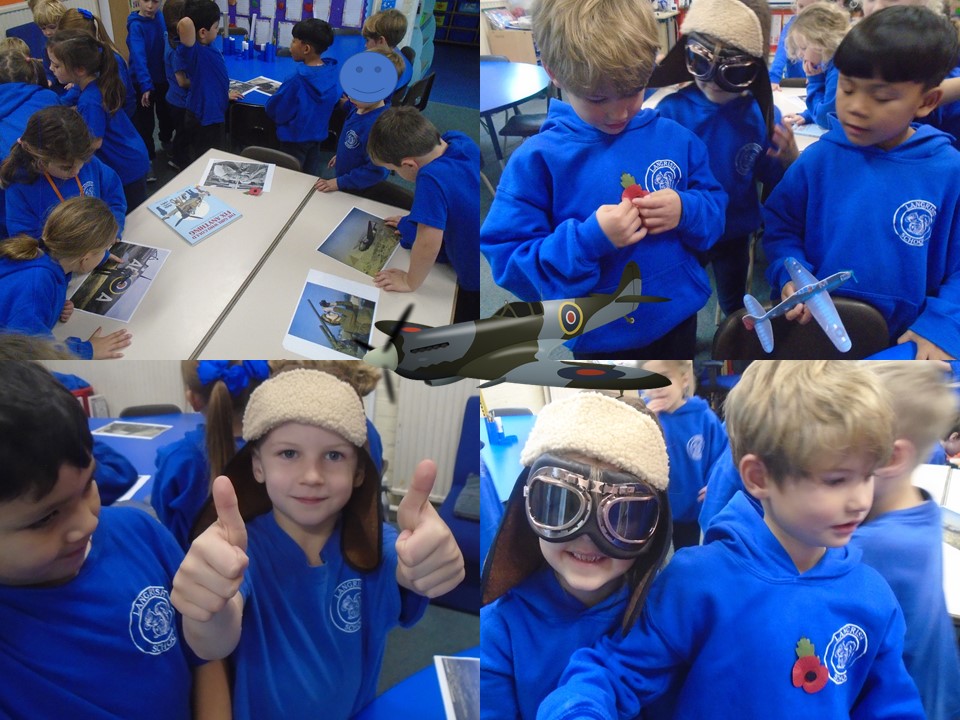 We also began our new History unit this week, in which we'll be learning about and comparing some significant women from history.
To begin with, the children had to guess which era we'd be talking about using clues placed around the room. There were model fighter planes, poppies, a flying helmet and goggles, books about World War II, images of aeroplanes, and pictures of a lady stood next to a Spitfire. The children worked out we'd be beginning with World War II, and were excited to learn we'd be finding out about British ATA pilot Mary Ellis and how she single-handedly flew hundreds of different aircraft around the country.
Can your child find out any facts about Mary Ellis?
---
Week 7 - Poetry week progress, all about algorithms and jumping for joy!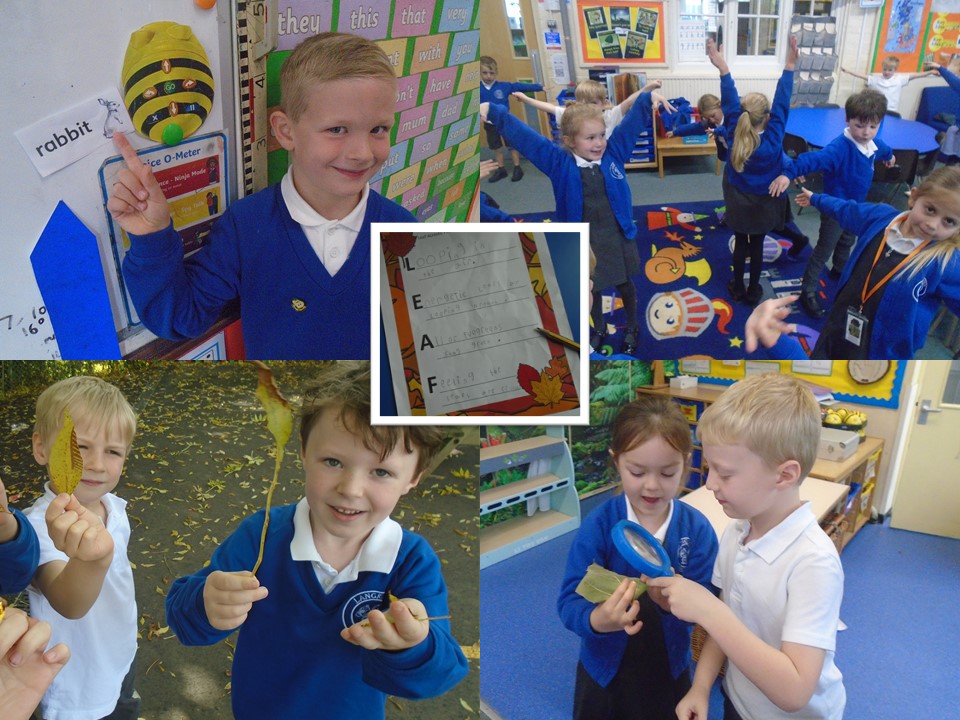 As part of Poetry Week, we explored the acrostic poem 'Fern' from the poetry book 'The Lost Words'
After reading and explaining the poem, Year 1 became ferns themselves, starting from a small ball on the ground and unfurling until they were fully fanned ferns, just like in the poem. After writing acrostic poems of their own names, the children then decided to write an acrostic poem about a leaf. We went outside to explore the trees and gather some leaves, examined them closely using magnifying glasses, and came up with words to describe them that began with L, E, A and F, before finally writing our 'Leaf' acrostic poems.
What did your child write in their 'Leaf' poem.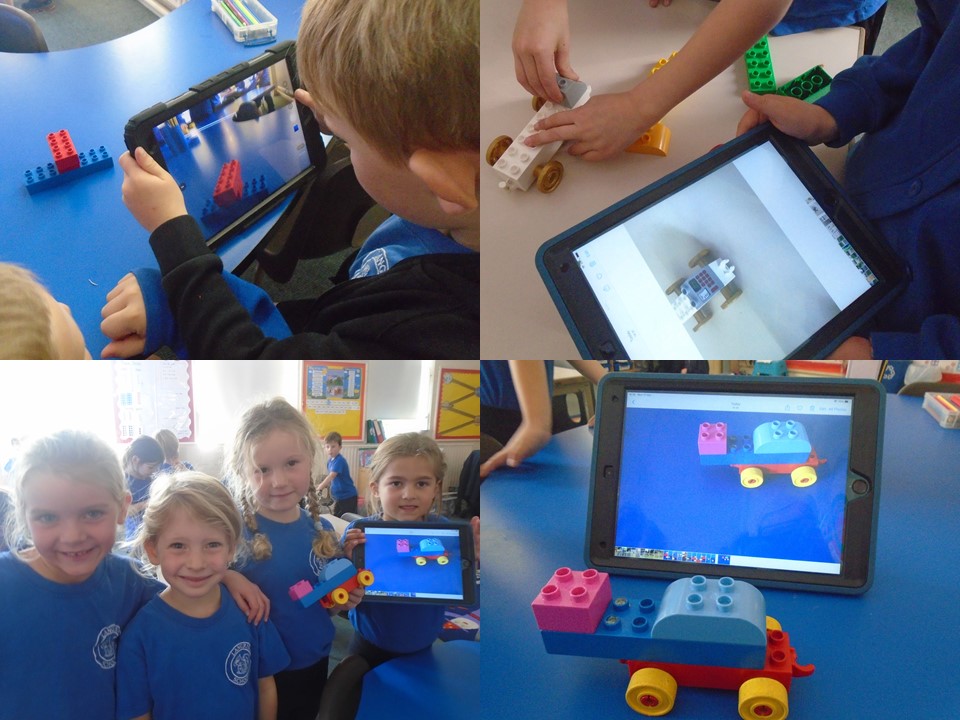 In Computing, the children programmed each other to create LEGO models this week.
Using only four LEGO bricks, the children made a simple model, taking a clear photo at each step using the iPad. This created a picture algorithm, and they then challenged a friend to follow the algorithm - one step at a time in the correct sequence - in order to create the same LEGO model they had made. It was a great way of demonstrating what an algorithm is, and why it needs to include clear instructions in a specific sequence.
Maybe you could try this activity at home. Can your child create a picture algorithm for you to follow?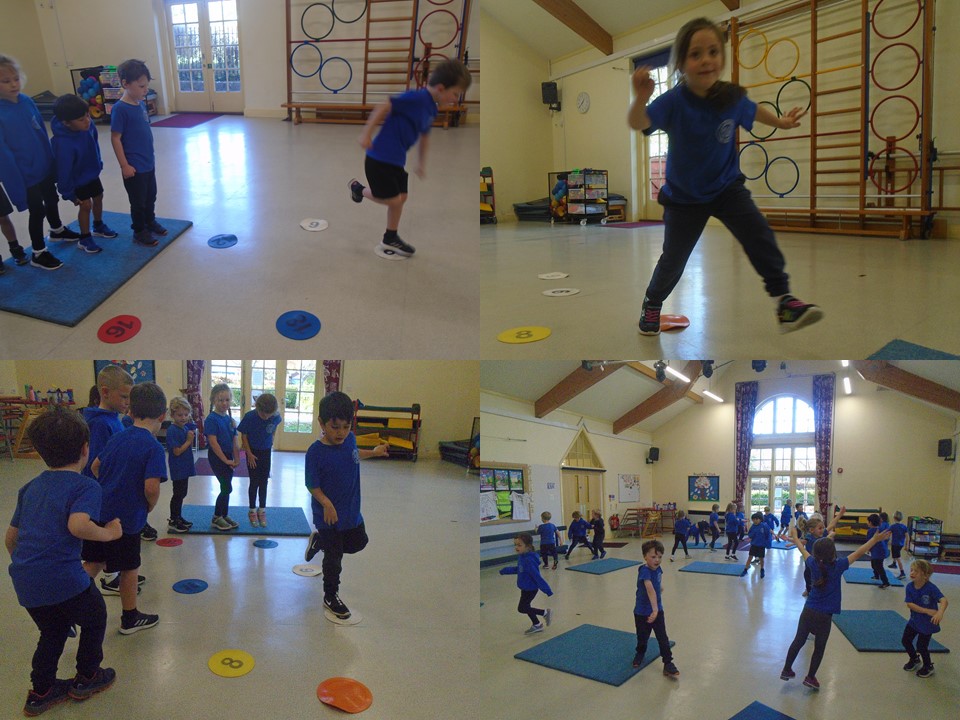 We were jumping for joy in P.E. this week, as we took a long look at leaping as part of our gymnastics and body control work.
The children were challenged to jump in different ways, including from two feet onto two feet; from one foot onto two feet; from one foot onto the opposite foot, and from two feet onto one foot.
They then practised their jumping skills during a stepping stones game, in which they had to choose the best route across "crocodile-infested" waters.
Can your child demonstrate their jumping skills at home?
---
Week 6 - Dazzling deities, geographical juxtapositions and researching Rothko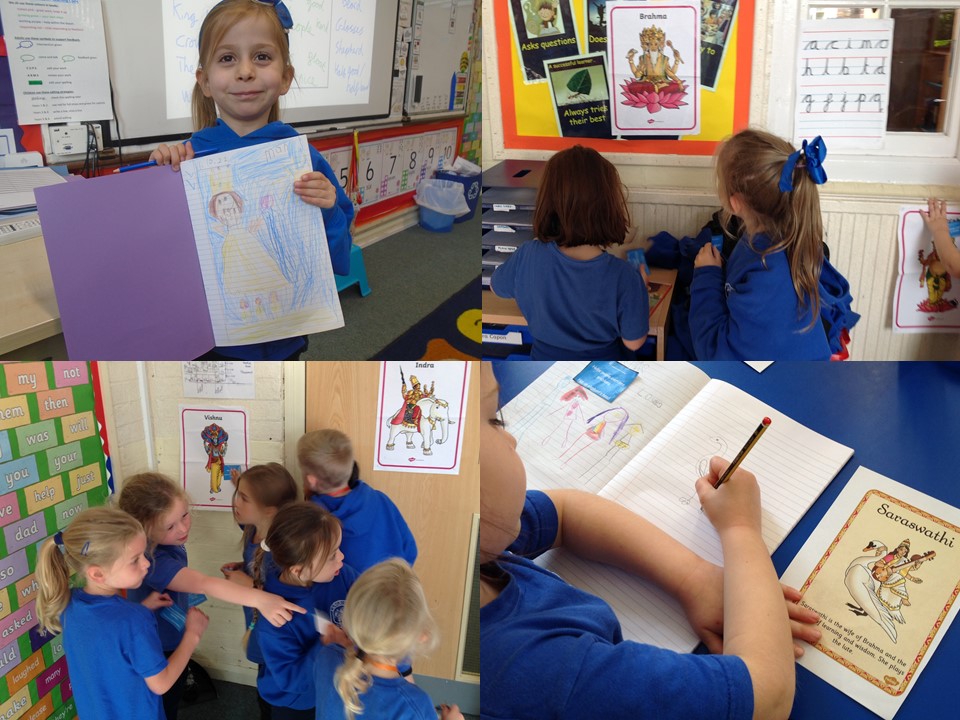 Our World Faith and Philosophy unit this term is all about the concept of god.
First, we asked the children about what came into their minds when they thought of god, before exploring the representation of a single God in Christian culture through a number of Bible stories and discussions.
By contrast, we then explored how the Hindu tradition has many gods, representing different aspects of the supreme god, Brahma.
What can your child tell you about our discussion of deities? Which Hindu god did they choose to draw in their book?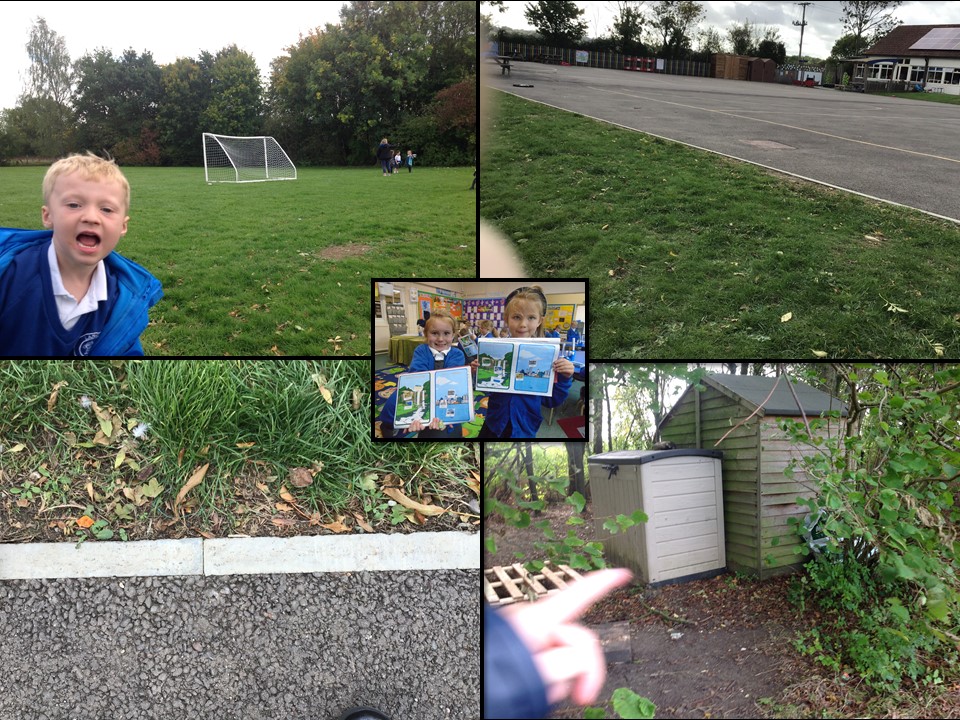 Photographic credits go to the children this week, as they were sent out on a Geography field trip mission. We've been exploring the difference between human and physical geography, so as part of their outdoor learning, the children were given iPads and asked to take photos of human geography, physical geography, or - better still - the interaction between the two that we can see around the school. They found some great examples, and, most importantly, were able to talk about the photos they'd taken - and why they'd taken them - during discussions afterwards.
Can your child tell you (or show you) the difference between human geography and physical geography?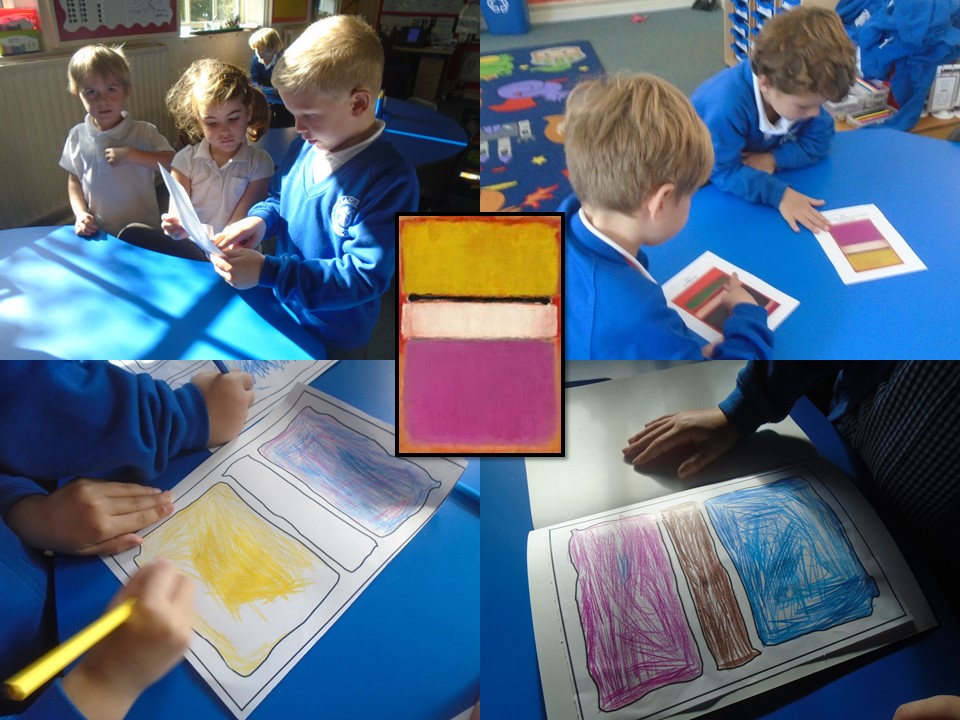 In Art this week we continued looking at the use of colour by exploring the work of Mark Rothko.
Rothko's abstract paintings use large blocks of colour to convey feelings and emotions. First, we examined a number of Rothko's colour field paintings, talking about why we liked or disliked them, how they made us feel, and whether or not the images reminded us of anything (which they did - with everything from moonlight and waterfalls to flowers and Liquorice Allsorts getting a mention!)
The children then chose colours to create their own simple colour field artwork. Which colours did your child choose and why?
---
Week 5 - Crazy crocodiles, fabulous phonics and amazing adaptation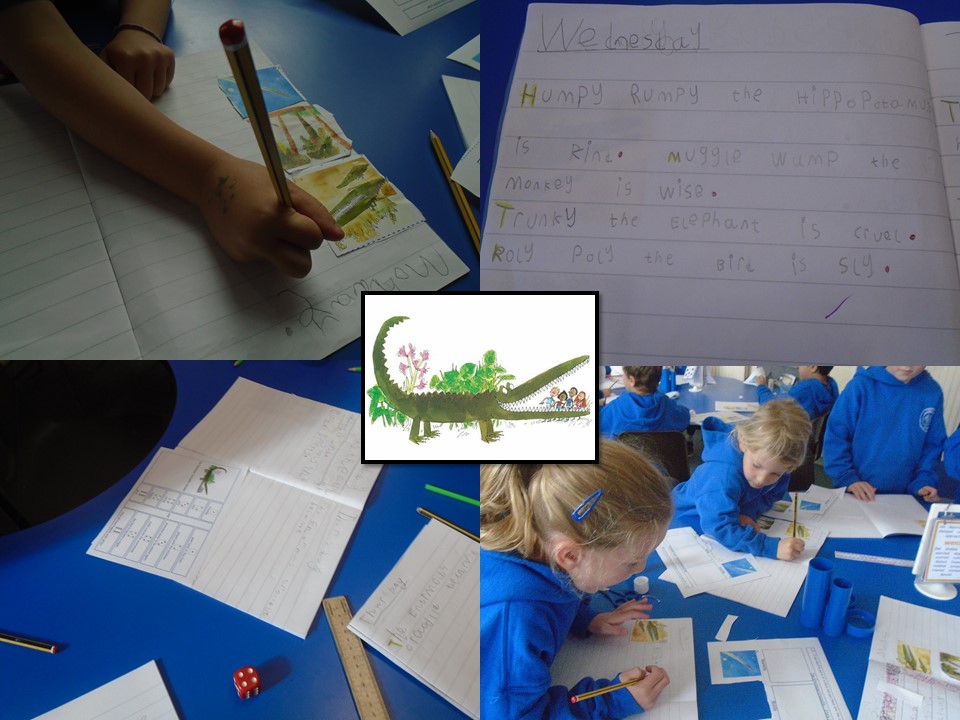 Our English this week has centred around Roald Dahl's classic story 'The Enormous Crocodile'.
After discussing the structure of the story and talking about beginnings, middles and endings in general, we then looked at adjectives and wrote some sentences describing the Enormous Crocodile. The children then wrote some descriptive sentences about the other characters in the story, and finally created alternative endings in which the Enormous Crocodile is given a second chance to change his ways.
What was your child's alternative ending, and how would they describe the characters?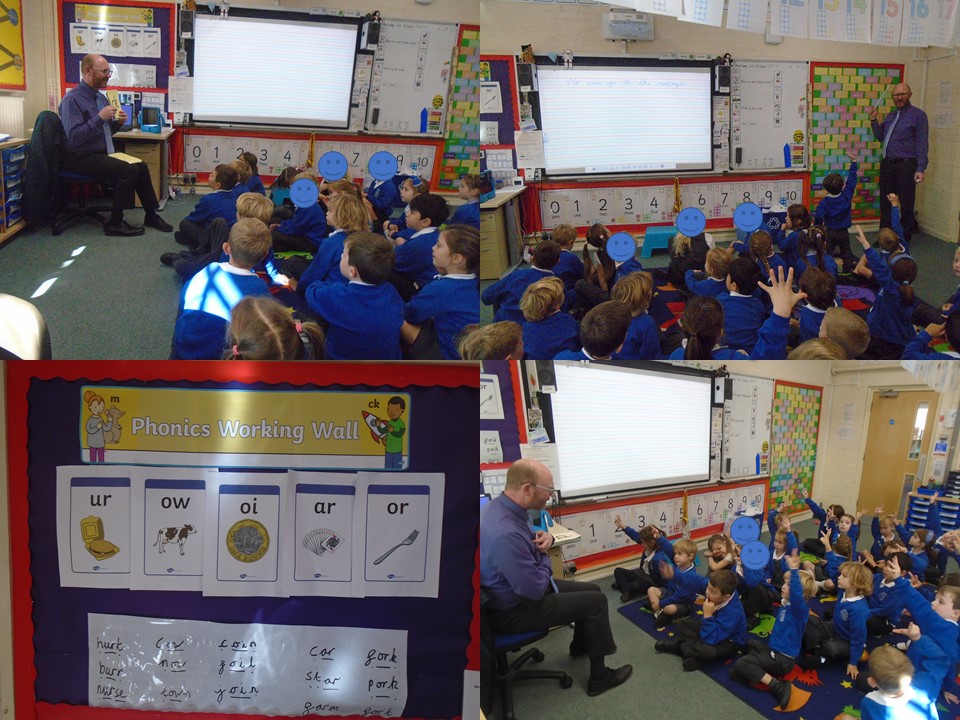 Our Phonics lessons are based around the DfE validated programme Smart Kids Letters & Sounds: The Code, and consists of five short, 2-minute bursts focusing on the key skills.
First we go through all the sounds using flashcards, then we practise segmenting and blending using words containing that day's focus sound. We then read all the words on the Word Wall from top to bottom, before finally choosing two words from the Word Wall to create two sentences, making sure we include capital letters, finger spaces and full stops.
See the Phonics and Phonics World Wall sections in the Home Learning menu for more details.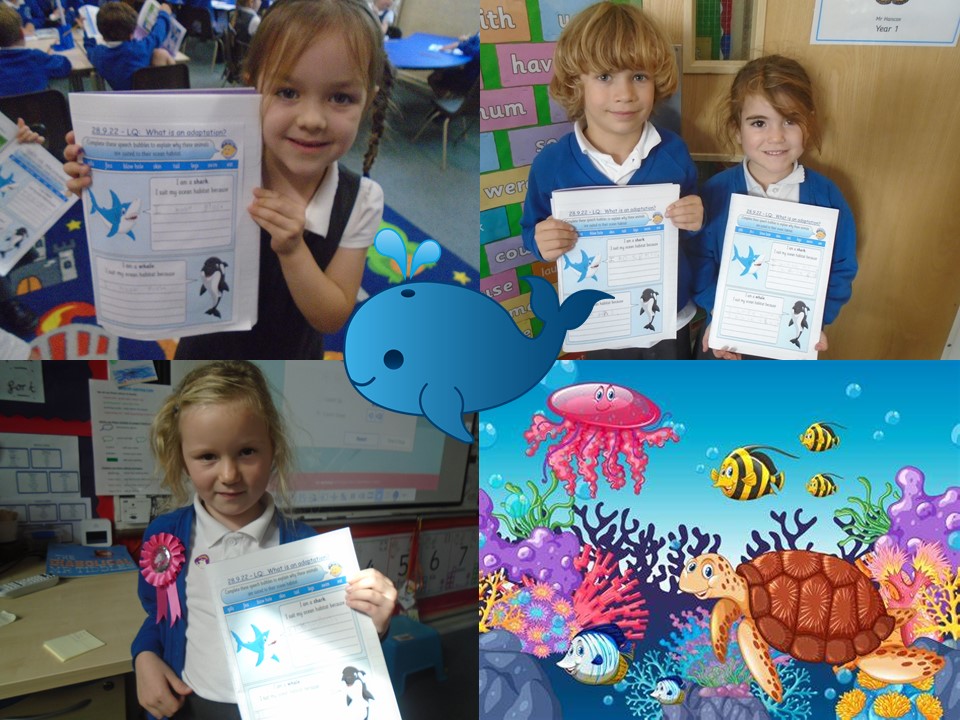 As part of our 'Habitats' unit, Science this week focused on adaptation. We looked at the many different ways in which animals have adapted to their habitats, both physically and behaviourally, in order to survive.
Looking at sea creatures in particular, we examined how fish have gills in order to breathe underwater, as well as how sea-living mammals such as dolphins and whales have blow-holes to make breathing at the surface easier. We also talked about how some chimpanzees - like humans - have made the behavioural adaptation of using tools in order to catch food.
What can your child tell you about adaptation?
Week 4 - An amazing assembly, marvellous maps and cheerful choosing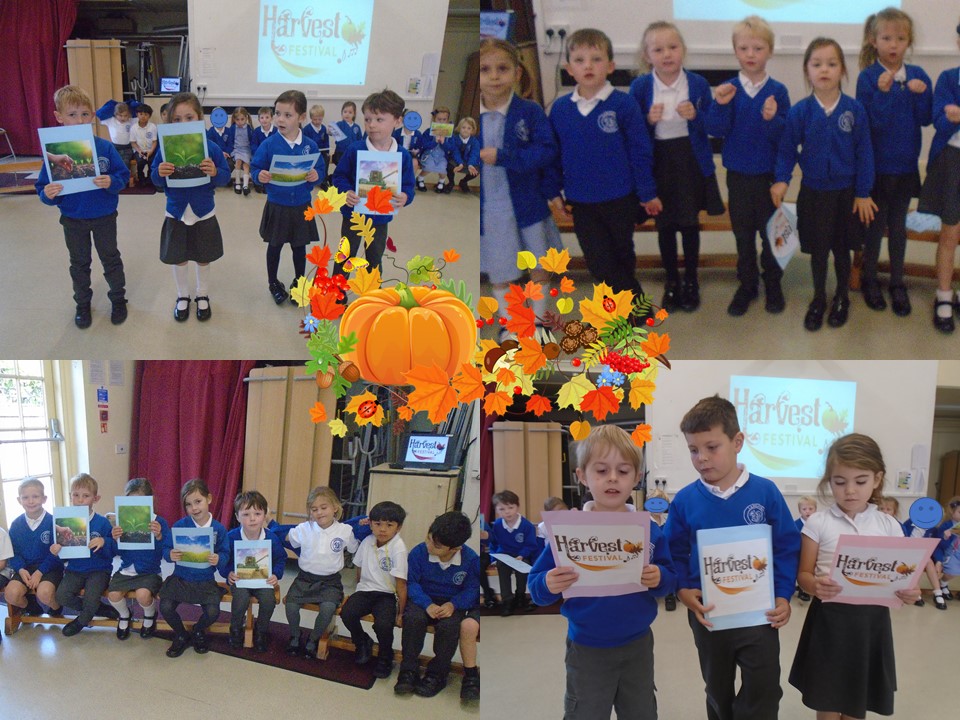 A big thank you to everybody who was able to support our Harvest Assembly on Friday, either by coming along in person or by sending donations for our local PACT Food Bank.
The children did a fantastic job of sharing their learning about harvest time. They recited a poem called 'Harvest Time is Here Again', revealed their favourite fruits and vegetables, talked about what crops need in order to grow, read some harvest acrostic poems, and ended by performing a catchy song about eating fruit!
We hope you enjoyed the assembly, and I hope the song about fruit isn't stuck in your head for too long!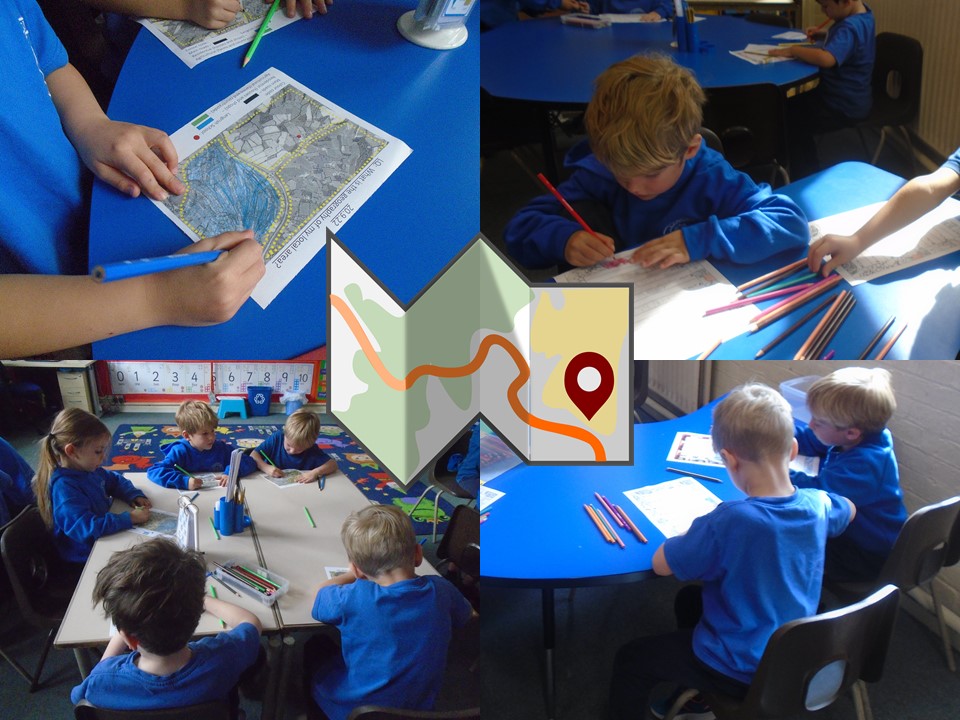 In Geography, we continued looking at our local area by examining maps of Petersfield.
The children identified the town, and noted how the A3 divided the map, with the town centre, including lots of streets and buildings, on one side, and green space on the other.
They then colour coded a map according to land use, using blue for residential areas (built-up areas with houses and shops), and green for the agricultural areas (fields and farmland).
What types of land use can you see on your journey to or from school, or even from your bedroom window? Is it mostly residential or agricultural?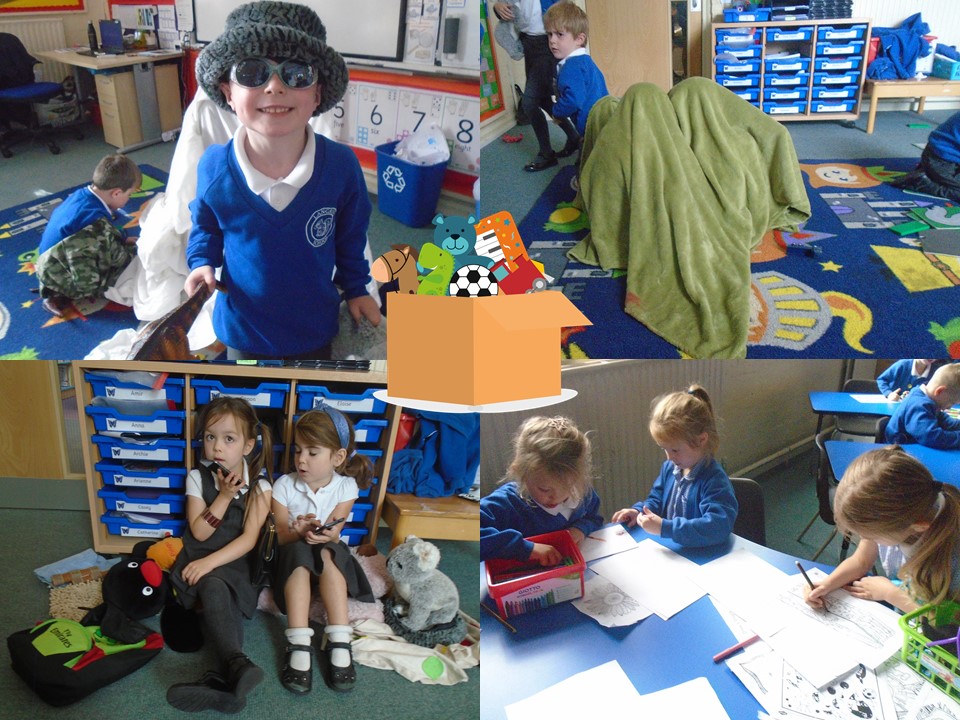 We work hard in Year 1, but it's important to make time for lots of play too!
The children still have regular sessions set aside in the timetable for Choosing Time. They can dress up, play role-play games, build blanket dens, play with cars, LEGO or dinosaurs, or even just choose to do a little bit of quiet colouring.
It may look like playtime, but really of course it's all still learning; learning to share, take turns, solve problems, resolve disputes and use their imaginations.
Ask your child which activities they most enjoy during Choosing Time.
---
Week 3 - Outdoor explorations, magical music and getting creative for Christmas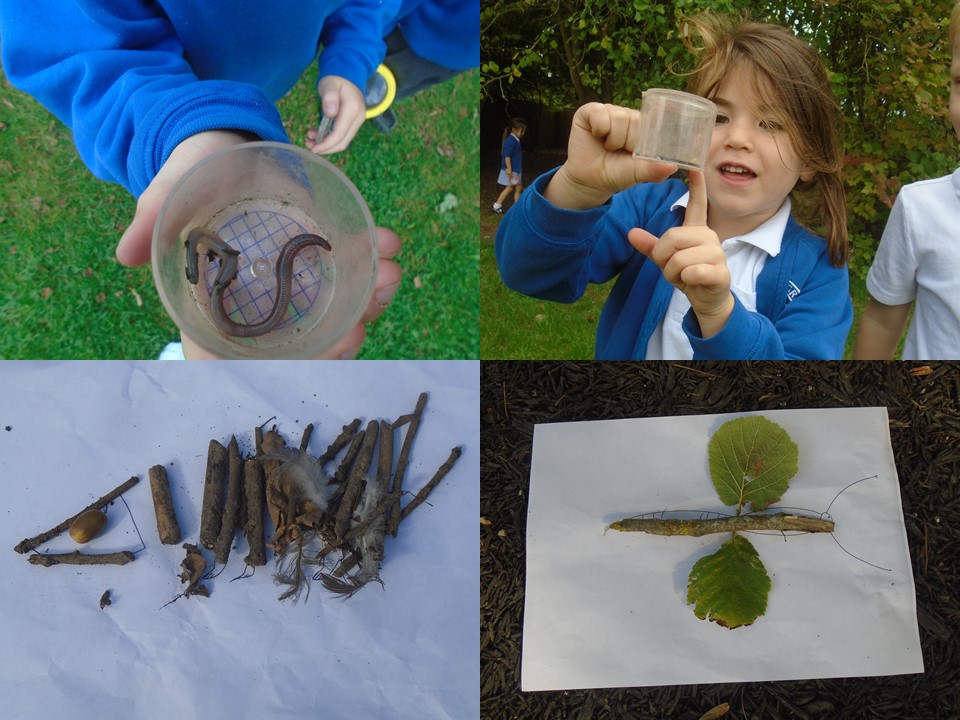 Year 1 have been exploring animals and habitats in our Outdoor Learning sessions, helping to reinforce what we've been learning in Science about nature and the seasons.
Looking for variation in living things, they tracked down a variety of minibeasts, and had a close look at them using magnifying glasses and viewing pots.
The children then got creative with autumnal natural materials, making their own minibeasts out of twigs, leaves and acorns.
What minibeasts can you find in your garden? Maybe you could try some autumnal art of your own this weekend.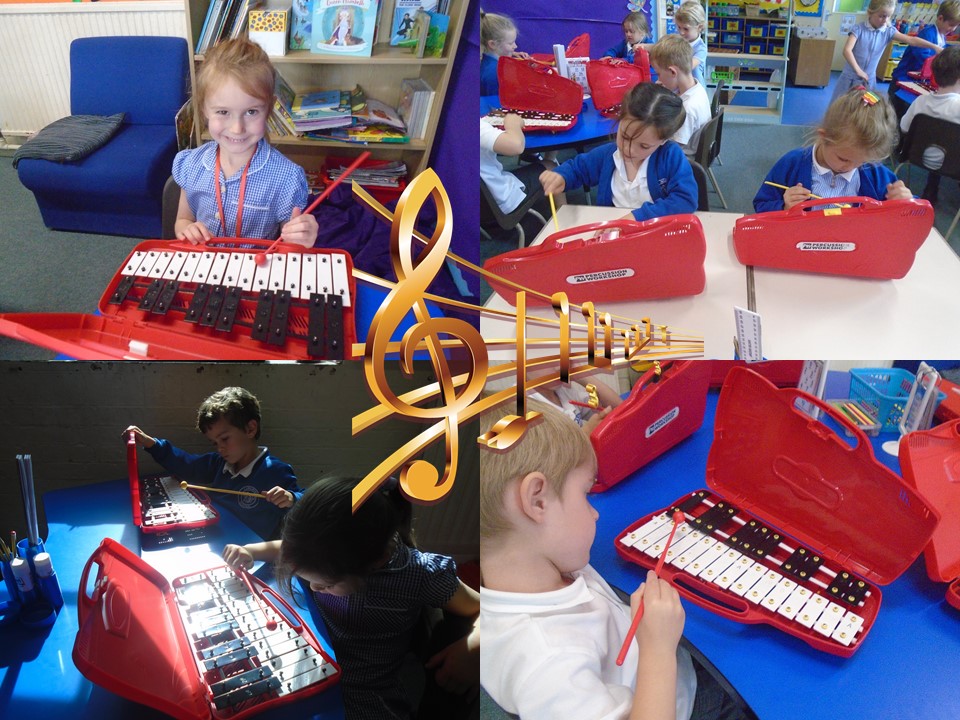 We introduced a performance element to our Music lesson this week, when the children finally got their hands on the glockenspiels.
Playing along to the song '1-2-3-4-5', the children first played only the simple two-note accompaniment (C and D). Once they'd mastered the rhythm of the song, they then tried using the notes C and D to improvise their own pattern to accompany the music.
Finally, the children voted to try the tricker five-note accompaniment (A, B, C, D, and E), and did a fabulous job of playing along to the music. I think we might even have some future professional musicians in Butterfly Class!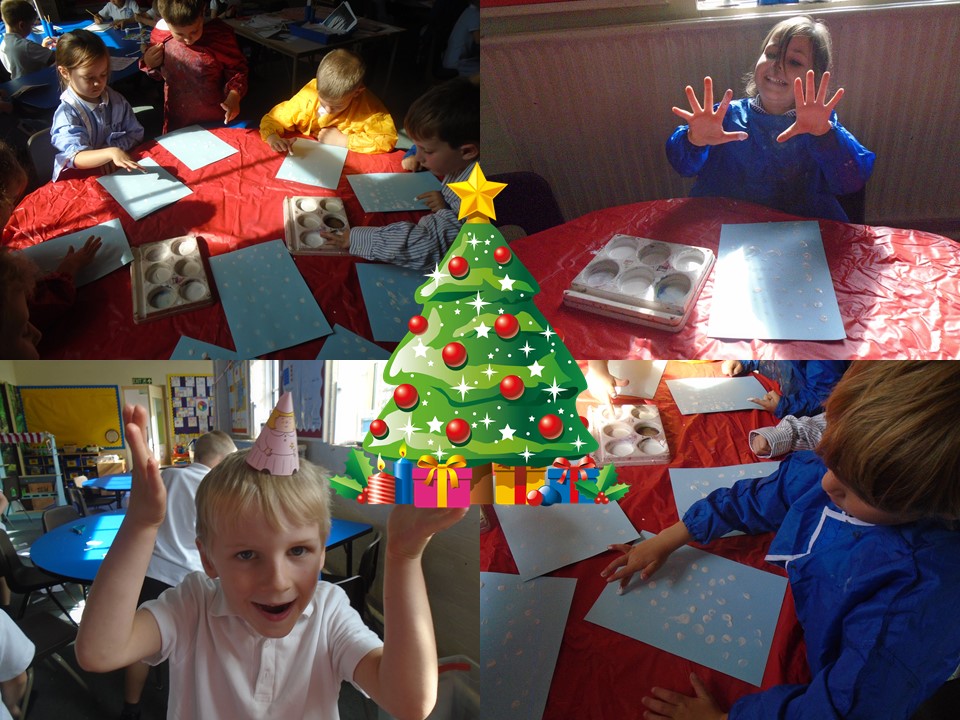 No, that wasn't a mistake in the heading; despite it still being September, we've been fabulously festive in Year 1 this week by creating some eye-catching Christmas cards.
The children made their snowy backgrounds first using fingerprint-painting, then chose either a Christmas tree, a Christmas jumper or a Christmas stocking to colourfully customise and add to their designs.
The children's Christmas cards will be coming home very soon, giving your plenty of time to order cards, tags and other goodies featuring your child's design in time for Christmas. Click here for more details from the Cauliflower Cards website.
Week 2 - Amazing acrostics, brilliant balance and marvelling at Mondrian
We have our Harvest Festival Assembly in a matter of weeks, so we're preparing by writing some acrostic poems all about harvest time.
Having learnt about the festival, the children then came up with as many harvest-related words as the could beginning with the letters H, A, R, V, E, S and T. We then set about putting them into an acrostic poem; first woking together as a class, and then with the children writing their own poems.
Can your child tell you which words they chose to include? They may even be able to recite their harvest acrostic poem to you.
In P.E. we've been practising our core strength and body control through a series of balance challenges.
Firstly, the children were challenged to balance on one point, then two, then three (for example, two hands and a foot), all the way up to balancing on five points, with extra points on offer for originality! They then had to balance with a partner, starting on two points, then finding different ways to balance on three, four, five or six points, counterbalancing each other if necessary.
Maybe your child can demonstrate their balancing skills at home!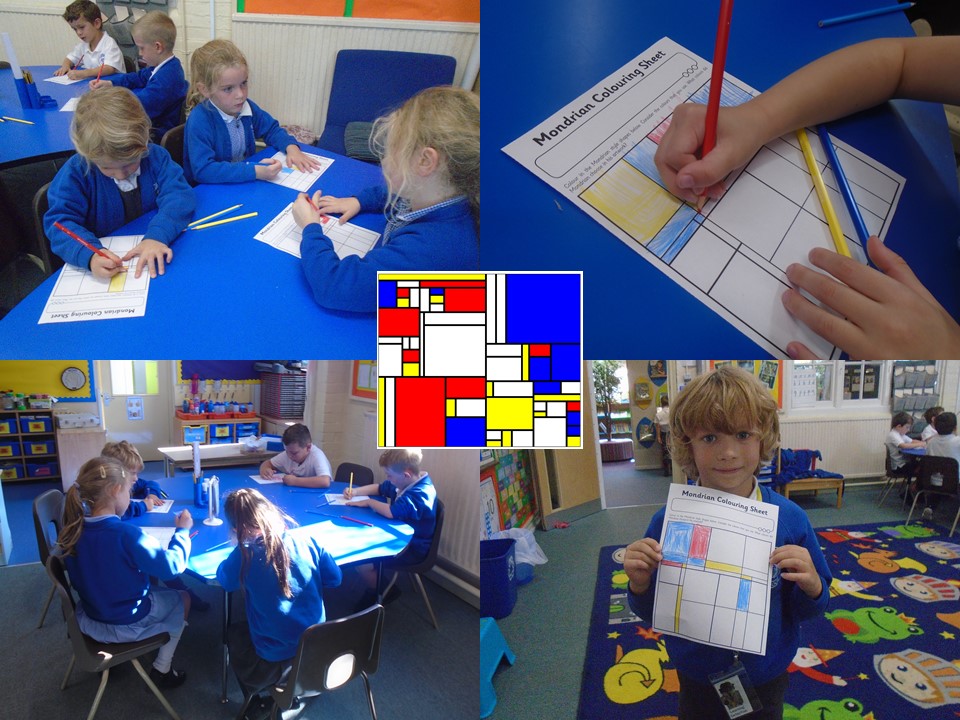 We're exploring colour in our Art lessons this term, and we began this week by looking at the primary colours: red, yellow and blue.
This week, we took a close look at the work of Dutch artist Piet Mondrian, and in particular how he used geometric shapes and primary colours (along with black and white) to create his striking and instantly recognisable images. Having viewed and appraised a number of his works, the children then set about creating their own Mondrian-style patterns, using the same geometric shapes and only primary colours.
Can your child tell you anything about Piet Mondrian? What did they think of his paintings?
Week 1 - Remembering the Queen, creating charters, curious about counting and hearing about habitats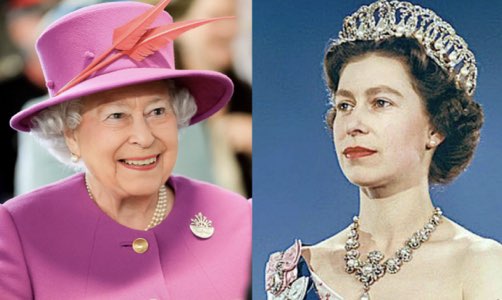 We were all heartbroken by the passing of Her Majesty Queen Elizabeth II this week. In class, we took time to explore her life and legacy in an age-appropriate way, with the children having particularly fond memories of the street party we held at school earlier this year to celebrate her Platinum Jubilee.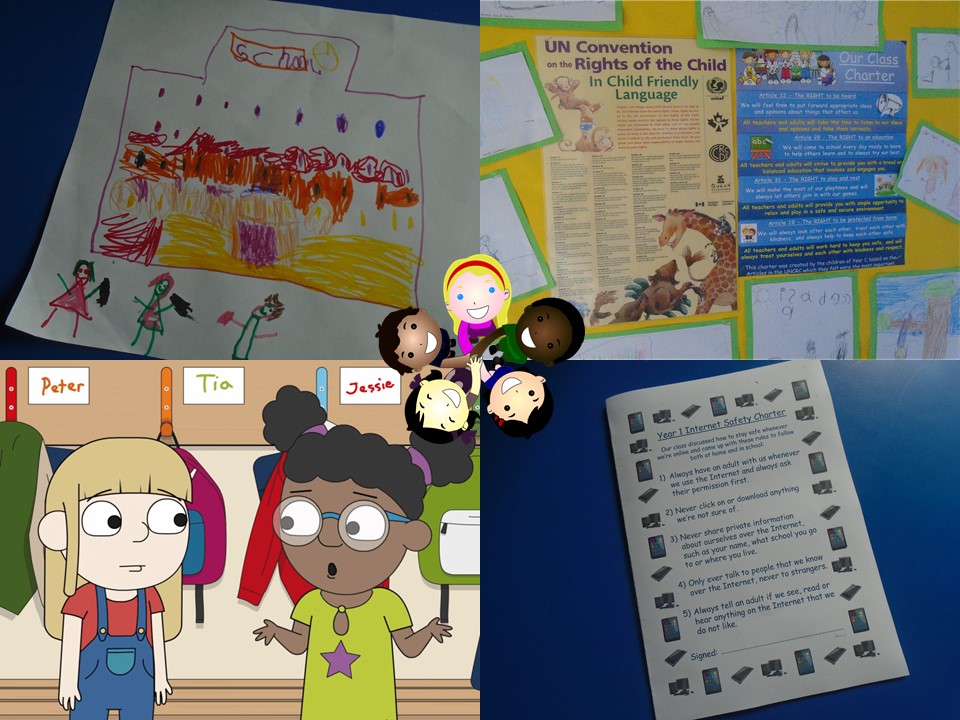 Langrish is a Rights Respecting School, and Article 12 of the UNCRC states that it's important for the children to have a say in all things that affect them. To that end, we always begin the year by talking to the children about their rights, and inviting them to create their own class charter based on which Articles they think are most important. We also discussed staying safe online, and explored Internet safety through a variety of stories, including Jessie and Friends. The children then agreed their own E-Safety Charter based on what they'd learnt about using the Internet safely.
Ask your child about how we created our class charters, or click on the links to learn more about the UNCRC or Jessie and Friends.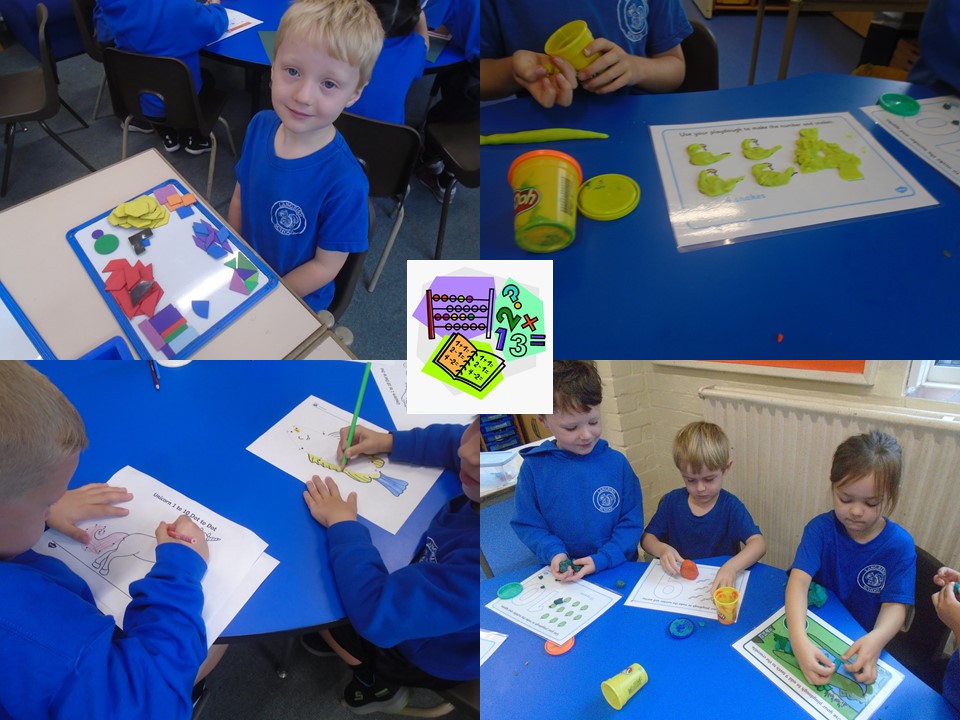 In Maths, were leering about number and place value up to 10.
We began by counting objects and sorting them into groups, discussing different ways in which we could sort shapes according to their similarities and differences. We also looked at representing numbers using counters or blocks, and placing them into tens frames to make them easier to count.
There have also been hands-on, independent activities, including dot-to-dot pictures, number jigsaws and making Play-Doh numbers.
Which activities did your child most enjoy this week?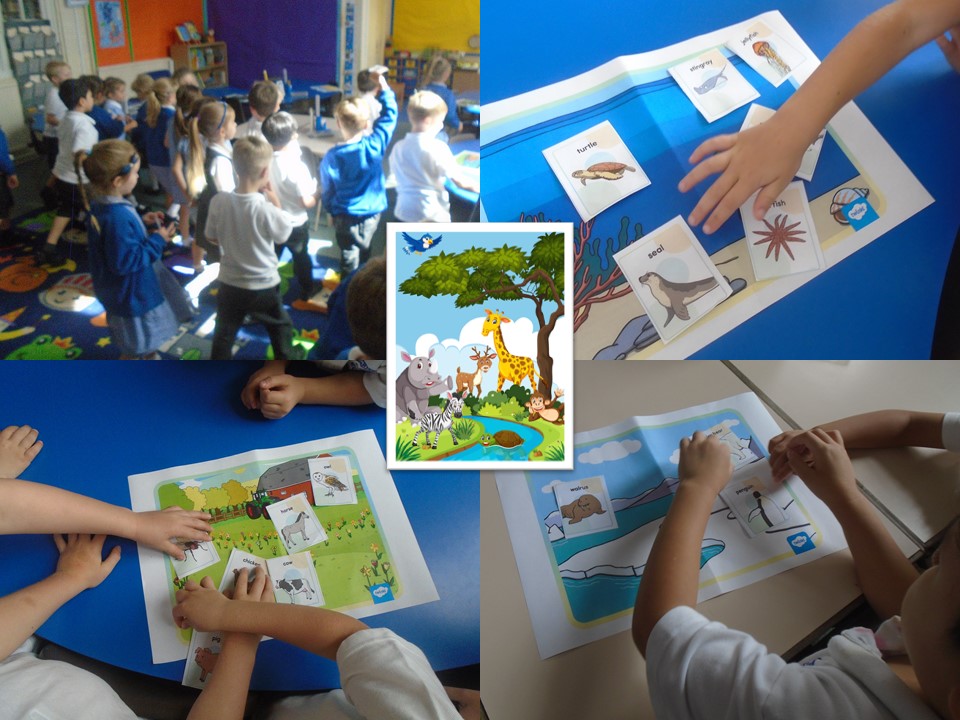 In Science, we began our 'Habitats' topic by discussing what the word 'habitat' means.
We talked about living things - both plants and animals - and defined a habitat as a place where plants and animals live.
The children were each then given a picture of an animal and had to search around the classroom to find the habitat where their animal would live, choosing from the polar regions, the desert, the forest, the ocean, the rainforest, a back garden, a farm or a pond.
Which animal did your child have, and what was its habitat? How did they know?