Year 1 - Butterfly Class - Mr Hancox, Mrs Webber and Ms Fernée
Friday 17th September 2021
Our Class Charter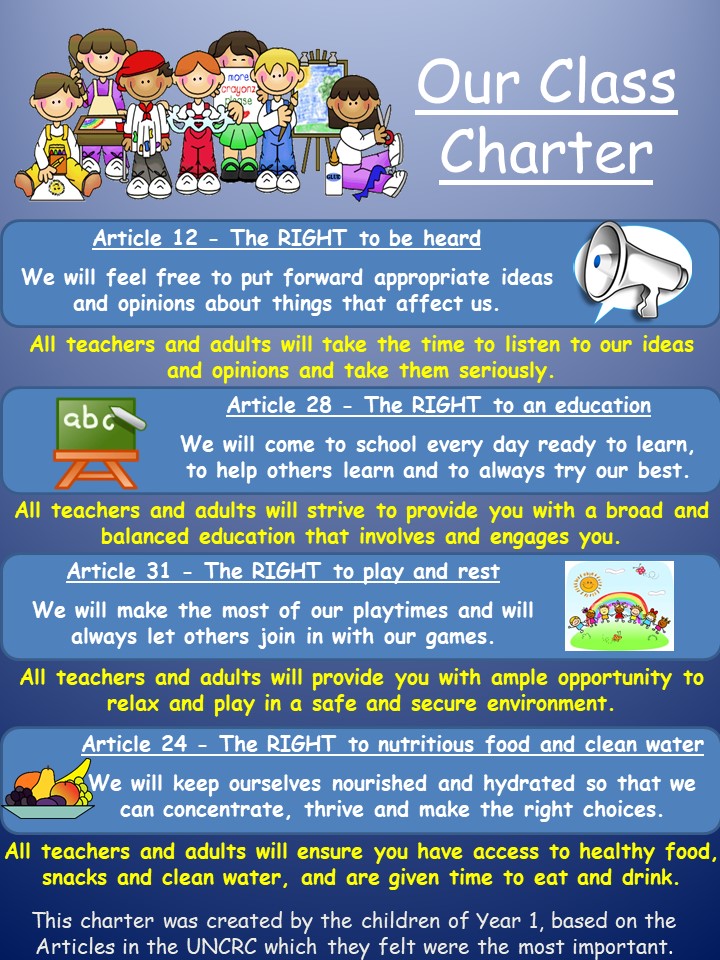 Year 1 discussed the United Nations Convention on the Rights of the Child, deciding which of their Rights they felt were most important to them. We then created our class charter together based on their choices.
Meet the Teacher - Monday 5th September 2021
Thanks to everybody who was able to attend out Meet the Teacher session in our first week back. Below if a brief summary of the main points covered:
- A curriculum update containing details of the subjects we'll be covering this term can be found at the bottom of this page, as can a list of the Year 1 "Non-negotiables" (expectations for the end of the year).
- Alongside the academic curriculum, we're encouraging the children to become more independent by giving them responsibility for everyday things such as keeping track of their own jumpers and water bottles and carrying their own bags.
- Home learning will appear on the website, with the expectation being daily reading (5-10 minutes per day), weekly maths (around 20-25 minutes during the week) and a third option to be dipped into at your leisure (this term it's all about our local area). We'll be keeping the children very busy at school, so it's important they have plenty of downtime to play, relax and explore at home too!
- The Autumn Term Reading Challenge has been sent home but can also be found at the bottom of this page. There are also a range of reading questions to ask in order to encourage your child's comprehension skills during daily reading.
- We'll be covering Internet safety with the children, with a PowerPoint for parents attached to our Safeguarding page.
- Don't forget to put name labels on anything that comes to school - you'll be amazed at home many children say "Mine's the one with no name on it"!
- The children will all take the Phonics Screening Check in June, the only statutory "test" in Year 1. It's just to check the children are where they need to be with their Phonics, and consists of 40 words: 20 real words and 20 "alien" words. More information can be found about the Phonics Screening Check on the Oxford Owl website.
Home Learning Menu
English: Make time to read with your child every day. Children are encouraged to change their reading books regularly, however you can find extra reading material on the Oxford Owl website.
Additionally, children can practise their spellings online using the Spelling Shed logins which will be coming home soon, or there are a range of word games available to play in the 'Assignments' section of the Brainzy website for which the children also have logins.
A copy of the Autumn Term Reading Challenge is attached to the bottom of this page along with the associated 'History Through Books' list.
Phonics: This week, we've been looking at the sounds Y (yes), QU (queen), Z (zip) and ZZ (fizz), as well singing this alphabet song. Look out for words containing these particular sounds in your reading and conversation.
Maths: We've continued to look at number and place value within 10 this week, including counting and sorting groups of objects and identifying one more and one less than a given number. Practise counting and sorting objects around the house or number that you see when you're out and about (the 'Out and About' cards at the bottom of the Langrish School Maths page have some great ideas for this). You could also try some of the maths games in the 'Assignments' section of the Brainzy website for which the children have logins.
Geography: We're exploring our local area this half-term, so why not see if you can discover any fascinating facts about Petersfield or its surrounding villages. Children are welcome to share any interesting information with the rest of the class.
P.E. Days
P.E. days this term will be Tuesday and Wednesday, so can children please come in wearing their P.E. kits on both of those days. Long hair must be tied up and any earrings or other jewellery removed.
Snack Time
Healthy snacks are provided by the school in Year 1, however you can choose to send your child in with their own snack as long as it's either fresh fruit or vegetables - nothing that comes in a wrapper please!
Seesaw Electronic Learning Journal
We'll be using the Seesaw Family app to share some of the children's learning this year. Check your email for an invitation from your child's teacher in September and download the free Seesaw Family app for your device or log in on a computer.
If you'd like to keep your child's work from this year, click this link to discover how to download their entire Seesaw journal to keep forever (and possibly embarrass them with in the future!)
A Taste of Our Learning
Week 2 - Crazy about counting, catching crocodiles and a creative Christmas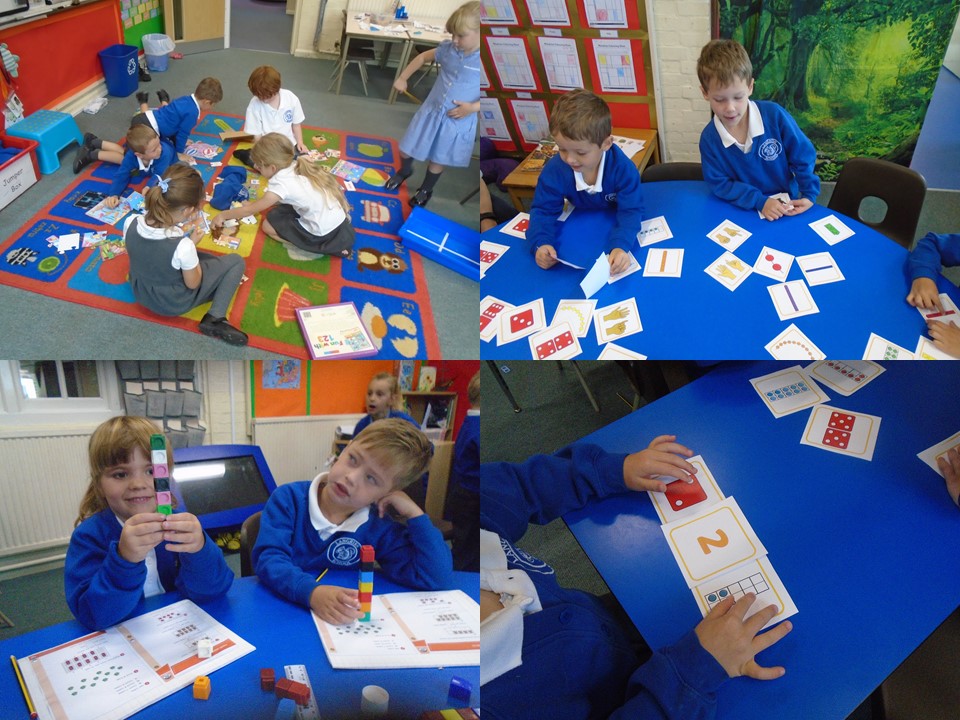 In Maths this week, we've been looking at different ways of counting and representing numbers up to 10.
The children have had lots of practical challenges to complete, involving such things as play-doh, jigsaws and building blocks.
They've also had to match numbers with their pictorial representations, draw counters onto tens frames, and complete a counting challenge across the week involving such diverse objects as pegs, marbles and plastic narwhals!
Ask your child which challenges they most enjoyed this week.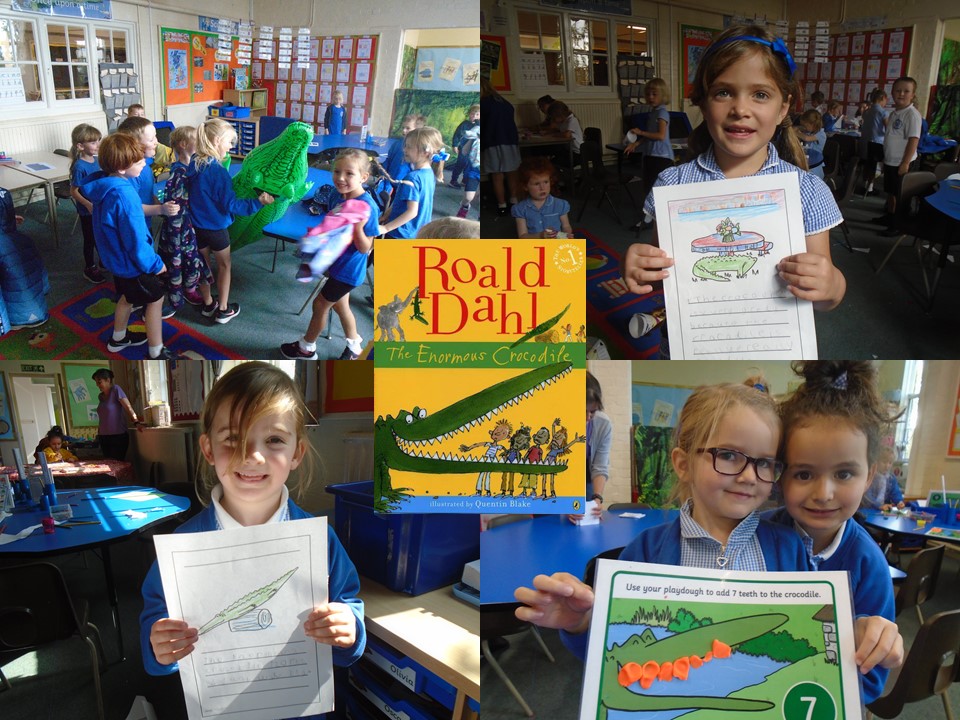 Posters appeared in Year 1 this week warning the children to watch out for crocodiles!
After being caught on camera in the classroom, we finally trapped the beast, only to discover that it was friendly, vegetarian and, as it turned out, inflatable!
It was all part of our English lessons which were based around Roald Dahl's 'The Enormous Crocodile'. After reading the story to the children, we learnt about adjectives and tried to think of as many different adjectives to describe the Enormous Crocodile as we could.
Ask your child which adjectives they chose to describe the Enormous Crocodile.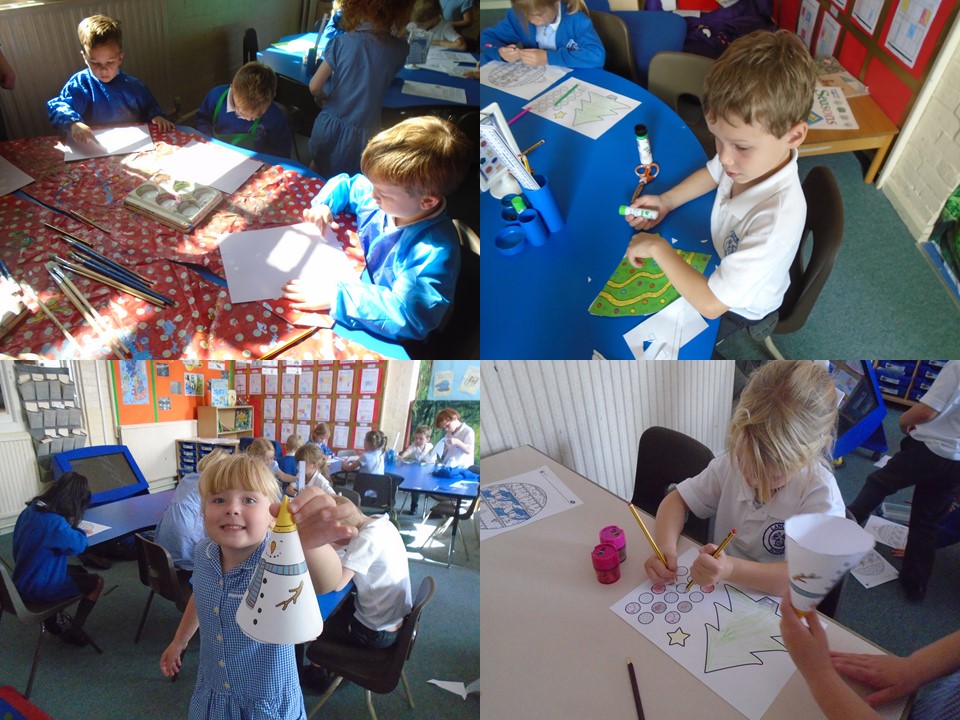 No, that wasn't a mistake in this week's titles, we were actually beginning to think about Christmas in Year 1 this week!
To ensure you have plenty of time to order the child-designed Christmas cards this year, we began creating them this week by finger-painting our snowy backgrounds.
And while this was all going on, we obviously had to embrace the Christmas spirit by colouring baubles, cutting out snowmen and even listening to out favourite Christmas songs!
Look out for your child's finished Christmas card artwork which will be coming home next week.
---
Week 1 - Welcome back!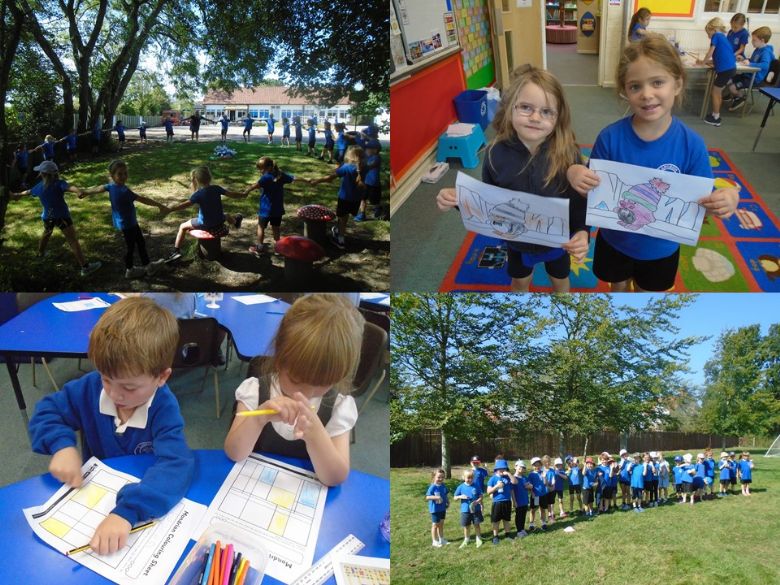 It's been a busy first week in Year 1! Not only have the children been exploring their new classroom, they've also found time to create our Class Charter, design an E-Safety Agreement and elect our School Council representatives.
On top of that, they've been finding missing numbers in maths, writing about their favourite part of the week and playing games outside on the field and in the copse.
And if that weren't enough, the children have also discussed the seasons, been on a summer sunshine senses walk and had lots of choosing time too - phew!
Ask your child about their first week in Year 1.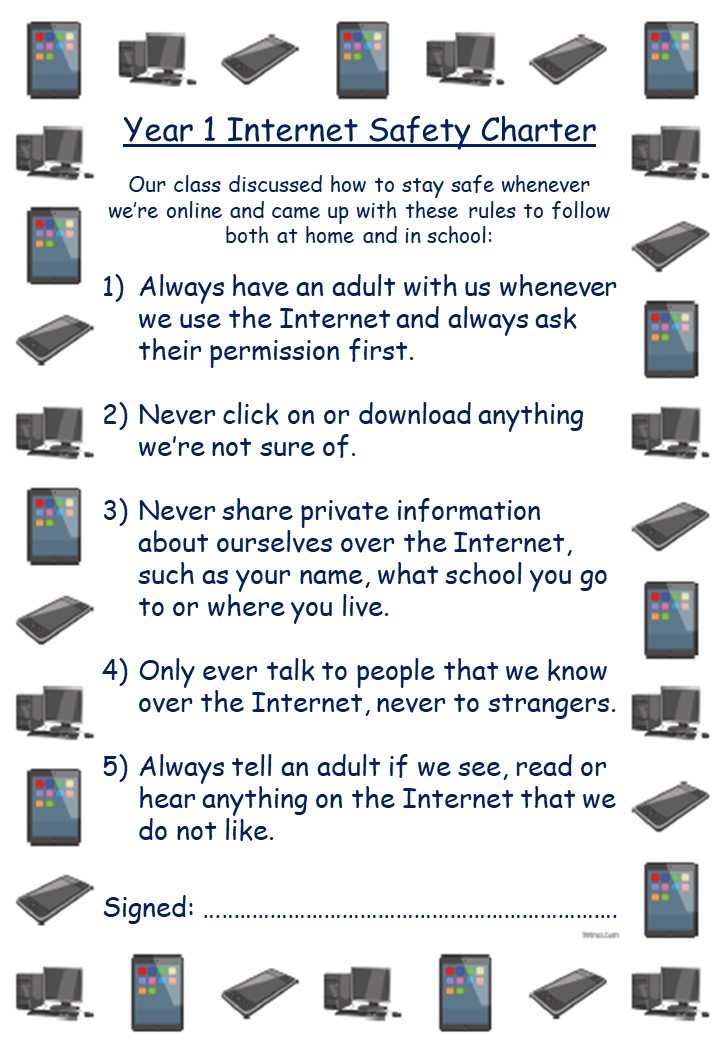 This week, Year 1 listened to the story of Smartie the Penguin and how he managed to stay safe online.
We then talked about ways in which the children could keep themselves safe when using the Internet and came up with some rules together to put into our Year 1 Internet Safety Charter.
A copy of the charter has come home, with a portion for your child to sign and stick into the back of their Reading Diary to remind them of our Internet safety tips.
For more advice on how to keep your family safe online, have a look at the links below:
Google's "Be Internet Legends"