Year 1 - Butterfly Class - Mr Hancox and Mrs Baigent
Friday 21st January 2022
Home Learning Menu
English: Make time to read with your child for approximately 5-10 minutes every day. Children are encouraged to change their reading books regularly, however you can find extra reading material on the Oxford Owl website. Our Library Day is every Thursday, so children can also bring their library books back and exchange them for new ones then.
Additionally, children can practise their spellings online using the Spelling Shed logins which will be coming home soon, or there are a range of word games available to play in the 'Assignments' section of the Brainzy website for which the children also have logins.
Phonics: This week, we've been looking at the split digraph sounds: a_e (snake), e_e (even), i_e (slide), o_e (bone) and u_e (flute / cute), as well as singing this alphabet song. Look out for words containing these particular sounds in your reading and conversation. The Phonics Play website also has some excellent free resources and games for extra practise.
Maths: (20-30 minutes per week) For the next few weeks, we're looking at addition and subtraction within 20. Challenge your child by setting them some addition and subtraction problems to solve at home. You could even use physical objects such as pasta shapes or LEGO bricks so they can show you what happens when you add numbers together or take one number away from another. You could also try some of the maths games in the 'Assignments' section of the Brainzy website for which the children have logins.
Number recognition is also important in Year 1, and the children frequently struggle to recognise the tricky teen numbers between 10 and 20. I've attached some number recognition flashcards to the bottom of this page if you'd like to practise at home. The 'Out and About' cards on our maths page also have some great ideas for exploring numbers in everyday situations.
Science: We're learning all about animals and their habitats this term. Can your child find any amazing animals facts to share with the class? Maybe they could make a fact file about their favourite animal, including information such as where they live and what family of animals they belong to, as well as finding out what they eat; are they a carnivore, a herbivore or an omnivore?
Phonics Word Wall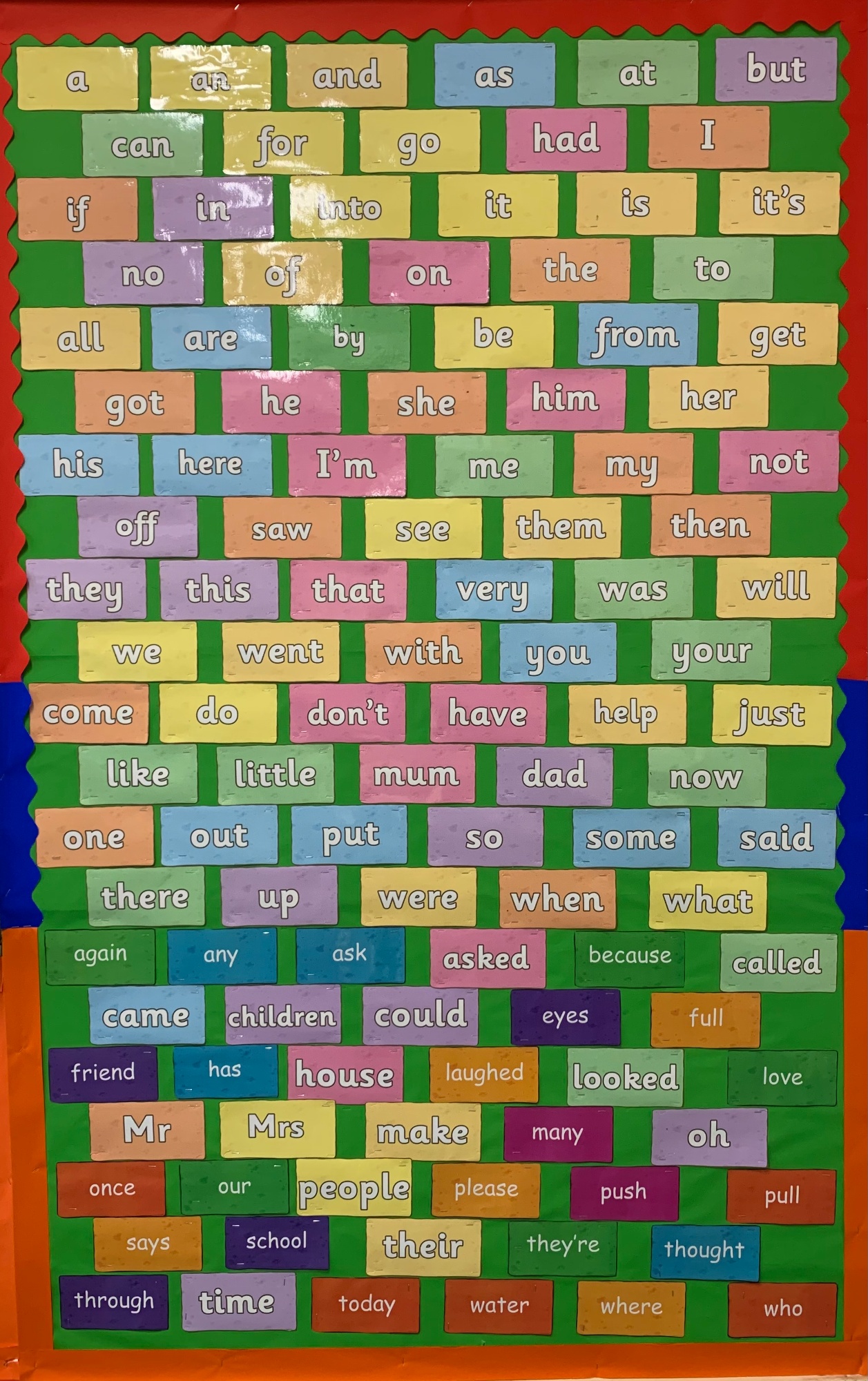 We go through all the words on our Word Wall every day as part of our Phonics lesson. The borders are colour-coded to indicate which book bands the words will appear in (Pink/Red, Yellow/Blue, Green/Orange), mirroring the order in which the different phonics sounds and phases are taught.
Age-related expectation is that children should be reading Orange books by the end of Year 1, and should therefore be able to read, recognise and understand all the words down to the bottom of the board when they appear in a text. They should also be able to start using them in their own writing, utilising the Word Wall in order to help them with their spellings.
You can watch a video of Mr Hancox guiding you through the Word Wall by clicking here.
P.E. Days
P.E. will be taking place on Wednesday and Thursday this term, so can children please come in wearing their P.E. kits on both of those days. Long hair must be tied up and any earrings or other jewellery removed. Children should have shorts and jobbing bottoms on both days as P.E. may be indoors or outdoors depending on the weather.
Both sessions will be P.E. as there is no Forest School this term.
A Taste of Our Learning
Week 17 - Spellbinding safety, cracking coasts and wonderful weather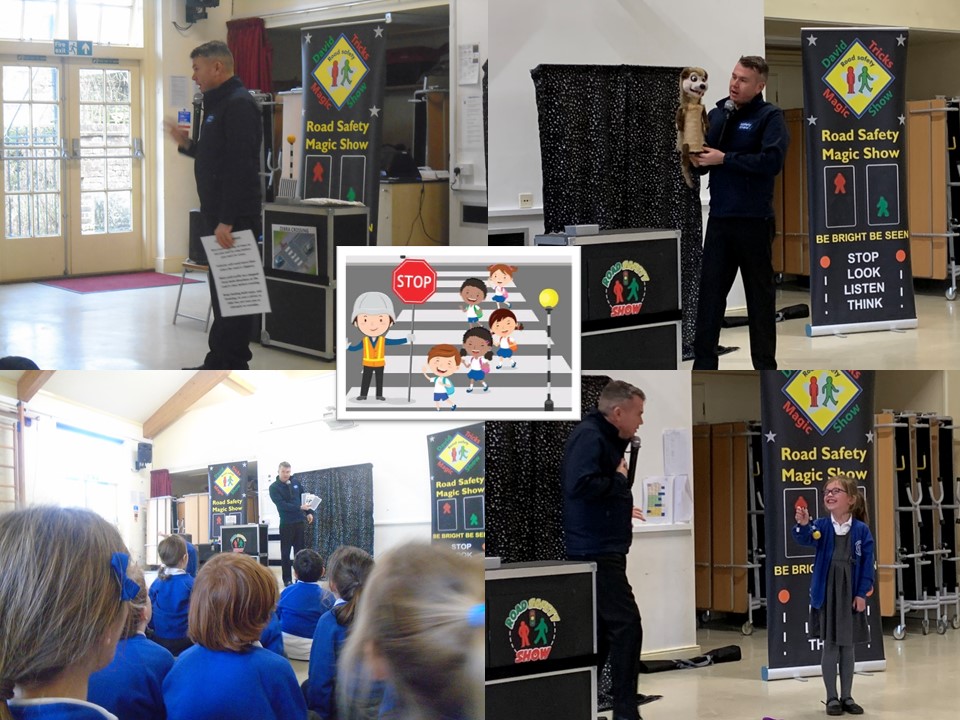 The children had a special treat this week with a visit from David Tricks' Road Safety Magic Show.
Combining magic, comedy, puppets and songs, the show was a fantastic way of getting across some important road safety messages in a fun and memorable way.
The children learnt the importance of having a helmet for riding their bike or scooter, wearing bright clothes when crossing the road at night, and of course, the four magic words: Stop, Look, Listen and Think.
Ask your child what they remember about the Road Safety Magic Show.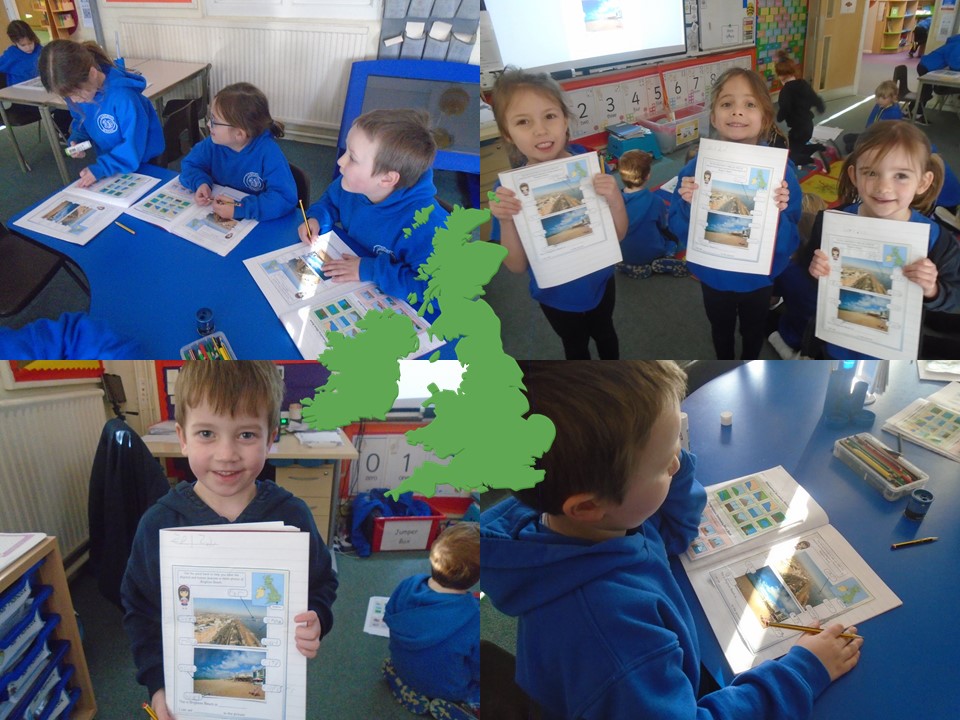 In Geography, we continued exploring the coast, this time focusing on our own coastline here in Great Britain.
The children learnt the difference between 'human' and 'physical' geographical features, and we compared the coastlines of different locations to see how many of each we could spot.
Looking at Brighton, Torquay, Hastings and The Giant's Causeway in Northern Ireland, the children had to decide which features were 'human' (man made) and which were 'physical' (natural).
What geographical features can you see when you're out and about? Are they 'human' or 'physical'?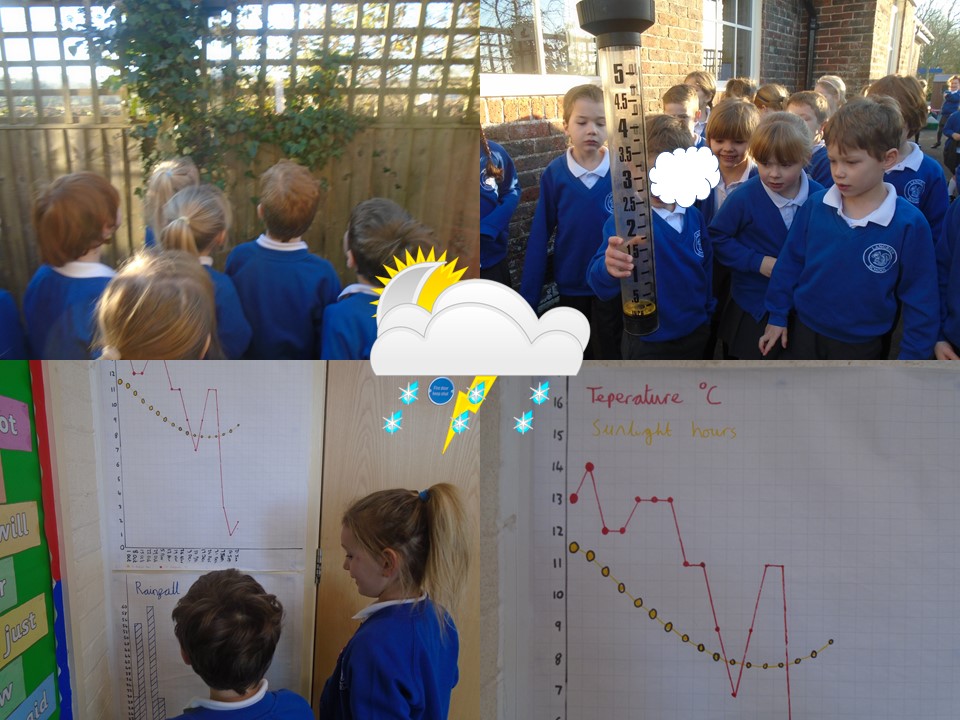 Our long-term study in Science is all about the seasons.
Every Friday at 9am, we check our weather station to see how much rainfall we've had over the past week and what the morning temperature is on our thermometer. We also look online to see how many hours of daylight we'll have on that day.
Data collected, we then enter it onto our graphs, looking for patterns and trends in our results as we move through the seasons, and seeing what predictions we think we can make about the coming week.
What can your child tell you about our results?
---
Week 16 - Brilliant bodies, splendid self-portraits and amazing addition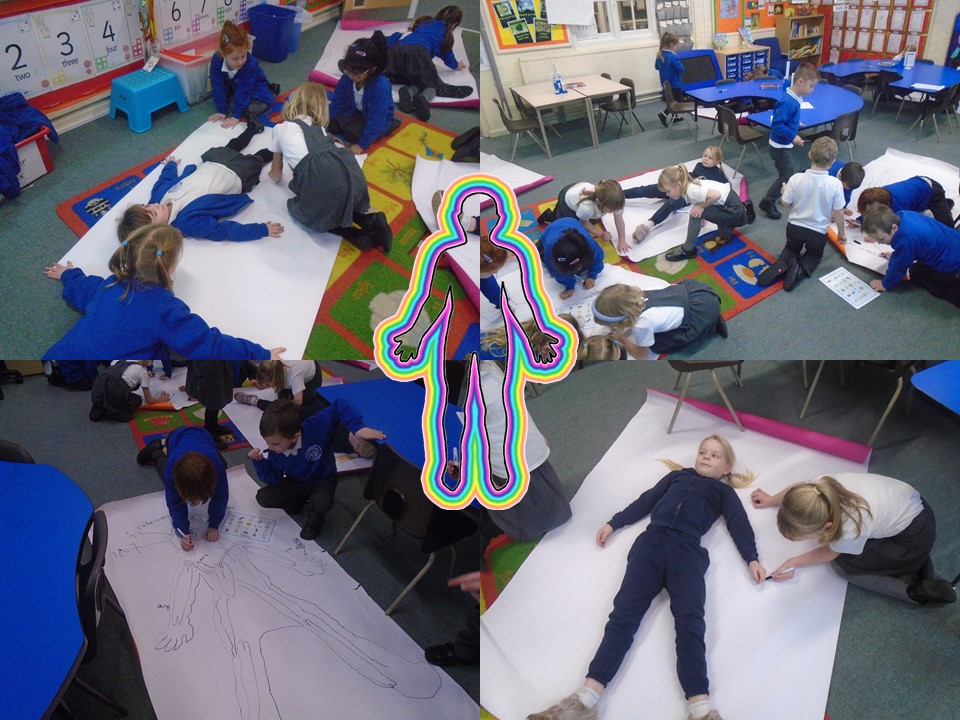 We began our science topic, 'Animals Including Humans', this week by looking at the latter - humans.
The children split into small groups and drew around each other onto large pieces of paper, making life-sized diagrams of the human body.
They were then challenged to label as many body parts as they could, starting with the hair and facial features at the top, all the way down to the feet and toes at the other end.
How many parts of the body can your child name? Can they sing along to 'Heads, Shoulders, Knees and Toes'?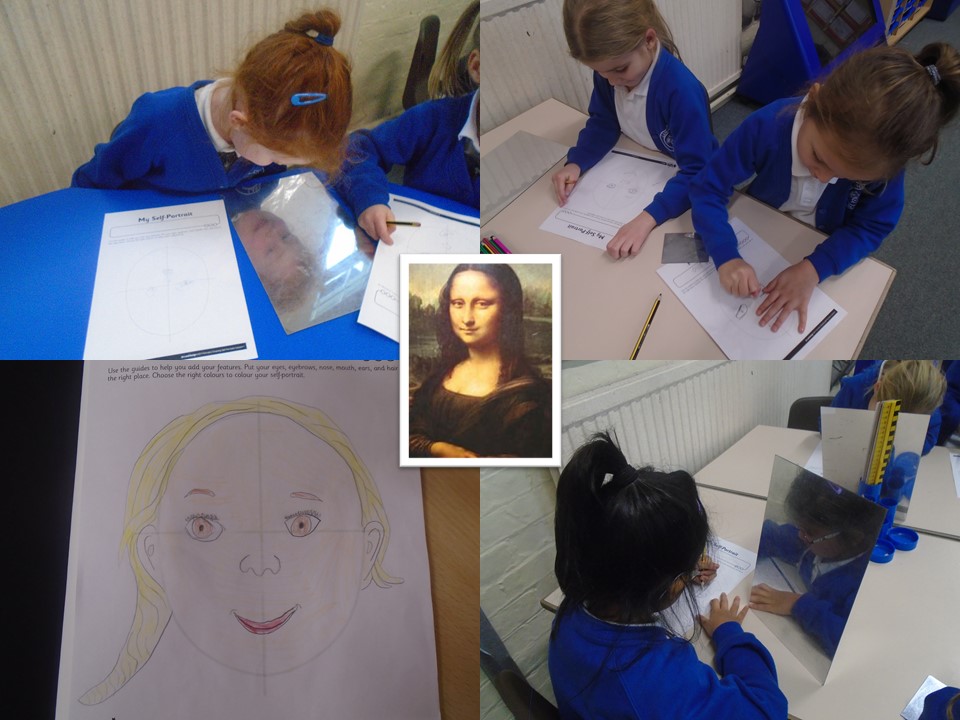 Our Art unit this term is all about portraits.
We began by looking at and discussing different styles of portrait by artists such as Da Vinci, Matisse and Kilmt (the children were impressed by the realism of Da Vinci and the bold, golden palatte of Klimt).
They then looked at some self-portraits, and were encouraged to create their own self-portrait using a mirror in order to carefully scrutinise their own features rather than simply drawing what they imagined they looked like.
Maybe you could try drawing your own self-portraits at home, or read a book about a famous artist together.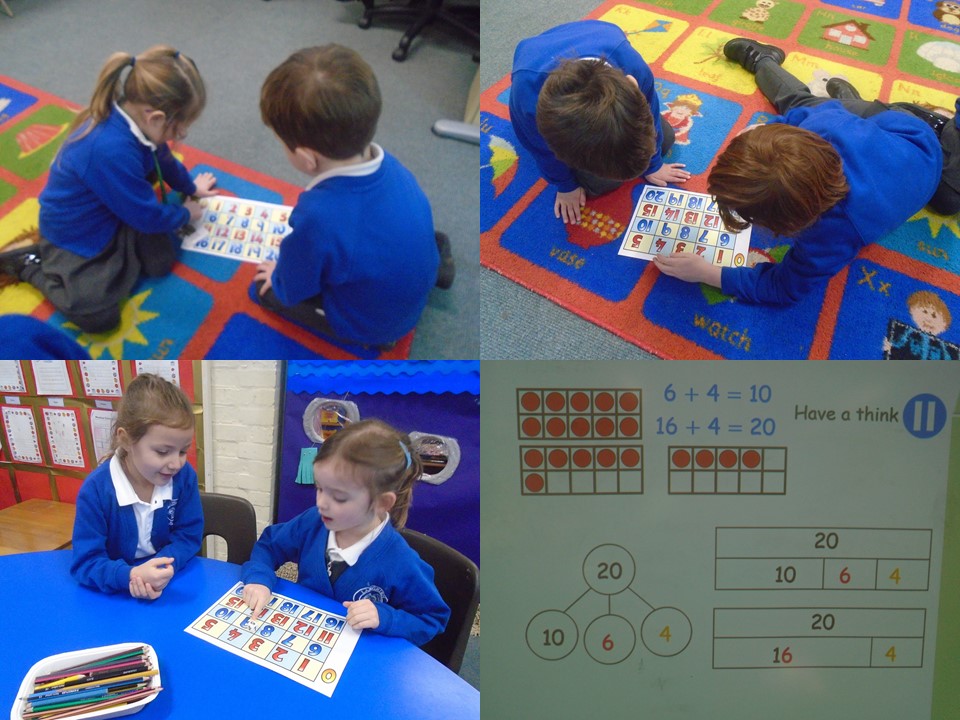 We'll be looking at addition and subtraction within 20 over the next couple of weeks. We started by using the 'counting on' method of addition, practising this by playing a game in which the children chose a number card, rolled a dice, then added the two numbers together by counting on.
We also looked at how number bonds can help us work out addition within 20; for instance if we know that 3+4 = 7, then we can work out 13+4 by splitting out the ones column (3+4), adding in the tens column (10) and putting it all together to make 17.
Ask your child which method they prefer for solving addition calculations.
Week 15 - Welcome back!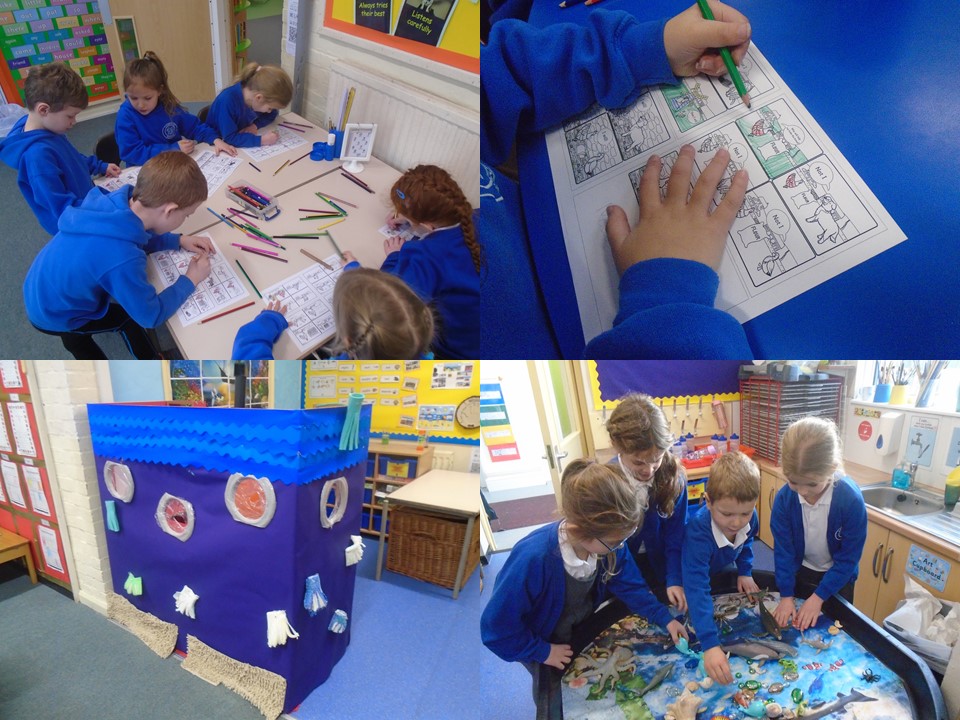 It's been lovely to have everybody back after the festive break, even if it's only been for three days! In English, the children wrote about what they got up to in the Christmas holiday and shared excitedly the news of what Santa Claus had brought them. In Maths, we started looking at addition and subtraction, including how to use the commutative law to help us when adding numbers together. We also began our Geography topic which is all about the seaside, and even built a submarine at the back of the classroom to aid us with our undersea exploration! Ask your child what their favourite activity was this week, and what are they looking forward to learning all about this term?
Week 14 - Merry Christmas!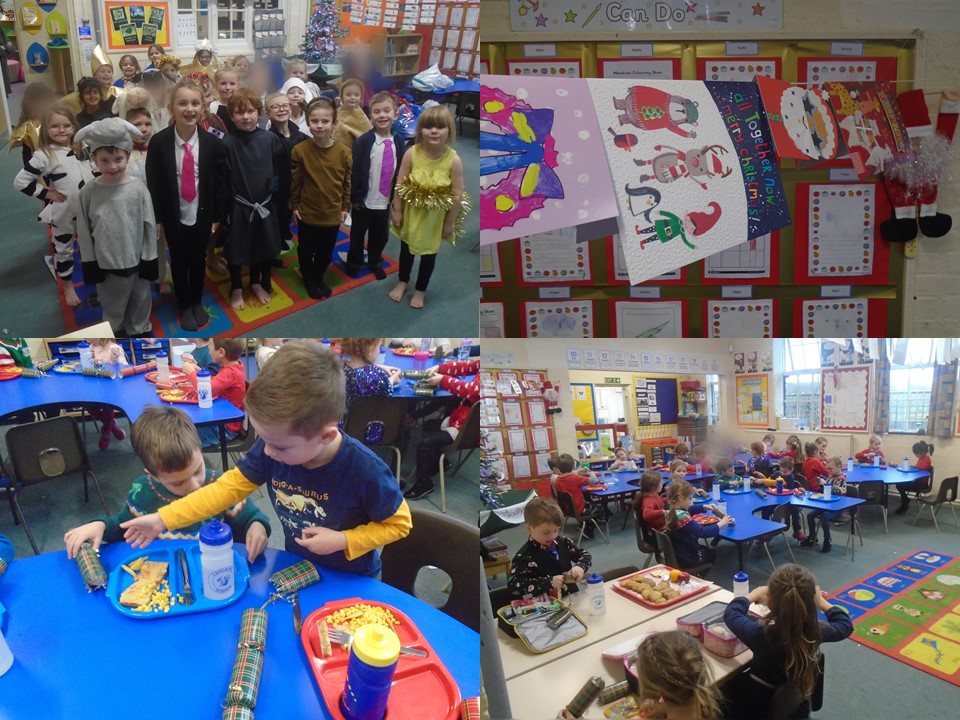 It's been a busy final week in Year 1, with Nativity performances, Christmas parties and class Christmas lunches. The children have worked really hard both on stage and in the classroom; excitement levels are definitely building for Santa's impending visit, so it just remains for me to wish you all a very merry Christmas from the whole team here at Langrish. See you in 2022!
Week 13 - All the Fun of the Fayre, Lots of Letters and Amazing Mae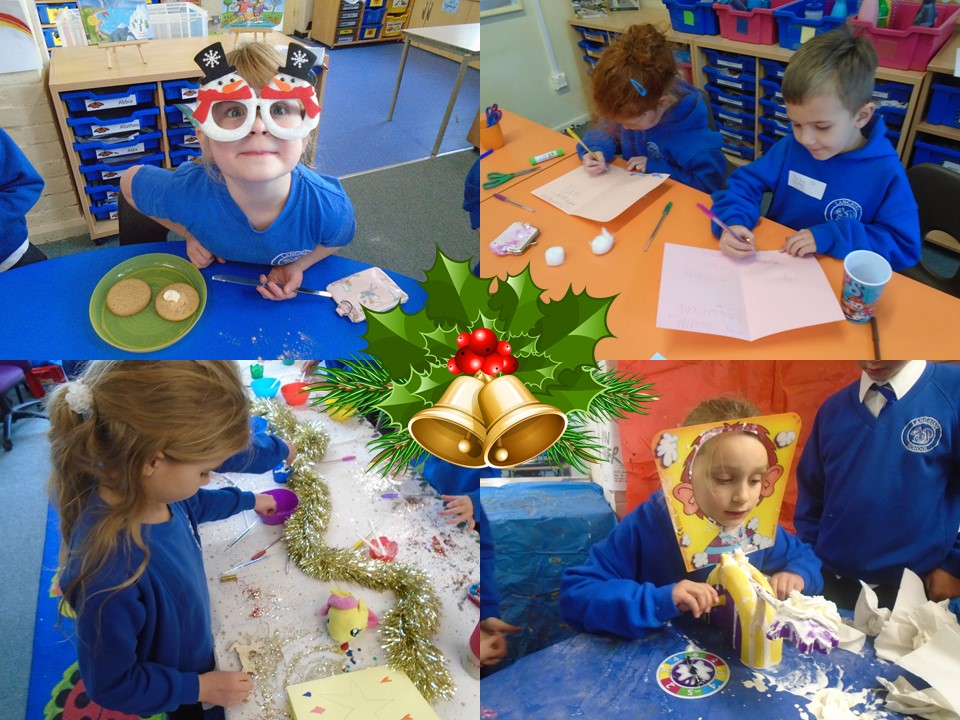 Christmas came to school on Wednesday afternoon when, the Langrish Christmas Fayre was open for business!
There were stalls in every classroom, from making Christmas decorations and cards in Year R and Year 2, to decorating biscuits and playing 'Pie Face' in Year 1 and Year 4.
You could even enjoy a mug of hot chocolate or a marshmallow kebab in one of the café's being run by Year 5 and Year 6
The children were free to browse around and spend their money wherever they wanted. What was your child's favourite festive stall?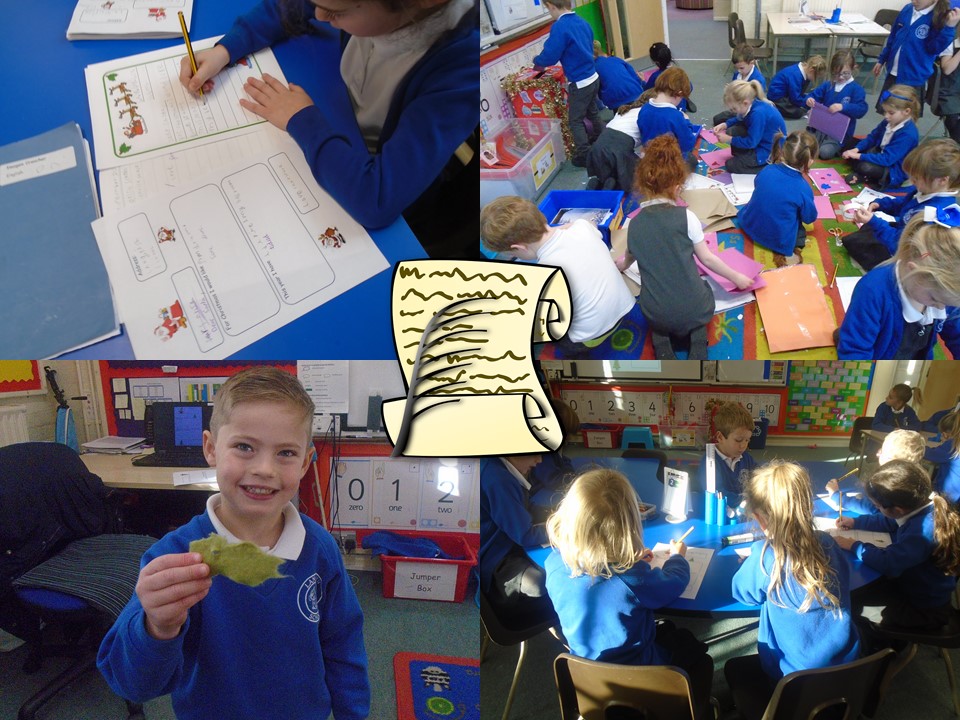 We've done a lot of letter writing in Year 1 over the past couple of weeks. Last week, we all wrote our letters to Santa Claus (who even had time to pop up on the screen for a quick video chat!) The children even created special envelopes for their letters, sprinkled with a little Christmas magic.
This week, we had to write another letter when our class Christmas elf went missing. Who could be responsible for such unfestive tomfoolery? It turned out to be non-other than the Grinch himself! He said he'd only return our elf if the children wrote him some nice letters, explaining why Christmas is so important.
What did your child put in their letter to the Grinch? Why is Christmas so important to them?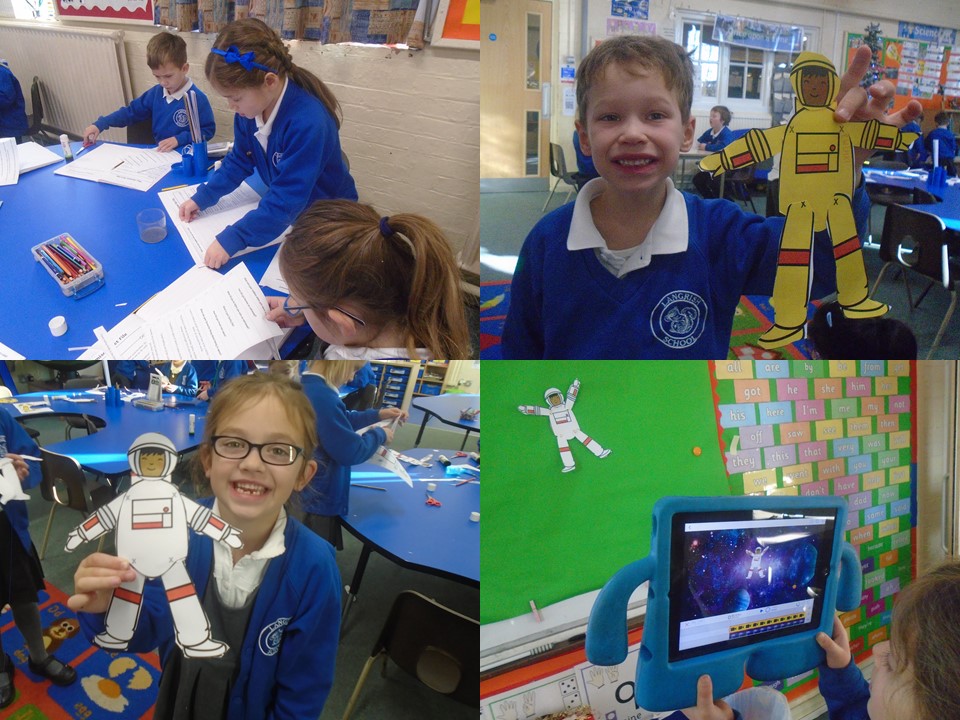 We continued our look at pioneering women from history on Friday, and this week we turned our eyes to the stars to learn about Mae Jemison.
Mae was a doctor before following her childhood dream of becoming an astronaut by being accepted onto the NASA astronaut training programme, and in 1992 she became the first black woman to travel into space.
The children learned about Mae's amazing story of perseverance and hard work before creating their own astronaut and sending her into space using the green screen!
What can your child tell you about Mae Jemison?
---
Week 12 - Perfecting Place Value, Interesting Investigations and a Festive Fun Run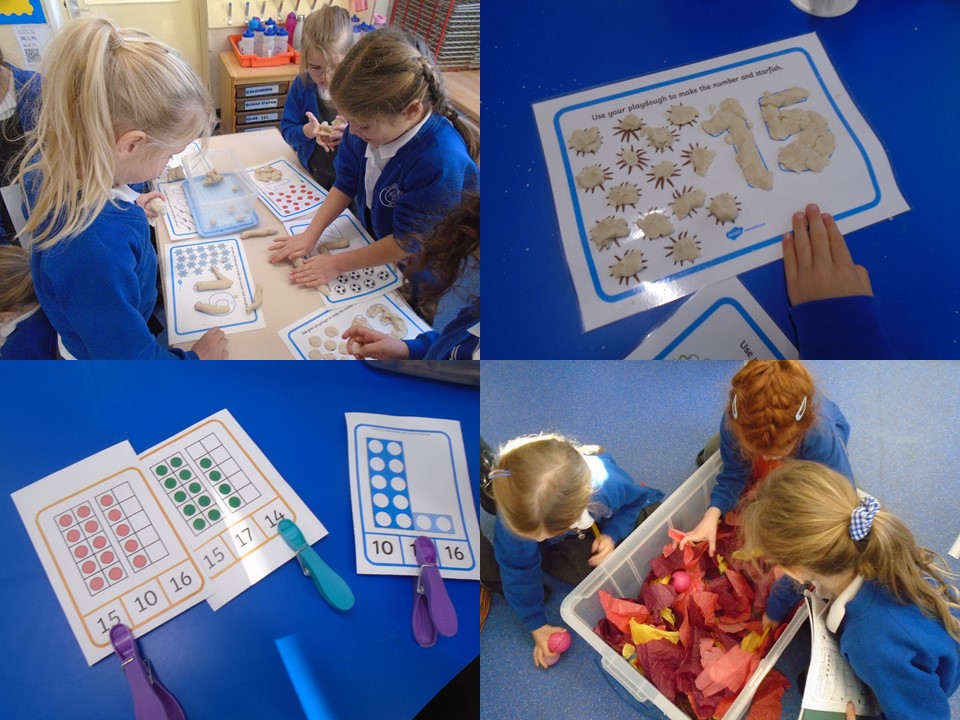 Maths this week has been all about place value and number recognition. The children have undertaken a variety of challenges to help them improve their number sense, including making the numbers (and the correct amount of objects) out of Play-Doh, recognising numbers by the number of tens and ones they contain and solving word problems involving numbers up to 20. They've even been delving through boxes of fallen autumn leaves to find hidden numbers and matching the numerals to a pictorial representation and the number written as a word!
What numbers can you spot when you're out and about? How many lots of 10 and 1 do they contain?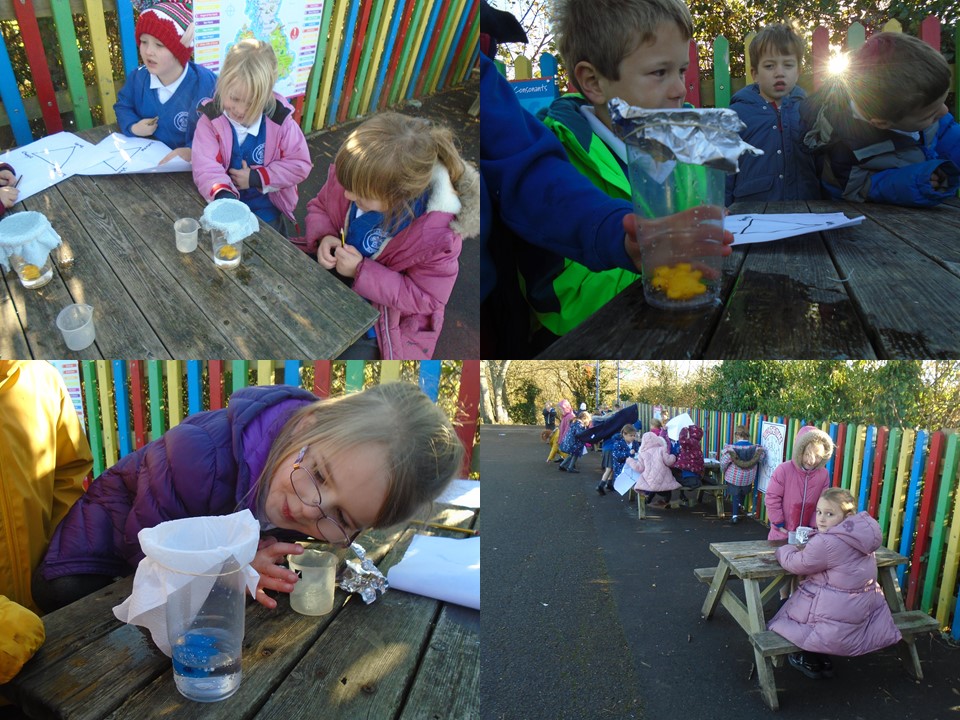 We all turned into scientists on Thursday afternoon, braving the cold to undertake a science investigation: which material would make the best coat for our friend, Little Bear?
We discussed the most important properties of a good coat before testing a variety of different materials including wood (waterproof but heavy and too stiff), paper (not waterproof and not very strong), linen (strong and quite waterproof), tinfoil (shiny and waterproof but not very strong) and fleece (thick and warm but quite absorbent).
Which material (or materials) did your child decide would make the best coat for Little Bear?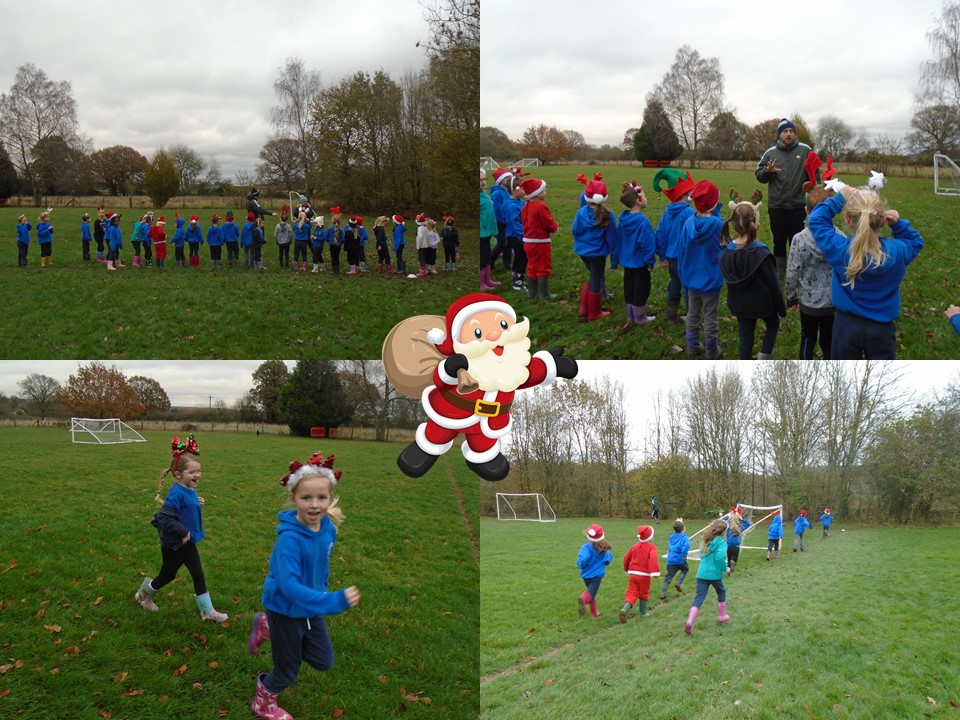 The children donned their Santa hats, reindeer antlers and wellies for the sponsored Festive Fun Run on Tuesday afternoon.
They were challenged to complete 5 laps of the whole playing field, but the children ended up enjoying themselves so much that some of them went on to complete as many as 20 laps!
It was all done to help raise money for the school, so thanks to everybody who donated money (and I'm sorry if you sponsored your child per lap!)
Don't forget to send your sponsorship forms and donations back to school.
---
Week 11 - Beautiful butterflies, describing details and marvellous models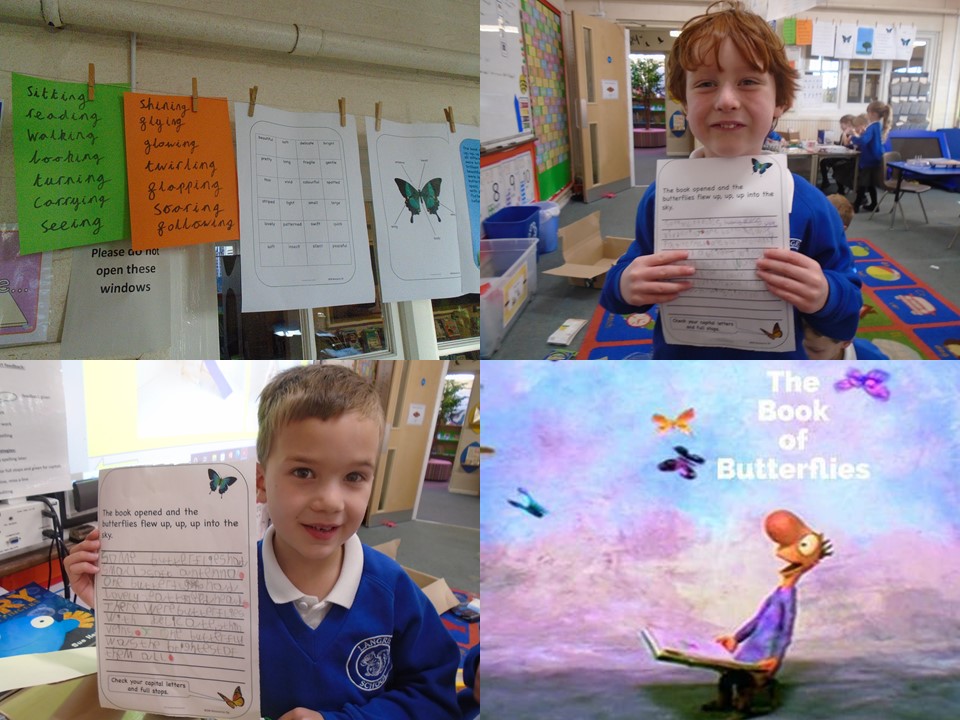 English this week has been all about the Book of Butterflies.
After watching a short film in which a man's book of butterflies comes to life, the children have been coming up with different ways to describe what the butterflies look like and how they move. We began by collecting as many different verbs as we could to describe how the butterflies travelled. We then collected our adjectives, describing what the butterflies looked like. The children then set about doing their own piece of writing, putting together everything we'd discussed into their own book of butterflies.
Ask your child which verbs and adjectives they chose to put into their piece of writing.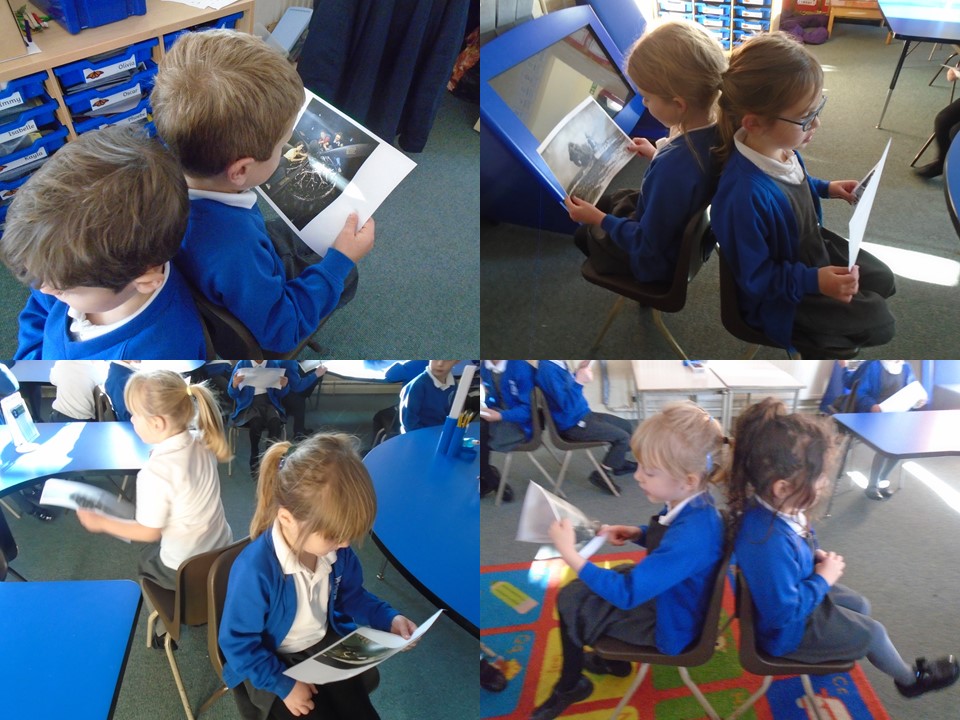 The children's vocabulary was being tested in other ways this week, as they were challenged to describe historical photographs.
The images were all linked to Mary Ellis and World War II, and each child was given one picture to describe to a friend. Sitting back to back, they had to say whether their photo was in colour or black and white, if it contained any people or vehicles, and whether the picture was taken on land, sea or from the air.
It was a really tricky challenge, and the children had to get quite creative in order to describe some unfamiliar locations and vehicles. Can your child remember the picture they had to describe to their friend?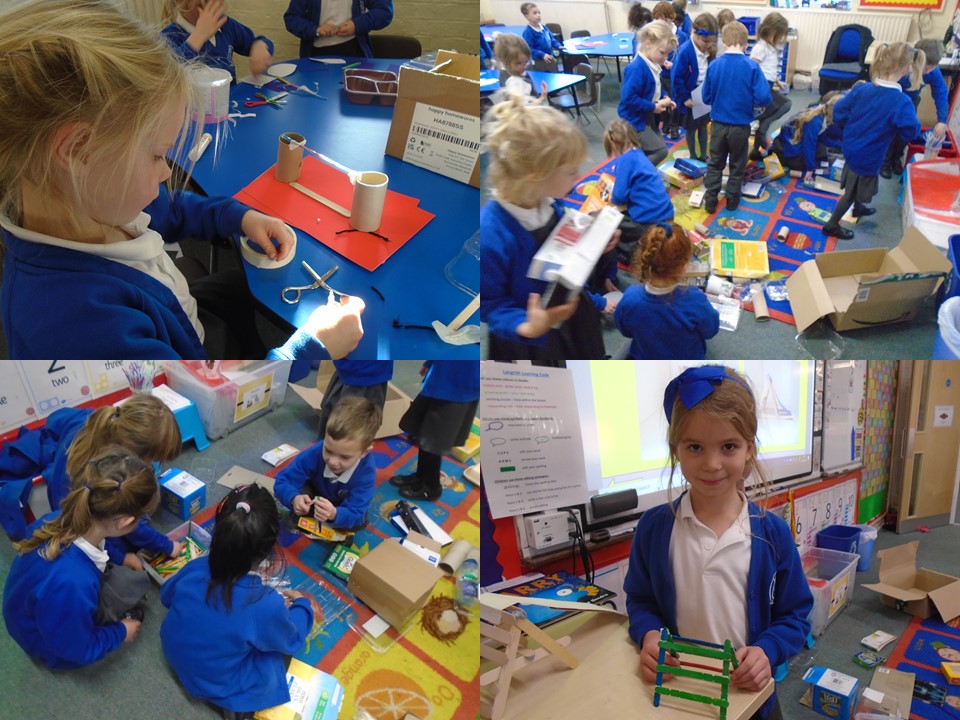 Our DT lesson this week was rubbish - literally! The children were challenged to build their favourite piece of playground equipment using whatever they could find in the junk modelling box.
The idea was to encourage them to consider the best materials for their structure, how to make it as sturdy as possible, and what would be the best method of joining it all together.
Having looked at the structure of existing pieces of playground equipment, could the children put that knowledge into practise with their own builds? Once finished, the children were then asked to evaluate their models - what worked well and what would they change next time?
---
Week 10 - Banishing bullying, flying through history and getting into shape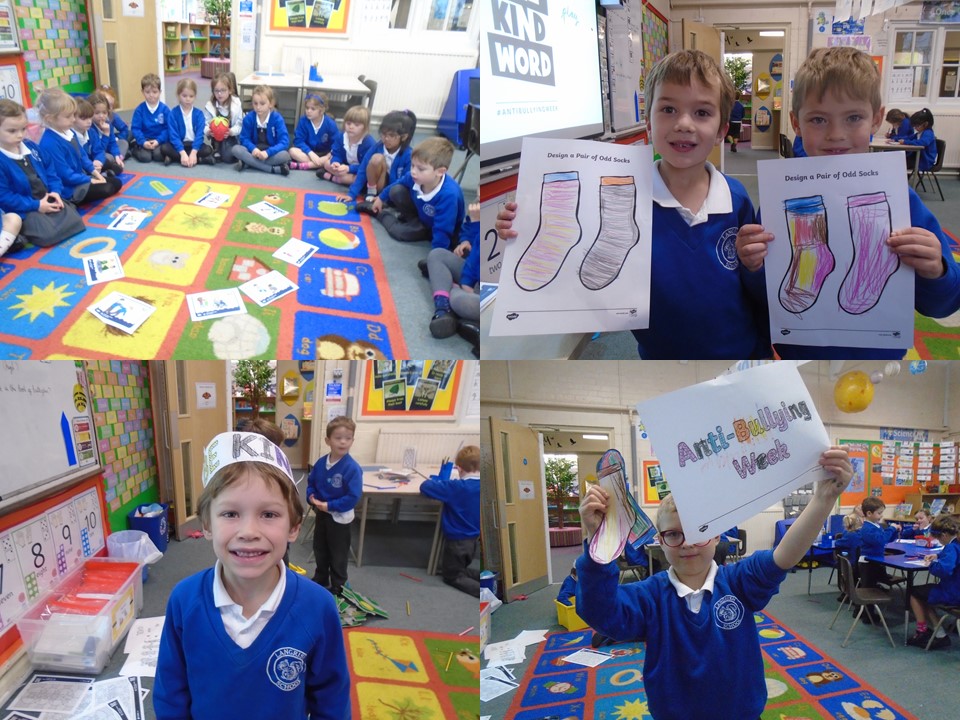 We all came in sporting odd socks on Monday to mark the beginning of Anti-Bullying Week.
The odd socks are a symbolic celebration of difference and diversity, and we discussed this year's theme, "One kind word", during a circle time about the importance of keeping our school a bully-free zone.
The children then designed their own pairs of odd socks, created some colourful anti-bullying banners and even came up with placards bearing their own kind words.
Can your child remember what bullying is and what to do or who to tell if they ever see or experience bullying?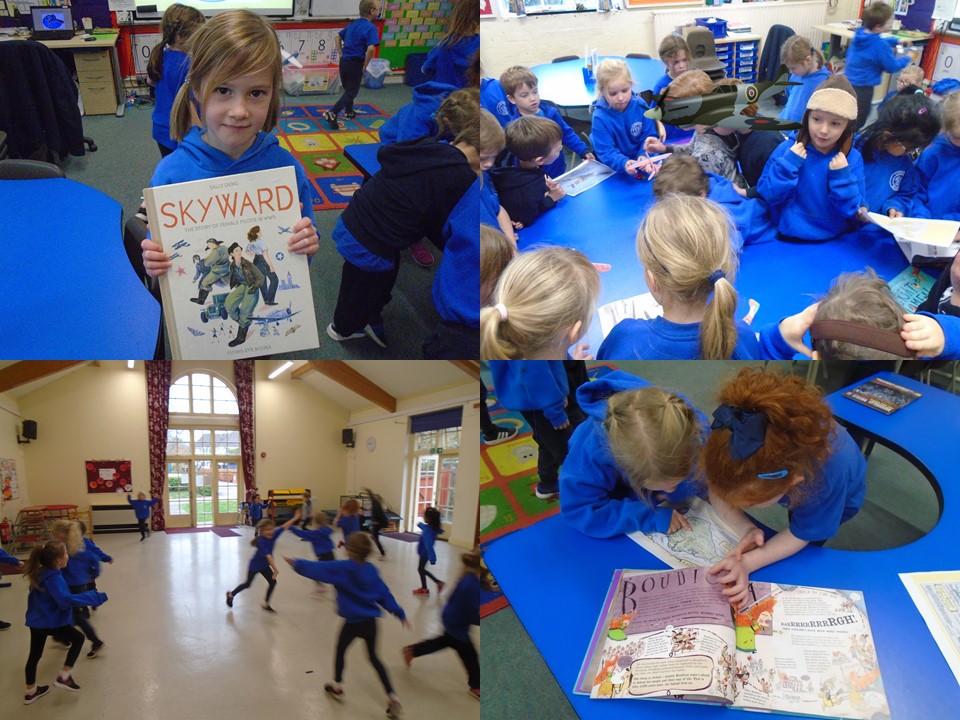 We began this term's History topic with a mystery table. The items included poppies, a flying helmet and goggles, old maps, books about important women in history and female pilots during World War II, and models of fighter planes.
Who or what could link all of these things together? The answer is Mary Ellis, an ATA pilot during World War II. We'll learn more about Mary next week, but this week we imagined what it must've been like to fly a World War II plane by watching a video shot from the cockpit of a spitfire and even donning our flying goggles to fly around the hall!
Can your child find out any facts about Mary Ellis?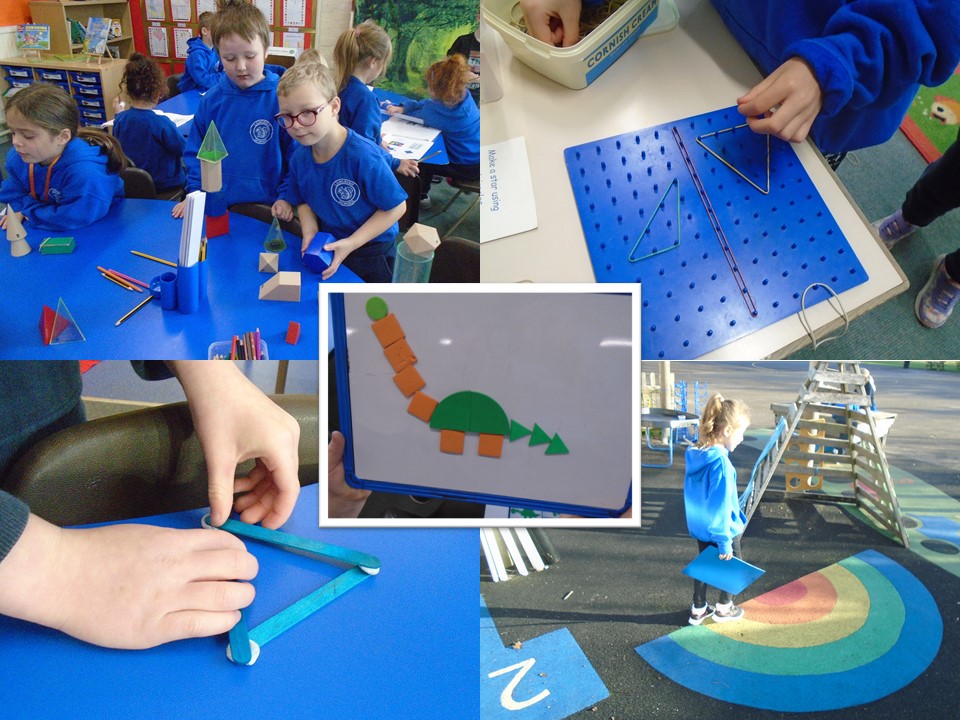 Maths this week is all about 2D and 3D shapes.
Building on what they learnt last year in Year R, the children have been recognising and naming 2D and 3D shapes through a variety of challenges and activities, from making 3D shapes out of play-doh and going on a shape hunt around the school, to building 2D shapes using lollipop sticks, using rubber bands to form them on a geoboard, and even making pictures of dinosaurs using magnetic 2D shapes.
Can your child recognise and name any 2D and 3D shapes around the house?
---
Week 9 - Marking remembrance, super stories and fabulous forest school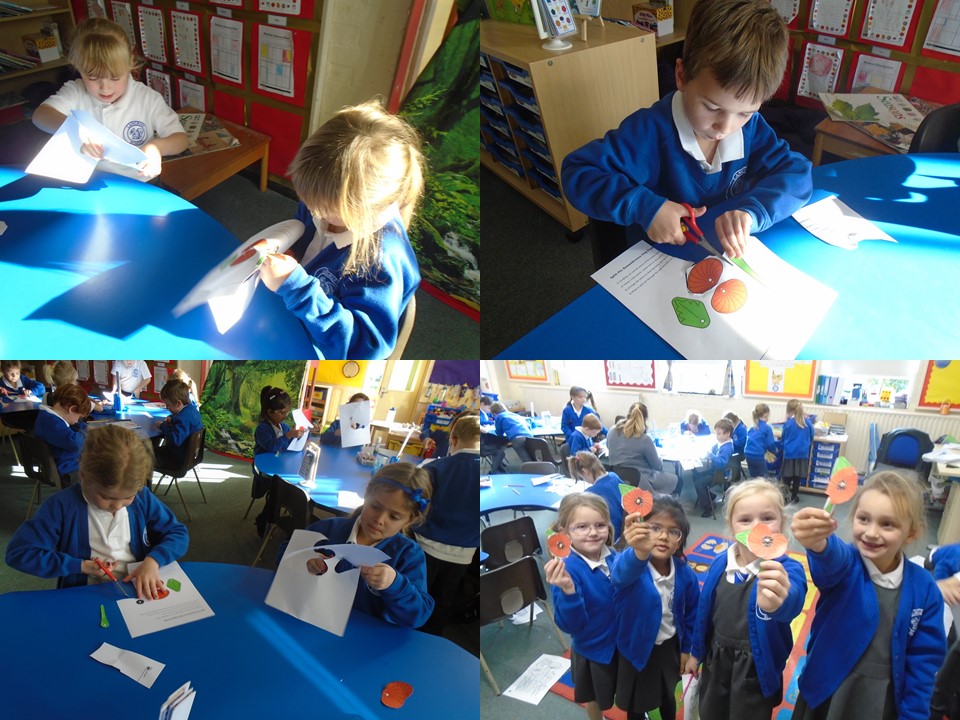 Thursday marked Remembrance Day this year. The children have had the opportunity to buy their poppies from Year 6 through the week, and in class has a short assembly on what Remembrance Day means and why we wear poppies before observing the two-minute silence at 11 o'clock.
The children then made their own poppies before launching into a variety of remembrance-related craft activities.
Ask your child what they remember about Remembrance Day. Can they tell you what the leaf on the poppy should always point towards?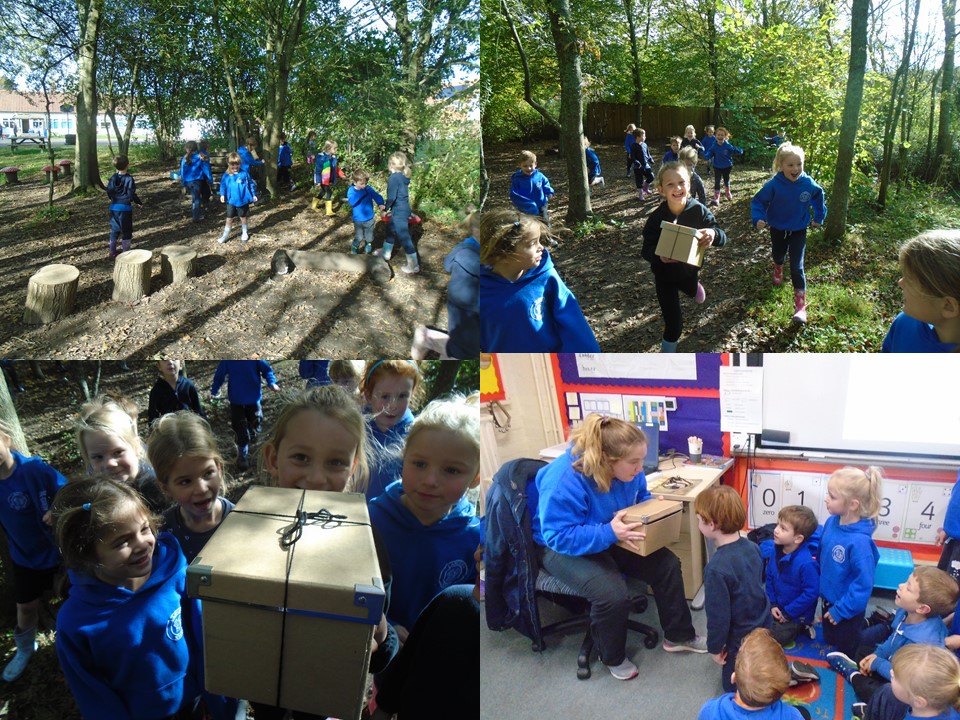 We started our English unit out in the copse, listening to the spooky story 'A Dark, Dark Tale'. In the story, a mysterious box hides inside the darkest corner of a cupboard, and we found our own mysterious box buried in the copse! What could be inside...
The children then set about planning and writing their own versions of 'A Dark, Dark Tale', putting a new spin on the story by changing the repeated adjective from "dark, dark" to something else.
What adjective did your child choose? Can they tell you their whole story? And what was hiding inside the box?!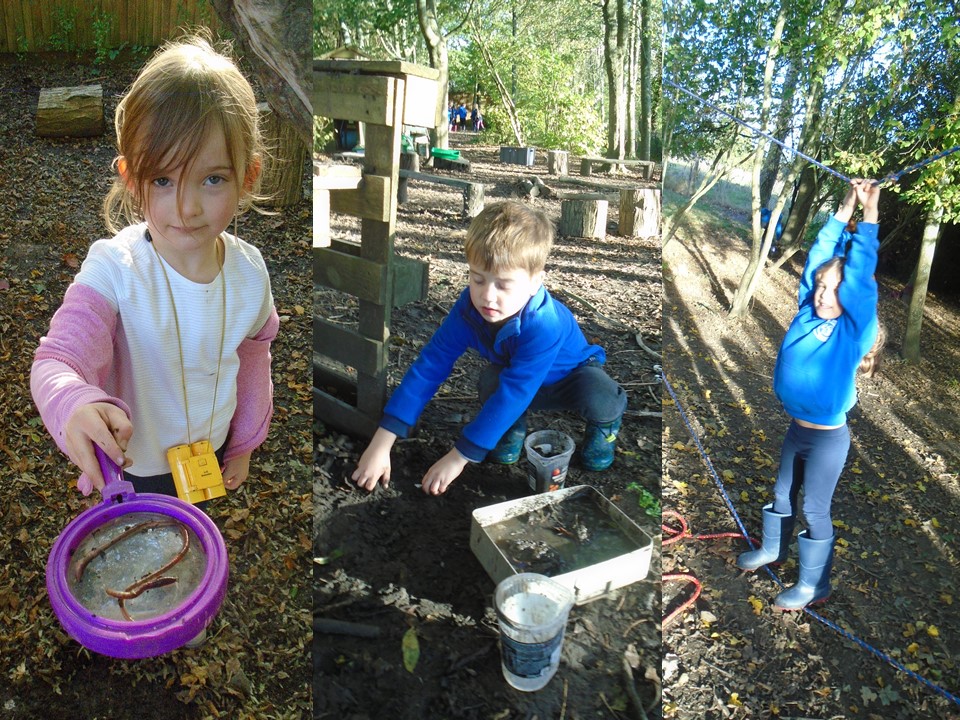 Speaking of being out in the copse, the children are absolutely loving their Tuesday afternoon forest school sessions every week.
They get up to all sorts of things, from building dens and obstacle courses to spotting wildlife and whipping up some tasty treats in the mud kitchen.
This week, the children were also told the story of 'Hedgehog Howdedo' and talked about how the hedgehogs are getting ready to hibernate at this time of year.
What's your child's favourite forest school activity?
---
Week 8 - Dazzling Diwali, interplanetary imagination and brilliant book buddies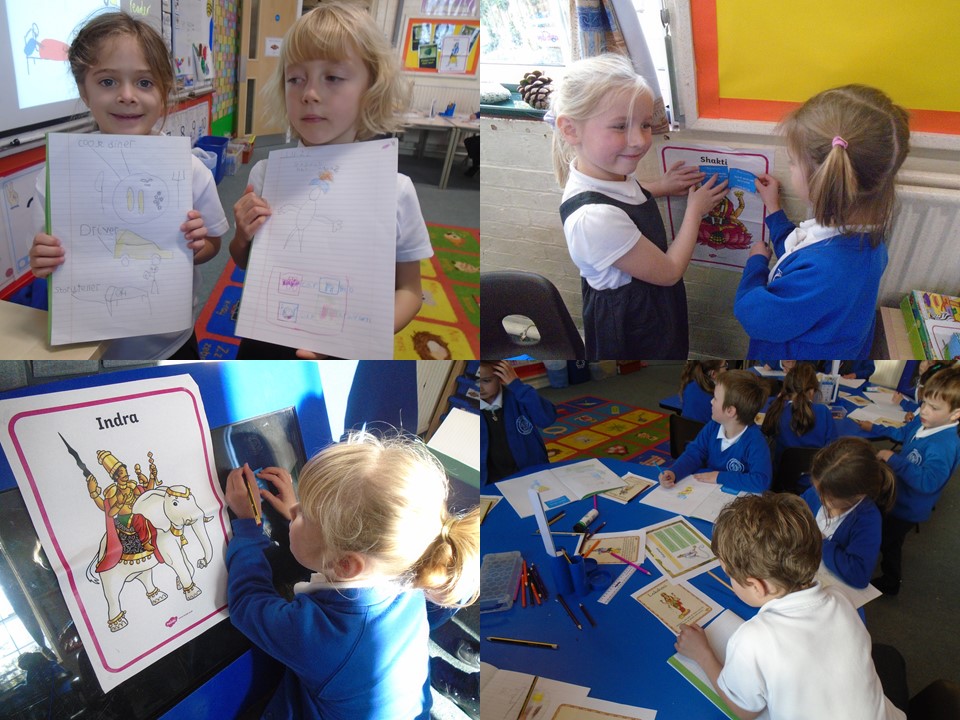 Our World Faith and Philosophy unit began this week by exploring the concept of god.
We looked at the depiction of God in the Christian religion by hearing stories from the Bible and listening to the lyrics of Christian songs.
We then compared that to the Hindu concept of god, looking at how different gods represent different aspects and roles, from creator and protector to providing good fortune and dealing destruction.
We also heard the story of Diwali and made diva lamps, comparing the symbolic use of candles in both Hinduism and Christianity.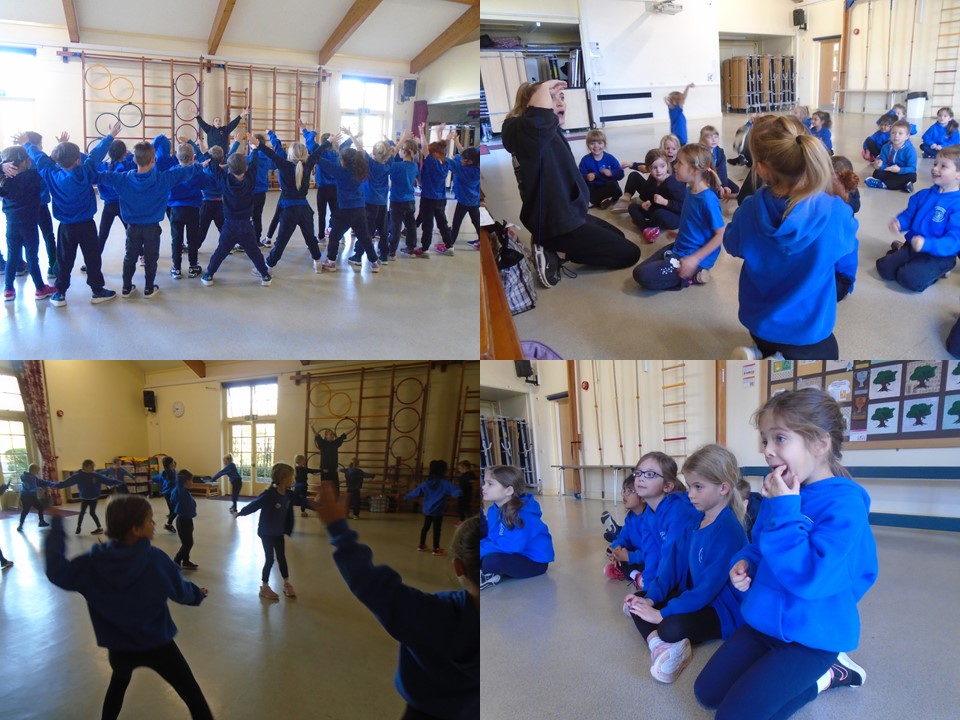 On Wednesday, Perform came in to provide Year 1 with an interplanetary drama adventure!
After learning about all the planets in our solar system, the children then had to help save planet Earth from the evil Cruel Commander who was intent on its destruction.
By using stealth (not necessarily a strength in Year 1!) and some very special friendship powder, the children were able to thwart the Cruel Commander's nefarious scheme.
Can your child name the eight planets (and one dwarf planet) in our solar system after travelling to them all this week?

Regular reading is one of the most important aspects of our learning in Year 1, so to ensure all the children get a chance to read out loud we've drafted in some extra help!
Each week, children from Year 6 will come into our class to read one-to-one with a Year 1 child.
The children absolutely love showing off their reading skills to Year 6, and it's also a great opportunity for the Year 6 children to reflect on their own reading journey and see how far they've come.
Who did your child read to this week and which story did they choose?
---
Week 7 - Fabulous falconry, counting on Katherine and a reformed character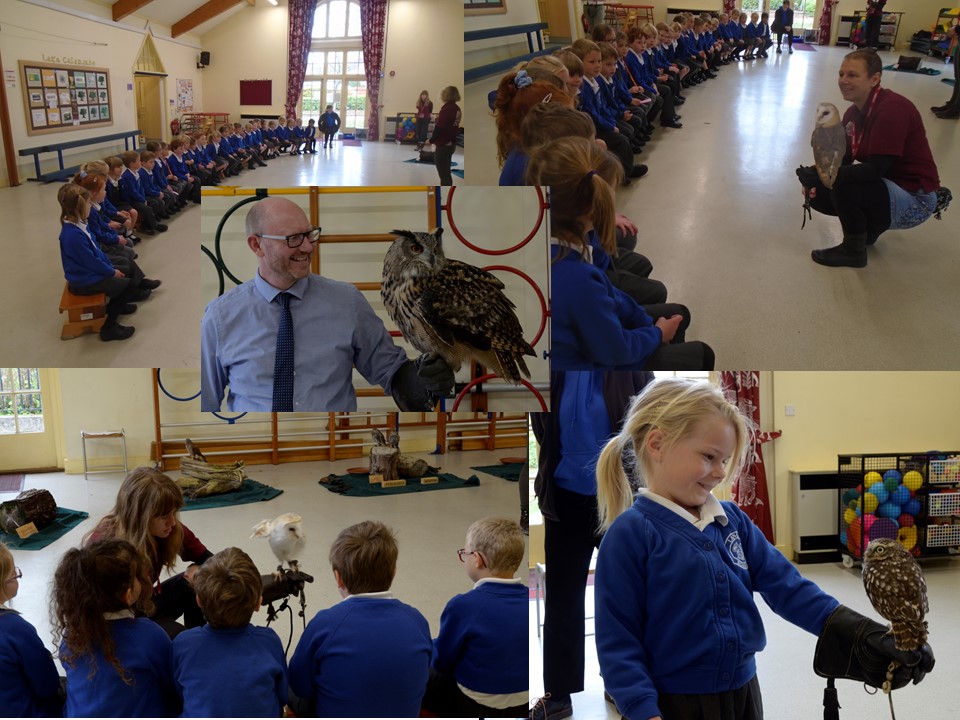 We were lucky enough to have a visit from Fab Falconry on Friday morning.
The children got up close and personal with a variety of birds during their avian adventure, meeting a kestrel as well as four different species of owl.
They learned all about the different birds and even got to handle them! By the end of the session, the children were full of fascinating facts about our feathered friends. Ask your child what they can remember about our visitors.
We'd also like to say a big thank you to FoLS for funding the Fab Falconry visit.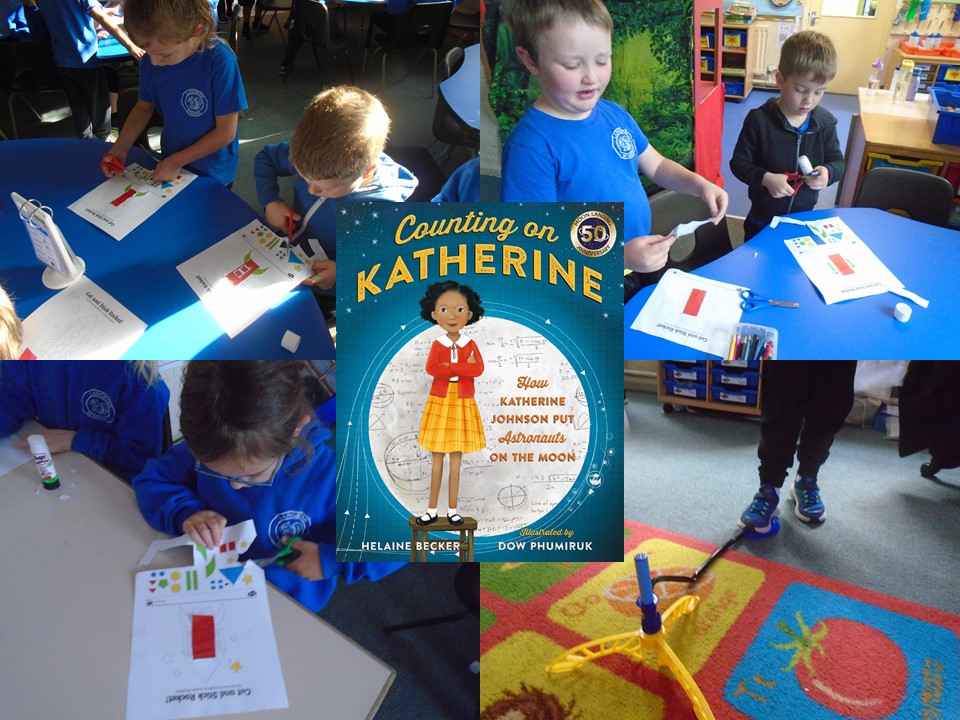 As part of Black History Month, we spent Wednesday afternoon hearing all about Katherine Johnson. The story, as told in 'Counting on Katherine', is about how Katherine overcame the social barriers and expectations of being a black woman in 1950s America to eventually play a vital role in sending American astronauts into space, onto the moon and - crucially - in returning them safely home.
Inspired by Katherine, the children then made their own (somewhat less complicated!) calculations in order to assemble their own rockets and even tried sending some of them into space from our launch pad. What can your child remember about Katherine Johnson?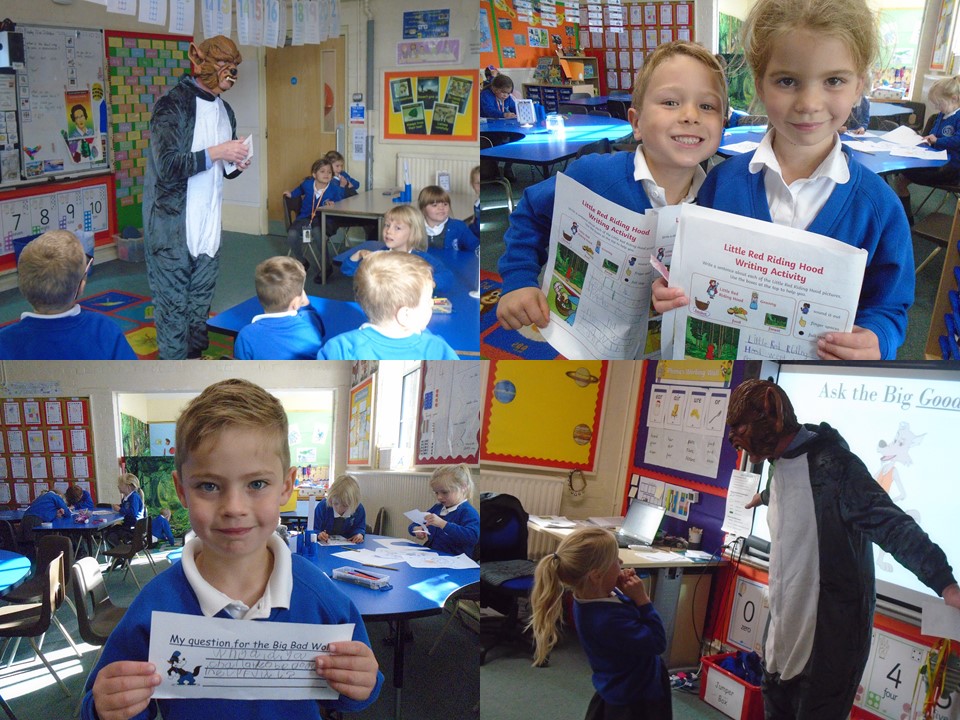 After exploring the story of Little Red Riding Hood, the children had the opportunity to write their own versions this week. Then on Wednesday, they were amazed to receive a message from the Big Bad Wolf saying that he'd changed his ways and was now good. Could it be true? There was only one way to find out!
The wolf arranged to visit on Friday morning, so the children got busy writing questions to ask him. Why did he become good? Is he friends with Little Red Riding Hood now? One little girl was even brave enough to ask him is his teeth were still sharp!
What was your child's question for the Big Good Wolf?
---
Week 6 - An awesome assembly, amazing algorithms and fabulous fairy tales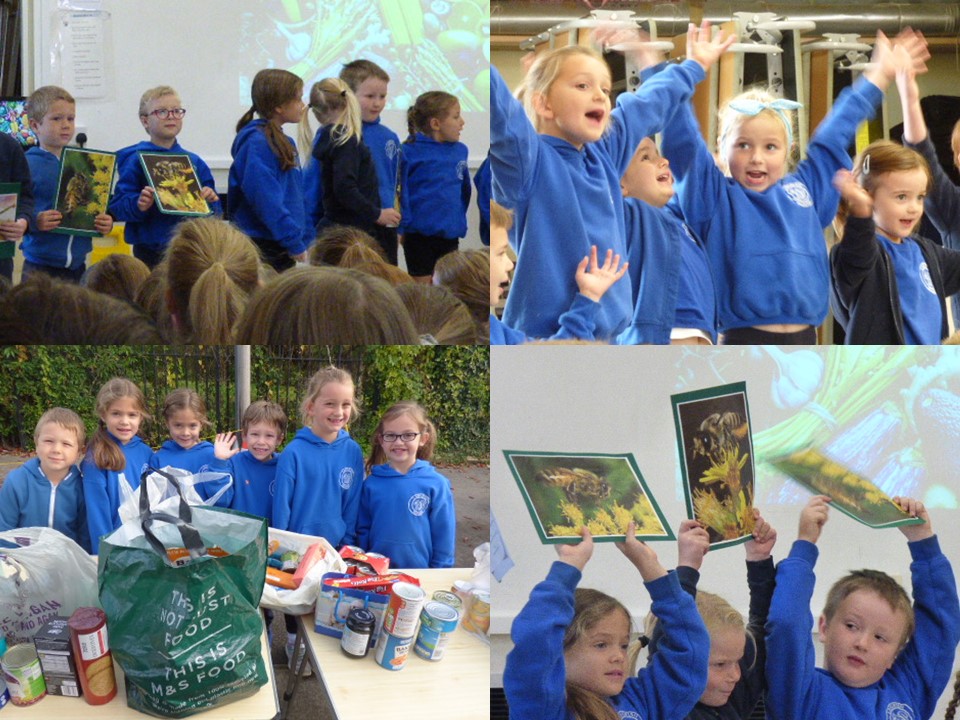 Thanks to everybody who was able to attend our Harvest Festival Assembly on Wednesday morning.
The children shared their favourite fruits and vegetables, talked about what crops need in order to grow, highlighted the importance of saving the bees and even shared a few of their harvest acrostic poems.
After rounding the assembly off with a fruity musical showstopper, Year 1 then joined the rest of the school in bringing their donations round to the harvest table for collection by the Petersfield Food Bank.
Thank you for all your generous harvest donations.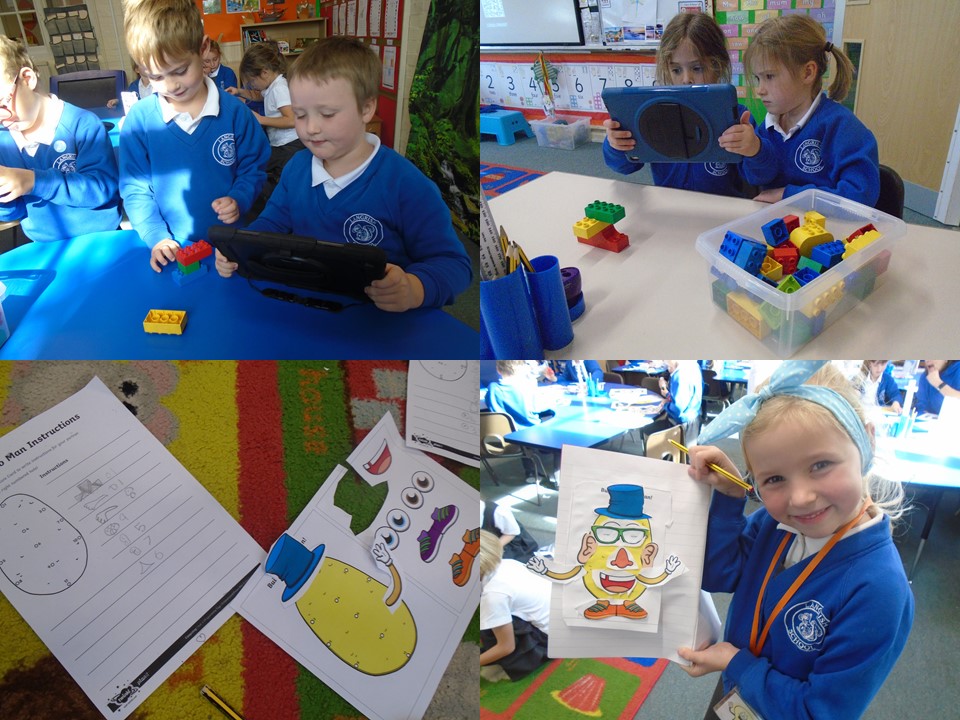 In computing, we've been learning all about algorithms. It's a big word for small children, but it simply means a set of step-by-step instructions.
The children made photo algorithms of LEGO models, using the iPads to take a picture of each stage of construction, then challenging a friend to follow their algorithms and build their designs. Later in the week, they also wrote an algorithm for making a potato man, listing which body part goes where and in what order
We even did a 'Draw With Rob' on Friday and discussed how these instructional videos also constitute a type of algorithm. Can you think of any other everyday algorithms?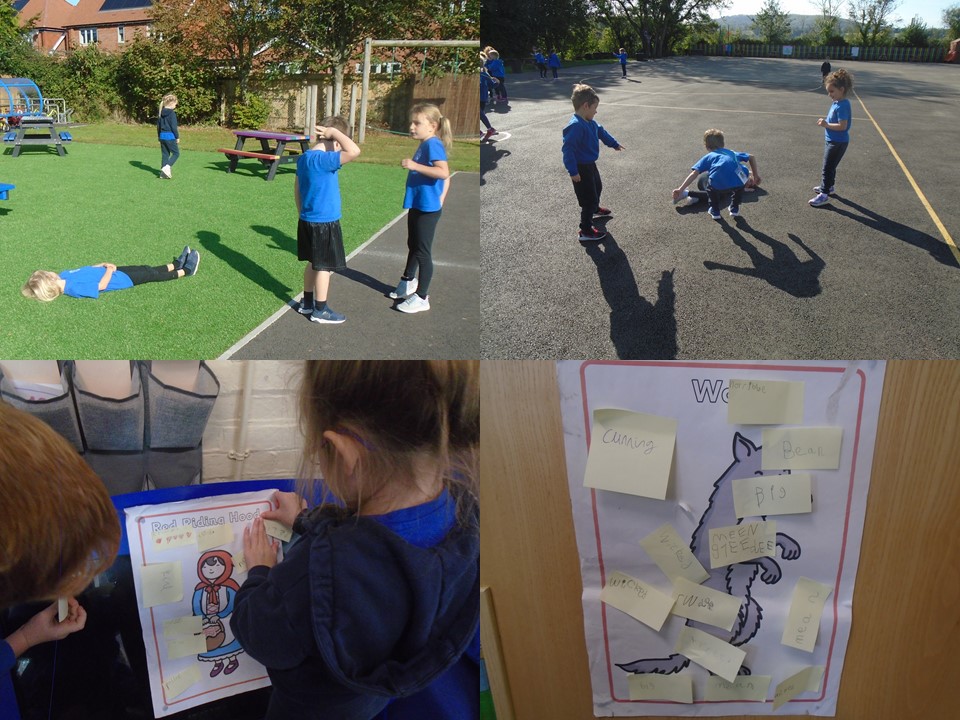 In English, we began to look at traditional tales, starting this week with Little Red Riding Hood.
We read the story in class, then the children split into groups and headed outside to perform their own role-played versions of the story.
Later in the week, we looked again at adjectives, thinking about which adjectives we'd choose to describe Little Red Riding Hood and which we'd choose to describe the Big Bad Wolf.
Ask your child what adjectives they'd choose to describe these characters. Can they think of any good adjectives for characters in some of their other favourite stories?
---
Week 5 - Marvellous morning work, keen on Klee and a sneak peek at next week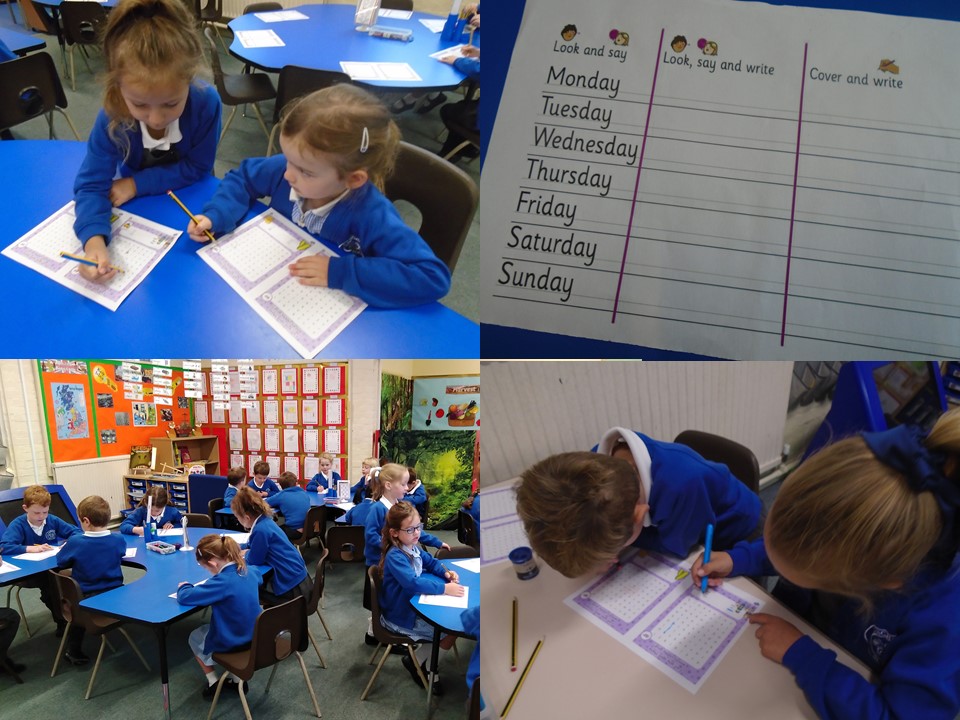 There's always something to be getting on with in Year 1, so every morning, between putting their coats away, organising their water bottles and choosing what they'd like for lunch, the children have a simple task to complete.
It might be practising how to spell the days of the week or the months of the year, doing a word search featuring one of our Phonics focus sounds, or practising their number formation. Whatever the activity, they not only serve to reinforce what we're learning in class, they also encourage the children to be independent learners.
And as a special treat, their morning activity every Friday is a little bit of extra choosing time!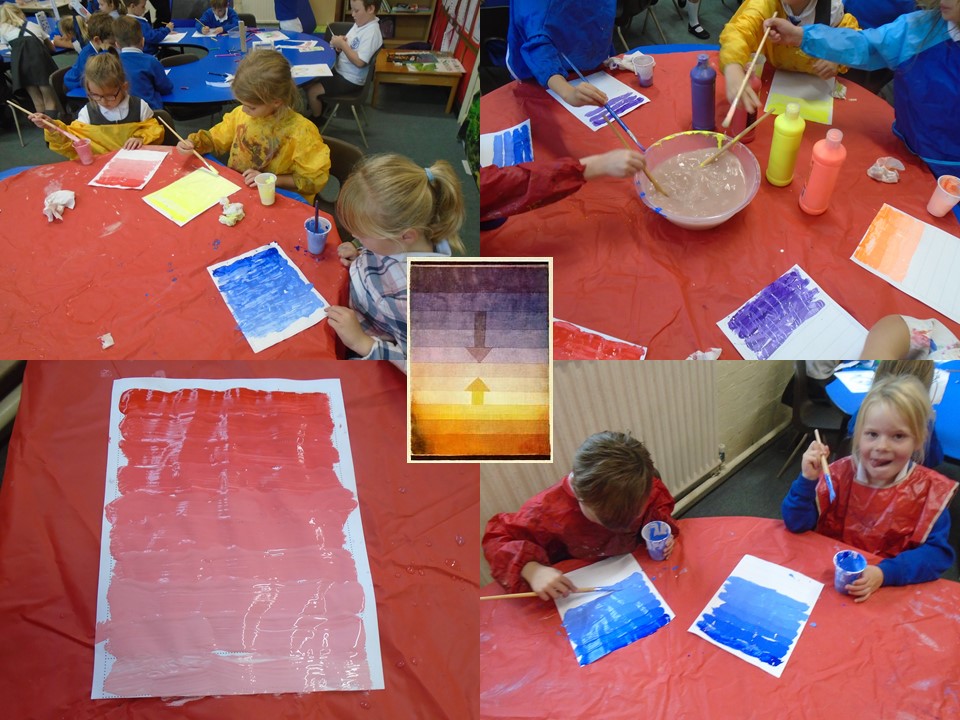 We had the paints out again in Art this week as we continued playing around with colours.
Taking the work of Paul Klee as our inspiration, the children experimented with tints, choosing one colour as their basis and gradually adding more and more white paint to create paler and paler colours, painting a single strip of their new colour each time.
The results were fantastic, and the children had some fabulous insights into how the different colours Klee used made them feel, from bright and bold colours to more neutral hues.
Ask your child what they remember about Paul Klee.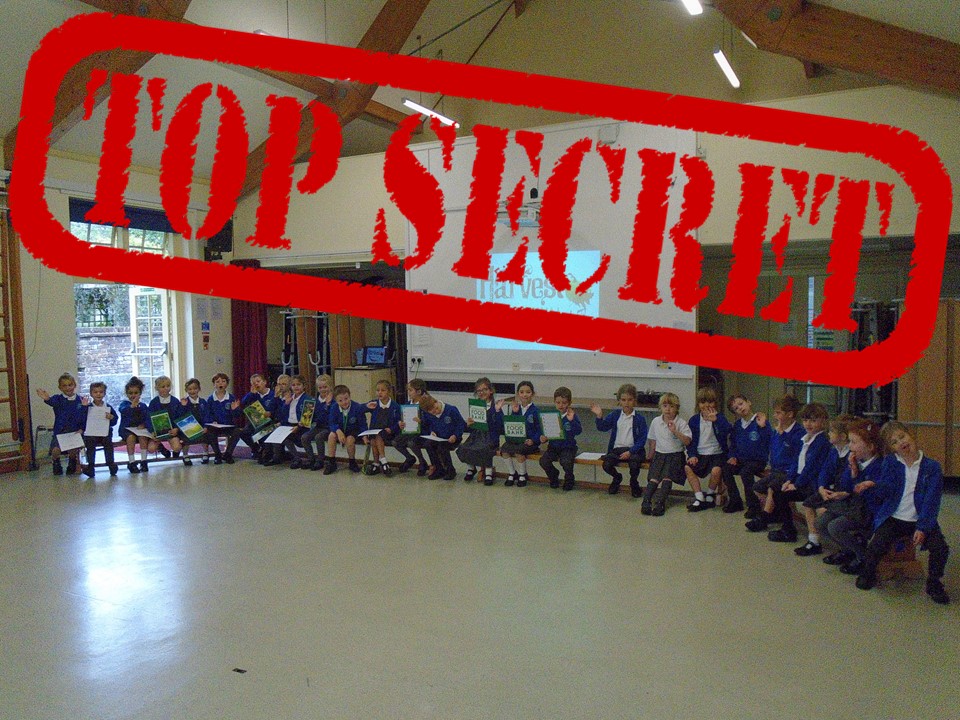 Some people think the new James Bond film is the hottest ticket in town, but that's only because they haven't heard about Year 1's Harvest Festival assembly next Wednesday!
To avoid any spoilers, top secret rehearsals are well under way for our autumn extravaganza, and the children have been in the hall practising their lines and singing the song for our fruity finale.
Year 1 parents are welcome to attend, with the assembly running between 9.00 and 9.30 next Wednesday (October 13th). It's the first "proper" class assembly since 2019, but the children have taken it all in their stride and will put on a great show. We hope you can join us on the day!
---
Week 4 - Crazy colours, chatting and choosing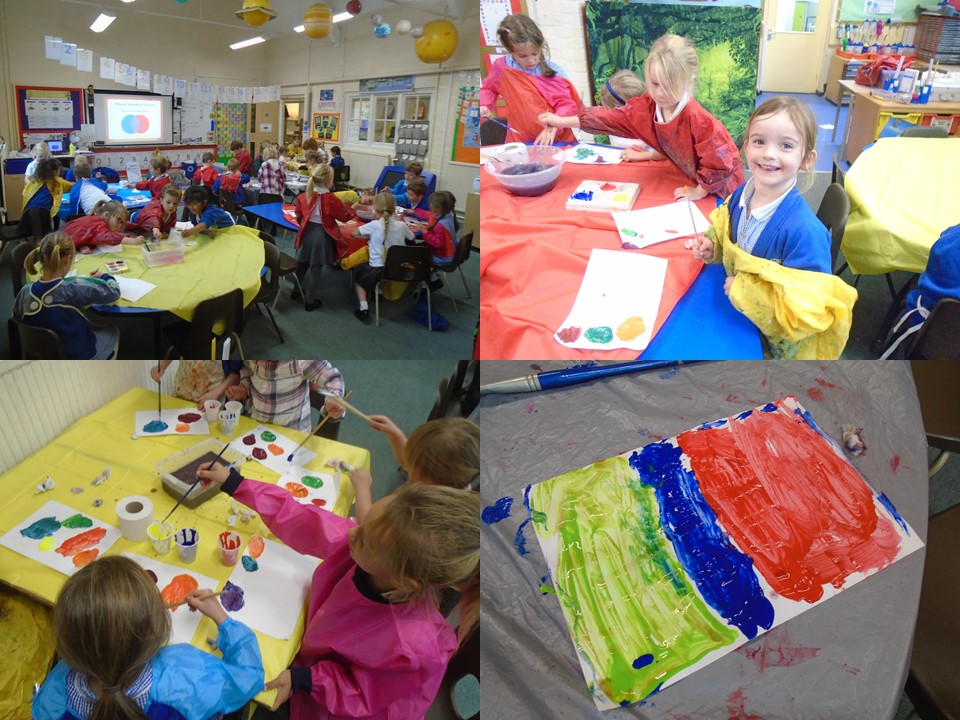 We were mixing it up in Art this week - literally!
Having learnt about the three primary colours last week, we experimented with mixing them together this week to find out what secondary colours we could make.
We also took a brief look the colour field paintings of Mark Rothko, after which some of the children even tried mixing their own colours to create colour field paintings for themselves.
Can your child tell you which colours they mixed together this week, and what other colours they managed to create?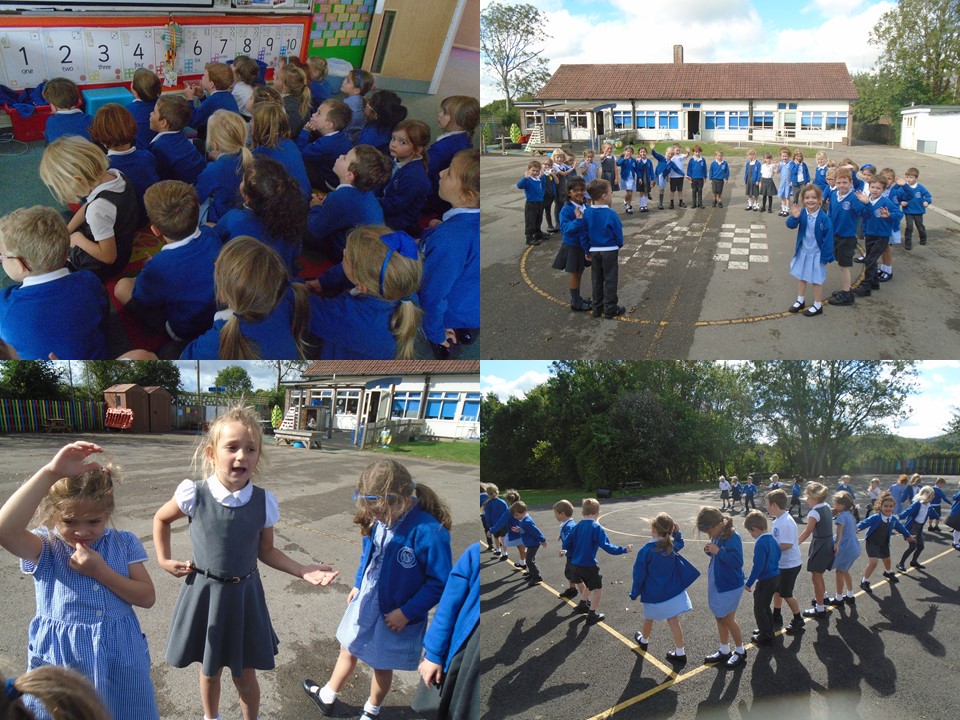 PSHE and class discussions are an important part of the transition into Year 1 from Reception.
This week our UNCRC Articles of the Week were Articles 28 and 29: that children have the right to an education and that that education should encourage all of their talents.
In an outdoor circle time, we discussed how the children felt about their new class, including what they enjoyed, which parts of the transition into Year 1 they had found the most challenging and what they were looking forward to learning about in the coming months. And as it was such a nice day, we even found time for a few outdoor class games to finish the session!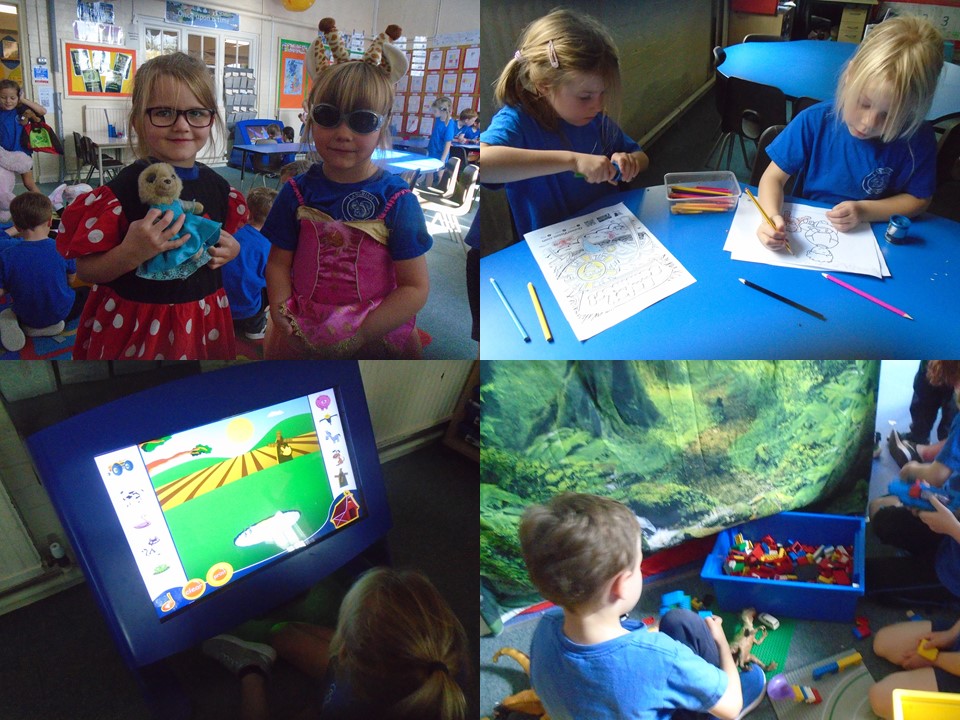 One of the things the Year 1 class enjoy most is their afternoon Choosing Time.
It's still really important that the children get time every day to play, socialise and get creative, whether that's by dressing up, drawing and colouring, or building a LEGO town, a giant marble run or a road network for their toy cars.
Their right to play and relax is enshrined in Article 31 of the UNCRC, and it's a great time to watch them have fun and let different sides of their personalities shine.
What's your child's favourite Choosing Time activity?
---
Week 3 - Fabulous forest school, mad about materials and hooray for harvest!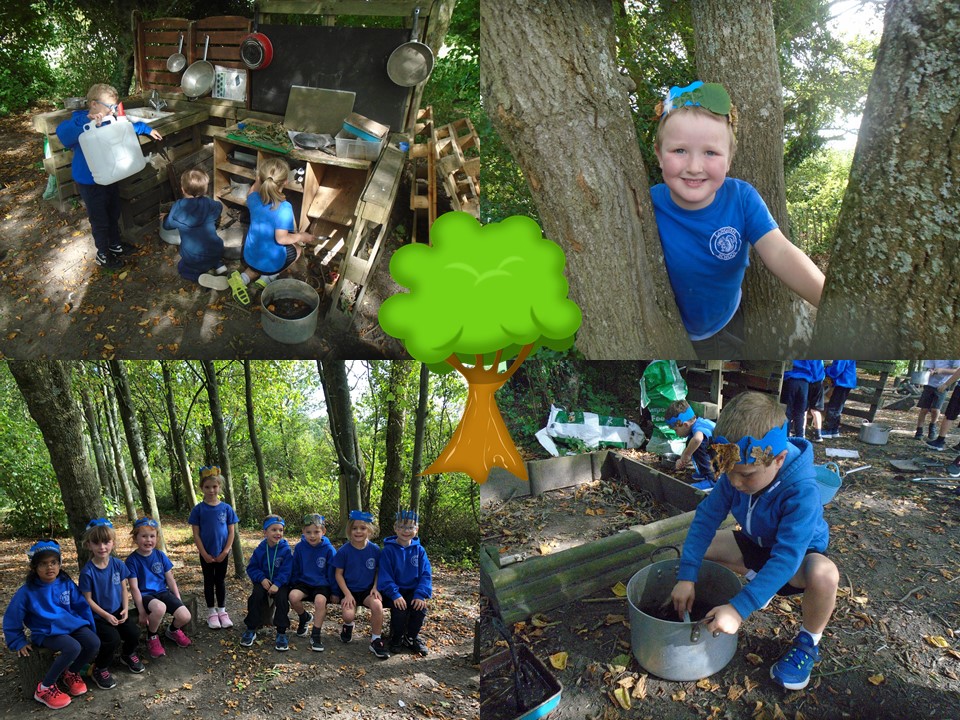 The children had another fabulous Forest School session this week, making the most of the good weather by heading out into the copse to play and explore.
They collected leaves to make forest crowns, gathered sticks for next week's creative activity and whipped up some very interesting looking recipes in the mud kitchen!
The children absolutely love getting out amongst the trees. Maybe you could go for a walk and find some decorations to make your own forest crowns at the weekend.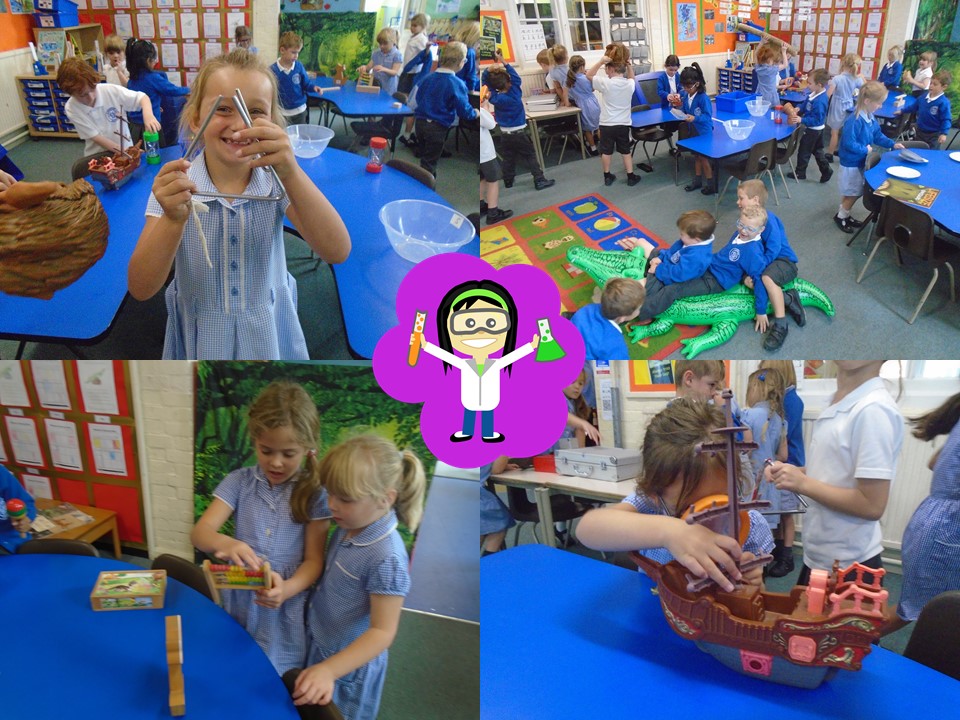 Our Science topic this term is all about everyday materials, so we began by looking at some objects made out of everyday materials this week.
There were five tables: one with objects made of wood, one with metal, one with plastic, one with rock, and one with paper and cardboard. It was the children's job to explore the different objects, see what they were made from, and try to work out why each particular material was chosen to make each particular object.
Can you find any objects around your house that are made from these materials? Which materials are the most common in your home?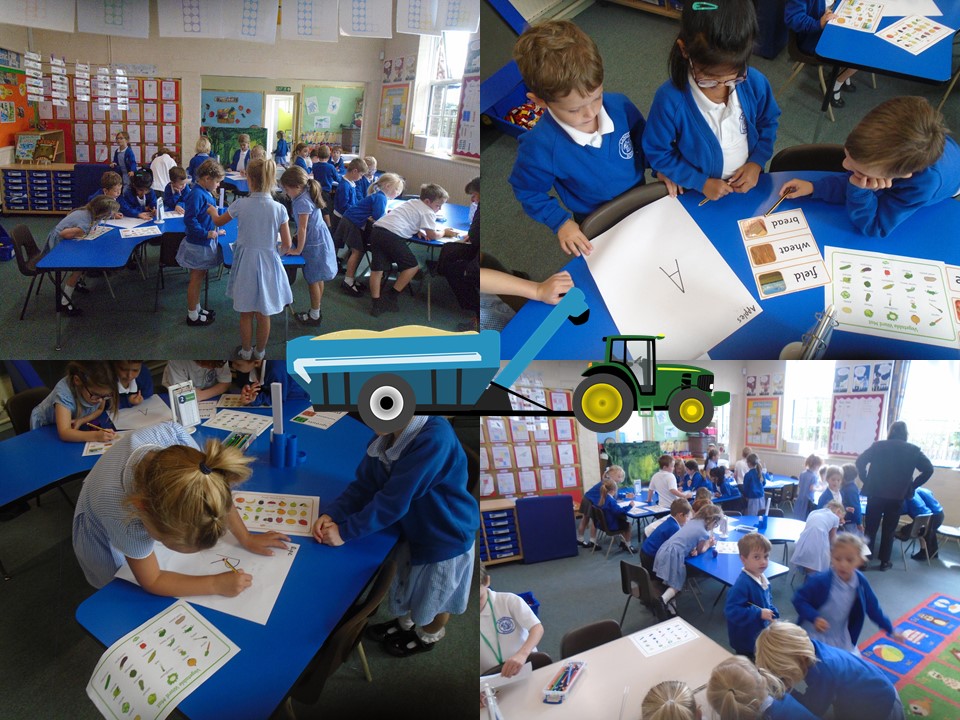 We'll be presenting our Harvest Assembly in a couple of weeks, so this week we started learning all about the Harvest Festival.
We found out what the Harvest Festival is and discussed what kinds of crops are being harvested at this time of year.
The children wrote about their favourite fruits and vegetables, and we also started collecting some suitable vocabulary for writing our acrostic poems next week. The harvest topic even extended into story time, when we read The Scarecrows' Wedding on Friday!
What can your child tell you about the Harvest Festival?
---
Week 2 - Crazy about counting, catching crocodiles and a creative Christmas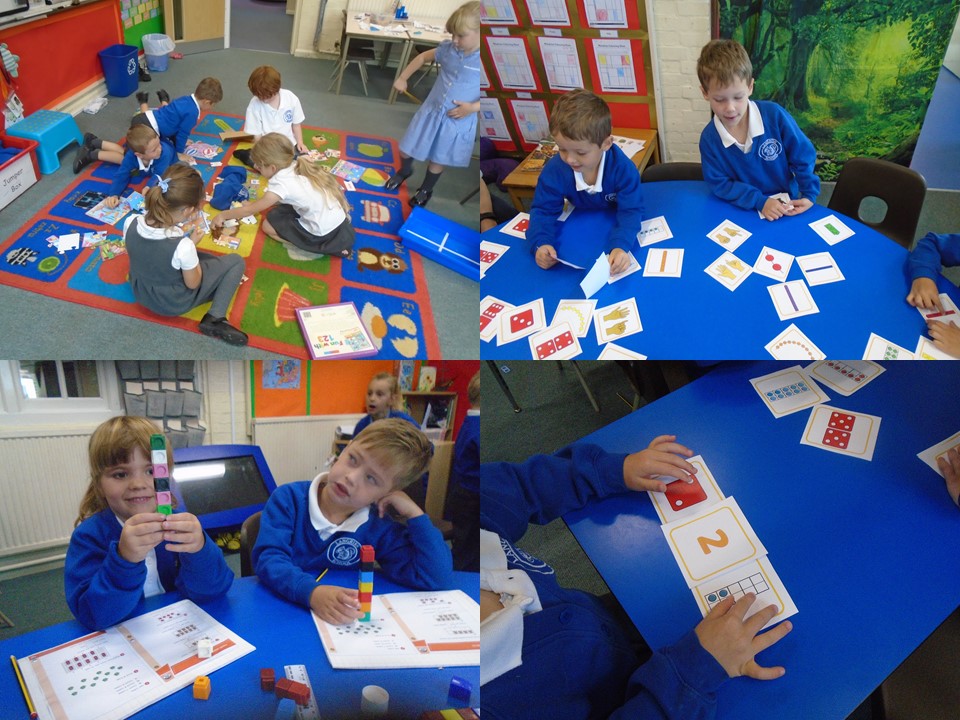 In Maths this week, we've been looking at different ways of counting and representing numbers up to 10.
The children have had lots of practical challenges to complete, involving such things as play-doh, jigsaws and building blocks.
They've also had to match numbers with their pictorial representations, draw counters onto tens frames, and complete a counting challenge across the week involving such diverse objects as pegs, marbles and plastic narwhals!
Ask your child which challenges they most enjoyed this week.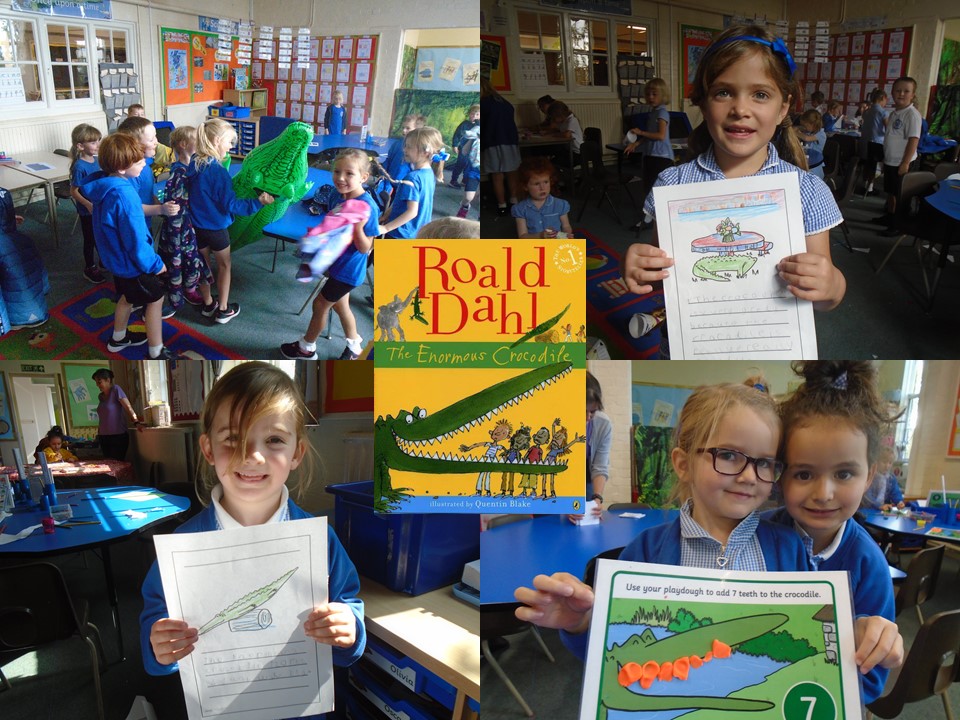 Posters appeared in Year 1 this week warning the children to watch out for crocodiles!
After being caught on camera in the classroom, we finally trapped the beast, only to discover that it was friendly, vegetarian and, as it turned out, inflatable!
It was all part of our English lessons which were based around Roald Dahl's 'The Enormous Crocodile'. After reading the story to the children, we learnt about adjectives and tried to think of as many different adjectives to describe the Enormous Crocodile as we could.
Ask your child which adjectives they chose to describe the Enormous Crocodile.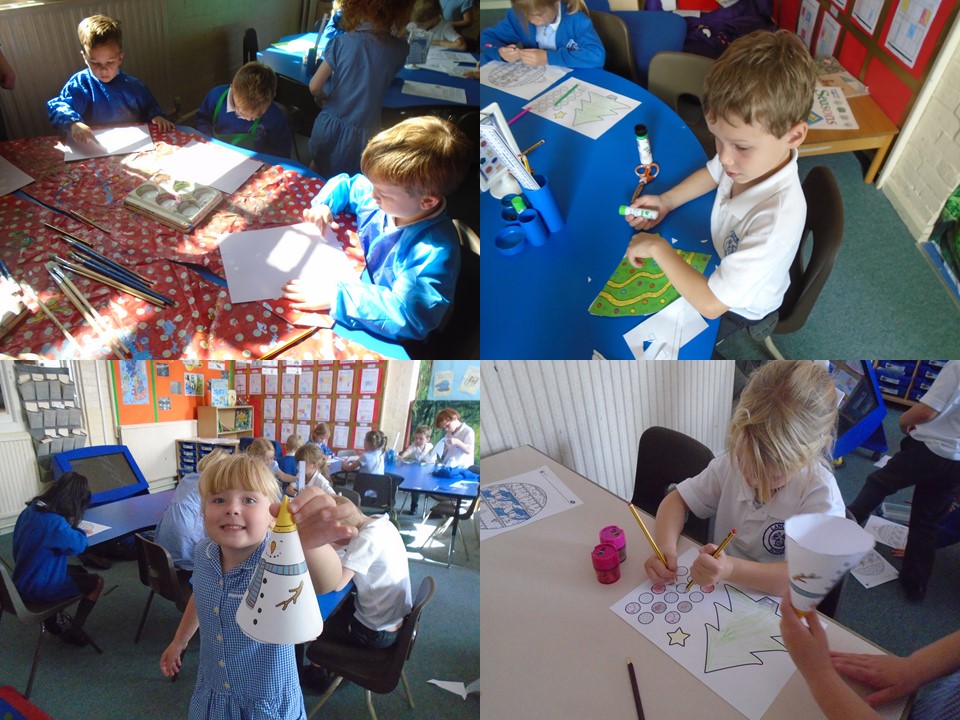 No, that wasn't a mistake in this week's titles, we were actually beginning to think about Christmas in Year 1 this week!
To ensure you have plenty of time to order the child-designed Christmas cards this year, we began creating them this week by finger-painting our snowy backgrounds.
And while this was all going on, we obviously had to embrace the Christmas spirit by colouring baubles, cutting out snowmen and even listening to out favourite Christmas songs!
Look out for your child's finished Christmas card artwork which will be coming home next week.
---
Week 1 - Welcome back!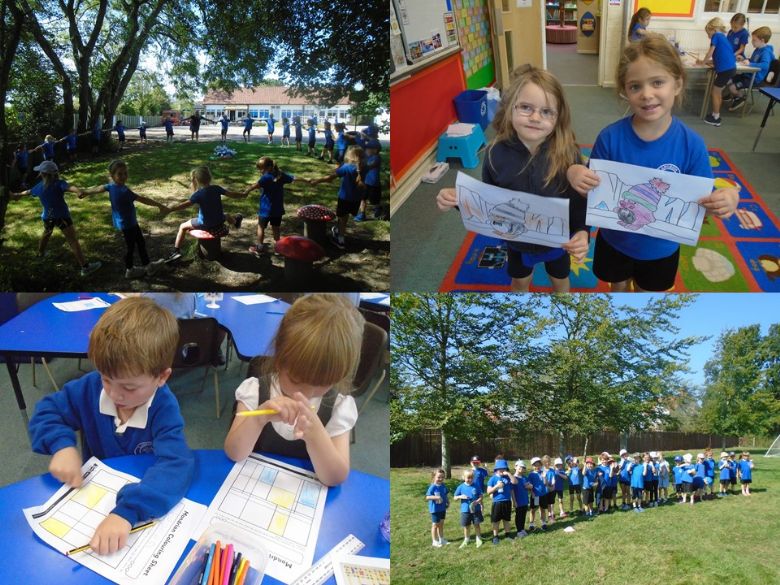 It's been a busy first week in Year 1! Not only have the children been exploring their new classroom, they've also found time to create our Class Charter, design an E-Safety Agreement and elect our School Council representatives.
On top of that, they've been finding missing numbers in maths, writing about their favourite part of the week and playing games outside on the field and in the copse.
And if that weren't enough, the children have also discussed the seasons, been on a summer sunshine senses walk and had lots of choosing time too - phew!
Ask your child about their first week in Year 1.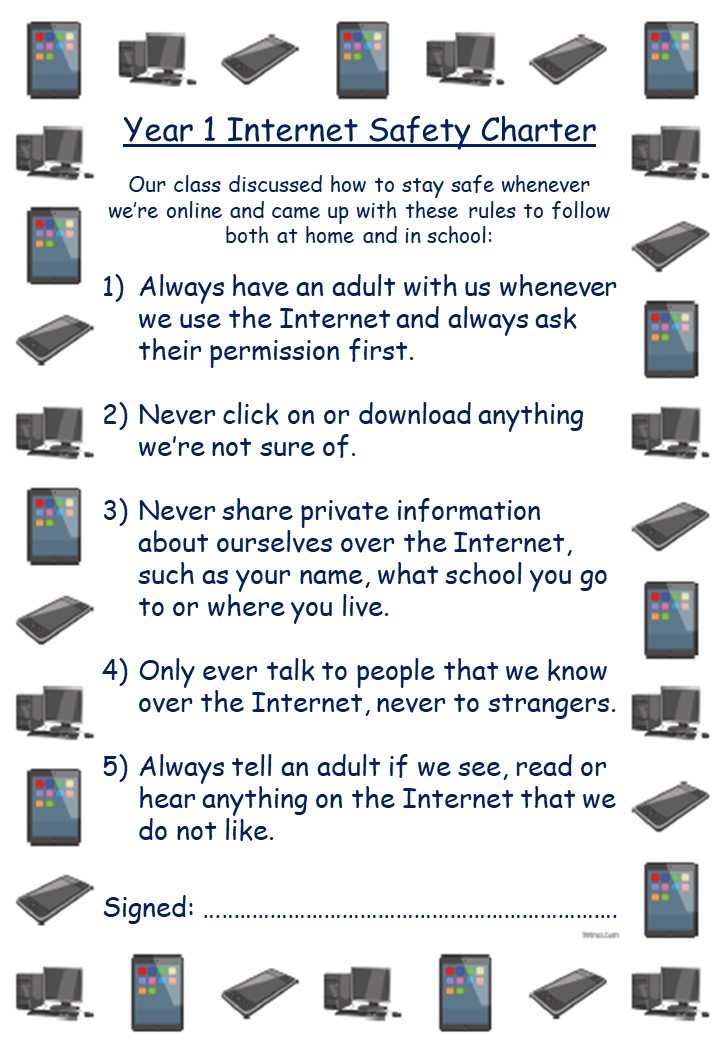 This week, Year 1 listened to the story of Smartie the Penguin and how he managed to stay safe online.
We then talked about ways in which the children could keep themselves safe when using the Internet and came up with some rules together to put into our Year 1 Internet Safety Charter.
A copy of the charter has come home, with a portion for your child to sign and stick into the back of their Reading Diary to remind them of our Internet safety tips.
For more advice on how to keep your family safe online, have a look at the links below:
Google's "Be Internet Legends"
Our Class Charter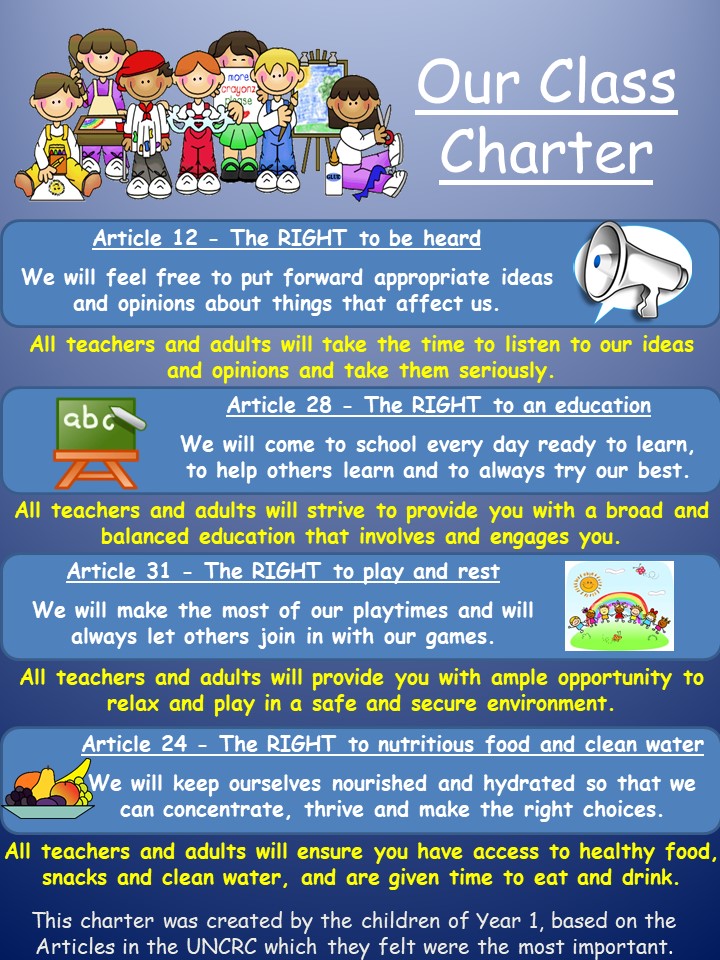 Year 1 discussed the United Nations Convention on the Rights of the Child, deciding which of their Rights they felt were most important to them. We then created our class charter together based on their choices.
Learning Behaviours Presentation
Thank you to all those parents who were able to attend our Learning Behaviours presentation. It was really useful to share and discuss our strategy for encouraging positive learning behaviours by linking them to characters from children's literature, and your input was instrumental in honing the vocabulary we'll be using to encourage these behaviours across the school.
The Learning Behaviours PowerPoint presentation is attached to the bottom of this page.
Year 1 Information and Expectations
- A curriculum update containing details of the subjects we'll be covering this term can be found at the bottom of this page, as can a list of the Year 1 "Non-negotiables" (expectations for the end of the year).
- Alongside the academic curriculum, we're encouraging the children to become more independent by giving them responsibility for everyday things such as keeping track of their own jumpers and water bottles and carrying their own bags.
- Home learning will appear on the website, with the expectation being daily reading (5-10 minutes per day), weekly maths (around 20-25 minutes during the week) and a third option to be dipped into at your leisure (this term it's all about our local area). We'll be keeping the children very busy at school, so it's important they have plenty of downtime to play, relax and explore at home too.
- We'll be covering Internet safety with the children, with a PowerPoint for parents attached to our Safeguarding page.
- Don't forget to put name labels on anything that comes to school - you'll be amazed at home many children say "Mine's the one with no name on it"!
- The children will all take the Phonics Screening Check in June, the only statutory "test" in Year 1. It's just to check the children are where they need to be with their Phonics, and consists of 40 words: 20 real words and 20 "alien" words. More information can be found about the Phonics Screening Check on the Oxford Owl website.
Snack Time
Healthy snacks are provided by the school in Year 1, however you can choose to send your child in with their own snack as long as it's either fresh fruit or vegetables - nothing that comes in a wrapper please!
Seesaw Electronic Learning Journal
We'll be using the Seesaw Family app to share some of the children's learning this year. Check your email for an invitation from your child's teacher in September and download the free Seesaw Family app for your device or log in on a computer.
If you'd like to keep your child's work from this year, click this link to discover how to download their entire Seesaw journal to keep forever (and possibly embarrass them with in the future!)