Year 1 - Butterfly Class - Mr Hancox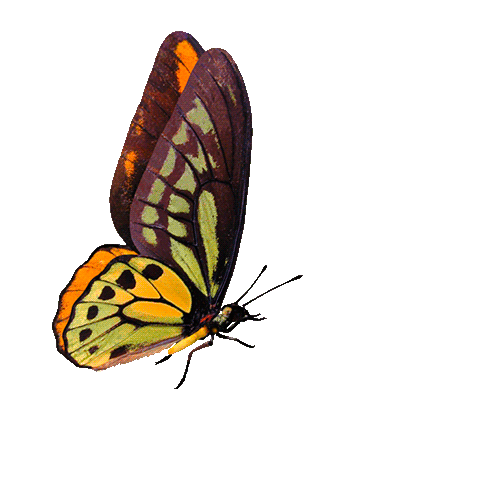 Friday 29th September 2023
P.E. Days
P.E. days will be Wednesday and Thursday for this term; can children please come in wearing their P.E. kits on these days. Long hair must be tied up and any watches, earrings or other jewellery removed. Children should have shorts for P.E. sessions; for safety reasons, only children wearing shorts can be allowed to use the P.E. apparatus. Children should also wear a hoodie and jogging bottoms in case of cooler weather.
There is no Forest School for Year 1 this term.
Meet the Teacher
Thank you to everybody who was able to attend the 'Meet the Teacher' session on the first day back. If you weren't able to attend, the PowerPoint for the session, along with any other relevant documents, are attached to the bottom of this page.
Phonics Word Wall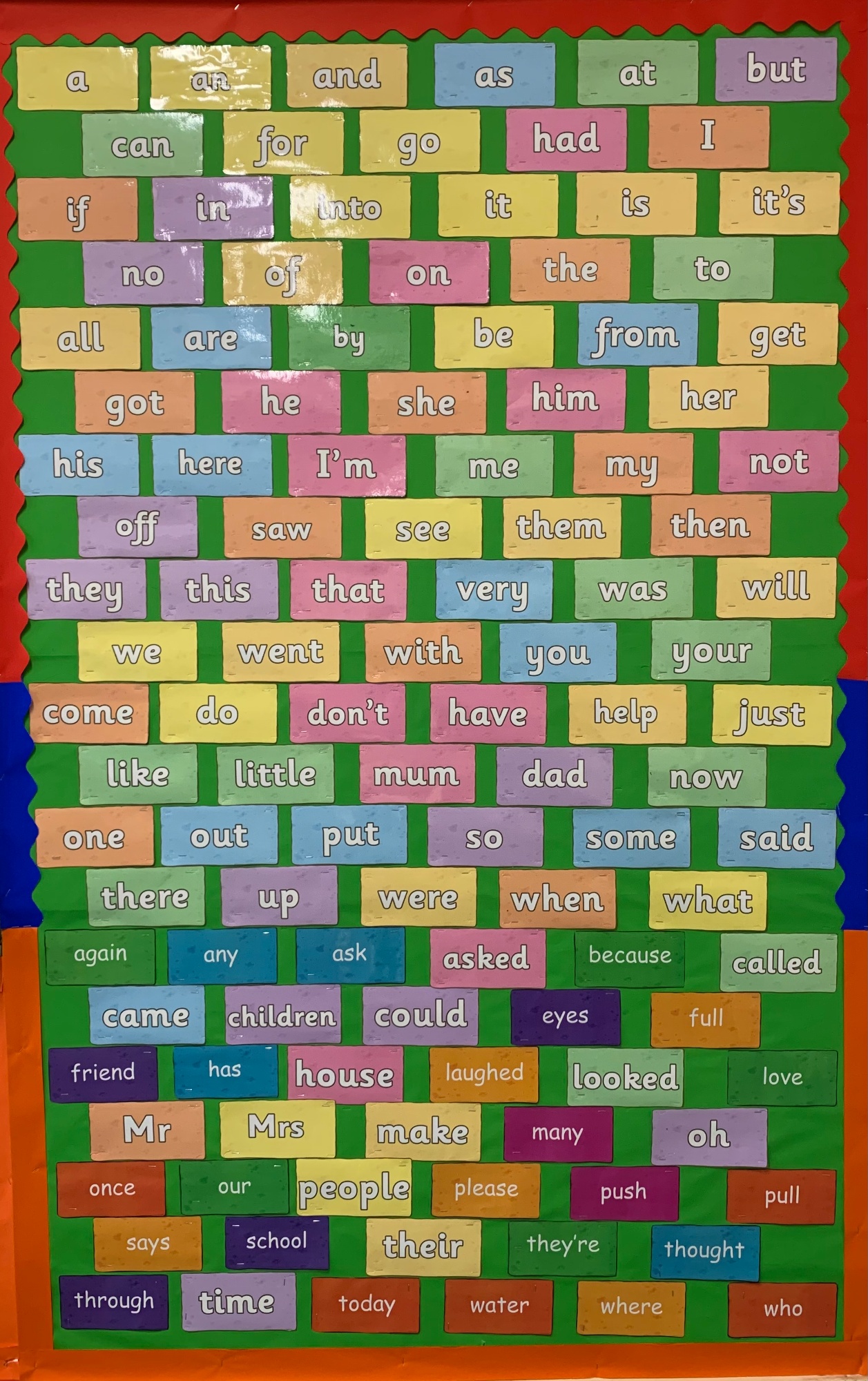 We go through all the words on our Word Wall every day as part of our Phonics lesson. The borders are colour-coded to indicate which book bands the words will appear in (Pink/Red, Yellow/Blue, Green/Orange), mirroring the order in which the different Phonics sounds and phases are taught.
Age-related expectation is that children should be reading Orange books by the end of Year 1, and should therefore be able to read, recognise and understand all the words down to the bottom of the board when they appear in a text. They should also be able to start using them in their own writing, utilising the Word Wall in order to help them with their spellings.
You can watch a video of Mr Hancox guiding you through the Word Wall by clicking here.
Internet Safety and Parental Controls
There have been instances of children across a number of year groups discussing inappropriate Internet content they have viewed at home. Please ensure that your Internet-linked devices at home are suitably supervised and protected using the parental controls available. For advice on how to keep your child safe online, including the use of parental controls, click this link to the NSPCC website. If you'd like to know how to set up parental controls specific to gaming - limiting game time, in-game communication or setting spending limits for instance - click on this link to the EA Games website.
Home Learning
English: Make time to read with your child for approximately 5-10 minutes every day. Children are encouraged to change their reading books regularly, however you can find extra reading material on the Oxford Owl website. Our Library Day is every Wednesday, so children can also bring their library books back and exchange them for new ones then.
You don't need to record each daily reading session in your child's Reading Diary, but do make an entry at least two or three times a week; whenever they finish a book; or just to say that they enjoyed a particular story you've shared.
​The Reading Diary also contains lists of our Phonics sounds, along with Learning Tools to compliment your child's reading, and get them thinking, talking and sharing their opinions about the books they've read.
At the front of the Reading Diary is a list of Non-Negotiables for Year 1 - these are learning targets we are hoping to achieve by the end of the year. From time to time, specific targets will be selected that you can focus on at home, so please check the Non-Negotiables list for any notes or annotations that will help to focus your home learning. September's targets are to write the digits 0-9 correctly, to count within 10 forwards and backwards starting at any number, and to remember finger spaces between words when writing.
At the back of the Reading Diary, there are also Bronze, Silver and Gold certificates for them to earn too, which are awarded upon completion of 5, 10 and 15 of the Learning Tools respectively. House Points are also on offer to those children who earn their Bronze, Silver and Gold certificates.
Spelling Shed and online games: Additionally, children can practise their spellings online using the Spelling Shed logins which will soon be in the front of their Reading Diaries: word lists including learning to spell the months of the year, days of the week, and high frequency and tricky words in line with our current Phonics learning. There are also a range of word games, maths games and coding games available to play on Purple Mash and in the 'Assignments' section of the Brainzy website for which the children will also receive login letters in the coming weeks.
Phonics: This week, as well as reading all the words on our Word Wall, we've been recapping our Phase 4 words, including alternative sounds for ee (y - baby and ey - key), v (ve - give), and l (le - apple); look out for these words and sounds in your reading and conversation. The Phonics Play website also has some excellent free resources and games for extra practise, and there are some "Alien" word flashcards attached to the bottom of this page. We also sang along to the Alphabet Song and the Prefix and Suffix Song on the Super Movers website.
Handwriting: We will be teaching the children cursive letter formation, using the Teach Handwriting scheme of work. The website, which includes animations featuring correct letter formation along with worksheets, can be accessed by clicking here.
Maths: (20-30 minutes per week) Following the White Rose Maths scheme, we've been learning about number and place value up to 10. Can your child count, read and recognise numbers to 10 in both digits and words? Can they write the digits the correct way round? We've also been looking at grouping and counting objects. Can your child sort a group of objects by size, shape or colour? Can they think of their own criteria for grouping objects (for instance toys with wheels / toys without wheels). Once sorted, can they count how many objects are in each group?
Number recognition is also important in Year 1, and the children frequently struggle to recognise the tricky teen numbers between 10 and 20. I've attached some number recognition flashcards to the bottom of this page if you'd like to practise at home. The 'Out and About' cards on our maths page also have some great ideas for exploring numbers in everyday situations.
Geography: We're learning about Petersfield and the local area as part of our Geography topic. If you're out and about in Petersfield, what landmarks can you see? Which buildings are particularly distinctive? Can you find any statues? Which places do you visit the most? When you're on a journey, what kind of landscapes can you see? Can you find your own street on a map of Petersfield?
Design & Technology: We're learning about playgrounds in Design & Technology, so next time you go to a playground, look at the way the play equipment is built and the materials that have been used. Are they any structural shapes that are used more than others? Which materials are the most common, and why do you think these were chosen?
Personal P.E. Challenge: The children chose, for their personal P.E. Challenge, to see for how many seconds they can balance on one leg. Try it at home and see how long they can balance. Does it change depending on which leg they're standing on? Can they improve their results with practise?
​Extreme Reading Challenge: For our reading wall display, we want to prove that Langrish childre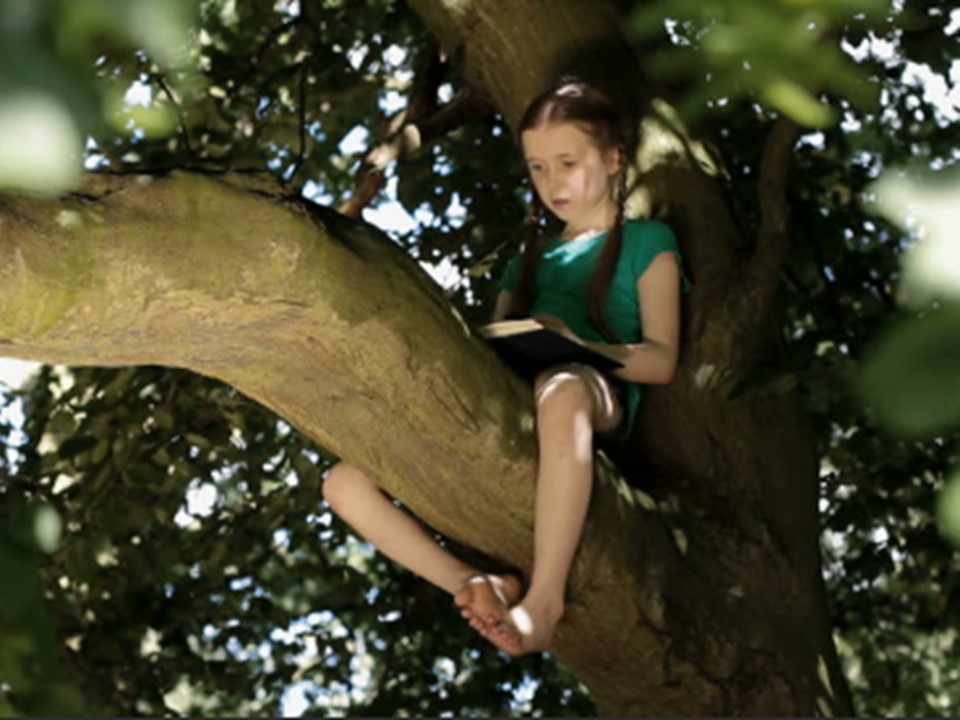 n love to read anywhere and everywhere!
What's the most unusual place your child has read a book. Up a tree? In a hammock? On the beach? Bouncing on a trampoline? Email us a photograph of your child reading a book in an unusual place (nothing dangerous of course!) and we'll put it up in the 'Extreme Reading' display of our new book corner.
I look forward to seeing the unusual places you've been reading your books!
This Week's Primary Picture News
Primary Picture News is a child-friendly and age-appropriate look at fascinating events that are going on in the wider world. This week, the children heard about space exploration and how some countries are striving to reach the lunar South Pole. What can your child tell you about the news story? Would they like to explore outer space?
This Week's Story Time Selection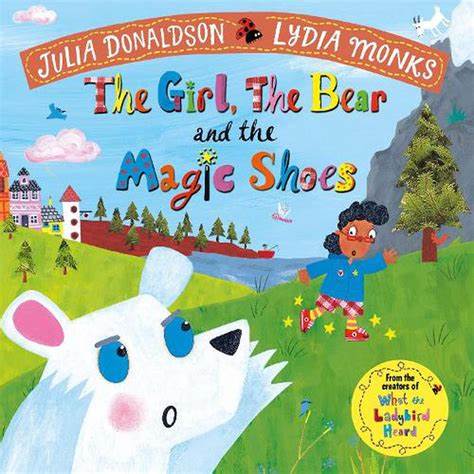 We read a range of books in our daily story time. This week, one of them was 'The Girl, the Bear and the Magic Shoes' by Julia Donaldson and Lydia Monks.
It tells the story of Josephine and her new shoes, which turn out to have amazing magical properties when she thinks she's being chased by a bear!
Can your child tell you what happened in the story? What different types of footwear did the shoes turn into to help Josephine conquer different types of terrain, and why was the bear chasing her in the first place? Which famous children's story did this book remind us of? Do you have any books by Julia Donaldson in your house? If so, which of her stories is your child's favourite?
A Taste of Our Learning
Week 4 - Horrible hands, learning about logins and pondering properties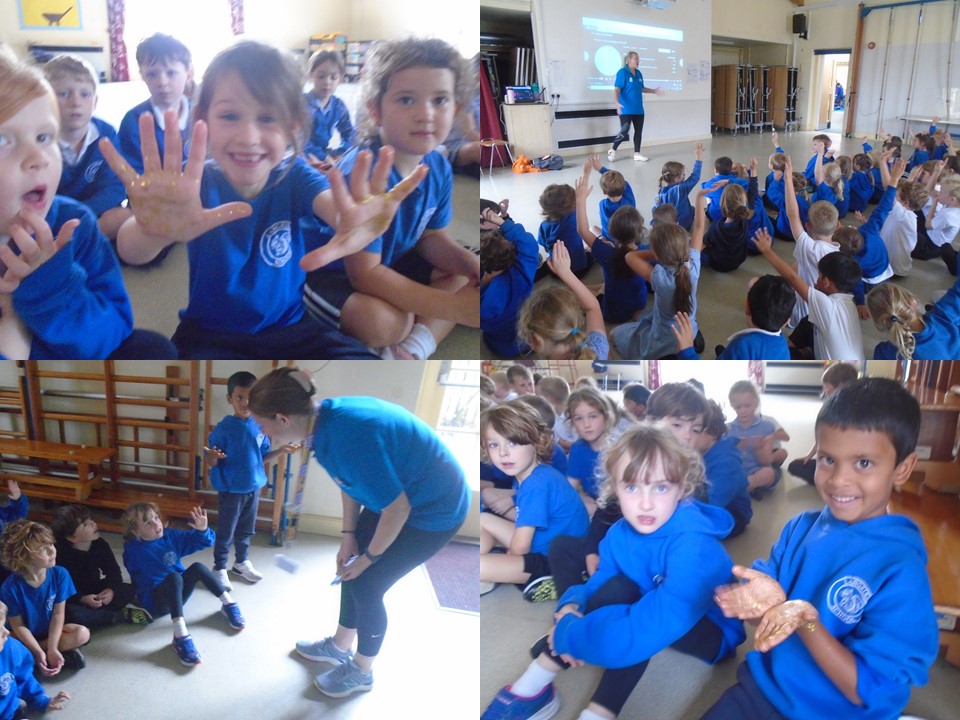 The children attended a special 'Horrible Hands' workshop this week, mixing Science and PSHE in order to explain how washing our hands properly can protect us, and those around us, from germs and illness. The 'Horrible' part involved learning all about germs, sneezes and snot, as well as an experiment using glitter and hand lotion to show how easy it is for germs to spread.
Can your child explain why it's so important to wash your hands? What facts can they remember from the workshop? Two of our favourite Super Movers songs include verses about handwashing; click here to dance along to the 'Staying Fit and Well' song.
This week, we went from keeping ourselves safe from germs to keeping ourselves safe online when we looked at logins in Computing. We talked about how having a username and password protects our digital accounts and personal information from being accessed by others, why it's important not to share our logins with anyone, and why remembering to log out once we've finished is essential. The children also created avatars - digital representations of themselves (rather than a real picture) for their Purple Mash accounts.
Can your child tell you why it's so important to keep your login details private and why we use avatars online rather than actual photographs?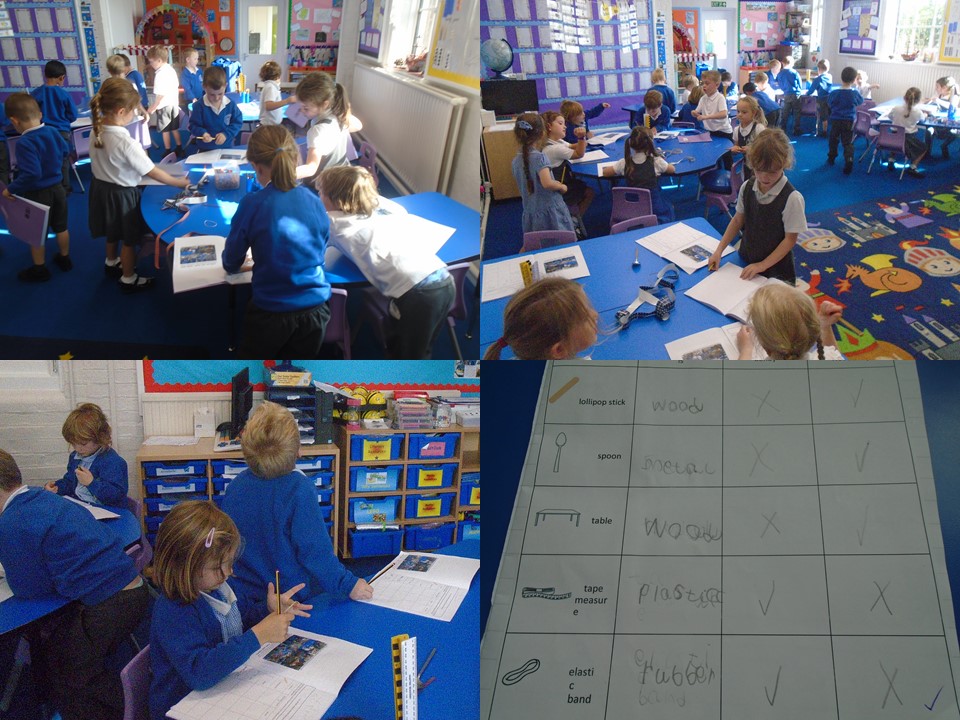 We continued our Science topic of 'Everyday Materials' this week by looking at the properties of different materials. We even managed to link it to our previous English work on adjectives, as it's all about how materials can be described. Having discussed the types of properties different materials might have (shiny or dull, rough or smooth, transparent or opaque), we then tested a variety of objects and recorded in a table the name of the object, the material it was made from, and simply whether the material had the property of being bendy or not bendy.
Can your child name the properties of some everyday materials?
Week 3 - Amazing acrostics, discussing deities and geographical genius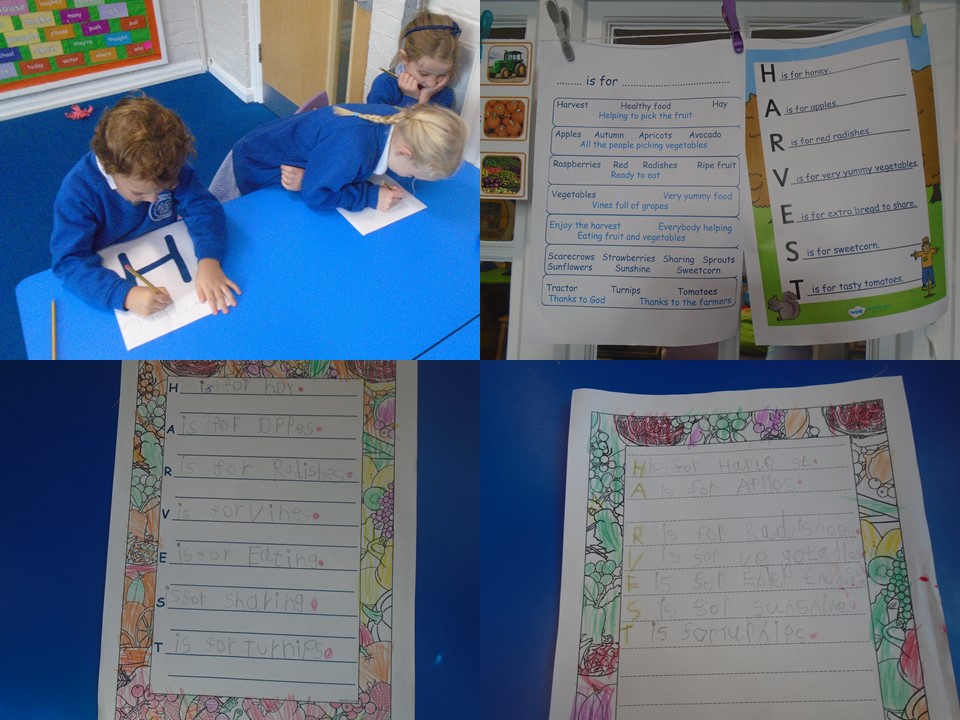 In preparation for our upcoming Harvest Assembly, we've been writing harvest-themed acrostic poems this week. We began by learning about the Harvest Festival, and collecting as many harvest-themed words as we could think of beginning with H, A, R, V, E, S and T. We then wrote an acrostic poem together as a class, before the children wrote their own poems, choosing which level of challenge they wanted and colouring in their page borders for artistic effect.
Can your child recite their harvest poem? Maybe you could write your own acrostic poem at home (on any subject).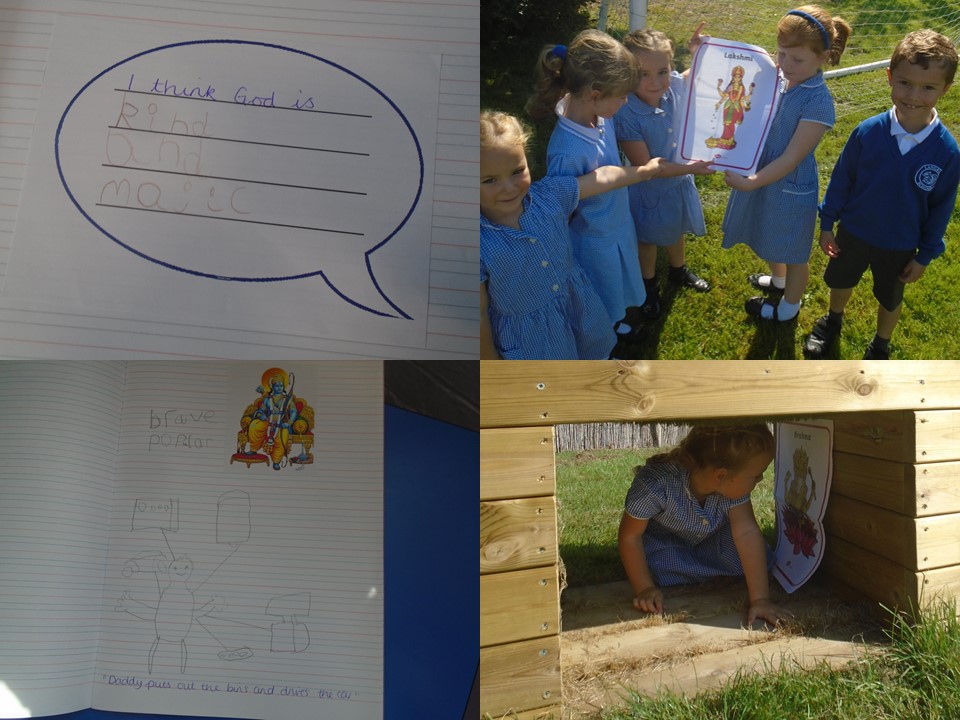 Our World Faith and Philosophy unit this term is all about exploring the concept of god. We began by looking at the Christian concept of a single God, hearing stories from the Bible and thinking about how God is portrayed in these stories. After that, we learnt about Hindu gods, and how Hindu culture has different representations of god for different roles (this included an outdoor scavenger hunt to find pictures of as many different Hindu gods as we could).
What can your child tell you about how the concept of god in these two cultures? Can they name any Hindu gods?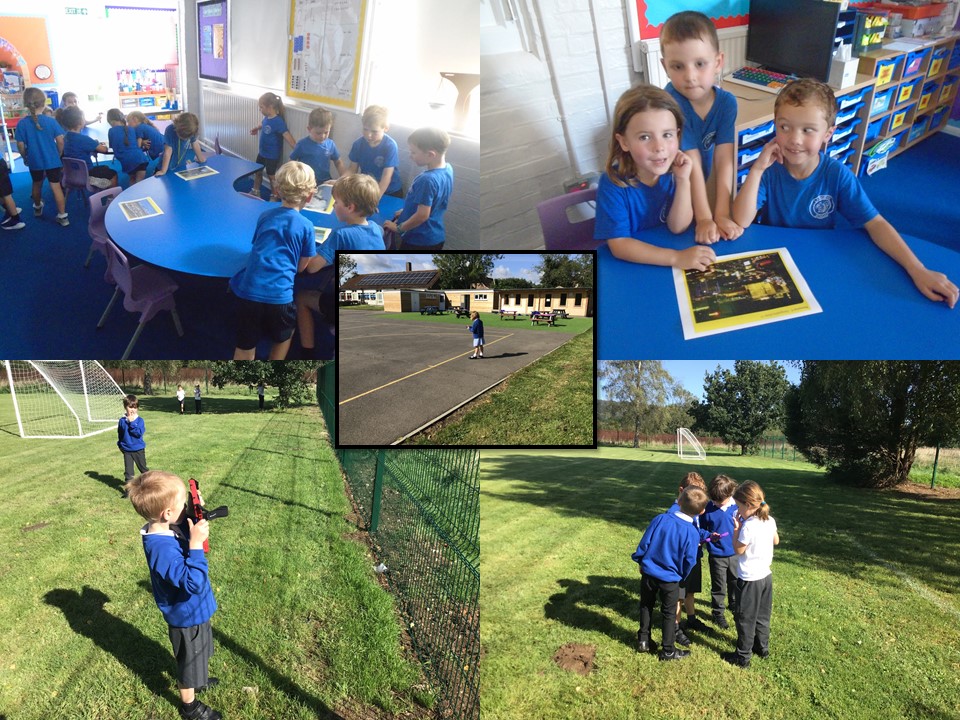 Our Geography topic this term is all about Petersfield in the local area, but we began by looking at what the subject of Geography is all about. We started by looking at the difference between human geography and physical geography. The children looked at photographs of different landscapes, and identified those elements in the photos that were human geography and those which were physical geography. Then, during our Outdoor Learning session, the children were given cameras and tasked with finding and photographing their own examples of both human and physical geography. Can your child tell you the difference between human geography and physical geography? Maybe they can point out some examples while you're out and about.
Week 2 - Super Sorting, Marvellous Materials and Perfect Playgrounds
As part of our Maths lessons, we've been sorting objects into groups according to different criteria and counting the number of objects in each group. This spilled over into our Outdoor Learning session too, when the children were challenged to collect a range of objects and sort them into different groups. They did a fantastic job, with some groups sorted by colour, some by shape, some by size, and some by the type of objects they'd collected.
Ask your child what they collected and how they made different groups. Maybe they could do a similar activity at home.

All that practise sorting objects into different groups came in handy during our Science lesson this week too. This term's topic is 'Everyday Materials', and the children were given a range of objects made from either wood, metal, plastic, rock or fabric to explore.
First, they had to name the material the object was made from. Then, we sorted them into groups by material, discussing why each material's properties made it the best choice for that particular object.
Can your child remember which objects we looked at and what they were made from?
Thinking about materials also featured in our Design and Technology, as we began our unit on playgrounds. We started by looking at pictures of playground equipment and noting how they were built. We noticed that triangular supports were often used to provide stability, and that almost everything was made out of plastic, wood, metal or a mixture of those materials. We discussed why these were the best materials for building playgrounds, before drawing and labelling our favourite pieces of equipment.
What's your child's favourite piece of equipment in the playground and what materials were used to construct it?
Week 1 - Staying safe, checking our charters and celebrating summer
This week was all about settling in and setting expectations for the coming year, and that included learning about how to keep ourselves safe online.
The children heard the story of Smartie the Penguin, and we talked about what to do if we ever see something online that makes us feel sad, scared or worried. This message was backed up by a video featuring Jessie and Friends, and enabled us to create and sign our own Year 1 E-Safety Charter, which you can find at the bottom of this page and in your child's reading folder.
Can your child tell you how they can keep themselves safe online?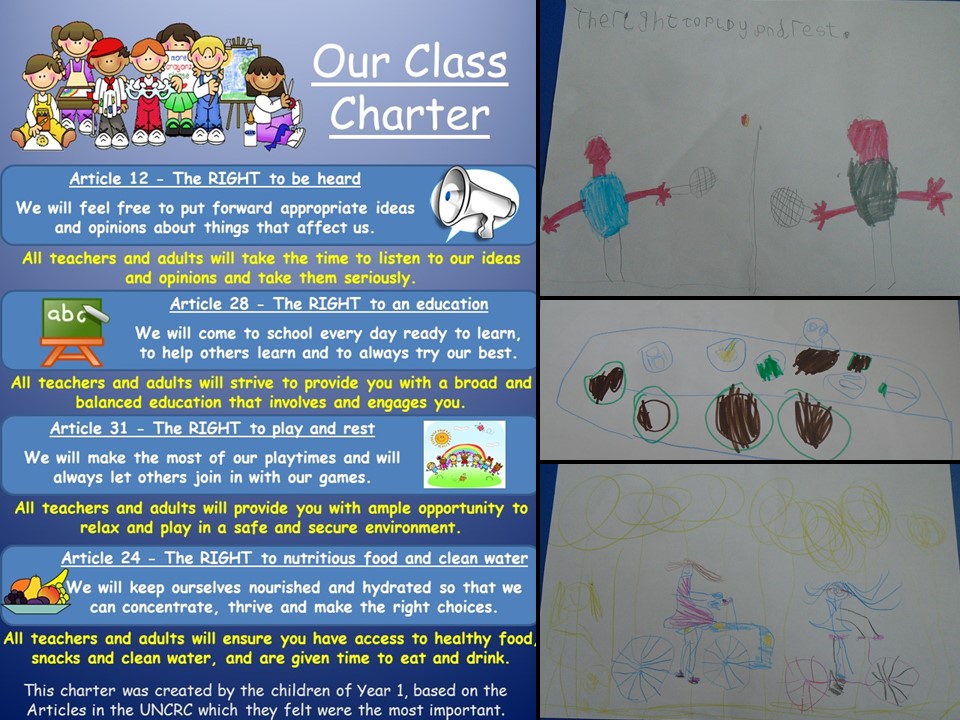 As well as creating our E-Safety Charter, we also created our Year 1 Class Charter based on the United Nations Convention on the Rights of the Child (UNCRC). After going through the Articles that were most appropriate for Year 1, the children chose the Rights they felt were most important to them and included them in our Class Charter.
These included the Right to be heard (Article 12), the Right to an education (Article 28), the Right to play and rest (Article 31), and the Right to nutritious food and clean water (Article 24).
Ask your child about the UNCRC. Which Rights did they think were most important, and which Right did they draw a picture to illustrate?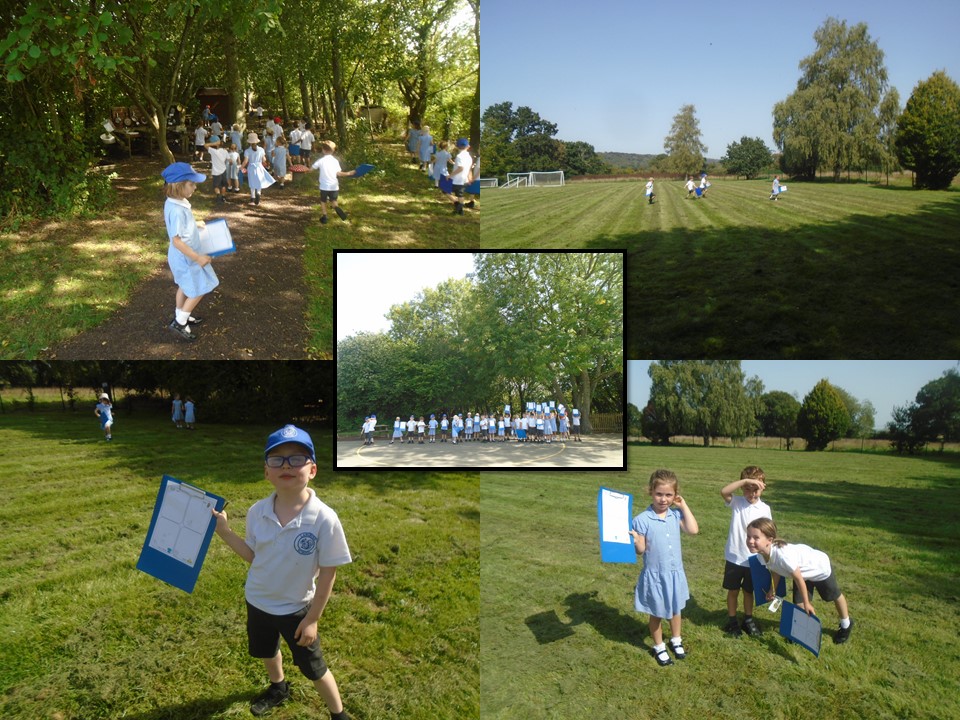 In Science this year, we'll be undertaking a year-long study of the seasons and how seasonal changes affect our environment, and this week has been the perfect week for catching the tail-end of summer.
The children went outside to make notes about what they could see, hear, smell and feel on what turned out to be one of the warmest days of the year. We took a photograph in front of the copse, and will repeat this research in autumn, winter and spring to see what changes we notice.
Ask your child how they think they picture will look different across the changing seasons.