Mrs Lawry
Friday 23rd October 2020
Home Learning
Over half term please focus on continuing to read daily and spend time discussing the books the children have read. If you run out of books to read, Oxford Owl and Purple Mash have a range of exciting texts available to read online.
Year 2 Statutory Phonics Test
The statutory phonics test (that was delayed from Year 1) will be taking place during the first 4 weeks after half term. This is a national assessment which will be reported to the DFE. Over half term please keep practising your reading and alien words. Phonics Play has lots of games to help you practise this including, Dragons Den, Picnic on Pluto and Buried Treasure. These games are all freely accessible even when the Phonics Play free period has finished. When playing the games please select all Phase 5 phonemes.
Pencil Cases
Today all of the children have brought home their pencil cases. Over the half term break could you please check through and ensure that they still have everything that they need. Lots of glue sticks or whiteboard pens have run out over the last few weeks! Thank you.
Taste of our Learning
After learning about the different articles that form the UN Conventions on the Rights of the Child, we have completed our class charter. We chose which rights we believed to be most significant to our class this year and compiled these onto our display. We hope you like it!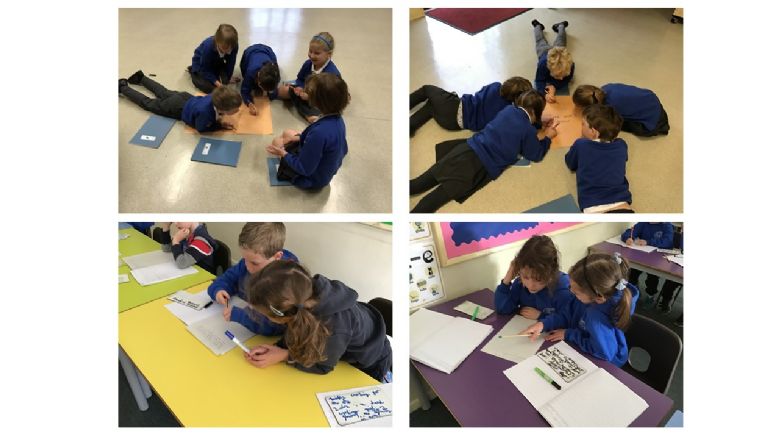 In English this week we finished our work on the Zahra video. We worked in pairs to write effective openings for the story and then to plan our own versions. We shared ideas for how to change the story by swapping the character, setting or problem.
In Gymnastics we have been making the different gymnastic shapes and practised travelling on different pieces of apparatus. We had to think carefully about how we were travelling and which shapes we were making.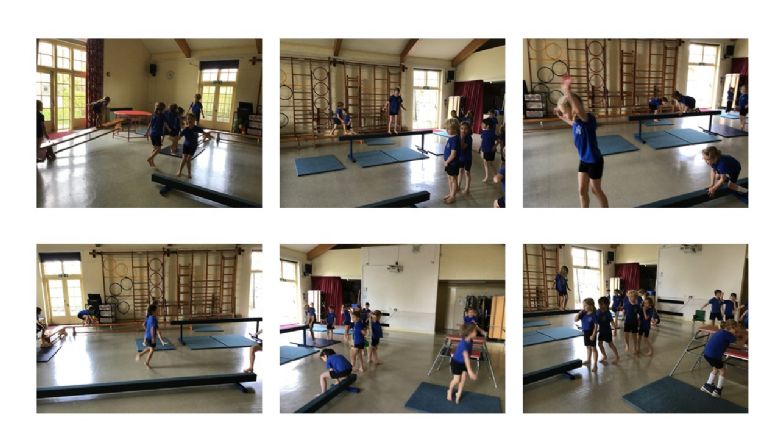 This week we have been talking about mindfulness and thinking time. We enjoyed some mindfulness time on Friday and reflected on our first half term in Year 2. We have bought our colouring sheets home incase the children want to take some mindfulness time over the half term break.
Friday 16th October 2020
Taste of our Learning
It was an exciting time in Year 2 this week when the time finally came to make our sandwiches! The children loved building their creations and then packing them safely inside their boxes. We practised spreading, cutting and assembling. It was a super afternoon!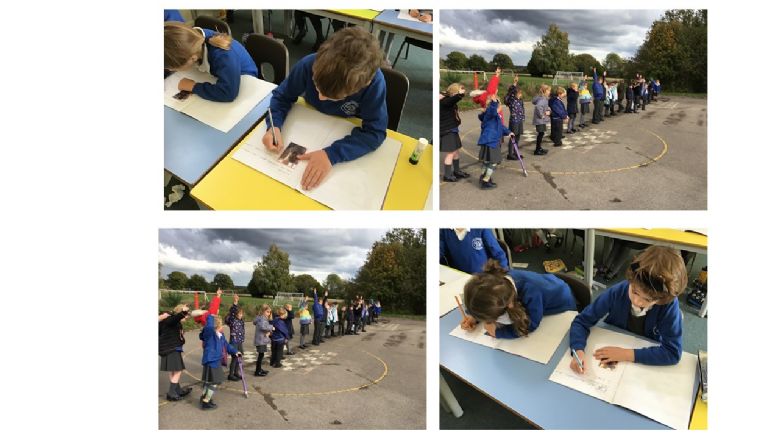 In Science this week we have been learning about how humans grow and change as they get older. We were curious to know at what point in life we grew quickest so created a giant graph on the playground. We were really surprised to find that once we were fully grown we also started to shrink!
This week we were thinking about the difference between teasing and bullying. We tried to think of different incidents and sorted them into bullying or teasing. Some things were tricky to decide but we decided that if things happened more than once and on purpose then they were bullying.
Friday 9th October 2020
Taste of our Learning
We have had another busy week in Year 2! We started our new English unit inspired by the video Zahra. We have enjoyed asking questions about the video and retelling it using story mountains. We've also been improving our expanded noun phrases by creating posters for the film.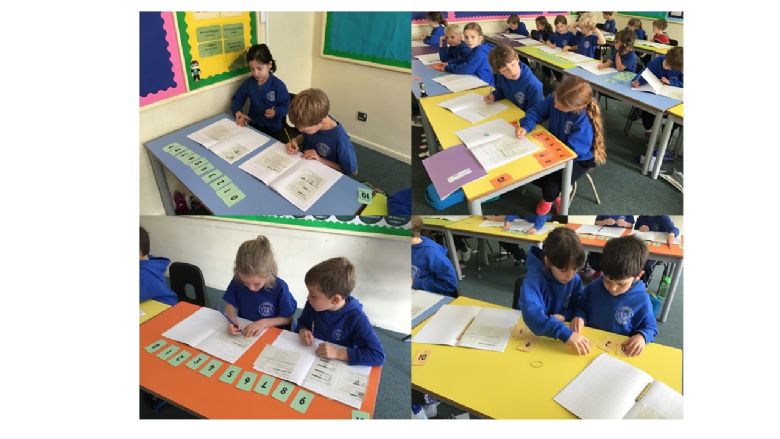 Our work on place value has continued this week and we really enjoyed using this knowledge to help solve problems. We showed great teamwork and resilience when doing this, as well as showing how much we have learnt about two digit numbers.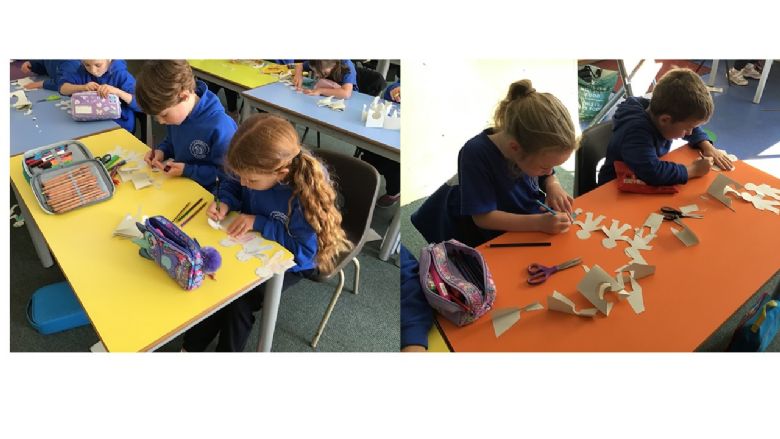 This week we have enjoyed 'The Paper Dolls' in guided reading. We finished off our work on this lovely book by making our own paper dolls!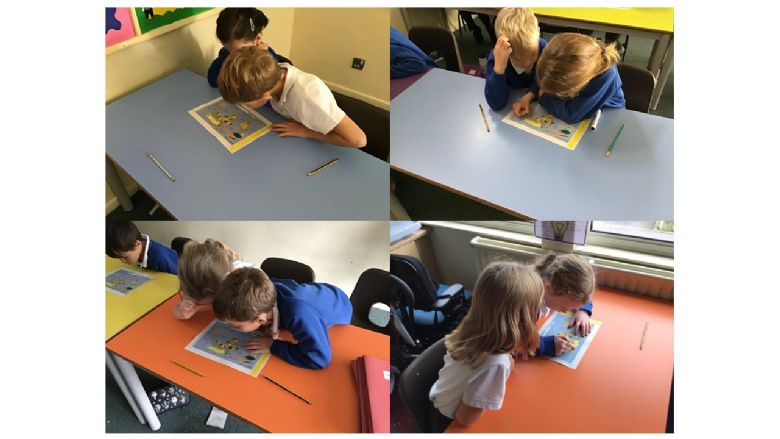 Our geography unit has been taking us around the world this week, exploring where bananas come from and how they reach our supermarkets. We used world maps to find the country of Costa Rica and thought about why bananas are grown there. We also learnt about what happens on a banana farm - it was really interesting!
Friday 2nd October 2020
Taste of our Learning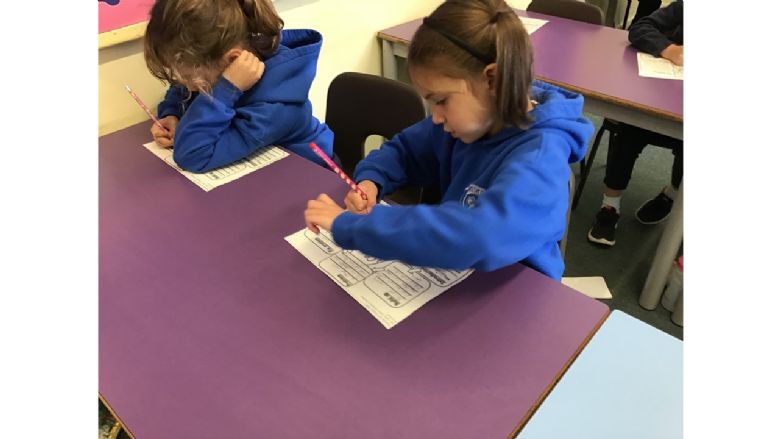 This week the children have continued to enjoy 'The Lighthouse Keeper's Lunch'. We have enjoyed reading different books in the series and identifying what they all have in common. Using this we have planned and begun to write our own Lighthouse Keeper stories. The children had some wonderful ideas for problems for the Lighthouse Keeper. These included:
A lost lunch
Hamish gets sick
The light stops working
Getting stuck in the little, white cottage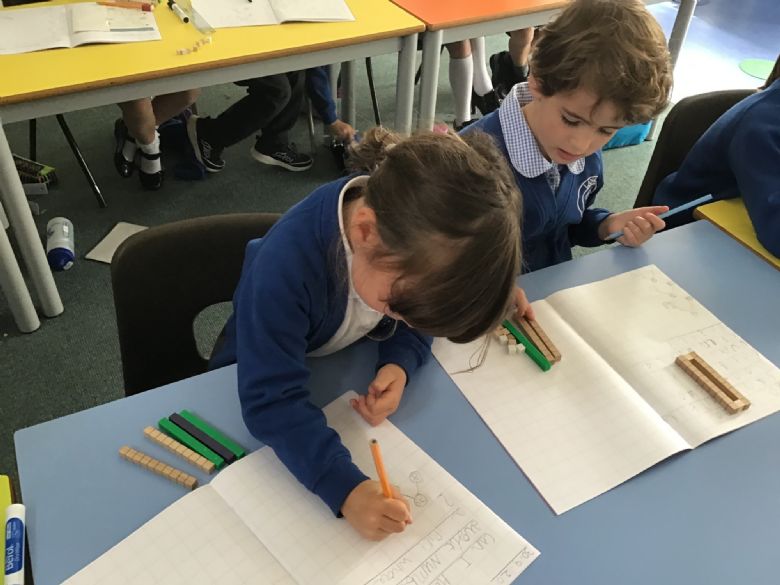 In Maths we have continued our work on place value and begun to think more about the tens and ones in two digit numbers. We have learnt all about part whole models and place value charts and have started to use this knowledge to solve some interesting problems. We have spent a lot of time talking about challenging ourselves to move onto trickier challenges if we are finding something easy. Year 2 have been amazing at this!
In PE this week we have learnt to play some new playground games. These have included a sequence challenge, the captain game and 'What's the Time Mr Wolf?'. See if the children can teach you these games at home!
---
Friday 25th September 2020
Taste of our Learning
It's been another busy week! In English this week we have been enjoying the story of 'The Lighthouse Keeper's Lunch'. We have been predicting what might happen next in the story and using these predictions to write the next part of the story. We also had great fun creating ways to stop the seagulls from eating the lunch. There were some very creative ideas! Here are some pictures of some of our predictions.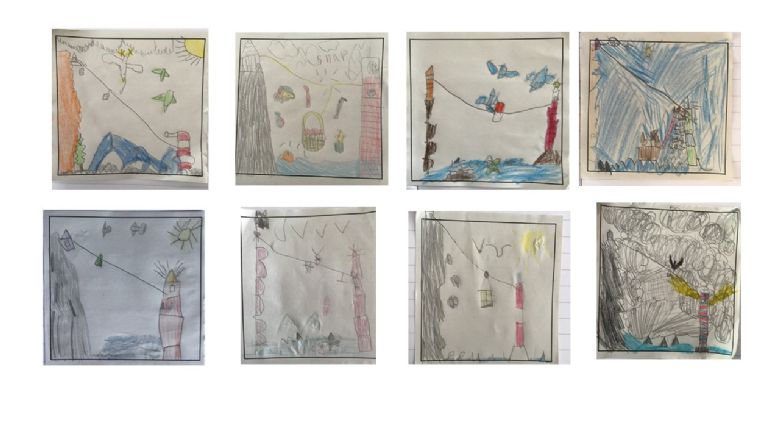 It has been great to get involved in some more maths this week. We have been looking at two digit numbers and representing these on ten frames. We have learnt how this can help us to count the numbers more easily and how we can identify their tens and ones. In the copse we made two digit numbers by using sticks to represent tens and leaves to represent ones. We have also been learning about the more and less than symbols and practised using these.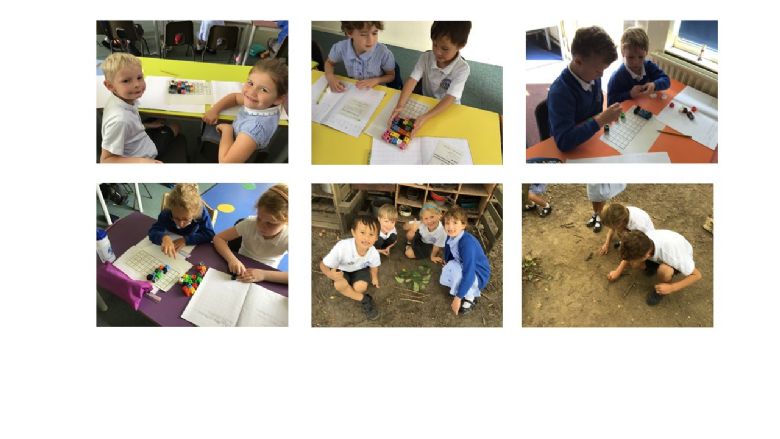 We've also enjoyed starting out new geography unit about where our food comes from. This meant we took a virtual visit to a dairy farm to learn all about where milk comes from.
Friday 18th September 2020
Taste of our Learning
We've enjoyed more time getting to know each other this week. We have thought really carefully about what good friends are like and how we can be good friends to each other. The children wrote some beautiful friendship recipes and thought carefully about why a good friend needed these ingredients.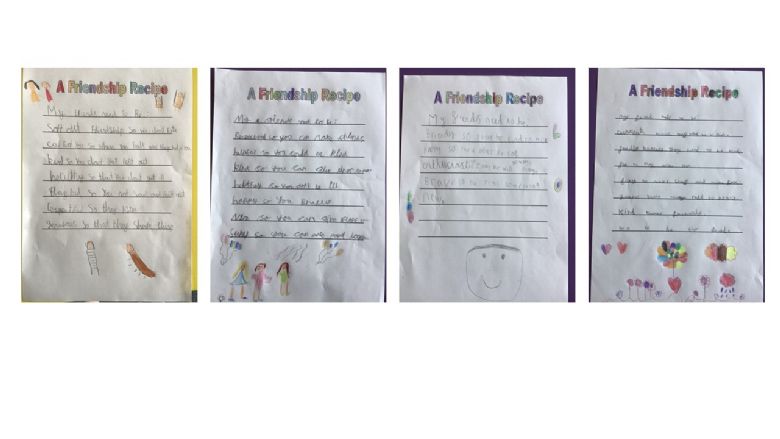 In English this week we have enjoyed the book 'The Koala Who Could'. It has led us to some fantastic descriptive writing and has helped us to discuss self belief. We have also used the book for a little Science work and designed new habitats for Kevin the koala.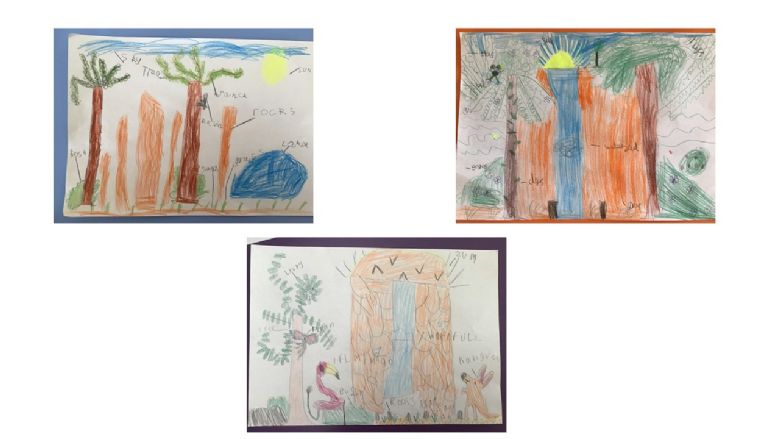 We have also completed our Successful Learner display. We hope you enjoy seeing all of the key words we thought of!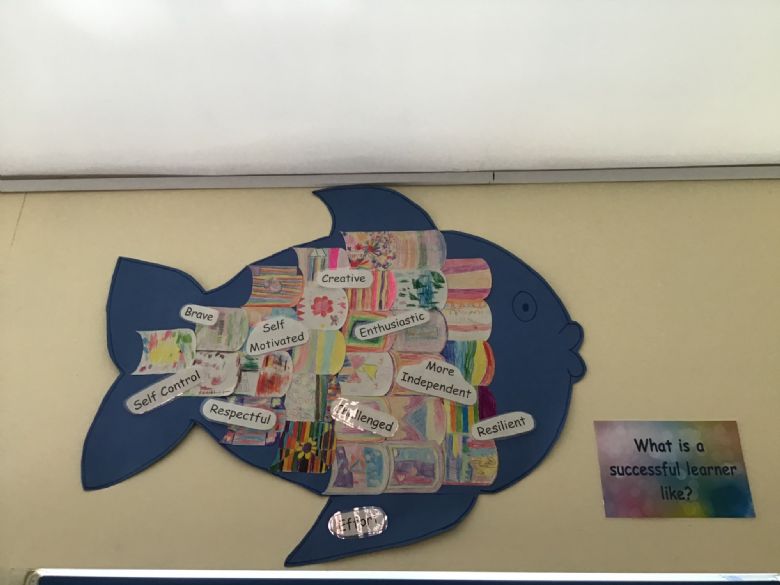 ---
Friday 11th September 2020 - Welcome to Year 2!
The children have had a fantastic first week back and have settled really quickly into the new normal. Thank you for helping them to be so prepared with all of the various equipment! We have spent the week catching up and getting to know each other and all of our new routines. The children have enjoyed demonstrating what these new class rules look like and have created a photo guide for you.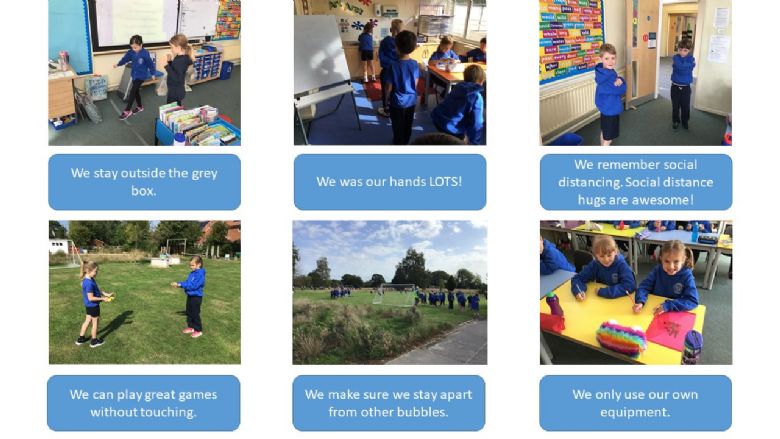 We have used the book 'The Rainbow Fish' to guide our learning this week and have used this to think about what a successful learner is like. They had some wonderful and thoughtful ideas which we combined into a class fish to put on display. This will help us to remember the words throughout the year.
Reading Updates
Today the children have bought home a copy of this term's reading challenge. You will find this stuck in the back of their reading records. There are lots of fun activities that we are sure the children will enjoy.
Our routine is that the children will now change their reading books on a Friday. During the week their reading wallet will stay at home and we will have a separate book for them to read at school. Please help your child to remember to bring their books and reading record in on a Friday.
Pencil Cases
Thank you so much for the well stocked pencil cases you have provided for the children. As a reminder the core items they need are:
HB Pencil
Ruler
Pencil sharpener (with a collector)
Red, black and green biro pen
Glue stick
Pink highlighter
A small selection of coloured pencils
Here are some photos of what our classroom looks like
Here are some useful websites that you might enjoy!