Mrs Lawry
Friday 17th January 2020
Theme of the week: Gratitude
Class Discussion: What does gratitude mean and what are we grateful for?
Home Learning Menu:
English: What words can you think of that use the suffixes -ful and -less? Can you put them in a sentence?
Maths: The children will be bringing home a maths booklet today. Choose some questions in this that you would like to answer.
Geography: Can you find out 5 facts about Asia?
A taste of our Learning:
English
We have continued our work on Ocean Meets Sky and begun the week with some wonderful descriptive writing. Then we started to learn more about the suffixes -ful and -less. We looked for different words that used these suffixes and then used these to write descriptions about the beautiful Moon Jellies. We have also been learning what inference is and using this to find out about Finn's Grandpa.
Maths
We have really enjoyed learning more about multiplication this week. We have been learning how to use the multiplication symbol and what it means. We also learnt how to create array and how this represents multiplication. We had lots of fun making arrays for different multiplication facts.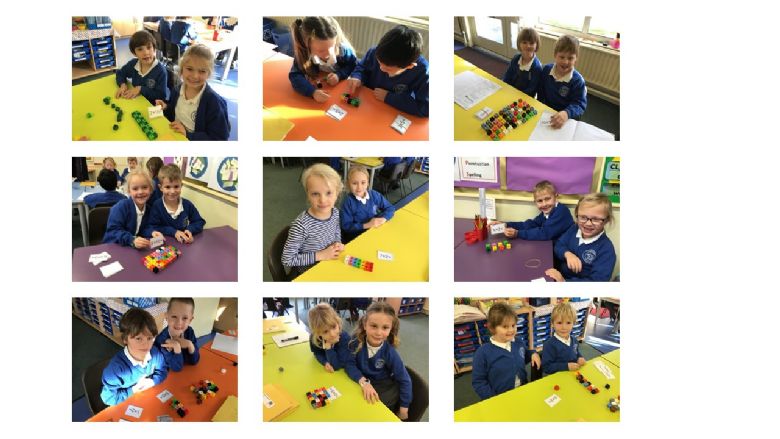 Science
We have loved looking at different materials and exploring the things that they can be made into. We looked around the school and found items that were made from each of the different materials. We were interested to find that some things were made from more than one material.
Art
We have enjoyed reading the book 'The Owl who was Afraid of the Dark' in Guided Reading and also used this for some art. We explored using pastels and smudging to create different effects. Once we had explore these we used them to create our owl pastel images of Plop from the story.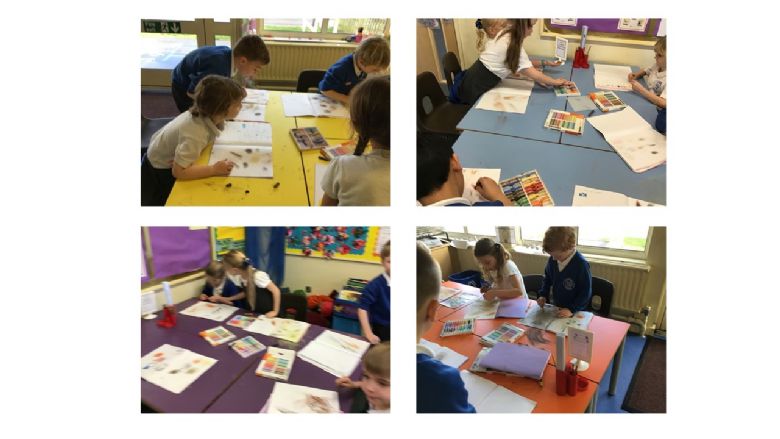 ---
Friday 10th January 2020
Welcome back to a busy first week for Year 2! The children have come back to school full of excitement and enthusiasm for the term ahead. Our new Curriculum Newsletter can be found at the bottom of the page so please take a look at what we have coming up this half term.
Theme of the week: Looking to the future
Class Discussion: What is a Langrish Ambassador?
A taste of our Learning:
English
This week we began a unit based on the book Ocean Meets Sky. We have all loved exploring this new book and it's beautiful illustrations. We imagined what a place where the ocean meets the sea might look like and wrote some beautiful descriptions. We have also been considering how we can improve the word choices we make and ensuring we choose the best adjective for our piece of work. We worked in groups to order adjectives based on how relevant we thought they were. We will use these in our writing on Monday.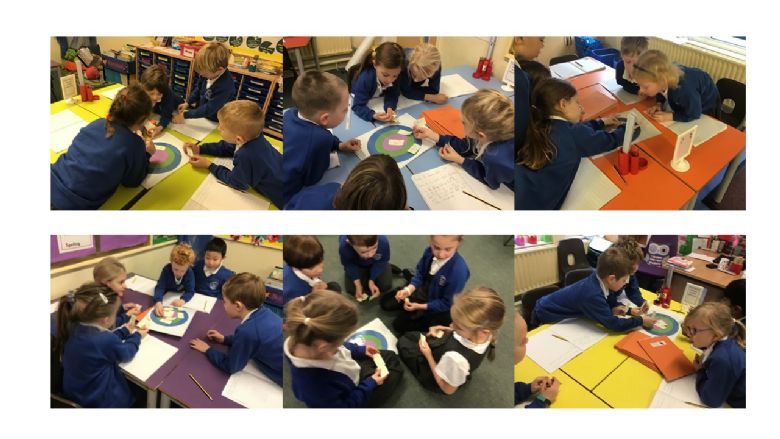 Maths
This week we have concluded our work on money by finding the difference nad calculating change. The children have enjoyed working out how much change they get and checking the amount they are given is correct.
PSHE
This week we have been thinking about how we can be the best we can be! We have set goals for the new year and thought of things we can do to help achieve them. We have also been discussing the new Langrish Ambassador role and thinking about what behaviours we need to demonstrate to do this.
PE
In PE this week we begun learning how to skip. Some children were quite daunted by the idea of this but they all showed great determination and soon shouts of 'I can do it Mrs Lawry! Look!' could be heard across the playground.
Geography
This week we have begun our new unit on the settlement Kampong Ayer. We enjoyed looking at maps and atlases to find its location and were surprised at how far away it was from our location. In doing this we also practised the names of the different continents, why not ask the children to sing their song to you!
Thursday 19th December 2019
Happy Christmas from Year 2!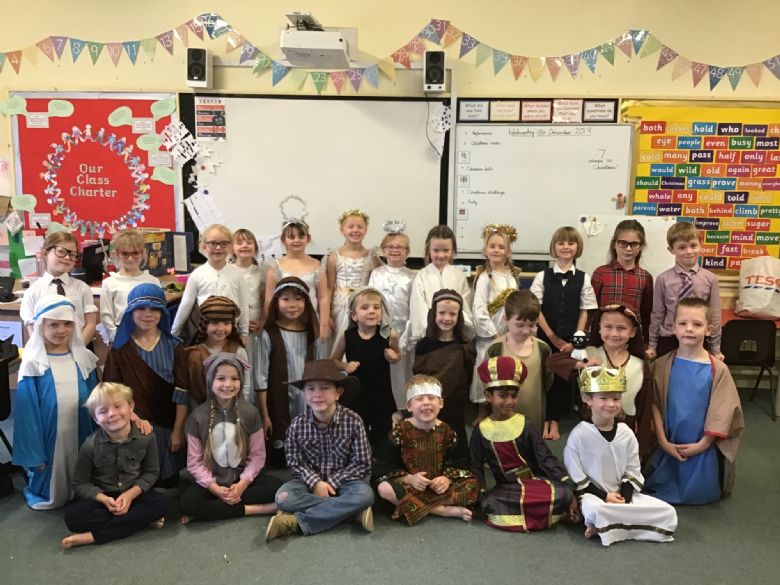 Thank you all for your support with our Nativity this year. The children were fantastic and have worked so hard. We hope you enjoyed it as much as we did! Have a wonderful and well deserved Christmas holiday Year 2.
Mrs Lawry x
DATE FOR YOUR DIARY: On Friday 10th January 2020 at 2:45 I will be holding a KS1 SATs Information meeting in the hall. It would be lovely to see you all there.
A taste of our Learning:
We've had a week filled with exciting Christmas learning, including our wonderful nativity Prickly Hay! We have spent time finishing our RE unit on Angels. This involved lots of discussion about what an angel does and what their roles in the Nativity were. The children were really thoughtful and respectful when discussing this and listened carefully to each others opinions.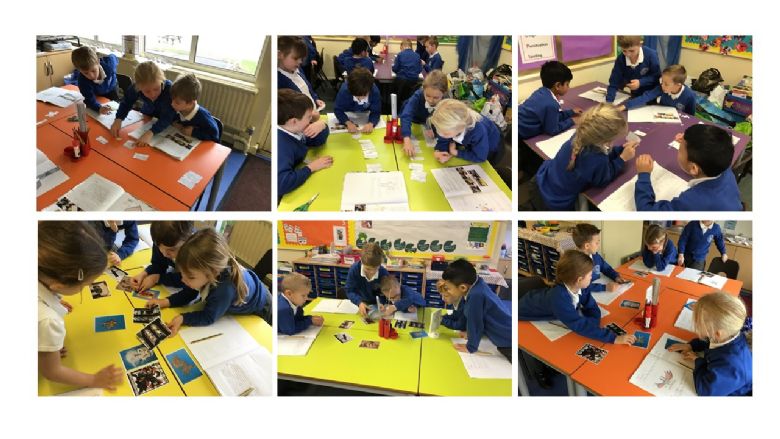 Friday 13th December 2019
Theme of the week: Character
Class Discussion: What is the true meaning of Christmas?
A taste of our Learning:
We've had a really busy week getting ready for Christmas and our exciting Nativity performance. Lots of time has been taken up with rehearsals but we've still squeezed in lots of exciting learning!
English
We have been looking at the story of 'The Snowman'. We have created story maps and retold our favourite parts of the story. Mrs Lawry was really pleased with how many writing features we included!
Maths
We have continued our work on money and have been making amounts using different coins. We enjoyed a great afternoon of money games including matching pairs and counting out coins in a shop.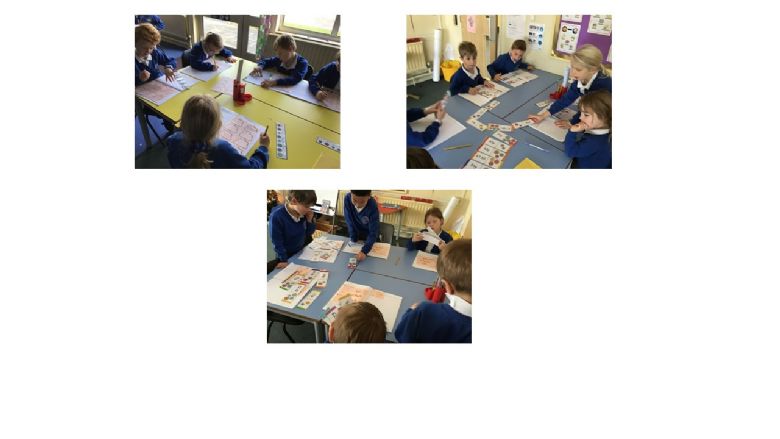 Friday 6th December 2019
A taste of our Learning:
English
We have been focusing on letter writing in English this week. We started the week by writing our letters to Santa. In doing this we thought really carefully about the idea of drafting and improving our work. We hope you enjoyed reading these on SeeSaw. We continued our letter writing theme when finishing our work on 'The Day the Crayons Quit'. We wrote our own letters as Gold Crayon explaining to Duncan why we were quitting. The children had some wonderful ideas and showed great imagination and understanding of the story.
Maths
This week we moved onto our new unit on Money. We have been revisiting the values of each of the coins and notes and have been counting up the amounts we have made. This is a fantastic area of maths to practise at home so start raiding those piggy banks and purses and see what coins you can count!
Science
This week we have looked at having a healthy and balanced diet and how this helps animals and humans to stay healthy. We discussed how different animals need different foods, in different amounts, in order to survive and then focused on the human diet. In groups we sorted a range of foods into those we thought we needed a lot of, some of and only a little of. This needed us to think carefully about our diet and work well as a group. We were surprised about where some of the items were placed.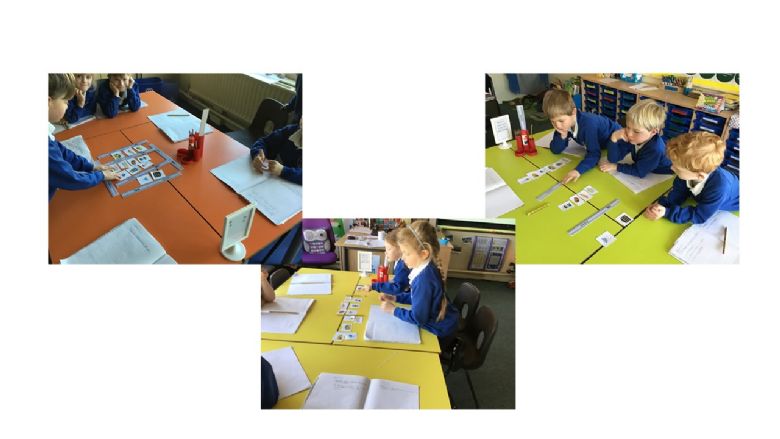 PSHE
This week we were focusing on keeping safe and adults who can help us. This led us to a very interesting discussion about what to do if we were home with only one adult and they became ill. The children were really thoughtful and showed great maturity when discussing this.
Music
We have continued to practise and refine our musical accompaniment to the song Ho, Ho, Ho. We are pleased to announce that we will be performing this at the Christmas Fair next week and can't wait to share this with you!
Friday 28th November 2019
Theme of the week: Success "Success makes me feel proud of what I have achieved"
Class Discussion: What does being successful feel like?
A taste of our Learning:
English
There was high drama in Year 2 this week when our coloured pencils quit! The pencils left the children a grumpy note explaining why there were not happy. The children were outraged by this and spent a long time looking for clues about where they had gone. We decided to write back to the coloured pencils to tell them we were sorry. The children wrote fantastic letter and thought really carefully about persuading the pencils to come back. Luckily they did!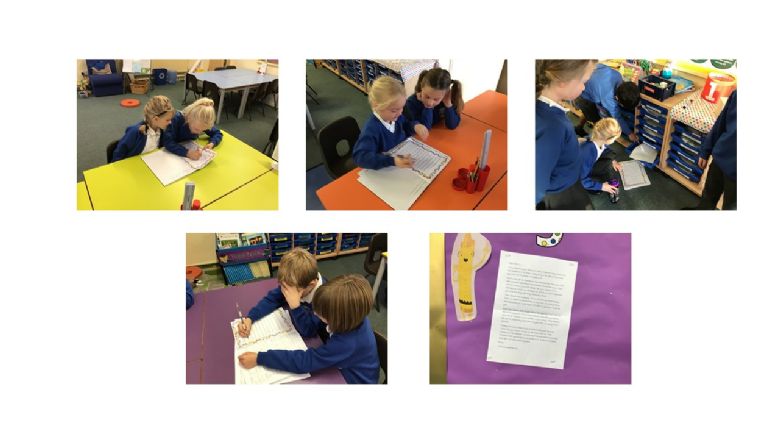 ---
---
Maths
This week we have been practising our number bonds to 100. We have been using different resources to help us calculate them and solving puzzles using them. We learnt that our number bonds to 10 can be really helpful when working these out. We also looked at adding three single digit numbers and had to find the easiest way to do this.
Science
Continuing our work on animals, this week we focused on movement. We learnt about how different animals move and how this is important for their survival. After watching videos of different animals moving in the wild we created our own animal movement sequences. Can you guess from the pictures which animals we were being?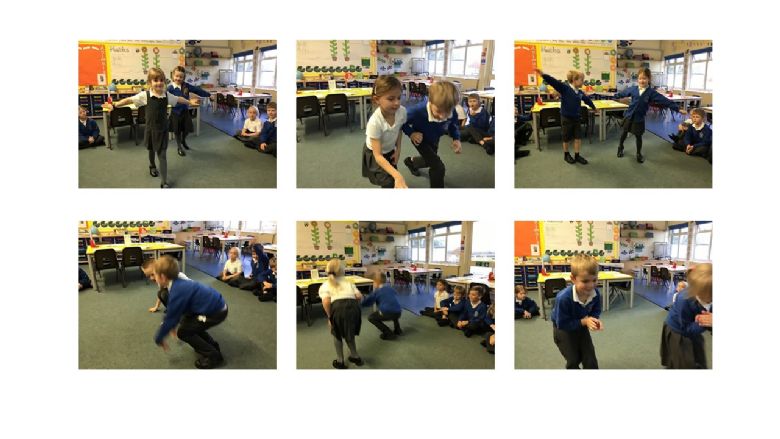 Art
This week we have been looking in more detail at the sculpture artist Andy Goldsworthy. We watched him create some of his live art and loved the things he created. We created some brilliant information pages all about him and some of his sculptures. We're looking forward to making our own nature sculptures next week.
PSHE
Following on from our work on Anti-Bullying Week we focused on playtimes in PSHE this week. We worked in groups to explore different playtime problems and to think about ways we could solve them. We had to listen carefully to each others ideas and work together to make solutions.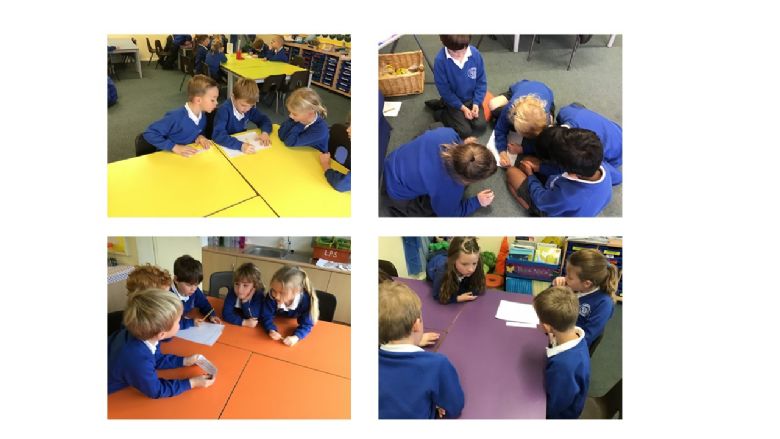 Friday 22nd November 2019
Theme of the week: Being Brave in Learning "I don't like to think of anyone being bullied"
Class Discussion: Anti-Bullying Week
Our class discussion this week focused on what bullying is and how we can make changes to prevent it from happening. We discussed our school Anti Bullying Policy and any changes we think it needs. Next week our School Parliament will meet and discuss what changes we could make.
A Taste of our Learning:
Anti Bullying Week
In class we thought a lot about different feelings. In Computing we thought about recognising different feelings and created feeling faces for different emotions. Within our Guided Reading this week we looked at the book 'Troll Stinks' this is all about cyber bullying adn helped us to understand what this is. We had to think about the feelings of different characters and discussed ways they should have dealt with different situations. We also discussed how we could be a good friend at different times of the day and created friendship posters.
English
We have really enjoyed starting our new book 'The Day the Crayons Quit'. We loved finding out about the different characters feelings and thinking about why they might feel this way. We even chatted to the coloured pencils when we used them later in the week!
Maths
We have been working on some very tricky addition and subtraction this week! We have solved two digit addition and subtraction, including ones where we need to cross 10. The children have all shown great resilience this week!
Prickly Hay
Rehearsals are well under way for our Nativity 'Prickly Hay'. Please spend some time practising your words including saying them loudly and clearly. Costume letters will follow next week.

Friday 15th November 2019
Theme of the week: Remembrance "It is important to remember people who fought for us"
Class Discussion: Children in Need
We discussed the work the charity does and how we can help raise money. As you can see from the photos below we have really enjoyed Children in Need Day. We helped Pudsey and Blush shop at a cake stall in maths; read a Pudsey story in Guided Reading and took part in the Big Workout and Duck Race!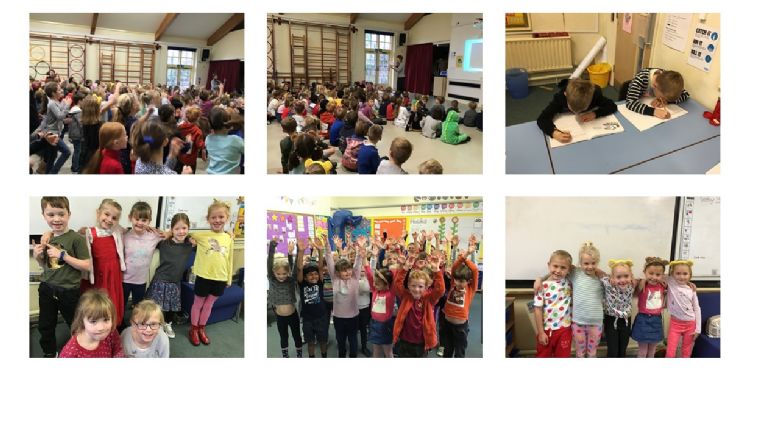 A Taste of our Learning:
What a busy week we have had!
Dentist Visit:
This week the school nurses team came to talk to us about how to look after our teeth. We learnt the correct way to brush our teeth and which foods were good for them.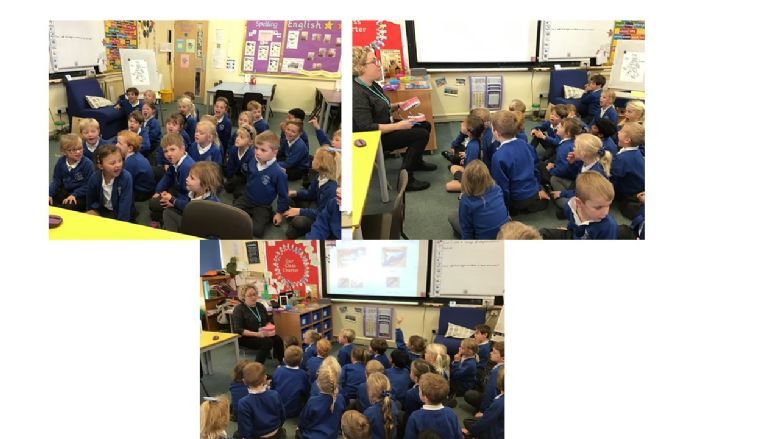 English:
This week we completed our work on 'Where the Poppies Now Grow' by writing our own version of the story from Ray's point of view. We loved having the chance to show all of the wonderful skills we have practised in this unit such as the -ed suffix and conjunctions.
Maths:
We have now moved on to adding two digit numbers in tens and ones. We have been using dienes to help us partition them into tens and ones before adding them together. We have practised doing this in a place value grid and on an empty numberline.
History:
We had a fantastic time on our tour of Petersfield. We visited important places in the town's history including Sheep Street and St Peter's Church. We learnt lots of interesting facts including where the town's name comes from. Did you know that the name Petersfield is because the town started at St. Peter's Church and there was a field around it?
---
We've had a great start to the new half term! Check the bottom of the page to find our Autumn 2 Curriculum Newsletter and see what we have in store in the weeks ahead!
English:
This week we begun looking at the book 'Where the Poppies Now Grow'. The children have enjoyed using the book to find out about World War 1 and have learnt some fantastic new words! We have also been practising using the -ed suffix to write in the past tense.
Maths:
We have continued our work on addition and subtraction by learning how to cross 10. This involves adding and subtracting in steps, using our knowledge fo number bonds to help us. We've enjoyed using this to explore a range of different problems. We particularly enjoyed the ones where there were lots of possible answers.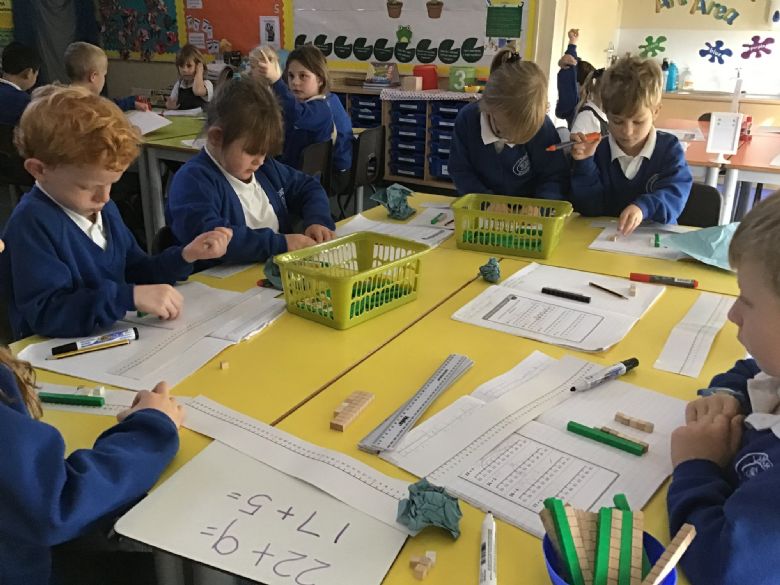 Art:
This week we begun our unit on Nature Sculptures. We loved looking at the sculpture that different artists had created. We focused on natural materials and detail this week. After collecting different natural items on the playground, we used magnifying glasses to see all of the tiny details. We then practised sketching these items, focusing on adding as much detail as possible.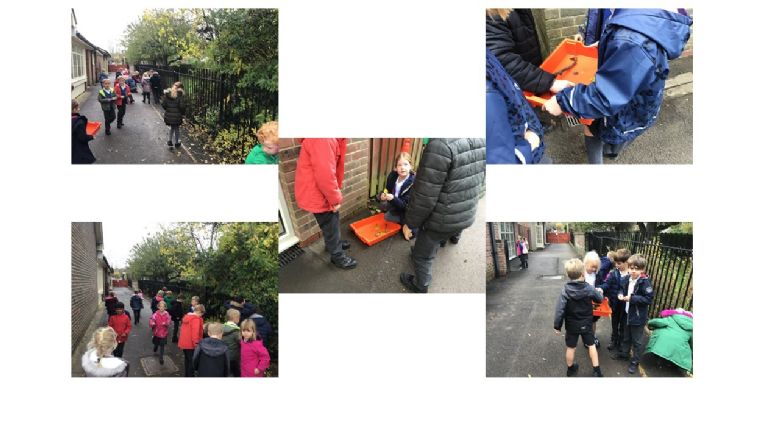 History:
This week we started our Local History Study of Petersfield. We are really looking forward to finding out more on our walking tour next week!
Life Bus:
This week we were visited by the Life Bus. We really enjoyed our session learning about the inside of the human body and people's feelings. We loved meeting Harold the puppet and helping him to solve problems at his party.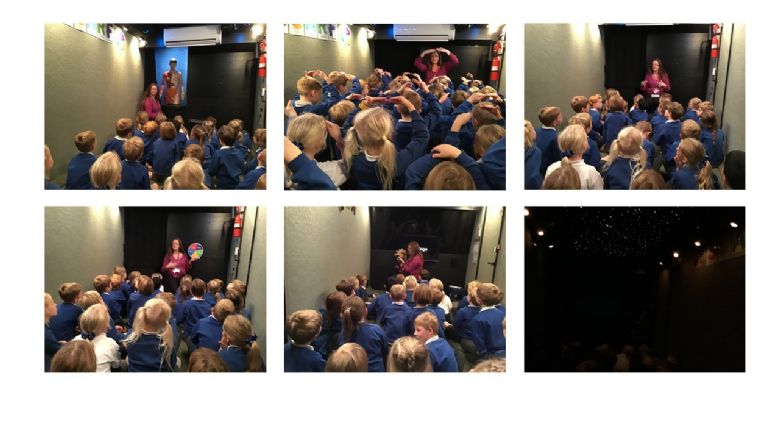 ---
Friday 25th October 2019
A Taste of our Learning:
English:
This week we completed our work on Flip Flap Pets. We have really enjoyed this book and hope to look at some others from the series as part of our Guided Reading next half term. This week we created our own half nad half pet and used verbs and adverbs to explain what they do.
Maths:
In maths this week we have been adding multiples of ten to a two digit number. We were able to link this to our knowledge fo tens and ones and noticed that it is only the tens number that changes. We loved using this knowledge to tackle some really tricky problems!
World Faith and Philosophy:
We have been completing our unit on Belonging and the Christian celebration of Baptism. After discussing what belonging meant we focused on Baptism. We watched a Christian Baptism and role played the important roles within this. Following this we thought about the different parts of a Baptism ceremony adn which of these were most important. In the second part of our unit we thought about places that we belonged. We created a class loop which contained each of us adn represented the fact that we belonged to our class.
Friday 18th October 2019
A Taste of our Learning:
Significant Person Day:
We had a wonderful day learning all about Queen Victoria! We discovered all of the amazing changes that happened as a result of her time as Queen. We created our own 'freeze frame' timeline of the main events in her life; debated the impact of the railway; and created a class map of the British Empire. Look out for examples fo these on SeeSaw next week!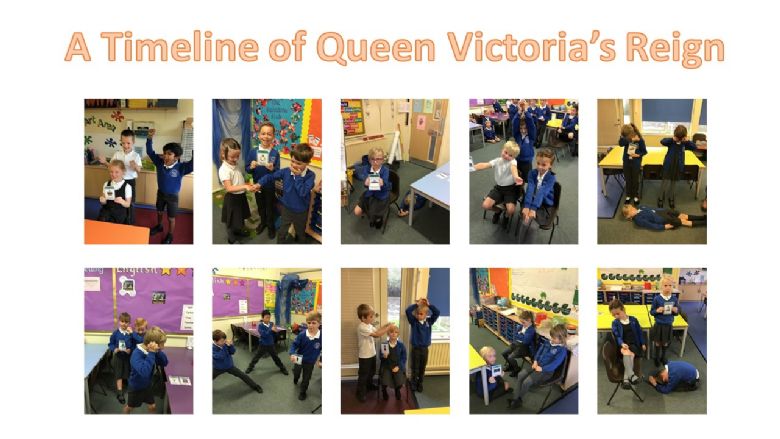 English:
This week we have enjoyed working on our new text 'Flip Flap Pets'. You can create lots of interesting pets using the book and we enjoyed reading all of the different combinations. We have learnt about adverbs this week and practised using them to describe how dinosaurs were moving.
Maths:
On Monday we enjoyed a fantastic problem solving maths lesson! We had the opportunity to work in pairs to find all of the solutions to the problem. It was great fun and a real challenge. Later in the week we started to learn about related facts. We realised that by knowing our number bonds to 10 we also knew lots of other number facts!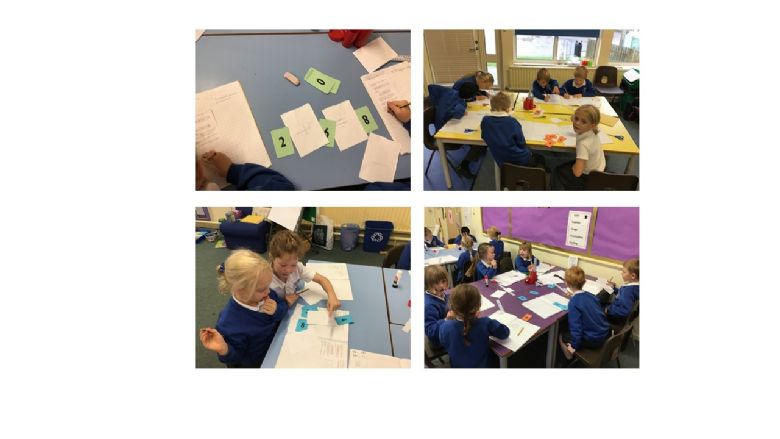 PE:
After learning about travelling last week, we moved onto the apparatus. We practised travelling in different ways and different directions.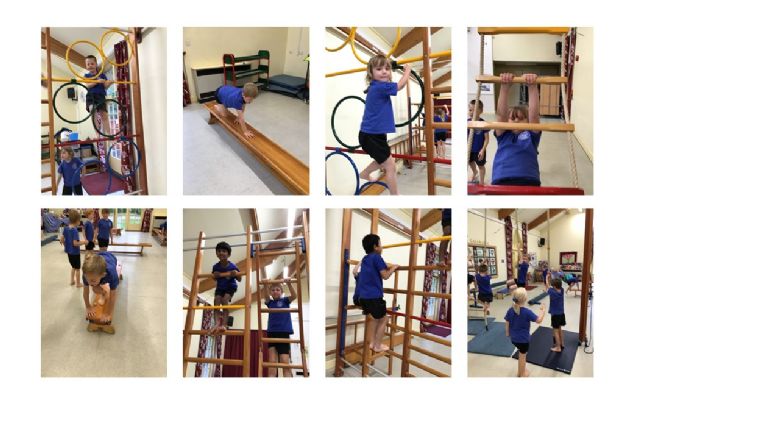 Science:
This week we investigated the impact of exercise on our body. We discovered that the more strenuous the exercise the more it increased our heart rate.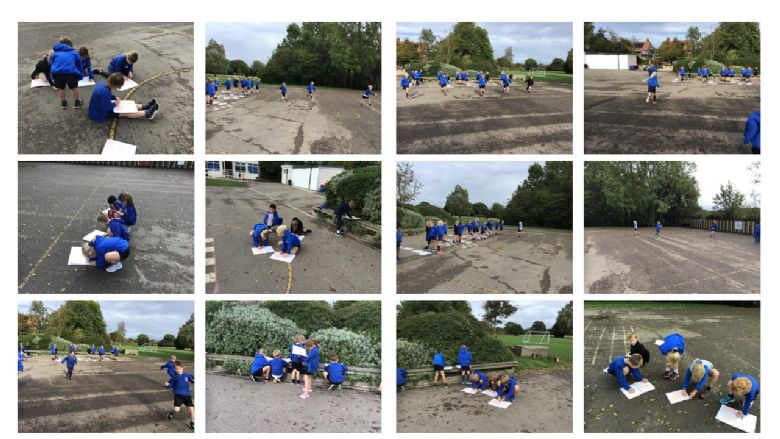 Friday 11th October 2019
Theme of the week: Going for Goals and Aiming High "I knew if I kept trying I could achieve it!"
Class Discussion: What is it like to be a child at Langrish School?
This week we discussed what it was like to be a child at Langrish School. We decided that we were lucky because we had lots of space to play and our teachers were really friendly. We liked that we got to learn about lots of things and thought that there were lots of choices for us at school. We thought that people listened to us and loved being part of our school community.
Harvest:
We were joined in assembly today by Mrs Venice. She told us all about the charity she works with who support homeless people in Southsea. We learnt about the breakfasts they cook there and all of the food and supplies that are needed. We will be supporting the charity as part of our Harvest festival this year. Here is a list of possible items that could be donated.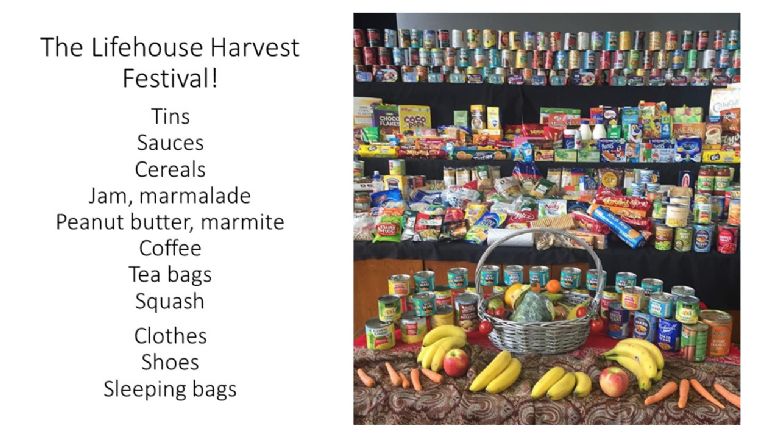 A Taste of our Learning:
English:
This week we finished off our work on the Highway Rat. We learnt how to use the possessive apostrophe and wrote our own Highway Rat adventures. We hope that you enjoy seeing them at our open classroom soon!
Maths:
This week we have moved on to addition and subtraction in maths. We have been investigating related facts and have been representing addition and subtraction on a bar model. We have also been learning how to check our calculations using the inverse or concrete maths resources.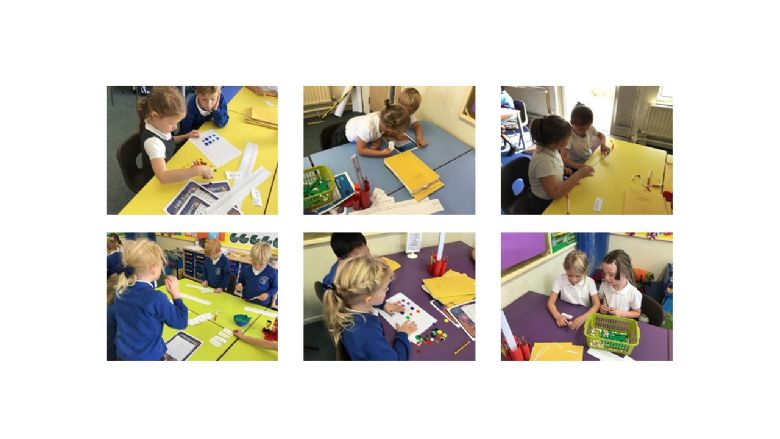 PE:
We have built on our work on the gymnastic shapes by introducing travelling. We explored travelling at different levels and in different directions, combining these into short sequences.
Geography:
We have continued our study of Antarctica by comparing it to the Arctic. We were surprised how different the two areas were!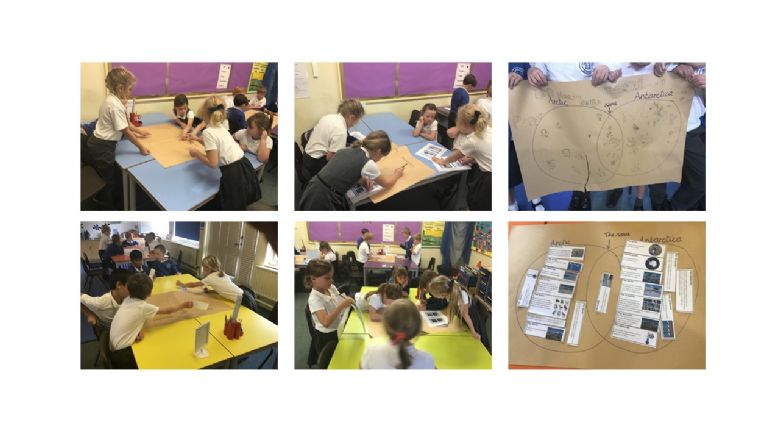 A Taste of our Learning:
English:
We have really enjoyed our new text 'The Highway Rat'. We have been exploring the characters and investigating new vocabulary. We particularly enjoyed looking up words that we did not understand in a dictionary to find out what they mean. We have also learnt how to write compound sentences and have used these to write letters as the Highway Rat.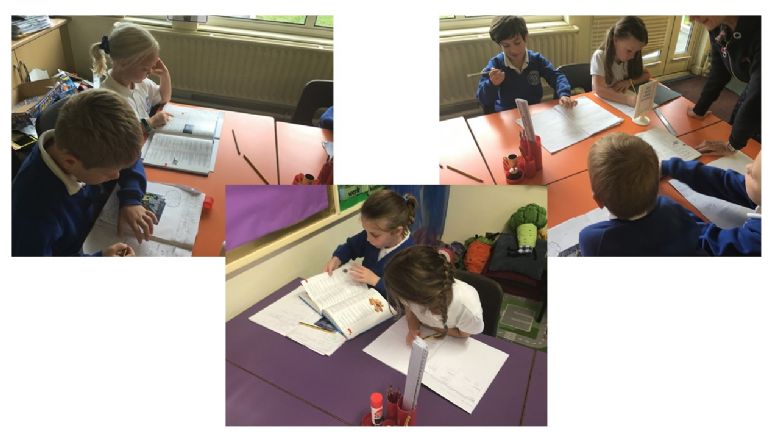 Maths:
We have been maths superstars this week! Mrs Lawry was SO impressed with our work on the more than and less than symbols! We have also been learning how to count in tens from any number and realised that this is easier than we thought as it's just like counting up in tens from zero!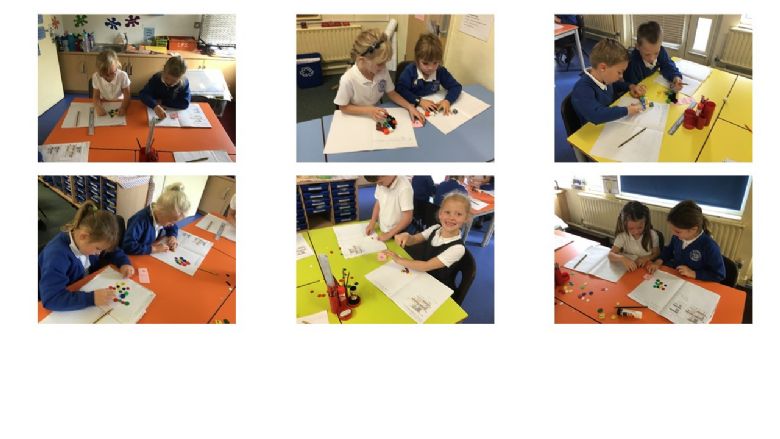 ---
Science:
We have continued to think about animals and have thought this week about how they live and survive. We thought about how animals that live underwater and on land need different things to survive. We discussed what our pets need to be healthy and how we help our pets to have these.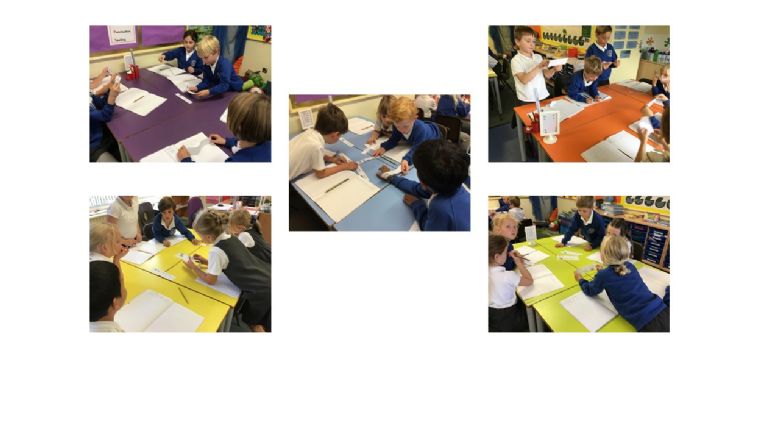 Geography:
We have continued learning about Antarctica. This week we imagined we were visiting Antarctica and the Sahara Desert! We compared the two landscapes and thought about what we would need to wear if we visited there.
---
English:
This week we have loved looking at the poetry of Michael Rosen. We have enjoyed exploring his different poems and looking at the different features he uses. We have learnt about alliteration, onomatopoeia, rhyme and structure and have used these to write our own poems. Our favourite poem this week was 'The Rhythm of Life'.
Maths:
We've been thinking about linking our place value work to addition this week by showing tens and ones in number sentences. We've also learnt about a place value chart and have practised representing different numbers using this.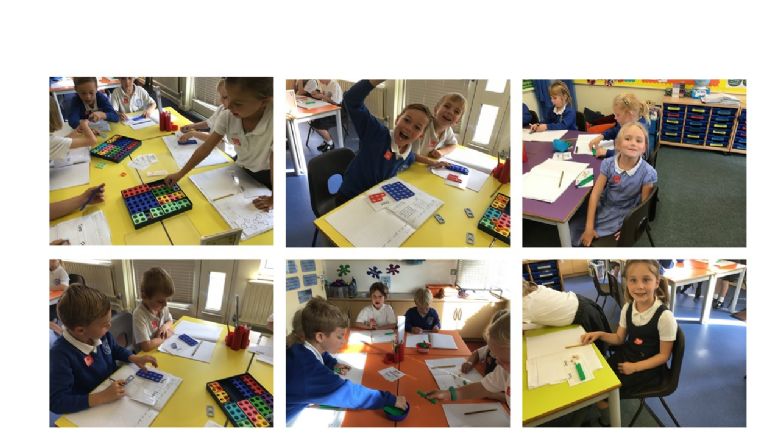 Science:
We have been thinking about how animals change as they get older. We focused on humans and looked at each life stage. We found it really interesting seeing how we had changed so far in our lives and how we might change as we get older.
Music:
We have continued learning how to play the glockenspiel. This week we have been playing the note 'd' and learning how to read this on sheet music.
Per4orm:
This week we were visited by Per4orm and enjoyed a wonderful workshop about King Arthur. We had the chance to be different characters in the story and think about how they would move or behave.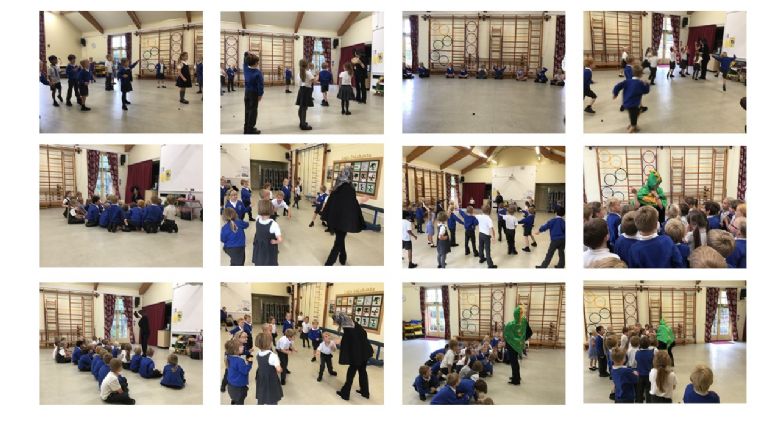 ---
English:
We have enjoyed more Lighthouse Keeper stories this week and have learnt how to write expanded noun phrases. The children have used some wonderful, creative vocabulary and are now using these to write their own Lighthouse Keeper story. The children have come up with some fantastic and imaginative ideas.
Maths:
We have continued our work on place value by thinking more about the tens and ones in two digit numbers. We have learnt how to partition them into different combinations of tens and ones and have recorded them using part-whole models. We have also worked on our reasoning and explaining how we have worked things out. Why not see if your child can explain to you what a part-whole model is!
Design Technology:
This week we loved making our sandwiches! We followed our designs carefully and used lots of different skills including spreading and cutting. I hope you managed to taste some of them!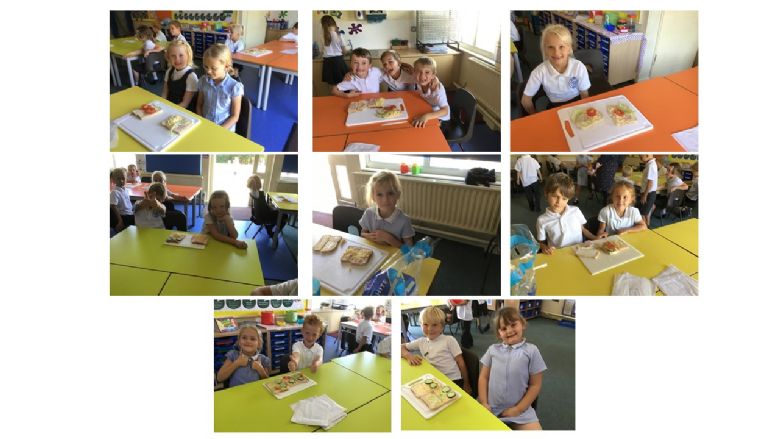 PHSE:
We have built on our work on keeping safe with a visit from Hampshire Fire and Rescue. They taught us about what to do in a fire and how to keep ourselves safe in the home. We saw what a firefighter would wear and had the chance to dress up in their clothes.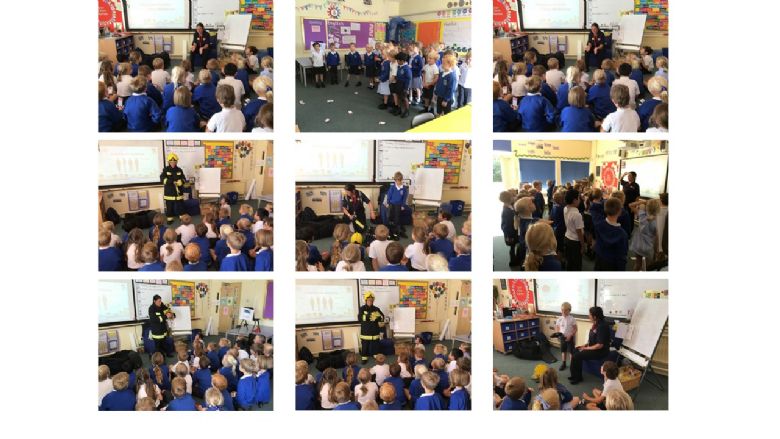 ---
English:
We have been reading the Lighthouse Keeper's Lunch. We have been exploring the different characters and making predictions about what might happen. Here are some photos of us acting out what we think might happen to the lunch.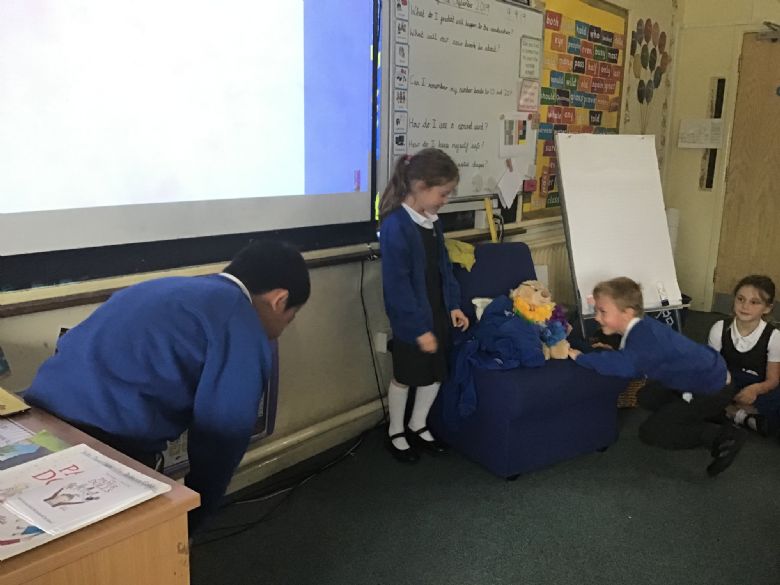 Maths:
We have been thinking about counting and representing numbers to 100. We have learnt about the tens and ones in a two digit number and have used different resources to represent this.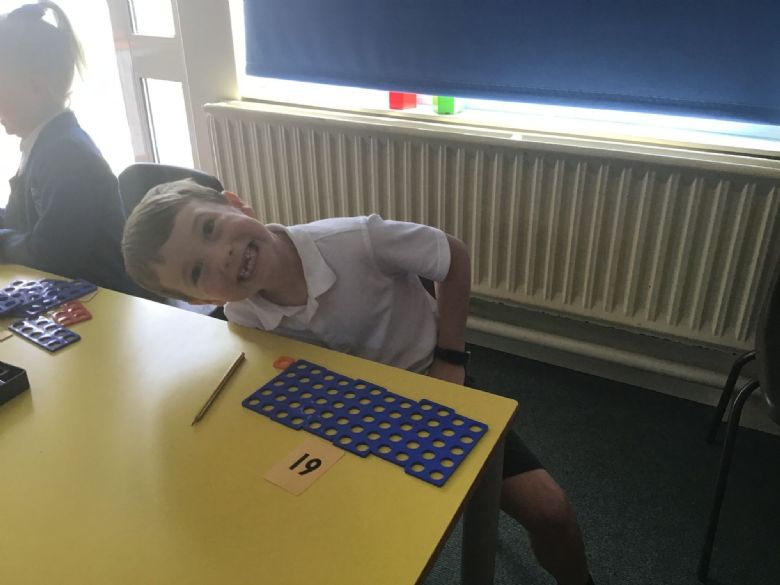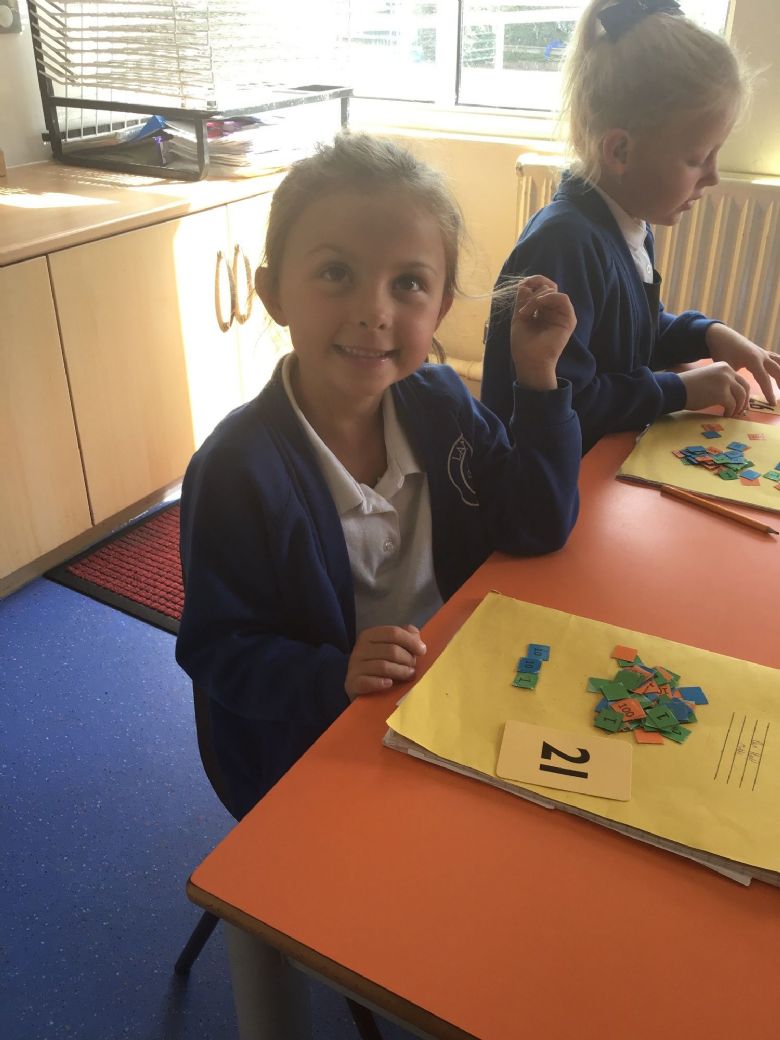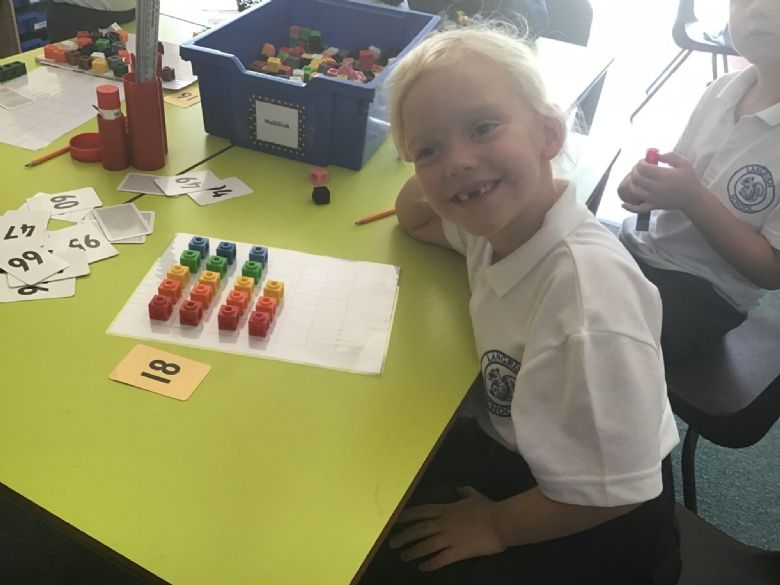 Science:
We have started learning about the offspring of different animals.
PHSE:
We have now finished our Rights Respecting Charter. We have chosen to focus on Articles 12, 24, 28 and 31. We have also discussed what privacy is and why we have a right to it.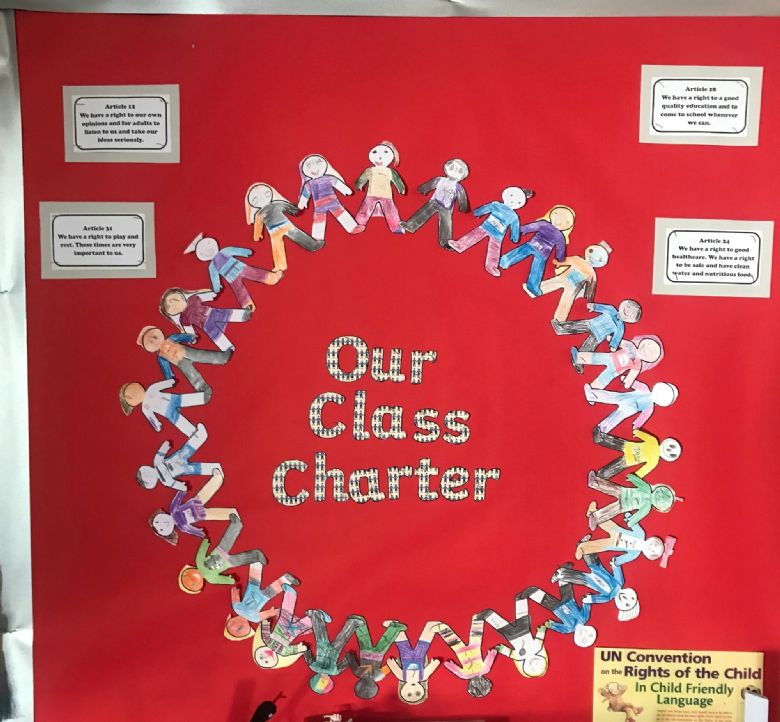 Welcome to Year 2!
The children and I have had a wonderful two days getting to know each other and our new classroom. We have been thinking about how we can be successful learners and how we are respectful to each other. We have also been working hard on our class charter and are busy creating a display to share this. Look out for more updates on this next week!