Mrs Cave
---
Welcome to Class 2's page. Here you will find information about our curriculum.
Home learning
For home learning this week please:
Show your parents the part-whole models that we have been doing, partitioning numbers into tens and ones OR
Read a book for the Autumn Term Reading Challenge OR
Practise reading the Year 1 and 2 common exception words (I have attached the list at the bottom of the web page in case your paper copy goes missing) OR
Make a start on your project for this term OR
Play a maths game on Purple Mash or www.interactive-resources.co.uk - 'Sid Says' is good for estimating where numbers go on a number line
I do not expect you to do all of these activities but please choose one or two. Ask your parents to write in your home learning journals what you have done and make sure your books are back in school on THURSDAY so I can look at them. I will then give them back to you on Friday.
---
Autumn Term Home Learning Project!
Your home learning project this term is 'Kings and Queens of Britain'
For this project, I would like you to choose one or two Kings or Queens from Britain to research, then create something exciting about them. This could be a poster, a PowerPoint presentation, a leaflet, a filmed documentary or anything else you can think of!
Your project is due in on 17th December so you have plenty of time to make a really good project!
---
Autumn Term Reading Challenge!
Our new book challenge for Autumn is now out! This year, rather than publishing a physical list of books to support this, we are signposting you to a brilliant website where you will find numerous lists including the 'Must Have' books for each year group. It is from this list that we would like your child to select their recommended reads. Good luck and get reading!
---
14th September 2018
Theme of the week - New Beginnings - We have been thinking about the start of a new school year and how to make sure we are going to enjoy Year 2.
We have had a very fun-filled second week in Year 2, complete with acting as seagulls, thinking about healthy and unhealthy foods and making some marvellous medicines!
In Maths we have been developing our understanding of number and place value, partitioning numbers into tens and ones and estimating where numbers go on a number line. We have also been practising writing the numbers from 1-100 in digits (e.g. 43) and words (e.g. forty-three).
In English we have been continuing our work on The Lighthouse Keeper's Lunch and thinking about the problem that Mr and Mrs Grinling faced as they tried to get Mr Grinling's lunch over to the lighthouse. We tried to think of different solutions to their problem and acted out what might happen of we tried them. There were some very creative solutions including painting a scary face on the picnic basket, sending down two lunches as the seagulls will fill up on the first, leaving the second free for Mr Grinling, or rowing Mr Grinling's lunch over on a boat rather than sending it across a wire. We then wrote our own versions of The Lighthouse Keeper's Lunch with our creative endings.
Thursday was Roald Dahl Day and we celebrated the work of this wonderful author by investigating George's Marvellous Medicine. We decided to create out own medicines for different reasons, including making never-ending, healthy chocolate and a medicine that does your homework for you. We then made our potions which was great fun!
In History we have started our topic for this half term about Florence Nightingale and Mary Seacole. We had a suitcase of items that gave us clues about who we were studying and what they are famous for. We appear to have heard of Florence Nightingale before, but not Mary Seacole. It will be interesting to find out more about both of these ladies over the next few weeks to find out who was more significant and why.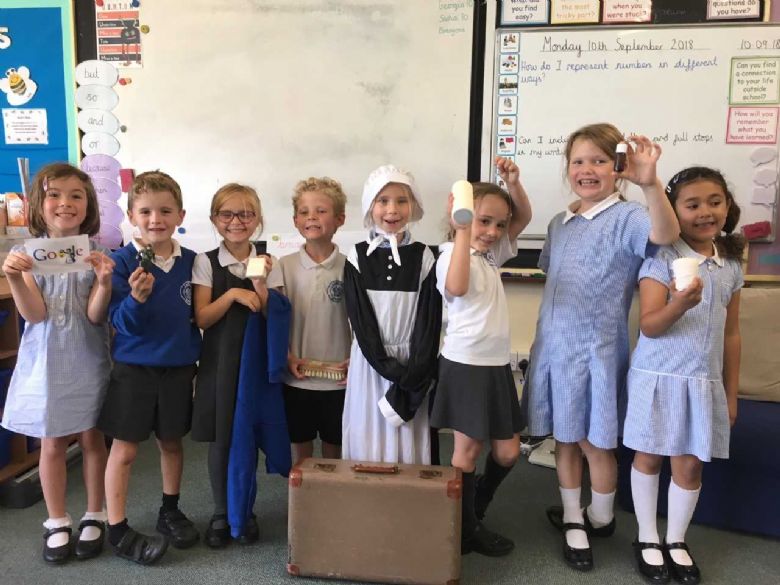 ---
7th September 2018
What a brilliant first week!
I have really enjoyed starting to get to know the children and I am sure that we are going to have a fantastic year together.
In Maths this week we have been starting to think about number and place value. We started by counting objects up to 100 and trying to decide if there were easier ways of counting. For example, we were counting the apples in the fruit basket and we realised that there were 6 bags of 10 apples! Counting 6 lots of 10 would be much quicker than counting 60 apples individually. We also used out number bonds to 10 to help us in counting Numicon.
In English this week we have started out unit based around the text 'The Lighthouse Keeper's Lunch. We read all about Mr and Mrs Grinling's problem with pesky seagulls stealing Mr Grinling's lunch and started to develop our vocabulary by looking up the meaning of new words in dictionaries. We also linked English to our DT unit, which is sandwich making! We are going to help Mr Grinling by designing some new healthy sandwiches for him.