Mrs Cave
Thank you for sending back the signed e-safety agreements. Please can any that have not been sent back in come back to school! Thank you.
---
Home learning
Show your parents how we add using a number line. Remember, we started by adding 10s to any number (e.g. 34 + 20), then added ones (e.g. 67 + 5), then added two 2-digit numbers (e.g. 26 + 51 or 76 + 38). Remember you will need to put the larger number on the number line and partition the smaller one. Big jumps for 10s and small jumps for 1s!
You could also:
Do a small piece of writing to practise your writing target OR
Read a book for the Autumn Term Reading Challenge OR
Practise spelling the Year 1 and 2 common exception words by putting them into sentences using capital letters and full stops OR
Continue working on your project for this term OR
Play a maths game on Purple Mash or www.interactive-resources.co.uk - 'Chill or Challenge' on Interactive Resources is a good game for adding!
I do not expect you to do all of these activities but please choose one or two. Ask your parents to write in your home learning journals what you have done and make sure your books are back in school on THURSDAY so I can look at them. I will then give them back to you on Friday.
---
Autumn Term Home Learning Project!
Your home learning project this term is 'Kings and Queens of Britain'
For this project, I would like you to choose one or two Kings or Queens from Britain to research, then create something exciting about them. This could be a poster, a PowerPoint presentation, a leaflet, a filmed documentary or anything else you can think of!
Your project is due in on 17th December so you have plenty of time to make a really good project!
---
Autumn Term Reading Challenge!
Our new book challenge for Autumn is now out! This year, rather than publishing a physical list of books to support this, we are signposting you to a brilliant website where you will find numerous lists including the 'Must Have' books for each year group. It is from this list that we would like your child to select their recommended reads. Good luck and get reading!
---
12th October
Theme of the week - Going for goals and aiming high - We have been trying to do this by including lots of exciting adjectives in our writing and by trying our hardest to do lots of work and making it as neat as possible.
In Maths this week we have been using a number line to add. Can your child show you how this strategy works? We started by adding multiples of ten to a two-digit number, then added ones and finally put the two skills together by adding 2 two-digit numbers (but we had to partition them first!) Here is an example of the strategy that we used: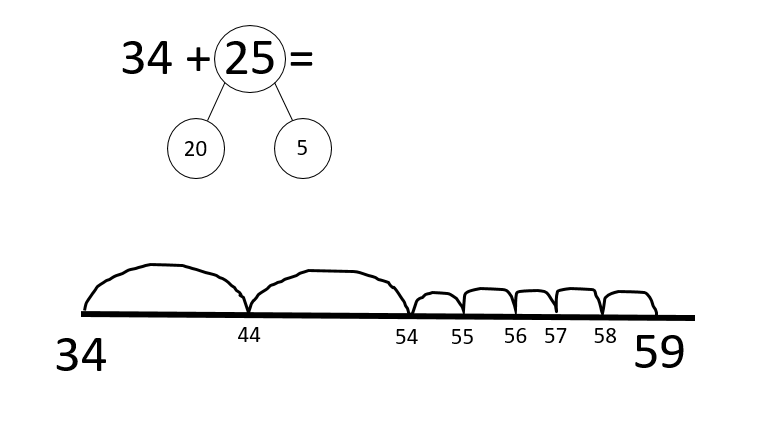 In English we have been studying The Highway Rat. We started by taking a look at the front cover and seeing what information that gave us about the characters and the possible plot. We worked on our expanded noun phrases by writing descriptions of the main character, put ourselves in his shoes to write a diary entry and had a go at summarising the ending of the story. We will continue to look at this story until the end of half term. Can your child remember the plot of the story? Do they know any other famous Highway Men?
In History we put the important events of Florence Nightingale's life in a timeline and tried to decide which was the most important event of her life. We also drew our topic to a close by discussing the long-term impact of both Florence and Mary and discussing who was more significant and why. The children had some brilliant arguments for this and the discussion was very interesting! Why don't you ask your child their opinion of this?
We had some 'spare' lesson time so I asked the children to think about something they would really like to learn about and we settled on the topic of Space! We have started to do some research into this topic, with a focus on the planets, the sun and moon and famous astronauts or significant discoveries. The children are raring to go with this mini-topic and I am looking forward to seeing what they produce in the next few Space-themed lessons!
---
5th October
Theme of the week - Appearance - We have been thinking about our appearance and trying to make sure we are smartly dressed at all times. We have been using the phrase 'Be smart, think smart' to help us to remember.
Our Class Assembly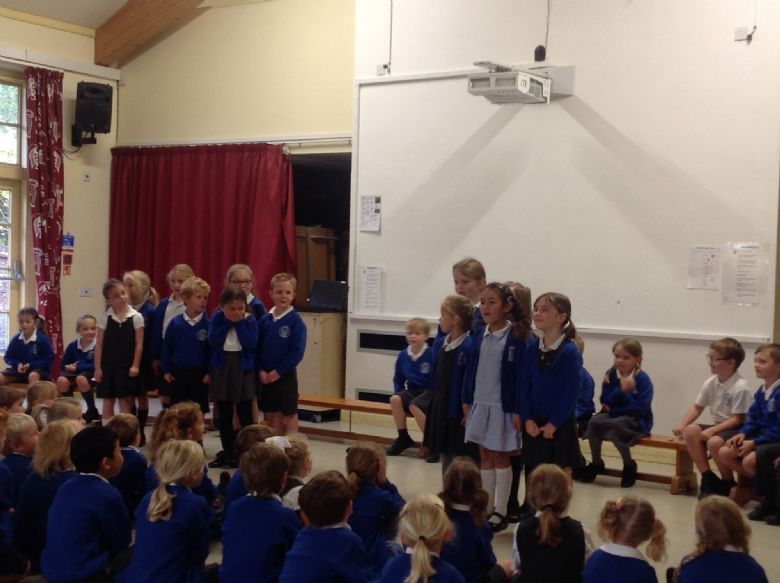 What a fantastic performance!
I am extremely proud of the children to have put on such a confident performance so early in the year. They all spoke clearly and confidently and they are all little superstars! Thank you to all the parents that were able to join is for the performance, and for the 'open classroom' afterwards. I hope you enjoyed sharing your children's learning with them.
---
In Maths this week, we have been continuing with our addition and subtraction unit, thinking about how our knowledge of number bonds to 10 and 20 can help us to solve larger calculations. We have also talked about inverse operations and how we use them to check our answers. Can your child remember what 'inverse' means? What is the inverse of addition?
In Science we were thinking about the three basic needs of all living things. Can your child remember what they are?
In Games we have continued to develop our skills in football, taking different roles in game situations including out-field players, goal keepers, referees and coaches. We also learnt the 'Goalie dance'!
In History we learnt about what Florence Nightingale and Mary Seacole did during the Crimean War. Can your child remember what they learnt about these two people? What were the similarities and differences?
---
28th September
Theme of the week - Positivity - We have been showing positivity by being proud of ourselves and our work. We have also been making an effort to say kind things to other people to make them feel positive.
In English this week we have been writing poetry! We have been learning about rhythm, rhyme, alliteration and onomatopoeia. Can your child remember what any of these terms mean? They are quite tricky! We were inspired by the poems of Michael Rosen, especially 'The Rhythm of Life' and we wrote our own version:
We have been learning other poems in English too, but we don't want to spoil the surprise before our assembly!
In Maths we have started looking at addition and subtraction. We started the unit with an open-ended challenge:
Sophie says there are only 10 ways to add numbers to get to 10. Is Sophie correct? Prove it.
The children were really enthusiastic about this task and they were able to prove that Sophie is indeed incorrect. Please ask your child what other calculations they used to prove that Sophie was wrong. We also practised using our number bonds to 20 and writing addition and subtraction facts, recognising that in addition, numbers can be added in any order but in subtraction, the largest number has to be first (unless we want to go into negative numbers which is so far beyond the Year 2 curriculum!). Can your child show you the 6 addition and subtraction facts that can be written using this bar model?
We had a brilliant DT lesson on Tuesday as we enjoyed making our 'Lighthouse sandwiches'. The results were varied, but we have evaluated our designs and decided on a new-improved recipe which we will be making next Tuesday!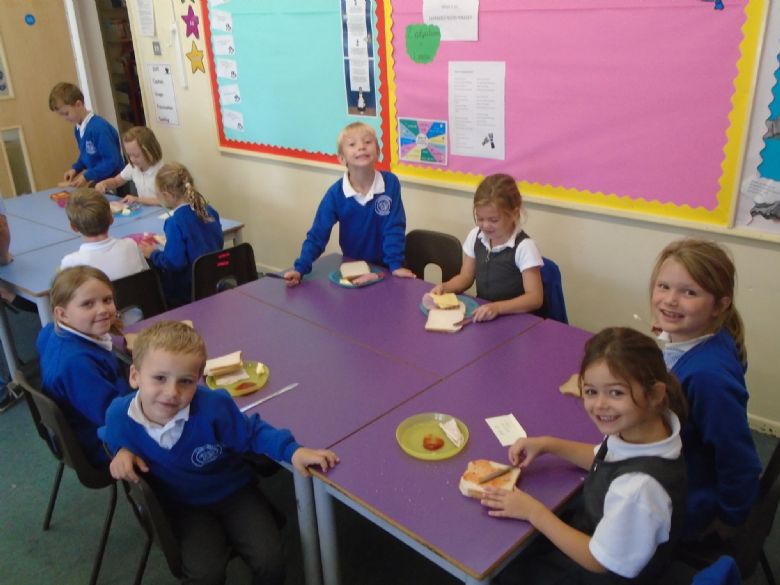 In Science we conducted a practical experiment with the help of Year 6. We were trying to decide if we get faster as we get older, so we timed ourselves completing a series of activities, then timed our Year 6 volunteers doing the same activities to compare the times. Can your child remember the results of this investigation? Thank you to our Year 6 volunteers for all of their help!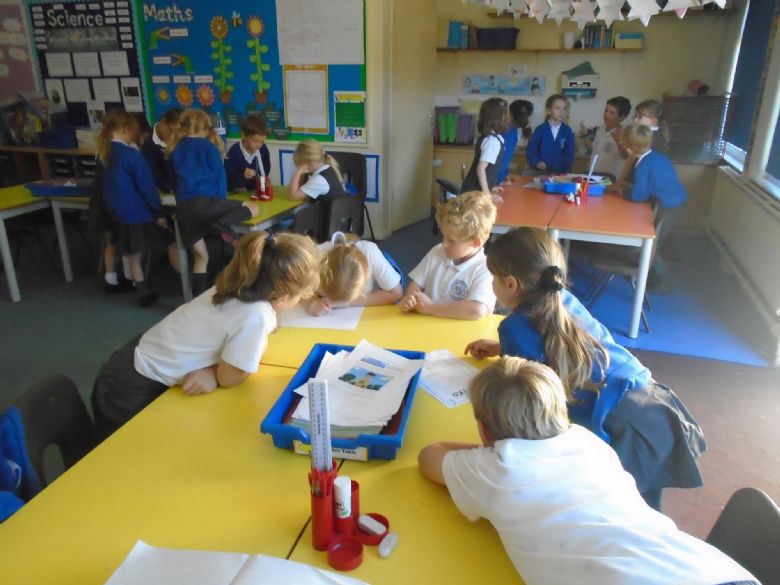 ---
21st September
Theme of the week - Resilience - We have been showing resilience in all of our lessons, especially in English where we had to edit and improve our work and in Maths when we were marking our own work and had to change anything if we got it wrong.
In Maths this week we have been continuing to work on number and place value, though we are starting our new topic of addition and subtraction next week. Our challenges this week have included writing numbers in digits and words, comparing objects and numbers using the < > and = symbols, ordering two-digit numbers from smallest to largest (making sure we look at the tens digit first), counting in 2s, 3s and 5s from zero and working out 10 more and 10 less than any one-digit number. Can your child demonstrate any of these skills to you? Which areas do they feel more or less confident in?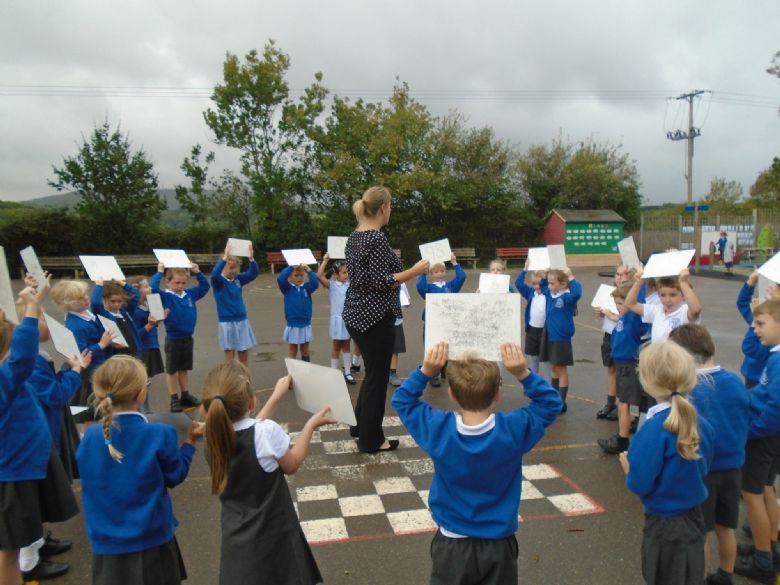 In English we have been finishing off our work on The Lighthouse Keeper's Lunch by writing our own Lighthouse Keeper story called 'The Lighthouse Keeper's Adventure'. In our story, Mr and Mrs Grinling find a trapdoor when they are cleaning the lighthouse floor one day and they decide to go through it. The children continued the story from this point on, taking the characters to some wonderfully creative places. Can your child tell you about the story they created?
In P.E. we have been developing our understanding of balances and how to create a sequence of movement in gymnastics. Here are a few examples of the balances that we created: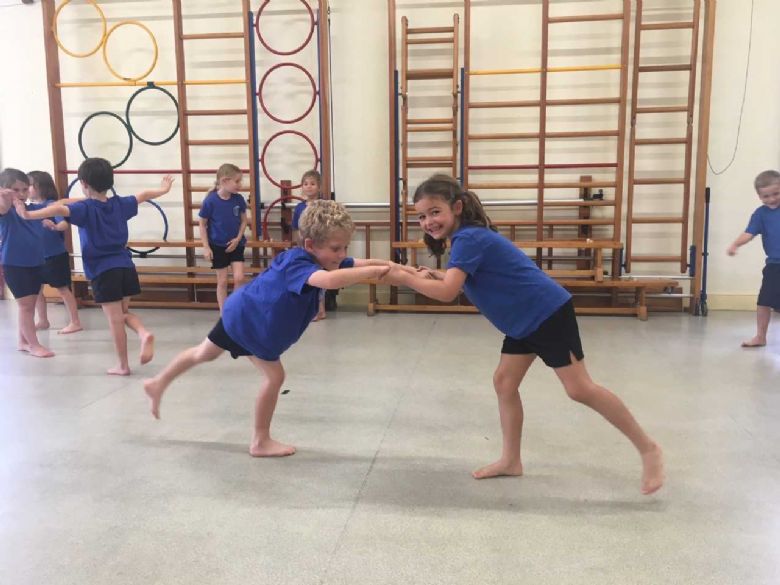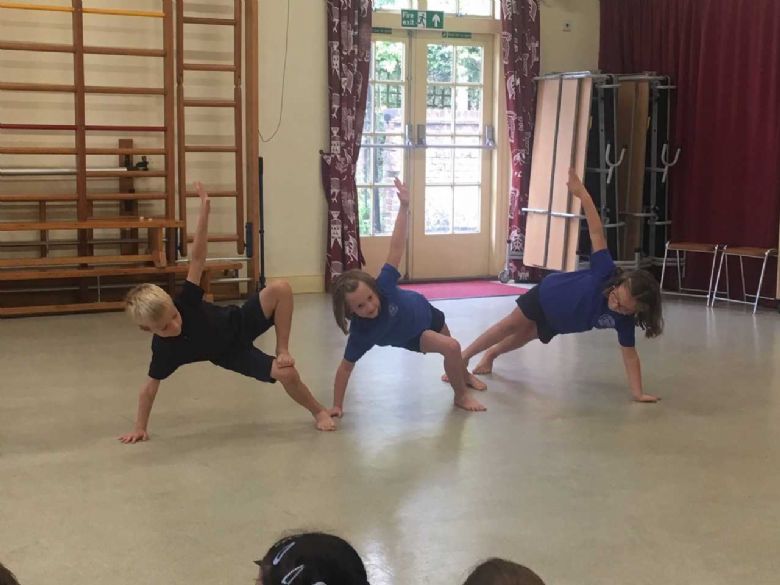 In Games we have been looking at dribbling and passing in football.
In D.T. we have designed our 'Lighthouse sandwich', as eaten by Mr Grinling in 'The Lighthouse Keeper's Lunch' and are very much looking forward to making it (and bringing it home to eat!) next Tuesday. The children decided that in order for it to be a lighthouse sandwich, it should be layers of red and white/yellow ingredients to make it look like a lighthouse. We have been discussing healthy foods, so the children have tried to consider this when designing their products. Keep an eye on the website next week for photos of our sandwich making!
We enjoyed gathering information about Florence Nightingale and Mary Seacole in History on Monday afternoon. We conducted some research about the two important figures after hearing their stories. Can your child recall any important facts? We used our research to create posters, which were judged by Mrs Rawlings (the history expert) and here is the winning poster:
---
14th September 2018
Theme of the week - New Beginnings - We have been thinking about the start of a new school year and how to make sure we are going to enjoy Year 2.
We have had a very fun-filled second week in Year 2, complete with acting as seagulls, thinking about healthy and unhealthy foods and making some marvellous medicines!
In Maths we have been developing our understanding of number and place value, partitioning numbers into tens and ones and estimating where numbers go on a number line. We have also been practising writing the numbers from 1-100 in digits (e.g. 43) and words (e.g. forty-three).
In English we have been continuing our work on The Lighthouse Keeper's Lunch and thinking about the problem that Mr and Mrs Grinling faced as they tried to get Mr Grinling's lunch over to the lighthouse. We tried to think of different solutions to their problem and acted out what might happen of we tried them. There were some very creative solutions including painting a scary face on the picnic basket, sending down two lunches as the seagulls will fill up on the first, leaving the second free for Mr Grinling, or rowing Mr Grinling's lunch over on a boat rather than sending it across a wire. We then wrote our own versions of The Lighthouse Keeper's Lunch with our creative endings.
Thursday was Roald Dahl Day and we celebrated the work of this wonderful author by investigating George's Marvellous Medicine. We decided to create out own medicines for different reasons, including making never-ending, healthy chocolate and a medicine that does your homework for you. We then made our potions which was great fun!
In History we have started our topic for this half term about Florence Nightingale and Mary Seacole. We had a suitcase of items that gave us clues about who we were studying and what they are famous for. We appear to have heard of Florence Nightingale before, but not Mary Seacole. It will be interesting to find out more about both of these ladies over the next few weeks to find out who was more significant and why.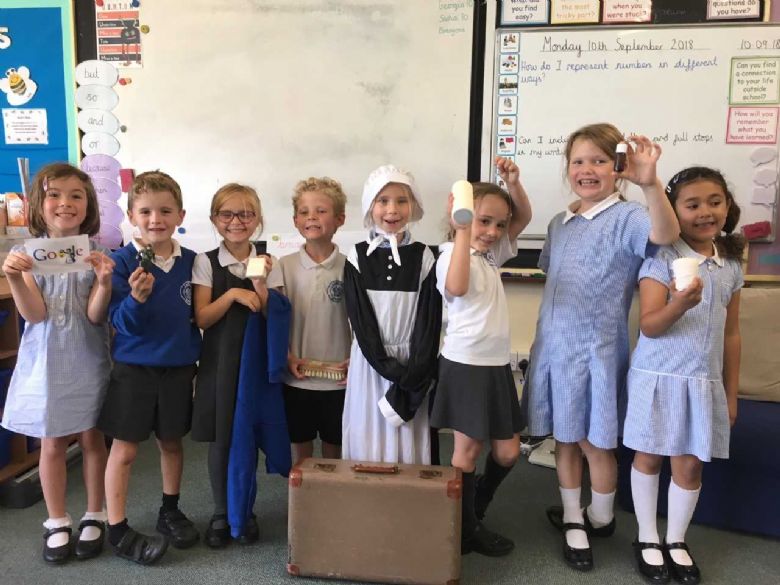 ---
7th September 2018
What a brilliant first week!
I have really enjoyed starting to get to know the children and I am sure that we are going to have a fantastic year together.
In Maths this week we have been starting to think about number and place value. We started by counting objects up to 100 and trying to decide if there were easier ways of counting. For example, we were counting the apples in the fruit basket and we realised that there were 6 bags of 10 apples! Counting 6 lots of 10 would be much quicker than counting 60 apples individually. We also used out number bonds to 10 to help us in counting Numicon.
In English this week we have started out unit based around the text 'The Lighthouse Keeper's Lunch. We read all about Mr and Mrs Grinling's problem with pesky seagulls stealing Mr Grinling's lunch and started to develop our vocabulary by looking up the meaning of new words in dictionaries. We also linked English to our DT unit, which is sandwich making! We are going to help Mr Grinling by designing some new healthy sandwiches for him.