Miss Lee and Mrs Rawlings
---
Isolation learning - Wednesday 3rd June
Good morning Year 3
I hope you are all well this morning and excited for the day ahead. I don't think the sun is going to shine much today but I am sure we will still have a great day. Maybe we will see a rainbow! Remember to read the information after the maths and English as I have included a song to learn and a bit of French today. Have fun! Remember to post your work on Seesaw so I can see all the fabulous things you are doing.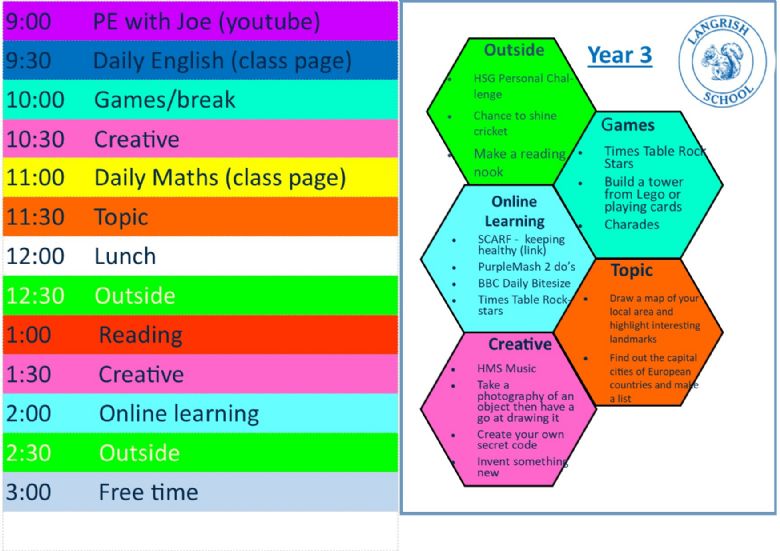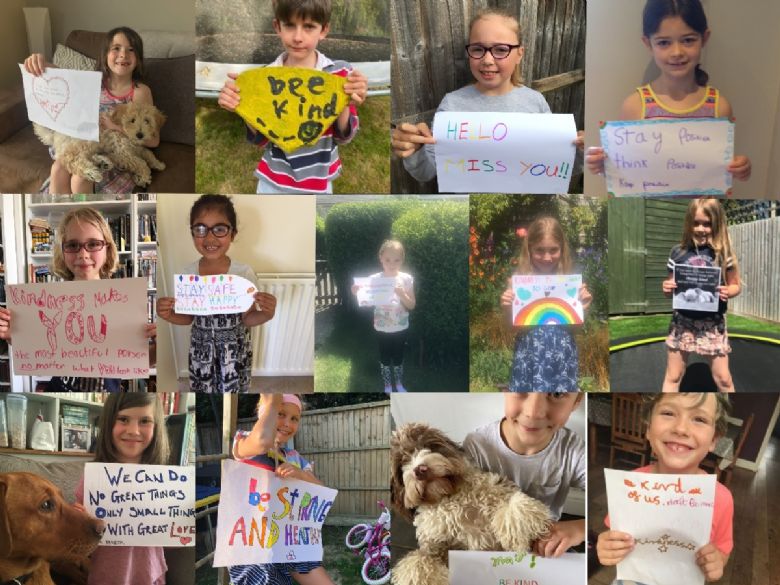 Thank you for sending in all of your wonderful kindness pictures!
New this week:
---
Maths:
Here is the schedule for the rest of the week:
For the lesson today follow: Unit fraction of an amount
There is lots to do for the lesson today so I won't give you any extra challenges!
---
English:
It is spelling shed day today so have a go at the new lists that have been added.
They are:
'sion' as in vision
Challenge words
If you have any spare time or would like a challenge, have a go at making a word search of the new spellings you have been working on. You could even try making a crossword but that will be really tricky!
Music:
Why not have a go at learning the song of the week. It is a silly one this week but I am sure you will enjoy it.
Use this link: Shake my sillies out
If you feel brave enough, you could record yourself singing it and pop it onto Seesaw.
French:
Counting to 31
Have a go at the bingo game on the PPT attached.
School Games Mark May: We really love our sports at Langrish and I know that all of you will want to compete in these games challenges, whether at home or at school. The School Games Organisers have devised a way that you can compete to better your own scores at home, but also compete against friends in your class and pupils from other schools. To find out more please watch this clip. Please find the email from Mrs Wright which contains all of the warm ups, challenges and score sheets.
---
Use the links below to access useful websites and keep reading daily, logging your books in your Reading Record:
As a charity, the NSPCC helpline services will remain open for children on 0800 1111.
For adults concerned about a child, please call on 0808 800 5000.
---
A taste of our learning:
English:
This week we performed our gingerbread man traditional tales to Year 1! After this, we adapted the traditional tale with our own individual twists and changes which resulted in some surprising conclusions!
Later in the week, as a class we read Dr. Seuss' 'The Cat in the Hat' and noticed that he used lots of rhymes. We then created our own short versions of the story and displayed them within the cat's hat! Year 3 were so inspired and put in 100% effort which resulted in everybody receiving a Headteacher's award!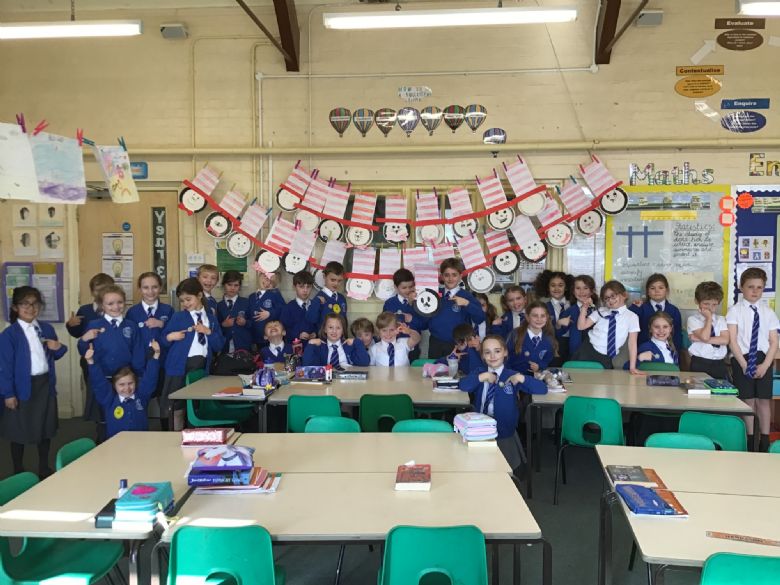 Maths:
We have continued our fraction topic this week, in particular focusing on fractions of amounts. Although this is a tricky concept, with resilience and determination we will achieve this aspect of our unit.
Design technology:
In DT this week we spent time carefully considering and planning how we are going to create our own moving gingerbread men using pneumatics. We had to think which resources we are going to need to complete the task next week.
Science:
We had a very exciting science lesson this week investigating whether magnets and paper clips have to be touching in order to attract.

---
---

We celebrated World Book Day this week by exploring the book 'Ocean meets sky' by Fan Brothers. We used inference skills to describe what Grandpa was like, chose appropriate adjectives for the story and created our own islands (please ask your child to explain which island they chose!) To follow up from this we completed a diary entry as if we were on the journey in the story.
English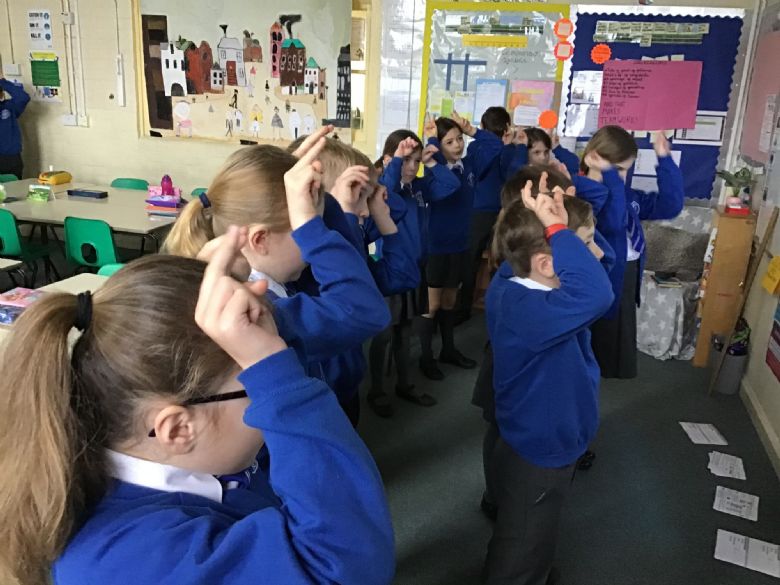 We have had a drama fuelled week as we have began our new topic of traditional tales. We are now able to tell the story of the gingerbread man completely from memory using actions to help us! We have also created our own story maps including new characters and twists in the story.
Maths
We have learnt that in statistics how to collect, organise, analyse and present data in different formats including Pictograms and Bar charts.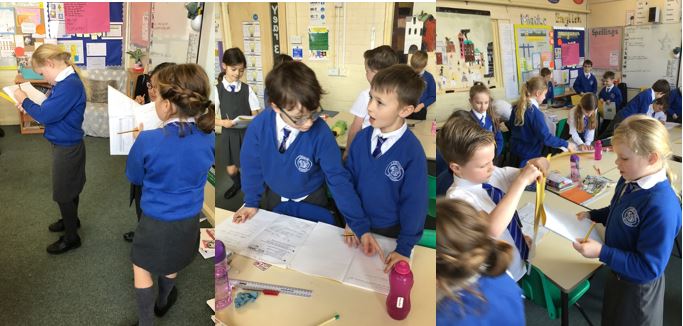 Science
Our new topic of Magnets and Forces had an exciting start as we investigated 'Which surface creates the most friction for a toy car?' We made predictions and had to consider how to make this a fair test.
Computing
We discussed the purpose of emailing and also when it is safe to use and open emails.
PE
This week we had a fantastic 'energy yoga' session exploring how we need to use our core muscles for balance.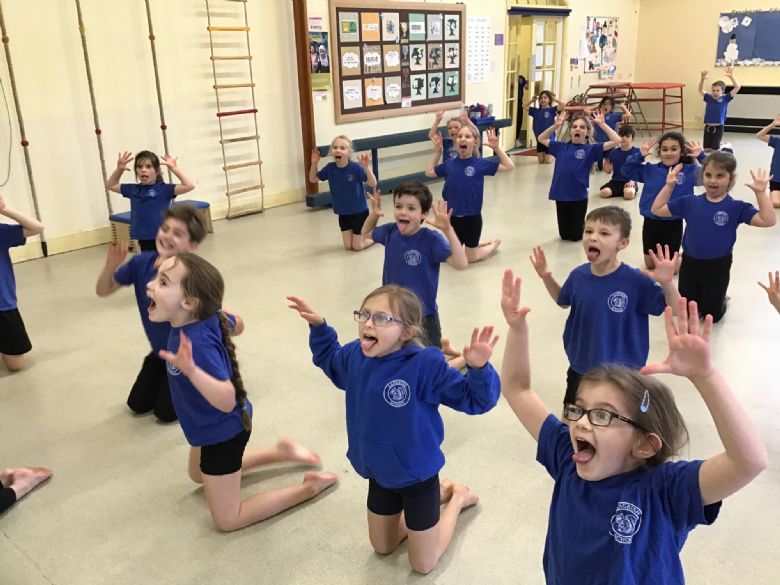 Maths
We have concluded our topic on money. We have learnt how to convert between pounds and pence, how to add and subtract money and give change. We even opened our own Year 3 shop!

English
We have had a fantastic week writing our setting descriptions of a magical forest. We wrote by candlelight and then read our descriptions to a Year 4 buddy whilst they drew what we were describing (without seeing the picture!) Once they had finished drawing we revealed the picture. The year 4's then helped us to edit our work, checking for capitals, punctuation and spellings.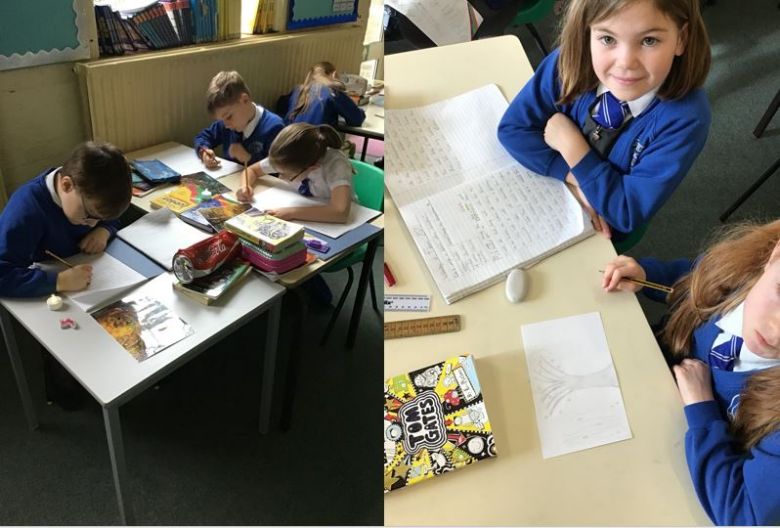 World Faith and Philosophy
On Friday we have been discussing creation and what it means. We have looked at a range of creation stories and having discussions.
Internet safety week
This week we have had discussions about how to keep ourselves safe when using the Internet. We used our computing lesson this week to create posters to display around the school with hints and tips. We were very lucky to have a safer Internet workshop too!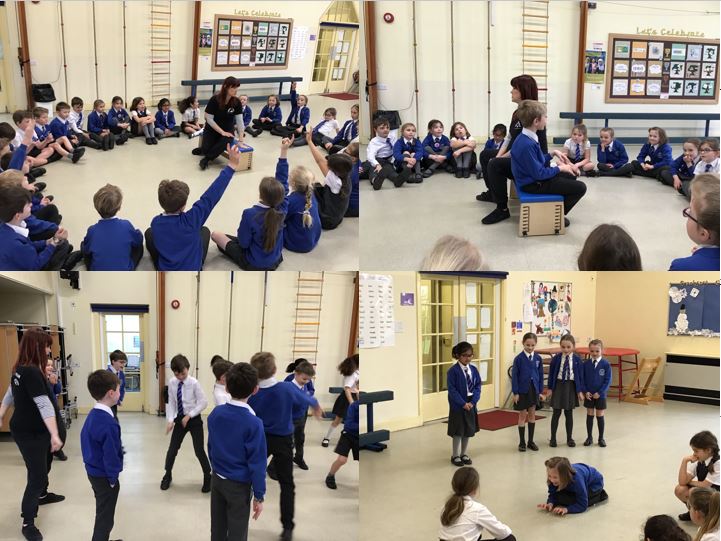 ---
Take one picture week: L.S Lowry.
We have had an incredible week focusing on 'The Village Square' by L.S. Lowry. In our guided reading lessons we have been inferring: where the painting is based, when the painting might have been created, why L.S Lowry chose certain colours and comparing 'The Village Square' to another of his paintings.
We have created our own (huge!) version of his painting using oil pastels, chalk and paint. We each took one building from the painting to focus on and recreate and then added more detail such as the background and the people.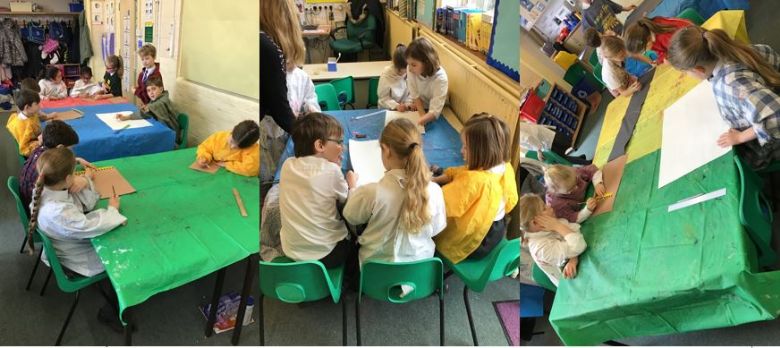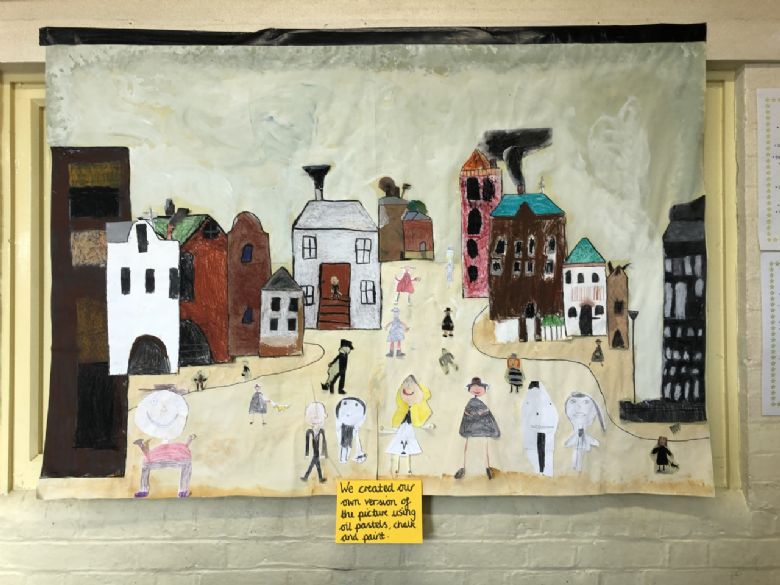 After our class creation we then focused on our own individual pieces. However, any colour L.S Lowry used was banned! We could only use bright colours, which looked fantastic! Whilst we were painting we enjoyed the song 'Matchstalk men' which is based on L.S Lowry - https://www.youtube.com/watch?v=ZWHo1tMlU5A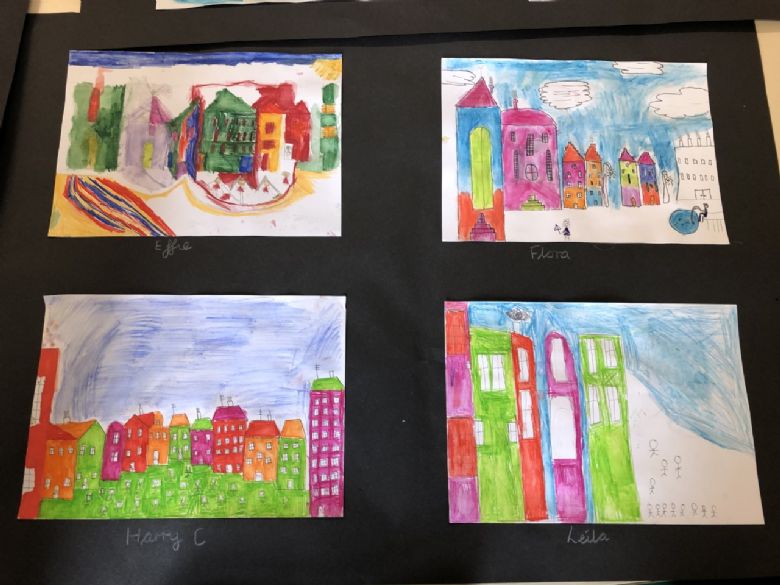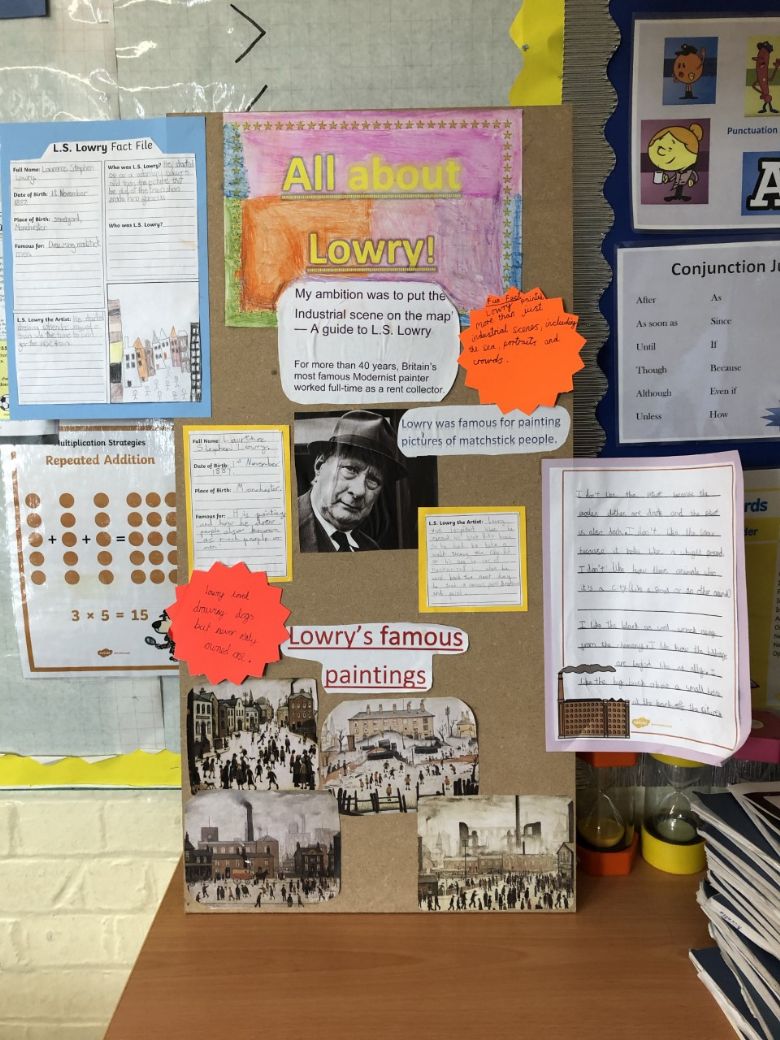 We also wanted to find out more about L.S Lowry and researched his other famous paintings and more about his life in our ICT sessions. We printed out our findings and created an 'All about Lowry' history board!
---
Maths
This week we have focused on multiplying 2 digit numbers by 1 digit numbers. Firstly we looked at solving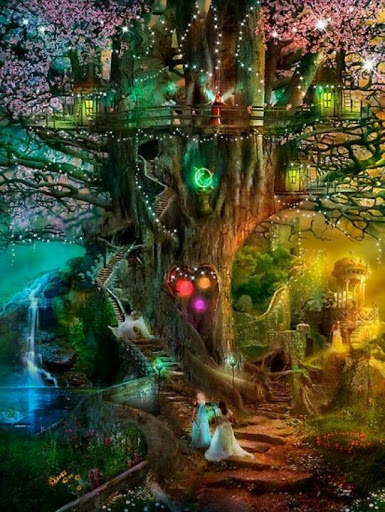 calculations using base 10, multi link and written methods before moving on to solving word problems. We then moved on to dividing 2 digit numbers by 1 digit numbers using partitioning and 'chunking' methods.
English
We have started our next topic of writing a detailed setting description in order to allow a blind person to access the incredible scene. We had fun using our senses to explore the picture: we tasted pears and carrots, used touch to explore foliage, heard enchanted music and imagined what the scene could smell like.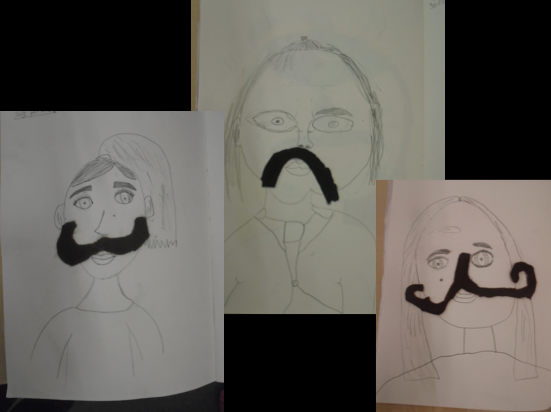 Art
We looked at the work of Salvador Dali and created self portrait with our own interpretation of his moustache.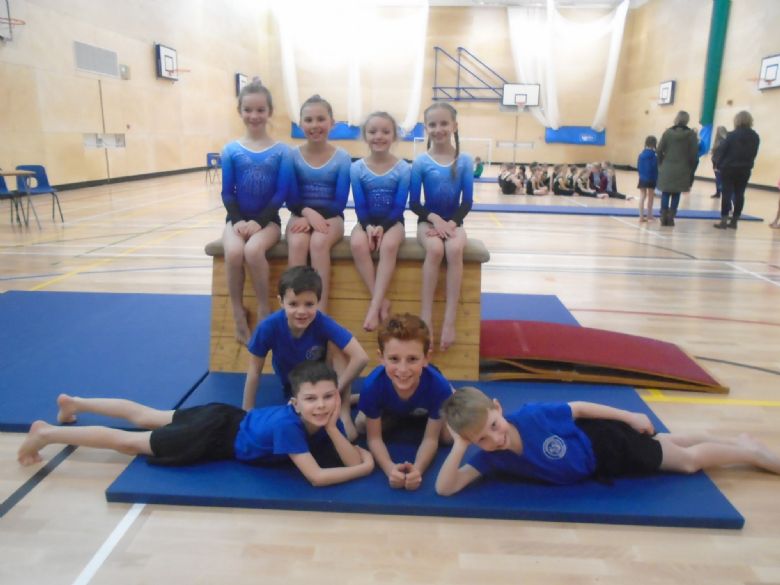 Gymnastics
Well done to the gymnasts who represented the school from Year 3 and 4 at the East Hampshire gymnastics event this week - one of our teams is through to the Hampshire Games in June!
Maths: We have started our next topic of multiplication and division with a focus on multiplying 2 digits by 1 digit. This week we have started by using symbols to compare statements and using our prior knowledge to explore related calculations. For example, if we know that 3 x 3 = 9, then we can use our knowledge of related calculations to work out 30 x 3.
English: This week we wrote our diary entries about Nemo's first day of school. We focused on including all of our learning from over the last couple of weeks: prepositions, conjunctions, using a range of punctuation and writing in first person.
Computing: In computing we have been practising using different fonts, sizes and colours on word. We then went on to practise improving our speed when typing using 'falling letters' on Purplemash.
Science: We watched volcanoes erupting in Hawaii and discussed the various types of rocks. We then explored the different types by categorising by sorting them in table.
Music: We continued learning 'Three Little Birds' by Bob Marley on Glockenspiels.
---
Maths: We have concluded our addition and subtraction unit this week. We have been working on our fluency using column method for addition and subtraction. We have been using inverse operations to check our answers.
English: This week we have been focusing on planning our diary entries using flow chart planning. We ensured that we included conjunctions, prepositions and a range of punctuation in ours plans alongside our personal targets.
On Thursday we took part in the BBC Live Lesson 'Write 500 words' which inspired us to begin writing our own stories.
Science: We have started our new topic on Rocks. We have been looking at the three different types of rocks: Igneous, sedimentary and metamorphic.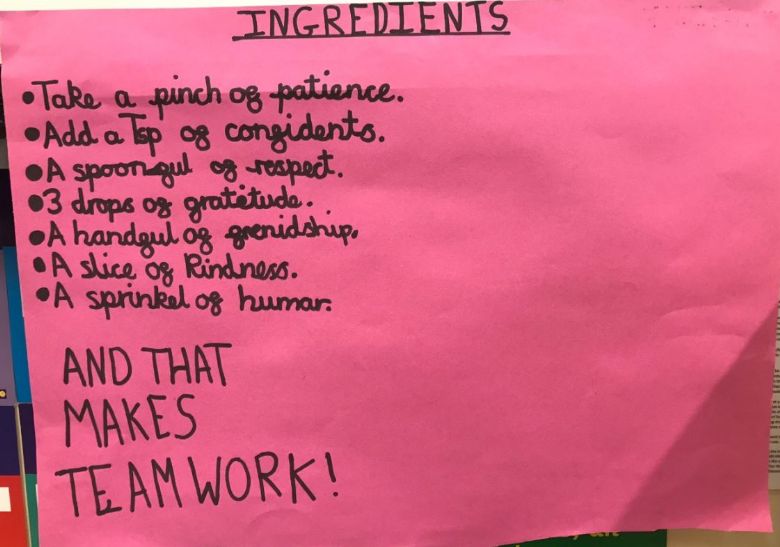 PSHE: This week we considered the different ingredients that make up good teamwork! Please see attached photo.
---
Maths: We have focused on column method for addition and subtraction. We have been focusing on exchanging and securing our knowledge.
English: This week we have been focusing on conjunctions, prepositions and punctuation we can use to improve our writing. These have been learnt in preparation for our diary entry writing next week!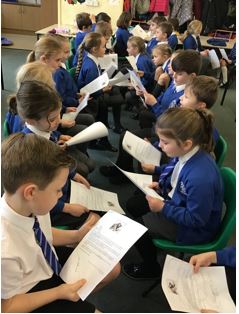 Guided Reading: This week we have been looking at an extract from 'The Twits'. We identified vocabulary that we needed to find definitions for in the dictionary. We also thought of questions we had about the text and had 1 minute with a friend to ask a question before moving seats and asking the next person a different question!
Geography: We have started our exciting new topic 'The Magic Kingdom'. This week we considered why it is the most popular theme park in the world and what the main attractions are.
PE: This week we have started our Netball unit. We practised our footwork in pairs using different exercises but always ensured the foot we landed on did not move!
This week we performed our class assembly, 'Journey through the Stone Age'. The children were fantastic and felt extremely proud to display the work they have been doing in class. Please see photos below.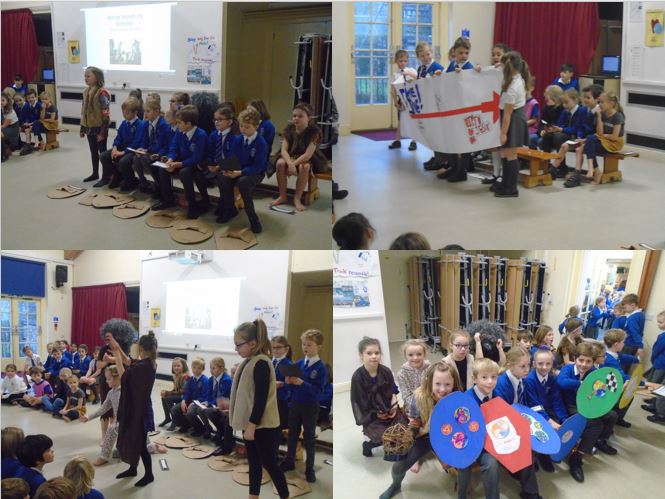 ---
Autumn Term
Maths: We continued our topic on length this week. We learnt how to add and subtract lengths using methods we learnt in our addition and subtraction topic, including column method. We also measured the playground and converted the length between metres, centimetres and millimetres.
English: This week we read the book 'How to wash a Woolly Mammoth' and identified the key features of instruction writing. We noticed that instructions must include a title, equipment list, bullet points or numbers, imperative (bossy) verbs and time connectives. We then used these key features to write our own instructions on how to wash a woolly mammoth.
Science: In Science this week we considered the effect that the sun can have on our eyes. We learnt that UV light is not visible but can cause sun burn, wrinkles and damage your eyes. We are investigating what happens when you cut out shapes from black card, place it on a piece coloured card and leave it in the sun for a week. We have made predictions and will find out what happens next week!
ICT: We have continued our topic of coding using different software. We investigated and learnt how to code on Purple Mash by programming a turtle to move in different directions.
Art: This week we have researched and started creating our own Aboriginal paintings. We look forward to sharing these on the website next week!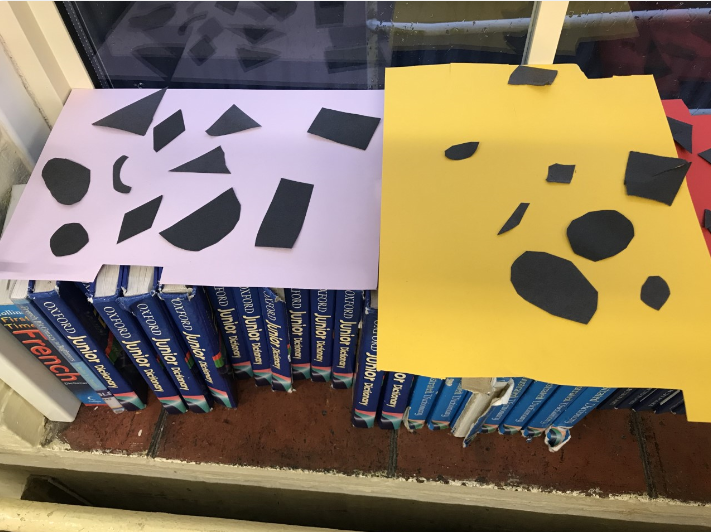 Maths: We have started our next topic of length and perimeter. This week we have focused on accurately measuring lengths in different units including centimetres, millimetres and metres. We have also looked at equivalent lengths and have began converting lengths from mm to cm and cm to metres.
English: This week in English we have completed writing our own versions of 'The Stone Age Boy'. We considered what might happen if the stone age girl arrived at Langrish school. We enjoyed discussing what we would show her that would surprise her, such as the technology we use at school. We are now moving on to instruction writing and have began to identify the key features we need to include when writing our instructions.
PE: In PE this week we have continued our unit on dance. After a few sessions learning how to use various paces and levels, we created our own routines to perform to the rest of the class. We identified what worked well within the performances and a next step we could work on in our next session.
Design Technology: This week we made our own biscuits! We needed to measure out the ingredients, mix them together and choose a design to cut them with.

---
---
Maths: This week in maths we have been focusing on the 8 times tables. We have been applying the methods we have learnt over the last few weeks to practise counting in 8's and how to divide by 8. We have used songs to help us learn and this can be found by following the link below:
https://www.youtube.com/watch?v=kN3RG5iLKpo
English: This week we have been using our knowledge of the stone age from History to start planning our own versions of 'The Stone Age Boy' story. We have been learning how adding alliteration and separating our writing in to paragraphs can improve our writing.
History: Incredible Iron Age day! We learnt all about how Iron Age people lived and in the afternoon we had warrior training! In our class assembly on Thursday 12th December we will be sharing more information about what we have learnt, including a few videos of our warrior training.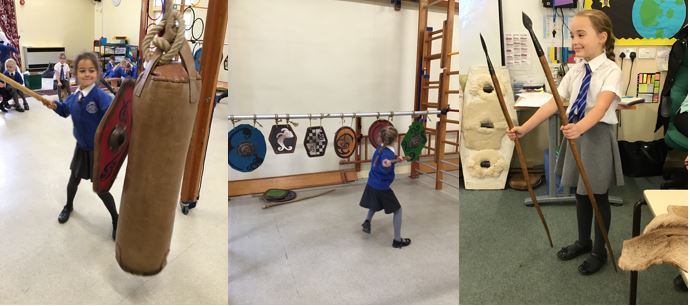 Science: This week we investigated different types of materials to see which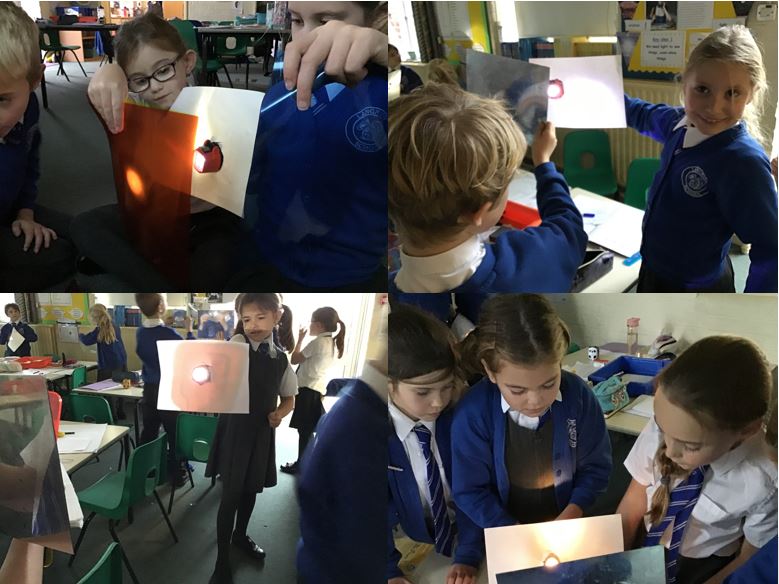 one would be the best to use on our school bags. We used torches to investigate whether the materials would reflect back on to the white card around the torch. We then rated the materials from the most reflective to the least reflective.
French: In French this week we have learnt more classroom phrases for how children get to school and the names of different areas within the school.
Orca workshop: On Monday we enjoyed finding out information about porpoises, dolphins and whales. We learnt about the different calls and songs, size and their diets!
---
---
Maths: In maths this week we have been focusing on the 4 times tables. We have been applying the methods we learnt last week, such as arrays and repeated addition. We have also been learning how to divide by 4 and the methods we can use to help us to do this, such as dividing into equal groups and repeated subtraction (checking how many times 4 goes into the number).
English: Our English topic has taken us on many exciting adventures back to the stone age, considering what life might have been like for people born in the stone age and how it is different to modern life. We used drama to put ourselves into the position of the stone age boy, in order to infer how he might have been feeling when experiencing the stone age for the first time. We then put this into practise and wrote a letter as if we were the stone age boy, explaining what happens within a stone age camp.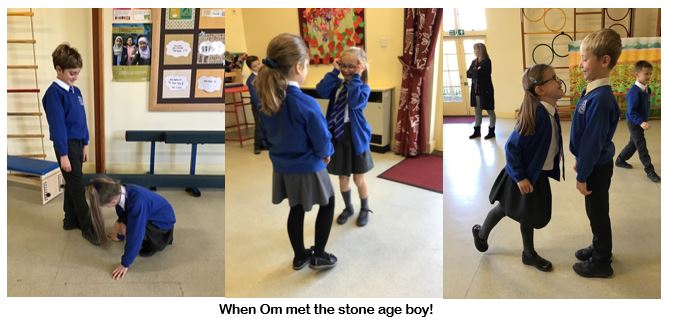 History: Within our topic of the stone age, we considered how historians know about the past. We became archaeologists and looked through a bag of rubbish together in order to create a picture of who it might have belonged to. We also considered what extra information we would need to find out. Then we looked at photographs of a number of artefacts from the first part of the Stone Age and suggested what they might be and the reasons that Stone Age people made them.
Science: We have started our topic of light and dark. This week we identified a range of light sources and considered objects that look like light sources, but are not! The moon, windows and mirrors are some examples of these.
ICT: In ICT this week Mr Hancox invited us to take part in the Bebras challenge! We worked in pairs to answer as many logic based problems as we could within 40 minutes. The challenge was also completed by other Year 3 classes across the country!
---
Maths: We have started our new topic of multiplication and division. This week we have been focusing on the 3 times tables. We have been looking for patterns and songs to help us remember them. We have also been solving word problems by using methods such as equal grouping. Next week we will applying the same methods we have learnt to the 4 times tables.
English: In English we have started our new topic which relates to our new history topic of the stone age! We have read 'The Stone Age Boy' and written diary entries as if we were the boy from the story. In particular we have learnt how to use time connectives and expanded noun phrases within our writing to make it more exciting.
PE: In PE we have started our dance unit. Our first lesson was focusing on how we can use different levels to travel around the space for impact.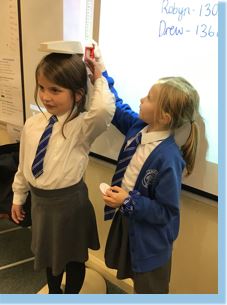 Science: This week we finished our topic of the human body. We ran the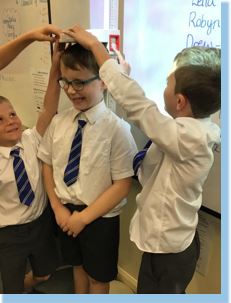 investigations that we planned before half term, considering the question 'How does the height of a person affect the length of their bones?' We took it in turns to measure our height and then groups decided whether to measure the length of their forearm or around their head. We collected our results on to tables, ready to write a conclusion next week about what we found.
On Friday we had a visit from the life bus! During our session we learnt even more information about the body building on our science lessons from last half term. We learnt about how different parts of our body protect our organs and we also learnt about how to keep our bodies and minds healthy!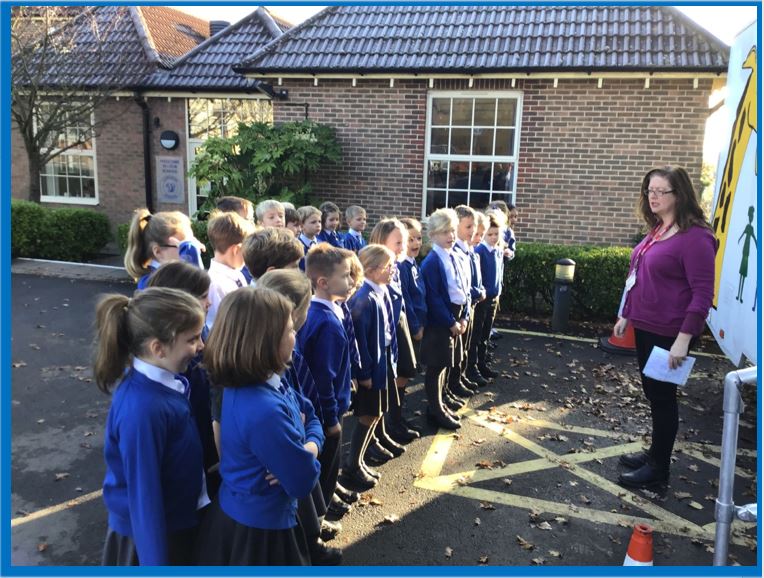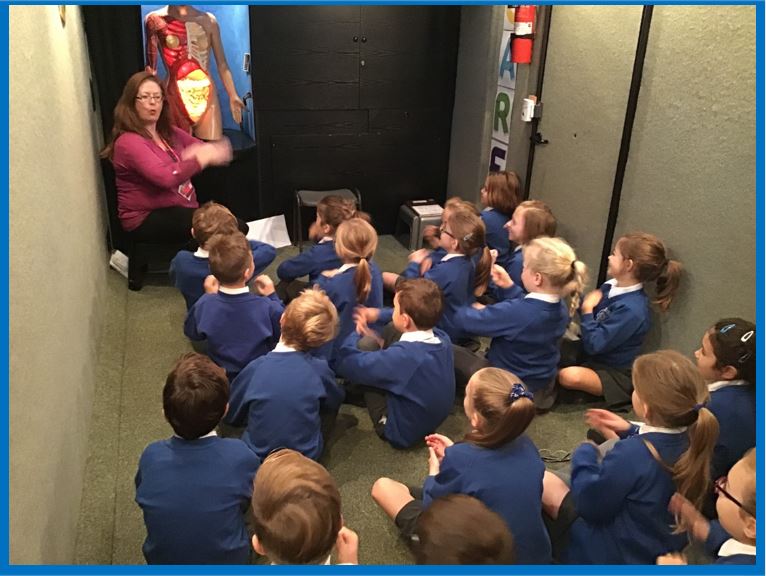 Happy half term! Year 3 have had an incredible start to the year. Their determination, motivation and enthusiasm has been extraordinary, they deserve a well earned rest!
Although no official home learning has been set apart from to have fun, play and rest in order to be ready for the next half term, our next maths topic is multiplication and division, looking in particular at the 3, 4 and 8 times tables. Perhaps during a car journey or similar the children could practise in order to have a head start for our next topic! Please do not fill in the next times table page of the booklet as this will restart again after half term.
Have a fantastic half term break! See you fresh and ready for more exciting learning on Monday 4th November.
---
Maths: We have finished our addition and subtraction topic. Year 3 have been super resilient this week whilst focusing on column subtraction with exchanging. We have also completed our post-assessment for this topic which will be coming home on Monday the 4th of November.
English: This week we extended our learning after our non-chronological reports by writing a first person recount through either a letter or a postcard. We imagined that we had experienced an earthquake whilst on a school residential trip and wrote home to explain what had happened! We then looked at how we could improve our letters and postcards through checking for sense, full stops, capital letters, spellings and much more.
Geography: We have come to the end of our earthquake topic this week. The children have found this topic fascinating and have learnt about... Where earthquakes happen? Why earthquakes happen? What impact do they have? How are earthquakes measured?
Computing: In computing we are continuing our Micro:Bit topic. Each week it is fantastic to see how excited and engaged the children are whilst creating their algorithms. This week we programmed our Micro:Bit's to change animations after pressing various buttons on the device. After half term we will be programming our Micro:Bits to count our steps!
---
English / Geography: This week we have been using our 'spidergram' plans to write up our non-chronological reports. Our enthusiasm and motivation meant we were able include all of the key features we identified last week such as: a title, subtitles, paragraphs, a formal tone, fact boxes and more! Next week we will be identifying how we can improve our reports and researching potential diagrams and pictures to include in our reports.
Maths: We have continued with our maths topic of addition and subtraction. This week our focus has been on using the column method for addition and subtraction. This has been a challenge but due to Year 3's resilience we have made significant progress. We will be continuing to practise this method next week.
DT: We have finished designing and decorating our photo frames. We considered who we were making the frame for or what type of photograph we wanted the frame to hold. Please see pictures below. These will be coming home today.
History: Significant People Day
We had a really interesting day on Thursday, learning about how significant Martin Luther King is today. We had some great discussions about what he did and why it was important. We created a display of our work so the other classes in the school could see our ideas. Some of us wrote acrostic poems, some of us created storyboards of his life and some of us wrote our own 'I have a dream,' speech based on Martin Luther King's most important speech. We are very proud of how well the children rose to the challenges they were given. Please see pictures below.
World Faith's and Philosophy:
This half term's theme was 'temptation' and making choices. We thought about how sometimes it is hard to make the right choice and we can be tempted to do things we shouldn't. We discussed different scenarios and what choices they would make. We also looked at the how Jesus was tempted in the story of, 'Jesus in the wilderness'.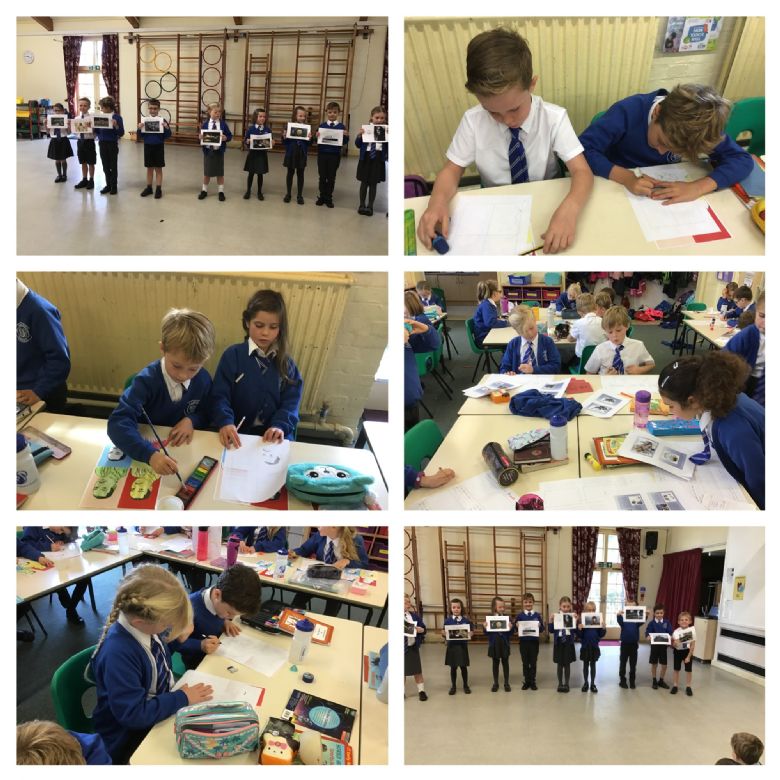 English / Geography: In English we have started our new topic of writing non-chronological reports based on earthquakes. This week we have been researching why earthquakes occur, what impact they have and how to survive an earthquake. Our thorough research in Geography has enabled us to plan our non-chronological reports. We have been identifying features of these reports and will be putting our plans in to action and writing them next week!
Maths: We have continued with our maths topic of addition and subtraction. In particular we have been adding and subtracting 100s and spotting patterns within calculations that can help us when adding ones, tens and hundreds to 3-digit numbers.
Science: In Science we have been making a Purple Mash page, identifying and explaining the different joints.
RE: This week we had a visit from a local Rabbi. He introduced us to Judaism and we discovered that Jews worship in Synagogues. We also learnt that Shabbat is the most important time of the week for Jews, which is a day of rest where families come together. The children were fascinated and cannot wait to begin our topic on Judaism. Please see the pictures below of the visit.

---
English: We have finished our topic of Performance Poetry this week. We have been researching different types of poems such as rhyming and repetitive poems, we used pupil voice to choose our favourite style and re-created it. The poem we focussed on was 'NO WORD OF A LIE' by Jackie Kay and we enjoyed performing to the rest of the class on Thursday, which was National Poetry Day!
Maths: We have started our new topic of Addition and Subtraction. This week our focus has been on adding and subtracting ones from 3-digit numbers with an exchange. The children have learning the different methods such as timelines, diennes and partitioning that we can use to help us.
Science: We have researched the different types of joints in the body. Next, we will be looking at muscles and how different animals use them.
DT: In DT this week we have designed and created our photo frames, which we will be decorating next week.
PSHE: We have been exploring feelings. We read a story about a boy starting at a new school and discussed how he might have felt during various points of the story. We then went on to discuss how it feels to do or start something new, and some ways to cope with these feelings. Next week we are going to be investigating intensity of feelings.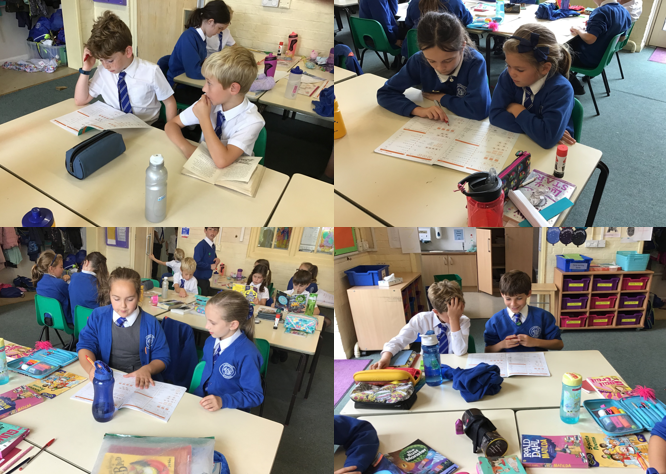 English: We have been focusing on Performance Poetry. We have been discussing various different types of poetry and the different ways they can be performed. We have been performing some of these using instruments, which we will be showing Year 2 on Monday. Please see pictures below.
Maths: We have finished our unit on place value and the children have completed the post assessment, which your child should have. We have now moved onto addition and subtraction.
Science: We continued looking at different types of skeletons and classified animals into exoskeletons, endoskeletons and hydrostatic skeletons.
PE: We have been carrying on with gymnastics. This week we have worked in pairs to create a sequence of balances which we then perform to the class.
ICT: We have been learning to programme Micro:Bits which has included displaying messages, icons and animations.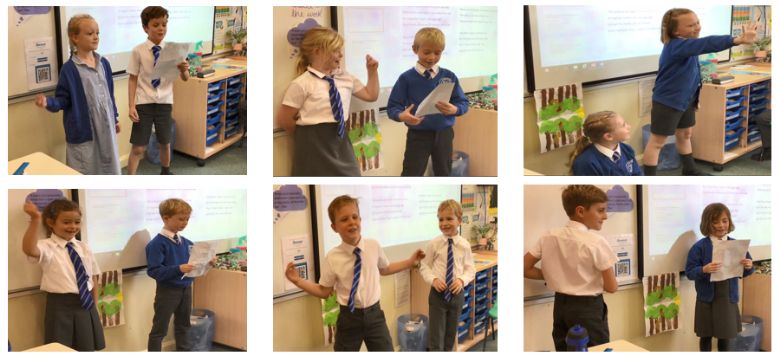 ---
English: In English we have been learning how to write a descriptive piece. The children have been creating their own creature to add to the story 'The Black Hat.'
Maths: In Maths we have been continuing our learning of place value. We have been focusing on comparing numbers and objects.
Science: We have been looking at skeletons and their functions. We discussed the difference between invertebrates and vertebrates.
DT: In DT we have been researching how to make a structure as stable as possible. The groups only had 20 minutes to build their paper structures to withstand their whiteboards. See photos below.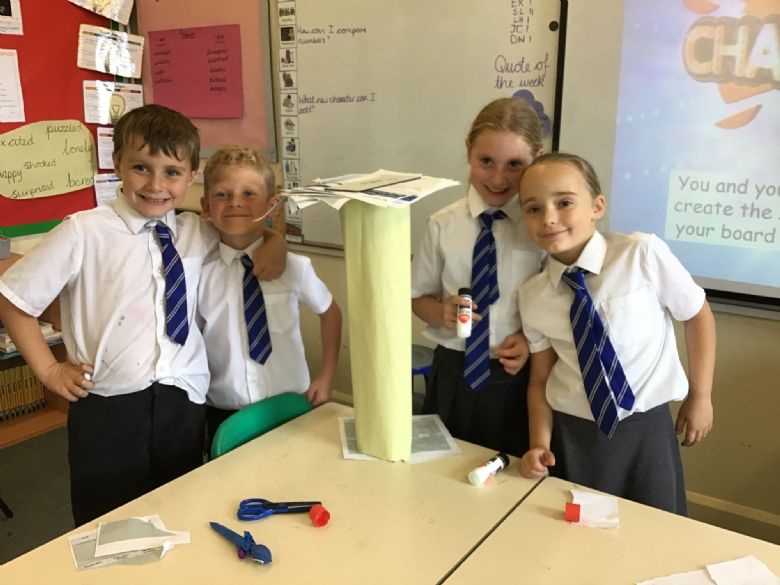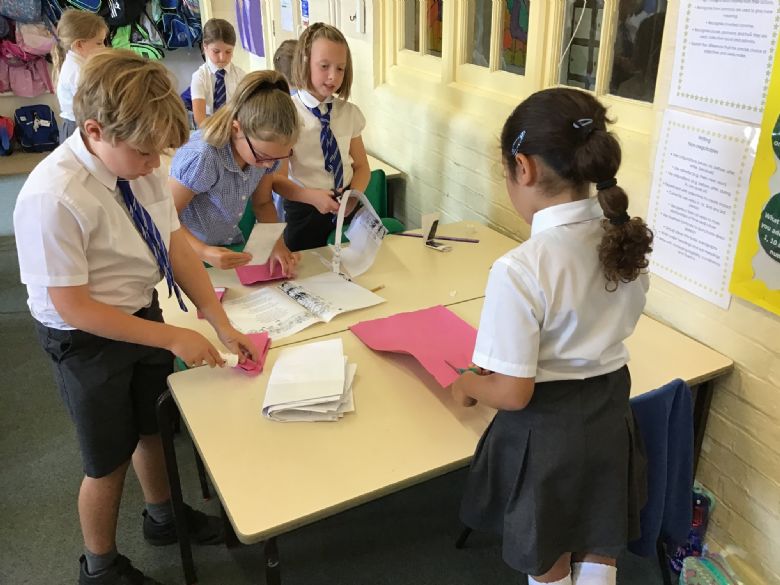 ---
English: We have been looking at a clip called, 'The Black Hat.' The children have been looking at descriptions and understanding characters feeling's through drama.
Maths: Our unit is place value. We have been counting in 100's, looking at what each digit represents in a three digit number and estimating where a number would go on a number line to 1000.
Science: We have started discussing the human skeleton and what our bones are called.
PHSE: We have created our own 'RIghts Respecting Charter.' We decided what rights we would like to include and designed how we would display it. Have a look at our charter which is attached below.
Please also look at our e-safety charter attached below. This will be coming home in the back of the Home Learning Journals. Please sign it and discuss with your child.
---
We are holding class elections next Thursday for our School Parliament. If your child is interested in representing their class, for Home Learning this week, children should consider the different roles of School Councillor, Arts Ambassador and Rights Respecting Ambassador and be prepared to speak to their class about why they would like to be elected this year.
---
Welcome back! We have had a good couple of days settling into new routines and setting our expectations for the year ahead. We are finalising our Rights Respecting Charter which we look forward to sharing with you next week! All children should now have a reading and library book. Please let us know if that is not the case.