Ms Fiers and Mrs Rawlings
Friday 19th July
Another year comes to an end and what a year it has been! We have thoroughly enjoyed teaching your children and are proud of the progress they have made. Thank you so much for your support throughout the year and a massive thank you for the generous gifts we received. We wish you a very happy summer holiday and look forward to seeing you again in September.
Please complete the Summer Reading Challenge but remember if you took a maths booklet home, you don't need to bring it back to school.
Thanks again
Ms Fiers and Mrs Rawlingsx
Friday 12th July
Theme of the Week: Confidence
Home Learning
Reading - 20 minutes daily
Times Tables - Keep up the good work with learning them by rote and how to apply them.
Maths assessments have been sent home with your child so celebrate successes and review any errors and misconceptions.
For our World Faith and Philosophy unit of learning on identity, I would like the children to bring in an item/object/idea that identifies themselves as belonging to a group or community. The children have suggested, for example, objects like uniform, badges, mascots, logos or mottos. We will be sharing and discussing these on Monday.
A taste of our learning
An excellent effort was put in by all on Monday for Sports Day. There were some new challenges this year which were designed by House Captains and Play Leaders. Year 3 commented that the Multilink Hunt in the copse was a great addition. Well done to Red House who were our winners this year.
On Thursday, the long distance race was held as the morning was cooler. Twenty Year 3 children took part with Lily (Red House) and Elsie (Blue House) taking first and second place for the girls and Felix (Green House) and Dylan ( Blue House) for the boys.
Friday 5th July
Theme of the Week: Enterprise
Home Learning
Reading - 20 minutes daily.
Spelling - End of year spelling assessments have been sent home. Please celebrate successes then look at the spelling patterns that you aren't sure of. Can you think of other words that have these patterns?
Times Tables - Group A - Questions for the test on 2, 3, 4, 5, 8, and 10 times tables will be asked in different ways such as 3 x 4, how many 4s in 12, what is one quarter of 12, what is one third of 12? Group B - in addition to this you will be asked to find non-unit fractions such as 2/3 of 12.
A taste of our learning:
We have spent time preparing for our French Cafe. First we had to decide what we would sell, then source the most cost effective products and decide on a price structure. We then created menus, designed table cloths, posters and bunting.
Thank you to those who supported our cafe either by coming along or buying a 'meal' for your child. I can't praise the children enough for the hard work and commitment they showed. They were polite, welcoming and were willing to try out their French on customers. Our class raised a total of £212.10 towards the total which is to be split between Langrish School and our link school in the Gambia.
In addition to this, we have been completing end of year assessments. Please go through the spelling test that has been sent home.
Maths:
The children showed great resilience on Friday when they were given a range of Sudoku puzzles. They worked individually and in pairs. It was a pleasure to see them thinking and working logically. See photos below.
A few photos from our Fruit farm visit. We hope you enjoyed the luscious soft fruit as much as the Langrish staff did.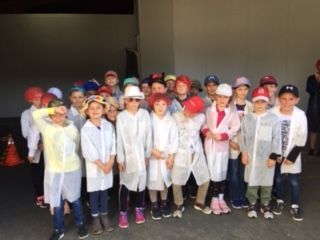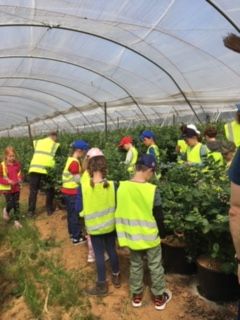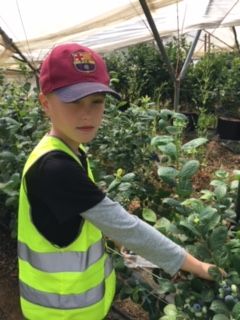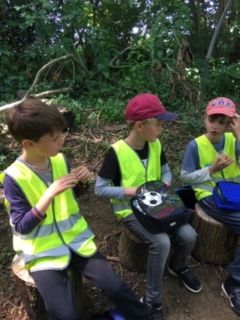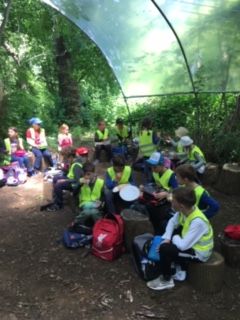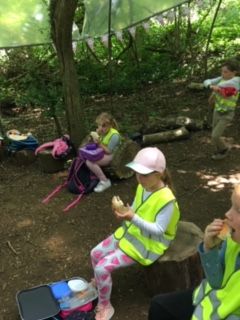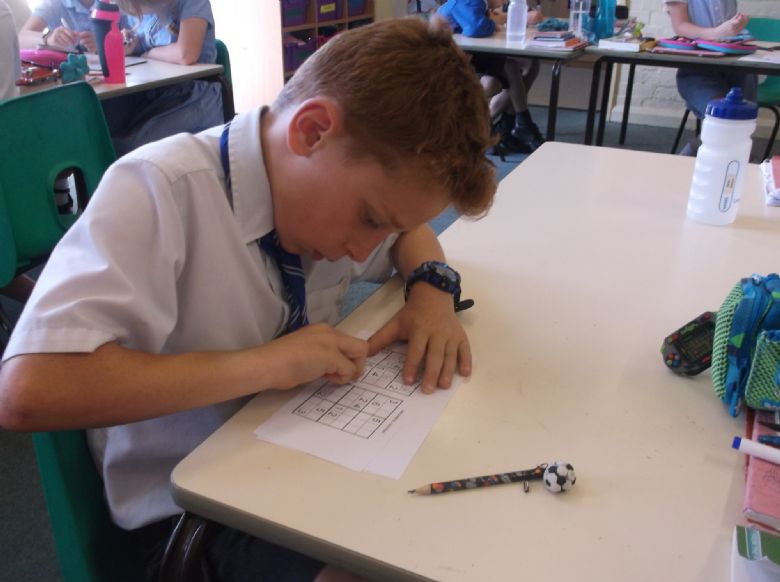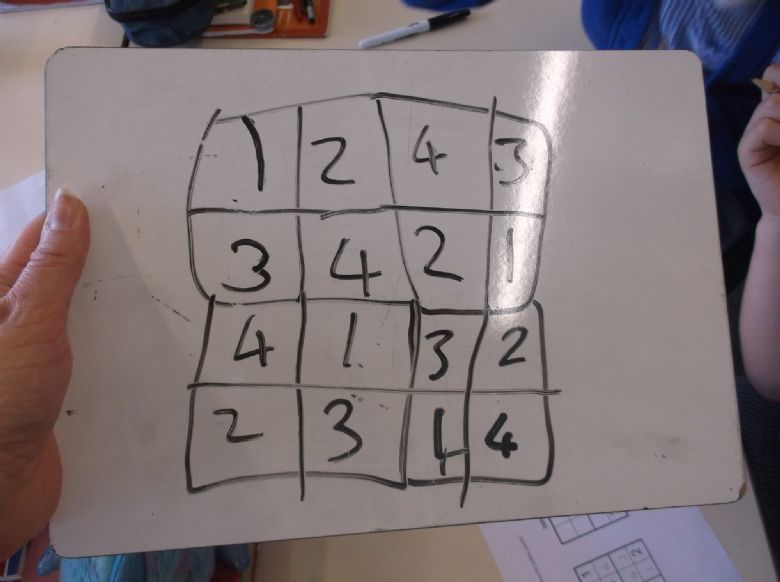 Friday 28th June
Theme of the Week: Creativity
Home Learning
Reading - 20 minutes daily. I am taking recommendations for our class bookshelf for next year. Please let me know if you have read any books that your classmates might enjoy.
Spelling - We have been revising the spelling rule for adding ' ing' to a word.
1)For most words just add -ing. For example: talk/talking, break/breaking.
2)For words with a split digraph making a long vowel sound (make, bite) drop the -e and add -ing. For example: take/taking, strike/striking.
3)For words with a short vowel sound before the final consonant, double the consonant before adding -ing. For example: run/running, upset/upsetting
4)For words that end in 'ie', change the -ie to -y and add -ing. For example: lie/lying, die/dying
Try making a column for each spelling rule and add words that fit each rule (you can start with the ones we have given you).
Times Tables - as last week.
A taste of our learning
English
We have been revising spelling rules (see above) as well as subordinate clauses (more about that for Home Learning next week). Our writing has included completing our Roald Dahl unit and an explanation text in Food Technology.
Maths
We completed the unit of learning on shape by constructing 3D models. Some of them were quite complex and will be on display at Open Evening. Our new unit is on measure which covers mass and capacity.
French
We are preparing for our French Cafe which you are invited to attend on Wednesday from 2-3pm. A special thank you to Elsie and Emily who have checked our vocabulary with their French teacher, Alice
We had a brilliant time at Tuesley Farm on Thursday thanks to the Hunter Hall group who helped us to understand more about growing and looking after plants and the environment. Photos will be added next week.
Science:
As part of our topic on nutrition, we were very lucky to have Mrs Kidd come in to talk about her job as a dietician.The children found out all about a balanced diet and what affect different foods have on our bodies. Next, we will be looking at the food animals eat and why they need different foods.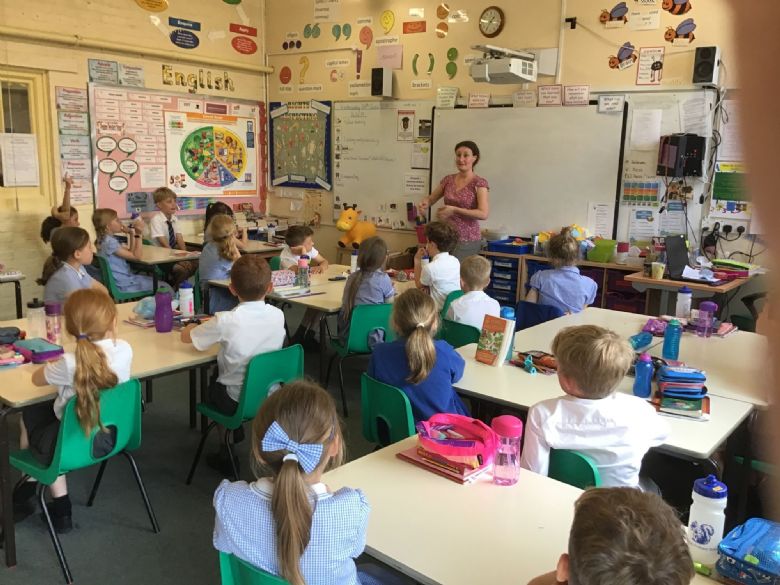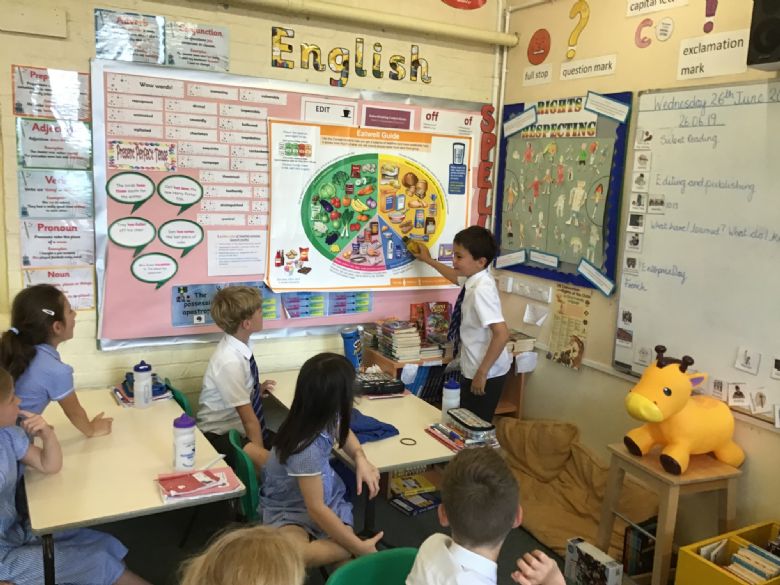 ---
Friday 21st June
Don't forget our visit to the fruit farm is on Thursday. Please send your child in with a bag big enough to carry home several punnets of fruit.
Theme of the Week: British Values
Home Learning
Reading: 20 minutes daily - feel free to come and recommend something you have read
Spelling: We have been practising 5 new words from the statutory word list: forward, fruit, grammar, group, guard
Can you use them is sentences along with the conjunctions: furthermore, meanwhile or meanwhile
Times Tables: Group A have another go at inverses of the 2, 3, 4, 5, 8 and 10 times tables. Group B have another go at unit fractions of amounts. I have set a 2do on PurpleMash which supports learning of times tables
Maths: I have set 2 2dos on PurpleMash which support our learning on shape
A taste of our Learning
Science
This week, we have continued our investigation into the best conditions needed for a seed to germinate. We have also looked at how plants make their own food to provide them with energy.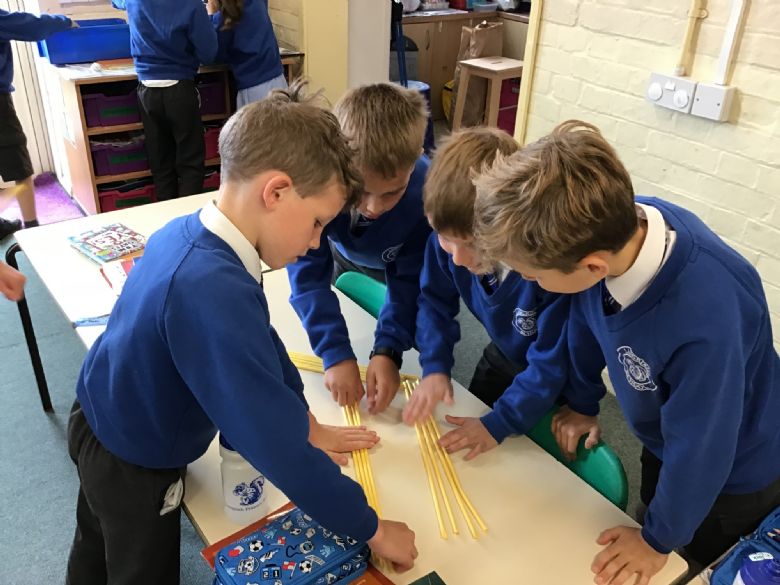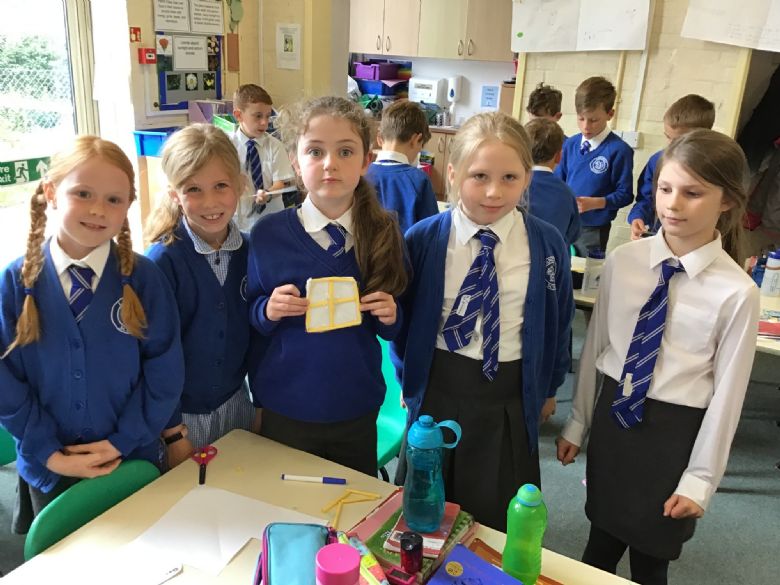 Food Technology
Our learning about seasonal food this week was focussed on fruit. We discovered which fruits are grown in Britain and in which months. Those who cooked this week made fruit tarts.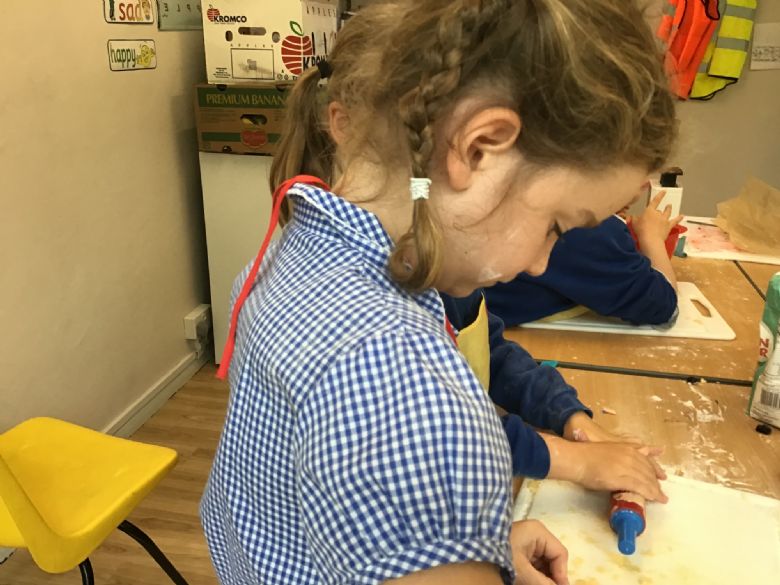 English
We continued our Roald Dahl study with a look at an extract from 'The Witches'. We have now written our own chapters on how to identify a witch. Look out for our class book at Open Evening.
---
Friday 14th June
Theme of the Week: Looking after Ourselves
A Taste of Our Learning:
PE - We have managed to dodge the rain and are refining fielding skills in rounders type games.
English - Our author study of Roald Dahl continues. This week we have had a go at writing recounts of terrible tricks we would play on each other just like Mr and Mrs Twit. If you find anything slimy in your bed or on your plate, I shall deny all knowledge!
Maths - So far in our unit of learning on properties of shape, we have covered: types of lines; types of angles and measuring and drawing lines accurately. I have set 2 tasks on Purple Mash to support this.
DT - We have chosen a brand new unit of work called 'Seasonal Food'. For this, we take a look at what seasonal food is, the for and against of being able to get unseasonal food in supermarkets and the process of growing and harvesting wheat. In addition, each week features an element of cooking. Your child will be preparing and cooking one item during the next 6 weeks. You do not need to provide anything except a container when it is your child's turn. See below.
Science:
We created our own investigation into what conditions a seed needs in order to go through germination. We were also given a challenge to make a seed that would travel as far as it could. We then tested our designs. Photos to follow.
Link to Bugfest and The Wild and Deadly Show at The Festival Hall, Petersfield http://www.petersfieldfest.com/wp/



Friday 7th June
Theme of the Week: Commitment
Welcome back and we hope you had a great half term!
A taste of our learning
English - We have started the half term with an author study. Roald Dahl is one of our favourites and we are enjoying reading some of his Revolting Rhymes. We are having a go at writing our own versions of traditional tales in a similar style.
Maths - Our new unit is called Properties of Shape. This includes learning about angles and turns.
French - We are learning about foods typically eaten in France and how to say them in French. This is a link to a song that we are learning https://www.youtube.com/watch?v=nJ03KjwiIVM
IT - This half term we continue with creating powerpoints which the children have chosen based on their own interest. We have learnt how to embed a link to a website within a slide.
ROMAN DAY
What great fun we had on Wednesday! Thank you so much for your support with dressing up, all the children looked fabulous. The children rotated around five activities: making a mosaic tile and a clay pot, creating a Roman town, making up a new Roman tactic and designing their own Roman God or Goddess. The mosaics and clay pots will come home once they have been in the kiln. We were both impressed at how well they worked together to come up with their ideas. Please look out for the gallery.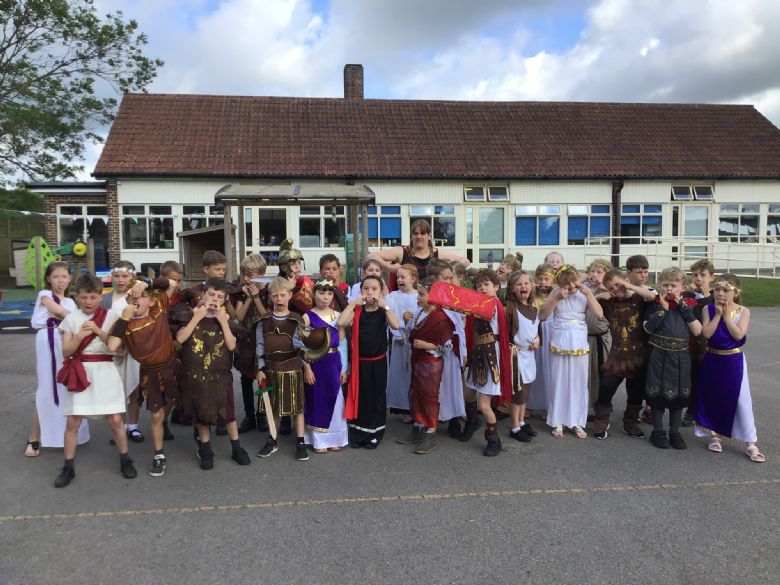 ---
Friday 24th May
Theme of the Week - Celebrating Difference
Wednesday 5th June is our Roman Day. The children are being invited to dress up as a Roman (please see letter).
Thank you to all who joined us for our class learning assembly. We had a lot of fun preparing for it and performing so we hope that you enjoyed sharing it with us. See photos below.
There is no set Home Learning over half term however if you wish to have a look at the targetted spellings that have recently been written in Home Learning books please do so.
Keep up with reading regularly and most of all get out and enjoy yourselves.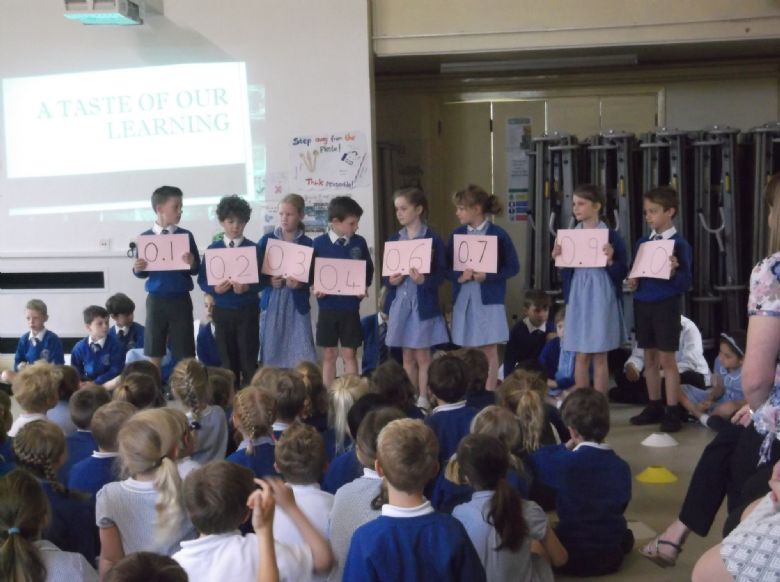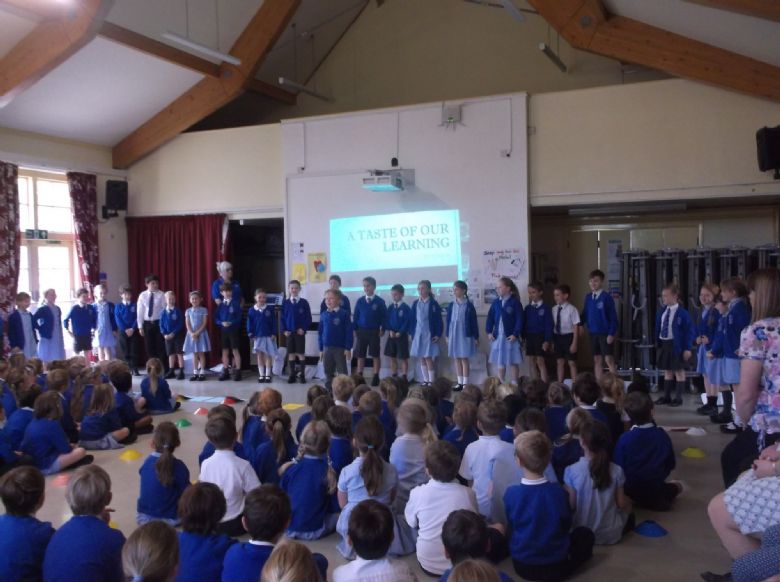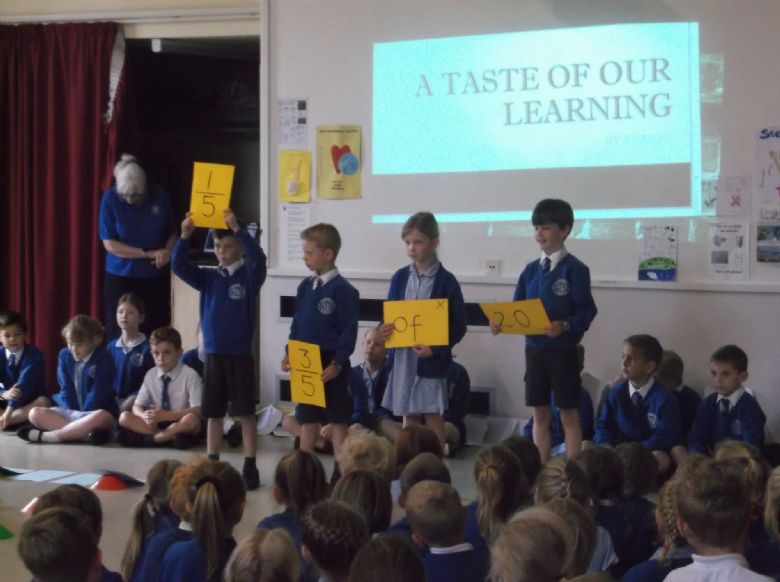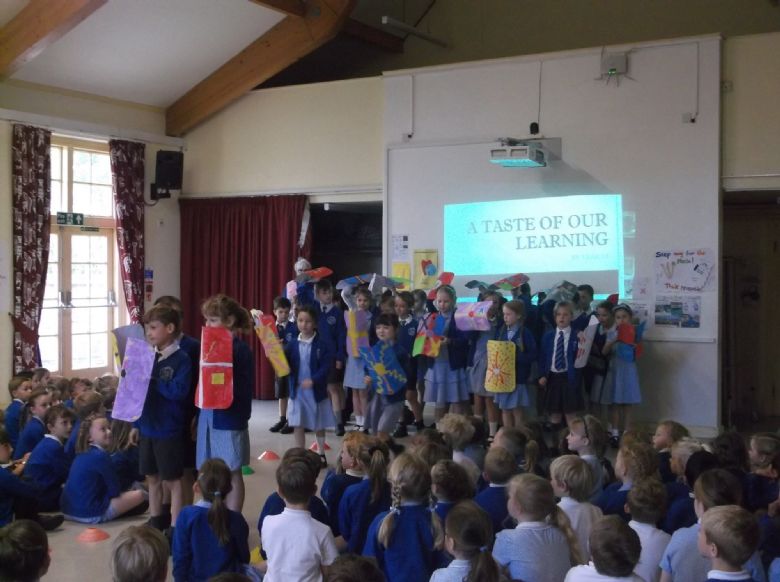 Friday 17th May
Theme of the Week - Consideration
Reminders: Our learning assembly is on Thursday 23rd May at 8:45. We look forward to sharing our learning with you.
Wednesday 5th June is our Roman Day. The children are being invited to dress up as a Roman (please see letter).
A taste of our learning:
History / English
We have continued with our learning about The Romans. One of our learning questions was: Why did the Romans organise gladiatorial games? We produced a poster about our own imaginary gladiator school and why our school would produce the best gladiators. We enjoyed researching the Roman army and have written letters home in the role of a Roman soldier in Britain.
Science
We started our work on seed dispersal by looking at a collection of different plants. We looked at the plants outside (see photos below) and discussed which method they used to disperse their seeds. We found that wind was the most common way of seed dispersal.
Next week, we will be moving onto the life cycle of a plant and how water is transported in plants.


---
Friday 10th May
Theme of the Week - Curiosity
A taste of our learning
History/English
One of the aspects of historical enquiry this week has been to think about what primary sources can tell us about the Romans. We were introduced to the oldest piece of writing found in Britain to date. An explanation text was written about the significance of this find.
We have practised rewriting Roman texts using modern expressions as well as writing texts using language similar to the language used back then.
We also looked at why Hadrian's wall was built. Please ask your child to tell you about it.
What a fantastic time we had on Thursday at Hillier Garden centre. We had a fun filled day out in the fresh air experiencing what it was like to be a Roman child and learning about being an archaeologist. After a dodgy start with the weather, the sun came out which allowed us to comfortably take part in a dig where we found so many artefacts from different time periods. We had to clean them and sort them into which time period we thought they belonged in. We loved eating our dinner around the fire as it wasn't very warm. We had an opportunity to climb on the logs and make a den. During the afternoon we had four activities to work around, making laurel headdresses, toasting an apple slice on the fire, making sparks using flint and writing Roman numerals in clay. We are super proud of all the children and it was lovely to hear the leaders from Hilliers praising the class. Well done Year 3! Take a look at our gallery of photos to see more.
Maths - We started a unit on time and have focussed on telling the time to 5 minute intervals and thinking about the 24 hour clock and am and pm.
PE - In athletics we have improved our running technique and practised skills needed to complete a running relay.Music - We are learning a song for our assembly and we are improving our skills using the glockenspiels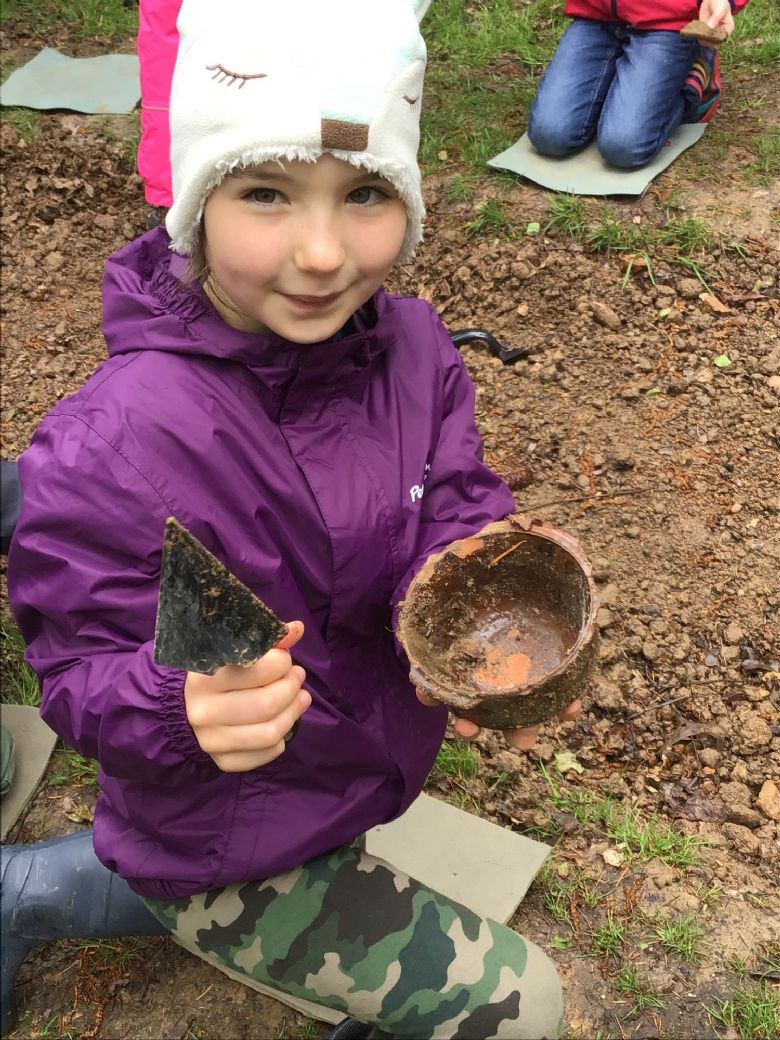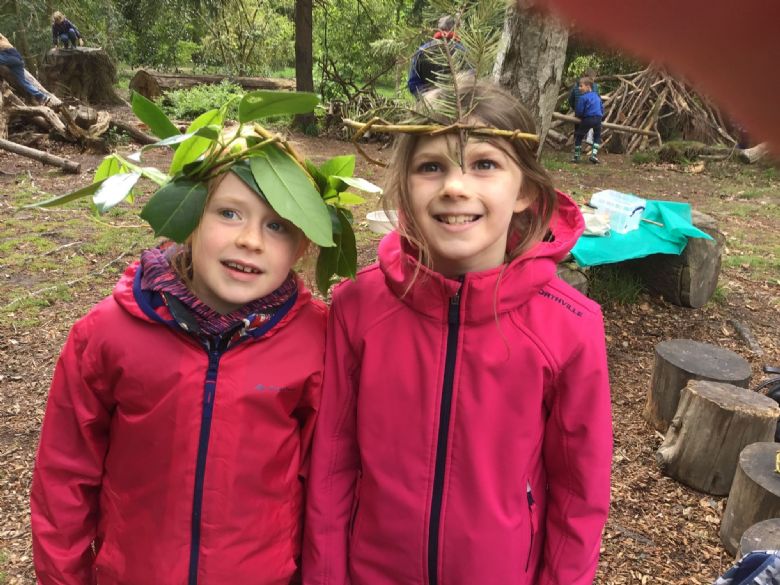 Friday 3rd May
Theme of the Week - Teamwork
First of all, it was so good to have so many of you attend the Anchor Task session on Wednesday. Clearly, the children enjoyed the chance to share the learning process with you and we hope that you appreciated the opportunity to support them with this task.
REMINDER: Harold Hillier Gardens visit on Thursday 9th May. We will be leaving school at 8:45 and returning at approximately 3:30 (note later time). Please check the weather as we will be outside for most of the day. Remember to wear a long sleeved top and old trainers or wellington boots. Thank you.
A taste of our learning
English
This week our writing has been connected to our History unit on Romans. First, we wrote an explanatory text as to why Claudius invaded Britain. We were introduced to opening phrases that would be suited to writing this type of text.
History
We had a fabulous 'Roman' introduction day on Monday. As the theme of the week was 'teamwork' we did a lot of discussions in teams. We found out the reasons why Emperor Claudius wanted to invade Britain. Can you remember what they were? We also listened to the story of Boudica and justified why we thought she was a great leader. See photos below of us working together in history.
Maths
Our unit of learning about fractions is complete and we have started a new one on telling the time and understanding durations of time. We will be working with both analogue and digital clocks.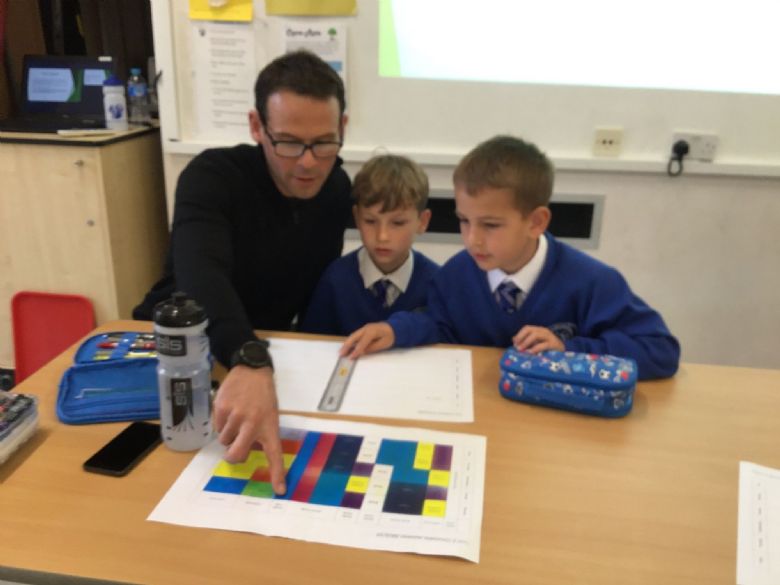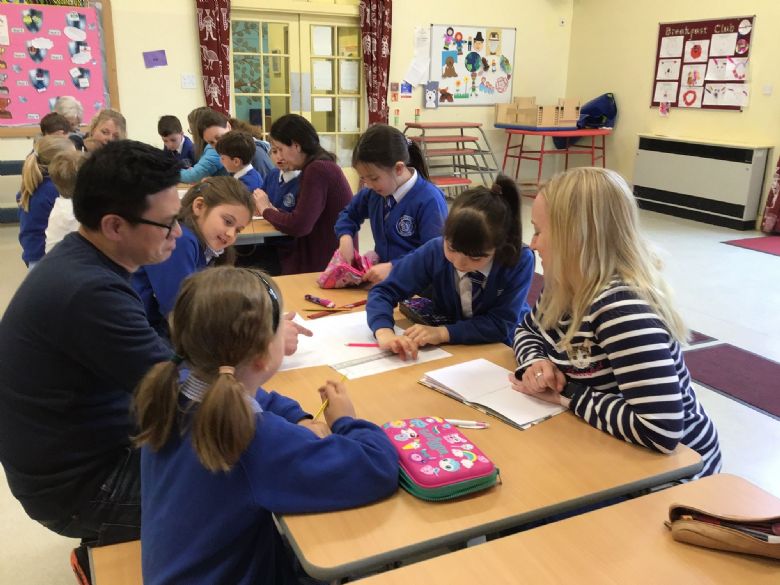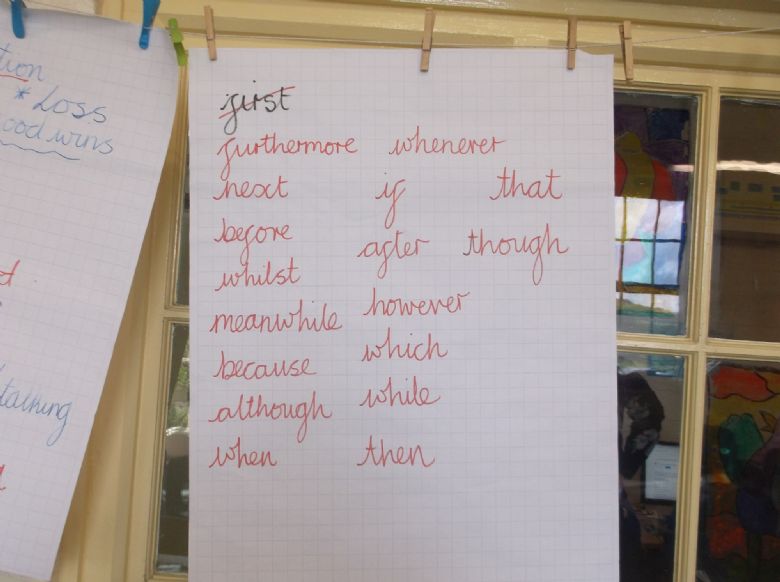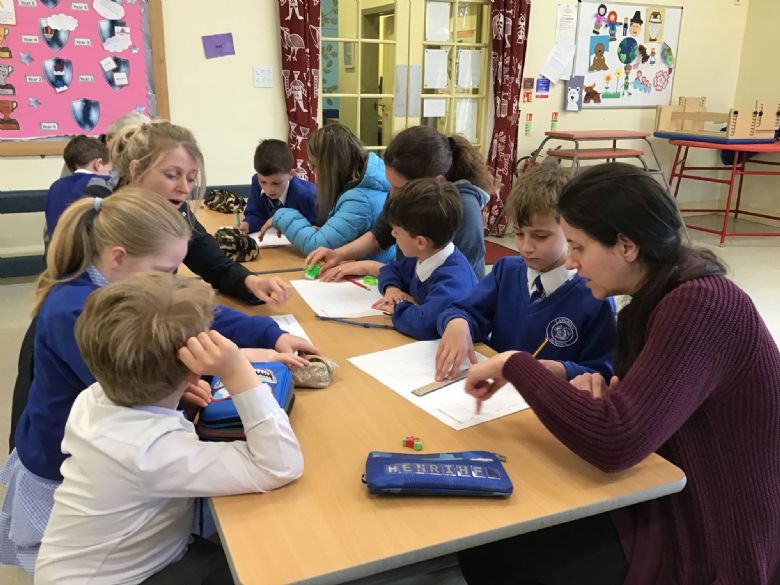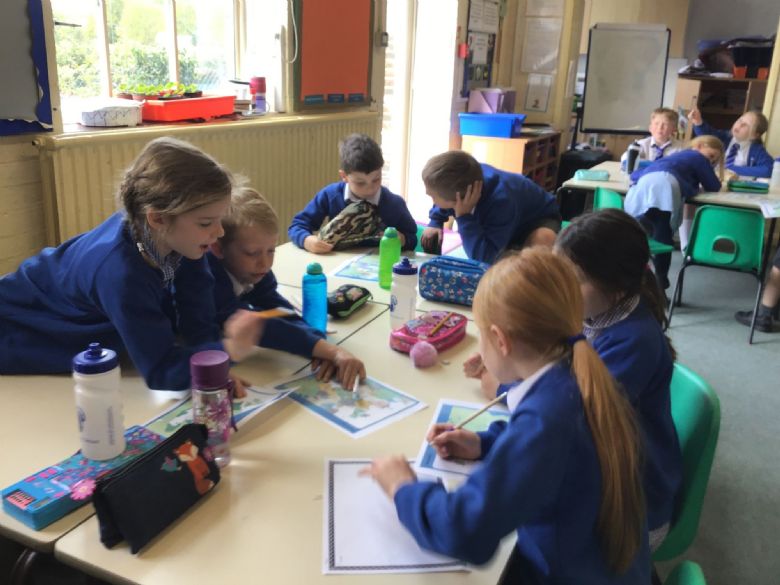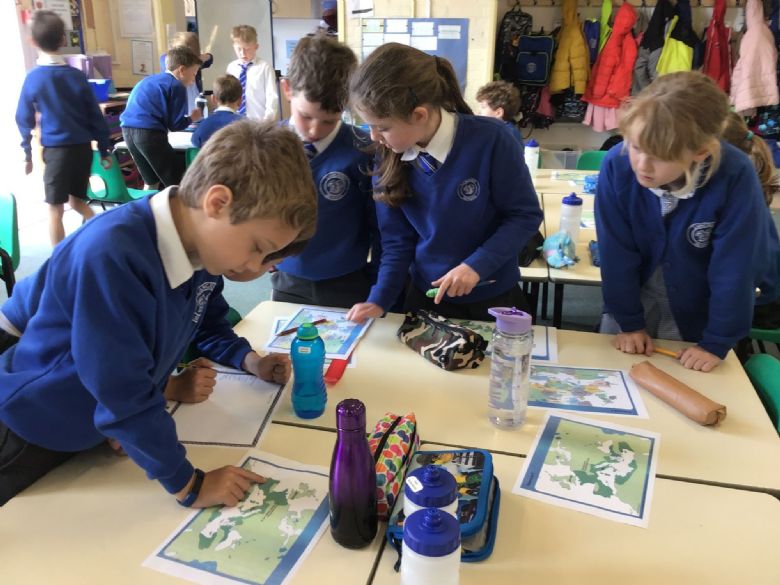 ---
Friday 26th April
A taste of our learning
Fundamental British Values - On Monday the whole school took part in an assembly about St George's Day. Following on from this we researched further into the background behind the story as well as finding out a bit more about patron saints. At the end of the day we shared our learning with the other classes.
English -We have picked up where we left off our unit on Fairy Tales so that we can pull all of our learning together and writing our own fairy or traditional tale. Our focus will be on improving our writing through thorough editing. A photocopy of the tale will be coming home for you to read and discuss with them.
Maths - Learning about Fractions continues this term. Ask your child to count in tenths and then give the equivalent decimal fraction.
PE- We have finished our class challenge on fitness and now are concentrating on the running element of athletics. We will be setting personal challenges for both short and long distances as well as team challenges in relay.
Science - We have started our new topic about plants. Ask your children what the female and male parts of a plant are called. We dissected a lily flower and identified its parts.
History - We have looked at what Britain was like before the Romans invaded as a precursor to our very exciting Roman topic. The key question is 'How did the arrival of the Romans change Britain.' If your child would like to find out any information, we will share it in class.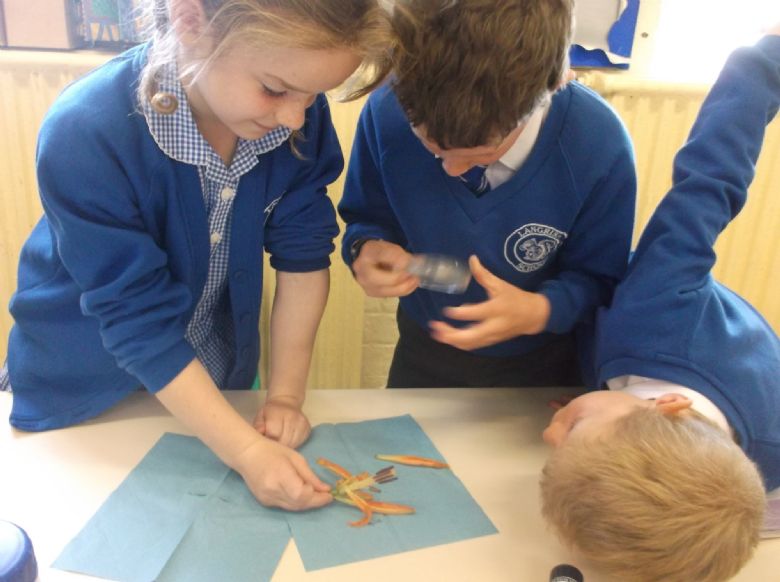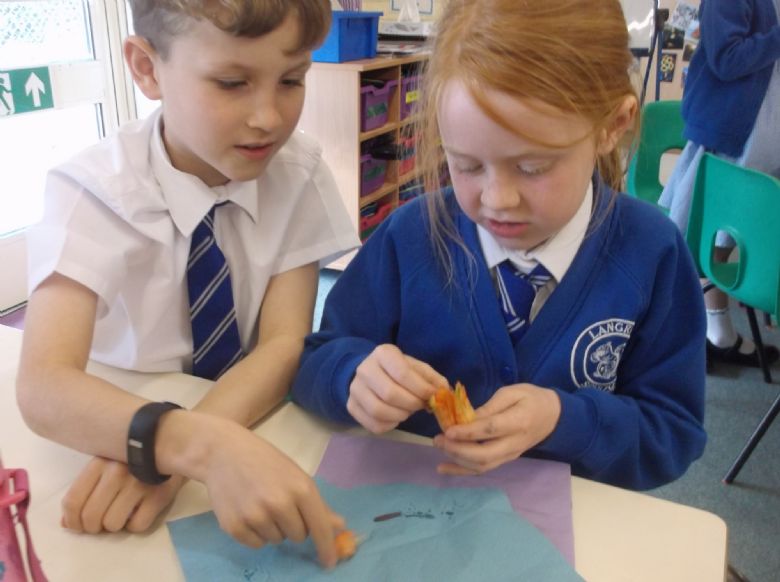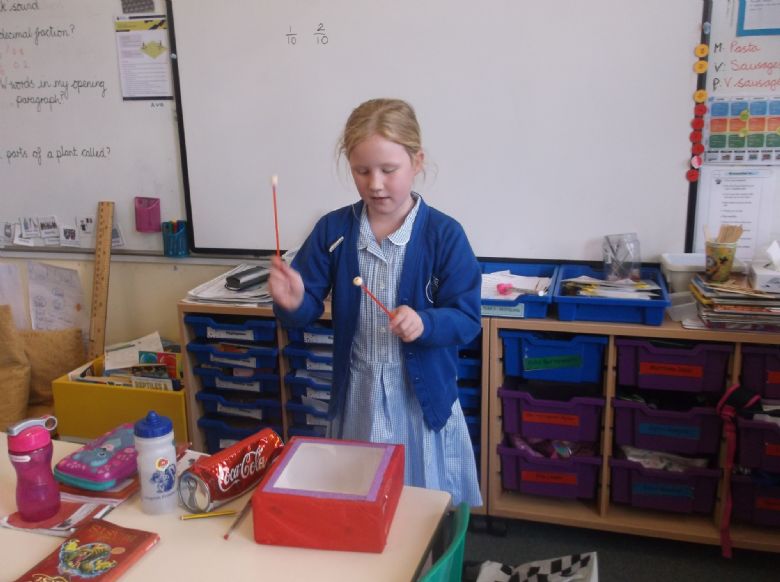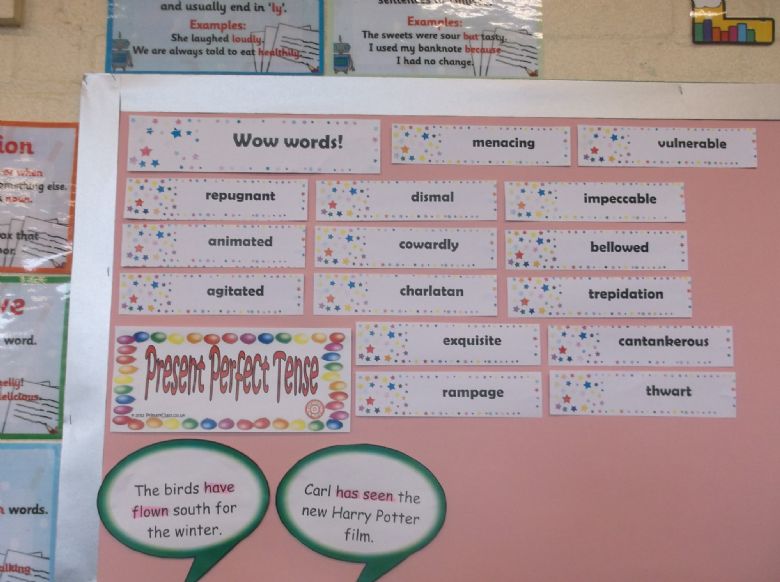 ---
Friday 5th April
A taste of our learning:
Despite it being a fairly cold and drizzly day we managed to spend our day at Royal Victoria Country Park out in the fresh are and enjoyed learning about the creatures to be found in the intertidal zone. There were some surprises when we placed various pieces of rubbish found on the beach on a 'How long does it take to break down' timeline. Can you remember how long the tin can or the pair of scissors took? We have made a list of questions that arose from our visit and will research these during the summer term. See below for photos of the day.
We had a lovely last day, performing poetry for a house competition, solving a maths mystery and an Easter egg hunt.
We hope you all have a really good break and see you next term! Don't eat too much chocolate!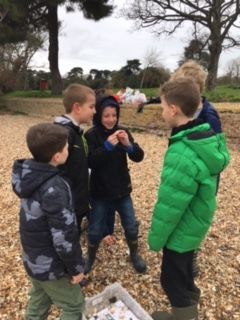 ---
Friday 29th March
Theme of the Week: Noticing
Our visit to Victoria Country Park is coming up on Tuesday 2nd April. Pupils will need to wear older, casual clothes suitable for beach combing and discovering what is in the park. Long trousers, trainers, walking boots or wellies and a jacket will be essential. We have been asked to bring along a single-use plastic free packed lunch, which is in keeping with the theme of our visit. The weather looks good for Tuesday so I'm sure we will have an enjoyable time.
A taste of our learning:
English – Reading and SPAG assessments have been completed so we will be going through these in class next week. Spelling and SPAG papers will be coming home for you to share.
Maths – We have started a unit of learning on Fractions. To date we have created a fraction wall and observed fractions that are equivalent and learned what a unit and a non-unit fraction is. Ask your child what this means.
Swimming- We have completed the swimming program for this year. All children were challenged by their coaches who have provided an assessment, which will be included in the end of year report.
Science – To round off the unit on Forces and Magnets, children thought of their own investigations. These included finding out if materials could block the force and how many of a certain magnetic object could be pulled along.
Geography / English – We have been researching what it is like to experience an earthquake and what you would have to do in order to keep safe. We have begun to write a diary extract using adventurous topic words. The children have been thinking carefully about how they would feel in an earthquake.
---
Friday 22nd March
A taste of our Learning
Maths: Our challenge this week was to know the relationship between mm, cm and m. We've started to add and subtract lengths and to give answers in different units of measure.
English: Our individual book reviews are completed. Inspired by last week's whole school writing task, we have created narratives using trolls as the main characters. Our grammar focus was using subordinating conjunctions. Our learning was greatly enhanced by Miss Jones who challenged us with some games to make us think about how we use these.
During our spelling session this week, we had great fun doing a crossword, using a dictionary and speed writing spellings.
Music: We have really improved our recorder skills this term.
Science: In our science session, we continued to learn about magnets. We investigated how far away magnets need to be from a magnetic object and still work. Next week, we will be coming up with other investigation ideas.
Geography / Design technology: This week, we were given a challenge to create a structure using marshmallows and cocktail sticks that would withstand an earthquake ( jelly in a baking tray!). The classroom was buzzing and it was great to listen to 'real engineers' at work. Well done to all the children. Lots of the structures stayed up and they were able to explain why some were better than others.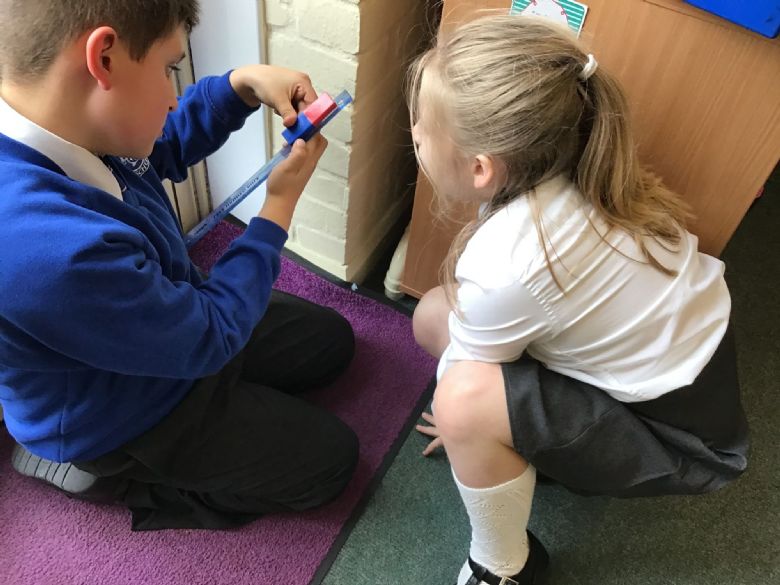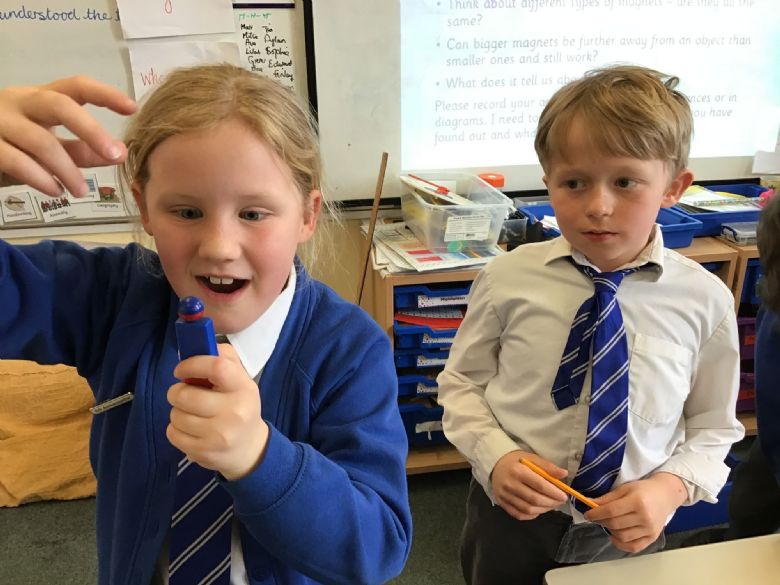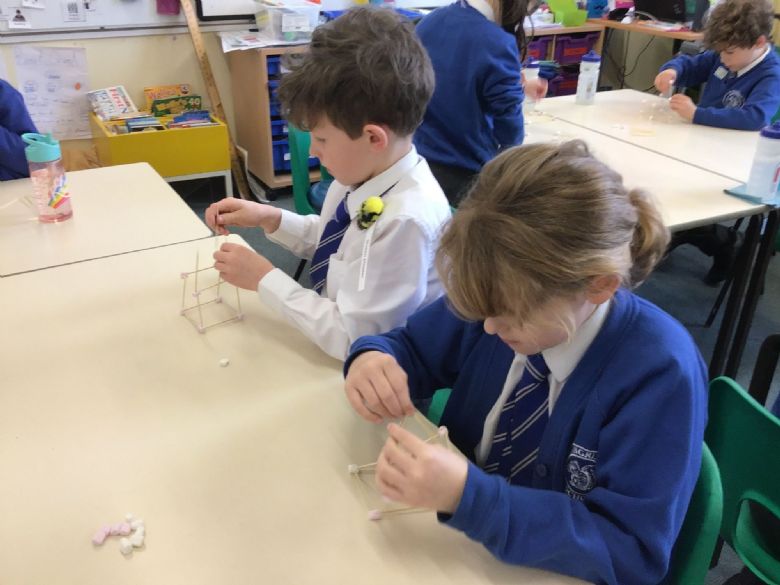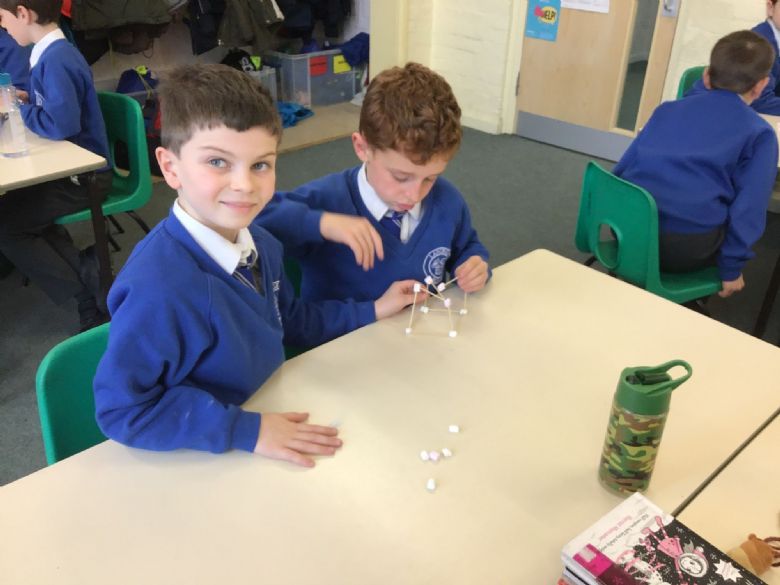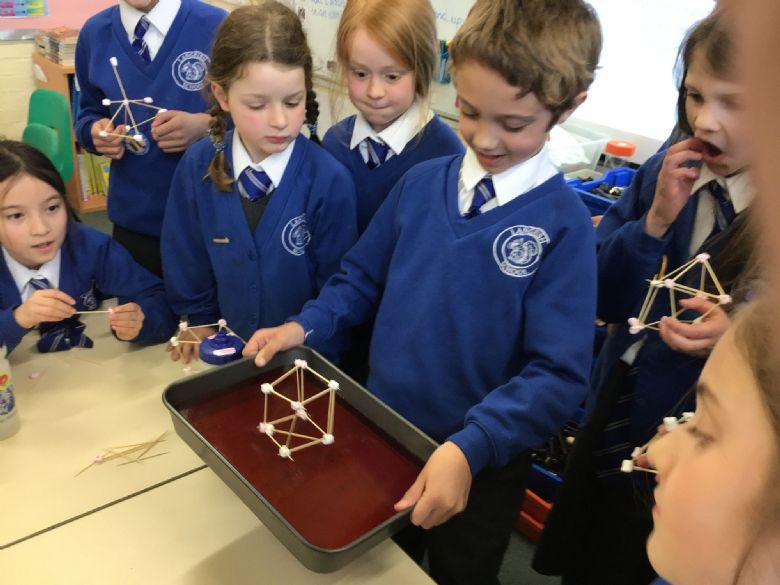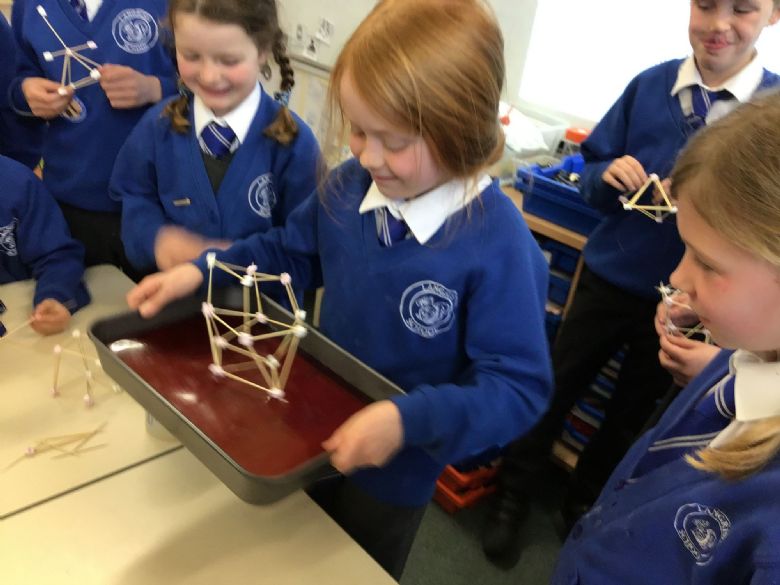 ---
Friday 15th March
Theme of the Week: Next steps
A taste of our learning
Maths
What a day we had on Tuesday! We joined the rest of the school in a fun filled day. During the morning, our activity was to design a theme park and calculate the perimeters of the individual enclosures for the rides. In addition, we created entrance price lists and menus for our themed cafes. In the afternoon, we undertook various maths challenges related to our parks that really stretched our learning. See the photos below.
English
This week, the children brought a book of their choice to discuss with the class. Following this they have planned and started to write a review. They considered their likes and dislikes, whether they had read other books with a similar theme or characters and what unanswered questions they had once they had finished reading.
Swimming
Another enjoyable and successful swimming session was had by all. This week the swimming coaches assessed the swimmers so that we can report back to you. If your child didn't swim this week they will be assessed next week.
Computing
In Word Processing, we have been exploring the different icons on the tool bar. We have been finding out more efficient ways of editing our work and the importance of saving our work carefully!
DT
Levers and linkages, is the theme of this term's DT topic. After introducing the end task, to create a picture with moving parts, we gave the children some materials such as card, paper, split pins, paper clips and string. From these they had to explore ways of making a simple shape move up and down or from side to side. Once they had produced their own ideas (with varying degrees of success) a bit more direction was given. Look out for photos of the different stages and the final product next week.
Science:
As it has been science week we had great fun carrying out an investigation into whether a paper aeroplane, glider or a helicopter was the most effective object at staying in the air or going the furthest distance. The children wrote some fabulous scientific conclusions. We discussed how we could improve our designs and what prevented them from being successful. Please see photos below.
Geography:
We have enjoyed creating a poster about what to do in an earthquake. Thank you so much for supporting your child with their earthquake facts for Home Learning. They have been very interesting.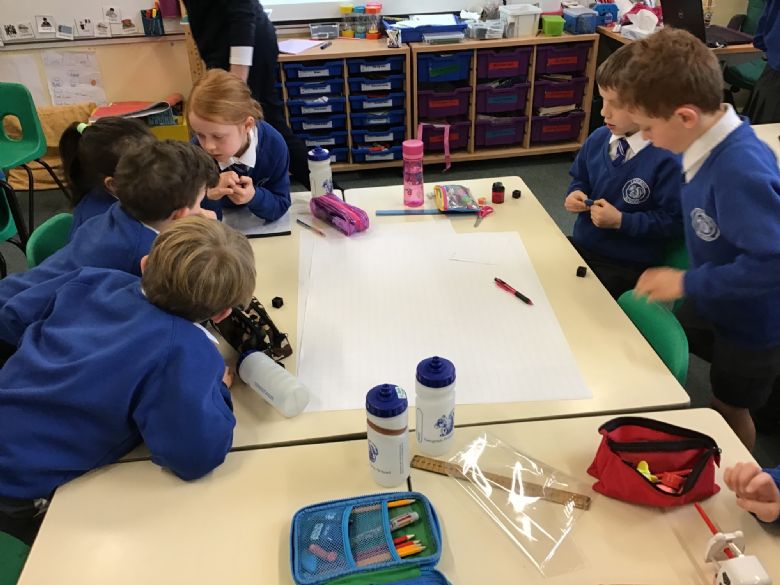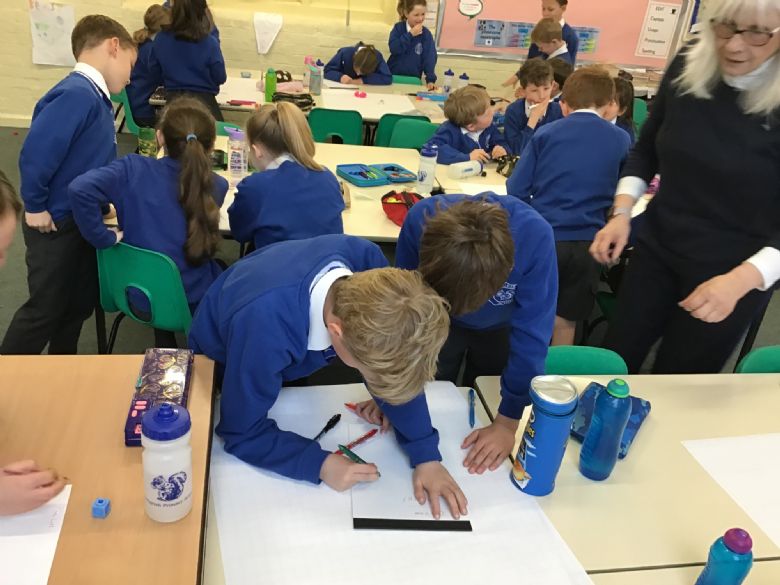 ---
Friday 8th March
Theme of the week: Improving focus
A taste of our learning
English: We have started our book reviews on Minty by Alan Schroeder. This book is set in the USA during the 1800's and deals with the issue of racism and slavery. It is a true story of a young slave girl who eventually finds her way to freedom and, at great personal cost, helped hundreds of slaves escape to the north.
Maths: Our unit on statistics is a short one. We have looked at tables, pictograms and bar charts - please look at the Home Learning section for a note on this.
Science: We have started our new topic about forces and magnets. The children investigated which objects in the classroom were magnetic.
World Book Day
What a lot of fun we had! Well done those of you who dressed up as detectives. There is a photo below. The Mystery of the Golden Pen was quite difficult to solve but working together as teams we managed it just before home time. We also watched the BBC Live Lesson and joined in the activities. Don't leave it too long before spending your token! (See photos below)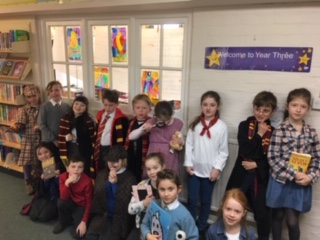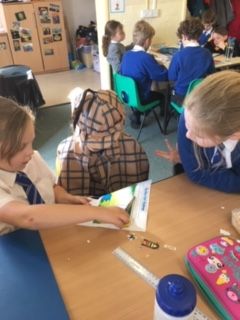 ---
Friday 1st March
Theme of the Week: Self Control
A taste of our learning:
English: We are editing and reviewing the first drafts of our chapters for the Dragon Keepers Handbook. These will be word-processed to link with the Computing curriculum for this term. We plan to record ourselves reading our own chapters so that we have a 'talking book'.
Maths: This week we have completed the unit of learning on money. Next, we go on to look at statistics in the form of bar charts and tables.
PE : We started recording our personal challenges for fitness and hope to see a gradual improvement in stamina, speed and technique. Swimming took place on Thursday and all pupils took part in lessons that were pacey and structured so as to learn several skills each session.
Art: We thought we would have a bit of fun drawing our shoes this week! After learning several techniques for creating layers and texture in our pencil drawing we took of our shoes and had a go at drawing them. Next week, we start a new DT project using using levers.
Science: We have finished our topic on rocks and soils this week. We looked at different types of soil and described them. Then we carried out an investigation. We put two different types of soil and some water into bottles and then shook them up. We wanted to find out what would happen to the soil and the water if we left them overnight. We were amazed to see that they had separated with the soil at the bottom and the water at the top. Also, the soil had layers. We discussed the results and Mrs Rawlings was very impressed with our scientific thinking!
Geography: We are continuing our unit on the 'Active Planet'. This week, we learnt more information about volcanoes and their structure. We were challenged to make a volcano with the different elements. We worked in teams of four and then Mrs Wright judged which one was the best. Well done to all! It was very exciting to watch the winning volcano erupt. See photos below.
Finally, we would like to say how impressed we were with the participation of the class for Single Use Plastic Free lunch time on Thursday. Thank you all so much for supporting your children to do this. We plan to make this a regular challenge.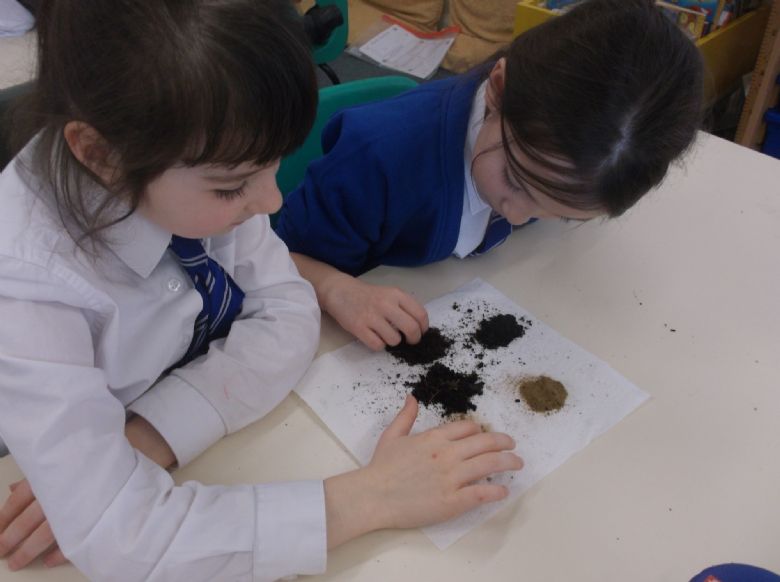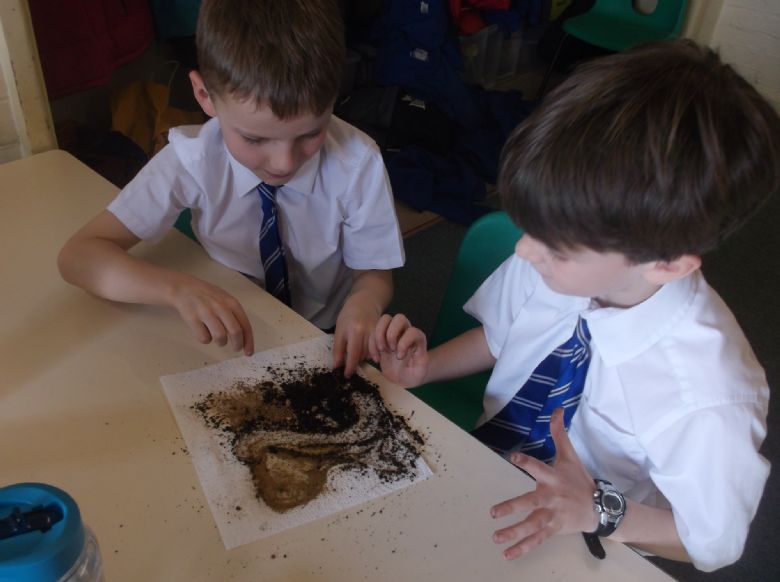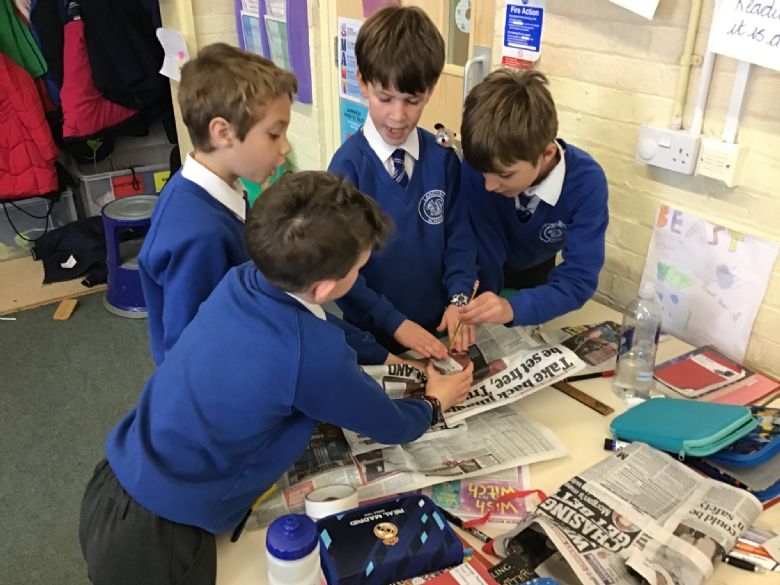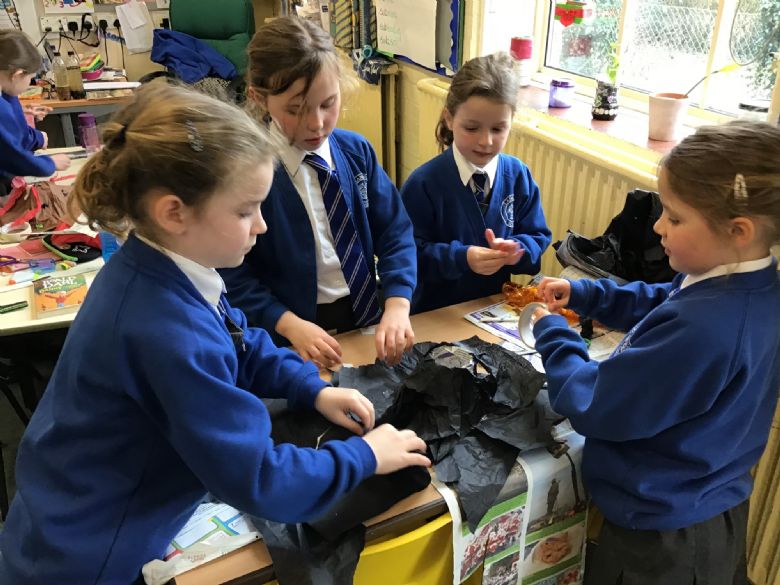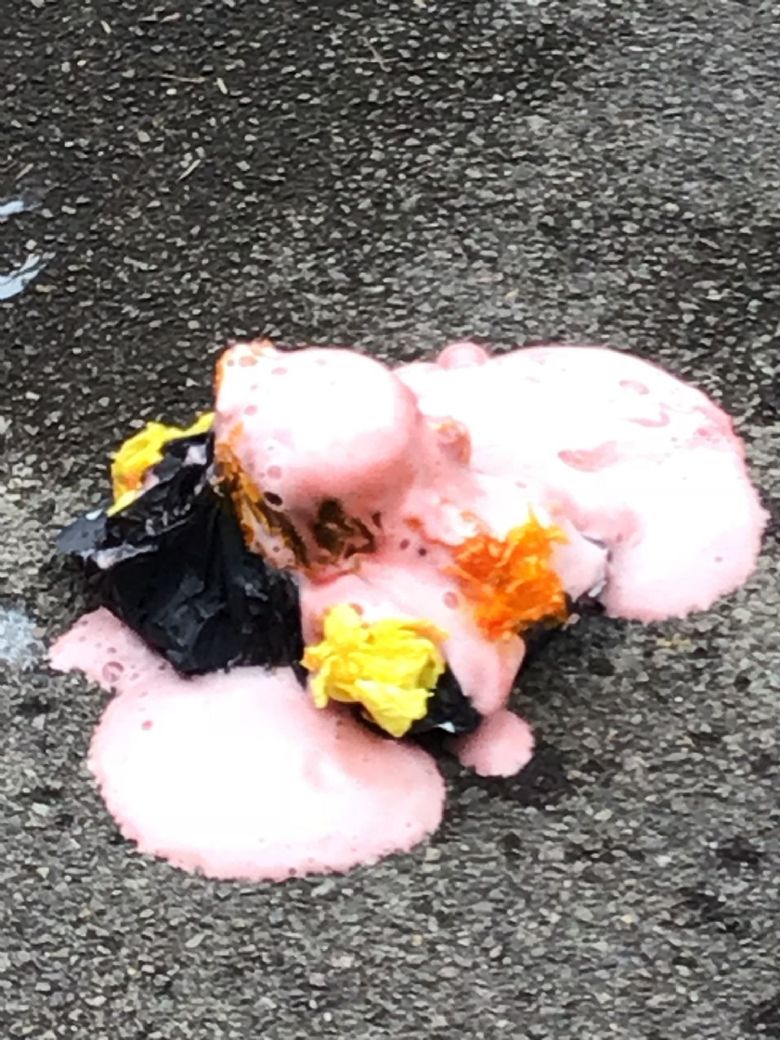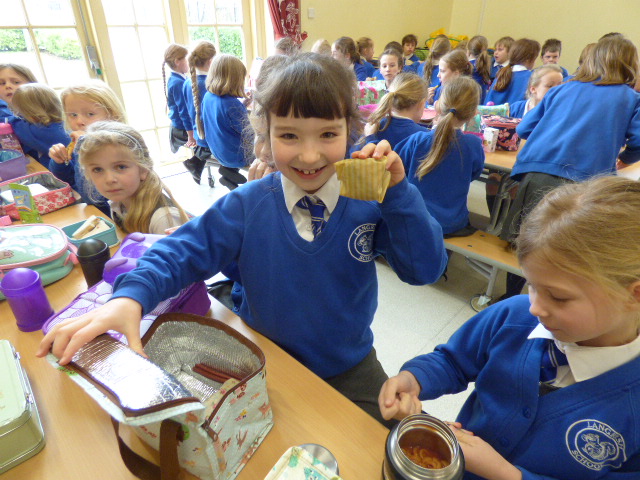 ---
Friday 15th February
A taste of our learning:
PE: Children have all had a chance to coach their peers in throwing and catching games. They have had to think about what their top-tips are for success. They have also had to think about creating games, being clear about rules and umpiring.
Next half term, we will be working on personal challenges in fitness and co-ordination.
Take One Picture:
This week, our afternoons have been taken up by a variety of activities inspired our Take One Picture choice.
In our class, we started by painting pictures of winter skies. On Tuesday, we used the ICT suite to research castles built in different centuries starting with the 13th. On Wednesday, we continued to look at what a Medieval castle would have in it and then pupils designed their own. On Thursday we wrote our own stories with a castle theme. Finally, we created pictures in the style of the artist Paul Klee. We looked at his art work called 'The Castle in the Sun and discussed how he used shapes and a lot of colour. Our week was a good example of how pupil voice is listened to in our class as all of the activities were suggested by the children.
We hope you enjoyed the exhibition put on by all classes. Please see the nutshell for photographs from the week.
Thanks for all your support.
Have a really good half term.
---
Friday 8th February
Theme of the Week: Communication
A taste of our learning:
Art: What an amazing turn-out to our art exhibition on Thursday! We're sure you'll agree that the standard of work was exceptional. In class, we had drawn portraits, looked at architecture and designed hats. A range of artists was studied by children for Home Learning. Take a look at the photos below.
English: Our non-fiction unit of work is called 'How to trap a Dragon'. After watching several news reports about sightings of dragons in Louisville USA, we had an animated debate about what actions should be taken. Following this, we looked at instruction writing on 'How to trap a Dragon'. No dragons will be harmed in the process!
Maths: We have concluded the section of learning on multiplication and division by looking at dividing using repeated subtraction and scaling. We used recipes for fruit salad as an example. Look at a recipe to produce something for 8 people then scale the quantities up for 12 and then down for 4.
Swimming: It was a fantastic swimming session on Thursday. All of the children are putting 100% effort into their lessons and the progress is evident. They are constantly challenged by their instructors and are learning and perfecting new skills every session.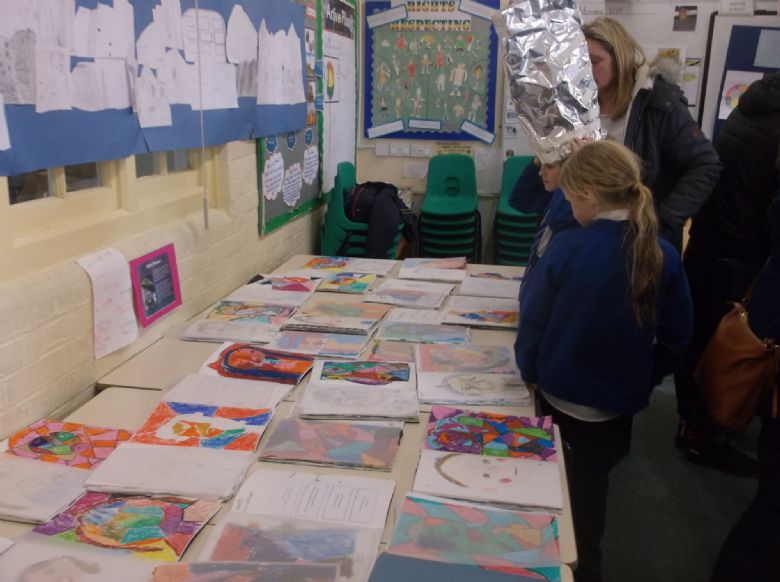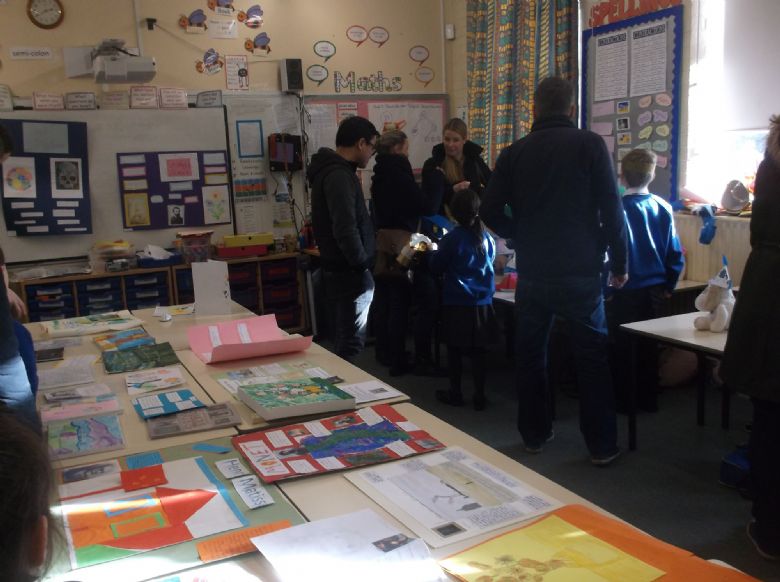 ---
Friday 1st February
Theme of the Week: Mindfulness and reflection
A taste of our learning:
Maths: We are now practising division skills and have focused on ways of partitioning numbers so as to divide them. For example: 108 could be partitioned into 30 + 30 + 30 + 18 in order to make it easier for us to divide it by 3.
English: The final piece of writing for our unit on the Ride of Passage has been photocopied and sent home with your child. You can get an idea of the quality of their writing as well as seeing one of the ways writing is marked to move it on. Talk with your child about the dots and green comments on their text. A photo of the code sheet that explains what the dots mean will be attached to the bottom of the page on Monday.
Geography: We worked together to learn about the Structure of the Earth. We sorted facts into the appropriate columns: crust, mantle, outer core and inner core. We will be learning about volcanoes next and we know the children are very excited about it.
Science: We have continued our learning about rocks. This week we carried out an investigation as to which rock would make the best kitchen surface. We discussed the meaning of the words permeable, impermeable and durability. Ask your child if they can remember what they mean. The children tested six different rocks to check which one would be best (photos to follow). Ask them the outcome. Next week we will be writing up our results and then moving onto learning about fossils.
Circus skills: We all had a go at practising a variety of circus skills as part of the Chinese New Year celebration. Peacock feathers, plates and diabloes flew everywhere - great fun!
---
Friday 25th January
Theme of the week: Striving for excellence
A taste of our learning:
Maths: This week we have been learning the expanded method for multiplying two digits by one digit numbers. There is a picture of the method below.
English: We have been looking at different ways to start sentences in our writing. We have been using the acronym DADWAVERS. D - description, A - action, D - dialogue, W - where, A - adverb, V - verb, E - estimation of time, R - rhetorical question, S - simile or metaphor. Next week your child will come home with a piece of their own writing - marked - for you to share with them. Also please watch out for a list of spelling words that your child needs to practise. On Friday, we had a spelling extravaganza. The children carried out lots of different activities.
PE: We had our second of our swimming sessions at Churches College Thursday. This was a great success.
RE: Our unit of work was The Creation and why it is important to Christians. We had some very interesting discussions about whether the Creation story was historically accurate. We reinforced how important it is to allow everyone to have their own opinion and the children were extremely respectful to each other and their views. We also looked at other creation stories and similarities and differences between them and the Christian story. We acted out some of these stories, see below.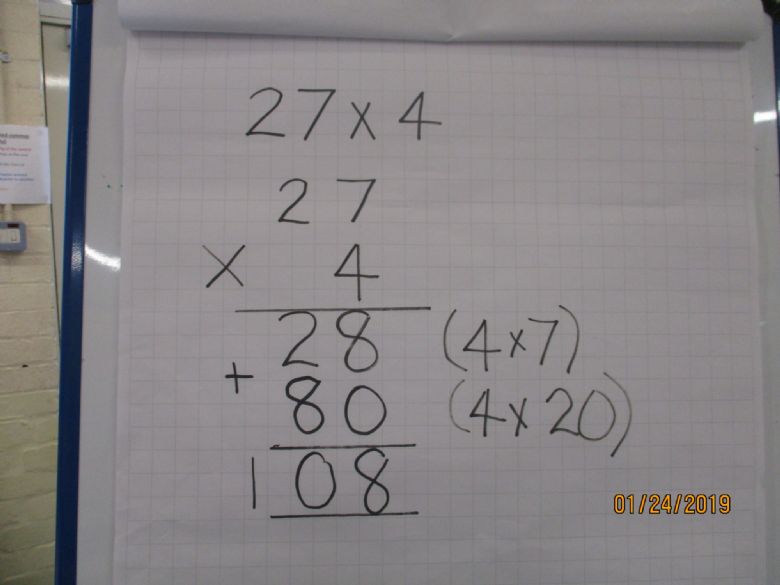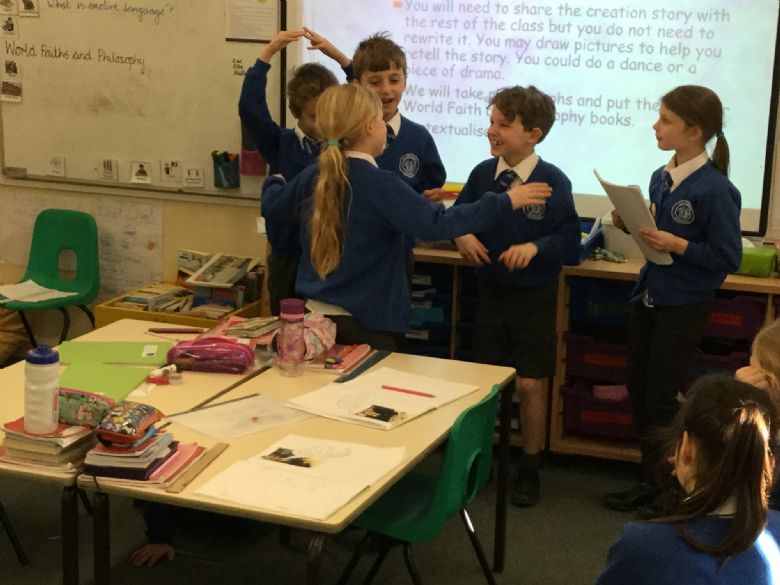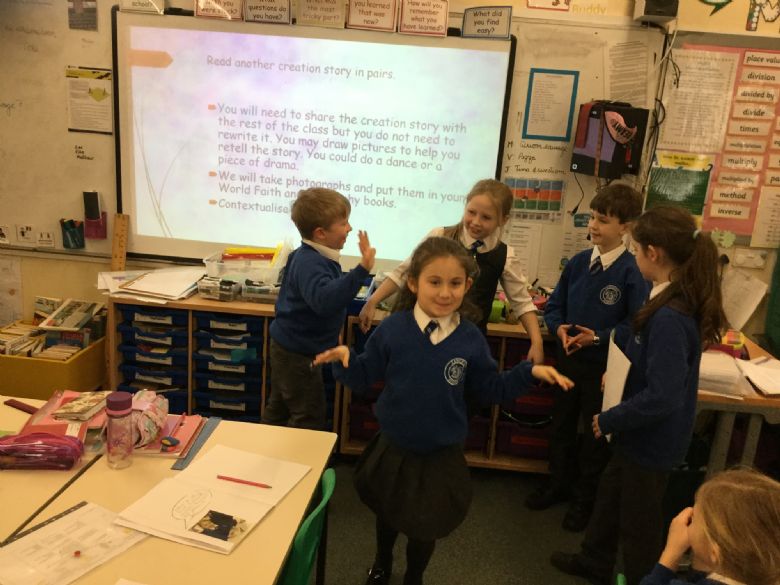 In assemblies and in class, we have been looking over the pupils' anti-bullying policy. We have also focussed on what is mean behaviour, what is rude and what is bullying. The assembly powerpoint, 'Rude, Mean or Bullying' is attached below for you to look at together at home.
---
Friday 18th January
Theme of the Week: Looking to the future
A taste of our learning
Maths: We have been practising times tables that are set out in a grid. A natural progression from this is to multiply 2 digit numbers by 1 digit (for example 23 x 4). We have included below two examples of how this is done. Ask your child to explain this method to you.
English: Our grammar focus has been using subordinating conjunctives. We have started to identify main and subordinate clauses and include these in our writing (for example, Toki went into the jungle, although he was not sure what he would find).
PE: This week, in PE, we continued to build on throwing and catching skills. Rapid progress was made by all, which really showed when we finished our session with a game of 'butterfingers'. See the photo below.
French: We enjoyed finding out the names of different pets and have started to create our own booklets to show our learning. Look at the photo below and see how many you can remember.
PSHE: We started off our PSHE unit by asking the questions: What is rude? What is mean? What is bullying? By exploring the meanings and giving examples of each we have started to think about how we would deal with situations we find ourselves in.
Science: We have started our unit on rocks and have been finding out about the different types. More to follow!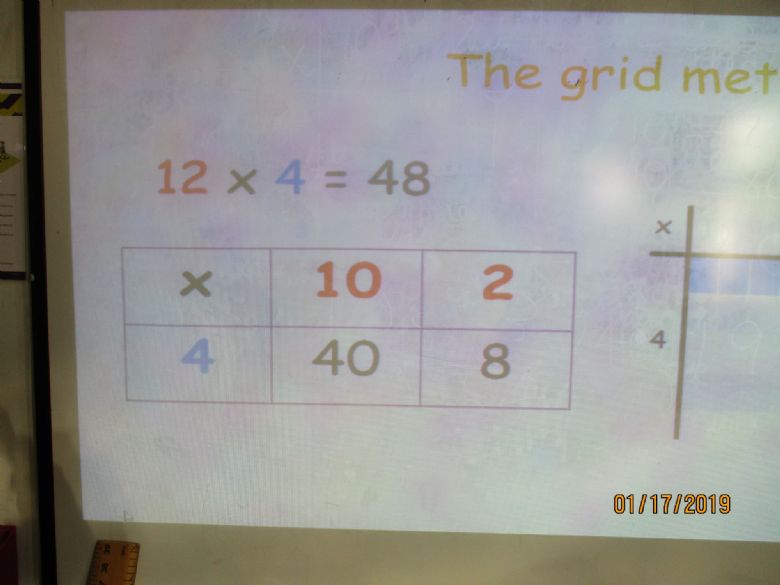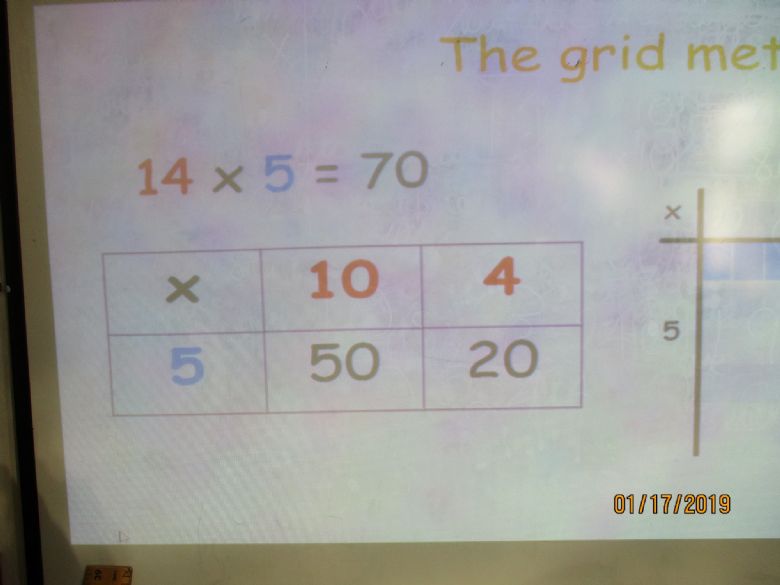 ---
Friday 11th January
Happy New Year to you all!
Welcome back to a new year and new term. What an exciting term we have, starting this week with two Cultural Days.
A taste of our learning
Maths: We have started a unit on multiplication and division where we are building on the skills of knowing times tables to be able to multiply and divide 2 digit numbers by single digits. Where appropriate, we will share any anchor charts produced in class that demonstrate our methods of calculation.
English: Our English unit is using a short, animated film called 'Ride of Passage'. We will be using this to practise using connectives and adverbial phrases, write in paragraphs, use pronouns and possessive apostrophes and understand clauses in a sentence.
Geography: Over two days each pupil has 'travelled' to some of the countries in Europe. The activities have ranged from water colour landscapes (Russia) to dancing and food tasting (Greece) and creating landmarks (France). Ask your children what they have learnt about the following countries: Spain, Poland, Sweden and Italy.
Watch out for a Nut featuring news and photographs from our Cultural Days.
---
Friday 21st December
We have had a busy, fun and creative week. All the children have made an advent wreath as part of our World Faith and Philosophy unit. The children have also been making either a card or a calendar and a tree decoration. These should now be at home and we hope you like them.
The children thoroughly enjoyed the party and there are some photos below.
Thanks again for the projects which have now all been shared. It was lovely to give the children a creative brief and we were very pleased with their ideas.
If the children receive any books over Christmas, we would love to hear about them when they return to school.
Thanks again for all your support this term.
We wish you a very happy Christmas and New Year and hope you have a lovely, relaxing (ha ha!) holiday. We look forward to seeing you all in the New Year. x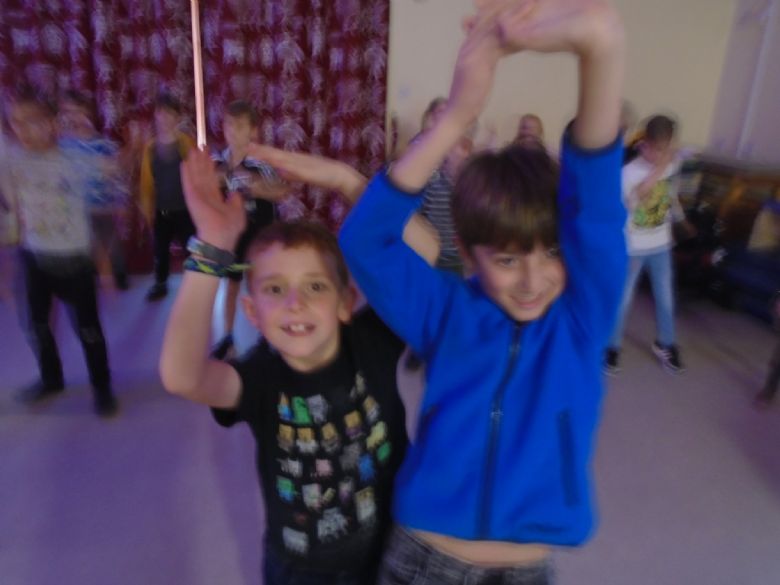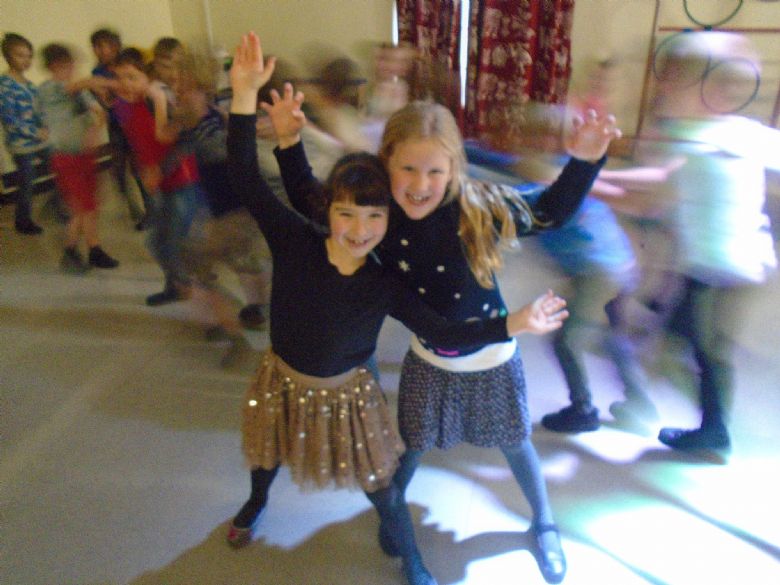 ---
---
Friday 14th December
Theme of the week: Character
In our Monday assembly, the theme was discussed and children came back into the classroom able to give examples of how their friends in the class show good character.
A taste of our Learning
English: We have reviewed the book 'The Stone Age Boy', written instructions for how to catch a fish (stone age style) and started some Christmas themed extended writing which will give all a chance to show off what we have been learning this term. Please look at the new writing targets in the front of Reading Journals.
Maths:Still focussing on addition and subtraction of larger number, we found the answers to some Christmas themed jokes. We even looked ahead and used co-ordinates to crack codes.
Science: The final lesson on light was about shadows. The majority of pupils knew that a light source and a solid object is needed to produce a shadow. We investigated how light travels in a straight line by shining a light through three pieces of cards with holes punched at the same places. When the holes were lined up the light appeared on the shadow of the card but when one piece was out of line it didn't. What other investigations could you do to show that light travels in a straight line?
Thank you so much for all the projects. We very much enjoyed sharing and asking the children questions about them.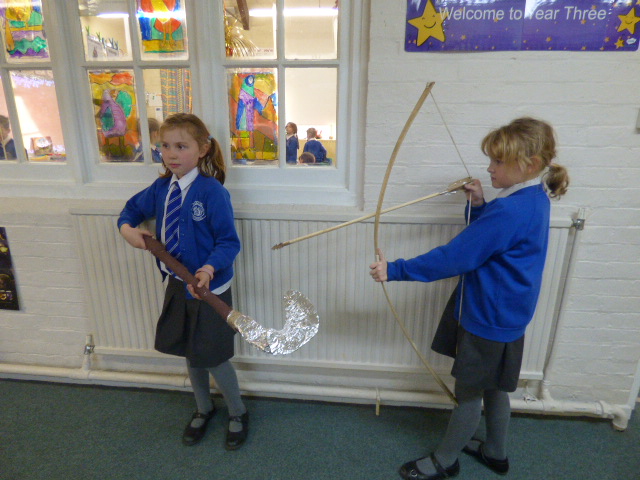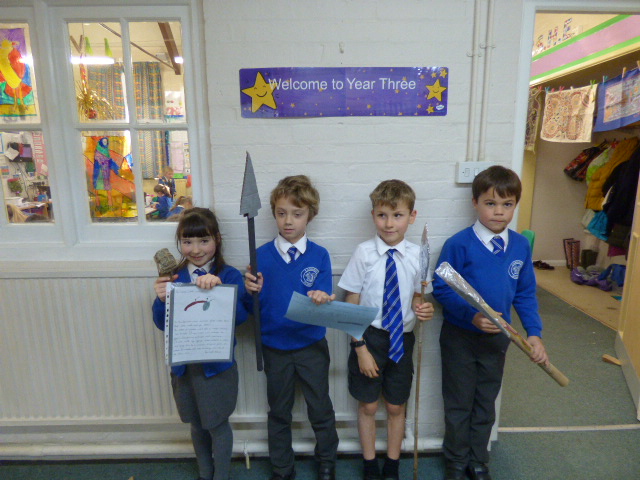 ---
Friday 7th December
Theme of the Week: Mindfulness
We discussed the importance of being aware of what is happening at the moment and how their actions and thoughts impact on themselves and others.
A taste of our learning:
English: Our unit of work is from a book, 'Stone Age Boy.' We will be comparing this story with the story from the previous unit.
History: We have been looking at dwellings from Stone Age, Bronze Age and Iron Age and comparing them. We will be writing an estate agents leaflet about one of them to try and encourage somebody to buy it. We will also be explaining which period we would like to live in and why.
Science: We have been thinking about safety and completed an oral risk assessment for using candles in our investigation. We predicted whether the size of a candle would affect the brightness of the flame.
World Faiths and Philosophy: We have begun our learning about Advent and the concept of anticipation.
Dance: We have completed our unit on the Iron Age. Please see photographs below. Can your children explain what is happening in their dance?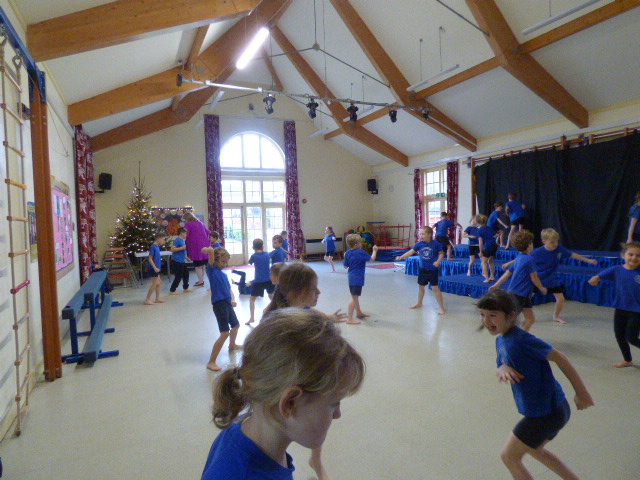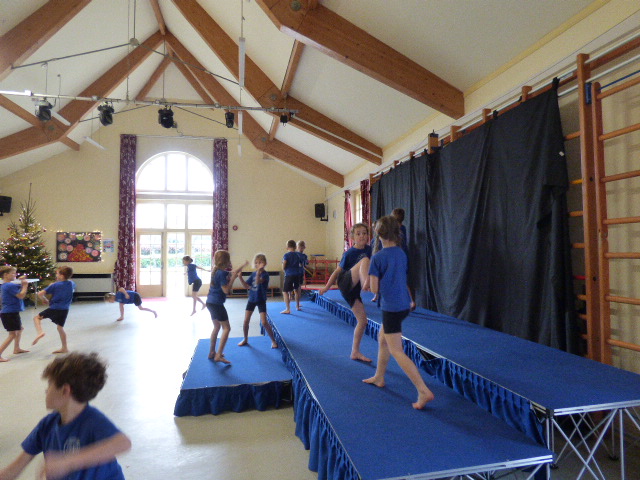 ---
Friday 30th November
Theme of the Week: Success
In previous discussions about what makes a Successful Learner, children identified that we need to be resilient, use our initiative, concentrate, have a go and work as part of a team. We have reviewed these and talked about how we were doing individually. We also focused on being 'ready to learn'.
A taste of our learning:
Maths: We have been playing a times table game this week on the mathszone website. Have a look at the website and try and find other times table games.
English: We have been using figurative language to write a narrative about, 'The Black Cat'.
Maths: For the moment, we have finished our work on the 3, 4 and 8 times tables and we are revising addition and subtraction with exchanging.
History: We have been looking at statements and sorting whether we thought they were from the Stone Age, Bronze Age and Iron Age. We worked in pairs to make a poster with facts that we have found out (see below for examples). We will be creating an estate agents leaflet about a home from one of these periods.
Art: We have developed our skills in creating pictures with dots using Aboriginal pictures as our inspiration. We are now drawing on fabric and will eventually be making a class wall hanging.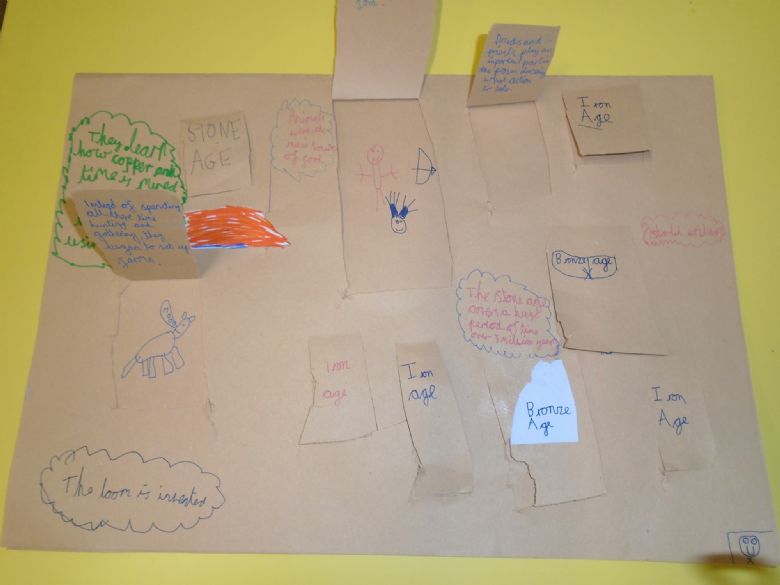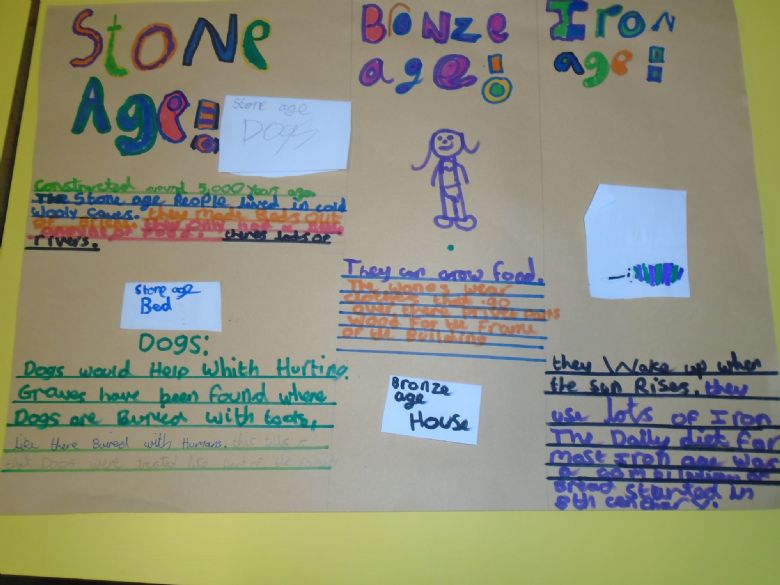 ---
Friday 23rd November
Theme of the Week: Respect
We started the week off on Monday by discussing what the word respect means, then throughout the week, we looked at examples of how we do and don't show respect.
English: We have been writing descriptions of settings and characters and we will be going onto using figurative language.
Maths: We have been problem solving using the 4x and 8x tables and testing the children as to their knowledge of these tables.
Science: We had a very interesting child initiated discussion about whether all light sources get hot and why that happens. We were making connections with our prior knowledge and thinking like scientists.
Dance: We have moved from creating dance pieces about everyday life in the Stone Age to thinking about different tribes as they move into the Iron Age. We have choreographed unarmed combat scenes. No children were injured in the making of these sequences!
As part of our 'Anti-Bullying' curriculum we had 'Fire House Productions' come to present an interactive drama about the bullying of a person new to a school. The children thoroughly enjoyed it and were able to pick out key messages and show off their understanding of what bullying is and isn't. See photos below.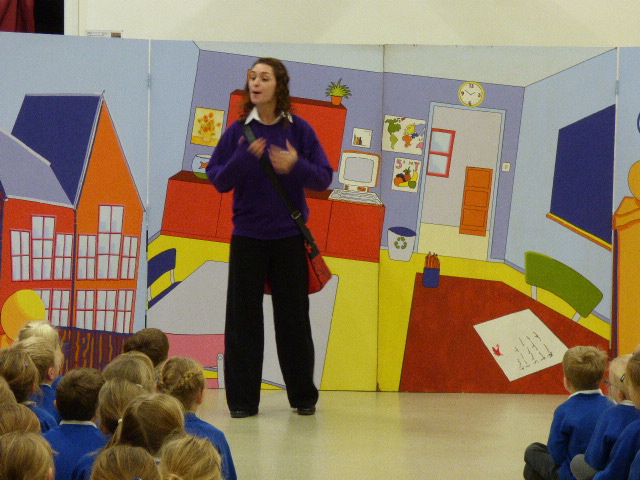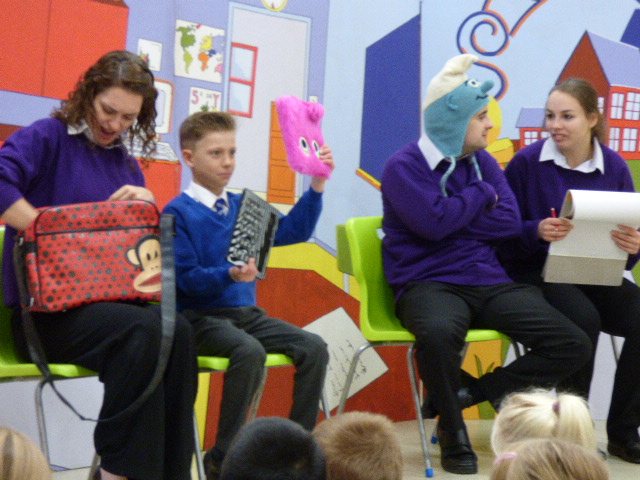 ---
Friday 16th November
Theme of the Week: Remembrance
We discussed remembrance in relation to World War One but also within a broader context. The children were very respectful and showed maturity.
Thanks to all those who came to the World War One Open Classroom. We were very impressed with their work and hope you enjoyed sharing their learning.
On Thursday we were lucky to have an athlete to join us for assembly. She discussed what life was like to be an athlete and how she sets herself challenges. The boys under 9 football team had their photograph taken with her, see below.
A taste of our learning:
English: Our new unit is called, 'The Black Hat' and we have been doing lots of drama to understand the actions of characters. We are working on using descriptive language and prepositional phrases.
Maths: This week, we have been focusing on what multiplication and division are. We have used the 3 and 4 times tables to problem solve.
History: We have used the ICT suite to research the Stone, Bronze and Iron Age. The children will be collecting facts and then creating a way of sharing what they have found out with the rest of the class.
Science: We have continued with our 'Light' topic. The children have carried out an investigation into how the distance of an object from a light source affects the brightness of the light. Next week, we will be looking at translucent, transparent, reflective and opaque objects.
Children in Need: We really enjoyed coming to school in our pyjamas today. Mrs Rawlings had to try not to fall asleep! See photo of the whole class below.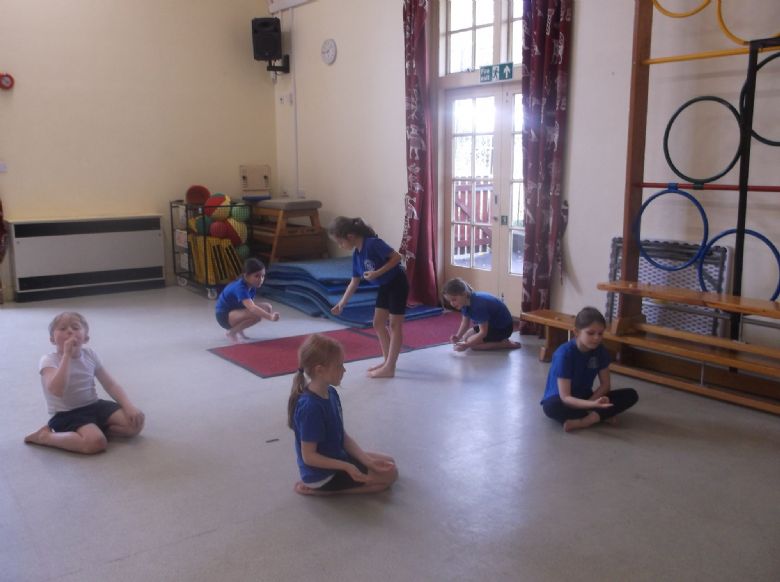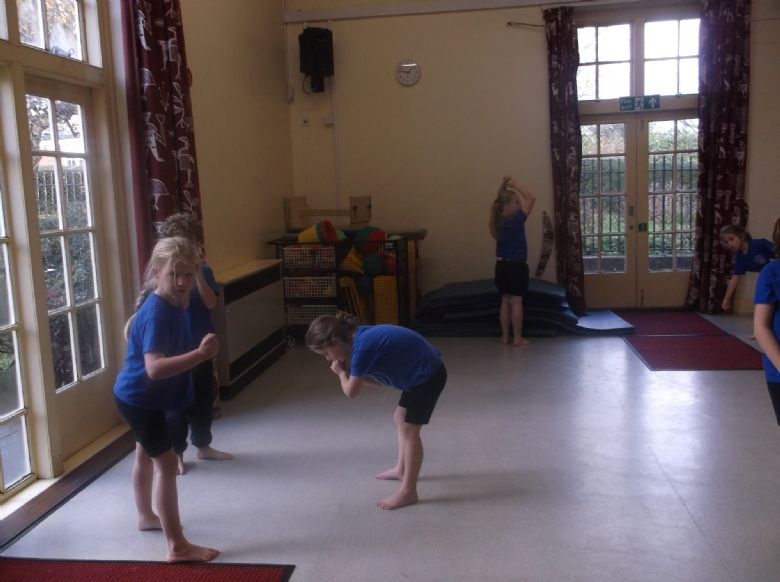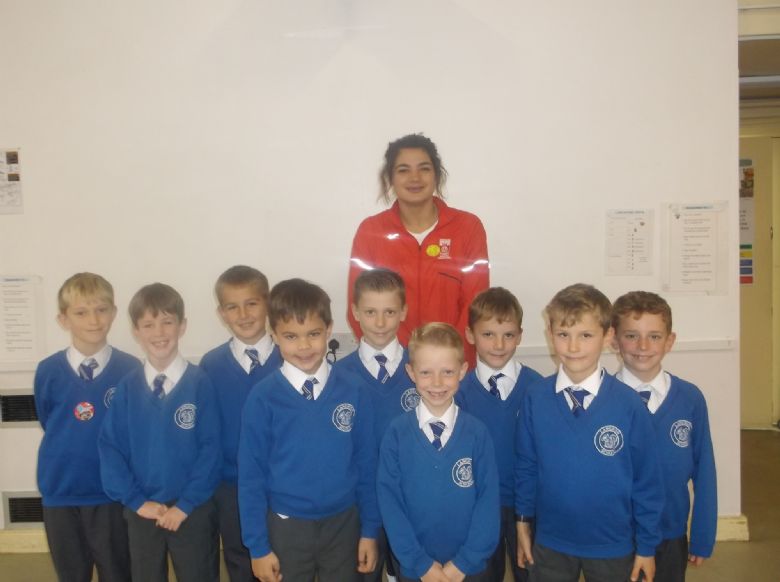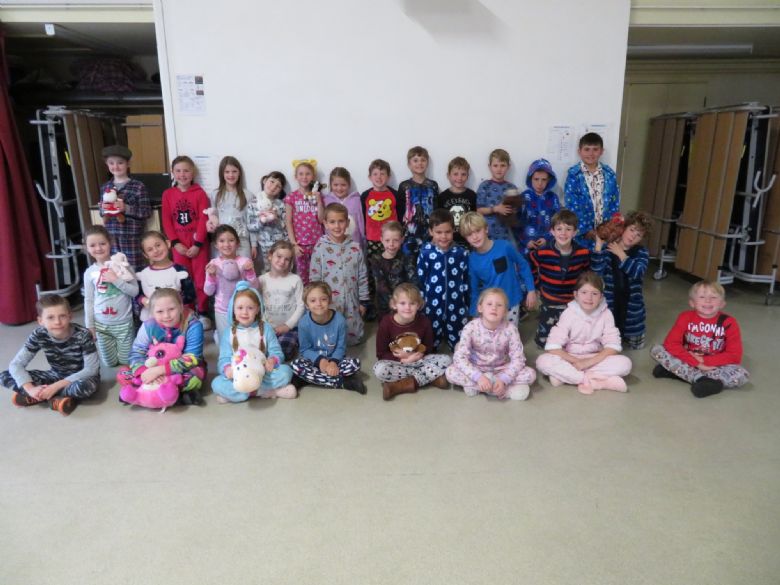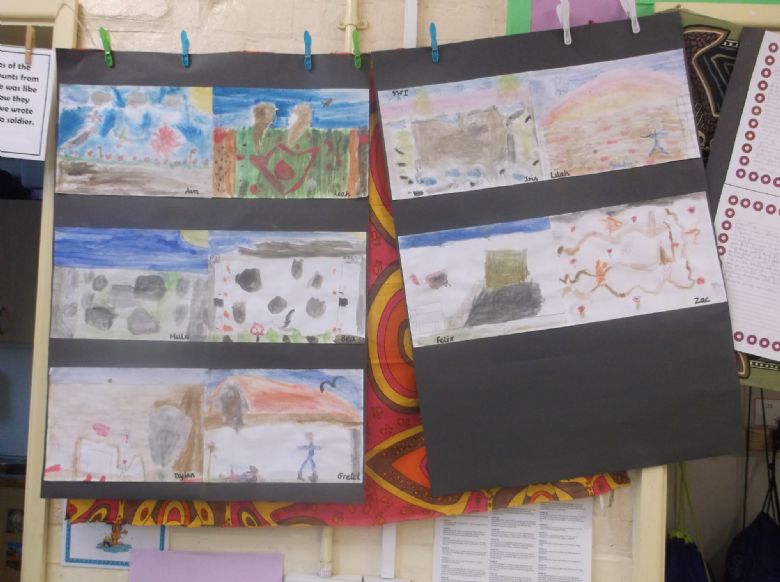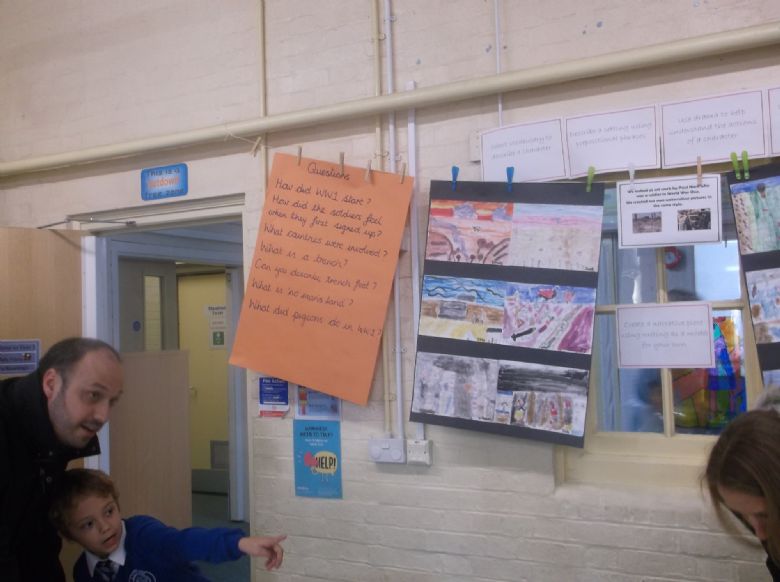 ---
Friday 9th November
Theme of the Week: Keeping Safe
We took the opportunity, at the beginning of the week to talk about keeping safe around fireworks and bonfires. The right to be safe is something that we have discussed in depth, as a class, and the children were pleased to see that many changes have been made around the school grounds in order for them to access this right.
A taste of our learning
English: This week we have had a focus on making using dictionaries and thesauri. We have played alphabetical order games and challenged ourselves to locate words and look closely at definitions. We will build on these skills as the term progresses.
Maths: Our anchor task to launch the unit of learning asked 'How many different ways can you represent the calculation 14x5?' The children came up with representation using equipment, arrays, by partitioning into tens and ones and many other ways of manipulating the digits. This was not only an enjoyable activity but it laid down a basic understanding of what multiplying is.
Dance: After discussing the various tasks that someone from the stone age would and (and wouldn't) have to do during the day, we created movements to represent each activity. Next week we will put the movements to music so look out for action photos.
IT: The children have really been enjoying using the computational thinking program - Microbit. This week the programs that we created were downloaded onto LED Microbits. Next week we are writing a game for us to have a go at.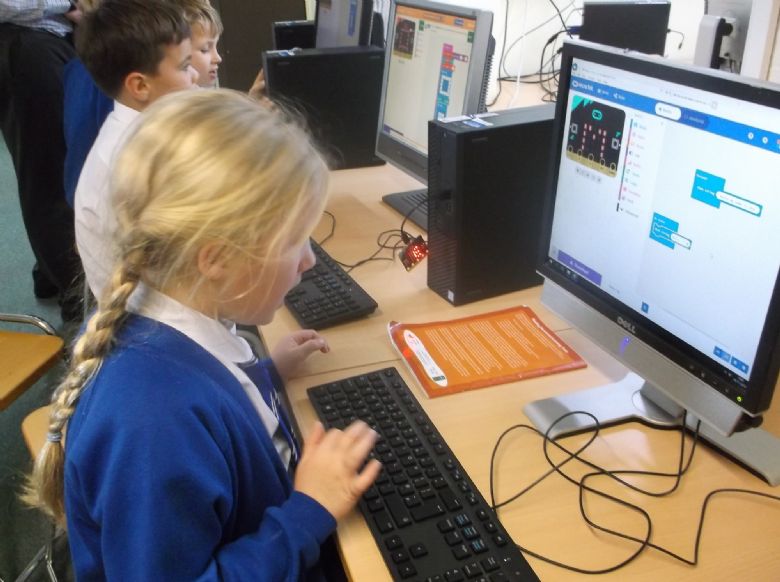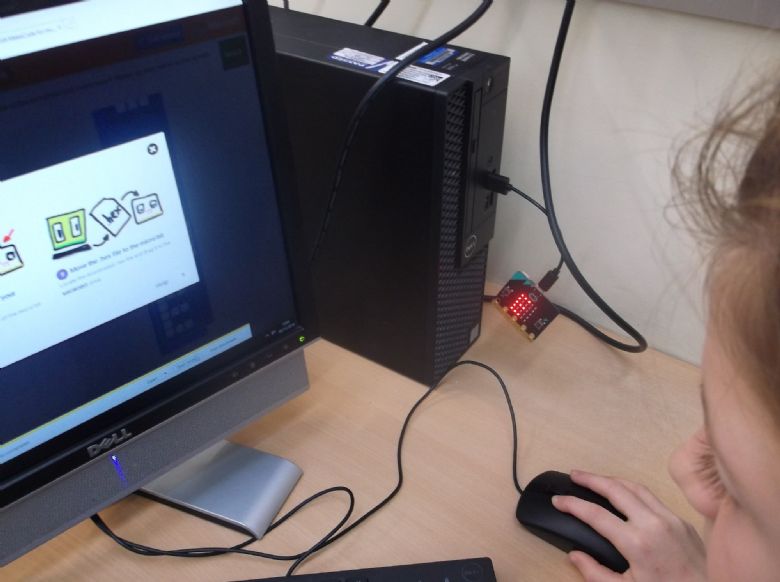 World War One day
We had a very successful day. Many thanks to all of you for providing your children with costumes. They all looked wonderful. They took part in a drama workshop, created a water colour of the trenches and wrote a letter to a loved one. There will be more photographs on the gallery next week, so watch out for them.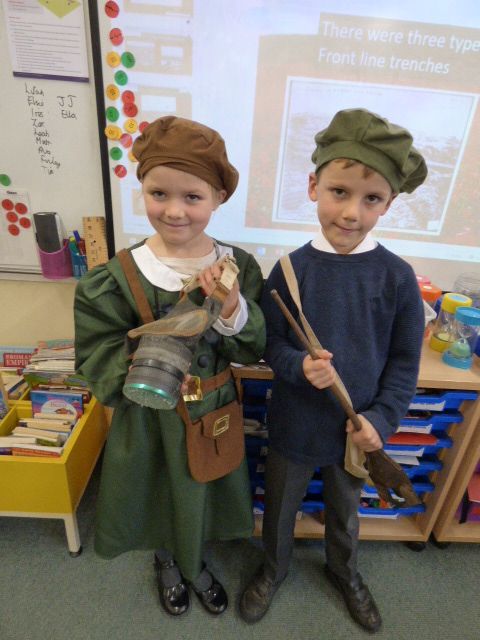 ---
Friday 2nd November
Theme of the week: Democracy
As well as explaining to pupils what this means, we have demonstrated how it works by taking opportunities to make decisions using the democratic process.
A taste of our learning.
English: The children were keen to share their holiday experiences this week so they had the task of writing a letter to an imaginary pen pal or relative recounting (or embellishing) on their adventures.
Maths: We have now completed our unit on addition and subtraction and will be moving on to multiplication and division next week.
Science: We have started our topic on light.
History: We have begun to practise some WW1 songs. The children have been so enthusiastic and are desperate to tell me facts and information about their family. They may ask you if you have had a member of the family who served in WW1. If you have any stories, memories or recollections, then we would love to hear them.
PE: Outdoor PE this term is hockey so we built on the skills learned in Year 2.
In Monday's assembly Mrs Wright introduced the children to questions to start dinner time conversations with. See an attachment below to find out what they are.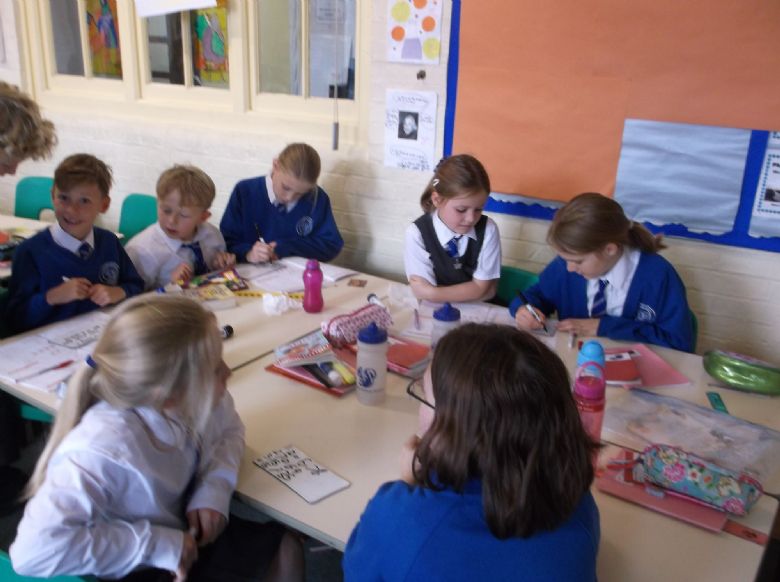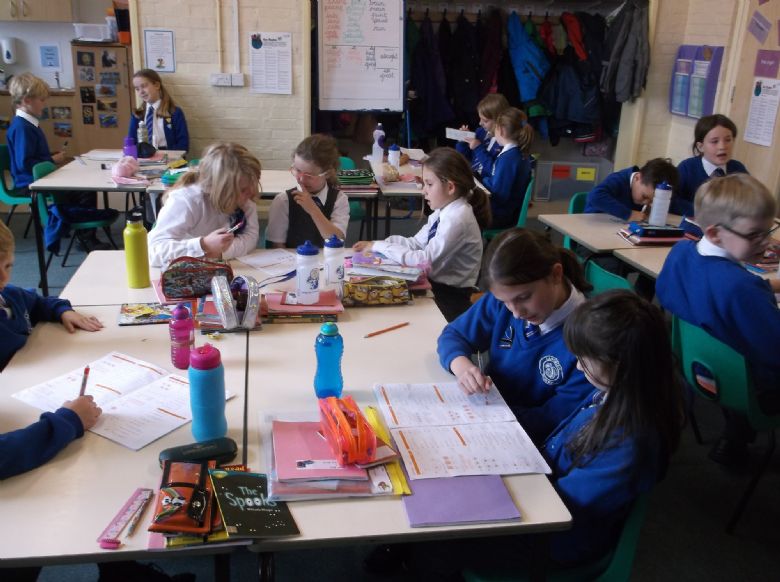 ---
Friday 19th October
Theme of the week: Challenge
In Wednesday's assembly, Mrs Cave told the children that 'easy is boring' so all of us have been challenging ourselves to try something that we find hard. This has certainly added some excitement to our lives (or is it that it's half-term next week?).
A taste of our learning this week:
English : We have been looking at humorous poems about school. The challenge was to perform them to the class using different techniques to make them enjoyable and engaging.
Maths: Our challenge has been to add 3 digit and 2 digit numbers using column method. All have grasped adding without crossing the tens or hundreds boundaries so we have started to practise addition with exchanging.
PE: Our Gym unit has been completed. Our focus was travelling in different ways over low level apparatus. Have a look at the photos below.
World Faiths and Philosophy: For the concept 'Temptation', we discussed the accounts of Jesus being tempted after his baptism.
This was linked to how we make choices every day. How easy is it to make the right choice? Is it easier when we stop to consider the possible consequences? Pupils showed their understanding of different situations through drama.
Science: In Science, we have begun an investigation with the question,
How does the height of a person affect the length of their bones? The children worked in groups and discussed how they could find out the answer to this. They then had great fun measuring each others' skull, length of leg and from the tip of their index finger to their wrist bone. They even collected some data from the adults around school! Now, we will measure the height of all the children in order to discuss the results.
Please have a good half-term – let's hope the weather is kind to us.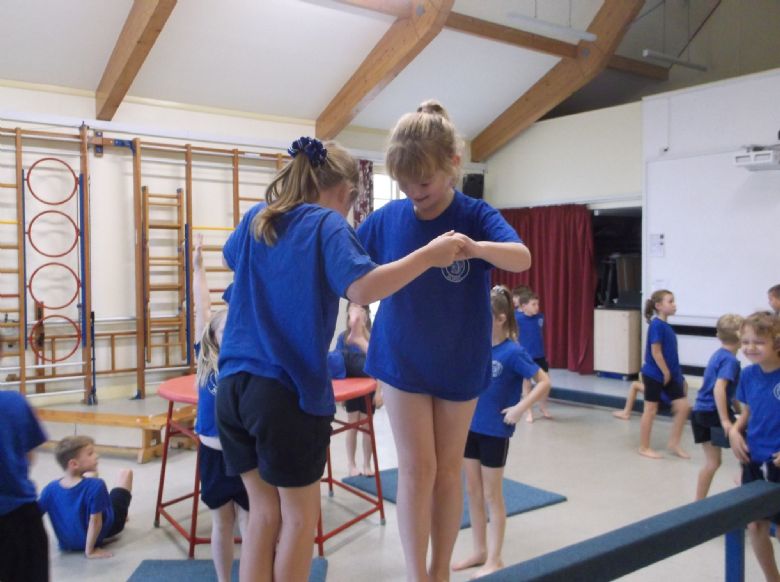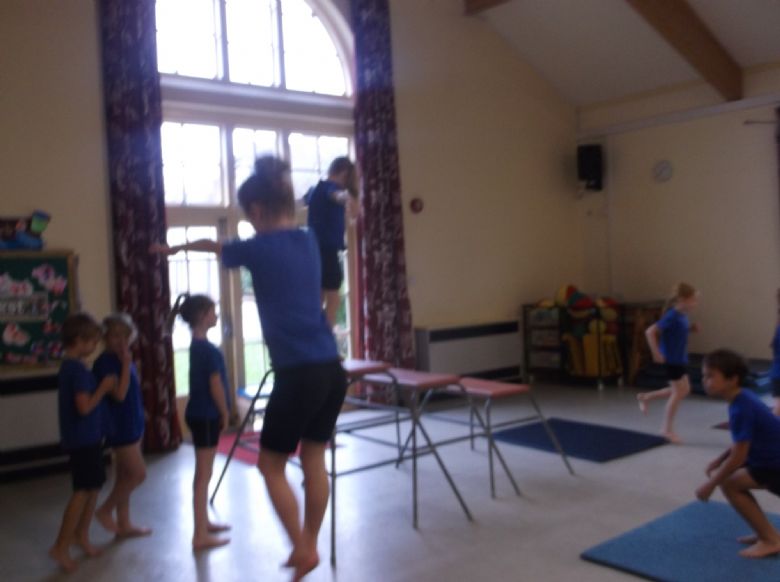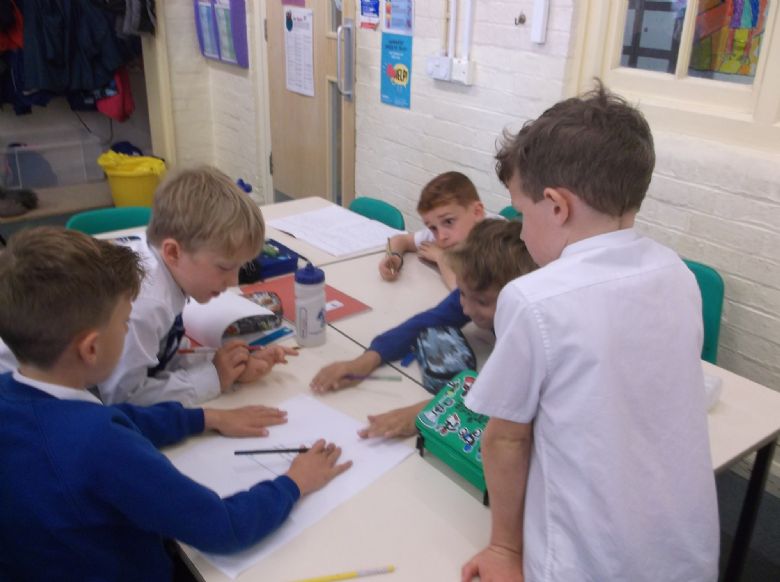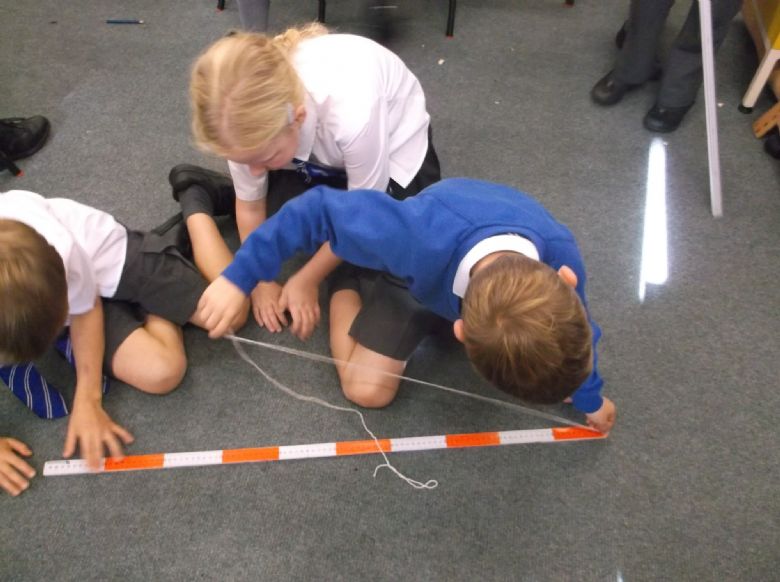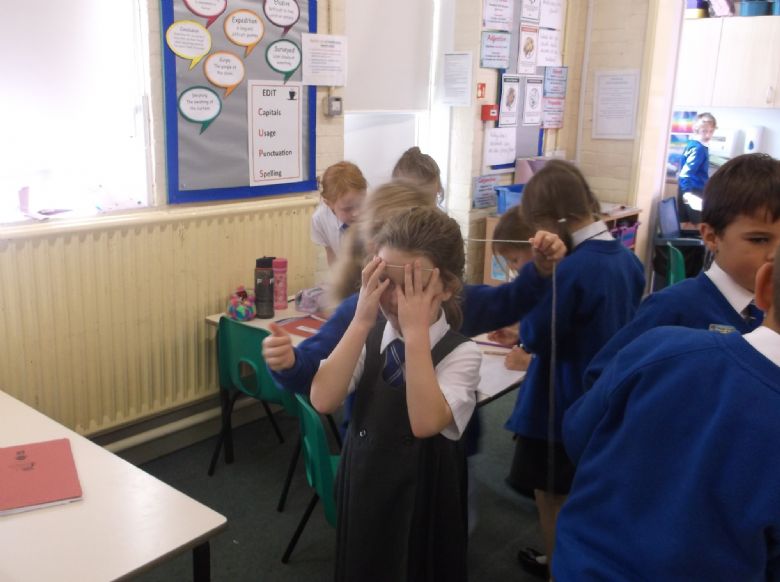 Thank you to all of the parents who were able to join uis for our discussions on how to support our children to be successful learners. Please take some time to read the document at the bottom of the page with your children and discuss how they can also pursue the expectations.
---
Friday 12th October
Theme of the week: Going for Goals and Aiming High
As before, we have shared the theme with the class and discussed what this could mean for all of us at Langrish. Your children were interested to know that both of us have targets that we need to work towards. Over the next week, we will talk about how we can support each other to meet our goals
A taste of our learning this week:
English: We created our own board games similar to Snakes and Ladders but added a twist. Then we had a go at writing the instructions focussing on using imperative verbs within clear, short sentences.
Maths: This week we have taken our time to embed the concept of subtracting tens with crossing the hundreds boundary. We have practised counting on and back in tens from different 3 digit numbers.
PSHE: We continued to discuss the Global Goals and created and rehearsed our class assembly. Thank you to all that were able to attend. I think you'll agree they did a fantastic job and are developing into great global citizens.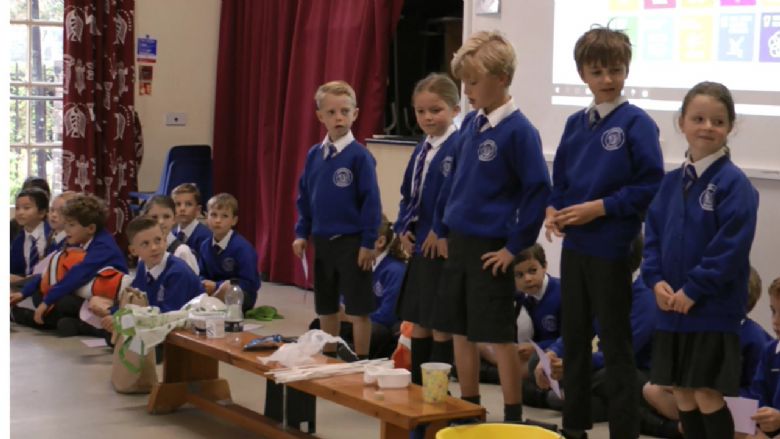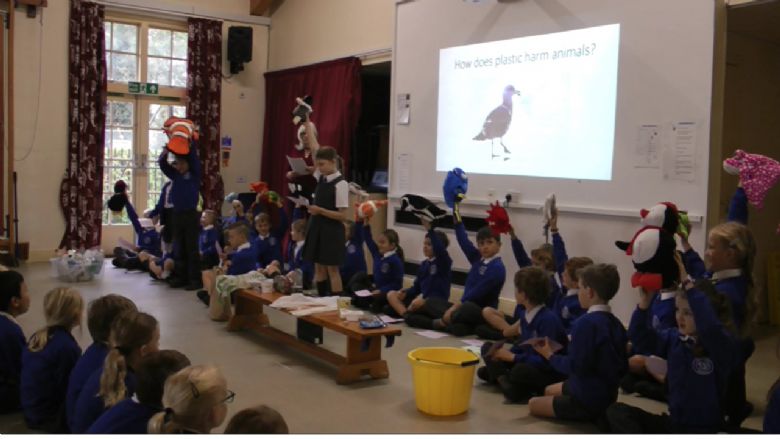 ---
---
Friday 5th October
Theme of the week: Appearance
This has been shared with the children and talked about how the junior school uniform looks so smart on everybody.
'It makes me feel very grown-up'.
A taste of our learning this week:
English: Following on from the stories that we created last week, we learned about including dialogue to move the story on. Our focus has been to use inverted commas correctly but as a challenge we have had a go at including the 5 Golden Rules of writing speech. How many can you remember?
Maths: Our focus has been to add and subtract hundreds to and from 3 digit numbers and to add and subtract 1s to and from 3 digit numbers. In each case we looked carefully at which columns were affected. We have just started to look at exchanging when we add and subtract.
Design and Technology and Art: We have been evaluating our photo frames and making improvements so that they are free-standing. On Wednesday, we ventured out into the school grounds to gather 'signs of autumn'. We enjoyed recreating the vibrant colours with pastels on black sugar paper.
PSHE: We have been looking at the 17 Global Goals as this is the focus of the World's Largest Lesson this year. It was impressive how much the children know and care about environmental issues in particular the issues around single use plastics.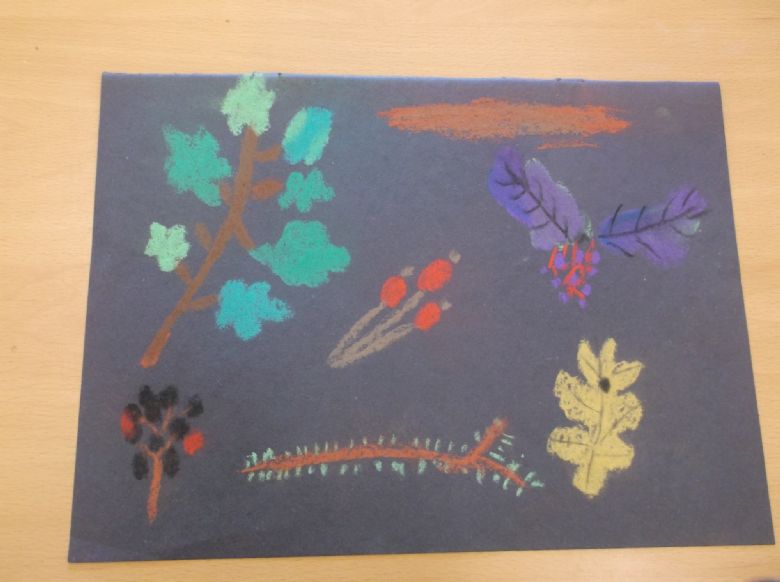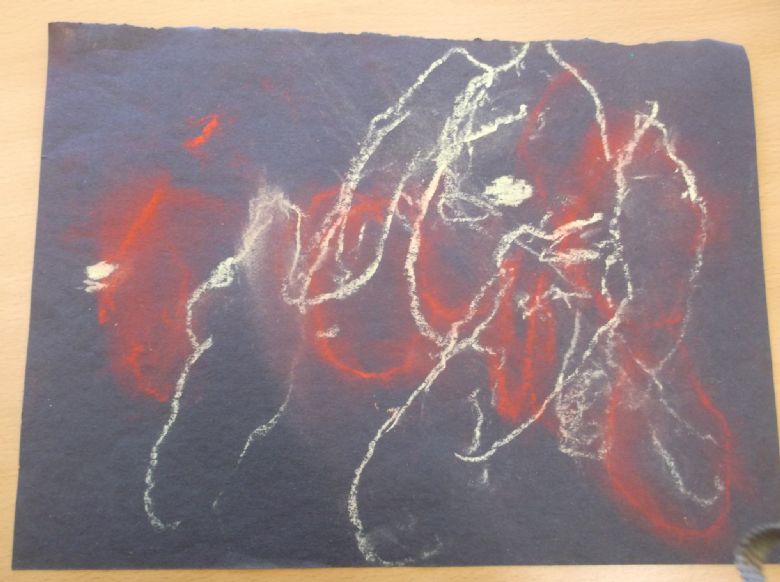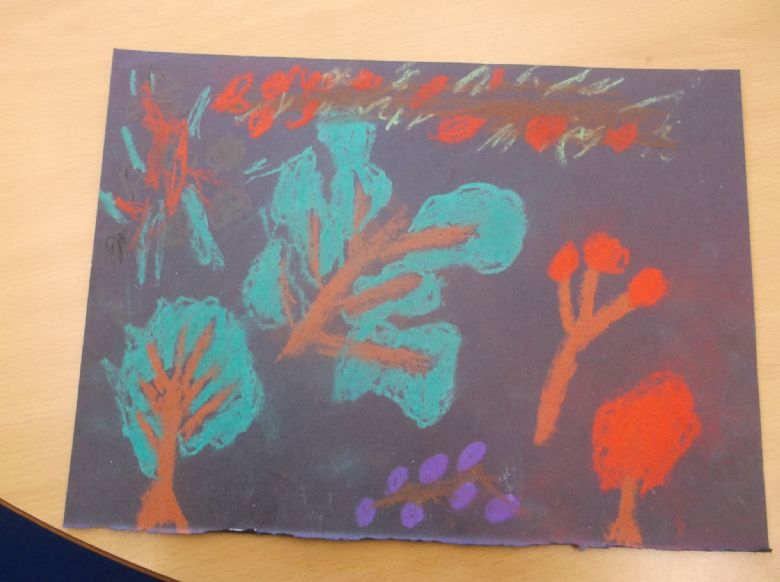 ---
Friday 28th September
Theme of the week: Positivity
This has been shared with the children and we have discussed this when talking about what makes a successful learner.
'We are a bunch of YETTIES. We may not be able to do it YET but we soon will!' Tia.
A taste of our learning this week:
English: We have started to write our own stories based around the book, 'The day I swapped my dad for two goldfish'. We found the story so funny so we are writing our own humorous texts. The grammar focus for this is, starting to use inverted commas and of course they can always use previous learning, like similes and expanded noun phrases.
Maths: We will look at methods of addition and subtraction in the coming weeks.
Science: The children were given the question, 'Can you run quicker than Usain Bolt? Why?' We discussed our ideas as to why he is able to run so fast and the children's answers included, that he was fit, had resilience and was flexible. We predicted how quickly we could run 100 metres and thought about why we might not be able to run as fast. Then we went outside and paired up with Year 5 who timed our runs.
Music: The children were introduced to the Djembe Drums and used them to clap a beat in song we are learning. The children loved it!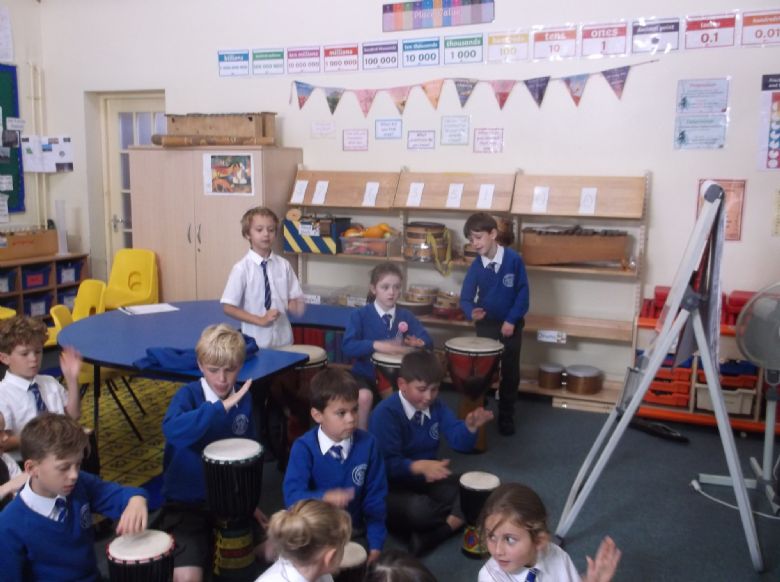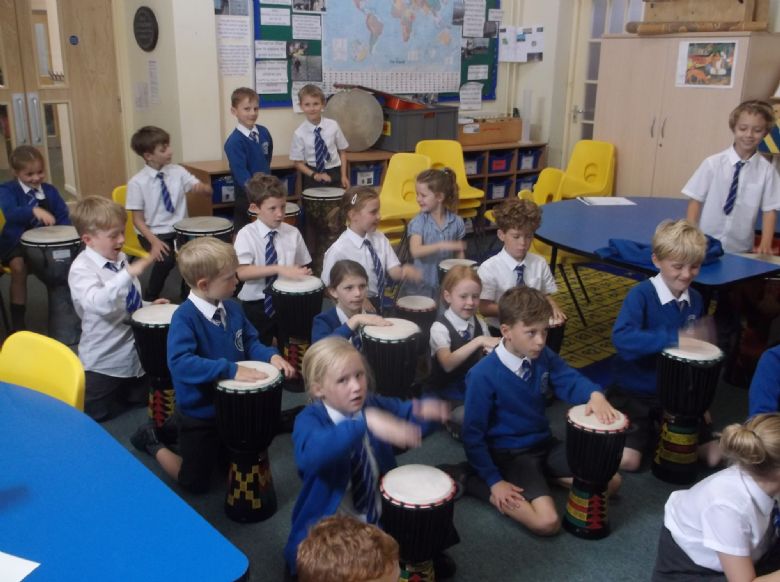 Our esafety charter is attached at the bottom and will be coming home in the children's Home Learning books. Please read with your child and sign. Thank you
---
Friday 21st September
Theme of the week: Resilience
We have shared this with the children and will be reflecting on the meaning and how we can show it.
'When life gives you lemons; make lemonade!' Edward.
In class this week:
In English - After reading the description of Miss Trunchball from Matilda, we created our own nightmare Headteachers. Using exciting adjectives, adverbs and similes, we wrote our own descriptions. Next we imagined that a well-known character (ask your child who they chose) was our teacher for the day. What did they teach us? What was their specialist subject? What happened when they met our nightmare Headteacher?
In Maths - Our unit of learning on place value is finished. Next week your child will be given a post-assessment of their learning and from this we will set some targetted home learning. Watch out for this in their Home Learning book.
In Design Technology - We have created our photo frames and have turned our attention to how they will stand up using hinges and glue to secure them rather than tape. They are looking rather smart and will be brilliant when they have a photo of your child inserted. These will come home soon so make sure you have a suitable place in mind to display it!
In French - We've enjoyed learning a song to help with our learning. So far we can: greet each other; tell each other our name; and ask the question 'What is your name?' We have some children in the class who know this already and so they are being challenged to hold simple conversations with others.
In Science - We have been looking at the three types of skeletons. Ask your child what they are and give you some examples.
In computing, we researched facts about the body. Ask your child, what were the most fascinating facts that they found. See photos below.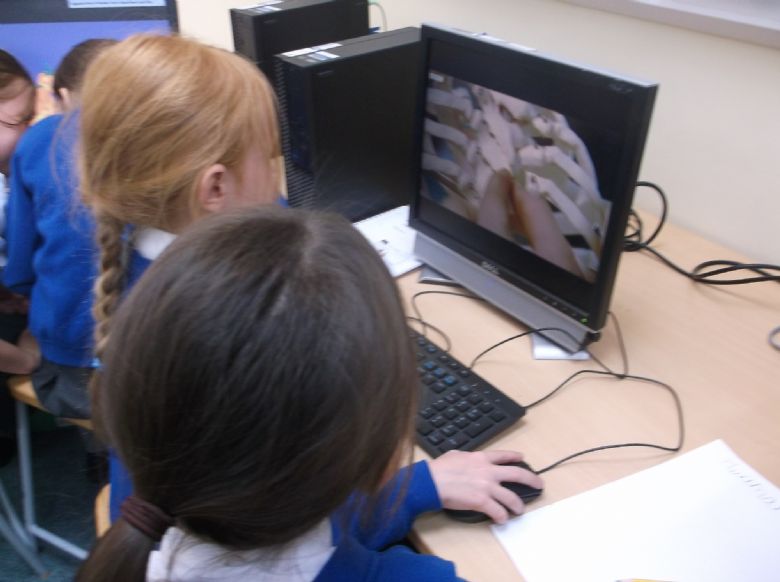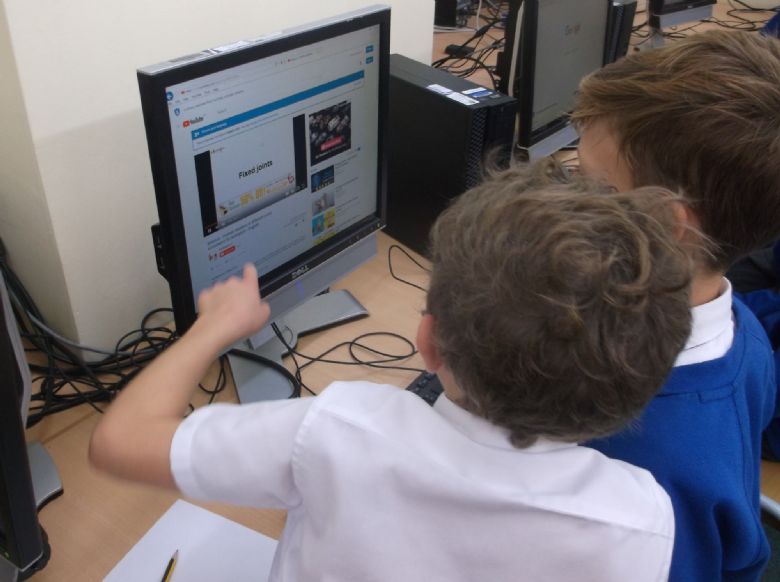 ---
Friday 14th September
Theme of the week: New Beginnings.
We have shared this with the children and we will be reflecting on how we are settling into our new classroom with new teachers and members of the class.
In class this week:
In English - we celebrated Roald Dahl Day by looking in depth at the story of Matilda. We have reflected on the treatment of her by her parents in relation to which of the Rights they denied her. So far, the children realise that she was denied the right to an education and the right to be kept safe. We are also including descriptive language in our study.
In Maths - our focus is Place Value. So far, we know our numbers up to 1000, we know a 3 digit number is made up of hundreds, tens and ones and we can place them on a number line. To support this, we have set a Home Learning activity.
In Science - we have been continuing to look at the human skeleton. We have discussed the functions of a skeleton and how joints work. We should be able to tell you lots of information about them.
In Design Technology - we have continued our investigation into free-standing structures by making prototypes of photograph frames. In the coming weeks we will be creating one of these each for your child to bring home.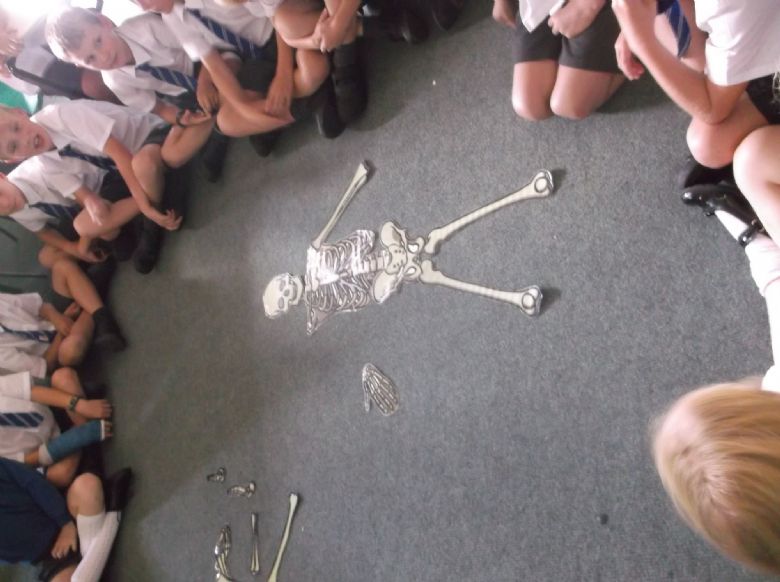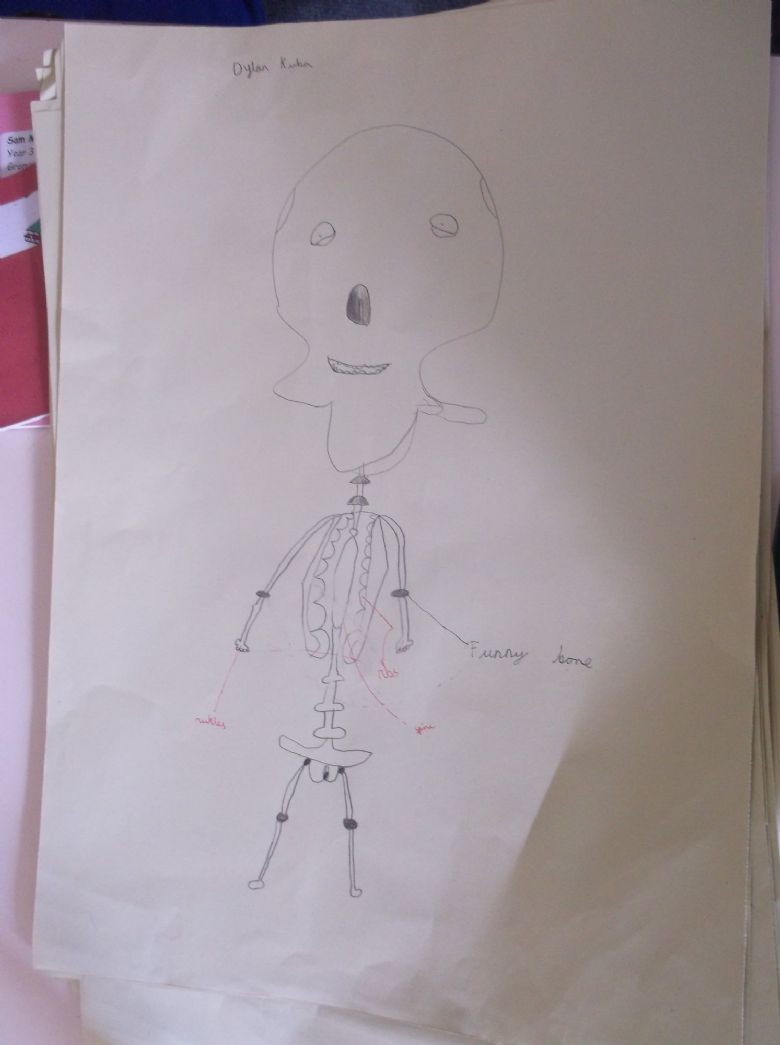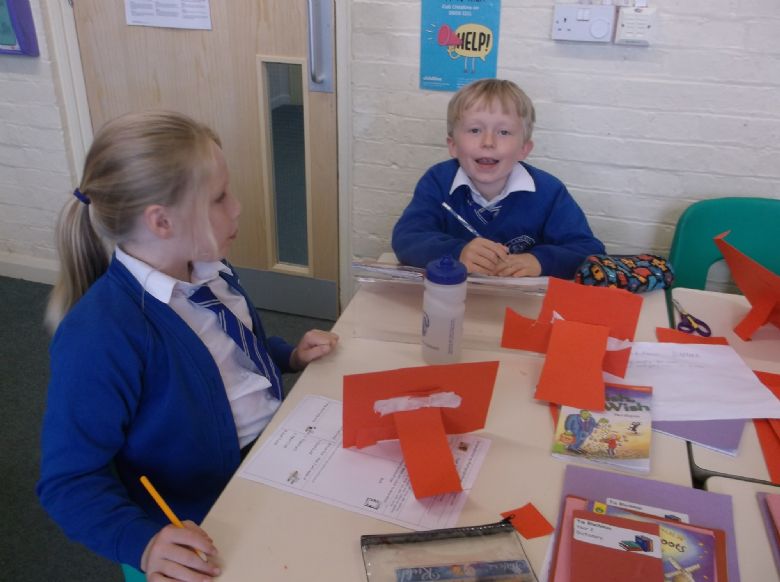 Friday 7th September
Welcome back and a big thank you to all the people who came to the new format, 'Meet the Teacher'.
Although it has been a short week, we've hit the ground running!
In English, we have reviewed different types of sentences and their relevant punctuation and started to create a class book based on the text, 'Would you rather...' by John Burningham.
In Maths, our focus is place value and numbers up to 1000.
As a start to our DT project (stable structures) we had great fun meeting the challenge of creating the tallest, freestanding structure we could to hold a tennis ball using art straws. Photographs below.
Our preliminary discussions prior to creating our 'Rights Respecting Charter' are well under way.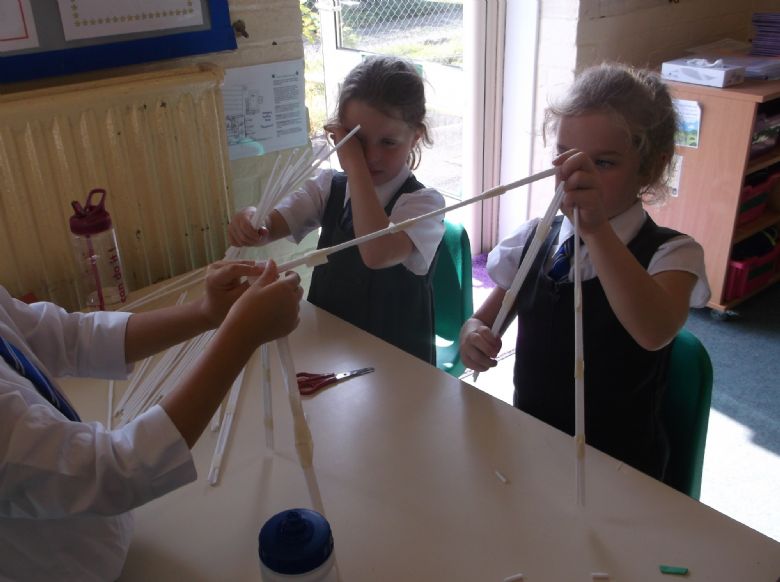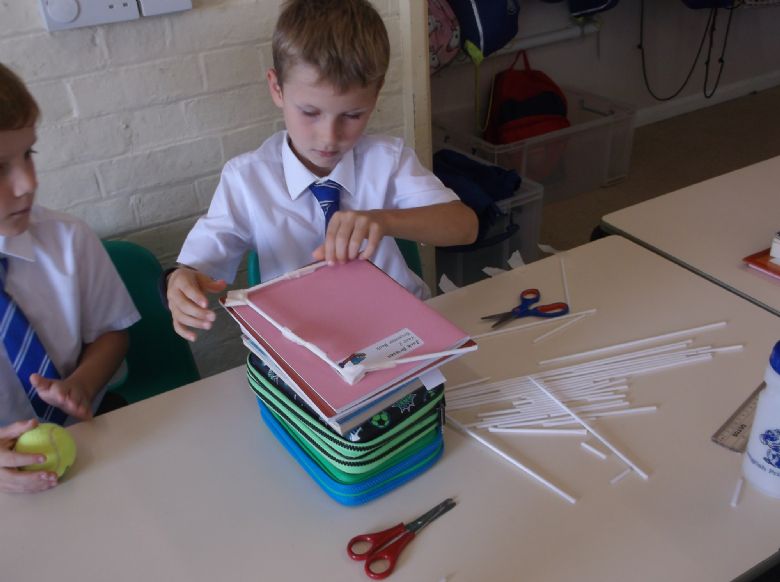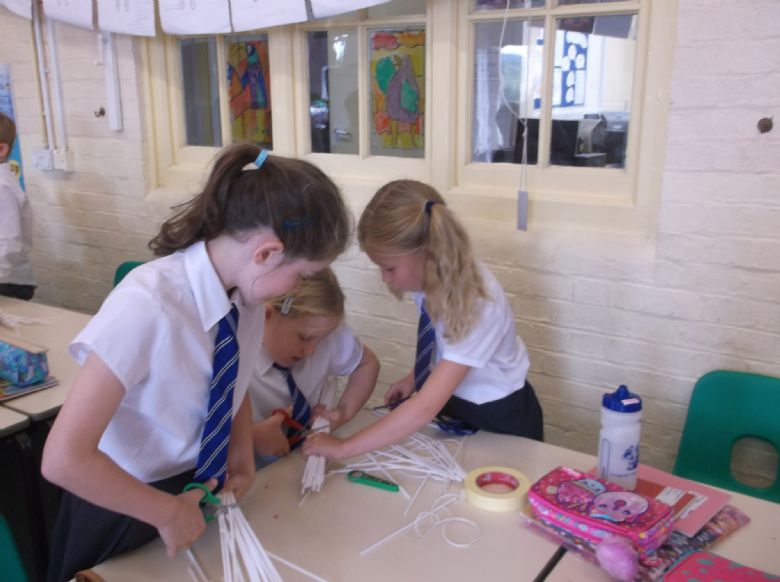 ---
---