Ms Fiers & Mrs Rawlings
Friday 20th July
Time certainly flies when you are having fun which is very much what we have been doing this year, alongside the learning of course! We have thoroughly enjoyed teaching your children and watching them develop into confident, resilience and successful learners. The last week was busy and we loved taking part in the sports day activities, in-house sports and watching the 'Oink' performance.
Thanks so much for your gifts. We were overwhelmed with your generosity. It has been a pleasure to work alongside you to drive your children forward and make their time in Year 3 so rewarding.
We wish you all a very happy summer holiday. Good luck and best wishes to the children for the next part of their learning journey in Year 4. We look forward to seeing their smiling faces in September.
A final note from Mrs Rawlings
I cannot believe that my time with your wonderful children has come to an end and l would like to say a huge thanks to them (and you) for making my first year and a half at Langrish so enjoyable. I am so proud of them and how much they have achieved. It has been a pleasure.
---
Friday 13th July
Home Learning
There are just a few more days to complete the Summer Book Challenge so that you can be awarded house points. Don't forget these go towards the final count next week!
Well done to all pupils that have presented their interest talks so far. What a variety of topics we've had. Just a couple of children haven't brought in theirs so could you check and ensure this is done on Monday.
The spelling assessment that was completed a few weeks ago will be coming home so please look at these as well as the spelling patterns that are involved.
Here are some photographs of the tennis activity that we took part in on Wednesday.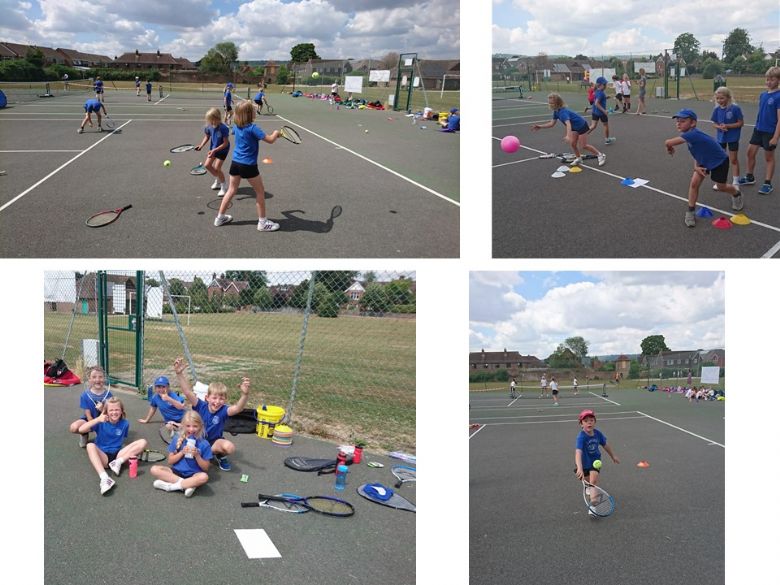 ---
Friday 6th July
Please go to the gallery and have a look at some of the photographs of the Fruit Farm. We hope you enjoyed all the fruit!
Home Learning
The first of the special interest talks will be given on Monday so please make sure yours is with you on Monday morning. We have talked at length with the children about what this involves and given them the opportunity to ask questions such as, whether they can display photographs on the interactive whiteboard. This piece of learning forms part of the Speaking and Listening Curriculum which means that all in the class will need to have done it.
We hope you enjoy the pizza your child has made if it gets to you!
Friday 29th June
Home Learning continued from previous week:
We would like you to prepare a special interest talk to give to the rest of the class during the last two weeks of this term. It must be about something that you are really interested in and will enjoy sharing with us.
Despite the very hot weather, we have still managed to carry on working and it has been a busy week. We thoroughly enjoyed the visit to the Fruit Farm. We hope you enjoyed the delicious offerings! The staff were delighted with theirs. Photographs will be made into a gallery next week.
We had great fun on the field carrying out activities for Yellow House's fundraising event.
In art this week, we have continued with our batik work. Have a look at our creations below.
Have a lovely weekend and enjoy the sunshine!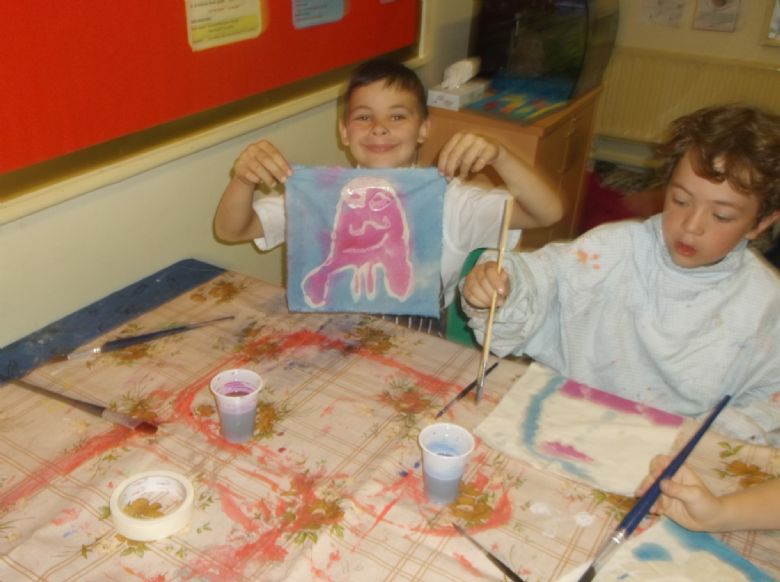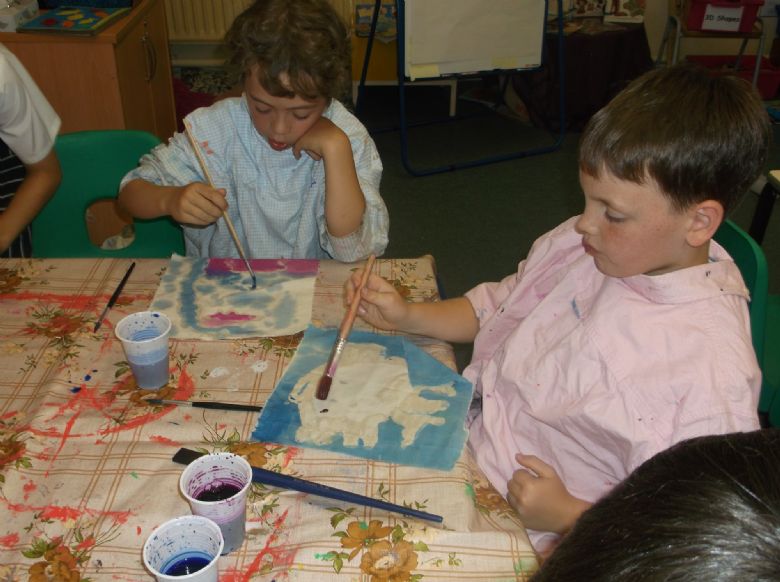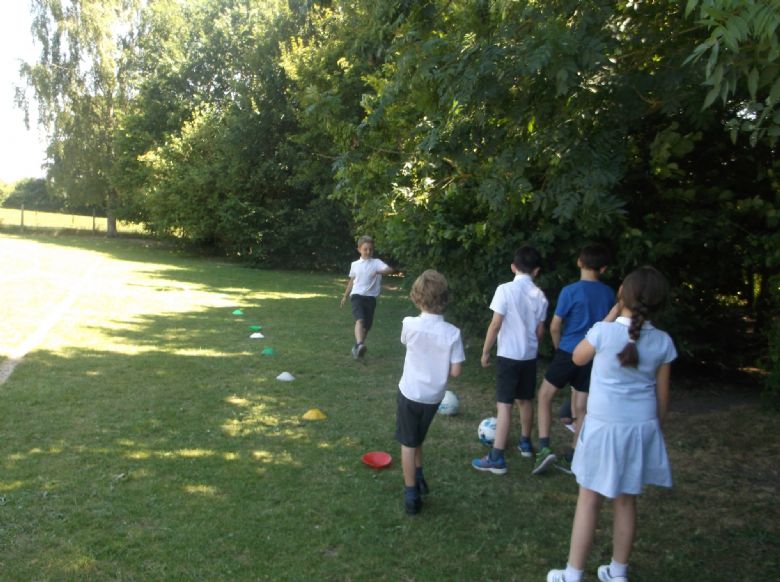 ---
Friday 22nd June
Home Learning:
We would like you to prepare a special interest talk to give to the rest of the class during the last two weeks of this term. It must be about something that you are really interested in and will enjoy sharing with us. Also the children will be sent home with some research questions about pizzas as this will be our DT project.
Some examples that pupils had done in the past are: hobbies such as sewing, drawing and card collecting; games such as hockey or chess; activities such as looking after a pet or an issue that they are passionate about such as looking after the environment.
The presentation should be about 3 minutes long (no more) and should not be a Powerpoint Presentation. Props, artefacts and demonstrations can be included.
If you have an idea that you are not sure about, come and talk to us as soon as possible. Be ready to present this from Monday 9th July onwards.
It was lovely to see so many of you at the Summer Fayre on Saturday, thank you for your support.
---
Friday 15th June
Home Learning:
Spelling - We have been revising some of the words that include the 'i' sound made in different ways such as, gym, myth, cygnet and pyramid. We have added: women, build, mystery and pretty to the list. Make up a funny paragraph that includes these words.
Maths - Ask your child what these words mean: acute, obtuse, straight angle, parallel, perpendicular, vertical and horizontal. These are all words that we have used in our Geometry lessons. Make a zigzag book explaining and illustrating these terms.
Thank you to everybody who came to see our final Year 3 assembly. We were very proud of them. We had a lot of fun practising and performing it. Individual photos, pots, mosaics and shields should now be with you.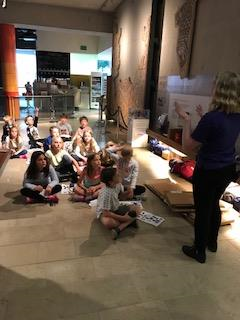 ---
Friday 8th June
Home Learning:
Write a recount of your visit to the Novium museum. Look at your writing targets and make sure that you address them.
Make a right angle tester and list at least 10 objects that have right angles (take pictures and include these as evidence if you wish).
Look at the spelling lists in the back of your Reading Record. Are you able to spell these words?
We have had a short but busy week. We started a unit of work on the properties of shapes focusing on angles. We have been introduced to different vocabulary. Ask your child if they can remember any? To begin our learning we got together with Year 4 and worked in teams to investigate quadrilaterals.
In English, we have investigated how authors use different word classes in their writing. For creative writing we used a picture to stimulate our own imagination so that we could continue a story. Most have finished their editing and will be publishing their writing next week.
Thursday was an amazing day. In the morning Year 6 presented their campaigns for their chosen charities. Our pupil voice was used to vote for what ,in our opinion, was the best presentation and the most worthy charity. As you know, on Charity Day all of Year 6 get behind the chosen charity and plan and deliver a Charity Fayre for the rest of the school.
In the afternoon, we took a trip to TPS for a music and dance festival. The children thoroughly enjoyed watching some amazing dance routines and joined in with some songs from musicals.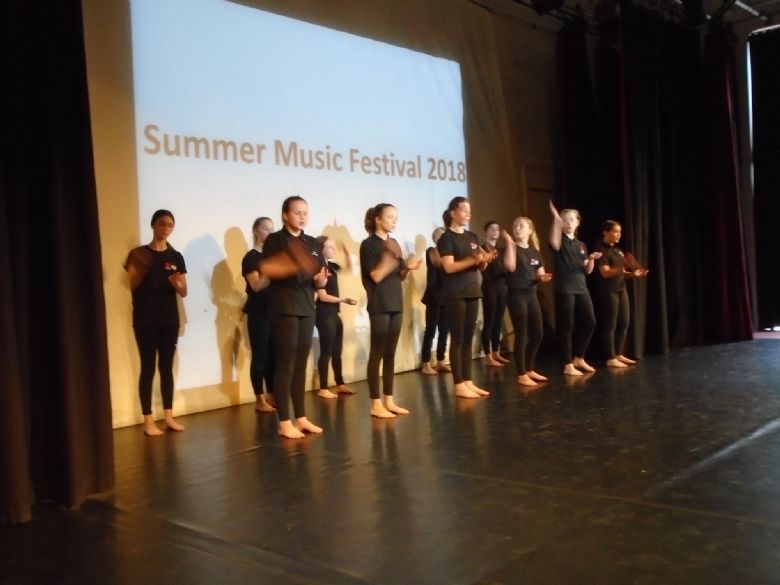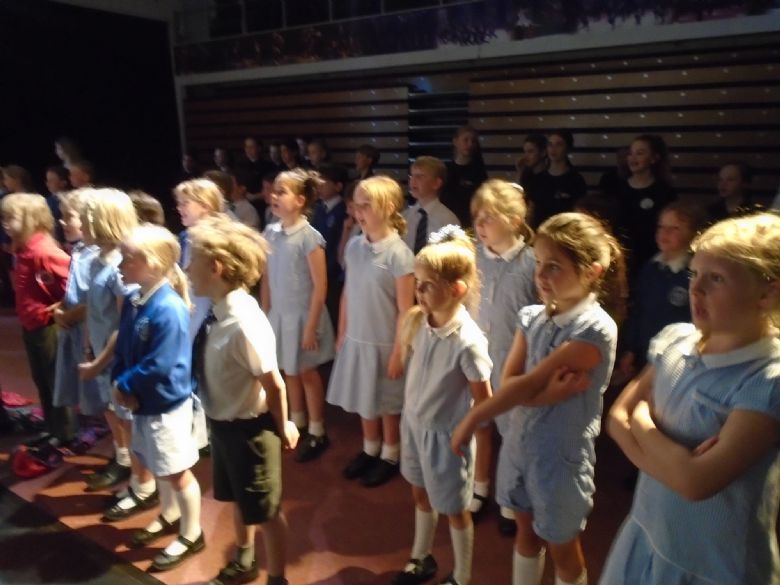 ---
Friday 25th May
Dates for your diary...
On Saturday 7th July the Butser Hill Walk will be taking place. It is hoped that many from the Langrish community, both present and past, will be able to join us.
Thursday 14th June is our class assembly where we are sharing our learning. Your children have asked us if they can wear their Roman costumes. We are happy for them to do but it will have to be all or nothing. Please can you let us know if you no longer have the costume so that we can make a decision.
We are delighted that so many of your children have engaged with the Summer Book Challenge this term. So for Home Learning over half term please read as much as you can and complete more tasks.
Enjoy your holiday!
---
Friday 18th May
First of all we would like to thank all of the volunteers who blitzed the garden this week. Already the children are talking about what they can plant to make it a beautiful area once again.
Home Learning
Most have come to the end of their Time Tables Test books so an alternative Times Tables Activity has been provided.
Spellings - revision of words that have the suffix 'ly' added. Happily, funnily, luckily, gently, simply, humbly, basically, frantically, dramatically. Write a funny paragraph including all of these words.
Keep a diary for one day of the weekend. Draw pictures and write in the times using the 24 hour clock.
This week we have been getting to grips with telling the time in several ways. We started off revising analogue times to the minute and progressed to 12 hour digital and then 24 hour digital. Next week we look at timetables and duration of time.
What fun we have had reading Roald Dahl's 'The Twits'! We had a go at acting out and writing instructions for one of the tricks that Mr or Mrs Twit played on each other. As a follow up we wrote instructions for our own fairly harmless trick that we could play on a friend, family member or teacher. There seemed to be a lot of switching of food for rather gross alternatives so watch out!
Roman Day
What a fabulous time we all had! The children looked amazing and we would like to say a huge thanks to you all for making / providing your child with their costumes. The children were really buzzing and excited about the day. We started by acting as Roman soldiers and forming a 4 x 4 square formation. We marched around the hall and tried to stay together, which was more difficult than it sounds! The children could see how well organised they were and why the Celts found it difficult to defend themselves. The children worked their way around five activities including, creating a mosaic, making a Roman shield and clay pots. They cannot wait to share these with you during their assembly on Thursday 14th June at 8:50. Click on our photograph to view a gallery from the day.
---
Friday 11th May
Remember our Roman Day Friday 18th May!
continue with the next page of the Times Tables Test Book. If you have finished the book, then come and ask for an alternative activity.
Spellings - Please practise some of the words in your spelling log.
Continue to complete the activities from the Book Challenge.
Have a look at Purple Mash as there are two activities on your 2do list.
During this short week, there's been such a lot of learning going on. We have planned plant investigations and set them up. We have moved onto learning about digital time and even looked at Roman numerals. Ask us what we have found out! In History, we have researched different aspects of Roman life in Britain and we are nearly ready to present our findings to the rest of the class. We have thought about what the most significant impact might be (see below). We will be asking this question again at the end of the topic. This week we have enjoyed reading 'The Twits' by Roald Dahl for English as part of our author study.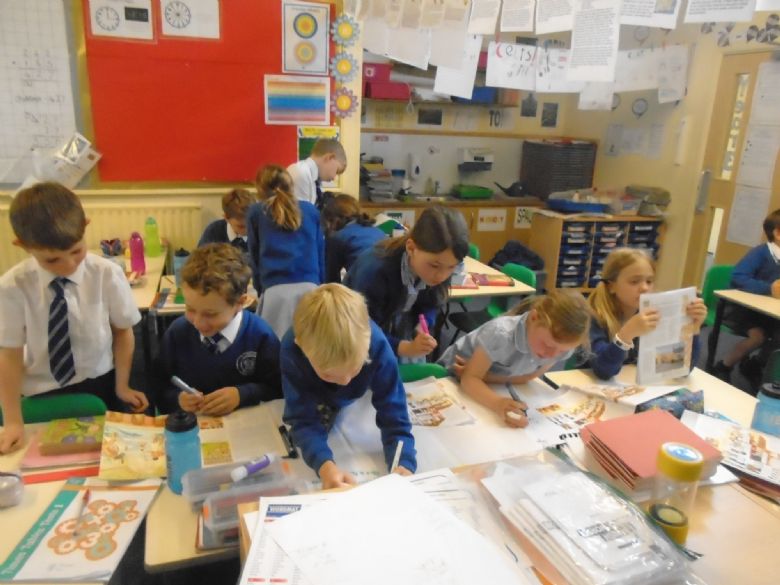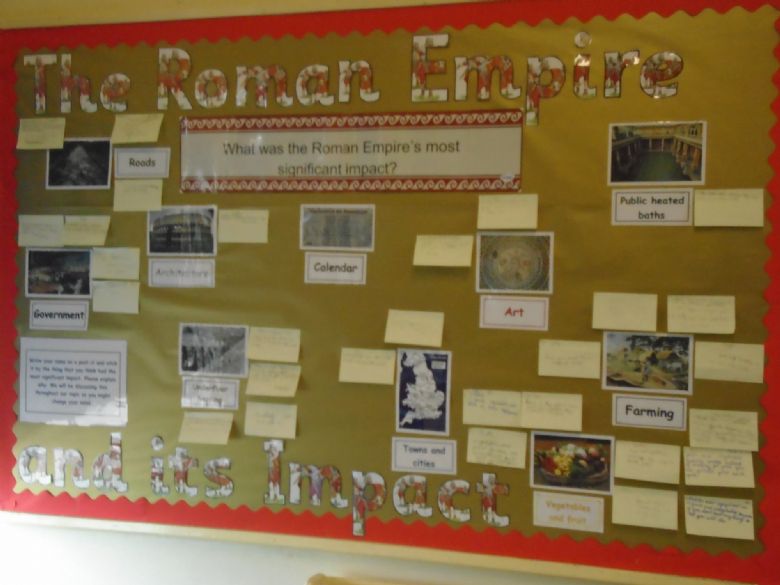 ---
Friday 4th May
---
Continue with the next page of the Times Tables Test Book
Spellings - We have been learning words that have the sound 'k' spelt with 'ch'. Learn the following words and include them in a complex sentence - ache, anchor, Christmas, school, choir, echo. Explain to an adult how to remember subordinate conjunctions using the acronym - I SAW A WABUB.
Investigate the Solvemoji Emoji Maths Puzzle website for really cool puzzles. Create some of your own.
Continue to complete activities fom the Summer Book Challenge. Well done all who have brought in their rocks and wrapped books. Don't forget to bring in the sheet for us to sign.
In History, we have begun learning about The Romans. We have had lots of discussions about why they decided to invade. They completed a Diamond 9 activity ( see photo below. They placed the most important reason card at the top and the least important reason at the bottom. They then had to justify their decisions. We are very much looking forward to our 'Roman Day'.
In Art, we have really enjoyed creating an under the sea woven placemat. These should have come home, so look out for them.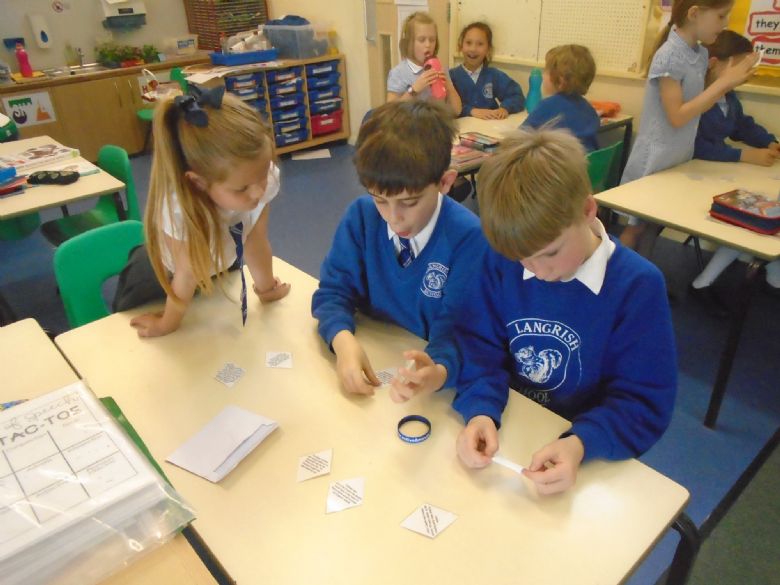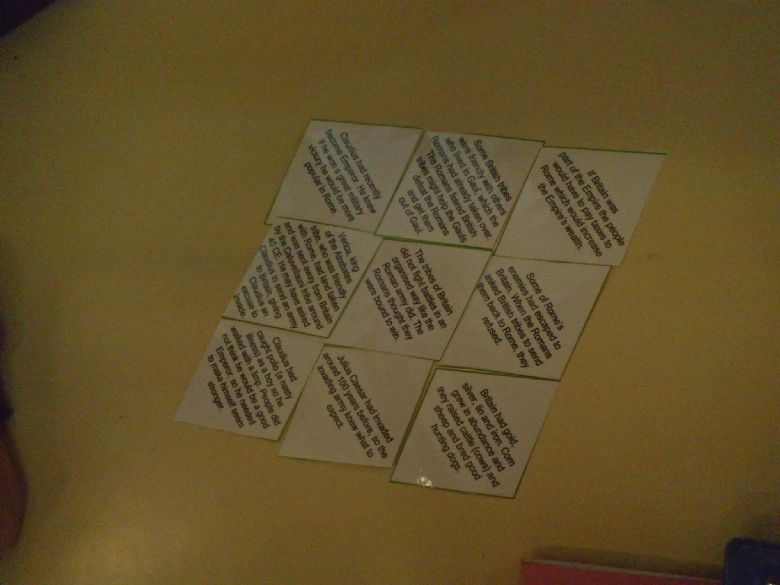 ---
Friday 27th April
Home Learning
Continue with the next page of the Times Tables Test Book.
Spellings - Write a funny paragraph which tells a story and includes the homophones listed below:meat/meet knot/not here/hear.
Complete your fish project and bring this in to school by Wednesday.
Choose one of the activities from the Summer Book Challenge to complete.
Thank you to those parents who were able to come to the briefing regarding the Novium Museum sleepover. I have attached the presentation with the packing list at the bottom of the page. If you have any further questions or issues that you wish to discuss please catch either of us one day after school.
For your information, next week we will be starting a unit on time. If your child has a birthday coming up or wants something to spend their pocket money on, then a watch would be a good idea. Please discuss times with your child.
---
Friday 20th April
Welcome back and we hope you had a brilliant Easter holiday!
Home Learning
Continue with the next page of the Times Tables Test Book (approximately 2/3 of the class were without these books this week- please ensure these are brought in to school on a Thursday for marking with a Year 6 buddy).
Spellings - words beginning with the prefixes auto and super - automatic, autograph, autopilot, autobiography, autograph, autonomy, autofocus, superman, superior, supernatural, superstar, superficial. Choose 3 super words and 3 auto words and include them in a sentence. Make sure you know what the others mean.
Choose one of the activities on the Summer Book Challenge to complete.
At our 'Meet the Teacher' we asked for Home Learning and record books to be returned on a Wednesday in future as this gives Ms Fiers time to look at the excellent learning being done. We will remind the children but thank you in advance for your co-operation with this.
It is a pleasure to have some good weather at last. Please ensure that your child has a water bottle, sun hat and sun cream for playtimes, PE and other outdoor learning. Our Science topic is 'Plants' this term so we will be using the outdoor space for a lot of our learning.
In Maths we have created our own questions about fractions so that we can challenge other in our class.
In History, we will be learning about the Romans. We have spoken to the children to let them know we will be having a 'Roman Day' on Friday 18th May. We would like the children to come to school dressed up as Romans. Please come and ask if in doubt. Mrs Rawlings has her toga ready and is very excited!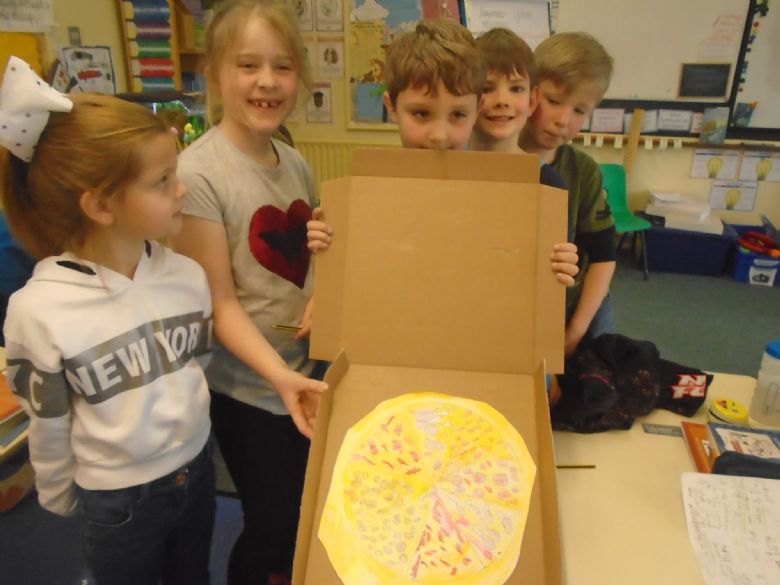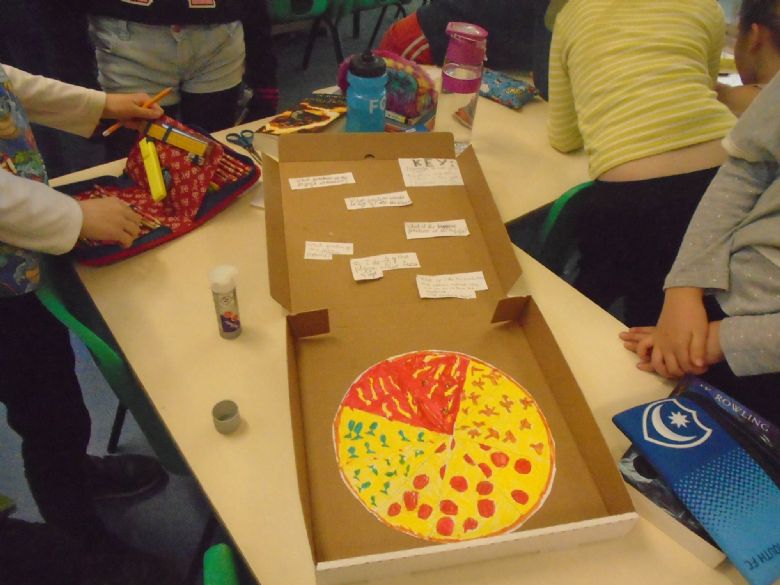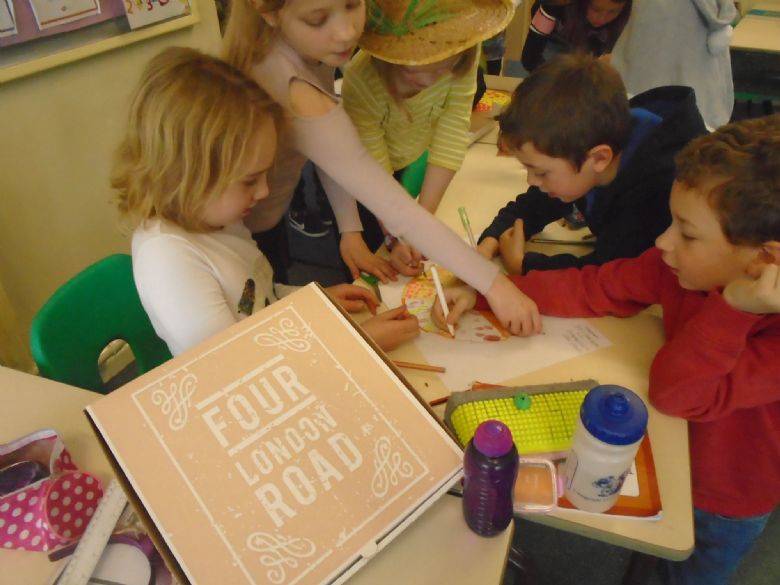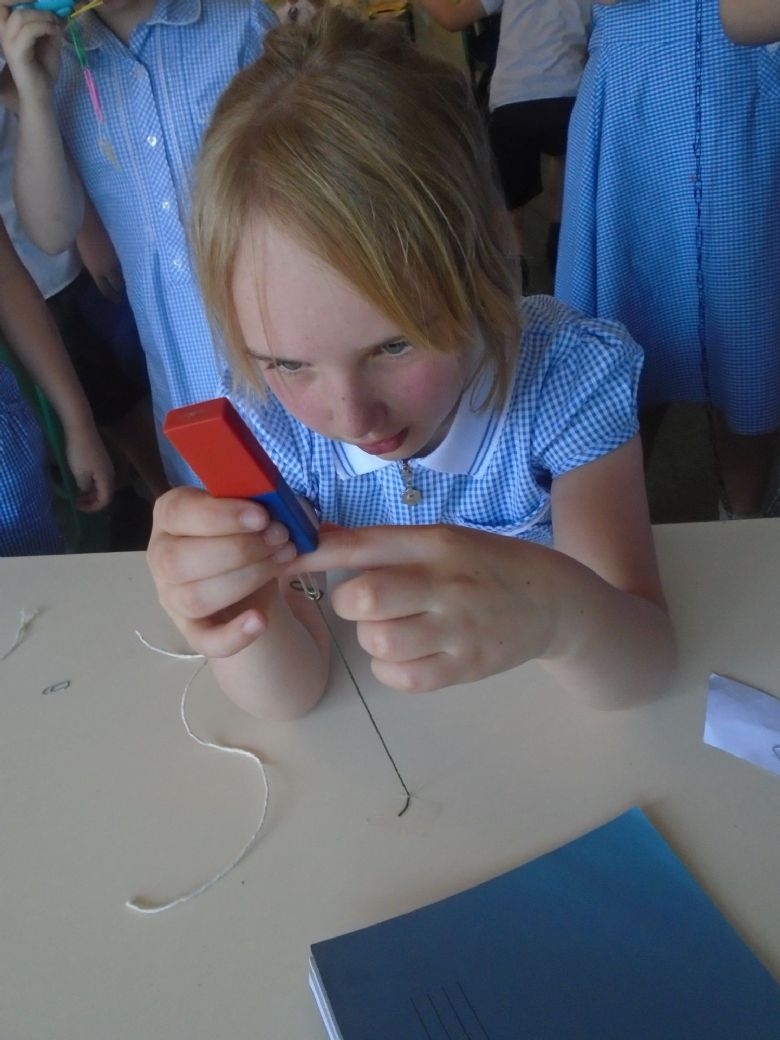 ---
What an exciting week we have had! At times, the classroom has looked like a herd of elephants have run through it but no - we were only doing Design Technology and creating our moving monsters. Hopefully you will find a suitable place for them as they come home! In addition to this, it has been assessment week for all KS2 classes. Watch out for the assessment papers coming home so that you can see the progress they have made and talk through the results.
In English, we started a new topic inspired by a resource called, Film on Line. We are learning about Ninjago characters and their elements. So eventually we will be creating our own comic books. Please look out for the activity sheet where your child creates their character.
In Maths, we continued our fraction work. Please keep using the online games that are in Interactive Resources.
Please continue with the next page of the Times Table Tests booklet.
All of us participated in the Sports Relief Challenge on Wednesday. We were delighted that Year 3 were able to sustain their activity for an hour. I'm sure they were very tired when they came home. All donations for this charitable event should now be sent in. Thank you.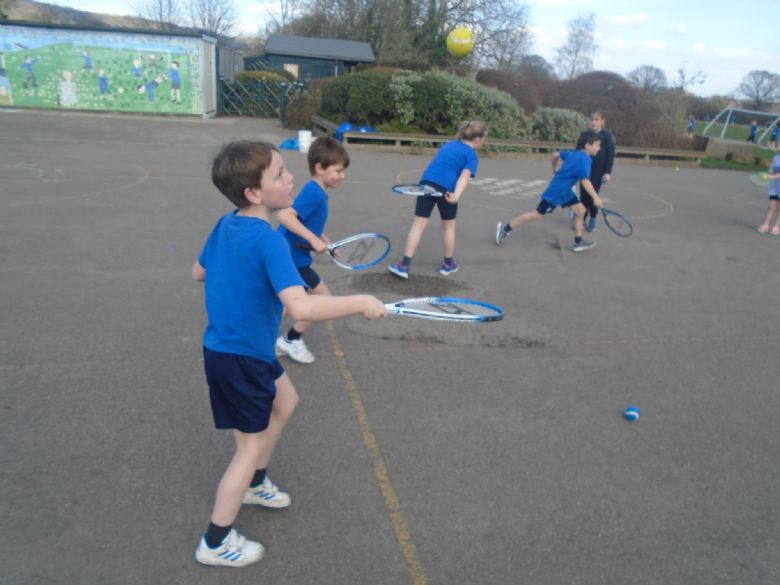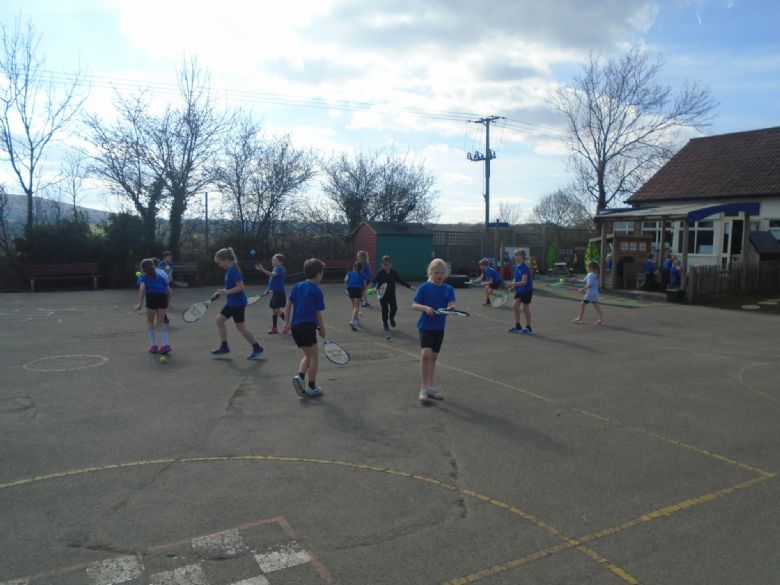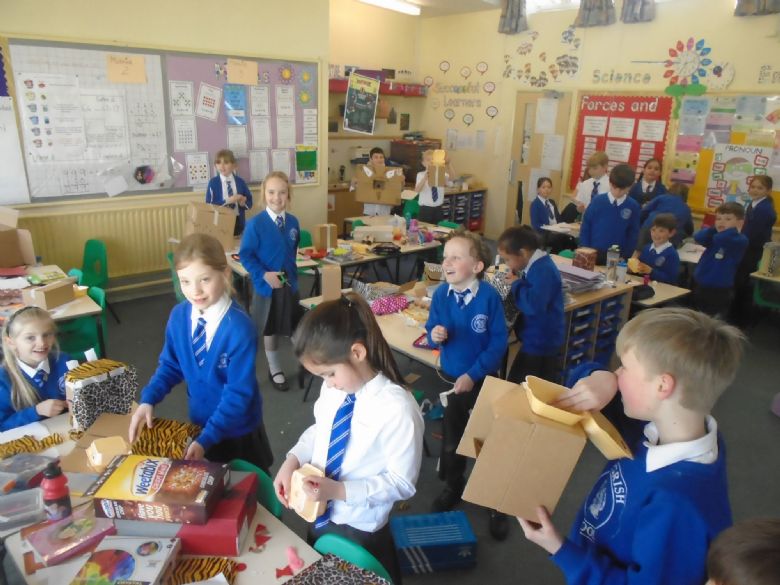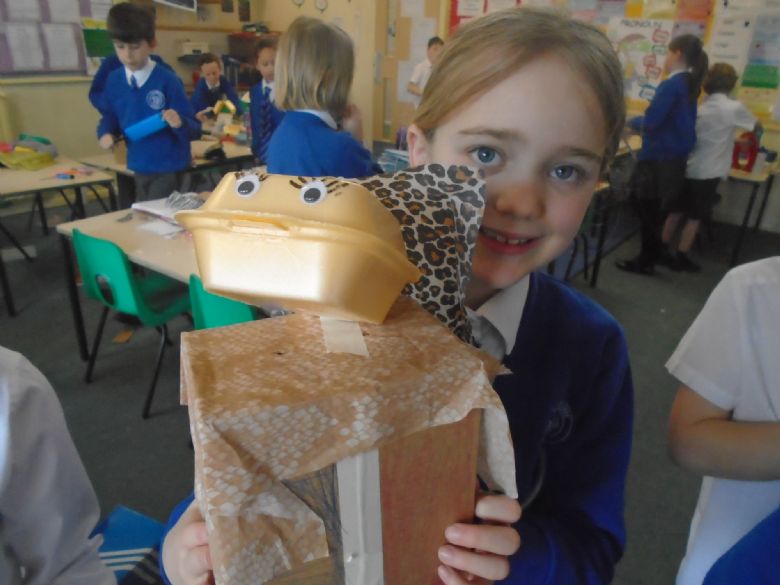 ---
Friday 16th March
Please see the update about the Home Learning project dated Friday 9th March.
Our learning about fractions in Maths lessons has gone very well. We now know what a unit fraction and a non-unit fraction is. We know fractions equivalent to one whole and can count up and down in tenths. We continue this unit next week and it may involve chocolate, cakes or pizza! For Home Learning, play the games that we have added to Interactive Resources.
Did you know that the wolf in the story of the Three Little Pigs was only trying to get his building tools back from the naughty pigs when he accidentally blew their houses down? Or that Cinderella was a lazy little madam who never helped her stepsisters do anything in the house and this is why she wasn't allowed to go to the ball? These are just some of the alternative stories that your children have written from different perspectives in our English lessons.
We have continued to play the word class game that we were introduced to last week. For Home Learning can you create a page in your Grammar Glossary that helps you remember what prepostitions are? Start with these: under, over, above, next to, through and keep going. Maybe you could present this as a mind-map rather than a simple list. We will share any that are completed throughout the week.
Next week, we will be rounding off our Active Planet topic by considering the question What can we do to help people who have been affected by a natural disaster? Please talk about this at home and be ready to share your ideas on Tuesday.
For DT, we are making a monster with a moving part so please could you provide your child with a box or whatever they need for their monster.
In Science, we have been learning about forces and magnets. We had lots of fun investigating which objects are magnetic and which are not. We have also found out what attract and repel means. Ask your child if all metals are magnetic?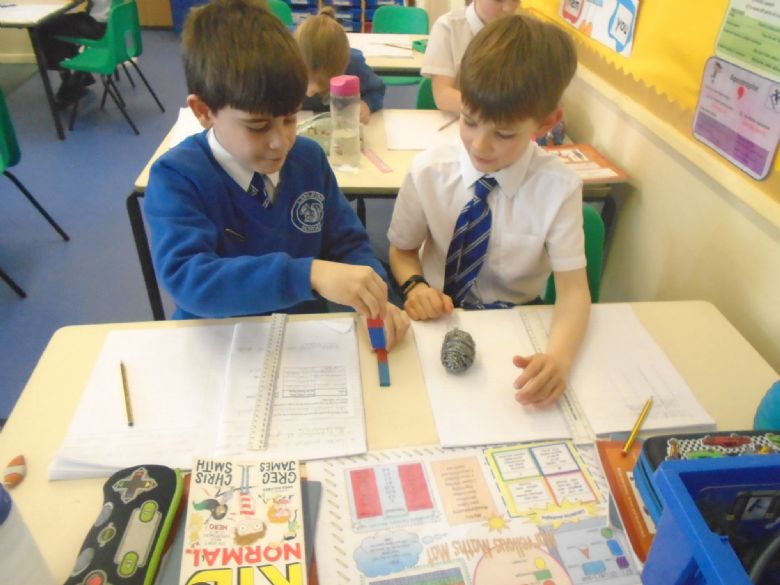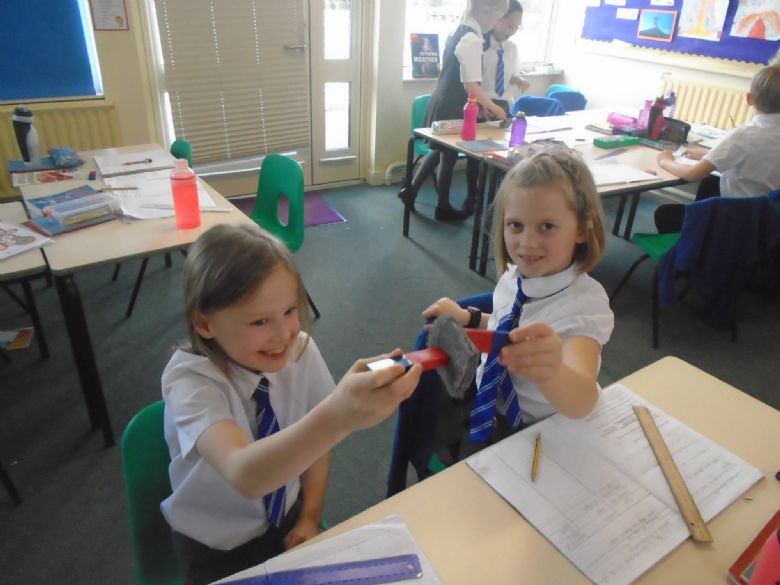 ---
Friday 9th March
UPDATE
Home Learning project
We would like you to produce a guide to looking after our fish and fish tank. The weekly videos for the Fishkeeper Fry project can be viewed on youtube. Just type into a search engine Fishkeeper Fry 2018 and you will be able to view information about the fish we have in our tank and how to look after them. The guide needs to be in the form of a leaflet or an A4 page and should include diagrams and pictures. I would like to make a class book with all contributions included so please don't make them larger than A4. This Home Learning is not due in until after the Easter holidays.
In English, we have been revising our knowledge of word classes by playing a game of noughts and crosses. Ask your child to explain how we played it. We have started a unit of work on fairy tales. We have been rewriting the story of 'Little Red Riding Hood' from the wolf's perspective. For Home Learning, can you write the story of The Three Billy Goats Gruff from the troll's perspective?
In Maths, we have been learning about how to find the perimeter of a shape. For Home Learning, find how many different shapes you can make with a perimeter of 24cm.
In Science, we have been learning about friction. We carried out an investigation to find out which material produced the most friction. Ask your child what they did and the conclusions they came to.
Please continue with the next page of your times table booklet.
---
Friday 2nd March
First of all I hope you are all enjoying the snow. Ms Fiers' new kitten, Elphie, had quite a shock when she ran out of the back door to find the dry grass had become cold, wet and powdery. I wonder what she thought had happened overnight? Maybe there's a short story to be written about her 'adventures' in the snow. For Home Learning, why don't you write about a character (animal, toddler, alien) who experiences snow for the first time. There would be great opportunities to use excellent adjectives to describe what they encountered. Alternatively, how about enhancing our learning about Active Planet and doing some research about how snow is made; why do snow storms occur; what causes an avalanche?
We thoroughly enjoyed the learning that we did on Wednesday for World Book Day featuring William Skakespeare. As he is a significant person in British history we learned about his life, his plays, his legacy in terms of new words he introduced and sayings that we are familiar with today (Article 29). Can you remember any of them and what they mean? The drama that the whole school created was fantastic and we will share the photos from this as soon as we get back to school. For Home Learning, why not create a story board of Midsummer Nights Dream (Article 31).
In Maths, we continued with the unit of work on length. Next week we go on to find out the perimeter of shapes. Find out what this is. Measure the perimeter of 4 regtangular objects, for example, your coffee table or ipad. How did you work it out?
Please continue with the next page of the Times Table Test book. We will find time to catch up with marking the last one on Monday.
And finally... before we left school on Wednesday we put the food block back into the fish tank. So they will be happy fish when we get back.
---
Friday 23rd February
We hope you enjoyed visiting our Art Gallery on Thursday. The children thoroughly enjoyed showing their creativity in all the pieces they were asked to produce. The Home Learning projects were amazing and we all learned such a lot about a wide range of European artists. Thank you for your support with this.
In English, we have been reading and studying a book based on a real life character who was a slave in the south of the US in the 1800s. We focused on understanding the characters of Minty, Mrs Brodas and Old Ben. Ask your child who these are and if they can describe their characters. For Home Learning, write the next part of the story when Minty escapes and travels north to Philadelphia. Look in your Reading Record to remind yourself of your writing targets.
In Maths, we have started a unit of work on length. The focus has been understanding the relationships and converting between cm and mm. We completed some tricky puzzles and problems and have included one for Home Learning. Why not have a go at measuring objects around the home, creating a table and giving the lengths in mm then convert these to cm and mm.
Please continue with the next page in the Times Tables Test books.
This week we added six more fish, Harlequins, to our tank. After the half term, the tank had to be cleaned and the water replaced and tested. We are pleased to say that all of the fish survived over half term and the water was looking very clear with healthy plants.
We thoroughly enjoyed the Planetarium visit. We found out lots of information about the constellations and the planets. See if you can amaze your parents with your knowledge.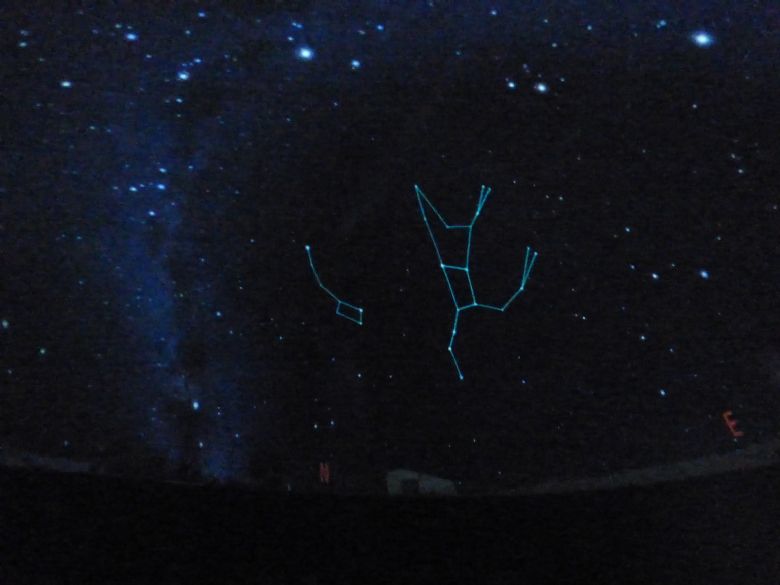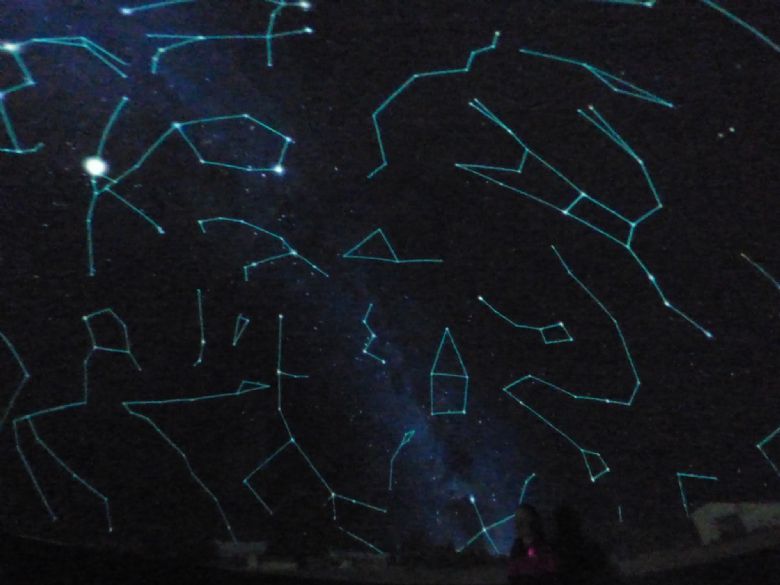 ---
Friday 9th February
First of all, it was really good to see so many come in to take a look at the learning that has been going on this half-term at our 'Open Classroom' on Wednesday.
It was an opportunity for the children to show off the fish tank and discuss what they have learned about fishkeeping so far. Many have quite an extensive knowledge about taking care of the tank and the fish so this has been a great opportunity for us to learn from them. Sadly, we have lost three of the Golden Zebra Danios. The tank suddenly became very cloudy and we noticed that the pump had slowed down. We cleaned it out only to discover that a kink had developed in the pipe so we have straightened it out and hopefully all is back to normal. Ms Fiers will be popping in during half term to keep an eye on things but we will be putting a block of food in to keep them going.
This week has been assessment week (reading, arithmatic and times tables) so the learning has been linked to reviewing these and thinking about targets in writing and maths (found in the front of Reading Records). When we have finished reviewing papers, they will be coming home for you to talk them through.
In Science, we have been continuing with our learning about rocks and soils. Last week we made our own compost and we are observing what happens to it. We have tested the permeability of different soils and great fun was had by all.
For Home Learning over the half term, continue with the Book Challenge, complete the next page in the Times Tables Test booklet and finalise your European Art project.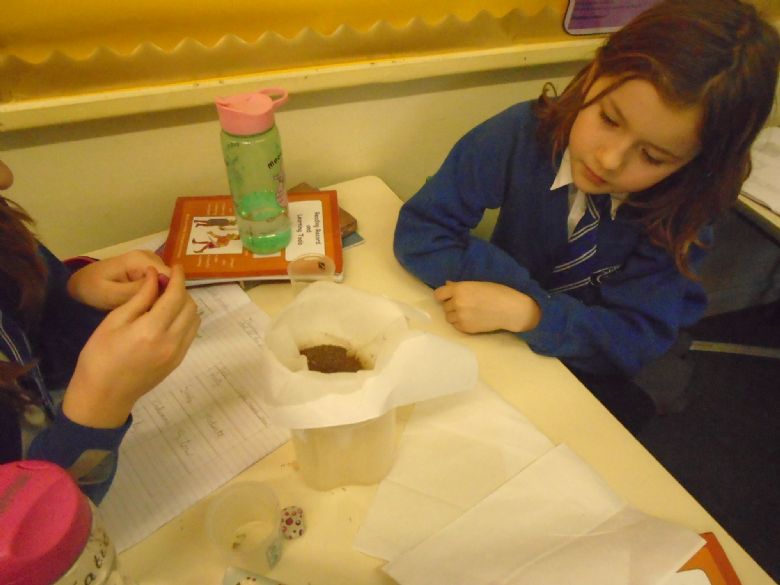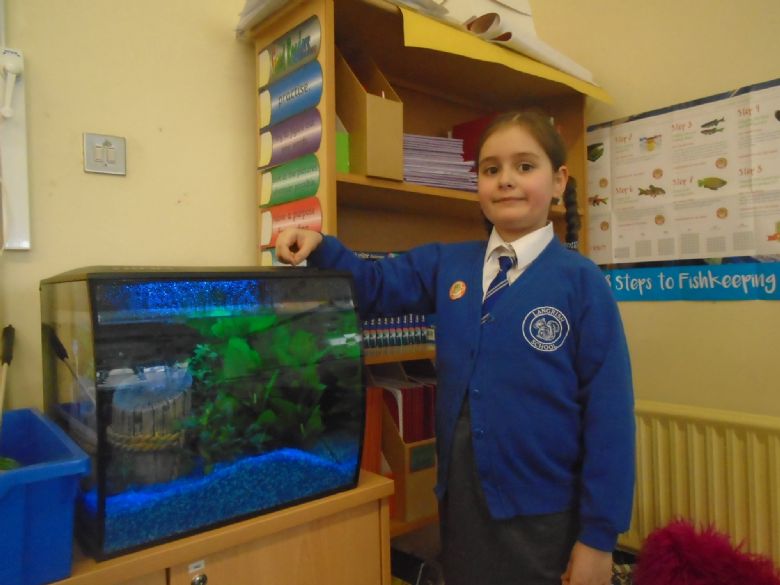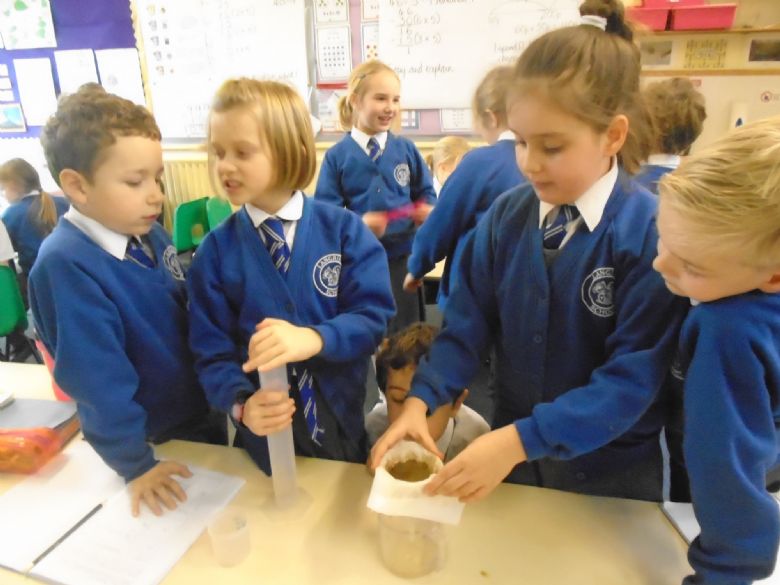 ---
Friday 2nd February
We are sure that your child has told you about our exciting addition to the classroom. Our tank has been filled with all that is required to keep tropical fish. Today, the first of the fish - Zebra Danios - have been added, which we will be naming on Monday. Over the weekend, have a think about some suitable fish names!
Each week, we will be learning about the types of fish we add as well as how to care for them. We will choose a 'Fishkeeper of the Week' from the class and we are invited to send a picture of this pupil to the 'Fishkeeper Fry' project sponsored by Maidenhead Aquatics. They will include any pictures on their website and it is essential that, along with any photos, we send them written permission to do so. Please read the letter that we have sent home carefully, so that you are fully aware of what you are agreeing to if you sign it. Please return signed letters to the school as soon as possible.
Our English unit of work this week has been to write poetry. We investigated three types of poem; a haiku, a tanka and a cinquian. Each of these forms adhere to a strict syllabic structure. Ask your child if they can remember the different structures. For Home Learning, have a go at writing one of the three types.
This week, we have sent home the Spelling Logs that we use in class for collecting words that we have either mis-spelt in our writing, asked for help with the spelling or practised as part of our spelling program. For Home Learning, have a go at learning some of them.
We completed our unit of work on adding and subtracting money. We used the counting on method to work out how much change to give (you may remember this is how it was done before tills did it for us). Recording was done on a numberline. Look at the photo we have posted below. For Home Learning, ask an adult to 'sell' you two items less than £2 each, then calculate how much change you woud receive if you paid with a £5 note. Even better, create a shop and practise adding items and giving change. How about writing a couple of word problems to challenge us!
Please continue with the next page in the Times Tables Test book so that it can be marked with your Year 6 buddy.
Thank you for the European Artist projects that have been completed and sent in. Remember to bring these in to school for our exhibition on Thursday 22nd February at 2:45.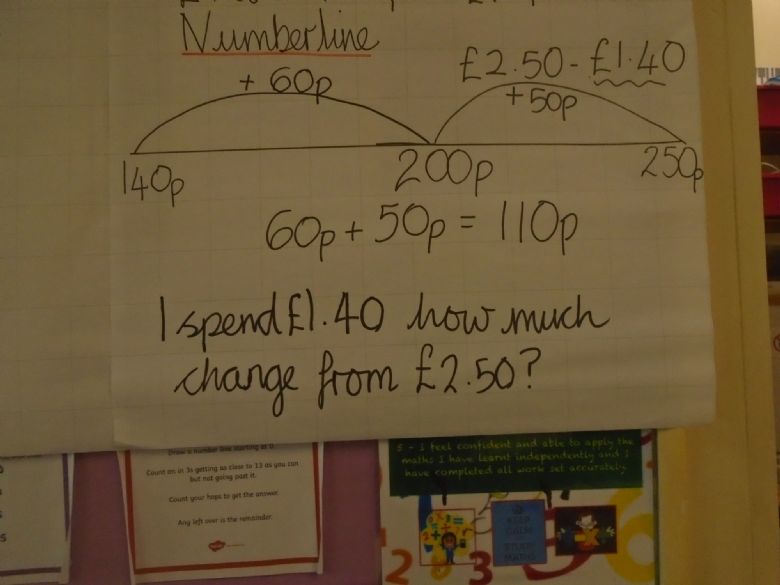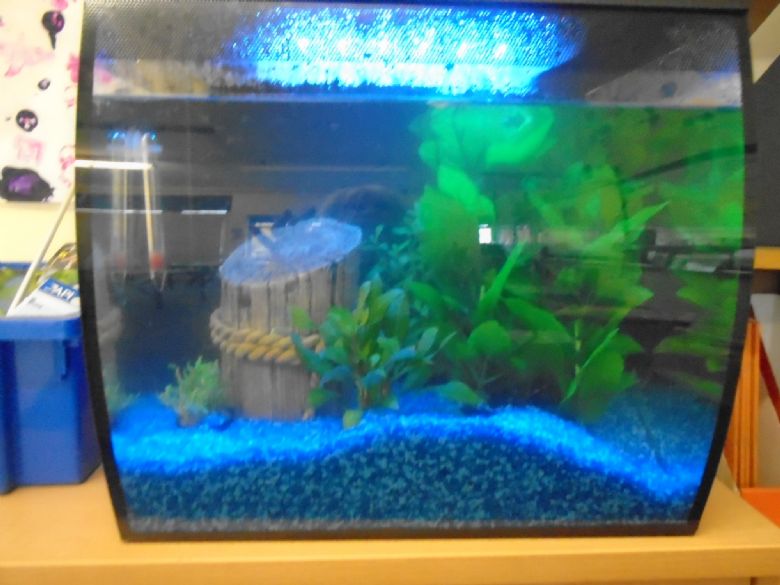 ---
Friday 26th January
First of all, we would like to say how proud we were of your children's performance yesterday. They sang and played beautifully. (Article 29: Your education should help you use and develop your talents and abilities.)
The stimulus for our writing this week has been a video called, 'I lava you.' The children loved it! We wrote the narrative for the story. You can find it on youtube so have a look.
In spellings, we have been thinking of words with the prefixes: sub and tele. For Home Learning make a list of as many words as you can beginning with these prefixes ready to share on Monday.
Here is a list of words ending in 'ly': safely, quickly, hurriedly, lovingly, frantically, happily, silently, magically, gently, carefully. For Home Learning write a paragraph about whatever you like and include as many of these as you can.
In Maths, we have been solving problems with money. Next week we are going to be moving onto statistics and data handling. Can you find a bar chart or a table that includes data to bring into share with the class?
In Science, we carried out an investigation to find out different properties of rocks. Have a look at the photographs below. We have been learning about fossils and the fossilisation process. Ask your child if they can remember any of the steps.
Don't forget to return your parent/teacher consultation slip (parents evening) so that you are more likely to get the time slot that is convenient to you.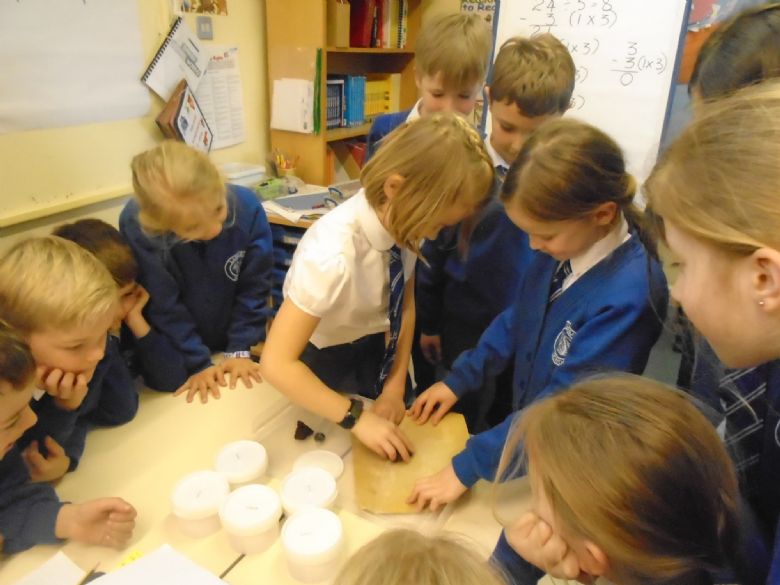 Friday 19th January
First of all, we know that a lot of children have already started to complete the Spring Term Reading Challenge and we want to thank you for the tasty treats that have been made for us so far... We've had some muffins and a jelly! If your child has finished the Autumn Challenge and has not yet collected their house points, it's not too late.
In English, we have written diary entries about the eruption of Vesuvius which covered Pompeii. We have learned about adverbial phrases and fronted adverbials. Ask your child to explain what these mean and for Home Learning , ask them to look in their current reading book and find and copy eight sentences which start with fronted adverbials. Be ready to share these on Thursday.
In Maths, we have used repeated subtraction to divide a 2 digit number by a 1 digit number. We have included a photograph of the initial method as well as the progression where multiples of the divisor is subtracted. For Home Learning have a go at these three questions:
42 divided by 3, 56 divided by 4, 112 divided by 8
There will be new writing and maths targets in Reading Logs next week so look out for these as we will set short tasks for Home Learning to address these.
We would like the next page in the Times Tables Test Book to be completed ready to be marked with the Year 6 Buddies on Thursday.
Just a reminder, we would like the Home-Learning projects (European art and artists) in by Friday 9th February. Have a look at our learning in art below.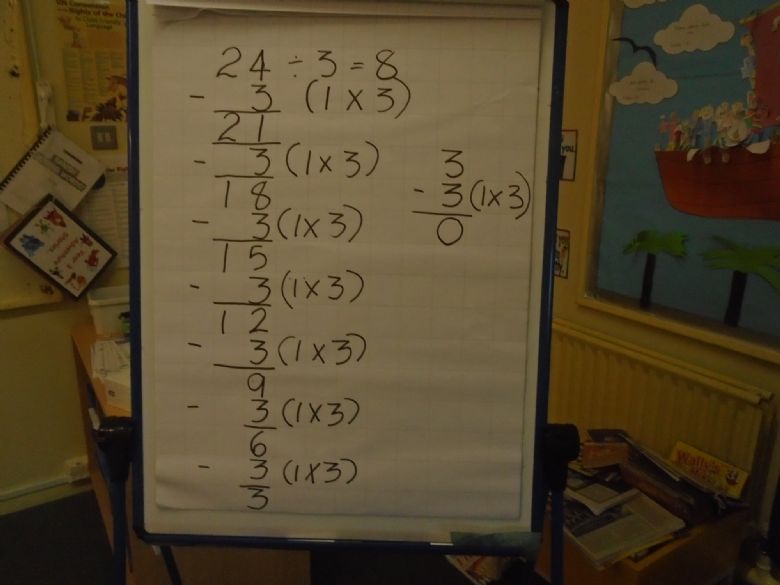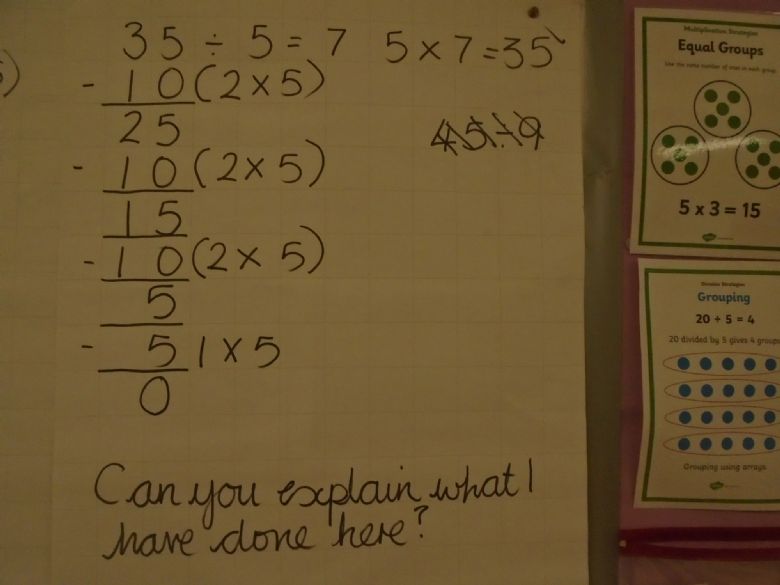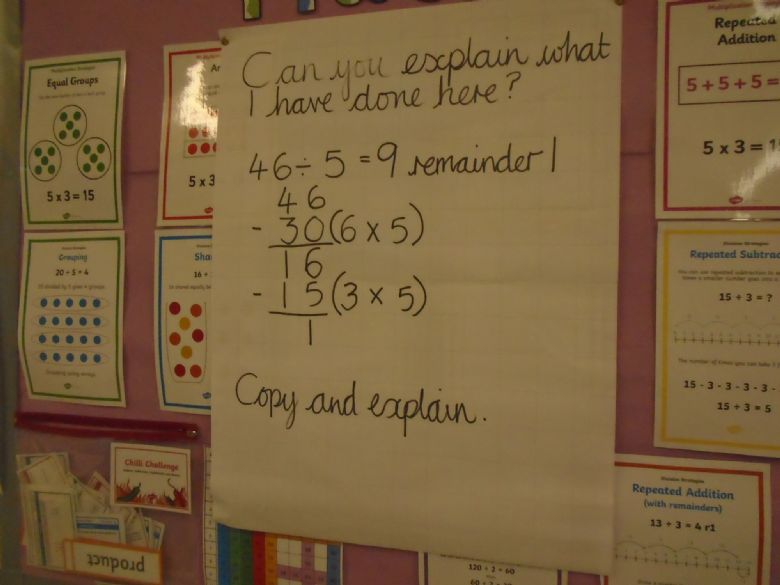 Friday 12th January
Another busy week with lots of learning!
English:
To support our Geography unit we have been looking at a text about Pompeii called, 'Buried Alive.' We have used our knowledge of conjunctions to improve a more simple part of the text.
Our spelling foci have been, the spelling patterns 'gue' and 'que' at the end of a word. For home learning, make a list of as many words as you can think of with these endings, ready to share on Monday morning. In addition to this, ask your child to tell you the rules for adding 'ed' to a verb to make a past tense word.
Maths:
As promised at the 'Meet the Teacher' we have added a photo of the method we use for expanded method for multiplying. Write two examples in your 'Home Learning Book' ready to share on Monday.
Geography:
We have explored the structure of the Earth. Can you remember the four layers we learned about?
Date for your diaries for next term: Overnight sleep over at the Novium Museum is Friday 8th June.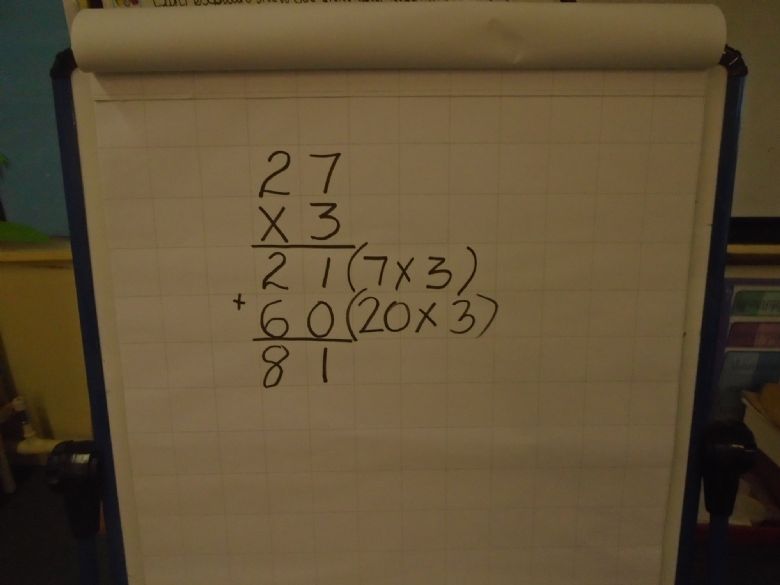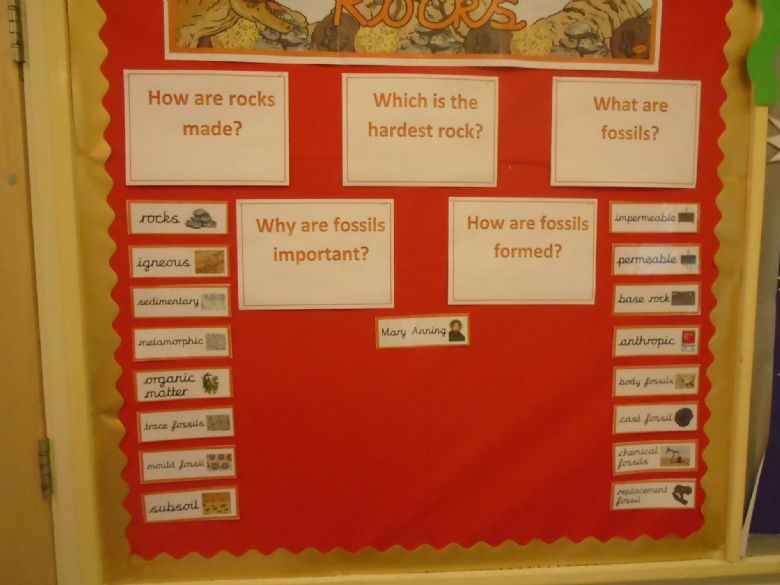 ---
Thursday 21st December
We've made it!
First of all, thank you for all of the support you've given your child and both of us this term.
We hope that you found the gap analysis for maths that was sent home with your child yesterday. If you have any questions regarding it, we will be happy to chat with you after the holiday.
We would be delighted to hear about any new books that have been given as gifts - bring them in to share with us in the new year.
Class 3's 'Meet the Teacher' is Friday 5th January at 2:45 p.m.
And finally...... we hope you have a great holiday (we have reminded all of the children that it's your holiday as well!) and Happy Christmas.
Friday 8th December
This week we travelled back to the Stone Age in order to experience what it was like as a stone age child. We built fires in the copse under the supervision of Miss Parker (our forest schools leader) and made cave paintings on the classroom walls. Take a look at the photos below.
As it has been assessment week, the children have worked extremely hard. Thank you very much for all your hard work, supporting your children with everything but especially times tables. The children will be bringing home a spelling sheet highlighting the spelling patterns that they need to know.
In English:
The children have had fun writing letters to you trying to persuade you to buy them their dream present. Be sure to ask your children what they wrote about.
In Maths:
We have been looking at approximating which requires rounding a number to it's nearest 10. Talk with your child as to why it would be useful to approximate sometimes rather than work out an exact answer.
In PHSE:
We have finished making our snakes and ladders games where the children were asked to relate the articles on the UNCRC to their own experiences. They came up with some really good examples for instance: to ensure all children have access to our school, a ramp and handrail has been provided from the classrooms to the playground. (Article 23 - Governments must do all they can to provide support to disabled children).
Home Learning:
This week will be some reading about the Bronze Age and Iron Age and we will be using these texts on Tuesday in our History lesson. Please continue with the next page in the times tables booklet.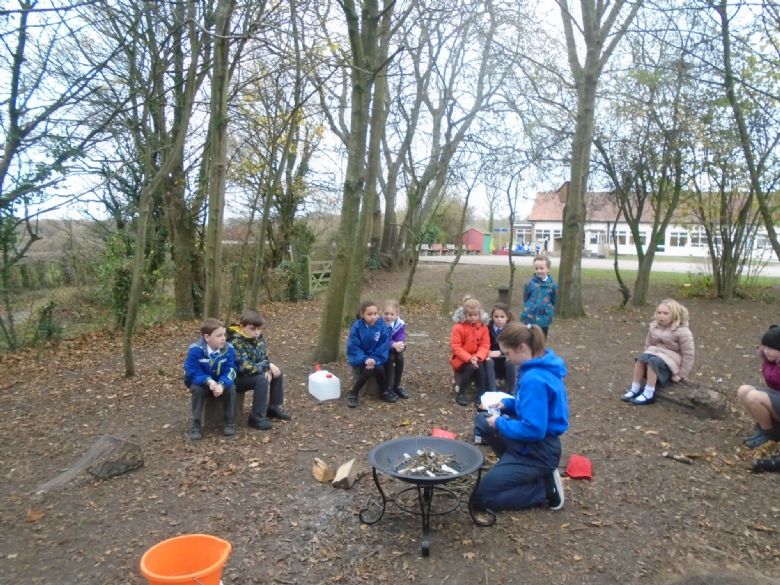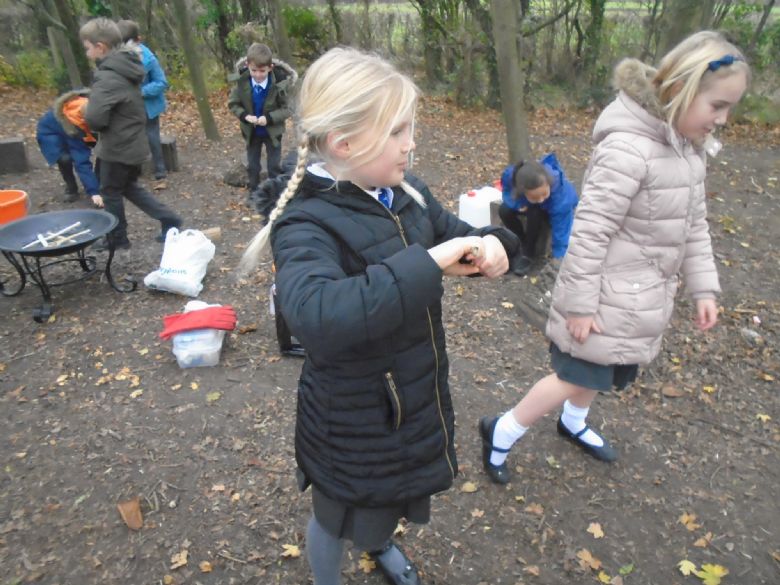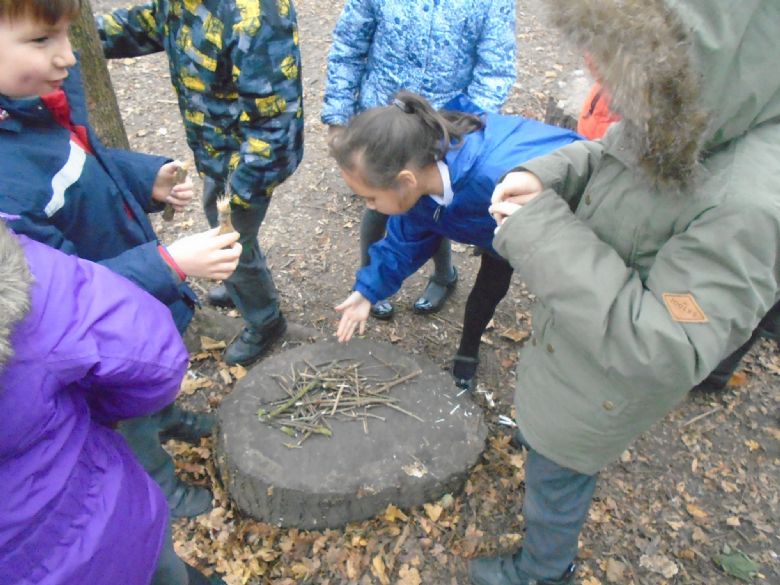 ---
Friday 1st December
We are still working hard on the lead up to Christmas so it is brilliant that the majority of children arrive on time to start their learning at 8:45 a.m. Those vital minutes in the morning is when we do 'Early Work' which could be a Bloom's challenge question, revision of calculations or correction of misunderstandings in work.
English - Some letters will be coming Mrs Wright's way to tell her Class 3's opinion about school uniform. Miss Wiggins held a debate so that the children could voice their opinions (Article 12 - You have the right to give your opinion, and for adults to listen and take it seriously). During the debate pupils were encouraged to listen to each other carefully, without interupting, then they were encouraged to express an opinion of their own. The children's writing definitely benefited being assisted to express their thoughts verbally prior to writing the letters. Persuasive writing, as a genre, will continue next week.
In Maths, we have continued to look at multiplication and division with larger numbers so all the hard work that children are putting in to learning their tables is of real benefit in these lessons. Towards the end of the week we learnt how to calculate using grid method. Have a look at the maths calculation policy on the website to familiarise yourself with this.
In Science, we have been learning about light and how shadows are formed. Ask your child if they can tell you what the words, transparent, translucent and opaque mean. We have started our science longitudinal study, which will be carried out throughout the year. We are looking at shadows on the playground and how they change during the day and in each season.
For home learning why not use a dice to roll first a two digit number followed by a single digit number to make a multiplication sentence eg. 23 x 6 = . Then calculate using grid method.
Mrs Wright has asked the children to bring in a healthy recipe to be made into a 'Langrish Cook Book'.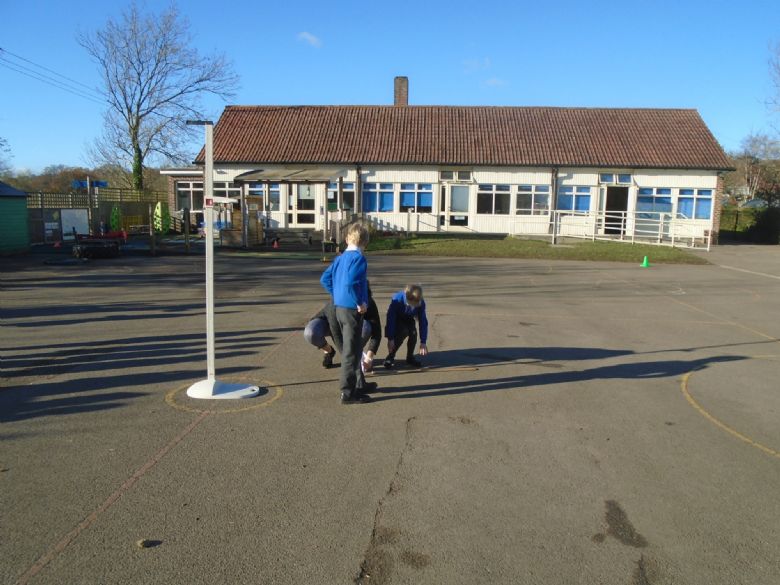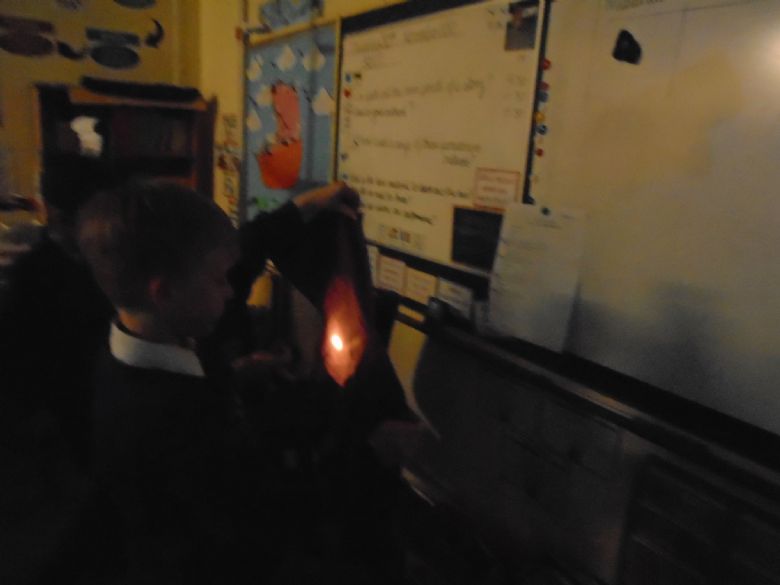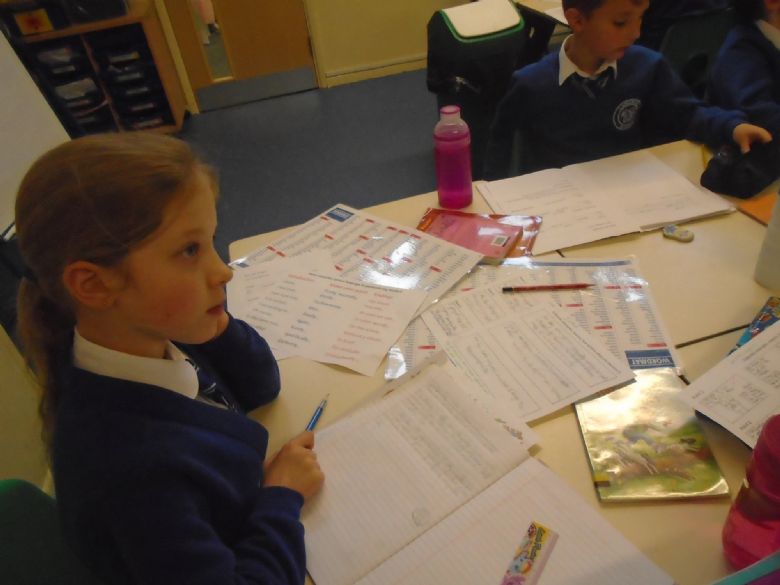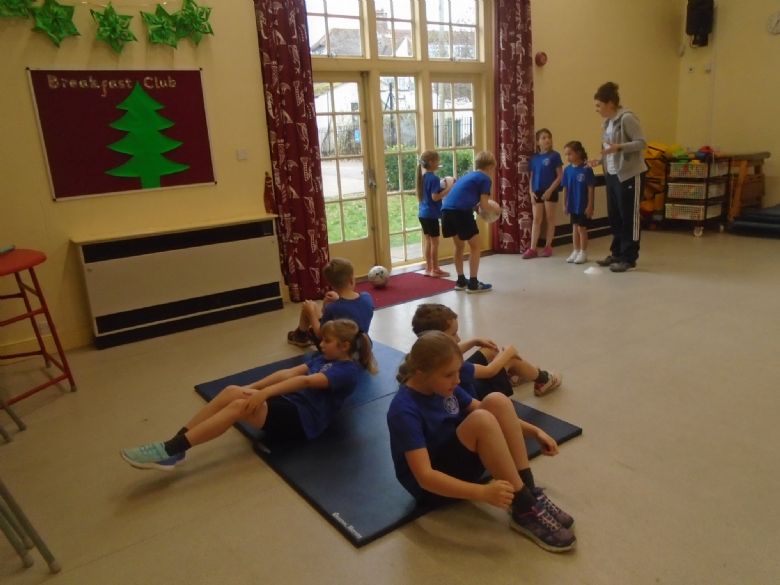 ---
Friday 24th November
This week, we have been thinking about how we can make Langrish a healthier school. In Year 3, we have been set goals in PE to become fitter by completing circuits and improving throwing and catching skills. We all feel that we have improved in agility and skills.
This has also been a theme of a whole school assembly led by Mrs Wright. She collected feedback and ideas for future actions from any pupils who wanted to give them. It is very important that all pupils take the opportunity use their voice to influence decisions in the school (Article 12 - All children should be listened to and their views taken seriously.)
In English, we have enjoyed writing our own adventure stories using a short video called 'Taking Flight'. The focus of the learning was to be able to include dialogue and set it out accurately. This will be an ongoing objective to be included in our writing on Freedom Friday. Ask your child about this new aspect of our timetable.
In Maths, we have revisited Place Value and consolidated our learning through puzzles and games. Ask your child about our 'Draw it. Solve it. Prove it. Explain it.' grid. Even better, pop your head through the classroom door at the end of the day to see it on our Maths working wall.
Home Learning
Have a go at writing a conversation between two characters showing that you know how to set it out using the 5 Golden Rules of Speech (I have attached a crib sheet as a reminder).
Don't forget to also complete the next page in the Times Table Test book.
---
Friday 17th November
For Anti-Bullying Week we have been looking at how we can use our Rights to help prevent bullying. Children in our class made reference to Article 19 on our class charter (Governments must do all they can to ensure that children are protected from all forms of violence, abuse, neglect and bad treatment from parents and anyone else who looks after them). They took part in a fantastic workshop delivered by Laura from 'Perform'. The workshop reflected the official Anti-Bullying Week theme which is 'All Different, All Equal'. The activities for the workshop included knowing how to project a confident stance, voice and greeting; how to stay calm if anybody makes an unkind comment to us and what we can say to turn a negative into a positive.
In English, we used a short video called Little Boat as a stimulus for our writing. This was an opportunity for pupils to show off their planning, editing and reviewing skills with limited support. Next week, they will use another short video as a starting point to do the same independently. For Home Learning, have a go at finding a picture that intrigues you and captures your imagination then go through the process of planning a narrative, writing a quick first draft, editing and reviewing (including writing a wonky paragraph).
In Maths, we have looked at solving word problems involving all four calculations. Why not write several word problems that involve using times tables to solve them? We will use the best ones in class next week but make sure that you have worked out the answer and can explain your reasoning.
Continue with the next page in the Times Tables Test Booklet.
We have added more games to Interactive Resources to support the learning.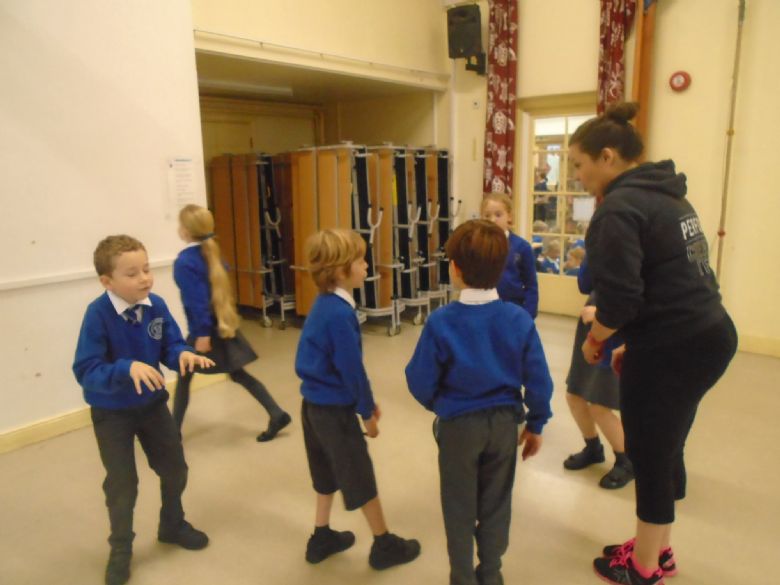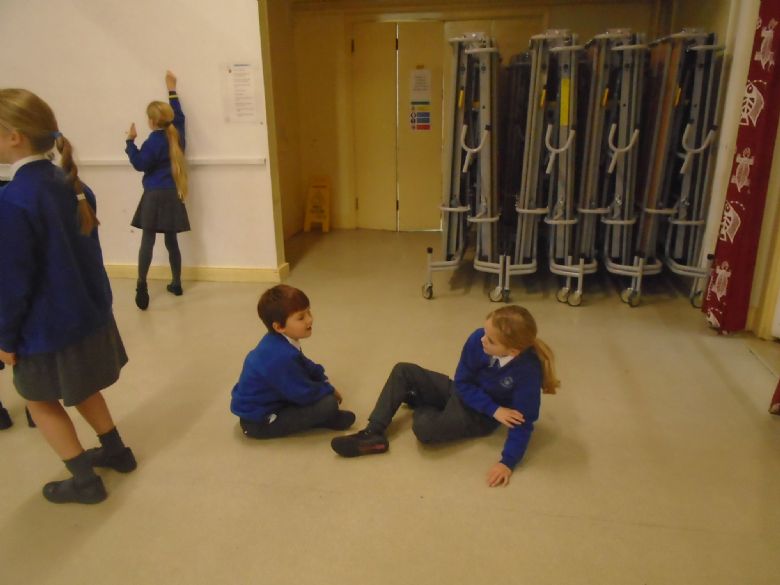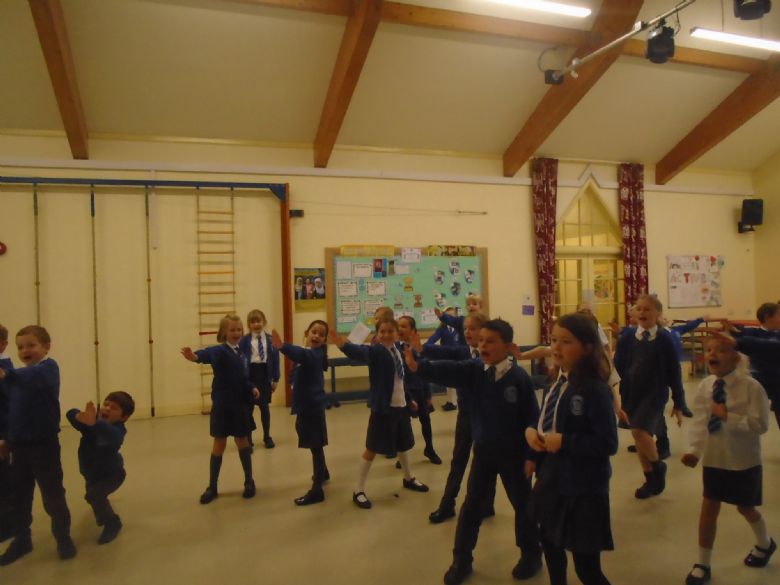 Home Learning mini project
We have been learning about UNICEFs Outright campaign which focuses on the plight of refugee children. The campaign highlights the fact that refugee children in the UK are denied their rights to be with their extended families as the law only recognises parents as family. We would encourage the children to produce a poster to highlight this fact.
---
Friday 10th November
The Rights Respecting Steering Group presented an assembly to introduce our involvement in the Outright Campaign promoted by Unicef. Please look at the RRSA section of this website which will lead you to the Unicef website where you will find information about it. Very briefly, the theme for the Outright Campaign this year focuses on the plight of refugee children. Most specifically Article 7 (you have right to a name) and Article 10 (if you live in a different country than your parents do you have the right to be together in the same place.)
In English, we used the book 'The day I swapped my dad for two goldfish' as a model for writing our own humourous recounts. We were consolidating past tense verbs and beginning to look at how to write dialogue. For Harry Potter Friday, we have written a newspaper article about Quidditch. Our spelling focus is homophones. Can we spell them and use them in the correct context? Have a look at the photograph below for the ones we have been practising.
In Maths, we have had a successful time working out problems using the 3, 4 and 8 times tables. Can you explain the relationship between the 4 and the 8 times table?
In Science, we are in the process of investigating the most suitable material to use to make a reflective bag. The photograph below shows some of our key ideas. We are so proud of all the amazing projects that have been sent in. Thank you for your time and encouragement.
Home Learning:
Please continue with the next page of the times table booklet. We just had a few absent booklets this week. Can we remind you that they are marked with their Year 6 buddy on a Thursday?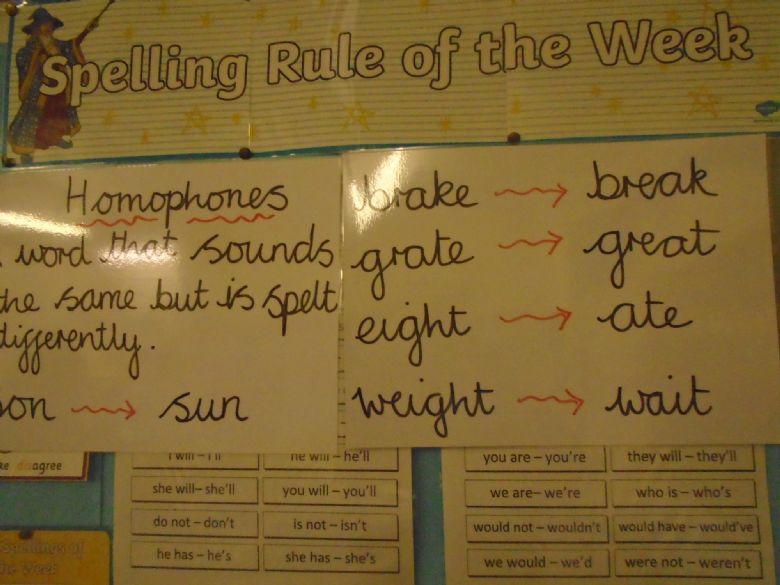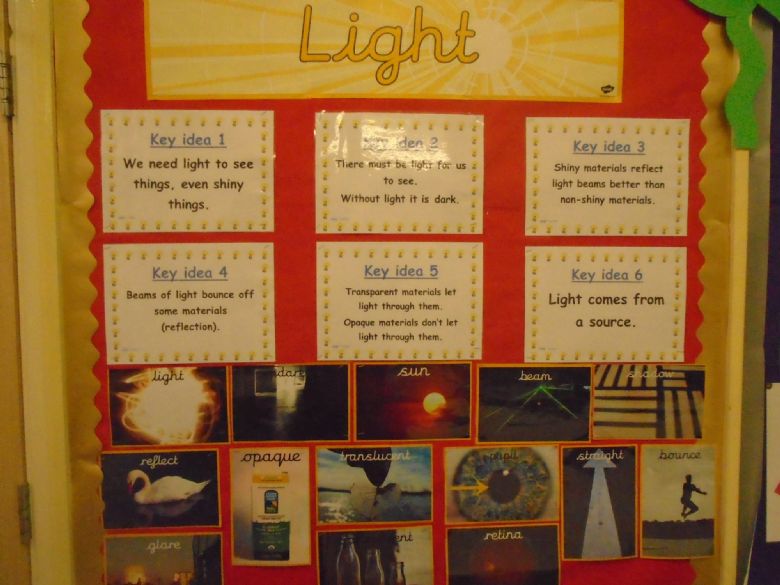 ---
Friday 3rd November
Welcome back and we hope you had a good half term. The children returned to school full of excitement as many of them were looking forward to Halloween and Bonfire Night celebrations.
Our assemblies this week have been about getting on in the playground as well as looking at the story about Guy Fawkes and reminding all about keeping safe around fireworks. Both assemblies reference articles on the UNCRC. Article 19 talks about having the right to our own space whereas Article 19 refers to protection from harm.
In English, we have been writing recounts in various forms. Can you explain what a compound sentence is and how it makes our writing better? Have a go at writing one compound sentence for each of these: for, and, nor, but, or , yet and so.
Our Maths focus has been to apply our addition and subtraction skills to reasoning and problem solving. We have pre-assessed our understanding of multiplication and division and will be looking at these next week. Keep practising 2, 3, 4, 5 and 10 times tables as we will be using these in our lessons. Some games have been put in Interactive Resources to help you with this.
Please continue with the next page in the Times Table Test book which will be marked on Thursday.
Your Science project is due in on Wednesday 8th November.
Thank you to those of you that came to the 'Meet the Teacher' session. At this session we drew attention to the safeguarding page on the website and went a through a powerpoint about e-safety. This will be uploaded today.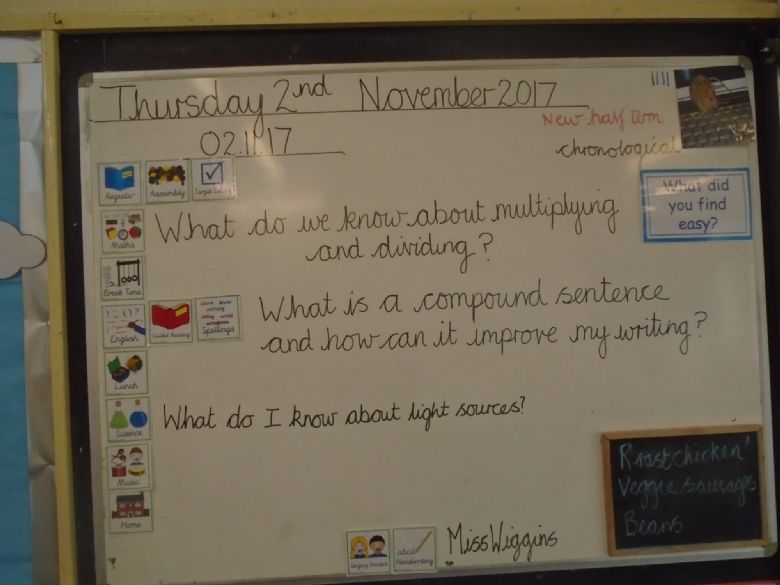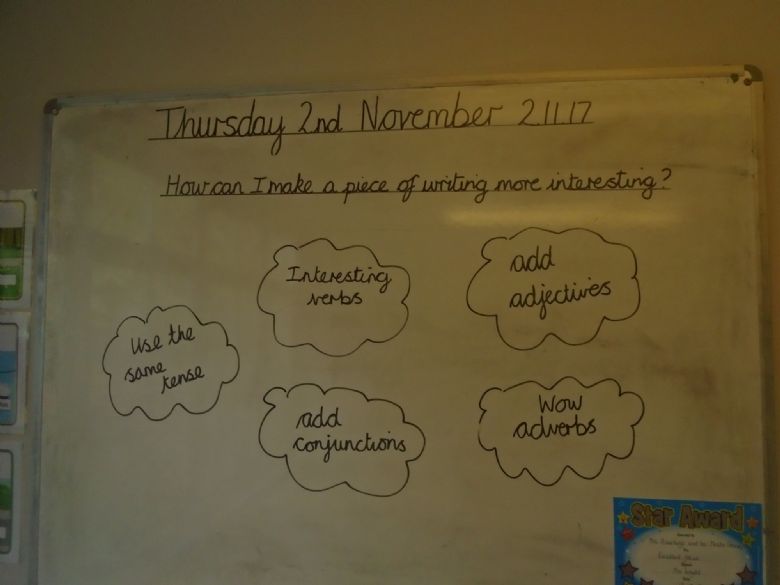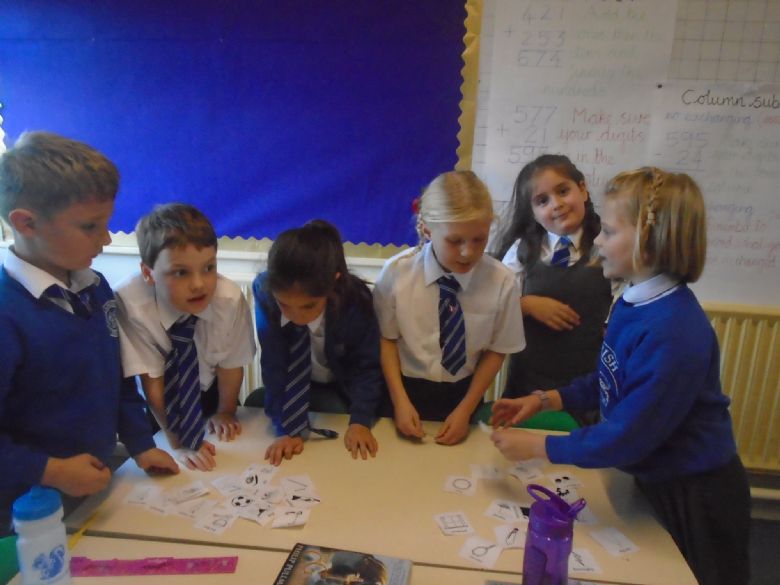 ---
Friday 20th October
We can't believe that half term is here already. The children have had such a busy time and lots of learning has gone on.
For our English unit, we enjoyed creating our board games and writing instructions for how to play them. We focused on using imperative verbs (ask your child to explain what these are) and using clear, concise sentences.
In Maths, We have consolidated using column method for addition and subtraction with exchanging. Have a look at the Maths Calculation guidance found under Maths in the 'Parents' section of the website.
We really enjoyed the drama workshop on Friday. We went on an under the sea adventure. Have a look at the photographs at the bottom.
Complete the next page in the Times Tables Test book.
We hope you are able to find a space for the lovely photo frames that have been brought home.
We hope you have a restful half term.
***Date for your Diary: Meet the Teacher for next half term is on Thursday 2nd Novemeber at 2:40 p.m. ***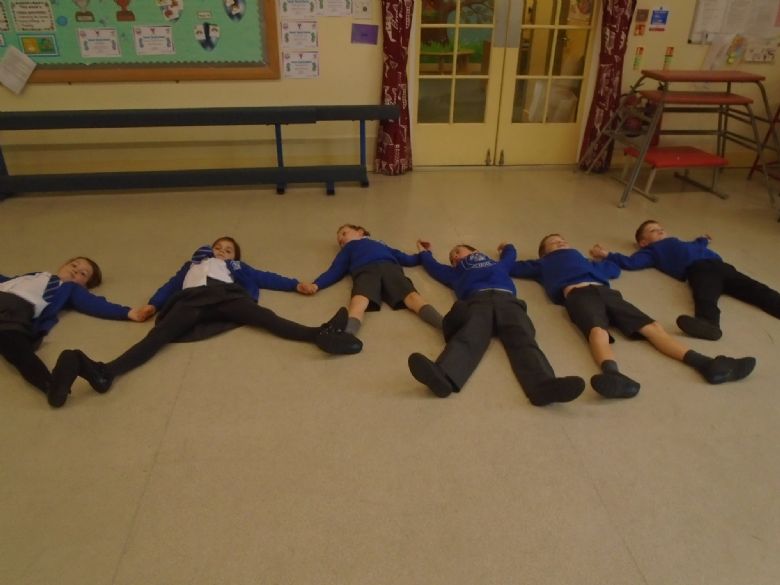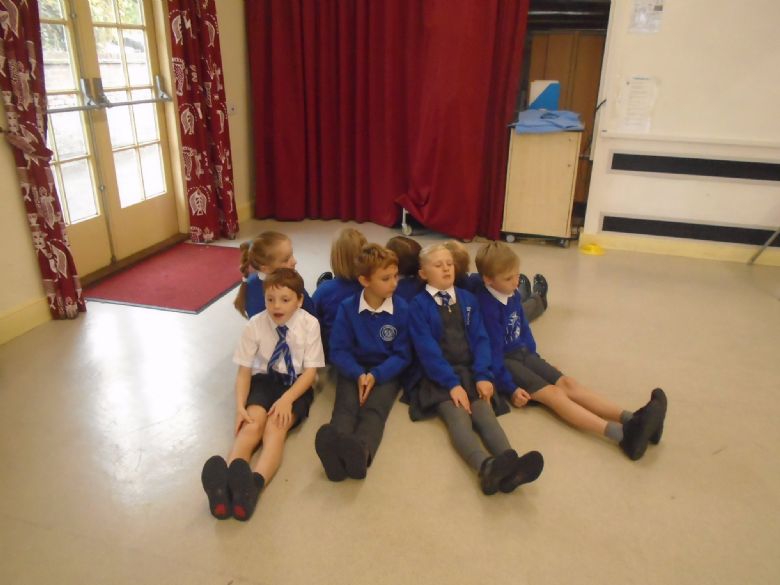 ---
Friday 13th October
We hope you enjoyed sharing your child's work at our Open Classroom on Wednesday.
In English, our grammar focus has been writing complex sentences. Can you explain these terms: clause, phrase, main clause, subordinate clause, conjunction?
Have a go at writing 2 sentences where the main clause is at the beginning (eg. The hungry lion chewed on the juicy bone even though he had no teeth.) and 2 sentences where the main clause is at the end (Before she could eat her jelly, Olivia had to finish her roast dinner.)
In Maths, we have been introduced to column addition. Can you remember any top tips for setting these out accurately?
We have been practising the 3x table regularly and have now added 4x. As a class, we've enjoyed singing along with some times tables songs found on Youtube. Why not have a look together and learn these funky songs.
Complete the next page in your Times Tables Test book.
How are you getting on with your Science project? Don't forget it is due in on Wednesday 8th November. If you are having any problems please come and talk to us.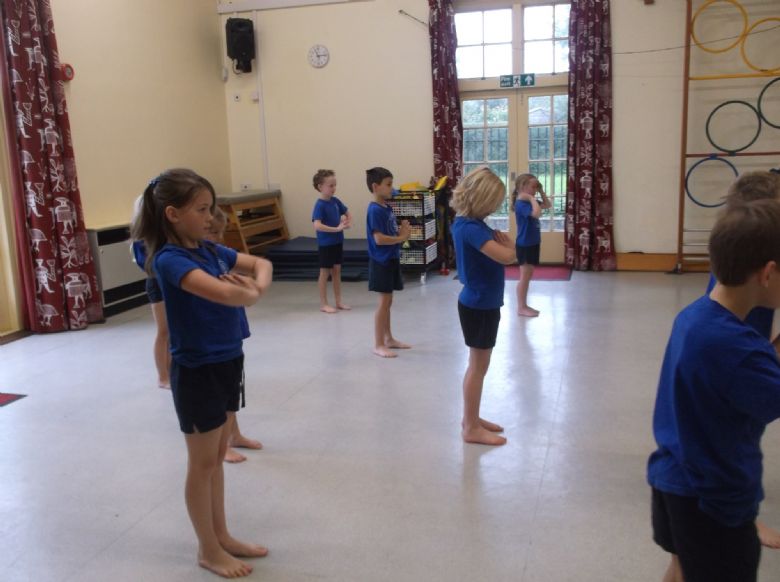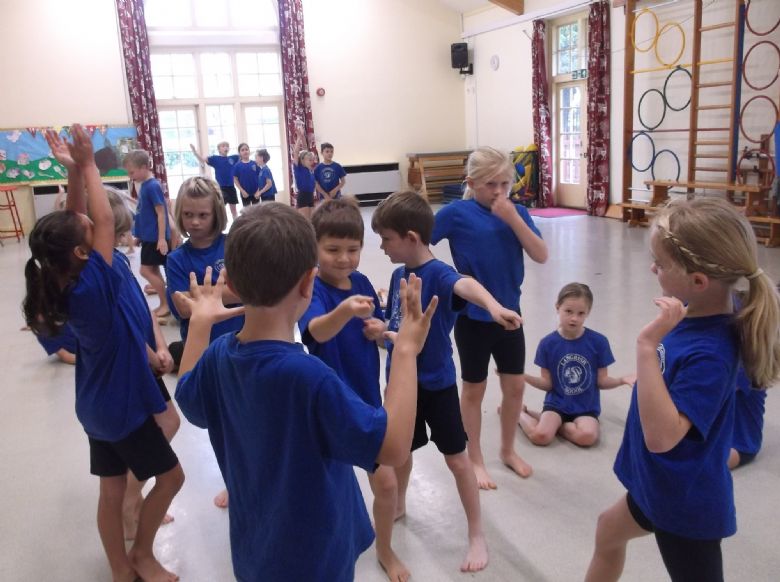 ---
Friday 6th October
Don't forget to come in to our Open Classroom' at 3:15 p.m. on Wednesday 11th October when your child can share their learning with you and you will be able to have an informal chat about settling in and general progress.
In English this week, we have been focusing on ways of planning and drafting extended pieces of writing. For home learning, we would like you to complete page 15 in your Reading Record where you are asked to draw and write a storyboard.
We have been looking at words that are mis-spelled in our own work and starting to create a bank of these to learn. Two spellings that reoccur are the words 'different' and favourite'. Try to learn these.
Next week we will be writing instructions for board games so we would be grateful if you would bring one in on Monday to share with us.
In Maths, we continued with place value and moved on to addition and subtraction . We have put some games into the interactive folder to support this.
Please continue with Page 6 of your Times Tables Test book.
---
Tuesday 3rd October
Correction:
Please complete page 5 in the Times Table book rather than page 13. If you have already done page 13, don't worry as you can mark this on Thursday with your Year 6 buddy.
---
Friday 29th September:
First of all a big thank you to all who supported us by attending our assembly on Tuesday. We had a lot of fun doing the research for it and have all made pledges to change something about our eating or purchasing habits. Come and see what your child's pledge is on Wednesday 11th October during 'open classroom' event. Another big thank you for all the shoe boxes you have given for our DT project. Please could your child bring in a favourite photograph for next Friday to put in a frame they are going to make? We would appreciate it if you could send in an old shirt for your child to use as an art apron.
Maths:
We have continued our learning about place value and will be moving on to methods of addition and subtraction and applying these to problem solving. For home learning please continue with the times table booklet - this time all of page 13, test two. Could you write at the bottom how long it is taking your child to complete it.
English:
We have been learning how to perform poetry to an audience. We have been focusing on humourous poems so we would like your child to find a poem that makes them laugh to bring in to share. These do not need to be written out, bringing in a book or a printed page is fine.
The spelling focus this week has been using apostrophes for contractions e.g. I am - I'm, cannot - can't, did not - didn't. Have a go at these: are not, you will, has not, was not, they are.
Science project:
As we have been learning about the skeleton, we would like you to research three different animals; one with an endoskeleton; one with an exoskeleton and one with a hydrostatic skeleton. We would like your child to present their research in any way they choose, for example, a leaflet, a poster, a powerpoint, a model or any other way except for just printing it off the internet. Please bring it in by Wednesday 8th November, thank you.
We had a class discussion about e-safety and what the children thought the rules for internet use should be. We were very pleased with their mature attitude and understanding of what keeps us safe (Article 19). Please see their ideas below.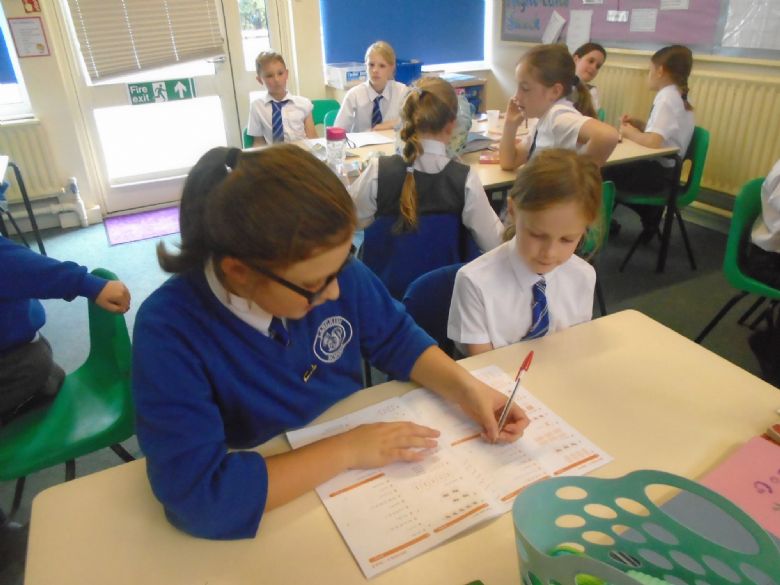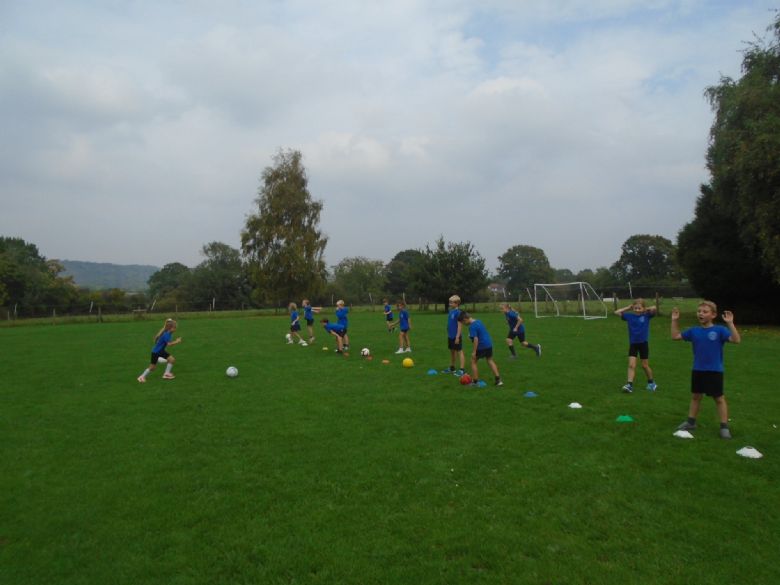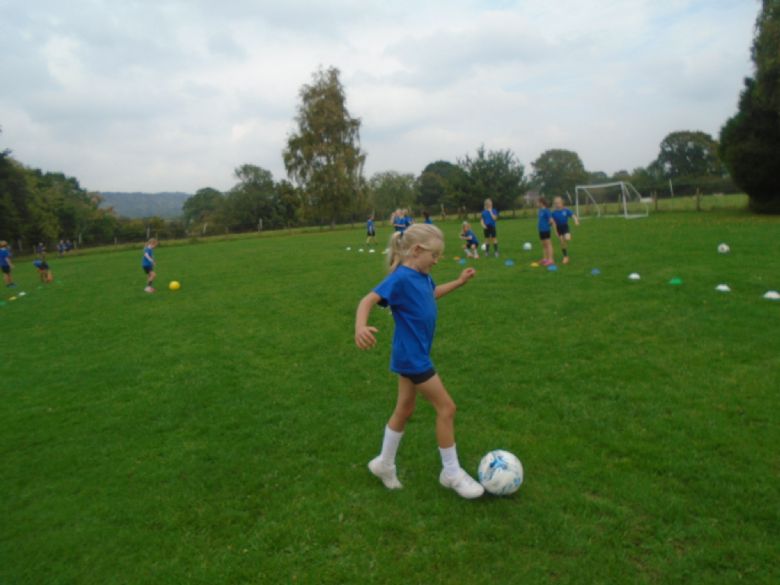 ---
Friday 22nd September:
We have had another busy and successful week in Year 3. We are particulary pleased that our modified arrangements for Home Learning have gone well. We had nearly all of the times table booklets handed in and the children enjoyed marking them with a Year 6 buddy.
So this week, could your children complete section 1, test 1, parts b and c. Alongside this, we would like your children to be learning their 2, 5, 10 and 3 times table by rote (ask them about the clapping game). Don't forget to look at Interactive Resources for some maths games!
Spelling focus for this week has been, adding the prefixes, 'un' and 'dis' to a root word. For example, like becomes dislike and lucky becomes unlucky. Generate a list of five words for each prefix and include them in a 'super' sentence.
In English, we have had a lot of fun writing character descriptions of our 'nightmare' headteacher. We will share some of these with you once they are finished.
In Maths, our focus has been using a range of resources to solve place value problems.
Have a look below at the DT investigation we carried out. The children were asked to make a stable structure that could stand up without being held. It was a very competitive afternoon and was difficult for Mrs Rawlings to decide which structure fitted the brief the best.
Just a few requests for Monday (if possible):
Please could your child bring in:
a shoe box or cereal box made of stiff cardboard.
a sample of any garden produce grown at home.
a packaged food that originates from another country.
These last two items will be used in our class assembly on Tuesday 26th September at 8:50. Please come and watch!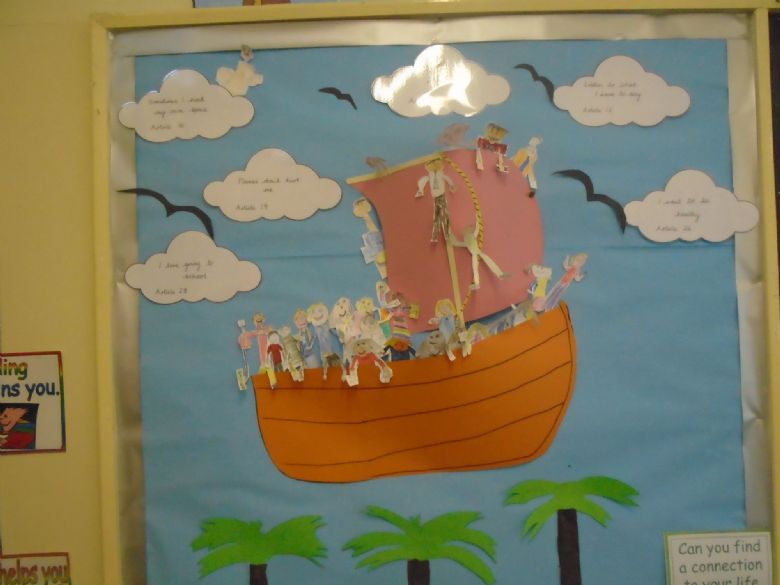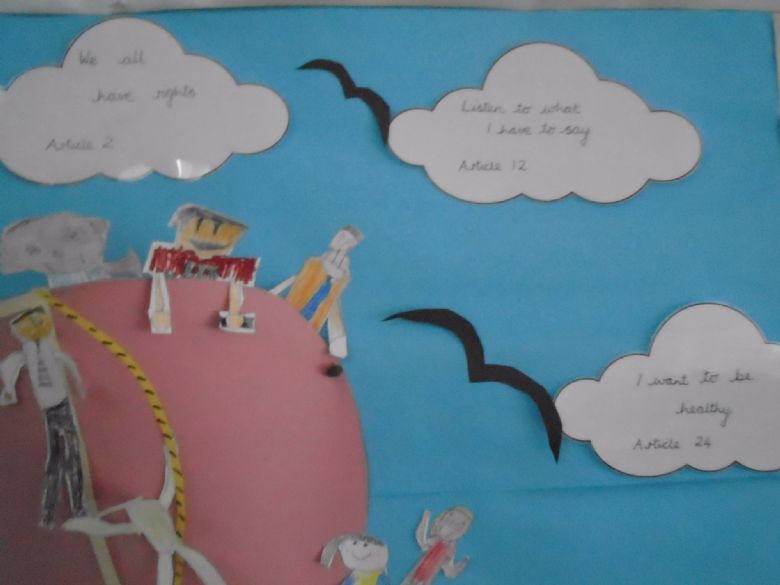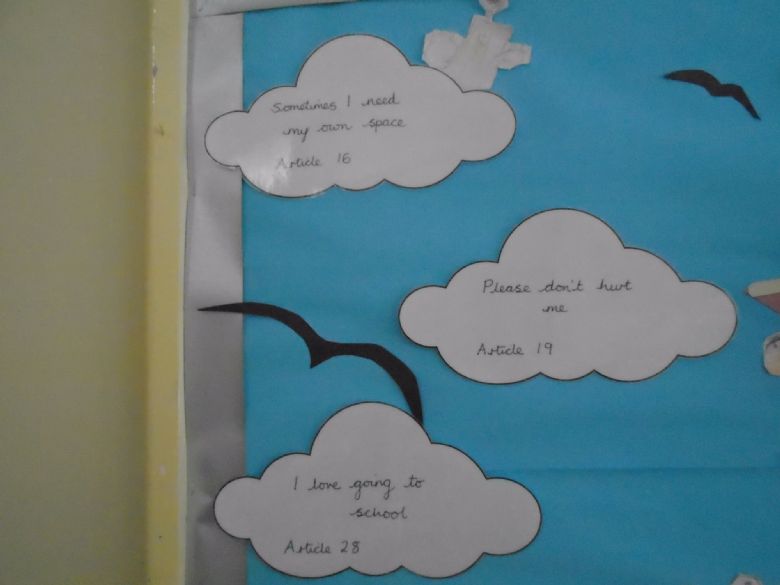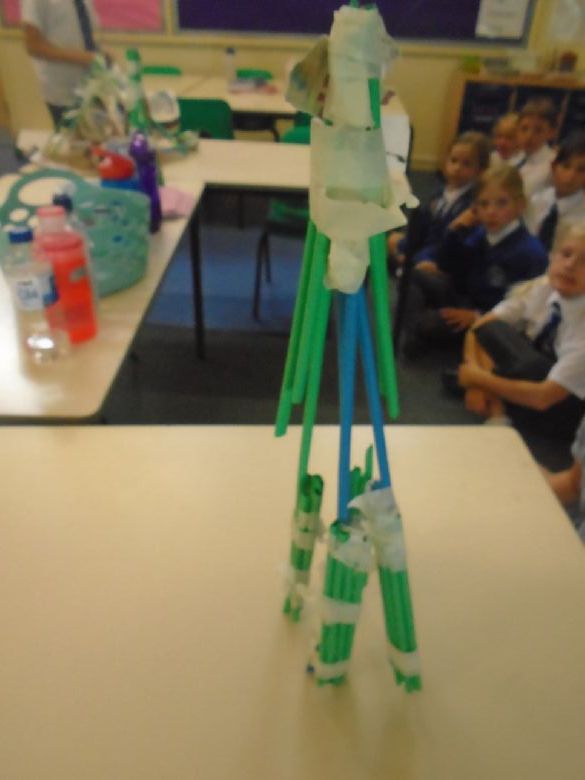 ---
Welcome Back!
Welcome back to a new academic year. We hope you all had a super holiday and are raring to go.
Thank you to all came to the 'meet the teacher' this week. If you didn't, there are a few handouts that we will send out to you. If there are any questions please come and ask.
It has been another good week with lots of learning and settling in to new routines.
One routine we need to focus on is PE days are Monday morning and Wednesday afternoon. Wednesday afternoon's session is gym therefore they will need to wear shorts in order to access the apparatus.
Maths:
The focus has been place value, counting on and back in 10's and 100's and knowing multiples of 50. We have already begun to focus on our times table challenge, which is to know 2's, 5's, 10's and 3's by the end of Autumn term. We aim to 'crack it by Christmas!' Home Learning this week is to complete section 1A in the Times Tables Test book that has been sent home with your child. This must be returned on Thursday 21st September as they will be have a Year 6 buddy to mark it with.
English:
Our spelling focus has been revision from Year 2, adding the suffixes - 's, es, er, ed, ing'. Have a go at making up a poem about the class in the past tense.
One important date for your diary is our first Class 3 assembly which is on Tuesday 26th September at 8:50. All are welcome.
---
Curriculum overviews can be viewed below by clicking on the attachments.