Miss Lee and Mrs Rawlings
---
Friday 18th October
Theme of the week: Challenges: "It's good to find things hard because they challenge you and then you learn."
Class Discussion: Why is Martin Luther King significant?
Home Learning Menu:
Maths: Please complete only the sixth page of the times table books that have been sent home and any unfinished questions from last week. If you want to do more, use the online resources to increase fluency and challenge.
English: Using a dictionary, practise finding these words and write down the definitions in your home learning book.
Century
Occasion
Ordinary
Peculiar
Possess
Reign
Various
DT: Write a review about your photo frame. What went well? What would you change about your design next time?
Please continue to log reading regularly in your child's reading record.
A Taste of our Learning:
English / Geography: This week we have been using our 'spidergram' plan's to write up our non-chronological reports. Our enthusiasm and motivation meant we were able include all of the key features we identified last week such as: a title, subtitles, paragraphs, a formal tone, fact boxes and more! Next week we will be identifying how we can improve our reports and researching potential diagrams and pictures to include in our reports.
Maths: We have continued with our maths topic of addition and subtraction. This week our focus has been on using the column method for addition and subtraction. This has been a challenge but due to Year 3's resilience we have made significant progress. We will be continuing to practise this method next week.
DT: We have finished designing and decorating our photo frames. We considered who we were making the frame for or what type of photograph we wanted the frame to hold. Please see pictures below. These will be coming home today.
History: Significant People Day
We had a really interesting day on Thursday, learning about how significant Martin Luther King is today. We had some great discussions about what he did and why it was important. We created a display of our work so the other classes in the school could see our ideas. Some of us wrote acrostic poems, some of us created storyboards of his life and some of us wrote our own 'I have a dream,' speech based on Martin Luther King's most important speech. We are very proud of how well the children rose to the challenges they were given. Please see pictures below.
World Faith's and Philosophy:
This half term's theme was 'temptation' and making choices. We thought about how sometimes it is hard to make the right choice and we can be tempted to do things we shouldn't. We discussed different scenarios and what choices they would make. We also looked at the how Jesus was tempted in the story of, 'Jesus in the wilderness'.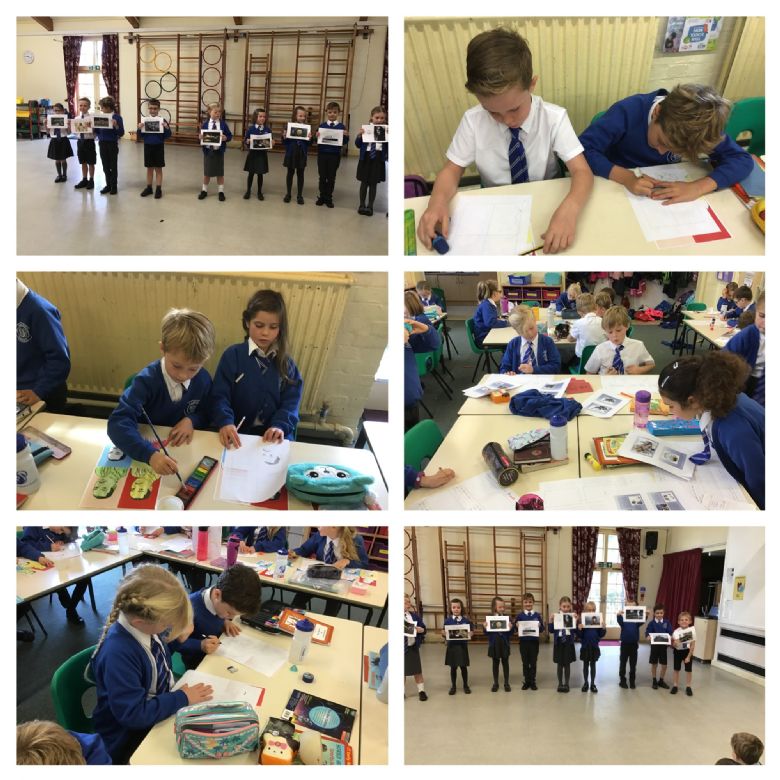 English / Geography: In English we have started our new topic of writing non-chronological reports based on earthquakes. This week we have been researching why earthquakes occur, what impact they have and how to survive an earthquake. Our thorough research in Geography has enabled us to plan our non-chronological reports. We have been identifying features of these reports and will be putting our plans in to action and writing them next week!
Maths: We have continued with our maths topic of addition and subtraction. In particular we have been adding and subtracting 100s and spotting patterns within calculations that can help us when adding ones, tens and hundreds to 3-digit numbers.
Science: In Science we have been making a Purple Mash page, identifying and explaining the different joints.
RE: This week we had a visit from a local Rabbi. He introduced us to Judaism and we discovered that Jews worship in Synagogues. We also learnt that Shabbat is the most important time of the week for Jews, which is a day of rest where families come together. The children were fascinated and cannot wait to begin our topic on Judaism. Please see the pictures below of the visit.

---
English: We have finished our topic of Performance Poetry this week. We have been researching different types of poems such as rhyming and repetitive poems, we used pupil voice to choose our favourite style and re-created it. The poem we focussed on was 'NO WORD OF A LIE' by Jackie Kay and we enjoyed performing to the rest of the class on Thursday, which was National Poetry Day!
Maths: We have started our new topic of Addition and Subtraction. This week our focus has been on adding and subtracting ones from 3-digit numbers with an exchange. The children have learning the different methods such as timelines, diennes and partitioning that we can use to help us.
Science: We have researched the different types of joints in the body. Next, we will be looking at muscles and how different animals use them.
DT: In DT this week we have designed and created our photo frames, which we will be decorating next week.
PSHE: We have been exploring feelings. We read a story about a boy starting at a new school and discussed how he might have felt during various points of the story. We then went on to discuss how it feels to do or start something new, and some ways to cope with these feelings. Next week we are going to be investigating intensity of feelings.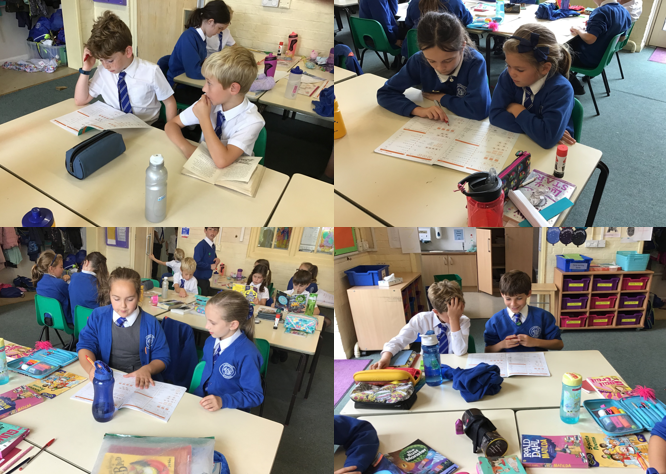 English: We have been focusing on Performance Poetry. We have been discussing various different types of poetry and the different ways they can be performed. We have been performing some of these using instruments, which we will be showing Year 2 on Monday. Please see pictures below.
Maths: We have finished our unit on place value and the children have completed the post assessment, which your child should have. We have now moved onto addition and subtraction.
Science: We continued looking at different types of skeletons and classified animals into exoskeletons, endoskeletons and hydrostatic skeletons.
PE: We have been carrying on with gymnastics. This week we have worked in pairs to create a sequence of balances which we then perform to the class.
ICT: We have been learning to programme Micro:Bits which has included displaying messages, icons and animations.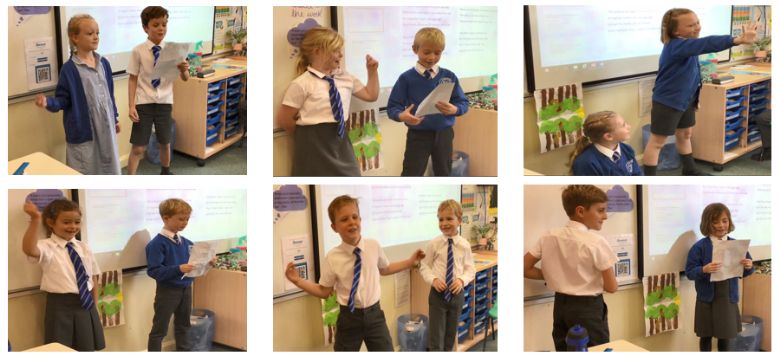 ---
English: In English we have been learning how to write a descriptive piece. The children have been creating their own creature to add to the story 'The Black Hat.'
Maths: In Maths we have been continuing our learning of place value. We have been focusing on comparing numbers and objects.
Science: We have been looking at skeletons and their functions. We discussed the difference between invertebrates and vertebrates.
DT: In DT we have been researching how to make a structure as stable as possible. The groups only had 20 minutes to build their paper structures to withstand their whiteboards. See photos below.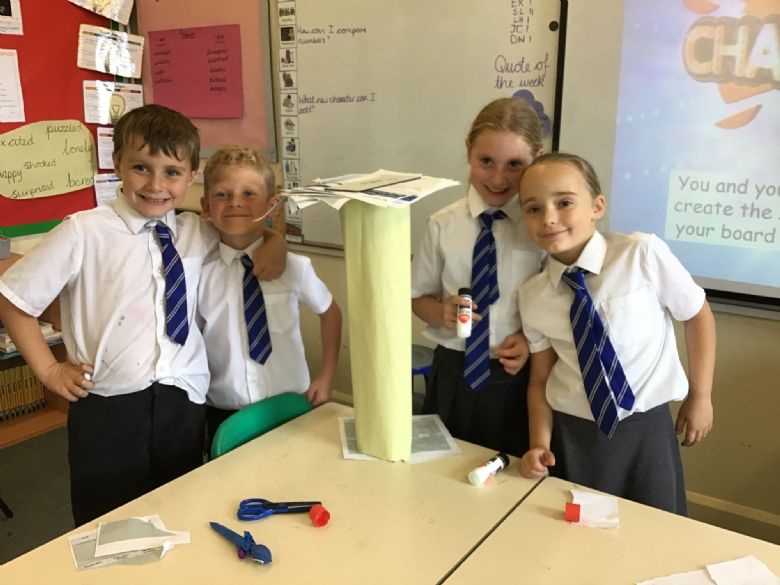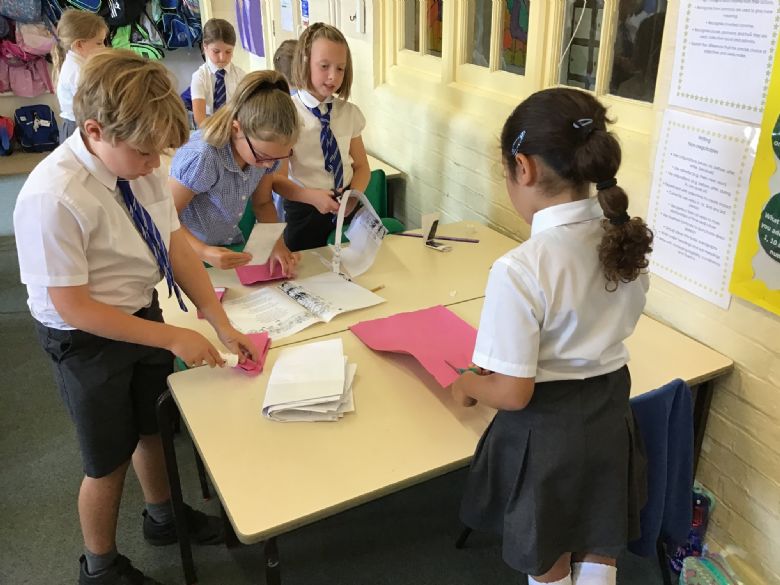 ---
English: We have been looking at a clip called, 'The Black Hat.' The children have been looking at descriptions and understanding characters feeling's through drama.
Maths: Our unit is place value. We have been counting in 100's, looking at what each digit represents in a three digit number and estimating where a number would go on a number line to 1000.
Science: We have started discussing the human skeleton and what our bones are called.
PHSE: We have created our own 'RIghts Respecting Charter.' We decided what rights we would like to include and designed how we would display it. Have a look at our charter which is attached below.
Please also look at our e-safety charter attached below. This will be coming home in the back of the Home Learning Journals. Please sign it and discuss with your child.
---
We are holding class elections next Thursday for our School Parliament. If your child is interested in representing their class, for Home Learning this week, children should consider the different roles of School Councillor, Arts Ambassador and Rights Respecting Ambassador and be prepared to speak to their class about why they would like to be elected this year.
---
Welcome back! We have had a good couple of days settling into new routines and setting our expectations for the year ahead. We are finalising our Rights Respecting Charter which we look forward to sharing with you next week! All children should now have a reading and library book. Please let us know if that is not the case.