Miss Lee
Friday 22nd July 2021
Hi Year 3,
Thank you so much for all of your kind words, cards, gifts and the most incredible film that has surprised me this morning! The book of drawings, notes and letters is so thoughtful. Although it has been a challenging year I have loved every minute and I hope you have too! Year 3 2020-21 are a special class and I know you will continue to be amazing in Year 4. Thank you so much again I really am blown away by your kindness.
Have a wonderful summer with your lovely families,
love Miss Lee x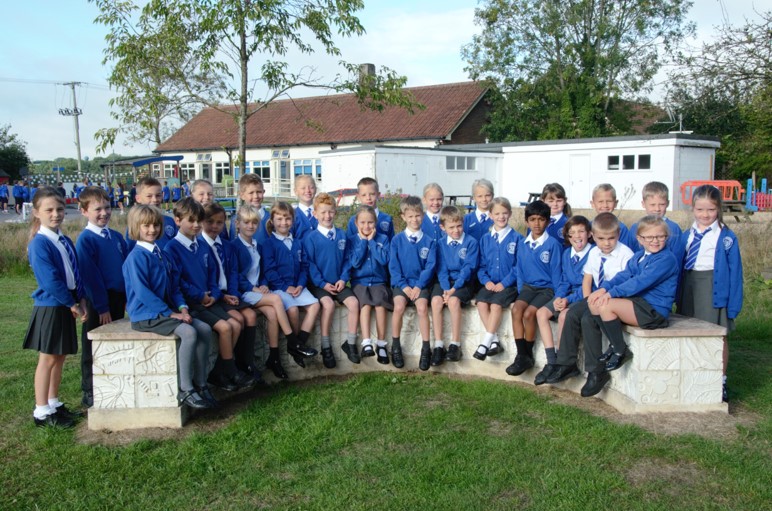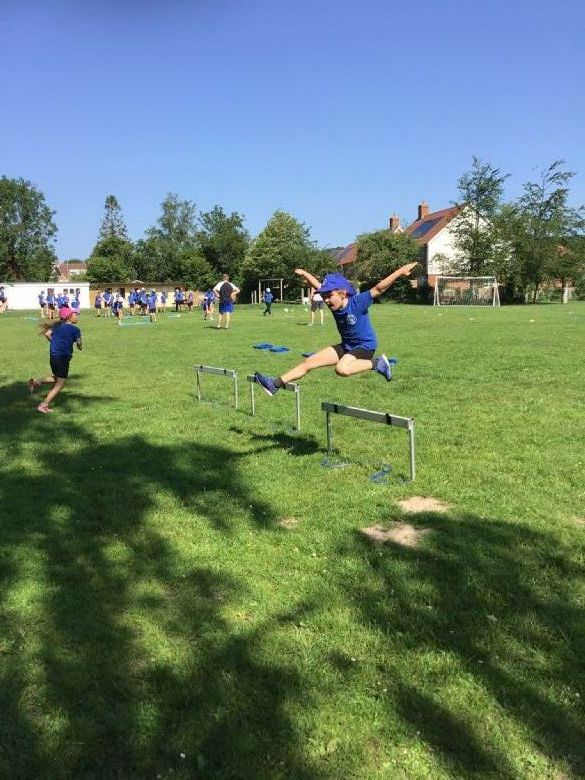 Home Learning:
English: Check out the new list on SpellingShed
Maths: Have a go at making another magic potion. Your potion can only be 800ml and you must think of 8 different ingredients to put into your potion. Unfortunately, if one of your ingredients is 100ml the potion will explode. If you use more than 8 ingredients or if your ingredients don't add to 800ml the potion will also explode. Be careful!
Reading: Continue to read every day and answer comprehension questions. I love seeing all of your reading from the week so remember to bring your reading records in every Friday!
A taste of our learning:
We are absolutely loving our class reader books! We're averaging one book every two weeks at the moment as we can't stop reading! Our current book is 'Baby Alien Got My Teacher' - make sure you head to your local library over the summer holidays to pick out your summer reading. There are more books in this series to explore.
Pictures from our swimming session: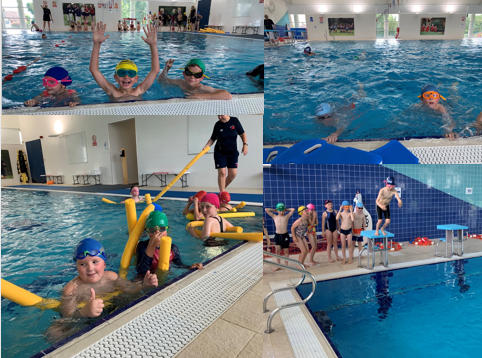 Week 37 - We're famous!
Year 3 and 4's ClimateCrisis totem poles made the ITV news on Friday night! Click here to watch the full story and see if you can spot our amazing artworks.
Monday Brunch!
On Monday we designed and created a healthy breakfast. We spoke about which foods we could use that are currently in season and which food groups we had. It was delicious!


---
Week 36 - Measuring: mass and capacity
We have a rounders competition coming up towards the end of the term, so we have been busy practising all of our skills this week. We have had to work on our team work and resilience in particular, which really paid off in the second session!
We have started our final maths topic, Measurement: Mass and capacity. We have enjoyed exploring with weights, water and different types of scales. In our groups we came up with a question/experiment we would like to explore and relayed our findings to the rest of the class.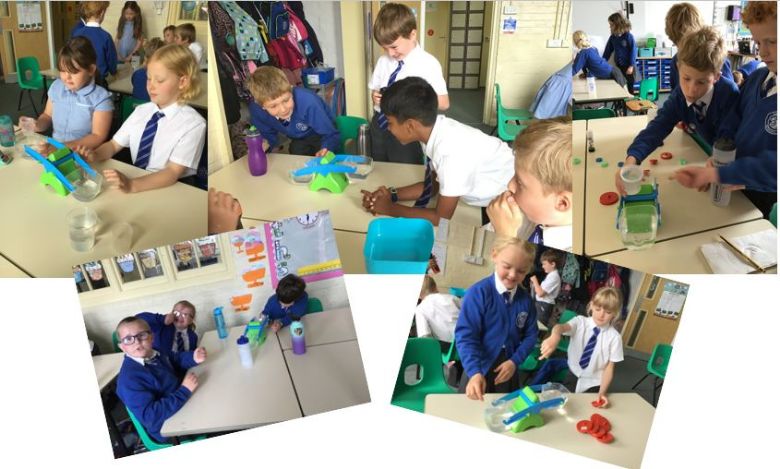 ---
Week 35 - Tuesley Farm fruit picking!
Our trip to Tuesley Farm: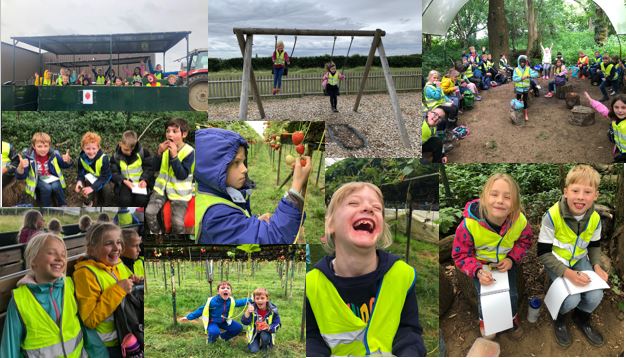 "Our trip to Tuesley Fruit Farm was AMAZING!"

"The fruits were so sweet and tasty!"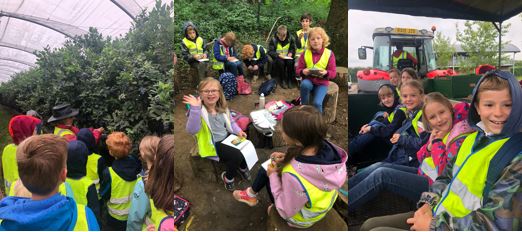 "We got to ride in a trailer on the back of a tractor to get to each fruit!"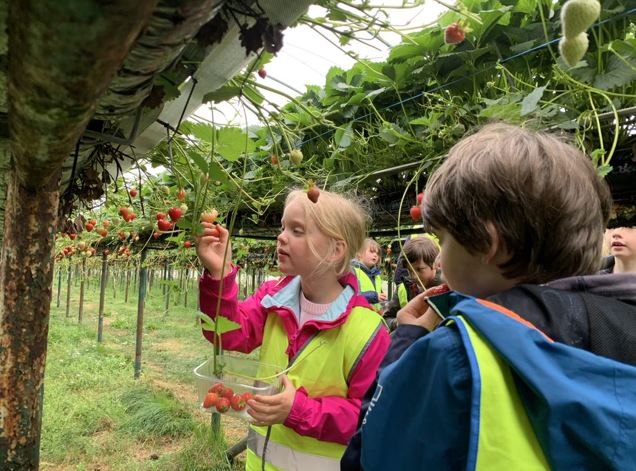 Week 34 - Roman Day!
Roman day is the second best day ever... after Christmas! - Wiktor
Roman day is great fun and really creative - Emilia
Our totem pole is now part of the 'Climate Crisis' exhibition outside Winchester Cathedral alongside lots of other schools creations. It is outside the cathedral and is open to the public 24/7 if you would like to go and see it! I am super proud of Year 3 and all of their efforts over the past few weeks. It has been great seeing them pull together as a team.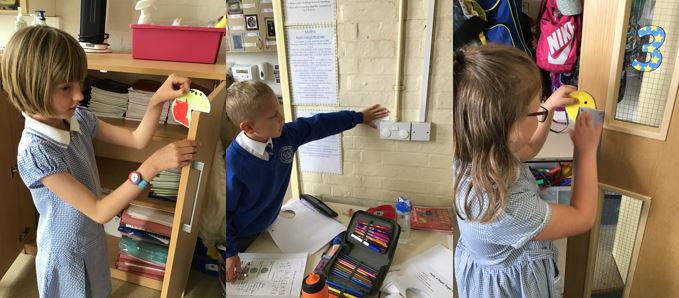 As part of our new maths unit - Properties of Shape - we went on a right angle hunt with our right angle finders! We then learnt about acute and obtuse angles.
---
Week 33 - Stop Plastic Pollution!
This week we have finished creating our 'Stop Plastic Pollution!' under the sea themed totem pole. The exhibition will be on display, from 16th June - 5th July at Winchester Cathedral. Year 4 also created a totem pole 'Save the Bees!'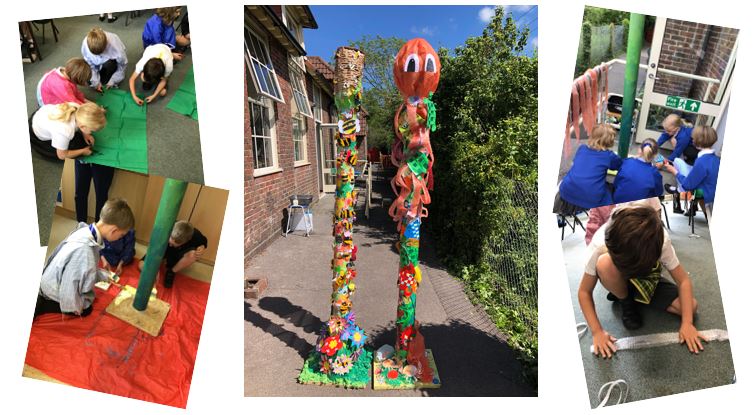 Week 32 - Fame!
World Faith and Philosophy: Fame!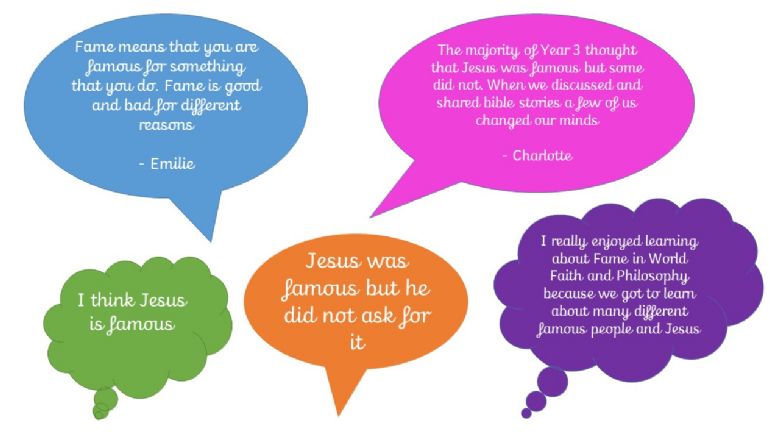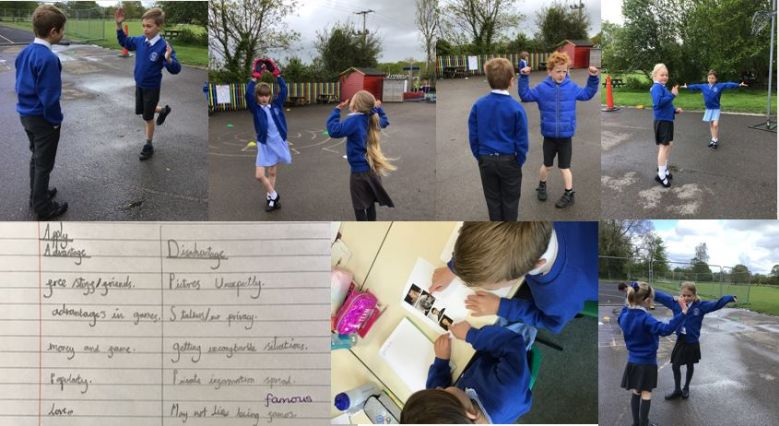 ---
Week 31 - Fraction board games, telling the time and our Climate Crisis Project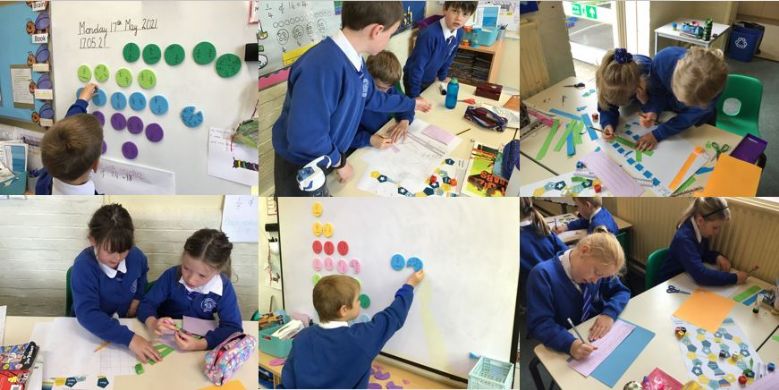 On Monday we made our own fraction board games to consolidate our fraction learning.
We have started our new topic of 'Measurement – Time'. We have been exploring quarter past, half past and quarter to through practical games. We have also explored months and days of the year. Considering significant dates and leap years.
Climate Crisis Project
We are taking part in an art project that is going to be displayed in the Winchester Cathedral! We are designing and creating a 'Stop Plastic Pollution' under the sea themed totem pole to be displayed alongside a number of other schools. We will be using our paper weaving skills to add sea creatures. We will keep you posted!
Week 30 - Newspaper reports, decorated gift bags and fraction pizza!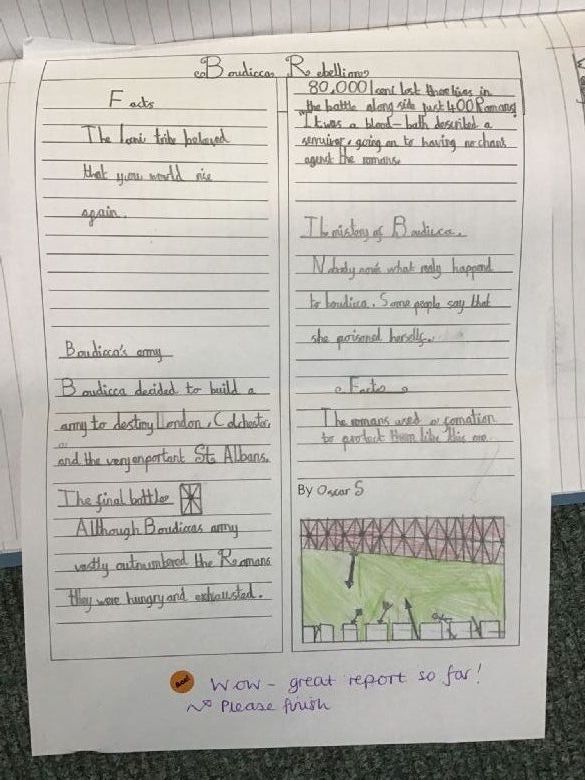 Read all about it! Can anyone stop the Romans? Have a look at our newspaper reports to find out!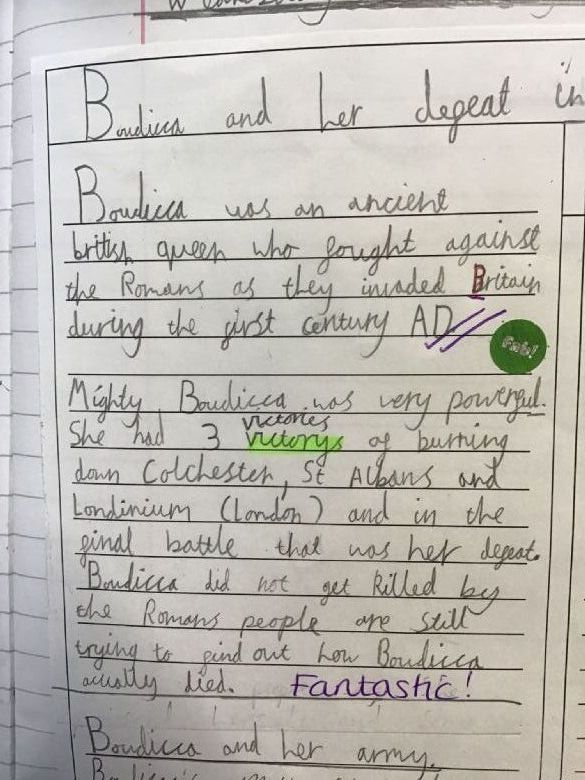 Comparing, ordering, adding, subtracting and... fraction pizzas!? We have been busy this week in maths! We have finished our fraction topic. Fractions are a tricky concept to learn, however, we have powered through with determination and resilience.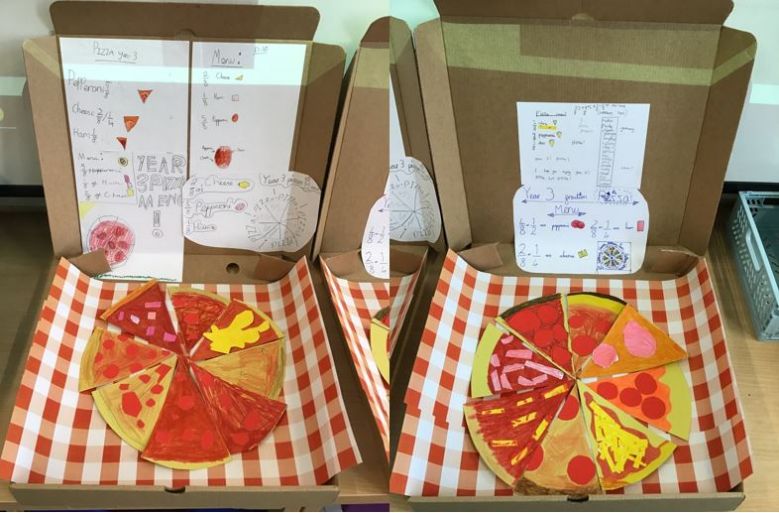 We have finished our gift bags! We had to think about what colours and designs our recipient would like before decorating our paper weaved bags. Mrs S was the paper weaving master and helped all of us to perfect our bags!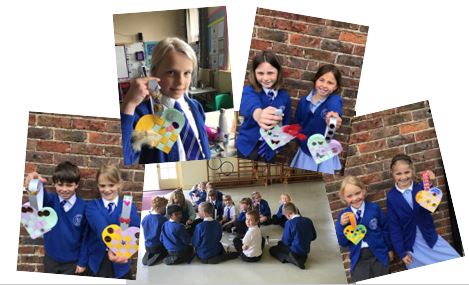 Week 29 - Celery experiment, fraction sundaes and a radish!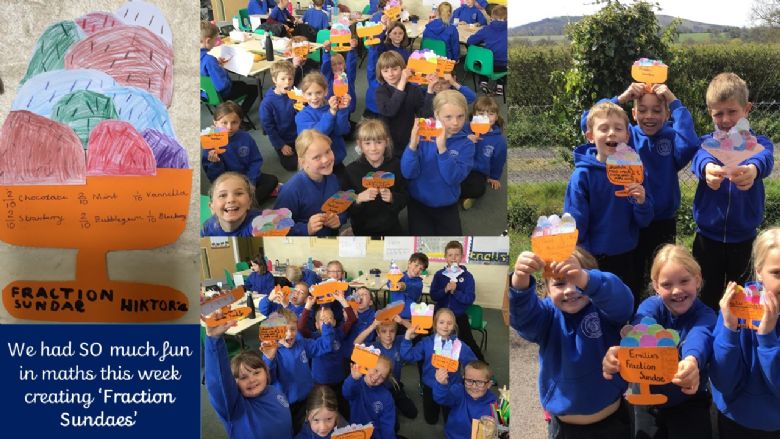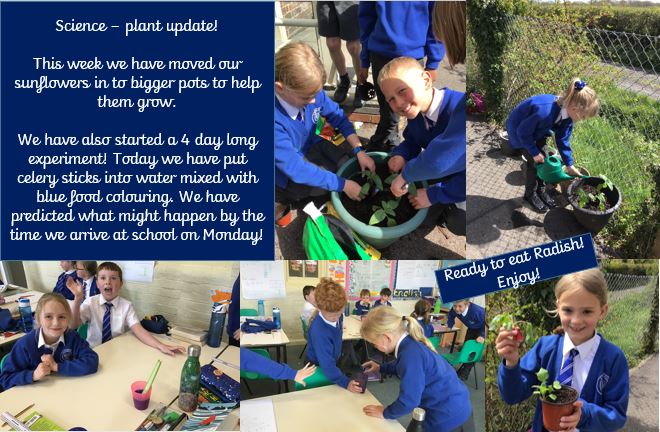 We are really enjoying our current French topic: Animals. We have learnt the names of farm animals and names of animals we might keep as pets. We have also learnt how to describe them. We particularly liked playing naughts and crosses and snap in French.
This week we have taken our paper weaving to the next level! We have designed and created paper weaved gift bags using coloured card. This task required a lot of concentration and resilience. We are going to decorate them next week!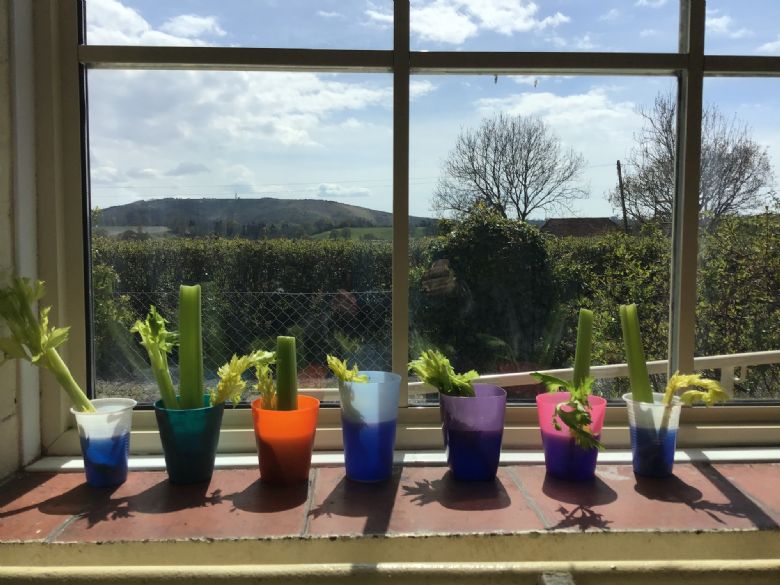 ---
Week 28 - Plants, deer spotting and paper weaving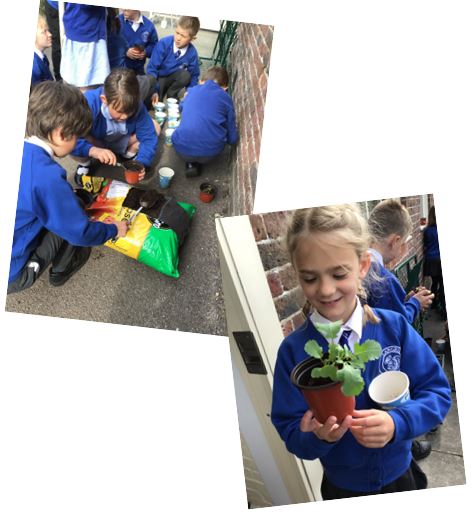 We have started our science topic on plants.
We have transferred our individual seeds to bigger pots as they needed more room to grow. We now have a little gardening area outside our classroom!
On Friday afternoon we dissected lilies to identify the different parts of a flower. We have discovered lots of new vocabulary this week.
We have also very kindly been given sunflowers from a neighbour of Langrish. We are going to really enjoy watching them grow over the summer term!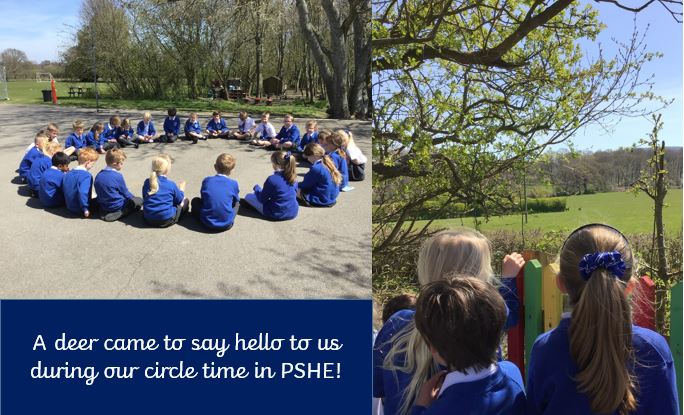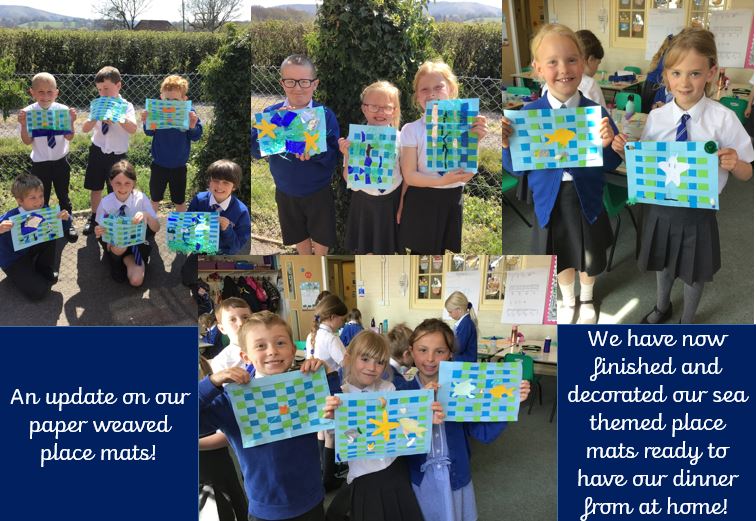 Week 27 - A super busy first week back!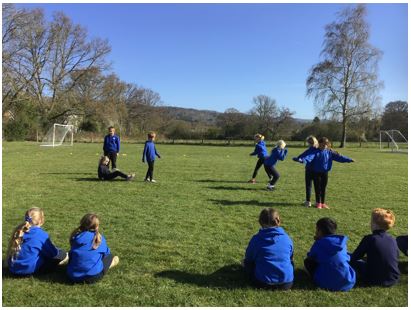 We have been learning how to use colour to describe settings. We have been focusing on an animation that doesn't have any dialogue. Instead, it uses body language and colour to demonstrate feelings. On Thursday we performed our own interpretations of the animation.
We have started our second unit on fractions this week. We have been using a range of different representations to help us. We have been gaining confidence to apply our knowledge to answer fluency, reasoning and problem-solving questions.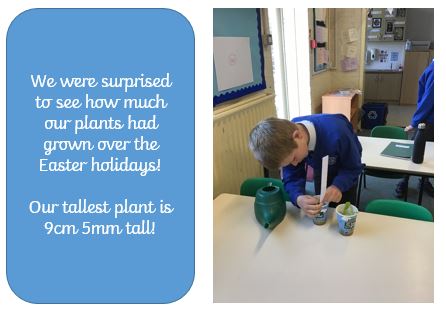 In History we have been learning about the Celts:
"I learnt that the Celts were alive 750 BC" Millie
"Archaeologists still find evidence of the Celts today" Charlotte
"The Celts houses were made out of animal dung!" Sophie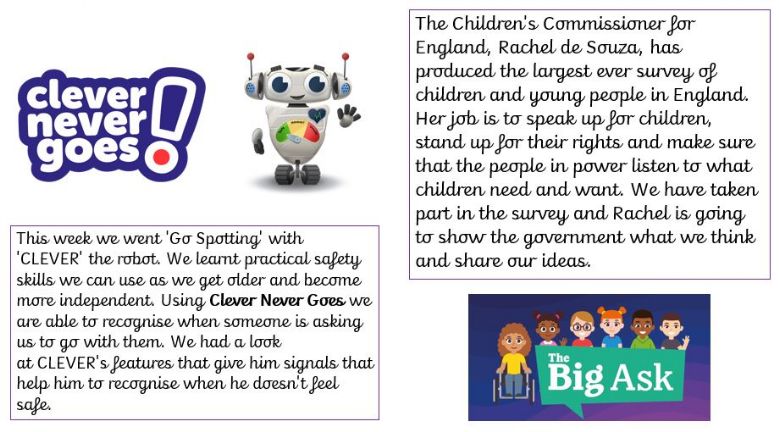 ---
Week 26 - A visit from Reverend Ball and Easter celebrations!
We had a special visitor this week whilst learning about Easter and changing emotions. Reverend Ball came to answer all of our Easter questions and tell us all about why Christians celebrate. Here is what we learnt...
"No other religion celebrates Easter" Lyra
"Christians have a special candle that they light on Easter Sunday to celebrate and remember Jesus" Saffy
"We learnt that Easter eggs may symbolise new life and new beginnings" Charlotte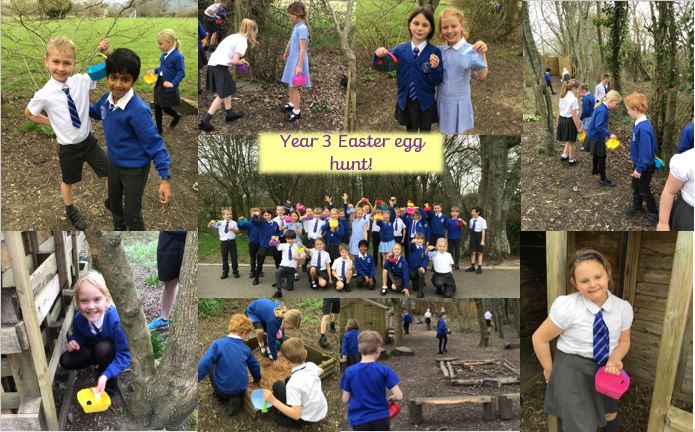 We started to celebrate Easter this week by making Easter baskets, cards and we even had an Easter egg hunt in the Copse!
Thank you to FoLS for our chocolate eggs!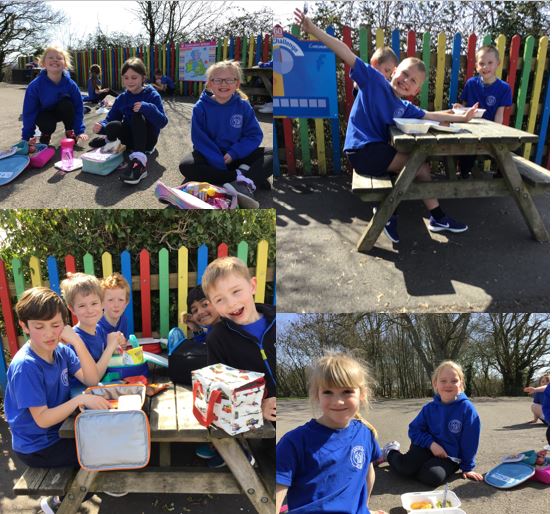 ---
Week 25 - Varjak Paw, fractions and sign language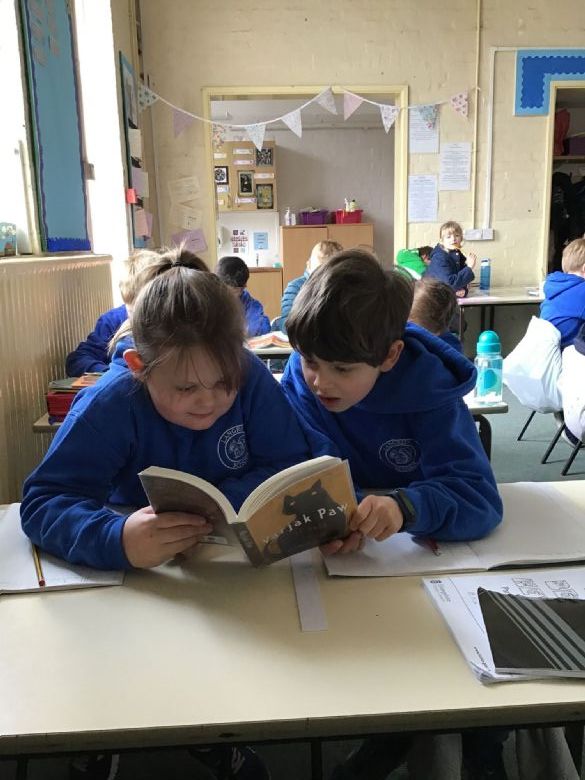 We have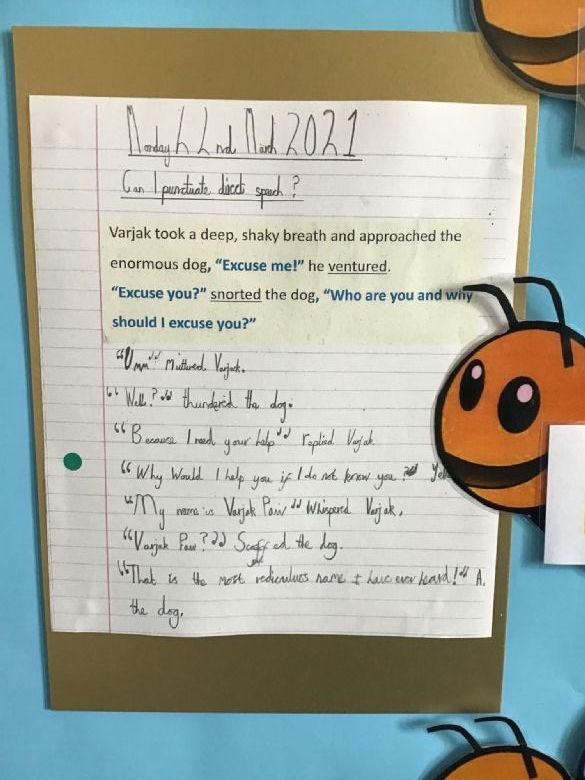 been continuing our learning journey exploring the story of Varjak Paw. We have been using drama to understand the characters feelings and emotions within the story. We have also been polishing off our use of expanded noun phrases and fronted adverbials. We have also learnt how to use speech marks which we noticed has a great impact on our writing!
"We have been working very hard on our vocabulary and our speech marks to improve our writing. I really like reading Varjak Paw because it is a very adventurous book and has a lot of mysteries!" Emilie
In Maths we have been learning all about fractions. Over the past couple of weeks we have focused on halves, quarters and thirds. We have made fraction walls, fraction flowers and dived into fluency, reasoning and problem solving questions.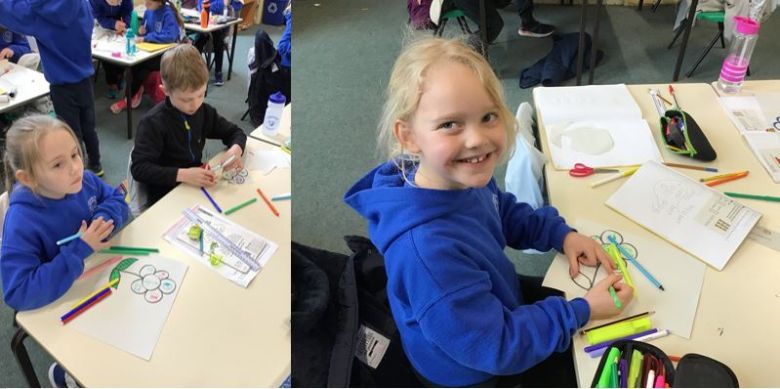 We have really enjoyed learning our school song 'It's OK' recently. This week we went into the copse and recorded! We sang beautifully in time and performed sign language too! Mrs Lawry is busy putting all of the clips together and we are excited to see how it comes together!
---
Week 24 - Planting seeds, investigating with force and our new cosy book corner
This week we have spent some time planting a range of different herb and vegetable seeds and observing them as they start to grow. We discussed what they would need in order to grow: water, sunlight and oxygen. We are excited to see how much they grow each week... There is even a 'Star Grower' badge for the seed that grows the most!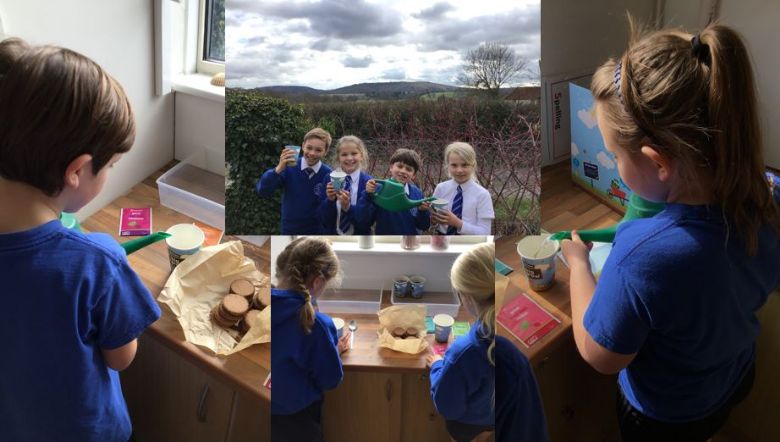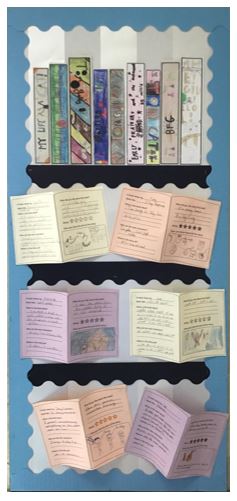 In Year 3 we love to read! It helps us to develop our vocabulary, spellings and imagination. This week have created a cosy book corner in our classroom. We have also designed book spines and written book reviews to recommend some of our favourite stories.
In Science this week we have learnt about friction. We investigated which surfaces create the most friction by sliding a toy car down a ramp on top of different materials.
"We found out that the rougher the material is the more friction there is. The tablecloth was the smoothest material so the car went down quickly!" - Alfie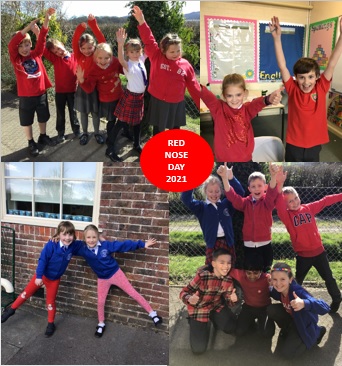 Week 23 - Back at school!
"I have enjoyed seeing all my friends, learning and having fun!"
This week we have focused on settling back into the daily routines of school life. We have enjoyed catching up with friends, working as part of a team and exploring what it means to be a good friend.
Dinner time discussion: At school we have been having discussions about getting back to our healthy habits: eating lots of fruit and vegetables, getting enough sleep and the impact exercising has on us both physically and mentally.
There is no home learning set for this weekend. We have had a very busy week so relax and keep reading! You may also wish to practise your sign language for our school song.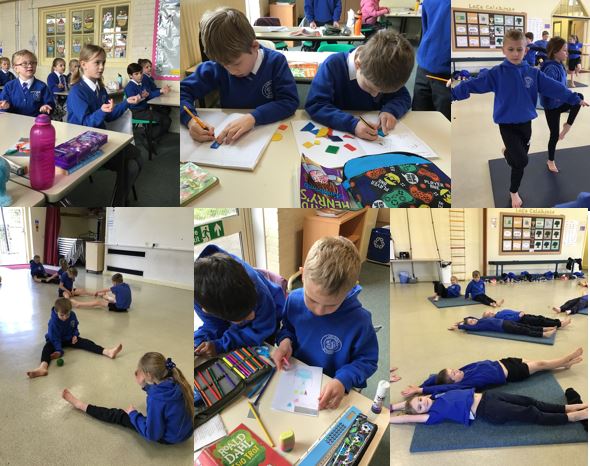 Week 14 - Christmas party, crafts and pass the parcel maths style!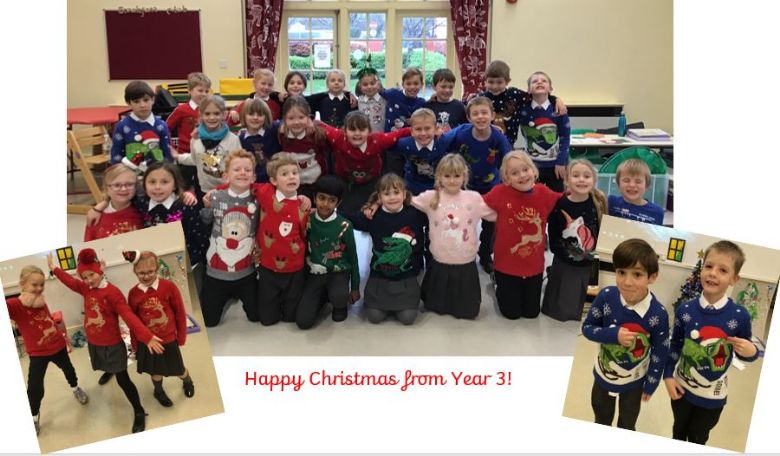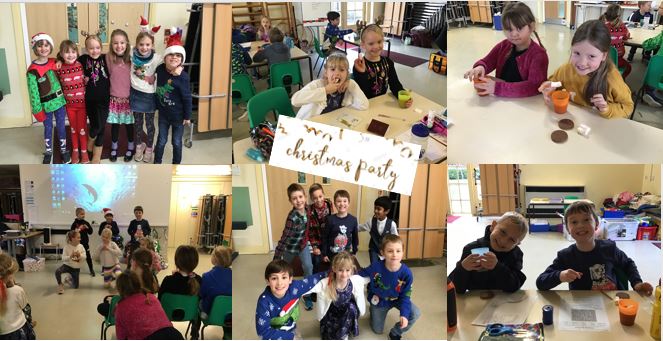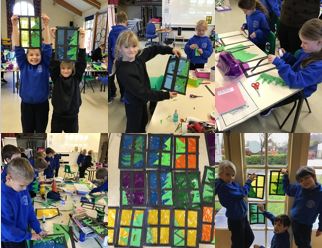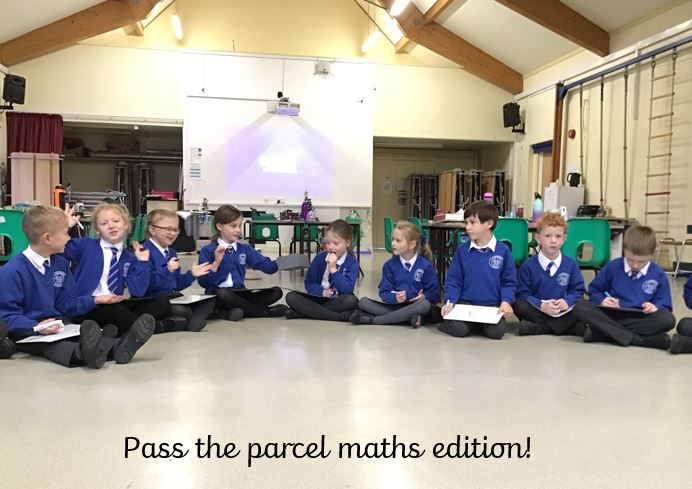 Week 13 - Advent, Tone and Aboriginal art!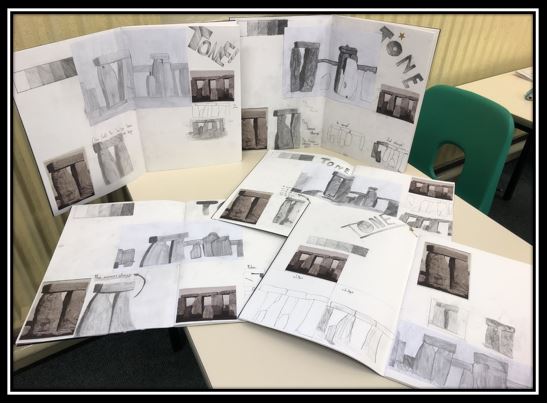 In Art we have been learning about tone and Stone Henge. We wanted to find out how we could use tone to create a realistic drawing. We learnt about the different types of stones and practised drawing them before creating our final piece.
"I really enjoyed learning about the different stones used to build Stone Henge and I found the sketching very calming" - Emilie
"It was so fun and I loved displaying my work altogether so I could see the progress and results" - Emilia
"I really liked it because it was a new type of Art and I love learning new things" - Lola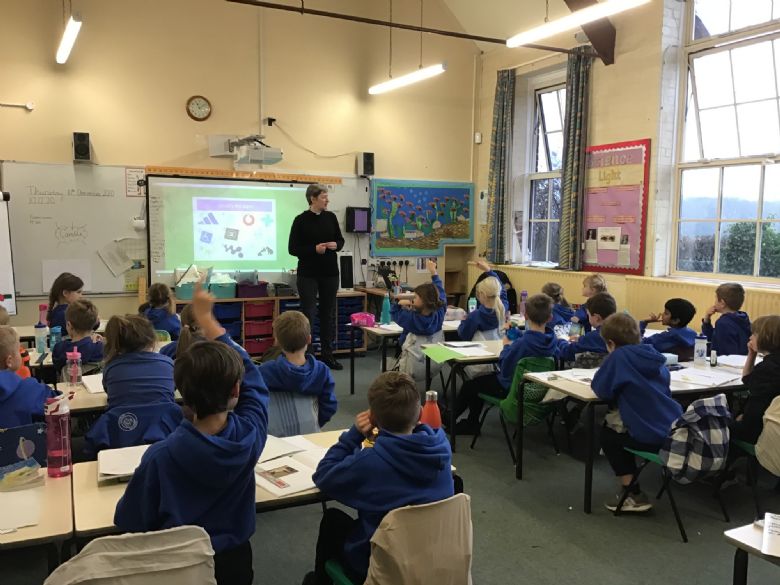 This week we learnt about Advent in World Faith and Philosophy. We spent time researching how and why Christians celebrate advent. We were very lucky to have Reverend Ball in to answer all of our questions about advent and Christmas.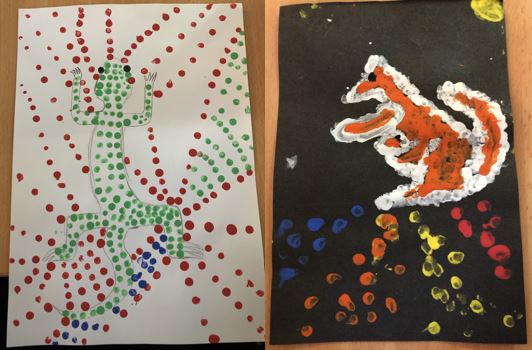 We have finished our Aboriginal Art paintings! The children really needed to focus on the finer details of their paintings to create their pictures using dots only.
---
Week 12 - Christmas has arrived, Glockenspiels and effective verb choices
Year 3 have stepped into Christmas with a class tree, decorations and our own advent calendar. Our class advent calender comprises of either a joke or Christmas song for each day and we will all have a turn at picking one out. Our class post box is also made and ready - well done Year 3! We have also enjoyed pockets of mindfulness bauble colouring this week too.
We are enjoying our English topic on the 'Stone Age Boy'. This week we have been looking at techniques to make our writing more interesting such as alliteration, expanded noun phrases and verb choices. We discussed better alternatives to 'walked, talked, ran' then popped our improvements on post-it notes. We are eager to use these new techniques in our writing next week.
We have been playing the glockenspiels for our music unit this half term. We have to concentrate as we multitask by looking at the right notes on the glockenspiel and reading the music as we play.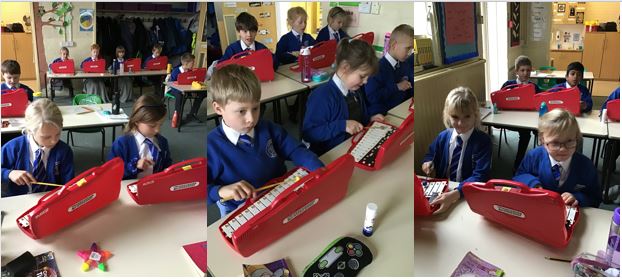 ---
Week 11 - Push passing, Stone Age drama and a big WELL DONE!
Most importantly, I have to say a massive WELL DONE to Year 3 this week! As Mrs Wright and I told them this morning - as they received their head teachers awards - they have blown our socks off this week. The hard work and resilience Year 3 have shown has shone through in their most recent times table assessment where everyone scored 30+ out of 40! Their enthusiasm and motivation to learn is unwavering.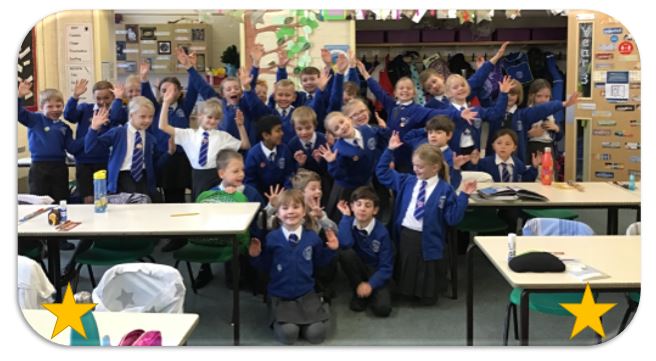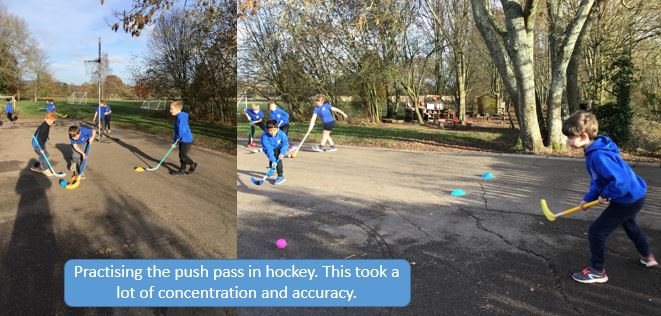 We put our wellies on and went outside for English on Monday to act out a page from the book we have been reading in our English topic called 'Stone Age Boy'. We had to think about how we could communicate with each other without speaking. There were a lot of interesting facial expressions and noises!

This week the children were asked to design a new school bag. The challenge was that it had to be reflective to keep school children safe. We investigated using a range of different materials before deciding which ones were the most reflective and therefore the most suitable for a reflective school bag.
---
Week 10 - Seat bags, Spears and Success
This year, we have to keep a lot more on our desks for everyday learning. Recently, we found that it was quite tricky to manage all of our resources and still have space for our learning! A couple of children trialled the 'seat bag' made with a pillow case this week and it has proven very successful and they had a lot more space on their tables. If you can, please bring in a pillow case next week.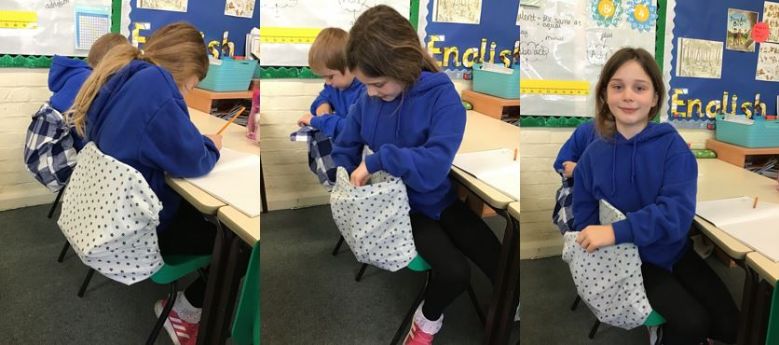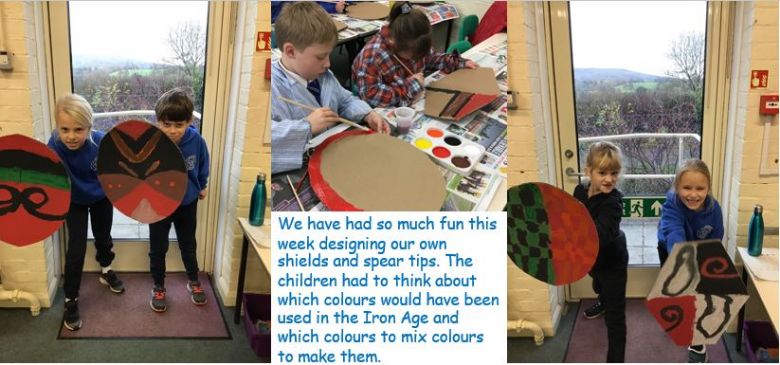 Medals and certificates go to those who completed this year's Summer Reading Challenge. Well done!

---
Week 9 - A visit from Iron Age Matt and Climate Summit Week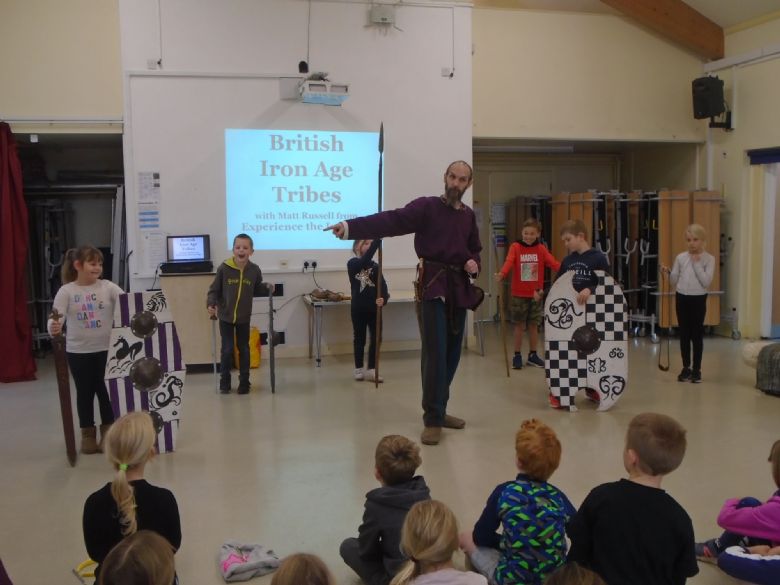 We had a super exciting day today (Friday). Iron Age Matt came to visit us and teach us all about the Iron Age. We learnt about their houses, what tools and weapons they used, what they ate, about their tribes and lots more! We even got to feel real animal skins, armour and spears! In the afternoon we had a warrior training session where we learnt how to use swords and spears.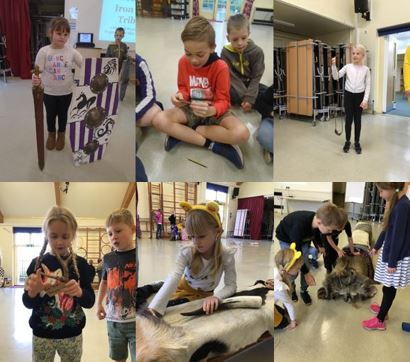 This week we also took part in Climate Summit Week and participated in live streamed workshops. We particularly enjoyed learning about the importance of keeping our oceans plastic free. Please see below for some of our posters.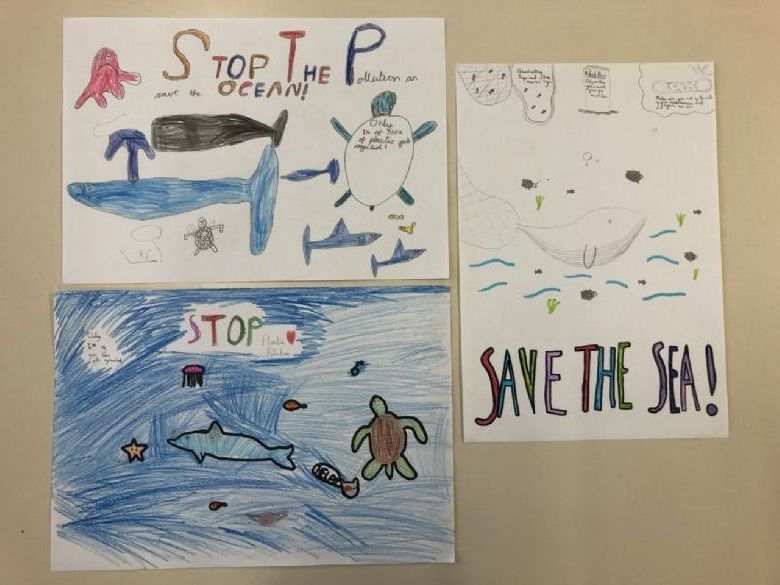 ---
Week 8 - Take One Picture week and Forest School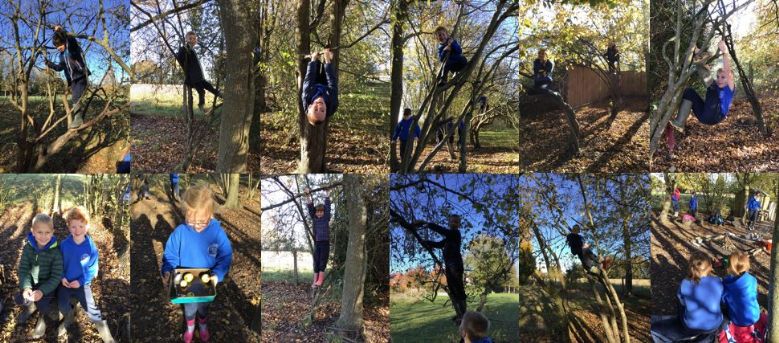 We had a fantastic afternoon in Forest School with Mrs Browne. We climbed trees, made a fire, toasted marshmallows and ate s'mores! We really enjoyed exploring and being outdoors all afternoon!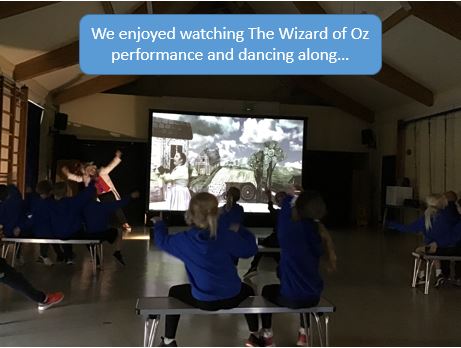 This week was also Take One Picture Week! We noticed the bright colours and geometric shapes of the painting, and we felt inspired to recreate the painting in a different season, write acrostic poems, make our own boats and write a descriptive piece. We thought it would be a great idea to put all of our learning into a scrap book to take home. Please look out for this weeks Nutshell to see more of our learning.
---
Week 7 - Under the sea, mindfulness and interviewing Little Red Riding Hood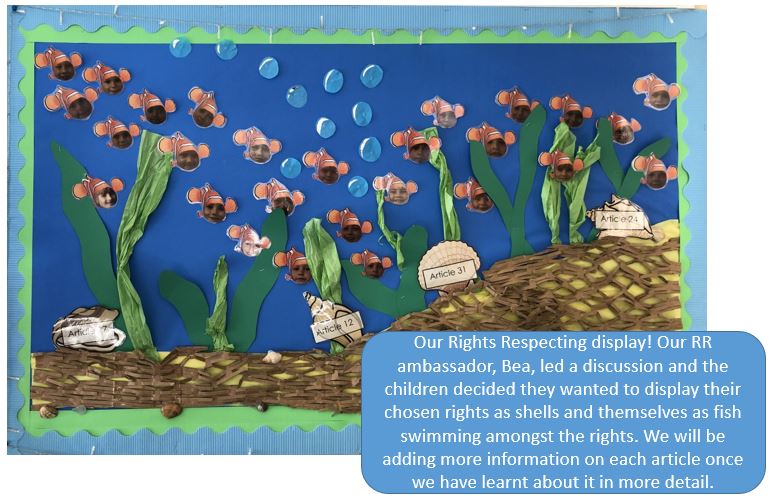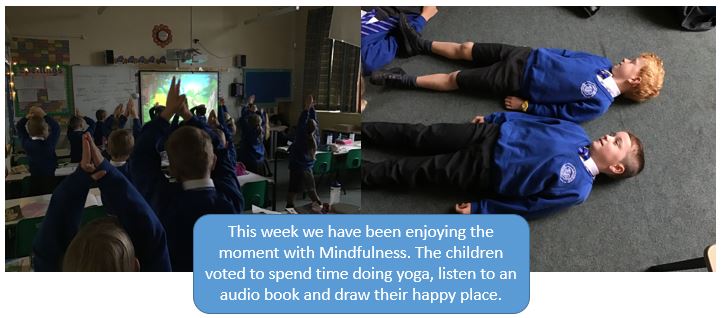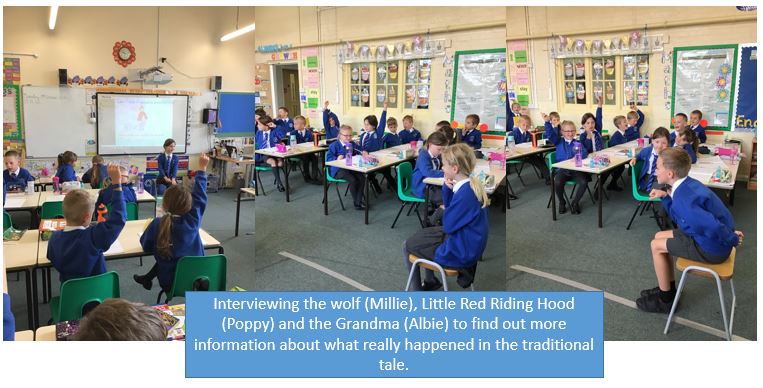 Week 6 - Painting on the ceiling, Traditional Tales and a mysterious box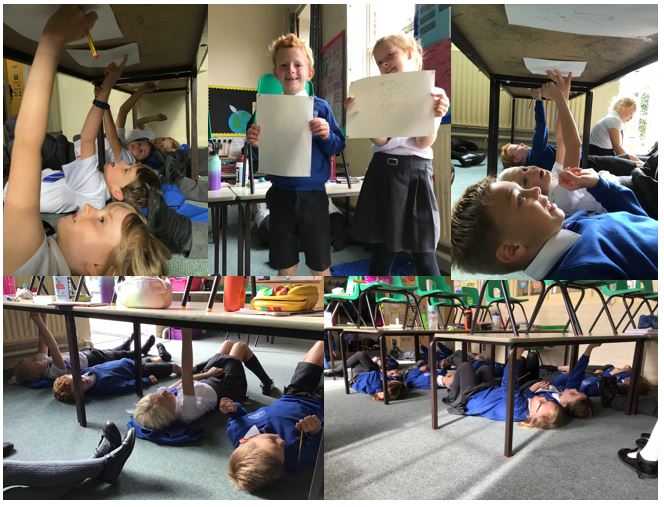 We took inspiration from Michelangelo for our Art lesson this week and 'painted on the ceiling!'
This week we have also started our new maths unit on addition and subtraction. We have been learning different strategies we can use including: bar model, part whole model and number lines. We will be learning column method next week.
On Friday we enjoyed watching the Year 1 virtual harvest assembly and completing a loop of the school accompanied by harvest songs to drop off our donations - thank you!
---
Week 5 - World Octopus Day, Performance Poetry and our class tree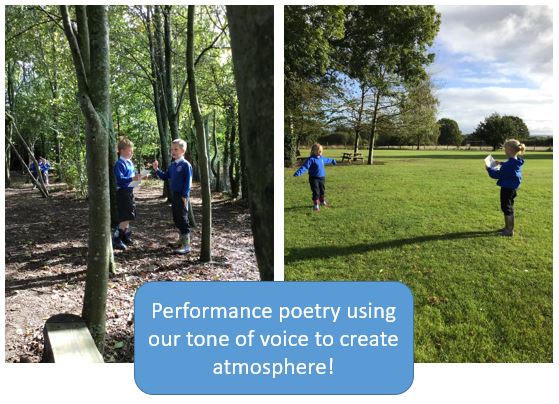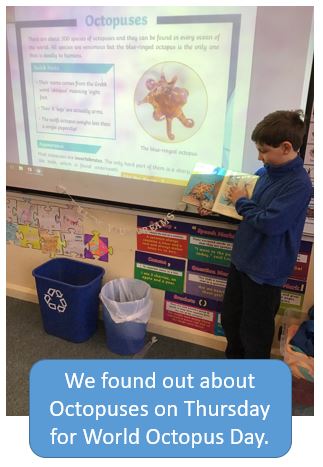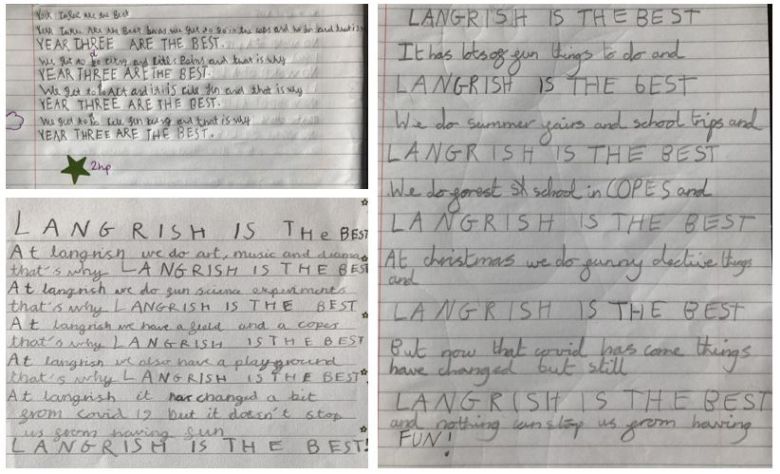 Above are a few of our poems inspired by Jackie Kay.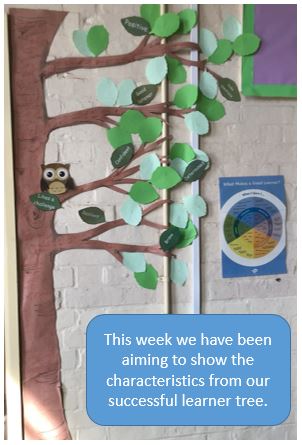 Week 4 - Micro:Bits, football and number lines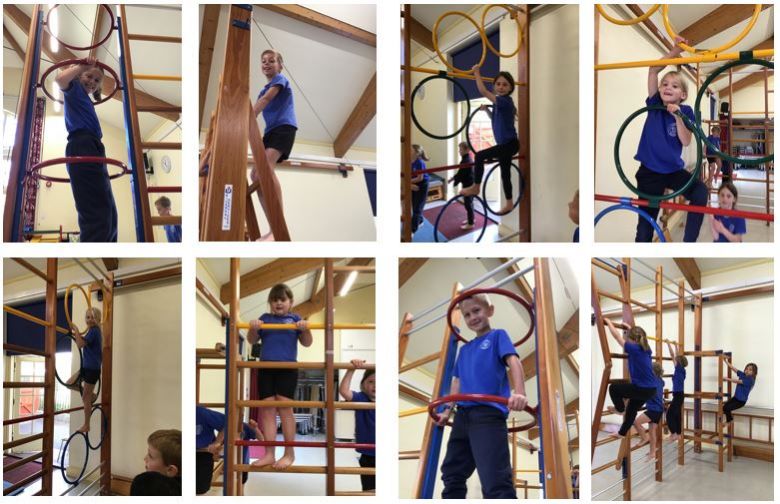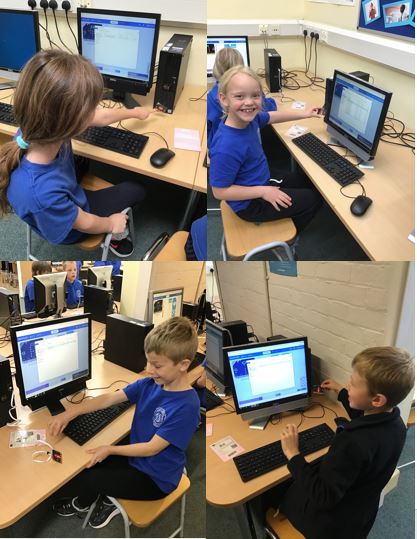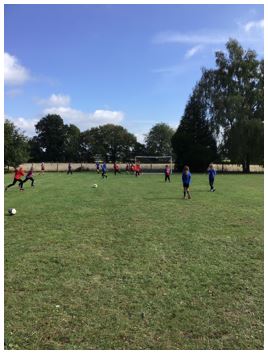 This week has been full of success! We balanced on the high apparatus, used our coding skills to program our Micro:Bits to say 'Hi', practised our dribbling and passing skills in football and mastered how to use number lines up to 1000!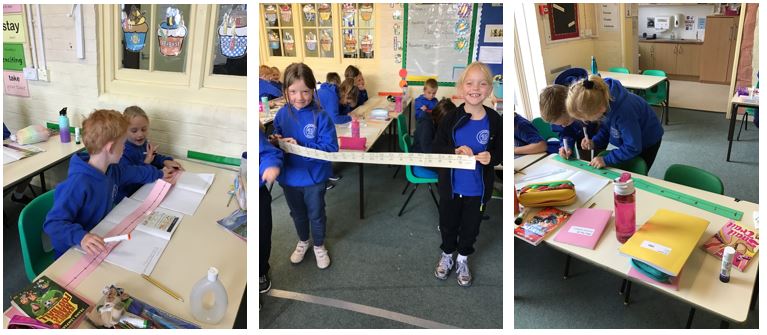 ---
Week 3 - The Black Hat, Skeletons and a Special Guest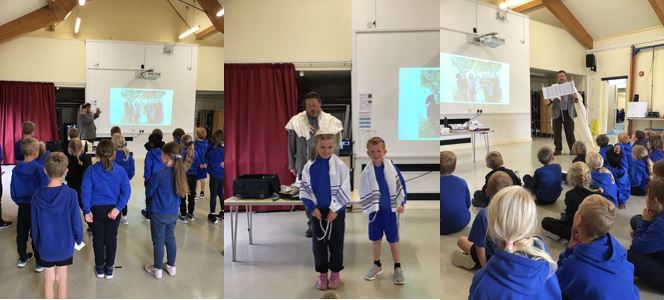 Headlining our week was a special visit from a Rabbi! The children enjoyed learning about Judaism and listening to the Rabbi blow his ram horn and read in Hebrew.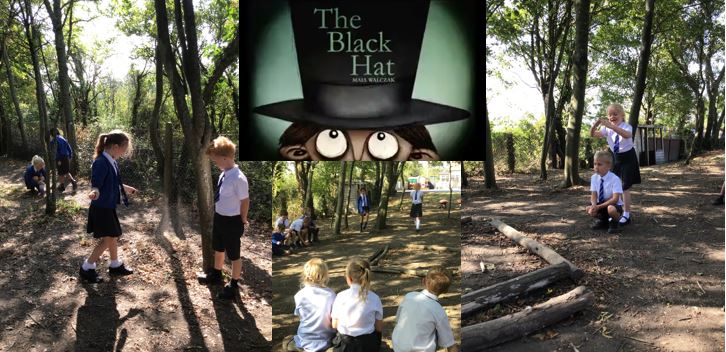 We have also enjoyed using Drama to understand a characters emotions. We worked in pairs to recreate a scene from our English topic where the boy walks through the forest and finds a mysterious black hat.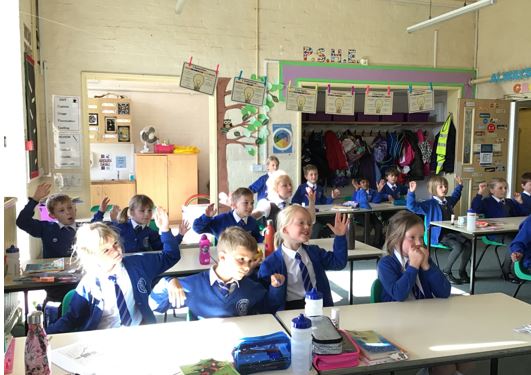 We have started our Science topic, Animals including humans, and enjoyed learning about skeletons. We even learnt a dance to help us to remember the names of our bones!
---
Week 2 - Sunshine, The Magic Kingdom and Gymnastics
We have had a wonderful week! We have particularly enjoyed our 'Wake & Shake' and 'Up & Go' sessions each day to get our bodies moving, writing stories, art with Mrs Hall, Spelling Shed on the computers, Go Noodle dances and our class assemblies. We have also enjoyed being outside as much as possible, and the new timetable has been designed to maximise the amount of outdoor learning that can take place across the school.
This week we started our first geography topic 'The Magic Kingdom' which has caused much excitement! We have started to research why the Magic Kingdom is the most popular theme park in the world and next week we will be researching where the Magic Kingdom is and looking at maps of the theme park itself.
We also started gymnastics and football. We spoke about the importance of keeping ourselves and each other safe before our lessons. The children were incredibly responsible and determined which meant that we were able to use the high beams!
The children have settled into Year 3 life magnificently and are setting a shining example. We have a continued focus on promoting independence as they start their journey in KS2.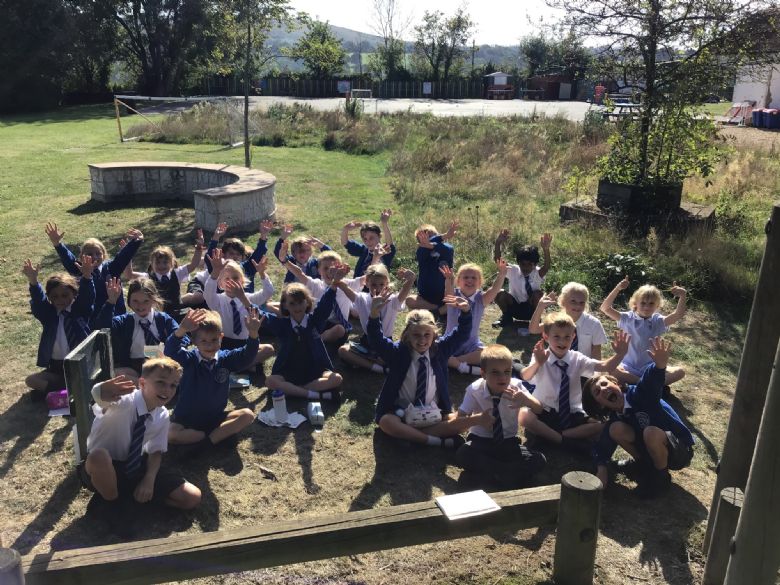 ---
Our first week back!
We have had a wonderful week back at school catching up with friends, classroom discussions, learning new routines and spending lots of time outside exploring the copse. The resilience Year 3 have shown this week and their confidence and positive attitude has blown me away.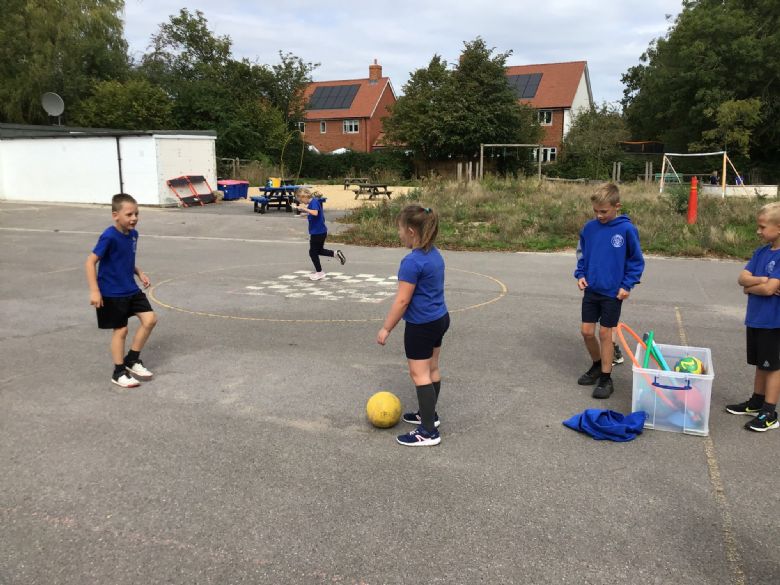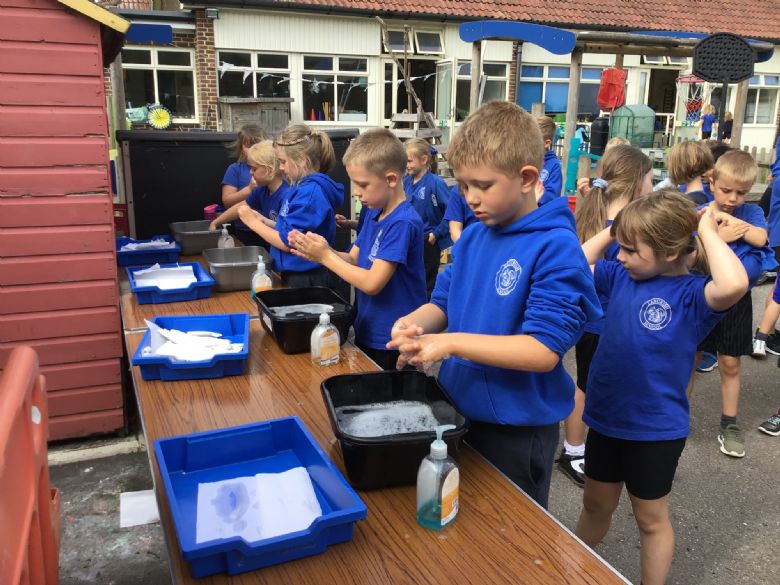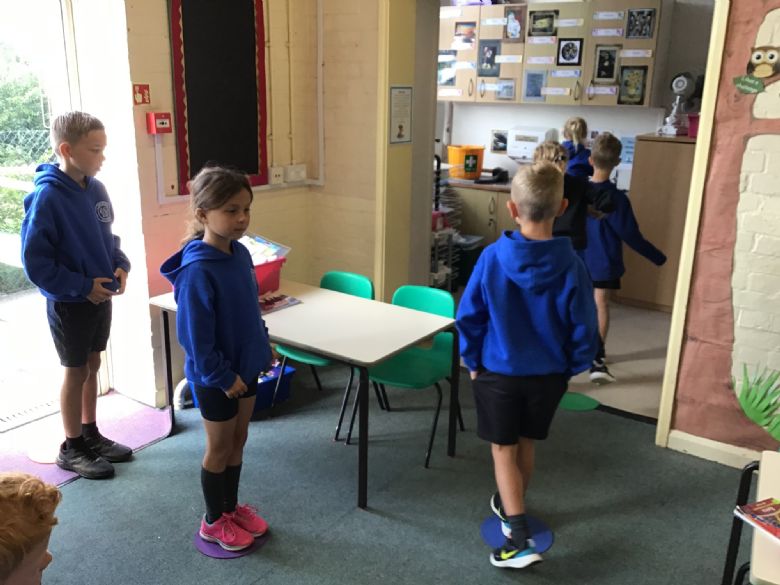 Seesaw
You will have received an email asking you join our Year 3 page. If you have not received this email please let me know and I will resend it to you.
Please see the Autumn 1 newsletter attached at the bottom of this page to find out more about our curriculum this term.
We have discussed how to keep ourselves safe online. We have made a class e-safety agreement that needs to be read through at home and signed. A paper copy has gone home and is also attached at the bottom of this webpage.
---
Don't forget the usual websites if you want to use them: