Ms Fiers, Mrs Pruden, Mrs Rawlings & Mrs Baigent​​​​​​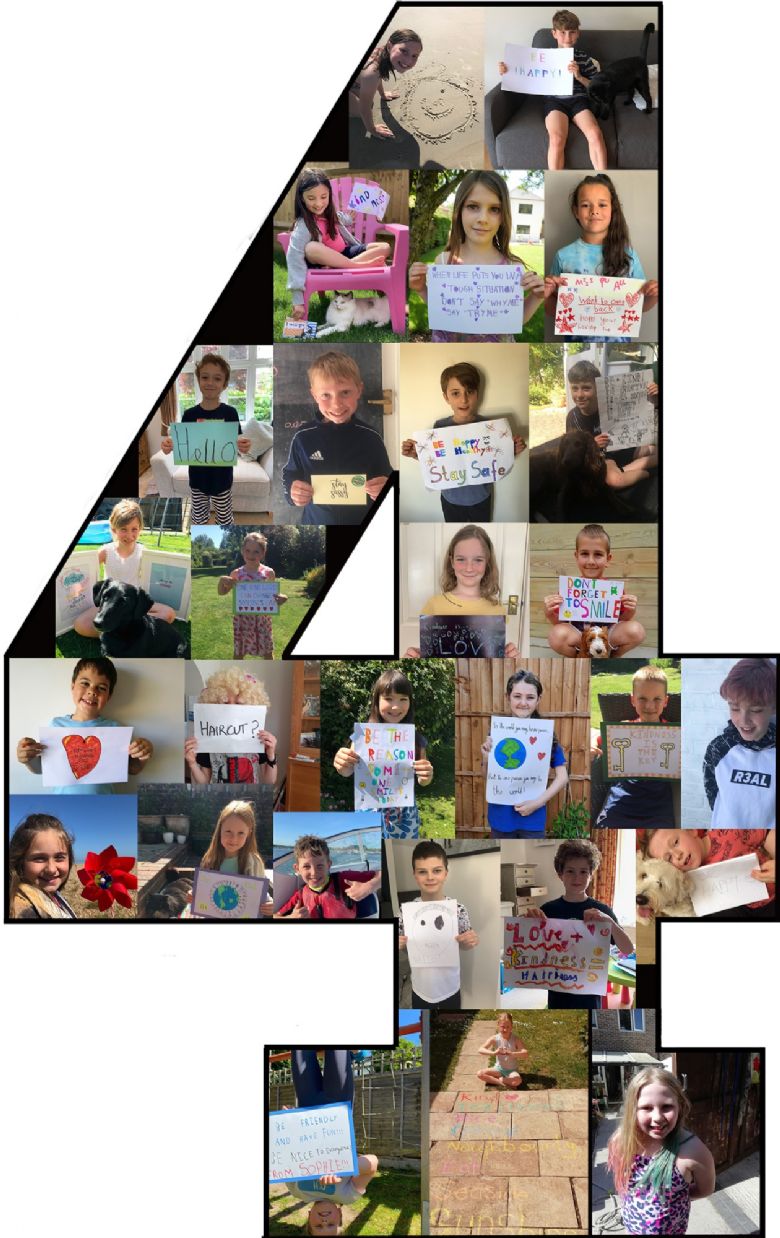 We all hope you had a brilliant half term and used this lovely weather to the full without getting sunburnt. I think you'll agree Mrs Baigent has done a great job with your class collage. It's so good to see you all.
Now I know you were expecting Mrs Rawlings here on the class page today but things have changed. You have me, Ms Fiers, throughout June with Mrs Rawlings checking in with you every now and again.
Home Learning - Wednesday 3rd June
What can you break even if you never touch it? A promise
What is full of holes but still holds water? Look for the answer tomorrow
If you would like to send any riddles, jokes or quotes to put on this page, we would be delighted to receive them.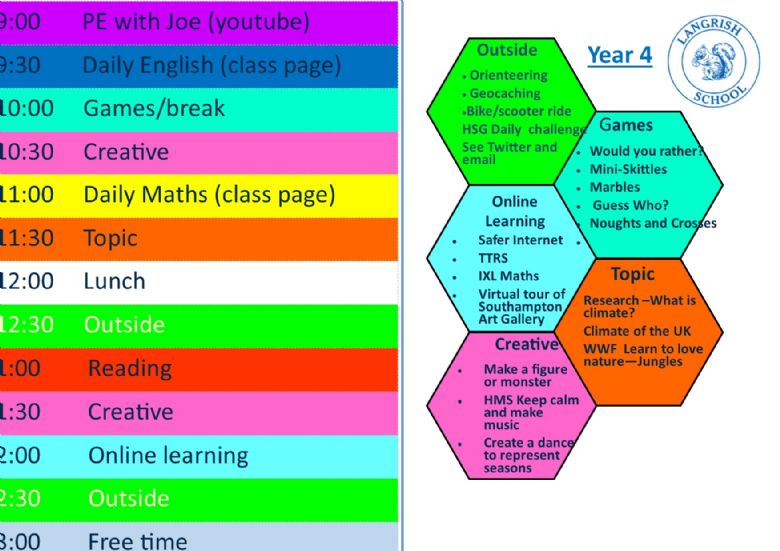 English:
Spelling - The Spelling Shed lists for today are not related. List 1 contains word families based on the common words 'solve' and 'sign'. List 2 contains words from the Year 3 and 4 Statutory List. We have been learning these during handwriting practice for nearly 2 years now so it would be good to go into Year 5 knowing as many as we can. A copy of the list is here for future practise.
Maths:
Here is the schedule for this week's learning.
To see the Maths schedule online go to: Maths Schedule
This week, we are continuing with fractions. Follow this link for the Maths lesson today: Wednesday - Fractions of an amount
If you would like a challenge, please look at the Topical Maths KS2 Third Space pdf at the bottom of the page. You could have a go at the problem for today or choose any of the ones for previous dates. They are quite tricky but I know you will give it your best shot. Let me know how you get on.
Lets have some really practical Science today. We've put our heads together and come up with some STEM challenges for you. Browse through these websites Smallpiecetrust - Engineering challenges and James Dyson challenges and have a go at one or two of them. I think I'll have a go at the prosthetic hand and the cardboard chair as I have some large boxes to recycle.
Additional suggestions from the Hexagons that you might like to have a go at during the week are:
Outdoor Geography - using a compass Orienteering HSG Primary Challenge 10 (see Twitter, email, or attachment at the bottom of the page).
An attachment at the bottom of the page contains websites for this week.
I'm sure that we are going to have another great half term together, whether we are at home or in school. Enjoy your week xx
Useful numbers:
As a charity, the NSPCC helpline services will remain open for children on 0800 1111.
For adults concerned about a child, please call on 0808 800 5000.
---
A taste of our learning:
Science: We have had a great time investigating electricity.
World Book Day: We had a really fun morning on Thursday doing activities based around 'Stig of the Dump' by Clive King. We used Heath Robinson cartoons to inspire us to create our own domains made out of recycled and unwanted materials. I was very impressed by their creativeness. These designs have now come home.
Music: Continuing with 'Lean on me', we have started to play (and improvise) glockenspiels to the accompany the song!
Maths: We have now finished 'Fractions' for this term and next week we will have a recap on multiplication and division, before starting 'decimals'.
PE: In dance this week we have looked at the Haka and started to learn some key movements, looking powerful and strong and moving in unison:
World Faiths and Philosophy: For our concept on 'Jesus' messages' we have been considering why stories are important to Christians. Rev Jane Ball came in to talk to us about some of the stories and helped us try and find the messages in them. The class had some fabulously insightful questions for her too, for example, "What is the most significant message?"
Maths: We have started our new topic of fractions, using fraction walls to help work out equivalent fractions and the rule for changing fractions into equivalents. (What are the rules?)
DT: The children have enjoyed cooking in small groups this afternoon - Mediterranean pasta - yum!
ICT: Safer Internet Day - We have discussed how to continue to keep safe on the internet and participated in a drama workshop, where the message was: Zip it, Block it, Flag it (along with a rap the children could show you!)
English & Art: 'Take one picture' week has been the focus of our English - writing about what people in the Lowry painting might be saying to each other and writing a class poem ready for our performance on Friday afternoon. In Art we have made our own version of 'The village' by Lowry.
Maths: We have finished, for now, the multiplication and division unit and have completed the pre-test on Fractions - which will be our next unit, spanning half-term.
We loved our visit to Winchester, especially the museum workshops.
English: We have started our performance poetry unit - looking for emphasis and actions
Maths: We have started learning about the concept of area, by counting squares, and finding if the perimeter and area are ever the same.
Gymnastics: Well done to the gymnasts who represented the school from Year 3 and 4 at the East Hampshire gymnastics event this week - one of our teams is through to the Hampshire Games in June!
Science: We have been investigating vibrations and how this relates to sound.
The highlight of our week has been our Class assembly - the children were brilliant and they all enjoyed performing you, thank you for showing your support!
Maths: As well as multiplying this week, we have also learnt how to divide HTO or TO by a single digit. The pupils' knowledge of their times tables has been crucial to the accuracy of their answers.
English/History: We have written an account of what we imagined Pope Gregory asked Augustine to rely to King Ethelbert, the real challenge was having to do this in less than 80 words.
Music: We have started improvising to the rap 'Stop!'. I was very impressed with the children's creative talents - some were even brave enough to perform to the class.
PSHE: Keeping safe & assessing risks.
English: We've had a spelling test of 'ture' words in the back of our home learning books - if you got any incorrect, please practise these. What other 'ture' words could you add to the list?
Maths: Purple Mash Times Tables practise - here the children are tested on their times tables under timed conditions whilst having to use either the keyboard or mouse to select the correct digits (much like the formal assessment in June).
History: We have been making topic folders for History and we have left a spare page for the pupils' own interest/research e.g. gods/beliefs/food/clothes/games/well known anglo saxon (see half term project) etc… The finished research should be no larger than A4.
Maths: We have been embedding our calculation methods for multiplying 2 digit numbers by 1 digit, using expanded method and short method.
English: On Thursday we took part in the 'BBC 500 word live lesson' where well known authors gave top-tips about story writing. We have used their advice to try and be creative and write a first-draft of a 500 word entry (This will be brought home to type up if your child would like to enter the competition - BBC 500 word website)
History: We have looked at Anglo Saxon villages and how their lives changed when Augustine met Ethelbert, (ask your child who they were and what happened when we acted ot the meeting!)
Guided reading: We have been sharing an extract from 'Swallows and Amazons', looking at language and answering inference questions.
Gymnastics: We have been practising our vault-jumps, ready for the Hampshire competition.
Science: We had an excellent talk by Scottish and Southern Power, about how to keep safe and which number to call in a power cut. I was very impressed with their questions to our visitors - well done Year 4!
Art: Anglo-Saxon pattern
English:We have written recounts of our Christmas break, focusing on using fronted adverbials with commas, apostrophes for possession and correct punctuation for direct speech.
History:This term begins with the question 'Who were the Anglo Saxons and how do we know what was important to them?' Our English will largely focus around this too.
Maths: We have started out new topic on multiplication, finding efficient methods to multiply numbers and thinking of factor pairs for each multiple as well as learning our 11 and 12 times tables.
Gymnastics: We have started to practise our routine for the Hampshire trials - looking perfection in the way the children use their bodies in the sequence.
Music: This half term, we have an opportunity to practise an anti-bullying grime-rap and to add our own compositions. Hopefully, we will be able to share some of this with you in our assembly.
English: We have now had our formal reading and writing assessments this week. We have taken time with each child to feedback and support corrections, all the pupils have had new targets.
Maths: After our assessments, we have enjoyed some Christmas-Maths.
WF&P: (World Faiths & Philosophy) Our concept has been 'Mary Mother of God'. We have used traditional carols and prayers to find evidence of how important Mary is to the Christian community.
Happy Christmas from Year 4
English: We have completed our unit on King Kong and are now using the Christmas John Lewis advert as inspiration to create writing around emotions and consider strategies to help Edgar control his impulses.
Music: We have now completed our lessons on Djembe drumming and we have all thoroughly enjoyed it.
PE: We have continued with our Dance lessons along the theme of 'Theme parks', practising and performing in groups to the class.
ICT: We have continued to use PurpleMash to access LOGO where we have been tying our own commands to make specific letters or shapes.
In the photo letter 'B' has been coded and drawn.
English: we have written our own narratives, continuing the story of 'King Kong', focusing on showing the characters emotions. Our other focus continues to be editing - working in pairs, taking it in turns to help each other improve our work. Today we focused on correct speech and the 5 golden rules we need to apply.
Maths: We have spent the week consolidating our understanding of 'addition and subtraction', applying our understanding
PE: Continuing our Netball skills.
French: we are putting together phrases, to ask each other questions about our local area.
DT: We have started to make bread, and 8 children had their turn this week. Everyone will get a chance by the end of term.
Maths: We have taken a few days to consolidate and embed our understanding of 'perimeter' that we finished a few weeks ago as we have now completed the 'multiplication and division' unit. Completed post-assessment sheets will come home in the next few weeks.
English: We have started to read 'King Kong' and this week have written a diary from the view point of one of the main characters we've met so far. We have had to use the features of a diary.
Science: We had a fabulous visit on Monday morning, where we learnt all about Whales and Dolphins. Our heads were spinning from the amount of facts we were told.
Music: Djembe drumming continues and we have been making and following rhythms using long and short sounds.
ICT: I was very impressed with the children's perseverance in using LOGO to make the letters: C, F, M, W and O.
PSHE: We have been having discussions all week, as part of anti-bullying week, on bullying and strategies that should be adopted if the children are or feel someone is being bullied. We have also reminded each other about cyber-bulling and used the book 'Troll Stinks' to highlight important messages.
The children's water bottle are now kept in our wet area (just outside the classroom), where the children can have access to them between lessons or when the need arises (e.g. after/during PE). During break and lunch, the water-bottle monitors take them outside where they can be accessed. The pupils are encouraged to drink at break times and along with their lunch-time drink, to have water before coming in for the afternoon lessons. This should prevent the number of water-accidents that happen, spoiling our books and classroom.
Next Friday is Mufti-day, where the children can wear home clothes in exchange for bringing in items for the Christmas Fair tombola.
Children in need day started with a high-energy workout with the whole school. The children's support for the day was fantastic. Well done Year 4.
Music: We have started our Music unit using Djembe drums. I was very impressed with the children's rhythm and ability to play the game 'copy me' and their improvisation.
English: Year 4 have enjoyed writing information texts on their chosen African animal. They have had time to focus on writing cohesive paragraphs by grouping similar information together and editing to ensure it is of the highest standard.
Maths: We have continued to multiply and divide by 6,7, and 9, using our growing understanding and times table knowledge. On Friday we enjoyed an investigative approach to 'Marvellous Maths'.
Science: We are continuing to enjoy the children's scientist presentations and will hear any remaining ones over the next few weeks.
ICT: As well as using Logo on PurpleMash we have used the computers to aid our African Animal daily research. During our class discussion about bullying we talked about cyber-bullying to reinforce e-safety.
PE: We continued to 'Dance' to the theme of rollercoasters and theme parks. We ended the lesson pretending to be stood infront of a distorting mirror and had to copy the unusual shapes and body movements of our partner.Video to follow of our rollercoaster dance!
PSHE: On Thursday afternoon we were lucky enough to have a session in the 'Life Bus' that visited. 'It's Great to be Me' focused on physical and emotional health and gave all the children some excellent strategies and greater knowledge about looking after their bodies and minds. We shall be doing some follow-up activities over the next few weeks.
French: We have started our new unit on 'My Town' and have revised numbers to 20.
PE: Netball is our focus this term and between the showers we have been outside, honing our throwing and catching skills.
DT: To begin out 'Breadmaking' unit we have evaluated types of bread - wholemeal, sourdough, pumpkin and white. By far, the majority voted for the white-tin bread as their favourite!
English: Having enjoyed our trip to see the Butterfly Lion, we have been inspired to write non-fiction information leaflets about animals found on the African continent. Having researched the structure and language features of information texts we then researched, drafted and help each other edit paragraphs of information.
Science: Some of the children have shared their amazing research on a chosen scientists, we've been very impressed by the high standards. The ones that haven't yet had the chance to share, will be able to do so in the next few weeks.
The new half-term letter (for Autumn 2) is at the bottom of this web-page, giving you more information about our topics for this term.
English: Year 4 had a brilliant day on Wednesday at the theatre, both the workshops and the performance were enjoyed by all. Next term we shall be looking at 'The Butterfly Lion' in greater depth.
Maths: Having come to an end of our 'Perimeter' unit we have spent a few days on the generic issue of 'Solving word problems'. We unpicked the language used that means add (altogether, increase, more than, sum, total......) or subtract (difference between, how much more.....). We came up with some top tips: 1. Read the question carefully (can you imagine the situation being described), 2. Underline important maths words/information. 3. What will the operation be 4. Do the calculation 5. Does that sound about right? Check it!
Halloween Disco:
History: On Thursday we thoroughly enjoyed a 'Significant person' day. We had to argue why John Cadbury should be
included as a significant person; we found out about the time he started his first shop, why it was popular and how his religion was so vital in his success; we considered his philanthropic attitude and why a model village was made to improve workers lives and living conditions; the consequence of founding a pre-cursor to the RSPCA; what he'd think about the use of palm oil in Cadburys today and the power of Cadbury's adverts over the years. As a final task we either wrote to Mrs Rawlings making our case for John Cadbury or designed a new chocolate bar, that reflected his life/legacy.
English: Continued with poetry - Haikus and Kennings
Science: More exciting practical activities this week, learning about food chains.
PE: In football we have a series of mini-games to demonstrate our skills.
Music: As we come to an end of our Abba unit, we played recorders or Glockenspiels to their best known songs.
We look forward to seeing you at Open classroom on Tuesday or parents' evening on Wednesday.
World faiths and philosophy: We learnt about the concept of ritual this week, focusing on the Jewish festival of Sukkot and the many rituals involved in it. Rabbi Zvi visited us on Thursday to enrich our learning and answer our many questions.
Maths: We have finished our unit on Addition and Subtraction and have started perimeter (including converting between measurements e.g. 1kg = 1000g)
English: We have been writing some fabulous poems, using figurative language and today had a day off poetry to showcase our learning in 'Freedom Friday'.
PE: In football we continue to practise passing and dribbling and in Gymnastics we took our balancing onto the equipment having been inspired by Simone Biles' performances.
Maths: Using 4-digit numbers we have been adding, subtracting, exchanging and estimating, using the most efficient method for calculation.
English: We finished our unit on persuasive writing by choosing a subject the children are passionate about and writing a letter in the hope of making a change. Subjects ranged from lengthening playtimes or individual lessons, to getting rid of racist language. To celebrate national poetry day we explored a poem called Miami's finger and have written our own responses.
Science: Another fabulous experiment this week about the digestive system.
Geography: The question this week was 'How has our local area changed?' We began to answer this by looking at how area change through natural disasters, such as flooding, as well as how humans make changes. The regeneration in London when the Olympic Park was built in 2012 was one example.
Maths - We have started our unit on 'Addition and Subtraction' of 4 digit numbers, including exchanges.
Science - The conclusion to our Science experiment showed that "water was best for teeth, Milk is Ok as long as you brush your teeth after drinking it. Orange juice with lemonade was the worst for the teeth - it damaged and changed the colour of the shell."
PSHE - we have taken part in 'The world's largest lesson' where the pupils had to design an island to include as many of the 'Global goals' as possible, they include:
PE - We have been using a standard broad jump technique to jump as far as possible, competing against our group and trying to improve our distance with each jump.
---
English - We have been comparing the qualities of superheroes and animals that help us. This has included a debate about whether it is right that animals risk their lives for us, in preparation for a persuasive piece of writing next week.
Maths - We have continued with place value, including ordering 4 digit numbers, rounding to the nearest 10, 100 and 1000, counting in 25s.
Science - We have set up our experiment to see which drink most affects our teeth. We have used an egg to represent our tooth enamel and covered each one with either: water, coke, fanta, milk, orange juice or coffee. Results to follow in a few weeks...
PE - In Football we have focused on dribbling and had several small group games. In gymnastics we've been trying to improve our balance.
Computing - We have started to program and as an introduction we set the children a challenging of writing a code to get their partner from one side of the playground to the other, without hitting the benches. It was a challenge! We then used 2Go on Purple mash to edit code to change shapes.
English:
We have been looking at a clip called, 'Taking flight' and using it as inspiration to write in clear, defined paragraphs.
Maths:
Our unit is place value. This week we have: explored Roman Numerals to 100, rounded to the nearest 10, 100, counted in 1000s, represented numbers to 9,999 and partitioned.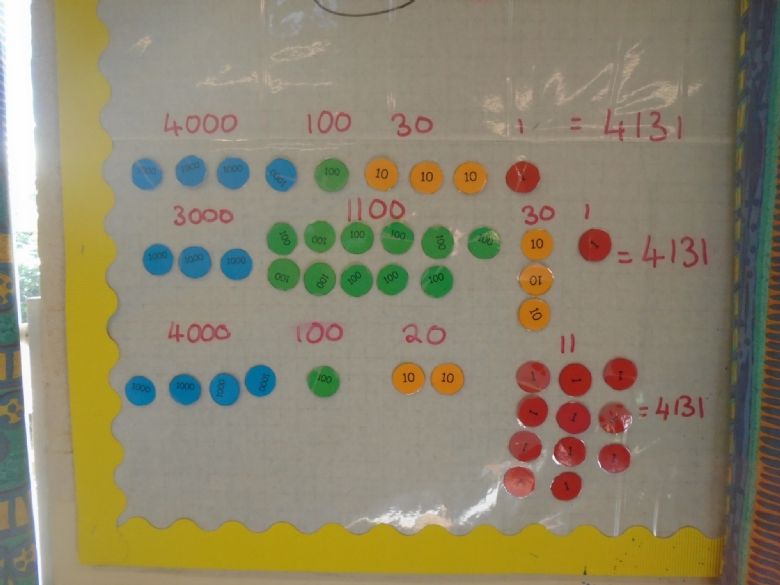 Science: We have started our unit on 'Animals including humans' and have written some questions we'd like to find the answers to e.g. 'How food travels through our body', 'What are primary and secondary teeth?'
Reading: Each child has read to an adult and has selected a book that is appropriate for them. Please continue to encourage your child to read for 20-25 mins daily and to help them to complete activities in their new Reading Record. There is a 'Blooms wheel' of questions in the front of their reading record, and an appropriate question should be answered to evaluate every finished book. e.g. Did it have an effective ending? 'I did really like the ending as it kept up the suspense until the final page and I was pleased it was a happy ending.' Or 'I was frustrated by the ending as I still had a lot of questions about some of the events that had happened.'
PE: We have enjoyed starting football and have made the most of the dry weather this week.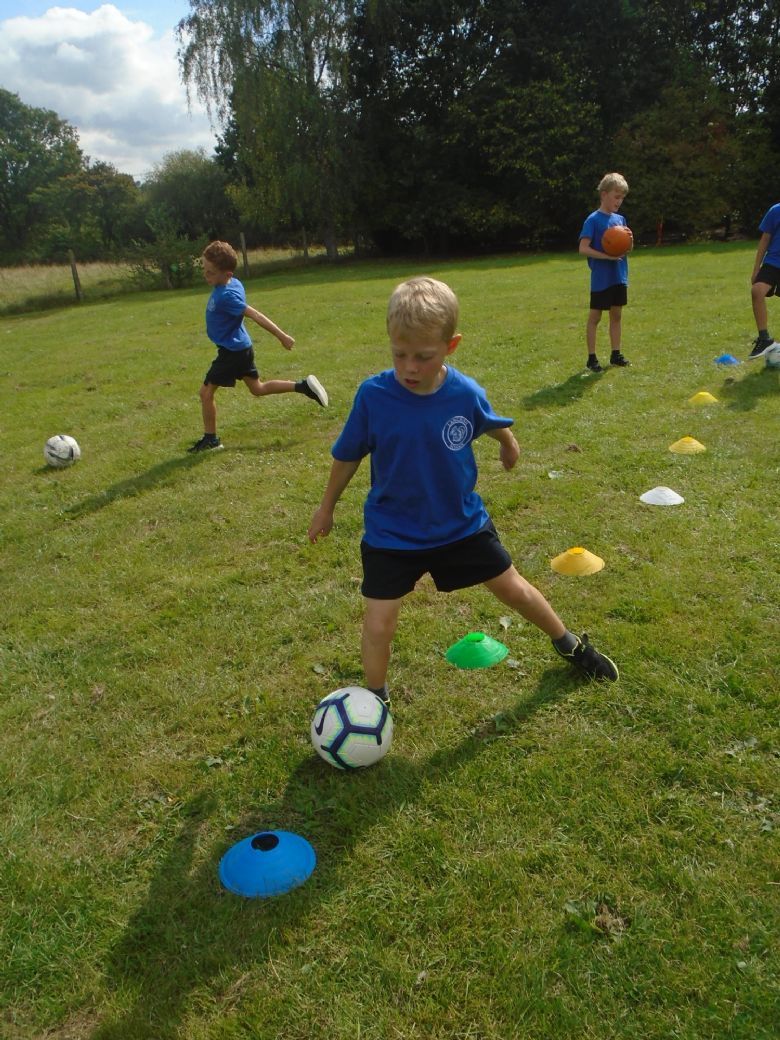 Friday 6th September - Welcome back!
We have had a fabulous start to Year 4 and despite the odd go-into-Year 3-Classroom accident I've been really impressed how well they have settled in.
We have written our Rights Respecting Class Charter based on the rights which the pupils considered most important for Year 4. It would be lovely to have some illustrations or posters about the Rights to help decorate the Rights Respecting board. If the children could bring in any finished pieces by Monday please.