Miss Coston & Mrs McCulloch
---
Friday 9th February:
Thank you for another rewarding half term! I hope you all enjoy a well-deserved rest over the next week. Some children have been sent home with some specific home learning but all children will benefit from revisiting their times tables, reading and arithmetic tests and using these as a tool to inform their learning at home. All children have been given these three papers to go through with you if you wish.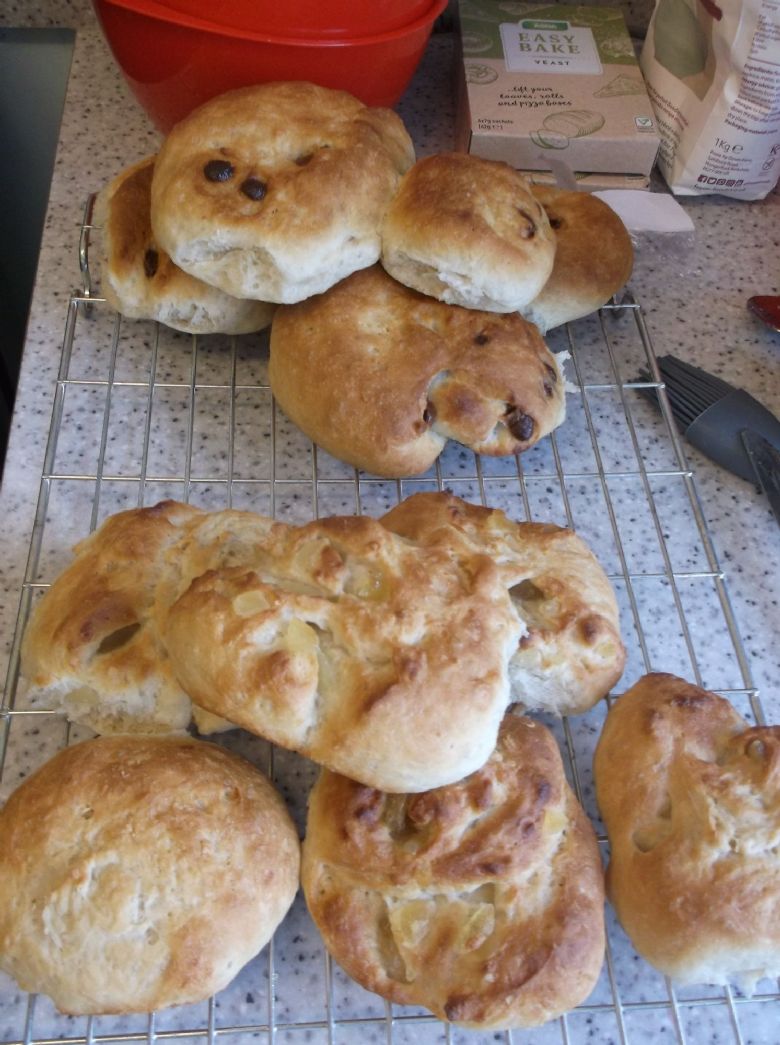 The Great Langrish Bake off!
Alongside a busy week of assessments, the star of the show this week had to be our bread-making day on Tuesday. All of the children worked extremely hard to make their bread and could talk about the process of bread making with ease. They all really are star bakers! A huge, huge thank you to Mrs McCulloch and our Chair of Governors James Greenwood for helping out with the day and making it run so smoothly. The children also excitingly became film directors and managed to film some of their bread making experience. The wonderful Mr Hancox has kindly put it together in to a short film to showcase this fabulous learning! Watch the video below if you would like to see a taster of our day.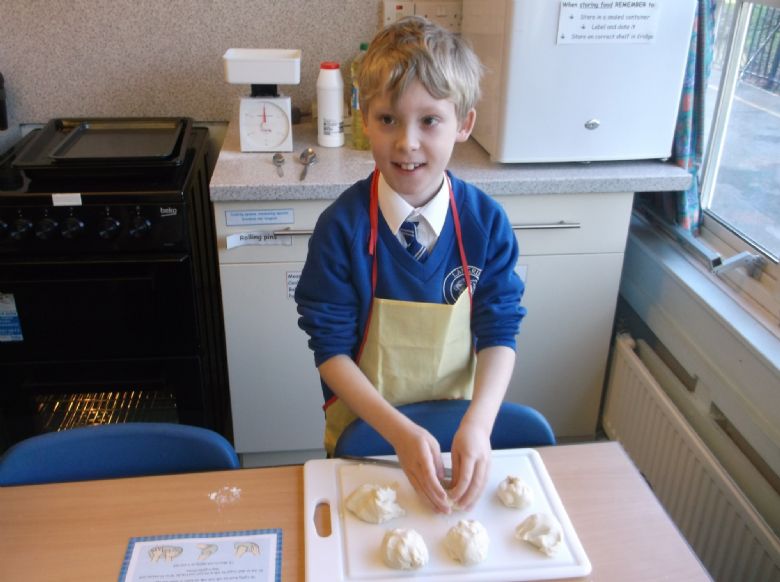 English: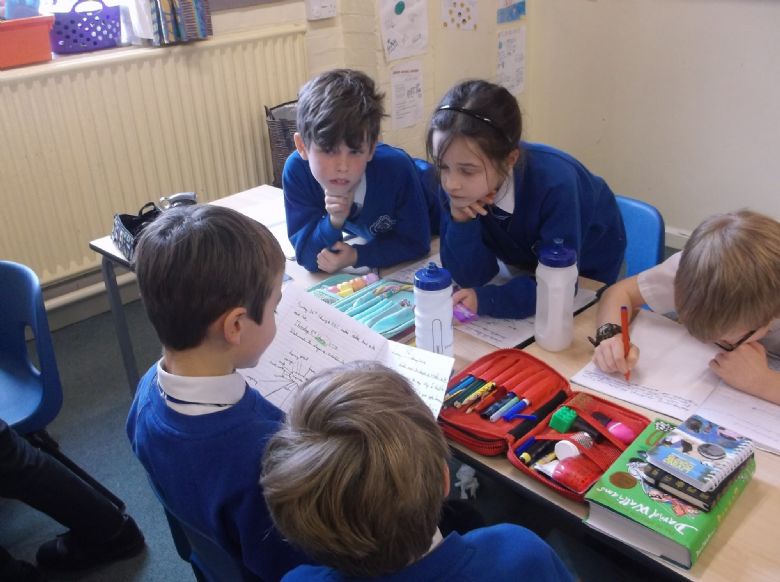 We have focused this week on what attributes a good 'Grendel Slayer' needs to have! We continued reading Beowulf and Grendel, The Monster of the Night and discovered that Beowulf is a brave warrior who is going to try to slay the hellish monster Grendel and save Hrothgar and his people. However, Beowulf needs a team of the fourteen bravest and strongest warriors to help him on his journey. The children began by thinking about what a warrior would need to be like in order to attempt this deadly mission. They then had to imagine they were interviewing for the job and try to convince each other why they should be chosen! The children were great at getting in to character and trying to persuade Beowulf why they would be perfect for the job.
Maths: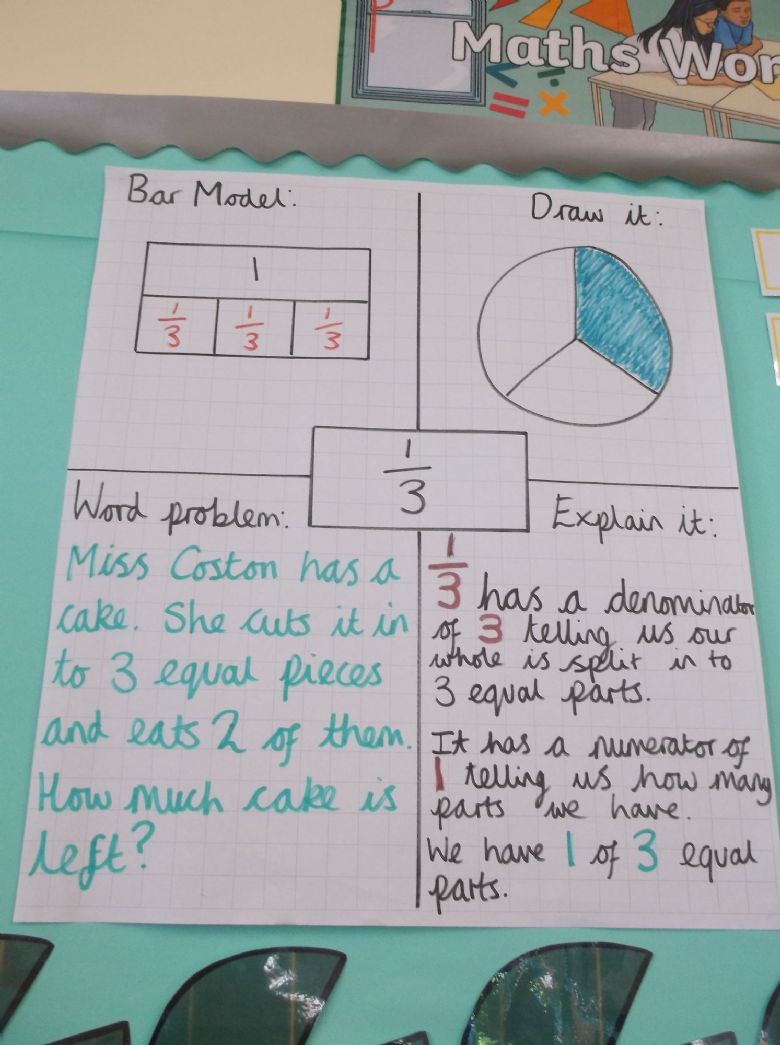 We have begun looking at fractions this week and have started by discussing what a fraction actually is. After discussing the numerator, denominator, and what they represent, the children completed a grid that asked them to show a fraction in multiple ways. For home learning, could your child choose a different fraction and complete each of the four sections on the grid? An example of the grid can be seen to the right.
Spelling:
We had two spelling focuses to get our head round this week!
Possessive apostrophes: The boy's shoes – Referring to only one boy
The boys' shoes – Referring to multiple boys
Homophones: Mail and male
Bawl and ball
Scene and seen
Can your child practise these at home?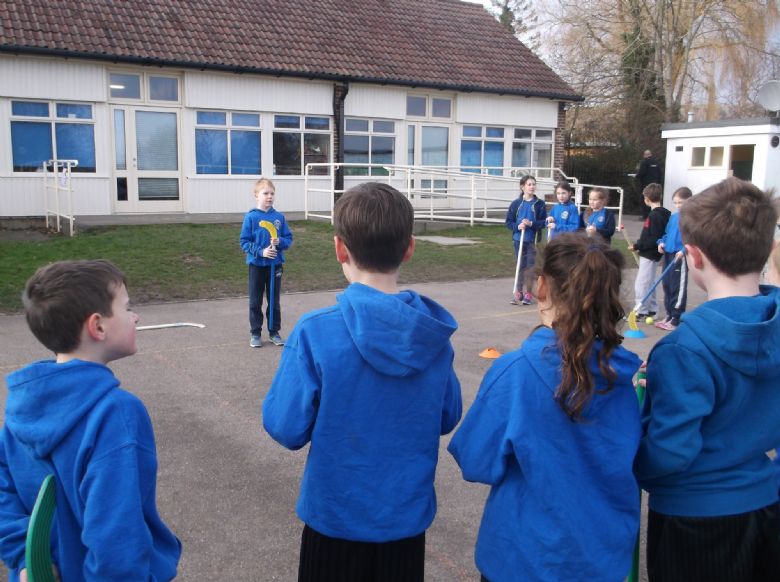 Hockey:
This week in hockey, we finished our unit by continuing to practise our shooting and incorporating skills such as dribbling and passing alongside. We even had a few children lead a mini game with the rest of the class! It was a lovely way to finish this half term's PE unit.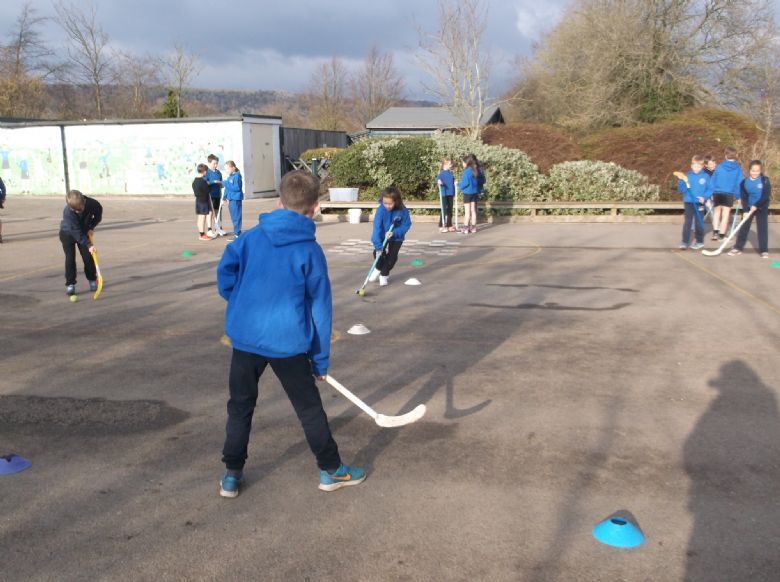 History Projects:
Another enjoyable moment from this week comes from hearing all of the wonderful History projects! We have learnt a great deal about many different famous Vikings and Anglo-Saxons and what they did that makes them memorable today. The children as ever have presented their findings in creative and interesting ways, which made them a pleasure to watch!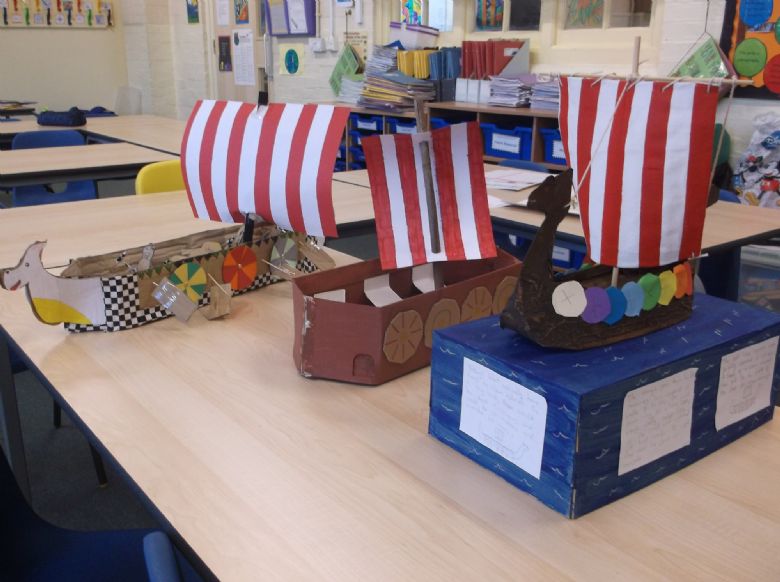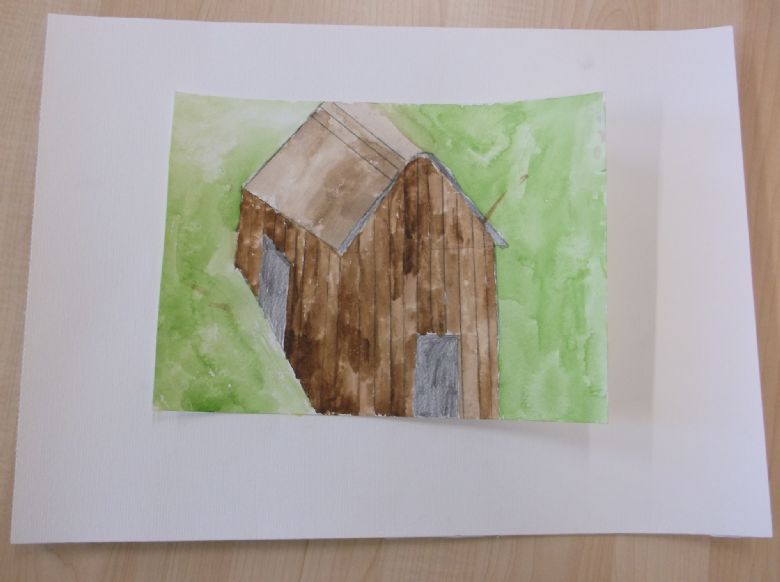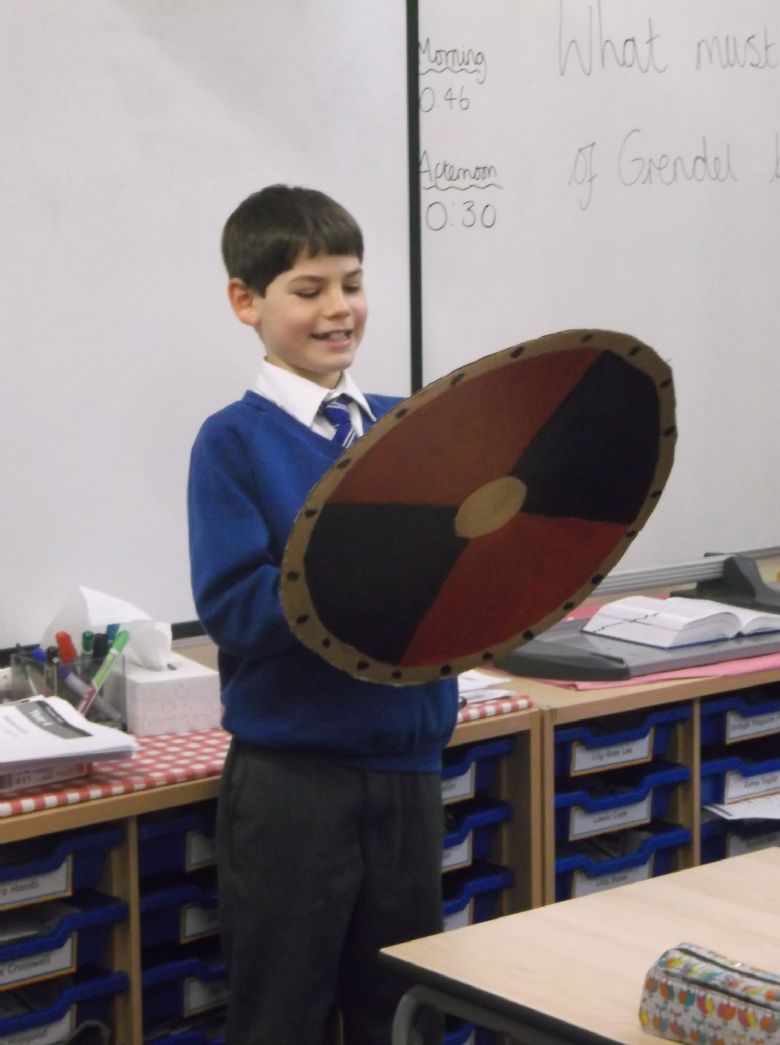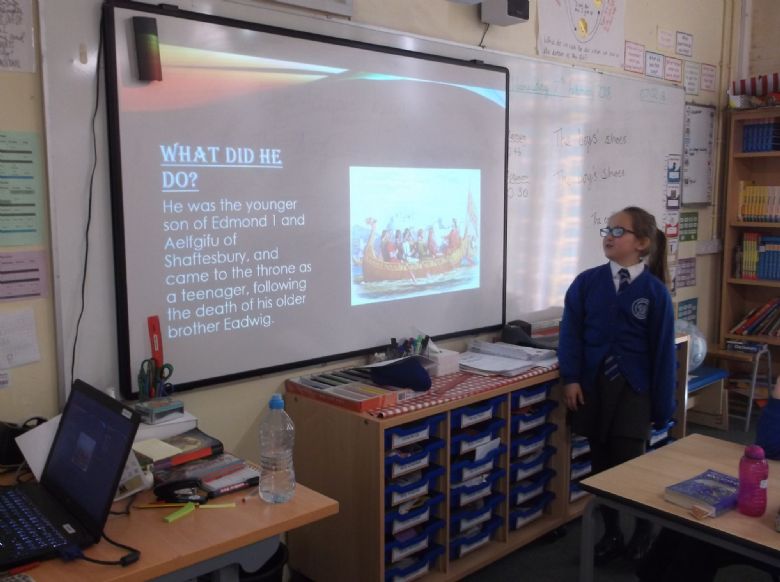 Safer Internet Day:
We also celebrated Safer Internet Day this week and revisited our class E-safety Agreement. Please can you ensure you and your child have signed this agreement in the back of your child's Home Learning Journal. We talked about what we enjoy doing when playing games online and the children created wanted posters for their ideal online friend. They thought very maturely about what things they like and dislike when communicating with people online.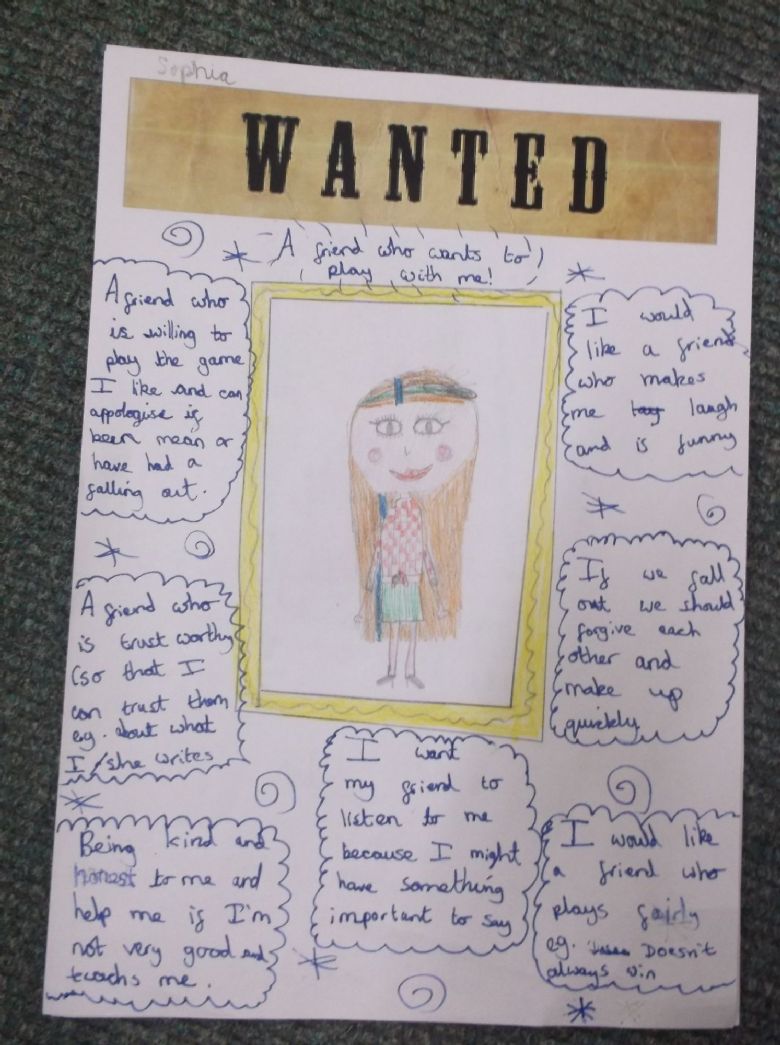 ---
Friday 2nd February:
** Half Term Project **
Please can the children bring their project on their famous Anglo-Saxon or Viking in to school by next Wednesday (8th February).
English:
Well done to the children for their spectacular performance of our Year 4 poem to the school on Thursday! They all performed extremely well and I was very proud to watch them showcase their work. I hope to have a video of this performance playing during the Open Classroom next Wednesday. We have also continued our work on Beowulf this week with the children writing the narrative of Grendel walking around the mead-hall. We also tried a new strategy for editing using specific editing stations to focus on a particular part of the editing process. Can your child remember any of the editing stations and use them at home if they are writing?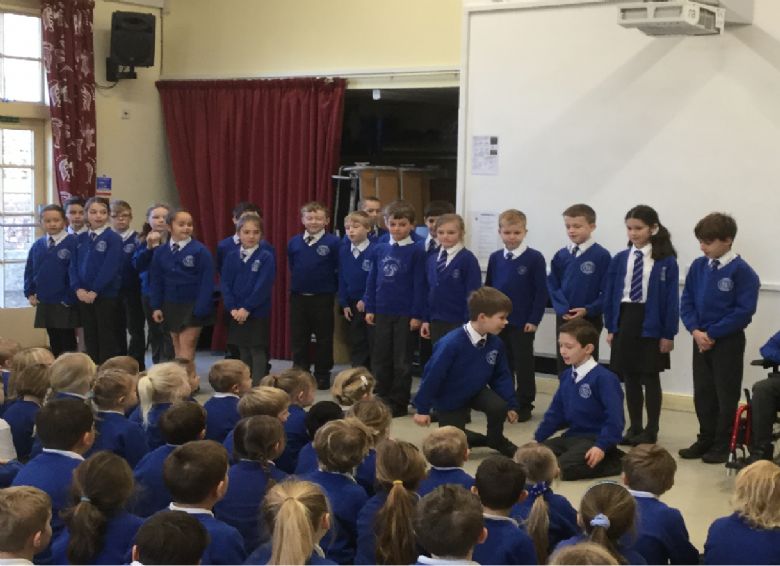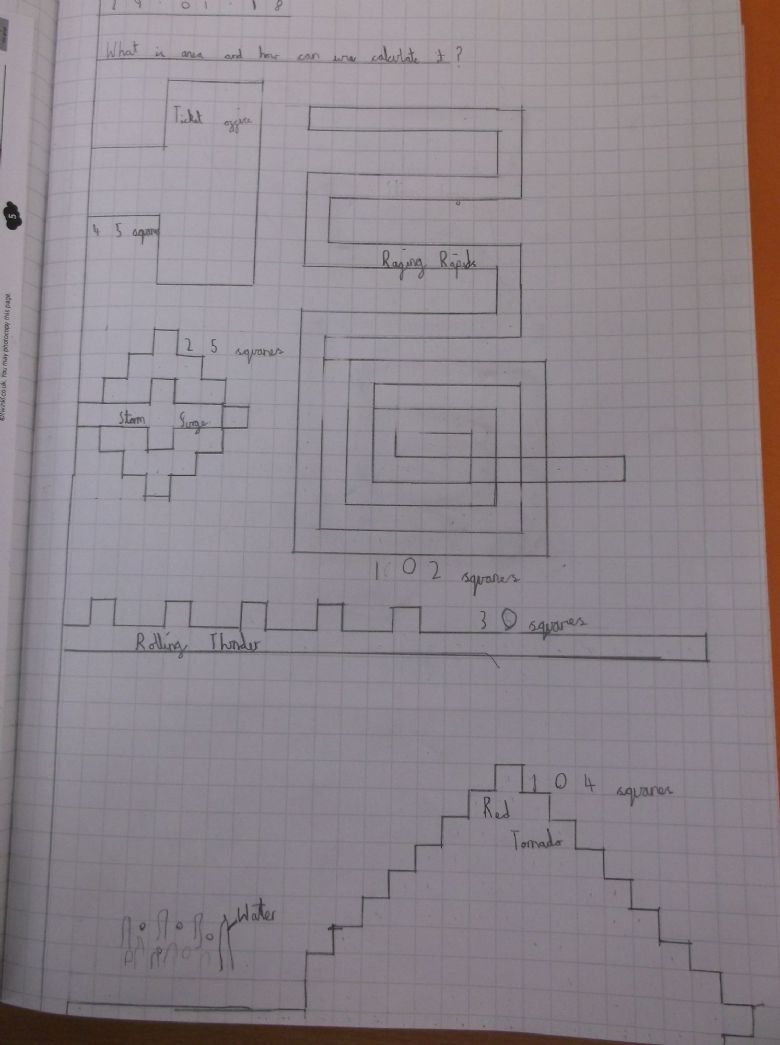 Maths:
We have focused on area this week and in particular counting squares. To do this the children created the plans for a theme park! They had to draw out where each ride would go and then calculate and compare these areas. The children have done really well with this and I have provided a sheet to consolidate this learning if your child would like to complete this. We will be moving on to fractions next week. It would be handy to start having conversations with your children about what they think fractions are and what they already know about fractions in preparation for next week's learning.
Spelling:
Our spelling words this week are shown below on our spelling board alongside this week's WordBlaze focus (for those it concerns) and our Wow Words. I have asked all the children to practise their spellings for next week and if your child wants a challenge, can they practise some of our trickier Wow Words?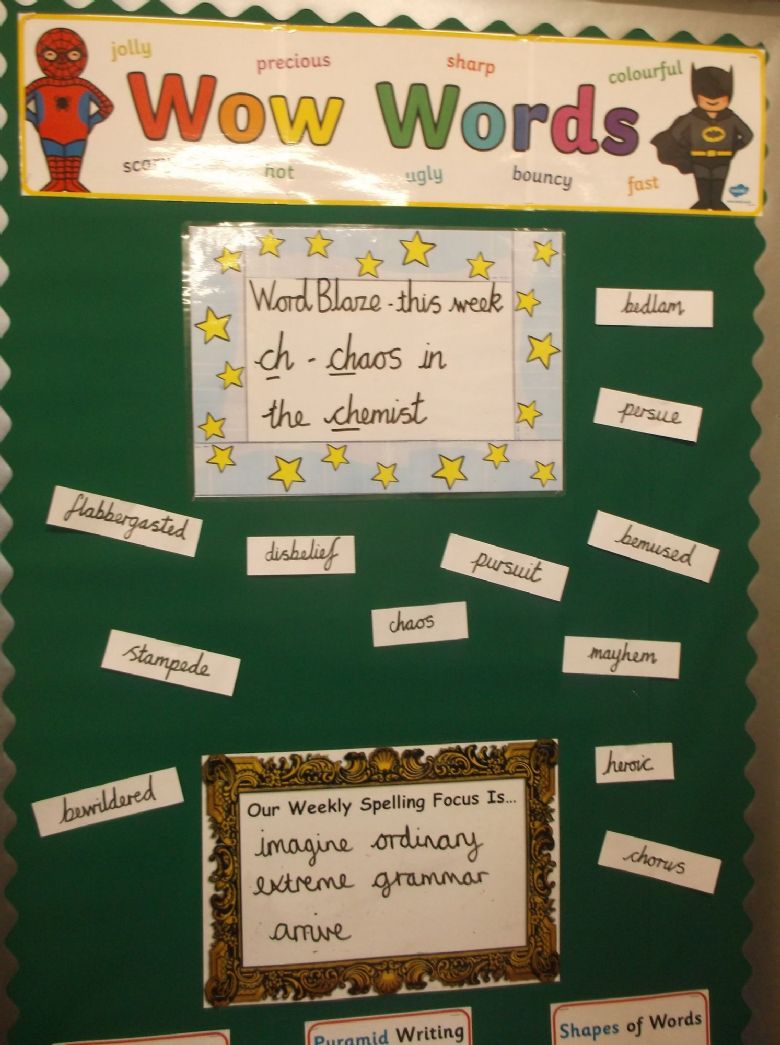 Music: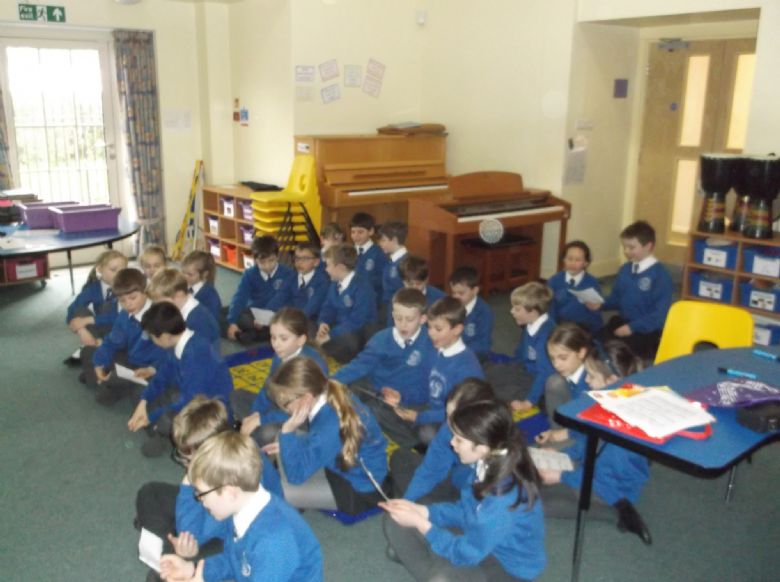 The children have spent their time this term writing raps! They have listened to a rap called Stop! which highlights anti-bullying. They have also created their own raps in the style of this piece of music. I hope the children have enjoyed their music learning this term.
Here is an example of a rap from Christabelle and Jacob:
'Year 4 is an awesome place
We've been solving a tricky case
We have lots of teachers in school
Most of the pupils are really cool'
DT:
Next week we will be both making purses and finally making bread! With regard to our purse making, I have informed the children of the basic materials we will provide for them in school. Some of these being felt, buttons, pompoms, sequins and some glitter. Anything specific your child would like outside of these materials then it is up to you if you would like to give them to your child to bring with them next week. We have plenty of materials in school so please do not feel it is compulsory to go and buy anything extra, only if you are happy to or already have something at home!
---
Friday 26th January: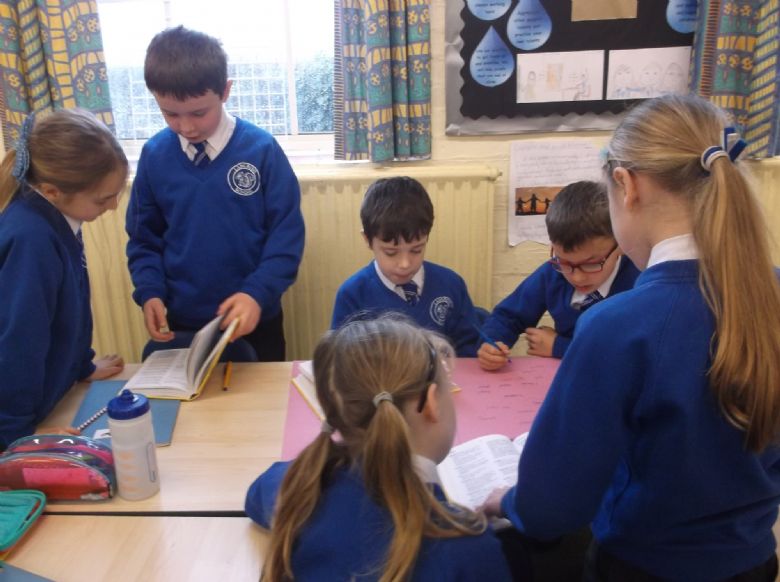 English:
This week we have started looking at Beowulf by Michael Morpurgo. We spent a few days creating our own Beowulf glossary because the book contains lots of tricky words that we don't see very often! We worked together to look up or work out the meaning of these words and then put them in our glossary. We also thought about how the characters may be feeling and created 'degrees of emotion' based on these feelings. The children got in to groups and used thesauruses to think of as many words for 'happy' and 'sad' as they possibly could. They then sorted them in to a scale from the weakest to the strongest. Can your child explain to you what degrees of emotion are and give you examples?
Maths:
We have finished out unit on Multiplication and Division this week by continuing with dividing 3 digit numbers by 1 digit numbers, and we are getting there! The children have come on in leaps and bounds through this unit and I am very proud of the hard work and resilience they are showing. Next week we start looking at area. Perhaps your child could get ahead of the game and start thinking about what area is and how we can calculate it by counting squares?
Spellings:
Our spelling focus this week is on words that end 'ture' for example adventure or sculpture. Can your child practise the words we came up with or think of any of their own?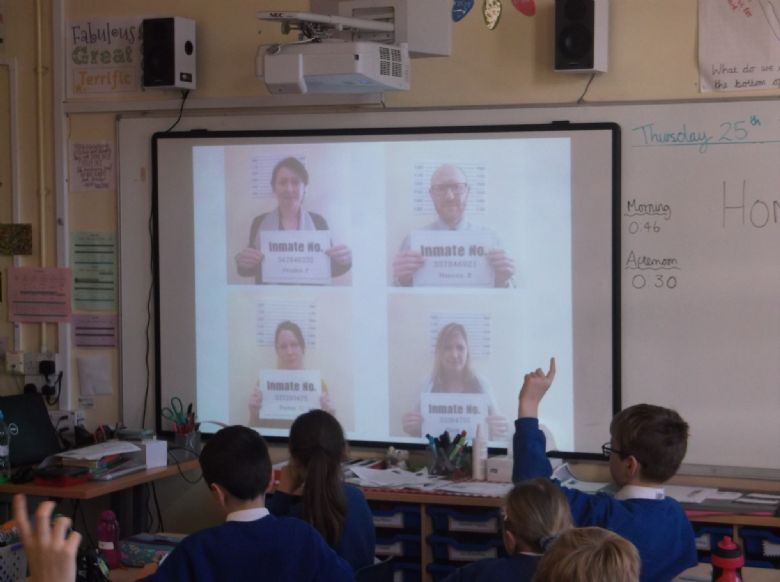 Guided Reading:
Year 4 became a crime scene this week! Miss Coston's special diamond pen was taken from the classroom and the children were asked to help track down the culprit. The children used their inference skills to decipher what we knew about our suspect from the clues given, thought of 3 questions to ask each of their suspects and also used their skills of prediction to decide who they thought the culprit was. Turns out… it was Miss Flack! The children became true detectives and had to read between the lines and use the clues to piece this crime together, thanks for the help!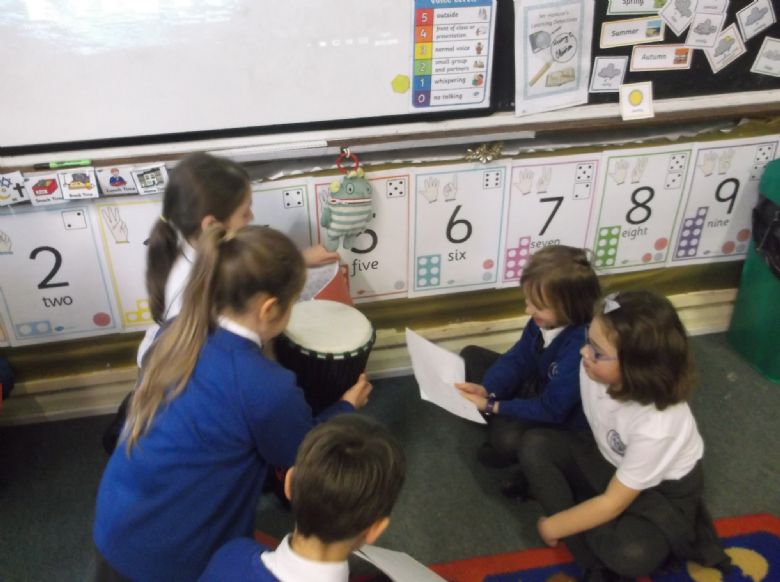 Science:
Last week in Science, the children created a TV style programme including what they have learnt so far about sound and today they showed the lucky Year 1's their work! I hope the Year 1's were able to learn a thing or two about sound from our budding TV presenters in Year 4.
Hockey: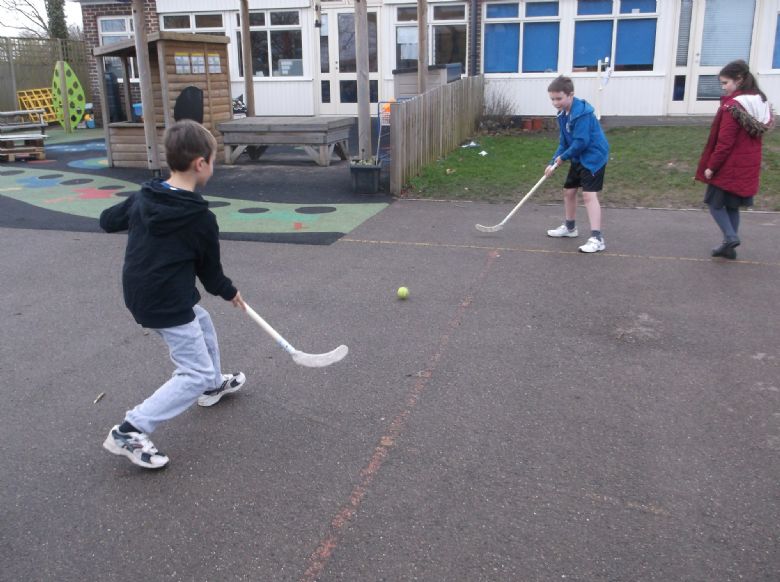 Our focus in hockey this week was passing and the children got in to pairs and practised passing between them. We thought about how we needed to stand in order for the pass to go straight and not scraping our hockey sticks along the floor when hitting the ball. Well done to the children for their continued hard work in our chilly hockey sessions!
Performing Arts Showcase:
Thank you to all the family member who were able to attend the Performing Arts Showcase on Thursday this week. The children and Mrs Pruden have put a great deal of time and effort in to the dance you saw and I hope they are proud of their achievements. I hope you all enjoyed seeing some of their dance learning.
​
---
Friday 19th January:
Home Learning:
Just a reminder that the expectations for home learning are written in a document attached at the bottom of our class page. Please ensure your child is doing the recommended amount of home learning and that it is relevant and useful to their current learning in the classroom. If your child is completing any writing at home, can they remember to appply their English target in order to practise this at home? Their current targets are in their reading journals together with their Maths targets.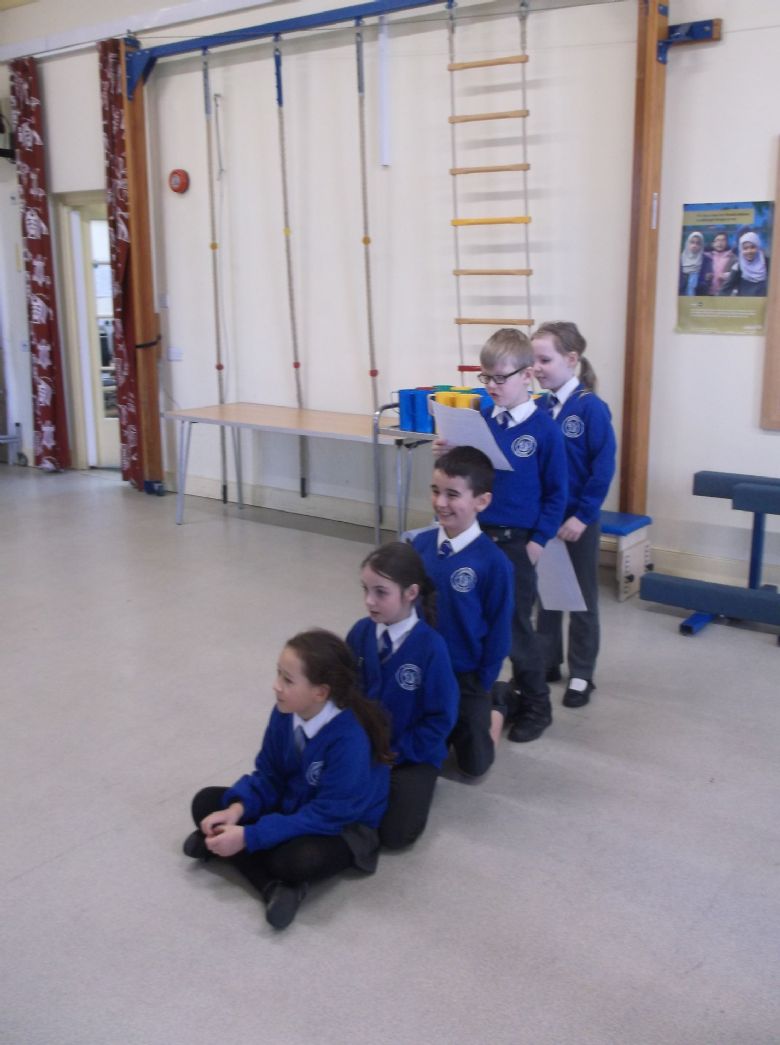 English:
This week we have written out own class poem! We have taken ideas from The British by Benjamin Zephaniah and the children's individual poems to create one about our class. We have recapped the features of effective performance poetry and the children have worked hard to include these in their performances. Not only that, but we are lucky enough to be performing our poem to the rest of the school in assembly in few weeks time! Therefore, the children have been sent home with a copy of the poem and their home learning is to rehearse and hopefully memorise their lines. You can also have a read of their lovely poem for yourselves! The children have worked so hard on their poetry and this has shown in their performances so far.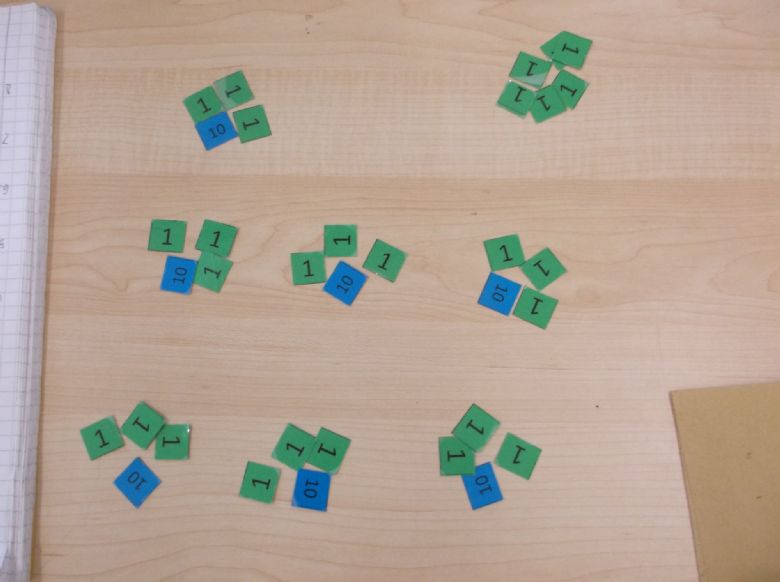 Maths:
Our work on multiplication and division has continued this week with practising our written methods. We have looked at both chunking and the bus stop method to complete division calculations involving remainders. It has been tricky to get our head round remainders and using the methods but we are seeing success every day! If your child could practise dividing any 2 digit number by a 1 digit number, it would be beneficial to keep rehearsing this as we continue in to next week's learning.
Spelling:
Our spelling words this week are:
Strength
Promise
Bicycle
Calendar
Fruit
Medicine
Can your child please practise these spellings at home, using any strategies we use at school or by putting them in to sentences.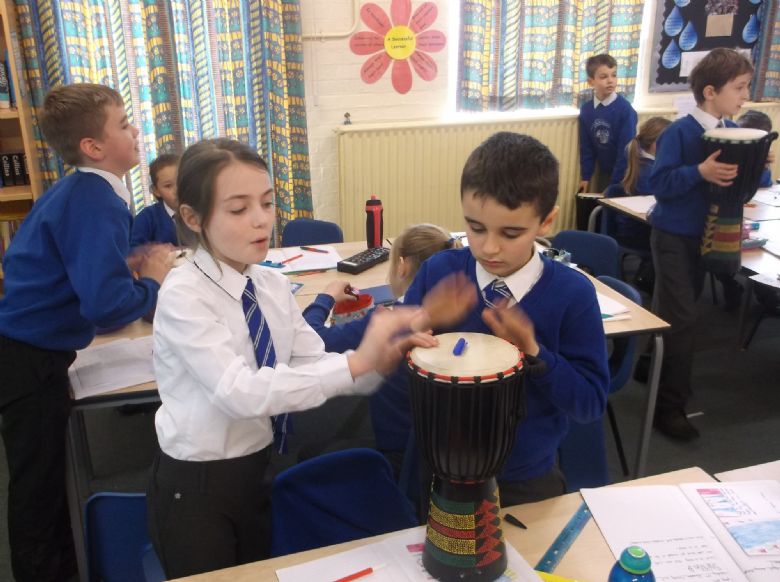 Science: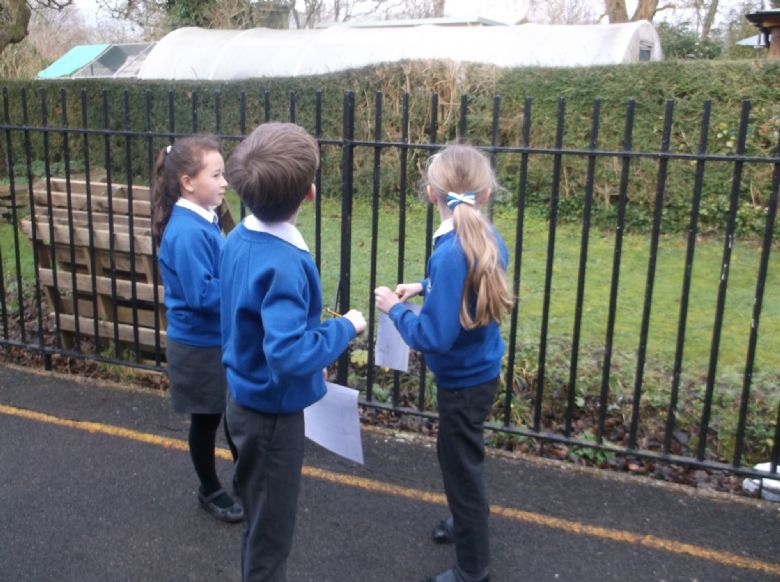 The children have started their new unit of Science with Mrs Pruden and are learning all about sound! In the past few weeks they have conducted a sound survey and learnt about how sound is made and how we hear sound. What can your child tell you about what they have learnt about sound so far?
---
Friday 12th January:
** Half Term Topic **
This half term topic has been announced today! The children are to research a famous Viking or Anglo-Saxon and present the information however they wish. They may want to find out who they were, what they did to be remembered and when. Please can the children not research Alfred the Great, as we will be doing some work about him in school. The projects will be due the week beginning the 5th February:an exact date will be announced closer to the time.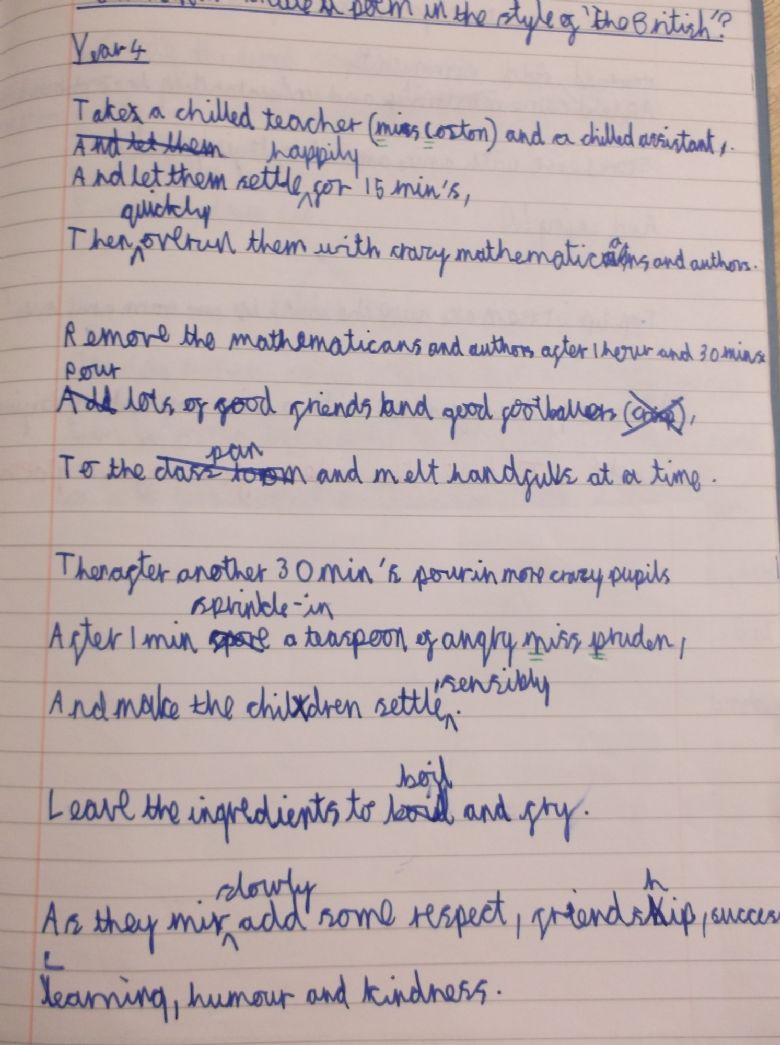 English:
This week, we have been looking at a poem called 'The British' by Benjamin Zephaniah. The children read the poem to work out its meaning and then started to study the structure of the poem. The children have now created their own poems in the style of 'The British'! They chose to write about their family, school or class and they have worked extremely hard. We are hoping to send home a copy of their poems soon as the children are all really proud of their work. We are excited to move on to creating a performing a whole class poem in the style of 'The British'.
Maths:
We have moved on to looking at written methods for multiplication this week and the children have practised using either the column or the grid method to do so. Practise is the key to this skill so it would be beneficial for your child to practise this at home. For home learning, could your child choose any 2 digit number and any 1 digit number and practise multiplying them using these methods. Examples are shown below should your child need to jog their memory!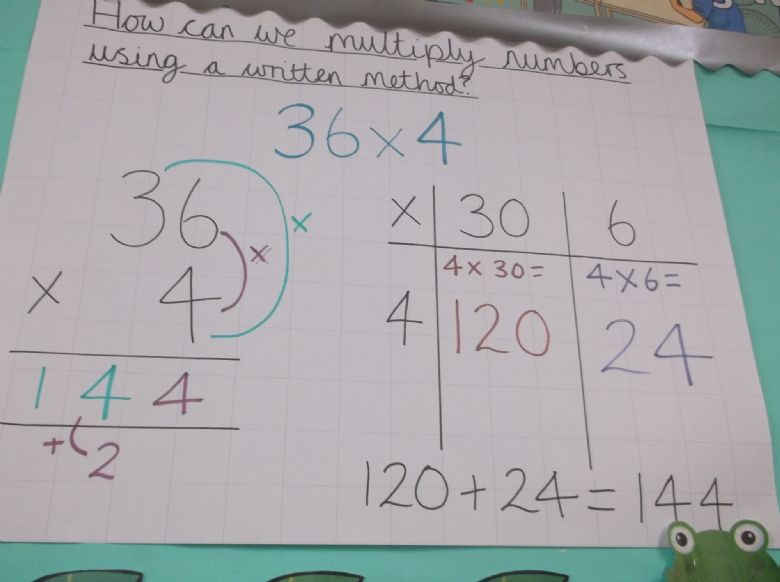 Spelling:
Alongside finishing off our 'gu' spellings, we have also looked at homophones and in particular, 'their' 'there' and 'they're', and 'your' and you're'. It would be useful for your child to write sentences with these homophones in to ensure they know how they need to be used.
DT: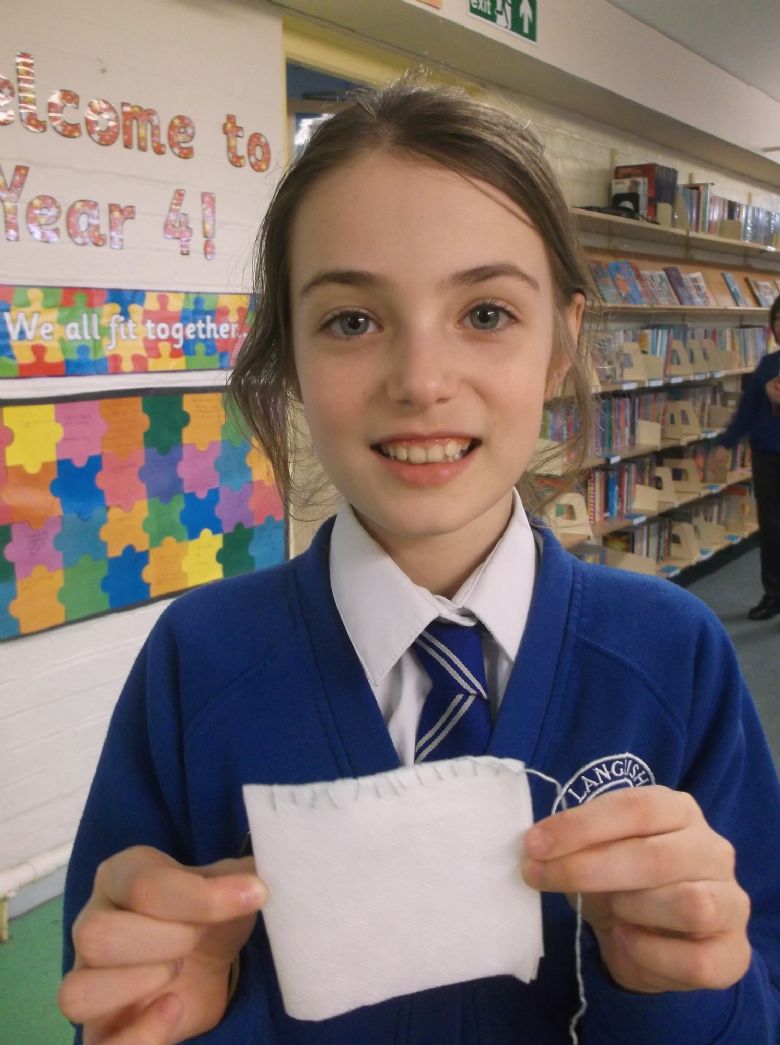 Our new topic in DT is making coin purses and in particular, sewing them! We started to learn how to do a blanket stitch and some basic sewing skills such as threading needles, and creating a knot at the end of the thread to prevent it going through the material. It was a very tricky skill that some of us (including me!) struggled with. Luckily, with some perseverance and motivation from their peers, we all managed to achieve! We will have lots more practise in the coming weeks. Click below for a clip showing you how to do a blanket stitch if you are interested!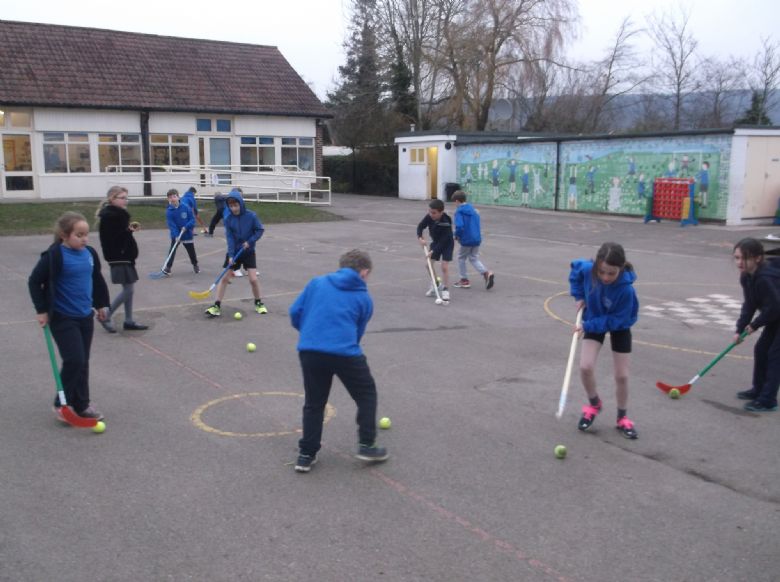 PE:
We started our new outdoor PE unit this week which is Hockey. It was extremely cold for our session so thanks to all the children for their hard work particularly in the conditions! We made sure we all knew how to hold the hockey stick and we practised dribbling around cones. All children were very successful so I look forward to see their progression in the coming weeks
History: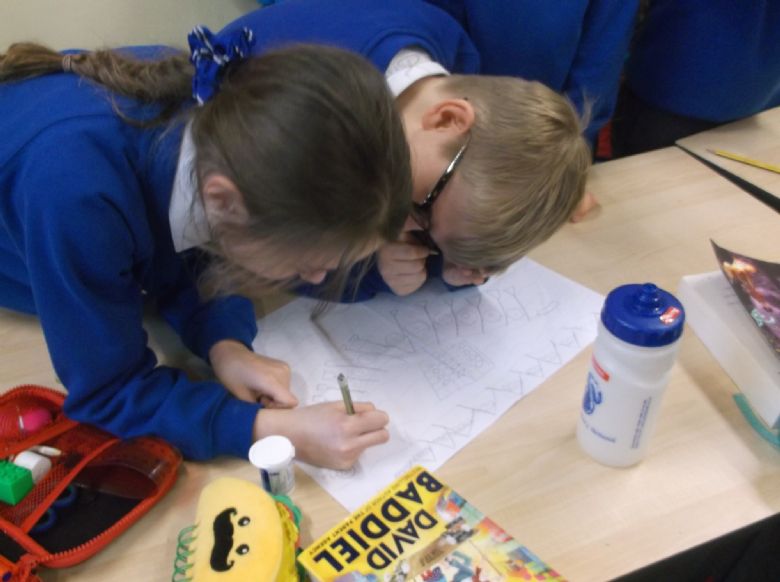 'In History, our new topic is the Vikings and Anglo-Saxons. We started by getting in to groups and one person from every group had to go outside and look at a picture. They then had to come back and describe what they saw in the picture. They weren't allowed to draw after they had seen the picture so they had to persevere and explain carefully and clearly to their group. We all had fun doing it even though it was difficuly. The picture was of a Viking longboat. We are really enjoying learning about the Vikings and Anglo-Saxons and are looking forward to finding out more about them.'
Thank you to Orlagh and Oliver for talking about their History learning!
---
---
Friday 5th January:
Happy New Year and welcome back! I hope you had a restful break and an enjoyable Christmas. The children have settled back in to the school routine and are ready for another term of learning!
** REMINDER **
Just a reminder that the Year 4 Meet the Teacher session is on Tuesday 9th January at 2.40pm. I look forward to seeing as many of you there as possible. If you are unable to attend and still wish to receive the information, please contact me and we can arrange how to get this to you.
** Bringing money in to school **
If you are giving children any money to spend in school for their snack or any other event, please try and give your child exact change for what they need to buy. We have had a few instances of money being misplaced so it would be useful if your child only brings in what they need so that this does not happen.
PE Days:
Our PE days this term continue to be a Monday and Friday. Please ensure your child brings appropriate outdoor kit on a Monday, and indoor kit on a Friday.
English:
We are starting the Spring term with some performance poetry! This week we revisited 'Please Mrs Butler' (previously looked at in Year 3) and decided in what way the words could be read aloud. Is Mrs Butler comforting? Caring? Just plain bored? The children had great fun playing with the language to manipulate its meaning. We then created our own success criteria of what we thought good performance poetry includes and the children had a go! Watch the video below to see one groups interpretation of 'Please Mrs Butler'.
Maths:
Some children's times tables appear to have become a little rusty after all the turkey and mince pies! It would be useful to revisit the times tables over the weekend as they are vital to our current work in maths. We are back on multiplication and division and the children have been multiplying 3 numbers together (e.g. 3 x 9 x 2). We discussed the most efficient way to do this and the children identified it is often best to put the smaller numbers at the end of the number sentence. Could your child show you how to multiply 3 numbers at home? We have also looked at factor pairs and how to show factor pairs of a number by using arrays. We will continue this work next week.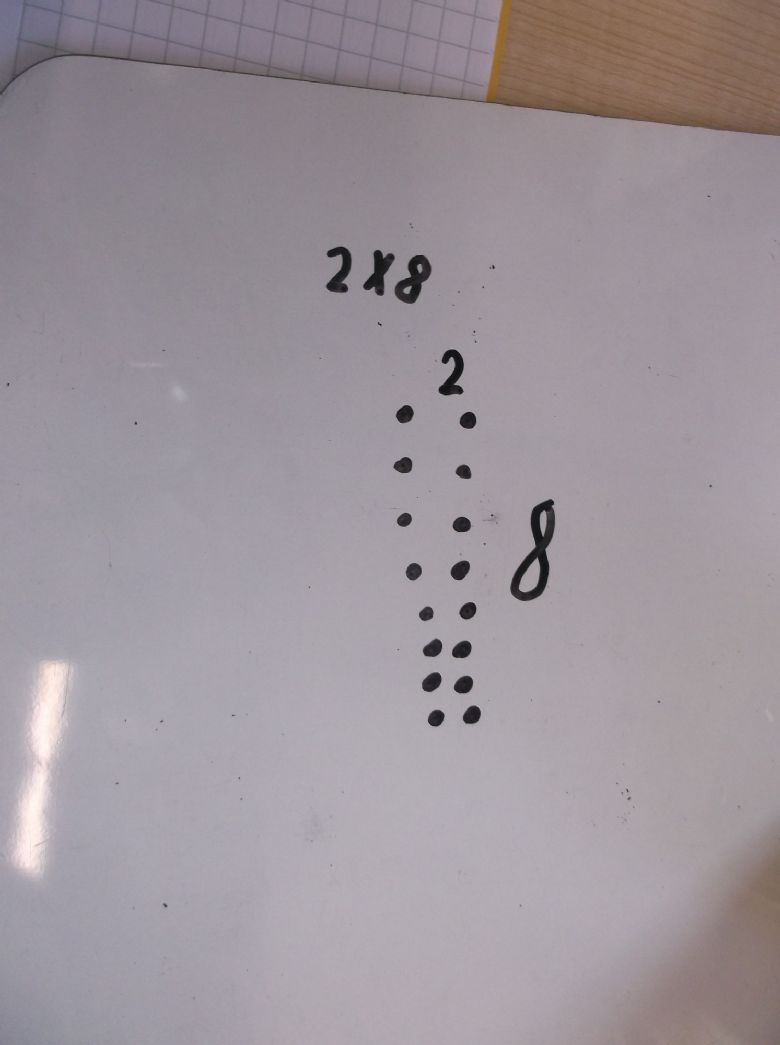 Spelling:
Our first spelling focus of the Spring term is words beginning 'gu' for example, guarantee or guitar. How many words can your child think of that start 'gu'? Can they spell them correctly?
---
Friday 21st December:
There is no official Home Learning over the holidays but in light of assessments and the Maths gap analysis, it might be worthwhile to revisit things your child has been identified as needing more work on. Also, please try to continue reading daily and practising times tables. Other than that, have an enjoyable Christmas break and a well-deserved rest! And a big thank you all for your continued support this term.
Open Classroom:
Thank you to all those who came to our Open Classroom this Wednesday. It really was a lovely celebration of all the hard work the children have done this term. I cannot thank them enough for their commitment and dedication to their learning this term. Here's to another successful Spring term!
English:
Amongst all the festive fun this week we have managed to do some English! We wrote and edited our persuasive letters to Carl Denham and they are fab! It has been a fantastic way to finish off our first term in Year 4.
Science Projects: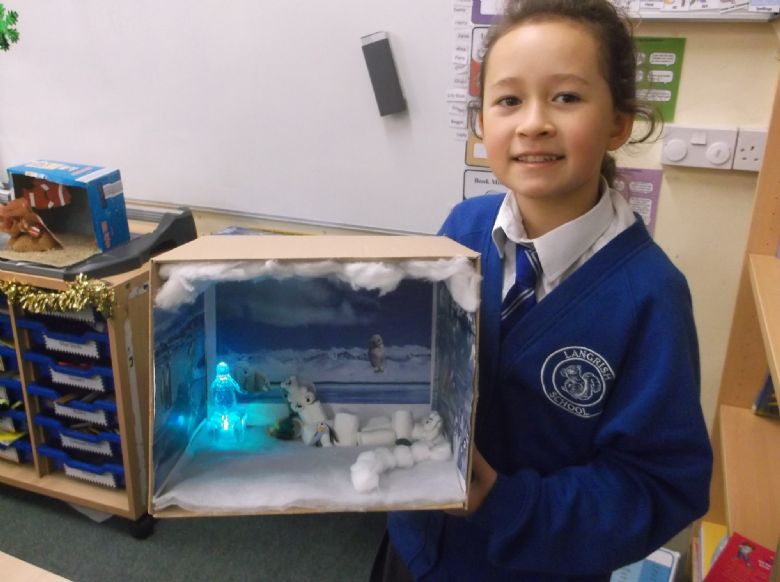 Wow! What a fabulous display of the children's fantastic Habitat Projects. We were lucky enough to hear from each child about their habitat and even display them during the Open Classrooms. The children (and yourselves!) have clearly put in an amazing amount of effort to create them and they have been a joy to look at. Children have been awarded 5 house points for their hard work!
R.E.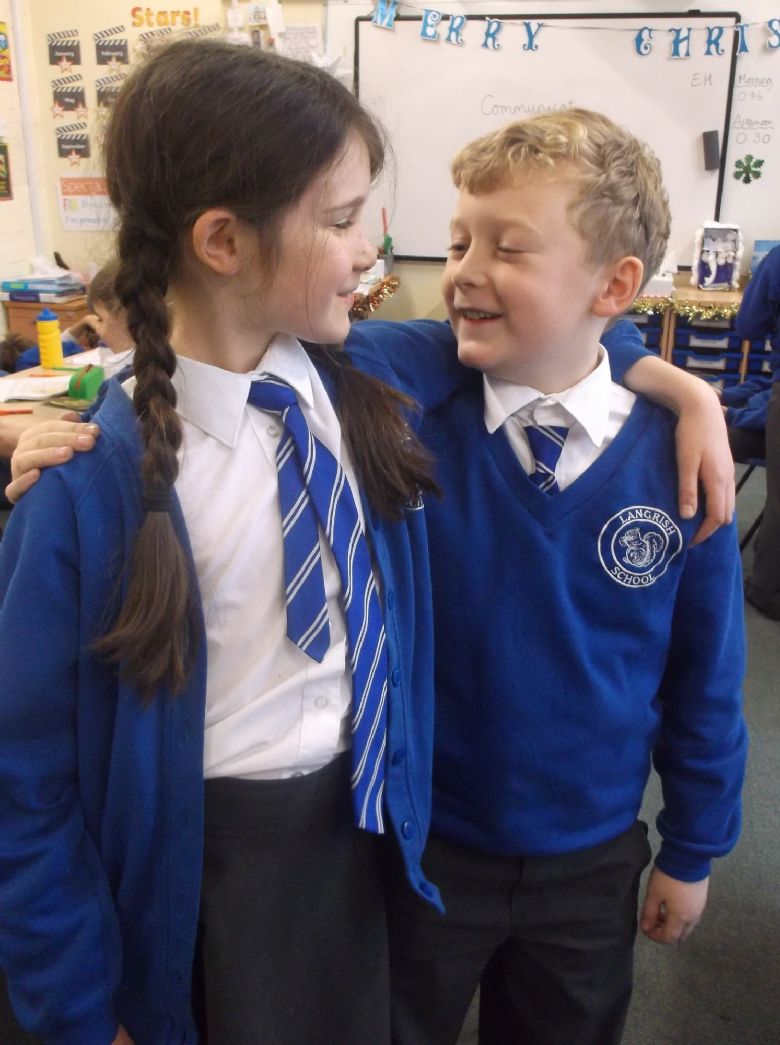 Our RE unit this year was on the concept of Holy and we did lots of work on Wednesday looking at Mary and how she is presented in Christianity. The children created their own stained glass windows of Mary and even did some drama showing how they would treat something Holy!
---
Friday 14th December:
Assessments:
The assessments are slowly and steadily being given back to the children to take home! Please look through these with your child to identify anything that may need to be focused on or revisited at home. The full list of assessments that will be taken home by next Thursday is as follows:
Times Tables
NFER Spelling
NFER Punctuation and Grammar
NFER Maths Arithmetic
White Rose Maths Reasoning
Twinkl Reading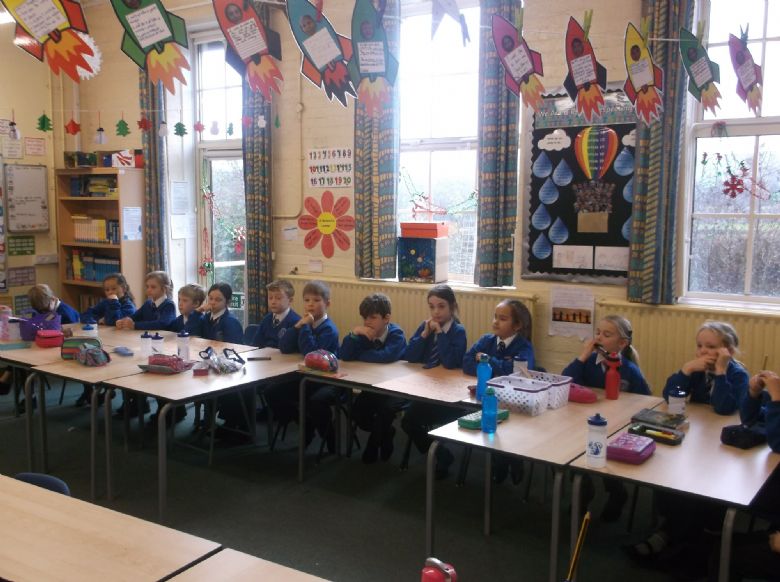 English:
We have finished reading King Kong this week and have begun to think about which themes and ideas from the book are similar to our lives. In particular, we have focused on the idea of zoos and taking animals from the wild and moving them in to captivity. We had a fantastic debate around the question 'Is it right or wrong to keep animals in captivity?' and children split in to two groups and prepared and delivered their arguments. The children are now preparing to write a letter to Carl Denham trying to persuade him to either take or not take King Kong from Skull Island to New York. We have discussed the features of a persuasive letter and the children are beginning to plan and write them to be finished next week! Can your child tell you any of the features or 'ingredients' needed in a persuasive letter?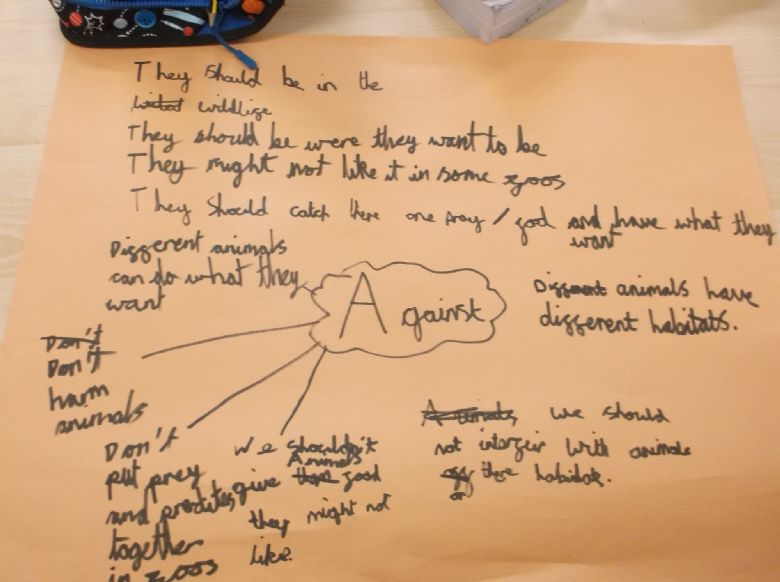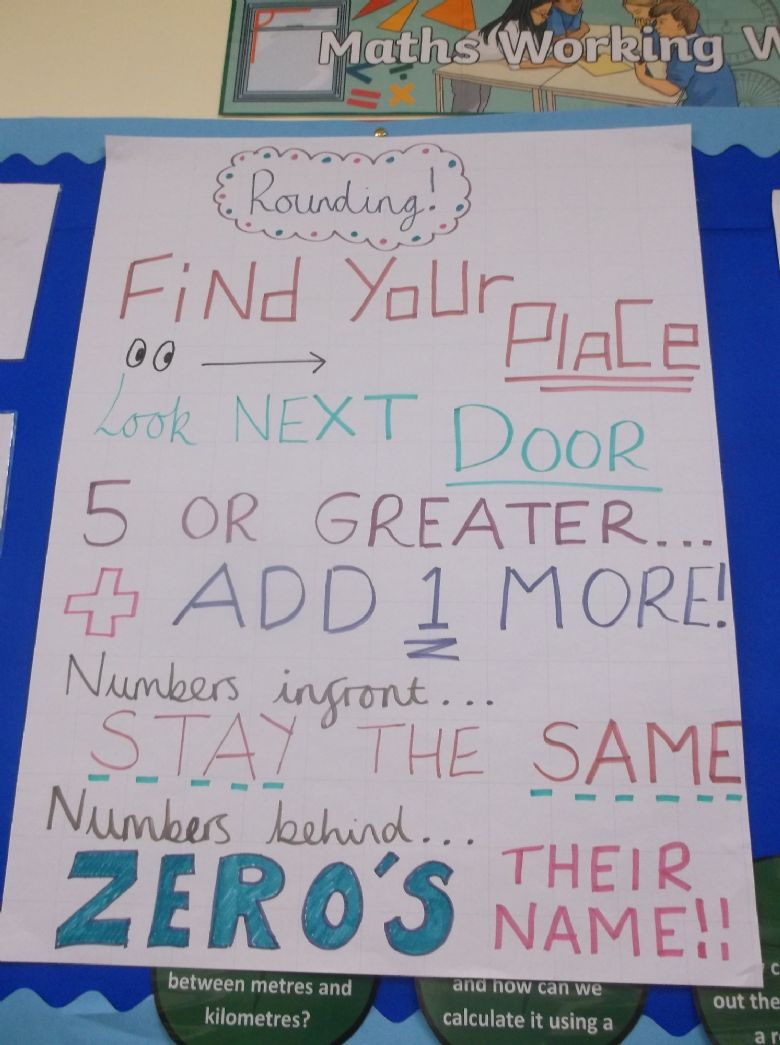 Maths:
Our work in Maths this week has been based on the assessments the children carried out last week. Two of the common mistakes were being made with rounding and Roman numeral questions. We have started the week by going over rounding and we even have a rhyme to help us remember the process! The children have even helped Agent Gibbs solve a crime by rounding measurements of possible suspects to find the criminal. We have finished the week by focusing on Roman numerals. The children were given a blank 100 square and had to fill in all the numbers with the correct Roman numerals which they did incredibly successfully! Some children even went on to order and compare Roman numerals. I hope the children now feel more confident with their rounding and Roman numerals. I have provided some extra sheets covering both these topics if your child feels they would like to recap this learning.
Spelling:
Based on the children's writing, our spelling focus this week has been doubling the consonant when adding ing or ed (e.g. drop becomes dropped). It would be beneficial for your child to practise spelling any words we have looked at this week or see if they can think of words themselves where a double consonant is needed.
PSHE:
This week, the children have created posters giving children advice on how they can stay healthy. The children came up with the ideas including getting enough sleep, washing your hands regularly and eating enough fruit and veg. They had to imagine the posters would be displayed around the school so needed to be child friendly as well as adults! (Article 24 UNCRC - You have the right to the best health care possible, safe water to drink, nutritious food, a clean and safe environment, and information to help you stay well. )
---
Friday 8th December:
** Geography Home Learning due next week **
Due to our busy timetable, Mrs Pruden has asked the Year 4 children to complete a piece of home learning. They have been asked to research one of the counties in the British Isles and find out about geographical features in that particular county or place within that county. The children will be writing postcards in Geography from their chosen place so will need to have a good knowledge of what geographical points of interest there are in that place (e.g. hills, rivers, national parks etc). This needs to be completed and the information to be brought to school on Thursday the 14th of December.
Assessment Week:
I would like to thank all the children this week for their super, super hard work completing our assessments. It has been a busy week but I am extremely proud of how they have all performed over the last week. There is no English or Maths home learning this week due to our assessments being completed. However, please have a look at the tests that will be coming home and talk to your child about the things they have struggled with or need more practise on. These tests will help form their next targets to be worked on during the New Year.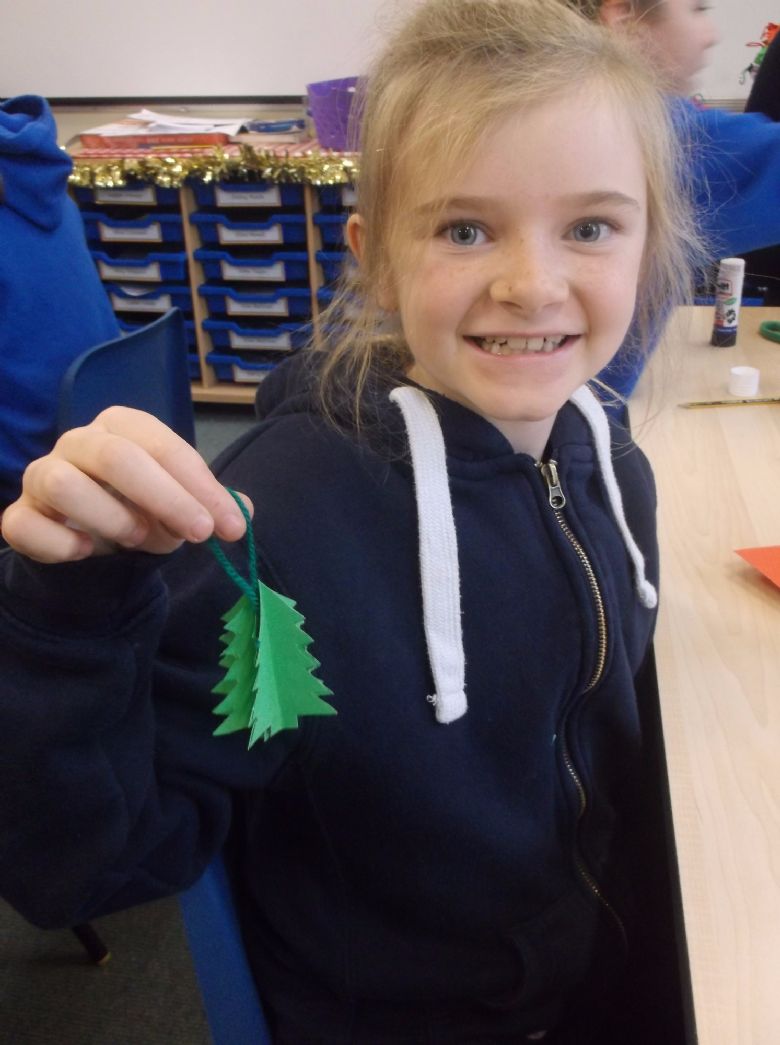 Christmas preparations are upon us!
Amongst all the business of assessment week, we of course still found time to get festive! We were lucky enough to have Mrs McCulloch to show us how to make lovely Christmas decorations. The children have had a fab time creating and decorating snowmen, stars and Christmas trees. Some children have already taken them home as they managed to make more than one but the others are currently in the classroom in preparation for the Christmas fayre. The ones in the classroom will be taken home at the end of the term to decorate your own homes!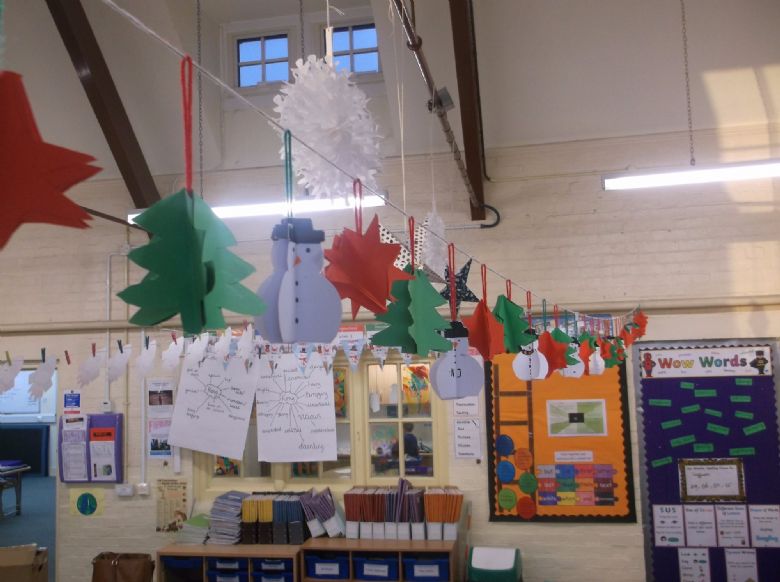 Dare to Believe: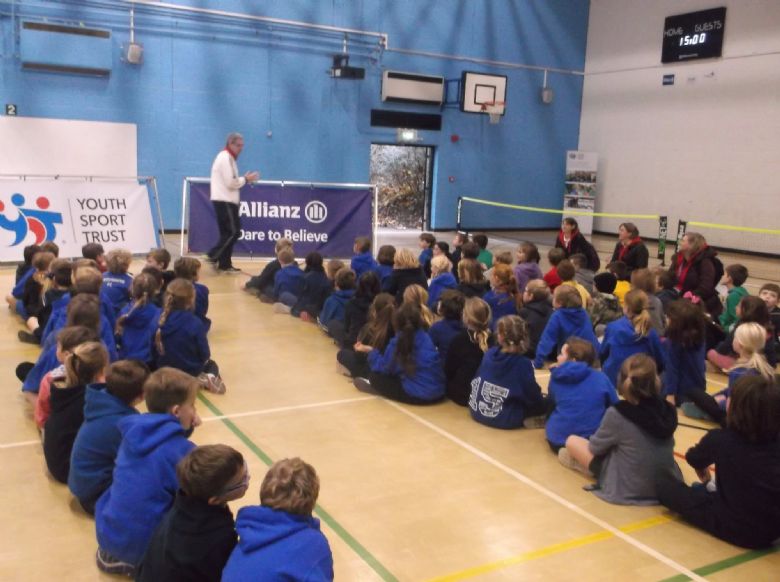 On Wednesday, the children were lucky enough to be taken to Bohunt School to take part in the PE event 'Dare to Believe'. The children started to think of activities and sports that have been altered to help people with disabilities, for example sitting volleyball, goal ball and guided athletics. The children threw themselves in to these activities and I hope they can talk to you at home about what they did and why.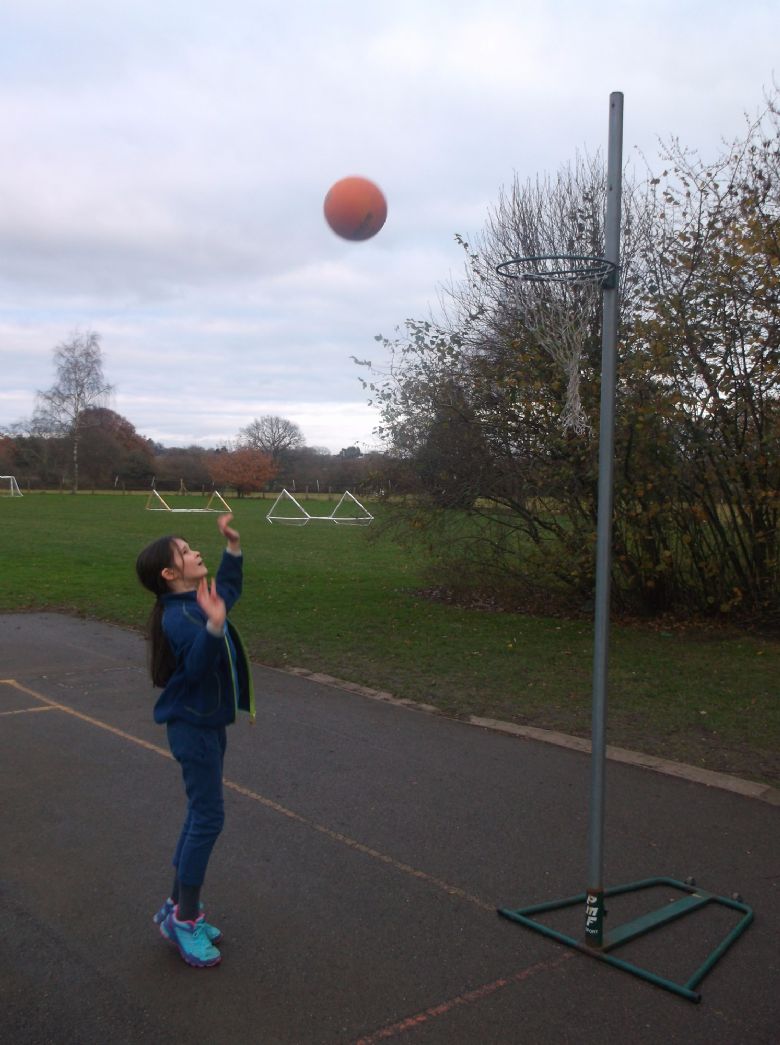 Netball:
Alongside their exciting trip to Bohunt, we have also continued our Netball learning here at school. This week we have focused on shooting and the technique needed to shoot. The children then applied their shooting knowledge along with all the other techniques we have learnt this year in to some small games. They are learning very quickly the rules of netball and I saw some great shots at goal!
Habitat Projects:
The due date for habitat projects is Tuesday the 19th of December. Please can you bring them in as close to this date as possible as I am not sure there is space for 30 boxes in the classroom! I look forward to seeing what they have created.
---
Friday 1st December - The Christmas Countdown is here!!
Thank you to all the children who came in their own clothes today and for donating their gifts and money to the Christmas Fayre. I was also pleased to see the appearance of some fabulous Christmas attire!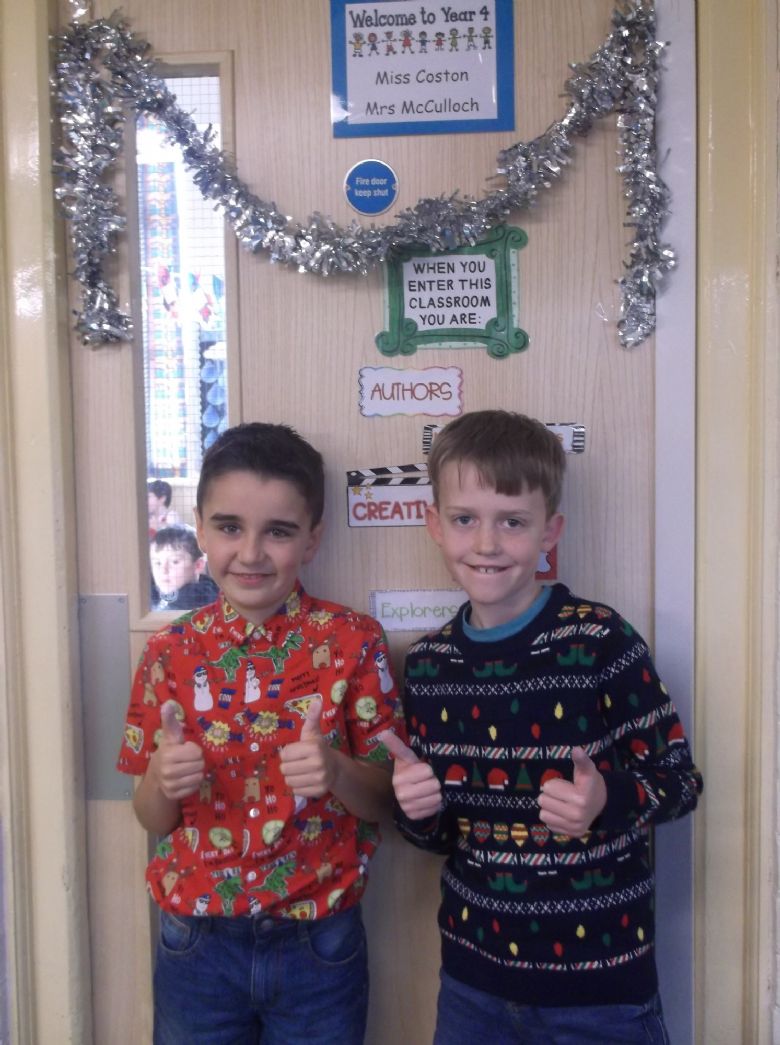 English: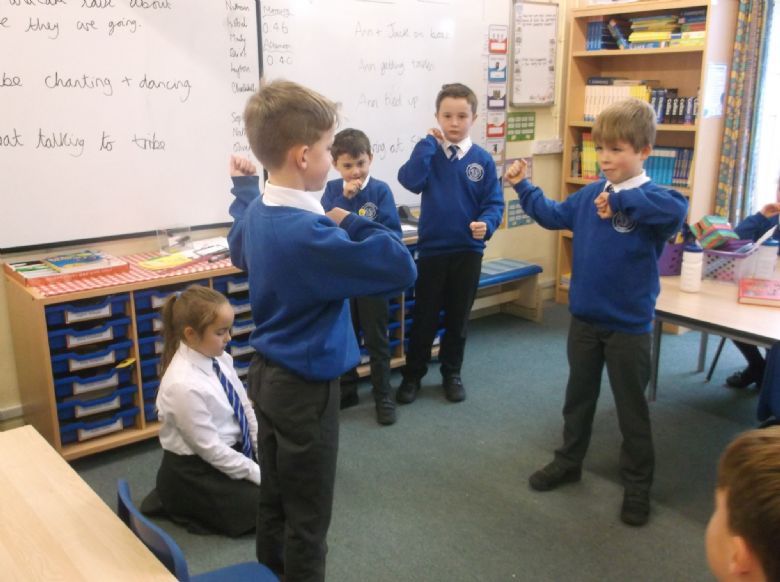 This week we have been planning and writing the next part of King Kong. The children had to imagine they had been asked to write the next few pages so they had to predict what might happen next. They first created freeze frames showing a part of the story that we had just read. We planned our work in to clear paragraphs and the children are doing a fantastic job at remembering their fronted adverbials, expanded noun phrases and using DADWAVERS in their writing. The work the children have produced is superb and I am so pleased they are taking everything on board that we are learning. For home learning, it would be beneficial for your child to either talk about books they are currently reading and decide why the author has started a new paragraph in a specific place or practise writing in paragraphs on whatever they choose.
Maths:
We have worked very hard this week on finding the perimeter or rectilinear shapes (a shape that has similar properties to a rectangle, for example parallel lines and right angles). The children have applied their knowledge of rectangles to these unfamiliar shapes and have all successfully begun to work out their perimeters. We also had to help a Professor in a spot of bother this week! We received an email from a Professor Lockhart who needed our help to create and choose pens for his new dinosaurs. The children had to solve problems such as how they could make pens with a specific amount of fencing, and matching dinosaurs to appropriate size pens. For home learning, I have sent home a worksheet on finding the perimeter or rectilinear shapes as this was a tricky concept and some children may benefit from a little more practise.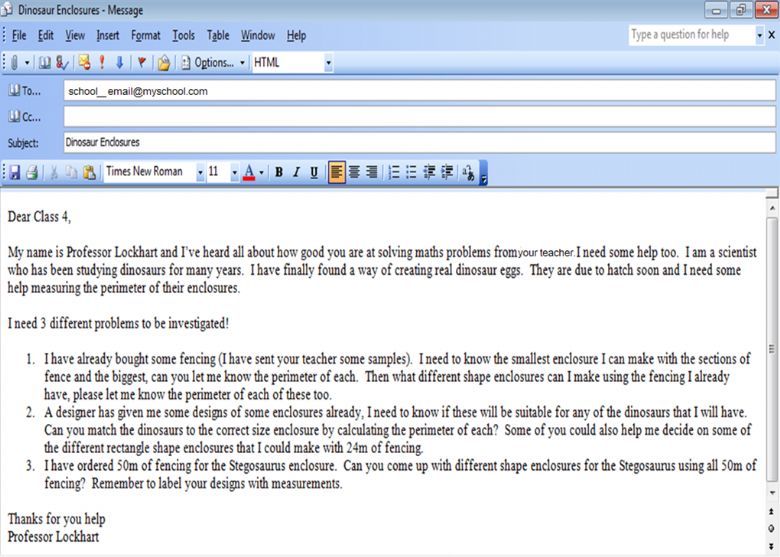 Spellings:
Our spelling rule this week is the suffixes 'ing', 'ed', 'en' and 'er'. We looked at many examples of words that can have these suffixes added to them. How many words can your child think of that can have these suffixes added on to them?
PE:
We have taken a short break from Netball this week to focus on strengthening our teamwork and cooperation skills with some team building and orienteering! The children have taken part in lots of activities such as crossing the hall with only two mats and without touching the floor, getting themselves in age and height order without talking, and even guiding each other whilst wearing blindfolds! Both myself and Mrs Wright (who was lucky enough to take one of these sessions) are very impressed at how the children managed to co-operate and work together effectively. Can your child tell you any of the aspects of effective teamwork?
DT:
A whole afternoon this week has been dedicated to our DT topic. The children learnt this week that they have been tasked with designing and making a new type of bread! This week, we used salt dough to decide on a shape for our bread and even learnt from Paul Hollywood himself how to effectively shape different types of rolls. We will wait for their creations to harden and we will evaluate their new bread shapes next week.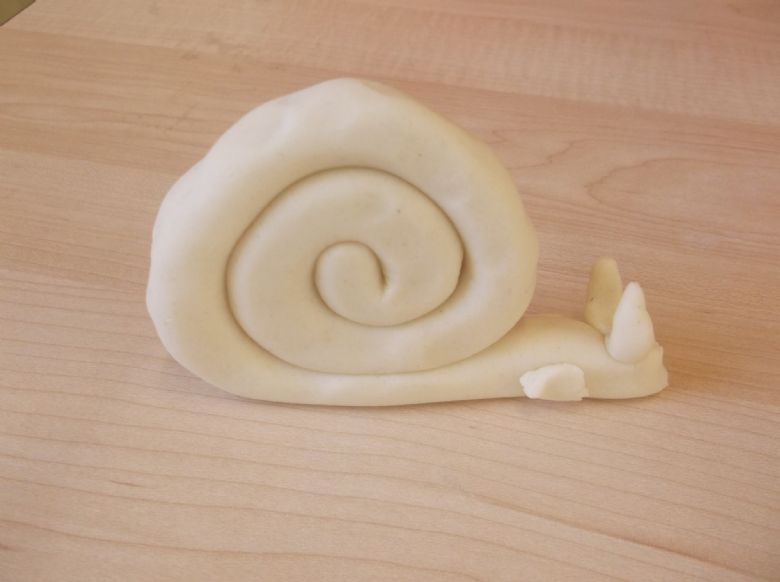 ---
Friday 24th November: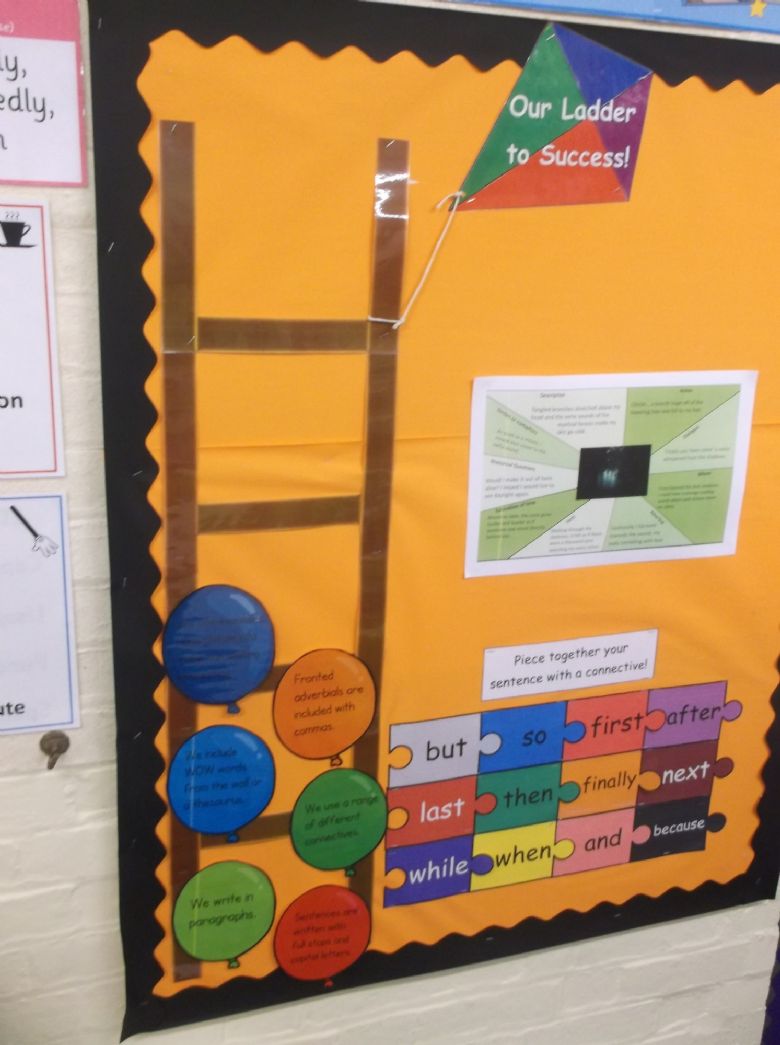 English:
We have finished our diary entries this week and the children have been eager to read more King Kong! So we have started by reading the next section and discussing our initial thoughts on it. Our whole class target is to use a variety of sentence starters and to do this we have used the DADWAVERS pneumonic to help us remember a variety of ways we can start a sentence (Description, Action, Dialogue, Where, Adverbial, Verb, Rhetorical Question, Simile). The children thought of examples for each one and our challenge is to include them in our work! For home learning, I have given them a blank template similar to one we did in class, can they think of an example of each? We also now have our 'Ladder to Success' which has all the things on it that we have learnt in Year 4 so far (plus a few other necessities!) We have talked about the fact we need to make sure we are still doing these things in our writing even though we may have learnt about them a few weeks ago. If your child is doing any writing, make sure to ask them what they should be including (e.g. fronted adverbials, expanded noun phrases etc.)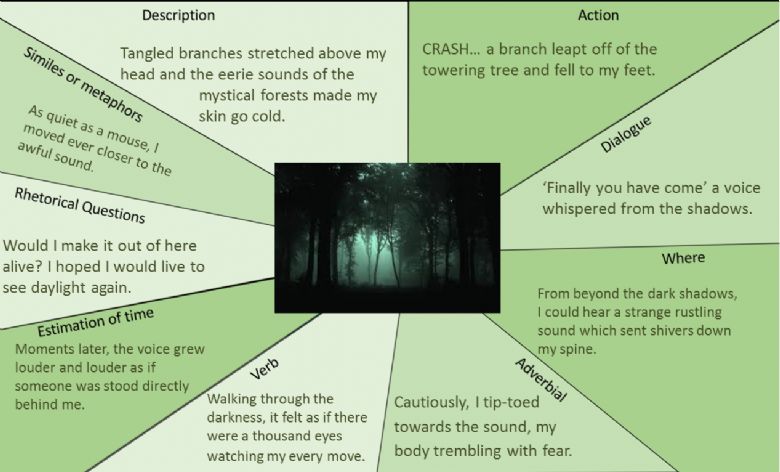 Maths: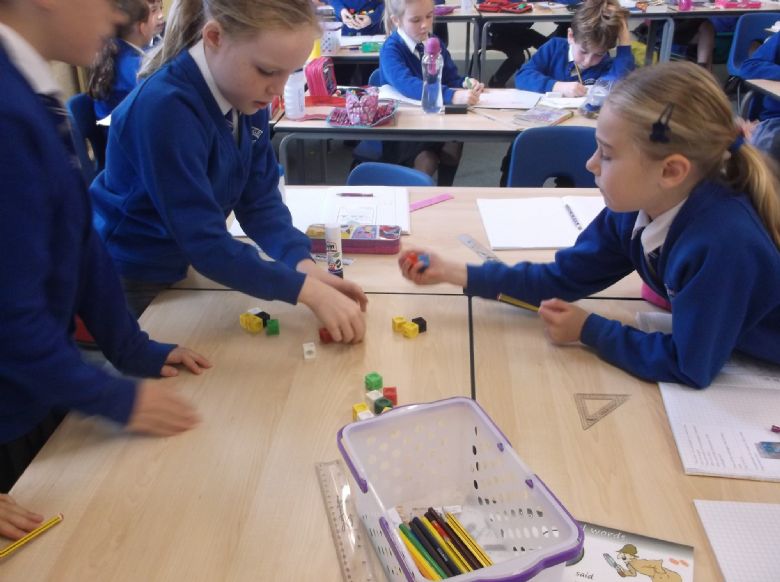 This week in Maths, we have moved on to perimeter and length. We started the week by converting between metres and kilometres and have progressed on to finding the perimeter of rectangles. For home learning, could your child use a ruler to measure any rectangles in your house and work out the perimeter? (Remember, to work out the perimeter of a rectangle we only need to know the lengths of two sides!) A sheet has also been given to the children with examples they can complete if they feel they need more practise, or can you ask your child to draw a shape with a certain perimeter? (e.g. draw a shape with a perimeter of 24cm). We also had our first 'Marvellous Maths' session today which involved an investigation the children needed to solve. They were allowed to use any resources they wanted and they really worked hard to work out the problems.
Spelling:
Our spelling words this week are taken from the Year 3 and 4 spelling list and are as follows:
Believe
Library
Experiment
Height
Special
Please make sure your child finds time to practise these at home.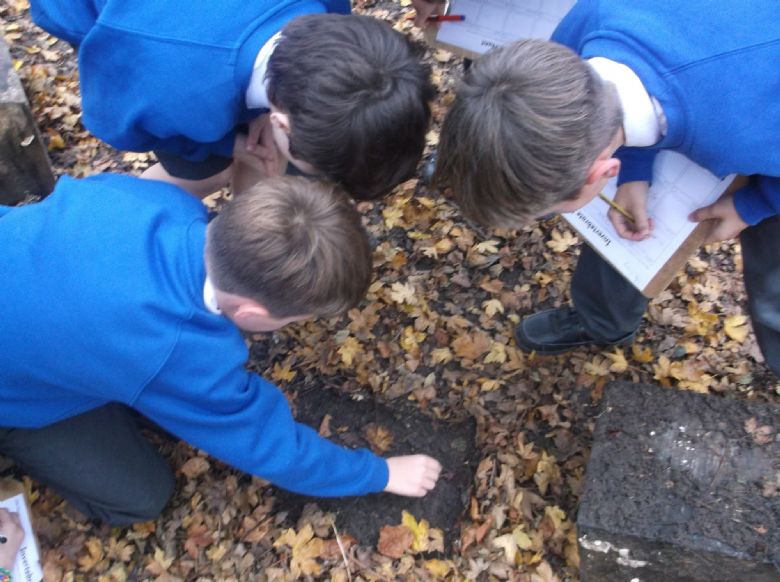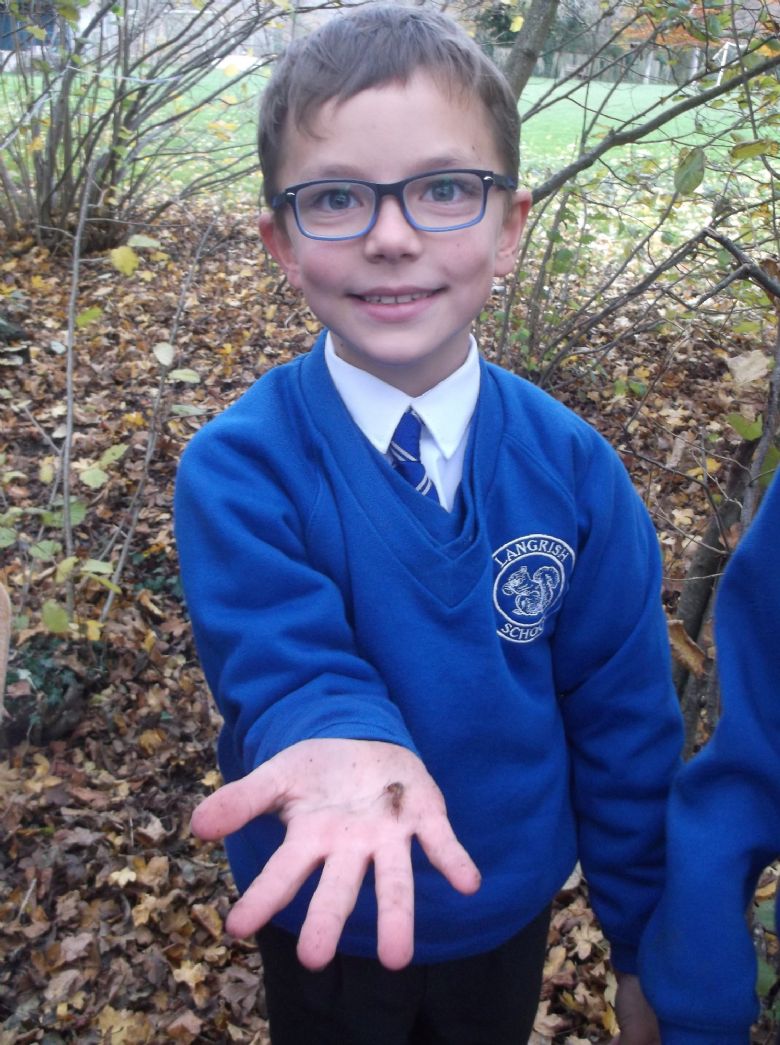 Science:
Our unit on Living Things and their Habitats has continued this week with an invertebrate hunt! We learnt that invertebrates are animals without a backbone and consist of groups such as insects, annelids and crustaceans. We went into the copse and searched for any invertebrates that might have been hiding there… and hiding they were! We discovered many creatures such as earwigs, woodlice, slugs, caterpillars and lots of worms! The children had great fun and they then drew one creature in detail labelling all its characteristics. Can they talk to you about the creature they drew and which group it belongs to?
Geography: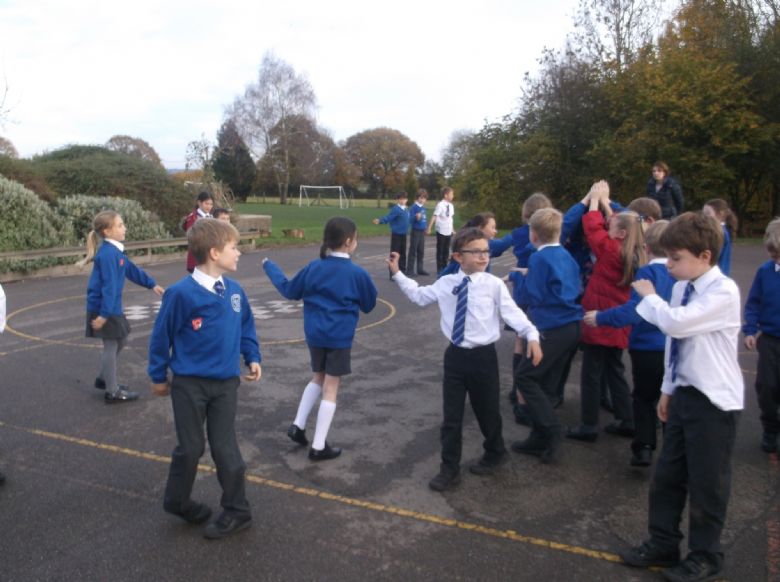 'The past few weeks in Geography, we have been learning about the water cycle. We acted out the stages of the water cycle (e.g. precipitation, evaporation and a few more!) I was a water molecule, the sun and the wind (Vinnie) and I was the wind, a water molecule and hail (Lola). This week, Mrs Pruden gave us the answer to a question (e.g. evaporation) and we had to write a question to go with it. We both enjoyed going outside and acting out the water cycle!'
Thank you Lola and Vinnie for sharing your Geography learning!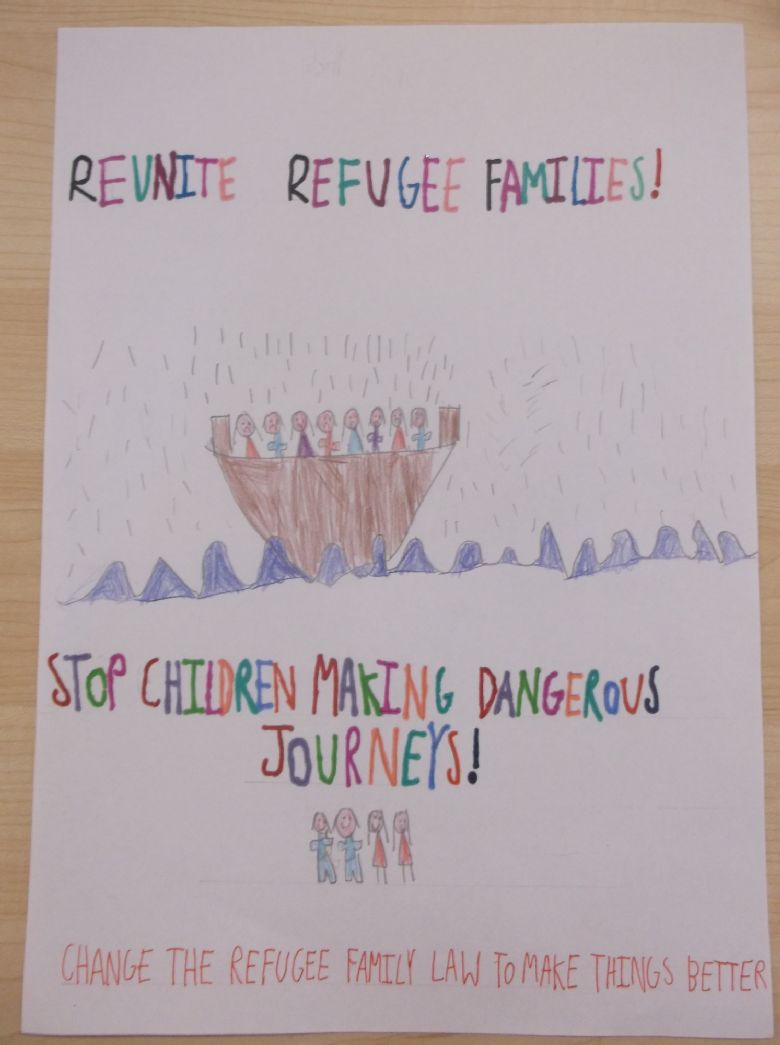 Outright Campaign:
I am so pleased with the number of posters about the Outright Campaign and refugee family reunion law that have come back this week! They are superbly detailed and it is clear that the children have listened and understood the journey some refugees face to reach safety. Three House Points have been awarded to each child that completed and returned a superb poster! (This is additional to any house points awarded in Home Learning Journals). (Article 22 UNCRC - You have the right to special protection and help if you are a refugee.)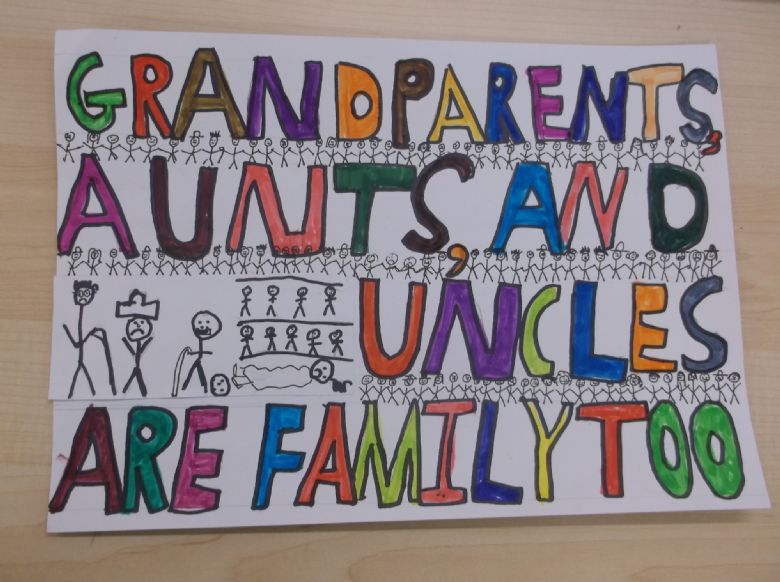 ---
Friday 17th November:
Outright Campaign:
We have covered some additional PSHE work this week on the Outright Campaign and refugees. We discussed the fact that refugees often have to leave their country with very short notice and the children had the chance to try and pack a suitcase in three minutes. They had to decide what was the most important to take and what they would have to leave behind. We then talked about family and what that means to different children. The children learnt that child refugees can only be reuinted with family in the UK if they have a parent that lives there - meaning aunts, uncles, grandparents and even siblings are not classed as family under the law. Therefore, this week for home learning the children have been asked to make a poster campaigning for the law to change, meaning additional family members will be included in the UK family reunion law. The children have been given some snappy slogans or phrases they might like to include on their poster, or they can think of their own. Can these be returned before next Thursday please. (Article 9 UNCRC - You have the right to live with a family who cares for you.)
Anti-Bullying Week: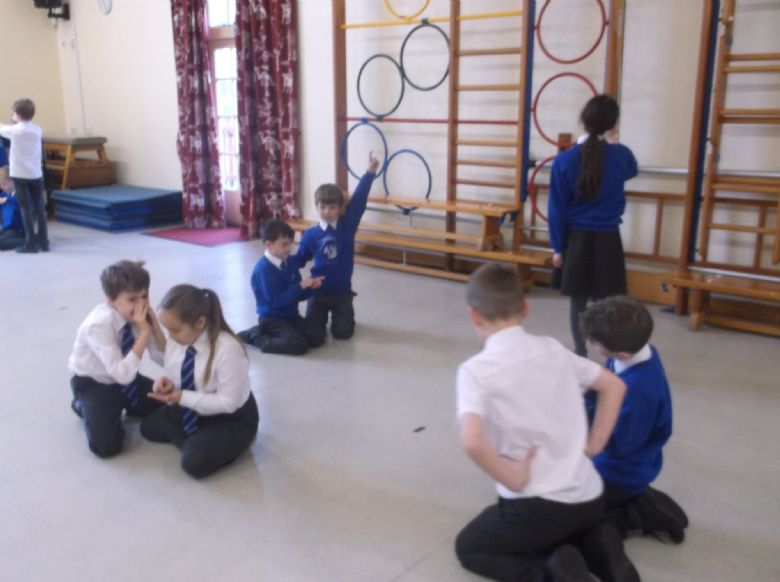 As you may already know, this week has been Anti-Bullying week and the children have carried out some activities with this in mind. In class we have discussed that while we all have our differences, we all fit together… like a jigsaw! Each child was given a jigsaw piece and wrote something about themselves that makes them different. We then put them altogether and looked at some of the interesting things about each other. We have all learnt that we are a team in Year 4 and that we all fit together somehow, despite our differences! The children were also lucky enough to take part in a drama workshop about body language and how this relates to bullying. I hope the children can talk to you at home about this learning and that it will help them with their peer relationships and beyond. (Article 15 + 19 UNCRC - 'You have the right to choose your own friends' and'You have the right to be protected from being hurt or mistreated.)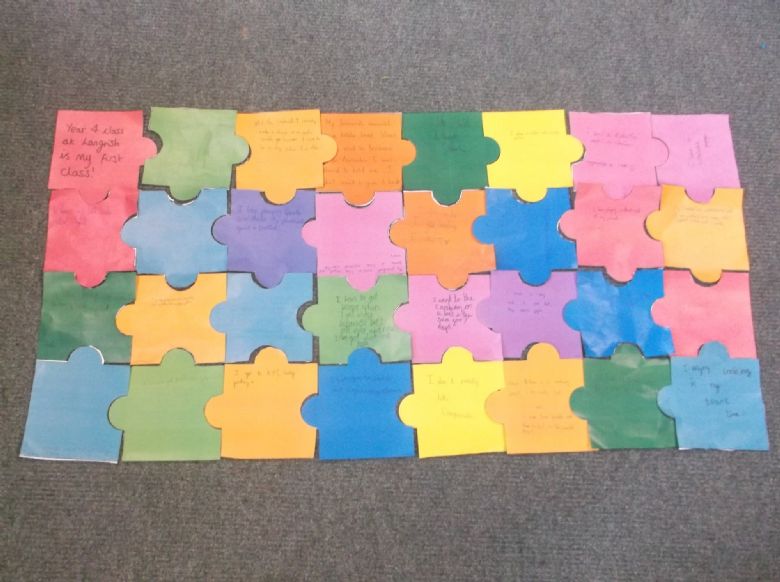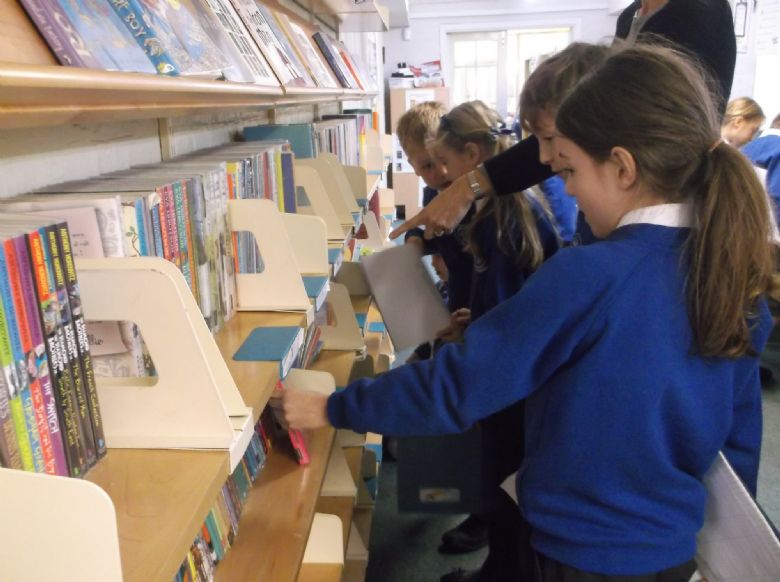 English:
It has been a busy week for English! We have started the week by investigating the books in our library and if more of them were written in first or third person. We discussed the use of pronouns (first person: I, we, us, me, my; third person: they, them, he, she) and how we can use these to spot what person a text is written in. We have now moved on to planning and writing a diary entry from the perspective of a character in King Kong. The children have mapped out the events that happen to their character in the first part of the story, thought about how they would have been feeling and began to think of 'feelings words' to put in their diary entries. The children have worked so hard and we are looking forward to reading more of King Kong!
Spelling:
Our spellings this week have focused on four different letter patterns:
1. 'ch' as in 'brochure'.
2. 'eigh' and 'ey' (sleigh or they)
3. 'ou' as in 'touch'.
For home learning, can your child think of any other words with these letter patterns in them? Do they all make the same sound? The children have a sheet with the words on that we looked at in class so they can practise these words if they would like or put them in to sentences.
Maths:
It has been problem solving week this week! We have decided to revisit our work on Addition, Subtraction and Multiplication and Division by thinking about how to solve word problems. We have talked through different ways to show a problem and the children worked well in groups to use each method to show a problem. The children have worked through lots of different word problems using these techniques and for home learning your child could use multiplication and division problems (times tables up to 12 and the inverse) and show you with one of the methods we have used that they know they are correct.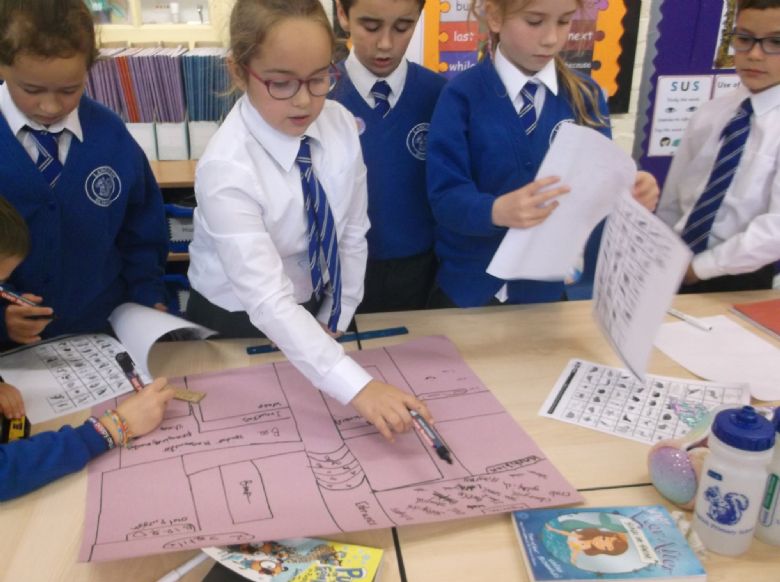 Science:
'In Science this week, we have been learning how to group living things. We focused on the 6 main groups of animals (mammals, birds, fish, reptiles, amphibians, insects). After that, we researched their characteristics for example, what makes a bird a bird. Then, we drew our own zoos on sugar paper and sorted animals so they were with other animals with the same characteristics. We really enjoyed the teamwork effort to make our own zoos. We learnt that a turtle is a reptile and a toad is an amphibian! The thing we would like to learn next is how to sort animals in to their habitats.'
Thank you to Giles and Nathan for writing about their science learning!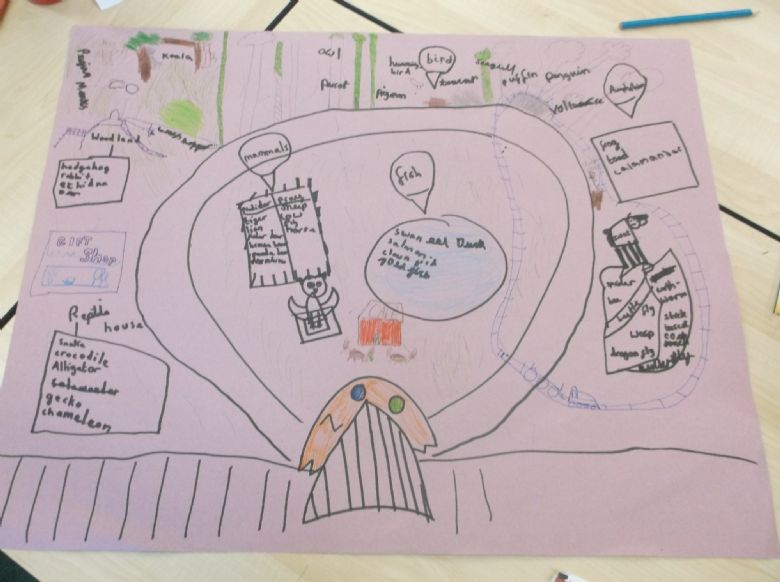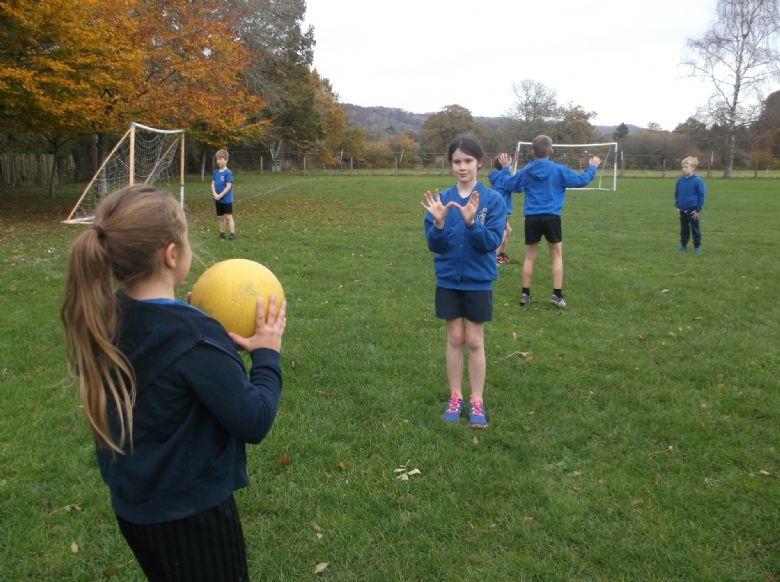 Netball:
Our netball has continued this week with a focus on passing as well as some attacking and defending. The children have started to think about pairing up and marking a player, as well as moving in to a space to receive the ball. Even with the added challenge of being on the field, the children persevered and applied their learning in to a small game situation. I look forward to seeing their learning progress in to proper netball games in the coming weeks.
---
Friday 10th November:
** Stationery Reminder **
Just a reminder that in Key Stage 2, children are encouraged to have all the basic stationery they will need to complete their learning. This includes a handwriting pen, pencil, red pen, ruler, sharpener and eraser. Stationery such as glue and scissors are available at school but if your child were to own these it would be very beneficial. Please can you make sure your child comes to school prepared for their learning with all the equipment they will need.
Learning Detectives:
As you know, we discuss and set targets regularly with children through a 'Learning Detective' conference with their class teacher. We are now writing their current Maths and English targets on a sticker and putting these in their reading records. If you want to know what your child's target is to identify more specific home learning, please refer to their reading records. This is being done for their first November target: all children should have their first November targets by the end of next week so if your child does not yet have one, please keep an eye out in the following week.
English: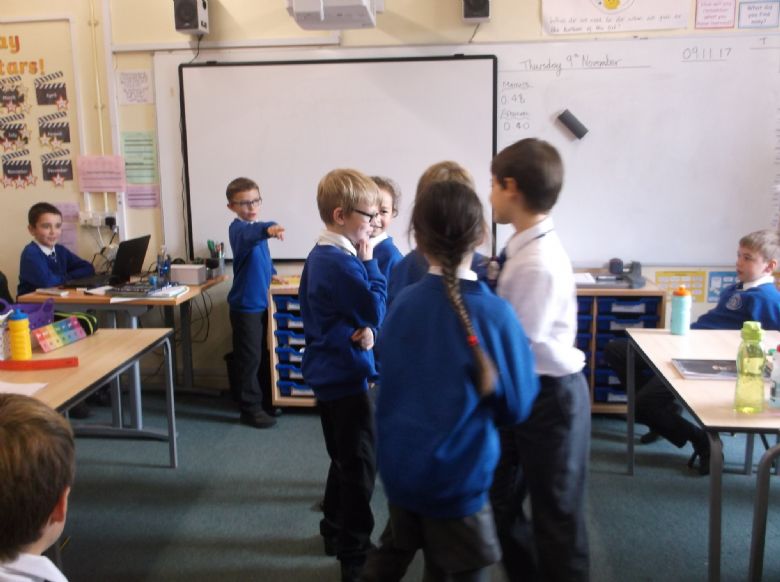 This week we have worked hard to write, edit and publish our pieces of suspense writing. The children have worked so hard and some of their stories really kept me on the edge of my seat! Over the coming weeks, our work in English will be focused on King Kong by Anthony Browne. We have enjoyed reading the first part of the text and the children did some role play to represent the hustle and bustle of a busy New York street. We have talked about the characters we have met so far and began to discuss why the writer might have chosen to write in third person. Your child could look in any books they have at home and find clues which tell them whether the author has written in first or third person (i.e. do they use 'I' or 'he'?). Can they think of why the author might have done so?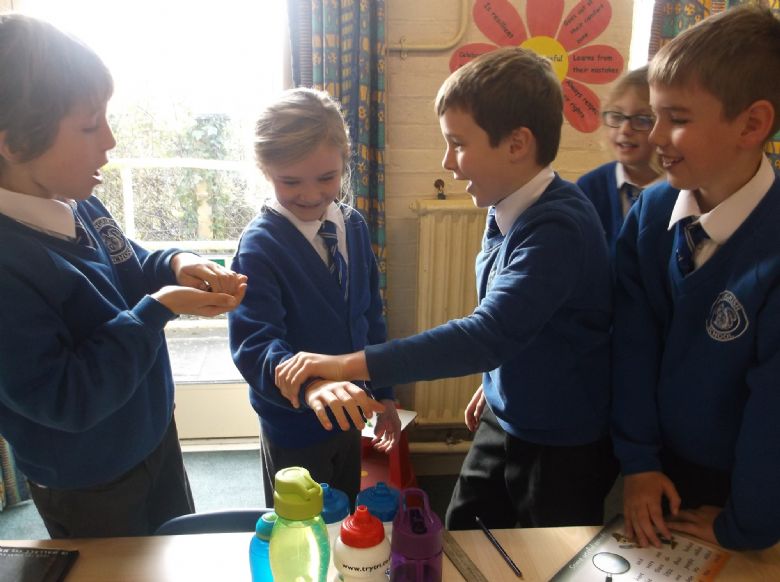 Maths:
Our maths work this week has been around applying our knowledge of multiplication and division to the 6, 7 and 9 times tables. The children have worked hard to solve problems using these times tables and used their reasoning skills to convince me how they knew they were correct. For home learning it would be beneficial to keep practising these at home. You could test your child on the tables, your child could write out the tables or maybe create a word problem that would use one of these times tables. Some children have even been showing me with a drawing how they know they are correct. Could they do this at home?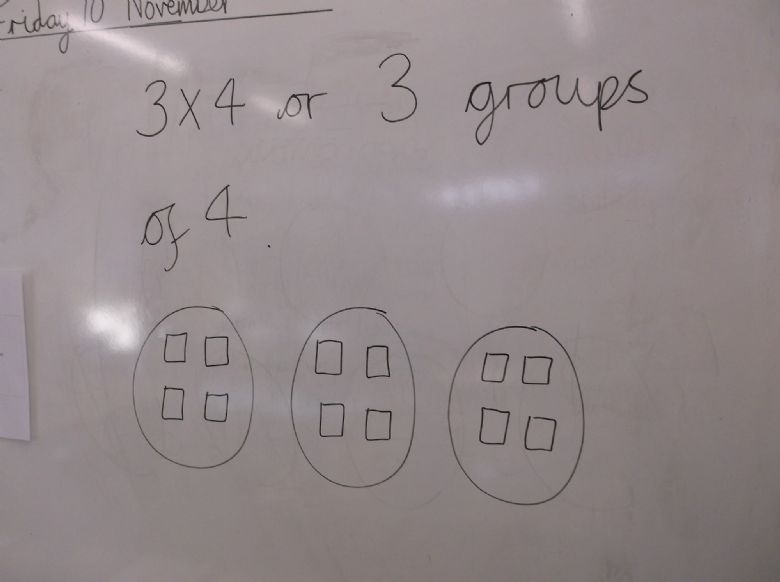 Spelling:
Our spellings this week are taken from the Year 3/4 spelling list and they are as follows:
Describe
Remember
Breathe
Caught
Favourite
Your child could practise these spellings at home to ensure they are confident with how to spell them in their own work.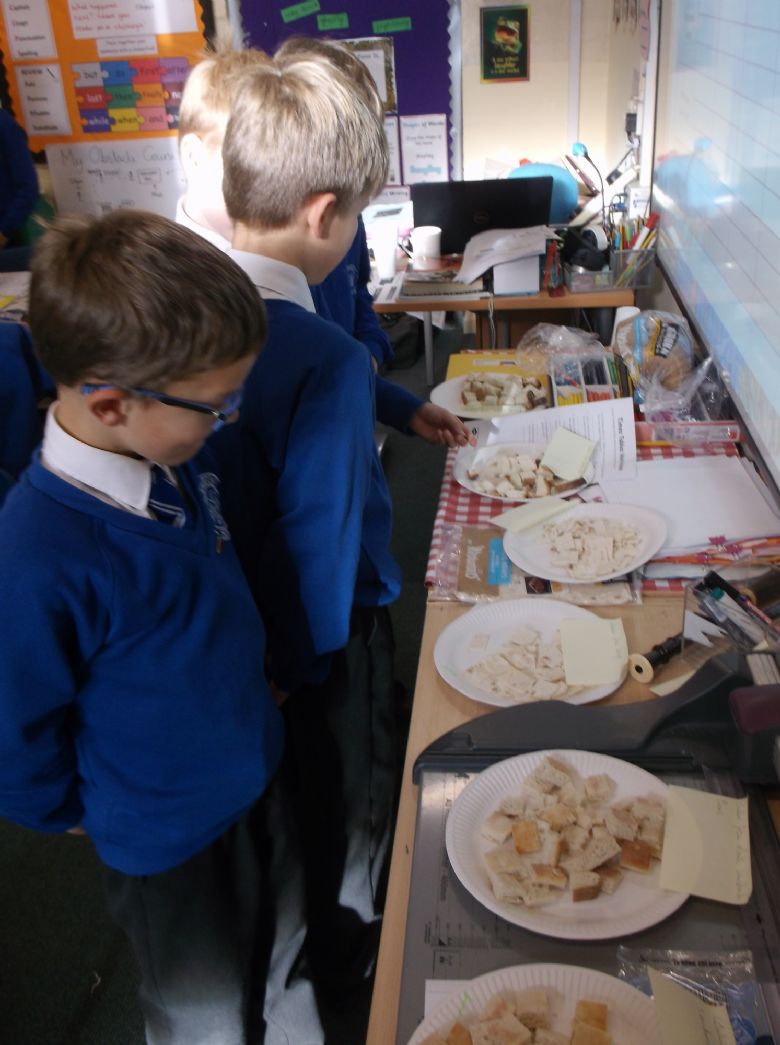 DT:
We have kicked off our DT topic with some bread tasting this week! The children completed some market research of existing products by Warburtons to see which is the most popular and which they think would sell the best. They had a great afternoon tasting and evaluating all the breads!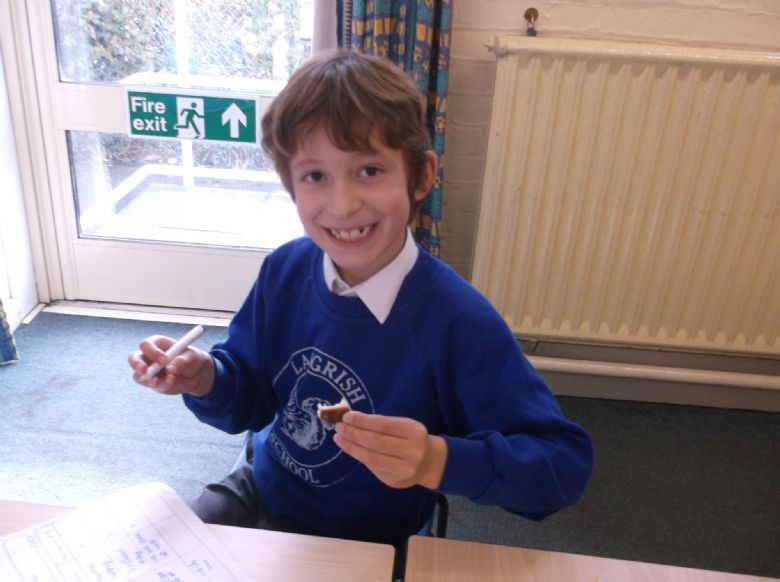 Dance: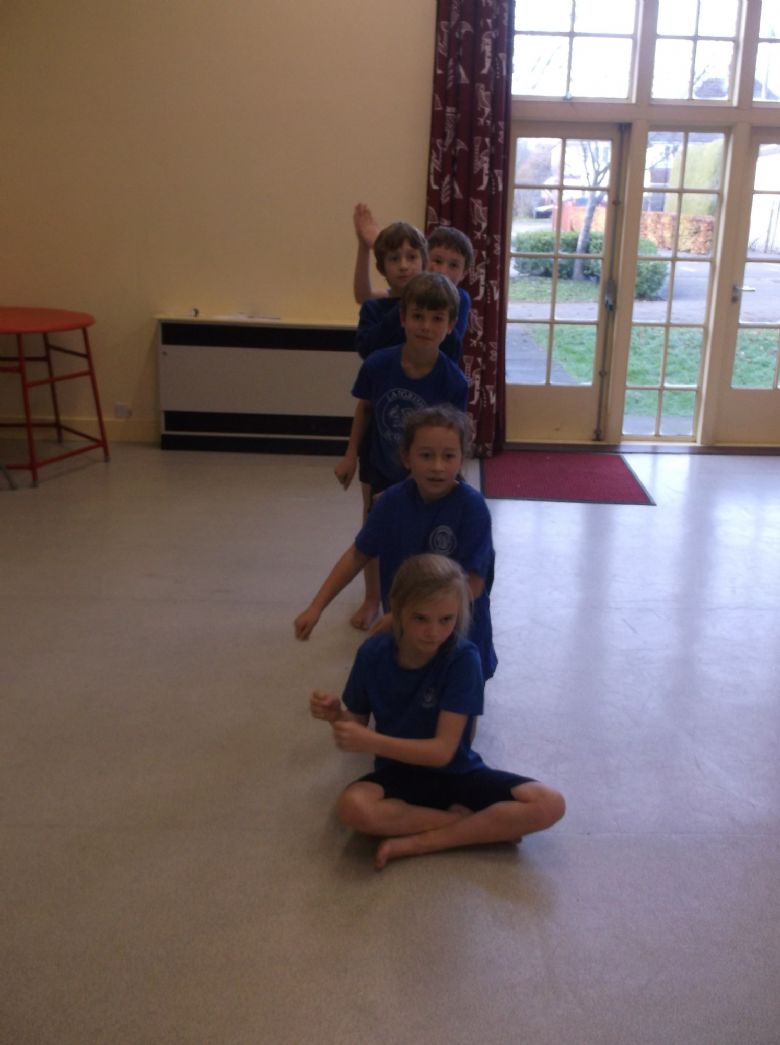 The children have started their Dance unit with Mrs Pruden and have begun by thinking about how they could create a piece of dance to represent a rollercoaster. They have begun to think about what movements they could do and how they could arrange themselves to look like a rollercoaster. I hope the children enjoy continuing this learning and showing off their dance abilities! (Article 29 - UNCRC Your education should help you use and develop your talents and abilities.')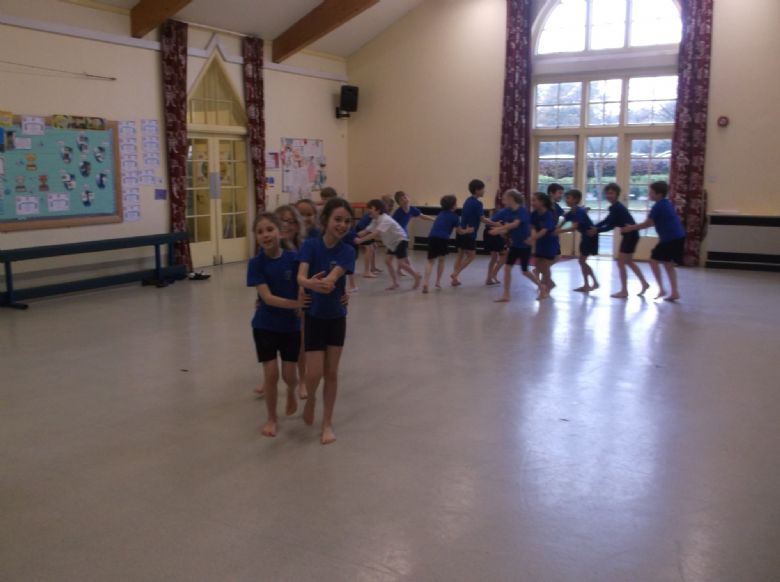 ---
Friday 3rd November:
Welcome back! I hope you all had a relaxing half term break.
** CHANGE TO CURRICULUM **
Just to note that our DT topic has now changed from making and evaluating biscuits to 'The Great Bread Bake Off'! In the coming weeks we will be exploring bread and eventually designing and making our own. This topic will also link nicely to our 'Feeling Healthy' topic in PSHE when we come to design and make our bread. (Article 24 - UNCRC 'Every child has the right to the best possible health.'). We may be requesting the help of parent volunteers to assist with the bread making so keep an eye out for dates and details on the class page if you are interested.
Meet the Teacher:
Firstly, thank you to all those that were able to attend the Meet the Teacher meeting on Tuesday. Any documents discussed have been added as attachments to the bottom of this page. If you were unable to attend and would like to see the curriculum newsletter or ESafety presentation, they are attached below. Please can you also take time to read and sign your child's ESafety charter attached to the back of their home learning journals if you haven't already done so. This will ensure you and your child are aware of how they have agreed to stay safe using the internet at school and home (Article 16 + 17 - UNCRC 'Every child has the right to privacy' and 'Every child has the right to reliable information from a variety of sources).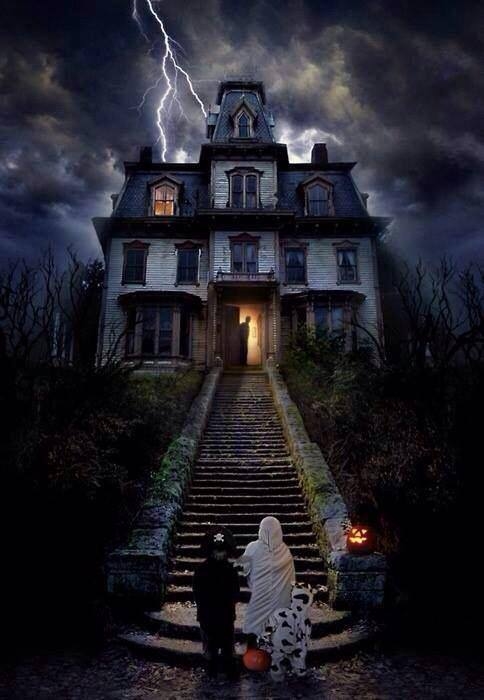 English:
This week in English, we have begun looking at suspense writing and how we can create suspense and tension in a piece of writing. The children first analysed a piece of suspense writing and came up with a list of features you need to include to create suspense. Our target for this piece of writing is to include expanded noun phrases (e.g. 'the dog' becomes the 'the lively, brown dog') so we have done lots of work identifying these and creating our own. For home learning, your child could find objects or nouns around the house and try and create some expanded noun phrases to describe them. The children have already had a chance to draft a piece of suspense writing and we will be editing and improving these next week.
Maths: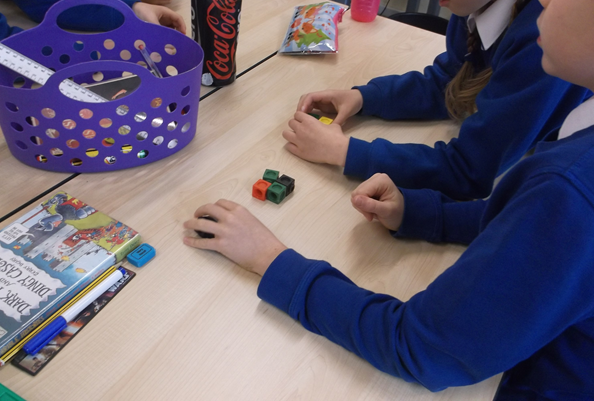 We have started our unit on Multiplication and Division this week by practising multiplying and dividing by 10 and 100. The children have used whiteboards and created place value grids to help them work out where to move the digits. We have also looked at multiplying and dividing by 0 and 1 and this has been valuable for children to really understand what happens during the processes of multiplying and dividing. The children used multilink first to investigate what happens to a number when it is multiplied or divided by 1 or 0 and then completed reasoning and problem solving activities to deepen their knowledge. I have also given the children a variety of worksheets that practise both these skills. You may want to ask your child which aspect they think they would benefit from practising a bit more and doing this at home. Also, keep asking your child to explain to you what multiplying (groups of/lots of) and dividing (sharing/splitting equally) actually mean!
Multiply or Divide by 10 or 100 game.
Spelling:
Our spelling rule this week has been the prefixes 'ir' 'il' 'im' and 'in' (e.g. 'possible' becomes 'impossible'). The children have applied this rule to words and we have discussed how the meaning of the word changes when the prefixes are added. For home learning, your child could see if they can find any more words that can have these prefixes added to them, or use the ones we have done in class and put them in to sentences. The children have been given a sheet with the words that we have been focusing on in class to practise at home, this can be found in their home learning journal.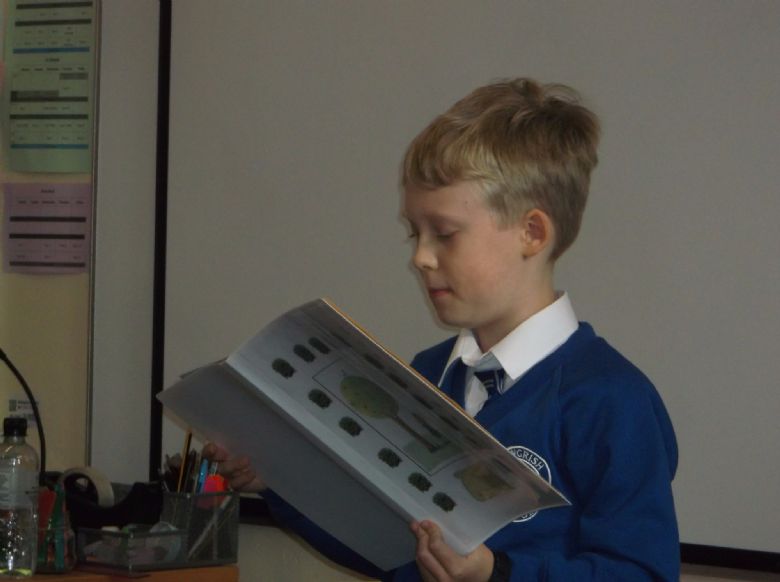 Science Projects:
This week we enjoyed the last of the children's half termly home learning projects and they have been fantastic! The children have engaged brilliantly with the task and the work they have produced has been outstanding. We have learnt lots about a variety of different scientists and each one was presented excellently. Five house points have been awarded to all those that completed and presented this project. This half termly project has also been set and it is titled 'Habitats'. For this I would like the children to create a habitat (rainforest, desert, under the sea, polar, etc.) in a box/shoebox. The children might want to think about what wildlife is included in their habitat and think about how they could include this also. This project is due at the end of this half term before the Christmas break, exact dates to follow. I hope this task will give children a chance to be creative and use their artistic abilities as well as their scientific ones!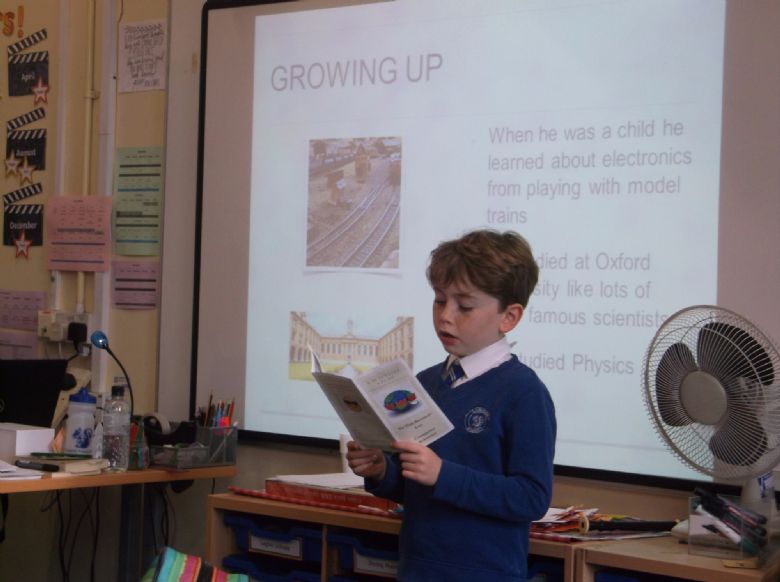 ---
Friday 20th October:
First of all I would like to say thank you for an exciting and rewarding first half term at Langrish! I hope you all have a restful half term and enjoy whatever you might be doing. There will be some suggested home learning for this week, but most importantly have a rest and have fun! Please use the times table, reading and arithmetics tests that have been sent home to identify any areas you may want to revisit at home if you find this useful.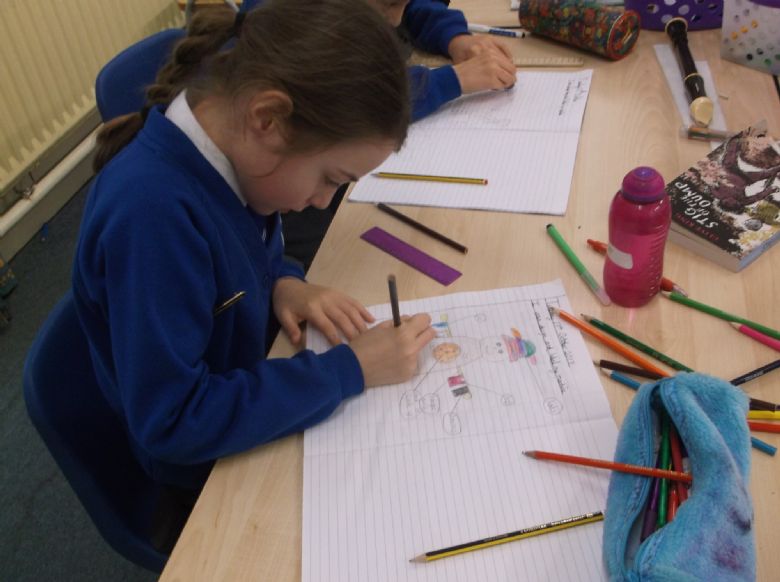 English:
We have continued our work on explanation texts this week with the help of Wallace and Gromit. We watched videos of some of their inventions (not that they always work!) and we decided to help them by creating our own inventions and writing texts to explain how they work. The children have loved designing their machines and we have started explaining how they work. We didn't want to rush our work so we will be finishing and editing our writing after half term.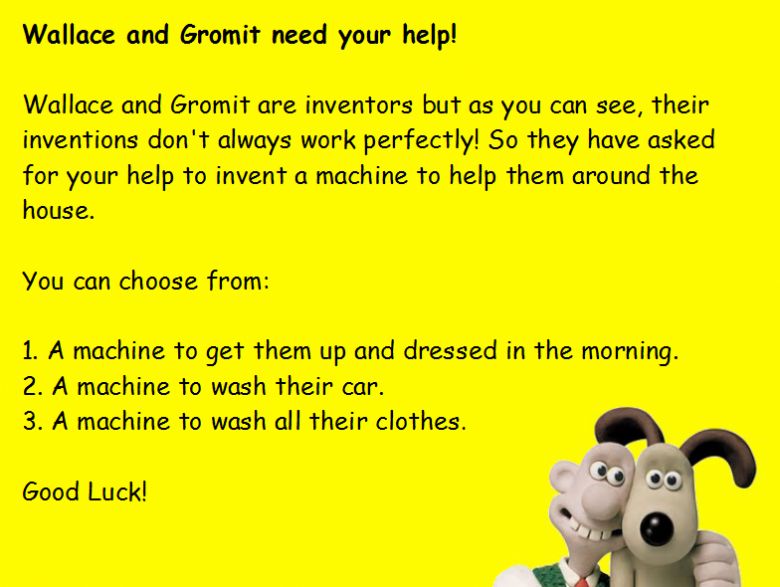 Maths:
We have concluded our work on addition and subtraction this week and the children have worked so hard practising their column methods. Any practise of this they can do during half term would be helpful, including writing their own and ensuring they lay out the columns carefully and accurately. We will be moving on to Multiplication and Division after half term, so any knowledge your child already has of this and methods they know can be practised over half term also if they want to get ahead of the game!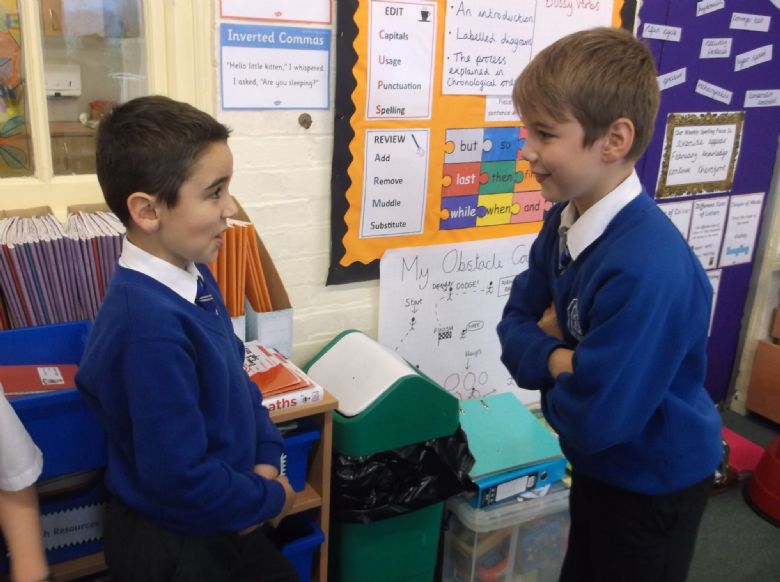 RE:
This busy week we also had an RE day where the children learnt about Rituals and in particular, the Jewish Sukkot. The children had a fantastic day with Mrs Pruden learning about this and then applied their knowledge in a role play situation based on what they learnt. As you can see, they really threw themselves in to their roles! You may want to ask your child what they learnt this week.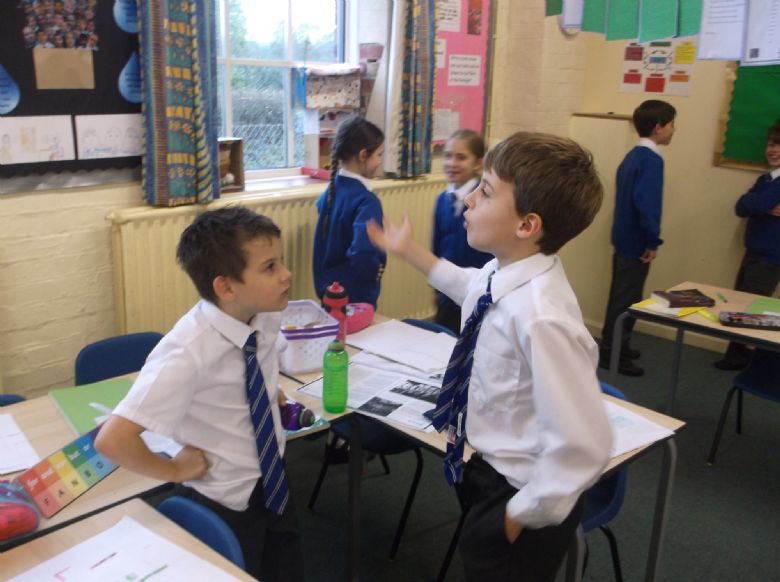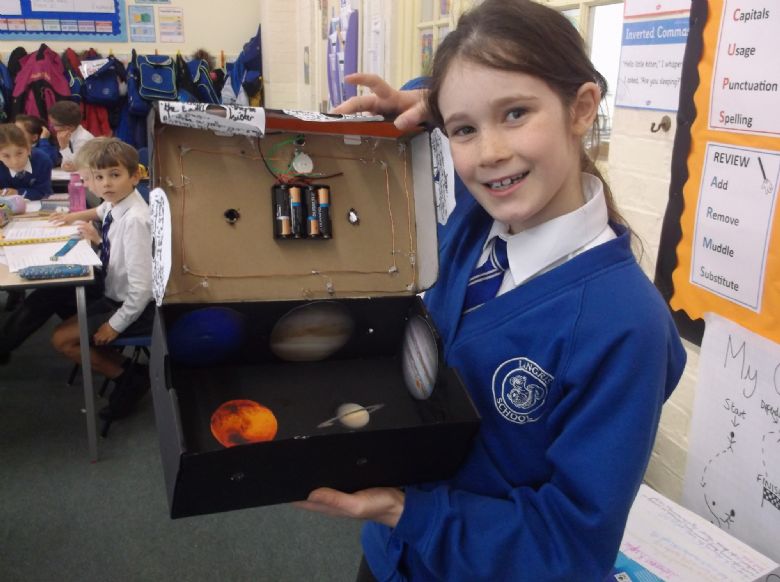 Science Projects:
Thank you to all those children who brought in their Scientist Study projects this week. We were not able to look at all of them as we have been extremely busy and I want to ensure the children have enough time to fully present all their hard work. Please do not worry as we will make time to look at the rest when we return from half term! However, the ones I have seen have been absolutely fantastic and we have already learnt lots of lovely facts about some amazing scientists. House points will be awarded to all children who return and present these to the class, this will be discussed at a later date.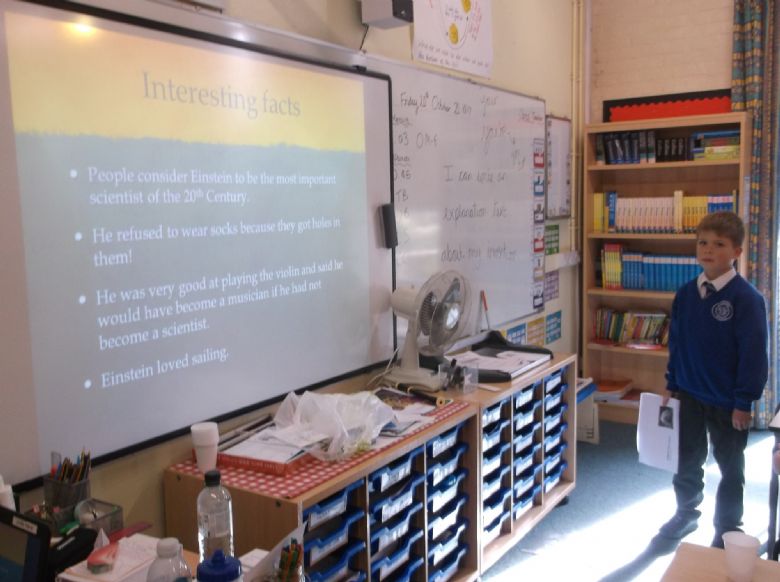 Reading:
Please could you continue to encourage your child to read daily during the half term period and answer questions in their reading record when they have finished a book. Children should now all have a wheel of Blooms Taxonomy Questions stuck in the back of their reading record and they are encouraged to answer one of these after reading a text. Also, we have read an online book called 'Alien Hotel' this half term on Purple Mash. If your child would like to write a book review of this text during their break it would be lovely to see what they write! They could include what they liked/disliked and who they would recommend this text to.
Meet the Teacher:
The next Year 4 Meet the Teacher will be at 2.40pm on Tuesday the 31st of October. Please come along if you can and please contact me if you cannot make it but would still like to receive the information that will be delivered.
---
Friday 13th October:
First of all I would like to say thank you to those who came to our open classroom on Wednesday. I hope you enjoyed looking at the children's work and celebrating their successes from the first half term. The children have worked extremely hard so far this term and I am pleased you were able to come in and see how well they have done. I also would like to apologise for the class page not being accessible last week, this I hope has now been rectified and you can see last week's work and some photos below.
English: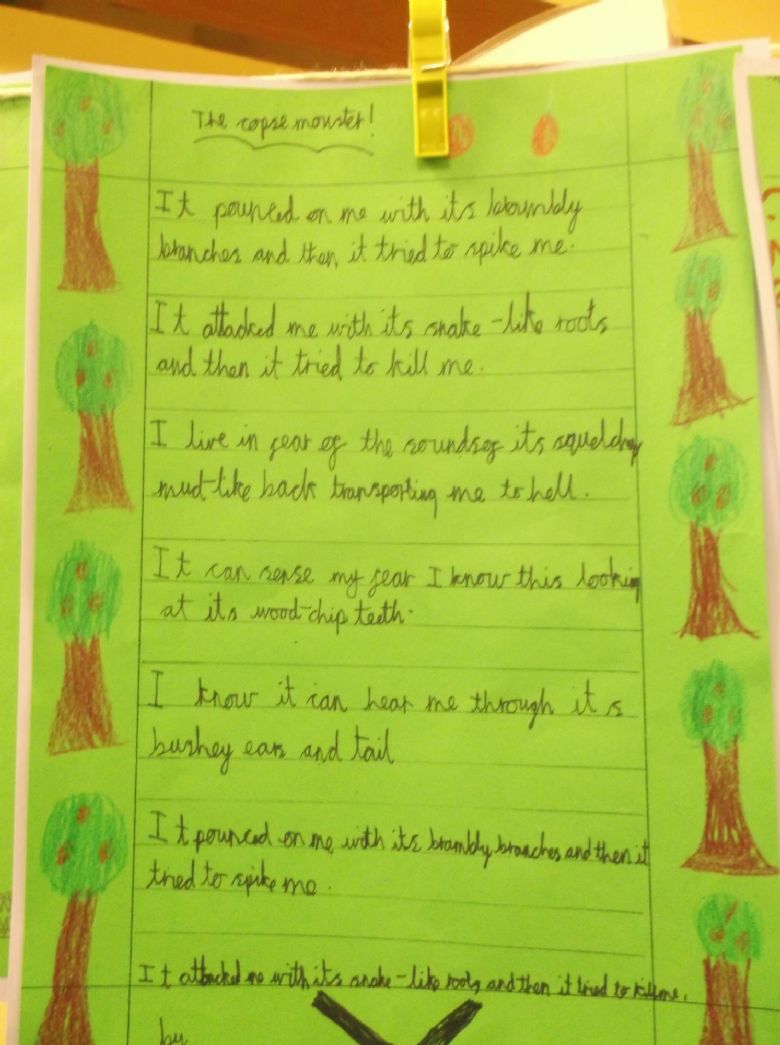 This week in English, we have written and performed our 'Copse Monster' poems which I am delighted with! The children have gone out in to the copse and thought about ways they can personify different aspects of it to bring to life. The children read them aloud to the class and it was a lovely celebration of all their hard work. I hope those of you that attended our Open Classroom had a chance to look at these on display. We are moving on the explanation texts and how they differ from our previous work on instructional texts. Next week we will have a go at writing our own!
Maths:
We have started our unit on addition and subtraction by practising our column method and thinking about when we need to borrow or exchange in our calculations. The children have worked really hard and this is showing in their work. We have also worked through word problems and missing number problems to further our knowledge of addition and subtraction. The children have taken home another worksheet of addition and subtraction problems to take home to continue this learning. You may want to use a calculator to mark the sheet with your child and then encourage them to correct the ones they may have got incorrect.
Spelling:
Our spelling words this week have been chosen from the Year 3/4 spelling list and are as follows:
February
Therefore
Knowledge
Continue
Appear
Exercise
It would be beneficial for your children to practise these at home using strategies we have used in the classroom or any of their own if they would like! They may also benefit from being tested on these words or putting them into sentences.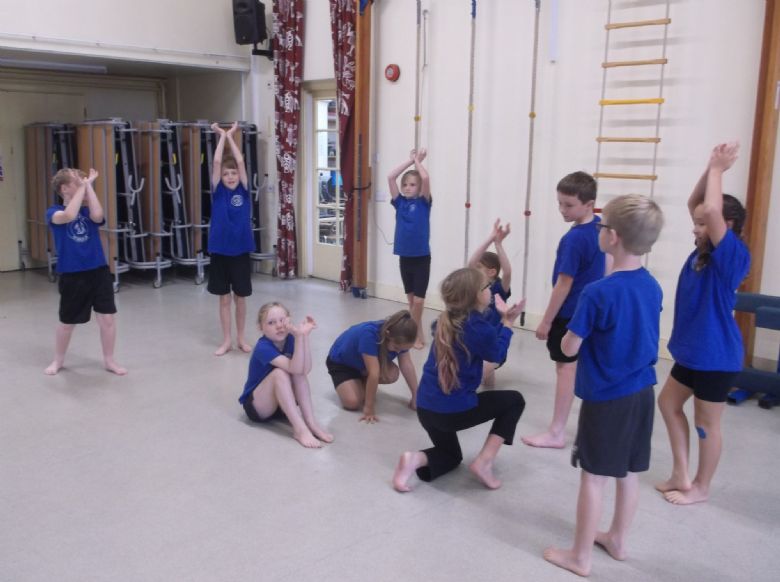 Diwali Dance Workshop:
We were very lucky this week to have a Diwali Dance Workshop brought to Langrish! The children were told the story of Diwali and how it became the Hindu festival. They then recreated parts of the story as freeze frames and went on to add in some very 'Bollywood' choreography. Everyone absolutely loved the experience and the children listened and worked beautifully for the whole session.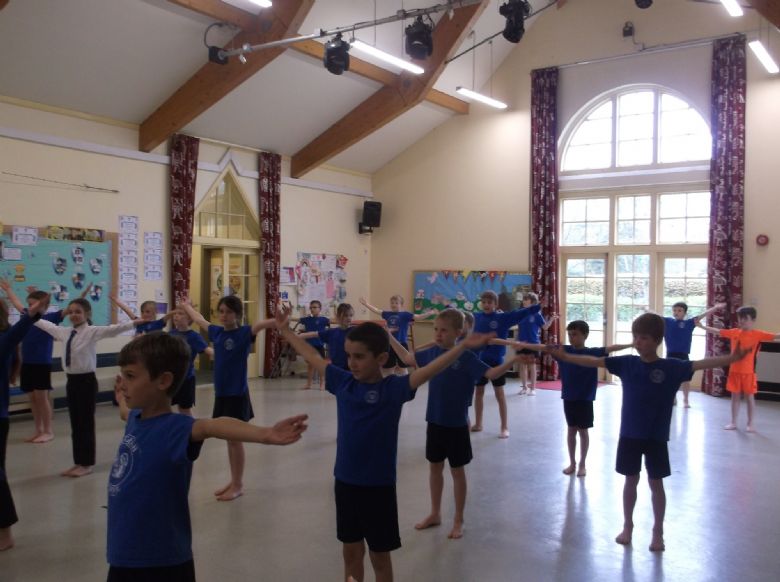 ---
Friday 6th October:
English:
This week in English, the children designed and wrote instructions for their own obstacle courses. The children worked carefully to think of which 'bossy verbs' would be most suited to their instructions and drew diagrams to go with each step. I hope that at some point in the next few weeks we will be able to try out some of their obstacle courses and instructions! We are now moving on to poetry and have read 'The Playground Monster' by Pie Corbett. We have talked about how the poet personifies the playground and makes it seem as if it is alive. Next week we will be starting writing our own poems in the style of 'The Playground Monster' and I hope the children are excited to discover what we will be writing our poems about.
Maths:
We have concluded our work on Place Value this week and ended on negative numbers. The children created their own negative number lines and used these as a visual aid when answering questions. A game to revisit this learning is below if children feel they would benefit from more practise at this. We are now however, moving on to our addition and subtraction unit. Next week, we will be starting the column method of addition and subtraction so if your child would like to get ahead,I have given them a worksheet with some more examples of this to do at home.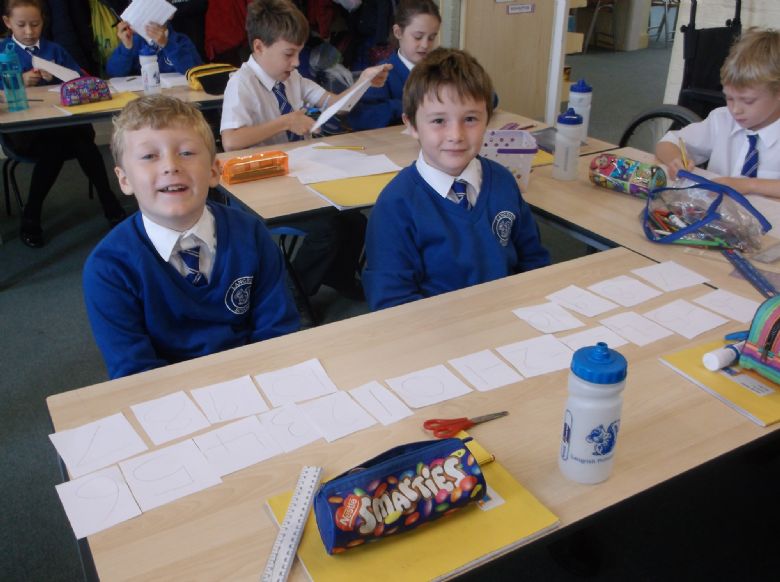 Spellings:
We have been looking at homophones this week and practising some words that are said the same, but are spelt differently and mean different things. Specifically, we have been looking at the words 'fair', 'fare', 'main', 'mane', 'piece' and 'peace'. The children have drawn pictures to accompany each of these words to help them remember what each one means and how to spell it. For home learning, your child could think of any other homophones they know and could draw pictures alongside those to help them remember their meanings.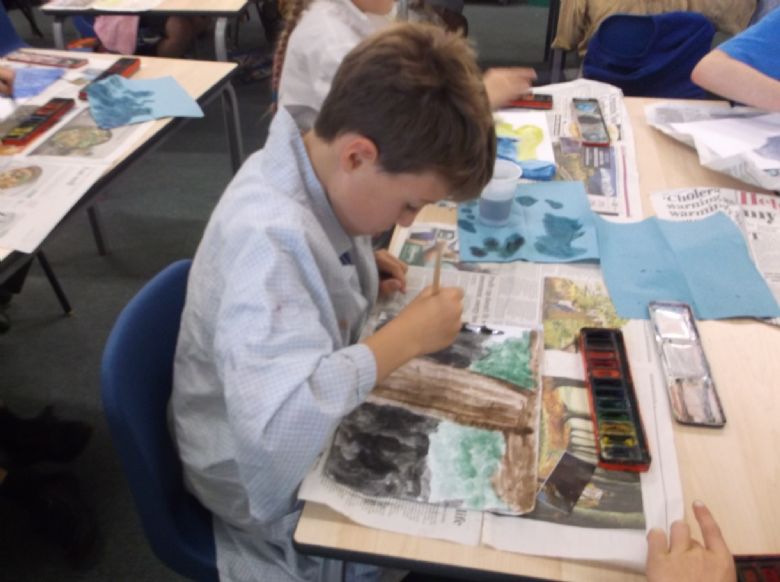 Art:
Our focus for Art this week has been the British artist Thomas Gainsborough and in particular his landscape paintings. We looked at some of his work and discussed the colours he uses to paint landscapes and who the people in his paintings might be. We looked in detail at the painting 'Mr and Mrs Andrews' and each child took a section of the painting to recreate themselves. We still have a couple of paintings to finish but I am looking forward to seeing all the pictures put together.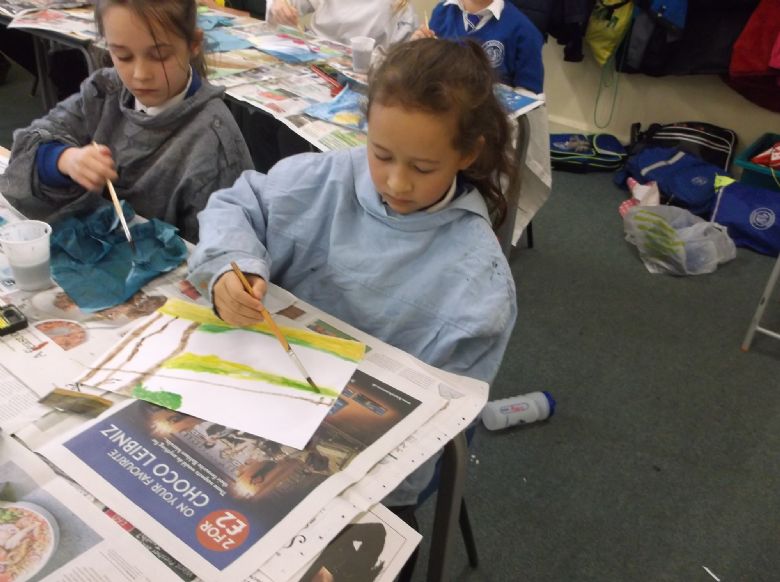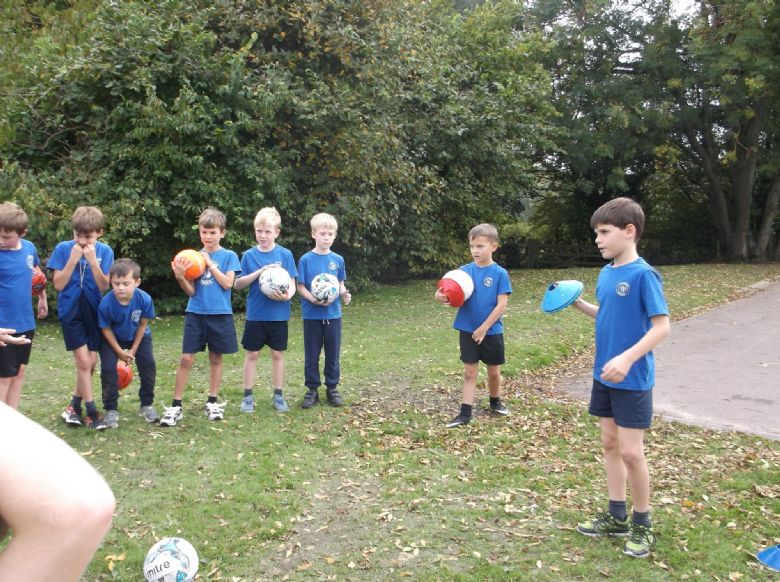 PE:
Our football sessions continued this week with a focus on attacking and defending. We thought about keeping the ball close to us and zig-zagging or dodging our opponents to get past. I was even more pleased to watch some children to lead a small group of their classmates and teach them a mini game using this skill. The children are all developing their football skills well and I am pleased with their progress.
Science:
This half term's Home Learning project is entitled 'A Scientist Study'. For this please I would ask that all children research a famous scientist that is of interest to them. They might want to think about who they are, what they are famous for and what impact their discovery still has on our lives today. They can then present the information they find in any way they please. We have already discussed things like PowerPoint presentations, an information booklet or a poster as potential ways to display their findings. I hope both you and the children enjoy researching their chosen scientist, and I can't wait to see what they produce!
---
---
Friday 29th September
English:
This week the children have written, edited and improved their writing on the picture 'Thr
ough the Door' and I have been astounded at the quality of their written work! I am looking forward to reading each one in detail and looking to see if children have improved on their targets. We have now moved on to instructional text writing and have begun to look at the features used within this type of text. For home learning, your children could try and locate a piece of instructional writing around the house and use the checklist given to them to see if it has all the appropriate features. I am looking forward to children attempting their own piece of instructional riting next week. We ended this week by writing 'alien-proof' instructions by imagining that an alien had come to our school and needed instructions to find different classrooms. The children had great fun acting as the aliens and following the instructions to see if they were specific enough!
Maths:
Our work on place value has continued this week by focusing on ordering and comparing 4 digit numbers. Children have worked hard to use the more than and less than symbols (the crocodile mouth!) to compare numbers and have successfully managed to order them from smallest to largest and vice versa. For home learning, there are a variety of games to support this online. Two of these games can be accessed via the link below. We also continued work on our times tables this week and had a timed challenge to test our knowledge. From this, the children now have a target times tables to practise at home as identified by this challenge. You may want to ask them what this is and do some practise at home.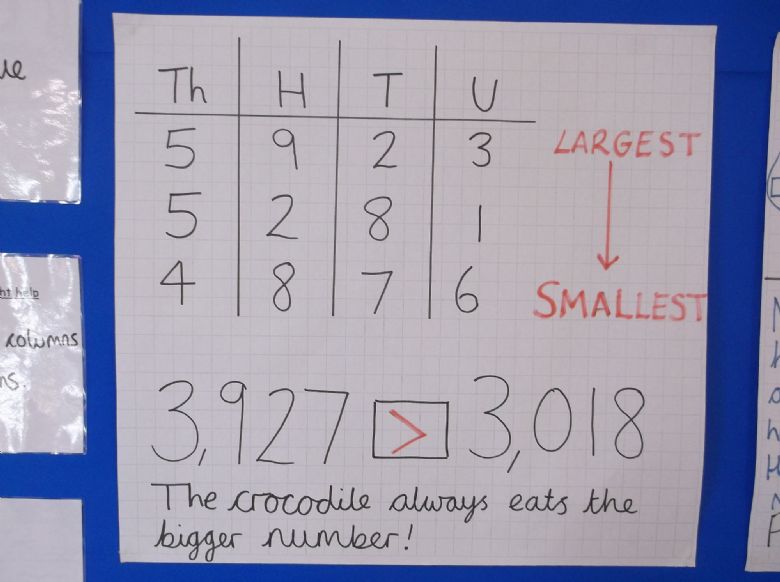 Spelling:
Our spelling focus this week has been the use of apostrophes for contractions (cannot = can't, they are = they're) and the children have started to think of words that follow this pattern and practising them in their spelling logs. Again, the children can use any of the strategies they have learnt to practise these words at home for home learning. Can they think of any new words that use apostrophes for contractions that we did not think of in class?
Music:
The children have continued their unit of Mamma Mia in their music sessions this week and have proved they are quite the musicians! They have started by showing off their skills playing the recorder and I am looking forward to seeing how this learning progresses in the coming weeks.
E-Safety:
Finally, to promote E-Safety here at Langrish and ensure our children are well equipped to use computers and the internet at school and beyond, each class this week has created their own E-Safety class charter. The first part was written by the children and says what they are going to do to stay safe when using computers. The second part is a statement from Langrish outlining what we will do to support and protect children using the internet. It has been attached to the back of the childrens' Home Learning Journals alongisde our Class Charter. It has been signed by myself already and we would ask that yourself and your child sign it also. This agreement we hope will ensure teachers, children and parents/carers are all well equipped to use the internet successfully as a beneficial tool to children's learning.
---
Friday 22nd September:
Maths:
This week we have continued our work on place value by focusing on the value of all the digits in a 4 digit number. We have practised partitioning 4 digit numbers in to thousands, hundreds, tens and units. For a potential Home Learning Task, follow the link to an Online Partitioning Game that will test their knowledge of place value. We have also started work on estimating where numbers should be placed on a number line up to 10,000. Your child could create some number lines to 10,000, you can give them a number and they could estimate where it should be placed!
English:
Our work on the video 'Taking Flight' concluded this week with the children finishing, editing and improving their work. Each child has been given a target based on this piece of writing and now it's time to do it all over again! The children will be writing another narrative based on a photograph next week with their target in mind. This week has been spent getting in to the minds of their characters and planning their stories. I am very much looking forward to reading their adventure stories 'Through the Door'. Our primary focus this week has been on editing and improving pieces of writing for punctuation and vocabulary choice. This week, I have given the children a short piece of text to take home and they can edit and improve it if they would like to practise for Home Learning.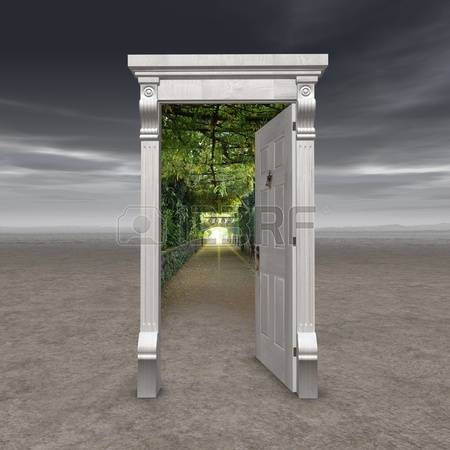 Times Tables:
As some of you may already know, by the end of Year 4 children are expected to know all of their times tables. We have already started practising these in class with activities such as loop cards and quick fire recall. Practising these at home will be beneficial for children when we come to assess their progress. All children will learn these in different ways so you could try oral recall of times tables, writing them down to establish any patterns or playing a game this will enhance this learning. Use this link to take you to 'Hit the Button', a quick fire times table game.
Spelling: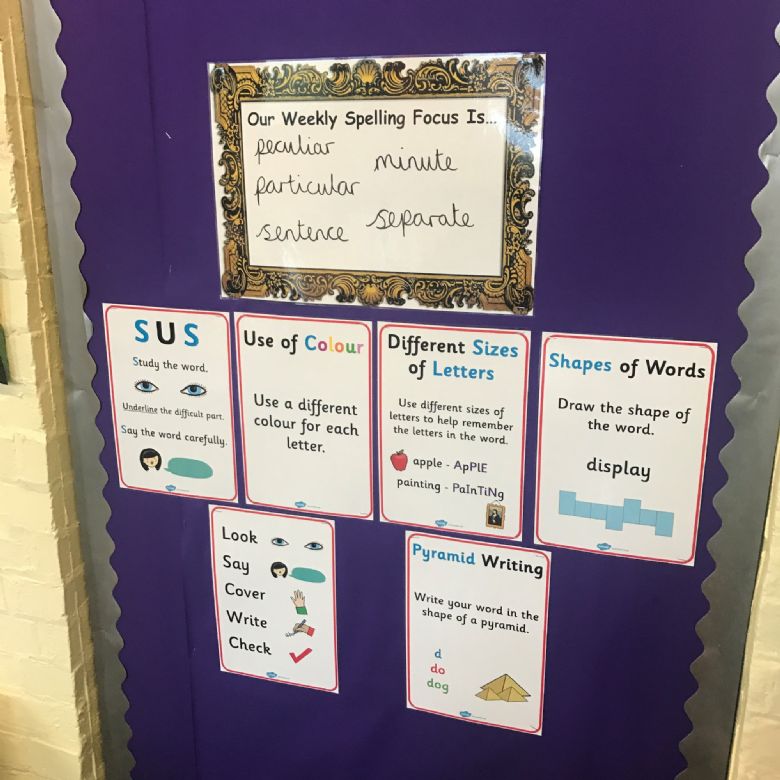 Our spelling focus this week is taken from the Year 3/4 spelling list. Words have been chosen that have been noticed as ​being commonly misspelt in the children's work (peculiar, particular, sentence, minute and separate). We talked through strategies to practise spellings such as to pyramid writing, rainbow writing or Look Cover Write Check. See our display below and your child may want to show you some of these spelling strategies as part of their Home Learning!
P.E: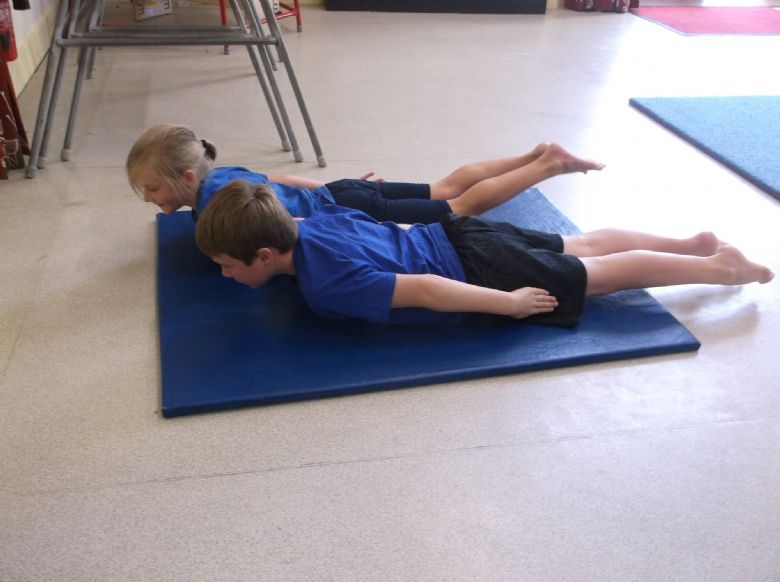 The children also finished the week by starting their gymnastics unit. Mrs Pruden has been teaching the children stretching, tucking and balancing and how to do so successfully. The children all enjoyed their session and it looks as if they are showing their skills as gymnasts in the making!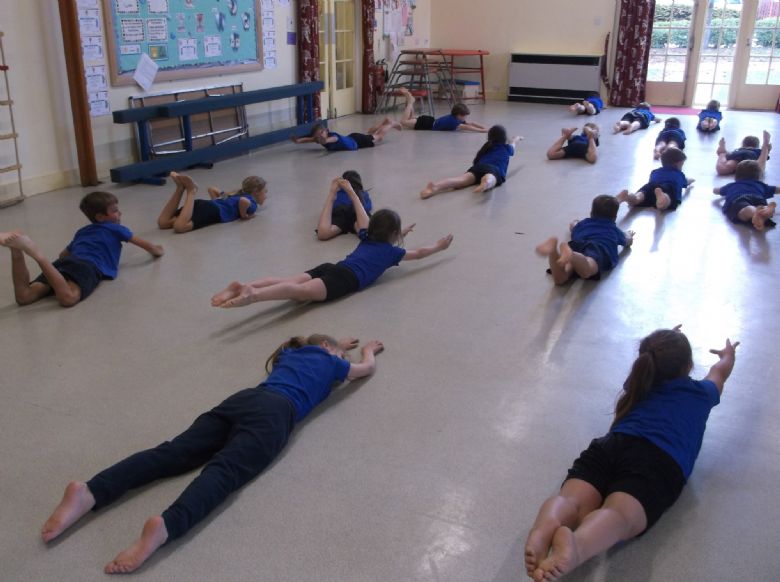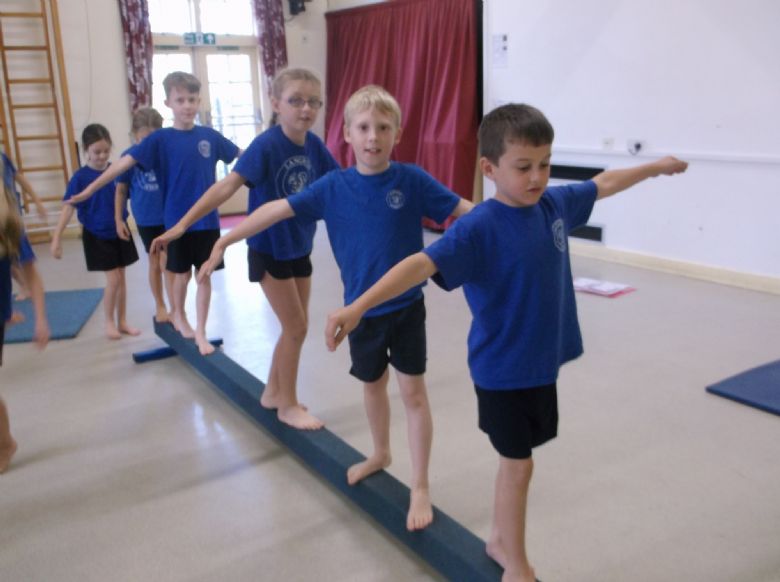 ---
Friday 15th September:
Rights Respecting Charter:
Over the past 2 weeks, Year 4 have worked extremely hard creating our Class Charter. We have explored the UN Convention on the Rights of the Child and thought about the things that both children and adults need to do in order to get the best out of the learning we do at school. The charter was written by the children and can be seen in the image below. A paper copy will be sent home soon so you can read what they wrote, or ask your child to tell you all about it!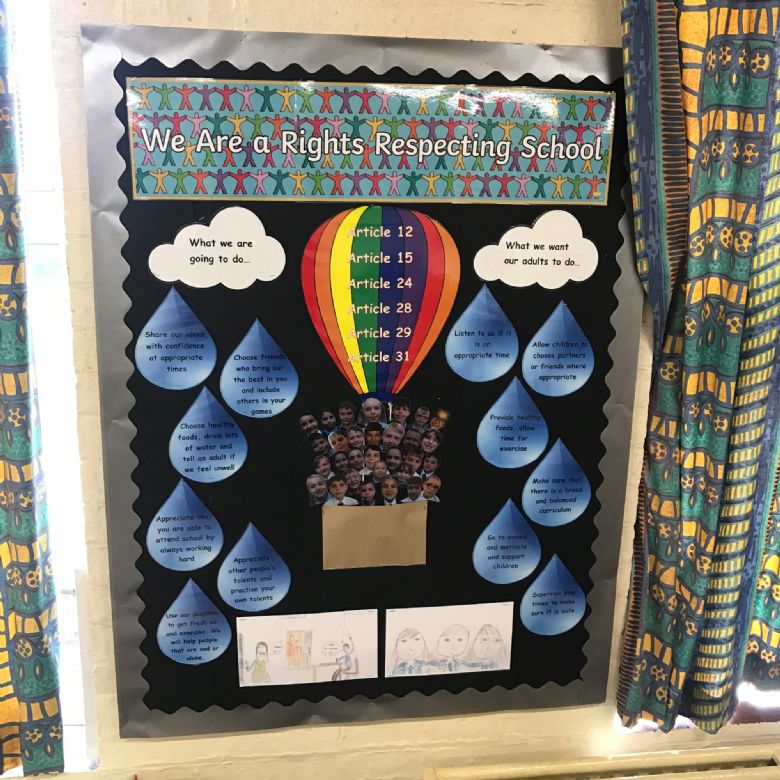 ---
Maths
Our focus in Maths this week has been on Place Value and in particular rounding numbers to the nearest 10 and 100. If you wish to practise this at home, click here to take you to a website that will test their quick fire rounding skills! We have also done some work on our Roman Numerals to 100. If you would like to practise this, can you write the birth date and month of everyone in your house in Roman Numerals?
English
In English this week, we have been writing a narrative based on a video clip. The video clip is called 'Taking Flight' (available on the Literacy Shed if you would like to watch!) and the children thought about character's emotions before planning how they would retell part of this story. Within this, we have particularly focused upon fronted adverbials and how to use them in our writing. The children worked very hard today writing their stories and we will be editing them on Monday. To practise the use of fronted adverbials, you could use this Fronted Adverbial Starters Spinner and ask your child to write you a sentence using whatever it lands on (remember your commas!).
Roald Dahl Day
Finally, this week we celebrated Roald Dahl Day. We started the day with a Roald Dahl Maths challenge and then the children worked very hard writing a character description of Mr Twit. However, the most fun was had with your donated shoeboxes! The children used them to create their own 'Upside Down Living Room' scenes based on The Twits. The children worked very well as teams and all produced some very clever upside down scenes.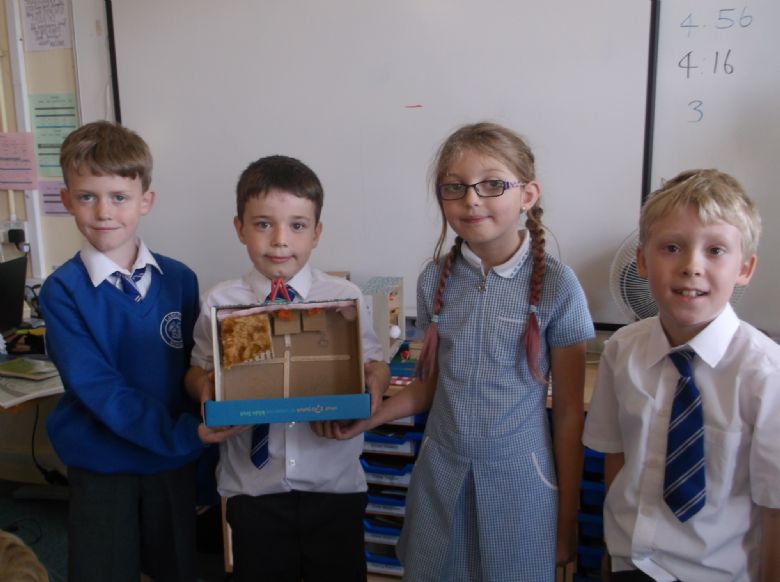 Reading Challenge
The Autumn Term Reading Challenge has been launched and challenge cards can be found inside Home Learning Journals. As part of our on-going review into Home Learning and response to parent feedback, the expectation is now that all children attempt to complete this. The 'Recommended Reads' list referenced can be found at the bottom of this page, why not make a start with your first challenge this weekend? Good luck!
---
Welcome back!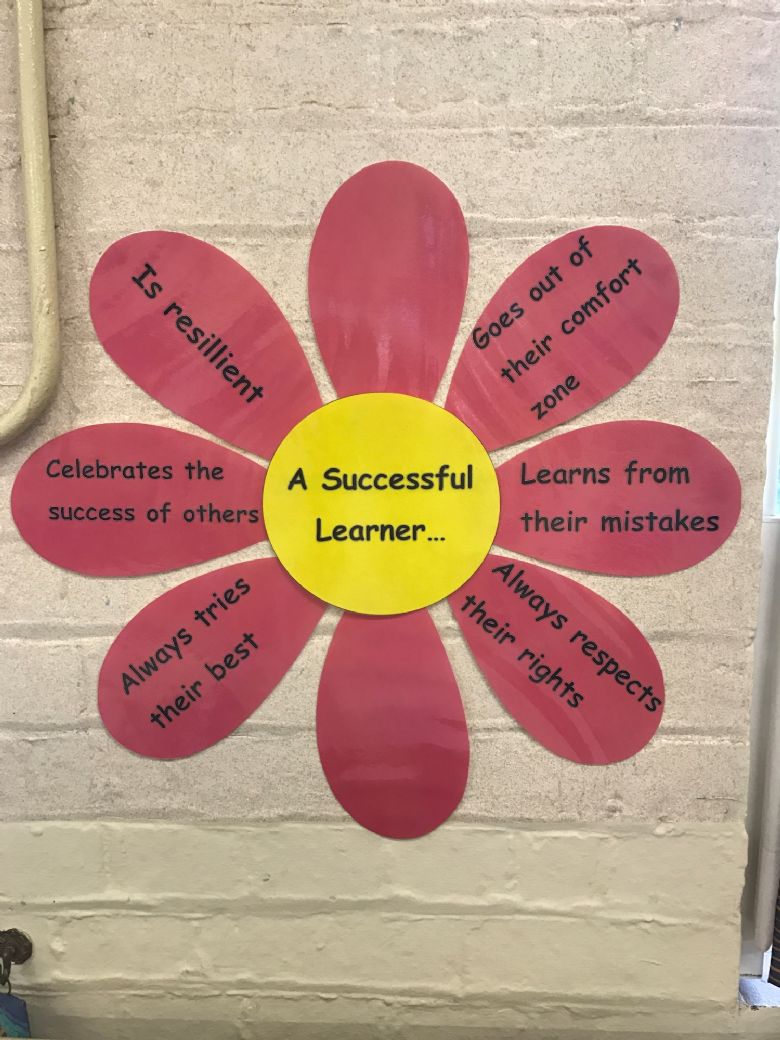 I am delighted to welcome Year 4 back to Langrish for another year, and we have had a busy start to the term! This week we have been focusing on 'successful learning' and what this means to us in Year 4. The children generated their own ideas on how to be a successful learner (which included some fantastic comments about resillience and going out of your comfort zone!) and we have used these to create a display for our classroom. I hope this will be a reminder to the children of how to get the best out of their learning throughout the year. We also now have our aspirations for Year 4 on display so our goals are always in sight!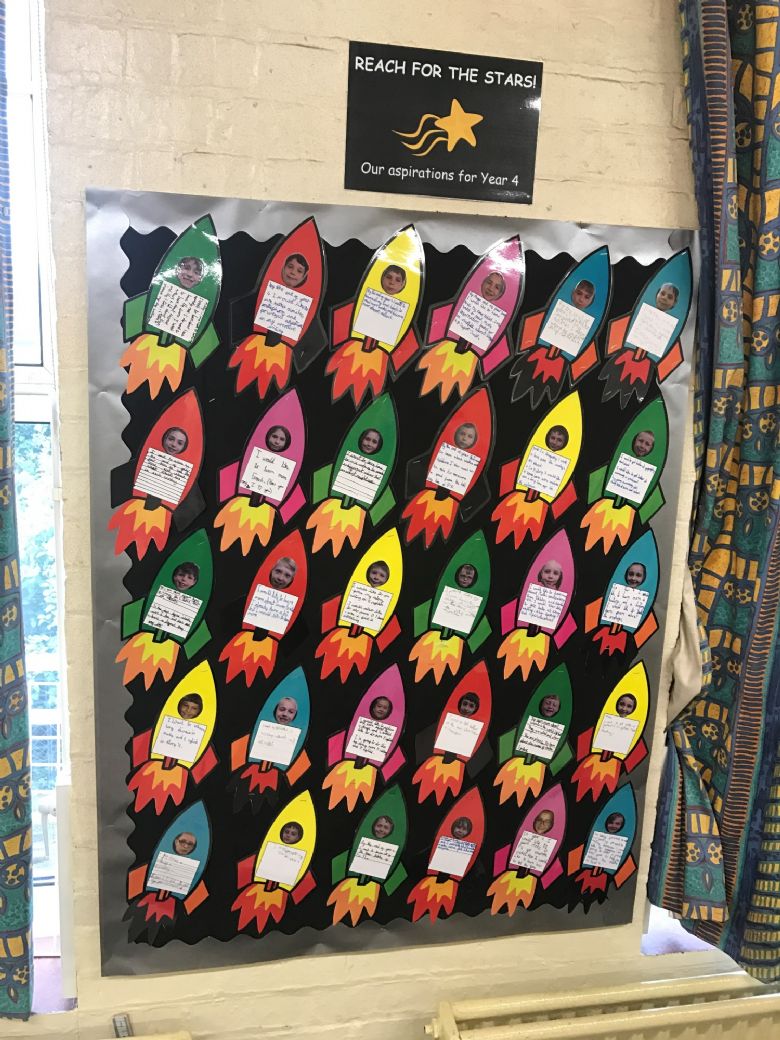 Our PE days this term are Mondays and Fridays so please ensure complete kit, including appropriate footwear for outdoor sessions, is in school on these days. Our 'Meet the Teacher' will be at 2.30pm on Tuesday 12th September and will focus on changes to Home Learning which will also recommence next week.
A reminder that the Library Challenge finishes on Saturday 16th September and will be celebrated in assembly on Thursday 21st September so could all certificates please be in school for this. Finally, we are marking Roald Dahl Day on Wednesday 13th September and the text that will be the focus for our learning is 'The Twits'. I also ask that if you have any spare shoeboxes that the children could bring in for this day it would be greatly appreciated as they will be used as a creative stimulus for our work during the day!
---
Click on the links below for useful websites: