Mrs Pruden & Mrs Rawlings
A taste of our learning:
In English, we are coming the end of our King Kong unit and are preparing to write Newspaper articles about the death of King Kong. Inorder to prepare for using quotations, we role played the different characters, whilst being 'interviewed' by journalists: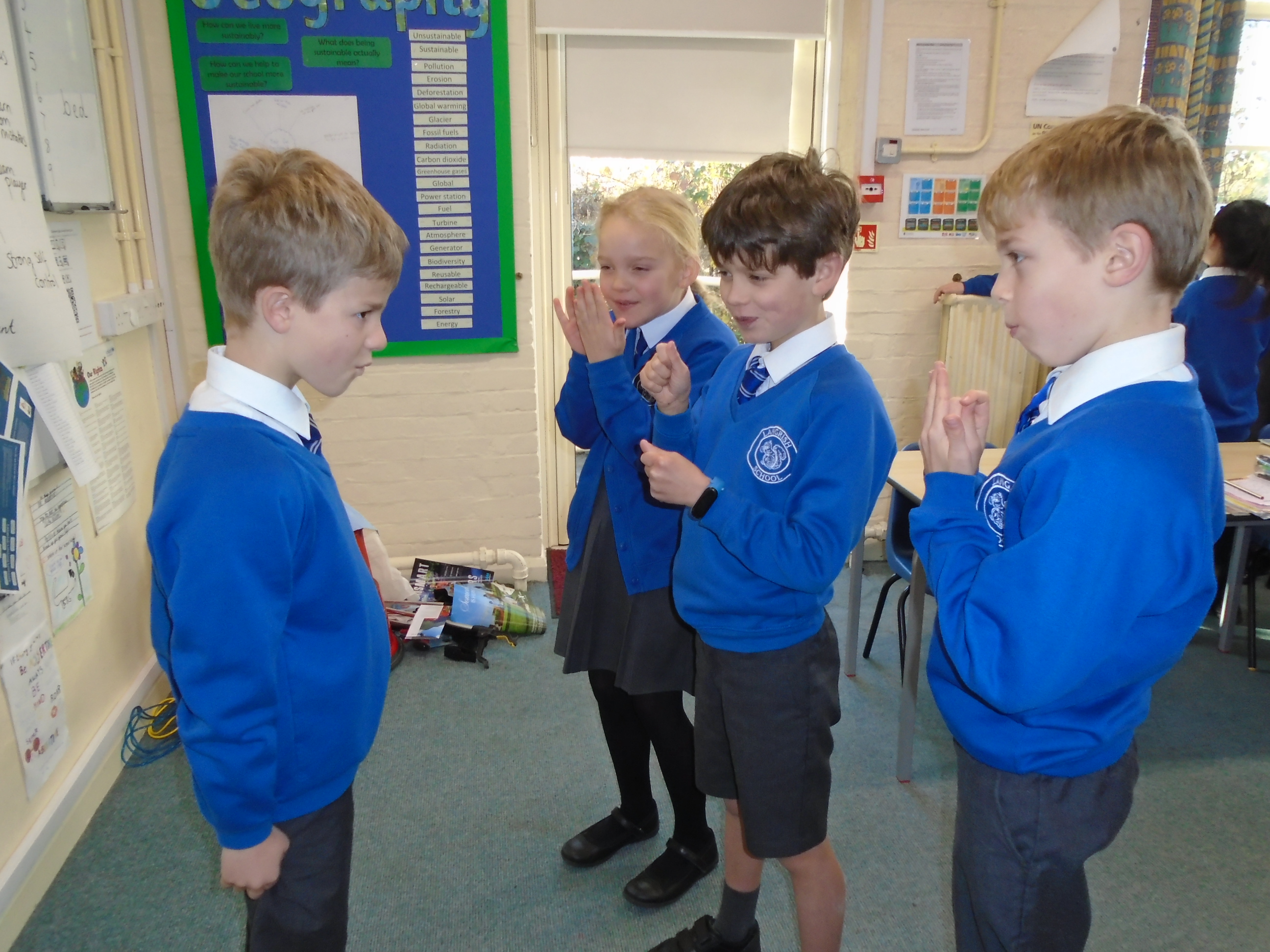 Homelearning
Maths - As usual, on Wednesday we had our weekly times tables test - the children recorded the ones they didn't get correct and should start with practising those. Please continue to practise your times tables - there are a selection of worksheets at the bottom of this web-page if you'd rather print them off than learn through the purple mash games.
Spellings - There are spellings to practise on Spelling shed, both for Year 4 and Super speller groups - called 26th November. Please can they re-do the games several times during the course of the week - this will aid their memory of the correct spellings. House points available for 3+ games played. The challenge in class is for them to apply these words to their writing (correctly spelt!).
Optional - PE- Skipping challenge - how many skips can you do in 1 minute?
Dates: We have postponed our class assembly until 13th January
We will be doing our sponsored 'fun run' next week (weather permitting) on Thursday as part of our PE session.
_____________________________
We have really enjoyed Anti-bullying week - see our Nutshell this week for what we got up to!
On Wednesday afternoon we went on an invertebrate hunt - our learning question was 'Where can we find invertebrates at Langrish?', so first we had to remind ourselves what invertebrates are and predict where we found them. What was a surprise was seeing so many crane-flies in the bathrooms!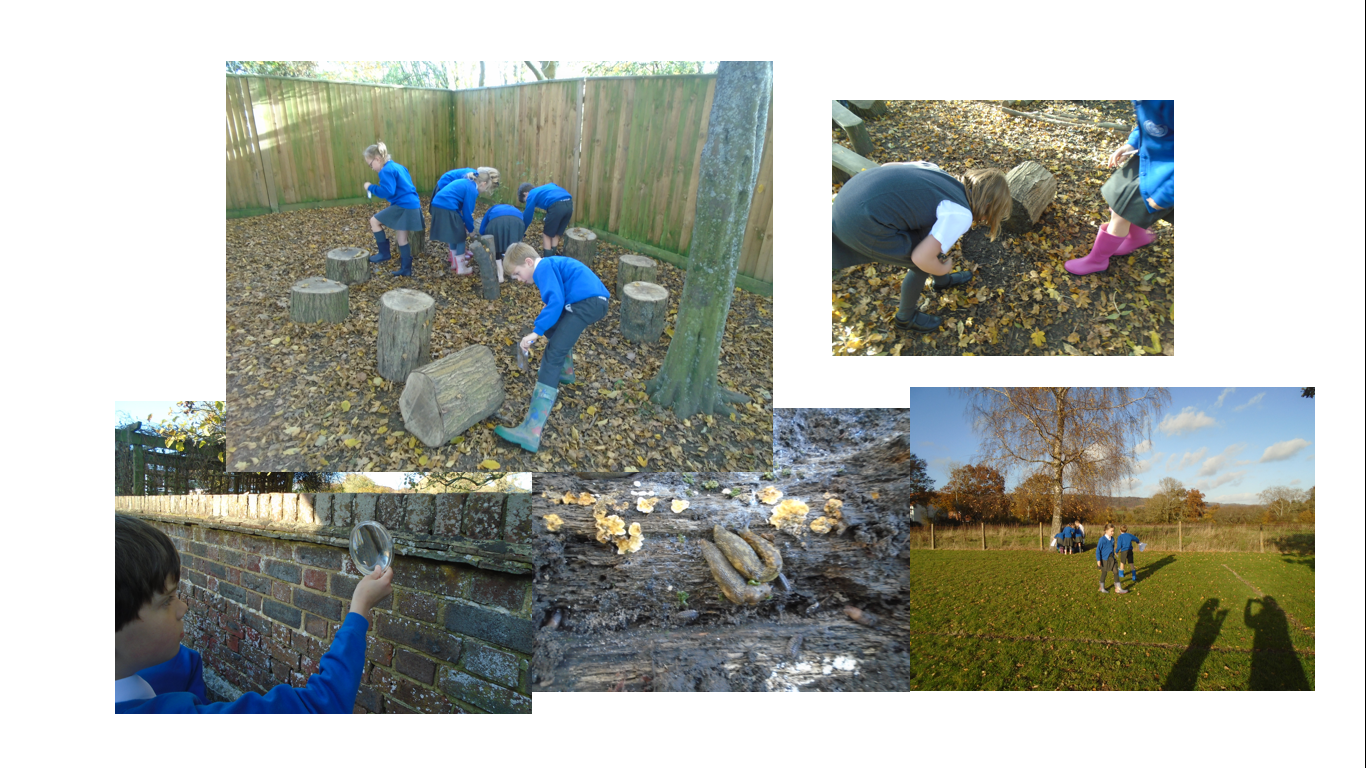 As part of our morning wake and shake we have been taking part in the Hampshire virtual games challenge and seeing how many skips we can do in 60 seconds - it has been a great way to warm up: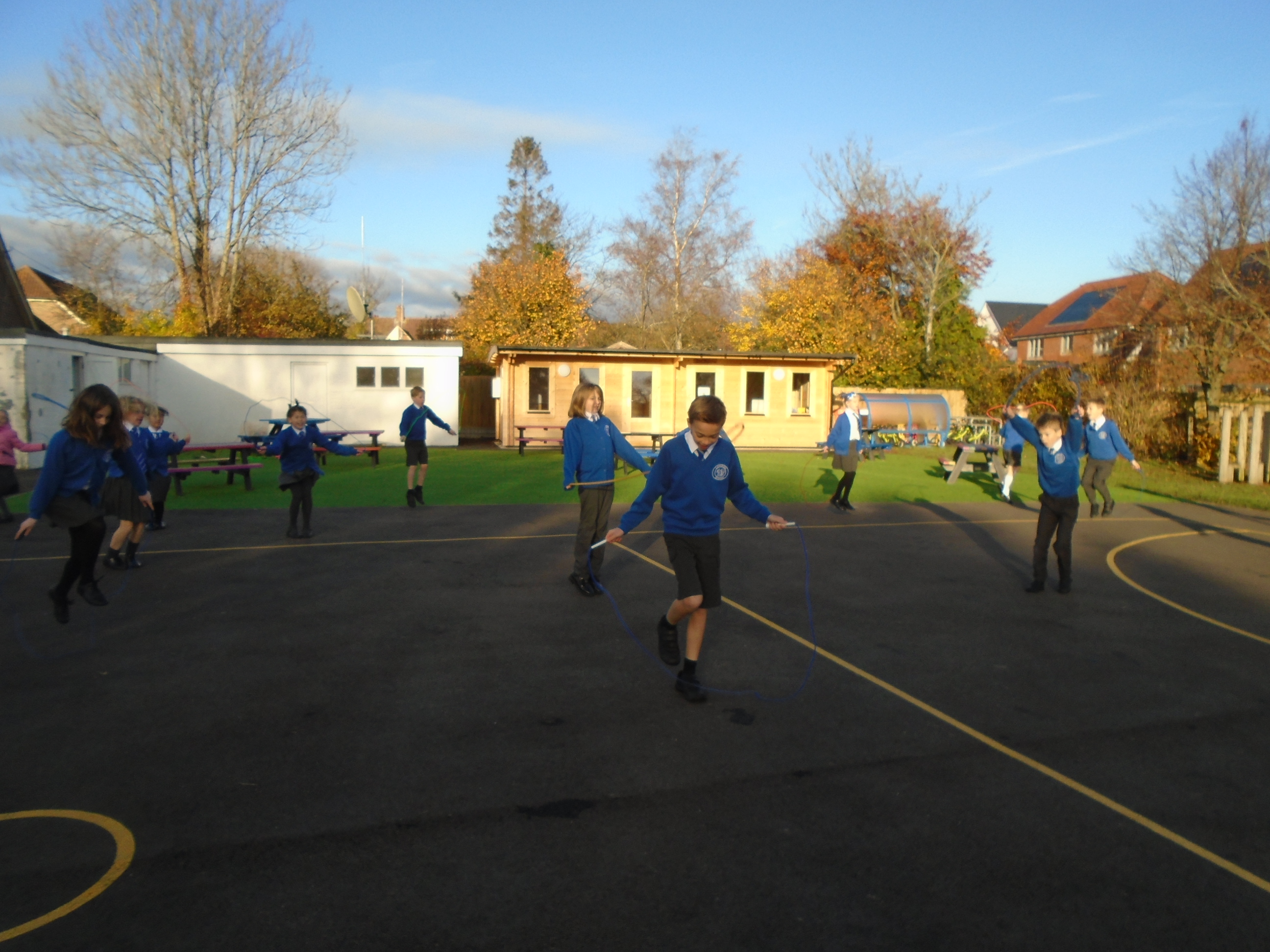 In PE we have been 'dancing' using extreme sports as motivation: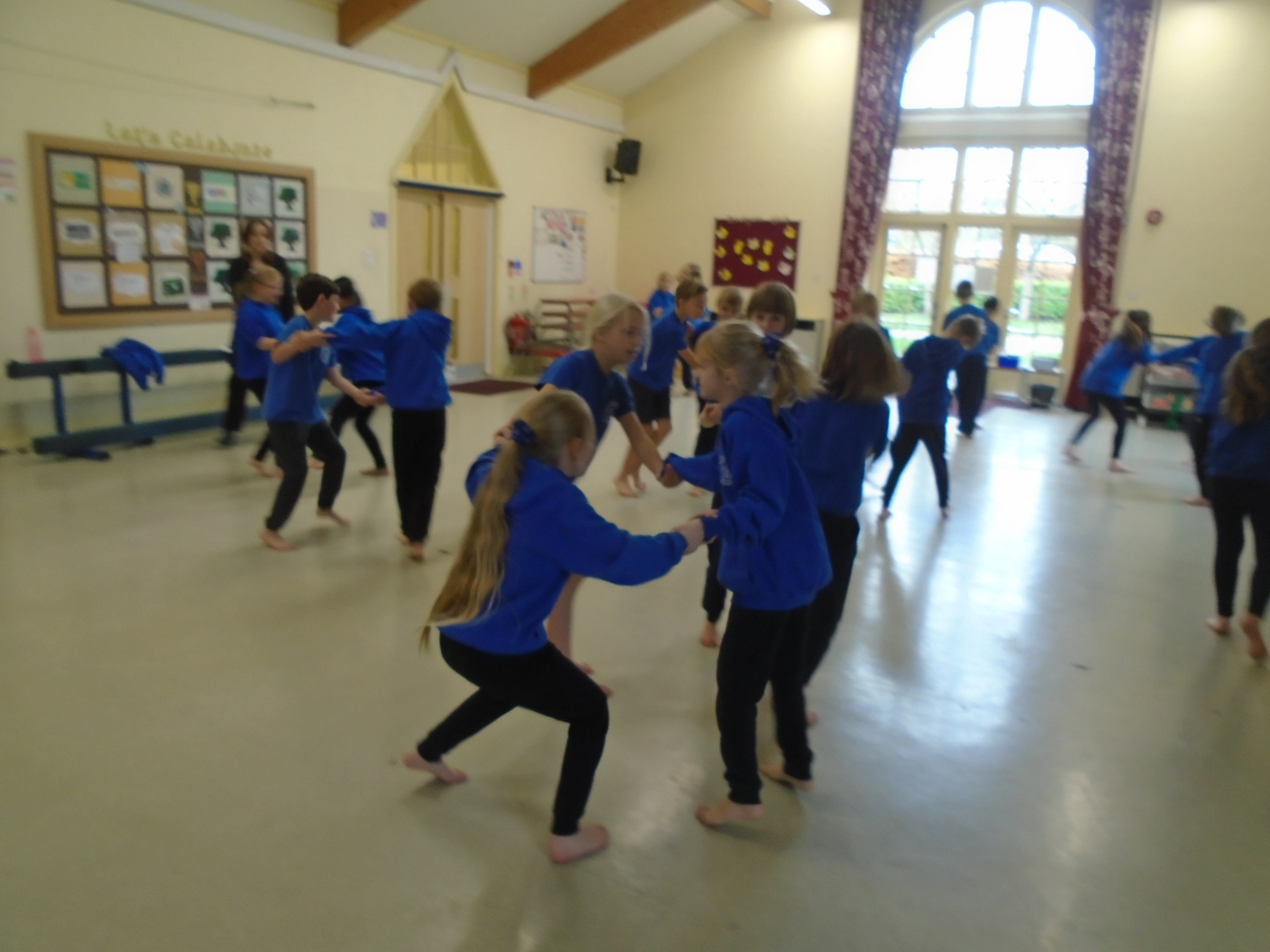 Optional - Science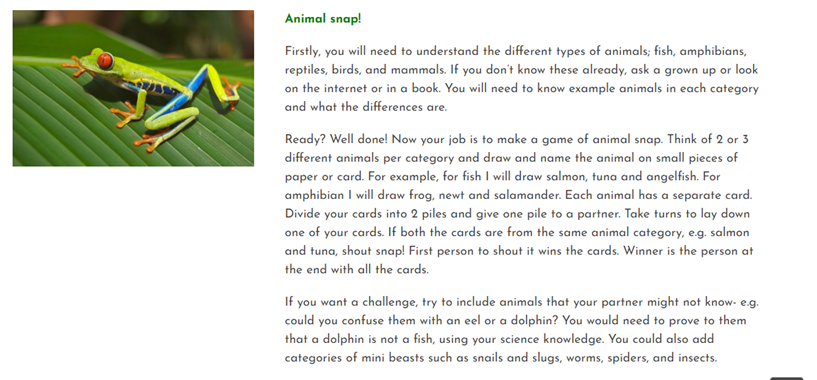 _________________________
We really enjoyed our swimming lesson on Friday afternoon.
In Science we have started our unit on classification of animals and reminding ourselves of words like - invertebrates, reptiles, skeleton etc... We have had a go at classifying several animals. Optional homelearning to follow next week!
In English we are using the text 'King Kong' to help with our understanding of word classes, how an author builds tension, use apostrophes for contractions and what punctuation to use for speech. Have you read any other books by Anthony Browne? Our Blooms focus for reading is to identify learning behaviours from our book characters: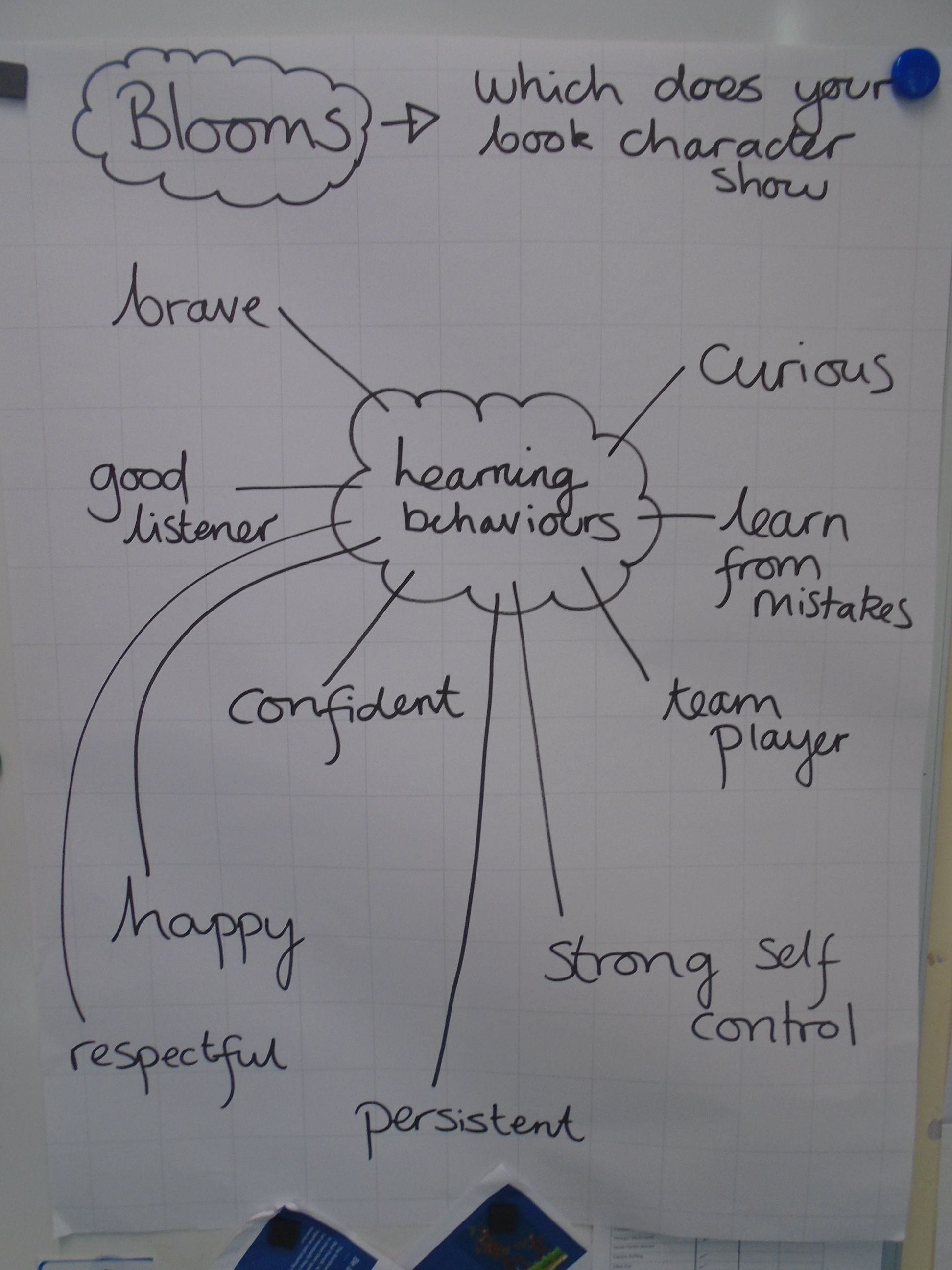 In Maths we are measuring the perimeter of shapes and reminding ourselves how to calculate perimeters when we can't measure. We have started week 2 of 'Barvember' where each day there is a new set of challenges that we have to draw a bar model to answer, for example: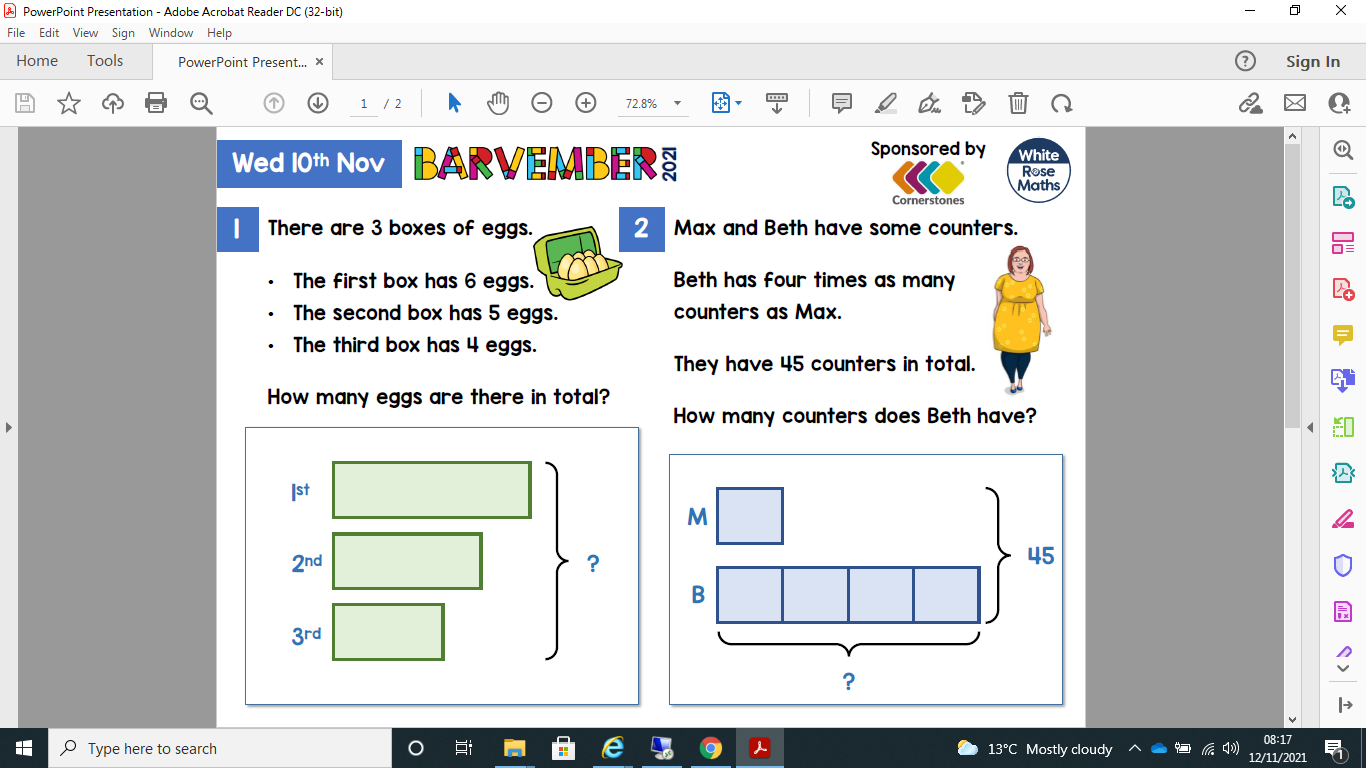 __________________________________________________
Welcome back to a busy half-term. At the bottom of this webpage there is the half-term curriculum letter detailing this term's themes, PE days and important dates.
On Wednesday we had a very lively drama session with Harriet, from Perform.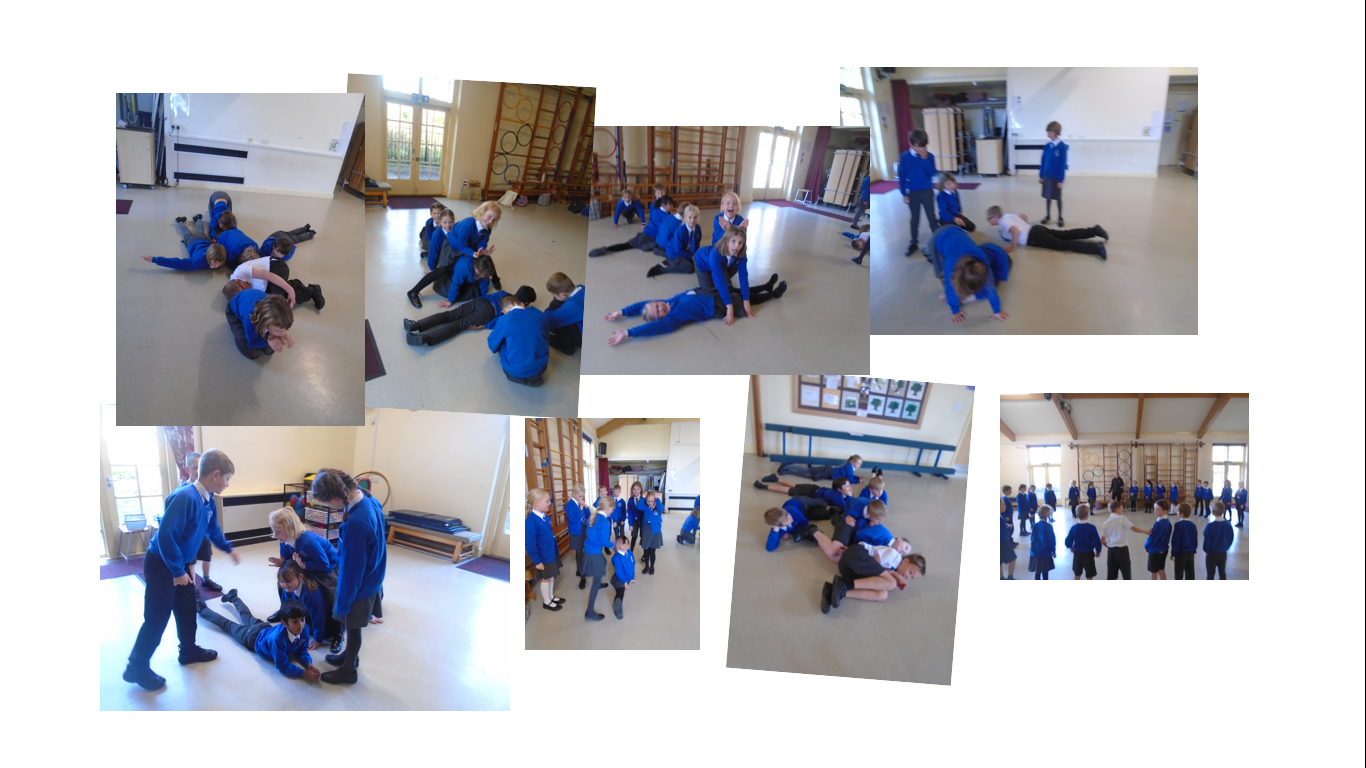 In PE we focused on looking up when we have the ball in Hockey, keeping it under control.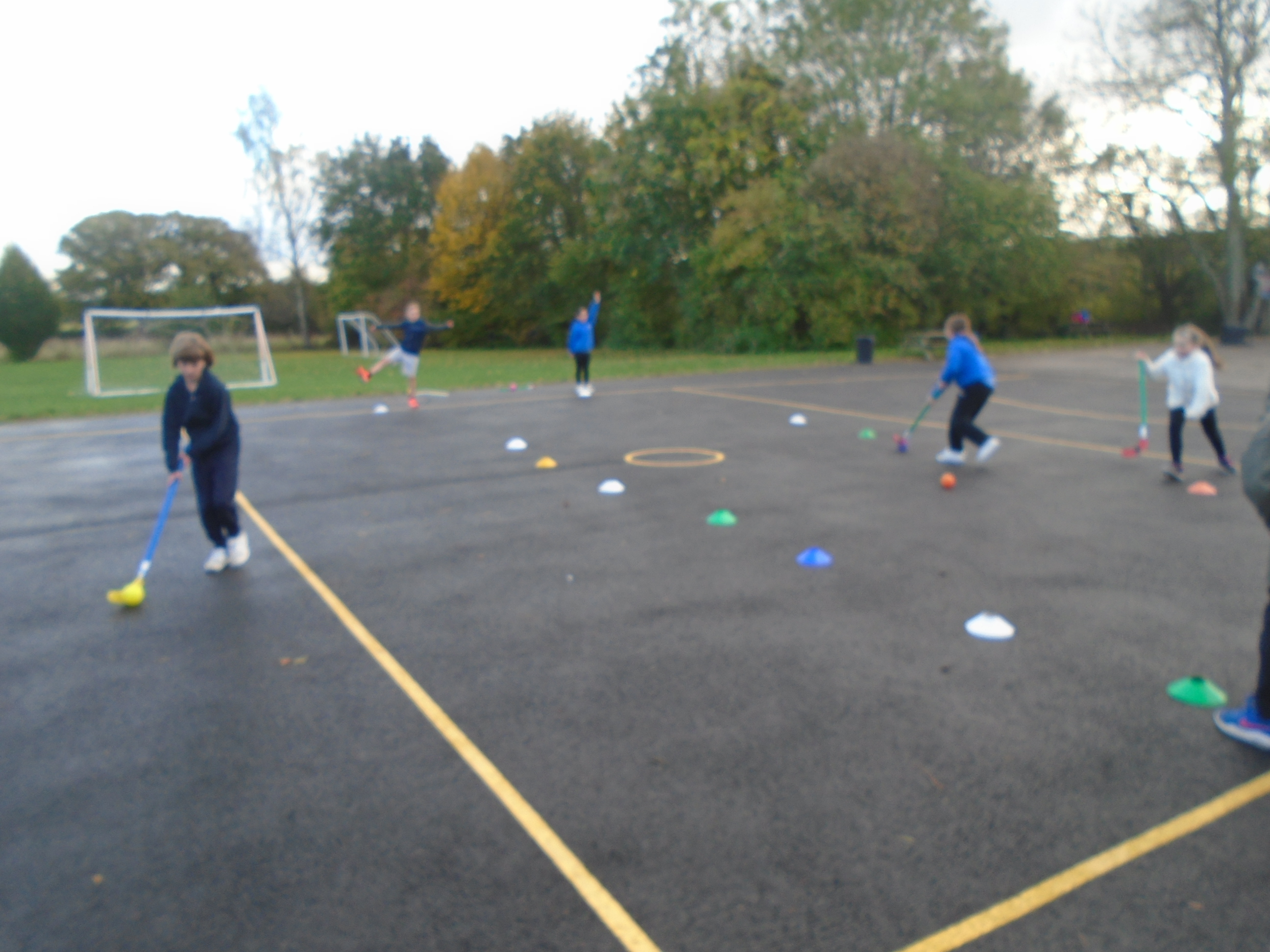 In Music we have started our Djembi drumming unit, learning about using different hands, different sounds from the drum and listening when the drums are being played.
Dates:
Swimming Lessons 5th November x 6 weeks
Year 4 Class assembly 2nd December
Afternoon class party 15th December
------------------------------------------------------------------------
As we come to the end of a very busy half term we have reflected on how much we have learnt. This has been academic, social and learning attitudes. We refer daily to our 'successful learner' board in the classroom - often recognising more attributes and adding them as we go (none of the values are about getting things correct - rather about effort and positive attitude) :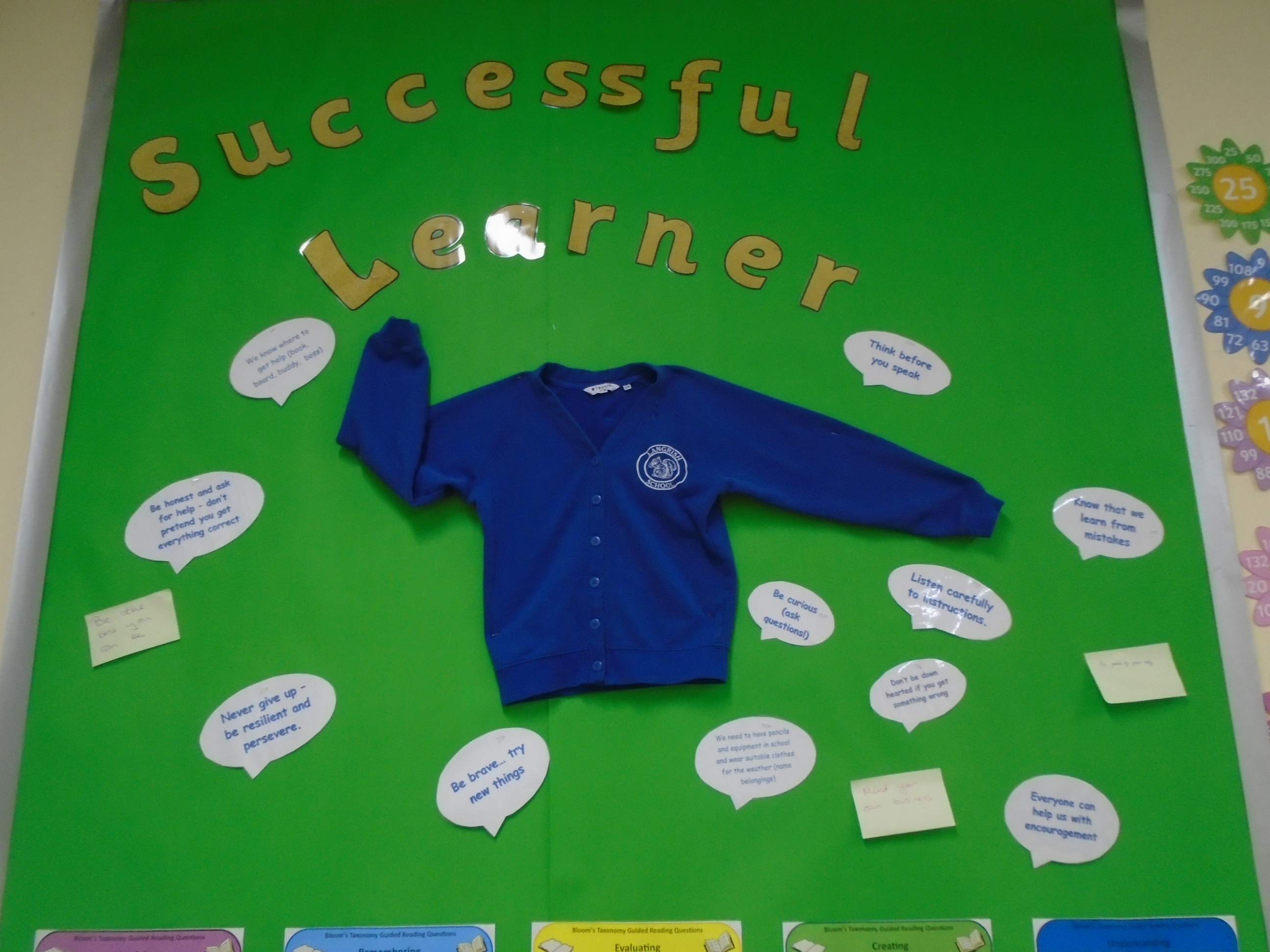 In art we have been learning about British artists and this week was the turn of learning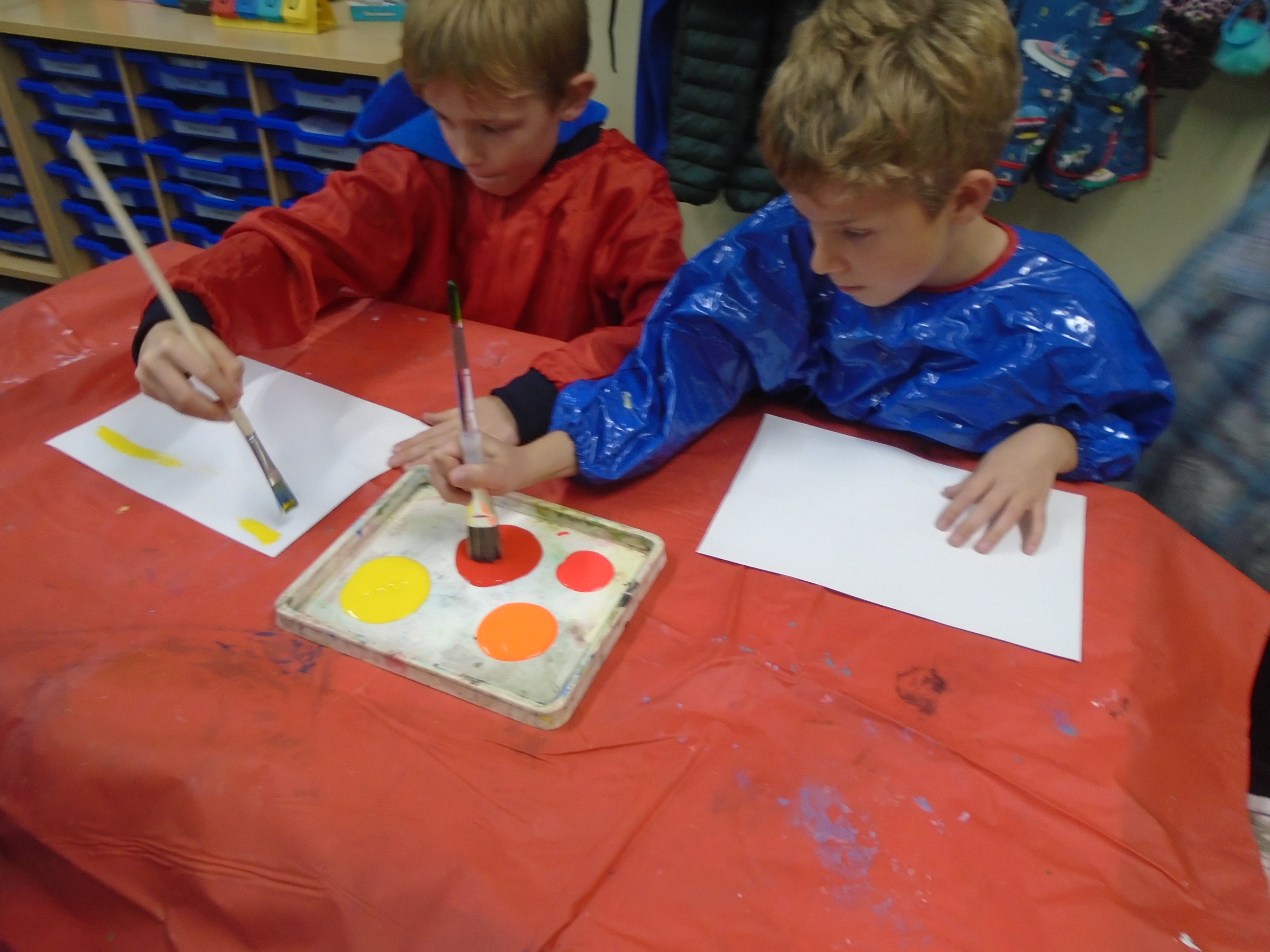 about Howard Hodgkin and to try his style of 'cut-ups'. It allowed us to put on our art aprons and get the paints out too!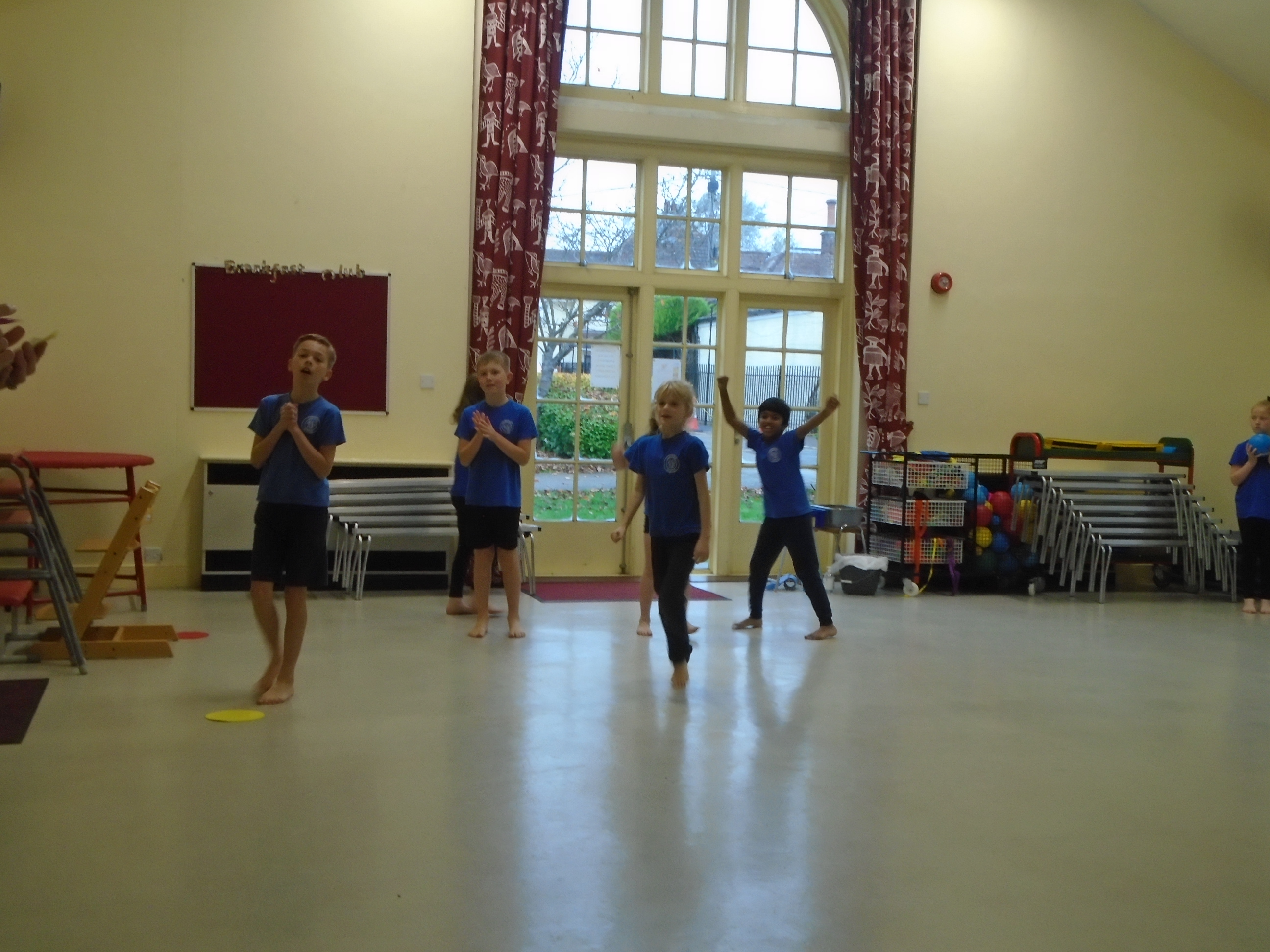 In PE we have all enjoyed playing Dodgeball, both inside the hall and outside on the playground. We have learnt to play by the British Dodgeball rules and are looking forward to a competitive game in the new year.
A HUGE thank you to FOLs for our bird-tastic visitors this afternoon; what an amazing way to finish this half-term!
____________________________
A huge thank you for all the Harvest produce you kindly donated, Mrs Mason, who kindly collected the donations and took them to the Petersfield food bank not only said, "A huge thank you" to Langrish, but also the food bank team were "blown away" by the donations when she delivered them. Thank you!
We have started our unit on addition and subtraction - our maths working wall is helping us remember how to prevent the most common errors - looking for the sign +, - or what the language means (great than, less than, subtract etc...), to carry the 1 or exchange, just being a few 'top tips'.
In English, we are enjoying reading George's marvellous medicine, using the writing opportunities to remember commas in a list, alliteration, expanded noun phrases, apostrophes for omission and possession, as well as wonderful language and next week direct speech...
In computing, we have been using code to write our initials: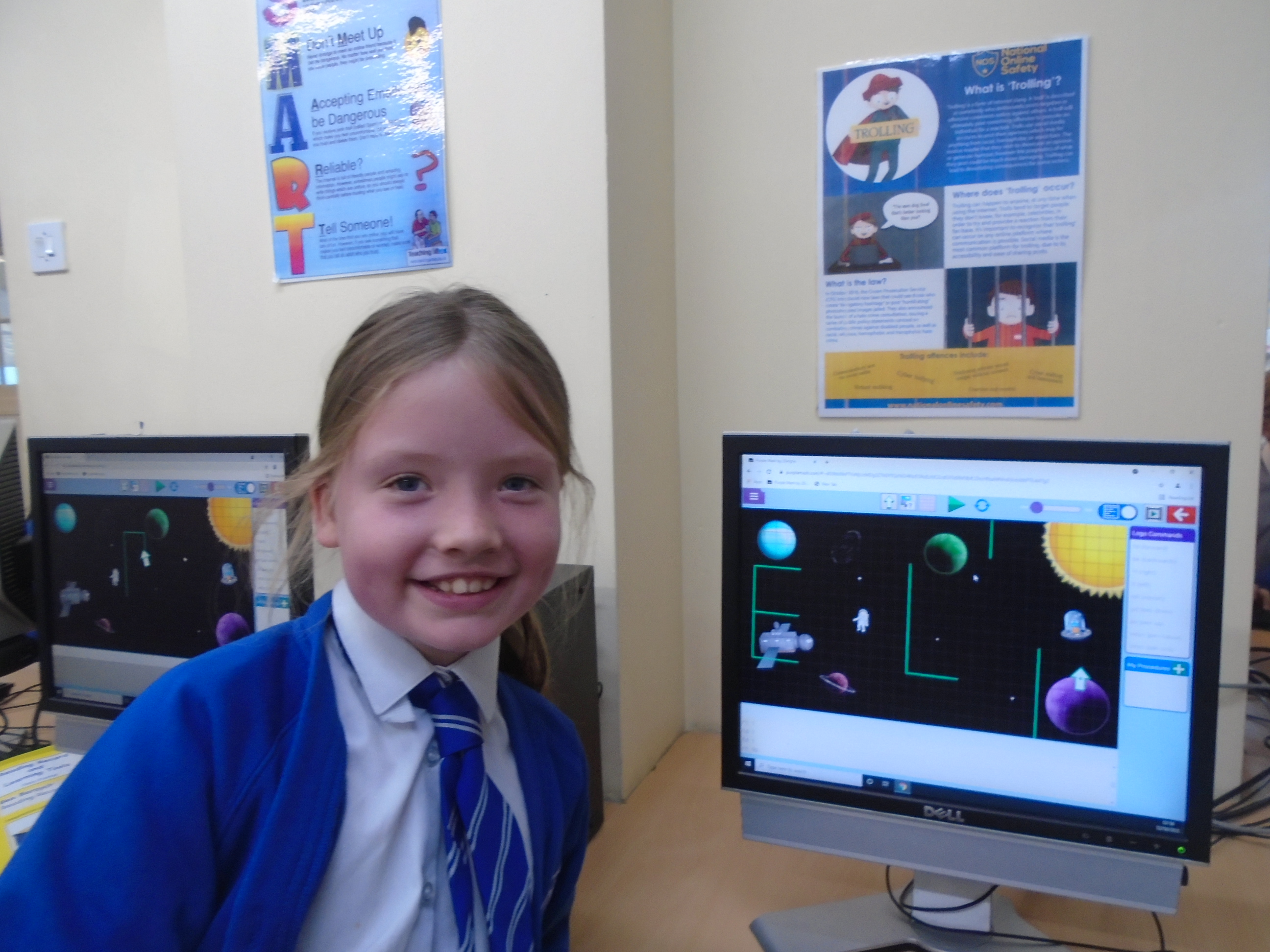 Homelearning
Maths - Your child should have brought home their times tables test from Wednesday, please spend a few minutes going through any they didn't know. We have started to learn x7s and I have put a few new 'to dos' on Purple Mash. Some children asked for a printed-out sheet to write on and I have given them a copy today. If your child would like other sheets to work on, rather than do the online task here is a website where you can print (for free) whichever times tables you chose(this links you to the x7s, but once on the website you can navigate to others): https://www.timestables.co.uk/7-times-table-worksheets.html
Spelling shed - This week your child has their OWN, personal list of spellings to learn. These have been taken from work they have done and spelt incorrectly. They have been saved to each child's account and called '12th October'. They may not appear as an assignment, as the children have made their own lists - they are found under 'my list' once they have logged in to spelling shed.
Reading: Please continue to allow some time each day for your child to read, either to you or by themselves (20-30 minutes per day), this is to help them gain speed when reading. Then record any book they have started in their reading records, this can be an audio book, a library book, a school library book or a book from home - we just like to see what they are reading and we can give out housepoints too! It can be a lovely way to spend some quiet time before bed, as a daily routine.
__________________________
On Monday we had Rabbi Zvi visit us. We remembered his stories from when we met him in Year 3 and this week he told us more about 'Sukkot'. He really brought the celebrations to life for us: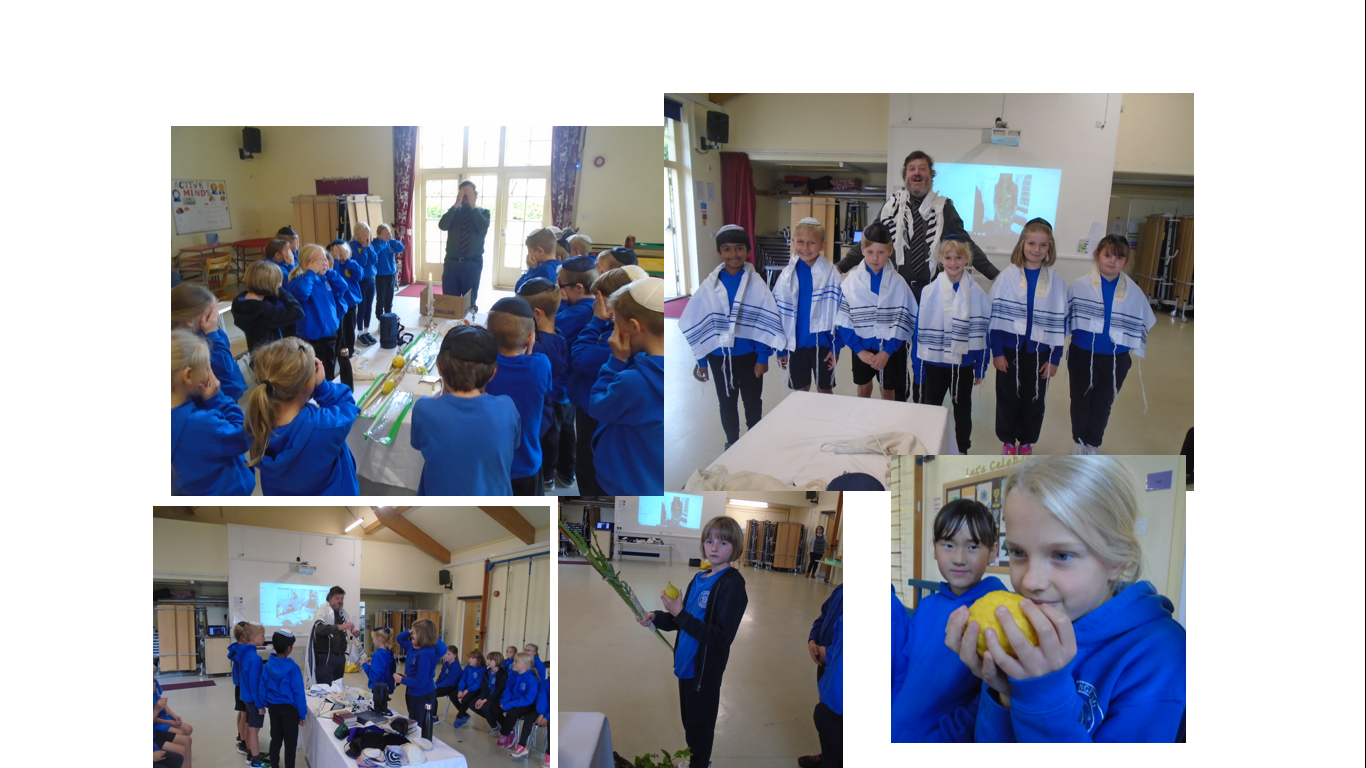 In our World Faith and Philosophy day on Thursday we found out about 'Sukkot' and the importance of this to the Jewish community. To further enrich our learning and answer any questions, we are looking forward to having Rabbi Zvi into Year 4 on Monday (do note down any more questions to ask him if you haven't yet). We role-played a grumpy neighbour complaining about a Sukkat being built .....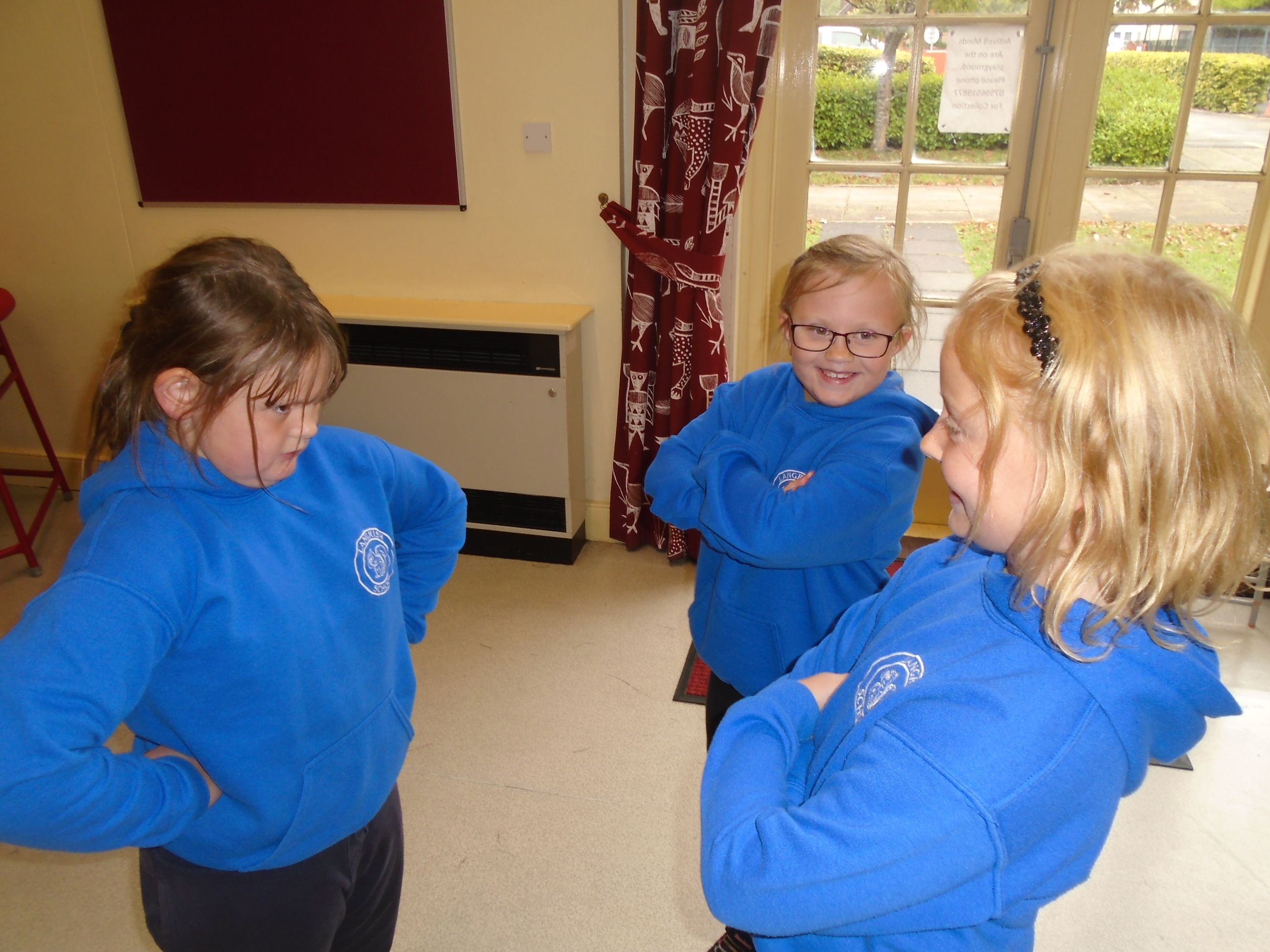 In PSHE we are learning the difference between being passive, aggressive and assertive. This is part of encouraging Year 4 to be more independent. They have made some colourful posters to remind themselves: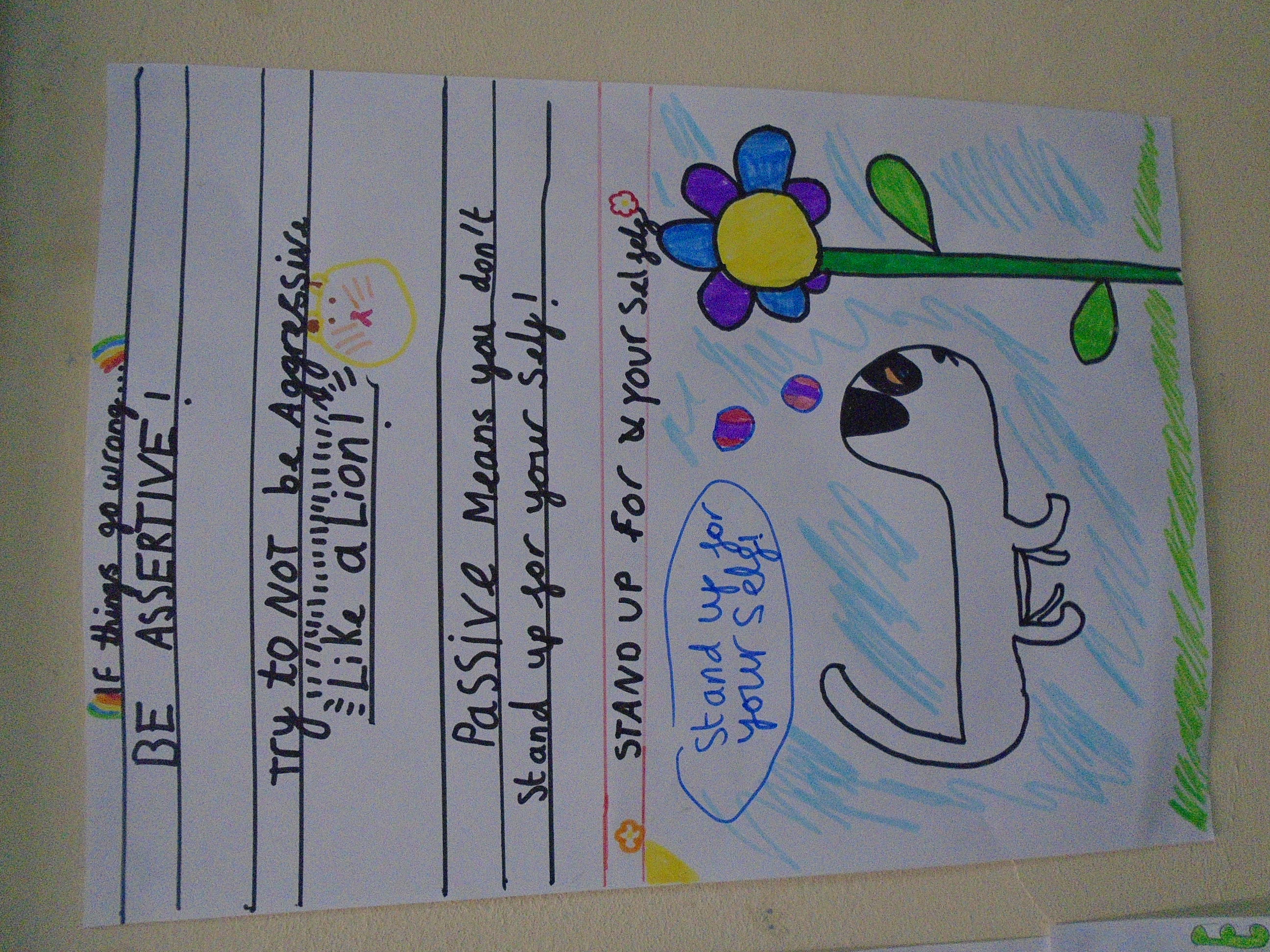 Now the weather is more changeable, please ensure your child has a waterproof coat in every day for playtimes and is wearing enough layers to keep them warm enough whilst the windows have to remain in line with Government guidance for keeping us safe
................................
In PE we have been making the most of the lovely weather and learnt/practised our Cricket skills: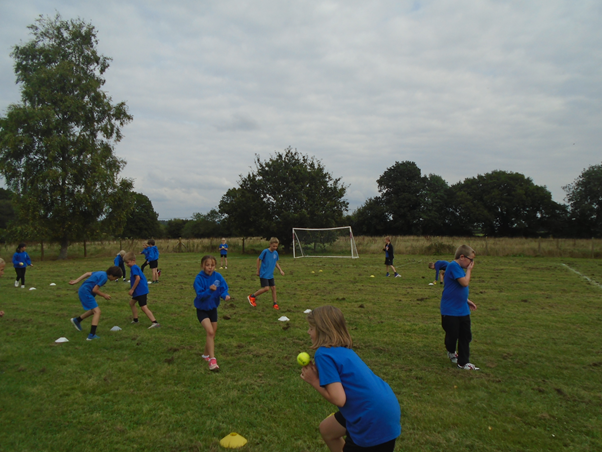 In music we have been using instruments to play along to Mamma Mia:
_________________________________
We have had a brilliant start to Year 4, I have so impressed by their keenness to learn and participate. As promised here is a 'taste of our learning'...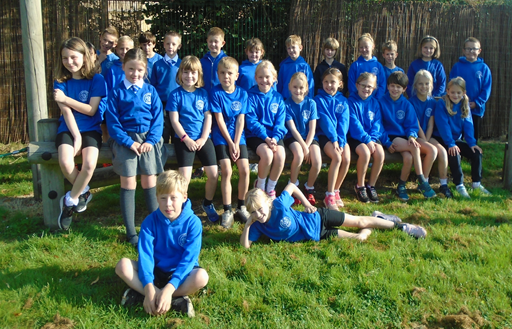 Science - we have started our topic on digestion and had a very amusing afternoon labelling where we though different parts of the digestive system were. Luckily 'learning from our mistakes' is one of our successful learner attributes!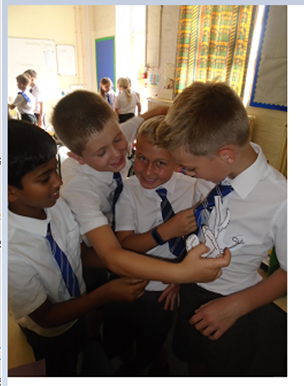 Maths - we have started to learn about 4 digit numbers, where they go on a number line and how to round numbers up or down, counting in 1000s etc.
English - we have started our 'lighthouse' unit where we are writing descriptive settings using expanded noun phrases and prepositions, we are revisiting all the word classes we learnt in Year 3.
In PE we have made the most of the lovely warm, dry weather to practise our cricket skills.
Congratulations to our new class ambassadors, we will be celebrating them in our whole school assembly next week.
Welcome to Year 4 - Bee class!
It was so lovely to see so many of you at 'Meet the teacher'. For those of you who couldn't attend, here is an outline of what we discussed:
What to bring to school:
Pencil case (sensible size - no suitcases!) with sharp pencils, writing pen (if you have a pen licence), rubber, ruler, selection of colouring pencils, red pen, highlighter and a glue stick.
School bag - not too large
Waterproof coat
Art apron (we will inform you when you need to bring these in)
Reading record
Water bottle
Welly boots - we will let you know when they are needed (see class webpage for updates)
What to wear:
School uniform and on PE days (Mondays & Thursdays) PE kit - wear tracksuit trousers over shorts, no jewellery, hair tied up etc. The government has advised that have a good ventilation system in the classroom - this means windows open - please make sure your child is wearing warm clothes, especially if, like me, they feel the cold!
What to expect from Year 4
Introduction to the Year 4 team: Mrs Pruden (Monday, Tuesday, Wednesday, Thursday), Mrs Rawlings (Fridays), Mrs Gomes (Learning support - every morning) and ELSA at lunchtimes.
Class web-page will be changed every week and give homelearning, photos of activities in school, updates on dates e.g. Swimming in November for 6 weeks (swimming costume, hat, towel etc). There are also useful links to websites and letters e.g. curriculum newsletter for each half term
Your child should read for 20-30 minutes per day at home - they can record their books in the reading records - but individual page numbers do NOT need to be recorded (this is different from Year 3), we suggest using a bookmark to 'save the page'. For 'free readers': once a book is completed a 'Blooms' question should be answered in the 'comments' box. Please check this has been done on a weekly basis. The same high standards are expected e.g use a pen or pencil, words should be spelt correctly and capitals for names and new sentences. Children on book bands: record each book & add quick comment e.g. did you enjoy it - they will probably be reading a book every few days and answering a Blooms question is impractical.
Times tables test - formal Government assessments in June (we will practise in school but as part of homelearning please use Purple Mash to help get used to the speed and format)
Rights respecting behaviour policy - if you get a reflection sheet, please go through it carefully with your child - they aren't a punishment but a chance to reflect on poor behaviour choices and an opportunity to know what to do next time. These sheets need to be signed by you and returned to school. (Our behaviour policy is on our website)
Intervention updates - we will try and catch you at pick-up or phone you if your child will be joining an intervention. Some of the children will be given extra-homelearning to 'fill the gaps' in their knowledge. We do interventions to identify concerns early and they will change over the year.
E-safety and social media updates - please see website for more details. Our aim is to prevent exposure to upsetting events; we will use 'trusted' websites. Remember social media rules e.g. Whatsapp need to be 16 years + (You might not think it will happen to your child, but regularly in Year 6 we are asked to help resolve an issue as child has posted something, which has upset another child - and it can NEVER been unseen!). Let them be children and enjoy time with you, at home (not with their class!)
Class representatives will have a chance to be nominated/voted
Reading challenge - new for Autumn 2021 - copy at bottom of page/already in Reading records
How else can you support your child?
Arriving in good time for the start of the day (8.25 school doors open)
Ensure your child knows what the lunch options are and help them decide, so they come to school knowing (we say home sandwiches, meat or vegetarian, as the options) If you've lost a copy then do look on Hampshire catering website
Allow them to get a good night's sleep - no TV/Screens for an hour before bed. A good 'bedtime routine', including reading (sometimes with you, sometimes you read to them, try an audio book, shared reading etc), in a quiet space e.g. in their room. Limit screen time.
Keep them healthy - balanced diet, good hygiene, exercise
Take an interest in their learning - e.g. what new words have you learnt today?
Focus on the positives - it's easy for all of us to only see negative things, but if we focus on the good things - then we will see more good/positive things. e.g. 'What was the best part about today?'
Use Seesaw - your child will choose work to share with you, work they are proud of, but no expectation of how many times etc is set. (keep seesaw family but delete seesaw class). Please keep an eye on this web-page for updates.
---
Useful Websites:
Try out your yoga moves:
There are lots of way to feel calmer.
Don't forget the usual websites if you want to use them: