Ms Fiers and Mrs Pruden
Thursday 22nd July
Have a wonderful summer Year 4, you have been such an amazing year group. With all the trials of this strange year, you have all been amazingly resilient and you should be very proud of ALL you have achieved.
Remember to keep reading and I look forward to hearing who has finished the library reading challenge!
A HUGE 'thank you' for all your lovely messages and gifts, Ms Fiers and I really appreciate them and wish you all a relaxing and happy summer.
Love Mrs Pruden XXXXXXOOOOOOXXXXXX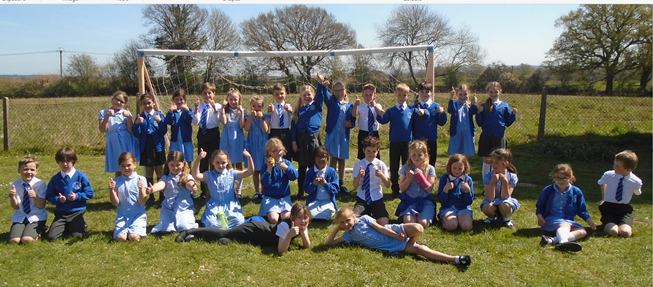 Monday 19th 2021
This morning we took part in the Juniors sports day! Yellow house were victorious, followed by blue, green and red house.
Today's new task is going to be art-based (to give you a chance to finish your English unit and comparison work from earlier in the week). Your task is going to be to design an Olympic medal - here are some previous examples: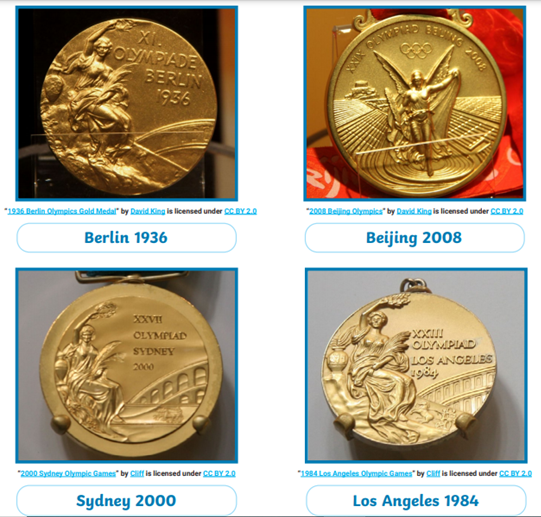 The medals all have to include the year of the Olympics and the name of the city (yours will have to include 2021 and Tokyo). There is a blank template of a medal at the bottom of this webpage - alternatively, you could draw round a circle shape you have e.g. bottom of a water bottle or vase or jam-jar etc.
Reading: Chose a Blooms question to answer that is appropriate for your recent book. Has anyone signed up (online) for the Hampshire libraries reading challenge? https://www.hants.gov.uk/librariesandarchives/kids-zone/src2021
A few reminders about next week:
Please bring back any school library books you have and bring in a 'home' reading book or magazine to read for quiet time.
On Tuesday morning you will be meeting your new teacher for Year 5. This will be outside and you'll need to bring in a clipboard (if you don't have one then please bring in an A4 hard-back book to lean on).
Sports day has been re-scheduled for Monday, so wear PE kit on MONDAY as well as bringing in a snack for playtime and plenty of water to drink!
------------------------------------
Just to remind you that your English, PE, PSHE, and Music work for the day is on the Covid19 Updates page on our website. On this page you will find daily Maths and learning for our theme week about the Tokyo Olympics
Maths: At the bottom of the pages I have attached an Olympic Park mini-project to keep you busy for today and Friday. This is based on using co-ordinates and compass directions.
If you aren't able to print it out you can still complete it on paper as long as you draw out the grid carefully.
Great Britain and the Olympics
Today we are bringing our focus closer to home. Choose a favourite sporting activity. It could be one that you participate in as an individual or as part of a team. Find out whether that sport is an Olympic sport. Is there anyone or a team from GB taking part in the event at the Tokyo Olympics? Then draw a picture, make a model or create a fact file about that person or team.
What is the Democratic Republic of the Congo like?
1)I would like you to make an information page about the DRC. It is up to you what you include in it but here are a few suggestions: size, continent, languages spoken, population, currency, climate, food, national sport.
2) If Dorian flew from DRC to Portugal (as the crow flies) which countries would the plane fly over? Use a world map (there is one attached to the bottom of the page) to plot the route from DRC to Portugal and list the countries.
Dorian Ketetela IOC Refugee Team
Alongside the project that you have already been set, we are going to find out about one athlete competing in the Tokyo games and research their sport, their country of origin and their journey to the games. Class 4 are going to find out about an athlete who doesn't represent his country but instead is a member of a very special team. The International Olympic Committee Refugee Olympic Team. This team was set up so that athletes who have been displaced from their country, perhaps because of war, can compete under the IOC Flag.
Now meet our athlete Dorian Keletela. He originally comes from the Democratic Republic of the Congo (DRC) but he trains and lives in Portugal. You will find information about him on the link below. Watch his video. Can you pick out what he says about his dreams and his message for other refugees?
https://olympics.com/en/featured-news/dorian-keletela-olympic-100m-sprint-hopeful-refugee
Now can you find out the distance from the DRC to Tokyo? What about the distance from the DRC to Portugal? And finally the distance from Portugal to Tokyo?
A comparison between England and Japan
At the bottom of this webpage there is a folder called 'England and Japan comparison...' and looks like this: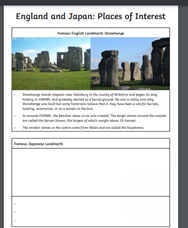 Please choose a page to complete of both: places of interest and people of interest (2 pages in total - not every page!). You don't need to print out the sheets, you can just make your own notes on your research in that area and either email them in typed up or take a photo of your written work and email that in!
PE challenge: How did you get on with your skipping challenge on Friday? Here is a link to youtube where Joe Wicks has done some PE challenges for children :Joe Wicks on Youtube
The final task for today is for Art and Design: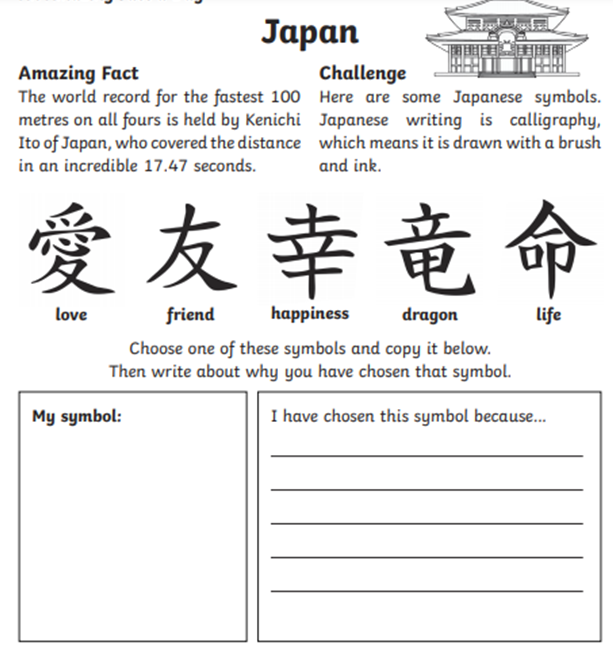 _____________________________________________________________________
Our Learning
In English, we have been learning about performance poetry and have even written some of our own. We look forward to performing some of them to you at our open classroom at 2.40pm on the 14th July. Some children have chosen to share the recording of them performing their poem on SEESAW with you, so keep an eye out for this.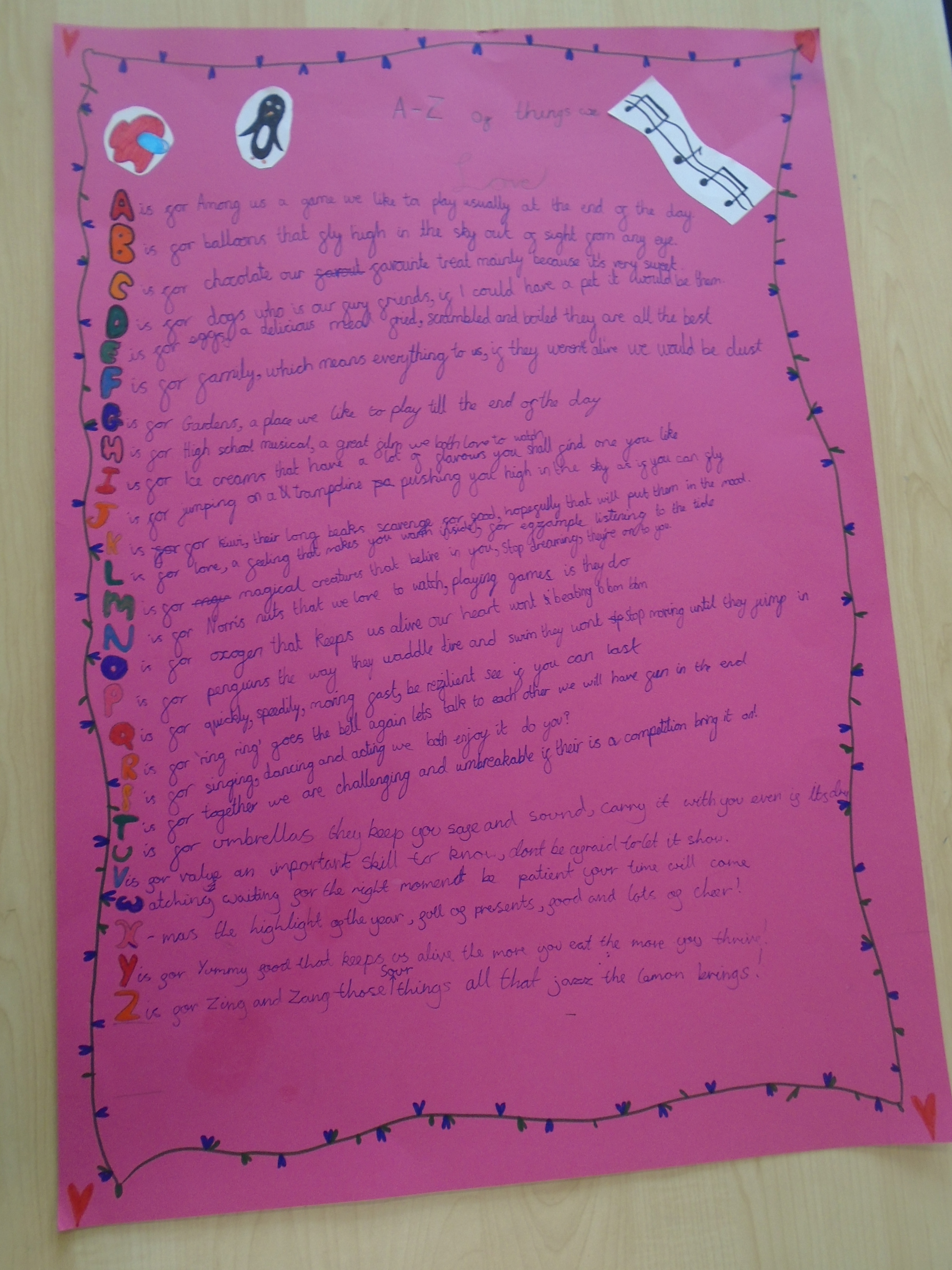 Next Tuesday we will be doing some cooking in Science (reversible/irreversible changes) and you will be allowed to take some of the cakes you make home - please bring in a container (large enough for 6 crispy-cakes) on Tuesday. The school are providing the ingredients.
We are also swimming again on Friday, so please wear your PE kid AND bring in your swimming kit on Friday (costume, towel and hat).
You will have seen in the Nutshell that the photographer is coming in on Thursday to take class photos.
Homelearning
Spellings - We have now been tested all the spellings on p.41 in our reading record, these are the year 3/4 statutory spellings. If there are any not highlighted, then your child still needs to practise them - please use whichever method works for them/you, as previously talked about and shown on this webpage.
Maths - IXL Maths - w.11, w.13 and w.18 all have examples of concepts we have been learning about recently.
Reading - Our Blooms question for this week is: Can you find one word that describes a character in your book?
Other - This is the final verse of the Mamma Mia to learn: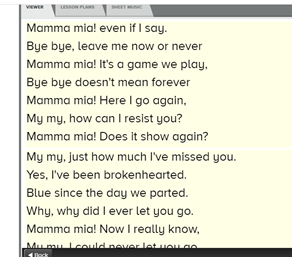 ------------------------
Today we have had a debate regarding 'how old should you be to have a mobile phone?'. After a few questions and personal views we agreed that as Primary-aged children, phones aren't needed on a regular basis and can open us up to tricky situations e.g. unkind comments or rumours. We also agreed that phones were perhaps needed for secondary school, when children have more freedom and may need updates from adults e.g. train has been delayed. There were lots of misconceptions about how a phone can protect you, but after our discussion we all agreed that actually to protect ourselves we needed common sense and to use 'clever never goes', e.g. listen for cars when crossing the road.
In our other learning we have been finding out about symmetry and if all quadrilaterals have 2 lines of symmetry.
Homelearning
Maths: To support our learning on symmetry, vertical and horizontal lines please have a go at this investigation: (it gives you 3 flags, but please don't just use those, they are an example!)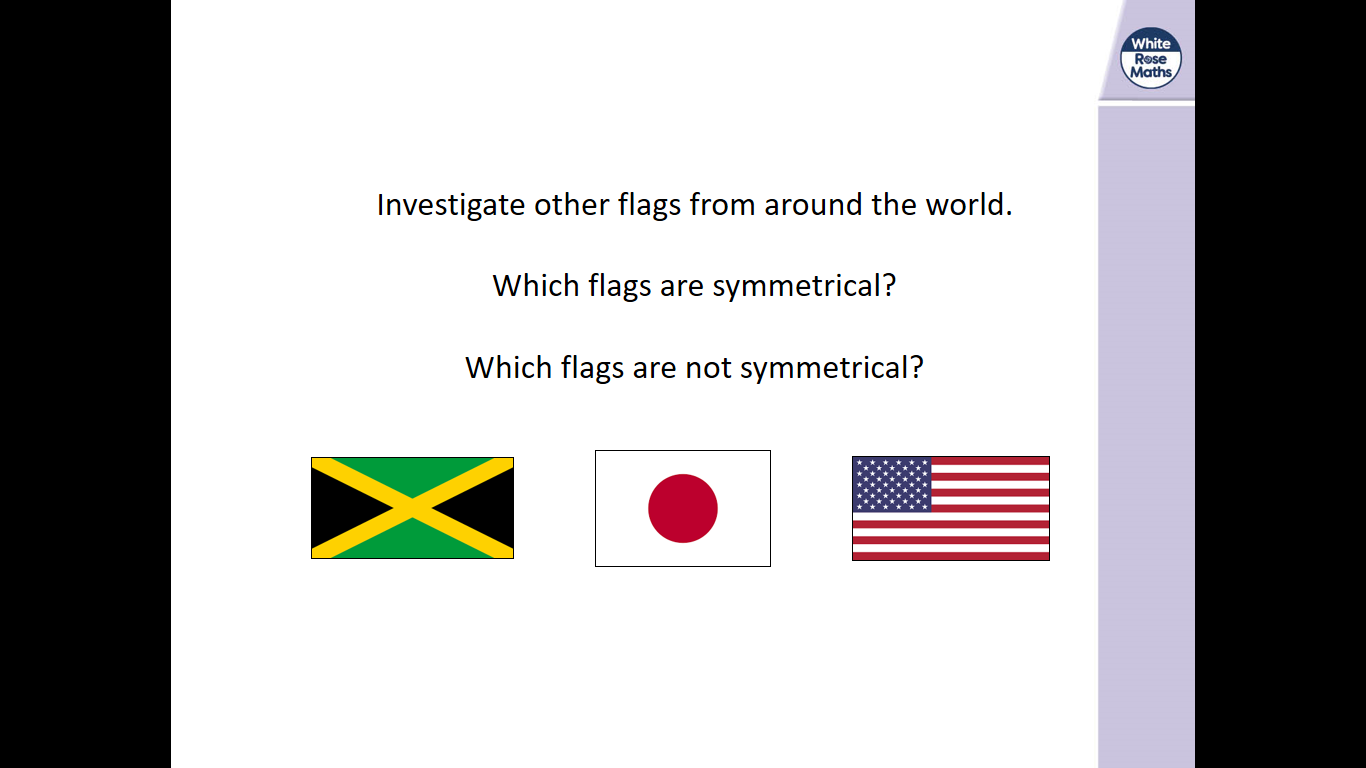 Reading: Our Blooms question for this week is 'How has the author used description to show how the character is feeling?'
Spellings: Make sure that you know how to spell the words from the Year 3/4 spelling list - practise any that aren't highlighted as there may be a 'final' Year 4 spelling test coming up! Spellingframe has some FREE games to play : https://spellingframe.co.uk/spelling-rule/74/36-Random-selection-of-12-words-taken-from-years-3-and-4-word-list
PE (optional) - in preparation for our 'rounders fest' against Year 3, please practise throwing and catching (no mountains when throwing as we need to be quick!)
Dates for the diary - Swimming on Friday 2nd July, please also wear PE kit as we will do PE in the afternoon. For swimming the children need to wear a (one piece) tight fitting swimming costume e.g. no bikinis or baggy shorts. The children also need a swimming hat (any colour) and if they want to they can wear goggles.
Wednesday 14th July - open classroom, where we can share some of our learning with you. Sadly places will be limited to ONE adult per child (we aren't allowed more than 30 people, so no 'extra' children or toddlers either - sorry!) Due to COVID rules we have to be outside for this and if it is raining we will have to cancel.
----------------------------


Bee Class (formerly known as Class 4) are taking part in a Climate Crisis Project.
The totem pole that we have created is bee themed (of course) and called:
'Save our Bees!
The exhibition will be on display from 16th June- 5th July at Winchester Cathedral. There is a PDF with more information at the bottom of this webpage.
In History we have started out learning about the Normans, this week we had a go at ordering images of the Bayeux Tapestry. The last piece was missing, so we drew it in the same style and colours.
Homelearning: (books in by Thursday please)
Spellings: I have selected a 'revision' unit for spellings this week and called it 'Revision 18th June'.
Reading : Our 'Blooms' question for this week is ' would you change the ending ? If not, why, if so, how'.
Maths: On Purple Mash I have set 2 'to dos' with regard to interpreting pictograms and problem solving statistics.
Music - please learn the words to Mamma Mia for our open-classroom planned to be on Wednesday 14th July at 2.40pm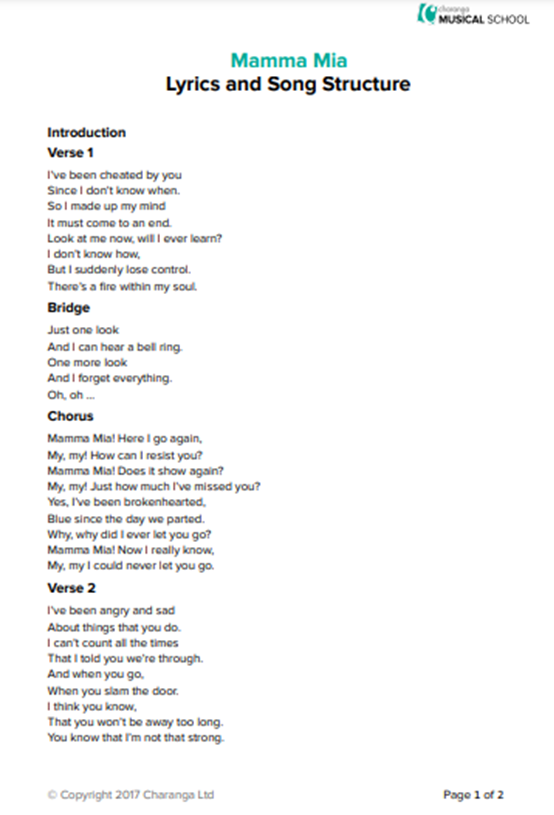 ______________________________
At the bottom of this page there is a copy of Year 4's Summer 2 newsletter, which is an outline of the topics we cover this term. As the weather continues to warm up, please ensure your child has suncream on and a hat to protect them from the sun (especially on PE days - Mondays and Fridays).
In English we are using a book called 'The Journey' to help us write descriptively. Here are some examples of our fabulous work:
Our 'Blooms' question for reading this week is 'can you compare this book to the previous book you read?'
We have been very active and enjoyed playing Kwik-cricket:
Homelearning:
Spellings - On Spelling shed there is a new assignment called '11th June' focusing on our current spelling pattern suffix 'ly'
Maths - Next week we are taking part in a more formal times tables challenge, so this week please play as many times tables games as you can. I will set a new 'to do' on Purple Mash so we can award housepoints. Please also go through your times tables challenge from today and correct any mistakes OR complete the ones you didn't have time to in our 3 minutes 20 seconds.
ICT - (optional) we are learning how to use spreadsheets and over the next few weeks will be seeing how we can manipulate data on 'Excel', if the children wish to, please collect some data we can use, for example - at 5pm how many birds can you see from your garden? How tall is your sunflower - measure it each day.
Homelearning books due in on Thursday, with signatures from grown ups please.
-------------------------------------------------------
As we have now completed our unit on 'time' we have spent the last part of the week completing 'nrich' maths challenges with the focus on problem solving and working systematically.
In ICT we have really enjoyed learning how to use and create spreadsheets - last week the pupils had a budget and had to decide how many others to invite depending on what they could afford. Some chose to invite less, so they could have more food, others chose to sacrifice volume of food for entertainment e.g. fireworks. Yesterday, we turned data into graphs.
Now that Year 4's have chosen to be named 'Bee-class' we enjoyed using an app on the ipad that allowed us, through augmented reality, to see bees in the class, up close!
--------------------------
In Music, we have continued to listen and appreciate music - today was 'classical' as part of our 'Lean on Me' unit. We had the Glockenspiels out and accompanied the music with the notes A, G and C.
In Science, we completed a condensation experiment.
Aiden, from Active8 has been taking our PE sessions on a Friday afternoon and has chosen some 'sporting-superstars', children who show kindness to others e.g. say supporting messages, encouraging comments or demonstrate honesty on the pitch. Congratulations to all the Superstars!
Homelearning:
As restrictions are easing, Year 4 have decided to begin to re-use their homelearning books that we had started to use in the Autumn term. This will allow the pupils to record their work in a neat way and prevent pieces of paper getting lost, alternatively, if the homelearning task is a practical one, then an adult's signature to next to a description will be sufficient. The expectation is that all books will be handed in on Thursday (they can be stored in trays until Thursday if brought in earlier).
SPAG - a 'game' has come home in school bags with the aim of embedding understanding of the use of an apostrophe - possessive or plural. Remember to ask - why the apostrophe is being used there e.g. the pen belonged to the aunt .... the aunt's pen.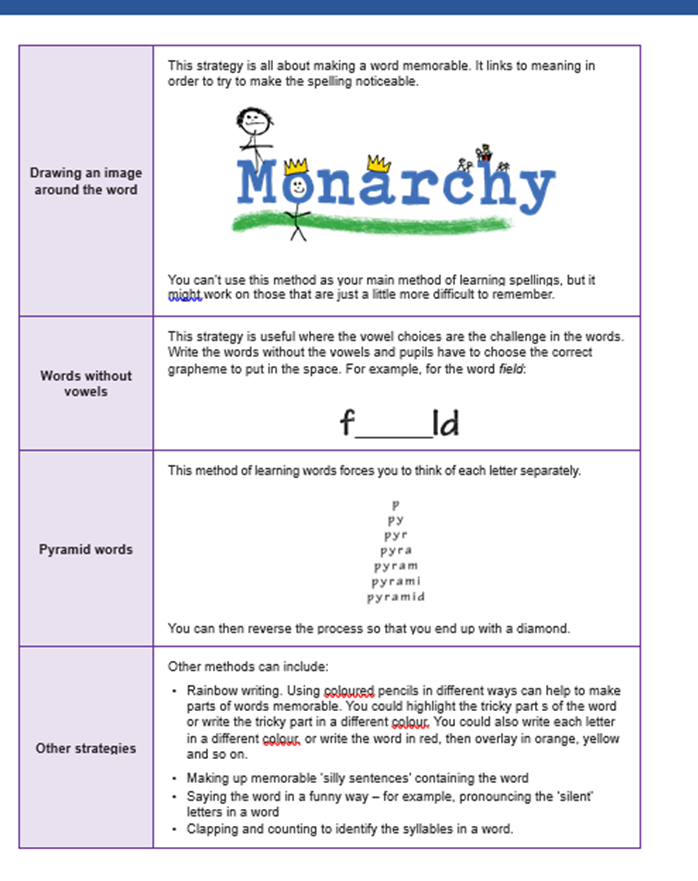 Spellings- As we near the end of Year 4, we should be confident to spell all the Year 3/4 statutory words (found on p.41 of our yellow reading records). Please have a go at learning any that aren't highlighted, using whichever method works best. Here are some examples of the methods we use in school to learn spellings:
Maths: As we come to an end of our unit on 'time', IXL (any of the T1-15 questions would be useful) has some great fluency tasks to help embed our understanding. Please continue to use 'real life' examples of time e.g. what will be the time in 1 hour 45 minutes? If we have 1 hour, how many episodes can we watch if each episode is 20 minutes, what date will it be next Tuesday? etc
ICT (OPTIONAL) - Learn to touch-type with BBC Dancemat to help speed up your typing.
-----------------------------------
We have now started our unit on Money in maths and are using 'physical' coins to help answer the more challenging questions.
We are continuing to learn about Vikings in History/English' we have been researching why King Alfred is the only British monarch in History to be called 'The Great'.
Maths - as we are now learning about money, please use coins/notes to give your child experience with money e.g. set up your own 'shop' in your house, spend your pocket money, use a catalogue or website to spend a set amount e.g. £20 on flowers for the garden, or £50 on board games. Remember than money is always written to 2 decimal places e.g. £1.01 is different to £1.1. This activity is so important, especially considering the very different experience your child will have had with shops only accepting card recently and perhaps not even visiting a shop in the past year. (As this is a practical activity, you don't need to bring in your answers!)
As usual, the children each have their times tables quiz from today, those not getting 40 just need to practise their errors and learn those ones.
English - 1. Our spelling focus has been to re-visit the possessive apostrophe, this week's task is to find 5 correct uses of a possessive apostrophe e.g Kelly's tearoom (this can be from a reading book, shop sign etc....) and for an added bonus find an incorrect use of a possessive apostrophe (e.g. potatoes' £1.20/kg also known as a greengrocer's apostrophe !). (We aren't using homelearning books at the moment, so please record these on p.43 of the yellow-reading-records or on a post-it note etc).
2. Your child has their own personal list of spelling words they need to learn (taken from mis-spelt words in their English books or from Year 3/4 statutory word list), on Ed-shed, please practise these a few times.
History - (OPTIONAL) We have talked a little about the importance of Winchester being the capital of 'Wessex' in Viking times and why King Alfred is called 'the Great', if you are in Winchester do look out for the large statue of Alfred at the bottom of the high street. Is there any more information you can find out about why he is called 'the Great'?
***Date for your diary - Friday 2nd July, Year 4 are having a 'taster' swimming lesson at Churcher's College - more details to follow nearer the time.
____________________________
With the help of the sun shining we have returned to a fabulous Summer term!
As the rules around singing in class have recently been changed,
we enjoyed (a well ventilated) class-sing of 'Lean on me' .
In Maths we are continuing with decimals, how to write them and compare them. In English we have combined English with History and writing about the Vikings.
Homelearning
Please continue to encourage your child to read for 30 minutes a day, we have noticed this habit has slipped over the holidays, but as reading is SO important we are continuing to monitor it closely and ask that Reading records are completed and in school daily.
English - As editing is so important in the current curriculum, pupils often need to use a dictionary to check their spellings. This weekend, using a dictionary, please can you ask your child to search for the following words - perhaps timing them and seeing which word they found the 'quickest': 1. croquette 2. fanatic 3. interject 4. plateau 5. sheen
Maths - we have been learning about decimals and need to practise putting numbers into the right 'place value' column. Please can you ask your child to draw a place value grid and put these as the headings: Hundreds, tens, ones, decimal, tenths, hundredths. Next, your child needs to put these numbers in the correct position on the grid (we have done this in class, so they should understand the task): 3.01, 4.56, 0.11, 34.6, 98.3, 101.01, 328.99 Perhaps they can explain to you why some of the columns have blanks in them and what we can add to help us compare numbers. There are some examples on IXL for decimals too (CC.1 and CC.3)
Your child is bringing home their times tables test from today - please go through it and practise any mistakes, if the test wasn't finished then recall-speed needs to be the focus. (Purple mash has an excellent 'tool' for this on the children's TO-DO).
We look forward to seeing those of you who have made an appointment for next week to discuss your child's progress, please note that it is the time indicated on the title of the meeting, not necessarily the intervals that TEAMS has selected!
There is a curriculum newsletter at the bottom of this web-page for Summer 1.
--------------------------------------
We have really been making the most of the sunshine this week - with lunches outside and PE lessons on the field.
We had a special visit from Rev Jane Ball, from St John's church, to talk to us about Easter and as we were doing our World Faith and Philosophy unit on 'Rituals'. Ms Fiers was very impressed about the quality and maturity of the questions they asked her.
Year 4 would like to say a huge thank you to FOLS for the Easter Eggs - we really enjoyed the 'treasure hunt' game we played in order to 'win' an egg.
_______________________________
From all the assessments we've been doing, we now all have new targets for English and Maths. For those that brought in their reading records (please bring in everyday as they are essential for our access to computers, spelling lists, targets, as well as recording all our reading), they are written in the front. These targets give our school work and homelearning, focus.
In English, we've learnt about rhetorical questions and have used our research to start a leaflet on how to be a responsible dog owner.
In maths we have nearly finished decimals - looking at how to write tenths and hundredths as fractions and decimals.
Next week there is a change to the PE timetable again; PE will be on Wednesday and Thursday next week. It will be on Thursday afternoon, so if you are choosing to withdraw your child after lunch, they will miss this session. On Thursday morning we are hoping to hold our 'Easter Egg hunt'. On Monday we are looking forward to Rev Jane Ball visiting the school and sharing the Easter story with us.
Please use the maths target (written in the front of the reading records) to explore specific questions on IXL (every child was able to find relevant questions this afternoon on this website - you get 10 free questions a day). Edshed/spellingshed still has games to improve spelling memory of 3/4 statutory words. In the back of their reading records are the un-highlighted words your child still needs to learn - this could be 'traditional' look/cover/write/check or any of the colourful ways we use in class - pyramid words, shape of the words, rainbow letters etc. Most importantly please keep up the daily reading, it really is making a HUGE difference to their reading scores!
_____________
We've had another brilliant week back in the classroom. Lots of Bronze and Silver certificates have been handed out - well done for recording all your housepoints Year 4! We enjoyed all the jokes in aid of RED NOSE DAY - they made us all laugh.
In English we've been watching a short film clip called 'The Present' where our first impressions of a character are challenged. In our writing we are trying to develop our writing by showing what the character is feeling rather than telling.
In Maths we continue with decimals and how they look on a place value grid. Please continue to read daily and keep those reading records up to date.
What an amazing array of Christmas jumpers today! We've had a Christmas-tastic day, including a delicious festive lunch!
The children's resilience and hard work this term has been amazing and we wish them all a very happy and healthy Christmas break!
We look forward to seeing all their smiling faces back on 5th January for another busy term! To ensure they return prepared, please continue to allow them to read daily (perhaps as part of the bed-time routine, or when some quiet time is needed!) and record the completed 'blooms' in their reading diaries, keep practising times tables and ensure pencil cases contain: sharp HB pencils, handwriting pen, rubber, ruler, red biro, glue , scissors, etc
Much love to you all, Happy Holidays!

A Taste of our Learning
"It was so much fun having Rev Jane Ball to visit on Thursday, she answered our questions about our topic on 'Holy' as well about how Christmas can still be a special time, despite Covid." Year 4 child.
Today your child will have brought home several tests that have been quarantining, some tests were done back in September and the tests they have taken this week shown very positive progress (this week's maths tests are in quarantine so we have taken a photo on seesaw, so you can see their progress - the tests will come home next week).
In English we have been learning about how authors create tension, so we used our tables as drums and chanted to build tension - it was very noisy!
In PE we enjoyed the strenuous 'circuits' activity cards in the sunshine!
I have added our music unit to YUMU (information was shared and access information was shared earlier in the term), just in case you need to access it from home.
We have had a brilliant 'Children in Need' day - well done Year 4!
Our chosen activity for children in need was benchball- which was fast and furious!
Our new Charanga Unit is :
It has been a very exciting start to the new half term with a performance of 'The Wizard of Oz' in the hall, "the best bit was the witch singing 'Let it go'. We all loved it!". In the performance theme, we have learnt and performed poems this week in English - keep an eye on seesaw for some videos! I was very impressed with the range of poems and the children's enjoyment when performing.
We have had a couple of days using the hall as a classroom and have made the most of using the extra space - we have enjoyed singing again as well as our 'usual' lessons.
During 'Take One Picture' week, we have created some fabulous 3D work using clay, paper, acetate, wooden sticks and tissue paper. See SeeSaw for pictures.
When the weather allows, we use the field as much as possible, even in the eerie mist....
We have worked hard on our class charter over the last few weeks and decided to display it using emojis . We chose articles 2, 23, 24 and article 30 as our focus.
In music we were sad to finish Mamma Mia as our music unit, but left it on a high using Glockenspiels.
We have spent this afternoon 'doing' our science investigation, see SEESAW for photos!
Wishing you all a safe and happy half term XXX
Another busy week has passed; we've been learning about persuasive writing, counting in negative numbers, using Roman Numerals to name just a few! Thank you to all of your generous Harvest donations, I know how much the charities will appreciate your items. We have been discussing our mental health and giving to others is an easy way to help us feel good. To help our mental well being we are conscious that we have been enjoying playtimes and lunchtimes outside in our wonderful school grounds, surrounded by the countryside. Do enjoy any outside activities this weekend to help boost mental health for the whole family!
In Science we have been learning about food chains and how nutrients are passed from one producer to consumers - perhaps your child can tell you an example of one in YOUR garden or the local park!
In computing we have been using Purple Mash LOGO to help us code - using correct language and codes to create algorithms. I have been very impressed with their problem-solving skills.
We have been enjoying a short video clip as inspiration for our Literacy work this week. We have learnt lots of different ways to start sentences, to help improve our writing as well as features of a diary. In Maths, we have used number lines to 10,000 and partitioned 4 digit numbers.
In science we considered why we have different teeth and how animals teeth help their specific diet. Good news... we all won a £1,000,000 on Who wants to be a millionaire - asking only digestion questions!
In Computing we had fun finding out how to use the commands of LOGO in a Minataur's labyrinth - some children didn't quite complete the challenge, so can do this at home if they wish.
We thoroughly enjoyed our afternoon visit from Rabbi Zvi, who came to tell us all about Jewish living and answer some of our questions. This information will help us understand our Jewish concept of Sukkot later this term.
In maths we have been using a numberline to plot numbers and have rounded numbers to the nearest 10, 100 and 1000.
In English we are understanding ways to improve our writing, including 'the power of 3' and DADWAVERS to try and vary our sentence openers. Can your child find any good examples in their reading books?
In Science we have learnt about what happens to our food when we eat it!
This has been a busy week, we've continued to learn new routines and started learning new things and reminded ourselves of things we'd forgotten we knew! There have been tests on: Spellings, Times tables, Arithmetic and Reading comprehension, to help inform our planning for the next few weeks and see where/how we can support your child.
We have been very impressed by their beautifully formed handwriting with a pen, so we will be issuing pen licences over the coming weeks.
We have agreed Year 4 Internet safety guidelines, which your child has brought home - please read, sign and return to school ASAP. If you don't have a copy, I attach one to the bottom of this webpage.
Following on from the letter, username and password that was brought home last week, we have now attached our Music unit to the YUMU website. If you find yourselves at home for days or even weeks, please do use this to keep up to date with the music unit.
We have started our science unit and for our first experiment have put an egg in a range of liquids, see their effect - we will then relate this to their teeth. We have talked about good dental-care and the danger of sugary drinks that cause the plaque on our teeth to create acid, which damages the teeth.
---
PE days for September will be Tuesdays and Thursdays. Please remember that you need to come to school in your PE kit on those days. Please wear your shorts under your jogging bottoms, thank you. You will stay in them all day and go home in them. Your PE kit bag will stay at home.
---
Useful Websites:
Try out your yoga moves:
There are lots of way to feel calmer.
Don't forget the usual websites if you want to use them: