---
Miss Coleman and Mrs Lawry
Swift Class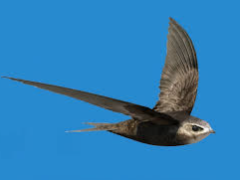 Notices
P.E day: Thursday 7th July. Please wear shorts and/or bring jogging bottoms, school P.E top and jumper and ensure no jewellery or watches are worn to school this day.
Stationery reminder: Please can you ensure you come to school with a handwriting pen, ruler, gluestick and highlighter etc. You will also need a pair of headphones, an apron and possibly a small personal pack of tissues.
Knowledge Organiser: At the bottom of this page, alongside the half-termly overview of learning, you will now find a copy of our knowledge organisers. These have been designed to help capture the key knowledge covered in each major topic taught and may be used as a tool for reference during the topic or as a revision aid when looking back and embedding prior learning. Rather than sending home paper copies, we have published them here to allow any year group to have easy access, whether working in the ICT suite or at home. Please take a look and let us know what you think; these are a new initiative, which is still evolving and we are always interested to hear your feedback.
Home Learning menu:
Maths: Purple Mash 2do: Converting miles to km.
Reading: Read for 20-30 minutes every day, individual page numbers do not need to be recorded, however it is important you write the name of the book, the author and the date you started it. When you have completed the book, please answer a Blooms question and write the answer in your reading record in the comments section. Please can adults at home check this is being completed on a weekly basis.
Spelling: Please complete the weekly spelling list on Spelling Shed: Revision.
Week 9
In our final Forest School session of Year 5, Mrs S treated us to bubbles, key rings, hammocks, and we even had a tiny new classmate join us! Thank you for our extra Forest School sessions Mrs S, we thoroughly enjoyed getting back outside and exploring in the sunshine!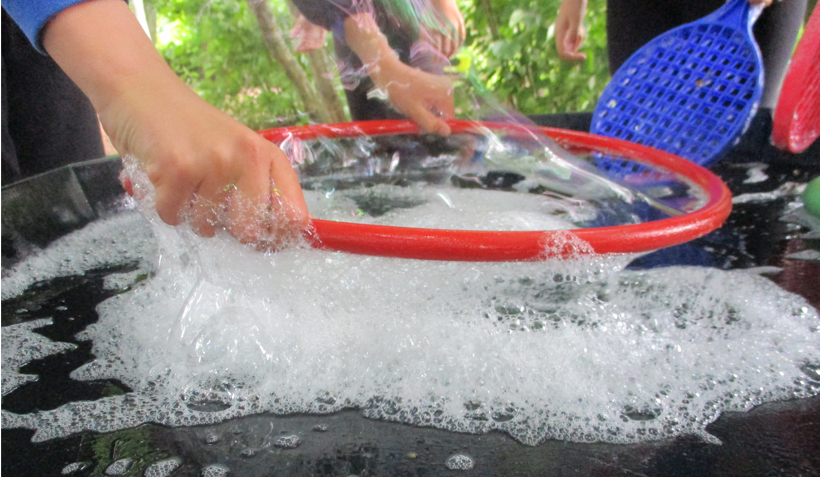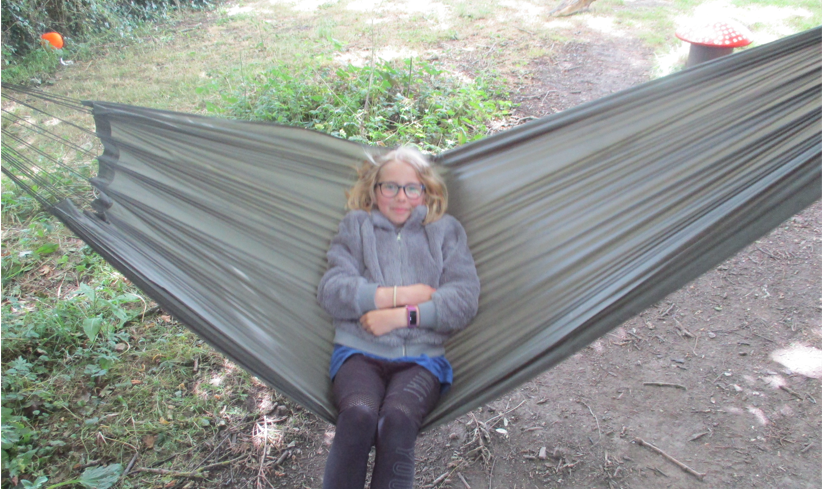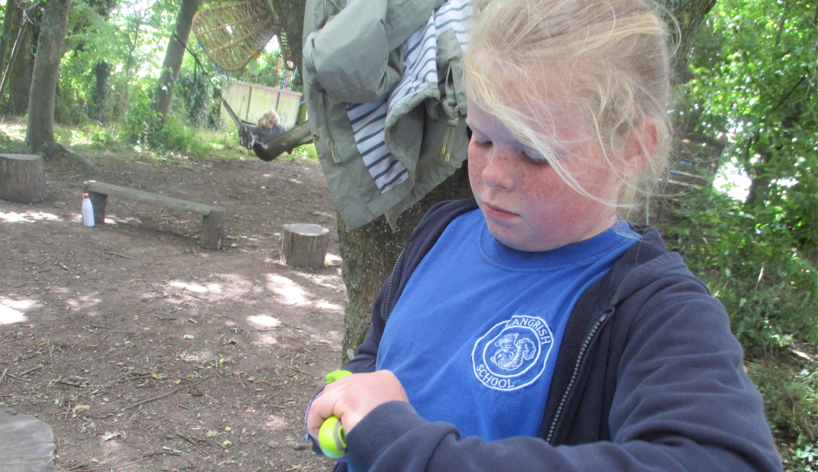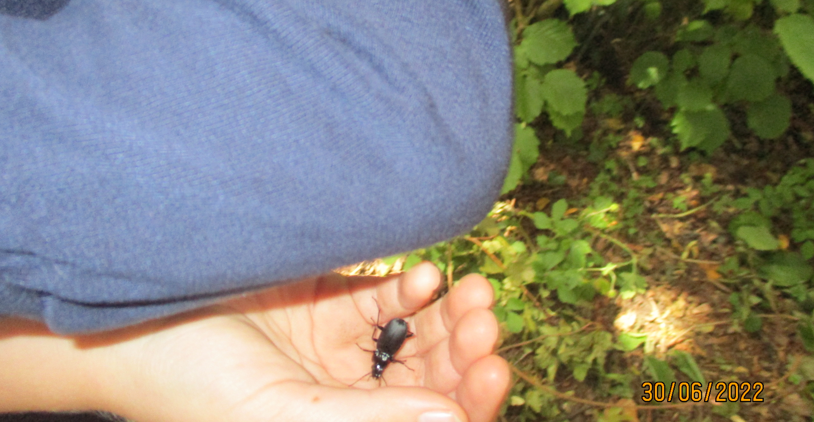 Year 5 and 6 also took part in House rounders on Wednesday. 6 great matches and a great show of sportsmanship from both year groups!
Week 8
This week it was the Hampshire Games Week 2022. To start the week Year 5 thought about what means to be a leader and created some leadership pizzas, full of attributes of the types of leaders we would want to be! On Tuesday, we focused on physical activity and spent 15 minutes practising how many skips we could do in 2 minutes.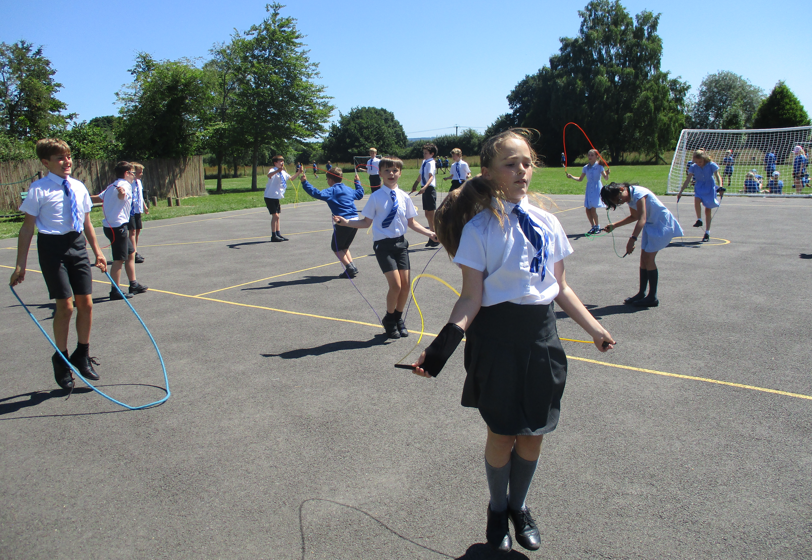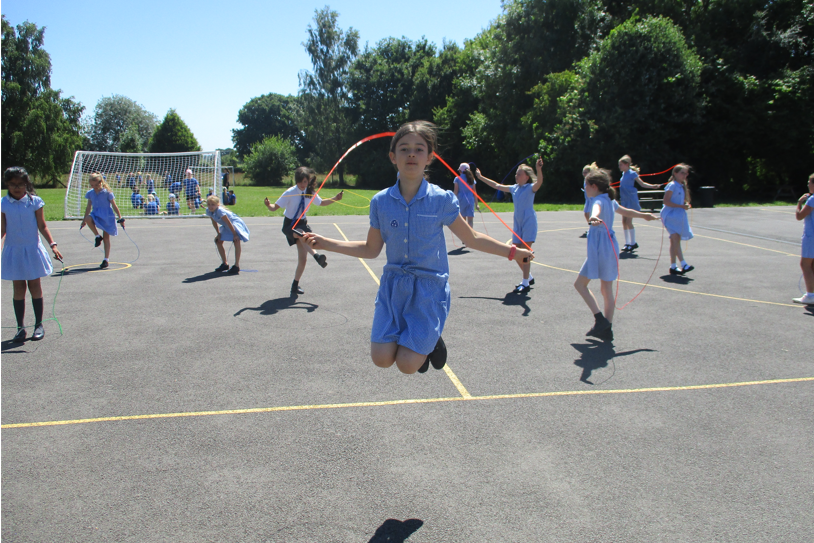 Wellbeing Wednesday saw us running around the school playgrounds hunting for national foods and flags from across the world, keeping both physically fit and also thinking about the foods we eat! On Thursday, some of the class were lucky enough to attend the Hampshire School Games in Winchester, representing Langrish for the day, and the children at school explored statistics and P.E (in the rain) with some excellent speed walking!!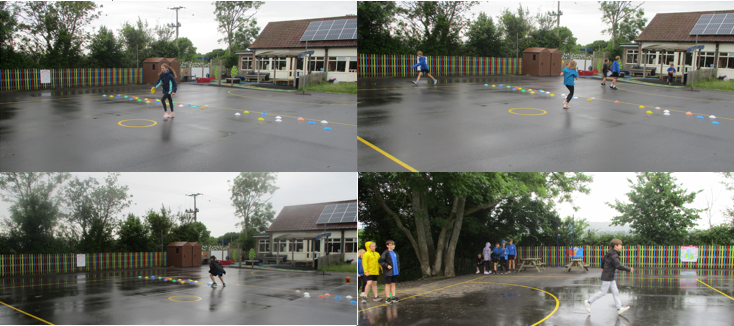 On Friday, it was competition day! We practised in P.E our three events for the afternoon of Sports Day, already getting in the house spirit and cheering our peers on!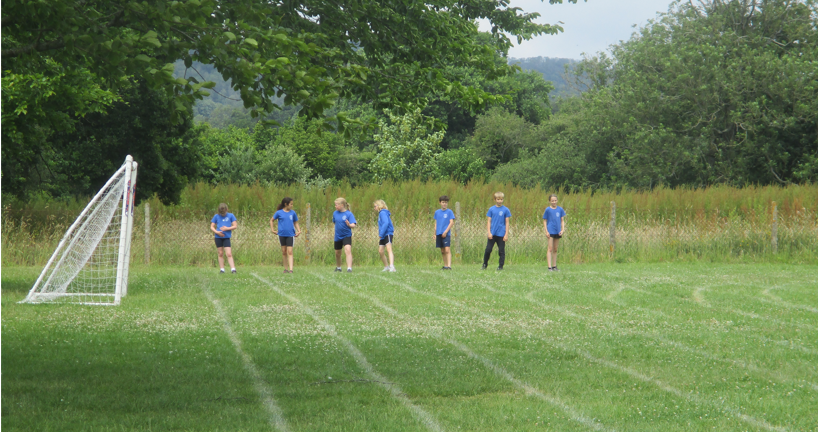 This week, Year 5 also completed their Climate Unity project! Our first piece of artwork will be heading down to Calshot Activities Centre this weekend and will be on show until October 2022! One side represents the world the younger generation will live in if we don't do anything about climate change and the 'good' side represents the world Year 5 want when they grow up! Year 5 have been true advocates for climate unity and preservation!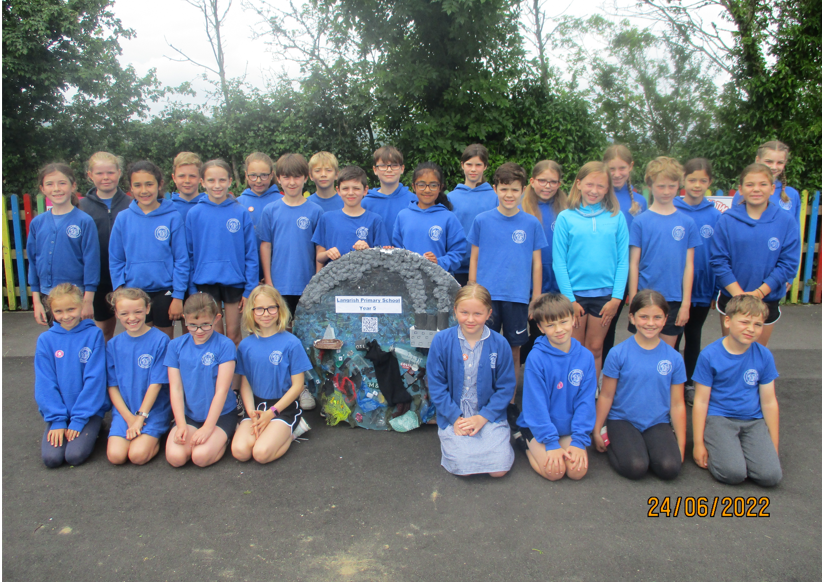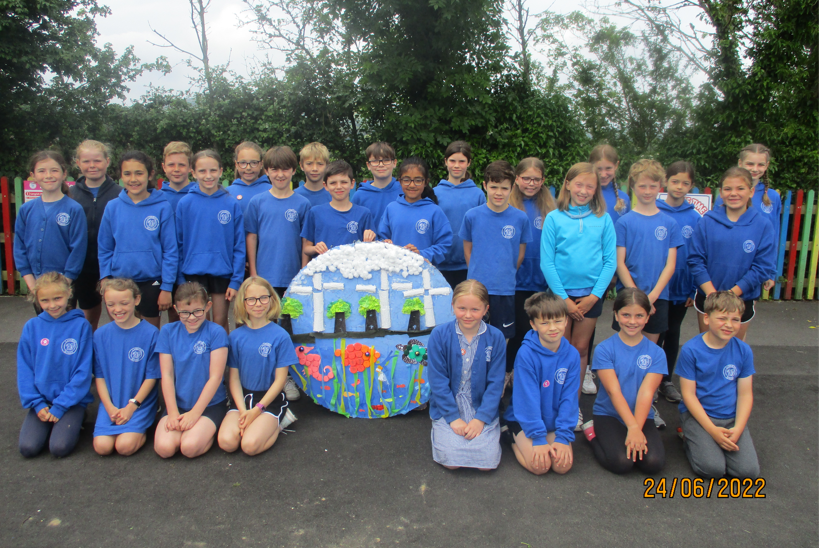 Week 7
This week in science we practised how to draw line graphs as part of our Animals including humans unit.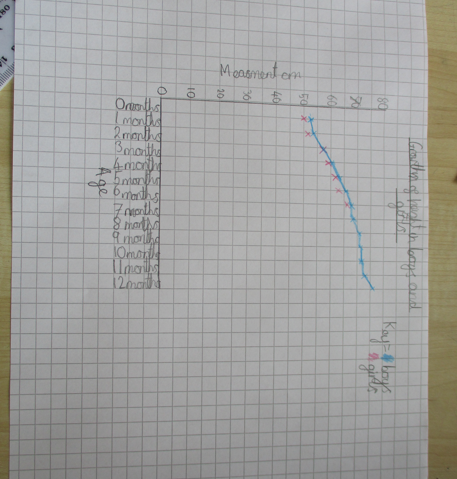 We compared the growth in height and weight of boys and girls between the ages of 0 months and 12 months.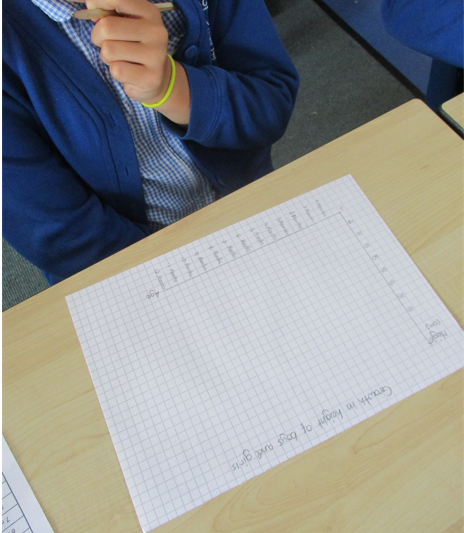 We thought closely about the presentation of our graphs and the key features we needed to include.
In ICT, we started our new unit: Game Design.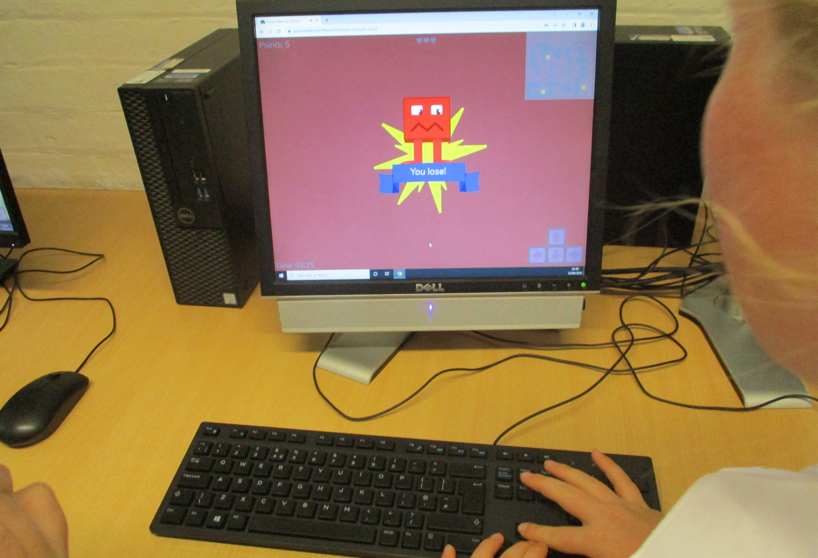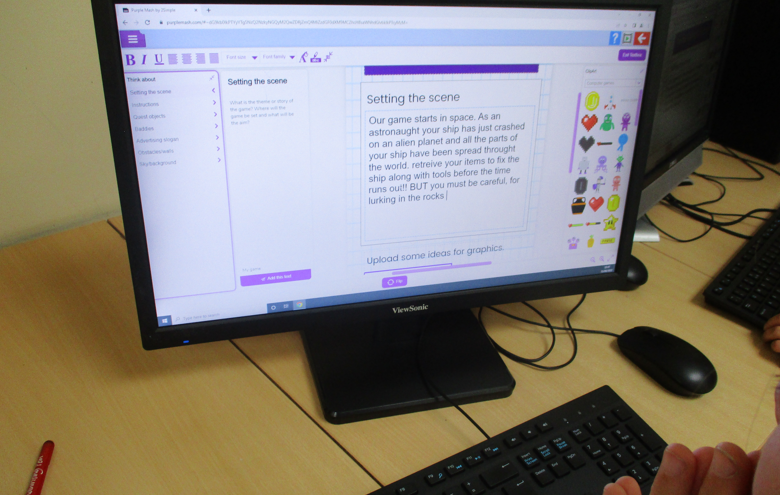 To be able to design our own game effectively we played and evaluated other children 2D to 3D games. We were excellent at analysing the good parts of the games, as well as the parts we would improve in our own when planning.
Week 6
This week we had both a road safety workshop and a sign language workshop.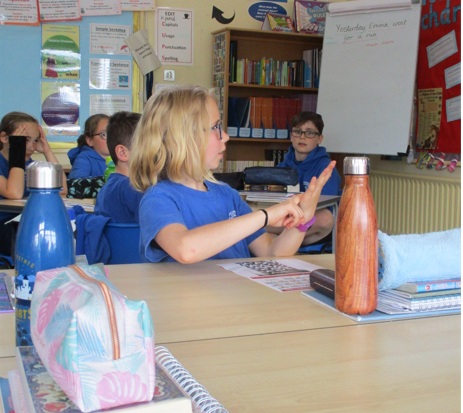 It was great to refresh our knowledge of the green cross code and think more about how to stay safe when cycling on the road.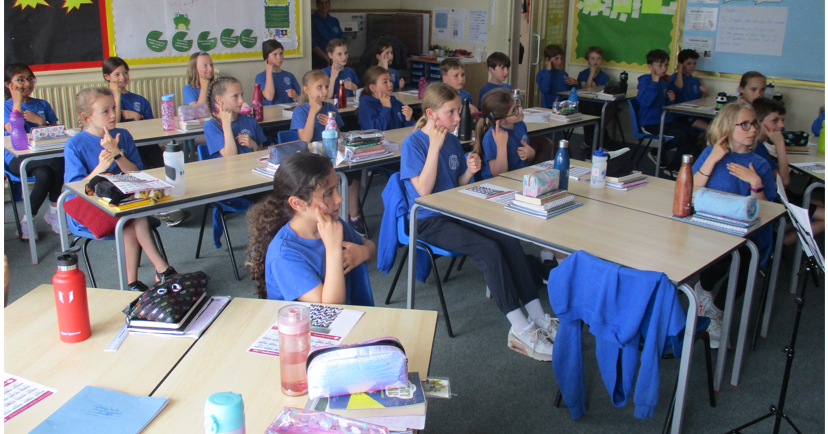 We were also lucky enough to be visited by Christine a sign language specialist. We thoroughly enjoyed learning to sign our names and a well known Ed Sheeran song! Thank you Christine.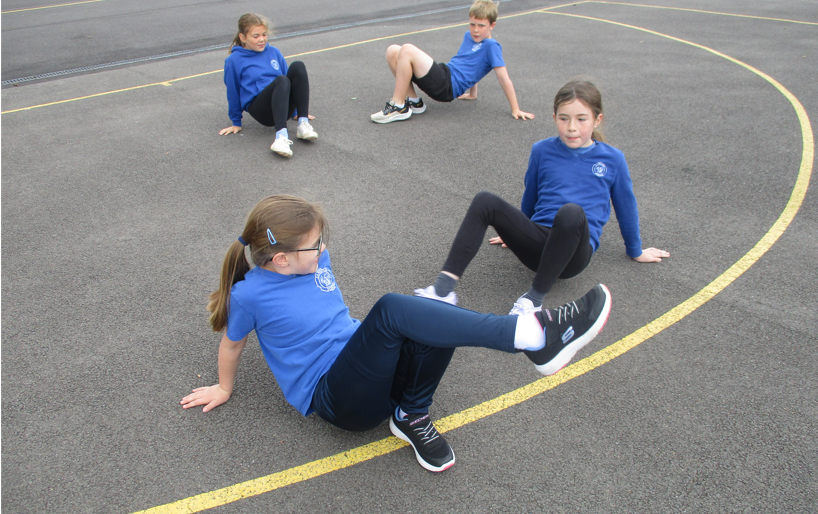 In P.E, we started our new handball unit. We focused on agility and refreshing our throwing and catching skills. in our warm up, we also linked our previous learning from gymnastics when balancing as spiders on three points of contact! It was great fun!
Week 5
This week was our fabulous jubilee celebration week for the Queen's Platinum jubilee. We created artistic representations of the Queen through collage, drawing and other media. As a celebration of her Platinum Jubilee, we explored the timeline of her reign and stamps and their importance in other significant events throughout the Queen's reign.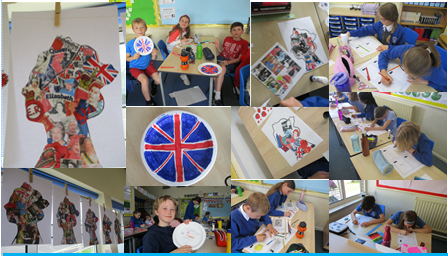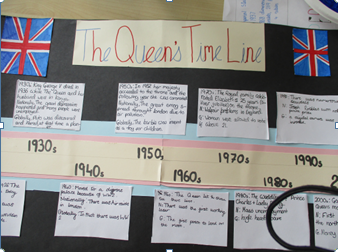 Week 4
In P.E, we have been learning about partner balances and how to create a successful gymnastics routine. To complete our sequence of learning we performed to each other our routines, whilst including a piece of equipment to challenge our skills and awareness of our space. Have a look at some of the amazing skills we learnt this half term!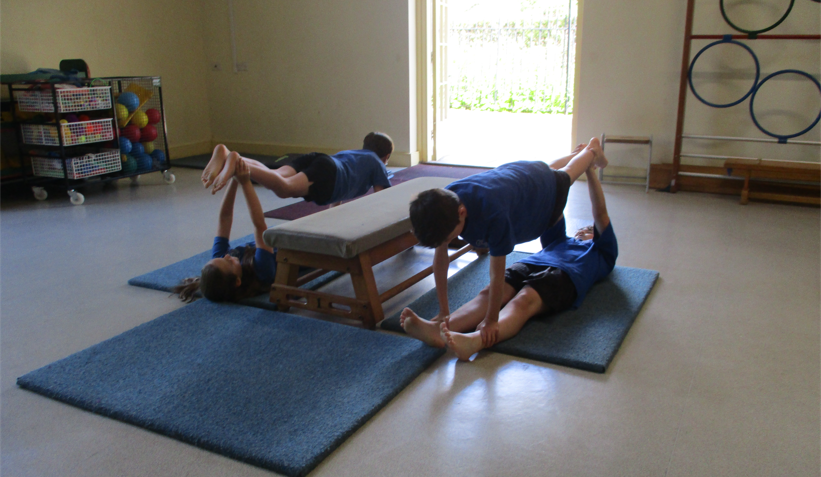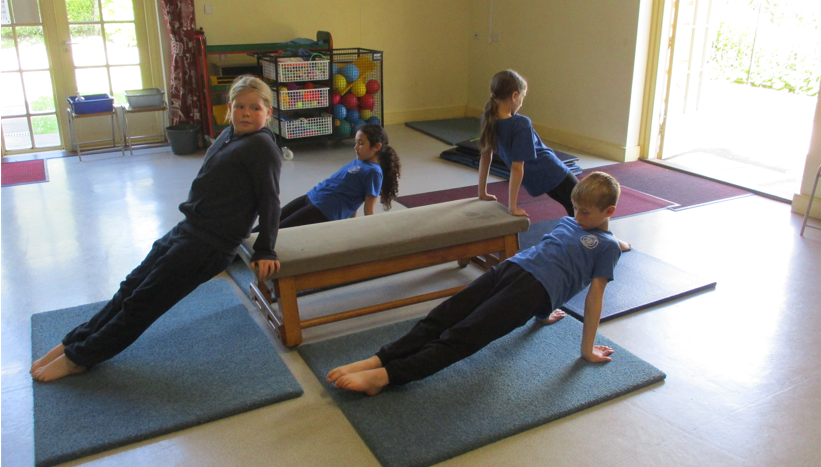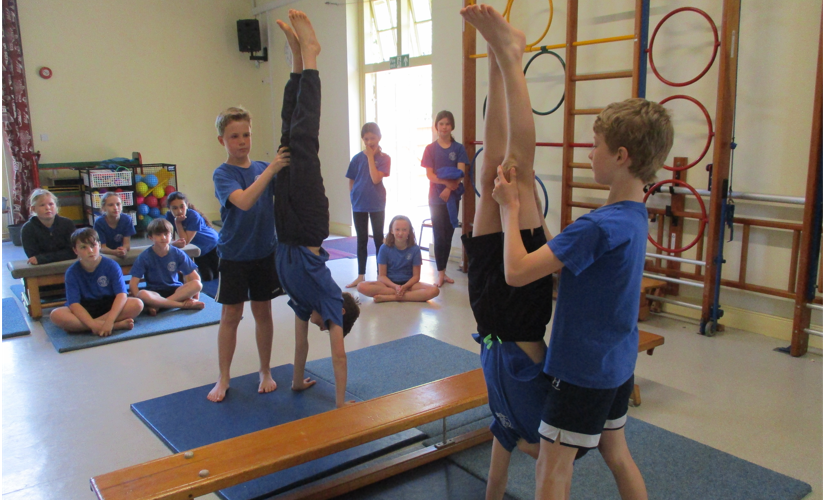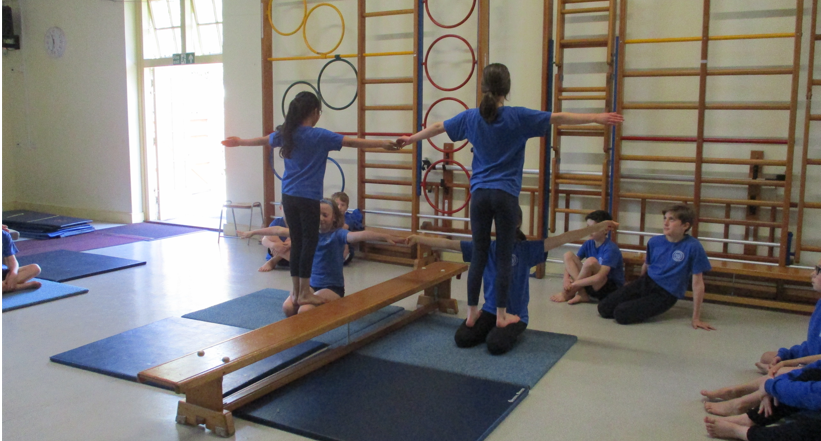 In maths, we started our new Shape unit and enjoyed completing an activity that changed us to use a protractor to create different size angles on our whiteboards.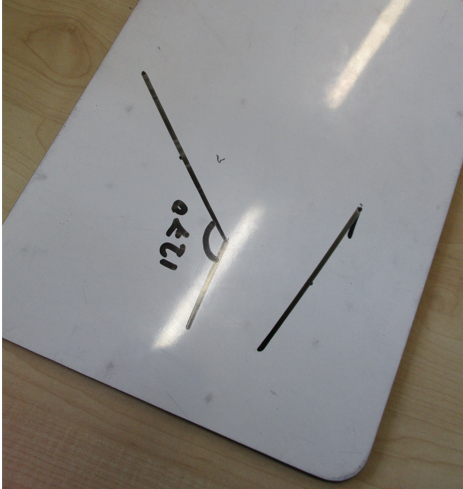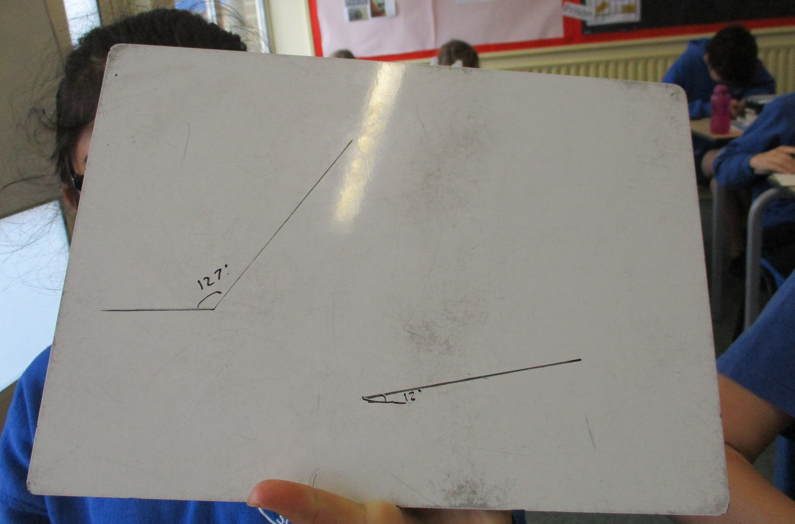 We enjoyed comparing with a partner how the size of our angles looked different due to line length, but the angles we created were the same!
Week 3
This week we began creating our cams toys.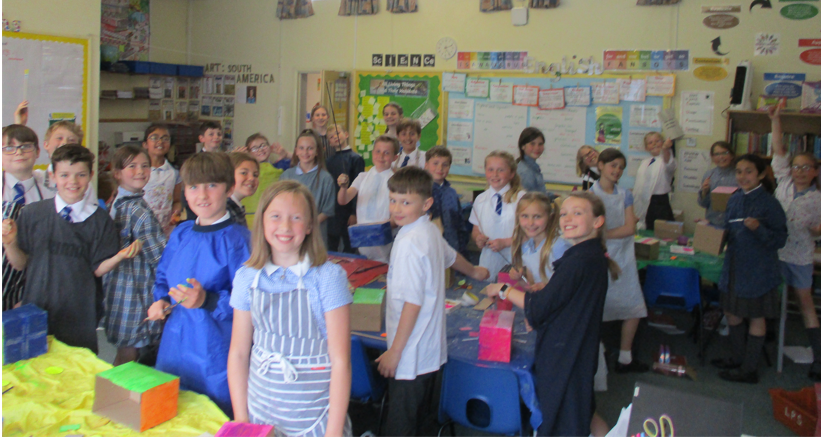 As well as thinking about the mechanism we have created inside we are ensuring we are designing an appealing toy for our target audience, the lovely Year 1s!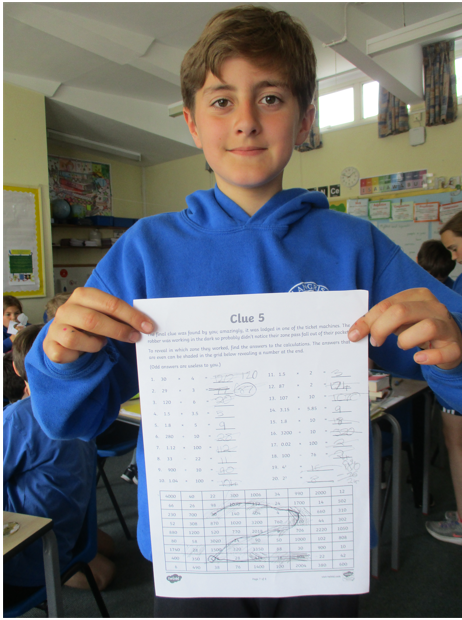 We also finished our final decimals unit in maths and used this knowledge to solve a very tricky maths mystery on Friday morning! Tricky, but enjoyable!
Week 2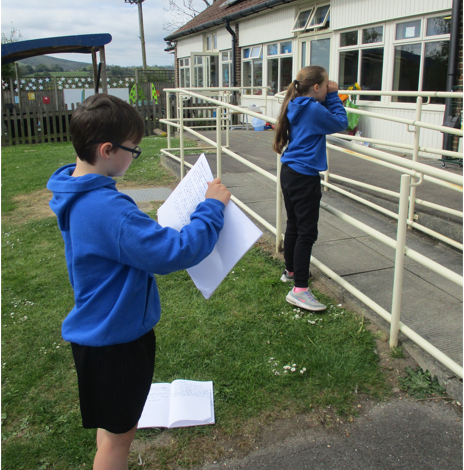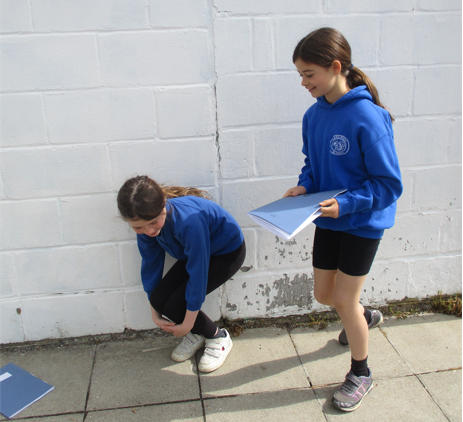 Another busy week for Year 5! We continued our Myths and Legends unit in English by acting out the internal monologues we have written for our own invented Myths.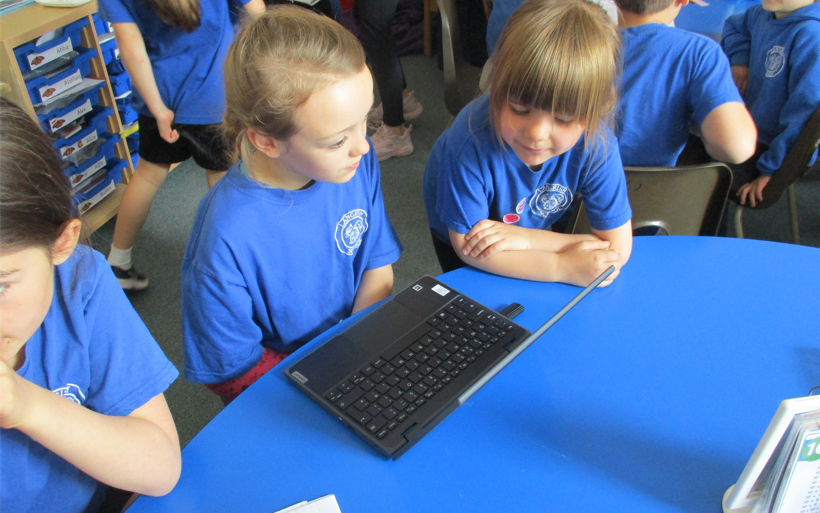 We also visited Year 1 this week to complete some market research for our game design in DT. We thought about our target audience and what they would enjoy playing with, before we started designing our games.
Week 1
The start of the summer term and the start of a new unit in English. We are looking this half-term at Myths and Legends.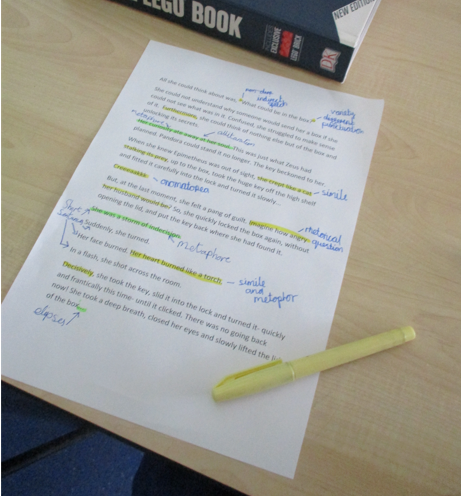 One myth we studied this week was 'Pandora's box'.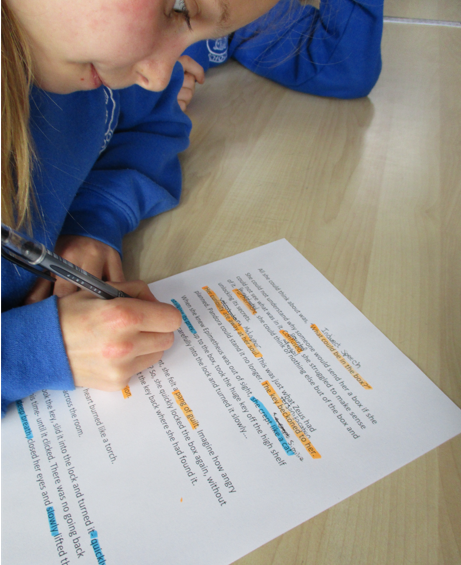 To learn how to use stylistic devices effectively we analysed a description Pandora's box looking out for similes, metaphors and powerful verbs.
Our new science unit is 'All living things and their habitats'. To begin we reminded ourselves of the parts of a plant and how pollination occurs. As well as the different ways a plant can be pollinated.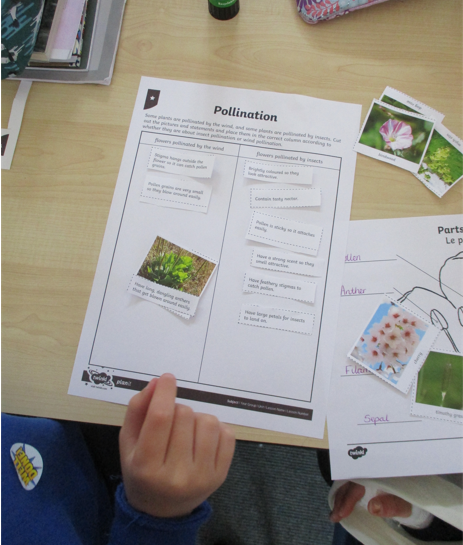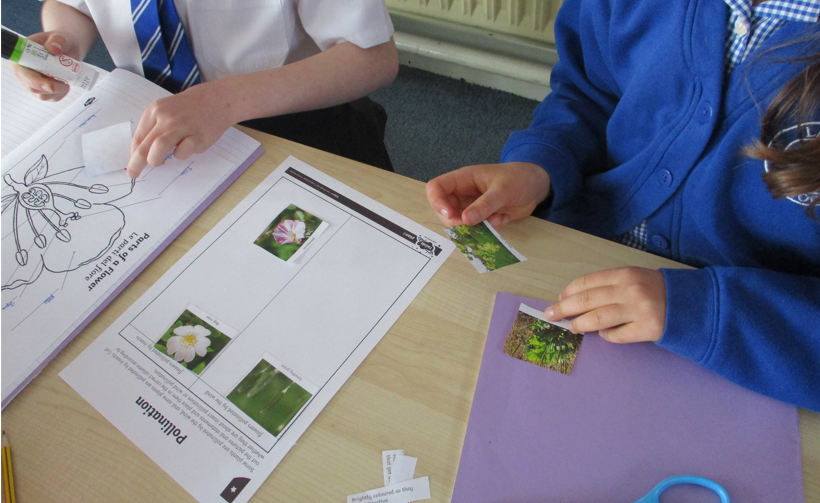 Week 12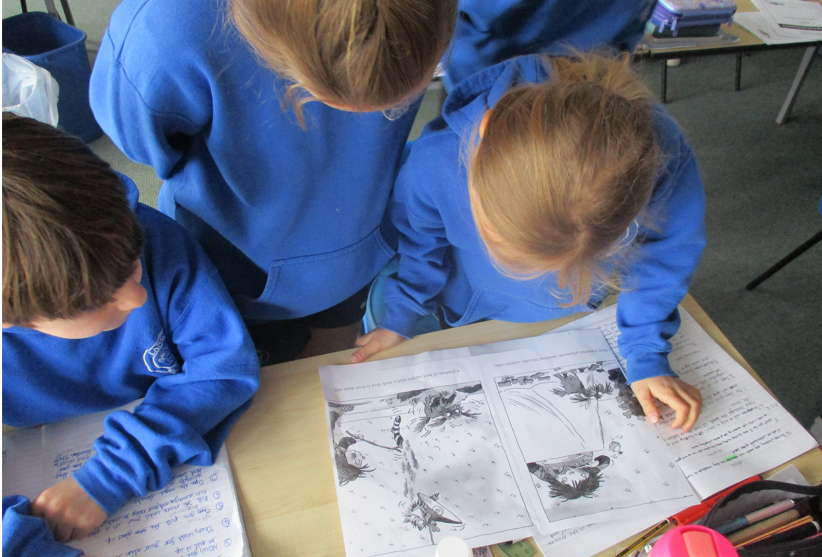 Our new English unit is based on the book, Dr Xargle's Book of Earth Hounds.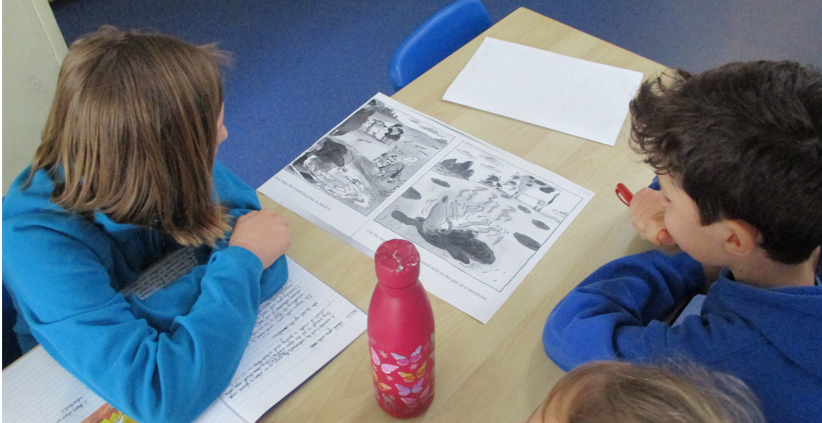 We started this week by annotating our predictions for the book as well as exploring some pages inside. We looked specifically at the ambiguous language used to describe the 'Earth Hounds', taking inspiration for our own writing next week!
Another great week at Forest School too. This week, despite the weather predictions for snow, we made bird feeders for all the wildlife appearing this Spring!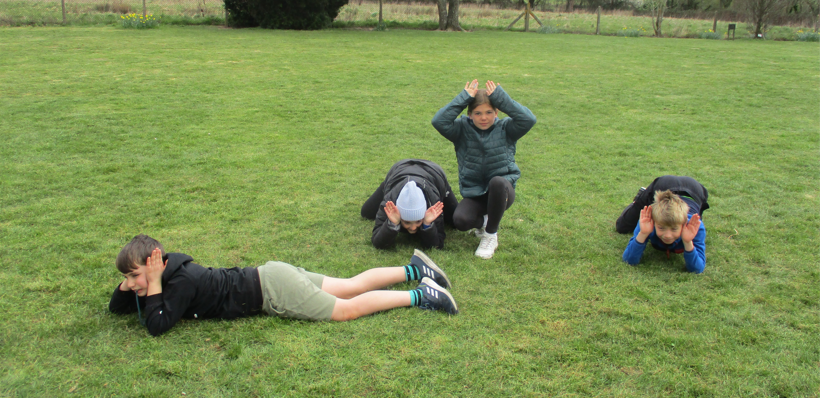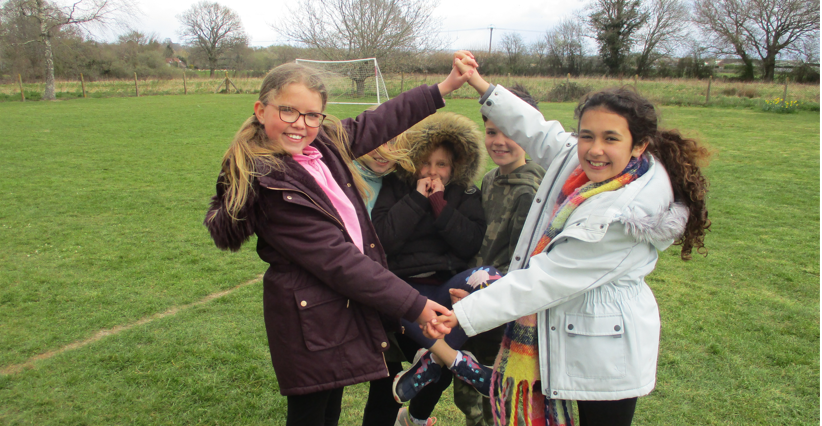 Week 11
In English, we have been continuing our Pie Corbett unit.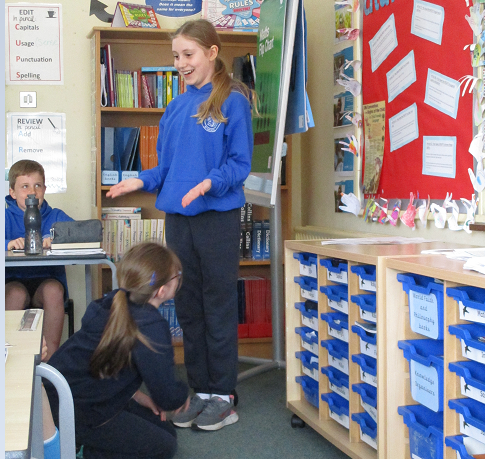 We started by looking at 'How to Trap an Ogre' and have developed our own writing to create a new set of instructions: How to capture an alien! It has been great fun using Talk for Writing to develop our writing further through drama.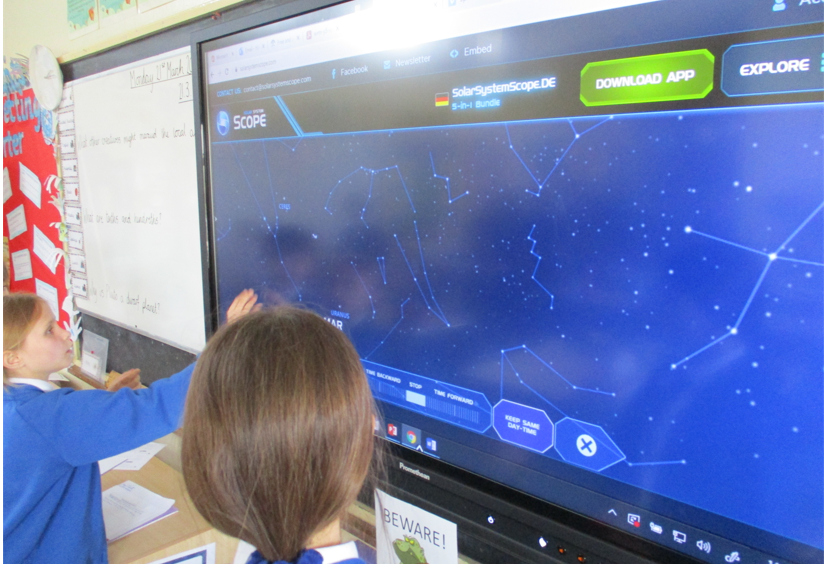 Our continuing love for Earth and Space saw us researching why Pluto is no longer classified as a planet this week. We enjoyed using the new Promethean board to explore space and the planets through live interactive models. If you want to continue exploring the link is below!
www.solarsystemscope.com
Week 10
Our new science unit is Earth and Space. This week we completed some planet speed dating!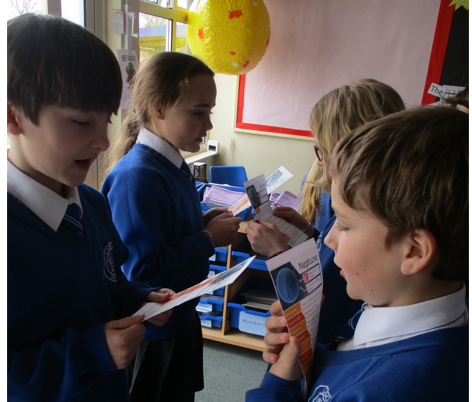 To be successful with this activity we first had to learn all about our own planet, before sharing exciting facts with the rest of the class.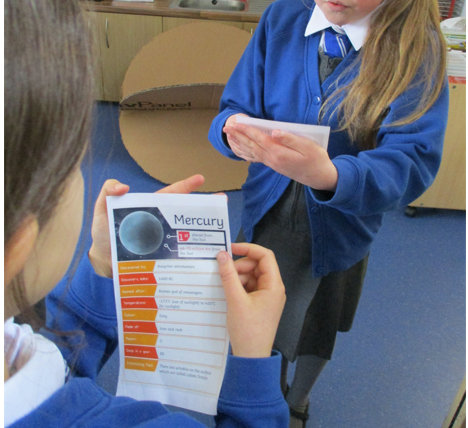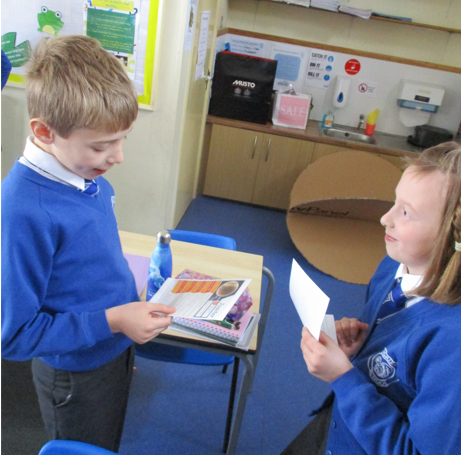 For example, we learnt that Neptune has 60,190 days in a year compared to Earth's 365.25!!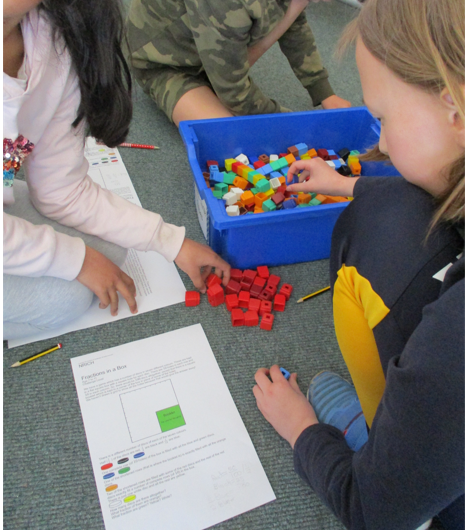 In maths, we used our extended knowledge of fractions to end our learning journey by exploring problem-solving questions. We supported our learning by using multi-link to help us visualise the answer and to help us solve the problem.
Week 9
This week in Forest school the sun shone and we were able to get out and about on the field. We had great fun with all the activities, including tug-of-war, ultimate Frisbee and some collaborative teamwork games too!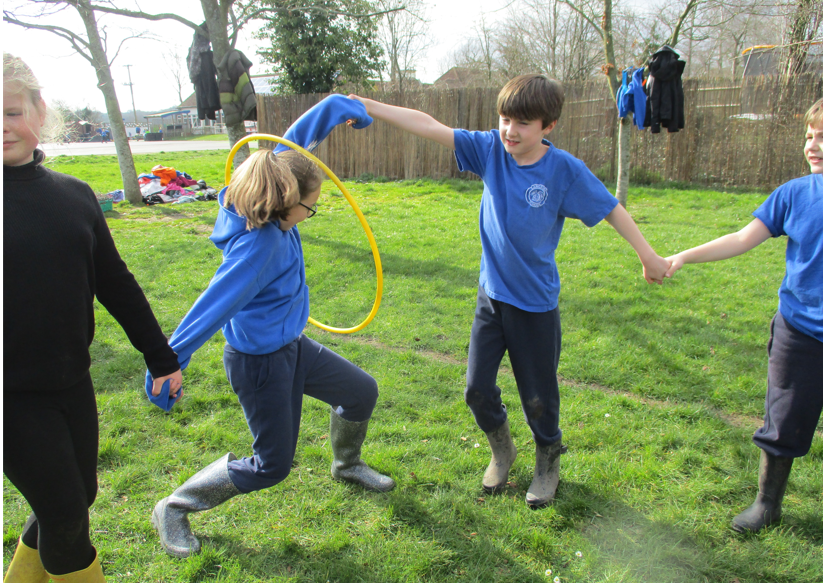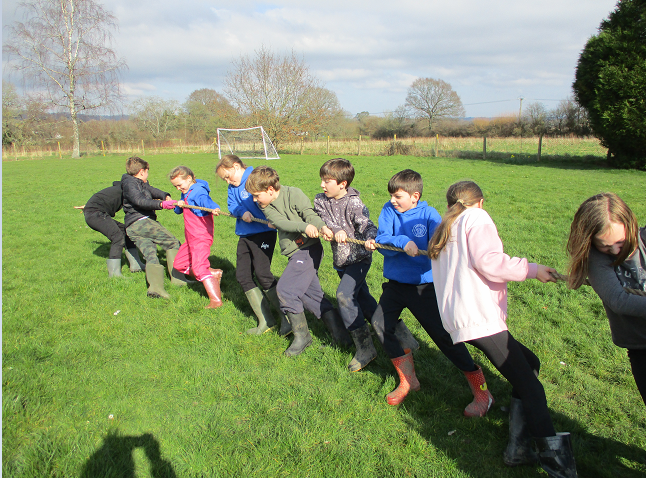 We completed our narrative poetry unit this week. We have been studying eerie poems, such as The Visitor and The Highwayman. We used these as inspiration to create our own mysterious setting description and ghostly characters, ensuring we focused on our use of figurative language throughout. Make sure to ask us examples of figurative language, as we are now poetry experts!
Week 8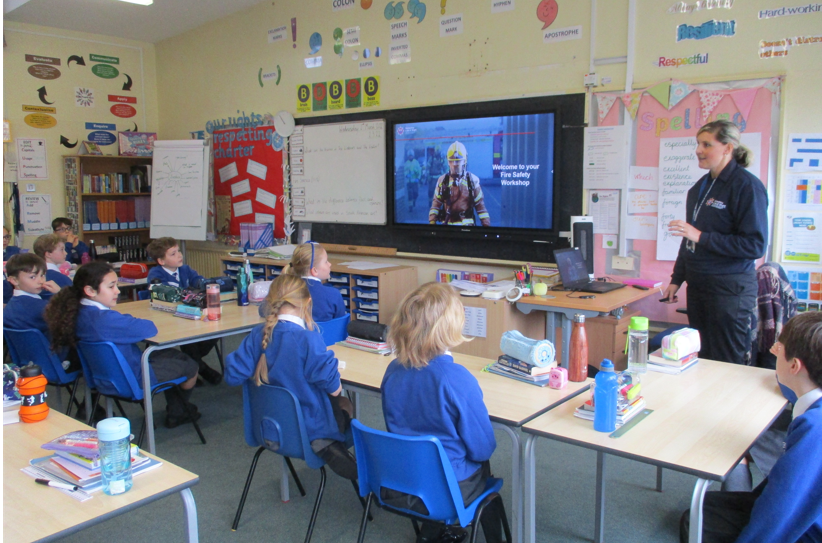 Welcome back, I hope you had a restful half-term! This week Year 5's timetable was jam packed with exciting activities. On Wednesday, we were lucky enough to have a visit from Hampshire Fire Service to educate us about how to stay safe if there is a fire at home. We learnt important rules about fire safety and how to teach our adults at home about keeping us safe in an emergency. Thank you, Kelly!
Thursday 3rd March was World Book Day! To help us engage our brains and start to think collaboratively we completed some collaborative colouring in the morning, this activity was all about talking to the person next to you to make sure your puzzle piece matched! We created a very colourful piece now on show in Year 5! The morning continued when we learnt about a dastardly crime that had been committed... The Case of the Missing Macaw. Before we could start investigating we had to warm up our detective skills and complete our detective exams.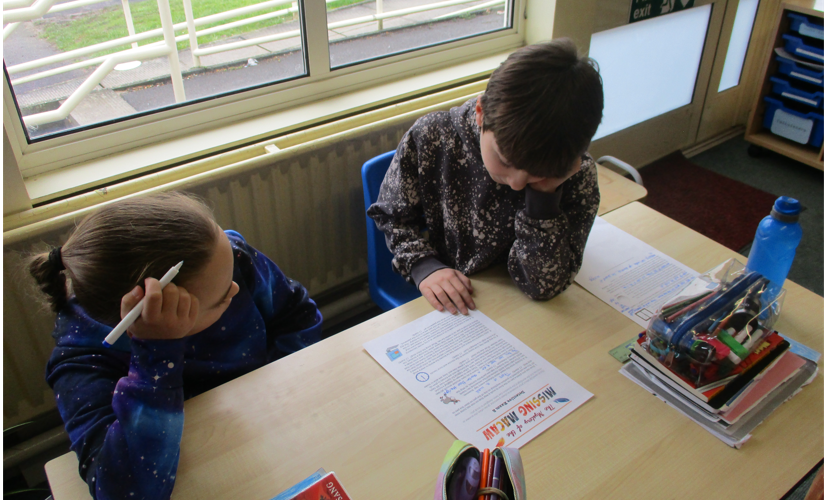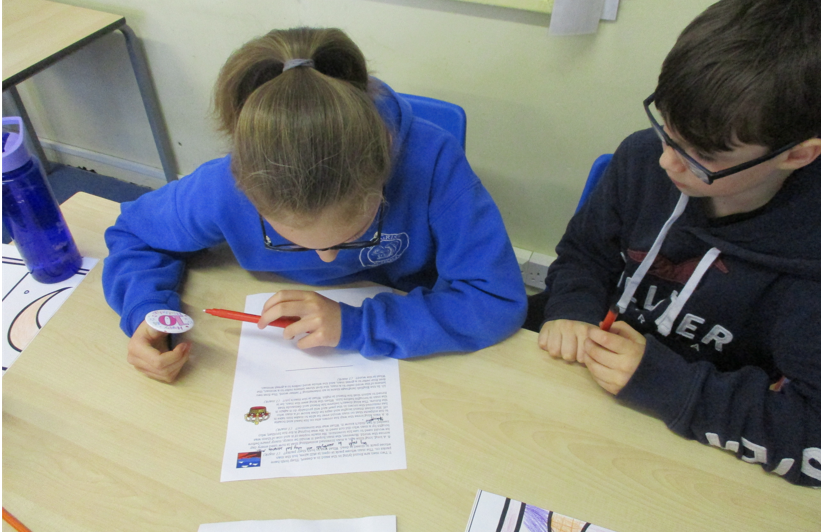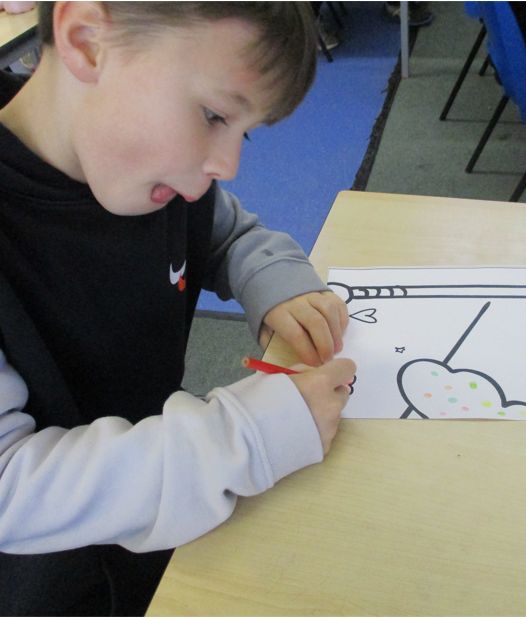 We finished the morning by joining together with the rest of KS2 to answer the mystery and apprehend the culprit! Thank you, Miss Jones, for being a great crime scene manager, we loved it!
Week 7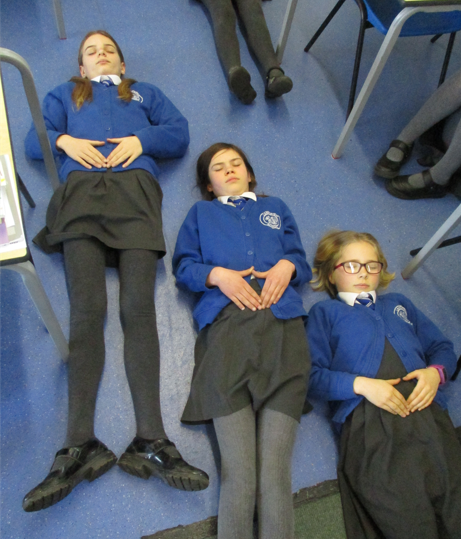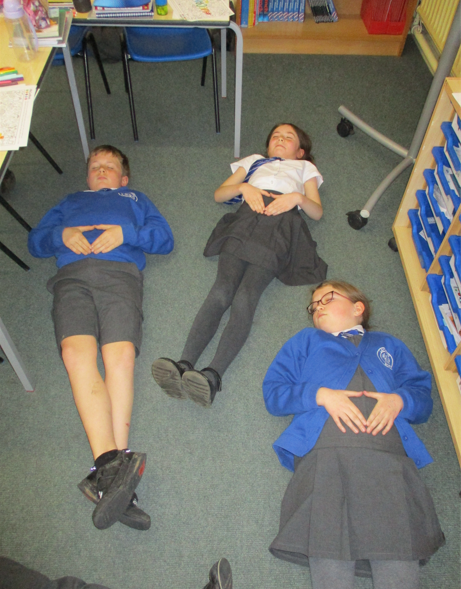 This week has been extremely busy, with it being both #WeCanWeek and Take One Picture week! Year 5 enjoyed #WeCanWeek, starting with mindful Monday where we explored balloon breathing to help us feel calm and relaxed. We always enjoy some mindful colouring as well; here is us relaxing in class.
On Tuesday, we drew some continuous line drawings for our Take One Picture piece. It is really tricky not being able to take your pencil off the paper, but we were all determined and persevered to create some amazing pictures!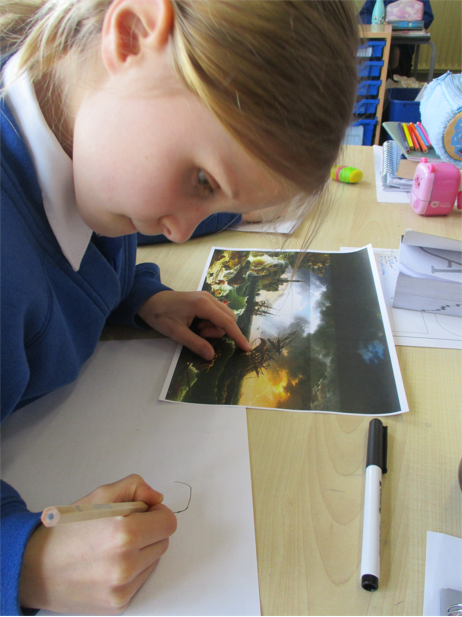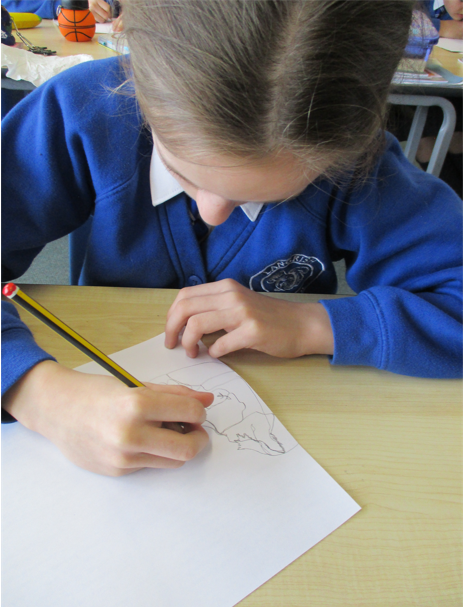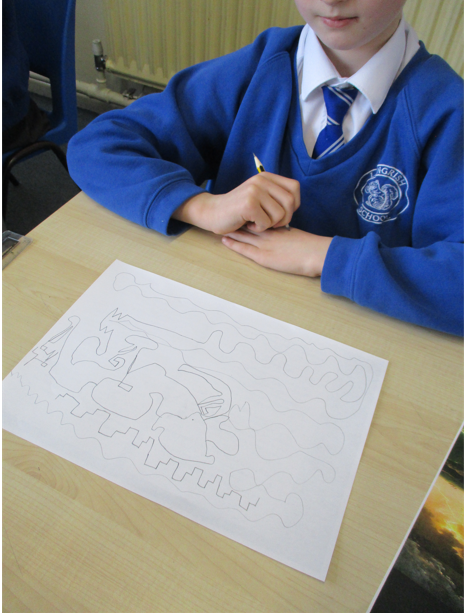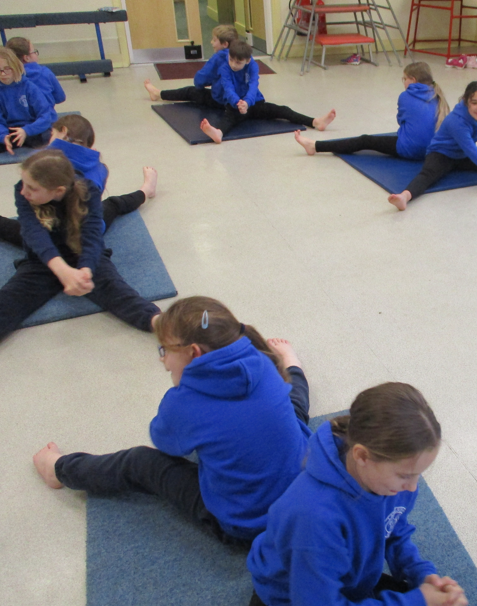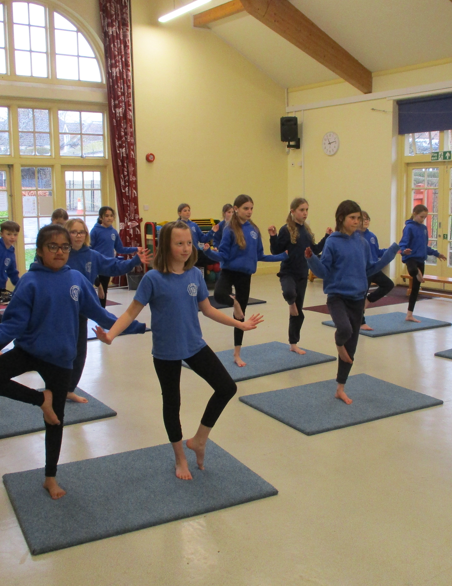 In P.E, we have been continuing our Commonwealth inspired dances, it was really lovely to finish our session with some mindfulness yoga to link back to our learning from Monday about relaxation and learning how to let our worries go.
Week 6
In English, we finished our narrative writing which we based on the style of other authors. We used our knowledge of Roald Dahl and Frank Cottrell-Boyce as inspiration and created a new competition that children could win! Design the best LEGO model to become the new owner of LEGO HQ! We were practising intertwining dialogue and narrative.
Year 5 would also like to say a big thank you to FoLs, as we were the first lucky class to receive a new Promethean board, after all our hard work running in our Christmas sponsored run! We have loved using it to help with our learning this week, trying out our interactive French games and creating notes pages during after school sessions!
Thank you FoLs, from Year 5 x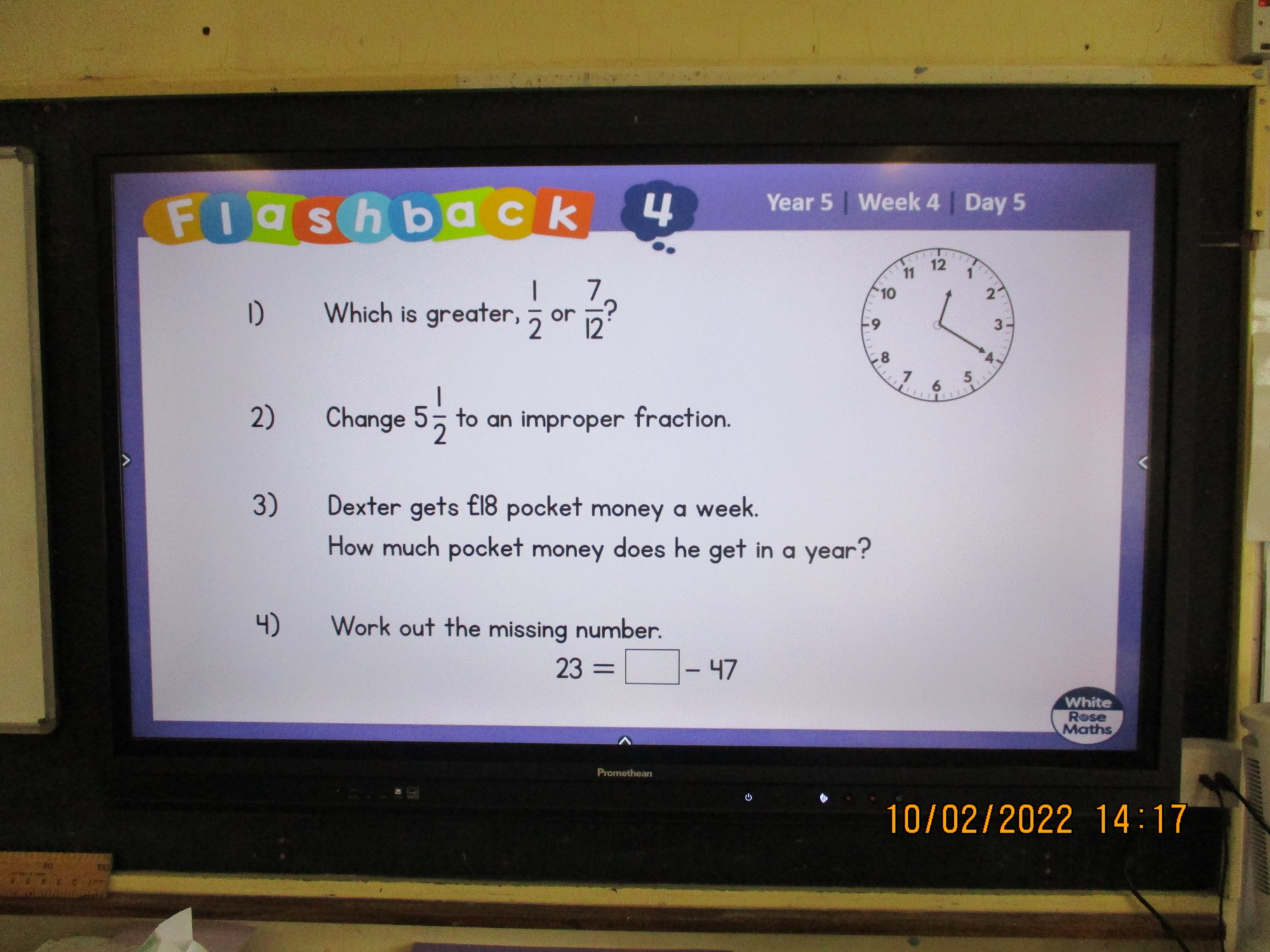 Week 5
In P.E we are building on our skills we learnt from our gymnastics unit last term, as well as our 60's dances at the beginning of this term to develop our Commonwealth Games inspired dance piece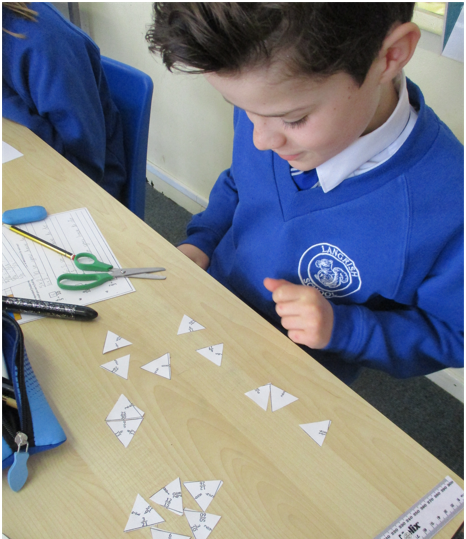 . The dance focuses on equality, destiny and inclusion.
In Maths, we started our new unit: Fractions. At the beginning of th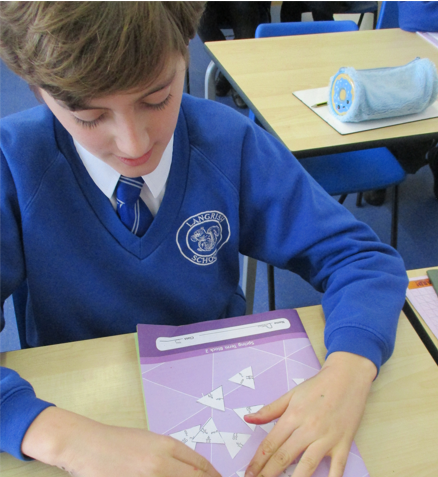 e week, we revisited our knowledge and then started applying this to equivalent fractions. Some of us had a go at completing an activity whereby matching up equivalent fraction pairs - it was great to apply our learning and dive deeper. At the end of the week we all had a go at creating games to show equivalent fractions, using bot mixed number fractions and improper fractions.
Week 4
Our new unit for History is Migration. This week we became journalists to find out why different groups of people were 'pulled' to migrate to Britain.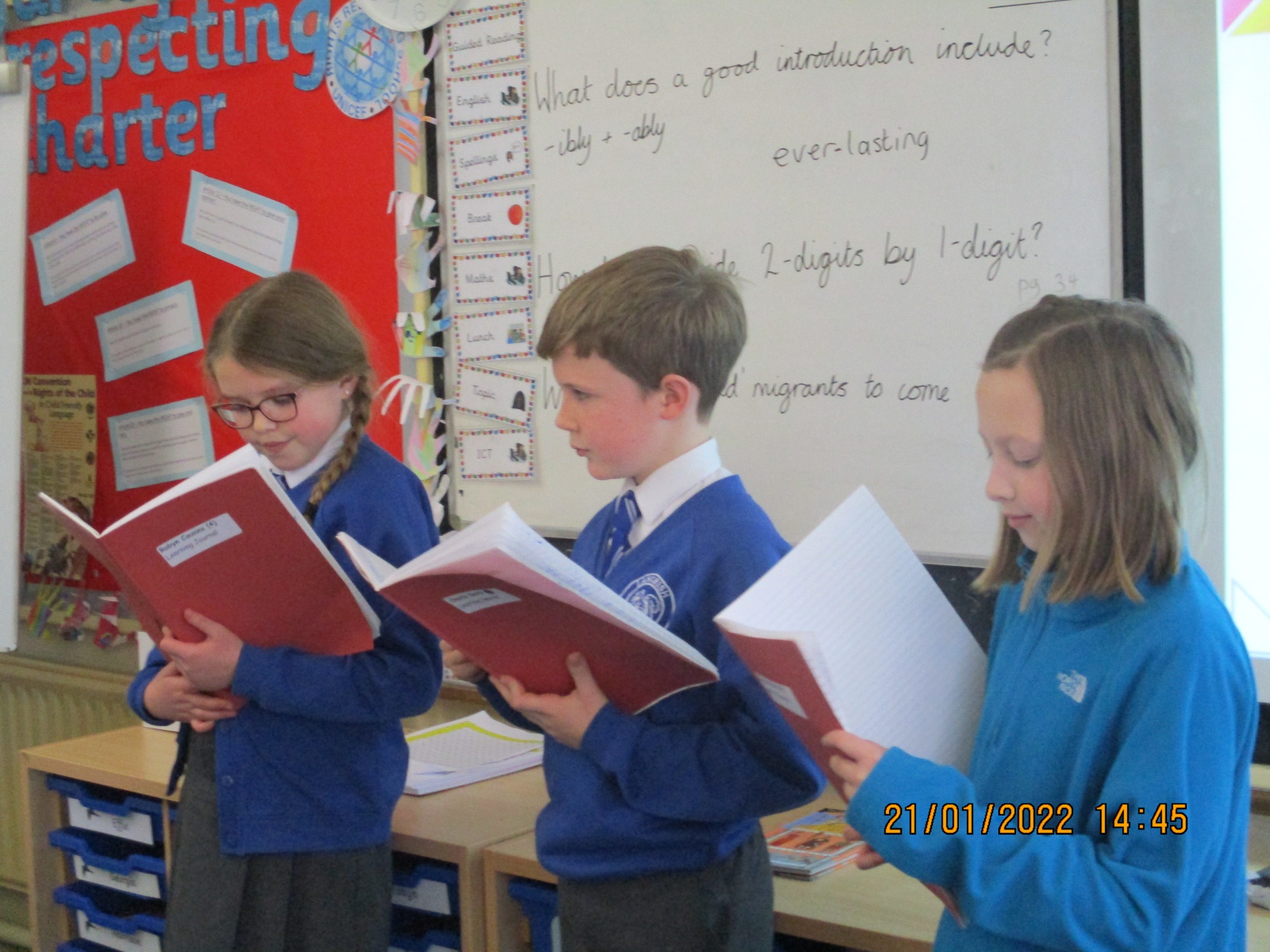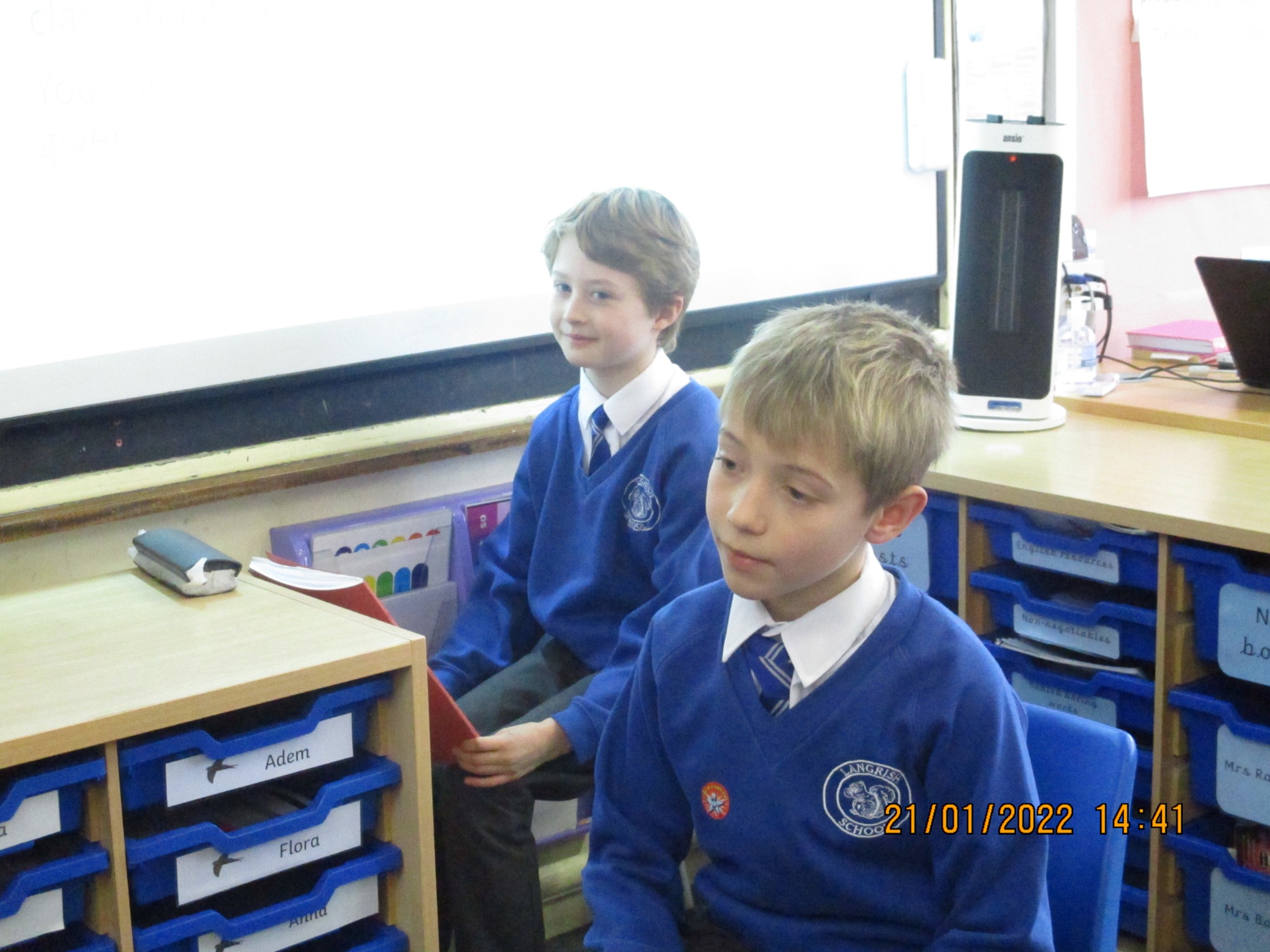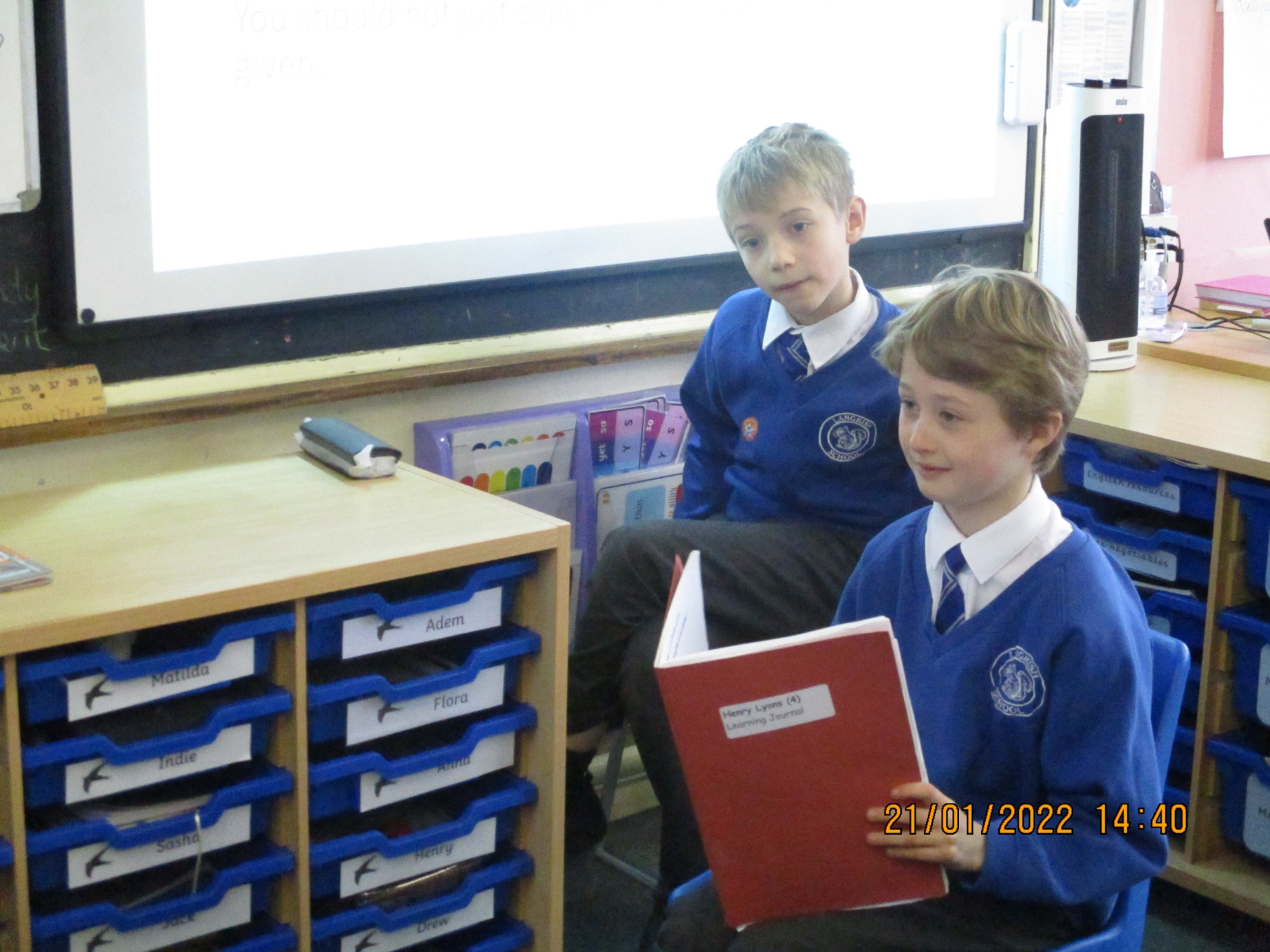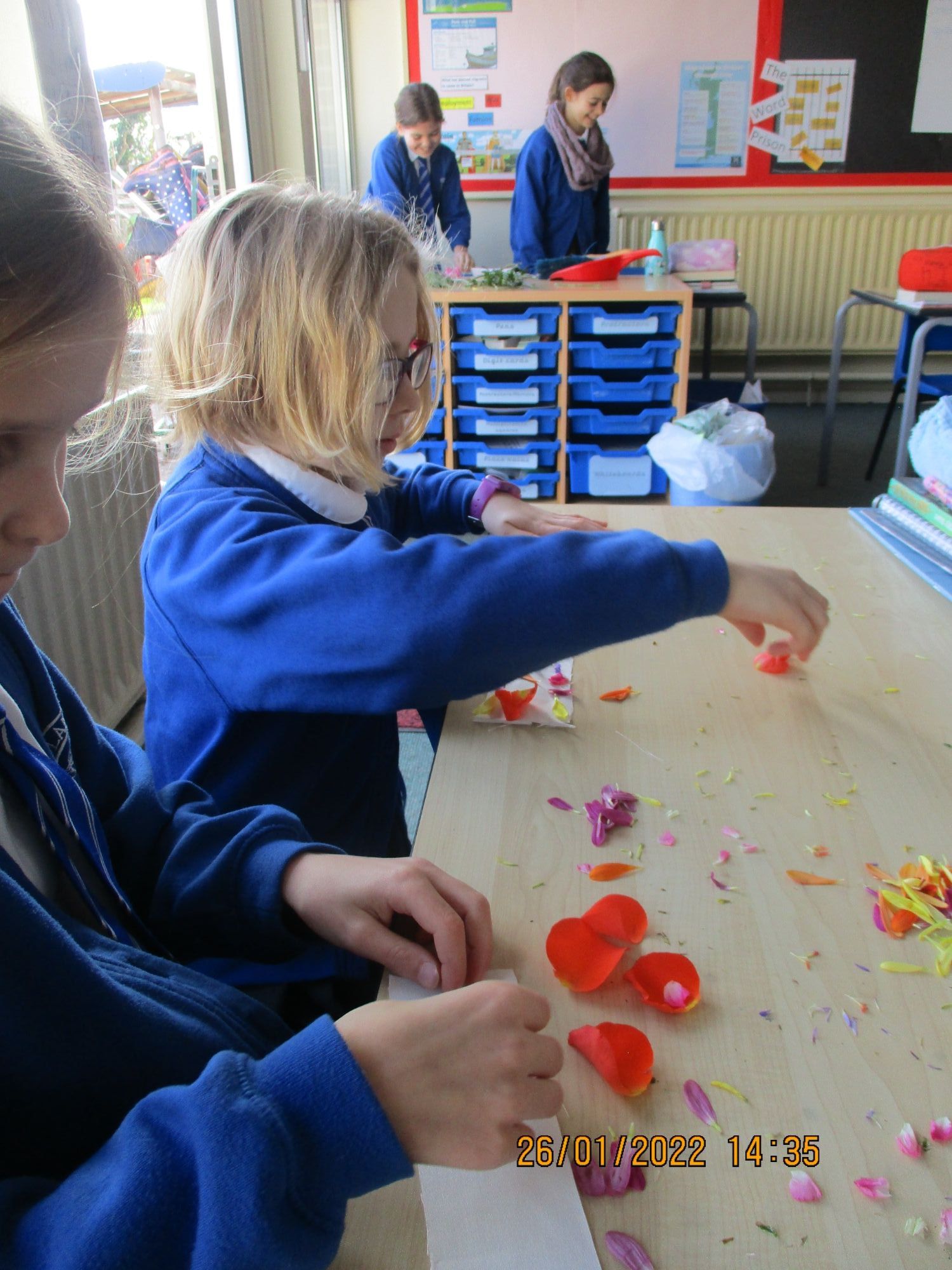 We continued our Plants and Flowers study in Art, by collecting petals and leaves for flower pressing. We have made beautiful bookmarks using our flower pressing skills that we will soon deliver to Year 3! We hope you like them Year 3 and that they inspire you to keep reading!
Week 3
We started our week by performing some silent drama pieces in English, to help us understand how we might rescue the Oompa-Loompas from the horrible monsters in Loompa Land.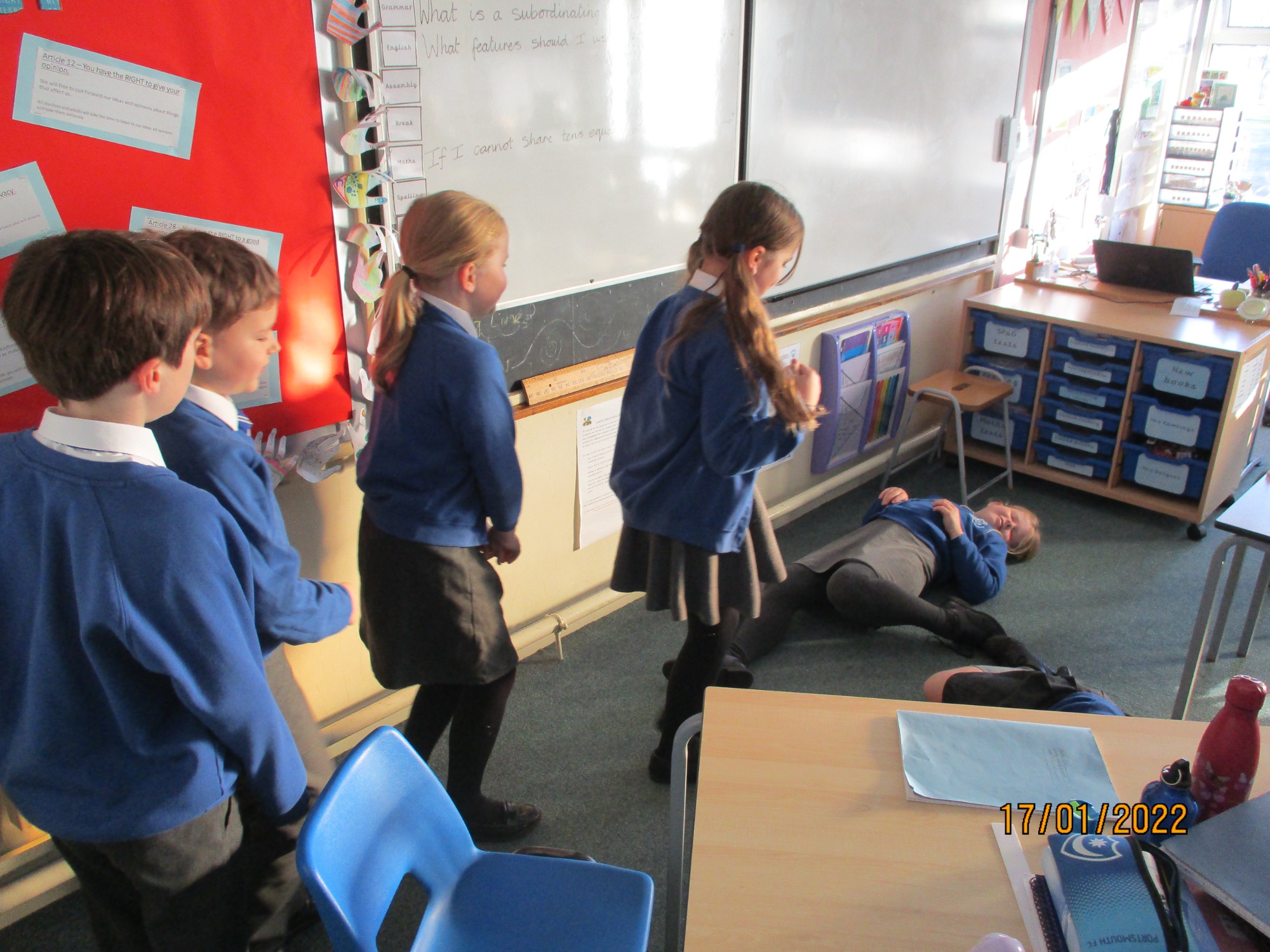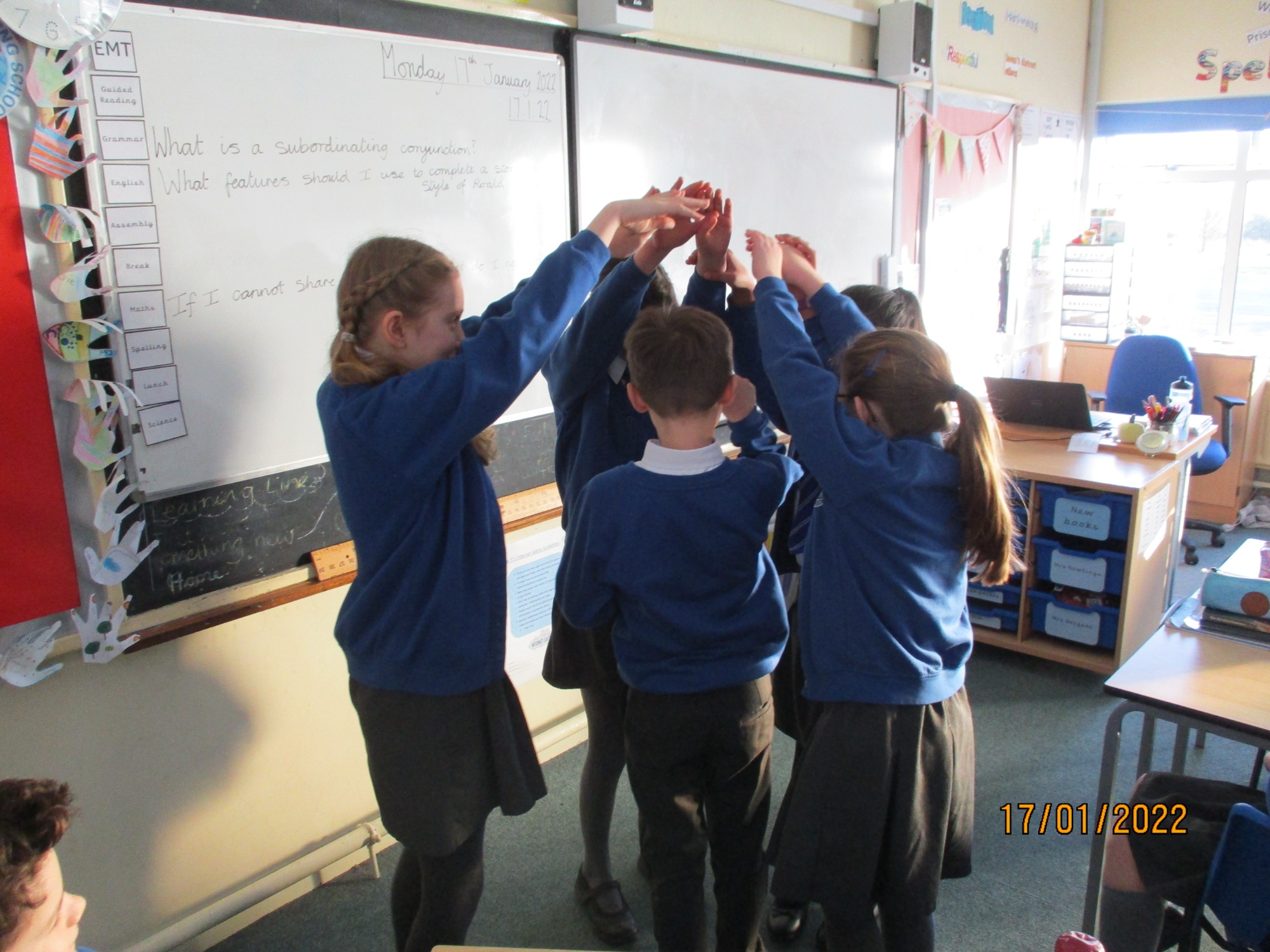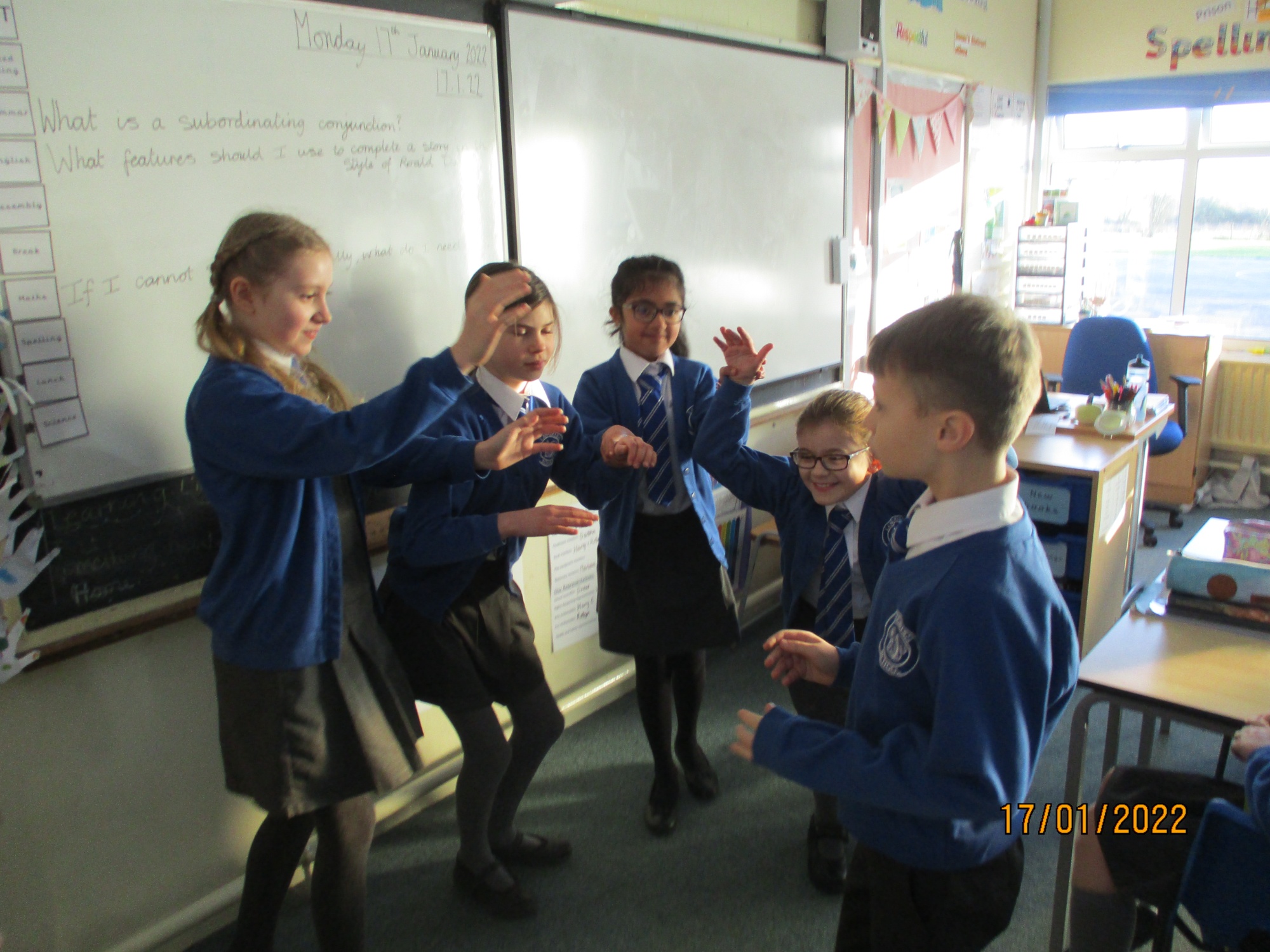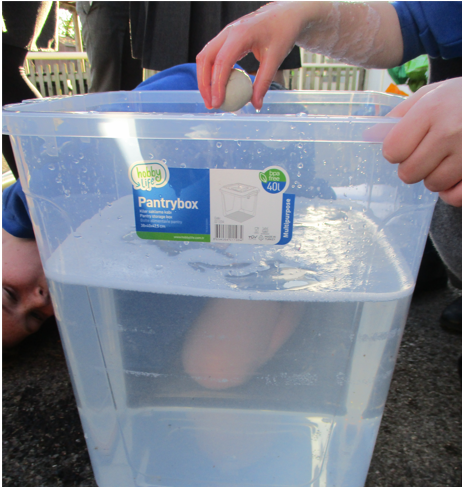 In science, we completed different investigations into air and water resistance. Here you can see us enquiring whether the shape of an object affects the speed it falls through water.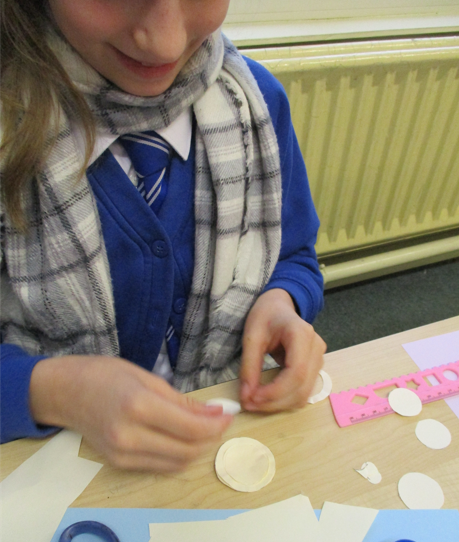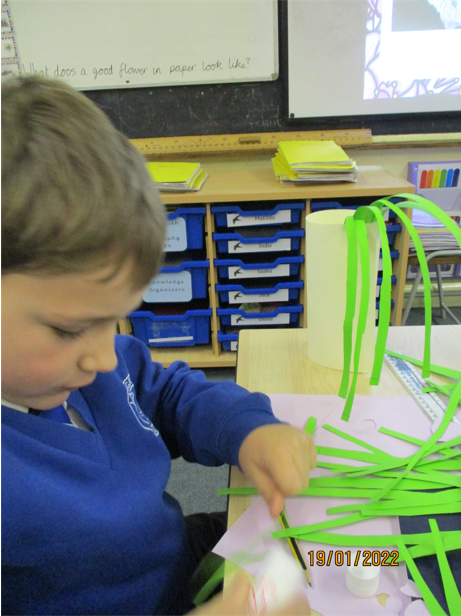 In art, to improve our mastery of art techniques we used paper to create sculptures of plants and flowers.
Week 2
What a busy week! On Thursday, we enjoyed a fabulous trip to Chichester Festival Theatre to see Fantastically Great Women Who Changed the World, reviews all round where that we thoroughly enjoyed the show as well as learning about some of the women we will study later on in Year 5!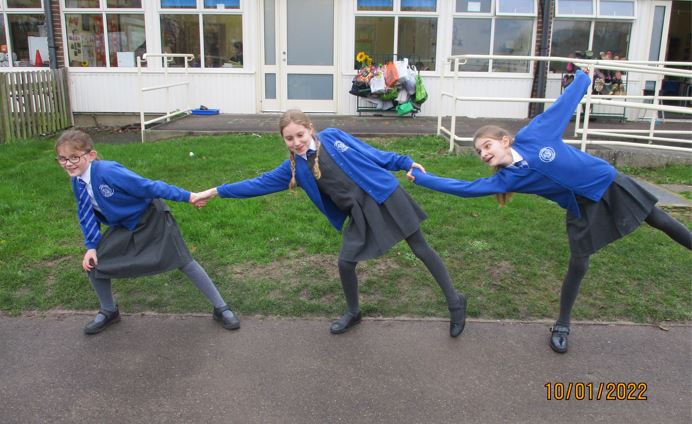 In science, we started looking at our Forces unit. We recapped what forces are, any forces we could remember, this was a great opportunity to head outside and explore these forces. What force do you think we are showing here?
Week 1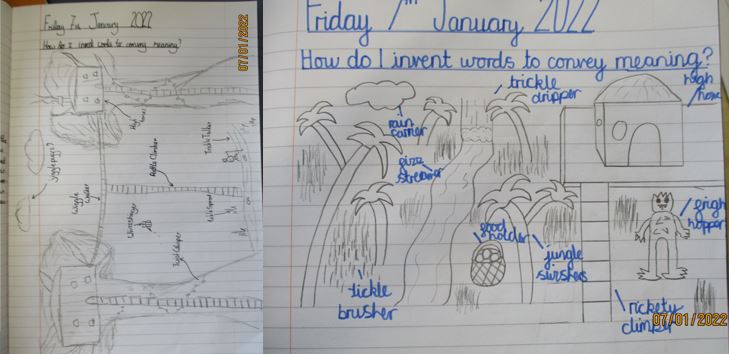 Welcome back and Happy New Year! This week we started our new unit in English: Charlie and the Chocolate Factory. We have had great fun describing famous Roald Dahl characters, making up synonyms to add drama and effect, we even created compound words to describe Loompaland... don't be surprised if we start calling our spoons a shlurpscoop at the dinner table!
We also started our topic unit: Journeys. What is migration? We discussed where we were born and more importantly where our families were born. As a class we found out that we have lots of diverse family backgrounds!
---
Week 14
Congratulations to Sasha, Florence, Indie and Henry for completing the reading challenge and won an incredible 25 house points! Great job!
We have had a fabulously festive last week of term. We started our week with our World Faith and Philosophy day. We explored the concept of prophecy and looked more specifically at prophecy from the Magi. Year 5 were shocked to find that the Bible doesn't mention the 3 'kings', but instead refers to the Magi as 'wise men', which we decided makes sense as they are intellectual people who read the stars! We finished our day by applying our learning to a piece of drama about a negative or positive outcome of prophecy, they were great to watch and allowed us to evaluate the difference the concept makes to our lives and others'.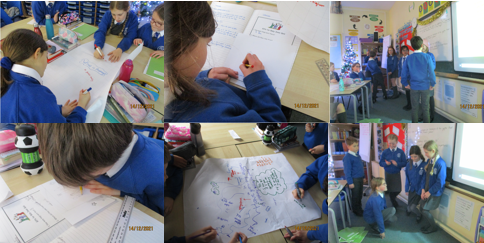 On Thursday we completed another maths mystery from our home learning, with a christmassy twist! We enjoyed using what we have learnt so far in maths to influence our questions and consolidate our learning from previous units.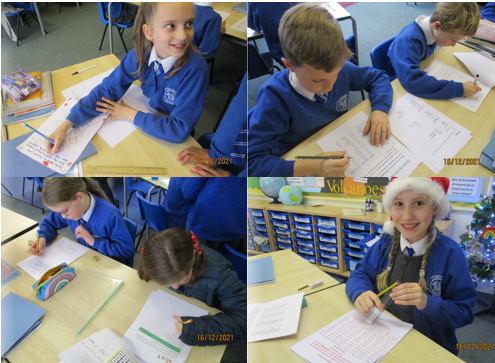 Week 13
We have had an incredibly busy week this week, with our end of term assessments and Christmas fayre (see the Nut for pictures) we had a fabulous time! Year 5 made a great profit from the Christmas fare, coming in a close (ish) second to Year 6... well done Year 6!
On Thursday and Friday this week we finished our Design and Technology unit by creating gingerbread houses. We have thoroughly enjoyed learning about the origins of gingerbread and the design elements behind creating a product for a set audience and purpose. Here are some pictures of us decorating our gingerbread houses: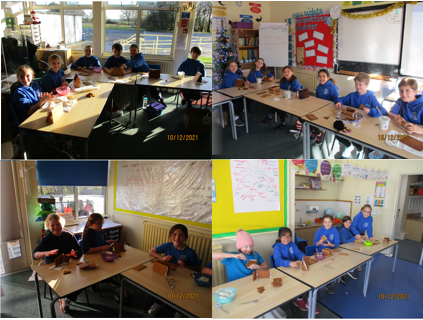 We would also like to say a HUGE thank you to parents, grandparents and adults at home that helped us bake and who provided decorations for our gingerbread houses.
From the Year 5 team x
Week 12
We continued our perimeter and area unit in maths this week and spent our Friday session exploring our home learning tasks. They were great problems from everyone and allowed us to apply our skills to challenging word problems.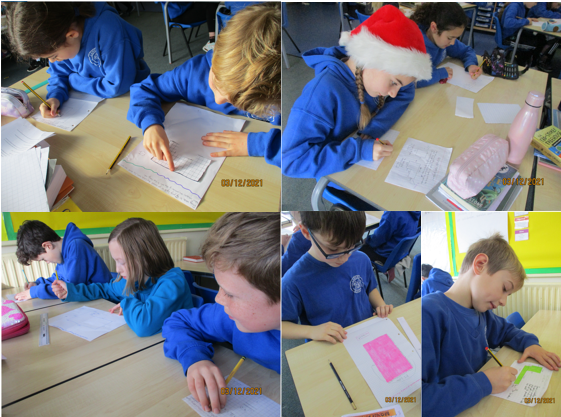 On Wednesday, we took part in our Christmas fun run! Thank you for all your donations, we did everyone proud with how many laps we ran, Mr James could hardly keep up counting.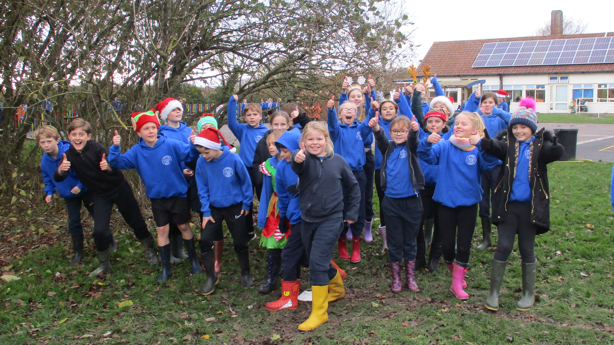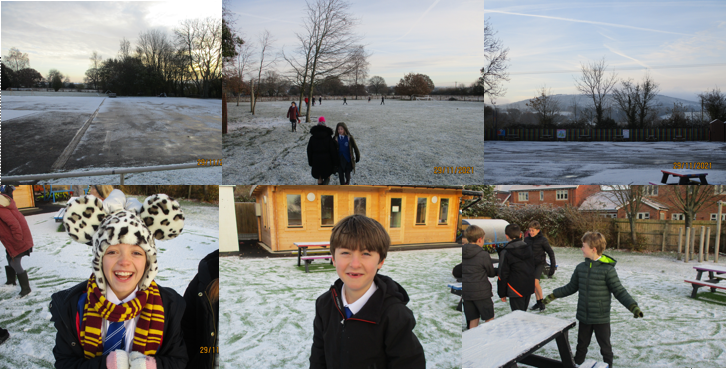 Snow! We started this week with a lovely dusting of snow at Langrish, and we had to take the opportunity to go and explore and have fun. The snow was great and very useful for our vocabulary bank in English as we began writing poetry around the seasons, it's like the weather knew Year 5 were about to write fabulous pieces of poetry!
Week 11
We started our poetry unit in English this week. We focused on language devices such as similes, metaphors and onomatopoeias. We have been analysing a poem each day as well as learning these devices, so on Friday we were able to justify our opinions about a poem using the features to develop our answers.

In computing we have been creating formula. This week we were using variables to compare age and amounts. By inputting the formula at the top we were able to find out age in days, weeks and months.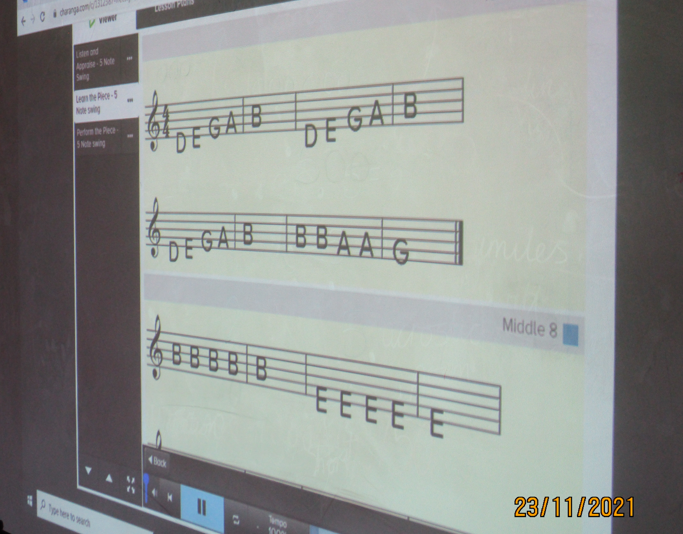 We continued our classroom jazz unit this week and listen and appraised a new song called '5 note swing'. We incorporated learning two new notes D and E and used this in our improvisations throughout the piece.
Week 10
This week we finished our unit in English on The Piano. We have worked hard at developing our descriptive language since our last narrative write and have excelled in our final piece writing. Look out for extracts of our work on Seesaw next week!

In maths, we continued our multiplication and division unit. To develop our skills we have been working on learning and retaining the vocabulary associated with this unit e.g multiples, factors, prime numbers etc. When completing your home learning this week, please ensure that you check and test yourself on this knowledge and what the vocabulary means. This will be useful for when we finish the unit next week.
In P.E with Mr James we are continuing developing our skills of hockey. We played the game the bird's nest to warm up our passing and control skills before we took part in small matches.
For more information about what we got up to during Anti-bullying week take a look at our Year 5 page in the Nutshell! As well as Children in Need this Friday, look out for our class picture in next week's Nut.
Week 9
This week in English we used hot seating as a tool to learn more about the main character in The Piano. This activity allowed us to explore thoughts and feelings as well as answer any questions the short film proposes.

In Geography, we were using maps to find capital cities of countries and find the distance from the city of Reykjavik, which is our focus location for this unit. We then began creating population graphs on a blank map of Europe to show the proportion of size of country vs population.

Week 8
Welcome back! We have had another amazing start to the half-term and it has been great to hear what everyone got up to over the Halloween break!
This week we started our new unit in Music: Classroom Jazz. It was fabulous to use our skills from Livin' on a Prayer and incorporate them into this new topic. We focused on the notes G, B and A to improvise and create a noisy, but tuneful, melody!

We were lucky enough to be visited by the Perform drama company on Wednesday. We took part in drama games and created characters and then thought of what their catchphrase might be! It was a lot of fun and exciting to take part in.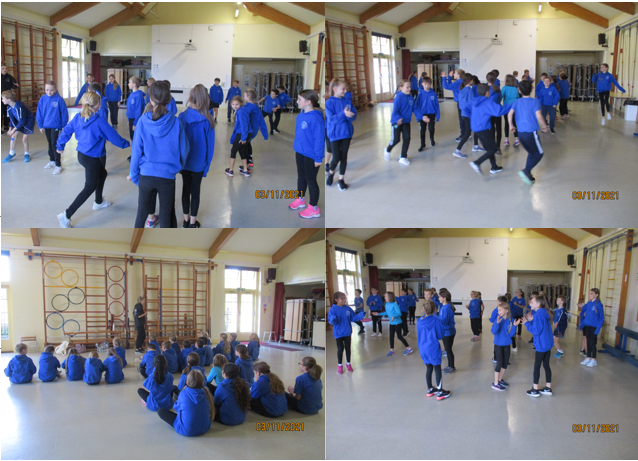 For English this term we are starting by exploring The Piano by Aidan Gibbons. We have analysed scenes from the short film to help us with our descriptive language. We finished the week by creating short passages of descriptive writing, imaging we are adding narration to the short film.
---
Week 7
This week we finished our English unit of study on Michael Morpurgo. We completed the unit by writing our balanced argument about whether the German pilots were friend or foe to the two boys. We worked hard to ensure we incorporated all the features of a balanced argument into our writing and did so with the support of a debate earlier in the week to pick apart the for and against arguments.
In Art, we finished our seaside topic, but used our learnt skills from this term to create fabulous Halloween pictures! We thought about how the use of sugar paper on the dark background makes a really effective silhouette style piece.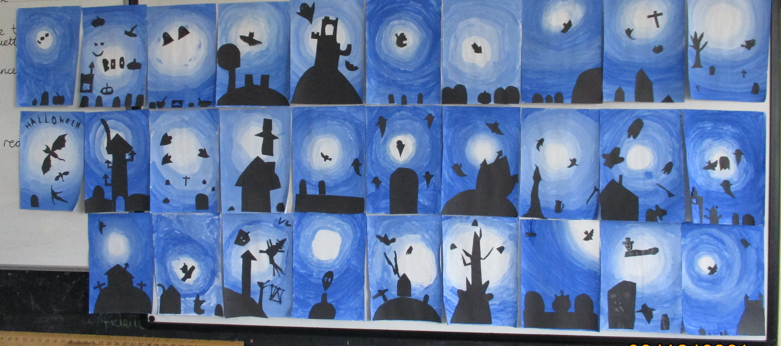 On Thursday we had our World Faith and Philosophy day. We learnt all about Ummah (the Muslim word for community). We thought about our own communities and how different communities that we are part of make up our identity. We explored two young Muslims' opinions towards Ummah and how important it is for them to be part of a safe and welcoming community - we referred this to how we feel at school!
Thank you for working so hard this term, have a lovely break and see you in November!
Week 6
This week in English we started our final section of our study on Michael Morpurgo. We are analysing whether the German pilots in our book are indeed Friend or Foe. To really understand the debate we have been using drama to support our English work. Here is our conscience alley, weighing up the different opinions of Tucky and David.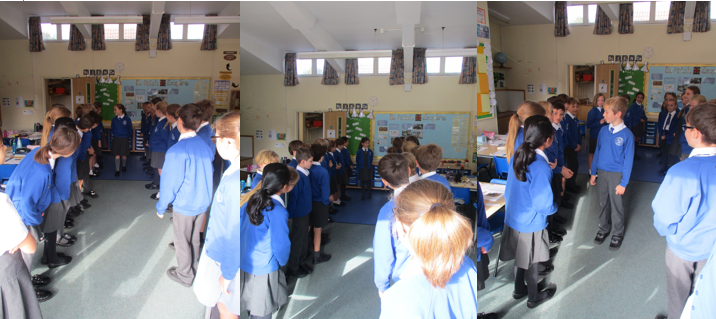 In Art, we created ink prints on tissue paper background. We used our mastery of art techniques to create abstract pictures with depth. Here is our artwork up in our art area: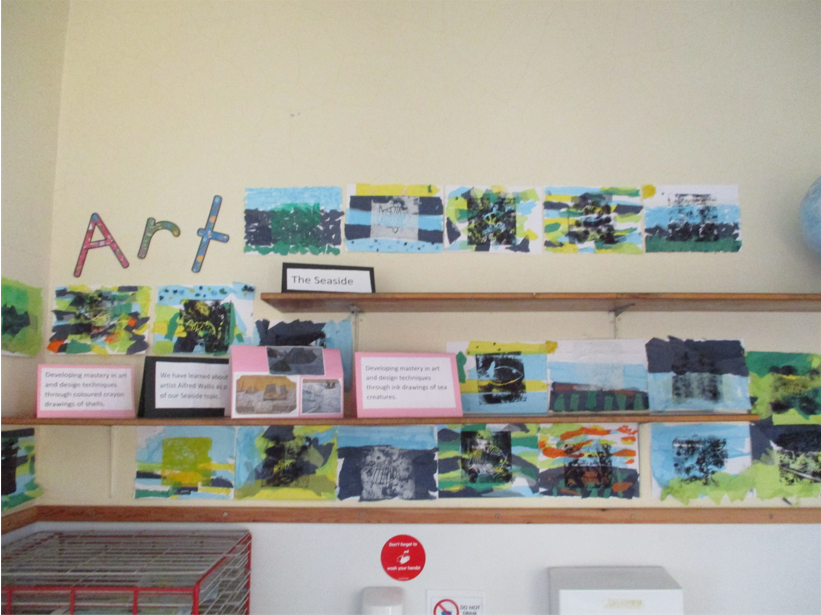 In science, we experimented with different mixtures of materials. We used the processes of sieving, evaporating, filtration and magnetic attraction to separate items that had mixed in our 'supermarket chaos' lesson. It was very enjoyable, alongside learning about how we can separate mixtures of solids, liquids and gases!

Week 5
This week in maths we started our addition and subtraction unit. Everyone has been really enthusiastic about their learning, always extending and challenging themselves. To consolidate our last unit, we have continued using place value charts to support our addition and subtraction work.

In science, we developed our knowledge of solids, liquids and gases by investigating dissolving. We mixed salt, sugar, rice, flour, gravy and coffee with water to create a solution and find out which materials are soluble or insoluble.

This week we started a new activity in computing. We finished our Internet research posters and decided to use our knowledge of safe Internet research and e-safety to begin planning an online safety comic strip. We are going to finish these next week and display them alongside our fact files for everyone to see!
Week 4
In English, we have been continuing our study of Friend or Foe. At the beginning of the week we started planning our own narrative written in the style of Michael Morpurgo. To support our writing we used thesauruses to develop our descriptive vocabulary. We are now using this extended vocabulary in our writing.

In P.E we continued developing our sequences, this week we included counter-balances. We thought about how we can incorporate balances into our sequences, using different levels and transitions that we learnt previously. We then performed our dances to the class, ensuring we challenged ourselves to hold positions for 3 seconds and to engage our core.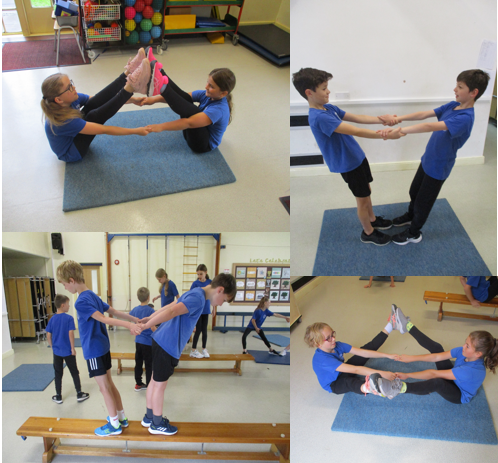 In Art, we have been continued our topic of the Seaside. This week we used our shell and fish drawings to develop mastery of art techniques through printing. We created a textured background through ripping and arranging tissue paper and then printed on our fish design using ink. The designs look incredibly effective up on our wall!
Week 3
This week we started our new book in English, Friend or Foe by Michael Morpurgo. We began by predicting what we thought the story would be about and comparing these predictions to the blurb. Together we read Chapters 1-4, analysing Michael Morpurgo's style of writing and from this creating short pieces of speech, imaging two characters being evacuated to the countryside.
In P.S.H.E we focused on what makes someone a good friend. We used role-play to explore scenarios where someone wasn't very kind to their friend, discussed what would have been the more sensitive way to support each other and created a new resolution role-play! Here is a few pictures of us in action:

In music, we have been learning the song Livin' on a Prayer by Bon Jovi. It has been lovely to be able to sing at school again (with our windows and doors open!) We have thoroughly enjoyed the rock style of music, and it has certainly been stuck in our heads all week!
Week 2
This week we started our materials and changing properties topic in Science. We were looking at how to describe characteristics of materials, for example flexibility and permeability. We then used this knowledge in an experiment to test the properties of 5 different materials.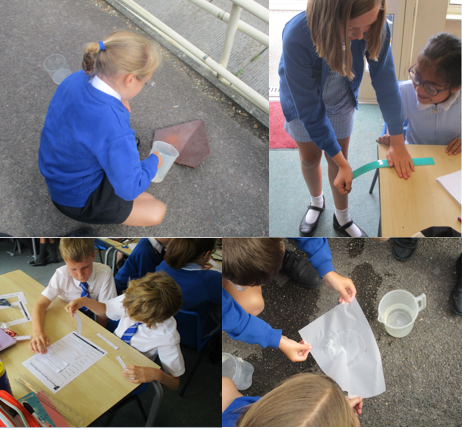 In History this week, we thought about these two questions:​ What can coins tell us? ​How are they useful to historians?​ We looked at a range of coins from the British Empire and found out that they give us lots of information. Ask us what we have learnt?​ If you have any unusual coins (particularly from the British Empire) then please bring them in.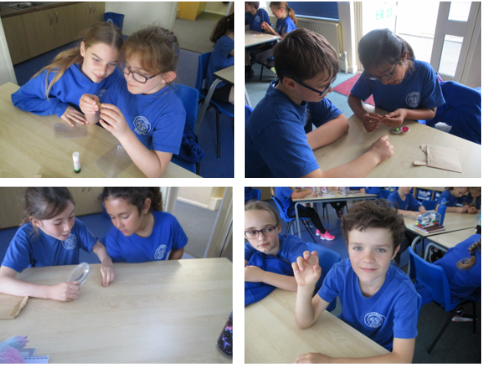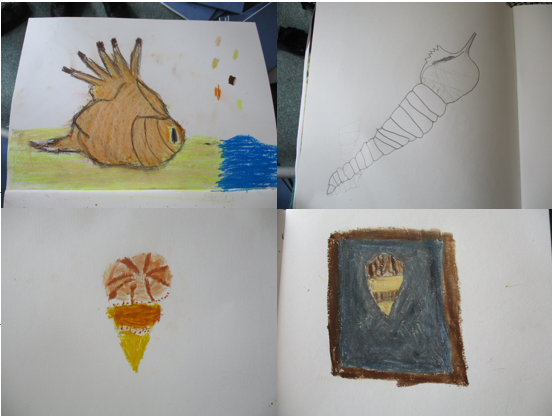 In art, we continued our focus on marine drawings. We explored the work of artist Alfred Wallis and how other artist's work could influence our own. We then used oil pastels and coloured pencils to replicate his techniques in our drawings of shells! Have a look at our artwork below and see how we experimented with colours!
Start Right Week
Wow! What an incredible first week back at school, Year 5 have had a fabulous start to the Autumn term! We have elected our class ambassadors, decided on our Rights Respecting articles, discussed our E-Safety agreement (which can be found at the bottom of the Year 5 page) AND considered what it means to be a successful learner in Year 5.
As well as this:
We have started our gymnastics topic in P.E. This week we focused on sequences and how to travel using different speeds, whilst also moving at different levels.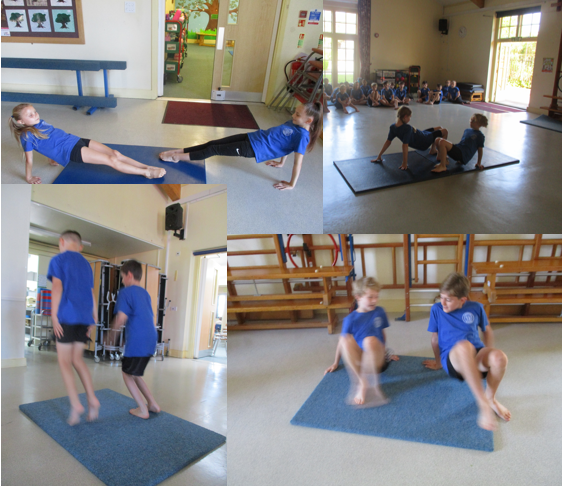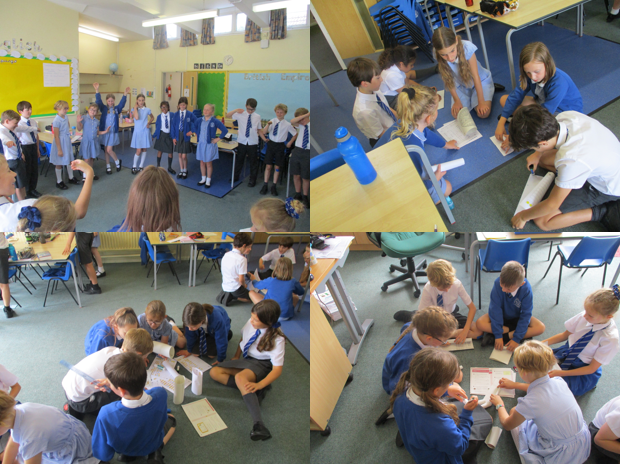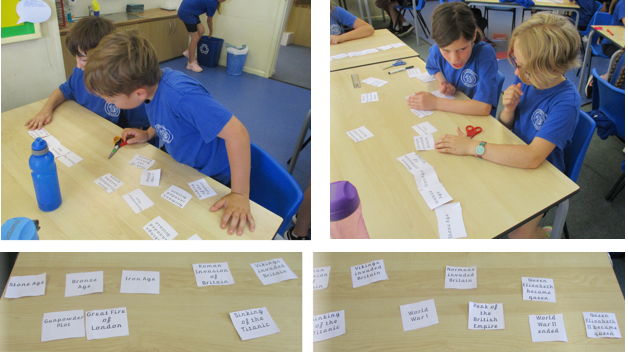 In P.S.H.E we were thinking about what it means to work collaboratively. We played a game where everybody had to secretly copy somebody else's position. The pose was shared silently, but we all ended up with the same pose! We used this collaborative thinking to help us build the tallest and strongest tower.
In History, we have started our new topic, The British Empire. First, we were given a challenge to put lots of events into the correct chronological order. We then had to think about how big the gaps were between each event e.g. The Great Fire of London and The Gunpowder Plot were very close together but the Stone, Bronze and Iron Age were much further apart.