Mrs Jones
Home Isolation Learning Wednesday 3rd June
Good morning Y5
I hope you have had a refreshing sleep and you are ready for the day ahead. I don't think the sun is going to shine today which is a shame but I am sure you can find lots of things to inside. Have a good day!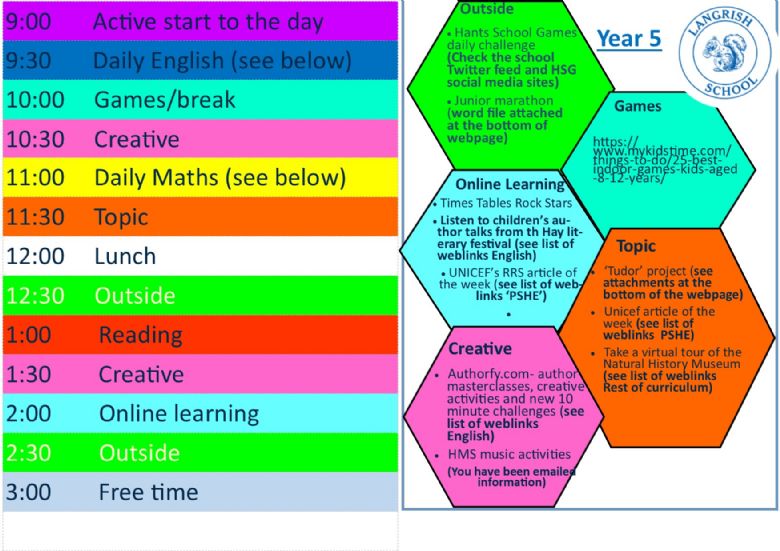 Maths

These lessons are taken from the BBC Bitesize Daily Learning schedule. All of the topics covered are revision of learning from earlier in the year so you should have methods and examples in your Maths Journals. If you don't then you could add them in now.
For the daily maths lesson follow: Problem solving with fractions
If you have extra time or would like a challenge:
Try page 3 of the Fraction word problems pdf attached at the bottom of this page.
English
Spelling shed time. I have added 3 lists for you that will expire in two weeks. They are:
'ie' after 'c'
'ei' after 'c'
A revision of 'cial' and 'tial'
If you have spare time or would like to have a challenge, try making a crossword for the spellings you have focused on today.
History:
Keep working on the history Tudor project. You don't have to do all of it but you could choose the bits you will enjoy.
A little reminder:
Don't forget to send me your PE activities by email please.
Remember to share your learning on Seesaw as I know you are doing a great job.
Internet Safety:
While you are finding yourselves online more than normal and away from school, issues around internet safety and your mental health may be arising that you have not had to think about before. To help you to deal with these, the NSPCC 's website has some great activities and advice and their helpline remains open as usual if you need to talk to someone on 0800 1111. Parents, if your child is accessing the internet and finds something that they are worried about, they should tell an adult immediately. Please then email us the link as we can then monitor what is going on out there in the virtual world.
---
A Taste of our Learning: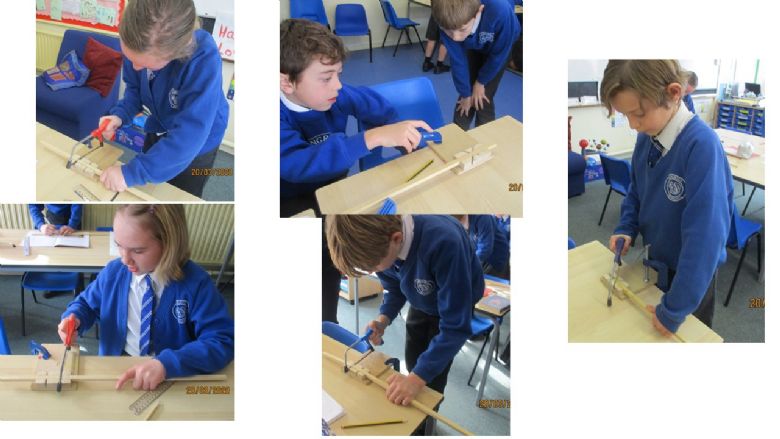 Even on the last day before school closures, Year 5 found time to start building their bridges from wood and clay, practising their sawing and joining techniques.
Petersfield Music festival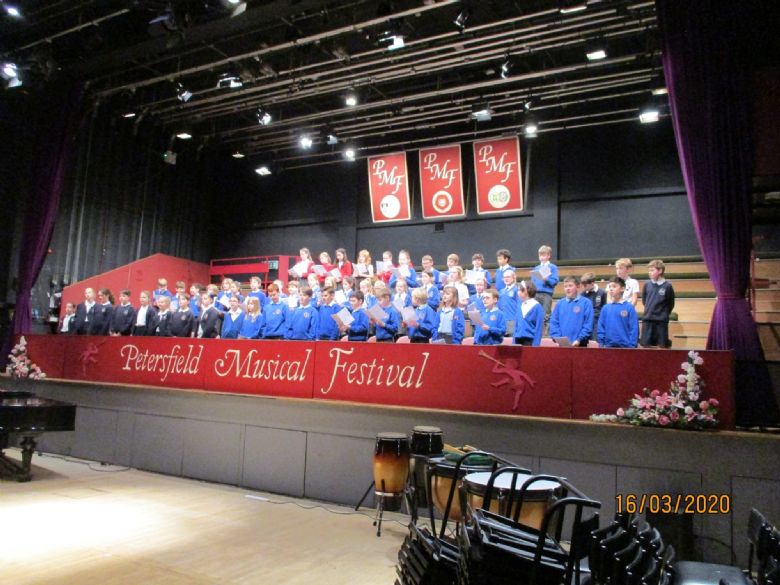 Despite the Petersfield Music Festival youth concerts being cancelled, the class still managed to have a quick run through of three of the songs on the stage at the Festival Hall. Back in school, the pupils performed a selection of the music for the rest of the school. They were amazing, singing loudly and expressively; it brought a lump to the throat and a tear to the eye. Many of them were absolutely word perfect. They obviously put a lot of time into practising at home.
Mayans
We kicked off our Mayans topic with a visit from theatre gro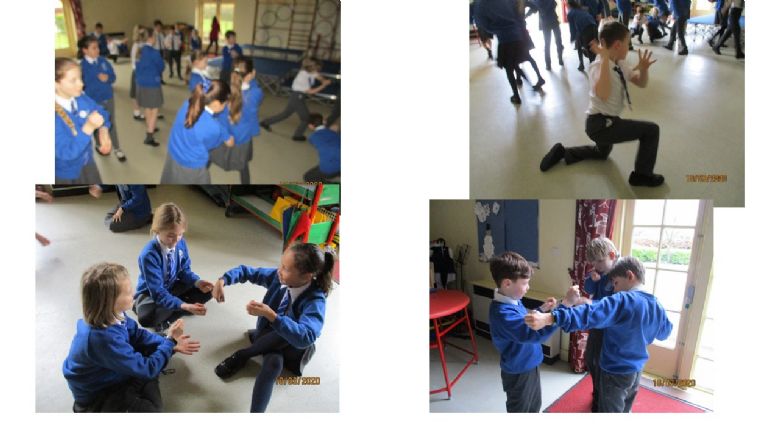 up Open Box Theatre. We learned about; clearing (slashing and burning) rainforest in order to build homes, village life and all the different occupations, including the high priestess Friday who concluded the session with a ritual human sacrifice.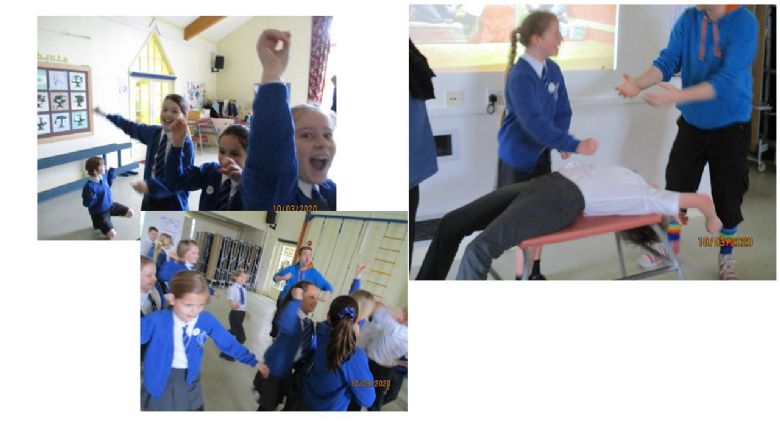 World book Day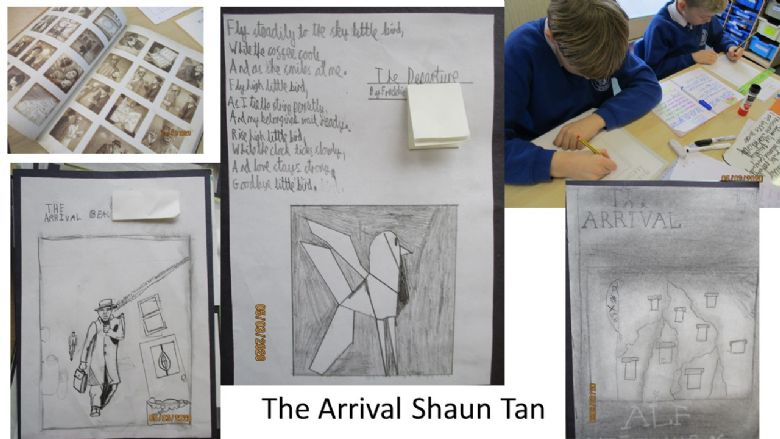 Year 5 focused on the graphic novel The Arrival by Shaun Tan. The children wrote amazing poems about the moment of the dad's departure to a new country. We linked this to our Immigration topic and created booklets depicting the Windrush generations' journeys and experiences once they arrived in Britain.
World Faith and Philosophy
This half-term's concept is 'Symbols' which the children have learned about through the church service of Eucharist or Holy Communion. The Rev. Jane Ball came into class to speak to the children about the service, explaining the symbolism of the bread and wine.
We also learned about the story of the last supper in relation to the Eucharist and the children created their own freeze frames, after which they discussed the feelings and thoughts of the different characters involved.
Safer Internet Day Workshop
Everyone had fun learning about Internet safety through role play, rapping and dance. 'Zip it! Block it! Flag it!'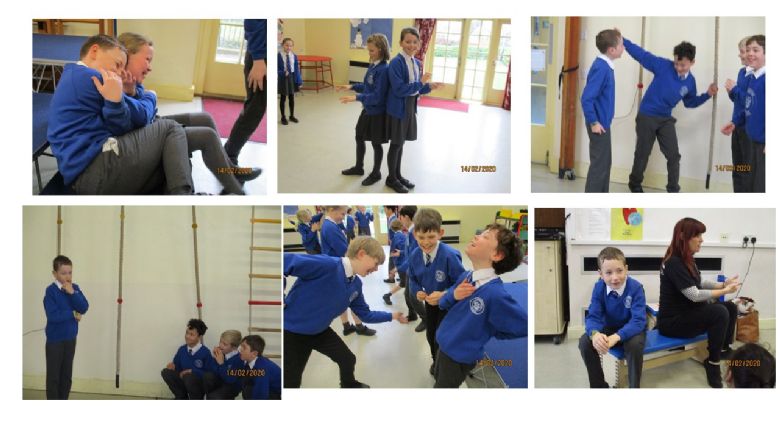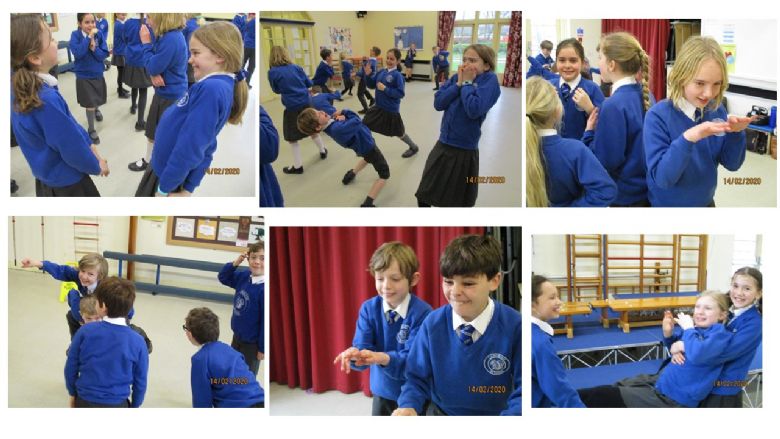 Take One Picture Week
As part of Take One Picture week, Year 5 put themselves in the place of one of the characters in 'A Village Square' by Lowry. In character, they wrote some imaginative, engaging and emotional diary entries. There have been house fires, lost dogs, and pick-pocketing going on- just to mention a few plot lines.
We took this opportunity to use a variety of media (pencil, ink, charcoal and oil pastels) to investigate how Lowry created his famous matchstick characters.
We also investigated perspective by drawing Lowry style buildings.
Bringing these ideas all together, we used Petersfield scenes to explore how to use perspective and brought all our learning together to create a final piece in the style of Lowry but inspired by our local area.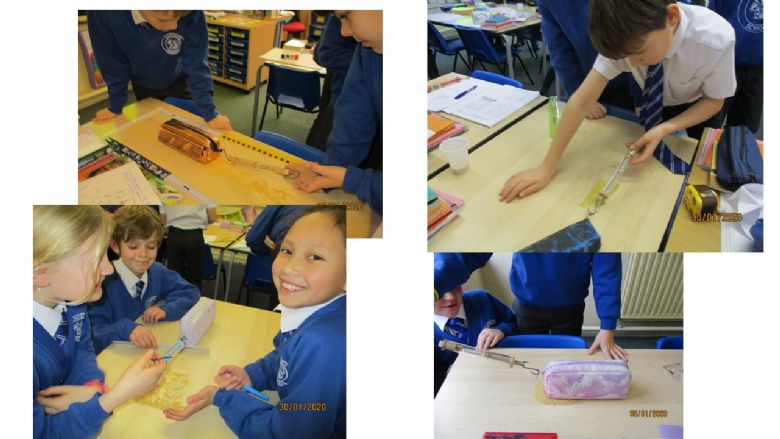 Science
As part of our Forces topic, the children were investigating friction. How did the ancient Moroccans move such large rocks using couscous? (I have to confess now that this isn't quite true- in fact it's a complete fib!). They certainly learned a lot though and developed their Working Scientifically skills as well.
Another Art update!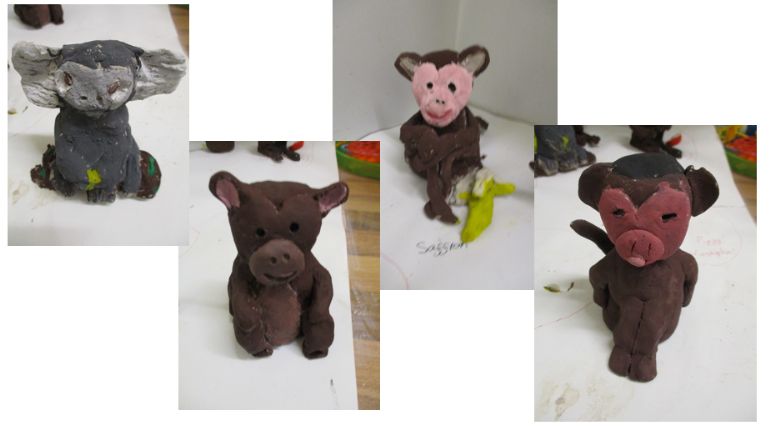 I'm sure that you'll agree that the completed clay monkeys look amazing. Well done year 5; you persevered and were very resilient.
Art update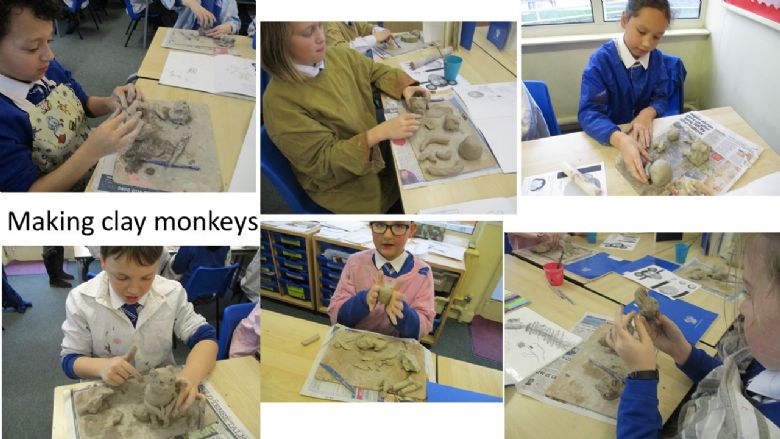 The children have now used their designs to create their very characterful clay monkeys. They will be drying over the next few days and then it will be time to paint and varnish them. Look out for photos of the finished artworks.
Art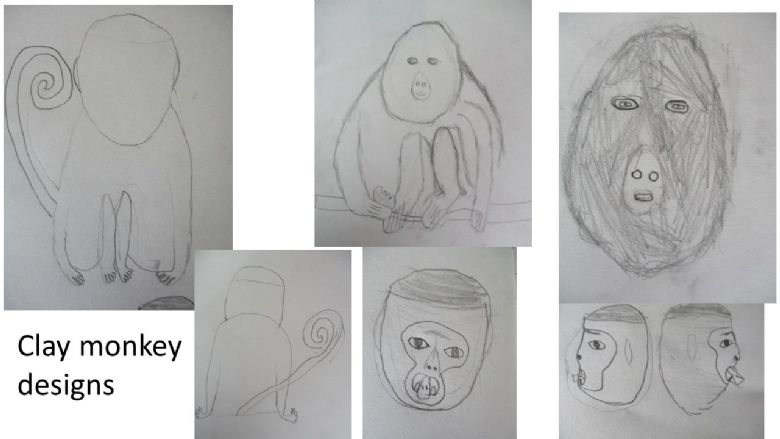 As part of our topic 'Central and South American Art' we studied some of the works of Frida Kahlo. She often included wildlife in her pictures, especially monkeys. This has inspired us to create clay monkey sculptures. The children have produced some amazing designs, showing front and rear views and close up details of faces and hands.
'The Snowman' books.
Year 5 have all become published authors this week! They have thoroughly enjoyed producing illustrated children's books and reading them to Year 1 and 2 pupils.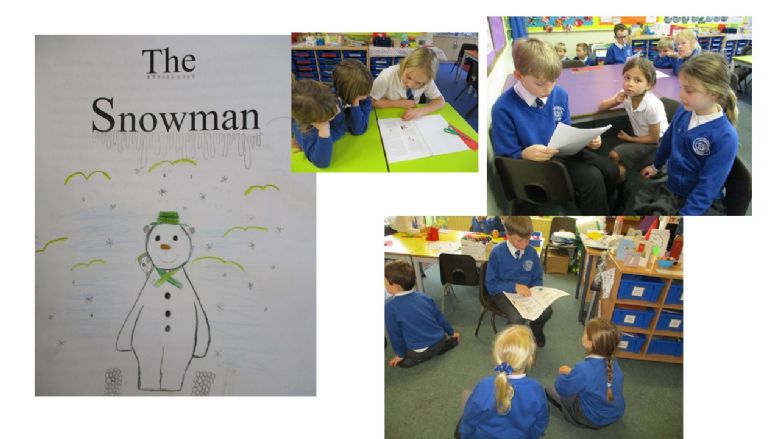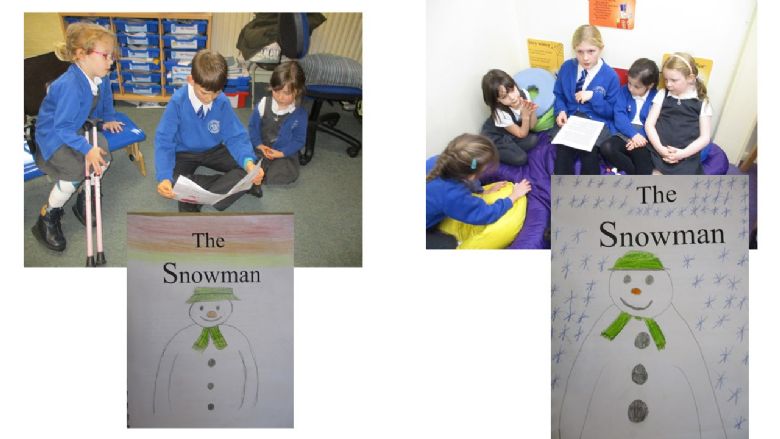 Christmas Jumper Day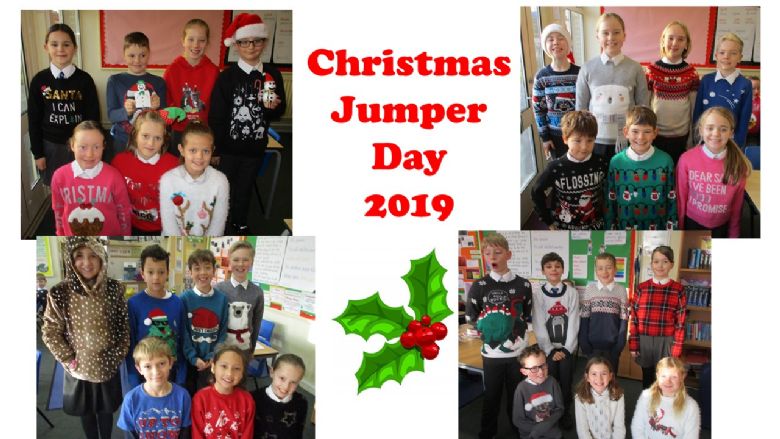 We wore our Christmas jumpers to raise money for the charity Save the Children. It got us into the mood for our Christmas lunch and Christmas fayre.
Gingerbread Houses
The children have had a very exciting time making gingerbread and assembling and decorating their houses.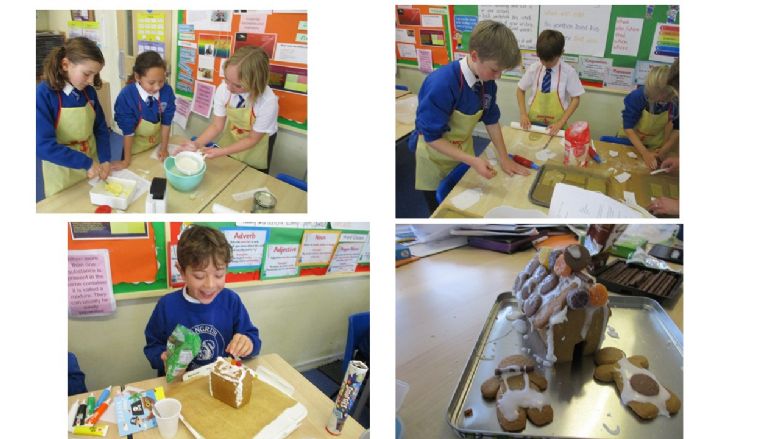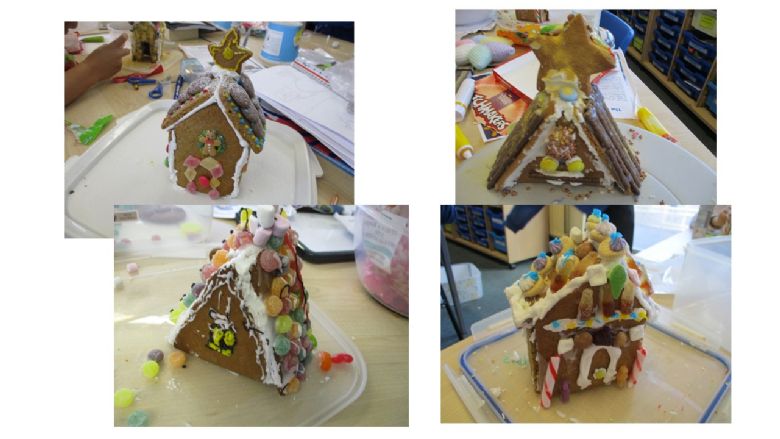 ---
Performance Poetry
As part of our English topic we have been studying Junk: The Story of Jasper O'Leary. The children rehearsed and performed their versions of the poem in pairs and small groups. They focussed on expression, clarity, hand gestures and facial expressions. Some amazing performances. Well done! We are currently experiencing technical difficulties when attempting to upload the video to the website. Everyone can view the performance on Seesaw whilst we attempt to rectify the problem. Thank you.
All the children have access to the app Seesaw in class. They can share learning that they are particularly proud of with parents and other invited adults who have registered. If you haven't signed up, please do so as it is a great way for the children to share instantly their learning with you.
---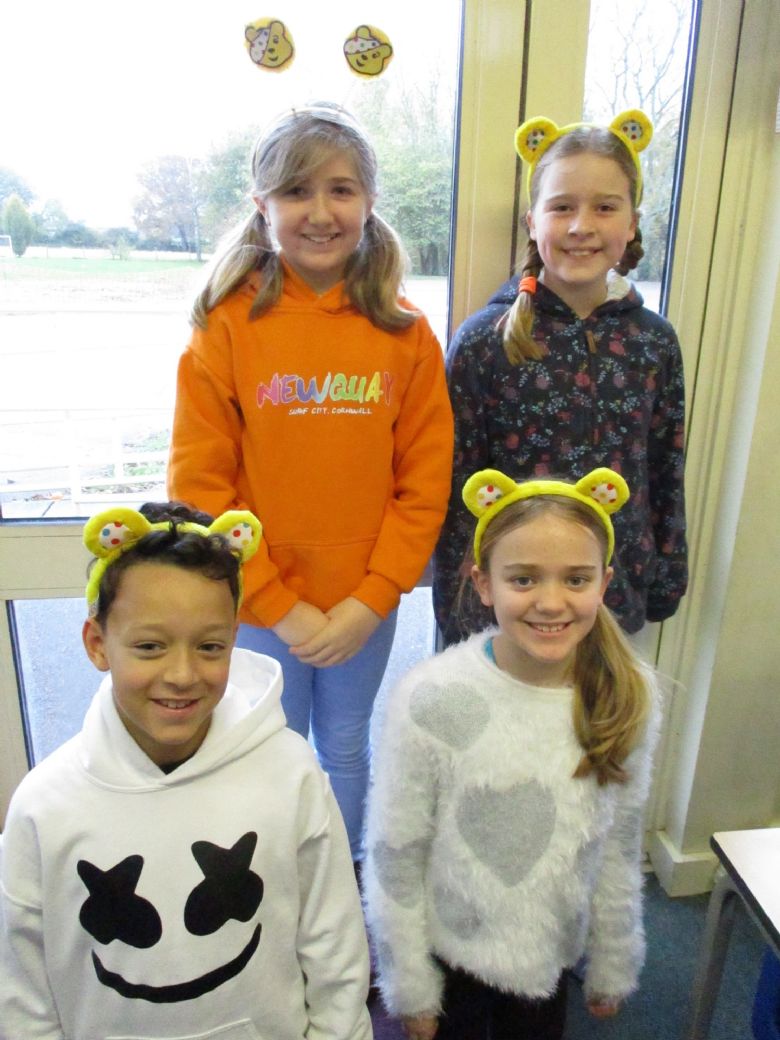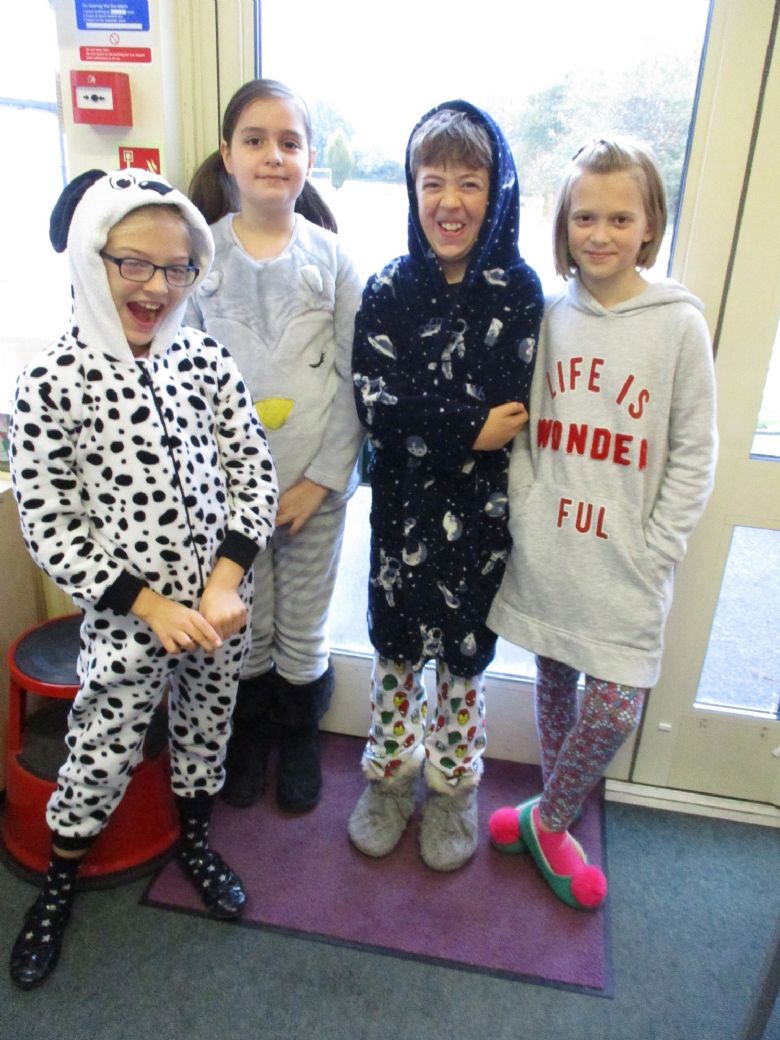 Children in Need
This year the whole school raised money for Children in Need by supporting a non-uniform day and spending money at lots of stalls at break and lunch times. A fun day was had by all.
---
The Life Bus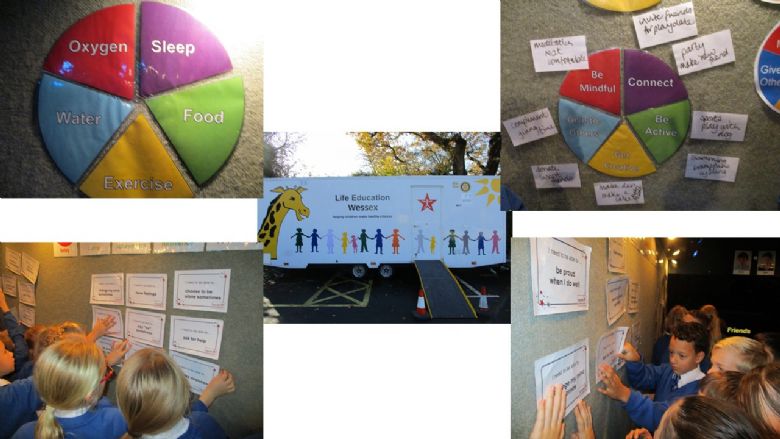 Year 5 visited the life bus this week where they learned about what the body needs for their physical and mental health; making healthy choices; peer pressure and being assertive.
---
The Butterfly Lion at Chichester Minerva Theatre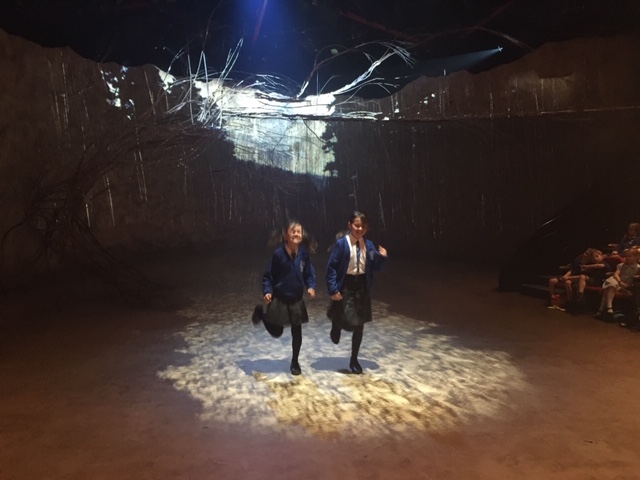 Wow! What a fantastic day! The children (and adults) were absolutely gripped throughout the whole performance. We were treated to a workshop during the morning when we met some of the actors who talked about the production and the rehearsal process. We were also introduced to one of the puppets, a dog called Jack. The workshop was very useful as it explained the fact that some of the main characters would be played by three different actors at different stages of their lives - sometimes all on stage simultaneously.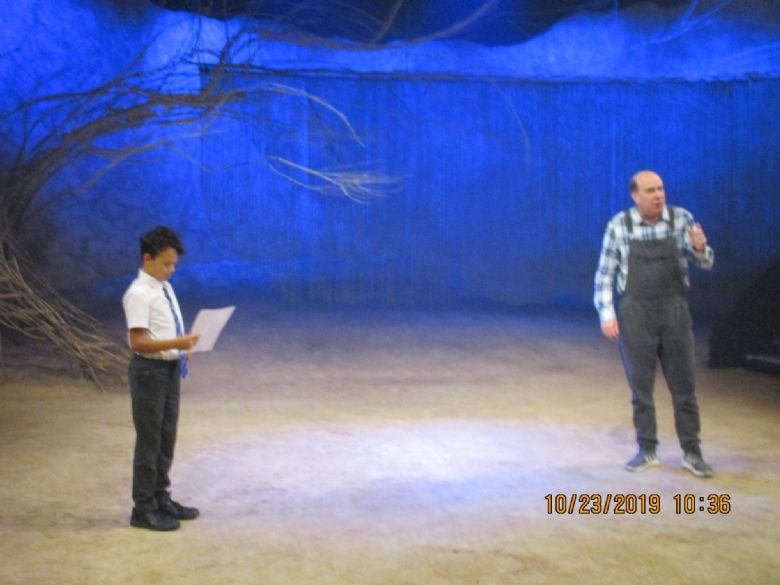 Volunteers from our class were lucky enough to get up on stage (during the workshop) to perform with the cast.
Some of the children have expressed the wish to go to see it again.
---
Significant People Day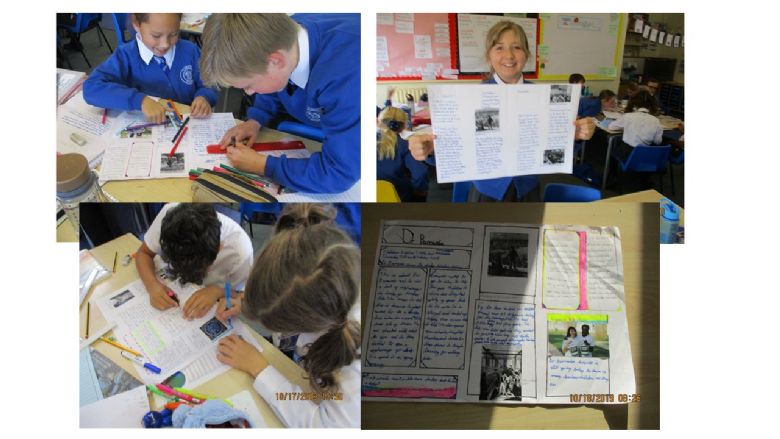 Year 5 learned about Dr Thomas Barnardo's life and work and then they produced a magazine article explaining his significance. They looked at the postive contributions he made as well as the controversy that he created at the time as well as more recent scandals associated with the Barnardo's charity in the mid 20th century.
The following day, they looked at the other classes' learning and then debated the relative significance of each of the six significant people studied.
---
Playleading: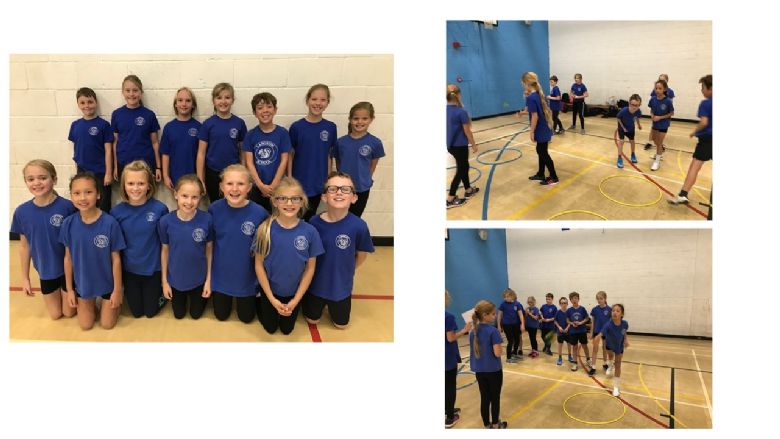 Fourteen children from Year 5 attended a Playleading course at Bohunt School where they: learned about leadership and communication skills; designed games; and carried out risk assessments, taking into account the equipment, space available and participants . They were all impeccably behaved and the course leader commented on their resilience and 'have a go' attitude.
---
Maths
Before we begin each topic in Maths, we carry out an 'Anchor Task'. The children do this in pairs or threes and it gives the teacher an opportunity to assess the children's understanding of the concept rather than the knowledge and skills which would be assessed in a more traditional test. There is no input and limited guidance from the teacher so the children really enjoy having the freedom to explore the concept freely - with no right or wrong answers! The powerpoint that we used for this task is attached below.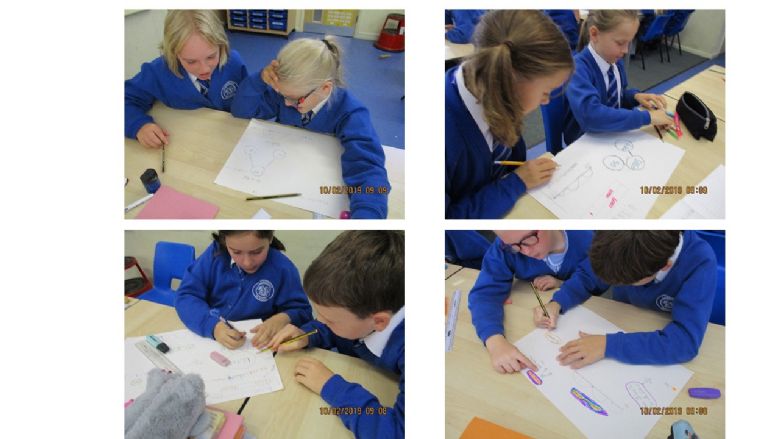 ---
Science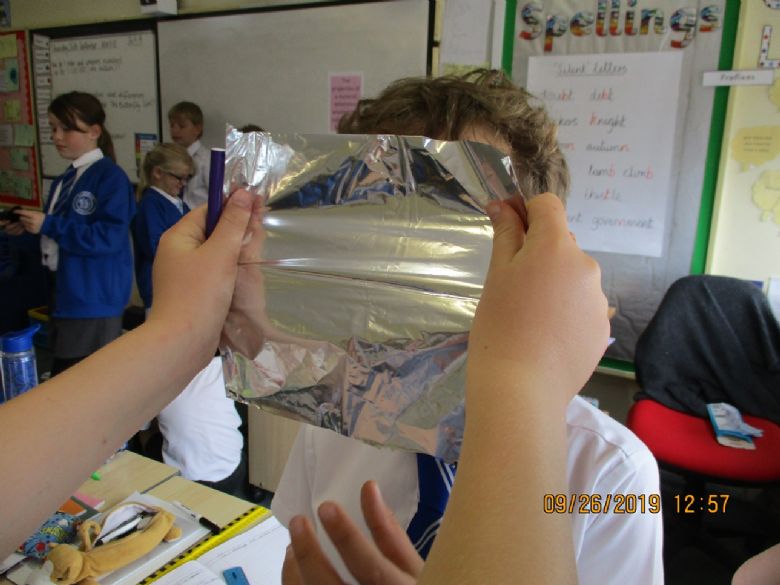 Year 5 pupils have been developing their 'Working Scientifically' skills by identifying and controlling variables whilst investigating the most suitable material for a blackout blind.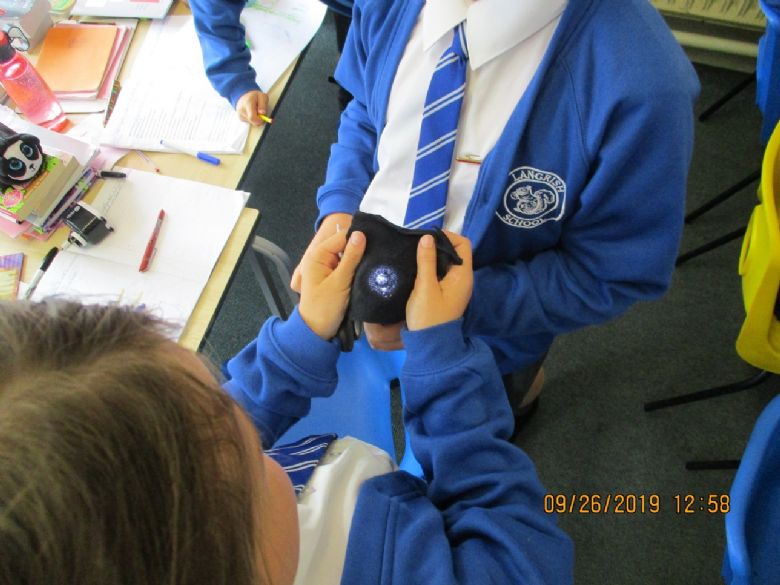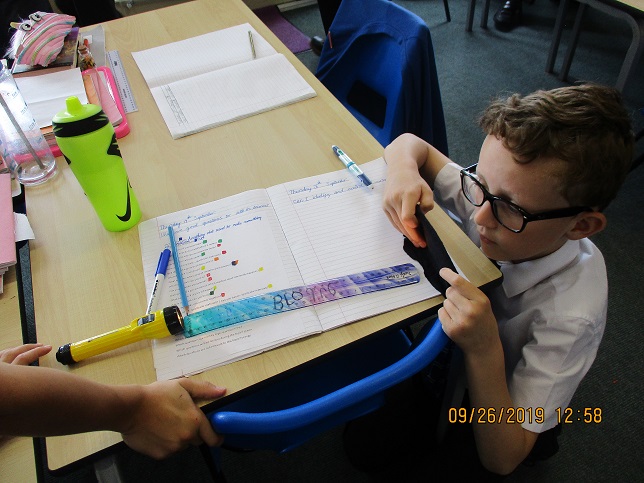 Fire Service visit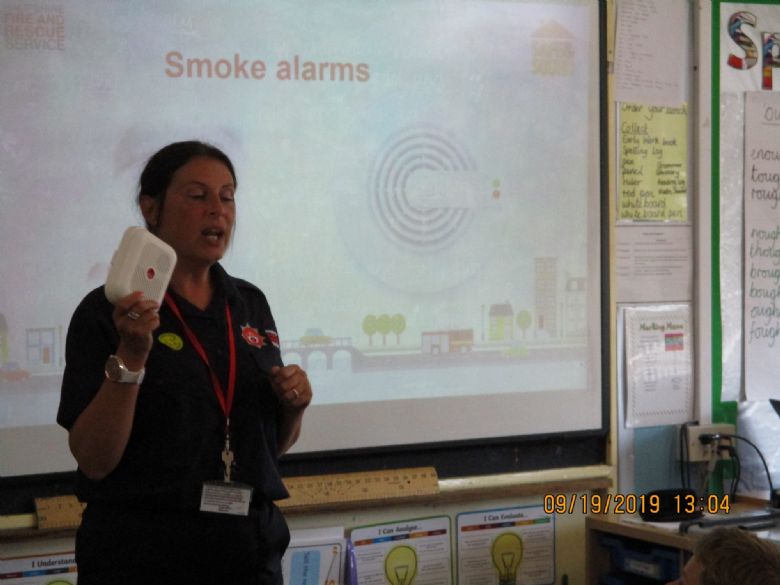 The Fire Service visited this week to talk about fire safety in the home. The children have all taken home a plan of their home which they can use to discuss an evacuation plan with adults at home. Tracy, the fire Leader, was really impressed with our knowledge. Can you explain to an adult at home the meaning of the following words?
arson

guilty by association

spontaneous combustion

toxic
School Parliament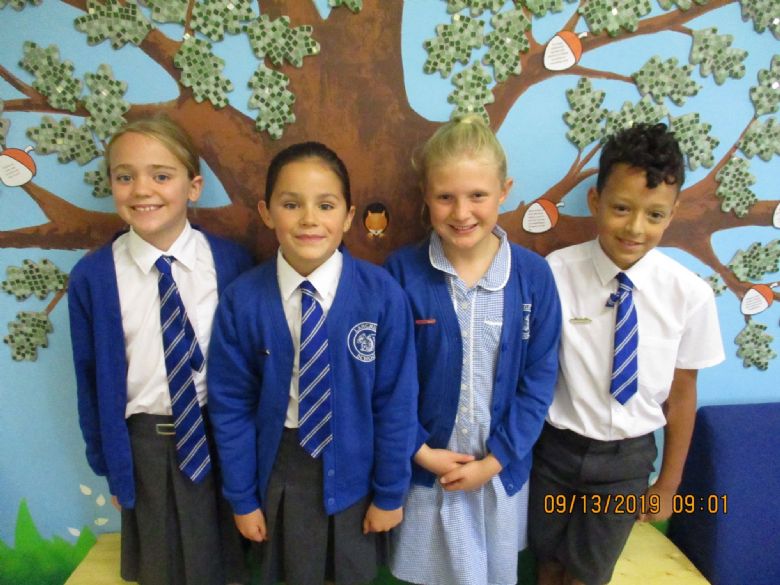 This week Year 5 elected their new School Parliament representatives (School Councillor, Rights Respecting representatives and Arts Ambassador).
Well over half of the class put themselves forward for these positions and there were several rounds of voting before the final candidates were elected. Well done to everyone who went for these roles. It's not easy to stand up and make a speech but all the children should be proud of themselves.