Miss Jones
PE Days: Monday & Thursday
Friday 31st March
Home Learning
English: Enjoy reading and please ensure your Reading Record is up-to-date ready for me to see during the first week back. Keep practising your spellings on Spelling Shed - I have re-set the Mega Mix Challenge and will award more house points on the first day of term for those trying hard!
Maths: Keep your angle knowledge fresh over the holidays by solving some of the missing angle problems in your revision guide or playing Tangled Web on MangaHigh.
Technology: Have a go at cooking a portion (or more) of rice, following the instructions on the package - we have seen what a key part of world cuisine this is, now it's time to learn how to practise preparing it. What did you eat it with? Be ready to share after the holidays!
Current class reader: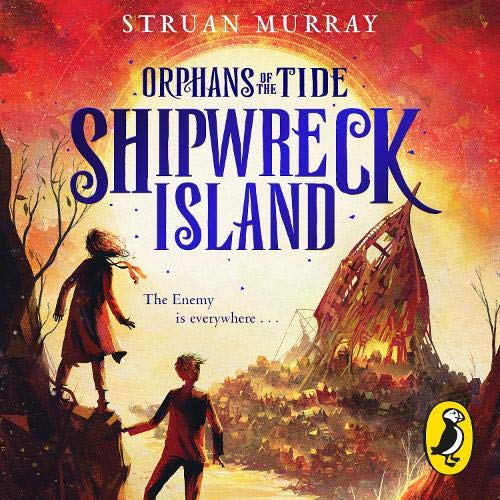 A Taste of our Learning
How can we create more environmentally sustainable shopping centres?
British Science Week - making connections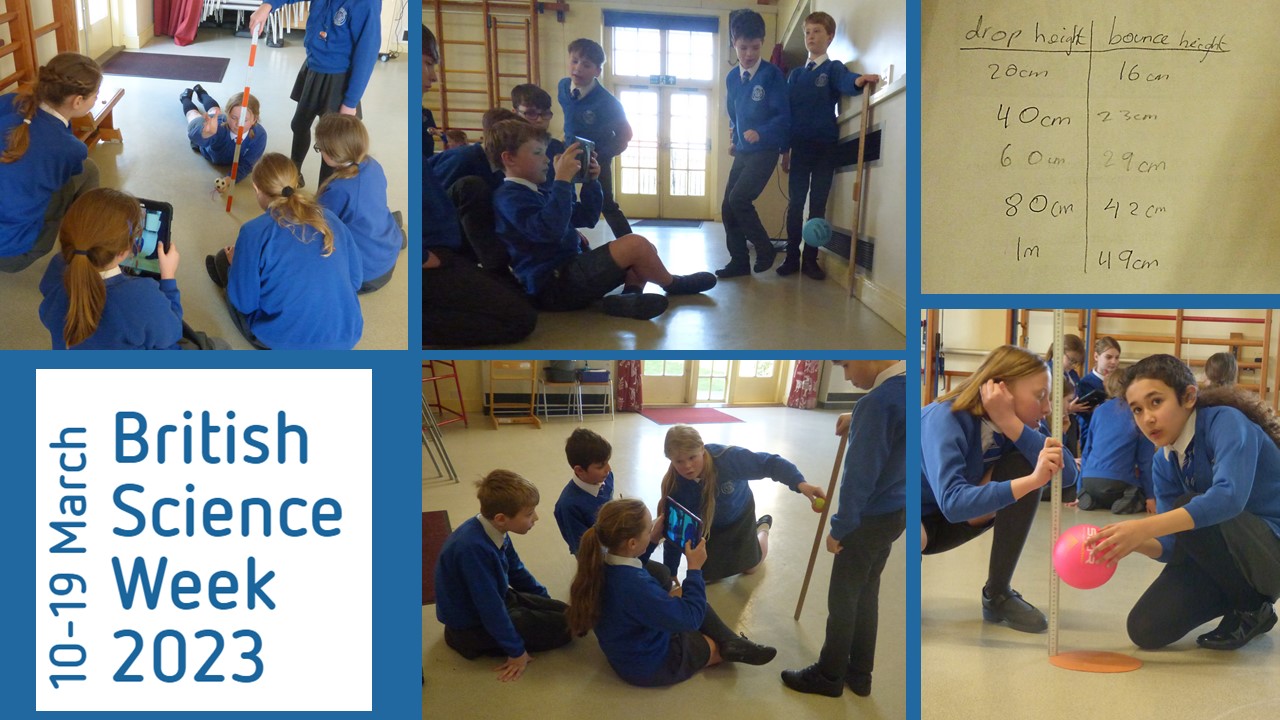 We had some fun on Tuesday afternoon in the hall investigating how the height you drop a ball from affects the bounce. The children had to work in groups to plan an investigation using just balls, ipads and meter sticks. They experimented with different types of balls and filming techniques to gather the best data (slow motion made their results much more accurate) and were able to understand the importance of filming parallel to the investigation. After all of our more formal teaching, the children automatically considered how to make their tests fair and the need to re-do tests where anomalies were found in the data to improve the validity of their results. Back in the classroom they were able to discuss patterns found in their data to answer the question, making the connection that a tennis ball would bounce back to approximately half of its drop height.
Spelling Superstars - into the finals!
Last week Years 5 and 6 took part in a national spelling competition. They amazed us with their competitiveness and perseverance, determined to finish the week top of the league. Drew worked particularly hard, sitting at 3rd place on th overall leader-board of all competitors in our league (20 schools!), while Langrish finished the week an impressive 2nd and rocketing us into the final!
This week the enthusiasm dwindled for some, but efforts from others remained high and spelling skills were definitely improving as the children thought carefully about each syllable and which spelling rule to apply. Overall, we came 9th out of 53 schools but our accuracy was the highest of any school at 88% - excellent work!
World Book Day
After requesting another mystery to solve for World Book Day, Key Stage 2 had a great morning honing their detective skills and then working in their House teams to make sense of the crime scene. Year 6 worked beautifully as mentors to the younger children as they navigated the different evidence, witness statements and red-herrings to put together their reports. They were clear on motive, means and opportunity - budding crime stoppers in the making!
Table Tennis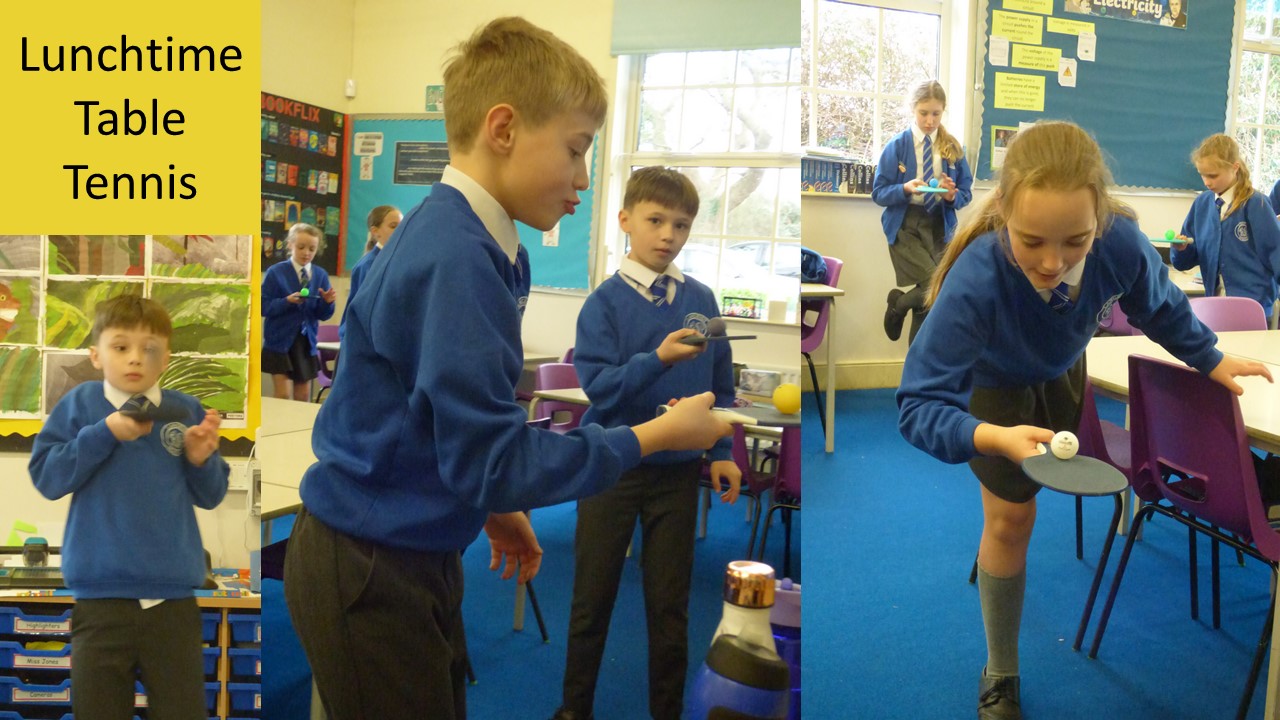 On Tuesday, Mrs Galliers brought in her table tennis equipment and Year 6 got to grips with the basics. Mr James had already started our tennis unit on Monday afternoon but it all seemed a little trickier with smaller bats and balls!
We had a great time trying to balance and bounce the balls - as you can see, it took a lot of concentration!
Take One Picture week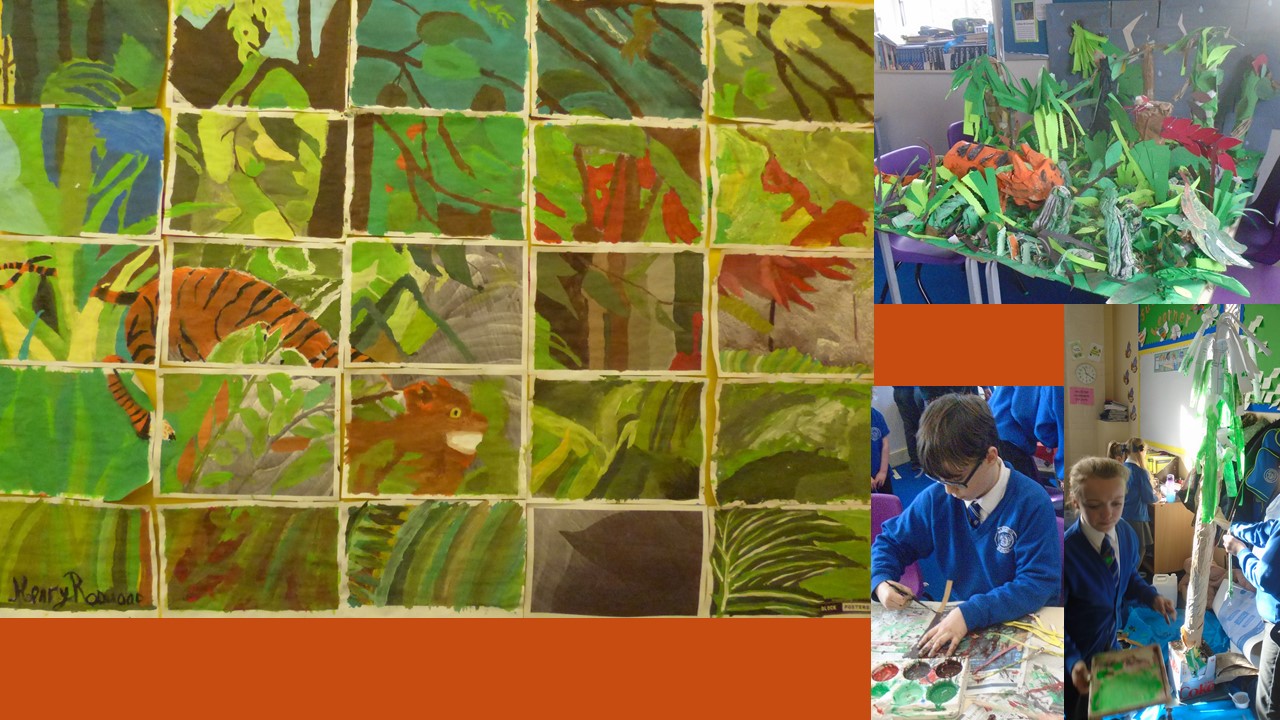 Year 6 voted to use some different media for their Take One Picture week and to create a narrative based on the picture. We therefore had a play with acrylic paints, exploring how these can be mixed to create the correct tones and hues, and then worked in pairs to paint a section of the original piece using the paints. In English we developed our suspense writing by creating stories in a similar setting to the image. The children were challenged to use passive voice as appropriate and to include dialogue which would portray character as well as inferring their thoughts and feelings.
Year 6 were expert ambassadors for their House teams on Friday as they supported the younger children in the creation of their 3D versions of the image. House Captains were especially impressive in their leadership and organisational roles.
Egyptian Art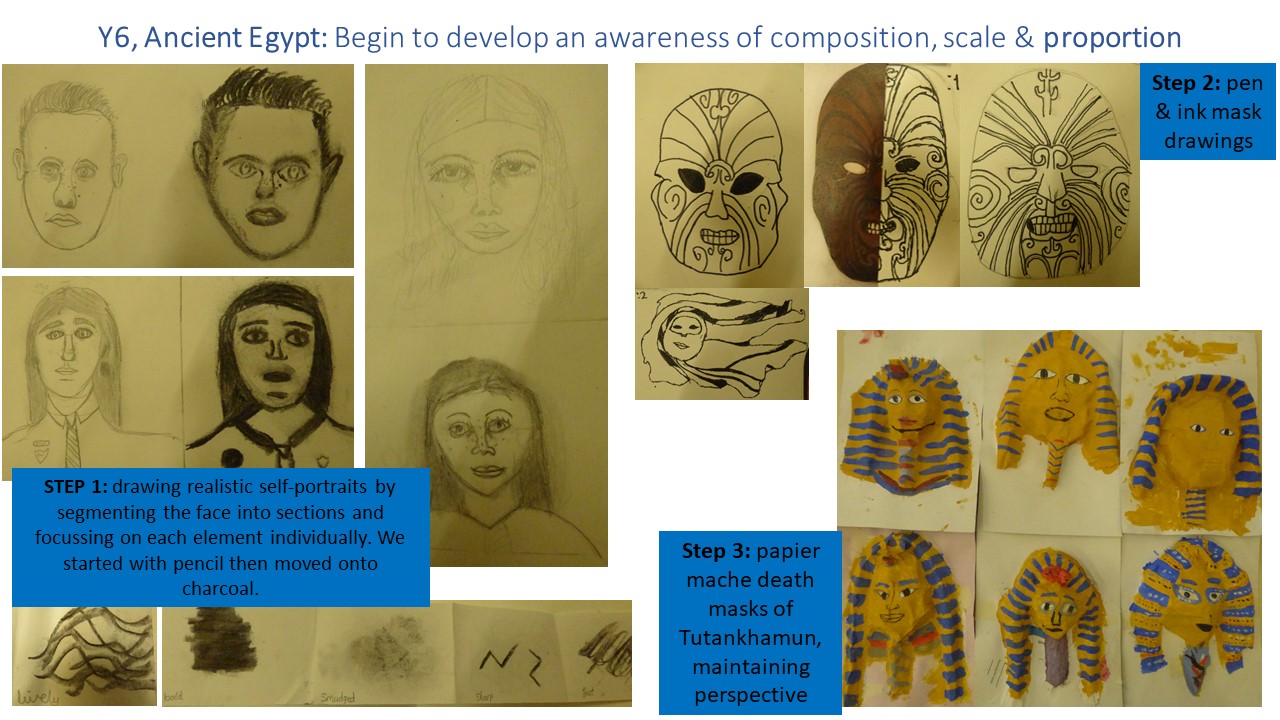 Bikeability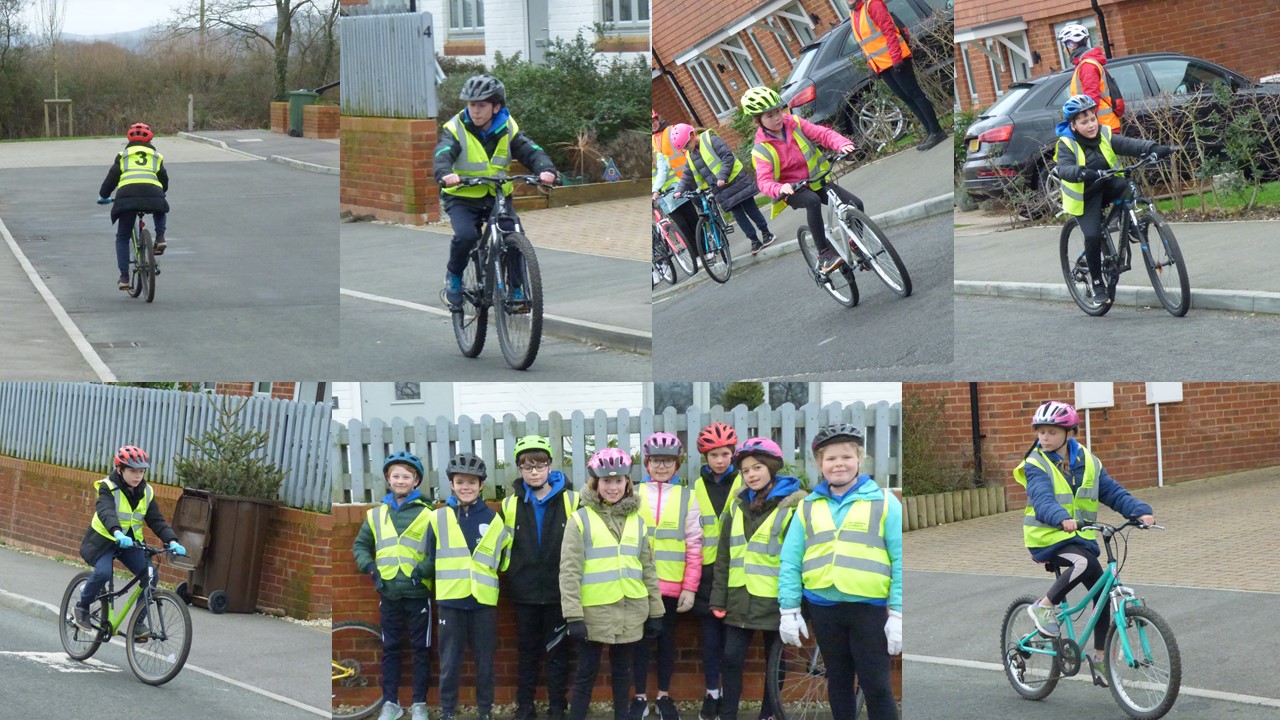 Year 6 have worked hard this week to develop their cycling skills: from understanding basic elements of the highway code and checking that bikes are roadworthy to undertaking safe manoeuvres at junctions. Special mention goes to our novice riders who have given it their all and overcome nerves to make excellent progress in a very short space of time. Great work Year 6, keep practising!
Travelling back in time...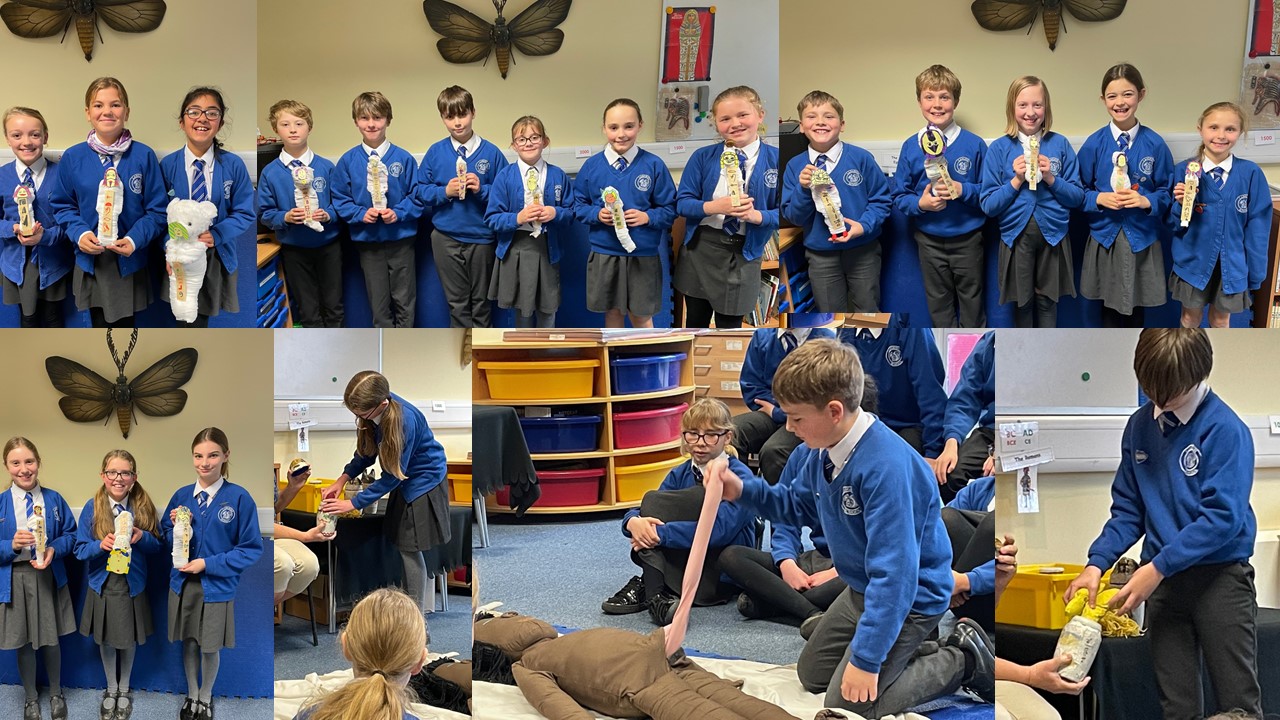 We had a great time at Haslemere Museum this week, as you can see from the photos! We took part in a dramatised embalming session to discover how mummies were made then got to go and visit the museum's very own mummy! Can you remember what happened to each of the organs and what the different stages of the mummifying process were? We were set a number of historical challenges, including deciphering the hieroglyphics on the mummy's sarcophagus, examining his x-rays to learn more about him and deciding which of the shabti were original and which were replicas. In the afternoon we got a chance to wrap our toys so they looked like mummies too, complete with their own death masks.
Making Music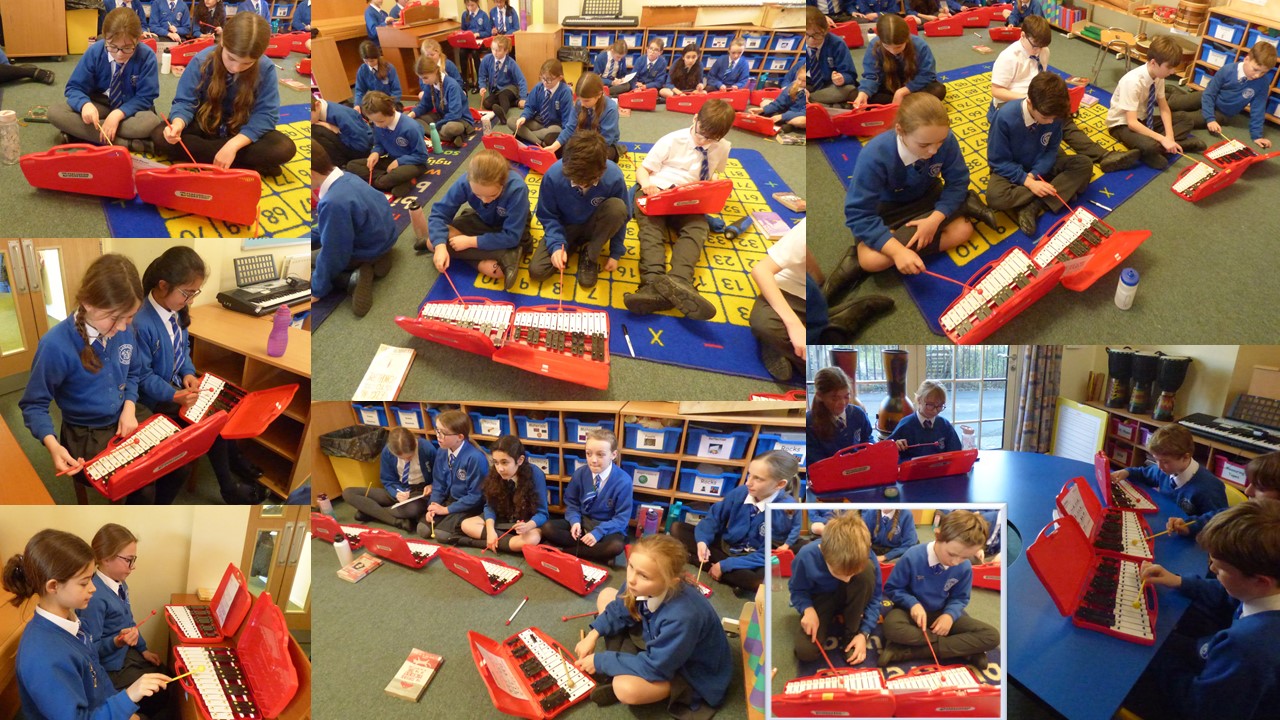 Today we learnt to sing... La Bamba! We discussed the history of the song first. It was tricky to learn because it was in Spanish! It also had a fast tempo and was fun to sing. After we got the hang of it, we learnt to play the melody on the glockenspiels. We are getting much better at keeping in time with the music as we are becoming more familiar with the notes. Written by Adem
Keeping Ourselves Safe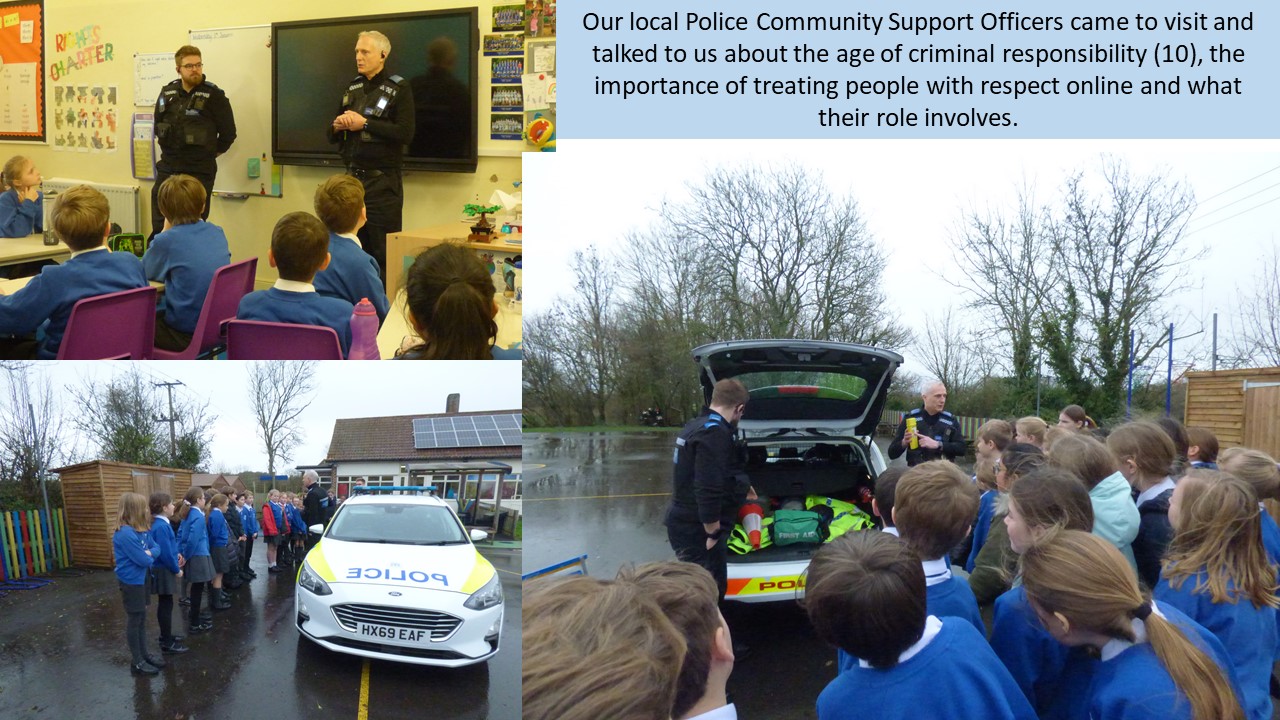 Democracy in Action
Today Year 6 formed political parties, wrote and delivered campaign speeches, and created flyers to promote their candidates before taking part in an election. Some brilliant manifestos were written with consideration for the issues concerning them. Congratulation to the 'Carrot Party' for their win!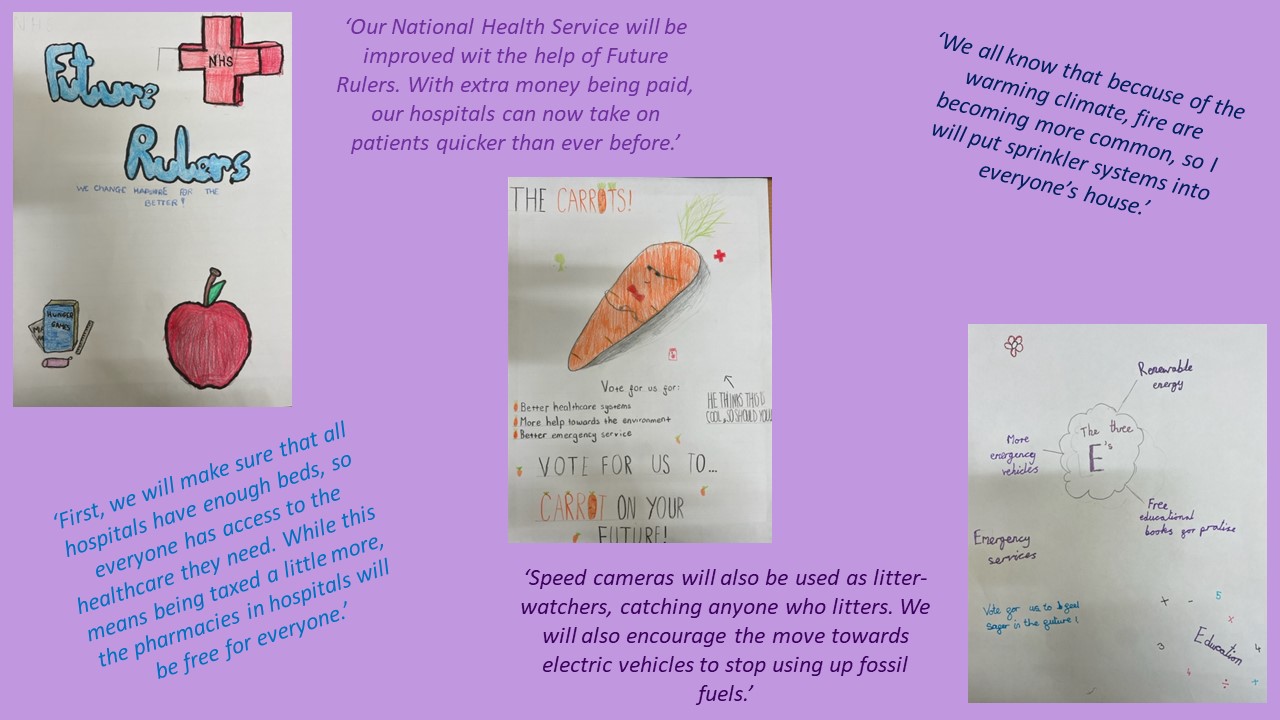 Fairground Rides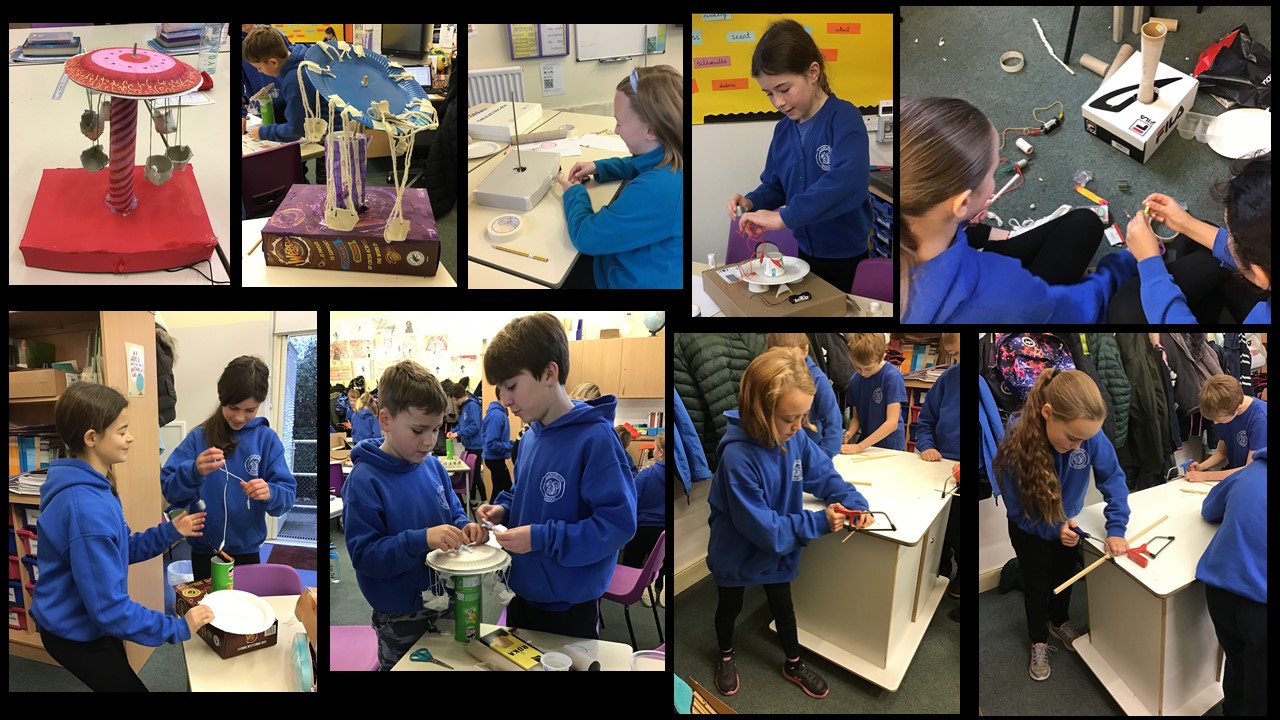 Year 6 completed their technology unit this week by creating their fairground rides. They had t think about how to create structure strong and stable enough to support their rotational mechanism - no easy task! They then used their coding skills to create switches for their rides on microbits. The more ambitious coders were able to set timers so the rides turned themselves off after a certain amount of time or used 2 microbits to create a remote control switch; great coding in action!
Creative Coding
This term we have been developing our coding skills by using Scratch to create an animated story. Over the weeks we have added characters who can move in different ways, added interactive elements so the user can move to the next scene and, most challengingly, recorded our own sound files to embed into the code so our narrative can be heard as well as read. Using the microphones and downloading the files so they can be uploaded to Scratch has been tricky but we have persevered and made good progress.
Gilbert White Trip: becoming geographers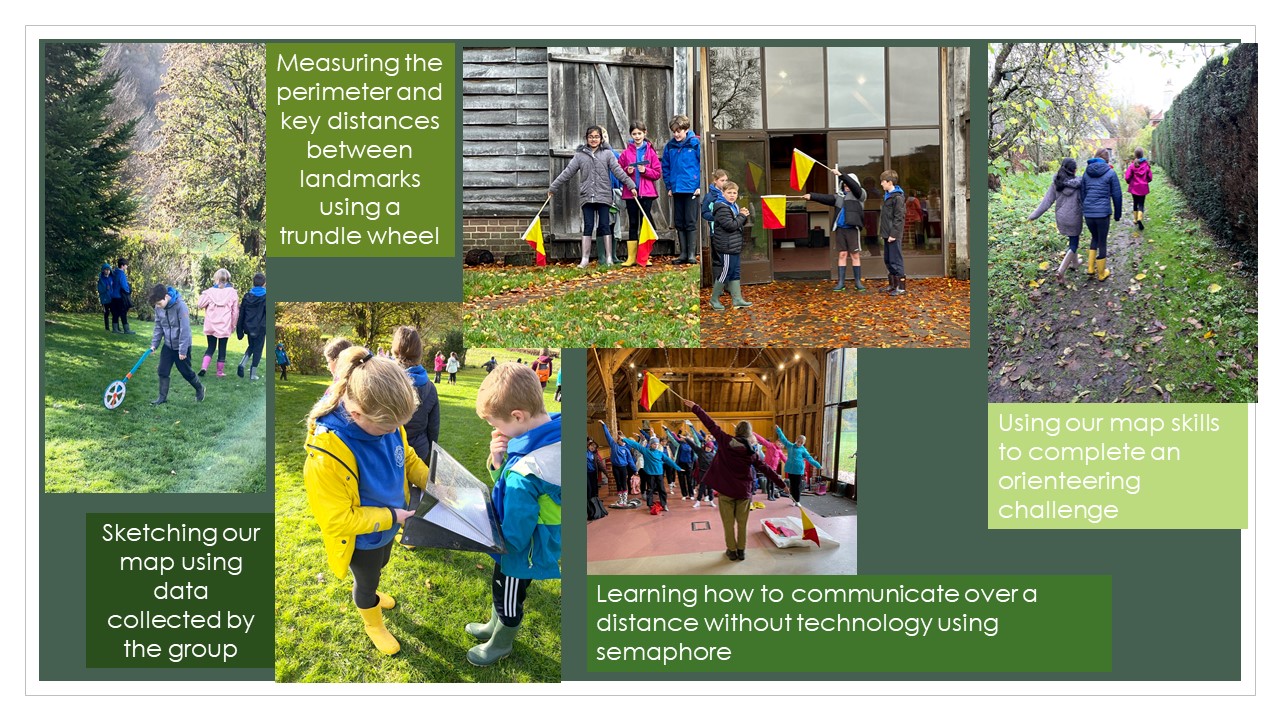 We had a great time at Gibert White's Study Centre this week, where we were developing our geographical field work skills. Luckily the sun shone for most of the day and we were able to creat our sketch maps of part of the grounds, complete an orienteering challenge, learn how to take compass bearings and even how to communicate with flags! We are now looking forward to developing our compass work even further back in school through our next PE unit.
Anti-bullying Week: Odd Socks Day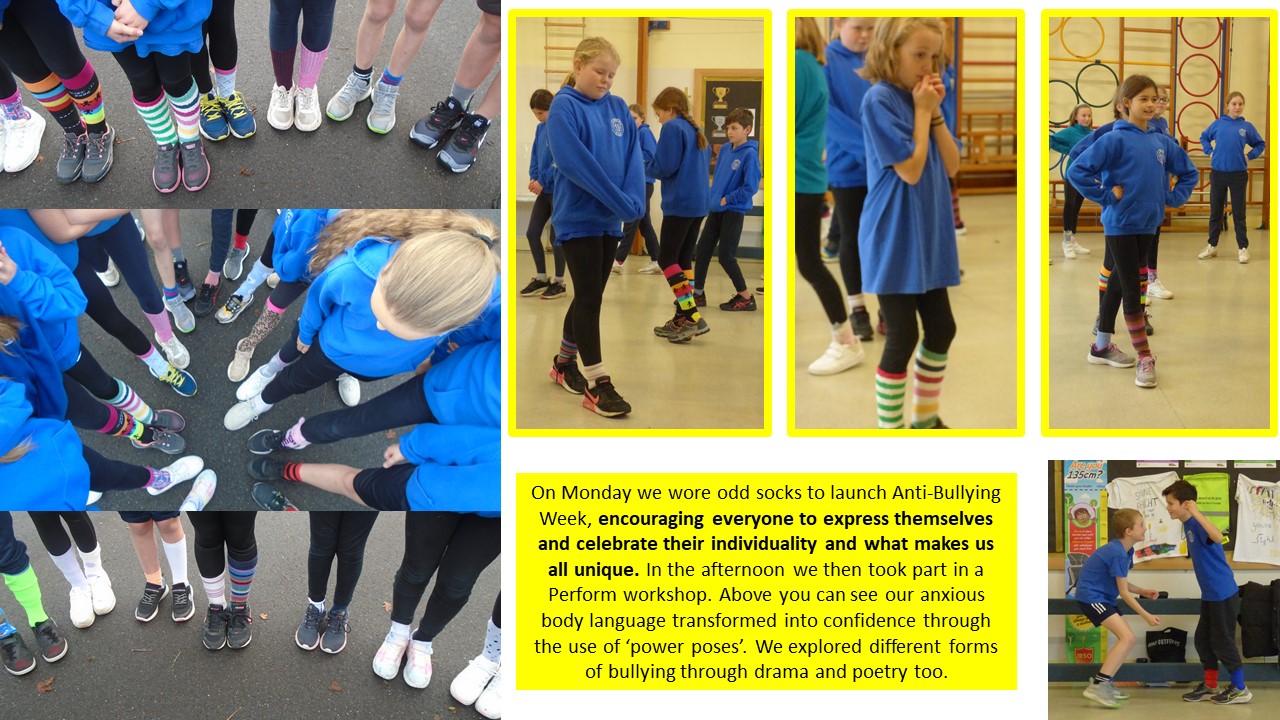 Remembrance Assembly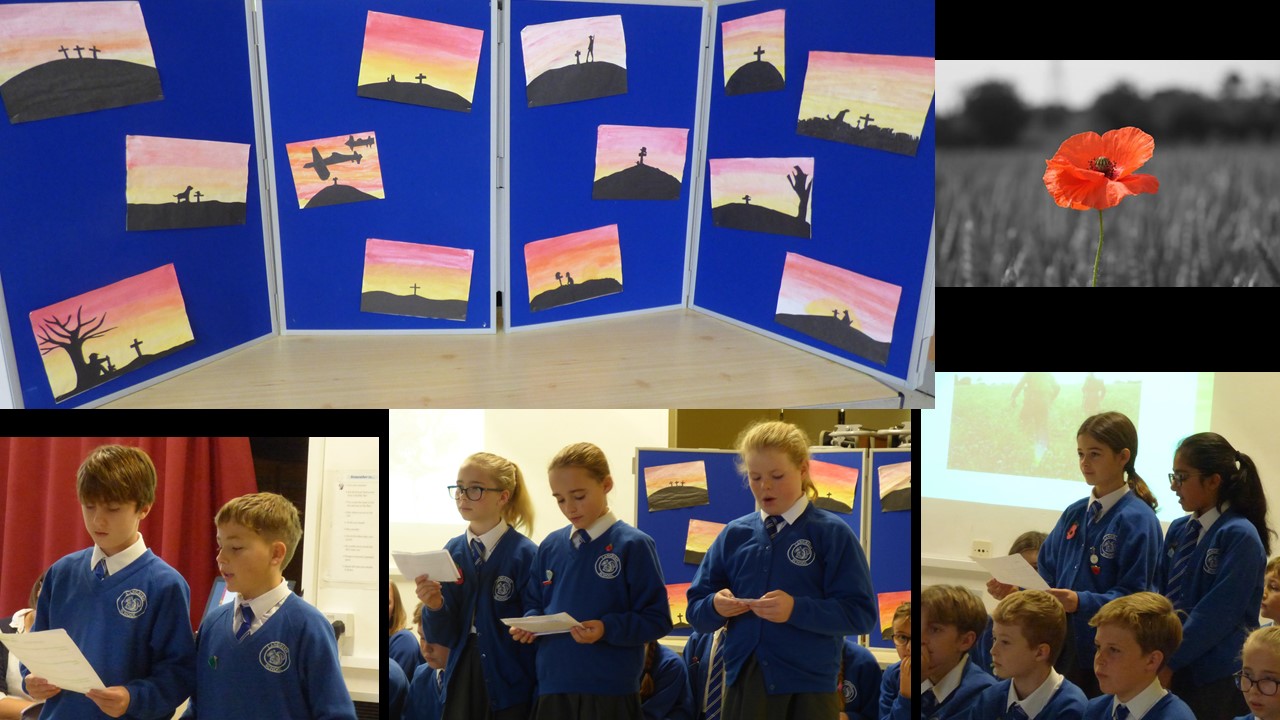 Year 6 led our Remembrance Assembly this morning, sharing the history of the occasion before going on to read a selection of their own poems on the theme of remembrance. They spoke clearly and performed with great maturity, setting the tone beautifully for the rest of the school and helping our younger pupils to understand the significance of the silence we later marked in classes. Thank you to those families who were able to join us, the children were proud to share their work with you.
---
Valuing Difference
Having strong supportive friends can be a real protection against bullying and feeling alone. Year 6 came up with the following tips to strengthen their friendships:
help each other out
spend time together
take time to talk about things that interest you
get to know them
be authentic
be trustworthy
respect each others boundaries
Poetry Week
This week is poetry week at Langrish and across the school we have been inspired by the beautiful collection of verse, 'Lost Words' by Robert Macfarlane & Jenny Morris. Having looked at a range of poetic techniques, including personification, repetition & rhythm, alliteration, assonance and consonance, the children were challenged to create an acrostic poem using these to bring back the lost words and describe a bird in all its beauty. Swan is just one of the free verse poems created, click here to see a gallery of more Year 6 work.
---
Scale and perspective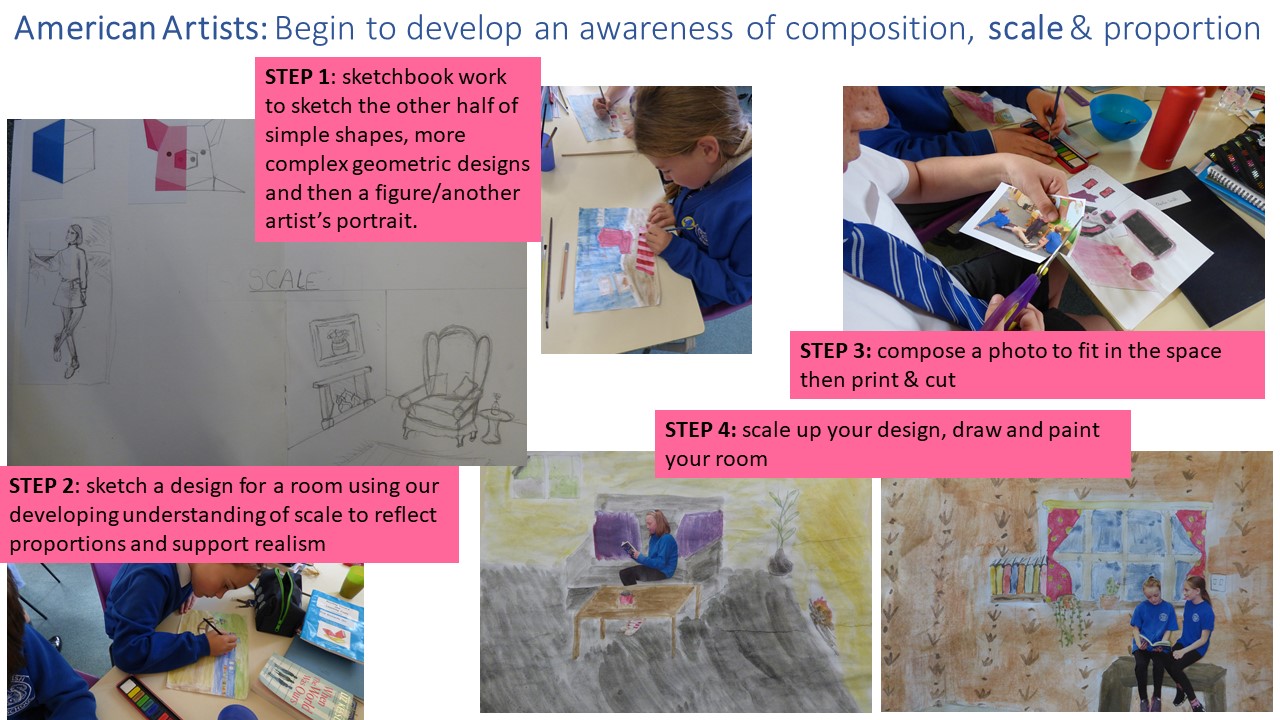 Our art learning journey this half term is captured above. The first sequence of lessons built up in our sketchbooks before we were ready to begin working on a final piece which should have come home today!
How were we able to win the Battle of Britain?
We rounded off our historical enquiry this week by looking at a variety of secondary sources and discussing the clues to answer this question. Having already determined that the Royal Air Force was weaker on paper than the German Luftwaffe, we had to consider less obvious points and use our powers of deduction. There was lots of great historical thinking!
Don't be a bystander
In PHSE this half-term we are looking at managing relationships positively. This week, the children had to act out a scenario in which one child is pressuring another to do something they are uncomfortable with. We discussed the role of the bystander and how, by thinking creatively, we may be able to use our problem solving skills to step in and offer a solution which defuses the situation without anyone 'losing face'. The children understood the importance of asserting yourself and the difference between this and taking sides. For more information, see our knowledge organiser at the bottom of this page.
Science in Forest School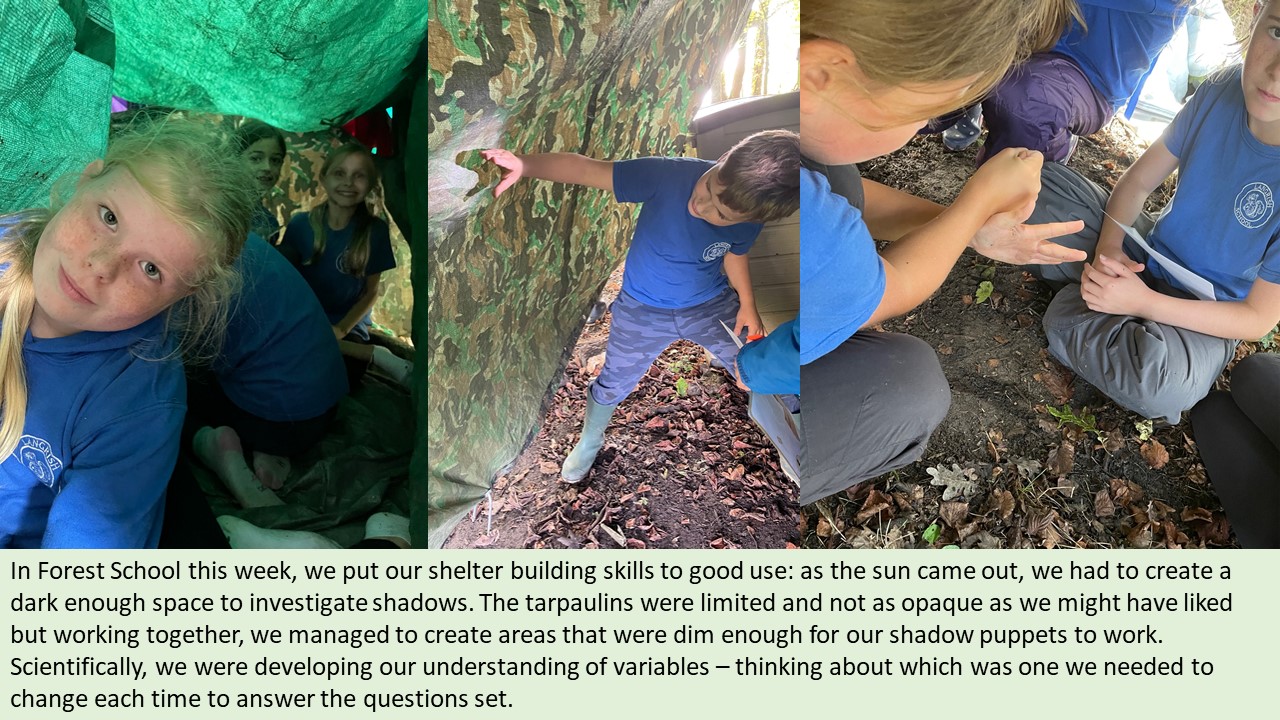 Learning Behaviours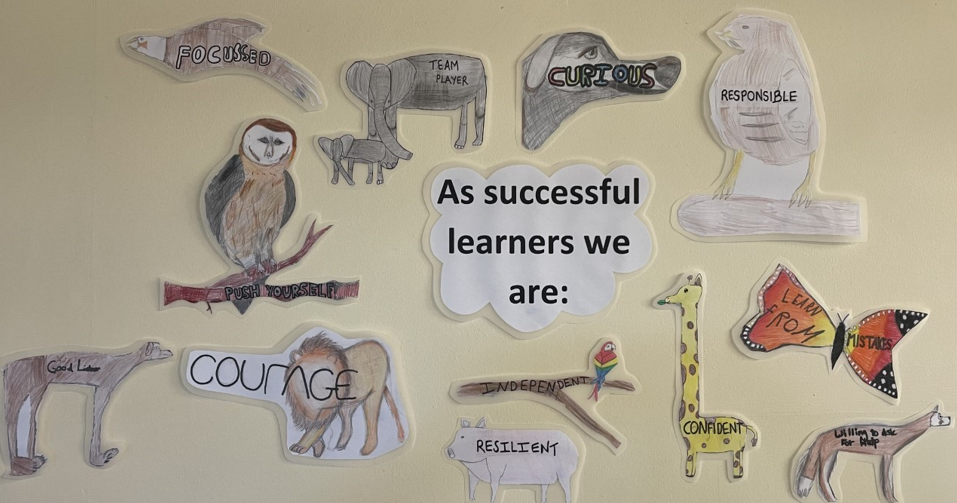 We have spent time thinking about the learning behaviours that we think are going to be most relevant to our success this year as we prepare for our transition to secondary school. Year 6 then worked in pairs to create this display which will stay with us throughout the year to help focus our efforts.
Rights Respecting Charter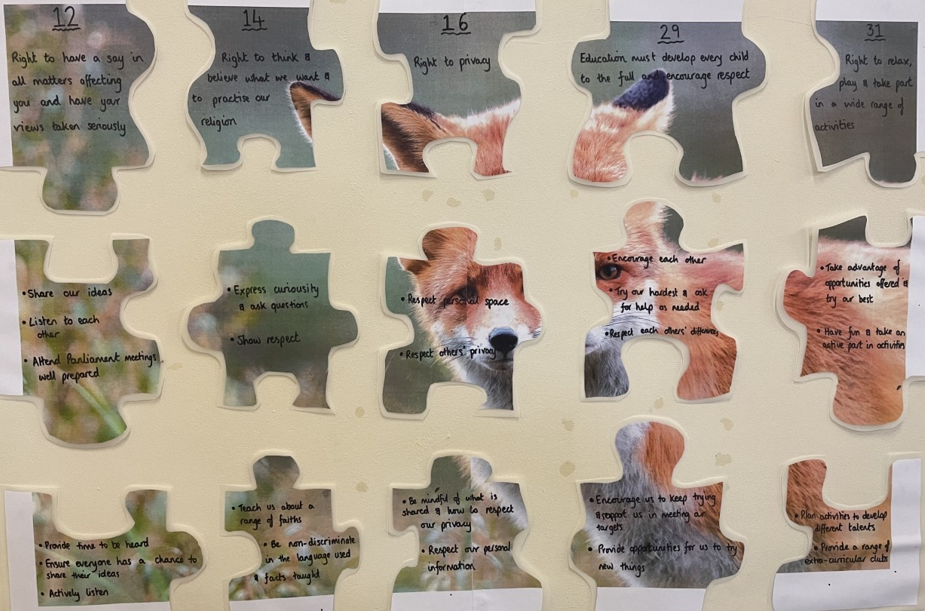 We debated the most relevant Articles from the UNCRC for us this year and voted on those which we wanted to have on our charter. We then worked in groups to express how we wanted to access these rights and what we would like adults to do to help us with this. We chose to create a jigsaw which reflects the article chosen (top line), our pledges (middle row) and adult support (bottom row).
Meet the Teacher
Thank you for your attendance at the Meet the teacher on Monday. If you were unable to make it, the notes shared our attached at the bottom of this page.
---
Useful websites:
Scratch IXL Purple Mash Spelling Shed BBC Bitesize Mangahigh