Mrs Browne & Miss Rhodes: Team Squirrel!
A little reminder:
For forest school kit, please can children wear their PE kit (navy jogging bottoms and Langrish jumper), then bring in a warm coat and waterproofs.
Please can you ensure reading wallets return to school each day.
Please be assured that all children have access to their water bottles throughout the day. They have a carton of milk at snack times and are encouraged to have water also.
Let's talk about reading...
Here is a video which you have all been sent on Target Tracker. It explains how to support your child with reading. Take a look, as reading books will start to come home next week! Let me know if you have any worries or questions on this.
Please find at the bottom of this page a home learning booklet ! It is a great introduction on how to help your child with their reading and phonics.
Week Seven (23.10.2020)
This week we have learnt about people who help us. We made a list of who we think are people who help us. Here is what we said:
Police
Fire service
Ambulance
Doctors
Nurses
Teachers
Lollypop people.
We went through what they did to help us and if they have helped us or our families in anyway.
Ed said: My grandad is in hospital and they are looking after him there by giving him medicines.
Bodhi said: I once saw a fire on top of someone's house. The fire people helped them put out the fire with their big hoses.
Isabelle said: I went to hospital and they helped me with my head. They put a big plaster on it.
Rosie and Alice said: We know two Charlottes and one is a doctor and one is a teacher. It is our Aunty and neighbour.
Drawing with Rob
For a calm afternoon we sat down together and drew a picture of a monster with Rob Biddulph (he is an illustrator for many books). He talked us through step by step, how to draw a monster. The children did a brilliant job and were extremely proud of their monsters.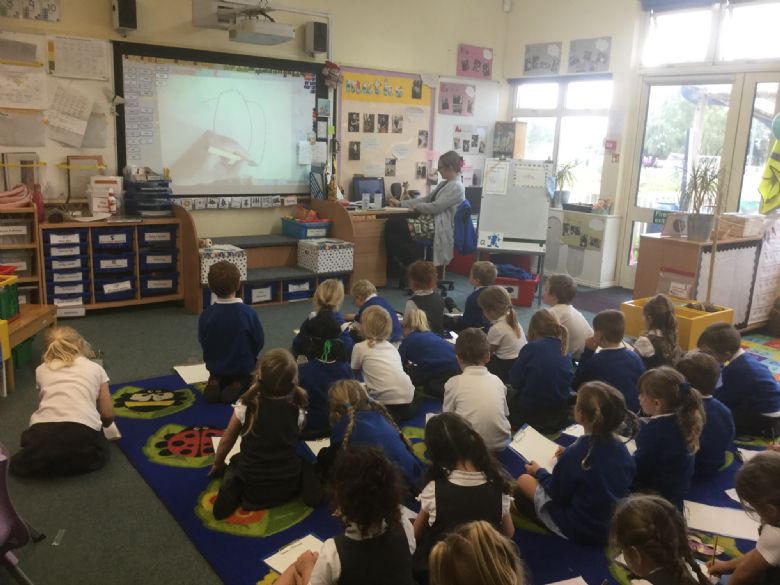 Our final week of letter a day... then onto the good stuff!
We have learnt the letters 't', 'u', 'v', 'w', 'x', 'y' and 'z'. we have been building a train track, going under the sea, sequencing the very hungry caterpillar, making volcanoes, painting with wheels of cars to create pattern and colours, become doctors and looking at x rays, relaxing and unwinding with yoga and cutting zig zags and making zebra crossings.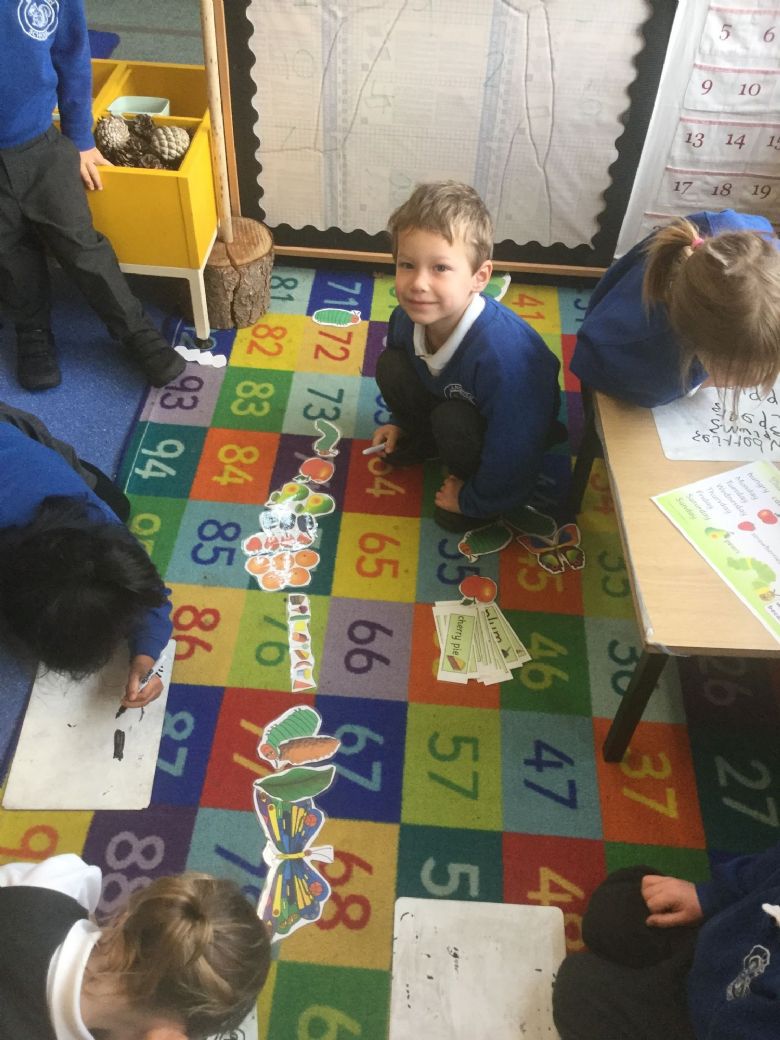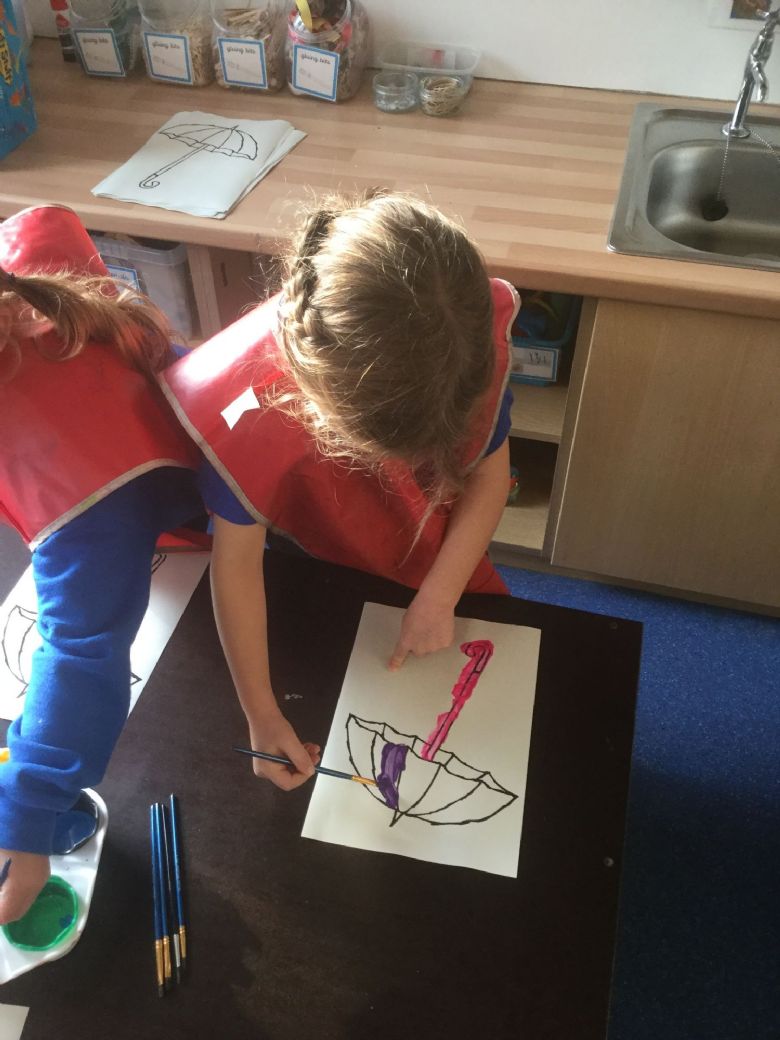 After half term, we will be learning all about Diwali. If you celebrate or know anyone who does celebrate Diwali, we would love to know about it! Please share and bring things in as it all helps the children's understanding.
Have a happy and restful half term!
Love Mrs Browne x
---
Week six (16.10.2020)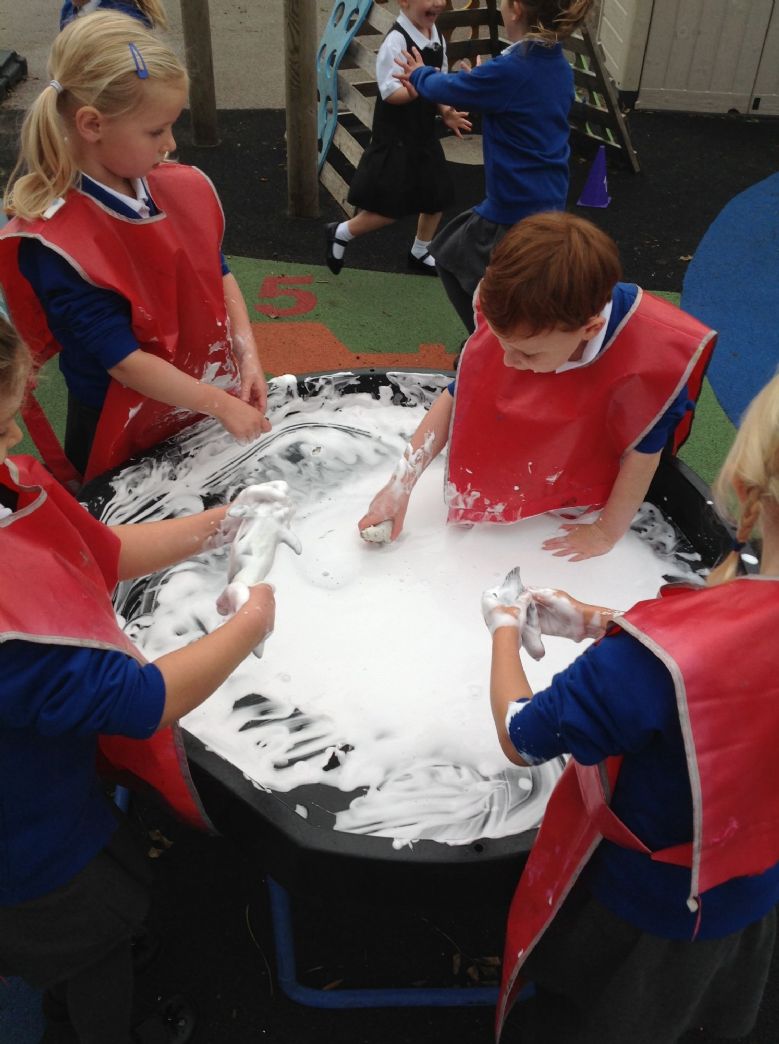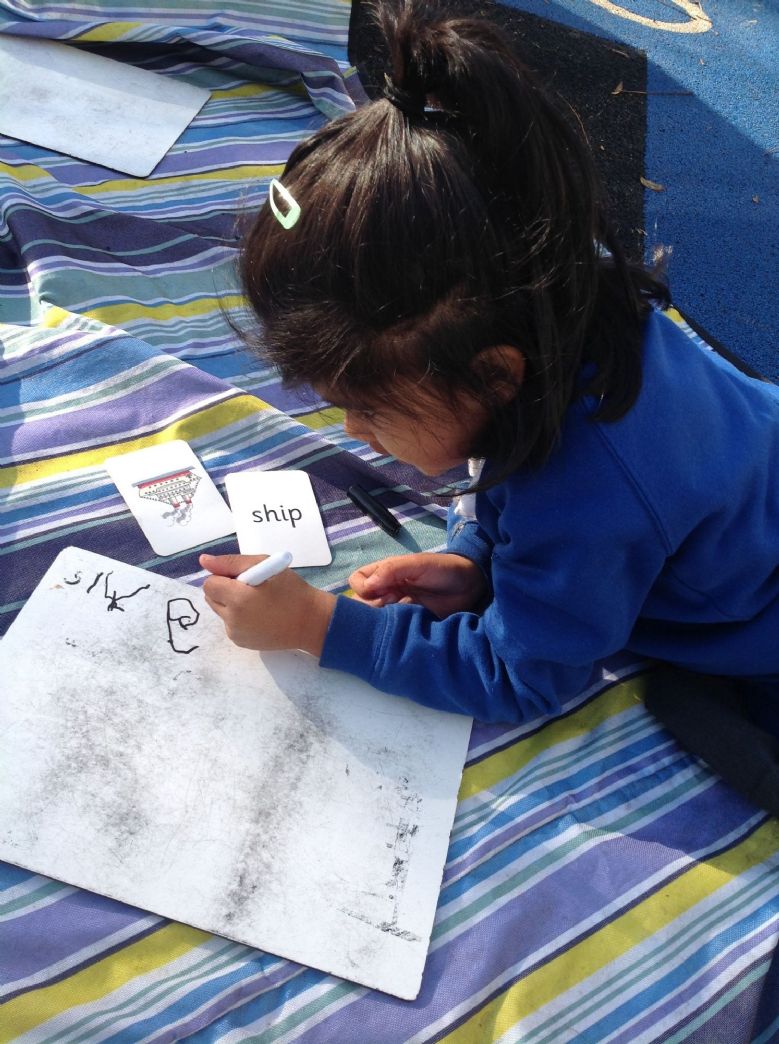 This week we have learnt the letters p, q, r, s, t.
For letters 'p' and 'q', we mixed potions to make letter spells, learnt about quarters, halves and whole parts and used the correct language to support this. Also, we had fun in shaving foam to create a polar land with polar bears, penguins and whales.
For the letters 'r' and 's', we built robots, created a windy road with beebots, explored recycling, made shadows using light, got physical by stretching, doing star jumps and following instructions like start and stop!
For the letter 't', we looked at time, played 'What's the time Mr Wolf', hid in tents and of course climbed trees in forest school!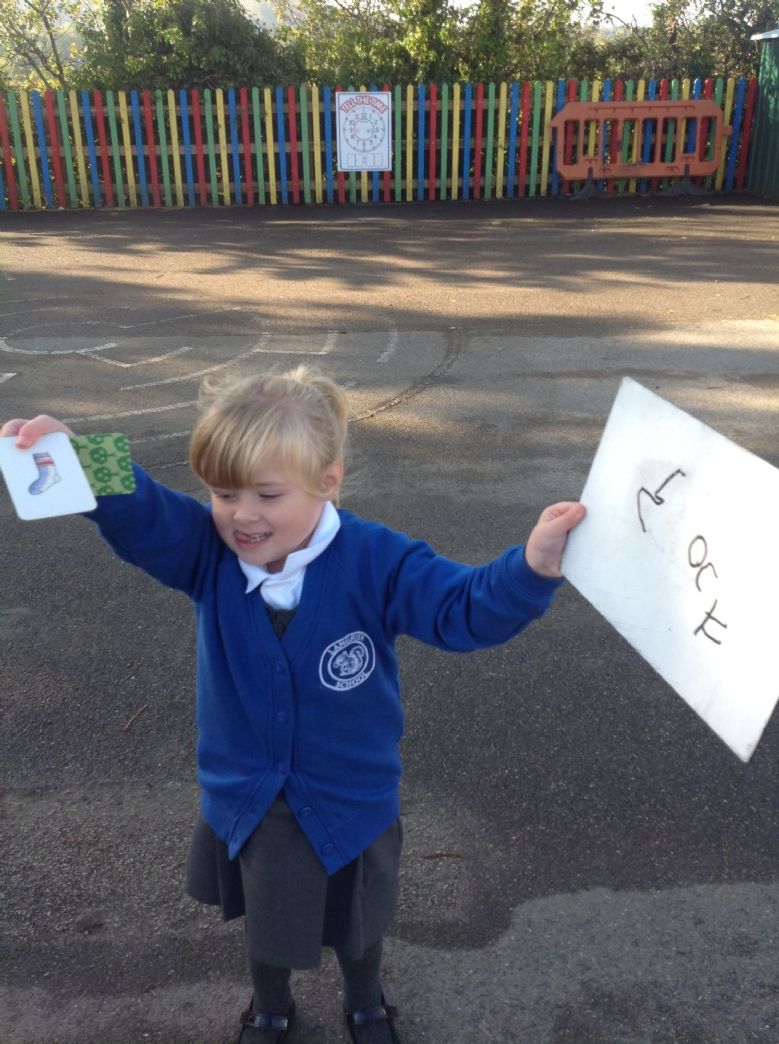 We also learnt about the Harvest Festival. We joined together (socially distanced) as a school, for a harvest celebration walk around the school grounds. We have been learning a song called 'Autumn Harvest'. You can find it by clicking here...

Next week we are learning all about people who help us... We would love to have photos of people you know who help us in their jobs (or just a little note for me to read about who it is and what they do...). This could be the police service, fire service, ambulance service, teacher, carer or anything else!!
---
Week five (9.10.2020)
This week has been all about letters k, 'l', 'm', 'n' and 'o'. We made kites and flew them high in the sky (luckily it was a windy day!). We made dens and created light with torches. We learnt about lighthouses and what they are for, then painted them. We looked at maps using beebots and travelled to different destinations. We found out about magnets and searched high and low to see what was magnetic and what wasn't. We learnt about our names and why they are different. Also who knew our Mummy's and Daddy's names are not really Mummy or Daddy! Some of the children could not believe it! In forest school, we read the story Owl Babies and created our own owl babies using natural resources.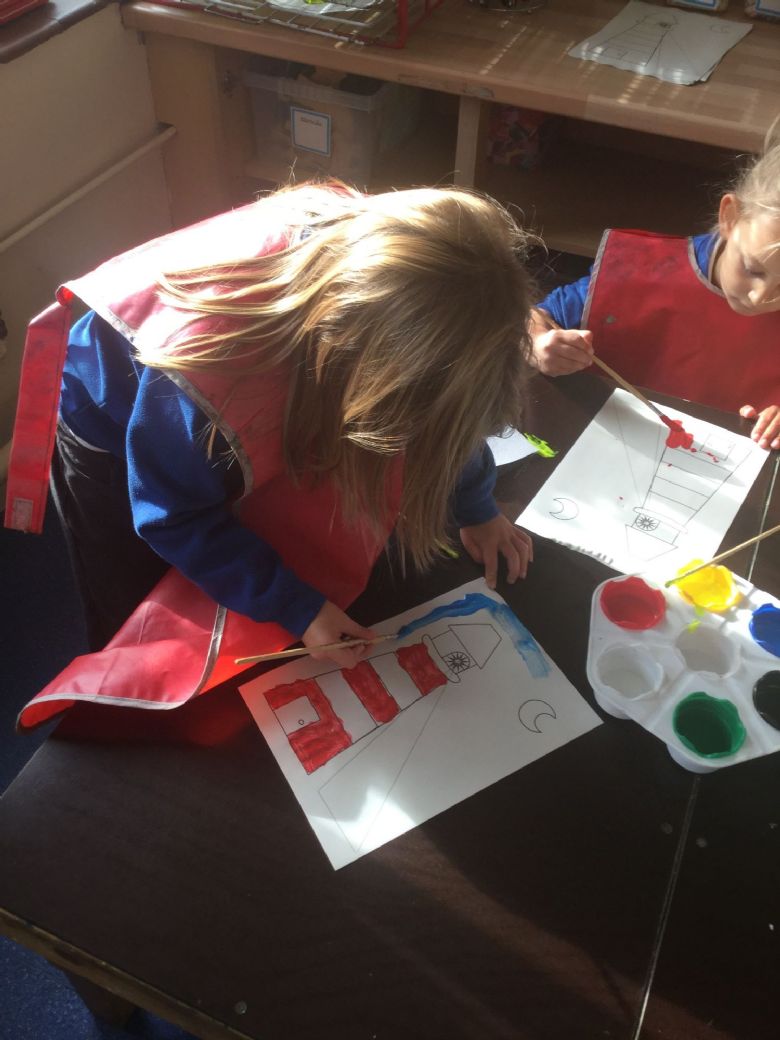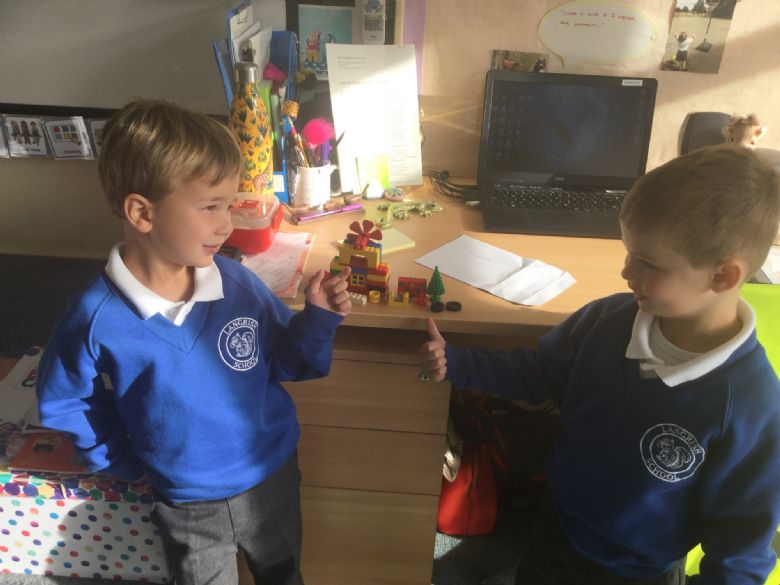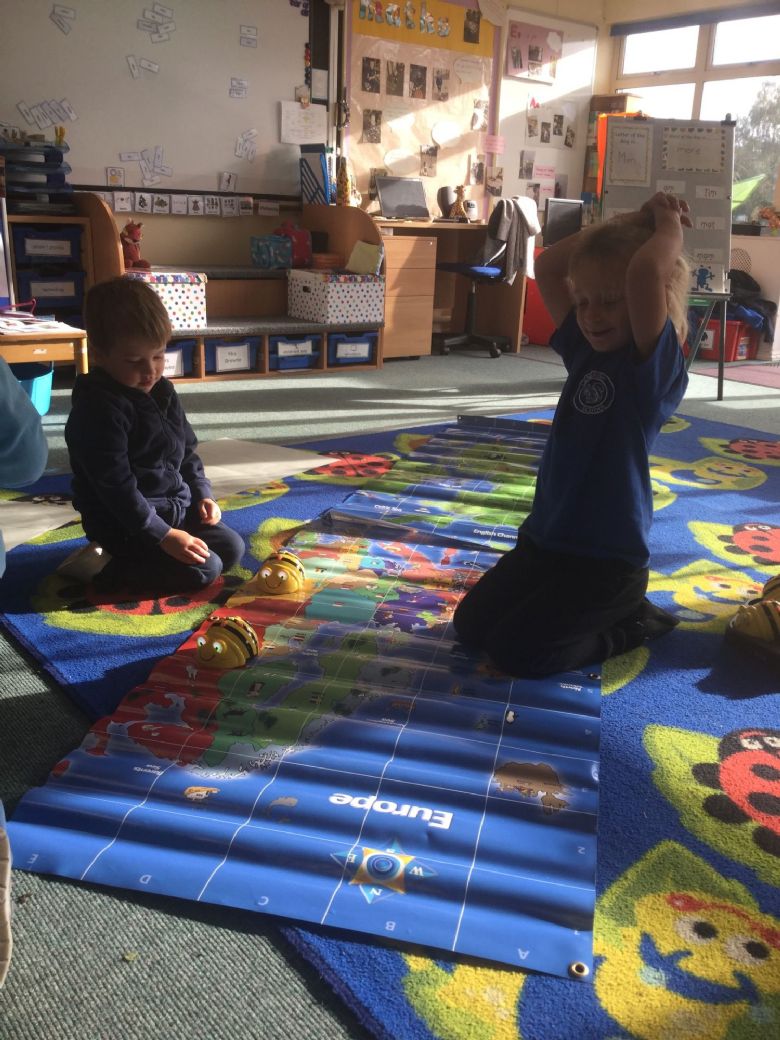 Thank you to all the families who brought in photos. It was wonderful to see the children share who was who with such pride and love! It really enhanced their learning.
Next week we will learn about the letters 'p', 'q', 'r', 's' and 't'. Also our theme of the week is 'We are all different'.
---
Week four 2.10.2020
This week has been all about letters 'f', 'g', 'h', 'I', 'j'. We have been flower printing, creating still life drawings of flowers, learning about giraffes, building houses and writing about who lives in our house, following instructions and of course making jam sandwiches!
In maths we are working hard to ensure we count with a one to one correspondence. To do this we have used numicon, counters, animals and anything else we can find. Mrs Browne put challenge speakers around the room for children to listen to and follow.
One speaker said; 'Find 5 things and show Mrs Browne.'
They did brilliantly!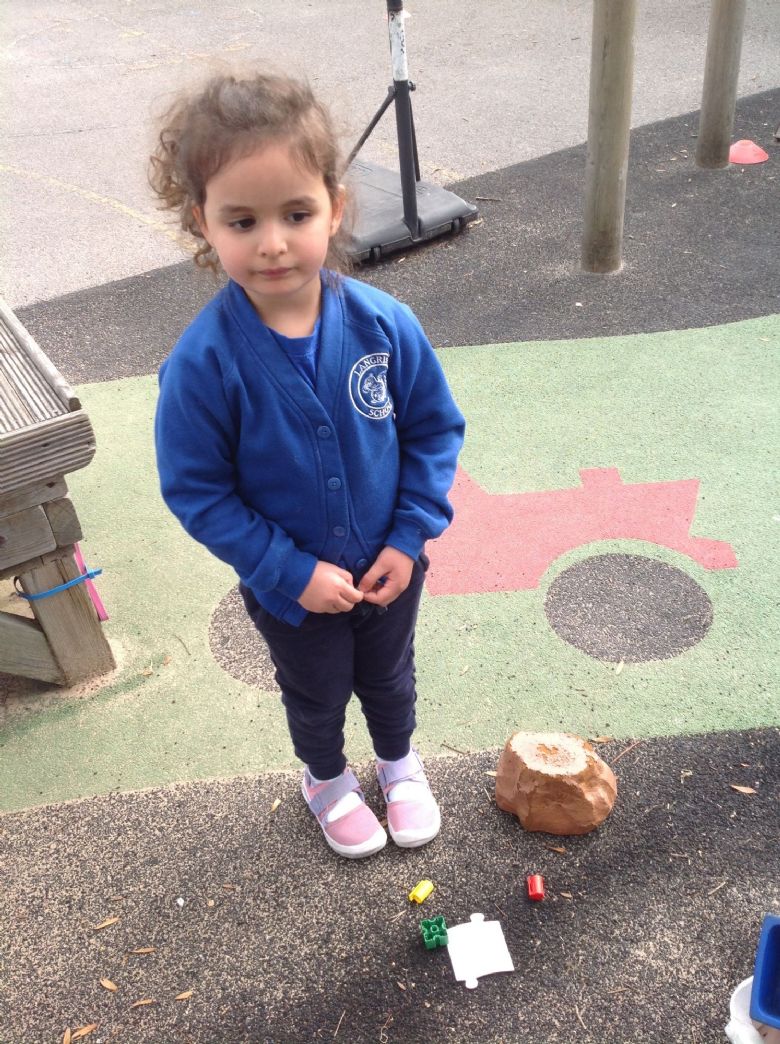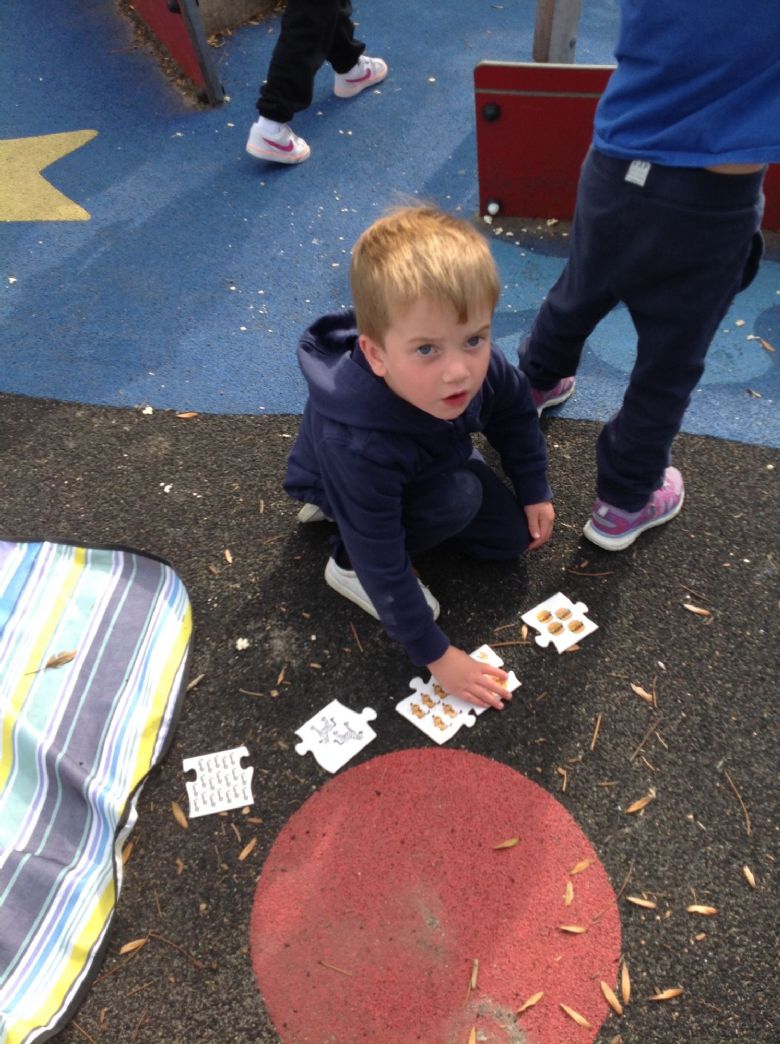 Forest school
The children are loving forest school! Each session I see more children climbing trees with confidence and risk assessing their play. I see great communication between them as they show one another how to climb, what branches to go on and using which leg or arm.
We made forest crowns by using natural resources to create fabulous crowns! There were some beautiful red leaves, big green ones and sprinklings of mud so the children could make patterns on their crown.
This week due to strong winds we could not attend forest school.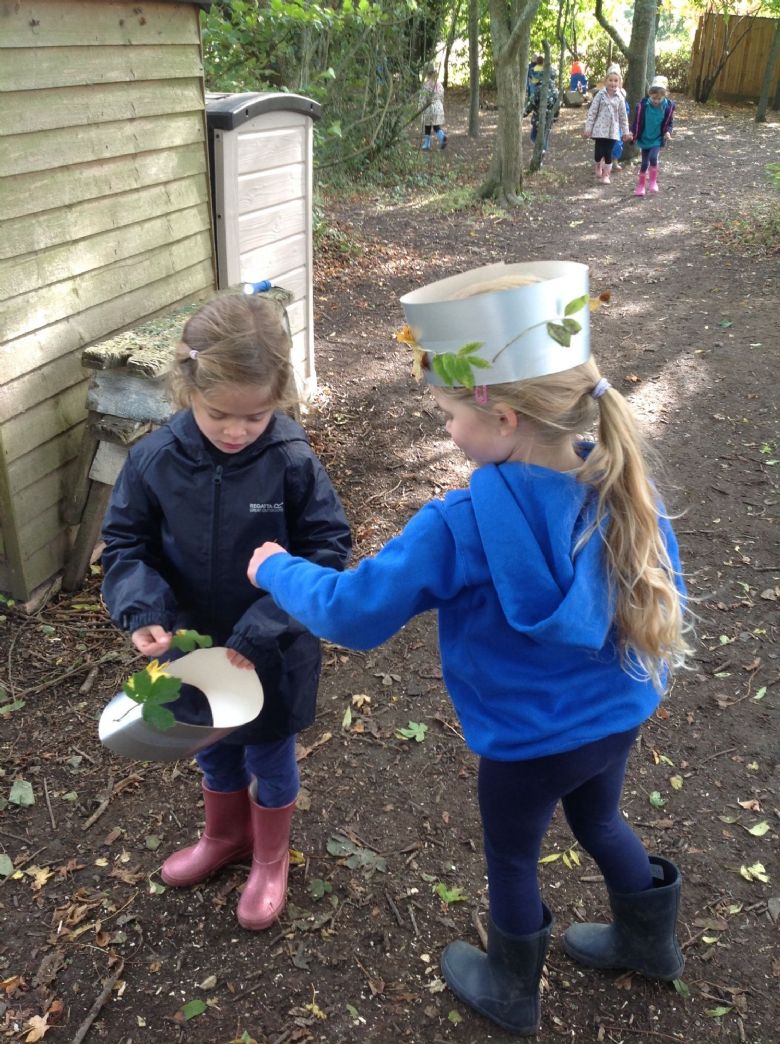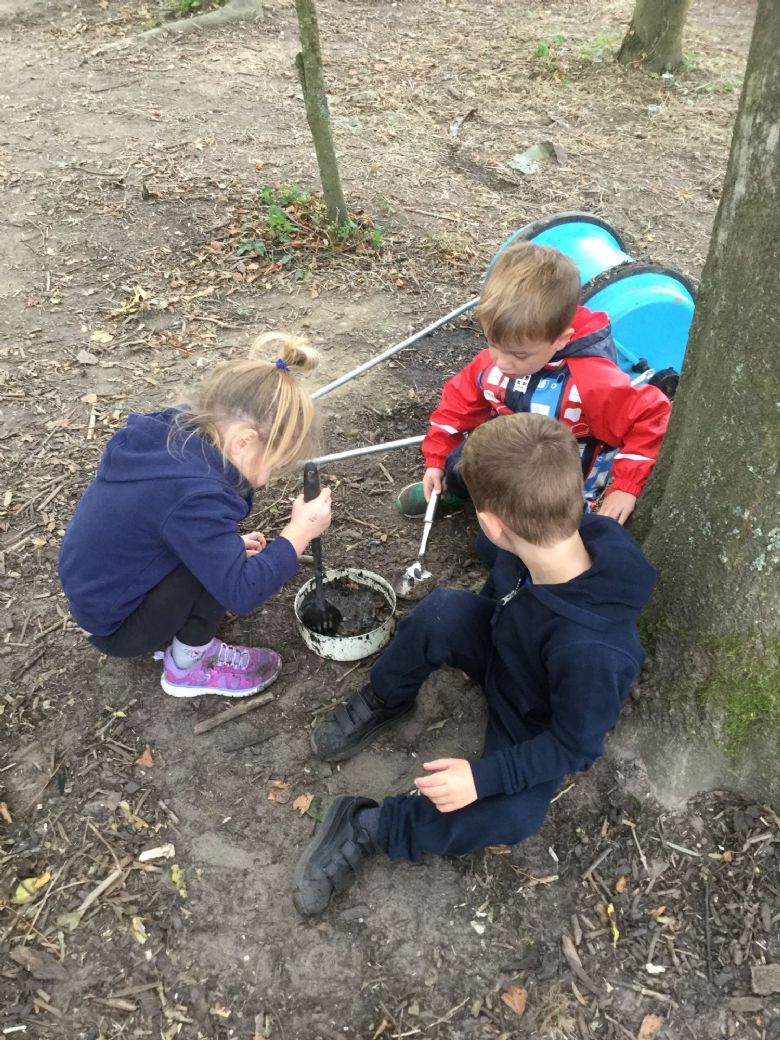 ---
Week three 25.9.2020
This week we have started our, 'Letter of the day'! Everyday we learn new words, play listening games, begin segmenting and blending simple CVC words and do all things to do with that letter. Here is what we have been up to this week in phonics:
Monday - Letter Aa for animals, alphabet, apparatus in PE and our word of the day was: 'amazing'. The children had to try and use the word in their day to their friends.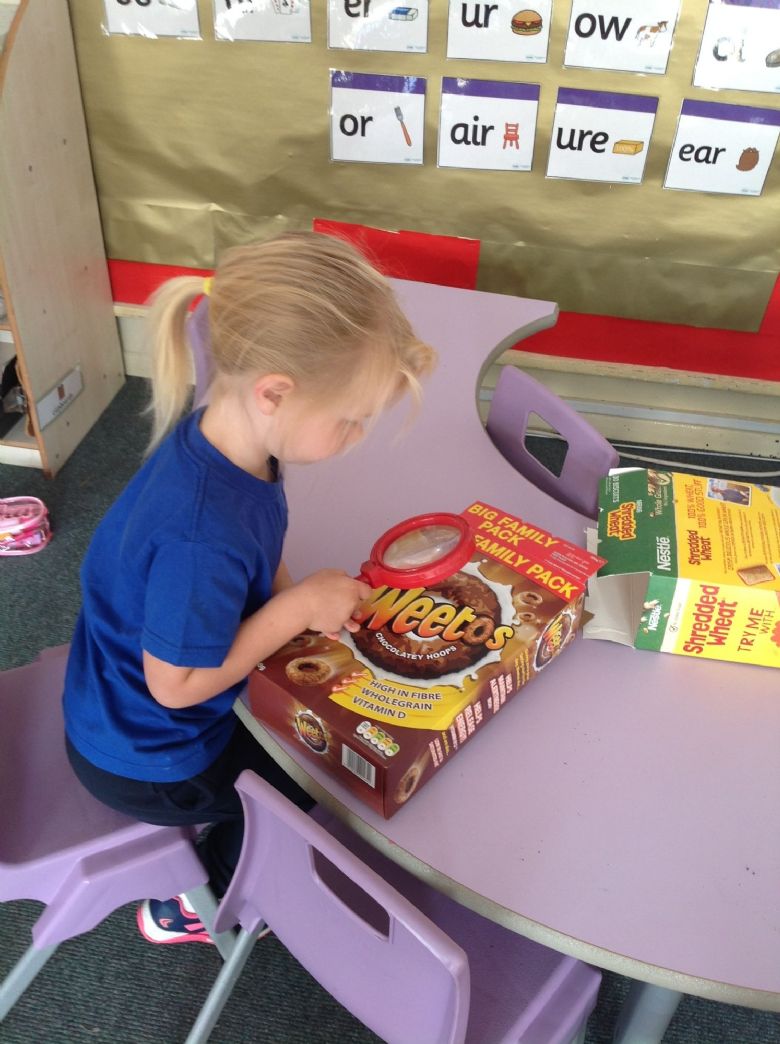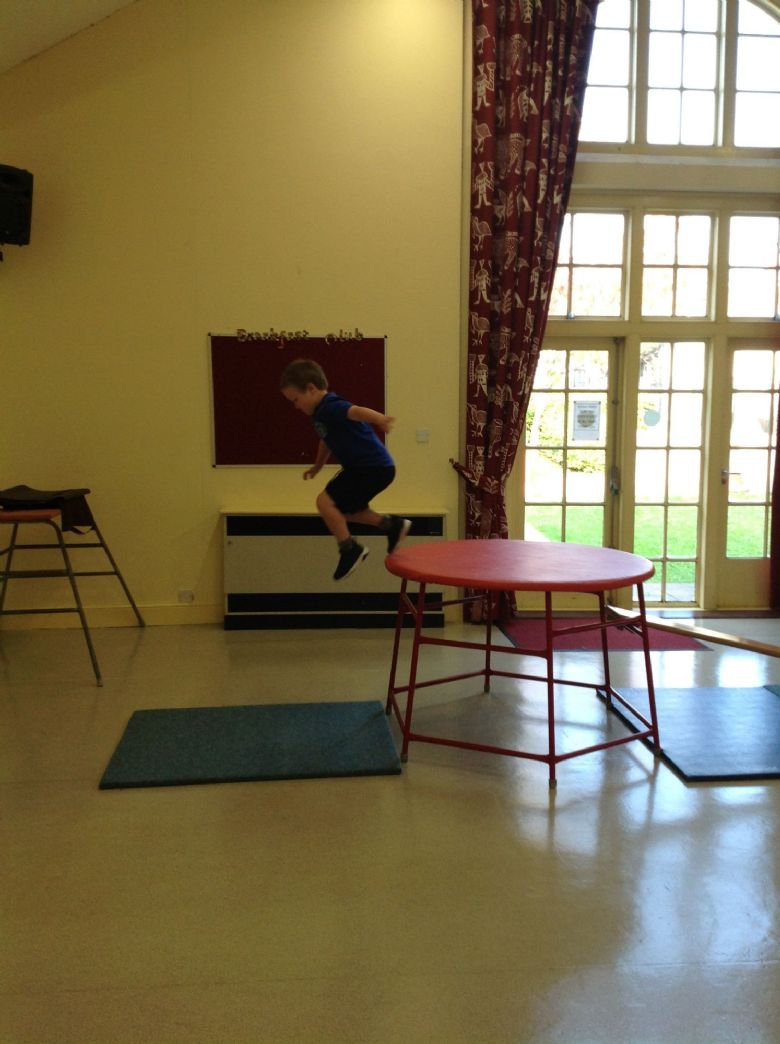 Tuesday - Letter Bb for butterfly, ball, bridge, books, big, bugs, beebots, beads and our word of the day was 'brave'. We talked about when we have been or could be brave.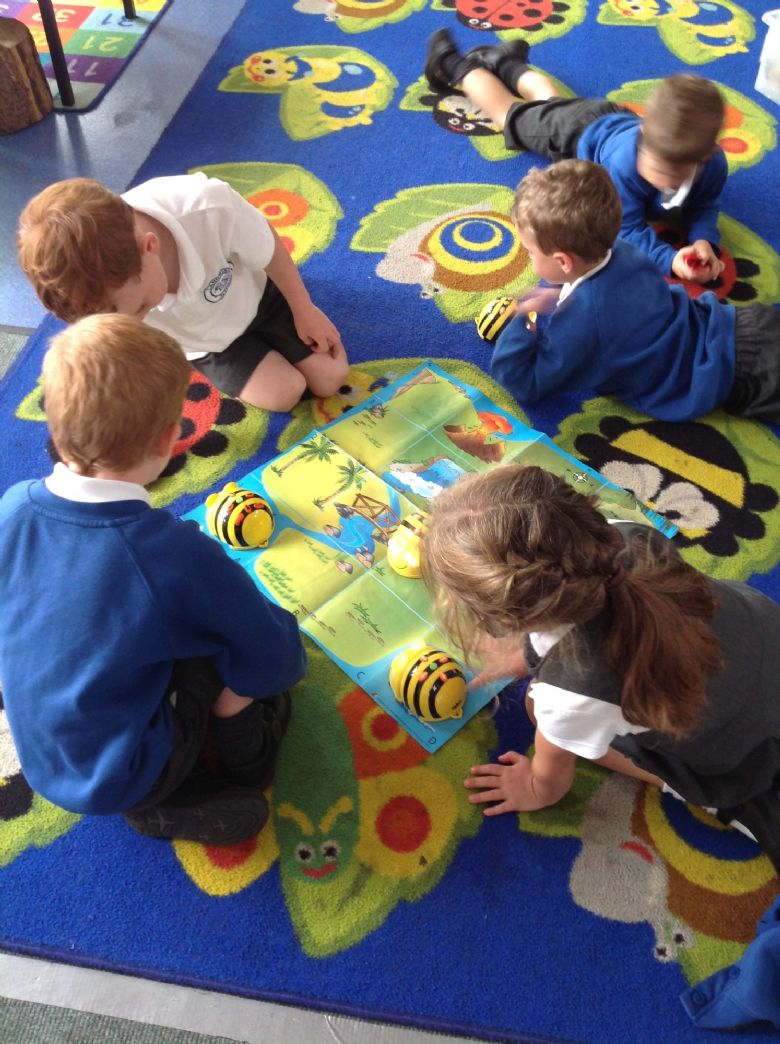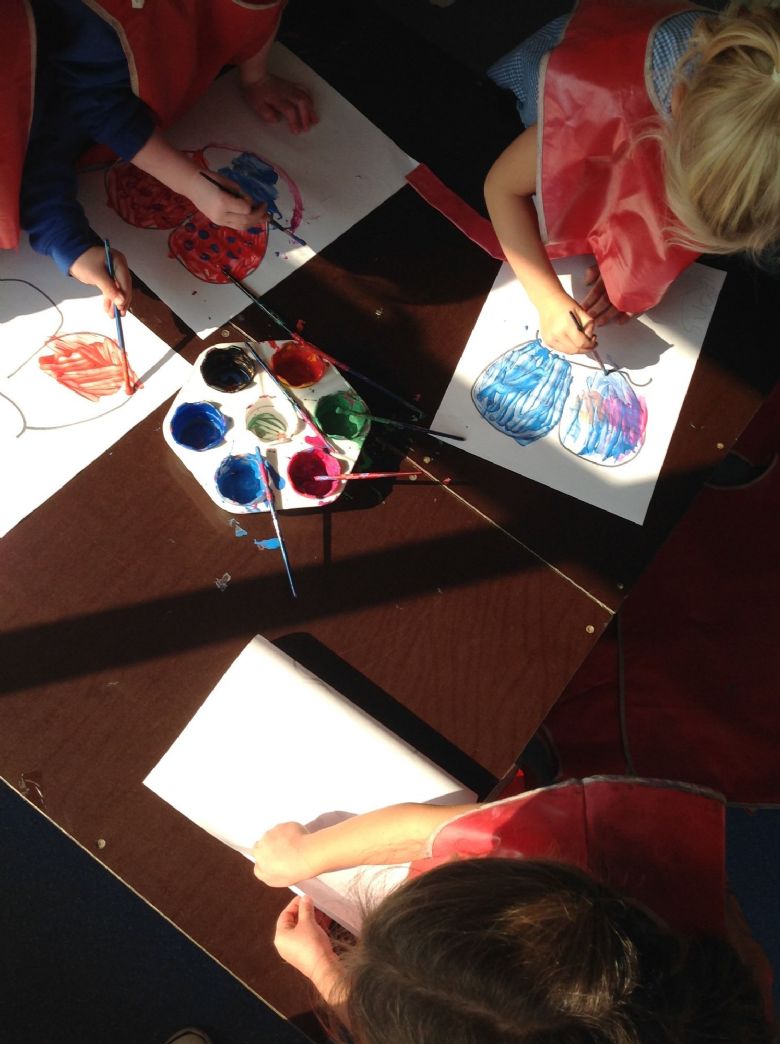 Wednesday - Letter Cc for caterpillar, cone, chimes, counting, computers and our word of the day was 'curious'.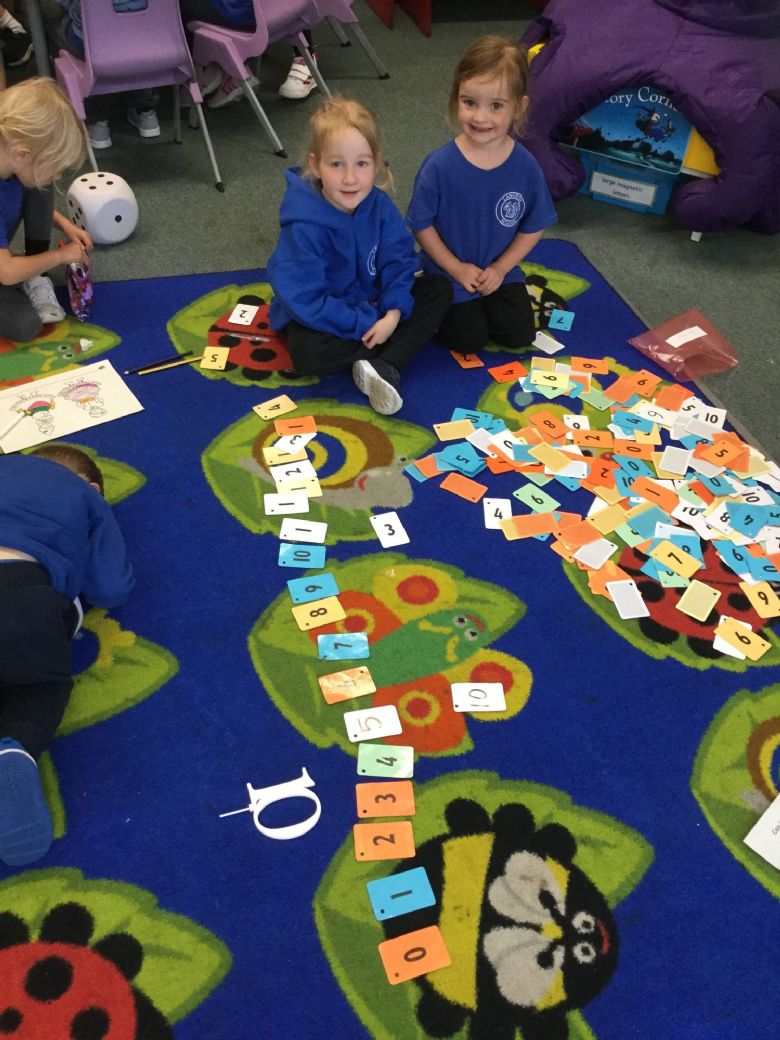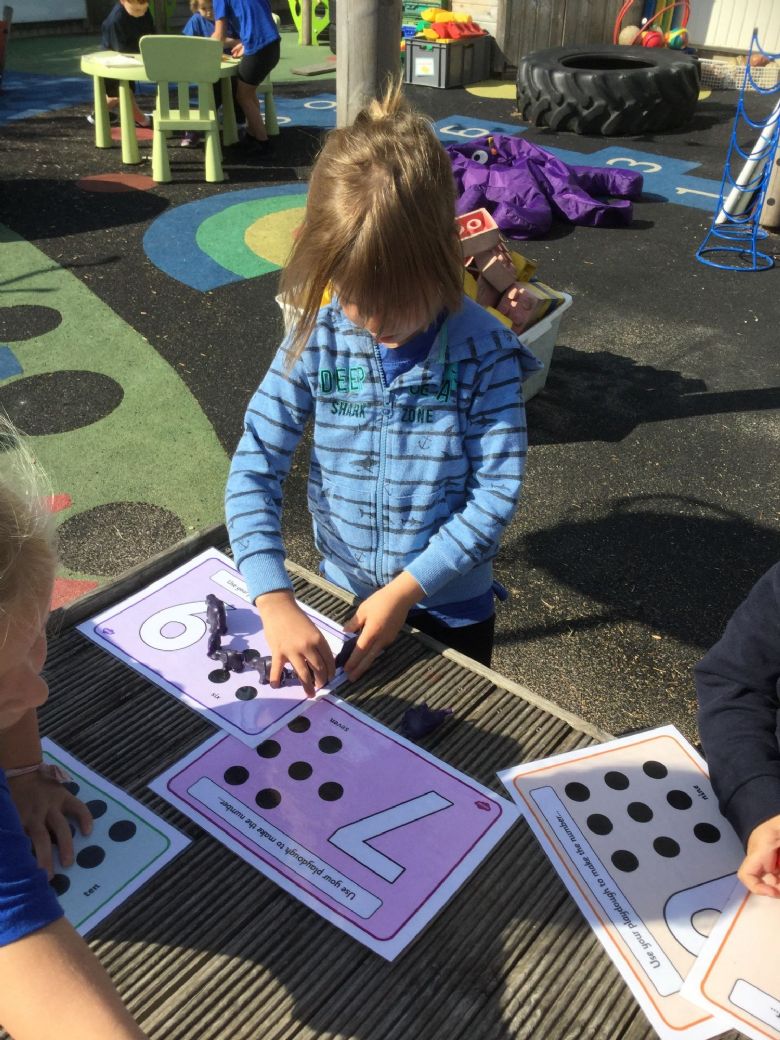 Thursday - Letter Dd for dinosaurs, drums, dressing up and our word of the day was 'daring'.
Friday - Letter Ee for eggs, elephant, equipment, exploring, exercise and our word of the day was 'excited'.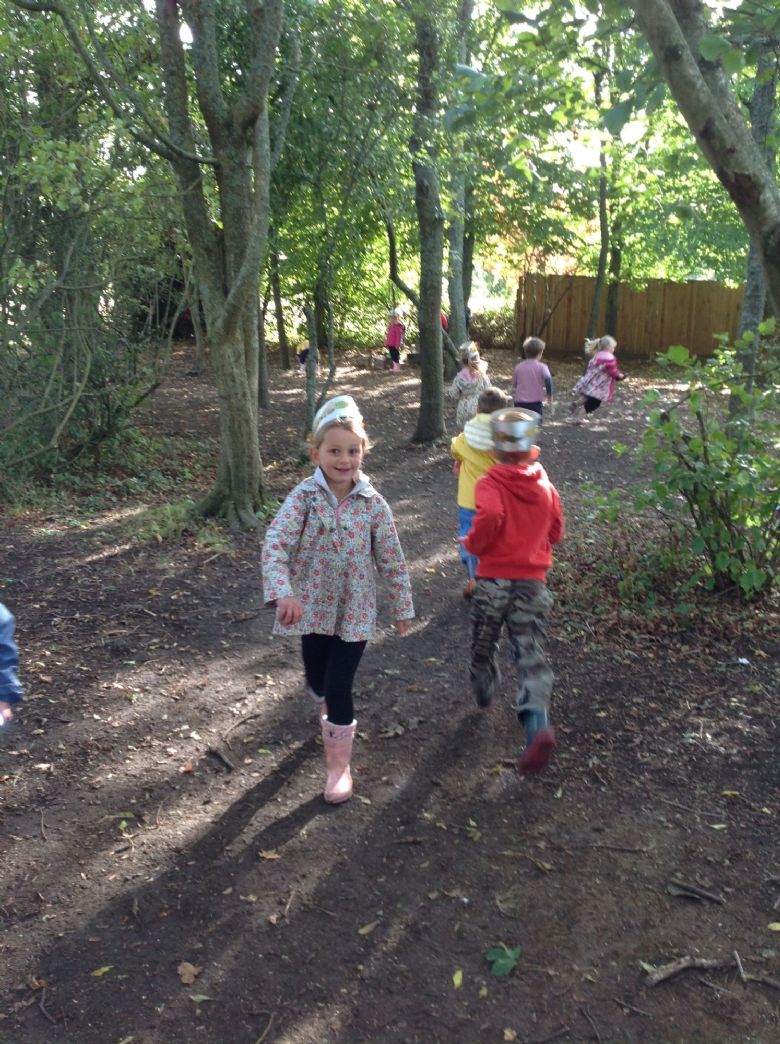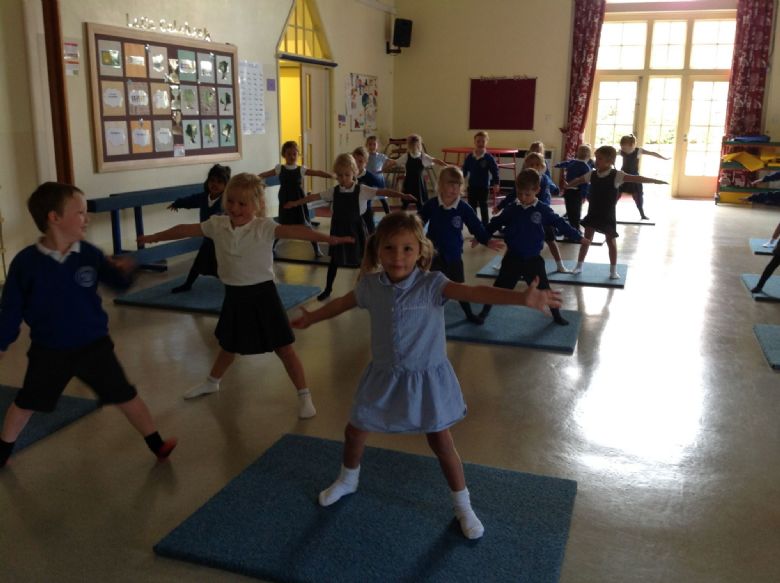 For maths we are having fun with number songs, counting to 20 and learning about symmetry thanks to the letter 'b' for butterfly!
In PE we have been jumping, climbing, balancing and throwing and catching.
---
Week two 18.9.2020
This week has been full of sand, water, sunshine, role play, tea parties, painting, mask making, yoga, stories, bikes, forest school, printing, PE, letters and numbers, dancing, singing ANDDD making Christmas cards!? How funny!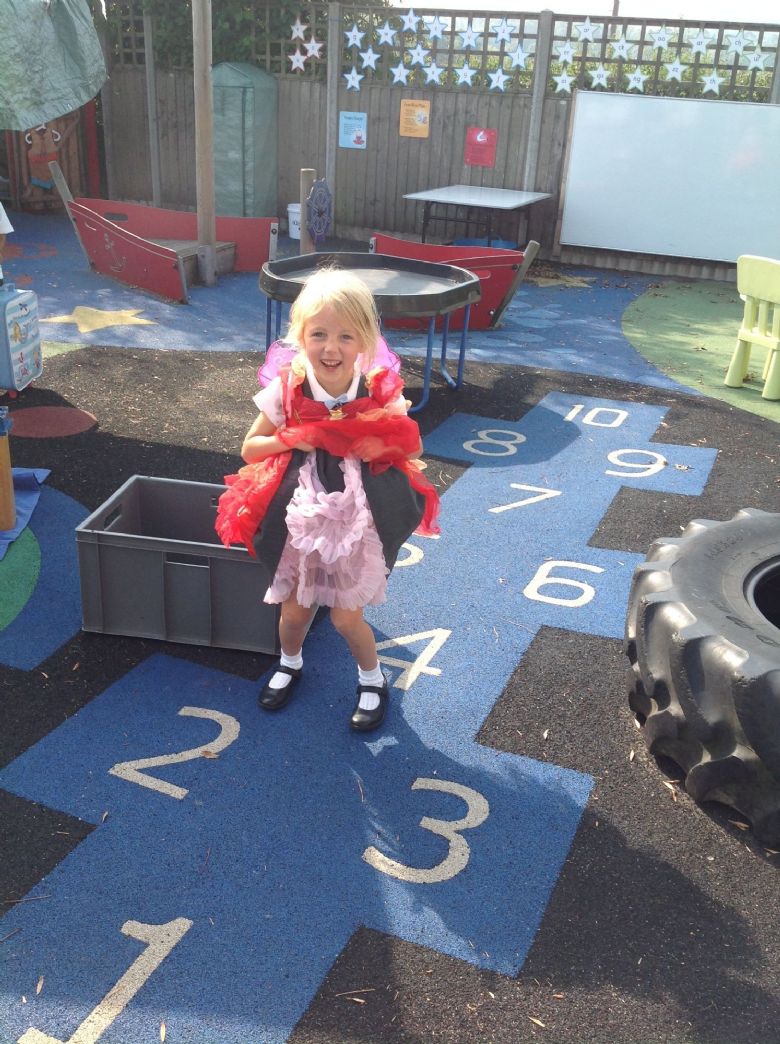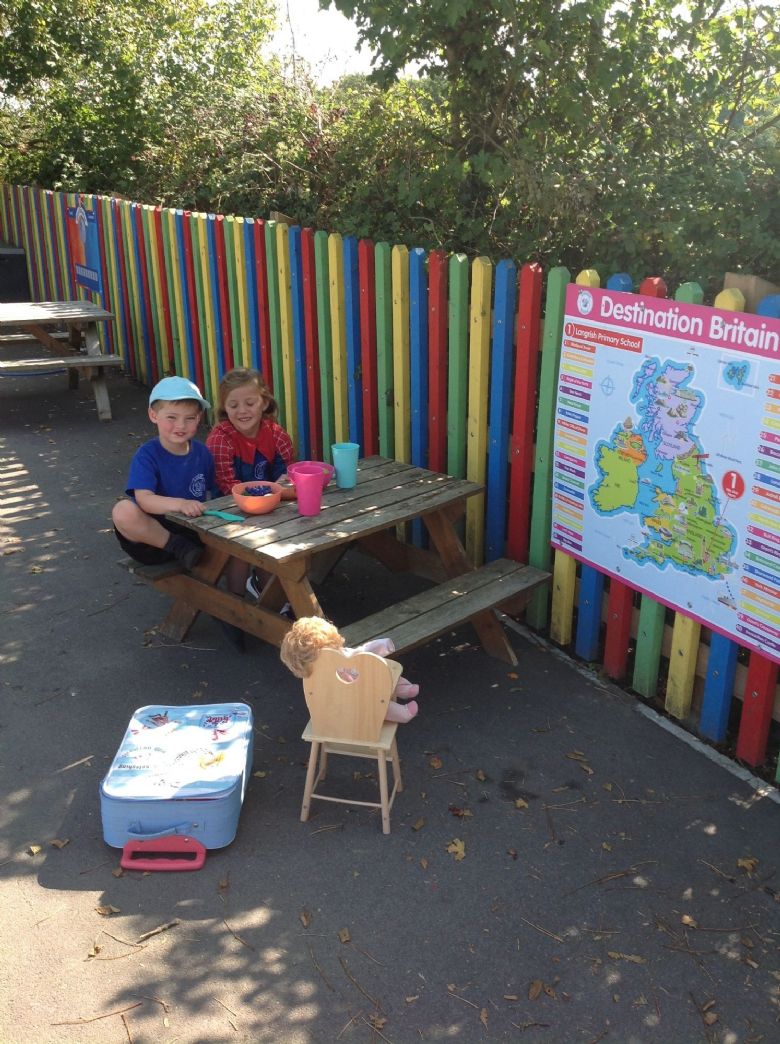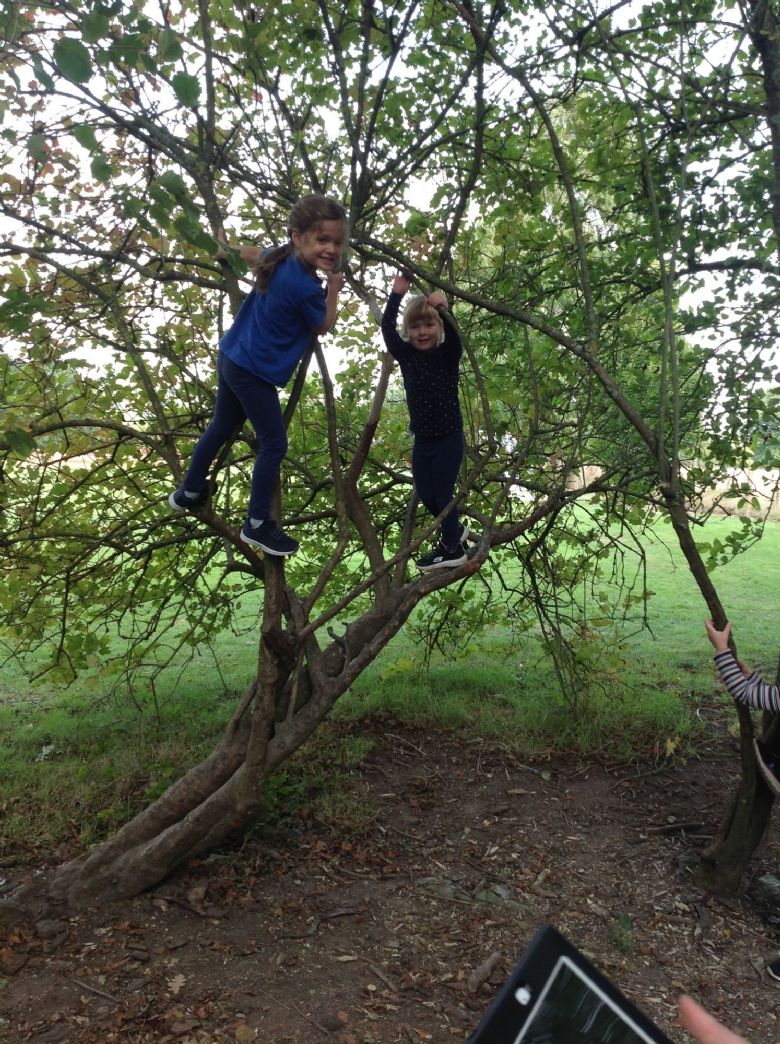 Week one 11.9.2020
Hooray for team squirrels' first week of school! I am so proud of each and every one of you! I have seen resilience, independence, high level learning already... making brilliant new friendships and being super helpers and tidy-uppers for Mrs Browne and Miss Rhodes.
There has been so much for them all to take in:
new environment
new routine
making friends
keeping safe
finding out where things live
remembering what I ordered for lunch
even a fire drill!
Here are some heartfelt comments I have heard from the children...
Charlotte, "I am having the best time, I cannot wait to come back."
Alfie, "Thank you so much for my bear Mrs Browne, I really love him."
Dotty, "I love painting, its one of my favourite things to do."
Finn, "I remembered where to put my water bottle!"
Phoebe, "I cannot wait to bring Sid home with me, I love him."
Alathea, "Is Sid real? Does he talk and stuff? He is a bit cheeky isn't he, he just keeps wondering off."
Finley, "Kayla is my new best friend, I asked her what her name was and she told me and now we play together in the sand."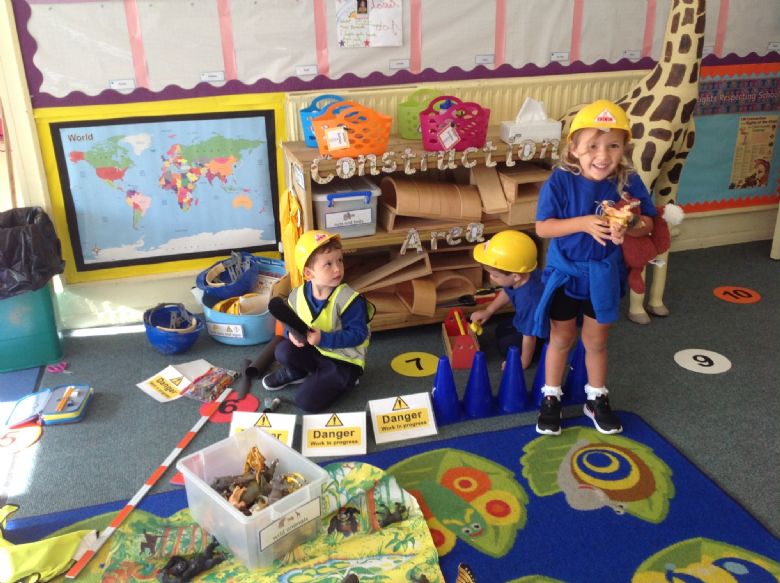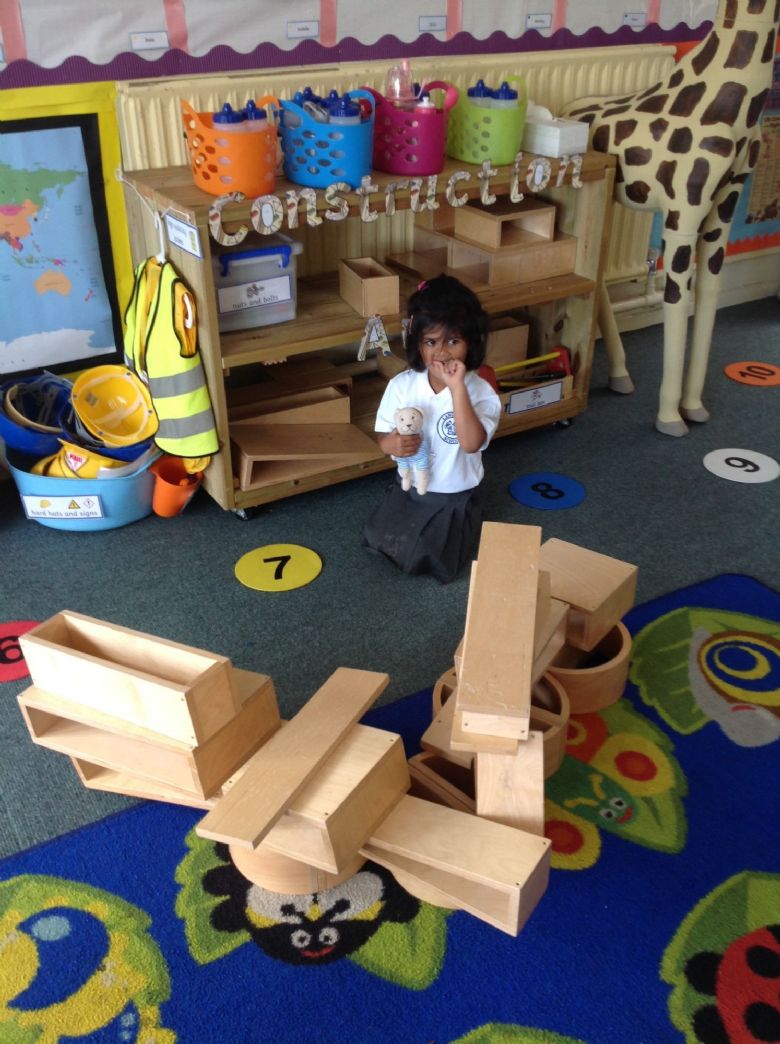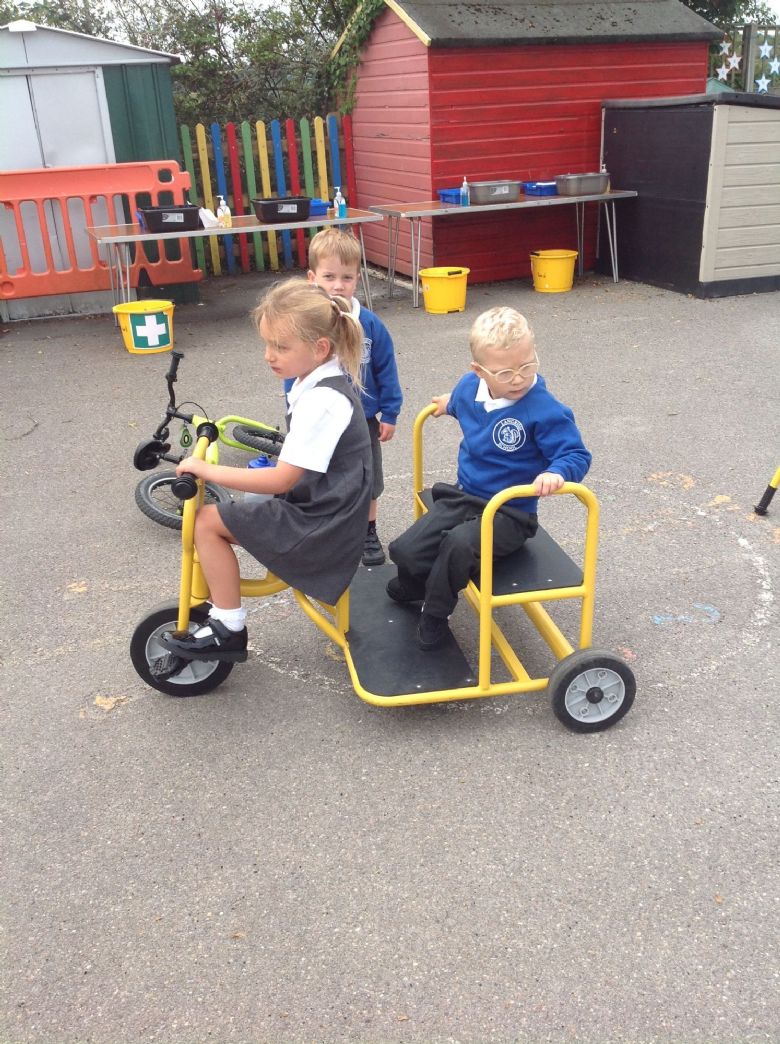 Websites: