Miss Parker & Miss Rhodes :Team Squirrel!
---
Welcome to our Squirrels class page. Here you will find information and updates about our weekly learning.
---
Week six (12.10.18) Go Team Squirrels!
Creative hedgehogs!
For our art afternoon, we went out to the front of the school and collected the beautiful pink and red leaves and made our own hedgehogs!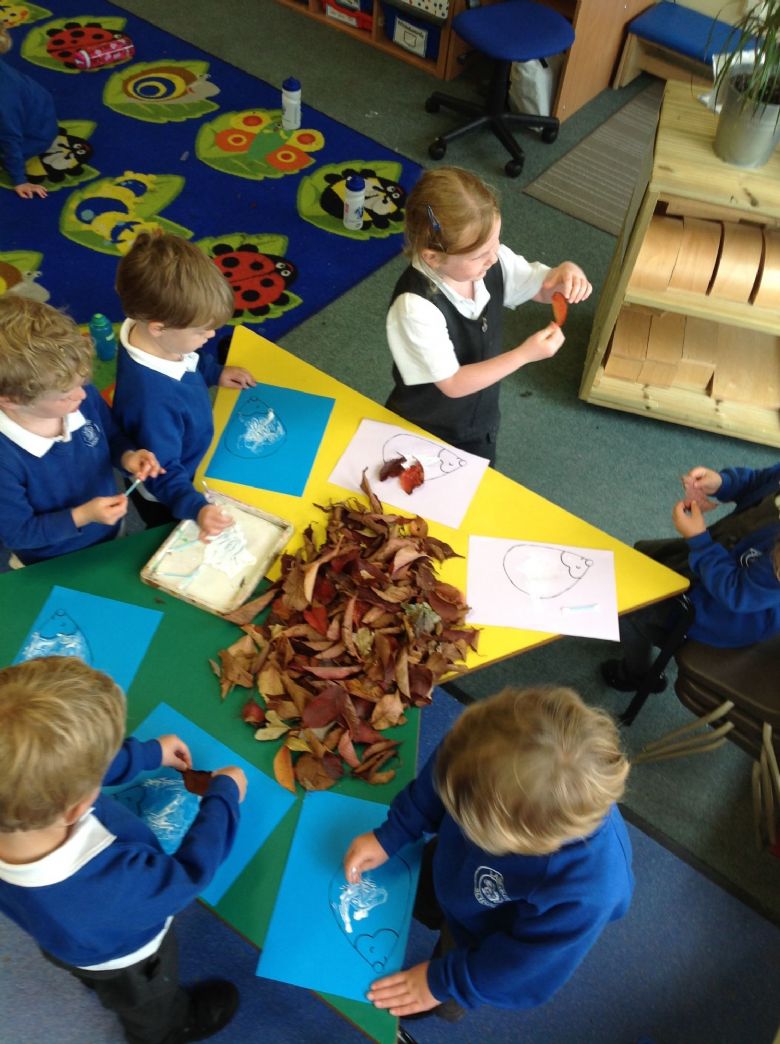 Forest School
This week in forest school, we explored the chilly, foggy natural environment by looking for bugs in damp, dark places. Using magnified glasses and bug boxes, we were able to look at each bug carefully noticing how many legs it has (if any) and its other features.
P.E
In P.E we played a great team game called 'fruit salad'. The children were put into their house colour team and as fast as they could, collect their coloured objects one at a time. Once all collected, they had to sit down together to show they were finished. First team to be sat down were the winners!
All the children collaborated well and followed the rules perfectly! Miss Parker was very impressed.
Play to Learn...
During 'play to learn', the children have shown an interest in writing, whether it be on the ground with chalk, using the large whiteboard outside or sat down at the table with paper and a pen. Miss Parker is taking this interest and questioning the children's writing for a purpose. They could all explain what they were writing and why they were writing it. Many were writing lists or writing observations on the children (with a clipboard and pen in hand, with their legs crossed on the chair). They would use the resources around the room with support with letter formation.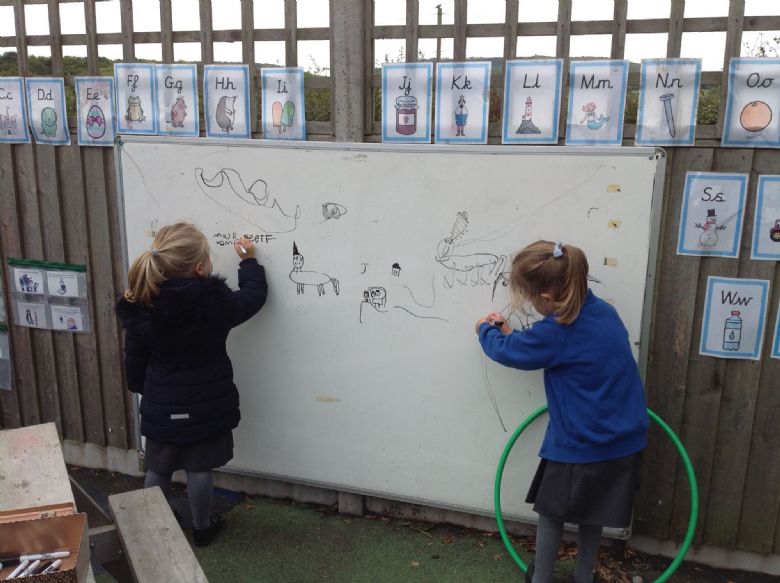 Challenges this week:
Can you tell someone how many people are in your family?
Can you draw a picture of the people in your family?
Can you label who is in your picture?
As a class, we talked about what labelling is and how to do it. To support their learning the children can use word mats. All the children attempted to complete challenge three, however to take ownership of their learning the children would ask for support in writing their family members names. They confidently copied it from a whiteboard, helping to sound out their names.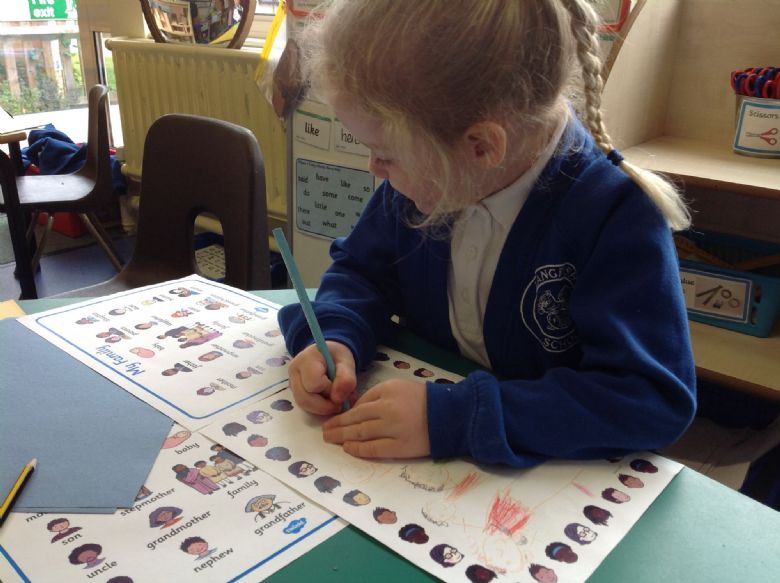 Don't forget…!
Next week is our meet the teacher at 2:30pm and 5:30pm on Tuesday 16th October! I hope to see you all there!
Please look at our class charters we made as a class for ICT and Rights Respecting at the bottom of this page!
---
Week five (5.10.18) Let the challenges commence!
This week we have brought something new into the routine. We have introduced Codie's Challenge!
Codie's Challenge means there are 3 challenges to complete throughout the week with each challenge getting slightly harder. To support the children and introduce more independence, if they cannot read what the challenges say, they can listen to the voice recorder that tells them each challenge.
All the children have taken the challenges in their stride! Once they have completed the challenges they put their name into a pot. This then enters them into the raffle to take Sid the Squirrel home all weekend AND to choose something special out of Miss Parker's box!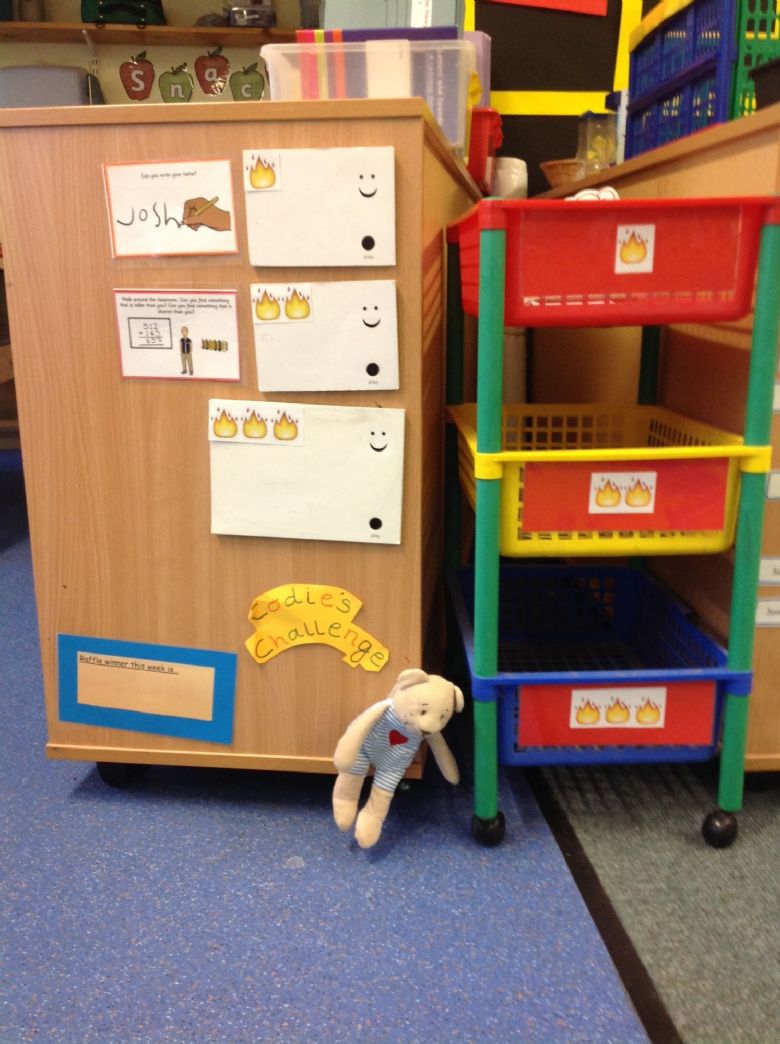 This week's challenges are:
To write your name on a super special piece of paper.
To find something taller than you and something shorter than you.
(There are only two challenges this week as it is their first time completing the challenges.)
During choosing times, we have had many requests to play the Greatest Showman. The children amazingly know all the words and enjoy dancing along pretending to be on stage.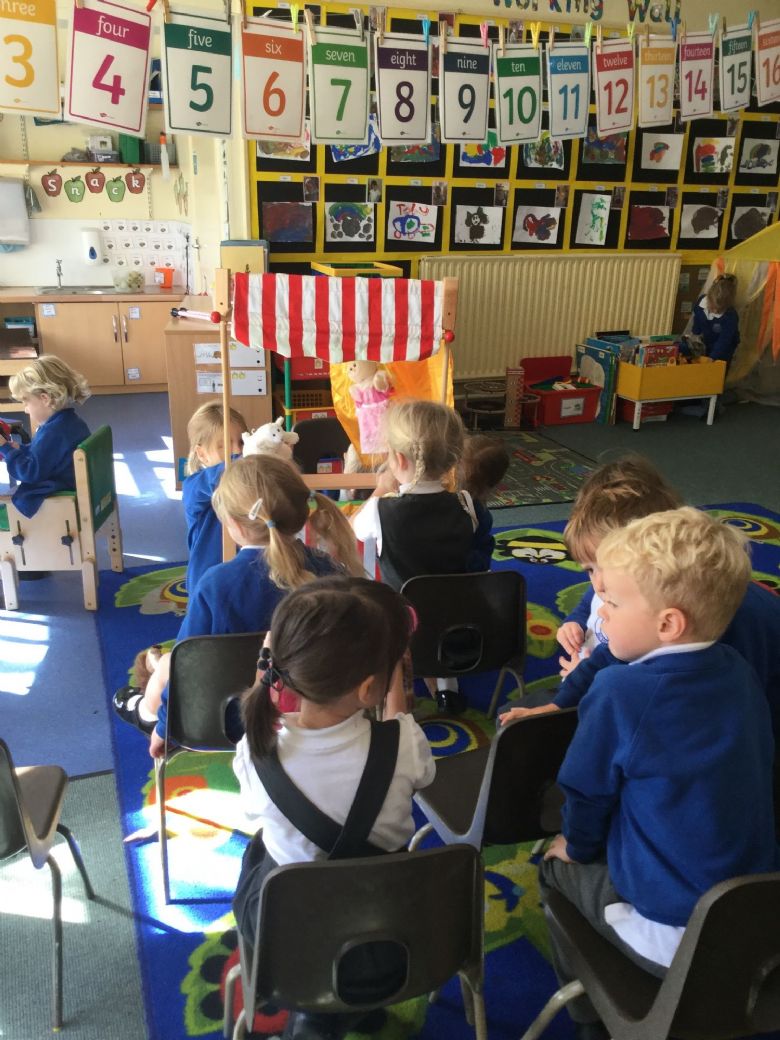 To follow on from this, the children have created puppet shows using the puppets ad role-play masks. We have some brilliant showmen and women who confidently introduce the show and narrate what is going on.
Phonics
We are practising our sounds by singing songs and making up actions to support and remember the sounds.
We have been blending simple CVC words (consonant, vowel, consonant). Then independently, the children have used the magnetic letters to create their own CVC words to blend and read.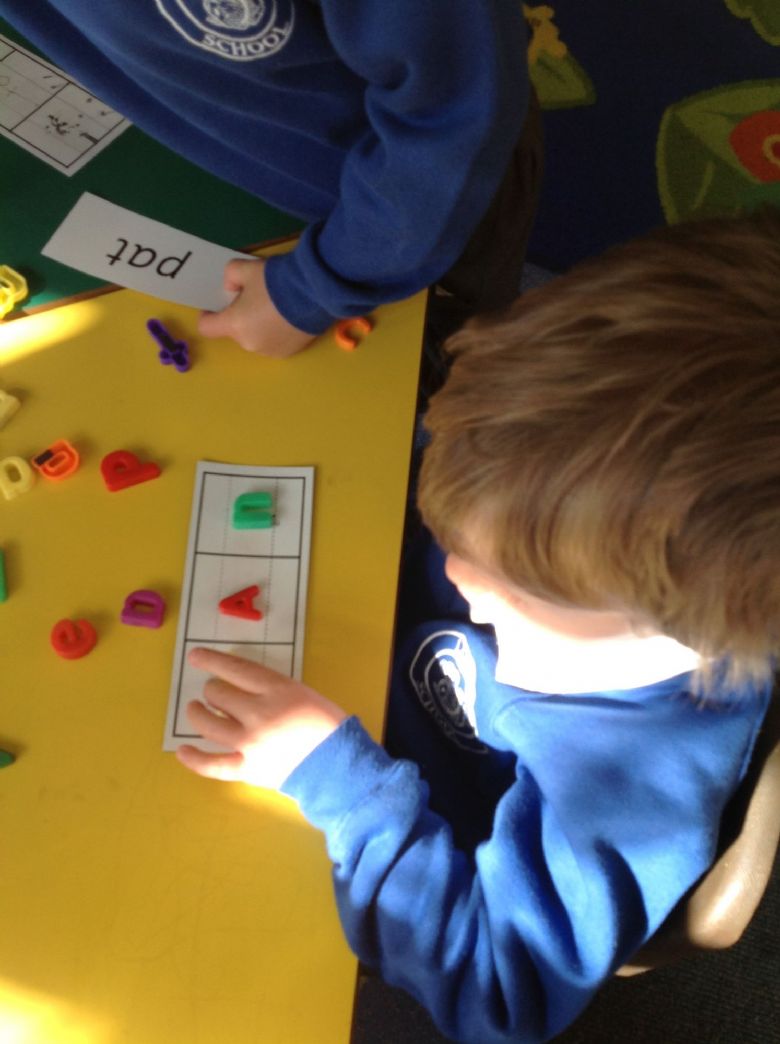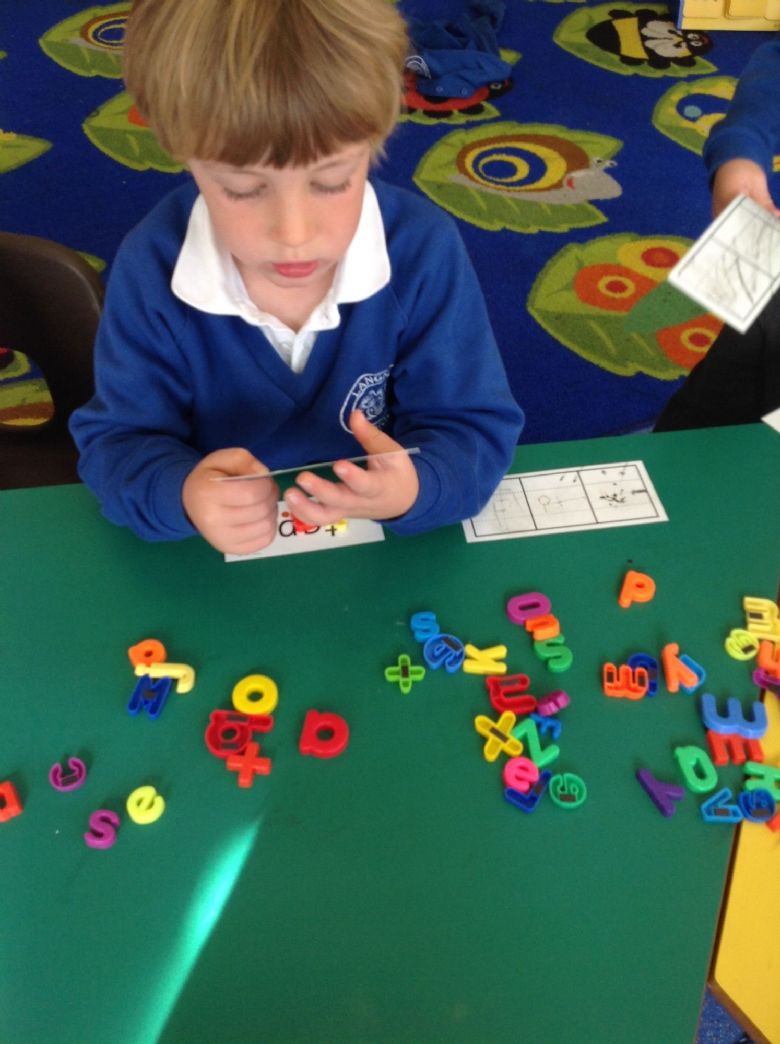 Maths
In maths, we are matching numicon to the number. The children are beginning to use numicon more confidently and for a purpose. Also linked to our challenge, we have been using the language and finding things that are taller and smaller than certain objects.
Final word...
You will notice your child coming home with a reading book in their book bags. This is to get started on knowing the sounds and blending for simple reading. Also the word cards are 'tricky words' (words that cannot be phonetically sounded out). They are words we just need to know, so getting your child used to seeing them is a great way of getting started.
I will be talking to you more about reading at the Meet the Teacher on Tuesday 16th October!
---
Week four (28.9.18) "Frog, log and jog all sound the same… They must rhyme."
The children have loved the sunshine this week, however, they have noticed it is getting a little chilly! They have been cooking dinner for each other in the role-play shed. They have also been looking after the babies by wrapping them up warm from the cold and taking them for a walk. The children have also chosen painting, play dough, lego, bikes and the water tray. Using the puppets and masks, the children have been role playing different traditional tales... Can you guess which story the children are acting out?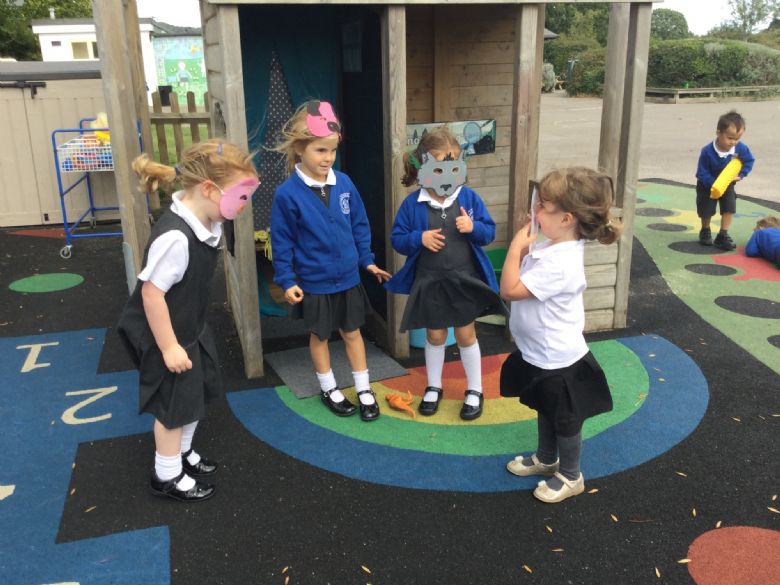 This week we had our first P.E lesson! We completed different activities in the hall such as balancing, dribbling balls and using streamers… Here are some photos to show you how good we are at balancing. Some were super brave and balanced on the tall beam with no help from an adult!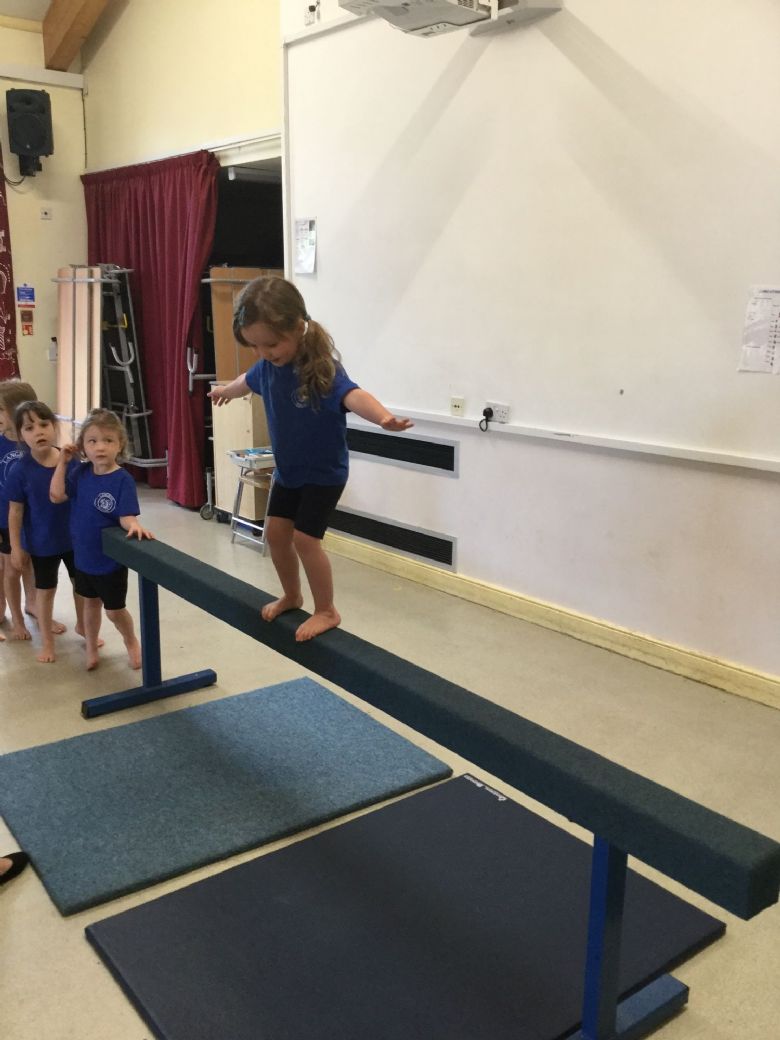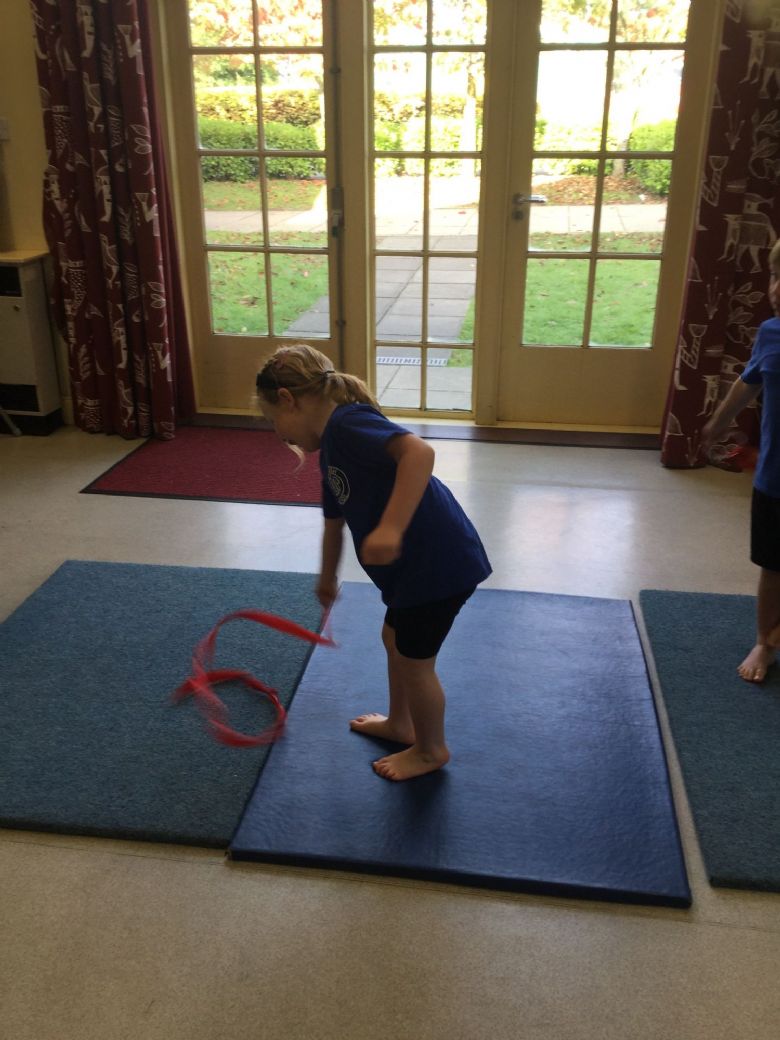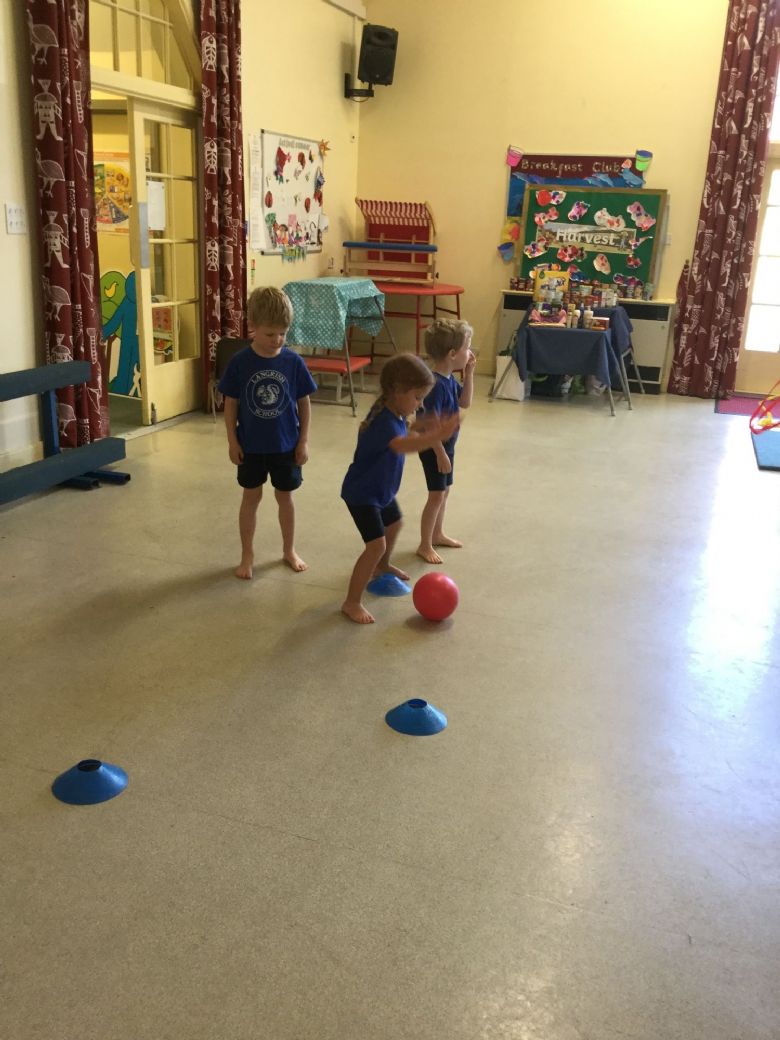 Forest School
In our forest school session we were told the three important forest school rules. They are:
Always stay in the forest. If you need the toilet, tell a grown up first then use the outside toilets.
When you hear '3,2,1, come back everyone', all children must come back to sit around the fire circle.
Children must not enter the fire circle unless invited by Miss Parker.
Miss Parker wanted the children to explore the environment so they could get used to the uneven grounds and explore all the natural resources around them.
If the children wanted to, they could make forest crowns using the natural environment around them.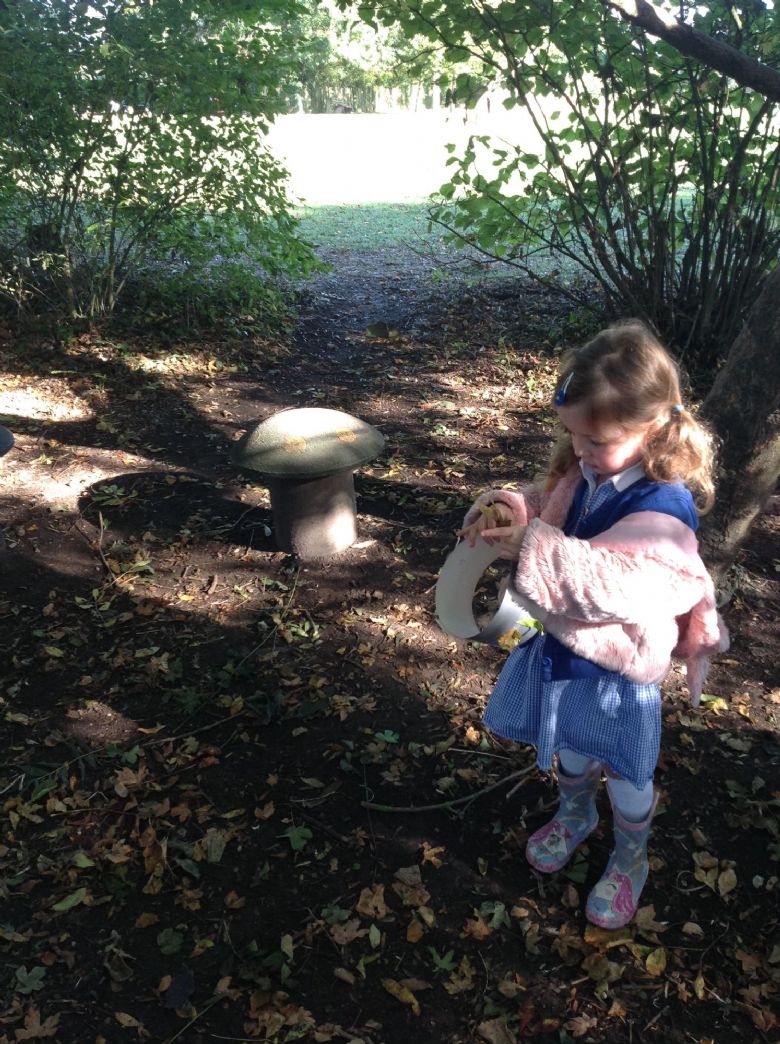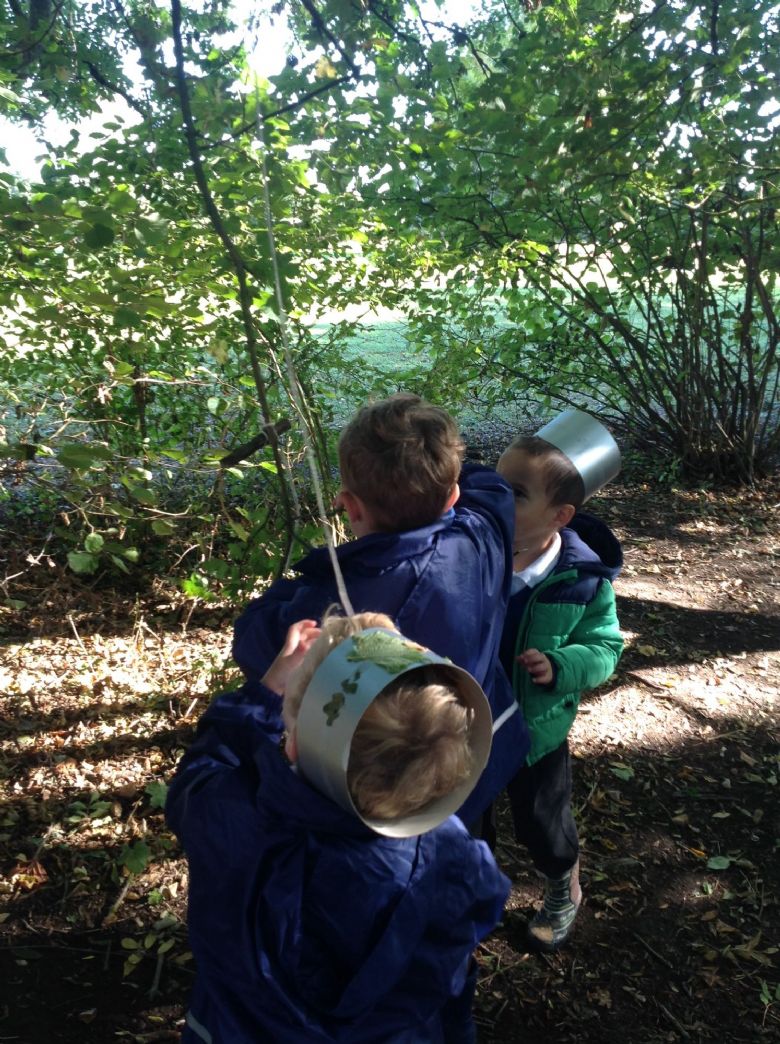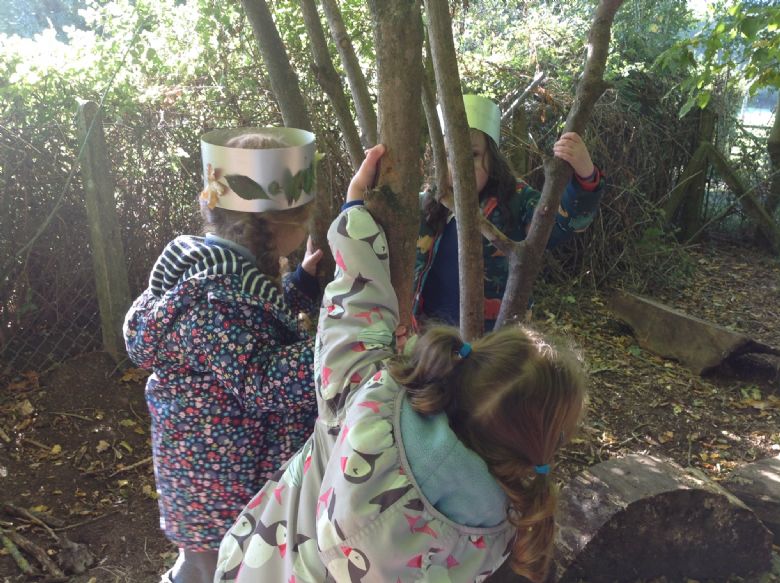 Phonics and Maths
We have begun completing different activities linked to phonics and maths. In phonics, we have been matching pictures to the sounds. We needed to hear the initial sound in the word to make a match. Also, we have been recapping on rhyme by looking at the pictures and making a match. Some children have even tried to sound out the word to attempt reading.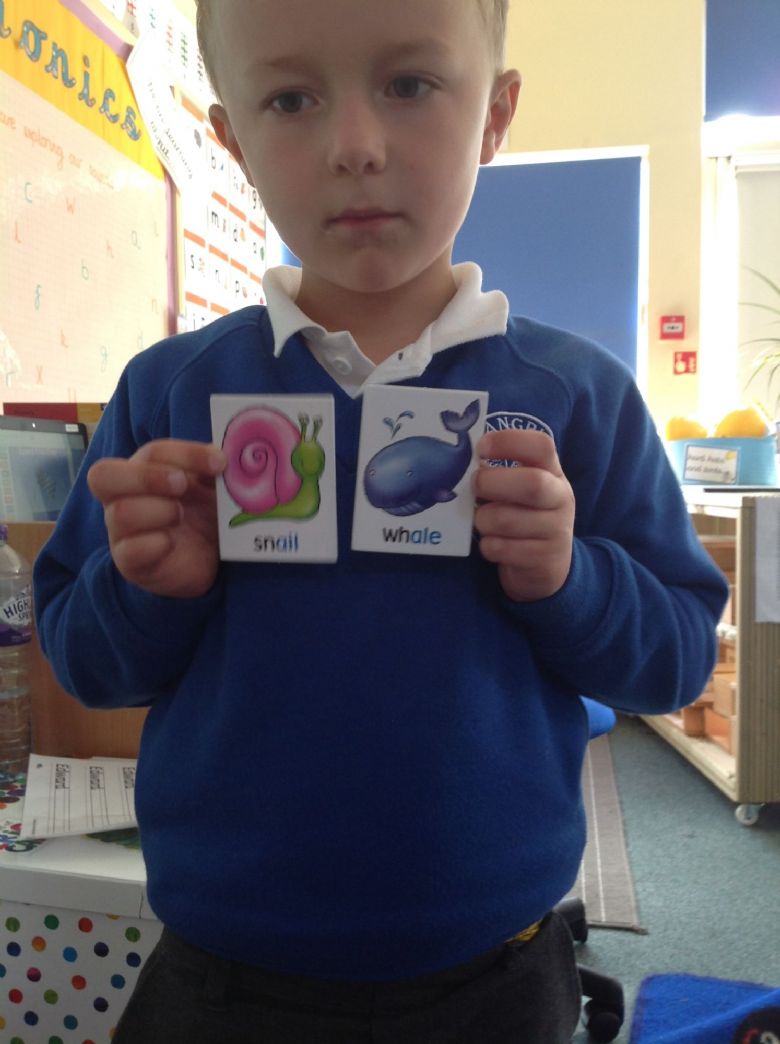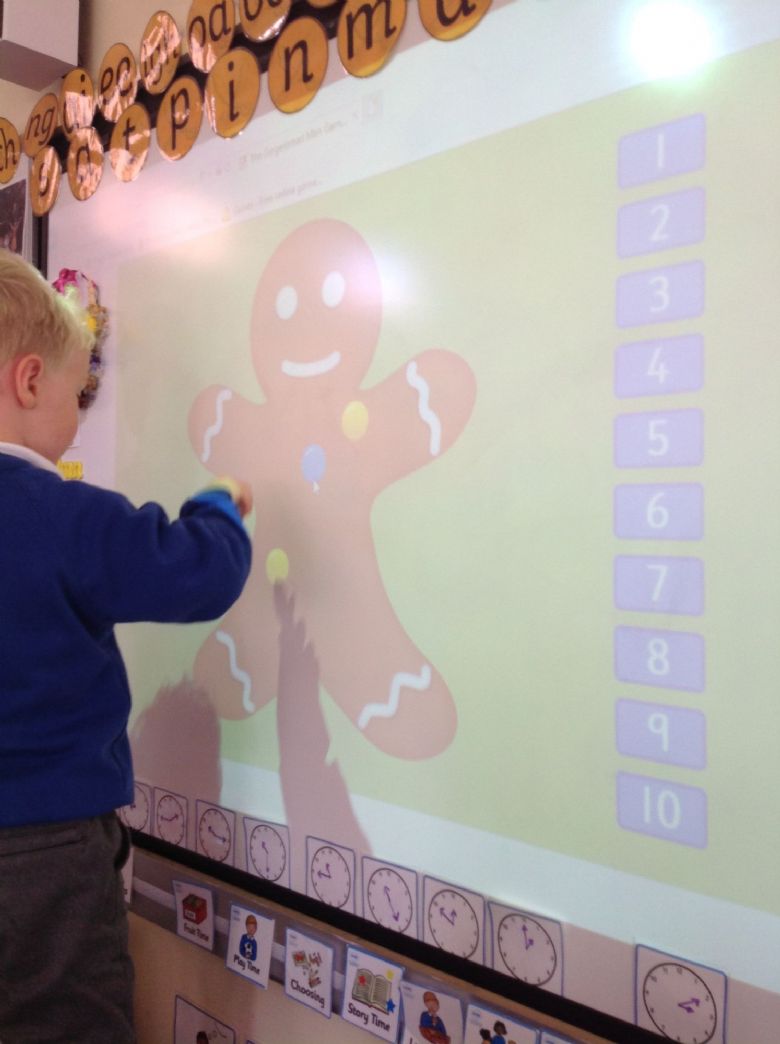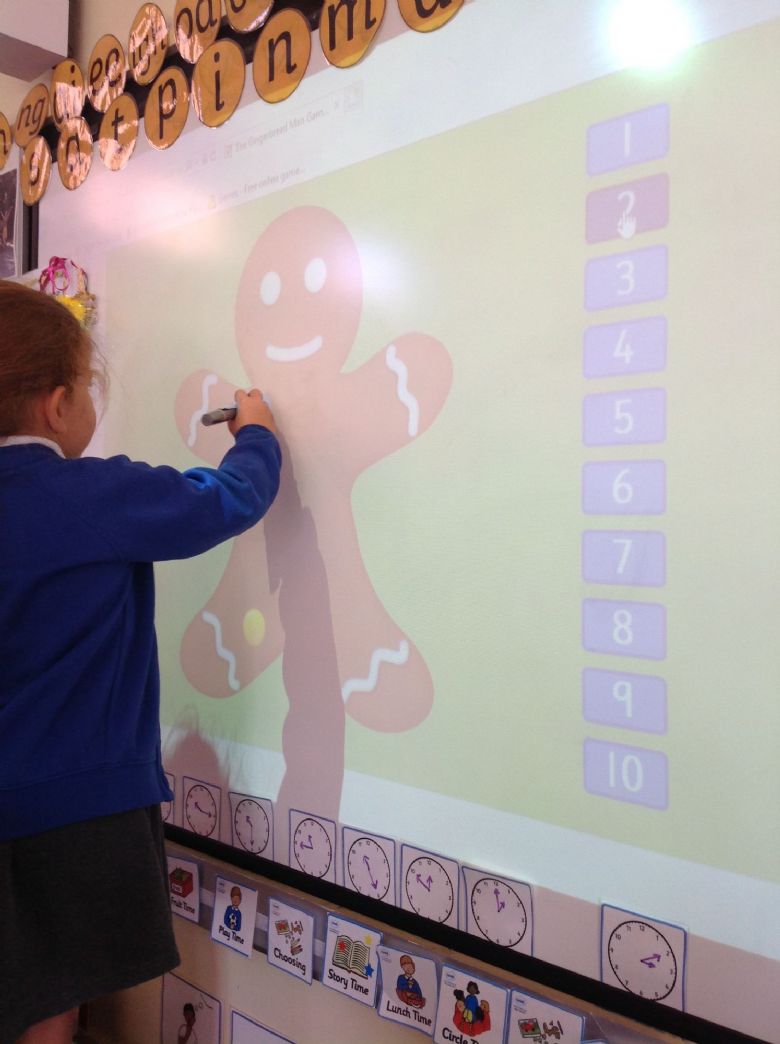 In maths, we have been using the interactive whiteboard to practise counting. We have been counting the gingerbread man's buttons and finding the amount by pressing the correct number. We have some brilliant mathematicians in Squirrel Class! They children carefully counted one button at a time and sometimes double checked to ensure they counted them all.
---
Week three (21.9.18) "I can't wait to tell my mum I went to my first assembly!"
The children attended two assemblies this week, which they were brilliant in (they showed up the rest of the school). Mrs Jones was super impressed! There was a singing assembly where we sung 'Sing Hosanna'. The children joined in when they could and sat beautifully. Also on Wednesday, we had Cat Protection in school to tell us about how we can help cats and what Cat Protection do to help them.
It has been a great week of finding things out for ourselves and being more independent. To do this, the children have found ways to resolve problems without going to an adult as their first call. For example, using a sand timer is a great way to take turns fairly. It involved deep discussions about who would have the toy first and what timer to use. They worked out the longer the timer, the more time they had with the toy. However, the shorter the timer means they do not have to wait as long for the toy. It was tricky decisions but they got there! From this, it then encouraged other children to use the sand timers to play fairly and well.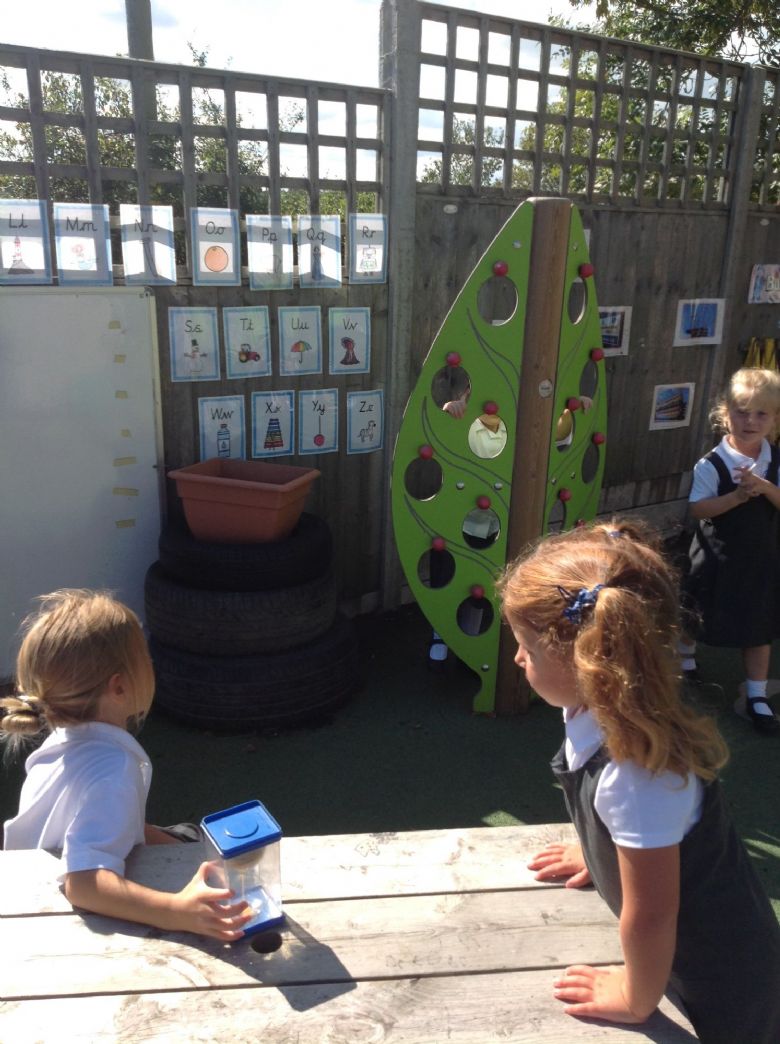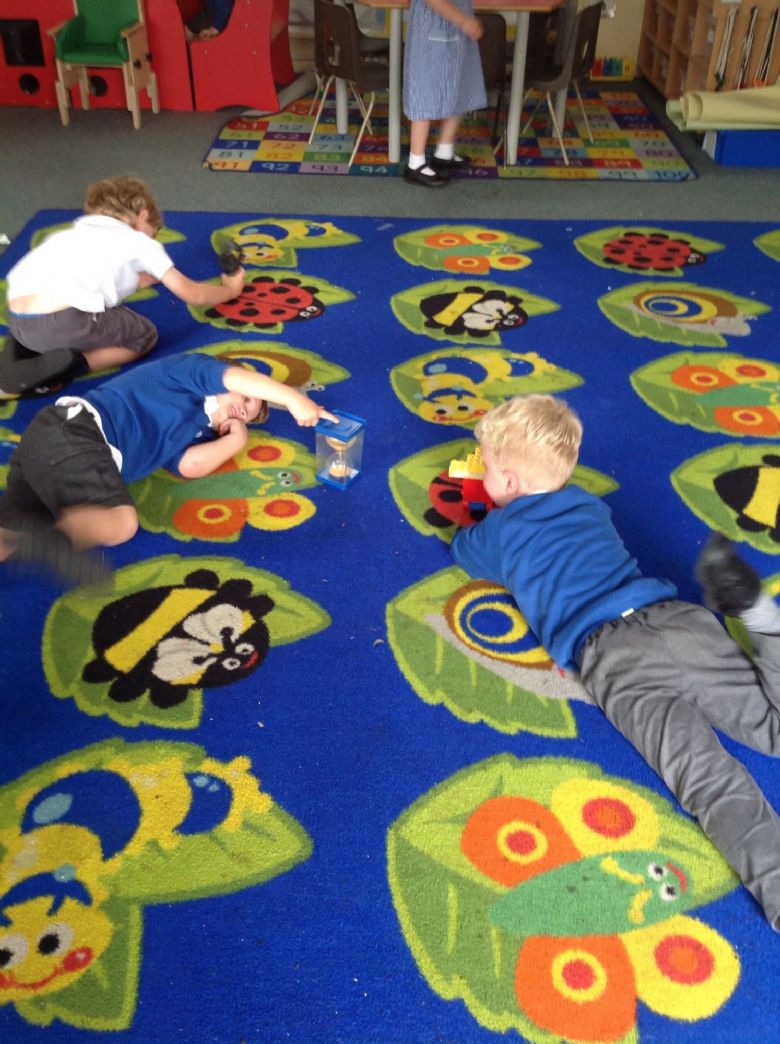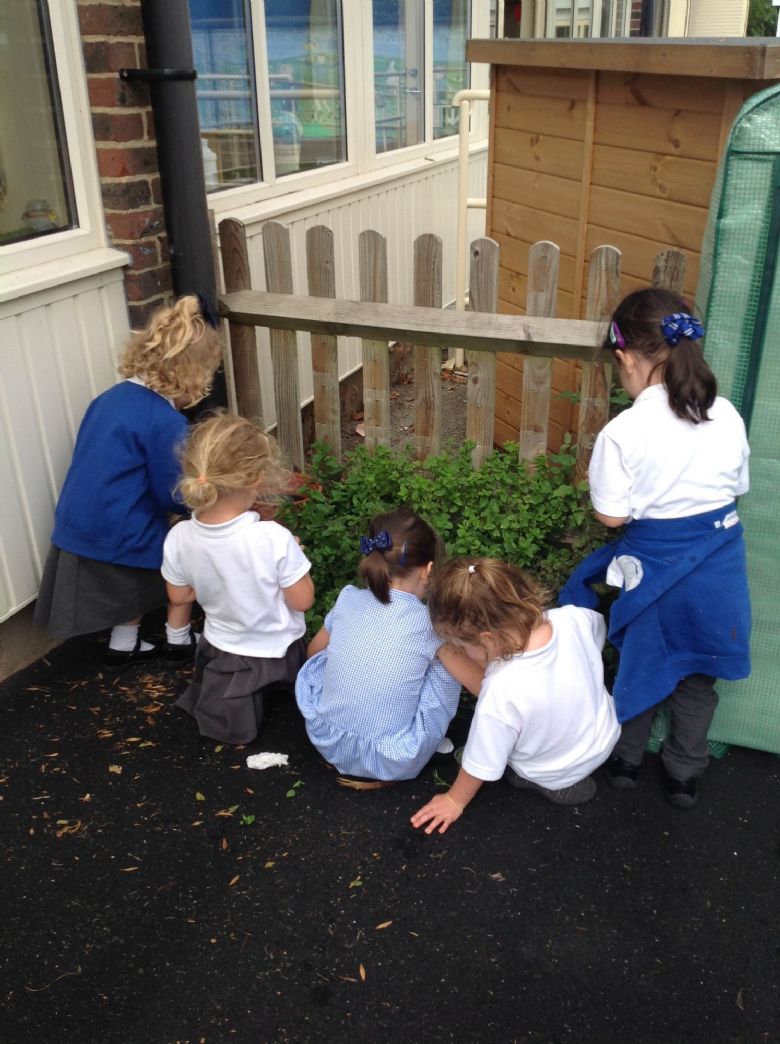 We have had future builders building homes for people to live in, creative artists making jewellery boxes and potion makers! The children have taken a big interest in mixing water and fresh mint leaves which is found in our garden to make potions. It brings a brilliant strong smell that the children love. They use sticks and mud to add different ingredients to their potions.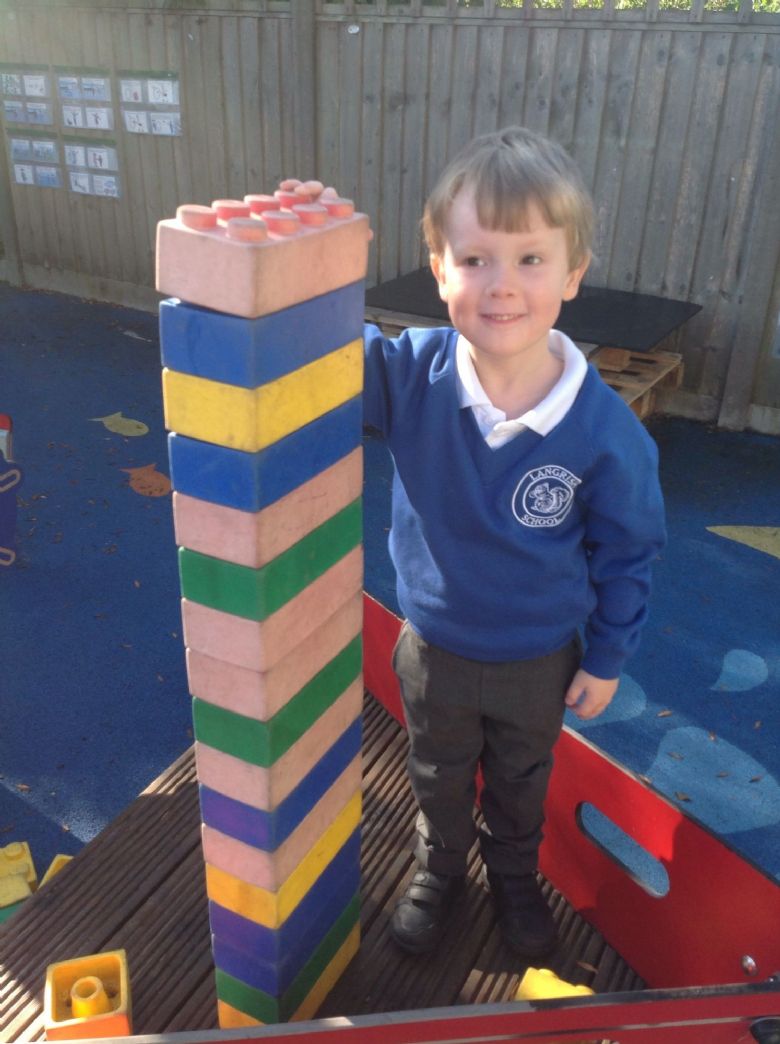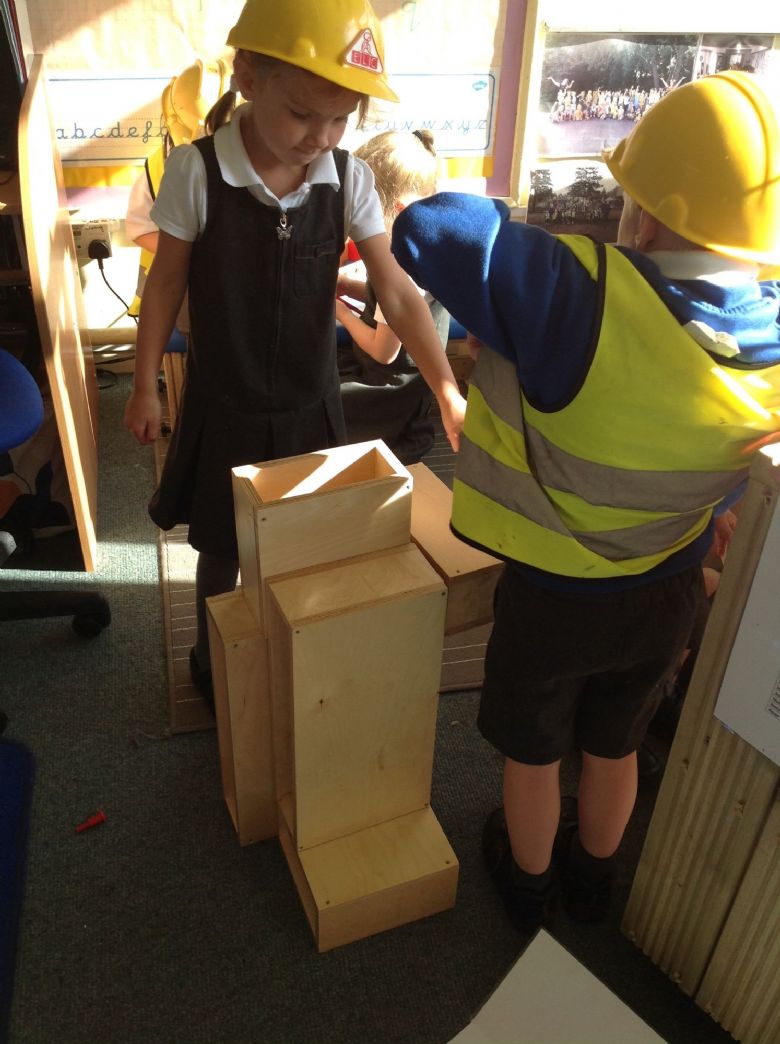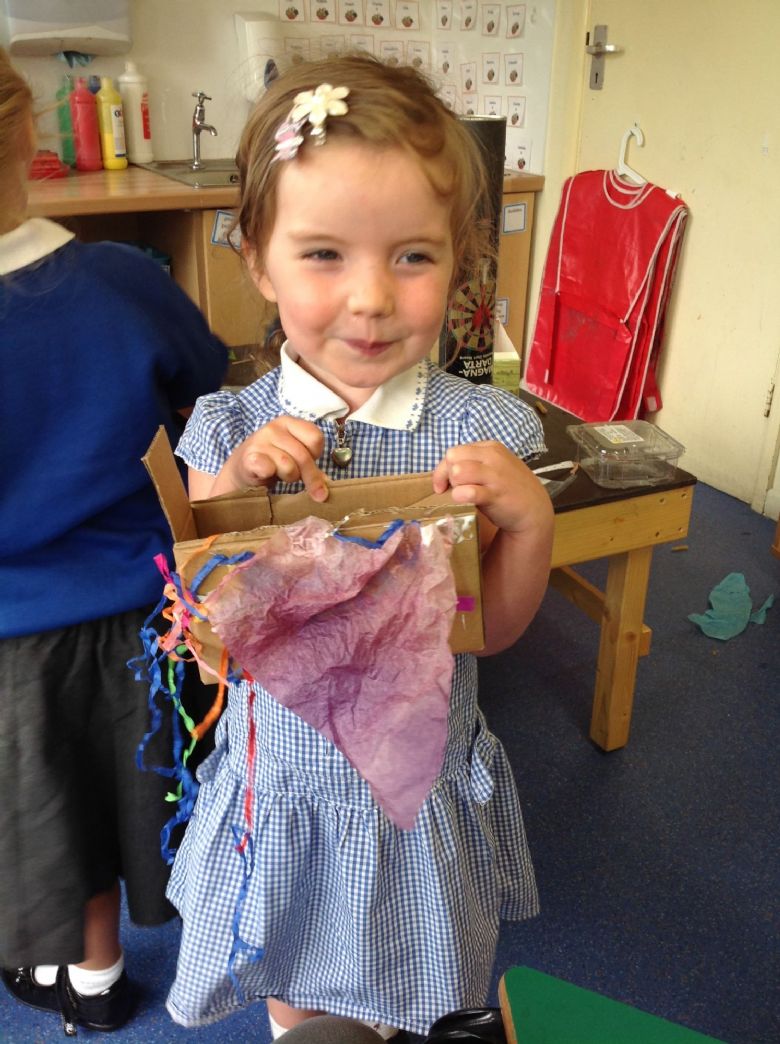 Next week:
We will start our P.E lessons Monday afternoon so please ensure P.E kit are in school. Also over the weekend, please allow the children to get dressed for themselves for extra practise ready for Monday afternoon.
Forest school will also start Friday afternoon. Please ensure the children have wellington boots at school along with waterproofs as the weather is changing fast!
Don't forget to bring in your food/ toiletries donations for the Harvest Festival next week!
---
Week two (14.8.18) "Are we really here every day…?
It is the children's first full week at school and I think it is safe to say, they gave it their all but are totally exhausted!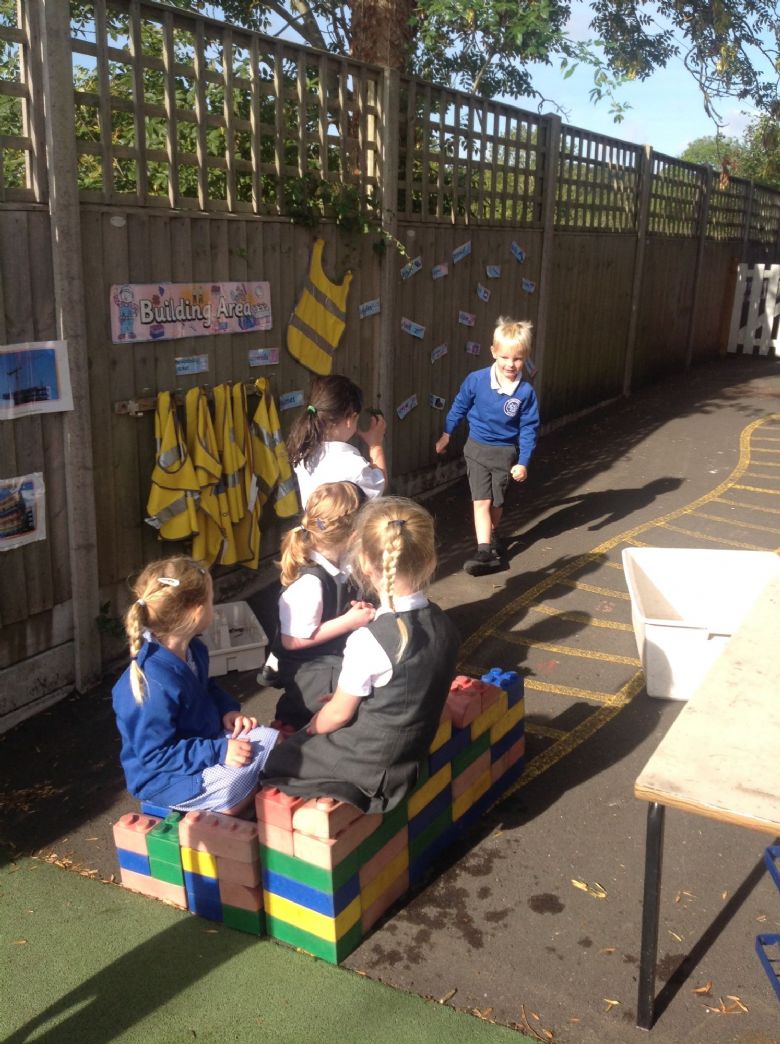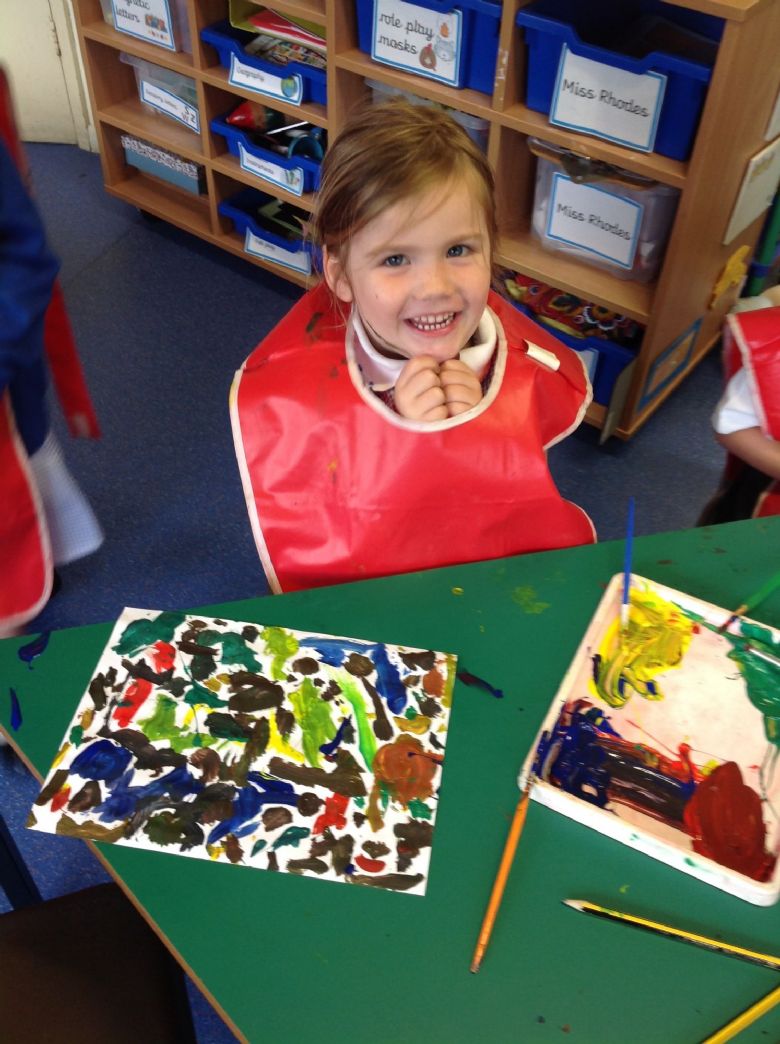 "I'm the big bad wolf and I am going to blow your house down!"
"I used all the colours for my painting."
It has been a week of routines, rules and exploring. During circle times, we have been allowing the children to share their bears with one another, talking about their adventures in the summer holidays. They will be coming back home throughout the next two weeks so keep an eye out for them.
Also for circle times, we have been exploring number by going on a walk around the school looking for all the numbers we can find. They were everywhere!
As well as number, we are recapping on rhyme and early sounds in phase 2 phonics through puzzles, flashcards and songs.
By Tuesday, we had a child ask, "Are we really here every day now?" It was hard to break it to the class that they still have fourteen years to go!
The children have been coming in brilliantly to school and barely need Miss Rhodes or myself! They show a confident, happy smile as they walk down with their classmates or siblings. Well done everyone!
Date for the diary:
On Tuesday 16th October there will be a 'Meet the Teacher' in the Year R classroom to go through E-learning journeys and home learning with you. It is also a great opportunity to share any questions you may have about your child's year in Reception.
The times are 2:30pm or 5:30pm so I hope to see you there.
A little gesture to help us out:
Please ensure when dropping your child off to school that parents/carers wait with their children until an adult is present, especially in these early days.
Thank you.
When collecting your child at the end of the day, please can you stand near the classroom so Miss Rhodes and I can see you. This will make it easier and quicker to see you. In addition, if another member of the family is collecting, could you get them to tell us who they are and who they are collecting.
Can you ensure the children have their reading wallets in their bags everyday. Do not worry about what is inside the reading wallets (reading record and tricky words) this will all be explained in the Meet the Teacher on Tuesday 16th October at 2:30pm or 5:30pm. Also, please check them daily for letters!
Week one (7.9.18) Welcome to Squirrel Class! Let the fun begin…
Miss Parker and Miss Rhodes are very proud of Team Squirrel this week! We loved visiting you in your homes, seeing what you like to play with and of course showing us the cool stuff in your bedrooms!
The children had great first days at Langrish. We went on a tour of the school meeting all the teachers, office staff and Mrs Wright. It was great finding out where everything is; such as where they go for lunch, P.E, music and most importantly, where all the toilets are around the school.
Throughout the day, the children chose what they wanted to play with. There was computers, animals, sand, role-play and much more… we also had some great games with the parachute!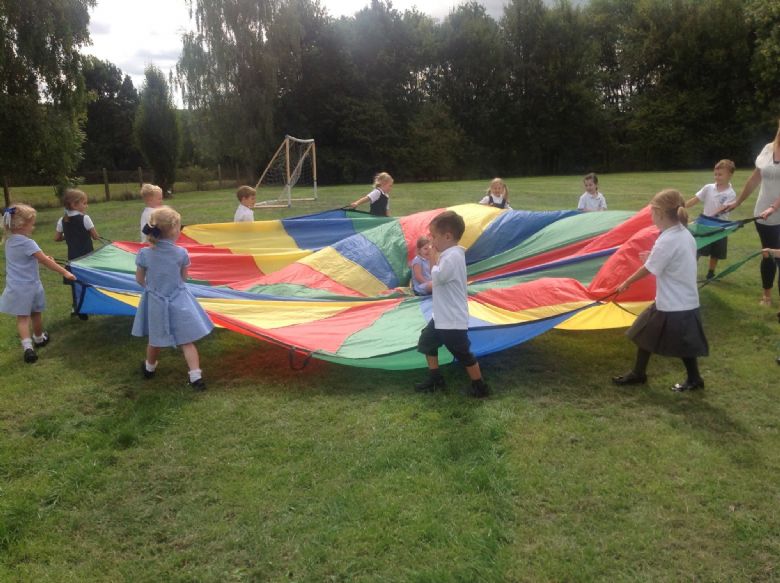 Here are a few things to remember for next week:
P.E kits in a P.E bag – blue T-shirt, black shorts, hoodie, jogging bottoms and trainers.
Forest school clothing – wellington boots, waterproof trousers and jacket.
Bears – we will begin to share each of the children's adventures with their bears! They will stay in school for the first half term.
Please ensure ALL clothes and shoes are labelled with names.
Miss Parker and Miss Rhodes will be there to meet the children at the main gate Monday morning at 8:30am. If your child has a sibling they can come into school with them and take them into Squirrel Class.
We look forward to having the whole class together on Monday!
---
Useful Websites