Miss Parker & Miss Rhodes :Team Squirrel!
---
Welcome to our Squirrels class page. Here you will find information and updates about our weekly learning.
---
Week twenty five (20.7.18)…. I cannot believe it's over…
What a wonderful year Team Squirrel have had. Looking back at our journey from this webpage shows how much they have all grown, learnt and blossomed into brilliant, courageous people. I will miss them dearly but look forward to their next chapter with Mr Hancox.
A huge thank you for being great, supportive caring parents. I could not have done it without your support and drive to do the very best for your child.
Teddy Bears Picnic
The children had very full tummies by the end of the picnic… Do not think I can say the same for their teddies! There was so much food some children went back for seconds AND thirds! They all had a great time talking, eating and running around on the field.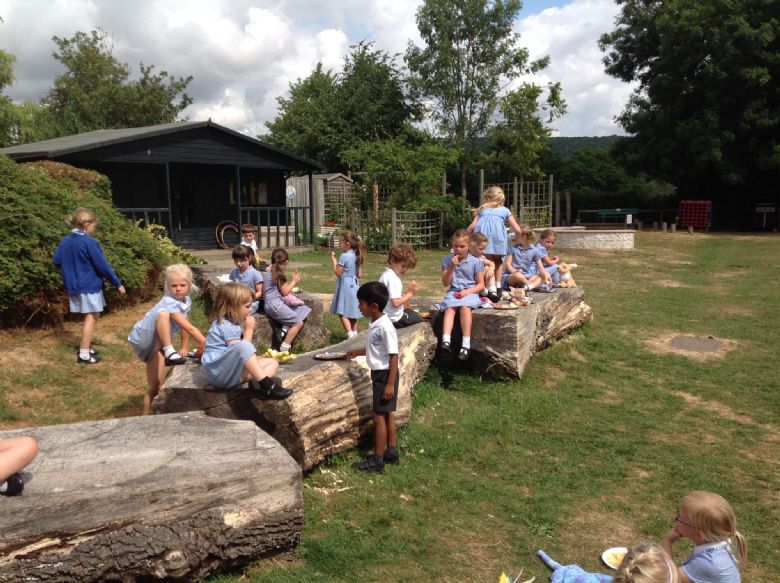 Sports day!
Sports day was the best day ever…. said many of the children. It was a great atmosphere and I was very proud of the children's team playing, competitiveness and control for each activity.
Well done everyone!
I wish you all a restful, fun and hopefully warm summer holidays!
Miss Parker
---
Week twenty four (13.7.18) Releasing the butterflies!
Monday morning has never been so magical… Team Squirrel woke up to five beautiful butterflies, four of which have been released and one now a class pet. Unfortunately, one caterpillar was finding things a bit difficult and struggling to compete with the others. He was able to cocoon, however began to wriggle for a long time early on. On Sunday, he found himself still stuck in his cocoon, which stopped his wings from developing like the others. He is still a very active butterfly but with no flight, it would not be safe to release him into the big wide world. As a class, we talked about what we could do as a class to look after him.
Fun Fact!
If the butterflies abdominal is curved then it is a female and if the abdominal is straight then it is a male!
On Monday afternoon in our forest school session we released our beautiful butterflies and watched them fly around us, camouflage in the trees and enjoy the lovely sunshine. During our forest school session the children choose to play in the mud kitchen, whittle sticks and climb trees. Mrs S worked with the children to build a stick man using sticks, nails and a hammer. This then encouraged the children to retell the story of stickman, his stick ladylove and stick children three.
Maths
In maths we are recapping odd and even numbers. We have used 100 squares to colour in the odd numbers in one colour and the even numbers in another. Once the children recognised the pattern it was much quick to colour in! To challenge them, Miss Parker gave them another 100 square to find every 7th, 5th, 9th or 2nd number then colour it in. They were so excited to find the pattern they wanted to do more!
Phonics
In phonics, the children are writing a diary of the caterpillars' journey, and then drawing a picture to represent what they have written. The children have taken great ownership of their diaries as they have been made into little books.
---
Week twenty three (6.7.18) "The caterpillars have cocooned!"
When the children walked into the classroom on Monday morning, they noticed something different about the caterpillars… "THEY HAVE COCOONED!" they said excitedly. After spending over 15 minutes watching them transfer out of the pot to the butterfly bag we had to get on with our day… We talked about how they have cocooned and that we must be super careful when looking at them, as we do not want them to fall off the lid. As the week has passed the pupas have gone hard and a lot less wriggling has taken place. All the children have taken the caterpillars under their wing and protected them from the sun, ensured they are safe and continuously watched them for any movement. Well done team Squirrel!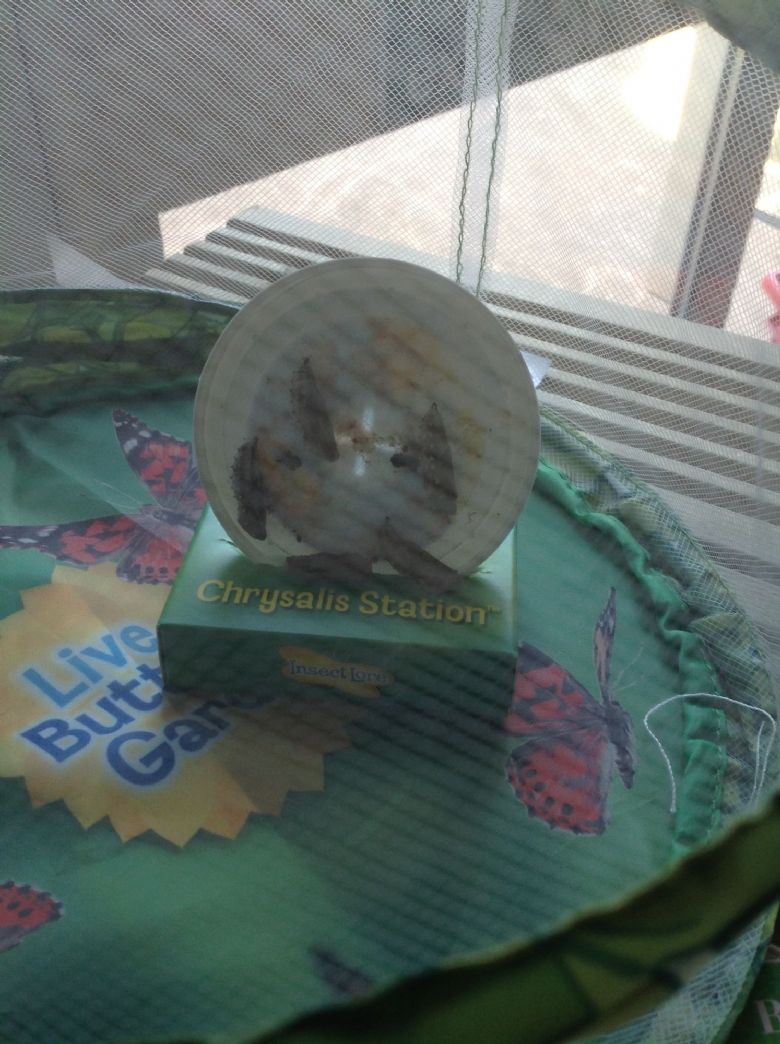 PE
We have been practising our racing skills by taking part in different races using the running track.
Maths
In maths, we are talking about prepositions, understanding different words and their positions. With Miss Rhodes, the children have been given different instructions, which they must try to follow. For example, put the doll under the table and the bear in between the Lego and block.
We have also been making number lines but to challenge the children they are making number lines in 2s, 5s, 10s or odd numbers. Here is some of their work…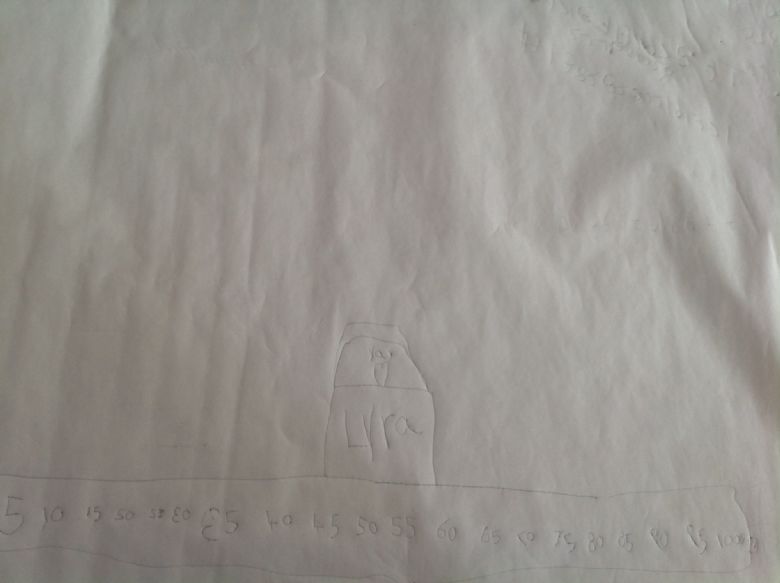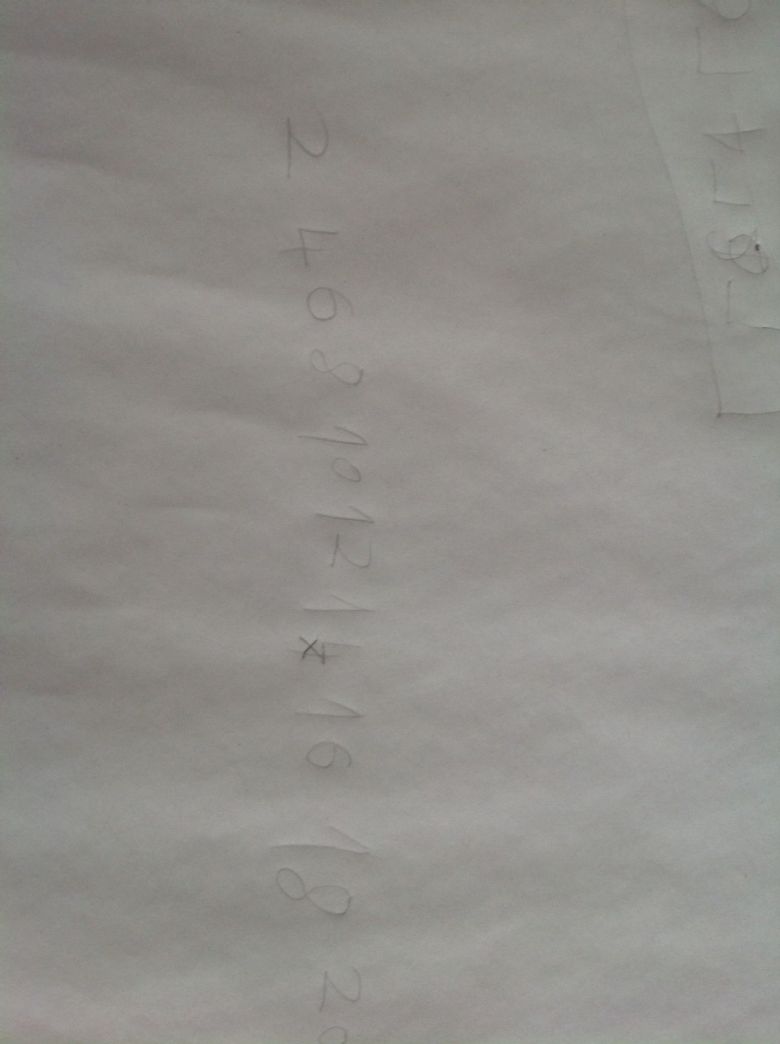 Phonics
In phonics, we are reflecting on our year in Squirrel Class. We are writing about what we will miss about team squirrel and what we have enjoyed doing the most. Next the children are writing about what they are looking forward to in year one. Two of the children got very excited, as they did not get to write about year one but about the different countries they are moving too!
Challenges this week
Using any material, build a house. It must build it with 1 door, 2 windows and inside you need to build a chair and bed.
Look through this pile of books and find the biggest number. What is it?
Can you make a model for a friend? Ask them what they would like. Now use their idea to build a model for them.

Next week we hope to release the butterflies!
---
Week twenty two (29.6.18) The caterpillars have arrived!
On Monday morning, we had a special delivery! Miss Parker carefully opened the box to find five little caterpillars! We had just read a non-fiction book about the life cycle of a butterfly, so it was great timing for them to arrive.
We made some rules to look after the caterpillars, they are:
Do not move the pot.
Do not touch the pot, just in case it falls over.
Keep checking the caterpillars are ok.
Do not shout too loud in the classroom.
Make sure the sun is not shining on them.
Here is what they look like after day 3...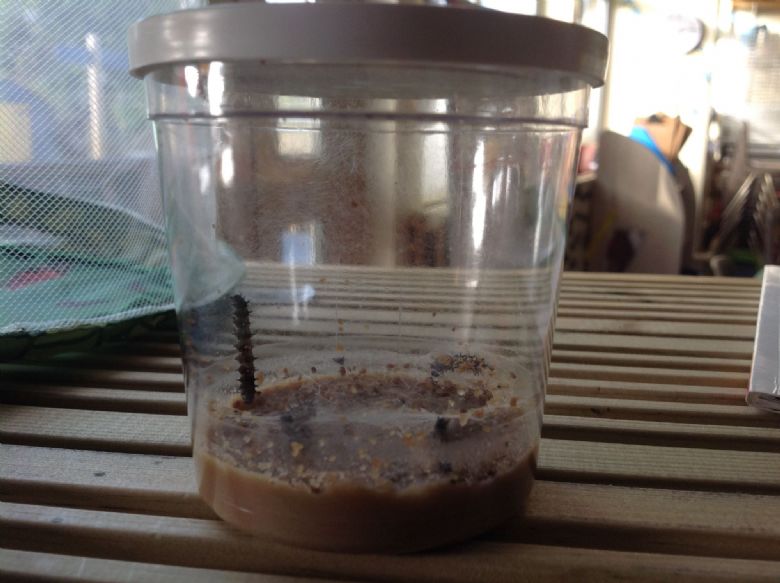 Our challenges this week are:
Complete the caterpillar repeating patterns.
Draw a diagram of the life cycle of a butterfly.
Write about the facts you have learnt about the life cycle or the insects.
Here are some great examples of their challenges: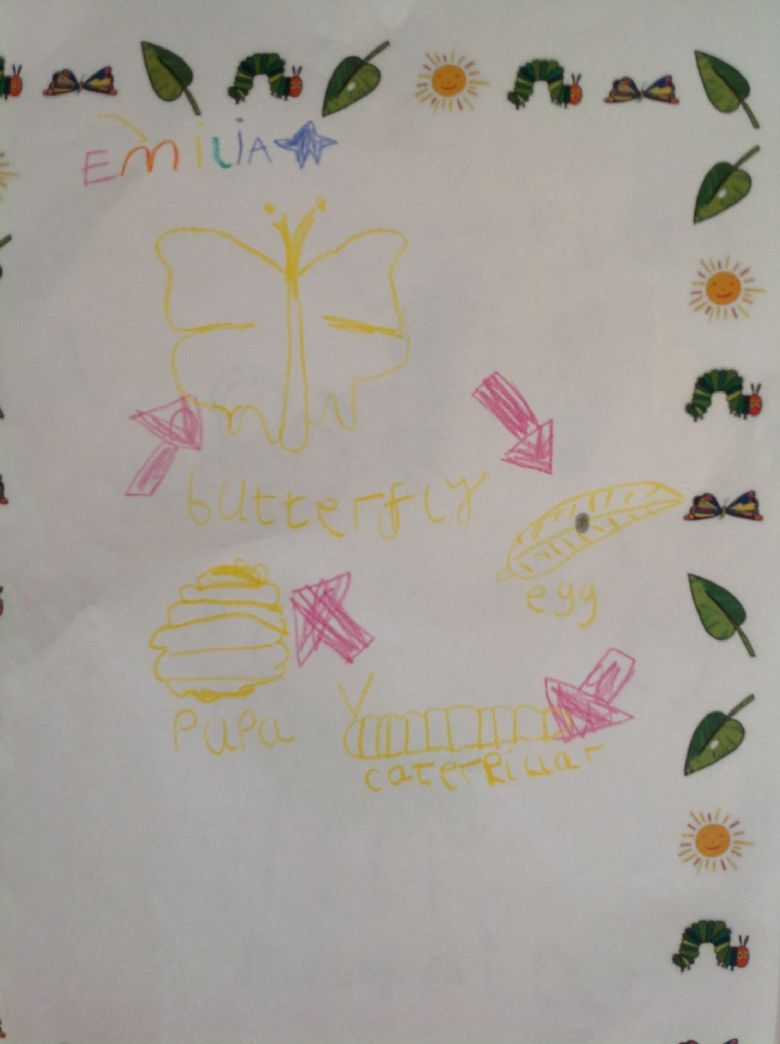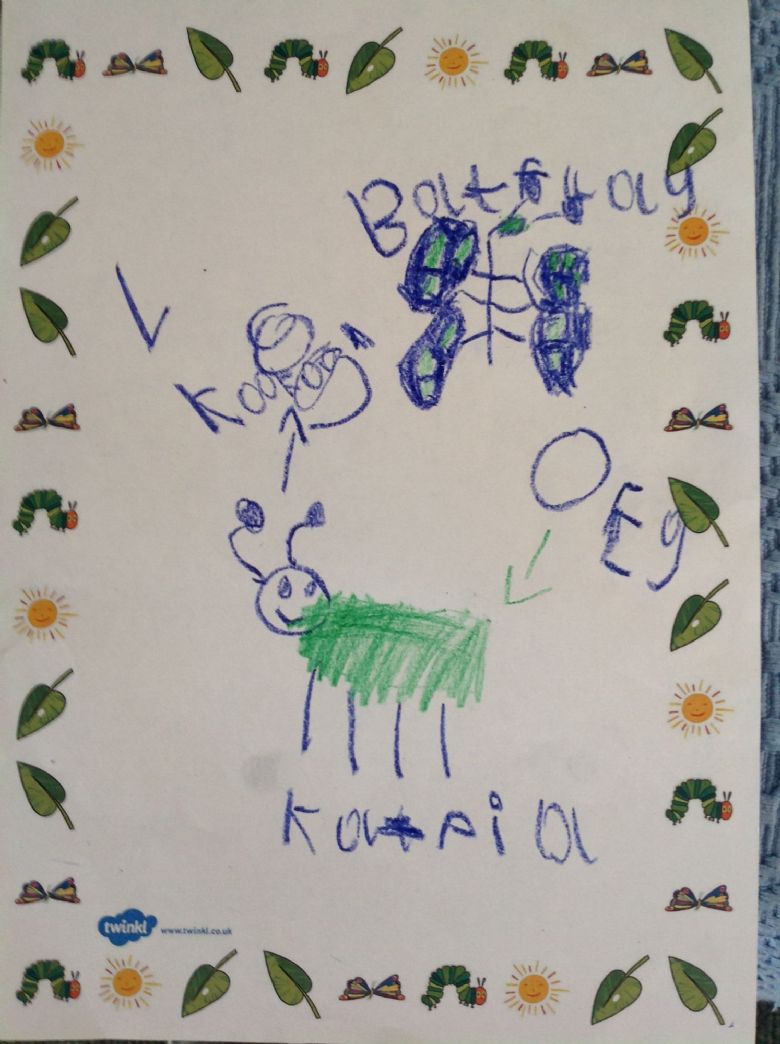 On the theme of caterpillars, we have created an enormous hungry caterpillar in the classroom!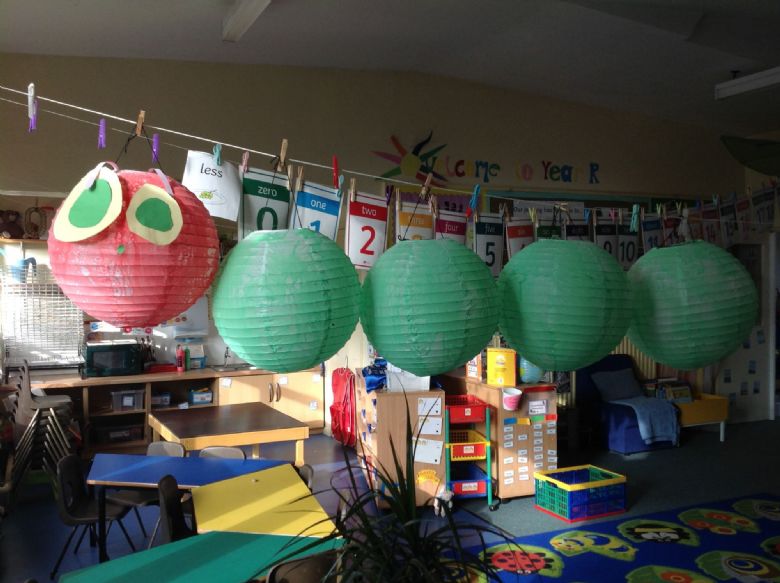 Maths
In maths, we have been making caterpillars by finger painting an amount of spots that it tells us to create. For example, if the number says 17 the children will make a caterpillar with 17 spots. Also, we have been looking at symmetry and creating beautiful butterflies, ensuring that it symmetrical. The children have used mirrors to support their learning.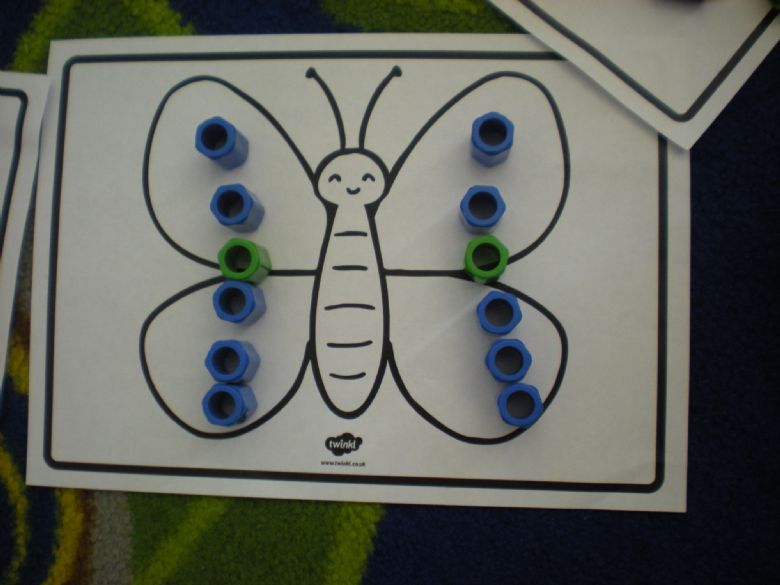 Phonics
In phonics we have been carefully threading leaves using a needle and thread. Also, reading non-fiction books to find out more information about butterflies and ordering the hungry caterpillar story as a team.
Working together as a class we are used our tricky words, common irregular words and sounded out words correctly by writing our own non-fiction book about the life cycle of a butterfly.
An update from World Giraffe Day
A huge thank you for dressing the children up as giraffes on Thursday! It was a great day and the money you donated has gone straight to the Giraffe Conservation Foundation in Africa. We have adopted a male giraffe called Muffin! Please find some information about him in the classroom… I will keep you updated as soon as the GCF contact me with more information about what Muffin and the rest of the giraffes are up to.
We hope you enjoyed our class assembly! Thank you for coming!
Week twenty one (22.4.18) WORLD GIRAFFE DAY!
What a brilliant week for team squirrels! We have been on African adventures, exploring the continent, finding out what animals live there and how and where they live. On Thursday, it was World Giraffe Day and Squirrel Class did Miss Parker proud by dressing up and fabulous giraffes. The children donated money to the Giraffe Conservation Foundation (GCF) so the class can adopt a giraffe, continue to support and receive more information that the GCF are up to. We looked at the GCF website to find out facts about giraffes and look at the brilliant work they do to support the giraffes.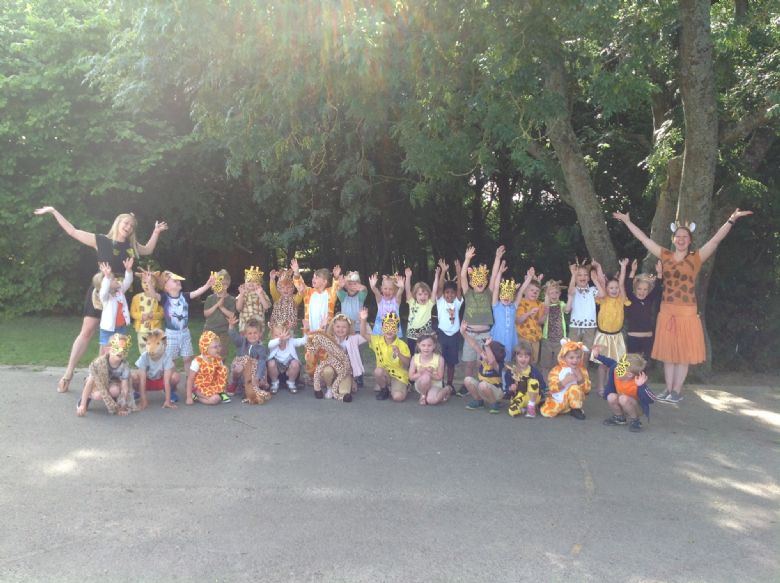 Giraffe facts we found out:
There are more than one species of giraffe
A group of giraffes are called a tower
Giraffes are the tallest animal in the world. Many other animals will stand by the giraffes as they can see in the distance whether danger is on its way
Giraffes only need to drink two or three times a week because they get so much water from the leaves they eat high in the trees
On World Giraffe Day, we had so much fun measuring ourselves against a giraffe who can be up to 5m tall! Also, we painted a baby-sized giraffe and built Africa using the wild animals in the sand adding a water hole and trees.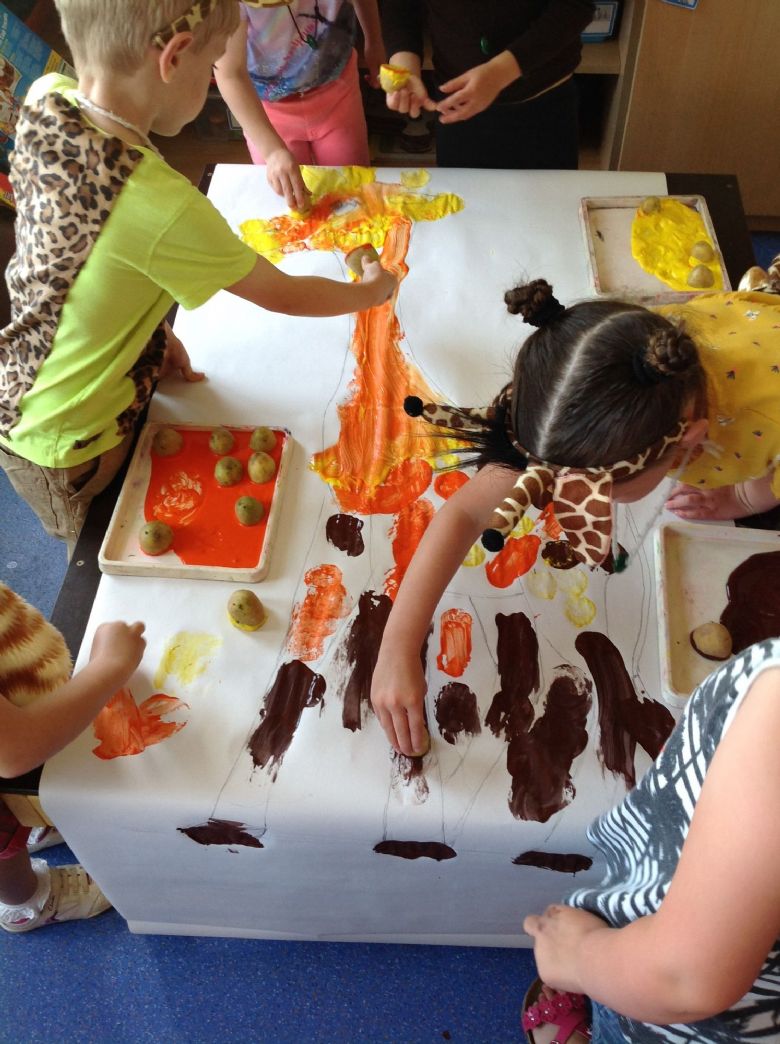 Our challenges this week were:
Draw a picture of Africa
Make a poster to protect our giraffes from hunters and poachers!
Write a story about being an African explorer. What would you see? Hear? What is the weather like? Where would you sleep? Think about using descriptive words, full stops and capital letters. Check each sentence makes sense!
Next week we will be waiting patiently for our caterpillars to arrive to learn about the life cycle and watch them grow into beautiful butterflies! What an animal loving class we are!
---
Week twenty (15.6.18) "Challenges are top of our list Miss Parker!"
This week the children are so excited to complete the challenges! We are learning all about the World Cup! Harry mentioned to Miss Parker that she forgot to mention one thing about the World Cup… The footballers cheat and get away with it (they learn so young)! However to clarify this, Miss Parker reassured the class that there are referees, lines men and women and cameras by the goal post to try and stop the cheating from happening.
Challenges this week are:
Complete a word search – there are 3 different levelled ones and many have so far chosen the very tricky one!
Find a country and draw their flag, labelling the country chosen.
Write about their world cup – who will be on their team? Which country will they play for? What would their football shirts look like?
In ICT the children are practising logging in and out of the computers with their own logins. This login will continue to be used throughout their school life.
Fathers' day is fast approaching so the children have been busy getting messy hands, and feet to make them the best card! They will come home Friday! Have the best day Dads!
Forest School
In forest school this week, we have been whittling sticks! Miss Parker went through the safety rules then the children were ready. The children were calm and working hard to make their sticks smooth and pointy at the tip.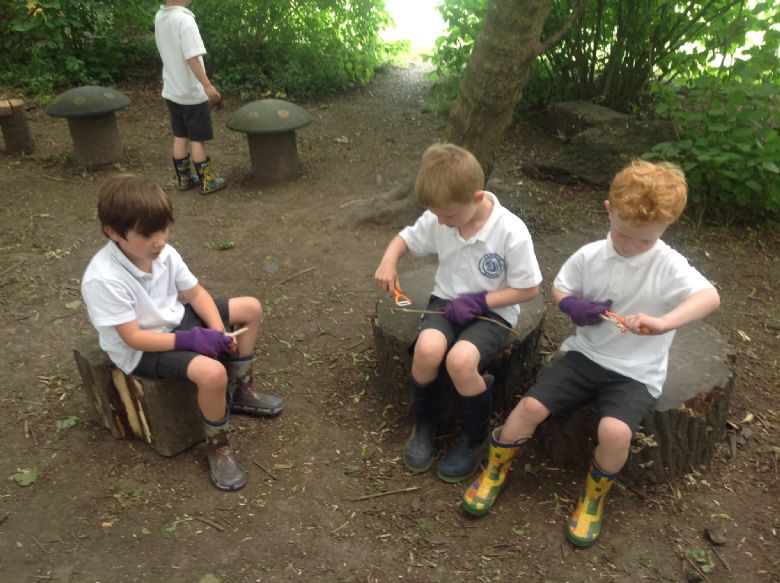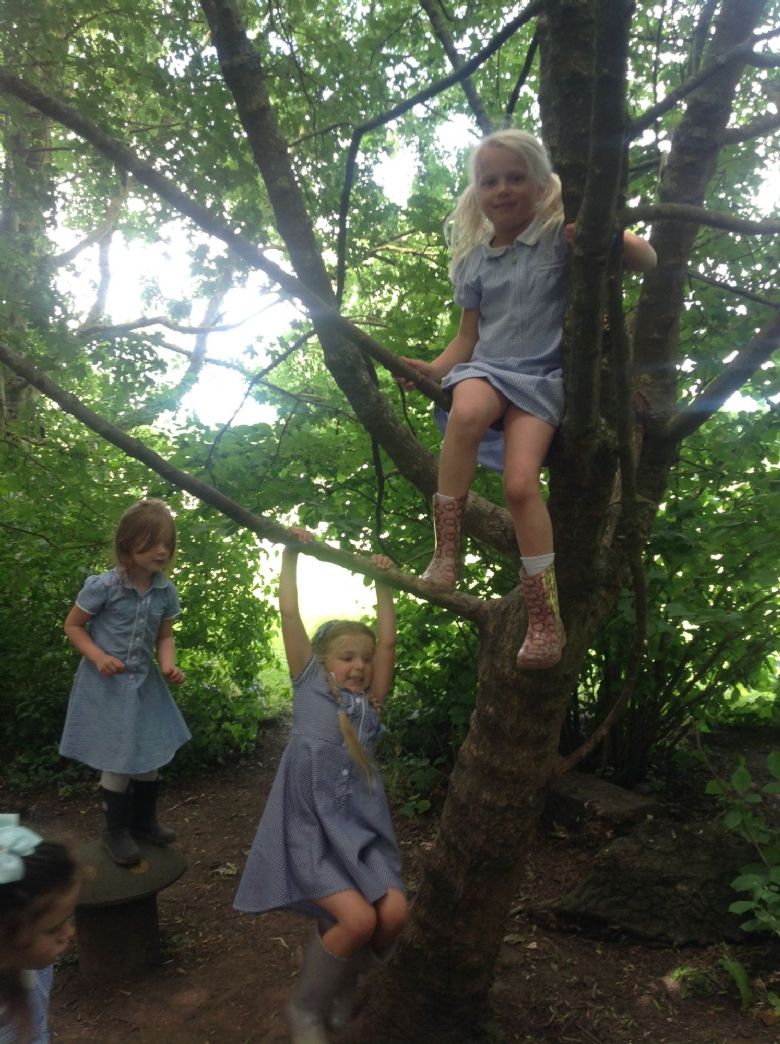 Phonics
In phonics we are focusing on the children's' writing. For example, looking at the sounds they miss out and spellings of tricky words or common irregular words.
Please support them with their writing as they love finding mistakes in Miss Parker's writing so write them different sentences with these words for them to find and correct.
You
They
Then
Come
Some
Play
With
Have
Put
What
Saw
Many children are forgetting the sound 'th' we have talked about how it is the only time they can stick their tongue out at Miss Parker! Sometimes they use the 'f' and 'ff' sound instead.
Maths
In maths, we are learning about distance. We have been measuring jumps with a metre ruler and using language with cm and m. Once the children had jumped, they then ordered themselves by who jumped the nearest and who jumped the furthest.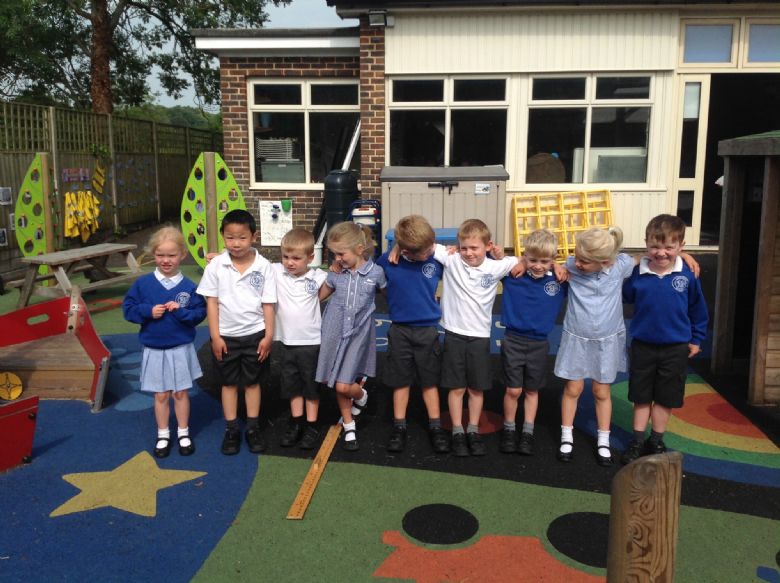 The children have also thrown bean bags into the hoops and taking steps back to get further away, making it harder to get it in the hoop.
Here are some brilliant things the children have said about distance:
Archie said: Distance means it is a long travel.
Oscar said: When you are far away, they look smaller and smaller.
Imogen said: Something in the distance.
Sid said: Very far.
Alfie said: You might need a plane or train to get there.
Using numicon, the children are making the number, which is on different cards. Some children are working with two digit numbers and others are working with one digit numbers.
The children are so excited for Giraffe week, especially to dress up as giraffes!
---
Week nineteen (8.6.18) "Its an animal kingdom in here..."
Welcome back everyone! Great to see the children's lovely, smiley faces again!
The children have come back full of energy and ready for anything! During their independent play, the children have been exploring the small world animals by making different habitats and building bridges for them to cross over the river (one of the challenges). Some have been extra creative and used sticks from the forest to build a bridge, other than using the blocks. Brilliantly they have also been reflecting on their experiences during the half term by building a zoo as some children shared they went to Marwell Zoo.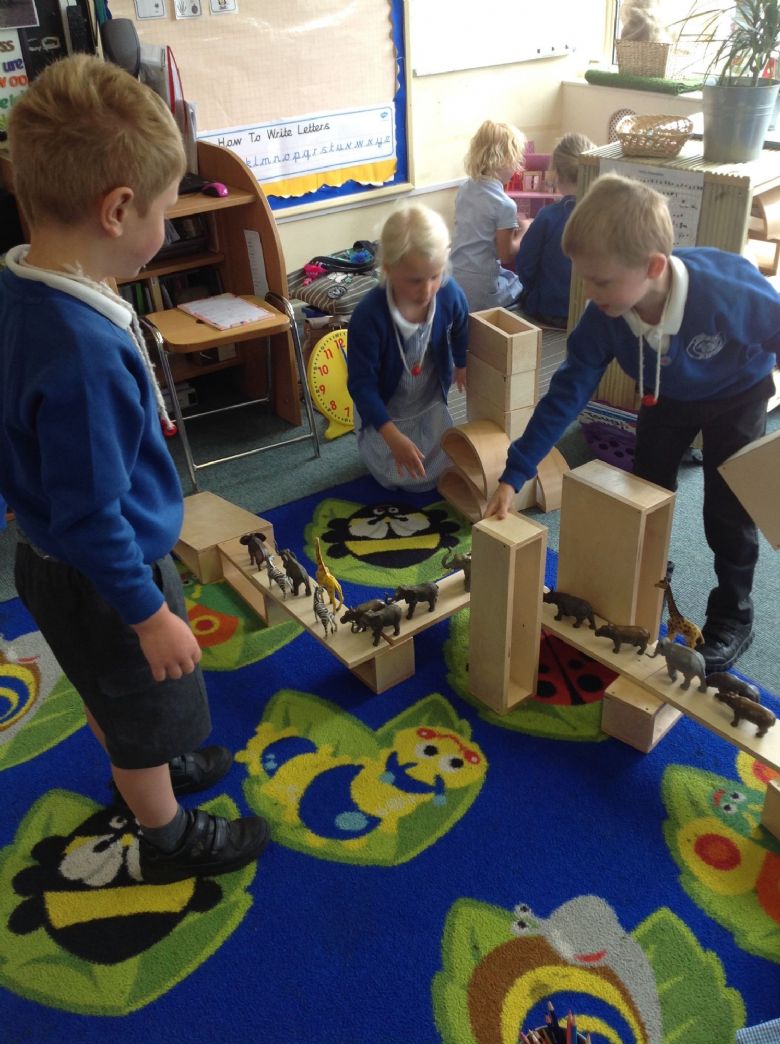 For P.E it was beautiful sunshine, so we headed out on the field to play some games and practise our skills. We had some children playing football by dribbling the ball and attempting to score a goal. Luckily, they could not really miss the goal as it is so big, compared to them! We also had children playing tennis, taking part in beanbag races and hula-hoops. We had lots of fun and to finish off, the children requested a game of stuck in the mud!
Maths
In maths we are mastering our learning by making repeating patterns with more than two objects, shapes or colours. In children's maths books they have drawn their repeating patterns. They are pretty impressive!
We have also been on 2D and 3D shape hunts in the garden! The children have been taking turns to hide the shapes for their team; then once found sorted them in the 2D or 3D hoop. Next, they had to explain why it is a 2D or 3D shape! We have had some great language:
Sid said, "This is a 3D shape because it is fat. 2D shapes are flat."
Lola said, "This is a sphere, it is a 3D shape because it can just keep rolling, it is not flat like a circle."
The children have gained confidence by making number sentences using numicon, numbers and deciding to make an addition sentence or subtraction sentence. Next, they worked out the answer to their number sentence using numicon.
Challenges!
Challenges this week are:
Make a collage out of different materials of an animal of your choice.
Using the keyboard on the computer write your name. Children have even learnt how to use caps lock!
Make a bridge for the animals to cross the river. You can use anything, but make sure it is strong and sturdy!
Huge well done to Wiktor for winning the raffle before the half term break! It looks like you had the BEST time with Sidney. Sidney did not want to come back as he had too much fun!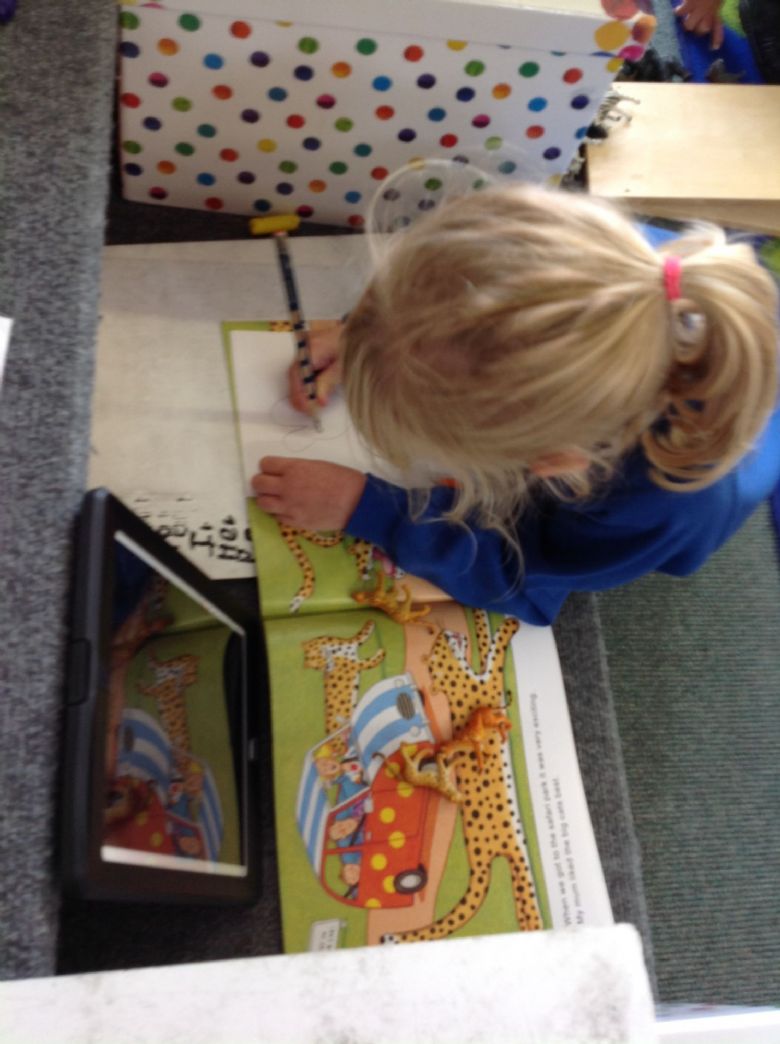 Talk Talk Tuesday!
This term you are free to share anything you want to share? Maybe something you found on holiday, a hobby you do out of school or a photograph of something special.
Here are the dates:
Green house: 12.6.18
Blue house: 19.6.18
Red house: 26.6.18
Yellow house: 3.6.18
Please do not bring anything in with a big value or extremely special to you (maybe a photo of it instead?), fragile or too big. Thank you!
Class assembly 28th June 9:00am
To celebrate our journey we would love to share our learning with you throughout the year.
The children have decided they want a superhero theme! This is where we need you lovely parents!
I want the children to wear a superhero cape designed by them. All I ask is that it has their name on the cape quite big so the rest of the school children can see who they are.
All you will need is:
A piece of fabric or sheet as the cape
String or elastic to tie
Decorative materials for the name and decoration of the cape.
I look forward to seeing them all!
Please could we have them in by 22nd June, brought in a carrier bag so they can easily put it on their pegs.
Thank you! The children are so excited to share their learning with you.
Finally…
Just to remind you, when reading with your child at home, please refer to the Blooms reading questions to support your child's understanding and comprehension of the book they have just read. Please find it attached at the bottom of the page!
---
Week eighteen (24.5.18) "That magician was so magic-y and funny!"
Farm trip!
What a wonderful morning at the farm. First we got on our hi-vis jackets and wellies then got put into our groups. Next we met Mrs Snow at the school gate who then walked us across the road to the farm. When we arrived, we got put into three groups and each took turns feeding the lambs, looking and finding out about what the sheep eat and exploring the different sheep pens with their lambs. In one pen was a lamb who had just been born that day. She was very small and making quiet little sounds. Once we had explored all three areas, we got to go on the big green tractor and red quad bike. The tyres of the tractor were really big! They were even taller than Albie and Harry E who are the tallest children in the class.
Farmer Andrew then gave us a 'poo test'. He had a tray full of different animal poo and the children had to guess whose poo it was. There was cow, sheep, horse and bird. To finish Farmer Andrew showed us a super clever machine that is used to tag, weigh and store information about the sheep. The children all got tagged, scanned and weighed by going onto the machine! They found this very funny.
Before we headed back to school, we went and sat in the garden to have a nice drink and some snack. The children looked exhausted after such a fun-filled morning with lots of learning.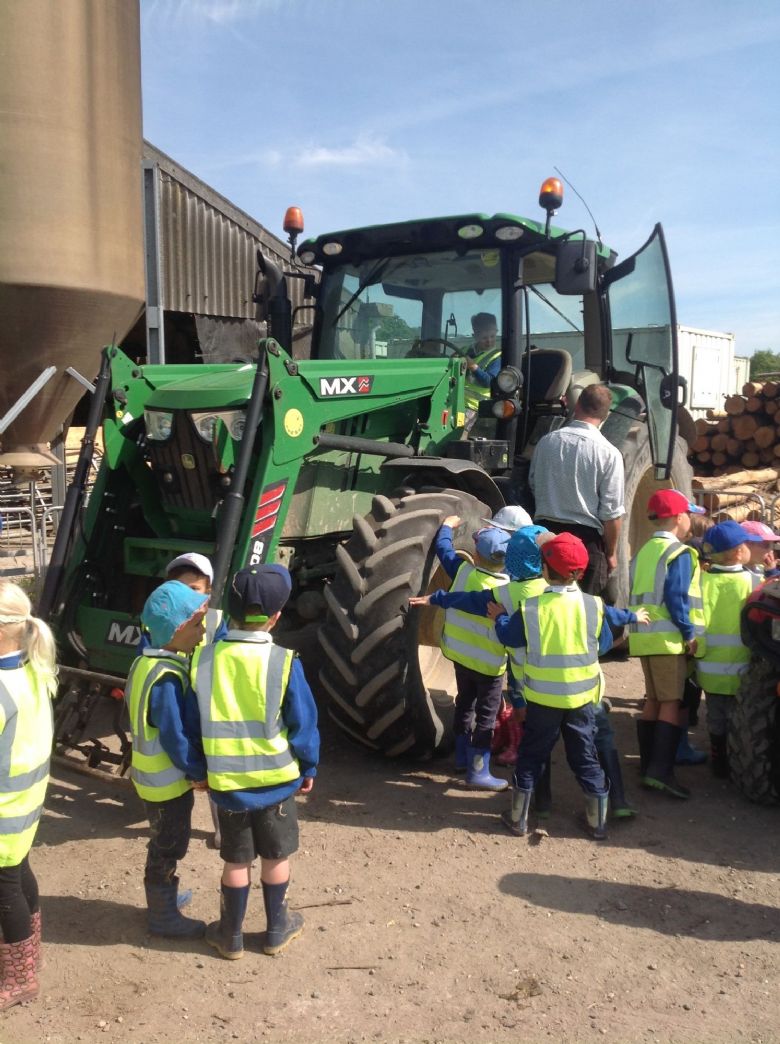 I think it is definitely close to the end of term… The children still seem tired from the farm trip on Friday and were overwhelmed by the Royal wedding, which most of them watched. One child even said, "Miss Parker, there really was a wedding and they were called Meghan and Harry! I watched it" (must have thought I made it all up!).
On Tuesday we had a magic show! It was a magic show all about road safety. The magician was very good and made all the children laugh and amazed them all with his magic tricks!
This week we have been focusing all about healthy eating and living. We have looked at what a balanced meal is and what the different groups are. We have been making our own balanced meals by drawing and labelling foods onto a plate. Some children made sausages and mash potato with one piece of corn… just one! Others made roast dinners, pasta dishes and burgers with added salad to count as the vegetables!
Our challenges this week are:
Make a poster. The poster could be about litter, recycling or for the children to do more exercise or eat more fruit and vegetables.
Write a report about what you did on the farm trip.
Make a non-fiction book about how to keep healthy.
A big well done to Georgia last week, as she got to take Sidney the Squirrel home for the weekend… A huge well done to Wiktor for winning the raffle this week!
Maths
In maths, we are looking at weighing and using the language 'heavier' and 'lighter'. We are also making sure we explain our answers. How do we know it is heavier or lighter?
The children then independently wrote their findings out when comparing two objects using the weighing scales. Super job everyone!
With Miss Rhodes, the children are making their own clay fruit balls and making the fruit to put inside their bowls. They have been thinking about the different shapes of the fruits and moulding them carefully and delicately, as they are quite small.
A huge well done to all the infants for the may day celebrations!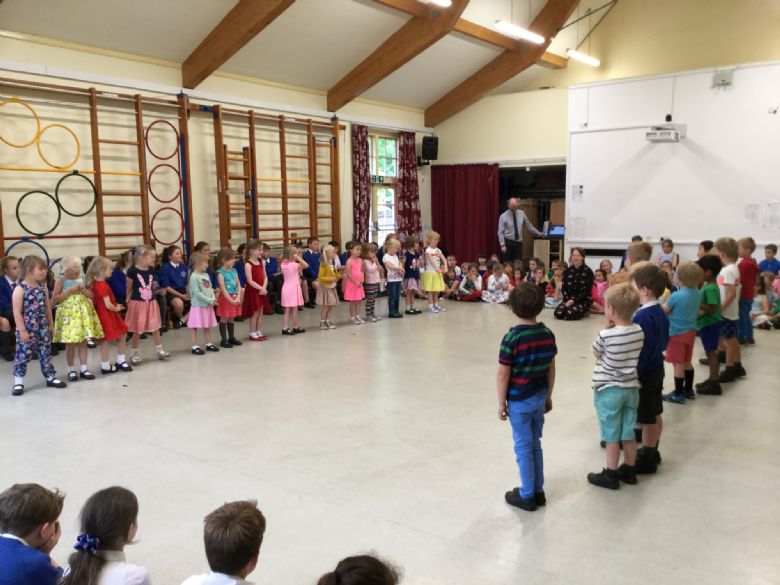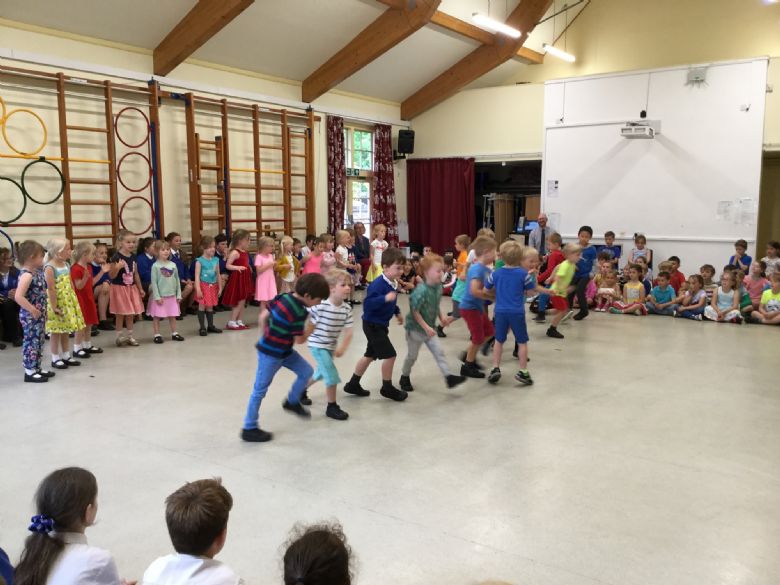 Have a restful and hopefully sunny half term!
Miss Parker
---
Week seventeen (18.5.18) "Wow a Royal wedding! I've been to London before to see the Queen!"
It has been a super week for team squirrel! We have been celebrating and enjoying the build up to the Royal Wedding. Imogen asked if the wedding was on a school day… Lucky for her, it is not as she wants to watch it all day!
Miss Parker has set us 3 challenges which has to be completed by the end of the week. They are:
Complete a word search.
Make a card inviting somebody to the wedding. A message must be included.
Write a story about your wedding. Who would you marry? Who will you invite? What will you both wear? What flavour will the cake be? Where will you get married?
The children were very excited about the challenges. So far, they are managing their time wisely. Some children have completed the challenges on the Monday to get them done. Others have completed a challenge a day. However, there are still some that need a little nudge every now and then.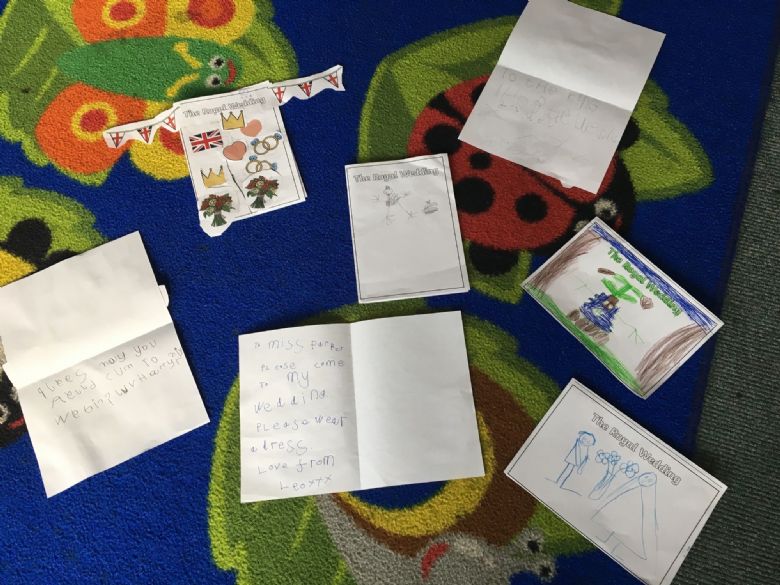 Each week will be a different set of challenges. Once they have completed all three challenges they put their name into a box to be entered into a raffle. If their name is picked out they get to choose a prize from Miss Parker's box AND take home Mr Squirrel on a weekend adventure!
The raffle will be drawn every Friday!
To take their learning further some children have created their own wedding day! The class were all invited to watch! It was magical!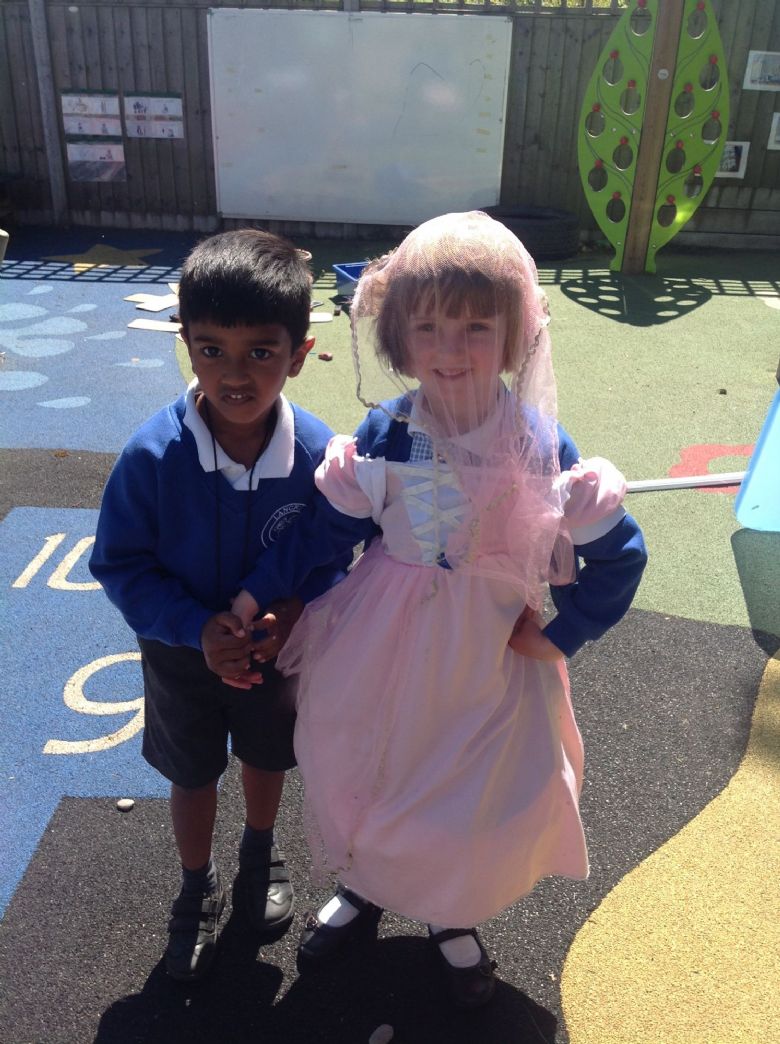 We have been talking about the farm trip on Friday. Oscar was a little disappointed to find out we were not going on a coach again but was shocked to hear we are walking there! All the children are very excited to go see some lambs and go on a tractor!
Watch out next week when you can see pictures of our trip to the farm!
---
Week sixteen (11.5.18) "It was a great bank holiday, I had 8 BBQ's!"
It has been a busy four day week back at school after the beautiful sunshine over bank holiday weekend! We have all shared what we got up to, many had BBQs, some went to the Isle of Wight and others were in their gardens having water fights!
In the home role play area outside the children have continued their experiences by having BBQ's in the garden.
The boys have been entrepreneurs by building a toyshop outside. They were selling bats and balls along with numbered stepping pads and skipping ropes. To bring the customers in they decided to put their stock into colour order. The business was booming over the afternoon! Great team work boys!
Phonics
We are still working on those consonant clusters. This week we are focusing on cr, pr, tr and sn. The children are amazing at finding words that have these sounds in.
When writing sentences, Miss Parker has noticed the children are really listening to all the sounds in each word and using the consonant clusters.
The children have been creative with their writing and using their imagination whist sat in the writing shed outside. They have become mermaids and mermen! They are writing letters to the creatures in the sea because they want to live in the sea but need to convince the sea creatures they are good and kind people for the sea.
Maths
We are still looking at time, focusing and applying our learning on the o'clock. To do this the children have been playing 'What's the time Mr Wolf?' and drawing clocks outside using chalks.


---
Week fifteen (4.5.18) What's the time Mr Wolf?
This week things got a bit exciting in P.E… We were practising our dance for May Day! First, we talked about the wide variety of music out there and how maypole dancing is originally danced to country/folk music. We listened to the music and picked up a rhythm by skipping around the hall. Next, we began our routine by getting into groups and seeing what worked best for the children. The children became little choreographers too, who helped with the dance routine!
We will keep on practising ready for you all on May Day!
At the creative table, Miss Parker had some beautiful spring flowers for the children to paint, draw or create a collage to duplicate the flowers. The children thought about how to create their pictures and spent a lot of time getting them to how they wanted them to look. The children expressed a lot of pride once they had completed their masterpiece.
Also with the flowers, we decided to become SCIENTISTS! We did an experiment and asked the question:
What will happen to the flowers when food colouring goes into the water? (The children chose blue and green food colouring.)
We talked about the word 'predict' and came up with these pridictions:
'flowers will die'
'flowers will change colour'
'flowers will grow'
'water will change colour'
'the stems will change colour'
'the flowers will explode!'
The children then wrote down their predictions and drew a picture of what might happen.
Now the experiment is up and running so time will tell which prediction is right!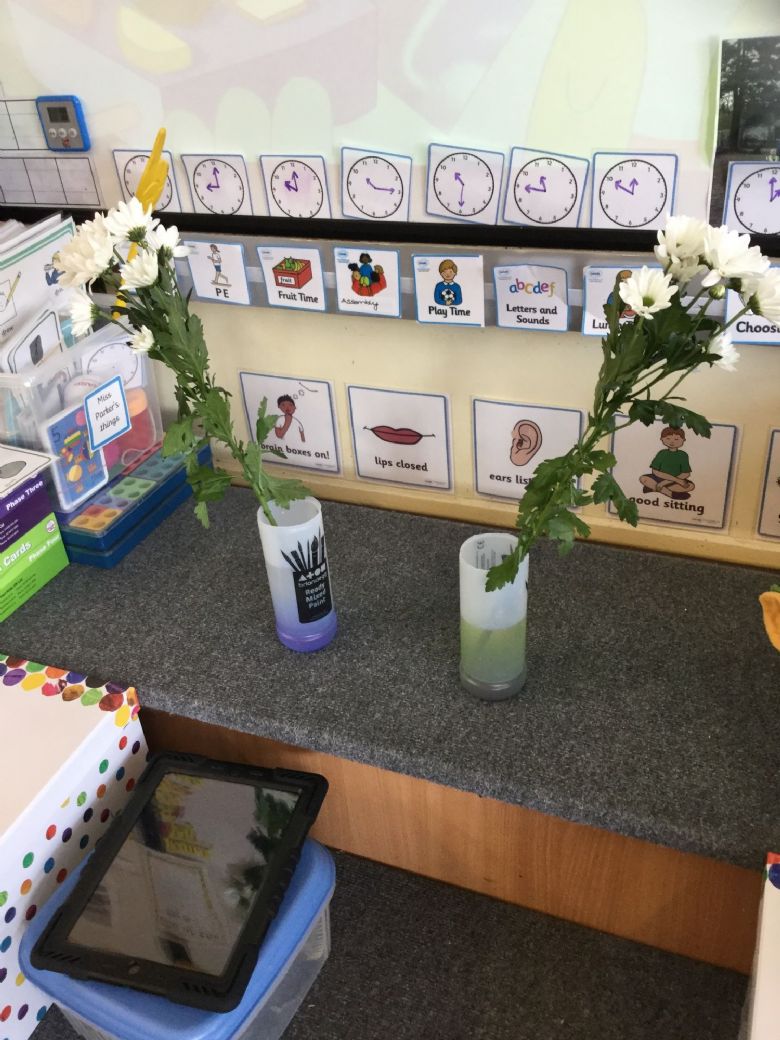 Phonics
This week we learnt the sounds br, fl, dr and sm.
Miss Parker got everyone outside to practice their sounds. There were different sounds spread out across the playground and Miss Parker would say different sentences with the sounds in. Once the children heard the sound, they had to run to that sound as fast as they could!
Some children then felt confident to give it a go and make up their own sentences for the children to run to the sound. It was super fun but we had some very tired children afterwards from all the thinking and running!
For our focused writing we have left the children with an open book to write about whatever they wanted! It has been interesting as many have shared about their weekend at Yasmin's party and others have made up a story about many different things!
As the children had the freedom to choose what they want to write, it has encouraged them to do it in their choosing time! There has been children writing about their building constructions, others about what they needed from the bakery (role-play) and how much it will cost (great link to their previous learning about money last week!).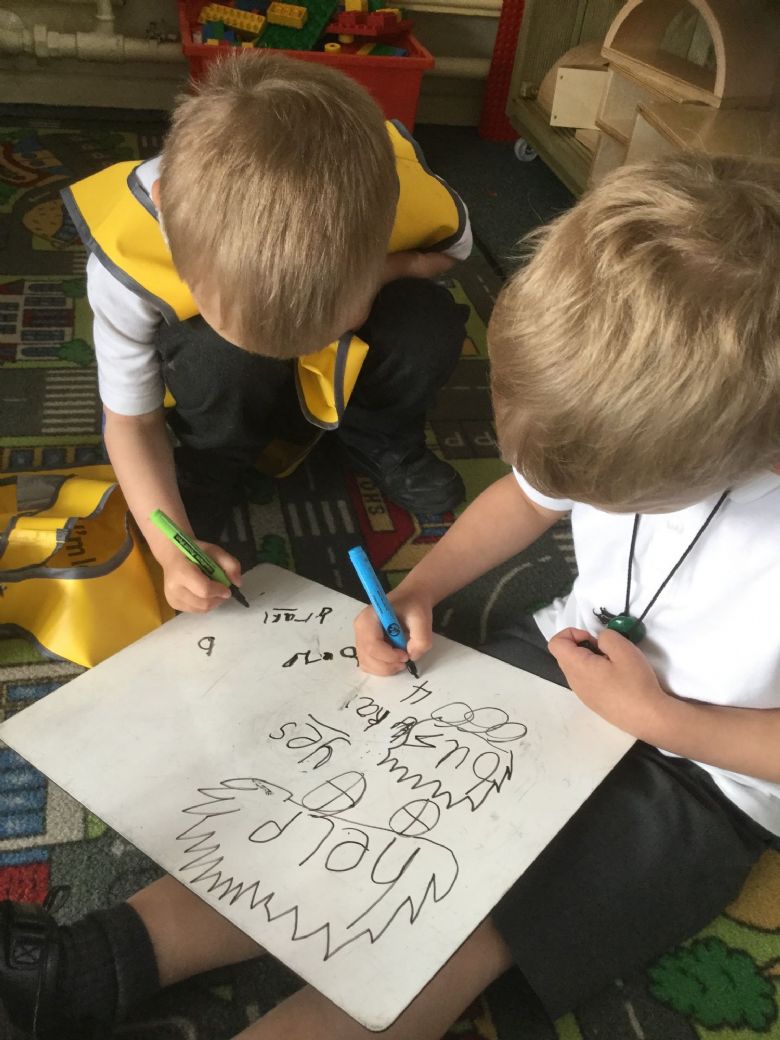 Maths
In maths, we are on a new topic… time! We are learning about the language, the hands on a clock, and the numbers on the clock.
Miss Parker asked the children where we might find the time. Here are their answers...
clock tv computer oven watch phone
The children have been fantastic at checking the time. At 12o'clock they said, "It's lunchtime, its 12o'clock!" and 3o'clock they said, "It's 3o'clock look, the little hand is on the 3 and the big hand is on the 12."
Next week...
We will continue to look at time, as it is super tricky! At home, you could use the different resources that show the time to support your child with the language and exploring the time at different times of the day. For example showing them that bedtime is at 7o'clock or dinnertime is at 5 o'clock.

Week fourteen (27.4.18) "Looking after money is busy and tiring!"
This week we have been enjoying the weather where it is now not too hot or cold, as Goldilocks would say, it's just right! The children have loved their new outdoor role-play area along with the writing shed. There have been many stories written and pictures drawn in the writing shed (many about spiders) as the children keep finding ginormous spiders in the sheds. Luckily, they are brave and set them free back into the garden.
The children have been super creative by finding natural resources outside such as leaves, grass, dandelions and daisies to make their own landscape pictures.
Lyra said, "I know, I can take the petals off the dandelion to make another flower."
Frances said, "I've made a tree just like the one from outside. It is where I found the leaves."
Leo said, "Look, I've made a snowy stick (he covered the stick with glue), it is like when it was snowing. I found a stick outside my house, which was covered in snow. It looked just like this one"
African Jungle fun!
On Wednesday we were super lucky to have Perform join us to take us to the African jungle. We pretended to be different animals and had to do funny things when she shouted different commands. The children created a jungle explorer car to travel around the jungle safely. There were children who were the steering wheel, the wheels, the coal fillers and children on patrol with telescopes watching out for dangerous animals!
There were lots of giggles when they learnt a new language called banana language.. it was very easy to learn as the only word was banana!
Great imagination everyone!
Phonics
In phonics the children are impressing Miss Parker so much with their consonant clusters! They are amazing at finding words with the different sounds in!
Here are the sounds we have learnt this week:
sl – slug, sleigh, slime, slate, slow, slide.
sc – scarf, scales, scared, school
sk - skunk, skeleton, skill, mask
fr – frog, fry, fruit, friends
gl – glove, glue, glasses, glitter, gloup
To support our new sounds we have been writing them using water and a large paintbrush outside on the playground.
For our writing task, we are reflecting on our trip to Alice Holt. We are writing about what we enjoyed, maybe what we did not enjoy and what we learnt.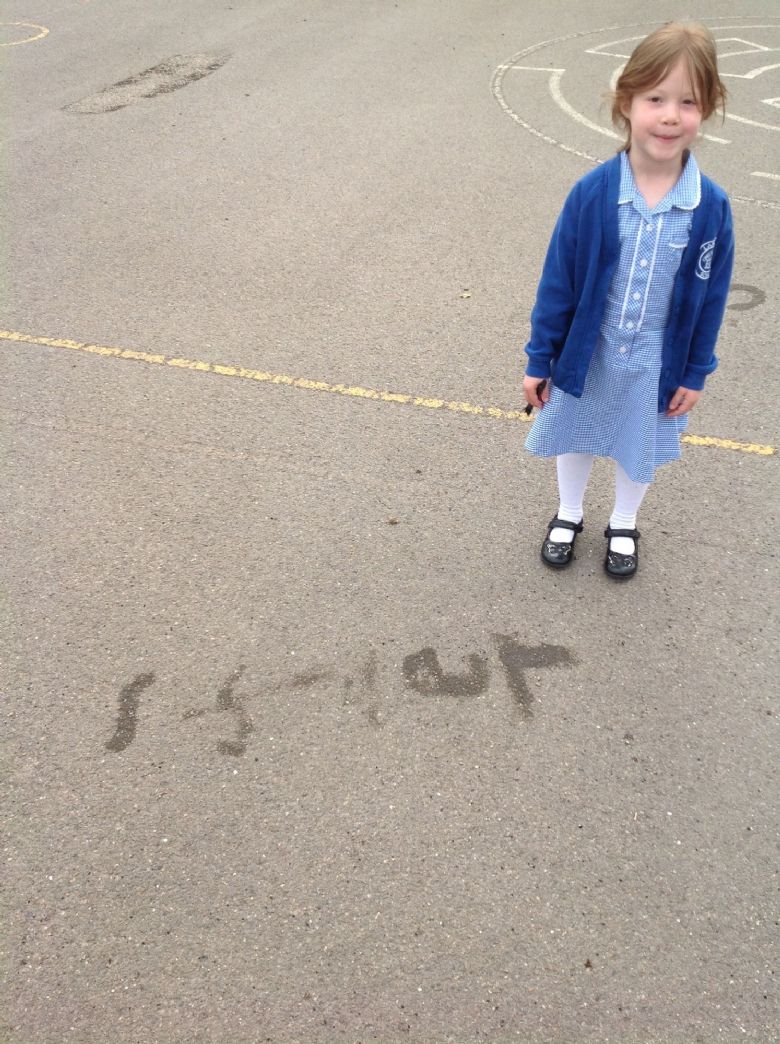 Maths
The children have been working very hard in maths! We are adding money together and finding totals using the different coins. We are very good at remembering that we must not just add how many coins there are altogether: we need to add how much each coin is worth!
Another misconception is the size of the coins. The children understand that because the 1p is bigger than the 5p, it does not mean that the 1p is worth more than the 5p.
Here are some of the challenges Miss Parker gives to us at the beginning of each maths lesson…
Meet the teacher feedback!
Thank you to all the parents who filled out the home learning audit. It was very good to see your views and thoughts towards such an important part of your child's learning.
Children can now change their books each morning if they want to. When the children come into school each morning, it is their choice and responsibility to change their book. Reminders will be given to them each morning until they understand the new routine.
The tricky words that are in your child's book bag are the tricky words for the end of year 1. Therefore, no more will be handed out until that time. Please use those tricky words, not just for reading but to understand what they mean, attempt to write them and use them in sentences.
The maths games each week are for you as a family to enjoy, learn how to turn take and understand rules. Please understand they are not for your child to be challenged on their maths development. They are for fun and enjoyment. Also, do not feel you have to take a maths game home each week if you do not want to use them for this purpose.
---
Week thirteen (20.4.18) Squirrel Class go to Alice Holt!
We had a great day at Alice Holt! The sun was shining and the rain had stopped... finally! The children were so excited when they arrived to school with their backpack and high visibility jackets on. The children were put into groups, then headed straight to the coach. On the way children were counting cars, sorting different colours of cars and naming the different roads we were on. When we arrived we explored different natural things such as bird nests, skeletons of different animals and touched a stuffed badger and fox. The children were surprised at how big badgers are. We then headed out to the woods and pretended we were birds to hunt for worms. Next we looked at different habitats and used our senses to explore the forest. After lunch we headed straight to the ginormous park which had pirate ships, wooden houses, swings, roundabouts and a tractor to balance and climb on. The children had the best time running around and having fun together. Nearly time to go back to the coach but we had time for one last treat... ice cream! We all had an ice cream and reflected on the day we had. Back on the coach children were nearly falling asleep. It was definitely more quiet on the way home rather than on the way!

Meet the Teacher
Thank you to those parents who came, it's always great to see you to share information and find new things out.
Please find the powerpoint and dates for 'Talk Talk Tuesday' at the bottom of this page.
Phonics
In phonics we are learning consonant clusters. This week we learnt 'sp' and 'st'. We came up with so many words which have those consonant clusters in: such as spider, sport, speed, sponge, string, stairs, stick and start.
Maths
In maths we are exploring money. We have a role play toy shop so the children can engage with money and use language around money. Also, we are understanding what each coin represents and are beginning to add different coins together.
---
Week twelve (28.03.18) HAPPY EASTER!
Squirrel Class finished of the term by toasting hot cross buns in the woods on a beautiful warm, sunny spring day. The children remember the most important job before they can do anything else and that is collect dry sticks for the fire (and what a super job they did too!). There was so many hot cross buns but it was still not enough… of course there is no fire in the woods without marshmallows!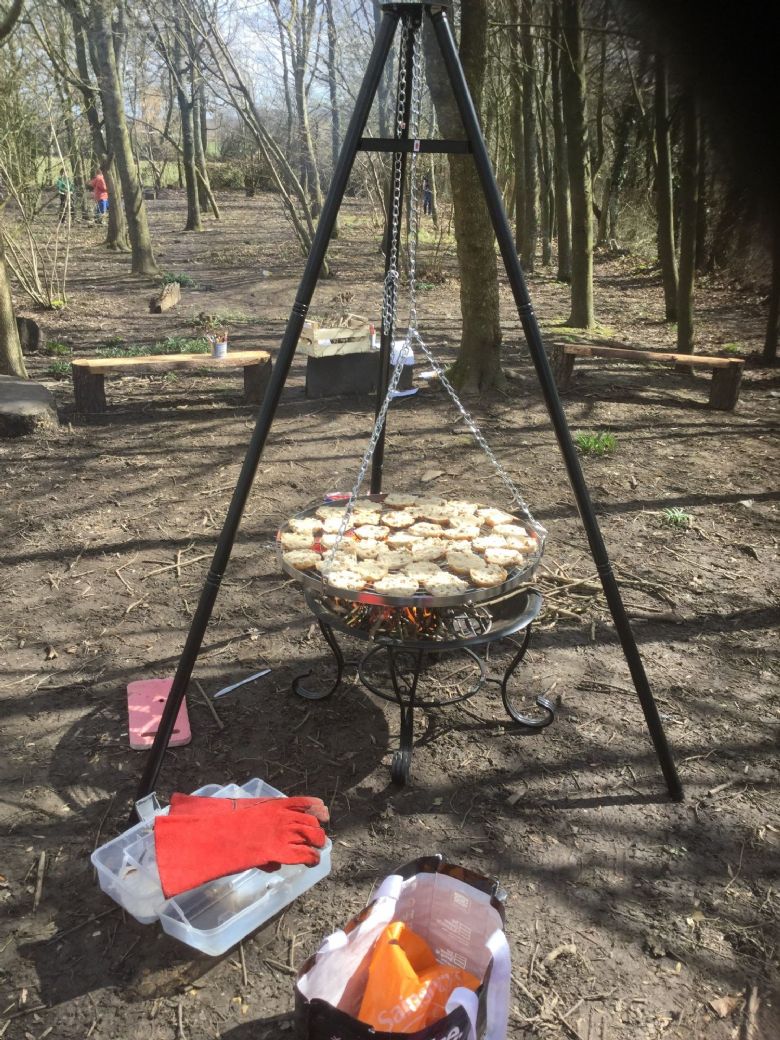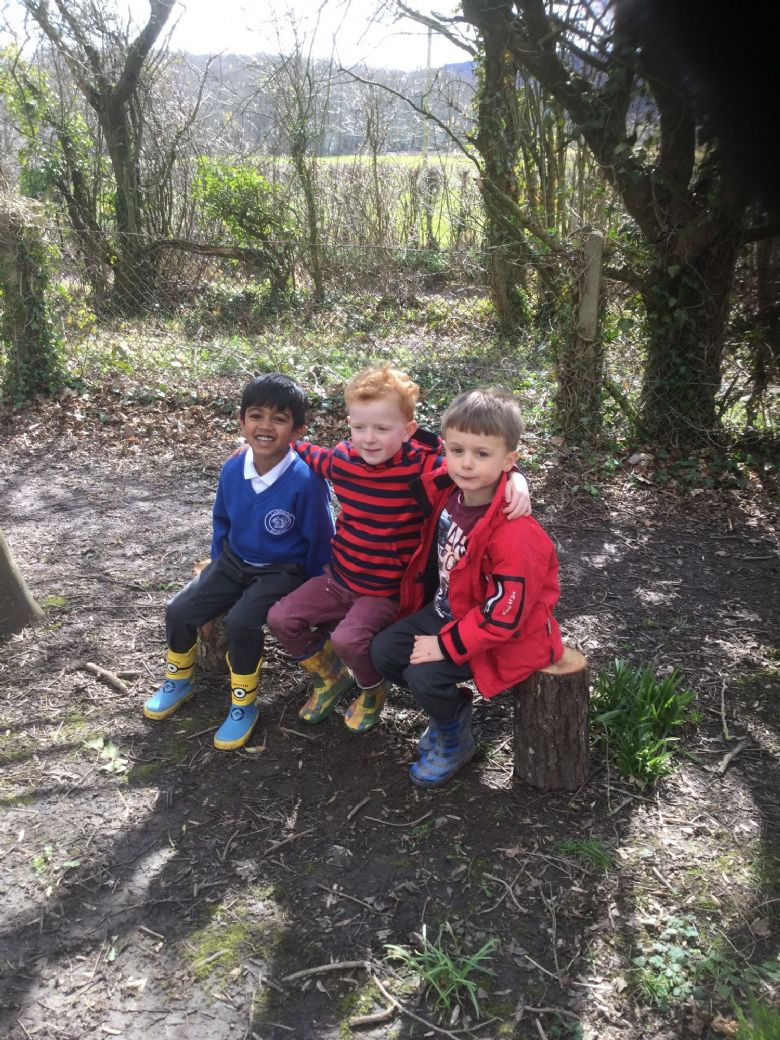 As Miss Parker was opening the marshmallows, she hears a distant voice from Jamie saying, "Miss Parker is a very nice teacher. She's really nice." Then another distant voice from Albie agreeing, "Oh yes, she's a lovely teacher."
Not sure if it was encouraged because of the marshmallows but Miss Parker told herself it was not! It did make her smile…
Year 4 did an Easter assembly and we were their special guests! We helped them by showing off the Easter bonnets they made. We stood up and held them high so everybody could see their great work.
Another great end to the term was watching the Alice in Wonderland show. It was fantastic! The children have not stopped talking about it, acting out the different scenes and playing Simon says.
On Wednesday, we had Easter egg hunt with FoLs, which was super fun! We searched around the playground and quiet area to find all the hidden eggs!
Have a restful and chocolate eating Easter! See you in the summer term.
---
Week eleven (23.03.18) "Why is there more snow, I thought it was Spring?"
The children came back to school with even more snow! As excited as they were, there were many questions from them such as "Is it Winter again?" and "In Spring, it is meant to be warm and sunny, isn't it?"
The children have explored the snow and ice outside (in very small doses) by collecting as much ice as they can and using tools to try break it and build snow people or 'ice people' as they called it. Using their learning from the Easter story they have also taken it upon themselves to make caves and stones using the ice, as it is where "Jesus was laid to rest after he was crucified".
Easter fun!
To celebrate Easter we have an Easter tree by the school entrance, which we have decorated with egg decorations. We have also made our own Easter eggs using air dough, which we have painted.
On Monday we will be in the woods toasting hot cross buns! Yum yum!
SPORTS RELIEF!
To help raise money for Sports Relief, you have been sponsoring your child to do as many star jumps as they can. The children tried their absolute hardest to keep going even when they got tired. Here is a video of them in action!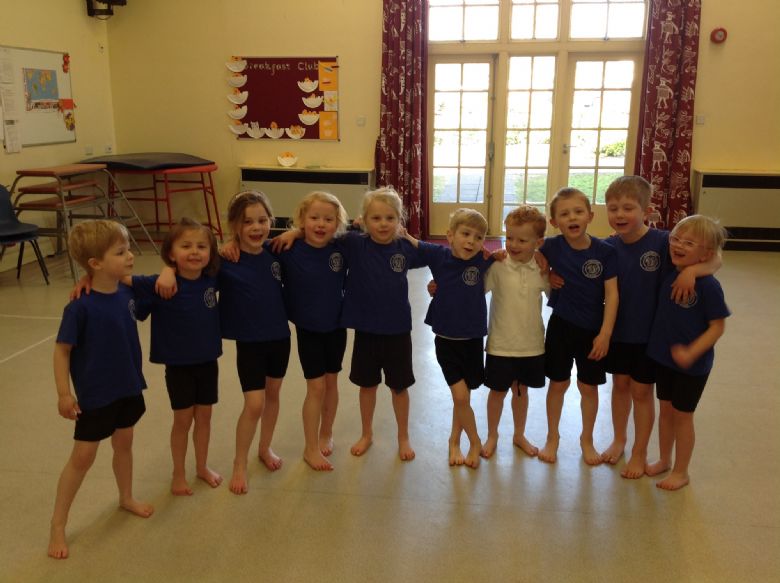 Phonics
In phonics, the children are re-telling the Easter story through sequencing. Once sequenced, they then write about each picture. We have had many discussions about what may have happened to Judas after Jesus had risen and also about how Judas and Jesus felt after Jesus knew he was being betrayed. We came up with some great words to describe how they might have felt:
scared, confused, anxious, sad, terrified, broken
Maths
In maths each morning, Miss Parker gives us a mental challenge task to complete. The challenges are linked to what we are currently learning, or something we may have learnt previously.
We are still working on halving and doubling. To support our learning we are going on an Easter egg hunt to find odd and even numbers, using numicon to double a number and to support our number recognitions completing Easter dot to dots for a bit of fun!
Parents evening
Thank you for all the parents who came to see Miss Parker to talk about their child's learning and developments. It was great to see everyone to share such positive feedback on your child's first year at school!
---
Week ten (16.03.18) Off to the land of imagination…
This week has been a magical week. Miss Parker and Miss Rhodes wanted the children to use their imaginations and begin to make up a story using a picture of a beautiful forest. To get started, in phonics we labelled the picture together to come up with some 'wow' words to help describe it.
Here is what we came up with…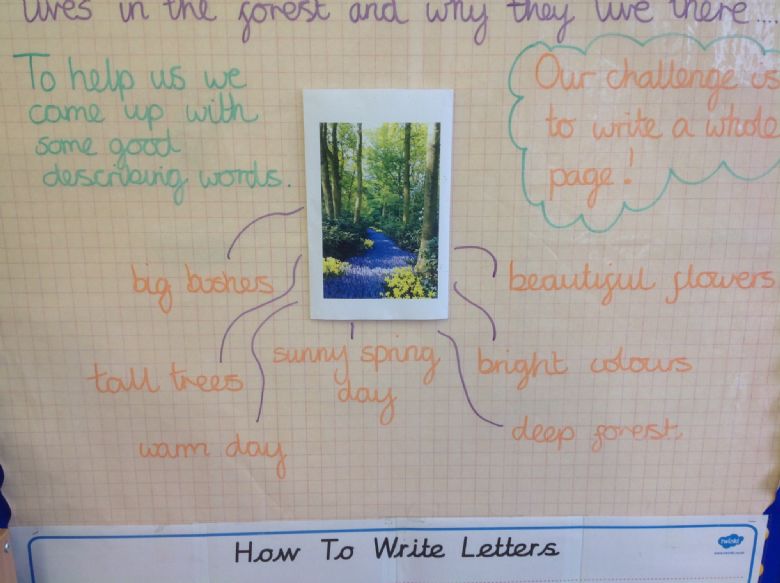 Each child used their imagination to write about who lives in this forest and why they live there. There have been some great stories along with super phonic knowledge and sentence structure.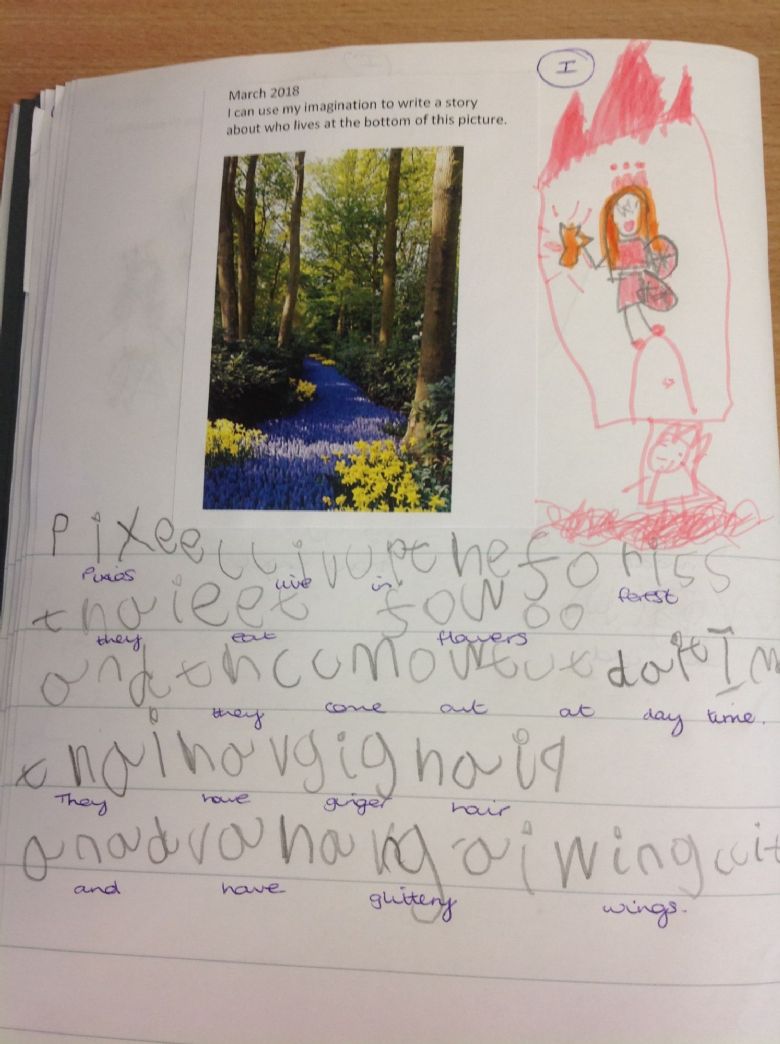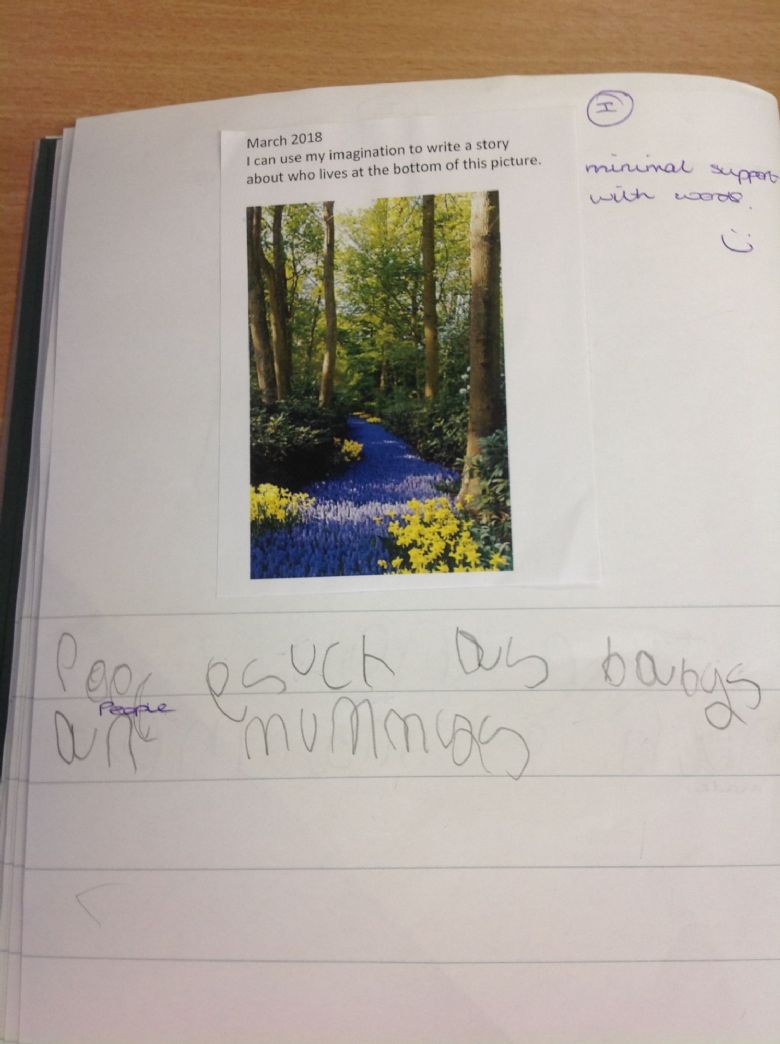 Block Play
Our new super duper block area in the classroom has been a real hit with the children. They have planned, designed, created and adapted different models from around the world, such as the Eiffel Tower in France designed by Yasmin; to hotels with swimming pools and 36 bedrooms constructed by Leo.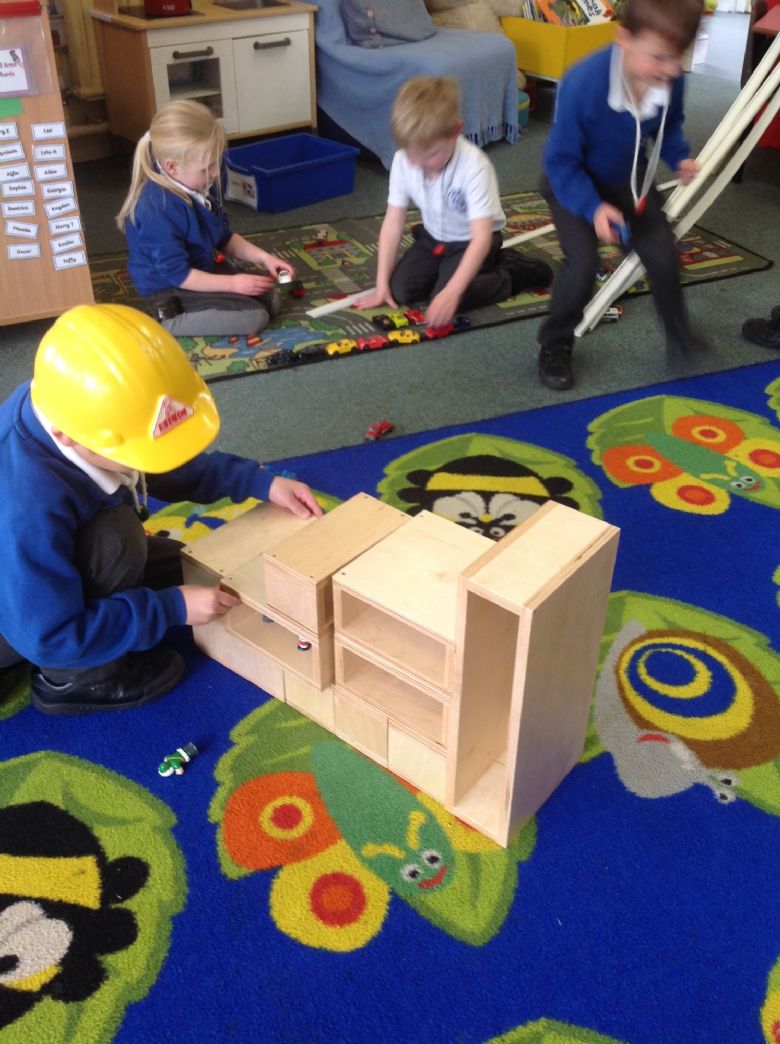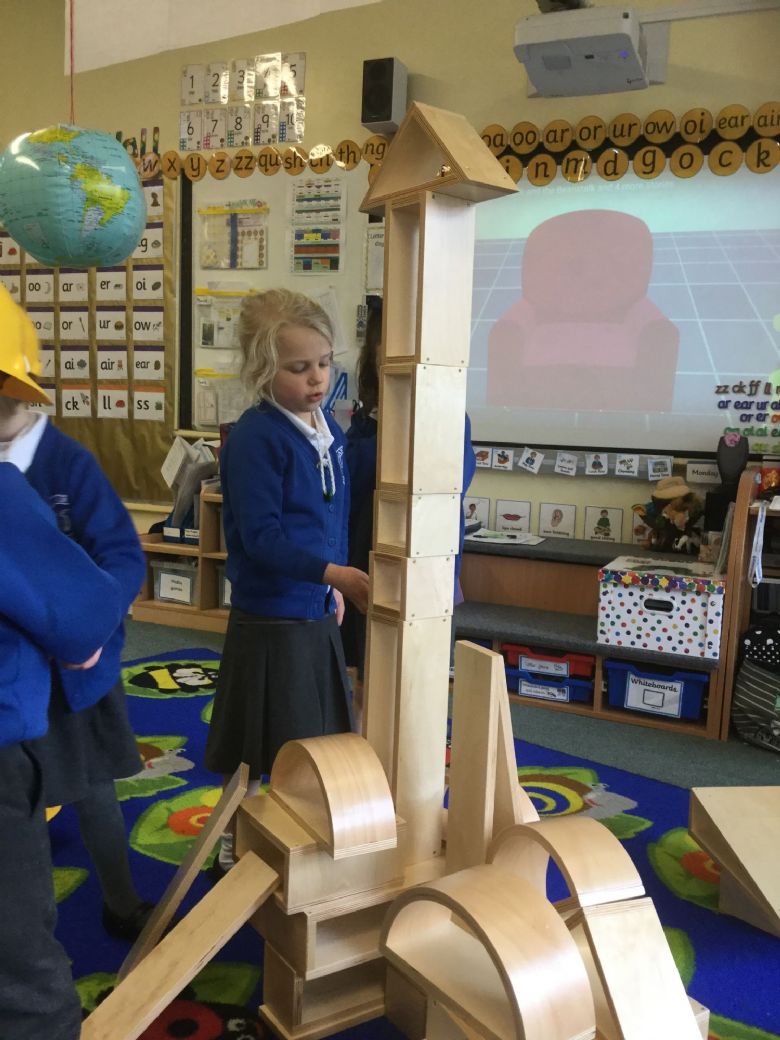 Here are a few reasons why block play is great for children's learning and development:
Block play requires fine and gross motor skills. Blocks enhance children's problem-solving abilities, mathematics skills, and language and literacy abilities. And constructing "creations" builds self-esteem and feelings of success.
Problem solving - Sometimes it is intentional: "I want to build X. How do I do that?" Other times it is in the moment as it is developing: "To go higher and add to one side, what can I use?"
Imagination - Children can follow their own plan, or they can share a friend's vision and work together to create something special.
Mathematics - Important concepts and skills are practised and strengthened through block play, including length, measurement, comparison, number, estimation, symmetry and balance.
Continuity and stability - Block play engages spacial sense and motor abilities. It can be a solo or a group effort. Block creations can stand for an indefinite period of time.
Creativity - Blocks and other loose parts can be moved freely by children, to be combined and recombined in countless ways.
Science - Blocks offer opportunities to test hypotheses and build scientific reasoning.
Self-esteem - Children discover that they have ideas and that they can bring their ideas to life by creating, transforming, demolishing, and re-creating something unique.
Social and emotional growth - Blocks help children learn to take turns and share materials, develop new friendships, become self-reliant, increase attention span, cooperate with others, and develop self-esteem.
Maths
We are learning something new this week – halving and doubling!
We have learnt that halving means it needs to be split equally into two parts. We have found half of different shapes and numbers.
Emilia said, "It is hard to halve odd numbers, it is much easier to halve even numbers."
Albie said, "Semi-circles can only be halved once so they are the same on both sides."
Miss Rhodes has taken us on a number hunt around the school where we were looking for odd and even numbers. To help us we used numicon.
Here is how Archie remembers which numbers are odd and even…
"If you look at the numicon, if there is a sticky out bit, that means it is an odd number. If it is smooth, that means it is even."
For doubling we found out we have to add the same number twice. For example, if we wanted to find out what double 2 is, we can use our addition knowledge to do 2 + 2 = .
To help us, we found out halving gets smaller and doubling gets bigger.
---
Week nine (9.3.18) There has been so much to talk about!
After a snowy and extra-long weekend, the children seemed excited and ready to be back at school. We have had so many conversations about what we did in the snow… Some children made snowmen with many different accessories such as hats, scarves and even a ball for a nose on one! Other children had snowball fights, went sledging (with only a few injuries) and others missed school so much they wanted to catch up on their reading!
The children have openly welcomed a new superhero den in the garden, along with a new dinosaur hide AND construction area! Also, there have been a lot of cats meowing and running around the classroom super fast, under and through peoples' legs! They have been a handful! Luckily Squirrel class have been able to control these cats with a remote control to ensure they don't run away too fast before we can catch them.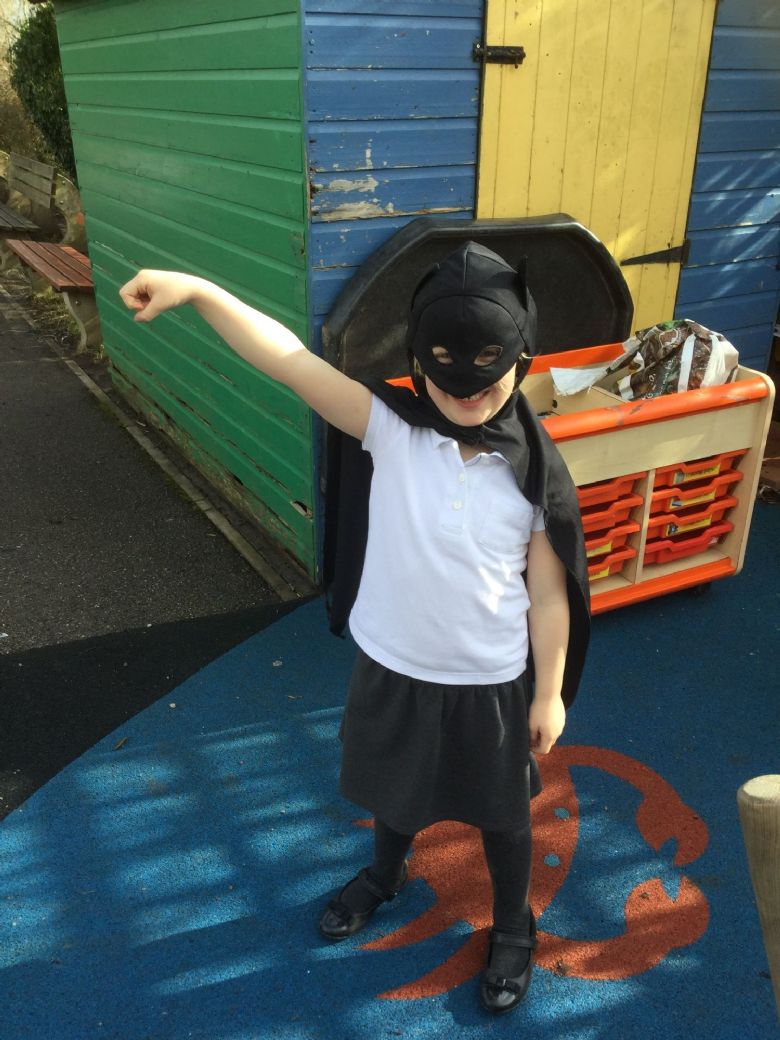 Phonics
As the children were so excited about the snow, they have recalled what they did using their super-duper phonic knowledge. To support the writing, Miss Parker reminded us about listening to each different sound they hear in words, remembering finger spaces and reading through their work to check it make sense.
Also in phonics, along with guided reading, the children have been practising all the sounds we have learnt by jumping on a card, turning it over then saying the sound. For a challenge, the children then have to say a word, which has the sound in and then put that word in a sentence. Some of the sentences have been very funny. Here are some funny sentences that the children made up,
"Ow, the cow sat on my head."
"The chair fell on my hair."…They have found it hilarious!
Now the children know the phase 2 and 3 sounds, we are now learning the alphabet (the letter names). We are trying to move on from the song, as the children have a very good understanding of the song but are unable to say the letter names individually. We are getting better day by day, so challenge your child at home to see if they can remember the letter names!
Maths
In maths we are learning all about half. We understand that two halves must be equal.
Jacob asked, "How can a crescent moon be half?" So, we found a picture of different crescent moons and explored how we can make it half, ensuring it was equal on both sides.
Using the children for help, we also looked at finding half of 2, 4 and 10 ensuring it was equal on both sides. Then exploring other numbers such as 3, 5 and 7 and found out they cannot be made equal on both sides, unless we cut some children in half which Miss Parker was not willing to do... Harry told us the reason for this is because they are odd numbers. We really have done some amazing maths this week!
The children have had a great time with Miss Rhodes measuring around the school. They have learnt about measuring in cm, finding objects which are taller than, smaller than and equal to Miss Parker's giraffe. From this the children wanted to know how tall they were so they each measured one another. The children have been estimating to find out who is the tallest and who is the smallest person in the class.
Results will be in Thursday once everybody has been measured. The height of each child is displayed on our maths working wall!
Maths games are back in action!
As from Friday 9th March children are able to take home a maths game each week. We have a variety of brilliant brand new games, so have fun playing them at home as a family.
Please understand these games are for fun rather than to challenge. We want you as a family to share these games with no pressure to your child, to understand rules, take turns and have an enjoyable time.
Please make sure you bring the games back each week. Miss Parker or Miss Rhodes will have the signing out book.
Once you have chosen the game you want, please ensure you have signed out the game with a member of the Squirrel team.
If you have not bought back your game from the following week, you will not be able to take another game out until such games have returned.
Any questions please let Miss Parker or Miss Rhodes know.
Last thing…
I just want to say a huge, huge thank you to all those parents bringing in things for your child's Talk Talk Tuesday. We are learning so much more about each other. It has been a great success, where the children love to talk, share, listen to and find out more about one another.
Miss Parker
---
Week eight (2.3.18) Snow and World Book Day!
What a magical week it has been and not just because of the snow… We have had many stories read to us in our story corner from Year 6 to the Governors. The children have also been talking about their favourite books and writing about why it is their favourite.
On Wednesday, the whole school celebrated World Book Day by sharing the love of Shakespeare's 'Midsummer Night's Dream'. In Reception Class, Miss Parker shared the story then talked about who William Shakespeare was. In the morning, we took part in a Shakespeare workshop led by West End in Schools.
We then went into the woods to make our own special potions. There was water, oil, mint, lavender, thyme, coriander, shallots and garlic. The children made their own special potions by mixing, chopping, dicing and adding the different ingredients into their own bottle. To remember what they put into their potions, they wrote labels with a list of the ingredients. Once back into the warm, we then shared what our potions were for.
At the end of the day, we took part in a great performance from the Shakespeare Workshop, putting our scene together with those the other classes had rehearsed.
Maths
In maths, we are recapping on our learning.
We have used the beebots to solve different number sentences: once we have worked out the answer, the children find the answer on the grid then programme the beebots to go to that answer. We also worked together to tell our friends to programme the beebots to go to a certain shape.
Using the water tray, we have turned the water green to explore finding half. The children have been filling different containers, cups and tubes to find half. There has been great language used such as: half-full, half-empty, full and empty.
On the interactive whiteboard, a great game that explores finding half and symmetry matching has really supported children's learning. Here is the link so you can give it a go at home…
https://www.topmarks.co.uk/symmetry/symmetry-matching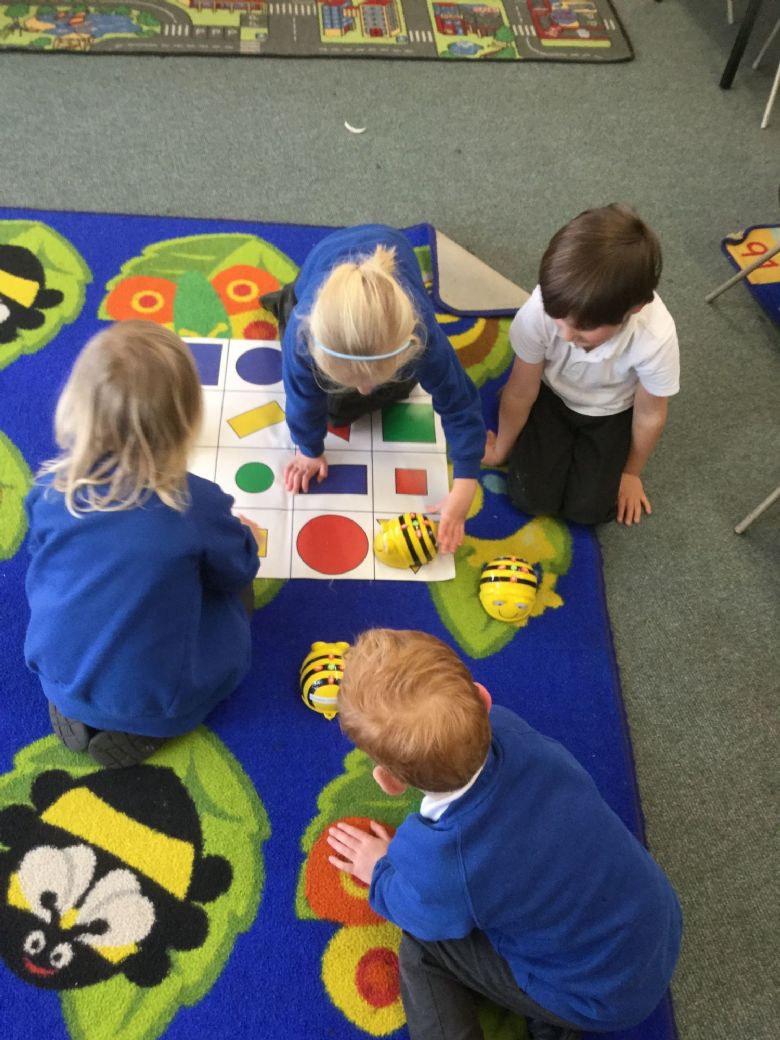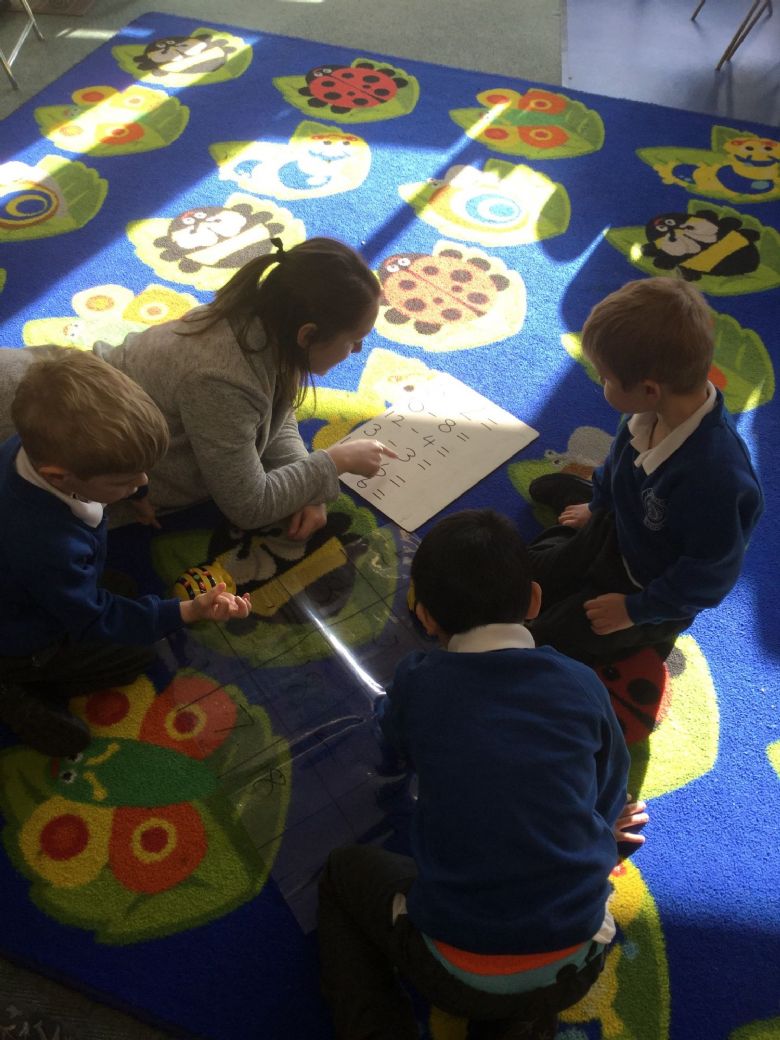 Phonics
In phonics, we are recapping all the sounds from Phases 2 and 3. We have been making and reading funny sentences with these sounds in and playing Obb and Bob.
---
Week Seven (23.2.18) A Celebration of Chinese New Year!
What a great week it has been. The children were enthusiastic and ready to come back to school after a wonderful half term with their families. We reflected on what we had been up to in the half term… Some children had been on holiday, a few went to Peppa Pig World and many had stayed at home to relax. We had some proud clouds come back to share that some children have learnt to ride their bikes all by themselves! What a great achievement!
We have been learning about the celebration Chinese New Year. To help us more, Mrs Ye came in to share how they as a family celebrate Chinese New Year. We learnt some great things such as:
The colour red is lucky.
They wear beautiful new clothes
The celebration lasts for 2 weeks
They use a very old calendar called the lunar calendar
It is the year of the dog
China is a very big country compared to England.
Ask your child if they can remember anymore…
Mrs Ye brought in a huge lions head, which we saw while watching the celebrations that take place on the streets. She also cooked us some yummy food that we all tried. There was spring rolls and prawn crackers. We also had fortune cookies to eat and the children had their fortune told.
To finish, the children were given a red envelope each that had chocolate inside. To celebrate Chinese New Year, the children receive these red envelopes from their families with money inside.
The children, Miss Parker and Miss Rhodes learnt so much about Chinese New Year! A huge thank you to Mrs Ye for coming in!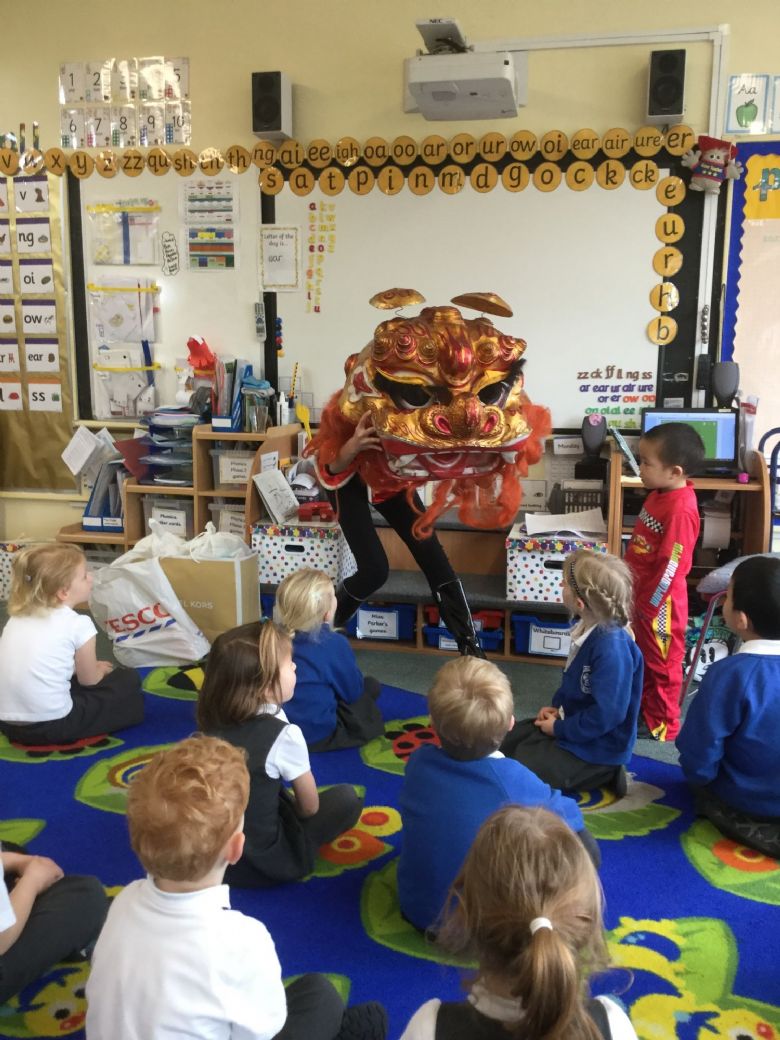 Phonics
We are on our final week of phase 3! We have learnt the tri-graphs ear, air and ure.
For our writing task, we are practising Chinese writing and also writing a fact we learnt about Chinese New Year.
To continue the celebrations we have been busy making dragon masks, lanterns and playing in the Chinese restaurant and take away.
Maths
In maths, we have started subtraction. The children have been working hard to work out different number sentences. To support us we need to remember the biggest number must go first! Using different resources, we have been finding out different sums up to 10. Comparing subtraction to adding, we understand the total must get smaller and not bigger as we are taking away.

---
Week Six (9.2.18) "We love pancakes in the forest!"
What a great end to the term… cooking pancakes out in the forest on a chilly and frosty afternoon. The children loved exploring the woods whist climbing trees and watching the fire cook their pancake. We talked about why we have 'pancake day' and how they celebrate it at home. The children had a choice of chocolate or strawberry sauce, sugar and lemon. They kept our tummy's super warm and were very yummy! Mrs Wright also joined us out in the forest and had chocolate sauce on her pancake.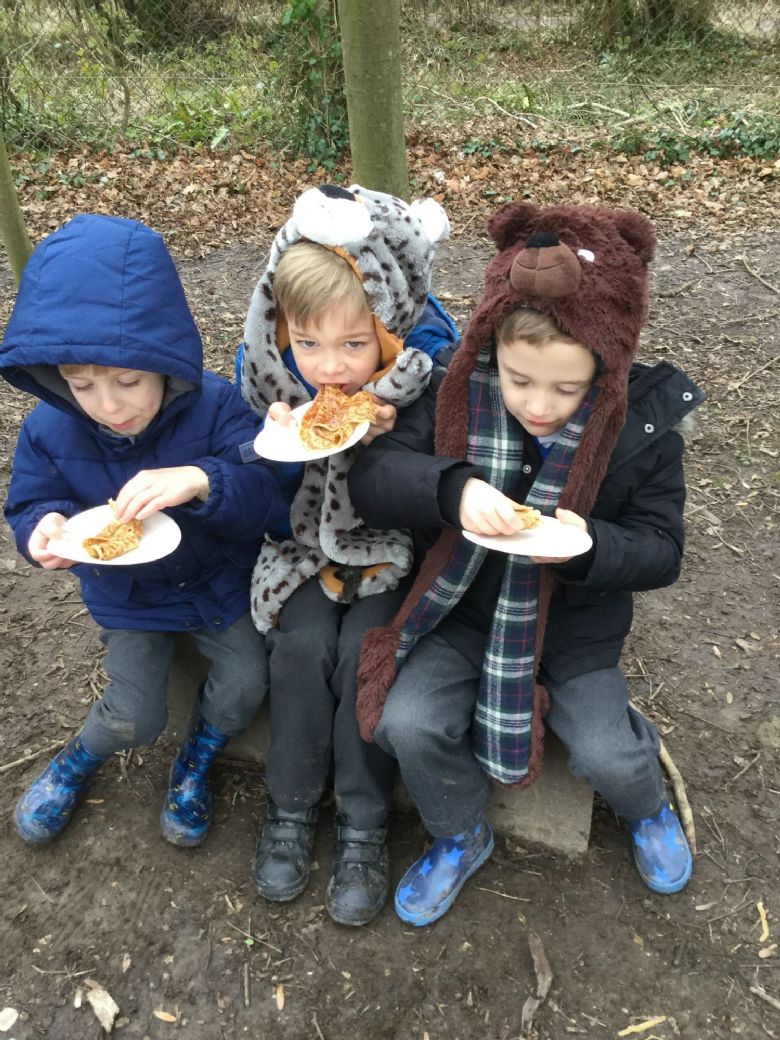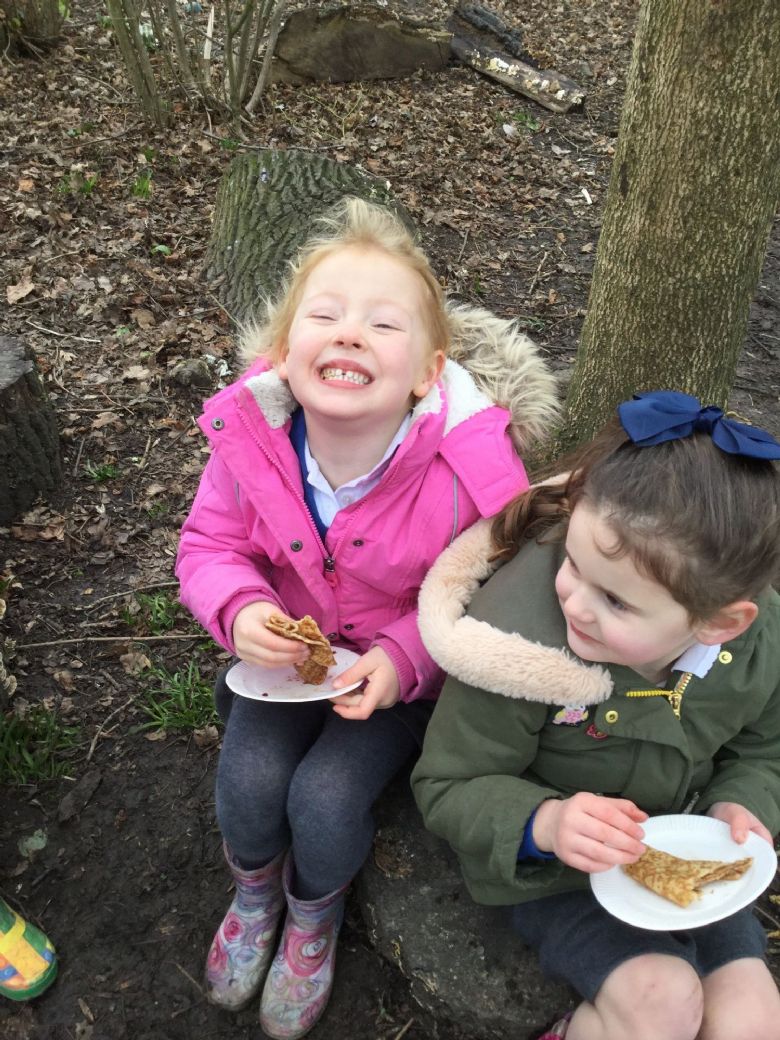 Also this week the children have had a big focus on dinosaurs. They have been building dens of all sizes ensuring they are suitable for all dinosaurs to live in. Miss Parker has a special dinosaur pop-up book that tells you interesting facts about the different species and how they lived. The children love to explore this book together and are very careful when handling it.
Maths
In maths we have focused on Shape, Space and Measure. We have learnt about 2D and 3D shapes, comparing and describing the different factors of each shape.
Here is what we have found out…
Leo said, "A triangle always has 3 sides. Sometimes they look different."
Harry T said, "2D shapes are flat and 3D shapes are fat!"
Imogen said, "A cylinder looks like a can and a sphere looks like a ball."
We have been looking at how many sides each shape has, how many faces on each 3D shape and understanding that 2D shapes are flat and 3D shapes are solid.
With Mrs Kean and Miss Rhodes the children had to get into different groups to make the shape they called out. It looked super fun!
Also we have been making repeating patterns, using play dough to make different shapes and drawing and labelling the different shapes.
There are some great songs on YouTube which support your children's learning about 2D and 3D shapes!
Phonics
In phonics we have been learning the sounds ur, ow, oi and er.
We have been writing about our friends, sharing what we love about them and why they make such a good friend. The children are becoming more independent with their writing, using the different sounds they hear in each word and writing on the lines for guidance.
After half term
We will be celebrating Chinese New Year! It is the year of the dog and we are very lucky to have Leo's Mum join us to share how they celebrate Chinese New Year, teach us how to write different things in Chinese and share resources she has which helps her to celebrate. We will also be tasting different Chinese foods!
It will be so fantastic! It will also support our topic for Talk Talk Tuesday sharing our different celebrations and family routines.
I wish you all a restful break!
Miss Parker
---
Week five (2.2.18) "We need to look after our forest"
What a transformation a week makes in the forest! There were snowdrops everywhere, even more catkins on the ground and new buds growing on the trees… The children noticed straight away the ever-changing environment, sharing everything which was growing no matter how big or small.
This week the children have took it upon themselves to clean up "their" forest. They were finding all sorts of things which did not live in the forest such as plastic, paper, balls and general rubbish. We talked about who and what it may harm such as the animals and plants, which then encouraged others to join their tidying up.
The boys were busy making "a stick display". By collecting the dead wood, the boys pushed them into the soft ground, creating a collection of different length sticks all stood up. What was fantastic was hearing the discussions linked to measurement, height and strength.
Also in the forest, the children were busy in the mud kitchen mixing water, grass, sticks, catkins and snowdrops to create a selection of pies and smoothies. They tasted delicious!
Phonics
In phonics, we are learning the sounds oo (long sound – food), oo (short sound – book), or and ar. We are using actions to help us support all our sounds as it is getting very tricky to remember them. Ask your child If they can remember what the actions are.
Miss Parker has given us a challenge this week. She has watched us thread cheerios to spaghetti without breaking the spaghetti…It is more tricky than it sounds! To support our fine motor skills and pencil grip we thread as many as we can w
without breaking or dropping the spaghetti!
Also linking to talk talk Tuesday, we are writing about our favourite things to do at school in speech bubbles. The children have such a great concept of what speech bubbles are and now point them out in the different books we read.
During the children's play, it is wonderful to see the children applying their phonic knowledge for reading and writing. Such as writing and writing letters to and from friends, writing messages or labels for the classroom.
Maths
We are still focusing on addition!
We have been using numicon to make ten in different ways. Some children went up to fifteen!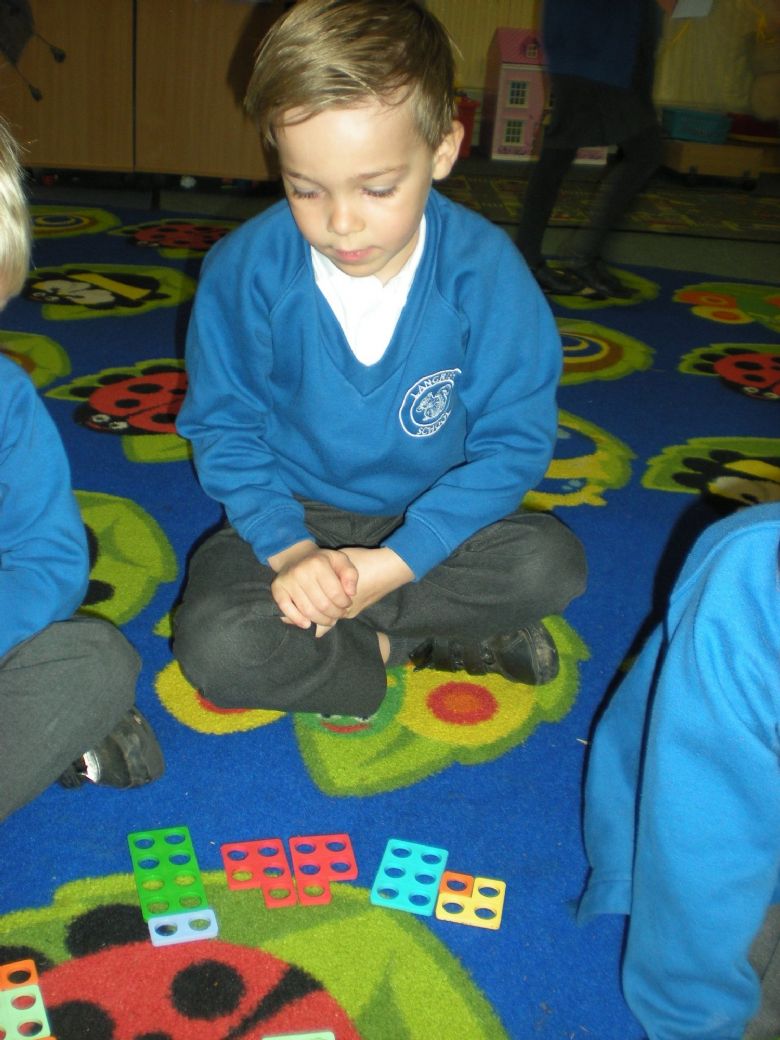 Using our knowledge on number sentences we have used them and spots to find the answer to different number sentences.
Working as a team we have made our own number sentences and found out the answers… Look how proud we all are...
And finally… We have rolled two dice and turned the number into addition number sentences, then added the dots together to find out the answer.
Talk Talk Tuesday
The children are thoroughly enjoying their talk talk Tuesday and would love to continue this after half term.
The theme is 'Family Traditions, Holidays and Celebrations'.
We would love to know your family traditions and celebrations. For example, do you celebrate any festivals such as Christmas, Chinese New Year or Diwali? If you do, we would love to know more. Please share photos or any resources you have to support our knowledge on such celebrations and festivals.
If you do not celebrate such festivals or celebrations, what about a family tradition or have you been on a holiday which you could talk about and share photos of?
Here are the dates:
20th Feb Yellow house
27th Feb Green house
6th March Blue house
13th March Red house
Any questions, please come see Miss Parker.
Next week…
We have an open classroom on Wednesday 7th February 3:15pm – 4:00pm to come and share your child's wonderful learning journey so far.
Please could you return ALL maths games by Monday 5th February as Miss Parker and Miss Rhodes would like to sort them out to ensure there are no missing pieces ready for the new term.
Thank you.
---
Week four (26.1.18) "Anyone want their face painted?"
This week the children took it upon themselves to start a business in face painting. Using paint brushes and paint pots they went around asking "Anyone want their face painted?". Then once they grabbed their customer they would ask, "What would you like to be?". We had tigers, dolphins, spiders, princesses and monsters.
Miss Parker wanted to be a tiger, so Oscar said "Sure, I can do that for you." Miss Parker felt very safe and reassured she was going to be a tiger as she could feel Oscar painting teeth by her mouth and stripes around her face. What made it even more reassuring for Miss Parker was Oscar saying, "Wow you look great!" at the end.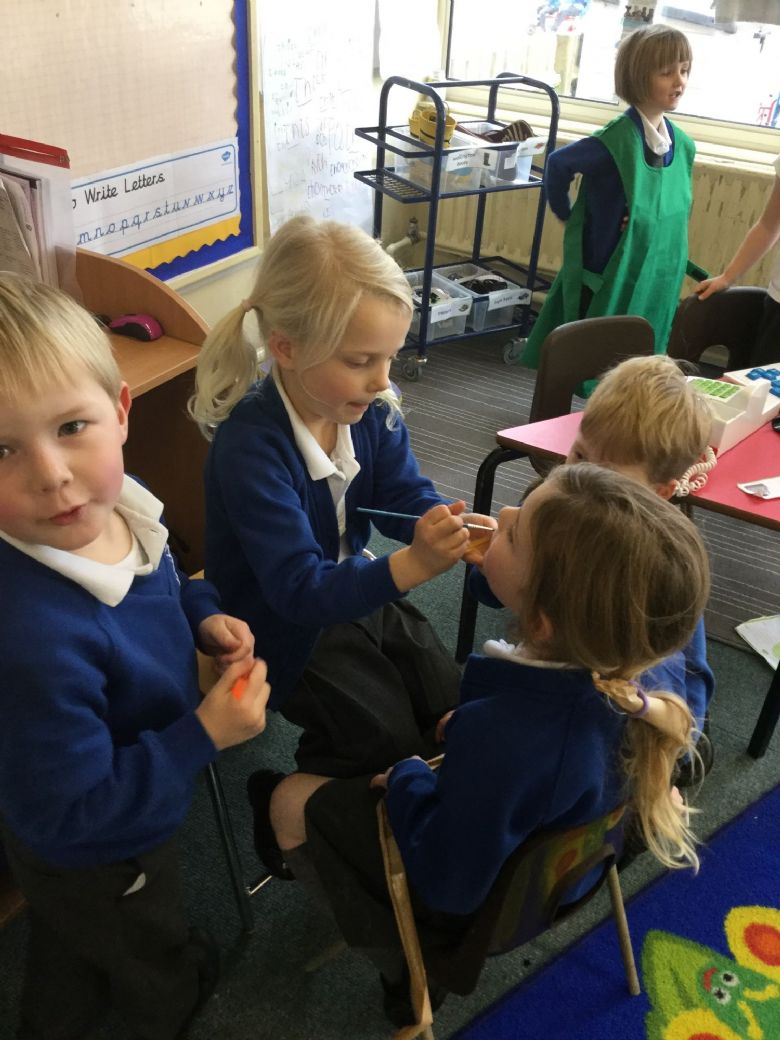 The shoe shop is still busy with people buying shoes and getting their feet measured. However, there is now a waiting list for getting your feet measured, so make sure you book in early with the receptionist!
P.E
In P.E we are still practising our hockey skills but moved onto dribbling the ball to then shoot to score a goal. Also to keep the children moving and using their gross motor skills, Miss Parker made an obstacle course where they could climb, crawl and dodge.
Reading with Year 6
On Tuesday afternoons, we now read to the year 6's in pairs and show off our tricky words knowledge. They help us if they get stuck and love to hear us read. Once we have finished reading they then read us a story.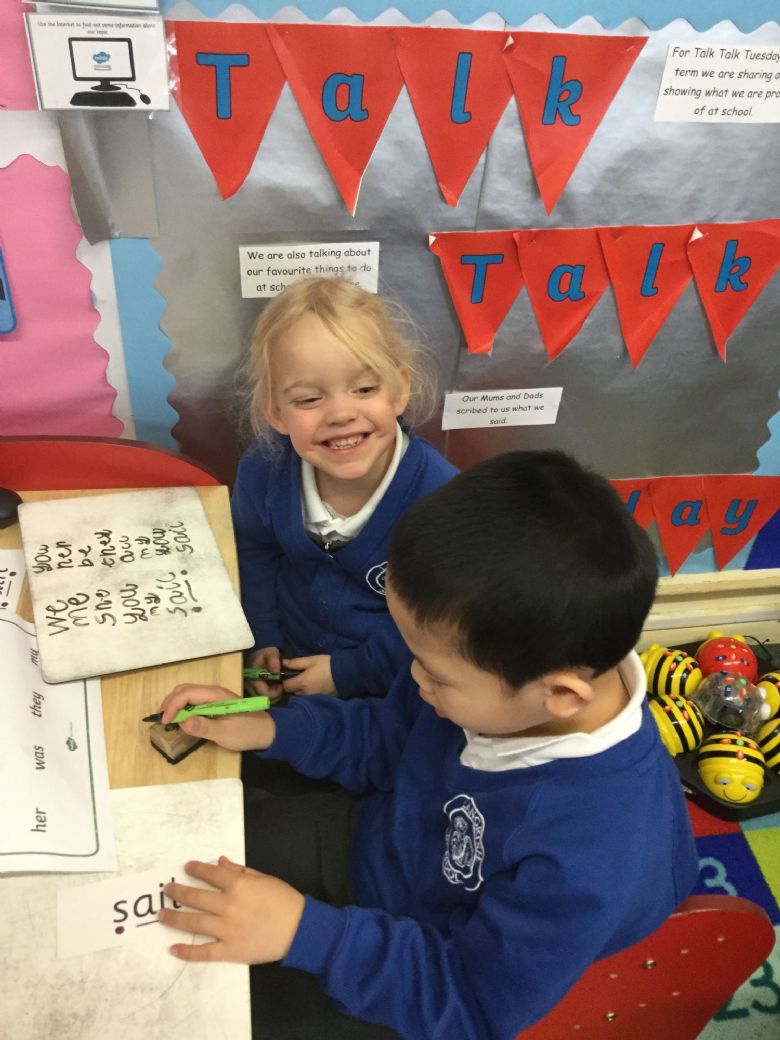 Phonics
In phonics we have learnt new sounds: ai, ee, igh and oa. The children were very excited to see a TRIGRAPH (3 letters that make one sound)! We played beat the teacher where we had to read words with the new sound in as fast as we could before Miss Parker took the card away. If we read the word on time we won and Miss Parker would lose. Unfortunately, Miss Parker lost, the children were too quick at reading!
For our writing task we are writing a mini book review on one of our reading challenge books 'Oi Frog'. We read the book first and thought about what we liked about the story, the characters and things we may not have liked about the book. Luckily the children already knew the book well and found it really funny so did super writing!
Maths
In maths we have started using language and activities around adding. We have used our fingers to help up add, drew dots on a whiteboard, numicon and begun understanding and writing number sentences.
Archie said, "Add means the numbers get bigger at the end."
One thing we have found tricky:
The children began to wonder if 3 + 3 = 33 or if 8 + 8 = 88. We worked together to solve this problem using counters, the children and our fingers to find out if it was true or not. See if the children can tell you the answer?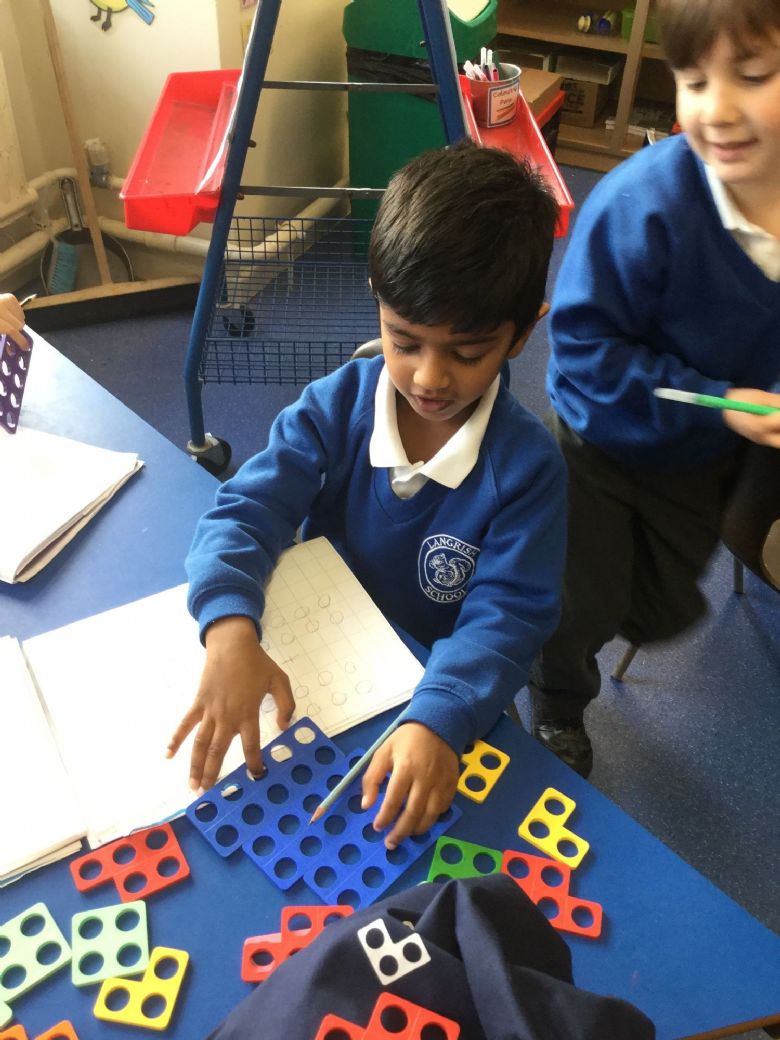 ---
Week three (19.01.18) Road Safety week.
This week we have been exploring Road Safety. Ask your children if they can remember the different ways to keep safe by the roads. We had the zebra crossing out, along with the bikes, so the children could role play keeping safe. They took it upon themselves to make road signs, bollards for the potential hazards and be lollypop people to keep the pedestrians safe.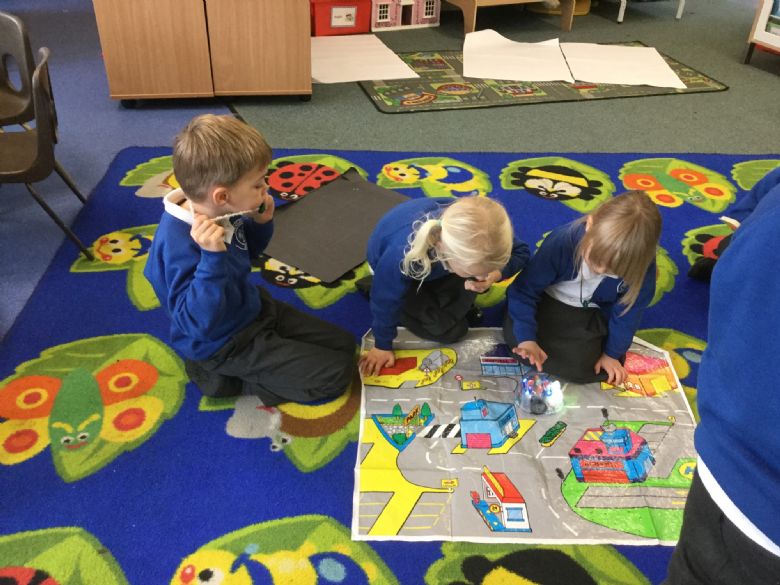 Computing
To continue our road safety learning, the children were using the bee bots to travel along the roads safely to different places, ensuring they watched out for bicycles and pedestrians.
Forest School: "There is no such thing as bad weather… it's bad clothing!"
It was raining out in the woods today so we had to get suited and booted ready for a wet and muddy afternoon. Once ready, the children immediately jumped into every puddle they could find. We had some tarpaulins, string and pegs so the children decided to make a den to keep dry. Working as a team, they took one corner of the tarpaulin each and attached it to the nearby trees or branches using the pegs. The children noticed the middle of the den beginning to droop due to the rain. Miss Parker suggested finding a large stick, which had fallen from the strong winds over Christmas. The ground was very soft so the stick managed to dig down and hold the tarpaulin up. When the den was built, the children went off exploring. Some were climbing trees, others visited the the mud kitchen to cook mud pies and cakes or explored the wet environment. We found snowdrops beginning to bloom, along with many worms and slugs due to the damp, soft ground.
Miss Parker got the mallet out for the children, so they could use sticks as pegs to make the den stronger and more secure. The children worked as a team by one person holding the stick at the bottom while the other person hammered it into the ground.
Also with the mallet, the children were finding out whether the trees would fall down if they hammered it hard enough (turns out they don't, luckily!) However, what the children did find out was, that if they hit the tree hard enough, the rain drops fall on their heads! It was very funny.
Please can you ensure your child has their waterproofs and wellies each week so they can access the forest whatever the weather.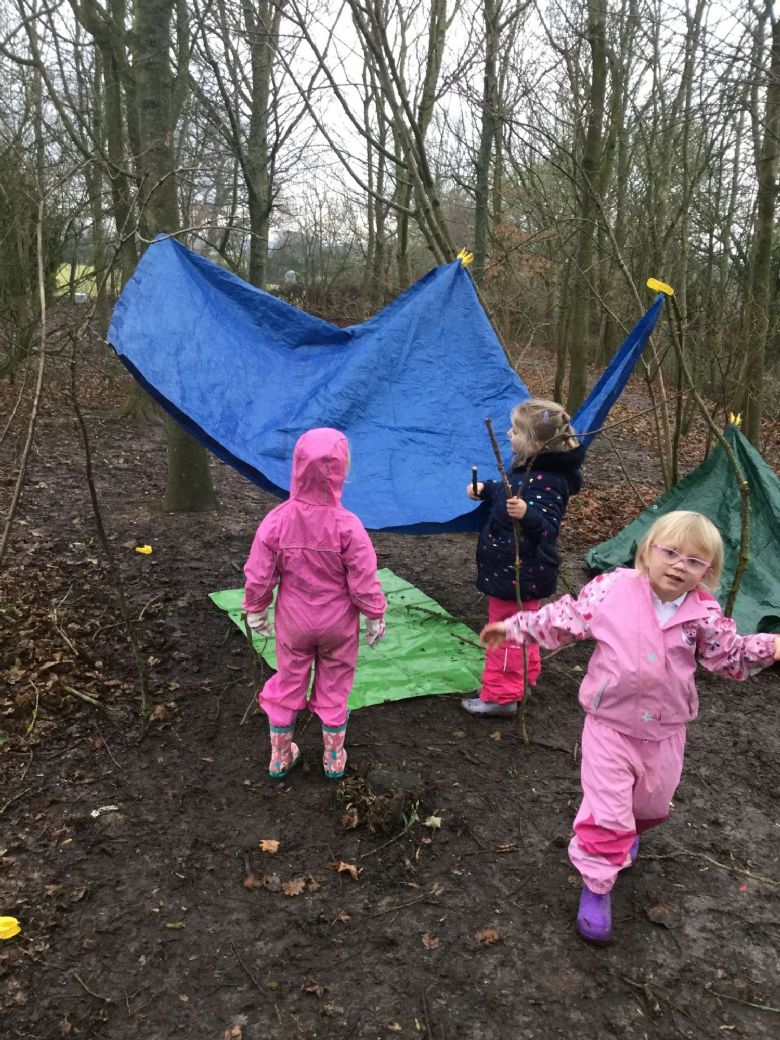 Phonics
This week we were learning the sounds ch, sh, th, ng. We now have writing scrap books where we practise writing our sounds and key words, which have the sounds in. They are working really well and the children take great pride in their books by showing off their super writing.
For a writing challenge we have learnt about speech bubbles. Using our puppets we made last week, we wrote a speech bubble to share information about that puppet.
Maths
In maths this week, we are still focussing on one more and one less. Miss Parker has asked us problem solving questions such as, 'Are there more cardigans than jumpers?' or 'Are there less rulers than clipboards?' This has made the children work as a team to find the answer by counting how many there are first, to find the answer.
Also in maths, we are working really hard on our number formation. Miss Parker has found a great PowerPoint which tells you a rhyme to remember how to write the number. It is attached to the bottom of this page if you wish to do it at home.
Last thing…
Attached at the bottom of this page is a great Early Years Checklist made by Solent NHS. It gives you a general guide to the development of communication, physical and functional skills in children from birth to school entry. It is an interesting read.
Don't forget the importance of home learning... reading daily with your child and getting through those tricky words! Please refer to the the home learning PDF at the bottom of this page for Year R guidance.
---
Week two (12.1.18) What a great start to the term…
The children's interest this week has been creating puppet shows. From this, the role play area has transformed into a puppet theatre. They have been busy making their own puppets and creating different shows for their friends to watch. At the interval, children hand out the popcorn and drinks to one another and talk about the show they just watched. Unfortunately these puppet shows do not come cheap… Some children were charging £250 for one ticket!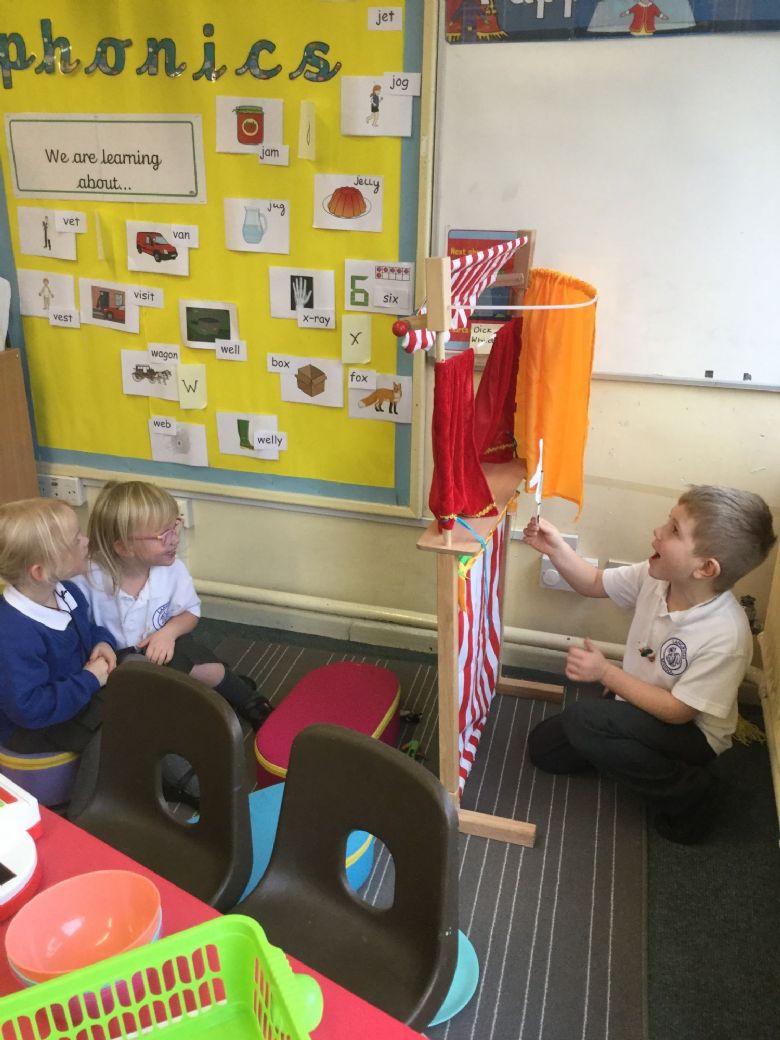 In P.E this week, we are learning to play hockey. As it is our first time, Miss Parker showed us how to hold the hockey stick and dribble the ball to our partner. We all showed great skill in controlling the ball, ensuring it didn't roll away too fast.
Phonics
This week in phonics, Miss Parker has been setting challenges to get the children's brains active. The challenges were different pictures, which they had to label or attempt to write a sentence with. Other challenges included the children finding tricky words in a word search.
We have learnt some new sounds, which are, x, y, z, w, j, v, zz and qu. See if your child can think of any words which have these sounds in or find words them in books.
For a writing task, we have been writing about our favourite Christmas presents and also describing what they look like and do.
Spring reading challenges have gone home this week for you to complete before the Easter holidays! Have fun... There are some extra challenges for you to complete this time too. Good Luck!
Maths
This week we are learning and emphasising to use language such as more and less.
We are finding one more and one less than a given number. To do this, we are remembering that more means big and less means small.
To help us practise we have rolled a dice to give us a number. Then we used a number line to support our learning to find the numbers which are one more and one less. Have a go at home!
Talk Talk Tuesday
We have heard some wonderful achievements which the children are proud of and what they love doing best at school. The children who are listening to their friend talk have shown great encouragement and support towards their achievements to which is great to see.
Next week its Blue house – please refer to the presentation from the meet the teacher (4.1.18) to find out what questions to ask your child.
Just one reminder…
Please keep practising the purple tricky words which are in your child's reading bags. It really supports them with their reading and writing.
---
Welcome to the Spring term... Week one (5.1.18) Happy New Year!
I am hoping you all had a restful Christmas and a very happy New Year! The children came back to school with excited faces telling Miss Parker and Miss Rhodes all about what Father Christmas had bought them. We shared what our favourite present was and what foods we loved best on our Christmas dinner. The overall favourite food was sausages wrapped in bacon (also Miss Parker's favourite)!
Thank you to those who came for the Meet the Teacher on Thursday 4th January. We did a recap on our vision, discussed home learning and went through Spring Term's Talk Talk Tuesday.
Please see below a copy of the presentation for your information. together with the Talk Talk Tuesday question and dates to bring it in.
Next week...
In phonics we will be starting phase 3, learning new digraphs and in maths we are finding one more and one less of a given number.
Have a great weekend!
Miss Parker
---
Week fifteen (21.12.17) We wish you a Merry Christmas!
It has been an exciting, Christmassy but busy week for our Squirrels! All the children are wishing for Christmas day and are counting down the days. Our role play area has transformed into a home corner again with birthday banners and party accessories to celebrate Jesus' upcoming birthday! The children have been writing Christmas cards, birthday cards and gift tags all in preparation for Christmas day.
Our 'Hey Ewe' nativity went off with a bang! All the teachers and parents are very proud of all the children for working so hard and continuing to put smiles (and tears) on people's faces. So a huge thank you Team Squirrel!
On Tuesday, we had our Christmas party which was filled with dancing, sweets and games! Here is a picture of Team Squirrel by the Christmas tree…
Just a few things…
Reports have been sent home in your child's book bag.
P.E bags have been sent home with the children (please return on their first day back).
Welly boots need to be taken home for a good clean (please return on their first day back).
There will be no home learning for the Christmas holidays… Please enjoy Christmas and rest (they deserve it!)
Open Classrooms are on Wednesday 20th December, please come and celebrate your child's amazing work.
Meet the teacher is on Thursday 4th January at 2:40pm!
I wish you all a very Merry Christmas and a happy and restful new year! Thank you for your continued support, the children have worked so hard and you should be very proud of them all. It has been a great term and I cannot wait to see your children fresh faced and ready to learn even more in January!
Miss Parker
---
Week fourteen (15.12.17) Celebrations in the woods!
It has been a Christmassy but busy week for team squirrel! We have been painting our Christmas calendars, singing and dancing to Christmas songs and been practising our football skills in P.E.
In P.E we have been practising to dribble the ball around cones then scoring a goal in our new football goals. The children have loved learning this skill especially when they score a goal! The children are working really hard to make sure they don't use their hands to control the ball and just use their feet. It is a tricky skill but practise makes perfect!
Maths
In Maths, we have become Estimators! After weeks and weeks of Miss Parker teaching us how to count accurately (which we are all super at doing now) she wants us to estimate a number of different objects! To do this we used the ten frames which we learnt about last week to help us to estimate how many counters are in the ten frames.
Also, in pairs we have used a selection of objects and hid them under a towel. Next, we would show our partner really quickly what is under the towel and they have to estimate how many they think they saw. Once we have estimated we counted accurately how many there really were to see if our estimation was right.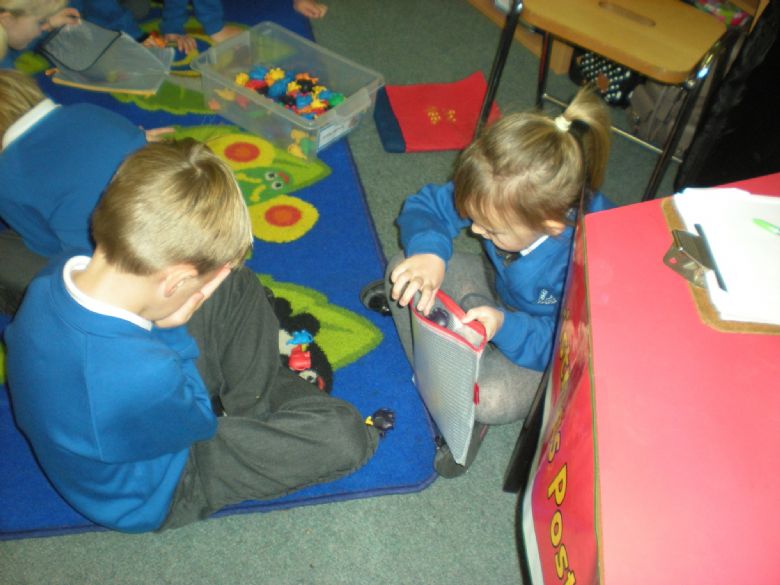 Phonics
In phonics, we are recapping all our phase two sounds. We are such experts at knowing what the sounds are and have used them to support our reading whist playing Obb and Bob. Obb and Bob is a game where the children have to segment and blend the words to find out if they are real or fake. They all love this game and ask for it every day.
Also in phonics we are reading and building sentences. Miss Parker gives the children jumbled up sentences and we have build it and make sure that it makes sense.
Carols by the forest fire
A huge thank you to the families who came to celebrate Christmas in the woods with us on Tuesday. It was a lovely afternoon and watching all the children's happy faces was wonderful.
My biggest apologies for changing the date: the weather just was not safe for the children to be in the woods due to the wind and heavy sleet.
Don't forget!
Open classrooms on Wednesday 20th December 3:20pm until 4:00pm! Come and share your children's learning and achievements!
See you then!
---
Week thirteen (8.12.2017) Christmas is coming!
It's been an exciting week for team squirrel! We have been practising our songs for the nativity, painting Christmas presents and Father Christmas's and decorating the Christmas tree.
We have been busy in the Christmas post office, writing Christmas cards, buying stamps and keeping the customers happy.
Phonics
In phonics, we are revisiting all the sounds from this term.
We have written our letters to Santa which Mr Hancox has sent straight to the North Pole! The children are so excited for Father Christmas's reply (there is a copy of this in your child's bags!)
In guided reading, the children are reading 'The Snowman' which they love! Miss Parker brought a funny book to school called 'Father Christmas Needs a Wee'. The children found this story very funny! You can find the story of it on YouTube if you wanted to watch it at home. Alternatively, the children could retell the story to you.
https://www.youtube.com/watch?v=a0BG-6qj-lU
Please ensure you are reading with your child at home daily and also going through those tricky words! It really supports your child's progress!
Maths
In Maths, we have been counting objects from a larger group. The children have really impressed Miss Parker with their counting skills. We have also been working with ten frames and making different patterns with a given number.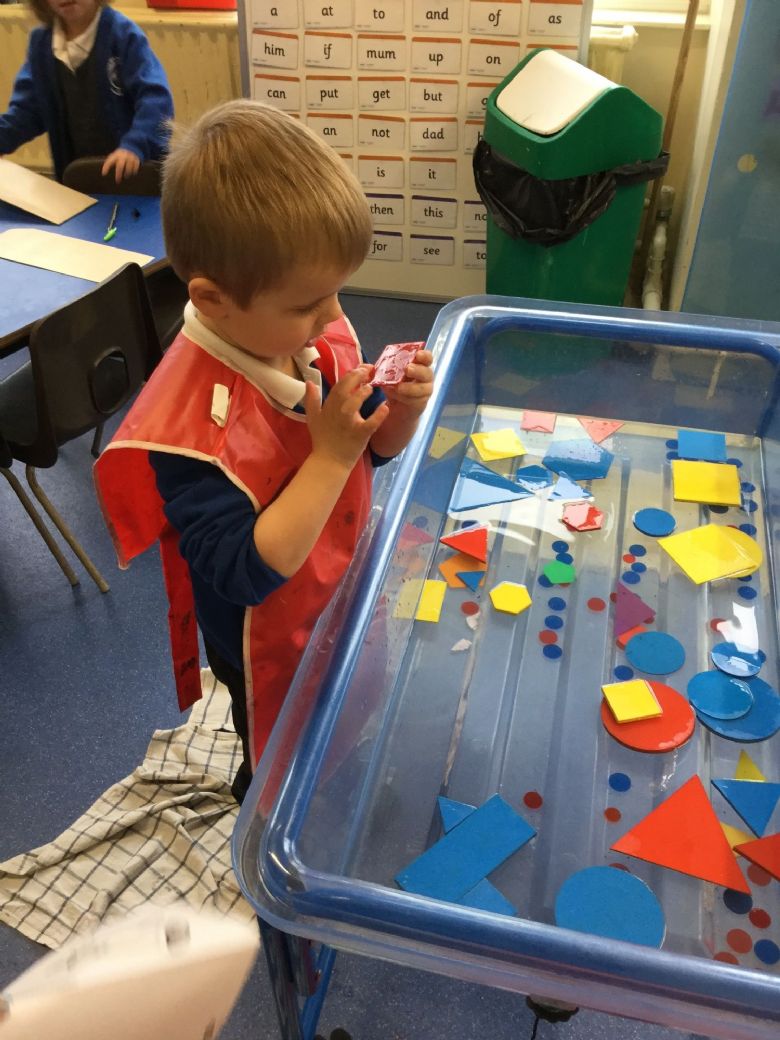 Forest School for the parents! Monday 11th December
Don't forget to bring your child's favourite mug with you so they can have some hot chocolate. You can also bring a festive hat to join the celebrations!
The children are so excited about you joining us in their woods to toast marshmallows. If you are unable to come, please feel free to invite a grandparent who would be more than welcome too!
At 1pm, please ensure you sign in at the main entrance where you will then be shown to the woods around the fire circle. There will be many activities for you to do with your child or you can just chill by the fire to keep warm.
Once the fun is over, please can you sign you and your child out with Miss Parker.
See you then!
---
Week twelve (1.12.17) "Look there is ice everywhere!"
What an exciting week it's been for our Squirrels! When we went outside for our P.E lesson we found ice everywhere! The children were so excited, we spent time looking touching and melting the ice all around the garden.
Also this week, some of the children have been making kites. The children noticed it was rather windy outside and therefore thought it was a great idea to make kites. To do this they used paper, scissors, sellotape,a hole punch and string. They were working out which resource would make their kite the strongest to tackle the wind. Here is what we found out…
Mille said, "If my kite went in that puddle my kite would not fly because it would be too heavy."
Charlie said, "My kite is the longest now because the string is super long. I am now going to make the smallest kite."
Lyra said, "My kite is stronger now I used sellotape. Gluing it didn't work it just fell off."
Phonics
In phonics this week, we have been very busy learning all these new sounds:
h, b, f, l, ll, ff, ss
The children are very clever now and can tell you which sounds are a digraph (two letters which make one sound) and are using them in their independent writing! Wowee!!
We have written our invitations for you which will be sent out Friday after school, so please check their bags! They are so excited to invite you into our woods for marshmallows and hot chocolate!
In guided reading, the children have been reading a book with Mrs Browning called 'Lost and Found' by Oliver Jeffers. Ask your child if they can remember what happened in the story.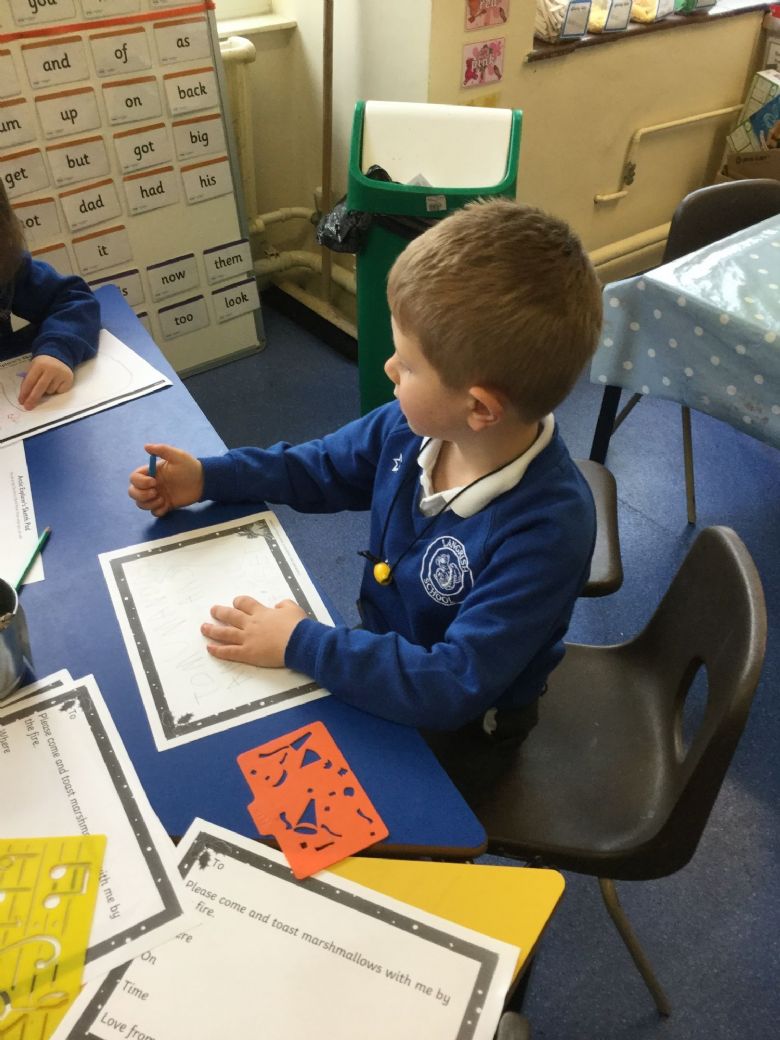 Maths
In Maths, we have been learning how to count objects to 10 and beyond securely. The children now have their own maths books and have been using them to count objects and then write their recordings in them. We have also been on a hunt to find a certain amount of objects, ordering dominoes and building with just 12 bricks. The children had to carefully count out 12 bricks and ensure they had 12 bricks only. Working with a friend they checked each other's counting skills.
Forest School
In Forest School, we had children building their own fires using sticks and reinforcing the safety rules to one another which was fantastic to see. We made collages using the natural environment to make faces and pictures. We also learnt how to use hand drills to make holes in some wood.
Next week it's all about Christmas!
We will be writing our letters to Santa (you will all get a copy of this don't worry!) There will also be a post office for the children to continue their learning independently.
Something exciting to do at home...
Please can you find and bring in a yummy healthy recipe for us so the school can make a Langrish healthy eating cookbook... yum yum!
Snack Time:
Please be advised that all children are offered a fruit snack every day. Therefore, no other snacks are needed from home (unless your child has a medical need or an allergy when a letter must be written to the office who should be aware of such needs.) There is also milk and water available for the children during the morning.
---
Week eleven (24.11.17) Out in the Antarctic…
What an exciting week it has been for our squirrels! We have been learning all about the Antarctic. Looking at the globe and google maps we explored where we live and where the Antarctic is. Looking at the globe we noticed there were green, blue and white parts. The children knew that the green represented land, the blue represented the sea and the white represented the snow...
"Antarctic is white because it's cold there and always snowing." Alfie said.
"There is more sea than land on the planet" Georgia said.
"America is a big place, bigger than us." Harrison said.
"Antarctic is in the South Pole. That is far away from us." Frances said.
We have been busy hiding and reading books all about the polar animals in the tent, building igloos, making penguins and polar bears and getting messy in shaving foam and gloop (to pretend it was snow).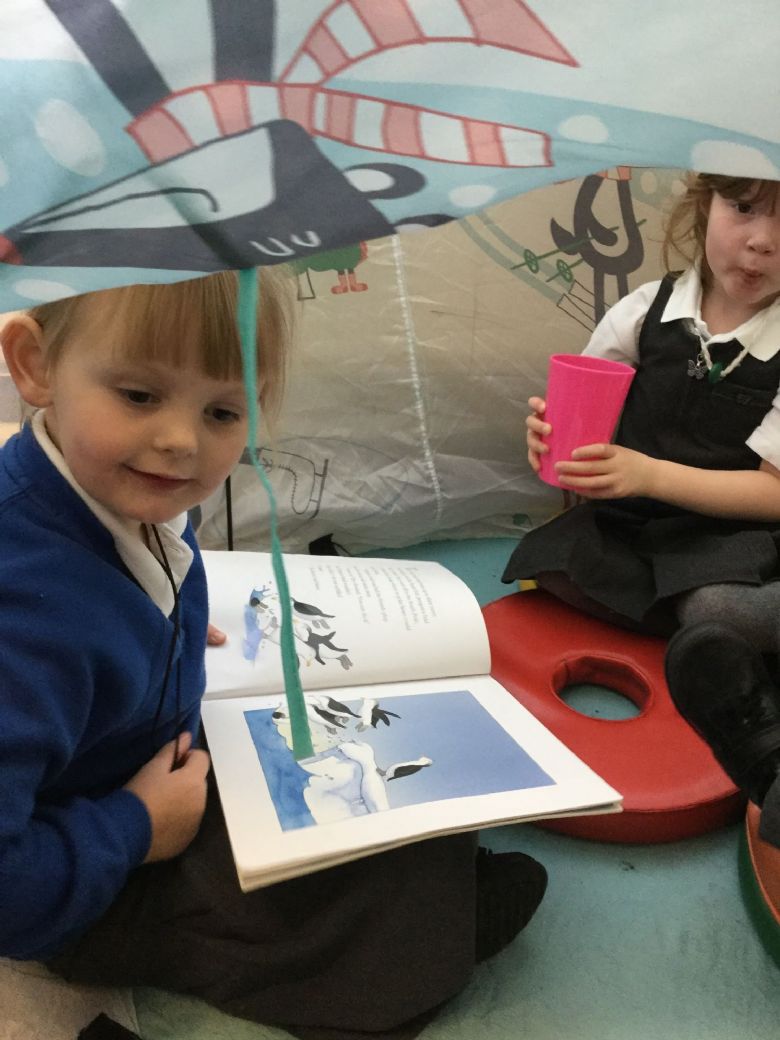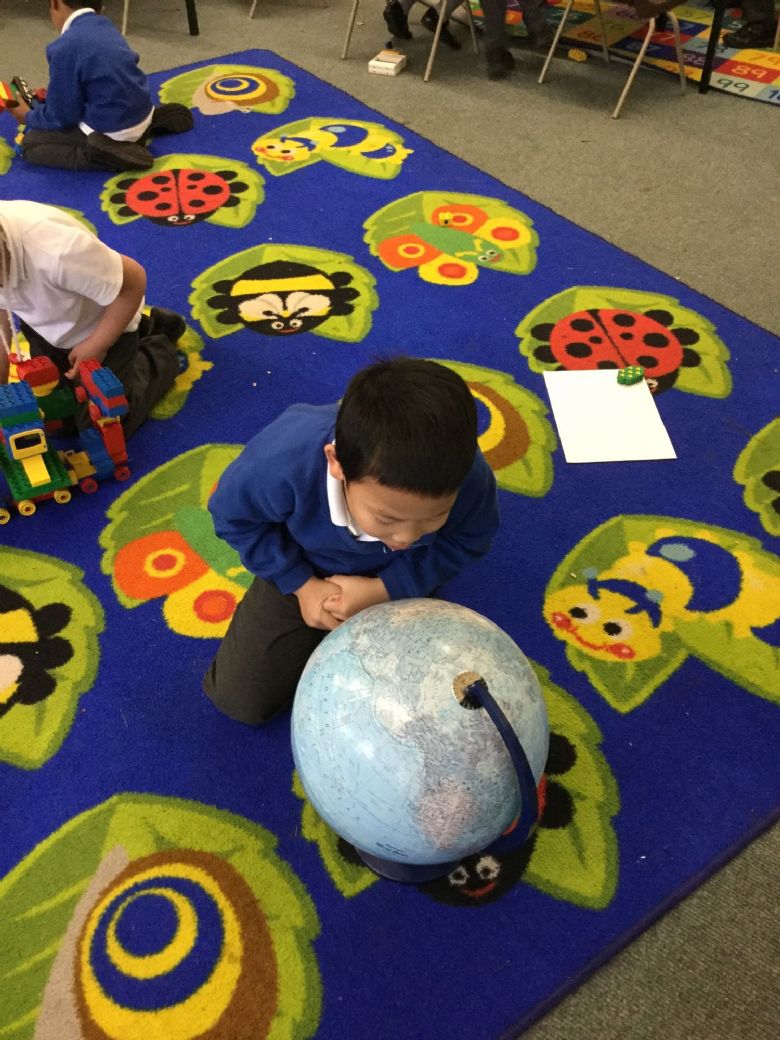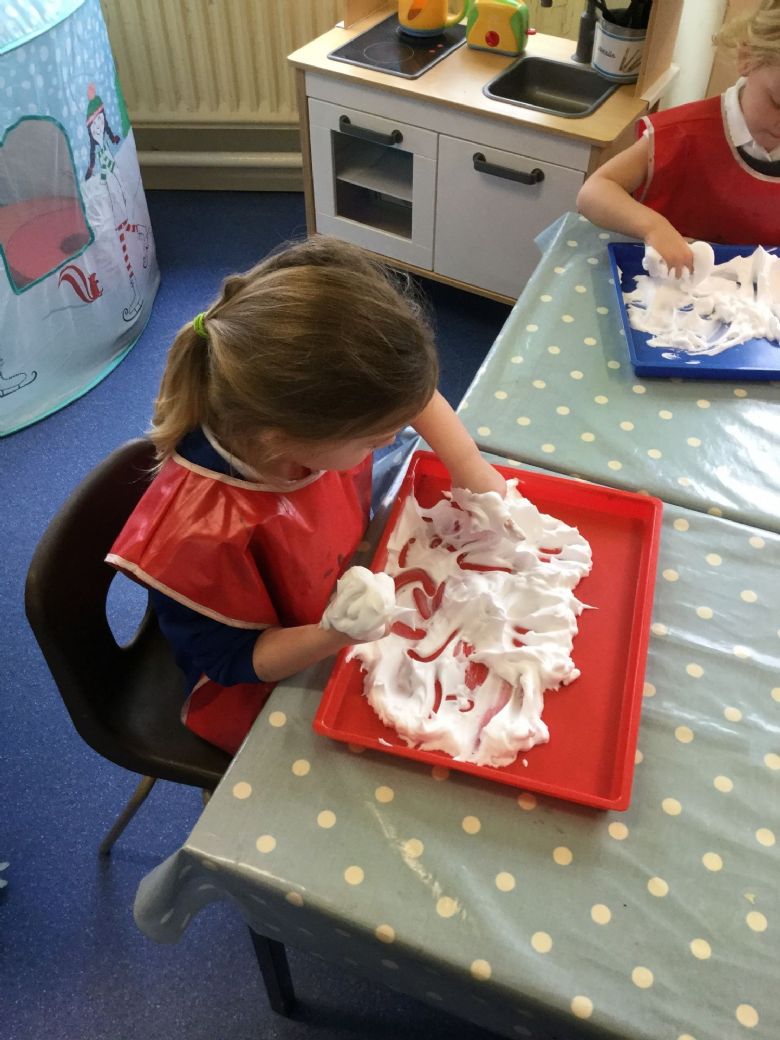 Phonics:
We have been learning the sounds ck, e, u, r. We have learnt that the sound 'ck' is two letters which make one sound (this is called a digraph). We have been working really hard to remember the 'ck' sound is usually at the end of a word (duck, sick, neck, sock) therefore when we write it we know we need to use the digraph rather than the single sounds.
Also in phonics we have been labelling the animals from the Antarctic. Come and look at all our wonderful writing in our classroom on Friday!
Maths:
In Maths, we have been counting objects and actions, which cannot be moved. Miss Parker has been doing star jumps, clapping her hands and jumping on the spot for the children to count. We have also been on a hunt around the classroom to count how many windows and doors there are and tapped a beat on the musical instrument to count how many times our partner taps it. While you are out and about at the weekend, maybe you could ask your child to count the amount of ducks in the pond or how many cars parked in the car park?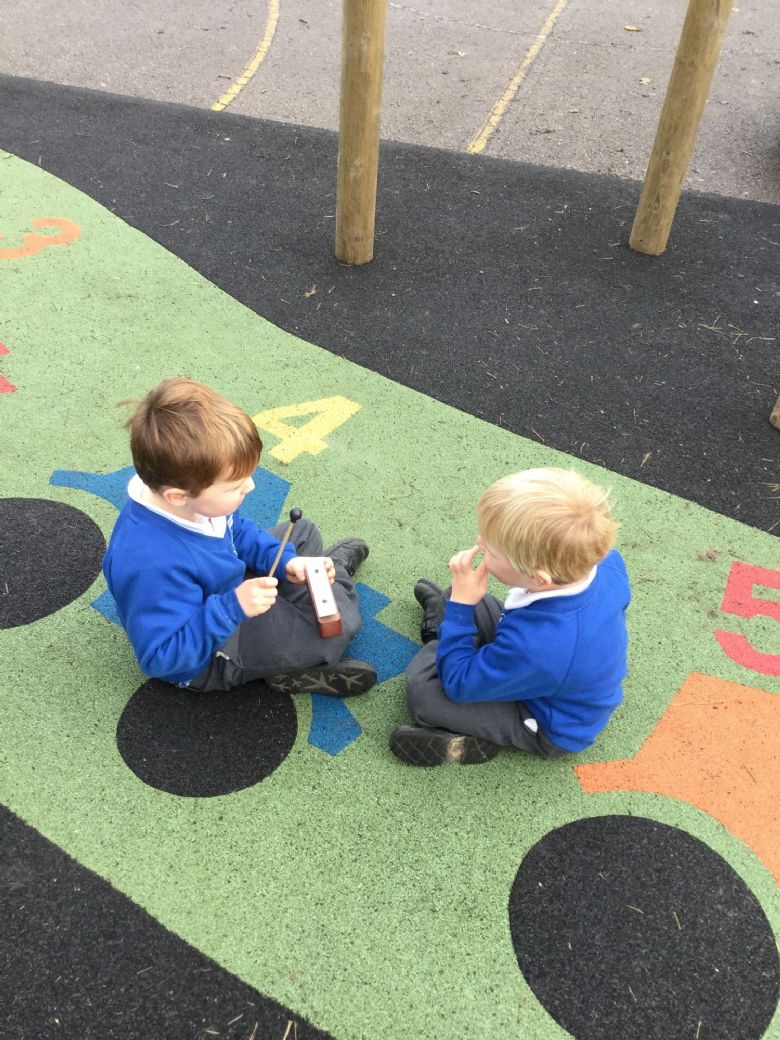 Forest School:
Mrs Wright joined us for a warm fire with toasted marshmallows on Friday afternoon. The children were super safe, remembered the safety rules and supported Miss Parker to build the fire up.
Well done everyone!
Next week:
We will still be exploring the Antarctic. We will be writing postcards, collaging gigantic polar bears and penguins and taking part in some science experiments (and of course thinking about getting ready for Christmas!)
In phonics, the sounds we will be learning are h, b, f and ff , l, ll, ss (ff, ll and ss are long sounds). You could be ahead of the game and begin exploring these sounds and finding words which have these sounds in!
Have a great weekend!
---
Week ten (17.11.17) Anti –Bullying week
It has been a powerful and meaningful week for Squirrels. We have been talking about the word 'bullying'. The children came up with some great ways to help and support someone they think is being bullied. From this we talked about how we are all the same but different. We looked at each other's features and shared what is the same but different about one another. This led us on to share why each of us are special.
Miss Parker said she was special because she has an insulin pump to help her stay healthy and alive.
Oliver said he was special because he helps people who are sad.
Charlie said he was special because he is a big brother and rocks his baby sister to sleep, to help Mummy out.
Lyra said she was special because she is really good at colouring.
Miss Rhodes said she is special because she is kind.
Linked to anti-bullying week we talked about our rights. Miss Parker shared some photos of how people live in different countries which empowered the children to think about how lucky we are. We drew pictures of the different rights to make a poster which is now hanging in the ICT suite for everybody to see. Here is what some of the children said...
Harry E "We are very lucky because we have clean water everyday and healthy foods."
Alfie "We have a tap where our water comes from, other people don't. They have to go to a muddy puddle. It is not nice"
Sophie "We have a right to play. I love playing with my friends."
Emilie "We have a right to live with our Mummy's and Daddy's. In a warm safe house."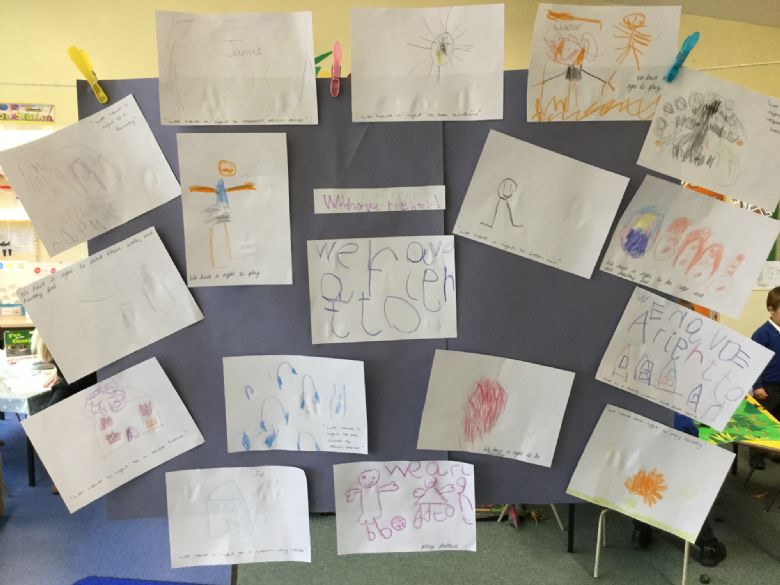 Phonics:
In phonics this week, we have been learning the sounds g, o, c, k. We are getting really good with our sounds now! Miss Parker puts on a 2 minute timer to see how fast we can say the different sounds and tricky words. We are very good at it and super quick… it's exhausting!
We have had fun using the Duplo blocks to build words and make up our own silly words. The children loved this as once they made their own words they could segment and blend it together to see if it was a real word or a silly pretend word.
Also in phonics we have been finding the missing letter in CVC words like c_t (cat) ba_ (bag). This has encouraged the children to segment and blend independently and write the missing letter with confidence.
You could try doing this at home!
Maths:
In maths we have focused on the question… 'How do we count and how do we know what the total is?'
We have also been exploring the symbol '+' and understand what it means. We learnt that it means 'to add' or 'plus' and that the total will be a bigger number because by adding numbers together makes the total bigger.
To support our learning we have used threading beads to count to 12, and also played skittles in the garden. With the skittles game we had to record how many we knocked down and how many were still standing.
New to squirrel Class this week...
We now have a Ice Cream Parlour in the sand area. The children have been serving up different flavour ice creams to each other. They are super yummy but come at a high price!
There is a construction area in our outdoor space where the children have been building huge landscape buildings such as sky scrappers. There is great team work whist building and also great planning before the building begins. Using graph paper the children plan what they want their sky scrappers to look like and use their drawings to keep track on how the build is going.
Also new to Squirrel class is a petrol station where the children can fill up their bikes with petrol or diesel ready for their big journeys ahead of them.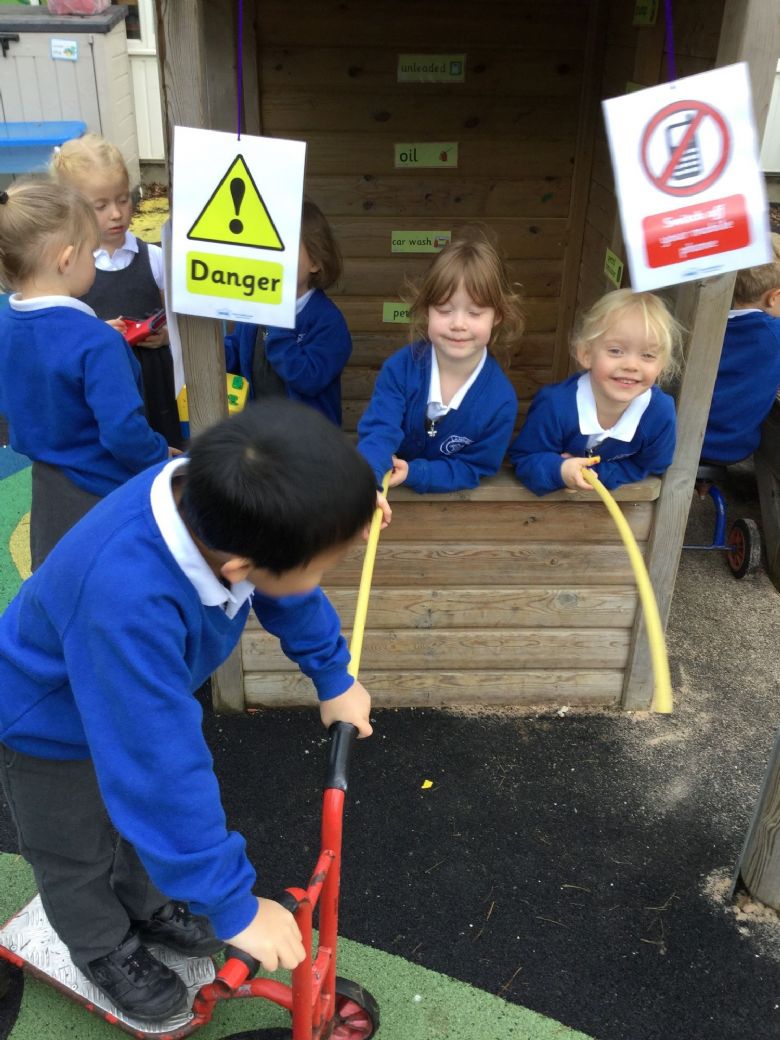 Forest School:
In forest school this week, we learnt how to whittle sticks using potato peelers. We were able to control the potato peeler to peel the bark and stick which made it smooth and sharp at the end. Once we have finished whittling we will keep our sticks and use them for our first forest fire next week. They will be perfect for toasting marshmallows!
Next week!
Next week our topic is Antarctica. We will become explorers to find out what is out there! We will learn about the animals and how they and the people live. Also talk about the extreme weather conditions and what we might need to be able to live out there.
Please may you collect kitchen roll tubes as we want to be creative and make penguins out of them.
Thank you in advance!
---
Week 9 (10.11.17) The importance of Remembrance... "Why are we buying Poppies?"
It has been a great week for team squirrel this week. We have been talking about our experiences with fireworks over the weekend and how we kept safe from danger (Article 19 from the UNCRC). From this we made our own fireworks by using oil pastels on black paper. They looked fantastic!
In P.E this week we watched a firework display using the internet. We then created our own fireworks using all of our body movements. To make the sounds of the fireworks, we used our hands and feet. Also in P.E we went on the playground and made an obstacle course. Here is a video of us exercising...
Phonics
In phonics this week we have learnt the sounds i, n, m and d. We have also begun learning the tricky words (words that are not phonetic) the, I, no and go. During the lesson, we are applying the sounds we already know along with the new sounds to make CVC (consonant, vowel, consonant) words such as map, sat, an and tip.
An important part of children's development is their fine motor skills to support their writing. We did 'dough disco' where we all have some playdough and copy the disco moves to help us build strength in our hands. Here is a video of us doing it...
Maths
In maths we have been exploring the question 'Can we recognise the numbers 1,2,3,4,5?' We have been looking at how to represent each number, find the total of each number and add and take away using our fingers and objects.
Remembrance
Squirrel class had a great discussion about remembrance and why we are buying poppies. During our play we made a wreath and made our own medals.
Miss Parker asked the children to talk to their parents and grandparents so they can share stories about the war.
Forest Friday - tool work using saws
In forest school we learnt how to use saws. We were told about the different parts of the saw, how to hold it, how to use it and how to ensure we use it correctly and for purpose.
"It's really hard work..." Harrison said.
"I did it! I did it!" Sophie said proudly.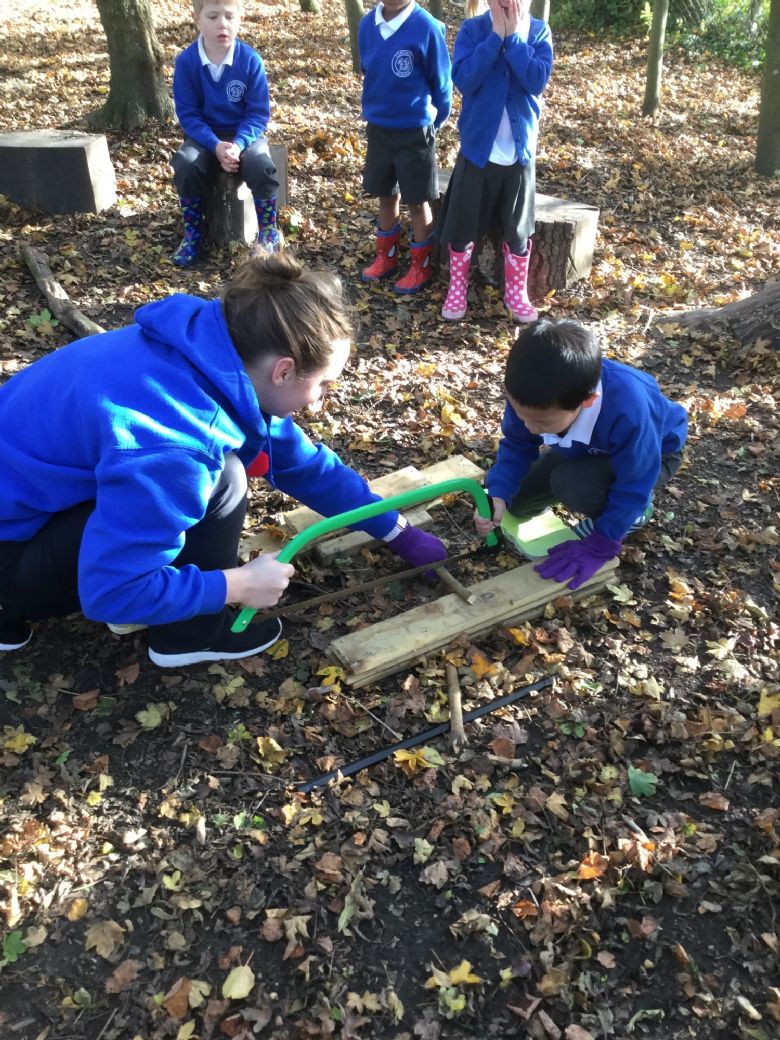 ---
Week 8 (4.11.17) "Dem bones, dem bones, dem bones"
Welcome back! We hope you all had a restful but fun half term!
This week we have been exploring the book 'Funnybones'. In our role play area we have a doctors surgery where the children are having a great time being doctors, receptionists, helpers, nurses and patients. Miss Parker and Miss Rhodes have been very clumsy and keep falling over, breaking bones or in need of an injection to stay healthy. Fortunately, with the help of Dr Pelling, Dr Gifford and Dr Langley-Smith (just to name a few) they have ensured both Miss Parker and Miss Rhodes are back up on their feet, fighting fit (with just a few bandages on their legs and arms).
Here is some of the wonderful things the children have said…
A conversation between Miss Parker, Harry E and Harry T:
Harry E "Hello, can I help you? Do you need an appointment today?"
Miss Parker "Yes please, I keep getting headaches, can I book an appointment to see the doctor?"
Harry T "I am the head doctor, you can see me if you like?"
Harry E "I will just book you in (attempts to write 'Miss Parker', 'headache', 'Harry T') Is 5 o'clock ok?
Miss Parker "5 o'clock is perfect, thank you. See you later".
Lola G "I'm a helper, do you know where to go for your appointment?"
Yasmin "I need to wear this mask on my face because it helps me to breath better, oxygen goes in there."
Kayden "I just need to check your blood pressure."
Emilia "Oh no you are really sick, your temperature is 100 degrees!"
Also this week…
In phonics we have been learning the sounds s, a, t, p. We have been hearing the initial sounds of words such as sun, apple, train and pig. Squirrel class have been super clever and have also been thinking of words with the different sounds in other words such as dinosaur, map, letter, happy.
For guided reading the children have been reading Funnybones. They are beginning to have a good understanding of the story, follow the repeated sentences and talk about how naughty those skeletons are trying to scare everyone.
In Maths, we have been finding numbers all around the school. There are so many! There were numbers found on clocks, computer keyboards, posters and on the floor outside. We wrote down every number we could find on our clipboards.
Also we have talked about numerals for a personal significance. First, we talked about our birthdays, finding out how old we all are now, how old we were on a last birthday and how old we will be on our next birthdays.
Proud Clouds!
Here at Langrish Primary School we are proud of what each child achieves in and out of school. We want you to use these proud clouds to write the great things your child does at home or at a club. We ask you then to bring in your child's proud cloud so we can put them in their learning journeys, to share each others great achievements!
You can find the proud clouds at the bottom of this page.
Talk Talk Tuesdays!
Squirrel class are starting Talk Talk Tuesdays (fancy name for show and tell). Each half term we will give you a topic to do at home.
The topic this term is ICT (Information, Communication, Technology). We want you to take a picture of your child using all things ICT. This could be a remote control, computer, Ipad, telephone or CD player. Then when it is your child's turn for Talk Talk Tuesdays, they can share all the things they do at home linked to ICT. We will then put this in their learning journey's!
Talk Talk Tuesday dates:
Tuesday 7th November: RED HOUSE
Tuesday 14th November: YELLOW HOUSE
Tuesday 21st November: GREEN HOUSE
Tuesday 28th November: BLUE HOUSE
---
Week 7 (20.10.17) - Soup glorious soup!
This week we have been super busy making pumpkin and squash soup. The children worked really hard to cut, blend and cook the ingredients. While we were waiting for the soup to cook, we ordered the recipe by cutting and sticking the pictures in the correct order. The soup was super yummy and kept our tummies warm from this autumn wind.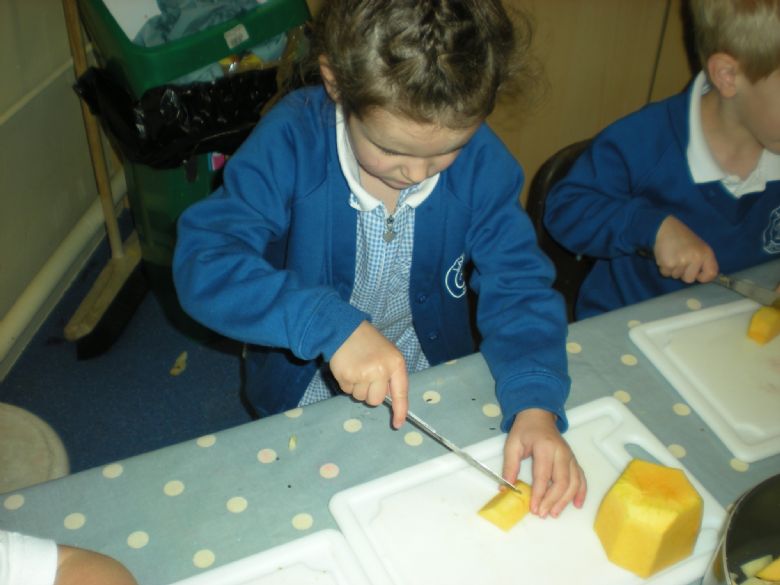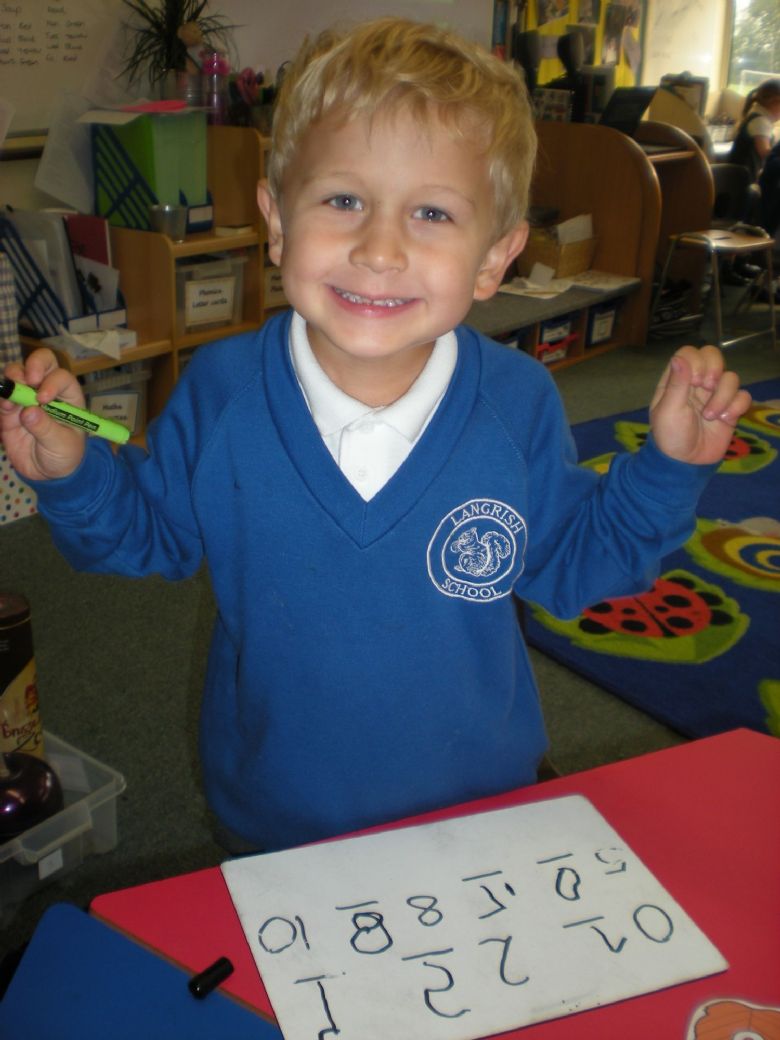 Numbers with Miss Rhodes
T
he children worked super hard to write their numbers in the correct order. Firstly, Miss Rhodes wrote numbers 1-10 on whiteboards with some numbers missing. The children had to find out the missing number then write it down. Next she asked the children to write numbers 1-10 all by themselves! It was a tricky task, but with some support from Miss Rhodes they managed to complete it! Here is some of our work, which the children are very proud of…
Reading with Mrs Browning
In the mornings we are very lucky to have Mrs Browning with us. She took a group at a time to read a special story sack to them. The children had to listen really well as Mrs Browning asked them questions about the story and the characters at the end. One of the stories was 'The Three Little Pigs'.
Here are some of the questions Mrs Browning asked the children.
What is the story about?
Is the story fiction or non-fiction?
Where is the setting of the story?
What characters are in the story?
Can you retell the story to me?
Ask your child which story was read to them and what they remember from the story…
PE Diwali dancing
This week we have been learning all about the festival Diwali. We read the story and talked about why it is celebrated and who celebrates it. Here is a video of us dancing in PE…
---
Week 6 (13.10.17) – It's beginning to look a lot like autumn…
This week we have been exploring the wonderful outdoors! A huge thank you to everyone who found something interesting for our investigation table. It has been great fun using our senses to explore what you found. Here is what some of the children said:
Lucus said, "The pine cones feel spiky."
Emilie said, "The sunflower feels bumpy and soft at the same time."
Saffy said, "This pumpkin feels squidgy and smells strange."
Siddhant said, "This leaf is red and black, it is so pretty."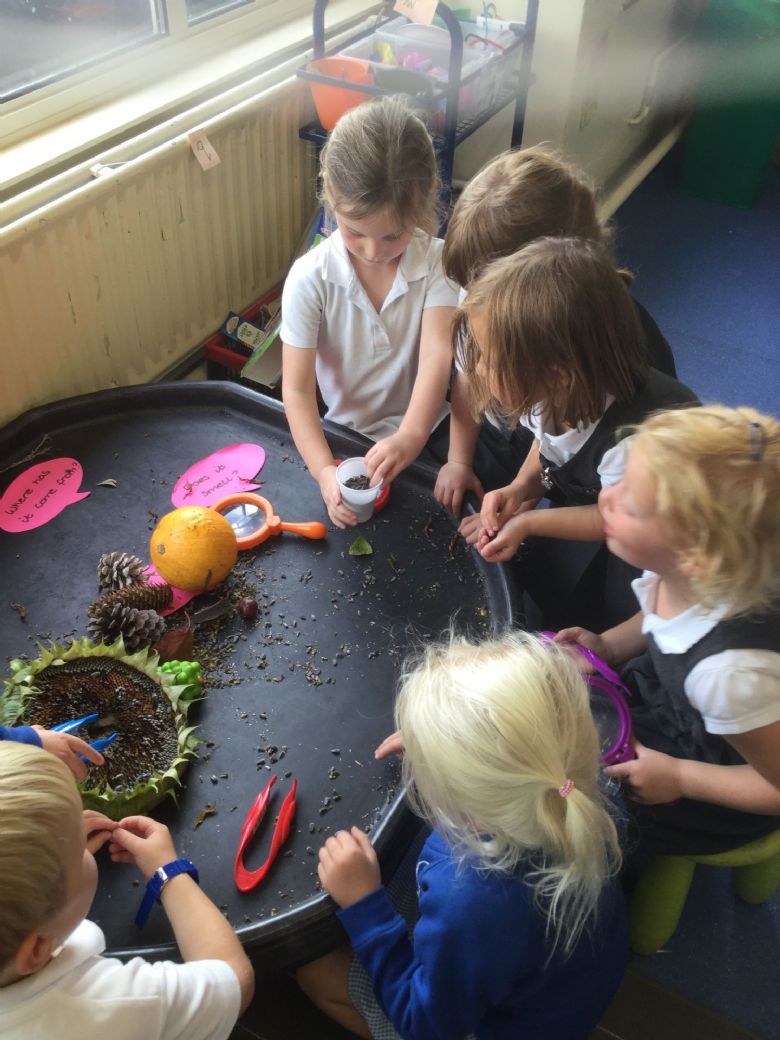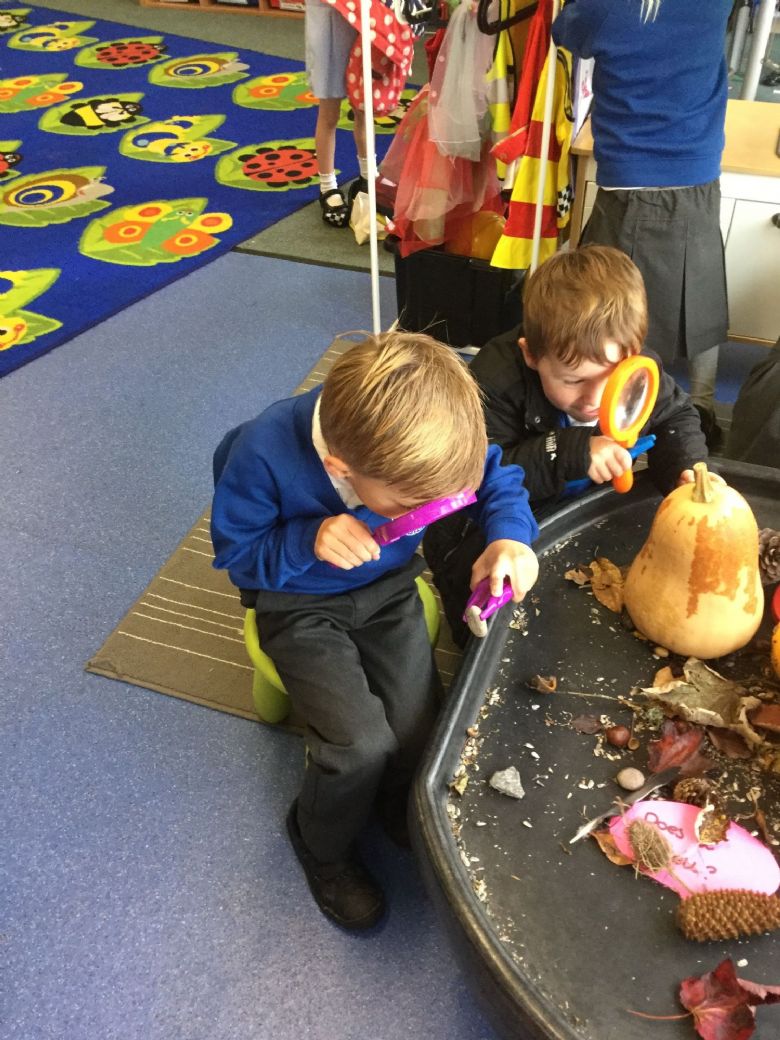 Also this week the children have been busy finding numbers hidden around the school! They were everywhere! What made it trickier was a secret number detective called Harry T kept finding the numbers then re-hiding them in different places. He found it very funny… Miss Parker was left confused and finding numbers in all sorts of places!
Forest school!
The children have been so excited to go into the woods and explore the great outdoors. We made forest crowns using the natural things we found on the ground. Also, we played hide and seek with Mr Hedgehog who keeps disappearing up trees or under the leaves.
Miss Parker told us how to keep safe in the woods. When we go to the woods, we all sit on big logs around the fire circle. Here are the rules we must follow:
Do not leave the woods.

When you hear Miss Parker shout, "3,2,1 comeback everyone!" we must go back to the fire circle and sit on the logs. This could mean Miss Parker wants to talk to us, there is an emergency, snack time, or it is time to go back to the classroom.

Children must not enter the fire circle unless the child asks Miss Parker to enter safely. This is to maintain the continuous boundaries, regardless of there being a fire or not.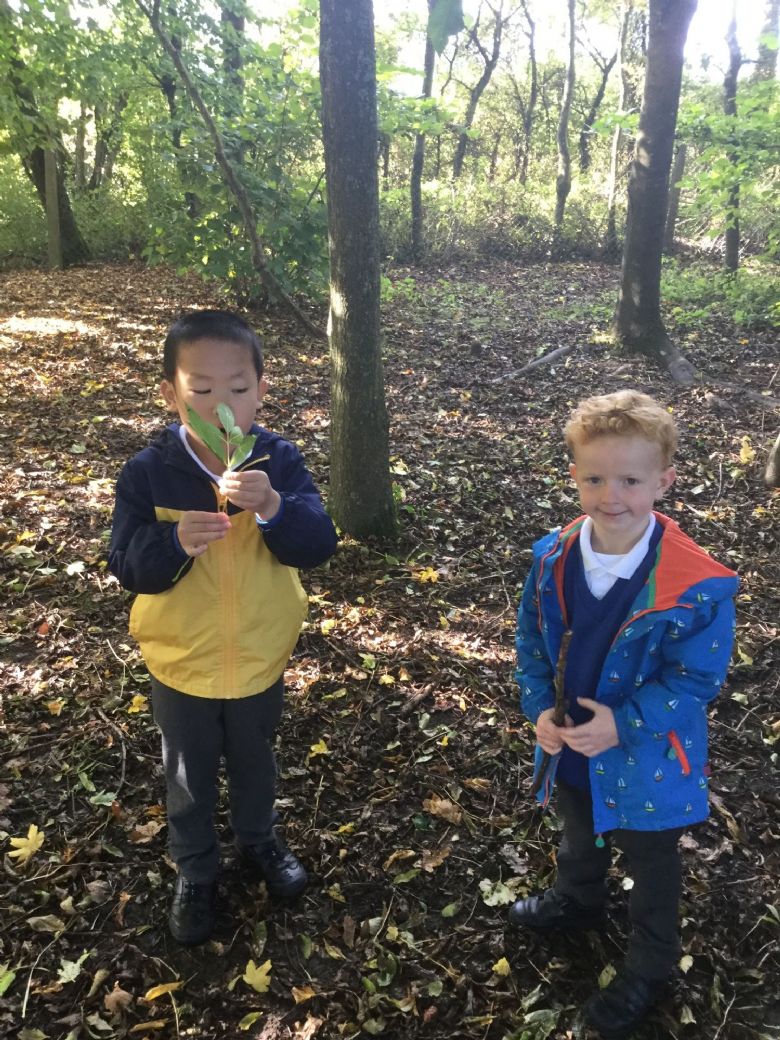 Open Classroom
Thank you to all the parents and Grandparents that came to see their child's learning journey so far. There was a positive feel in the room and large sense of pride for all of the wonderful children!
Next week:
We will be making pumpkin soup and butternut squash soup! There will also be a shape hunt for your children to investigate and don't forget it's Langrish's first film club on Thursday afterschool with Miss Parker and Miss Jones.
---
Week 5 (6.10.17) - Feelings Tree, Letter hunts and reminders
It is week five and Squirrel Class are in full swing of the school routine with the realisation that we have to be in school for five days a week..! From the moment the children enter the classroom they are super busy with different tasks to investigate. This could be practising their letter and number formation, team building activities, fine motor work such as threading or use of tweezers or practising their name. It is great to see the children thriving with the tasks and supporting one another for the duration of the activity.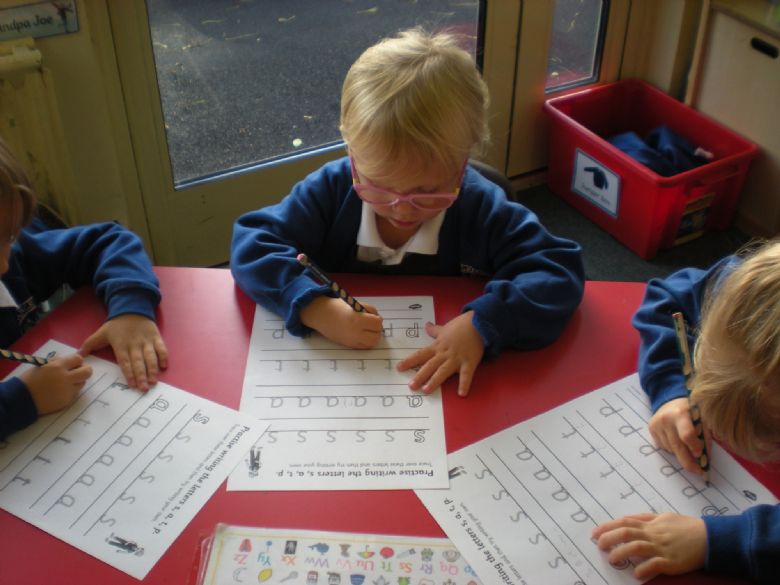 Our Feelings Tree
Squirrel Class now have a feelings tree. Throughout the day the children share how they are feeling, we then discuss why they feel the way they do and if there is something which can change this feeling if they were feeling sad, tired or angry. The feelings tree has become an important part of our day and a good reflective tool for the children.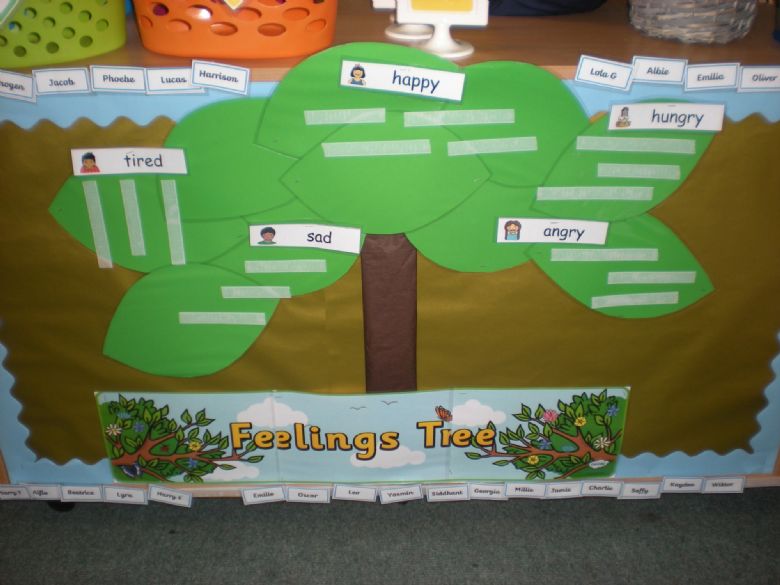 Letter hunt!
The children were set a challenge this week, which was to find all the letters that were hidden around the environment. Children were given a clipboard and either had to match the letters to the ones they found or write the letters. The children searched high and low, in teams and individually to make sure they found all the letters of the alphabet!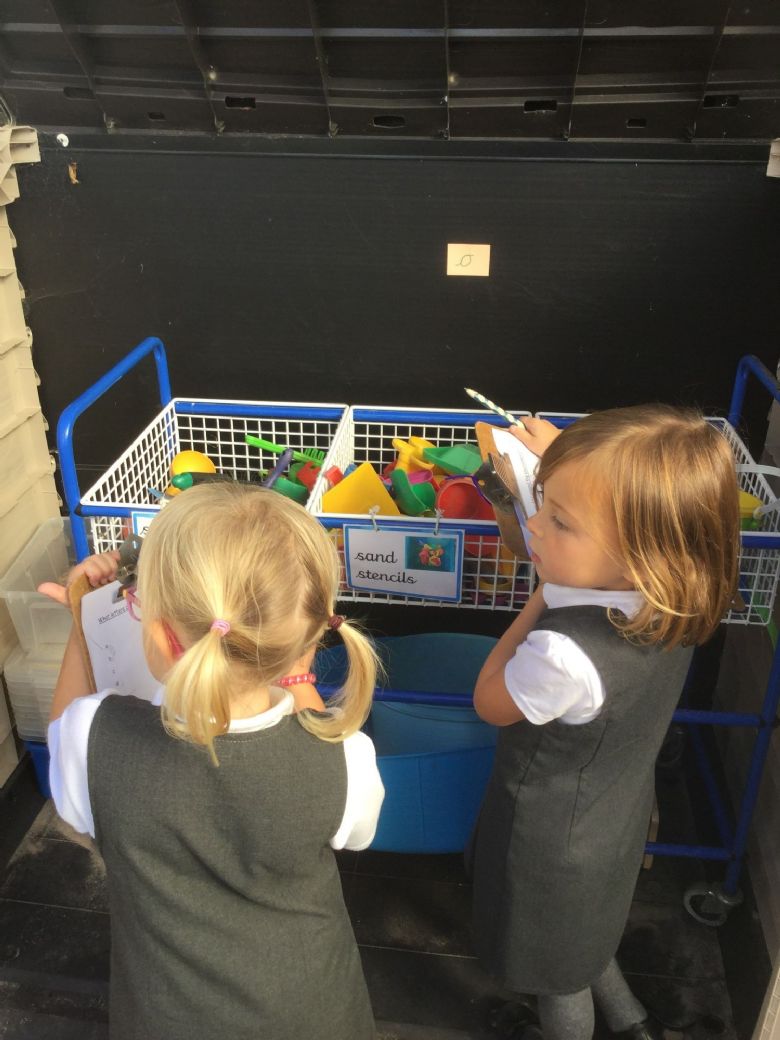 Reminders for next week…
The children have been very interested in the ever changing great outdoors. A huge thank you to Oscar's mummy who brought in their sunflower head and pumpkin, which they had grown at home. If you are out exploring or walking outside over the weekend please bring in the wonderful 'autumn' things you find to add to our investigation table. It could be colourful leaves, conkers or something interesting... Let us investigate this beautiful season!
On Friday 13th October Squirrel Class will have their first Forest School session. Please can you ensure your child has their welly boots and waterproofs (trousers and coat) in school. To make it easier, children could have a small forest school bag for their waterproofs, which can be kept on their pegs so there is no confusion with their P.E kits.
Looking forward to seeing you all at our open classroom on Wednesday 11th October from 3.15 p.m.-4.00p.m!
---
Week 4 (29.9.17) - Charlie and the Chocolate Factory!
What an exciting week Squirrel Class have had. Mrs Thompson who is an LSA in school and also Harry's Mummy, brought in a special book for Miss Parker to read. It was a magnificent pop up book of Charlie and the Chocolate Factory by Roald Dahl. The children were so excited for Miss Parker to read it. Some of the children already knew the story from their parents reading it to them at bedtime. Once we finished the book as a class, the children were independently re-telling the story to each other, sharing their favourite parts of the book and talking about which characters they liked best. Here are some of the things the children said:
Harry said, "My favourite character is Mike Tevee because he always watches television. When he walks out of the chocolate factory he is taller than his Dad because they stretched him."
Yasmin said, "The Oompa Loompa's are really funny, I love the songs they sing when the children get into trouble."
Frances said, "It is so funny when Violet turns into a big blueberry."
From this, the classroom got transformed into a chocolate factory. The children created their own chocolate bars, which were then used for the chocolate shop. There was chocolate play dough, golden tickets for the children to find and puppets to support the children's imagination and role-play to re-enact the book. It has been so much fun!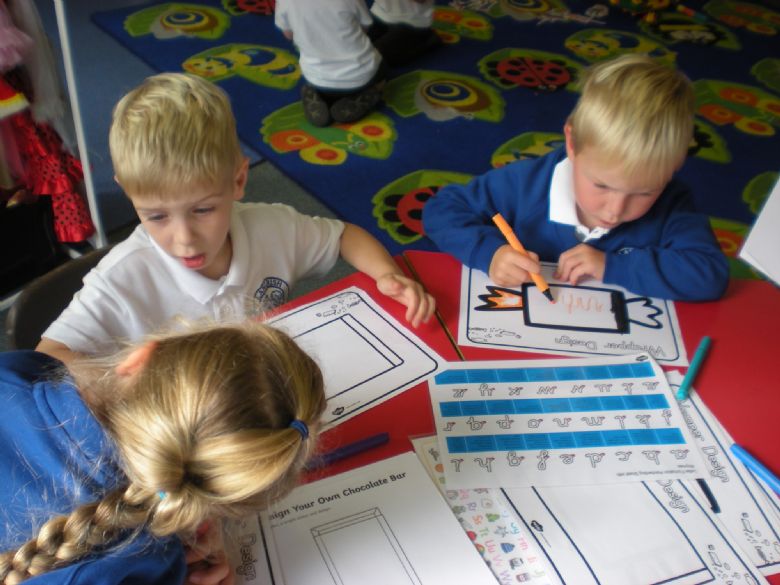 E-safety class charter
Now the children have begun ICT lessons each Friday morning, Squirrel class had a big talk about e-safety. We talked about the importance of keeping safe and how we can do it well. We made a class charter to ensure we understand and remember. A copy of the e-safety class charter is in the front of the children's reading record and also at the bottom of this page. Miss Parker and the children have so far signed it and we now need all parents to sign it to support us to keep safe on the computers/Ipad.
---
Week 3 (22.9.17)
What a fun and messy week it has been! The children have been exploring healthy eating linked to the Rights Respecting Schools "World's Largest Lesson." There was a big focus on food and nutrition. Squirrel Class have been busy looking at what foods are healthy and not healthy, learning to use knives safely and to use their senses to explore different fruits and vegetables.
Here are some of the things the children said:
Harry E said, whist in a group discussion, "We need to be happy and make other people happy. Even just to say hello to somebody."
Lucas said ,whist exploring the play dough and fruits, "I'm making strawberry tart, which is healthy because it has strawberries on it."
Saffy said, whist exploring the fruit and vegetables, "I love eating fruit and vegetables. I can really smell the lemon and bananas."
Also this week, linking to the Rights and Respecting Schools, we made our own Class Charter by looking at the children's rights from the United Nations Rights of the Child. We discussed how we can keep safe, how to look after each other and how to respect our toys. Please see attached a copy of our Class Charter at the bottom on the page.
To be a successful life long learner at Langrish School...
On Friday morning (22.9.17) there was a meeting on how to be a successful learner in Reception Class at Langrish. We discussed how, and what it takes, to be a successful learner. Also, we talked about how Miss Parker and the parents can support and guide the children to be life long learners in Reception Class.
It was a great turn out, so thank you to those who came, we really appreciate your support. If you were unable to attend the meeting please find a copy of the outcomes at the bottom of the page.
Home learning starts today! Hoorayyy!
As from Friday 22nd September, parents can collect their child at 3pm to choose a maths game together to take home for the week! Please play these games as an when you want to! To change the game, bring them back the following Friday at 3pm.
On Monday 25th September, children will have two reading books to take home. Please read with them as much as you can (remember to use the Oxford Owl website to access more of these books).
Tricky words will be sent home for you to continue at home. Tricky words are not phonetic so the children just have to know them. Please play games and test your child to see which tricky words they know.
School Library books will be changed every Friday morning with Miss Rhodes. So, if your child wishes to change it, please bring them back each Friday to be swapped.
Autumn reading challenge! When you child has read a book, please let us know on the Autumn Reading Challenge sheet. Once it is all filled in, please bring it in and show Miss Parker!
---
Hello Team Squirrel, (15.9.17)
It has been a fantastic first week for Team Squirrel! The children have settled well into their new classroom and are taking the school routine in their stride. We have also been sharing their summer holiday boxes, with their cheeky bears, with the whole class... the children are showing a great sense of pride when talking about these.
We have been so busy making new friends, enjoying our super fun P.E lessons and accessing all areas of the classroom and outdoor space. Here are some pictures of our learning:
We've got plenty of exciting things planned for the coming year so keep watching our weekly website updates to see what we've been up to.
P.E days:
Tuesday: (In the hall) for which the children will only need a T-shirt and shorts.
Wednesday: (Outdoors if weather permits, otherwise in the hall) for which children will need a T-Shirt, shorts and outdoor trainers. They will also need dark coloured jogging bottoms and a hoodie as the weather gets colder.
Meet the teacher - Home learning expectations
On Friday 15th September there was a meeting with Miss Parker to discuss the home learning expectations for Reception Class. Miss Parker also discussed the learning which is taking place now and throughout the year. For now, the children are establishing the school routine, making positive relationships with their peers and adults and exploring the classroom and outdoor space. The Early Years Foundation Stage has three Prime Areas. They are Personal, Social and Emotional Development; Communication and Language and Physical Development. Without these prime areas met, children may struggle to access the other areas of the curriculum which are Maths, Literacy, Expressive Arts and Design and Understanding the World. However, throughout their play, there are provisions in place to access such areas of development freely and independently.
If you were unable to attend the meeting, please find an attachment of the presentation at the bottom of this page. Copies of the hand out will be put in your child's bag on Monday 18th September.
---
Useful Websites