Miss Parker & Miss Rhodes: Team Squirrel!
---
Welcome to our Squirrels' class page. Here you will find information and updates about our weekly learning.
---
Week seven (18.10.19) Not more dinosaurs…
This week we have found ourselves still loving dinosaurs and finding out facts about the different dinosaurs, looking at what they eat, how tall and long they were and where they lived in the world. We used the map to find the different countries.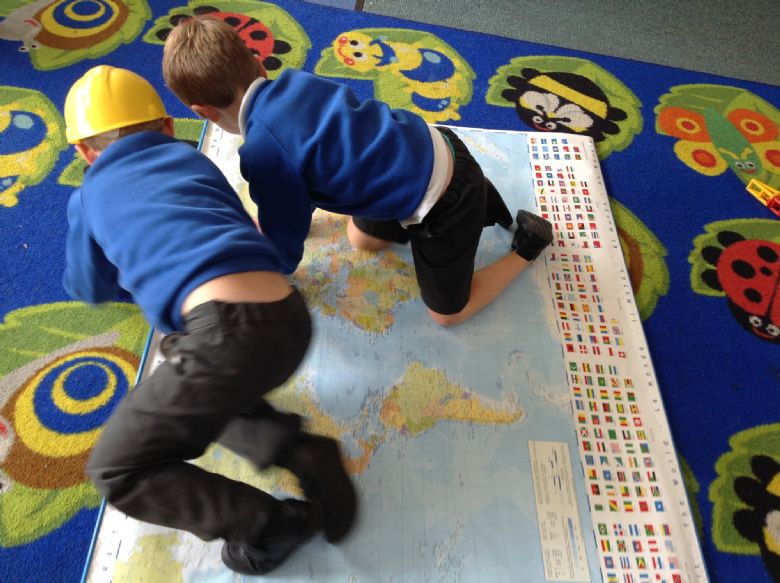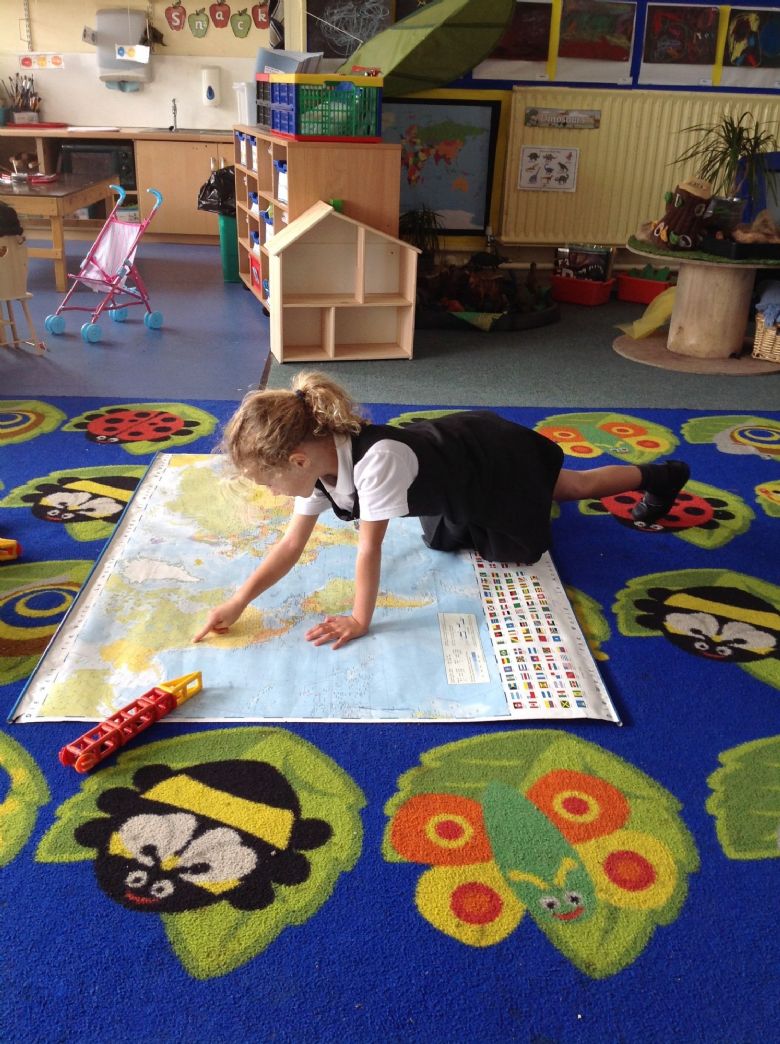 We created our own dinosaurs through collage. We used our scissor skills to carefully cut different materials like felt, card and tissue paper.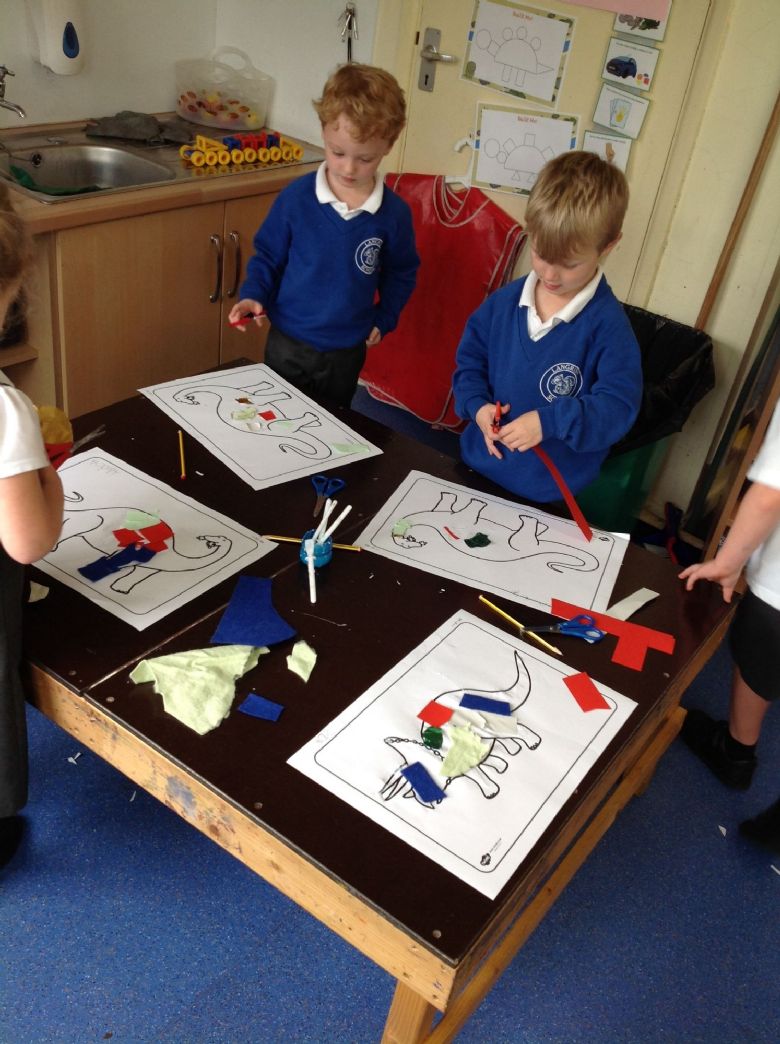 Maths
In maths, we are all about 2D shapes. We have found out how many sides a circle, triangle, square, rectangle, hexagon and pentagon has. We can now describe the different shapes to one another and understand that 2D shapes are flat. We looked around the classroom and outside to see where else we could see 2D shapes.
'The inside of a tree stump is a circle' Ollie said.
'A coat hanger is a triangle and so… hmm there aren't many triangles around are there?' Ruben said. 'There are rectangles everywhere, the windows, the door and the boxes.' said Abigail .
Hattie can explain the difference between a rectangle and square... 'You see the rectangle has two long sides and two short sides. Now the square has four short sides, they are the same.'
Phonics
In phonics, we have learnt the sounds i, n, m, d. using all these sounds together we are beginning to make up our own words and make real words. To do this we used magnetic letters to build the words, we then read them and finally wrote them on whiteboards.
A little home learning for half term…
Over your half term break, can you go outside and find something 'autumny'. It could be something colourful, spiky, smelly (not too smelly please), big, small or crunchy. We will have an autumn table ready for you to put your findings on Monday morning after half term.
---
Week six (11.10.19) Dinosaur madness…
This week the children have turned dinosaur mad by enjoying our small world dinosaur land. Using the iPad, the children have brought the dinosaur book to life by making holograms of different dinosaurs and their eggs.
"Wow, it's like they are moving across the table! Arghh quick he's coming!" Joshua said.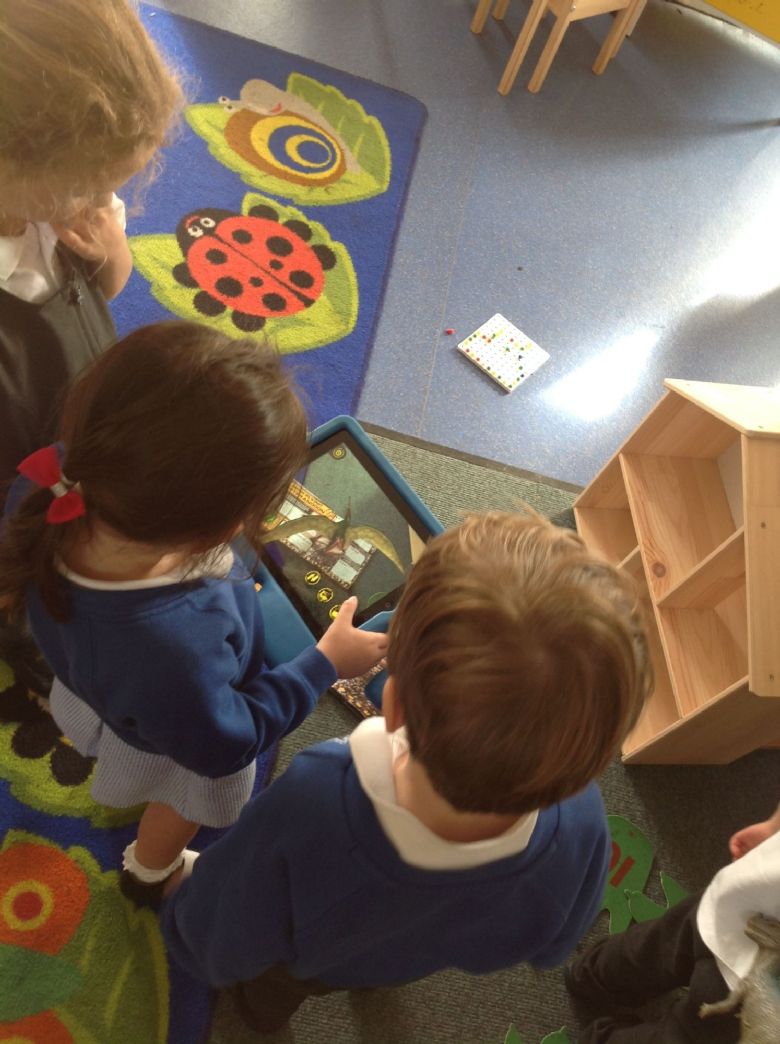 P.E
This week in P.E we have been working in pairs and practising our ball skills. We learnt to control the ball to one another by kicking it, bouncing it, throwing, and catching it.
Creative
Langrish School have entered a school project called the '2019 Big Draw Festival'. The children drew, and then coloured in their self-portraits, which will be displayed at St Peter's Church during October half term for a fantastic art installation. .
Guided reading
Working with Miss Rhodes in small groups, the children read 'We are all different'. The book created brilliant discussions and questions by the children, which they then related to their experiences.
Phonics
In phonics, we have learnt the sounds s, a, t, p. We learnt to say, read and write the different sounds. To support our writing we wrote with a variety of resources in large and small print anywhere and everywhere…!
Maths
In maths, we are learning to count with a one to one correspondence. To support our counting skills, each child was given 10 lolly sticks and were given instructions to follow which entailed them counting out a number and creating a shape with that many sticks. We made decagons, squares, diamonds, triangles, pentagons and octagons.
Here we are applying our learning independently...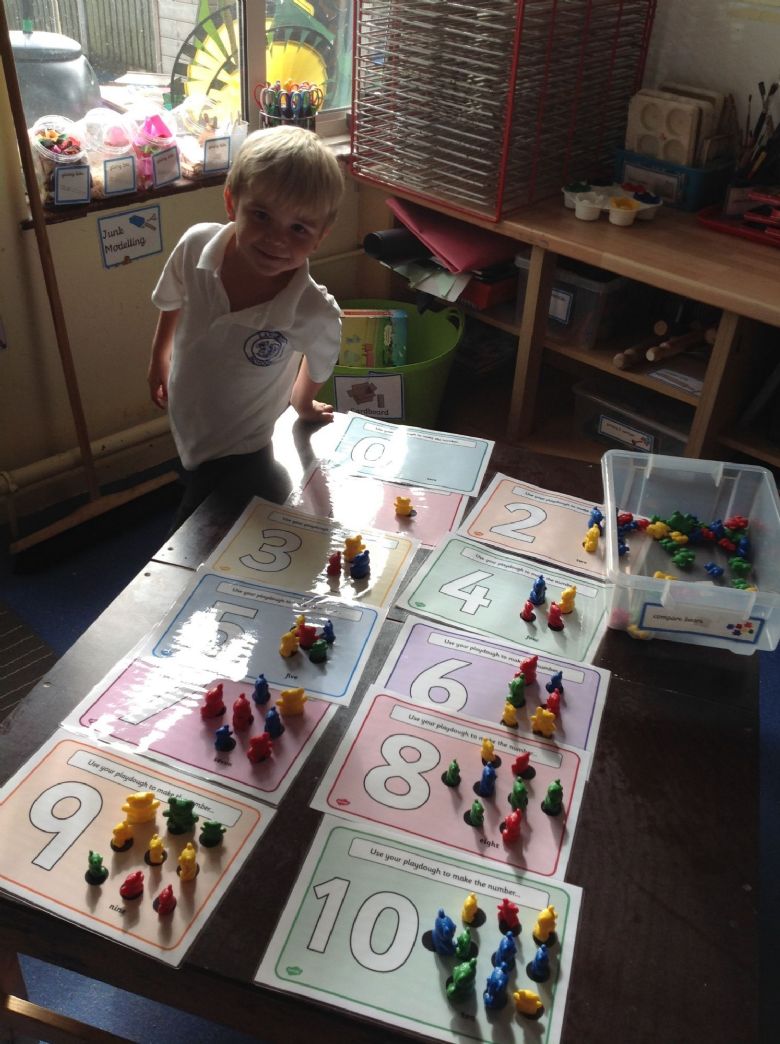 Don't forget!
Next week it's our meet the teacher on Tuesday 15th October at 2:45pm or 5:15pm.
---
Week five (4.10.19) a creation of colour and imagination…
This week the children have proved they are true artists. Miss Parker gave them a challenge of using oil pastels with black paper. She showed them a few examples online of different examples for inspiration and just look at what they did…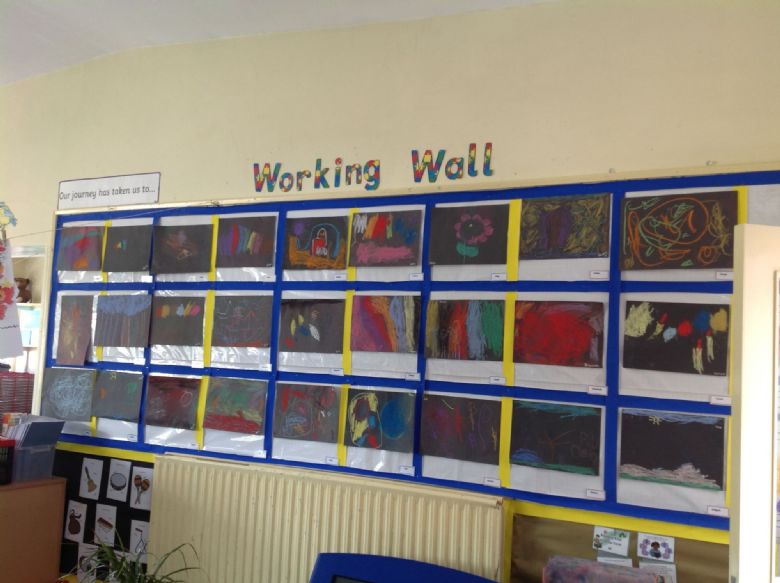 There are pictures of planets and rockets, landscapes, enchanted gardens, a dog in a cave, rainbows and even a swirling whirling snowstorm.
Phonics
We have begun our discrete learning in phonics and playing 'I spy' games where Miss Parker shows them an object from her bag and they have to write the first sound they hear in the word. So far we have used the sounds s, a, t, p. The children were then challenged to write all the sounds they hear in the word.
Maths
In maths, we are counting with numbers up to 15,using pegs and elephants to count and match with the number. Also, we have been creating shapes with lolly sticks and creating repeating patterns using blocks.
A little note:
As you may have noticed, the children are coming home with a library book each week. The children get to choose a book from our library and take it home to read with yourselves. Please note that this is not their 'reading book' it is just a book to share together at home. Each Friday we will change the books therefore please make sure they are in their bags Friday morning so this can happen.
---
Week four (27.9.19) From the doctors surgery to a music room…
This week there has been a change of interest from the children. We have now moved onto musical instruments and transformed our role play area to a music room. Here at Langrish, Hampshire music run different music lessons and one of our children attends ukulele lessons. After his music lesson he came into the classroom and showed us what he had been learning. This got the children excited and encouraged the children to give it a go themselves. There was beautiful singing of 'row, row, row, your boat" along with them playing the ukulele. Since this brilliant moment, children are using the different instruments correctly and learning what each instrument is called.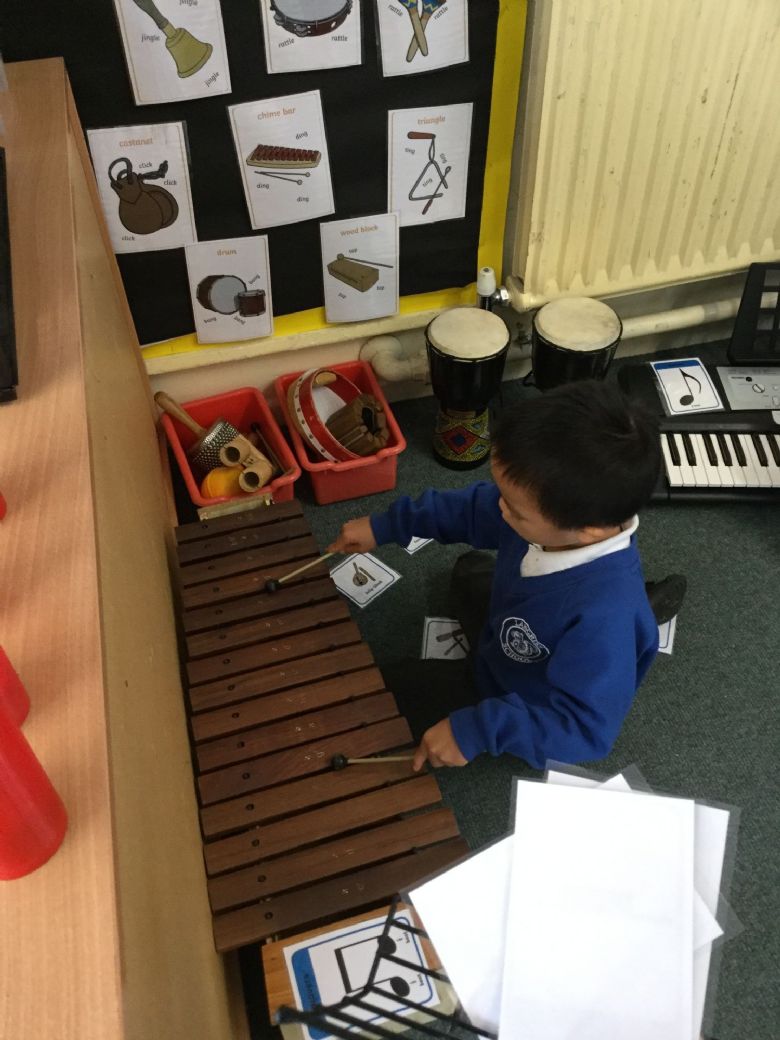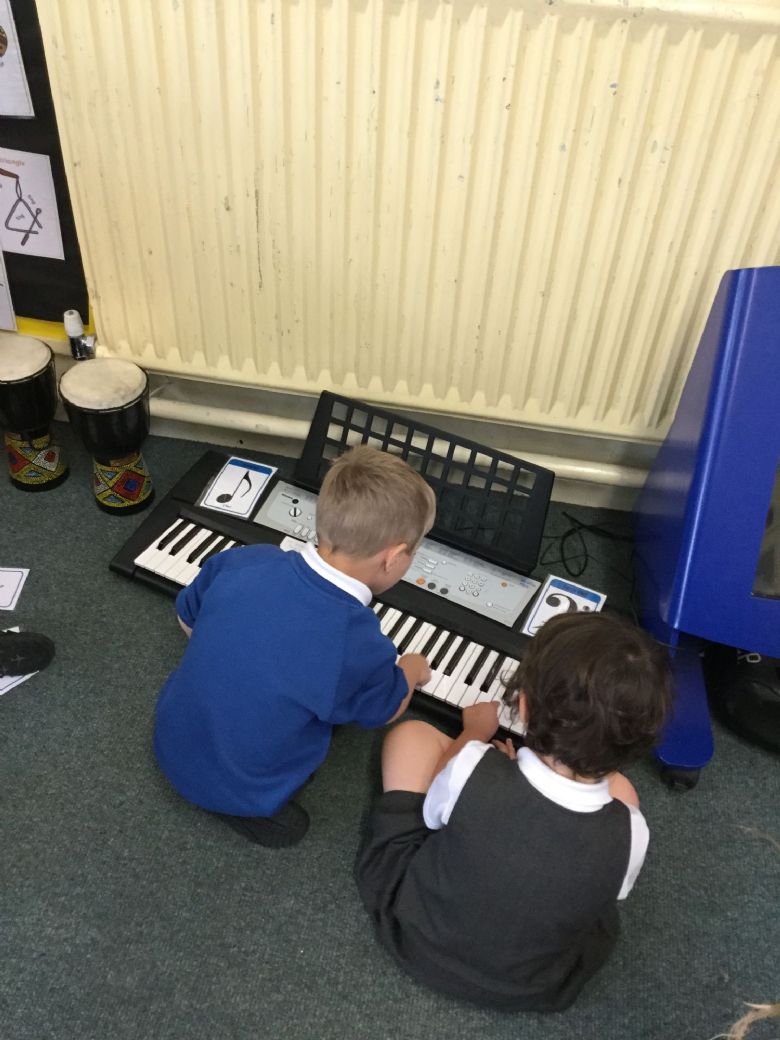 P.E
In our P.E lessons we have been using the balancing beams, rope swings and climbing equipment. With each P.E lesson the children are getting more confident, independent and supporting one another to climb or balance without the help of a teacher.
Creative
This week we have been talking about seasons and how they change. As we are now in autumn, we are noticing big changes happening outside. We went for a learning walk in our forest school session to find different things that show signs its autumn. Here are some of our Autumn trees, created using just our hands.
Perform
The children had the best Thursday morning with Perform. Merlin the Wizard came and took the children on an imaginative adventure to help find his sword.

A few reminders:
Please can we have back target tracker link forms so Miss Parker can set you up to see observations of your child.
We are still awaiting some forest school kits. Unfortunately, some children are missing the full experience due to not having the correct footwear and clothing. Especially with the weather changing, wearing school shoes and no waterproof trousers is not appropriate.
---
Week three (20.9.19) Forest School and First aid
This week the children have been rhyming, being sound robots, being shape experts and gymnasts! This is just some of the things we have been doing..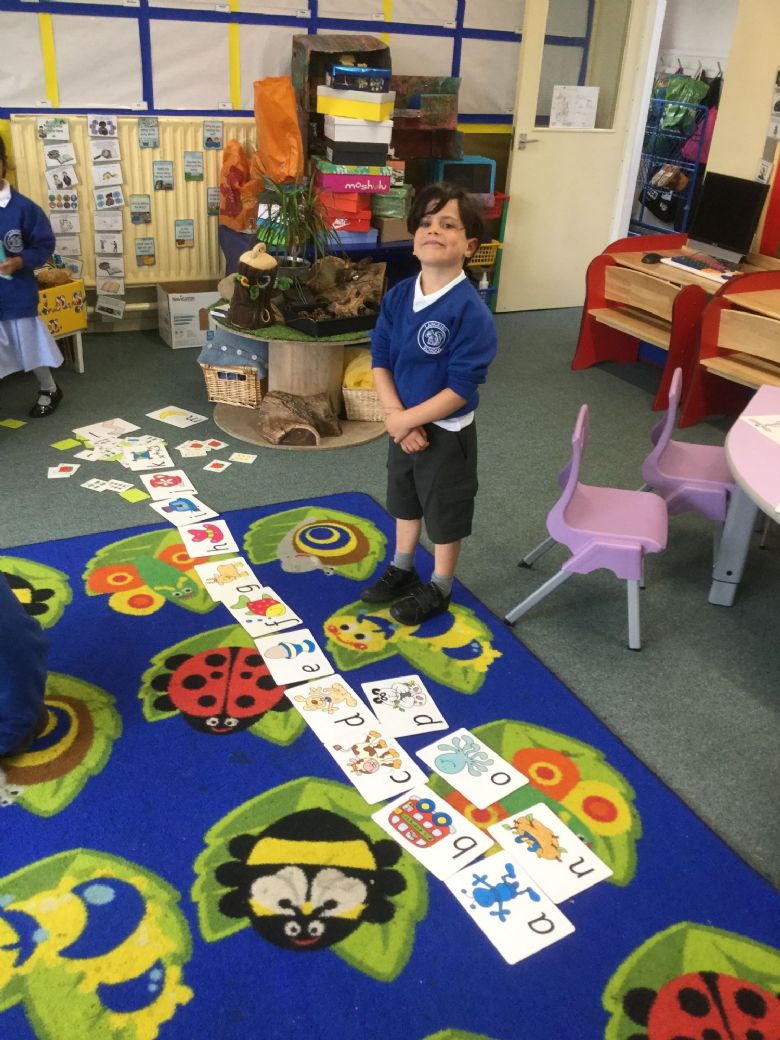 Forest school
We had our first session out in the woods. The children were gathered around the fire circle where they were told three important rules which they must follow to ensure they are safe.
If Miss Parker shouts "3, 2, 1, come back everyone", children must return back to the fire circle as soon as they hear the call.
When by the fire circle, the children must not go into the fire pit square. Even when there is no fire taking place, children must not go into it. This is to ensure the rule is reinforced for when a fire does take place.
If needing the toilet, children must tell a grown up they are going so they know where they are at all times.
We had a brilliant time with bug hunting, tree climbing, team building and playing in the mud kitchen. Here are some photos of the fun we had on a beautiful sunny afternoon.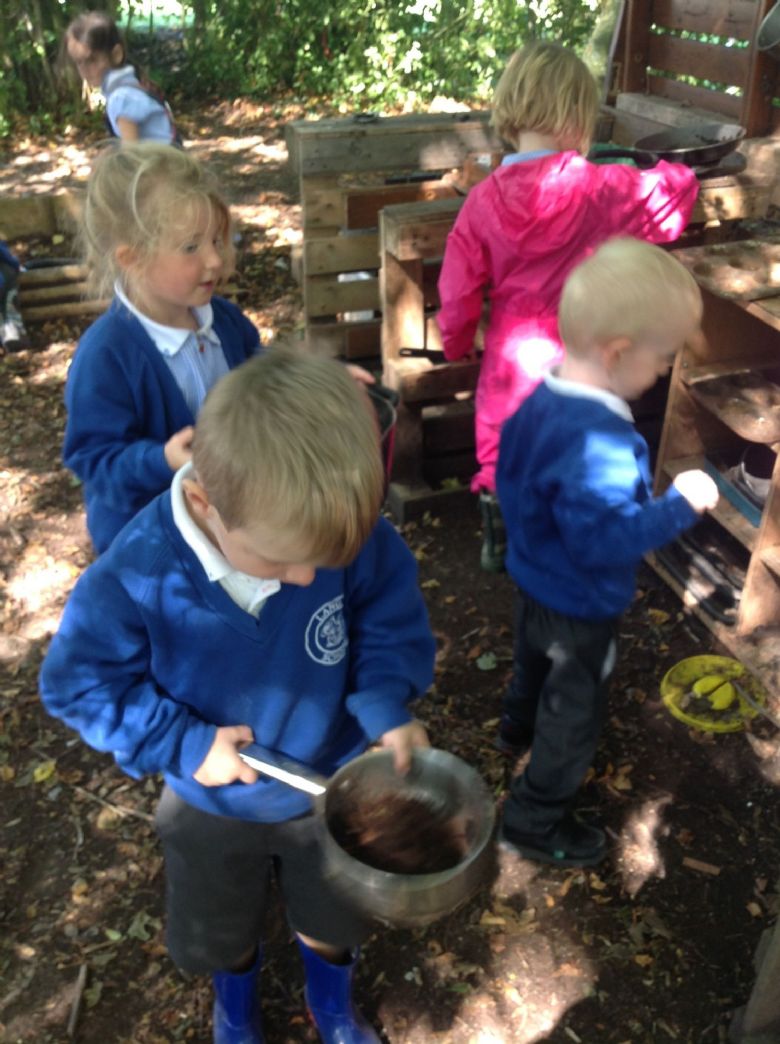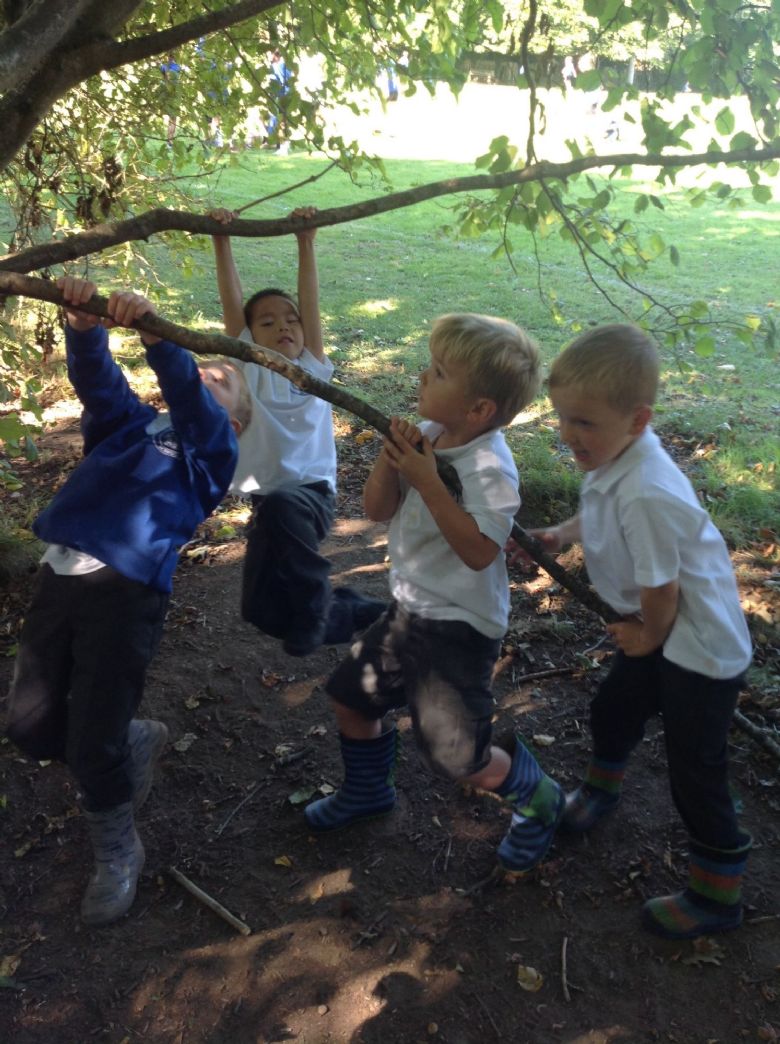 First aid and Doctors role play
As you may know, Miss Parker went on an outdoor first aid course this week. On her return, the children were interested about where she was and what she got up to. We discussed when we have hurt ourselves and what we did to make things better. Next, Miss Parker showed the children how to put someone in a safe airway position and how to assess the situation to ensure safety for themselves and the casualty. Then we drew around two children's bodies and began to label what we knew about our bodies. Here is what some of the children said:
"We have bones all over our body" Tom
"Skin is everywhere. It protects our bones and organs" Jonah
"The heart pumps blood." Freddie
"Hands help us to grab things" Ruben
"Lungs, we have two of them" Hattie
From this, we have set up a doctor's role play area to continue their interest. So this weekend if you get put in a safe airway position be sure to let us know!
---
Week two (13.9.19) Sleeping lions and self-portraits
Wow, I cannot believe how brilliant your children are. They are taking school life in their stride… they independently choose their lunch each day, they put their coats and bags on their pegs, they put their water bottles in the correct baskets at the beginning of each day AND they even collect their things independently to go home. For just five days at school, they are becoming experts at this school malarkey! However, by 2:30 we do find some sleepy children trying to take a nap before home time... especially by the time Friday came.
During the day we have been exploring the small world, puzzles, looking at different sounds and drawing them with our magic fingers, counting up to 10, reading over 26 stories a day, pretending to be superheroes and so much more…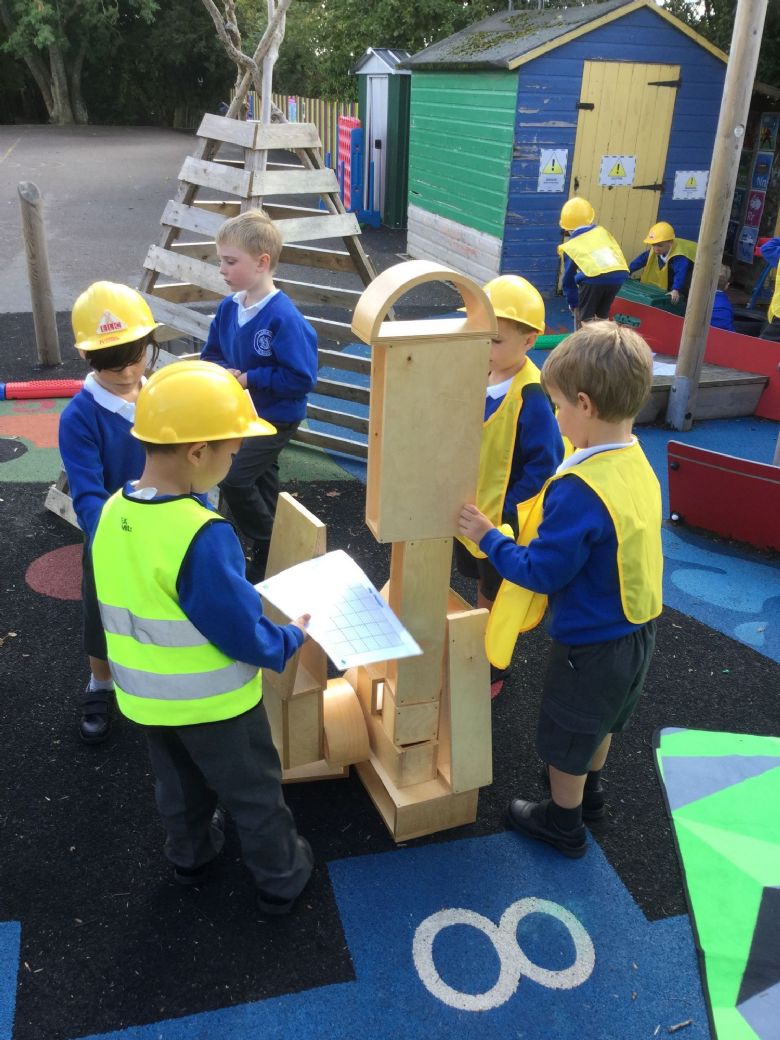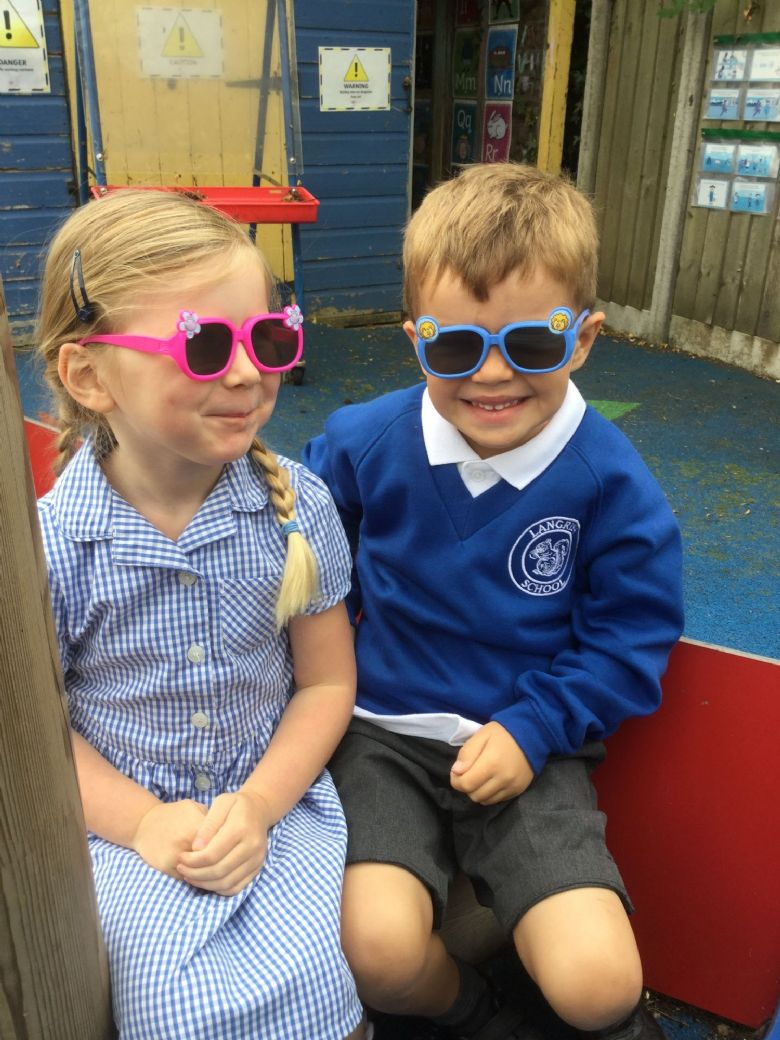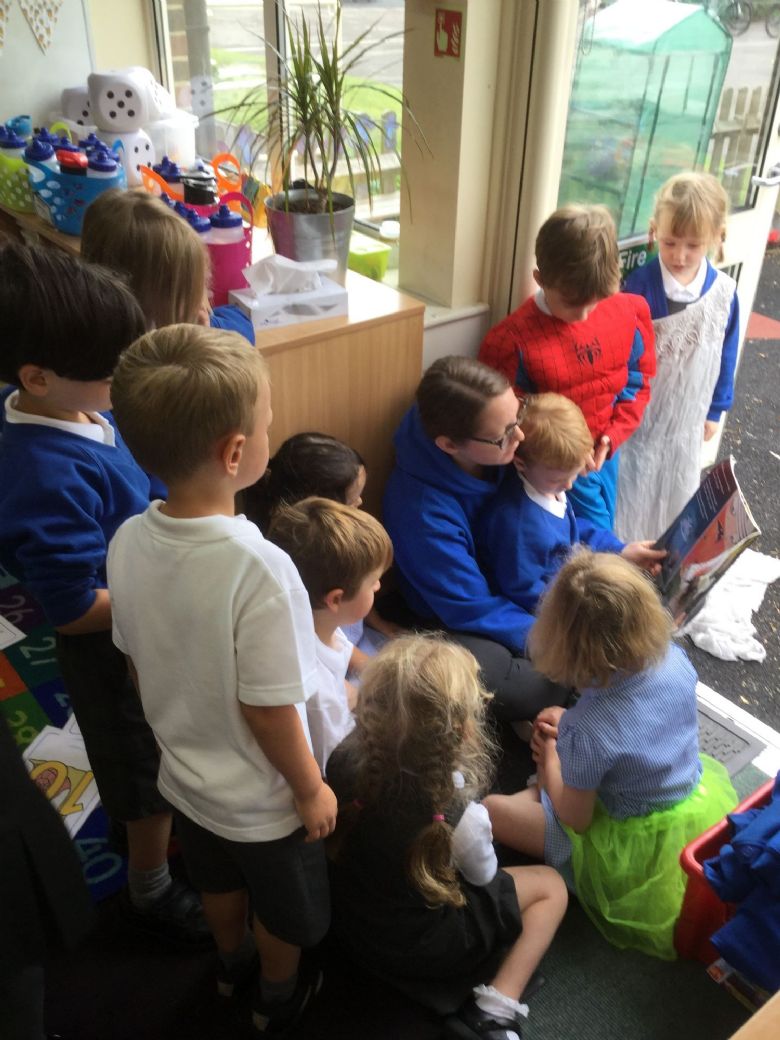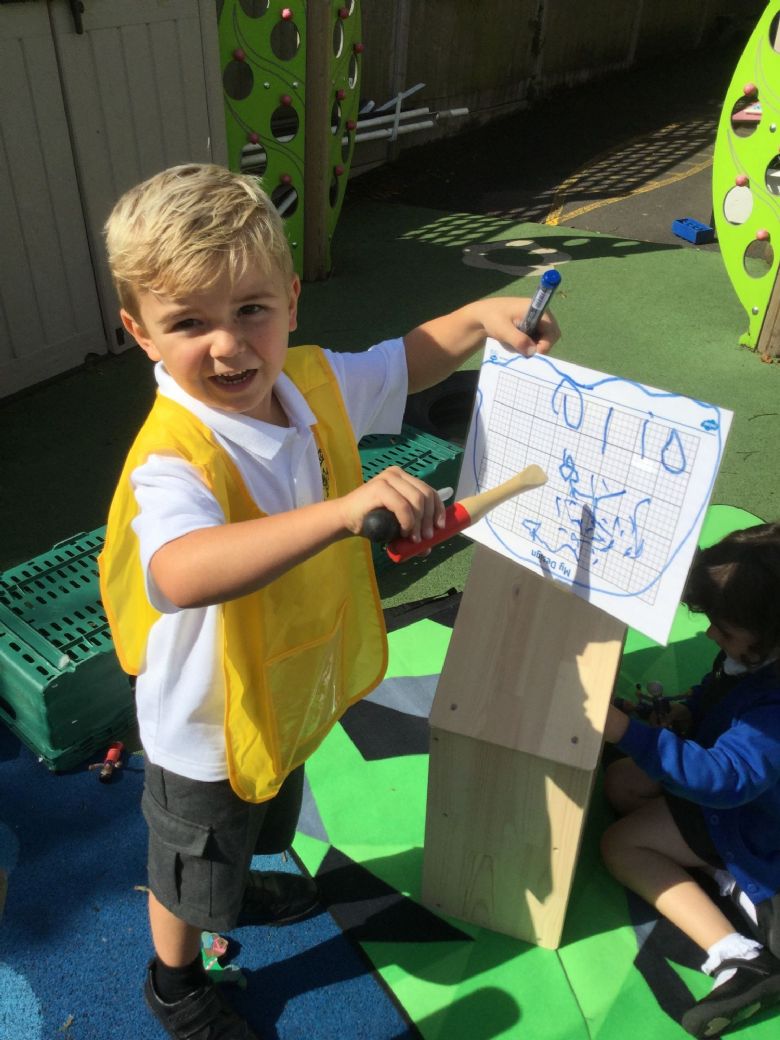 We painted self-portraits using mirrors to help us. We concentrated on what colours we needed to represent each feature of our faces. We were all brilliant artists! Take a look on our working wall in the classroom.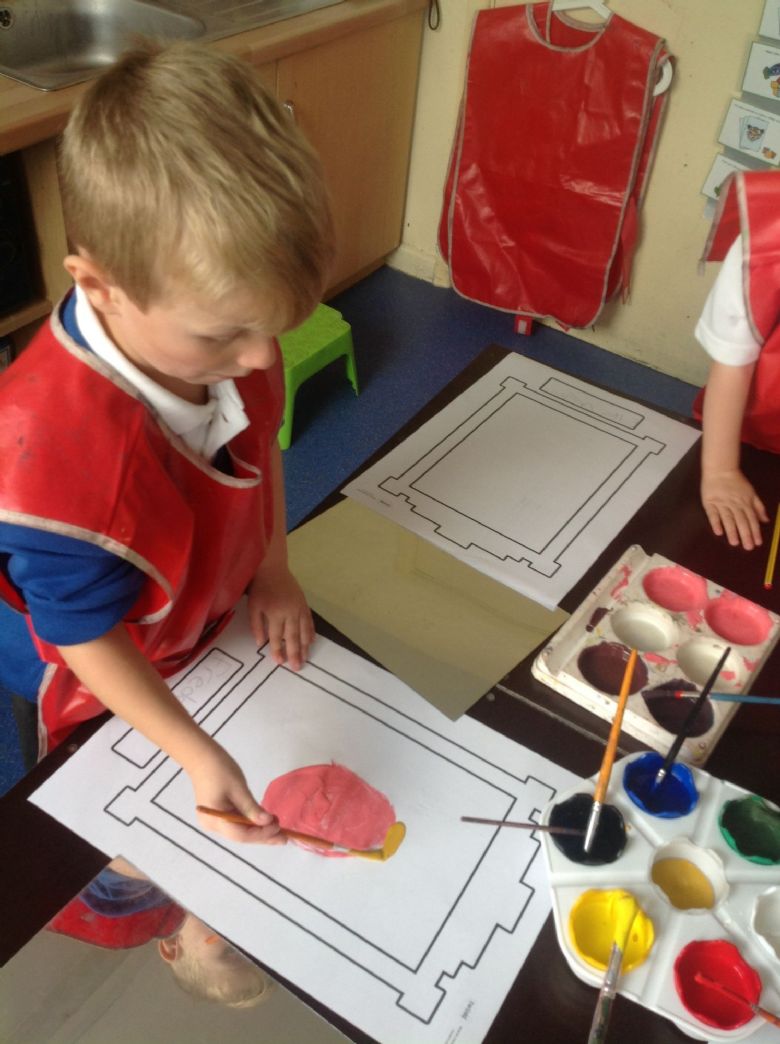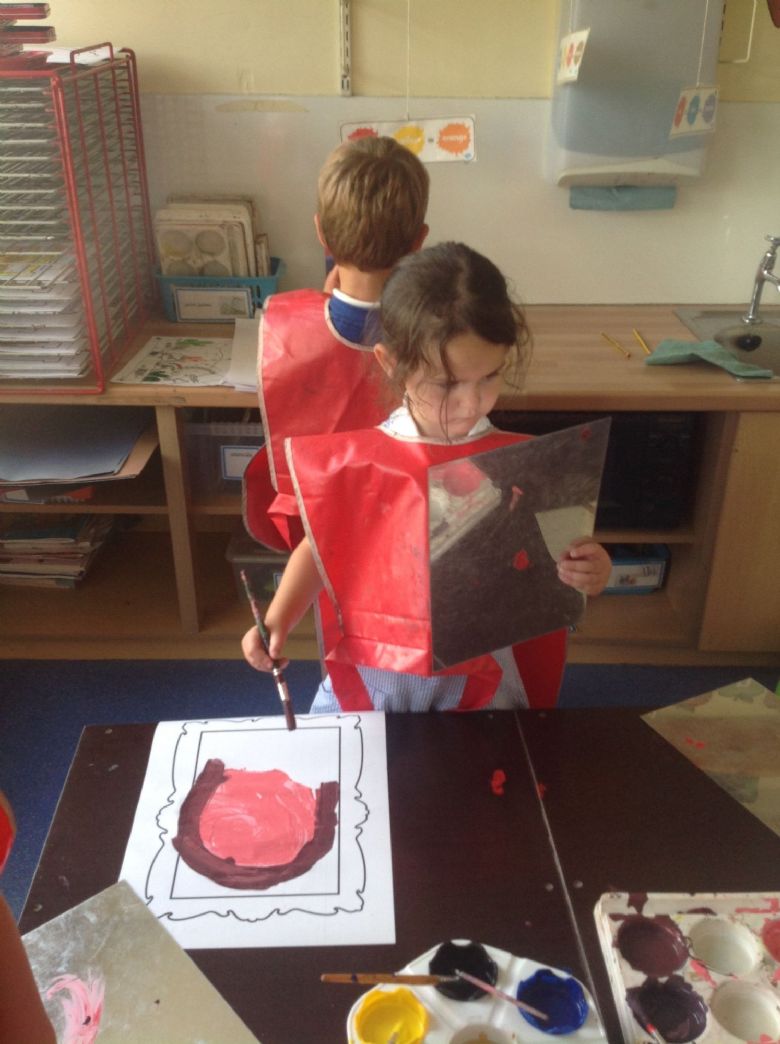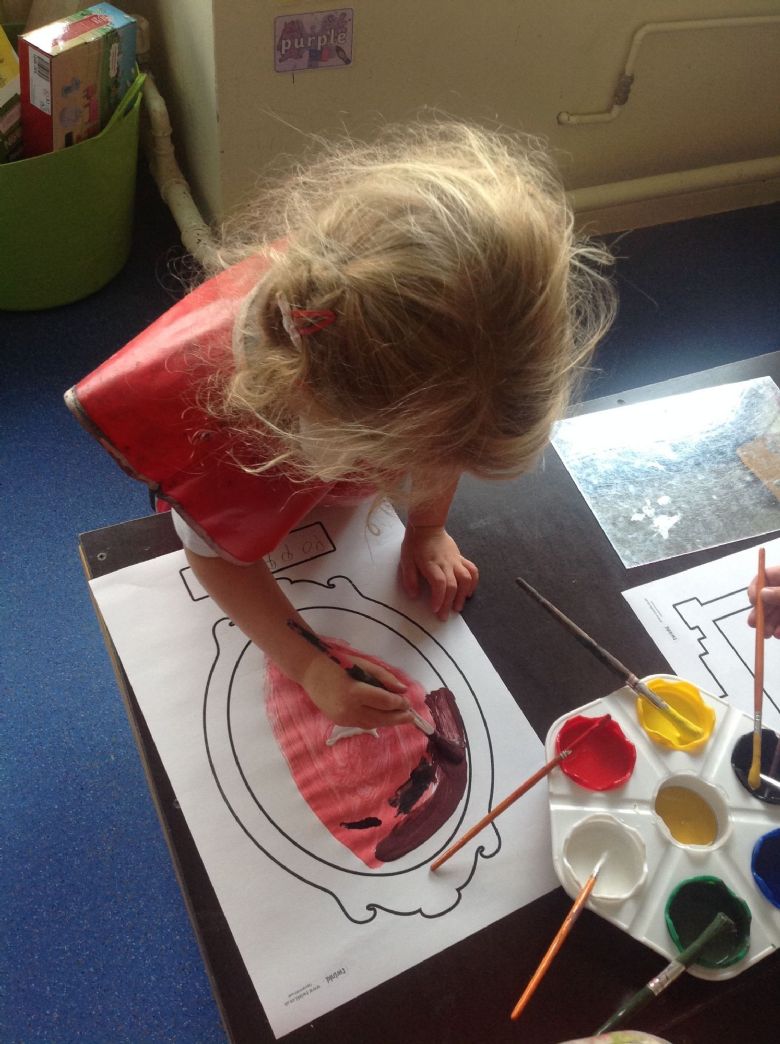 In P.E we played fruit salad. The children were super team players, helped one another when needed and became very competitive! It was a world record for team squirrels as it only took 15 minutes for everyone to get changed AND we didn't lose any socks or have any clothes thieves! Lets hope they can keep it up!
---
Week one (6.9.19) Welcome to Team Squirrels! Class of 2019 – 2020
Our first day of school was a success! Thank you for inviting Miss Rhodes and myself into your homes. It is a great insight to see your children in the comfort of their homes and of course seeing their favourite toys and family.
At school, the children walked down with smiles on their faces ready for their new adventure. We got to know each other by finding out who is who and what they got up to in the summer holidays. From this, we went through a few important things that happen in Squirrel Class. We found our pegs, found out where we put our bags, the water bottles, what was for lunch and most importantly, where the toilets are.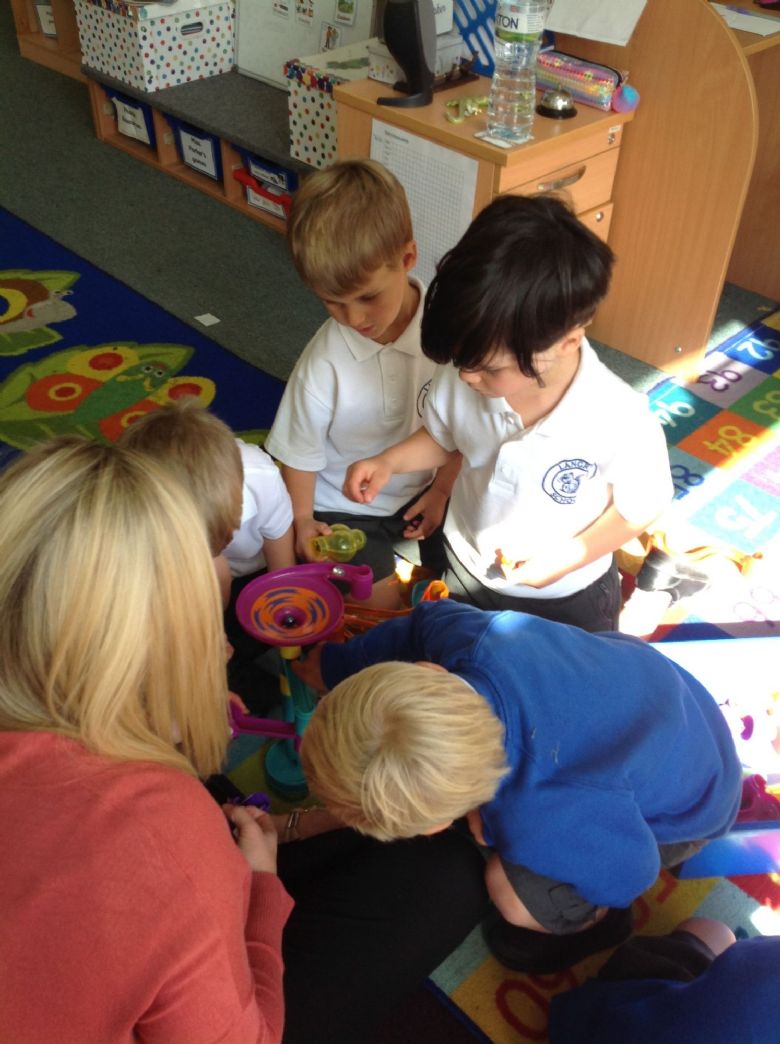 We went on an adventure around the school to meet important people in school such as Mrs Graham and Mrs Langan in the school office and Mrs Wright, the Head teacher. Mrs Wright even let the children go in her office; they were very excited!
Once back in the classroom we had a brilliant time choosing, exploring and making friends. We played outside in the water tray, with the doll's house, car run, trains, computers, mark making area and roleplay.
At lunchtime, the children managed to get their tray, knife and fork and collect their lunch independently. We had some super eaters who ate all their dinners up after such a busy morning at school. Once finished, the children cleared their trays and got ready to go home.
I am so proud of each and every child this week. They have taken on any challenge given to them and took 'big school' in their stride. Have a restful weekend Team Squirrels!
Here are a few things to remember for next week:
P.E kits in a P.E bag – blue T-shirt, black shorts, hoodie, jogging bottoms and trainers.
Forest school clothing – wellington boots, waterproof trousers and jacket.
Bears – we will begin to share each of the children's adventures with their bears! They will stay in school for the first half term.
Please ensure ALL clothes and shoes are labelled with names.
---
Useful Websites