Miss Parker & Miss Rhodes: Team Squirrel!
---
Welcome to our Squirrels' class page. Here you will find information and updates about our weekly learning.
---
Week thirty eight (18.7.19) Our final goodbye
I cannot believe I am saying my final goodbye to you. What a year it has been. You have all been amazing and I am so proud of each and every one of you. Looking back from when you started, you have blossomed into independent, confident learners with a thrill to learn and investigate more.
Watching you in year one during transition day, you were all full of life and excited to learn new things with Mr Hancox. You were even excited to tell me you had done some writing?!
I wish you all a brilliant summer holiday with lots of adventures, sun and relaxing.
Go team squirrel!
Love Miss Parker
Week thirty seven (12.7.19) Sports day and Teddy Bears Picnic
It has been an exciting week full of competition, teamwork and cuddles!
Sports Day!
Sports day was a very warm day but that did not stop the children trying hard and encouraging their teammates to finish the races.
We took part in 6 activities and all children showed great motivation, focus and drive to win. I was extremely proud of everyone because it was a hot day and all the children could think about was lunch!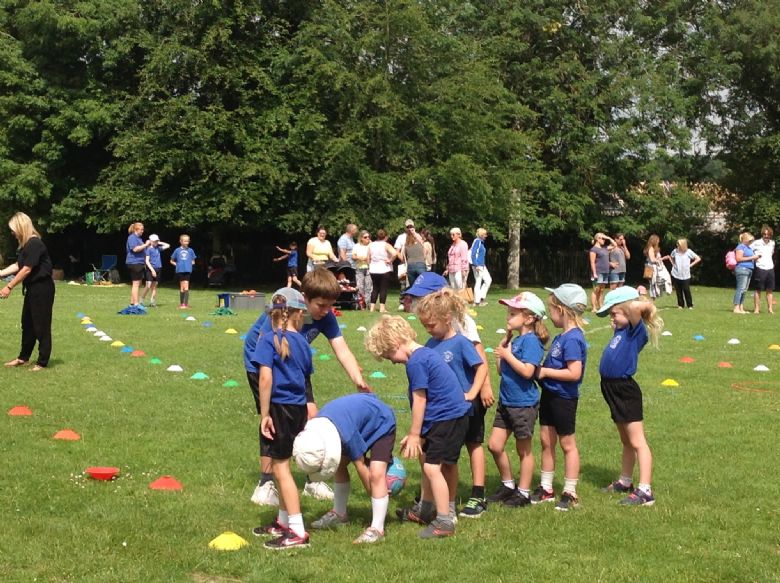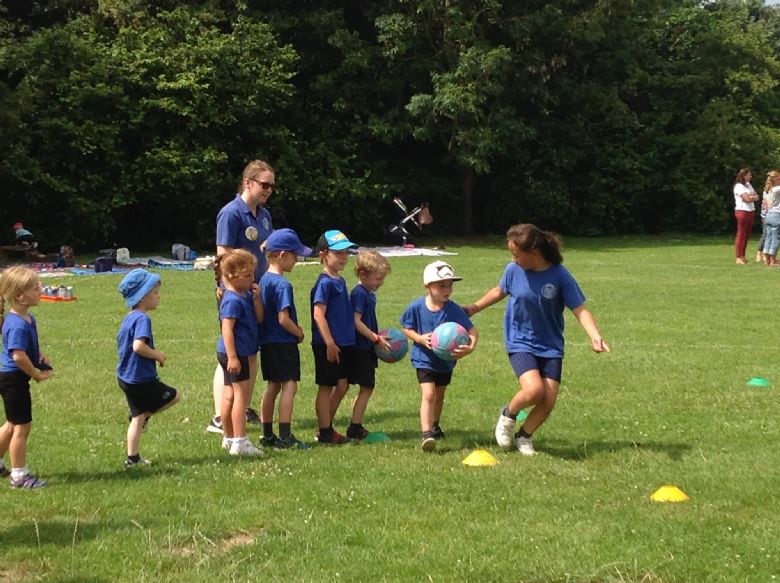 Teddy Bears Picnic
On Tuesday afternoon we had our teddy bears picnic with team infants. We all headed to the field where the children got to play with their teddy bears and have lots of fun. Some teddies were cheeky and got stuck up trees, went to play with the sheep or found new people to play with. They caused a lot of mischief!
Once the cake and drinks were ready all children enjoyed a lovely picnic with their friends and all their teddies together.
What else have we been doing?
The children have applied all their phonic learning to write stories based on a variety of landscape pictures. There was a beach, pirate ship, castle, forest, Antarctica and a haunted house. Here is one written by Rose…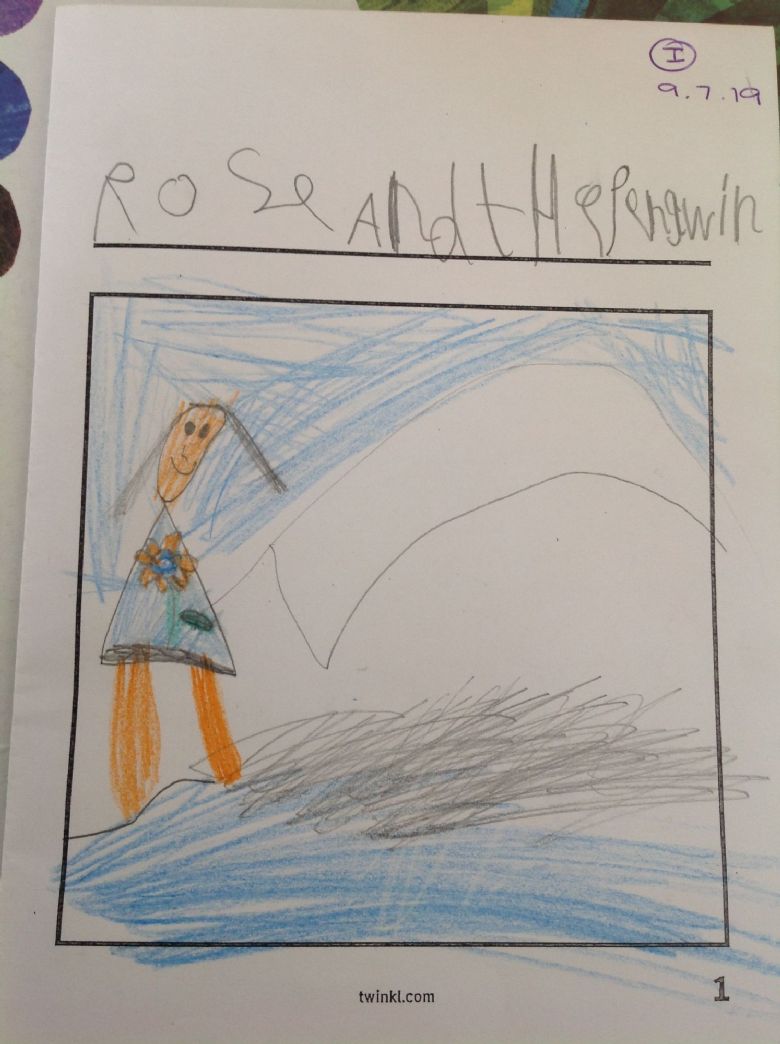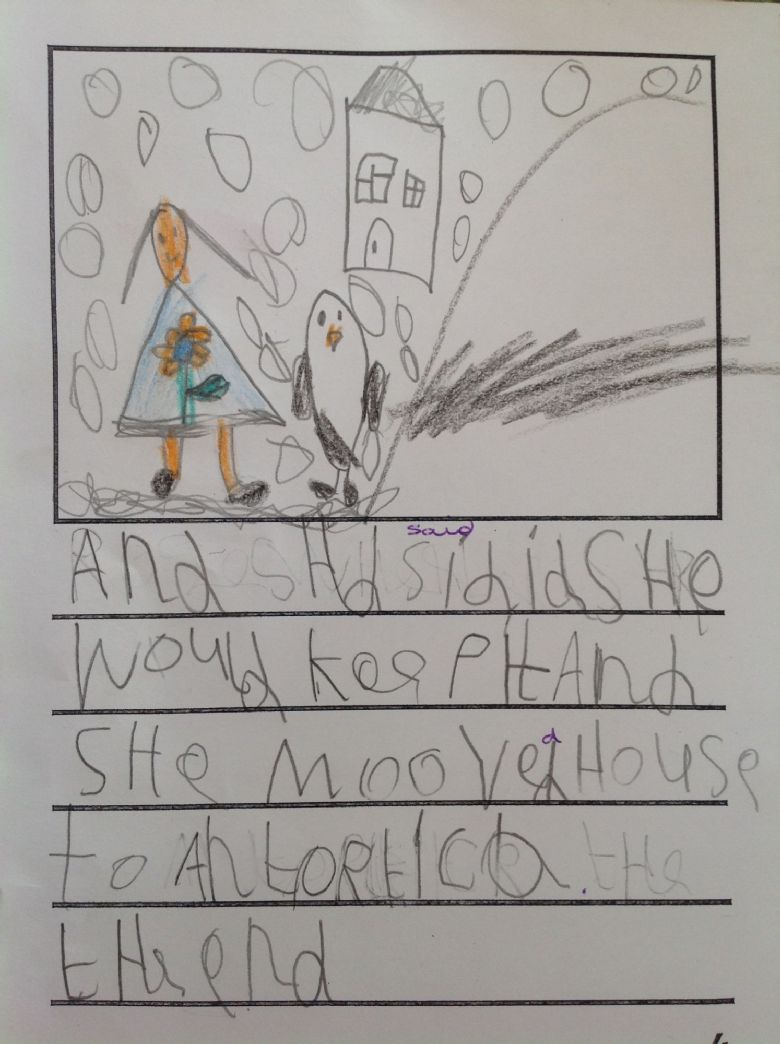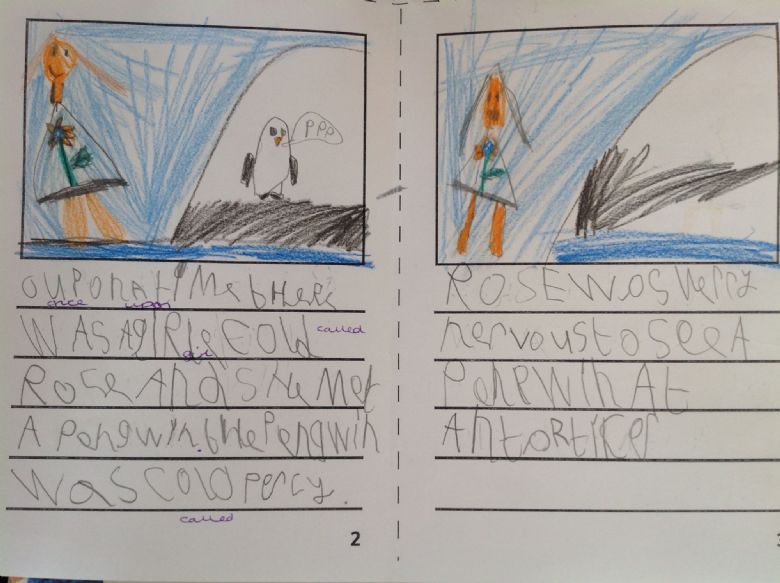 In maths, we have used the scales to weigh different weights in grams. The children have found different ways to make equal amounts and are using brilliant language to support their learning.
Week thirty six (5.7.19) "I'm not sure she is going to make it…She can't come back from this." Doctor Howard
This week I asked the children what they wanted to learn about. I gave a few suggestions like space, animals, under the sea or countries around the world. After a vote, the children chose 'the body'.
In the role play area is our doctors surgery where all sorts of terrible misfortunes are occurring such as broken arms, legs and even heads! Unfortunately, some children even had to have oxygen masks. Thank goodness for trained doctors on hand to help!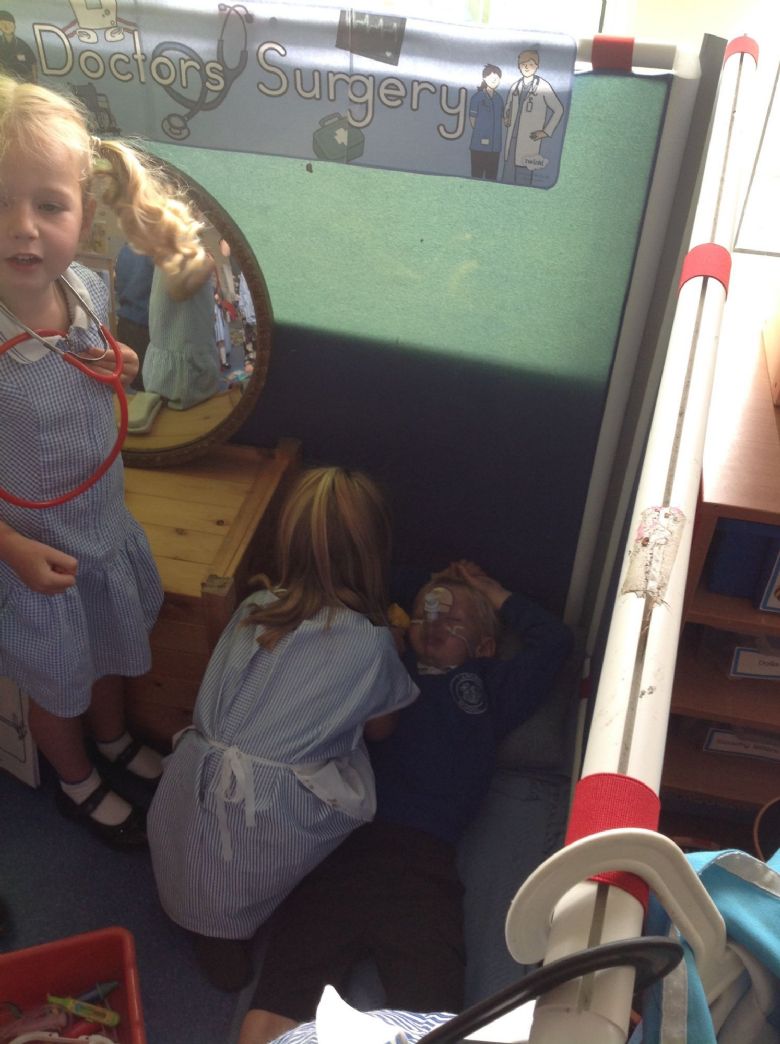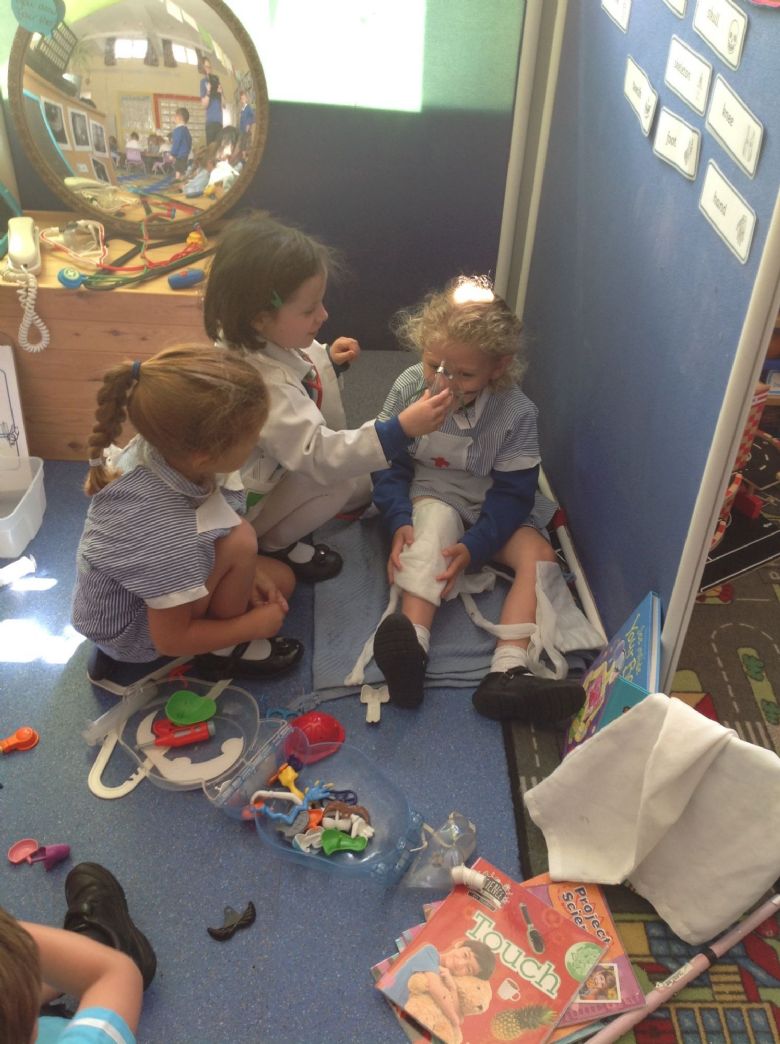 During our class discussions, we have talked about the different organs in our body and how they work and also what we need to do to look after our bodies. Also, we talked about different feelings and how our feelings affect our bodies
To support our learning, the children have labelled body parts and for an added challenge they have labelled the organs in the correct place too.
In maths we timed how many exercises we could do in 30 seconds. The exercises were star jumps, ski jumps, push ups and leap frogs.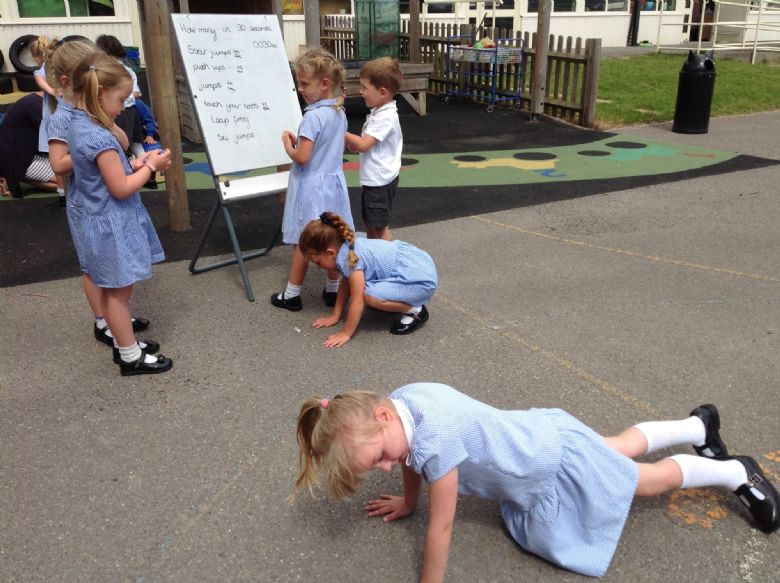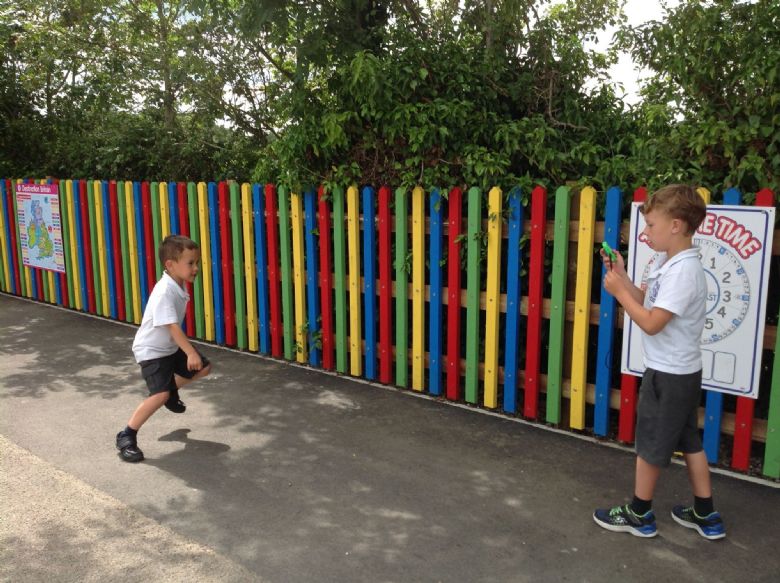 ---
Week thirty five (28.6.19) It's our class assembly!
WOW! Well done Team Squirrel for a fantastic class assembly. You all did your parents and myself proud! You have all come so far this year and are so ready for Year One! Well done!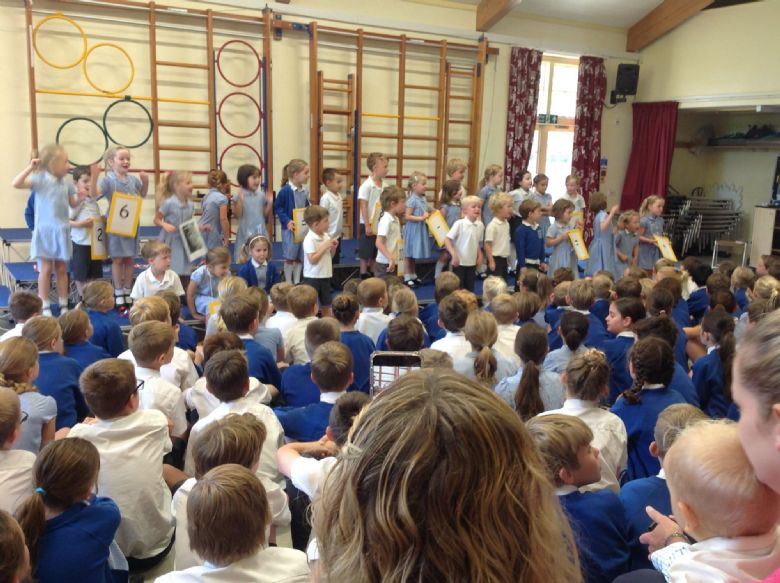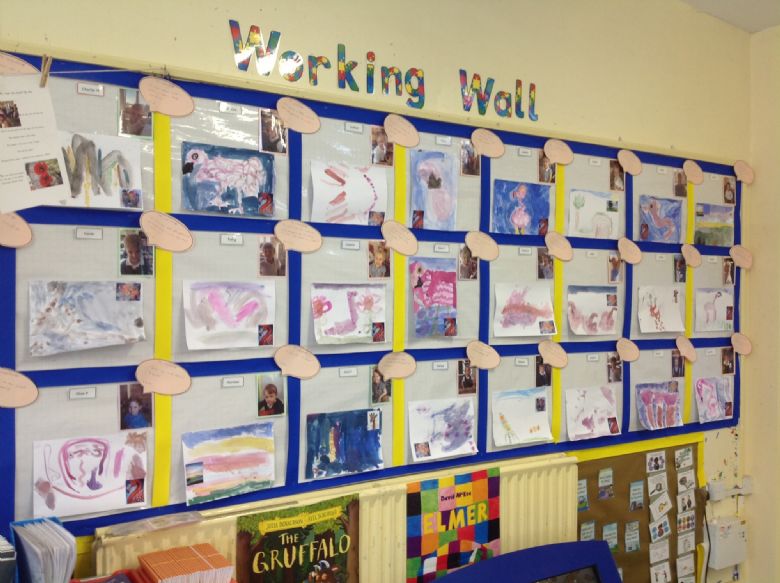 This week we used watercolour paints to create a picture. We chose the picture we wanted to paint and looked closely at the detail and different colours within the picture. Here is what they look like.
In phonics, we wrote our invitations to invite you to our class assembly. The children learnt a new tricky word 'our' and noticed it was like the other tricky word 'are'. Also, the children have taken a big interest in word searches and now understand how to find the words within the jumbled letters. To link with our invitation writing, our role-play area has transformed into a celebration table with candles, streamers, hats and play dough to make cakes with.
In maths, we are mastering our knowledge on addition and subtraction by finding different ways to find the total. We have used numicon, our fingers and now number lines to count on from the given number or count backwards from the given number.
---
Week thirty four (21.6.19) practice practice practice!
Practice really does make perfect, as team squirrel have found out this week. We have been extremely busy rehearsing for our class assembly next week! We do hope you can all make it! (Bring the tissues, as you will be so proud of them all.) Don't forget to come and join us afterwards in our classroom to see our work... We have just completed some fantastic writing about our Alice Holt trip; it is on our working wall for you to share.
Last Friday, in music the children worked in pairs to find the rhythm. They sounded fantastic and concentrated hard to work together!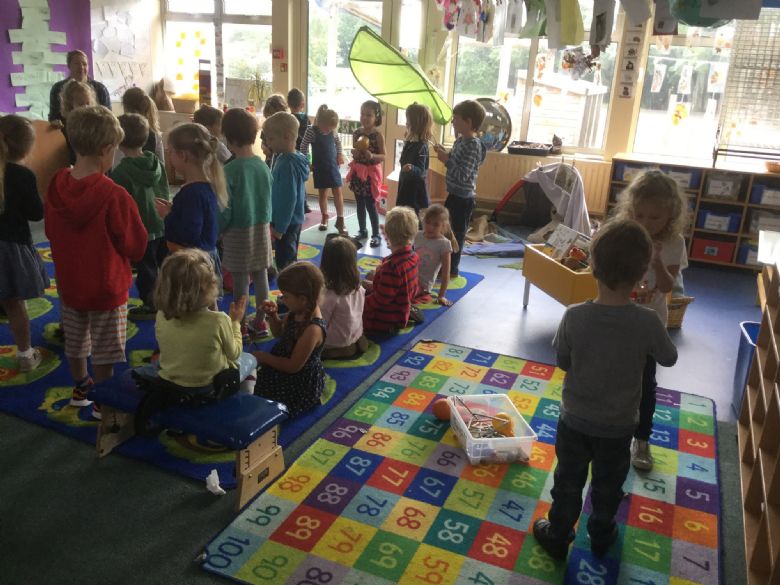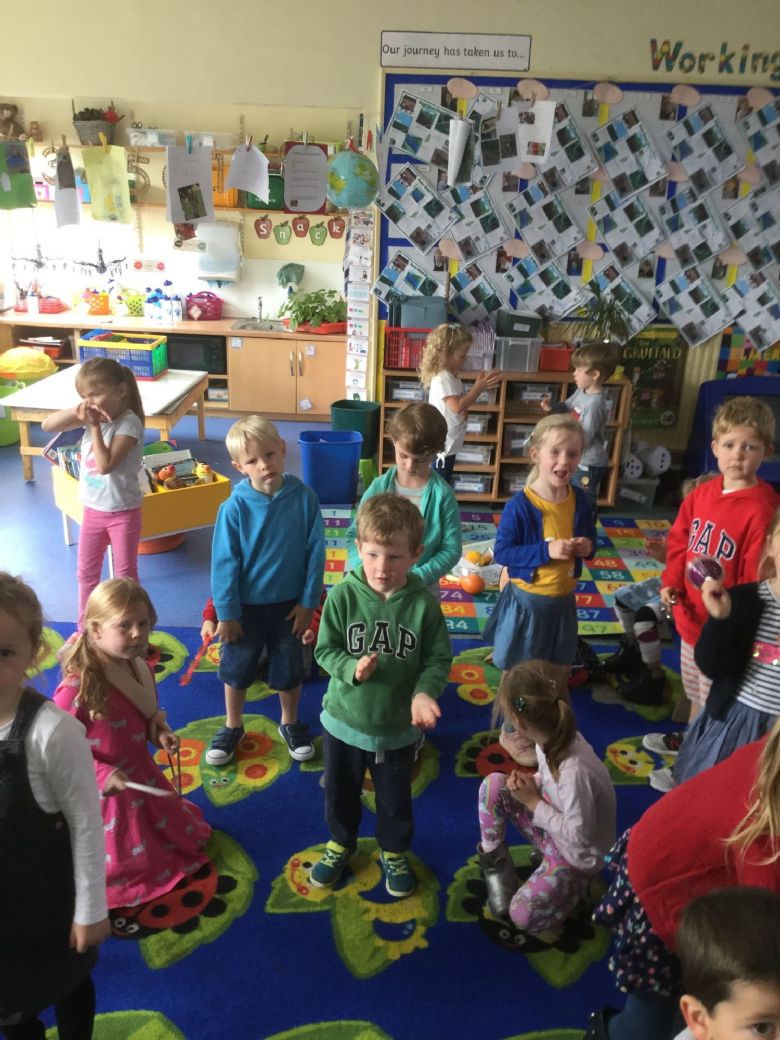 WORLD GIRAFFE DAY!
Giraffe day was amazing and the children looked fabulous! Did you know a group of giraffes is called a tower of giraffes…?
We learnt many facts about giraffes and talked about their endangerment. We also did African drumming, gluing, painting, role-play, small world, music and so much more all about giraffes!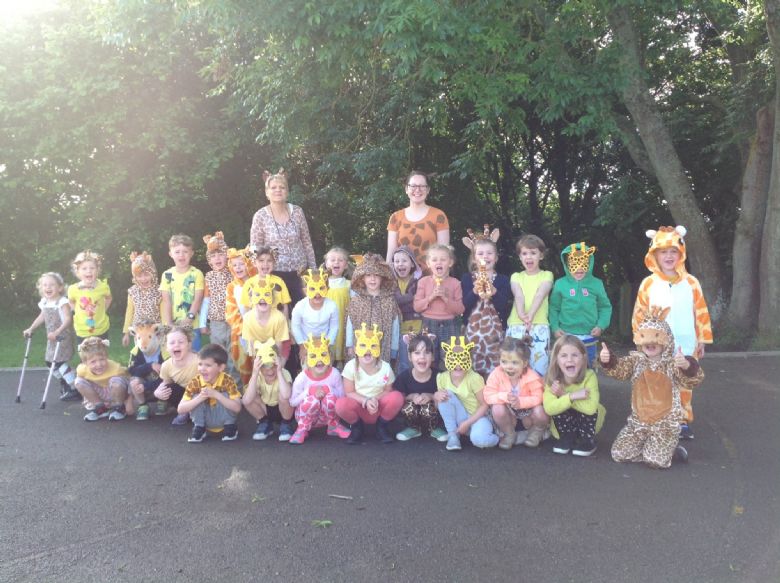 Week thirty three (14.6.19) "We had the best day ever at Alice Holt!"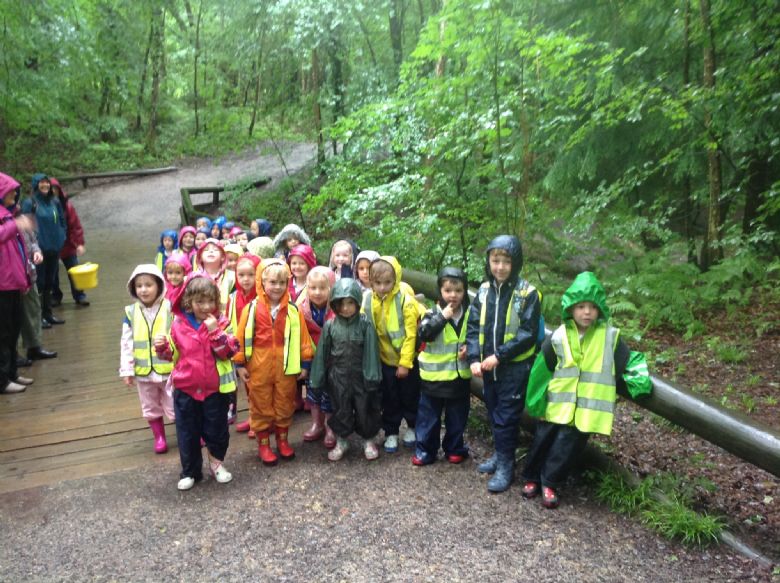 What a day to plan a trip to Alice Holt! It was wet, windy and with nowhere to hide, we got drenched! However, I could not be more proud of my class who did not complain once. They showed resilience, encouragement, bravery, teamwork and great geographical skills navigating us around the habitat trial by following the arrows using good language such as forward, left and right.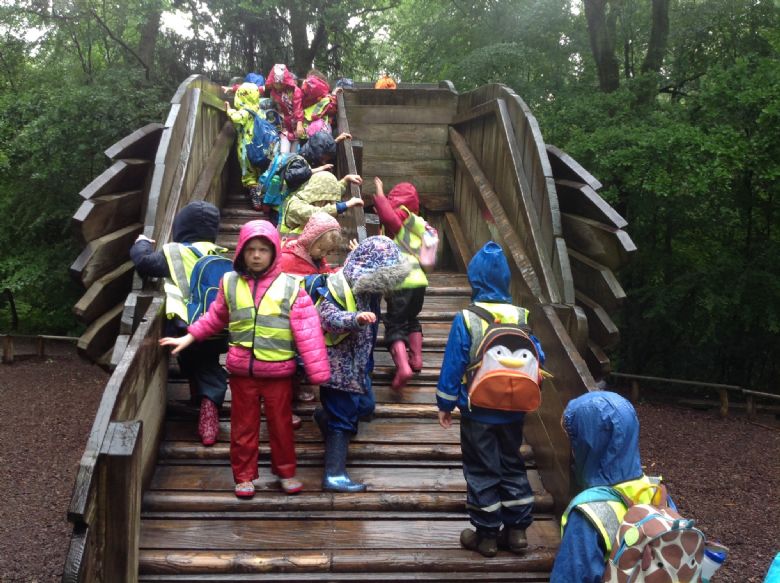 Once off the coach, we headed straight to the picnic benches to eat our snack. After snack, we ensured we had hoods up, zips up and wellies ready for our adventure around the habitat trail. We explored two play parks through the trail and were given a map to find different things around the forest.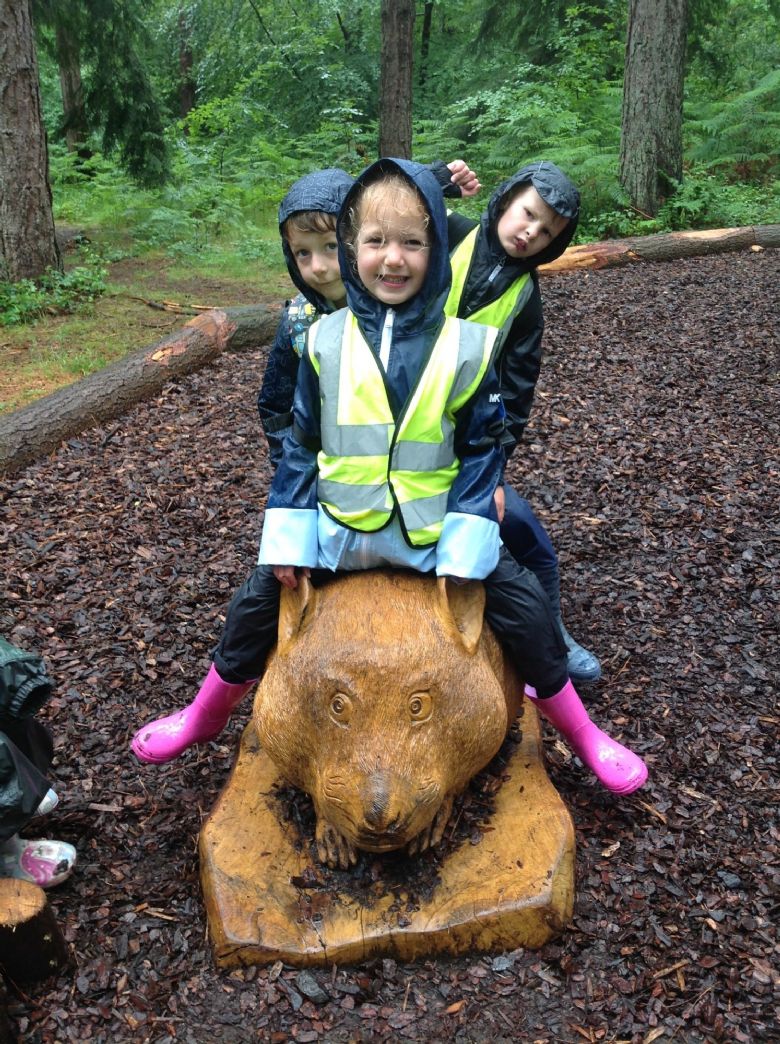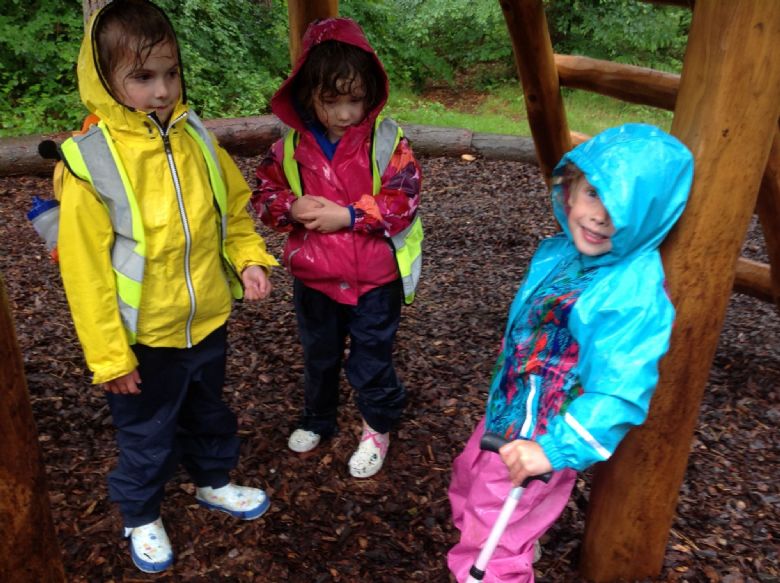 After even more heavy rain we decided to walk back to eat our lunch under some shelter. After lunch we had the best time in the enormous play park. When we got back on the coach, I could not believe there were no sleepy children anywhere, just soggy, giggly, chatty children!
Well done for all being so brilliant!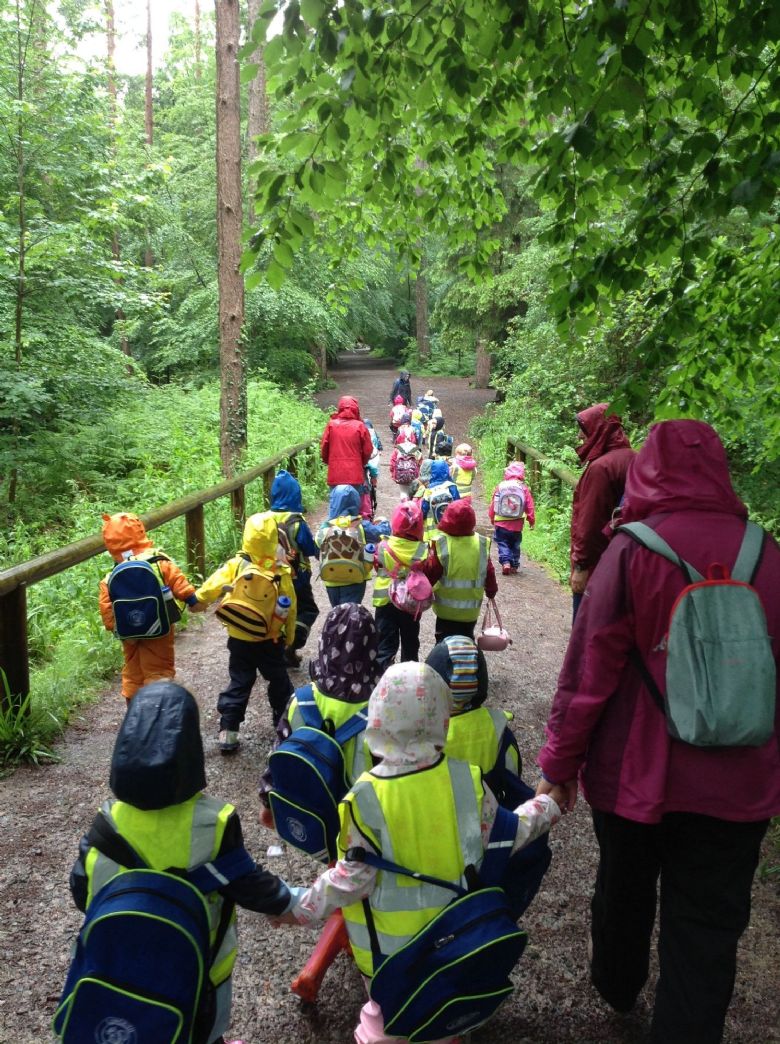 ---
Week thirty two (7.6.19) Welcome back team Squirrels!
Our final term in team squirrels has arrived so let's make it the best term yet!
This week we are eco-warriors! First job was to write down our super power and share our power with each other. Some children's super power was to fly, be invisible or to have a bubble machine!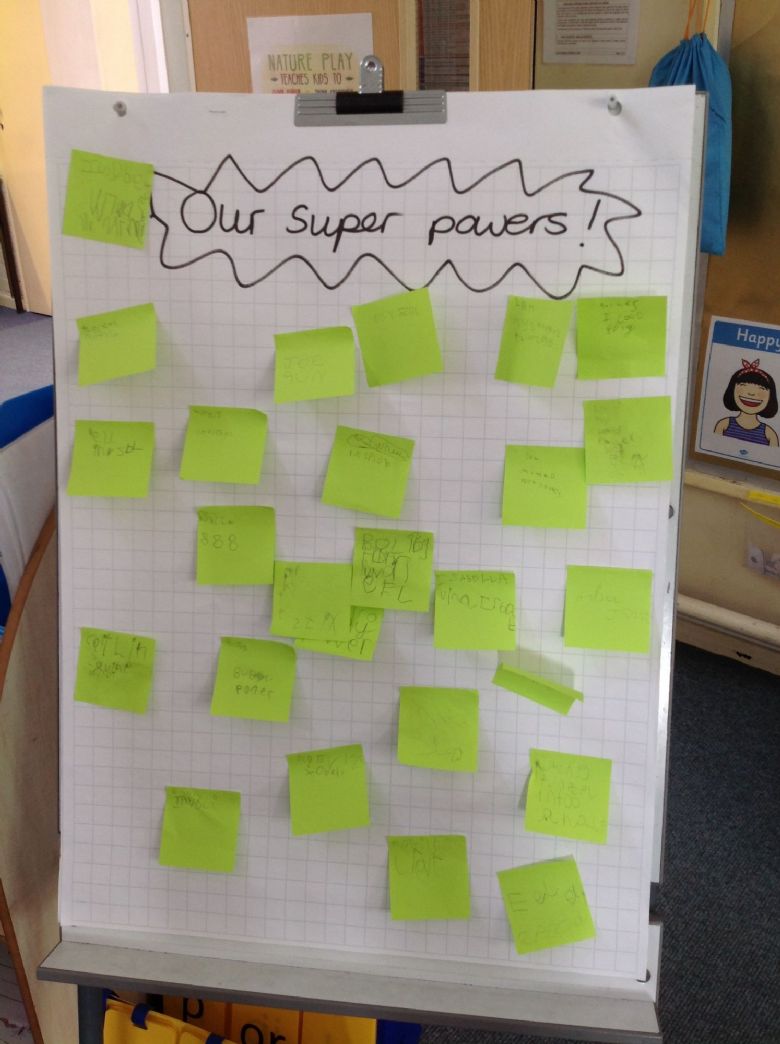 Next, we looked at what some children did over the May half term to be an eco-warrior. A huge thank you to those who did it, the children showed such a sense of pride when sharing it with their friends. This encouraged the rest of the class to be a super eco warrior and help save the planet by doing different things like picking up litter, recycling or saving water by turning off the tap and saving energy by turning off lights around the school when not in use.
In phonics we have been writing about how we can save the planet by thinking about our: finger spaces, tricky words and common exception words and writing from left to right on the lines… (so much to think about).
In maths, we have been looking at distance and positions using brilliant language such as near, far, close, closer, closest. For positions, we have been using language such as left, right, under, on top, next to and by the side of. During the children's independent learning, they have been using such language when describing different positions and directions.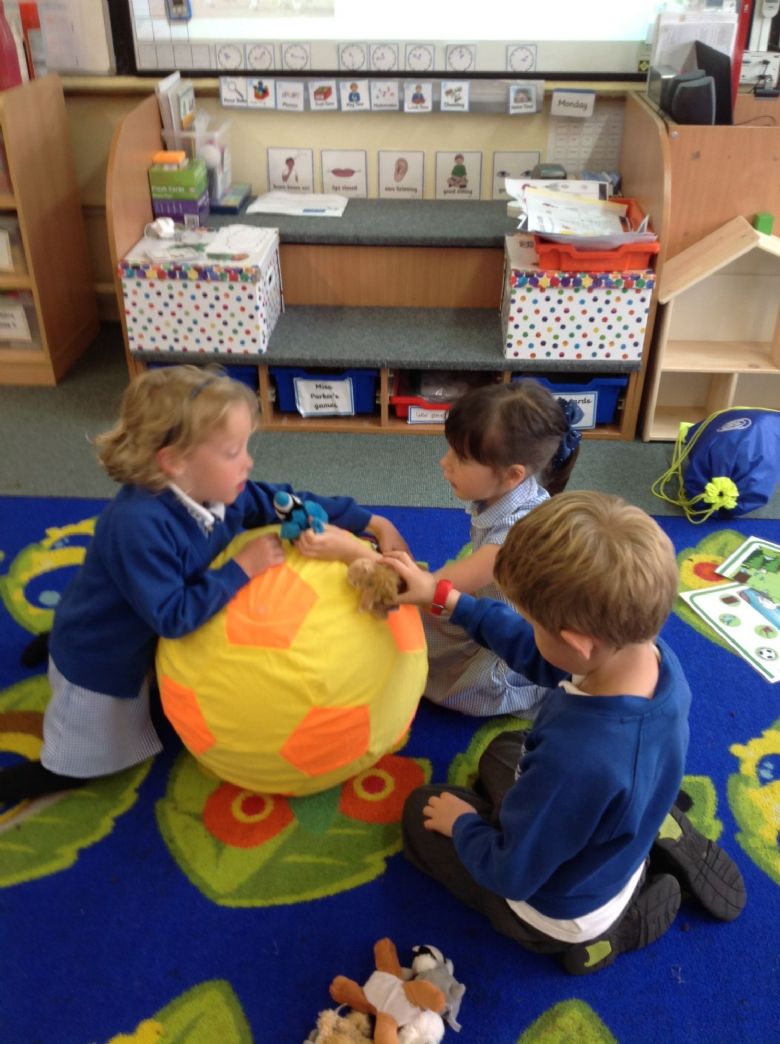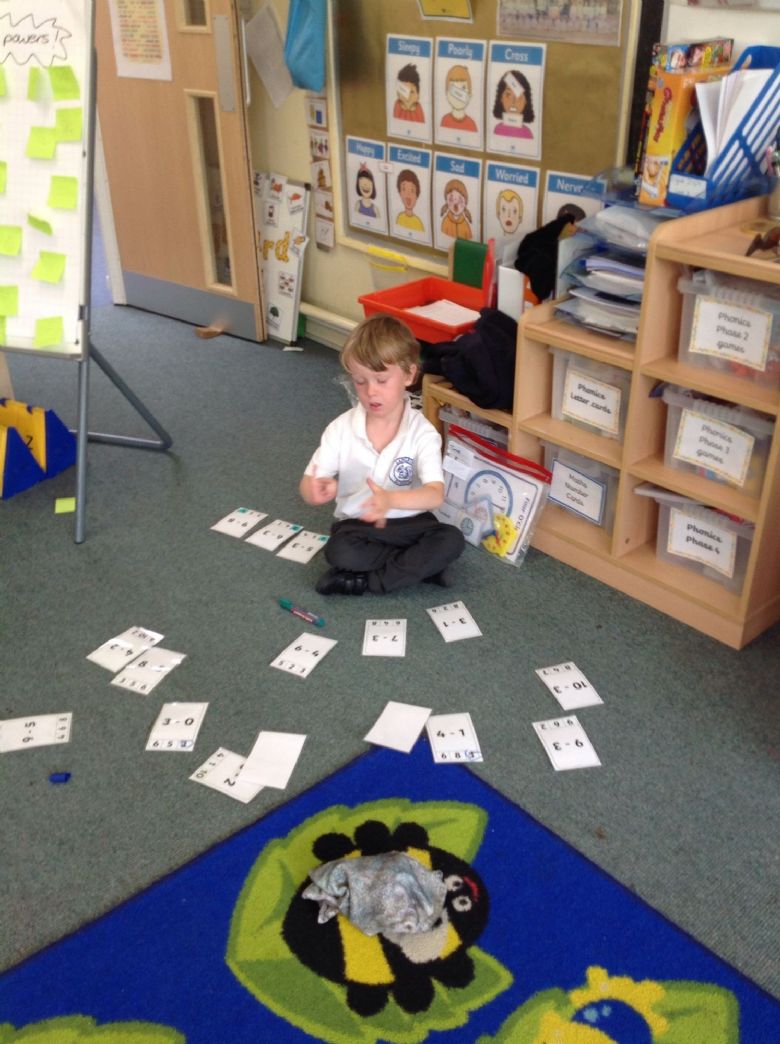 Next week:
Next week we are off on our school trip! Please refer to the letter for clothing and what to bring.
---
Week thirty one (23.5.19) The butterflies have arrived!
What a magical end to the week: on the children's last day, all of the butterflies came out of their cocoons and the children got to experience it. They were all so mesmerised by how they popped themselves out of the cocoon and carefully uncurled their wings.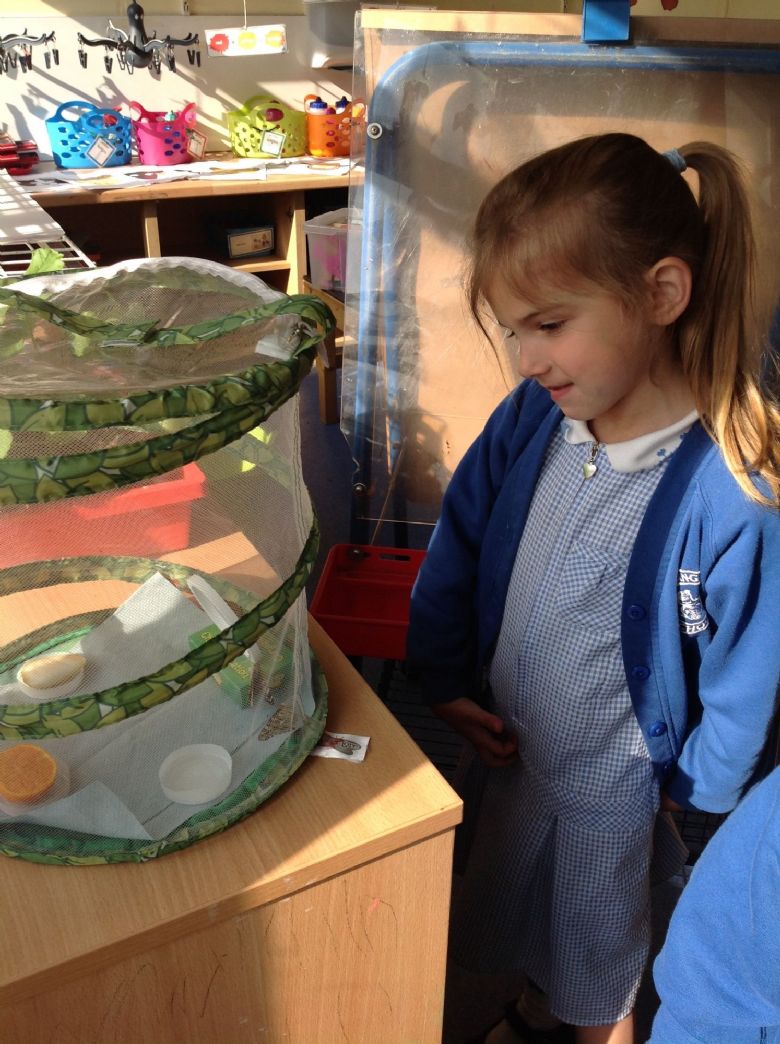 This week has been a week full of the children applying their skills independently. In maths we have been looking at half, double and sharing. We have used counters, drawings, play dough and objects around the room to show our understanding of half, double and sharing.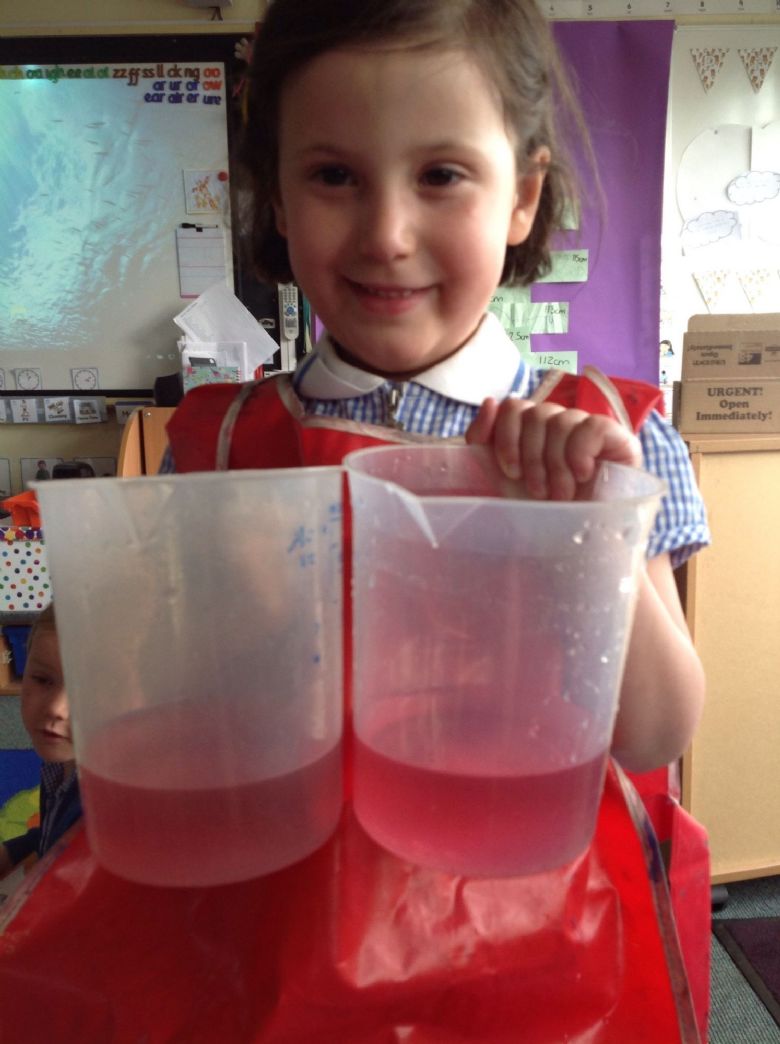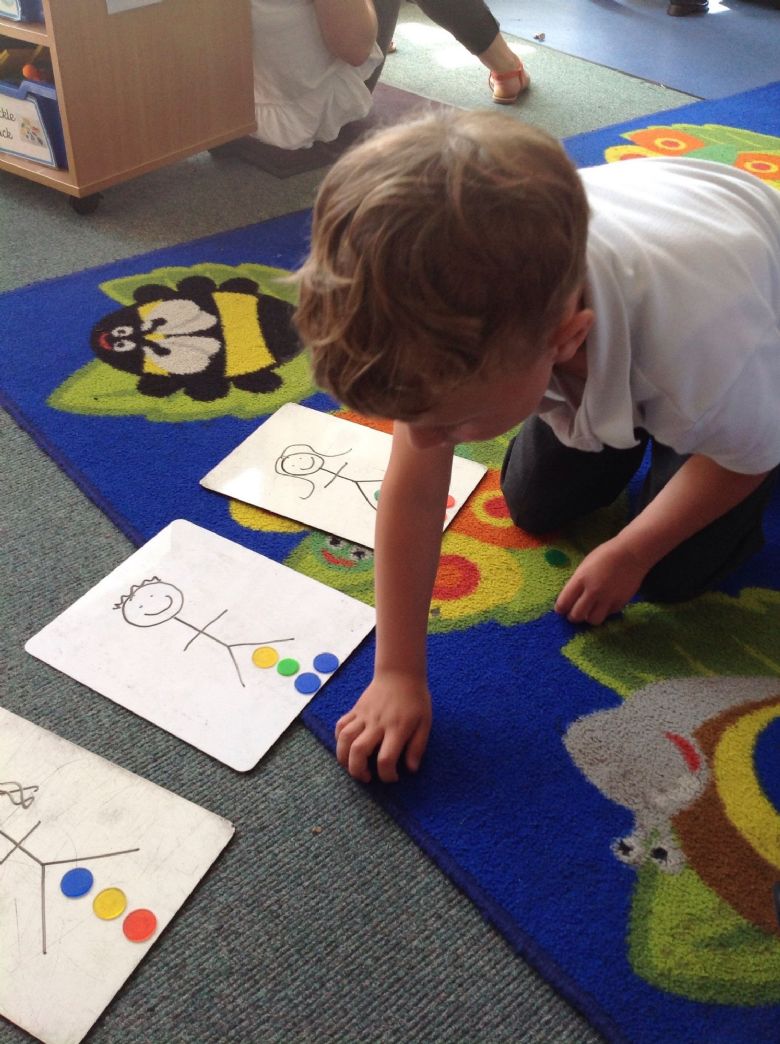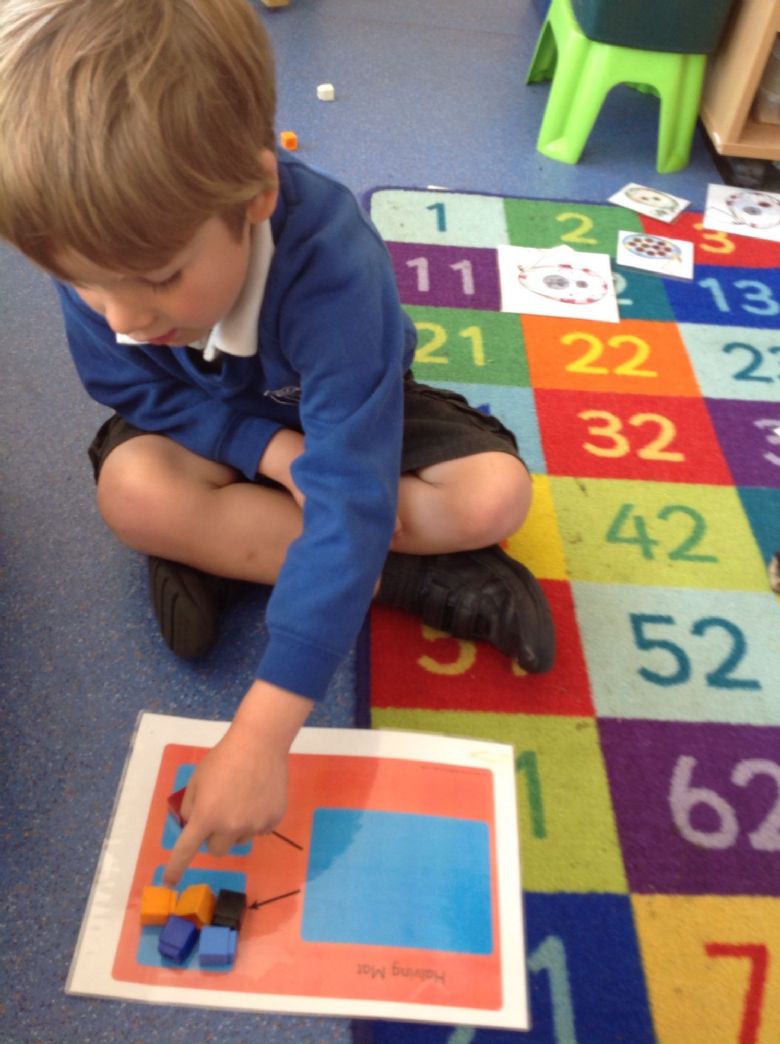 In phonics we wrote a recap of our trip to the farm. The children had to think hard about the order we did things, on top of thinking about thier sounds, tricky words, finger spaces and checking it all made sense….
We all had a good giggle in team squirrel when Joe shared his writing with us:
'We went to the farm. We saw horses eating sheep. Sheep eat hay.'
Joe began laughing while the children around him looked shocked and puzzled as to why they hadn't seen horses eating sheep! Luckily, Joe changed it to what he really saw. Phew!
Miss Parker explained how checking your work through saves sheep's lives and is the real reason she makes you all do it!
A little bit of home learning...
Over the half term, I want you to become eco warriors! Can you write a list or take pictures of all the things you do to save the planet! It could be recycling, rescuing an injured animal or collecting rubbish. After half term our topic is 'Eco Warriors!' so it would be great to hear the children's stories.
---
Week thirty (17.5.19) We went to the farm!
What a brilliant morning at the farm! The children came into school so excited, saying things like:
"This is the best day ever!"
"Can we go now!?"
"I can't wait to go to the farm!"
Once the children were ready, we got on our high visibility jackets and talked through how we could keep safe on the trip.
Once we were there, we fed the baby lambs with warm milk, looked at what the sheep eat and sleep on and explored the barn where there were lots of different types of sheep and lambs. We also met two ponies and many chickens.
Mr Snow showed us how he keeps an eye on the sheep, with a special machine called a wand. It scans the sheep's tags to weight them and notices anything unusual.
After being busy farmers, we got to go on the tractor and quad bike.
We had an animal poo quiz where we had to guess whose poo it was. Some were big, some were small but we managed to guess all of them!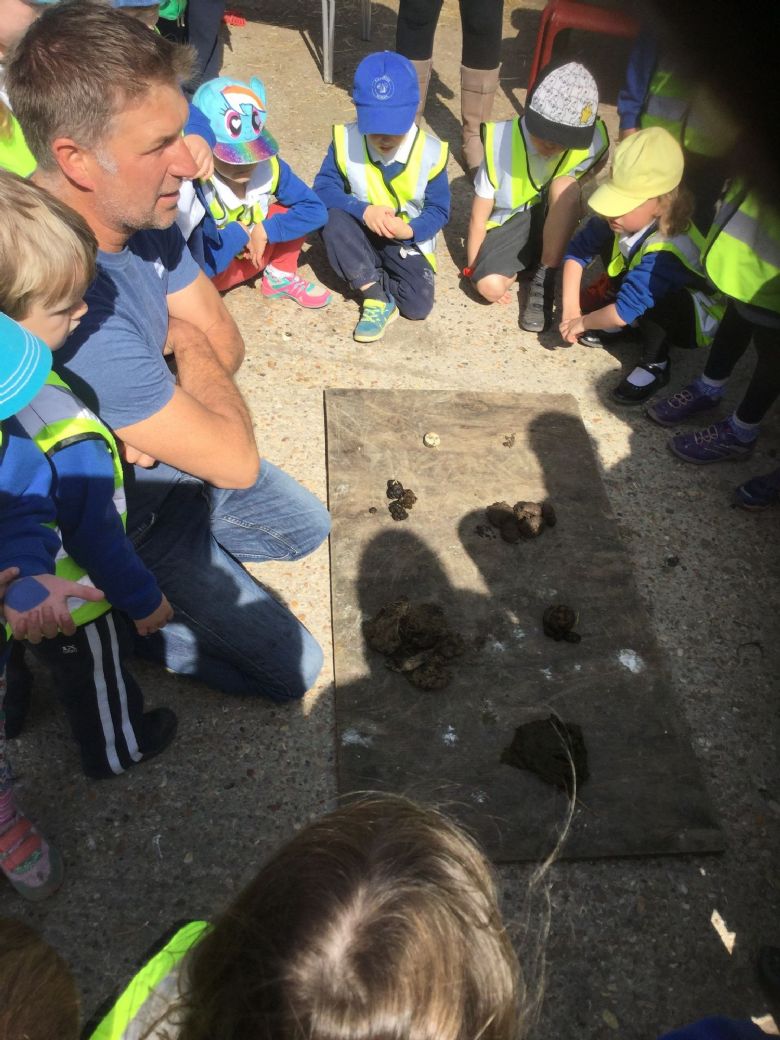 A huge thank you to Mr and Mrs Snow, we all had an amazing day!
Week twenty nine (10.5.19) Wow, haven't the caterpillars grown big!
The children loved coming back from the bank holiday weekend to find the caterpillars double the size they last saw them! There were many comments suggesting that they will cocoon soon as they have eaten nearly all the food and that they keep making their way to the top of the lid.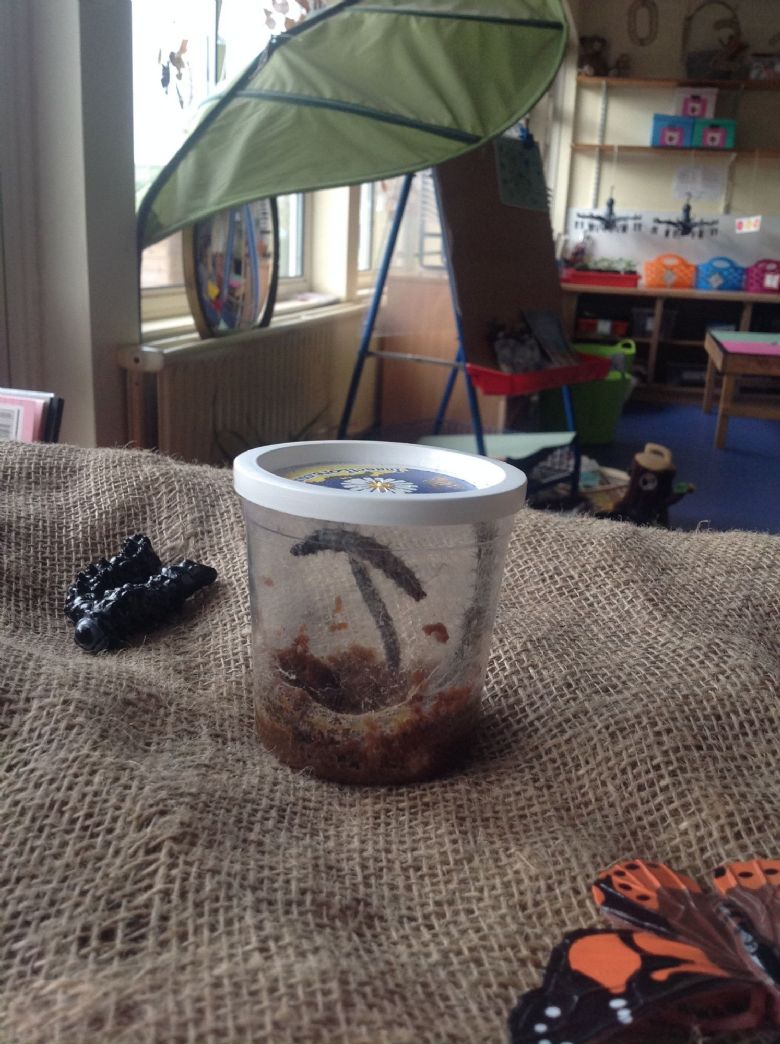 During our play to learn time, we have been learning all about habitats and minibeasts. For our role-play area, we have created a minibeast and woodland animal habitat so the children can explore where different animals and minibeasts live. Also, we have been learning the life cycle of a butterfly by cutting and sticking pictures in the correct order. Next, we wrote about the life cycle making sure our sentences made sense and were in the correct order.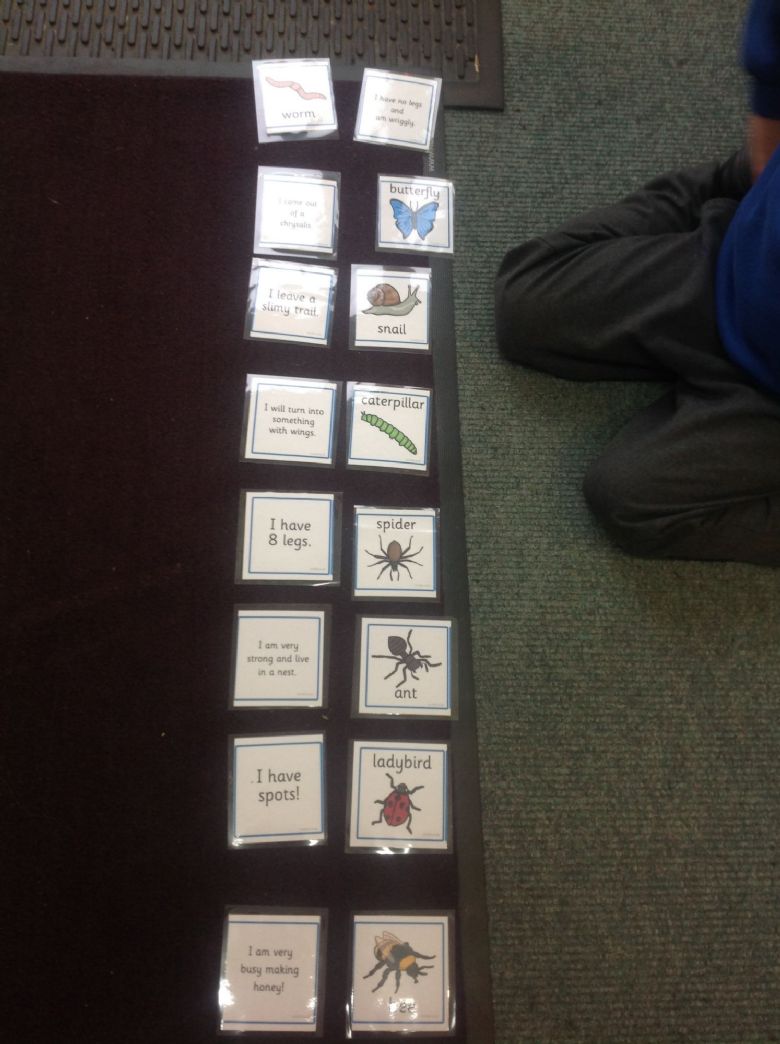 In forest school we used whittling sticks. We learnt about the safety rules and how to whittle correctly. We attempted to make pegs but the children just loved making their sticks smooth.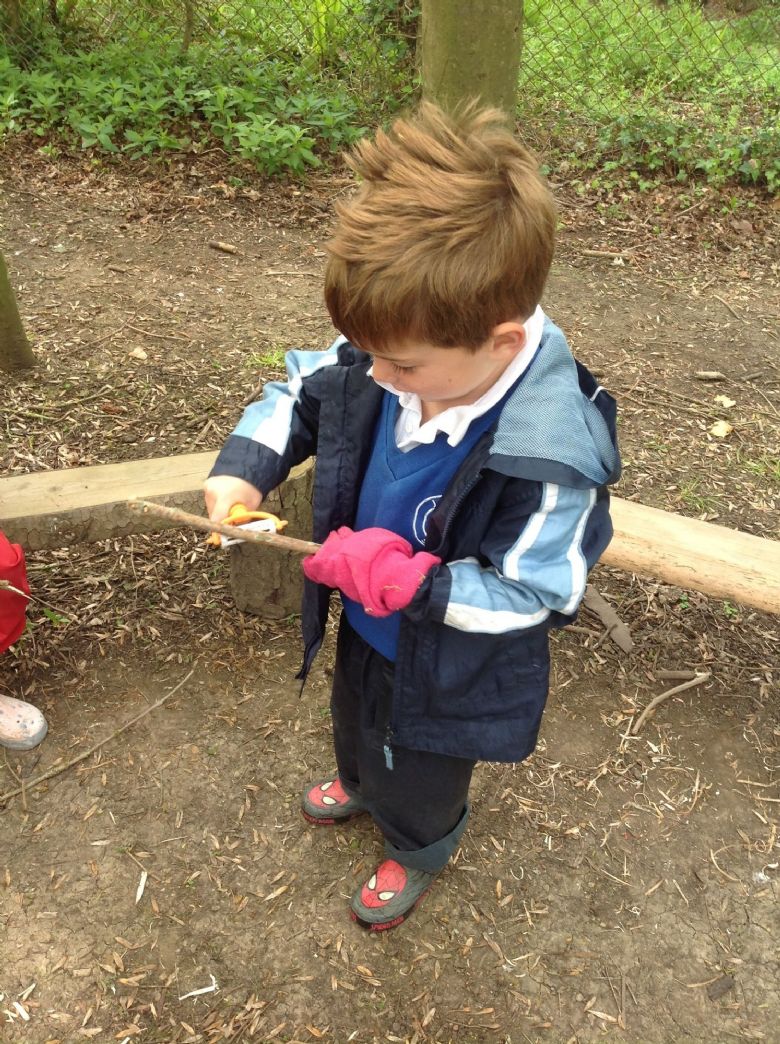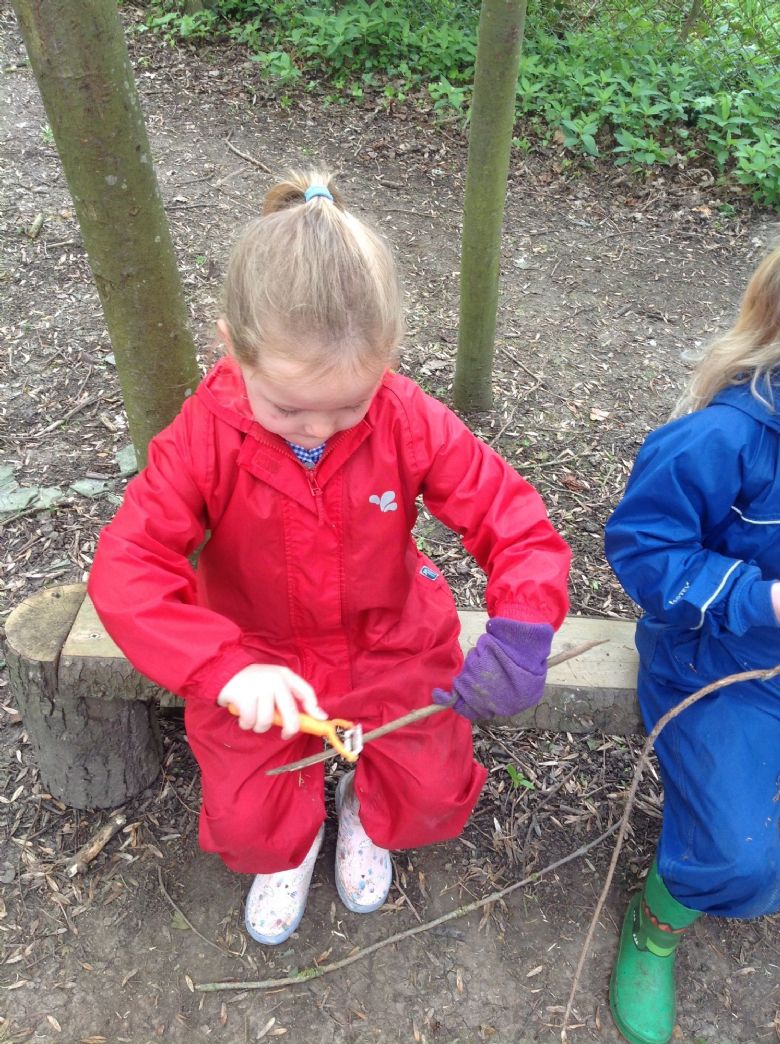 Our classroom has transformed into a colourful, bright scene, as the children have been busy painting pictures of different minibeasts such as butterflies, ants and ladybirds. Peep through the window to see our artwork.
In maths, we are learning about height. We started by measuring objects through sight and now we are using metre rulers and tape measures. The children understand that to make it fair they need to put the different objects at the same level and ensure they put their ruler or tape measure starting at the '0'.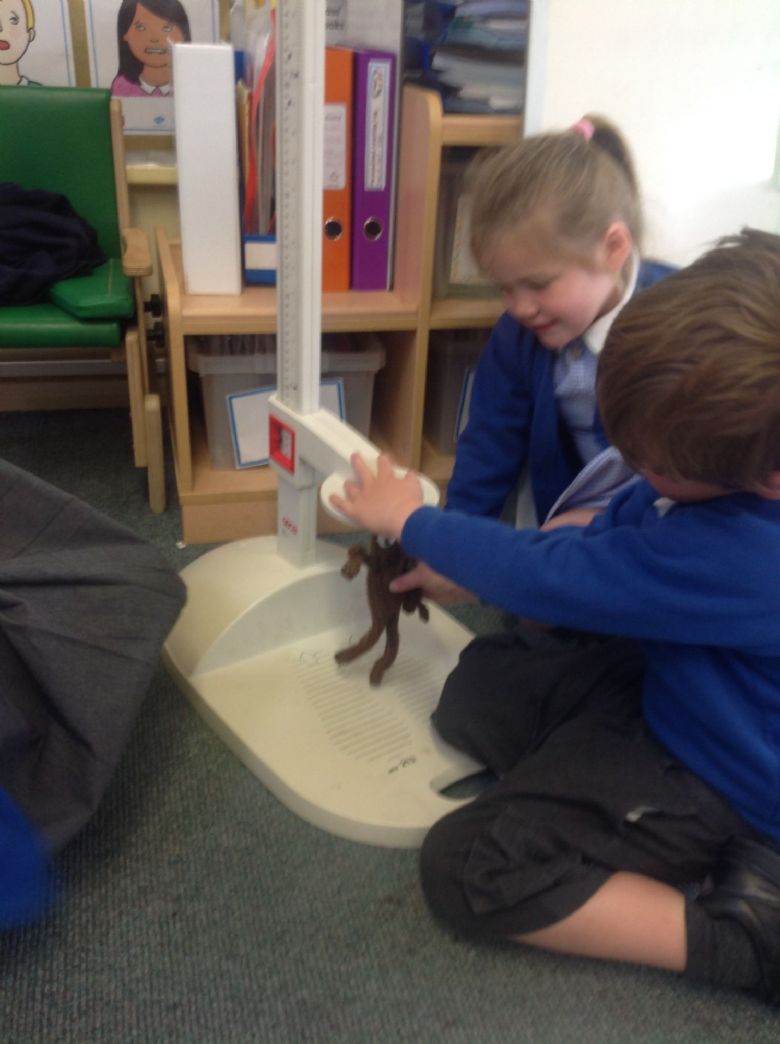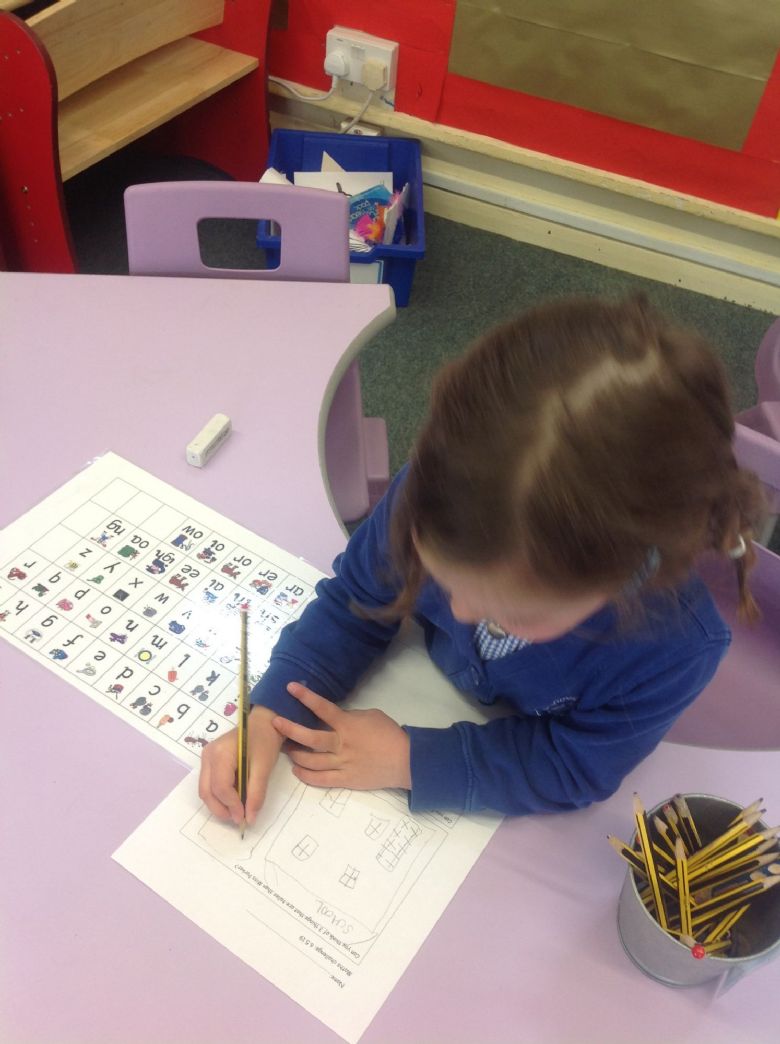 Next week - We're going to the farm!! Don't forget to dress with your Langrish top and jumper, with suitable trousers or leggings and footwear.
---
Week twenty-eight (3.5.19) The caterpillars have arrived!
Following on from our learning last week, the children are still keen to be planting different seeds and ensuring that the first seed they planted is kept watered and well looked after. The children have noticed that some children's seeds are growing already! It has brought some competition to see whose seed will grow the quickest.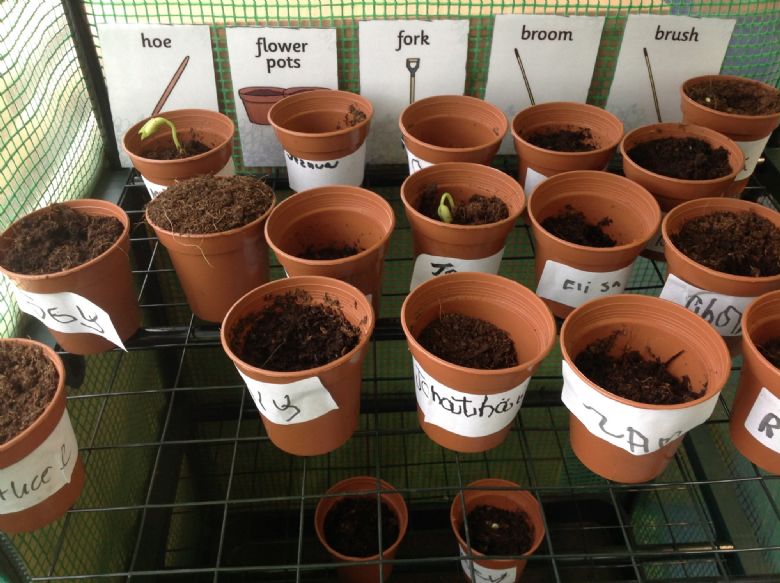 Also, the children have become caterpillar carers by checking every day that the caterpillars are still moving, eating their food or ready to cocoon. They children have loved watching them grow and be extremely active. Fingers crossed this bank holiday weekend they do not do all their best work and wait until we are back to school!
During play to learn, the children have been sequencing how to plant a seed by reflecting on what they did last week. The children have used great instructions and good language. Here are some examples.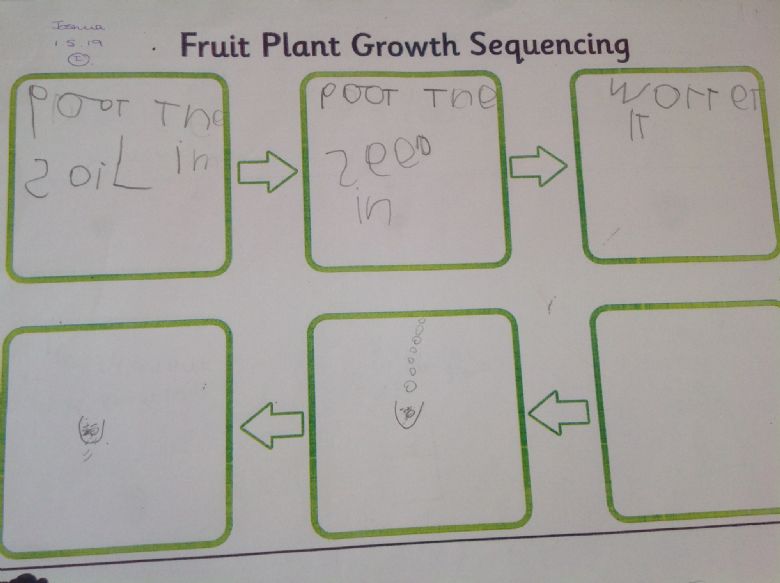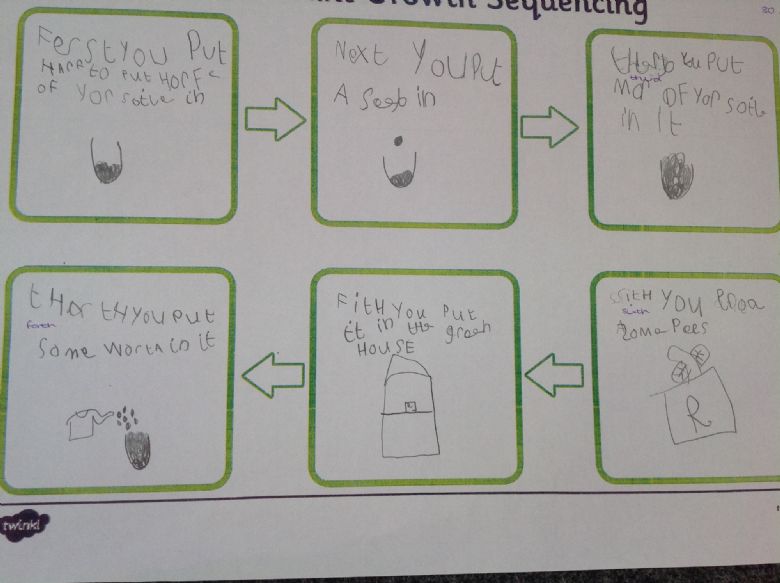 We learnt about different parts of a plant using key words such as petal, leaf, stem or stalk and roots. Children then drew their own plant and labelled it.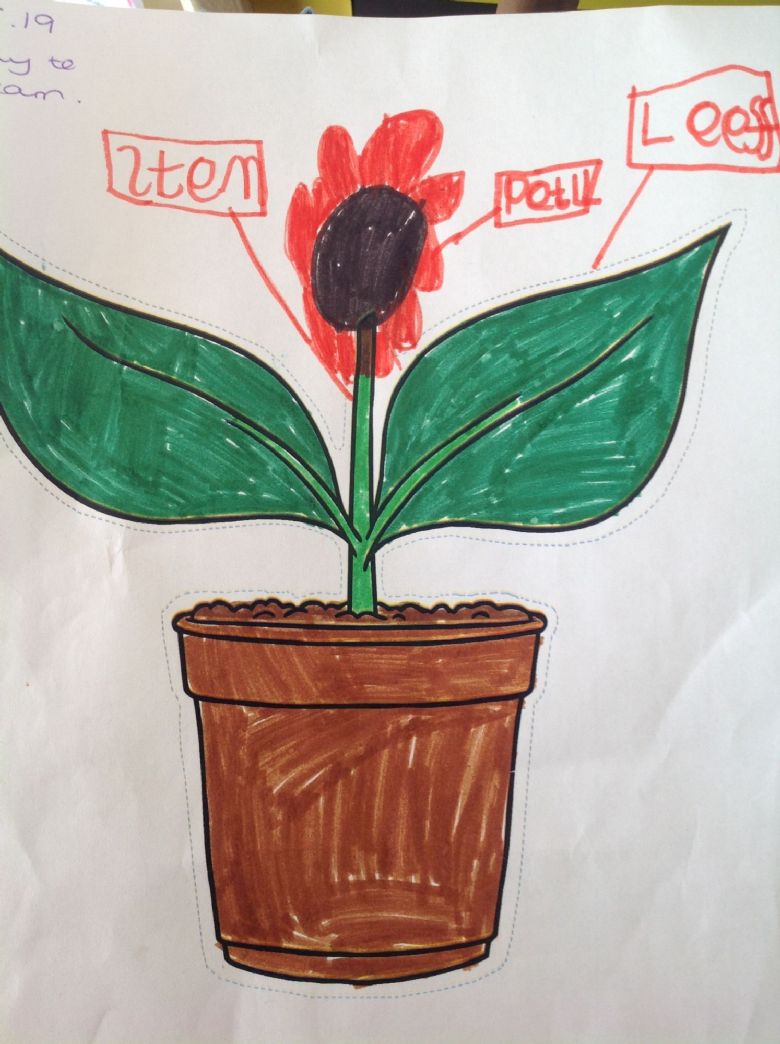 In maths we learnt about weight. We used different scales to weigh in numbers (kg) and through sight and touch. To challenge ourselves we found different resources from around the classroom to make the scales balance.
Rose found out that a petal and two feathers balance.
Lucas, Rubens, Josh and Toby found that a book and sellotape and bells were equal in weight.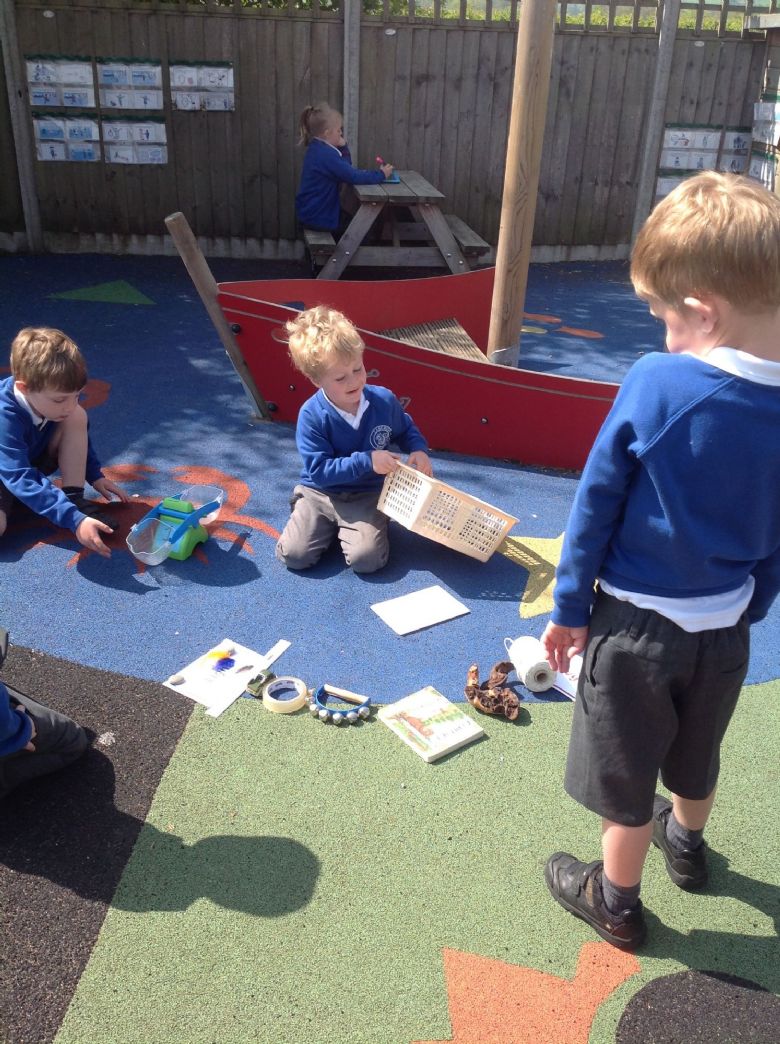 Next week we will be learning about height and measuring ourselves using centimetres to see who is the tallest and the shortest person in our class. Can your child estimate who they think will be the tallest and the shortest?
---
Week twenty-seven (26.4.19) Happy Saint George's Day!
Welcome back everyone! It was great seeing happy and excited faces coming into the classroom.
The first day back was Saint George's day. As a school, there was an assembly explaining the meaning behind it and sharing the story. After lunch, we retold the story and made our own flags, shields and swords. At the end of the day, the school joined together again to share what they had learnt about the significant day. Team squirrels stood up, proudly showing everybody their flags.
In the classroom, we have a role play garden centre where the children are busy making phone calls, ordering and looking after plants, being shopkeepers to sell their stock to customers and getting messy in the soil. Outside, the garden centre continues, as there are planting stations with flowers, seeds, pots and even more soil. It has been fantastic to hear such brilliant language coming from the children about using money in the centre and time. In maths this week we have started exploring time (o' clock) and the children have used the clocks to change the time of opening and closing of the centre.
The children received a letter from Billy the bee asking them to plant more flowers so Billy and his bee friends can feed on the nectar. He gave us a set of instructions that we had to follow to plant a seed. The children then put their seeded plant in the green house in the garden centre to grow. The children have checked their seed every day to see if it needs more water.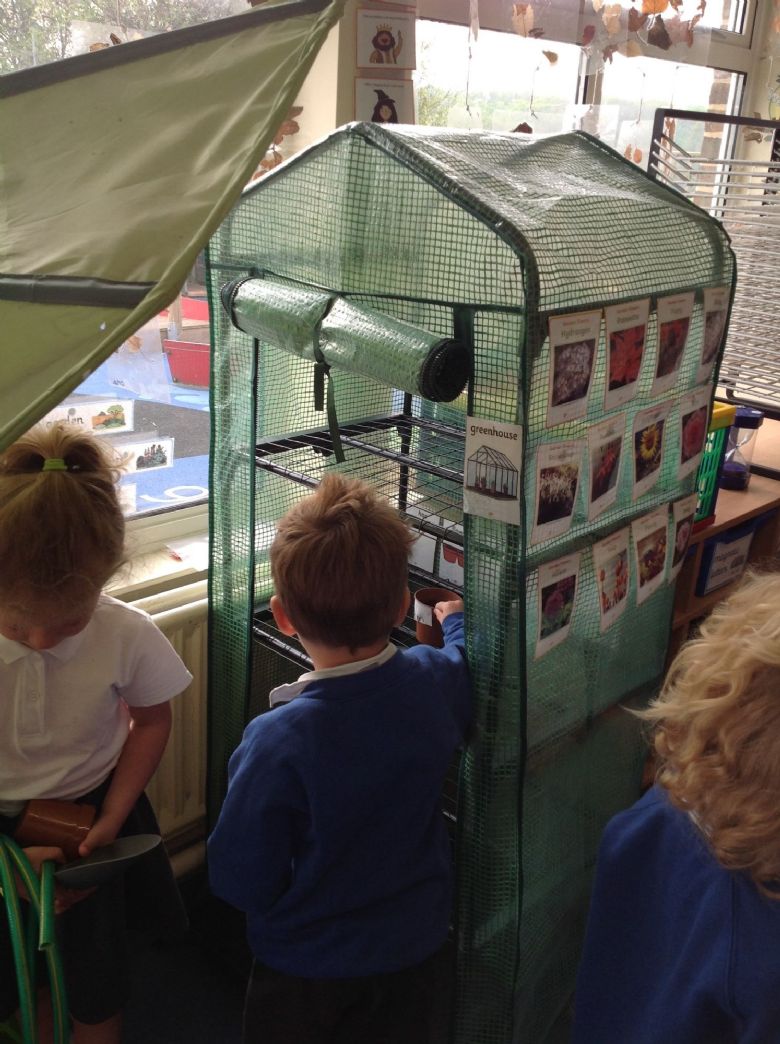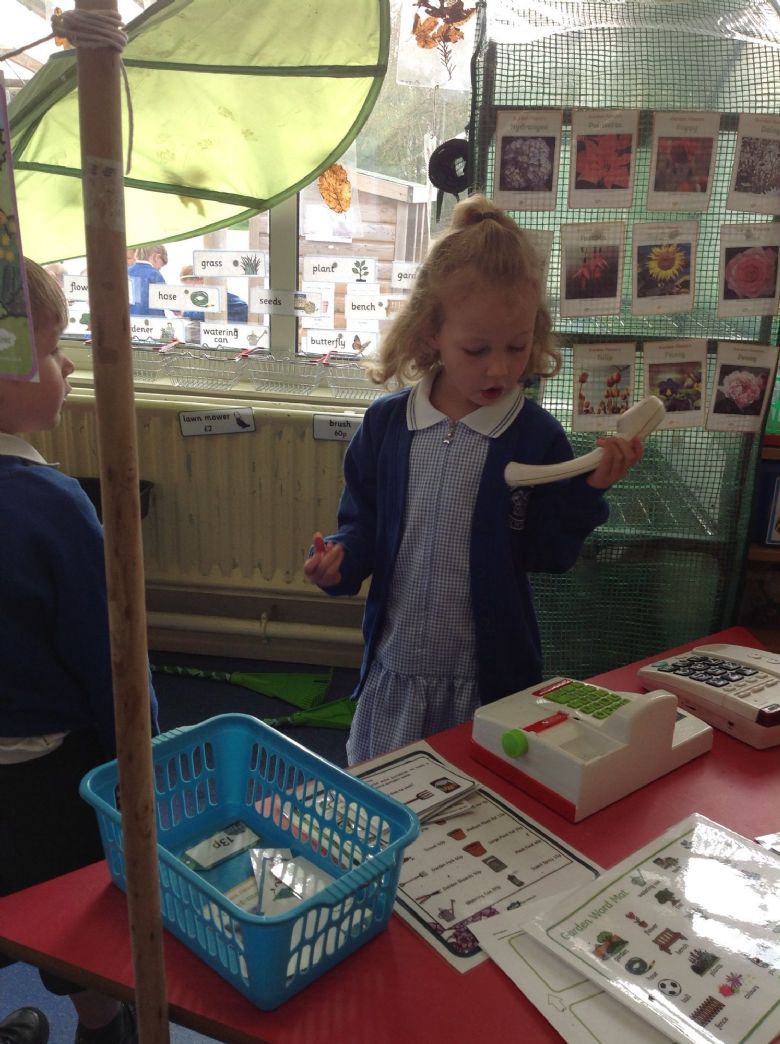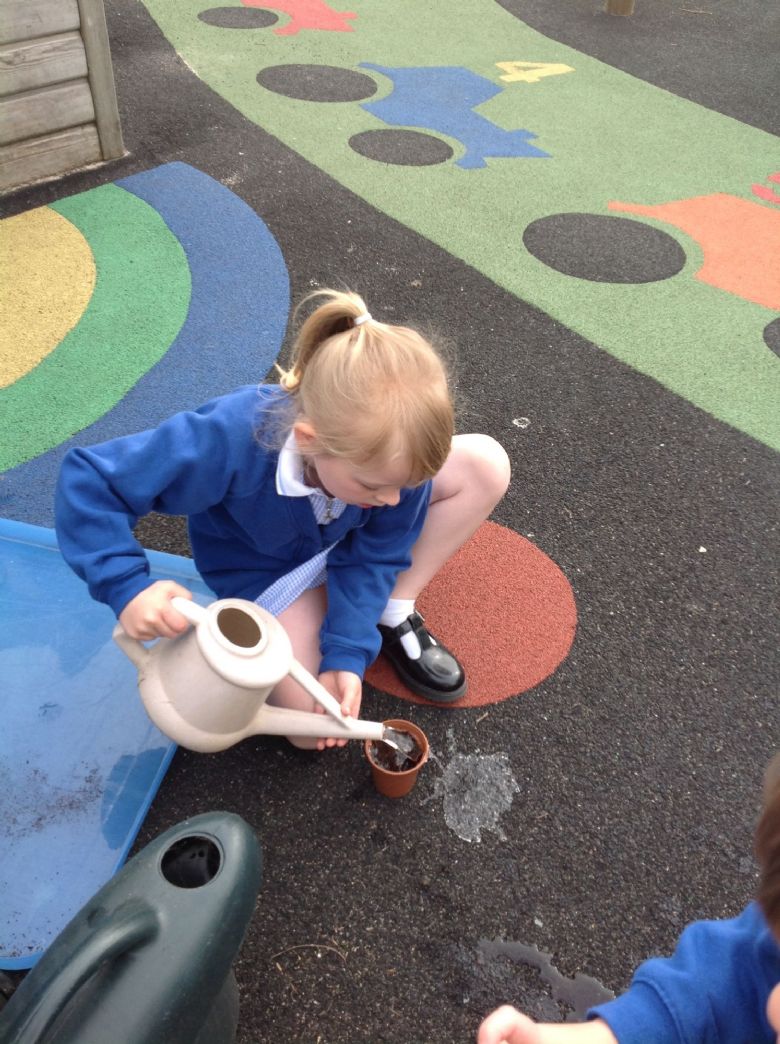 Next week, fingers crossed, our caterpillars arrive!
Week twenty six (5.4.19) Happy Easter!
We have had a brilliant end to the term. We have been busy making Easter cards for anyone and everyone the children could think of, using great phonics to sound out the words or finding the words around the classroom for support. Remembering our 2D shapes, the children have cut out and constructed chicks and bunnies and put them on their Easter cards.
In music with Mrs Kean, the children have used glockenspiels to play along with Old MacDonald. They needed to listen to the rhythm, speed of the song whilst following a pattern on the screen. They sounded amazing and worked hard to keep the rhythm going.
Following the Easter theme, Miss Parker has been reading the Easter story, which has encouraged great questioning from the children. For guided reading, the children have been reading the Easter story themselves and then sequencing it to enhance their understanding of the story.
Here is a collage of our week: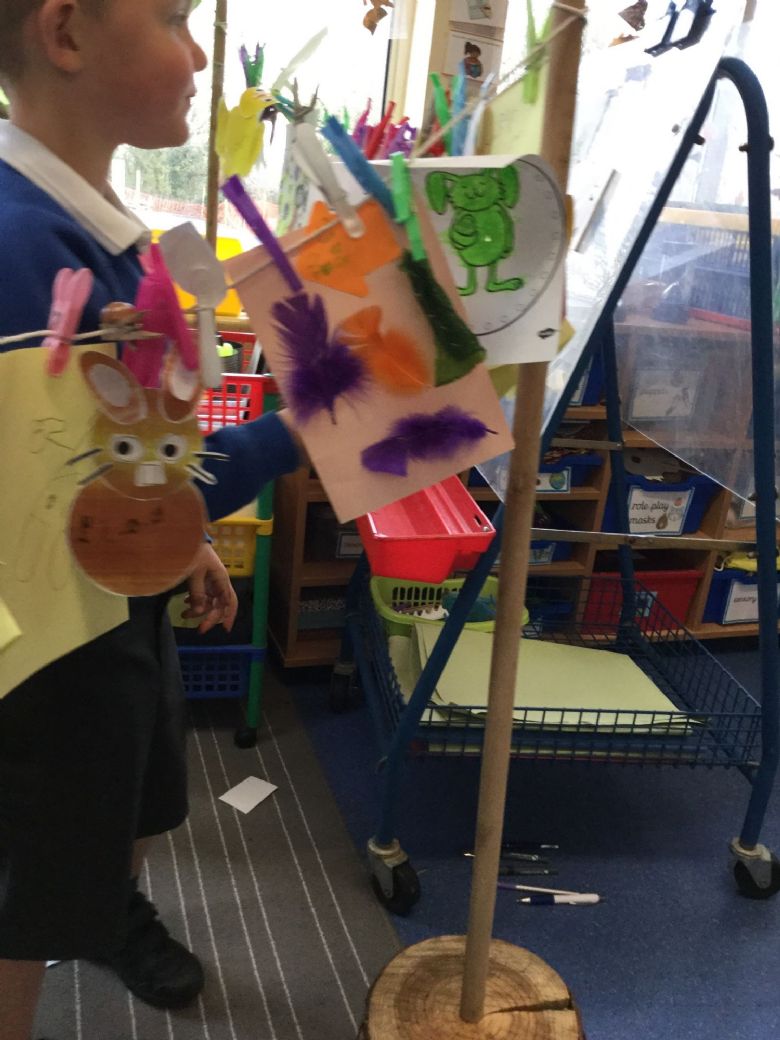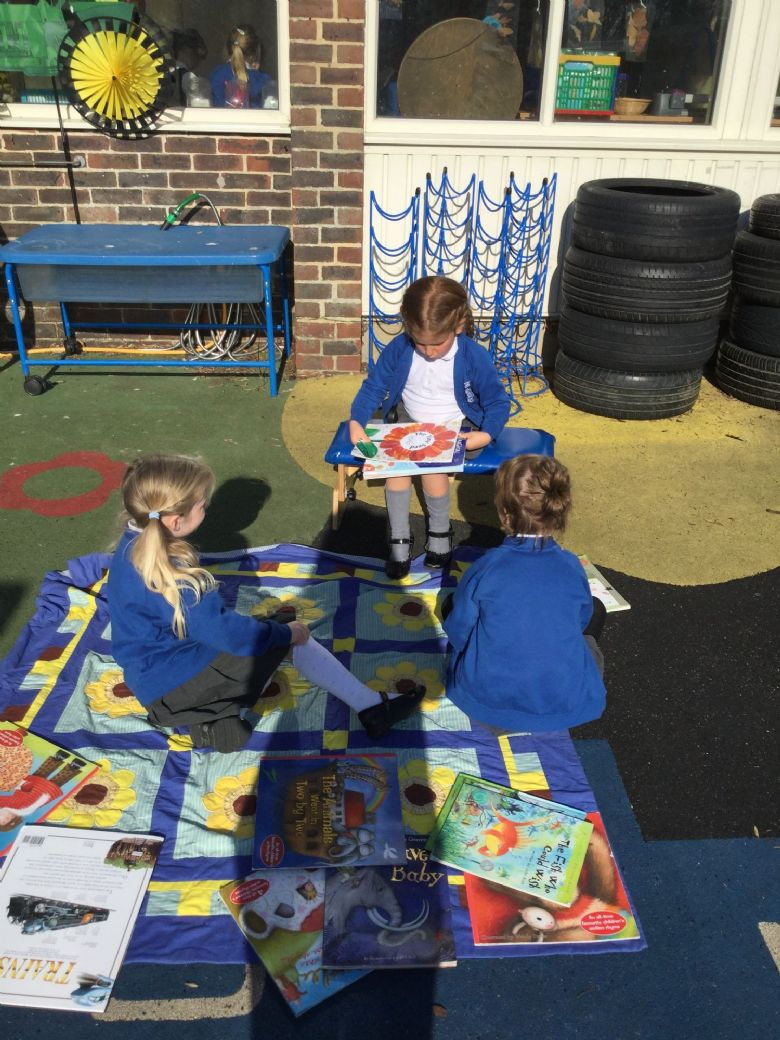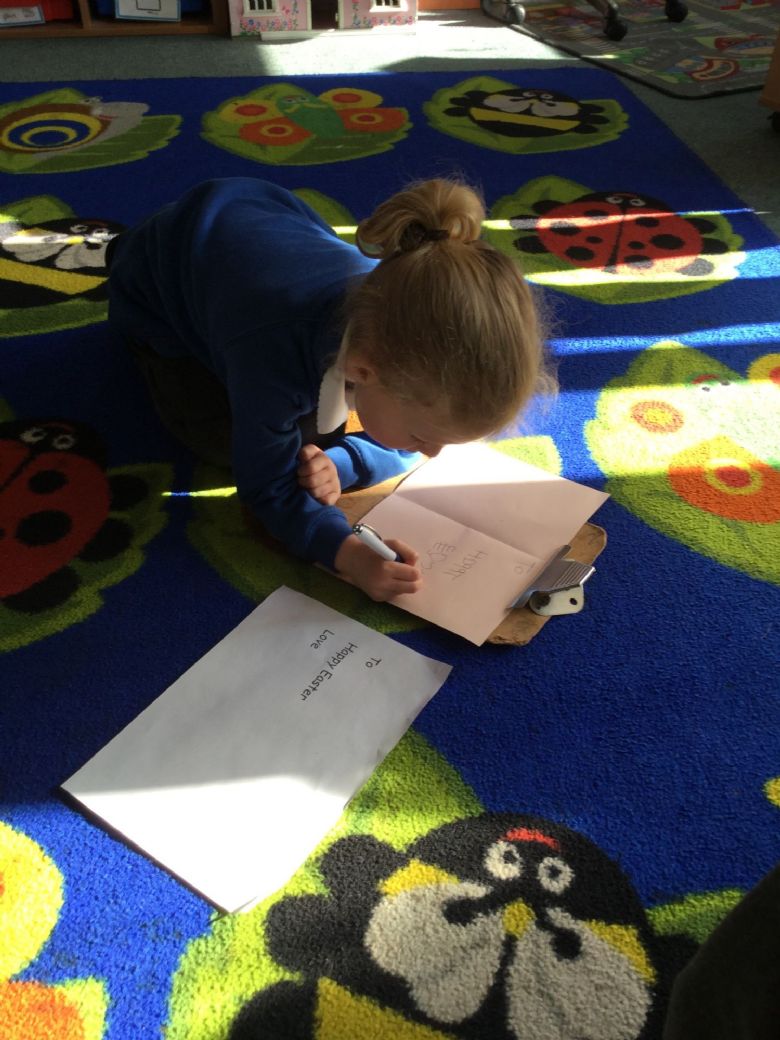 Home Learning:
Firstly, have a well-rested and fun filled Easter! Then, if you have a quiet moment, complete pages 10 – 19 from the phonics books, as after half term we will start phase 4. Also continue to read, read and read as much as you can!
Have a brilliant Easter holiday! All the children have worked so hard and I am so proud of them.
---
Week twenty five (29.3.19) Money, Money, Money!
This week we have been busy in the theatre! The children have made their own puppets using fabric, lolly sticks, straws and drawing faces to create a character for the show. We had some brides, pirates, princesses, fairies and superhero puppets all uniquely made by individuals. It encouraged some great role play. The children had to pay to see a show by buying tickets at the box office.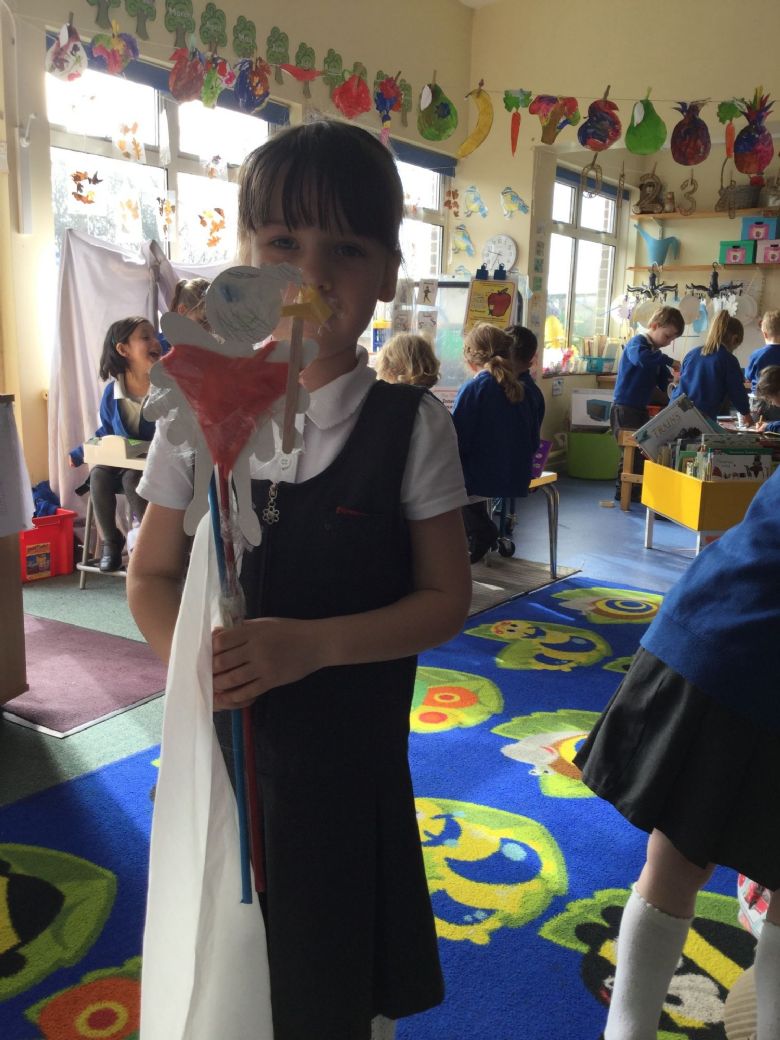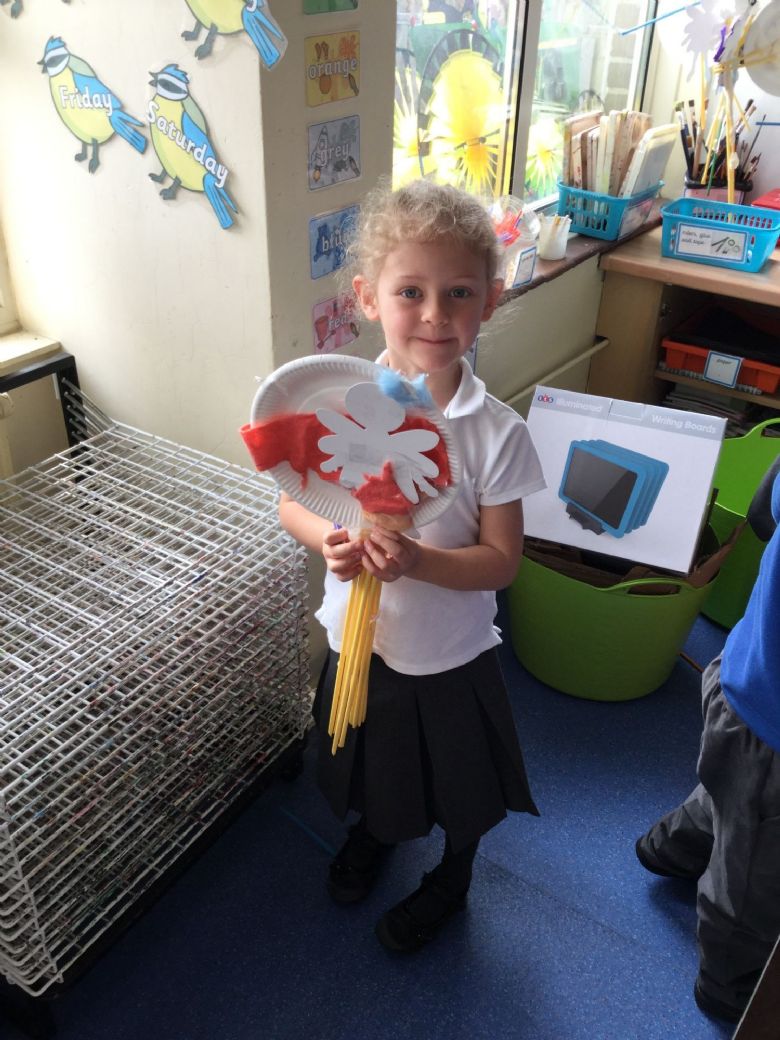 In P.E, it was a beautifully warm afternoon so what better way to spend it than by playing tennis, football, hula hooping and frisbee. The children thought about their personal challenges whist playing tennis, to see if they could beat it by hitting the ball, more times than they challenged themselves to do.
Maths
We have been finding out all about money. We talked about what we use money for. Here is what some of the children said,
Sam said, "We can buy new toys with money."
Rubens said, "Money can be heavy and different colours."
Belle said, "People have jobs to pay for things and to live in a house."
Joe said, "Sometimes we give money to people who need it. Like richer people give money to the poorer people."
Orla said, "Change"
With such good thoughts already about money, I knew they children were going to impress me!
During maths we have explored coins, looking at their value or how much they are worth. We have had to be careful when counting money as we don't just count the coins as that doesn't tell us the total. We need to look at the number on the coins to find out the total of how much is there.
Look how busy we have been…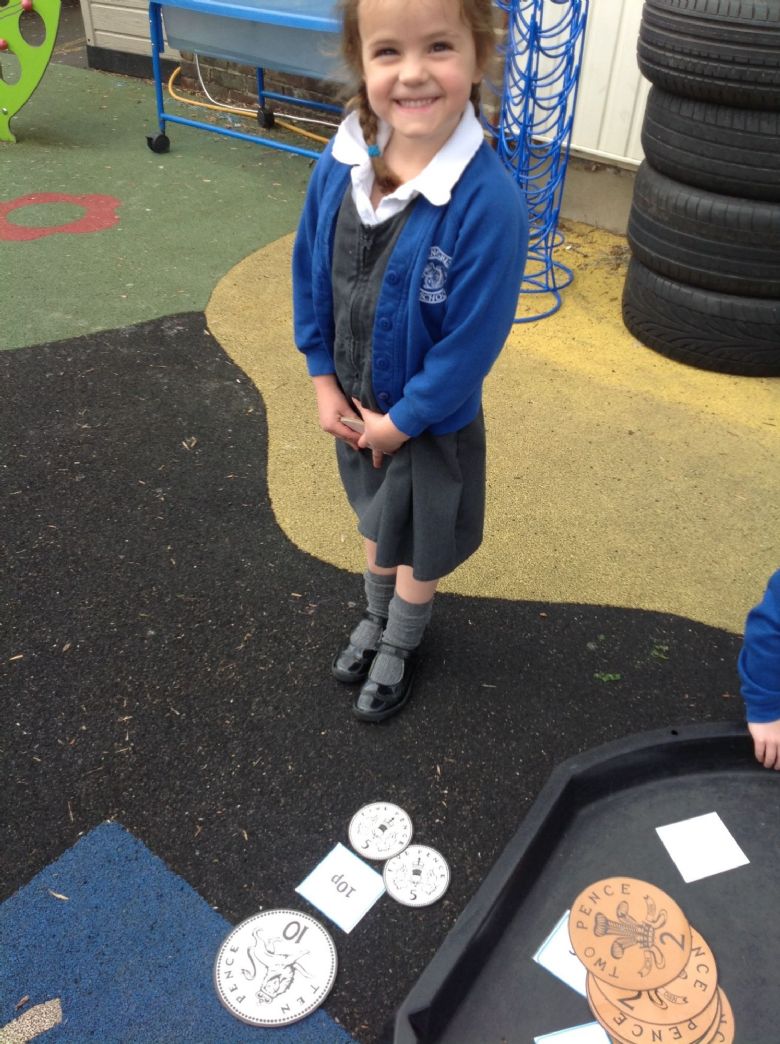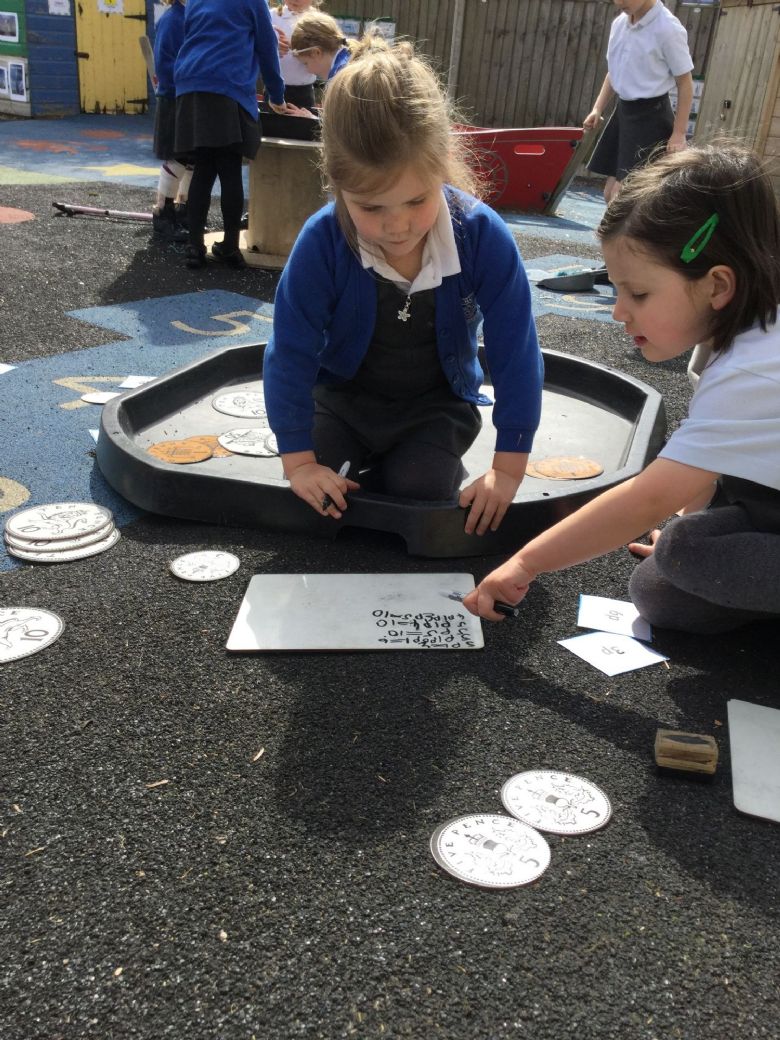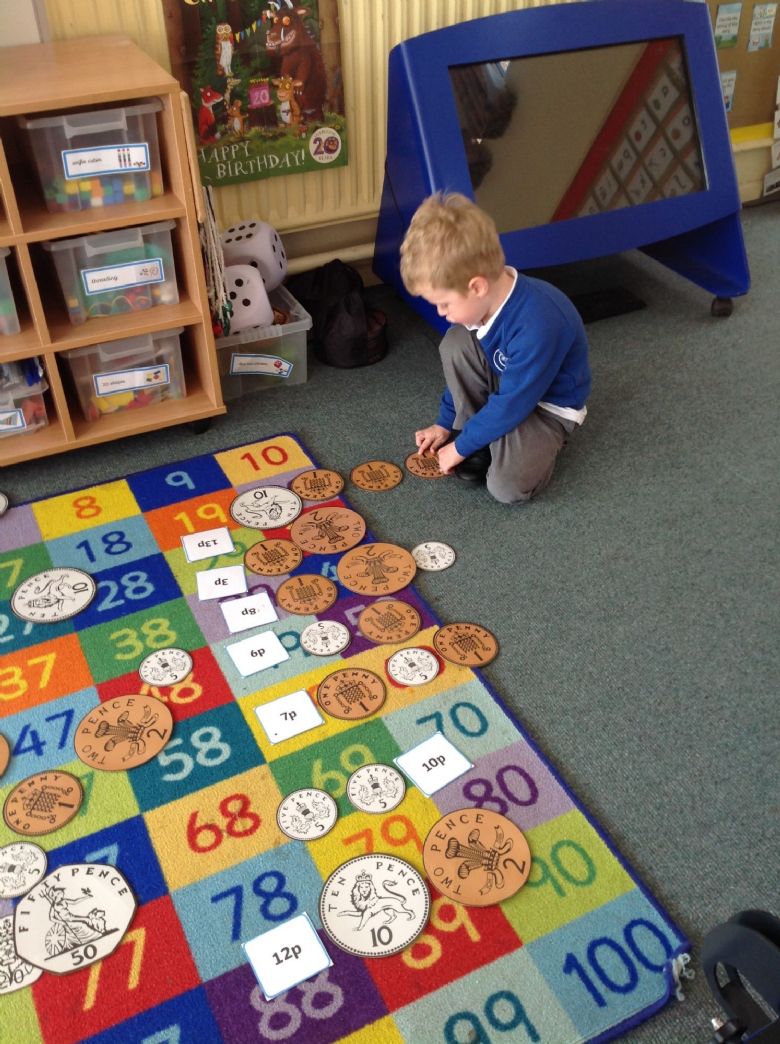 Phonics
In phonics we have been looking at jumbled up sentences and putting them in the correct order, by checking that they make sense. Some of the sentences had given us clues by adding capital letters and full stops. This way we knew which words go at the start and at the end of the sentence.
Also we have become authors and began writing our own stories. To support us we look at a picture and talk about what we see and what might be happening in the picture. This week the picture was about a dog called Toby. Some of the children wrote wonderful stories using great imagination and emotion.
---
Week twenty four (22.3.19) "Can I book an appointment to see the vet my elephant is poorly."
This week, our theme is people who help us and we explored 'the vets'. We talked about why we have vets and what they do. We had a role play vets surgery where there were many operations taking place on some poorly animals, some with upset tummies, broken legs and broken arms. Alongside the operations, the children waiting patiently in the waiting room with their pet elephants and rats to see the vet. At the reception desk, the children were busy answering the telephone and booking appointments.
Phonics
In phonics we have been writing about our favourite animal or animals which live with us. Here are some examples.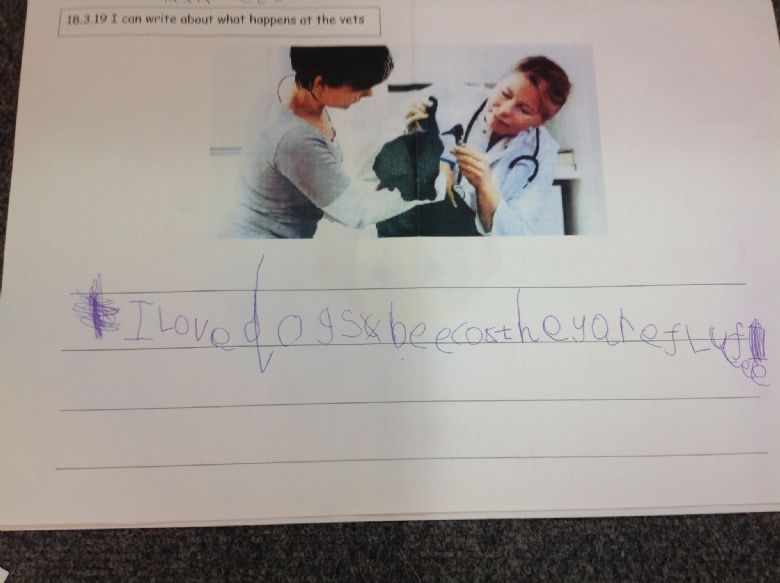 As a class, we have been working on our digraphs and trigraphs (two letters which make one sound and three letters which make one sound). To do this we have looked at pictures and had to write the word to match the pictures. The children have been using the sound board to support them with their sounds.
Maths
In maths, we are becoming experts in adding and subtracting. Independently, we are solving number problems and number sentences. Miss Parker keeps tricking us by mixing up the number sentences and we have to put them in the correct order and solve the sum.
Also in maths, we have been working together to play maths games such as snakes and ladders, snap and magic sums.
To support our measuring skills we have been throwing beanbags and using metre rulers and metre sticks to measure how far it was thrown.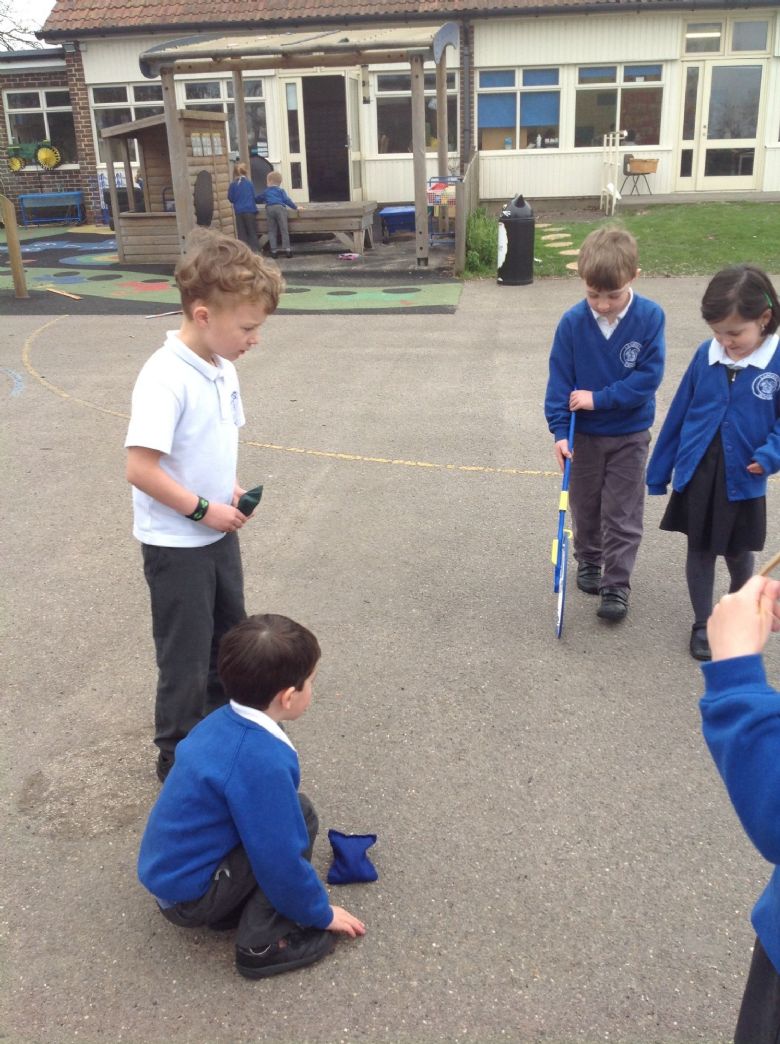 P.E
In P.E, we have been using the ropes to work on our core, balance and strength. We had to cross the river by swinging on the ropes to get across. In the river beds were crocodiles that were ready and waiting to eat you up if you put your foot in the river.
Outside, I asked the children what they wanted to do in P.E. It was voted that it was football and tennis. Therefore, half the class practised their football skills whilst the other half practised their bat and ball skills, which links to our personal challenges. We are trying to control the ball on the bat to hit it more than a certain amount of times. Come and see our personal challenges, which are on our working wall at our open classroom!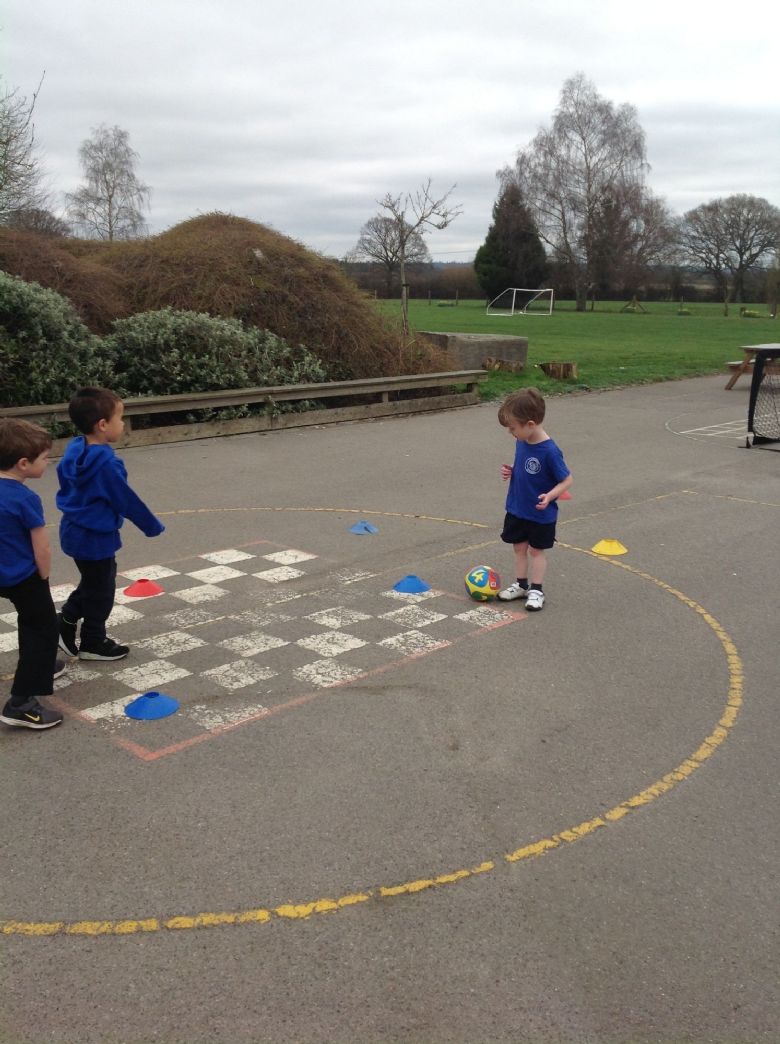 Gentle reminders
Can you ensure toys from home are not brought into school as it is a great way to get lost or broken. It also encourages other children to bring things in.
Finally, can all jumpers and cardigans be named as we are finding a few without names on which therefore get lost.
I look forward to seeing you at parents evening on Monday 25th March and for Open Classroom on 29th March.
We need your help!
We have run out of spare girls and boys pants and socks! If you have any old-ish ones please may we have them… Also can you ensure all children have spare pants, trousers, skirt and socks in their bag and if you have borrowed some of ours please can we have them back.
Thank you!
---
Week twenty three (15.3.19) Science week, Maths day AND Red Nose Day, all in one week!
Science Week
This week is science week and all week we have become scientists and completed some experiments.
First, we explored objects that float and sink. Some of the objects were a ball, marble, pear, and an animal (toy). We recorded our results on a table and discussed why they might sink or float on water.
Next, we explored what would happen if we put celery in coloured water. We recorded our predictions, watched and waited to see what would happen to see if our predictions were correct. We then timed how long it took the coloured water to travel up the celery.
Finally, we explored distance by making a rocket balloon. The children had to thread some string through a straw and attach a balloon to the straw, blow up the balloon and let it go and record how far it went.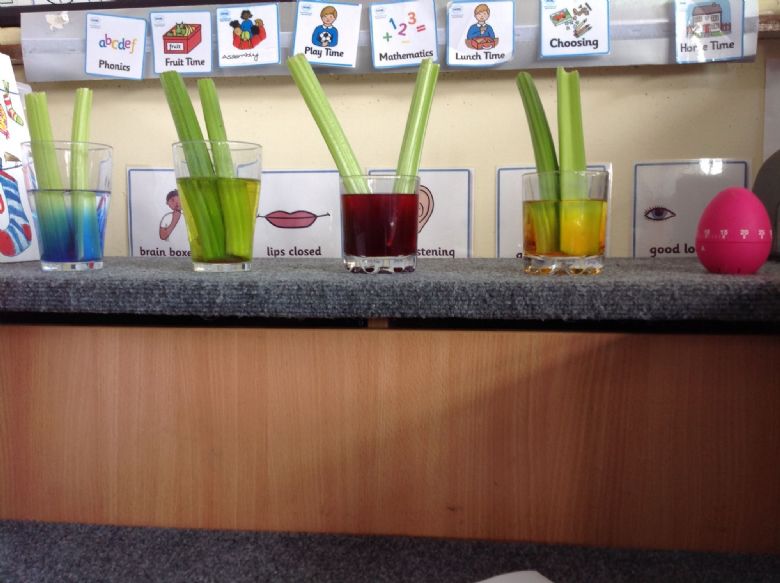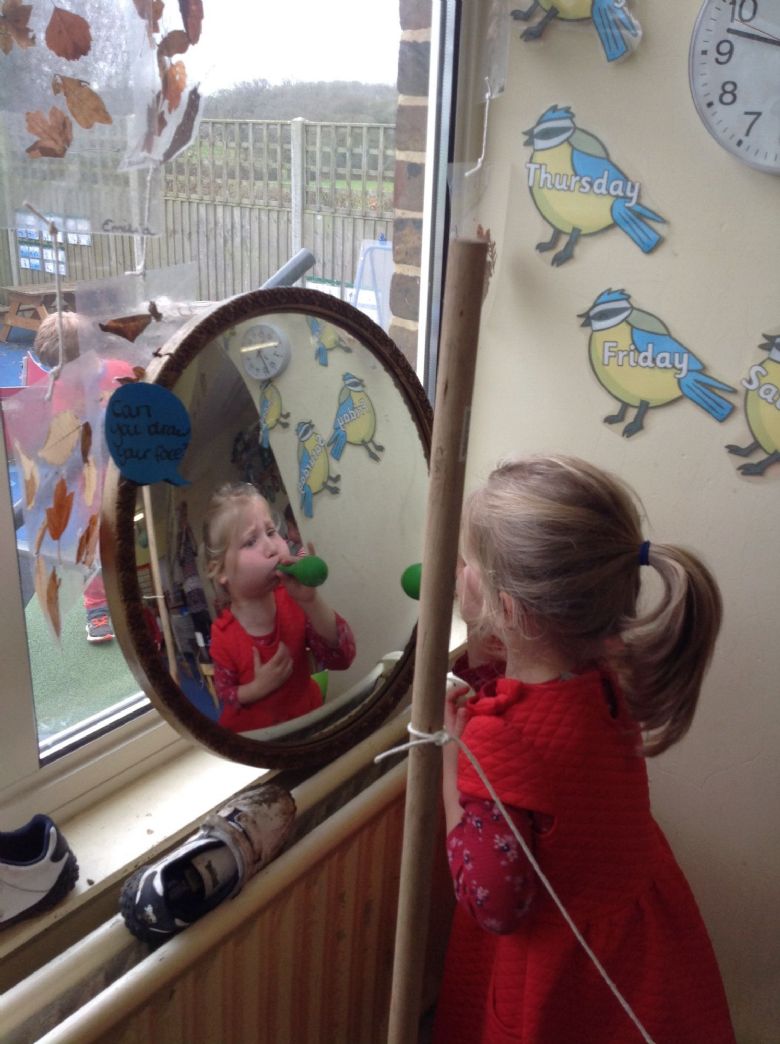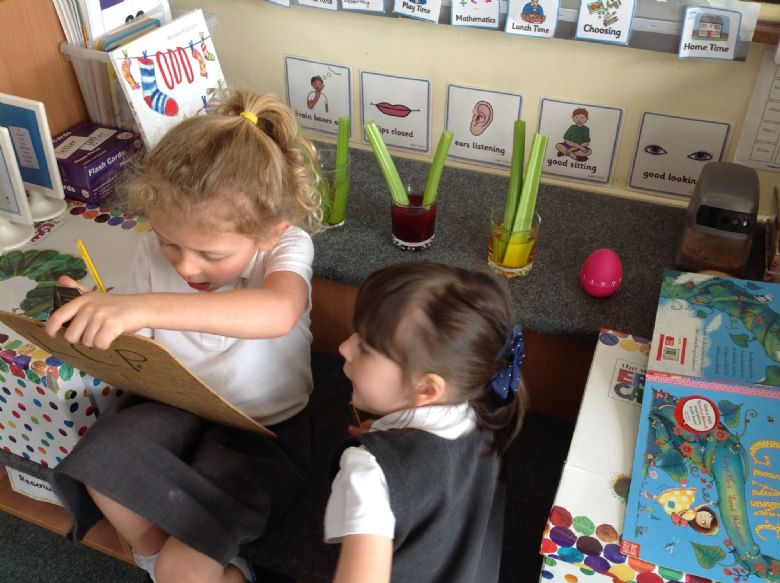 After some discussion at the beginning of science week, I asked what a scientist was:
Lucas said "When someone tries to work something out, making a difference."
Isabella said "They concentrate on what they are making."
Charlie said "They do important things."
Throughout the week, we then drew what we thought a scientist looked like and labelled what we had drawn.
On Tuesday, as the weather was extremely wet and windy, we observed what was happening and kept checking if the wind and rain would stop or at least slow down!
Maths day!
Maths day was a fun day for the whole school! In Key Stage One, we mixed it up by teaching all year groups throughout the day and linking our maths to a story. With Miss Parker, we read the book 'Centipedes 100 Legs'. Squirrel class had to work out how many shoes different animals needed. With Mr Hancox, we read the book 'One fish, two fish, red fish, blue fish' and the children worked in teams to put the fish in the correct order from 1 – 30. In Mrs Cave's class, she was reading the book 'Greedy Triangle' and the children went on a 2D and 3D shape hunt around the classroom Mrs Cave was so impressed with the children's knowledge on shapes!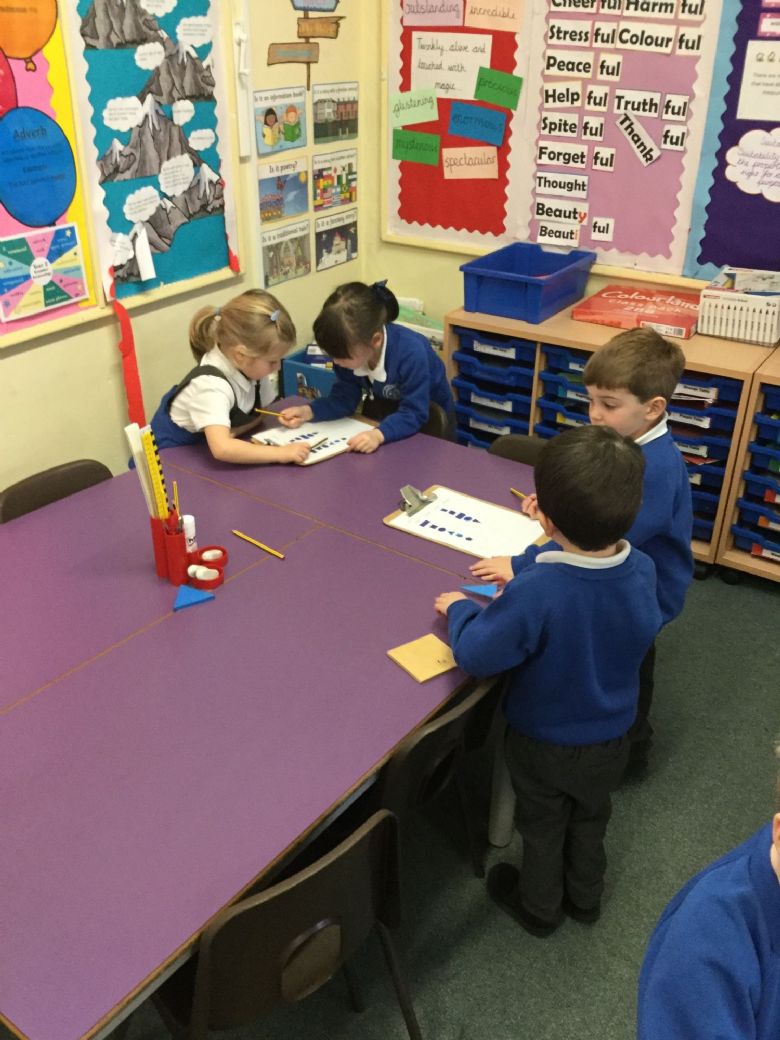 Eco warriors!
On Thursday, 'Perform' came in for a workshop where the children became eco warriors! They travelled near and far to ensure the planet was a better place to live! It was great fun and the children could not stop talking about how we can recycle more and turn off the lights when we leave the room!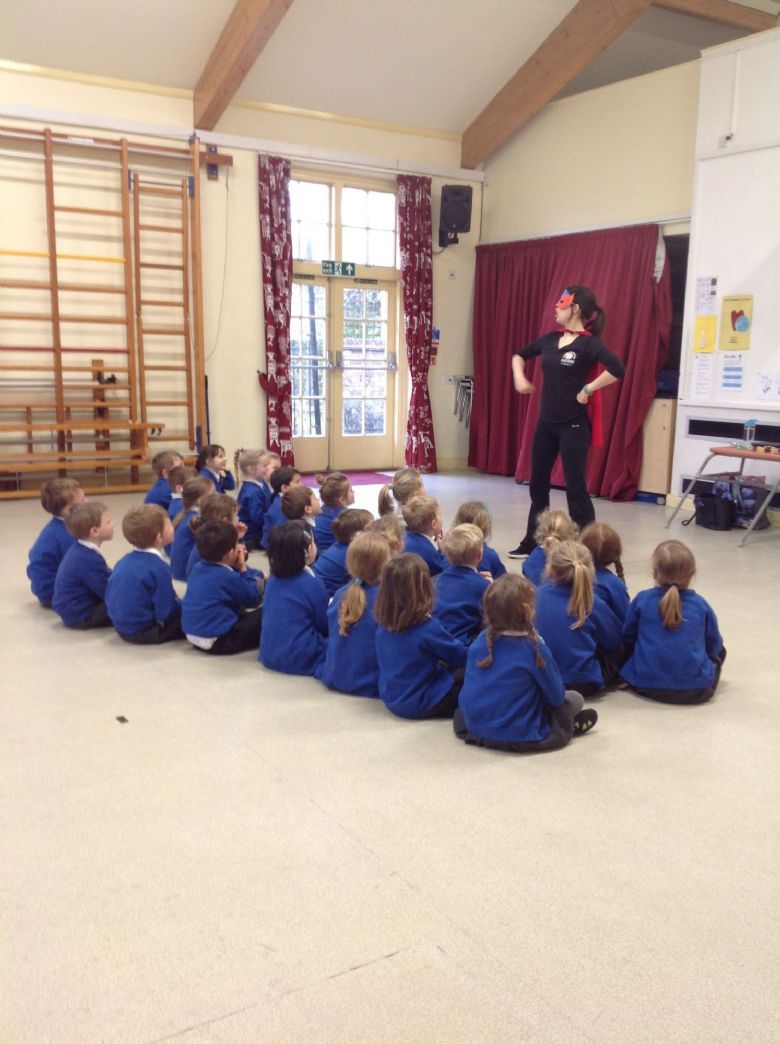 ---
Week twenty two (8.3.19) Happy pancake day and world book day!
World Book Day
There was trouble ahead when we witnessed a crime scene! Humpty Dumpty had been pushed over and it was our job as detective team infants to figure out who did it. Was it Little Bo Peep? The 3 Blind Mice? Hey Diddle Diddle? Five Cheeky Monkeys or Jack and Jill? The children did their detective work by finding clues around the environment and from Mrs Wright… After three extra clues from the big bad wolf, the three little pigs and Old King Cole we 'cracked' the crime of who did it.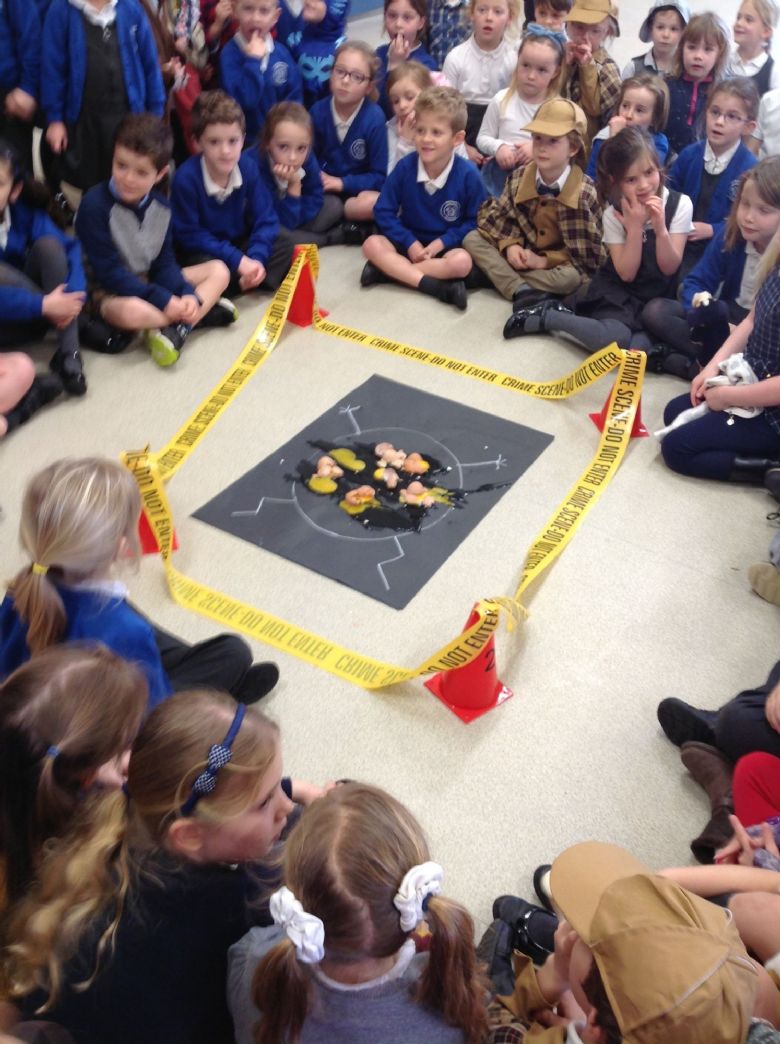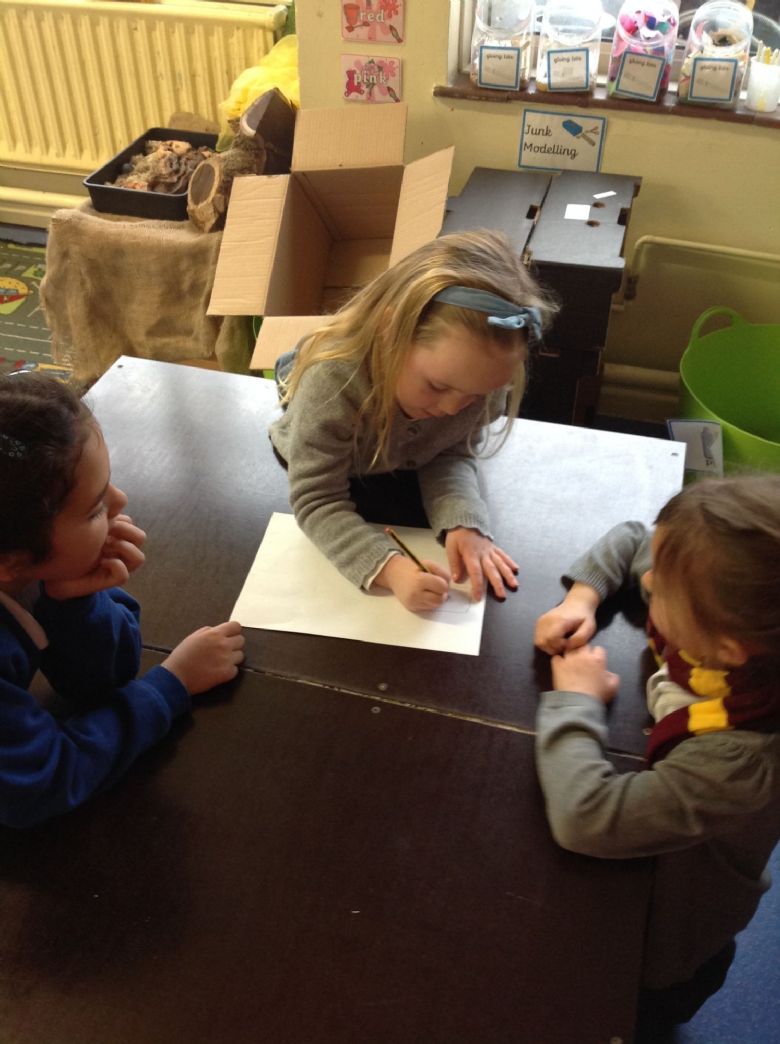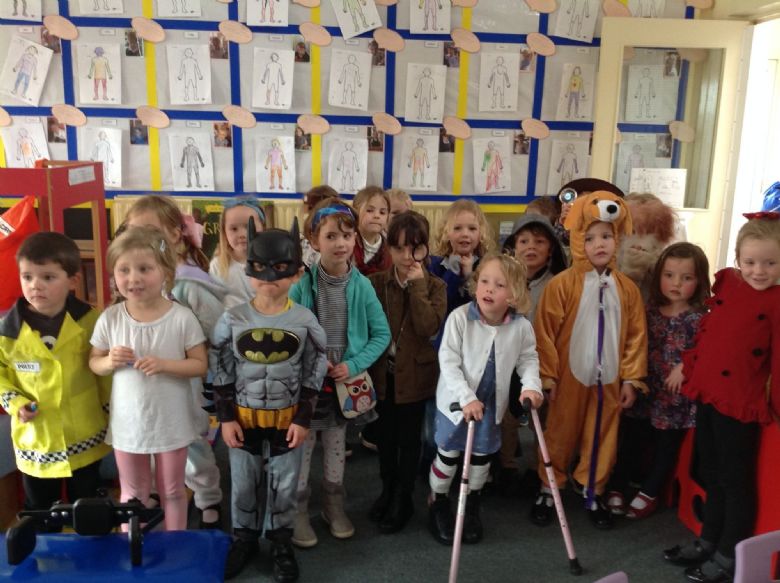 This week we have been focusing on healthy eating, looking at what foods are healthy and unhealthy and what makes them good or bad for us. We finally got to make our smoothies which included melon, mango, pineapple and orange juice. The children loved them and kept asking for more! We compared it to our turnip soup, which showed no comparison as they said the turnip soup was horrible!
In phonics, we have focused on the sounds 'ear', 'air' and 'ure'. To support us we have been matching pictures to the sounds then attempting to write the word. What is brilliant is the children use the soundboard for support in their sounds!
In maths, we are applying our addition skills by making up our own number sentences and in our role-play toyshop everything is 1p. The children have been busy buying toys and calculating how much it is going to cost. They have been using great mathematical language such as 'pence', 'total', 'more' and 'less'.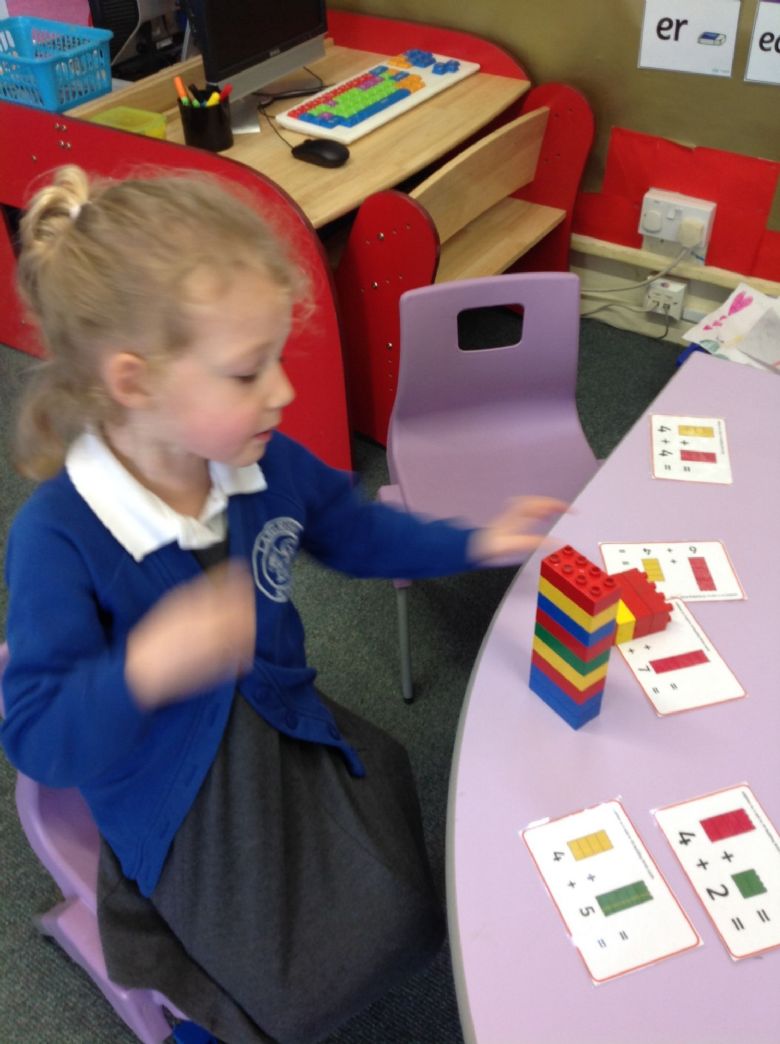 Pancake races!
I was so proud of team squirrel at the pancake races as they showed great team spirit and support to their fellow peers. They were the loudest supporters by cheering each year group on and giving it their all when it was their race! Well done to Eddie, Edie and Matilda who came 1st, 2nd and 3rd!
---
Week twenty two (1.3.19) Healthy living!
Our theme this week is healthy living. We talked about how we can keep healthy and feel good in our bodies and mind. Here is what the children knew already…
Joshua: "You need to eat your vegetables every day."
Edie: "Exercise like running."
Joe: "Fruit is good for you, sweets are not."
Isabelle: "There are healthy foods and unhealthy foods. Unhealthy foods are not good and make you poorly."
Lucas: "Drinking fizzy pop is bad for you all the time."
We found out four important things to do to keep ourselves feeling good and healthy. The first was eating a variety of foods, ensuring we eat at least five portions of fruit and vegetables a day. Also, we need to drink plenty of water to keep hydrated, (of course the children were extremely thirsty after we talked about water and ensured they had a good amount to drink!). The next one is exercise regularly. We talked about when we do exercise and the children said during PE, when playing outside and when riding their bikes or scooters. Finally the other important thing is sleep routines. The children were asked when they went to bed…
Toby, "7'o clock"
Jessica, "11'o clock" (with a giggle)
Belle, "3' o clock" We asked whether it was in the morning or afternoon. She replied, "In the morning silly, we are at school in the afternoon!"
Sam, "I go to bed at 8' o clock every night"
Miss Parker brought in some fruit and vegetables for the children to explore. On Monday we will make smoothies with the fruit and write a step by step method of how to make them.
To support our learning we wrote a list of things we needed to do to keep healthy and how we could do it. Also we labelled parts of our body by using a word mat to support our sounds.
On Friday morning, the children played in the mud kitchen for the first time! They were so excited. They made mud pies, leaves stew and bug cakes! Delicious! It got rather muddy so thank goodness for waterproof clothes!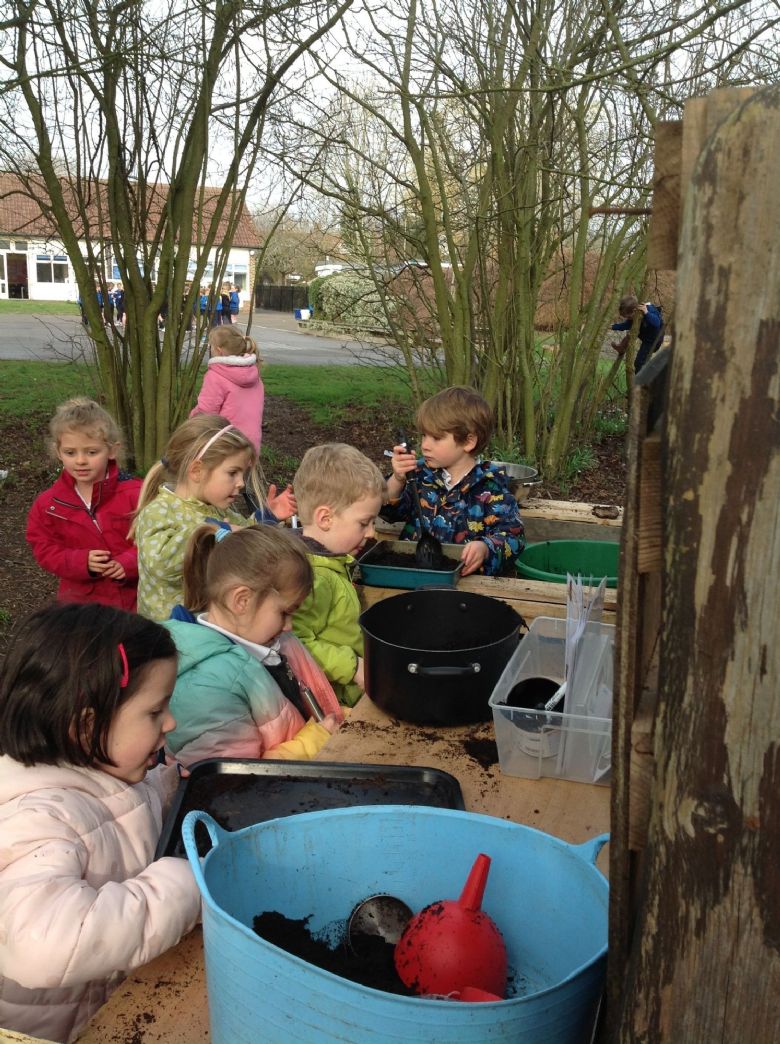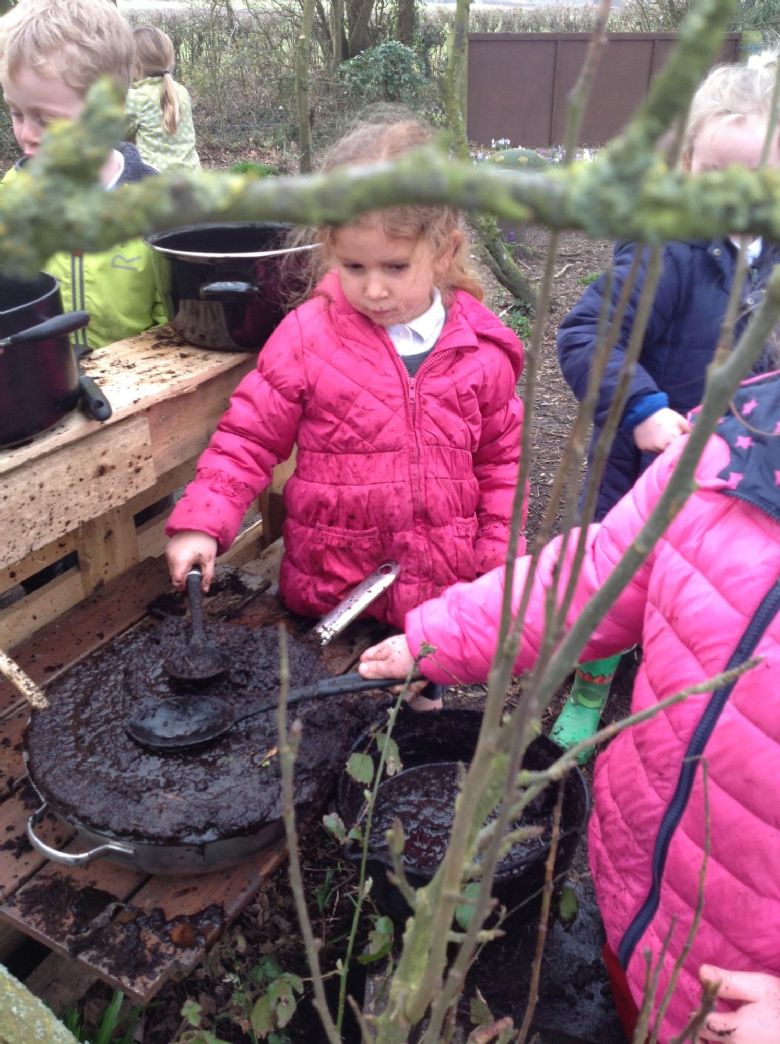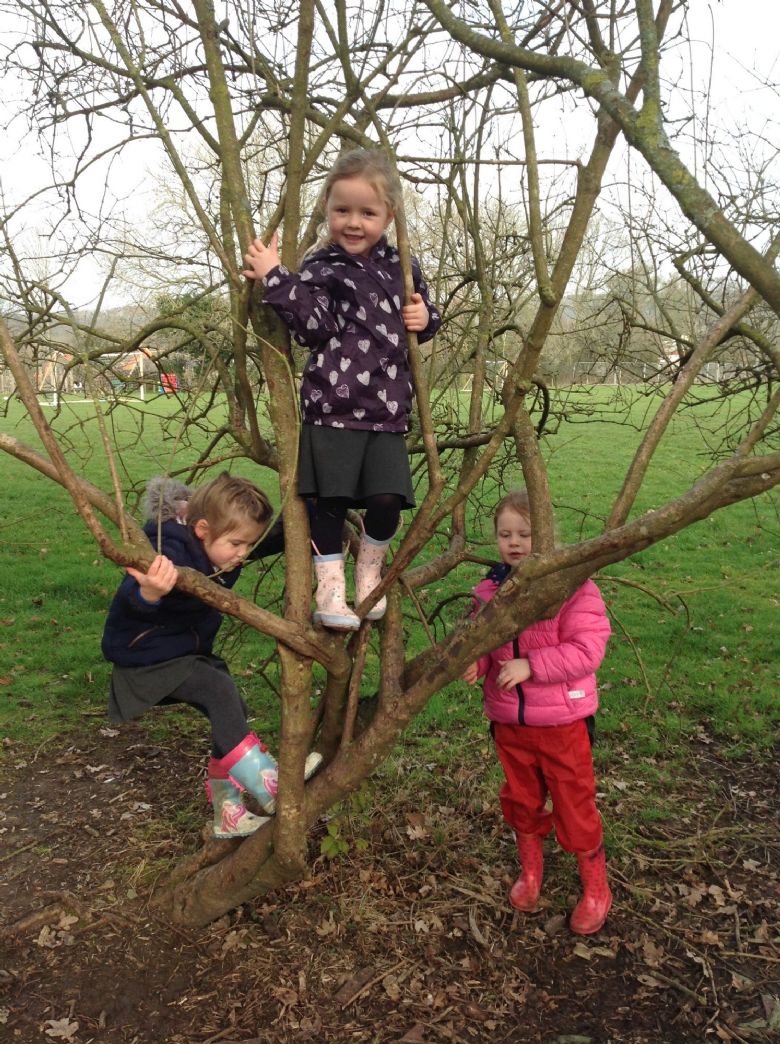 As the sun has been shining so beautifully, we have been exploring the water tray. The children are using brilliant language such as filling, pouring, full, empty, more, less, heavy, light, cold, freezing, damp and dry. They have been cleaning the walls and playground using large brushes and using the tyres to create steps to reach high spaces.
Phonics and Maths
In phonics we have learnt the sounds ow, oi and er. We have been finding different words which have these sounds in and putting them in silly sentences. Such as, 'The cow sat on the coin.'
In maths we have been focusing on addition. To do this, we have made our own number sentences by adding more than 2 groups together. Using the numicon, we have found different ways to make a given number. The highest number was 39! We found there are so many different ways to make the numbers.
---
Week twenty-one (15.2.19) Take one picture week
This week we have been focusing on a picture called, 'The Castle of Muiden in Winter' by Beerstraaten.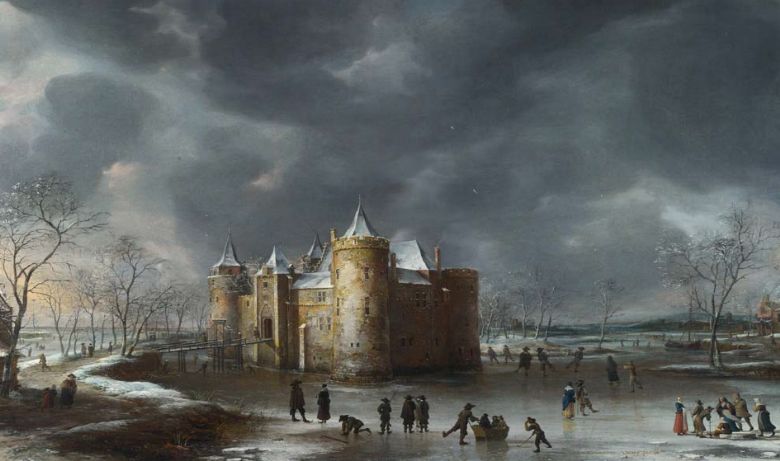 As a class, we discussed what they could see in the picture and then focused on what the weather is up to. Next we talked about the castle and what a castle needs to survive and why. Caitlin shared how the moat is frozen with ice and how a moat is used to protect the castle from intruders.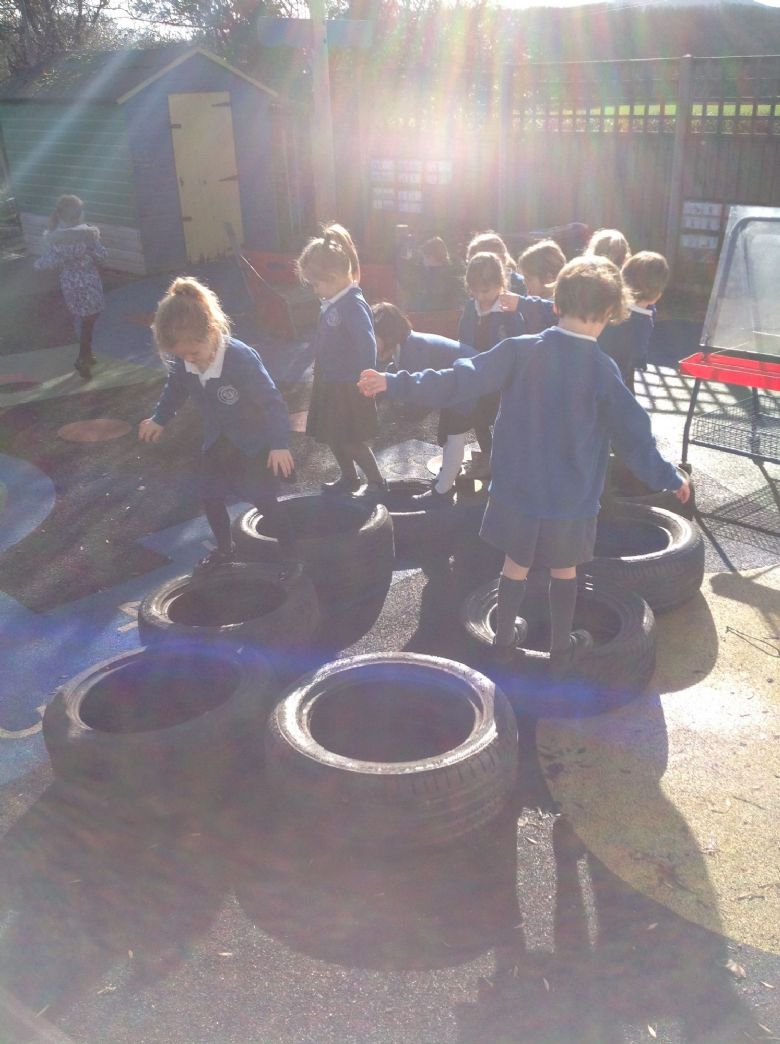 During play to learn the children took an interest in the role-play castle and used stencils to draw horses and their own castle with bridges and draw bridges.
The children have loved being outdoors building and constructing obstacle courses using tyres, crates and boxes. They have been thinking and working together by looking at how to improve it, check its safety and extend it by using blocks.
Challenges
This week we have been making and writing our Valentines Day cards and created heart window decorations. Look out for those coming home Thursday.
Maths
In Maths, we are recapping our learning so far. Also introducing simple addition by looking at symbols used and the meaning of them, also groupings of objects to count and add together. From this we also looked at number bonds to 10. After half term we we focus on this more.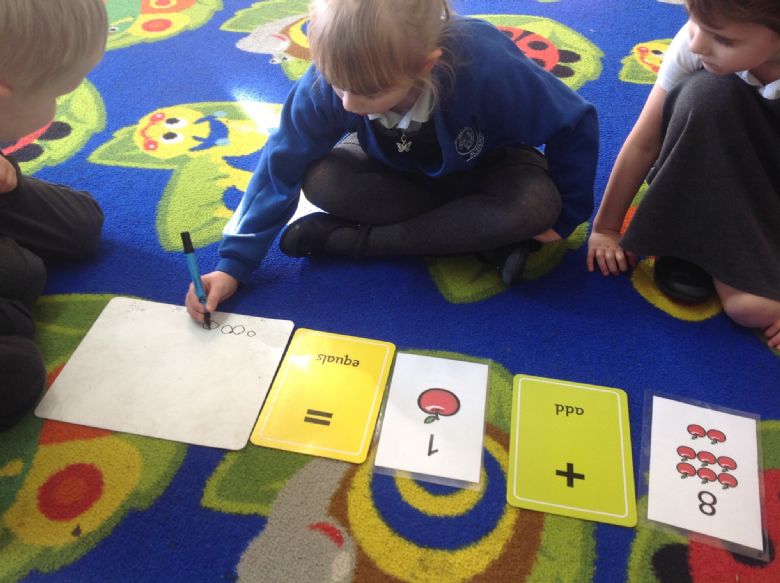 Phonics
In phonics we have learnt the sounds, 'oo' (short and long sound), 'ar', 'or' and 'ur'.
This week P.E kits are coming home for a half term wash. Please can we have them back the Monday after half term as we have P.E that afternoon. Please be aware some clothes may be in other children's P.E kits. Myself and Miss Rhodes do our best to keep children in one spot whist getting dressed; however, with 30 children all getting changed at the same time, we cannot ensure they are just putting their clothes in their bags. If you let me know on Monday what is missing or bring in the extra clothes you have we will do our best to sort it.
Thank you! Have a great half term.
---
Week twenty (8.2.19) Having a love of books and turnips…
This week we have been focusing on 'favourite books'. Miss Parker found some well loved books in the library and shared them with the children. We had a discussion about what their favourite books were, where they had read them and how many times they have read it.
Here are some of our favourites:
The Gruffalo is my favourite because the mouse tricks everyone, even the Gruffalo! Charlie said giggling.
Zog is the best because I love the dragon Zog. Eliza said.
The princess and the wizard is my favourite because I want to be a princess when I am older. My mum tells me I am already a princess now, but she tricks me sometimes. Isabelle said.
Nell brought in a gigantic turnip from her field, it was bigger than most of our heads! We read the book the enormous turnip and the children decided to make turnip soup. However, it was made with caution… Isabelle said, "I did read a book once and it said that turnips do not taste nice."
So, Friday morning Miss Parker brought in her soup maker so we could make turnip soup. After lots of chopping and stirring, we tried our lovely turnip soup. Some children did not find it so lovely, in fact know one liked it!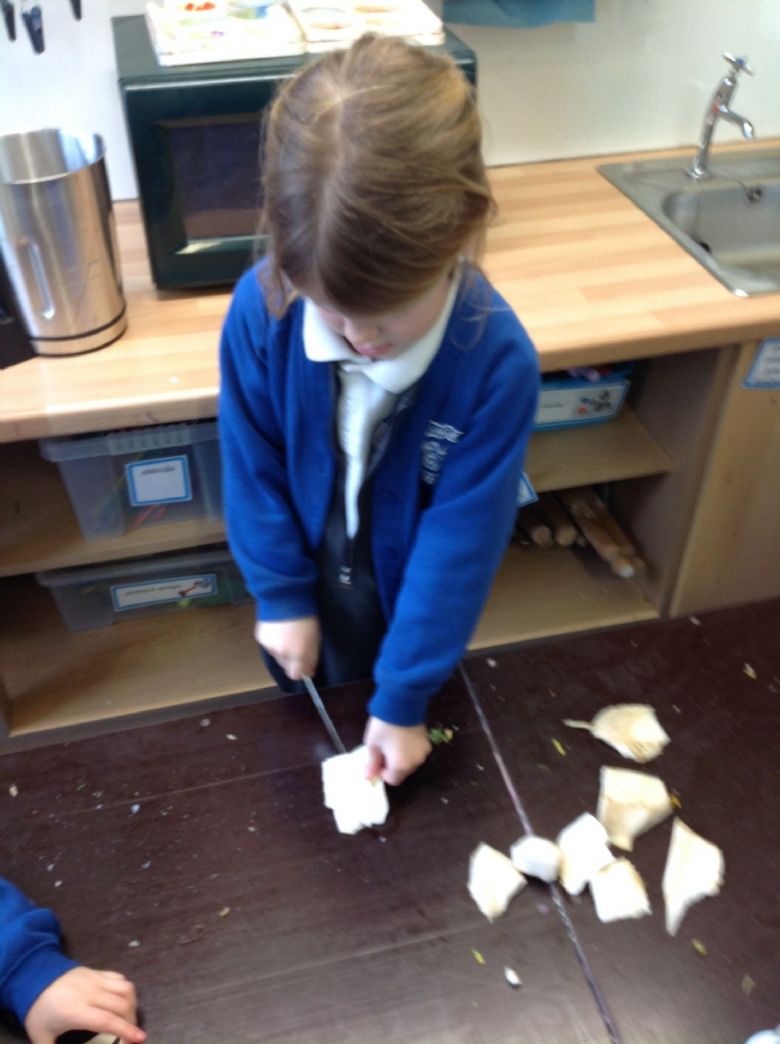 If you want the recipe for our turnip soup, here it is:
Chop turnip into a soup maker.
Wait for the beep.
Give it a stir.
Enjoy... or not enjoy!
Unfortunately, we could not go into the woods to have a fire due to strong winds and heavy rain! However, it gives us the opportunity to make turnip soup again! Horrayy for turnip soup! Not really they want marshmallows this time...
To continue our learning and love of turnips we draw pictures of it looking at each bit of detail and colour.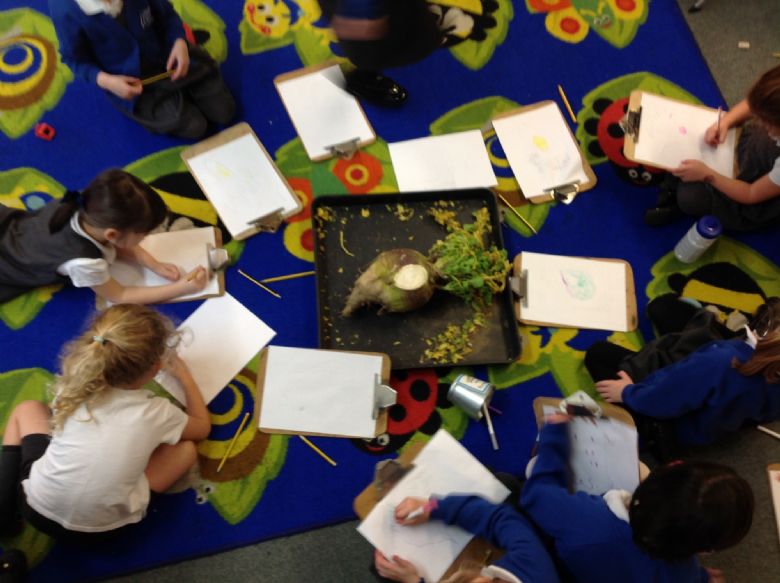 For our challenges, we wrote a list of our favourite books. We talked about what a list is and where else we would write a list. Bea explained to the class that her mum writes lists to go shopping and Joe said he wrote of friends for his birthday party.
Also for our challenges we drew a picture of the front cover of our favourite book. The children found the book in the library and used the book to copy the picture. The children looked hard to ensure they drew every detail of the front cover.
Finally the children made a book mark. We talked about what a book mark is for and now the children will use them for their school reading books if they do not finish it.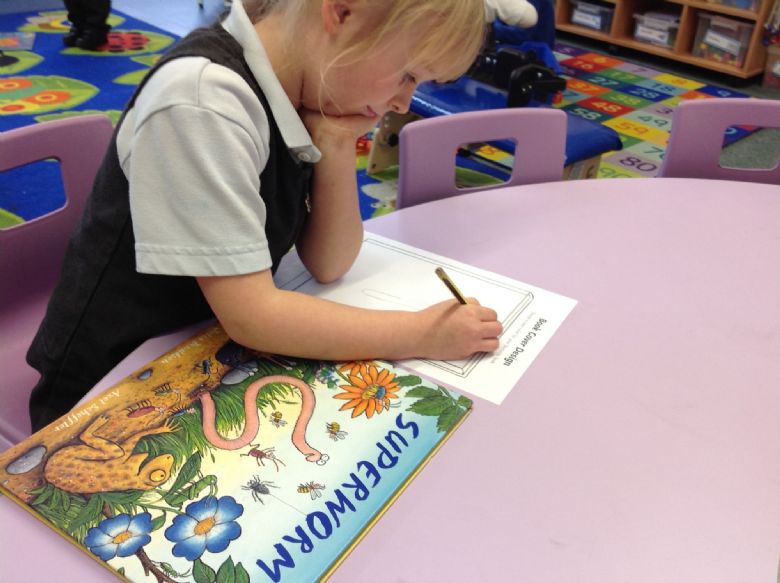 During play to learn the children have taken it upon themselves to attempt to read their favourite books independently in the outside area and by making different hidey-holes around the classroom.
Phonics
In phonics we have learnt the sounds 'ai', 'ee', 'igh' and 'oa'. The children are practising to write the sounds and attempting to join the letters together instead of taking the pencil off the paper after each letter.
Maths
In maths, we have become ESTIMATORS! We are learning to estimate and I have to say the children are fabulous at making good guesses. We have been estimating length, number lines and quantities up to 20.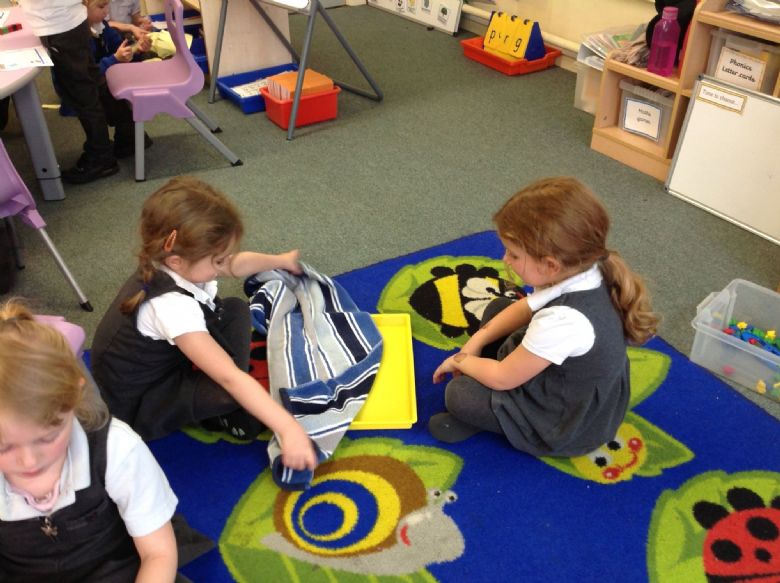 Internet safety day!
On Tuesday it was Internet safety day. In squirrel class we discussed how to keep safe on the computer and what to do if they noticed something strange.
I know that YouTube is sometimes dangerous. Sam said.
I would tell a grown up if I saw something was wrong. Emilia said.
I'm not allowed on my tablet for a long time because it will hurt my eyes. Jonathan said.
Week nineteen (1.2.19) Chinese New Year
This week we have been learning all about Chinese New Year. We began by watching a video clip where there were lots of people celebrating outside, fireworks, large dragons dancing around and Alice noticed there was lots of the colour red around.
We read the story which explains all the animals in the Chinese zodiac calendar. The children loved the story and could recall in the correct order which animal came when. We found out that when the children were born in 2015, it was the year of the goat.
We compared Chinese New Year to how we celebrate New Years after Christmas.
To continue our learning of Chinese New Year, Mrs Ye came into school and shared her experiences of Chinese New Year with her family. She showed us an enormous lion's head, which looked like the one on the video clip. We tried some traditional foods which Chinese people eat and learnt lots of information. So THANK YOU Mrs Ye!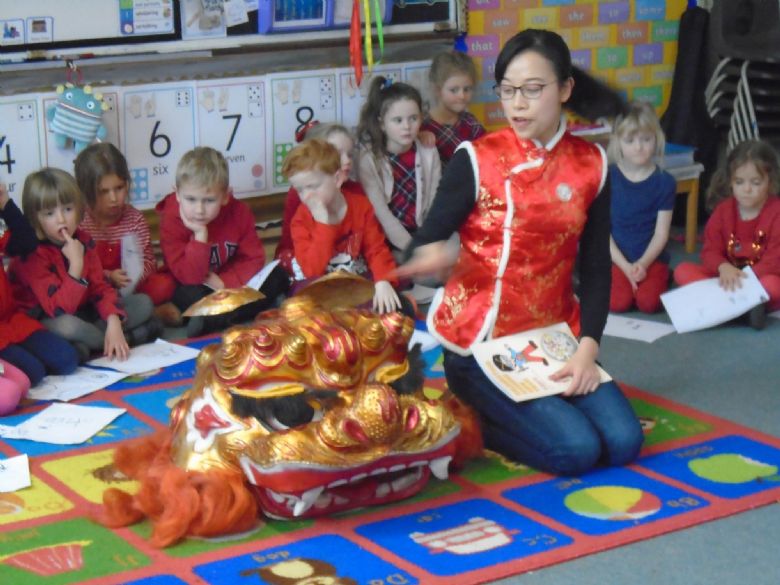 Here is what the children can remember:
On new years day they wear new clothes. Edie
They spring clean their homes and decorate them with lanterns. Joe
Their lucky colour is red. Alice
They celebrate with fireworks. Rose
It is the year of the pig. Joshua
They clean their homes to get rid of bad things (spirits). Jonathan
Some children have been exploring writing numbers 0-10 in Chinese. Charlie said, "I remember that they don't write like us because they use pictures."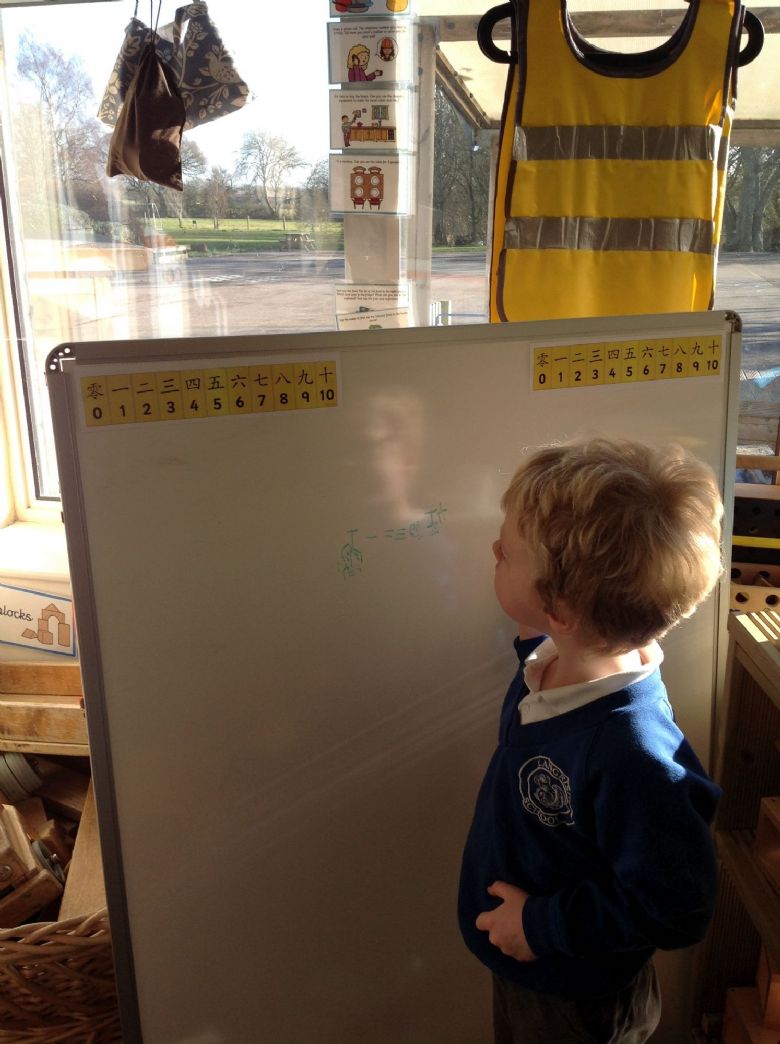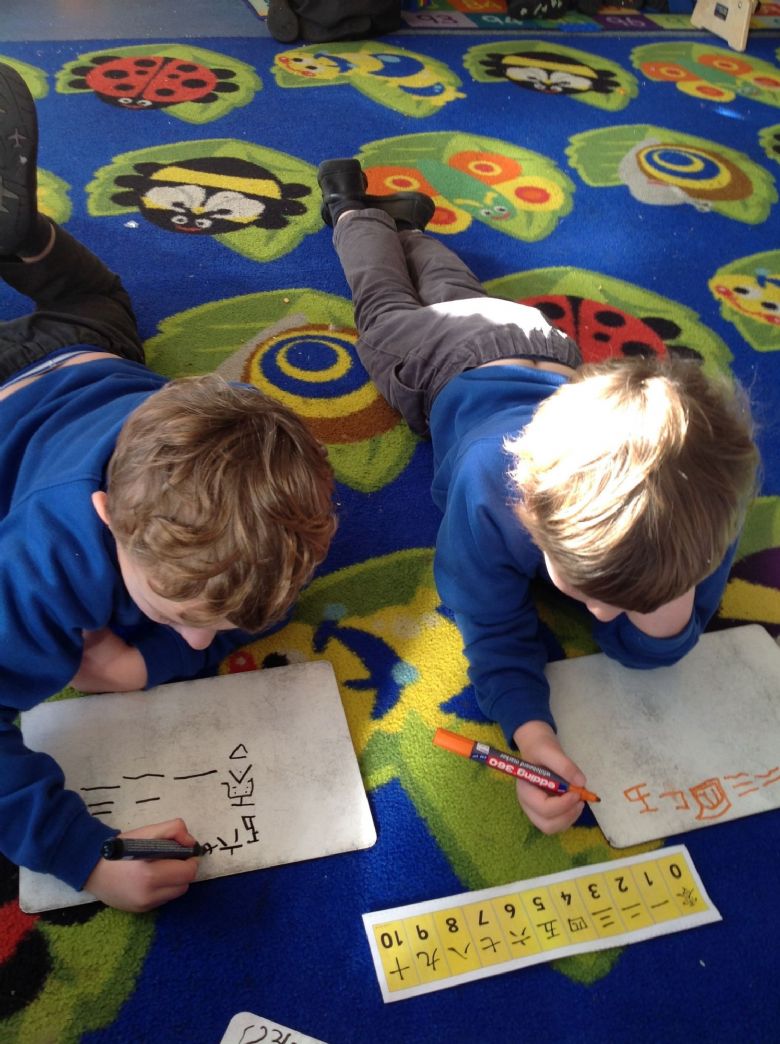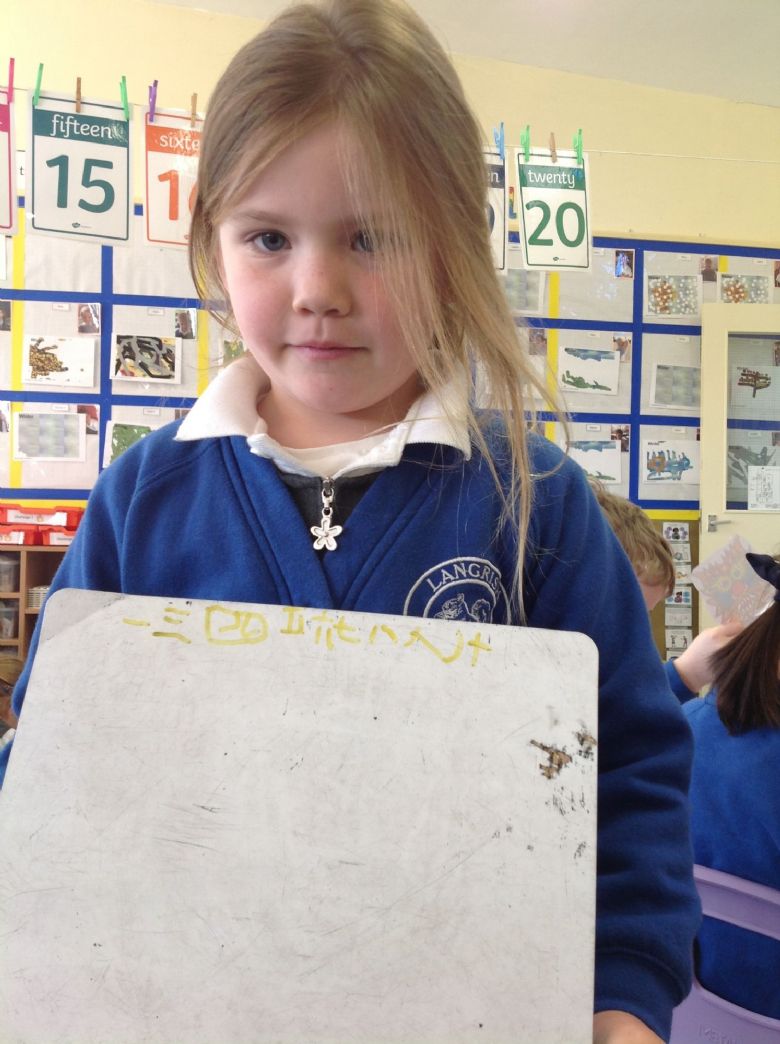 Our challenges this week are:
To write a fact they have learnt about Chinese New Year.
To draw and label a picture of a pig writing that it is the year of the pig.
To make a Chinese drum.
In maths we made Chinese dragons, then we measured them with a metre ruler. We talked about how we were measuring in cm and that we need to start at 0 when measuring.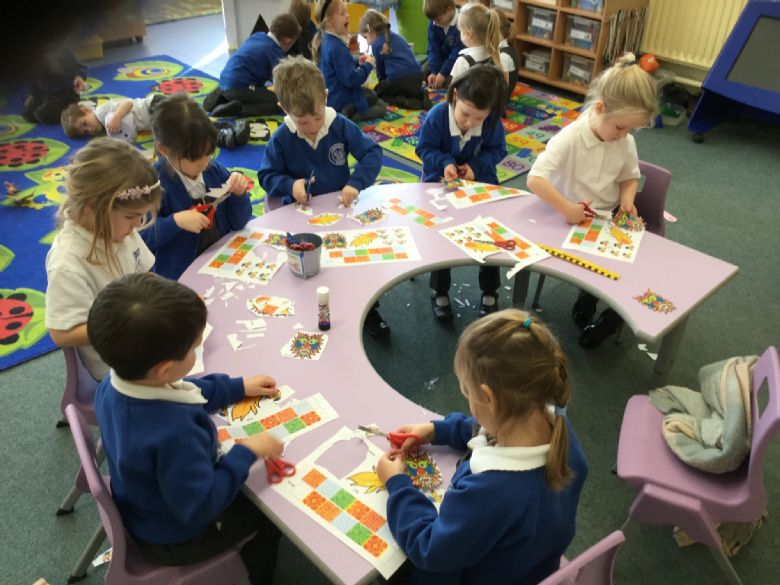 ---
Week eighteen (25.1.19) Story telling week
This week we have been reading traditional tales. This week is 'National Story Telling Week' so we transformed our classroom into a story corner full of the children's favourite books, traditional tales, puppets for the children to reinact the stories and a grand chair for the children to tell each other stories.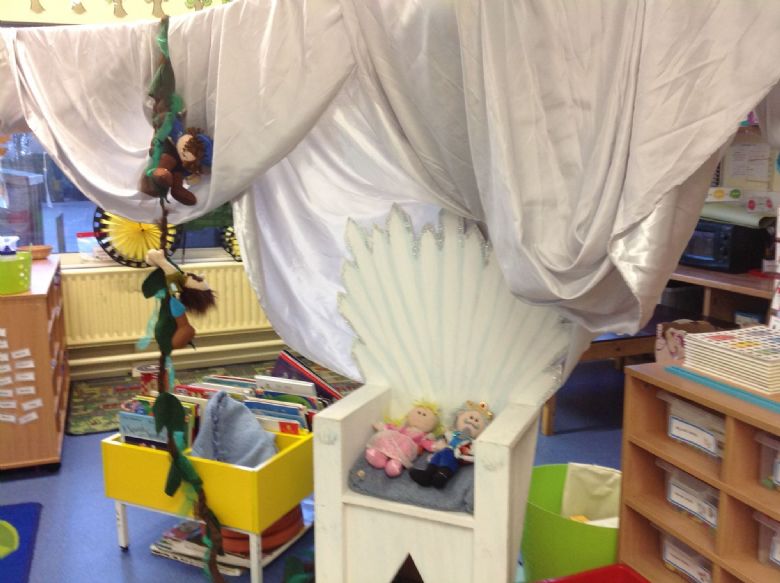 Linking to traditional tales, our challenges this week are:
Put the story of the three little pigs in the correct order with the added challenge of writing about what is happening in the pictures.

Describe Jack from Jack and the Beanstalk. Using words such as brave, boy, frightened…

Read and match the pictures to the sentences.

P.E
In P.E the children were feeling tired and a little poorly on a Monday afternoon, so to relax but still do some exercise, we did some yoga. The children were able to listen and follow the instructions and exercises and were extremely calm and relaxed afterwards.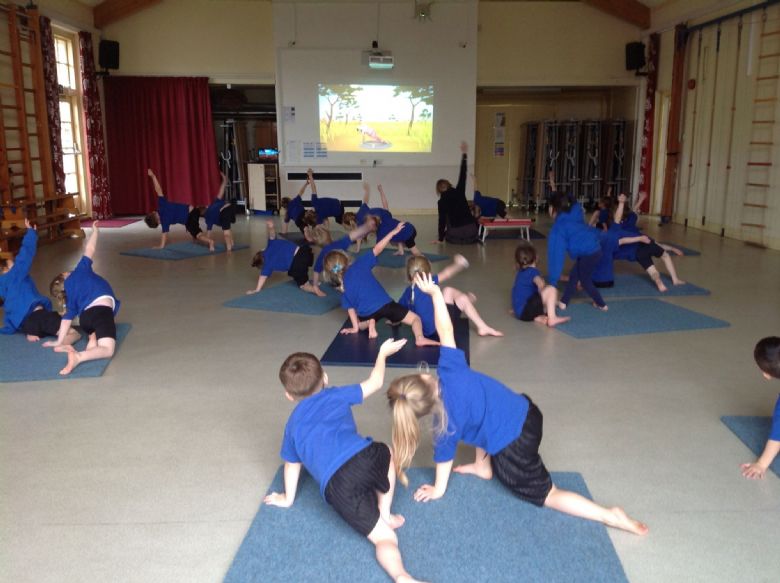 Maths
In Maths, we have moved onto 3D shapes. To reflect on what we did last week with 2D shapes we had a pile of shapes in the middle of the floor and the children had to sort them into 2D shapes or 3D shapes. Working together and communicating to one another, they managed to sort them out using language such as flat, solid and naming the shapes individually to compare.
To support 3D shapes we have been looking at objects around us to see what shape they are. In our maths books, we grouped the different 3D shapes together and labelled what they are.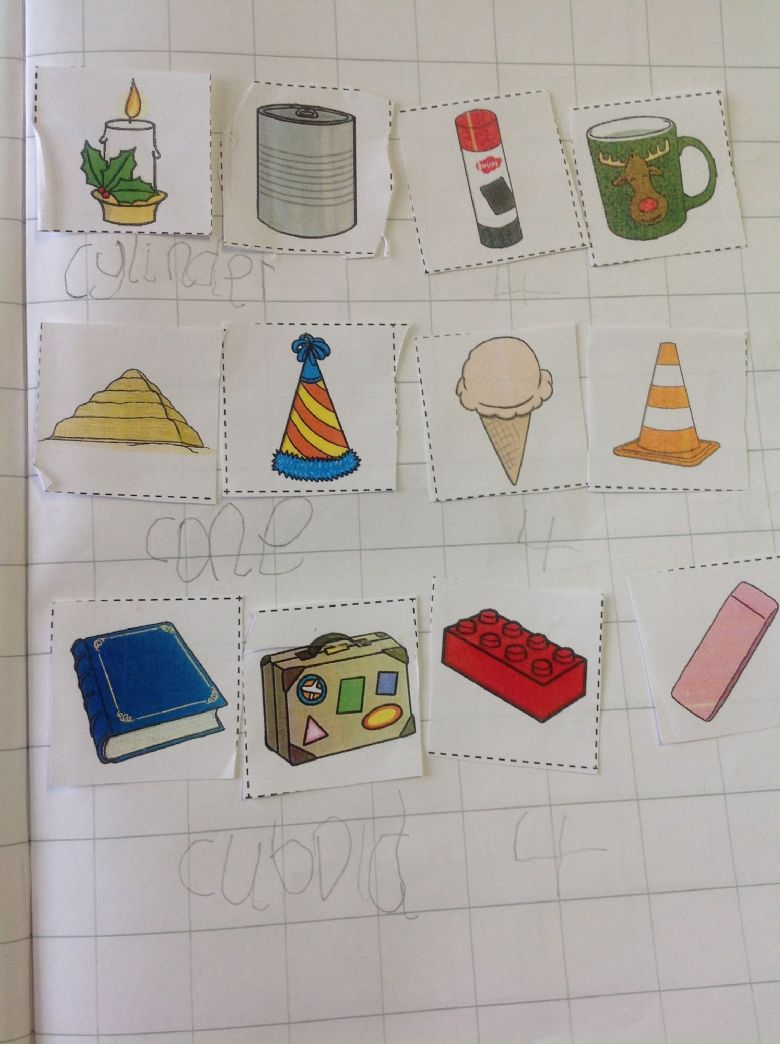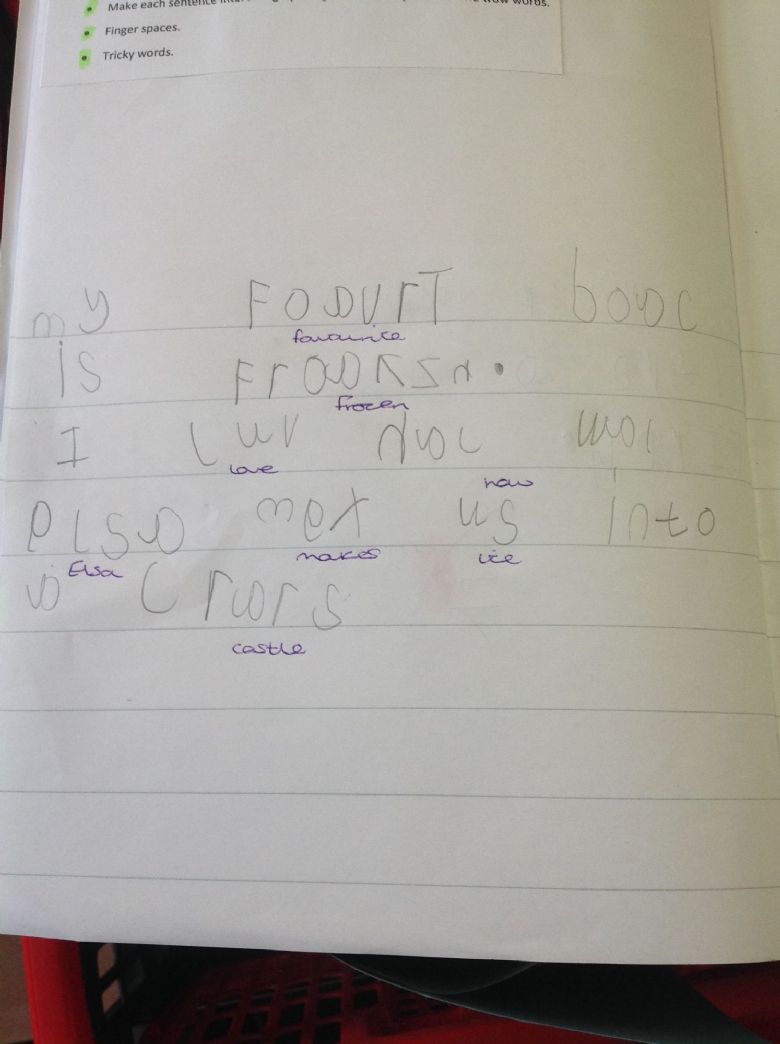 Phonics
In phonics we have learnt the sounds x, z, zz, qu. We are now moving onto the digraphs within the phase 3 sounds (digraphs are two letters which make one sound).
We have been practising our tricky words… please, please, please continue to practise these with your child! Remember they are words that cannot be sounded out, this is why they are tricky!
The children have been writing about what their favourite book is and why. Using the resources around them to write independently such as a sound mat, tricky word board and key words sheet, the children show a sense of pride in their work and boost to write more.
Home learning:
Don't forget the ICT challenge set a few weeks ago!
Phonics books will be coming home. Please can you complete all the phase 2 (orange) pages. If you could do this each week for repetition and progress, then write the dates completed please.
I will be collecting them back Monday 11th February. Thank you.
---
Week seventeen (18.1.19) All about winter…
This weeks theme is all about winter. We have talked about what we know about winter, how the weather changes and the different seasons. The children have noticed it is getting darker in the mornings and evenings and colder day by day. "I even saw ice on my car, you know!" Beatrice said, which is surely enough evidence to prove that it is officially winter.
To support our learning about winter, we looked at non-fiction books, explored ice and in forest school helped the wildlife by making fat balls. Caitlin said, "We need to help the animals because the ground is too hard for them to find food."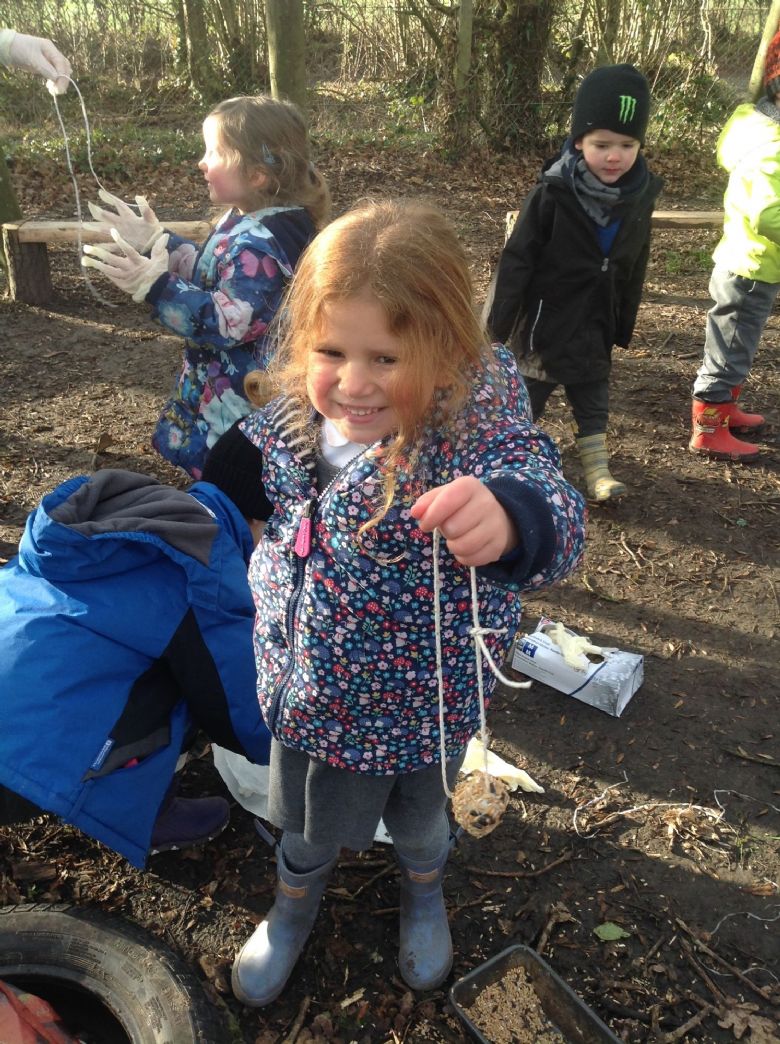 Phonics
In phonics we have been writing about what we know about winter. Using our sound mats, tricky words, finger spaces and making sure we hear the different sounds in each word, some children were able to write up to three sentences with great information about winter. Some children thought hard about their sentences and, to improve them, used exciting vocabulary. For example, instead of writing, "In winter it is cold." Joe wrote, "In winter it is freezing cold." and Rose wrote, "It can get very chilly in winter."
Maths
In maths we are all about shape! First we investigated 2D shapes, talking about the properties of each shape. Our key words are: 2D shape, flat, sides, corners
It was fabulous to hear the children talking to one another using great maths language!
On Wednesday we looked at 3D shapes. We talked and compared 3D shapes to 2D shapes and said that 2D shapes are flat and 3D shapes are solid. Our key words for 3D shapes are:
Cube, cuboid, sphere, cone, cylinder, solid
Next week we will explore the faces and corners of 3D shapes, however it gets very tricky!
To help remember our 3D shapes, we played a game where they all had to listen to a friend who would shout out a 3D shape, then the children had to run to that shape as quickly as they could.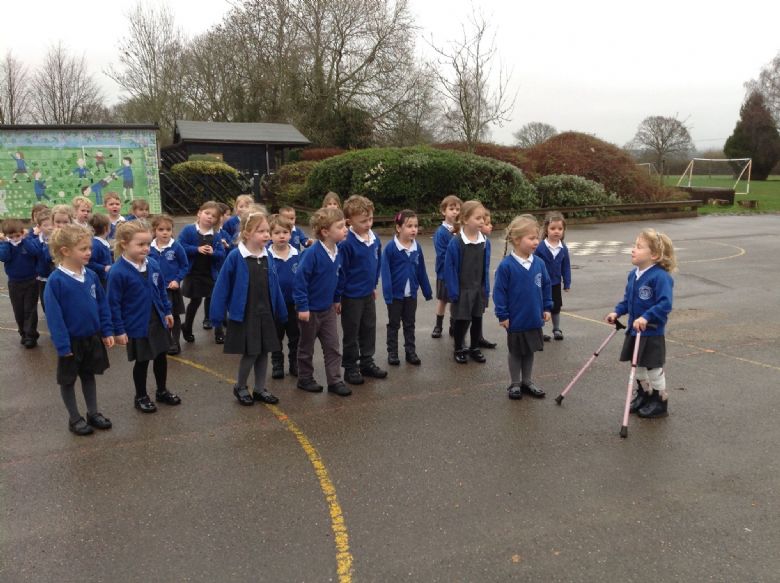 To support your child's learning, get them to look around the house to see if they can find any objects which are shaped like a cube, cuboid, sphere, cone or cylinder.
P.E
The children have enjoyed some yoga this week in P.E and even commented saying they felt relaxed. Also, we made obstacle courses to support balance, coordination, control and exercise.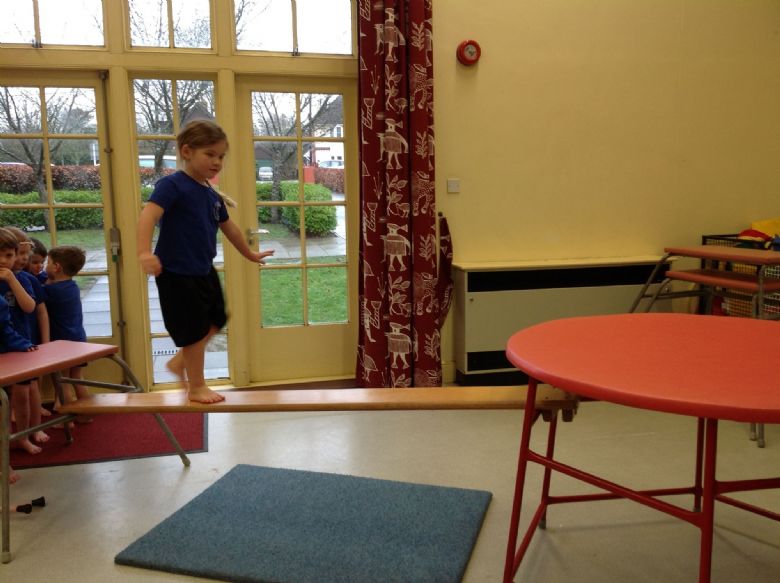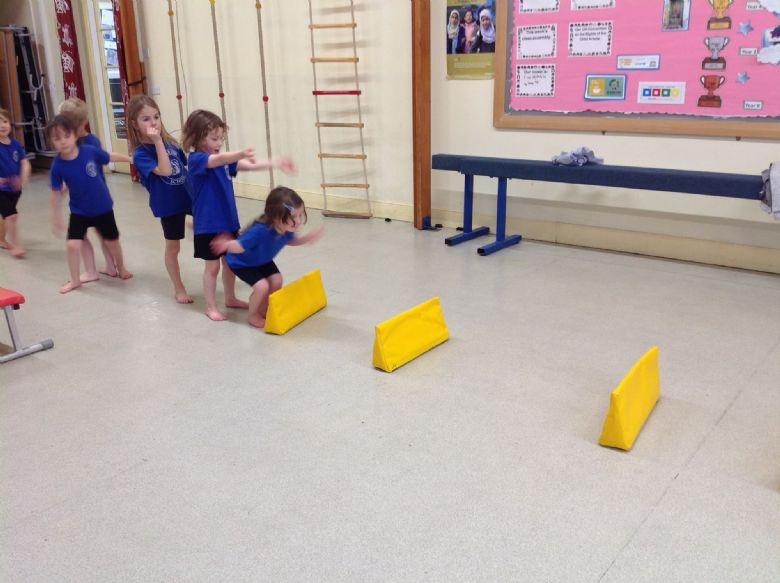 A reminder about all things ICT for your home learning. Please can you take pictures of the things used linked to ICT and bring it in on one side of A4 paper. It is a great way to give evident of ICT to support your child through the Early Learning Goals!
---
Week sixteen (11.1.19) Happy New Year!
The children were so excited about coming back to school to share with their friends what they received for Christmas. There was power ranger costumes, princess dresses and crowns, Barbie dolls and bikes. They all seem very well rested and eager to learn.
During play to learn, the children have noticed there have been many different birds outside and have taken it upon themselves to go bird watching. They used magnifying glasses to see the detail on each bird to find out what they are.
For one of their challenges they have to find a non-fiction book and tell a grown up what it might be about. Sam said, "I know, I can get a bird non-fiction book because it will tell me what birds are here. Robins are my favourite so I know what that looks like."
Phonics
This week we have been recapping the phase 2 sounds by building sentences and reading them to each other. The children are becoming much quicker when reading and show good understanding of the tricky words. We wrote about what we received for Christmas in our phonics books and used a sound mat to help us remember the formation of our letters. Next week we will start phase 3!
Maths
In Maths, we are finding and counting out different numbers. On the table were many different pots with numbers on. Working as a team, we had to count out the correct amount of counters and match them to the correct pot. Also, we went on an adventure in the woods to find 8 crunchy leaves, 9 tall sticks, 2 things which do not live in the woods and make different shapes with sticks.
CULTURAL DAYS!
It has been a fantastic two days for cultural day. The children were amazing at the change in routine and happily went off to different classrooms with different teachers. They had a great time either building French landmarks, dancing to Greek music and trying Greek foods or painting landscape pictures from Russia. It was wonderful to see them each making new friends and giggling all day.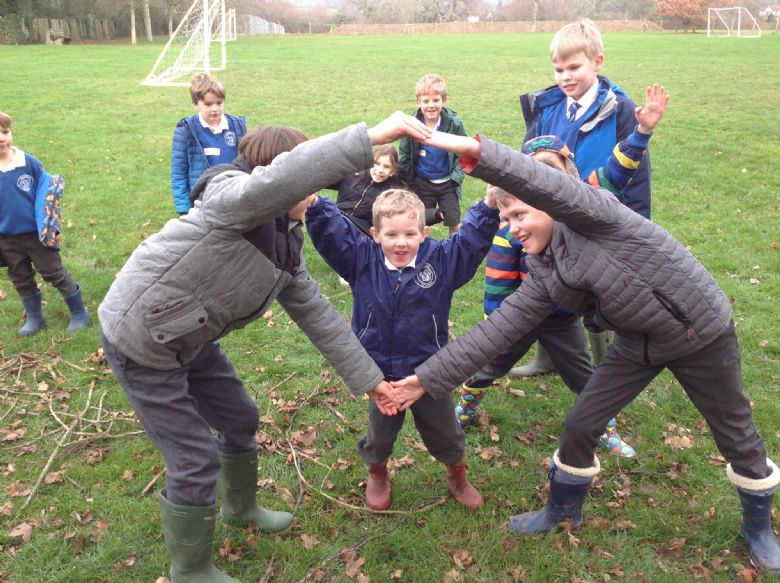 Home Learning
Over this term, we want to know all things used at home which links to ICT. This could be a remote control, watching television or using weighing scales when cooking at home. So please could you present a collage of photos on one piece of A4 paper sharing what things your child uses which is ICT.
Could we please have this by Friday 8th February.
---
Week fifteen (21.12.18) IT'S CHRISTMAS!!
What a week full of busy Christmas-ness! Firstly the Nativity, then the Christmas party and finally the pantomime!
The children are ready for a restful but exciting Christmas. Thank you all for the lovely gifts.
There are no phonics books coming home. You have had fresh book changes for the holidays, however I am sure there will be bigger and better things coming their way...
Thank you for a brilliant and supportive first term. See you all in January.
Merry Christmas and a very happy new year.
Love Miss Parker
---
Week fourteen (14.12.18) "Is it marshmallow day?"
We finally got to toast our marshmallows Monday afternoon. It was chilly but sunny afternoon. The children learnt the safety rules around the fire. They are:
You must not enter the fire circle unless Miss Parker has invited you in.
You must sit in the safety position when toasting your marshmallow (one knee up and one knee down)
The children loved how big the marshmallows were and enjoyed toasting them to how they wanted it by the fire. It was a great afternoon by all. Well done Squirrels for keeping so safe!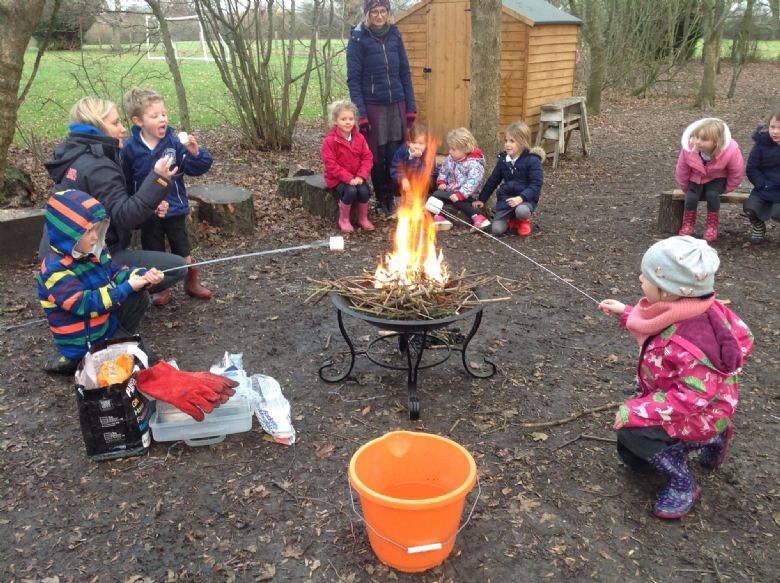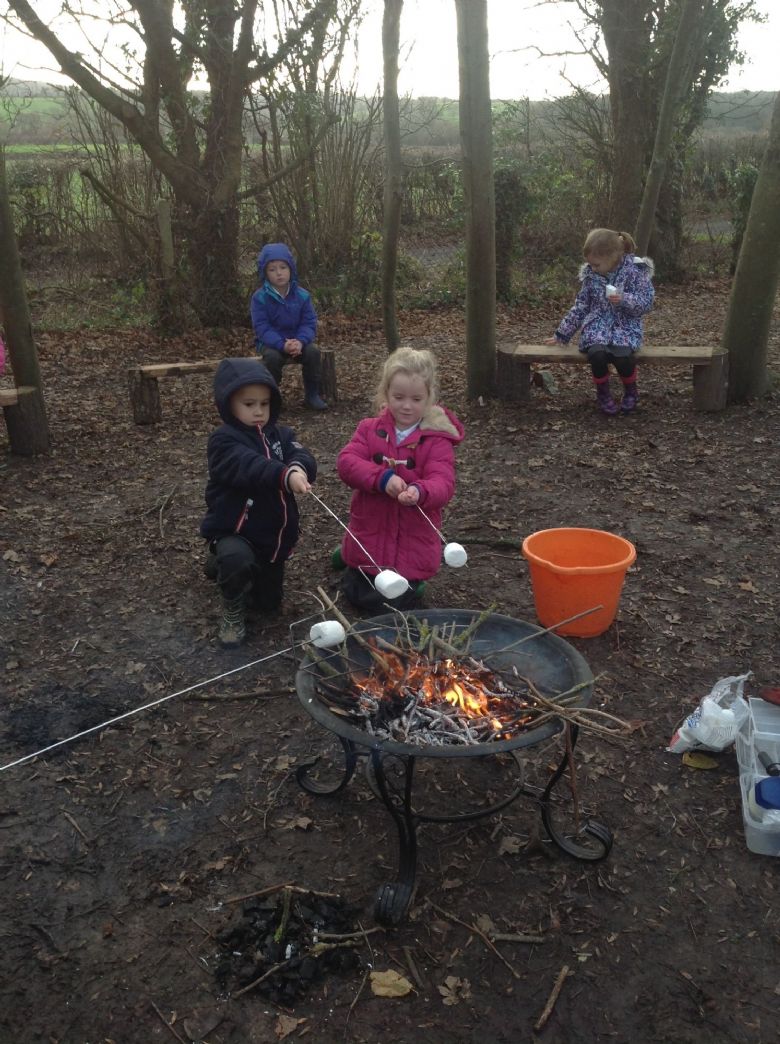 During play to learn, the boys especially have taken an interest in writing on our wallboard and whiteboard flip chart. They have been drawing Christmas trees and making up their own addition sums.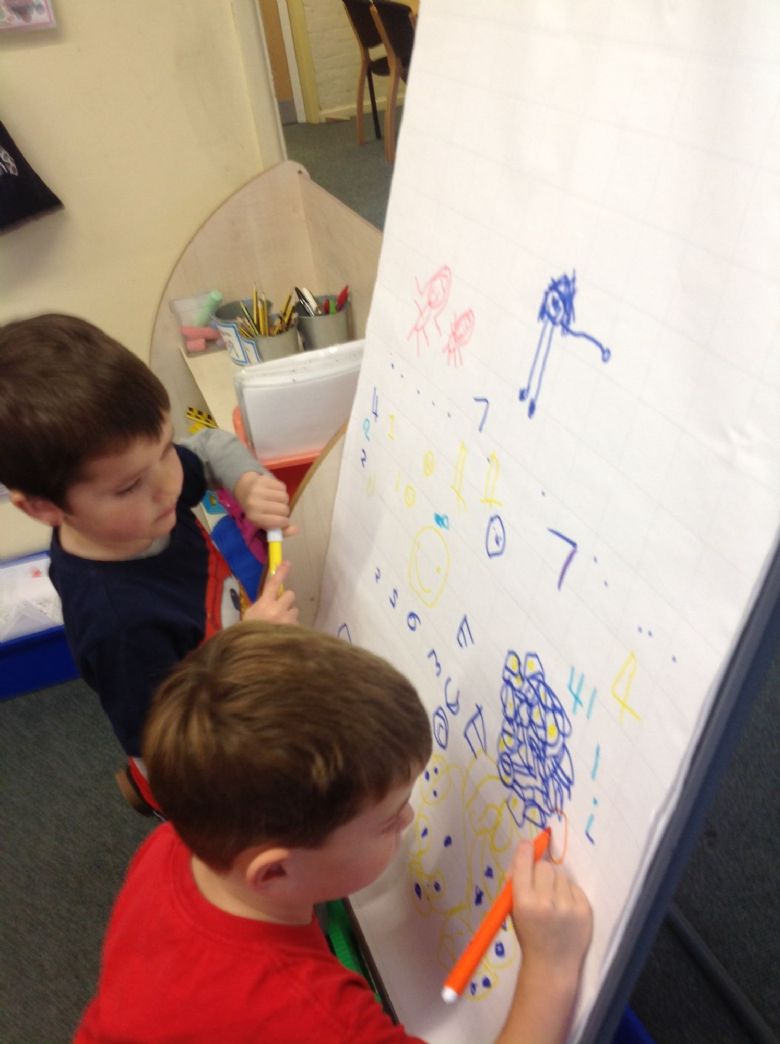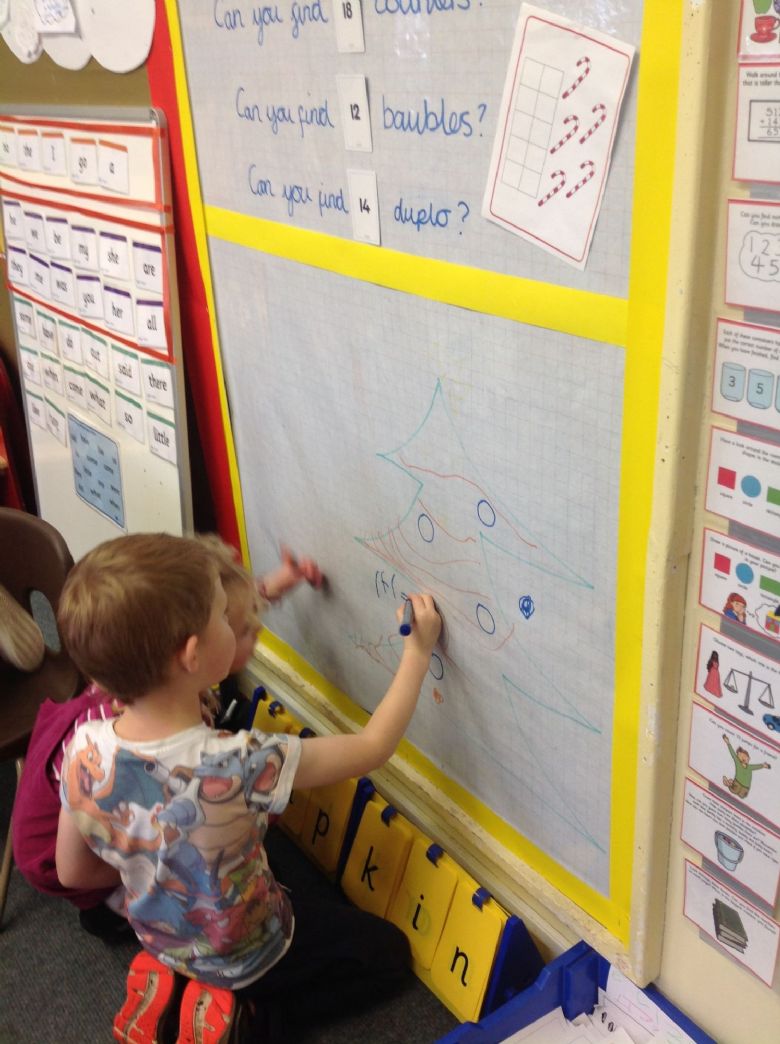 Challenges this week are:
Can you make a chimney for Santa to deliver presents?
Can you draw a Christmas picture?
Can you make a bauble?
Phonics
In phonics we are revisiting our phase 2 sounds. The children were given a whiteboard and Miss Parker would say a CVC word for them to sound out and write. Using the resources around the room, the children could find the sound they needed and copy it to write the word.
We are also writing our Christmas lists for Santa! It is becoming very expensive, as some children have asked for a drone, a real tractor and a step Fitbit watch. Good luck Santa!
Maths
In maths, we are learning to count out up to 6 objects and beyond from a larger group. The children have been finding many objects around the classroom such as 8 dinosaurs from the dinosaur box, 11 Lego bricks from the Lego box and 4 baubles from the Christmas tree.
Miss Parker has also introduced 10 frames. Using 10 frames, the children have explored making six in different ways. Here are some examples…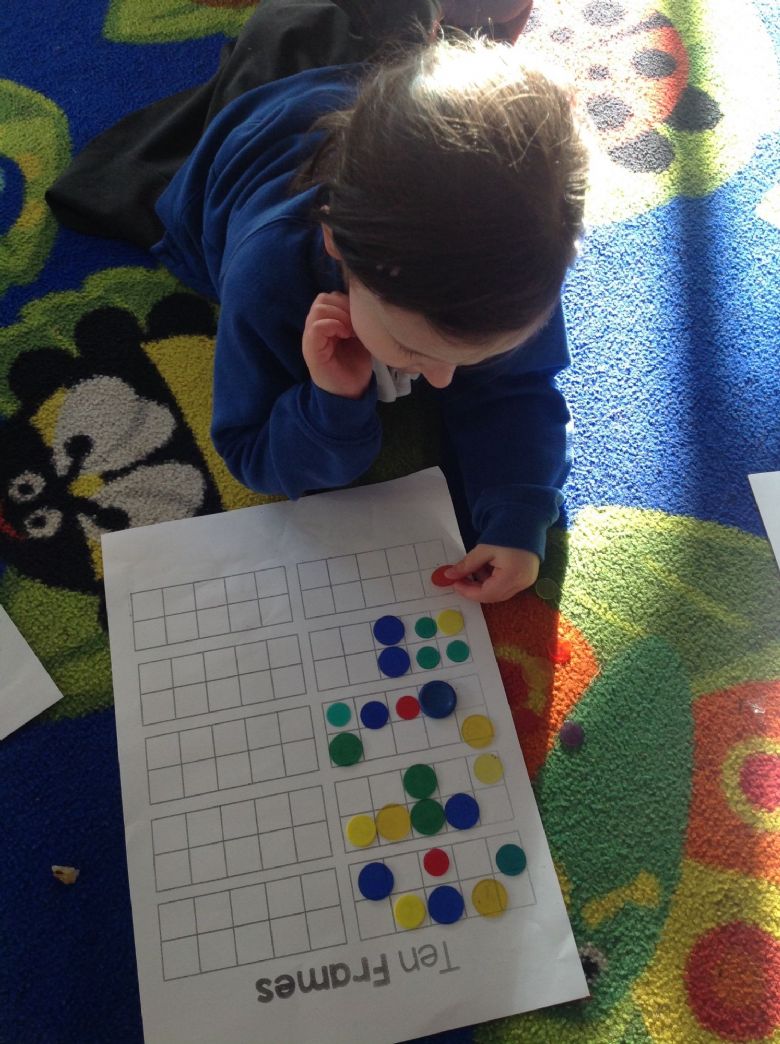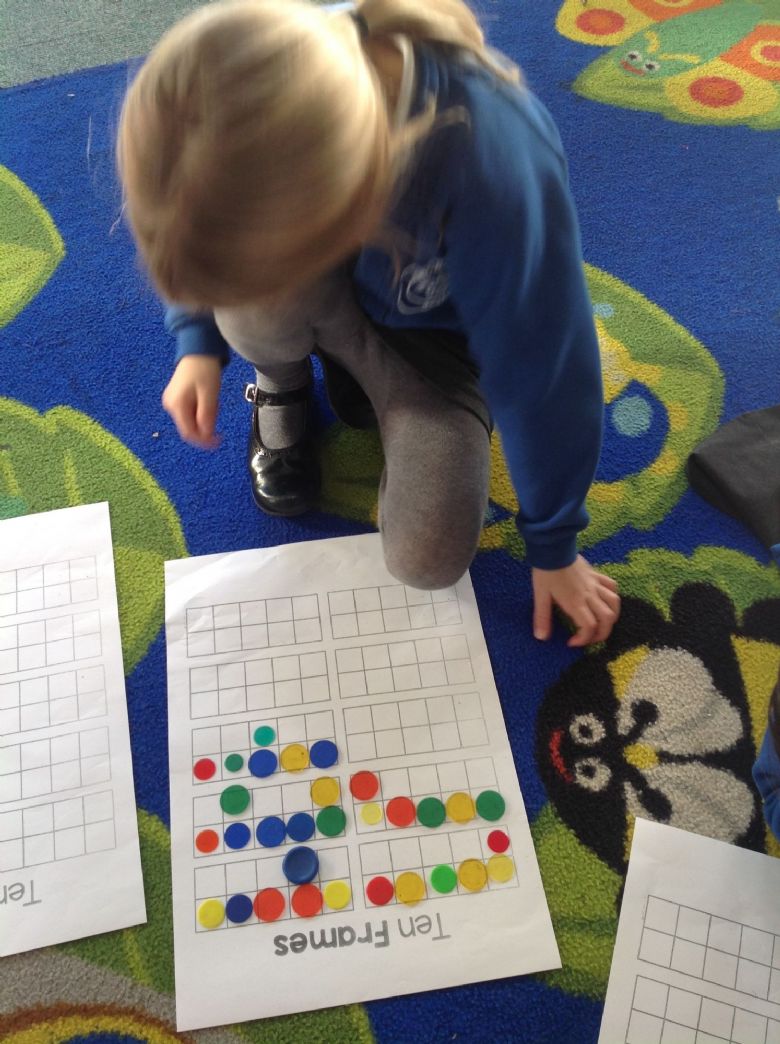 Next week:
It is our infant nativity! We cannot wait to show you our brilliant show!
P.E bags and wellington boots will be coming home for a good clean ready for the spring term.
---
Week thirteen (7.12.18) It's beginning to look a lot like Christmas!
This week the classroom has transformed into a Christmas toy wrapping station where the children have been busy wrapping presents for their friends and writing labels. Also Santa's grotto has been a place where the children can relax, decorate the tree and look at Christmas books.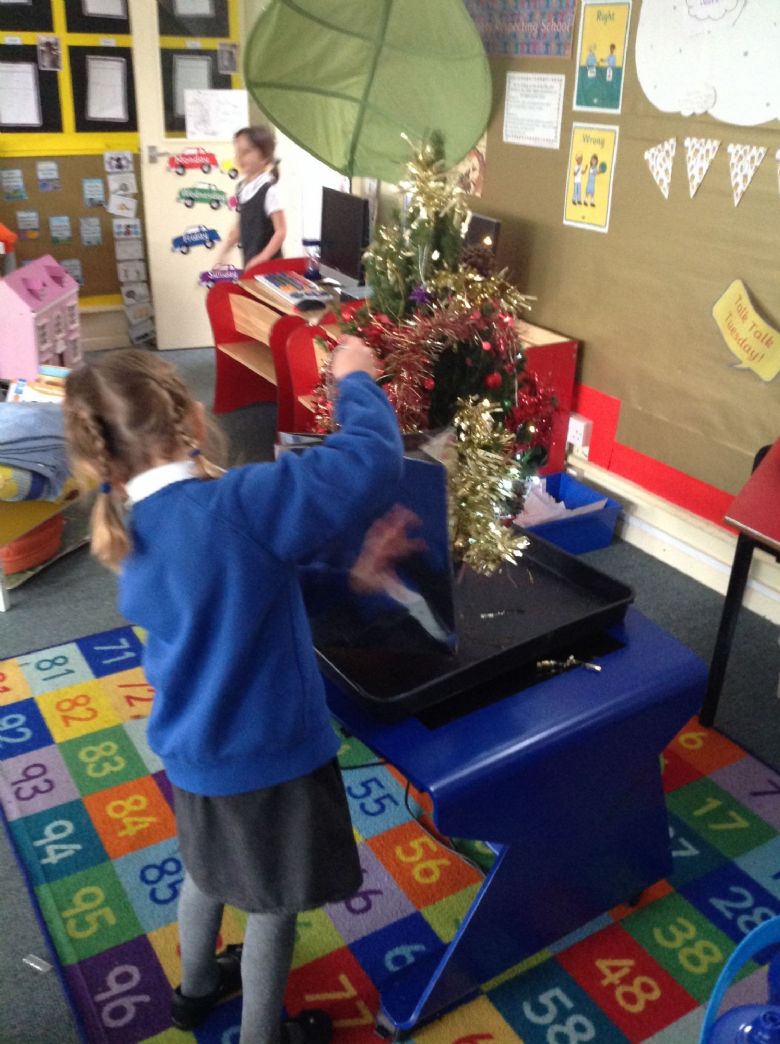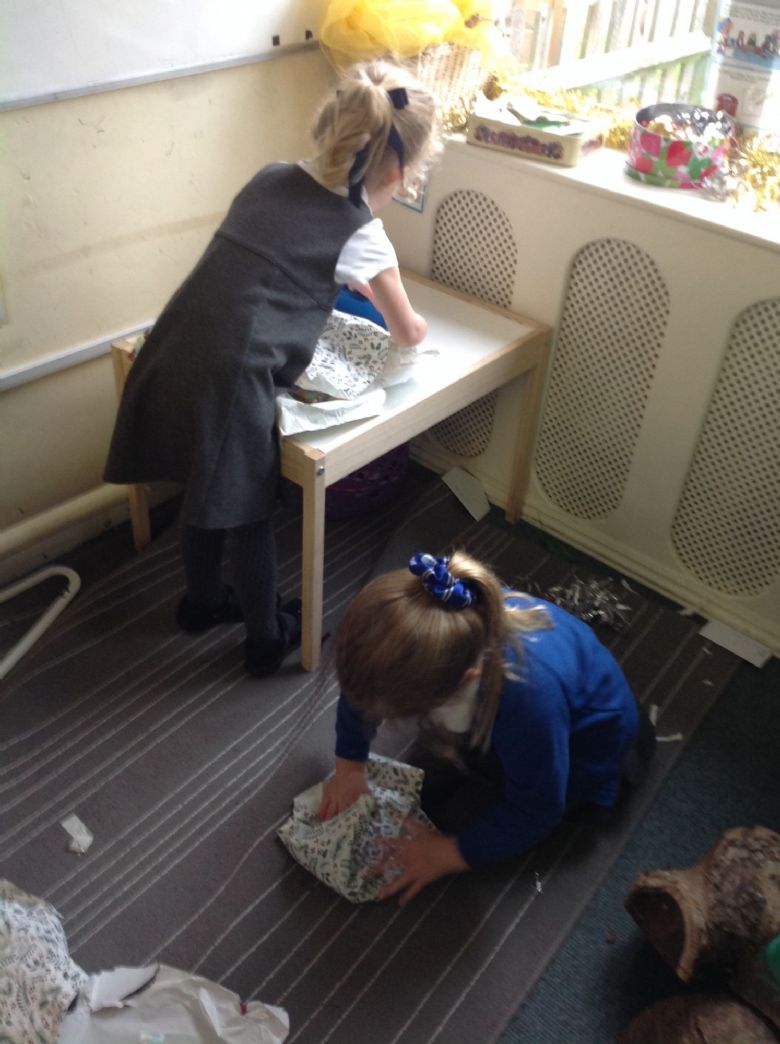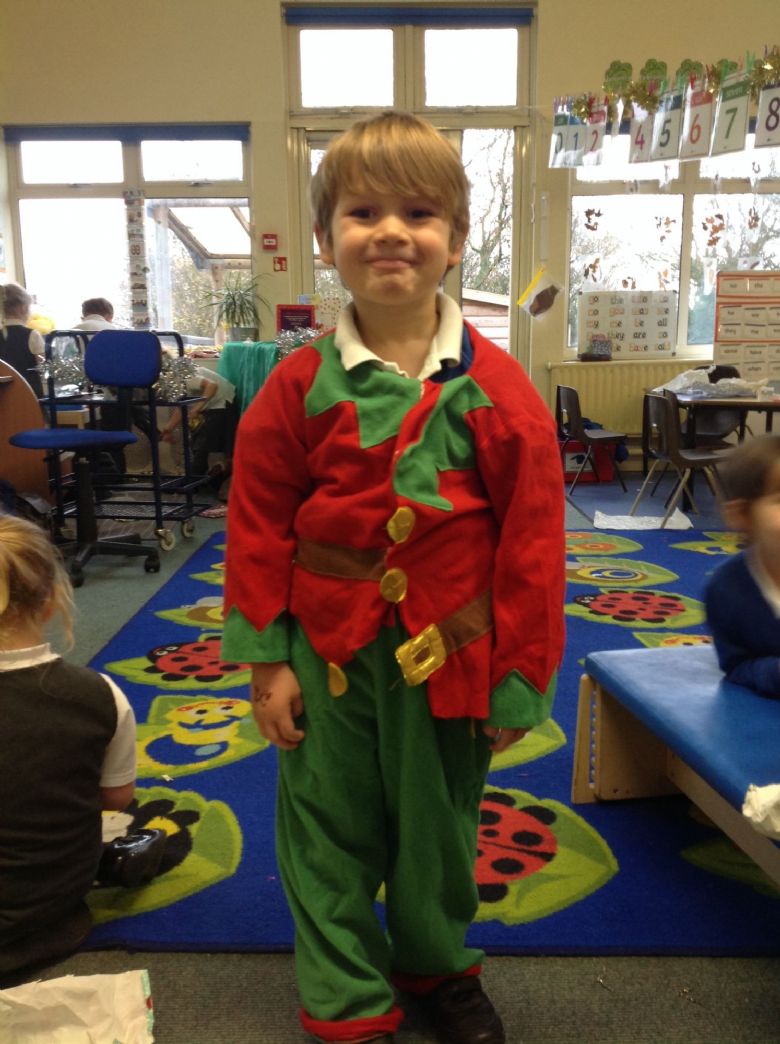 We have also been practising our snowflake role in the nativity… I am pleased to report it's going very well.
The challenges this week are linked to the nativity story. We read the story and talked about how not everyone believes in the story of Jesus. The people who do believe in the story are called Christians. The challenges are:
Can you tell a friend who is in the story?
Can a draw a scene from the nativity story?
Complete a word search
Phonics
In phonics, we have been learning the sounds l, ll and ss. This is now the end of phase 2. After Christmas, we will start phase 3. The children have been writing their Christmas cards ready to decorate next week. The children cannot wait to give them to you!
Maths
In maths, we are learning to count objects to 10 and beyond. To do this, we have been working in pairs to pick a card with a number on and for our partner to count out that many objects. Also, we have been counting Christmas objects and using a grid to highlight to total number of objects and write the number.
Forest school - toasting marshmallows!
Due to strong winds and hail Friday afternoon, we have postponed our toasting of marshmallows to next week. Although there is no such thing as bad weather... there is such a thing as soggy marshmallows!
Please note:
This will be the last week for maths games. Please can we have all maths games back by Friday 14th December so we can refresh it for the New Year. Thank you.
Miss Parker has all phonics book so please do not think you have lost them. They will be given out the last week for the Christmas holidays.
---
Week twelve 30.11.18 'Dear Zoo'
This week, our theme has been focused around the book 'Dear Zoo'. Most of the children already knew the story, so supported Miss Parker whilst reading it.
Our three challenges this week are:
Draw a picture of an animal and label it.
How many animals are there all together in the story?
Sequence the story. Can you put the animals in the order they appear in the book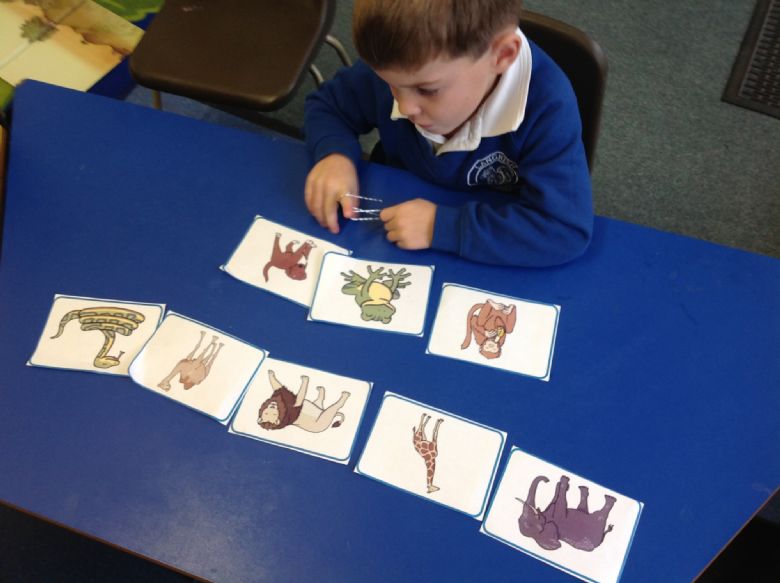 To keep to our theme, the children have been role playing animals in the wild. Many children have entered Africa to be giraffes and lions while others have been to the rainforest being frogs and snakes.
In the small world area the children have put the animals in different groups. This could be groups of tigers, groups of sheep or putting them in order of size or where they may live; such as a farm or zoo.
Phonics
In phonics, we have learnt the sounds h,b,f,ff (ff is a long sound for huff or cuff.)
We have completed our first piece of independent writing. The children were asked to write their favourite animal from the book. They used their ears to hear what sounds were in the word. The children did so well hearing the initial sound, some middle sounds and the final sound. Miss Parker was very impressed: they went straight up on the children's working wall so everyone can see them!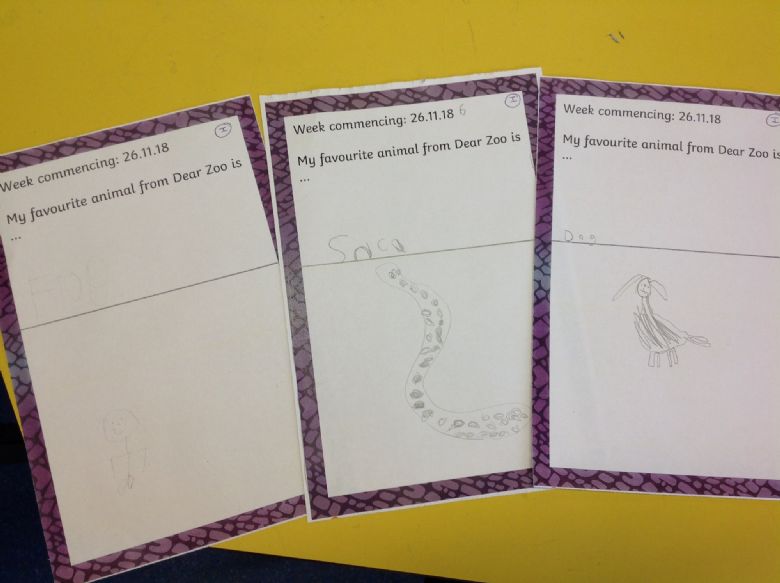 Maths
In maths, we are learning to count objects which cannot be moved. It is trickier than it sounds as we have to make sure we count all the objects and not miss any out. To do this we have counted claps, beats in musical instruments and even counted star jumps!
The children were given a challenge to count objects such as the windows, doors and cupboards around the classroom. Using a clipboard and chart, they had to fill in the number of how many objects there were.
---
Week eleven (23.11.18) Stanley's Stick!
This week our theme has been on the book Stanley's Stick. It is about Stanley going on many adventures with different shaped and sized sticks. With each adventure he goes on, he uses his sticks for different things.
To follow on from this we have drawn our own inventive stick…
Matilda has drawn a Christmas tree stick and Joe drew a builder drilling in the ground stick.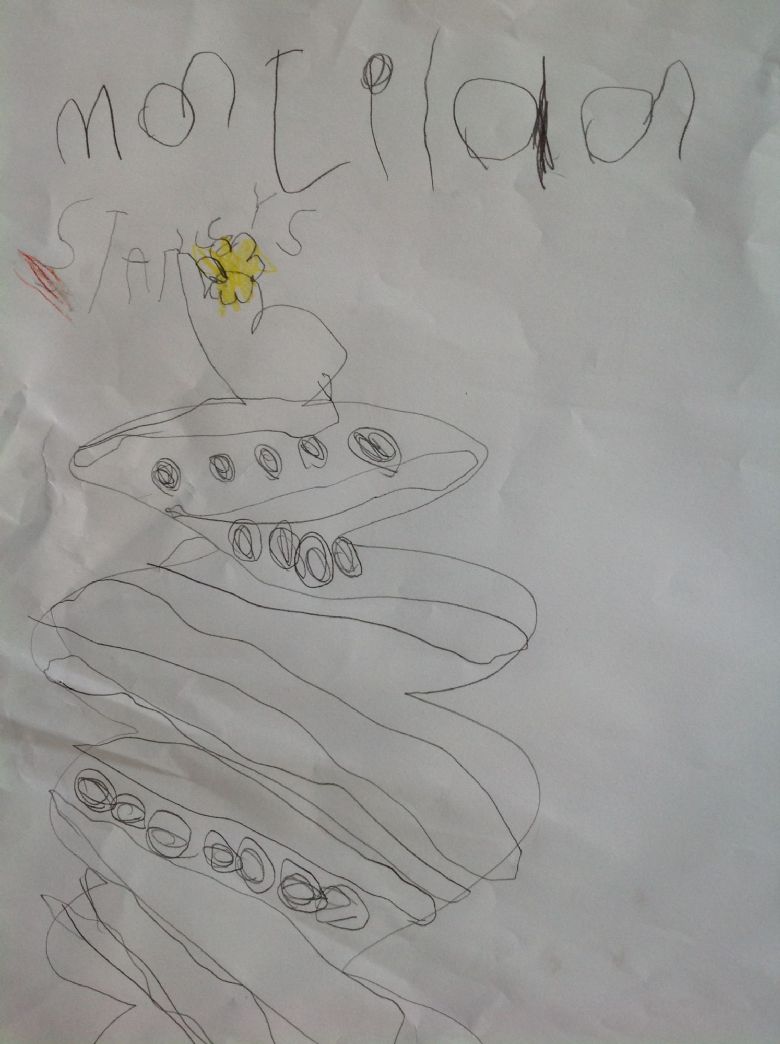 Also, we attempted to write the word 'stick' as 'ck' is one of our sounds this week! ('ck' is called a digraph. It means two letters that make one sound. We will be learning more digraphs soon!)
During choosing time, some children used nothing but sticks to create a painting or to paint their own stick. The stick used was either found over the weekend or found outside in the woods.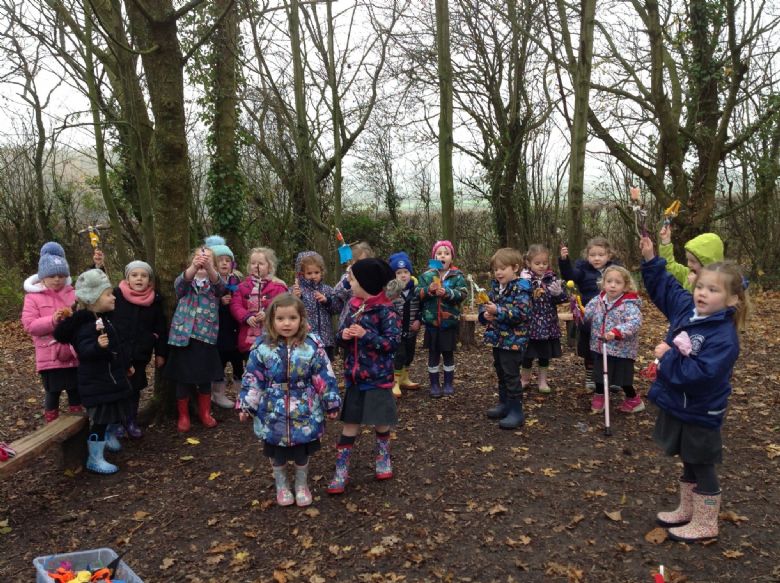 During forest school, we collected more sticks and created people out them by making clothes out of the natural resources or felt. Here are some we made.
Phonics
In phonics, we have learnt the sounds, ck, e, u, r. To support our sounds, we have been practising to write them using our magic finger, the sand and on whiteboards.
Maths
In maths, we have learnt about 2D shapes. The children became experts by picking a shape and describing the shape to their friends. The friends then had to draw the shape they thought it was. The children used brilliant language such as, sides, flat and curved.
With our super shapes knowledge, we continued some repeating patterns. Working as a team the children helped one another ensure the right shape went next.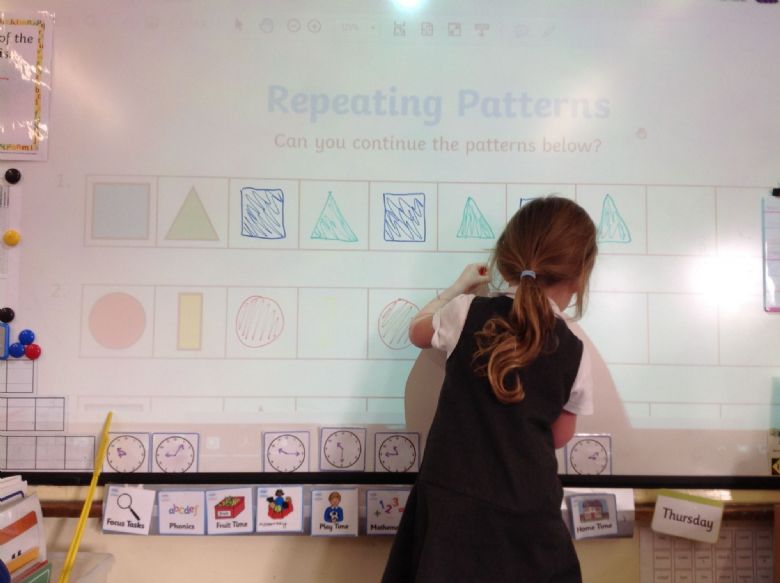 Home learning:
Please can you work on page 5 and work through the first 16 sounds. Please tick off the ones they know and ones we need to focus on. Also, page 7 has the tricky words on. Do they know these words well now? Again, please tick off If they know them or need to focus on them.
To extend their learning, could they practise writing the sounds?
Thank you for your continued support with home learning!
Please remember all sponsor money for the NSPCC needs to be in by Wednesday 28th November!
---
Week ten (16.11.18) "I wore a poppy on Sunday and was thinking for two minutes!"
This week we reflected and discussed Remembrance Sunday. To support our learning, we talked about what we did on Sunday and where we were, to remember those who died in the war.
For our challenges this week, we used word mats to support reading and writing a key word linked to Remembrance. Also we made our own poppies using split pins.
As a class we painted poppies to make our own wreath. Come and see our poppies on our working wall in the classroom!
Phonics
Thank you to everyone who went through the first 8 sounds with their child in their phonics books. They were so excited to show us what they had done! Also, it is a great way of seeing what sounds they remember in a different environment.
This week we have learnt the sounds d, g, o, c, k. To support our learning we have been reading simple words with these sounds in and also reading our tricky words. Then we build them with magnetic letters, then wrote them. Here are some great examples of how busy the children have been.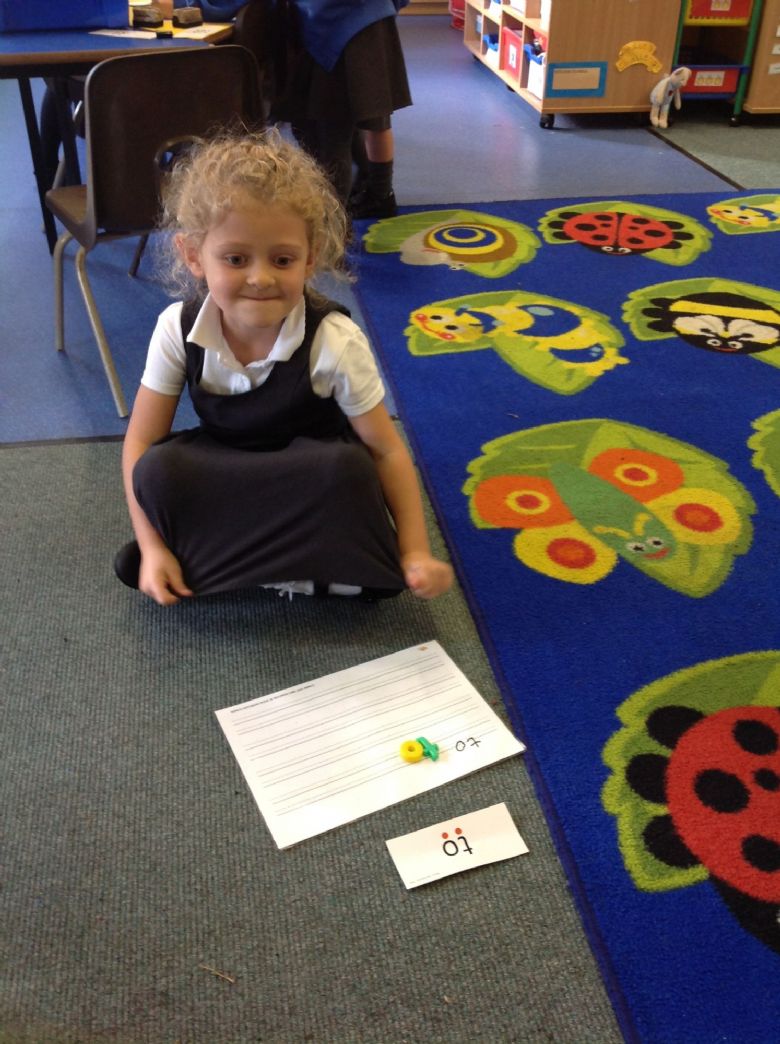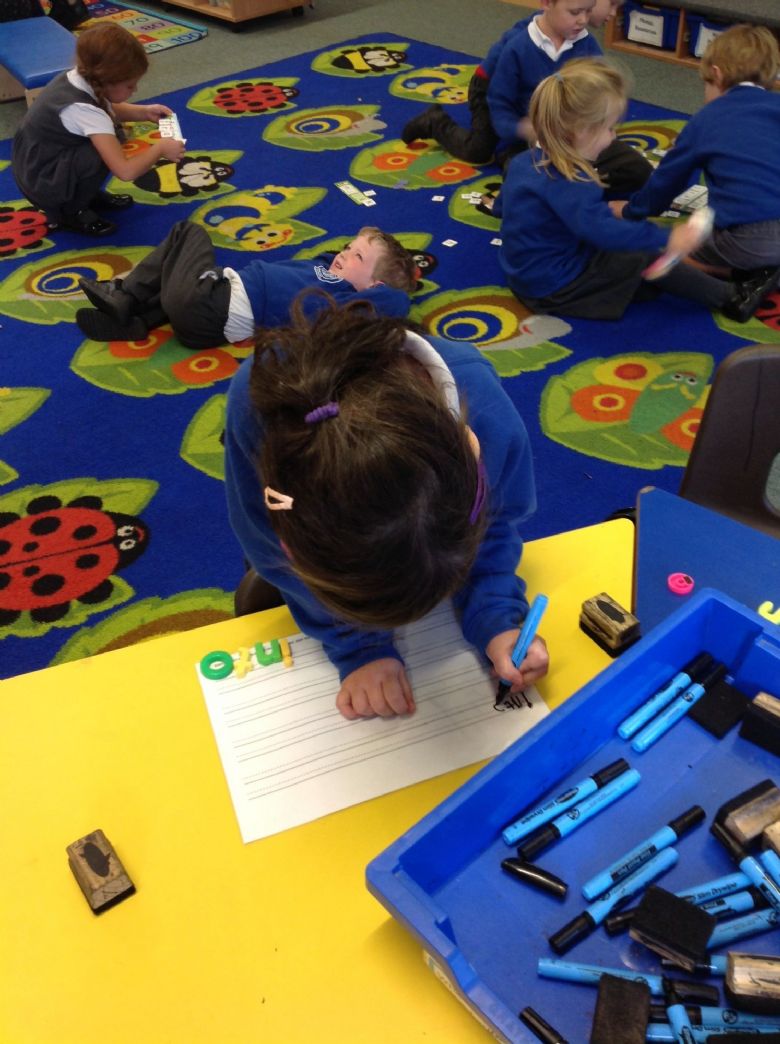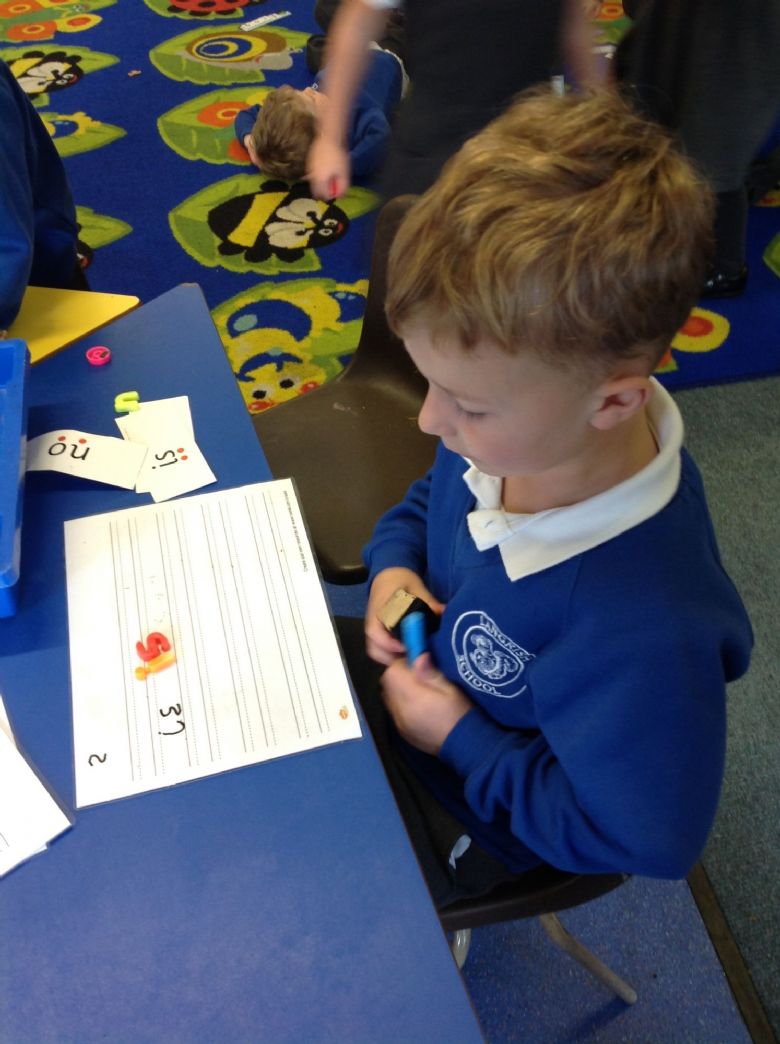 Maths
In maths, we have been looking at numbers which are significant to us. First we talked about our age, our mums and dads age (some were a little hard to believe…) and the ages of our siblings. Next, we talked about the number house we live at and any other numbers which are important to them.
To follow this we looked at individual numbers. We started with number 5.
Here are what the children said about number 5…
Matilda said, "You cannot split number 5 in half equally."
Toby said, "If you had ten, then took away a five, you would have five left."
Isabelle said, "It is an odd number."
Joe said, "It is an important number to me because I am going to be 5 in December."
Forest school
We have had a great time in the beautiful autumn sunshine. It was blistering windy day, but that did not stop Squirrel Class being busy exploring the woods. We made dens, worked as a team to move heavy logs, climbed trees and explored the texture and sight of different trees.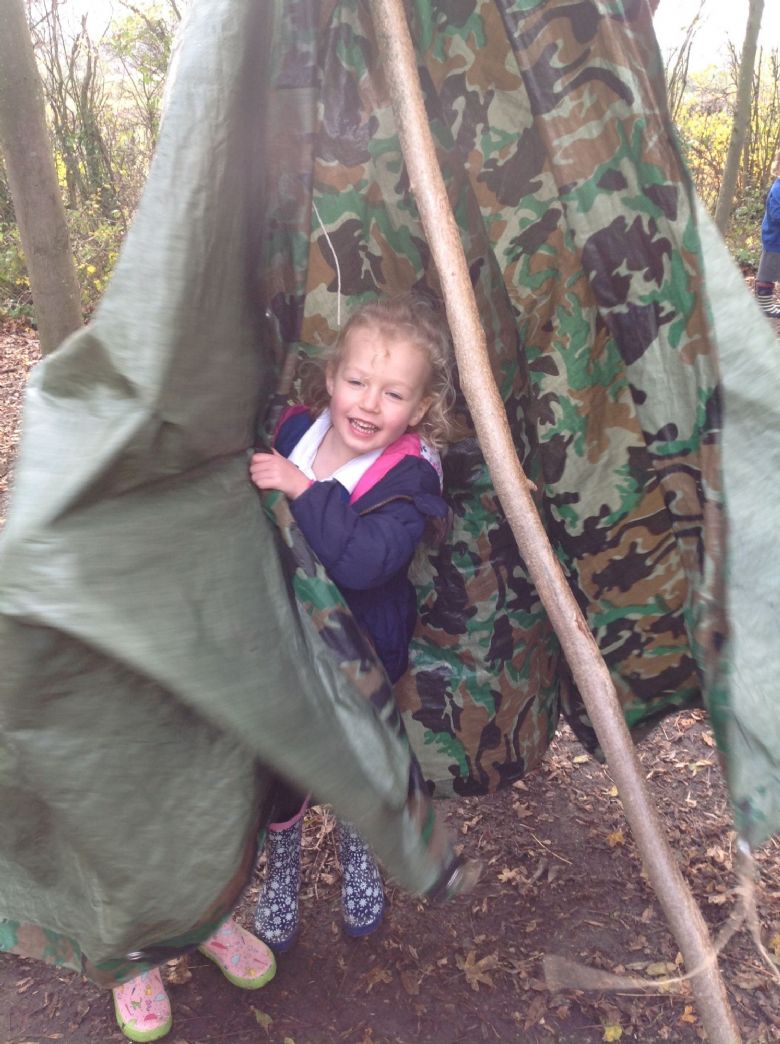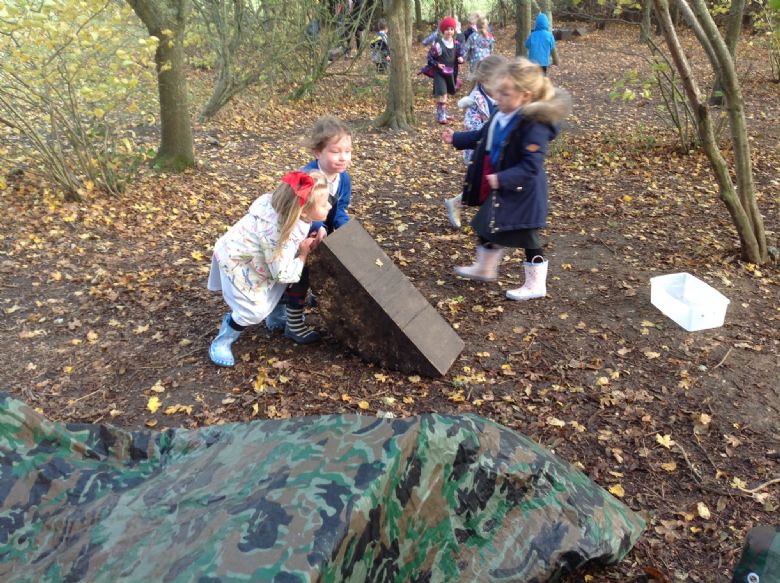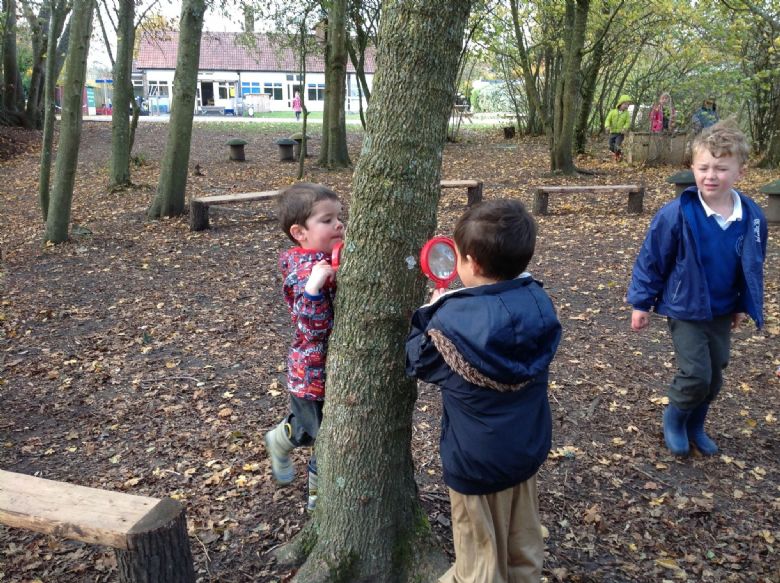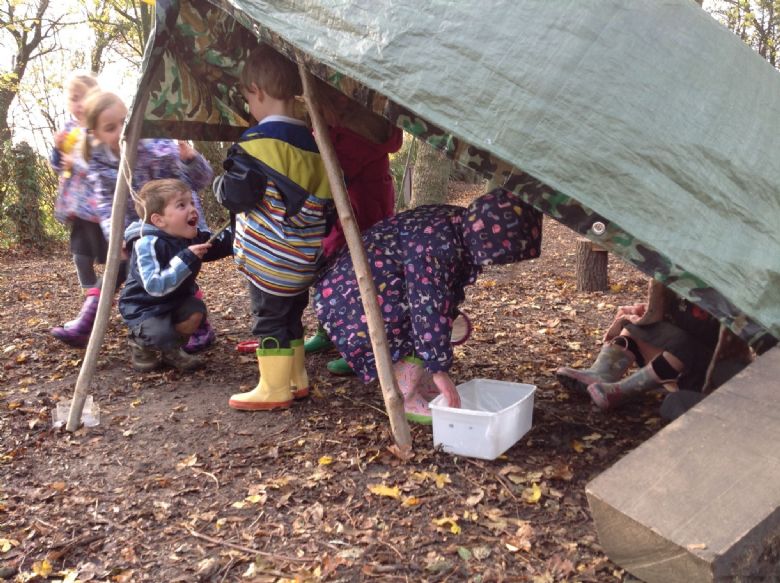 Next week:
We will be focusing on a book called 'Stanley's Stick'. Over the weekend if you are out exploring, can you find a special stick that looks like something?
Could be a musical instrument, a tool, telescope or an animal? Please label it with your child's name so we can use it throughout next week.
Also, on Tuesday 20th November, we are raising money for the NSPCC by completing a dance-a-thon every hour of the day! Please can you bring back your sponsor forms by the end of next week.
Thank you.
---
Week nine (9.11.18) Happy Diwali!
This week we have been learning all about the festival of light, Diwali. We have learnt that people who are Hindu celebrate Diwali. We found out the festival is a time for spring cleaning the home, decorating the house with lots of lights, wearing new clothes, exchanging gifts, preparing festive meals and putting on firework displays.
Throughout the week we have learnt the story of Rama and Sita. Each day the children remember the story more and more and can tell Miss Parker the characters and main events.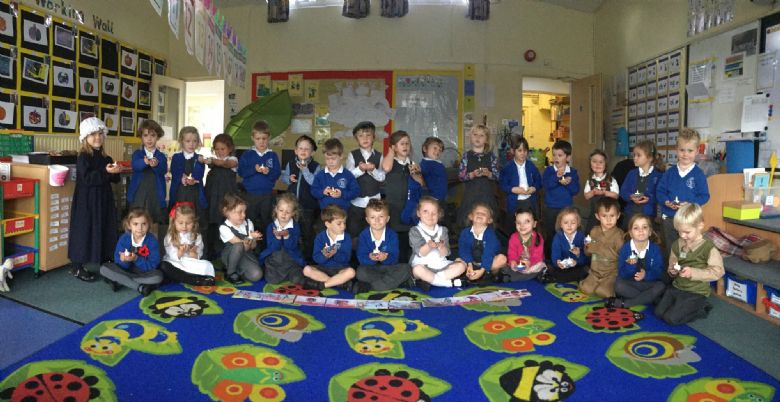 This weekend, see if your child can recall the story to you.
To celebrate Diwali we have made our own Diva lamps, using clay. Once dry, we painting them with bright colours. Then we put a tea light in and gathered round to look at everyone's beautiful lamp. Also, we made rangoli patterns, designed a hand in mehndi and reinacted the story of Rama and Sita.
Phonics
In phonics we have learnt the sounds i, n, m, d. We have been on letter hunts and played Obb and Bob. Obb and Bob is where the children have to segment and blend a simple CVC word, then figure out if it is a real or fake word. The children really enjoy this game and are getting good at solving if it is a real word or fake.
Maths
In maths the children have been getting into groups of 2, 3, 6, 5 and 10. They work together to ensure they have the right amount of people and support those who need more or less children in their group.
Also we have been improving our counting skills and number recognition by playing bingo. Each child has a grid with different numbers on. They have to take turns in counting the spots on the ladybird to see if they have a match. This game was played independently in a small group. They followed the rules, took turns well and showed brilliant counting skills.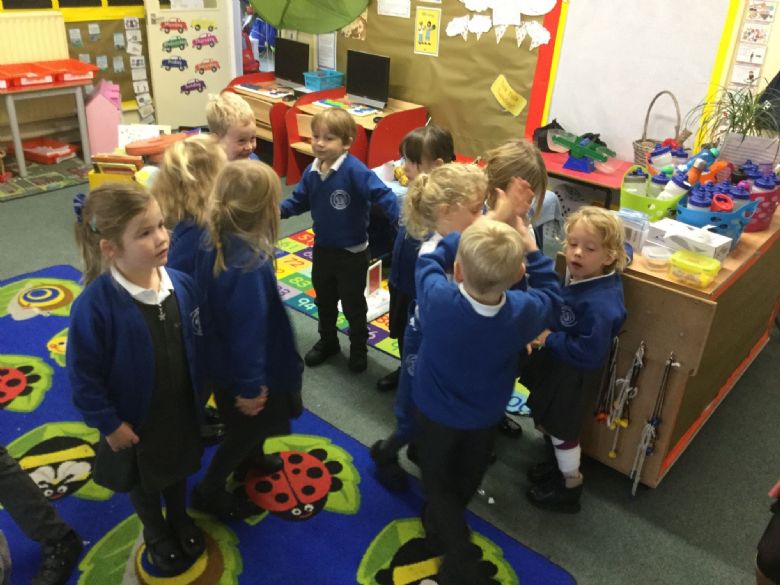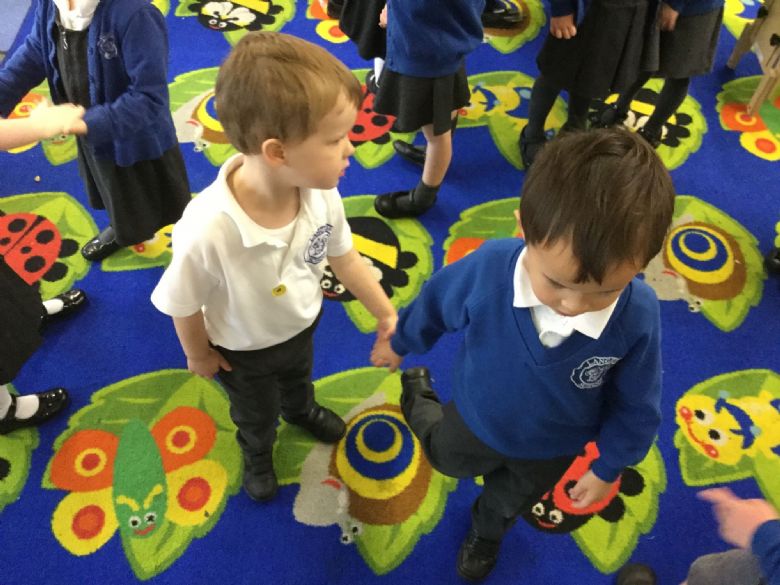 Home learning:
Please can you continue practising the tricky words. The children come into school full of excitement sharing their knowledge of tricky words! So you are doing a great job, thank you very much!
Please can you focus on the first 8 sounds on page 5. On the top of the page is a marking code to follow. To extend their learning you could get them to practise writing the sounds or simple CVC (consonant, vowel consonant) words such as:
sat, tap, at, map, sap, pin, pam, tin, pat,
Could we please have the phonics books back Monday morning - thank you!
---
Week eight (2.11.18) "I can tell you the sound of the day!"
Welcome back! I hope you all had a well-deserved rest. There has not been much rest for Squirrel Class this week. We have started maths and phonics, Codie's Challenges, made yummy Halloween cakes and had a whale workshop who shared many interesting facts with us.
During play to learn, the children have been exploring whales and the other beautiful sea creatures in the water tray in preparation of the whale workshop.
Also, the theme this week is Autumn and the children have been exploring our investigation table. Thank you to those who brought brilliantly interesting things in. We had moss, sticks, pumpkins, squashes, conkers, shells and a beautiful peacock feather. One of Codie's challenges is to draw something from the table, making sure they look, think, draw and colour every bit of detail they see.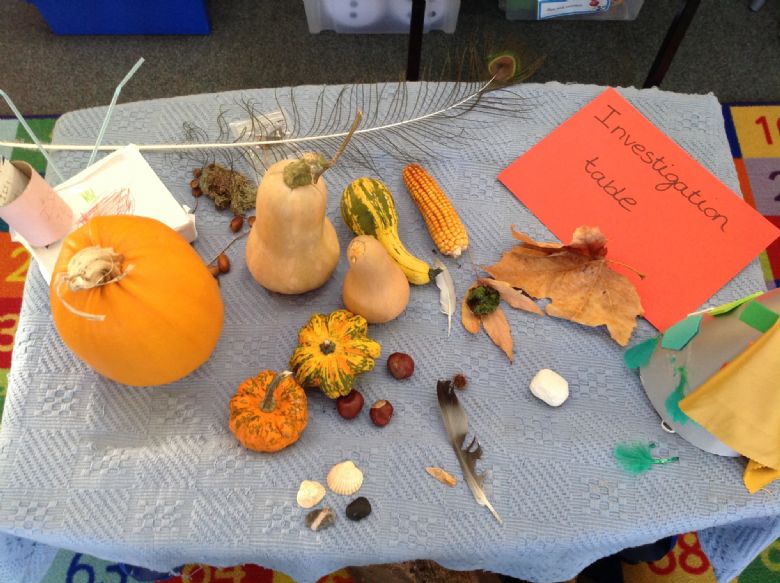 Phonics
In phonics we have learnt these sounds: s, a, t, p. we have been finding words that have the different sounds in, regardless if it is at the beginning, middle or end of the word. We practised segmenting and blending CVC words and attempted to write the sound.
At home this weekend, look around your house to see how many objects you can find that have the sounds s, a, t, p in them…
Maths
In maths we have been ordering numbers up to 12. The children have become number spotters and work as a team to put the numbers in the correct order. We have been finding the smallest numbers first and making our way to the biggest number. Also, we have talked about odd and even numbers, understanding and explaining that and even numbers can be split equally in half. The children are able to explain the number needs to have equal amounts on both sides for it to be an even number.
Cake making
As a class we made yummy pumpkin cakes. We talked about the ingredients we needed and how much was needed. Following the recipe the children independently makes some delicious pumpkin cakes ready to eat before the Halloween disco!
As part of our challenges, the children had to make pumpkins using their scissor skills, co-ordination and patience. Here is one made by a fellow team squirrel...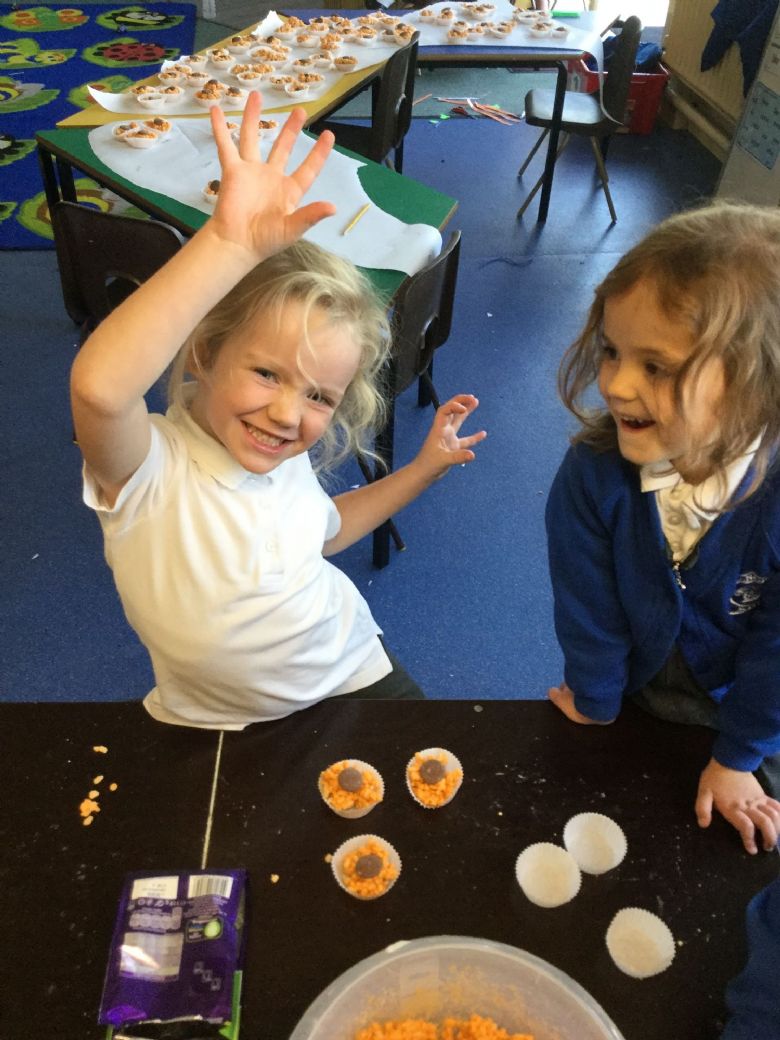 Life long learners
A huge thank you to the parents who came and created what they think makes a life long learner. Attached at the bottom of this page is your hard work. Please take a look as it will be something I aim to achieve throughout the year, as will you. This way, all our children can be life long learners at Langrish!
A few reminders:
In P.E bags please could we have a spare pair of white socks. This is so the children who are wearing tights have socks to wear with their trainers.
Purple mash logins – In your child's reading records, you will find a purple mash login on the inside of the front cover. The children have been using purple mash during their ICT lessons. You can now use it at home with your child. Once logged in please go to mini mash. Have fun!
RRSA – as you may already know we are a Rights, Respecting School. Throughout your child's time at Langrish, they will learn about their rights and understand why we have them. A pocket book of children's rights from the United Nations Convention on the Rights of the Child has been sent home for you to keep and look at with your child.
---
Week seven (19.10.18) All the children deserve a well-earned rest!
I am shocked to be saying that I cannot believe it has already been half a term with Team Squirrels! I just wanted to say a huge well done to each one of your children. It has been a pleasure getting to know them as individuals and to watch them grow. Enjoy the rest and I am looking forward to a term full of learning, autumn-ness and of course the nativity!
Miss Parker
This week has been full of creative loveliness! The children used different shapes to make a picture. We had flowers, castles, boats, people and rockets!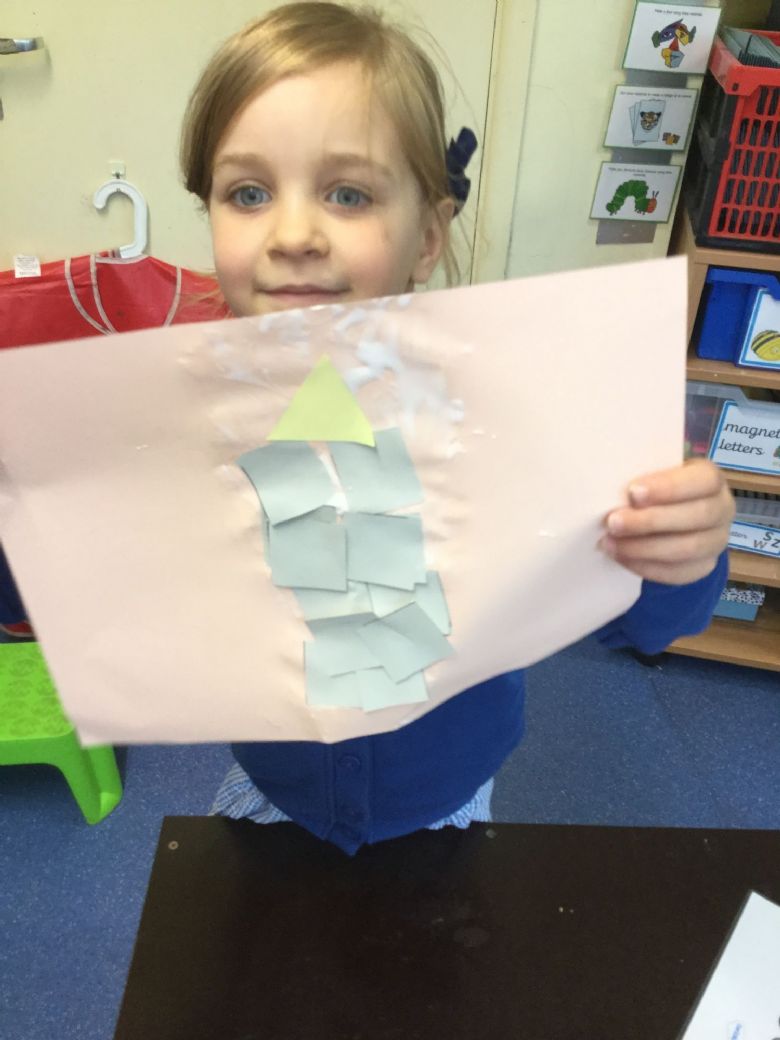 Forest school has been full of damp and dark adventures… the children have been digging deep looking for bugs. We found some extraordinary long worms, spiders as big as the children's hands and many earwigs.
We also made journey sticks. A journey stick is where children find a stick, which has some string attached to it. The children then go around the forest looking for things to attach to their stick, using the string. All the children took part and Miss Parker loved that each stick was very different. They looked brilliant!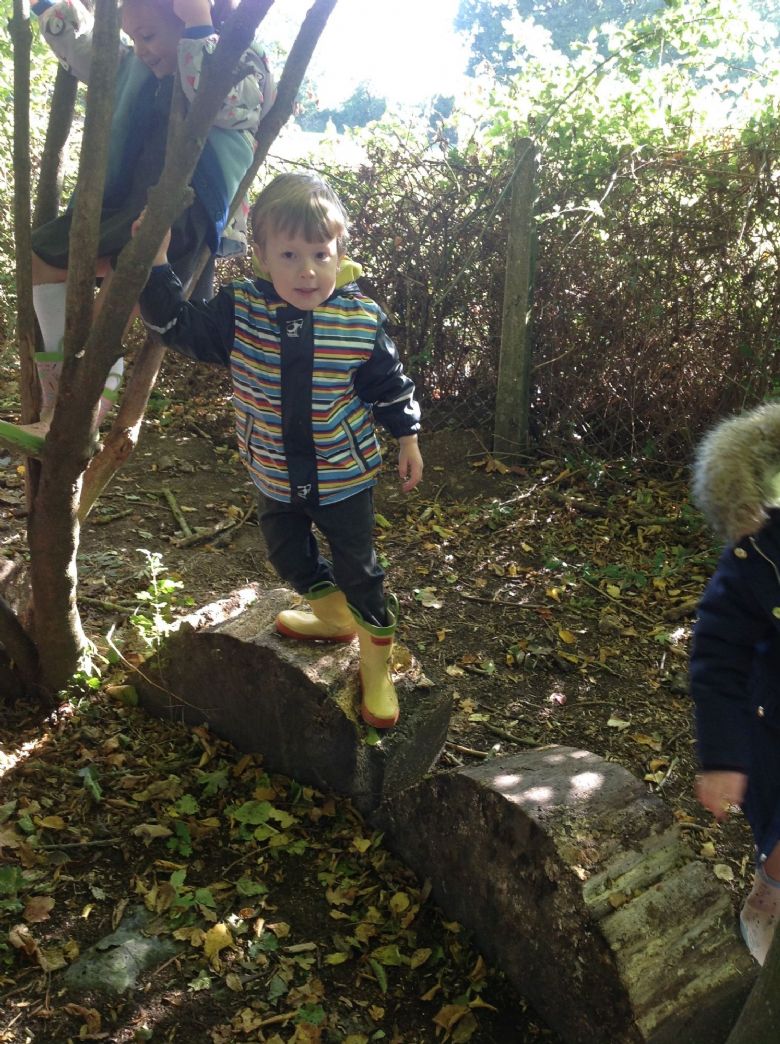 Challenges this week:
Can you make a spider? Find and use what you can around the room to make some legs.
Can you label and describe a Halloween character?
Can you find all 15 spiders with numbers on around the classroom?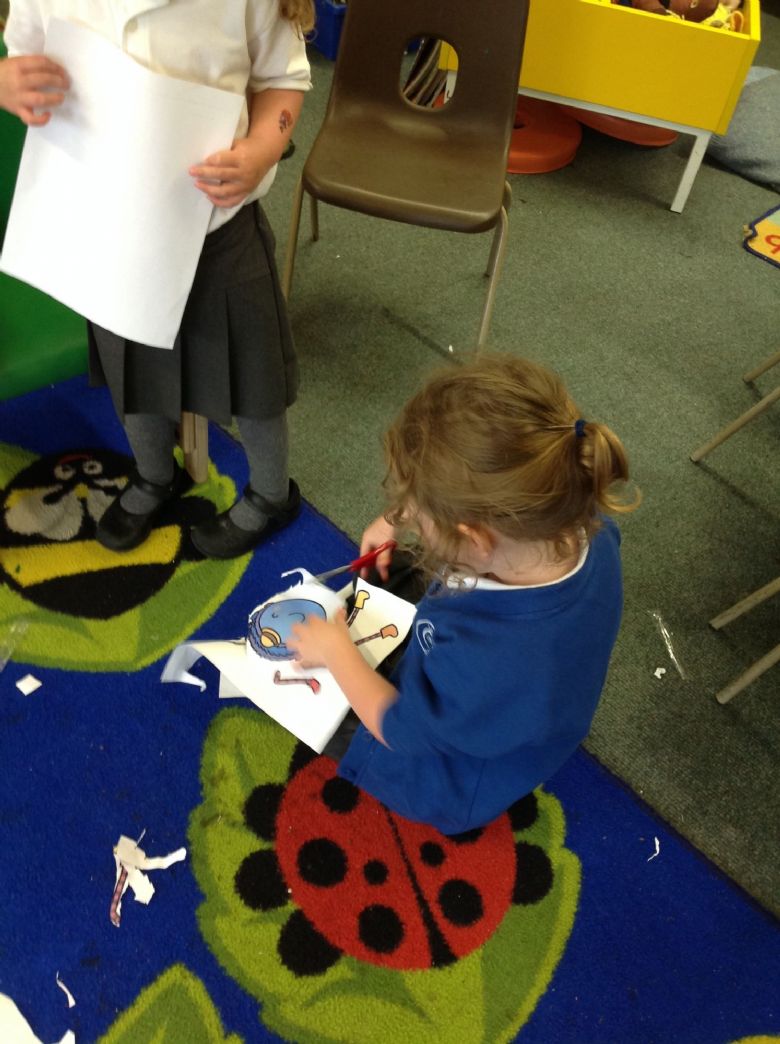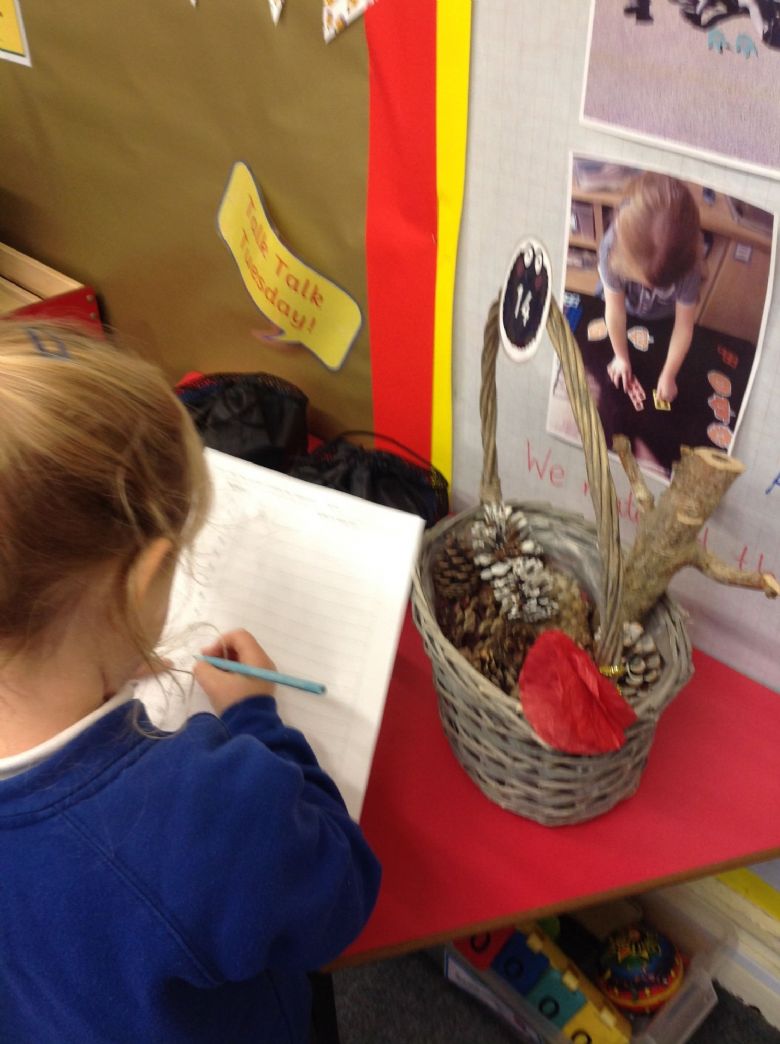 Maths
We did a fantastic job at ordering numbers 1 - 30 as a team. Miss Rhodes then told them about odd and even numbers. They investigated what an odd or even number is by putting the correct amount of bears on the number, then finding out if it is an odd or even number but seeing if it can be split equally in half.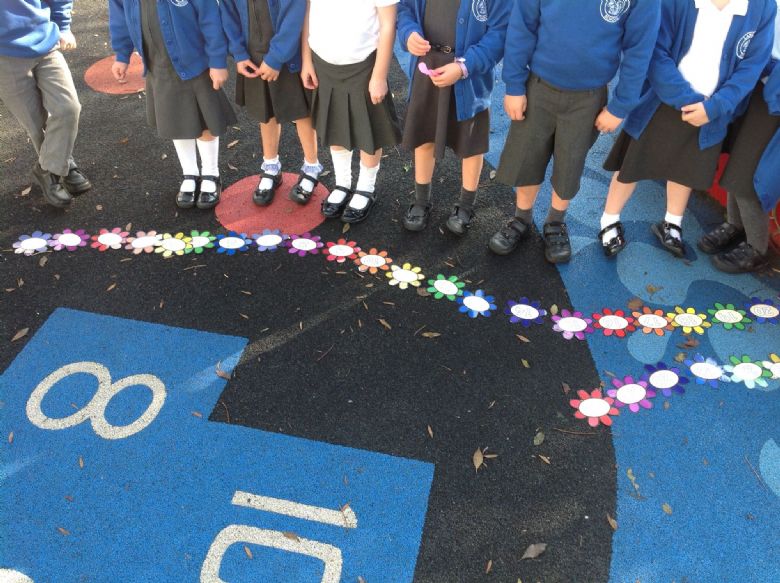 Meet the teacher
A big thank you to those who came to the meetings, I hope you found them useful. Please find attached a copy of the presentation and proud clouds at the bottom of the page.
Important! Please note the next meeting is on Tuesday 30th OCTOBER not November at 2:30pm.
Something to do over the half term holiday:
Go out exploring and find three interesting things to bring back to school. There will be an investigation table ready for what you find!
---
Week six (12.10.18) Go Team Squirrels!
Creative hedgehogs!
For our art afternoon, we went out to the front of the school and collected the beautiful pink and red leaves and made our own hedgehogs!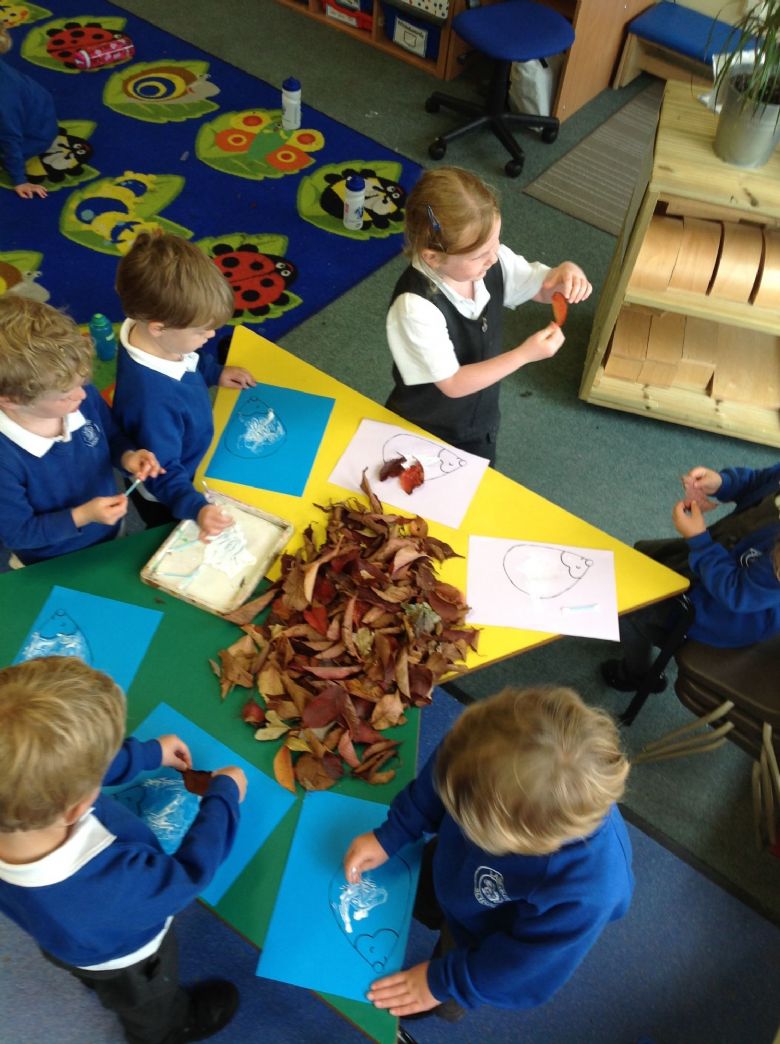 Forest School
This week in forest school, we explored the chilly, foggy natural environment by looking for bugs in damp, dark places. Using magnified glasses and bug boxes, we were able to look at each bug carefully noticing how many legs it has (if any) and its other features.
P.E
In P.E we played a great team game called 'fruit salad'. The children were put into their house colour team and as fast as they could, collect their coloured objects one at a time. Once all collected, they had to sit down together to show they were finished. First team to be sat down were the winners!
All the children collaborated well and followed the rules perfectly! Miss Parker was very impressed.
Play to Learn...
During 'play to learn', the children have shown an interest in writing, whether it be on the ground with chalk, using the large whiteboard outside or sat down at the table with paper and a pen. Miss Parker is taking this interest and questioning the children's writing for a purpose. They could all explain what they were writing and why they were writing it. Many were writing lists or writing observations on the children (with a clipboard and pen in hand, with their legs crossed on the chair). They would use the resources around the room with support with letter formation.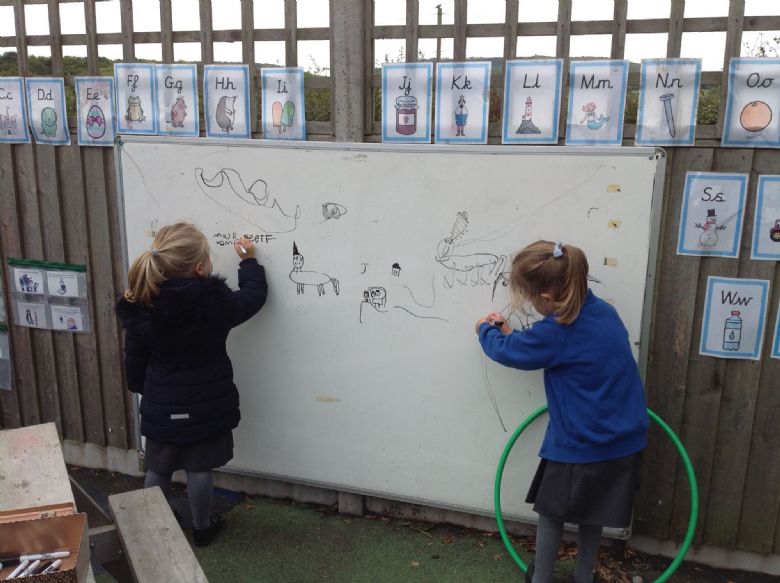 Challenges this week:
Can you tell someone how many people are in your family?
Can you draw a picture of the people in your family?
Can you label who is in your picture?
As a class, we talked about what labelling is and how to do it. To support their learning the children can use word mats. All the children attempted to complete challenge three, however to take ownership of their learning the children would ask for support in writing their family members names. They confidently copied it from a whiteboard, helping to sound out their names.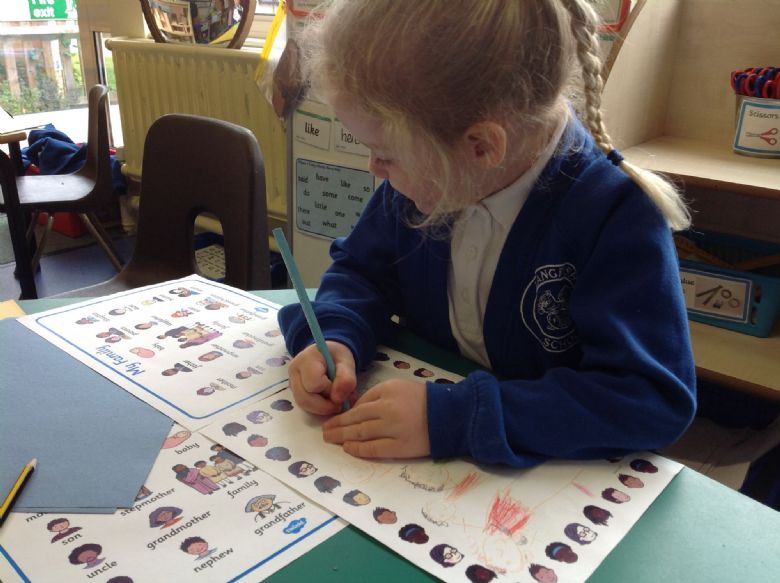 Don't forget…!
Next week is our meet the teacher at 2:30pm and 5:30pm on Tuesday 16th October! I hope to see you all there!
Please look at our class charters we made as a class for ICT and Rights Respecting at the bottom of this page!
---
Week five (5.10.18) Let the challenges commence!
This week we have brought something new into the routine. We have introduced Codie's Challenge!
Codie's Challenge means there are 3 challenges to complete throughout the week with each challenge getting slightly harder. To support the children and introduce more independence, if they cannot read what the challenges say, they can listen to the voice recorder that tells them each challenge.
All the children have taken the challenges in their stride! Once they have completed the challenges they put their name into a pot. This then enters them into the raffle to take Sid the Squirrel home all weekend AND to choose something special out of Miss Parker's box!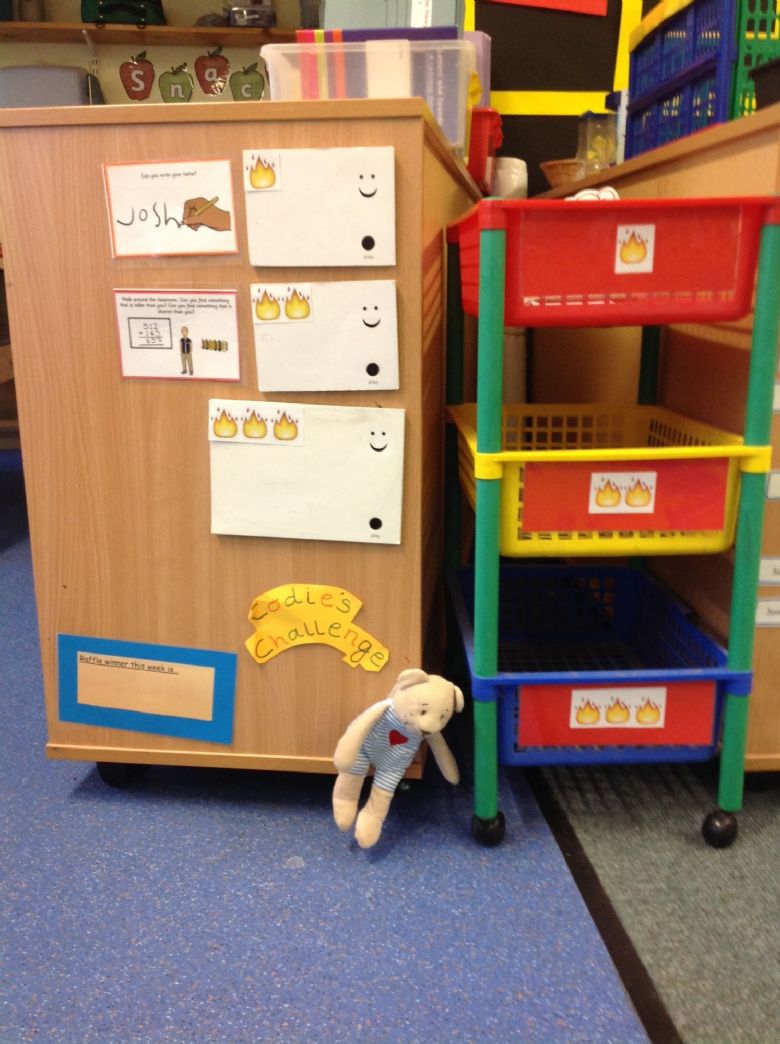 This week's challenges are:
To write your name on a super special piece of paper.
To find something taller than you and something shorter than you.
(There are only two challenges this week as it is their first time completing the challenges.)
During choosing times, we have had many requests to play the Greatest Showman. The children amazingly know all the words and enjoy dancing along pretending to be on stage.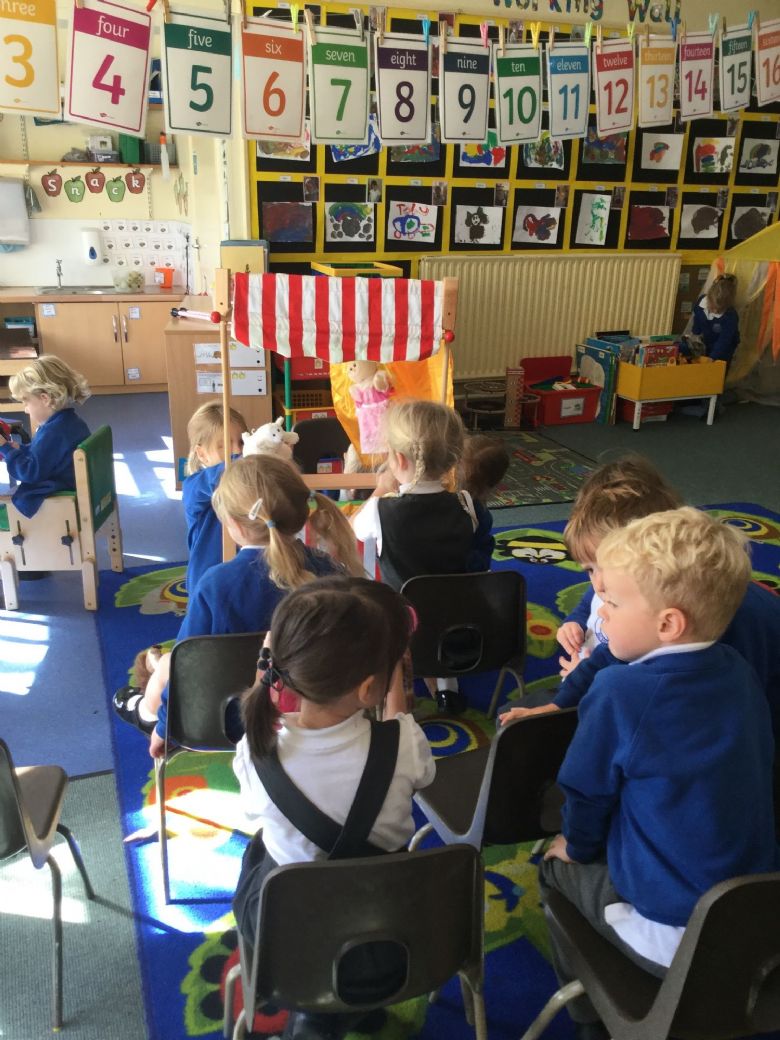 To follow on from this, the children have created puppet shows using the puppets ad role-play masks. We have some brilliant showmen and women who confidently introduce the show and narrate what is going on.
Phonics
We are practising our sounds by singing songs and making up actions to support and remember the sounds.
We have been blending simple CVC words (consonant, vowel, consonant). Then independently, the children have used the magnetic letters to create their own CVC words to blend and read.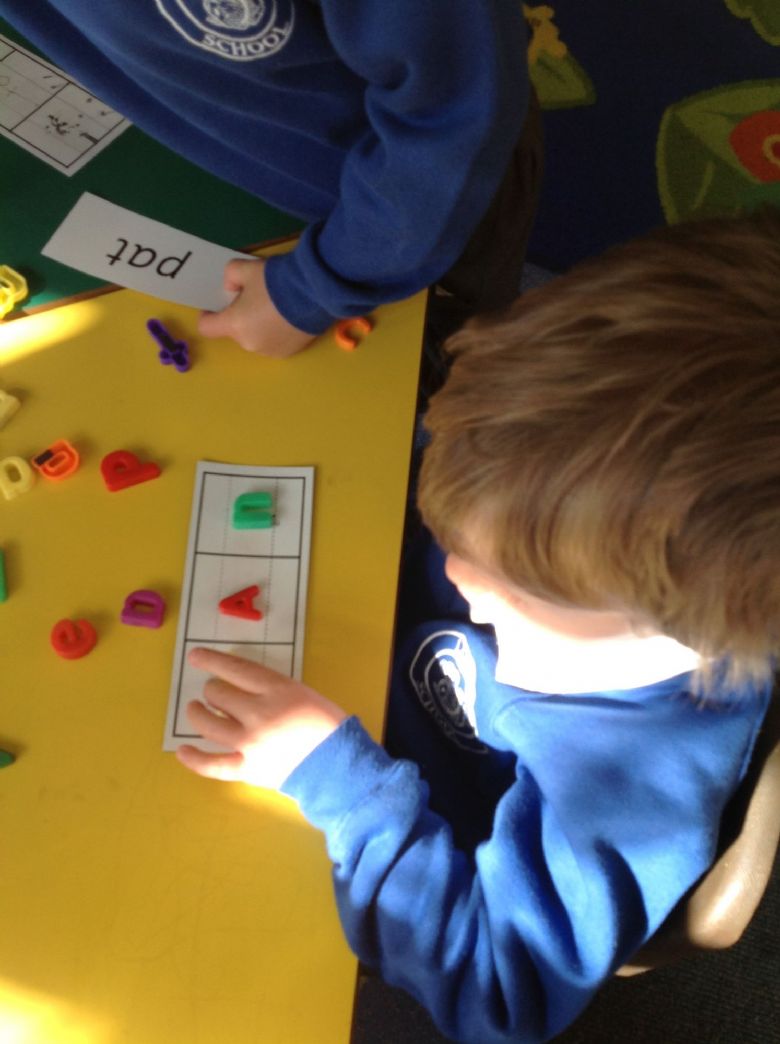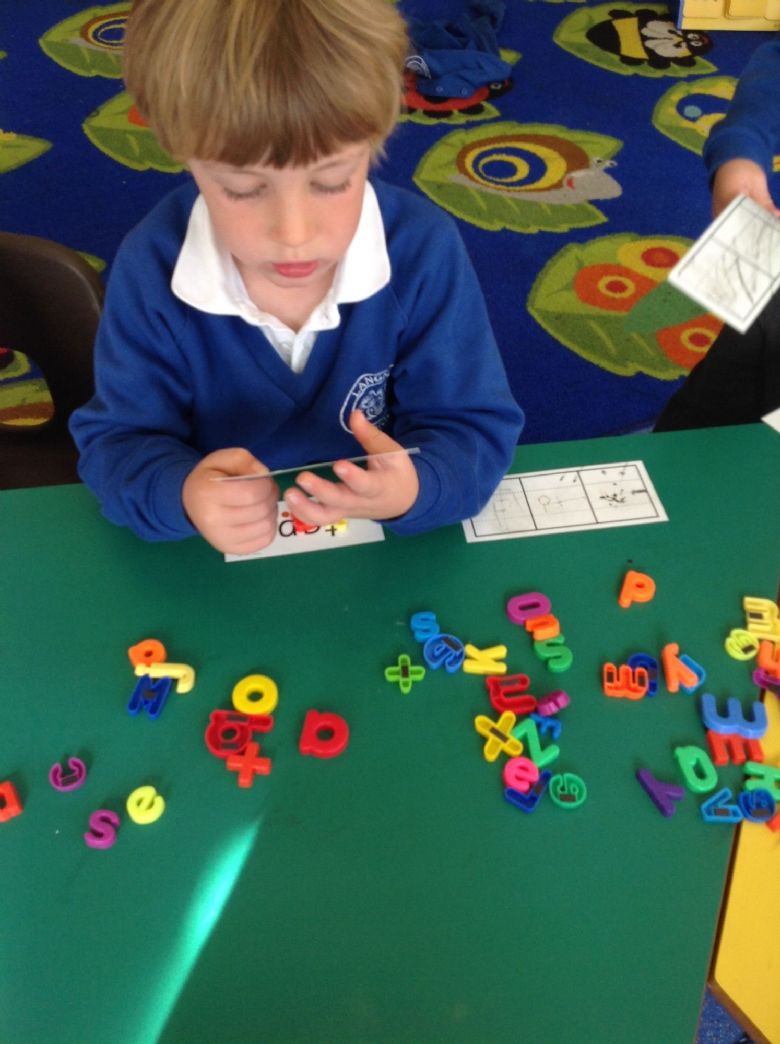 Maths
In maths, we are matching numicon to the number. The children are beginning to use numicon more confidently and for a purpose. Also linked to our challenge, we have been using the language and finding things that are taller and smaller than certain objects.
Final word...
You will notice your child coming home with a reading book in their book bags. This is to get started on knowing the sounds and blending for simple reading. Also the word cards are 'tricky words' (words that cannot be phonetically sounded out). They are words we just need to know, so getting your child used to seeing them is a great way of getting started.
I will be talking to you more about reading at the Meet the Teacher on Tuesday 16th October!
---
Week four (28.9.18) "Frog, log and jog all sound the same… They must rhyme."
The children have loved the sunshine this week, however, they have noticed it is getting a little chilly! They have been cooking dinner for each other in the role-play shed. They have also been looking after the babies by wrapping them up warm from the cold and taking them for a walk. The children have also chosen painting, play dough, lego, bikes and the water tray. Using the puppets and masks, the children have been role playing different traditional tales... Can you guess which story the children are acting out?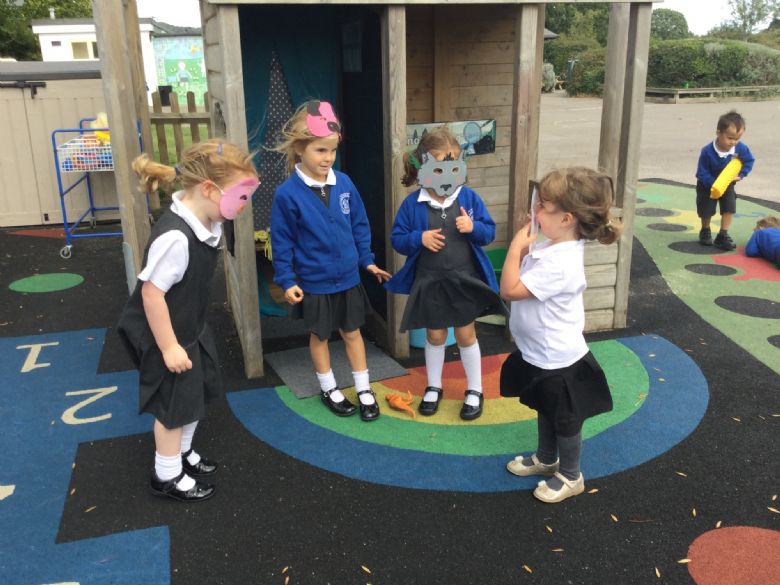 This week we had our first P.E lesson! We completed different activities in the hall such as balancing, dribbling balls and using streamers… Here are some photos to show you how good we are at balancing. Some were super brave and balanced on the tall beam with no help from an adult!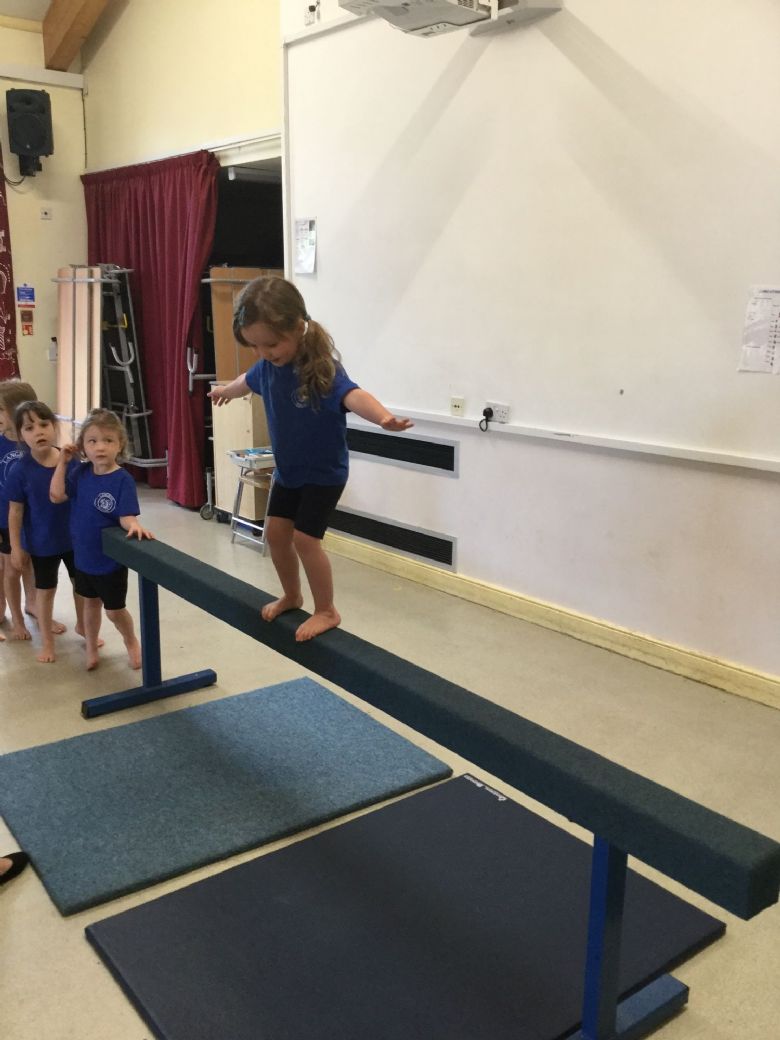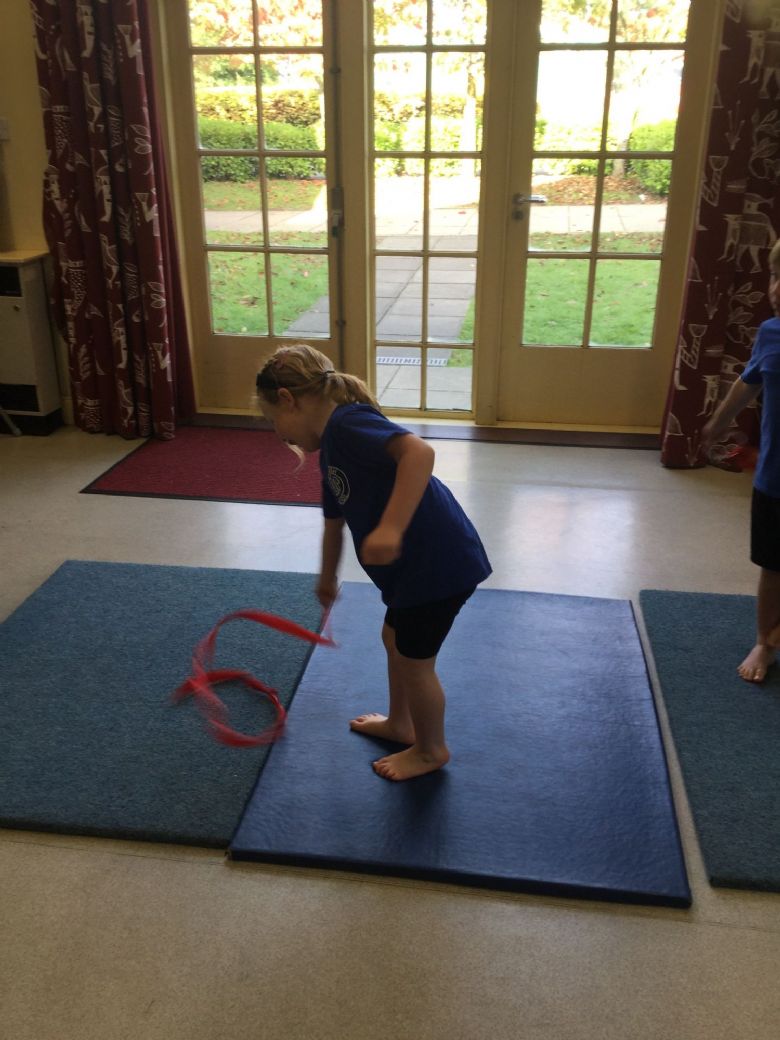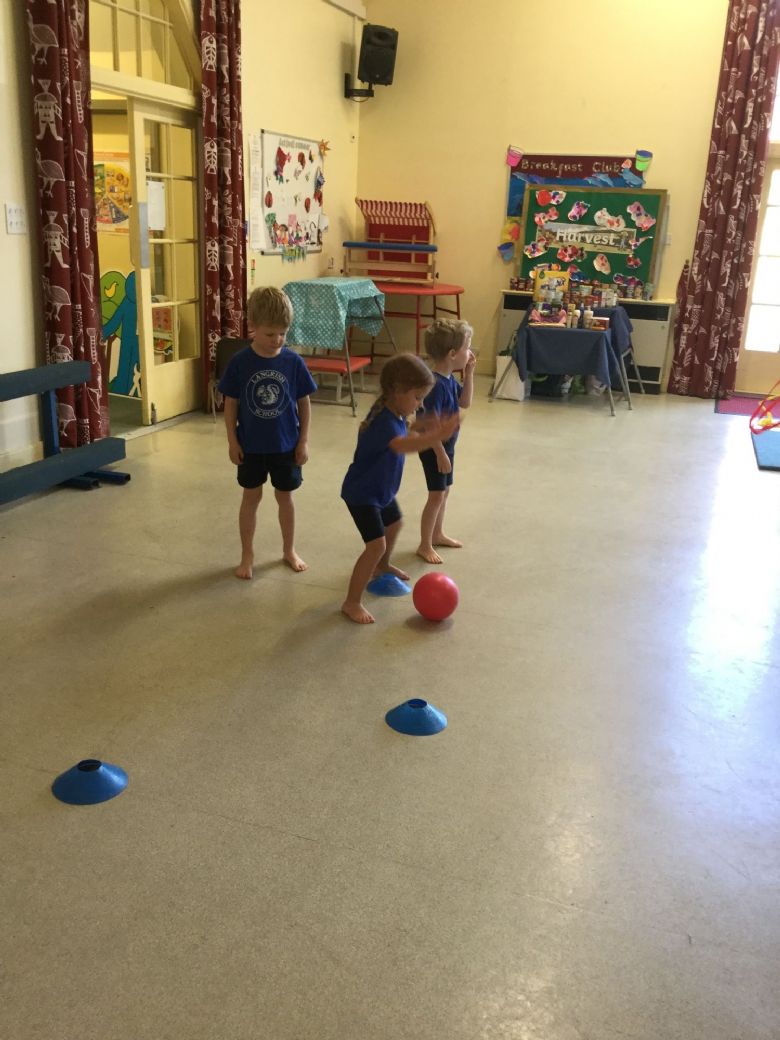 Forest School
In our forest school session we were told the three important forest school rules. They are:
Always stay in the forest. If you need the toilet, tell a grown up first then use the outside toilets.
When you hear '3,2,1, come back everyone', all children must come back to sit around the fire circle.
Children must not enter the fire circle unless invited by Miss Parker.
Miss Parker wanted the children to explore the environment so they could get used to the uneven grounds and explore all the natural resources around them.
If the children wanted to, they could make forest crowns using the natural environment around them.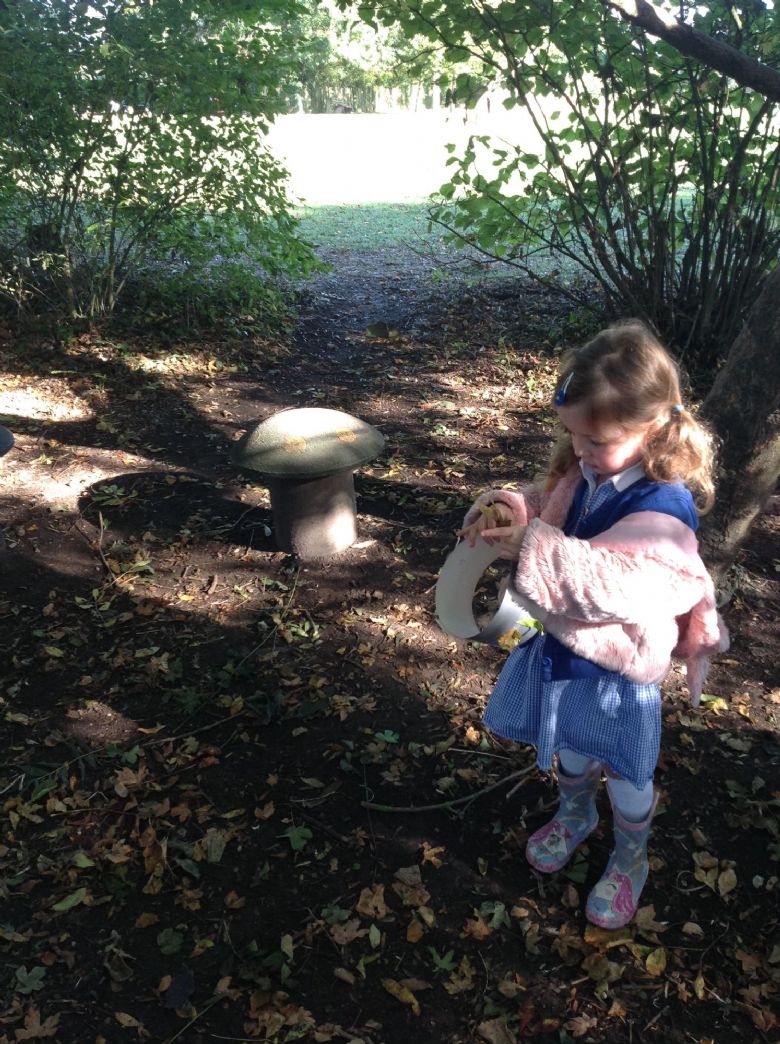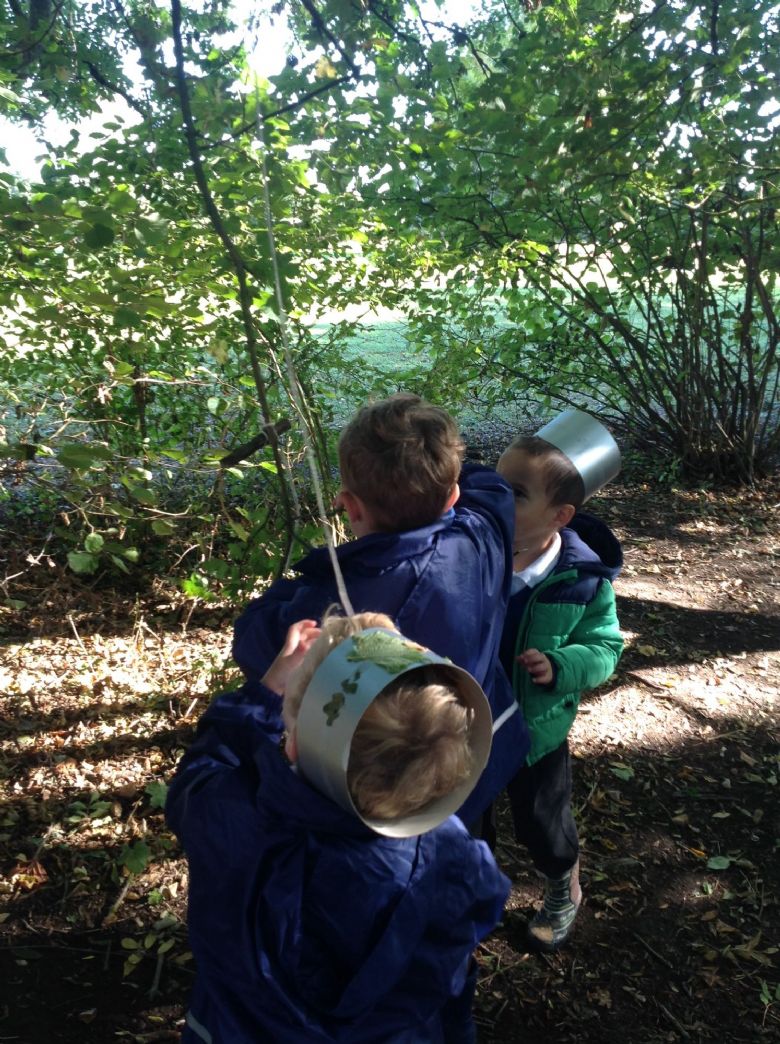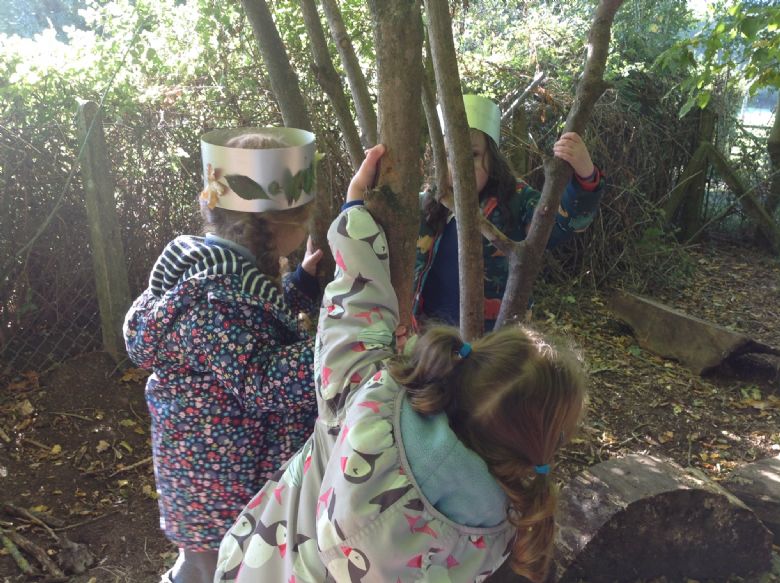 Phonics and Maths
We have begun completing different activities linked to phonics and maths. In phonics, we have been matching pictures to the sounds. We needed to hear the initial sound in the word to make a match. Also, we have been recapping on rhyme by looking at the pictures and making a match. Some children have even tried to sound out the word to attempt reading.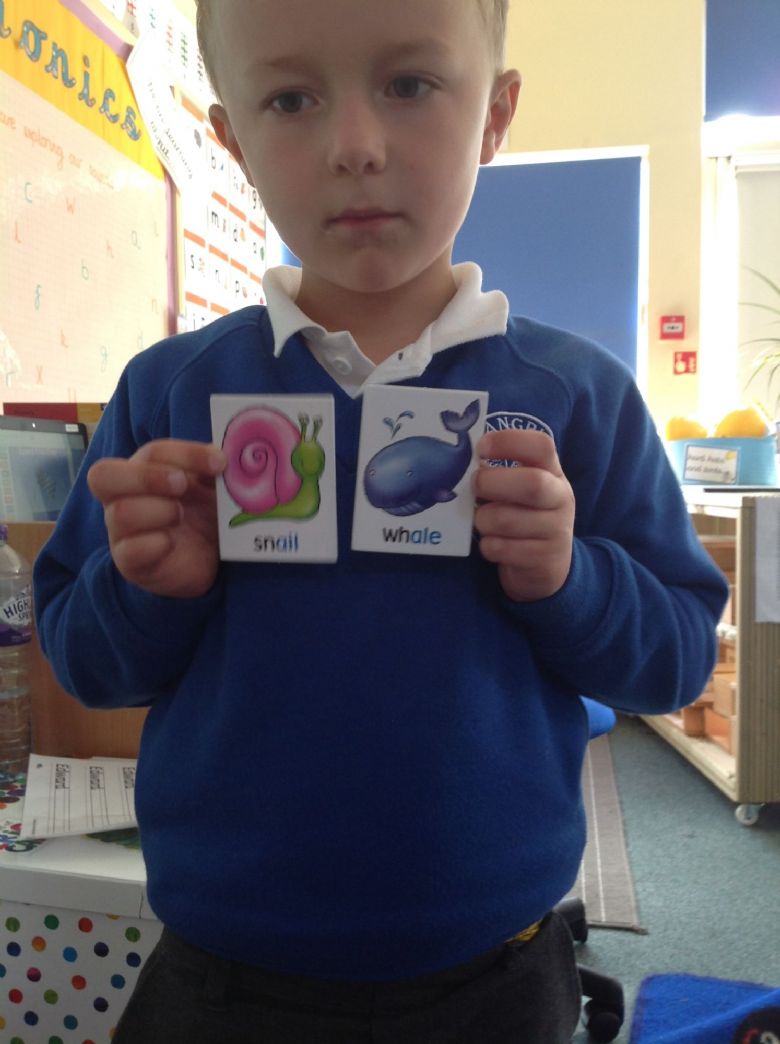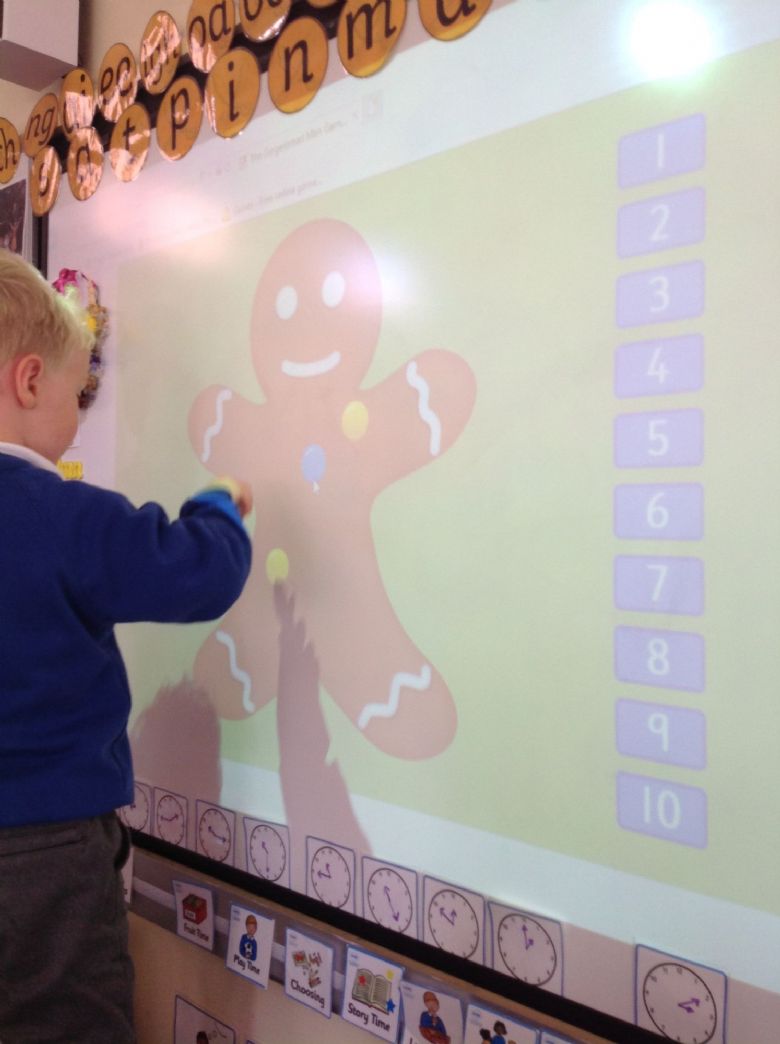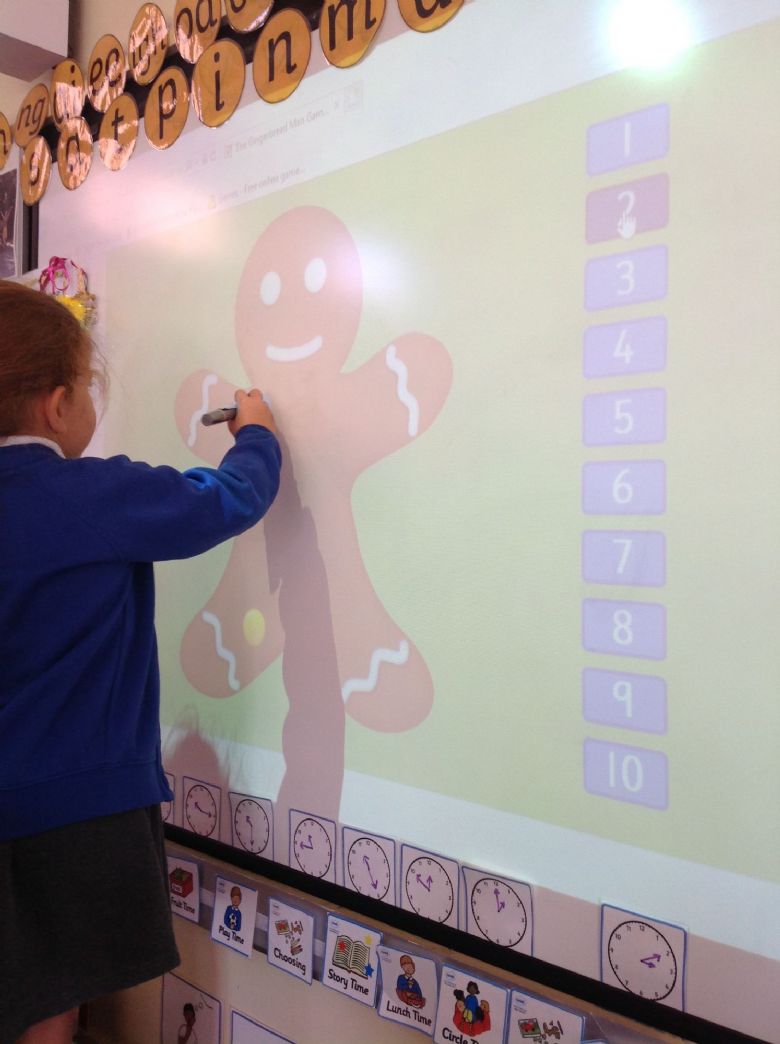 In maths, we have been using the interactive whiteboard to practise counting. We have been counting the gingerbread man's buttons and finding the amount by pressing the correct number. We have some brilliant mathematicians in Squirrel Class! They children carefully counted one button at a time and sometimes double checked to ensure they counted them all.
---
Week three (21.9.18) "I can't wait to tell my mum I went to my first assembly!"
The children attended two assemblies this week, which they were brilliant in (they showed up the rest of the school). Mrs Jones was super impressed! There was a singing assembly where we sung 'Sing Hosanna'. The children joined in when they could and sat beautifully. Also on Wednesday, we had Cat Protection in school to tell us about how we can help cats and what Cat Protection do to help them.
It has been a great week of finding things out for ourselves and being more independent. To do this, the children have found ways to resolve problems without going to an adult as their first call. For example, using a sand timer is a great way to take turns fairly. It involved deep discussions about who would have the toy first and what timer to use. They worked out the longer the timer, the more time they had with the toy. However, the shorter the timer means they do not have to wait as long for the toy. It was tricky decisions but they got there! From this, it then encouraged other children to use the sand timers to play fairly and well.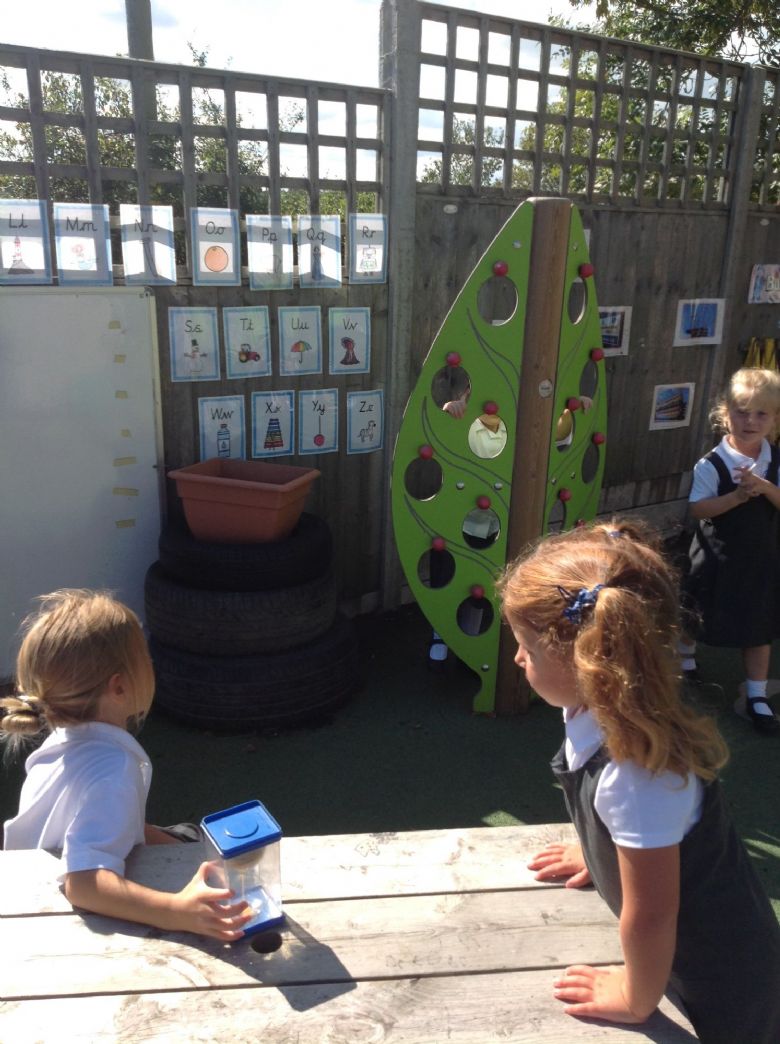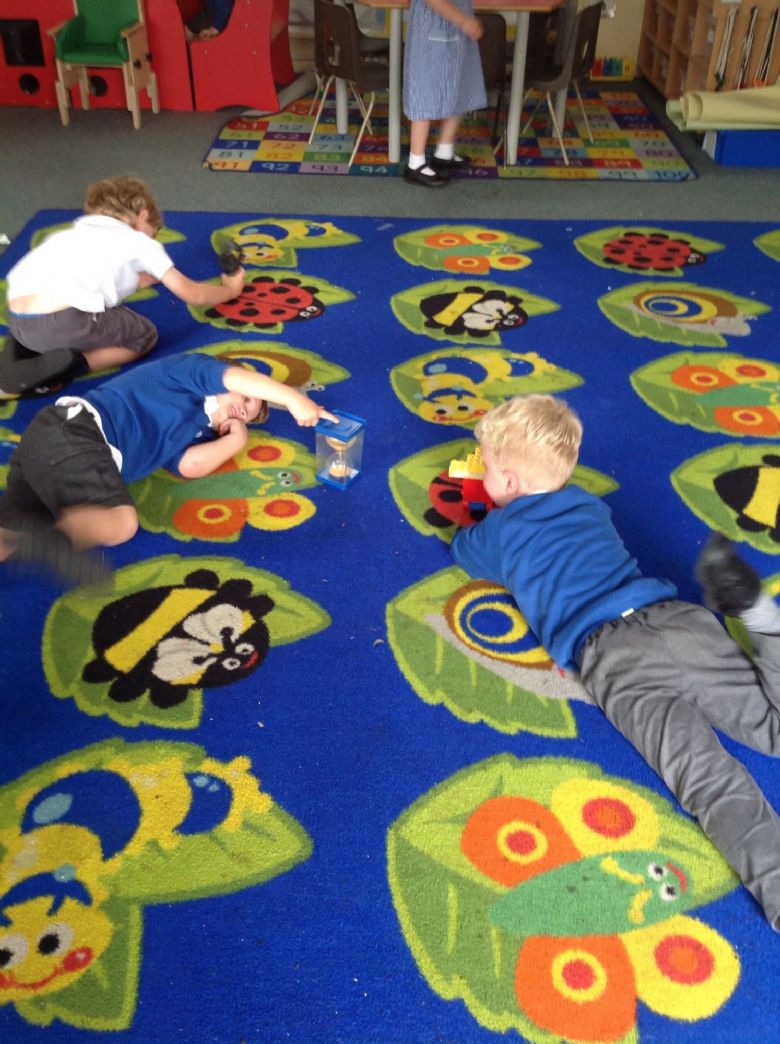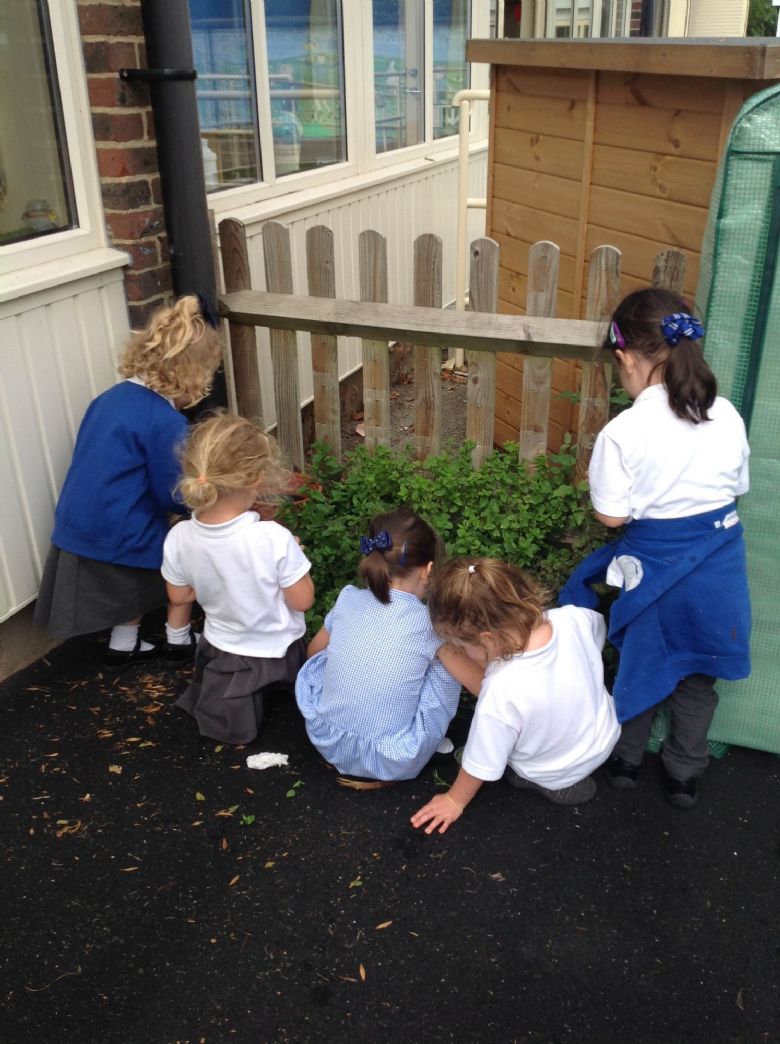 We have had future builders building homes for people to live in, creative artists making jewellery boxes and potion makers! The children have taken a big interest in mixing water and fresh mint leaves which is found in our garden to make potions. It brings a brilliant strong smell that the children love. They use sticks and mud to add different ingredients to their potions.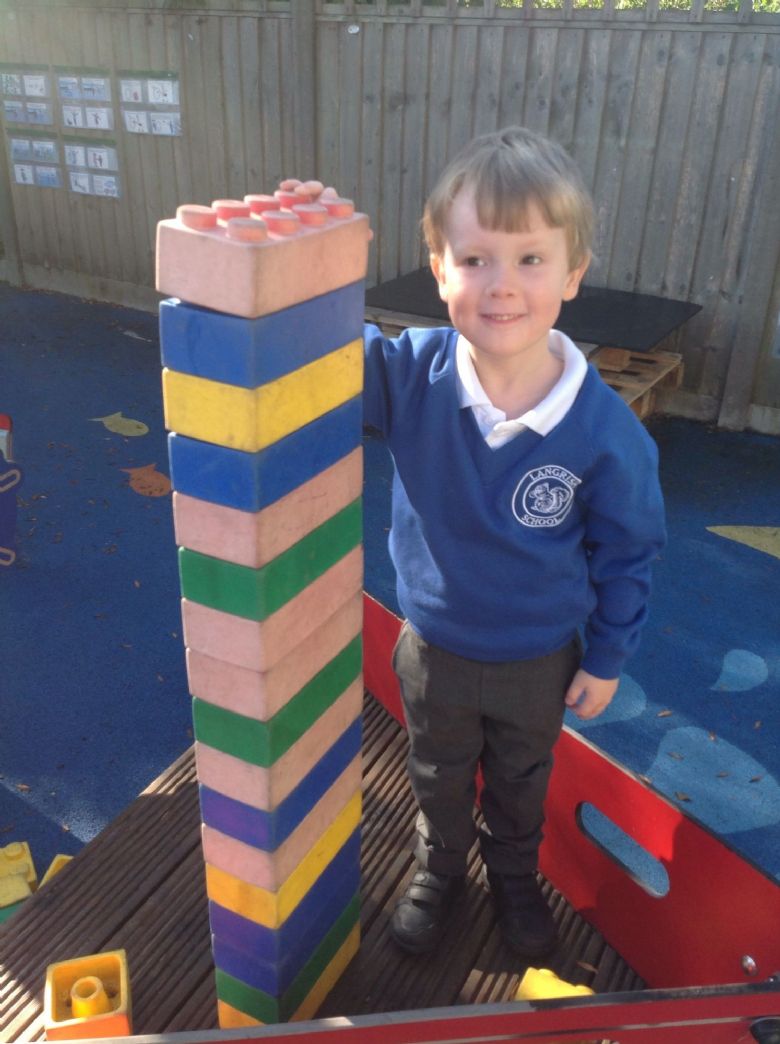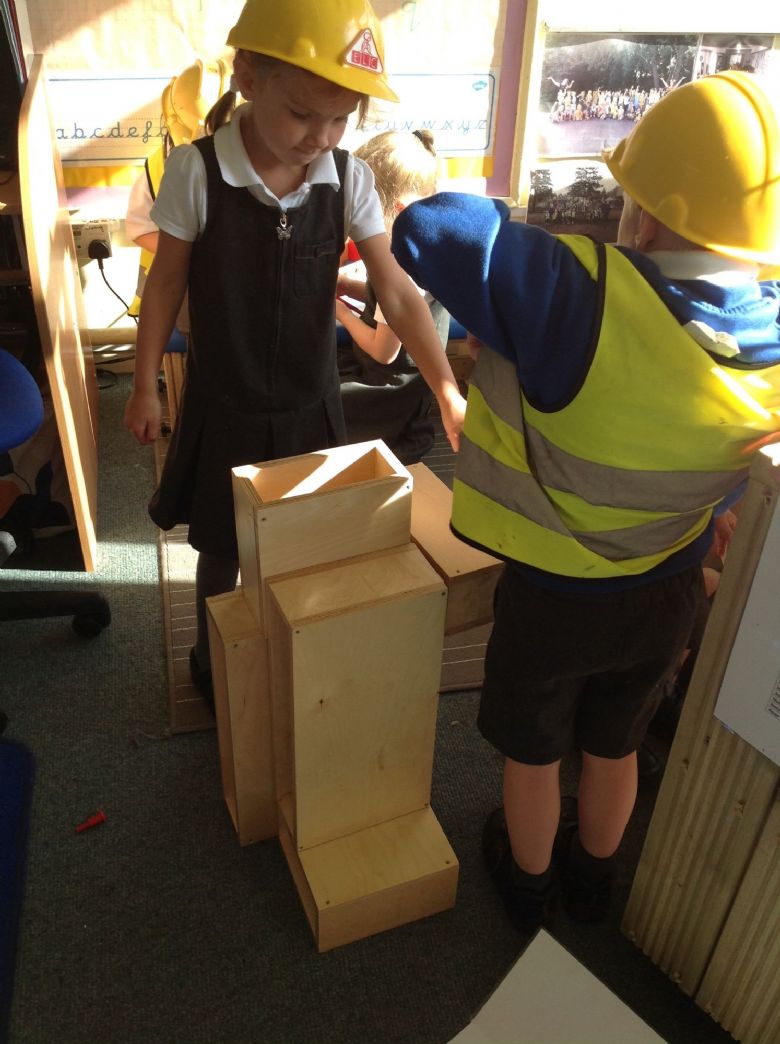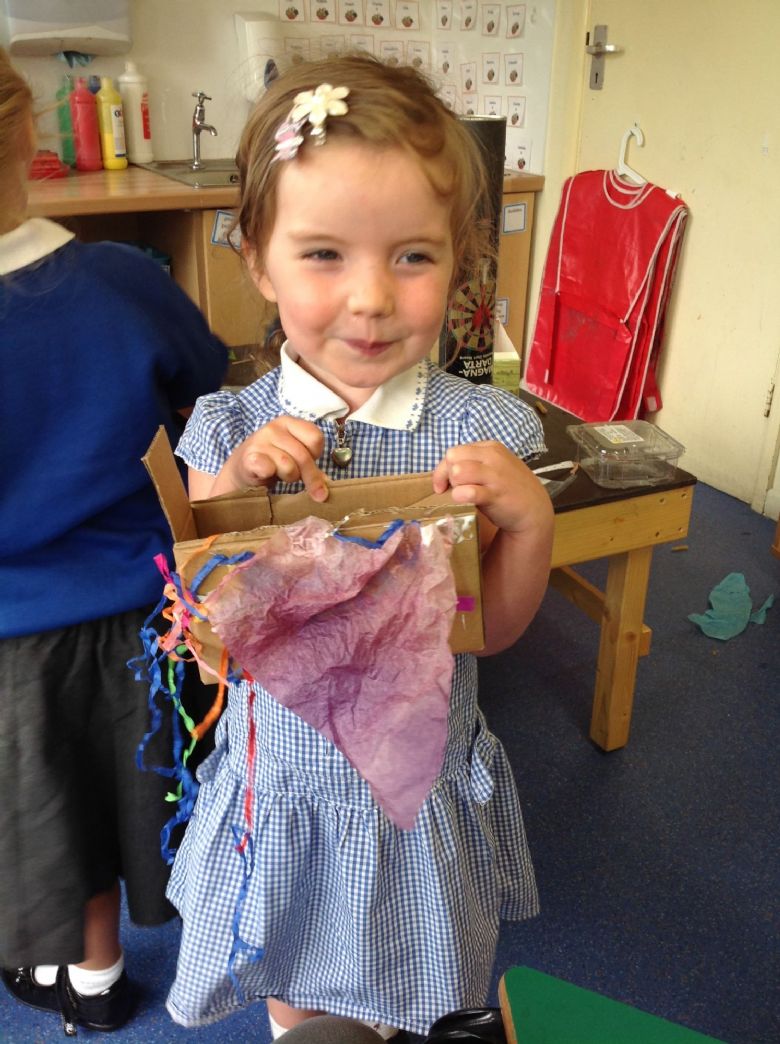 Next week:
We will start our P.E lessons Monday afternoon so please ensure P.E kit are in school. Also over the weekend, please allow the children to get dressed for themselves for extra practise ready for Monday afternoon.
Forest school will also start Friday afternoon. Please ensure the children have wellington boots at school along with waterproofs as the weather is changing fast!
Don't forget to bring in your food/ toiletries donations for the Harvest Festival next week!
---
Week two (14.8.18) "Are we really here every day…?
It is the children's first full week at school and I think it is safe to say, they gave it their all but are totally exhausted!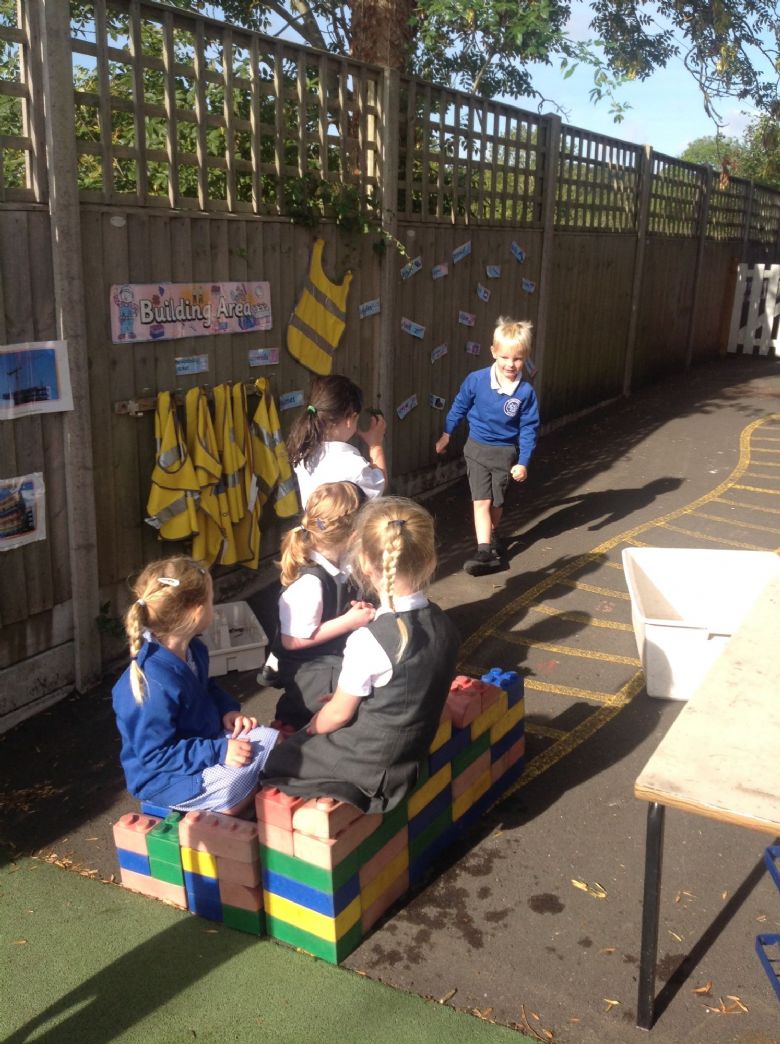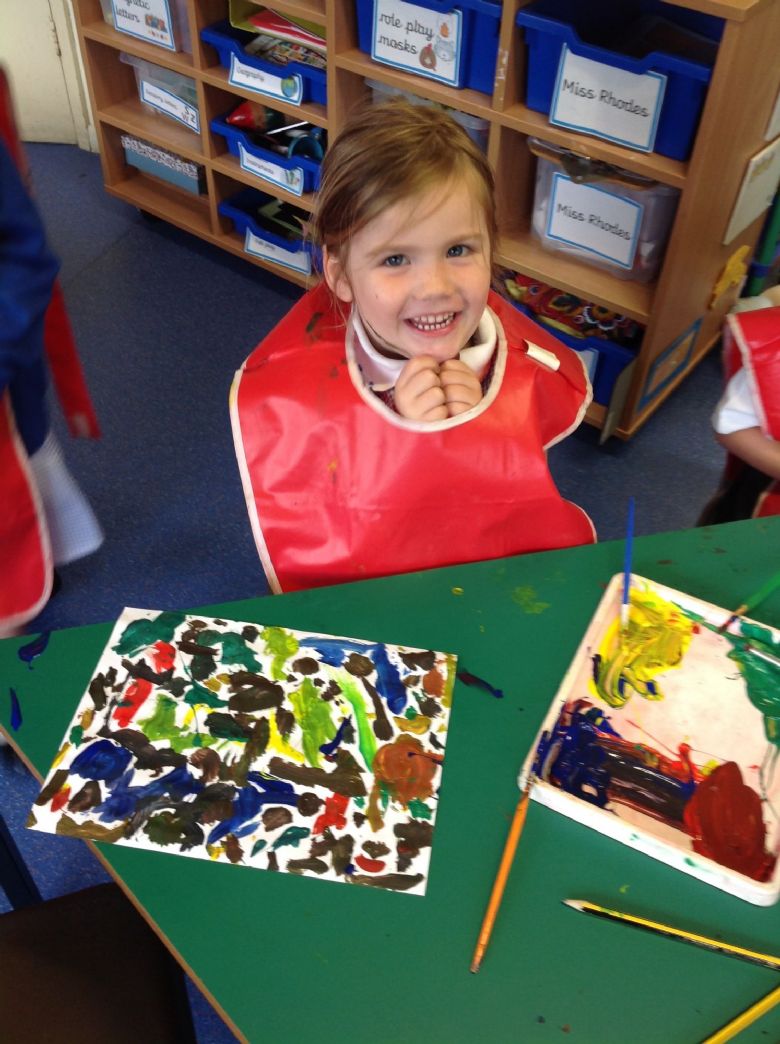 "I'm the big bad wolf and I am going to blow your house down!"
"I used all the colours for my painting."
It has been a week of routines, rules and exploring. During circle times, we have been allowing the children to share their bears with one another, talking about their adventures in the summer holidays. They will be coming back home throughout the next two weeks so keep an eye out for them.
Also for circle times, we have been exploring number by going on a walk around the school looking for all the numbers we can find. They were everywhere!
As well as number, we are recapping on rhyme and early sounds in phase 2 phonics through puzzles, flashcards and songs.
By Tuesday, we had a child ask, "Are we really here every day now?" It was hard to break it to the class that they still have fourteen years to go!
The children have been coming in brilliantly to school and barely need Miss Rhodes or myself! They show a confident, happy smile as they walk down with their classmates or siblings. Well done everyone!
Date for the diary:
On Tuesday 16th October there will be a 'Meet the Teacher' in the Year R classroom to go through E-learning journeys and home learning with you. It is also a great opportunity to share any questions you may have about your child's year in Reception.
The times are 2:30pm or 5:30pm so I hope to see you there.
A little gesture to help us out:
Please ensure when dropping your child off to school that parents/carers wait with their children until an adult is present, especially in these early days.
Thank you.
When collecting your child at the end of the day, please can you stand near the classroom so Miss Rhodes and I can see you. This will make it easier and quicker to see you. In addition, if another member of the family is collecting, could you get them to tell us who they are and who they are collecting.
Can you ensure the children have their reading wallets in their bags everyday. Do not worry about what is inside the reading wallets (reading record and tricky words) this will all be explained in the Meet the Teacher on Tuesday 16th October at 2:30pm or 5:30pm. Also, please check them daily for letters!
Week one (7.9.18) Welcome to Squirrel Class! Let the fun begin…
Miss Parker and Miss Rhodes are very proud of Team Squirrel this week! We loved visiting you in your homes, seeing what you like to play with and of course showing us the cool stuff in your bedrooms!
The children had great first days at Langrish. We went on a tour of the school meeting all the teachers, office staff and Mrs Wright. It was great finding out where everything is; such as where they go for lunch, P.E, music and most importantly, where all the toilets are around the school.
Throughout the day, the children chose what they wanted to play with. There was computers, animals, sand, role-play and much more… we also had some great games with the parachute!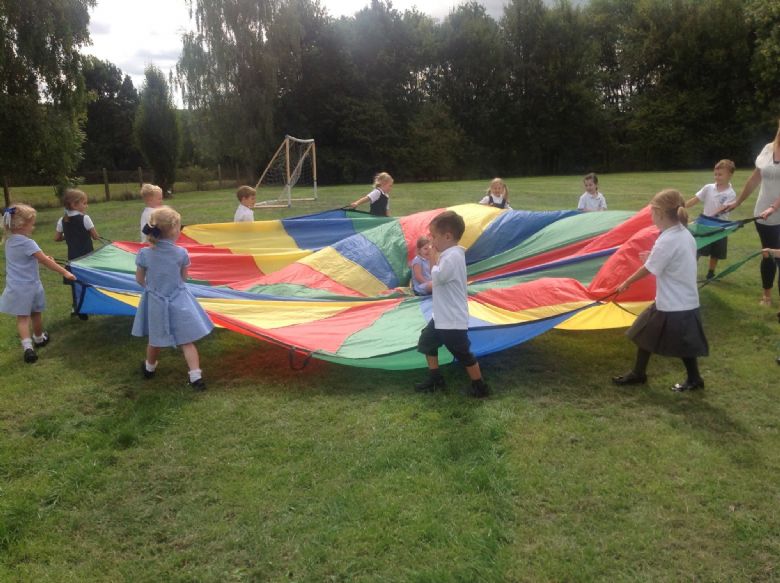 Here are a few things to remember for next week:
P.E kits in a P.E bag – blue T-shirt, black shorts, hoodie, jogging bottoms and trainers.
Forest school clothing – wellington boots, waterproof trousers and jacket.
Bears – we will begin to share each of the children's adventures with their bears! They will stay in school for the first half term.
Please ensure ALL clothes and shoes are labelled with names.
Miss Parker and Miss Rhodes will be there to meet the children at the main gate Monday morning at 8:30am. If your child has a sibling they can come into school with them and take them into Squirrel Class.
We look forward to having the whole class together on Monday!
---
Useful Websites