Mrs Browne & Miss Rhodes: Team Squirrel!
Isolation home learning - Wednesday 3rd June
Some inspiration and happy faces! We will be together again - it might not be now but we are always thinking of you!
Here are the links to various websites which you may find useful. Some of the websites and learning ideas are reminders of what we already subscribe to, and some are new ones, which you are more than welcome to investigate.
Hampshire Music Service - they are brilliant! Keep calm and make music! Please find the Powerpoint attached at the bottom of the page. Have a go, they will love it!
Good morning Squirrels!
I'm really excited to be taking over your online learning this half term and there's lots of great things to do and enjoy. It would be lovely to hear from you and find out what you have been doing. You can send me an email on the address in your grown up's last email from Mrs Wright. I look forward to hearing from you.
I also have a special story to share with you. It's helps explain social distancing and how we can still make each other smile. It's called 'While We Can't Hug' and you can access the story by clicking here.
Mrs Lawry :)
Here are today's activities:
Topic: I hope you're ready to make some music! Your challenge today is to create a musical instrument. There's lots of different kinds of instruments you could make. This website has a few ideas but I bet you can think of even more! Once you have made an instrument see what sounds you can make. Does your instrument make loud sounds or quiet sounds? Or both?
Maths: Please go to Whiterose maths Year R where there are activities from the book Superworm! Mrs Browne tells me that this is one of your favourites! Please complete day 3 activities on the powerpoint. Lucky for us Mrs Browne read that story to you on Target Tracker so dig that out to save you time reading it to them.
Phonics:
Today we're going to look at the 'fl' blend. Can you spell the words in the picture? Which ones have a 'fl' blend? Can you colour these ones in?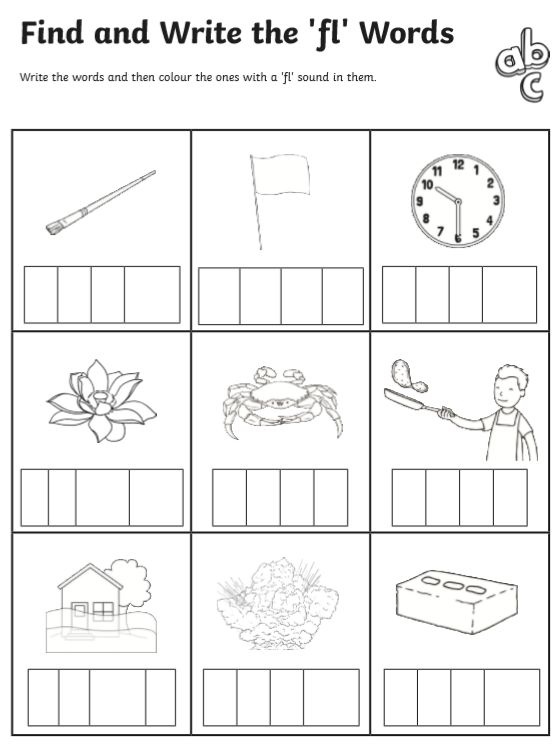 Oxford Owl - reading, interactive books for independent reading along with blooms questions for comprehension. https://www.oxfordowl.co.uk/for-pupils/pupil-home

Charanga – great for making music, following rhythms and patterns and so much more! https://charanga.com/site/

Purple Mash – email me for login details. https://www.purplemash.com/sch/langrish

Phonics Play – you can subscribe for the year or there is free access to some games. https://www.phonicsplay.co.uk/

Cebeebies – great for games, understanding how to control the computer and following instructions. Also lovely stories on there! https://www.bbc.co.uk/cbeebies

Twinkl - free access to so many learning resources! https://www.twinkl.co.uk/

NSPCC - some great free calming activities such as yoga and breathing exercises https://www.childline.org.uk/toolbox/calm-zone/

Hungry Little Minds - fun activities to complete https://hungrylittleminds.campaign.gov.uk/

Tiny Happy People - activities and advice https://www.bbc.co.uk/tiny-happy-people

To keep your bodies moving and grooving there is supermovers, cosmic kids' yoga and Joe Wicks classroom workouts that you can all find on YouTube. Just type in what you want in the search engine!
---
Week twenty-four (lambs and learning about the world we live in)
To end a magical week last week, Millie's mum came in and brought in some very cute week old lambs called Max and Sam. The children got to stroke them and ask as many questions as they could think of! The children were super safe and remembered it was extremely important to wash our hands as soon as the lambs went back to the farm.
Thank you Beth for bringing in the lambs for team squirrel!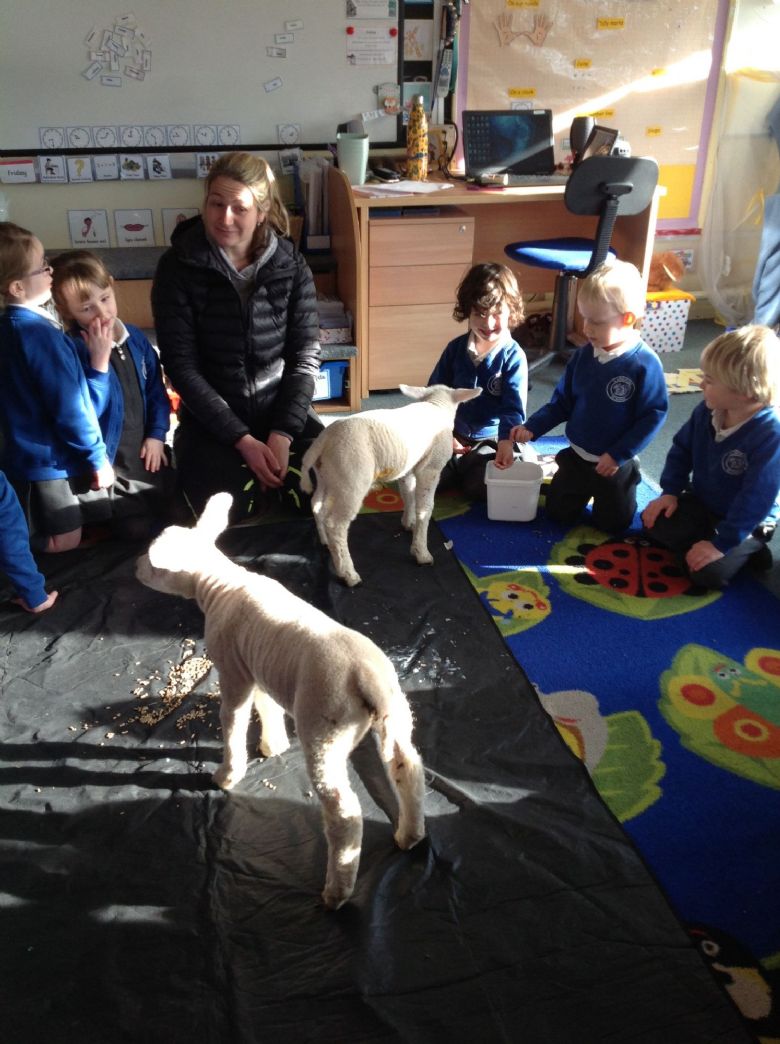 All about where we live and the world around us…
This week the children have brought role-play to a completely different meaning… They are pro travel agents! The children were booking holidays, conducting passport patrol and even with the trouble of coronavirus, the children were ensuring the customers were up to date on their jabs. Using a laptop the children completed checks, wrote who was going on holiday and where, and customers filled in a passport and holiday booking form. Another important role that appeared was a banker calling their contacts to ensure the customers have enough funds. It was a joy to watch and observe!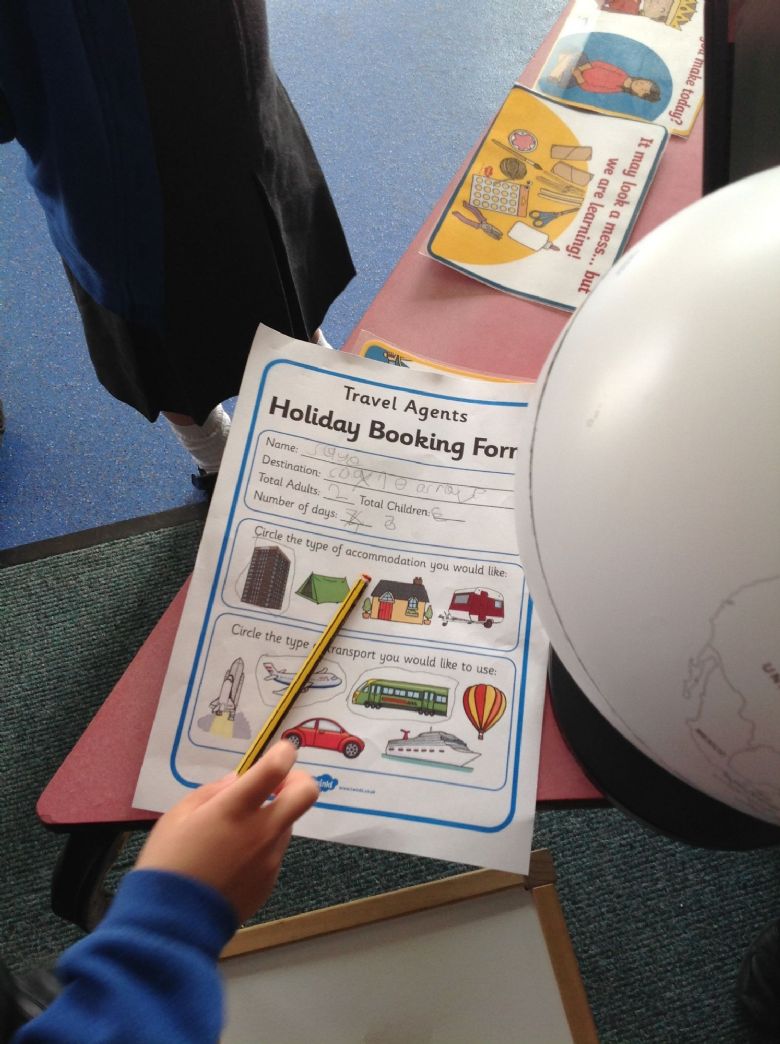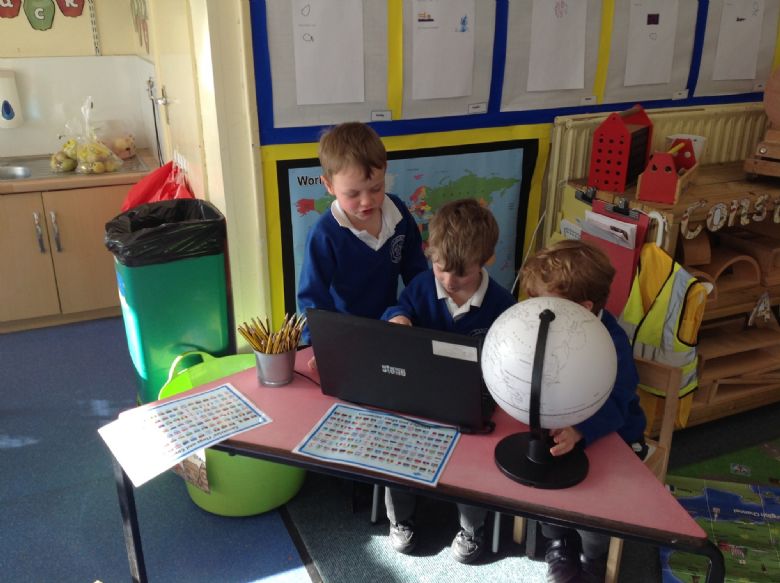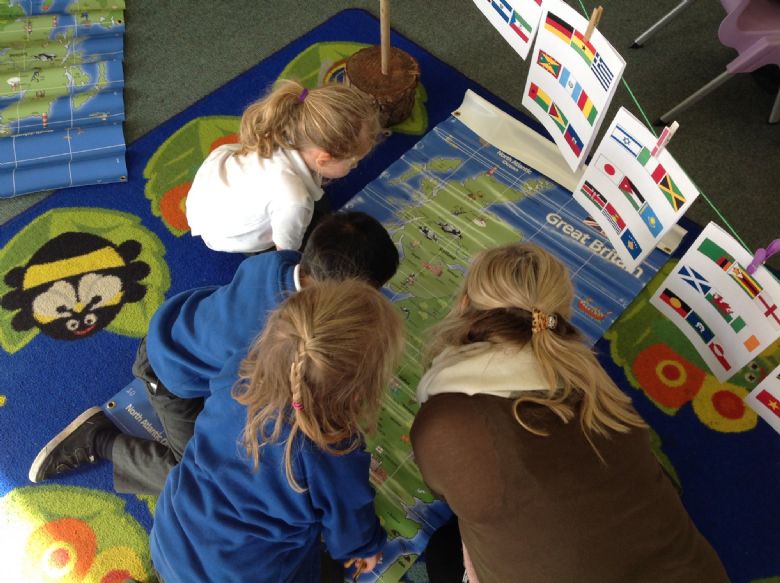 The children loved exploring their holiday destinations by looking at atlases, globes, maps and enhancing their language with key words such as county, country, continent and different places around the world. We linked all this with their experiences of where they have been on holiday and people they know who live in different countries. Then, we found out how far away it the places were compared to where we live.
---
Week twenty-three (6.3.20) Fairy tales and story writing
This week, we have gone into an imaginary world of story writing. After reading some of our favourite books, we discussed what we would write about if we were going to write a story. We talked about key words such as characters, beginning, middle and end, setting, what happened, why it happened and what was going to happen next.
With some great ideas, team squirrels made up a story together:
Once upon a time there was a troll. He was horrible and mean but what everyone didn't know, was that he was very lonely because he didn't know how to be nice. He had captured a princess and the knight had to save her. Everyone kept fighting the troll but the troll didn't want to fight or even capture the princess anymore. He just wanted to be a nice and friendly troll. Luckily the knight spoke to the troll and asked him why he looked sad. The troll explained he didn't want to be mean anymore and let the princess go and they lived happily ever after!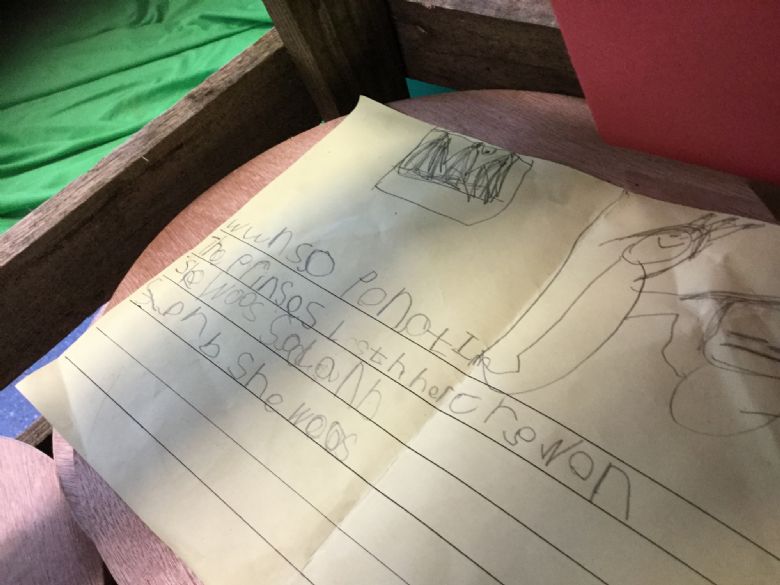 This got the children excited to write their own stories by creating their own books. Here are some of the tittles of their stories…
'The unwanted cat'
'The princess and the dragon'
'The cat and the owner stuck on the island'
'The king'
'The little pig'
'The friendly dragon'
In our deconstructed role play this week the children were able to bring their characters to life! They made masks and puppets all ready for the puppet show. The children were exchanging tickets for money, selling popcorn and decorating the theatre ready for their guests to arrive for the show.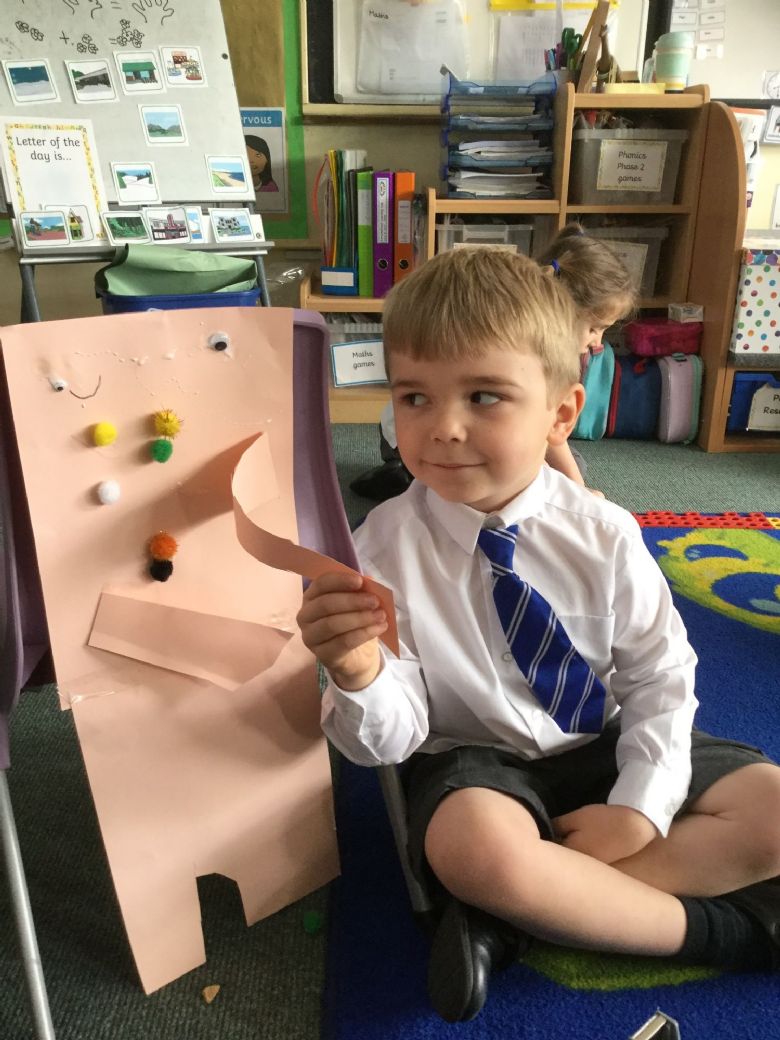 World Book Day!
For World book day we explored the book 'There is a tiger in my garden'. It is a fabulous book all about imagination and wild open thoughts about a girl who met a tiger in her garden and other friends along the way. We took advantage of the beautiful illustrations in the book and painted our own version of the beautiful gardens and strange things which happen in there...
Next week:
We are going to geographers next week! We are looking at where we live and other countries around the world. We would love you to bring in photos of where you have travelled to around the world (please write down where it is) and if you have one, a picture of your house. This is so we can explore other countries and compare them to where we live.
---
Week twenty-two (28.2.20) Learning about our bodies!
This week we are finding out how to look after our bodies. To the children's surprise, it is not just by eating vegetables (as much as they kept telling me…). The children found out it is important to have regular sleep, exercise every day and to have a healthy happy attitude. We also discussed how we need more than just vegetables to eat and looked at what else we should be eating and how much.

"All the yummy things are unhealthy?" Oliver said very disappointed.

"To exercise you can go for a run or dance." Ayana said.

"I go to bed at ten past seven!" "We need to eat carbs to, not just veg!" Joshua said.

"If we were sad all the time, we wouldn't feel very good." Henley said.
"We need to be healthy because we would be poorly if we were not." Hattie T said.

To support our learning we have begun writing lists of things we need to do to keep healthy. Also, we have drawn and labelled our favourite dinners, making sure there is a variety of different foods, especially their much loved vegetables.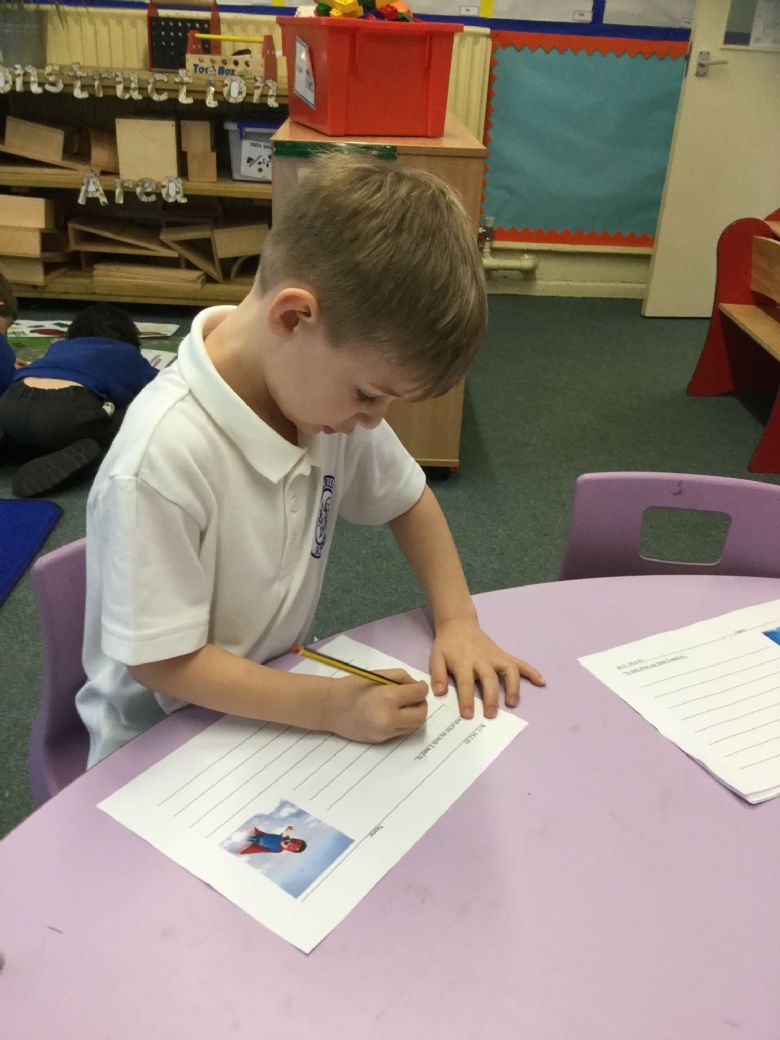 Team Squirrel has gone rogue!

We have begun deconstructed role play both indoors and outdoors. With our theme on looking after our bodies, the children have created hospitals and doctors surgeries. The children have to create their own play by building their area using what they need. Here they are in action…

"Deconstructed role play allows children to fully engage in their experiences with no limitations placed on their imaginations. It creates a language rich learning space where children can interact with one another sharing ideas and developing their own play scenarios."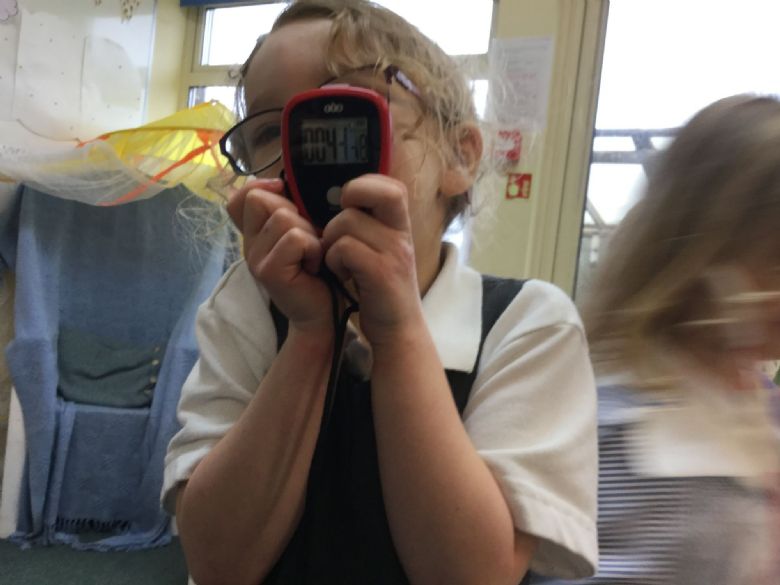 Maths
In maths we have used stop watches to measure an exercise in a certain amount of time.
Ruben said, "I have done 10 start jumps in 10 seconds!"
Elizabeth said, "I could run on the spot for 44 seconds."
Learning Detectives!
Team Squirrel have started to be learning detectives. This means each day someone is picked to become a learning detective where they wear a special badge so everyone knows who they are and their importance of the day. Next they can take up to 5 photos a day of brilliant learning. Then, at the end of the day we reflect on each photo, explaining why it was good learning, other ways we could make it good learning or even how we could improve that learning even more!
Here is a video Mabel took of brilliant learning in maths... She explained how the boys were using the stopwatch well and doing exercise against the time.
---
Week twenty-one (14.2.20) St Valentines Day and of course Miss Parker is GETTING MARRIED!
For our final week of spring one we talked about the celebration St Valentines Day. We shared how not everybody celebrates this day but it is known as a day to tell the people you love, why you love them.
We have had some busy writers and creative drawers, making cards, writing secret love messages and drawing their families and their favourite things.
Here are some of the things they have said about you...
I love my Mum because she lets me watch my ipad before bed. Tommy
I love my Daddy because he reads me stories at night time. Skye
So this is why you are getting married, to tell them you love them, because it is Valentines Day? Hattie
My Dad gives me chocolate biscuits and I love them. Lilly
As a final treat Miss Rhodes got busy cooking rice crispy cakes. The children helped melt the chocolate and used their big muscles to mix it all together. They were asked to give them to the people they love but who knows if they managed to do that or just ate it all up themselves...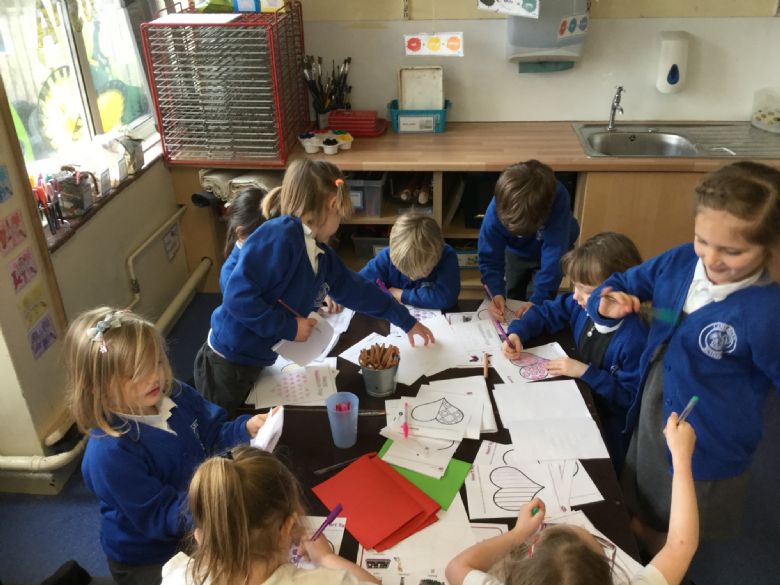 P.E
We were extremely lucky to have Activ8 come and teach the children a P.E lesson. The children listened well, followed instructions, worked in pairs and used their bodies to create shapes and different movements to represent animals.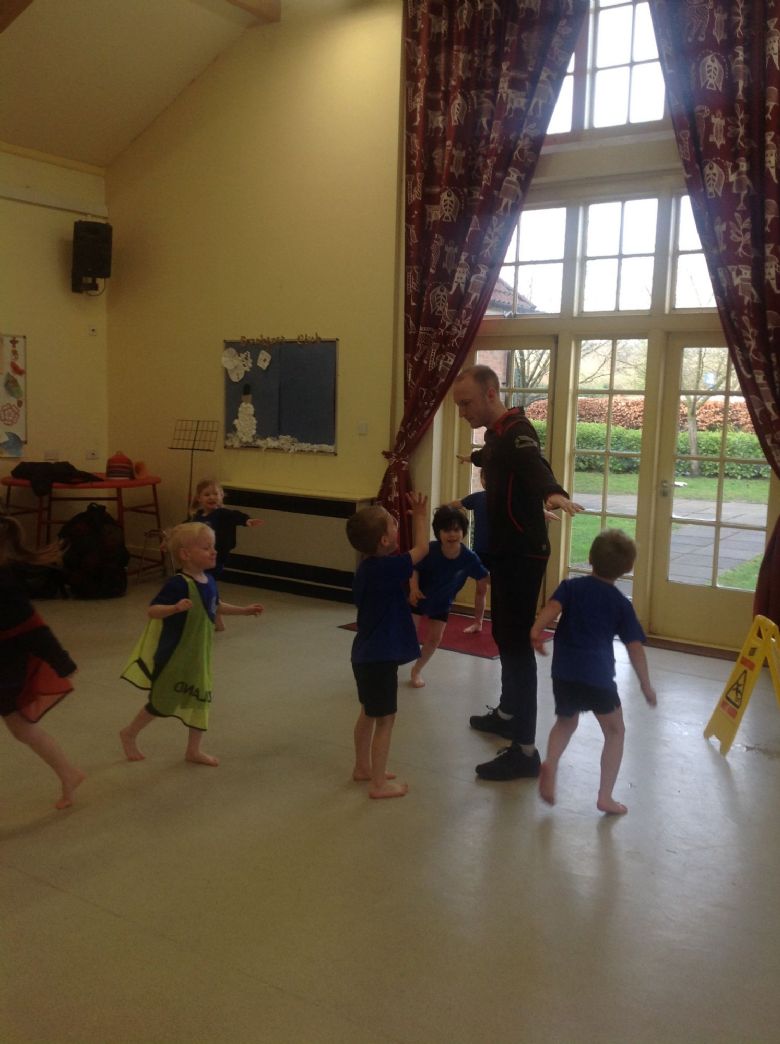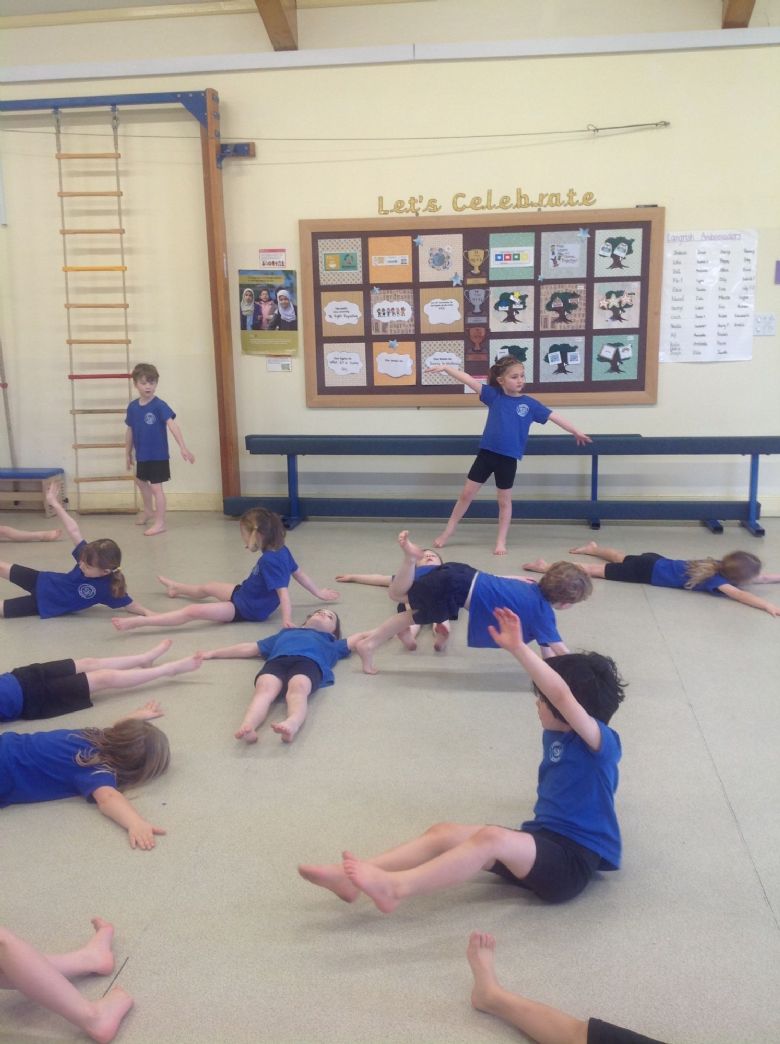 Maths
We are learning to add two small groups together. We have used Numicon, compare bears and sorting elephants to make two groups. The children have represented this in different ways and found out a total when added together.
I wish you all a well deserved rest over the half term! See you in a week where we will be learning about our bodies and trying hard to not call me Miss Parker but Mrs Browne!
---
Week twenty (7.2.20) Take One Picture Week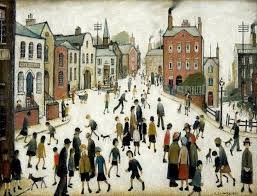 What a week full of planning, construction, colour and sticky fingers! For 'Take One Picture' week, we have gone all out in team squirrels to bring this picture 'A Village Square' by Lowry to life.
To begin, team squirrel had a big discussion about what they could see in the picture and compared it to how our streets look now. We used this discussion to enhance our writing to write what we see, think and wonder about the picture. Here is what some of the children said and wrote down;
I think the people are cold and going home to be by the fire. There were no radiators in the old days that is why there is smoke coming from the chimney. Ollie
I wonder why the street is so busy. Skye
There are lots of dogs and what looks like goats too. Rose
The people are going home to watch the television in black and white. They didn't have colour televisions in the olden days. Mabel
The children noticed how there were no cars in the picture, which led us to discussing how things have moved on since the 1940's.
To really bring this picture to life the children have been busy constructing houses, churches and shops using materials, boxes and carefully using scissors and knives to cut out windows and doors. To create the matchstick people, we used pegs and dressed them by making clothes out of different materials, then drawing on their faces with pen.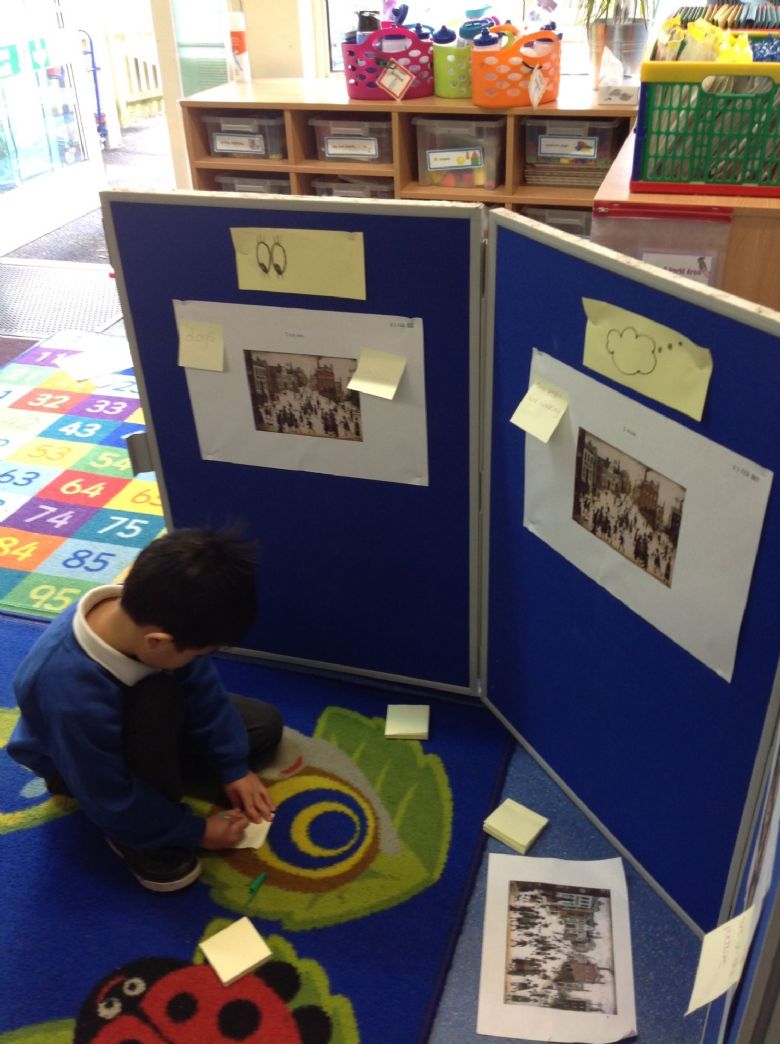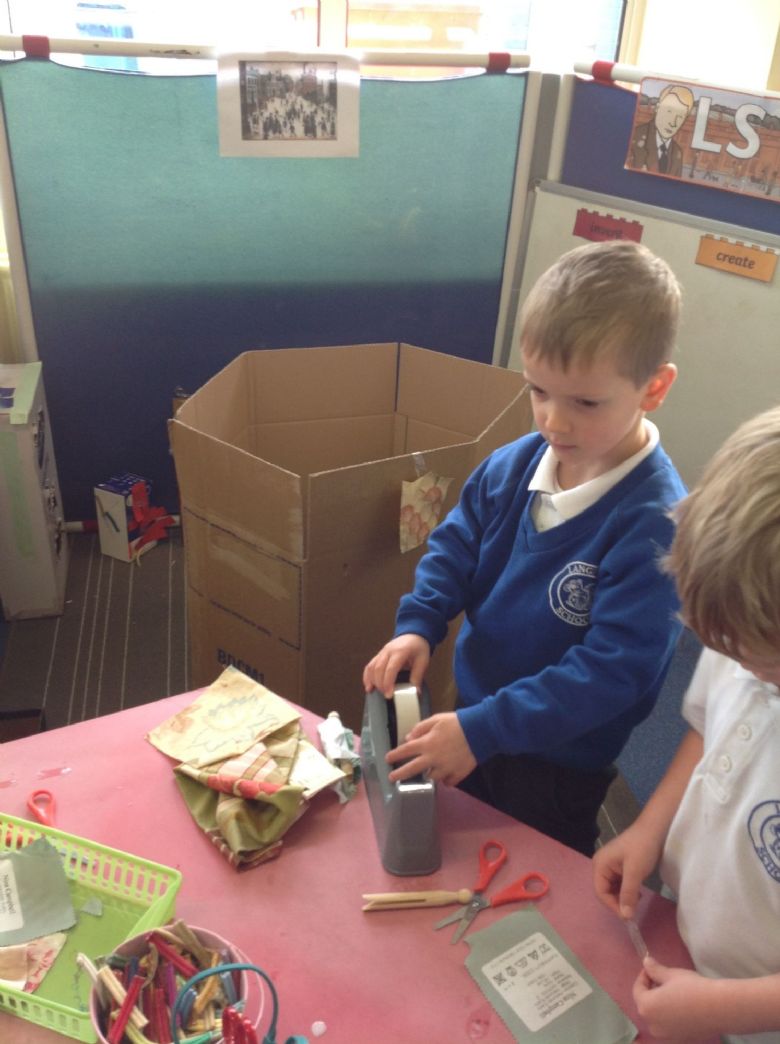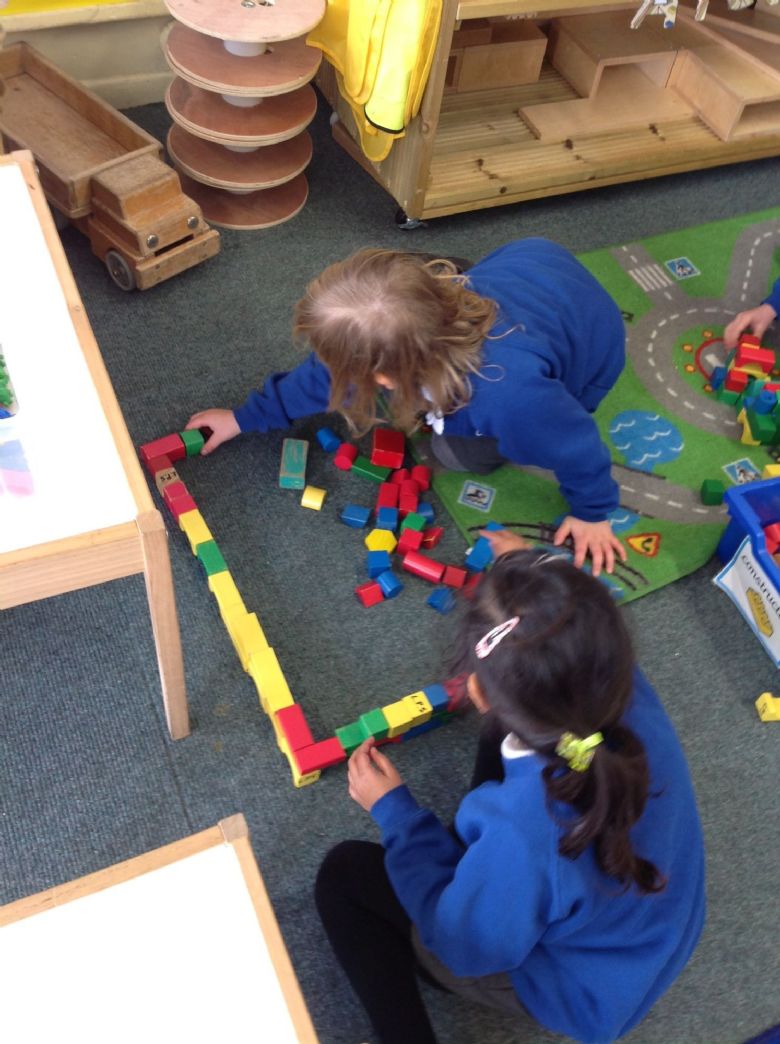 On Wednesday afternoon we had a calm and relaxing painting session using water colours to paint our own versions of the picture. The children mixed the colours to create cream, grey and dark reds just like the picture.
During our independent play the children had shaving foam and blocks to build their own walls and houses. By using their hands to mould the shaving foam onto each brick, allowed the bricks to stick together. Children worked in teams to see who could build their wall the tallest.
---
Other learning away from the picture…
We used our counting skills to good use by listening to the voice recorder carefully and following the instructions and double checking our answers…
We need your help!
We are on the hunt for resources to update our deconstructed role play area...
We need:
Tubes
Blankets
Tarpaulin
Pegs
Large cable reels
Scaffolding planks
Thank you!
---
Week nineteen (31.1.20) The day finally arrived for our class assembly!
The day finally arrived to share our learning of Chinese New Year with you all! The children were so excited and a little nervous. They practised every day to learn their lines, remembered to have a loud voice and knew when it was their turn to talk. I am extremely proud of team Squirrels! Well done to all of you.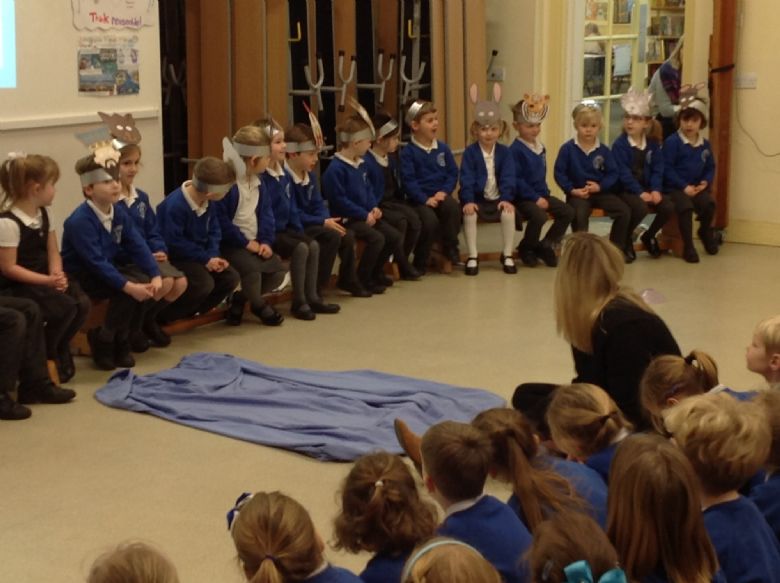 Phonics
We have been writing invitations to you, inviting you to our class assembly. I am encouraging the children to write for a purpose and here is a great example writing for a purpose. We looked at tricky words such as 'come' and 'my', making sure they are spelt correctly by looking at the tricky word wall for help if needed.
Music
In Music, we have been exploring instruments and making our own rhythms working in pairs using a variety of instruments such as drums, triangles, claves and maracas. The children enjoyed using the drums best as they said it makes the loudest noise.
P.E
We have been putting our skills into action. Whether it be throwing and catching, balancing, jumping, hurdling or aiming with bean bags.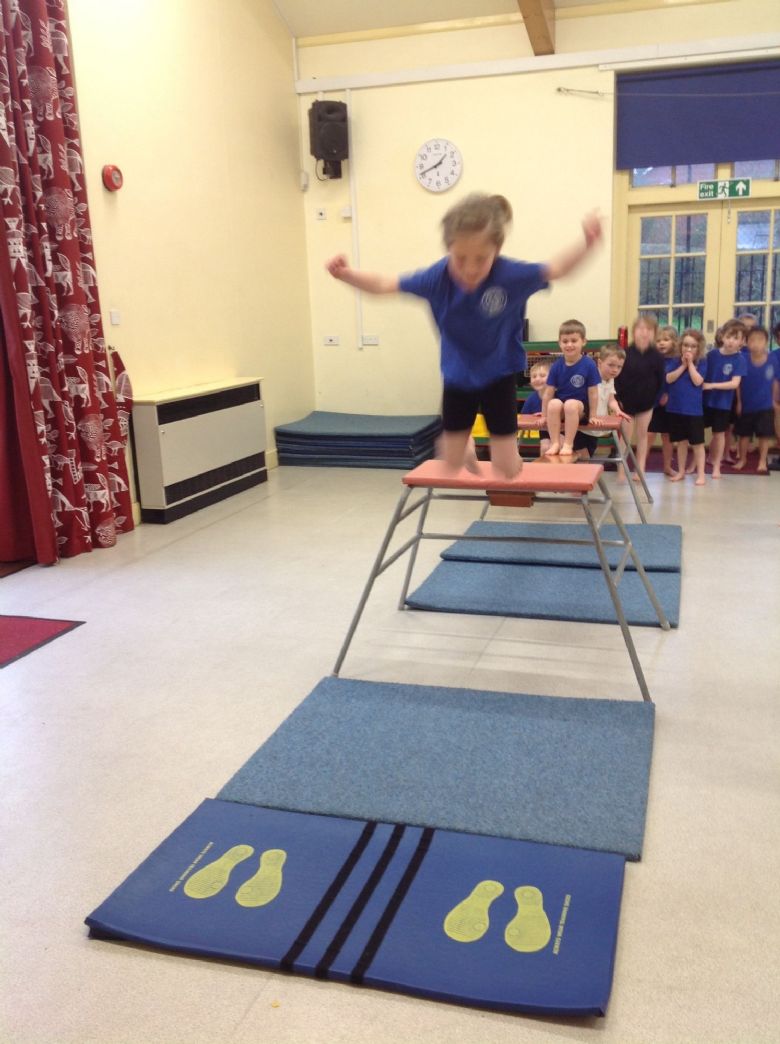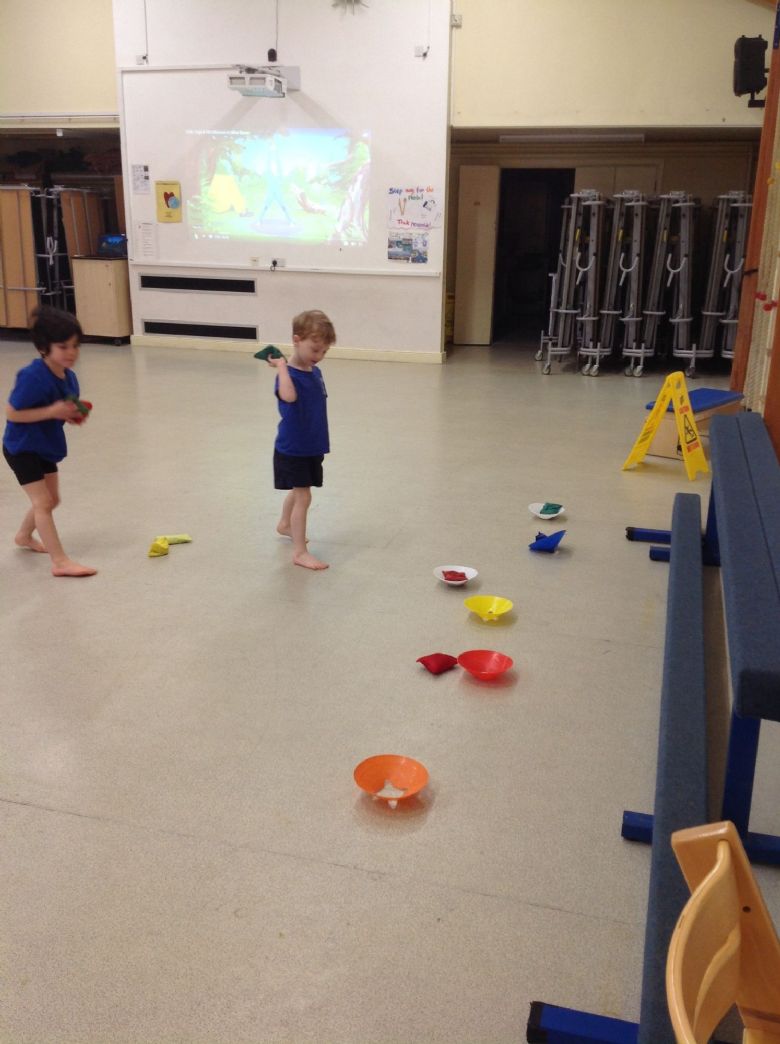 Next week is 'Take One Picture' week, where we explore a piece of art and create our own bit of sparkle on it. There will be a gallery through the school at 1:30pm on Friday, in our classroom, for you to see our work. Therefore, I am asking you to dig deep in your recycling bins as we need as many cardboard boxes as you can find ready for Monday please! :)
Thank you!
---
Week eighteen (24.1.20) Chinese New Year continued and Practise makes brilliant Progress!
The children are still so engrossed with Chinese New Year. They still want to find out more about it and how Chinese people celebrate. Lucky for us, Mrs Ye came to see us with some amazing things. The first thing the children noticed was the enormous lions head and body. The children asked brilliant questions such as:
What is the head made out of?
Why is it red and yellow?
How many people go in there?
Is it heavy?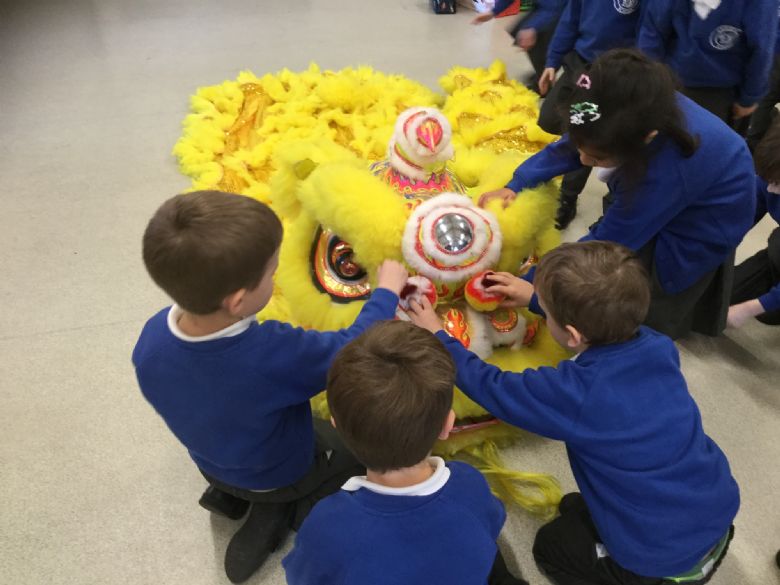 Miss Parker was in for a treat as she was able to be part of the lion's body. It took a lot of concentration, as Miss Parker had to watch and follow everything Mrs Ye was doing with the lions head.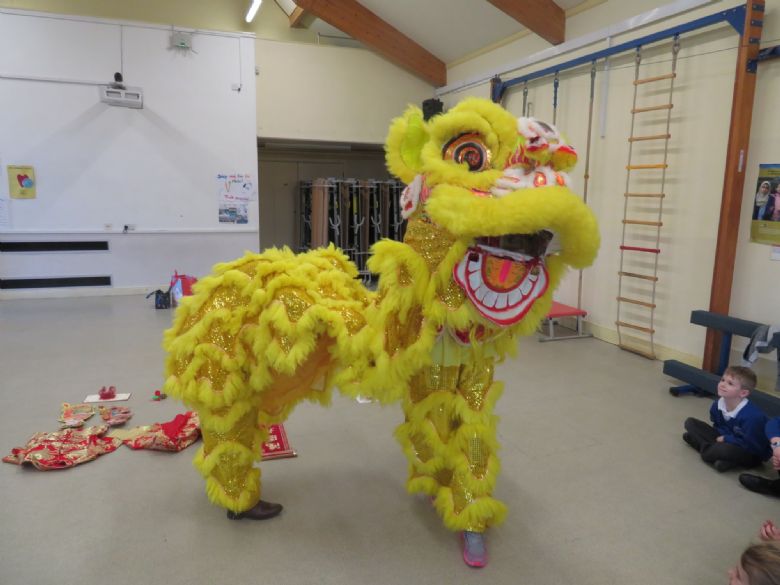 From this, we explored outfits which they wear on New Year's Day and looked at special cards they send out to wish their friends and families a Happy New Year.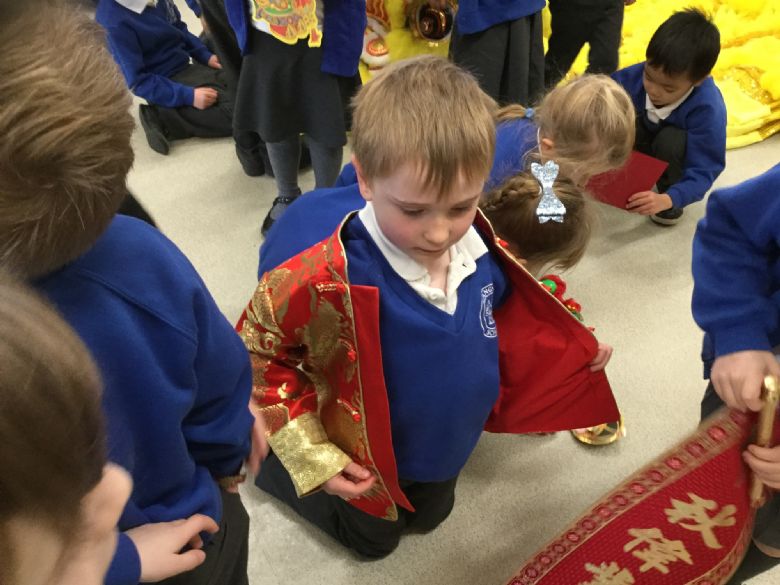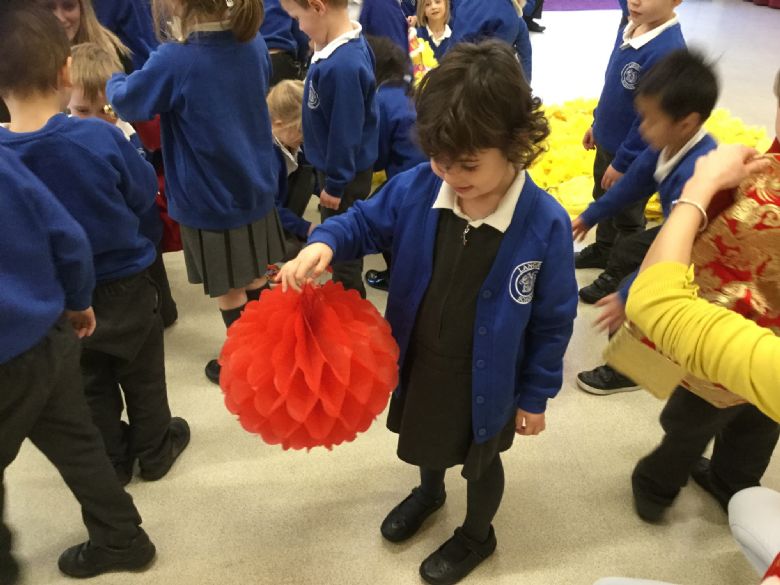 To finish, we tried a fortune cookie and the children had a special treat by receiving a red envelope with a chocolate inside. The children were extremely confident to tell Mrs Ye how they knew children receive the red envelopes with either money or sweets inside.
A spontaneous afternoon popping popcorn
We had a lovely time Thursday afternoon building a fire, collecting dry sticks to use and popping popcorn. The children couldn't believe that popcorn doesn't start white and that it comes from corn. They loved watching it pop and listening to the sounds... But best of all it was eating it all up and not even saving any for Miss Parker!
Tricky words rockets
I am so impressed with your children knowing their tricky words so thank you for all your support with these. Keep it up as it does make such a different to your child's reading and writing!
Reading
Please don't stop reading and questioning your child's understanding of what they have just read. They are doing brilliantly! Remember they can change their books whenever they want! Try not to substitute your schoolbooks with other varieties of reading books at home. Both are extremely important.
Class assembly 30.1.20
Don't forget, see you at Squirrels class assembly at 8:50 on Thursday 20th January. The children have been practising every day and make Miss Parker and Miss Rhodes so proud every time they see it so you won't want to miss it!
---
Week seventeen (17.1.20) Chinese New Year
This week we are learning all about Chinese New Year. The children have found out many facts about Chinese New Year through exploration of books, resources, research through the Internet and experiences. Here is what we found out:
China has the biggest amount of people in their country.
China is the fourth biggest country in the world.
We look at a map of the world to find out what the biggest country in the world was if it is not China. After looking at the map, it showed us that Russia was the biggest. We compared China to the United Kingdom and the children could not believe how small we are as a county.
China is so big, they have deserts, mountains and jungles.
Using the Internet, we researched what a desert, mountain and jungle looked like and found describing words to explain what they are like. The children used words like hot, humid, wet, dry, damp, snowy, cold and dark.
We have begun preparation for our class assembly on Thursday 30th January. The children are extremely excited to share their learning with you.
In maths we have used our cutting skills to good use by making 2D shape dragons, red envelopes and lion heads. Also in maths, we are exploring weight by using scales to measure which is the heaviest and lightest. Discussions have been made to find out why and how we know which is the heaviest or the lightest. It got very tricky at times when using digital scales to see what the number is as some objects were extremely heavy and went up to 1000g!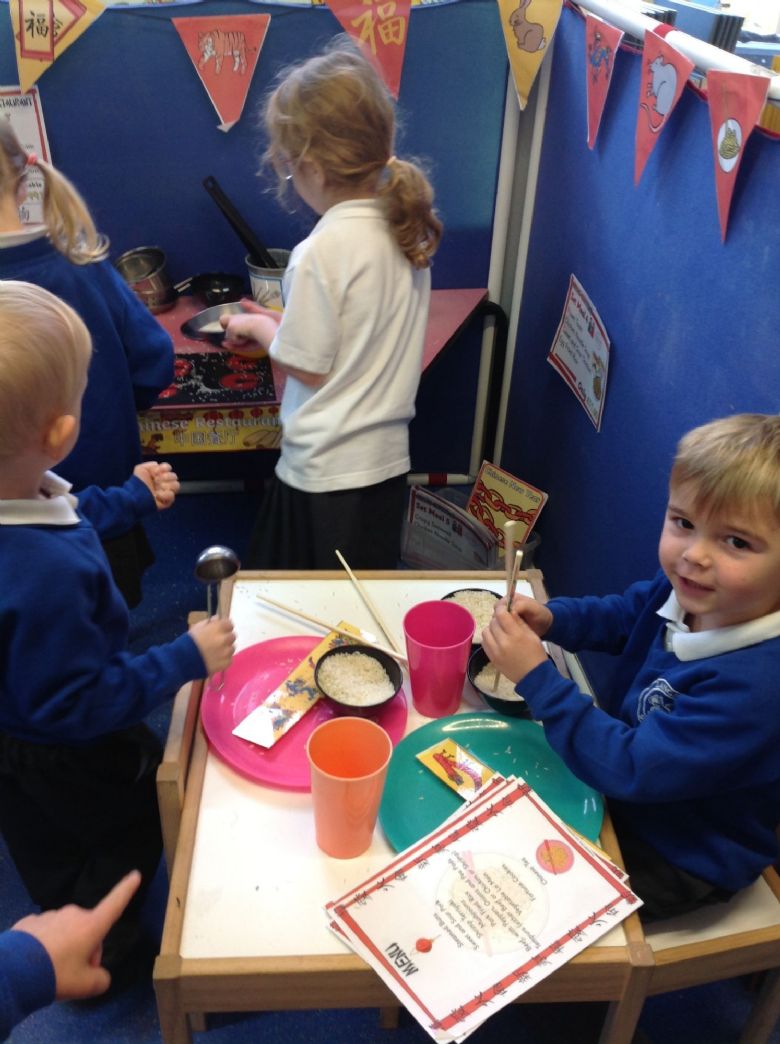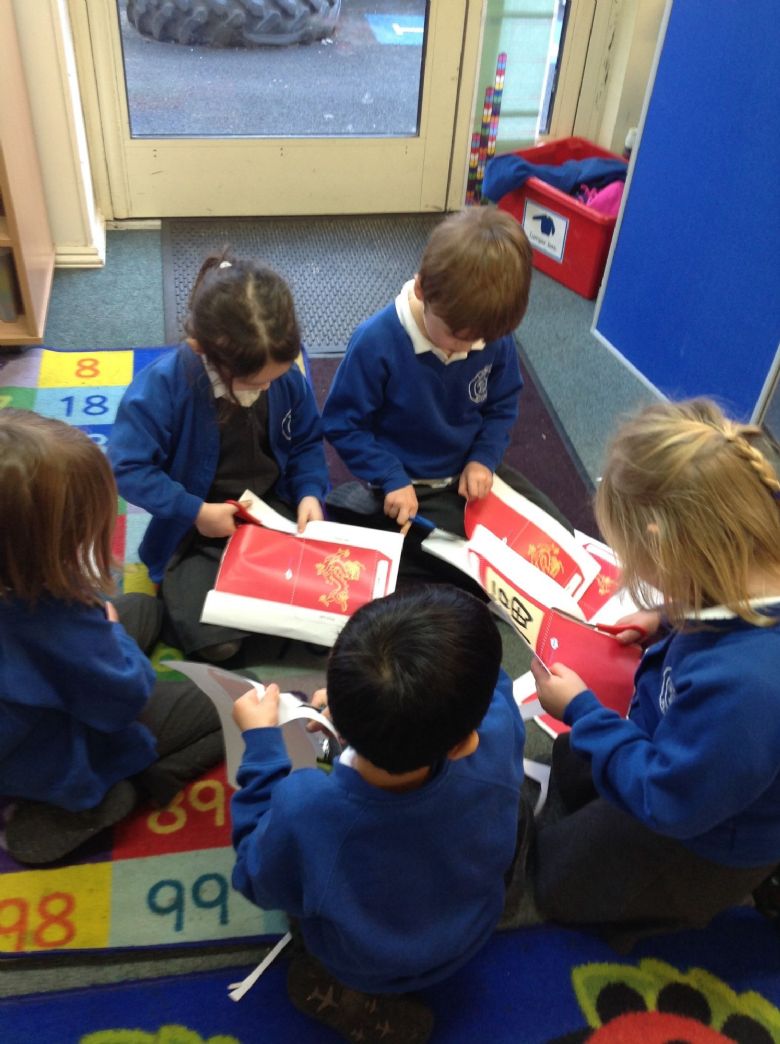 In P.E we have been looking at dragon and lion dancing and copying their moves. We made our own routine to the music too, which we cannot wait to show you in our assembly!
---
Week sixteen (10.1.20) Happy New Year!
Welcome back! It was lovely to see excited, happy squirrels as they entered the classroom. The children have come back refreshed and ready to go… I've never seen such keen learners!
This week we read a book called, 'Ten Little Lights'. It's a lovely wintery story based on wild woodland animals and a house with ten little lights. It is a repetitive story so the children began joining in with the words by the end of the book. We looked at different words to describe the animals and also used our memory to remember the order the animals arrived in the story.
To support our learning we wrote speech bubbles, suggesting what the animals were thinking or would say to one another. Also we drew and labelled the animals in the story, using word mats or sounding out the words independently to write each word.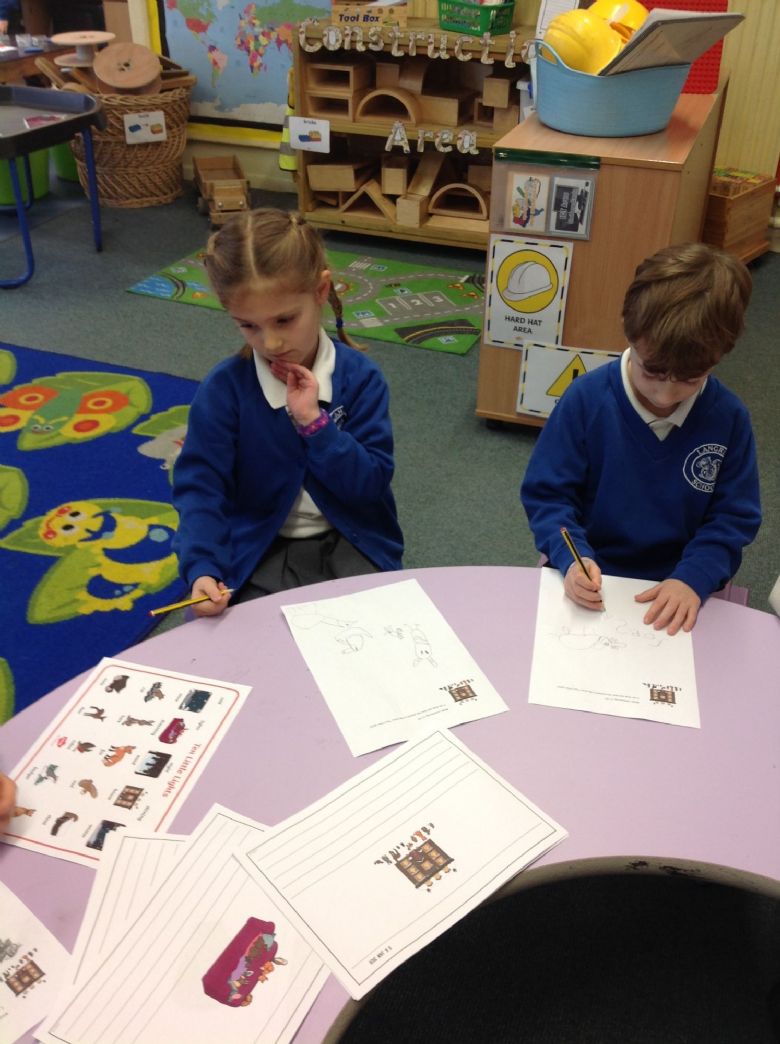 In our role play area we have a shoe shop, with some very good shoe shop workers who are ready to give you a bargain… 60p for some hunter wellington boots. Miss Parker left the shop a very happy customer. The children have used brilliant language like high, small, big, fit, size and even using language related to money! I told you they were keen learners, they don't even know they are doing it…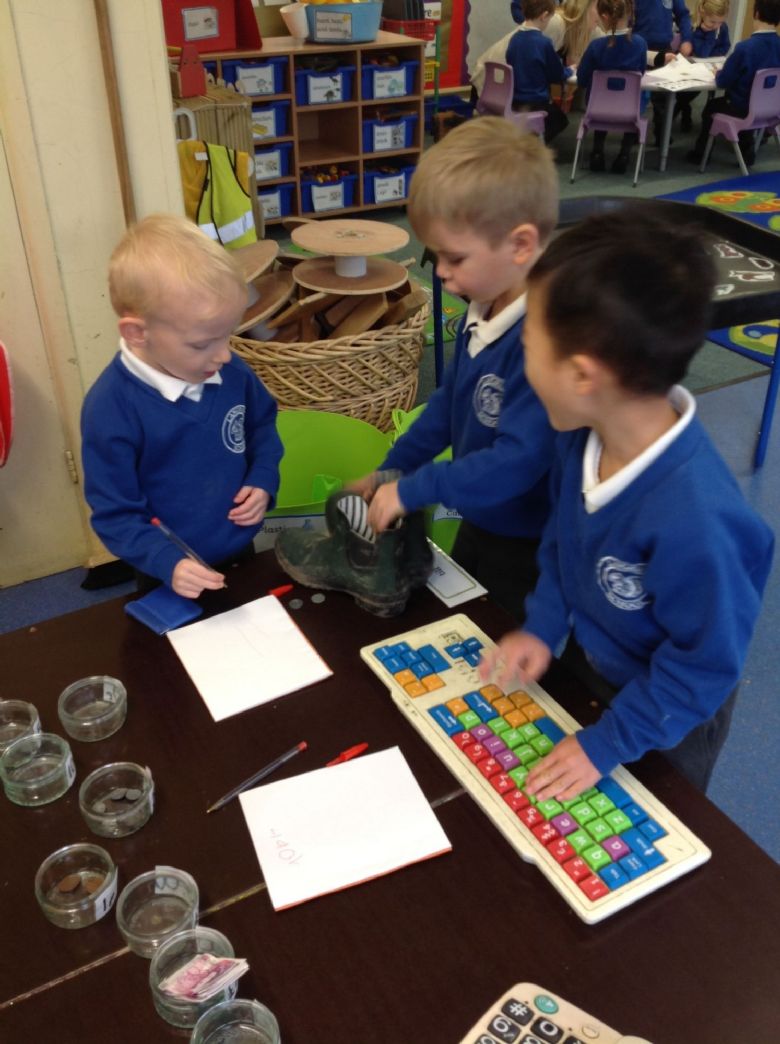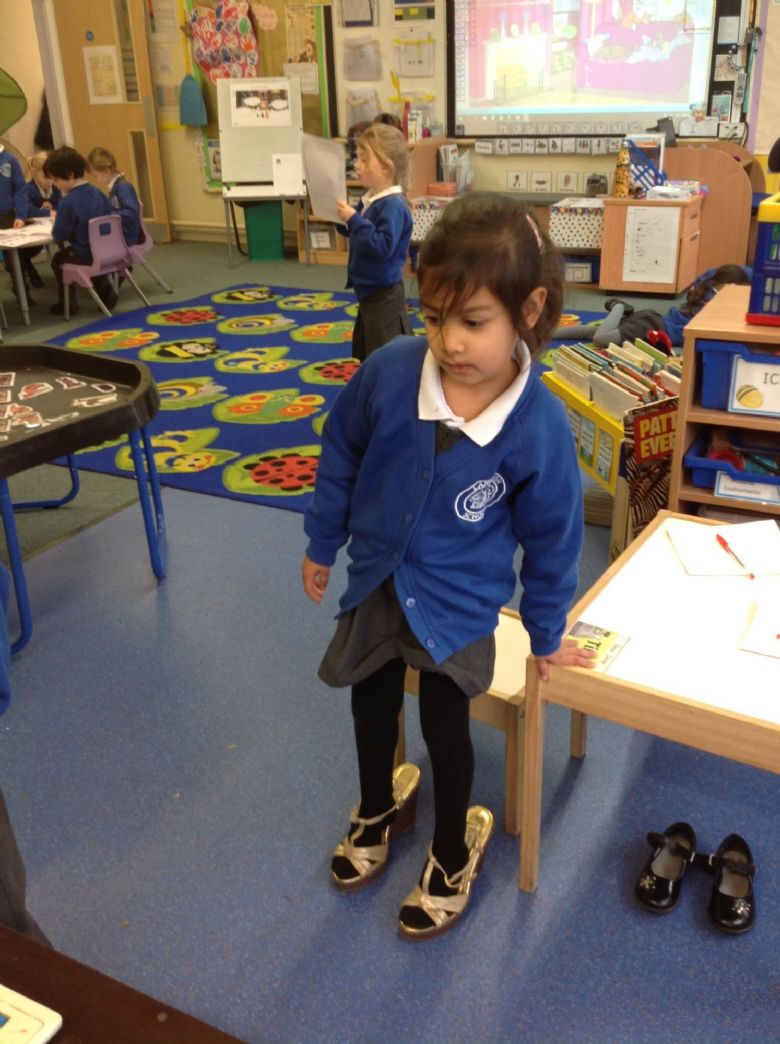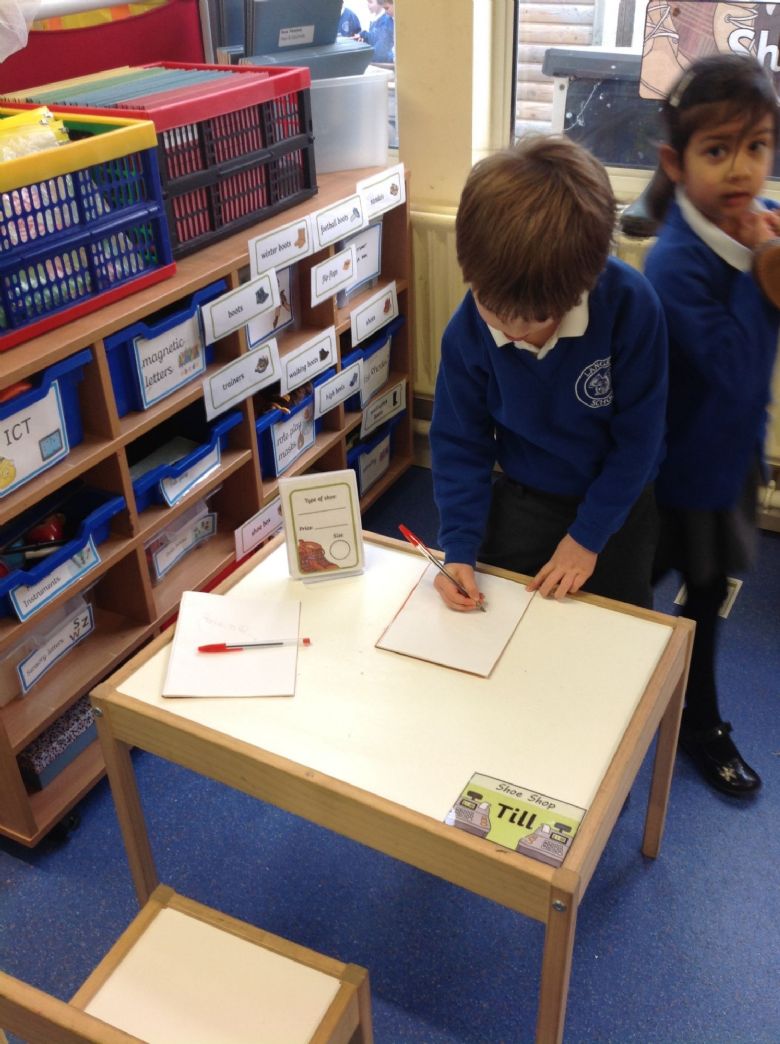 In maths we are looking at height. We used metre rulers, tape measures, rulers and cubes to measure ourselves and objects around the room. We also talked about measuring in centimetres and metres. To measure ourselves we used a measuring rod which gave us accurate results so we could find out who was the tallest and who was the shortest. We made our predictions but we were all wrong! Turns out Ava was the tallest and Henley was the shortest! Super investigating team!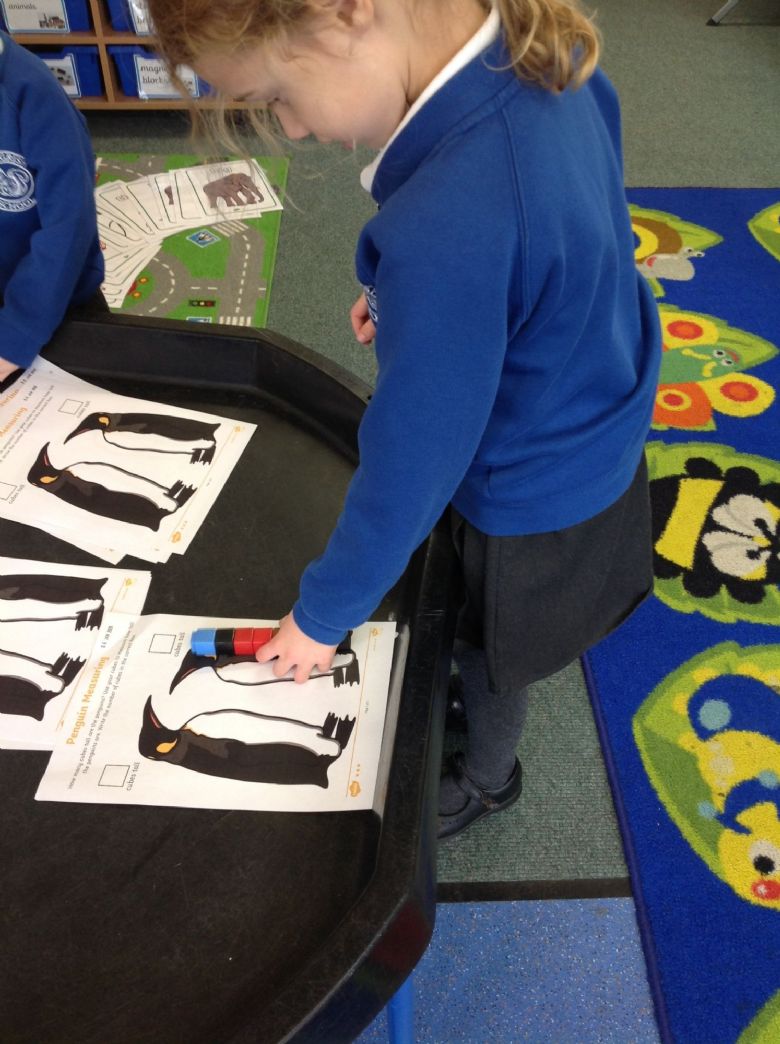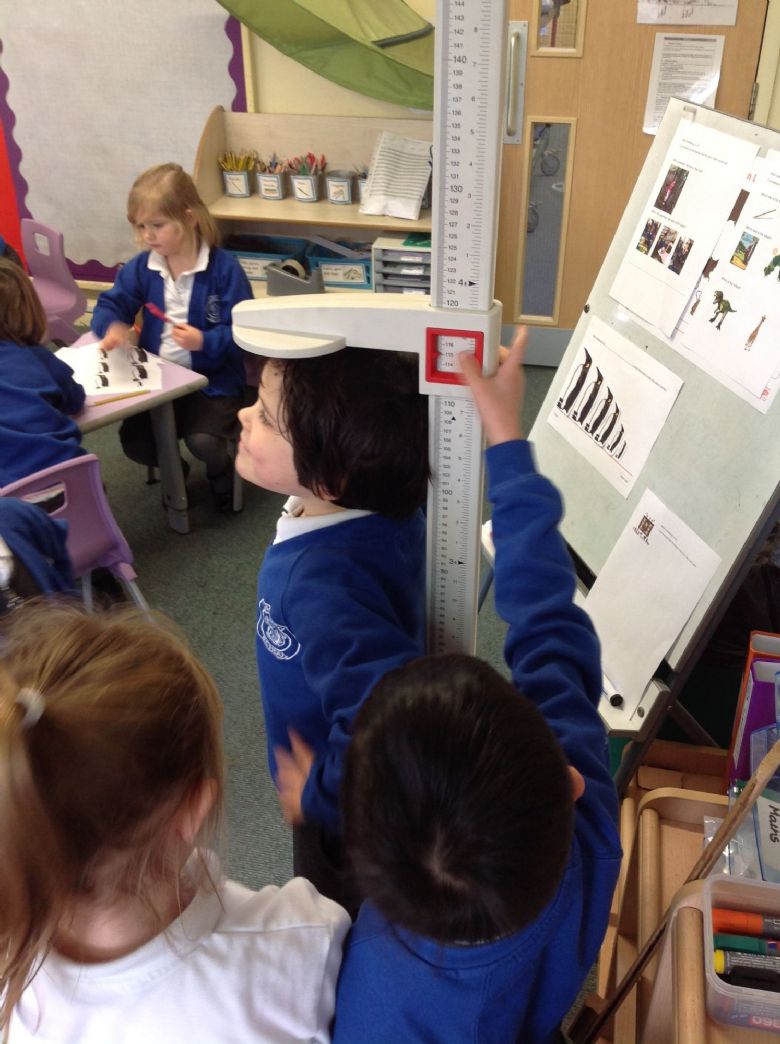 Olly the Octopus
On Tuesday we were extremely lucky to have visitors from the Petersfield Open Air Swimming Pool come read us a story which they published. It was called Olly the Octopus learns to swim. They are raising money for repairs on the pool. The children were very excited to join the infant team at the end of the day to hear about Olly's adventures.
P.E
In P.E this week we got in teams of nine to completed obstacle courses. Working together the children had to complete the course and make it back in time before the other teams. House points were at stake to it was important to win! The aim of the game was to be alert, focused, work together and communicate!
---
Week fifteen (19.12.19) Happy Holidays!
What a fabulous way to end the first term at Langrish School. The children did so well in their nativity. The best cowboys and cowgirls I have ever seen!
I am so proud of each and every one of them. They have all come so far and done so much in just one term! I look forward to seeing them fresh faced and ready to learn in January 2020!
I wish you all a restful, fun and happy Christmas.
---
Week fourteen (13.12.19) Nativity, Nativity, Nativity…
This week, team Squirrel have been in full preparation for the Nativity 'Prickly Hay'. They know all the words and actions and are very excited to wear their cowboy/girl outfits!
When not rehearsing, the children have been super busy in the Christmas Post Office. They have been writing letters to Santa and making Christmas cards for their friends and family. Also, we have a wrapping station where the children turn into little elves to wrap presents for the friends in their class.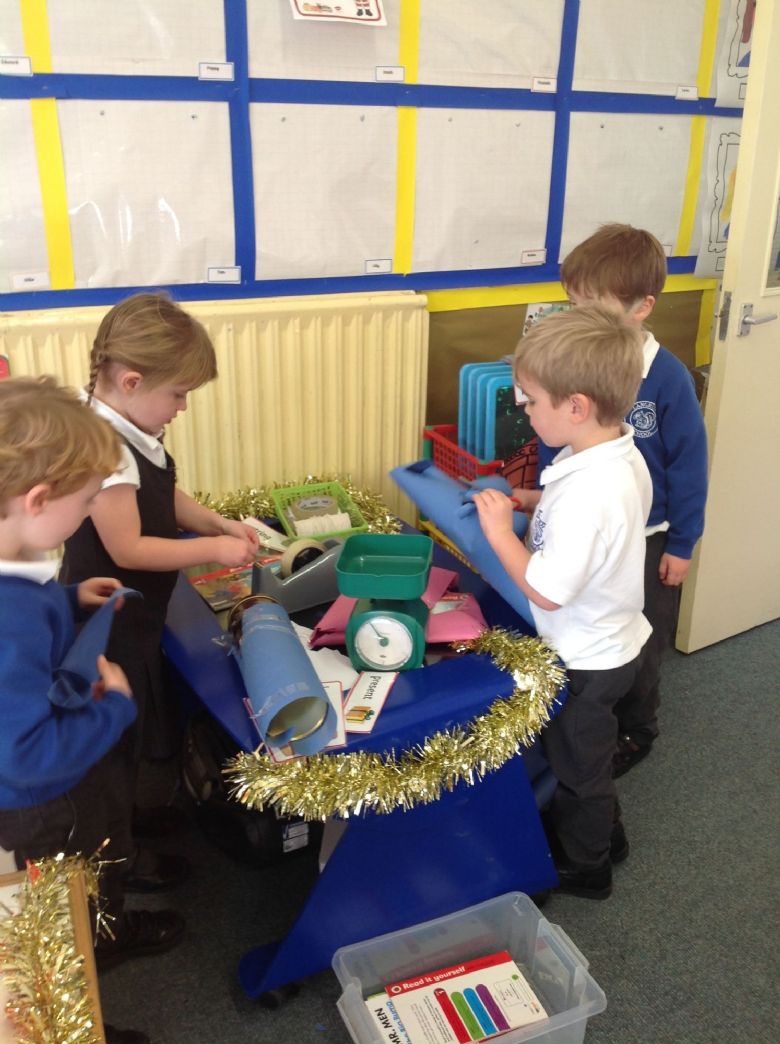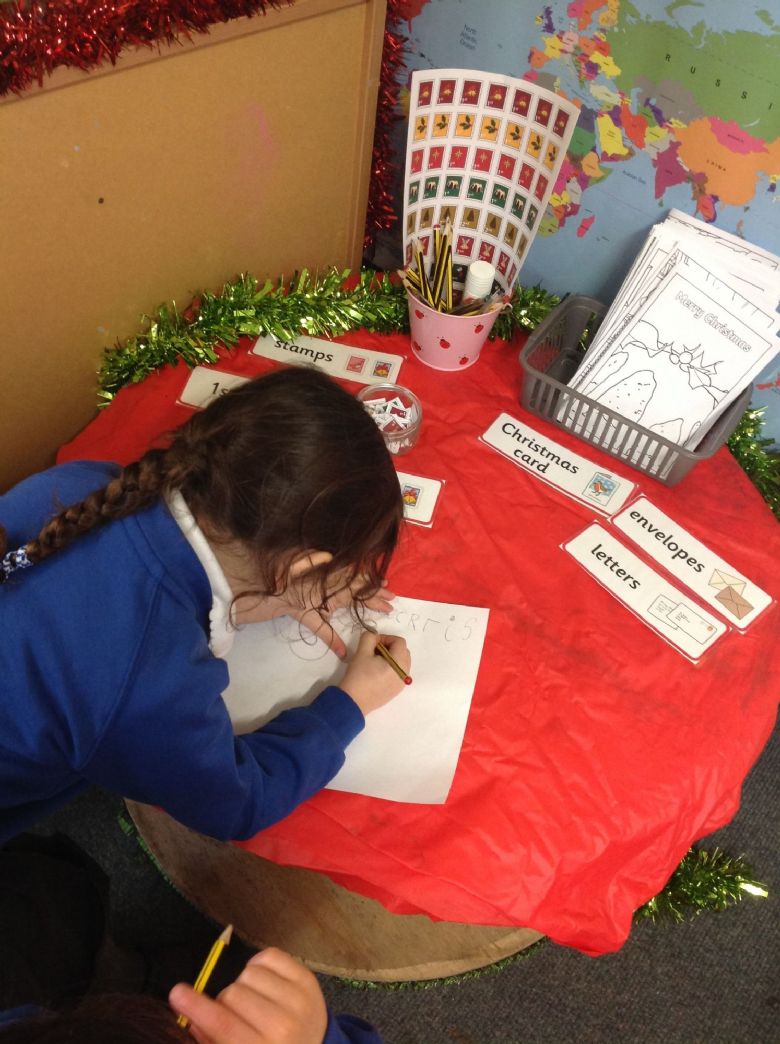 To get in the Christmas spirit we have also made snowmen, reindeer and Santas using all the toilet rolls you so kindly brought in. They look brilliant!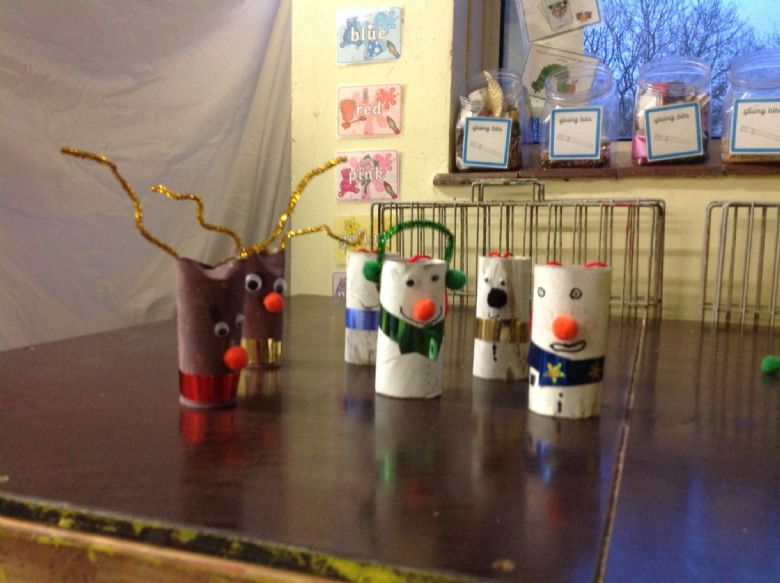 ---
Week thirteen (6.12.19) It's finally time to celebrate Christmas!
The Christmas story
This week we are learning about the Christmas story. We talked about who celebrates Christmas and why some people do not. Our challenge is to write a sentence about the Christmas story or sequence the story and write about each picture. Do come and take a quick peek at our working wall after school.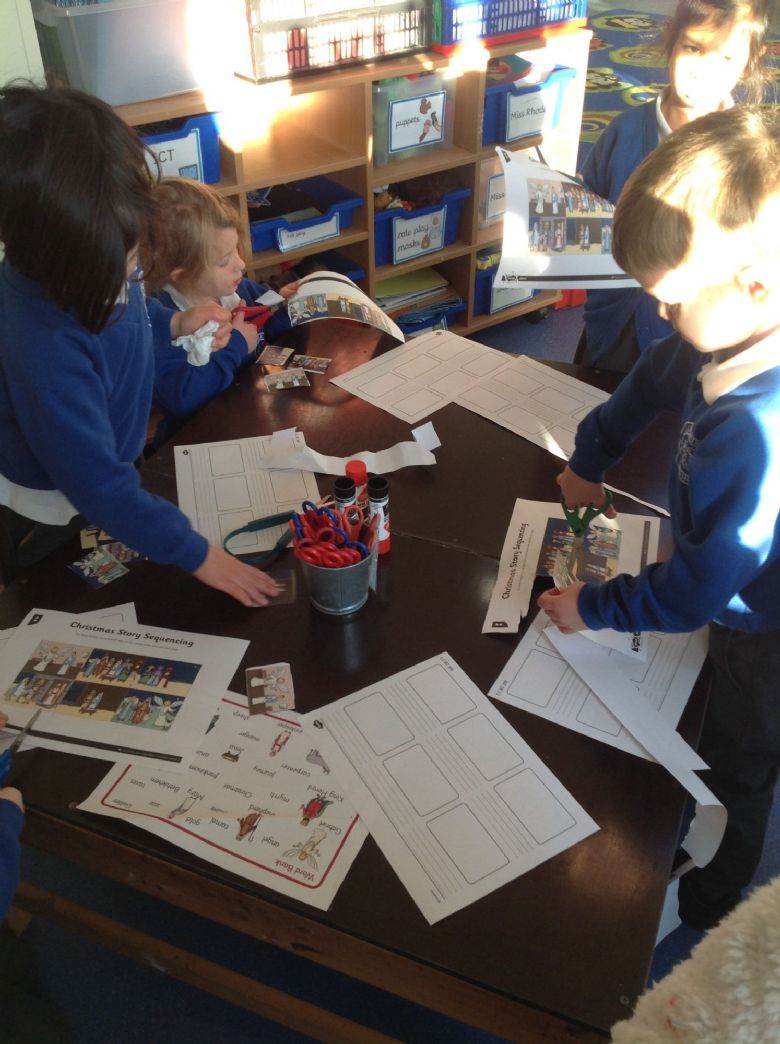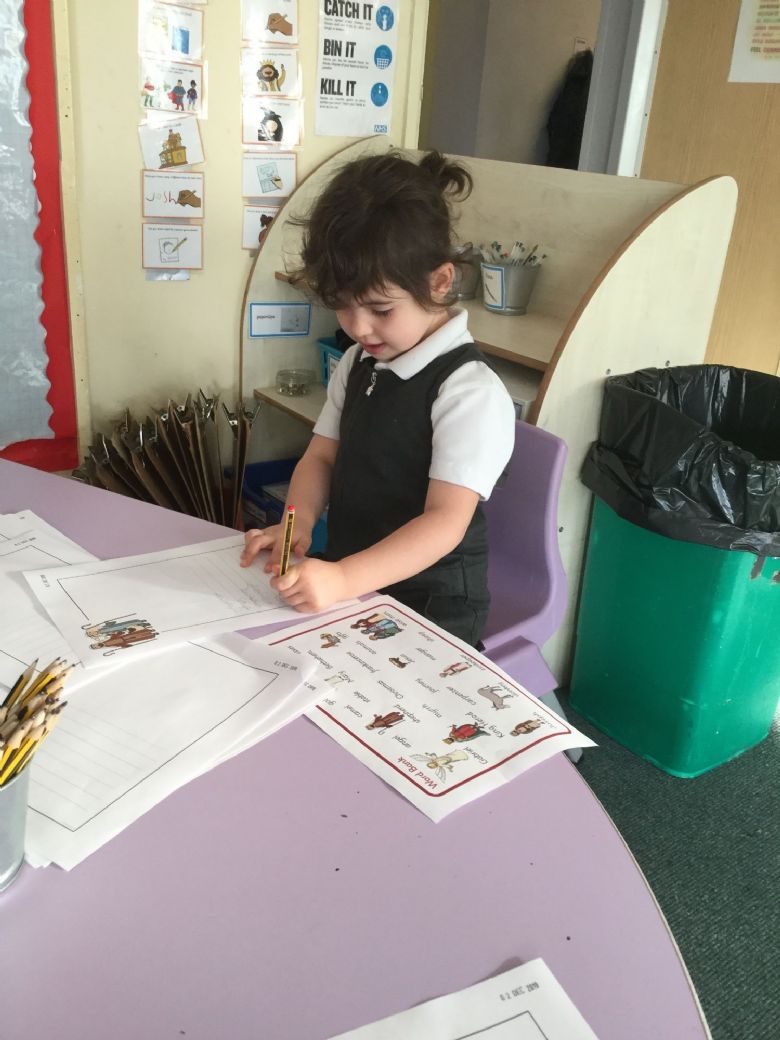 Miss Rhodes worked her Christmas magic this week to make a stable role play area which the children love. There has been a few camels, sheep and pregnant Mary's wondering around on donkeys finding a room at the inn.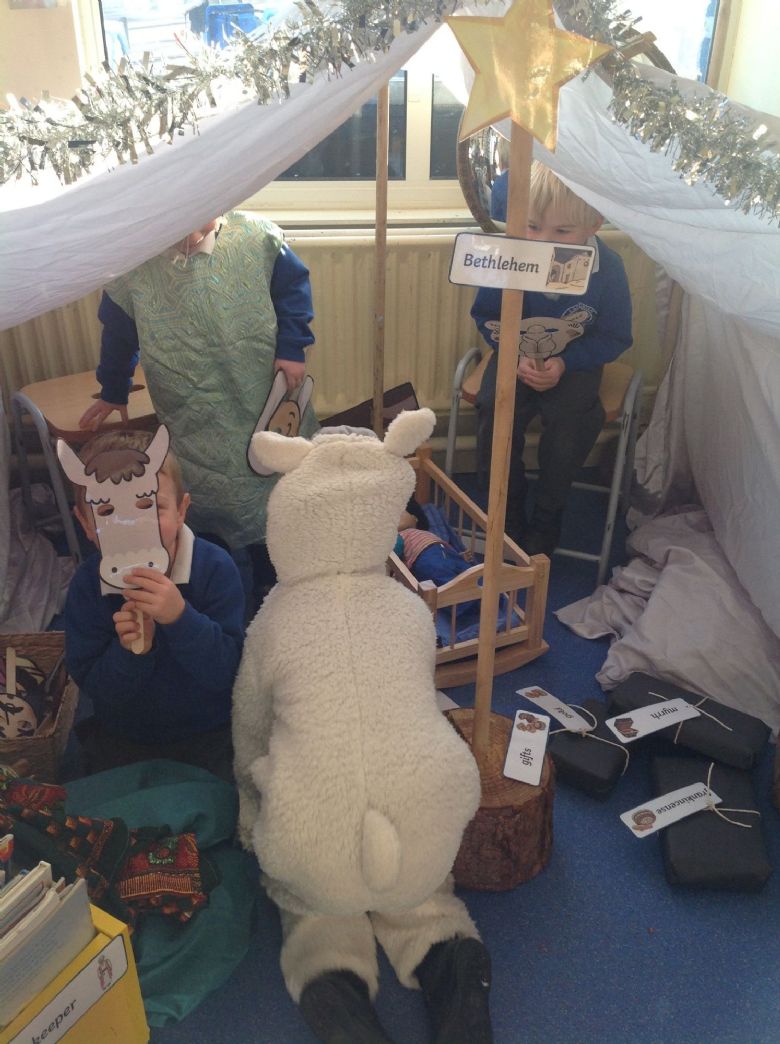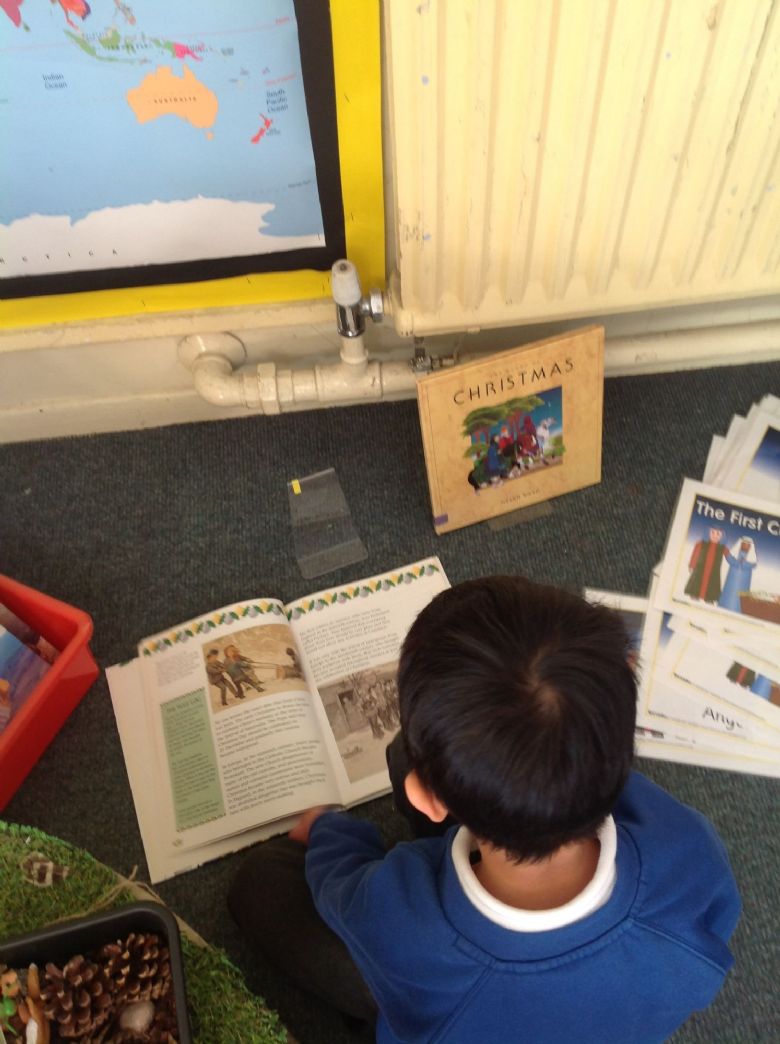 Maths
In maths, we are learning about o' clock. We discussed where we can find clocks to see the time and here is a long list we made:
Clock
Watch
Phone
Laptop
iPad
Timer
At the train station or bus station
The children have loved exploring the clocks and telling the time. We looked at what time we wake up, go to school, eat our lunch, go home, have dinner and go to bed. Some of the children said their bed time was 10:30! That's even later than Miss Parker's!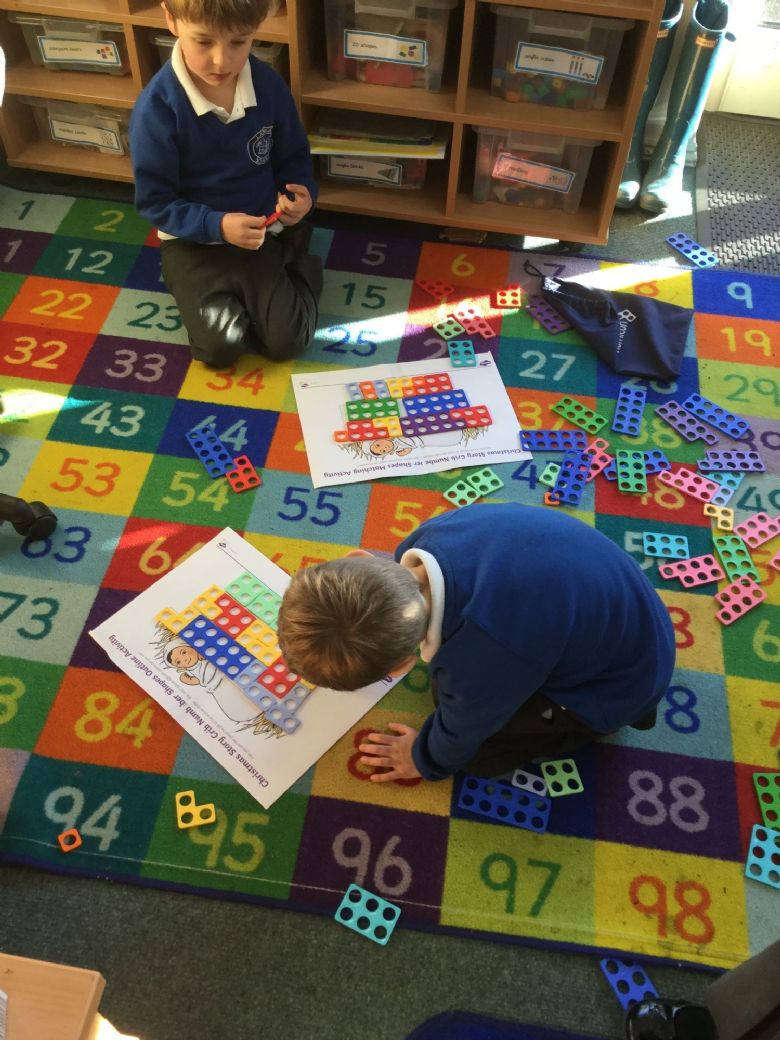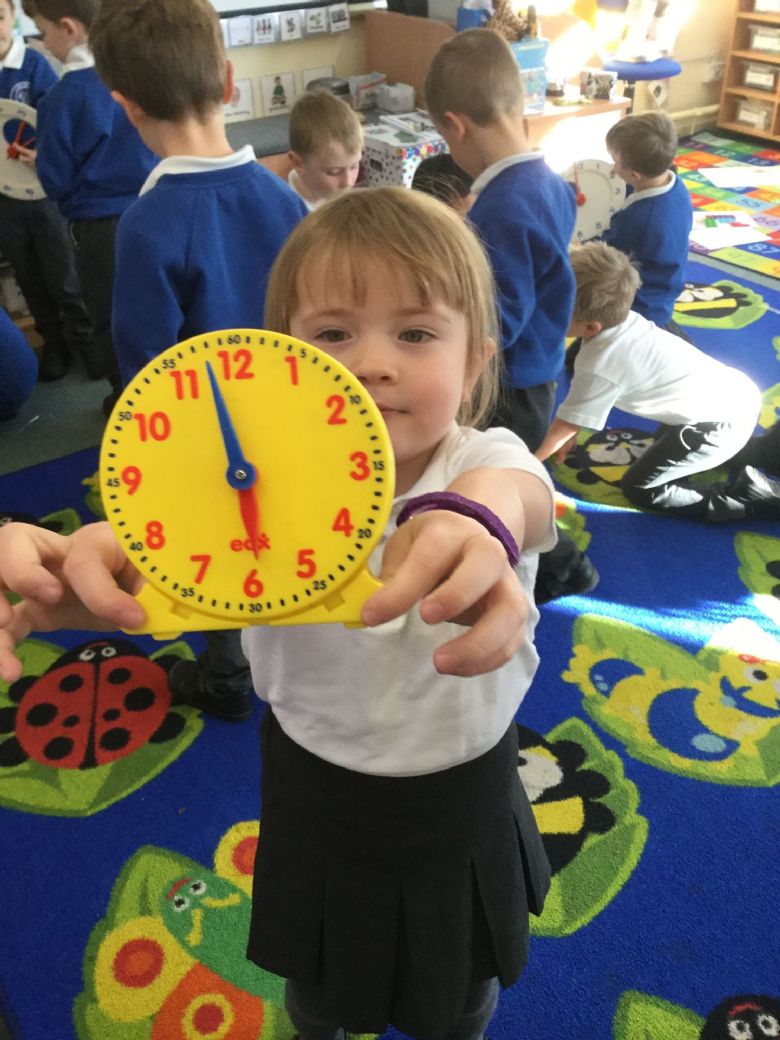 ---
NEXT WEEK... WE NEED YOUR HELP...!

Calling all toilet rolls and kitchen rolls!

Please could you collect these for us so we can make all sorts of Christmas craft with them... I'm sure you will get them back once your child has revamped them to look Christmassy and fabulous!

Please collect as many as you can and bring them in ASAP. THANK YOU!
Week twelve (29.11.19) Kindness and Anti- Bullying week
This week has been all about kindness. We discussed what makes a good friend, different feelings and emotions and how best to deal with them. To be a good friend, the children suggested that they should;
"Be kind and considerate of everyone."
"Share and play nicely together."
"Talk to each other if something is wrong."
"Do not make them sad."
When looking at our different feelings and emotions, we shared experiences of when we felt different feelings such as happy, excited, sad, angry, surprised and nervous. The children gave brilliant examples which linked to the word perfectly. They showed excellent understanding of different emotions.
In our role play area we made kindness spots so children can make friendship cards, good citizen certificates and look at books all about looking after ourselves, our environment and different emotions.
Linking back to when the SCARF life bus came to visit Langrish, we also read a story about Harold the giraffe who shared his scarf. We discussed what he did which was kind and also what he said which was kind.
When team squirrel went in the Life Bus, Julia talked to us about our bodies and feelings. The children related back to things Julia was saying about when we felt sad or lonely and what to do about it to make us feel better.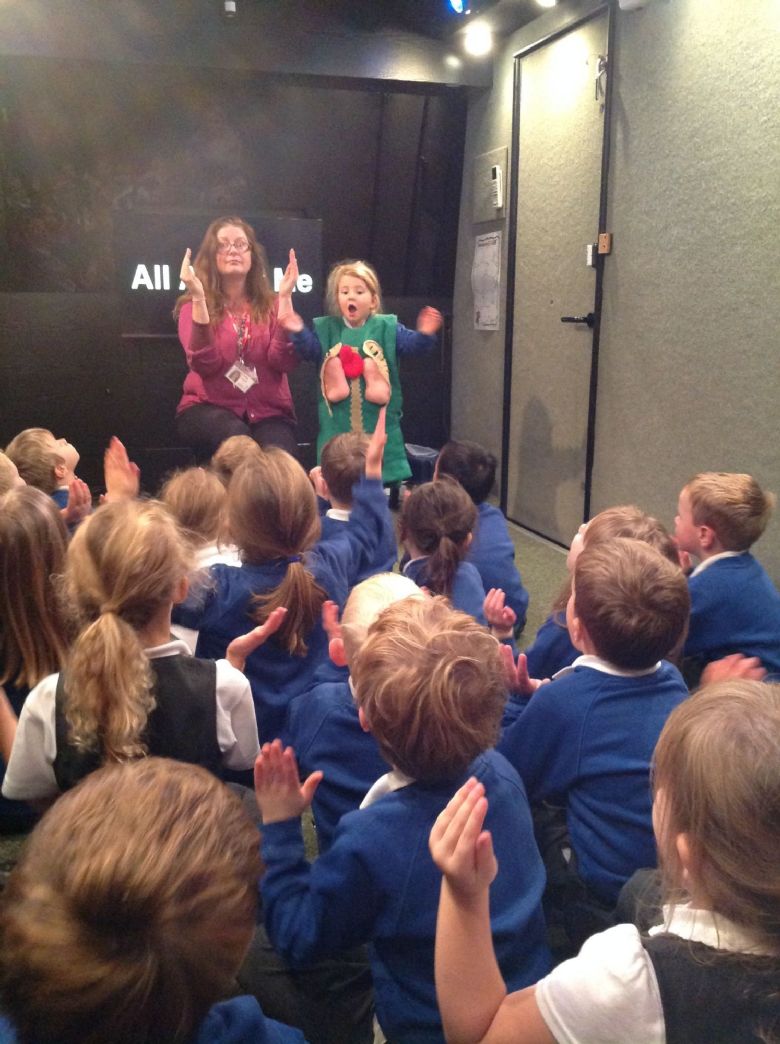 Phonics
To continue our minibeast topic last week, we brought our bugs to life by giving them a name and a superpower. We wrote about this independently using our phonic knowledge to decode the words to write them down. Ask your child what their minibeast had as a super power!

---
Week eleven (22.11.19) All about minibeasts!
It has been a brilliant week for communication, memory and writing! The children have taken minibeasts in their stride and loved sharing their knowledge about the minibeasts they know. While discussing minibeasts, key vocabulary came up such as predator, camouflage, prey and habitat. When asking the children about what each word means, here is what they said:
Ollie: Camouflage means to blend in.
Tom: It means to be able to catch things you want to eat because they can't see you.
Bas: Predator is things that eat you.
Hattie: Habitat is where they live.
From these key words we talked about who are predators might be.
Lucas said, Dinosaurs would eat us.
Skye: Tigers might eat you, so they are predators.
Artie: Lions would too!
Then we linked back to our dinosaur topic and suggested, would all dinosaurs eat us? To which the children replied:
Poppy: No! Some just eat grass.
Freddie: They are herbivores, they don't eat meat.
Amilie: the T-rex would definitely eat us...
Bas: ...but they are extinct so they can't eat us now.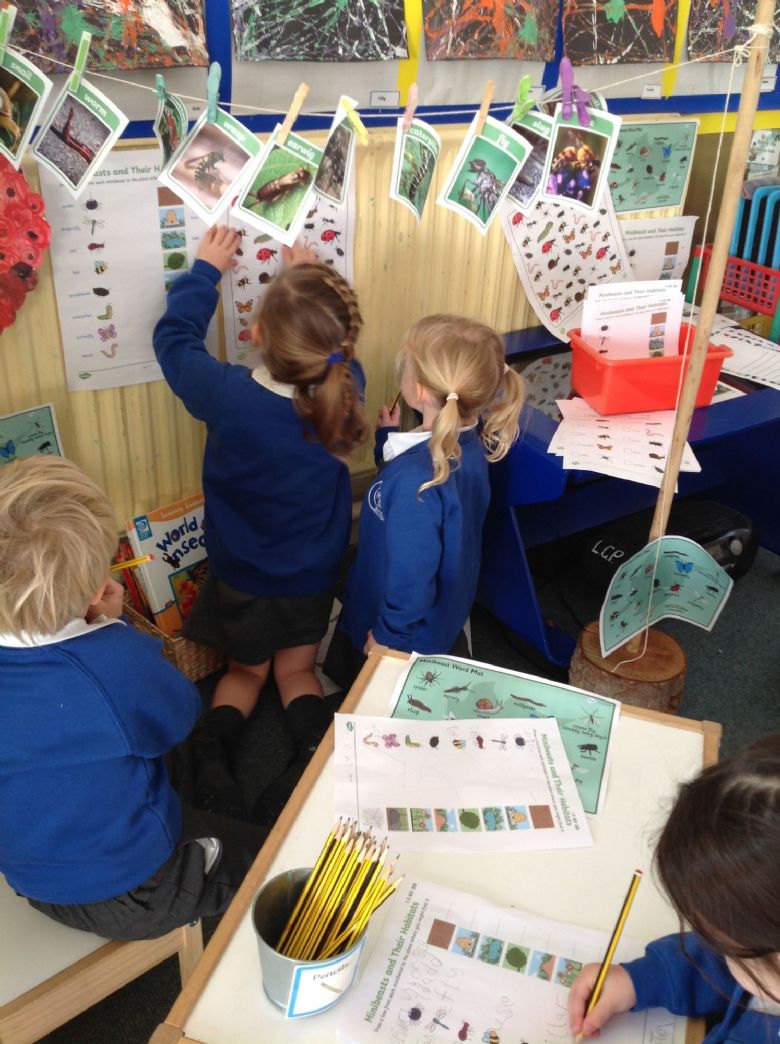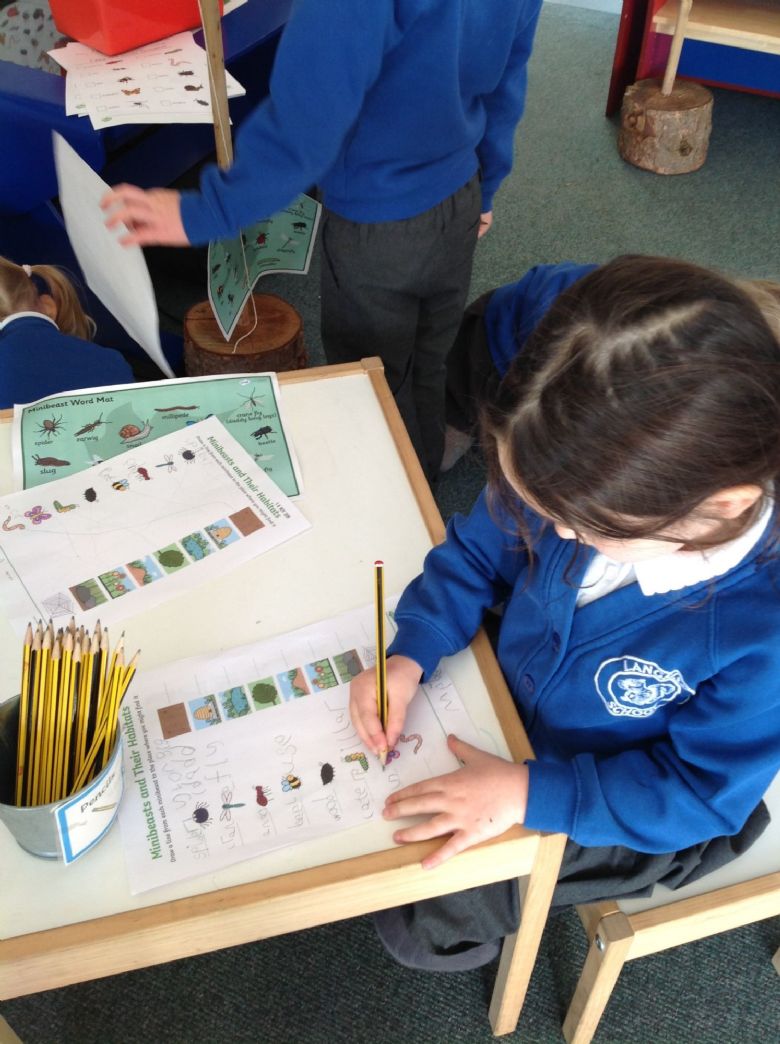 Throughout the week the children became investigators in our role play minibeasts investigation area. Children became researchers by looking through non-fiction books to find out more information about their favourite minibeasts. From this, the children then wrote down the facts they learnt sharing information about where minibeasts like worms, ladybugs, woodlouse and butterflies live and also what they eat.
To fulfil our writing skills even more, we created clay minibeasts of our choice and turned them into fictional characters. Next week, we will write about what the type of minibeast they are, their name and an interesting fact about it.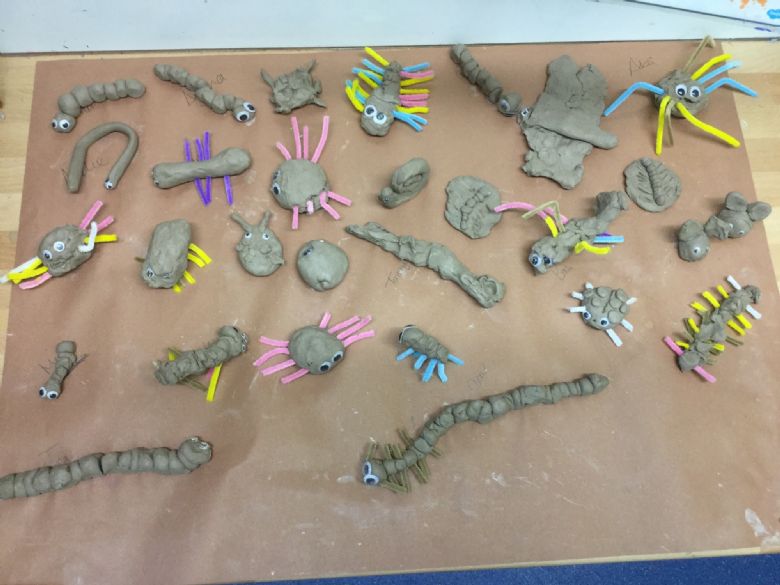 Here are the minibeasts we found in forest school!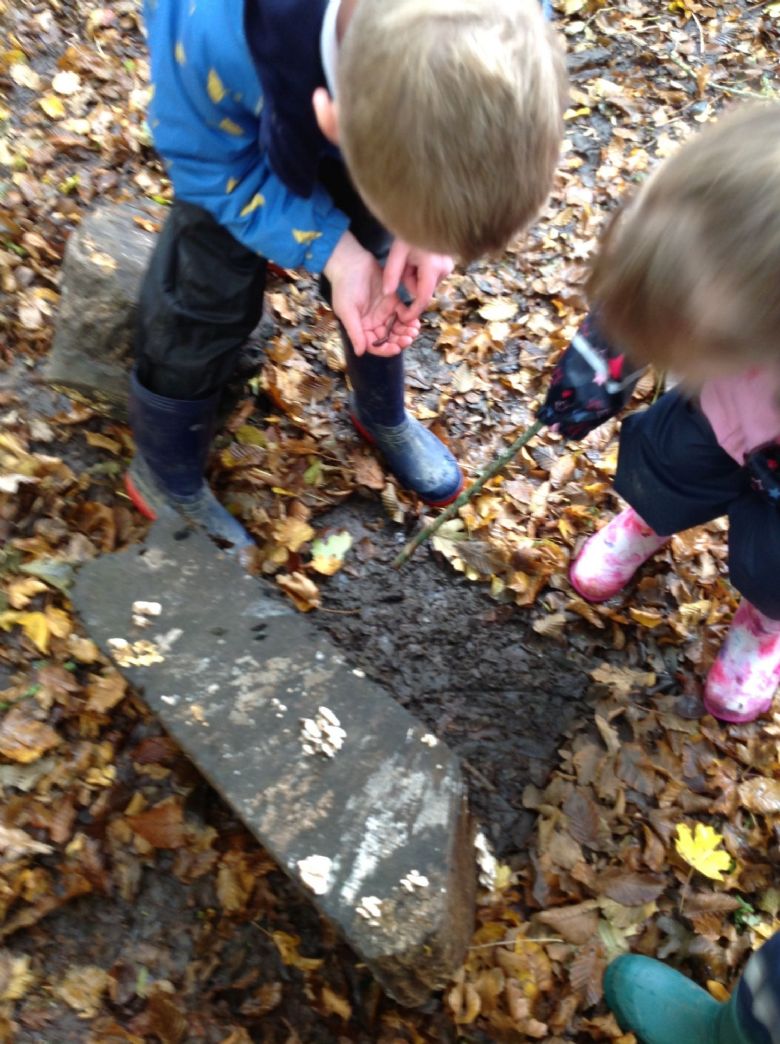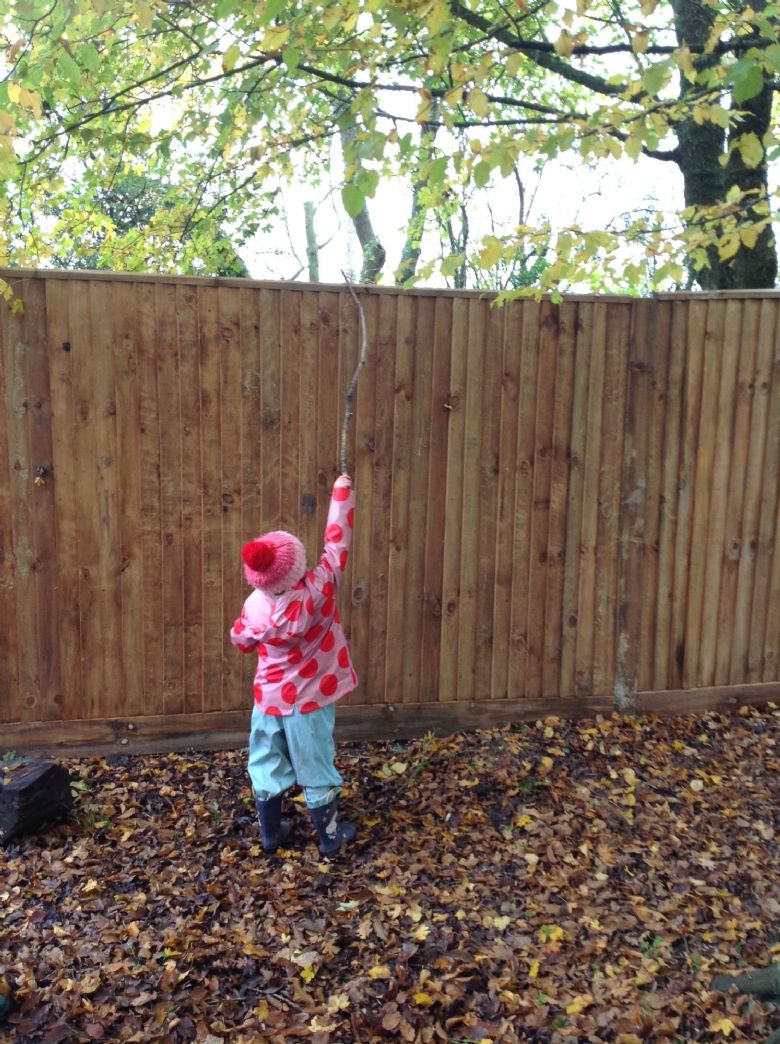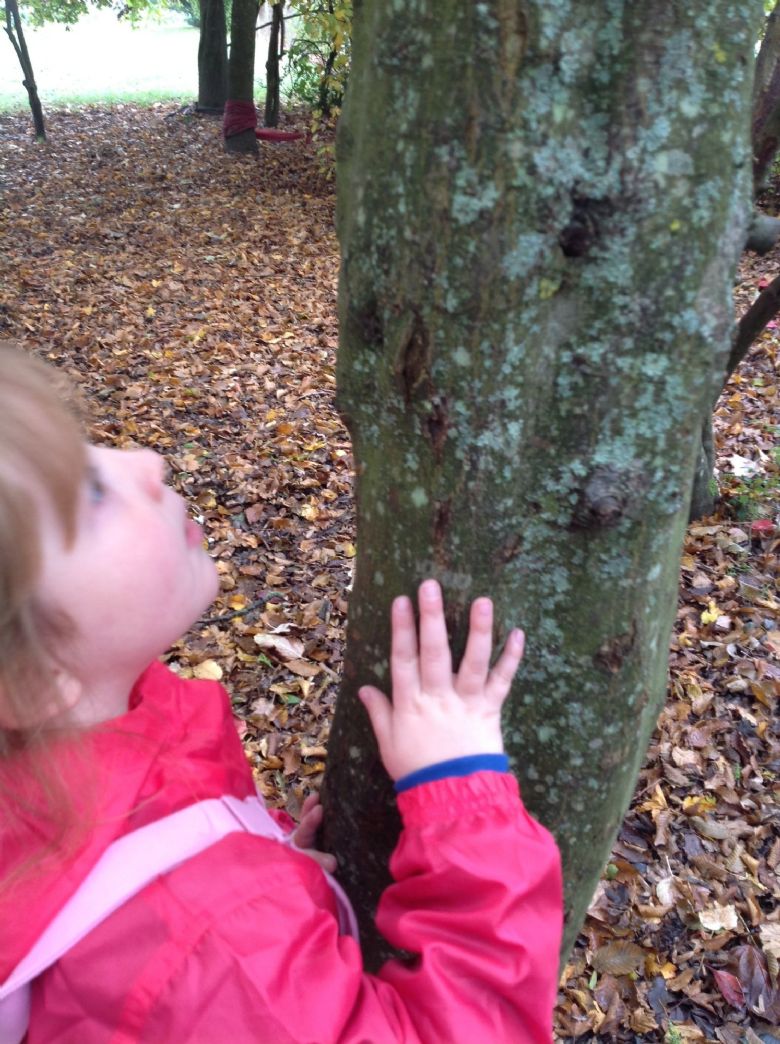 ---
Week ten (15.11.19) Remembrance day
This week we learnt about why we wear poppies and the importance of the day to some people. To show our respect we held a 2 minute silence at 11 'o clock Monday morning. Afterwards we reflected on what the children were thinking about during the time.
Ollie: "I was thinking about the battlefields and all the poppies that grew after the war."
Poppy: "I was thinking of the soldiers who must feel scared."
Jonah: "I was thinking about the soldiers and how they looked after us."
Freddie: "I really love wearing my poppy so everyone can see it!"
To show our thoughts to Remembrance Day we made our own clay poppies and painted them. They look fantastic! The children will be taking them home this weekend for you to see.
Forest school
In forest school we had a chilly but beautifully sunny autumn morning outside and of course Jack Frost had been. We found some brilliant red mushrooms by the tree. The children understood that they are great to look at and find but we must not touch them. They went on bug hunts and found enormous worms hidden under damp, dark logs. In the mud kitchen the children were making chocolate soup with sprinkles of leaves and apples, which were found on the ground.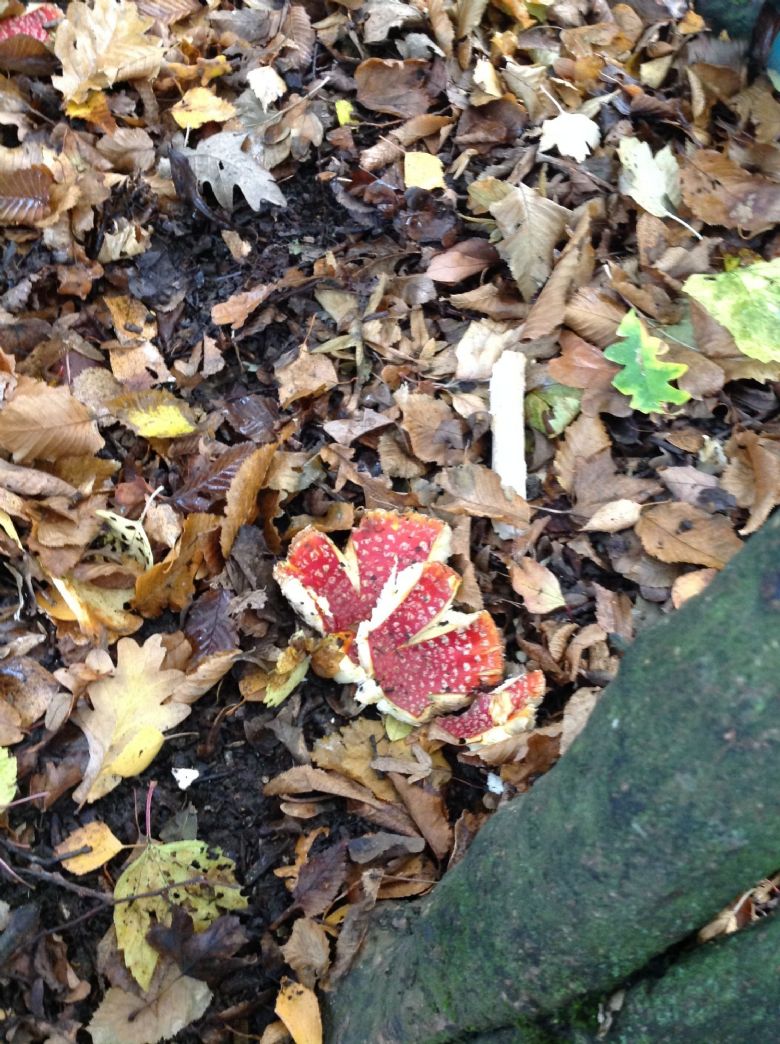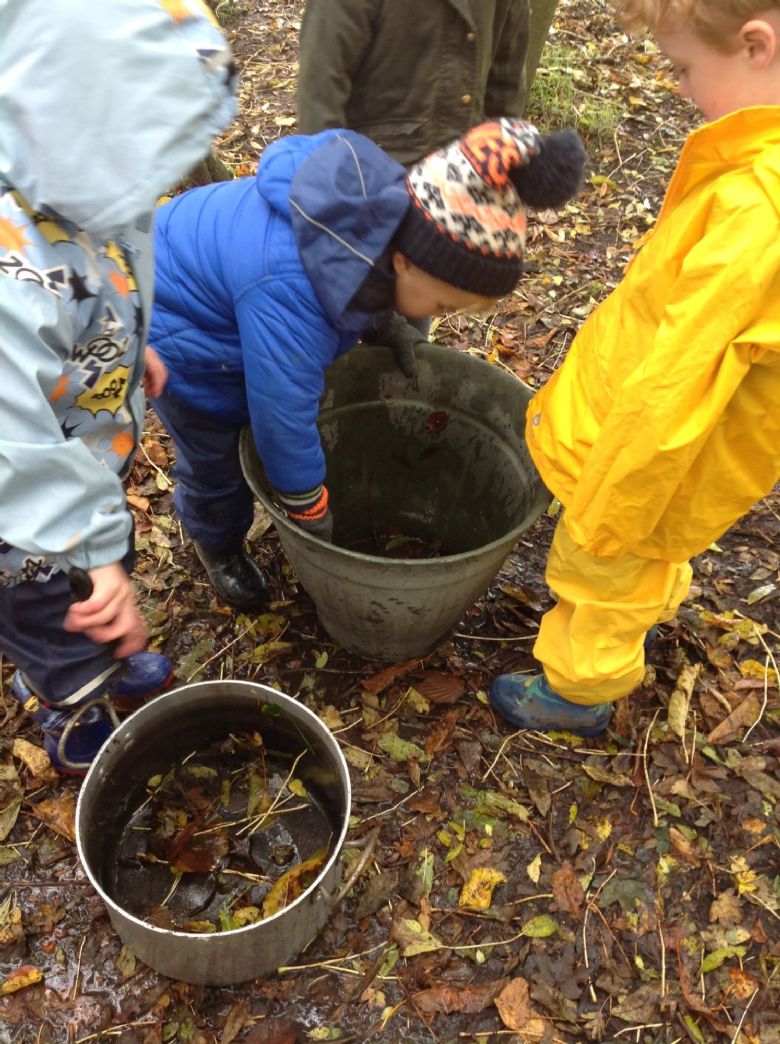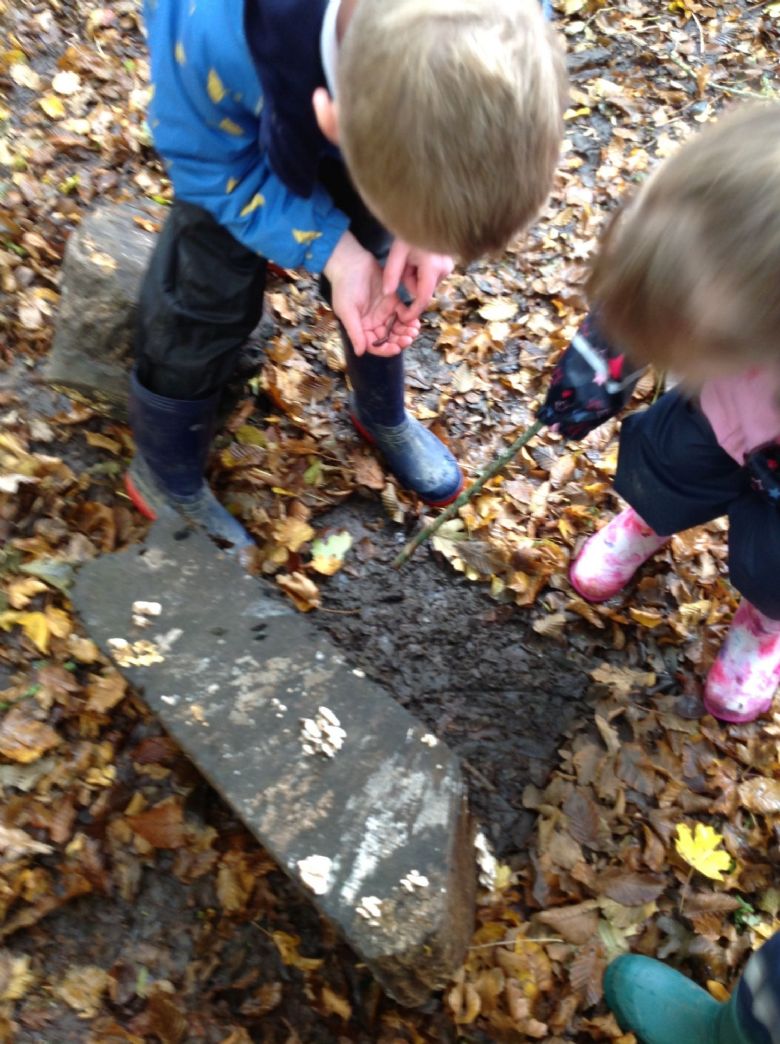 Firework painting
To support our fine motor skills we used a tray and marble to move paint around to create brilliant firework paintings. The children chose the colours they wanted to use and spent time moving the tray all around to ensure the paper was covered with paint.
Phonics
Using the bikes to good use we practised our bike skills by controlling the bikes to move around the different sounds and shouting out each sound as they pass…
---
Week nine (8.11.19) Celebrating Diwali
This week we have been exploring and learning all about Diwali. We learnt that Hindu's celebrate by cleaning their homes, decorating their houses and front doors with lights and rangoli patterns, wear new clothes, give and receive gifts and have a huge feast with family and friends.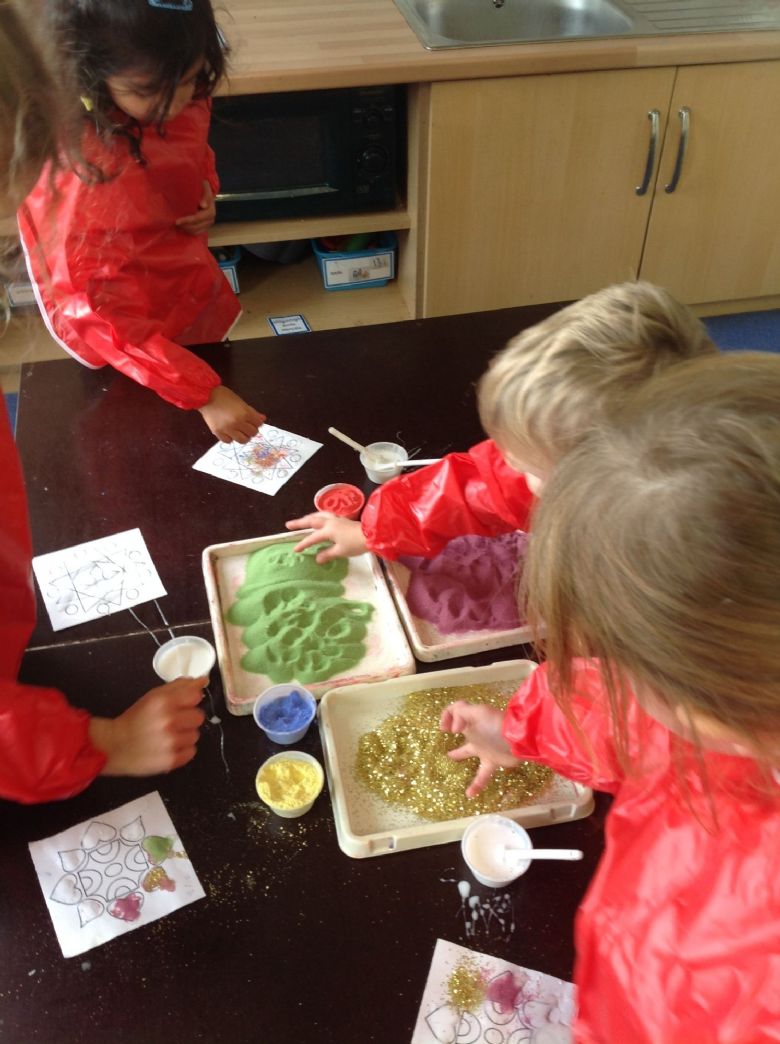 During our play we created our own rangoli patterns using coloured sand, just like we saw in the books and videos all about Diwali. Also our role play area had puppets and masks that created the story of Rama and Sita. To support their role play, there was beautiful dressing up clothes for them to wear. The children did a great job at retelling the story and creating different scenes to support their story telling. Their favourite character was Ravana the demon because they loved that he had ten heads and twenty arms.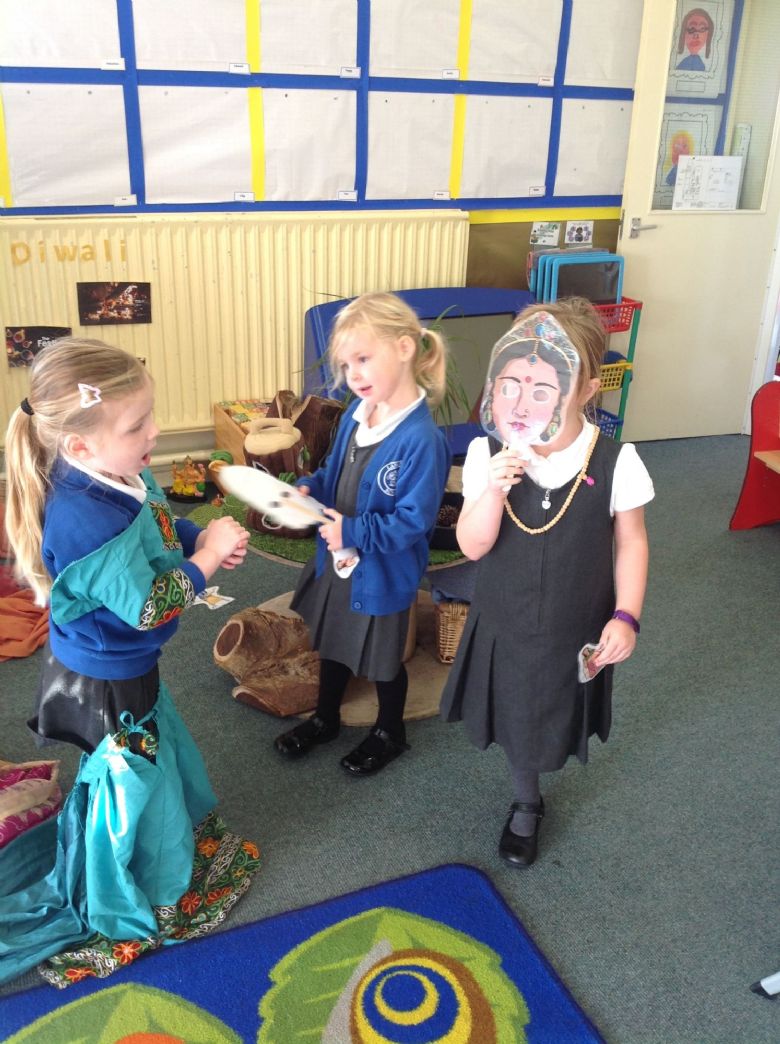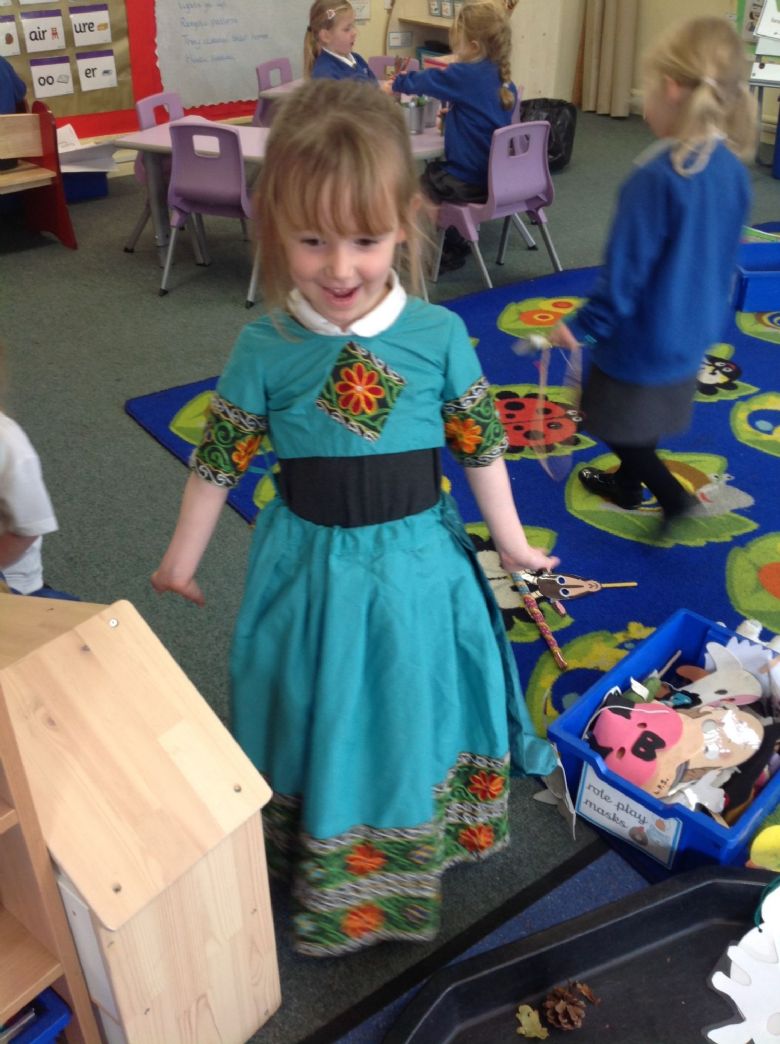 The bikes are in full swing!
The children are LOVING the new balance bikes! We completed some training which thankfully all the children passed. It explained how to use the bikes safely and effectively. Here they are trialling them out...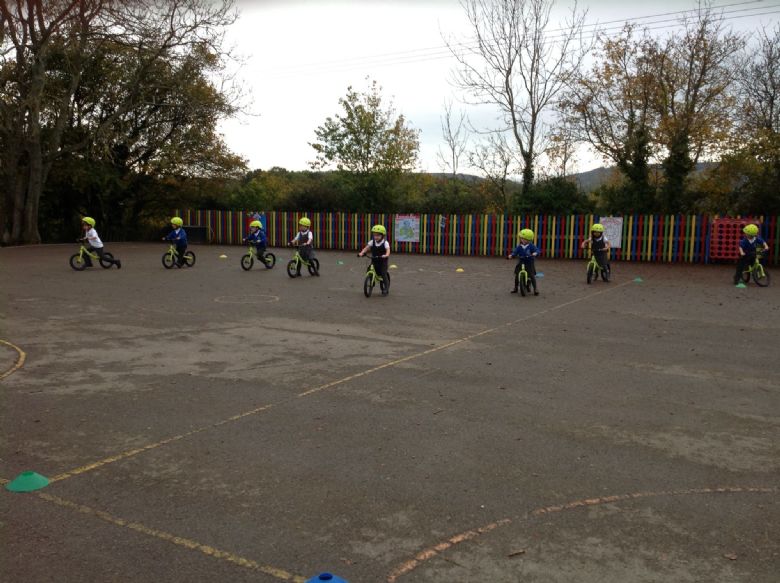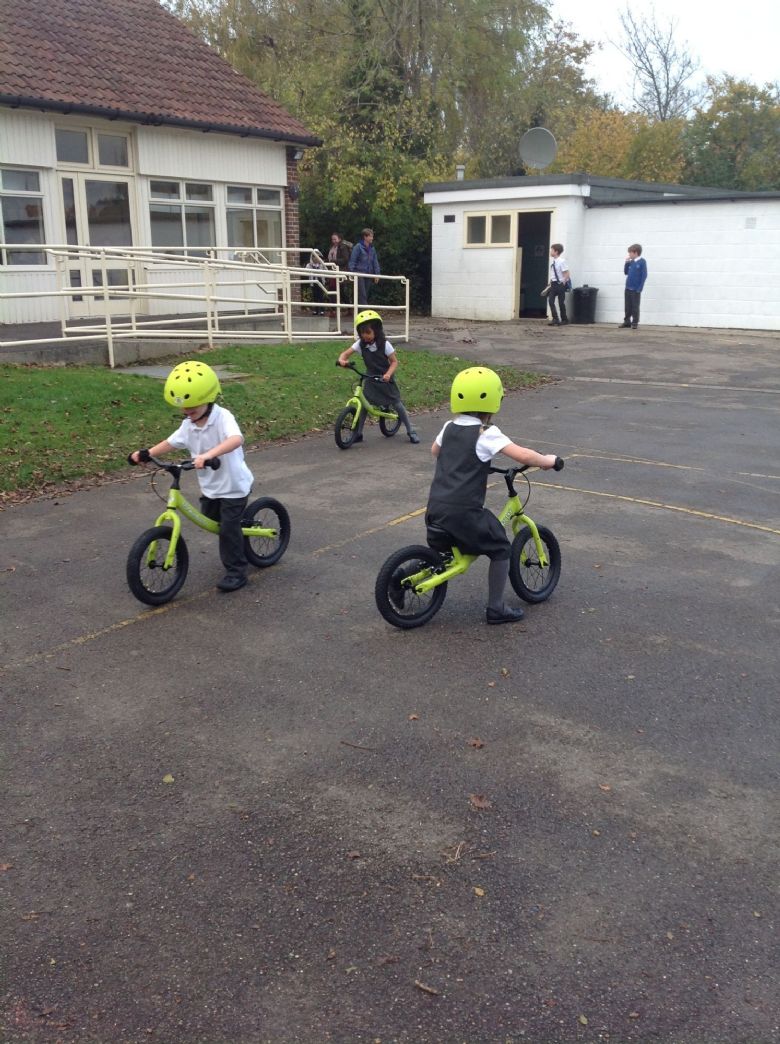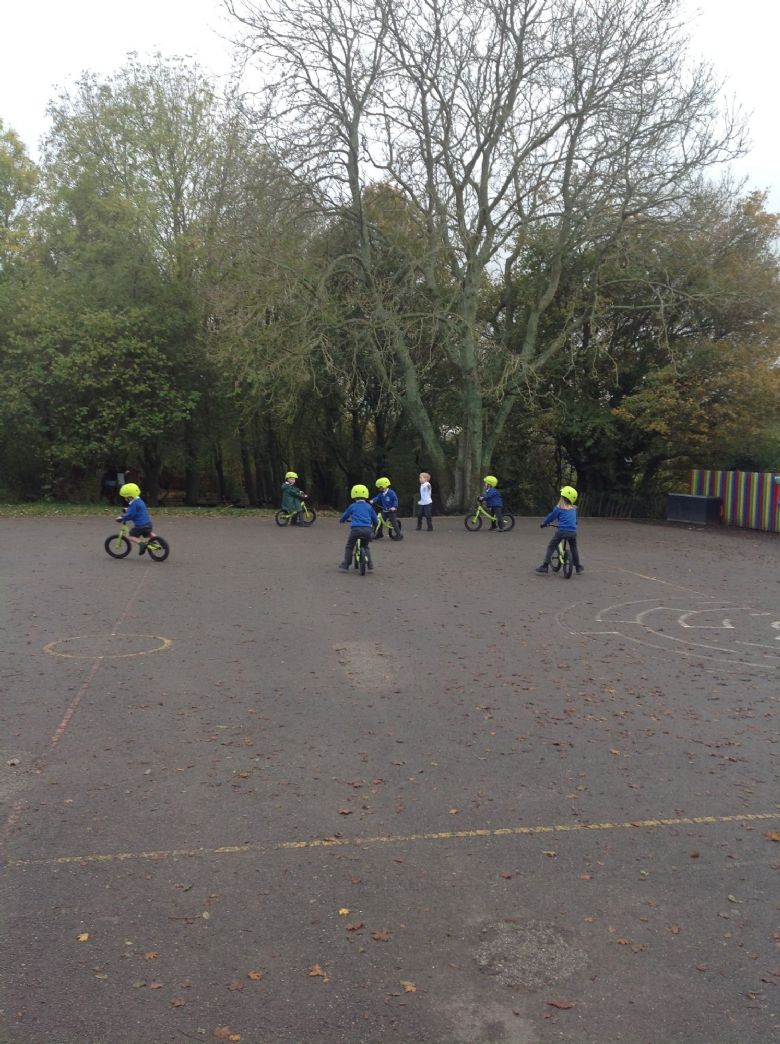 Autumn
A big thank you for bringing in your autumn bits. The children enjoyed touching, painting and describing and talking about where they found them and comparing them to the other autumn bits.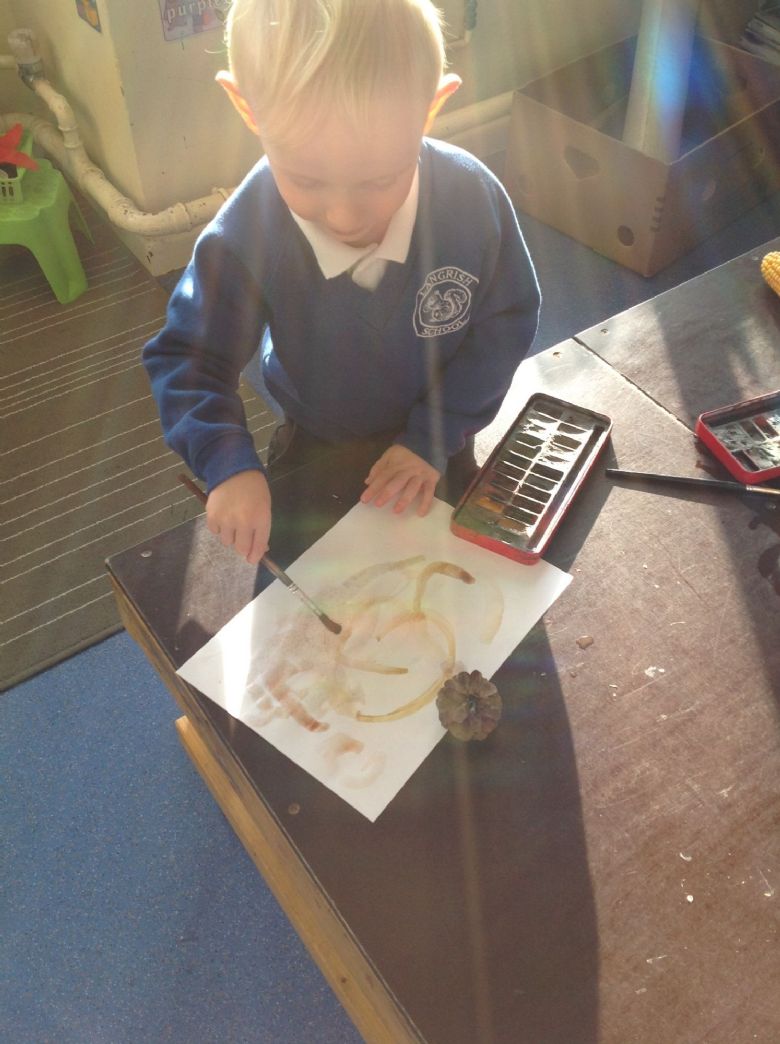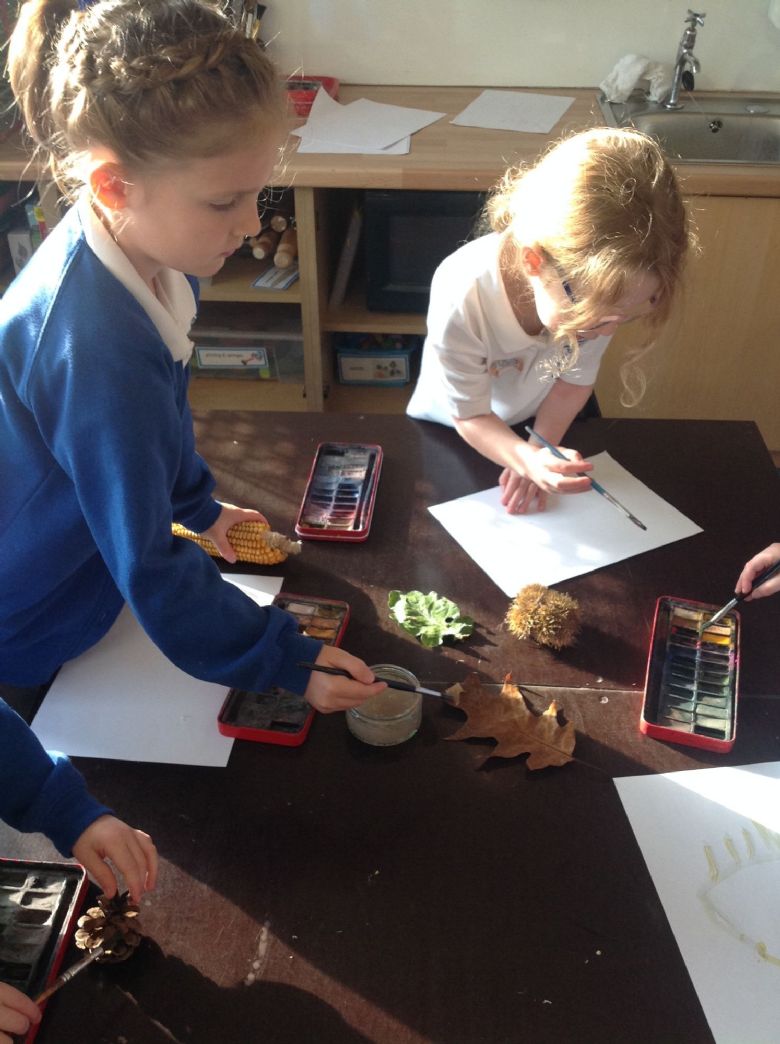 Home learning for next week:
For our maths next week, it's all about counting and recognising numbers for a purpose. Could you please take a photo of your house number and bring it in by Wednesday. This way we can recognise numbers for a personal significance and order them in a variety of ways.
Also, next week we will be learning all about Remembrance and why we have poppies. If you have anything at home which may support our leaning please bring it in so we can share it as a class :) .
---
Week eight (23.10.19) Enjoy a well deserved rest!
Well your children are well and truly tired. They deserve a well earned rest. They have tackled an awful lot this term… New school, new friends, new routine, new expectations, new teachers, new classroom and so much more.
To finish of our half term we baked pumpkin cupcakes, learning that we needed to measure six ounces of flour, sugar and three eggs.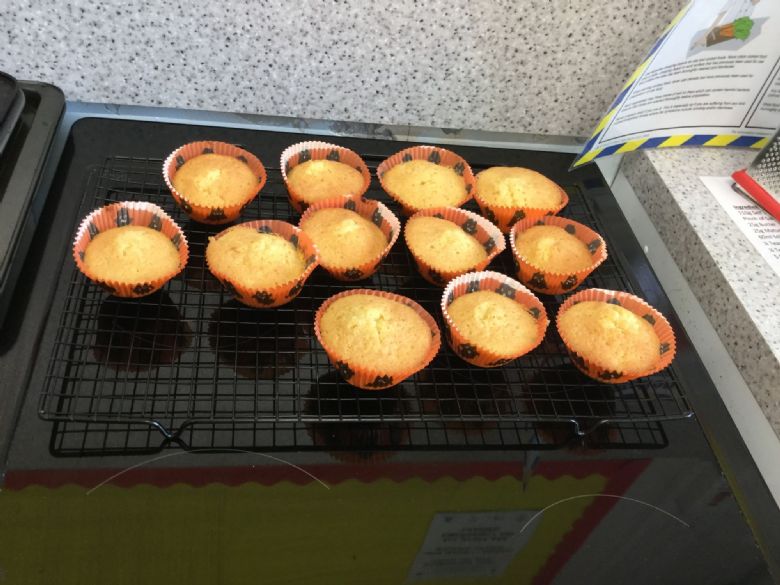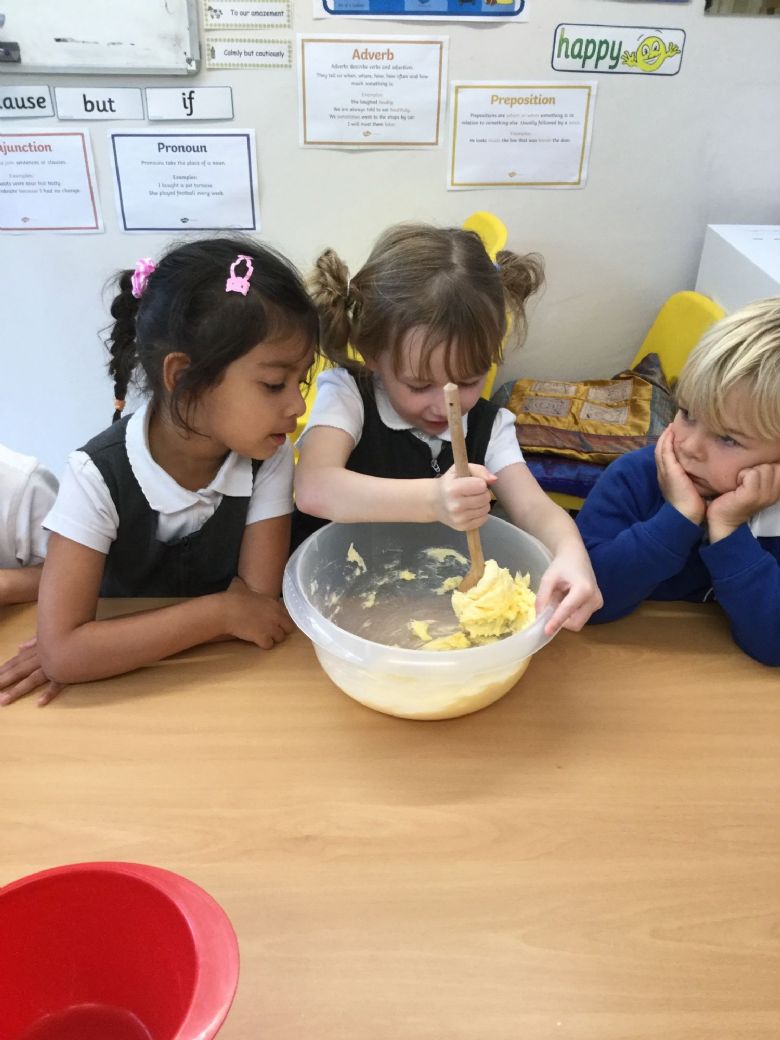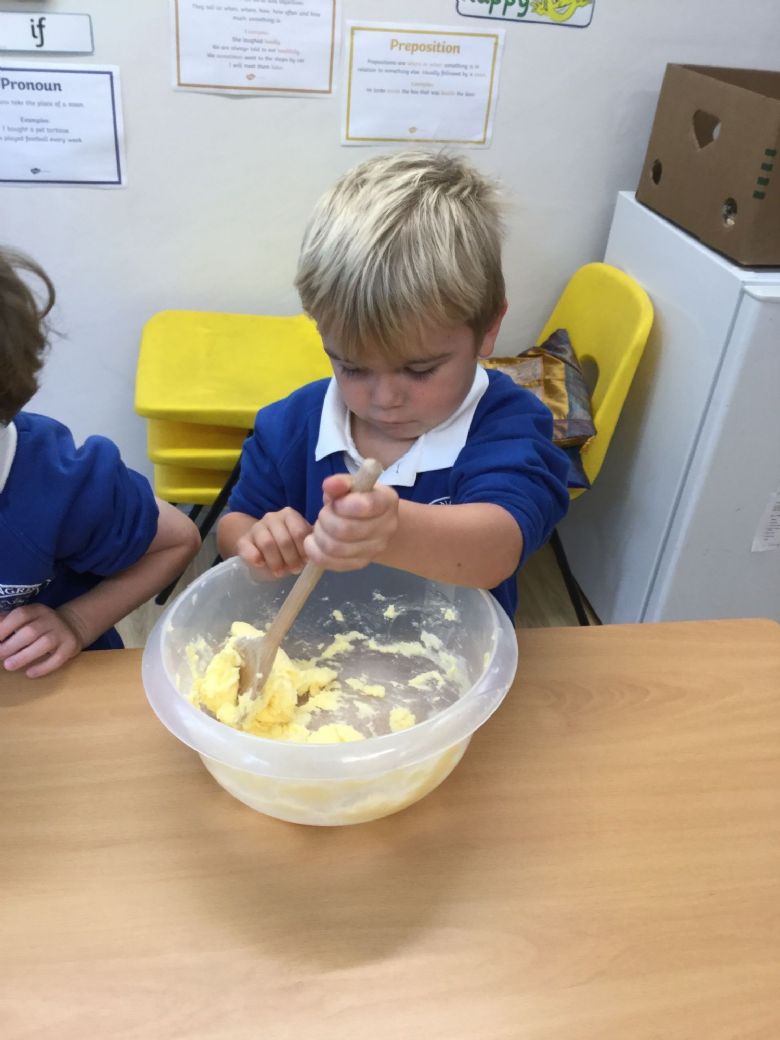 Then of course, we toasted marshmallows in the woods! They loved it!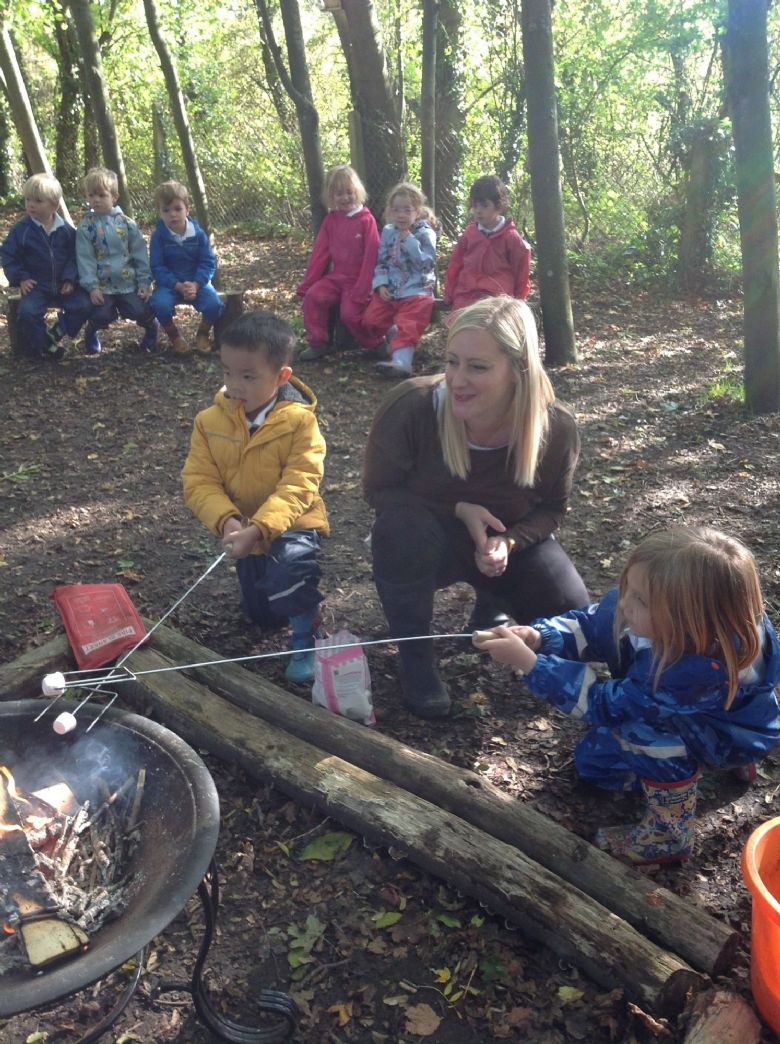 ---
Week seven (18.10.19) Not more dinosaurs…
This week we have found ourselves still loving dinosaurs and finding out facts about the different dinosaurs, looking at what they eat, how tall and long they were and where they lived in the world. We used the map to find the different countries.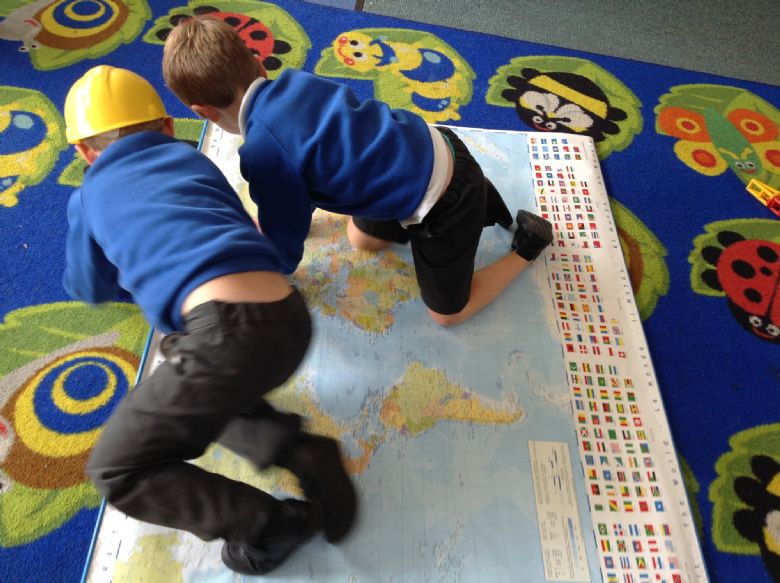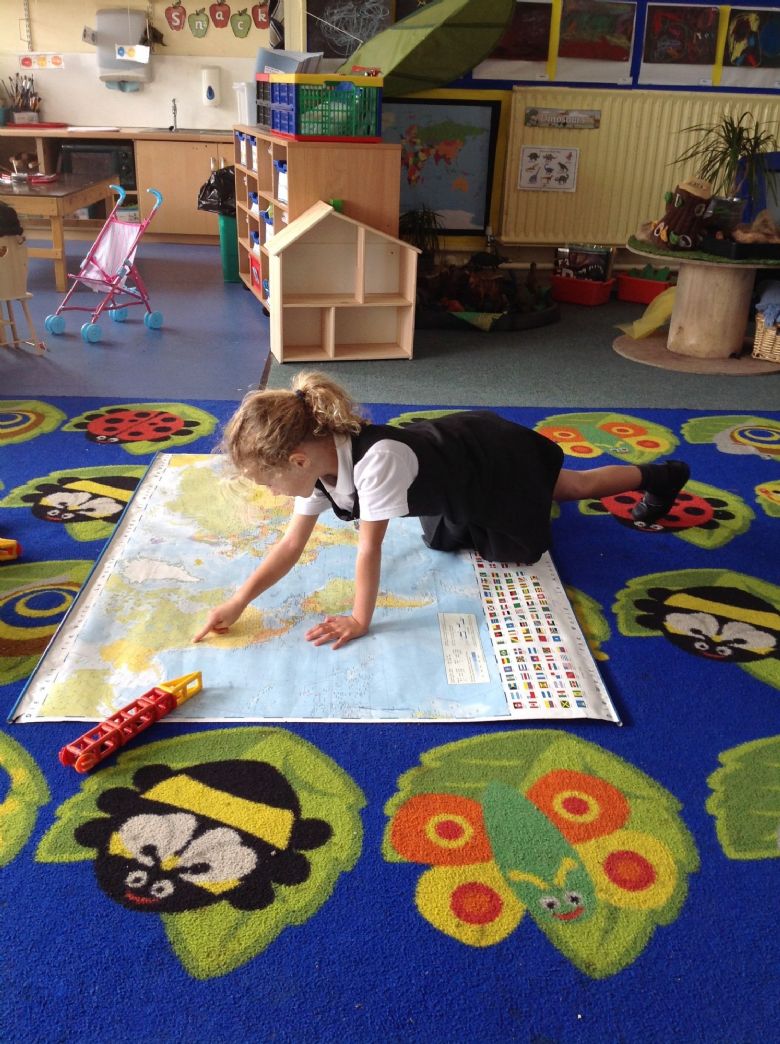 We created our own dinosaurs through collage. We used our scissor skills to carefully cut different materials like felt, card and tissue paper.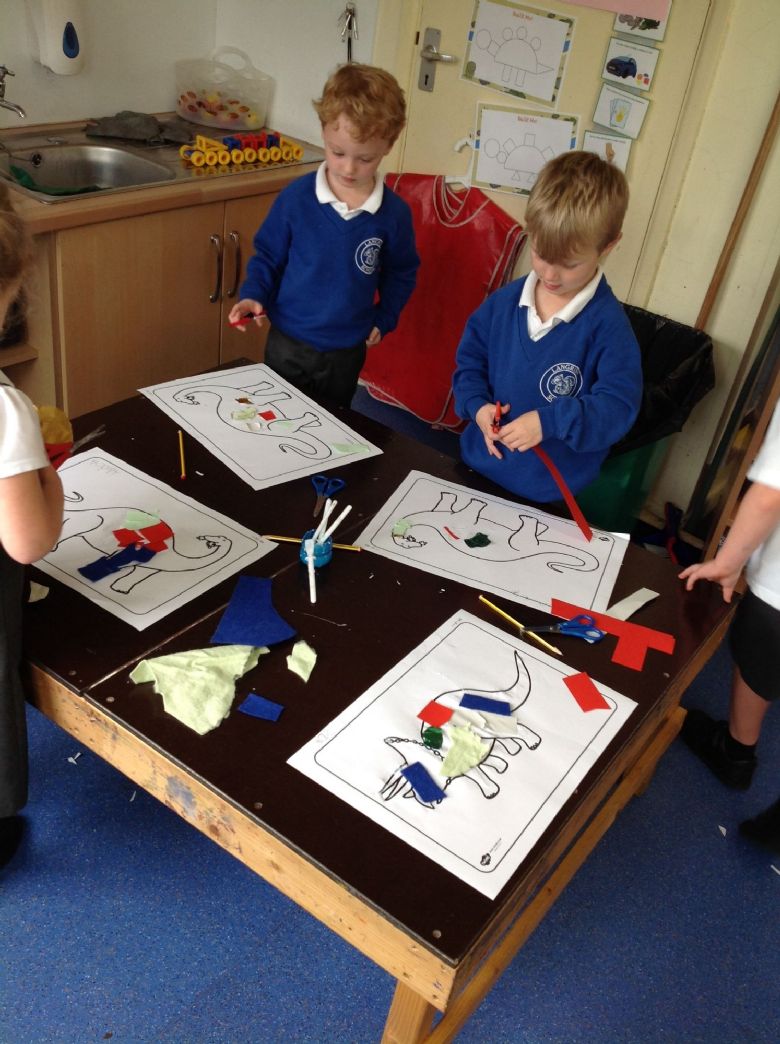 Maths
In maths, we are all about 2D shapes. We have found out how many sides a circle, triangle, square, rectangle, hexagon and pentagon has. We can now describe the different shapes to one another and understand that 2D shapes are flat. We looked around the classroom and outside to see where else we could see 2D shapes.
'The inside of a tree stump is a circle' Ollie said.
'A coat hanger is a triangle and so… hmm there aren't many triangles around are there?' Ruben said. 'There are rectangles everywhere, the windows, the door and the boxes.' said Abigail .
Hattie can explain the difference between a rectangle and square... 'You see the rectangle has two long sides and two short sides. Now the square has four short sides, they are the same.'
Phonics
In phonics, we have learnt the sounds i, n, m, d. using all these sounds together we are beginning to make up our own words and make real words. To do this we used magnetic letters to build the words, we then read them and finally wrote them on whiteboards.
A little home learning for half term…
Over your half term break, can you go outside and find something 'autumny'. It could be something colourful, spiky, smelly (not too smelly please), big, small or crunchy. We will have an autumn table ready for you to put your findings on Monday morning after half term.
---
Week six (11.10.19) Dinosaur madness…
This week the children have turned dinosaur mad by enjoying our small world dinosaur land. Using the iPad, the children have brought the dinosaur book to life by making holograms of different dinosaurs and their eggs.
"Wow, it's like they are moving across the table! Arghh quick he's coming!" Joshua said.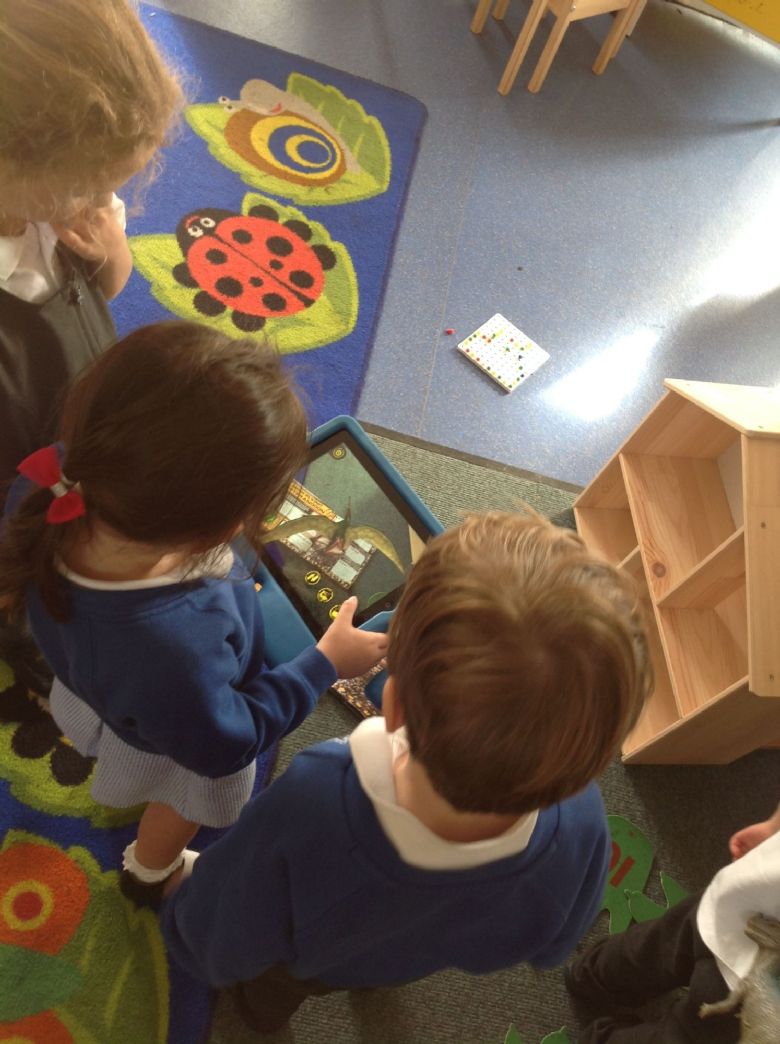 P.E
This week in P.E we have been working in pairs and practising our ball skills. We learnt to control the ball to one another by kicking it, bouncing it, throwing, and catching it.
Creative
Langrish School have entered a school project called the '2019 Big Draw Festival'. The children drew, and then coloured in their self-portraits, which will be displayed at St Peter's Church during October half term for a fantastic art installation. .
Guided reading
Working with Miss Rhodes in small groups, the children read 'We are all different'. The book created brilliant discussions and questions by the children, which they then related to their experiences.
Phonics
In phonics, we have learnt the sounds s, a, t, p. We learnt to say, read and write the different sounds. To support our writing we wrote with a variety of resources in large and small print anywhere and everywhere…!
Maths
In maths, we are learning to count with a one to one correspondence. To support our counting skills, each child was given 10 lolly sticks and were given instructions to follow which entailed them counting out a number and creating a shape with that many sticks. We made decagons, squares, diamonds, triangles, pentagons and octagons.
Here we are applying our learning independently...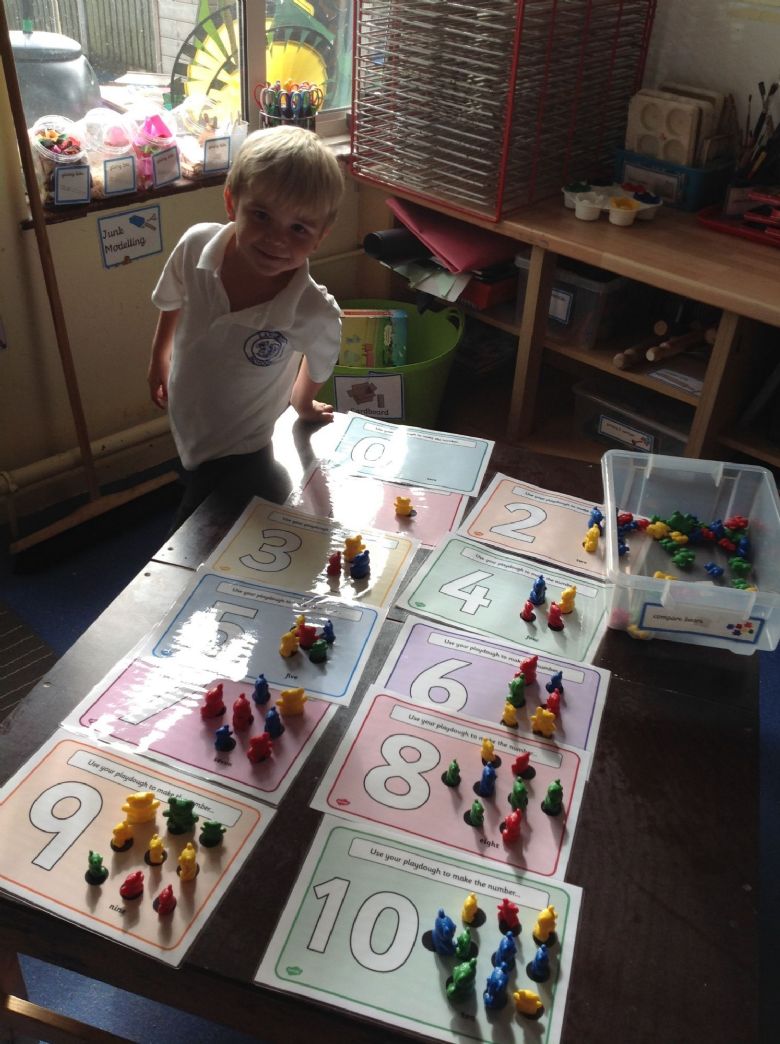 Don't forget!
Next week it's our meet the teacher on Tuesday 15th October at 2:45pm or 5:15pm.
---
Week five (4.10.19) a creation of colour and imagination…
This week the children have proved they are true artists. Miss Parker gave them a challenge of using oil pastels with black paper. She showed them a few examples online of different examples for inspiration and just look at what they did…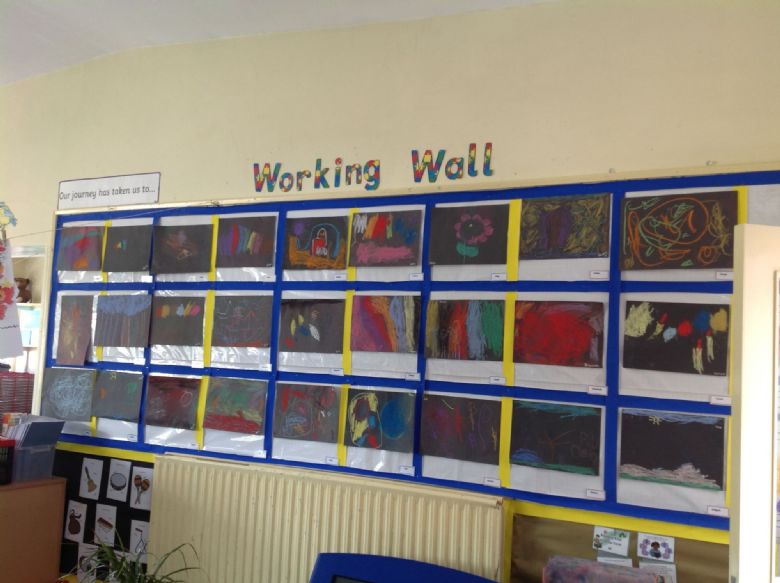 There are pictures of planets and rockets, landscapes, enchanted gardens, a dog in a cave, rainbows and even a swirling whirling snowstorm.
Phonics
We have begun our discrete learning in phonics and playing 'I spy' games where Miss Parker shows them an object from her bag and they have to write the first sound they hear in the word. So far we have used the sounds s, a, t, p. The children were then challenged to write all the sounds they hear in the word.
Maths
In maths, we are counting with numbers up to 15,using pegs and elephants to count and match with the number. Also, we have been creating shapes with lolly sticks and creating repeating patterns using blocks.
A little note:
As you may have noticed, the children are coming home with a library book each week. The children get to choose a book from our library and take it home to read with yourselves. Please note that this is not their 'reading book' it is just a book to share together at home. Each Friday we will change the books therefore please make sure they are in their bags Friday morning so this can happen.
---
Week four (27.9.19) From the doctors surgery to a music room…
This week there has been a change of interest from the children. We have now moved onto musical instruments and transformed our role play area to a music room. Here at Langrish, Hampshire music run different music lessons and one of our children attends ukulele lessons. After his music lesson he came into the classroom and showed us what he had been learning. This got the children excited and encouraged the children to give it a go themselves. There was beautiful singing of 'row, row, row, your boat" along with them playing the ukulele. Since this brilliant moment, children are using the different instruments correctly and learning what each instrument is called.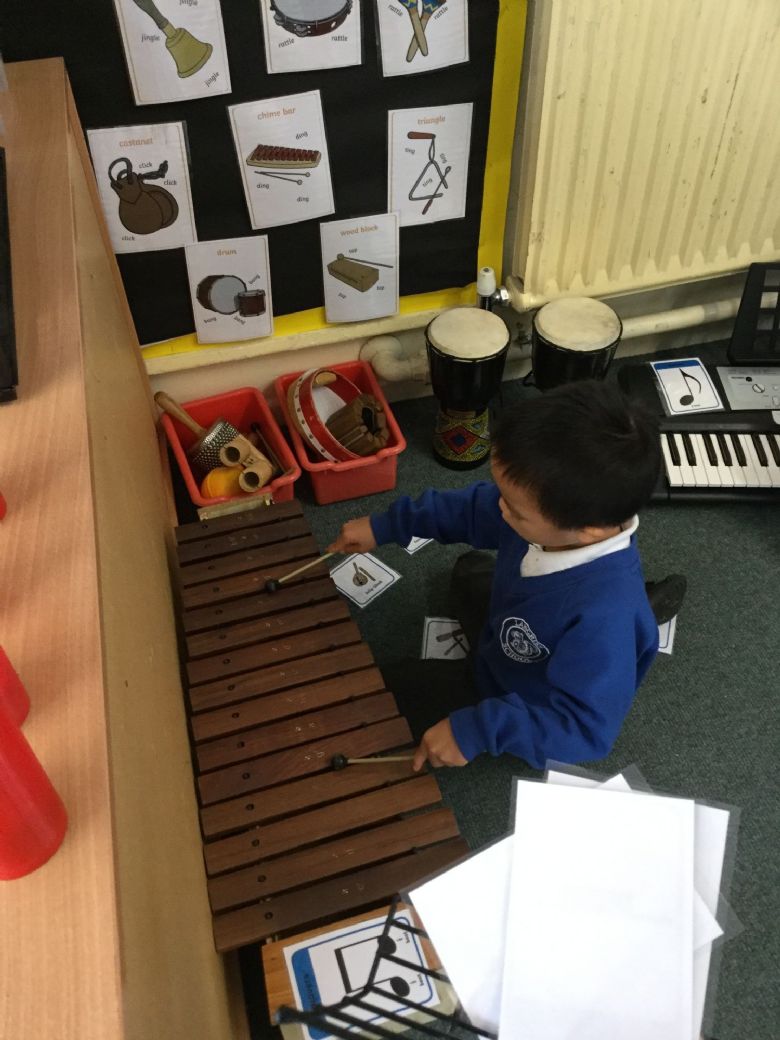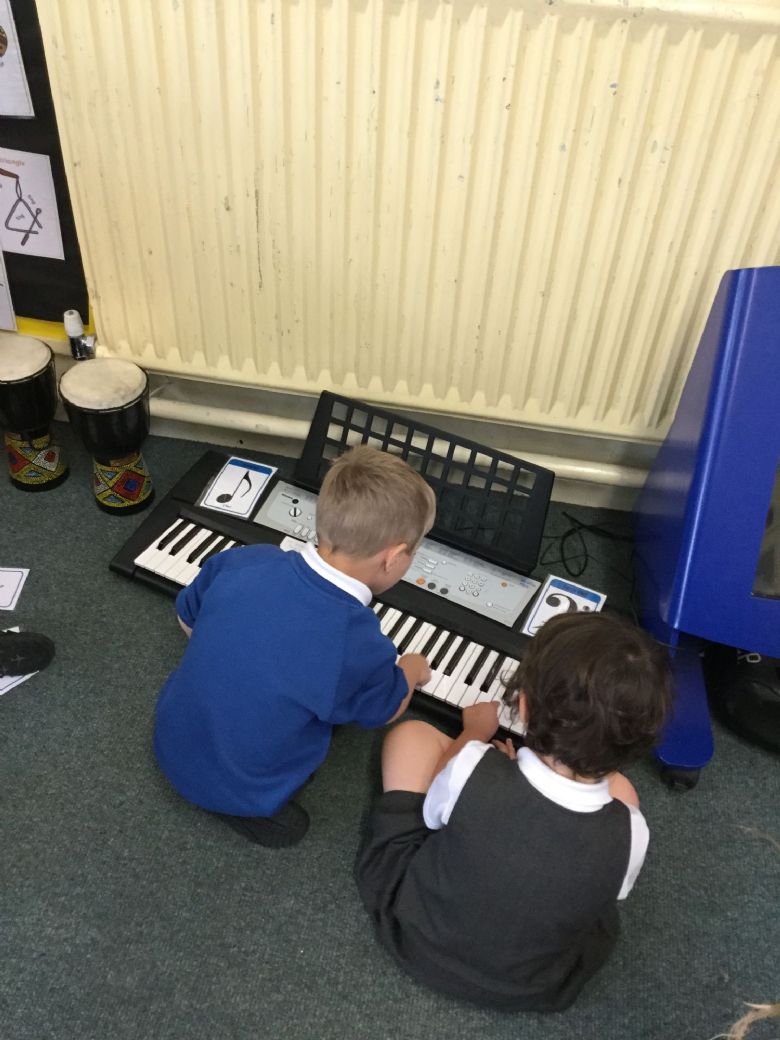 P.E
In our P.E lessons we have been using the balancing beams, rope swings and climbing equipment. With each P.E lesson the children are getting more confident, independent and supporting one another to climb or balance without the help of a teacher.
Creative
This week we have been talking about seasons and how they change. As we are now in autumn, we are noticing big changes happening outside. We went for a learning walk in our forest school session to find different things that show signs its autumn. Here are some of our Autumn trees, created using just our hands.
Perform
The children had the best Thursday morning with Perform. Merlin the Wizard came and took the children on an imaginative adventure to help find his sword.

A few reminders:
Please can we have back target tracker link forms so Miss Parker can set you up to see observations of your child.
We are still awaiting some forest school kits. Unfortunately, some children are missing the full experience due to not having the correct footwear and clothing. Especially with the weather changing, wearing school shoes and no waterproof trousers is not appropriate.
---
Week three (20.9.19) Forest School and First aid
This week the children have been rhyming, being sound robots, being shape experts and gymnasts! This is just some of the things we have been doing..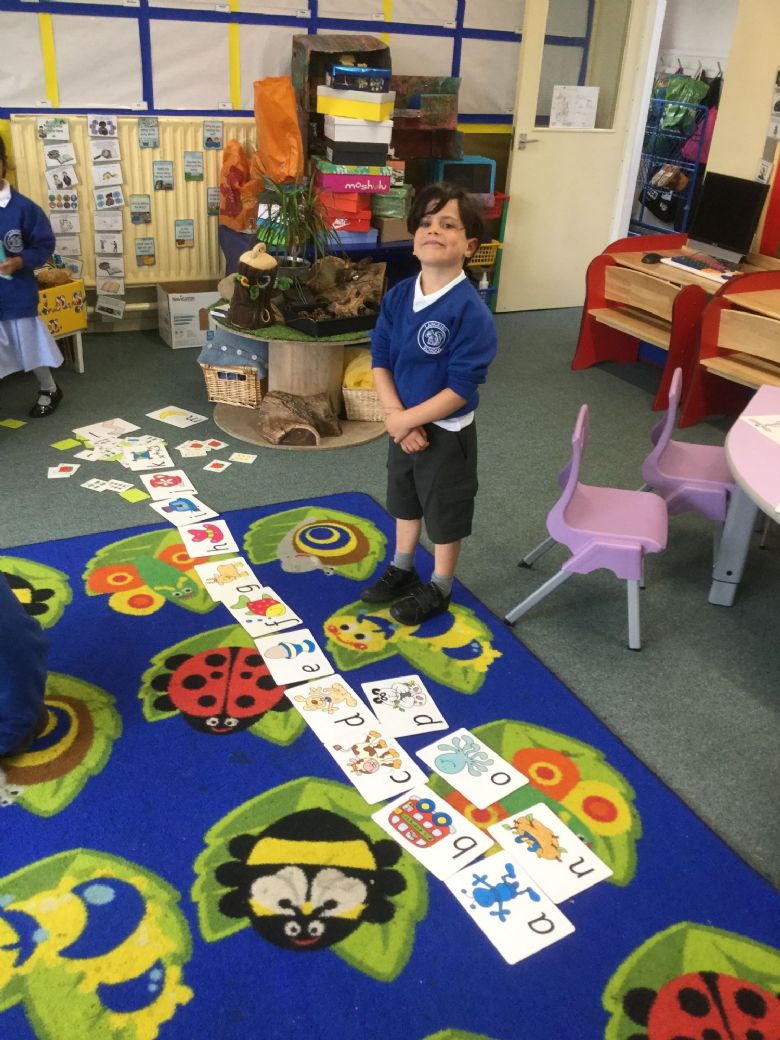 Forest school
We had our first session out in the woods. The children were gathered around the fire circle where they were told three important rules which they must follow to ensure they are safe.
If Miss Parker shouts "3, 2, 1, come back everyone", children must return back to the fire circle as soon as they hear the call.
When by the fire circle, the children must not go into the fire pit square. Even when there is no fire taking place, children must not go into it. This is to ensure the rule is reinforced for when a fire does take place.
If needing the toilet, children must tell a grown up they are going so they know where they are at all times.
We had a brilliant time with bug hunting, tree climbing, team building and playing in the mud kitchen. Here are some photos of the fun we had on a beautiful sunny afternoon.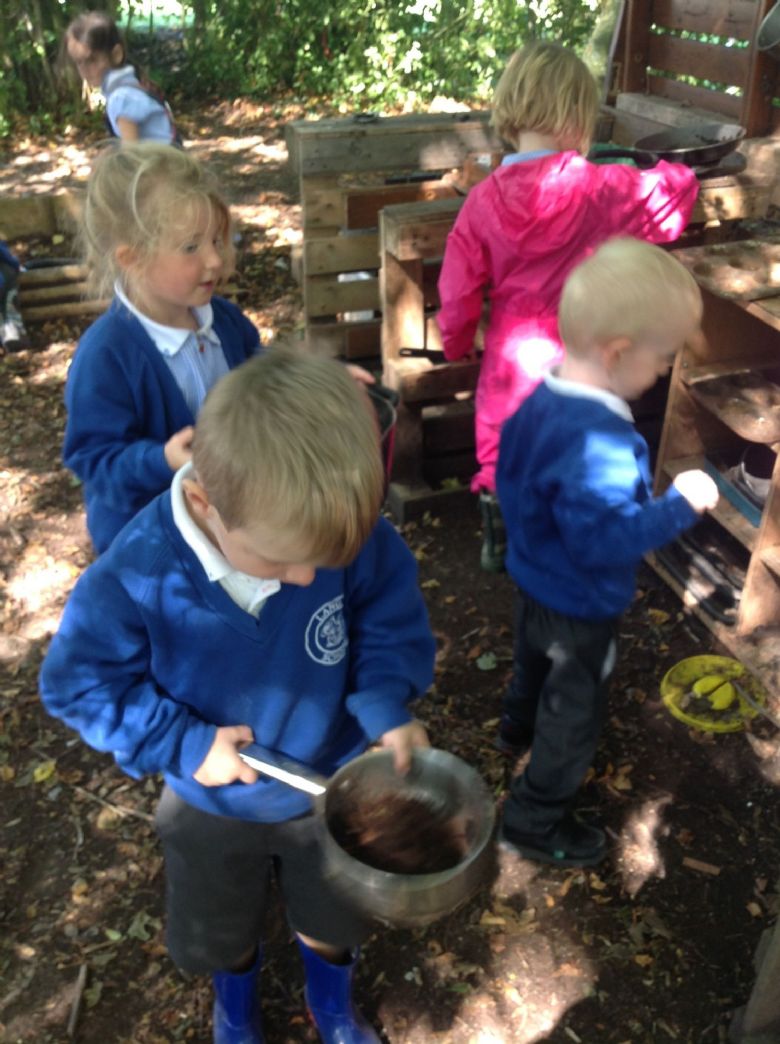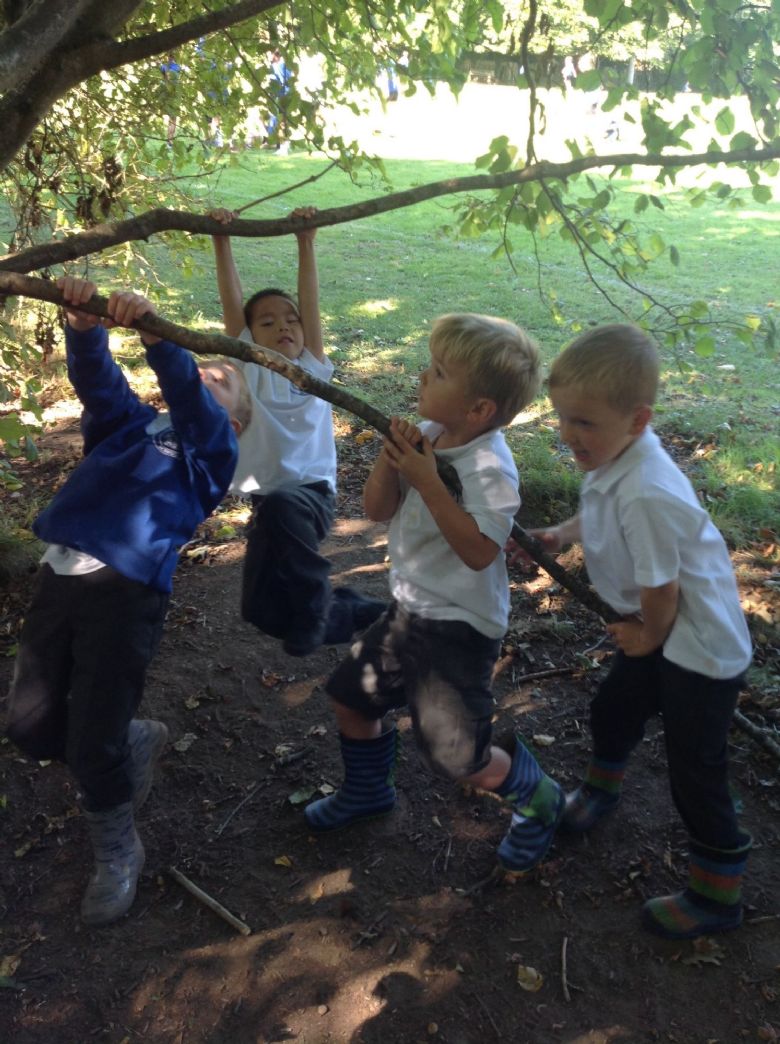 First aid and Doctors role play
As you may know, Miss Parker went on an outdoor first aid course this week. On her return, the children were interested about where she was and what she got up to. We discussed when we have hurt ourselves and what we did to make things better. Next, Miss Parker showed the children how to put someone in a safe airway position and how to assess the situation to ensure safety for themselves and the casualty. Then we drew around two children's bodies and began to label what we knew about our bodies. Here is what some of the children said:
"We have bones all over our body" Tom
"Skin is everywhere. It protects our bones and organs" Jonah
"The heart pumps blood." Freddie
"Hands help us to grab things" Ruben
"Lungs, we have two of them" Hattie
From this, we have set up a doctor's role play area to continue their interest. So this weekend if you get put in a safe airway position be sure to let us know!
---
Week two (13.9.19) Sleeping lions and self-portraits
Wow, I cannot believe how brilliant your children are. They are taking school life in their stride… they independently choose their lunch each day, they put their coats and bags on their pegs, they put their water bottles in the correct baskets at the beginning of each day AND they even collect their things independently to go home. For just five days at school, they are becoming experts at this school malarkey! However, by 2:30 we do find some sleepy children trying to take a nap before home time... especially by the time Friday came.
During the day we have been exploring the small world, puzzles, looking at different sounds and drawing them with our magic fingers, counting up to 10, reading over 26 stories a day, pretending to be superheroes and so much more…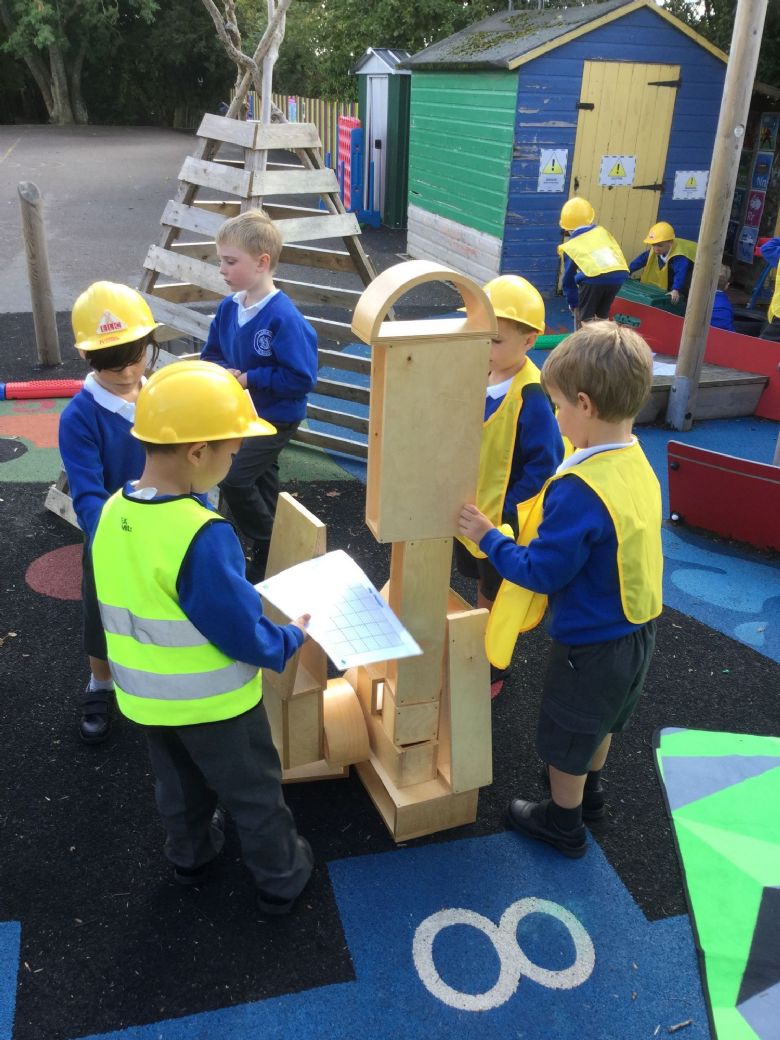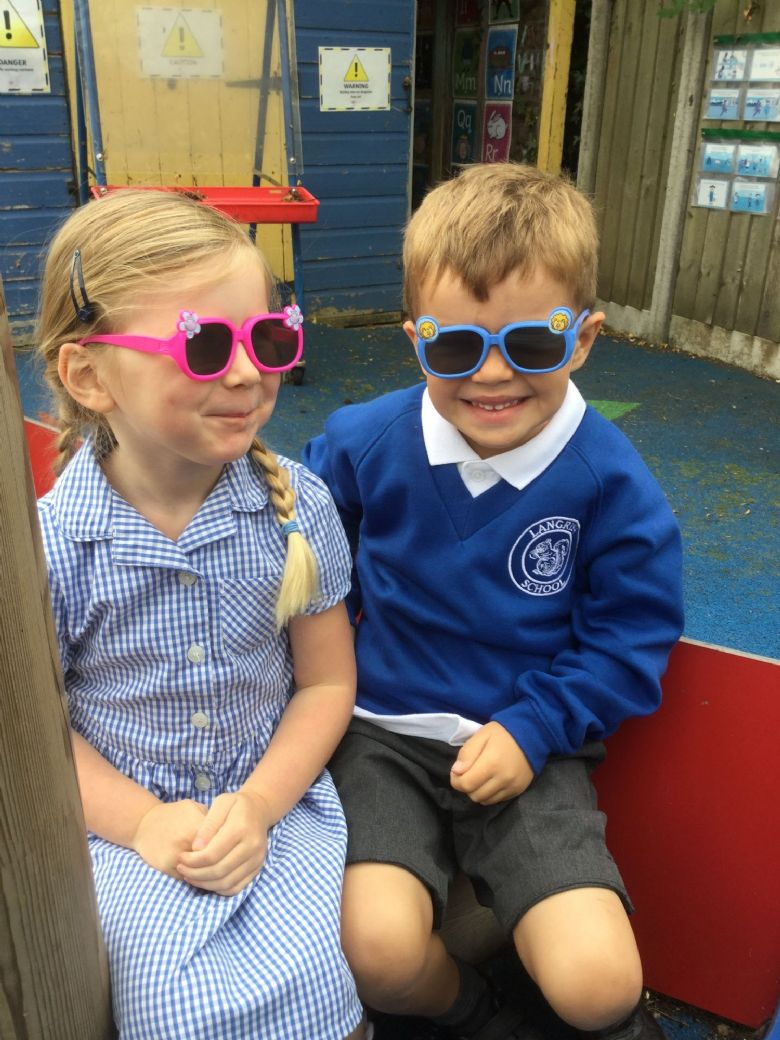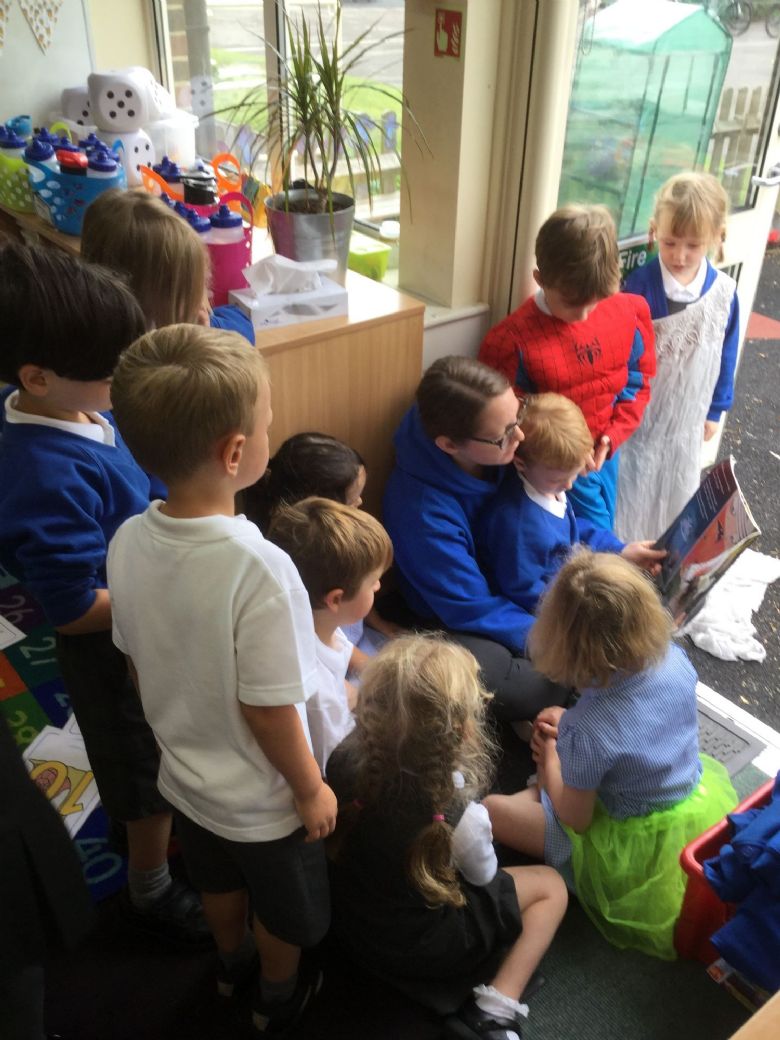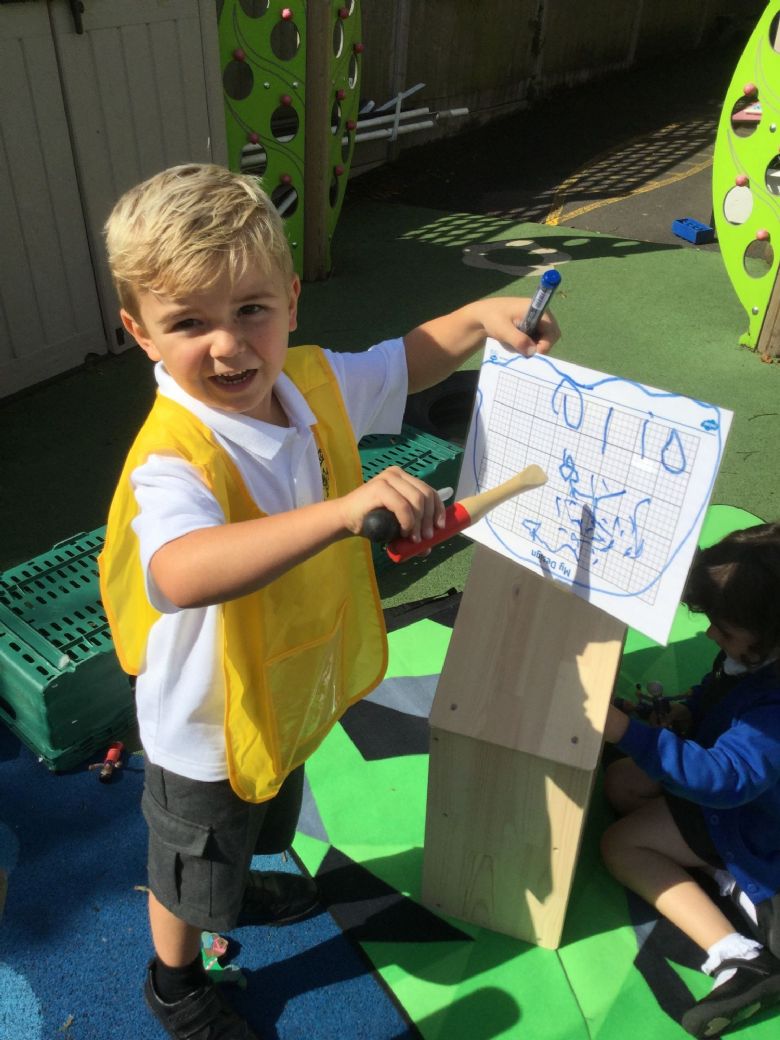 We painted self-portraits using mirrors to help us. We concentrated on what colours we needed to represent each feature of our faces. We were all brilliant artists! Take a look on our working wall in the classroom.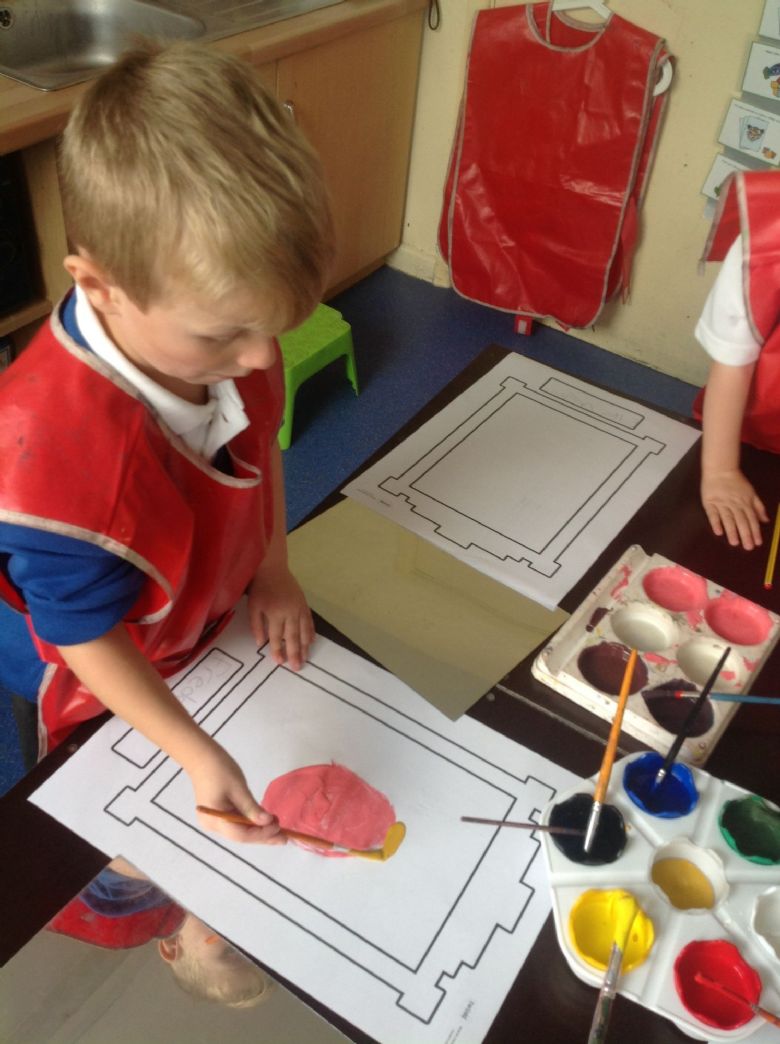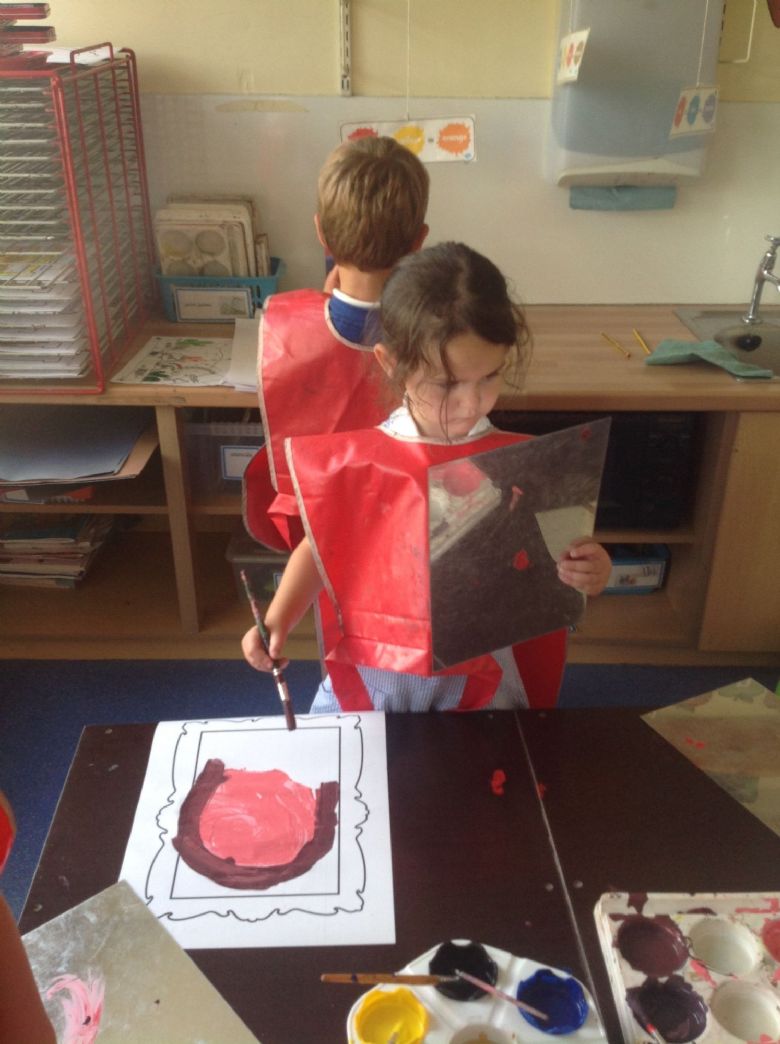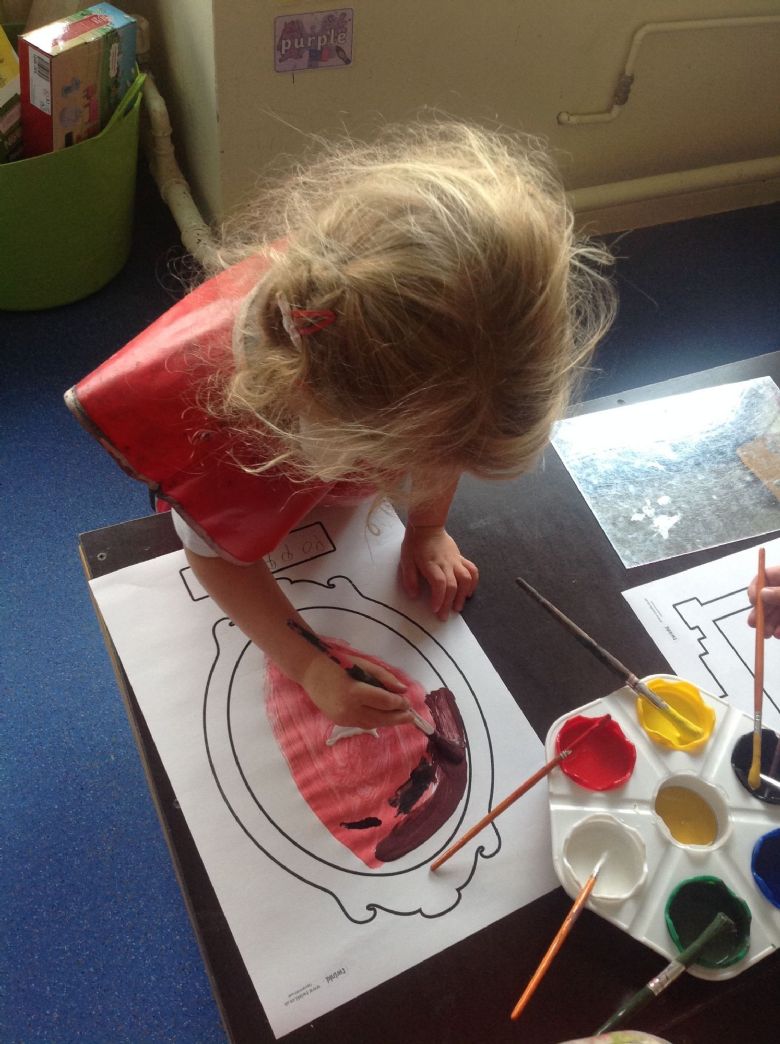 In P.E we played fruit salad. The children were super team players, helped one another when needed and became very competitive! It was a world record for team squirrels as it only took 15 minutes for everyone to get changed AND we didn't lose any socks or have any clothes thieves! Lets hope they can keep it up!
---
Week one (6.9.19) Welcome to Team Squirrels! Class of 2019 – 2020
Our first day of school was a success! Thank you for inviting Miss Rhodes and myself into your homes. It is a great insight to see your children in the comfort of their homes and of course seeing their favourite toys and family.
At school, the children walked down with smiles on their faces ready for their new adventure. We got to know each other by finding out who is who and what they got up to in the summer holidays. From this, we went through a few important things that happen in Squirrel Class. We found our pegs, found out where we put our bags, the water bottles, what was for lunch and most importantly, where the toilets are.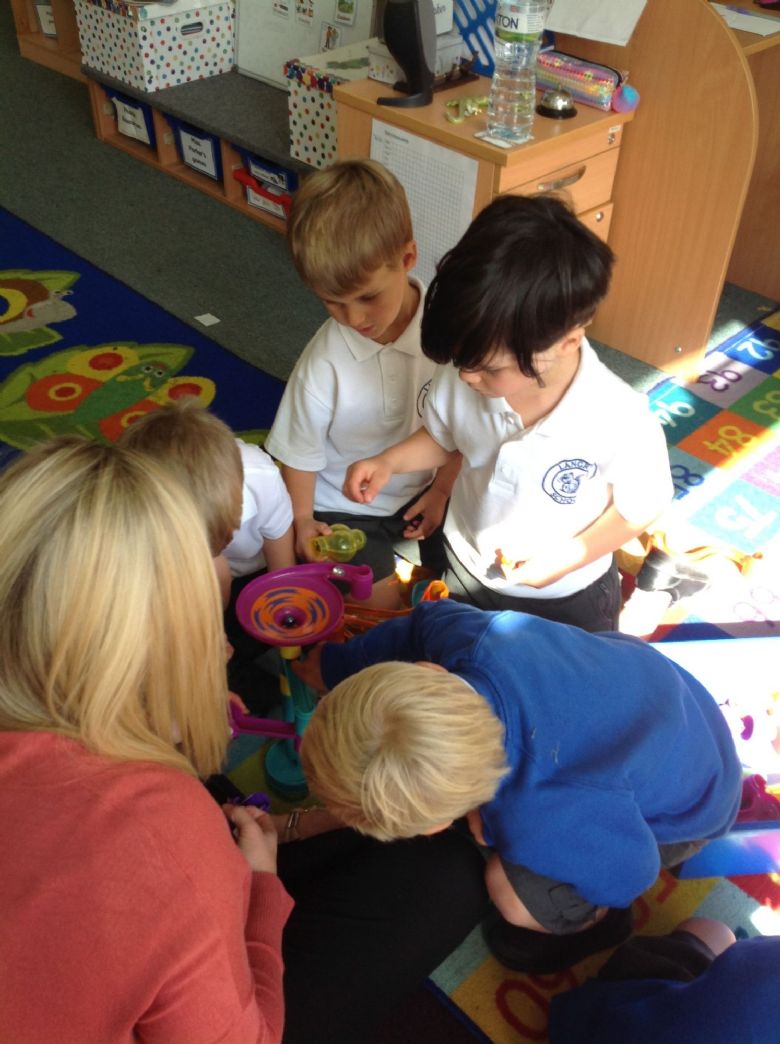 We went on an adventure around the school to meet important people in school such as Mrs Graham and Mrs Langan in the school office and Mrs Wright, the Head teacher. Mrs Wright even let the children go in her office; they were very excited!
Once back in the classroom we had a brilliant time choosing, exploring and making friends. We played outside in the water tray, with the doll's house, car run, trains, computers, mark making area and roleplay.
At lunchtime, the children managed to get their tray, knife and fork and collect their lunch independently. We had some super eaters who ate all their dinners up after such a busy morning at school. Once finished, the children cleared their trays and got ready to go home.
I am so proud of each and every child this week. They have taken on any challenge given to them and took 'big school' in their stride. Have a restful weekend Team Squirrels!
Here are a few things to remember for next week:
P.E kits in a P.E bag – blue T-shirt, black shorts, hoodie, jogging bottoms and trainers.
Forest school clothing – wellington boots, waterproof trousers and jacket.
Bears – we will begin to share each of the children's adventures with their bears! They will stay in school for the first half term.
Please ensure ALL clothes and shoes are labelled with names.
---
Useful Websites
Phonics play Home Learning Environment Iboard Oxford reading tree Interactive-resourc