Team Squirrel - Mrs Browne and Miss Rhodes
Please note:
PE days are Thursdays. Please come into school in PE kit. Children must have shorts and long trousers/leggings.
Earrings must be taken out on PE days. We are not allowed to take earrings out for children and they cannot be taped unless they have been pierced within the last 4 weeks.
Forest school is on Friday. Please come into school in PE kit. Children must have a long sleeved top and trousers (even in warm weathers). Forest school kits must have named wellington boots and waterproofs in a forest school bag, which can stay in school. Children must have a warm coat on cold, windy days! A rain mac is not warm enough.
Library day is Wednesday. Please return your library books on this day to choose a new one.
Week twelve – We all have feelings!
It has been a lovely week of learning more about each other, thinking about things that make us happy, sad, things we are scared of and what makes us angry. We looked at a variety of people with different emotions and discussed how they could be feeling and why they might be feeling that way. It was a chance for us all to reflect on things which make us feel a certain way.
To support our topic of, 'we all have feelings', we drew things which make us happy and labelled them. We also took photos of our friends showing different emotions, then we had to guess which emotion it was. Our school role play was a school this week and it has been great fun watching them pretend to be teachers and taking a lead role within their play. (I have to say, we have had some rather bossy teachers… Not sure where they are learning that from?)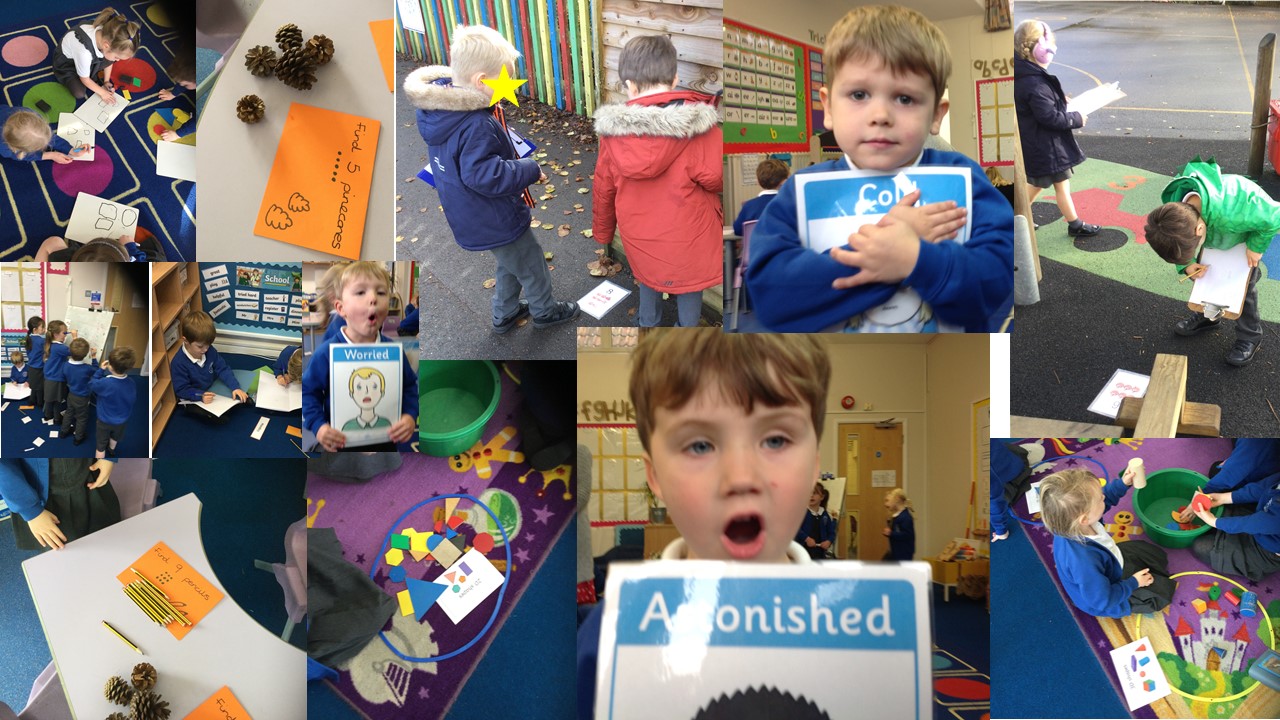 In maths, we have been counting objects from a larger group. We have used shape to support this by counting how many triangles, squares, hexagons and rectangles there were from a larger group, then recording our answers. We have also sorted 2D and 3D shapes from a larger group and naturally used key vocabulary such as flat and solid to describe the shape. Then we identified which shape it was by saying cube, cone, cylinder or pentagon, triangle, hexagon.
Cultural afternoon - Switzerland
We had a lovely afternoon especially having a visitor from year 6 who shared his Mum's heritage from Switzerland. We chose Switzerland as our focus country because one of Team Squirrels was born there and it allowed us to see a different country compared to England where we live. We looked at the weather, environment, the Swiss flag and found where Switzerland is on the globe and by using Digimaps! We looked at the best form of transport to get to Switzerland from England and found that going by plane would be the quickest way as Switzerland is in the middle of other countries, surrounded by land. Therefore travelling by boat would not be practical.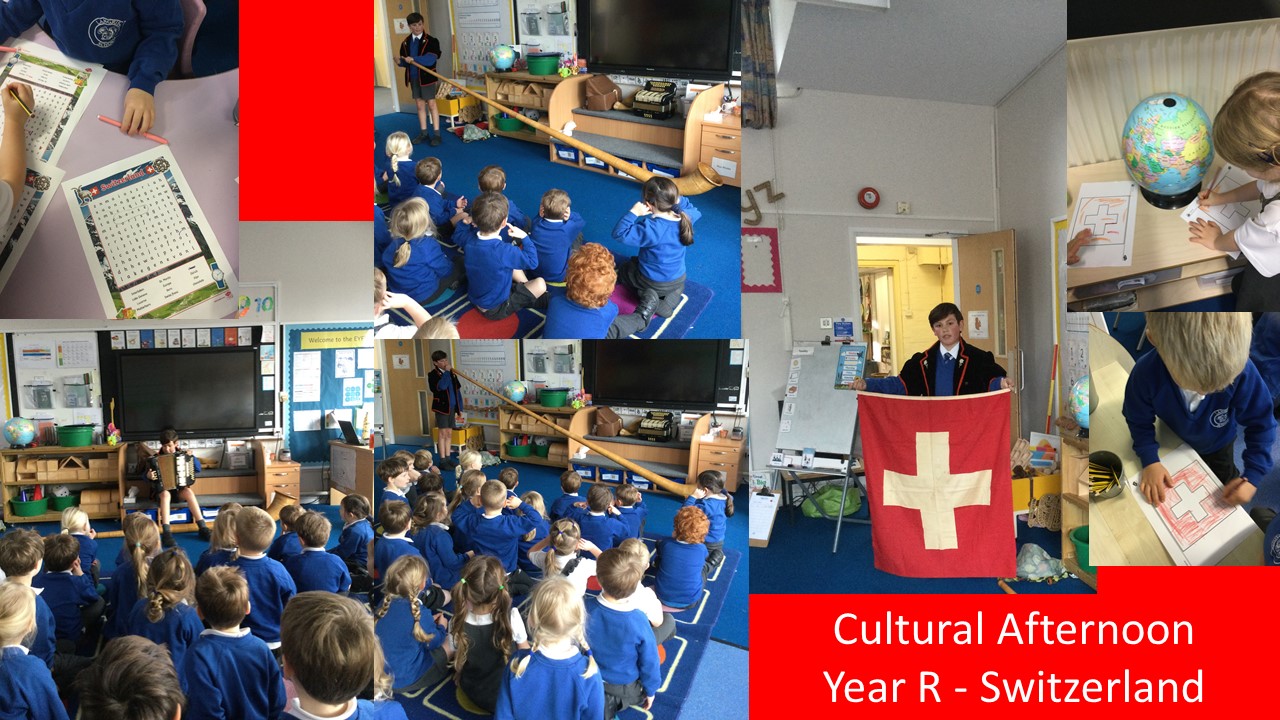 Week eleven - Autumn!
This week we have been learning about autumn. We learnt there are 4 seasons, that autumn takes place between September, October and November here in the UK. We talked about the weather in autumn and what we are now wearing when we go outside. The children noticed it was getting darker in the mornings and in the evenings sooner. We have learnt key vocabulary such as hibernation, migration and harvest.
Within our activities we have been writing about autumn scenes and describing what we can see. As a team, we have created an autumn scene using autumnal colours on a large piece of paper and the children have loved exploring the exploration table and books so thank you for all your autumn finds over the weekend.
Forest school was a wonderful time where we finally cut open the pumpkin, explored inside and found other autumn things such as acorns, leaves and moss and made patterns with them.
In maths, we have been using language such as how many and total. We have been counting a variety of objects and writing number for a purpose, then saying how many and what the total is.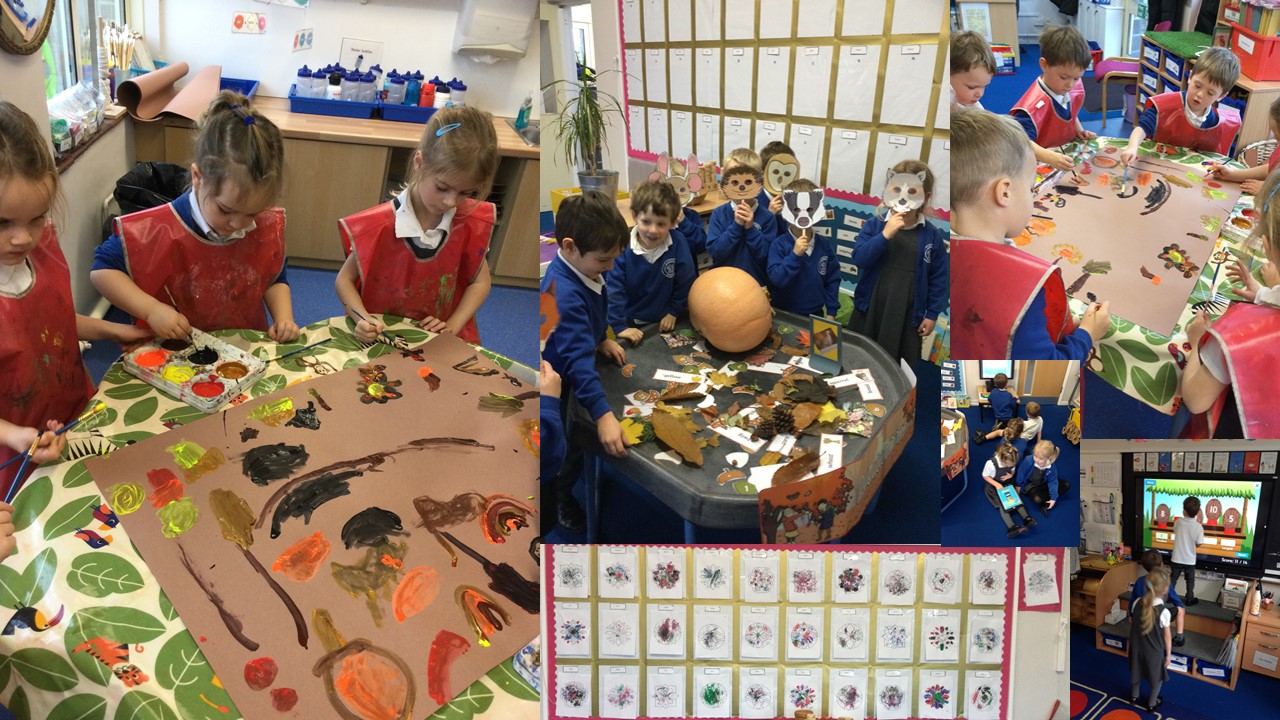 Week ten - We are all different and Diwali celebrations
This week has been a week full of discussion and reading. We have read books which celebrate difference, such as, 'We are all Different', 'The great big book of Families', 'What happened to you?', and 'All are Welcome'. Each book has allowed us to share our differences with one another and discuss what it would be like if we all looked the same and liked the same things. And don't worry, the children even told us what makes you different too... such as who has a birth mark and where and who has too much hair or even no hair at all!
For our topic, we have created faces and people with play dough, we discussed their character and shared what their interests would be and things they would be good at and why. We have also learnt new key vocabulary, such as freckles, birthmark, hobby and unique. It was great to see everyone wearing their odd socks Monday in aid of Anti Bullying Week! We enjoyed creating our own odd socks or copying the odd socks we already had on!
In maths, we have learnt about 2D shapes. We have been counting the sides of each shape, finding hidden shapes within the environment and making pictures using different 2D shapes. We have also dipped into 3D shape, explaining that they are solid shapes compared to 2D shapes which are flat. Using the clixi, we have made a variety of 3D shapes such as a cube, a pyramid and a cuboid, which has definitely supported our fine motor skills!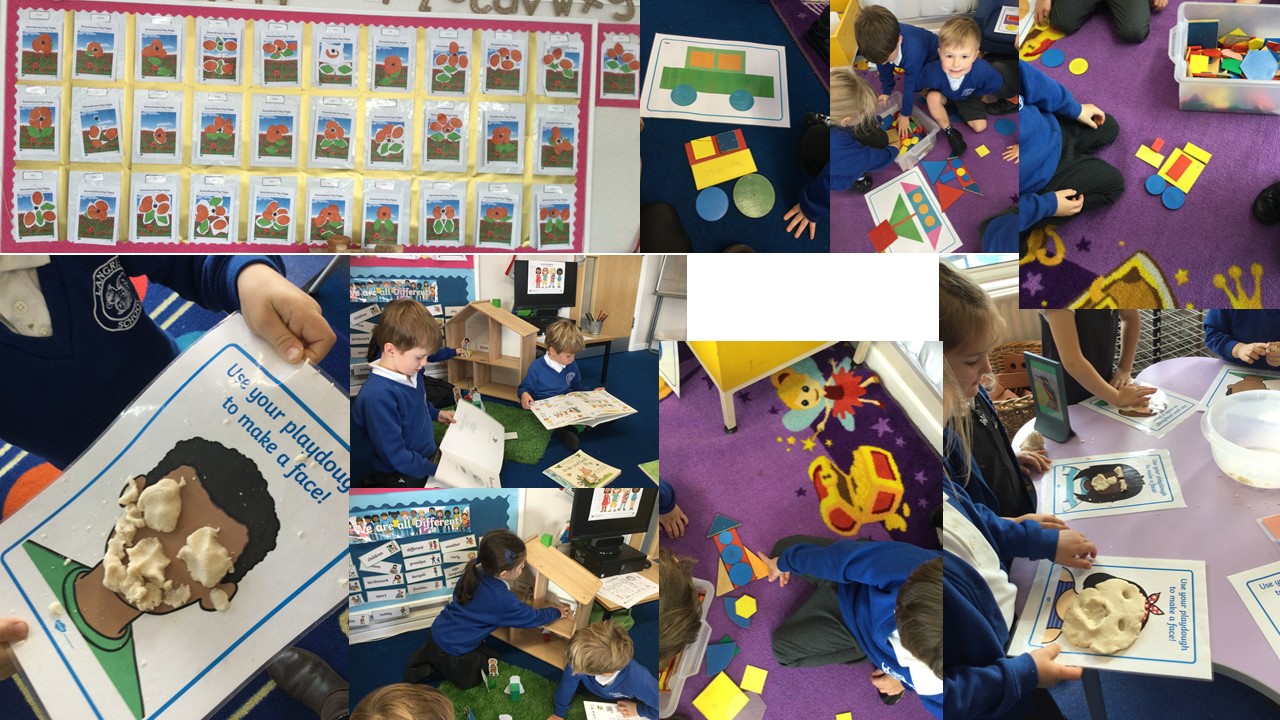 Diwali
To celebrate difference, we learnt about the festival of light, Diwali. We shared how not everyone celebrates this festival but is celebrated across the world by Hindu people. We looked at how they celebrate it and their reasons why. We created our own rangoli patterns using coloured sand and listened to music they would enjoy dancing to.

Next week:
Our topic is Autumn observations. We would love for you to go on an adventure to find something linked to autumn or when out and about, to find something you have never seen before or something unusual. Bring all your findings in Monday morning for our exploration table where we look at what we have found and will finally cut that huge pumpkin open!
Week nine - Minibeasts
The children have loved learning about minibeasts, finding out different facts about their favourite ones. Our top minibeasts were caterpillars, spiders and butterflies. Did you know that ants do not have ears? They feel and 'hear' the vibrations in the ground with their feet. See if your child can remember any minibeasts facts!
To support our topic, we obviously had to go find as many minibeasts as we could in Forest School! We used our bug boxes and magnified glasses to support us in looking. We remembered that some minibeasts like dark, damp places with soil - like worms! We found so many worms of all sizes.
In phonics, our sounds this week were 'i', 'n', 'm' and 'd'. We are doing brilliantly writing the sounds and making up CVC words with all our learnt sounds so far. I have had the pleasure this week in hearing all the children read and it is wonderful to hear the children beginning to recognise tricky words 'no', 'go' and 'the'. We are learning that the tricky word 'I' has two sounds. When reading books together, we see the tricky word 'I' at the beginning of sentences. I say, if the 'I' is on its own, it is the letter name 'I' (pronounced eye) and if it is together with another letter, it makes the phonetic sound 'i' (for ink).
Within our focused activities we have been playing 'I spy and count' with bugs, writing about our favourite minibeast and using play dough to create a minibeast microhabitat to match our minibeasts.
Thursday 16th November is Children in Need day where we will be dressing up in spots or our pyjamas. There will be no PE this day so the more spots and pyjamas the merrier! No need to bring in PE kits.
Week eight - "Happy, take your reading wallet home week! Horaayyyy!"
I have never seen children more excited to have a new part of the routine added to their day... Taking their reading wallets home every day and bringing them back every day! The children have told me all the great reading being done at home, whether it be reading one page a night or even the whole book! Some really positive interactions at home with reading - well done parents! Just a little reminder when reading the books to talk about the story and characters, what they liked about the book or did not like about the book? This then begins to show their understanding of what they are reading and why they are reading, and not just sounding it out.
It has been a brilliant week here at Squirrel HQ! The children are happy and working hard! Our topic is all about me and my family. Thank you for the family photos (it has taken us all week to go through them), they were perfect! The children have taken so much pride in talking about their family and also showing an understanding of how their family is different to others. To support our topic, the children have drawn self portraits using mirrors to ensure they draw every detail on their face. Next, we created our home using lolly sticks and labelled who lives in our house, pets included! They were all fabulous!
In maths, we have been working on our number formation and counting objects, actions and sounds. We made a sequence of actions for a friend to follow. Here is an example of a sequence: 3 claps, 2 jumps and 8 arm stretches. Could you make up some sequences at home? Are they counting with one to one correspondence?
Next week our topic is minibeasts, and we ask, 'why are people wearing poppies?' Over the weekend can you go on a minibeast hunt and find out the best places to find them? Do they like dry places or wet places? Are they at the beach or in the woods?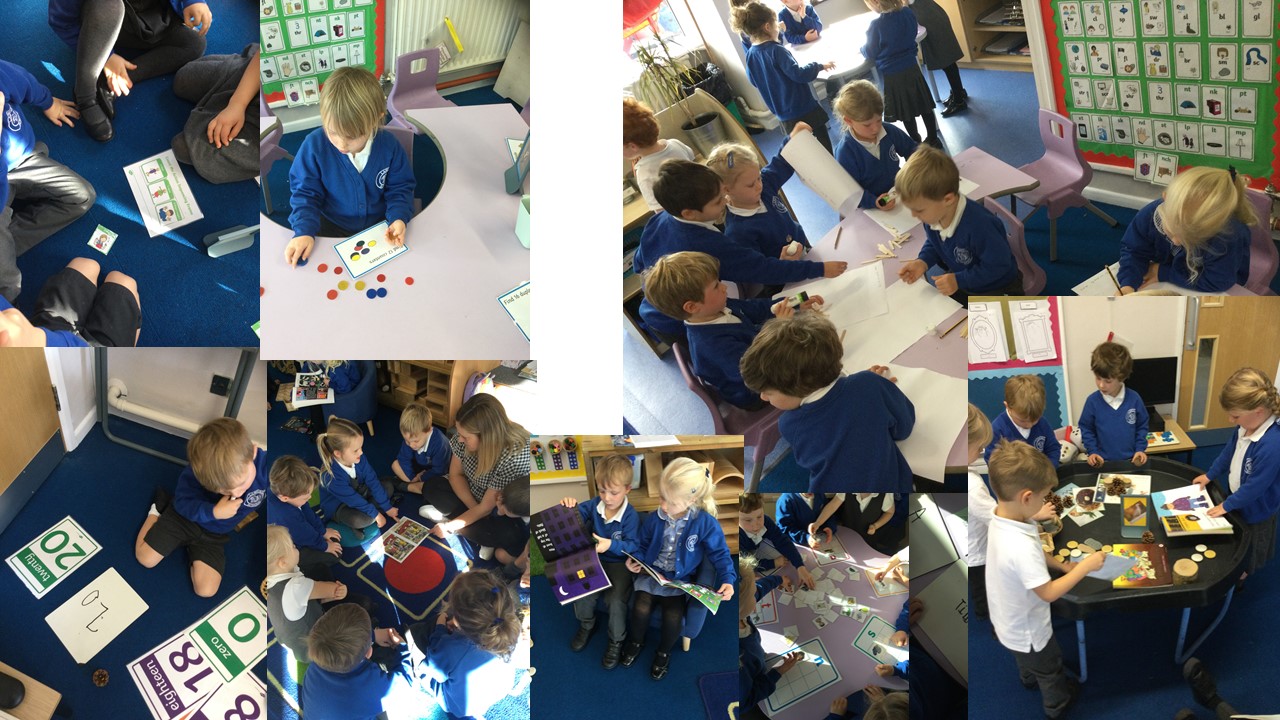 Week seven - Our last letter/s a day/week! t, u, v, w, x, y, z
The children have all really engaged with our letter a day! I can already hear children trying to blend simple words and writing them beautifully! Over half term, try to find road signs, posters, advertising to ask them if they recognise any letters or can attempt to sound it out and read it (maybe with words up to 3 letters!) As part of our learning, we play I spy where we draw the pictures we can see which start with the sound we are working on. The children really enjoy this and love talking to one another about what they can find.
In maths, we have been working on our number formation and counting up to 10. We are working hard to count with a one to one correspondence. Over half term, get them to help you count the fruit in the fruit bowl or the tins of baked beans in the cupboard. Get them counting for a purpose.
This term, the children have loved getting creative by making books, drawing pictures of their favourite things, making puppets and making masks. I have seen some brilliant coordination and skill when using scissors and using hole punches, staplers and cello tape for a purpose.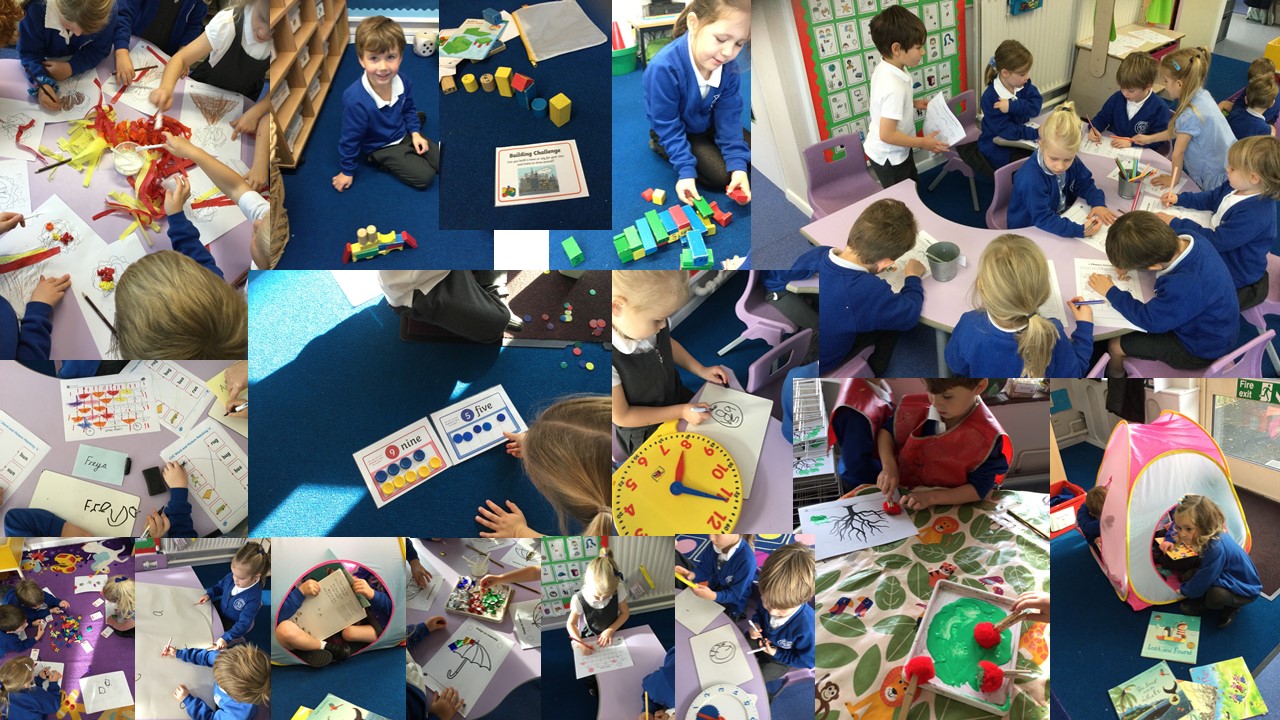 After half term, remember to bring in your labelled family photos for our first topic of the term. Also, many children are not bringing in or wearing shorts for our PE lesson on Thursday. This stops them using the apparatus and therefore not able to access the full lesson. Please can we ensure all children have shorts for a Thursday.
Have a wonderful and restful half term! Love Mrs Browne x
Week six - Letters o, p, q, r, s which involved owls, Queen's crowns and rockets!
It is always a joy to watch the children grow and adapt to their new school routine. They now find their own resources, work extremely hard on their creations and show willingness and their ideas. I am also listening to brilliant conversations with one another.
We have worked on our cutting skills this week by cutting out 2D owls and following a step by step guide. Also, we have taught the children how to use the cellotape, masking tape and hole punch to create puppets independently. Who knew a bunch of stickers and a crown would keep the children busy and engaged for over 40 minutes!! They loved picking stickers and adding them to create a very unique crown.
Library book day is always a joy to watch. I love seeing which books they pick each week. I have noticed some children pick the same author or style of book and tell me how much they are enjoying those books. Many love choosing a different dinosaur non fiction book each week and come back telling me new information they learnt from reading the book. Others children have chosen classic traditional tales or the 'You Choose' books.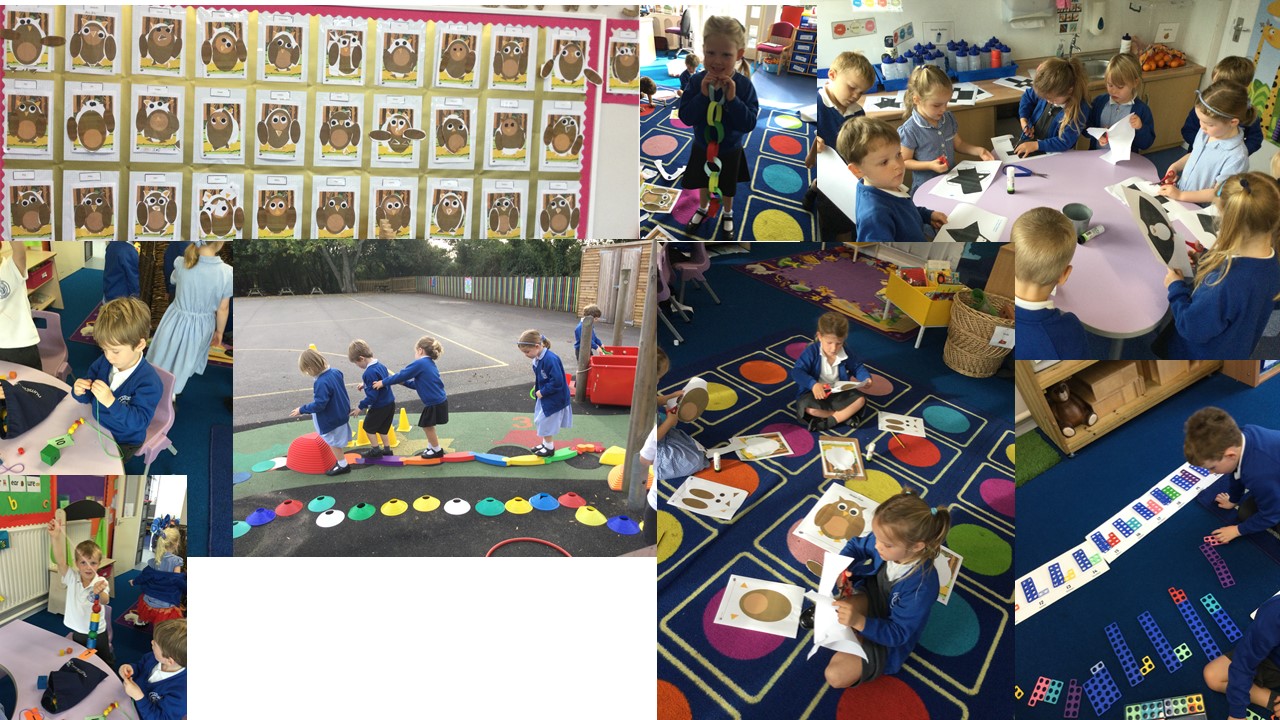 After half term, we begin our weekly topics! Our first topic is 'all about me and my family'. We would love you to bring in named photos of your families which can include people, pets who live in your house and extended family such as Grandparents, Aunts, Uncles and cousins. We will be showing them to the class on Monday 30th October for the week, so please bring them in a named envelope before then.
Week five – Letters j, k, l, m, n, PE and Forest school!
What a busy week we have had… We have followed instructions step by step to make and of course eat a jam sandwich. All of which were consumed in around 3 minutes as an afternoon treat! We made jellyfish which all grown ups have commented on as they walk into team Squirrel's HQ, made and flew kites, created a perfect lunchbox, played musical instruments and created music in small groups and made nests in forest school on a beautiful autumn morning.
PE
In PE, the children are copying then creating a dance routine linked to the stories 'Room on the Broom' and 'The Snail and the Whale'. The children are working in pairs to make a sequence, showing it to the class then suggest support to each other to improve their sequence.
Forest school
Forest school has been truly magical each week. The children love the freedom, space, weather and the natural world around them. They have enjoyed hunting for bugs, climbing trees, making dens and finding and collecting natural things around the forest floor. The mud kitchen has been busy with mud pies, mud ice creams and sticky hot chocolates!

Week four – Letters e,f,g,h,i
It has been a busy week here in Squirrel HQ! We are learning each other's names, finding out each other's likes and favourite things and working as a team. We are still hearing about children's adventures with their bear so if you have not brought yours in yet, please do. The children love seeing and hearing about each other's holidays and adventures.
This week we have been role-playing with elephants, finding out about the earth we live in, making and copying flags, printing with flowers, still life drawing, designing a garden, hand printing and ice hunting in forest school.
We are working together as a class to practice writing our sounds and sounding out CVC words such as got, hat, fun, ten. We are doing brilliantly! I am very proud of all my Squirrels.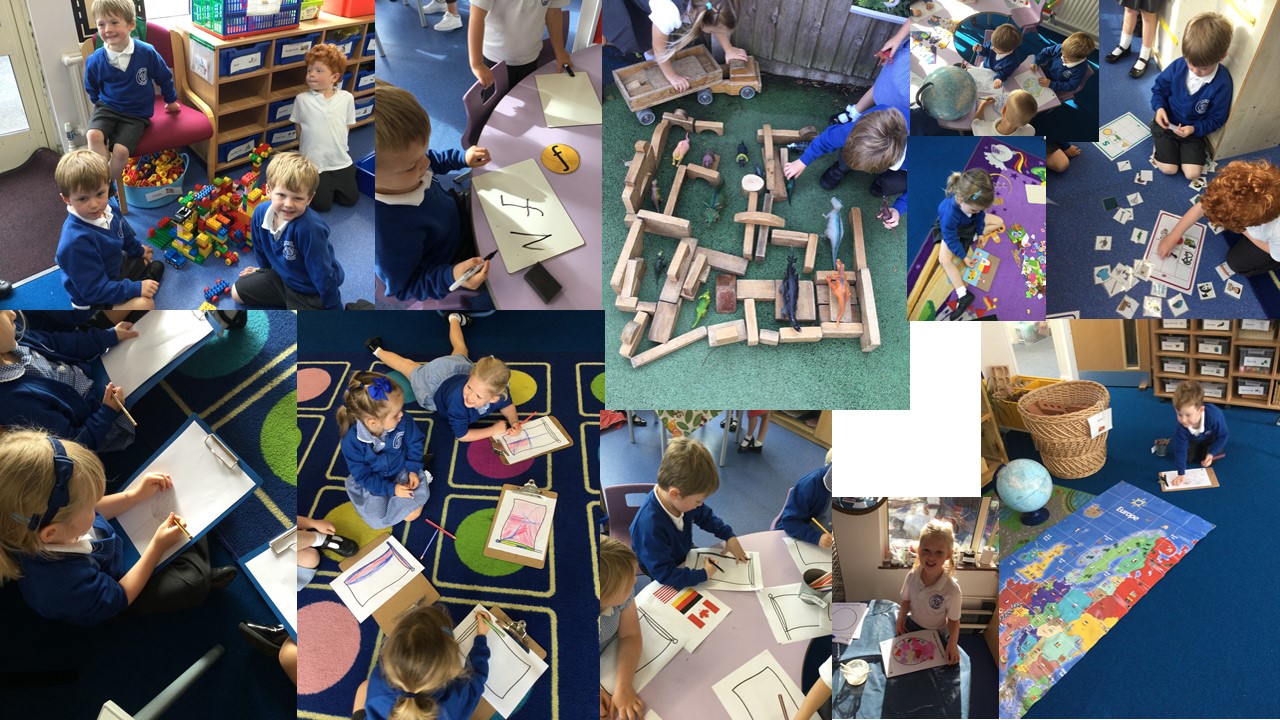 Reminder: Please, please, please can you label all uniform especially jumpers and cardigans and PE hoodies. We hand out all jumpers and cardigans with names on and have many unnamed jumpers and cardigans in the classroom so if you are missing one, please come see me.
Week 3 - Letter a day a - d
This week we have started some unofficial secret undercover learning! We are doing a 'Letter a day' where we learn the letter name and sound. We find different words which have the letter in them (especially our names!) then read some CVC words together as a class and have a word of the day.
Our words this week have been:
A – admire
B – brave
C – curious
D – dangerous
We discussed what the words mean and try and use it within our day to one another. We had some very sweet comments…
"I admire my Mum because helps me all the time."
"We can be brave when we fall over and get back up again."
"I am curious about bugs!"
"Dangerous means when you don't touch something because it will hurt you like fire."
We have done some lovely activities linked to our letters such as animal masks, bugs small world, block play, counting, caterpillar making and large construction outside, cutting skills and dinosaur drawing.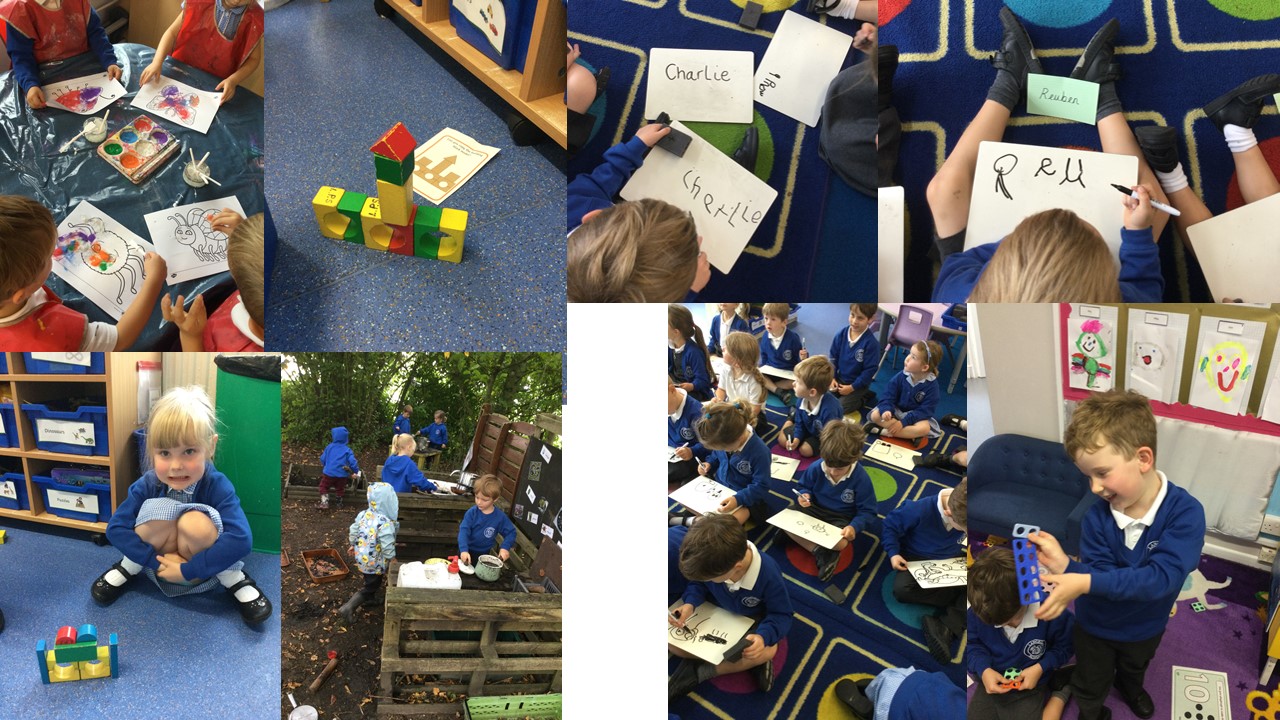 Few things:
Monday 25th September will be the reading challenge assembly! If any of your children have a certificate please bring it in Monday for a group photo.
For the weekend - have a practise at allowing your child to put on their own coat! Can they do it on their own? Here is a link for top tips! 3 Simple Ways for Children to Put Coats On - Preschool Inspirations
Week two
It has been a great second week in Team Squirrel HQ. We have enjoyed many counting games and songs (some even up to 20!) and introduced them to new resources such as numicon, dice, number cards and multi-link. With those resources, we are using them for a purpose to either find a quantity, total amount or to create shapes and patterns.
The children have been showing off their skills by finding their name with the magnetic letters and attempting to write it. We have enjoyed creating music and rhythm with different sounds and creating obstacle courses with the cones and bikes.
For our second week at school, I am extremely impressed by how brilliantly the children are coming into school, completing their morning jobs, having lunch in the hall and remembering and following their new routine. Every day there is something new to learn and they all seem to take it in their stride.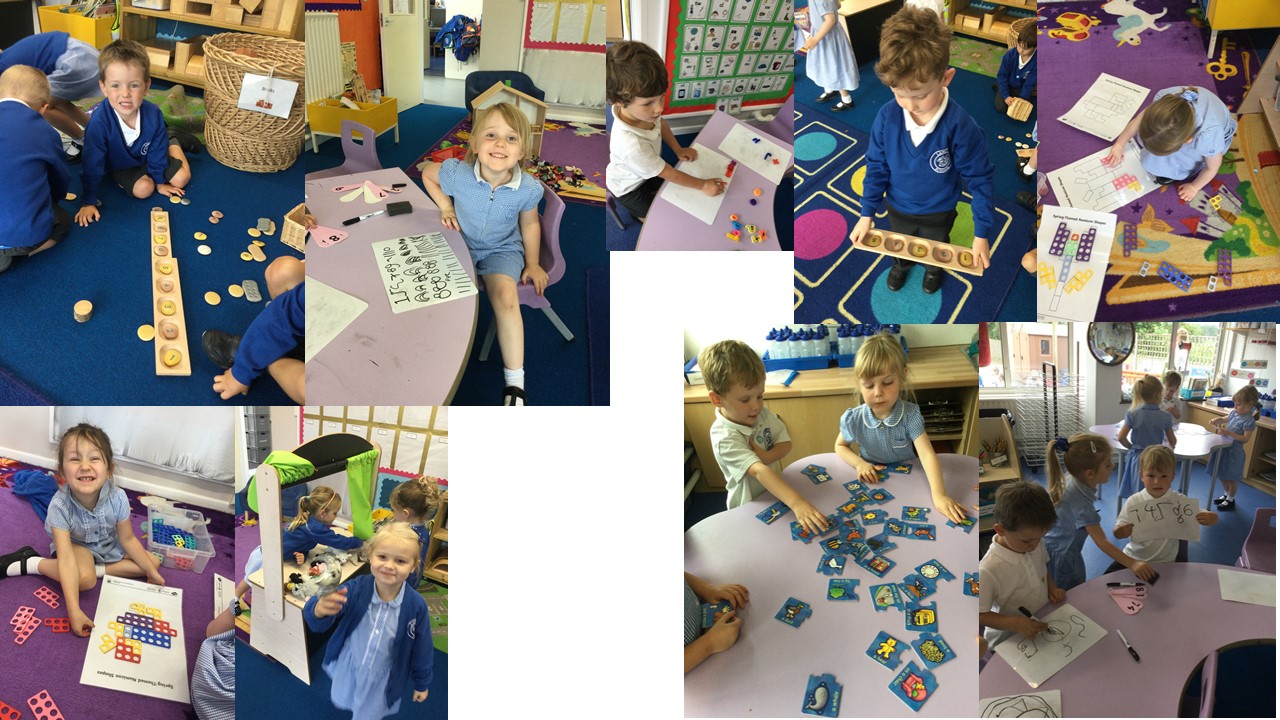 Please note, if you have any questions, concerns or to share how your child is settling into school, do come and see me at the door, at the end of the school day. I will happily speak to you once all children have been picked up by their grown up.
Welcome Team Squirrels!
What a fabulous first week! I am so proud of how brilliantly you have started school. We had happy and excited faces who couldn't wait to share their adventures over the summer holidays. We have been learning where to hang our bags, where to put our water bottles and how to choose our lunch independently. Here is a little collage of what we have been doing so far...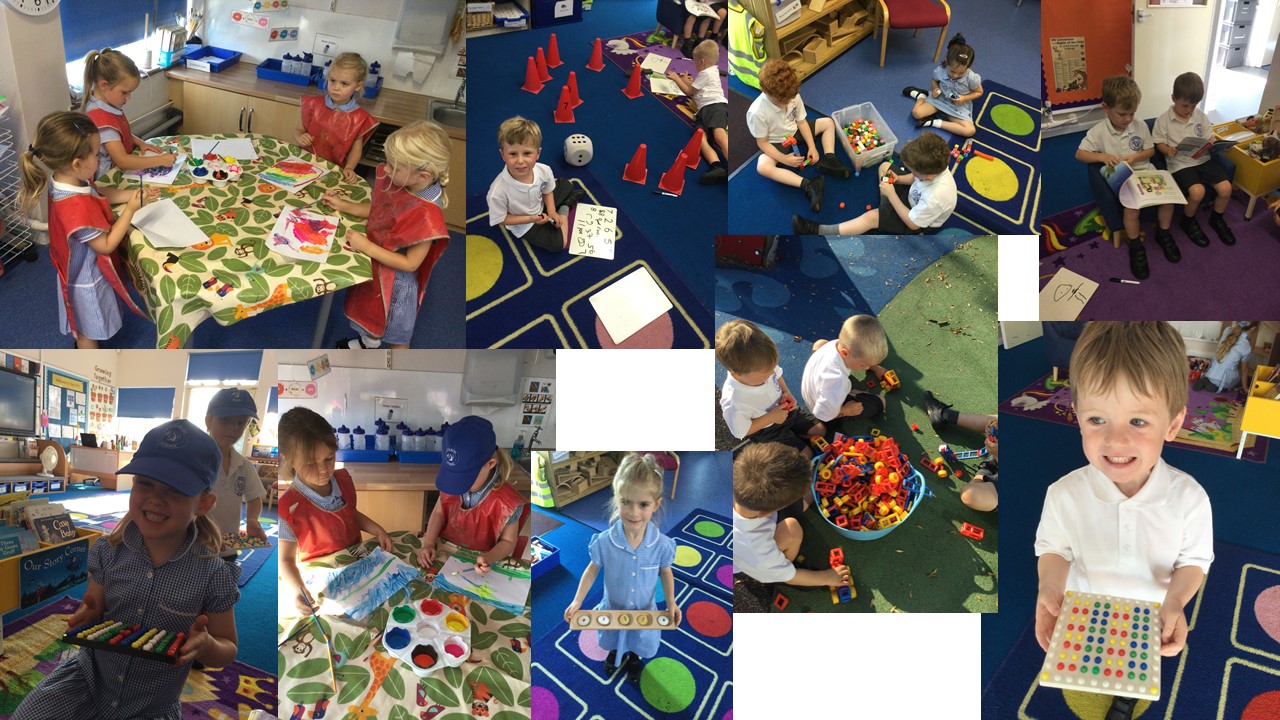 Few things:
Please ensure all clothing, bags and water bottles are labelled, especially jumpers.
No toys from home are to be brought into school (except school bears).
Hair needs to be tied up.
Forest school kits to be in next week.
Earings must be taken out on PE days. We are not allowed to take earings out for children and they cannot be taped unless they have been pierced within the last 4 weeks.
Have a restful weekend ready for a full week of school. Yippeeee! Love Mrs Browne and Miss Rhodes
Useful Websites:
Home Learning Activities Folder - OneDrive