Team Squirrel - Mrs Browne and Miss Rhodes
Please wear PE kits on Thursdays and Fridays!
PE is on a Thursday (don't forget your shorts!) and Forest School is on a Friday.
Week commencing 3.2.2023 Waves of wellbeing
It has been a calm, relaxed and positive week here in team squirrels. We have focused on a story a day, where we learn about a different sea creature. We find out how they adapt to changes, think before they react, work as a team, keep calm and step out of their comfort zone.
Can your children link the theme, to the sea creature and explain their stories?
Theme:
Think before you react.
Working as part of a team.
Coping with changes.
Keeping calm.
Stepping out of your comfort zone.
Animals:
Tube anemone
Zebra Seahorse
Hermit crab
Pilot fish
Pufferfish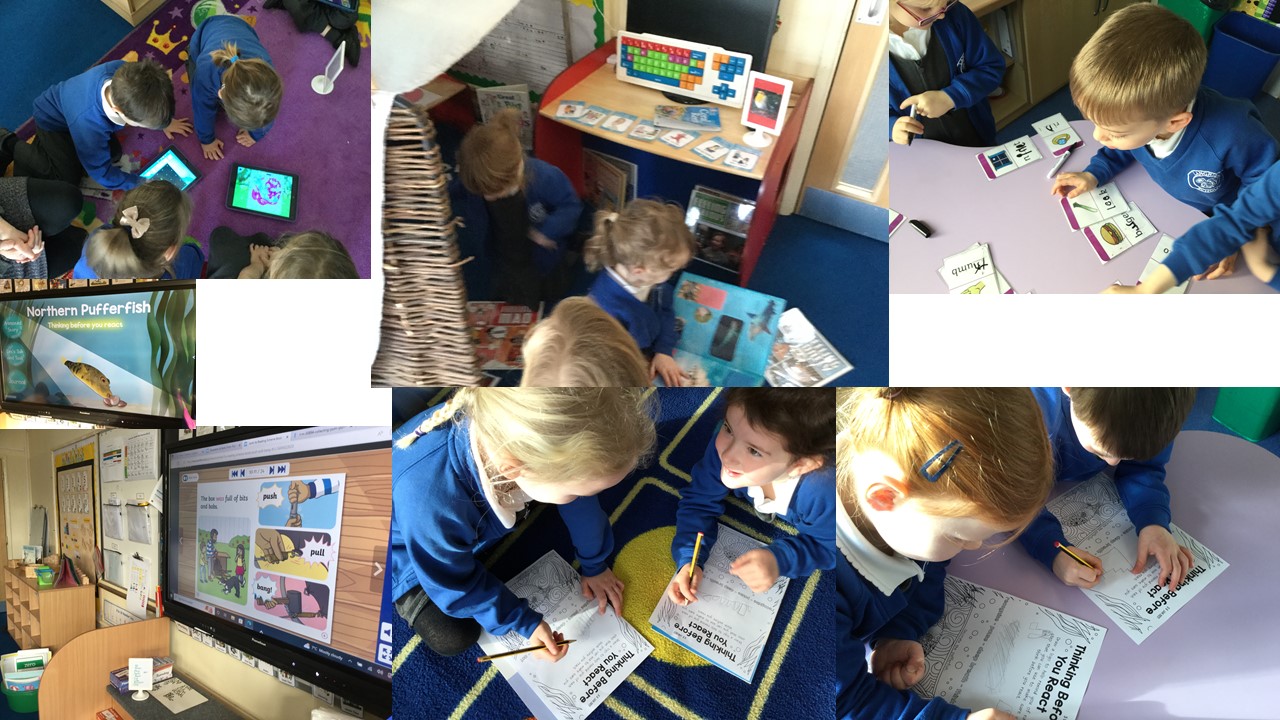 To step out of our comfort zone we tried a variety of fruits which are not so common. There were lemons, limes, pomegranate, lychee and pineapple. We each had a chart to share if we liked the fruit or not after stepping out of our comfort zone to try it. Even Mrs Browne was feeling nervous as she is a little bit fussy with food!! Well done team squirrel for stepping out of your comfort zone and encouraging others to try too.
Our phonic sounds this week were: 'ai', 'ee', 'igh' and 'oa'. We have used the ipads this week to work in pairs to complete different literacy games to support our phase 3 sounds. Our role play area has become a safe haven for children to hide away looking at books about feelings and sea creatures and to explore different behaviours and putting them in categories of right or wrong actions. We then discuss how we can make a wrong action into a right one.
In maths, we have focused on 'more and fewer'. Can you use this language around the house or when out and about?
I have 3 plates, Dad has 2. Who has more? Who has fewer?
Who has fewer toys, you or your sister/brother? (only if it doesn't start an argument between them!)
To extend can you get them to explain why? How do you know?
Challenge for home:
In your reading records are mini learning tools for you to complete. Try having a go at one, once a week to enhance your child's reading skills and comprehension. Also, in the back is a bronze certificate which the children have all completed. There is also a target to focus on for this term.
Next week we become Kings and Queens... How exciting! :)
Please find attached at the bottom of the page the maths workshop slides and the phonics phase 3 mat.
---
Week commencing 27.1.23 Under the sea and precious water
This week has been a learning tool for all of us… including me! Here are a few things we have found out:
Crabs have 10 legs.
Starfish have no blood or brain.
Octopuses can change colour and so can seahorses.
There are more oceans than land on earth.
A stingray has no bones in its body.
The children have loved exploring all things under the sea! We have written facts about what we have learnt and remembered.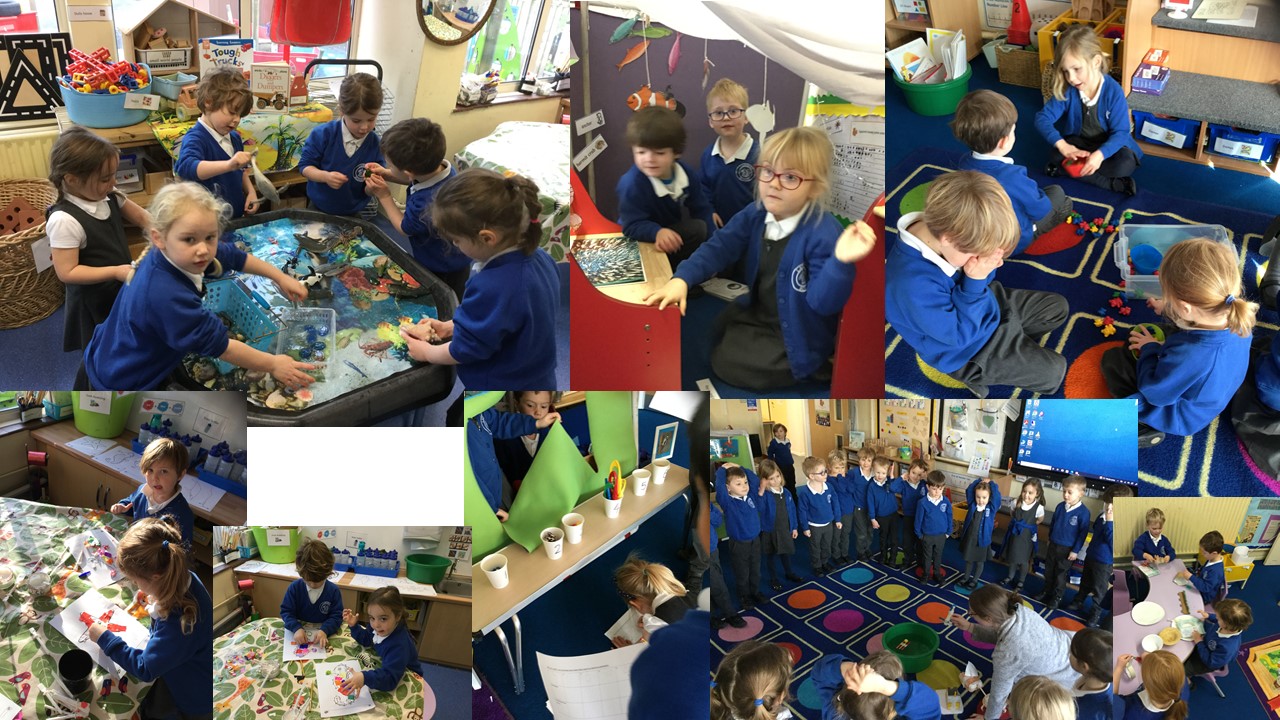 We also talked about how water is precious. We looked into how we use it and why. Then thought about what would happen if there was no water on earth.
In maths, we have been learning about estimation. We found out it was having a good guess at an amount instead of counting. We played a few games in pairs and in small groups to help us with our estimation skills and recorded our answers on a chart.
In our water tray, we created a beautiful under the sea scene with all the different sea creatures and used a magnetic fishing rod to catch narwhals, then made a habitat for them. We also individually created a boat using a variety of resources which were then tested out in the water to see if it would float or sink. We discussed the materials used and learnt a new word 'capsized' to describe when the boat fell side ways in the water.
Upcoming events:
Maths parent workshop 2:40pm Thursday 2nd February.
Baking cakes and decorating a biscuit will take place Monday 6th and Tuesday 7th February.
Dress up as a King or Queen for the banquet is Wednesday 8th February.
Week commencing 20.1.2023: Chinese New Year
This week has been full of colour (especially red), dragons and rice!
We have been extremely busy learning about how people celebrate Chinese New Year. We first talked about where China is and compared it to the UK. Did you know China has the biggest population in the world with 1.2 billion people living there…?
Here is what we found out…
Isaac – I was born in the year of the dog.
Tommy – Red is their lucky colour so I am using red on my lantern.
Ashton – I have drawn all the animals from the calendar. There are 12 of them.
Hannah – I have drawn the pictures they use for numbers. Zero was the hardest to draw.
Erin – I love the dragons. They dance around with them.
Lena – Here is my drawing of a Chinese dragon. The people hold poles to help the dragon move.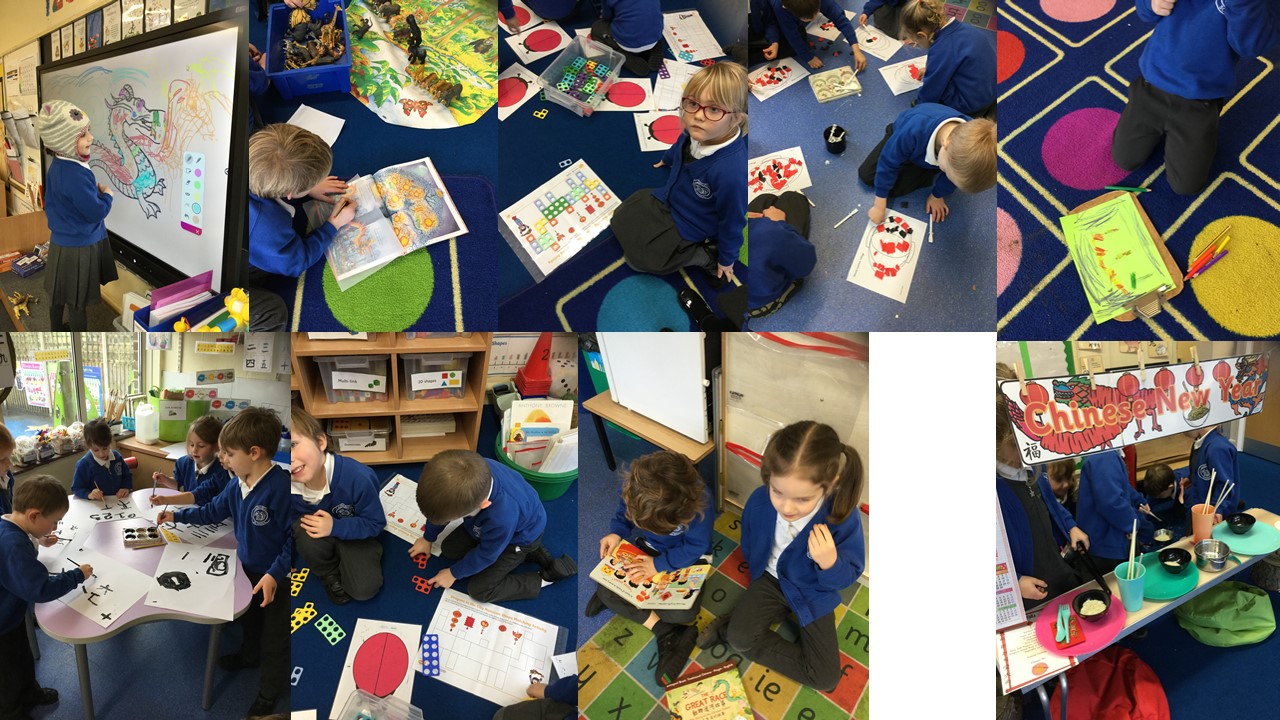 We read the story of the zodiac calendar and tried to remember the order of the animals. The children couldn't believe what the rat did to the cat! See if they can remember the order.
In PE we created a dance just like they did in the Chinese New Year parades across the world. We listened to the music and made a routine.
In maths we learnt about doubles. I was very impressed. Sophie could tell me that double means two of the same. We used numicon, dots, dominoes then numbers to find double.
Next week is under the sea and water. This is part of our World Faith and Philosophy unit. We will be finding out why water is so precious, what animals live under the sea, their habitats and way of life.
---
Week commencing 13.1.2023: Recycling
We have learnt so much this week about recycling... I don't even know where to begin!!
We discussed how we recycle at home and at school and talked about where it goes and why it is good to recycle. We read some brilliant books called 'What a Waste' and 'Somebody Swallowed Stanley' which shared the danger of rubbish in our oceans and environment.
The children have been busy in our recycling centre sorting the rubbish and objects into their different bins. We also made posters to spread the word to people about the dangers of rubbish and use of plastics. I have to say how impressed I was by everyone's posters. The children each drew something significant to recycling and was able to explain their drawings with such confidence. We even had some sentences in there too. Well done Team Squirrel!
As you will know the children have made something spectacular out of junk modelling resources. This is to help the planet by re-using different materials for a good purpose…. YOU ARE WELCOME! 😊
In phonics, we have learnt the sounds 'j', 'v', 'w', and 'x'. We have been writing words which start with each of those sounds and been playing 'I spy' to find pictures which start with a certain sound. An example of 'I spy' is below... To challenge ourselves we have been writing the words rather than drawing the pictures.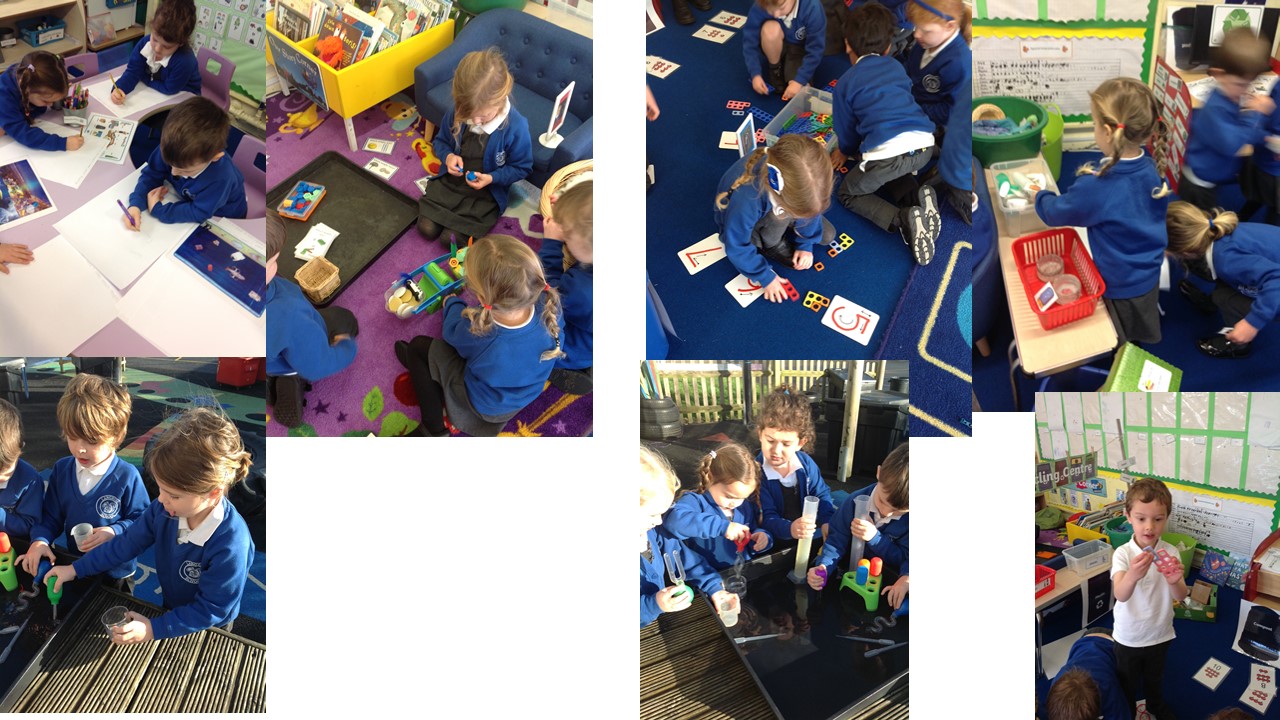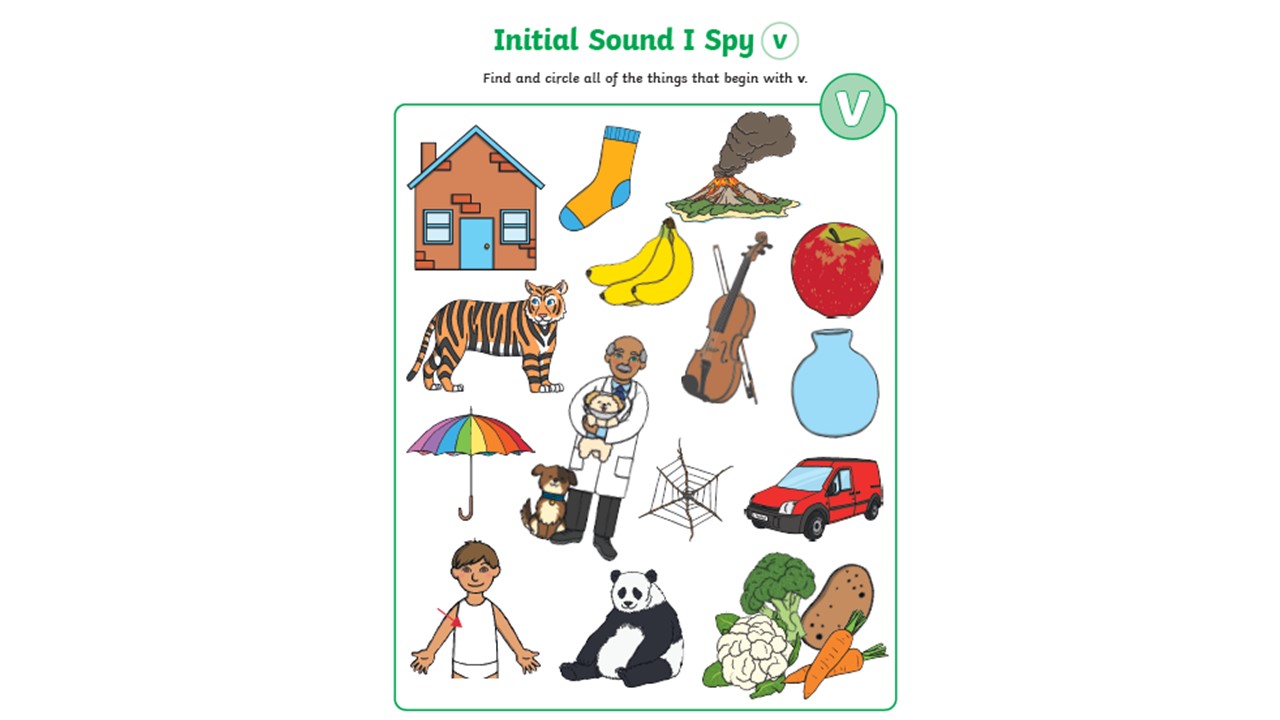 In maths, we are learning weight. We have been finding things that are heavier, lighter or balanced. The children have loved exploring weight using water and pipets and different resources from around the classroom with the weighing scales.
The Police came to see us!
We had a visit from two policemen who told us about what they do as a job..... Unfortunately to Squirrels dismay, it wasn't just about catching the 'baddies'. The children were all a bit starstruck but asked some brilliant questions about police dogs, how they help people and about the equipment they carry with them. We even got to go in their car!!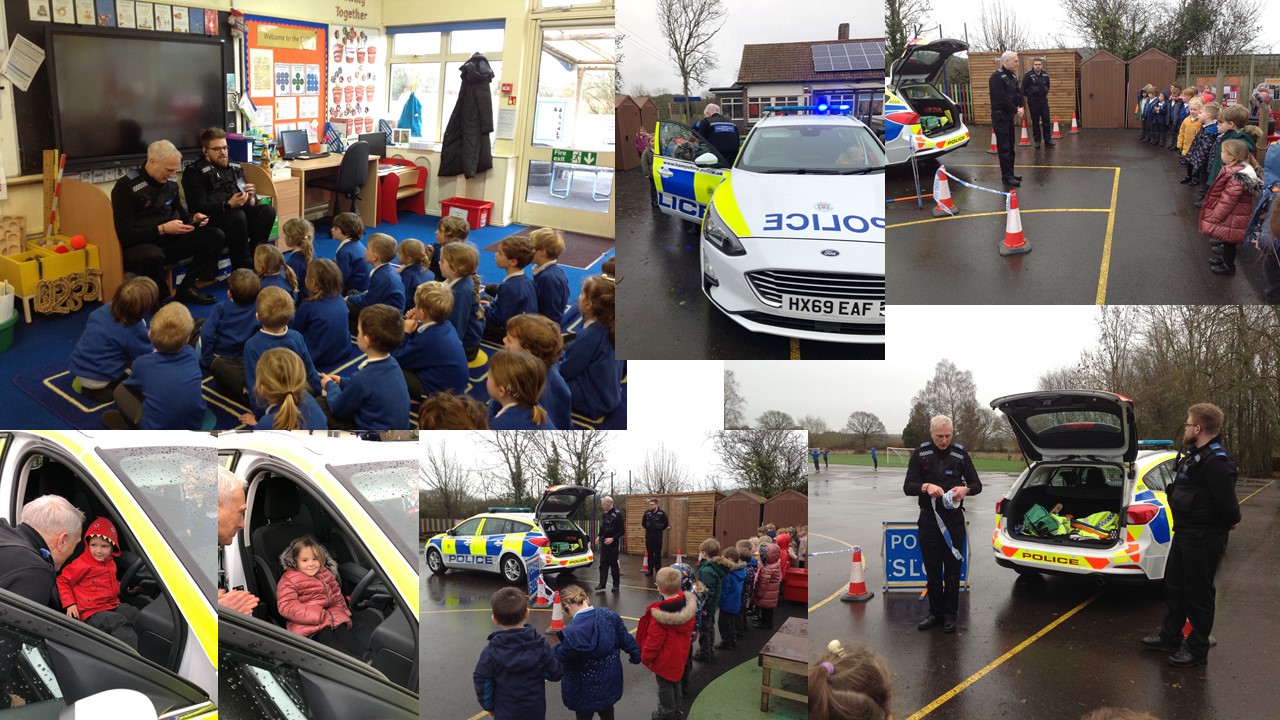 Tricky words
Coming home with you are the phase 2, 3 and 4 tricky words. Please keep practising them and remember they need to see and know the words in books (bedtime, library and their school reading books) and out and about in the environment rather than just remembering them on the tricky word rocket. This will embed their learning as they can transfer their tricky word knowledge when reading with you at home and at school.
Next week is all about Chinese New Year! We will explore the celebration and find out many facts about how people celebrate it.
---
Week commencing 6.01.2023 Happy new year! We have been scientists investigating Winter…
Welcome back! I hope you all had a wonderful Christmas. I have been hearing EVERYTHING the children got for Christmas. Well done Santa, 10 house points to you!
This week we are investigating the season of winter. We reflected back to autumn and compared it to winter. We talked about the weather, the dark nights and mornings, the environment around us and suitable clothes to wear.
To support our learning we labelled different clothing, using our phonics to work out what each word said. Our role play area is a beautiful winter wonderland where the children have loved throwing snowballs at each other and making snowmen (with cotton wool!)
In maths, we have been exploring height. We are using key vocabulary such as short, tall, shortest, tallest, equal and average height. We measured ourselves and worked out who was the tallest and shortest in our class. See if the children can remember who was who! We have been measuring with our hands, multi link and in cm.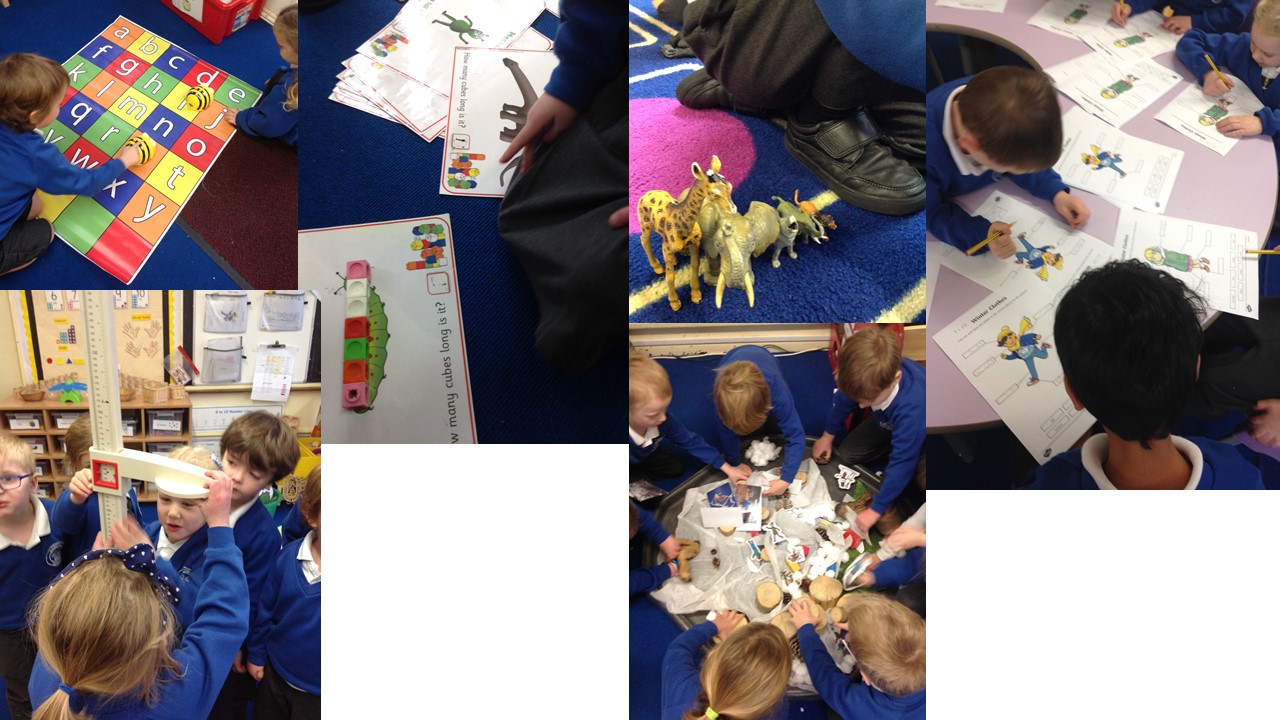 PE
We have been doing gymnastics and made our own sequence together as a class then made one up individually.
Next week we are learning about recycling. Over the weekend go on an adventure to find out a way of recycling. This could be with your recycling bin, bottle banks or charity shops.
Some top tips to support those pesky tricky words...

Keep going over those tricky word flash cards and rockets.
When reading can they find those tricky words within a sentence?
When out and about search the environment/ posters/ signs for tricky words.
Tricky words may look different in different text. For example The, the.
When reading a bedtime story, as soon as they hear a tricky word can they put their hands on their head? Can they recall the tricky word they heard? Can they write them down on a post it note?
---
Week commencing 16.12.2022 MERRY CHRISTMAS!
Dearest Squirrels and lovely parents.
What a fantastic first term we have had. All your wonderful children have been brilliant and already grown so much in confidence, resilience and independence. I am so proud of all they have achieved and look forward to next term already!
I wish you all a very Merry Christmas and a fabulous new year. Relax, eat loads and spend time with loved ones as you all deserve it!
Thank you for your continuous support.
Lots of love,
Mrs Browne and Miss Rhodes xx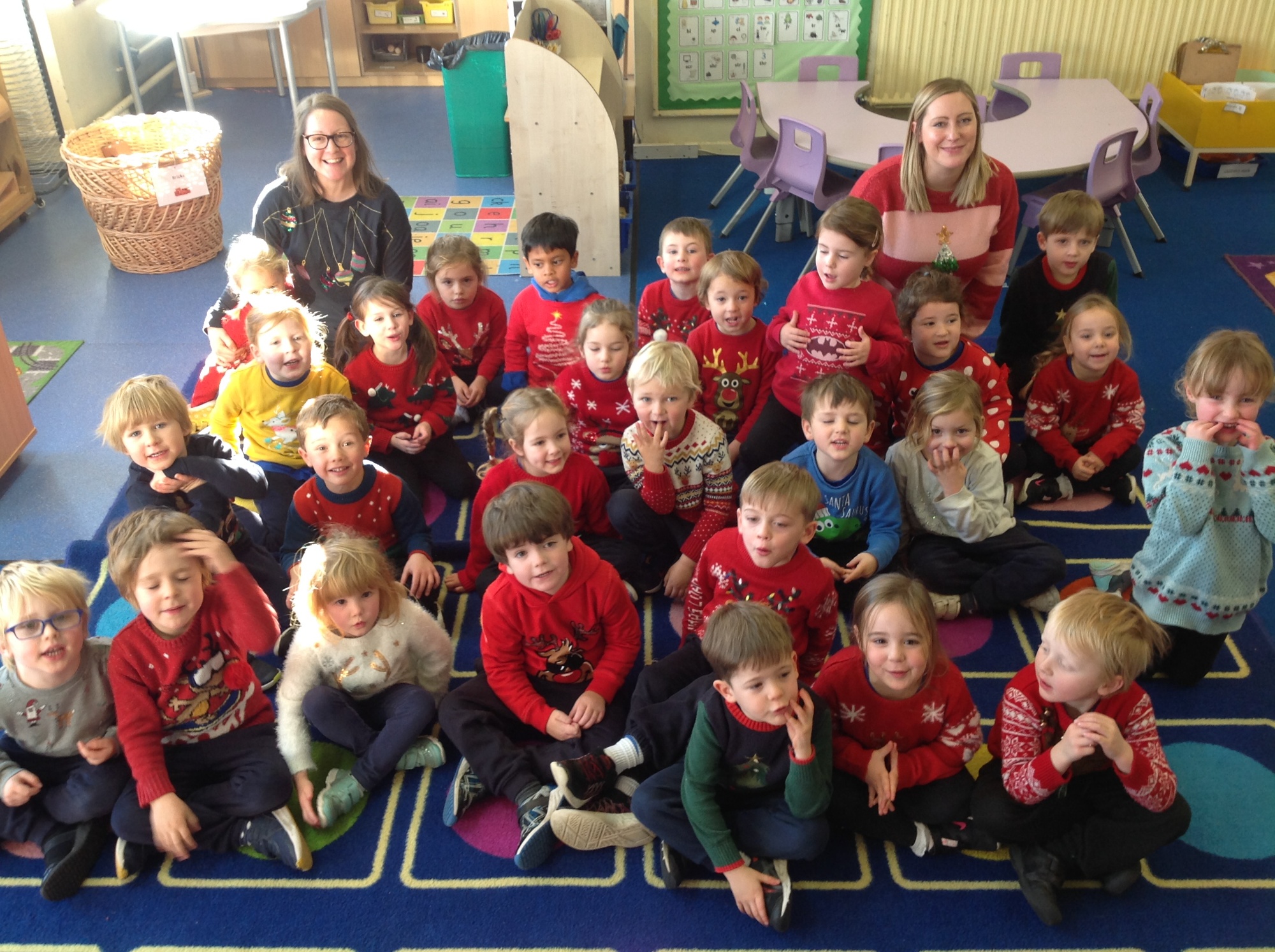 Week commencing 9.12.2022 Celebrating birth!
This week we understood what birthdays are and why some people celebrate them. We discussed what we do on peoples' birthdays and how we may celebrate them… There was lots of talk of cake! We then looked at key vocabulary and there meanings. They were:
Christian
Believe
Celebration
Jesus
Born
Birth
All this, links beautifully to our Nativity next week! The children now what we are singing about…
Our phonics sounds this week are: ss, ff, ll, and l. We have now finished phase 2 and after Christmas we will move onto phase 3.
Our role play has been busy with children wrapping presents for one another, writing Christmas and birthday cards and making cakes for a party!
In maths, we have been writing numbers for a purpose so we used play dough to make a given number of candles for different sized cakes. Also, we went on a number hunt around the school to find as many numbers as we could. We found clocks, signs and information posters all with numbers on. The biggest number we found was on a height chart which was 135!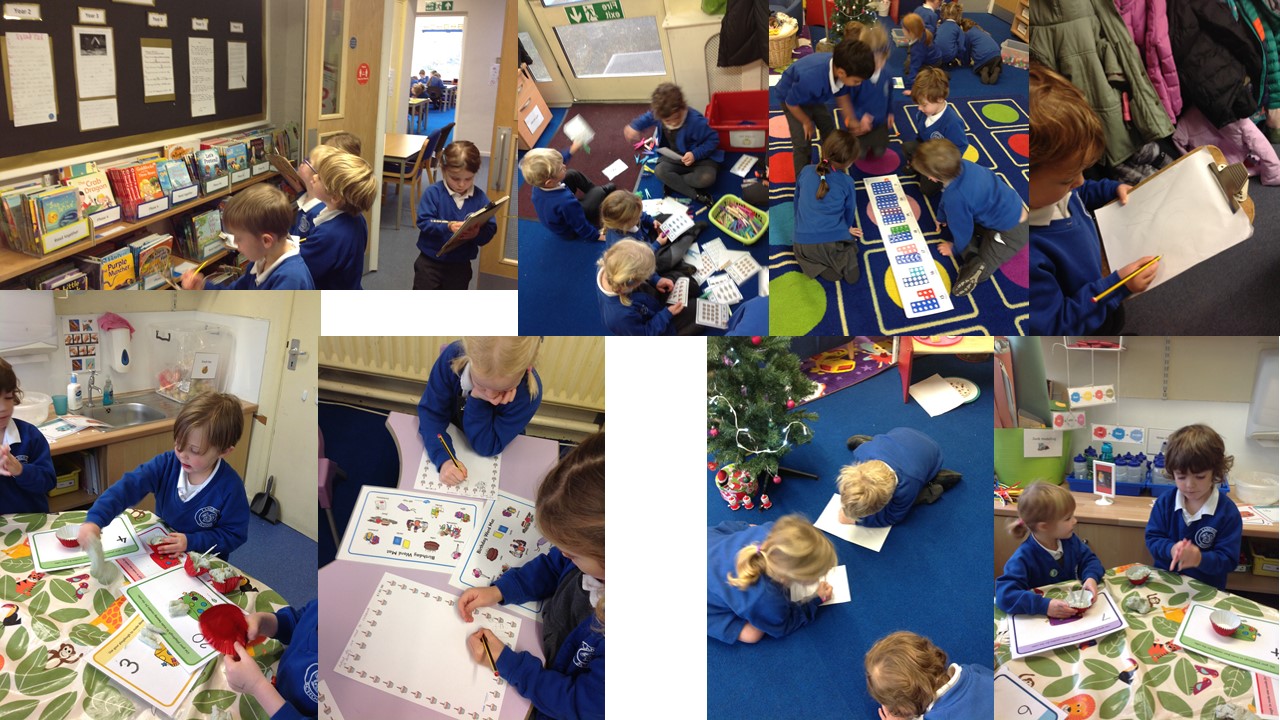 Week commencing 2.12.2022 'We all have feelings'
This week we have talked about different emotions and feelings. We shared the feelings that we knew and looked at different faces expressing such emotion and also shared when we have ever felt that feeling.
We looked at feelings such as happy, sad, scared, angry and come up with different words to describe the same feeling. The children came up with frustrated, dangerous, excited, upset, cross and filled with joy. I thought these were brilliant words!
After sharing when we have felt all those emotions, we talked about how to best deal with them.
Isaac said, 'If you're feeling angry or cross you can take yourself away for a minute to calm down.'
Rayan said, 'We are all unique and sometimes do things differently.'
Ashton said, 'When I am happy, I try to make my other friends happy because it's a nice thing to do.'
Lena said, 'I love hugs when I am feeling sad.'
Mrs Browne said, 'When I'm feeling sad, scared or angry I talk to someone I love and trust to share my feelings. This can help me to calm down to find a solution to a problem I may be having.'
Lucas said, 'You can count to 10 and breathe if you're feeling mad. This can calm you down too.'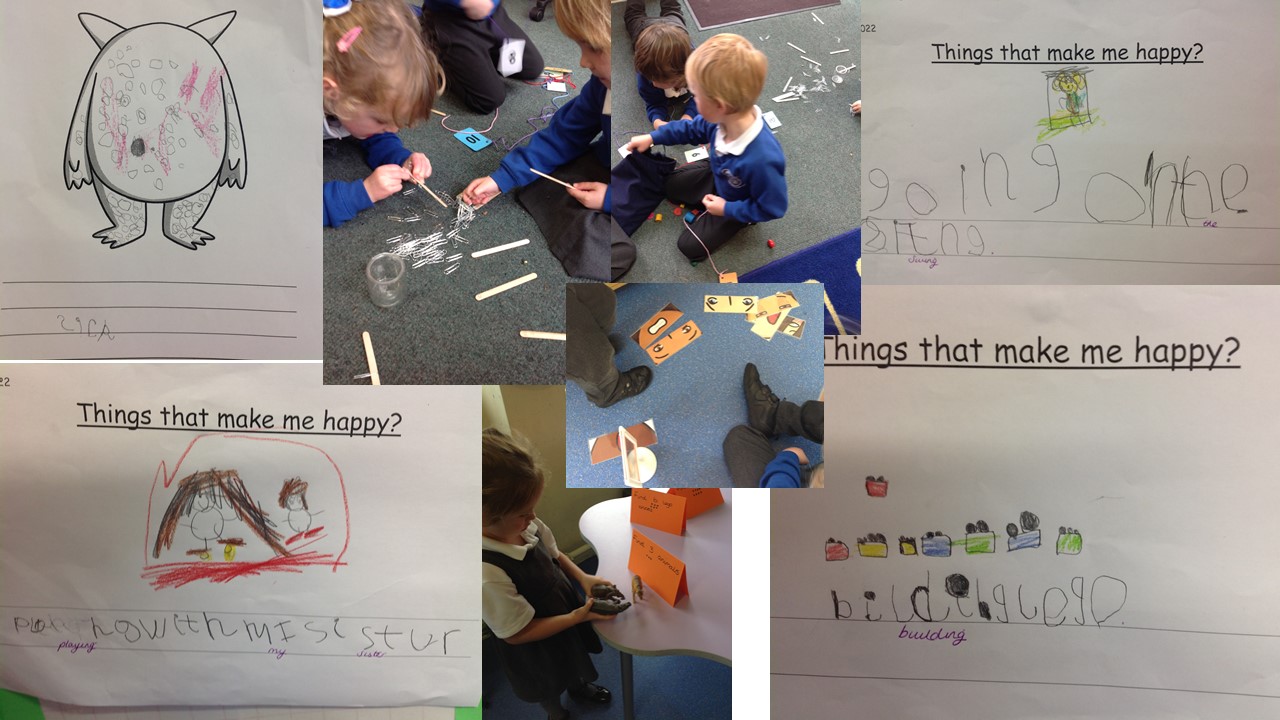 In phonics, we have been writing about what makes us happy. We have also created our own worry monsters by giving them a feeling. Some did a sick monster, a scared monster and others did a happy monster. We then wrote a word down to describe that feeling using our phonic knowledge and the sound board for support.
For our guided reading this week, we read then re-enacted the story of The Three Billy Goats Gruff. The children chose a character to play and worked together to act out the story. We filmed each group and watched it back, which the children loved! The children were all brilliant at re-telling the story, remembering what to say and acting as their character with confidence and sass!
In Maths, we have learnt to count from a larger group. Mrs Browne kept being very silly and kept counting incorrectly, she wasn't doing it one at a time! Luckily Team Squirrel were there to help and tell Mrs Browne what she was doing wrong and how to do it properly.
To support our learning of counting from a larger group, we threaded a given number of beads, used a given number of paper clips to attach them to a lolly stick and used tweezers to count out bears into the correct pots. All super fine motor skills taking place here at Squirrel HQ!
Cat Protection
This week we had Kirsten in from Cats Protection. She told us how to look after cats and what cats love best. She read us a story about Luna who wanted a cat because she loved them so much, but had to do some important jobs before the cat could come home.
As you know the children came home with masks and a puzzle book. To support Cats Protection and say thank you we want to donate cat food, new cat toys and bags of cat litter to support them in such difficult times. Please send in your donations to the foyer where there will be a box labelled 'Cat Protection Donations'. Please can we have all donations received by Friday 9th December. Thank you in advance.
Next week is celebrating birth. We will look at birthdays, why birthdays are celebrated and think about the question, 'Do all people celebrate birthdays?' We will then look into why Christians celebrate Jesus's birthday and what it means to them.
Christmas dates:
Thursday 15th December is Christmas jumper day. Please wear your Christmas jumpers on top of your school uniform.
Friday 16th December is our Christmas party day. Children can wear party clothes to school but please ensure they wear sensible shoes for the playground and don't forget your coat.
---
Week commencing 25.11.2022 Autumn observations
It has been a wet and windy week learning about Autumn. We have looked at what Autumn means; what things are celebrated in the Autumn time and what animals we may see around being busy. We have learnt lots of new vocabulary such as migrate, hibernation, autumnal and seasons and used them within our conversations to one another.
We have explored and discussed our topic table which is filled with beautiful natural resources found by the children over the weekend on their autumnal walk. We learnt about what they are and where they have come from and used torches and magnified glasses to look in more depth at the patterns and features of the different leaves and moss.
Working as a team, the children created their own autumn scene thinking about what they have seen previously when exploring the outdoors and new things they have learnt about autumn. We had brilliant drawings of scarecrows, harvest and different animals going into hibernation.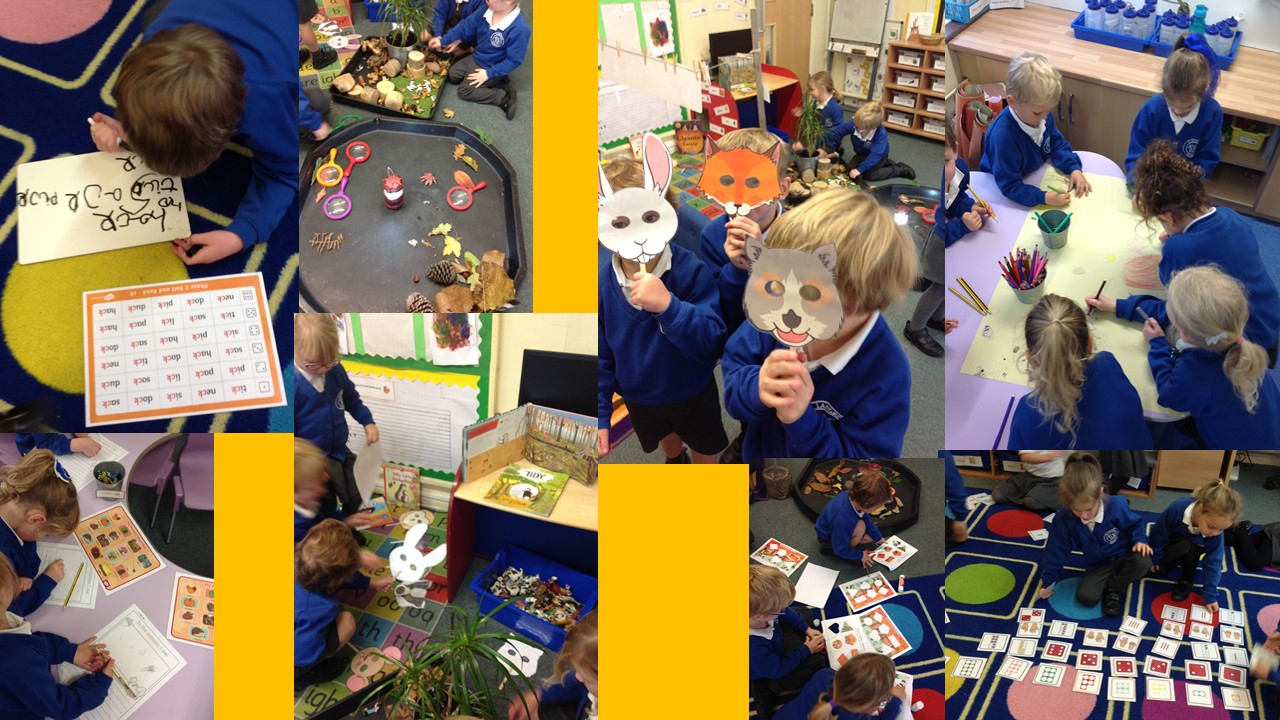 Forest School
Unfortunately, due to extreme winds over the past 3 weeks (plus a pyjama day), we have been unable to attend our forest school sessions due to the safety of the children, myself and Miss Rhodes. Fingers crossed we will have less extreme weather and be able to head back out there as soon as we can! There is no better way to find out about Autumn than to be out there experiencing it for ourselves!
We managed to get out on a beautiful sunny Friday morning! We explored the forest floor, searched for worms, climbed trees and Mrs Browne even got her saw out!!
Phonics sounds this week are; ck (our first of many digraphs!), e, u and r. I have to say how proud I am of all the children's writing skills. They take everything I throw at them on board. We are slowly beginning to write sentences and using our tricky words too.
Some sentences we have been writing are:
I like ducks.
I go up to the eggs.
The rat run.
In maths, we are using key vocabulary such as 'total' and 'how many'. We are talking about what total means and what we need to do to get there. To do this we are counting all sorts of things such as claps, sounds, jumps and adding numbers to find out the total or how many are all together.
Next week is, 'we all have feelings'. We will be looking at different emotions and explore when we have felt such emotions and what we can do to support each emotion. There will be many books to support our learning and also lots of speaking and listening.
---
Week commencing 18.11.2022 We are all different!
This week has been about wearing odd socks on Monday and our pyjamas Friday! What a strange week it has been but all for a good cause!
On Monday we had a whole school assembly where Mrs Wright told us why we were wearing odd socks and showed us a video of Andy and the Odd Socks singing a song telling us how to be kind for anti-bullying week. However, it isn't just for anti-bullying week!
In squirrel class we explored how we can be more kind to one another and explored different ways to help and support each other. We even finger painted our own odd socks – which all looked fabulous by the way!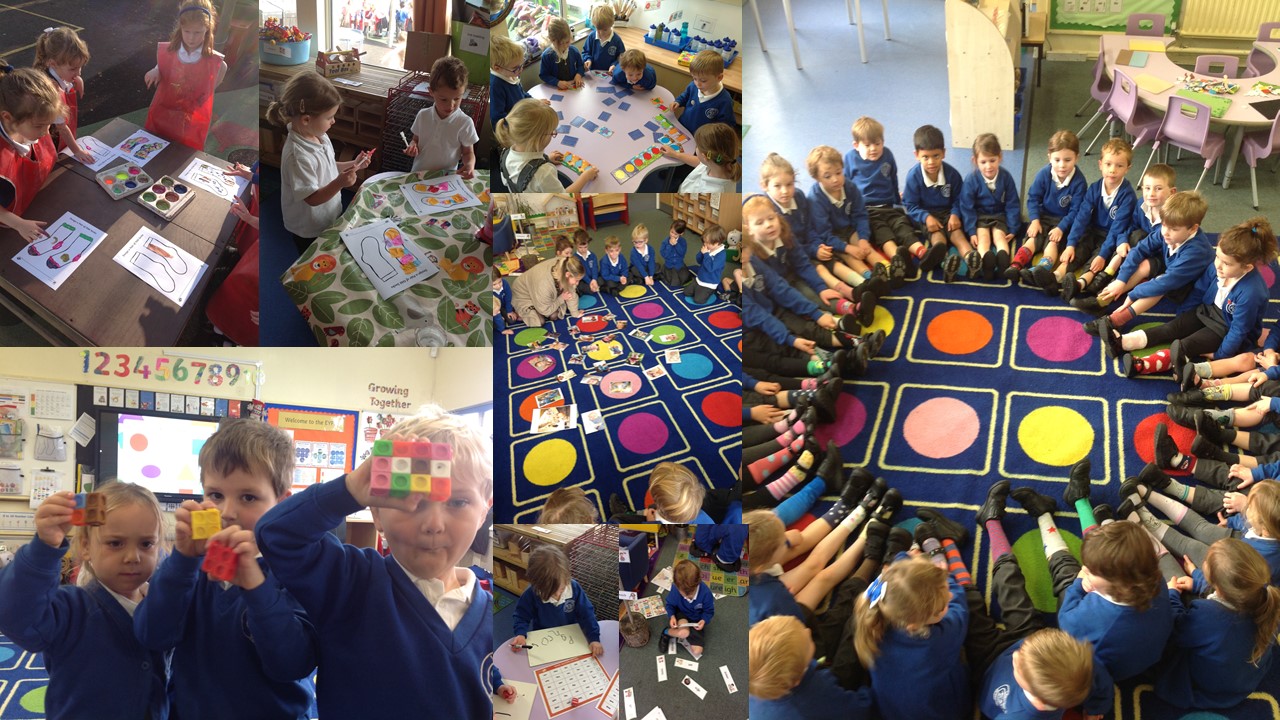 A massive thank you for all the baby photos! They were amazing to see. We shared how the features on our faces have stayed the same, it is our bodies that have changed. I played a trick on Miss Rhodes and made her match the baby photo to the children. I was very impressed by how well she did recognise you all as tiny babies, some being only 2 weeks old! We talked about how we are all different and unique which is a great thing. We shared our favourite colour, activity and noticed most children said different things.
We read a brilliant story called 'What happened to you' by James Catchpole and Karen George – see if your child can retell you what happened in the story.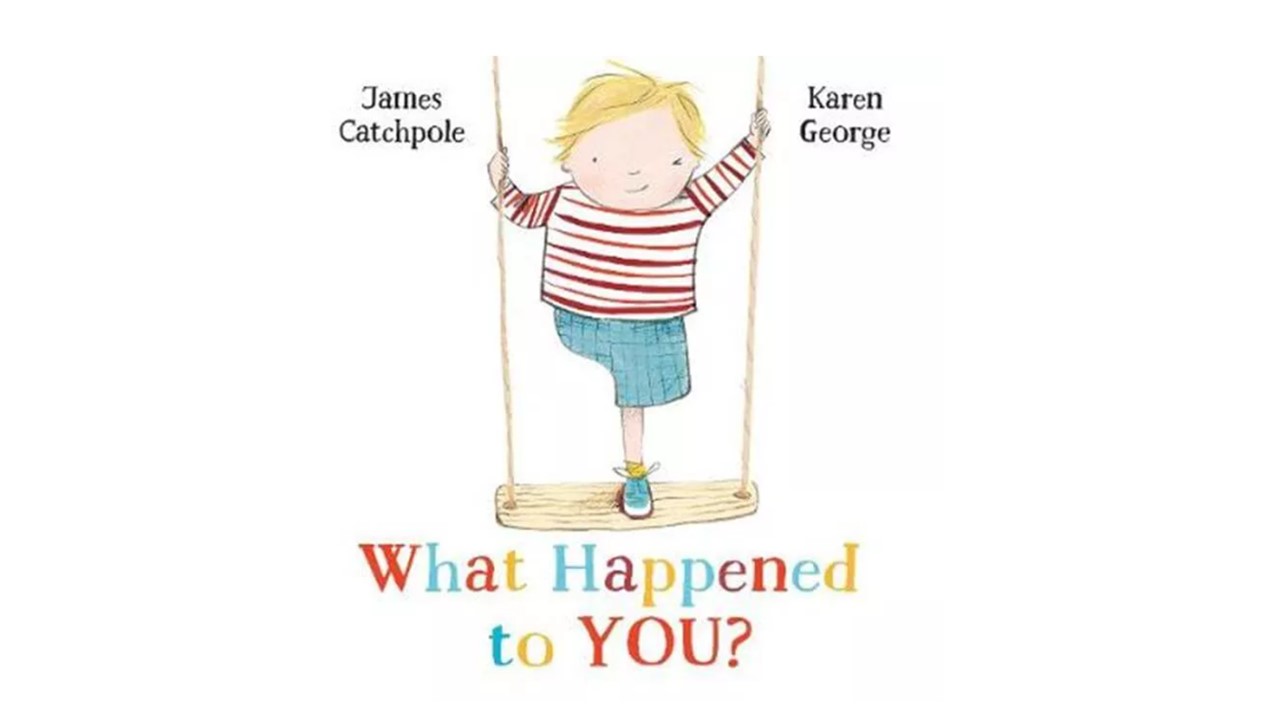 Phonics sounds this week are g, o, c, k. We are doing such a great job at writing the sounds, using the working wall independently to find the sounds and writing simple CVC words such as get, off, cat, kit.
In maths, we are all about shape! We have learnt the names of different 2D shapes and counted how many sides they have. We learnt that 2D shapes are flat and 3D shapes are solid. We found different objects around the classroom and outside to match the different shapes.
At the weekend can you support your child's learning of shapes to find different everyday objects to match a circle, square, rectangle, triangle, pentagon, hexagon, sphere, cuboid, cylinder and cube.
Diwali
We looked at the festival of light, Diwali which is celebrated by Hindu's. We explored how they celebrate and why. We created our own rangoli patterns using coloured sand and made lanterns.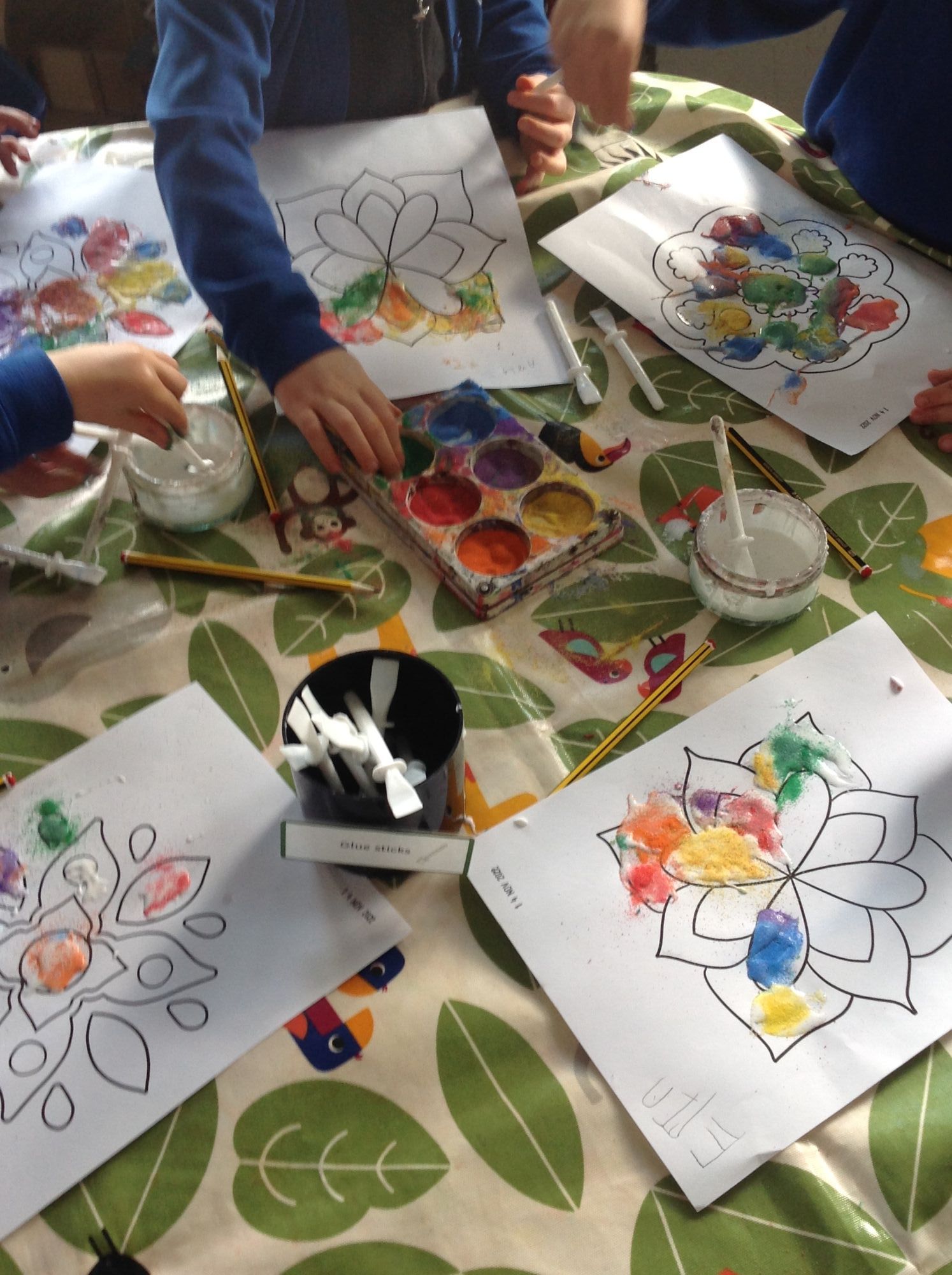 Next week is Autumn observations and we need your help! Can you go on a lovely autumn walk or out in your garden to find different natural things so we can put them on our exploration table. You might find a beautiful red leaf or some bark. You might be super lucky and find an egg shell from a birds nest!
---
Week commencing 11.11.2022 Minibeasts
I think it may have been the children's BEST week so far… We learnt about all things minibeasts…
Did you know:
A minibeast means a small animal with no backbone.
There are over 25,000 different types of minibeasts!
Butterflies taste with their feet.
Ladybirds squirt a poisonous liquid when they are threatened.
The 'horns' of a male stag beetle cannot close, they are more like deer antlers and they use them for fighting.
The biggest minibeast is a stag beetle. The biggest one was 8.5cm!
Male bees have no sting and male mosquitoes don't bite.
Some scorpions can go without food for a whole year.
So many facts and interesting information learnt! We used books, the Internet and prior knowledge to find out all our interesting facts! We've got some super minibeasts experts in Team Squirrel!
Phonics
Our sounds this week are i, n, m, d. To support our writing, we used word mats to write down our favourite minibeasts then draw them. I was very impressed with all the children as they completed this challenge independently and their handwriting was beautiful! They knew to write from left to right and to write the word together in order.
Maths
Maths has been all about recognising numbers. We have been counting bugs and writing the total down, ordering numbers 0 – 10 and used the threading resources to make caterpillars. We have also used the clay this week to create our own minibeasts. There were snails, wood louse, spiders, dragon flies and even scorpions.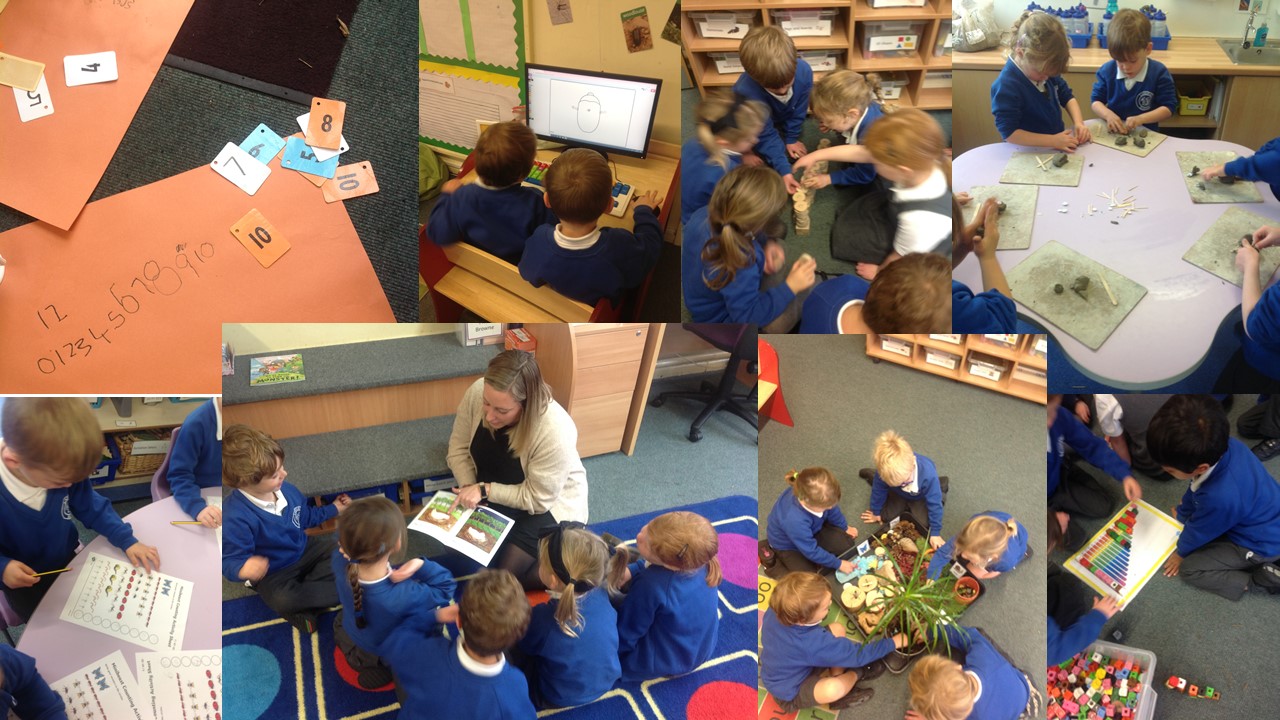 Perform came to see us!
"We had a visit from a witch called Merlin. She had a black cat and made us cast a spell. There was also a dragon who left a chocolate cake and we may have accidently ate it! He was not a happy dragon!" Team Squirrel's recap of Perform visiting.
Next week is all about 'being different'. If you have one to hand, on Monday, could you bring in a named baby photo please. We would like to compare them with each other's and share how different we looked then to now.
Week commencing 4.11.2022 Welcome back Team Squirrels!
It has been a busy week back at school… New routines within the classroom, new groups and new ways of learning! Even after all this change, the Squirrels have taken it all in their stride and now understand the ways of the classroom. Phew!
Please can I remind you that for PE day on Thursday, can children have shorts in their bag or under their trousers so we can access all the equipment in the hall. Thank you!
This week's topic is 'All about me'. We drew self-portraits and used mirrors to capture all aspects of our faces such as freckles and teeth. We drew and labelled who lived in our house and built our houses using lolly sticks. Then we talked about our favourite things to do and what activities we were interested in. All the children said something different like swimming, football, going to the farm, being brave, horse riding and learning new facts about dinosaurs.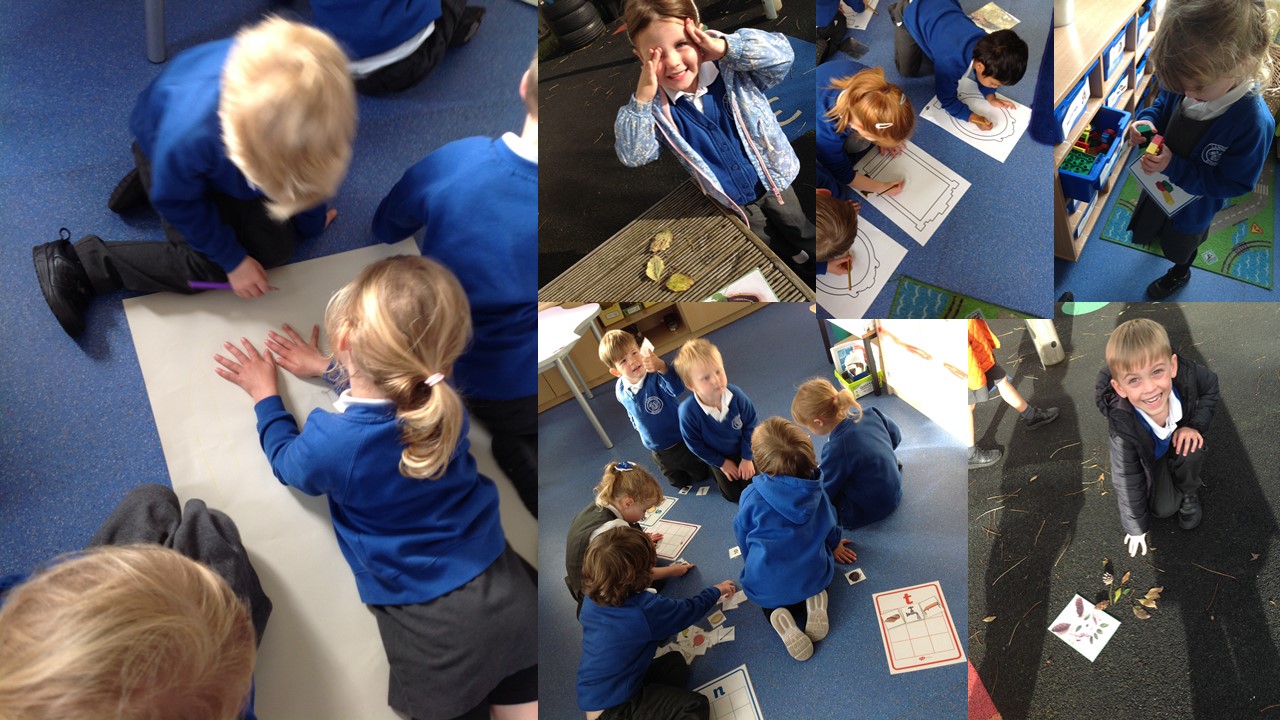 In phonics, we have focused on hearing different sounds in words and finding out if it is at the beginning, middle or end of a word. We worked in pairs to draw around each other's bodies then filled in the body parts such as hair, eyes, fingers and toes. Then we created faces using the natural resources around us, had a guided reading session with Mrs Browne and matched pictures to initial sounds. What a team!
In maths, we are learning to count up to 10 using actions. We have ensured we are counting with one to one correspondence, counting pictures and created an action sequence for a friend to complete. It could be to do 3 claps, 5 star jumps and 10 hops.
Next week our topic is all about minibeasts! On Friday, we will talk about remembrance with a key question of, 'Why do people wear poppies?' We will talk about what remembrance means and what the poppies symbolise. We will then create our own poppies using our cuttings skills, split pins and follow a picture step-by-step guide.
Week commencing 21.10.2022 Our final week of letter a day! t, u, v, w, x, y, z
There were a lot of sounds to get through this week…
T is for time, we carefully listened to how many times Mrs Browne said the word 'time'… Turns out we use time a lot in our day! lunchtime, story time, play time, PE time and so many more. We created beautiful autumnal trees by printing leaves using lovely earthy colours.
U is for umbrella, we talked about our clothes and what and why we wear clothes on different occasions and for different weathers. The squirrels challenge was to create a waterproof umbrella. We noticed the waterproof fabrics felt more slippery and plastic.
V is for volcano! We played I spy where we had to find the 'v' pictures amongst other pictures. There was vet, volcano, violin and vest to find.
W is for water and there was a lot of it outside from the rain! We created watches, kept an eye on the weather and turned into witches and wizards!
X is for x – ray. We used string on black paper to create our own skeletons.
Y is for yacht. We used the junk modelling and natural resources around us to make boats (yachts) to see if they could float in the water tray. Then, if they didn't float, discuss why and what needs to change for next time.
Z is for zebra pattern. We made different patterns using zebra prints with tissue paper, card, pipe cleaners and paint.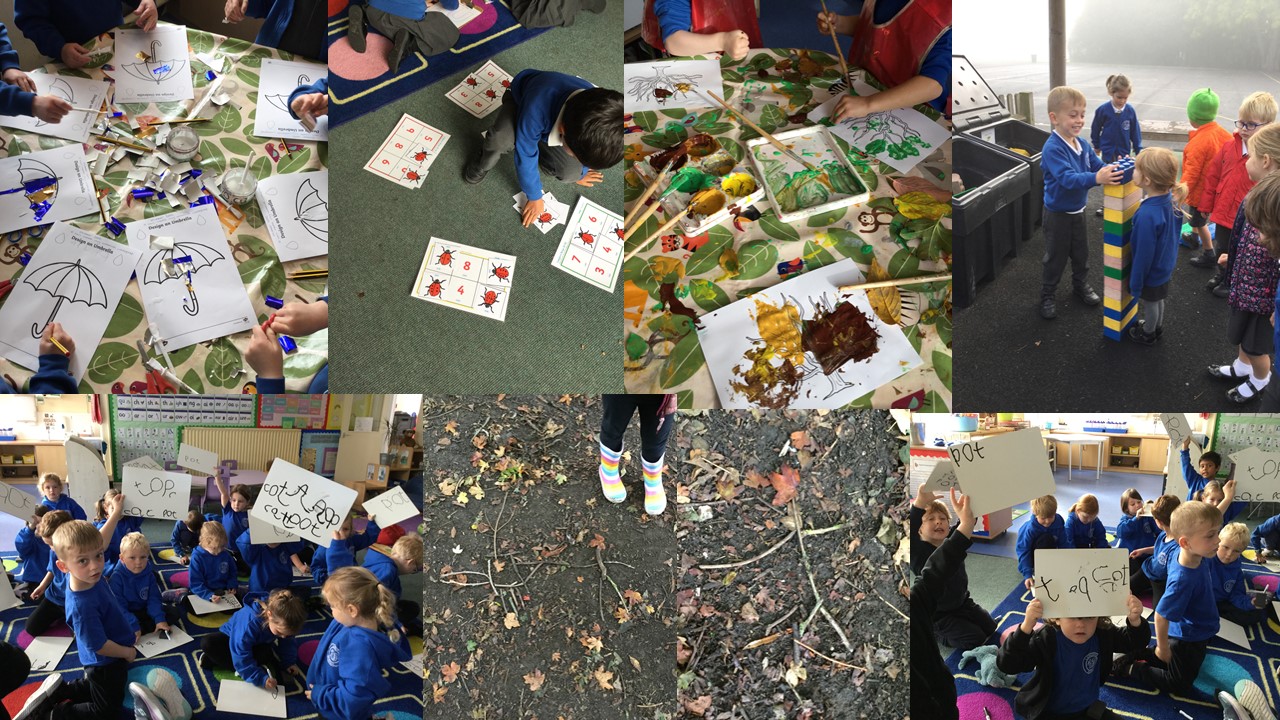 What an extremely busy week! Now time for a big half-term rest. I am incredibly proud of how brilliant all the children have been. They have settled in well and have tackled school like a duck to water! I know they are all tired (and rightly so!), they have worked so, so hard. A huge well done and I look forward to the next term.
Please note the new PE day on the top of this page.
Week commencing 14.10.2022 o, p, q, r, s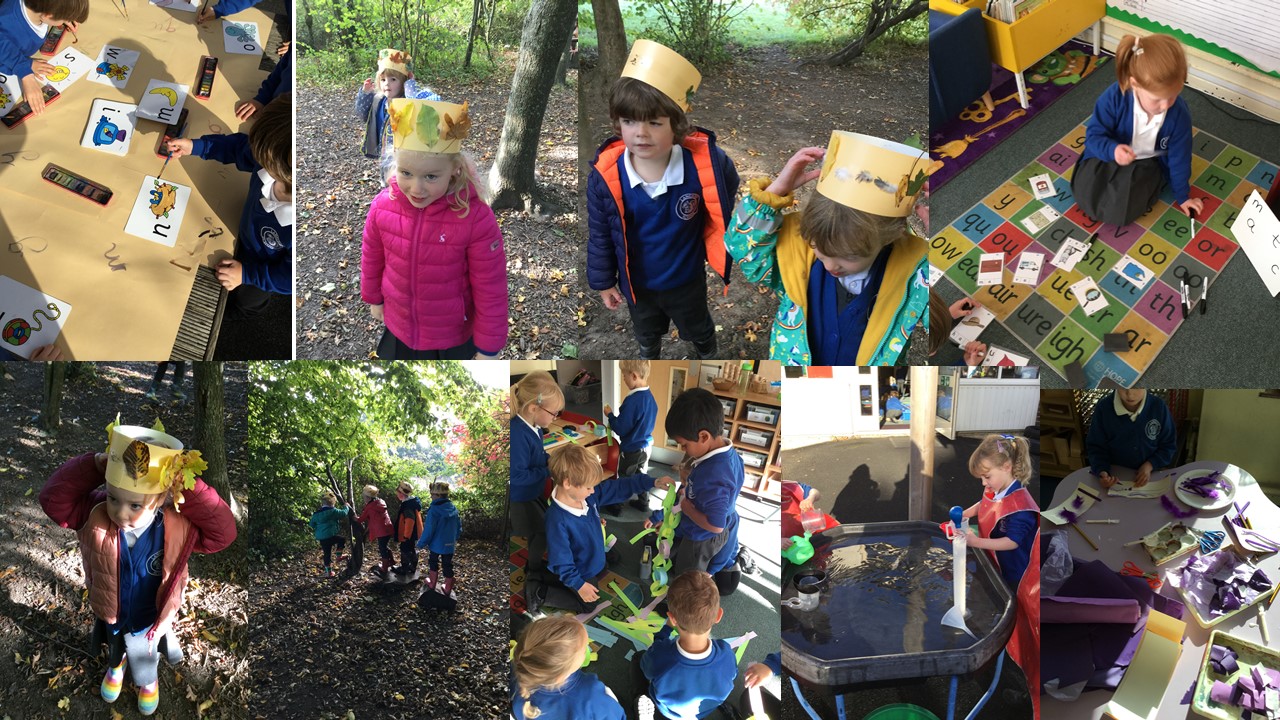 This week started off brilliantly for Mrs Browne as she was given TWO pieces of cake which was easily eaten all by Monday afternoon so thank you Flo and Ashton! Anyway, back to the learning….
O is for October, octopus, otter and octagon. We painted pictures of our choice using just the colour orange. There were pumpkins, octopus, sunset skies and an orange grasshopper (who knew?) We explored clocks by looking at the times o'clock and played 'What's the time Mr Wolf' to support that learning. Then things got rather messy and busy as we created our own owls using 2D shapes.
P is for penguin, parsnip, pickle and Pip! For 'P' we made long paper chains, learnt how to draw a penguin step by step and made potions in the water area. In the library, we found all the Percy Park Keeper books and read them together in the cosy book area. We also used the colour purple to create a collage or textures using paint, fabric and paper.
Q is for Queen, quick, quiz and question. Our challenge was to ask as many questions as we could to each other to find out more about one another. We found out who has pets at home, what the children's favourite things to do are and questioned how people were feeling. We created our own crown using the natural resources in the forest. Introduced half and quarter and found half and quarter of different objects.
R is for race, road and rockets! We made our own rockets with different 2D shapes, looked at our reflections in the mirror, made rainbows and checks our bins to ensure we were recycling our paper. We talked about if people recycle at home and how they do it. Also looked at the different ways we can recycle things such as upcycling objects and furniture, recycling clothes and our cardboards and paper.
S is for sunshine, shapes and sand. We made sandcastles in the sand, drew around our shadows on the playground and made snakes by cutting along a curvy line to create a twisty snake. In forest school we created our own stickmen and stick ladies along with their stick family members. They looked brilliant, we even had some stick dogs!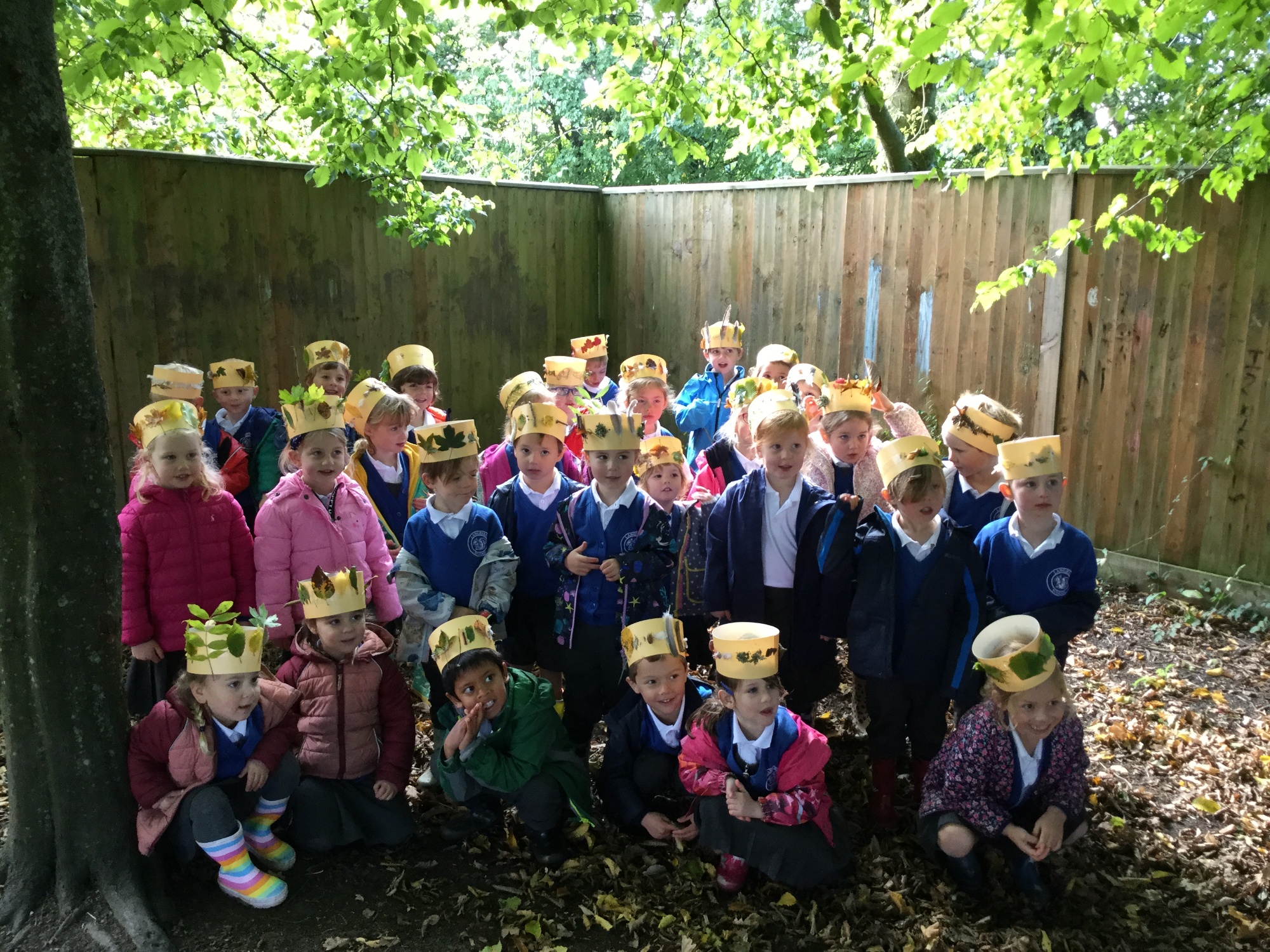 Next week is our final week for our letter of the day. Start reflecting at home at the different sounds and letters they can see and hear in the beginning of words. Also, see if they can hear any other sounds in the words. Ask questions like 'what can you hear at the end of the word?' or 'what can you hear in the middle of the word?' When reading a bedtime story, can they help you read a simple word like cat, dog or jet. Try sounding it out to them so they can blend the word together. For example, s-a-t sat and j-u-m-p jump.
Week commencing 7.10.2022 j, k, l, m, n
We are halfway through our letter of the day! This week is j, k, l, m, n. To support the children with their early reading we have sounded out simple CVC words with the previous sounds in them. For example: kid, jet, cod, bad, egg, fix. See if you can find CVC words around the environment or find bigger words and see if they can recognise the sounds, tell you what the word starts with and if they can hear other sounds in the word.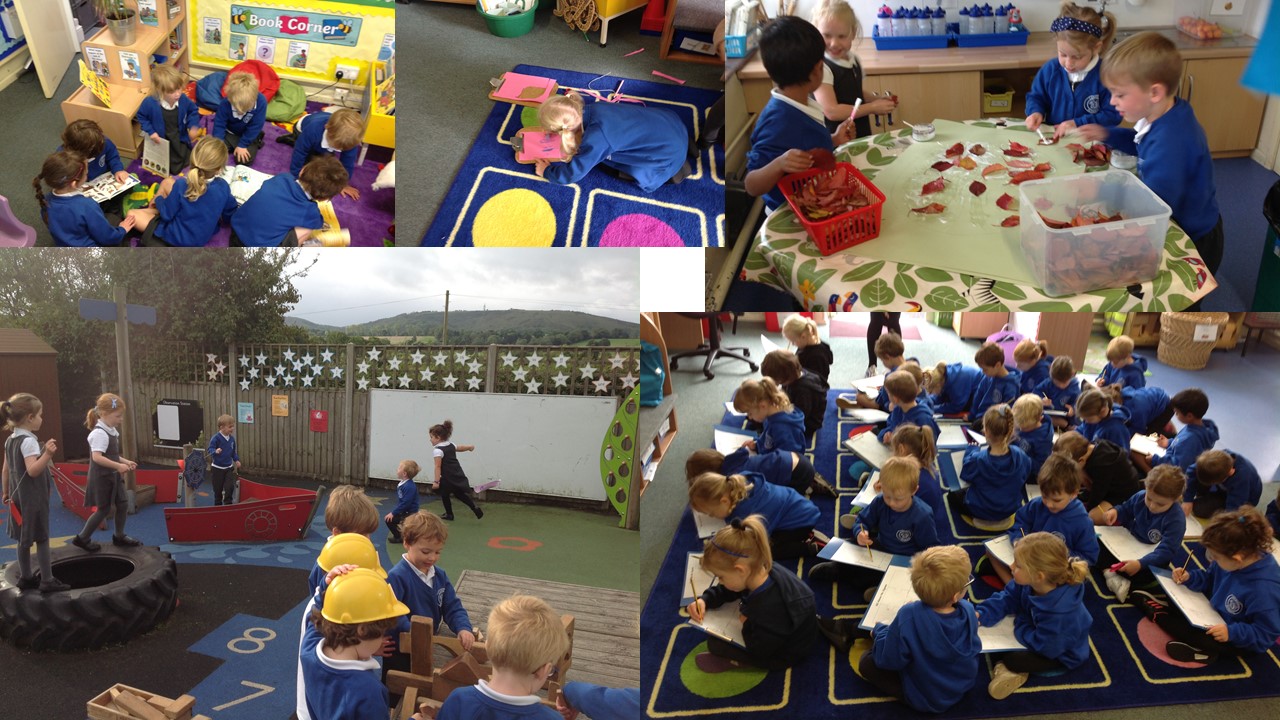 J is for juggling, jigsaw and jellyfish! The children were busy making jellyfish and creating their own jigsaw puzzles which we laminated and let the children complete each others puzzles.
K is for kites! We made some beautiful kites then flew them around the playground.
L is for lunch, light and Langrish! The children drew their favourite lunches on a lunchbox, there was lots of fruit, sandwiches and even ice lollies!
M is for the moon, mud and maps! We were busy using black paper and chalks to create our own moon pictures. They really stood out and everyone commented on how 'out of this world' they looked.
N is for nuts, nose and number. We painted numbers 0 – 10 and displayed them in our classroom to use them when we need to count or add.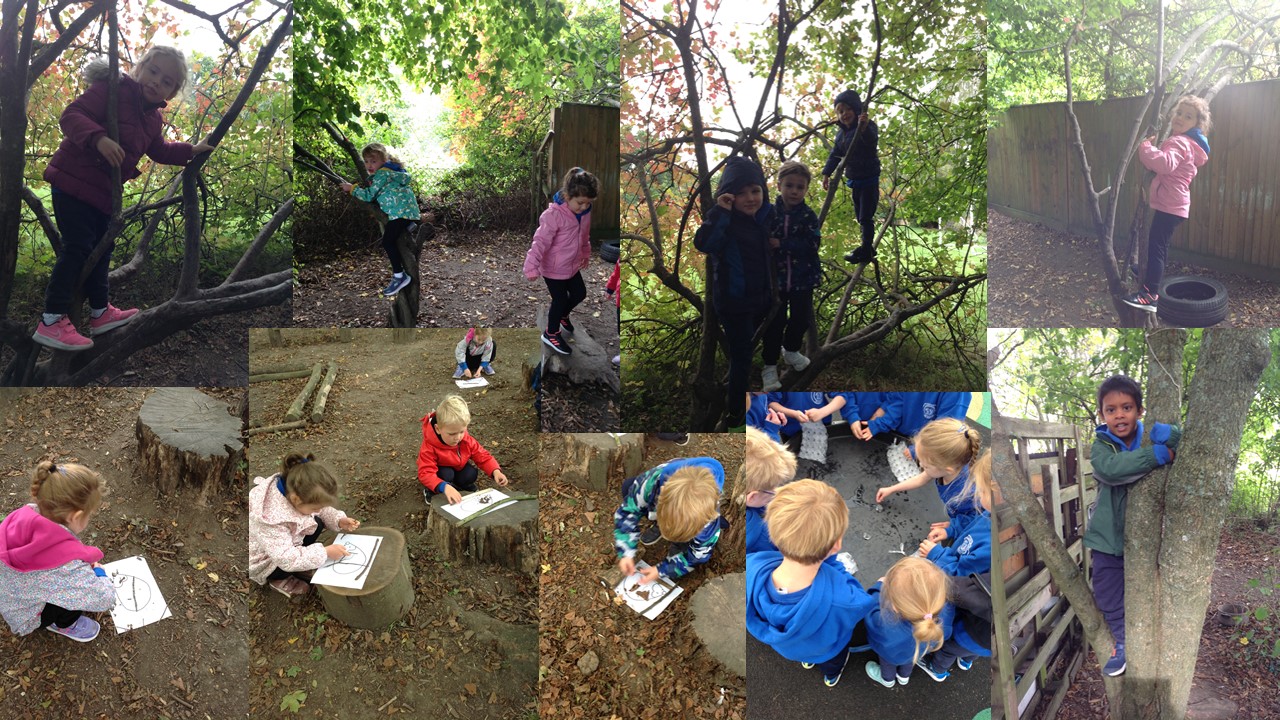 Week commencing 30.9.2022 e, f, g, h, i
Another week of letter of the day and we are loving it! This week is e, f, g, h and i.
Ee is for elephant, egg, excellent and Erin! We found it tricky to find many words which start with 'e' and make the 'e' for egg sound. We noticed that the letter 'e' was in the middle of words like Ned. Our word of the day was exhausted. We shared that it was a feeling, when we could feel exhausted and what it feels like.
For Ee we had an exploration table which was all about England. We coloured in the flag, had pictures of King Charles, Big Ben and maps of England and the United Kingdom. We talked about what we knew about England and what was around our country. We also decorated eggs, had a family of elephants out in our role play area and played with the PE equipment and made our own obstacle course.
For Ff we again struggled to find many words which start with 'f'. There was fabulous, fluff, flower, fox and four. Our word of the day was 'five' and we talked about what five meant. We shared that some of us are five now or that they will be on their next birthday and also found five objects to count out. We did some still drawings of some flowers in a vase and then some printing with the flower heads.
For Gg our word of the day was grateful and we all shared what we are grateful for. For 'g' we got the football goals out to score goals and practise our aim. We played with the giraffes, gorillas and got the goats out on the farm. We designed our own gardens which included flowers, play parks, swimming pools and lots of trampolines!
For Hh our word was helpful. Our aim for the day was to all be extremely helpful and it worked!! We got messy making hand prints which looked brilliant and listened and felt our hearts beating. We also played hopscotch, made hedgehogs using sticks in forest school and played in the home role play area. We talked about how to be healthy and how we can stay healthy then did some printing with vegetables.
For Ii our word of the day was innocent. We shared what the word meant and how we would use it in a sentence. We got rather chilly for Ii as we explored the ice which had different objects inside of it. We built igloos with blocks, explored insects in forest school and explored the musical instruments.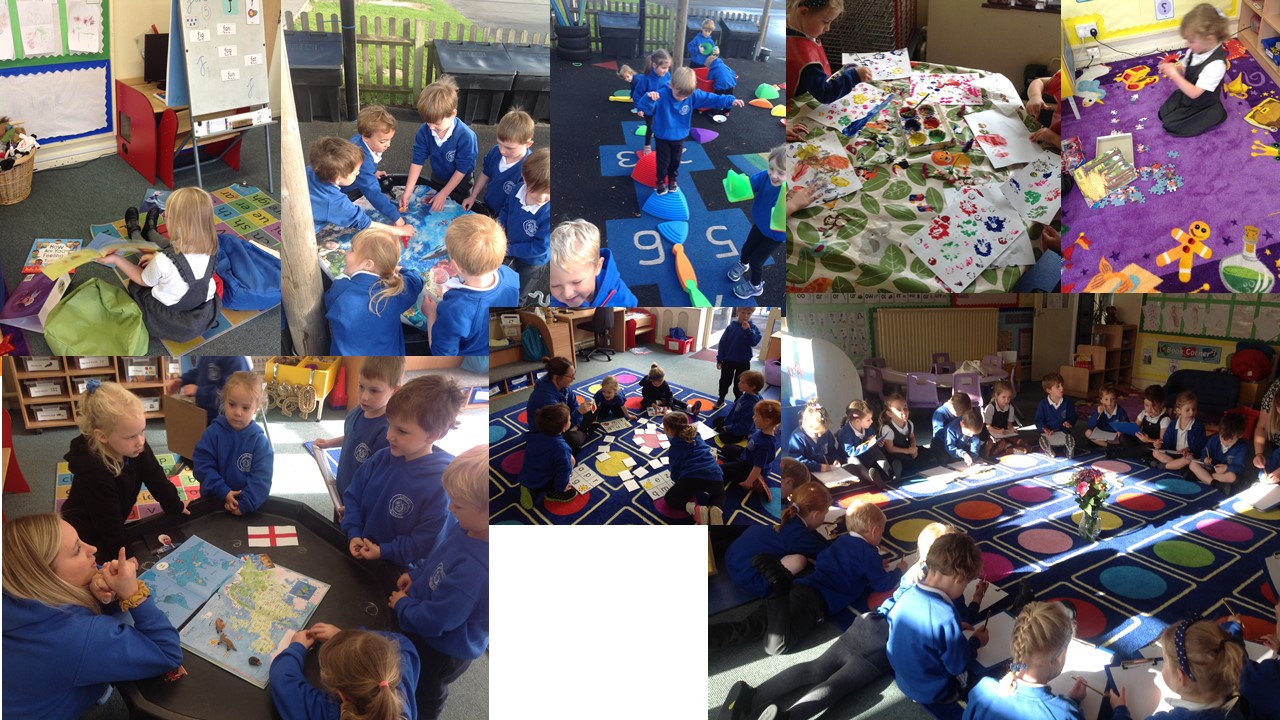 A little thought...
A school day is extremely busy for all our Squirrels. Please understand they will be tired and some may be a bit challenging at home. Let me reassure you, it will get easier for you and them! We are still in a new routine, learning new things all the time which means are brains are extremely active and always thinking. We are just busy being 4 and 5 year olds!
Week commencing 23.9.22 Letter of the day a – d
This week has been BRILLIANT! The sun was shining most days, and we have been busy listening and saying sounds a – d and hearing words with the sounds in. All the children have been very focused and ready to learn and explore new activites.
Tuesday was all about the letter a. Our word of the day was 'admire'. We talked about what it meant and tried to use it in our day. Mrs Browne admired many of the children for their tidying up skills and their hard work and dedication to not give up!
Wednesday was all about the letter b. Our word of the day was 'brave' and we talked about when we have been brave and again tried to use it in our day. We found many words which start with b such as bugs, blocks, babies so we took advantage and printed bugs with paint, made sand bug pictures, built many things with the blocks and looked after the babies.
Thursday was all about the letter c. Our word of the day was 'curious'. We found out we are all curious learners who always want to know more. Mrs Browne was curious to find out who could use the word curious in their learning. We made caterpillar number chains with paint, made tunnels and roads for the cars and played a musical tune with the chimes.
Friday was all about the letter d. There was only one thing on all the children's mind…. DINOSAURS! Of course, we had to have the dinosaurs out! Our word of the day was 'dangerous'. We discussed how it would be dangerous for us if dinosaurs were still living today as we would be very tasty to them. We also talked about what things are dangerous and why such as road safety, stranger danger and when on the computers or tablets.
Forest school was a beautiful chilly morning! The children loved the mud kitchen, running around playing hide and seek, finding bugs and making forest crowns with the natural resources around them.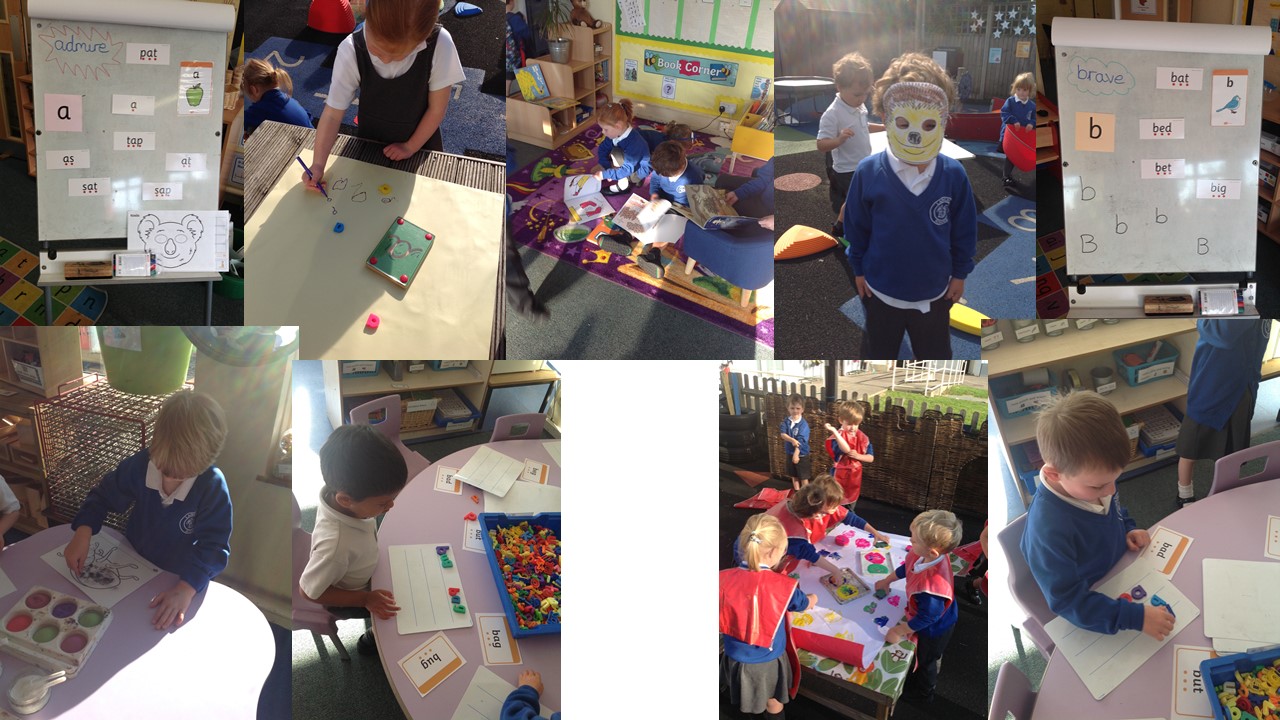 Next week we will be focusing on the letters e -i. This weekend can you find words, signs or pictures which start with the letters a, b, c or d?
Week commencing 12.9.2022
If you completed the Summer Reading Challenge please bring in the certificate and medal for Friday's celebration assembly.
This week we have been brilliant figuring out and doing our new routine. We had PE with Mr James Monday afternoon where we went on the field to play team games. Mr James was super impressed by how much all the children followed instructions and joined in with the games. The children come back with happy and hot faces from all the exercise.
On Tuesday we began music. We danced the afternoon away to 'Kool and the Gang', 'Celebration', then talked about what instruments we could hear in the music, how it made us feel and what the song was about. Next, we followed the beat to a different piece of music. To do this we clapped, jumped, nodded our heads and marched like soldiers. It was a fast rhythm so we worked hard to listen and keep up with it.
The children have loved going to the library and choosing a book to take home. Don't forget to bring them back each Thursday to change it for a new one.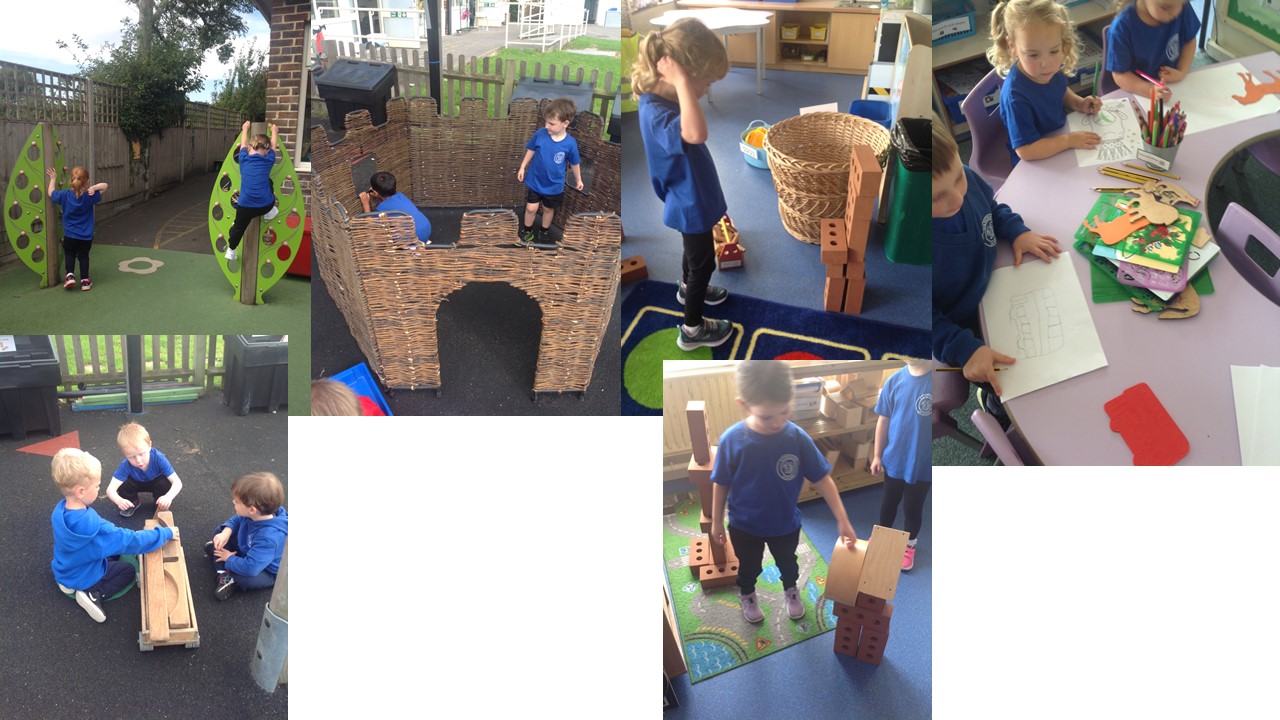 Next week we start our letter a day to support children once they begin their phonics. The letters we are looking at are 'a', 'b', 'c', and 'd'.
Things to remember:
Please ensure children have a coat to school every day, even if it's not raining or cold, as we are outside all the time.
Children must have all their hair up and away from their faces.
Forest school kit includes waterproofs and wellies. Please name them.
For PE on Mondays please ensure shorts are in their bags for when using the hall for gymnastics.
School jumpers need to be named as they are all the same!
Library books will begin Thursday afternoons. Children will be able to take a book of their choosing to share with you at home. Please can they be retuned each Thursday, so we can swap it for a new book.
PE and Forest school will start Friday 17th September.
Team Squirrel have taken school in their stride! I am so proud of them all and already know it is going to be a great year! Strong relationships are already building and I have seen some confident, chatty and caring children.
Next week:
Next week is all about routine and feeling safe and secure at school. We will also start our baseline assessments which is required to be completed by the Government. Once the assessment is complete I will phone you to let you know about how your child has coped with the assessment and how they are settling into school life. (Please do not panic! The baseline assessment is maths and communication and language activities. It's really, a lovely one to one time with me playing with bears and looking at pictures! They will not know it's an assessment so no need to warn them of anything.)
Our learning this week: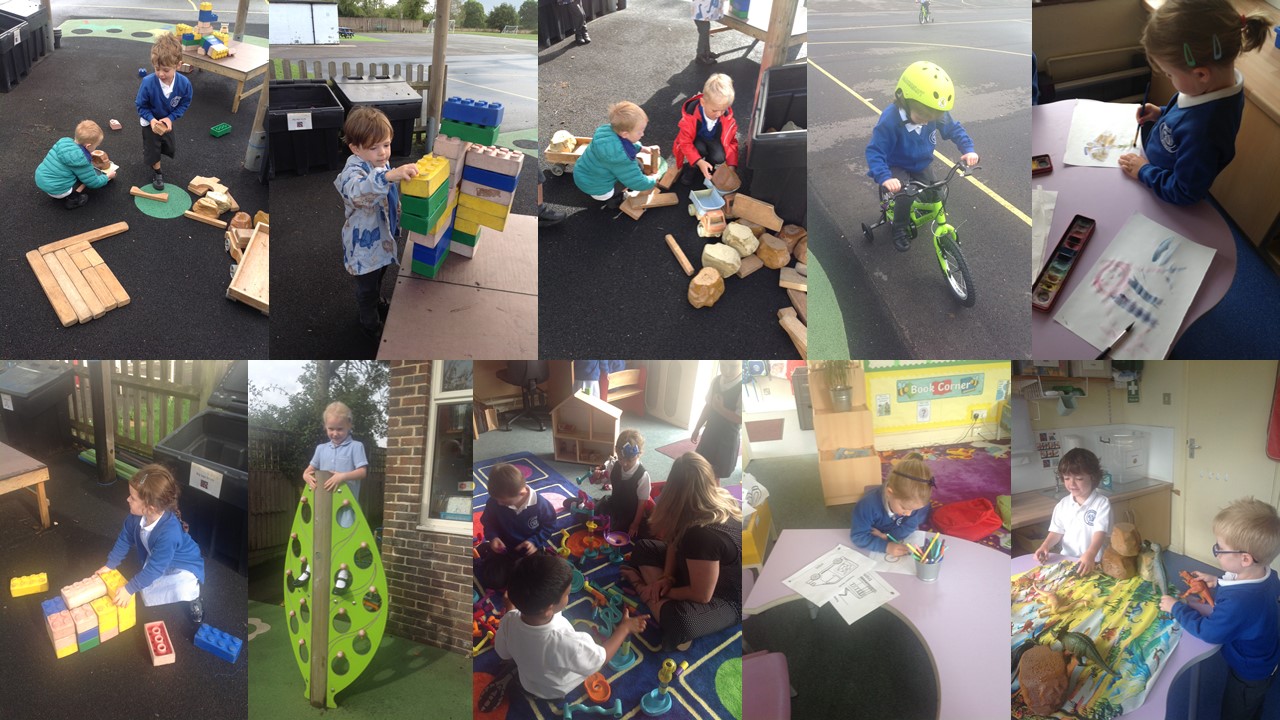 Useful Websites:
Home Learning Activities Folder - OneDrive