Covid Home Learning - Onedrive Link - Please see the bottom of the page for other useful websites!
Spring Term PE and Forest School days:
Monday - PE and Forest School
Thursday - PE
Please send children to school in PE kit on Monday and Thursday with Forest School kit (including waterproofs and wellies) to change into. Please make sure everything is named!
21/1/22 - Water is Wonderful!
This week we have been exploring water in a variety of different forms. We have tested different materials to explore floating and sinking, as well as designing some amazing umbrellas for Sid the Squirrel! Will Sid manage to stay dry with our designs? See if your children can tell you the results! We have also been fortunate to explore water in different contexts. The start of the week and the freezing temperatures were a great chance to explore an icy wonderland outside and even practise our names in the frost! Thursday also saw us receive a special visitor in Reverend Good who explained how water is special for Christians and demonstrated a Christening Ceremony. Wow! In our maths activities, we have also been learning about doubling and addition of doubles through creating beautiful ladybirds and butterflies! Well done Squirrels!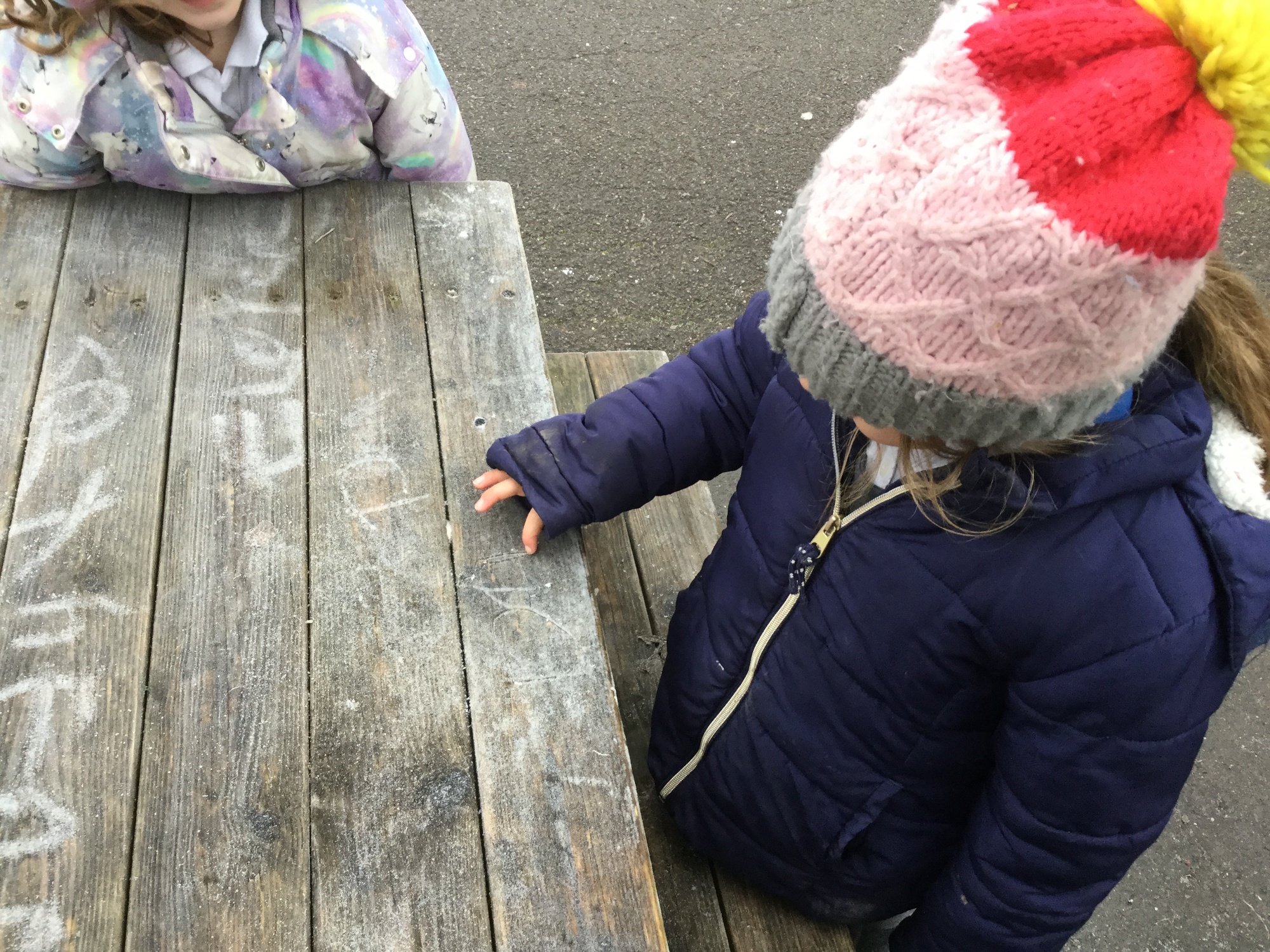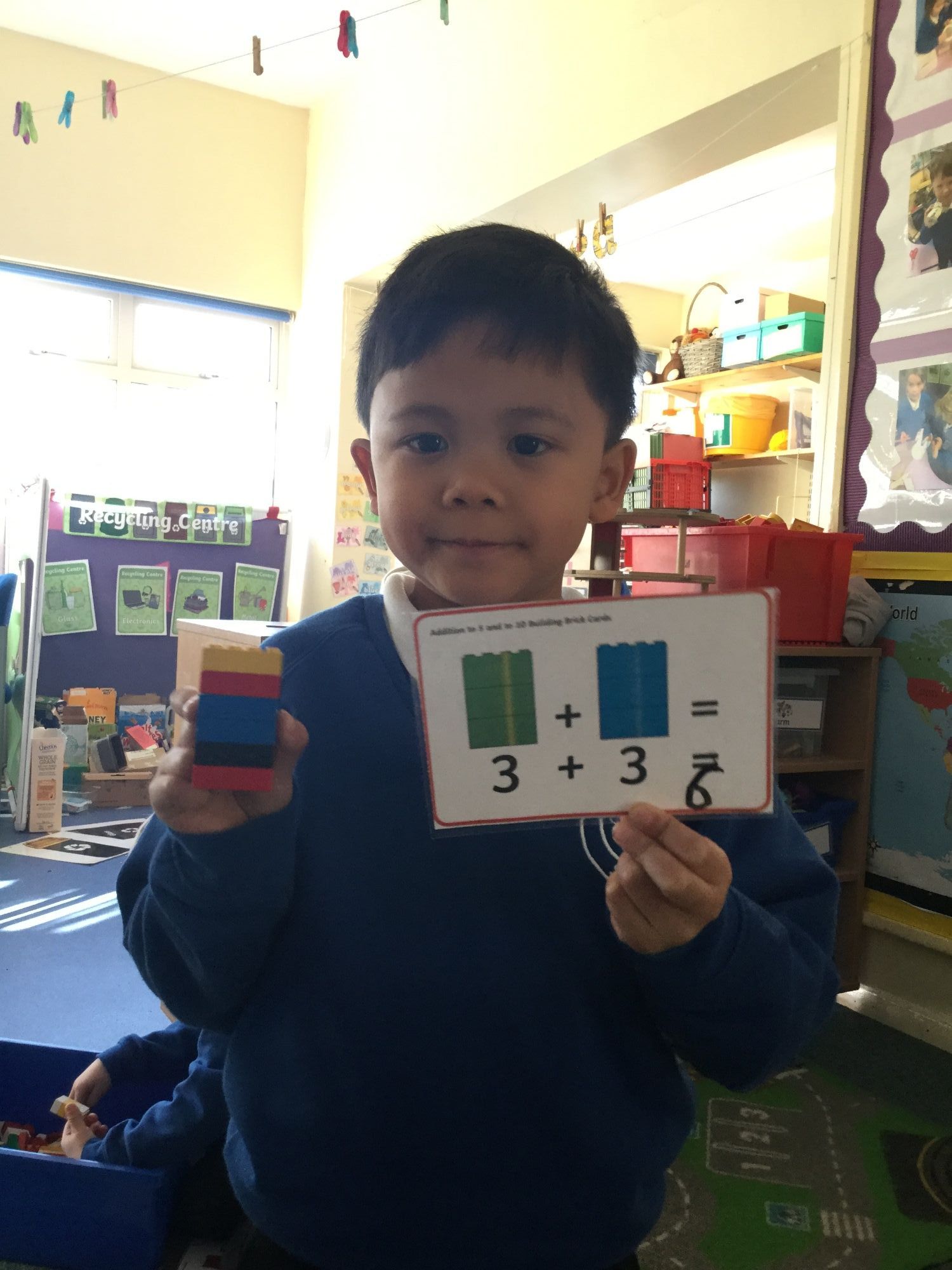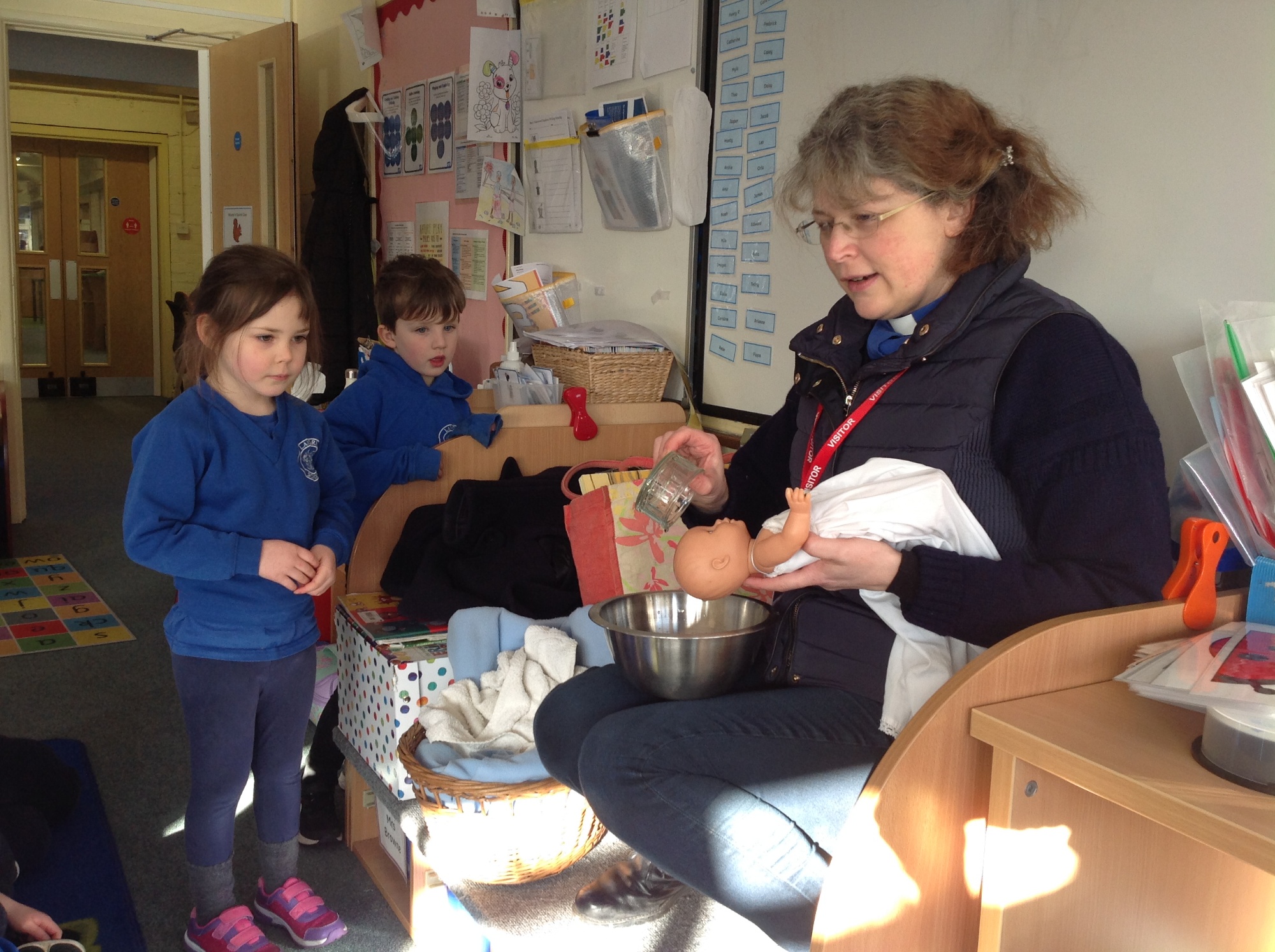 ---
14/1/22 - Recycling and Rubbish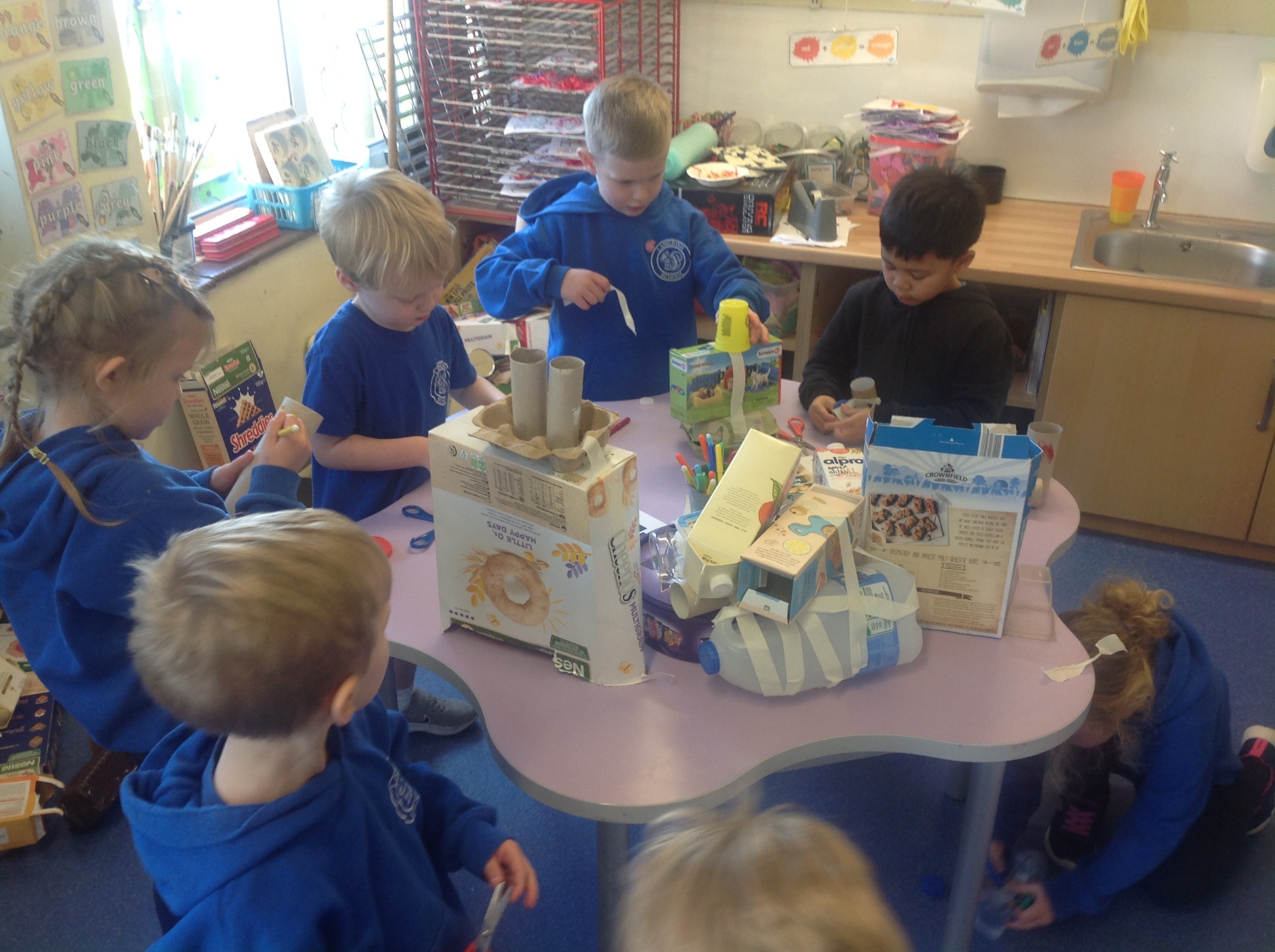 Thank you for all the wonderful junk that you have been sending into school. The children have really enjoyed being able to explore the materials that different objects were made of and consider wether we could put them into our recycling bin or not. This week we have loved hearing stories such as Too Much Stuff, Tidy, The Messy Magpie and A Place for Plastic. We've spent a lot of time talking about how we can manage our own waste footprint and how our behaviour can help to keep our world clean. The Squirrels especially enjoyed getting creative and 'recycling' our junk by turning it into castles, racing cars, rocket ships and jet packs. Wow!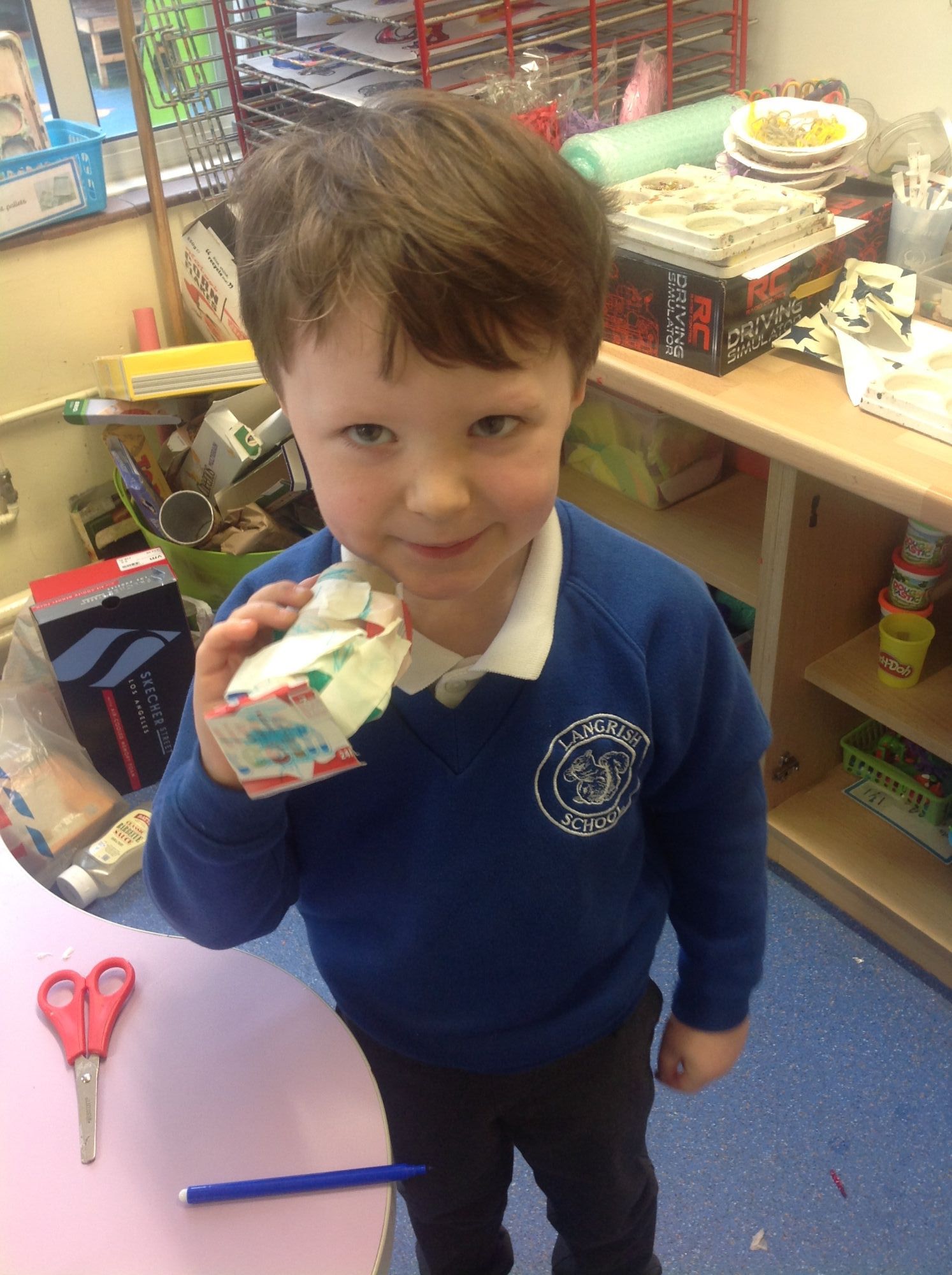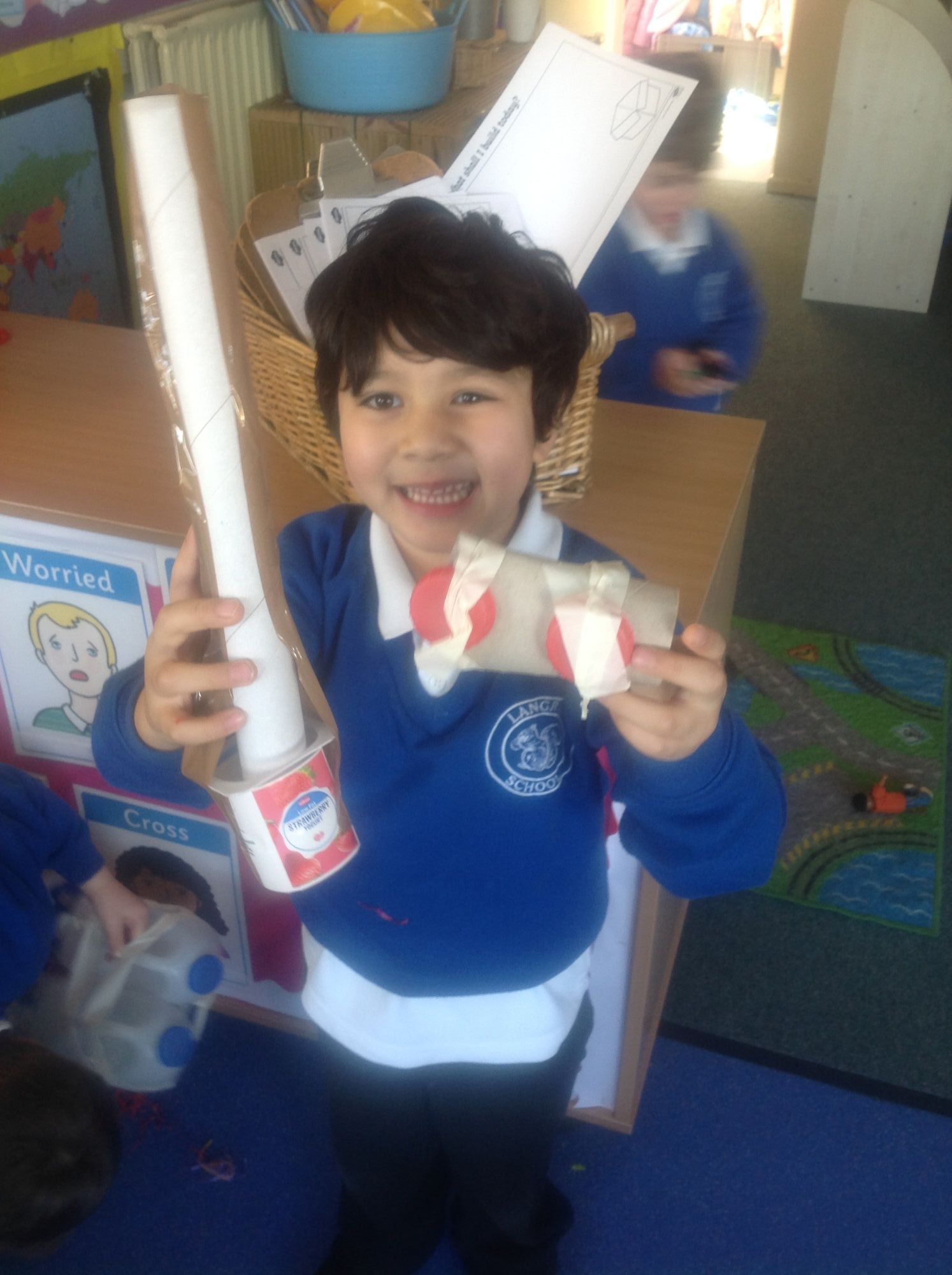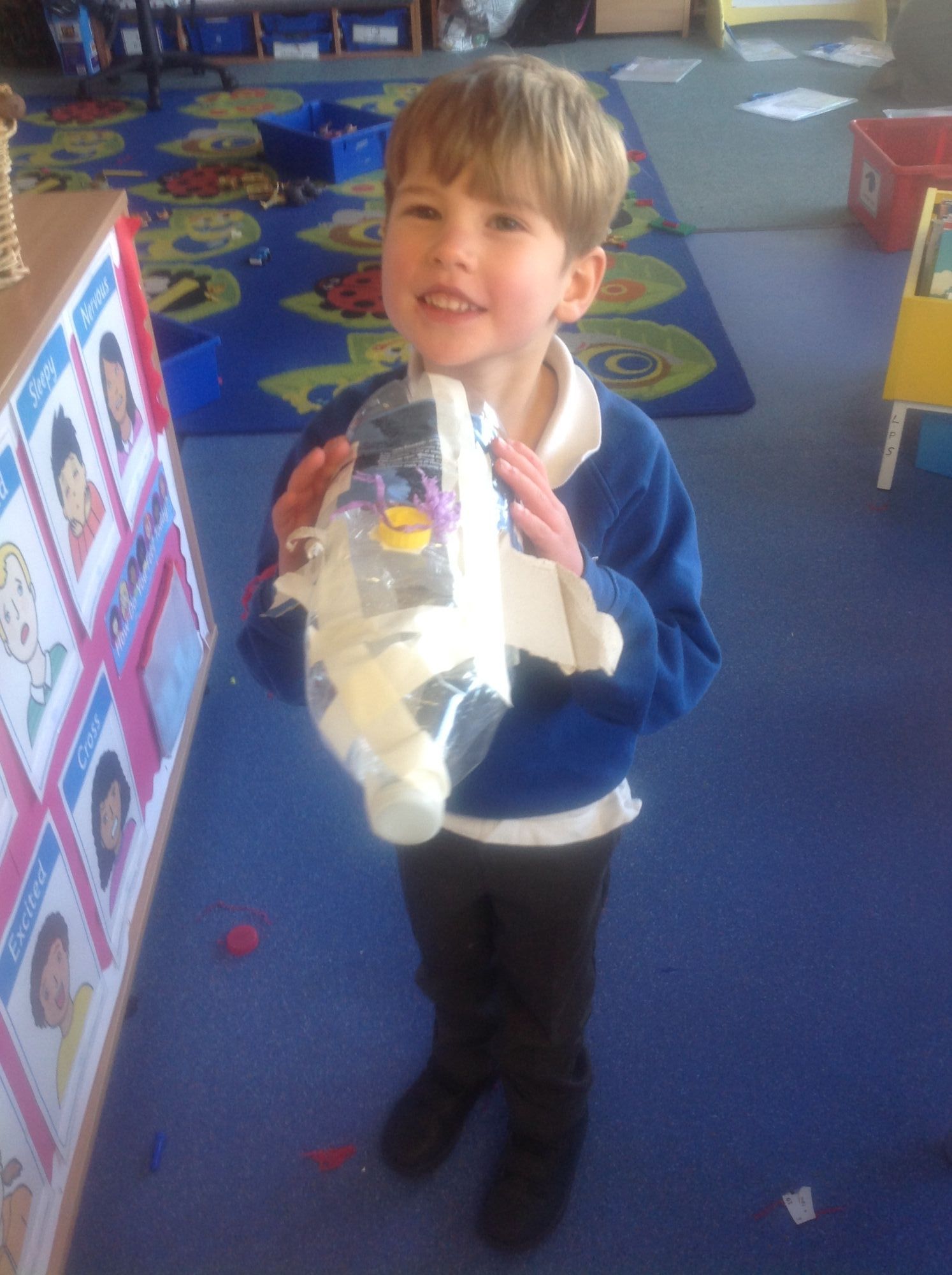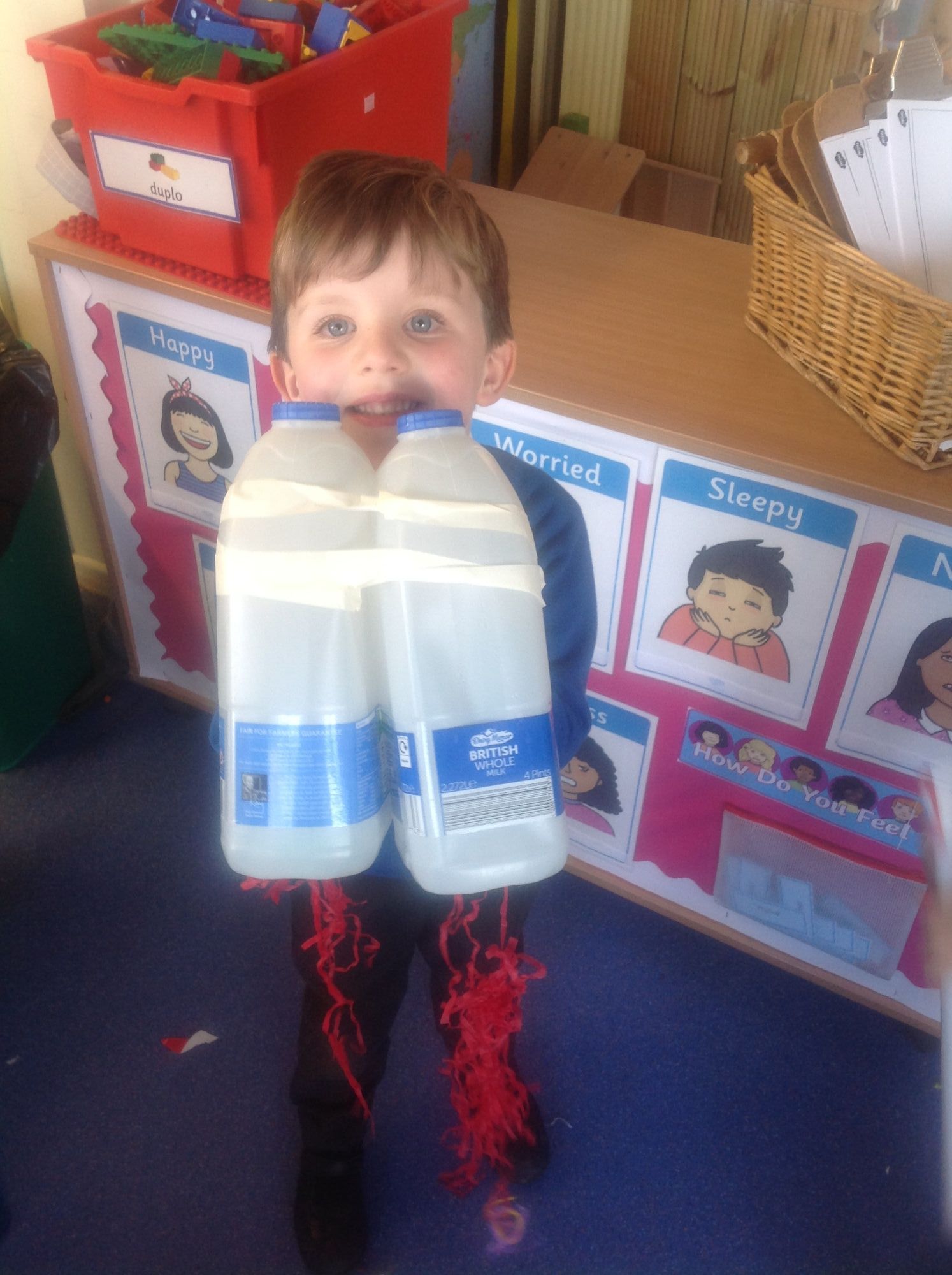 7/1/22 - Happy New Year!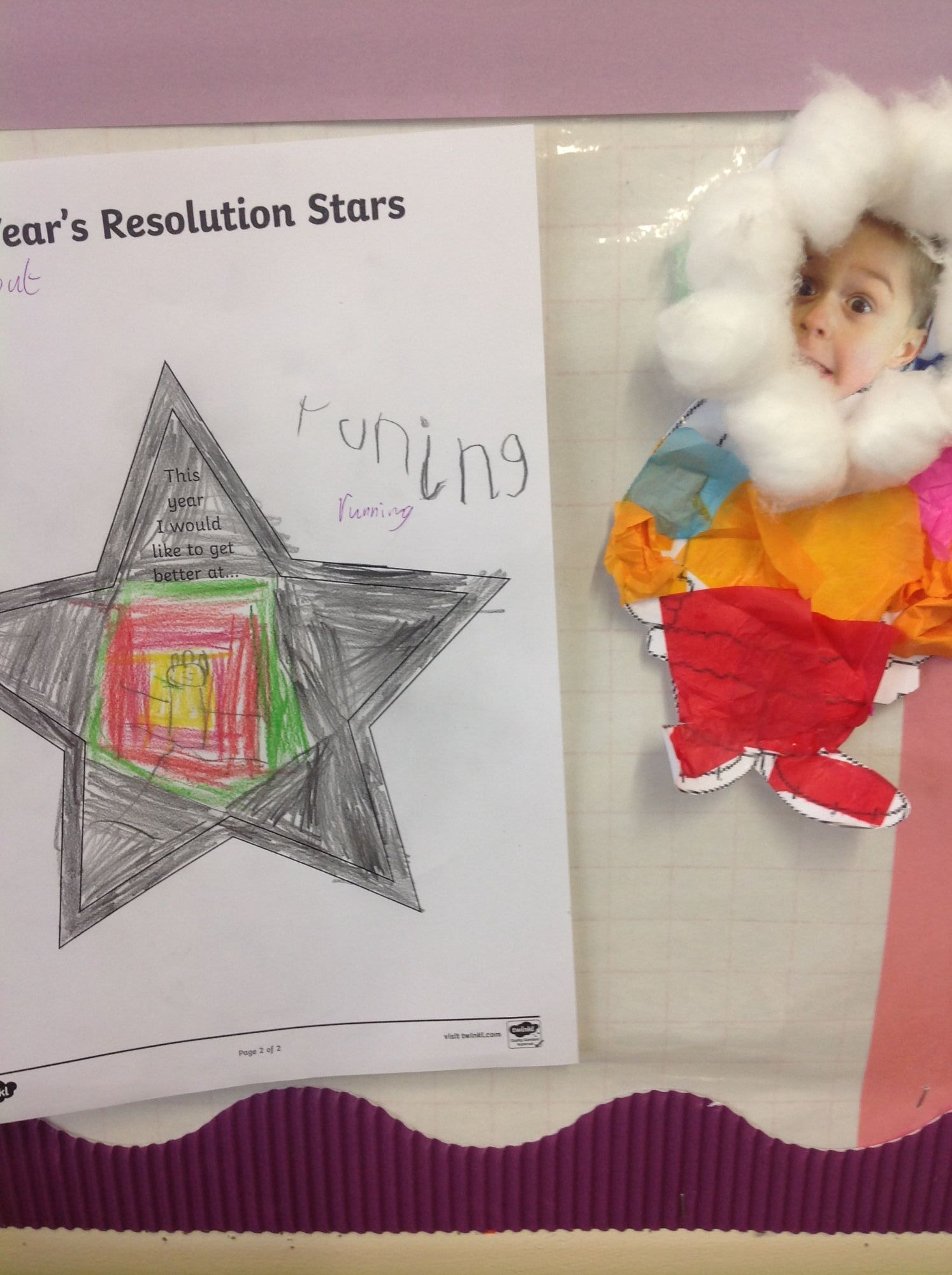 Welcome back for the Spring Term and welcome to 2022! We are so happy to have the children back again and they have come in flying, ready to start and full of wonderful ideas. This week we have been talking about our holidays, gifts we may have received and also our wishes for the new year. Please ask your children at home about what they would like to get better at in the new year. We have seen lots of great ideas from using scissors, to skipping and even gymnastics, cricket and rugby. Wow! We also explored how Inuit people stay warm in cold weather and made some super-cute mini me's! Further to my email sent previously, please send children with named wellies and waterproofs for Forest School on a Monday or they will not be able to participate. We are also still looking for lots of lovely junk for making models so please hold onto any small boxes or plastic bottles you may have at home and send them to school for us to use!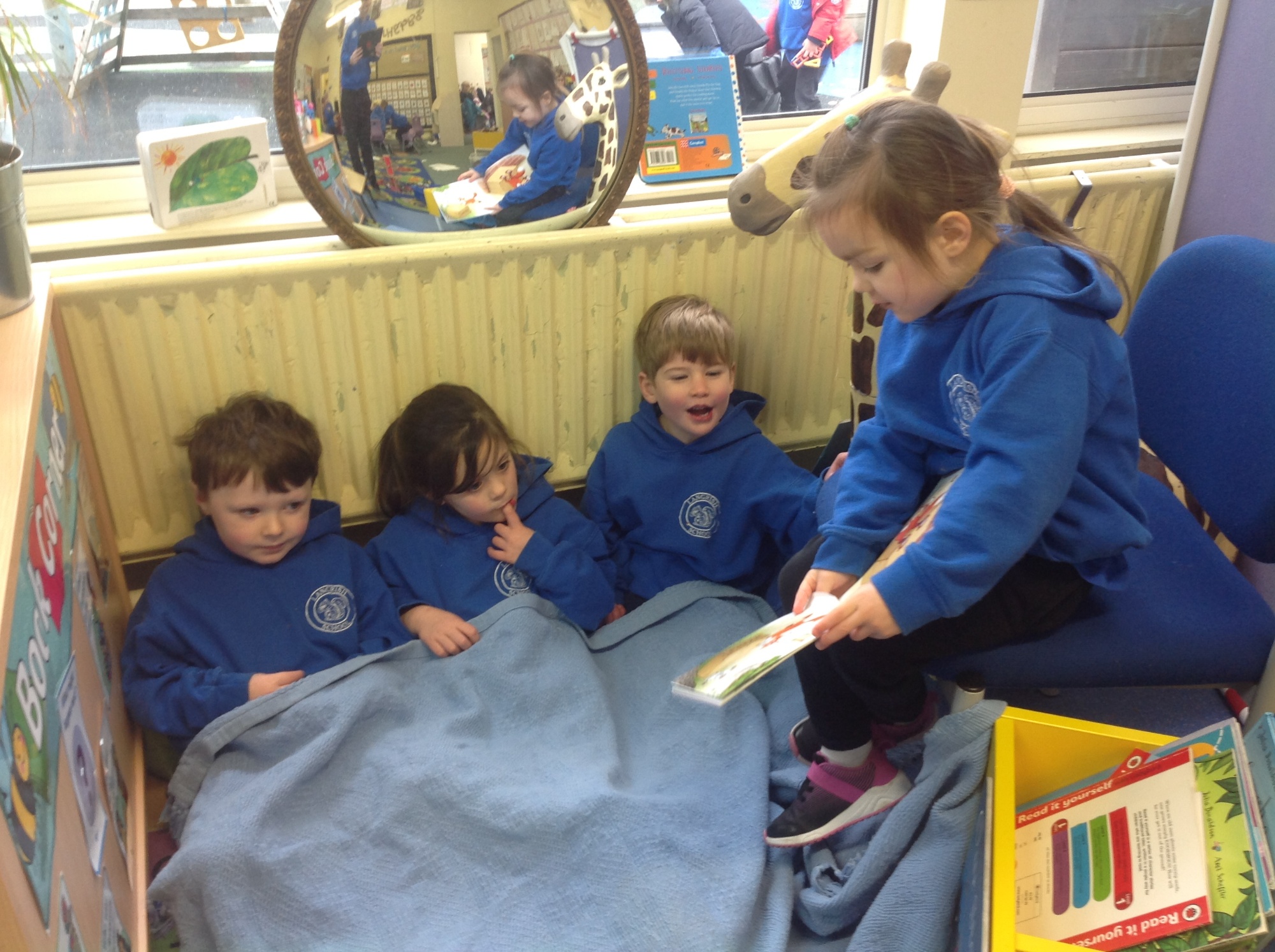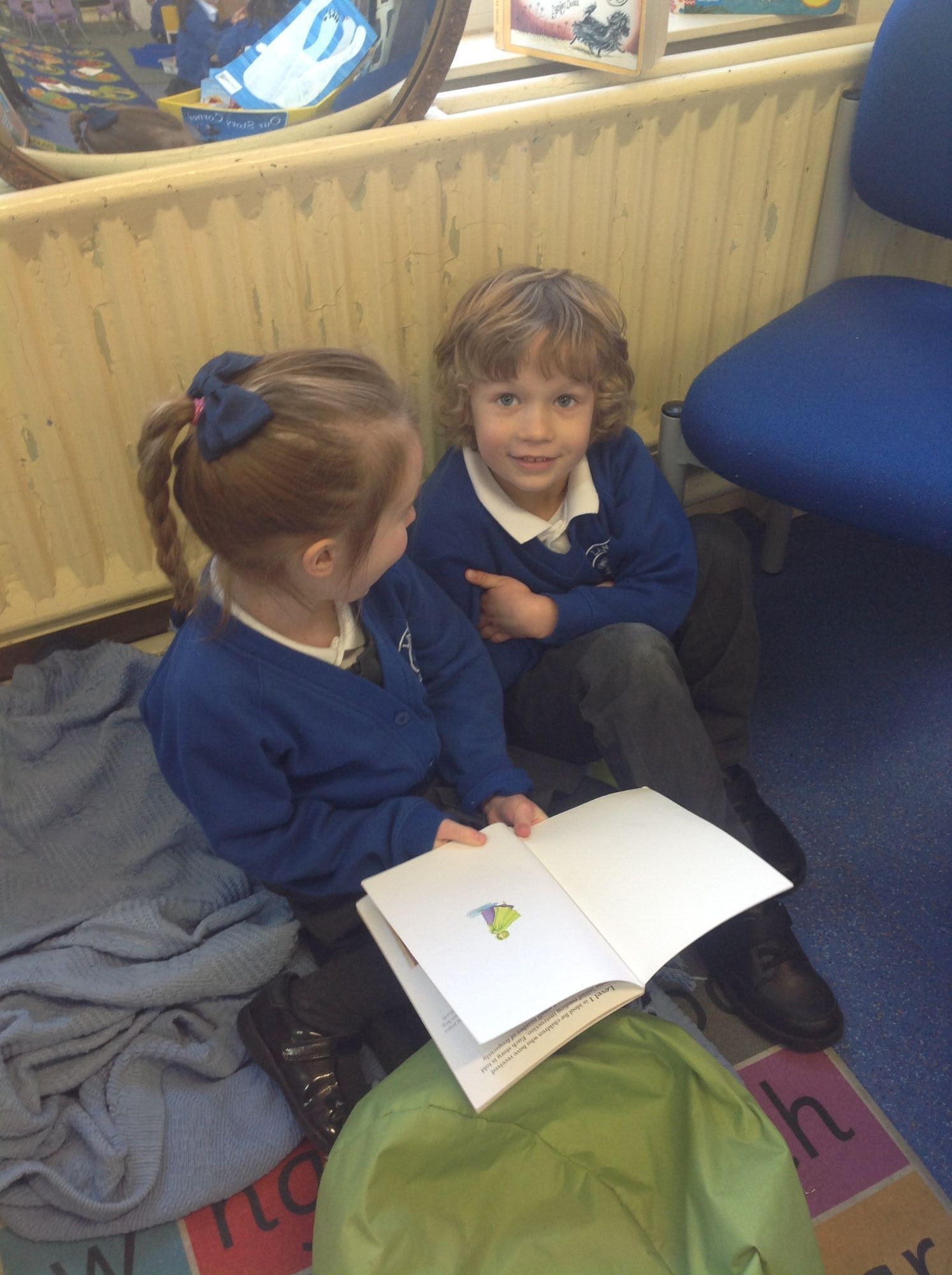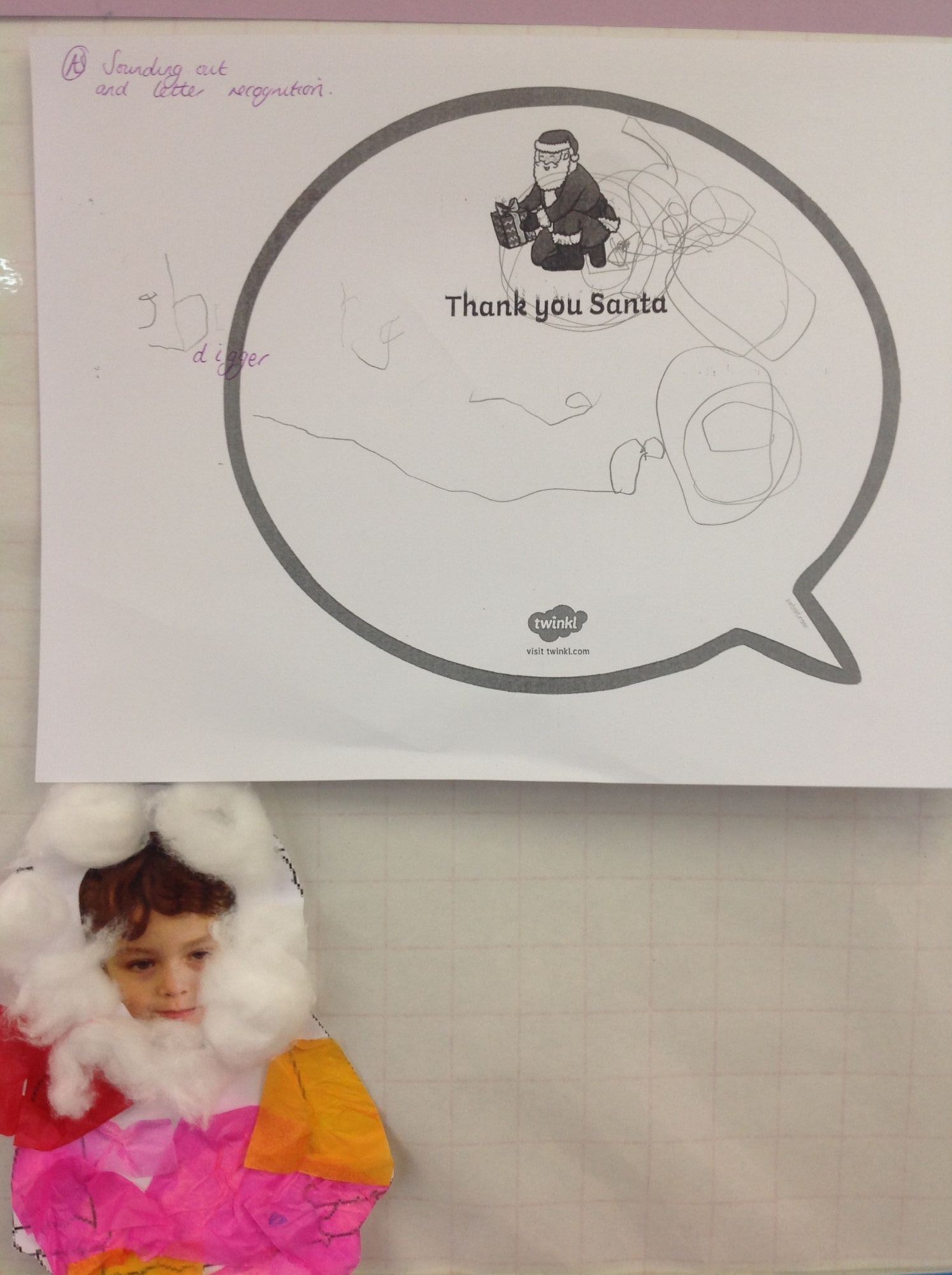 17/12/21 - Nativity Performances, Party Days and...relax!
Wow! Thank you all so much for your support in all areas this term. The Squirrels are tired but content at the end of a busy and demanding term and they all deserve huge praise and a good rest ahead of the new year. This week they wowed us with their resilience during our schedule of nativity performances, had great fun on their class party day and even had time to make some fab Christmas decorations! Also, a huge well done to those Super Squirrels who have completed our Autumn reading challenges! Cora, James, Jasper, Teddy, Anna, Theo and Pippa have all returned their challenge sheets and will receive 25 house points. Congratulations! If you have completed the reading challenge and have not yet returned the sheet, please do so as soon as possible to receive your house points!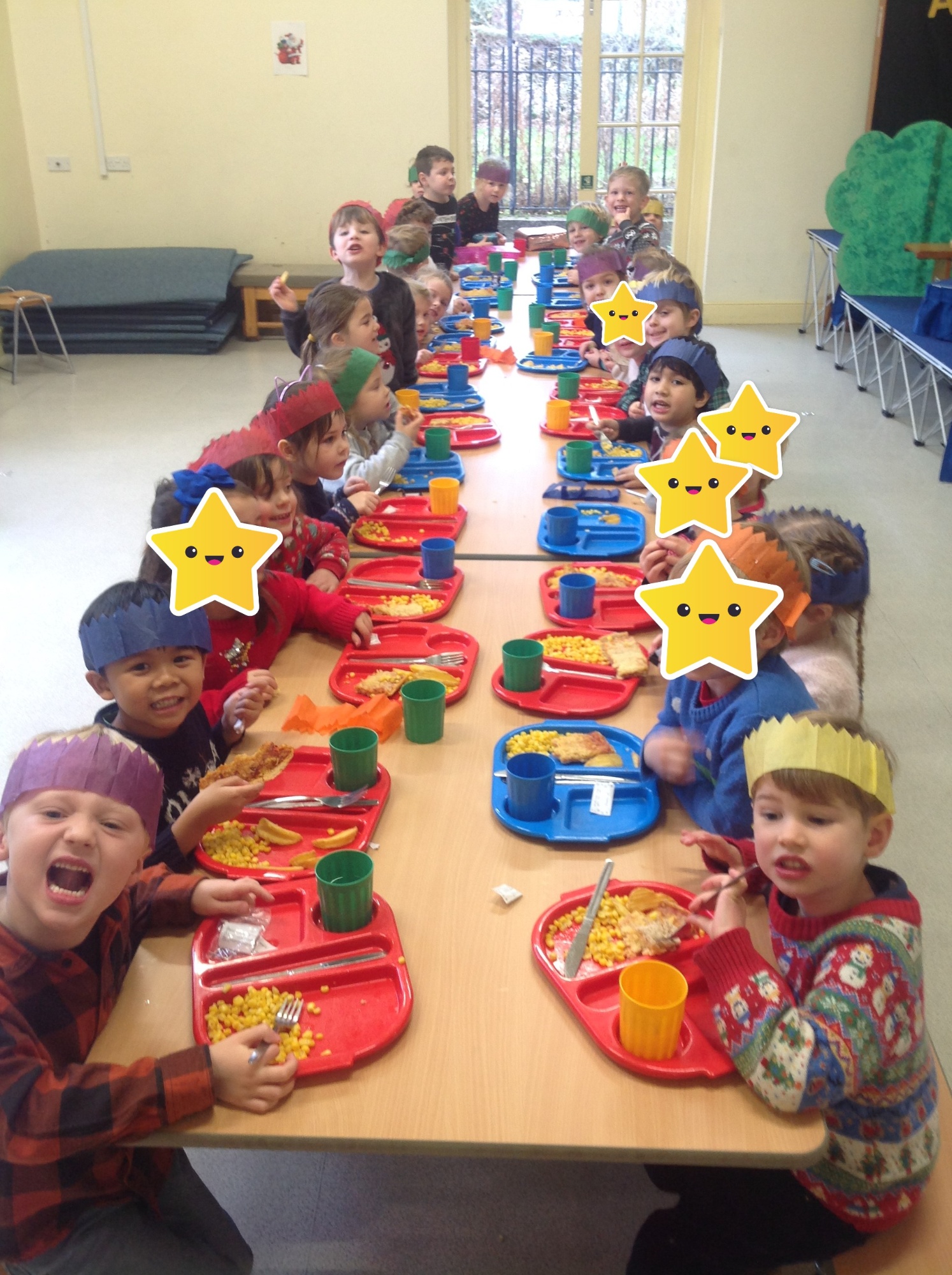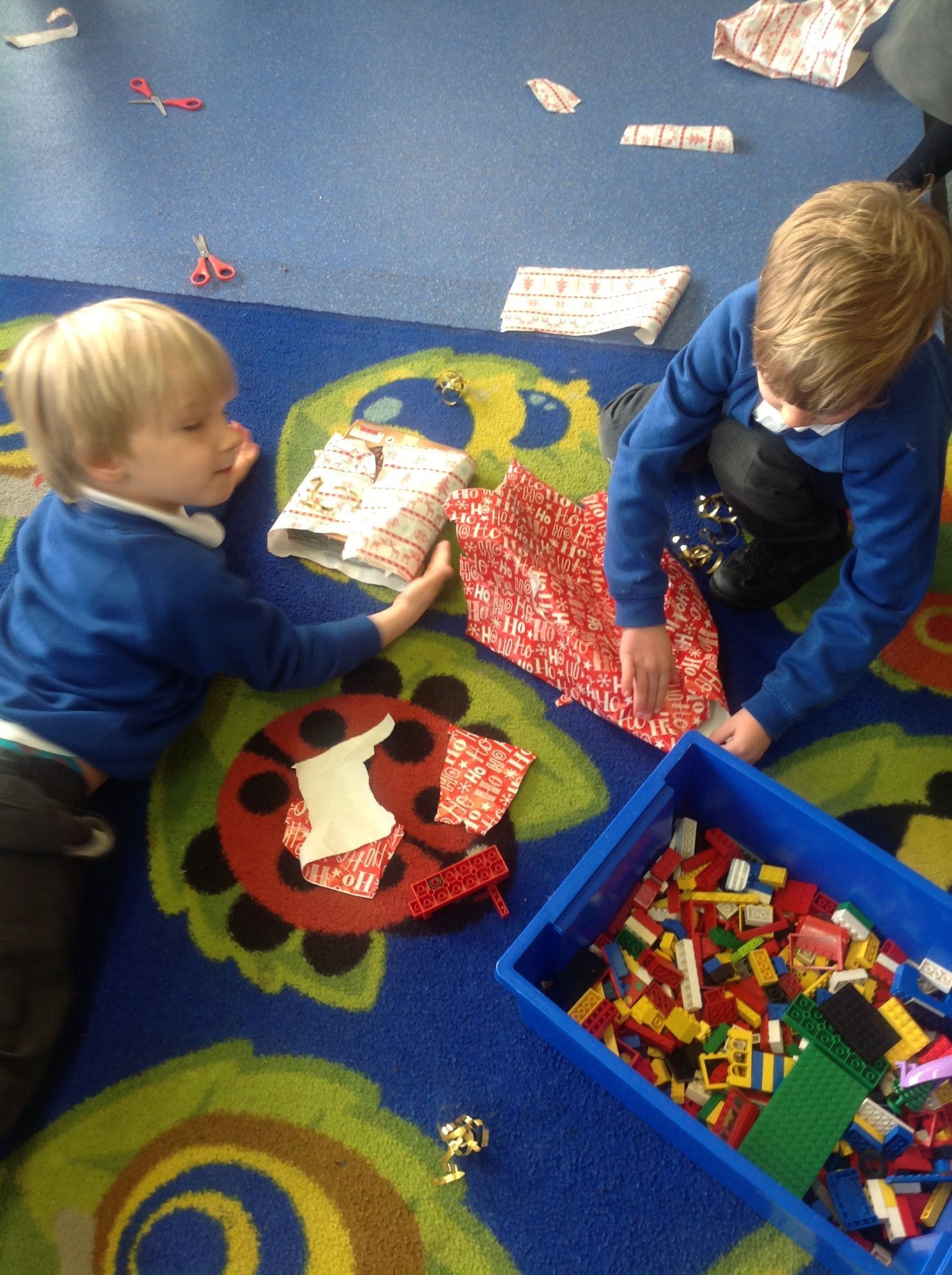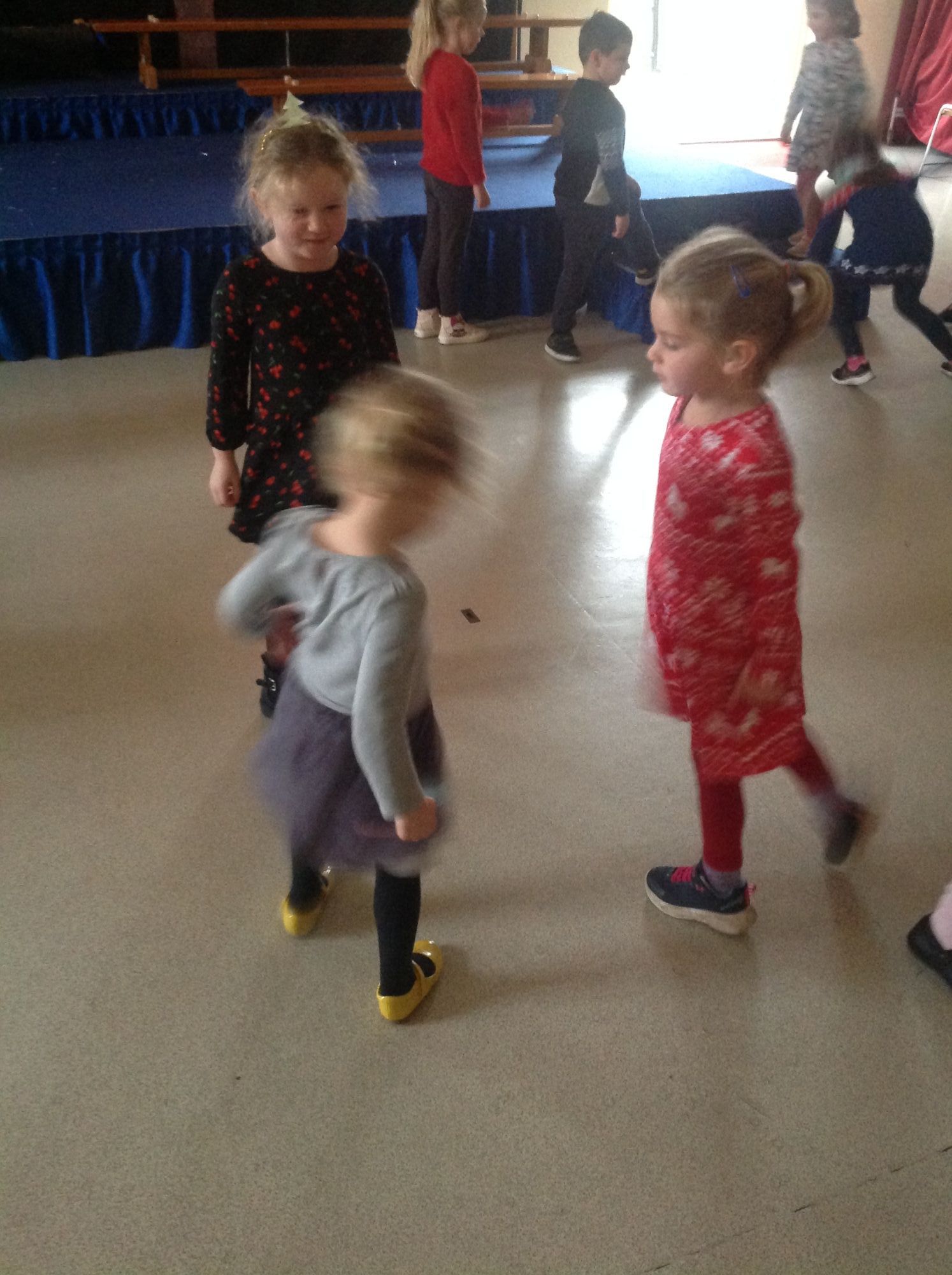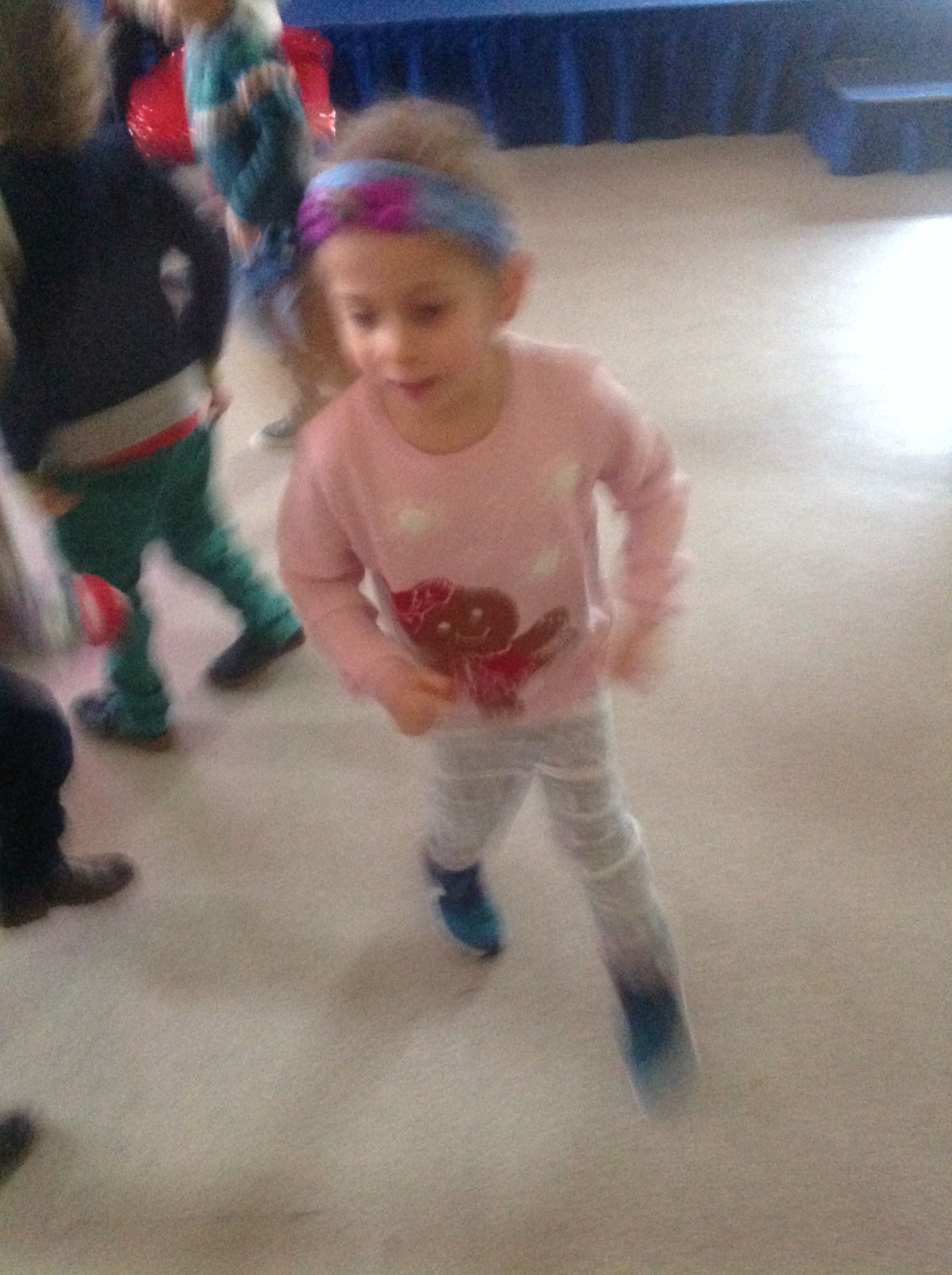 During the holiday, it would be hugely beneficial to keep up with practising your child's rocket words. These rocket words (often called 'tricky words' or 'sight words') are words that cannot be read using a child's phonics knowledge and must be remembered and recognised by sight. We have recently changed our display of these in the classroom to illustrate the importance of them to the children. Children must be able to read these words and be able to spot them in sentences in books before they are ready to move up to the next band of reading books (pink, then red, then yellow). This is not the only requirement, and we will also look at children's comprehension skills and general independence with reading. Children do not need to be able to write them, but as they appear frequently in more challenging books, it is essential that they have a good knowledge of them.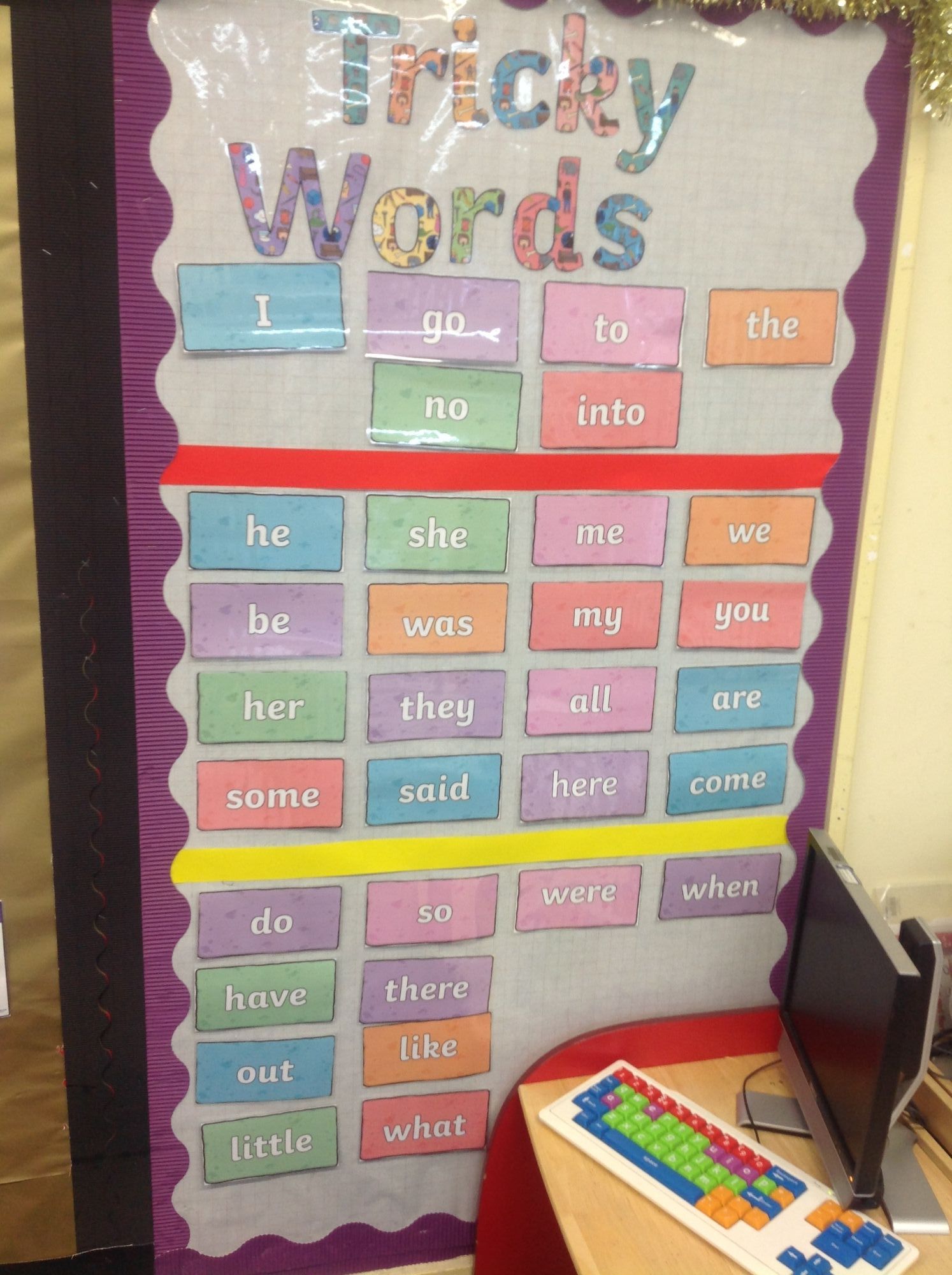 10/12/21 - Dress Rehearsal! Places please!
This week we have really been getting excited about the upcoming holiday! The Squirrels have been hearing, performing and retelling the story of the first Christmas and having a go at straightening out a mixed up story board. I wonder if they can tell you the story of the birth of Jesus in their own words? Nativity preparations are almost complete, and we had a fabulous dress rehearsal on Friday. Thank you for all of your wonderful costumes, the class all look amazing! In other activities we have had nativity themed counting, a very tricky snowman scissor skills activity and lots of making winter themed postcards for our friends!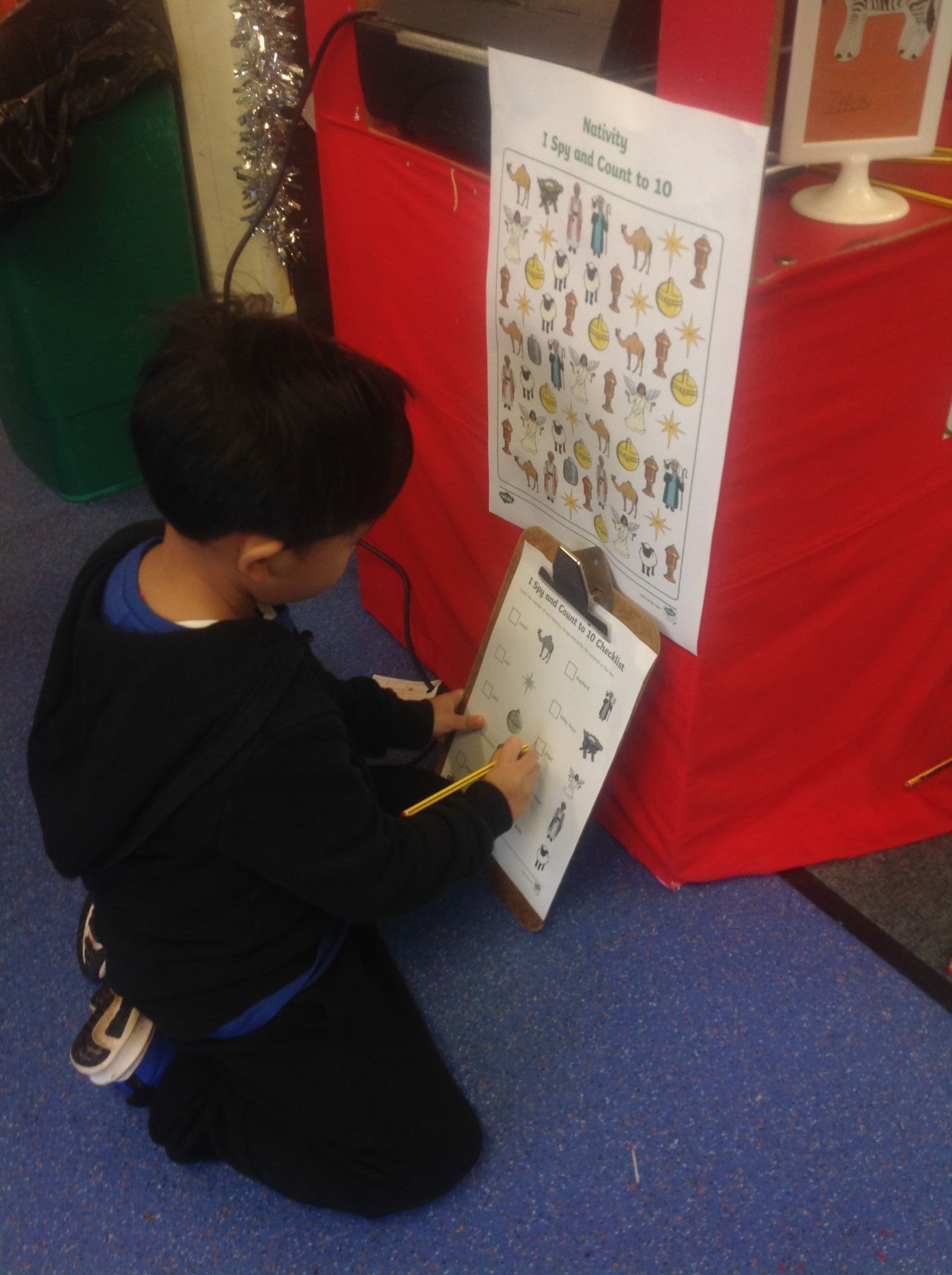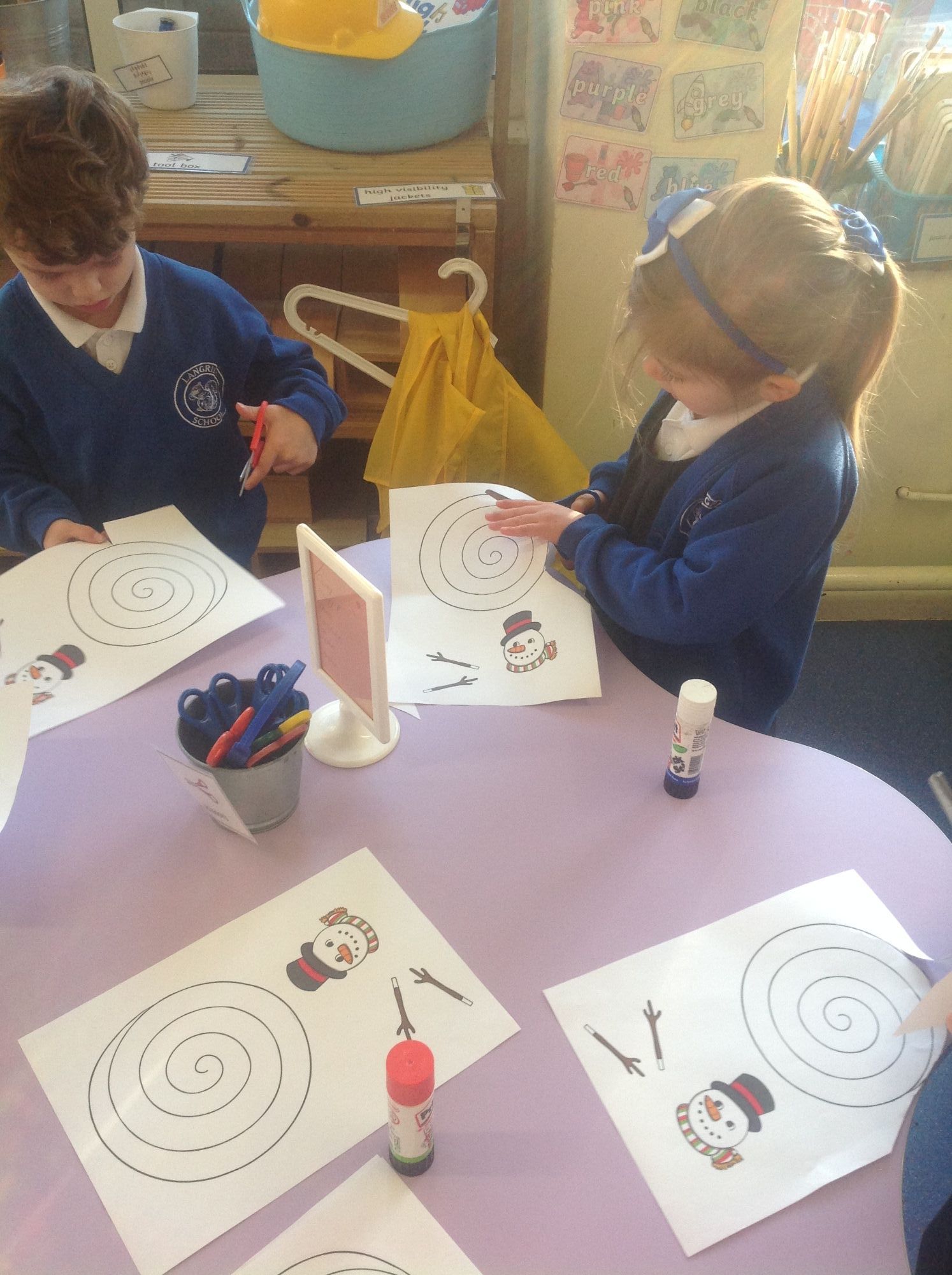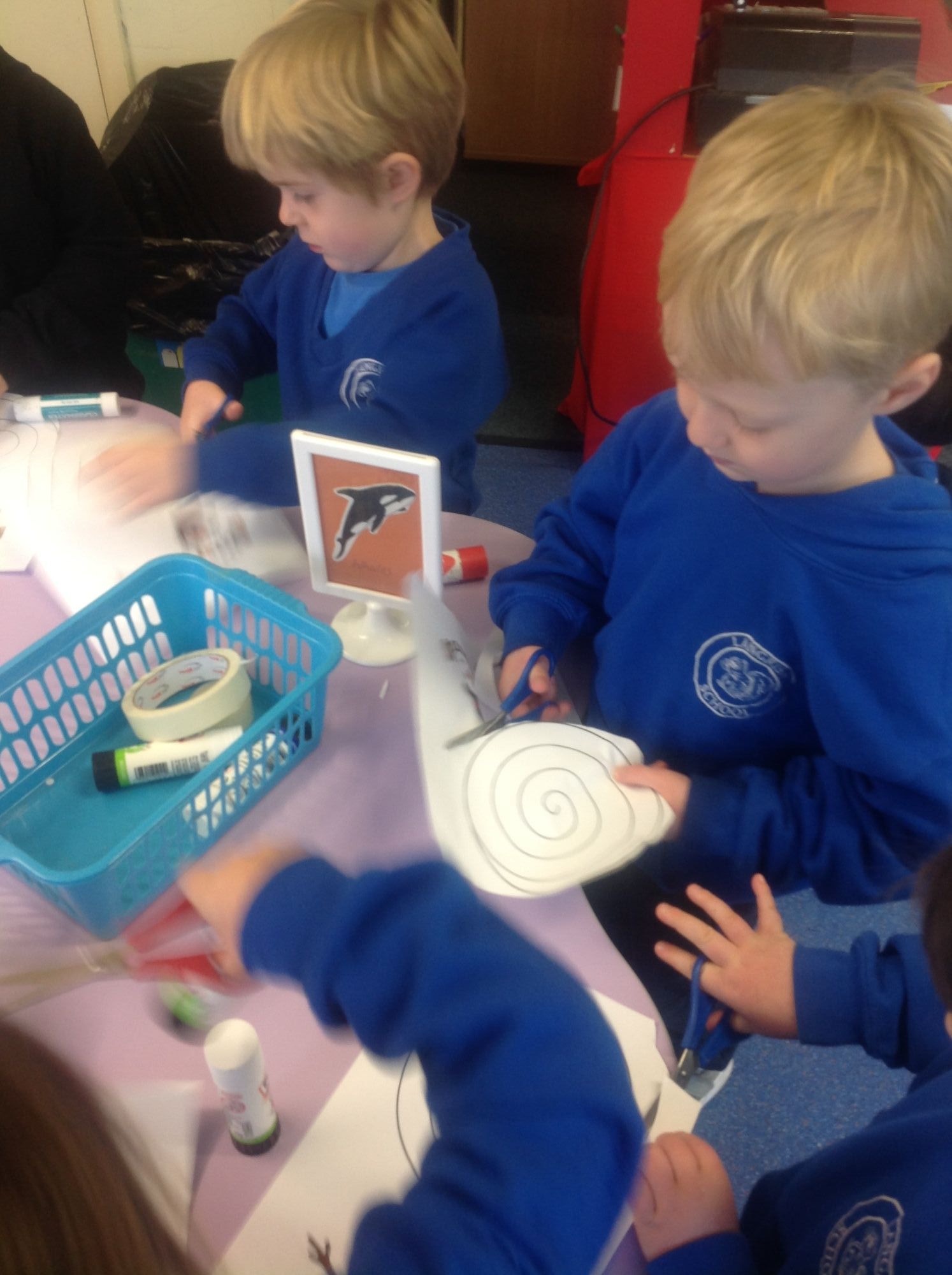 3/12/21 - Let it snow, let it snow, let it snow!
What an exciting week! To kick off our learning about the first Christmas, The Squirrels were greeted by a winter wonderland on our arrival at school on Monday. Well done for wrapping up warm and getting outside to explore in the ice and snow. This week we talked about our birthdays and how they compared to the very special birthday in the story of the first Christmas. We have been illustrating birthday scenes, crafting play dough birthday cakes and thinking about how old we were last year, now and in future! At this time of year you may also be starting to make Christmas cards with your children. Although this provides an excellent chance to do some purposeful mark making, it does tend to use a lot of paper! To ensure we minimise our material consumption, we ask that you refrain from making cards for each of your children's friends and instead, make a card with your child addressed to all of the Squirrel class to be shared in circle time. We look forward to seeing them!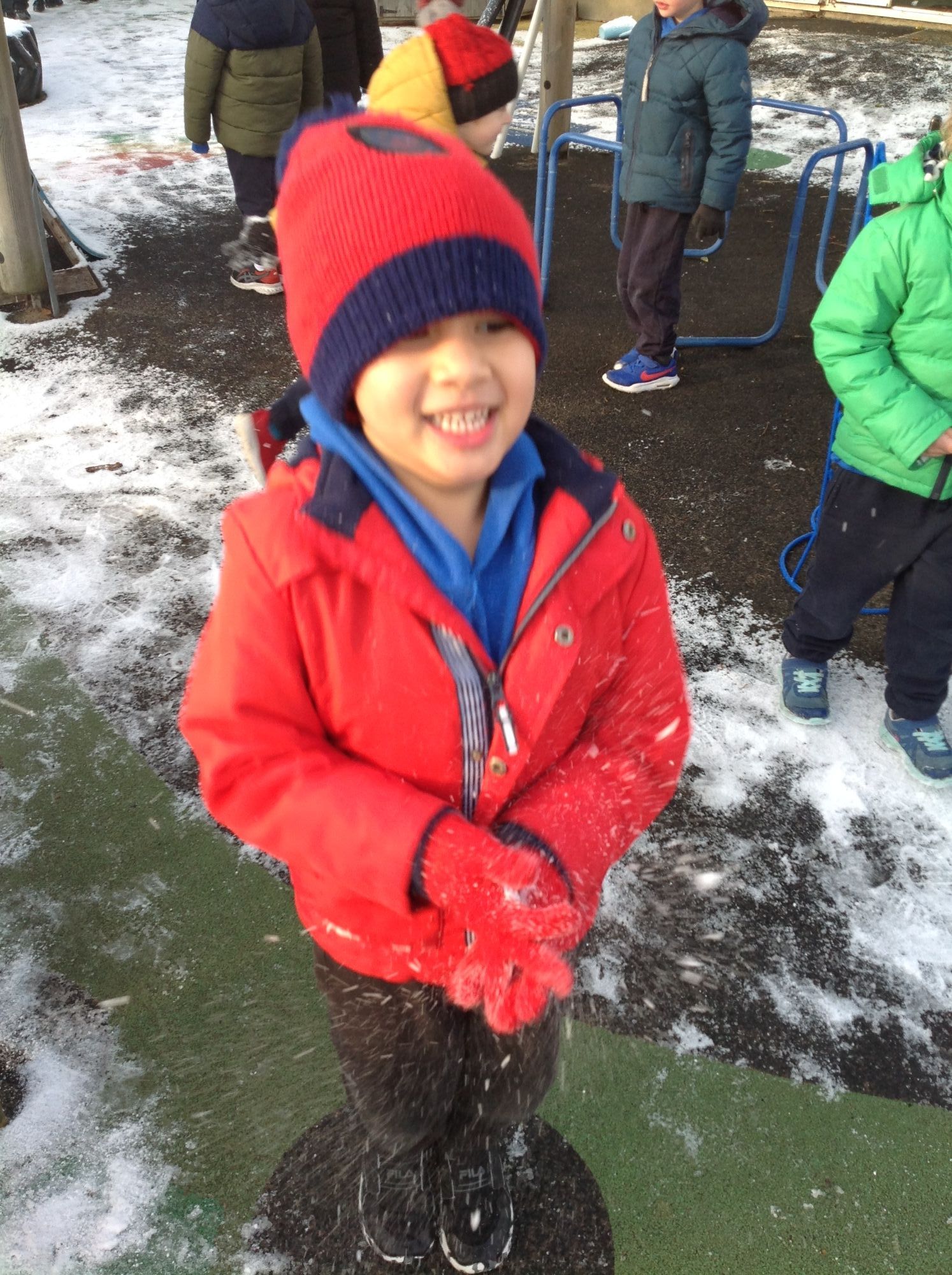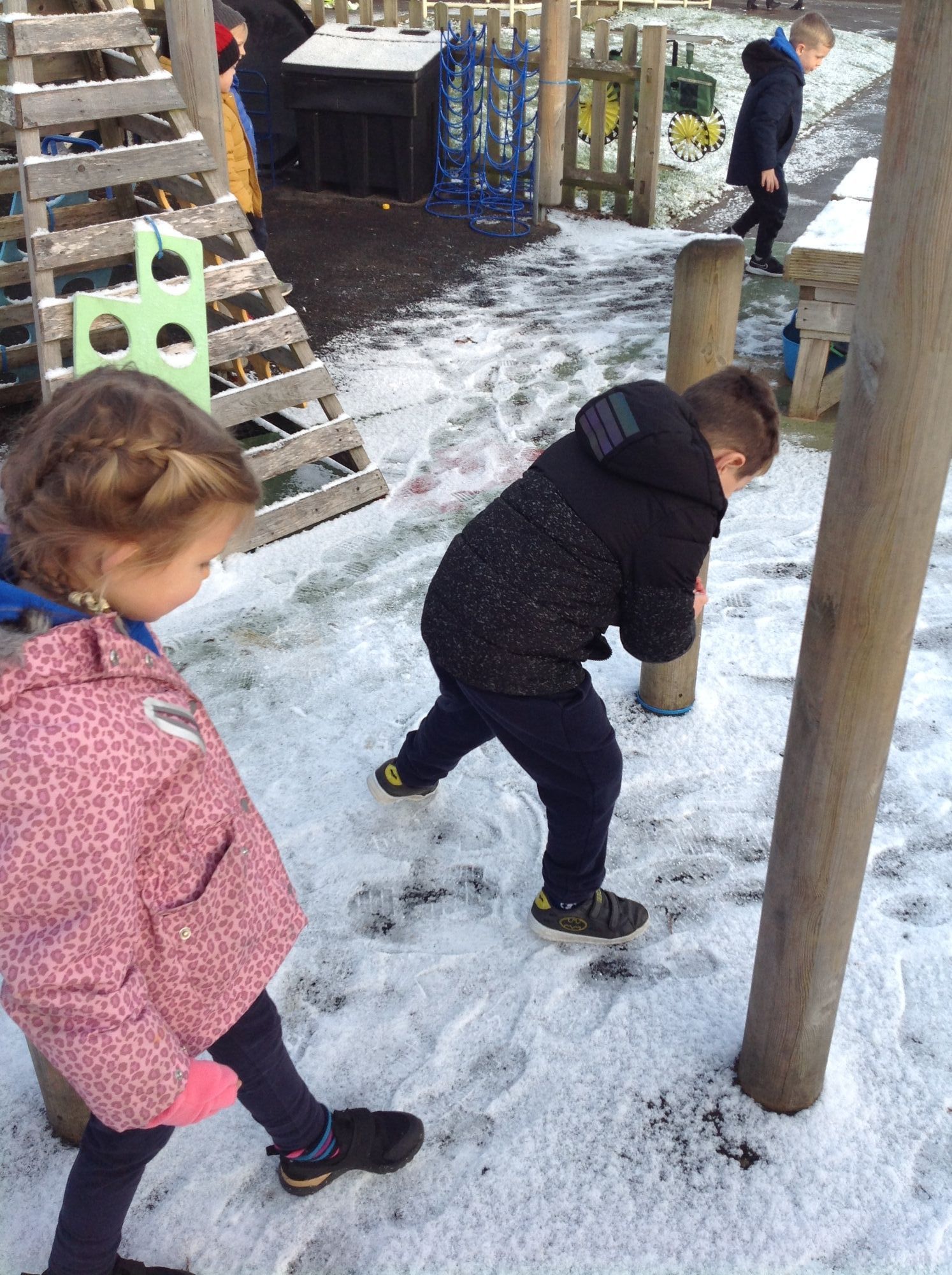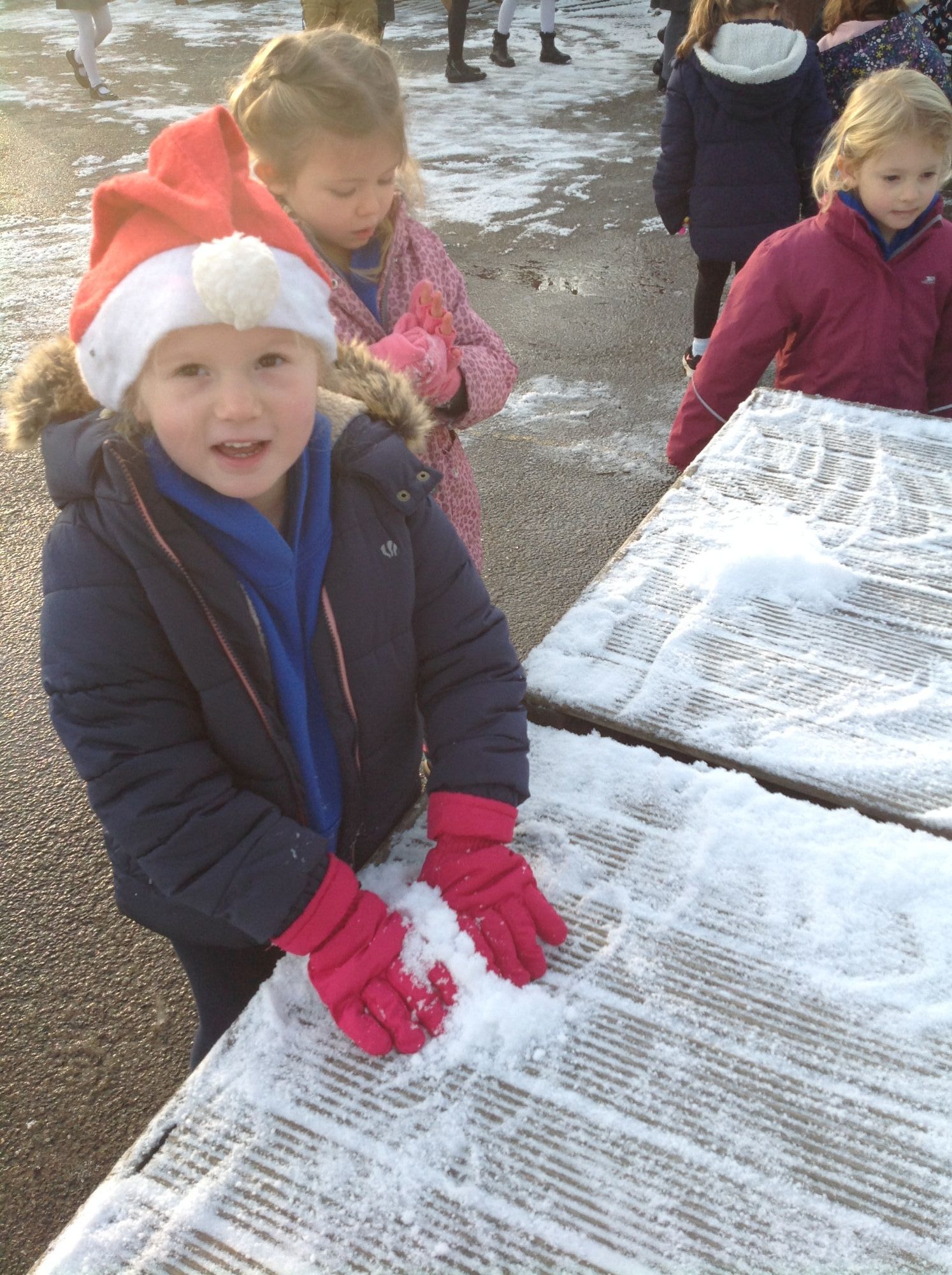 26/11/21 - Autumn Patterns and materials
The Squirrels have been exploring Autumn this week, and we have been taking our opportunities to get out and explore the differences we can observe in our environment. It has been a good chance to explore concepts like change, pattern and colour. We have been collecting dry leaves to make some bushy-tailed squirrels, making patterns with pegs, leaves and sticks and even finger painting nuts and berries for our hungry Sid the Squirrel. Wow! You could explore these ideas further in the garden or if you are out getting some fresh air over the weekend!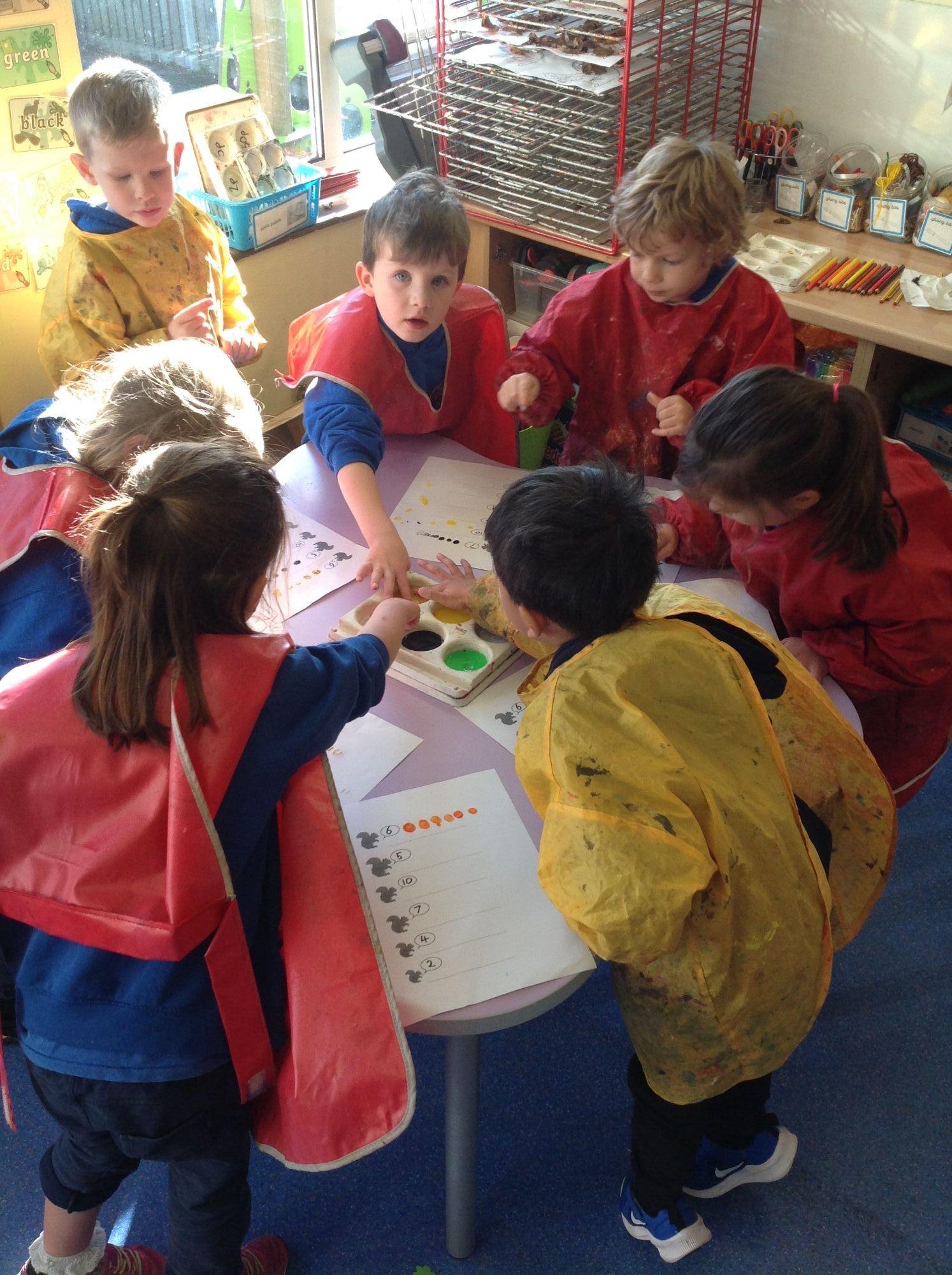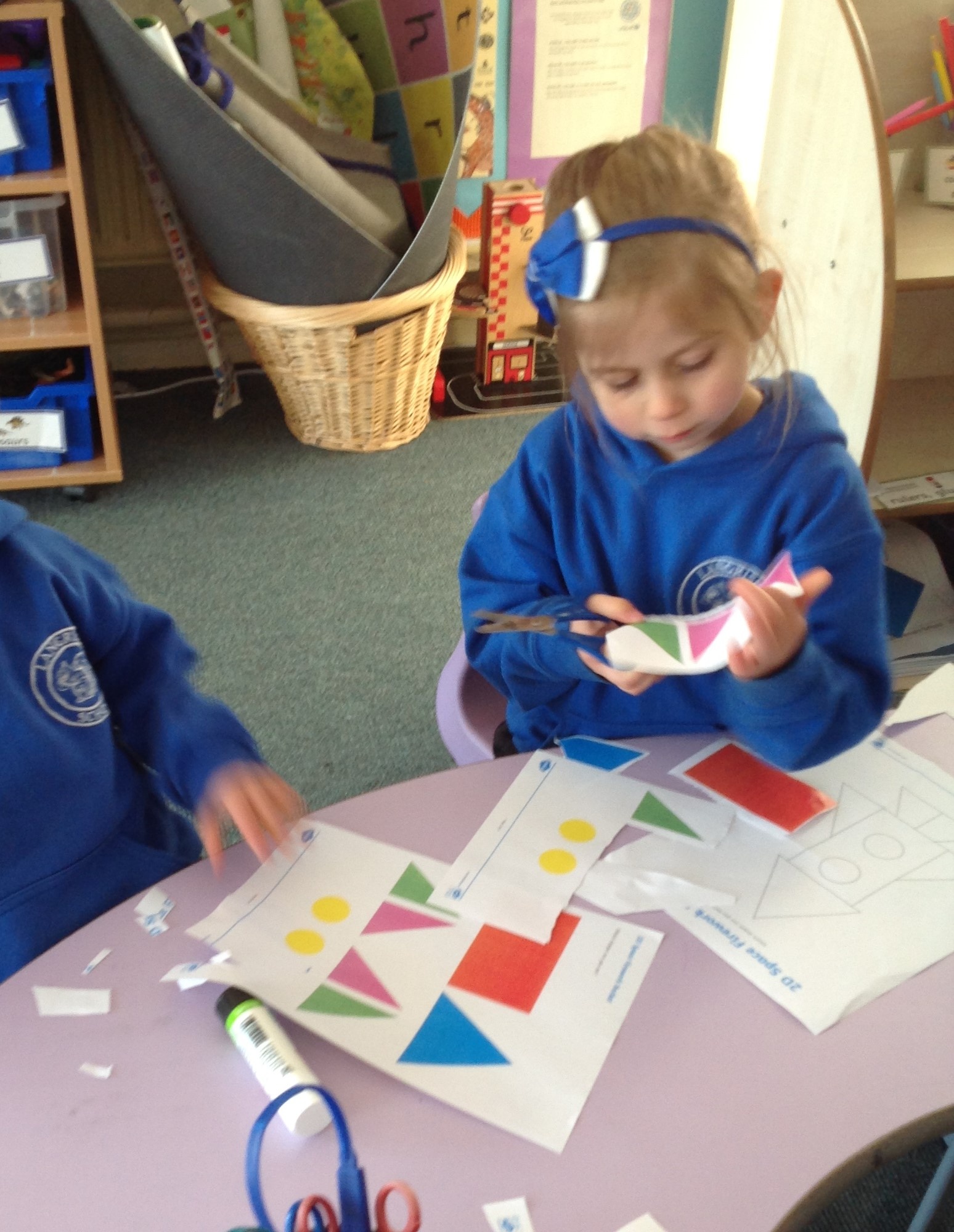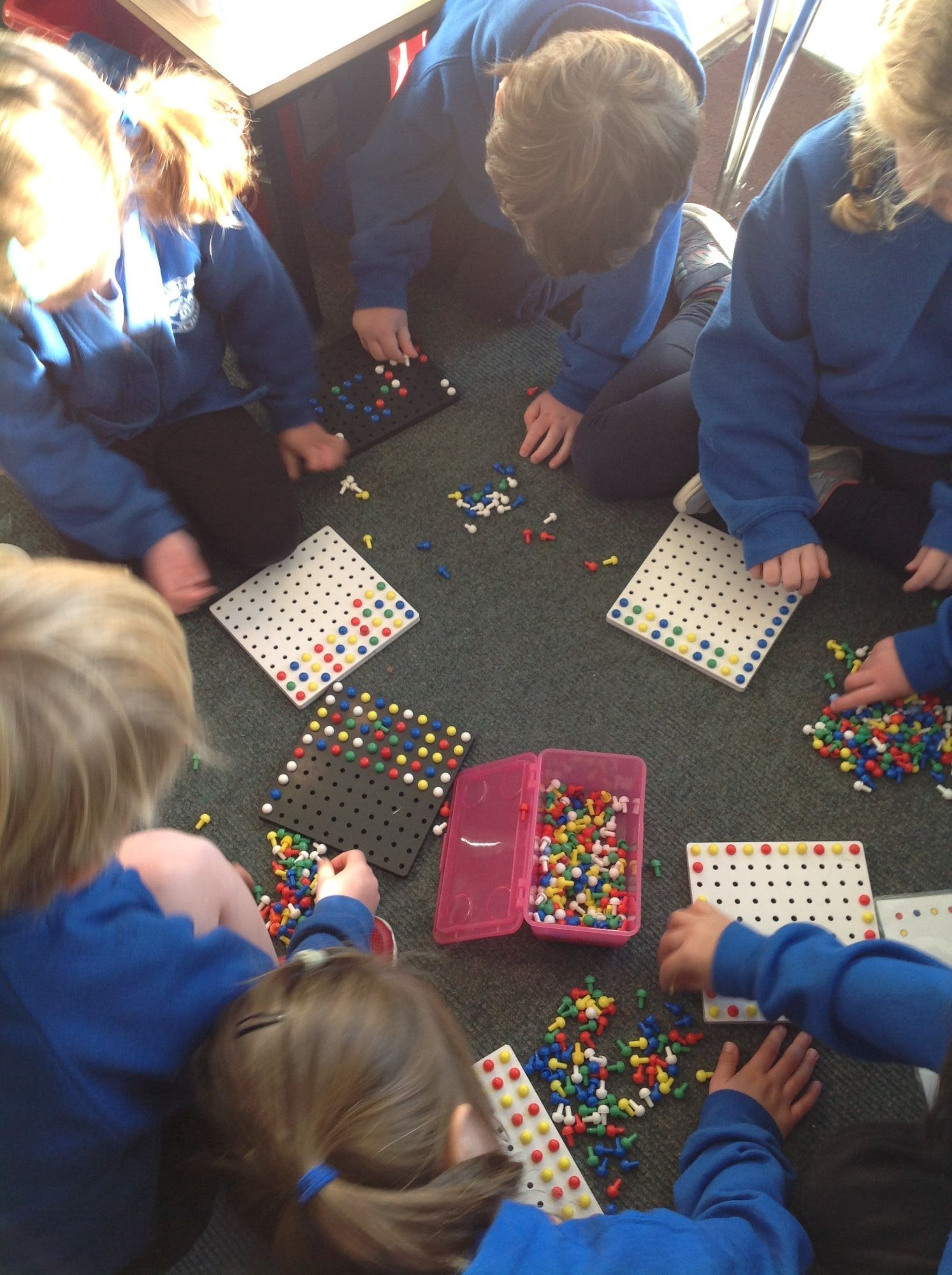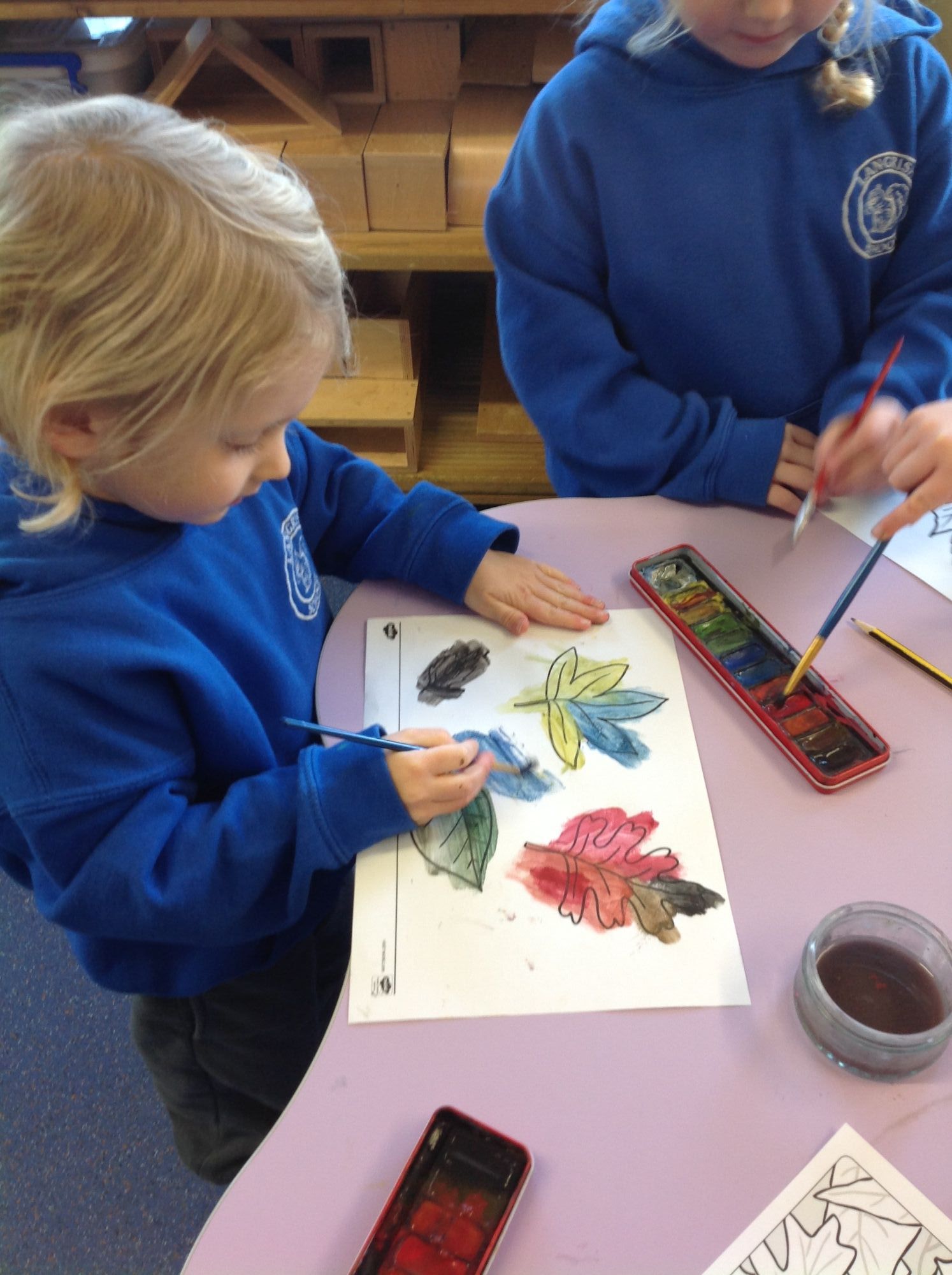 19/11/21 - Anti-Bullying Week and Children in Need fun!
This week we have been observing Anti-Bullying week. In Squirrels, we have approached this tricky topic by talking about our feelings and how we show and share them with others. We have been thinking about what kinds of events and actions might make us feel happy, sad, scared or excited and used our inference skills to discuss what may have been the catalyst that affected others. All week we have also been working hard on our phonics, practising lots of our letters and linking them to the sounds that they make in words. On Friday, we had a terrific pyjama day for Children in Need, raising lots of money from our generous families and having a great time with the Joe Wicks live workout and quiz!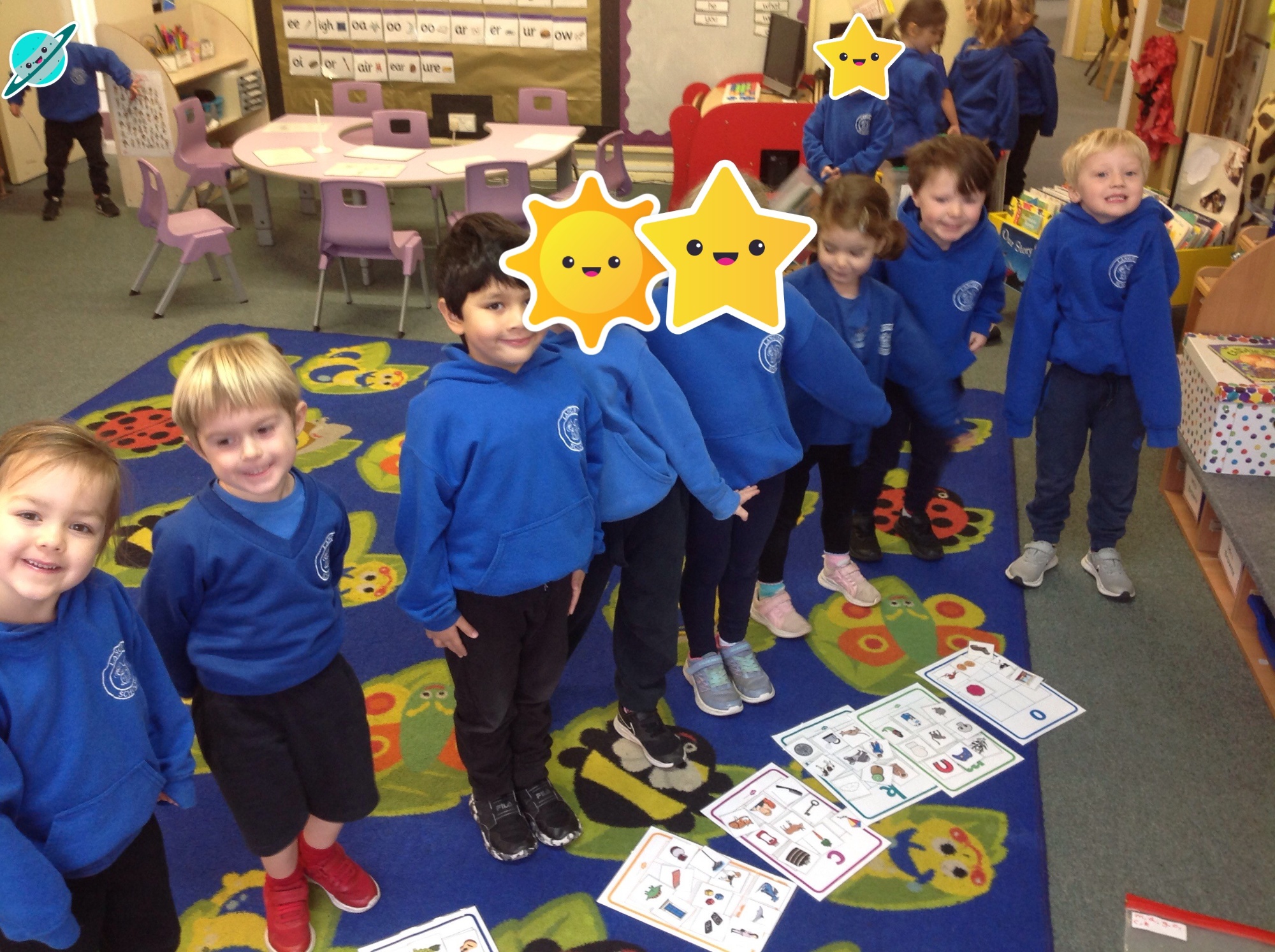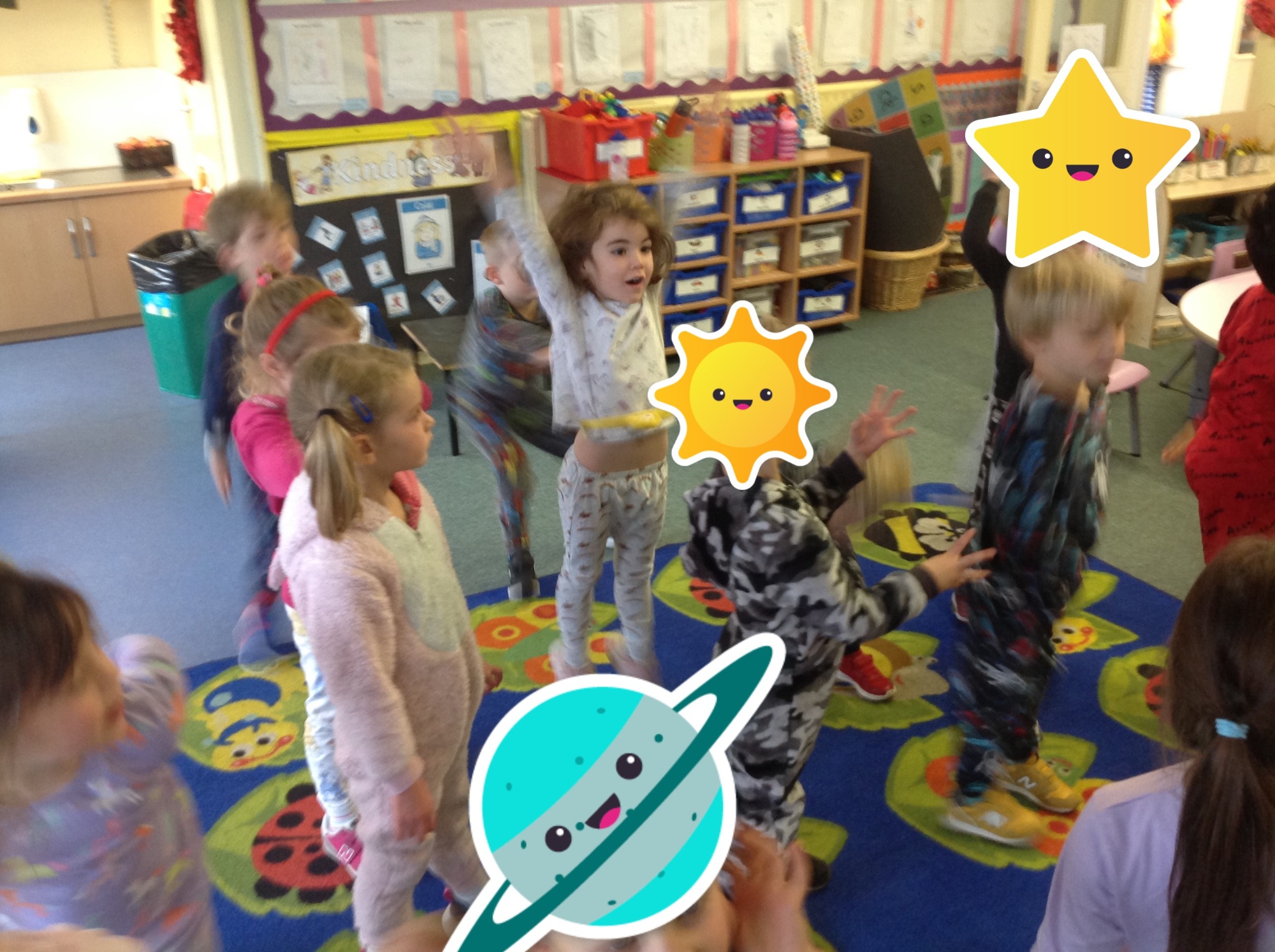 12/11/21 - Remembrance
This week we have been coordinating our learning and activities around the theme of remembrance. It has been a week of interesting discussions raised from Remembrance Day. We used sand timers to explore the length of a minute and what activities we could do for a whole minute, hunted for poppy numbers and made some amazing poppy wreaths. In phonics, we have been exploring the letters i, n, m and d and also practising their formation. Wow! As a reminder, we will be wearing odd socks for Monday 15th of November and that we will also be having pyjama day at the end of the week. Please be sure to read all correspondence from the school so that you don't miss out!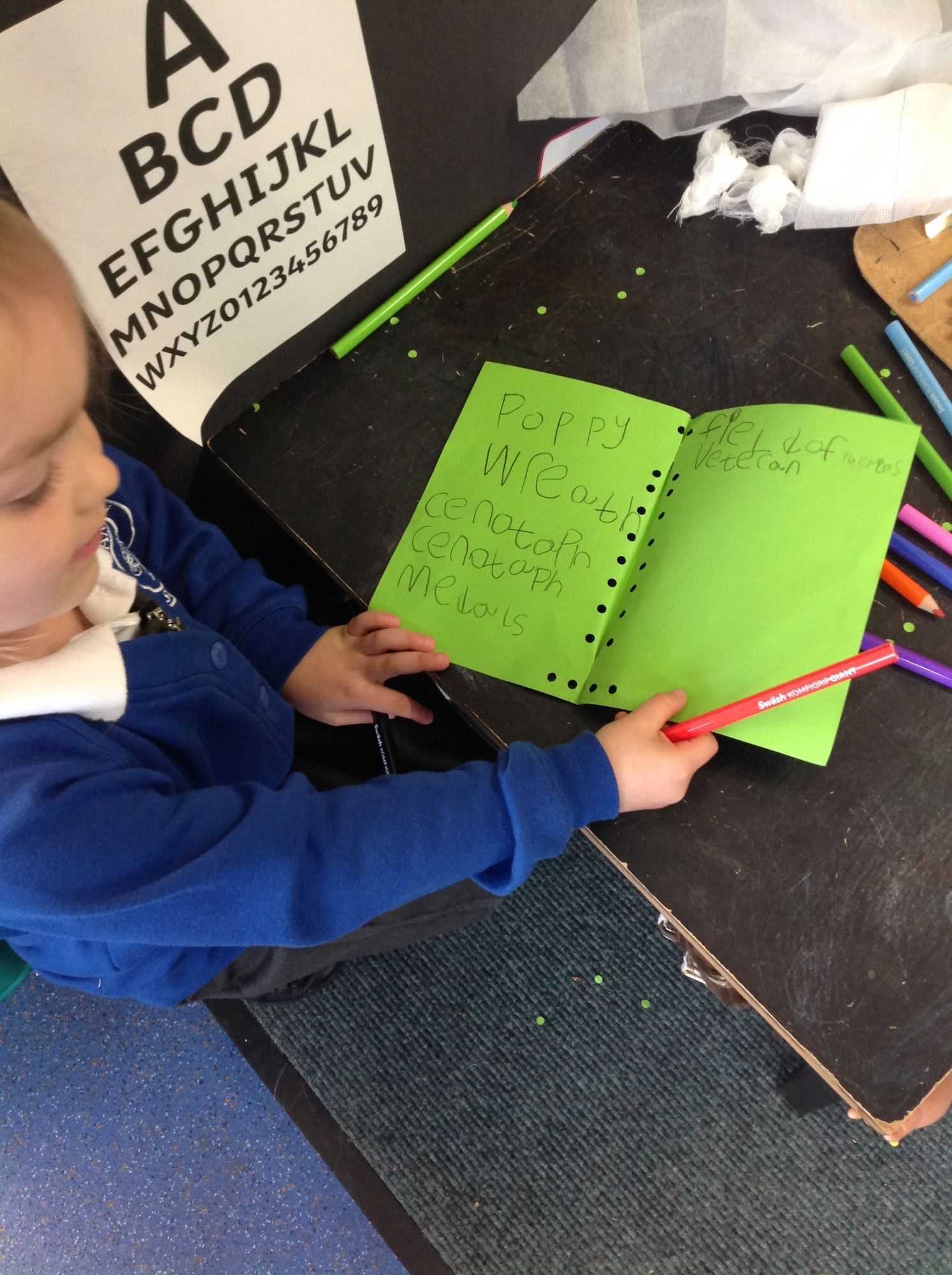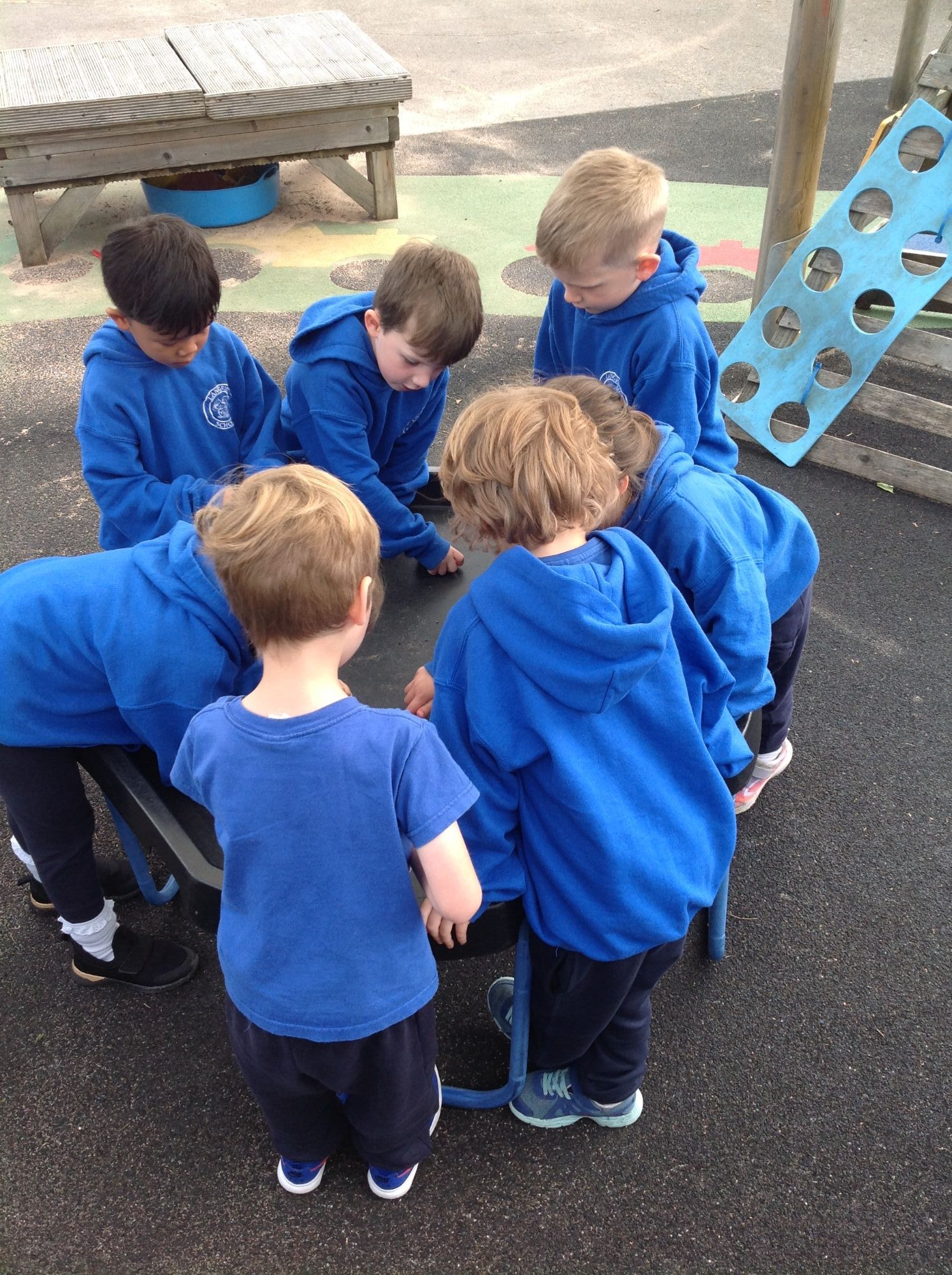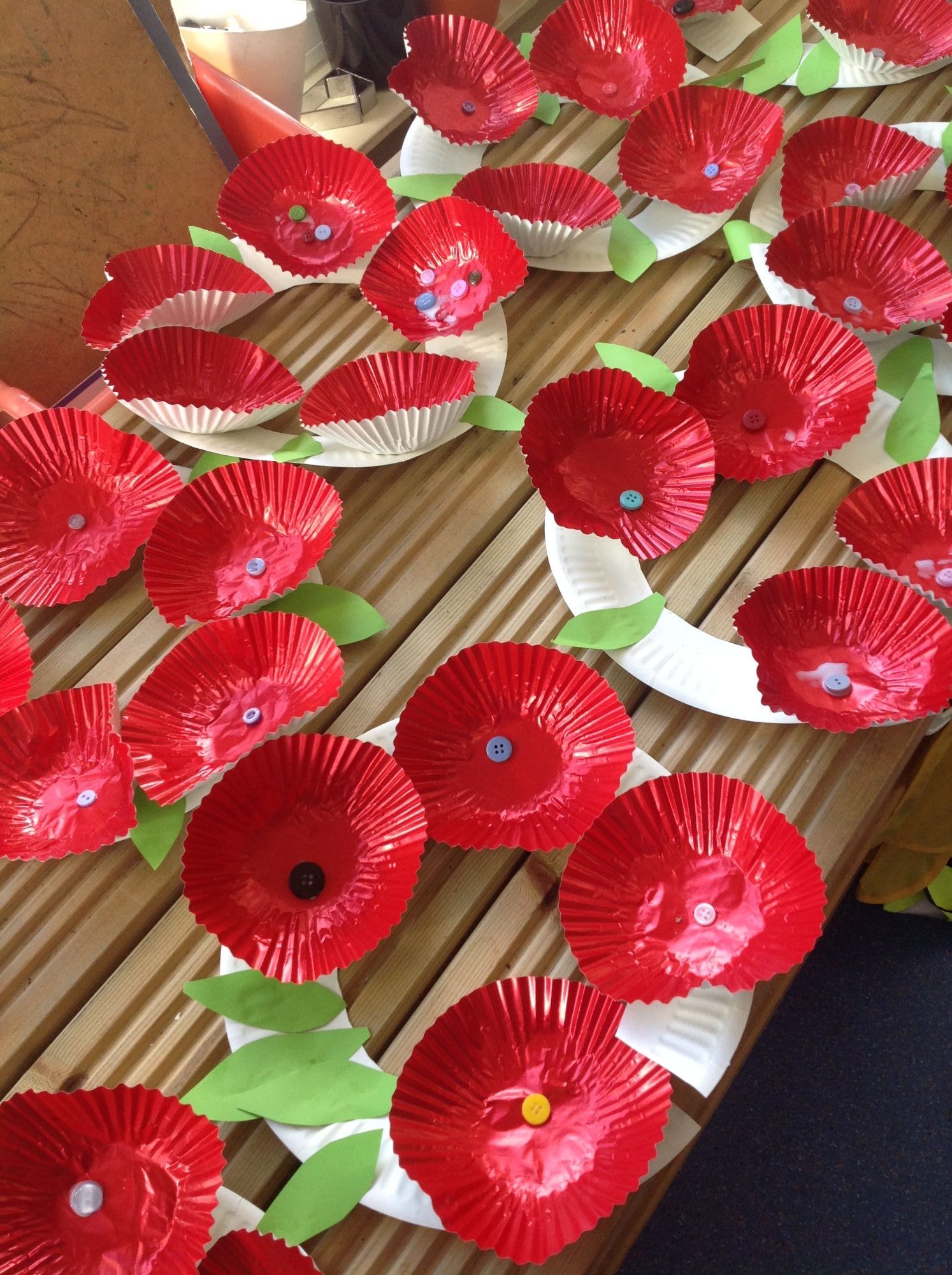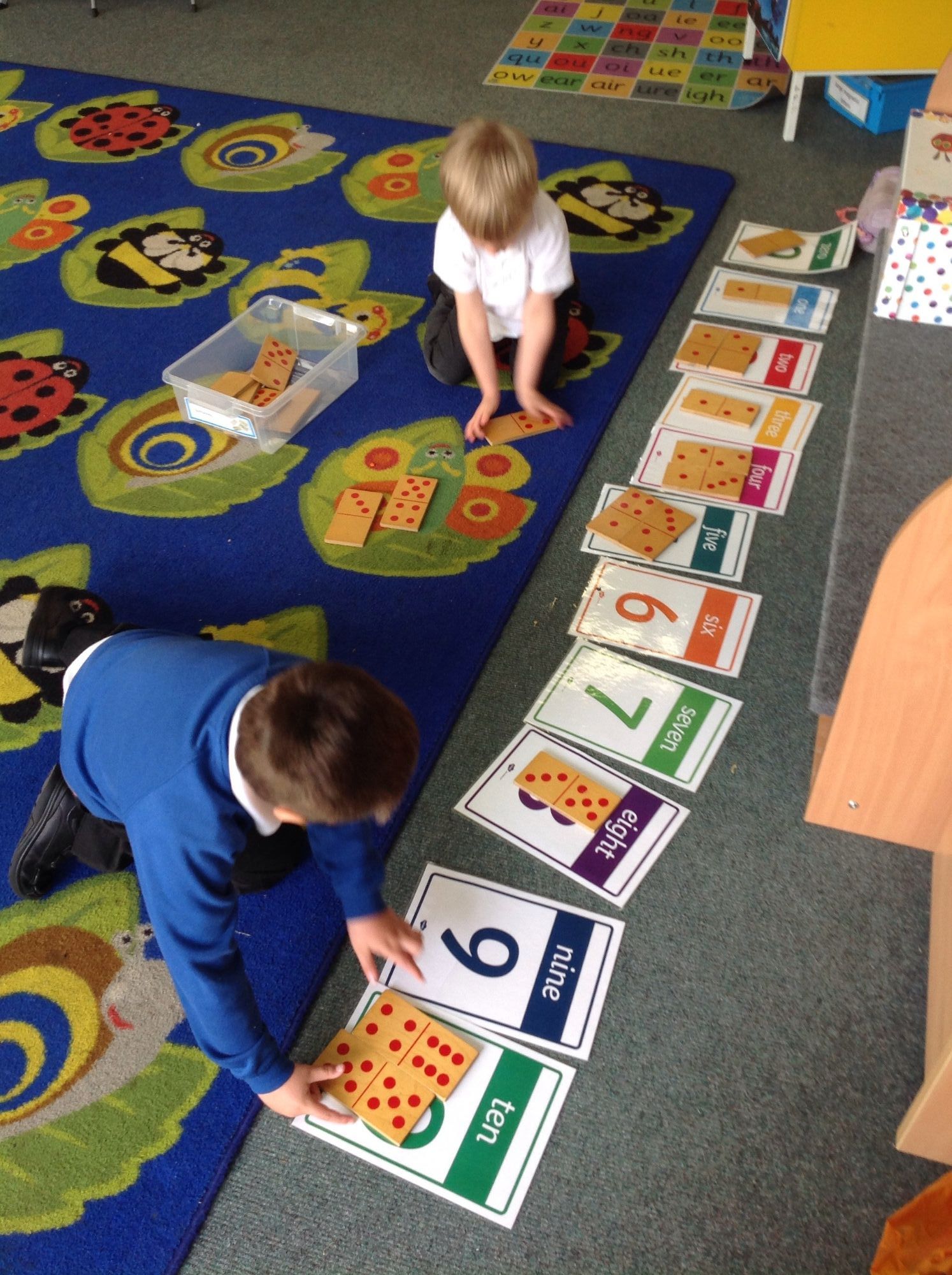 5/11/21 - Fireworks and Mindful Meditation
The Squirrels have made a fab return to school this week and have really enjoyed our focus on phonics and counting! In addition, we have also spent time talking about Bonfire Night and all the exciting things we might see, smell and hear this weekend. We have had great conversations about how to stay safe on Bonfire Night and how we must listen to our grownups in order to do that. There were some wonderful fireworks crafts created in the classroom, from collage sparklers to painting with cardboard tubes, marbles and sponges. Wow!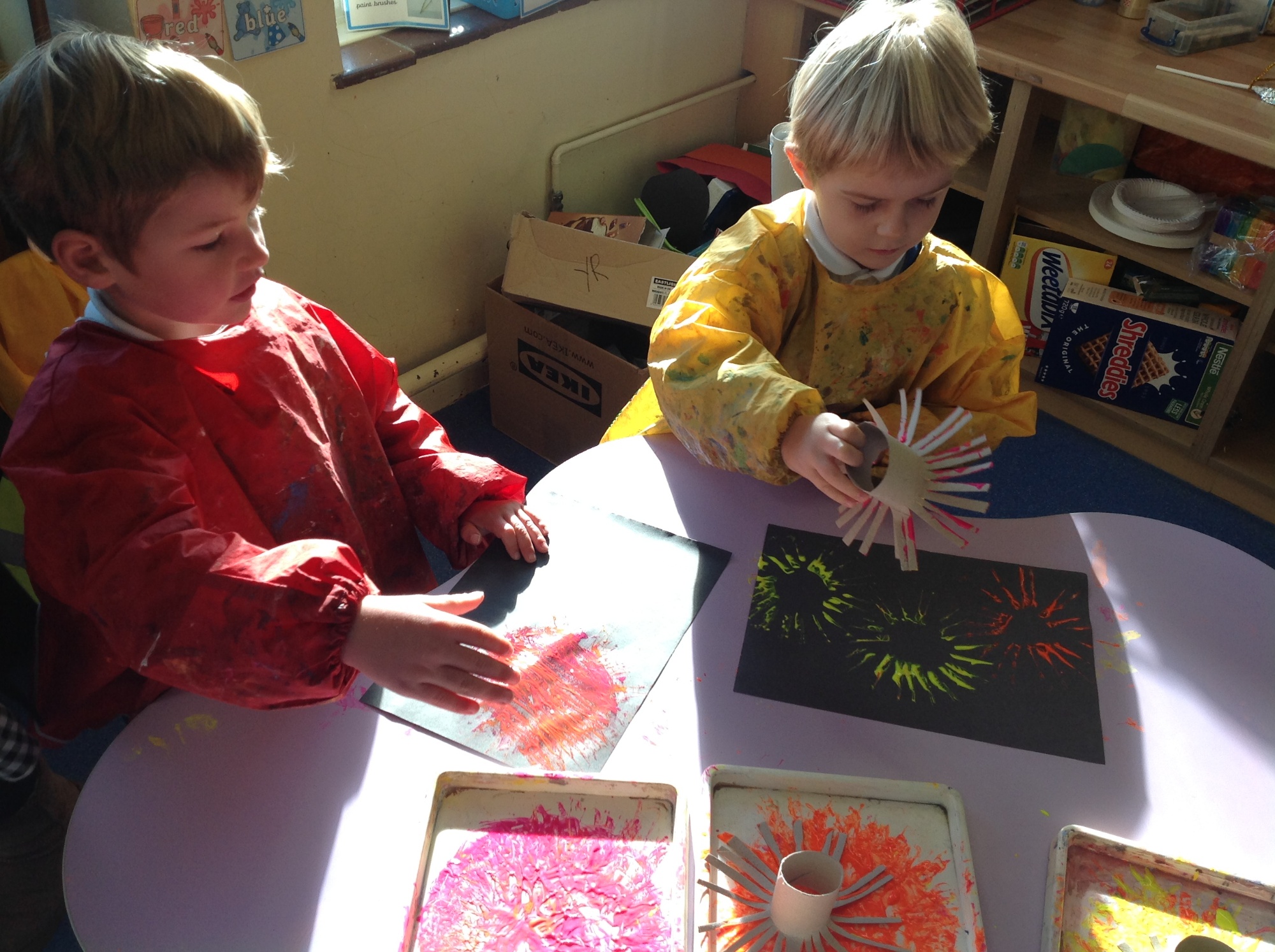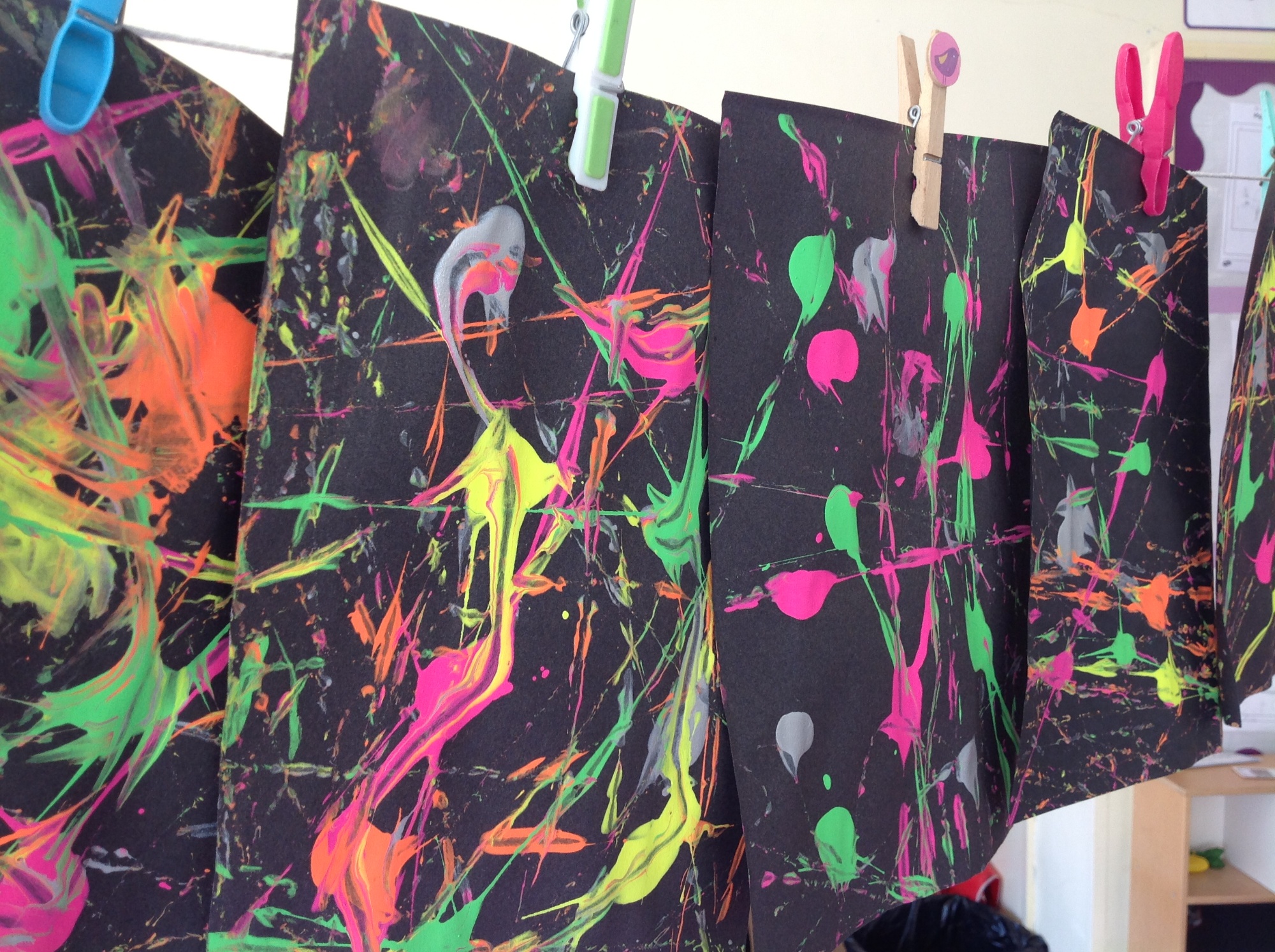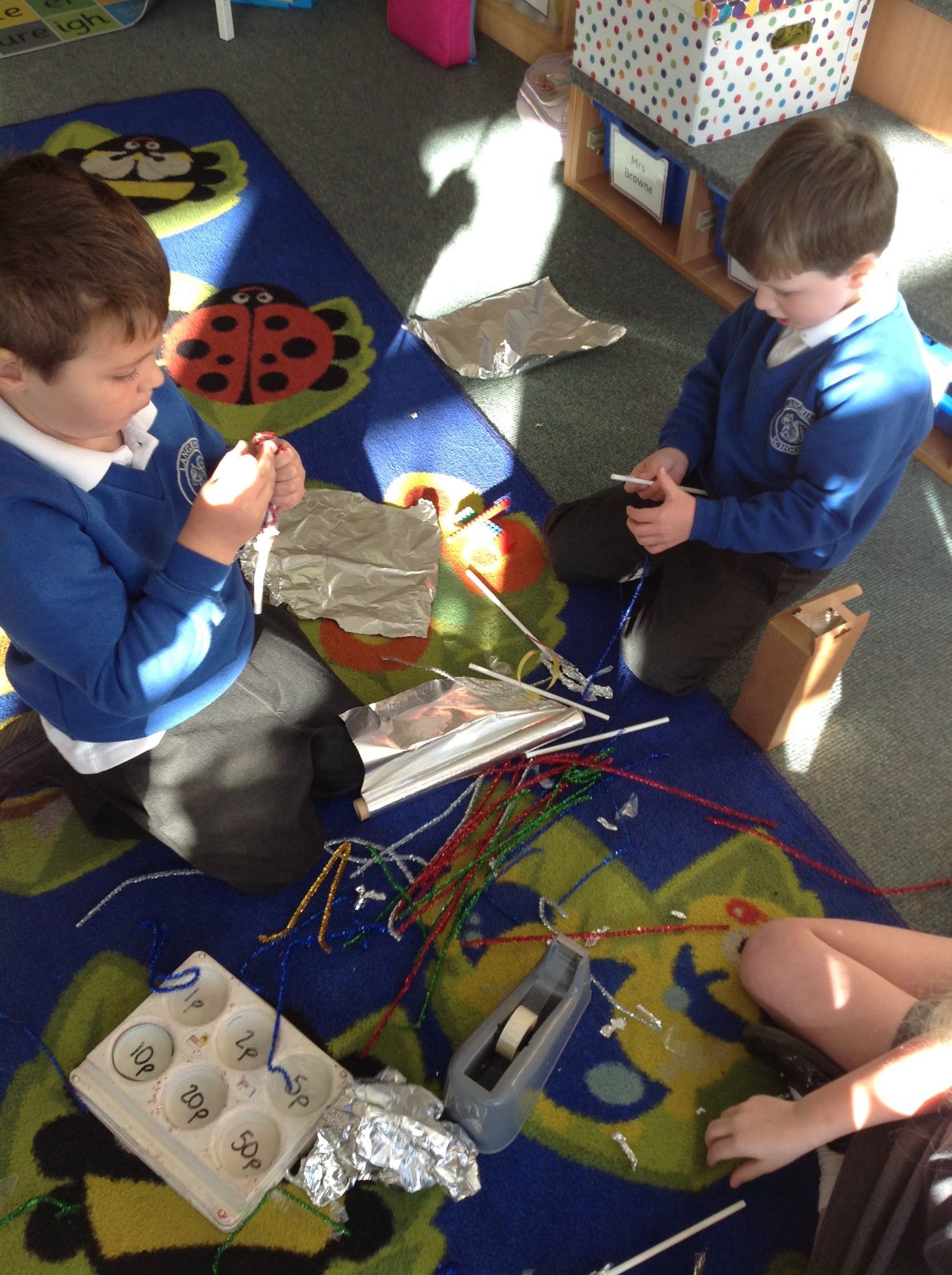 We have also started adding a mindfulness meditation time into our day. The class have taken to this really well, and it has been great to see everyone getting together to have some short time to focus on breathing and relaxing after a busy breaktime in the bracing cold! If you would like to try this exercise with your child(ren) at home, the instructions we have been following this week are available here. Have a wonderful weekend!
22/10/21 - Unicorns, Underwater, Volcanoes, Vegetables, Wishes and X-cetera!
We made it! A huge thank you to all of you for your great support during what has been a really exciting first half-term for our Super Squirrels. They are all very ready for (and deserving of) a good rest over the break and have topped it off with a week of fun activities in and out of the classroom. We have been voting for our favourite vegetables, wishing for a wide range of exciting treats and exploring x-rays of our hands created with cotton buds!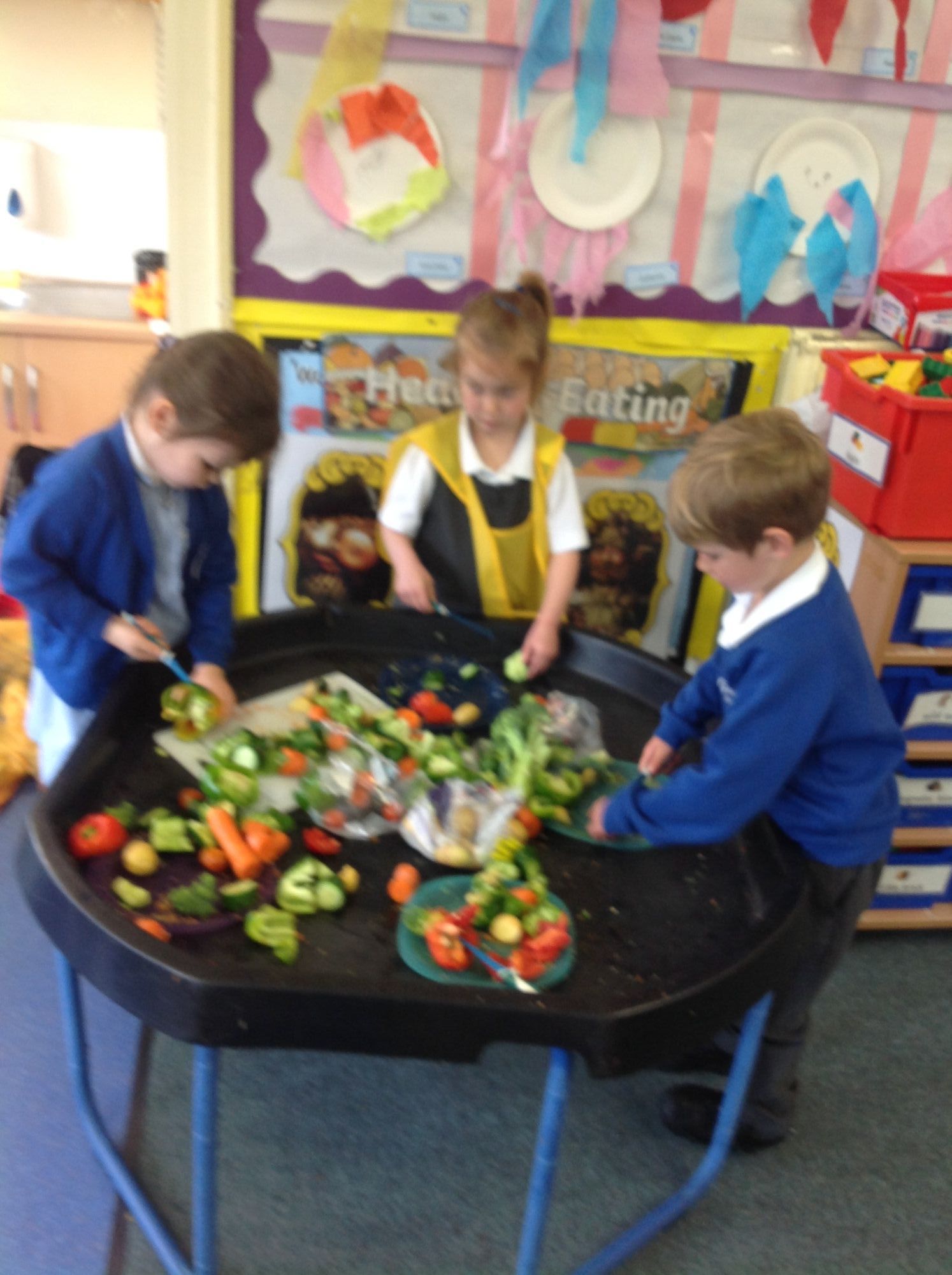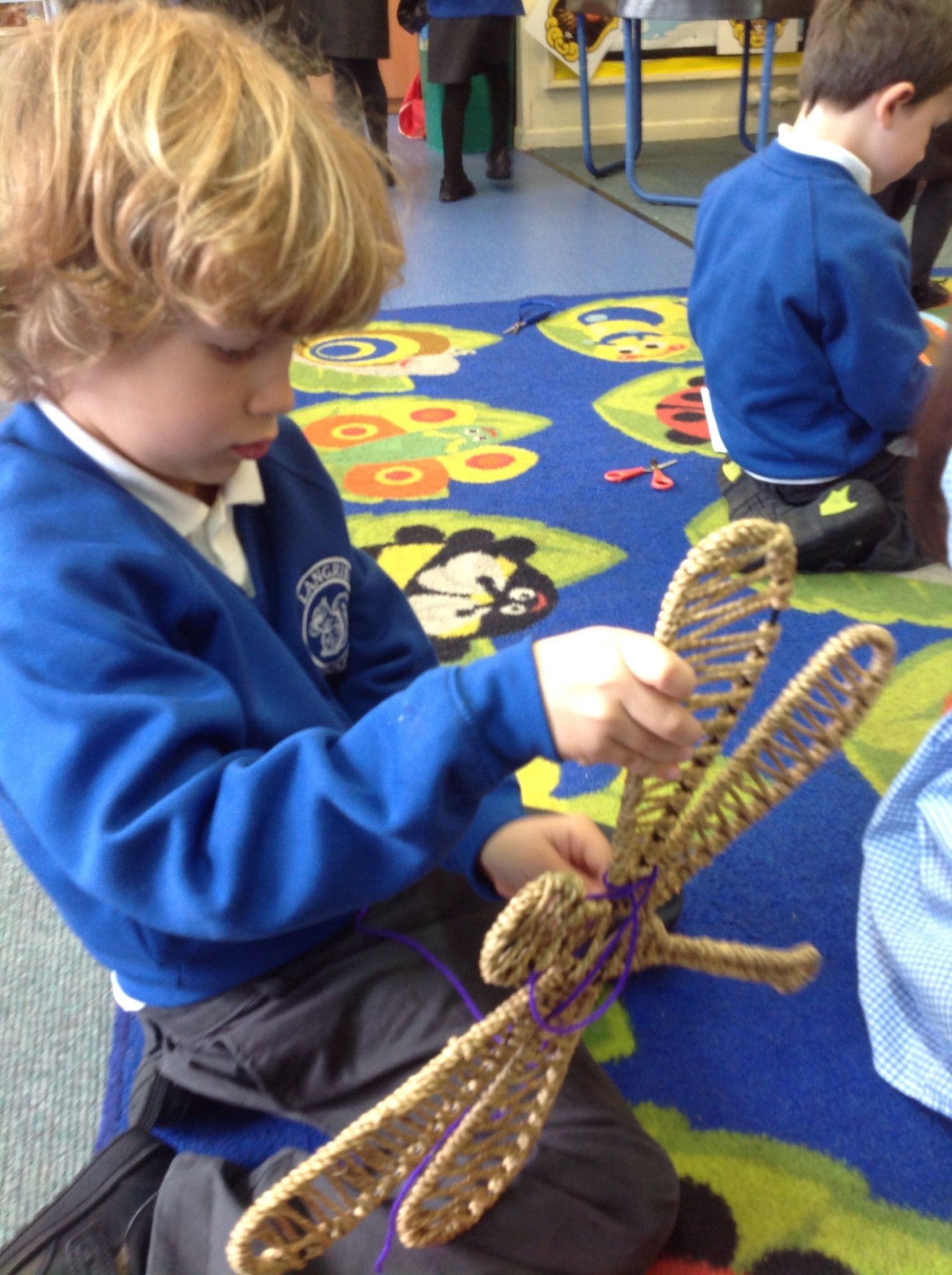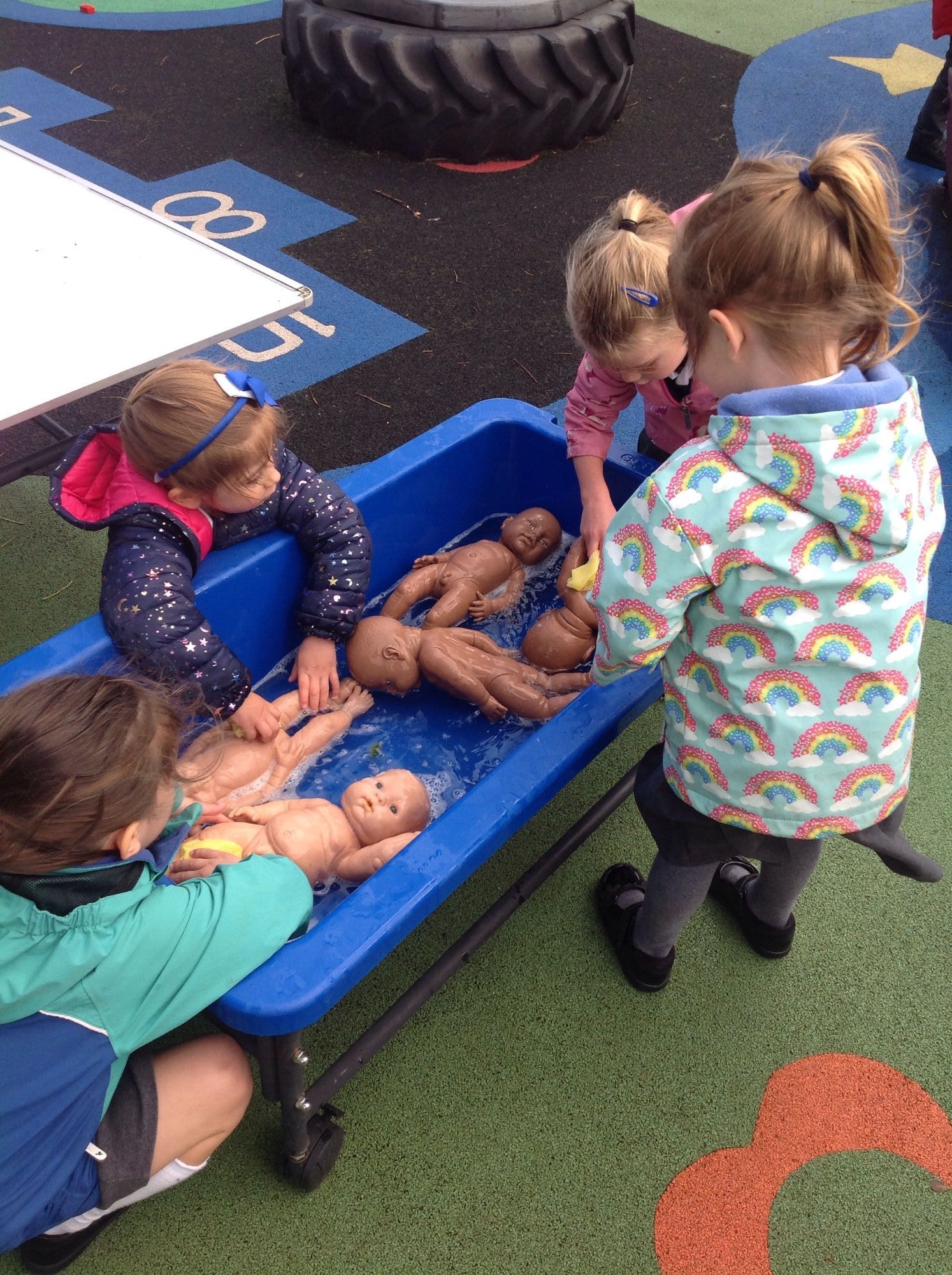 To top it all off, the end of the week saw us visited by a Fab Falconry display and all the Squirrels loved seeing the birds up close. Please have a safe and restful half-term break, and we look forward to seeing you all again on the 1st of November!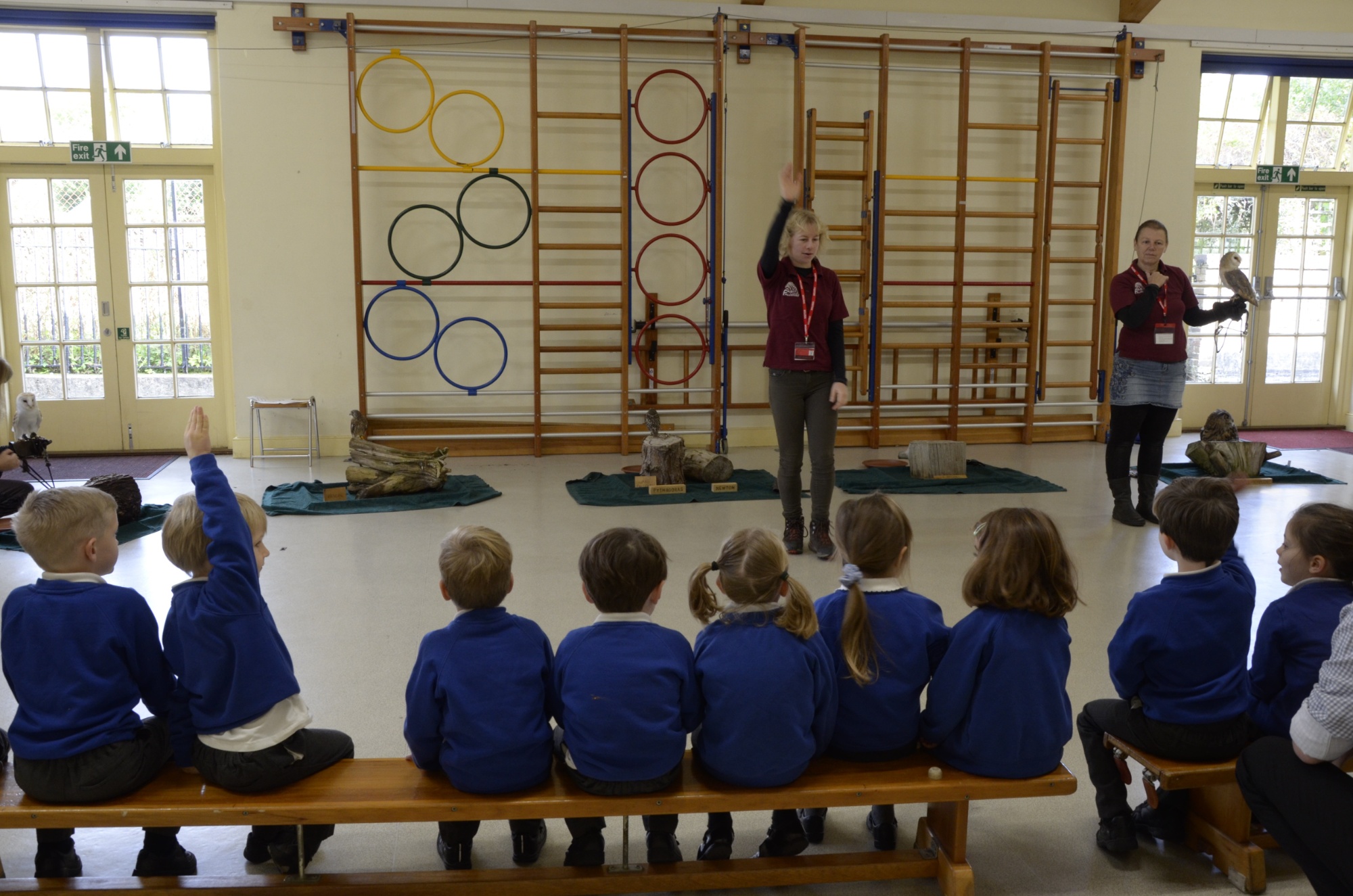 15/10/21 - Queens, Rainbow Rice, Snakes, Sandcastles, Trees and Time!
As we near the end of our first half-term, the Super Squirrels are also nearing the end of their alphabet journey. This week we have looked at q, r, s and t. We made some fabulous crowns while exploring queens and castles. R was for rockets and rainbow rice, which also became a great medium to practise the letters that appear in our names. With s, we made slithering, slimy snakes and super strong sandcastles and for t we talked about time (playing lots of What's the Time Mr. (or Mrs!) Wolf and made tree artwork with the falling autumn leaves. It has been a wonderful week and all our children have worked super hard. We also had time for a very exciting PE lesson and our first time getting apparatus out for climbing and jumping. Miss Rhodes also commented that we were the best and safest children that she had ever seen. Wow! Well done Squirrels!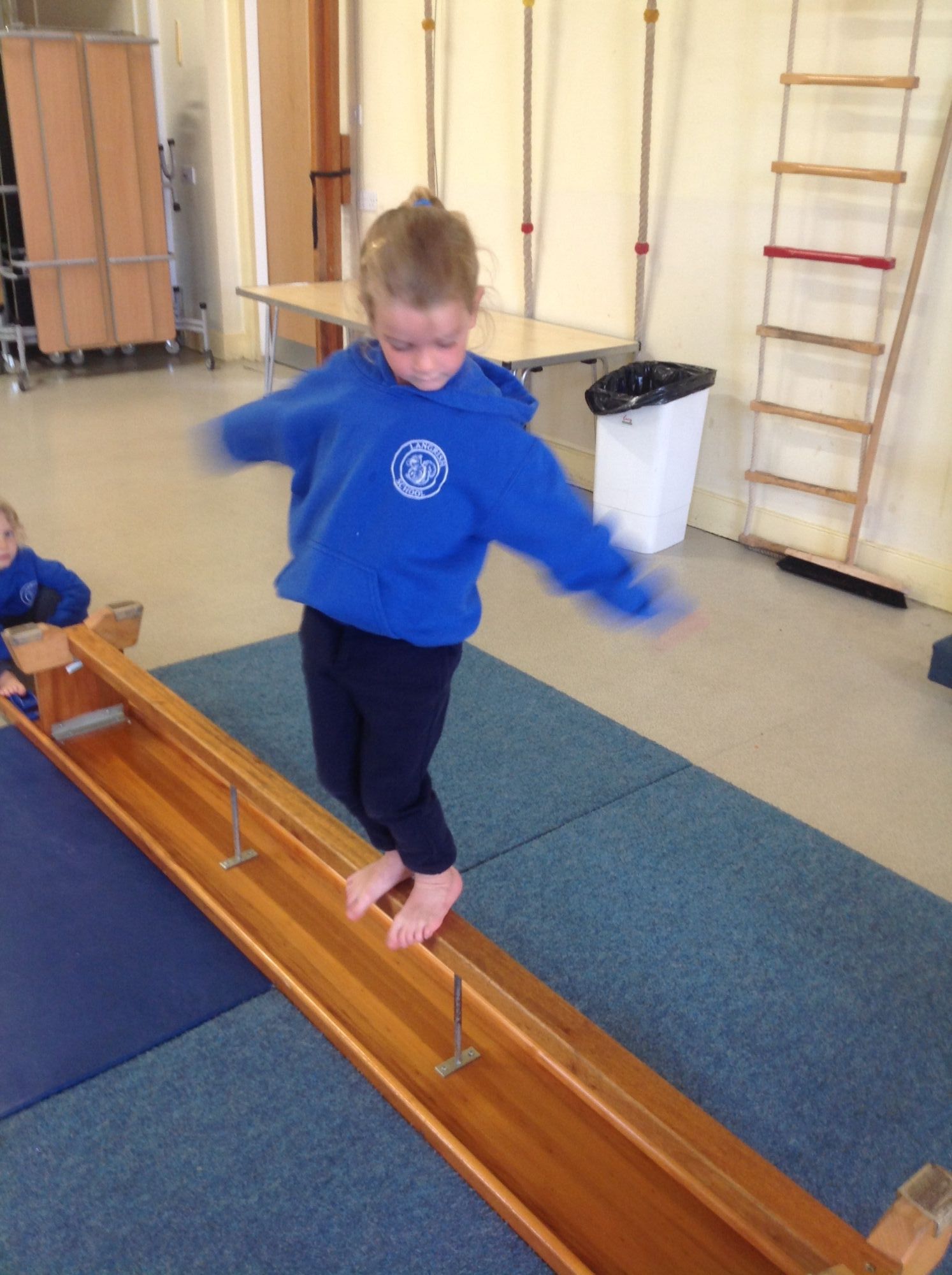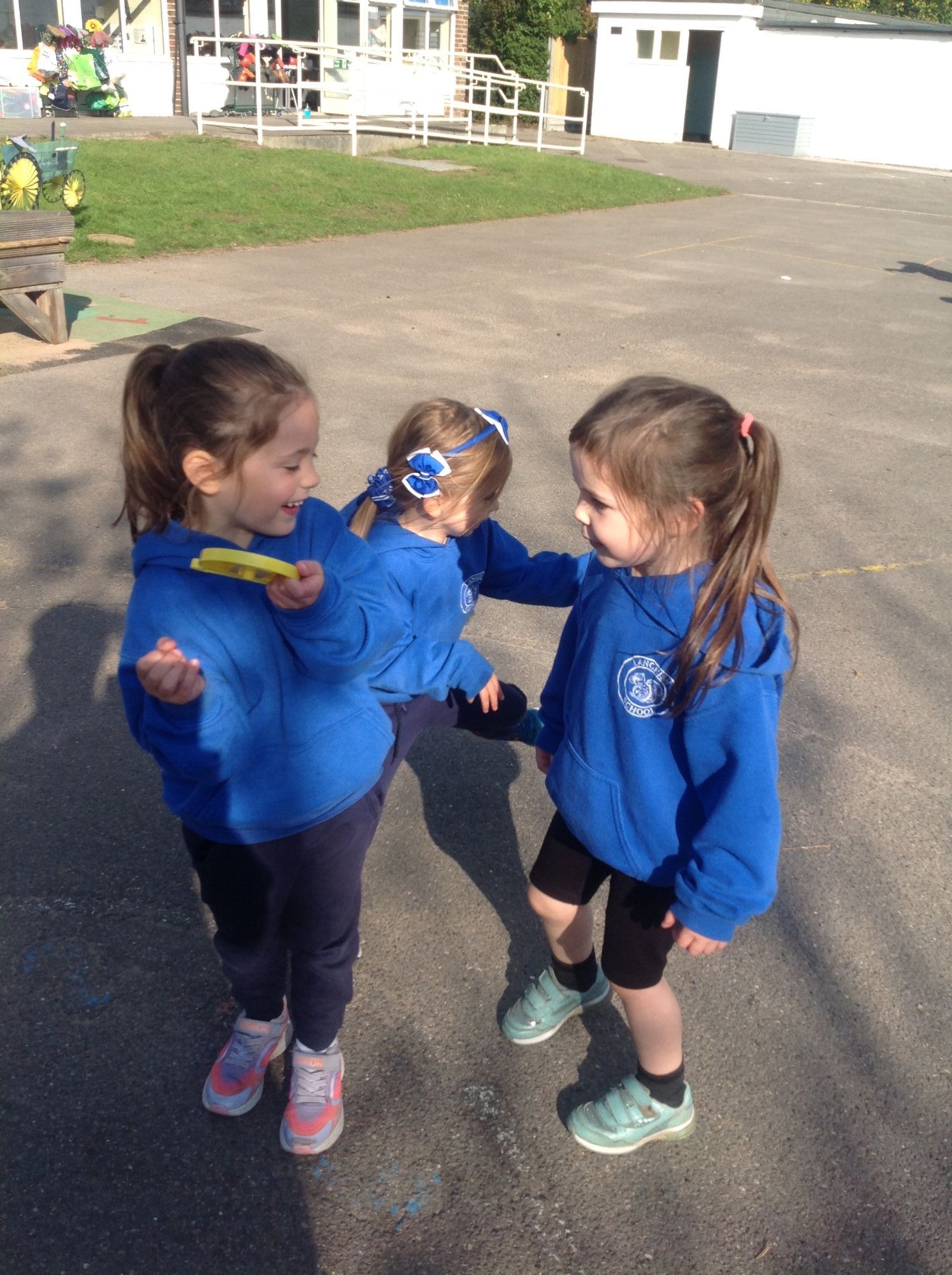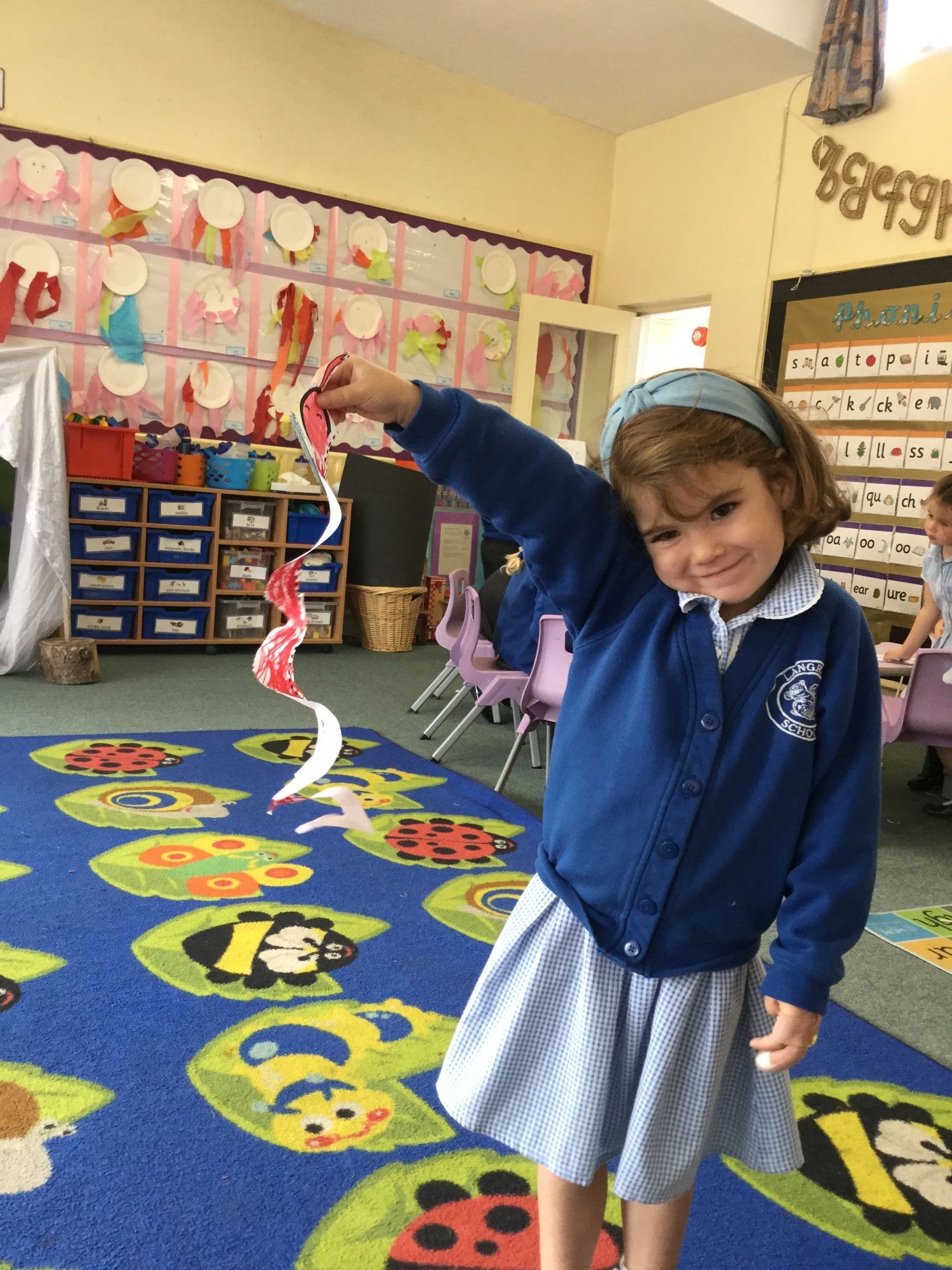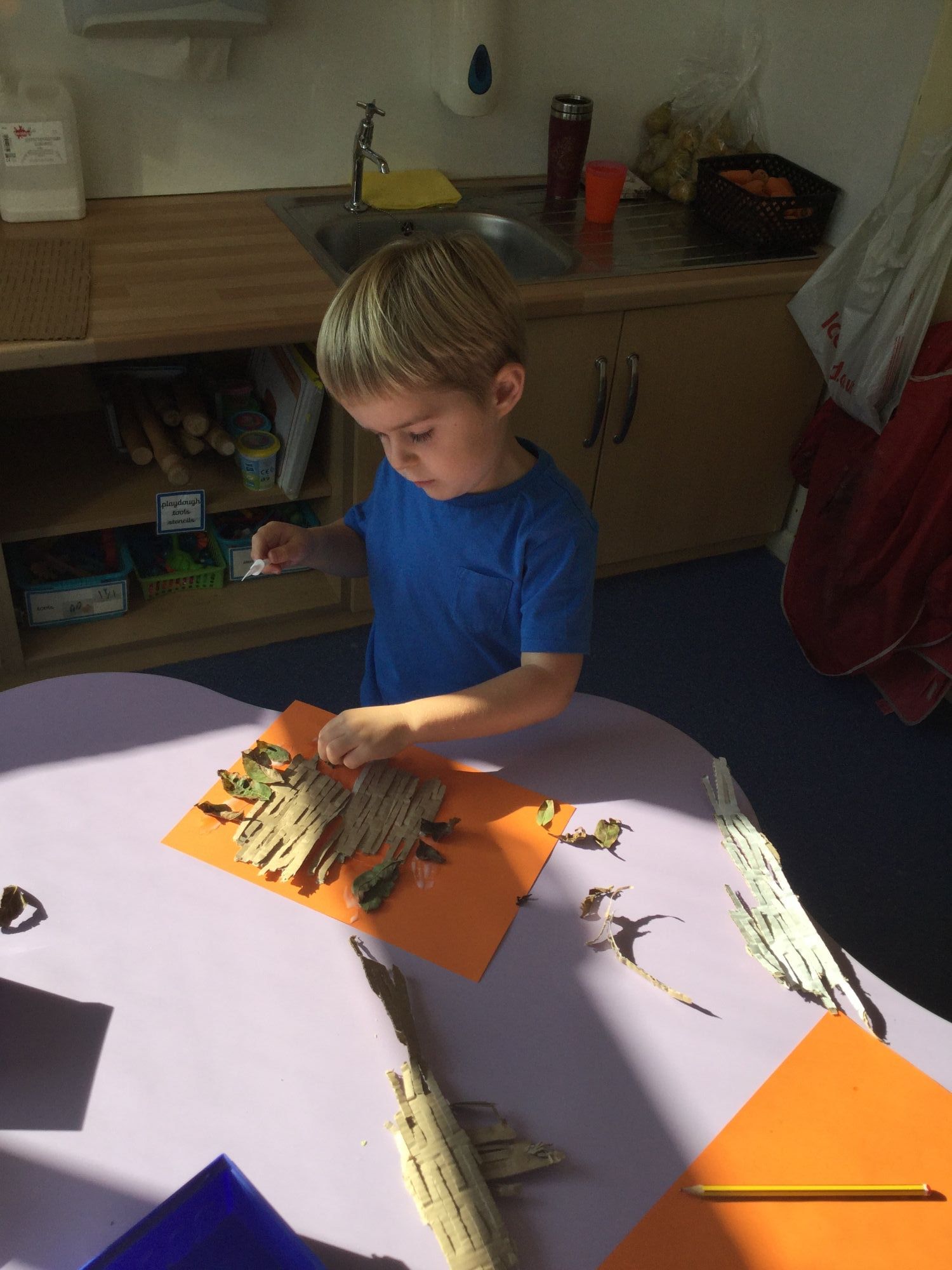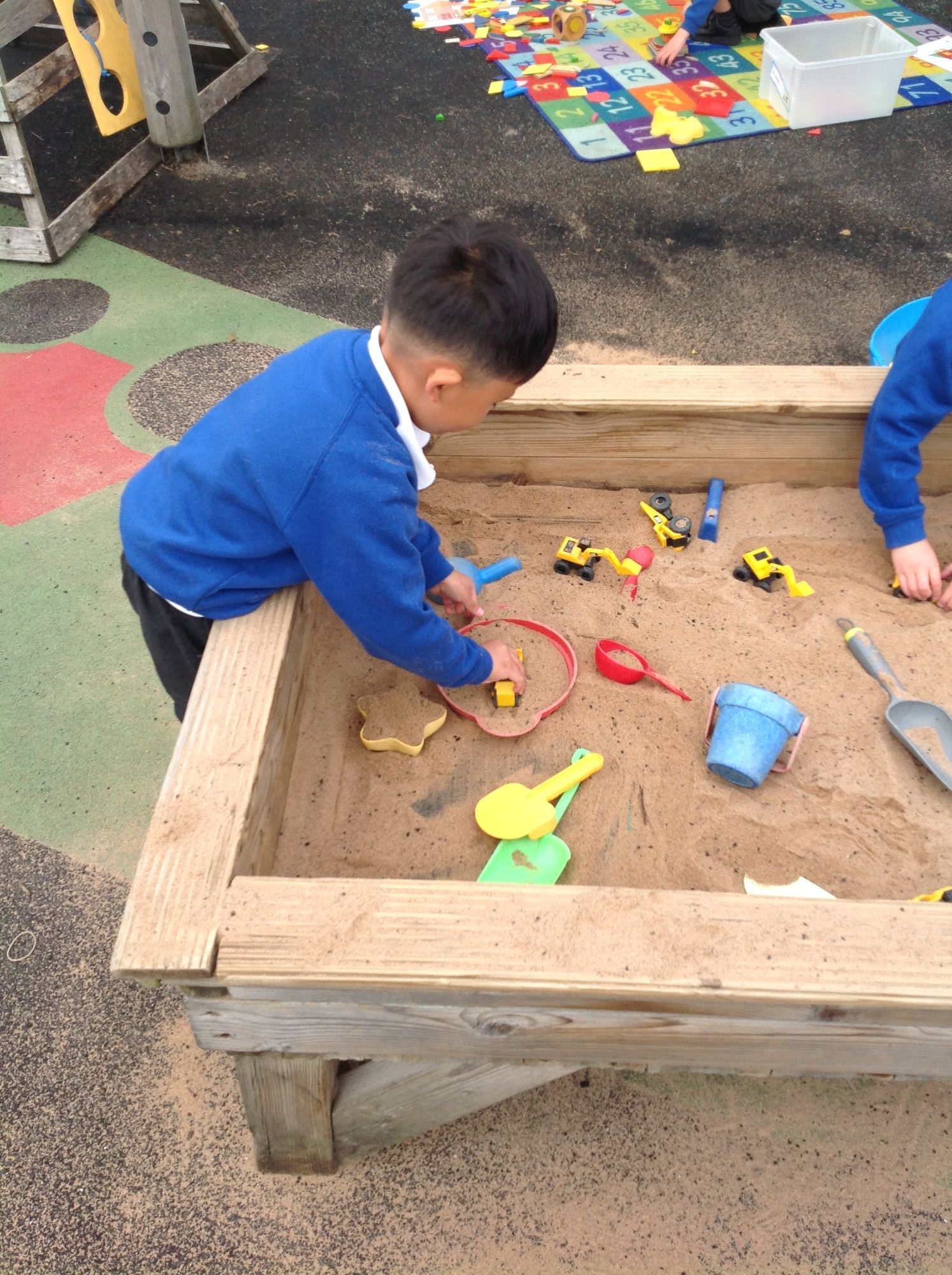 8/10/21 - M is for monsters, N is for numbers, O is for Octopus and P is for Pirates, Polar, Planets, Patterns and much, much more!
Well done on another great week for the Squirrels! We have been super busy this week making some monster numbers, Numicon puzzles with our maths equipment and some very silly octopi (being careful to count the legs!). The end of the week saw us explore P and we found so many things that had that initial sound! We chose pirate maps, playing as polar explorers and were excited to look at patterns and planets. Can you find any other things in your home environment which have those initial sounds? Lets keep being sound detectives, both at home and in school! We also made our first visit to the school hall to join the Key Stage One children for an assembly with our visiting Reverend. The Squirrels took this all in their stride and continued to show great confidence in tackling these new experiences.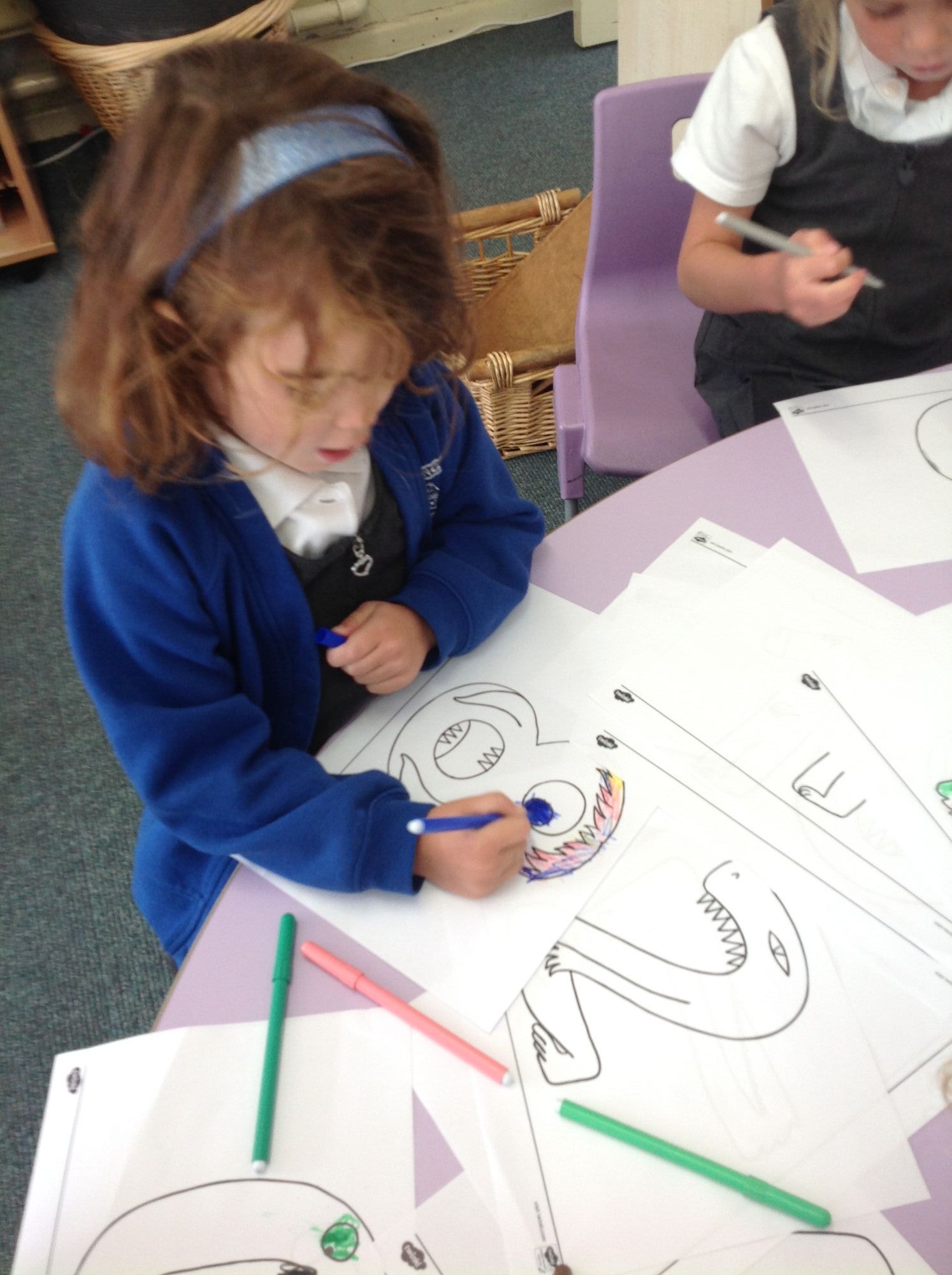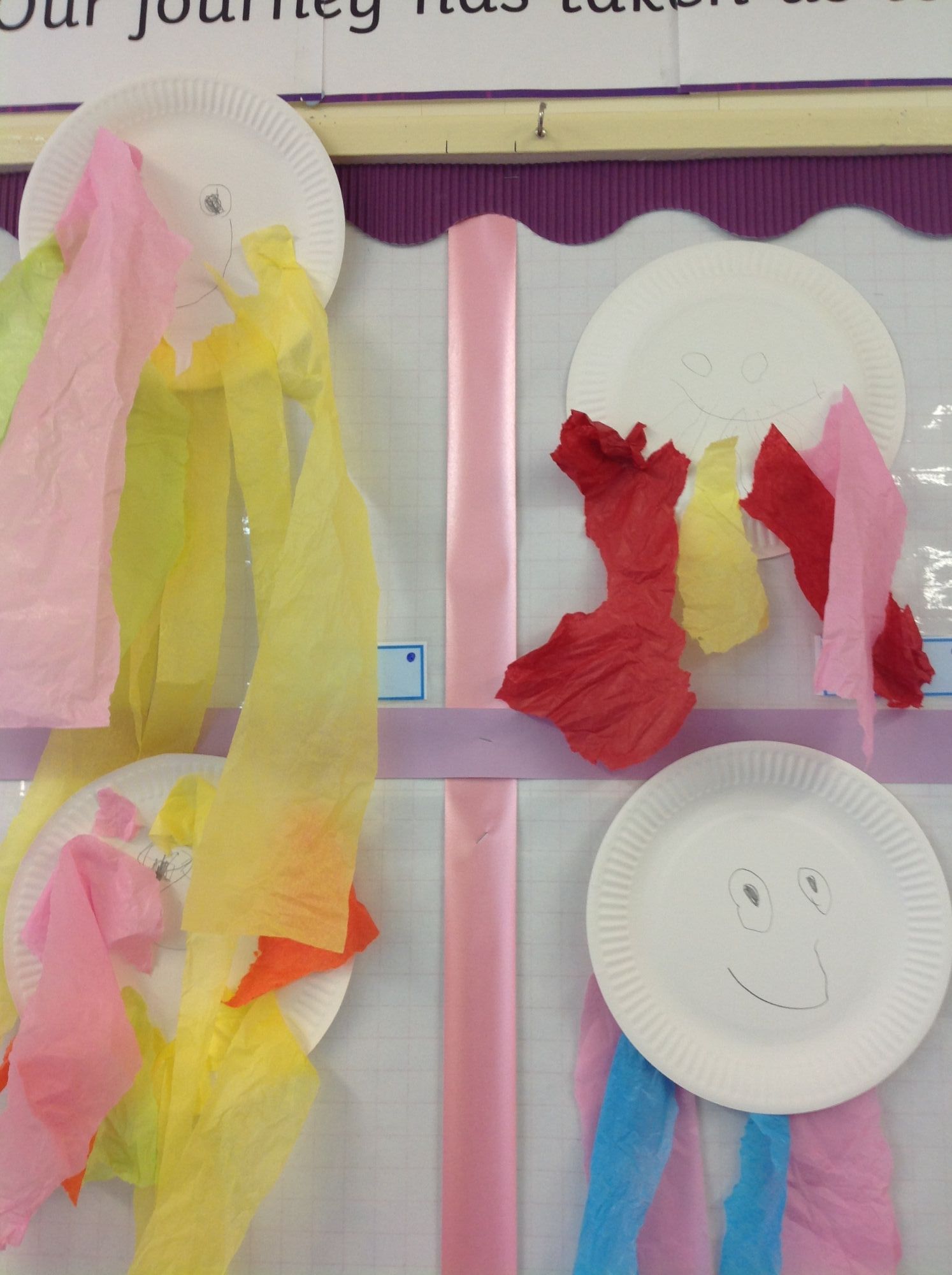 As a reminder, please ensure we have some welly boots in school for your child. As the weather is starting to change, the children are beginning to wear them out onto the field at lunchtime so we will keep them in school as much as possible to ensure that they don't miss out!
At the bottom of the page, you will also find our new E-Safety charter. We talked about some ideas of how to stay safe when using computers and the Internet both at school and at home. Please have a look and be sure to follow up on the advice at home to ensure we all stay happy, healthy and safe!
---
1/10/21 - I is for insects, J is for jam, K is for kindness and L is for listening!
Wow! What a fun week for our Squirrels! The weather may have been wet, wild and windy, but it has not dampened any spirits at Langrish this week. Our intrepid explorers have continued their alphabet journey, using their keen eyes to explore insects for i, making some GIANT jam sandwiches for j and also thinking of acts of kindness that they can do for others for k. We ended the week by exploring some mystery sounds, playing some new games and taking a listening walk around the school to hear the clang of cutlery in the kitchen and the wind rustling through the leaves! Phew! I wonder what sounds you can hear in your home environment over the weekend?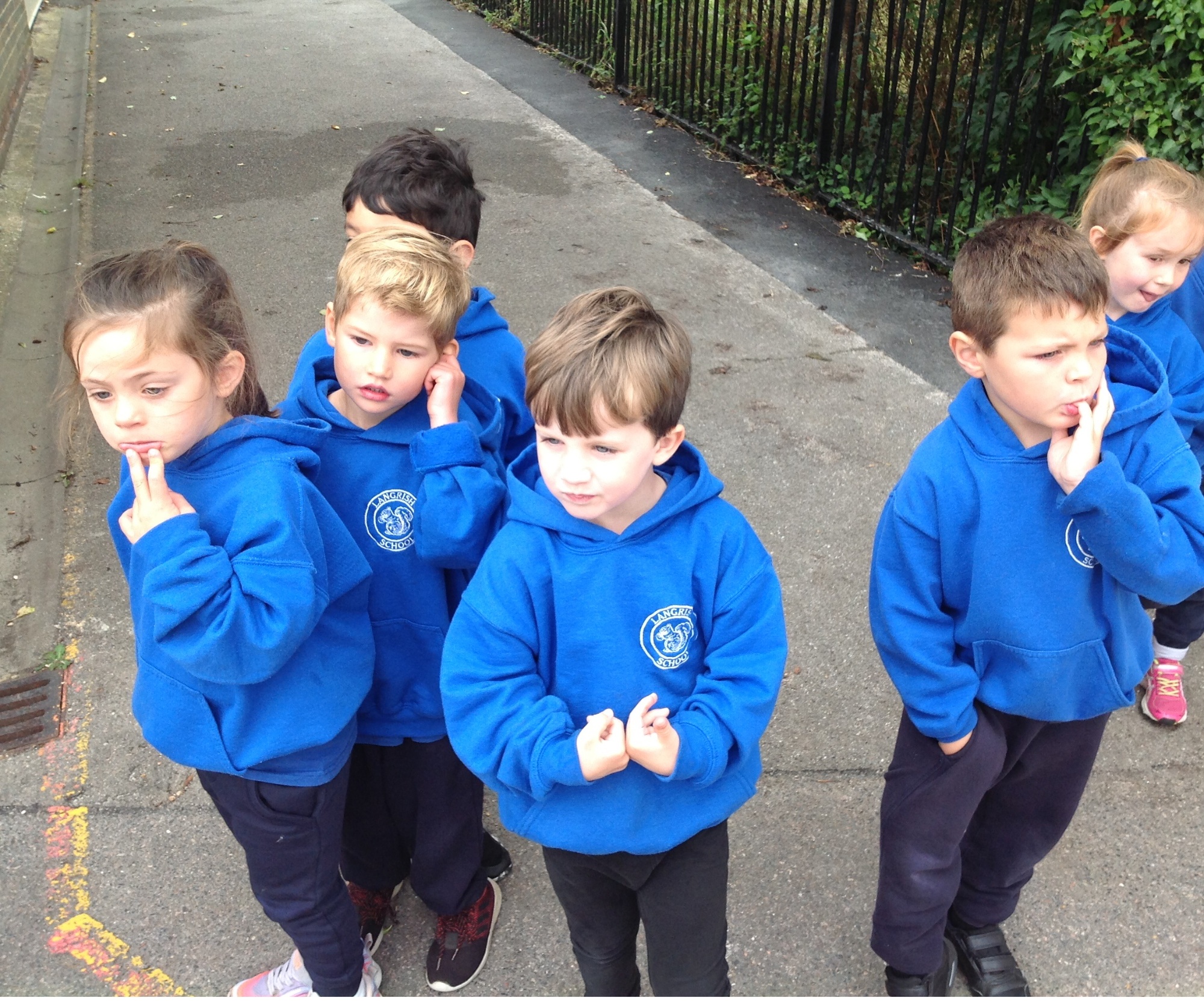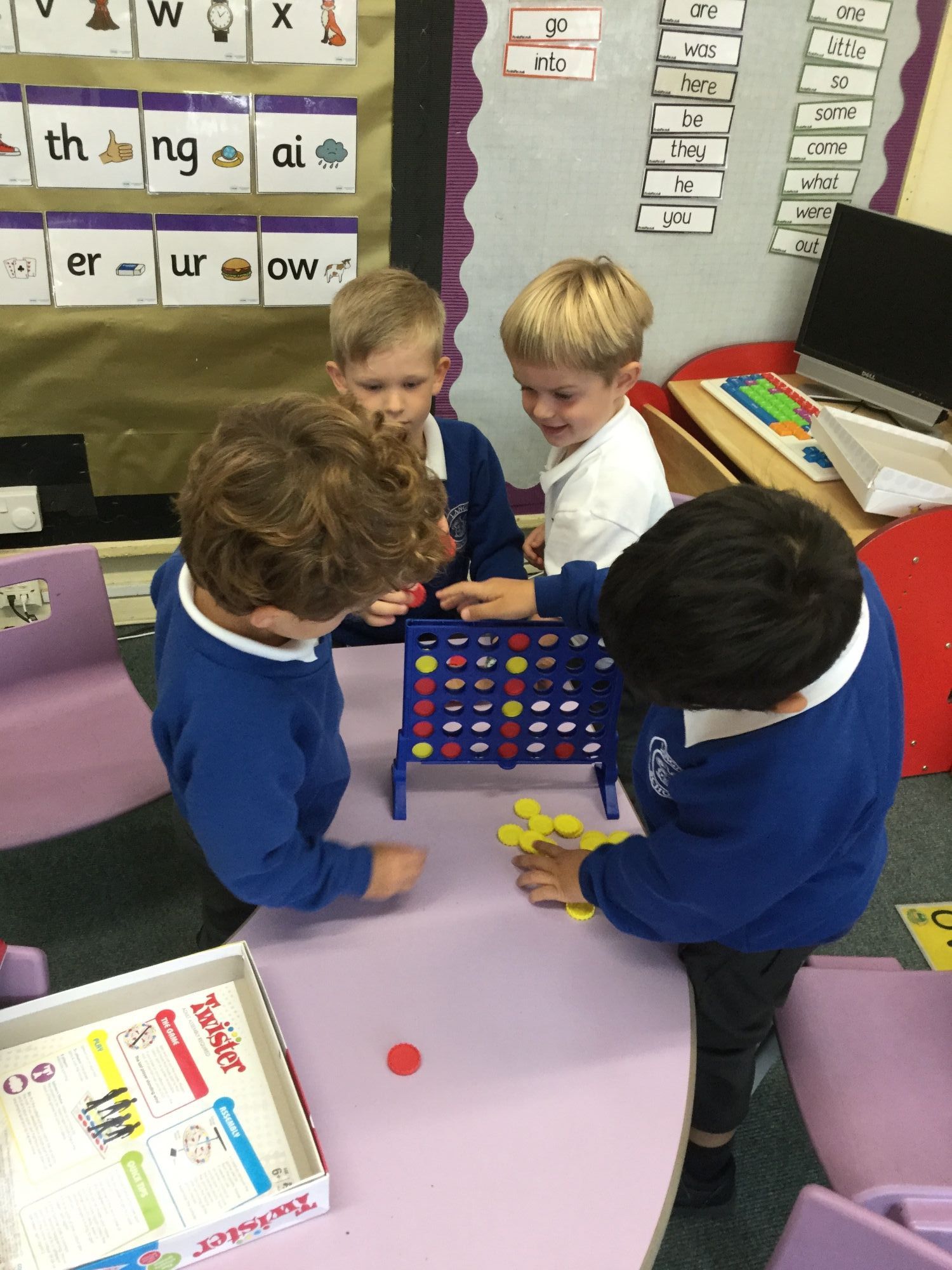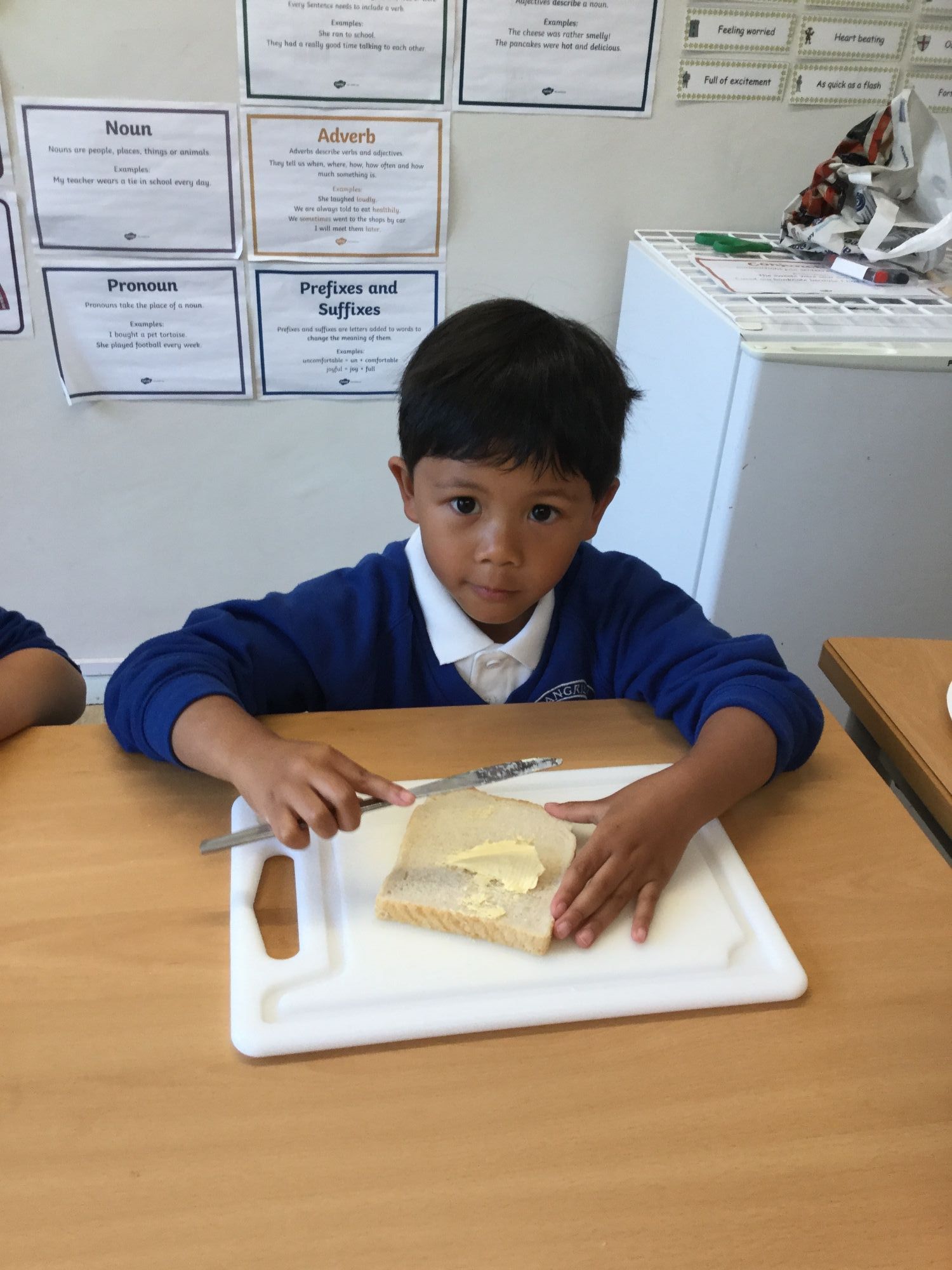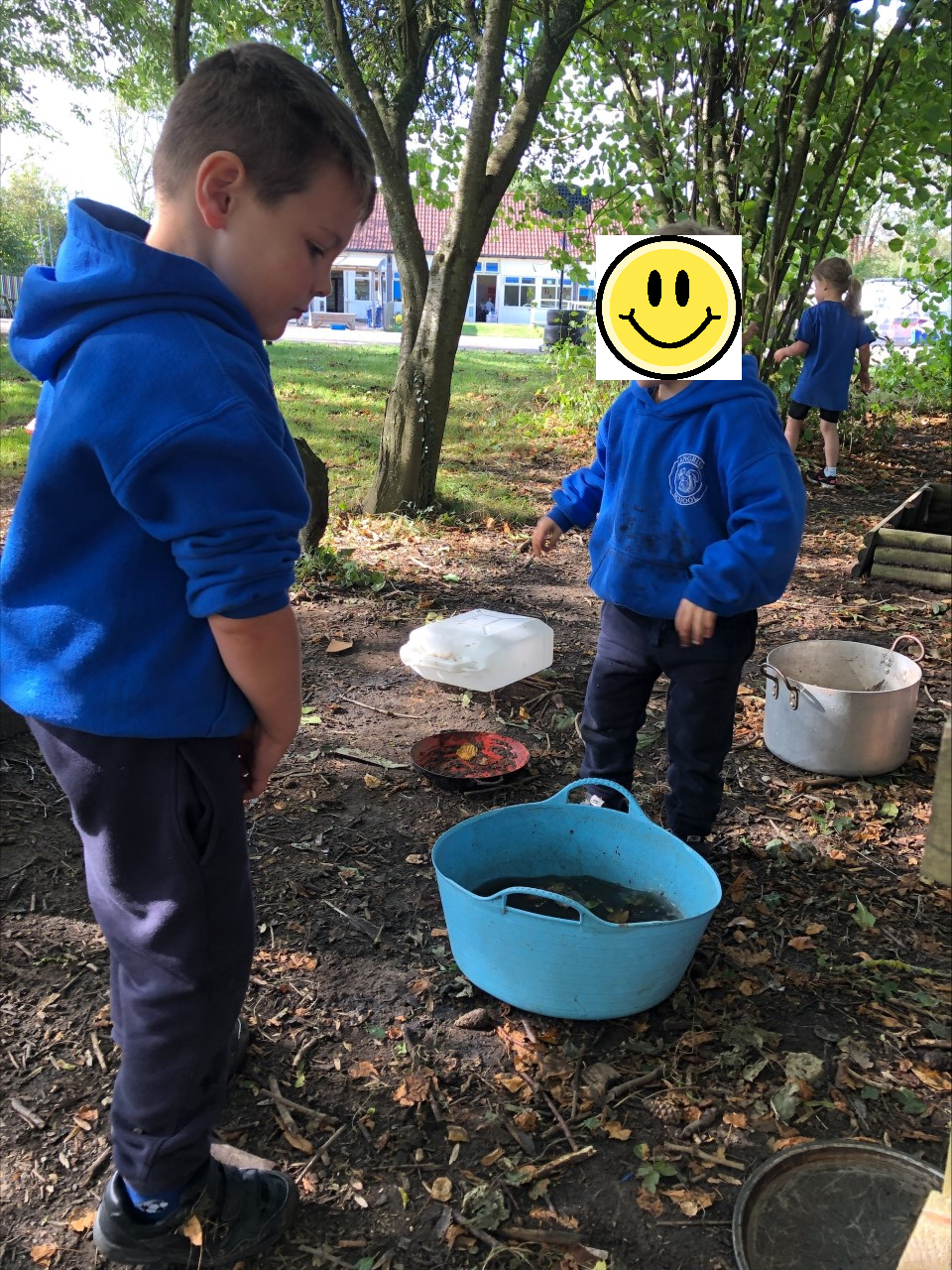 We have also started going to the copse on Monday afternoons for Forest School! We love the extra chance to play outside and get muddy and messy! Please help us by sending in welly boots and waterproofs on a Monday. These should also be named to avoid confusion! Have a great weekend!
24/9/21 - Continuing our alphabet journey
It's been another busy week this week for all our Super Squirrels! We have been continuing our letter a day journey, alongside learning new faces, new routines and even going to the library for the first time to choose books! We were very excited! Parents - please ensure that your child has their reading wallet (not just the record book!) with them every day in order to ensure we are able to change books as needed!
Our letters this week were e, f, g and h. To explore them we talked about Emotions and checked our feelings every day, found fragrant flowers, gazed at giant giraffes and huffed and puffed with hopscotch! We also found the time to run restaurants outside, put on puppet shows and make... Christmas cards?! Wow!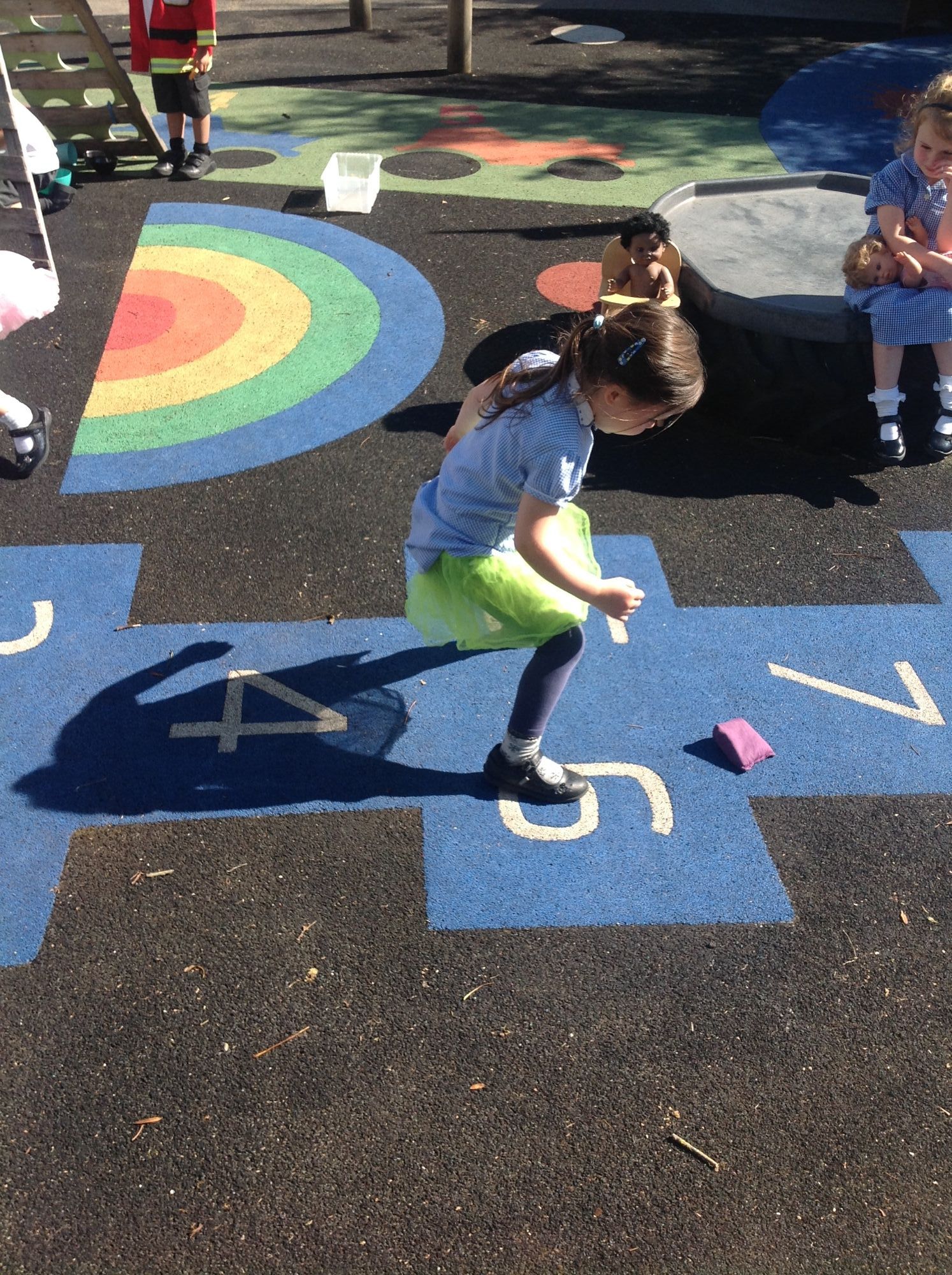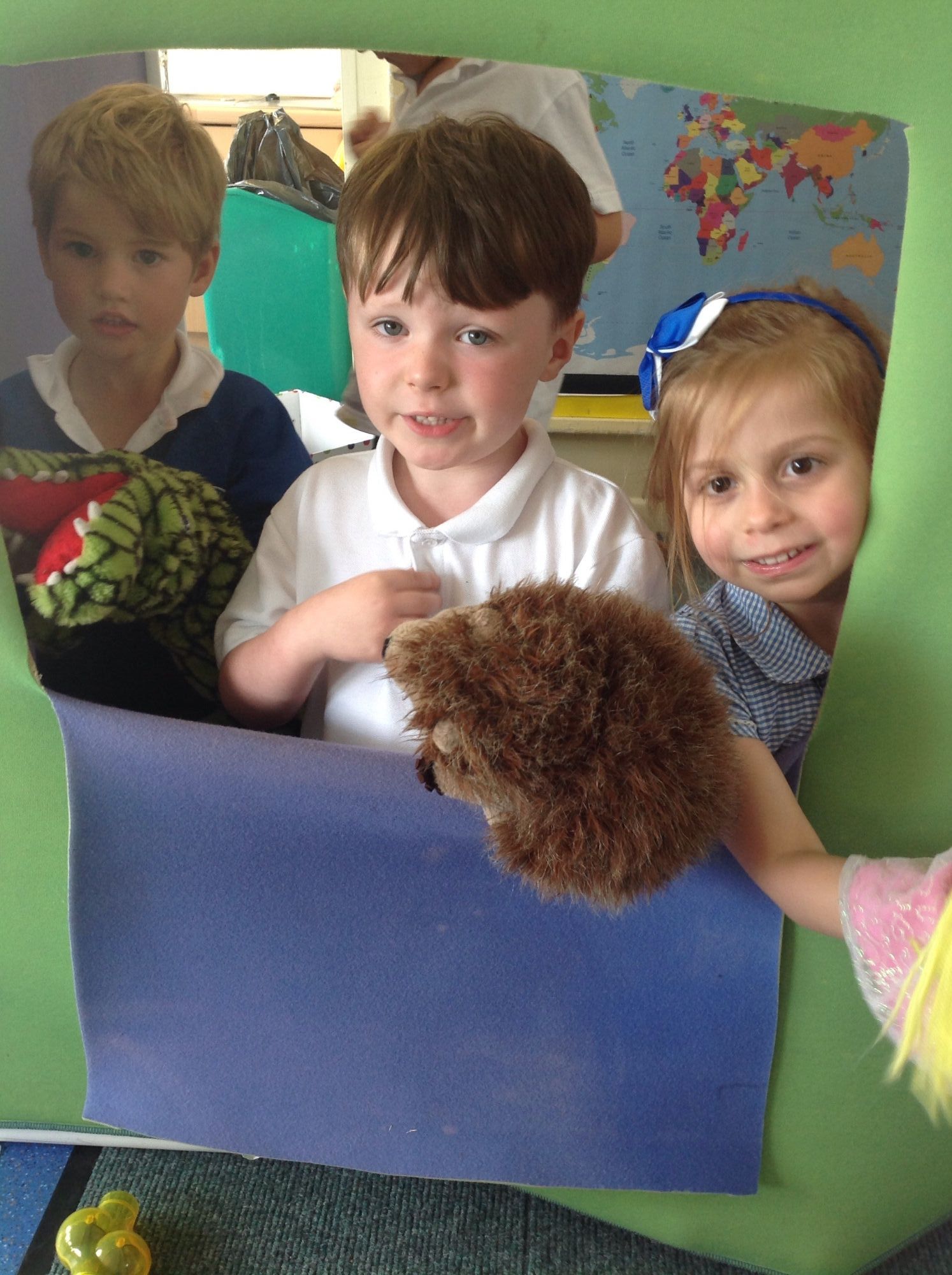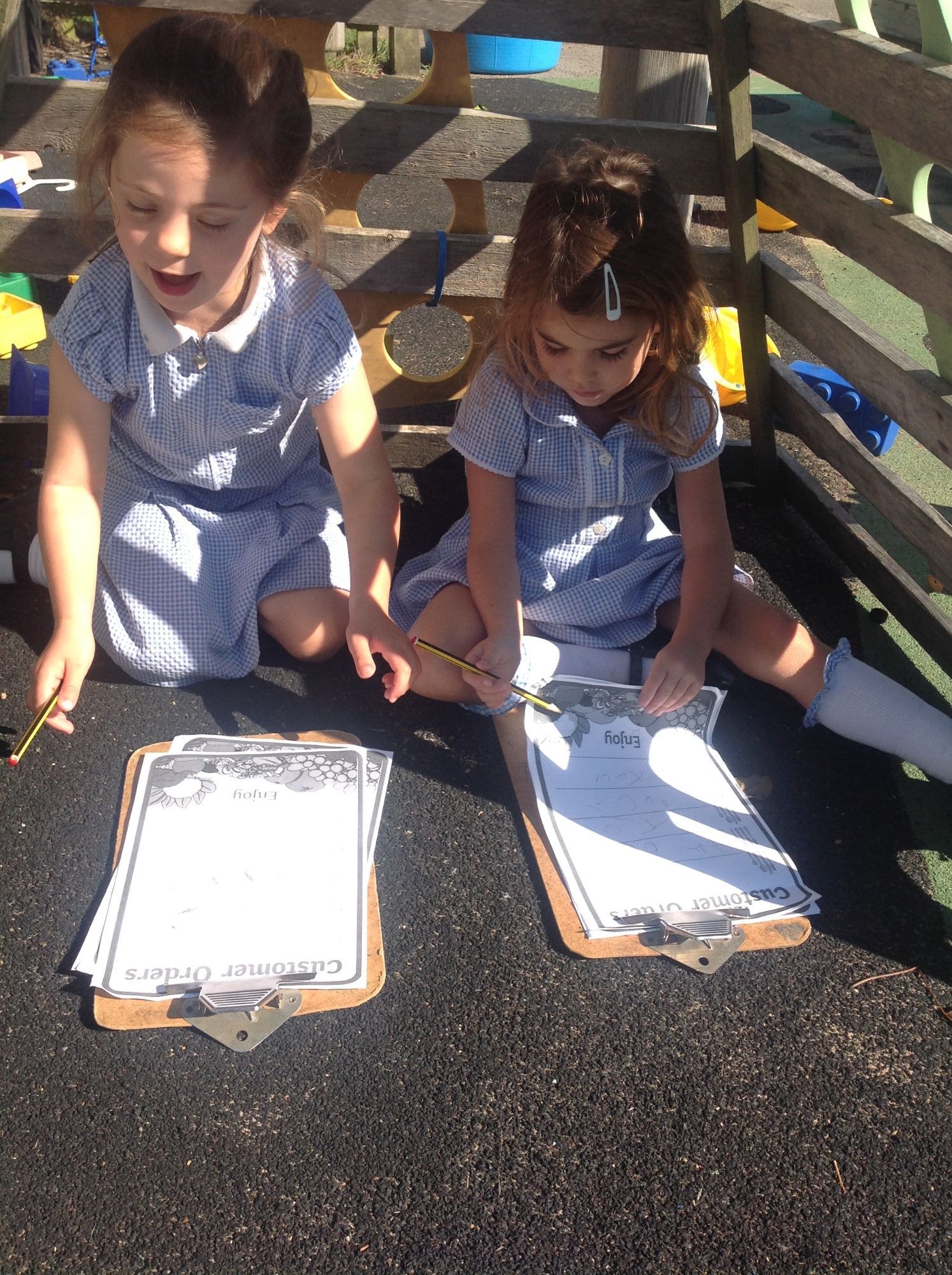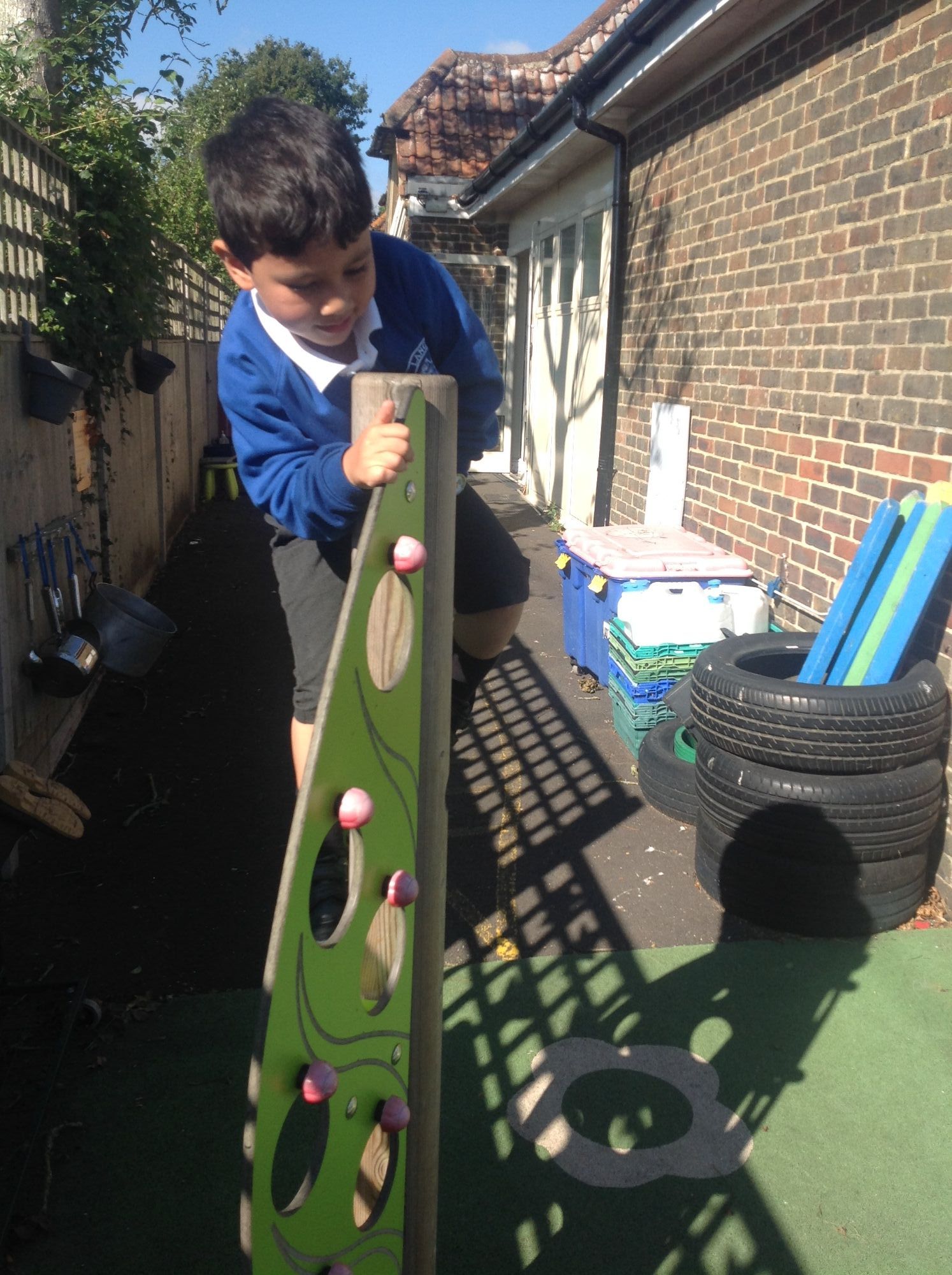 17/9/21 - Reading Wallets, Sid the Squirrel and A Letter a Day!
We have had another super week in Squirrels! We have started a journey through the alphabet, looking at a different letter each day and having loads of fun playing with things that start with that letter. This week has been A, B, C and D. We have enjoyed animals, babies, caterpillars, castles, dinosaurs, digging in the dirt and doctors! Maybe you can find some other toys you have at home that start with those letters? We also had our fist child to take Sid the Squirrel home for the weekend. Maybe he will be able to come and visit you soon!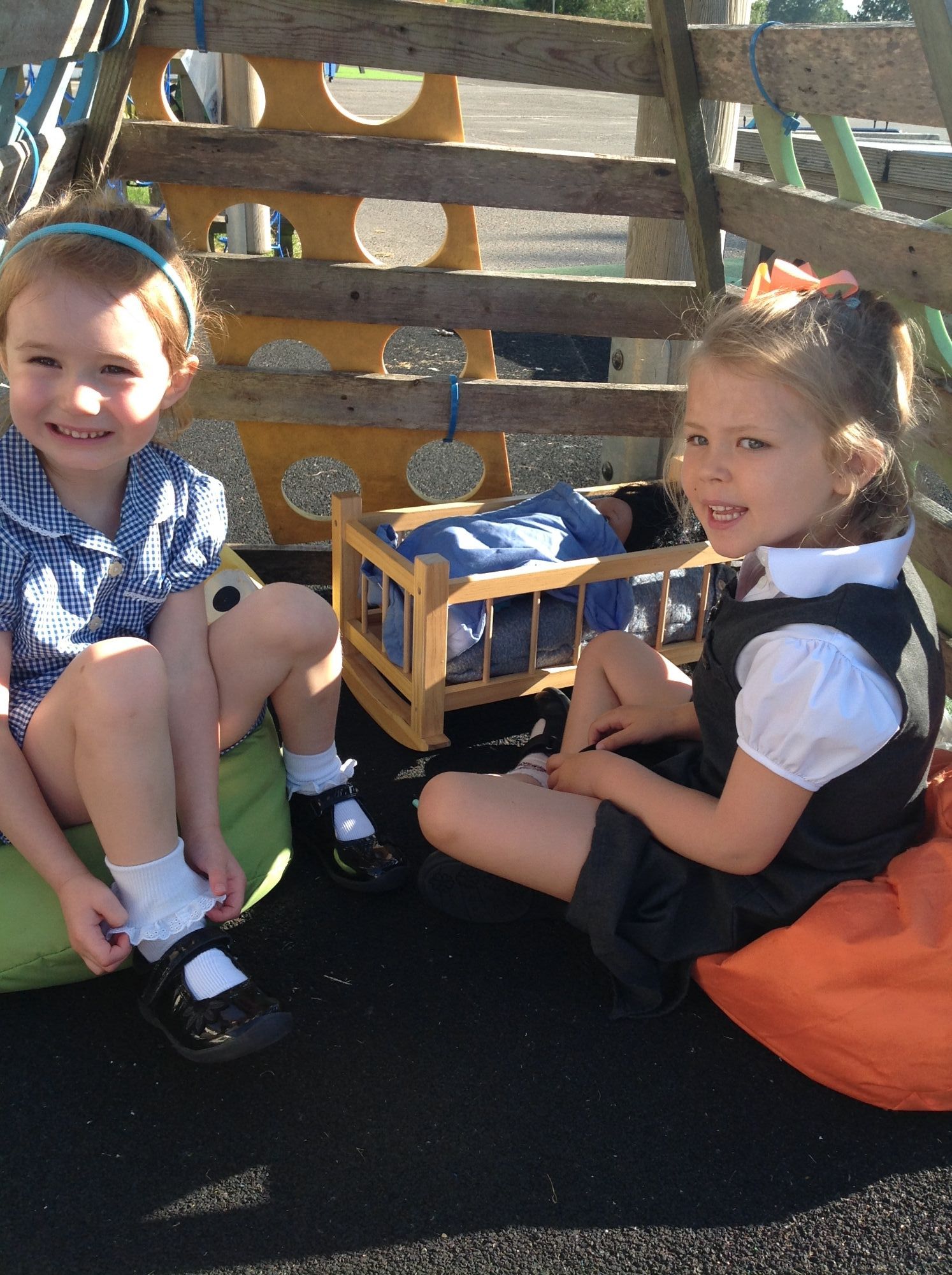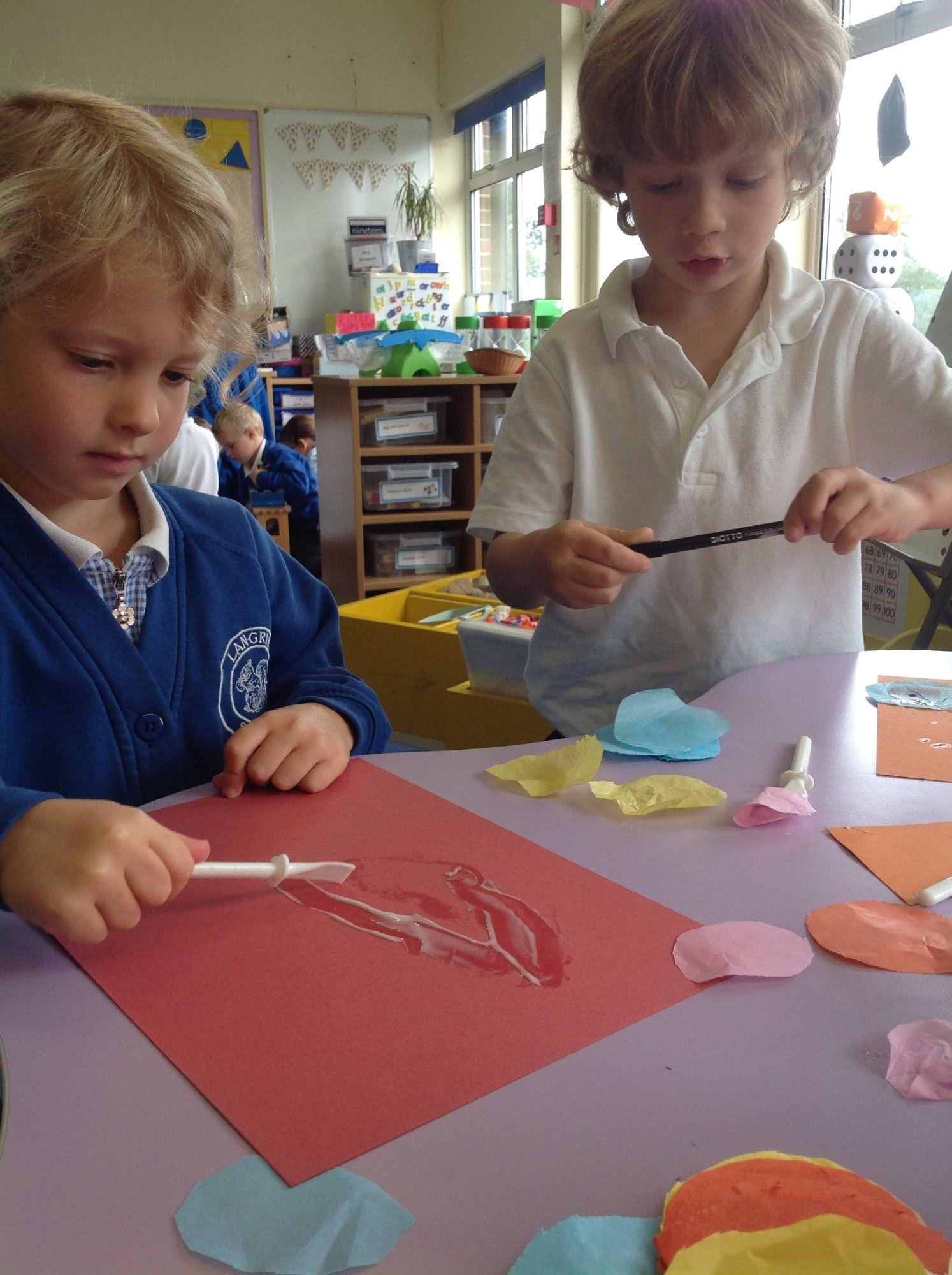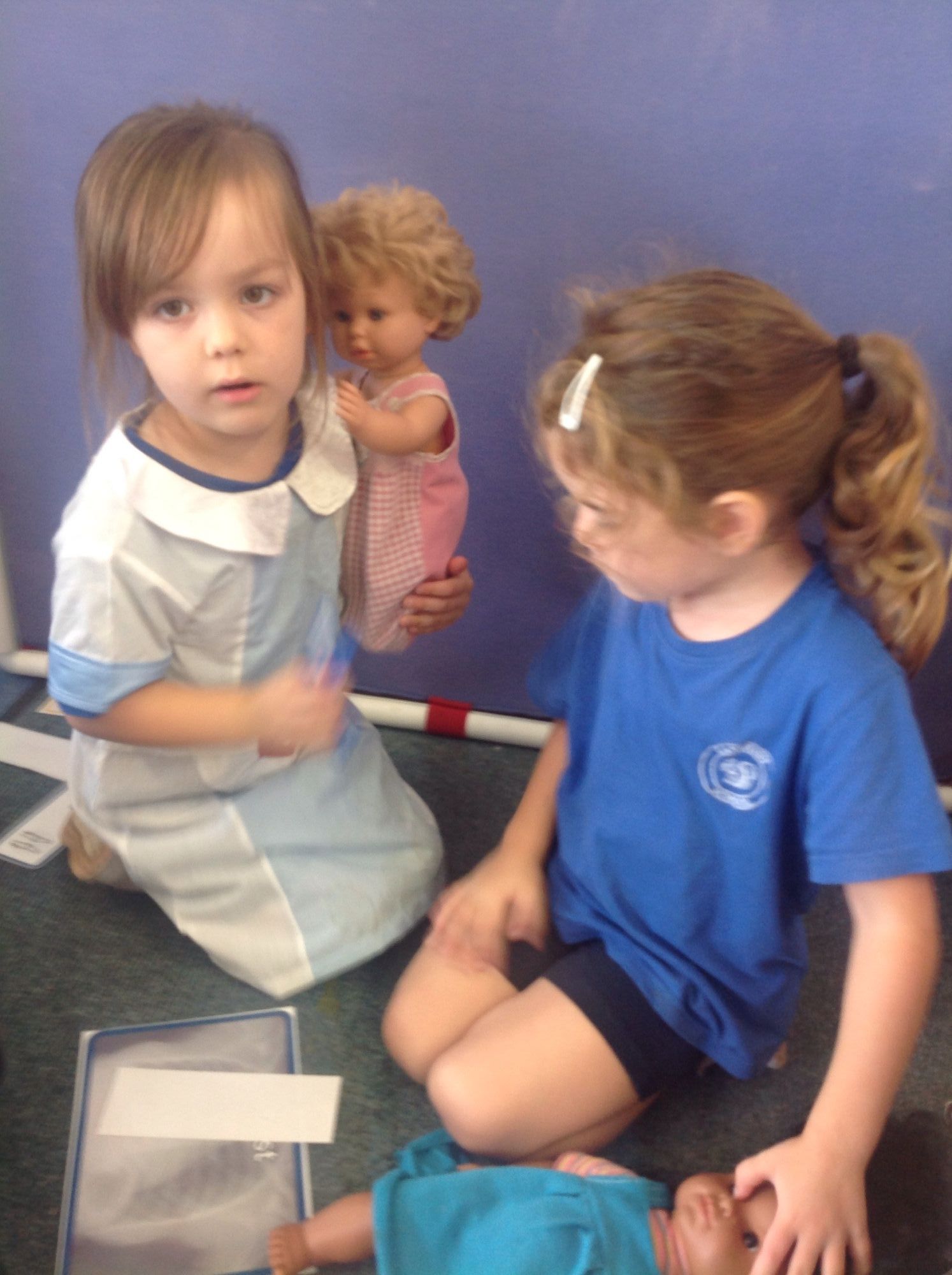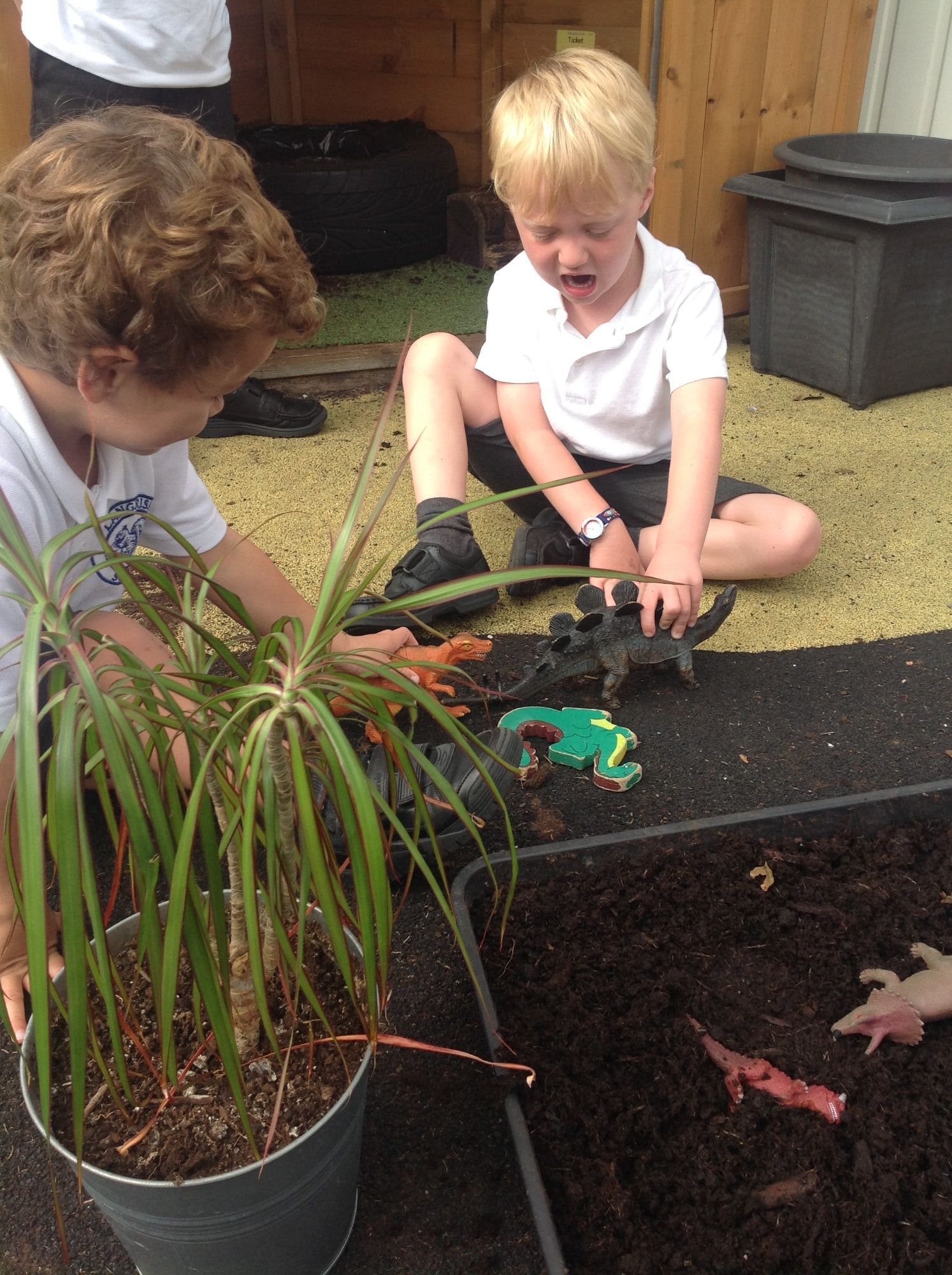 In your child's reading wallet this week you will have their first reading book! There is also a list of handy questions for sharing books with Reception age children. Please ensure that reading books are sent in with the reading wallets every day to ensure that we are able to track reading happening at home and also to change books each week. As a reminder, children should be coming to school every day with their reading wallet and water bottle.
You will also have some cloud templates in the wallets. These 'Proud Clouds' are for you to record anything that has happened at home that you are feeling proud of your child for. These can then be returned to school where we can celebrate them together and display them.
As one final reminder, dogs are not allowed on the school grounds. I would advise that, for your convenience, dogs are not brought to pick up your child from school. I greatly appreciate your continued cooperation!
---
13/9/21 - Meet the Teacher
Thank you to those of you who were able to join us for our 'Meet the Teacher' session today. I have added the slides, as well as the home reading questions and the reading challenge sheet. These are available at the bottom of this page for anyone who was unable to make it.
10/9/21 - The First Week!
We have made it to the end of the first week! Congratulations! It has been a super great week, full of wonderful chances to play and explore. The Squirrels have really enjoyed getting into school for the first time and have shown great confidence and ability to adapt to their new environment.

We have also overheard lots of fabulous chatter during all the activity:
"I like having the tools here to help us fix everything. Is there an excavator in Squirrels?" - Monty
"I'm feeling happy to be here today!" - James
"I love playing with the construction. I'm going to fix the pirate ship to make it go faster!" - Eloise
"I have been painting Oscar and my sister and me." - Frederick
I am certain that there will be lots of exhausted Squirrels this weekend. Make no mistake, it has been a very big week for them! Make sure to get plenty of rest and recharge those batteries for another fun-filled week.
As a few urgent reminders:
Please put name labels on everything. We have already had some items coming to school without children's names on. It not only makes it difficult for children to manage their things, but it's harder for the teaching staff as well!
Children's bottles should only be filled with water please. No juices or squash.
If your child is joining an after school activity and will require PE kit after school, please be sure to send it in their bag on those days.
Starting school is always full of new routines and pitfalls for the unwary, but your children have been brilliant this week, and you deserve lots of credit for supporting them. I look forward to seeing you all again next week.
Mr. Gillard
Welcome to Squirrels!
I am Mr Gillard, and I am the new Year R teacher working alongside Miss Rhodes and Mrs Browning. I am so excited to get to know all of you, and I am sure that we will have a wonderful year! This page will provide updates on what is going on in school, as well as some useful information.
We will be having a Meet the Teacher session on Monday 13th of September at 2.30 p.m..
PE kit days will be Monday and Thursdays starting from the 13th of September.
Useful Websites:
Home Learning Activities Folder - OneDrive