Team Squirrel - Mrs Browne and Miss Rhodes
PE day is Monday. Please wear PE kit to school.
Forest school is on Friday. Please wear PE kit to school. Plus have Forest Kits ready.
Week commencing 30.9.2022 e, f, g, h, i
Another week of letter of the day and we are loving it! This week is e, f, g, h and i.
Ee is for elephant, egg, excellent and Erin! We found it tricky to find many words which start with 'e' and make the 'e' for egg sound. We noticed that the letter 'e' was in the middle of words like Ned. Our word of the day was exhausted. We shared that it was a feeling, when we could feel exhausted and what it feels like.
For Ee we had an exploration table which was all about England. We coloured in the flag, had pictures of King Charles, Big Ben and maps of England and the United Kingdom. We talked about what we knew about England and what was around our country. We also decorated eggs, had a family of elephants out in our role play area and played with the PE equipment and made our own obstacle course.
For Ff we again struggled to find many words which start with 'f'. There was fabulous, fluff, flower, fox and four. Our word of the day was 'five' and we talked about what five meant. We shared that some of us are five now or that they will be on their next birthday and also found five objects to count out. We did some still drawings of some flowers in a vase and then some printing with the flower heads.
For Gg our word of the day was grateful and we all shared what we are grateful for. For 'g' we got the football goals out to score goals and practise our aim. We played with the giraffes, gorillas and got the goats out on the farm. We designed our own gardens which included flowers, play parks, swimming pools and lots of trampolines!
For Hh our word was helpful. Our aim for the day was to all be extremely helpful and it worked!! We got messy making hand prints which looked brilliant and listened and felt our hearts beating. We also played hopscotch, made hedgehogs using sticks in forest school and played in the home role play area. We talked about how to be healthy and how we can stay healthy then did some printing with vegetables.
For Ii our word of the day was innocent. We shared what the word meant and how we would use it in a sentence. We got rather chilly for Ii as we explored the ice which had different objects inside of it. We built igloos with blocks, explored insects in forest school and explored the musical instruments.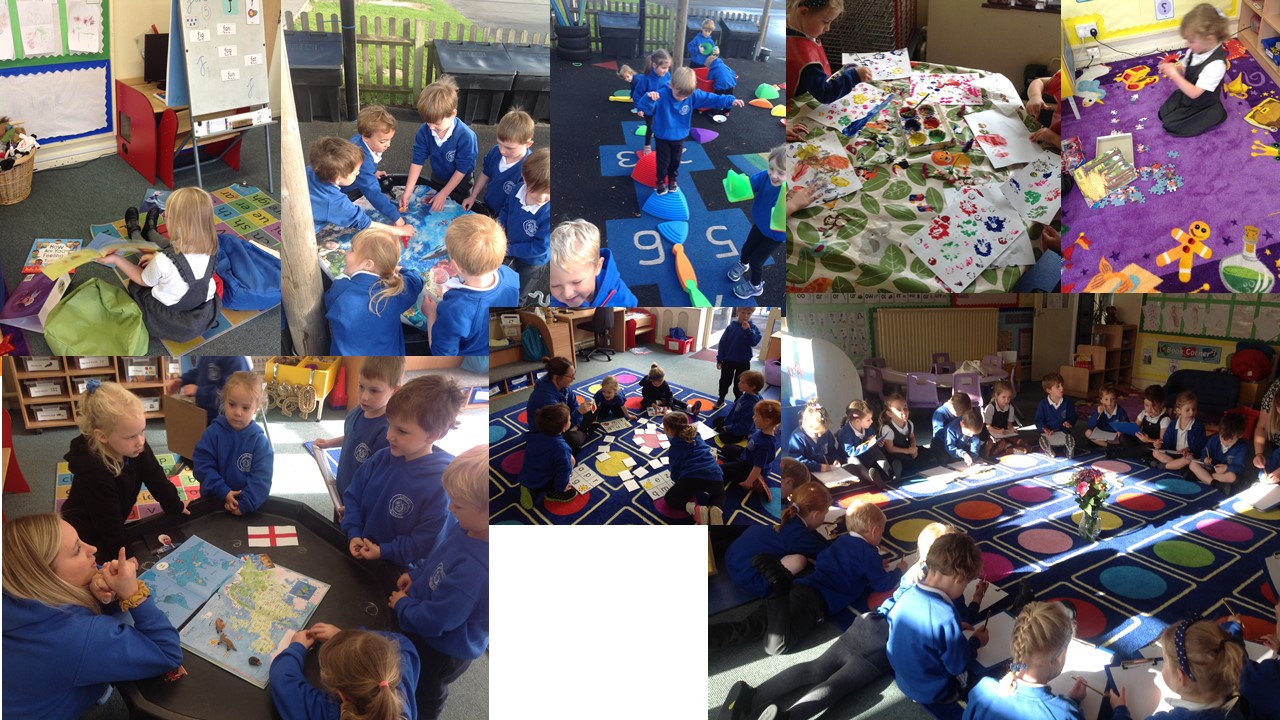 A little thought...
A school day is extremely busy for all our Squirrels. Please understand they will be tired and some may be a bit challenging at home. Let me reassure you, it will get easier for you and them! We are still in a new routine, learning new things all the time which means are brains are extremely active and always thinking. We are just busy being 4 and 5 year olds!
Week commencing 23.9.22 Letter of the day a – d
This week has been BRILLIANT! The sun was shining most days, and we have been busy listening and saying sounds a – d and hearing words with the sounds in. All the children have been very focused and ready to learn and explore new activites.
Tuesday was all about the letter a. Our word of the day was 'admire'. We talked about what it meant and tried to use it in our day. Mrs Browne admired many of the children for their tidying up skills and their hard work and dedication to not give up!
Wednesday was all about the letter b. Our word of the day was 'brave' and we talked about when we have been brave and again tried to use it in our day. We found many words which start with b such as bugs, blocks, babies so we took advantage and printed bugs with paint, made sand bug pictures, built many things with the blocks and looked after the babies.
Thursday was all about the letter c. Our word of the day was 'curious'. We found out we are all curious learners who always want to know more. Mrs Browne was curious to find out who could use the word curious in their learning. We made caterpillar number chains with paint, made tunnels and roads for the cars and played a musical tune with the chimes.
Friday was all about the letter d. There was only one thing on all the children's mind…. DINOSAURS! Of course, we had to have the dinosaurs out! Our word of the day was 'dangerous'. We discussed how it would be dangerous for us if dinosaurs were still living today as we would be very tasty to them. We also talked about what things are dangerous and why such as road safety, stranger danger and when on the computers or tablets.
Forest school was a beautiful chilly morning! The children loved the mud kitchen, running around playing hide and seek, finding bugs and making forest crowns with the natural resources around them.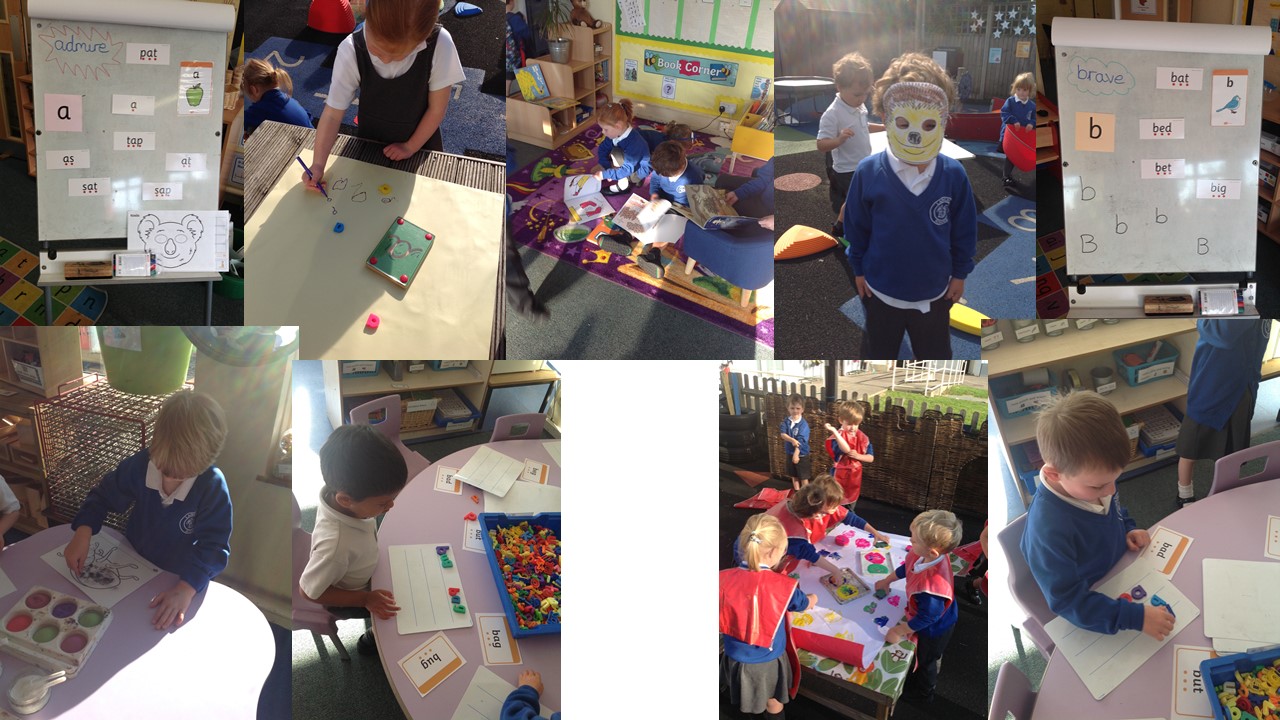 Next week we will be focusing on the letters e -i. This weekend can you find words, signs or pictures which start with the letters a, b, c or d?
Week commencing 12.9.2022
If you completed the Summer Reading Challenge please bring in the certificate and medal for Friday's celebration assembly.
This week we have been brilliant figuring out and doing our new routine. We had PE with Mr James Monday afternoon where we went on the field to play team games. Mr James was super impressed by how much all the children followed instructions and joined in with the games. The children come back with happy and hot faces from all the exercise.
On Tuesday we began music. We danced the afternoon away to 'Kool and the Gang', 'Celebration', then talked about what instruments we could hear in the music, how it made us feel and what the song was about. Next, we followed the beat to a different piece of music. To do this we clapped, jumped, nodded our heads and marched like soldiers. It was a fast rhythm so we worked hard to listen and keep up with it.
The children have loved going to the library and choosing a book to take home. Don't forget to bring them back each Thursday to change it for a new one.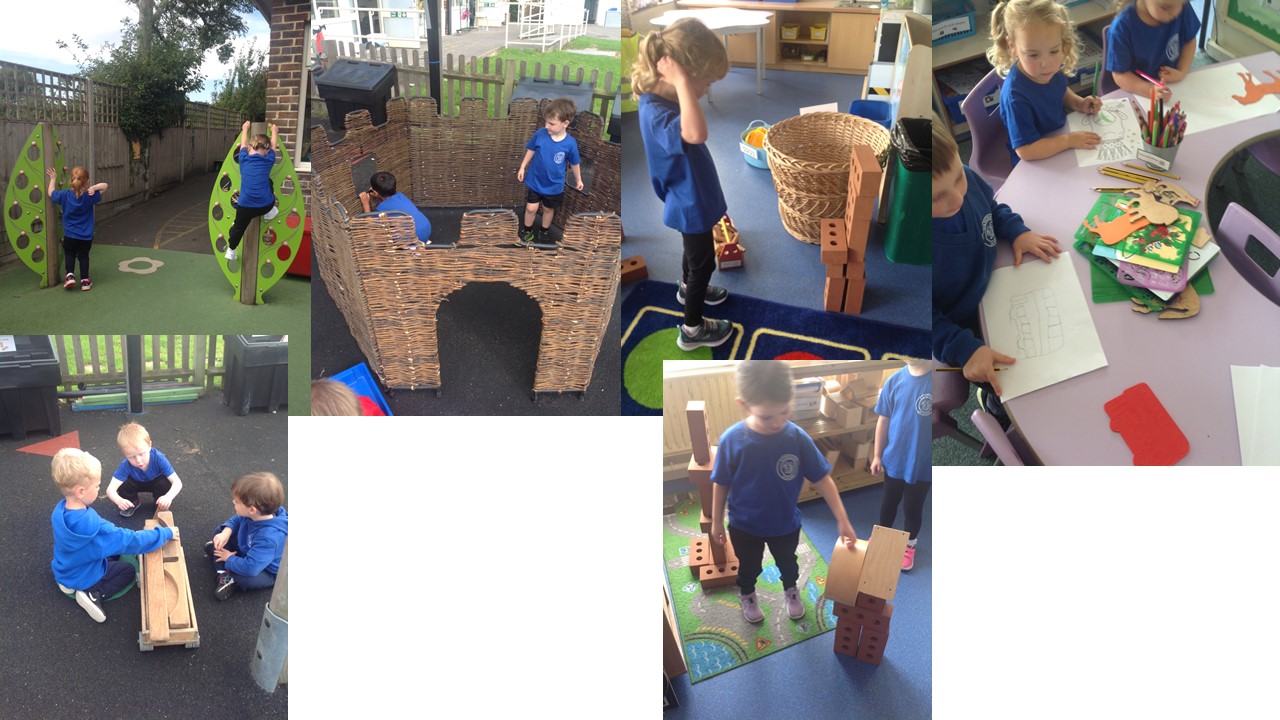 Next week we start our letter a day to support children once they begin their phonics. The letters we are looking at are 'a', 'b', 'c', and 'd'.
Things to remember:
Please ensure children have a coat to school every day, even if it's not raining or cold, as we are outside all the time.
Children must have all their hair up and away from their faces.
Forest school kit includes waterproofs and wellies. Please name them.
For PE on Mondays please ensure shorts are in their bags for when using the hall for gymnastics.
School jumpers need to be named as they are all the same!
Library books will begin Thursday afternoons. Children will be able to take a book of their choosing to share with you at home. Please can they be retuned each Thursday, so we can swap it for a new book.
PE and Forest school will start Friday 17th September.
Team Squirrel have taken school in their stride! I am so proud of them all and already know it is going to be a great year! Strong relationships are already building and I have seen some confident, chatty and caring children.
Next week:
Next week is all about routine and feeling safe and secure at school. We will also start our baseline assessments which is required to be completed by the Government. Once the assessment is complete I will phone you to let you know about how your child has coped with the assessment and how they are settling into school life. (Please do not panic! The baseline assessment is maths and communication and language activities. It's really, a lovely one to one time with me playing with bears and looking at pictures! They will not know it's an assessment so no need to warn them of anything.)
Our learning this week: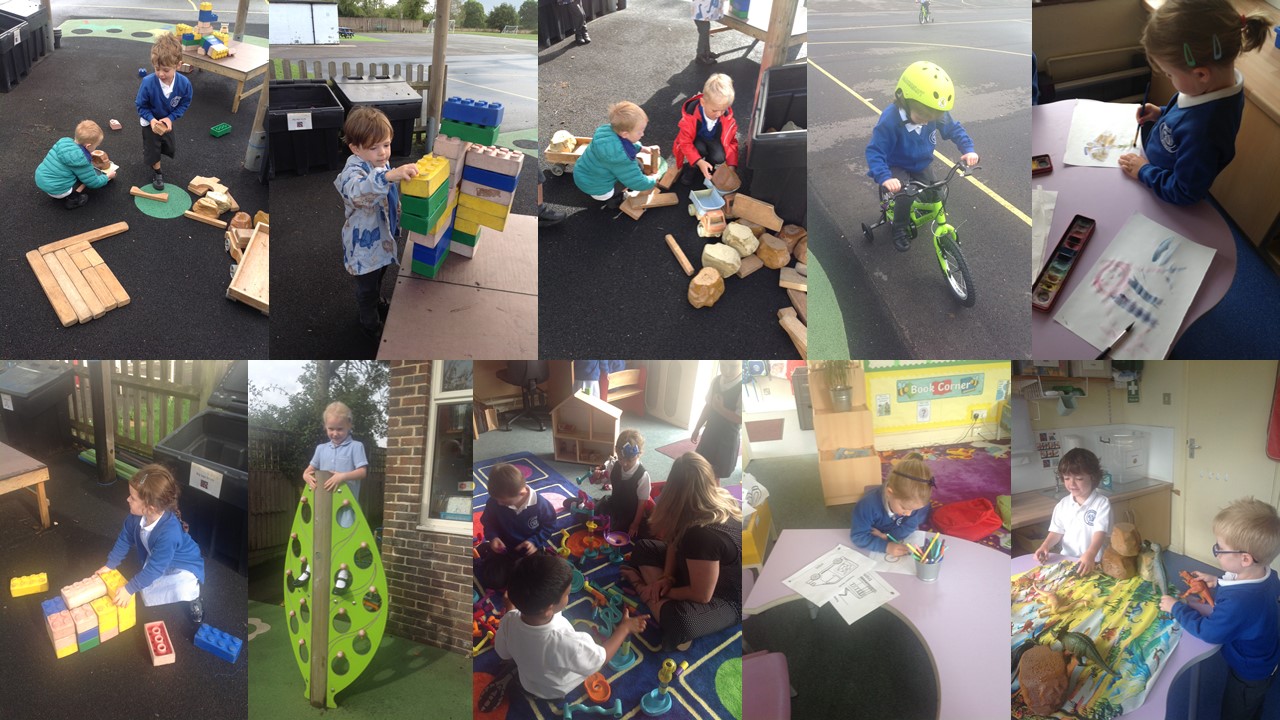 Useful Websites:
Home Learning Activities Folder - OneDrive